Where to See Whales and Puffins in Newfoundland
This post may contain affiliate links. By clicking and making a purchase through the links, I earn a small commission at no extra cost to you. This allows me to keep the site up to date and expand on resources. Thanks for reading!
One of my favorite parts about Newfoundland is that it is one of the best places to go whale watching in the world! During the summer, you can easily spot whales in the ocean while hiking along the coast of Newfoundland. If you want a closer experience, there are many whale watching tours in Newfoundland to take you out to meet these friendly giants. On these tours, it is also very common to see puffins!
Whales are magical creatures and despite having grown up with them just outside my house, I still jump with excitement when I see one now. I've been whale and puffin watching all over Newfoundland and have found the best places to see them. This post will help you plan a perfect whale watching NL adventure!
Best Time to See Whales and Puffins in Newfoundland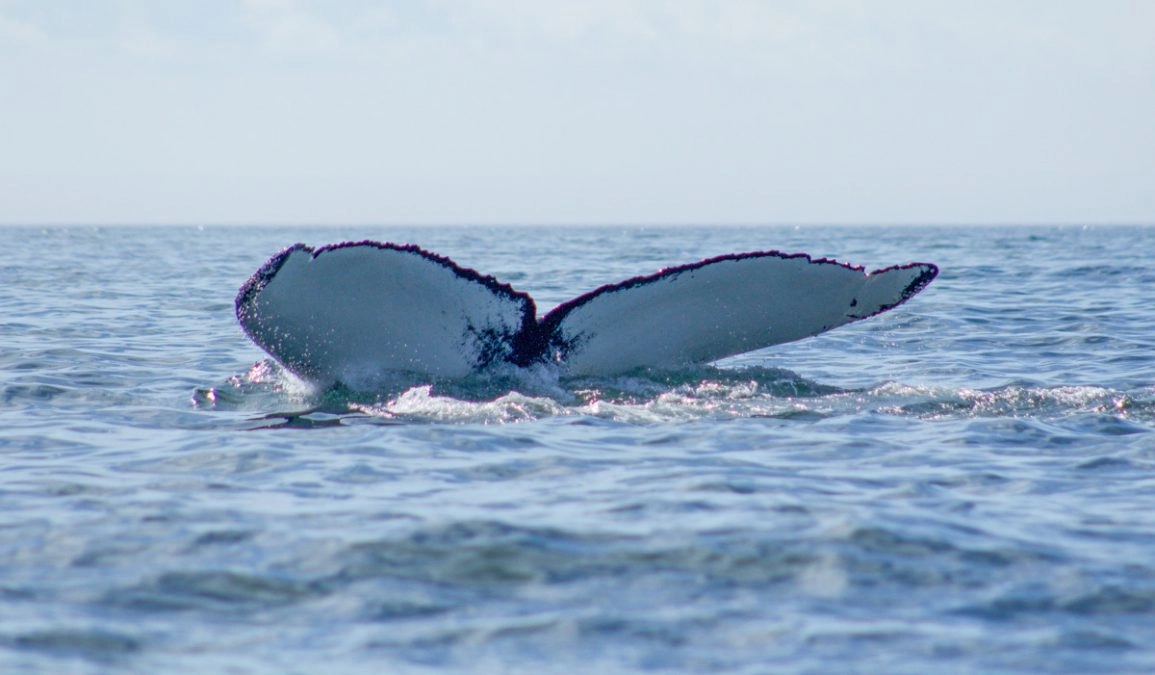 The best time to see whales in Newfoundland is from mid-May to September, with the peak season being from mid-July to mid-August. This is when the Capelin start rolling into the shores, which attracts huge pods of humpback whales who come to feed near the shores. You can see whales outside of these times, it's just a lot easier to see them when there's a lot of fish around as this attracts big groups. Similarly, with puffins, the best time to see them is from mid-May to mid-September when they come to land to nest.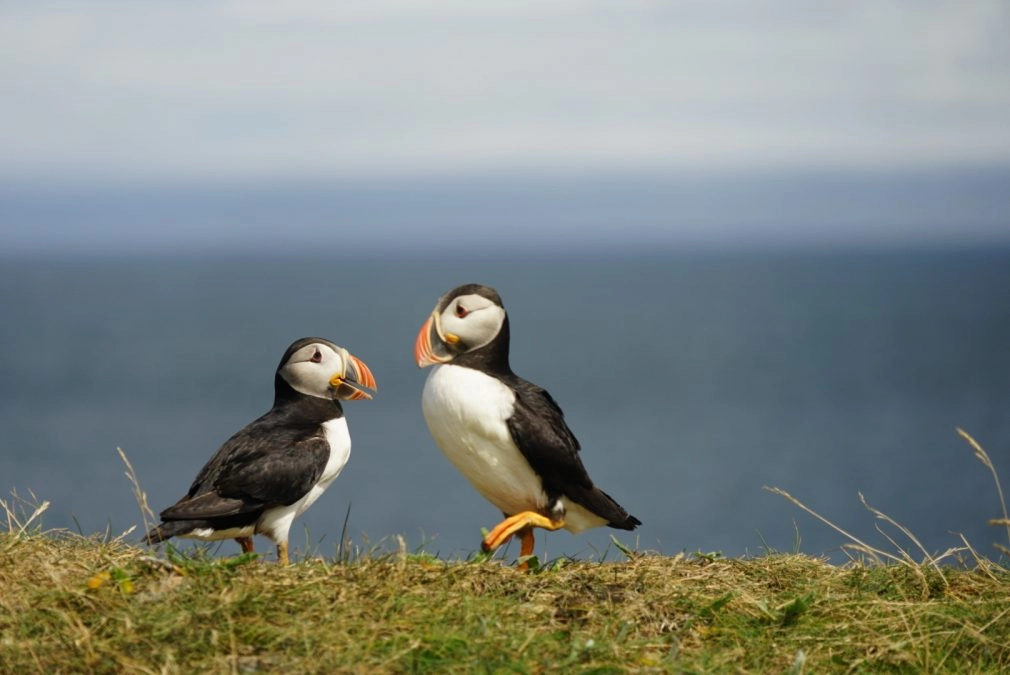 Types of Whales in Newfoundland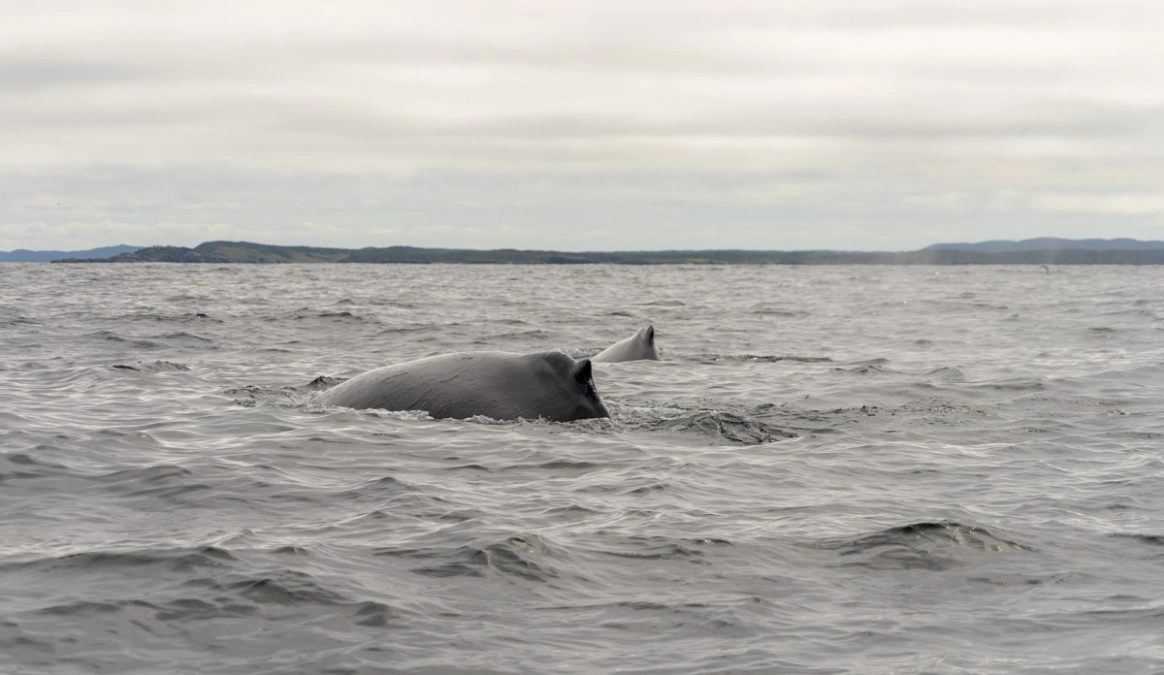 There are over 22 different species of whales you can see in Newfoundland. The most common type you can see are humpback whales, who migrate here in large groups every summer in search of Capelin and other feed. Another common type of whale in Newfoundland is the Minke whale, although these are much harder to see because they are solitary and not nearly as aerobatic as the humpbacks. I have seen them before, but it's usually just a quick glimpse before they go back underwater.
There are many other types of whales in Newfoundland including fin whales, sperm whales, belugas, dolphins, porpoises, killer whales, and blue whales, which are the largest species. Although the latter are quite rare to see! I went snorkeling with blue whales in Sri Lanka, which was an incredible experience.
Best Places to go Whale and Puffin Watching on the East Coast of Newfoundland
The Eastern Coast of Newfoundland is the best place on the island for whale and puffin watching.
Whale Watching St. John's Newfoundland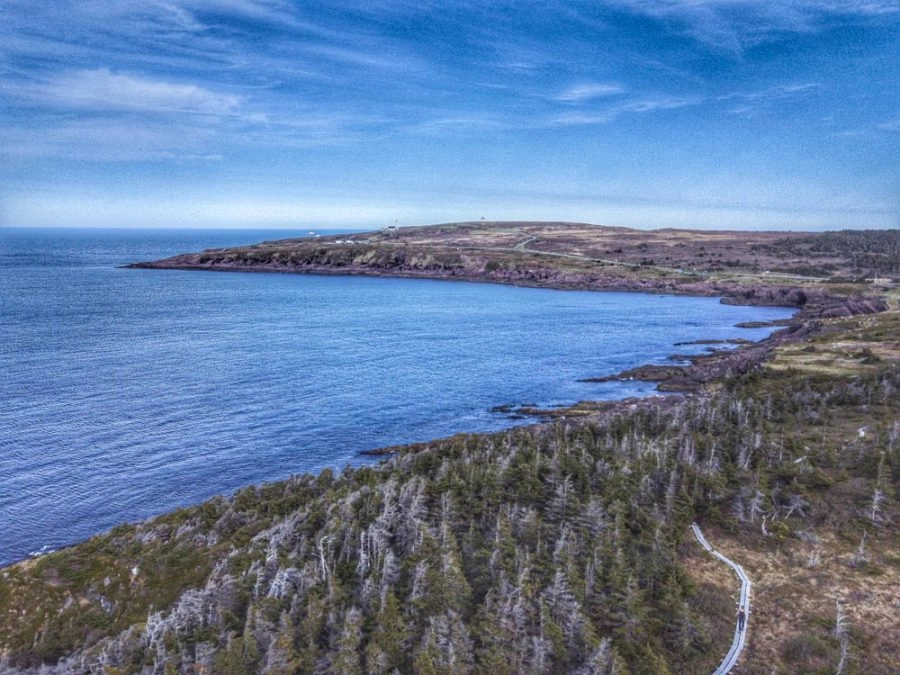 The capital of Newfoundland, St. John's, is a city surrounded by ocean and during the summertime, you can easily spot whales from many of the coastal hiking trails. The best way to do this is by hiking a portion of the East Coast Trail, a 336-km hiking trail that goes along the Avalon. The trail is broken into 26 paths, most of which I've hiked. Some of the best places to see whales are along the trails near Cape Spear (the most Easterly point in North America), and any of the trails along the Irish Loop, especially near the Witless Bay Ecological Reserve.
If you want to get closer to whales and don't know anyone with a boat, you can join a whale watching tour from downtown St. John's with Iceberg Quest.
Bay Bulls Whale Watching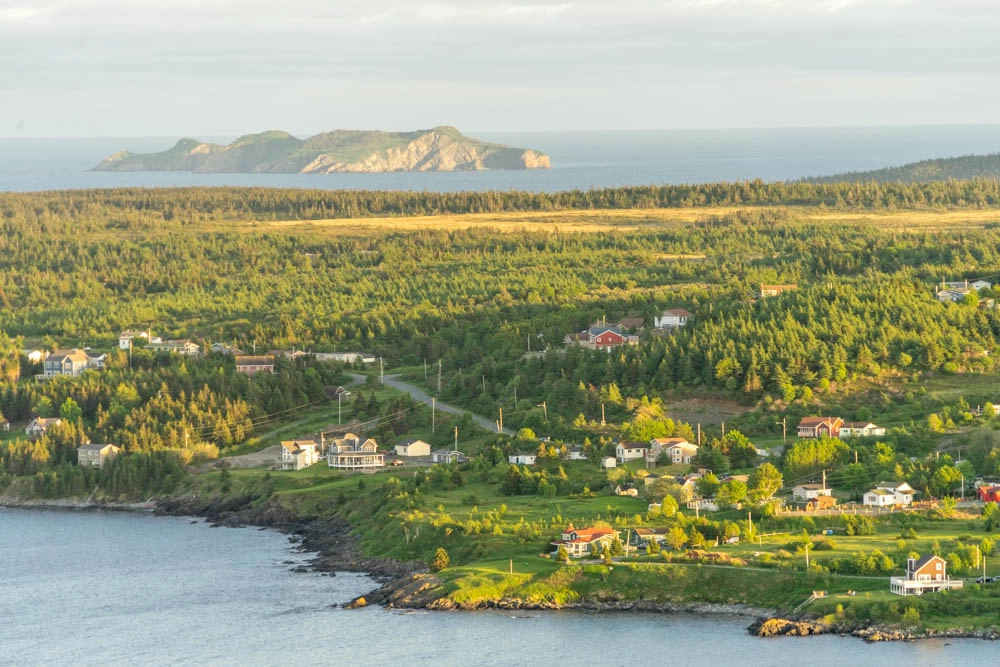 One of the best places to see whales in Newfoundland that's not too far from St. John's is from Bay Bulls on the Irish Loop, around the Witless Bay Ecological Reserve. This area not only has whales but also has a number of bird species including puffins, common murres, black guillemots, northern gannets, greater shearwaters, and northern fulmars. I did this tour a few years ago and loved it. The puffin colony is amazing!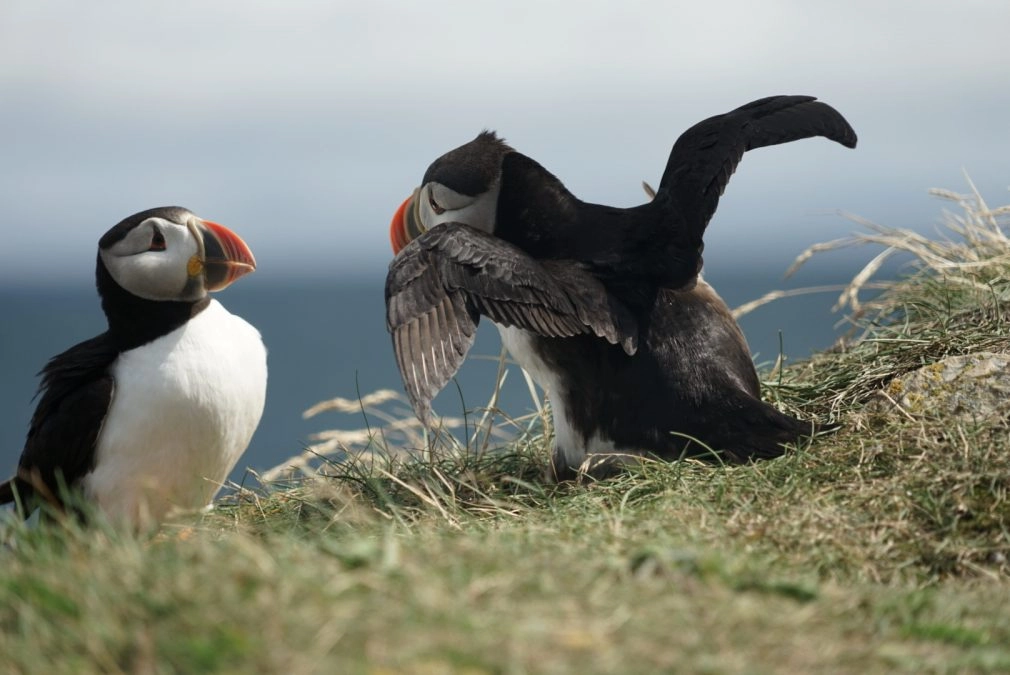 To visit the island you'll have to hop on a boat tour from Bay Bulls. This is an easy day trip from St. John's, it's just a 25-minute drive from the city. The tour takes about an hour and a half.
St. Vincent's is another popular spot for whale watching from the shore on the Irish Loop. It's about two hours from St. John's. The sea becomes very deep quickly there so the whales often come very close to shore!
Trinity Whale Watching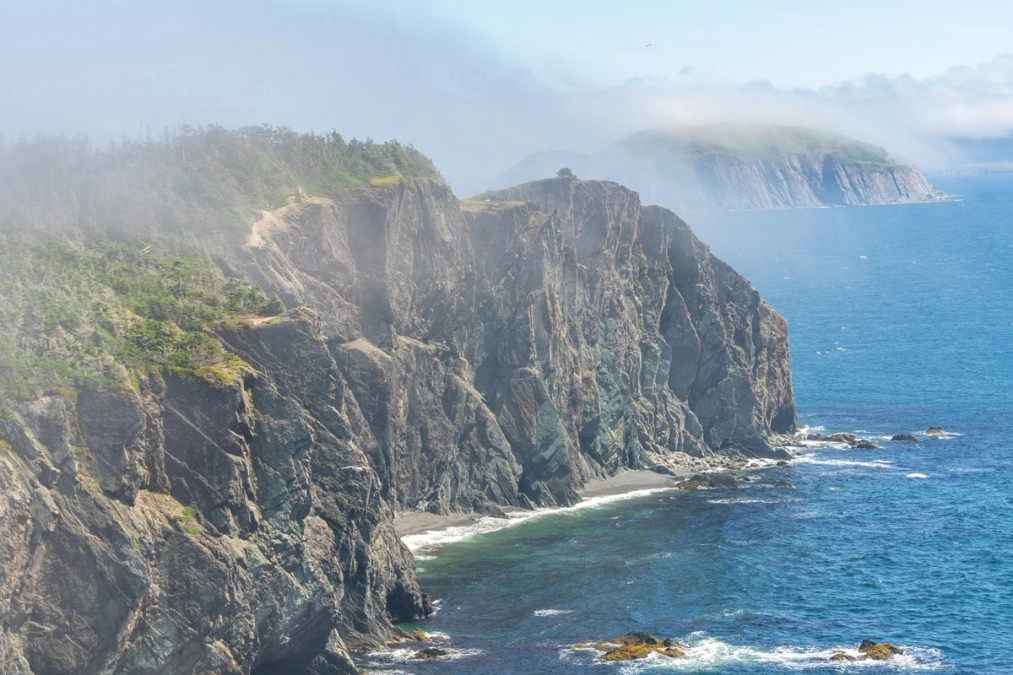 Trinity is a gorgeous town about three hours from St. John's that is not only a great place to visit but also to see whales! I went hiking here recently around the Skerwink trail and saw whales from the trailhead.
If you want to get closer, you can join a tour with Trinity Eco-Tours on one of their zodiac boats. I did this tour in May, but for a different purpose. The spring isn't a great time to see whales in Newfoundland, but it is for icebergs. Every spring, huge icebergs make their way down the coast from Greenland to what is known as Iceberg Alley in Newfoundland. Trinity is one of the best places to see them.
Aside from the whales and icebergs, a boat tour in Trinity is great because you will get to see the beautiful coastline around the Trinity harbour. The tour takes you in a sea cave, next to waterfalls, the random passage movie site, and some other small communities near Trinity including where my cabin is! During my tour in May, we even saw a Minke whale. Bald eagle sightings are also extremely common. If you time it right, you may be able to see icebergs, whales, and birds here all at the same time which is the ultimate trifecta.
Trinity Eco-Tours also offers the opportunity to go whale watching and iceberg sighting via Kayak, which is an exhilarating experience.
Bonavista Puffin and Whales Tours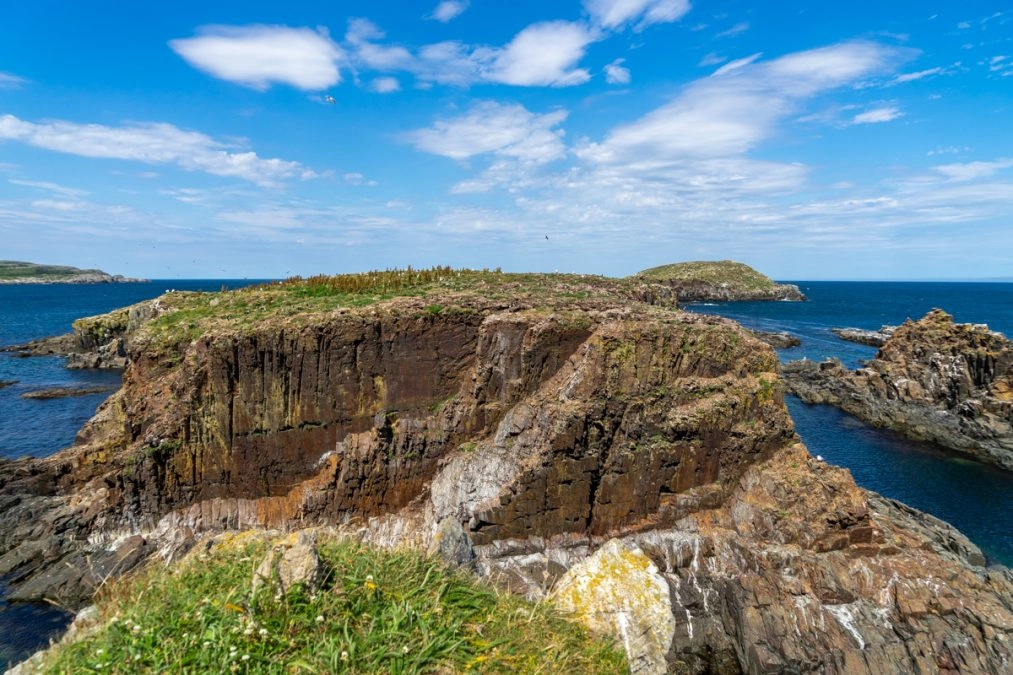 The Bonavista Bay is one of the best places to see whales in Newfoundland. I haven't done a boat tour here but I have seen whales just from the beach here, as well as puffins! There is a boat tour operator here that can bring you to a closer encounter.
Tip: Head to Ellison to look for whales and puffins! There is a huge puffin colony here and when I was visiting, they even came up close to say hello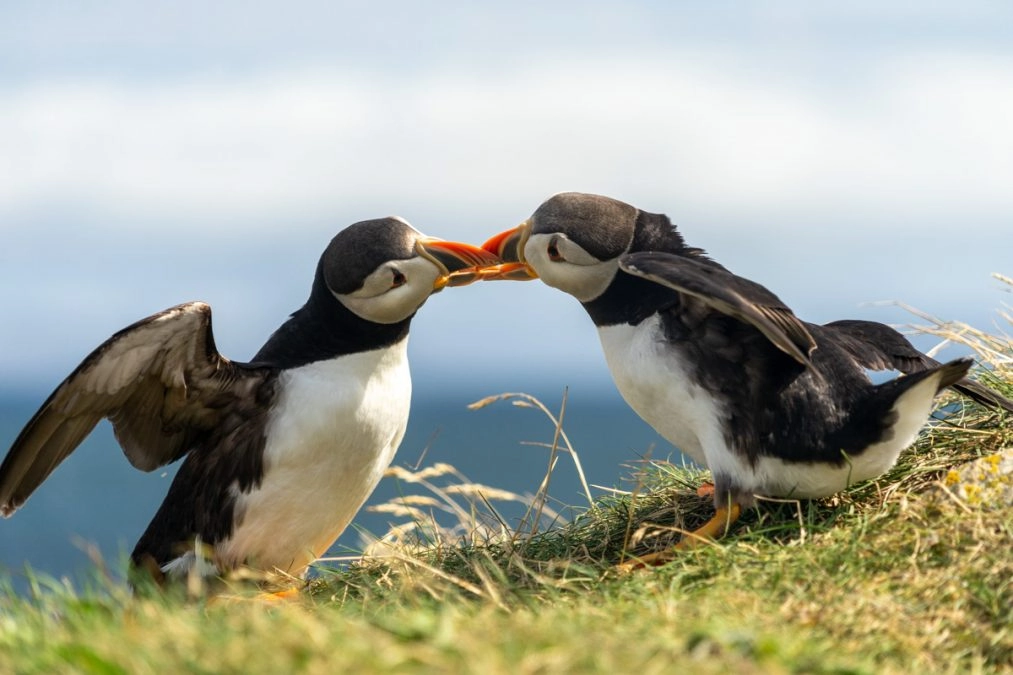 Best Places to go Whale Watching in Central Newfoundland
Hare Bay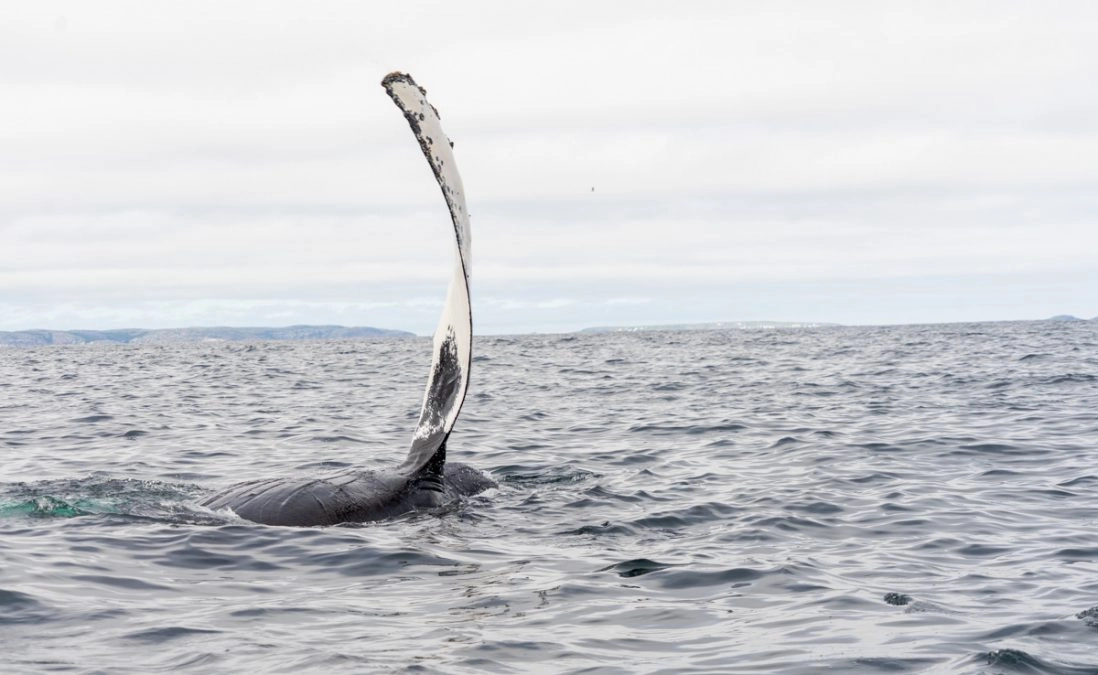 On my recent press trip to Central Newfoundland, I went on a boat tour with Hare Bay Adventures in the Northern Bonavista Bay. I was actually booked to do a traditional wooden boat rowing lesson, but the day before the owner Duane called to ask us if we wanted to go whale watching, as he said he believed he had the best whale watching on the island. Being the wildlife lover that I am, I immediately said yes.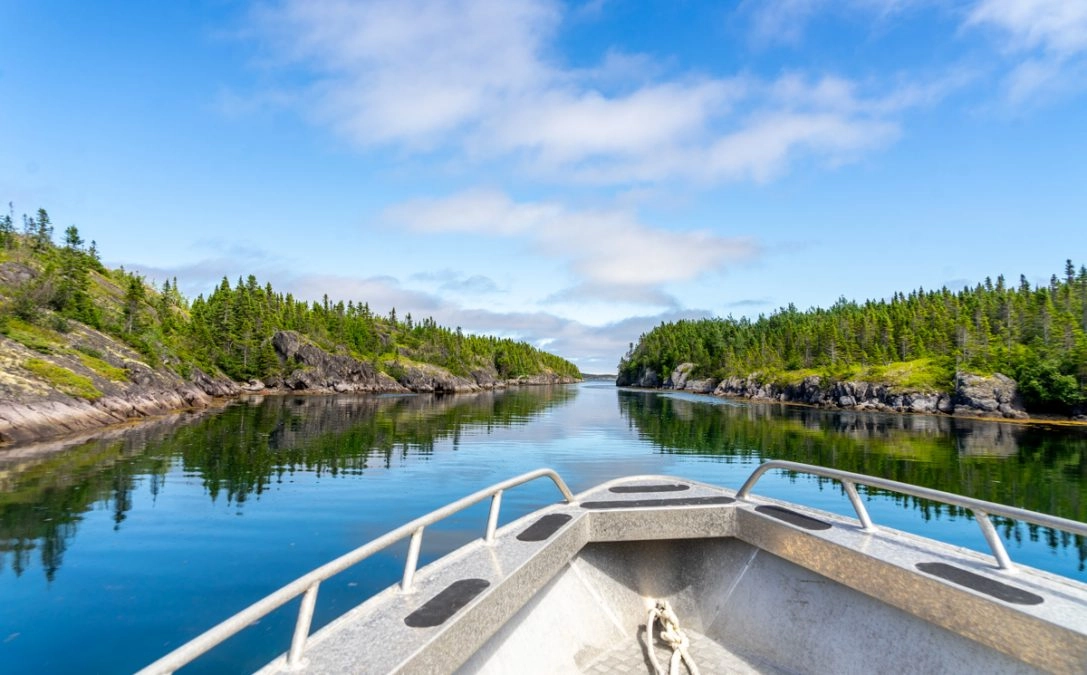 The boat left from Hare Bay and went through some of the resettled communities which were beautiful to see. As we entered the open water we started to see spouts in the water from a distance and made our way closer to the whales. Guys, this whale watching is crazy. They were on all sides of the boat. I didn't have enough heads to keep up with how many whales there were! We mostly saw humpback whales and a couple of minkes.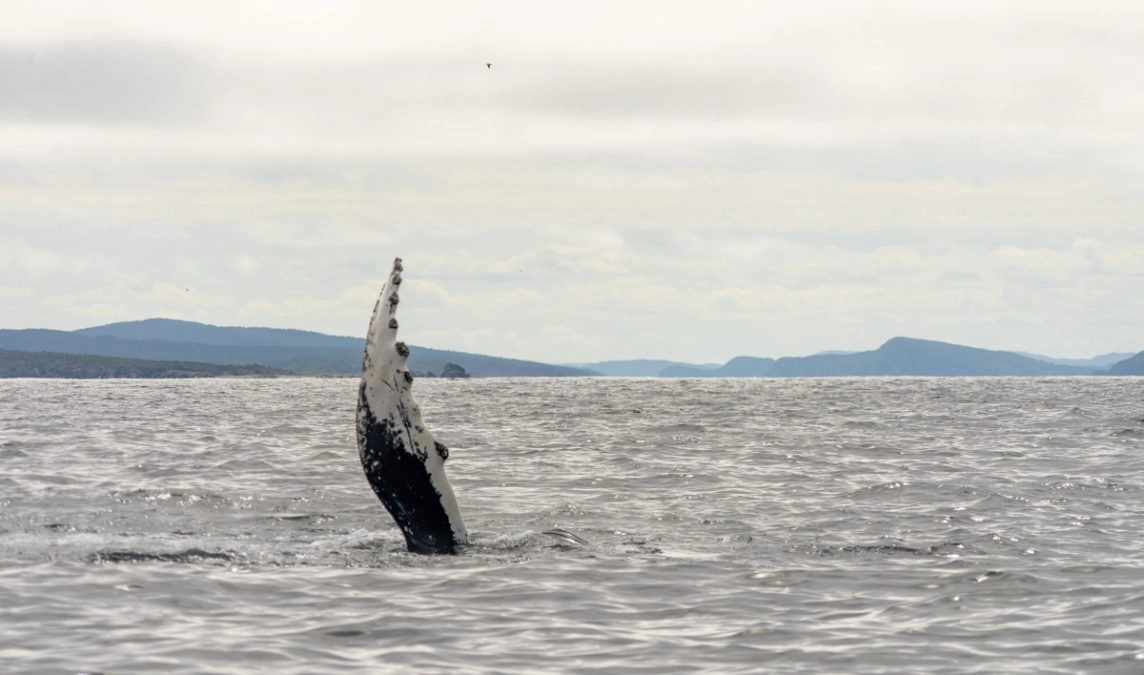 Not to mention all the amazing birds you can see here too. We went past a small island, in which hundreds of Northern Gannets were sitting on. When I turned around, there must have been thousands of birds flying over my head, it was so cool to witness. It felt like an episode of planet earth! We also saw puffins diving for fish in the water here!
After the four-hour whale watching tour, we headed over to Braggs island for a camp fire dinner, which was one of the resettled islands. Such a nice way to end an amazing day!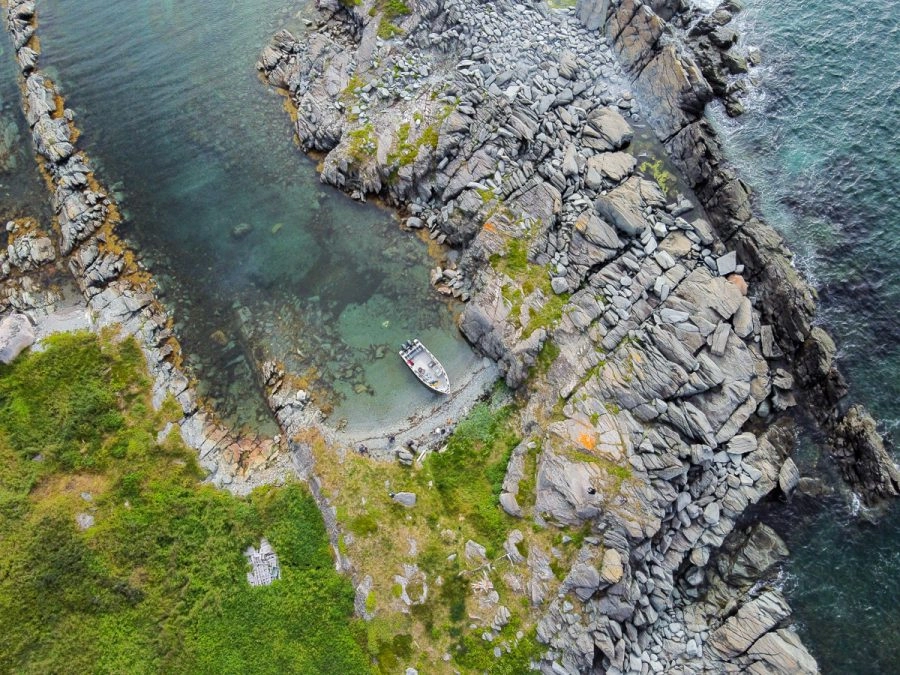 Twillingate and Fogo
Twillingate and Fogo Island are two other places where you can often see whales in the summer. I did a boat tour in Twillingate in July with Twillingate Adventures but unfortunately, the Capelin hadn't come into shore yet so we didn't see any whales. However, even without the whales, a boat tour here is a great activity as the landscapes are absolutely stunning. We did see a number of birds including bald eagles and osprey. Twillingate and Fogo are also one of the best places to see icebergs in the spring!
King's Point
King's Point is another great place in Central Newfoundland to see whales. They even have a whale pavilion set up in town where you can see the world's largest reconstruction of a humpback whale! Check out By the Sea Inn and Cafe for a great meal by the sea – it's also a lovely place to stay the night. If you want to get closer, you can join a tour with King's Point Boat Tours and Adventures.
Best Places to go Whale Watching on the West Coast of Newfoundland
While stunning, the West Coast of Newfoundland isn't the best place to see whales in Newfoundland, in comparison to the East Coast. That said, there are places to see them here.
If you're in Gros Morne National Park, you can take a scenic boat tour of Bonne Bay with Bontours, where you can whales as well as fjords, bald eagles, moose, and seabirds. It is a photographer's paradise!
7 STUNNING Places to Visit in Newfoundland and Labrador, Canada
Looking for the best places to visit in Newfoundland and Labrador? From exploring St. John's to seeing Bonavista, this is where to go in Atlantic Canada!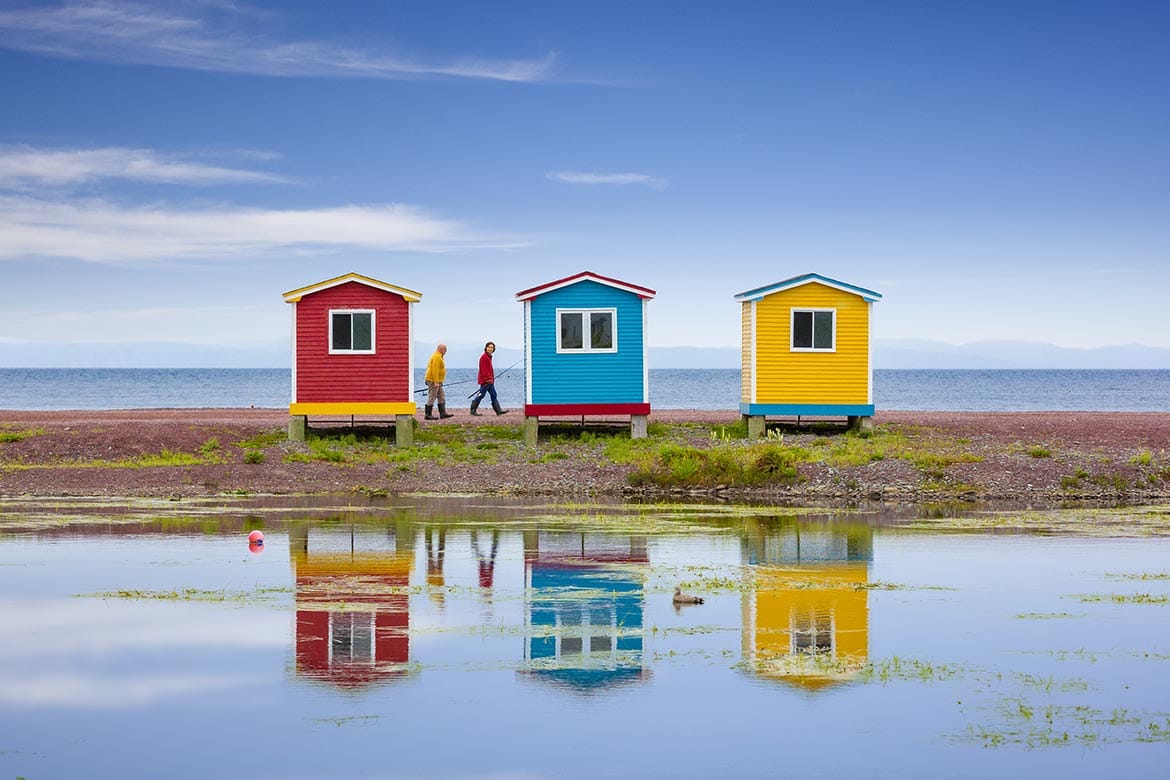 Now that 2020 is over, I can happily start planning my life again. To you and me, that means travelling again! One place that's really caught my eye is Newfoundland and Labrador in Canada. And you're about to see why in this post.
I can't believe I'm saying this, but the past 10 months has been the longest period of time that I've been home in the UK in decades. From family holidays to solo backpacking trips, travelling has always been one of the biggest parts of my life. It seems so strange having that taken away from me.
However, being all bright and positive, it's time to look forward and start planning a few trips this year. Thankfully, with the vaccination rollout well underway and consumer confidence rising, 2021 should be a year where we get to travel and see the world again. Yay to travel!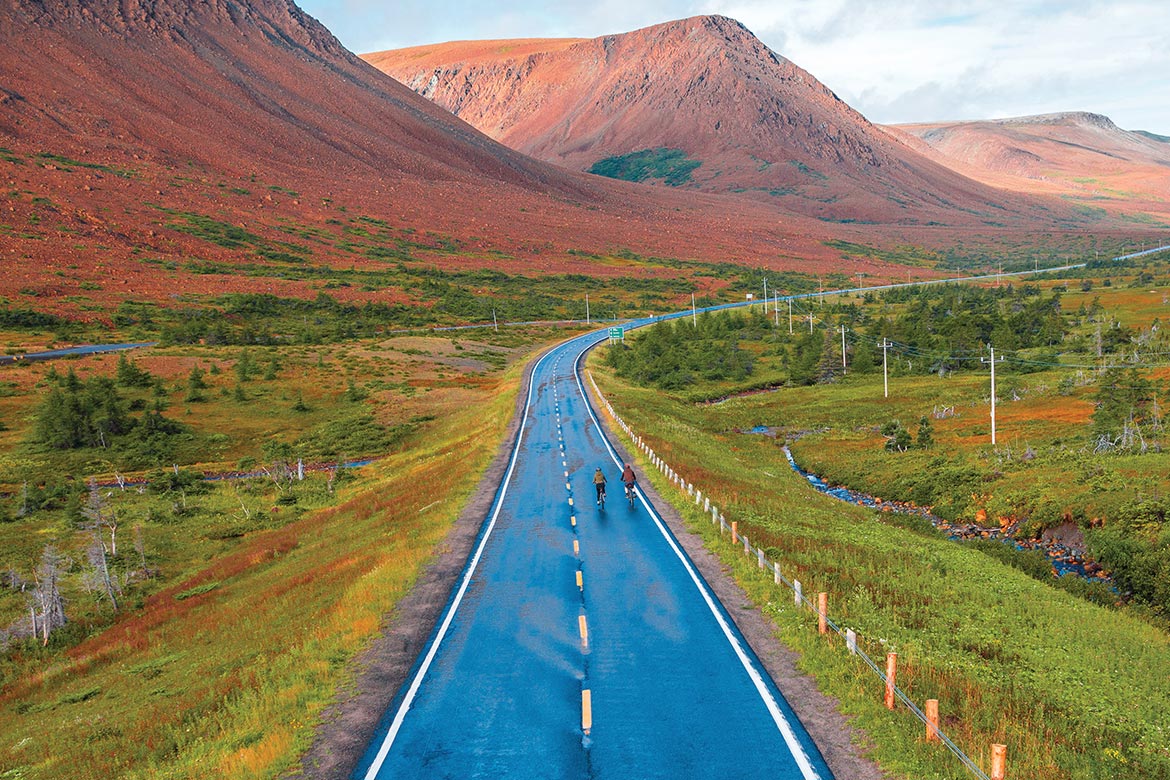 I just can't wait to visit Canada again for views like this
Every year for the past five years I've visited Canada. It's by far one of my favourite countries in the world and a place I just love exploring, so this year one of the first places I plan on visiting is Newfoundland and Labrador in Atlantic Canada. I've never been to the east coast of Canada before and I've heard so many amazing things about it, so it's about time I went there.
Newfoundland and Labrador is famous for its rocky coastline with colourful houses dotted all along it, for its wildlife of humpback whales swimming in the deep blue ocean, and for jaw-dropping views wherever you look.
Also, this is one of the best places in the world to see icebergs floating past. I've seen icebergs before in Greenland, and I promise you it's well worth visiting somewhere when these giants are around.
Like with most places in Atlantic Canada, there is so much space here. That means it's perfect for a post lockdown break where you can spend lots of time outdoors.
Even though I haven't been yet, I thought I'd come up with a Newfoundland and Labrador itinerary for a future trip. I always love planning a trip well in advanced (I came up with this one from newfoundlandandlabrador.com), and I wanted to share some of the best places to visit in Newfoundland and Labrador to give you a bit of wanderlust.
I've featured quite a few places here which are hundreds of miles apart, so even though you can't do them all on one trip, it should give you an idea of what you can do in Newfoundland and Labrador as an overview.
If you're like me and are starting to plan your holidays for 2021, this is a great place to start. Hopefully you'll be inspired to visit somewhere very different in Canada!
Where is Newfoundland and Labrador, Canada?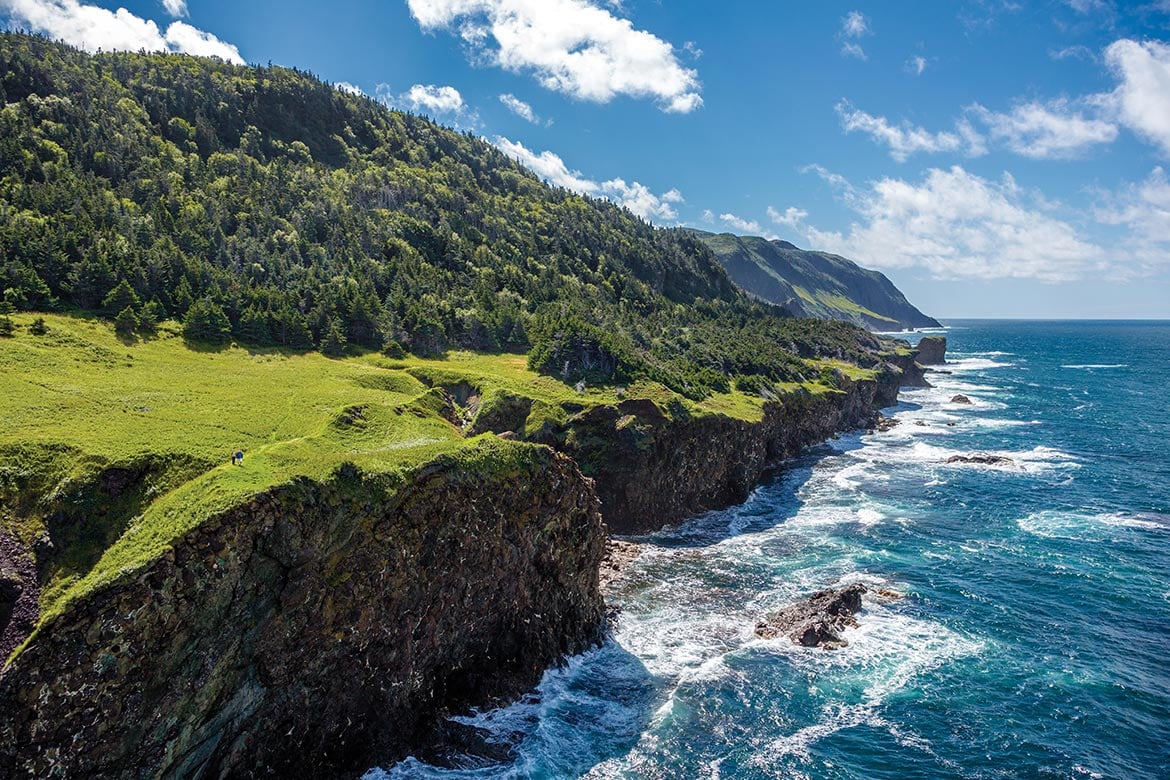 This is what Atlantic Canada is all about
Newfoundland and Labrador is part of Atlantic Canada. This is a region comprising of four provinces located on the Atlantic coast: the three provinces of the Maritimes – New Brunswick, Nova Scotia, and Prince Edward Island – and the easternmost province of Newfoundland and Labrador.
The province is essentially split into two. Situated in the country's Atlantic region, it is composed of the island of Newfoundland and the continental region of Labrador to the northwest.
On the island of Newfoundland you'll find the popular places of St. John's and Bonavista, while in Labrador you'll find places like Battle Harbour and Torngat Mountains National Park.
As I've already mentioned, if you're looking for space, you'll find it here.
There are just over half a million people living in Newfoundland and Labrador in are area of 405,000 square kilometres. To give that some context, Germany with a population of 83 million people are living in an area around the same size. That's bonkers, isn't it!?
Newfoundland and Labrador is characterised as having this rocky coastline making it one of the top seaside destinations in Canada. With more than 18,000 miles of coastline, there's such a special connection to the ocean here. When you see pictures of the coast, it's easy to understand why.
When is the best time to visit Newfoundland and Labrador?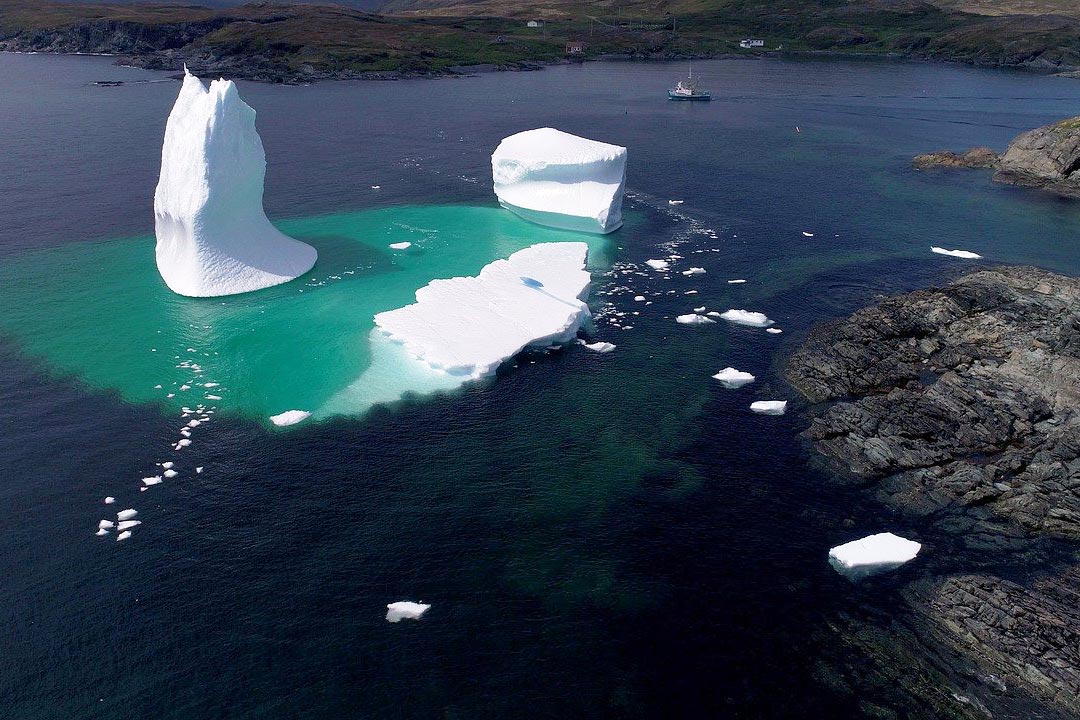 Just imagine seeing icebergs on your holiday!
This really depends on the type of holiday you're looking for. Weather wise, the best time to visit Newfoundland and Labrador is from July to mid-September. Even though temperatures will rarely get above 30 o C, the weather will be really bright and calm. Also, because Newfoundland and Labrador is so far north, you get really long daylight hours during the summer which is a mega bonus too.
Mid-June to mid-August are also the best time for wildlife. This is when you can go on a whale watching tour and see humpback whales migrating. There are a number of whale watching tour companies to book with during the summer months. Looking around, this is one of the best ones I've found which comes highly recommended.
Summer is also when you can see puffins too. I always think puffins are so adorable, so they're well worth seeing when you're here if you can.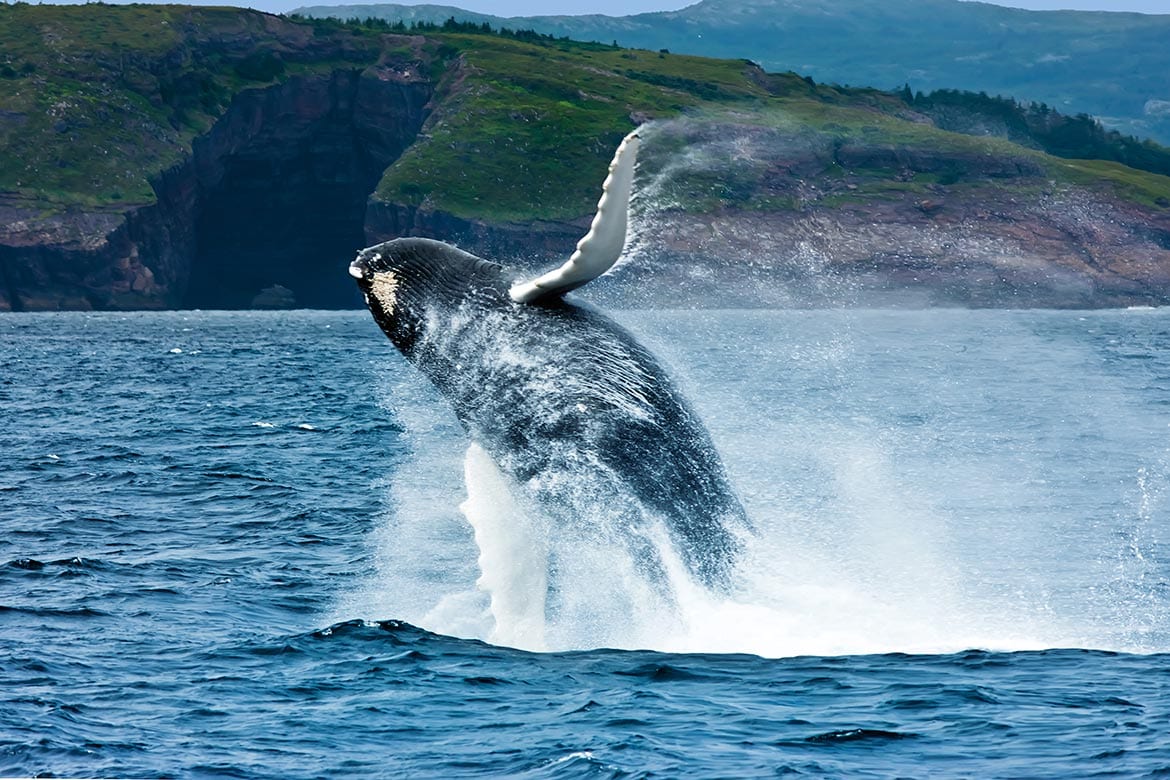 Whale migration season is one of the best times of visiting Newfoundland and Labrador
Another season that might interest you is iceberg season. This is usually from the end of May until the end of June where icebergs float past the island of Newfoundland.
Yes, this is really a season here in Canada! It's hard describing how beautiful icebergs are, but they really are. For me, this would be such a good time to visit this region in Canada.
As I said before, I know it's hard choosing when to visit somewhere when there's so much to see and do. All the more reason to plan on coming back here again in the future!
– Where to go in Newfoundland and Labrador –
St. John's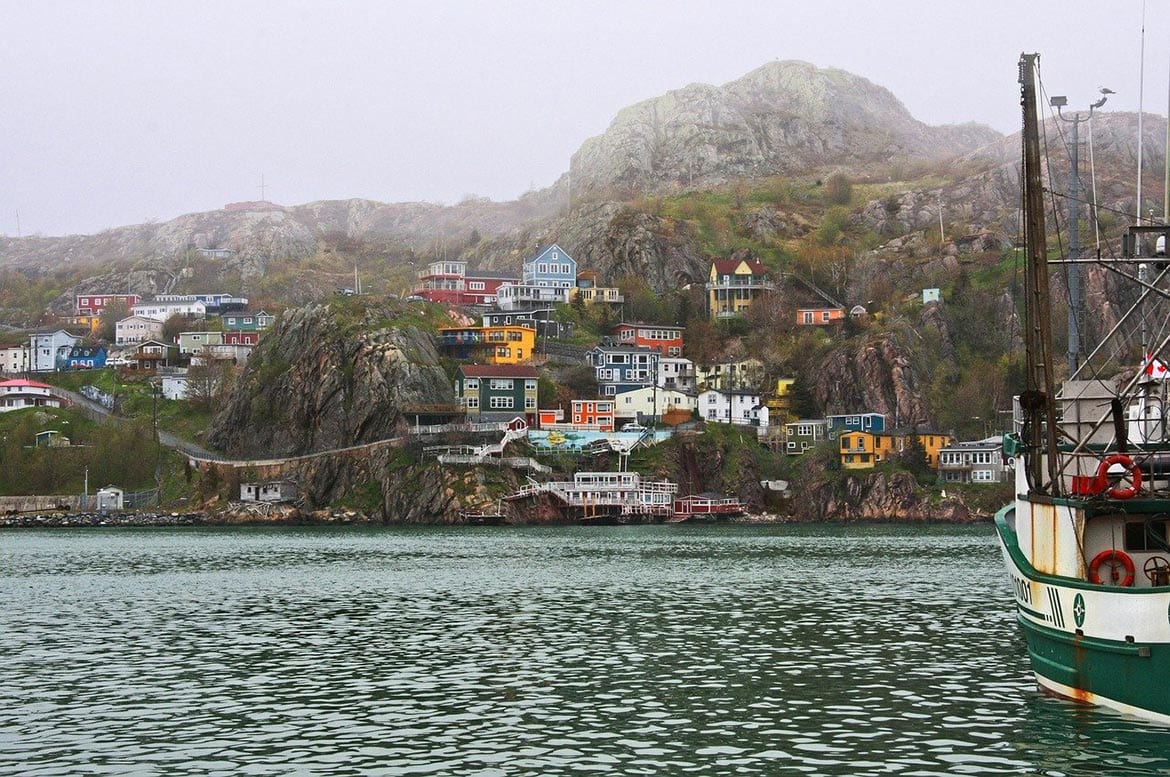 St. John's looks like a film set
Being the provincial capital, St. John's is the place where most people start their Newfoundland and Labrador itinerary.
One word that would describe St. John's is colourful. No matter where you look there are these brightly coloured houses dotted all over the place making the town a multicoloured rainbow. To me it symbolises how bright and happy this part of Canada is.
Here's a fun fact for your next travel quiz. St. John's is actually the oldest city/town in North America. The earliest record of St. John's dates back all the way to 1519 – that means there's a huge amount of history here for all you history buffs.
One of the top places to hang out is down by the harbour. Here you'll get a sense of what St. John's is all about with fishing schooners constantly coming and going with the catch of the day.
Also, if you're a foodie like me, then you'll absolutely love St. John's. Everyone I've spoken to who has visited St. John's has said it's an amazing foodie destination with some incredible restaurants to eat at. The main dish you'll see everywhere is lobster and cod. If you're looking for something a little more adventurous apparently cod tongue is a popular dish – that's a new one on me!
Gros Morne National Park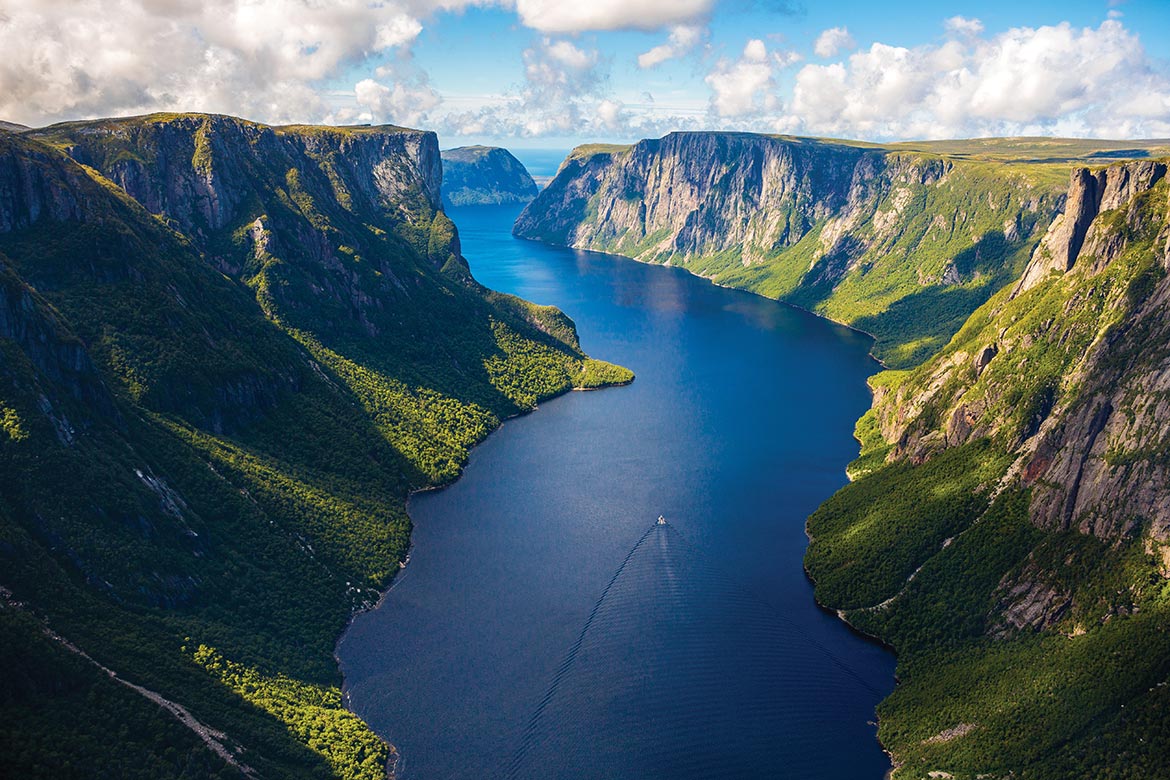 This is one of the most beautiful places in Canada and no one knows about it
When you see pictures of Gros Morne National Park, it's hard not to compare it to the fjords of Norway or the mountains of New Zealand, yet it's a place hardly anyone knows about. Just imagine beautiful river valleys running between massive, striking cliffs either side. Well, that's what it's like here.
Located to the north of Newfoundland, Gros Morne National Park is a UNESCO World Heritage Site, largely for its unique geological phenomena. At Tablelands, a huge piece of the earth's mantle was exposed by colliding tectonic plates. This is the only place on earth were you can see the earth's mantle like this; it's like looking into the open wound of the world.
Gros Morne National Park is a place best explored by foot. The hiking and camping here is some of the best in Canada, especially when you're overlooking the water. There are lots of marked trails and campsites so it's quite easy exploring it independently.
Whether you're here for a short day hike or a multiday camping trip, Gros Morne National Park is one of the top places to visit in Newfoundland and Labrador.
Bonavista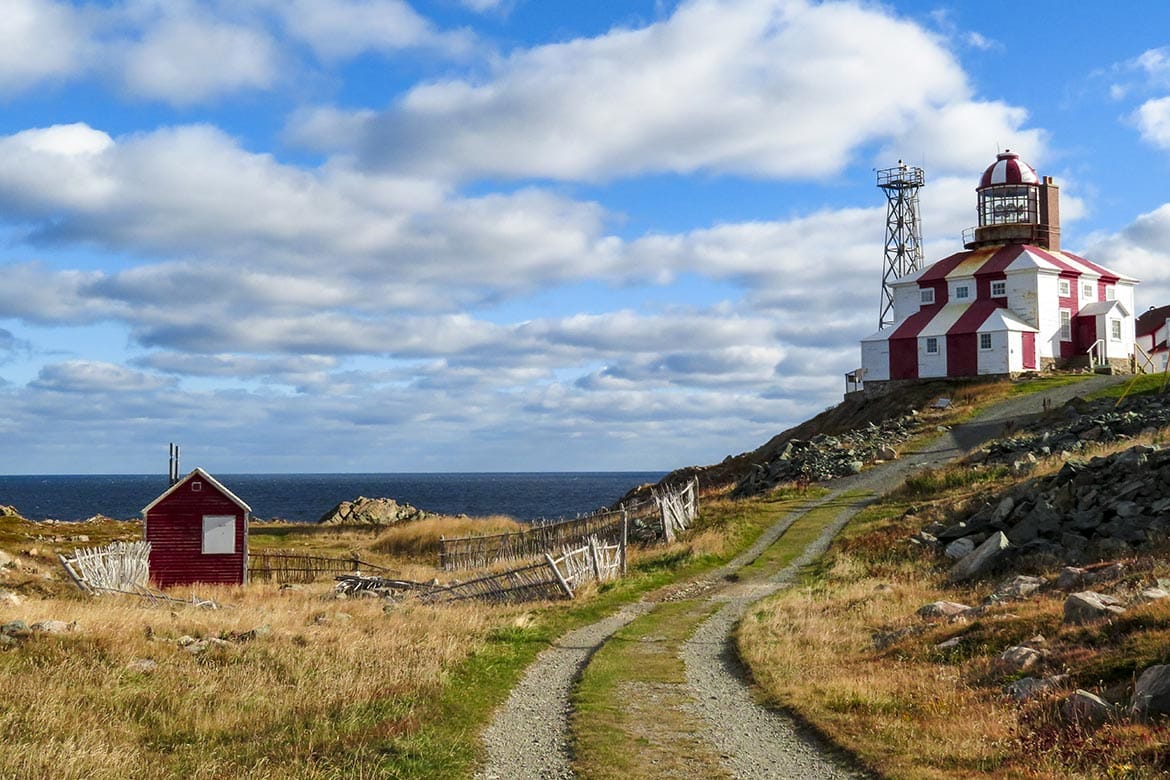 How cute is this lighthouse at Bonavista!?
As the name suggests, Bonavista has one of the most beautiful views in Atlantic Canada.
It's believed that this is the spot where Italian explorer Giovanni Caboto (John Cabot) first landed in the Americas in 1497. When he landed and saw the coastline, he apparently said "O buono vista!" (O happy sight) and the name has lived on ever since.
Today, Bonavista is a small coastal fishing town that's as pretty as a picture. As with everywhere in Newfoundland and Labrador, the seafood is on the next level here. With the views of the bay, it's not surprising. Everything tastes incredible when you're in a place as beautiful as this.
From the top of the town's 19th-century lighthouse painted like a candy cane, visitors can see ancient icebergs floating in the waters off the rocky coast. If you're lucky you might even see some whales migrating during the summer months too.
L'Anse aux Meadows National Historic Site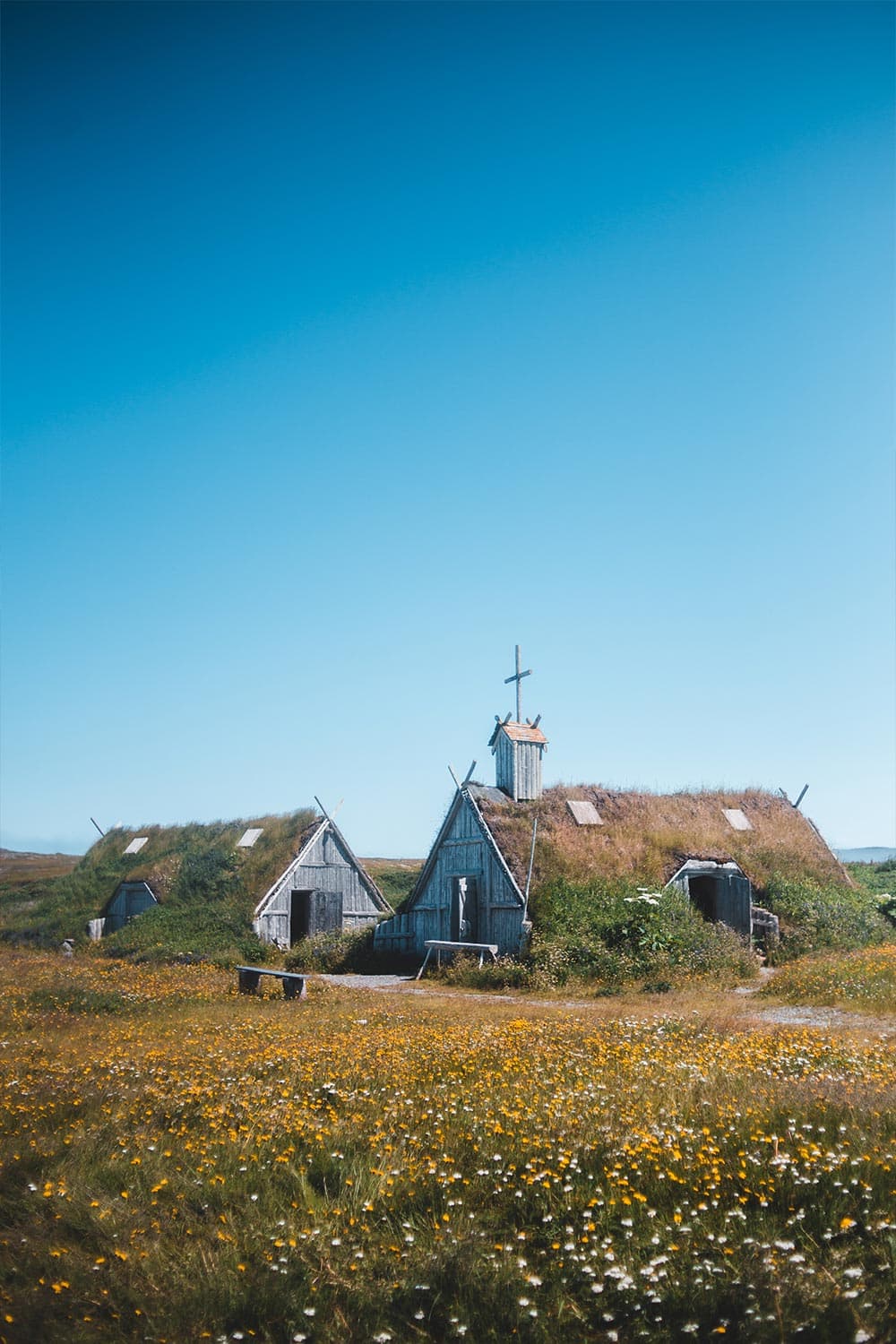 You can live like a Viking for the day in Newfoundland
Welcome to Viking territory. Long before the Europeans first settled in Canada, Newfoundland and Labrador was visited by Vikings. At L'Anse aux Meadows National Historic Site, you can see the remains of one of their ancient settlements.
Dating all the way back to the 11 th century, the excavated wood-framed huts and peat-turfed buildings are similar to the ones I saw in Greenland. It's hard imagining people living somewhere so remote and seemingly inhospitable, but this historical site really brings it to life.
One of the top things to do at L'Anse aux Meadows National Historic Site is to live like a Viking for a day. You can see 1,000-year-old artifacts, explore the stunning coastline, and learn all about the history of the Vikings.
This is thought to be one of the only settlements Vikings had in the New World, so historically it's very significant. Just another thing for your Newfoundland and Labrador itinerary!
Twillingate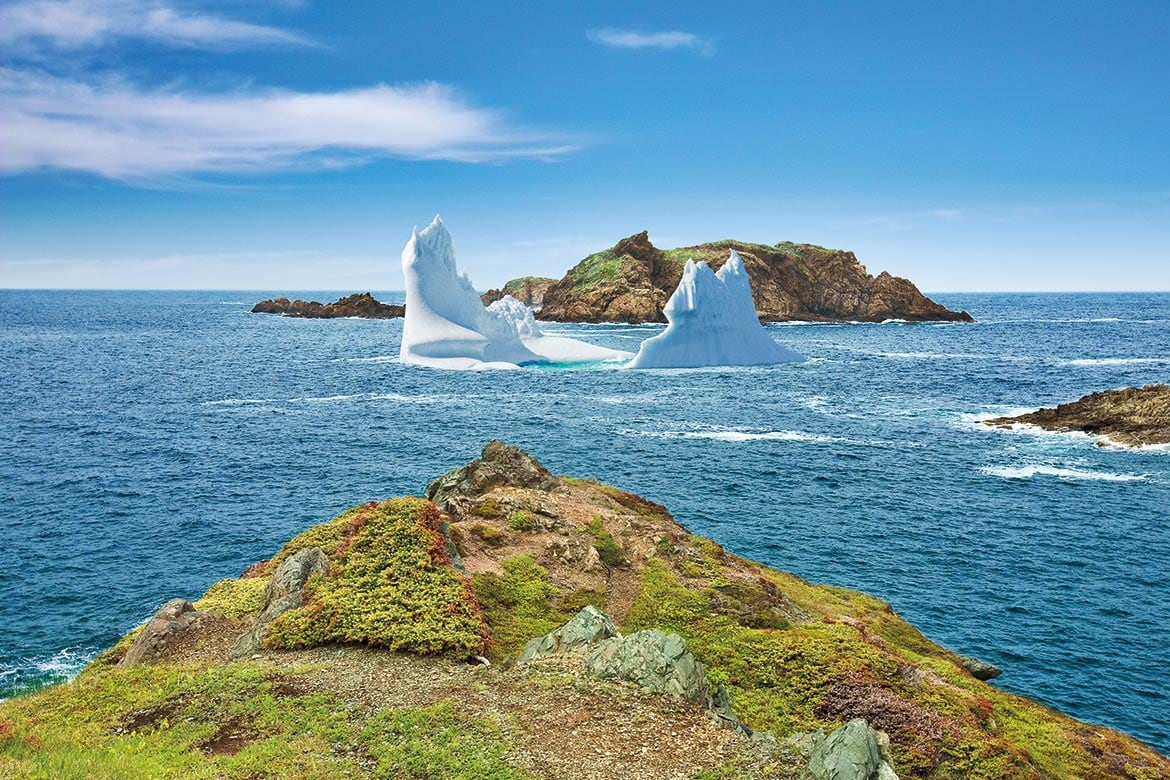 The view of icebergs at Twillingate
The final place I would absolutely love to visit on my Newfoundland and Labrador itinerary is Twillingate. A bit like Bonavista, Twillingate is another coast fishing village that epitomises everything great about Atlantic Canada.
Nearby Fogo Island is a great place to visit too. This place has its own culture where locals speak an old Irish dialect that's unlike anything else spoken elsewhere in Atlantic Canada.
If you time your trip to the last week of July, you can stop by the Fish, Fun and Folk Festival for music, seafood, folk tales and so much more. There is such a sense of community in Newfoundland and Labrador, and you won't find it stronger than in Twillingate.
Battle Harbour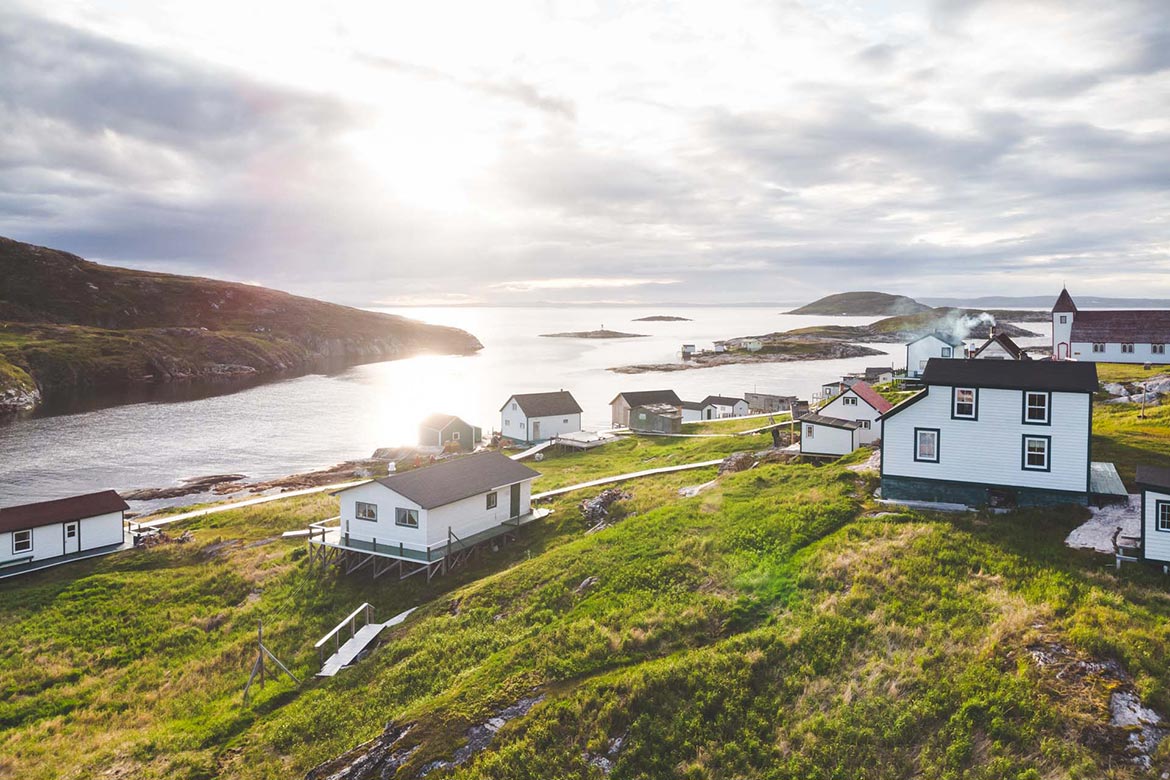 Another place I would absolutely love to visit is Battle Harbour. As they say on their website, there's off the map, then there's this place.
Just off the coast of Labrador, Battle Harbour is a summer fishing station where the pace of life is super slow (just the way I like it).
Battle Harbour is situated on Battle Island, which is a part of a larger group of islands that stretches across the nine mile journey from Mary's Harbour to the settlement.
The area delivers everything you'd expect from a centuries-old outport: rugged coastline, abandoned settlements, seasonal icebergs, and breathtaking views.
One of the best things to do here is talk to the local residents who still call the island home. They are part of the living history of the harbour and they love to share their stories to tourists who visit.
Torngat Mountains National Park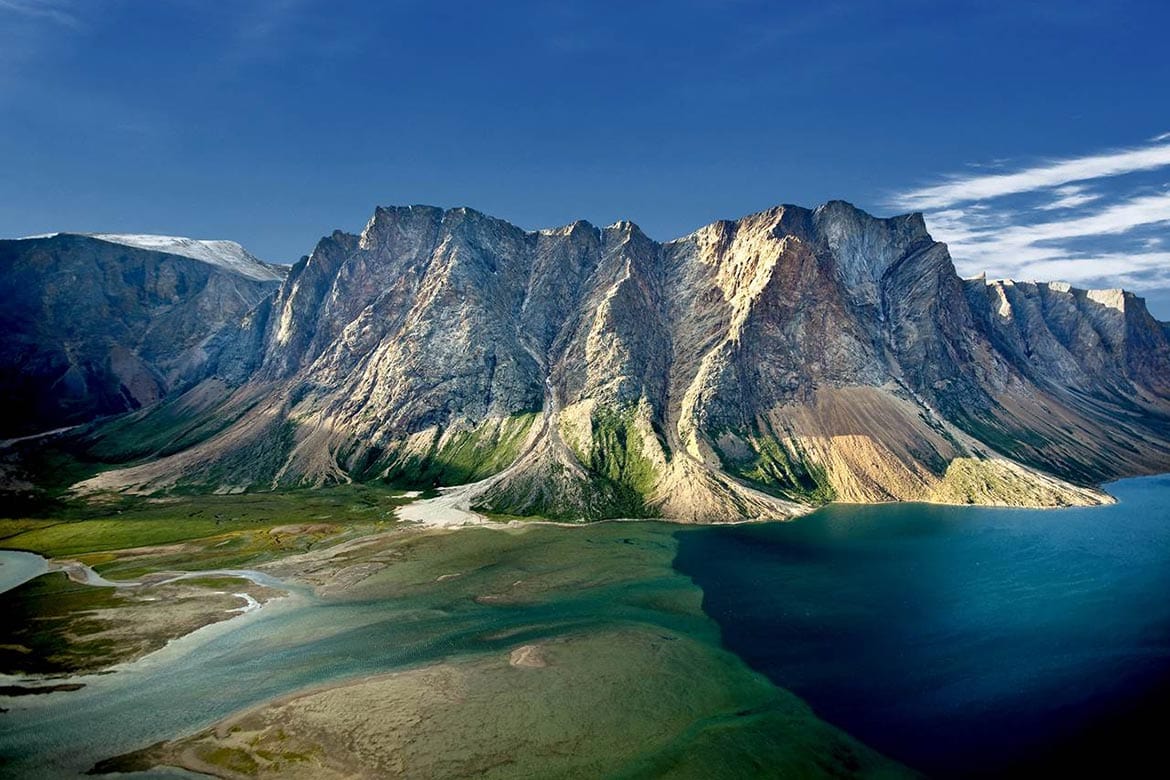 It doesn't get much more remote than Torngat Mountains National Park
This is a place that's at the very top of my Newfoundland and Labrador itinerary.
Located at the north of Labrador, Torngat Mountains National Park is an epic landscape that's just made for hiking and exploring. In terms of extreme adventure, it's right up there.
There are no roads, no signs, no campgrounds, or anything hospitably human. Basically, civilisation isn't really a thing here. What you get instead is the raw rugged beauty that you can't find anywhere else. This is pure nature that hasn't changed for millions of years.
One of the best ways of experiencing Torngat Mountains National Park is on a multi-day hiking tour. With a tour guide you'll learn all about where the Inuit hunt, fish, and travel just as their predecessors did. You also get to camp in this pristine wilderness.
With some of Canada's highest peaks to be conquered, you can see why it's a place I would love. For me, this is nature at its finest.
So there you have it, that's where to go in Newfoundland and Labrador. As I said, Canada is one of my favourite countries in the world and I can't wait to go back there again.
As 2021 is going to be a year of travels for me, this place is definitely at the top of my list. Hopefully you can see why I want to go so much!
Let me know in the comments below if you're planning any trips to Canada this year. If there's anything I can help with then just let me know.
This blog post is in association with Newfoundland and Labrador promoting some of the best things to do in Atlantic Canada. As always, all view and opinions are my own.
12 Amazing Places To Visit In St Johns Newfoundland
St. Johns, the Newfoundland, is a fantastic and colourful city steeped in history. It appears to be receiving more attention these days. It's a fantastic vacation spot in Atlantic Canada, especially in the summer.
Saint John's is the oldest and one of the largest cities and has a colourful past, having fought in the Seven Years' War, the American Revolutionary War, and the War of 1812.
Guglielmo Marconi, an Italian inventor, received the first transatlantic wireless transmission in St. John's. Its history and culture have helped to make it a popular tourist destination.
In Donnchadh Ruadh Mac Connemara (1715-1810) and among Newfoundland Irish speakers' poetry, St. John's was referred to as Baile Sheáin (Johnstown).
1 Geographical Area of St. Johns Newfoundland and Labrador
St. Johns is on the eastern tip of the Avalon Peninsula in southeast Newfoundland. It is on the Atlantic Ocean coast, near the city of St. John's.
This city in North America is the farthest east besides Greenland and is 475 kilometres (295 miles) closer to London, England, than Edmonton, Alberta. St. John's is closer to all of Ireland than the city of Miami, which is also on the east coast of North America. After Halifax, Nova Scotia, St. John's city is the biggest in the province's capital and the second in the Atlantic Provinces.
The city's downtown spreads to the north, south, east, and west. The city's central business district is to the west and north of St. John's Harbour.
Even though the city is bigger than Montreal at 446.04 km2 (172.22 sq mi), most of its land, except for Greenland, is still undeveloped forests.
Coniferous trees like balsam fir, white spruce, and black spruce make up most native plants. The white birch is the biggest tree that loses its leaves every year. The sycamore and the Norway maple are the two types of trees that have been brought in the most. Blue spruce, common horse chestnut, European beech, and little leaf linden are some other non-native plants that have been planted.
The downtown area of St. John's is called "Jelly Bean Row" because many homes are painted brightly. This is because the city is high up and has a confusing network of steep residential streets, which makes it look like San Francisco.
The city council has established strict heritage laws, such as building height limits in the downtown street area.
In addition to St. John's, there are 12 other cities and towns in the Census Metropolitan Area (CMA). Some of these are Mount Pearl, Conception Bay South, Petty Harbour-Maddox Cove, Torbay, Paradise, and Portugal Cove-St.
Philip's, Logy Bay-Middle Cove-Outer Cove, Pouch Cove, Flatrock, Bay Bulls, Witless Bay, and Bauline.
Photo by Linda McCann on Unsplash ; Copyright 2020
1.1 Capital City
Before Newfoundland was Canada's tenth province, in 1949, both the Colony of Newfoundland and the Dominion of Newfoundland had their capitals at St John's. The provincial legislature is in the city because it is Newfoundland and Labrador's capital.
1.2 Early History of the St Johns Newfoundland
At the beginning of the 1500s, fishermen used St. Johns to set up camps for the summer. Sebastian Cabot, a Venetian explorer, wrote in Latin on his original map from 1545 that St.
John got its name because he and his father, the Venetian explorer John Cabot, were the first Europeans to sail into John's harbour on June 24, 1494, the feast day of Saint John the Baptist. But there is some disagreement about where Cabot tower landed.
John Cabot's trips from the Azores to St. John's happened at the beginning of the 1600s. By 1540, ships from France, Spain, and Portugal were crossing the Atlantic every year to fish off the coast of the Avalon Peninsula.
In the Basque Country, most people think that Basque fishermen gave the name St. Johns because St. John's bay looks a lot like the Bay of Pasaia, where one of the fishing towns is also called St.
John (in Spanish, San Juan, and Basque, Donibane). John Cabot's trip was over on August 6, when Cabot arrived back in Bristol. Pedro Reinel was the first person to write "So Joo" on an area map in 1519. John Rut, an English sailor, went to St. Johns in 1527 and saw Norman, Breton, and Portuguese ships in the harbour.
On August 3, 1527, Rut wrote a letter to King Henry about his trip to North America. This was the first known letter from North America.
St. Jehan is on Nicolas Desliens' map of the world from 1541, and San Joham is on Joo Freire's map from 1546. On August 5, 1583, an English Sea Dog named Sir Humphrey Gilbert claimed the land as England's first overseas colony under Queen Elizabeth I's Royal Charter.
But there was no permanent population, and Gilbert was lost at sea on his way back, so there was no chance of colonization right away.
St. Johns became a permanent settlement around the year 1630. Before this, the West Country fishing industry asked the English government to clarify that they couldn't build permanent colonies along the English-controlled coast.
1.3 Modern History
In April 1800, rumours spread that up to 400 men had taken a secret pledge from the Society of United Irishmen and fought against the British Army. This was the start of the United Irish Uprising.
Newfoundland went through many big changes in the 18th century, including a rise in population, the creation of a government, the building of churches, stronger trade ties with North America, and the growth of the seal, salmon, and Grand Banks fisheries.
The number of people living in St. John grew steadily. It was mostly a fishing station, but it was also a fortress, a government centre, and a commercial hub.
St. Johns was a naval base during the American Revolutionary War and the War of 1812. Not long after the Great Fire of 1892, St. Johns was destroyed. The fire burned down a big part of the city. On December 12, 1901, Guglielmo Marconi got the first wireless transmission across the Atlantic Ocean.
It came from his wireless station in Poldhu, Cornwall, and it was sent to St. Johns. In June 1919, Alcock and Brown made the first flight across the Atlantic Ocean without stopping. They took off from Lester's Field in St. Johns and landed in a swamp near Clifden, Connemara, Ireland.
The journey was replicated in July 2005 by American aviator and adventurer Steve Fossett in a replica Vickers Vimy aircraft, with St. Johns International Airport replacing Lester's Field (now an urban and residential part of the city) (now an urban residential part of the city).
During World War II, ships from the Royal Navy and the Royal Canadian Navy fought against submarines from the harbour.
In December 1942, 99 military civilians died in the Knights of Columbus Hostel fire. The U.S. Army Air Force set up Fort Pepperrell as part of the "Lend-Lease" Destroyers for Bases Agreement between the United Kingdom and the United States.
The facility had many US-manned coast defence guns and a Canadian-manned battery of two Lend-Lease 10-inch M1888 guns at Fort Cape Spear. In 1960, the base was given to Canada. It is now known as CFS St. John's.
From 1993 to 2007, Statistics Canada's Juristat reports show that, on average, two people were killed in the metropolitan area each year. The rate in 1993 was 2.27. (four homicides).
This is much lower than the Canadian average and one of the lowest in the country.
1.4 Economy
The ocean and the fact that St. John's is the provincial capital of Newfoundland and Labrador are both important to its economy.
The civil service, which is run by the federal, provincial, and municipal governments, has been very important to the growth of the city's workforce and the stability of its economy.
It has helped the retail, service, and commercial sectors grow and stay strong. With the end of the fishing industry in Newfoundland and Labrador in the 1990s, the ocean is now more important for the oil and gas beneath it than for what swims in or crosses it.
The city is one of 19 World Energy Cities and the centre of the oil and gas industry in Eastern Canada. St. Johns is home to the headquarters of ExxonMobil Canada. Chevron, Husky Energy, Suncor Energy, and Statoil all have large regional operations in the city.
Three major oil developments are off the city's coast: Hibernia, Terra Nova, and White Rose. Hebron, founded in 1981 and started producing oil in 2017, is thought to have more than 700 million barrels of oil that can be used.
2. Travel Destinations in St Johns Newfoundland
2.1 Maritime Music at the George Street
On George Street in St Johns, Canada, there are more bars per square foot than anywhere else. Most of the city's nightlife is on George Street, a side street with live music above the western end of Water Street in the downtown area.
Many bands started on George Street, where there was live music almost every night of the week. Many events, like the Mardi Gras Festival in October and the George Street Festival in August, happen yearly.
Traditional Maritime music comes from Newfoundland. It has strong Scottish and Irish influences and a lot of songs and ballads from sailors and fishermen.
Maritime music is hard to describe because it usually has a fiddle, guitar, and piano. Even though its sounds and rhythms are different, its unique and catchy style has a strong sense of roots in the sea. The best place to hear it is on George Street, which is only two blocks long but has a lot going on.
Photo by Jonathan Cooper on Unsplash; Copyright 2021
2.2 The Harbor and Water Street
Water Thoroughfare, which began as a path for early explorers and settlers, is the oldest primary street in North America.
As the commercial core of St Johns, it is still the meeting spot for sailors from all over the world and near where transatlantic cruise ships dock.
The historic district still has 19th-century buildings, including the Murray Premises, a mercantile building once an office and a warehouse for trade and fishing.
Built-in 1846 as one of the few buildings to survive the fire of 1892, it's a National Historic Site and now houses shops and a hotel.
Harbourside Park on Water Street has benches and views of ships, occasional summer performances, and statues of the province's two signature dogs, the Newfoundland and Labrador Retriever.
Also, there is the Railway Coastal Museum on Water Street in the historic Newfoundland Railway station, with exhibits on the province's land and sea transportation.
2.3 Signal Hill and the Cabot Tower
There is another National Historic Site. A hill that has a view of St. John's is called Signal Hill. It is one of the popular travel destinations, as 97% of all visitors to St.
John visited Signal Hill – a popular tourist and local destination. Cabot Tower is a Signal Hill tower in St. John's, Newfoundland and Labrador.
The tower's construction began in 1898 to remember the 400th anniversary of John Cabot's discovery of Newfoundland and Queen Victoria's Diamond Jubilee.
In 1901, Guglielmo Marconi received the first transatlantic wireless message at a position near the tower; the letter "S" in Morse Code was sent from Poldhu, Cornwall, United Kingdom.
Cabot Tower is currently the base of the Signal Hill National Historic Site of Canada, with walking trails and an interpretation centre.
The Signal Hill Tattoo, which features the Royal Newfoundland Regiment of Foot from around 1795, and the North Head Trail, which provides an amazing view of the Atlantic Ocean and the nearby shore, are two of its most well-liked attractions.
2.4 Cape Spear Lighthouse National Historic Site
The oldest surviving lighthouse in Newfoundland stands atop magnificent cliffs immediately southeast of St. John's, marking Cape Spear as the most easterly point in North America.
The 1836 lighthouse is a one-of-a-kind design from the time, rising from the centre of the keeper's house, which has been reconstructed to depict the life of a 19th-century lighthouse keeper.
For 150 years, the same family lived there, as generation after generation of Cantwells struggled to keep the light that guided ships safely across the cape.
Explore the ruins of Fort Cape Spear, a World War II coastal defence station that protected St. John's and its harbour from German U-boats. A
Along with its historical significance, Cape Spear is a popular destination for whale watching and hiking along the picturesque shoreline.

Photo by Pei Yu on Unsplash; Copyright 2022
2.5 The Rooms
The Rooms, located on a ridge overlooking the city, integrate the Provincial Museum, the Provincial Archives, and the Art Gallery of Newfoundland and Labrador into a single integrated experience.
The innovative museum, filled with interactive programmes and exhibits, provides visitors with different experiences.
You will meet a real Newfoundland dog, sample favourite Newfoundland foods, hear traditional music and learn to play an instrument, try a new art form, and learn how Newfoundland and Labrador played an important role in the development of air travel.
There is always much to see and do here for the entire family, which adds to the famous travel destinations.
2.6 Quidi Vidi
Local artists and craftspeople love the charming seaside village on the north slope of Signal Hill. This great place to meet artists and buy unique gifts and souvenirs. The artists are also happy to talk about their work.
The rebuilt Quidi Vidi Battery, built when the French were in charge of St. John's, looks out over the bay.
After getting back control of Newfoundland in 1780, the British fixed up the battery and used it as a fort until they left in 1870. The fort is home to what might be the oldest house in British Colonial Building Canada.
It was built in 1740. A short waterway connects the entrance to Quidi Vidi Lake, where St. John's Regatta's oldest sports event in North America is held annually.
Photo by Gurpreet Singh on Unsplash; Copyright 2021
2.7 The East Coast Trail
The East Coast Trail is one of Canada's most stunning treks, with approximately 300 kilometres of established paths running along Newfoundland's East Coast.
The developed area starts north of St. John's at Cape St. Francis and goes south to Cappahayden.
Along the trail's towering cliffs and headlands, hikers can see fjords, sea stacks, seabird colonies, lighthouses, abandoned coastal villages, whales, icebergs, puffins, archaeological digs (one not far from St. John's), and the world's southernmost herd of caribou.
The Spout, a natural sea geyser, can be reached from a part of the trail that goes from Bay Bulls north to Shoal Bay.
2.8 Museums
Luben Boykov made statues of Newfoundland and Labrador dogs in Harbourside Park in 2002. The Provincial Museum of Newfoundland and Labrador, built between 1892 and 1893 and is now in a building on Duckworth Street, was listed as a heritage property by the City of St. John's.
The Newfoundland and Labrador train station on Water Street is 104 years old. It is home to, among other things, the Coastal Museum, which is a museum about transportation.
In 2005, the museum, the Provincial Archives of Newfoundland and Labrador, and the Art Gallery of Newfoundland and Labrador all moved into The Rooms. The Rooms is a Newfoundland and Labrador cultural centre. It is in the city.
The Johnson Geo Centre is a place on Signal Hill where people can learn about the Earth's history.
The centre aims to teach people about the Earth's history by focusing on Newfoundland and Labrador's unique and complicated geological history.
In the heart of St. John's, the East Rider Motorcycle Museum has two floors of bikes, artifacts, and biker culture. It also shows over 110 years of Newfoundland's motorcycle history (above East Rider Motorcycle Gear Shop).
2.9 Urban Park
Urban parks are great travel destinations. Pippy Park is one of Canada's largest urban parks, with 1,400 ha (3,400 acres).
The park has two golf courses, Newfoundland and Labrador's largest serviced campground, walking and skiing paths, and wildlife habitat. The Fluvarium, an environmental teaching centre, is also in Pippy Park.
Bowring Park is one of St. John's most scenic parks. Waterford Bridge Road has a sculpted duck pond and a Peter Pan statue. The park has a public pool, playground, baseball pitch, and extensive grassland spaces. It is near downtown and is Victorian-style. Sir Alexander Bannerman, who donated the park's land, opened it in 1891.
Bannerman Park hosts the Newfoundland and Labrador Folk Festival and Peace-a-chord. The park hosts the annual Tely 10 Mile Road Race.
Photo by Pei Yu on Unsplash; Copyright 2021
2.10 Anglican Cathedral of St. John's the Baptist
The Anglican cathedral on Church Hill is a National Historic Site and the oldest Anglican Church in Canada, dedicated to St. John the Baptist.
George Gilbert Scott designed the 1847 cathedral, ranking among North America's finest examples of pure neo-Gothic architecture. It also has fine interior furnishings.
2.11 Bell Island
A short ferry ride from Portugal Cove village, a few kilometres north of St. John's, takes you to Bell Island, once home to the world's largest undersea ore mine.
Bell island is unique for its geology — a mass of sandstone in a region mainly formed of granite and shale. The spectacularly carved 100-foot cliffs, sea stacks, and caves of the island result from constant sea action on the relatively soft sandstone.
You may learn about the island's history by visiting the mines museum and hiking routes to the lighthouse, beaches, and cliff vistas.
2.12 Murray Premises
This Premise in downtown St Johns is a National Historic Site. The buildings were formerly used as a fishery, including drying and packing operations and warehouses for fish, barrels, and other products.
The oldest structure is the one facing Beck's Cove. It was erected after the 1846 fire and operated as a business and a dwelling for a period.
In 1979, the premises were refurbished and currently house office suites, restaurants, retail stores, and a boutique hotel.
3 St Johns Newfoundland: Facts You need to Know
3.1 Cuisine
Wild game meat, salted meats, tinned cream, root vegetables, mustard pickles, hard bread, and cost-efficient bologna are included in Newfoundland cuisine.
3.2 Mile One Centre
It is a multipurpose indoor arena for the (NBLC) National Basketball League of Canada. St John's Edge and Newfoundland Growlers play there.
3.3 Transit
In Newfoundland, Metrobus Transit is in charge of public transportation. Metrobus has 19 routes and 53 buses, and 3,014,073 people use it annually.
Some of the places to go in St. Johns and Mount Pearl are the Avalon Mall, the Village Shopping Centre, Academy Canada, Shea Heights, the College of the North Atlantic, the Marine Institute, Memorial University, the Confederation Building, Downtown, Stavanger Drive Business Park, Kelsey Drive, Goulds, Kilbride, the city's four hospitals, and other important places.
Isn't it a perfect place to visit in summer? Do let us know in the comments.
Why Try Out Rocket.net – IcyCanada's recommended hosting provider
Source https://www.explorewithlora.com/whales-puffins-newfoundland/
Source https://www.anadventurousworld.com/places-to-visit-in-newfoundland-and-labrador/
Source https://icycanada.com/12-amazing-places-visit-st-johns-newfoundland/