7 Reasons to Visit Yellowstone National Park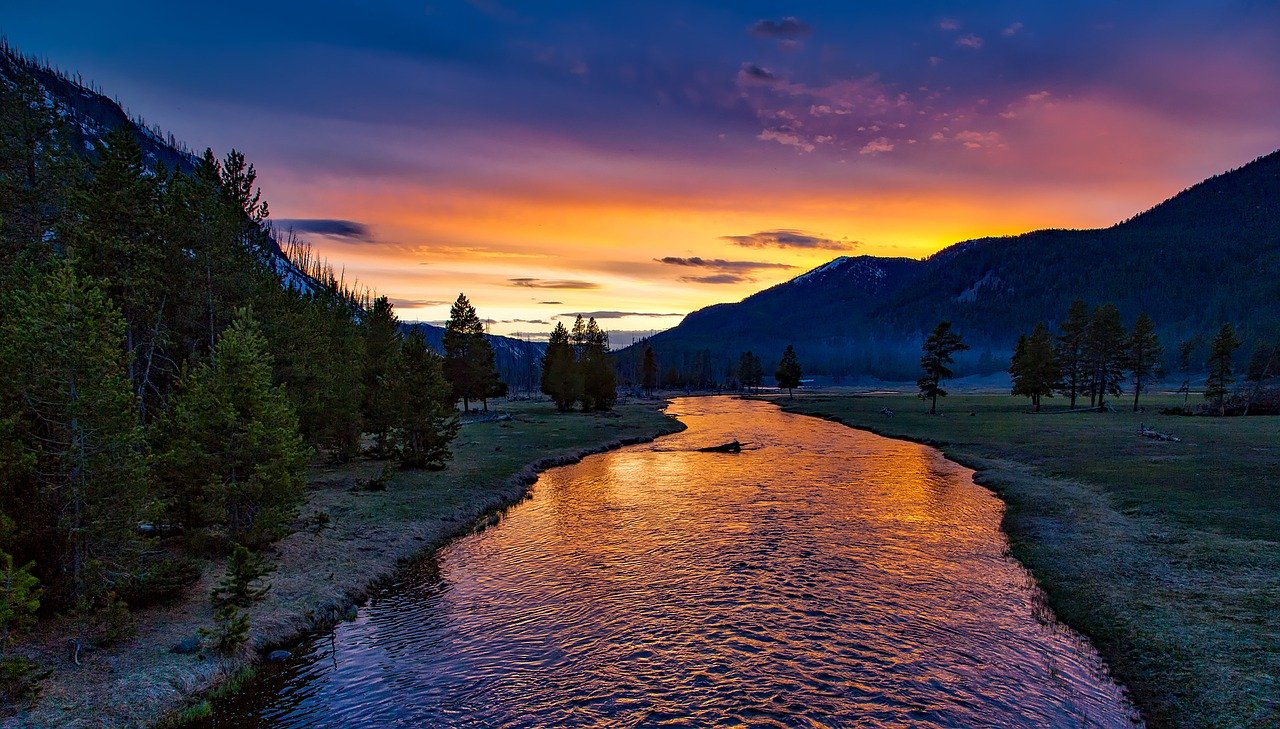 On 1 March, 1872, Yellowstone became the first natural area to be designated a national park in the United States. Since that day, millions of people have visited the park down the years to take in the awesome sights of its incredible natural bounty. As well as its fantastic diversity of plant and animal life, the park also sits on top of the one largest supervolcanoes on the planet, the energy form which creates some breath-taking hydrothermal features, such as hot springs, mud pots, fumaroles, and geysers.
There is so much to see and do on a trip to Yellowstone that it is simply a must for anyone visiting the States for the first time. However, if you want to feast your eyes on its wonders, you must make sure that you sign up for the ESTA visa waiver scheme before travelling if you are an EU citizen. (If you want to learn about whether you are eligible and how to apply, this ESTA guide is a great place to start.)
Without further ado, here are the top seven reasons that you should visit Yellowstone!
1. Geysers
It is incredible to think that Yellowstone contains up to 60 per cent of the world's geysers. Of over 500 of the things in the park, without doubt the most famous one is Old Faithful. For many years now, Old Faithful has been spewing 3,000-4,000 gallons of piping hot water 130 feet into the air once every 35-120 minutes. It is a sight to behold, reminding us of our insignificance in Mother Nature's grand plans.
2. Grand Prismatic Spring
Old Faithful may be more renowned, but no trip to Yellowstone would be complete without a photo of the Grand Prismatic Hot Spring. At 121 feet deep and 370 feet in diameter, this iridescent pool looks like the eye of the planet open wide. Its spectacular bands of colours result from thermophile bacteria that live in varying concentrations around the pool.
3. Wildlife
Yellowstone is absolutely massive. Covering an area of over 3,000 square miles, the park provides a habitat for a bewildering array of animal and plant life. Today, you can find many animals that have become extinct in many other parts of the country, including wolves, bears, bison, elk, sheep, deer, moose, antelope and many species of birds.
4. Hiking
The best way to get a real taste of Yellowstone is to hike. The park holds over 900 miles of trails that span diverse landscapes and topography. Pack some food, good walking boots and a tent, and set off for a once-in-a-lifetime adventure through terrain that changes from canyons and lakes to forests and valleys and back again.
5. Indian Tribes
Yellowstone has been an important cultural site for Native American tribes for thousands of years. A great number of tribes, including the Kiowa, Blackfeet, Shoshone, Coeur d'Alene, Bannock, Cayuse, Nez Perce, and Umatilla, used to come regularly to the region to hunt, fish, gather plants and obsidian for knives and arrowheads. Many of these peoples used the hydrothermal features for religious and medicinal purposes. Today, the park is an important archaeological site, and many ancient Indian artefacts have been unearthed over the years.
6. Yellowstone Lake
At an elevation of 7,733 feet above sea level, the spectacular Yellowstone Lake is the highest lake in North America. If this was not enough reason to visit, the beauty of the enormous freezing lake when it ices over in winter can give visitors the impression that they are looking out over an icy polar sea. When frozen, the lake is known to give off eerie singing sounds as the ice shifts as a result of changing temperatures.
7. Artist Point
Located high up in the southern rim of the Grand Canyon of the Yellowstone is the park's most famous viewpoint, Artist Point. The viewpoint was originally named by Frank Jay Haynes in 1883 who erroneously believed that it was the spot from which artist Thomas Moran had drawn his 1973 sketches of the raging Yellowstone Falls that dominate the view. Although the sketches were later found to have been done from another location, the name has stuck to this day!
There are few places on this earth that inspire more awe than Yellowstone. If you are passing through Wyoming, Idaho or Montana, a visit to the United States' oldest and most famous national park is a must. Make sure you plan your trip so that you can spend at least a couple of days in this marvel of the natural world.
10 Reasons to Love Yellowstone National Park
Yellowstone National Park was the first national park, so it is no surprise that it continually ranks as one of the 10 most popular national parks in the United States. In 2017, the park experienced its second busiest year on record with 4,116,525 visits (we contributed 5!). Over 90% of visitors arrive between Memorial Day and Labor Day!
Yes, the most popular areas of the park are busy and parking lots seem inadequate to accommodate the massive crowds during the summer months. However, Yellowstone still deserves a place on everyone's bucket list. The wildlife and geothermal features are the main draws, but this park has so much to offer. We only had three days, but I am sure we could have easily spent weeks exploring the park and surrounding area!
These are some reasons why we know you'll fall for Yellowstone National Park, too!
1) WEST THUMB GEYSER BASIN
Since we entered Yellowstone from the south entrance (via the John D. Rockefeller, Jr. Memorial Parkway), we made our first stop at the West Thumb Geyser Basin. Although not the most talked about spot in the park, this beautiful geyser basin on the shore of Yellowstone Lake is a must see. This area offers the largest collection of hydrothermal features by the lakeshore—some like the famous Fishing Cone can even be found in the lake!
2) OLD FAITHFUL
People travel from all over the world to watch this famous geyser erupt. Since Old Faithful is very predictable, you can easily plan ahead by checking the visitor center for current geyser activity and eruption times. Yes, it IS impressive, and I am glad we were able to share this experience with our children. However, if you are like us, sitting or standing amongst crowds of people is not our favorite place to be.
Don't let the crowds around Old Faithful scare you away. The boardwalks and trails that wind around Upper Geyser Basin lead to the world's largest concentration of active geysers and hot springs. Our kids were amazed by the variety of geysers and the depth and color of many of the hot springs. The 1.4 mile walk out to Morning Glory Pool is a great way to distance yourself from the massive crowds. If you are lucky, you may see an eruption or two (or more!) on the way there! It's no wonder why this area made it to our list of the Best Hikes in Yellowstone National Park.
3) MIDWAY GEYSER BASIN WITH GRAND PRISMATIC SPRING
A trip to Yellowstone National Park wouldn't be complete without a stop at Midway Geyser Basin to view Grand Prismatic Spring. This rainbow-colored hot spring is one of the largest in the world and is striking! Sadly, the Fairy Falls trail was closed at the time of our visit, so we could only view Grand Prismatic from the boardwalk. However, the new Grand Prismatic Spring Overlook trail is an easy hike to a viewing platform looking down on the Grand Prismatic Spring and Midway Geyser Basin. We have a feeling this new trail will be a popular spot after last year's closure, and since parking is limited at the Fairy Falls trailhead. No matter how you choose to view this popular hot spring, plan to pack your patience—for the busy parking lots and the crowds of people on the boardwalks.
4) GRAND CANYON OF THE YELLOWSTONE
Plan to spend at least a couple of hours in the Canyon area of the park and be prepared to be amazed! The Grand Canyon of the Yellowstone, carved by the mighty Yellowstone River, is 20 miles long. This place is so amazing and picturesque, you will want to take the time to visit both North and South Rims and get photos from a variety of viewpoints. The South Rim Drive leads to the famed Artist Point with views of the Lower Falls. This was our first stop in the area. The canyon walls look surreal in pastel shades of yellow and pink. The falls are beautiful even at a distance.
However, if you are up for some exercise and 328 steps, take the time to do Uncle Tom's trail for a close-up view of the Lower Falls! Since the parking area for Uncle Tom's Trail was closed at the time of our visit, we enjoyed the hike along the canyon from Artist Point to the trailhead. This trail is not very crowded and offers views of the canyon the entire way.
North Rim Drive leads to trails and viewpoints including Brink of the Lower Falls, Red Rock, Lookout Point and Grand View. All are short in distance but some trails like Brink of the Lower Falls and Red Rock are steep, so you'll have a bit of a climb to get back up. You'll want to witness the power and feel the spray as the water runs downriver and then plunges over the 308 feet drop, so we highly recommend you put on your walking shoes and take the trail to the Brink of the Lower Falls. Lookout Point was crowded with people vying for the best place to take a photo, so we recommend hiking down the less busy Red Rock trail.
5) ARTISTS PAINTPOTS
Located between Madison and Norris, the 1.1-mile Artists Paintpots trail is an easy way to view a variety of geothermal features without the crowds. This loop trail is a combination of dirt and boardwalk. Climb the steps to reach the paint pots situated on the hillside and to see the view from the top. Looking down from this upper portion of the trail yields beautiful views of the hydrothermal basin below and the pine forest to the north. The day we visited, the stormy skies behind Mount Holmes created a dramatic backdrop for photos!
6) NORRIS GEYSER BASIN
Norris Geyser Basin is the hottest and most acidic hydrothermal area in Yellowstone. It is also the location of the world's tallest active geyser, Steamboat Springs. The variety of colors found in the hot springs are evidence of minerals in the water as well as a wide variety of thermophiles (heat-loving microorganisms) that thrive here. The boardwalks around Porcelain Basin were our favorite of the two areas to explore with the milky silica saturated pools and the variety of colors in the bacterial mats around many of the pools. If you have more time, explore the forested Back Basin loop where thermal features are more scattered.
7) MAMMOTH HOT SPRINGS
You think you've seen it all, as far as hot springs go, until you see the terraces of Mammoth Hot Springs. It looks like you are on another planet! When hot water from the springs rises through the limestone which underlies the Mammoth area, the mineral calcium carbonate is dissolved. It is then deposited at the surface forming the white travertine terraces. Features here are always changing! It is worth taking the time to wander around the boardwalks of the Lower Terraces and Upper Terraces. We explored the area on a rainy summer evening with no crowds. We've heard this can be a very, hot area on a summer day due to the lack of shade, so I guess lucked out!

8) MUD VOLCANO
If you can deal with the pungent sulfur odor (not sure our children will every forget it!), you should check out Mud Volcano. The boardwalk loop here winds through a bizarre landscape with turbulent, muddy pools and steaming vents. Names like Dragon's Mouth Spring, Grizzly Fumarole, Sour Lake, and Cooking Hillside aptly describe the features. Be warned: bison frequent this area. They will walk on the boardwalks and wherever they choose, so be safe and do not approach them. We backtracked the entire distance of the trail since three blocked our access to the parking lot at the end of the loop. Better safe than sorry!

9) WILDLIFE
Yes, the geothermal features and waterfalls are impressive, but the abundance and assortment of wildlife attract just as many visitors. Yellowstone National Park is home to more wild animals than almost anywhere else in the United States. Large herds of bison, elk and groups of pronghorn graze and roam free, often along the side of the road. Lamar and Hayden Valleys are two spots where you'll see the most wildlife and the least number of tourists. Photographers and wildlife enthusiasts line the pullouts with spotting scopes scanning the valleys for signs of wolves, black and grizzly bears, and other wild animals. We never saw any wolves, but we hear the best time to spot them is at dawn. If you don't mind waking early, maybe you'll get lucky!
If you happen to be lucky enough to be heading to Yellowstone National Park in the winter, before your trip you'll want to be sure and check out Donna and Alan's blog (from "My Itchy Travel Feet") on how to visit Lamar Valley in the winter. The photos are amazing, and the information is a "must read" before you go.


10) SCENIC DRIVES
If you're planning to explore many of the features already mentioned, at a minimum, you'll have to drive on the western side of Grand Loop Road. Although the entire figure eight could be driven in a day, we don't recommend seeing the park this way. Take the time to enjoy exploring, hiking and driving through this amazing park. It is best broken into sections because it is so large, and there's so much to see and do! Three scenic drives stand out in our minds and you'll want to be sure to do all of them—Lamar Valley (and east all the way to the northeast entrance station), Dunraven Pass and Hayden Valley. If you have time to venture outside the park, we highly recommend taking the time to drive on the Beartooth Highway up to Beartooth Pass. It's not in the park, you'll regret if you miss this drive!
MORE REASONS TO FALL IN LOVE WITH YELLOWSTONE NATIONAL PARK
If you have more time, here are some other activities that we suggest:
DAY HIKING (There are more than 900 miles of hiking trails! If you are looking to get off the beaten path, get on your hiking shoes and explore the more remote areas of Yellowstone. Be sure to carry bear spray!)
RAFTING (Feeling adventurous? Take an unforgettable rafting trip down the Yellowstone River! We used the Flying Pig Adventure Company in Gardiner, MT. The guides are friendly, funny, and generally amazing.)
FISHING (and if you are fishing, make sure you check out Steph's blog (from Camping Cooks) on some terrific fishing and cooking tips!)
Yellowstone National Park is and will continue to be one of the most visited national parks in the US. With this in mind, we can't stress how important it is to plan ahead and make reservations when possible.
FURTHER INFORMATION ON YELLOWSTONE NATIONAL PARK FROM JUST GO TRAVEL STUDIOS
Yellowstone National Park hikes and sights are highlighted in our 18+ page itinerary for Yellowstone National Park.
Our son wrote up a blog post on Yellowstone National Park in 2017-check out what his perspective was on the area as well!
One of the must-do trails in Yellowstone is the Mud Volcano Trail. Another great trail is Uncle Tom's Trail. We also put together a full list of the Best Hikes in Yellowstone National Park. Check out our blogs to see what to expect!
Yellowstone National Park was highlighted in our blog post on 7 Family Friendly Hikes in U.S. National Parks .
Nearby Beartooth Pass was highlighted in a recent blog post by our son Andrew.
To experience similar wildlife as Yellowstone but with a calmer, more relaxed (and less crowded setting), check out Custer State Park in South Dakota. We cover this in our blog six reasons why you'll fall in love with Custer State Park.
ADDITIONAL GREAT HIKES IN YELLOWSTONE NATIONAL PARK
Yellowstone National Park has a ton of hiking opportunities that weren't highlighted above. There are hikes that are great for all skill levels. A few that you might want to check out include:
Grant Village, Old Faithful and Madison Areas:
The Fountain Paint Pot Trail is an easy 0.5-mile jaunt on a boardwalk. It travels alongside geysers, mud pots and springs. This is a great place for picture, although it is crowded.
The Geyser Hill Trail is on the backside of Old Faithful. There is a slight elevation gain on this 1.3-mile trail, but it provides an elevated view of the Geyser Basin, which is different than the typical boardwalk trail.
For a walk that includes waterfalls, take the Gibbon Falls Trail. Starting about 4 miles east of Madison, this 0.6-mile trail is quieter than other trails and includes a waterfall.
Canyon Village, Fishing Bridge, Lake Village and Bridge Bay Areas:
The challenging Mount Washburn trail is 7.3-miles and starts just north of Canyon Village. Though this will take you about 4 hours, it has great views from over 10,000 feet in elevation from a lookout tower.
The Natural Bridge Trail provides an easy 2.5-mile trek. This hike is not on a boardwalk, which means that it will likely be less crowded than many other trails. The hike leads to a natural bridge, which is worth checking out if you have the time.
Mammoth Hot Springs and Tower-Roosevelt Areas:
The Tower Falls Trail starts just south of Tower Junction. After a 308 ft. elevation gain, the trail leads to a 132 ft. waterfall.
The Beaver Ponds Loop Trail is a moderate hike that travels through open land before coming upon two beaver ponds. This trail heads right to the Montana border and is about 5.6 miles long. Plan on the hike taking you almost 3 hours, unless you are a fast walker!
The Trout Lake Trail is an easy 1.1-mile hike that Is great to stretch your legs if you are visiting the Lamar Valley. It passes through an old-growth forest and has only 200 feet elevation gain.
CAMPING IN AND AROUND YELLOWSTONE NATIONAL PARK
There are a ton of campgrounds inside of Yellowstone, but there are also a ton of people! If you plan on camping, reservations are recommended, and these are the campgrounds that take reservations:
Near to Yellowstone Lake is the Bridge Bay Campground. In addition to boat rentals and access to boat launches, this campground has terrific views easily accessible from the campsites.
The Canyon Village Campground is centrally located near the Grand Canyon of the Yellowstone. The wooded campground is not anything special, but the location makes a fantastic base for exploring the park.
The Fishing Bridge RV Park has only sites for RV's since it is has frequent bear sightings.
Nearby the Madison River is the Madison Campground, which has great access to the Old Faithful area.
The Grant Village Campground has sites for tents and RV's and is near the West Thumb Geyser Basin.
If you are not able to get a reservation at one of the above campgrounds, don't fret. Drop in early in the morning to try to get a spot (they fill up fast) or stop by at one of these first-come, first-served campgrounds:
The Indian Creek Campground is a small campground that is located near Mammoth Hot Springs.
Just north of the South Entrance is the Lewis Lake Campground. This campground is usually one of the last to fill up since it is in a remote part of the park. However, give it a shot if the others are full.
The only campground open year-round is the Mammoth Hot Springs Campground. The campground is located just south of the North Entrance with great views.
Other popular campgrounds include the Norris Campground (near the Norris Geyser Basin), Pebble Creek Campground (with amazing views of the Absaroka Mountains and nearby fishing), the small and remote Slough Creek Campground (in the Lamar Valley) and the Tower Fall Campground near the beautiful Dunraven Pass.
Further detailed information on camping in Yellowstone can be found on the National Park site. This includes information on when the campgrounds have filled up in the recent days, which is especially useful.
Outside the park, the best options for camping are as follows:
Gardiner, MT is just north of the northern entrance.
Grand Teton National Park is nearby, and also offers camping (though this can be tough to come by as well).
LODGING IN AND AROUND YELLOWSTONE NATIONAL PARK
Unlike many national parks, there are plenty of options for lodging inside of Yellowstone. Rooms fill up fast and picking the best place to stay can be challenging. If you are staying in the park for more than a couple of days, we highly recommend seeking out multiple locations to help ease the driving time. Some of the highlights of the park lodges include:
Old Faithful Area: Near Old Faithful, there are three options. The Old Faithful Inn is the most well-known, largest and most impressive location (with a lobby that should be visited whether or not you stay there!). The Old Faithful Snow Lodge and Old Faithful Lodge are also good options, with the Snow Lodge being a bit more removed from the crowds than the others. The downside of these locations is that they are both near the most crowded part of the park.
Grant Village Area: The no frills Grand Village Lodging is an option here, but it is nothing spectacular. It is on the eastern side of Yellowstone Lake.
Northern Yellowstone Lake Area: The Lake Yellowstone Hotel is an impressive colonial-style building with a distinctly upper-scale feel. The nearby cabins are also a good option and less pricy. This area of the park is much quieter than the Old Faithful area. While a good place to stay, you should be aware that you will have to drive a fair bit to get to most parts of the park.
Canyon Junction Area: The Moran Lodge is brand new (opened in 2017) and has the cleanest and most up-to-date feel of any of the accommodations in the park. The Canyon Lodge and Cabins are also good options. This area is a fantastic home-base, as it is located near the Grand Canyon of the Yellowstone.
Tower Junction Area: The Roosevelt Lodge has small cabins. This is a good location for visiting the Lamar Valley and fairly close to Mammoth Hot Springs, but we recommend the Canyon Junction area instead, just due to the amount of facilities in Canyon Junction.
Mammoth Hot Springs Area: The Mammoth Hot Springs Hotel provides a great place to stay if you are entering the park at night or if you plan on spending the better part of a day in the area before heading out.
Reservations for inside-the-park lodging are highly recommended. Details on reservations are available here.
The disadvantage of staying outside the park is simply the distance you'll have to drive to get into the park. However, there are several good options to consider:
Gardiner, MT is a fantastic place to stay as it is only about 15 minutes from Mammoth Hot Springs. This "out of the movies" town has a great character, plenty of services and quite a few lodging options. You can also easily find a variety of good restaurants.
Grand Teton National Park has plenty of options but can also fill up quickly.
West Yellowstone, MT, has a ton of options. Be advised, though, that this is near the most popular entrance to the park so lines into the park can be long.
WHEN TO GO AND WHAT TO EXPECT WHEN YOU GET TO YELLOWSTONE NATIONAL PARK
While not near any particular airport, there are a few options for flights. The nearest airport is Jackson, WY, which is about 2 hours to the south (and you will get to go through Grand Teton National Park on the way).
Yellowstone is open year-round, with most of the 4+ million visitors coming in the months of May through October (with June through August being the busiest). Be prepared for crowds during the summer, for sure. Wintertime is a very special season, with the park quieting way down and giving visitors a completely different look at the landscape and animal behavior. The fall elk mating season offers great wildlife viewing, particularly around the Mammoth Hot Springs area.
The temperatures in the park average just over 70 degrees in the summer, though temps can soar much higher. Bring a jacket, though, as the temperatures routinely get below 40 degrees at night, even in the summer.
WHAT ELSE TO DO WHEN VISITING YELLOWSTONE NATIONAL PARK
With over 2 million acres, there is a ton to explore inside of Yellowstone National Park. However, if you are like many of us, you'll want to try to couple your trip with a few other nearby wonders of nature. Here are a few suggestions:
8 Reasons You Should Visit Yellowstone National Park
There are plenty of reasons to visit Yellowstone National Park. As well as being the first National Park in the world (designated in 1872), it's a place of simply outstanding natural beauty. From geysers and waterfalls to forests and lakes, Yellowstone is bursting with things to do and see. Add in the simply ridiculous amount of wildlife you will come across and you have one of the most incredible places in the U.S. Here is my list of reasons why you should visit Yellowstone National Park.
8 Reasons You Should Visit Yellowstone National Park
Old Faithful
No visit to Yellowstone would be complete without seeing the incredible Old Faithful geyser. While it's easily the most touristy part of the park, seeing it erupt is still a special experience. While Old Faithful is not the biggest geyser in the park, eruptions can still shoot water and steam up to 56 metres high! It is one of only six geysers in the park that rangers can reliably predict and eruptions take place around every 90 minutes. There is also a boardwalk that takes visitors to see some of the Upper Geyser Basin's other geothermal features, including smaller geysers, hot springs and mudpots.
Old Faithful Facts
Old Faithful was named because the expedition that discovered it noticed that it erupted at regular intervals.
It can discharge up to 32000 litres of water each time it erupts.
The Old Faithful Visitor Education Centre has loads of interesting information about the old faithful including a short film. There is also a predicted timetable for eruptions.
Average height of an eruption is 45 metres.
The Old Faithful geyser
Mammoth Hot Springs
The travertine terrace formations at Mammoth Hot Springs are located near the park's North Entrance. Formed over thousands of years from limestone, the terraces can be explored via a series of boardwalks. The colour and shape of the springs are constantly changing giving another glimpse into the amazing hydrothermal activity of Yellowstone. Look out for the Liberty Cap, a 12 metre cone formation shaped by hot springs but now dormant. Nearby, you can see buildings forming part of Fort Yellowstone, which dates back to the late 19 th and early 20 th centuries when the US Army managed Yellowstone National Park. It's now part of the park's headquarters.
Exploring Mammoth Hot Springs is one of the highlights of any visit to Yellowstone
South Rim Trail – Artist Point
There is some excellent day hiking in Yellowstone National Park. While there are plenty of options, if you only have time for one hike, you can't go wrong with the South Rim Trail. It's only 2.8km (1.75 miles) one way but takes in some of the park's most incredible scenery. It winds through pine forest and offers spectacular views of the Yellowstone Grand Canyon. The Upper Falls Viewpoint is impressive but the undoubted highlight of the hike is the view of the Lower Falls from Artist Point.
Taking in the view of the Yellowstone Grand Canyon and the Lower Falls from Artist Point
Wildlife
If you want wildlife sightings, look no further. Whether it was luck or not, I have NEVER seen as much wildlife as I have over my two days in Yellowstone. The park boasts the largest concentration of mammals in the lower 48 states (excluding Alaska and Hawaii), with over 60 species calling it home. While bears, wolves, lynx and cougars often prove to be elusive, you won't have any difficulty spotting bison, elk and moose. I couldn't believe my luck when I managed to spot a grizzly bear right by the entrance to the park. I managed to tick another sighting off my list as we were leaving the park – a majestic bald eagle surveying its domain!
Two grizzly bears high up on a slope. I shot this with a 240mm zoom lens so they are not as close as they appear!
Moose can also be seen in the park (Photo: Jess Sweeting)
One of my personal highlights as I managed to capture this amazing bald eagle
Norris Geyser Basin
Exploring the Norris Geyser Basin was one of my Yellowstone highlights. There are two distinct areas – Porcelain Basin with its wide open terrain packed with cool geothermal features; and Back Basin which is set among a forest and is home to Steamboat Geyser – the tallest active geyser in the world! I loved the colours of the hot springs, which get their hue thanks to minerals and, incredibly, microorganisms that thrive there! There is so much to see here that you can spend hours traversing Norris' boardwalks and trails!
Exploring the Norris Geyser Basin The incredible hydrothermal features of Norris Geyser Basin
Grand Prismatic Spring
The Grand Prismatic Spring is the third biggest hot spring in the world and is also one of the most photographed places in Yellowstone National Park. This may have something to do with its incredible colours that leap out of photos with blues, greens, yellows and oranges as striking as a rainbow. While I wasn't lucky enough to see it in all its glory (there was too much steam and we visited on an overcast day), I highly recommend an early morning visit. The boardwalk that winds its way through the area affords ethereal views without the crowds that descend here later in the day.
Boardwalk at Grand Prismatic Spring Grand Prismatic Spring
Mud Volcano
The strong sulphur smell greets you as you approach the 1.4 km (0.8 mile) Mud Volcano boardwalk. Mud Volcano itself might not be as impressive as back in 1870, when its cone-shaped deposit spewed mud across great distances, earning it its name. Despite being reduced to a bubbling muddy pool by an explosion less than two years later, it's still worth seeing. Along the walk you'll also come across fumaroles, springs and even a lake. Bison are also often seen in this area – great for more of those wildlife sightings!
Mud Geyser in the Mud Volcano area
Fountain Paint Pots
Another short boardwalk but definitely worth the time! This trail twists around all the different types of hydrothermal formations seen in Yellowstone – from hot springs and fumaroles to geysers and mudpots. The highlight for me was the Silex Spring with its crystal-clear pool. Don't miss the Clepsydra Geyser which erupts almost continuously!
Silex Spring's colours really stand out!
Yellowstone National Park Interesting Facts
#1 Yellowstone NP lies on top of a supervolcano – an eruption almost 630,000 years ago created the Yellowstone caldera which most of the national park is spread across
#2 Old Faithful doesn't erupt as often as it used to – back in 1870, the expedition that came across the geyser noted that it erupted every 60 minutes. Now it's around every 90!
#3 Yellowstone is larger than the states of Rhode Island and Delaware combined!
#4 Yellowstone's famous bison have roamed continuously here since prehistoric times – the only such place in the whole of USA
#5 Reintroduction of wolves to Yellowstone in 1995 has done wonders for the park's ecosystem. The ripple effect has helped other animals thrive and even changed behaviour of rivers. Watch the incredibly interesting video here.
The Trip
What: Yellowstone National Park is the world's first national park, designated in 1872 by US President Ulysses S. Grant
Where: The majority of the park is in Wyoming but it also stretches into Montana and Idaho.
Getting There: Nearest airports are Yellowstone Regional Airport in Cody and Jackson Hole Airport in Jackson – both are just over 80km (50 miles) away from the park entrances. Nearest major airports are in Salt Lake City, Utah (over 500 miles away) and Denver, Colorado (around 400 miles). You would need to rent a car for the rest of the journey. Renting an RV is a popular way to explore USA and there are plenty of companies who offer hire – my friends used Cruise America and said they were great! Check out some of the quirky stops you could make on a USA roadtrip here.
Alternatively, many tour companies include Yellowstone National Park in their itineraries. Trek America offer an itinerary which includes all the places in this post. I travelled with Trek America on their 43 day Grand Trek tour. This is not a sponsored post and contains no affiliated links. However, I thoroughly recommend Trek America from my personal experience.
Getting Around: You need a car to explore Yellowstone. There is no public transport in the park.
Accommodation: I camped during my visit – there are 12 campsites around the park. Facilities are basic and you need to make sure you are always Bear Aware! There are a number of lodges around the park, including the Old Faithful Inn – a historic log hotel built in 1903-1904 and a National Historic Landmark!
Source http://www.theamericanguide.org/7-reasons-to-visit-yellowstone-national-park/
Source https://www.justgotravelstudios.com/blogs/just-go-travel-blog/reasons-to-love-yellowstone-national-park
Source https://travelexx.com/8-reasons-you-should-visit-yellowstone-national-park/