7 Places It's Safe to Go During Coronavirus
Shutterstock
If you've been watching the news throughout the COVID-19 pandemic, you may feel it's not safe to go anywhere right now. "Current evidence suggests that COVID-19 spreads between people through direct, indirect (through contaminated objects or surfaces), or close contact with infected people via mouth and nose secretions," warns the World Health Organization (WHO) .
The only way to avoid these potentially infected secretions is to stay away from people…and places. But if you're getting stir-crazy and need to get out into the real world, there are a few places with low risk for contracting coronavirus. Check out these seven places you could check out without a high risk of infection. And to ensure your health and the health of others, don't miss these Sure Signs You've Already Had Coronavirus .
A Small Outdoor Gathering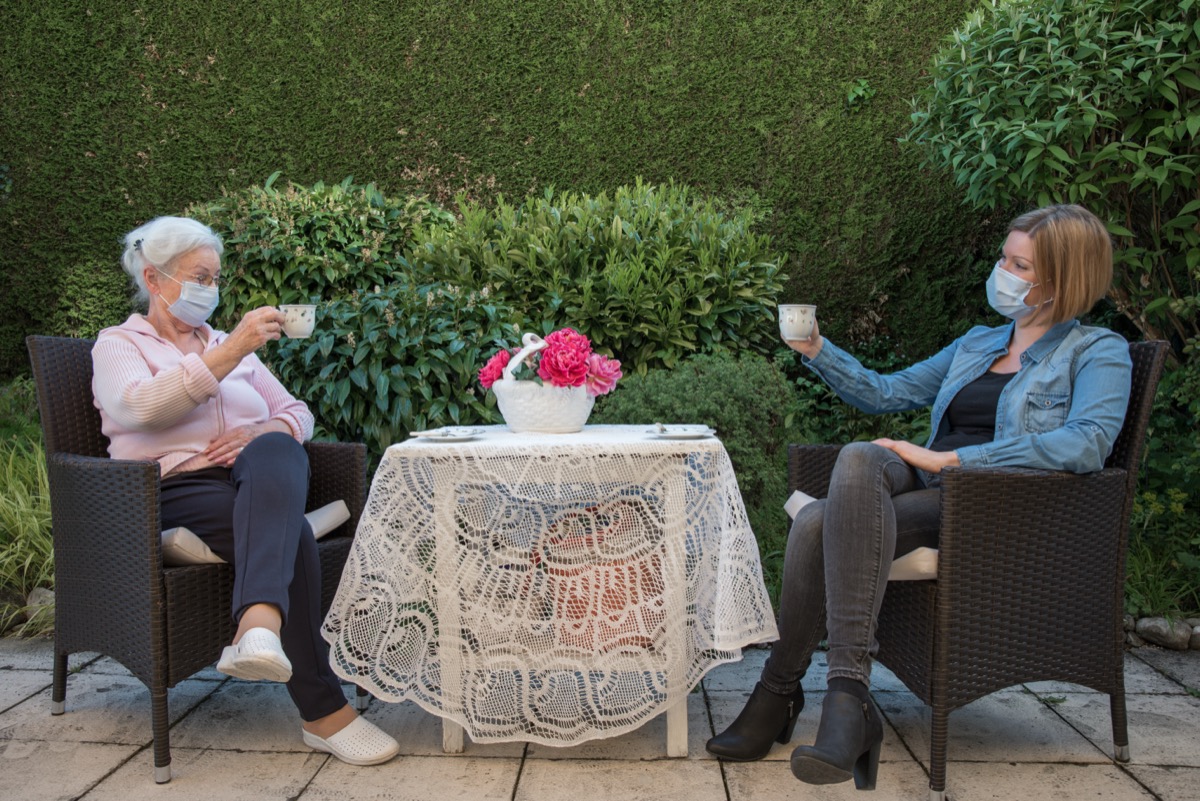 Shutterstock
The Centers for Disease Control and Prevention (CDC) suggests "virtual-only activities, events, and gatherings" for no risk of contracting COVID-19. However, the organization ranks a "small outdoor-only gathering" as relatively low-risk for contracting coronavirus. Keep the guest count low and enjoy the great outdoors with only a few friends who have been taking the pandemic seriously and you're not putting yourself at a great risk for infection. And wear your face mask and stay six feet apart. 6254a4d1642c605c54bf1cab17d50f1e
A Local Park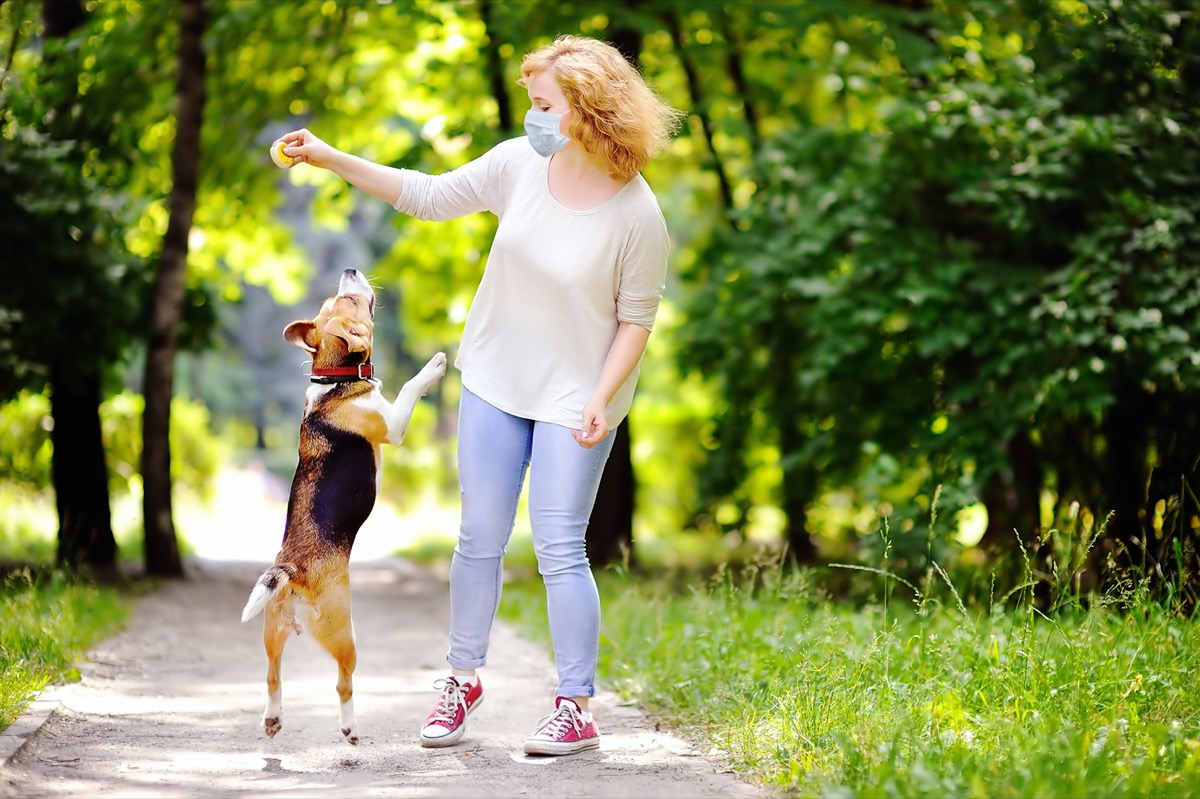 Shutterstock
Large parks offer plenty of opportunities for social distancing and fresh air. Since you're outside, respiratory droplets are more easily dispersed, lowering your risk for contracting COVID-19. Visit parks that aren't usually crowded or only visit during off-times, such as the middle of a weekday.
You should consider only visiting "parks and recreation areas that are close to your home," according to the CDC. If your area is known for a low transmission rate but you travel to an area with a high transmission rate, you're increasing your risk for infection. Therefore, it's best to stick to your local favorites.
Camping With Family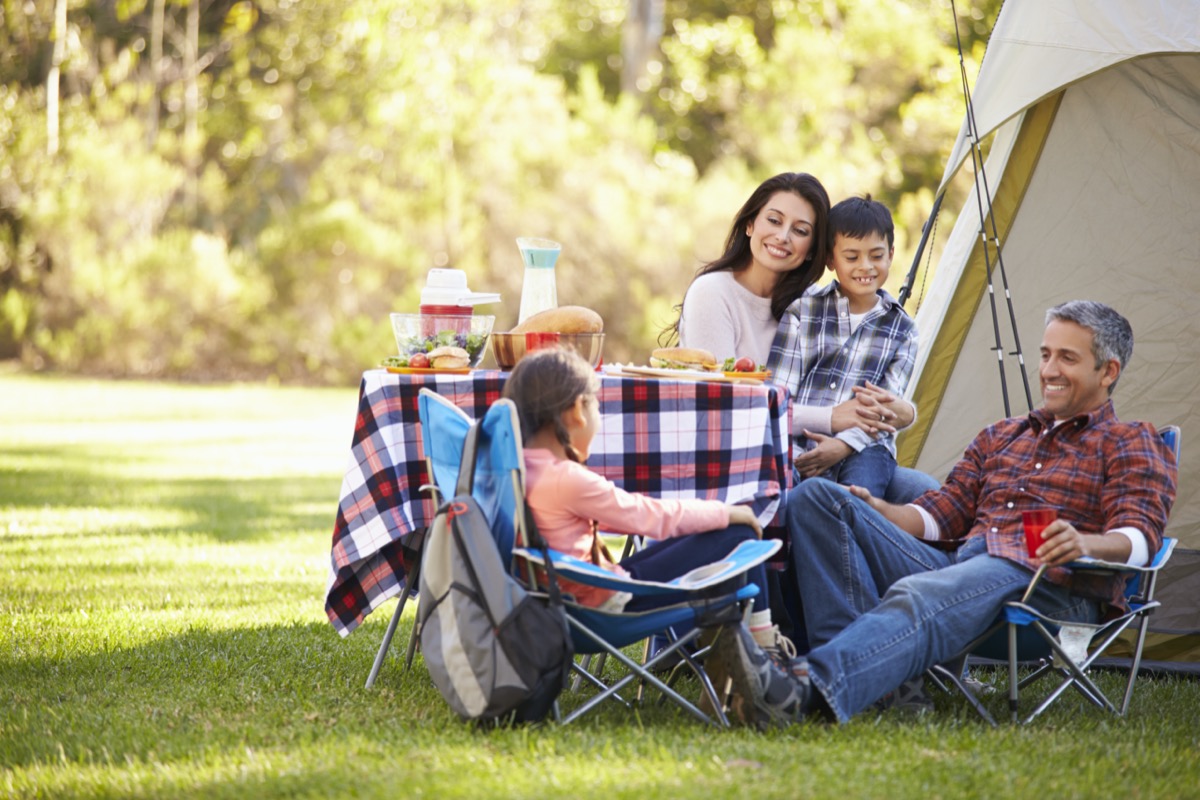 Shutterstock
If you're itching to travel and sightsee, camping may be one of the safest ways to get out there, especially if you stick with your family. "Staying in smaller groups is safer. Stay away from people you don't know," according to Dr. Matthew Sims, MD from Beaumont Health.
You may encounter people while walking around the campground, in the ranger's station, or in the campground bathroom. In these situations, try to social distance and always wear your face mask.
A Drive-In Movie
Shutterstock
Movie theaters are slowly reopening at limited capacity in some parts of the country. But if you're still intimidated by the risk of contracting COVID-19 in an enclosed and potentially crowded theater, you may be able to have a cinematic experience from the safety of your own vehicle. When you attend a drive-in movie and stay in your car with only your family members, your risk is low for contracting coronavirus.
According to Statistica , in 2019, there were only 321 fully-operational drive-in theaters in the U.S. However, these establishments may make a comeback in the time of COVID and many recreational facilities and public parks are turning their community spaces into drive-in theaters as well.
A Vacation Rental
Shutterstock
If you're ready to get out of town, staying in a vacation rental may be a low-risk choice. Consider only traveling with a small group of family members or friends who you know have been following stay-at-home and social distancing guidelines.
Before deciding on a destination, review transmission rates and skip the locations that are experiencing a high volume of COVID-19 transmission. Also, review the local mandated guidelines and the rental home's sanitation policy. For example, in Palm Beach County, Florida , short-term rental hosts are required to check guests in and out remotely when possible, and clean and disinfect all surfaces thoroughly.
A Friend's Pool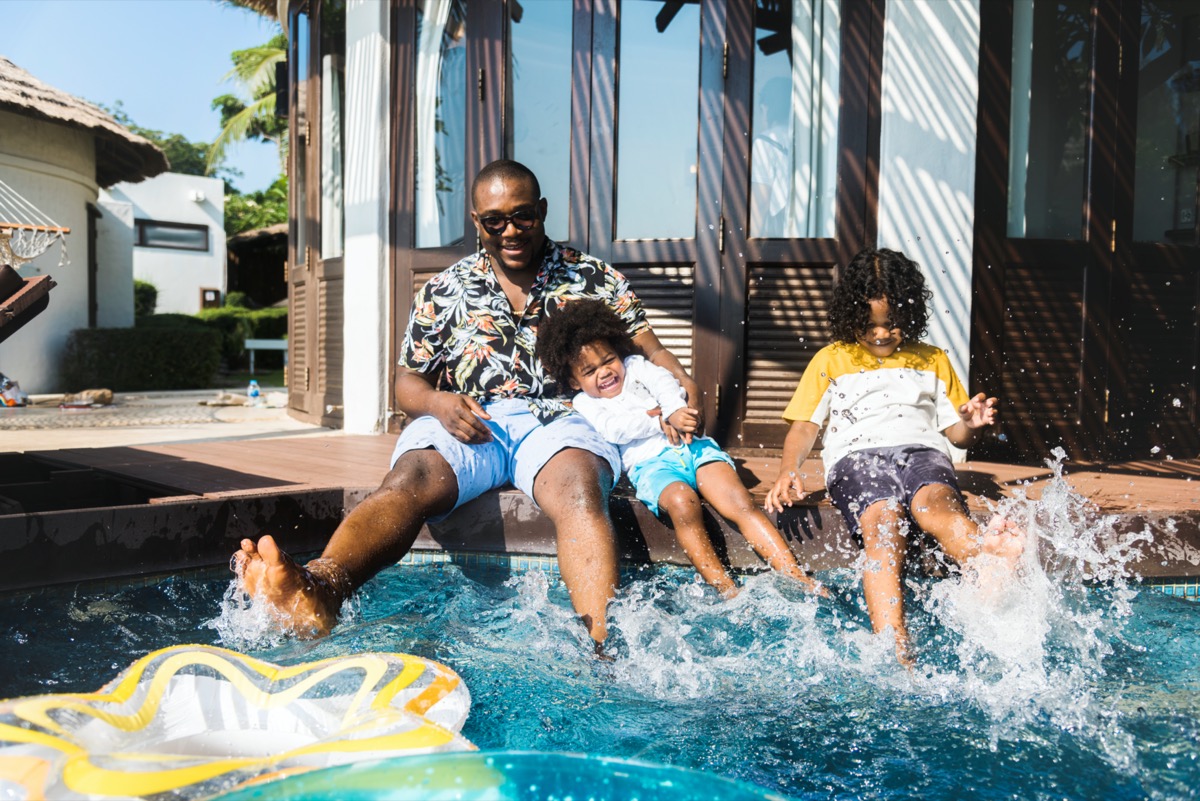 Shutterstock
Heading over to a friend's house to hang outside and swim in their pool is much safer than going to a crowded public pool or splash pad. However, before you throw on your swim trunks, confirm with your friend that they've been following CDC guidelines, such as social distancing or staying at home. You should also avoid physical contact with your friend and remain outside for the duration of your visit to keep infection risk low, according to the CDC .
Your Living Room
Shutterstock
While there are many places you can go that are low risk for contracting coronavirus, the only way to completely mitigate your risk is to stay at home. If you're worried about the virus, you're at high risk for severe illness, or a close family member or friend is at high risk for a severe case of the virus, it's best to stay away from public places during the pandemic. Binge on Netflix, bake another loaf of sourdough bread, or have a video chat happy hour with your favorite co-workers to ensure you're safe from infection. And to get through this pandemic at your healthiest, don't miss these 35 Places You're Most Likely to Catch COVID .
Kelly Hernandez is a health and wellness writer and certified personal trainer. Read more about Kelly
5 Popular International Destinations That Are Safe To Explore Right Now!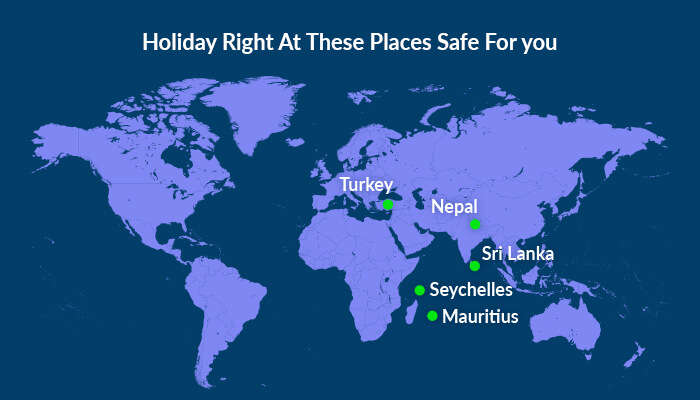 The world is struggling with a new threat called Coronavirus (COVID-19). Your travel plans may have hit a snag due to the respiratory virus but the condition is not as serious as it is in the region of origin. Nations world-wide have taken rigorous measures to curb the spreading of the virus as soon as the warning was out. Though some countries are grappling with the situation and have been marked red due to the emergence of positive cases, there are also places that have tested negative or the situation is under control if the virus managed to sneak in.
Inside Scoop
Safer destinations to travel right now
Festivals & events in these destinations you should be excited about
Weather highlights in the destinations for upcoming months
Safety tips for traveling
There is fear doing rounds among travelers whether they should travel to Asia amidst outbreak. While their concern and doubt are legitimate, travelers should also know that some Asian countries still safe to visit. Countries like Indonesia have reported zero cases of coronavirus thus far and the situation is very much under control in UAE and Sri Lanka. Things may seem grim and serious in some areas at the moment but the situation will ameliorate in the coming months of March and April.
On that note, if you are thinking of taking a vacation in the upcoming months, you can go ahead though with the wind of caution. One may have qualms about losing their money due to last-minute cancellations. To mitigate the situation, here are a few things you can do at your end like:
Booking refundable flights: While booking flights, you could search for flights with refundable fees.
Checking with hotels: This is a prime season of travel in Asia. With fewer people traveling, the rates of the hotels and properties have gone down majorly. You could check with the hotel if they offer a refund on cancellations.
Safe Destinations Where You Can Travel Right Now
Are you looking for safe travel destinations during coronavirus outbreak? No cases of coronavirus have been recorded yet in these countries. So, it is safe to travel to these places. Needless to say, the governments of these countries are following strict measures to keep the virus at bay.
Note: The international destinations mentioned in the blog are in no particular order of safety scale.
1. Mauritius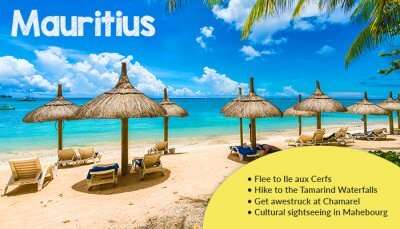 So far, Mauritius has not recorded any cases of coronavirus. You can roam carefree in the Flacq village or meander through the streets of Port Louis. The lush forests of Black Gorges National Park and Ile aux Cerfs are calling out your name.
Weather conditions: Plenty of sunshine and cool breeze make Mauritius an amazing place to visit in spring.
Upcoming events: Be a spectator to colorful National Day in Port Louis on 12th March.
Famous for: Dodo (an extinct flightless bird the size of a swan), incredible and luxurious resorts, multicultural population, Mauritius rum, sugar and fruit jams, the Seven Coloured Earths, an underwater waterfall, and more
Best time to visit: May to December
Places to stay: Hilton Mauritius Resort and Spa, Seavilla Mauritius
Go tropical. Get the best Mauritius holiday deals.
2. Seychelles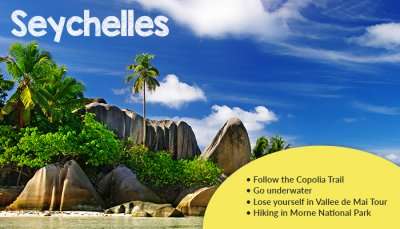 Newlyweds will be glad to know that the most-beloved honeymoon pad is a coronavirus-free country. Enjoy sunbathing on the beaches and discovering under-water treasures without any care about the world. Don't hesitate from exploring the trekking trails where you will stumble upon an abundance of nature.
Weather conditions: Seychelles experiences a calm weather in March-April which is perfect for swimming and sunbathing.
Famous for: Pink-sand beaches, UNESCO sites, scuba diving in Seychelles and more.
Best time to visit: April to May and October to November
Places to stay: Chez Batista Villas, Pension Fidele
3. Turkey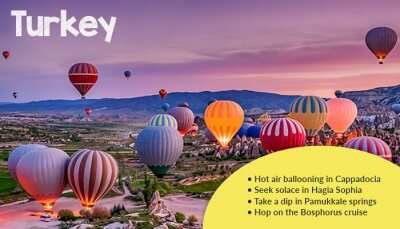 Hop onto a hot air balloon ride and soar high in the sky from where you can admire the enchanting landscape of Cappadocia. Forget about all the worries on your holiday in Turkey. The breathtaking architecture of Istanbul will keep you hooked and the vibrant nightlife will surely leave you intoxicated with joy.
Weather conditions: The weather turns in favor from late March to explore the beautiful sites and flora-fauna in Turkey.
Upcoming events: SONAR Festival, the most distinguished event of Europe in the fields of movies and arts, will be held from 5th-7th March.
Famous for: Diverse set of both oriental and European cultures
Best time to visit: April, May, September and October
Places to stay: Side Resort Hotel, Rixios Beldibi
Book your trip to Turkey.
Destinations In Asia That Are Safe For A Holiday
If you have booked a holiday to these safe destinations in Asia or on the fence of booking one, then you can rest assured and have a great time with your family or spouse. Though one should keep an eye on updates for caution as no holiday experience is worth risking your health.
4. Sri Lanka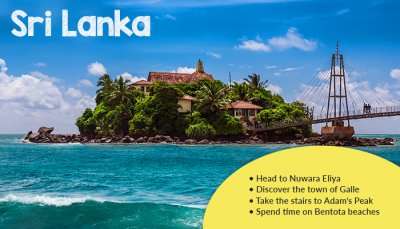 The island country is one such place where you get the best of beaches, wildlife, nature, and history. Whether it's a honeymoon or a family vacation, Sri Lanka poses a great destination for all kinds of experiences. Taking a trip to Sri Lanka right now is the best decision you could ever make.
Weather conditions: March is arguably the best time to take a trip to Sri Lanka. The temperature in March-April ranges between 24 to 32 degrees Celsius. The little showers make it even better.
Upcoming Events: Attend the Festivals of Lights in March and wish Sinhalese New Year in April.
Famous for: Known for its religious and historic significance, which attract tourists from all over the world with its mystic beauty.
Best time to visit: December and April
Places to stay: Light house Beach Hut, Hilltop Cabanas
Plan your holiday right away. Book your Sri Lanka tour package.
5. Nepal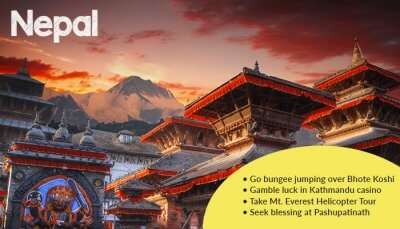 Could there be a better place to celebrate Holi? We think not. Just like India, Holi is kind of a huge affair in Nepal. So, if you have not sorted your Holi plans yet, here is an idea. Nepal is also a hub of adventure and nature's wonders. Boost your adrenaline levels with bungee jumping and Mount Everest helicopter tours on your trip to Nepal.
Weather Conditions: Enjoy spring season in Nepal from March to May. The maximum temperature does not rise above 30 degrees Celsius in Kathmandu. The countryside is cooler and pleasant.
Upcoming events: Holi and Nepal New Year are your gateways to learn more about Nepal's culture.
Famous for: Natural beauty, mountains and landscapes, esp. Everest, prominent temples and national parks, heartwarming locals, and delicious cuisine
Best time to visit: Throughout the year
Places to stay: Jurassic Resort & spa, Hotel Snow Peak, Elegance Grand
All set to plan a trip? Explore these Nepal tour packages.
Prevention Is Better Than Cure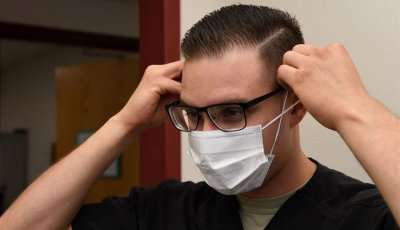 Since coronavirus is highly contagious, one should be wary and take heed of coronavirus travel advice to avoid catching the virus even when traveling. Even though the countries are following strict protocols, here are a few steps that you can follow to ensure safety at your end.
Before The Trip
Call the hotel authorities ahead of your visit to get latest updates on the situation.
Check the official travel website of the country you are traveling to for live updates.
Rest, rest, and rest. Even though you are on a holiday, you must ensure that you get a minimum of 8 hours of sleep to boost your immunity system
On The Plane
Wear a mask, especially when you are on the airplane and in crowded places. The N95 respirator is the best available option.
When on the flight, do not eat off of the tray tables and seats.
Keep a hand sanitizer handy. It is the most effective and simplest way to avoid catching the flu. Seat belts, trays, and knobs of the restroom are some of the major spots for germ breeding.
During Vacation
Drink water at regular intervals to keep your throat from drying.
If you show even slightest symptoms of common cold or flu, go and see a doctor immediately.
Cover your mouth or use your elbow while coughing.
Do not consume seafood. It is better to refrain from non-vegetarian meal for a while. Eat fresh fruits and vegetables.
You are also advised to comply with authorities at the airport check-in since they are doing their best to minimize the threat. Again, no holiday experience is worth more than the risk of your health. Keep a tab on the latest updates on the situation. Be careful and stick to the preventive measures when you are on a holiday.
Disclaimer: The coronavirus updates mentioned here are from the time when the article was written.
Frequently Asked Questions About Coronavirus Free Country
Is it safe to travel Bali right now?
Yes, travel to Bali is open now and all the safety measures are taken meticulously by the authorities to restrict the spread of virus. However, if you are planning a vacay to Bali, it is important to check Bali Covid guidelines before planning a visit for a safer experience.
Can you travel to Sri Lanka during the coronavirus outbreak?
Yes, you can enjoy your holiday plans in Sri Lanka since it is one of the safe destinations to visit at the moment. Visa on arrival for Chinese travelers was suspended as soon as the first and the only case was detected.
Is the Maldives a safe destination to visit right now?
No, Maldives has recorded a couple of cases due to which the island is shut down for tourism at the moment.
Which places are safe to visit during coronavirus outbreak?
These international destinations are safe for a holiday right now: 1. Mauritius 2. Turkey 3. Mexico 4. Nepal 5. Seychelles 6. Sri Lanka
Is Nepal safe for taking a vacation amidst coronavirus outbreak?
The Tourism Minister of Nepal has declared the country a coronavirus-free zone. The government is conducting strict health surveillance at the airport.
Is Bhutan safe to travel during coronavirus?
Things look fine in Bhutan at the moment. There is no coronavirus threat in the country. However, the entry of Indians has been banned for the time being due to the emergence of cases in India.
Is Seychelles safe from coronavirus?
Seychelles is one of the top holiday destinations that have been marked safe during coronavirus outbreak. So, one may continue their travel plans to the heavenly island.
What happens if my preferred destination suddenly becomes unsafe amidst the outbreak?
Since the situation is evolving on a daily basis, we cannot predict the 'safety' of a destination. If you are concerned about your travel plans, then you can buy travel insurance to be on the safer side. It will reimburse you for any last-minute cancellations of flights and hotels. Travel insurance comes cheap and even covers medical contingencies. Read the terms and conditions carefully before buying. Remember, travel insurance is only valid for the destinations that are safe right now and not for the countries where the outbreak has already happened.
18 SAFEST Countries to Travel Right Now in 2022 (According to GPI Rank)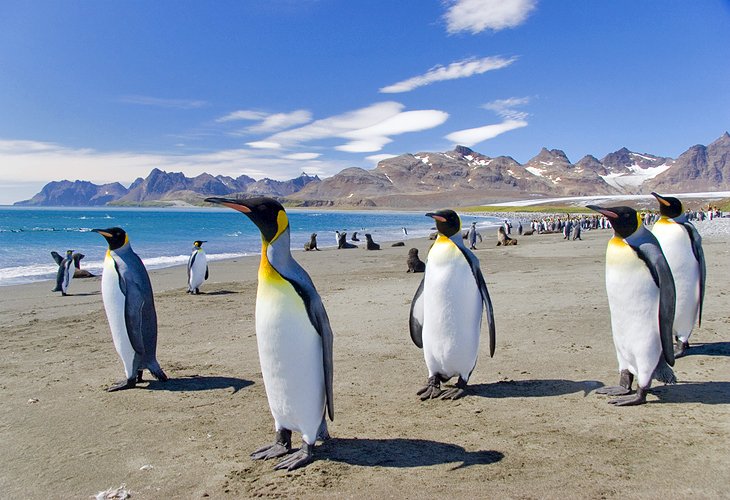 Basic travel wisdom includes an awareness of the dangers and risks inherent in any destination. Countries with historically high terrorism, crime, and violence rates are less likely to be candidates for your next vacation.
The Institute for Economics & Peace is a non-profit international think tank dedicated to shifting the world's focus to peace as a positive, achievable, and tangible measure of human well-being and progress. It has recently released the latest report in which they rank countries worldwide as the safest according to the Global Peace Index.
The index considers political and social stability, personal safety and security, public health, economic strength, and access to essential services.
The rankings from many public safety surveys are based on data collected over the past ten years. These surveys are conducted by IEP's network of over 350 experienced researchers in the public, private and civil sectors. These researchers conduct the world's most extensive surveys on global conflict, terrorism, militarism, organized crime, weapons proliferation, and corruption. To calculate the GPI, the researchers consider 23 indicators that cover the issues mentioned above.
The results are then compared to previous years' results to identify and measure any critical changes in these indicators.
Here are the top 15 safest countries to visit according to IEP Global Peace Index Report 2022.
1. Iceland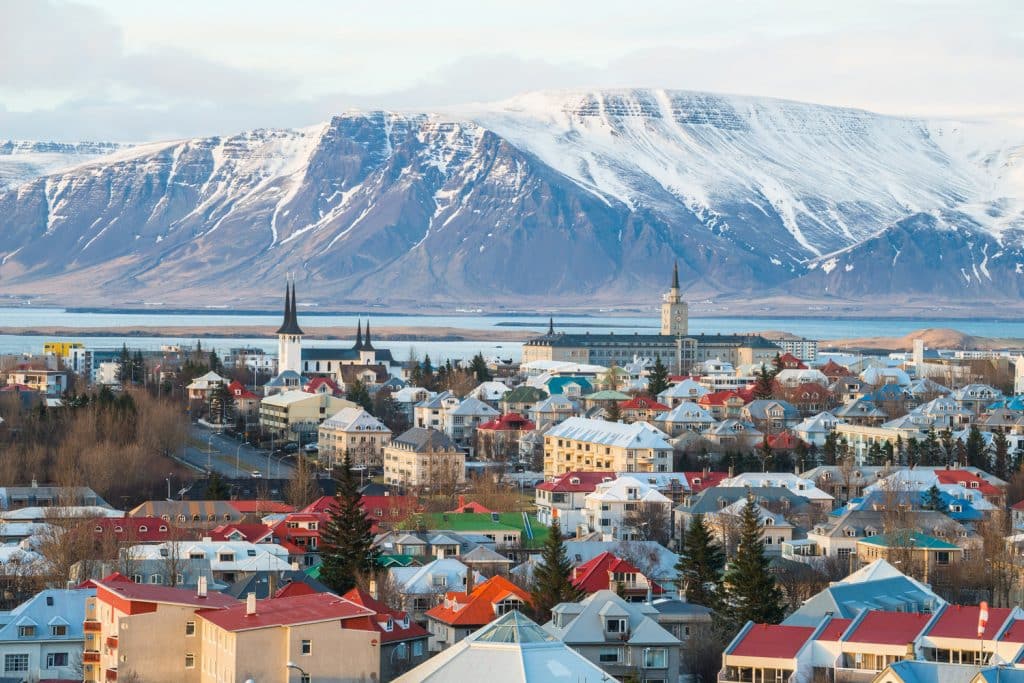 Reykjavik the capital city of Iceland.
This tiny island country in the North Atlantic Ocean is a favorite vacation destination for many Europeans.
Its capital city, Reykjavik, is geothermally active and is a popular tourist hot spot, especially among golf enthusiasts.
The country has a functioning and well-organized democracy. Its economy depends on fisheries, tourism, hydroelectric power generation, and aluminum smelting. Iceland has very low crime rates and high rankings in personal safety surveys.
Tourists can visit the famous Blue Lagoon geothermic spa or take advantage of the many hiking trails available. The northern lights are a popular attraction for star-gazers and photographers. Iceland also has a rich cultural heritage and hosts many festivals and concerts.
The people are friendly, easygoing, and welcoming.
2. New Zealand
New Zealand has a strong economy, with a small but growing population and a high standard of living.
Tourism is a significant contributor to the country's economy. The number of visitors during the summer season is expected to increase significantly in the next few years. Personal safety is high in this country.
People feel safe even in urban areas. While its islands are secluded and beautiful, New Zealand can also be accessed by ferry or plane. It is a favorite vacation destination for many Australians and English couples.
The government is dedicated to protecting the rights of its citizens. Work is being done to improve the country's infrastructure and prevent terrorism.
3. Ireland
This western European country's history dates back to the early Christian era. It has played a significant role in Western civilization. It has a stable democracy and high rankings on the Global Peace Index.
The country's economy is among the fastest growing in Europe, thanks to its expanding technological sector, which includes pharmaceuticals and life science. Ireland's main tourist attractions are the many castles dotting the landscape and historical sites like Newgrange. A passage tomb was built 5,200 years ago. T
ourists who enjoy the outdoors can hike in the Wicklow Mountains or view more than 1,000 plant species at the world-renowned Gardens of Ireland.
The friendly people and communities are havens for artists and musicians.
The crime rate is low, and the country has no history of internal conflict.
4. Denmark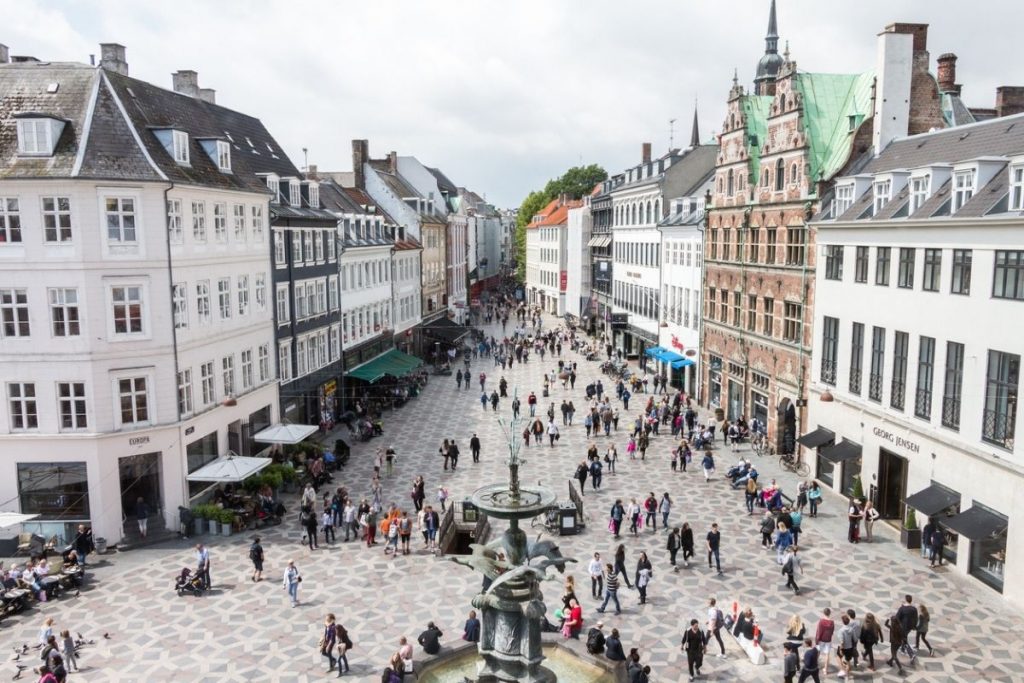 In Denmark, life is comfortable and peaceful. The country abolished its army to focus on developing social welfare programs, education, and cultural heritage. It has many protected national parks where you can enjoy scenic views or go hiking or biking.
One of its major attractions is the Scandinavian Contemporary Museum in Roskilde, which offers modern art and furniture exhibits.
Denmark also has a steady supply of fresh water and electricity. Law enforcement is effective, and there are few violent crimes, making it very safe.
5. Austria
This central European country is known for its diverse tourism options, including skiing, hiking, and horseback riding, as well as historical sites like the Great Alp Pipeline War and Salzkammergut Residency Palace. Its capital, Vienna, is a popular destination for European travelers.
According to the World Bank, people in Austria enjoy an excellent standard of living. The country has a modern infrastructure, including highways and a new high-speed rail line connecting Vienna to Berlin.
The country also has low crime rates, corruption, and economic control measures. The head of the state is the Federal President. The government has high rankings in personal safety and transparency.
6. Portugal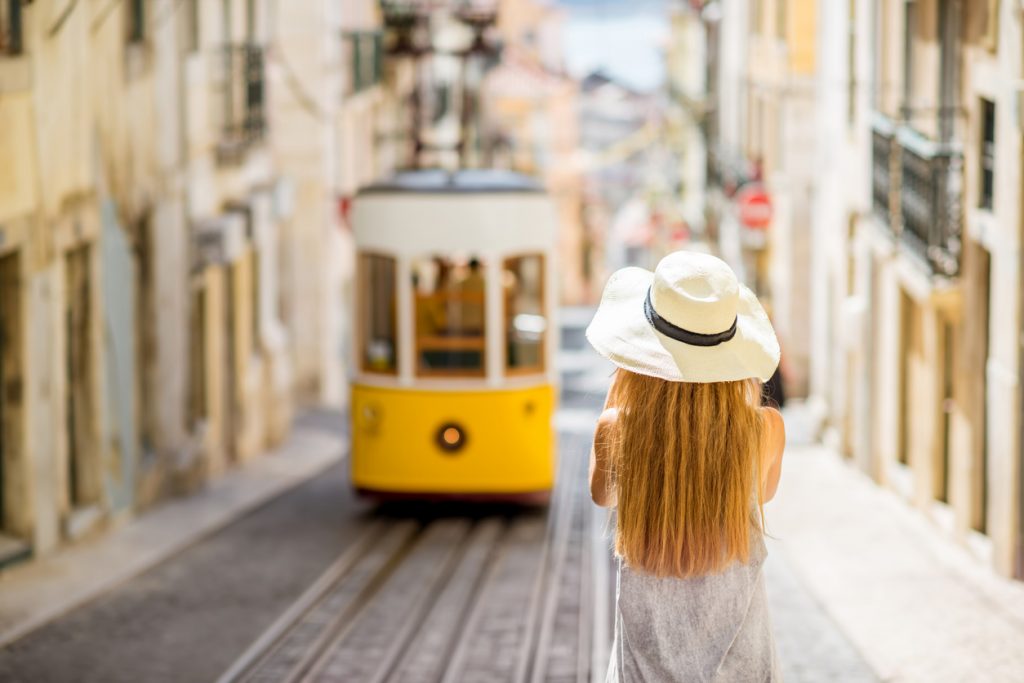 Portugal's rich and diverse history dates back to the Ice Age. It is located in the West Europe region.
Portugal's economy has recently been growing due to its expanding telecommunications, technology, clean energy industries, and functioning democracy.
It also has low levels of corruption and good political participation rates. Its main tourist attractions include the religious sites of Lisbon, a UNESCO world heritage site built by the Northern civilizations, such as crusaders and royal families over centuries.
Crime rates in the country are low, and people feel safe traveling in urban areas. There is no threat of terrorism, and the country is known for religious tolerance.
7. Slovenia
Slovenia has a vibrant society and an excellent quality of life. The economy is robust and has many financial institutions. Several universities with arts and sports facilities are free and open to the public.
The country has a strong record of respecting freedom of the press, religion, and political rights.
The capital is Ljubljana, a rich cultural hub that attracts tourists all year round. The city has been undergoing significant changes in terms of urban development. It is also a major center for research and development.
The country has excellent public services, including public health and education. Crime is low, and there are few reports of theft or personal violence.
8. The Czech Republic
The Czech Republic has a stable democratic government with a strong economy. It has many students and boasts the highest percentage of the OECD countries for tertiary enrollment.
The country has many natural landscapes to enjoy, including mountains and forests. Popular tourist destinations include Ostrava Salt Mines, Prague Castle, Karlovy Vary Spa City, and Cesky Krumlov Castle.
Prague has recently been voted one of the most livable cities in the world due to its low crime rates and modern infrastructure. It is also famous for its beer. The communities and societies in the country are safe, with social acceptance and high levels of personal freedom.
The best way to see this country is on foot or by bicycle.
9. Singapore
Singapore's economy is one of the most diversified in the world. It has a modern infrastructure and facilities, including clean water, electricity, and reliable Internet connectivity. You can access online media and participate in online activities without restrictions or censorship.
The economy is growing rapidly because of its growing business sectors, especially technology-based service industries such as software design, management services, and digital.
The country has a very efficient government and excellent strategic management. Singapore has outstanding institutions of higher learning, with many internationally-recognized educational programs.
The government boasts a high standard of personal freedom, and people can make their voices heard. Terrorism is practically absent from the country, and there is no threat of war.
10. Japan
Japan has low crime rates, especially when compared to other Asian countries. The economy is also one of the most stable in Asia, with relatively low unemployment rates.
Tokyo is one of the most densely populated cities. The city has many museums and exhibitions, and its many international film festivals held annually also attract tourists worldwide.
The culturally rich cities of Kyoto, Nara, Nagoya, and Osaka are famous for their ancient shrines, UNESCO world heritage sites, and traditional Japanese gardens.
11. Switzerland
Switzerland is renowned for its wealth and high standard of living. Its population is a little over 7 million. Its economy centers on banking and finance investments in business services and management consultancy.
Switzerland is also famous for its jewelry and watch-making industry. Its major tourist attractions include the Alps, lakes and waterfalls, museums of science and technology, and several castles.
The Swiss people are often regarded as very friendly, open-minded, and easygoing. Financial services are among the best in the world, and the country is famous for its excellent treatment of workers.
It has a progressive society, with female executives and a diverse religious community.
12. Canada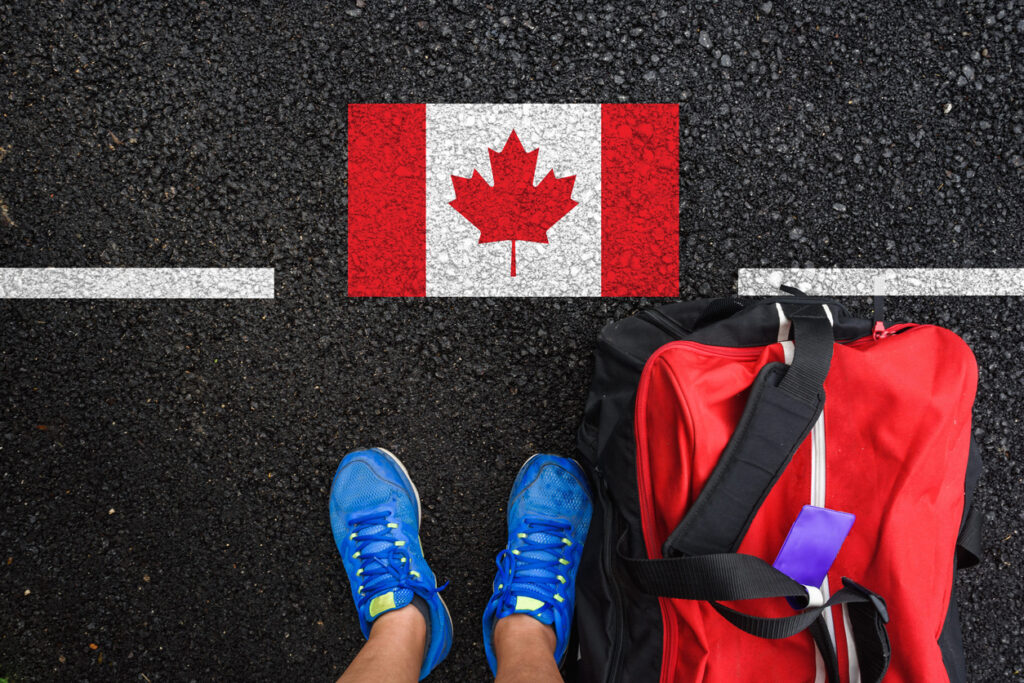 Canada is a developed country with modern facilities, including clean water and electricity. It is one of the most powerful democracies in the world, with a well-developed legal system. Its population is over 35 million, and it has low unemployment rates.
Canada has some of the largest gold deposits and petroleum and natural gas reserves.
The government ensures a free press, education, and religion. Ottawa is the capital of Canada, while Toronto and Montreal are the primary tourist destinations. The country has a health care system that is free and accessible to everyone, with public education and welfare.
Canadians are considered polite people who are welcoming to outsiders.
13. Hungary
Hungary is a small country with a population of about 10 million people. The government has several towns and settlements from ancient times, considered one of the most beautiful places in Europe.
Many places of interest, including castles and palaces, are located near Budapest. Budapest will likely remain the capital for many years because it is conveniently situated between Prague, Vienna, Munich, and Berlin.
Hungary is a safe country with low crime rates and violence, partly because of its strict gun control laws. You can also access online media without restrictions or censorship.
14. Finland
Helsinki, the capital of Finland, is the world's northernmost capital. Finland has an advanced education system, high literacy rates, and public health service coverage for all residents.
Helsinki has a modern infrastructure and impressive tourist attractions such as the Olympic Stadiums, which host sporting events during the summer months. Communities and societies in Finland are safe, with low crime rates.
The economy of Finland is substantial and diversified, with a high standard of living for its residents.
The country is a member of the European Union and has been actively involved in the European single market since 1995. It has very low unemployment rates and often features among the top ten best countries in the world to live in.
15. Croatia
Croatia has a population of over 4.5 million and is a developed country. The nation's economy is primarily driven by service industries such as financial services, tourism, and manufacturing.
Tourism accounts for over 5% of the entire economy. Tourism in Croatia mainly focuses on the Adriatic Sea's coastal areas, especially along the Istrian peninsula, where visitors can enjoy historical architecture and the area's natural beauty.
Zagreb is a safe and very modern city. Croatia is respected for its progressiveness, democracy, and freedom of speech.
The GPI report is one of the most reliable indices used to rank 99 % of the population in the world. The indices used are based on measurable and objective data from various authoritative sources like UNESCO, the CIA, and other statistical agencies. Research is ongoing to compile the best data that include a more direct approach to achieve a personal and sustainable estimation of human development.
16. Germany
Germany is a fascinating country with a lot to offer! The combination of old-world beauty and modern cosmopolitan centers makes it a great travel destination. With a diverse range of food, lodging, and beverage options, Germany is traditionally less expensive to visit than its European counterparts.
Germany is one of the world's top travel destinations, with an interesting and rich history narrated through its old-fashioned and colorful architecture, castles, palaces, cathedrals, and monuments, as well as beautiful landscapes, mountains, and forests, wonderful food, and beer.
Germans enjoy celebrating. From Oktoberfest to Christmas markets to Carnival and the world-famous Rhine in Flames, Germany has a fair for every occasion!
Germany is a risk-free destination. While there are always parts that are more dangerous than others, Germany is a safe country overall. The crime rate is minimal, and the German government takes precautions to protect its inhabitants and visitors.
17. Norway
There are numerous reasons to travel to Norway. Mountains, fjords, the Northern Lights, Sami culture, whale watching and much more await you in Norway, and the people are eager to welcome you. When you visit Norway, you will have once-in-a-lifetime experiences and the opportunity to cross something off your bucket list.
The country of Norway is renowned as the Land of the Midnight Sun. It is known for its breathtaking lakes and enchanted skies. Norway is also known for its languages, Vikings and folklore, environmental friendliness and oil production. In addition, many Norwegians are well-known skiers, frozen pizza lovers, and Tesla drivers!
Norway is widely considered one of the safest countries in the world. Even in major cities like Oslo, Bergen, Trondheim and Stavanger, the crime rate is extremely low. As in any other urban area, you should be careful, but there is not much to worry about.
18. Malaysia
Malaysia's diversity is what makes it so fascinating. In the same country, you can visit vibrant modern cities and colonial buildings, relax on some of the world's most beautiful beaches, and climb through lush green jungles.
For the curious traveler, there is never a dull moment in this historically and culturally rich city.
A natural retreat is never far from exciting metropolises, fashionable hotspots and innovative cuisine. A vacation at one of Malaysia's many spas or rural resorts, whether on sandy beaches or in the rainforests of the highlands, is a must.
Foreigners rarely become victims of violent crime. Petty crime such as pickpocketing, purse snatching and robberies are common, especially in tourist areas and at airports.
Source https://www.eatthis.com/covid-safe-places/
Source https://traveltriangle.com/blog/safe-travel-destinations-during-coronavirus-outbreak-cvnews/
Source https://www.travelinglifestyle.net/safest-countries-to-visit-right-now/