Is oceanside in san diego a good place to visit
10 Reasons to Visit Oceanside
With beautiful year-round weather, a stunning coastline, the largest wooden pier on the west coast, a quaint New England-style harbor and world-class surf, Oceanside certainly has a lot to offer. In addition to the city's vibrant history and iconic landmarks, O'side continues to innovate and welcome new and exciting businesses and experiences throughout its diverse neighborhoods. With the addition of new dining options, lodging accommodations and family-friendly activities, you're not going to want to miss out on all that Oceanside has to offer! Check out these 10 reasons why you'll want to make our beach city your next bucket list destination.
New Dining Spots
CocoCabana, Hangar 76, Matsu, Q&A Restaurant, Shootz, The Lab Collaborative, Top Gun House, Valle
Calling all foodies! Oceanside's booming restaurant scene is about to get even better! In addition to the already fantastic and award-winning restaurants, such as 2021 Michelin Guide Bib Gourmand list honored Dija Mara, several new establishments are gearing up to make a splash. Enjoy new unique dining experiences like Matsu and Valle. Matsu is a Japanese-inspired fine dining concept by Executive Chef William Eick. With Matsu, William aims to showcase the roots of his culinary career and passion for Japanese flavors and techniques, in a progressively modern setting. Valle recently opened inside Oceanside's highly anticipated Mission Pacific Hotel. Acclaimed Chef, Roberto Alcocer, brings a taste of Baja to Oceanside. Both chefs and new dining experiences will be vying to earn one of fine dining's most coveted awards – a Michelin star.
Opening soon inside the historic Brick Hotel, Q&A Restaurant and Oyster Bar is bringing NOLA vibes to Oceanside. Named after executive chef Quinnton Austin, they will serve chargrilled oysters and other New Orleans eats. Housed on the Brick's 2,100-square-foot rooftop is CocoCabana, a Caribbean-style cocktail bar with its own menu of small bites. What Now San Diego spoke with Owner Pete Cich of Grind and Prosper to hear more about each part of The Brick Hotel dining experience. "We're opening up in phases, starting with Frankie's Cocktail Lounge and Stone Beer. Q&A gives off a real New Orleans vibe, it'll have a hidden patio running behind The Brick toward Tremont Street behind Frankie's. CocoCabana on the roof will be a spin-off of Miss B's Coconut Club, serving Caribbean food," explains Cich.
Two highly-anticipated projects are set to open this year, the Top Gun House and Hangar 76. Top Gun House will be a vintage-inspired dessert lounge built inside the historic Graves House. The 140-year-old landmark was featured in the cult classic blockbuster movie "Top Gun" and has undergone a full restoration. This project will round up the six new dining options the beach resorts are bringing to Oceanside.
Hangar 76, operated by Carruth Cellars, is preparing to open its 14,500 square feet operation in early 2022. Dubbed Hangar 76 for its proximity to the Oceanside Municipal Airport and the CA-76 highway. San Diego Business Journal notes the multi-tenant location will house Carruth Cellars' fourth tasting room as well as Tipping Pint Brewing Co. Additionally, Hangar will feature a cold-prep commercial kitchen open to local mobile food vendors.
A few more establishments new to the ever-growing dining scene include the Hawaii-meets-Baja-meets-San Diego restaurant Shootz Fish & Beer. Recently opening their doors inside Tremont Collective, pro-surfer Cheyne Magnusson and Executive Chef Davin Waite are bringing 360° sustainably-sourced poke, tacos and daily market specials to Oceanside. The Lab Collaborative (TLC), a new addition to downtown, is a showcase kitchen that invites you to view the process of cooking with locally sourced ingredients, community-driven chefs and artisan cocktails. Doughside Donuts, a local favorite established in 2016 as a gourmet handmade vegan donut shop, will open their first brick and mortar location in early 2022!
There are plenty of new O'side beverage spots as well! A few include the Rooftop Bar and The Shore Room located steps from the Oceanside Pier, The Lounge a speakeasy based out of Harney Sushi opening soon, South O Brewing Co. with revolving local food trucks such as Naegi, and the new cocktail lounge Frankie's Oceanside, which has quickly shot up to the list of hottest cocktail bars in San Diego.
5 Reasons to Visit Oceanside, California for a Quick Getaway
October 15, 2021 By: Maria Haase This article may contain affiliate links. We may earn a small commission if you buy through our links.
Please share our article here:
Oceanside, California has gone through a total transformation in the last decade – from dodgy military town to SoCal's hidden coastal gem. I recently took the Coaster up to visit Oceanside just for the day and can't wait to return and explore more soon. If you are looking for a fun little San Diego Staycation, definitely add Oceanside to your list. Here are 5 reasons why:
Fun Beach Town Vibe
Known as the Surf Capital of California, Oceanside is a surfer's paradise. The waves here are consistently good year-round. Whether you want to be in the water or just want to watch, buy some fun surf accessories or clothes, Oceanside has got you covered. The laid-back vibe is present all over the city and it instantly puts you in vacation mode.
One of the Must-Dos when in Oceanside is a stroll on the Oceanside Pier. This stunning historic structure is 1942 ft long and makes the piers in San Diego look like little toys. This is also a great spot to watch the surfers and get some stunning sunset shots if you are into photography.
Photo courtesy of Visit Oceanside
Beautiful Oceanfront Hotels & Vacation Rentals
Nothing makes a beach getaway more perfect than a hotel with an ocean view and falling asleep to the crashing of the waves, right? There are quite a few Oceanfront Hotels in Oceanside to make this dream come true.
Mission Pacific
This brand-new hotel just opened in Summer 2021 and is perfect for a romantic couples getaway. The decor is sleek and modern with a beachy twist. Nothing beats the tranquility and view of the ocean and the Oceanside Pier from the rooftop pool and adjacent Rooftop Bar. Book your stay here>>
The Mission Pacific won't let you go hungry, don't worry. Enjoy a scrumptious brunch at the High/Low Bar overlooking the beachfront promenade and then eat your way through the Valle de Guadeloupe at Valle, the brand new restaurant by award-winning chef Roberto Alcocer.
The Seabird
The Seabird Resort is the family-oriented sister hotel of the Mission Pacific and is located just across the street, sharing the same stunning ocean view. The decor of this property is Maritime meets whimsical Dr. Seuss. Every little corner is styled with so much attention to detail. I almost felt like the hotel was a museum that I get to sleep in for a few days. Definitely check out the rooftop pool bar and restaurant Shore Room and if you like pasta, load up on carbs at the pasta bar at Piper!
Such a cute place, but I am just going to let the pictures speak for themselves! Book your stay here>>
O'Side Sips – Sip Your Way Through Oceanside
Oceanside takes Craft to the next level. The little town not only has a respectable number of craft breweries, but also craft distilleries, craft wineries, and craft coffee roasters. Sip and slurp your way through Oceanside and support these local artesian producers.
Visit Oceanside is currently working on a little O'side Sips passport, where you can collect stamps from participating Craft businesses and get a little souvenir gift from the tourism office when you completed the Craft trail. Stay tuned for more info.
Coomber Wine Flight – Photo courtesy of Visit Oceanside
Thursday Farmer's Market
The Oceanside Famer's Market on Thursday is actually 2-in-1. In the morning from 9 AM to 1 PM, you will find a traditional farmer's market with fresh produce, flowers, artisanal foods, and drinks from locals. Check out the "Friends of the Library" booth for some great deals on books.
Then from 5 PM to 9 PM, the Oceanside Sunset Market takes place. This market features food stalls and popup kitchens, dessert vendors, craft booths, live music, and entertainment. This is probably the closest to an Asian Night Market I have ever seen in the US. A great way to try various local dishes and foods, and is a fun experience for the whole family.
Sunset Market Photo Credit Visit Oceanside
Finger-licking Good Food
Speaking of food… Oceanside has some amazing restaurants. Whether you are in the mood to grab a few fish tacos washed down with a cold IPA or sit down for a culinary extravaganza, the chefs of Oceanside are ready to tantalize your tastebuds.
What I like the most about the restaurants in Oceanside is that they are not pretentious. No need to force yourself to wear a jacket and tie, just come as you are and enjoy. Here are some of the top spots to try while you are in Oceanside:
Blade 1936 – Photo Credit: Aleya Zenieris
Wrench & Rodent Seabasstropub
Hello Betty
Bagby Beer Company
Flying Pig Pub & Kitchen
Masters Kitchen & Cocktail
Piper
Valle
333 Pacific
Miller's Table
Blade 1936
So what do you think? Did my 5 reasons convince you to visit Oceanside? I personally can't wait to go back and discover more fun things to do in Oceanside!
5 Reasons to Visit Oceanside California – Pin for later:
Last Updated on October 15, 2021 by Maria Haase
About Maria Haase
Maria Haase has been a travel writer since 2007, stumbling into this profession during an internship in China. She grew up in Germany, but has lived in San Diego since 2006. Maria is a globetrotter, but also adores to explore her own back yard whenever she is home. She loves to share her favorite spots, help visitors plan their trips and share helpful tips about her chosen hometown San Diego.
4 Reasons Oceanside San Diego is a Great Place to Live in 2022 | 2023
San Diego County is a wonderful place to live. A combination of lovely weather, incredible beaches, and beautiful sea can make us feel sorry for those who don't live here. But the county is more than just the city of San Diego. Some towns and cities dot the map, and each one can give several reasons why you should live there. One of those places in Oceanside.
Here's a quick rundown of our list:
Oceanside is part of a tri-city that includes Carlsbad and Vista. This is no small town, and the population is close to 170,000 people. We believe it has what it takes to be your next hometown and we will give some reasons why. All statistics in this article are as of this writing.
Reason 1 – The Positives
We know we are a tad biased, so we will let a third party share the good news. Niche.com does independent ratings of municipalities of all kinds, and Oceanside has some very decent figures. Oceanside is ranked #5 in Most Diverse Suburbs in both the San Diego Area and San Diego County. Furthermore, it ranks #10 in Best Suburbs for Young Professionals in the San Diego Area and in San Diego County. The residents speak highly of their piece of the California coast, and Niche.com has noted these local opinions:
"Oceanside is a cute little beach town that has had many upgrades over the years. Clean beaches, shops near the water, and an overall connected community."
"I really enjoy Oceanside because of the weather. It has good temperatures throughout the year being nearby the ocean, and it has nice beaches and live events you can attend like surf contests, farmers markets, art shows, museums, live concerts and more…"
"Born and raised, has everything you could need. Just far enough away from the business of San Diego and close enough where you can visit whenever you want. The same goes for Disneyland and Los Angeles. It's the perfect middle."
"Oceanside is a great laid back beach town with so many great places to eat and see. The people who live here are wonderful. I love all of our local businesses."
Niche.com analyzed considerable data and handed out grades of various elements of living in Oceanside. Here are where Oceanside truly shines:
Public Schools: B+
Nightlife: B+
Health & Fitness: A-
Outdoor Activities: A
Weather: A+
Diversity: A+
These scores are excellent when you consider this is the third-largest city in San Diego County.
See the latest Oceanside active, pending, and sold homes for sale like a Pro – without the expensive license… See Now ›
Reason 2 – The Fantastic Demographics
Well, what is so special about those who live in Oceanside? It's a good question, and we are happy to answer. The fundamental statistics paint a revealing picture.
Male residents account for 24.23% of the total population; women make up the remaining 50.77% of the city's people. There is not much migration into Oceanside at all. 83.24% of the population live in the same residence as they did last year. White-Collar jobs make up 80% of all employment and worker, blue color, positions comprise 20% of the jobs. Employment overall breaks down into the following categories: Self-employed, 11.66%; Private Company Employment, 69.51%; Government Workers, 12.6%; and Non-Profit Employers, 6.22%.
Oceanside is not an academic town at all. Only 19.42% have a baccalaureate degree. Percentage-wise, there are as many with a high school education only as there are those who have spent time in college academia (27.84% opposed to 27.83%). An interesting piece of data involves households. 67.64 % of these are family households. Oceanside is the kind of community where you can raise your kids with all sorts of opportunities for the family.
Niche.com asked residents to give the one word or phrase that best describes the people living in the area. The responses were Casual (41%), Laidback (15%), and Peaceful (11%). These are not the kind of folks that will cause trouble for anyone.
Get Pre-Approved in 60 Seconds. (No Social Security Number Needed)
By proceeding, you consent to receive calls and texts at the number you provided, including marketing by auto-dialer, pre-recorded voicemail, and email, from this site's operators about real estate related matters, but not as a condition of purchase. You also agree to our Terms of Service, and to our Privacy Policy regarding the information relating to you. Message and data rates may apply. This consent applies even if you are on a corporate, state or national Do Not Call list. This site is protected by reCAPTCHA and the Google Privacy Policy and Terms of Service apply.
Reason 3 – Lots of Great Things to Do!
There are opportunities to do many things in Oceanside, and it can be difficult deciding what to do first and what to do next. Here are some places and events you should consider.
You have a chance to meet your future neighbors and make some new friends at the Oceanside markets. The Oceanside Sunset Market is a family occasion for savoring new foods, lovely merchandise, and live entertainment all year long. Oceanside Farmer's Market is all about the fresh produce that is grown in San Diego County. There are many organic selections and baked goods, and many vendors are waiting to show you their crafts, soaps, and lotions.
The Oceanside Museum of Art is relatively new and is a busy center for art. There are approximately fifteen contemporary art exhibitions per year and numerous concerts taking place at the Museum. The California Surf Museum is for the surfer dude in all of us. You should think of this as a resource center not just about the sport, but the lifestyle and culture that grew up in the last sixty years as surfing swept our nation.
Oceanside may be in a very urbanized county, but it doesn't mean nature and the environment have no place here. Guajome County Park has more than 4.5 miles of trails you can wander to enjoy the birds and two ponds for you to fish in. Buena Vista Audubon Society & Nature Center is at the northern edge of the Buena Vista Lagoon. This happens to be a celebration of the habitat found in San Diego County, with exhibits of plant life and wildlife.
Craft and specialty beers are popular in southern California, and Oceanside has them for you. Legacy Brewing Company has twelve specialty beers for you to enjoy in an establishment that includes live music. Breakwater is near the Oceanside pier and offers 18 house-made craft beers. They also offer the wares of 25 other breweries, so you can truly indulge your taste for hops. If you are inclined to vino (and who isn't in California?), the Beach House Winery offers award-winning vintages and a breathtaking view. Vigna Al Mae is known all over the world for the wines it produces.
There are a variety of restaurants for you to enjoy. Fratelli's Italian Kitchen is Tuscan cuisine that includes hand-made pizza, meat lasagna to die for, and fantastic organic salads. What is the seashore without fish? Hello Betty Fish House has the oysters, fish tacos, and ceviche you crave.
The Old Mission San Luis Rey is one of the Franciscan missions that introduced Hispanic culture to California. It still has facilities for spiritual retreat and renewal. Heritage Park Village and Museum is close to the Mission. It was once part of the stagecoach route from San Diego to Los Angeles.
The most noteworthy Oceanside attraction is the Oceanside Pier. This is a 1600-foot pier that you can fish from, enjoy the amazing scenery, or do both. You may fall in love as you and your special friend gaze into the sunset from the Oceanside Pier. Who knows?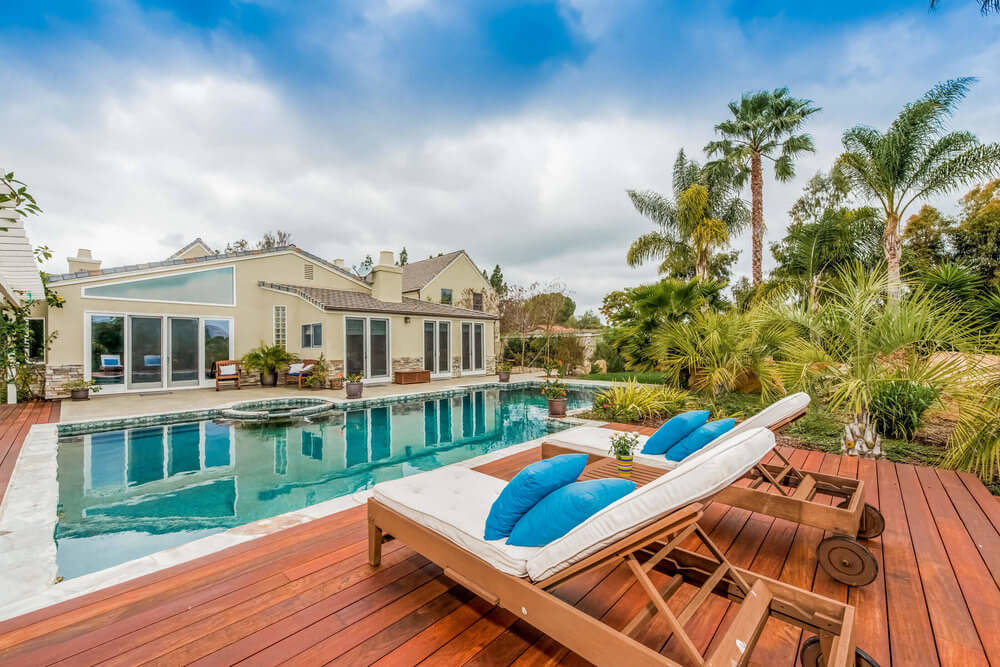 See the latest Oceanside housing market statistics dating back from January 2004 until the end of last month… See Now ›
Reason 4 – The Beaches!
If you can live without beaches, then you really should not live in southern California. Those are more than just sand dunes, dude. They are a part of life for almost everyone, and beaches convince many people to put down roots and live in coastal cities. Oceanside has some of the very best beaches.
Oceanside Harbor Beach is the biggest in the vicinity. It is a well-known surfing area, but there is even more to do here than ride the wave. Whale watching and sport fishing tours originate here that will permit you to appreciate the marine environment.
Oceanside City Beach is the best place for kids and the California Surf Museum is not far away.
Buccaneer Beach is not very wide, but it has an ambiance that attracts sun worshippers and families alike.
You do not have to limit your beach adventure to these three. The Oceanside gallery of beaches includes Breakwater Beach, Cassidy Street Beach, Oceanside Boulevard Beach, Pier View North, Pier View South, Tyson Street Beach, and Wisconsin Beach. Please feel free to choose the one you like.
Get Pre-Approved for an Oceanside home loan in 60 seconds or less – no social security number needed. Get Started ›
The Housing Scene
All the nice things about Oceanside might convince you to get out your Google maps and start hunting for a great place to live. Although we think that's a wonderful idea, we suggest that you make haste cautiously. House hunting in San Diego is entirely different than looking for a home in Cincinnati. You are facing a real estate market that can charge a high price for a modest house.
The Median Sales Price of an Oceanside residential property is $720, 500, which is considerably less than the $1,710,000 Median Sales Price of La Jolla. Median Days on the Market is 11 days. And Redfin.com rates the Oceanside Housing Market as Very Competitive. The Median Rent in Oceanside is $1,753.00. That is not bad by San Diego standards. Here is a thought. What you might pay in annual rent comes close to the mortgage interest payment of an Oceanside house. The rent increases in the San Diego area are expected to go up approximately 9.1% in 2022, and rent is not tax-deductible, whereas mortgage interest is tax-deductible. Maybe buying a house is a better idea?
It's no exaggeration that buying a house be your most significant financial decision. You should make it the best deal possible. Many times, more than one buyer is bidding on the same property. Whoever is ready to strike a deal in quick time is going to be the winner.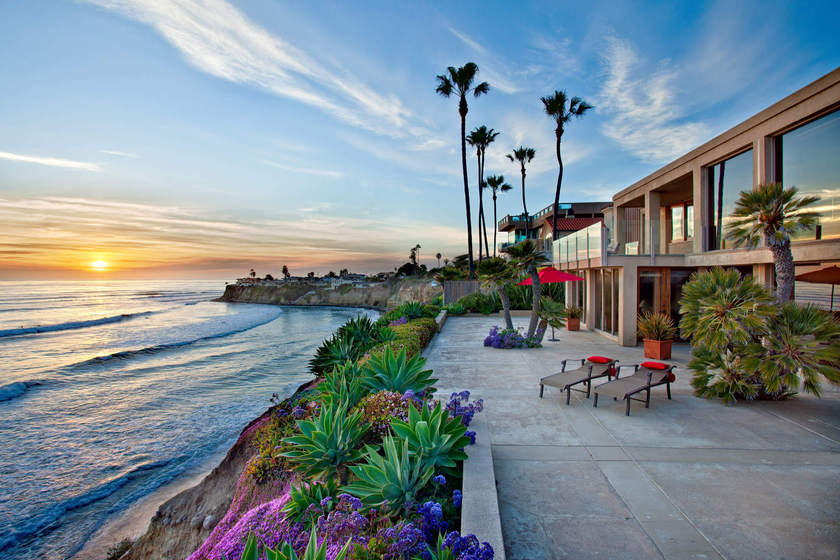 Own a home in Oceanside and you want to get a personalized home valuation for it to see how much you can walk away in profit in this exciting market? See Now ›
Furthermore, a buyer can be taken to the cleaners and not just in the closing costs. Somebody who does not understand structural damage or code violations can be persuaded to buy a house that will acquire considerable work. The seller usually handles much of that, but only if those arrangements are part of the final deal. You forget something like a utility budget, and you are faced with some expenses after you take possession. You proceed cautiously, hoping that you get a great deal without any side issues.
Another thought deals with getting the right mortgage. Time is a thief when it comes to the San Diego real estate market. A buyer is pitted against others when trying to offer the accepted bid. Whoever gets there first with the most will win, and it is a race against time.
Oceanside is no exception. As we mentioned earlier, the median days on the market are 11 days. That is less than two weeks to come up with the best offer. You need to have the financing ready, knowing the seller might back out before closing. A novice in this arena risks losing.
It pays to have a real estate professional on your side. This person understands the nuances of property and what a buyer needs to look for in a home. The agent can offer helpful advice about securing a mortgage and the pre-approval letter that is so important in a fast-paced housing market. Negotiations are a part of the process, and the agent acts on behalf of the buyer. The professional expertise guarantees that a buyer will get a fair deal.
We provide the type of assistance you are looking for in an excellent real estate agent. We represent people looking for a house in Oceanside, and we know this market very well. Once we know what your needs are and your price range, we get to work. We will deliver the result as quickly as practicable.
Financing is the rough part of buying. We will help you get the mortgage you afford at rates that will not destroy your family budget. We are experienced negotiators, and we can get the right deal for you at the best possible price.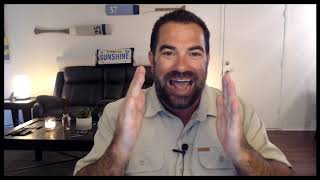 Find out what the latest and greatest Oceanside home loans are right now. Detailed video and post reveals all. See it Now ›
Oceanside is a fabulous community, and you will enjoy living there. We are here to make your house hunting dreams come true. Why not contact us at your earliest convenience and find out all we can do for you? We would welcome the chance to talk with you and answer all your questions.
We look forward to meeting you.
I would love to help assist you with your home purchase, home sale, or home loan – please feel free to give me a call, text, or use the form below.
Source https://visitoceanside.org/blog/10-reasons-to-visit-oceanside-california/
Source https://sandiegoexplorer.com/reasons-to-visit-oceanside-weekend-getaway/
Source https://www.sandiegorealestatehunter.com/blog/4-reasons-why-oceanside-san-diego-great-place-live/