Jackson Hole to Yellowstone: A Road Trip Planning Guide
Yellowstone is a magnificent place. There's a reason it's one of the most popular national parks in the United States. To get there, you'll likely be traveling from Jackson Hole to Yellowstone on your visit to this jewel of the park system.
There are ways to do that trip right, and ways to set yourself up for failure. I've put together a complete guide for travel from Jackson to Yellowstone — or Yellowstone to Jackson Hole if you'd like to be contrary — to make for an excellent Wyoming trip.
If you have more time, I'll also share some things to see in Jackson Hole, a valley full of outdoor adventuring no matter the season, and the greater city of Jackson.
Disclosure: Please note that some of the links below may be affiliate links, including links through the Amazon Services LLC Associates Program. As an Amazon Associate, I earn from qualifying purchases. At no additional cost to you, I earn a commission if you make a purchase. I won't recommend something I have not used/would not use myself, and any income earned supports the upkeep of this site.
Jackson Hole to Yellowstone: FAQs
Can you do a day trip to Yellowstone from Jackson Hole? You can do a day trip to Yellowstone from Jackson Hole. You'll just have to return to see all that the park has to offer. It's impossible to see all of the top highlights with just a day trip into the park, especially if you want to see the top attractions near the west entrance.
Is Jackson Hole a good base for Yellowstone? Jackson Hole is a good base for Yellowstone if you want to be closer to Grand Teton National Park, too. It's been said that it's the closest town for those who want to tackle both of those parks in the same day, although I'm not sure I'd recommend that.
If you do have time for Grand Teton National Park (and I hope you do!) but are short on that time, check out these highly-rated guided experiences:
What entrance to Yellowstone is closest to Jackson Hole? The south entrance to Yellowstone is closest to Jackson Hole. You'll be within a short drive of:
West Thumb Geyser Basin: Visit for sightings of steam and bubbles on a scenic lake in this less-traveled section of the park.
Grant Village: This lodge is named after Ulysses S. Grant, the president when Yellowstone became the first national park in the U.S.
Lewis Lake: Stroll around Lewis Lake or stay at the Lewis Lake Campground, just 8 miles from the south entrance of Yellowstone.
How far is Jackson Hole from the entrance of Yellowstone? Jackson Hole is a little over an hour from the south entrance of Yellowstone in minimal traffic.
Most first-time Yellowstone visitors want to arrive through the west entrance, though. That's the closest entrance to Old Faithful and the Upper Geyser Basin, the main attractions in the park. If you want to drive from Jackson Hole to Old Faithful, it'll take you around 2 hours and 30 minutes to get there. As you'll see, you can easily extend your road trip from there.
Interested in a map of highlights I'll mention in this guide? Check out the Google map below:
GIMME MY JACKSON TO YELLOWSTONE MAP!
Jackson Hole to Yellowstone Logistics
So you've decided to drive from Jackson Hole to Yellowstone. There are a few things you'll need to plan out before hitting the road, especially if you've never been to either your starting point or your destination.
Getting to Jackson Hole
Jackson Hole Airport is actually in Grand Teton National Park, just north of Jackson. I hear that it's the busiest airport in Wyoming, but it's still Wyoming. That means you'll still experience less traffic than the big city hubs. Flights don't typically come cheap outside of the big cities, either. Those who have the time to watch flights on a tool like Skyscanner will be rewarded with the best deals.
If you're working with more time and love a scenic road trip, flights to Salt Lake City are much cheaper. You'll be about five hours away from Jackson Hole if you want to same some money on airfare, but you'll have more driving from there to get to Yellowstone.
Getting Around Jackson Hole
I love some good public transportation, but renting a car will offer you the most flexibility on your journey in and around Jackson Hole and on the drive to Yellowstone from there. Try a site like Hotwire or Priceline for the best deals in the area, and assign your reservation to the airport you're flying into so that you can just grab your car after you land and hit the road.
If you're only visiting the city of Jackson on your journey, you could get away with exploring the city without a car. There is a free town shuttle that serves the downtown, in addition to the START Bus. That bus will also take you to Teton Village on certain routes. For more information on schedules and routes, see this guide to the START bus.
I know you're here to see Yellowstone, too, so renting a car will allow you do that.
What Is There to Do Between Jackson and Yellowstone?
There are a few stops you can make between Jackson and Yellowstone, especially if you're targeting an entrance to Yellowstone other than the south entrance. If you are sticking to the south, Teton Village and Grand Teton National Park are both on the way to Yellowstone.
Traveling to the more popular west entrance of Yellowstone from Jackson? You'll still pass Grand Teton National Park and the Teton Valley on the shortest route. If you choose the route through Ashton, instead, you'll hit:
Upper Mesa Falls: This waterfall in the Caribou-Targhee National Forest is nearly 115 feet high and 200 feet wide. If you tack on a stop, expect your trip to Yellowstone to take a little over 3 hours from Jackson.
Harriman State Park: You'll cut right through this park on routes through the town of Island Park, Idaho. A visit will give you a taste of Yellowstone before you get into the park, as this one is part of the Greater Yellowstone Ecosystem.
If you love a scenic drive even if it adds time to your road trip, a third route from Jackson to Yellowstone takes you further west into Idaho. You'll still travel through Ashton, but you'll drive west from Victor instead of north straight to Ashton at that point. Expect a drive without any stops to take about 3 hours and 30 minutes along this route. With more time, don't miss:
Swan Valley: Anyone into fly fishing already knows all about Swan Valley. If you're not at all into fishing (that's me!) you should visit anyway, as this is peak Idaho for outdoor adventurers.
Heise Hot Springs: This year-round resort is a great way to relax before or after big hiking trips to Yellowstone National Park. You'll have access to the outdoor pursuits along the Snake River from here, too.
Rexburg: This Idaho town is home to the Legacy Flight Museum, the family-friendly Rexburg Rapids, and plentiful green spaces for folks traveling with pets or an urge to picnic.
Things to Do in Jackson Hole
If you have more time for Jackson Hole, you won't regret it. Suggestions below for a Jackson Hole itinerary will include the city of Jackson and all the additional fun activities you'll be able to pursue in surrounding Jackson Hole before you set off for Yellowstone.
Note: Jackson is the city in Jackson Hole, and Jackson Hole refers to the surrounding valley that includes additional towns I'll explore here, like Teton Village.
As far as when to visit, it all depends on your itinerary for Jackson Hole and Yellowstone. Things to do in Jackson Hole in July will differ from things to do in Jackson Hole in the winter months. Think winter sports vs. hiking amongst the valley's natural wonders.
Jackson Hole's ski season is generally Thanksgiving through early April. The peak summer season for the national parks around Jackson Hole is July-August, so accommodations throughout the valley will be pricier during that time. Keep all of that in mind as you plan so that you're able to have the trip you want!
Explore downtown Jackson.
Jackson is, at its core, super cute. We were there in the summer so didn't get those snowy ski town vibes, but what we got instead was a walkable town square and all the Western wear we could ever want.
If you feel like you don't need the overview at the visitor center, start at George Washington Memorial Park, or the Jackson Town Square. The park was dedicated back in 1934, and you'll know you're there when you see the giant elk antler arches at the entrances.
Fun fact: The origins of the antlers aren't nefarious, by the way. They were collected from the National Elk Refuge nearby during the natural antler shedding process.
Those looking for some evening entertainment might enjoy taking in a show at the Jackson Hole Playhouse. They have packages that include dinner with your show, too.
Eat (and drink) your way through Jackson.
After exploring the city a bit, you'll likely need some sustenance at some point. Our top recommendation is Cafe Genevieve, despite its feature on an episode of Diners, Drive-ins and Dives.
I'm mostly joking here. Guy Fieri did redeem himself some with his excellent pandemic response and donation abilities when people needed it the most. In any case, the curb appeal at this cafe has got it going on.
Fun fact: The Main Street eatery is housed in a log cabin that's more than 100 years old.
The entire menu is stellar, but if you're a meat eater, don't leave without trying the pig candy, which is candied bacon but turned up a notch. This is a popular establishment. Reservations are encouraged by calling 307-732-1910. If you have the room, pop in to CocoLove, a chocolate cafe, for dessert.
Sip on a pint at Snake River Brewery.
We had a fabulous time at the Snake River Brewery, but keep in mind that we did indeed indulge in quite a few brews there. The bartender was feeling overly generous while we were there, so our tasters included some freebies. They have a decent-looking pub menu, too.
If you want a few more pints while in Jackson, Roadhouse Brewing Co. and Melvin Brewing in nearby Alpine and at Thai Me Up in Jackson proper are a few more options. Not interested in beer but love yourself a glass of wine? Visit the Jackson Hole Winery for wines made with the best grapes out of California and Oregon.
Visit Grand Teton National Park.
Is Grand Teton better than Yellowstone? Grand Teton isn't better than Yellowstone if size is the only thing that matters. Yellowstone is a much bigger park, so it's easier to escape the crowds and find some solitude while you're at Yellowstone.
Don't sleep on the Tetons, though. Grand Teton National Park gives intrepid visitors some of the most scenic views you'll find in the United States.
Lucky for you, I have a guide to the best hikes and sights in Grand Teton. If you're interested in making the trip, check it out:
Choose your favorite Jackson Hole ski area.
There are three ski areas for you to explore in Jackson Hole if you're there for the powder: Snow King Mountain Resort, Jackson Hole Mountain Resort, and Grand Targhee Resort.
Snow King, Wyoming's oldest ski resort, is convenient for skiers at a variety of levels looking to stick closer to Jackson.
Jackson Hole Mountain Resort in Teton Village is well-known around the country as one of the more difficult ski resorts, so if you're looking for a challenge and have the skills to back that up, this one could be for you.
The Grand Targhee Resort is about 75 minutes away from Jackson in the town of Alta, but offers more options for the average skier.
Get those Western vibes on.
If you brought along a pair of cowboy boots, this is their time to shine. Every Wednesday and Saturday from Memorial Day weekend through Labor Day, the Jackson Hole Rodeo celebrates all things cowboy with bucking broncos and all the other horseplay you'd expect in their outdoor arena.
Note: If you're interested in some horseback riding, Jackson Hole is a great place to do that. There are outfitters like the Grand Teton Lodge Company that will even take you into Grand Teton National Park on horseback.
If all of that caused you to work up an appetite and you want something a bit more unique than the rodeo concessions stands, seek out a chuckwagon dinner in the valley.
The chuckwagon tradition celebrates a coming-together over good grub, good company, and good story-telling under the stars. The Jackson Hole Chamber of Commerce has lots of options for you if this sounds up your alley, along with information on reservations so you're not shut out once you get there.
Meet some elk at the National Elk Refuge.
Remember those antler arches you saw adorning Jackson's main square? The National Elk Refuge is where they came from. If you're in Jackson Hole in the winter, you'll be able to see them from your car or on a sleigh ride organized by the refuge. I'm not joking about that second option. It's all very winter wonderland.
This is all assuming you're there in the winter months, when the refuge gives the local elk herds a place to munch. Otherwise, they're likely foraging outside of the refuge's boundaries, because freedom.
Oh, and the park's free, by the way.
Soak in the Granite Hot Springs.
You may be in need of some relaxation after all of those outdoor adventures. The Granite Hot Springs are the place to do that.
The natural hot springs are in the Gros Ventre Mountains and open year-round, with more limited hours in the winter months. The waters in the winter get up to 112 degrees, so you'll be nice and toasty even if it's snowy outside.
Just 30 miles from the town of Jackson, it's an easy trip out to the springs for a few hours of soaking and taking in the views. The springs are 7,000 miles above sea level, which does in fact mean views for days while you're having your terrific natural spa times. Call ahead at 307-690-6323 if snowy weather has you worried whether you'll be able to visit.
Go on a guided tour of Jackson.
I get it. Travel in the more remote corners of the country can be intimidating. I'm about the self-guided life, but there's always room for guided experiences, too, if that's what makes you feel more comfortable traveling.
Check out some of the fun you can be having on guided tours in and around Jackson Hole:
Arriving in Yellowstone
I recommend at least 3 days to do the park some justice. If you're not able to see the park on your own, there are a number of self-guided tours for you out there that are highly rated:
Otherwise, check out my Yellowstone itinerary below to see how you could be spending your time in the park:
Here for the highlights? Here's what you absolutely should not miss on your Yellowstone itinerary from Jackson Hole:
Old Faithful and the Upper Geyser Basin
Grand Prismatic Spring
Norris Geyser Basin
Lamar Valley
Yellowstone Lake
Grand Canyon of the Yellowstone
If you're able, I highly recommend getting off of the boardwalks for deeper explorations into the park. You'll lose some of the bigger crowds and find corners of Yellowstone that you likely wouldn't otherwise. Interested in my favorite hikes? Check out my Yellowstone hiking guide:
Have you been to Jackson Hole? What were your favorite places in the valley? Have you traveled from Jackson to Yellowstone, or vice versa? Share all of your tips with me in the comments!
Ready to Go to Jackson Hole & Yellowstone?
Your Flight: I use a variety of tools to find cheap airfare, but if you're looking to book during a particular period of time, especially during busy times (e.g. school breaks), you should use Skyscanner. It's a great tool for when you're more flexible, too, as it allows you to compare travel based on length of travel, departure date, etc.
Deals to Jackson Hole aren't the easiest to come by. If you're able to watch flights for a bit, that'll serve you well. Scroll up for more tips on getting to Jackson Hole and getting around once you're there.
Your Accommodations: Generally, I usually book on sites like Booking.com and Hotels.com for our accommodation needs. Both offer loyalty programs, which are great as you collect points and stays. My favorite Airbnb alternative these days is Vrbo, and Hostelworld is great for travelers on a budget.
If you're looking for stays in Jackson Hole, check out these top picks from Booking.com:
We've stayed at the Ranch Inn Jackson Hole listed above, and I'd recommend it. We liked how walkable it was, with easy parking available, too.
Interested in something more apartment-style? Check out these listings from Vrbo:
Alpine Cottage Studio
Downtown Condo on Flat Creek
Resort Luxury on Snow King
The Pulse of Jackson Hole & Downtown Luxury
Town Square Studio in Downtown Jackson
Skiers may be more interested in staying in Teton Village, which surrounds the Jackson Hole Mountain Resort. It's adorable and fancy, which is all that you'd want a ski town to be, right? Check out some additional highly-rated options for a stay in Teton Village below from Booking.com:
Check out these listings from Vrbo if you're looking for some homier lodging:
Cozy Condo With Hot Tub Access
Four Seasons Perfect Mountain Getaway
Gros Ventre Mountain Condo
Sleeping Indian, Close to Chairlifts
Spacious 3-Bedroom Condo With Great Views
Need accommodations in Yellowstone? Check out my guide for where to stay in Yellowstone, including options in West Yellowstone and towns outside the park.
Etc.: For general travel goodies, visit my Favorite Things page. For more general information on planning your travel, visit my Travel Tools page.
5+ Reasons Fall is the Best Time to Visit Jackson Hole, Wyoming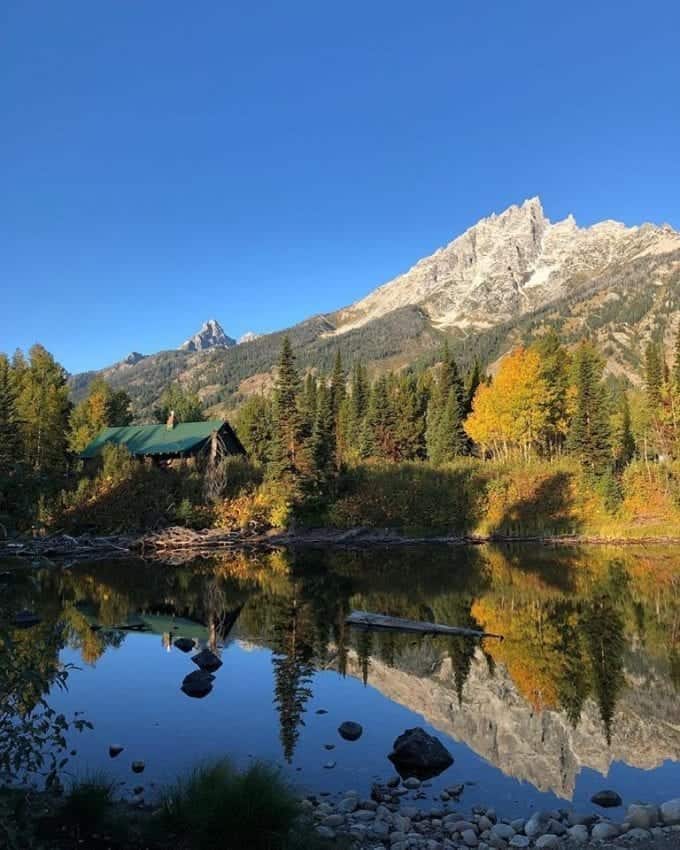 Are you looking for the best time to visit Jackson Hole, Wyoming? After making a trip to this destination in both the summer and the fall, we have the scoop on when to visit and what to do once you're there.
Visiting Jackson Hole, WY in the Fall
Before I get into all the reasons to visit Jackon Hole in the fall, let me preface it by saying summer is quite amazing as well. We made a stop there in July and had such an amazing time. It was beautiful, the weather wasn't too hot for us Texans and we found so many fun things to do.
Like the Alpine Slide and Cowboy Coaster.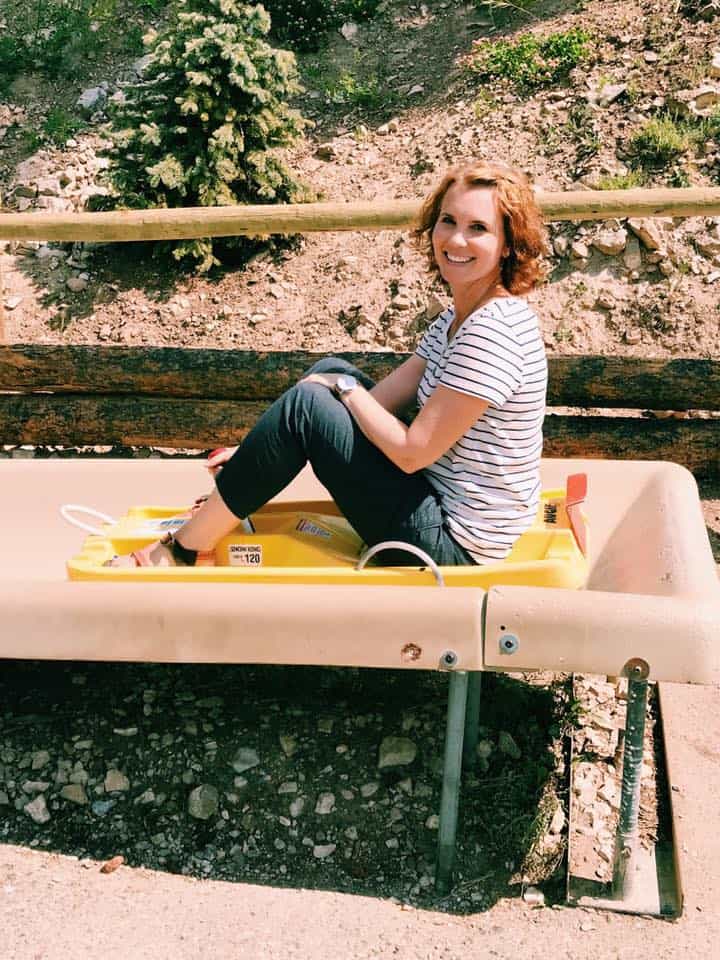 But. It was busy. Very, very busy.
Without a doubt, we agree you should try to plan a visit to Jackson Hole, Wyoming in the fall. Here's why:
#1 Fewer Crowds Than Winter & Summer
As I mentioned, the summer crowds were pretty intense and my guess is winter is just the same. From walking around town trying to navigate the crowds to having to stay at an RV park an hour from Grand Teton National Park, everything was super busy.
Our visit in September was a completely different experience. We were able to find a campground in the park with no reservations. (Although we were turned away at one RV park because they were full.)
Walking around town was so nice because the crowds were minimal. Finding a place to eat was also easy.
We recommend Hand Fire Pizza: Great wine and beer selection and delicious pizza made before your eyes in the open kitchen.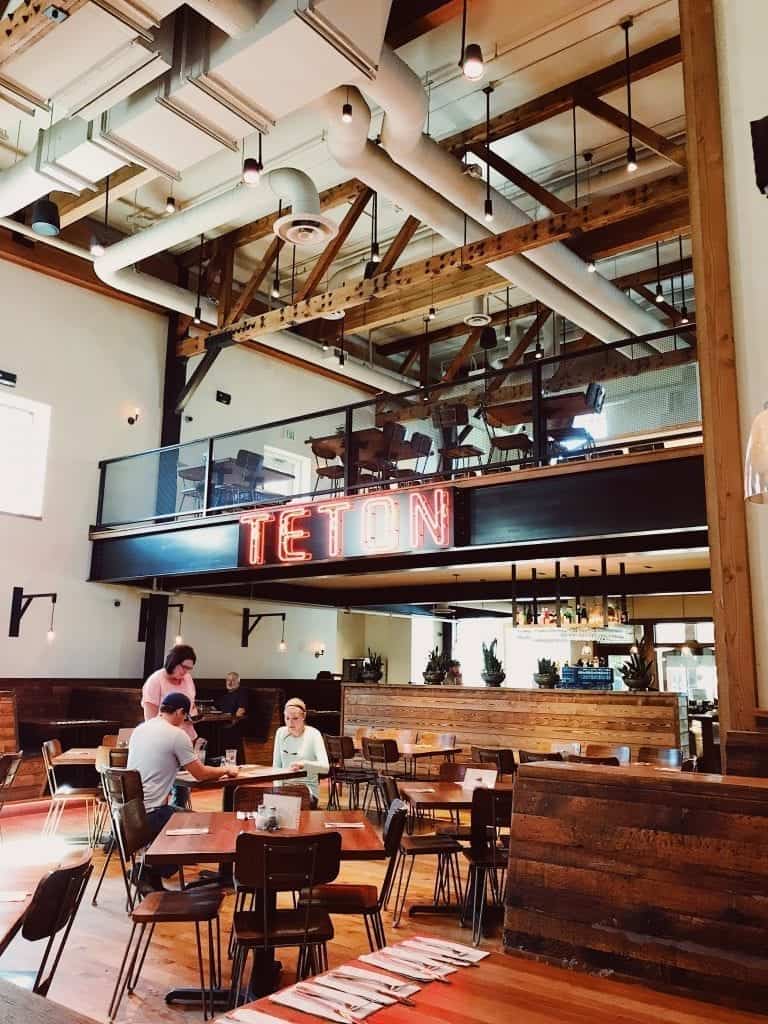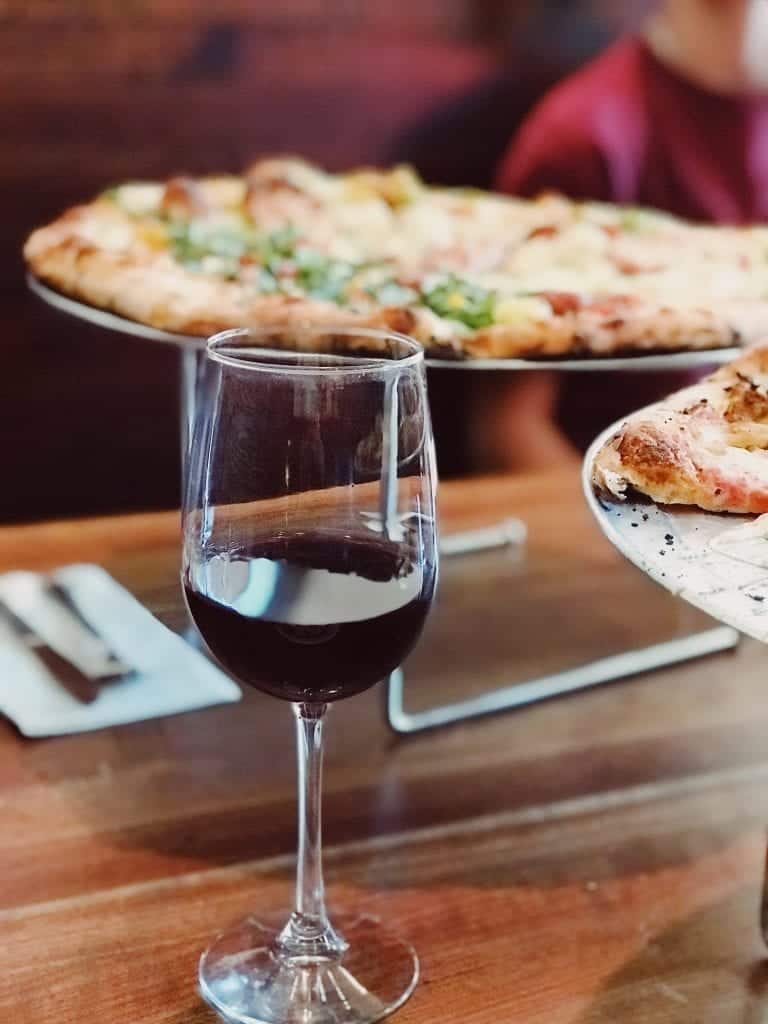 And traffic wasn't near as bad as the summer, making it easy to find a parking space and navigate our way around town in a big truck.
#2 The Gorgeous Fall Foliage
Oh, the fall foliage. I can't express in words how beautiful it was in Grand Teton National Park. Maybe a picture will help…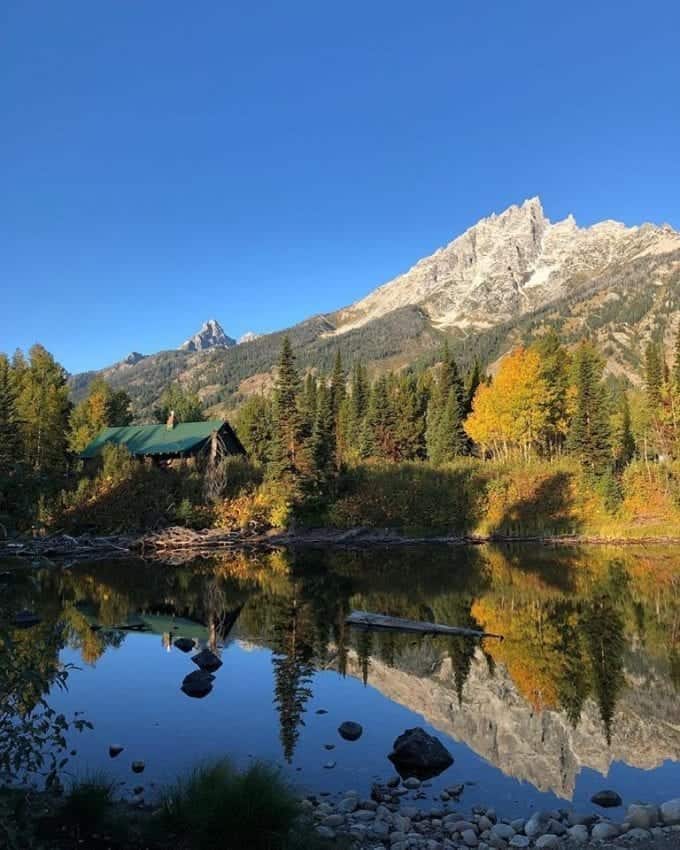 The guys woke up several times at sunrise to grab some pictures of the sun hitting the tips of the Tetons and the fall foliage. I joined them once (I'm not a morning person) and was actually happy I woke up that early. As we quickly found out, this time of the day was a photographer's paradise.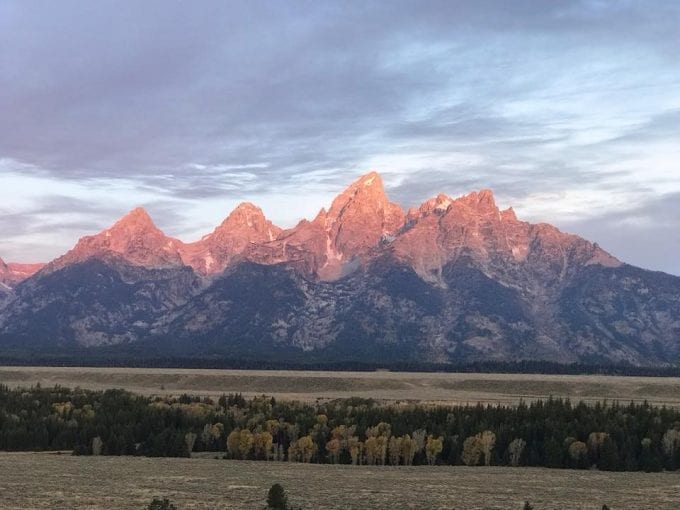 This spot with the reflection of the mountain was particularly popular.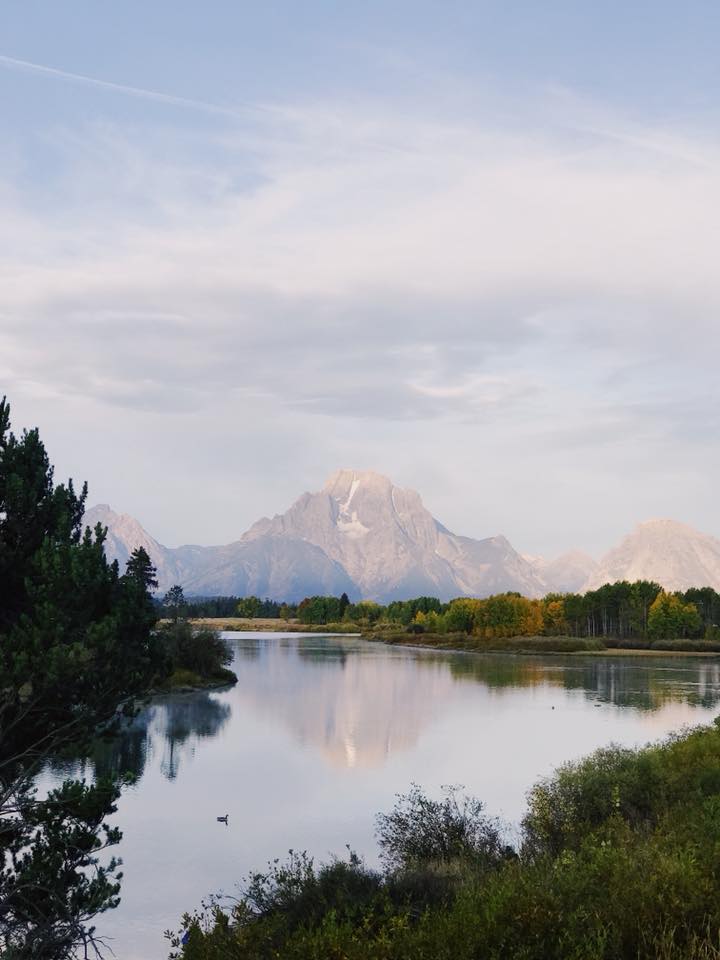 But whether you get up at the crack of dawn, head out in the middle of the day or stay out for sunset, there are plenty of opportunities to enjoy and photograph this area in the fall.
#3 The Cooler Temperatures
As we were walking around Jackson in September, we kept saying how perfect the temps were. With highs in the low 70s, it was just the right temp to walk around their downtown area for some shopping, sightseeing and climbing on their very cool outdoor rock wall.
You'll find this wall and others at Teton Boulder Park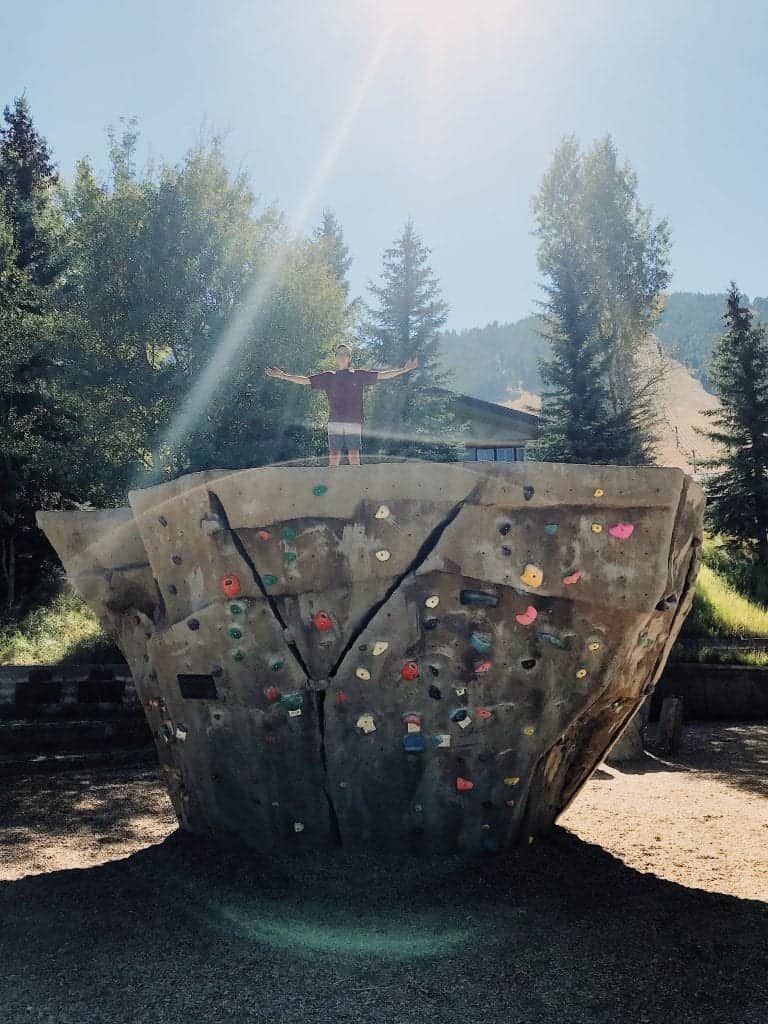 It did get down into the 30s at night and although we were in an RV, we stayed nice and toasty warm. It was actually quite enjoyable to walk outside in the morning and breathe in the cool, crisp air.
#4 Wildlife is Everywhere
Wildlife was everywhere during our visit in September. From deer, elk and a moose the guys encountered on the trail, we were ecstatic at how much wildlife we saw.
The deer, elk, and moose are in their breeding season, so they make their way down to where park visitors can get a good view. While we didn't see any bear, the campground told us to be very careful because they had a mom and her cubs walk right past the office a few days before we arrived. Bears tend to frequent these areas looking for food before winter arrives.
Several times we were sitting in our RV with the windows open and we could hear the elk calls. Talk about a magical experience.
#5 The Fall Activities Offered By Hotels
Teton Mountain Lodge & Spa and Hotel Terra Jackson Hole are both located slopeside to Jackson Hole Mountain Resort. Both of these resorts are popular winter destinations and for good reason. Just look at them surrounded by snow.
Teton Mountain Lodge & Spa in the winter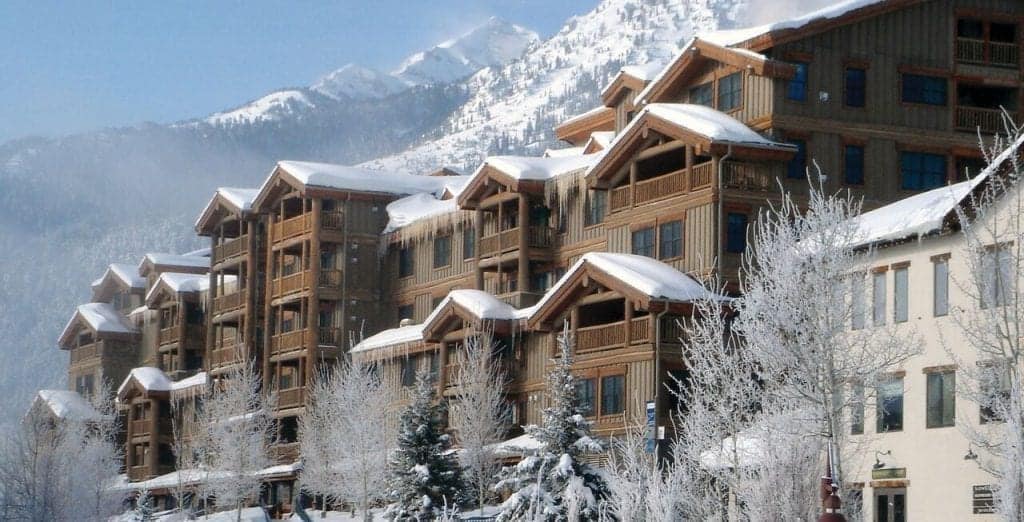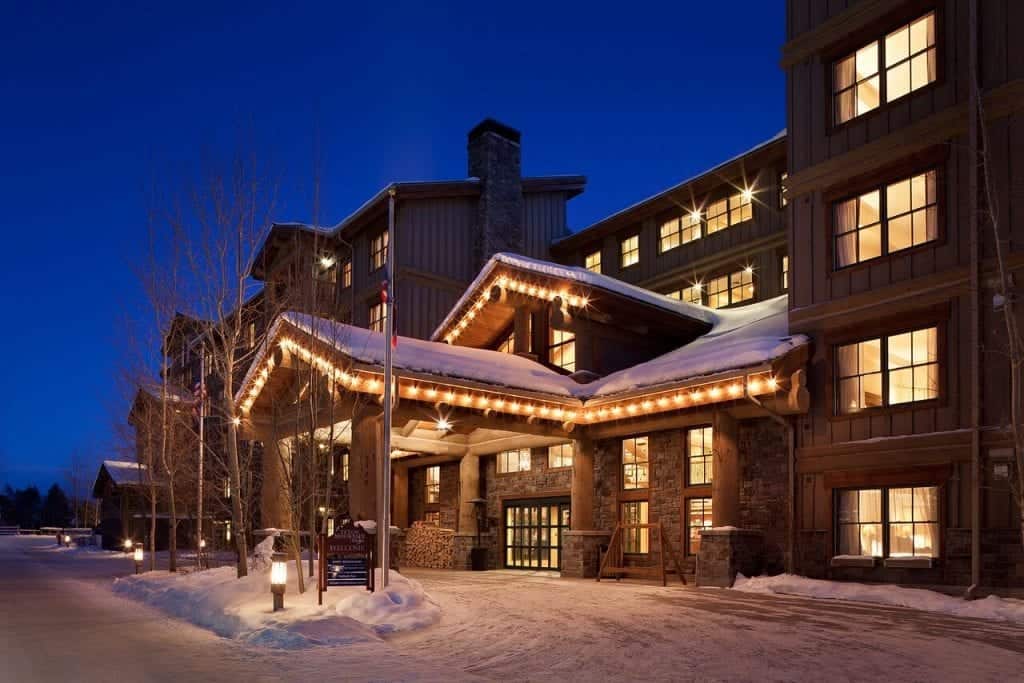 Hotel Terra in the winter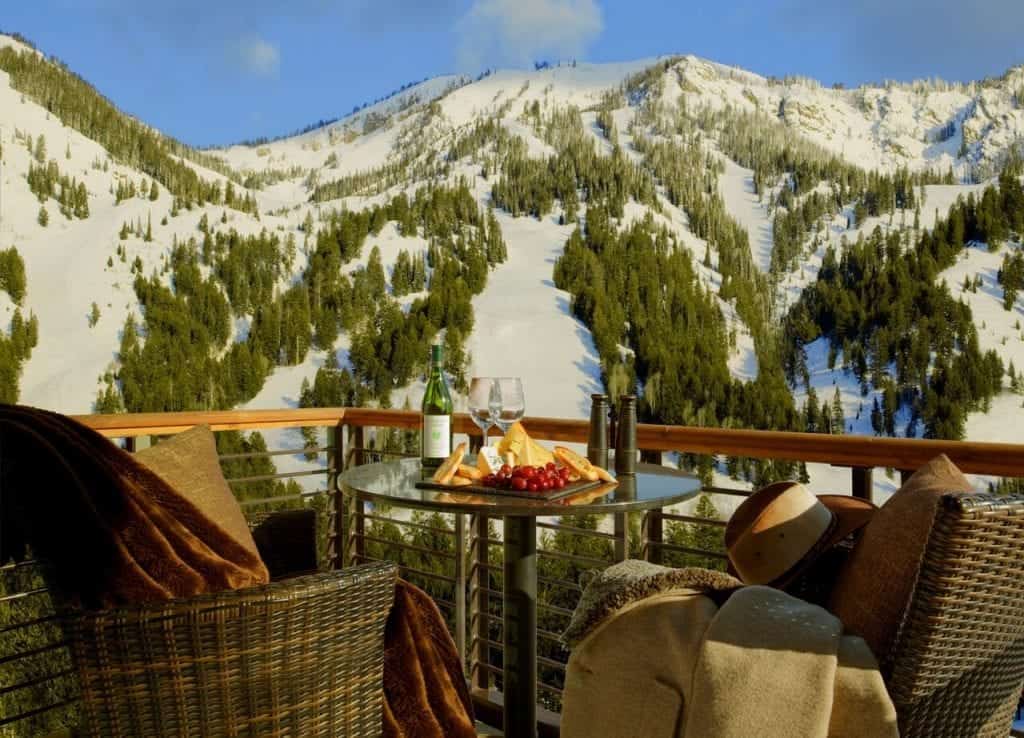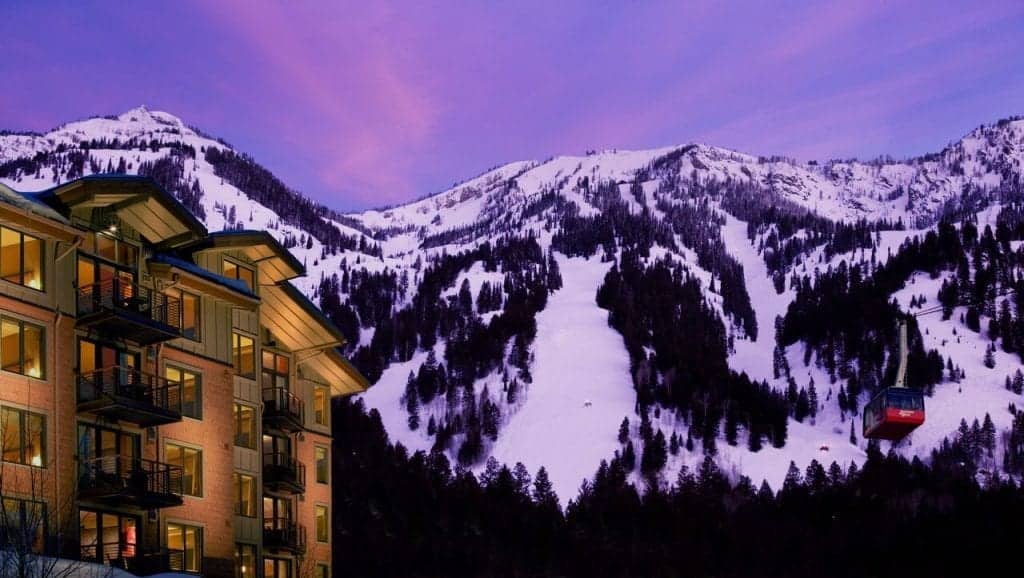 Images courtesy of: Hotel Terra and Teton Mountain Lodge & Spa
But they're also the perfect place to stay come the fall season. Here's a sampling of their fall activities:
Wildlife tours
Hiking
Mountain biking
Hot air balloon rides
Paragliding
Horseback riding
Golfing
Rafting
Kayaking
Watersports
Some of the world's best trout fishing and fly-fishing
As you can see, there are plenty of things to do for adventure seekers and outdoor enthusiasts.
#6 BONUS: It's the Perfect Time to RV in This Location
If you don't want to stay at a hotel, but would rather try out RVing in Jackson Hole Wyoming, consider renting an RV with Outdoorsy.
We've personally RV'd in this location twice – once in the summer and once in the fall. Our summer stay was at Longhorn Ranch RV Resort and our fall stay was at Colter Bay RV Park.
While we have great memories of both times, our fall stay was amazing. Between the perfect weather, lower crowd numbers and abundant wildlife, there was so much to love.
You can truly give your family a unique experience by renting an RV in Jackson Hole, WY. Here's how to do it:
Rent an RV with Outdoorsy in advance; choose an RV owner who will deliver the RV to your campsite
Drive or fly into the area
Meet the RV owner at the campsite and have a blast!
Here are a few RV rentals that caught our eye.
Be sure to use coupon code "TREKKN" for $40 off your RV rental!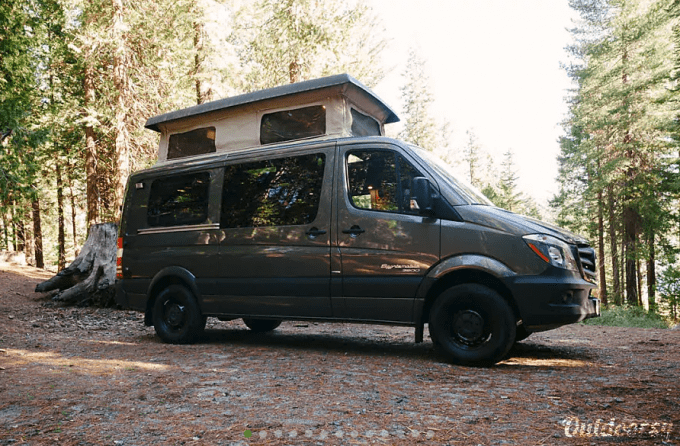 About this Camper Van Rental: "This luxury vehicle is the perfect way to see and experience our National Parks! Sleeps 4 comfortably and offers 5 seatbelts."
Check price and see more pictures here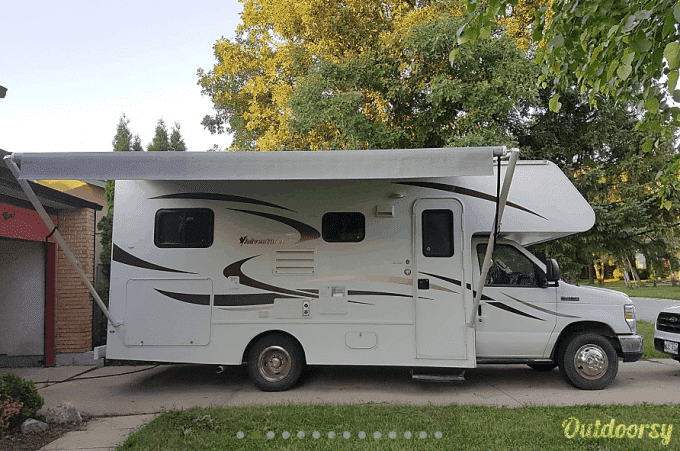 About this Motorhome Rental: "Camping with little ones couldn't be easier. Removable baby gate installed across rear bed to make a safe play/sleep area. Dinette seats haves two LATCH car seat adapters and the dinette table has been modified for car seat placement."
Check price and see more pictures here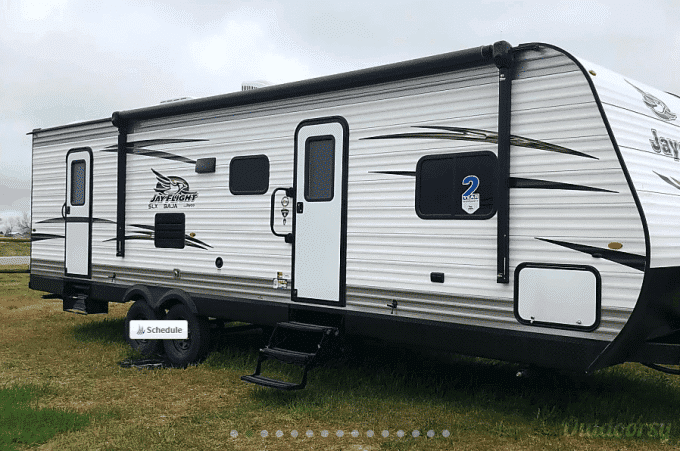 About this travel trailer rental: "Brand new 2018 Jayco Travel Trailer 28′ of living space with slide out gives you plenty of room. The queen bed and double bunk beds come with linens. The couch and dining table both fold out into nice size beds."
Check price and see more pictures here
Search for RV rentals in Jackson Hole, WY below.
Be sure to use coupon code "TREKKN" for $40 off your RV rental!
Have I convinced you to at least start doing some research on a visit to Jackson Hole Wyoming and Grand Teton National Park in the fall? I hope so. You won't be disappointed in your experience!
PIN THIS TO SAVE FOR LATER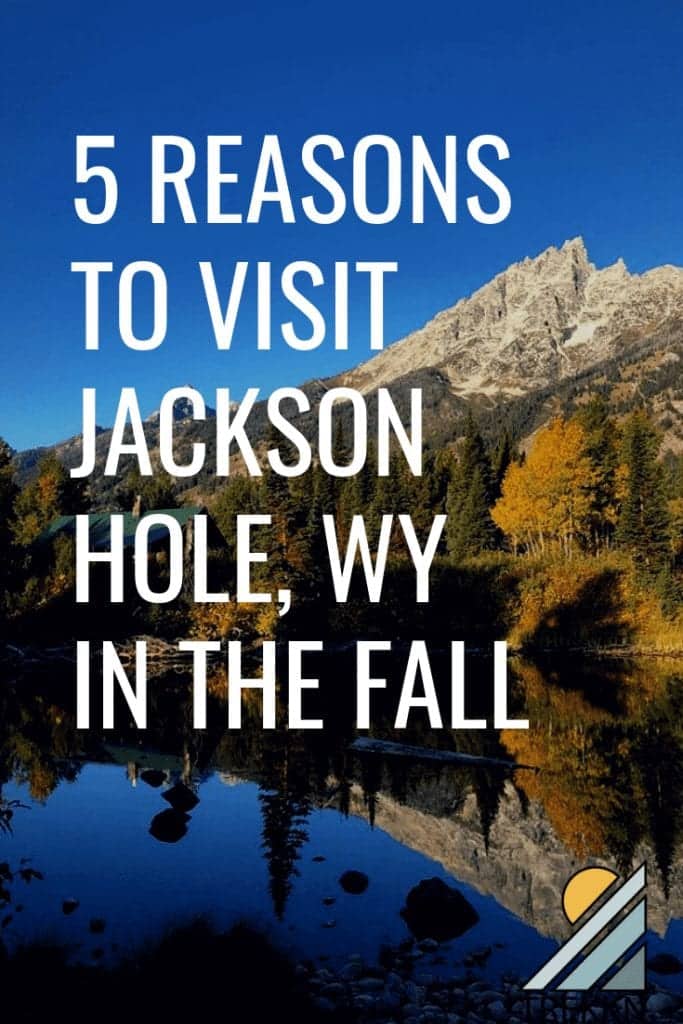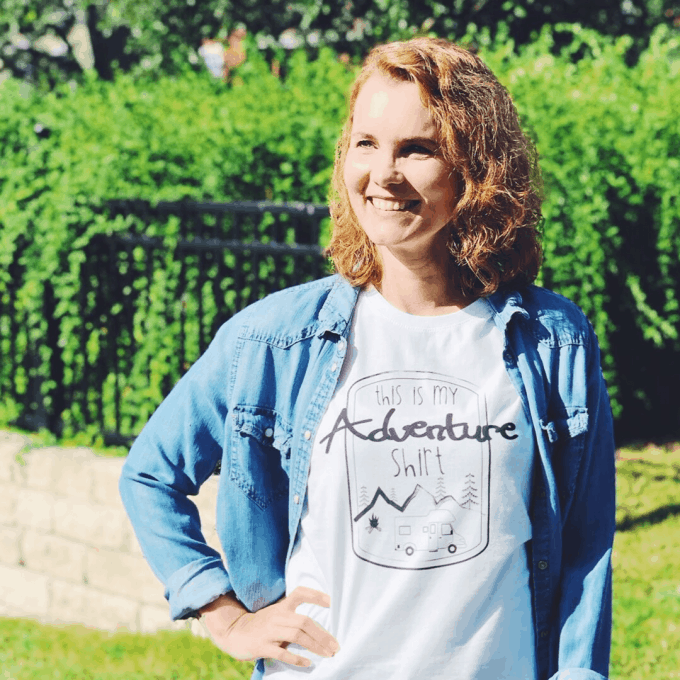 Julie Bonner is one-half of the TREKKN team. She specializes in helping you whip up delicious meals in your tiny RV kitchen, as well as RV organization tips and helping fellow RVers make their RV feel like home. Her favorite RVing spot is in Banff National Park in Canada where yes, the water really is that blue and the people really are that nice.
Visit Jackson Hole in October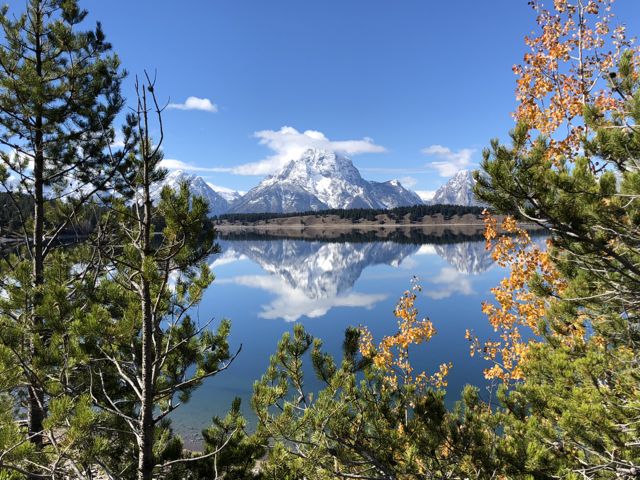 Most information you read about Jackson Hole, Wyoming speaks to traveling there in the summer for pleasant weather or winter for skiing. I think the best idea might be to visit Jackson Hole in October, for pretty autumn colors, good prices, and above all, no crowds!
Locals call April and May the mud season, because the snowmelt creates miserable hiking and biking conditions. They say October starts the off-season. By late in the month the weather has turned cold, the leaves on the aspens are gone, and a snowstorm or two is likely, but not enough to open the ski resorts. Many restaurants close until December, when the tourists return in droves. But early October can be ideal.
First, what you won't experience in October
If you have this strong desire for a winter wonderland that the Jackson Hole Mountain Resort certainly represents, you need to wait until Christmas. Teton Village, with its aerial trams and ski runs are eerily quiet in October. There are no sleigh rides or dog sled rides until more snow falls.
If you have come to Jackson Hole to hike and bike among wildflowers or to pretend you are in the old west with a good old fashioned chuck wagon or rodeo experience, then summer is the time for you. Plenty of activities cater to the warm weather tourist.
Ah, but that is the problem. So much is aimed at the summer and winter visitor that the result is crowded restaurants, traffic jams, and the highest prices and lowest availability of lodging.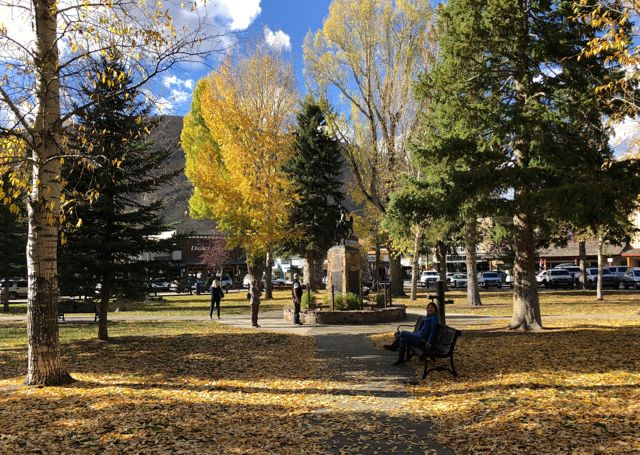 Wander around the Town Square area day or night
In the center of Jackson Hole is a delightful town square surrounding by shops of all kinds, scores of interesting galleries, and most of the best restaurants in the region. They are all open in early October, but you can actually find street parking that is scarce in high season months.
Our favorite gallery is Mangelsen Images of Nature. Arguably the country's most legendary nature photographer, Tom Mangelsen has spent considerable time in Yellowstone and its environs. This was his first gallery, opened more than 40 years ago in a homey three-story building. Linger here and get inspired for your hikes and tours and pictures to come.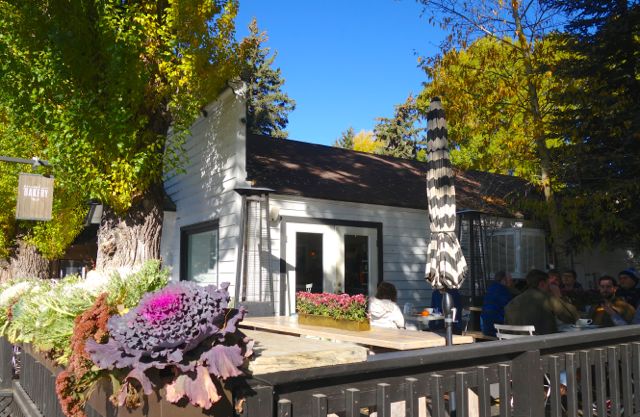 Our favorite places to eat in town
The gentrification of Jackson Hole over the years has drawn creative chefs and produced hundred of dining choices. Here is our take:
Best breakfast. Café Genevieve is a tiny place right off Town Square that is extremely popular with both locals and tourists. Their bakery items are to die for, along with creative breakfast and brunch entrees. I don't normally care for quiche, but theirs was the best I have had in my life. We tried out Café Genevieve one morning and returned every day after that!
Best dinner. We stumbled upon Glorietta Trattoria in search of an early dinner. It looked inviting. Then we walked in and saw most of the tables empty. I joked that maybe they were all reserved. No joke. They were. All we could do is snatch the last two seats at the bar. I'm glad we did. We dined on multiple creative Italian pasta dishes, intoxicating wine, and fascinating conversation with a few locals. Jackpot!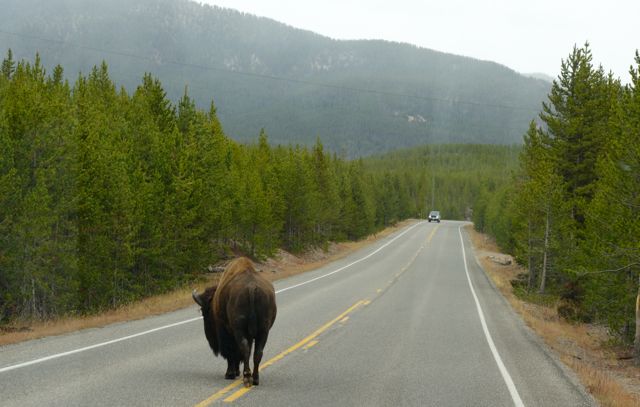 Second-best dinner. There were a lot of candidates for this crown. The Snake River Grille and Orsetto were recommended, but we didn't get there. Our hotel's restaurant, Wild Sage, is considered one of the best in town for dinner, but we only ate breakfast there (which was good). The choice here is Gather, which was an Iron Chef winner a few years ago. You see bison wandering around in Yellowstone, so a trip to Jackson Hole would not be complete without trying Bison steak. It was okay, but there are better entrees here.
Best casual dining. You may tire of Western food every day, but there are pretty limited options here for Asian cuisine. The best bet is Noodle Kitchen. Finally, for late-night cravings or family dining, try the tastiest pizza in town at Pinky G's.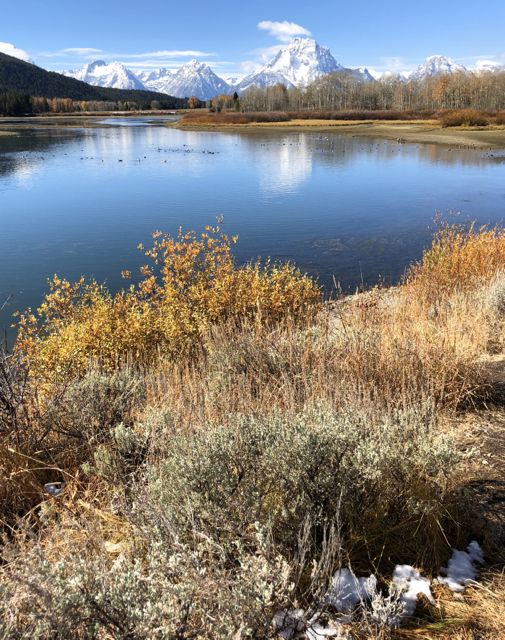 Let's go hiking. Start easy at the Rockefeller Reserve.
Restaurants and spas are nice, but you came to Jackson Hole for the great outdoors, and it doesn't disappoint. I suggest beginning your exploration at the Jackson Hole & Greater Yellowstone Visitor Center, an interagency facility. Besides a plethora of visitor brochures and exhibits, you will find both maps and expert human advice on where to go. It's located on the north end of town in the National Elk Refuge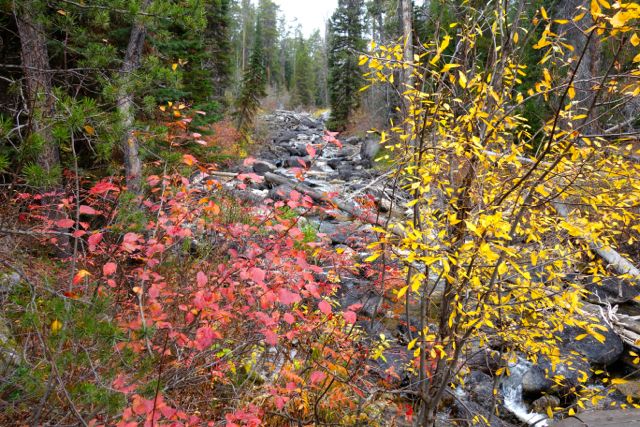 We choose a non-strenuous walk, starting at the Laurance S. Rockefeller Preserve. It is located just south of the Moose entrance to Grand Teton National Park. We take the trail to Phelps Lake, a route that follows a rocky stream and vegetation that ranges from green pines to golden aspens to red bushes. Throw in our first light snowfall for all the colors of the rainbow.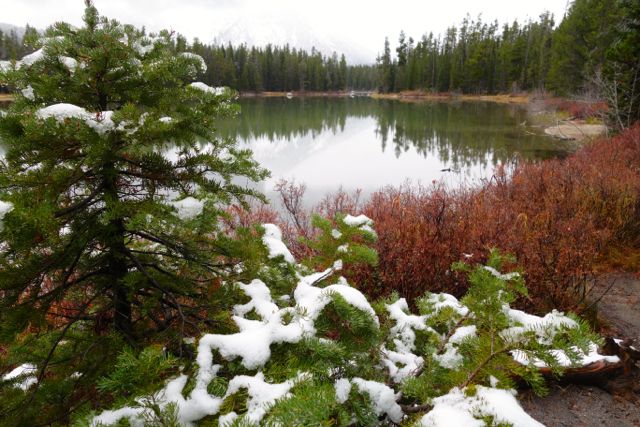 More Grand Teton: hiking String Lake and Leigh Lake
By venturing further north through Grand Teton National Park the scenery just keeps getting more beautiful. On another day we drive past Jenny Lake to the String Lake trail. It's another easy hike, following a clear path without much change in elevation. There is a change in the weather, as lovely big snowflakes create a magical atmosphere.
Whether you enjoy hiking or not, make sure you have rented a car to drive through Grand Teton National Park. A suggested route would be to take Highway 191 north to the park's Moran entrance. Then take Teton Park Road south to Jenny Lake and continue south to the Moose entrance, where you will rejoin 191. Note: this road is closed due to snow from November to May, another reason why early October is an exceptional time to visit. This route offers some of the most scenic views of the Grand Teton peaks, with reflective lakes and beautiful forests.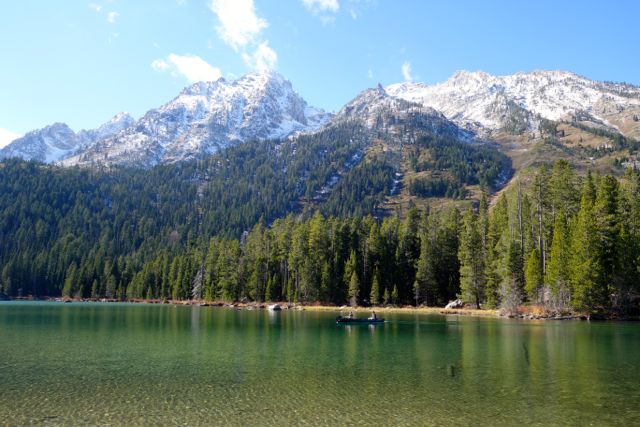 We admire String Lake so much we hike it a second day, including some nice views across Leigh Lake that had been obscured by the snowfall on our previous walk. It's worth mentioning that you are in the great outdoors and sharing it with red squirrels and other wildlife. And, of course, that could include bears, which is why we carry bear spray. I'm told we might have about 10 seconds to protect ourselves in the event of an encounter, and I'm not confident I am that fast of a draw. Fortunately, the only bears we saw were from the safety of our car during a drive through the woods.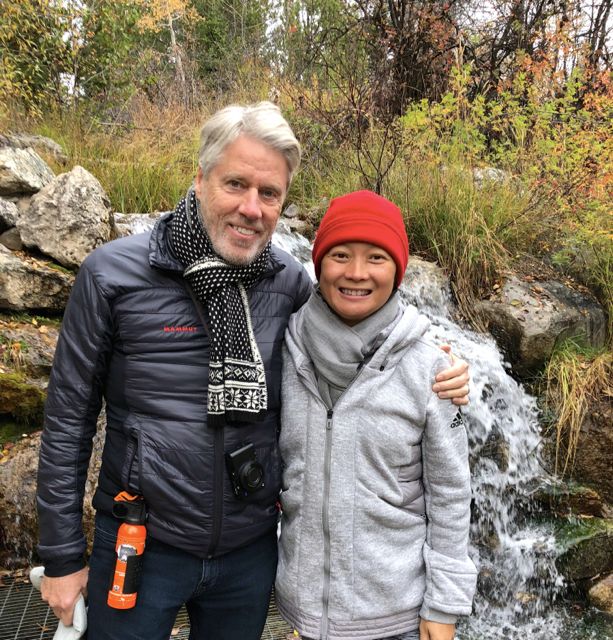 Yes, you should visit Yellowstone
Jackson Hole is the gateway to Yellowstone National Park. That doesn't mean you can just hop in your rental car and spend the morning checking it out. Yellowstone is huge. At 3,472 square miles, it is larger than the states of Delaware and Rhode Island – combined. And just getting there is about a 5-hour round trip. But, for first-time visitors, to stay in Jackson Hole and not experience Yellowstone is a missed opportunity.
Arguably one of America's most famous National Parks, Yellowstone deserves its own post, so I will keep this brief.
Fortunately, there are several tour companies that offer day trips featuring Old Faithful and other geysers, as well as what is called the Yellowstone Lower Loop drive. The string of "greatest hits" is amazing, including the colorful Artists Paintpots and Yellowstone's Grand Canyon, with its magnificent waterfalls.
I did a lot of research before choosing Wildlife Expeditions from Teton Science Schools, a non-profit organization that runs schools and community programs, as well as small wildlife tours. We opted for an all-day (about 12 hours) small group tour in a comfortable safari-type Mercedes-Benz van with an expert naturalist guide. And here is more good news about visiting in October – we were the only people signed up that day, making it a private tour for us!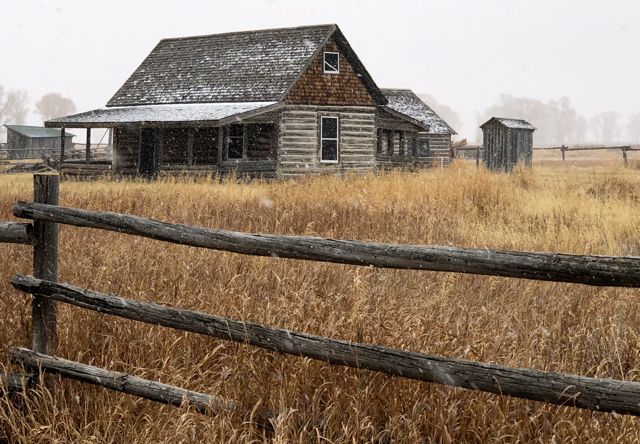 Don't forget to just wander and explore
If our hotel, spa, and Yellowstone tour were "upscale," then spending some days just wandering around this part of Wyoming was the "on a budget" experience. We drove west on Highway 22 through the Teton Pass for breathtaking scenery.
We drove north on Highway 191 past Moose Junction onto Antelope Flats Road. Why? This area is home to Mormon Row, a grouping of old structures, including the much-photographed Moulton Barn. The Andy Chambers Homestead, pictured here in a light snowfall, gave us a magical sense of time standing still – remembering early settlers coexisting with nature. At the end of the day, whether you are stargazing or relaxing by a fire, nature is what Jackson Hole is all about.
What's upscale?
We stayed at the rustic/luxury Rusty Parrot Lodge but learned it has since been destroyed by a fire! They hope to rebuild by 2022.
We also take advantage of their Body Sage Spa after a day of hiking. The spa, in a separate building, escaped the fire and is open.
A full day tour to Yellowstone with TSS Wildlife is definitely worth the price.
What's budget?
There are so many outdoor activities you can do for free.
Shop around on Costco Travel for a rental car. This time the best deal was from Enterprise.
Source https://www.travelonthereg.com/jackson-hole-to-yellowstone/
Source https://trekkn.co/fall-best-time-to-visit-jackson-hole-wyoming/
Source https://journeyswithstephen.com/visit-jackson-hole-in-october/