Pros & Cons of Living In The US Virgin Islands
The United States Virgin Islands (USVI) or the Virgin Islands of the United States are a group of four Caribbean islands that are overseas dependencies of the United States of America.
These islands are St Croix, St Thomas, St John and Water Island. The capital is Charlotte Amalie which is located on the island of St Thomas.
The largest island is St Croix being 84 square miles, then St Thomas which is 32 square miles and St John being the smallest of the three major islands at 19 square miles. Water Island is only 491 acres. In this article we will explore all the pros and cons of living in the US Virgin Islands.
The pros of living in US Virgin Islands are its low crime rate, stable currency, beautiful natural scenery and amazing beaches. On the other hand, living in US Virgin Islands has its cons such as the threat of natural disasters, poor infrastructure and a slower pace of life.
Read on for comprehensive details of the pros and cons of living in the US Virgin Islands.
Pros of Living In US Virgin Islands
Beautiful Natural Scenery
The views on all the islands are breathtaking. Mountain Top and Drake's Seat are fantastic spots with amazing views in St Thomas.
Mountain top is 1500 feet above sea level and provides a stunning view the other Virgin Islands and the British Virgin Islands. From mountain top you can see a total of 20 islands.
Alternatively Drake's seat offers an amazing view of Magens Bay, the other Virgin Islands and British Virgin Islands to the East.
Mermaid's Chair is also a location on the Rock City's West Coast which is a must see on the island of St Thomas. This area is a small strip that separates the Atlantic Ocean and the Caribbean Sea. It is best to visit during low tide if you will like to walk across this strip.
On the largest island which is St Croix, Ham's Buff Lighthouse is a fantastic spot for incredible views.
This lighthouse was designed and built by the Danish sometime between 1913 and 1915. In 1917, the Danish West Indies was sold to the United States of America.
Point Udall is a location of significance in St Croix as it is the most eastern point of the United States. The Millennium monument was erected in the year 2000 as this is the first place that the American soil experiences the sunrise.
On St John, the Ram Head hiking trail provides several glorious views of the island. It takes about 1.5 to 2 hours to complete the trail.
Approximately 60% of the island is a national park so there are various hiking trails which you can explore and take in the amazing views of this island.
Dependency of A Large Country
There are several positives to living in an island that is an overseas territory of a large country such as the United States. This includes access to health care and education for persons living on the island.
As an example, if you live in the Caribbean island of Grenada and you have a medical emergency, you cannot just go to the United States seamlessly for medical without considering visa requirements.
Virgin Islanders have that ease to go the United States for treatment. Medical visa to the United States of America is discretionary for other Caribbean islands.
Similarly with education, Virgin Islanders have easy access to higher education from the United States.
Relocation Option Available
Individuals in the US Virgin Islands also have the benefit to relocate to a bigger country if they are looking for greater opportunities. Living on a small island limits the amount of opportunities that you have available for example in terms of jobs.
Persons from other Caribbean island who may have a desire to relocate have tough barriers to contend with as you have to consider things such as work permits.
Amazing Beaches
In the US Virgin Islands you are never far away from the beach. Magens Bay is a beautiful one mile stretch of white sand on the island of St Thomas.
In terms of snorkeling, Coki beach is one of the best options in St Thomas. This beach is perfect for beginners and individuals new to snorkeling.
St John which persons can access from Red Hook to Cruz Bay via ferry also has its fair share of amazing beaches. Trunk Bay is the most popular location especially with visitors to the island.
Parking is limited so if you will like to explore, it is best to arrive there early. There are shops there which you can buy food and rent snorkeling equipment. There is an underwater trail that you can follow if snorkeling.
If you want to swim with turtles, then Maho Bay Beach is the perfect spot in St Croix. This beach is popular as well with visitors and locals on the island so it is best as well to get there early.
Honeymoon Beach on Water Island is a favorite for locals and visitors to the island. To visit Water Island from St Thomas you can catch the ferry from Crown Bay Marina.
The cost is approximately USD$10 round trip. There is a shuttle once you arrive in Water Island that can transport you to the beach. There is beach bar available for eats and drinks.
Turtle Beach located on Buck Island is well loved by locals and visitors alike. Buck Island is a small uninhabited island which you can access via a boat or kayak. The beautiful white sand and clear water makes this beach extraordinary.
To the north of the island, there is a lovely spot called the Annaly Tide Pool. These are naturally formed pools where you can enjoy the water and the amazing views.
One has to hike to get to this location and there are areas that can be rocky so wear appropriate shoes.
And remember, if you are visiting the beaches on the island, only mineral sun screen is allowed. There is a ban on chemical sun screen as they damage the coral reefs.
The Islands Are Safe
The US Virgin islands are extremely safe. Nevertheless according toThe St Thomas Source, in an article published August 17 th , 2021, the police department on the island of St Croix indicated an increase in armed robberies and carjackings.
Victims were threatened at gunpoint and valuables such as cash, cellphones and vehicles were demanded. The police have asked citizens to be vigilant and to safeguard their valuables.
Locals and visitors to the island therefore should be extra cautious with their valuables.
Easy Access To Major International Cities
Cyril E King is one of the busiest airports in the Eastern Caribbean.
The airport is located in the capital city, Charlotte Amalie in St Thomas. Major airlines such as Continental Airlines, American Airlines, United Airlines and Delta Airlines provide both connecting and non-stop flights to the island.
Easy To Island Hop
There is an excellent ferry service between the islands and also to the British Virgin Islands.
Additionally, there are routes that connect all the islands so it is easy to move from one island to another if you desire a change of scenery.
Seaborne Airlines also offers sea plane service between the islands. Cape Air provides direct and connecting flights between Puerto Rico, St Thomas, St Croix and Tortola.
Stable Currency
The US Virgin Islands is part of the United States. Therefore, the currency used in the territory is the US dollar.
Locals do not therefore have to worry about currency fluctuations and devaluations as other islands in the Caribbean that have their own currencies. It is easier not only to do business with the Mainland but globally.
Community Spirit
Excellent Caribbean community spirit exists on the Virgin Islands. People are willing to share with each other.
If you need a ride on the island, someone will offer to transport you to your location. Neighbors still look out for each other and their families as in other Caribbean islands.
Cons of Living On The US Virgin Islands
There Could Be A Loss Of Privacy
While there is a great sense of community which can be helpful, the drawback to this is that there is a loss of privacy.
In small villages and communities where everyone knows everyone and at times this makes it tough to create and maintain boundaries.
Limited Entertainment Options
Generally, the pace on the islands is slow.
You can bar hop in places such as Red Hook and Haven Sight in St Thomas but if you are expecting entertainment such as Las Vegas or South Beach, Miami then you will not get that in the US Virgin islands.
People who love to socialize and who can afford it usually tends to travel to break the monotony.
Shipping To The Islands
While US Virgin Islands is part of the United States, it is treated as an international destination by many companies when it comes to shipping.
Expect to pay international rates from courier service providers such as DHL and FedEx.
Nevertheless, USPS treats the island is as US territory. Facilities such as next day delivery that apply if you live on the Mainland do not apply in the islands.
When dealing with certain companies, there are restrictions on what you can ship to the islands.
Limited Access to Specialized Products/ Services
Although there are popular brands such as Kmart, Walgreens and Home Depot in the US Virgin Islands, the range of products available is limited.
These businesses only have branches in St Croix and St Thomas. St John and Water Island only have local businesses.
If as an example you are taller, you may not easily be able to get your size on the island.
Nevertheless, there are a number of companies that ship products to the US Virgin Islands, so online shopping is an option for specialty products.
The Threat of Natural Disasters
Another con of living in the US Virgin Island is the threat of natural disaster. As an island in the Caribbean, the hurricane season starts on June 1 st and ends November 30 th annually.
The last major hurricanes to affect the islands were hurricane Maria and Irma both in 2017 which hit the islands as category 5 storms.
Additionally, due to the location of the US Virgin Islands, there is a threat of earthquakes.
The last major earthquake that affected the island was in 1867 which led to a tsunami which caused major damage to the islands of St Thomas and St Croix predominantly.
Poor Infrastructure
The road infrastructure could be further enhanced and there are areas where there are potholes. An SUV may be suitable if you are living in certain areas of the islands due to the road network.
Additionally, the health care system is adequate for certain situations. If you require specialized care, overseas experts will be required.
Lack of Job Opportunities
Due to the small size of the islands, the businesses on the islands are limited and hence many individuals tend to work a combination of jobs to earn a living.
On the island of St Croix, the closure of the oil refinery which was the largest private employer on the island left approximately 2000 persons jobless.
This was a huge blow to the economy of St Croix and by extension the Virgin Islands.
Final Thoughts
The pros of living in US Virgin Islands are that the island safe, has friendly people, beautiful natural scenery and amazing beaches. On the other hand, the cons are that one must be prepared for a slower pace of life and limited access to the amenities and conveniences enjoyed in a large country.
If you are contemplating traveling to the US Virgin Islands or the rest of the Caribbean, cruising is an affordable option to consider. I have recently completed an informative course by cruise specialist, Emma Cruises which you should check out titled How To Cruise For Less.
This course provides detail tips and techniques on how to save money while cruising onboard, onshore as well as the importance of insurance. So if you if you are considering a cruise for your next Caribbean vacation, check out How To Cruise For Less.
Need More Information?
Feel free to browse our website for more content on the US Virgin Islands and the Caribbean by using the search bar located at the top of this page. The following are some of our articles which we believe may be suitable for you.
You may also like
Leave a Reply Cancel reply
About
Around The Caribbean is a resource for persons who want to learn more about the Caribbean islands. Our content provides helpful and meaningful tips to individuals who want to relocate or travel to the region.
30 Useful Things to Know Before Visiting the US Virgin Islands
So, you've seen stunning photos of the US Virgin Islands, a fairytale Caribbean destination, and decided you MUST see it for yourself. Congratulations on the decision! That's the hardest part: deciding to go!
But now you've got some questions and are at a loss where to start. Don't worry! You've got this! We've rounded up all the important need-to-know information and travel tips to know before you go to the US Virgin Islands. Get answers to all your pressing questions and be ready to rock your first trip to the USVI!
This is a comprehensive guide to visiting the US Virgin Islands. It is packed with valuable information for first time visitors to the USVI. We realize you may not need to read all of it. Skim the table of contents below and jump straight to each question you have!
No time now to read it all now? Save it for later!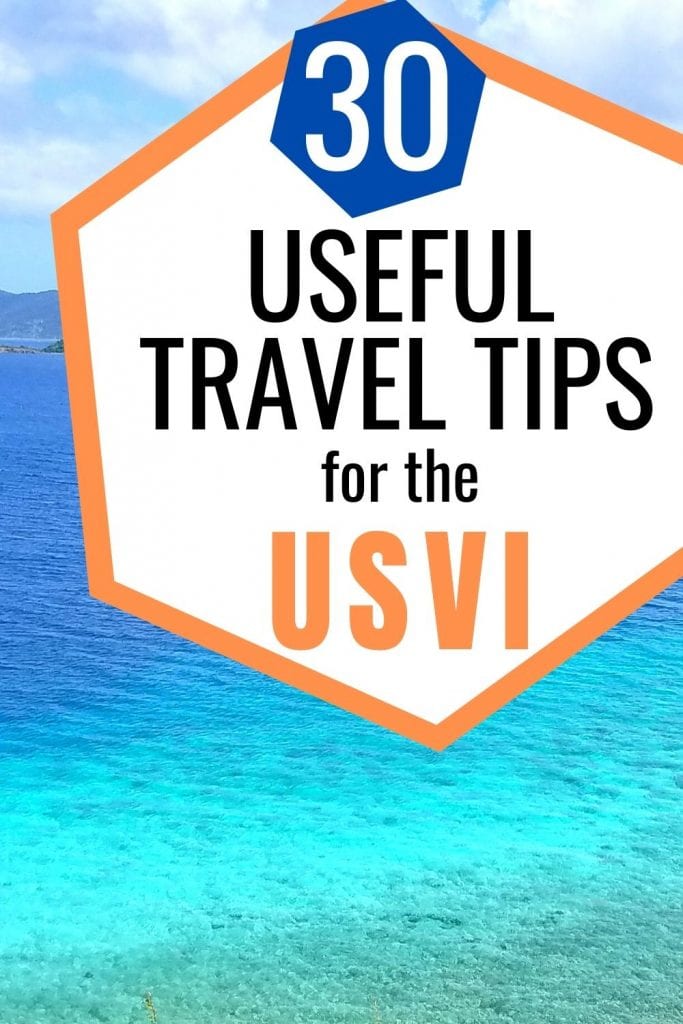 This post may contain affiliate links. As an Amazon Associate, I earn from qualifying purchases. This means if you click a link and make a purchase, I may earn a small commission at no extra cost to you.
Table of Contents
The Basics
Where are the Virgin Islands?
The Virgin Islands are a grouping of Caribbean islands between Puerto Rico and Anguilla, on the eastern, Atlantic Ocean side of the Caribbean Sea.
A brief geography lesson: the Caribbean is split into two "island chains" or archipelagos: the Greater Antilles and the Lesser Antilles. As the names suggest, the Greater Antilles are larger islands and the Lesser Antilles are smaller islands.
The Virgin Islands are right at that spot where the Greater Antilles transition into the Lesser Antilles. Geologically, the Virgin Islands belong with the Lesser Antilles.
How did the Virgin Islands become a US territory?
The US Virgin Islands are today three main islands, St Thomas, St John, and St Croix, and several small surrounding islands. Their story is typical of the Caribbean.
The islands were originally inhabited by native Caribbean tribes. St John has ancient petroglyphs that date back to these peoples.
Christopher Columbus stumbled upon the islands in 1793, putting the islands on Europe's map. Columbus' Landing Site is part of the Salt River Bay National Historical Park and Ecological Preserve on St Croix.
European empires fought over and traded the islands until they eventually landed in Danish hands in the late 1600's. Sugar cane plantations tended by hundreds of African slaves powered the economy for nearly two centuries.
Slavery was abolished in the mid-1800's, followed shortly by devastation from several natural disasters, and the economy collapsed. Denmark was never able to resuscitate the islands' economy.
The United States became interested in purchasing the islands in the mid-late 1800's. Treaties were negotiated but never approved. Finally, in 1917 at the beginning of World War I, the US convinced Denmark to sell the islands.
The official name of the US territory became the Virgin Islands of the United States.
What language is spoken in the US Virgin Islands?
American English is the official language of the US Virgin Islands and is widely spoken. Locals can also speak Haitian Creole and usually a bit of Spanish, if the occasion calls for it.
What nationality are people born in the US Virgin Islands?
As a territory of the United States, people born in the US Virgin Islands are considered United States citizens. However, since the USVI are a territory and not a state, only certain portions of the US Constitution apply.
What's the capital of the US Virgin Islands?
The capital city of the US Virgin Islands is Charlotte Amalie, located on the island of St Thomas.
Do I need a passport to visit the USVI?
United States citizens do not require a passport to visit the US Virgin Islands. A government issued photo ID is sufficient, such as your US driver's license. All other nationalities will require a passport.
However, if you plan to take a day trip over to the neighboring British Virgin Islands during your stay, Americans will need a passport to enter.

What currency does the US Virgin Islands use?
The US Dollar is standard in the USVI, and most places will not accept anything else. ATMs are few and far between if you're out walking about, but most resorts usually have a few on their premises.
What time zone is the US Virgin Islands in? Do they follow Daylight Savings Time?
All three US Virgin Islands are on Atlantic Standard Time (AST). That corresponds to UTC/GMT-4. They are an hour ahead of Eastern Standard Time used on the mainland United States' east coast.
Daylight Savings Time is not observed in the USVI.
Do they take credit cards in the USVI?
Credit cards are accepted at the bigger resorts and restaurants, but some will charge a fee to take the credit card.
Many smaller vendors or local establishments accept cash only. One workaround for this is to book tours/excursions online ahead of time. It's still best to have some cash on hand.
Pro Tip : Taxis from the airport take cash only.
Safety and Cultural Norms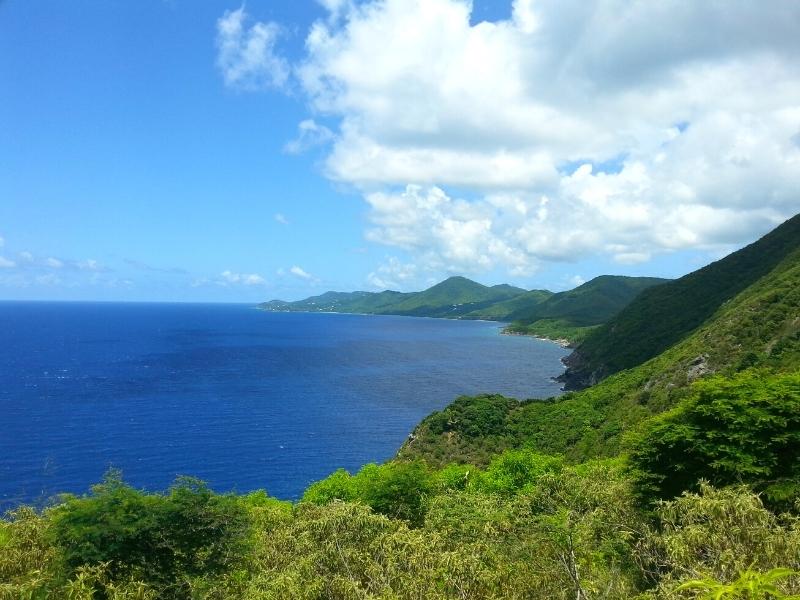 Are the US Virgin Islands Safe to Visit?
Yes, the US Virgin Islands are safe for tourists. Common sense safety practices should be observed as you would at any other vacation destination, but we've never felt unsafe when galivanting around the islands.
Of course, there is always some amount of crime, no matter where you go in the world.
The most common incidents that impact tourists are breaking into cars to steal valuables or pickpockets in crowded settings like shopping areas or bars.
Watch your drinks at bars and resorts, and never walk alone at night. All common sense safety precautions.
Is it safe to drink the water in the USVI?
Yes, the tap water at resorts and hotels is safe for consumption. You can always ask the front desk, but if there's an issue, they will let you know.
Fresh water can be scarce so most rental villas/homes collect rainwater into cisterns. Some have rigorous filtration systems; others don't.
Your host may ask you to take shorter showers and drink bottled water instead to conserve the freshwater. If you're renting a home, be sure to ask.
Is it safe to take a taxi in the USVI?
Yes, taxis are generally safe to use in the USVI. Taxis are usually shared taxis in the Virgin Islands.
The St Thomas airport uses large, red, multi-passenger vans. St John taxis are exclusively safari-style trucks.
You likely will not be the only passenger in the vehicle, and it will likely make multiple stops before reaching your destination. Agree to a fare with the driver before getting in the taxi.
Taxi stands are often available at popular beaches, in cities, and near ferries.
Alternatively, flag down a taxi you see coming by stepping to the road's edge and holding your arm in the air. Don't step into the road; sometimes they're full and will not stop.
Is it safe to drive in USVI? How are the roads?
Driving in the US Virgin Islands is mostly safe.
That's not exactly reassuring, I know, but it's better than saying "Driving in the US Virgin Islands is safe*."
Let me explain the reasoning behind that asterisk/mediocre endorsement of driving in the USVI.
Driving in the USVI's is very similar to driving in the US, and far better than the free-for-all traffic typical of Southeast Asia.
Pro Tip : Drive on the LEFT in the US Virgin Islands.
However, the quality of roads in the US Virgin Islands is just ok. Each island has paved main streets in cities, residential areas, and to popular destinations.
St Croix even has a stretch of freeway to speed up travel between its two major cities. These roads are usually in decent condition, with some potholes here and there.
The majority of roads outside of town, and sometimes even in town, are narrow, steep, and unmarked.
The mountainous terrain makes steep roads unavoidable, but the narrow width, often with no guardrail, is a bit unsettling the first few turns.
Pavement markings like shoulder lines and centerlines don't exist outside of the cities.
You'll find yourself sucking it in when you pass your first delivery truck on one of these roads, but you will get used to it.
Locals often get impatient and will pass slower drivers; never mind if it's in a curve or not. Some curves have mirrors to help see driveways or oncoming traffic, but those are less and less frequent as you get away from the cities.
Further out of town, paved roads disappear altogether. The bigger tourist spots have paved roads, but some hikes and lesser-known hidden gems require a 4WD vehicle, or even an ATV.
Do we recommend driving in the USVI? Yes. Just take it slow and be careful.
Do Islanders expect a polite greeting?
Yes. It's polite to begin any conversation with good morning, good afternoon, or good evening.
Even just walking up to a register at the store, this makes a world of difference. Acknowledge the human being behind the counter with a smile and polite word. Small shop owners especially appreciate it!
Never fear, haters of small talk! Most locals will reciprocate with a good morning, etc. and leave you alone to browse.
This local custom may seem like just plain politeness to some of us, but it's important enough to the Virgin Islanders that they put this reminder on every island's tourist information map.
Be a polite citizen of the world. It'll only take 2 seconds.
Is there a cultural dress code in the USVI?
Informally, yes. We hesitate to call it a dress code, which sounds strict. There is no law against it that we're aware of, but you will never see a local wearing just their swimsuit in town or at a restaurant. This goes for men and women.
Throw on a dress or shirt and shorts before browsing the local shops or sitting down for lunch or dinner, even at a beachside restaurant.
Ladies, those see-through coverups that look so cute don't count. Put on something opaque.
I haven't seen anyone denied service because of this cultural faux pas, but I have seen a seating host or two mention it kindly.
You don't have to agree with it, but please be respectful of local customs. Remember, you're a visitor.
And it's again important enough that this tidbit also shows up on island tourist maps and free publications.
Planning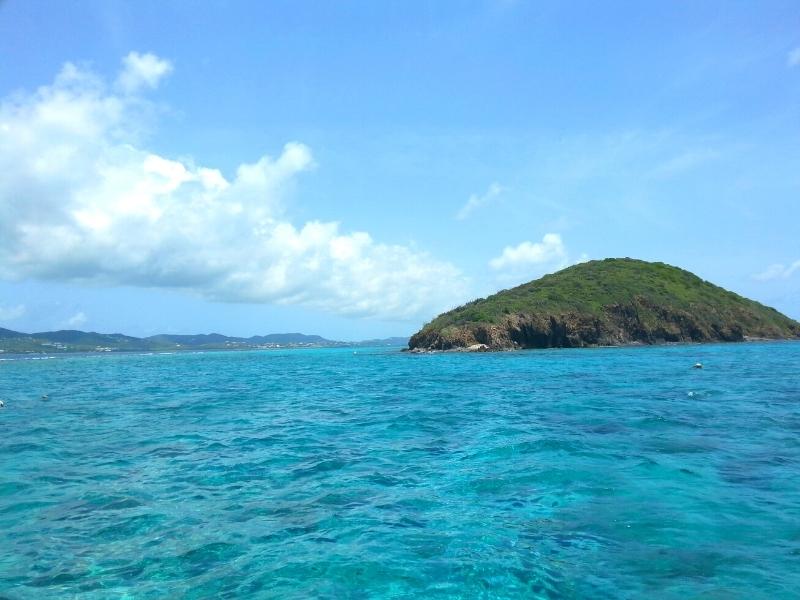 How many days do I need in the US Virgin Islands?
This depends if you're trying to see all three in one trip, or taking it one island at a time. It comes down to what you want to get out of your trip.
Do you just want to step foot on each island, lay on a beach, and maybe see a museum or go for a hike, if you have time in between drinks? Then sure, you can see all three islands in 4-5 days.
St Thomas and St John are only 30 minutes apart by ferry and could be "done" over a long weekend.
St Croix is further south and requires a short flight to reach the other two islands. Keep that in mind if planning travel to all three islands in one trip; you'll have to pay for a puddle jumper flight.
We recommend, and prefer, the slower approach: take a week per island. This likely requires more than one trip, since most Americans don't get more than 2 weeks of vacation per year, but it's worth it.
Rushing around and between islands is not relaxing. Staying in one place reduces time lost in transit between destinations and increases time spent sightseeing.
Which US Virgin Island is the best to visit?
All three of the US Virgin Islands can provide an amazing beach vacation with sunny days spent next to beautiful blue waters. The real question here is what atmosphere are you looking for on your vacation?
Which island you choose can depend on several quantitative factors, like flight availability and cost, lodging preference, and shopping preference, to name a few.
But the biggest deciding factor between the three main islands is atmosphere, or vibe. That intangible, qualitative measure can be the difference between having the time of your life or never wanting to return.
A lot of people ask is St Thomas or St Croix better, or is St John better than St Thomas. Those questions are useless unless you know what you want from vacation.
St Thomas is home to the capital city of Charlotte Amalie and has the most resorts and nightlife, very much a party vibe here or for those that live and breathe all-inclusives.
St John is the smallest island and two-thirds national park, with few resorts and no airport but spectacular beaches and a laid-back vibe.
St Croix is the middle child, further south than the other two but also the largest of the three, with its own airport and a mix of history, rum, and cruise ports.
Weather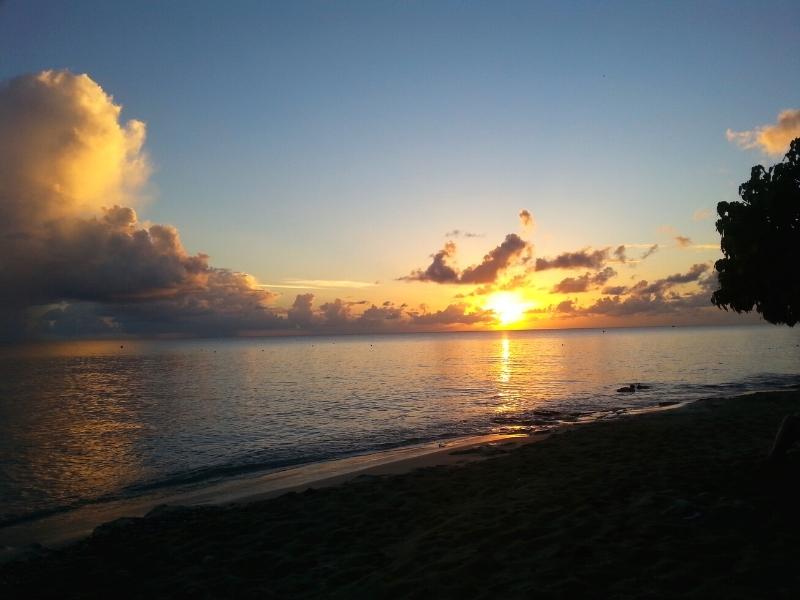 What's the weather like in the Virgin Islands?
These islands are still a few latitudes above the equator and west of the Prime Meridian, firmly located in the northern and western hemispheres in the tropical zone.
Their latitude is close enough to the equator to ensure year-round warm temperatures while unbearable summer temperatures are tempered by ocean breezes. Temperatures don't change much unless there's a storm.
Average summer temperatures are 89°F (32°C) highs and 80°F (27°C) lows. Average winter temperatures are 83°F (28°C) highs and 74°F (23°C) lows. Not much difference!
The US Virgin Islands are subject to hurricane season, which is officially June through November every year, with the most active period for storms being in August/September.
It's purely luck of the draw how easy or bad of a season they'll experience. Some years they get nothing while in 2017 they were hit by two back-to-back category 5 hurricanes (the worst level).
We have been in the USVI's when a tropical storm passed through and can testify to the islanders' sense of community and safety. All the locals you meet will ask if you have food and water set aside in your room, just in case.
If your vacation falls within hurricane season, most importantly in late summer/early fall, we recommend travel insurance in case a hurricane forces you to reschedule.
What's the best time of year to visit the US Virgin Islands?
Late spring to early summer is an ideal time to visit the US Virgin Islands. Temperatures are warm, it's the driest time of year, and hurricane season doesn't start until June.
Peak season is winter and typically more expensive.
Late summer/early fall is the middle of hurricane season; still an enjoyable island experience but get travel insurance in case a hurricane changes your plans.
Transportation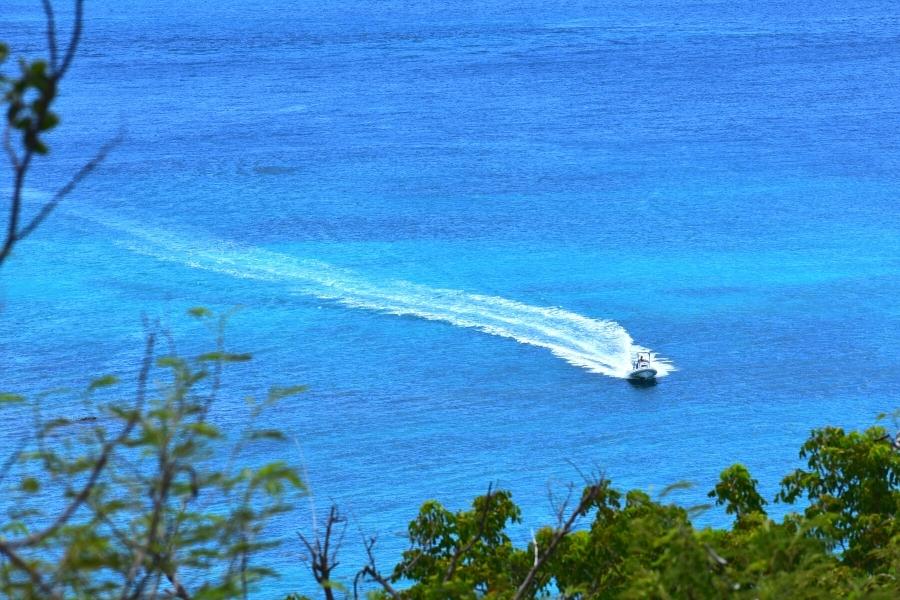 Do the USVI have public transportation, like buses or trains? Is it reliable?
Public transportation is available but often unreliable. There are no trains, but each city has a bus system. The buses are often not on schedule, so leave early or have a good back up plan if you need to catch a ferry or flight.
Conversely, the ferries are always on time with the exception of inclement weather when it would be unsafe to run. Many locals use the ferries as well to commute to and from work.
Are the US Virgin Islands walkable?
Not really. There are no dedicated pedestrian paths, no sidewalks outside of the centers of town, and not even shoulders along the roadway.
In cities like Charlotte Amalie on St Thomas or Christiansted and Frederiksted on St Croix, it's reasonable to get from a city hotel/resort to a restaurant on foot, but if your resort is on the outskirts of town or further afield, you need a shuttle, taxi, or rental car to get around.
Do the US Virgin Islands have Uber or Lyft?
No. There are no Uber or Lyft programs currently operating in the US Virgin Islands. The closest you'll find to a rideshare program are the shared taxis.
Which side of the road do they drive on in the US Virgin Islands?
All three US Virgin Islands drive on the left side of the road. If you come across a roundabout, that means they work clockwise instead of counterclockwise.
Many American tourists don't expect this, since the USVI are now an American territory, but it makes sense. Like much of the Caribbean, the Virgin Islands still retain traces of British Empire influence.
What baffles British tourists is the cars. While the US Virgin Islands drive on the left, the cars are all American imports with drivers on the left side of the car.
That's backwards for UK drivers, who are used to driving on the left but having the driver on the right side of the car!
So, everyone has something to get used to when visiting and driving in the US Virgin Islands!
Do you need a car in the USVI?
If you want to see the hidden gems, the beaches further away from the tourist centers, or any of the hikes or historical sites, you need a car. We recommend getting a rental car to properly explore the USVI.
Driving may be awkward or scary at first, but you'll soon get the hang of driving on the left. The narrow and steep roads are just like driving in the mountains back home. Take your time, and you'll be fine. Don't let impatient locals rush you. Let them go around.
It's possible to visit the USVI without a car, but only if you're content staying at your resort except for tours that pick up directly from your resort.
Do you need an international driver's license to drive in the USVI?
American drivers' licenses are accepted, but all non-US tourists will need to get a temporary USVI driving permit upon arrival. There is no mention on the USVI DMV website that an international driver's license is required to rent a car.
The rental car companies have these temporary permits, but some are more lax than others about officially enforcing it.
Driving rules in the USVI are generally the same as in the United States, of course, with the exception that driving is flipped to the left side. Note that talking on the phone while driving is illegal unless using a hands-free device.
Can I take my rental car from St Thomas to St John?
Yes, but this usually only makes sense if you're staying on St Thomas but want to day trip to St John.
Catch the vehicle ferry from Red Hook, St Thomas to Enighed Pond, St John, just south of Cruz Bay. Roundtrip vehicle ferry tickets cost about $50, and they stay on schedule.
If you're staying on St John, rent a car on St John instead of from the St Thomas airport, and save yourself the hassle and logistics.
Miscellaneous Facts
Do you have to go through customs when returning to the US from the US Virgin Islands?
Yes. You are allowed a $1,600 duty-free exemption if you were away for more than 48 hours.
Pro Tip : Airlines on St Croix allow up to 6 bottles of alcohol to fly home for FREE as its own piece of checked luggage.

Both Cruzan and Captain Morgan have rum distilleries on St Croix, and many people stock up on hard-to-find flavors while visiting.
Do you tip in the US Virgin Islands?
Yes, tipping culture in the USVI is the same as the United States. Generally, tip 15-20% in restaurants and taxis. Resort employees may or may not accept tips, depending on resort policy.
Can I use my cell phone in the USVI?
Sure. Whether or not you get hit with a roaming fee depends on your carrier. Signal is typically fine in the cities and spotty or non-existent the further away you get.
Also, beware of using your cell on the north side of St John and your phone accidentally connects to a cell tower on nearby Tortola instead. Tortola is part of the British Virgin Islands and will certainly incur a roaming fee!
What's the drinking age in the US Virgin Islands?
The legal drinking age in the USVI is 18 years old.

Now you're prepared for your first trip visiting the US Virgin Islands!
Share it!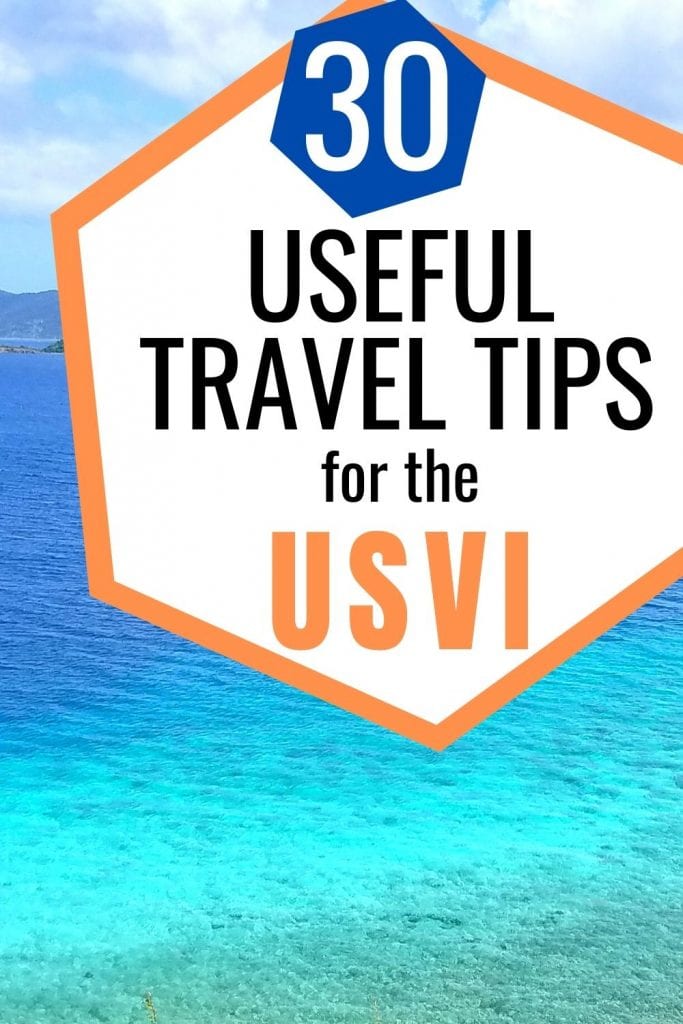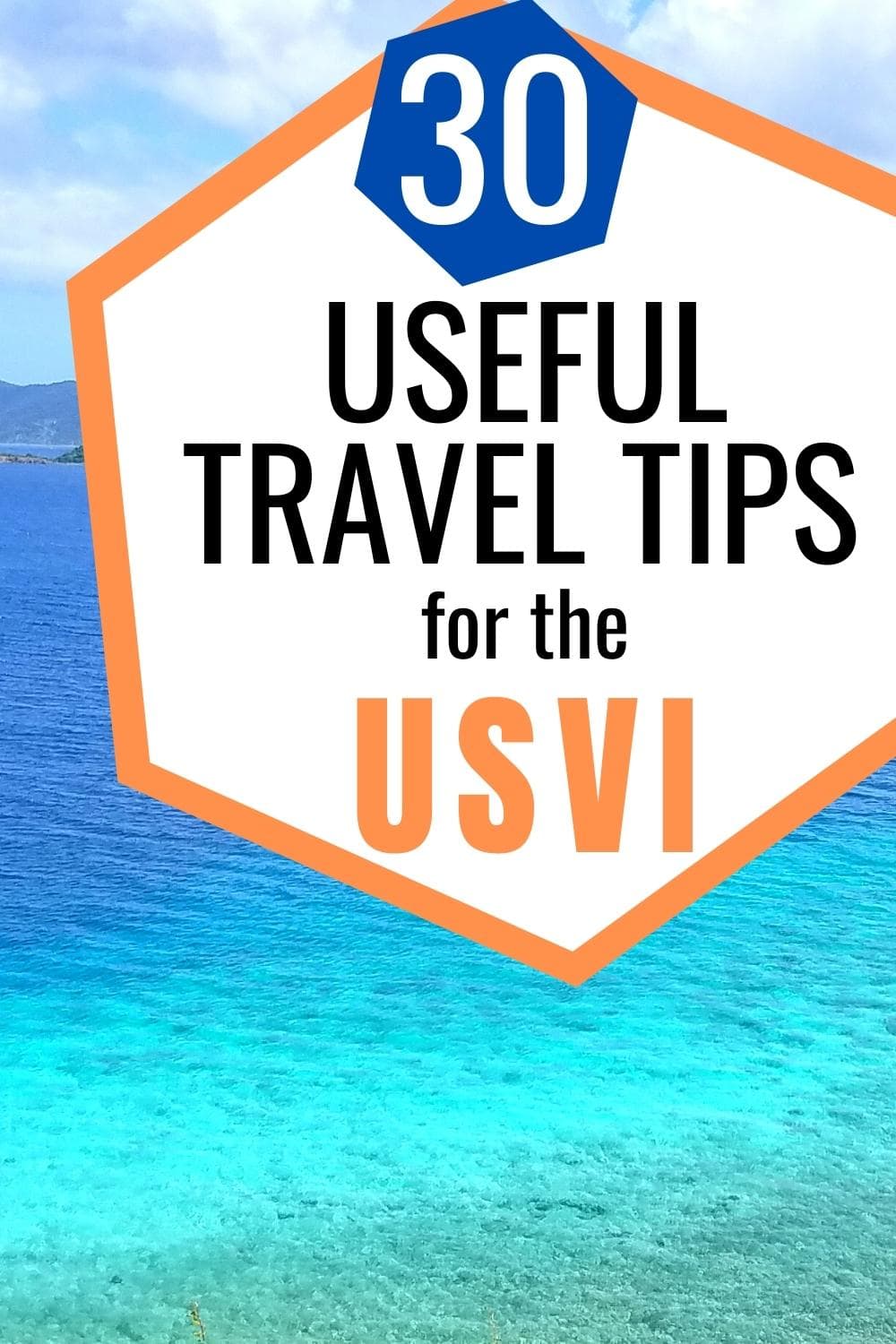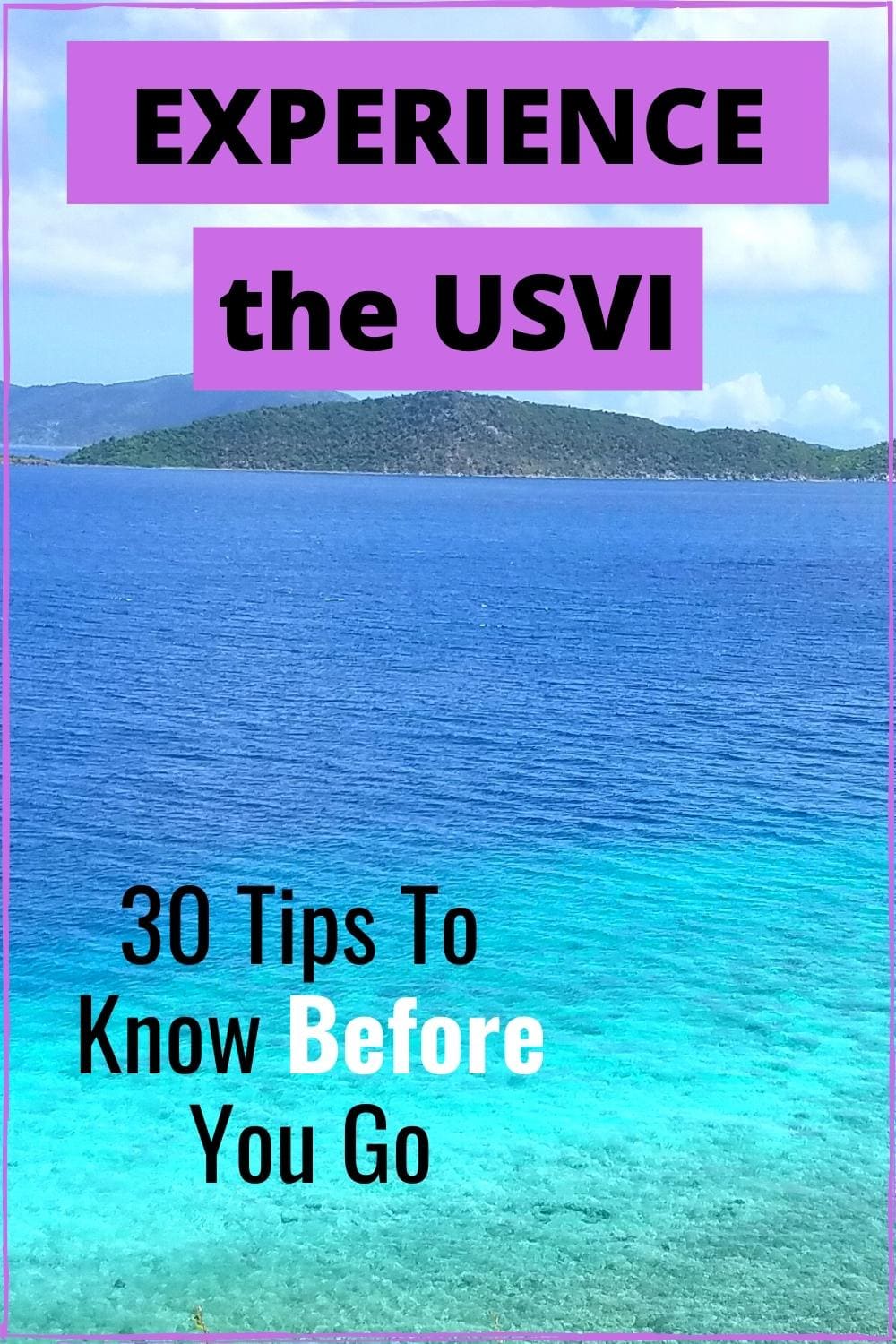 You Might Also Like
St John Transportation Guide: How to Easily Get Around Without a Car
2022-01-12
Hiking Trails in Congaree National Park: Which is Best for Your Fitness Level?
2021-04-05
The Greenbrier Bunker Tour: Essential Tips to Know Before You Go!
This Post Has One Comment
Thanks! Very useful information!
Leave a Reply Cancel reply
Follow Me!
Opens in a new tab Opens in a new tab Opens in a new tab Opens in a new tab
About Me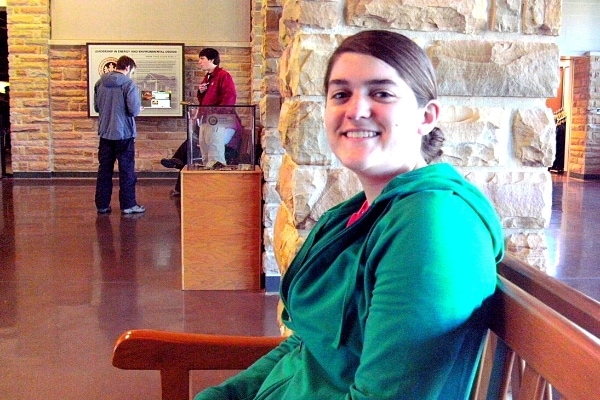 Rachel Means
Hi, I'm Rachel, creator of Means to Explore! I travel the world and report back all the details, like itineraries, packing lists, and real life budgets, so you can plan, save, and go on a vacation, too!
Top 16 Most Beautiful Places to Visit in US Virgin Islands
Popular with honeymooners, vacationers, yachters, and the odd celebrity or two, this collection of idyllic islands are nestled in the Caribbean but officially belong to the USA.
The US Virgin Islands consists of three main islands, St. Thomas, St. John, and St. Croix, as well as several dozen smaller islands.
Although each has paradise-like scenery and a laid-back Caribbean vibe, you should head to St Thomas for water sports and gorgeous hotel resorts, St John for protected parkland and pristine beaches, and St Croix for excellent diving and rum factories! Here are the best and most beautiful places to visit in the US Virgin Islands…
1. Water Island, St Thomas – one of the most stunning places to explore in the US Virgin Islands
Just south of Charlotte Amalie harbor on the main island of St Thomas is Water Island. Known locally as the "Last Virgin" because it was the last island to become part the Virgin Islands of the United States in 1996.
There is a regular passenger ferry service from the capital to Water Island taking less than 15 minutes. On arrival, you can hire a golf cart to explore the almost 500 acres of island rich in wildlife and cactus.
There are no hotels on Water Island but accommodation can sometimes be booked in advance at one of the island villas, glamping or B&B.
If you need a bit more than nature and beaches the abandoned Fort Segarra is an interesting visit; it's an unfinished World War II installation with tunnels and underground chambers perched high on the southern tip of the island with panoramic views.
2. Honeymoon Beach, St Thomas – a popular and romantic beauty spot
On the west side of Water Island at Druif Bay lies the beautiful Honeymoon Beach. A scenic white sand and palm tree beach staring due west to capture the daily unimpeded sunsets.
Yachts anchor in the sheltered bay and giant turtles can be seen in the clear blue-green waters. This is a neat, clean, never-too-busy beach with plenty of shady spots under the trees.
There are a few facilities; you can hire a sun-lounger, rent a kayak or buy a snack from a beachside hut, but it's not commercialized so bring a book to read and maybe do some people-watching until the sun slowly sinks into the Caribbean Sea.
There is another place known as Honeymoon Beach on the north shore of the island of St John. This is equally as beautiful yet more remote as it sits within the National Park.
This second location, although it does not enjoy the spectacular western sunsets, has the added bonuses of snorkeling facilities, solitude, and a stunning jungle backdrop – worth the short hike from Cruz Bay.
3. Secret Harbor, St Thomas – a lovely and small tranquil beach to explore
In the Nazareth Bay area on the main island of St Thomas in the US Virgin Islands is the popular Secret Harbor beach. A cozy tropical white sand and palm tree beach with a neat resort behind it.
This is an excellent location for moderate-level snorkeling, the water is gentle enough for kids to paddle and the beach is kept spotlessly clean by the resort.
There is limited car parking nearby, which stops the place getting too busy, so get here early if you want a space. Alternatively, it's a beautiful location for a cocktail at dusk in the Sunset Bar & Grill or Cruzan Beach Club where you can watch the sun sink into the distant mangroves.
4. Drake's Seat, St Thomas – for gorgeous views
High in the almost exact center of St Thomas Island is Drake's Seat. A viewpoint on the Hull Bay Road with panoramic views of the entire island with the Atlantic Ocean on one side and the Caribbean Sea on the other.
Legend has it that Sir Francis Drake would sit here to watch for gold galleons of the Spanish fleet – although the bench was constructed in the 1930s, never let facts ruin a good tale!
There are a few breathtaking panoramic viewpoints along the central hills of St Thomas Island. The Charlotte Amalie Lookout, Drake's Seat, Mountain Top and Magens Bay can all be visited in the same trip.
5. Magens Bay Beach, St Thomas – one of the most scenic destinations in the US Virgin Islands
Magens Bay Beach is one of the best-loved beaches on St Thomas. It is central to the island on the north shore, just a short distance from Charlotte Amalie so used by tourists and locals alike.
Remarkably it is relatively undeveloped with one mile of very beautiful, a white-sand beach which never gets too crowded; perfect for swimming and water sports in the calm, transparent blue water of the bay.
There are nearby equipment rentals, a restaurant, restrooms, a shower, and beach rentals. The calm waters, huge sky, and green encircling hills give this place a permanent air of unhurried tropical isolation.
The park around the beach consists of 68 pristine acres: a six-acre arboretum consisting of large trees from four tropical continents, a two-acre camping ground with parking, 5 acres of coconut groves, and 15 acres of mangroves and wetlands. Plenty to explore if you get tired of sitting in the sun.
6. Brewers Bay, St Thomas – a beautiful place to visit and snorkel
Brewers Bay is a beach for the slightly more adventurous. It's a great snorkeling spot without the crowds you often find around St Thomas.
The north side of the bay, towards Black Point, has many corals and fish for the more experienced swimmer – be careful there can be strong currents.
Turtles and small rays hang in the sandy, seagrass areas just offshore between the beach and the boats. Underwater visibility here is excellent as the massive sandy areas create a great natural canvas.
The beach is white and sandy with shade from palms and trees. There are no facilities, other than a small food truck, yet there's a large car park making this a perfect place for a last-minute stop for relaxation and solitude.
7. Virgin Islands National Park, St John – a must-see destination in the US Virgin Islands
Two-thirds of the island of St. John is a national park, making it a unique destination for visitors from around the world. Virgin Islands National Park has staggeringly beautiful unspoilt tropical beaches.
Those on the northern Atlantic coast can be dramatic in winter with crashing waves, the southern Caribbean beaches are much calmer, but everywhere is vulnerable to hurricanes from July to October.
There are more than 20 hiking trails in the park with everything from accessible boardwalks that meander through historic ruins, to a bird-viewing deck on one of the lovely salt ponds.
For the more adventurous, there's the rugged Reef Bay Trail down to the ancient Taino Indian petroglyphs and then continue to the old Sugar Mill which is near a lovely beach.
Finally, there's endless snorkeling and boating to enjoy around the coral reefs to discover hidden marine life.
8. Ram Head Trail, St John – a great place to walk/hike
One of the lesser-known hiking trails, but well worth seeking out, Ram Head can be found in the furthest southeast corner of St John. Access is from the south end of Salt Pond Beach.
Allow a good couple of hours and bring plenty of water, sunscreen and a bathing suit to enjoy the swim at Blue Cobblestone Beach part way.
It's a moderate trail with lots of elevation changes and rocky paths leading to the peak at Ram Head from where you get magnificent views across the Caribbean Sea in the direction of St Croix.
This hike is all about flora and views with some of the most amazing cacti teetering on rocky surfaces all around.
9. Coral Harbor, St John – a stunningly large and protected harbour
Coral Harbor at the head of Coral Bay on St John island is a natural protected sanctuary for yachts. There is a collection of eateries, accommodations, and stores spread around the broad curve of the harbor entirely encompassed by the Virgin Islands National Park.
A perfect base to stay for exploration of the numerous trails and unspoilt beaches. The town of Coral Bay was once the main commercial hub of St John with a population that has diminished over the last 200 years as sugar plantations closed.
Successive hurricanes and encroachment of jungle reduced most of the abandoned buildings to rubble, traces of which can still be spotted amongst the remaining homes.
10. Maho Bay Beach, St John – one of the most beautiful locations to relax in the US Virgin Islands
Maho Bay in the north of St John is the place to go for sea turtles. It is sheltered from Atlantic waves by Mary Point enabling a unique ecosystem to flourish.
The seagrass beds in the middle stretches of this shallow bay provide habitat for the green sea turtles that are seen more frequently in the early morning or late afternoon.
There's coral and fish along the western waters of this long beach, they are more abundant the closer you get to the point between Maho and Cinnamon.
To the northeast, the rocks and reef supports abundant fish populations, including angelfish. If you are lucky, you may see octopus in the coral crevices.
The beach is a postcard tropical paradise with white sand and curving palms looking out on turquoise water. There are a few facilities but, as with everything in the National Park, they are restricted to allow the park to fully breathe.
11. Francis Bay, St John – a fantastic vacation beach
Just above Maho Bay is Francis Bay. Even more secluded, quieter and slightly wilder than its popular neighbor.
Here you will find the tropical white sand, blue sea, shady trees and snorkeling with more parking and less visitors than its better-known neighbors.
Francis Bay Beach has the added attraction of an easy trail through the mangroves across the headland to Mary Creek where you encounter the picturesque ruins of Annaberg School perched on the edge of the ocean.
12. Trunk Bay Beach, St John – one of the best places to visit in the US Virgin Islands
Trunk Bay has everything you want from a tropical beach with the beautiful white sand, shady trees and turquoise waters. Just off the beach is Trunk Cay, a small coral island teeming with life in its warm, shallow waters.
It is the perfect snorkeling destination with a swim around the cay. Just behind the beach are restrooms, showers, a small snack hut and bar.
Like most of the beaches in the National Park car parking is deliberately limited to keep visitor numbers down so get there early to enjoy one of the best beaches on the north shore of St John.
13. Buck Island Reef National Monument, St Croix – a picturesque small, uninhabited island
Off the north coast of St Croix is this uninhabited island with a long coral-reef underwater trail, accessible by guided one-day or half-day snorkeling tours.
Buck Island is a designated National Monument and wildlife sanctuary, so tours are limited, but it's definitely worth the trip from St Croix if you get the chance.
Snorkeling here is probably the best in the Virgin Islands with the opportunity to see blacktip sharks, eagle rays, barracuda, beautiful schooling fish, and colorful coral.
After snorkeling, on the other side of this small island is one of the finest tropical beaches in the Caribbean. Sit in the sun or roam along the blue shoreline for more chances to see barracuda and sharks in the shallows.
14. Annaly Bay Tide Pools, St Croix – a unique natural beauty spot
The tide pools at Annaly Bay are reached by a tricky hike from Carambola Beach on the north shore of St Croix. This experience is as much about the journey as the pools.
The trail takes about 45 minutes each way and includes some difficult rock ascents – make sure you wear some strong boots and get a guide to escort you!
On arrival, there is a series of calm, clear pools filled by seawater at high tide, perfect for a quiet bathe. The views and the sound of the waves pulling the rocks over each other is terrific; when the waves are strong it can sound like firecrackers going off along the shore.
15. Rainbow Beach, St Croix – the perfect beach for watching sunsets
Rainbow Beach at the extreme western end of St Croix is the perfect sunset beach. Clear, calm waters and a wide sandy beach are the draw at this serene locale, popular among divers and families.
It is a nice, quiet little beach where colors change as the sun slowly sinks into the sea.
There's a restaurant next to the beach that serves food and drinks, beach loungers and jet skis can be rented and it's the ideal place to take a few snorkeling lessons in the gentle waters. An excellent place to meet locals and begin your tour of the US Virgin Islands.
16. St. Croix – The best US Virgin Islands to go to
This charming island is the best US Virgin Island to visit, especially if you are into snorkeling and diving. St. Croix is the largest island and one of the most popular.
This is due to an amazing combination of great people, amazing food and cool vibes. There are tons of things to do in St. Croix. It doesn't matter what your preferences are, because St. Croix will cover.
One of many things you can do is to explore the rainforest, learn the local dances, taste over 30 flavours of rum, meditate on the beach, go deep-sea fishing and much, much more.
When it comes to accommodation, Divi Carina Bay is the ONLY all-inclusive resort in St. Croix, however, there are plenty of other amazing places to stay.
We also have posts on…
Ever since he was knee-high to a grasshopper Michael has always been a sucker for an adventure. Growing up he was lucky enough to live in a handful of exotic far flung locations including Hong Kong, Pakistan, Kenya and Tanzania and since then he's continued his taste for seeking out new cultures. So much in fact he now travels the world as a trading digital nomad, exploring everything from the sizzling street markets in Bangkok to random back alleys in Sri Lanka and everything in between! He also has a special fondness for Cohibas, street food, playing carrom, and fine wine and knows his clarets from his chiantis. He counts Cuba, Amsterdam, Indonesia, Cambodia and Italy as his favourite destinations.
Source https://www.aroundthecaribbean.com/living-in-the-us-virgin-islands/
Source https://www.meanstoexplore.com/guide-to-visiting-the-us-virgin-islands/
Source https://globalgrasshopper.com/destinations/caribbean/15-most-beautiful-places-to-visit-in-us-virgin-islands/