25 Top Tourist Attractions in Thailand
Thailand is the most popular tourist destination in Southeast Asia, and for a reason. You can find almost anything here: crystal blue beaches, thick jungle, great food, cheap beach front bungalows and some of the best luxury hotels in the world. There is something for every interest and every budget.
As the only Southeast Asian country never to be colonized, it is also studded with incredible cultural and historical sites, including ruins that stretch back hundreds of years. And despite the heavy flow of tourism, Thailand retains its quintessential identity with its own unique culture and history and a carefree people famed for their smiles.
The only trouble with planning a trip to Thailand is narrowing things down to a few sights. It helps to start with the most popular tourist attractions in Thailand, which include:
25. Erawan Falls [SEE MAP]
Just a short trip from Kanchanaburi, the Erawan Falls are the major attraction of the Erawan National Park in Western Thailand. The waterfall was named after the erawan, the three-headed white elephant of Hindu mythology. The seven-tiered falls are said to resemble the erawan. Macaques are common around the falls while occasionally water monitor lizards can also be seen. The park is open for visitors all year and generally very busy during the weekends.
24. Ao Nang [SEE MAP]
© Serebryakova / Dreamstime
Formally Ao Phra Nang ("Princess Bay"), Ao Nang is the most popular beach town in the Krabi province of southern Thailand. It was originally a backpacker hotspot but now moving slowly upmarket as the airport brings in higher flyers. While not quite as scenic as Rai Leh, there is a good range of cheap accommodation, many good restaurants, easy transport and plenty of travel agencies, making it a good base for exploring Krabi.
23. Floating Markets near Bangkok [SEE MAP]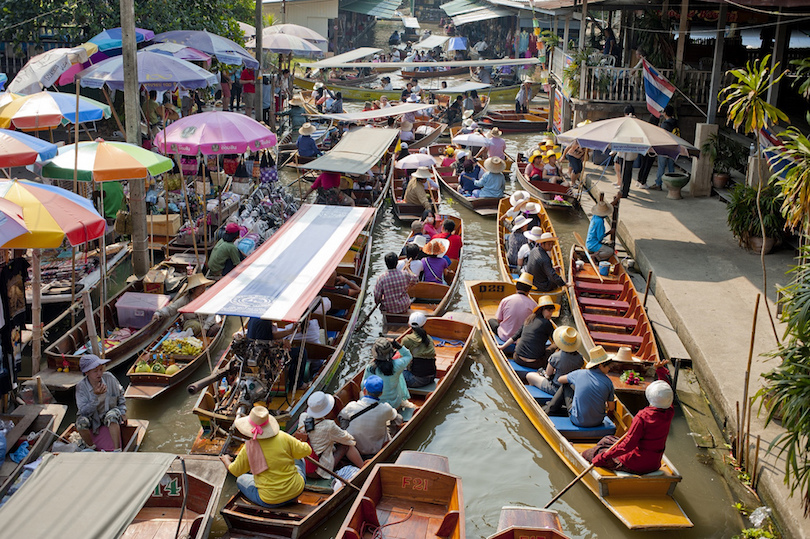 Colin Tsoi / Flickr
To get an idea of what shopping in Bangkok used to be like before all the canals were filled in, many people visiting the capital take a day trip to one of the floating markets outside the city. Though today floating markets typically function as tourist attractions and community meeting places rather than vital aspects of local farming economies, they still remain vibrant places brimming with scrumptious food. The most popular floating market for foreign tourists is Damnoen Saduak while most Thai favor the Amphawa Floating Market.
22. Hua Hin Beach [SEE MAP]
Originally, built in the 1920s as a royal getaway for King Rama VII, Hua Hin has been a long-time favorite weekend getaway for Bangkok residents. Today, the 8 km (5 mile) long beach is also popular with tourists. Hua Hin is the site of the Klai Kangwon Palace, which is still used by Thai royalty today. In addition it is home to the highest concentration of golf courses in all of Thailand.
21. Prasat Hin Phimai [SEE MAP]
Prasat Hin Phimai boasts some of the most impressive Khmer ruins in Thailand. Similar in style (if much smaller) than those at Angkor, the temples were built during the 11th and 12th century, during which time the area was part of the Khmer empire. Though built as a Mahayana Buddhist temple, the carvings also feature many Hindu deities as explained in the visitor center.
20. Khao Yai National Park [SEE MAP]
tontantravel / Flickr
The third-largest national park in Thailand, Khao Yai National Park is located in the eastern part of the country in the Nakhon Ratchasima Province. Homes to a wide array of wildlife, including Asian elephants and black bears, the park offers observation towers, hiking trails, lodges, cabins and campsites. There are even dinosaur footprints, so visitors find surprises at every turn.
19. Mu Ko Ang Thong [SEE MAP]
Ang Thong, which means "Bowl of Gold," is a popular national park in the Gulf of Thailand. Consisting of 42 islands, which are close together for easy island hopping, the park is headquartered on Ko Wua Talap. There, travelers can stay in lovely bungalows and take in incredible views of the surrounding islands and bizarre rock formations. Exploring the island's white sand beaches and snorkeling among the shallow coral gardens makes a popular day trip from Ko Samui.
18. Sukhothai Historical Park [SEE MAP]
Located in northern Thailand, Sukhothai Historical Park contains the ruins of Sukhothai, which was the capital of the kingdom of the same name during the 13th and 14th centuries. Roughly translating to mean "Dawn of Happiness," the walled-in park contains nearly 200 sets of ruins, including 26 temples and the Royal Palace. In addition to exploring the many fascinating wats and other ruins, visitors can learn more about the Sukhothai culture at the Ramkhamhaeng National Museum.
17. Ko Nang Yuan [SEE MAP]
Isderion / Wikipedia
Ko Nang Yuan is a tiny island very close to Ko Tao. It is a popular day trip from Ko Tao, so its beautiful beaches can be crowded at times. But it's a pretty island and its clear waters are perfect for snorkeling and scuba diving. To visit this island, travelers who are not staying on Ko Nang Yuan must pay a 100 baht fee. The island does have one dive resort for travelers who prefer to stay on this small island.
16. Wat Arun [SEE MAP]
The name of this lavishly adorned temple roughly translates to mean "Temple of Dawn," which is fitting as it was built to honor Aruna, the Hindu god that is most commonly represented by the radiations of the rising sun. Located in the Bangkok Yai district on the west bank of the Chao Phraya River, Wat Arun's distinctive prang, or spires, are lavishly adorned with colorful patterns of seashells and porcelain. The central prang rises more than 85 meters (280 feet) high.
15. Chiang Mai Night Bazaar [SEE MAP]
Abdul Rahman / Flickr
The famous Night Bazaar in Chiang Mai sprawls along several city blocks along footpaths, inside buildings and temple grounds. It has handicrafts, arts, clothing and and imported products of all descriptions, and a number of large, well-appointed modern shopping centers. At first, the market was owned by Chinese merchants, but since it grew in size as more commercial buildings were built, it was no longer owned by a single group of people. Instead, there are many owners, and most of them are Thai.
14. Ko Lipe [SEE MAP]
magical-world / Flickr
Located in the Andaman Sea off the Satun Province, Koh Lipe is a tiny island near the Malaysian border. Small enough to be covered by foot within about an hour, Koh Lipe boasts four gorgeous beaches whose waters are home to about 25 percent of the world's fish species. Coral reefs attract snorkelers and scuba divers, and travelers can stay in beach bungalows in different sizes.
13. Chatuchak Weekend Market [SEE MAP]
joyfull / Shutterstock.com
Known locally as JJ Market, Chatuchak Weekend Market in Bangkok is the largest of its kind in Thailand. Some even say it's the largest weekend market in the world. With more than 8,000 stalls peddling wares ranging from antiques to clothes to furniture, the wildly popular market draws in more than 200,000 people on weekends and includes a wide array of tasty restaurants. Shoppers are also entertained by shows, including dancing and live music.
12. Khao Sok National Park [SEE MAP]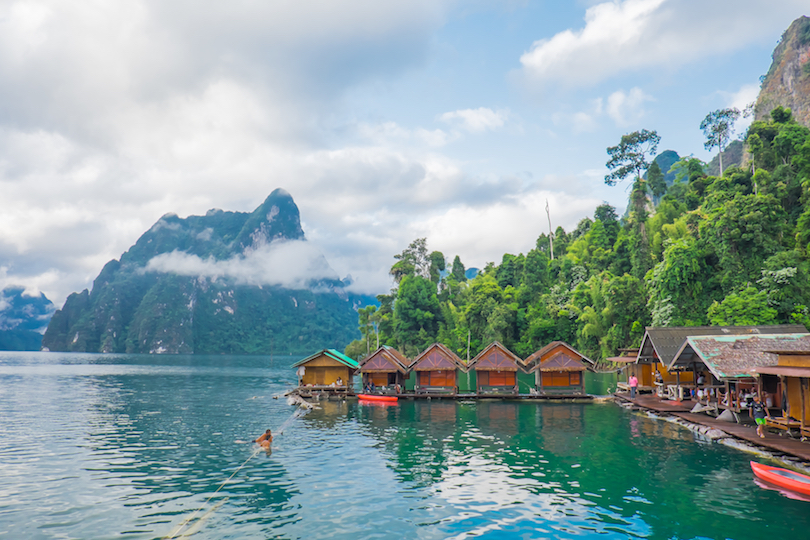 © Jaruncha / Dreamstime
Home to the largest expanse of virgin forest in Thailand, Kao Sok National Park is a must-visit destination for people who want to immerse themselves in the natural beauty of Thailand. The remnants of an ancient rainforest stretch across the park, which is split by a dramatic limestone mountain range. More than 5 percent of the world's animal species can be found in this lovely national park, which also boasts networks of dirt trails, soaring waterfalls and a beautiful lake.
11. Phanom Rung [SEE MAP]
John Shedrick / Flickr
Sitting on an extinct volcano in northeastern Thailand, Phanom Rung is a Hindu temple regarded for its outstanding architecture. Located near the village of Nang Rong, this temple sanctuary was built by the Khmer culture between the 10th and 13th centuries. Constructed of sandstone and laterite, Phanom Rung was built to represent Mount Kailash, the sacred home of Shiva.
10. Similan Islands [SEE MAP]
Made up of nine primary islands and two far-flung ones, the Similan Islands archipelago is one of the most popular diving destinations in the country. Situated off the coast of the Phang Nga Province in southern Thailand, the waters surrounding the islands boast gorgeous coral reefs and underwater rock formations that take on many unique shapes. Experienced divers particularly enjoy hot spots like East of Eden and Elephant Head Rock.
9. Full Moon Party at Haad Rin [SEE MAP]
OlegD / Shutterstock.com
The infamous Full Moon Party is an all-night beach party that takes place in Haad Rin on the island of Koh Phangan. It has grown from an improvised wooden disco for about 20-30 people in 1985 to a major event that draws a crowd of about 20,000-30,000 every single month. If you're not on Ko Pha Ngan during the full moon, don't worry: there are other parties to be had, including Half Moon, Black Moon and Shiva Moon party.
8. Thai-Burma Railway Death Railway [SEE MAP]
Shutterstock.com
The two-hour train journey along the notorious Thailand–Burma Death Railway from Kanchanaburi, via the Bridge over the River Kwai, to Nam Tok is one of Thailand's most scenic and most popular train rides. Though the views are lovely, it's the history that makes the ride so special. During WWII, the Japanese built the railroad to connect Yangon, the then-capital of Burma, with Bangkok, enlisting POWs and Asian laborers in a horrifying and deadly race to the finish. Today, only a portion of the original rail line is in operation.
7. Ayuthaya Historical Park [SEE MAP]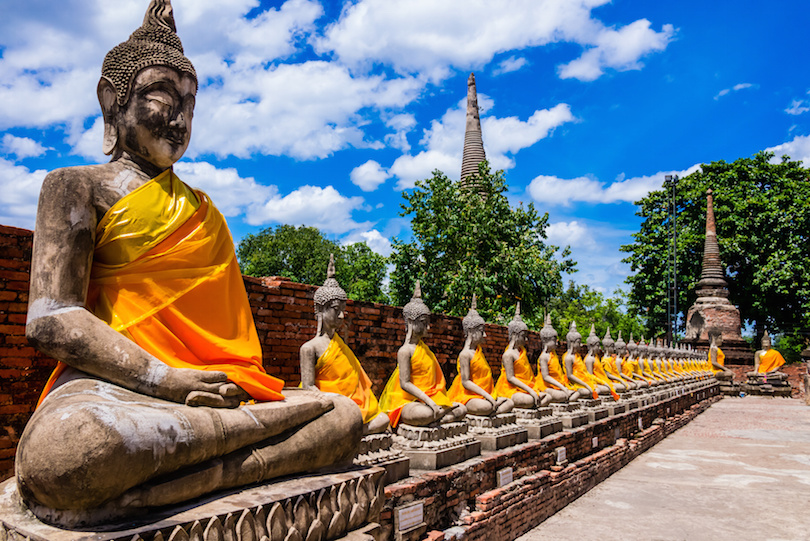 Also known as Ayutthaya Historical Park, this popular tourist attraction contains the ruins of the second capital of Siam, which was founded around 1350. By 1700 Ayutthaya had become one of the largest cities in the world with a total of 1 million inhabitants. In 1767 the city was destroyed by the Burmese army, resulting in the collapse of the kingdom. Fortunately, renovations that began in the late 1960s restored the once-vibrant city to much of its former glory, allowing visitors to experience the eclectic array of architectural styles that can be found amid its grid-like patterns of moats, roads and canals.
6. Mu Ko Chang National Park [SEE MAP]
Located in the Trat Province of eastern Thailand, this exquisite national park is made up of more than 50 islands. Without a doubt, Ko Chang is the most notable of the bunch and is famous for its steep peaks, lush jungles and relaxed atmosphere. White Sand Beach is where people from around the world congregate to have a great time. The islands also feature white sand beaches, premium snorkeling and diving sites and many waterfalls. From fishing to dining to kayaking, there's something for everyone here in Kog Chang. Though still far quieter than islands like Phuket or Ko Samui, it's probably better to go now than later.
5. Northern Hill Tribes [SEE MAP]
Northern Thailand is home to several interesting and colorful ethnic minorities, known as the hill tribes. Most of the hill tribes have migrated into the region during the past 100 years from the Asian interior and have largely preserved their traditional ways. It is possible to go on a trekking tour and visit one of the numerous villages where they are happy to receive tourists. Since most are rural and poor, any economically uplifting opportunities are welcomed.
4. Railay [SEE MAP]
© Gumbao / Dreamstime
Also known as Rai Leh, this popular rock-climbing destination is located in the Krabi Province on the coast of the Andaman Sea. Accessible only by boat, Railay boasts a variety of exciting attractions. Its more than 700 bolted rock-climbing routes are a major draw. However, there are also several stunning beaches, and visitors can also explore a series of caves. Accommodation on Railay ranges from inexpensive bungalows popular with backpackers and climbers, to the renowned jet-set resort of Rayavadee.
3. Grand Palace [SEE MAP]
As the official residence of the kings of Siam — and, later, Thailand — since 1782, the Grand Palace is perhaps the most famous attraction in the bustling city of Bangkok. Situated on the banks of the Chao Phraya River, the walled-in complex contains a compelling series of pavilions, halls, wats and other buildings interspersed with vast lawns, lavish gardens and stately courtyards. Of the many sights here, Wat Phra Kaew, or the Temple of the Emerald Buddha, is probably the most memorable.
2. Phang Nga Bay [SEE MAP]
Located just over 95 km (60 miles) from the island of Phuket, Phang Nga Bay is one of the top tourist attractions in Thailand and one of most scenic areas in the country. It consists of beautiful caves, aquatic grottoes and limestone islands. The most famous island in the bay is a sea stack called Ko Ping Kan (more commonly known as James Bond Island) which was featured in the James Bond movie "The Man with the Golden Gun". A popular way of visiting Phang Nga Bay is by sea kayak as they are the only way to get inside the grottoes and sea caves.
1. Ko Phi Phi [SEE MAP]
MikeBehnken / Flickr
Phi Phi is a beautiful archipelago located in the Krabi Province not too far from Phuket. Ko Phi Phi Don is the only island in the group with permanent inhabitants while the smaller Ko Phi Phi Leh is famous as the filming location for the 2000 movie "The Beach". Travelers go here enjoy the beaches and to participate in a variety of water recreation activities, such as snorkeling, scuba diving and kayaking. As a result of the masses of tourists, Ko Phi Phi is becoming less and less attractive but for now it is still a very beautiful place to visit.
25 Best Things to Do in Thailand
Thailand is the number one tourist location in South East Asia, and it is easy to see why. Best known for its breath-taking beaches, its stunning temples and the modern urban sprawl that is Bangkok, it is a country where getting bored is just not an option.
From the moment you step of the plane to the time you leave you will be surrounded by some of the friendliest, down to earth and genuine people that you could want to meet. It's easy to see why Thailand is often called the 'Land of Smiles'.
The problem for any visitor to Thailand is narrowing down your list of things to do, there are countless attractions and hot spots I could put on this list but I narrowed it down to the top 25 things to do in Thailand:
1. Visit the Grand Palace
Source: Alexander Mazurkevich / shutterstock Grand Palace
Set in the heart of Bangkok this is probably the most famous attraction there is. For 150 years the palace was home to the king, his court, and the entire government of Thailand as well as the Royal Mint. With an area of 218,400 sq. meters there is so much to see and do, you will not be disappointed. In 1782 huge walls were built around the palace and offices to make it the attraction it is today, please note that a strict dress code is in place at the palace so you will need to dress in appropriate clothing or entry will be refused.
3. Have a Thai Massage
Source: Kittibowornphatnon / shutterstock Thai Massage
Thai massages are famous the world over, the style of massage is unique as it stretches your body as well as working on your bodies pressure points. The whole experience will leave you feeling invigorated and balanced. Every small town and city is guaranteed to have many massage parlors and the prices are very cheap compared to what you would pay back home.
4. Visit The Damnoen Saduak Floating Market
Source: aphotostory / shutterstock Damnoen Saduak Floating Market
There are several floating markets in Thailand but this one is the biggest and most famous, it is huge! There are boats everywhere going up and down the canals selling all sorts of foods and fruits. A visit to this market will give you a real insight into how things were many years ago. For those who love to take photos the narrow canals and small wooden stilt houses are sure to give you countless opportunities.
The market is situated about 100km outside of Bangkok but it is well worth the traveling time.
5. Spend an Evening in Nana Plaza (Soi 4)
Source: TK Kurikawa / shutterstock Nana Plaza
No trip to Bangkok could be complete without taking a trip to Nana, the main road that runs through Bangkok is called Sukhumvit road and when you get to Soi 4 you have arrived at a place you do not want to miss. Nana Plaza is rumored to be the largest sex complex in the world, full of gogo bars and seductive girls you are guaranteed to have an interesting night.
Take a seat at any of various bars in the Plaza and just sit back and watch the girls apply their trade to many visiting tourists.
6. Climb the Sathorn Unique Tower
Source: 0tvalo / shutterstock Sathorn Unique Tower
Situated in the heart of Bangkok is a humongous abandoned skyscraper known as the 'Sathorn Unique' it was being built during the late nineties but due to the global financial crisis the building was never completed. This is not an official tourist attraction but a small payment to the security guards at the bottom will ensure you are allowed access. Not one for the faint hearted the 49 stories provide a difficult climb but one that offers some of the most breath taking views of Bangkok from the top. Thai people believe the tower to be haunted and as you climb you way up you might just see why.
7. Take a trip to Koh Phi Phi
Source: Matej Kastelic / shutterstock Koh Phi Phi
Shooting to fame after the Leonardo DiCaprio classic 'The Beach' as well as appearing in James Bond. Koh Phi Phi is a stunning island situated in the province of Krabi, this island is a must visit on any trip to Thailand. After visiting this staggeringly beautiful island no beach will ever feel as beautiful. The island has no roads so you will have to do a fair amount of walking but with everything happening between the two main beaches you will never be far from the hive of activity.
8. Visit a Ping Pong Show
Source: Nopkamon Tanayakorn / shutterstock Ping Pong Show
If you have already been to Nana Plaza and watched the ladies at work there then the next part of your trip is surely to a ping pong show, famed throughout the world for the unique experience it brings, you must not give it a miss. Various ladies will entertain you on stage by putting objects inside them before using their pelvic muscles to shoot the objects into cups. Although ping pong balls are the most iconic objects the ladies have also been known to use, candles, darts, chopsticks and even razor blades.
9. Drive Like a Local
Source: View Apart / shutterstock Thailand Scooter
Traveling by scooter is hugely popular, a vast majority of the locals do it and nearly all of the tourists. It is an experience that you will not want to miss out on. At times it can appear as though there are no laws on the road and it is every man (or woman) for themselves. It can be an awful lot of fun weaving in and out of the traffic whilst you explore places you would never venture on foot. Just remember to keep your wits about you at all times and to expect the unexpected.
10. Eat Street Food
Source: David Kucera / shutterstock Street Food, Thailand
Thailand is home to many different kinds of street food and every street in every city will have various different stalls selling their wares. From Pad Thai to Som Tam (papaya salad) to grilled meats it is all available at any time of the day. Thai's rarely cook at home as the cost of eating out is so low compared to cooking at home, when looking for a food stall to eat at a good choice is to follow the locals to see where they are eating.
11. Have a Water Fight During Songkran
Source: artapartment / shutterstock Songkran
Songkran is the traditional Thai New Year, it is celebrated each year in April across the entire country and runs from the 13th to the 15th, water is traditionally sprinkled throughout the festival as it is believed it will wash away your bad luck and sins. These days things have changed a little and huge water fights tend to break out bringing entire cities to a standstill, with many businesses closing for the entire duration. Where ever you are in the country during this time of the year prepare for a soaking as there is no escaping the party.
12. Visit Khao Yai National Park
Source: Phonix_a Pk.sarote / shutterstock Khao Yai National Park
Khao Yai National Park was the first national park to be established in Thailand and is the third largest in the country. Covering an area of 2,168 square kilometers it is a huge site to visit. The park comprises of rain forests as well as grasslands which all adds up to the large number of animals you can see. There are an estimated 300 species of birds in the park as well as bears, elephants, deer's, gibbons and macaques. There are a couple of waterfalls in the park which are well worth a visit as well and are easily accessible by car.
13. Take a Trip to Wat Arun
Source: SAHACHATZ / shutterstock Wat Arun
Thailand is home to over 31,000 Buddhist temples, this particular temple Wat Arun is named after Aruna, the God of Dawn. The temple sits on the banks of the Chao Phraya River and is one of the most stunning sites you can see. The tower is 79 meters tall and has been covered in colorful porcelain and ceramic tiles making for a mesmerizing sight. When you come to the entrance of the temple you will see a pair of mythical giants that are said to guard the temple.
14. Visit Chiang Mai Night Bazaar
Source: DONOT6_STUDIO / shutterstock Night Bazaar, Chiang Mai
During the day the Chang Klan Road is just an ordinary road in Chiang Mai, full of tourists, shops, guest houses and Tuk Tuk drivers, but at night a transformation takes place. From dusk until midnight hundreds of stall holders line the 1km stretch of road and turn the area into a shopper's paradise. Everything is for sale including various different designer products (mainly fake,) you are expected to barter with the street sellers for whatever you choose to buy which all adds to the fun of the Bazaar. It does not matter what the weather is like or what day of the year you choose the market will always be open.
15. Go to a Full Moon Party
Source: Golffy / shutterstock Full Moon Party, Koh Phangan
Legend has it that a group of tourists realized one day that the most beautiful view of the full moon was from the beach of Koh Phangan so they decided to hold a party. From that day on it became an institution. Today up to 30,000 revelers travel to the beaches of Koh Phangan to celebrate every full moon with a party. The parties are a riot of color, music and nonstop drinking that seems to last forever. When you need to take a break from the dancing you can take a rest in one of the surrounding bars or go for a swim in the warm Gulf of Thailand.
16. Visit Phang Nga Bay
Source: Day2505 / shutterstock Phang Nga Bay
Whilst visiting Phuket you must visit Phang Nga Bay, the bay houses in the region of 40 small islands that come straight out of the calm sea. There are so many caves, mangroves and lagoons to visit whilst you are here that you will never have enough time to see everything. The sea in this area is very quiet and the bay by its natural design is protected from many of the elements during the monsoon season meaning there is never a bad time to go. The best way to see as much as you can is to go with a local Thai tourist guide who will be able to point out the things you do not want to miss.
17. Go to Doi Suthep
Source: Take Photo / shutterstock Doi Suthep
Situated 12km outside of Chiang Mai, Doi Suthep is a mountain that stands at over 5400 feet. The reason most people travel to Doi Suthep is to see two things, firstly the view over all of Chiang Mai which is staggering and worth the journey on its own, but also to visit Wat Phra That Doi Suthep which is a temple dating back to the 13th century. At the temple there is a large white elephant shrine which has a whole story about it which you can learn about whilst at the temple. There are many steps to climb on the mountain as well as the opportunity to take a tram, expect to spend a whole day on the mountain checking out the various things to see.
18. Visit Railay Beach
Source: GlebSStock / shutterstock Railay Beach
Railay beach is situated in the south of Thailand in Krabi, it is not accessible by traveling through the mainland as the huge limestone cliffs cut it off from society. The only way to get there is to get a boat. The stunning beaches will relax you like no other, there is not a single car here as there are no roads to drive on so it will just be you, your guests, beautiful white sand and the other relaxed tourists. If you are into rock climbing this is the place to be with some of the best instructors in Thailand plying their trade here. Your evenings can be spent in the quiet beach bars enjoying a few romantic drinks whilst watching the sunset. If you are looking for a party this is not the place to come.
19. Go Diving off The Coast of Koh Lanta
Source: gangoo / shutterstock Koh Lanta Diving
Situated in the Andaman Sea, Koh Lanta is a beautiful island only 20km's in length. There are 17 dive shops on the island and some of the most beautiful diving in the world is to be had in the sea surrounding the island. Famous dive sites are Hin Daeng and Hin Muang, these are considered to be the best in the area
20. Take Part in The Loi Krathong Festival
Source: vanchai / shutterstock Loi Krathong Festival
Celebrated across the country the Loi Krathong festival is an annual event that happens on the night of the twelfth lunar month. A Krathong is like a small floating basket in the shape of a lotus with a candle in it. The festival celebrates the Goddess of water for all the water that she has supplied over the last year. Thousands of krathongs are lit and left to float away on the rivers and canals, a truly breath taking sight. The festival is full of color and in some cities you will see whole areas turned in processions with dancing and much color.
21. Visit Pai
Source: saiko3p / shutterstock Pai, Thailand
Situated just down from the border with Myanmar is the small town of Pai, historically it was a small town inhabited by the Shan people, now it makes its money from the tourism trade. There are plenty of cheap places to stay and you are guaranteed a relaxing time when you visit. A romantic town that was made famous by appearing in a couple of famous Thai movies (The Letter and Ruk Jung.) Every year more tourists visit that the year before so there has never been a better time to visit than now.
22. Take a Trip To The City of Ayutthaya
Source: Songsak Pandet / shutterstock At Mahathat Temple, Ayutthaya
A UNESCO World Heritage Site, Ayutthaya needs to be on your Thailand to-do list. Originally the capital of Thailand the city was founded in 1350 when King U Thong relocated to the city to escape an outbreak of smallpox. However in 1767 the Burmese army marched on the city and destroyed nearly every part of it. The kingdom collapsed and was never the same again. The ruins of the city are preserved in the historical park and are certainly worth a visit when in the country.
23. Take the Thai-Burma Railway
Source: apiguide / shutterstock Thai-Burma Railway
Also known as the Death Railway due to the 300,000 people that died during its construction. The Thai-Burma railway was built between 1942 and 1943 to transport Japanese troops to Burma, the troops were then supposed to attack the British in India. Built by prisoners and Asian laborers the line stretches for 415km with perhaps the most famous part of the line being where the track goes over the bridge on the river Kwwae (kwai)
24. Drink From a Coconut
Source: SOUTHERNTraveler / shutterstock Thai Coconut Drink
All over Thailand you will come across coconut sellers, standing by the side of the road with their simple stall, chopping board and cleaver. For just a few baht you can order one and watch as they cut deep into the flesh at the top of the coconut and cut out a piece in the shape of a square. A straw is added the square (now the lid) is replaced and you are ready to drink the cool milk inside. Absolutely delicious on a boiling hot day, fewer things will quench your thirst as much as this. When you have finished drinking the milk if you have a spoon you can scrape out the insides to enjoy the white flesh part that remains.
25. Visit Erawan Falls
Source: YuRi Photolife / shutterstock Erawan Falls
Situated within the Erawan National Park the Erawan Falls are a group of seven waterfalls (the drop from the top waterfall to the bottom one is over 1500m) each having its own distinctive character. The water plunges over lime stone cliffs and into beautiful plunge pools, this has led to the landscape being sculpted by the water and it is truly beautiful. You can spend a whole day in the park trekking from one waterfall to the next, stopping to take a swim in the pools where the water gathers to cool yourself down.
34 Amazing Places to Visit in Thailand & 6 to Avoid!
Most lists of places to visit in Thailand will include overrated tourist destinations such as Pattaya, Koh Samui and Phuket… places that we would seriously recommend you avoid! If you're looking for an honest list of the best places to visit in Thailand, including some alternative destinations that aren't swarming with tourists – this is the list for you!
Don't forget – As well as giving you some suggestions for must-visit places in Thailand, jump down to the bottom of this article for places that we suggest you don't visit!
This guide was written with the help of the South East Asia Backpacker Community – a great place to get tips and advice on travelling the region.
Read Next (Opens in New Tab):
The Best Places to Visit in Thailand
Places to visit in Northern Thailand
1. Chiang Mai
Chiang Mai is the unofficial capital of Northern Thailand, sometimes nicknamed the 'Rose of the North'. Despite what other travel guides will tell you, Chiang Mai is not a small quaint city with quiet streets full of old-fashioned Thai charm. It's a large, modern and busy city with bustling markets, hipster cafes and a variety of cultural activities that lure tourists from all over the world.
There are many reasons to base yourself in Chiang Mai for a while. The city has amazing (cheap) street food, markets and just outside the city, there is spectacular countryside to explore. One of the best things to do is go trekking or mountain biking in the national parks around the city.
2. Pai
Many travellers fall in love with the bohemian town of Pai, set in a lush green valley surrounded by rice fields, mountains, waterfalls, hot springs and canyons. In recent years the town has become a hotspot for backpacker nightlife (and mushroom shakes!). There's also an active live music scene in Pai village which attracts local and international musicians alike.
The best thing to do in Pai is to hire a motorbike (or a bicycle, if you're feeling energetic), and explore the stunning countryside around the town. Within minutes, you can get away from the touristy centre and discover intriguing back roads that lead to hill tribe villages and stunning mountain vistas.
3. Chiang Rai
If you didn't enjoy the noise and traffic of Chiang Mai, you may prefer the quieter town of Chiang Rai, situated just a few hours north. Chiang Rai is famous for the incredible White Temple and juxtaposing Black House, two absolute must-visit attractions in the area.
While the actual town of Chiang Rai isn't that much to write home about, the city makes a great base for further explorations into the nearby countryside. There are several hill tribe villages located around Chiang Rai and treks in the area offer homestays and the chance to learn more about the history of these indigenous communities.
4. Chiang Dao
Chiang Dao is a true hidden gem that's located just two hours north of Chiang Mai. This beautiful tiny village is famous for nature and bird watching. Visitors to the area can climb the imposing Doi Chiang Dao for a physical challenge and amazing views of the surrounding countryside (guided treks only).
If you're looking for something less exhausting, why not visit Chiang Dao cave and temple, a 12km chamber filled with impressive stalagmites and stalactites. There are also hot springs in the area for a taste of relaxation in the heart of nature.
5. Mae Hong Son
Location: Northern Thailand
Visit for – Beautiful landscapes, trekking, great food, motorbike adventures, local way of life.
Three hours by road West from Pai towards the Burmese border, you'll find Mae Hong Son, one of our favourite spots in Thailand. The town is located on a pretty lake and there are some great restaurants and a fun local market taking place each night. The town has a real local feel and none of the tacky nightlife of Chiang Mai.
The real joy of Mae Hong Son is the surrounding countryside, speckled with hill tribe villages, waterfalls, hot springs, cave temples and other treasures, such as the amazing bamboo bridge. Hire a motorbike and explore to your heart's content finding empty mountain roads and places that farangs (foreigners) rarely go.
6. Phayao
Head East from Chiang Mai by bus or motorbike and you will come across the little-visited lakeside town of Phayao – perfect if you're looking for an authentic slice of northern Thai life. The little town is a popular weekend getaway for Thai locals and there are many fish restaurants around the lake where local families like to enjoy a fishy feast at lunchtime! National Parks, caves and waterfalls in this area abound so be sure to explore by motorbike or bicycle.
7. Mae Sot
For a taste of Myanmar in Thailand, visit the quirky border town of Mae Sot with its interesting Burmese culture, delicious food and mix of ethnic minorities. While Mae Sot isn't the prettiest town, we encourage you to linger awhile, soak up the atmosphere and visit the local markets (especially the huge border market which sells all kinds of weird (and illegal) stuff!
With its proximity to troubled Myanmar, Mae Sot has an interesting ethnic makeup which is quite unusual in Thailand. Looking out over the River Moie from Thailand to Myanmar you can't help but wonder at the plight of people who have crossed that border in the past seeking refuge and a better way of life.
8. Nan
A wild mountainous landscape with amazing national parks, hill tribe villages and waterfalls, Nan Province is a little-visited area of North Eastern Thailand where locals will be amazed to see a tourist! The area is absolute heaven for motorbikers with windy roads that climb high into the hills and offer stunning mountain views. The town itself offers a glimpse of authentic Thai culture with the Nan morning market and the monk walk at 6 am where local monks ask for alms from the local villagers. This is a side of Thailand far removed from the touristy South!
9. Mae Salong
Right on the Northern Thai border with Burma near the Golden Triangle, the strange little town of Mae Salong feels more like China than Thailand with its tea plantations and Chinese Temples. The scenery around here is spectacular and it gets pretty cold in the winter. There are a few cheap guesthouses in town, though most visitors just pass through during a motorbiking trip in the North of Thailand. This town is way off the beaten track so you certainly won't find many backpackers up here!
10. Isaan
North-Eastern Thailand, also known as Isaan, is a special side of Thailand that backpackers rarely get to see. This huge region is a vast empty area of rice fields that go on forever and authentic farming villages where it's very rare to see a foreign face. (You will find a handful of foreigners teaching English in local schools in the area.)
This area of Thailand was once part of Laos and so much of the area shares cultural similarities with the country, such as the language of Isan (which is similar to Laotian) and many of the local dishes, such as sticky rice and papaya salad, or Som Tam. If you're looking for a real off the beaten track experience in Thailand, then Isaan is for you.
11. Nong Khai
Before heading into Laos, many backpackers stay at the lively border town of Nong Khai, home to the mysterious 'fireball festival' which takes place every November, one of Thailand's most famous festivals. Nong Khai is a lively little town with great guesthouses, bustling markets and cheap street food. It's a great place to soak up some Thai culture, take a boat cruise on the Mekong or hire a bicycle and explore the town's many temples. Don't miss a visit to the unusual Buddha Garden (Sala Keoku) with its bizarre Buddhist and Hindu sculptures.
Places to visit in Central Thailand
12. Bangkok
Any article about places to visit in Thailand simply has to include Thailand's crazy capital. Some travellers love it, some hate it – personally, I love it! Yes, it's polluted, dirty and noisy, but if you know where to go… it is possible to find respite from the hustle and bustle in the city's parks, green areas and canal sides. Hell, there's even an aeroplane graveyard!
For me, what makes Bangkok great is the diversity of the different areas… from the backpacker hub of Khao San Road to the trendy district of Thonglor and the bustling streets of Chinatown. Wherever you go, the city is full of amazing street food, great restaurants, shopping, nightlife, cafes, temples and markets. In the most surprising of areas, you'll find the traditional lurking next to the modern… and the unique Thai way of life is never far away.
Heading to Bangkok? See this guide to planning your Bangkok itinerary.
13. Ayutthaya
If you're looking for a taste of ancient Thai history and culture, travel just one hour north of Bangkok to visit Thailand's former Siamese capital, Ayutthaya. Here you can take a walk or a cycle amidst time-worn temples and ancient kingdoms. Don't miss the amazing vision of a stone Buddha's head that, over the years, has been completely entwined in the roots of a Banyan tree. Due to its proximity to the capital, Ayutthaya can be visited on a day trip from Bangkok, but for those who want to linger by the ruins, there are many great and cheap guesthouses in town.
14. Sukhothai
Halfway between Bangkok and Chiang Mai, you'll also find the even older Thai capital, Sukhothai with its 70km historical park and hundreds of temple ruins. The ancient city makes a great stopover for backpackers who are travelling by train or bus from Central to Northern Thailand.
Sukhothai Historical Park is a UNESCO World Heritage site that dates back to the 13th century. It was built during the reign of King Ramkamheng, one of the most important Kings of Thailand (or Siam, as it was then called). The city is a must-stop for all history and culture enthusiasts and there are some great cheap guesthouses if you fancy spending the night,
15. Phimai
More ruins and cultural interest, (this time from the ancient Khmer Empire), can be found as you head North East from Bangkok towards the little-visited province of Isaan. The underrated Phimai Historical Park is Thailand's answer to Angkor Wat, though nowhere near as famous. While the site is not as grand and extensive as the Temples of Angkor, it does have one advantage – lack of crowds! Here at Phimai, you can wander around the ruins by yourself and enjoy the silence. Plus, it only costs 100 THB to enter. The town itself is very small and understated and offers a nice change from more touristy parts of Thailand.
16. Khao Yai National Park
If you're looking for outdoor adventure and fresh air, head east from Bangkok just three hours to Khao Yai National Park for awesome trekking and nature trails. The park is massive and home to wild animals such as the Asiatic black bear, guar gibbon and Asian elephant. The vegetation is lush and green and there are some beautiful waterfalls that you can trek to, one of which featured in the film The Beach with Leonardo DiCaprio.
Don't miss the famous bat cave where you can see thousands of 'wrinkle-lipped' bats fly out of the cave at sunrise to feed – an amazing sight! While there are shorter trails you can do alone, a guide is recommended for longer trails into the jungle.
17. Kanchanaburi
A backpacker favourite three hours West of Bangkok, Kanchanaburi provides dirt-cheap accommodation and access to beautiful countryside; waterfalls, endless rice fields and fruit trees. The town is famous as the home of River Kwai Bridge, part of the Thai-Burmese railway that was built from 1942-45 during World War II. The railway has a dark history that claimed the lives of an estimated 100,000 workers and prisoners of war who toiled on the tracks in terrible conditions. You can visit the bridge and the museum in Kanchanaburi to learn more.
Kanchanaburi is also a beauty spot where you will find one of Thailand's most visited waterfalls, Erawan Falls, a seven-tiered waterfall situated in a lush jungle setting.
18. Sangkhlaburi
From Kanchanaburi, head even further East towards the Burmese border and you'll come across Sangkhlaburi, a little-visited tranquil town with amazing scenery and interesting cultural diversity. The little town is set on Khao Laem Lake and is famous for its bamboo bridge that is believed to be the longest in Thailand. The bridge connects Thailand to Myanmar and has been a lifeline for Burmese people seeking refuge. The countryside around Sangkhlaburi is unspoilt, beautiful and great for trekking or mountain biking.
19. Koh Samet
Koh Samet is a tiny island that is actually the closest island to Bangkok (three hours by car and boat). For this reason, the island has become a popular destination for resident Bangkokians to escape the city during the weekend. There are many fancy resorts and expensive restaurants on the island, but if you hunt around, you can still find cheap accommodation and more local food.
The entire island, which is part of Khao Laem Ya-Koh Samet National Park, is undeniably beautiful with its white-sand beaches, lush green jungle and turquoise waters. So, if you have a few days to spare at the end of your trip and you want to get some beach time in whilst staying close to Bangkok, Koh Samet is a great choice!
20. Koh Chang
It will take you around five hours by bus and boat from the Thai capital to reach the island of Koh Chang (Elephant Island in Thai). The island is the second-largest island in Thailand, next to Phuket, but has not been ruined quite as much as Phuket – yet!
The backpacker hangout is Lonely Beach on the East coast where you'll find cheap guesthouses, reggae bars and beach parties at certain times of the year. A bit further up on the East Coast, you'll find White Sand Beach, the most touristy part of the island where you'll find posh hotels and expensive restaurants. However, for a real feeling of escapism, hire a scooter and head over to the undeveloped East of the island and enjoy deserted red sandy beaches and a local way of life. It's a world away from the busy West side!
21. Koh Kood
Location: Central Thailand
Visit for – Deserted paradise island, kayaking, waterfalls, swimming, escapism.
Koh Kood (also called Koh Kut) is an island, practically devoid of tourists, just a two-hour boat ride from the larger island of Koh Chang. (Like Koh Chang, the island is located in Trat Province, and is closer to Cambodia than it is to Thailand.) Visitors to the island will find deserted beaches, mangrove forests and empty roads great for exploring by motorbike.
Don't miss the stunning Khlongchao Waterfall (especially in the rainy season) where you can swim in an idyllic lagoon in the heart of the jungle. The beaches of Koh Kood are to die for and if you're feeling adventurous why not hire a kayak to explore the island's coastline to find hidden beaches where your footprints will be the first on the sand. A truly off the beaten track paradise!
22. Koh Si Chang
Koh Si Chang (not to be confused with the larger island of Koh Chang) is another tiny island in Thailand where you can escape the crowds and enjoy an off the beaten track island experience. Just a few hours by bus and boat from Bangkok, the island is primarily a fishing island and the tourist scene has taken longer to develop here than in other parts of the country – though unfortunately, it's on its way!
Visitors to Koh Si Chang can enjoy crystal clear waters, sandy beaches and beautiful nature. Make friends with the local wild boar population who you'll see around the island… apparently, they even come and sit next to you while you are sunbathing on the beach!
23. Prachuap Khiri Khan
While many tourists visit the rather seedy coastal destination of Hua Hin, we much prefer the lovely seaside town of Prachuap Khiri Khan with its understated beaches, lively markets, cheap restaurants and laid-back town. Ao Manao (Lime Bay) is one of Thailand's best beaches and really offers a glimpse of how Thai locals do 'beach life'. Buy a bottle of whiskey, a bucket of ice, sit under the shade of the trees and feel like a local! While you're there see if you can spot the Dusky Leaf Monkeys in the trees above your head.
24. Khao Sam Roi Yot National Park
Location: South Central Thailand
Visit for – Camping, nature, deserted beaches, cave temples.
Phraya Nakhon Cave, Khao Sam Roi Yot National Park.
The little-visited Khao Sam Roi Yot National Park can be easily reached from Hua Hin or Prachuap Khiri Khan and is one of the loveliest and least visited national parks in Thailand. Camp overnight on a deserted beach and visit the legendary Phraya Nakhon Cave, a huge cave that's home to a magical hidden temple. There are many hiking trails in the park and a viewpoint where you can gaze out at the jungle-clad limestone mountains for miles. Again, watch out for those pesky monkeys in the trees!
Places to visit in Southern Thailand
25. Krabi
Krabi is a province in Southern Thailand, famous for its limestone karst scenery. The province comprises well-known islands such as Koh Phi Phi, Koh Lanta, Koh Ngai and Koh Jum, as well as the mainland beaches of Railay and Ton Sai. The province is also home to Krabi Town, a large market town that serves as a transport hub for the other destinations in the province.
Krabi is an absolute must-visit destination during any trip to Thailand, whether you're into island hopping, rock climbing, boat trips, snorkelling, diving or just beach bumming. There are also hot springs, caves, mangrove forests and temples in the area which are well worth exploring. Picture postcard scenes guaranteed!
26. Railay
Location: South Thailand (West Coast)
Visit for – Rock climbing and reggae bars.
Railay and Ton Sai are two beautiful beaches located in Krabi Province that can only be reached by long-tail boat. (It's around a 20-minute boat ride from Krabi Town.) As there is no road access (and therefore no cars) the beach destinations enjoy an isolated island vibe and the scenery is truly some of the most spectacular in the country. The high limestone cliffs offer some of the best rock climbing in the world and there are hundreds of routes for beginners and advanced climbers alike.
While the chilled vibes of Railay and Ton Sai used to be hugely popular with backpackers, in recent years the price of accommodation has increased substantially forcing budget travellers elsewhere. For the cheapest digs, try the bungalows away from the beach on the Ton Sai side.
27. Koh Lanta
If you're looking for a beautiful island on the west coast of Thailand with gorgeous beaches, excellent diving and great restaurants, head to Koh Lanta. A large island with a national park at its southernmost tip, Koh Lanta offers a great blend of chilled-out island vibes, a low-key party scene (don't miss Mong Bar), a local charm and possibly the best beaches in Thailand!
Hire a motorbike to explore the island's hidden gems from Tiger Cave to Khlong Chak Waterfall and take a trip north to Lanta Noi to escape tourists completely. If you're looking for beaches, the best ones can be found on the South West coast of Lanta Yai island (Bamboo Beach is our favourite)! There are plenty of smaller islands off the coast of Koh Lanta which you can visit by longtail boat and even stay the night if you're in search of that private castaway island feel.
28. Khao Lak
Khao Lak is located in Phang Nga Province, just a one hour drive from the largest Thai island of Phuket. The area is home to three national parks, gorgeous tropical islands and a stunning seascape of limestone karsts rising dramatically out of turquoise waters.
Khao Lak is the jumping-off point for the Similan and Surin Islands, which are famous destinations amongst divers and widely considered to be the best place for diving in Thailand. Many divers flock to Khao Lak to do diving liveaboards and there are plenty of dive schools that will take you for multi-day boat trips to explore the pristine reefs and diverse underwater life. Watch out for reef sharks!
29. Koh Lipe
As you head further down South towards the Malaysian border, you will come across the island of Koh Lipe, which has become more and more popular in recent years. A tiny island blessed with beautiful beaches of white powdery sand and clear turquoise seas, it's no wonder that Koh Lipe is so popular. There's not much to do on the island apart from sunbathe, swim, snorkel and dive, but then isn't that what paradise is all about? It's an easy ferry ride from here to Malaysia if you're planning to backpack there next.
30. Chumphon
The underrated town of Chumphon, on the mainland, is a neglected destination as most people who visit here stay only for a few hours. Tourists arrive off the overnight bus or train from Bangkok and jump straight on the morning ferry to Koh Tao and Koh Phangan.
Those who decide to stick around for a while will be rewarded with cheap accommodation, friendly locals, deserted beaches, national parks, mangrove forests, caves, hot springs and rainforests. The best way to explore Chumphon is by motorbike which can be hired from guesthouses and travel agents in the town.
31. Koh Phangan
The island of Koh Phangan lures thousands of backpackers each month to experience the most famous beach party in the world – the Full Moon Party. (These days, there's also the Half Moon Party, Black Moon Party, Blue Moon and Pirate Moon Party!) However, parties aren't the only thing the island is renowned for.
Recently, a rather controversial new-age community of yogis and hippies has sprung up on the West coast of the island bringing tantra, reiki, ecstatic dance and a whole host of other new age therapies that attract spiritual seekers in their droves. Although busier and more developed year on year, Koh Phangan is still home to beautiful beaches, jungle-clad scenery and crystal clear waters.
32. Koh Tao
The turtle shaped island of Koh Tao is the most popular (cheapest) place for backpackers to get certified to dive in Thailand. There are almost 100 dive schools located on this tiny island, so if you're planning to learn to dive whilst in Koh Tao, be sure to read our beginners' guide to diving in Koh Tao here. Along with the diving scene, Koh Tao also offers a lively nightlife, a variety of restaurants and cafes, some beautiful beaches and great snorkeling.
Tip: Be sure to take a day trip to the beautiful Ang Thong Marine Park while you're in the area.
33. Khanom
Located on the mainland, Khanom is a hidden gem that's overlooked by most travellers in favour of the more popular Gulf Islands. However, those who stop here a while will be rewarded with empty beaches, mangrove forests, waterfalls, beautiful landscapes and the unusual opportunity to spot pink dolphins! In recent years, the small fishing town has become home to a burgeoning expat scene who enjoy the less crowded beaches and local vibes of the area. Don't tell them we sent you!
34. Khao Sok National Park
In between the skinny strip of land that separates the two coastlines of Thailand you'll find beautiful Khao Sok National Park, one of the oldest rainforests in the world. The park is home to many wild beasts such as the Malayan Tapir, the Asian Elephant, Sambar Deer, Wild Boar, Pig-Tailed Macaque, White Handed Gibbon and even bears and tigers! It's possible to go trekking in the park, guided or unguided, and many backpackers choose to spend the night in a floating bungalow on Cheow Larn Lake, a one-in-a-lifetime experience that brings you right to the heart of nature.
6 Places to Avoid in Thailand
1. Khao San Road, Bangkok
Khao San Road is like Marmite! Some love it, some hate it!
Bangkok's backpacker ghetto of Khao San Road was voted the 9th worst place in Southeast Asia in our recent Readers Poll. Tacky, loud, dirty and seedy. Yet despite its brashness, there's no denying that the area has a lot of things going for it for travellers; cheap food, cheap accommodation and cheap Thai massage! While we would recommend you located yourself in a different Bangkok neighbourhood, the street is worth walking down – just once in your life! Read our article on why one traveller loves the Khao San Road here.
2. Koh Phi Phi
Maya Bay, Koh Phi Phi, Thailand.
Once a huge hit with young backpackers, Koh Phi Phi has recently become an island that many travellers are choosing to avoid due to the over-development of its undoubtedly beautiful landscapes (not to mention the price of its hotels!). The famous Maya Bay (AKA The Beach) was closed during the summer of 2018 to protect it from further damage to the fragile coastal environment. Once a true idyllic paradise, now a backpacker party zone with a huge waste disposal problem, unfortunately, Koh Phi Phi is what many people consider a 'Paradise Lost'.
3. Phuket
Phuket isn't popular with our readers!
Thailand's largest island and its oldest in terms of tourism, Phuket is covered in fancy hotels, restaurants and tacky bars. Most of the island's coast has been over-developed and the island's culture has been obliterated everywhere apart from Phuket Town, which is a diamond in the rough. Phuket was voted 4th worst place in Southeast Asia in our Readers Poll.
4. Koh Samui
Koh Samui on a cloudy day.
Also making our list of worst places in Southeast Asia (13th place), the island of Koh Samui in the Gulf of Thailand is definitely my least favourite island out of the three (Samui, Tao, Phangan). It's a popular stag party place and is full of retired men with their Thai wives, a tacky bar scene and over-priced accommodation, especially in the island's party hotspot of Chaweng. Having said that, the island is a great place if you want to do a health or fitness retreat or a Muay Thai boxing course.
5. Pattaya
Most backpackers avoid Pattaya.
Taking tacky and seedy to a whole new level, most backpackers don't even bother with Pattaya, the home of Thailand's sex industry. For an eye-opening experience, take a stroll down Walking Street during the evening to see old white men out on the prowl.
6. Hua Hin
While Hua Hin is celebrated for its sophisticated personality (think golf, horse riding and posh restaurants), we seriously wouldn't recommend it to budget travellers. Expensive, tacky restaurants, it has the air of a seedy retirement town complete with gangs of old men looking for a happy ending.
What's your favourite place in Thailand? Or where do you recommend new travellers avoid? Let us know your thoughts in the comments!
Nikki Scott | Founder & Editor
Nikki is the founding editor of South East Asia Backpacker and The Backpacker Network. In her early twenties, she left her home in the North of England on a solo backpacking adventure and never returned! After six months on the road, she founded a print magazine that became legendary on the Banana Pancake Trail. The rest is history.
Find me: Facebook | Twitter | Instagram
Join Over 20,000 Happy Backpackers in Our Facebook Group!
Find travel buddies. Get advice. Have all your questions answered by travellers on the ground in Southeast Asia right now.
Source https://www.touropia.com/top-attractions-in-thailand/
Source https://www.thecrazytourist.com/top-25-things-to-do-in-thailand/
Source https://southeastasiabackpacker.com/places-to-visit-thailand/#:~:text=Visit%20for%20%E2%80%93%20Markets,%20massage,%20temples,%20yoga,%20cooking,Thailand,%20sometimes%20nicknamed%20the%20%E2%80%98Rose%20of%20the%20North%E2%80%99.