25 Top-Rated Tourist Attractions in Washington State
The natural world is larger than life in the state of Washington. The state is stacked with sleeping volcanoes, lush rainforests, and islands full of attractions. And surrounding these verdant landscapes are cities big and small brimming with cultural appeal.
Washington State attracts millions of tourists each year. These visitors and potential transplants descend upon the state for a variety of reasons. For those that haven't explored the massive appeal of the Evergreen State, from world-class adventures to one-of-a-kind music and artistic scenes, there's no better time than now to find out what makes Washington so special.
Fun things to do and exciting places to visit are found in every direction in Washington, including the more arid eastern side of the state in cities like Spokane. One trip to Washington will never be enough, and even residing for years won't uncover the entire splendor of the state. Plan your trip with our list of the top attractions in Washington State.
1. Olympic National Park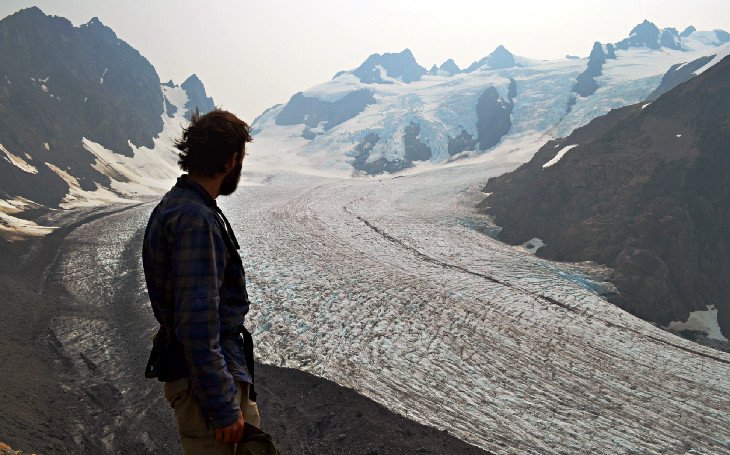 Author, Brad Lane, at lateral moraine of Blue Glacier | Photo Copyright: Brad Lane
From ocean beaches to glaciered mountaintops, Olympic National Park overflows with incomparable scenery. The park covers most of the Olympic Peninsula, and roads only circle the park, never cutting through the park's mountainous heart. While auto-touring is fun, the best way to experience Olympic is by hiking trail.
Iconic coastal areas like Ruby and Rialto Beach define the rugged western edge of the park. This stunning slice of Washington coastline is only a short drive away from the oversized trees and abundant foliage found in the Hoh Rain Forest. Other popular attractions at the park include the snowy peaks of Hurricane Ridge and the welcoming waters of Sol Duc Hot Springs.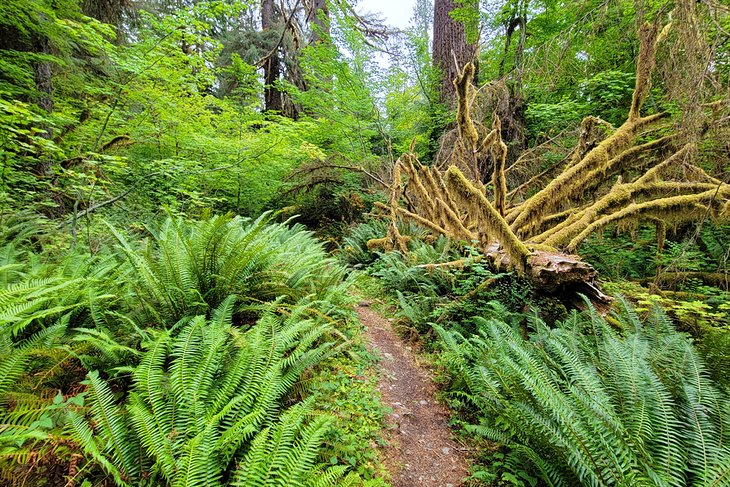 Hoh River Trail | Photo Copyright: Brad Lane
The hiking trails at Olympic National Park traverse many different landscapes, including a Hall of Mosses and the family-friendly Marymere Falls. The Hoh River Trail is an absolute must-do hike for all ages. This lush hiking trail explores the rainforest and river corridor with a flat path for 13 miles before ascending to the lateral moraine of Blue Glacier on Mount Olympus.
For excellent places to spend the night, the campgrounds at Olympic National Park put visitors close to the awe-inspiring scenery presented by this wild western region of Washington.
2. Seattle Center and the Space Needle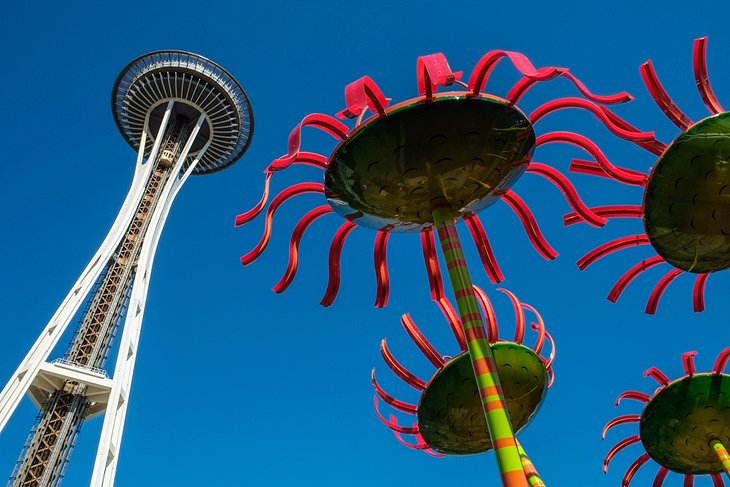 Seattle Center
Of all the top attractions in Seattle, the Space Needle within the Seattle Center is perhaps the most iconic. It was built for the 1962 World's Fair and stands today as a centerpiece of the sprawling Seattle Center. Surrounding the spinning observation deck are more of the city's most iconic attractions, including some of Seattle's best museums.
Alongside the Space Needle, the Seattle Center's 74-acre campus is home to the Monorail, parklands, museums, and restaurants. Among the indoor sightseeing options are the colorful glass artworks at Chihuly Garden and Glass and the Frank O. Gehry designed Museum of Pop Culture.
Other fun things to check out at the Seattle Center include a plethora of art installations, various theater and stage accommodations, and multiple garden and fountain settings, and on any sunny day in Seattle, the campus offers an excellent place to stroll outside.
3. San Juan Islands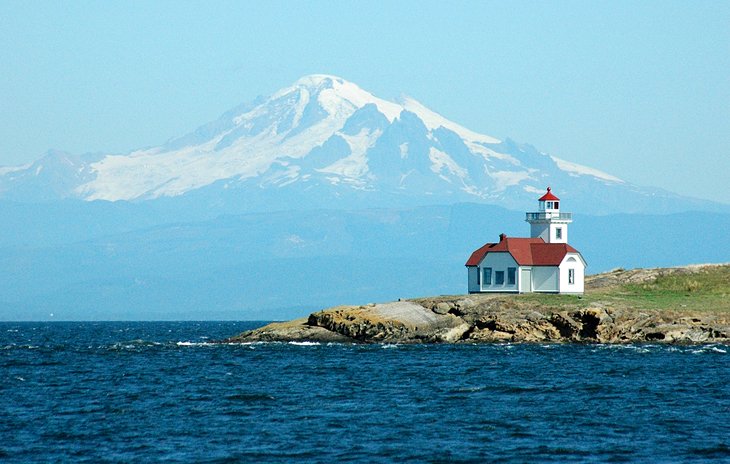 San Juan Islands
The San Juan Islands are north of Puget Sound, off the northwest mainland. They are a collection of 174 named islands, with the four largest readily accessible by ferry. These four islands are San Juan Island, Orcas Island, Lopez Island, and Shaw Island. The county seat, and most populous city, Friday Harbor, is on San Juan Island and is often a jumping-off point for bigger adventures.
Each main island has a mix of galleries, seafood restaurants, and parks, including San Juan Island National Historic Park. The historic park encompasses both a British and an American Camp that date to the mid-1800s. Here, the park details life at the camp and the conflict known as the Pig War dispute.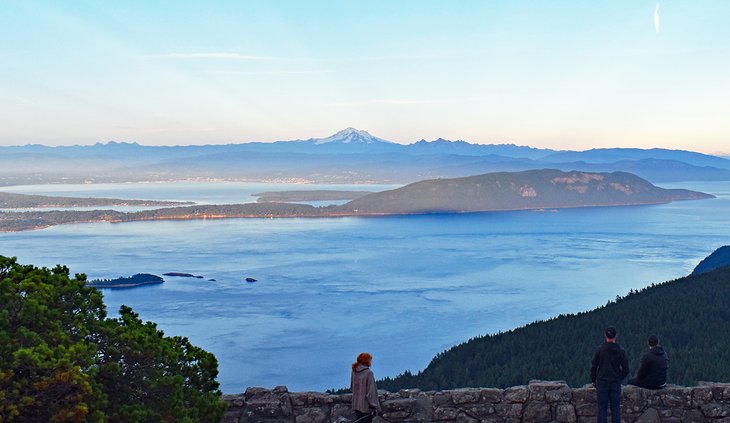 Mount Constitution, Moran State Park | Photo Copyright: Brad Lane
Popular destinations within the San Juan Islands include Friday Harbor, Eastsound, and Moran State Park, where visitors will find one of the best campgrounds in Washington. Favorite things to do on the San Juan Islands include sea kayaking, whale watching, and dining on local fare.
4. Mount Rainier National Park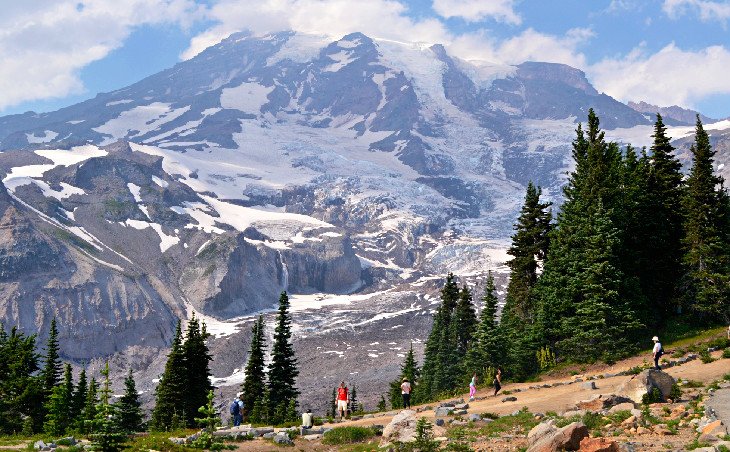 Mount Rainier from Paradise | Photo Copyright: Brad Lane
Mount Rainier is an iconic Washington landmark seen from miles in every direction. It's the tallest peak in the state (14,410 feet) and is located within eyesight of Seattle, and the mountain itself is at the center of its namesake national park.
Two areas of particularly stunning interest include the Sunrise and Paradise regions of the park. The road to Paradise is open, weather permitting, year-round, allowing visitors to reach high elevations for hiking in summer and snowshoeing in winter. The Sunrise area, on the west side of the park, lives up to its name and is well worth a pre-dawn drive.
Alongside the around-the-mountain Wonderland Trail, other hiking trails at Mount Rainier National Park tour mountain meadows, massive waterfalls, and groves of ancient forests. The country-spanning Pacific Crest Trail also passes through the park's boundaries.
Four auto-campgrounds are some of the best campgrounds at Rainier. Visitors also find several other places to pitch a tent or park an RV in the national forests surrounding the park.
Other attractions are within easy distance of the park, including Northwest Trek wildlife park in Eatonville and the Mount Rainier Scenic Railroad in the little town of Elbe.
5. Seattle Downtown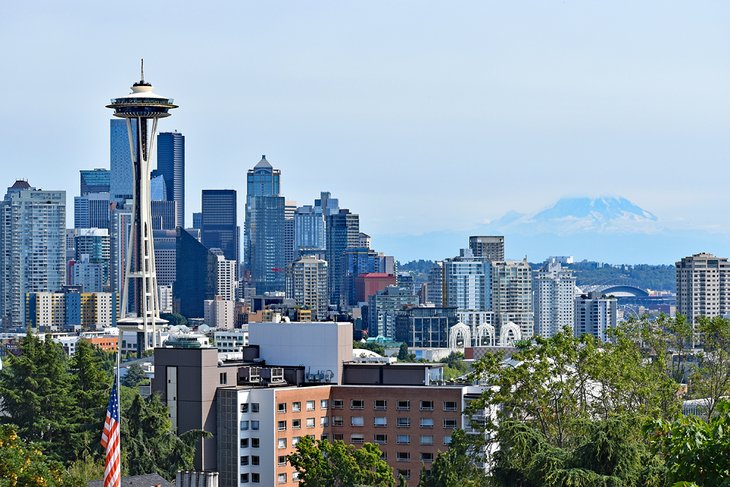 Seattle Downtown | Photo Copyright: Brad Lane
It's a large, densely packed city, but downtown Seattle reveals its more relaxed side at the waterfront. Here, piers and parks rim the shoreline. Pike Place Market is the standard draw for tourists, but other historic buildings and venerable institutions add diversity to a visit.
Visitors will likely wish to catch an underground tour near Pioneer Square, or a performance at Benaroya Hall. And back on the waterfront, a sea-level exploration takes you from the Olympic Sculpture Park in the north to the Seattle Aquarium and ferry terminal farther south. The waterfront is also a popular spot to depart on some of the best day trips from Seattle.
6. Leavenworth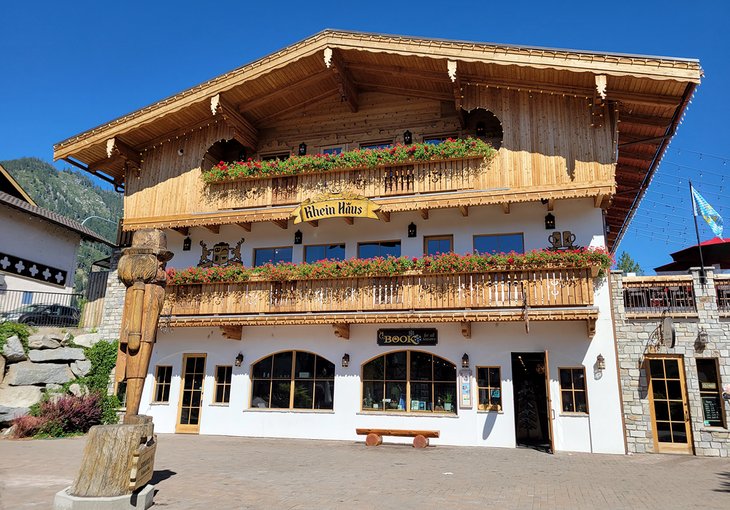 Leavenworth | Photo Copyright: Brad Lane
After the town of Leavenworth experienced the bust following a boom in the logging industry, city leaders rallied and decided to change the town's image. Today, the town of Leavenworth proudly recognizes itself as a Bavarian Village, and it's common to see residents wearing lederhosen or blowing a morning serenade on an alphorn.
Alongside the encompassing Bavarian theme of this tourist town comes several annual festivals. Perhaps one of the most spirited is the annual Christmas Lighting Festival, where the nighttime streets transform into something of a surreal snow globe scene.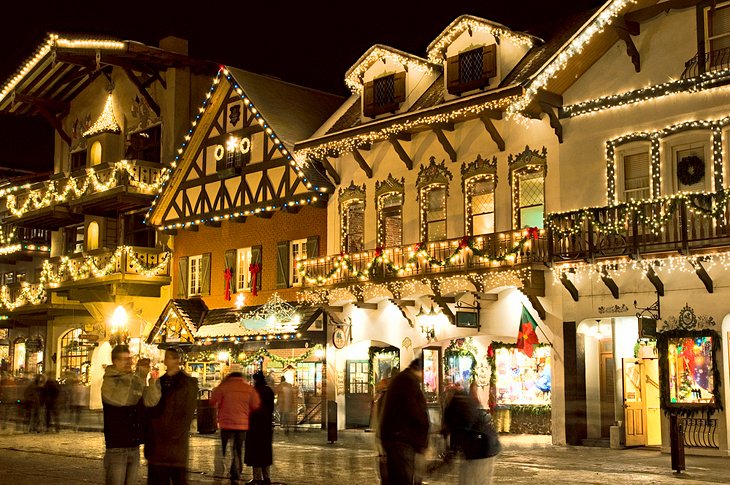 Leavenworth
Outdoor recreation is also a main draw to Leavenworth. Craggy Cascade mountains backdrop the town to the west, with iconic destinations like the Icicle Gorge and Alpine Lakes Wilderness nearby. These mountain playgrounds comprise several of Leavenworth's best hiking trails, including the world-famous Enchantments Thru-Hike.
7. North Cascades National Park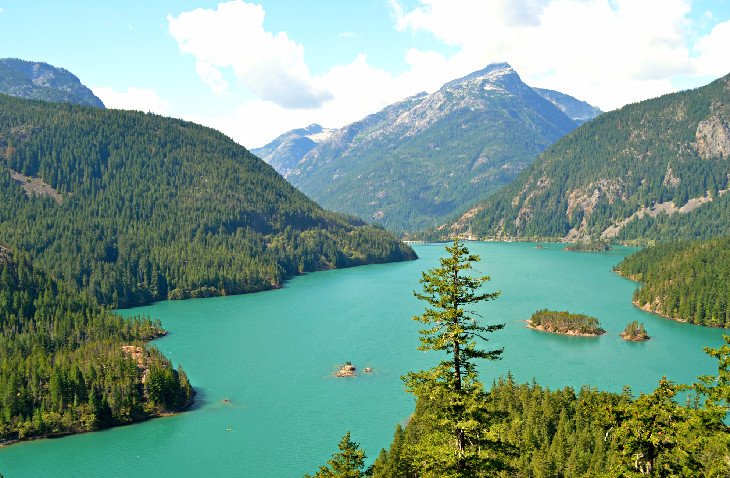 Ross Lake | Photo Copyright: Brad Lane
The North Cascades are one of the most unspoiled tracts of country in the United States. And the national park encompassing these mountains caters to anglers, walkers, and nature lovers. To the north, the park shares a border with British Columbia, Canada.
A drive through the park on the North Cascades Scenic Byway is rewarded with some fantastic views. Some of the many highlights of this drive include the Washington Pass Overlook, the aquamarine waters of Ross Lake, and the western-inspired town of Winthrop in the Methow Valley.
Lake Chelan National Recreation Area borders the southern edge of the national park and is home to one of the deepest lakes in the country. It also provides a stunning backdrop for the mountain town of Stehekin (only accessible by foot, boat, or seaplane).
Many of the hiking opportunities in the North Cascades are steep, though some of the best hikes in the area also incorporate family-friendly treks with stunning mountain views. For other family-friendly adventures in the North Cascades, head to the North Cascades Institute within the park. This non-profit institution offers educational opportunities and overnight visits.
8. Puget Sound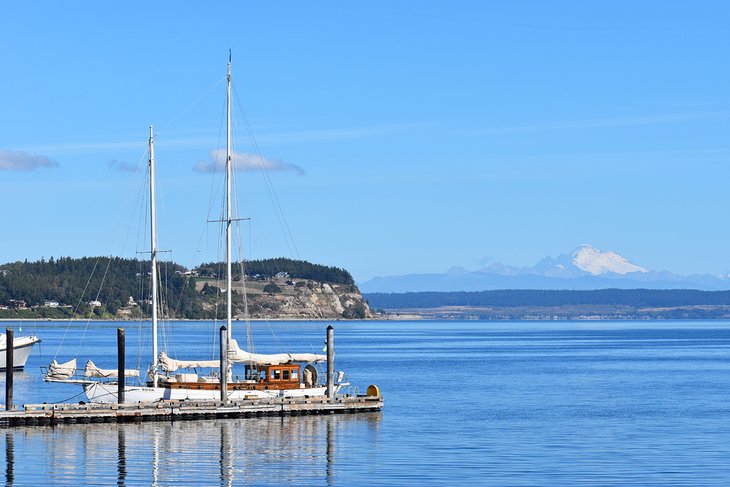 Whidbey Island, in Puget Sound | Photo Copyright: Brad Lane
On the western border of the state, separating the Olympic Peninsula and Seattle, Puget Sound is a watery region filled with inlets, islands, and unique worlds to discover. Several cities and harbors surround all sides of Puget Sound, offering endless access and places to visit. Some of the things to do in Puget Sound include sea kayaking, whale watching, and visiting the vibrant communities that define the islands.
An extensive ferry system accesses the different destinations in Puget Sound, allowing for easy day trips and island hopping. A top spot to visit is Whidbey Island, the largest island in the sound. It's home to Naval Air Station Whidbey Island and the adjacent city of Oak Harbor, located on the north side of the island. The north side of the island is also home to Washington's most visited State Park: Deception Pass State Park.
South of Oak Harbor, the rest of the island has a quieter tone and more rugged landscapes to explore. Here, Ebey's Landing National Historical Reserve encompasses several seaside state parks and historic farmlands. It also includes the charming community of Coupeville, where fresh seafood restaurants serve meals by the water.
For a look into the native cultures that once inhabited the region, the nearby Tillicum Village on Blake Island Marine State Park offers another popular day trip from the city.
9. Mount St. Helens National Volcanic Monument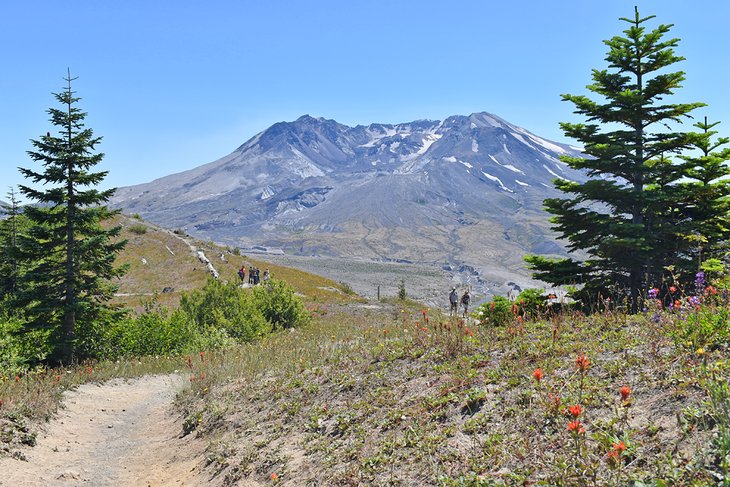 Mount St. Helens National Volcanic Monument | Photo Copyright: Brad Lane
When Mount St. Helens explosively erupted on May 18th, 1980, it reduced the peak by 1,300 feet and leveled much of the surrounding area. A cloud of ash rose 13 miles into the air. Almost 150 square miles of forest were destroyed, houses were overwhelmed by masses of water and mud, and 57 people lost their lives.
The landscape of Mount St. Helens today is still rebounding from the massive event. Today, visitors are encouraged to learn more about the geological processes underway at the Mount St. Helens National Volcanic Monument.
One of the most popular places to observe and learn about the mountain is the Johnston Ridge Observatory at the end of the Spirit Lake Highway (SR 504). This unique visitor center offers further insight into the eruptive history of the mountain and is a launching point for many of Mount St. Helens best hiking trails.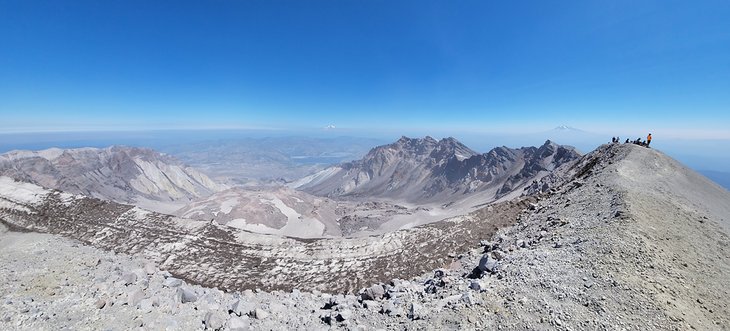 Mount St. Helen's summit | Photo Copyright: Brad Lane
A bucket-list adventure at Mount St. Helens is hiking/climbing all the way up to the remaining crater. This challenging endeavor is usually done from the Climber's Bivouac trailhead on the south side of the mountain. Permits are required for any summit attempt on Mount St. Helens.
10. Deception Pass State Park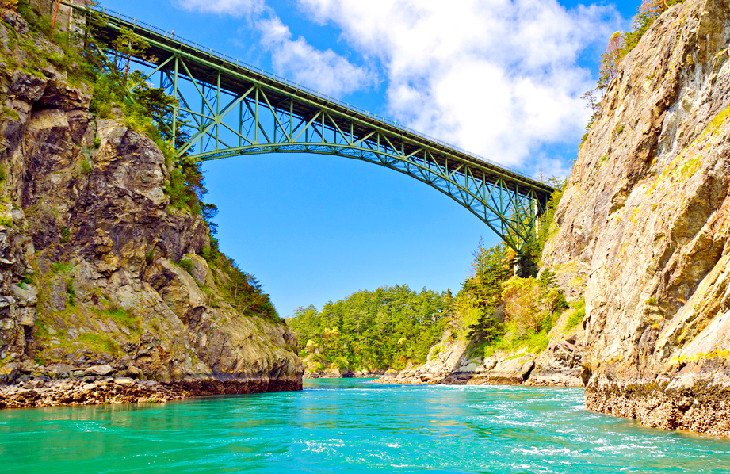 Deception Pass Bridge
Spanning Whidbey and Fidalgo Islands in Puget Sound, the Deception Pass Bridge is an iconic landmark of the region and civic achievement dating back to the Civilian Conservation Corps. On both sides of this scenic bridge, Deception Pass State Park easily ranks high as one of the best state parks in Washington (and most visited).
Activities like tide pooling, hiking, and boating are some of the most popular things to do at the park. Several campsites spread across three campgrounds within the park, facilitating multiple days of adventure. For those interested in passing under the bridge with a boat, knowing the tides is the key to success.
Address: 41229 State Route 20, Oak Harbor, Washington
11. Port Angeles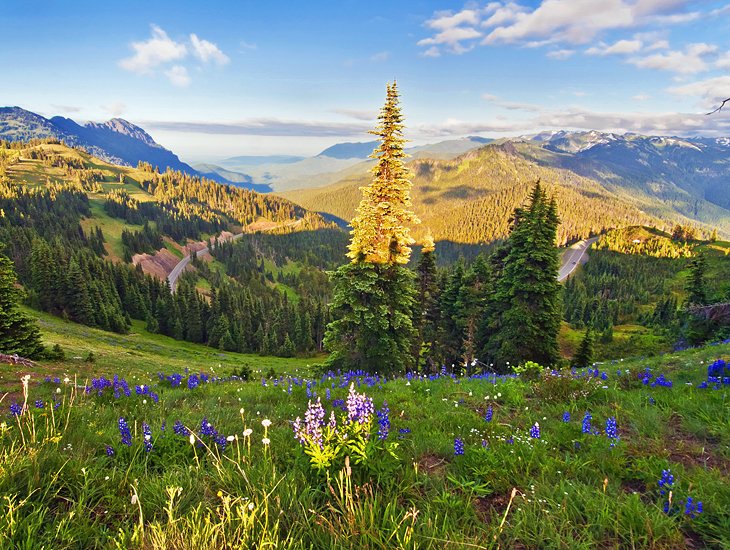 Hurricane Ridge, Olympic National Park
The town of Port Angeles lies along the northern shores of the Olympic Peninsula, across the Strait of Juan de Fuca. The region is known for the huge number of things to do outdoors, such as hiking, biking, golfing, boating, kayaking, fishing, birding, and more.
Port Angeles is also an access point to Olympic National Park, including nearby areas like Hurricane Ridge. At this high alpine recreation area, hiking trails fan out from the visitor center leading to wildflower meadows in spring.
Back at sea level in Port Angeles, the Port Angeles Fine Arts Center features changing Northwest exhibits in the semi-circular hilltop gallery. On the extensive grounds, visitors will find a museum without walls featuring more than 100 sculptures along rustic trails.
Port Angeles is also home to many great hotels, eateries, and a waterfront downtown district. It's also where ferries depart for Victoria, Canada.
12. Riverfront Park, Spokane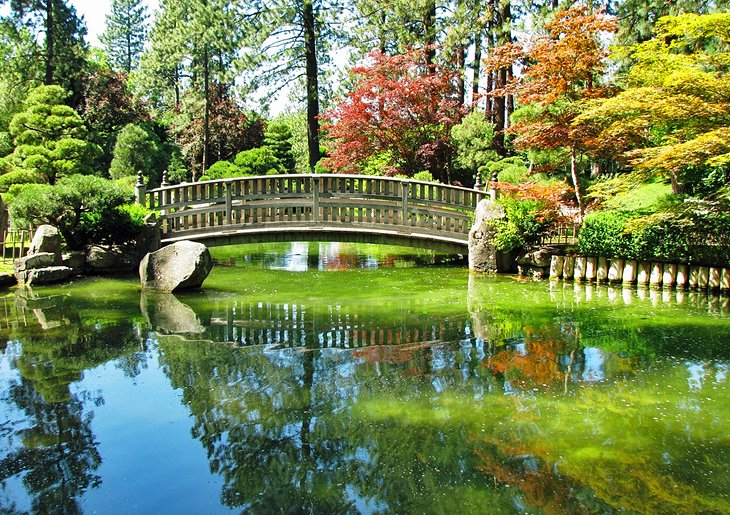 Japanese Gardens, Manito Park
Eastern Washington is notably different than the west side of the state. The weather is considerably sunnier; farmland dots much of the landscape; and the population is less dense in much of the region, besides in the major cultural hub of Spokane – the second largest city in the state of Washington.
A crown jewel of Spokane attractions is the illustrious Riverfront Park. This sprawling parkland received a massive revitalization just in time for the 1974 World's Fair. Today, it's dotted with community attractions, including a hand-carved carousel made in 1909. The Spokane River also rushes right through the area, with several vantage points overlooking its falls.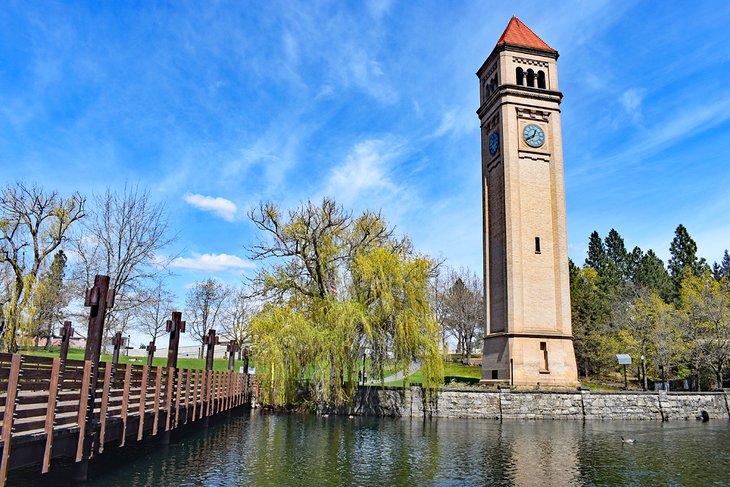 Riverfront Park, Spokane | Photo Copyright: Brad Lane
Other places to visit in Spokane include gardens, parks, and museums. And for the adventurous, the city offers access to several outdoor playgrounds, including the extensive Riverside Park. Skiing and year-round adventures are also available on the nearby Mount Spokane.
13. Bellingham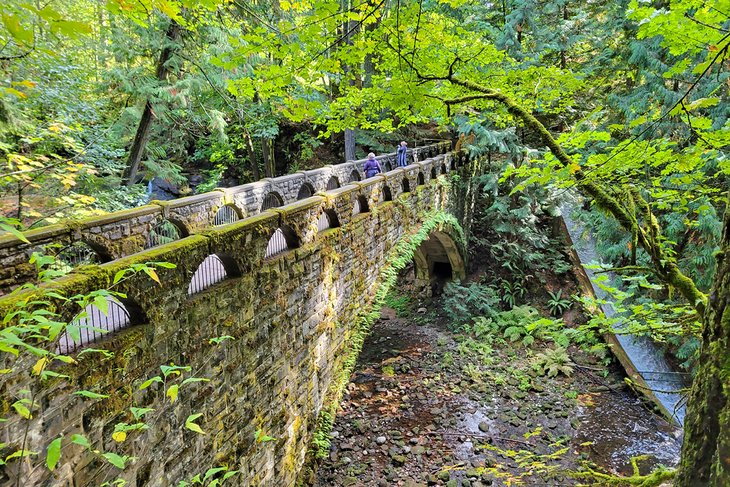 Whatcom Falls Bridge | Photo Copyright: Brad Lane
Bellingham is north of Seattle, less than an hour from the Canadian border. It's an access point for several iconic Pacific Northwest adventures, including Mount Baker. The town also has a notable collegiate appeal and culture, known for its laid-back vibe and a community emphasis on outdoor adventure.
For a quick introduction to this corner of the Pacific Northwest, stroll through Fairhaven Historic District and duck into local art galleries or catch some sun on a restaurant patio. Out of downtown, Western Washington University has amassed an excellent Outdoor Sculpture Collection among its academic offerings, and its campus is dotted with works small and large.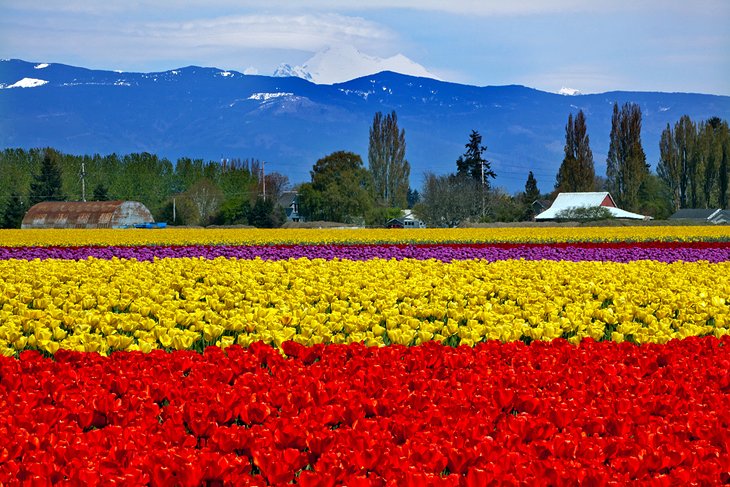 Skagit Valley tulips
Another popular outdoor attraction is Whatcom Falls Park, with its four sets of falls and numerous walking trails.
In the surrounding area, visitors can take scenic drives through the mass fields of Skagit Valley tulips in spring, or follow the twisting, narrow route of Chuckanut Drive year-round.
Read More: Top-Rated Tourist Attractions & Things to Do in Bellingham
14. Mount Baker-Snoqualmie National Forest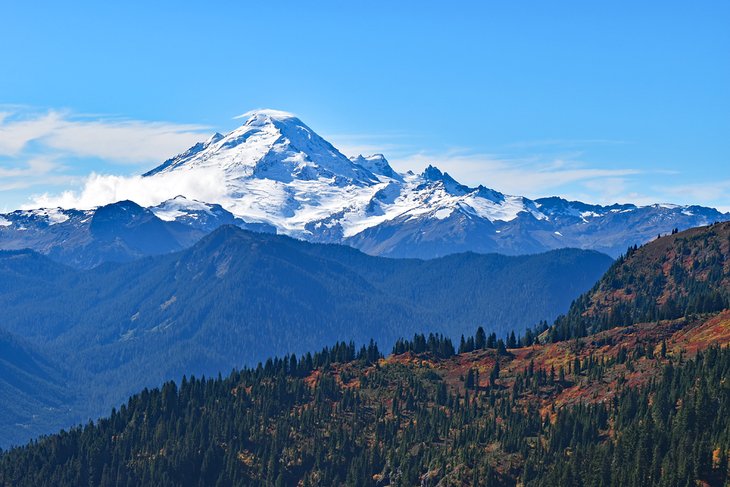 Mount Baker | Photo Copyright: Brad Lane
The Mount Baker-Snoqualmie National Forest runs along the slopes of the Cascade Mountains, with North Cascades National Park to the south and the Canadian border to the north. The wide range of recreational opportunities include numerous hiking trails, forest cabin rentals, alpine climbing, and one of the best ski resorts in Washington state.
On the Mount Baker Highway (SR 542), the town of Glacier is the closest base camp to the peak. The very small town does offer limited tourist amenities, such as restaurants and lodging. At the end of the highway, the stunning Artist Point area of the mountain offers jaw-dropping views of Mount Baker and Mount Shuksan. Here, several hiking trails expose beautiful views of both peaks.
15. Sol Duc Hot Springs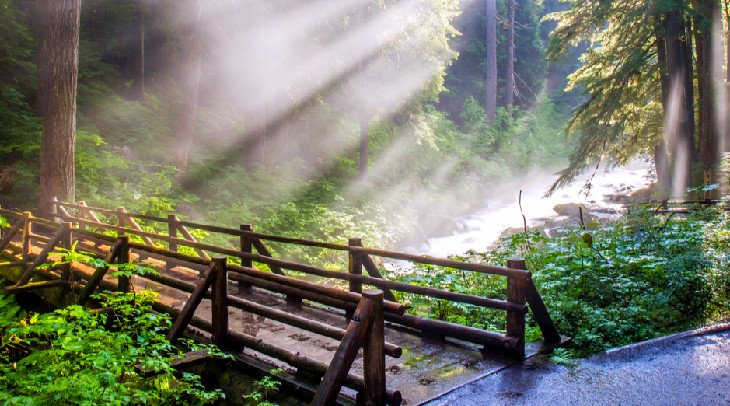 Sol Duc Hot Springs Resort
The Sol Duc region is within the heart of Olympic National Park and an hour's drive from Port Angeles. The area has several visitor attractions, including iconic hiking trails and the namesake waterfalls. One of the steamiest reasons to visit, though, is the relaxing pools at Sol Duc Hot Springs.
The Sol Duc Hot Springs Resort is operated by a concessionaire and features rooms, cabins, and suites adjacent to the Sol Duc River. Those staying within the resort have free access to the mineral pools and spas, and anyone interested in checking out the rejuvenating water can pay a day-use fee. The resort also operates a nearby campground for pitching a tent or parking an RV.
16. Pacific Crest Trail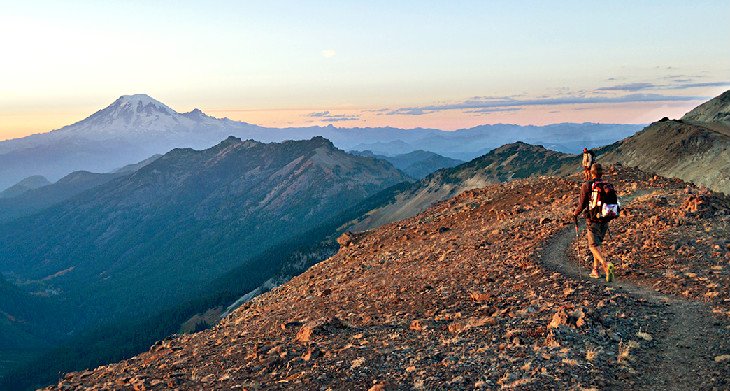 Goat Rocks Wilderness | Photo Copyright: Brad Lane
Spanning the entire length of the United States from Mexico to Canada, the Pacific Crest Trail (PCT) traverses some of its biggest landscapes as it travels through Washington. Beginning at the sea-level Columbia River Gorge, the PCT heads north to hit such iconic landscapes as the Goat Rocks Wilderness, Snoqualmie Pass, and the mountain town of Stehekin before arriving at the Canadian border.
You don't have to be a long-distance hiker to enjoy any part of the PCT – some of the best day hikes on the Pacific Crest Trail span Washington, Oregon, and California.
17. Tacoma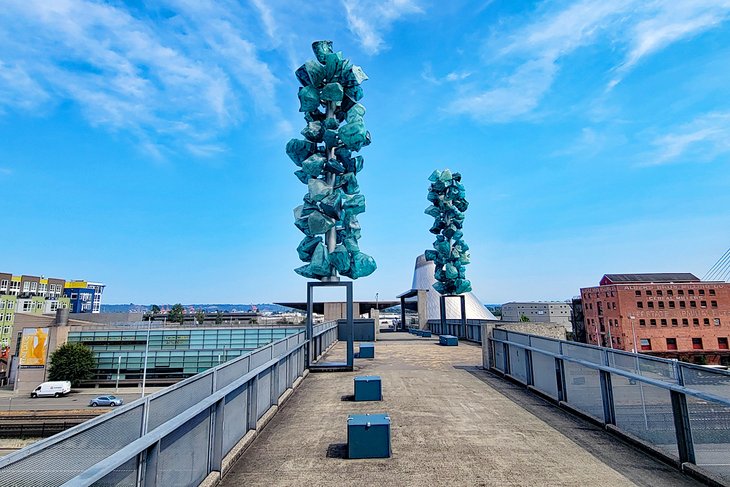 Bridge of Glass | Photo Copyright: Brad Lane
Located between Seattle and Olympia, Tacoma is one of Washington's larger cities. Once industrial in feel, the city has developed a variety of exceptional museums and cultural venues. Perhaps the most notable, The Museum of Glass features exquisite, translucent pieces by world-renowned artist and Tacoma-native Dave Chihuly.
Extending from the Museum of Glass, a walkway decorated with glass sculptures, known as the Bridge of Glass, allows visitors to reach the nearby Washington State History Museum.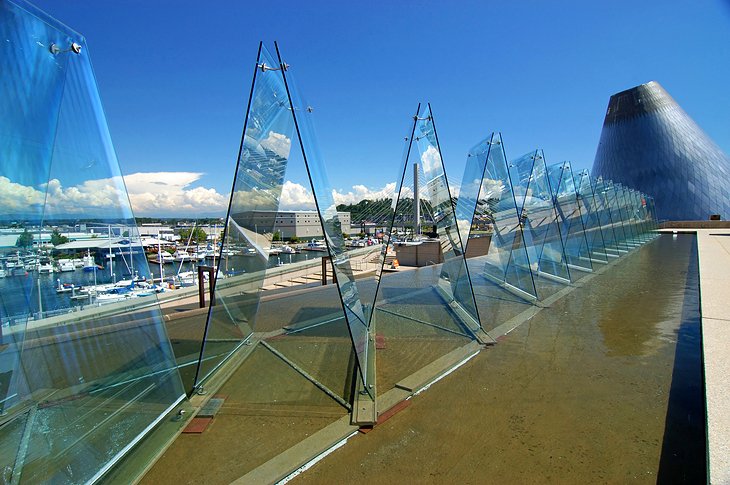 Bridge of Glass
For automobile interests, there's also the shiny appeal of LeMay – America's Car Museum nearby, which exhibits heritage vehicles from its world-class collection.
18. Snoqualmie Falls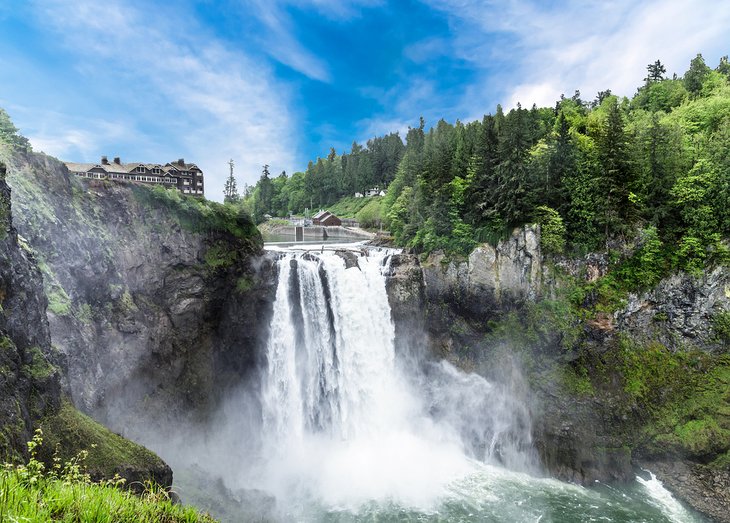 Snoqualmie Falls
This stunning 270-foot waterfall is one of the most popular natural attractions in the state. Its accessibility from Seattle, less than a 30-mile drive to the west, adds to its popularity. But its sheer stature also lends credence for a visit.
A two-acre park is near the falls, offering a popular observation deck with different vantage points. The Salish Lodge & Spa is also nearby, offering one of the nicest places to stay within an hour's drive of Seattle. All the rooms at this four-star hotel are spectacular, but the ones facing the falls offer an unbeatable view.
19. Fort Worden Historical State Park, Port Townsend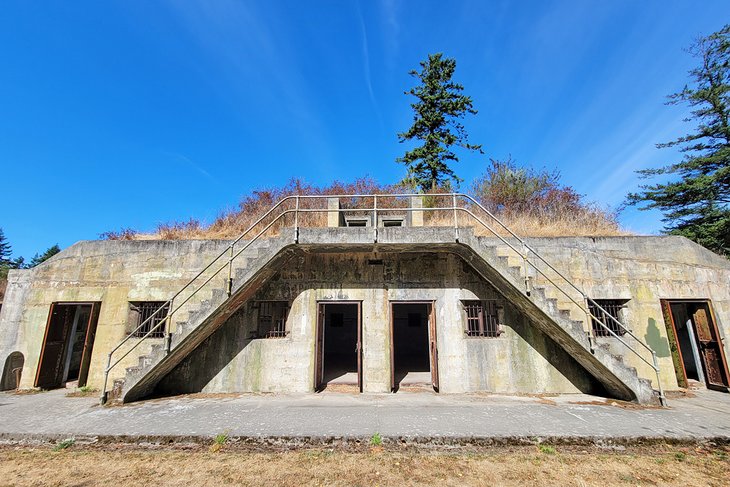 Fort Worden, Port Townsend | Photo Copyright: Brad Lane
Port Townsend is a charming seaport city on the northeast edge of the Olympic Peninsula. It's a spot of cultural and historical value, and home to Fort Worden – once part of the coastal defense center known as the Triangle of Fire. Today, visitors to this decommissioned military fort enjoy walking through history and the seaside scenery.
The park encompasses over 400 acres, with several batteries and barracks spread throughout. For those looking to explore the densest collection of these cement structures, head to the park's Artillery Hill. Other on-site attractions include the Coast Artillery Museum and the Point Wilson Lighthouse.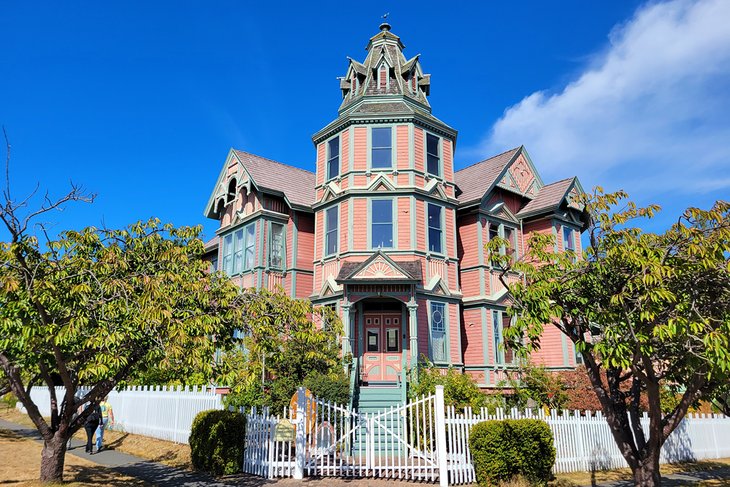 Victorian architecture in Port Townsend | Photo Copyright: Brad Lane
After exploring Fort Worden, the rest of Port Townsend also deserves some attention. The city's most defining feature is the several pieces of 1800s Victorian architecture throughout its uptown and downtown district. These storefronts and homes offer a certain type of charm that pairs well with the saltwater smell of the ocean nearby.
20. Bloedel Reserve, Bainbridge Island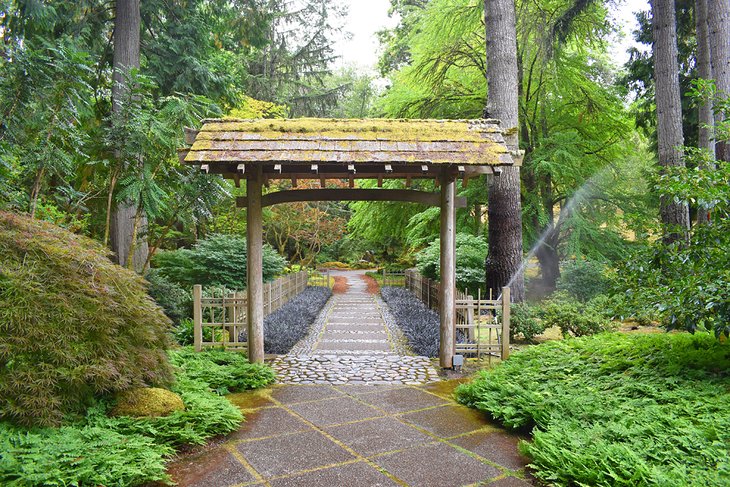 Bloedel Reserve, Bainbridge Island | Photo Copyright: Brad Lane
The Bloedel Reserve is a magnificent 150-acre property on the north side of Bainbridge Island. It once belonged to Virginia and Prentice Bloedel, who amassed their fortunes in the timber industry. And the Bloedels spent more than 30 years cultivating the natural and landscaped gardens still seen today.
The Bloedel Reserve opened to the public in 1988 and has been a top place to visit on the island ever since. For the price of admission, visitors are welcome to take the two-mile looped hiking trail throughout the property. A must-see stop is the Residence itself, surrounded by some of the most intricate gardens.
Bainbridge Island's proximity to Seattle makes it a popular weekend destination. Several other attractions on the island also demand attention, including a Grand Forest laced with hiking trails.
21. Winthrop, Methow Valley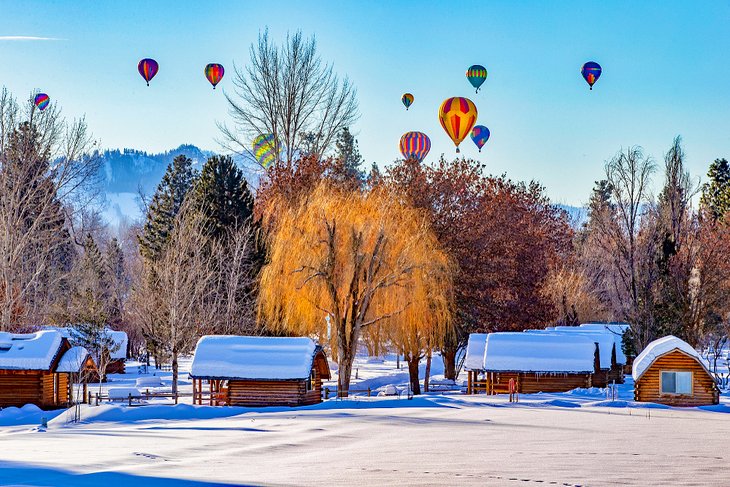 Hot air balloons over snow covered cabins in Winthrop
The Old West-inspired town of Winthrop in northern Washington is worth more than a weekend visit. This uniquely themed town is within the stunning Methow Valley and is a gateway to the big world of North Cascades National Park. Its year-round adventure status also adds to its appeal.
During the summer months, take some time to mosey about the downtown district, made to resemble the 1850s Old West. Along the wooden boardwalk and within the old-timey storefronts, several modern establishments offer places to shop and dine.
The summer is also the time to explore the expansive Okanogan-Wenatchee National Forest surrounding the town.
Come winter, the Methow Valley has a world-class reputation for its extensive collection of cross-country ski trails. The non-profit Methow Trails organization oversees a remarkable 200-plus kilometers of groomed cross-country routes, all open to the public for the price of a day or season pass.
22. Palouse Falls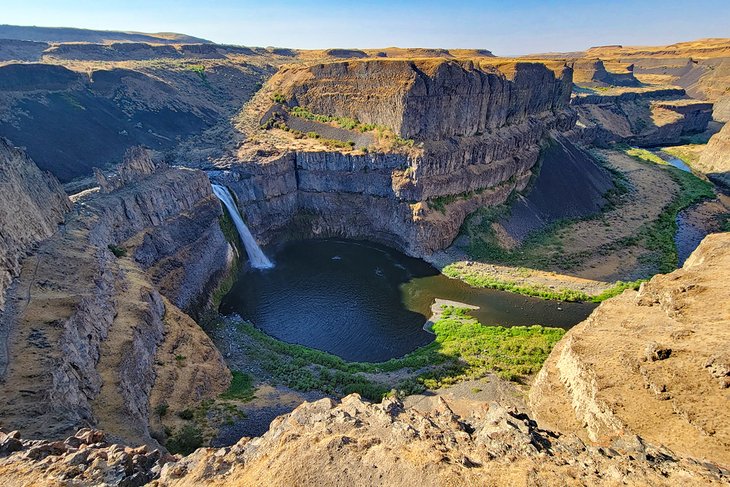 Palouse Falls | Photo Copyright: Brad Lane
Ice Age floods over 13,000 years ago carved the present-day Palouse Falls in southeast Washington. And today, this stunning display of gravity is one of the last active waterfalls along this ancient floodway. That's why, in 2014, the Legislator named Palouse Falls the state's official waterfall.
Designation or not, the 200-foot Palouse Falls is quite a sight to see. For those looking for the best vantage point, head to Palouse Falls State Park. Here, three designated viewing areas offer commanding looks at the falls, and interpretive information about their creation.
The park's semi-remote location makes visiting a challenge. The park has very limited camping, but a nearby KOA has spots available near the Snake River. This area of Washington is prone to intense heat during the summer, and visitors should check out Palouse Falls as early in the day as possible this time of year.
23. Washington State Capitol Building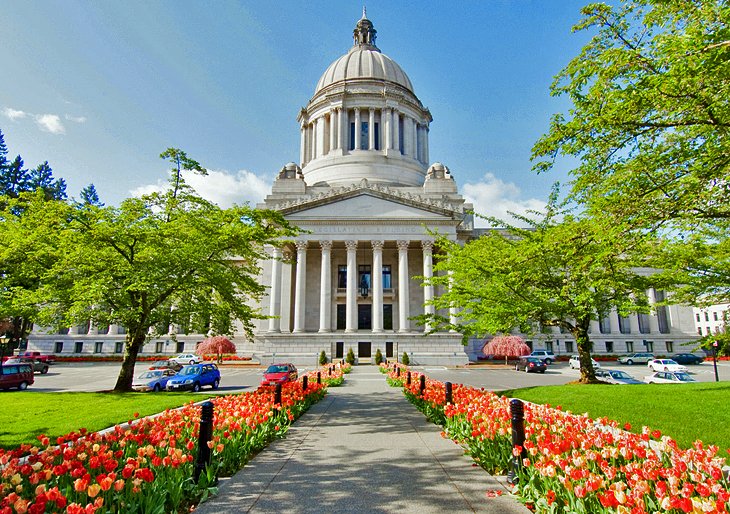 Washington State Capitol Building
Set against the southern end of Puget Sound, Olympia is a fairly quiet state capital. Here, the grand white dome of the Washington State Capitol building rises 287 feet above the tree-lined streets and center of town.
Free, guided public tours give the highlights of the building, including the five-ton Tiffany chandelier and permanent sculptures. Other top attractions of Olympia surrounding the Capitol building include The Olympia Farmers Market, the Hands On Children's Museum, and the nearby Nisqually National Wildlife Refuge.
Address: 416 Sid Snyder Ave SW, Olympia, Washington
24. Vancouver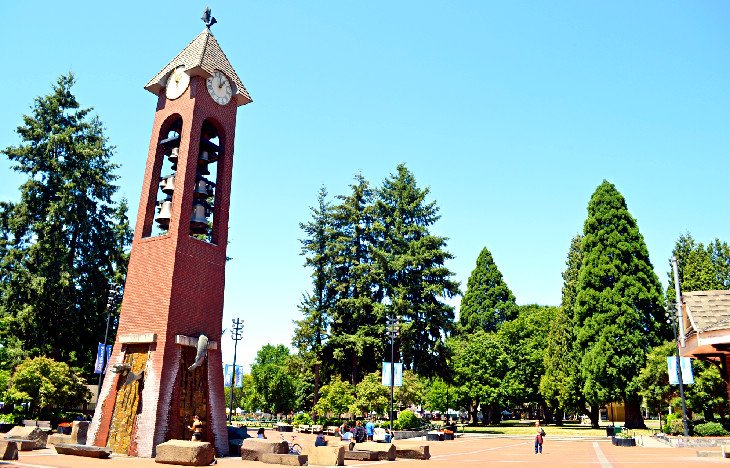 Salmon Run Bell Tower at Esther Short Park | Photo Copyright: Brad Lane
In southern Washington near the Columbia River Gorge, Vancouver is a city filled with history and cultural appeal. Some of the attractions of Vancouver include Esther Short Park and Playground, Fort Vancouver National Historic Site, and a summer farmers market filled with live music.
History and natural appeal run deep in Vancouver, and places like the Waterfront Renaissance Trail and Officer's Row add even more unique things to do. With easy access to the vibrant city of Portland, Oregon across the Columbia River, Vancouver is also a popular jumping-off point for exploring the City of Roses.
25. Future of Flight, Everett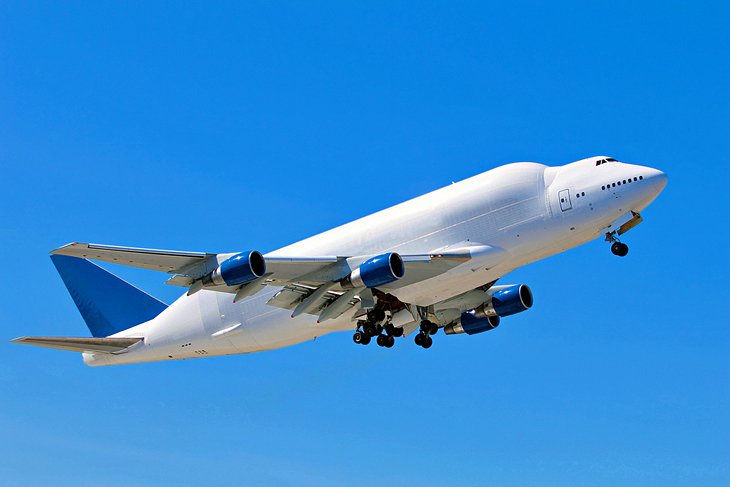 Large cargo carrier plane
Even those who aren't plane buffs will likely be impressed by this jet assembly plant tour at the Boeing Factory, located north of Seattle in Everett. Detailed tours through the facility happen daily under the attraction name Future of Flight.
These popular tours take members of the public through the assembly process of some of Boeing's biggest planes and throughout the working environment of the world's biggest building (by volume). Those interested in taking the tour are advised to book their spot ahead of time.
25 Best Places to Visit in Washington State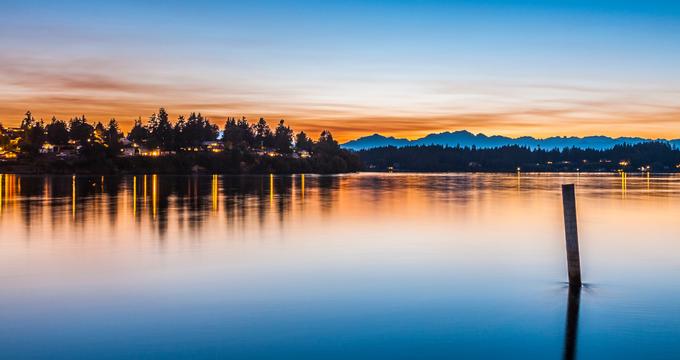 From famous sights in Seattle to undiscovered islands, bays and parks, Washington State is home to many beautiful places to visit. Plan a weekend trip to Spokane, Vancouver, Leavenworth, Ellensburg, Walla Walla and other unique towns surrounded by vineyards and stunning scenery. Here are the best places to visit in Washington State.
We recommend that you call the attractions and restaurants ahead of your visit to confirm current opening times.
1. Kitsap Peninsula
The Kitsap Peninsula on the Puget Sound is surrounded by 236 miles of coastline, dotted with over twenty coastal towns and villages, making it an ideal area to visit for a beach holiday. Not only will you have a wide selection of beach activities such as sailing, scuba diving, kayaking, and fishing to enjoy, but the entire area is also steeped in history and there are many interesting historic places to visit should you tire of the beach.
The Kitsap Peninsula encompasses no less than nine state parks, and 14 city parks where you can hike, cycle and bird watch. There are several golf courses and a number of wonderful gardens to visit. The towns of Kitsap Peninsula offer unique galleries, shopping and dining.
Hansville, located on the northern tip of the Kitsap Peninsula, is well worth a visit, offering sweeping views of Admiralty Inlet, Whidbey Island, and Puget Sound. Visitors can stay at the Point No Point Lighthouse, explore the walking trails along the Hansville Greenway, picnic on the shores of Buck Lake, and much more.
Fun day trip ideas: Getaways in California, East Coast beaches, NC quick trip, Romantic weekend getaways — You are reading "25 Best Places to Visit in Washington State" Back to Top
2. Spokane
Spokane offers a diverse selection of activities for weekend visitors, including many outdoor attractions as well as a small but select number of cultural activities. Riverfront Park lies at the heart of Spokane, covering over 100 acres and encompassing the sensational Spokane Falls. You can enjoy visiting all the park attractions on foot or get a great aerial view from the Spokane Falls Skyride. Nature lovers can make their way to the John A. Finch Arboretum to enjoy a spectacular display of trees and shrubs or visit Manito Park which houses a conservatory filled with tropical plants, in the midst of beautiful landscaped gardens. Hikers can tackle the 40-mile paved Centennial Trail along the scenic Spokane River in Riverside State Park.
Thrill-seekers can enjoy an exciting zip line adventure with Mica Moon Zip Tours, or try their hand at white-water rafting along an impressive 8-mile stretch of the Spokane River with ROW Adventure Center. The Mount Spokane Ski and Snowboard Park becomes a hive of activity during winter. The Northwest Museum of Arts and Culture (MAC) is an impressive museum which includes five underground galleries and an outdoor amphitheater. Finally, round off your weekend by attending a performance of the Spokane Symphony Orchestra at the historic Martin Woldson Theater at The Fox. Things to Do in Spokane
Things to do near me today: Getaways from Seattle, NC day trips, FL, Near Atlanta, AL — You are reading "25 Best Places to Visit in Washington State" Back to Top
3. Bellevue
Bellevue is situated just across Lake Washington from Seattle and is an ideal weekend getaway destination offering a selection of family activities. There is an emphasis on green spaces and outdoor activities in Bellevue, with many great beaches, parks and gardens for you to enjoy. Energetic nature lovers can explore some of the many trails in the Mercer Slough Nature Park, which encompasses wetlands, forests and wildlife habitats, and offers free tours on Saturdays. There are several beach parks where you can soak up the sun and picnic or swim, including Meydenbauer Beach Park, Chism Beach Park and Newcastle Beach Park. Other good outdoor spots include the tranquil Bellevue Botanical Garden and Downtown Park.
Family favorites include the Kids Quest Children's Museum, which offers interactive activities for all ages, and the Kelsey Creek Park & Farm where city children can have country-style fun and learn about farm animals. Shoppers can enjoy strolling around Bellevue Square, the city's oldest mall which houses over 180 stores, many popular restaurants and a children's play area, or window-shopping at The Shops at The Bravern, an exclusive shopping complex featuring many big-name designer brands. The Bellevue Art Museum provides an ever-changing variety of exhibitions and offers hands-on workshops and programs for artists. Things to Do in Bellevue
Our experts' top picks for a long weekend getaway: CO, From San Diego, VA, OH, WI, MI, IL, IL Places, VA, San Diego, TX — You are reading "25 Best Places to Visit in Washington State" Back to Top
4. Port Townsend
Port Townsend manages to effortlessly combine Victorian charm with a modern and trendy vibe, producing an ideal fusion of old and new. Most visitors come to Port Townsend to enjoy fresh sea air, beaches and boating, and some of the popular activities include exciting whale watching tours with the Puget Sound Express, and various other maritime wildlife excursions. At the Northwest Maritime Center you can learn how to sail or build a wooden boat, and at the Fort Worden State Park you can explore tidal pools, hiking trails and visit the Marine Science Center and the Port Wilson Lighthouse.
Port Townsend's National Historic District dates back to the 1800's and now encompasses the restored downtown Victorian sea port, which is home to vibrant shopping and dining, and the Port Townsend Historic Uptown, which once housed the gentry.
You can visit some interesting museums including Kelly's Art Deco Lighting Museum, the Puget Sound Coast Artillery Museum, the Port Townsend Aero Museum and the Jefferson Museum of Art and History. Port Townsend has two historic theaters, The Uptown and the Rose Theatre, where you can watch movies, and there are a variety of clubs and pubs offering live music entertainment to round off your day. Try to be in town for the Gallery Walk on the first Saturday of each month.
More places we like: NC beaches, Ft Lauderdale, Day trips from NYC, From Chicago, PA, CT, CA, Hilton Head, Castles in Texas, GA beaches — You are reading "25 Best Places to Visit in Washington State this Weekend with Friends" Back to Top
5. Walla Walla
The picturesque Walla Walla Valley is best known as a premier wine growing region, home to over 150 wineries, but the town of Walla Walla is equally enticing. Before you set off on a wine tour, spend a little time exploring Main Street in Downtown Walla Walla, where you can go on a self-guided tour of the many fascinating public art installations, and then enjoy the Outdoor Sculpture Walk of Whitman College. The performing arts are well represented in Walla Walla and you can attend a show at several theaters or listen to the Walla Walla Symphony Orchestra. In January and June the Walla Walla Chamber Music Festival sees many acclaimed musicians popping up at venues all over town.
There are several museums where you can learn about the history of the town including the Fort Walla Walla Museum, the Whitman Mission and the Kirkman House Museum. Outdoor enthusiasts can enjoy hiking, cycling, bird watching, fishing and hunting at several venues and skate-boarders and BMX fans can have hours of fun showing off at Fort Walla Walla Park and Mill Creek Sportsplex. Children can have a fun learning experience at the Children's Museum of Walla Walla, while connoisseurs can enjoy a wine tasting at a few of the 34 tasting rooms in town or go on a winery tour.
Expert opinion: Where should I go this weekend for fun? FL, CA, Myrtle Beach, OR, New England weekend, Charlotte, Williamsburg, LA, PA — You are reading "25 Best Places to Visit in Washington State this Weekend" Back to Top
6. Kirkland
Kirkland's scenic position on the shores of Lake Washington ensures a great selection of activities for the whole family. Marina Park is situated close to downtown Kirkland and offers a beautiful environment for cycling, walking, jogging or fishing. There are several other delightful green spaces you can enjoy including Juanita Beach Park and Juanita Bay Park, where visitors and locals love to unwind, play some ball games or go walking, jogging or bird-watching. The Doris Cooper Houghton Beach Park has good facilities for children and is open all year round. For something really different you can head to the 132 nd Square Park, take off your shoes and enjoy the soothing benefits of the reflexology trail.
On rainy days families can head to the Techcity Bowl & Fun Center for bowling, billiards and arcade games. You can enjoy wonderful scenery and catch a rare glimpse of some lakeside homes of the rich and famous on a short cruise on Lake Washington with Argosy Cruises. When another brilliant sunset brings the day to an end, you can have a leisurely meal at one of Kirkland's many restaurants, or enjoy a beer or wine tasting at the Chainline Brewing Company or The Grape Choice. Things to Do in Kirkland
Top Rated: Last minute places for couples: Denver, Boca Raton, Louisville, CA, Virginia Beach, San Antonio, AZ — You are reading "25 Best Places to Visit in Washington State" Back to Top
7. Friday Harbor, San Juan Island
Regardless of whether you are looking for a quite weekend getaway or are seeking history, culture and shopping, Friday Harbor on San Juan Island fits the bill. Whale watching, island hopping, kayaking tours and charter fishing are all very popular activities and there are several tour operators vying for your business, including San Juan Excursions Whale Watching and Wildlife Cruises, Outer Island Expeditions Boating and North Shore Charters Fishing and Sea Quest Kayak Tours, to name but a few.
If you prefer to keep your feet dry, you can explore the island on two wheels by renting a moped or bicycle from Suzie's Mopeds and Bicycles.
Art and shopping enthusiasts can have a great time exploring several arty attractions including the San Juan Islands Museum of Art, Waterworks Gallery and Island Studios Art Gallery and the Arctic Raven Gallery. There is more shopping available at Kings Market, Funk and Junk Antiques and Dan Levin Originals. A good way to round off a busy day is to visit one of several Day Spas for a relaxing massage, before you catch a show presented by Island Stage Left theater troupe.
Affordable things to see near me, must-visit beaches: Catskills, Pink Sand beaches, Best Places to Visit, Bar Harbor, Destin, Minneapolis, Jacksonville, Key West, Nashville, AZ , From LA — You are reading "25 Best Places to Visit in Washington State" Back to Top
8. Leavenworth
Leavenworth is like a little piece of Bavaria that has been relocated to the center of Washington State, complete with scenic mountains, forests and distinctive Bavarian food. The unique character and atmosphere of the town is the result of Projekt Bayern (Project Bavaria) which was put in place to turn Leavenworth into a tourist attraction when a failing timber industry threatened the town's future in the 1960's.
Leavenworth is a year-round destination with an emphasis on outdoor activities. In summer you can go white-water rafting or set off on one of several outdoor adventures. Leavenworth Ziplines will lure adventurers while children can enjoy a ride on a horse-drawn carriage or wagon.
You can visit the unusual Leavenworth Nutcracker Museum or the Icicle Creek Center for the Arts and in October the Oktoberfest is a great opportunity to savor German beer, food and entertainment. In the summer, the Leavenworth Summer Theater presents open-air shows against the backdrop of the snow-capped Cascade Mountains.
9. Yakima Valley
Yakima Valley in the heart of Washington State is blessed with great sunny weather, superb scenery and some of the best agricultural land in the state, and produces huge amounts of apples, hops and superb wines. A weekend visit to the valley will reward you with will almost unlimited attractions to suit everyone.
The Yakima River is the lifeblood of the valley and in summer you can enjoy canoeing, kayaking, trout fishing and even white-water rafting (in September, when water is released from the up-stream Roza Dam) amidst spectacular natural beauty in Yakima River Canyon, or you can go rock climbing and trekking in the surrounding mountains. In winter the area becomes a hot-spot for snow sports including skiing and snow-boarding.
Wine connoisseurs can enjoy tasting the produce of dozens of wineries in the Yakima Valley, most of which offer tastings and cellar tours. You can also go on the Spirits and Hops Trail, or take the children to pick fruit and berries during harvest time. You can visit the Yakima Valley Museum and the Hillside Desert Botanical Gardens, or add a cultural element to your visit by attending a performance of the Yakima Symphony Orchestra or a show at the Capitol Theatre, 4 th Street Theatre or The Seasons Performance Hall in downtown Yakima. Things to Do in Yakima
Insider travel recommendations: NC, NM, ME, VegasFrom LA, WY, Hot Springs, Midwest , Things to Do in Reno, Ohio castles,, KY, South Padre Island, Dream vacation spots — "25 Best Places to Visit in Washington State for Locals & Tourists – Restaurants, Hotels" Back to Top
10. Seattle
Bustling and scenic Seattle has such an enormous variety of attractions that weekend visitors will have to do some serious prioritizing to make the most of every minute. Start your visit at the Sky View Observatory or the Space Needle, both of which offer incredible views of the city and the surrounding islands and mountains.
There are museums to satisfy all interests. The Center for Wooden Boats is probably one of the most unique museums because it offers you the chance to set off in an ancient maritime craft and learn how to row, sail and do repairs. Other museums include the Living Computer Museum, the EMP Museum dedicated to modern culture, the Klondike Gold Rush National Historical Park, and the Museum of History and Industry. Possibly the most interesting of all is the Museum of Flight which is home to 160 historic aircraft including a genuine Concord and a Space Shuttle Trainer. Also make a point to visit the Seattle Art Museum and the Chihuly Garden and Glass Exhibition which is absolutely fascinating. Foodies are spoiled by the number of choices available with an array of amazing food tours to satisfy just about every palate. Things to Do in Seattle
11. Ellensburg
Situated in the heart of Washington State, Ellensburg is an ideal weekend getaway destination with an amazing variety of activities to suit all interests. The town is famous for the Ellensburg Rodeo held each year on the Labor Day weekend, but great weather has made Ellensburg a popular center for outdoor activities such as water-skiing on the Columbia River, rafting, golf, fishing and a variety of snow sports in winter. The John Wayne Pioneer Trail is great for cyclists, and hikers can explore a selection of trails in the Umtanum Creek Recreation Area, Lake Easton State Park and several other scenic locations, all of which also offer good bird watching.
History buffs can enjoy a walking tour of Historic Downtown Ellensburg, which is lined with many historic buildings that date back to 1889, when most of the original town was burned to the ground on the 4 th of July. Today these historic buildings house an assortment of museums, galleries, restaurants and interesting shops, including the Clymer Museum of Art, Gallery One, the Kittitas County Historical Museum and the Main Street Market Mall.
On Saturdays you can visit the KC Farmer's Market for fresh local produce, and if you are in town on the first Friday of each month you can join the Ellensburg First Friday Art Walk, when several shops and galleries display their works. Things to Do in Ellensburg
12. Gig Harbor
Gig Harbor is a small town on the shore of Gig Harbor Bay on Puget Sound in Washington. Called "the gateway to the Olympic Peninsula," Gig Harbor is close to several large state and city parks and has developed into a popular tourist destination. On the way to one of the parks, spend some time in the charming city with its vibrant historic waterfront lined up with fancy boutiques, gourmet restaurants, cafes, and bars. Stroll along the docks, sit at the outdoor table at one of the many coffee shops, and enjoy the view of the boats in the harbor or the snow-covered slopes of Mount Rainier. Rent a kayak and see the city from the water, hop on a Riviera Cruise, or rent a romantic Gig Harbor Gondola. History buffs can learn more about the city's past at the Harbor History Museum or the Gig Harbor Peninsula Historic Society. Check out what grows in the area at the colorful farmers market at Skansie Brothers Park and Netshed, right on the harbor.
13. Bellingham
Surrounded by the waterways of Puget Sound, Bellingham has developed a strong reputation as a Mecca for paddlers, but also offers a diversity of cultural and artistic pursuits. Whatcom Falls Park, where you can swim, fish or picnic close to the Whatcome Creek Gorge and several beautiful waterfalls, is a good place to enjoy a variety of outdoor activities. At Larrabee Park you can combine nature and history by hiking along the rocky coastline, and Mount Baker offers skiing and snowboarding in winter or cycling and camping in summer.
When you are ready to move indoors you can visit the Whatcome Museum of History & Art to see the impressive Lightcatcher building, where an enormous wall of curved glass floods the interior with natural light. Families can take the children to the Mindport Arts and Sciences Museum for some hands-on learning fun.
Nature lovers should not miss a visit to the Sehome Hill Arboretum to commune with nature, while art lovers can head to the Western Washington University Campus to see the Outdoor Sculpture Collection at the Western Gallery. At the waterfront, you can book a whale watching expedition or board a ferry to visit the San Juan Islands. Things to Do in Bellingham
14. Port Angeles
Situated in the heart of Washington State's beautiful Olympic Peninsula, Port Angeles has something special to offer each and every tourist. Energetic visitors can enjoy a variety of active holiday pursuits such as ocean and lake kayaking, mountain biking and paddle boarding – lessons and equipment on site. You can go cycling along the Discovery Trail or enjoy unlimited hiking, bird watching and fishing in near-by Olympic National Park or at Hurricane Ridge. Or, you can simply relax on a beautiful beach, explore the rock pools and enjoy the wonderful seascapes.
Art lovers are in for a treat at the Port Angeles Fine Arts Center & Webster's Woods, where an excellent selection of art by Northwest artists is exhibited, along with over 100 sculptures in the surrounding 5-acre Webster's Woods. You can do a walking tour of the Downtown area to see the Art on the Town Outdoor Sculpture Gallery, and the Clallam County Historical Society's Museum at the Carnegie is well worth a visit to learn about the history of the area.
In addition, you can go on a Heritage Tour of the Downtown Historic District, choose a whale watching excursion, visit the Fiero Marine Life Center on the waterfront or go antique hunting and shopping in Downtown.
15. Tacoma
Tacoma is beautifully situated along the banks of Puget Sound, offering a remarkably scenic backdrop to a modern city with an emphasis on the arts. There are a number of great museums you can visit in Tacoma, starting with the Fort Nisqually Living History Museum, which will transport you back in time to life in a British outpost in the 1850's. Foss Waterway Seaport is a maritime museum popular with families, and motor enthusiasts can visit Lemay – America's Car Museum and the Lemay Family Collection at Marymount to see one of the largest collections of vintage cars in America.
Tacoma is famous for glass art, and at the Museum of Glass you can learn all about the art of glass blowing and see the amazing Chihuly Bridge of Glass created by local glass artist Dale Chihuly.
To experience the great outdoors you can make your way to Point Defiance Park where there are miles of walking and cycling trails, the lovely Point Defiance Rose Garden, the Point Defiance Pagoda and the Point Defiance Zoo and Aquarium, which is a family favorite. Other attractions for families include the Explore It Scavenger Hunt and the Children's Museum of Tacoma where kids can have hours of fun with hands-on learning experiences. Finally, you can explore an eclectic selection of boutique shops, restaurants and music venues along Sixth Avenue. Things to Do in Tacoma
Near me on a budget: Plattsburgh, Washington islands, La Jolla, Connecticut resorts, Wisconsin, Beaches near Boston — You are reading "25 Best Places to Visit in Washington State" Back to Top or Amazing things to do around me
16. Vancouver
Beautiful Vancouver is one of the oldest cities in Washington State, dating back to the early 1800's, and it has a treat in store for all nature lovers and anyone interested in pioneer history. Vancouver has no shortage of green spaces and the Waterfront Renaissance Trail, which runs for 5 miles along the banks of the Columbia River linking Wintler Park with downtown Ester Short Park, is a great place for strolling, jogging, skating and cycling. Other popular outdoor attractions you can visit include Vancouver Lake Park where you can canoe, kayak or windsurf, and enjoy picnics and a children's play area, and Salmon Creek Regional Park, which has a sandy beach, a roped swimming area and a children's playground.
You can visit the Fort Vancouver National Historic Site, which encompasses the reconstructed Fort Vancouver, the US Army's Vancouver Barracks and the Pearson Air Museum to learn about the origins of the city. Historic Officer's Row comprises 22 fully restored beautiful historic buildings that once housed the US Army officers, featuring beautiful architecture dating back to the 1800's. Things to Do in Vancouver
Other interesting attractions you can visit include the Clark County Historical Museum, the Water Resources Education Center, the Cathlepotle Plank House and the weekend Farmer's Market in Ester Short Park where over 250 local producers will temp your taste buds.
17. Bainbridge Island
Bainbridge Island is situated just 35 minute west of Seattle (via the Washington State Ferry from Pier 52), making it the ideal destination for a weekend or day trip out of the city. There are several places where you can walk or hike, starting with the Waterfront Trail near the ferry terminal, which offers a 1.5 mile loop along the beach or a 2 mile loop through parks and historic sites. Other lovely parks and gardens you can explore are the Bloedel Reserve, which features a beautiful Japanese Garden, the Fay Bainbridge Park for camping and boating, the Fort Ward State Park and Battle Point Park, all of which you can easily access by jumping on the Frog Hopper Jump On – Jump Off bus.
If you would like to learn some water sports, make your way to Back of Beyond, near the ferry terminal, which offers canoe, kayak and paddle-board rentals and lessons. Bainbridge Island is great for cycling – you can rent a bike from Bike Barn Rentals.
If the weather is less than perfect you can spend your time enjoying the Bainbridge Island Museum of Art, the Bainbridge Island Historical Museum and the Kids Discovery Museum. You can also enjoy wine tastings and visit wineries, or simply stroll through Downtown Winslow which is packed with cute shops and many restaurants and coffee bars. Things to Do on Bainbridge Island
18. North Cascades National Park
Escape to North Cascades National Park for an outdoor adventure beyond your expectations. There is so much to do in this scenic and pristine wilderness that you will not know where to start, so it is a good idea to stop by a visitor center on arrival to get all the information you need for an enjoyable visit.
The most popular way to enjoy the beauty of North Cascades National Park is to hike some of the 400 miles of amazing trails that vary from short scenic walks suitable for families to steep and challenging climbs. Along the way you can enjoy excellent bird and wildlife watching, camping, picnicking, fishing or even cycling. You can also go on a guided walk with a ranger or attend an interpretive talk, which is great for younger visitors, or attend a class at the North Cascades Institute at the new Environmental Learning Center.
To give your legs a rest from hiking, you could jump aboard the Lady of the Lake Ferry for a cruise to the historic town of Stehekin, which lies in the center of the Lake Chelan National Recreation Area. In winter the entire North Cascades National Park is transformed into a snow-covered paradise where you can try your hand at downhill skiing, cross-country skiing, snowshoeing and snowmobiling.
19. Point Roberts
Point Roberts is unique in that it is the only little chunk of the USA that is only accessible through Canada, and you will need the necessary identification documents to cross the border. Point Roberts offers visitors the ideal destination for a laid-back beach holiday with plenty of outdoor attractions to keep you busy from dawn to dusk. There are several (free) beaches where you can enjoy sunbathing, swimming, tide pooling and a variety of water sports, including Maple Beach, Monument Park, Lighthouse Marine Park and Point Lily Marine Reserve. Lighthouse Park is one of the best spots on Point Roberts for land-based whale watching and you can also visit the Orca Center, to learn all about the large pods of Orcas that frequent the waters.
You can go hiking along numerous trails in Monument Park and Lily Point Park. Point Roberts is an important nesting area for American Bald Eagles, and there are several easily observable nests dotted around Lily Point, which is a prime place to spend a few hours doing some bird watching.
20. Sequim
Sequim is one of the Olympic Peninsula's most beautiful small towns, known for its unique dry and sunny climate, which is similar to the climate of Los Angeles, despite its proximity to nearby temperate rainforest areas. The gorgeous Clallam County town is surrounded by beautiful Douglas fir, western red cedar, and Garry oak forest areas and is known worldwide for its commercial production of lavender, which is only rivaled internationally by several areas in France. The town's proximity to the Dungeness National Wildlife Refuge makes it an outdoor lover's paradise, while its vibrant downtown arts and culinary scene make it a perfect cultural getaway in the Pacific Northwest. Annual special events include the Sequim Lavender Weekend, held each year during July.
21. Poulsbo
Poulsbo is a charming small town in Kitsap County, known as the Pacific Northwest's "Little Norway" for its Scandinavian heritage, which dates back to its founding by Fordefjord resident Jorgen Eliason. The town is home to a population of 10,000 residents and is located on 4.5 square miles along beautiful Liberty Bay, with the snow-capped Olympic Mountains in view in the distance behind the city's skyline. The thriving community has become a tourist destination in the 20th and 21st centuries for attractions such as the Sea Discovery Center, which offers an aquarium full of marine life from the nearby Puget Sound. The city retains much of its historic Norwegian character, with traditional Poulso Bread sold at the renowned Sluy's Bakery. Several award-winning breweries are offered in town, along with the Poulsbo Historical Society Museum, which highlights the region's social and cultural history.
22. Olympic National Park
Olympic National Park offers you the rare opportunity to explore and camp in nearly one million acres of lush and pristine wilderness. This enormous UNESCO World Heritage Site covers several distinct ecosystems and offers almost unlimited activities for adventurous visitors. Hiking is the most popular and natural way to explore and there are trails suitable for all fitness levels, including strenuous Back-Packing trails from one campsite to the next. Some of the must-see attractions include Sol Duc Falls and the Sol Duc Salmon Cascades. You can rent a mountain bike or kayak, canoe or paddle board to explore the tranquil lakes.
For the less energetic or physically fit there are three Lake Cruises on Lake Quinault each day and a coach tour of the Quinault Rain Forest, which will give you an opportunity to see plenty of wildlife including black bears. The bird watching is excellent and fishing is very popular on all the lakes. At Sol Duc Hot Springs Resort you can relax in three hot mineral pools and one freshwater pool or treat yourself to a relaxing pool-side massage.
Winter transforms Olympic National Park into a snowy wonderland and skiing and snowboarding is available at Hurricane Ridge Ski and Snowboard Area.
Romantic resorts & ideas: Orem Carlsbad restaurants, Albany vacation ideas — You are reading "25 Best Places to Visit in Washington State" Back to Top
23. Orcas Island
Orcas Island offers visitors a charming blend of cute villages, beautiful rural landscape, picture-perfect seascapes, beaches, water sports and a generous helping of the arts. A great place to start your exploration is at Moran State Park, which offers great hiking, cycling and horse-back riding though pristine scenery, including several lakes and the island's highest mountain. Foodies can go on an Orcas Island Food & Farms Tour to taste the best of Orcas Island produce, including visits to a variety of farms, restaurants, wineries, breweries and the Buck Bay Shellfish Farm.
To burn off some calories you can try kayaking with Discovery Sea Kayaks and Evergreen Escapes, which are two of several outfits offering guided kayaking tours. A whale watching excursion is a must-do activity on Orcas Island, and will get you up close to some magnificent whales, as well as seals, porpoises and many other marine animals and birds. Children can enjoy learning about the ecosystem at Orcas W.I.L.D. (Orcas Wildlife Institute for Learning and Discovery) or just have fun at The Funhouse Commons or Canoe Island French Camp. Back on dry land you can explore the vibrant Orcas Island arts scene by visiting some of the many galleries and venues for the performing arts, such as Island Stage Left and Orcas Center.
24. Skagit Valley
Washington's lovely Skagit Valley is situated in a wonderfully scenic area between Puget Sound and the Cascade Mountains. The four very charming rural towns in the valley include La Conner, Mount Vernon, Bow and Burlington, all of which offer both indoor and outdoor holiday attractions.
During the summer you can enjoy a variety of water sports on the Skagit River, ranging from family rafting trips to eagle watching and white-water rafting excursions with Pacific North West Float Trips or Alpine Adventures. Nature lovers can combine hiking with exceptional bird watching in the Padilla Bay National Estuarine Research Reserve.
When you need a break from the beach you can visit a few of the interesting valley museums, starting with the La Conner Quilt and Textile Museum, the Skagit County Historical Museum and the Museum of Northwest Art.
There are some delightfully original shops and galleries you can visit in the Skagit Valley towns and the valley hosts several annual festivals including the Upper Skagit Bald Eagle Festival in January, the Skagit Valley Tulip Festival in April and the Skagit Valley Highland Games in July.
25. Vashon Island
Vashon Island occupies an enviable position nestled in the midst of Puget Sound, about half-way between Seattle and Tacoma. The 20 minute ferry crossing offers outstanding views of the Seattle skyline, but Vashon Island has more than just good views to offer visitors. The beautiful setting of the island has attracted many resident artists – you can see their work at Blue Heron Art Center.
One of the best ways to get around is by cycling along the quiet country roads or around the circumference of the island, where you can stop off to picnic, swim, sun bathe and beach comb along an almost endless 65mile stretch of sea shore. Inland there are many parks and forests where you can enjoy hiking and bird-watching, particularly around Fisher Pond, which is the largest wetland on the island. You can visit Point Robinson Beach and Lighthouse, or make your way to Dockton Park on Maury Island to enjoy the marina and some hiking trails. If you love fishing you can try your luck off the long wooden pier at Tramp Harbor.
Vashon Island hosts a fun Strawberry Festival each year in July where you can taste everything remotely related to strawberries and join in the parade.
25 Best Places to Visit in Washington State
, Photo: Danita Delimont/stock.adobe.com , Photo: Courtesy of Gregory Johnston – Fotolia.com , Photo: Courtesy of Jdubsvideo – Fotolia.com , Photo: Courtesy of Anna-Mari West – Fotolia.com , Photo: Courtesy of RG – Fotolia.com , Photo: Courtesy of Jdubsvideo – Fotolia.com , Photo: Courtesy of lembi – Fotolia.com , Photo: Courtesy of amenohi – Fotolia.com , Photo: Courtesy of maria.babak – Fotolia.com , Photo: Courtesy of quasarphotos – Fotolia.com , Photo: myellensburg.com , Photo: Courtesy of Bill Perry- Fotolia.com , Photo: Courtesy of Galyna Andrushko – Fotolia.com , Photo: Courtesy of maxwell – Fotolia.com , Photo: Courtesy of Gregory Johnston – Fotolia.com , Photo: Courtesy of Konstantin – Fotolia.com , Photo: Courtesy of jamesh77 – Fotolia.com , Photo: Courtesy of Zack Frank – Fotolia.com , Photo: Courtesy of Pierrette Guertin – Fotolia.com , Photo: Courtesy of Daniel – Fotolia.com , Photo: Courtesy of Bill Perry – Fotolia.com , Photo: Courtesy of ejnelson314 – Fotolia.com , Photo: Courtesy of Jdubsvideo – Fotolia.com , Photo: Courtesy of Bill Perry – Fotolia.com , Photo: Courtesy Dave – Fotolia.com
Cover Photo: Daniel/stock.adobe.com
Mount Rainier National Park
Mount Rainier National Park is an outstanding area of scenic beauty which offers visitors a diverse selection of outdoor attractions suitable for the entire family.Camping is popular and there are several campgrounds to choose from where you can enjoy the pleasures of sleeping under the stars. Hiking through the wilderness is by far the most popular activity in the park and you can choose from no less than 40 different hiking trails that vary in length from the 2.5 mile Pinnacle Peak Trail to the challenging 45 mile Northern Loop Trail. In addition, there are some really easy walks for families with young children, including Paradise Vista and Trail of the Shadows. Cycling is allowed on the park roads, but not along the hiking trails. You can try your hand at fishing on the lakes and rivers or go canoeing or kayaking on the placid lakes. For something really different you can do a Citizen Ranger Quest, aimed at teaching adults and families about aspects of the environment in a fun way. Serious mountaineers can enjoy the challenge of climbing Mount Rainier, which isa glacier-covered active volcano and requires a reasonable degree of expertise.
Lake Wenatchee State Park
When you feel the need to escape the city and get back to nature in a magnificently scenic wilderness, Lake Wenatchee State Park welcomes you with year round outdoor activities for the whole family. Lake Wenatchee is situated on the shores of a glacier-fed lake, and offers two separate and distinct areas for recreation.
South Park is located on the lake shore and you can spend many happy hours exploring the beach or boating, swimming, wind-surfing and fresh-water fishing. There are several miles of hiking trails and you can camp under the stars and wake up each morning to the sounds of the gently lapping water and dozens of birds. There are sheltered fire-pits where you can build camp fires and enjoy toasting marshmallows after your evening barbecue.
North Park is a short distance from the lake, less developed and quite thickly forested. Here there are serviced RV sites for larger vehicles and you can go on guided horse rides through the forest to see a variety of birds and animals, including bears. In winter, the entire park is transformed into a snowy wonderland and you can look forward to enjoying cross-country skiing, snowshoeing and sledding, in between building the ultimate snowman and having some snow-ball fun.
Birch Bay is situated on a beautiful and peaceful crescent-shaped bay close to the Canadian border, offering the perfect escape from fast-paced city life. Here you can spend hours strolling along the quiet beach, sun-bathing, swimming or beach-combing at low tide. The atmosphere is conducive to relaxation, and you can choose from many enjoyable vacation activities such as cycling, hiking, picnicking and bird watching. If you enjoy water sports you can kayak or windsurf in the bay.
You can go hiking though forested areas to reach the beach at Point Whitehorn Marine Reserve, or explore the forests and wetlands in the undeveloped 60 acre Birch Bay Beach Wildlife Conservancy adjacent to Birch Bay State Park; both areas are great for bird watching. If you are visiting with children you can plan a fun family camping experience at Birch Bay State Park where everyone will enjoy scavenging for seafood or hiking the Terrell Marsh Interpretive Trail.
For more enjoyable family activities you can visit the Birch Bay Waterslides where there are rides for all ages or Miniature World Family Fun Center which offers Go Karts (& Kidz Karts), mini-golf and miniature train rides. Birch Bay also hosts a variety of festivals throughout July, including the annual Art-2-Jazz Street Fair, the Birch Bay Sandcastle Competition and the Birch Bay Music Festival.
You are reading "25 Best Places to Visit in Washington State " Back to Top
15 Best Places To Visit In Washington State For A Great Time
Not only is Washington State a good place to visit but also a wonderful place to live. From the sunlit conifer forests tucked away in gigantic national parks to hidden waterfalls and even a medieval village that transports you back to England's 14th century, Washington State has it all.
Below we've compiled the 15 best places to visit in Washington State that will surely be a memorable and relaxing experience.
1. Downtown Seattle
Photo credits: Ben Dutton
Without a doubt, Seattle is the hot spot in Washington State.
To fully explore the downtown core of Seattle, you'll need four to six days to keep up with all the main happenings. The bustling city is home to majestic natural parks and cool attractions, including the old-established Pike Place Market, the first Starbucks in the world, the Space Needle, Pacific Science Center, and the photogenic Amazon Spheres.
We lost count of how many museums you can visit in Seattle, but if we need to name a few, that would be the SciFi Museum, Art Museum, Museum of Pop, and Museum of Flight.
If you wanna spend a bit more to survey the entire Seattle downtown from above, book a helicopter or a seaplane tour. Alternatively, go offshore and admire the beautiful coastline on a cruise.
But that's not all, we have compiled a checklist of 15 things to do in Seattle so you don't miss out on anything. And our list of the best restaurants in Seattle you can't miss.
2. Leavenworth
Photo credits: Rosalie Barley
Steeped in a rich Bavarian style, Leavenworth is a whimsical, enchanting village surrounding the foot of the Cascade Mountains just two hours east of downtown Seattle. This self-titled village is a lesser-known place to visit in Washington, promoting German culture and heritage in the States.
Leavenworth emerges as a small European hub with a chain of traditional Gothic-inspired houses lining the ever-busy boulevards. Every now and then, you will see the locals don their lederhosen and dirndls or play a tune on their alphorn.
As the town is neighboring Colchuk Lake, you can venture out to the Enchantments or hike the North Cascades in the summer. When winter comes, there's plenty of space for skiing, sledding, and snowmobiling.
If you'd rather stick to the downtown core, then shopping, riding a carriage, horseback, sleigh ride, and keeping up with all the food spots and drinking holes are on the plate. New to the scene? We have 12 favorite restaurants in Leavenworth to inspire you.
3. Bellingham
Photo credits: bellinghamexperience
Leaning against the majestic backdrop of Mount Baker, Bellingham is dubbed as one of the best places to visit in Washington. Emerging as a busy waterfront port that supports fishing, charter cruises, leisure boating, and other maria activities, Bellingham is the last major city before the Washington coastline meets the Canadian border that's 85 miles north of Seattle downtown.
More than just a harbor town, Bellingham also plays host to a wild ride of art galleries and all the good eats centered around the Fairhaven Historic District. The Outdoor Sculpture Collection at Western Washington University is some of the best spots gathering curated collections.
If you like to be one with nature, check out Whatcom Falls Park and take on one of the walking trails or sneak into the woods and admire one of the four falls Bellingham has to offer.
Take a peek at our list of the best Bellingham restaurants before you arrive in the city!
4. Mount Rainier National Park
Photo credits: m h
With beautiful wildflowers blanketing the grassy knolls when sunrise is piercing through the snow-capped mountains, Mount Rainier National Park is one of the best places to visit in Washington for nature lovers.
Mount Rainier is dubbed as the fifth largest national park in the contiguous U.S. Its long-established history is tied to six native American tribes of the Nisqually, Puyallup, Squaxin Island, Muckleshoot, Yakama, and Cowlitz.
Peppering on the rolling green valleys is a medley of hiking trails, wildflower meadows, whistling marmots, and curious chipmunks after a two-hour ride from downtown Seattle. The park is beautiful all year round so you can take on the hikes anytime you like. There are also multiple wildlife-watching tours to Mount Rainier while families with kids like to pick mushrooms and huckleberry.
Pricing: from $15/person
5. Mount St. Helens National Volcanic Monument
Photo credits: Odile Luna
Protected as a national monument since 1982 following a violent eruption, Mount St. Helens National Volcanic Monument is a majestic getaway just less than three hours south of Seattle. To explore the monument to the fullest, make sure to clear out more than a day in your calendar.
Start your discovery with a visit to the Johnston Ridge Observatory after taking on Highway 504 on the west. It's known as one of the most scenic drives all over the state. The observatory should be found at milepost 52.
Volcano-watching and photographing Mount St. Helens are some of the most popular activities here. Other than that, you can explore the exhibits and movies at the two Visitor Centers.
On a more adventurous side, exploring the ape caves on the south side of the national park, climbing the volcano, and conquering the trails are some other stellar choices if your fitness level agrees. Those seeking a more pleasant day should consider a horse ride on the mudflow from Eco Park and elk viewing at the Forest Learning Center viewpoint.
Address: 3029 Spirit Lake Hwy, Castle Rock, WA 98611
Pricing: $5/day
6. Olympic National Park
The Olympic National Park in Port Angeles is one of the most marvelous national parks in the United States. From the mystic Hoh RainForest to the marvelous Hurricane Ridge, from the hidden mineral hot springs to comfortable lodges, you name it.
The entire park encompasses a million acres, spanning through different ecosystems such as the dramatic peaks to old-growth forests and the summit of the glacier-clad Mt. Olympus.
Nestled within the park is a great number of trails with shorter, accessible trails connected to longer, more rugged trails. Along the way, you will see some majestic waterfalls hidden under the high blue skies.
If you come with your loved ones, why not set up a camp in the heart of the Hoh Rainforest or take your kids to Rialto or Shi Shi beach hunting for tide pools? To fully explore the parks, save at least two full days and stay at one of the lodges there. Olympic National Park is also not far away from Port Townsend and Port Angeles with a vibrant charm full of life, so make sure to spare some time for either of those as well.
Address: 3002 Mt Angeles Rd, Port Angeles, WA 98362
Pricing: from $15
7. Marymere Falls
Photo credits: sandrafrydendahl
Dubbed one of the most visited waterfalls in Olympic National Parks, Marymere can be found near Lake Crescent. With the old-growth forest flanking above, it's a great chance to unplug from the social buzz and immerse into the Pacific Northwest's cool air.
You need to complete a hike in less than an hour to get there. The trailhead starts at either the Storm King Ranger Station or the Lake Crescent Lodge. As the trail is located inside the Olympic National Park, you need to acquire a visitor pass to start the trail.
Sheltering an underlying rock for most of the way down the cascades, Marymere is a horsetail waterfall gushing down to a whopping 90 feet before coming in contact with the Barnes Creek below the falls.
The peak season to visit Marymere is summer. But wait till the crowd thins out in spring and falls to visit the falls, which promise an unrivaled beaut
8. La Conner
Photo credits: Love La Connor
Home to the Museum of Northwest Art, Skagit Crest Vineyard & Winery, Roozengaarde tulip plantation, and the spectacular Martha's Beach looking out to Goat Island, La Conner is one of the best getaways in Washington just a two-hour ride from downtown Seattle.
La Conner is an enchanting town stepping out of a fairy tale with a plethora of culinary spots, wine tastings, fertile farmland, and an annual tulip festival. You will love to spend even a week here just kicking back at one of the inns and channel-side lodges as a base to explore further.
Before leaving for home, stop by Nasty Jack's Antiques. This 12,000-square-feet store is stocked up with the coolest, rarest finds such as collectible tin signs, comics, records, LIFE magazines, and Saturday Evening Post from 1937 to 1972.
9. Deception Pass State Park
Photo credits: rachel_nuss_star
Dominating the northern edge of Whidbey Island, Deception Pass is one of the most vibrant parks in Washington for outdoor enthusiasts. A majestic crossover bridge that defines the reputation of Deception Pass State Park has become the symbol of the place, connecting two islands and looking down to an enchanting, turquoise water underneath.
The park surrounds the far reaches of Puget Sound. So when you walk along the crossover, you'll have a chance to soak up its stunning view from afar. Meanwhile, the dense forest on both sides of the bridge is home to an immense network of trails. If you like to explore offshore, get on a kayak or put a tarp down for a pleasant weekend picnic.
Note that a Discover Pass is required to enter, and check out the tide calendar to plan your trip accordingly.
Address: 41020 State Route 20, Oak Harbor, WA 98277.
Pricing: from $11.5
10. San Juan Islands
Island hopping has never been more fun. Located off the coast of Washington looking over to Vancouver Island, San Juan can be reached by ferry hailing from Anacortes to Friday Harbor with multiple stops along the way. This dreamy place is worth every penny, with a beautiful atmosphere brought to you by Puget Sound.
Along the way on the ferry ride, you may spot orcas from land at Lime Kiln State Park on Friday Harbor, even whales, seals, bald eagles, and porpoises if you sign up for a whale-watching tour.
If you have more than a day to spend on San Juan Island, make sure to tour the farms, wineries, and beautiful parks near the Friday Harbor on a scooter or bicycle. For a more energetic day, take on a kayak adventure to see the water at a closer angle and work your core in the sun.y as well.
11. Whidbey Island
Photo credits: jennakate413
Just over an hour north of Seattle, Whidbey Island is a beautiful getaway filled with rugged terrain that spans beaches, hills, and farmland. This fine gem of the Puget Sound seems as if it transports you back to another world where you're munching on some mouthwatering seafood with some deer hanging out by the window.
Wooden buildings are peppered along the sun-kissed meadows, promoting a fairytale-like canvas steeped in earthy tones. To get to Whidbey from Seattle, take the ferry from the Mukilteo terminal north of Seattle for 20 minutes to the town of Clinton.
Other than the Deception Pass State Park we mentioned above, you can swing through the town of Oak Harbor in the morning. This is the biggest city in Whidbey Island where national chain stores such as Walmart and Home Depot dominate. The city is also home to Pacific Northwest Naval Air Museum, Windjammer and Flintstone Parks.
On the way home, stop by Greenbank Farm to hunt for local produce such as cheese, salsas, snacks, and pies from one of the barns it owns.
12. Spokane Riverfront Park
Photo credits: chuckpoe
Branded as Riverfront Spokane, it's one of the top-rated things to do in Washington for nature lovers. There's completely no cost to enter but it's filled with hordes of outdoor pursuits for all types of travelers. The park has been around since 1974 as part of the World Expo event, located east of Washington with less than five hours by car from downtown Seattle.
Today, the park is a bloodline of Spokane where people go to take on one of the trails on foot or cycling. When winter comes, the skating ribbon is open for ice skating while summertime beckons the attention of rollerbladers.
The park sits on a headland that's swathed by the powerful Spokane river. You can take a gondola ride over the Upper Falls and admire the fiery river from above. Otherwise, pack some lunch along and put a tarp down on one of the picnic sites to kick back with your loved ones. If your kids come along, take them to a merry-go-round and two unique play spaces.
And while you're in area, make sure to hit up these top Spokane restaurants.
Address: 507 N Howard St, Spokane, WA 99201
Hours: 6 am – 12 am
Pricing: free of charge
13. Ruby Beach
Photo credits: Accashia Thomas
As the locals attest, Ruby Beach is one of their favorite beaches along the Olympic coastline thanks to its welcoming vibe coming from the reddish sand peppered with sea stacks.
It's located over three hours west of Seattle downtown by car. In contrast to the soothing sandy shoreline that other places offer, Ruby is known as a rocky beach, meaning flip-flops are required all the time.
The beach is gorgeous all year round even though it's getting misty on some days. When the sky is crisp, you can see families with kids run off some steam and get their toes wet in the surf.
The path leading down to the shore is short and well-groomed. It has plenty of food spots, cafes, and a convenience store nearby that you can check out after a day conquering the beach or grab some snacks at the picnic tables.
14. Palouse Falls
Photo credits: david_lindsley
200 feet of rip-roaring meltwater cascading down a dark blue plunge pool, creating some of the most marvelous hidden sights you've ever seen. The falls belongs to the namesake state park about 4 miles upstream of the confluence with the Snake River in southeast Washington.
Palouse Falls became Washington's state waterfall in 2014, originating from glacial flooding from the last Ice Age. Up to now, Palouse is dubbed as one of the last active waterfalls since the Ice Age period, engraving to the edge of a bareback mountain with almost little to no evergreens.
There is a series of rugged trails leading to the top of the falls. If your fitness levels agree with steep switchbacks and cliffs, take on this adventure and marvel at the falls at their finest.
15. Camlann Medieval Village
Photo credits: voknows
Who would have thought there is a hidden medieval village less than a 45-minute car ride east of downtown Seattle? Even many Washingtonians have no idea they have a chance to revive English history right at their doorsteps.
Camlann Village is open on weekends from May to September, transporting you to South England in 1376 with its rural village charm. The public personal experiences are curated with lots of educational activities and art performances.
The characters, those who work for the village, are tastefully dressed in period costumes. Those wondering what's there to eat should not miss out on the Bors Hede Inne, a house of authentic medieval dinner experiences. Albeit part of the seasonal village, Bors Hede Inne opens year-round from Wednesday to Sunday. Note that the use of phones and cameras is strictly prohibited.
The best time to visit Camlann is when the village has some festivals going on. Make sure to check out the website for the latest updates. Cash and checks must be used to purchase or make an appointment.
Source https://www.planetware.com/tourist-attractions/washington-uswa.htm
Source https://vacationidea.com/ideas/best-places-to-visit-in-washington-state.html
Source https://nomsmagazine.com/best-places-to-visit-in-washington-state/