25 Best Places to Visit in the USA
The USA is the cultural force of the modern era. A land built on immigration and pioneering, America is a bastion of modern-day pop culture, free thought and the relentless pursuit of the American Dream. Comprised of 50 states, the USA occupies an area that's only just marginally smaller than Europe. It's in this vast country that you will find an unbelievably diverse array of natural landscapes, cityscapes, people and cultures.
From the tropical islands of Hawaii to the desert landscape of the Grand Canyon, as well as mountains and forests, you'll never be stuck for outdoor pursuits in America. Then there are its multicultural, global cities such as Chicago and NYC itself – the USA is an endlessly fascinating place to discover. Here are the best places to visit in the USA so you can get the most out of your big trip to The States.
25. Aspen [SEE MAP]
Aspen Snowmass / Flickr
One of the most famous ski resorts in the world, Aspen lies in a remote part of the Rocky Mountains in the state of Colorado. Named after the abundance of aspen trees that dot the region, the former mining camp was turned into a popular tourist destination in the mid-twentieth century and has never looked back.
Set amid some stunning snow-covered scenery, the town has four ski slopes – Aspen Highlands, Ajax Mountain, Buttermilk and Snowmass further down the valley. All of them boast large areas where you can enjoy skiing, snowboarding, sledging, and snowmobiling.
Aspen exploded as a silver mining town in the late 19th century; something reflected in the architecture from this time. Examples include the grand Wheeler Opera House and the brick built Aspen Community Church, among others.
While it is known as a winter destination, Aspen is wonderful to visit at any time of year. Its mountainous landscapes lend themselves perfectly to all kinds of outdoor recreational activities.
24. Atlanta [SEE MAP]
© Sepavo / Dreamstime
The capital and largest city of the state of Georgia, Atlanta is a sprawling, modern city with three urban skylines rising up from the picturesque scenery of rolling hills, pine forest, magnificent old oak trees and charming magnolia and peach trees. Established as a railroad terminus in 1837, Atlanta was burned down by Union forces during the American Civil War only to recover and emerge as the leader of the New South as well as an important national center of commerce and home of the world's busiest airport.
The busy districts of Downtown, Buckhead and Midtown make up Atlanta's three dazzling cityscapes of skyscrapers, businesses, shopping, dining and nightlife. The city's top attractions are the CNN Center, World of Coca-Cola and the Georgia Aquarium, which features the world's largest indoor aquarium. Other major places of interest include the boyhood home, church and final resting place of Martin Luther King, Jr., and the home of "Gone With the Wind" author, Margaret Mitchell. A stroll or drive through historic neighborhoods offer Southern culture, cuisine and antebellum homes.
Atlanta boasts an impressive arts and culture scene with many distinguished museums highlighting the likes of Southern art, Civil War history, ancient civilizations as well as numerous theater, symphony and opera venues. For sports and recreation, the city has hundreds of beautiful public parks and gardens of which Centennial Olympic Park and Grant Park are the most popular. Just outside the city, the Chattahoochee River provides facilities for swimming, fishing, boating and tubing.
23. Yosemite National Park [SEE MAP]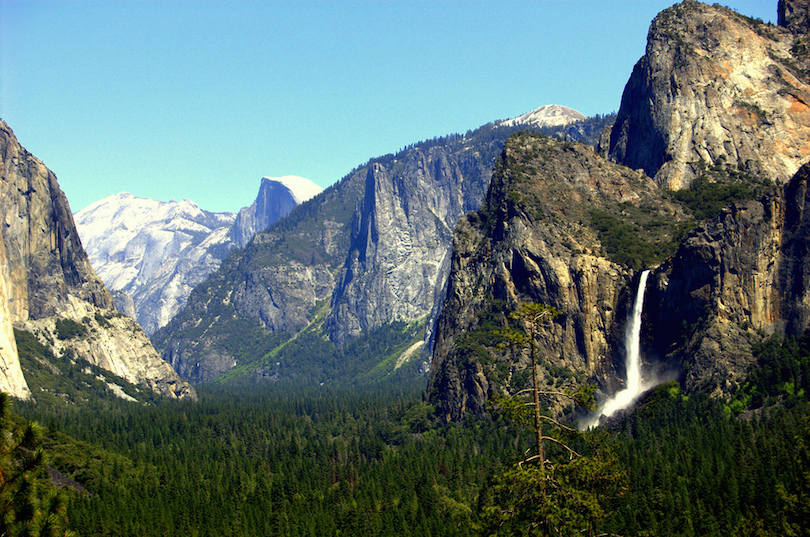 Dawn / Flickr
One of the most visited national parks in the United States, Yosemite National Park is prized for its jaw-dropping beauty that comprises magnificent granite cliffs, mountains, waterfalls and glaciers. Located in the Sierra Nevada Mountains of central eastern California, the park is home to an abundance of diverse wildlife and groves of giant sequoia redwood trees, which are the world's tallest and oldest living trees.
Yosemite is a massive park area-wise, and while it would be impossible to see all of it in one day, one of the must-see sites is Yosemite Valley. The most visited section of the national park, Yosemite Valley is famous for its extraordinary scenery and incredible granite formations such as Half Dome and El Capitan, a popular rock climbing spot. The valley is also known for its many impressive waterfalls that include Bridalveil Falls and Yosemite Falls, one of the world's highest waterfalls. Other sites not to miss are the groves of giant sequoia trees that can be found at Merced Grove, Tuolumne Grove and Mariposa Grove.
Scenic drives such as Tioga Road, as well as others, offer overlooks like Glacier Point where visitors can awe over breathtaking vistas. Hiking and shuttle bus tours present opportunities to view wildlife like black bears, bobcats and numerous species of birds. Additionally, the Yosemite National Park features historic landmarks like the Leconte Memorial Bridge and Ahwahnee Hotel as well as visitor centers where visitors can learn more about the park and its natural attractions.
22. Portland [SEE MAP]
R0Ng / Flickr
Straddling the Willamette River in the shadow of the majestic Mount Hood, Portland is the largest city in Oregon as well as the third largest city of the US Pacific Northwest region. While the city is known for its frequent rain drizzle, it is Portland's climate that produces it with picturesque scenery, including a plethora of rose gardens, which give Portland the nickname, "City of Roses." Besides its natural attractions, Portland is a popular destination for its relaxed atmosphere, outdoor activities and large number of microbreweries.
A popular central point for locals and tourists alike is Pioneer Square, a charming, laid-back courtyard with chess boards, a cascading water fountain and artistic sculptures. Surrounding the square is the downtown district, bustling with modern high-rise buildings, commercial businesses, museums and significant landmarks like the Portlandia statue and the White Stag sign. Just north of downtown is Portland's Old Town, where tourists can see historical remnants of the city's original settlement.
Outside the downtown district, trendy neighborhoods feature attractive architecture, the world's largest independent bookstore and shopping, dining and nightlife options as well as beautiful gardens and urban parks like the Portland Japanese Garden, International Rose Test Garden and Tom McCall Waterfront Park.
Covering thousands of wooded acres within city limits, Forest Park is the nation's largest city park with many hiking and biking trails. The Oregon Zoo and the Oaks Amusement Park both provide endless family fun, while the nearby Mount Hood Forest Recreation offers a great excursion to enjoy a wide variety of outdoor activities like climbing, hiking, horseback riding and skiing.
21. San Antonio [SEE MAP]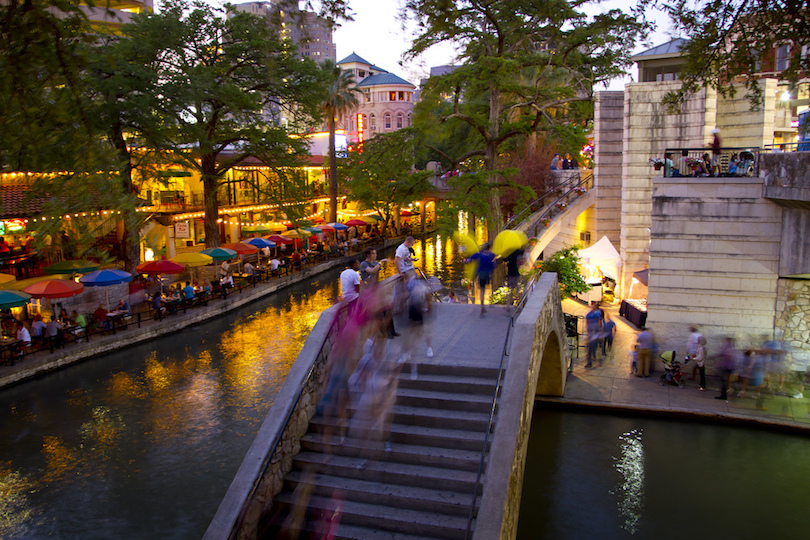 StuSeeger / Flickr
The jewel of Texas, San Antonio is a city steeped in both rich history and modern day appeal. Located in south-central Texas, the city is one of the largest in the United States and best known as home to the Alamo. The city's top attraction, the Alamo is a historical mission in which famous American folk heroes, Jim Bowie and Davy Crockett, died while defending it during the 1836 Battle of the Alamo. In addition to the Alamo, The San Antonio Missions National Park preserves four more historic Spanish missions.
Another of San Antonio's most visited attractions is the Riverwalk, a vibrant pedestrian scene of restaurants, shops, hotels and entertainment venues stretching along both sides of the San Antonio River right in the middle of the downtown area. A number of museums offer excellent glimpses into the city's colorful history and culture that consists of Spanish, Mexican and the Western cowboy. Families can enjoy hours of fun at the San Antonio Zoo, one of the largest in the nation, as well as at theme parks like Six Flags Fiesta Texas.
A couple of exceptional experiences not to miss in San Antonio are helicopter rides and ghost hunting tours. Just outside San Antonio city limits, tourists can explore the fascinating underground features of the Cascade Caverns and the Natural Bridge Caverns.
20. Savannah [SEE MAP]
The quintessential Southern city, Savannah draws millions of tourists every year to its charming scenes of Victorian architecture, cobbled streets, moss-draped oaks and leisurely pace. Lying on the Atlantic Coast in eastern Georgia, Savannah is the state's oldest city, rich in history, hospitality and natural beauty.
Because Savannah was spared during the American Civil War, the city's large Historic District is the most popular attraction. A walk around the district's cobbled streets allows views and tours of beautiful old mansions and historic sites such as the birthplace of Juliette Gordon Low (creator of the Girl Scouts) as well as one of the nation's oldest Jewish synagogues, one of the oldest African-American Baptist churches and the impressive Cathedral of St. John the Baptist.
Also among the city's most noted features are its historic squares that sit amid settings of lovely parks, huge oak trees, Victorian homes, statues, fountains and important memorials. Another tourist magnet is Factor's Walk, a row of restored, old warehouses leading down to the riverfront, which now house attractive shops, galleries and restaurants.
Outside the Historic District, tourists can explore Civil War forts, visit state-of-the-art cultural centers and museums like the Jepson Center for the Arts and the Telfair Academy of Arts and Sciences. A number of parks, including Forsyth Park, offer lovely scenery and recreational activities. Savannah is also well known for its numerous ghost tours and historic cemeteries. With short day trips to nearby islands like Tybee Island and the Oatland Island Wildlife Center, tourists can sunbathe on the beach, frolic in the ocean and encounter native wildlife species.
19. Philadelphia [SEE MAP]
Often regarded as the "Birthplace of America," Philadelphia is known as the city in which the country's founding fathers signed the 1776 Declaration of Independence and the US Constitution. Commonly referred to by locals as "Philly," Philadelphia is major US city in southeastern Pennsylvania and home to the iconic Liberty Bell and the Philly cheesesteak sandwich.
While Philadelphia is a modern city with a busy downtown of high office towers and a number of ethnic districts, it is the city's colonial architecture and historic attractions that draw most tourists. One of the most visited sites is Independence Historic National Park, a concentration of important buildings and landmarks that include Independence Hall, the Liberty Bell and Constitution Hall.
Other places of interest include the former homes of Betsy Ross and Edgar Allan Poe as well as the 300-year old Christ Church where George Washington and Benjamin Franklin once worshiped. Reputed to be haunted, the old Eastern State Penitentiary presents intriguing tours. The residential districts of Society Hill and Germantown are popular places to see the city's colonial homes and architecture.
There's a host of interesting art museums to visit in the city, including the Philadelphia Museum of Art, which is not only one of the largest in the world, but also famous for its long flight of steps which were featured in the 1976 film "Rocky". Now that's a claim to fame.
18. Sedona [SEE MAP]
Al_HikesAZ / Flickr
Next to the Grand Canyon, Sedona is one of Arizona's most sought after destinations. Located in the north-central part of the state, the town of Sedona is known for its vibrant art scene and spiritual retreats. However, Sedona's most popular attraction is the breathtaking array of red sandstone formations that create a striking red and orange backdrop to the town. What's more, this natural wonder also provides a wide variety of outdoor recreation as well as spiritual experiences for many.
Attracting artists, photographers, spiritual seekers and outdoor lovers alike, Sedona's brilliant landscape offers much to see and do. Incredible natural landmarks like Coffeepot, Cathedral Rock, Thunder Mountain and Chimney Rock present excellent photograph and artistic opportunities. For an interesting slice of architecture, head to the Chapel of the Holy Cross; dating back to the 1950s, this Catholic church is actually built into one of the iconic buttes.
Sedona itself is a beautiful town, teeming in scores of golf courses, art galleries, gourmet restaurants and numerous boutiques specializing in everything from Native American arts and crafts to New Age healing crystals and alternative medicines.
17. San Diego [SEE MAP]
Chad McDonald / Flickr
Centered around a natural harbor, the coastal Californian city of San Diego is located on the border with Mexico. It's rich in Mexican culture, outstanding family attractions and blessed with a year-round mild climate. As you'd expect, the city is a popular tourist destination.
San Diego was established as California's first Spanish mission in 1769, and visitors today can see some of the city's preserved buildings in the Old Town historic district. The modern downtown pulses with shopping, dining and entertainment as well as points of interests like the San Diego Maritime Museum, which houses a collection of sailing ships including the world's oldest active one, the Star of India. Other museums display the city's natural history, art and relationship with the US Navy.
The most popular attraction in San Diego is America's premier zoo, which is located in Balboa Park with flowering gardens and Spanish architecture. The city is home to other family attractions like SeaWorld San Diego and the Birch Aquarium. Another tourist magnet, San Diego's stunning coastline, offers miles of fantastic beaches featuring an array of fun activities like surfing, sailing, whale-watching and seal-spotting. Some of the most popular beaches like La Jolla, Mission and Pacific Beaches have restaurants and shops, while Point Loma and Ocean Beach offer a more quiet setting.
16. Denali National Park [SEE MAP]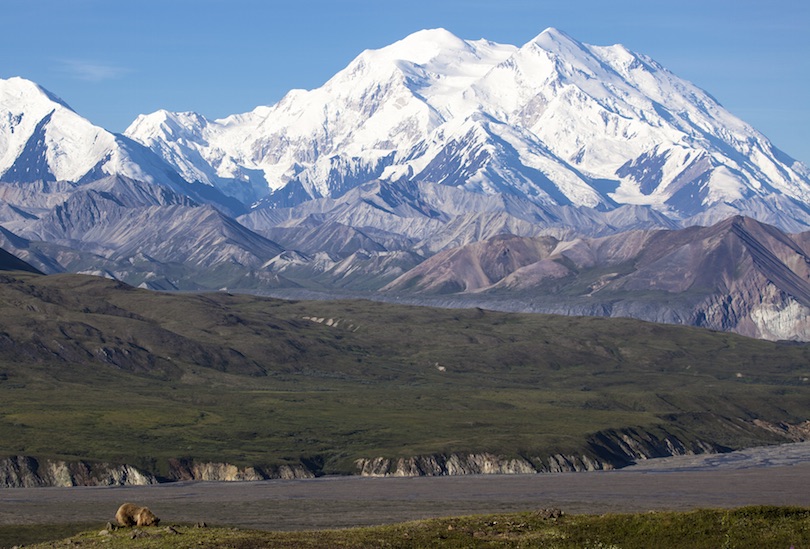 Denali NPS / Flickr
Covering a massive expanse of mountainous land in Alaska, Denali National Park is the third largest national park in the United States. Home to Mt. McKinley, North America's highest peak, this US national park is located in the Alaska Interior among the jagged mountains of the Alaska Range. The word "Denali" means "the high one" in the native Athabaskan language and refers to Mount McKinley. Scores of people come to Denali National Park every year to spot amazing wildlife, engage in a number of outdoor activities and awe over the breathtaking landscapes of majestic mountains, glaciers, rivers, lakes and tundras.
The park is enormous, and vast portions of it are only accessible by foot or dog sled. One single road, the Denali Park Road, winds several miles through the core of the park, connecting travelers to visitor centers, hiking trails and look-out points for wildlife and stunning panoramic views. Only the first few miles of the road are open to private vehicles. To go beyond, visitors must take park shuttle buses or arranged bus tours, of which many are narrated and informative.
Some of the amazing sights to see and photograph in the park include the magnificent Mt. McKinley, picturesque rivers and lakes like Savage River and Wonder Lake as well as outstanding wildlife species like grizzly bears, caribou and wolves. The park also presents thrilling outdoor activities and adventures like hiking, fishing, whitewater rafting and sled dog demonstrations.
Just outside of the Denali National Park entrance, visitors will find a number of hotels, restaurants, cafes, bars and souvenir shops, while within the park is a mercantile store selling camping supplies, groceries and other necessities.
15. New Orleans [SEE MAP]
© F11photo / Dreamstime
Regarded as one of the most unique cities in the USA, New Orleans is widely known for its distinctive French Creole culture, cuisine, and architecture as well as jazz music and the annual Mardi Gras celebration. Situated in southeastern Louisiana, New Orleans is the state's largest city and a major US seaport. Devastated by heavy flooding from Hurricane Katrina in 2005, New Orleans is now mostly recovered and remains one of the country's top travel destinations.
Rich in history and diverse cultures, New Orleans is one of the oldest cities in the USA. The city's historic architecture is one of its main draws, which is best seen in the popular French Quarter with its iron balconies and notable places like the French Market, St. Louis Cathedral, Jackson Square and the exhilarating Bourbon Street. Charming old neighborhoods also reflect the city's roots with antebellum mansions and Creole cottages. Even the city's historic cemeteries attract many with their elegant tombs, voodoo mystique and ghost tours.
Riverboat cruises, carriage rides and streetcars offer romantic and exciting ways to experience the splendor of New Orleans. Outside the bustling city, the moss-draped countryside and protected nature areas offer unforgettable experiences like boat rides through the swamps and tours of plantations and Civil War battlefields.
While New Orleans draws its biggest crowds during its famous Mardi Gras celebration, the city is known to always have a party going on at any time of the year with its plethora of bars, nightclubs and jazz clubs.
14. Niagara Falls [SEE MAP]
The world-famous Niagara Falls straddle Ontario in Canada and the American state of New York. Although it is often called the "Honeymoon Capital of the World," Niagara Falls in recent years has also developed as a popular destination for family and adventure vacations. The magnificent beauty and enormous volume of Niagara Falls attracts millions every year from all over the world.
Located on the Niagara River, the falls are a culmination of the flow of water that gushes out of the Upper Great Lakes and are actually made up of three falls – Horseshoe Falls, the American Falls, and the Bridal Veil Falls. Six million cubic feet of water cascades over the ridge every second, making for an incredibly impressive site.
One of the best places to view the Niagara Falls on the Ontario side is from Queen Victoria Park where the Falls are illuminated and fireworks are displayed nightly during the summer.
There are several ways to experience Niagara Falls. One of the most popular is the Maid of the Mist boat tour that brings visitors close enough to feel the spray from the plunging cascades. Visitors can also walk along a boardwalk beside the rapids or enjoy a cable car ride overhead. For the adventurous, there are also jet boat and helicopter tours available.
13. Boston [SEE MAP]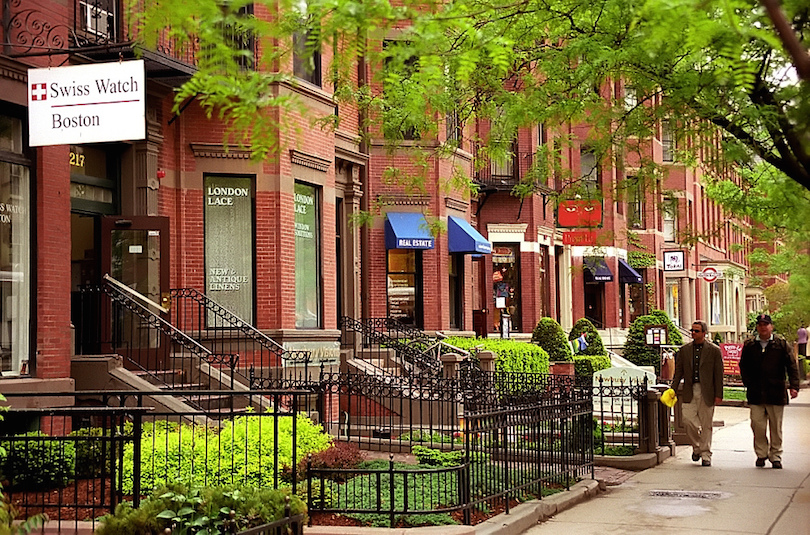 David Paul Ohmer / Flickr
One of the oldest cities in the USA, Boston is best known for its wealth of American history, architecture and academic institutions. The capital and largest city in Massachusetts as well as the largest city in the New England region, Boston is spectacular sight in spring and autumn with flowering trees and fall foliage.
As the setting of many historic events that led up to the American Revolution, including the Boston Massacre and the Boston Tea Party, Boston is steeped in early American history. The city retains many historical landmarks from this time period such as Paul Revere's house and the Old North Church, which sports the steeple that was used to signal a warning to the American patriots of the approaching British soldiers. Once the scene of the Boston Tea Party event, the Boston Harbor today is known for its lighthouses and festivals.
Just outside of Boston in the Cambridge neighborhood is the country's oldest and most prestigious institute of higher learning, Harvard University. The city is also home to America's oldest St. Patrick's Day Parade, the country's oldest public park as well as the famous pub from the television series, "Cheers." The Charles River Esplanade and the Boston Harbor Islands State Park offer beautiful scenery and plenty of outdoor recreation.
12. Miami [SEE MAP]
One of the most vivacious cities in the USA, Miami is best known for its Latin culture and sizzling nightlife. Located in southeastern Florida off the coast of the Atlantic Ocean, Miami is also a major port city managing the world's largest number of passenger cruise ships. Attracting tourists from all over the planet, Miami is a melting pot of ethnic cultures with a wide array of exciting attractions and activities.
One of Miami's main draws is its sunny beaches that range from family resorts to party scenes and offer everything from water sports to shopping and entertainment. Across the bay from Miami on a barrier island is Miami Beach, known for its Art Deco architecture and glamorous South Beach. A visit to the beautiful Vizcaya Estate provides a glimpse into South Florida's early 20th century history.
A must-do is visit the Everglades National Park to see one of the country's most unique ecosystems that consists of swamps, sub-tropical jungles and flooded wetlands that are home to crocodiles, manatees and Florida panthers. A great way to experience the Everglades is by an airboat ride.
11. Seattle [SEE MAP]
Home to global giants like Boeing, Starbucks and Amazon, Seattle is the largest city of the USA's Pacific Northwest region. Seattle is a coastal seaport city nicknamed the Emerald City due to its lush scenery resulting from a rainy climate. The skyline of Seattle is a thicket of towering skyscrapers. The crowning glory is the futuristic 605-foot (184-meter) tall Space Needle, built in 1962.
The city is known for its music scene – it gave the world Nirvana and other grunge bands like Soundgarden and Pearl Jam. You can read up on this – and more – at the city's Museum of Pop Culture. It's also famous for seafood, which you can try at the historic Pike Place Market. What's more: the surrounding pine forests make for perfect hiking.
To learn about the city's history, Pioneer Square and the Klondike Gold Rush National Historical Park offer historical buildings and artifacts. The Woodland Park Zoo and the Seattle Aquarium are outstanding places to encounter land and marine animals. At the Boeing Factory, tourists can watch airplanes being built. Urban parks and nature sanctuaries like Discovery Park and Green Lake offer hiking trails, outdoor adventure and wildlife. With close proximity to the mountains and ocean, Seattle tourists can enjoy hiking, skiing, sailing and kayaking.
10. Hawaii [SEE MAP]
levork / Flickr
Renowned around the world for its breathtaking beauty, Hawaii lies far off the coast of California in the middle of the Pacific Ocean. Made up of 137 islands, the volcanic archipelago has long attracted tourists to its shores due to its stunning landscapes, beautiful beaches, and rich cultural heritage.
Hawaii really does boast a plethora of natural wonders. The rugged NaPali Coast, plunging Waimea Canyon, and idyllic Waikiki Beach count among its most famous sights. Due to all the magnificent scenery, it's worth spending as much time as possible outdoors, either hiking among the volcanoes, surfing the surrounding waves, or snorkeling above its colorful coral reefs.
As it was the last state to join the US in 1959, the islands still retain much of their unique Hawaiian identity. Visitors can immerse themselves in Hawaii's rich culture and heritage while staying at any one of the luxury resorts that dot the archipelago. Of its many islands, Oahu, Maui, and Kauai are the most popular due to their natural beauty and abundance of tourist attractions.
9. Orlando [SEE MAP]
© Asterixvs / Dreamstime
Home to world famous theme parks like Walt Disney World and Universal Studios, Orlando is no doubt a favorite destination for family vacations. Located in central Florida, Orlando is a place where dreams and magic become reality. With several amusement parks, visitors to Orlando can meet their favorite storybook characters, reenact live famous movie scenes, ride thrilling roller coasters and watch dolphins and whales performing marvelous tricks.
However, there is much more to Orlando than just the theme parks. The downtown area features pedestrian streets lined with shops, restaurants, bars and comedy clubs. Botanic gardens and conservation parks showcase Florida's amazing flora and fauna from orchids to alligators. What's more, Orlando and its surrounding area is a paradise for sports lovers. Lakes and streams teeming in trophy fish are a sport fishing paradise, and golfers will be spoiled for choice among the numerous golf clubs and courses.
8. Washington DC [SEE MAP]
The capital of the United States and seat of the federal government, Washington is a city located on the country's East Coast in the District of Columbia. A cosmopolitan city that is home to many diverse cultures, Washington is widely known by its many iconic landmarks like the White House, Capitol Building, the Washington Monument and the Lincoln Memorial. Many of these monuments, along with others like the Vietnam War Memorial and the Franklin D. Roosevelt Memorial, are all located within the beautifully landscaped parkland known as the National Mall, one of the city's most visited sites.
Washington boasts a large number of important museums, many of which are comprised within the Smithsonian Institute, the world's largest research and museum compound. The National Zoo, historic churches and the colonial architecture of the Georgetown neighborhood are other popular things to see while visiting Washington. A good way to experience the main attractions of Washington is to take the hop-on hop-off trolley. A popular day trip from Washington is an excursion to the nearby Civil War battlefield of Gettysburg.
7. Los Angeles [SEE MAP]
bossco / Flickr
The second-largest city in the USA, Los Angeles is located in southern California surrounded by the Pacific Coast, mountains and valleys. Often regarded as the "Entertainment Capital of the World", LA is awash with celebrity culture. You can see the handprints of film stars on Hollywood Boulevard or go on a tour to see stars' homes in Beverly Hills.
For laid back days there's the bohemian neighborhood of Venice Beach, home to Muscle Beach and a rambling promenade that doubles as a stage for all sorts of quirky street performers. The seafront city of Santa Moncia also offers a more relaxed pace of life with its old pier and aquarium. LA is also home to the world's first Disneyland – great news if you're traveling with children!
Some of the city's most popular attractions include the Getty Center, regarded as America's finest art museum, the Kodak Theater, host of the Academy Awards, and Universal Studios Hollywood. The Grove Farmer's Market is a pedestrian paradise of shopping and entertainment, while Griffith Park and Knott's Berry Farm are both fantastic family attractions.
6. Chicago [SEE MAP]
Nicknamed the "Windy City" and best known for its towering skyscrapers, sports teams and unique style of hot dogs and pizzas, Chicago is the third-largest city in the USA. Located on Lake Michigan in the heart of the Midwest region in northeastern Illinois, Chicago is a major hub for finance, industry, and commerce. The city's numerous sites range from the futuristic Millennium Park and the iconic Sears Tower to the Navy Pier with its parks, restaurants, and amusements. Numerous genres of music such as Jazz, Blues, and House music have roots in the live music venues around Chicago.
Chicago is a huge city with many ethnic neighborhoods and a buzzing downtown district that is quite walkable. A stroll downtown offers views of impressive skyscrapers, upscale malls, quaint shops, restaurants, bakeries and numerous hot dog stands selling the city's distinctive beef frankfurter served on a poppy-seed bun with pickle relish, tomatoes, onion and yellow mustard.
Rich in American history, Chicago has many historic sites including Old St. Patrick's Church, one of the buildings that survived the city's Great Fire of 1871. Another historic site, the Cadillac Palace Theater, is worth a visit just for its exquisite interior. First opened in 1926, the theater still presents Broadway shows today.
Home to several major attractions, Grant Park is a huge, sprawling public park with beautiful gardens and recreational facilities as well as Buckingham Fountain, one of the largest fountains in the world.
5. Yellowstone [SEE MAP]
Jim Trodel / Flickr
Yellowstone National Park was the world's first national park, set aside in 1872 to preserve the vast number of geysers, hot springs, and other thermal areas, as well as to protect the incredible wildlife and rugged beauty of the area. Yellowstone lies on top of a gigantic hotspot where light, hot, molten mantle rock rises towards the surface. Subsequently, the park contains half of all the world's known geothermal features, with more than 10,000 examples of geysers and hot springs.
The most famous geyser in the park is Old Faithful Geyser. It is one of the most predictable geographical features on earth erupting almost every 91 minutes. The largest hot spring in Yellowstone and the third largest in the world is the Grand Prismatic Spring. The vivid colors in the spring are the result of pigmented bacteria that grow around the edges of the mineral-rich water. The bacteria produce colors ranging from green to red. The center of the pool is sterile due to extreme heat.
In addition to all the geothermal features Yellowstone is also home to one of the finest megafauna wildlife habitats in North America. Black bears, grizzly bears, deer, elk, bison and wolves can all be found within the park borders.
4. Las Vegas [SEE MAP]
You wouldn't think a city in the middle of the desert in Nevada would be as popular as it is, but it's thanks to the cavalcade of casinos here that Las Vegas is so famous. The most well-known casinos themselves are practically household names: Caesar's Palace, MGM Grand, the Bellagio. In addition to gambling, show girls and lavish performances, Las Vegas offers plenty more to suit people of all ages and interests. On the main street called the Strip, there are the Bellagio's impressive fountain shows, a replica of the Eiffel Tower and of an Egyptian pyramid, among other landmarks.
Golfers will be happy to know there are more than 55 golf courses in and around Las Vegas. Just outside the city are state parks offering rock climbing and hiking trails. Also nearby is Lake Mead, which provides a variety of water sports.
3. San Francisco [SEE MAP]
Set on the tip of a peninsula, San Francisco is a beautiful city in northern California that is famous for a lot (and we really mean a lot) of things. Undoubtedly, the Golden Gate Bridge is the city's number one attraction. Tourists can drive, bike ride or walk across this famous suspension bridge to admire and photograph stunning views. Another of the city's most prominent landmarks are its historic cable cars, which present a memorable way to experience the steep inclines and main tourist attractions.
San Francisco is a city rich in history and culture known for its lovely Victorian homes and ethnic neighborhoods, of which Chinatown is the most famous with its colorful array of shops and markets. A popular waterfront district lined with souvenir shops and seafood restaurants, Fisherman's Wharf is where tourists can take a ferry to Alcatraz Island to tour the notorious prison.
2. Grand Canyon [SEE MAP]
Attracting millions of visitors every year, the Grand Canyon is one of the great tourist attractions in the United States. Located in northern Arizona, this massive natural wonder was carved by the Colorado River over a period of several million years and now measures 277 miles (446 km) long, over a mile (1.6 km) deep and up to 18 miles (29 km) wide. It is not the deepest or the longest canyon in the world but the overwhelming size and colorful landscape offers visitor vistas that are hard to match.
Managed and protected by the Grand Canyon National Park, the Grand Canyon is contained within the national park as well as within the Hualapai and Havasupai Indian Reservations. Awe-inspiring landscapes, wildlife viewing, historic sites and adventurous activities are just a few of the reasons that make the Grand Canyon one of the world's most famous natural wonders.
The Canyon is divided by two main sections, the popular South Rim and the remote North Rim. As the most accessible part for tourists, the South Rim features many historic sites such as the El Tovar Hotel, Grand Canyon Railway Depot and the Desert View Watchtower. Also in the South Rim is the Grand Canyon Village where many tourists can find ample lodging.
There are numerous well-marked trails to try out, including the South Kaibab Trail. If you want a really long hike, go for the Rim-to-Rim Trail but don't forget to pack plenty of water, this is an unrelenting desert climate, after all.
One of the most popular attractions in the Canyon is Havasu Falls, a spectacular waterfall that plummets 120 feet (37 meters) into a natural swimming pool of turquoise water. Other sights and experiences opportunities in the Canyon include whitewater rafting, jeep tours, helicopter rides and the Skywalk, a glass sightseeing structure extending 4,000 feet (1,200 meters) over the rim of the Grand Canyon.
1. New York City [SEE MAP]
The jewel in the crown of the USA when it comes to urban areas, New York is a megacity that is absolutely packed full of iconic places, areas, and buildings. World renowned for its concentration of skyscrapers and famous attractions, New York City is what many foreigners often visualize when they think of the USA. In fact, sometimes it feels like you're walking through familiar territory, thanks to how often the city features in Hollywood films.
Even the "Five Boroughs" that make up NYC are famous (Manhattan, Brooklyn, Queens, The Bronx, Staten Island). Then there's the culture: Koreatown, multiple Chinatowns, the remnants of Little Italy, and communities from Jewish to African American make New York a true world city made rich by the people who've flocked here from all over the world.
Some of New York's most notable landmarks that can be toured include the Statue of Liberty, the Empire State Building and the Rockefeller Center. One of the city's most important historical sites is Ellis Island, where millions of immigrants first arrived in America.
New York is also home to some of the most distinguished museums and art galleries in the world such as the Metropolitan Museum of Art, the Guggenheim Museum and the American Museum of Natural History. Additionally, Manhattan's Theater District is world known with its collection of Broadway theaters and other entertainment venues. Throbbing with flashing neon lights and glittering billboards, Times Square is the city's dazzling entertainment district where tourists can catch a Broadway performance and shop for souvenirs.
For those who need to catch their breath from all the hustle and bustle of New York City, Central Park is the answer with its wide open green spaces, gardens, wooded paths and outdoor recreation.
Map of the USA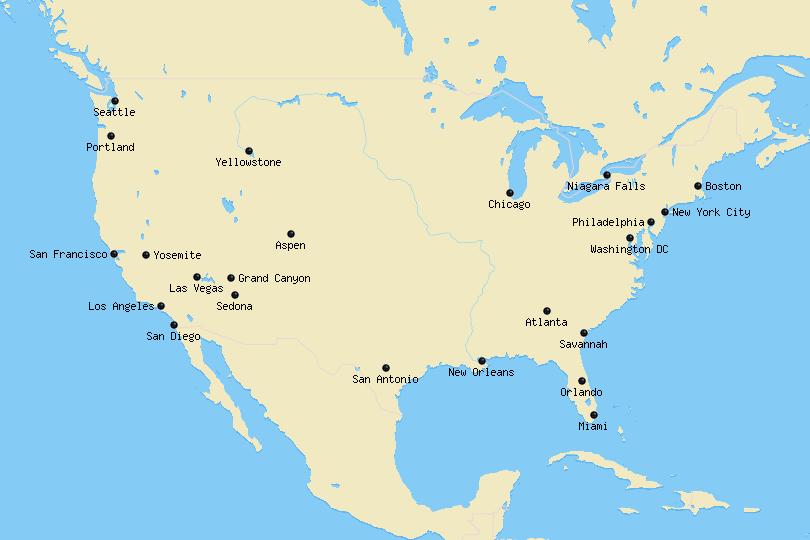 © OpenStreetMap © MapTiler © Touropia
25 Most Beautiful Places in America
Having appeared in countless films and TV shows, America's amazing sights, scenery, and landscapes are renowned and recognized around the world. From the gorgeous and gigantic Grand Canyon to the majestic Monument Valley and Manhattan's skyscraper-studded skyline – the States is home to a huge amount of impressive and iconic images.
One of the largest countries in the world, its 50 states boast dazzling and delightful scenery, with dramatic coastlines, lovely lakes, and desolate desert landscapes. Between the Rockies in the west and the Blue Ridge Mountains in the east are all kinds of natural and human-made wonders, as well as some of the best and most breathtaking national parks on Earth.
One of the best ways to see the most beautiful places in America is to take an unforgettable road trip, stopping off at its most famous and photographed sights as you go.
25. Bonneville Salt Flats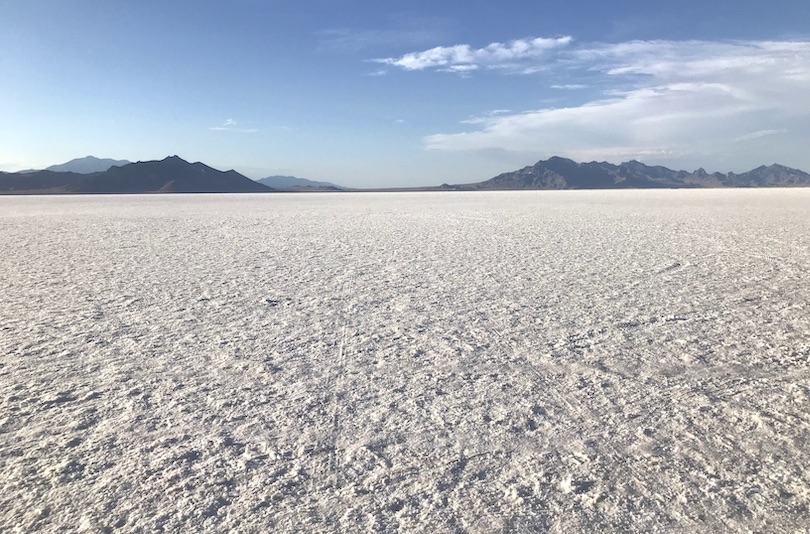 © Dreamstime
The largest and loveliest of Utah's many salt flats, Bonneville's dazzling desert landscapes are all that remain of what was once a vast prehistoric lake. Set in the northwest of the state, the sparkling salt flats stretch endlessly into the distance, reflecting the bright blue skies above.
As such, there are loads of great photo opportunities here, of mighty mountains rising above the flats' shimmering salt surface. The Bonneville Salt Flats also hosts a number of land speed events during the year, where racers compete to break various records.
24. Badlands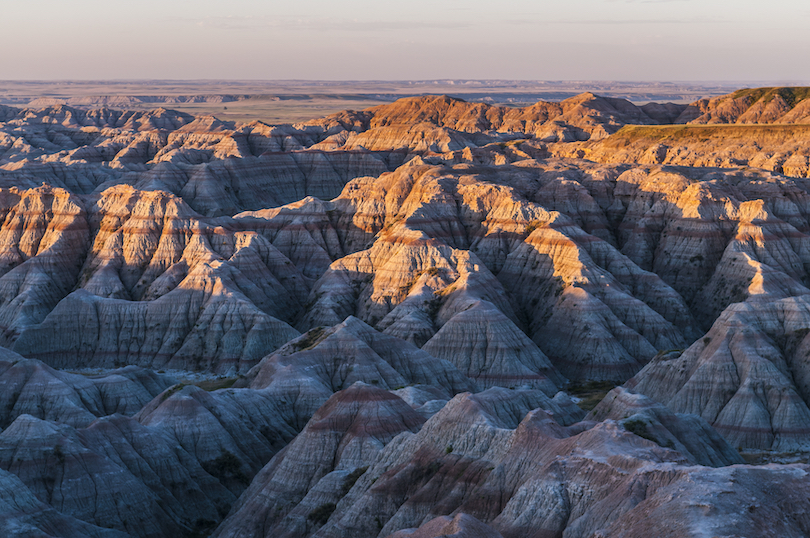 © Dreamstime
As bewitching as they are beautiful, the Badlands are a breathtaking part of South Dakota full of fantastical formations, colorful canyons and all kinds of otherworldly landscapes. Formed millennia ago by the roaring wind and rain, the rugged terrain is captivating to gaze upon; the remains of petrified plants and sharply eroded buttes, pinnacles and spires rise from the ground.
Only adding to the enchanting scene are the kaleidoscopic colors that paint the land a rainbow of pastel hues. The most majestic of its many incredible sights lie in the Badlands National Park. The region is also home to several Native American reservations, where visitors can learn more about their rich history and culture.
23. Martha's Vineyard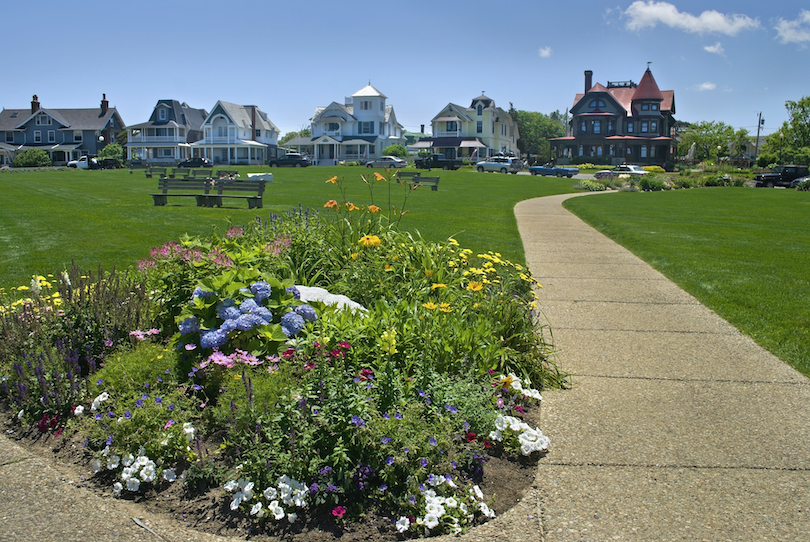 © Dreamstime
Lying just to the south of Cape Cod, the magnificent Martha's Vineyard has long been popular with the rich and famous; as such, it is often nicknamed 'Hollywood East. Despite the wealth of artists, celebrities, musicians, and presidents who vacation here, New England's largest island has a lovely laidback air, with pretty and picturesque scenery to discover.
Dotted about the quaint countryside are small towns and villages full of cosy inns, boutique hotels, and exquisite restaurants, while scenic beaches line its shores. Besides its fine dining and relaxing retreats and resorts, there are also many excellent outdoor activities to partake in, including hiking, cycling, and golfing.
22. Niagara Falls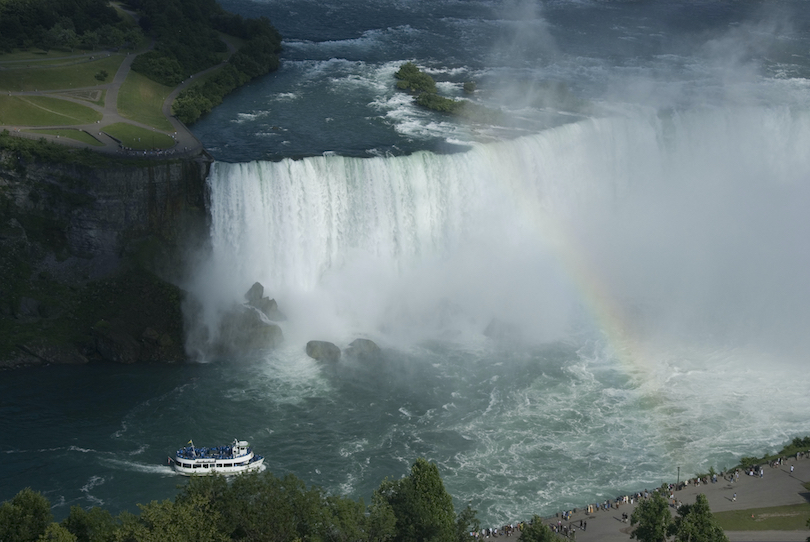 © Dreamstime
Straddling the border between Canada and the USA is Niagara Falls; one of the most awe-inspiring sights in the world. Comprised of American Falls, Bridal Veil Falls, and the larger Horseshoe Falls, the spectacular waterfall can be found in the west of the state of New York.
In total, the falls stretch over a thousand meters in length, with millions of gallons of water cascading over the edge every minute.
This almost endless white wall of water makes for fantastic viewing. Incredible photos and panoramas can be enjoyed from each side, or from the decks of a spray-drenched boat below. Reaching up to 50 meters in height, the staggering scale and splendor of Niagara Falls needs to be seen to be believed.
21. Bryce Canyon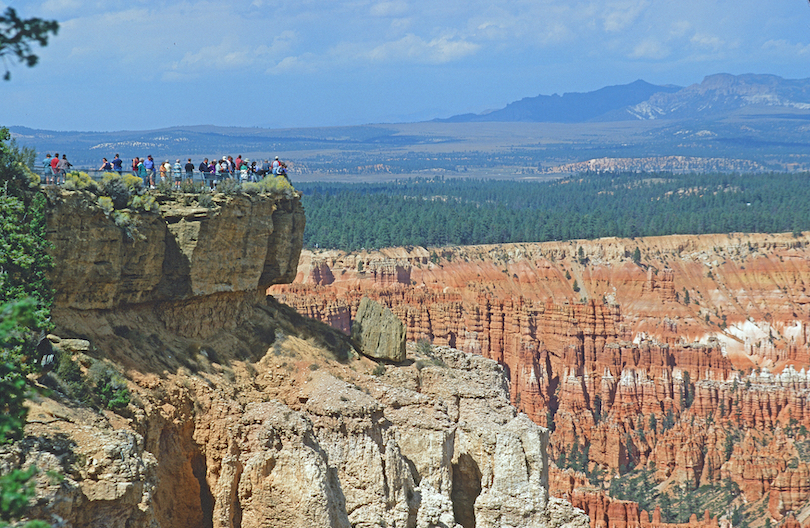 © Dreamstime
Dominating and defining the national park of the same name, Bryce Canyon is one of the States' – if not the planet's – most extraordinary and exquisite natural wonders. Located in the southwest of Utah, the astounding array of amphitheaters line the edge of the Paunsaugunt Plateau.
Eroded over the millennia by the elements, its limestone landscapes are home to fascinating rock formations, crumbling canyons, and all kinds of startling shapes and spires known as hoodoos. In addition, elk, black bears, and mountain coyotes can be spied from time to time around its magnificent moonscapes, which are painted in soft and sandy sunset tones.
20. Glacier Bay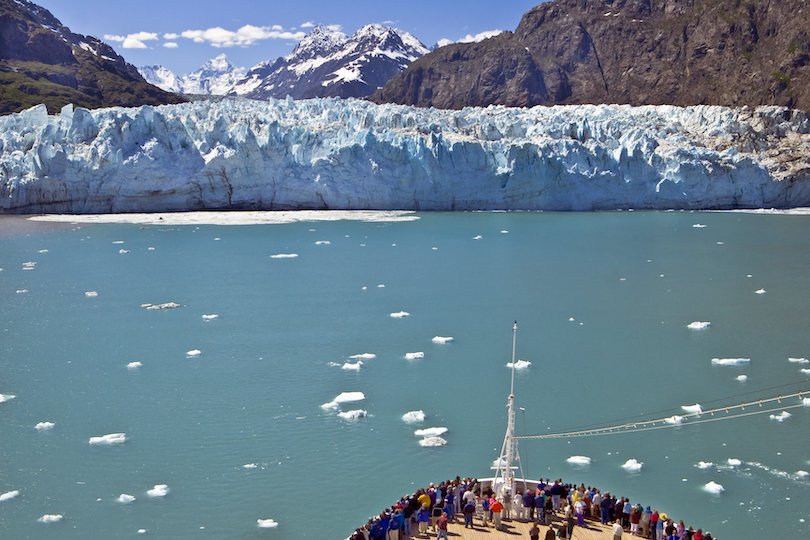 © Dreamstime
Boasting stunning, snow-capped mountains, fabulous fjords, and iceberg-dotted coves, Glacier Bay is one of the most wild and remote regions of Alaska. Set in the southeast of the sparsely populated state, the beautiful bay and its gigantic, glimmering glaciers are protected as part of a national park and preserve.
Besides its mighty mountains and irresistible icy landscapes, there is plenty of wonderful wildlife on show, such as porpoises and humpback whales. While most people visit the park on a cruise ship, hardy adventurers can camp in its icy confines or try their hand at kayaking, fishing, and mountaineering.
19. Big Sur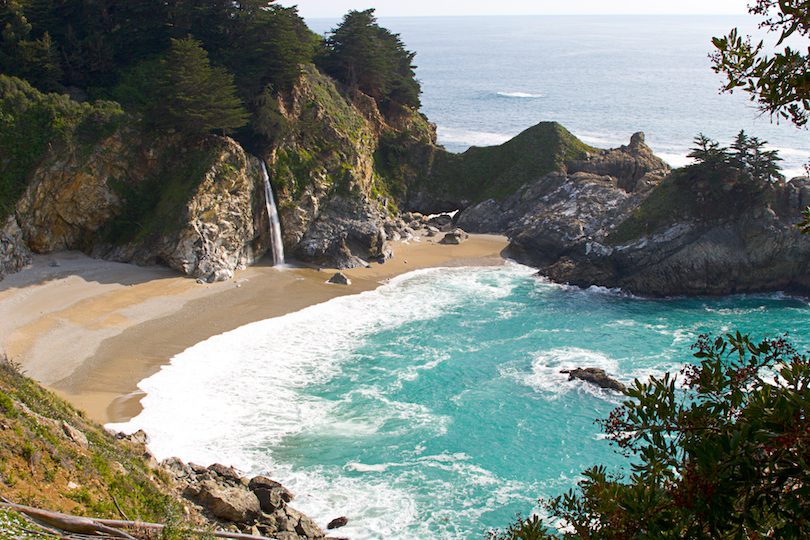 © Dreamstime
Attracting millions of visitors every year, Big Sur's vast wilderness, sensational scenery, and phenomenal views occupy an almost mythical place in the American psyche. Long associated with unencumbered freedom and never-ending nature, it lies between the Carmel Highlands and San Simeon.
Many consider Big Sur to be one of the most sublime stretches of coastline in the USA Encompassing state parks, wilderness areas and famous tourist attractions such as Bixby Bridge and Pfeiffer Beach, the region is found along California's Central Coast.
The best way to take in its seaside cliffs, ocean views, and scenic little settlements is to road trip along the Pacific Coast Highway, stopping at secluded beaches and nature sites as you go.
18. Antelope Canyon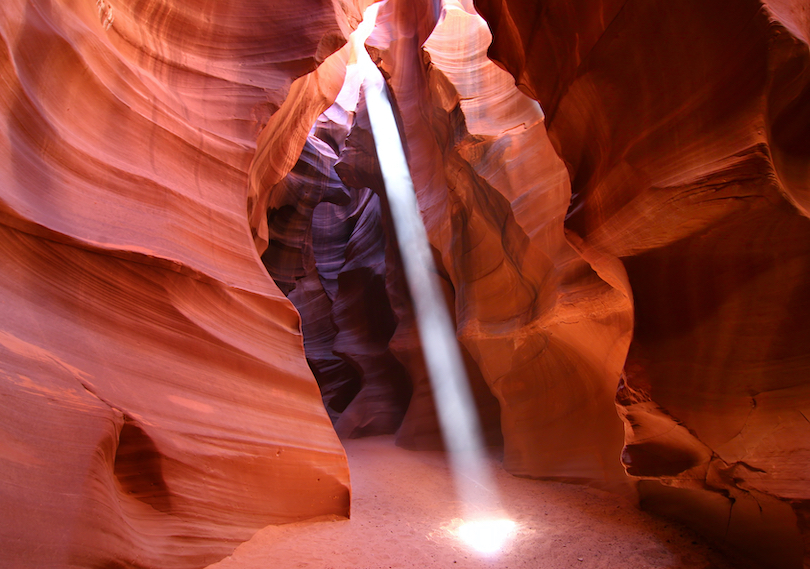 © Dreamstime
Located just to the east of Page, the attractive and awe-inspiring Antelope Canyon lies in the north of Arizona, not far from Lake Powell. Meandering magically through desolate landscapes, the spectacular slot canyon is a photographer's dream: its sandstone walls appear to flow like water.
Made up of two separate sections known as 'The Crack' and 'The Corkscrew', its captivating corridors and chasms are often beautifully bathed in brilliant beams of light, enhancing its soft tones and shapes. A very popular place, Antelope Canyon can only be visited as part of a guided tour as it lies within a Navajo Tribal Park.
17. Blue Ridge Parkway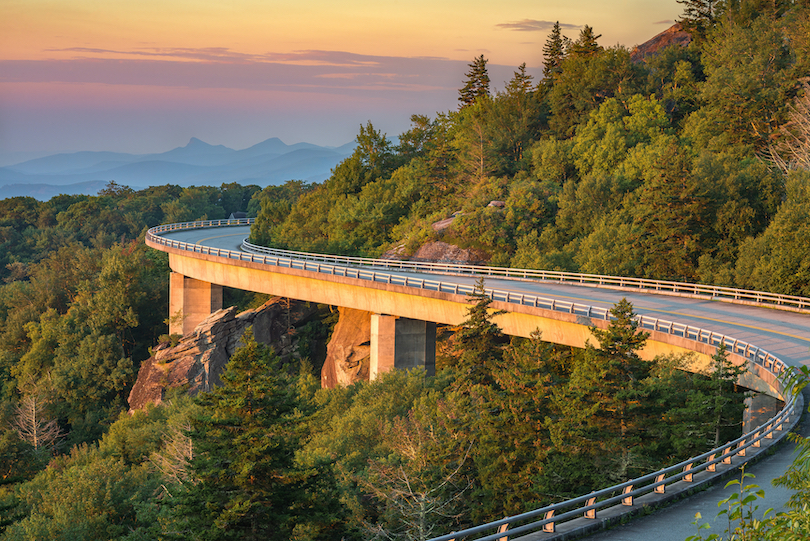 © Dreamstime
Famed for its incredible scenery and nature, Blue Ridge Parkway snakes for 755 kilometers along the spine of the mountain chain after which it is named. Stretching from Virginia to North Carolina, the scenic route passes through verdant forests that hide twinkling streams and waterfalls.
There are also some quaint towns and villages, such as Boone and Roanoke, for you to stop at, as well as several historic European homesteads and Native American cultural centers. The most popular part of the National Park System, Blue Ridge Parkway is also blessed with magnificent mountain vistas, with divine views wherever you go.
16. Arches National Park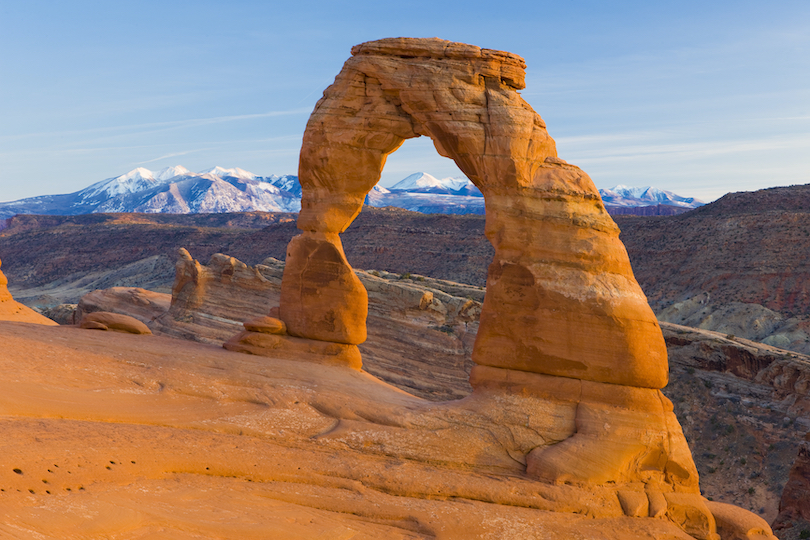 © Dreamstime
Located within Utah's Canyon Country is the astonishing Arches National Park, home to more than two thousand natural sandstone arches. Formed over the millennia by wind and water, these extraordinary rock formations are found everywhere around the park's desolate confines.
While they all make for some fabulous photos, the most famous are the long and graceful Landscape Arch, the dainty Delicate Arch, and Double Arch's pretty and prominent pair. An unforgettable place to visit, Arches National Park is a treat to explore, whether on foot or by bike.
15. Multnomah Falls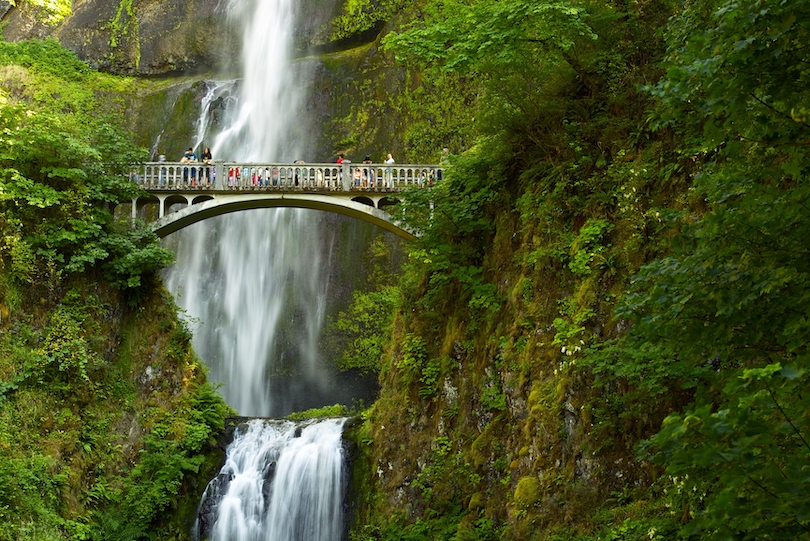 © Dreamstime
Cascading down two rugged cliffs and surrounded by an abundance of natural beauty, Multnomah Falls makes for an arresting sight. Due to its outstanding beauty, it is one of the most visited natural recreation areas in the Pacific Northwest.
It is located just outside of Portland in the state of Oregon. For the best views and photos of the waterfall, visitors can cross a small footbridge across the lower cascades or hike along a scenic trail to its observation deck, which provides splendid panoramas.
14. Golden Gate Bridge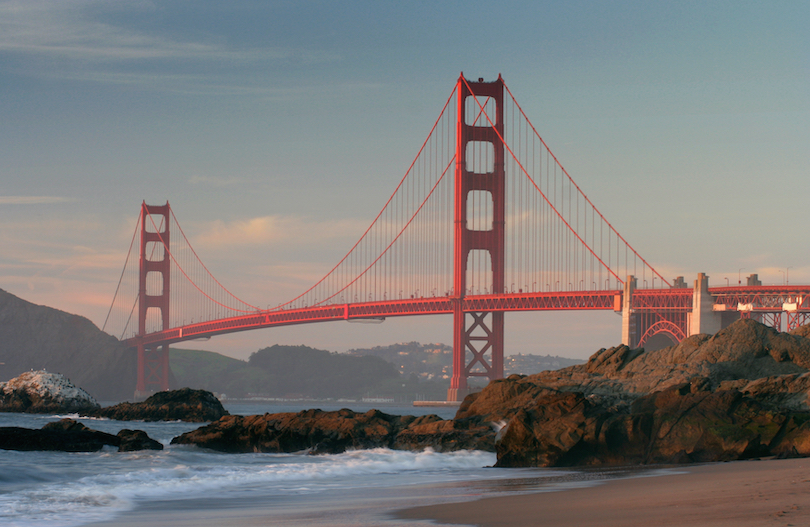 © Dreamstime
One of San Francisco and California's most famous sights, the Golden Gate Bridge's distinctive design and radiant red color make it renowned and recognized around the world. Built between 1933 and 1937, the bridge extends 2.7 kilometers and spans the strait connecting San Francisco Bay to the Pacific Ocean.
Often shrouded in mist, the astounding art-deco bridge represents a phenomenal feat of engineering and is used by thousands of pedestrians, cyclists, and drivers every day. The Golden Gate Bridge also attracts crowds of sightseers, who come to snap photo after photo of it stretching into the distance.
13. Savannah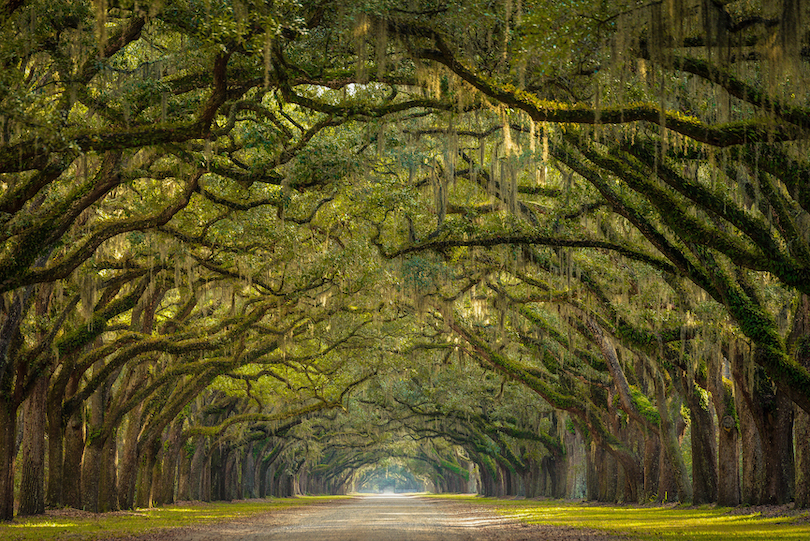 © Dreamstime
Home to one of the largest historic districts in the States, Savannah lies on the banks of the river of the same name, just 30 kilometers inland from the Atlantic Ocean. Long an important port, it was Georgia's first city and capital, established in 1733.
Thankfully, it still proudly showcases its storied past, with centuries-old buildings, monuments, and landmarks lining its cobbled streets and pretty, parklike squares. Besides its attractive architecture and well-preserved buildings, Savannah is also noted for its excellent dining and nightlife scene, as well as its Southern charm and hospitality.
12. Florida Keys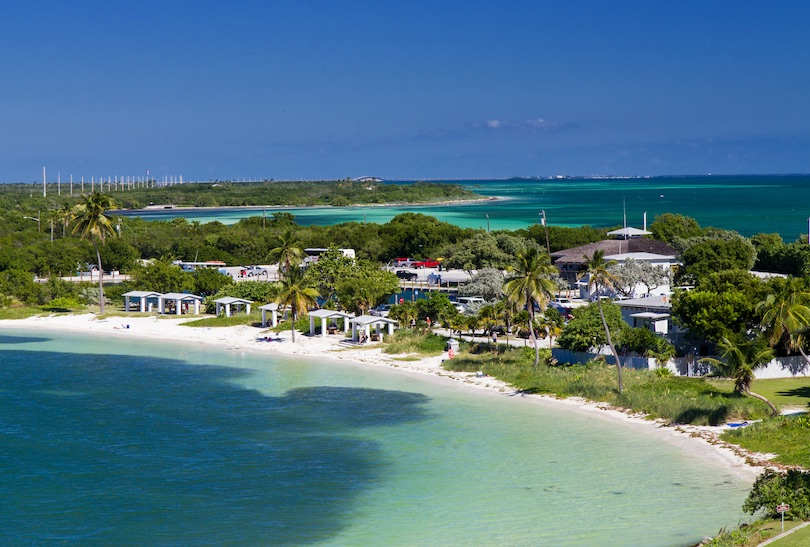 © Dreamstime
Strung out to the south of the Sunshine State, the Florida Keys are a beautiful archipelago that lie between the Atlantic Ocean and the Gulf of Mexico.
Connected to the mainland by the Overseas Highway, the collection of coral cay islands numbers around 1,700, with many untouched and uninhabited. While some are ideal for rest and relaxation, others are home to raucous party scenes. Key Largo and Islamorada are known for scuba diving and deepsea fishing. Very popular with holidaymakers and retirees, the keys are famed for their sunny climes, tropical beauty, and wealth of recreational and entertainment opportunities.
11. Glacier National Park
© Dreamstime
Lying on the border with Canada, the gorgeous Glacier National Park sprawls over a huge swathe of Montana and boasts delightful, dramatic scenery. Established in 1910, the park protects diverse ecosystems and countless species of fauna and flora.
Within its confines, you can find picturesque parts of two mountain ranges, with more than 130 glimmering lakes and plunging waterfalls dotted about the glacier scarred landscapes. Due to all the lovely nature and epic wilderness, hiking around Glacier National Park's scenic trails is a treat: grizzly bears and golden eagles can sometimes be spied here and there.
10. Sedona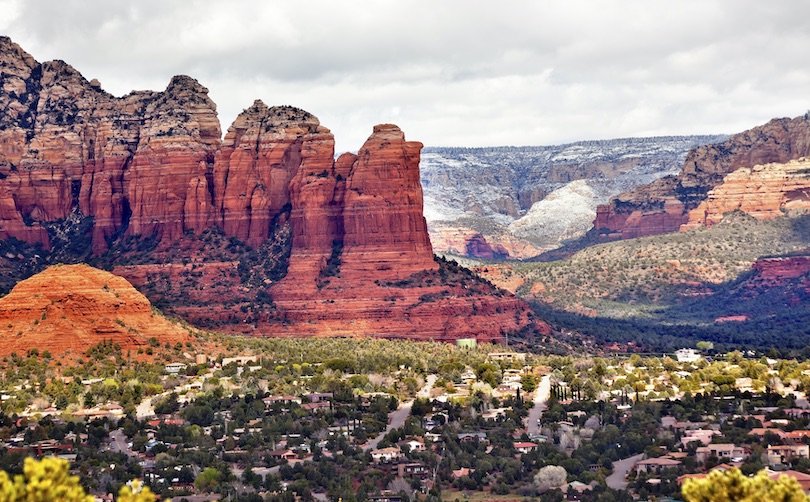 © Dreamstime
Renowned for the radiant red sandstone formations surrounding it, Sedona is set in a serene spot. Located in the center of Arizona, the small city has long been considered a sacred and spiritual place. Many New Age shops, alternative healing and wellness centers can be found around town.
Sedona has more than a hundred art galleries and Native American arts and crafts boutiques for visitors to delve into, as well as many fine restaurants and annual arts festivals. The main tourist attraction, however, is the spectacular scenery that is so magically illuminated at sunrise and sunset. These formations lend themselves perfectly to all kinds of outdoor activities, with hiking, cycling, and rock climbing all popular.
9. Great Sand Dunes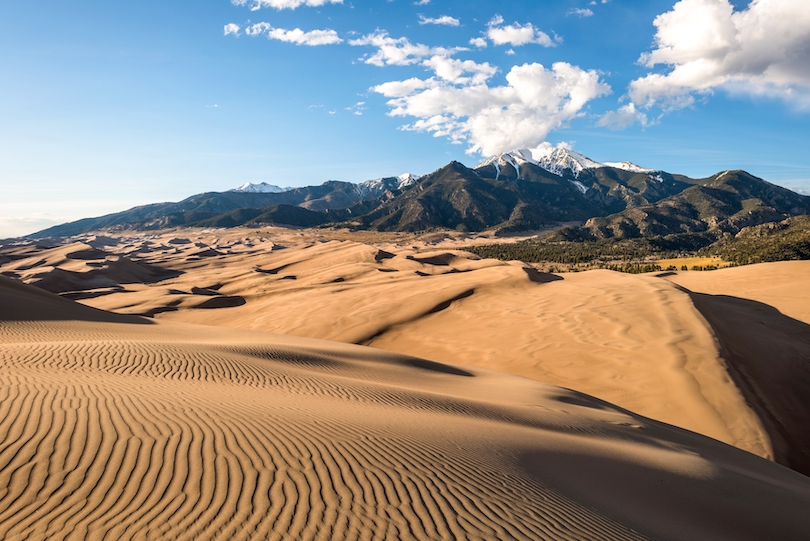 © Dreamstime
Stretching endlessly into the distance, the sensational sea of sand that makes up Colorado's Great Sand Dunes is one of the state's most incredible natural phenomena. Reaching up to 230 meters in height, the dramatic dunes lie within a national park and preserve of the same name.
Exploring the wind-sculpted sands is a fantastic experience, with hiking and sandboarding both popular. You can discover magnificent views from atop of the massive dunes. From high, you can gaze out over the ceaseless sands around you, with mighty mountains and verdant forests dotting the horizon.
8. Lake Tahoe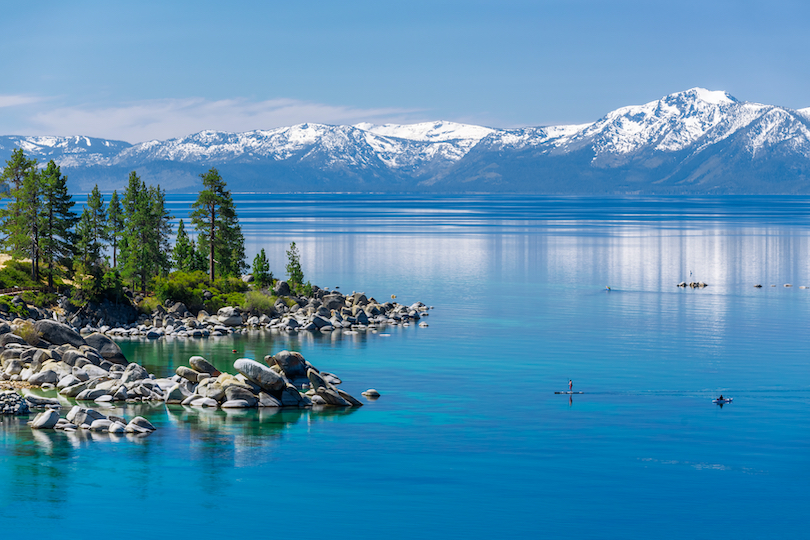 © Dreamstime
Nestled amid the Sierra Nevada mountains, with lush forests, small cities and towns lining its scenic shores, Lake Tahoe straddles the states of California and Nevada. The largest alpine lake in North America, it has long been a popular tourist destination due to its spectacular scenery and wealth of recreational activities.
Besides hiking, horseback riding, and camping in the surrounding landscapes, visitors can go swimming or sailing on the lake or relax and unwind on one of its beaches. The Nevada side has lots of casinos and resorts, while the more peaceful and picturesque Tahoe City and South Lake Tahoe offer fun, family-friendly activities.
7. Monument Valley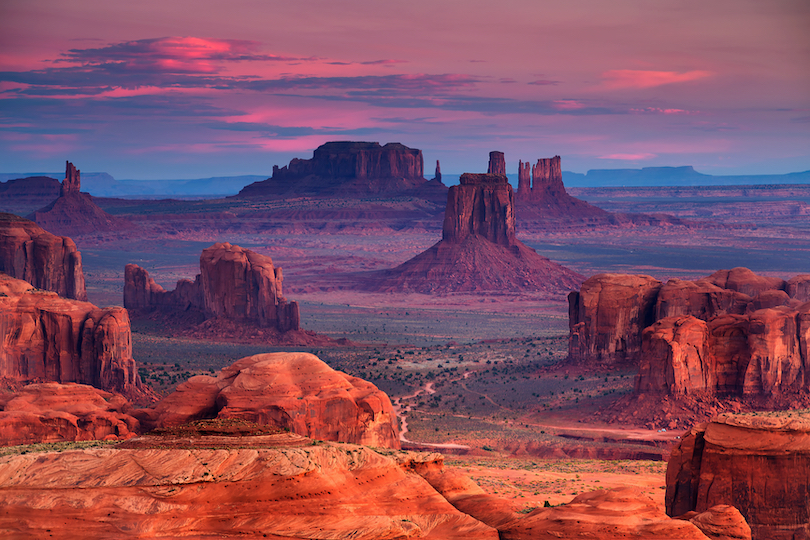 © Dreamstime
One of the most recognized natural landmarks in the States, Monument Valley has featured in countless commercials, films, and TV shows. Rearing impressively above the desert, its beautiful buttes and their radiant reds and oranges stand out delightfully against the blue sky around them.
Known as the 'Valley Between the Rocks,' its divine vistas and landscapes lie within a Navajo Tribal Park on the Arizona-Utah state line. Driving between its crimson columns and striking silhouettes is unforgettable, conjuring up iconic images of cowboys and Indians and the old American West.
6. Grand Teton National Park
© Dreamstime
Home to marvelous mountains, sweeping valleys, and sparkling alpine lakes, Grand Teton National Park will delight nature lovers and outdoor enthusiasts. Located in the northwest of Wyoming, the park covers a vast swathe of the Rocky Mountains and is named after Grand Teton, the highest peak in the range at 4,199 meters.
The dramatic landscapes are stunning, and the glinting glaciers, verdant forests, and gushing rivers lend themselves perfectly to all kinds of activities, such as hiking, rock climbing and skiing. The national park is a great place to go wildlife watching, as elk, bears, and moose roam amid the splendid nature.
5. Nā Pali Coast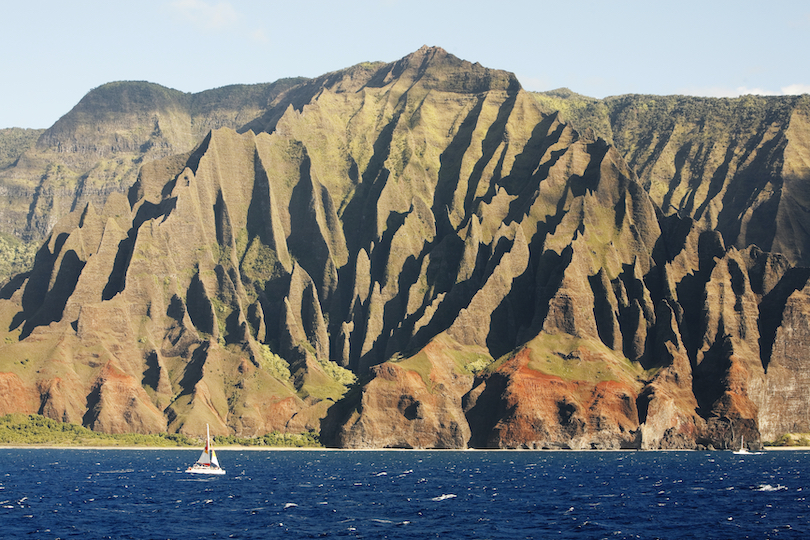 © Dreamstime
Dominating and defining the northwest of Kaua'i, the Na Pali Coast is one of Hawaii's most famous and photographed sights. Its gigantic and jaw-dropping jagged cliffs rise to 1,200 meters above the sparkling waters of the Pacific Ocean, with scenic beaches and coves hidden below. As the rugged terrain is so inaccessible, the only way to visit is by hiking, kayaking, or helicopter, with phenomenal panoramas wherever you look.
While it is famed for having featured in Jurassic Park, the grand and gorgeous stretch of coastline has appeared in numerous films and TV shows over the years. Breathtaking to gaze upon, the Na Pali Coast is certainly one of the most beautiful destinations in the whole of America.
4. Yosemite Valley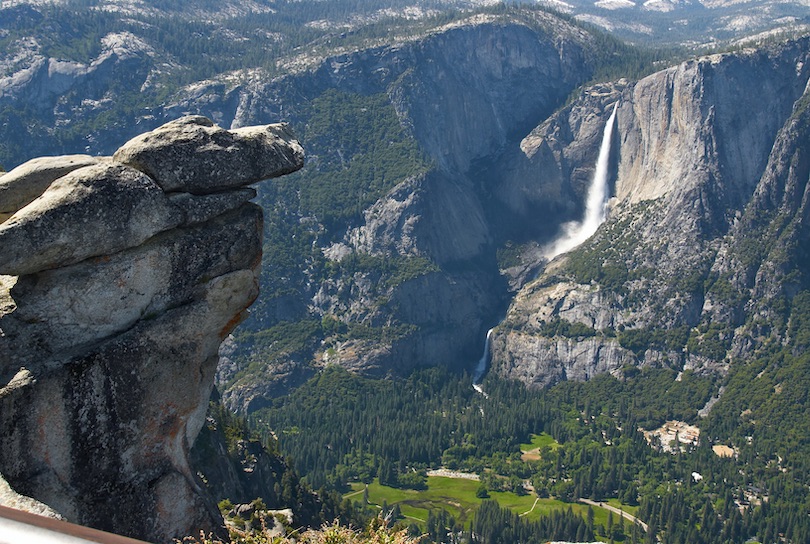 © Dreamstime
The most popular and photographed part of Yosemite National Park, this vast valley lies at its heart, nestled among the Sierra Nevada mountain range. Covered in pristine pine forests, the glorious glacial valley stretches around 12 kilometers in length and is lined by gigantic granite summits, such as the famed El Capitan and Half Dome.
A multitude of sparkling streams and waterfalls flow into it: Yosemite Falls – the highest in North America – is its standout sight. Breathtakingly beautiful, Yosemite Valley has loads of lovely hiking trails for visitors to wander along, with striking views wherever you look.
3. Manhattan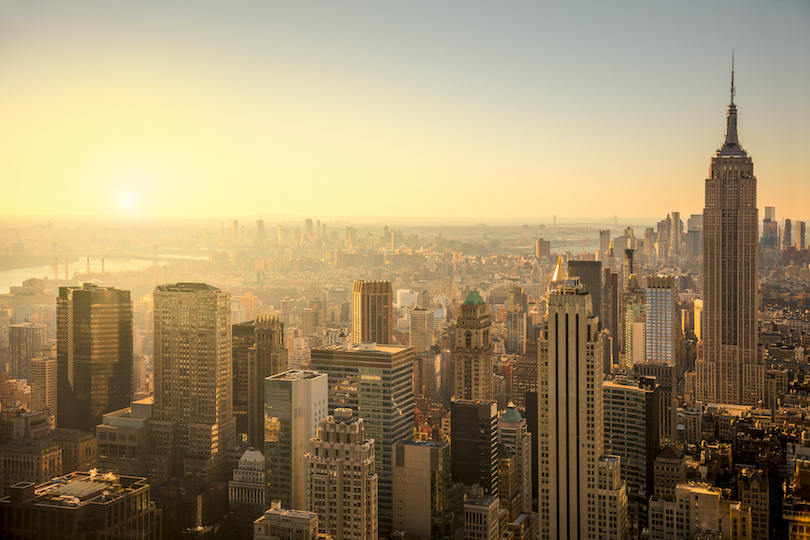 © Dreamstime
Represented in countless films and TV shows, Manhattan's sprawling array of skyscrapers are the iconic image of both New York and the States. Home to a staggering assortment of show-stopping sights, it boasts Central Park, the Empire State Building, Wall Street, and Times Square.
Often described as the cultural, financial, and entertainment capital of the world, the city is amazing to explore, with something for everyone to enjoy. Whether it's fine dining and nightlife that you're interested in or monuments, museums and musicals, Manhattan's landmarks and districts are like no other place on Earth.
2. Horseshoe Bend
© Dreamstime
Located just outside of Page, the awe-inspiring Horseshoe Bend lies within Glen Canyon National Recreation Area in the north of Arizona. Formed over the millennia by the Colorado River, it is named for its distinctive horseshoe-shape, which sees craggy cliffs curve around the roaring river below.
As it makes for such an arresting sight, Horseshoe Bend is very popular among tourists; many people hike the short distance to its prominent viewpoint. Towering more than 300 meters above the river, this offers stunning views of the natural marvel, with sunset being the best time of day to view Horseshoe Bend in all its glory.
1. Grand Prismatic Spring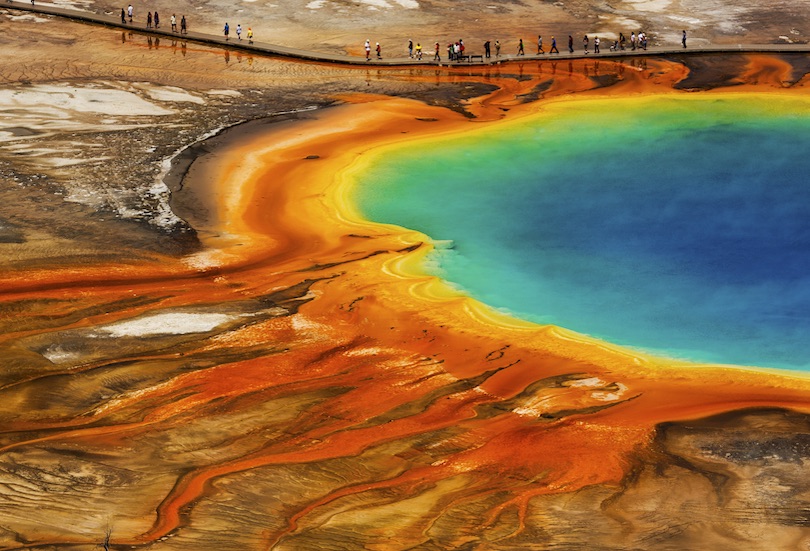 © Dreamstime
Famed and named for its kaleidoscopic colors, Grand Prismatic Spring lies in Yellowstone National Park, not far from other pretty pools and gushing geysers. Remarkably, it is the third-largest hot spring in the world, reaching 110 meters in diameter and 50 meters in depth.
While its size and scale are impressive, it is most noted for its captivating colors, with reds, oranges, yellows, greens, and blues all on show. These vivid hues make for a dazzling sight, particularly when contrasted with the desolate landscapes surrounding the steaming spring.
52 Unique Places to Visit in the US: Most Beautiful USA Destinations
From sea to shining sea, there are so many unique places to visit in the US. Must see places in the USA include everything from national and state parks to bustling cities and mountain resort towns. Whether you're into snowy mountains, raging waterfalls, lush woodlands, or otherworldly deserts, the United States has got you covered with its countless beautiful and bucket list-worthy destinations.
With so many travel restrictions and requirements abroad, 2022 is shaping up to be another year of road trips and local travel. And what better way to spend this winter, spring, summer, and fall than by doing road trips? The best vacation spots in the US are all within driving distance of major airports.
United States destinations offer something for everyone. For adventure seekers, you won't have to drive far to find epic nature spots. Other must-see places to go in the US include sprawling cities and metropolises; each with their own distinct flavor and personality. Cool vacation spots in the US are a dime a dozen, that's for sure!
Looking for unique vacations that will leave you in awe? Buckle up and let's take a cross-country road trip from the West Coast to the East Coast. Here are some of the many cool places to visit in the US.
1. Denali National Park, Alaska
For nature enthusiasts, Denali National Park is one of the top vacation spots in the US. It's home to North America's highest mountain, Mt. Denali (also known as Mount McKinley). You'll also find untouched Alaskan wilderness at every turn, and lots of unique animal species to go with it. The park is home to grizzly bears, moose, wolves, caribou, among other exotic animals and plants.
Denali National Park is home to over 6 million acres of expansive forests, including many mountains and glaciers. It's a popular place for camping, RV'ing, hiking, and so much more.
There's no light pollution here, so stargazing is a must. During the winter months, you can also see the Northern Lights. Many other visitors come here to go dog-sledding through the arctic tundra landscapes. It's truly otherworldly!
If you're looking for a unique national park to add to your bucket list, Denali won't let you down. It's absolutely one of the most unique travel destinations in the United States.
2. Nā Pali Coast, Hawaii
Located on the island of Kauai, The Nāpali Coast is among the most beautiful places in the United States. It's a sacred spot where you'll find some of the world's most iconic sea arches and waterfalls.
To see these majestic landscapes up close, consider doing a boat or helicopter tour. Also, consider going snorkeling and hiking while you're here!
For a sightseeing experience like no other, add the Nāpali Coast to your bucket list. It's truly one of those United States destinations that you'll remember forever!
3. Kenai Fjords National Park, Alaska
Our journey begins north of the Lower-48, in Alaska's Kenai Fjords National Park. This nippy national park in southern Alaska is home to 38 glaciers and numerous fjords.
It also harbors one of the largest icefields in the US—the Harding Icefield—named after former U.S. President Warren G. Harding who visited there in the 1920s.
Inside Kenai Fjords National Park, keep your eyes peeled for humpback whales, sea lions, and black bears.
Planning to travel anytime soon? Subscribe to my email list for exclusive travel tips, hacks, and other resources to save time and money!
4. Molokai, Hawaii
Cool places to visit in the US come in all shapes and sizes, and this one is incredibly unique. It's also one of the world's most breathtaking islands. Here's why:
Molokai is a complete 180 from the rest of the Hawaiian islands. Though tropical and inviting, this rustic place has not garnered the crowds of the other islands. And that's precisely what makes it so unique, special, and one of the best hidden gems in the US.
In Molokai, you won't find any resorts or beach clubs (though there are plenty of beautiful beaches). You also won't see any buildings taller than a palm tree. Instead, you'll discover untouched nature, and an authentic culture that's remarkably well preserved.
If you'd like to see what the rest of Hawaii looked like 100 years ago, look no further than the shores of Molokai. Consider staying at a unique vacation home on the beach for an authentic, immersive experience. This incredible hidden gem awaits you.
For a more touristy Hawaiian experience, consider a visit to O'ahu. Here's what to do: 10 Things to do in Oahu, Hawaii
5. Big Sur, California
Just south of San Francisco, an epic road trip adventure awaits you on the Big Sur.
Driving along the Big Sur is an amazing experience. Traversing the windy, serpentine roads of Highway 1 can be daunting at times, but the staggering views certainly make up for it. This route lies along the Pacific Coast Highway, which extends from Southern California to Washington State. You definitely won't want to miss this during a West Coast travel itinerary!
This rugged stretch of coastline extends from Carmel to San Simeon in Central California. During your road trip adventure along the Big Sur, you'll encounter scenic cliffs, beautiful beaches, state parks, and bridges. As such, it's considered one of the most beautiful, bucket list places in the US.
If you have time, definitely make it up to Muir Woods, which is just north of San Francisco and right off Highway 1. It's truly a must see during a visit to California!
6. Mount Rainier, Washington
Mount Rainier is as enormous as it is beautiful.
It's one of the tallest mountains in the Pacific Northwest, towering 14,410 feet (4,392 m) over the Washington landscape. This magnificent mountain provides an epic backdrop to the Seattle skyline and Puget Sound that coalesce nearby.
This iconic mountain is also an active volcano, which last erupted in 1894.
Mount Rainier's volcanic cone is camouflaged by its glaciated peaks.
On a clear day, you can catch a glimpse of Mount Rainier from Victoria, British Columbia, over 114 miles away. With so much gorgeous scenery, it's no wonder this is among the top places to visit in the US.
Does a cozy cabin near Mt. Rainier sound good to you? Read next: 12 coolest Airbnbs in Washington State!
7. Lake Tahoe, California and Nevada
Who needs the Alps when you have Lake Tahoe? Kidding of course, but you definitely need to check this place out.
Located in the Sierra Nevada region between California and Nevada, Lake Tahoe is the largest alpine lake in the US. It's encircled by rocky mountains and lush forests, making it one of the most unique, year-round travel destinations in the USA. It's also a popular spot for wellness retreats with all the beautiful scenery and perfect weather.
Lake Tahoe is a popular spot for swimming and water sports in the summer, and skiing during the winter. It's also a popular day trip from Sacramento. Its versatility makes it one of the most beautiful and unique places to visit in the US.
Source https://www.touropia.com/best-places-to-visit-in-usa/
Source https://www.touropia.com/most-beautiful-places-in-america/
Source https://www.myglobalviewpoint.com/unique-places-to-visit-in-the-us/