15 Best Places to Visit in the Caribbean
Due to its incredible ease of access from most major cities in the United States, the Caribbean is a frequently visited area. I've visited many times myself and if you are someone in need of sand and sun or just seeking a getaway from work, I've got a list of the best places to visit in the Caribbean for you to check out.
The Caribbean is a classic travel destination for anyone looking for sun, sea, and sand, and it's one of the most popular parts of the world for vacation goers.
There's so much to like about the Caribbean, from the white sand beaches and luxurious resorts to the diverse local culture and historic cities.
There's so much to see and to do and choosing the best places to visit in the Caribbean is always a challenge, given a large number of islands and the large extent of coastline that fringes the Caribbean Sea.
From beaches to rainforests, to colonial cities and underwater adventure. There is an island for you. I want to take a look at some of your options as you plan your next visit to the Caribbean Islands and show you what you can expect from these unique islands. Note: These are in no particular order.
Best Places to Visit in the Caribbean
Table of Contents
1. Puerto Rico
Puerto Rico might be a territory of the USA, but its long Spanish history prior to this makes the island one of the most intriguing and diverse destinations in the Caribbean.
It's not all beaches in Puerto Rico, and although you can find some pretty great ones, there are so many other draws to this United States Territory.
In San Juan, you can unearth the island's colonial past, as you walk through the streets of one of the first cities to be founded by the Spanish in the Americas.
Your time spent will likely be entertained by a variety of local vendors and street music while you spend your days visiting each for and walking the cobblestone streets that make up the area of Old Town.
Once you've had your fill of the city, head out to the United States only registered National Rain Forest, El Yunque. Spend your day hiking to waterfalls, viewing the local flora, and swimming in the freshwater pools.
There are white sand beaches, spectacular bioluminescence is found in the waters, and there's always a lively fiesta taking place somewhere.
Check out our perfect Puerto Rico itinerary before planning your trip. The best part is that if you are a US citizen, you are not required to have a passport to visit this tropical island.
2. St Thomas
St Thomas is the main island within the US Virgin Islands, and it's one of the best places to visit in the Caribbean.
Originally a Danish colony, this is one of the most unique territories of the USA, and you'll be able to delve into the fascinating colonial past in the main city of Charlotte Amalie, which is even named for a Danish Queen.
Charlotte Amalie, the capital of the island, is busy and modern but in an area with scenery so beautiful it makes forgetting the bustle pretty easy.
History aside though, St Thomas is a popular tourist destination because this is a classic Caribbean territory, where you can find beautiful white sand beaches and lovely, sheltered bays that are perfect for swimming.
We recommend taking the gondola to Paradise Point for a view that is unrivaled in the Caribbean. The unique landscape of islands jutting up through the water that surrounds St Thomas makes it a treat.
If you're looking for a big, beautiful, perfect Caribbean beach then head straight for Magens Bay.
This beach is located on the Northside of the island and is guaranteed to offer you a classic Caribbean beach experience with sparkling turquoise water and white sand beaches.
Insider tip: use the local buses to get around instead of paying for expensive taxis. They will get you to all the major areas for a fraction of the cost to take a taxi.
3. St John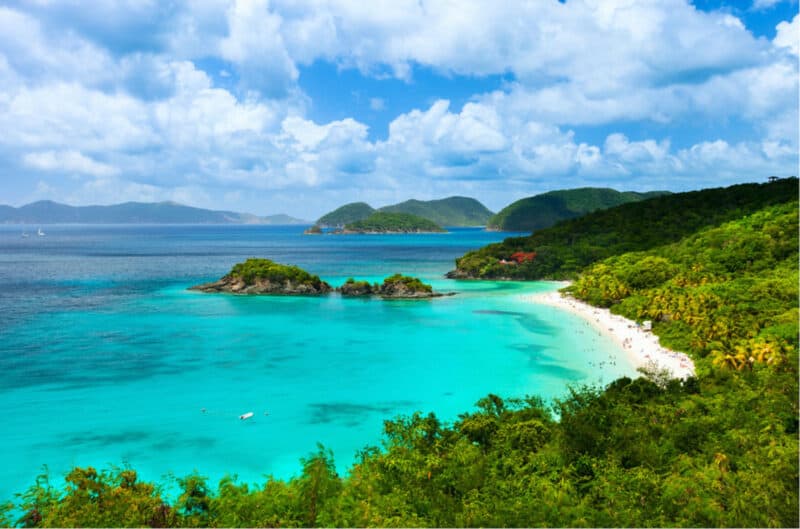 Caribbean paradise to me is St John. The second-largest island in the US Virgin Islands, most of the island is a National Park. It is, for the most part, serene and unspoiled.
You come here for the beaches and natural tropical beauty. Getting here is simple, from Charlotte Amalie on St Thomas take a local bus to the Red Hook ferry station on the East side of the island.
For a small price, it will take you straight to Cruz Bay on St John. There is a small variety of non-commercial accommodation on St John if you want to stay a few days, but on a day trip from St Thomas, hop on a bus and head straight for Trunk Bay. I have yet to find a beach as beautiful as this one.
It is part of a protected park, so you will have to pay admission to get to it, but you will be rewarded with a natural, peaceful beach. You will see no vendors or beach chairs. Just raw natural beauty.
4. Cozumel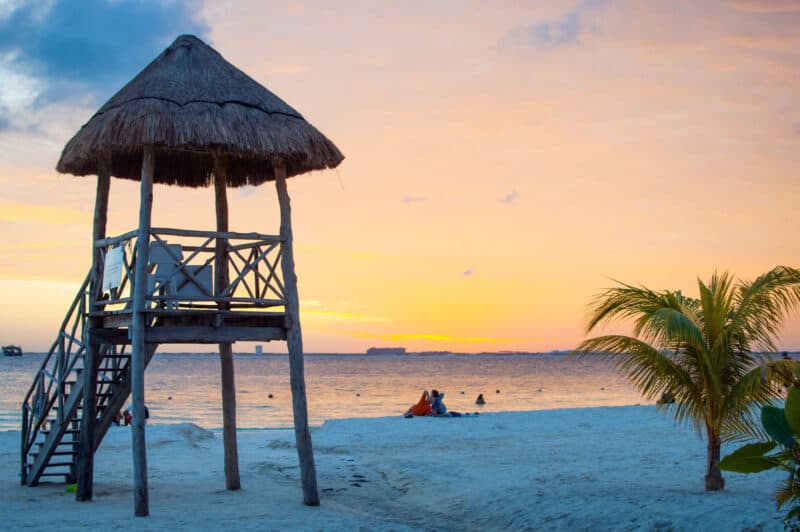 The island of Cozumel is located just off the coast of the Mexican state of Quintana Roo, and it makes for a fantastic alternative to the busier beaches of Playa Del Carmen and Cancun which are both just a ferry ride away.
Cozumel is in many ways southern Mexico in a microcosm, and it's very different from your traditional Caribbean island destinations in this respect.
You can explore Mayan ruins that have been derelict for hundreds of years, before lounging on the long and sandy beaches that fringe the island.
You'll find quiet resorts and plenty of secluded areas to explore on Cozumel, and you'll find that the snorkeling and diving opportunities are some of the best that are available in Mexico.
Our Top Recommended Tours:
5. Cuba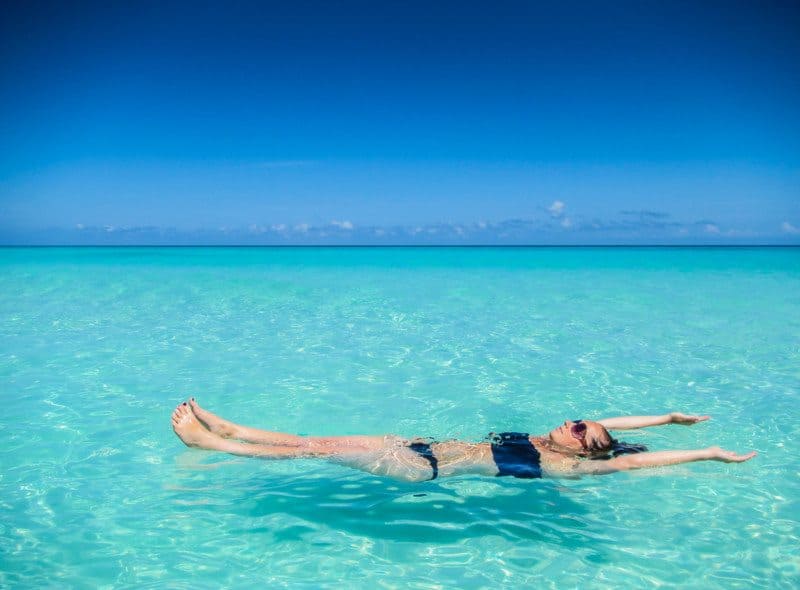 Cuba is slowly opening its gates to tourists, and things are changing fast across this Caribbean country. Get in fast, before the nostalgia disappears, because Cuba is a country that gives the impression that it's stuck in a time warp.
In Havana, you can enjoy the charming colonial-era charm that the capital city exudes on every street corner. Visit rum distilleries and cigar factories, immerse yourself in the local revolutionary museums and enjoy riding antique cars through the city.
Away from the capital, and you can find beautiful beaches and cheap resorts in Varadero, while inland the countryside is stunning and dotted with more colonial-era towns like Trinidad that seemingly have lain unchanged for decades.
Our Top Recommended Tours:
6. Dominica
I'll start by telling you that this isn't an island known for its beaches. There are very few on this island that is worth even a visit. You come here for nature, hiking, and waterfalls.
Dominica is one of the most volcanic islands in the Caribbean, and because of this, it's also one of the most dramatic. The highest point on the island rises to over 1500 meters in height, and there are some great hiking routes and viewpoints across Dominica.
There are also hot springs and geysers, and the iconic Boiling Lake, a body of water that is heated by geothermal activity below ground. Additionally, even though it doesn't boast beaches, it offers some really great diving and snorkeling sites just off the shoreline. But the magic is in exploring the inland wonders.
Morne Trois Pitons National Park, UNESCO World Heritage Site, is a good place to start with a visit to Trafalgar Falls, the Emerald Pool, and the natural hot springs. The park has 5 volcanoes which produce many sulfur-smelling hot springs throughout the hiking trails.
The pools are clean with moving water, so take a moment to relax and soak. A dip in the Emerald Pool is said to take 10 years off your life for longer enjoyment of youth. Whether it's true or not, well that's up to you to decide. For me, I took the chilly dip, why chance it?
7. Barbados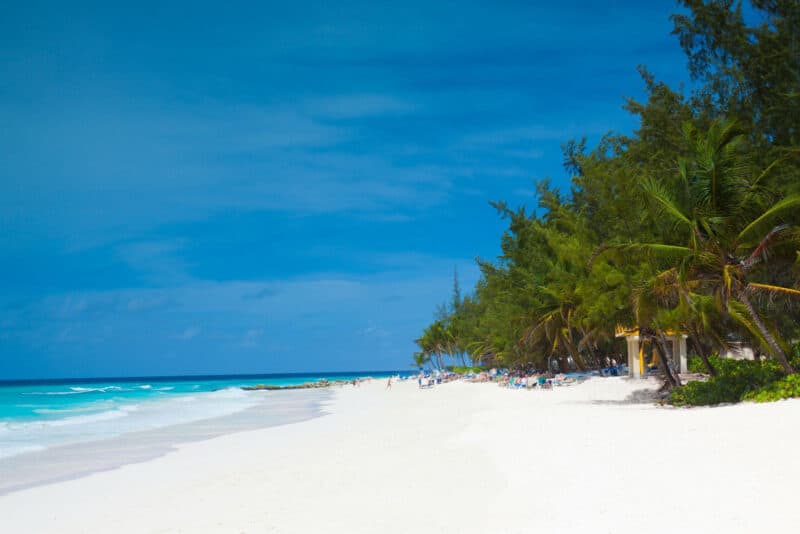 Barbados is one of the best places to visit in the Caribbean because the island has a lot to offer, be it beaches and resorts or hiking or diving.
In fact, Barbados could be the complete package when it comes to Caribbean destinations, but you'll find that in peak season it's a busy place to be. One big draw to Barbados is the beaches.
The island has many spectacular beaches to experience, so by all means, spend some time there. However, due to its location in the Caribbean and Atlantic, the waters can be rough.
Most of the beaches are not ideal for swimming or snorkeling and you can expect high winds and strong currents. Although this can be a deterrent for some, it doesn't take away from the beautiful views, sand, and sun to be had on most of the island. And if you don't mind the crowds, there are a few beaches where swimming is possible.
Barbados has some of the best beaches in the West Indies, and some of the best resorts too, and you can laze away your days in the sun if you desire. Away from the beaches, don't miss a visit to the Barbados capital, Bridgetown.
The UNESCO World Heritage-listed town is vibrant in history with colonial architecture and bright colors.
Set on the shoreline, the contrasts of colors with the sea and culture offer a vivid shopping and dining experience. If you're up for some adventure, many parasailing and boating excursions leave from Bridgetown.
Our Top Recommended Tour: Explore Barbados – 6 days
8. Jamaica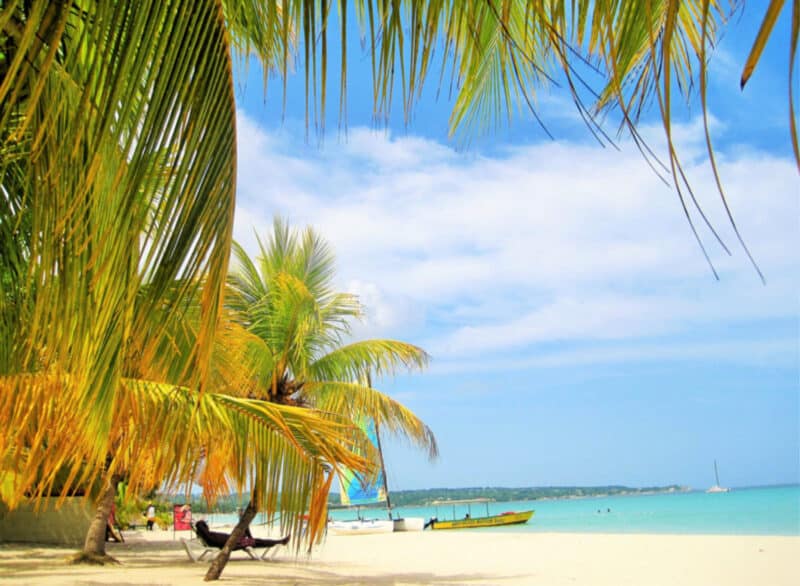 One of the best places to visit in the Caribbean will always be Jamaica because the island has so much to offer tourists and travelers.
While the cities might have a bad reputation when it comes to gangs and crime, the touristy places and resort areas are perfectly safe to visit.
Ocho Rios and Montego Bay, both along the north coast, are two of the most popular destinations. You'll find hotels and beaches, as well as plenty of restaurants, bars, and activities.
Jamaica also has a lot of beautiful nature inland too, and away from the coast, you can find crashing waterfalls and rainforests to explore.
Our Top Recommended Tours:
9. St Lucia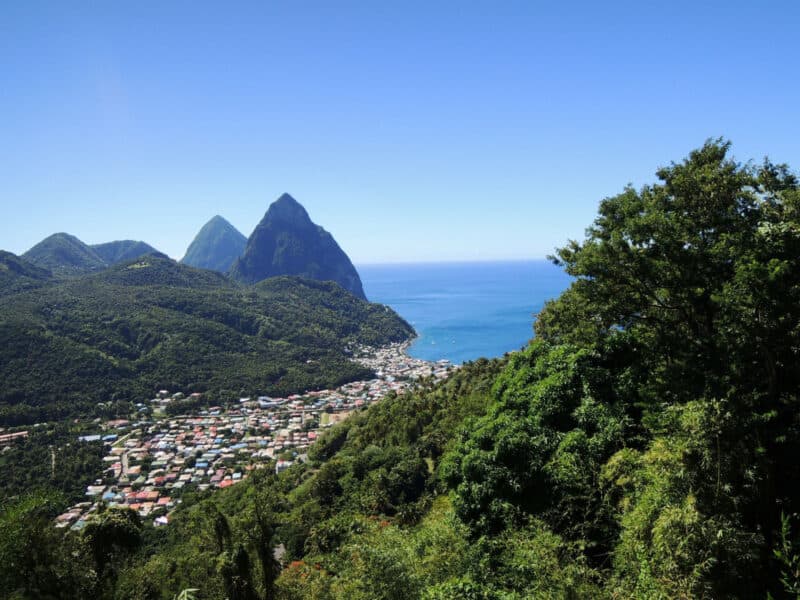 If it is a variety of nature and sand you seek, St Lucia, which is found in the West Indies, might be the perfect match for you. It is known for its beautiful beaches, stunning natural landscapes, colorful snorkeling, and diving.
St Lucia is perhaps the most dramatic, and easily recognizable destination in the Caribbean because the island is one of the most mountainous in the region.
It is the only island with an active drive-in volcano, La Soufriere, where you can get up close and personal with the stinky lava and steam. Combine this with sleepy fishing villages along the coast and stunning coastlines and there isn't much that you would miss on a visit to St Lucia.
My personal favorite is riding the bus to Anse La Raye then taking a boat to the beach between the mighty Pitons. The icon of St Lucia and the mountains you will see on every brochure that solicits the island. It isn't easy to get access to by land, so it is not crowded and is extremely quiet.
The snorkeling off the beach is fantastic as the coral has grown up on the base of the pitons. There is a lot of sea life to view from snorkeling in this location.
Rather than coming to St Lucia for a beach holiday though, this is a country where you can spend your vacation hiking, climbing, snorkeling, and enjoying the beautiful volcanic scenery that's so unique to the island.
10. Antigua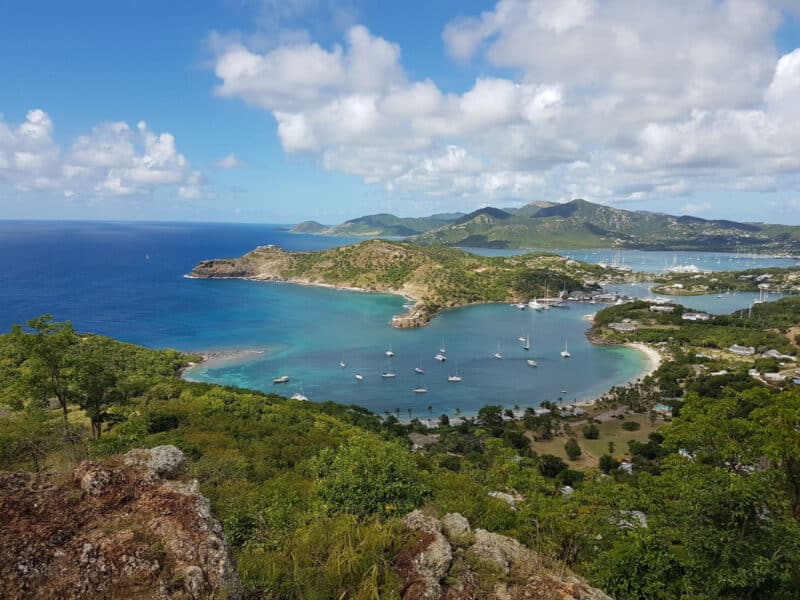 If it's beaches you are looking for though, then one of the best places to visit in the Caribbean is Antigua, an island that's home to some of the best beaches in the region.
Antigua is famous for its glorious, sandy beaches, and the island is well set up to welcome tourists and vacationers looking to relax and unwind. All 365 of them.
You will be hard-pressed to not find a perfect beach on this island with some of the favorites being Turners, Pigeon Point, Half Moon Bay, Deep Bay, Dickenson Bay, Jabberwock, Jolly, Prickly Pear, and Long Bay to name a few.
Finding a beach resort is easy and you can spend your days sipping a fruity drink, listening to waves and watching the sunset. You'll find lots of long, sandy beaches and sheltered bays that are great for swimming.
The island is surrounded by coral reefs too, and this is a great destination for snorkeling and diving because the waters are rich in marine life. If you have the urge to do more than sit at the beach, the second-best thing to do is visit English Harbor.
You get a spectacular view of the harbor and coastline of Antigua from Shirley Heights. If you want to get up close and personal, pay a visit to Nelson's Dockyard and learn about the rich English history that established Antigua in the 1700s.
Our Top Recommended Tour: Explore Antigua and Barbuda – 6 days
11. St Kitts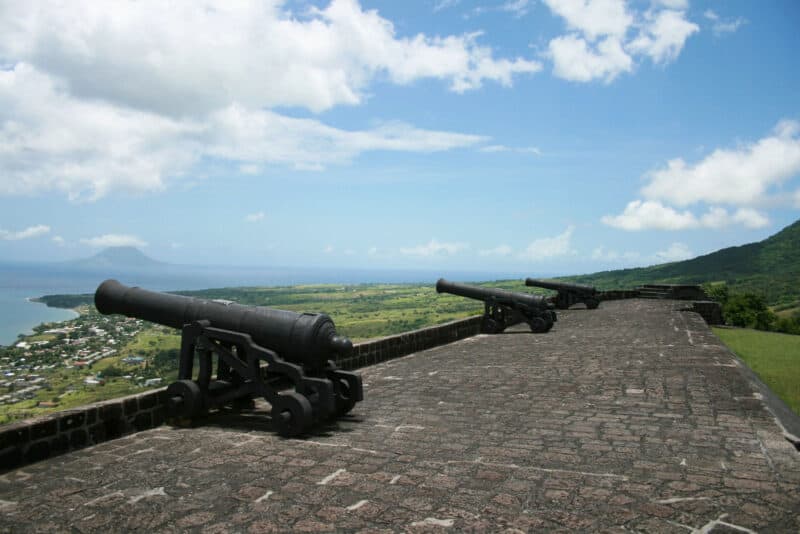 Also located in the West Indies, St Kitts is the larger island that makes up the two-island nation that is St Kitts and Nevis.
Nevis, the smaller island, is found just 2 miles away from St Kitts across a dramatic stretch of water, and there are dramatic viewpoints that offer sweeping panoramas of both islands.
You'll find sandy white beaches around the island, and plenty of resorts and hotels.
Brimstone Hill Fortress National Park, UNESCO World Heritage Site, is the main draw to this island. The fortress was first established in 1690 with canons and was completed over the following 100 years.
The fort saw its biggest battle and takeover by the French in 1782 but was later retaken by the British after a treaty was signed.
The walls were refortified and the fort was never taken again. It was abandoned by the British in 1853 and after restoration efforts in the 1970s was declared a UNESCO site in 1999.
A visit to the fort will provide engaging historical insight and breathtaking views of the surrounding area. The island is rich with culture, so don't miss a visit to the Caribelle Batik factory before heading out to soak up some sun and sand on the beach.
Lastly, keep your eyes open for monkeys. There is a population of Green Vervet Monkeys that were introduced during the African slave trade. They can be seen on the sides of roads and in the trees.
12. Grand Cayman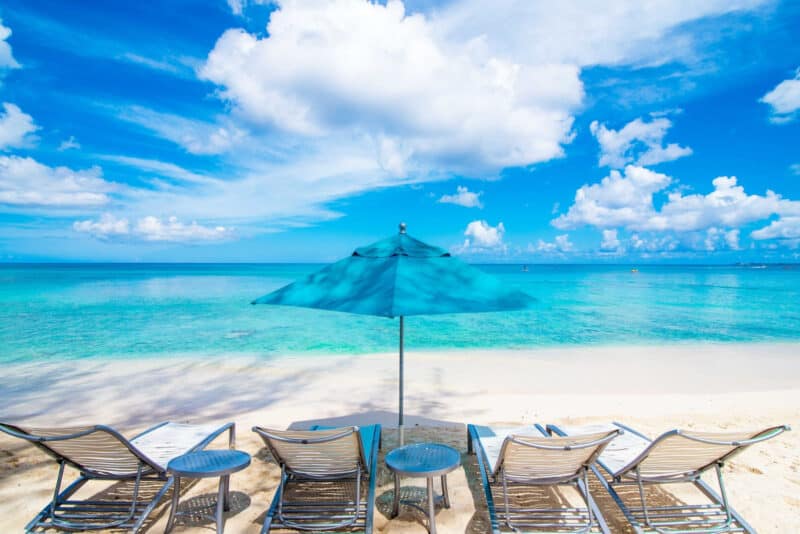 The Cayman Islands are perhaps best known for providing financial services and offshore accounts, but as well as being a wealthy British Overseas Territory, this is also one of the best places to visit in the Caribbean.
The largest and most popular island to visit is Grand Cayman, but there are two smaller islands in the territory, Little Cayman and Cayman Brac, which are also great places to explore and which tend to be far less crowded, although much more difficult to travel to.
For a place that has a city named Hell, it must be sunny and hot, right? Well, this is exactly true. The Cayman Islands offer you a textbook tropical vacation with turquoise water, white sand, palm trees, and plenty of sun.
What sets it apart from every other island? The underwater activities. The water here is so clear you can see everything under the water, for miles. The island is surrounded by a sand bar and reef shelf providing really great snorkeling and diving for water lovers.
A visit wouldn't be complete without a trip to Stingray City, a large sand bar just off the coast where large stingrays have gathered for years to feed on fisherman's chum as they cleaned their fishing boats.
These days, they are accustomed to visitors and are very friendly. Tours will take you right out to them where you can get in the water with them, feed them and even get a kiss for 7 years good luck.
13. Dominican Republic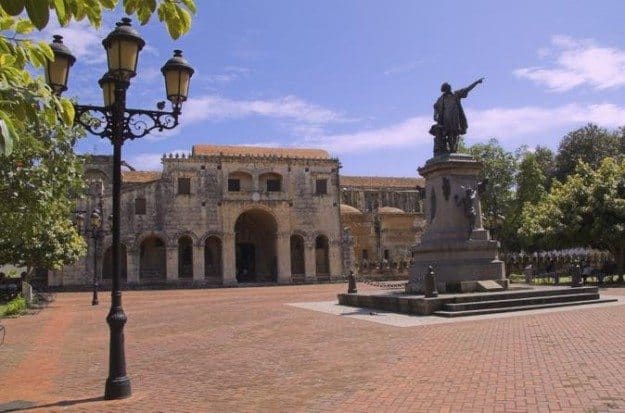 This island is certainly known as a hot vacation spot. Most people come here for the stunning beaches of Punta Cana on the East side of the bright blue waters of Puerta Plata on the Northside.
All-inclusive resorts line the shoreline and offer a variety of package deals to suit every traveler. You can take part in snorkeling, swimming, diving, and even some Latin dance lessons.
Resorts are also offered in places like La Ramona for a more local feel. A not miss in the Dominican Republic is the bustling capital city of Santo Domingo. Although not as commonly visited as the beach areas, this city is rich in Spanish history and the landing spot of Christopher Columbus.
You can tour his casa, visit the local botanical gardens, aquarium, and local parks on a visit to the city. The downtown historic district holds architecture that rivals some places in South America and Europe.
14. Bahamas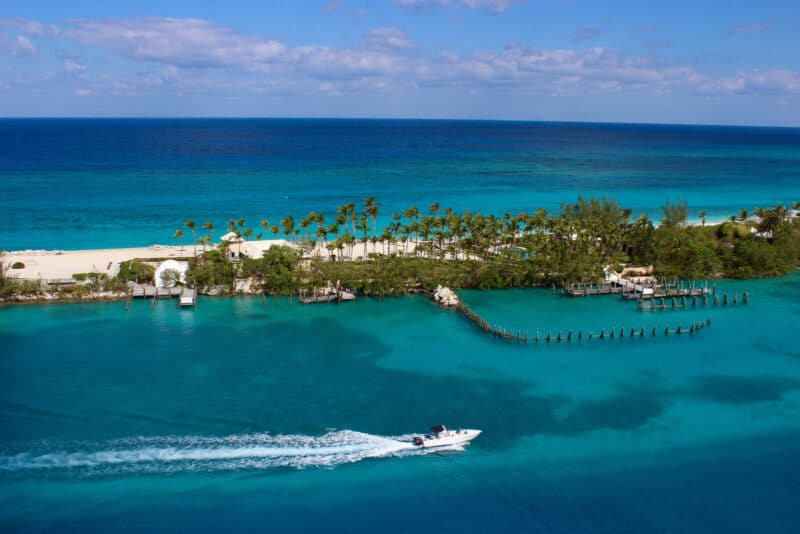 The Bahamas is a classic Caribbean destination because this collection of hundreds of islands off the coast of Florida is known for its beaches and clear water.
The islands that make up the Bahamas are the closest to the United States and consist of 700 islands and cays. They are so close you can even take a day cruise from Fort Lauderdale, Florida to the Grand Bahama island.
This alone makes them a popular place to visit for many visitors. You can't really go wrong with a visit to the Bahamas, the sand is white and the water shallow.
It is a classic beach experience and many of the places you can visit will jump out at you as places you have seen many times before in movies and magazines. You can enjoy the typical activities in the Bahamas, snorkeling, swimming, sunbathing, hiking, kayaking, parasailing, and the list goes on.
As well as the marine life you can also meet the most famous residents of the Bahamas, the pigs that swim freely in the crystal clear water. My favorite activity involves a Strawberry Daiquiri, sunscreen, and a lounger while visiting these islands.
15. Roatan, Honduras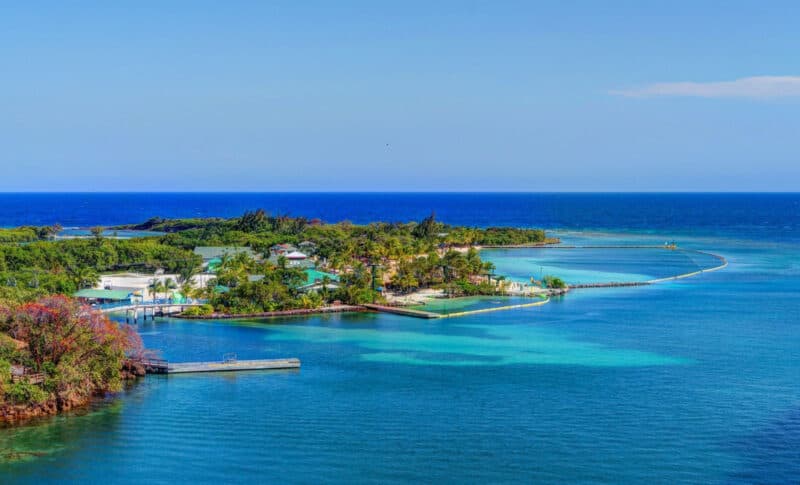 Roatan is one of the most fascinating islands in the Caribbean because this predominantly English-speaking island is actually part of Spanish-speaking Honduras.
It's an unusual set up in the region, and while mainland Honduras has an infamous reputation for gang crime and violence, Roatan is a veritable bastion of peace and safety in comparison.
This is one of the best and cheapest diving destinations in the Caribbean, and at the West End, you'll find plenty of diving outfits heading out daily. There are reefs and wrecks, and they are all located right off the coast of Roatan.
25 Best Places to Visit in the Caribbean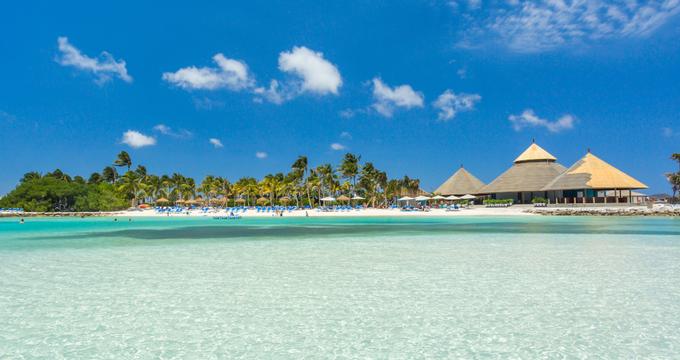 The Caribbean is blessed with warm waters, sunny weather, and a tropical climate, and each of the many islands has something to offer visitors. From the ancient forts and city of Santo Domingo to the world-class resorts in Aruba to the volcanic craters and hiking trails of the island of Dominica, the Caribbean has something to offer everyone.
We recommend that you call the attractions and restaurants ahead of your visit to confirm current opening times.
1. Saint Lucia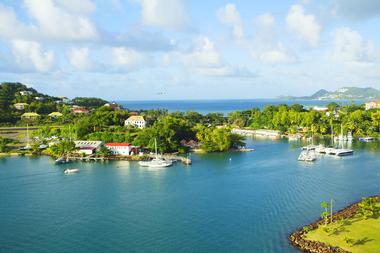 Saint Lucia is an island nation characterized by the dramatic mountains on its west side known as the Pitons. Visitors staying in Saint Lucia can settle down in a luxurious resort and spend their days lounging on gorgeous volcanic beaches or go diving to explore coral reefs beneath the blue waves. Inland, a hike along one of the humid green rainforest trails may lead tourists to stunning waterfalls or lush green forestscapes. There are plenty of tour companies in Saint Lucia, which can offer visitors zipline experiences, Jeep tours, horseback riding, boat tours, and more.
Fun day trip ideas: South Carolina, Oregon, Texas — You are reading "25 Best Places to Visit in the Caribbean" Back to Top
2. Saint Martin
Another island horrifically shaken by Hurricane Irma, Saint Martin is still in recovery from the events of September 2017. Rebuilding is likely to continue for years, but this tough little island is still beautiful and open for business. Known as "The Friendly Island," Saint Martin actually comprises two countries – the French Saint-Martin on the north and the Dutch Sint Maarten in the south – but EU regulations allow for easy passage between the two countries for tourists. Known for the beautiful secluded coves where visitors can relax, sunbathe, swim, and snorkel as well as for the lovely beaches that line its coasts, Saint Martin is a beautiful little island that also offers delicious fusion cuisine and a vibrant nightlife.
Things to do near me today: From Phoenix, WV, IN, AK, Boulder — You are reading "25 Best Places to Visit in the Caribbean" Back to Top
3. Saint Thomas
St Thomas is the most cosmopolitan of the three US Virgin Islands, and its capital city, Charlotte Amalie, offers resorts, shopping, fantastic cuisine, and a thriving nightlife. Visitors can climb the 99 Steps above Charlotte Amalie for a spectacular view of the island and the Caribbean Sea or take the Skyride 700 for an even higher view. History buffs can check out Fort Christian, built in the 17th century by Danish and Norwegian settlers on the island. On land, there are zipline tours, hiking trails, and bicycle tours, and on the water, Saint Thomas offers marine animal adventures at Coral World as well as snorkeling, scuba diving, and even submersible scooter tours.
Our experts' top picks for a long weekend getaway: WA, Charleston, New England, Cleveland, San Diego — You are reading "25 Best Places to Visit in the Caribbean" Back to Top
4. San Juan
San Juan, the capital city of Puerto Rico, dates back centuries to its time as an island fortress in the 16th century. Still in recovery from the devastating effects of Hurricane Irma, San Juan is still open for tourists, and as a US territory, American travelers have the opportunity to visit the Caribbean with no passport required. A walk around Old San Juan will reveal brightly painted colonial architecture, cobblestone streets, and beautiful plazas, and in New San Juan visitors will find beachfront resorts, lots of shopping, and a vibrant nightlife. Tours of the old fort, museums, galleries, and some delicious food will round out a trip to this excellent city.
More places we like: NJ beaches, Retreats, San Francisco, Asheville — You are reading "25 Best Places to Visit in the Caribbean this Weekend with Friends" Back to Top
5. Montego Bay, Jamaica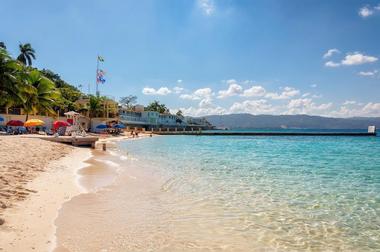 This city in Jamaica is a popular resort destination, with a busy cruise ship port and countless high-end all-inclusive resorts to choose from. A swim, dive, or snorkel in Montego Bay Marine Park will reveal colorful reefs and abundant fish, and a ride on horseback along the shores of the beach is both thrilling and picturesque. On land, visitors to Montego Bay can explore some of the massive and historical plantation houses, with their expansive gardens and grandiose architecture, that feature so prominently in Jamaica's history in the sugar trade.
Expert opinion: Where should I go this weekend for fun? WI, Day trips from NYC, From San Francisco, Tampa, FL, LA, From Minneapolis, ID, From Dallas — You are reading "25 Best Places to Visit in the Caribbean this Weekend" Back to Top
6. Antigua and Barbuda
Antigua and Barbuda is a Caribbean nation made up of two large tropical islands as well as several smaller islands. Sandy beaches and sunny weather are practically a given, but Antigua and Barbuda is also well known for the colorful reefs located just off its coasts as well as the green, diverse rainforests on the islands. The capital city of St. Johns, on the island of Antigua, is a bustling port city with plenty of cultural and historical museums, outdoor markets for crafts, souvenirs, and local specialties as well as an abundance of food and nightlife options.
Top Rated: Last minute places for couples: CT, IL, CA, MD, VT, VA, Atlanta, From Chicago, MD beaches — You are reading "25 Best Places to Visit in the Caribbean" Back to Top
7. Aruba
Located just off the coast of Venezuela, visitors to Aruba can stay at a high-rise beach resort on Palm Beach, a smaller resort on Eagle Beach, or in one of the apartments or timeshares located throughout the island. A guided day tour of the island (either on land via foot or a Jeep or underwater via submarine!), a scuba diving lesson, horseback riding on the beach, and watching the sun set below the horizon from the white sands of the beach or from an outdoor table at a romantic restaurant are all some of the adventures that await in beautiful Aruba.
Affordable things to see near me, must-visit beaches: CO, Seattle Flagstaff, Napa, Portland, MN, Winston-Salem, Scottsdale, Dallas, SC — You are reading "25 Best Places to Visit in the Caribbean" Back to Top
8. Barbados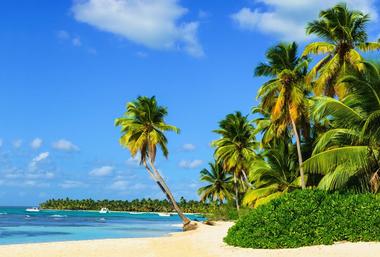 Plenty of cruise ships put into port at Barbados, but it's also a great destination on its own. Located in the eastern Caribbean Sea, the island of Barbados is an independent British Commonwealth nation with a lot of history. Its towns and cities are filled with gorgeous colonial architecture, and a visit to a museum will illuminate visitors about some of the events of Barbados' storied past. An island safari, aboard an open-air Land Rover, will guide visitors on an exploration of some of the most beautiful natural wonders of the island, while tours of fascinating places like underground Harrison's Cave or the mysterious Garrison Tunnels will add an air of intrigue and adventure to your vacation.
9. Cayman Islands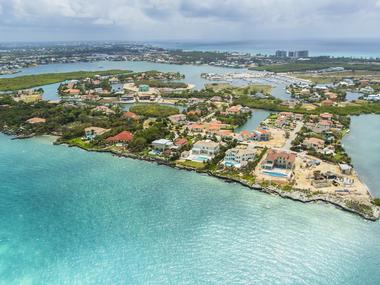 These three small islands in the western Caribbean are just the place for some snorkeling, sunbathing, and deep sea fishing. On Cayman Brac, visitors can try their hand at fishing and bring back their catch for chefs to cook fresh that very day. On Grand Cayman, a day at the Cayman Turtle Farm or relaxing on Seven Mile Beach is the perfect recipe for a great day, while on Little Cayman, the smallest of the three islands, visitors can find seclusion and tranquility on an empty beach or while bicycling down paths where they will meet more native iguanas than other people.
10. Dominica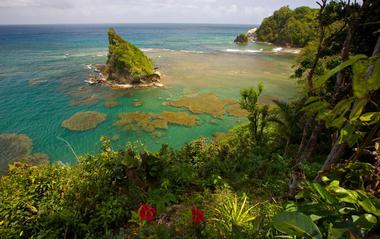 Nature abounds on the island nation of Dominica, where hikers, divers, fishers, and nature enthusiasts come to be amazed. Rated one of the top 10 destinations in the world for diving, underwater Dominica offers views of volcanic craters, colorful fish, and sheer drops into undersea abysses. On land, the beauty of Dominica's rainforests is jaw-dropping, with natural hot springs and even volcanic Boiling Lake. Hikers can explore volcanoes, streams, waterfalls, gorges, and more, and at the end of the day, go back to a world-class resort, hotel, or rental property for a good night's sleep before the next exciting day arrives.
11. Grenada
A vacation in a country known as the "Spice Isle" is pretty much guaranteed to be anything but bland. Granada, nicknamed "The Spice of the Caribbean" because of the large nutmeg plantations on the island, offers an invigorating experience to its visitors, with sandy beaches for sunbathing, fish-filled coral reefs for snorkeling and scuba diving, and beautiful, tranquil landscapes for exploring on foot, by bicycle, or with a guide. From rafting down the rapids of a rainforest river to relaxing in the sun on the white sands of Grande Anse Beach, Grenada can offer a lot to travelers looking for any type of holiday.
12. Havana
The capital city of Cuba, Havana is an old city with Spanish colonialist roots that can be seen in its impressive 16th century architecture. Visitors to Havana can explore Old Havana, the oldest district in the city, which is also a UNESCO World Heritage Site. In Old Havana, they will find Castillo del Morro, La Cabaña, the Plaza de Armas, and many of the museums and cultural centers Havana has to offer. There's always something to do in Havana, including watersports like diving or boating, hiking or exploring the nearby natural beauty of Cuba, or taking part in one of the many cultural events or seasonal markets that take place in the city center.
13. Martinique
Part of a rugged group of volcanic islands known as the Lesser Antilles, Martinique is an overseas territory belonging to France. On its eastern coast is the mighty Atlantic Ocean, and on its western border the warm waves of the Caribbean Sea. Martinique's picture-perfect palm trees, white sandy beaches, and sunsets are the very image of an ideal Caribbean holiday, and visitors can take part in diving, snorkeling, kite surfing, jet skiing, and kayaking, to name a few options. Its unique and delicious Caribbean and French-infused cuisine is delicious, and the diverse and vibrant island culture, including music, festivals, and events, is evident at every turn.
14. Nassau
Nassau is the capital of the Bahamas, and the city is well known for its hilly terrain, gorgeous beaches, and the beautiful coral reefs located just off shore. Many of the buildings in Nassau are brightly colored in pastel shades, reflecting its colonial history and lending a warm island atmosphere to the city. Visitors can explore the pink Government House, built in colonial Georgian style, or check out the 18th century Fort Fincastle, built atop Bennet's Hill, from where it long protected the city of Nassau from pirates. Galleries, museums, and tours round out the cultural experience in Nassau, and after a full day of sightseeing, visitors can enjoy a refreshing tropical cocktail or a delicious dish of fresh seafood at one of the many restaurants in the city.
15. Negril
This town on the western coast of Jamaica is a popular destination for tourists that offers a bit more of a relaxed atmosphere than the hustle and bustle of Montego Bay. After a lovely afternoon spent bathing in the warm sun at Seven Mile Beach or exploring the Negril Lighthouse for excellent views of the coast, visitors to Negril can trek to the Negril Cliffs to watch the sun set. Resorts with picture-perfect views of the shimmering blue Caribbean waters are in ample supply in Negril, and tourists can enjoy their days at these resorts or strike out into the green Jamaican wilderness to find lush waterfalls, hidden lagoons, or green tropical landscapes.
Near me on a budget: Bay Area beaches, Fort Wayne, USA caves Day trips from Boston, Indoor Amusement Parks — You are reading "25 Best Places to Visit in the Caribbean" Back to Top or Amazing things to do around me
17 Best Places to Visit in the Caribbean in 2022
The Caribbean has probably been on your bucket list, but you're still not sure about the best places to visit. We're here to help you!
Besides the gorgeous beaches and islands, the Caribbean is awash with European-inspired architecture, hidden lagoons, and hiking trails waiting to be explored.
17 Best Places to Visit in the Caribbean in 2022
Here's a detailed overview of the best places to visit in the Caribbean, their top attractions, and factors you should consider. We're travel nuts, so you can bet we've made the best guide available.
1. St. Lucia
St. Lucia offers a little of everything. From posh resorts to iconic volcanic peaks and stunning landscapes, St. Lucia sure does make a great vacation destination for first-time visitors.
Whether you're an outdoors fanatic, love basking in the sun, zip-lining, or rock climbing, there's so much to explore in St. Lucia. A day's trip wouldn't be enough to explore what it offers.
For the adrenaline junkies, a hike in Piton Mountains or zip-lining through the rainforest makes a great start.
You may also stop at Sulphur Springs , the only drive-in volcano in the world. If you're not feeling too adventurous, soak up along one of the popular beaches on the Caribbean's coast.
They are also great places to go snorkeling and diving trips. The day ends with slow jazz music playing at the famous St. Lucia Jazz & Arts Festival while watching the sun go down.
2. British Virgin Islands
This is another great place to visit when vacationing in the Caribbean. Most of its islands were hit hard during the 2017 Hurricane Irma, but the government has done a formidable job in rebuilding them.
Most of its 60 islands are underdeveloped, but you're bound to discover some great places. Tortola is one popular stop, thanks to the stunning landscape.
Here you'll find chalk-white beaches, mountainous cliffs, and lush green forests. Tourists visiting Tortola are spoilt for choice owing to the many activities available. There's plenty to do, from kayaking to water skiing and hiking here.
Thanks to the picturesque shore, the Baths is another famous area on the British Virgin Islands. The seaside is characterized by huge granite boulders forming grottos and scenic saltwater pools.
It attracts huge crowds going for day trips, but you may head to Anegada if looking for a more serene environment. It's quieter, and the terrain is flatter than any other beach on the British Virgin Islands.
Pro Tip: The best way to explore the British Virgin Islands is by boat or a yacht due to its islands' remote and secluded nature.
3. Cayman Islands
Are you looking for an epic diving experience? The Cayman Islands is the place to be. With more than 365 dive sites across its three islands, it's a must-visit for those who love water activities.
Whether you want to go snorkeling, deep-sea diving, or fishing, there's so much to explore here. Three islands make up the Cayman Islands — the Little Cayman, Grand Cayman, and Cayman Brac.
Grand Cayman is home to the most popular dive sites, including the Kittiwake Shipwreck and Stingray City , a famous snorkeling spot known for its clear water. Tourists come here to see giant sea creatures snatching food right out of their plates.
Little Cayman is ten miles away from Grand Cayman and is a great spot for honeymooners looking for a more relaxed environment. Cayman Brac, on the other hand, provides the most spectacular views of cliffs and the ocean floor.
4. Barbados
Besides its laid-back vibe, Barbados has the most beautiful beaches on the east coast of the Caribbean. The tropical climate makes it a great destination year-round, with tourists going to the west coast to explore the warm, calm seawater and the east to surf and see the wild beaches.
The rugged, wide, and Virgin Island of Bathsheba stands out for its spectacular scenery. Surfers and photographers come here to catch a glimpse of the huge boulders and the best waves.
It's not the best place to swim, but you're sure to get a stunning backdrop for your pictures. A visit here isn't complete without trying out the wonderful culinary offerings and the age-old rum.
These two features are the very essence of Barbados' culture. In fact, there's an annual festival ( Barbados Food and Rum Festival ) to showcase Barbados' culinary scene. It's an excellent opportunity to savor Barbados' favorite Bajan cuisine and cocktails.
5. U.S. Virgin Islands
With more than 50 islets, the U.S. Virgin Islands is another top destination in the Caribbean. It's just three hours from Miami, and tourists can travel passport-free.
St. Croix, St. Thomas, and St. John islands stand out of the 50 thanks to their stunning landscapes and rich culture. St. Croix, the largest, is a great spot for scuba divers and those on their honeymoon.
It stretches over 22 miles and has a rich cultural scene characterized by unique architecture and artistry.
St. Thomas is a cultural center that attracts a diverse audience, while St. John, the smallest of the three, is awash with natural beauty. In fact, two-thirds of the island consists of national park land.
6. Puerto Rico
Are you looking for a Caribbean city with authentic Spanish culture and an American twist? Head to Puerto Rico. It has a chain of American restaurants and other comforts associated with the USA's mainland.
Further afield is San Juan's historic charm characterized by old forts and colonial architecture. There are small villages, quaint towns, caves, and areas with a rugged mountainous interior.
With over 500 years, San Juan is the second oldest city in the Americas. The landscape in Puerto Rico is stunning too.
Nature lovers will love exploring the tropical rainforest and the night-time wonders of Bioluminescent Bay. The 25-foot waves at Tres Palmas beach are also worth exploring.
7. Antigua
Antigua isn't your average vacation destination. Located where the Caribbean and the Atlantic meet, Antigua is one of the best places to visit in the Caribbean.
It's dotted with rainforests, reef-lined beaches, resorts, and more than 365 beaches, there's so much to explore here. Sailing is a favorite pastime for locals and tourists alike, and if visiting Antigua during Sailing Week , you're in luck.
The event is one of the best-known regattas globally and is fun-packed. Participants get to party, race, and participate in other activities during the seven-day event. If not visiting during Sailing Week, you can sign up for a sailing excursion or charter a sailboat.
Half-day excursions are more than enough to experience some sea splashing. Further north of Antigua is the famous Dickenson Bay, rated among the best beaches in the Caribbean.
It has a lot of activities, including windsurfing at the windsurfing hub and swimming, among other water sports. The area is also dotted with all-inclusive resorts for guests to enjoy gourmet food, unlimited drinks, and water-related sports.
8. Aruba
Aruba isn't as popular as other Caribbean Islands, but it sure makes an excellent place to explore the best of the island without large crowds. Located a few miles off Venezuela's coast, Aruba boasts year-round sunny weather, picture-perfect beaches, and tasty international cuisines.
Its decision to legalize gambling is a major draw for avid gamblers as they can hit the casinos without worrying about getting arrested. The clear water surrounding the island makes Aruba a great place for wreck diving and snorkeling.
Diving is all the rage in the area, and if you're a novice, you can always take a diving lesson at the resort. There are non-beach activities too for families. You can visit the Aruba Ostrich Farm or Arikok National Park .
9. Willemstad, Curacao
Curacao is often dwarfed by its sister islands- Aruba and Bonaire- but still has plenty to offer. Its main port city, Willemstad, is a major draw thanks to the pastel and blue-colored Dutch and Portuguese-inspired architecture.
After leaving Willemstad, the landscape shifts to a desert scene characterized by spiny aloe vera plants sprouting from limestone cliffs.
Further afield is a vast beach area dotted with coves and picturesque bays with turquoise water flowing towards the chalk-white sand. The best scenery is the semi-arid island that hasn't been affected by the disastrous Atlantic hurricane.
Gentle winds blow against this part of Curacao, keeping the temperatures in the mid-80s; perfect for outdoor activities year-round.
10. Punta Cana
Located in the Dominican Republic, Punta Cana has become a favorite spot hosting nearly two million tourists every year. There's so much to explore here from its warm weather year-round to the magnificent network of beaches and vast lodging options.
Playa Bavaro beach stands out from the others. It has 30 miles of white sand and the calmest turquoise water, perfect for swimming and snorkeling. What's more, it's surrounded by the most service centers and water parks.
Punta Cana's culinary scene stands out too. Most dishes are 100% Creole with a bit of Western twist, but if you want to try local dishes, be sure to try out the Mofongo and La Bandera.
The water sports activities are a major draw too.
Punta Cana provides a range of water sports activities, including windsurfing, fishing, and wakeboarding. You can also indulge in non-water activities like golfing, volleyball, tennis, and basketball on the beach.
11. Guadeloupe
Thanks to its rich French culture, the island is a favorite for French tourists. In fact, an aerial view of the island shows the archipelago is an extension of France. The food, culture, and language also reflect the strong ties between Guadeloupe and France.
Guadeloupe's mainland consists of two islands — Basse-Terre on the west and Grande –Terre on the east to form a landmass that resembles a butterfly. Both islands stand out from other Caribbean islands due to their unspoiled natural beauty and rustic charms.
A few miles south are quaint villages dotted with century-old distilleries not to mention the white and black sandy beaches extending into the calm waters.
Palm-fringed beaches surround their coastlines with lush interior with dense mountainous vegetation, hot springs, waterfalls, and an active volcano.
12. Old Havana
Old Havana is a must-visit for history buffs. This capital city of Cuba was founded as early as 1519 and retained a characteristic historic charm that many tourists come to explore.
It has transformed into a sprawling metropolis of more than two million inhabitants over the years. However, you'll still find an interesting mix of neoclassical and Baroque monuments, old pastel buildings, and private houses with wrought-iron gates and arcade balconies.
Most of the city's architecture dates back to the 1950s, with the Old Havana hosting Castillo del Morro and other museums and cultural centers.
13. Grenada
Forget the glitz, glamor, and resort-laden islands in Barbados and other lavish islands in the Caribbean. Head to Grenada for one in a lifetime experience of its natural beauty, spice plantations, and stunning landscape.
Also referred to as the Spice Isle, Grenada, is dotted with large nutmeg plantations that offer visitors a refreshing experience.
The sandy beaches are great for beachcombing seashells, and nature lovers will certainly enjoy winding through the Grand Etang National Park and La Sagesse Nature Center.
A visit to Grenada isn't complete without visiting the famous St. George's Harbor . It's often mistaken for an Italian coastal town, thanks to the brightly colored churches and houses lined along the streets.
14. Saint Martin
This is one of the many islands affected by the 2017 Hurricane Irma. Although the recovery phase is ongoing, Saint Martin is open for business.
The island comprises two countries, the French in the North and the Dutch in the South, but EU regulations allow easy passage between them.
Saint Martin is famous for its secluded coves where tourists come to swim, snorkel, sunbathe and relax. Other beautiful places to explore include Mulley Bay, Orient Bay, and Cupecoy Beach, among others.
15. Bahamas
The Bahamas is a popular travel destination mainly due to the vast range of islands here. It has 700 islands lined with white sandy shores, scuba diving excursions, duty-free shops, and luxurious accommodations.
Many families come here to discover and explore the vast range of mega-resorts, Paradise Island, and the exhilarating diversions of Atlantis.
Nature enthusiasts have an opportunity to explore protected areas like Lucayan National Park , Leon Levy Native Plant Preserve, or the private islands. There's a lot for history buffs to discover, too, thanks to the artifacts and ruins from the colonial era on some parts of the island.
16. Saint Thomas
The island is the most cosmopolitan of the three Virgin Islands. This is pretty evident in its capital city, Charlotte Amalie, which is dotted with shopping centers, resorts, and an ecstatic nightlife.
The 99-step climb above Charlotte Amalie is particularly fascinating as it provides a spectacular view of St. Thomas Island and the Caribbean Sea. What's more, there's a Skyride 700 offering a much better view of the island.
And if you're a history lover, check out Fort Christian , which was built in the 17th century by Norwegian and Danish settlers. Outdoor enthusiasts will love exploring the hiking trails on the island, ziplining, and bicycle tours.
Be sure to stop at Coral World , especially if visiting Saint Thomas with kids. The center offers many marine adventures and water sports like scuba diving, snorkeling, and scooter tours.
17. Martinique
The island is part of an overseas territory that belongs to France. Its unique location doesn't prevent it from providing the best of the Caribbean.
On the east is the vast Atlantic Ocean and on the west is the Caribbean Sea lined with picture-perfect palm trees and sandy beaches. Visitors indulge in a range of water activities, including kite surfing and kayaking, not to mention the French-inspired cuisines.
The nightlife is also pretty vibrant, thanks to the numerous festivals, music concerts, and events held on the island.
Things to Consider When Visiting the Caribbean
The Caribbean makes an excellent vacation destination during the winter season as the weather here is friendly. When coupled with the ease of traveling to the Caribbean Islands, we can understand why it's a favorite destination for many tourists.
You simply need to hop on a plane, look for the best places to visit in the Caribbean, check into an all-inclusive resort, and you're ready to enjoy all the pleasantries it has to offer.
However, as with other foreign destinations, a few factors come into play when visiting the Caribbean. Here are some of them:
The Weather
Admittedly, the Caribbean has friendly weather year-round. However, some months have better weather than others. December through to April have cooler nights and drier days hence the best time to visit.
In fact, these are the peak seasons for most Caribbean islands as many people escape the freezing winter weather in other parts of the world. Summer and autumn seasons also make great travel months, but the days are warmer and wetter. You may also experience heavy downpours.
Language
It's easy to assume that everyone speaks English like in your native land, but it isn't so. Most Caribbean islands were French, Dutch, Spanish, and English colonies.
As such, natives are likely to speak other dialects. Natives living in St. Martin, Guadeloupe, and Haiti, for example, speak French, while those in Cuba and the Dominican Republic talk in Spanish.
You could be on vacation and are ready to splurge, but you still need to check the rates. Food and accommodation rates are highest during the peak season (mid-December-mid or late April), sometimes going as high as 20-50% higher than regular rates.
Left-side Driving
Unlike other cities, people in the Caribbean drive on the left side of the road. If going on a self-drive, be sure to master left-side driving. And since most islands don't have stoplights, you need to learn how to navigate the roundabouts.
Venture Out
If checking into an all-inclusive resort, it's easy to restrict your movements around the hotel and the nearby beach. But as you've probably seen, there's a lot more to explore in the Caribbean.
Larger islands like Cuba, the Dominican Republic, Puerto Rico have thriving cities and so much more to offer. Be sure to venture out and explore other islands before going back to the resort.
Frequently Asked Questions
Do all Caribbean countries take us dollars?
It's important to check the country's local currency ahead of time because some don't take U.S. dollars. Typically there are 13 different currencies in the Caribbean. French islands, for example, use euros; the Eastern Islands have their dollars while Dutch islands use guilders.
Is the peak season the only time to visit the Caribbean?
The peak season is an excellent time to visit due to the friendly weather. However, you can still schedule your vacation in off-peak months like May. The weather is just as good as in peak months, and the accommodation rates are much lower.
Do Caribbean countries accept digital payments?
You want to avoid making credit card and online payments and get cash. Large hotels and resorts may accept cards but carry cash if visiting secluded beach areas.
Do all islands experience hurricanes?
The Caribbean is wrought with hurricanes and storms, but not all islands experience extreme weather. Islands like Curacao, Tobago, Grenada, Aruba, and Bonaire hardly experience hurricanes.
Can I find an internet connection on the island?
Most hotels and resorts in the Dominican Republic, Cayman Islands, and the Virgin Islands have a Wi-Fi connection. However, if you visit mountainous islands away from population centers, you may be off the grid until you return home.
Best Places to Visit in the Caribbean: A Summary
The Caribbean is a sure bet for anyone looking for a vacation destination for the long holidays. Its vast range of islands dotted with stunning landscapes, parks, and numerous water activities should keep you relaxed and entertained.
There's plenty for everyone to explore, whether you're traveling as a family, a couple, or on a solo trip.
Be sure to schedule the trip during the peak season as most restaurants, resorts, shops, and hotels are in business. If it's not possible, May is another great month to visit the Caribbean.
When to Go:
Where to Stay:
Affiliate Disclaimer
As an Amazon Associate I earn from qualifying purchases. We are also a member of several other affiliate networks. If we link to any product, you should assume that we'll receive a commission when you buy it, at no extra cost to you. This is how we keep the lights on (i.e. pay for content, product research, guides, and more).
Source https://www.divergenttravelers.com/best-places-to-visit-in-the-caribbean/#:~:text=One%20of%20the%20best%20places%20to%20visit%20in,and%20resort%20areas%20are%20perfectly%20safe%20to%20visit.
Source https://vacationidea.com/caribbean/best-places-to-visit-in-the-caribbean.html
Source https://travellersworldwide.com/best-places-to-visit-in-the-caribbean/