15 Top-Rated Tourist Attractions in Michigan
Michigan's most-visited tourist destinations include a wide range of interests thanks to the state's diverse landscape, rich history, and legendary city of Detroit. There are endless opportunities for those who are looking to enjoy nature, especially along the shores of the Great Lakes, where you can find freshwater dunes and coastal habitats far from the sea.
Visiting historical sites, like living history museums, is one of the popular things to do, especially Fort Mackinac on Mackinac Island and Greenfield Village, which is part of the Henry Ford historic sites.
For those looking for a faster pace, Detroit is an excellent place to visit. It's a city that has worked hard to embrace its significant contributions as the Motor City while evolving into a top tourist destination and cultural center.
From the bright lights of the city to the Great Lakes, you'll find more things to see and do in the state with our list of the top tourist attractions in Michigan.
1. Mackinac Island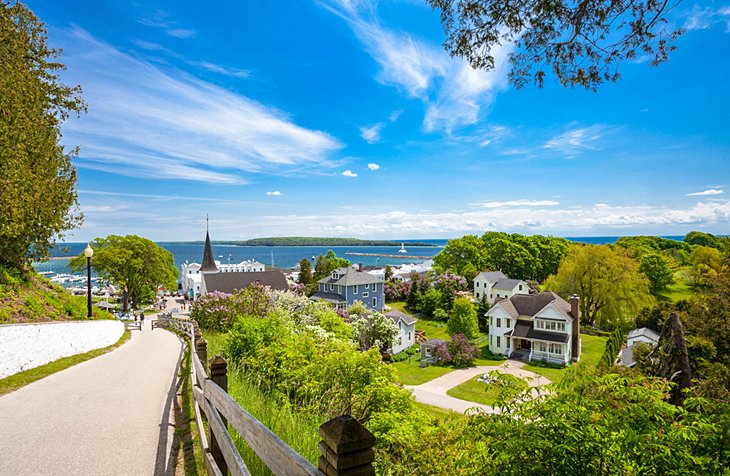 Mackinac Island
Mackinac Island offers a look at a historic period and a simpler way of life, before cars and buses. Visitors can take a ferry to the island and spend the day wandering through the shops of the old town, touring the island on a horse-drawn carriage, hiking, or visiting Fort Mackinac.
Opened in 1957, Mackinac Bridge connects the Lower Peninsula at Mackinaw City to the Upper Peninsula at St. Ignace. One of the longest suspension spans in the world, it eliminated the backup of vehicles waiting for ferry passage across the straits. The Mackinac Bridge Museum contains many interesting and original artifacts from the construction of the Mighty Mac.
Read More: Exploring Mackinac Island: Top Things to Do
2. Sleeping Bear Dunes National Lakeshore and Lake Michigan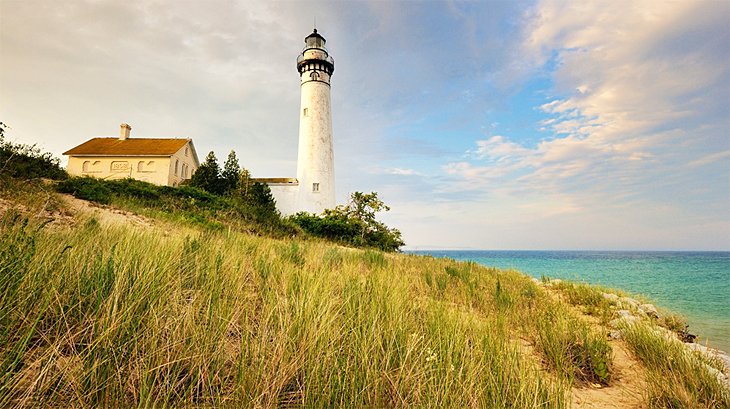 South Manitou Island Lighthouse, Sleeping Bear Dunes National Lakeshore
Although it is the third largest of the Great Lakes, Lake Michigan is the only one that entirely borders U.S. soil, and it also gives the state the distinction of having the second-longest shoreline of all 50 states, second only to Alaska. A comprehensive look at the lake's importance can be found at the Michigan Maritime Museum in South Haven, and there are numerous boat tours perfect for sightseeing, like the Tall Ship Manitou in Traverse City.
The lake's islands are popular places to visit, with the Beaver Island Archipelago and the Manitou Islands as tourist favorites. The Manitou Islands are part of the Sleeping Bear Dunes National Lakeshore, which is known for its expansive dunes that are perched on headlands along the shoreline.
This state park is one of the most visited, noted for its variety of hiking trails and the Pierce Stocking Scenic Drive, which spans 7.5 miles along the coast. Other impressive lakeshore dunes include the Warren Dunes in Warren and the P.J. Hoffmaster State Park in Muskegon.
Address: 9922 Front Street, Empire, Michigan
3. Detroit Institute of Arts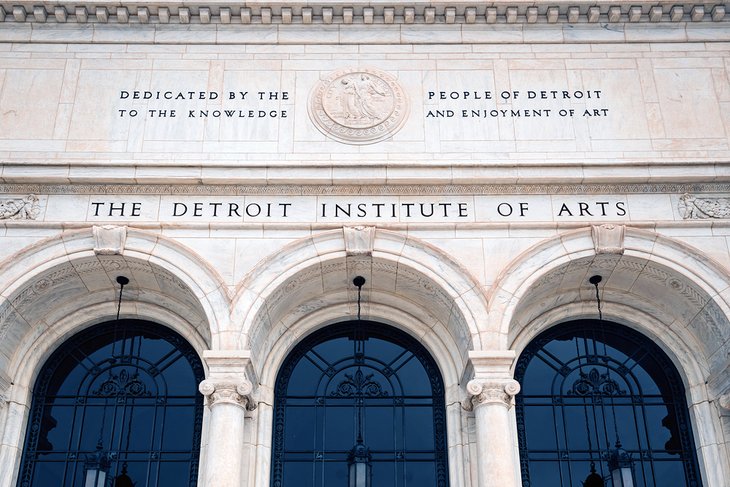 The Detroit Institute of Arts
The Detroit Institute of Arts is known for its expansive collection of humanity's creative works from the earliest cultures through today. With more than 65,000 works of art in over 100 galleries, people from every corner of the globe are represented.
The museum's Islamic art collection includes examples of pottery, stone, and bronze, and there are prime examples from Classical Antiquity, medieval Europe, Oceania, Africa, and the Americas. Among the most coveted European works are paintings by Picasso, Rembrandt, Matisse, and Van Gogh.
While in the neighborhood, tourists will want to take a peek at the beautiful architecture at the Detroit Public Library then make the short walk down Woodward Avenue to the Detroit Historical Museum, which is dedicated to the motor city's fascinating past and emergence as not only an industrial center but also the birthplace of the legendary Motown sound.
Address: 5200 Woodward Avenue, Detroit, Michigan
4. Pictured Rocks National Seashore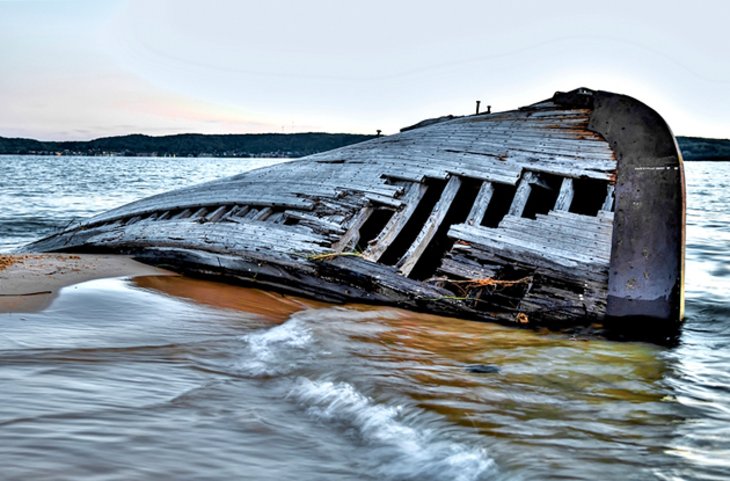 Pictured Rocks National Seashore
Pictured Rocks National Seashore, on the south shore of Lake Superior, gets its name from the colors of copper, iron, and manganese oxide found in the rocks. The landscape here is a mix of dunes, cliffs, beaches, and rocky shoreline. The interior is forest covered, with inland lakes and rivers.
Visitors come here to experience nature, usually through activities like hiking, camping, and boating. In winter, the area is open for cross-country skiing, snowshoeing, and snowmobiling.
Nearby is Grand Island National Recreation Area, an island which is also popular with outdoor enthusiasts.
5. Frederik Meijer Gardens & Sculpture Park, Grand Rapids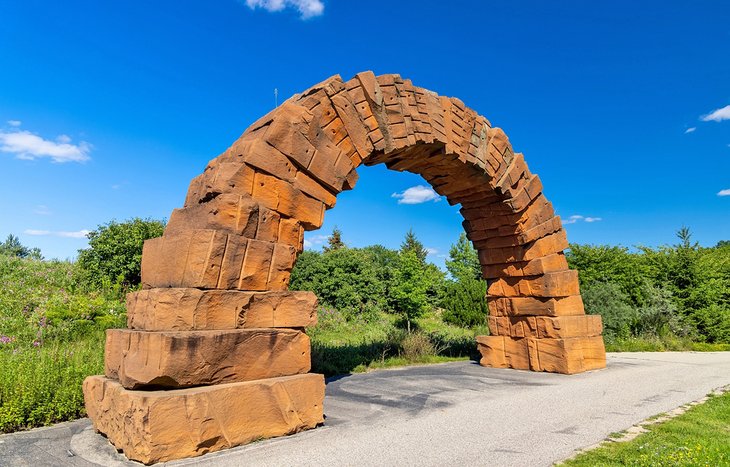 Stone arch at the Frederik Meijer Gardens & Sculpture Park
The Frederik Meijer Gardens & Sculpture Park offers a variety of environments in which visitors can enjoy the synthesis of art and nature. Outdoor gardens include traditional foliage, a children's garden that encourages interaction with its unique plants, a "Butterfly Maze," and a peaceful Japanese Garden with twin waterfalls.
The 1880s farmhouse is a replica of Lena Meijer's first home and includes the Farm Garden. The Lena Meijer Conservatory is a five-story tropical environment that houses many rare and exotic plants, and in March and April, visitors can watch the amazing process of Monarch butterflies transforming from caterpillar to delicate insect. Sculptures are found throughout both indoor and outdoor spaces.
Address: 1000 East Beltline NE, Grand Rapids, Michigan
6. The Henry Ford, Dearborn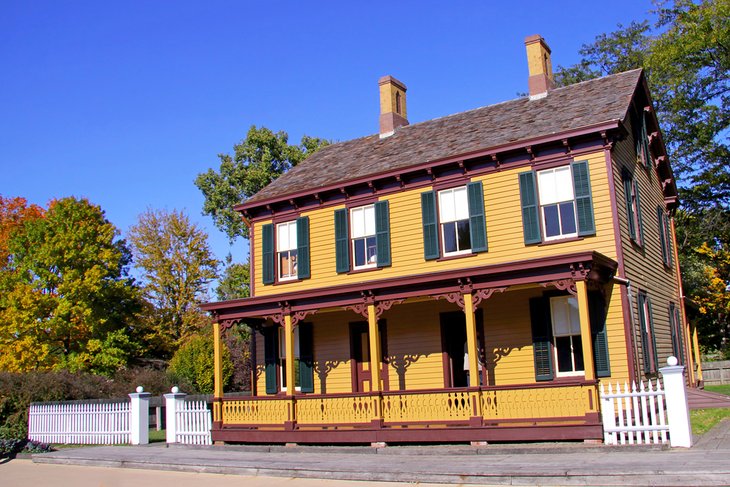 Historic home in Greenfield Village
Known collectively as "The Henry Ford," this is a group of three attractions that explore not only the auto legend's life and work, but also the entire scope of American innovation. Visitors can take a step back in time at historic Greenfield Village, where you will see what life looked like in the 19th century.
Points of interest include working farms, a restaurant that serves fare that was typical in the 1830s, the train depot where you can catch a ride on a steam-powered locomotive, and rides in a Model T. The Henry Ford Museum of American Innovation tells the story of inventors and forward-thinkers who helped shape the world we see today, from the Wright brothers' dream of flying to Rosa Parks' conviction to see change in her lifetime.
For a look at the most current marvels of innovation, the Ford Rouge Factory Tour allows visitors to witness the inner workings of an automotive factory and learn more about the technology and concepts that go into modern vehicles.
Address: 20900 Oakwood Blvd, Dearborn, Michigan
7. Isle Royale National Park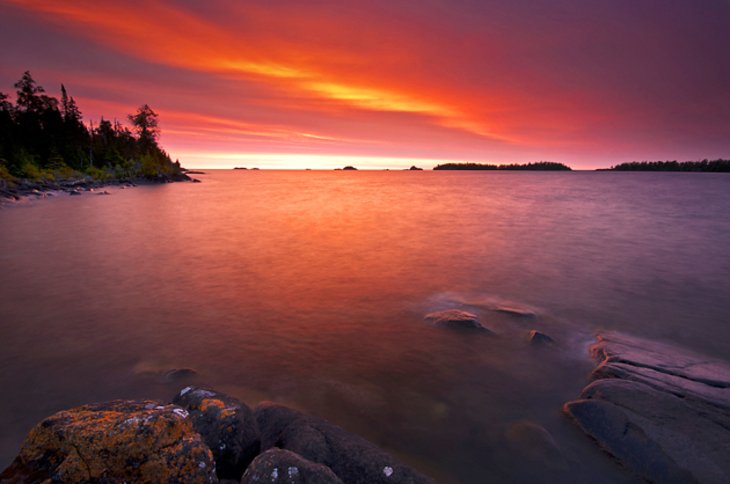 Isle Royale National Park
Isle Royale lies in northwestern Lake Superior near the Canadian frontier. Shaped by Ice Age glaciers, this 432-square-mile island has many lakes and streams, dense forests, and a variety of wildlife that includes wolves, foxes, moose, otters, ospreys, herring gulls, falcons, and more. This relatively unspoiled tract of country attracts those looking for a remote wilderness experience.
The best way to see the park is on hiking trails and boat trips. Access to the island is by boat or seaplane. Trips usually originate from Houghton or Copper Harbor, Michigan, or Grand Portage, Minnesota.
8. Detroit Zoo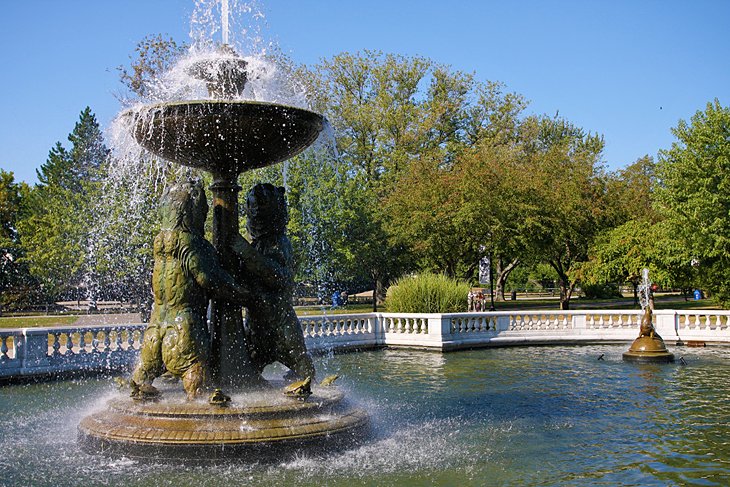 Detroit Zoo
The Detroit Zoo has an impressive variety of animals in multiple habitats representing all parts of the world. African animals live either in the forest or grassland habitats and include everything from aardvark to zebra, with many family favorites like giraffes, lions, lemurs, and several primates.
An arctic habitat is home to the zoo's famous polar bears, and the Australian Outback has sixteen resident kangaroos and two wallabies. The exotic Asian Forest features red pandas and Amur tigers, while the North American habitats feature some of the continent's most interesting animals, including bears, wolverines, and bald eagles.
The zoo also houses reptile and amphibian centers, an aviary, and even a fine art collection. Visitors can tour the park aboard the miniature Tauber Family Railroad, which has been in operation since 1931.
Battle Creek's Binder Park Zoo also offers a vintage train ride, as well as a "wilderness tram" through its African Savannah habitat, and the John Ball Zoo, one of the top attractions in Grand Rapids, has a large selection of special animal interaction opportunities.
Address: 8450 W 10 Mile Road, Royal Oak, Michigan
9. University of Michigan, Ann Arbor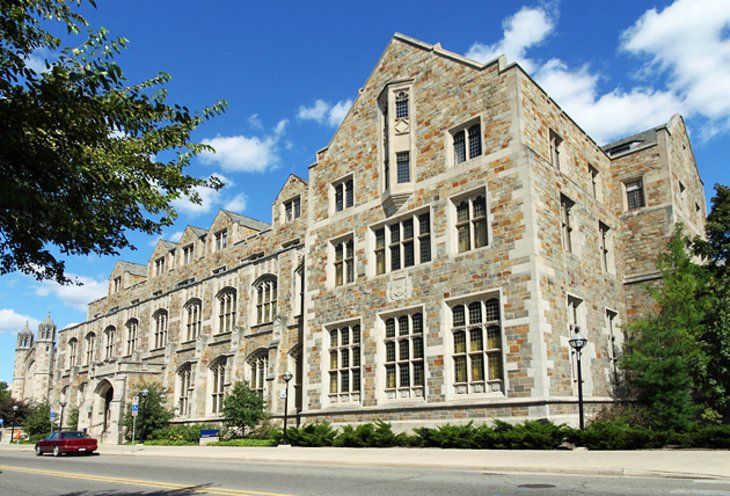 University of Michigan
The University of Michigan in Ann Arbor encompasses 2,800 acres. Some of the interesting old Gothic buildings include the Law Quadrangle, the Power Center for the Performing Arts, and the Natural History Museum. Key attractions on the campus include the Kelsey Museum of Archaeology, with strong collections related to Mediterranean civilizations, the University of Michigan Museum of Art, and the University of Michigan Museum of Natural History.
Beyond the university you'll find a long list of fun and interesting things to do in Ann Arbor. Among these, and located off campus, is the Matthaei Botanical Gardens. Located next to the central campus is the Nichols Arboretum.
10. Belle Isle Park, Detroit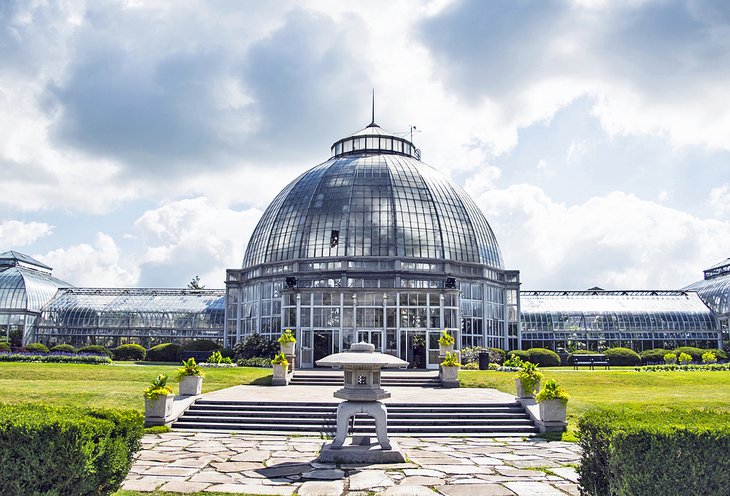 Anna Scrips Whitcomb Conservatory, Belle Isle Park
Detroit's Belle Isle sits in the Detroit River, housing an expansive park that is home to numerous attractions; the entrance fee to the island covers admission to all.
A family favorite is the Belle Isle Aquarium, the country's oldest aquarium. It is housed in a historic 1904 building with a stunning green opalite vaulted ceiling, and aquarium residents include favorites like pufferfish and clown fish, turtles, seahorses, and even poison frogs.
The Anna Scrips Whitcomb Conservatory is another popular attraction, occupying 13 acres alongside the Lilu Pond and the formal gardens. It is one of the oldest conservatories in the country, and includes the Show House, Palm House, Cactus House, Tropical House, and a sunken Fernery.
To find out more about the region's maritime history, visit the Dossin Great Lakes Museum, home to permanent and changing exhibits that celebrate the economic and social importance of the Great Lakes.
Among the many other attractions on Belle Isle are the grand James Scott Memorial Fountain, a Giant Slide, the Belle Isle Golf Range, and the Belle Isle Boat House. Belle Isle is also home to the Detroit Yacht Club
Address: Bridge Entrance at the intersection of Jefferson Ave and East Grand Boulevard
11. Fort Mackinac (Colonial Michilimackinac), Mackinaw City
Fort Mackinac (Colonial Michilimackinac)
Michilimackinac, located in Mackinaw City, was a French fur-trading village and military outpost that operated from 1715 until 1781, when it was almost entirely destroyed by fire. Also known as Fort Mackinac, the site is now home to 14 fully restored and authentically furnished buildings, one of which is the oldest in Michigan.
Presented as a living history museum, the attraction offers plenty of things to do. Costumed interpreters work and go about their day as they would have in 1775, from farming and cooking chores to musket and marching drills. Highlights include the Soldiers Barracks housing an exhibit on the island's history, the Post Hospital with descriptions of medical treatment during the fort's operation, and the Post Guardhouse that explores the era's military justice system.
Visitors may explore freely or choose a guided tour, and there is a children's area dedicated to engaging younger historians in learning about 18th-century life.
Address: 102 W Straits Avenue, Mackinaw City, Michigan
12. Kitch-iti-Kipi, Manistique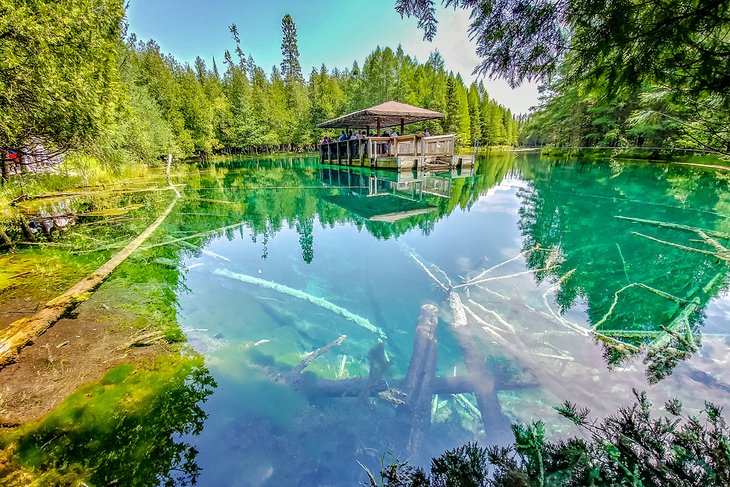 Kitch-iti-Kipi freshwater spring
Located within Palms Brook State Park in Michigan's Central Upper Peninsula, Kitch-iti-Kipi is a unique freshwater spring that is fed 10,000 gallons of water every minute. Referred to as the "Mirror of Heaven" by the native Chippewa, the water here is a stunning blue-green and crystal clear, allowing visitors to see far into its depths. The temperature of the spring is always 45 degrees Fahrenheit, so even in the middle of a Michigan winter, the water remains unfrozen.
Tourists can board a wheelchair-accessible covered observation craft, which has an open center, allowing unobstructed views of the aquatic life below. Because the spring water emerges from fissures in the limestone below, the millennia-old tree trunks and branches that line the bottom are encrusted in lime, creating an almost alien landscape.
Palms Brook State Park offers a concession area with picnic tables and public-use grills, as well as restrooms. Indian Lake State Park is nearby, bordering Lake Michigan. It has a campground, hiking trails, a boat launch, and a beach, as well as additional picnic shelters and restrooms.
Address: Sawmill Road, Manistique, Michigan
13. Windmill Island, Holland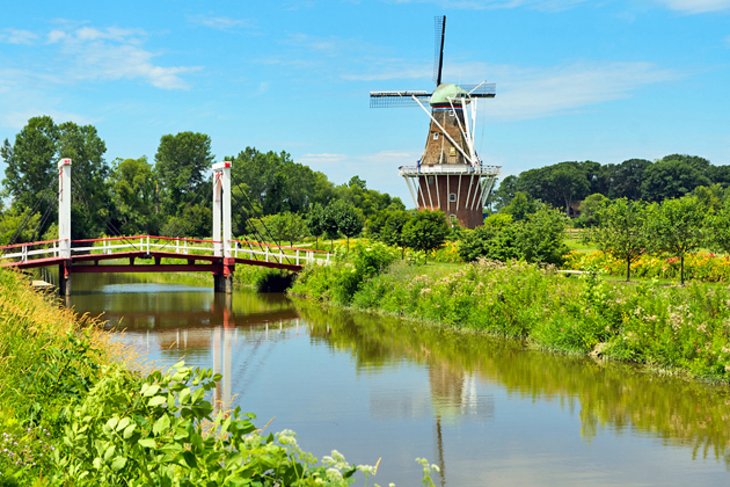 Windmill Island
One of the most pictureque places in Michigan, Windmill Island is a 36-acre heritage park filled with manicured flower gardens and Dutch architecture. In May, the park comes to life with 175,000 tulips, and in June the extensive gardens change to annual flowers.
Highlights include an authentic Dutch windmill, DeZwaan, dating to the 1760s and brought from the Netherlands in 1964. Standing 125 feet, the windmill is a symbol of the Dutch heritage of this area and is the only original Dutch windmill exported to America. It is still a working windmill producing stone ground flour for sale.
Holland is also home to the Outdoor Discovery Center of Wildlife Unlimited, which has taken on the task of restoring agricultural land to natural habitat. As a result of their efforts, there are now six distinct ecosystems on this 130-acre nature preserve. Highlights include walking trails and wildlife viewing opportunities.
Address: 4214 56th Street, Holland, Michigan
14. Great Lakes Shipwreck Museum, Paradise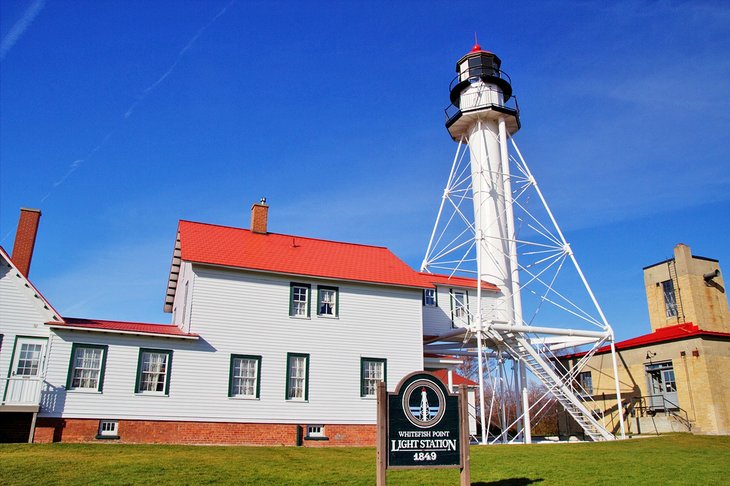 Whitefish Point Light Tower next to the Great Lakes Shipwreck Museum
Open seasonally from May 1 through October 31, this museum is full of artifacts from historic wrecks of Lake Superior's "Shipwreck Coast," an 80-mile section of dangerous shoreline that claimed numerous lives. The wreck of the Edmund Fitzgerald is among its most famous victims, and the museum displays its recovered bell.
Museum admission includes the Whitefish Point Light Tower, which is Lake Superior's oldest continually operating lighthouse. Visitors can also tour the Lightkeepers Quarters, built in 1861, which has been fully restored, as well as the 1923 Surfboat House. There is also a barrier-free boardwalk that allows access to the fragile dunes of Whitefish Point.
Address: 18335 N Whitefish Point Road, Paradise, Michigan
15. Michigan Historical Museum, Lansing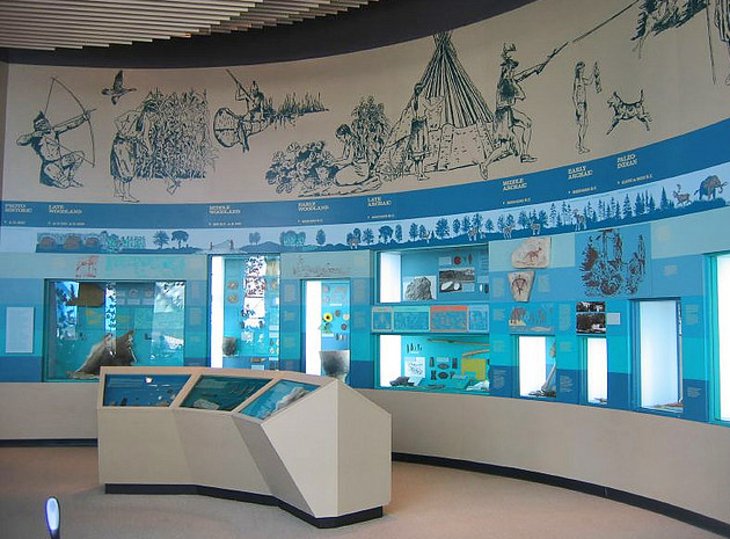 Michigan Historical Museum | Elizabeth/Table4Five / photo modified
The Michigan Historical Museum in Lansing was the first facility created by the state museum system and is its largest educational center. Exhibits and artifacts range from an exploration of the region's native populations through the state's evolution and growth as it became what you see today. Permanent and rotating exhibits include interactive modules, films, and presentations.
Exhibits are continuously updated to incorporate the latest technology while enhancing visitors' ability to look into the past. The Michigan History Museum System also operates several other museum sites and archival collections, maintains historic markers, and offers special programs and events for both residents and tourists.
25 Best Places to Visit in Michigan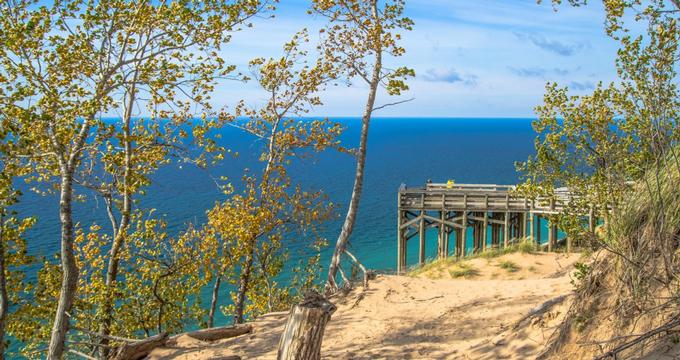 Whether you are looking for outstanding scenery, beaches, wedding venues, parks, resorts, water parks, fabulous food, weekend getaways, romantic escapes, great family activities or gracious historic architecture, Michigan ticks all the boxes for discerning vacationers. Popular Michigan weekend destinations include Mackinac Island, Holland, Frankenmuth, Ann Arbor and Grand Rapids. In spring and summer, you can spend your days exploring the world's longest freshwater coastline, enjoy outstanding water sports on the many inland lakes. Here are the best places to visit in Michigan.
We recommend that you call the attractions and restaurants ahead of your visit to confirm current opening times.
1. Mackinac Island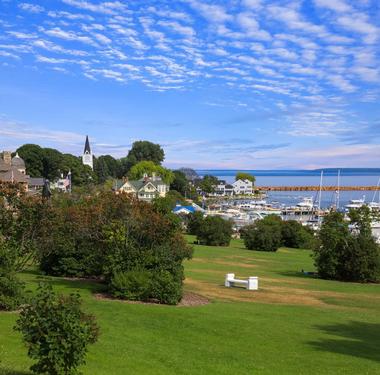 Mackinac Island is an idyllic island vacation destination where time has stood still and motor vehicles are not permitted. Here you can explore 70 miles of walking, hiking, or biking trails or try a variety of water sports on the calm waters of Lake Huron. Equestrians have 40 miles of bridle paths and mounts are available from Jack's Livery Stables or the Grand Hotel Stable.
Popular activities include exploring the beautiful coastline on a Great Turtle Kayak Tour, seeing the island highlights on a Mackinac Island Carriage Tour, and visiting historic Downtown Mackinac where several historic buildings are open to the public. Mackinac Island is one of the best places to visit in Michigan.
2. Ann Arbor
Vibrant and bustling Ann Arbor is packed with exciting cultural, historic, and outdoor attractions for the entire family. Spend some time visiting a few of the excellent city museums, including UMMA – University of Michigan Museum of Art, the fascinating University of Michigan Museum of Natural History and Planetarium and the Ann Arbor Hands-On Museum. Ann Arbor is one of the best places to go in Michigan for couples.
Energetic visitors can go hiking and biking in the Hudson Mills Metropark or canoeing in Argo Park, while bookworms can lose themselves in more than eleven independent book stores. If you love the theater, you can watch a show at Hill Auditorium or the nostalgia-inducing Michigan Theater, and everyone should make time to watch a football game at Michigan Stadium.
Things to do near me today: Getaways from Seattle, NC day trips, FL, Near Atlanta, AL — You are reading "25 Best Places to Visit in Michigan" Back to Top
3. Holland
Come and enjoy the distinctly Dutch atmosphere and flavors of Holland, Michigan, where you can tip-toe through the tulips in spring or see a working Dutch windmill on a city walking tour. There are several beaches where you can simply relax on the shores of Lake Michigan or enjoy sailing, kayaking, or paddle boating – rental equipment is available from several outfitters. Holland is one of the top romantic Michigan vacation spots.
If you enjoy art and history, you can visit the Holland Museum or the Kruizenza Art Museum, and music lovers can attend the Holland Chorale and the Holland Symphony Orchestra. Children will enjoy visiting the Critter Barn petting zoo.
Our experts' top picks for a long weekend getaway: CO, From San Diego, VA, OH, WI, MI, IL, IL Places, VA, San Diego, TX — You are reading "25 Best Places to Visit in Michigan" Back to Top
20 Best Places to Visit in Michigan
From the towering natural sand dunes on the western shores to the urban edge of Detroit, Michigan is an enjoyable state to explore. Each region has unique and diverse landscapes, with experiences that change with every season.
Wintertime means hitting the slopes in Traverse City and exploring the frozen paradise of the Upper Peninsula. Springtime is when Ann Arbor and Grand Rapids awaken to invite travelers to stroll along the quaint streets and enjoy outdoor patio dining.
The summer means vintage vacationing on Mackinac Island and swimming in the waters of Lake Michigan. Fall is when to hit the scenic roadways in upper Michigan to catch the first glimpse of colors of the changing leaves.
There are some great destinations in the state, from scenic to romantic to exciting. Plan your travels with our list of the best places to visit in Michigan.
1. Mackinac Island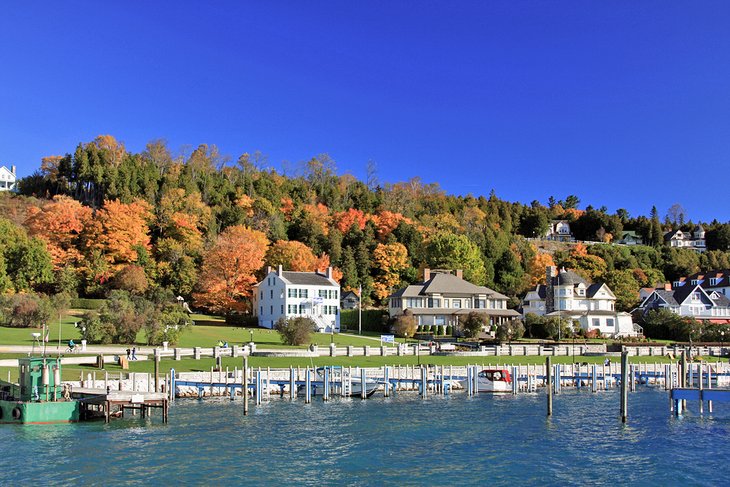 Mackinac Island in the fall
Mackinac Island is one of the best vacation spots in Michigan. The experience on the island is reminiscent of a vintage summer vacation, complete with rocking chairs on the porch; horse and carriage rides; and a stillness over Lake Huron, with mesmerizing sunsets that put a dramatic stamp on the end of a memorable day.
This quiet island on Michigan's Upper Peninsula is only accessible by ferry, and there are no cars, so vacationers enjoy the simplicity of riding bicycles and walking along the neighborhood streets. Activities on Mackinac Island range from kayaking and horseback riding to a sunset boat cruise under the Mackinac Bridge.
The historic Grand Hotel sits on the hill overlooking the elegantly landscaped gardens. Lodging ranges from luxury inns to bed and breakfasts.
2. Detroit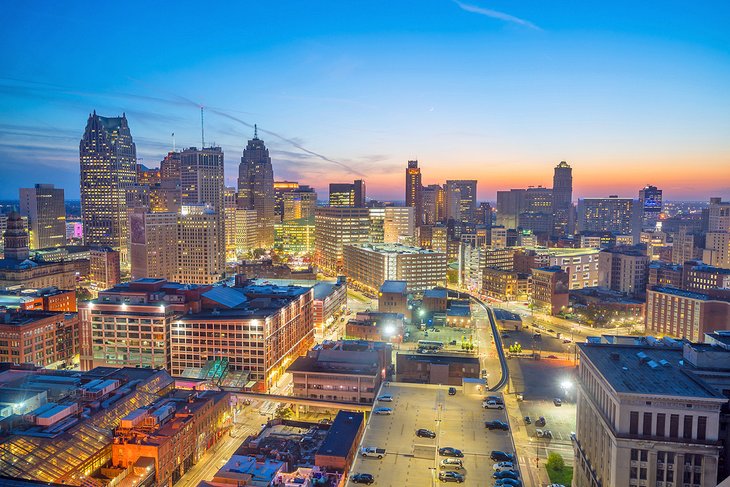 Downtown Detroit at dusk
The energy in Detroit is infectious. The town has a vibe that comes from its Motor City roots in the transportation industry. Some of the best things to do in Detroit relate to that history, like The Henry Ford Museum, the Automotive Hall of Fame, and the Ford Piquette Avenue Plant/Model T Automotive Heritage Complex.
Other must-visits include the Motown Museum and the Parade Company where you can take a behind-the-scenes tour of costumes and floats designed for the Michigan Thanksgiving Parade.
Modern-day Detroit has trendy neighborhoods to visit for dining and artsy experiences, like Midtown and Rivertown. The Eastern Market is a fun place to visit, with more than 150 years of history – it's one of the best things to do in southern Michigan. The open-air market is the largest historic public marketplace in the United States.
The Entertainment District is where you will find 50 blocks of theaters and sports complexes for evenings out on the town.
3. Great Lakes Bay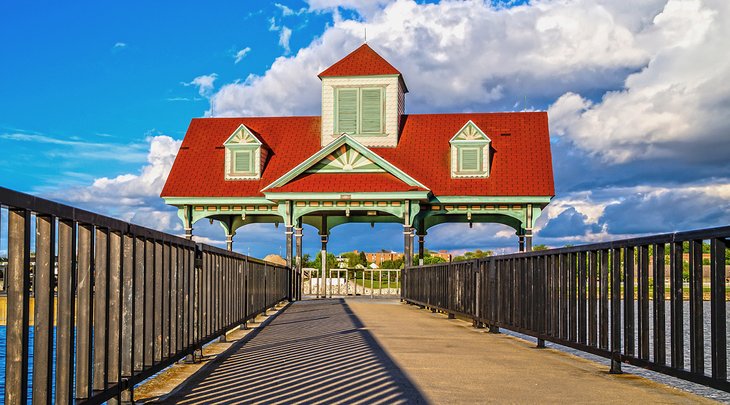 Riverwalk pier in Bay City, Michigan
The Great Lakes Bay region in central Michigan is a laid-back location that is great for romantic getaways and for families. It is an agricultural region, with several communities that have experiences to enjoy, from farmers markets and antique stores to outdoor recreation and art galleries.
There are more than 100 miles of trails for hiking and scenic walks, and parks that are popular for birding. One of the must-sees in the Great Lakes Bay area is the longest canopy walk in the Unites States located in Whiting Forest in Midland. The city of Saginaw is a great place to stay in the region, as it has a public market, children's zoo, art museum, and eco tours at the Shiawassee National Wildlife Refuge.
The city of Frankenmuth is one of the most known in the Great Lakes Bay. It is a tourist town created to replicate a small Bavarian village. Frankenmuth is known for its festivals, chicken dinners at the Bavarian Inn Restaurant, and the world-famous CHRISTmas Wonderland Christmas store. To stay in the center of it all, the Bavarian Inn Lodge is a popular option because it keeps you close to everything.
A nice day trip in the Great Lakes Bay area is Bay City on the waterfront of Lake Huron. The waterfront area is a nice place to walk around, and you can book themed cruises for a day or evening on the water. It is also home to the largest antique center in Michigan, covering an entire city block.
4. Sleeping Bear Dunes National Lakeshore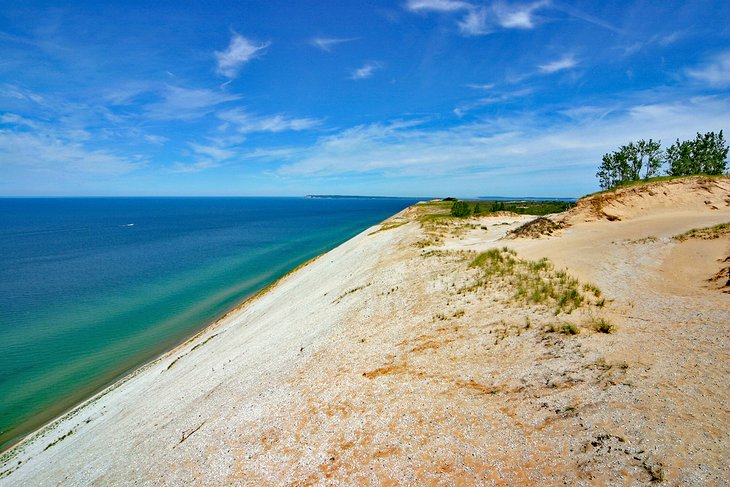 Sleeping Bear Dunes National Lakeshore
One of the best places to visit in Michigan is Sleeping Bear Dunes National Lakeshore. In fact, if you are looking for a great first experience in Michigan, this is where to start. It is located on Michigan's western coast with a 35-mile shoreline along Lake Michigan. The glacier-carved region has a unique environment, with lakes, streams, and beaches.
The sand dunes are the main draw at Sleeping Bear Dunes, as visitors climb them and capture memorable vacation photos trekking the 300-foot-tall face. The area has 70,000 acres of wilderness, so there are many outdoor experiences to fill your agenda, from hiking and camping to swimming and kayaking.
There is also a Maritime Museum and the Glen Haven Historical Village. For a cool experience head to the Sleeping Bear dunes in winter, when you can enjoy some unforgettable sledding.
5. The Upper Peninsula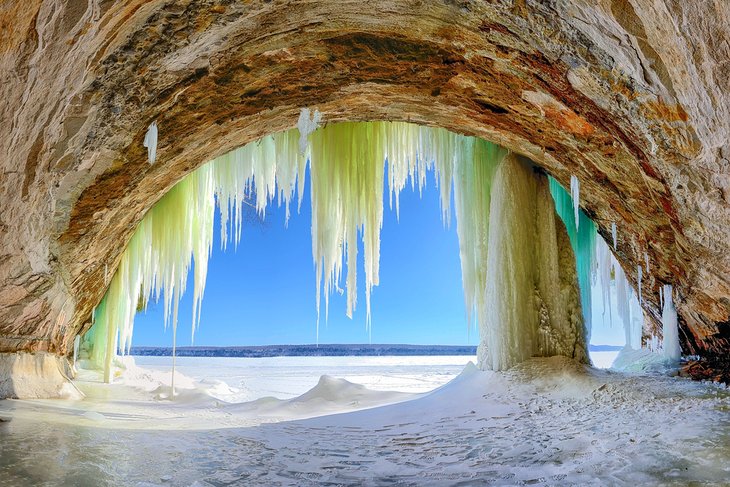 Ice cave on Michigan's Upper Peninsula
The Upper Peninsula is one of the best places to visit in Michigan in the winter. With 200 inches of snowfall every year this northern region becomes a playground for winter outdoor recreation. You can book a weekend at one of several dozen ski resorts or hit one of the many groomed cross-country ski trails through the UP forests.
The Upper Peninsula is a great place to try out some new winter adventures, like ice climbing, dog sledding, and snowshoeing.
The scenery is stunning, with ice-encased structures like lighthouses, frozen waterfalls, ice-accented cliffs along the Pictured Rocks National Lakeshore, and winter festivals. Perhaps one of the best reasons to go to Michigan's UP in the winter is the cozy lodging, where you can end your day warming up by the fireplace.
6. Ann Arbor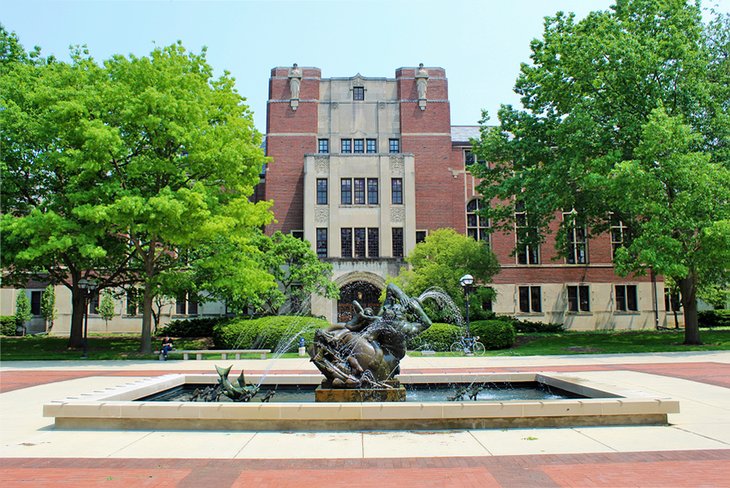 Fountain at the University of Michigan in Ann Arbor
The city of Ann Arbor is one of the best towns to experience the creative side of Michigan. There are many opportunities for relaxing at a local bistro or outdoor café as you people-watch in the downtown area. Ann Arbor's downtown is pedestrian-friendly, so it is easy to park the car and go sightseeing on foot.
Ann Arbor is known for its shopping opportunities, especially in the Main Street area and State Street District, which have many small boutiques and galleries. There are scenic trails nearby, and activities like stand up paddleboarding and kayaking on the Huron River.
If you visit during the fall, you can join the exciting college sports scene at The Big House for a University of Michigan football game.
Read More: Top-Rated Things to Do in Ann Arbor
7. Traverse City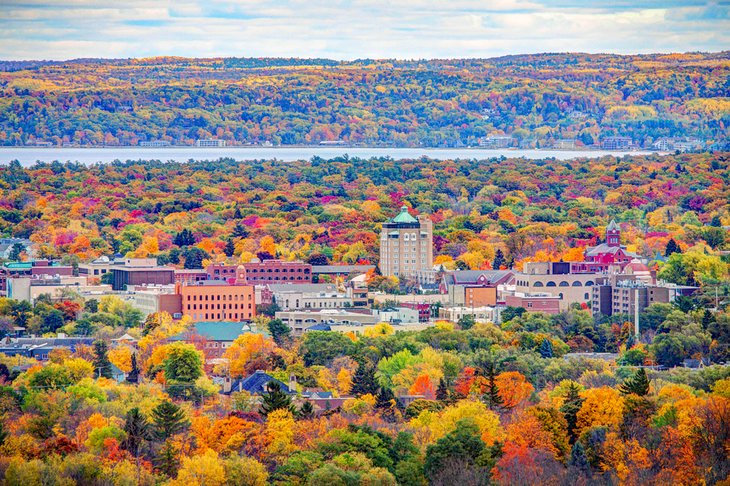 Downtown Traverse City in the fall
Beautiful Traverse City is one of the best cities to visit in Michigan, in part because of the scenery but also for the diversity of things to do. Traverse City is in northwest Michigan, and it is a prime spot for skiing, fat bike riding, and snowshoeing in the winter, and water recreation in the summer. Traverse City is also known for its golf courses and spas, where you can plan a relaxing weekend.
A nice day trip while in Traverse City is driving along the Pierce Stocking Scenic Drive near the Sleeping Bear Dunes National Lakeshore. It is a seven-mile scenic route that takes you past some of the most stunning Michigan sites, with panoramic views from a number of overlooks on Lake Michigan, Glen Lake, and the towering sand dunes.
8. Holland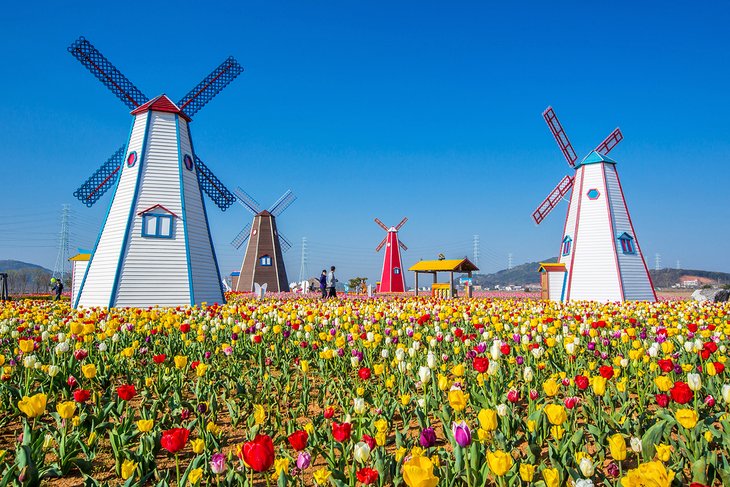 Tulips and windmills in Holland, Michigan
One of the best times to visit the west central town of Holland is during the spring Tulip Time Festival. The town relishes its Dutch heritage, which is fun to enjoy as a visitor. Your visit should include some time at The Dutch Village, where you can walk up the five-story Dutch windmill, the only one of its kind in operation in the United States.
The village also has regular experiences for tourists, like a hand-painted carousel to ride, a children's garden, and the Windmill Island Gardens.
The beaches in Holland make for nice day trips in the summer. There are a number of sandy beaches along Lake Michigan, as well as several smaller beaches for families, like Laketown Beach.
While in Holland, you might want to enjoy some experiences that are unique to the area, like the Holland Bowl Mill, which makes high quality hardwood bowls, or taking a cruise on board the Holland Princess, an old-style paddleboat.
9. Charlevoix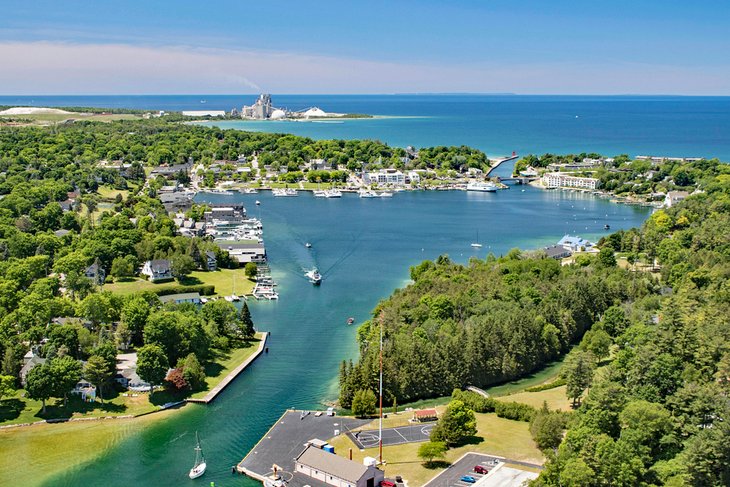 Aerial view of Charlevoix
The dark skies in northern Michigan make Charlevoix one of the best places in the state to go stargazing. The region has a number of vast nature preserves and not many lights, making it a prime location to catch a glimpse of the northern lights and meteor showers.
Winter is a great time to plan a trip to Charlevoix to look for the aurora borealis at Fisherman's Island State Park and Mt. McSauba.
Charlevoix has a cool mix of attractions in town, from antique stores and farmers markets to art galleries and beaches. Spend some time in the Cultural Corridor, where you can even use an afternoon to take an art or cooking class from one of the local merchants.
10. Porcupine Mountains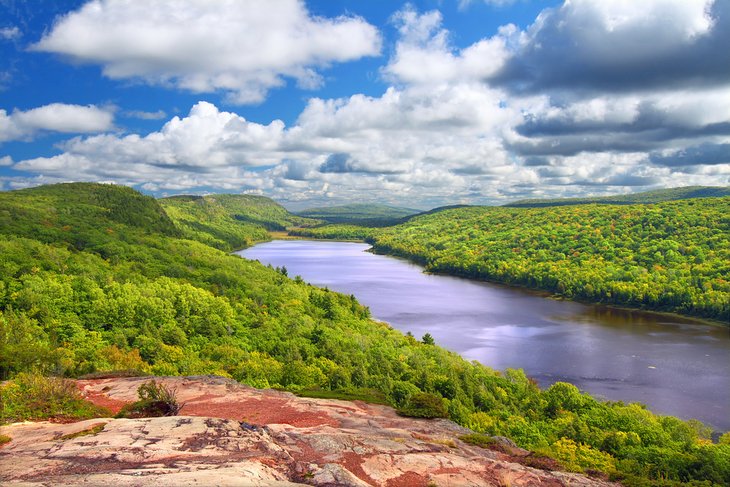 Porcupine Mountains
For those looking for a more remote and unplugged trip to Michigan, the Porcupine Mountains is one of the best places to visit in the Upper Peninsula. They are located on the western tip of the Upper Peninsula and give you a chance to experience some of Michigan's unexplored areas.
The Porcupine Mountains have 87 miles of scenic hiking trails and breathtaking views from high lookouts. There are 21 beaches along Lake Superior, and you will want to see the Lake of the Clouds in the valley of the old-growth forest that surrounds it in the Porcupine Mountains Wilderness State Park.
Waterfalls are the other main attraction in the mountains with more than 90 that sit in the forestland. Two of the most notable to see are Bond Falls and Agate Falls.
11. Blue Water Area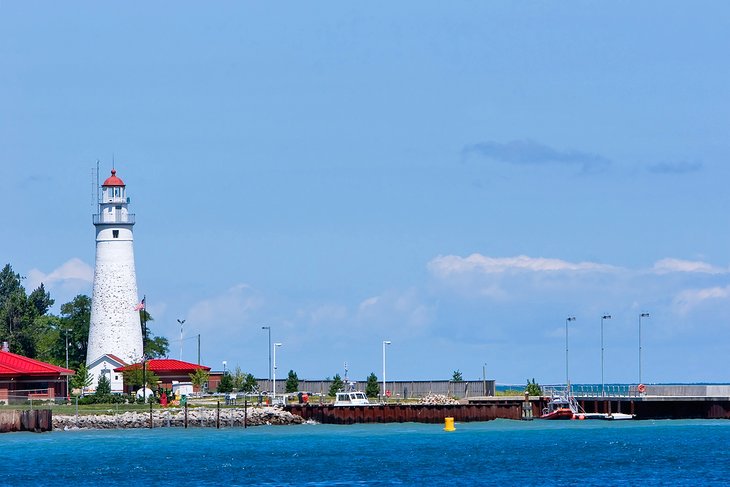 Lighthouse in Port Huron
The shores of eastern Michigan are known as the Blue Water Area along Lake Huron. This region has 10 different communities to enjoy, so you can stay in the area and visit several during the same trip. Visit the Algonac Riverfront Park in Algonac, a nice waterfront community and park along the St. Clair River.
Watch freighters crossing into the port from the Blue Water River Walk in Port Huron. Also in Port Huron is the Blue Water Trolley, which is nice to ride and learn more about the cultural and maritime history of the area. To explore the region on your own, you can visit the Nautical Mile in Marine City, which is a half-mile area with shops, restaurants, and riverfront viewing. You can also explore by water on a local river cruise.
12. Cheboygan
The Inland Waterway in Cheboygan
The town of Cheboygan Northeast Michigan is considered the gateway to the waterways because it is the access point to the state's inland waterway system. The Inland Waterway is a 42-mile route along three rivers and several lakes that starts in Cheboygan and ends in Conway.
The public land near Cheboygan makes it a great place for outdoor activities, like hiking in the summer and accessing ski trails in the winter. It is one of the best places to experience the quiet solitude of Michigan's wilderness.
You will want to spend some time at the Cheboygan State Park and the Black Mountain Recreational Area for outdoor recreation opportunities.
13. Grand Rapids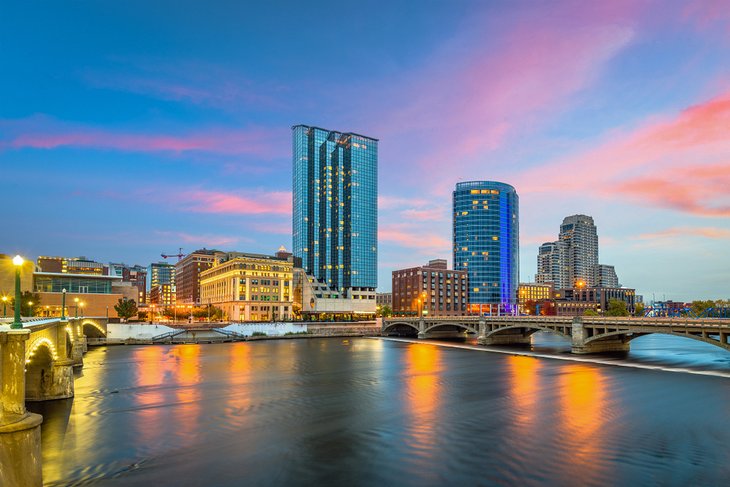 Sunset in Grand Rapids
Grand Rapids is a fun city to visit in southern Michigan, known for its trendy music and food scene. There are many attractions in Grand Rapids that are close to the city, and if you want to add in some outdoor activities, you are never far from a state park or scenic area in Michigan.
Some of the best things to do in downtown Grand Rapids include tours, from cooking to fishing. If you prefer to plan your own itinerary, you will want to include the Grand Rapids Public Museum, the Frederik Meijer Gardens and Sculpture Park, and the John Ball Zoo. The city also has loads of shopping, with several malls and boutique stores in the neighborhoods.
14. Ypsilanti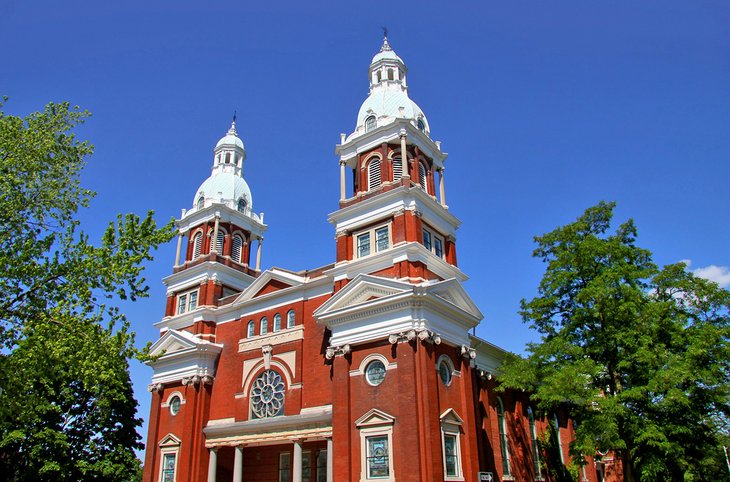 Historic church in Ypsilanti
The small college town of Ypsilanti has so much cultural diversity that it makes for a fun contemporary city to visit. The city is known for its aviation history, so you will find many references to that in town.
The Yankee Air Museum has a number of vintage aircraft on display and even offers rides in a WWII B-17 airplane. The Firehouse Museum is another nice place to see, with a large collection of historical firefighting equipment. This is a fun museum for kids.
Car enthusiasts will want to plan a stop at Depot Town in the summer, where there are regular classic car shows commemorating the location's history as the last documented Hudson dealership.
15. Pictured Rocks National Lakeshore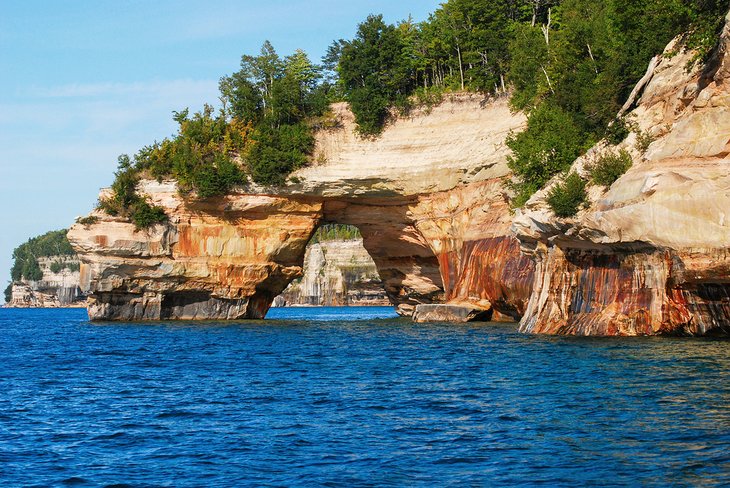 Pictured Rocks National Lakeshore
The Michigan coastline along Lake Superior is where you can visit the Pictured Rocks National Lakeshore and soak in one of the most stunning scenic areas in the state. The coastal area has 42 miles of preserved lakeshore in Michigan's Upper Peninsula. Its beauty comes from the symphony of ecosystems that exist together, from the beaches, waterfalls, and sand dunes to rugged sandstone cliffs and forests.
Whether you are an outdoor enthusiast or just visiting for some serenity and scenery, you are in for a memorable experience. Pictured Rocks has more than 100 miles of hiking trails that are especially nice to visit in the spring to see native wildflowers and in the fall, when the forest trees turn into an array of warm fall colors. If the water calls to you, there are more than 12 miles of beaches and five miles of towering sand dunes.
Located inside Pictured Rocks is Beaver Basin Wilderness, a federally protected area, where you can enjoy kayaking, cross-country skiing, hiking, and overnight backpacking in a more secluded wilderness.
There are several historical sites at Pictured Rocks worth a visit if you have time, including the Au Sable Light Station and the Munising U.S. Coast Guard Station. Because there is so much to see and do at Pictured Rocks, it is best to make your first stop at the Grand Sable Visitor Center to get advice on what to see for your time and interests.
Address: Munising, Michigan
16. Bond Falls Scenic Site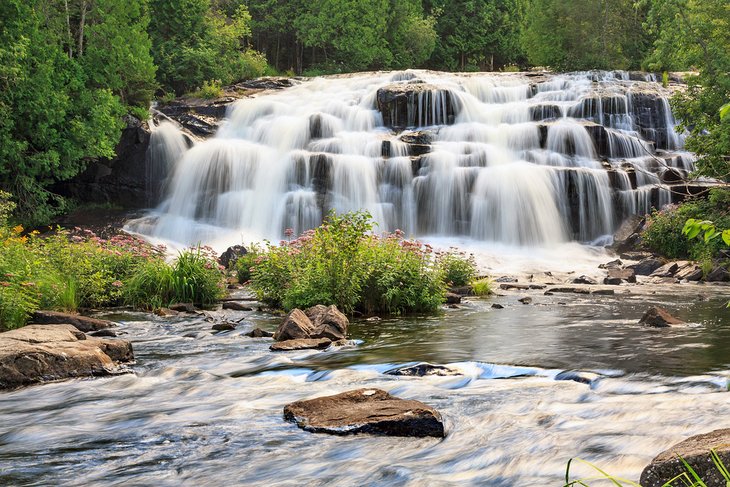 Bond Falls
There are many waterfalls in Michigan but some of the standouts worth a visit on their own are at Bond Falls Scenic Site. Bond Falls is a stunning waterfall on the Ontonagon River on the western side of Michigan's Upper Peninsula, located 10 miles north of Watersmeet Township.
The waterfall drops 50 feet and is separated into multiple waterfalls as it flows down the middle branch of the river. There are several nice access points to see the falls, including a boardwalk that leads to several viewing platforms.
There are some hiking trails in the area suitable for making a day out of your visit and enjoying a packed lunch at the Bond Falls picnic area. While you are in the area, you should make a stop to nearby Agate Falls.
17. Frankenmuth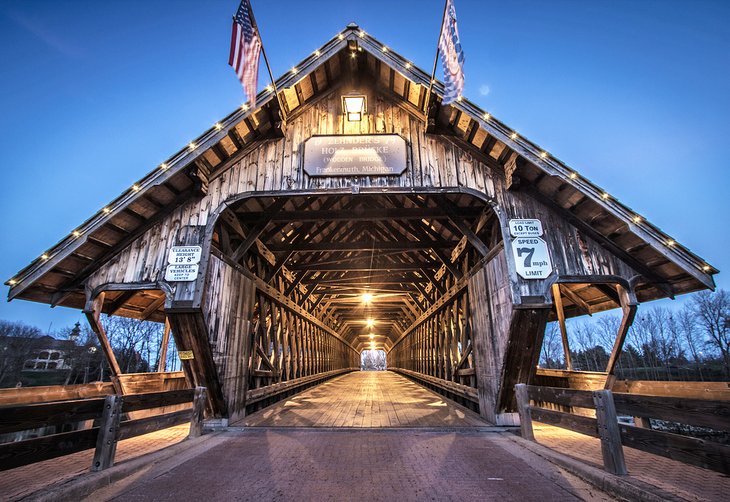 Covered bridge in Frankenmuth
A visit to Frankenmuth will make you forget that you are in the United States, and it is one of the most unique places in Michigan. It is called Michigan's little Bavaria because of the German-inspired experiences, from food and lodging to its year-round Christmas theme.
Start your visit at Bronner's CHRISTmas Wonderland, home of the world's largest Christmas store, which has been operating since 1945. You can pick up a personalized gift or just walk the complex that is the size of 1.5 football fields to admire the uniquely adorned trees and decorations.
Channel your inner German baker by taking a pretzel-making workshop at The Bavarian Inn and Bakery for a truly unique and fun experience. Take time to stroll through the village and experience the Bavarian Inn Castle shops; take a carriage ride or hop aboard the Bavarian Belle Riverboat for a trip down the Cass River.
While Frankenmuth has plenty of tourist attractions, there are many outdoor experiences that you can mix into your trip. You can rent a kayak and get a view of Frankenmuth from the Cass River, or take a drive to the covered bridge in the village, which is one of the most iconic images of the area. The wooden landmark is a nod to authentic German architecture and craftsmanship.
18. Beaver Island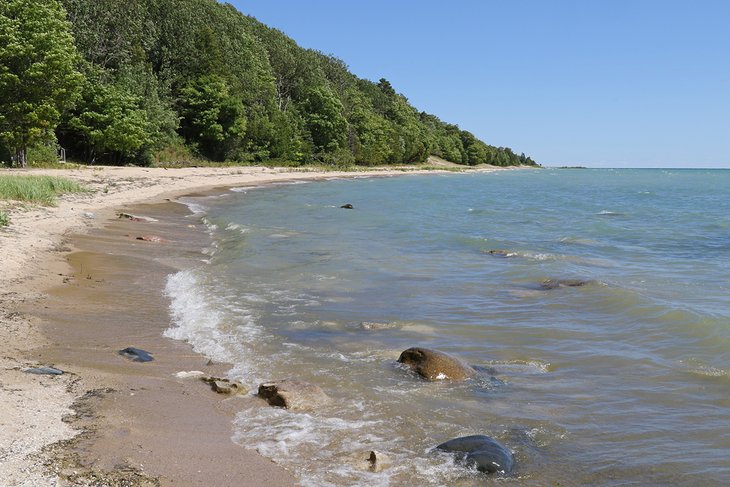 Beach on Beaver Island, Lake Michigan
Michigan has so many places to visit with stunning beauty and history, but Beaver Island is a standout because it is an island in the middle of Lake Michigan with a population of only 600, and so secluded that it is one of the best stargazing spots in the United States. It takes a bit more effort to get to Beaver Island, but the visit is worth the effort.
You can get to Beaver Island by a ferry or plane departing from Charlevoix. As the largest island in Lake Michigan and the largest among the 14 islands in the Beaver Island Archipelago, it has unspoiled beauty and is far away from city lights. The ecological diversity on the island makes paddling along The Beaver Island Water Trail a fun activity. Canoe or kayak along the designated 42 miles of paddle trails that go around the island for a close-up glimpse of native wildlife and waterfowl.
Beaver Island has hundreds of miles of scenic opportunities. You can just take a drive without an agenda and enjoy stumbling on the lighthouses, historic cabins, wildflowers, and scenery that you find.
For those who make conservation a priority when traveling, you will appreciate the "leave no trace" principles instituted on the island, designed to help preserve the ecosystem that exists here and the species like bald eagles that call it home.
19. Saugatuck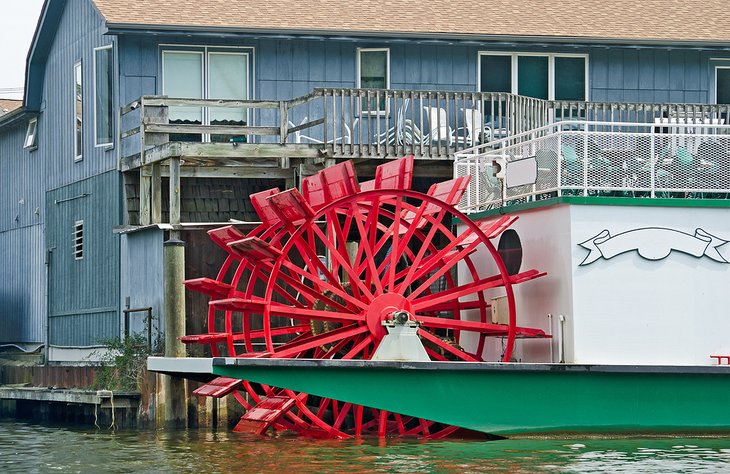 Paddle wheel riverboat in Saugatuck, Michigan
The charm of Saugatuck, located in southwest Michigan, is its arts scene, which makes it one of the best places to visit in the state. The town's history is entrenched in the Arts and Crafts Movement of the late 1800s, which carries through to today. You will find dozens of art galleries in town with artists of many mediums showcasing their work.
Saugatuck is nicknamed the "art coast of Michigan," so you will find that to be the backdrop of your visit. Drop into an open arts class at the Ox-Bow School to learn how to create something new, or find a one-of-a-kind item to take home from one of the arts fairs that take place in the town.
Art is not the only beauty in town, Saugatuck has a stunning beach scene and notable sunsets on the Lake Michigan shoreline. There is plenty of hiking in the area at Saugatuck Harbor Natural Area or at the Saugatuck Dunes State Park.
No visit to Saugatuck is complete without a paddleboat cruise down the Kalamazoo River.
20. Isle Royale National Park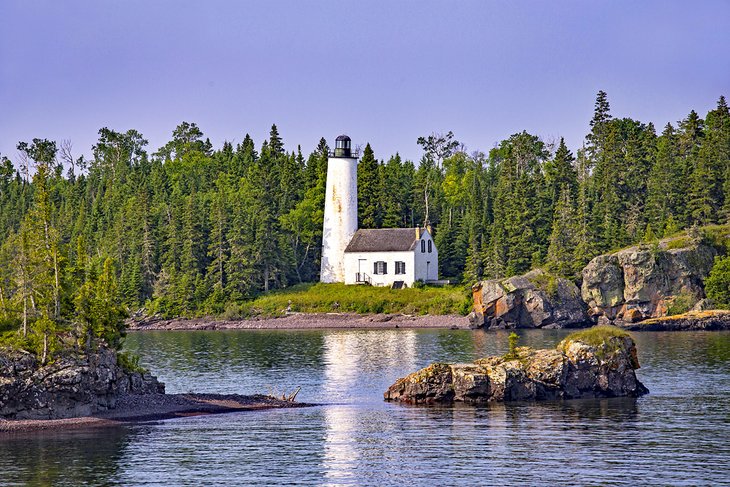 Rock Harbor Lighthouse, Isle Royale National Park
Isle Royale National Park in Michigan is as pristine as its name makes it sound. It is located on the U.S.-Canadian border and is a must-visit if you have extra time to plan in your Michigan itinerary, given its distance. Isle Royale is only 45 miles long and has nearly 400 islands surrounding it in Lake Superior.
The wilderness feel of Isle Royale is for those who want to experience Michigan's unspoiled beauty in a peaceful getaway and not the tourist locations. It is great for hikers, bikers, kayakers, and backpackers.
As you travel around the island, you will see remnants of Isle Royale's rich history in the mining and fishing industries. Drive by the Rick Harbor Lighthouse and look for important pieces of history, like the Kemmer cottage in Tobin Harbor and some of the historic resorts that hosted some of America's elite in the early 1900s.
You can get to Isle Royale by ferry or seaplane from Houghton, Grand Portage, Copper Harbor, or Grand Marais.
Address: 800 East Lakeshore Drive, Houghton, Michigan
More Related Articles on PlanetWare.com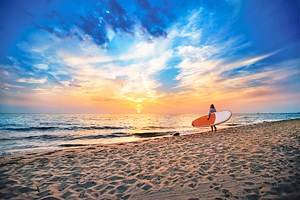 Exploring More of Michigan: As you plan your Michigan trip, be sure to review the top beaches if you are traveling in the summer and the top ski resorts if you are visiting in the winter. If you are looking for unique weekend getaways in Michigan there are many small towns, historic areas, and outdoor recreation options to consider.
Source https://www.planetware.com/tourist-attractions/michigan-usmi.htm
Source https://vacationidea.com/destinations/best-places-to-visit-in-michigan.html#:~:text=Popular%20Michigan%20weekend%20destinations%20include%20Mackinac%20Island,%20Holland,,outstanding%20water%20sports%20on%20the%20many%20inland%20lakes.
Source https://www.planetware.com/michigan/best-places-to-visit-in-michigan-us-mi-98.htm