25 Best Places to Visit in Europe
In the old days, Americans use to take a couple of years to make the Grand Tour of Europe. They had the right idea. You need lots of time to fully experience all that Europe has to offer. Since most of us today have only a few weeks holiday each year, we need to pick and choose what we'll see.
With so many top places to visit in Europe, we can narrow the list down by geographic region or special interest. Since it takes only hours to get to Europe these days, compared to the weeks it took our ancestors, to get to Europe, we can always return to visit new sights.
25. Vienna [SEE MAP]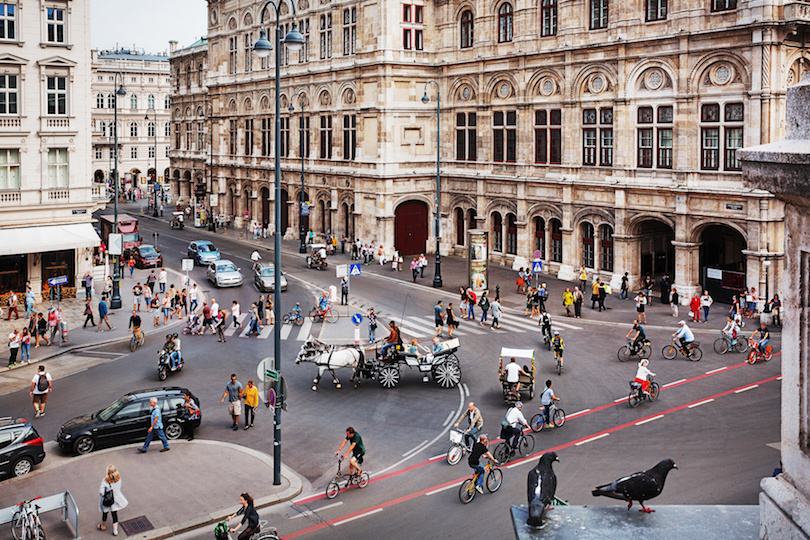 Vienna is the most magical city in Austria. It's a city that conjures up images of beautifully gowned women dancing to Strauss waltzes. It's a city where beautiful white Lippizaners dance with precision around a ring. It's a place where you'll toss your diet aside for a piece of chocolaty sachertore.
Don't forget to wander the picturesque Old Town, visit the opulent Baroque Schonbrunn Palace, the medieval St. Stephen's Cathedral, the imperial Holburg Palace or maybe even a performance by the famed Vienna Boys Choir.
24. Stonehenge [SEE MAP]
Natesh Ramasamy / Flickr
You have to marvel at the determination of prehistoric man when you look at Stonehenge. Construction started about 3000 BC on what was originally burial grounds. Huge monoliths, weighing 25 tons, were dragged 240 km (150 miles) to the site a few hundred years later.
It's not known exactly how many humungous rocks were moved to a field near Amesbury but there are 13 standing today. It's also not known why Stonehenge was built, but many believe this great UK landmark is associated with early astrology.
23. Matterhorn [SEE MAP]
Egypt may have its pyramids, but Italy and Switzerland have a nature-made pyramid of their own: the Matterhorn. At 4,478 meters (14,692 feet) high, this famous mountain is one of the highest in Europe. The mountain has four faces, each equally rugged.
This legendary mountain has been popular with climbers since the first ascent in 1865; during the summer 150 people a day try to climb it. Couch potatoes may be just as happy to stay below and gaze in awe at the summit playing hide and seek with the clouds.
22. Plitvice Lakes [SEE MAP]
The Plitvice Lakes are so pretty, officials turned them into a national park. Located in central Croatia, Plitvice Lakes consists of 16 lakes that attract more than a million visitors a year. The lakes are surrounded by lush forests and connected by waterfalls cascading down from one lake to another.
The lakes are divided into two sections, lower and upper, because of the difference in elevation. The best way to see the lakes is walking; on the route you might even see some wildlife.
21. Budapest [SEE MAP]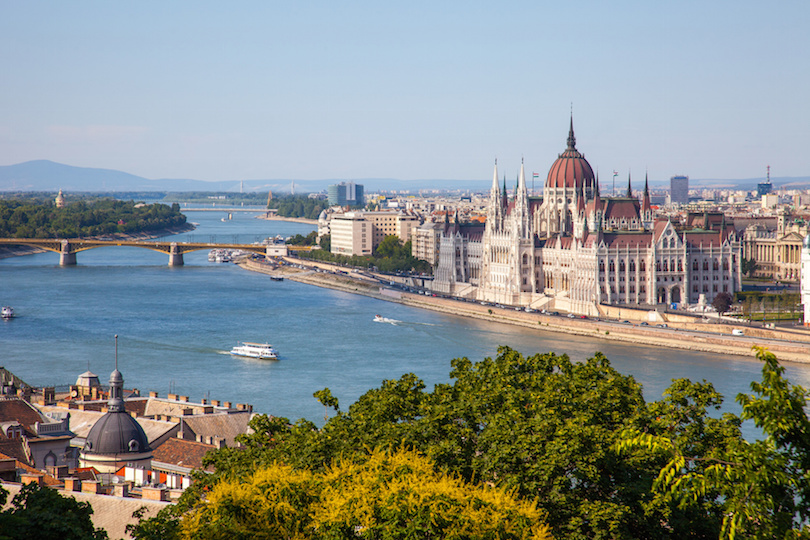 Budapest was already an established city when the Hungarians took over in the ninth century. Today, Budapest is the country's capital and largest city. In between these two events, Budapest was ruled by the Mongols and Ottomans, among others.
Considered one of the most beautiful cities in Europe, Budapest is home to the Museum of Fine Arts with its collection of more than 100,000 works. Be sure to visit the centrally located Old Town with its many museums, churches, palaces and Parliament building.
20. Lisbon [SEE MAP]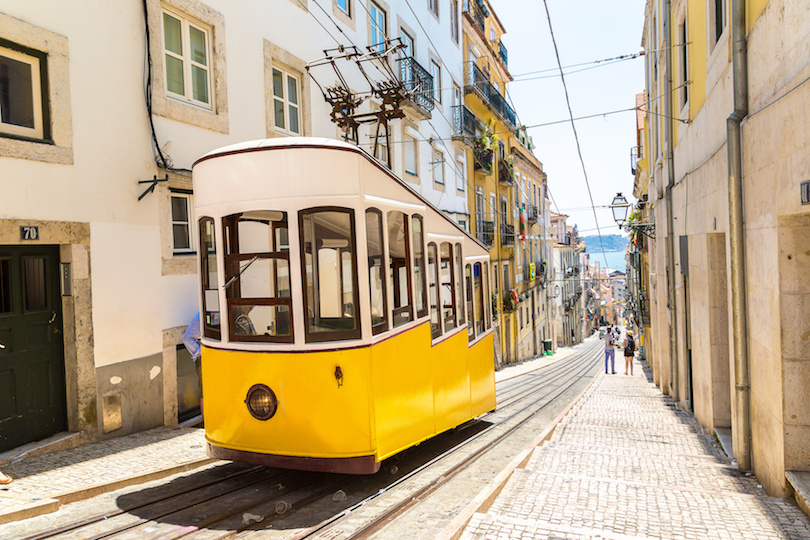 The Portuguese capital of Lisbon lies on the Tagus River along the Atlantic coast. It is this location that encouraged explorers to sail far and wide around the world in the 15th, 16th and 17th centuries.
One of the things you'll want to see is Belem Tower, a 16th century fortress on the Tagus' north bank. If you're looking for good views of old Lisbon, head to Sao Jorge Castle that was built on a hilltop by the Moors.
19. Gullfoss [SEE MAP]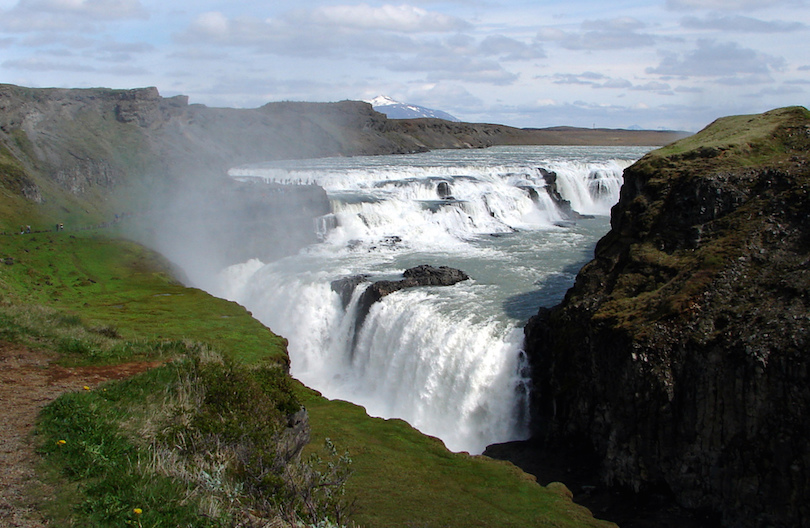 You probably don't know too too many people who've been to Iceland. But it may be worth a trip there to visit the spectacular Gullfoss waterfalls. Located in southern Iceland, Gullfoss is one of Iceland's top tourist attractions.
At times it almost appears glacier-like, appropriate, perhaps, since it is fed by a glacier. The waterfalls begins just after the Ölfusá River makes a perpendicular turn and then cascades down a three-step staircase into a canyon that is 35 meters (115 feet) deep.
18. Athens [SEE MAP]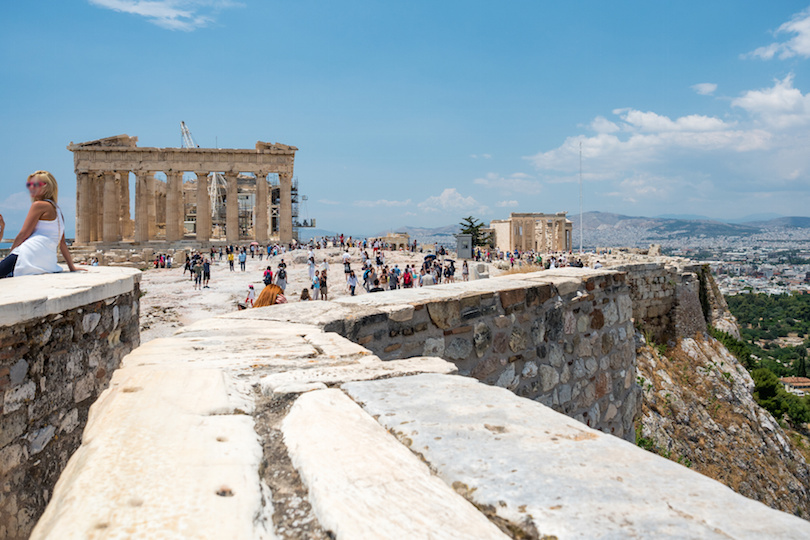 Athens, a city that's been inhabited since the fifth century BC, gave the world the concept of democracy. Since this metropolis is both the capital of Greece and of historical Europe.
Many of the city's major landmarks can be found in the old town, particularly around the Acropolis. The list includes the temple of Zeus; the Theatre of Dionysus where Sophocles works were performed; Hadrian's Arch, the symbolic entrance to the city, and the Parthenon, which sits atop the Acropolis.
17. Bay of Kotor [SEE MAP]
When you're hungry for breathtaking scenery, feast your eyes on Kotor Bay in southwestern Montenegro. This bay off the Adriatic is just downright picturesque: hemmed in by mountains, with quaint villages sandwiched between the cliffs and the gorgeous blue water.
Several well-preserved medieval towns ring the bay. People make pilgrimages here, not only to take in the scenery but also to visit the 200 Orthodox and 100 Christian churches and chapels spread among the villages.
16. Moscow [SEE MAP]
Moscow, for nearly 900 years the capital of Russia, is the heart of Russia and Eastern Europe. As such, this old city has plenty to offer visitors. Let's start with the 15th century Red Square since many of the city's key attractions surround it.
A top landmark is the Kremlin, a former fortress that houses museums and the president of the Russian federation. Lenin's Tomb sits in the middle of the square, while the iconic onion-domed St. Basil's Cathedral, now a museum, is on one side.
15. Venice [SEE MAP]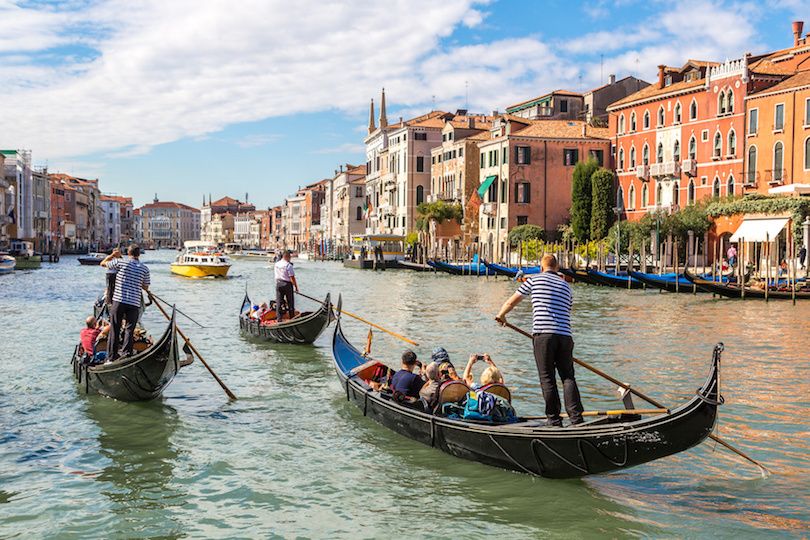 Venice is for romantics who love gliding through the Grand Canal with a gondolier singing Italian love songs. This is, after all, the city that sent Marco Polo off on his journey to China.
Start your exploration of Venice at San Marco Square, the city's most famous square. Here you'll find the Doge's Palace, the seat of Venetian government, and St. Mark's Basilica, the main church in Venice with stunning views from the tower. Venice also is famous for its bridges (Rialto and Sighs) across the canals.
14. Monte Carlo [SEE MAP]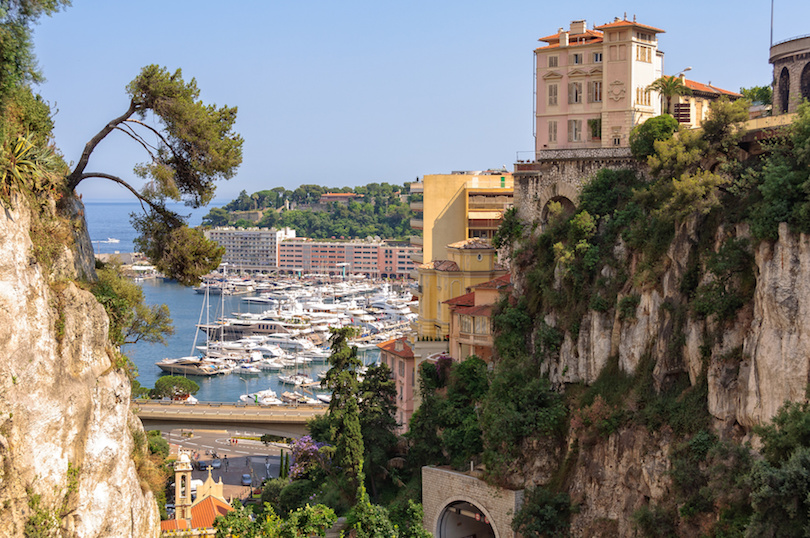 If you're into glitz and glamour, look no further than Monte Carlo, the major city in the tiny principality of Monaco. Monaco has always been known for these qualities which reached new heights when its prince made Grace Kelly his princess.
Sitting on the shores of the Mediterranean, Monte Carlo is known for fast car races and its elite casino. Take a walk along the harbor to see yachts (some as big as ships) that belong to the rich and famous.
13. Alhambra [SEE MAP]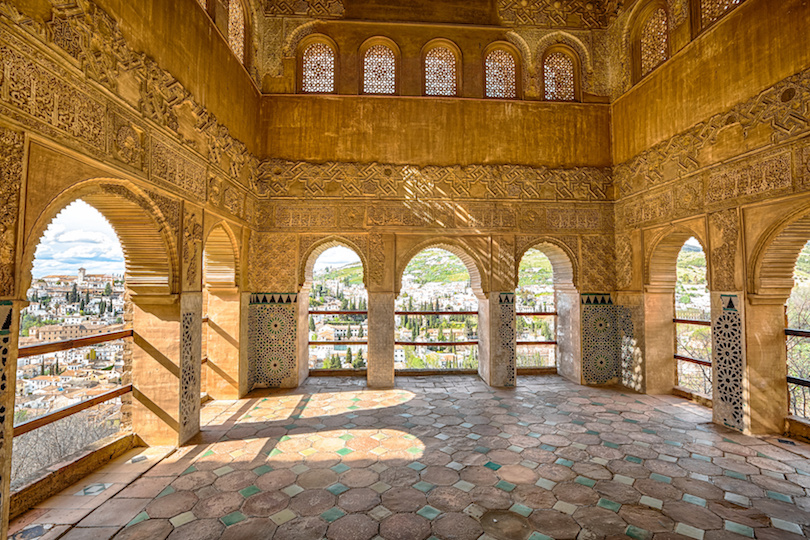 The Alhambra is one of the great wonders of Spain. It's a gorgeous palace-fortress complex that can be found in Granada in southern Spain's Andalusia province. This imposing complex started out as a small fortress in the late ninth century, though it was built on the ruins of a former Roman fortress.
Taken over by Christian rulers, it is the site where Columbus got the go-ahead to discover the New World. The blending of architectural styles over the centuries is stunning. You'll find great art and grand gardens throughout.
12. Florence [SEE MAP]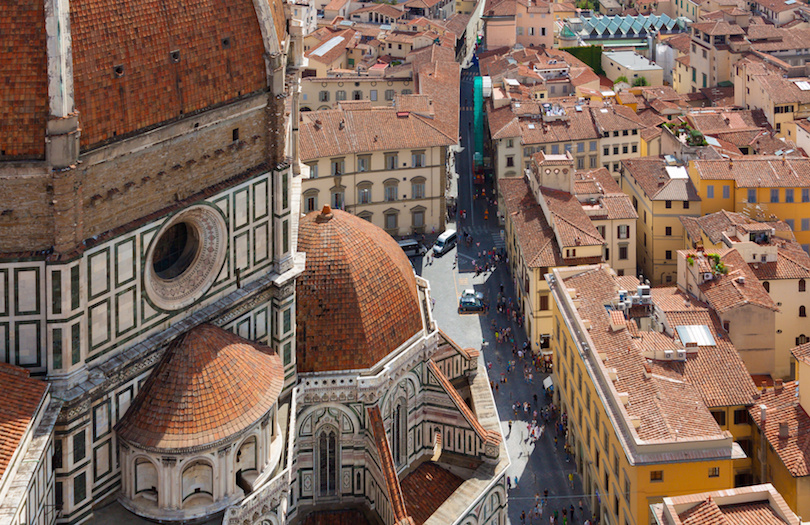 If it weren't for Florence, the Renaissance might not have happened. Florence is generally credited with bringing Europe out of the dark ages with great artists like Michelangelo. You can see their works at the Uffizi, Florence's greatest gallery, or the Academia that displays the original David.
Eat a gelato while strolling the Ponte Vecchio that bridges the Arno River. Ogle the over-the-top riches of the Medici family at the Pitti Palace. Marvel at the early engineering that created the great Duomo. This is Florence at its best.
11. London [SEE MAP]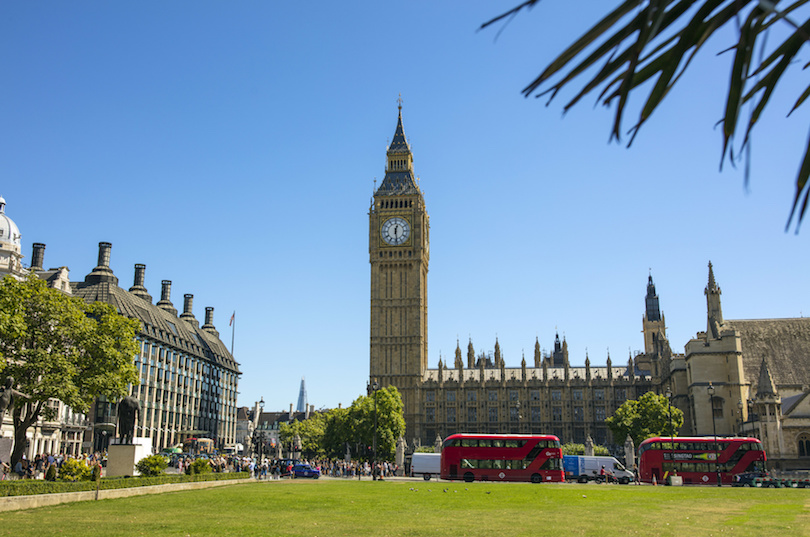 English history buffs will have a field day in London. This city on the Thames is chock full of palaces, from Buckingham Palace to Hampton Court Palace . More a prison than a palace, the Tower of London is home to the royal jewels.
And from Knightsbridge – don't forget to visit the magnificent food halls at Harrods – to Carnaby Street, the shopping is awesome. You can get around London quickly and efficiently by riding the famous Tube – be sure to mind the gap.
10. Neuschwanstein Castle [SEE MAP]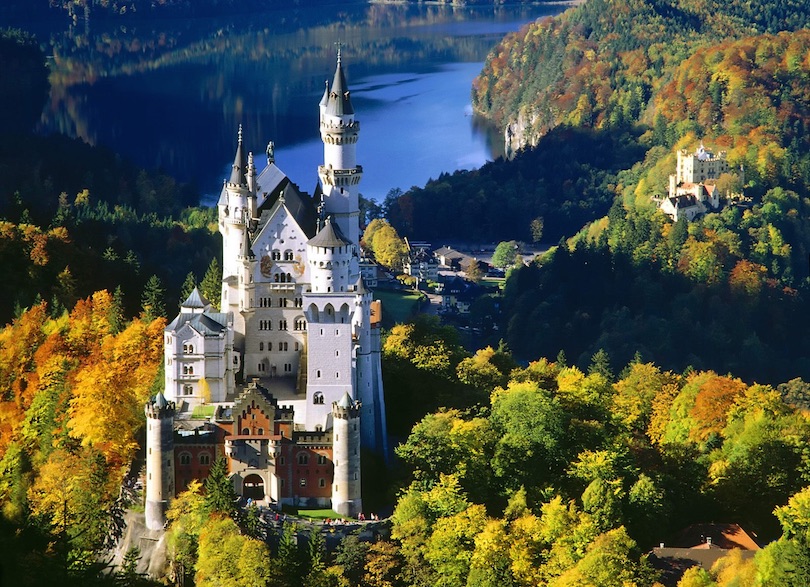 capl@washjeff.edu
"Fairy tale castle" is a phrase that aptly describes Neuschwanstein Castle in the Bavarian Alps. This 19th century Romanesque Revival castles looks like it just stepped out of a fairy tale; some say Neuschwanstein provided the inspiration for the castle in Disney's Sleeping Beauty.
The castle was built as a retreat for King Ludwig II of Bavaria, who viewed it as a romanticization of the Middle Ages The castle was built of brick, then covered in rock, including the white limestone that is visible from afar.
9. Amsterdam [SEE MAP]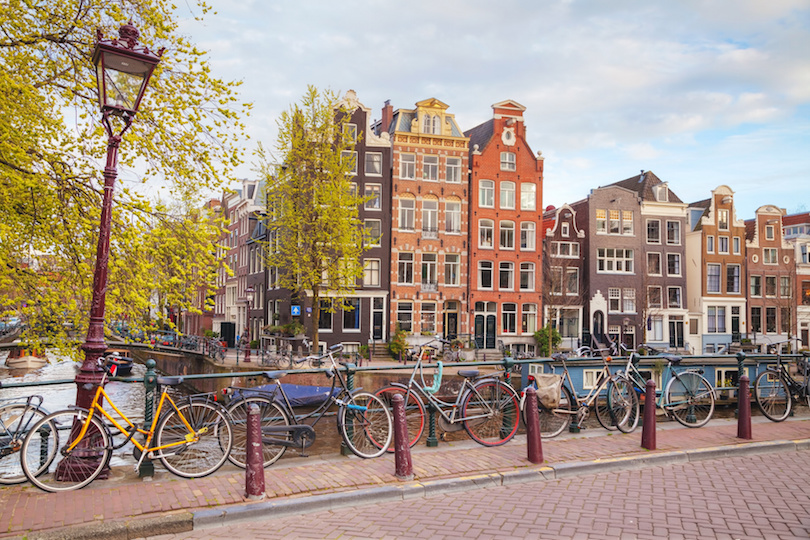 Amsterdam is a pleasant city marked with meandering canals lined with tall, narrow row houses. It is the city where Anne Frank kept her famous diary, so visiting the house where she wrote is a must.
This "Venice of the North" also is a city of great art, beginning with the Rijksmuseum, home to great European masterpieces; Rembrandt's house and the more modern van Gogh museum. Take a break from sightseeing to tour and sample Holland's beer at the Heineken Brewery.
8. Prague [SEE MAP]
Prague, with a long history of war and destruction, is considered one of the best places to visit in Europe. Despite devastation caused by World War II, Prague has a very nice Old Town that is worth more than a few hours of your time.
Prague has many pedestrian zones, which making walking a delight, as you wander by Prague Castle, through the Jewish Quarter, by St. Vitus Cathedral and over the Charles Bridge. Wenceslas Square, situated in the New Town, hums with a vibrant nightlife and entertainment air.
7. Istanbul [SEE MAP]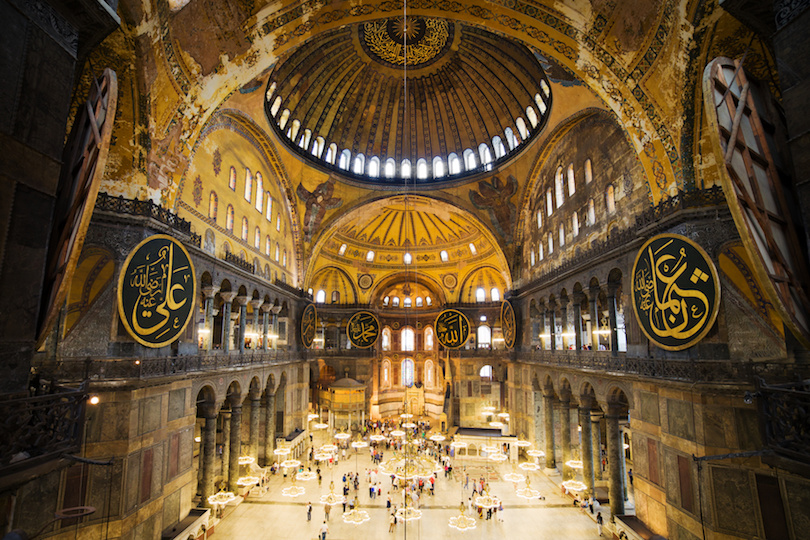 Istanbul may be on the outer fringes of Europe but will worth a visit when you're traveling abroad. Turkey's biggest city is a fascinating place, filled with rich history, colorful markets and mosques.
Top attractions include the Bosporus that separates Europe and Asia; the ecumenical Hagia Sophia that's been a Greek Orthodox Christian basilica, then an imperial mosque and now a museum, and the 15th century Topkapi Palace, also a museum today. Get in a little shopping at the Grand Bazaar that's been in operation since 1461.
6. Geirangerfjord [SEE MAP]
When the summer heat of Europe gets you down, head to Norway with its pretty cool scenery. Geirangerfjord is a 15 km (9.3-mile) long fjord with crystal blue waters fed by picturesque cascading waterfalls. Take a sightseeing trip on a car ferry through the fjord, passing villages on the shores.
Look out for the Seven Sisters and Suitor waterfalls so named because legend says he's trying to court the sisters. Also look for Bridal Veil – when the light is right, it looks like a thin veil covering the rocks.
5. Barcelona [SEE MAP]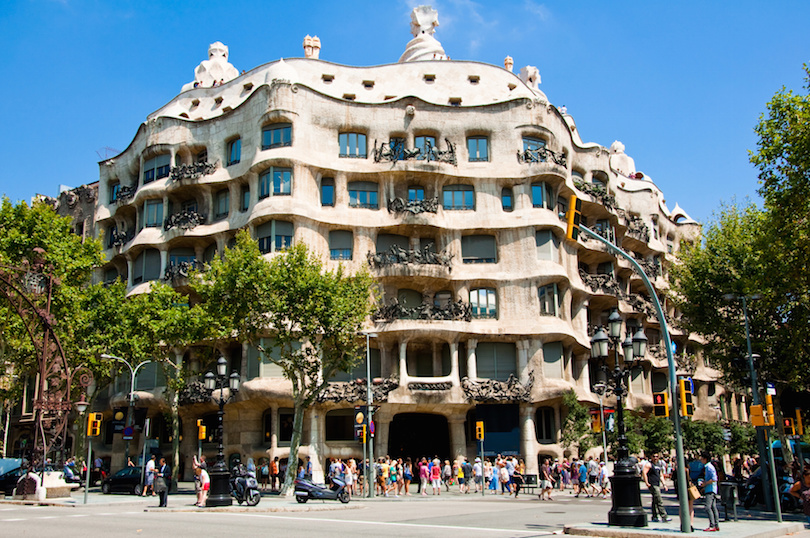 Founded by the Romans, Barcelona today is a bustling city on the Mediterranean Sea. As the capital of Catalonia, it is a powerhouse in the region. It is perhaps best known for the unusual buildings designed by the architect Antoni Gaudi. These landmark structures include La Sagrada Familia, a church that's been under construction since 1892.
You could build your entire visit around his buildings, but then you'd miss out on other Barcelona delights, such as La Rambla, a popular pedestrian street in the central part of the city.
4. Dubrovnik [SEE MAP]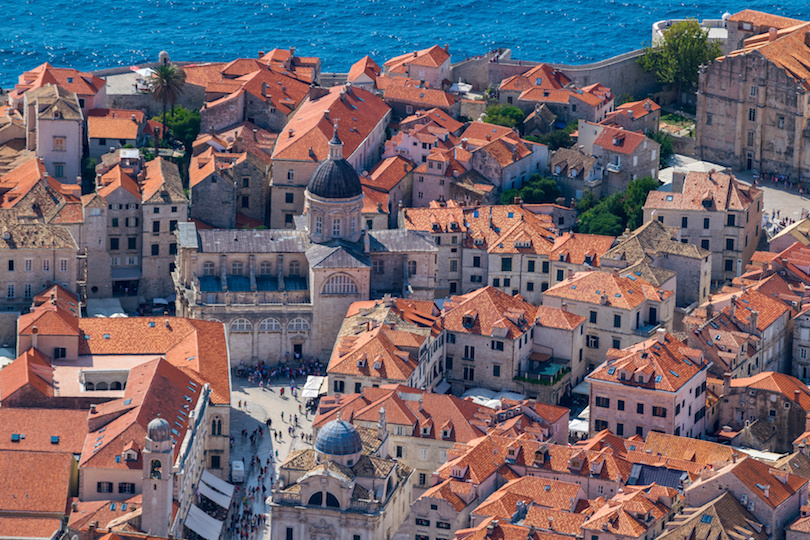 As European cities go, Dubrovnik isn't very big, but don't let its size deter you. This little jewel, with less than 43,000 people, is one of the most visited cities on the Mediterranean.
Dubrovnik transports visitors back to a time when the fortified city was a major maritime power commanding the third-largest navy in the Mediterranean. As you wander the streets, you'll likely come across sculptures of St. Viaho, the city's patron saint whose life is celebrated every February.
3. Santorini [SEE MAP]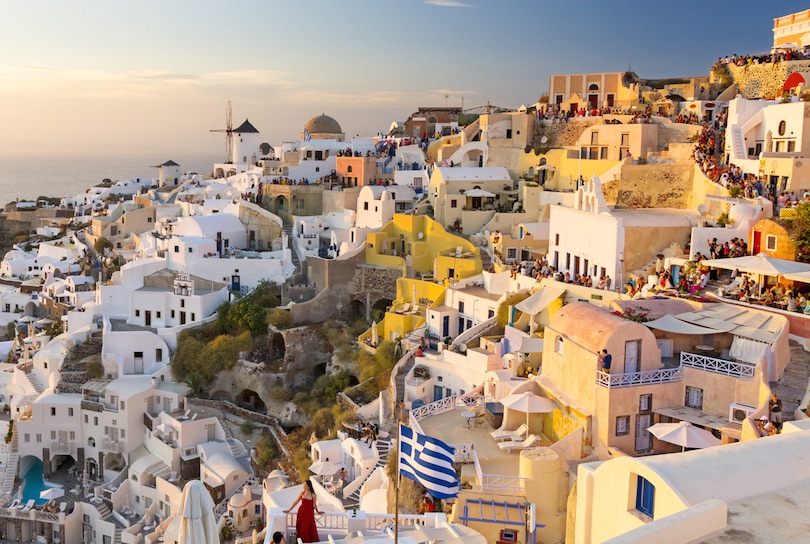 When it's time to sit back and relax, take yourself to to Santorini, an island in the Aegean. Top travel magazines consider this a prime destination; once there, you can't help but agree.
The island has picture-postcard villages, an active volcano and stunning sunsets. Be sure to visit Fira, a village perched atop a cliff. You'll also want to sample wines, such as the dessert wine Vincanto as well as the produce that is made sweeter and tastier because of the volcanic ash soil it grows in.
2. Paris [SEE MAP]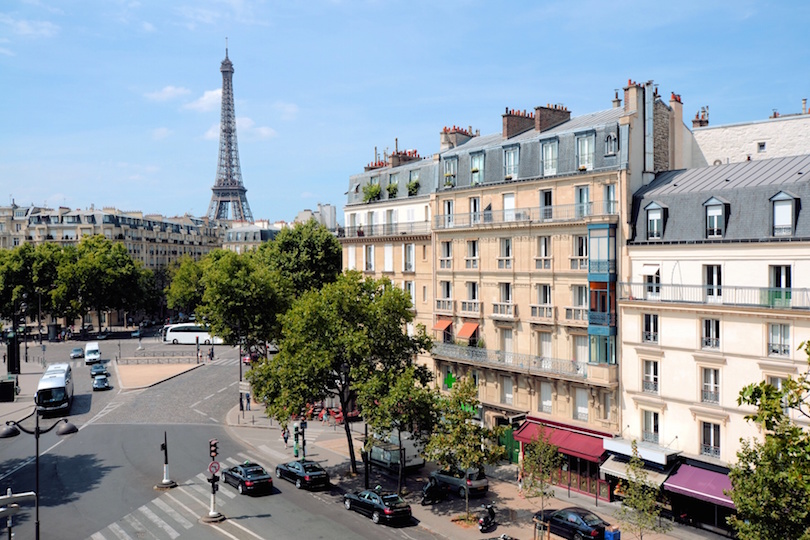 Songs laud Paris in the springtime, but any time of year is a good time to visit this riveting city on the River Seine. It's a city loaded to the brim with history, culture, great food and high fashion.
The iconic Eiffel Tower is one landmark you won't want to miss. The Louvre houses one of the greatest art collections in the world. Its great churches include Sacred Heart and Notre Dame. When it comes to opulence, there's Versailles with its famed Hall of Mirrors.
1. Rome [SEE MAP]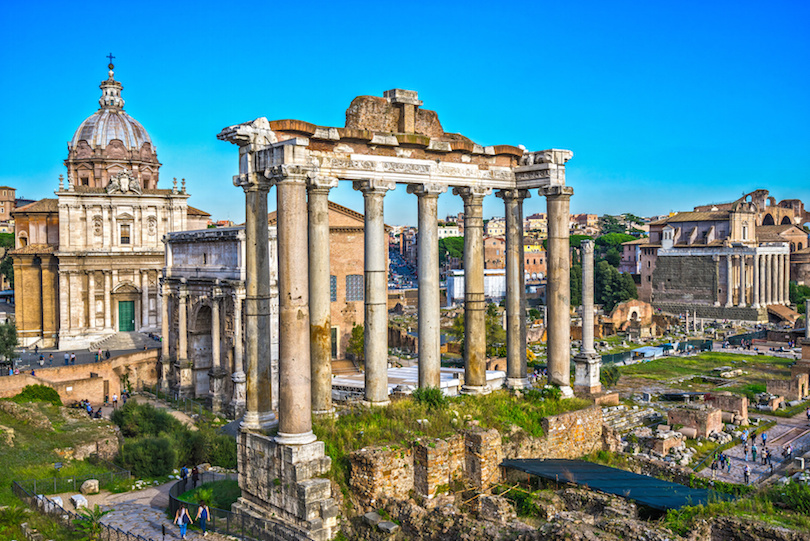 The ancient Romans established outposts as far away as Great Britain. They didn't ignore their home city, however, when it came to building great monuments. One must-see landmark is the Colosseum, an arena that could hold up to 80,000 people for gladiator contests.
One of the biggest draws is a tiny country inside the city: The Vatican City, with its impressive St. Peter's Basilica with art provided by Michelangelo is a must-see even if you're not Catholic. Maybe you'll get a glimpse of the pope at his Wednesday audiences.
Top 15 Cities To Visit In Southern Europe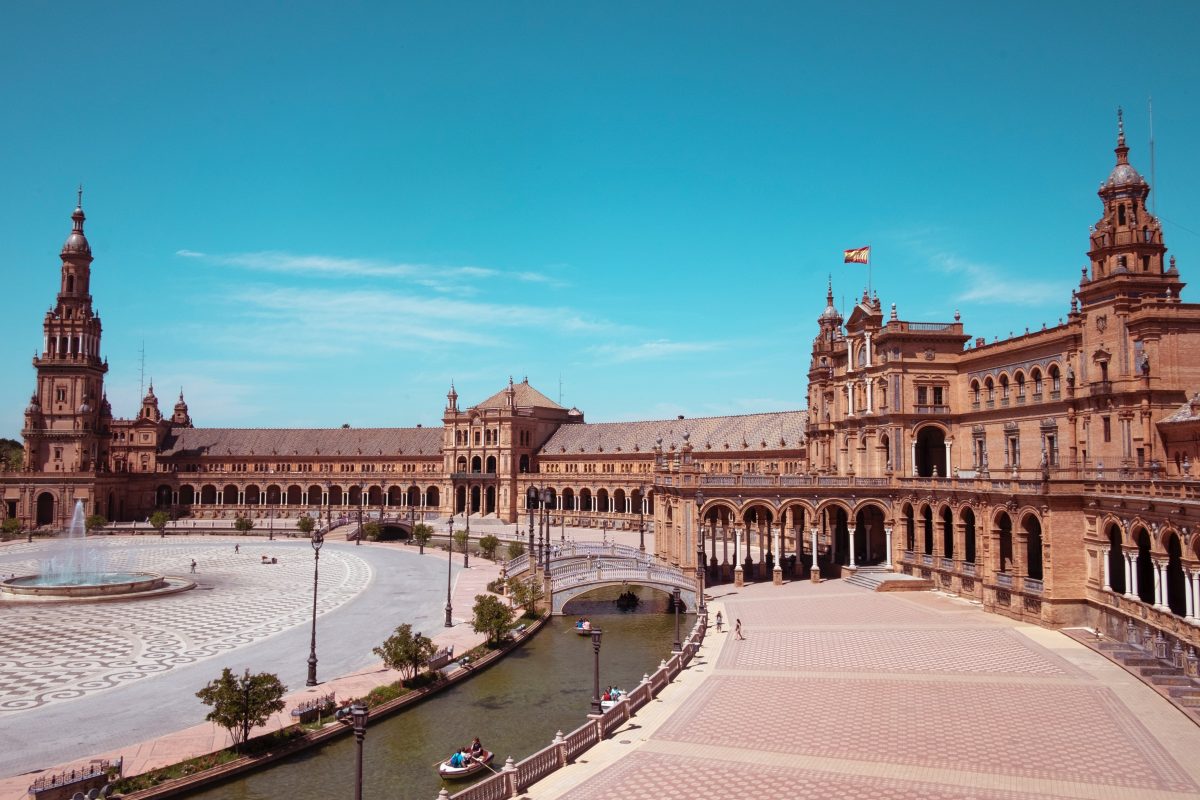 ©Photo by Alev Takil on Unsplash
Planning a holiday to Europe soon, but don't know where to go? It's undeniable that there are unlimited destinations across Europe that look and sounds so tempting. However, if you seek a holiday with a Mediterranean climate; Southern Europe is ideal! While Europeans and travelers flocks to this part of the world for the pristine body of water and easy-going vibe. Southern Europe is also an excellent place to escape the cold wind of Spring and Autumn.
Still, not convinced yet?
The gorgeous scenery to cultured cuisine here definitely keep you wanting for more. The best part, these destinations are wallet-friendly for a family vacation or even for budget couples. If you don't believe, travel here and see it for yourself. Here are our top 15 Southern Europe destinations.
Rome, Italy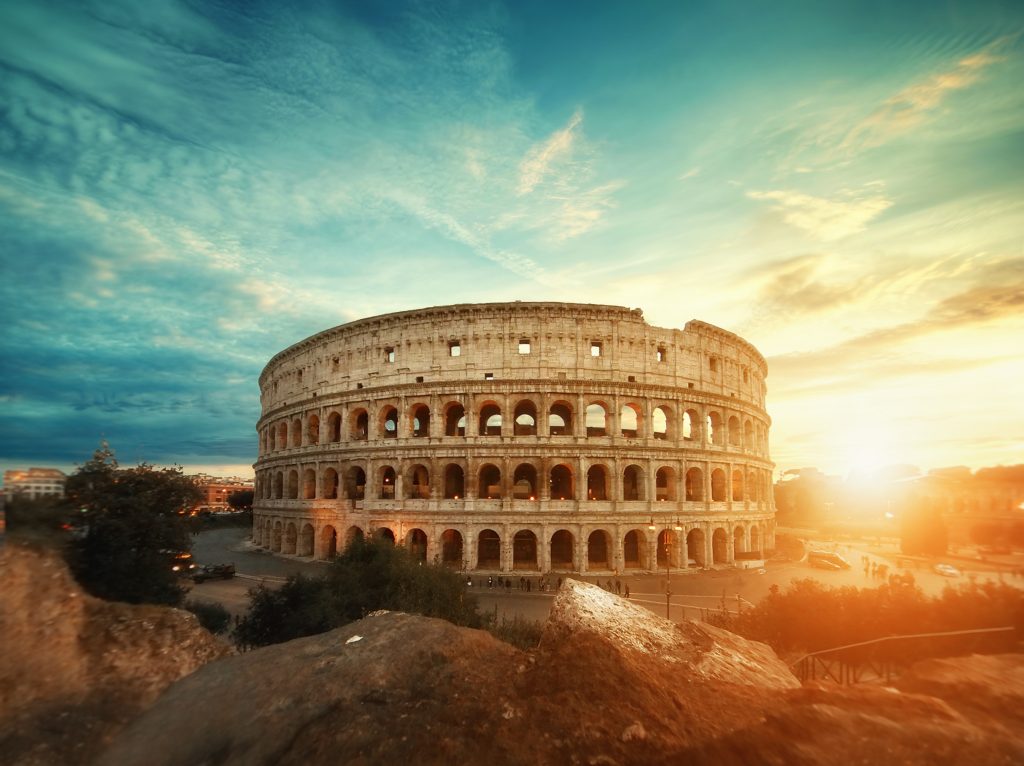 ©Photo by William West on Unsplash
Rome has always been a popular city to visit in southern Europe, and for good reason! The capital of Italy is ancient, dating back over 2800 years. With its rich history, this city is no shortage of any majestic landmarks. Don't be surprised to find ruins leftover from the Roman Empire such as the Colosseum and the Forum stand testament to the strength of that former civilization.
Believe it or not, you can find art and architecture all over the city spanning the past centuries. A city that boasts of museums and galleries, there is for sure something for you. A day trip isn't there to justify how amazing this city is. Extend your visit to learn more about Rome and its history. No matter how long you'll be in the city, you wouldn't feel bored.
However, on the more modern side, Rome is a cosmopolitan city with tons of shopping, food, and entertainment. From the high-end shopping district to quaint Italian cafes and pizzerias, there is nothing that you can't do here. For a foodie like you, treat your palate with the authentic Italian specialties. The pasta and pizzas served by the locally-owned trattorias is sensational. And don't forget about the Gelato too!
If time allows, do as the Romans do. Have a late dinner, followed by a trip to a wine bar, then out to the night clubs. Head to the Teatro dell' Opera di Roma to see a classical opera or ballet.
Barcelona, Spain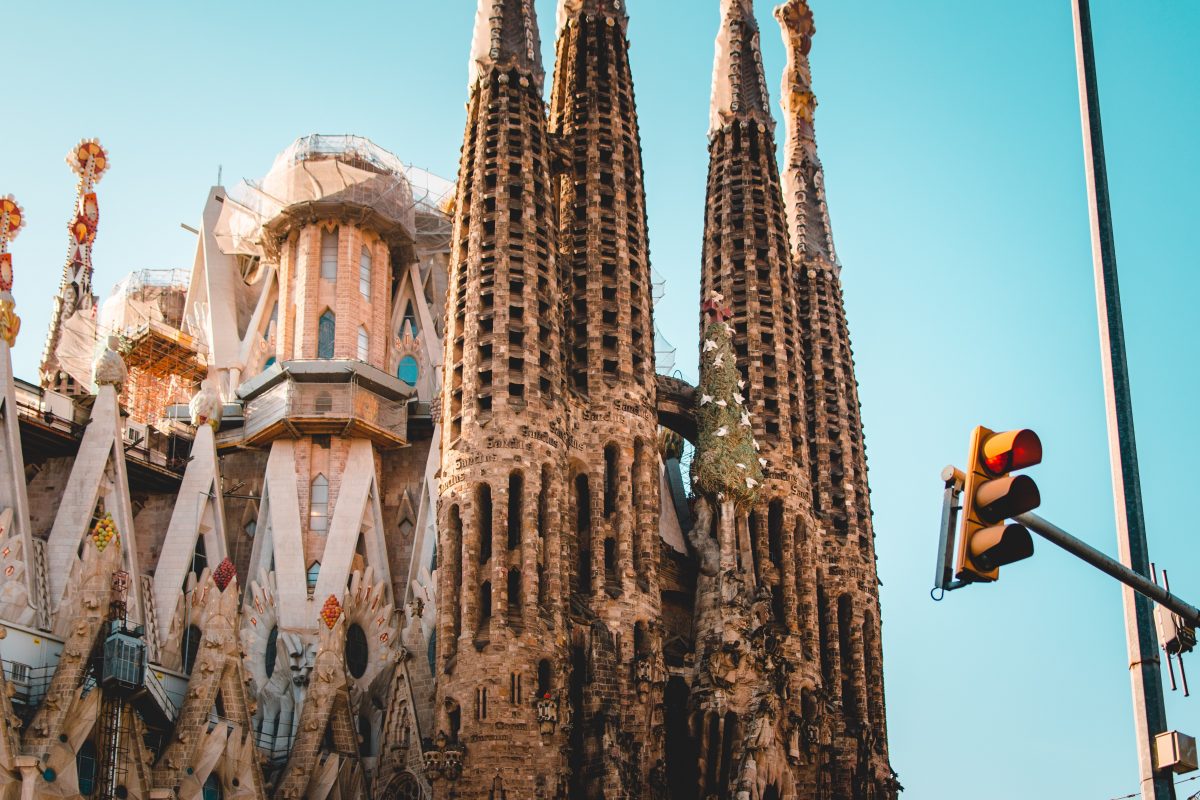 ©Photo by Danil Sorokin on Unsplash
Barcelona, the capital of the Catalonia region of Spain, is a stop that should be included in your trip to southern Europe for a wealth of art and architecture. La Sagrada Família Church, Casa Mila, Park Guell, and other landmarks were all designed by Antoni Gaudí, and his modernist style can be seen throughout Barcelona. While the Museu Picasso and Fundacio Joan Miro are modern galleries featuring works by their namesakes. To make the best out of your time here, try to explore the Gothic Quarter to see some of Barcelona's medieval roots.
For those who seek a vacation with stunning beaches with the Mediterranean Sea, Barcelona sits perfectly along the coast offering pristine beaches and scenery.
Did we mention that Barcelona is also food heaven? Visit this city and ready to be treated with palatable dishes that only keep you wanting for more. If it's not for the tapas, try the traditional Catalan cuisine that makes use of the abundance of seafood and natural condiments like the olive oil. Go bar hopping at a tapas bar, the beers, and bite-size foods assure only the best.
If the city sight-seeing bores you (which it's unlikely to happen), try visiting the friendly neighborhood for its own unique food markets, such as the Mercat de la Boqueria and Mercat de Santa Caterina. Bring home some souvenirs and don't forget about the Iberico hams!
Athens, Greece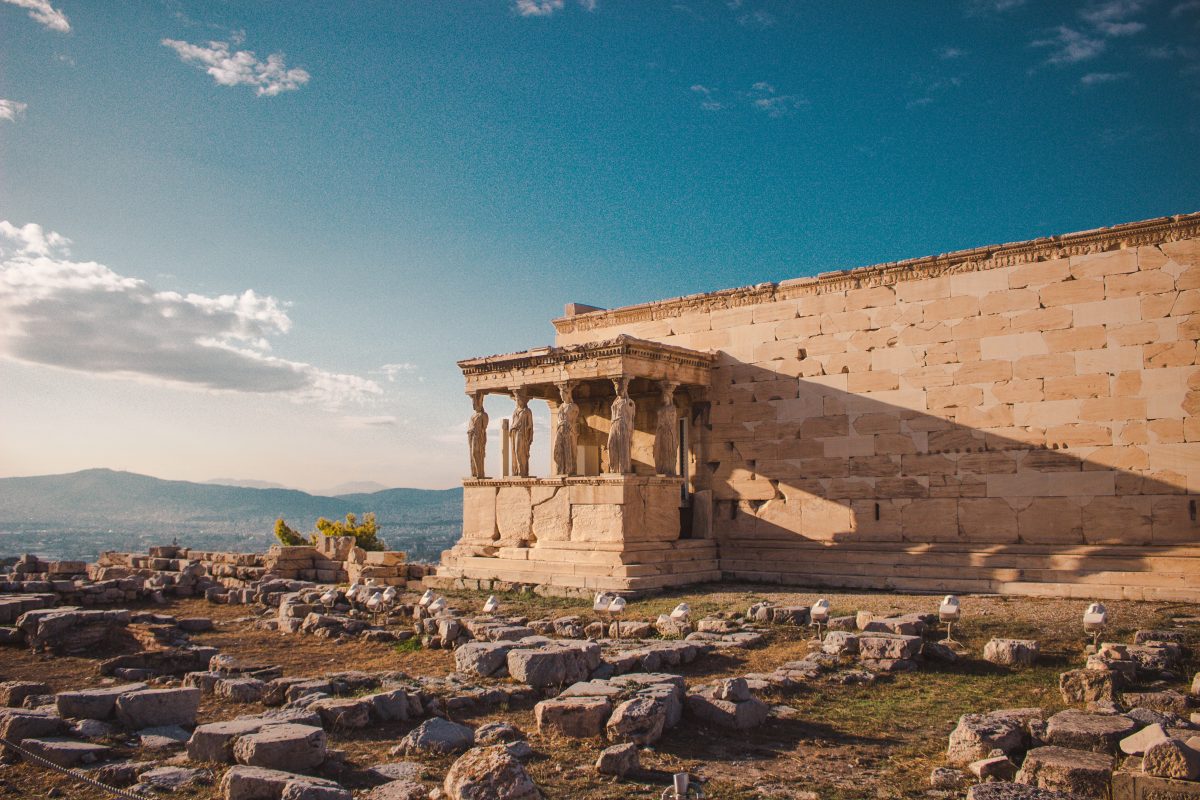 ©Photo by Arthur Yeti on Unsplash
Athens is the capital of Greece and was the center of the Ancient Greece civilization in southern Europe. The city is packed full of history, as it has been around for close to 3500 years. The temple city of the Acropolis was built in 5 th century BC and can be seen on its hilltop from anywhere in Athens. Agora is another historical and beautiful site. Thanks to the grand promenade that was built for the 2004 Olympics, you can take a walk through most of the historic attractions in Athens.
Art is everywhere in Athens, from museums to shops to the walls of crumbling buildings. It's come to be known as one of the best spots in southern Europe for street art. The cuisine of Athens features local and fresh ingredients, served in casual and airy restaurants or slightly modernized tavernas.
The nightlife in Athens is surprisingly modern and very active, and you can spend your nights out at clubs until the sun rises. You'll find a lively music scene as well, with jazz, rock, and the bluesy rembetika vying for your attention.
Madrid, Spain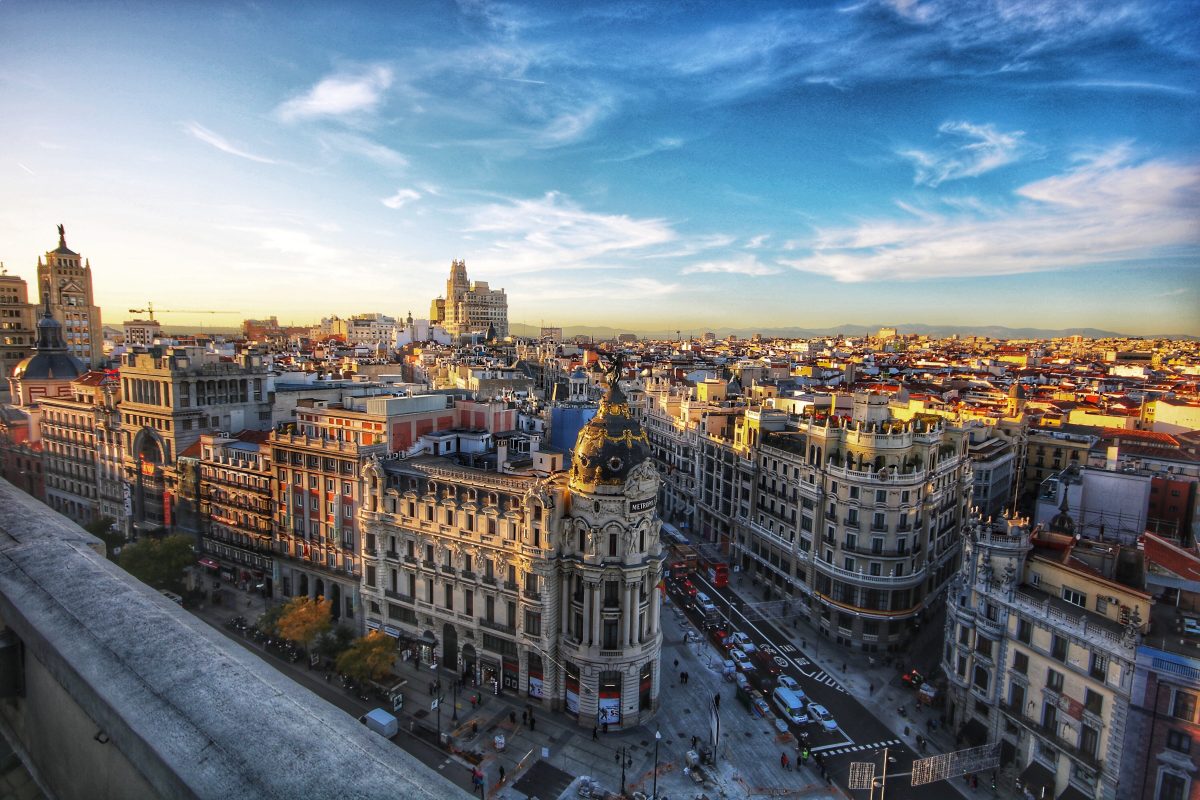 ©Photo by Jorge Fernandez Salas on Unsplash.
Madrid is the capital of Spain and also a wonderful stop for artistic culture in southern Europe. Spanish royals of old would demand the finest art, bringing fame and wealth to such greats as Picasso, Dali, Goya, and Miro. While there are countless art museums around the city, three of the larger ones are the Museo del Prado, Museo Thyssen-Bornemisza, and Centro de Arte Reina Sofia.
The artsy culture in the architecture around Madrid certainly frames the city of Madrid. To have a better picture of this city, try visiting the Madrid old town where the mixture of the contemporary, medieval, and baroque, dotted around the area.
On the other hand, the nightlife of Madrid is one of the most exciting parts this city has to offer. In 1930, Ernest Hemingway wrote of Madrid: "Nobody goes to bed in Madrid until they have killed the night." And the reason after this is because this city has the most bars than anywhere else in the world.
In short, you'll find that the city truly does live by this, and more people than not stay out until dawn. Simply step outside after the sun sets to find the street filled with revelers and a bar nearby.
Lisbon, Portugal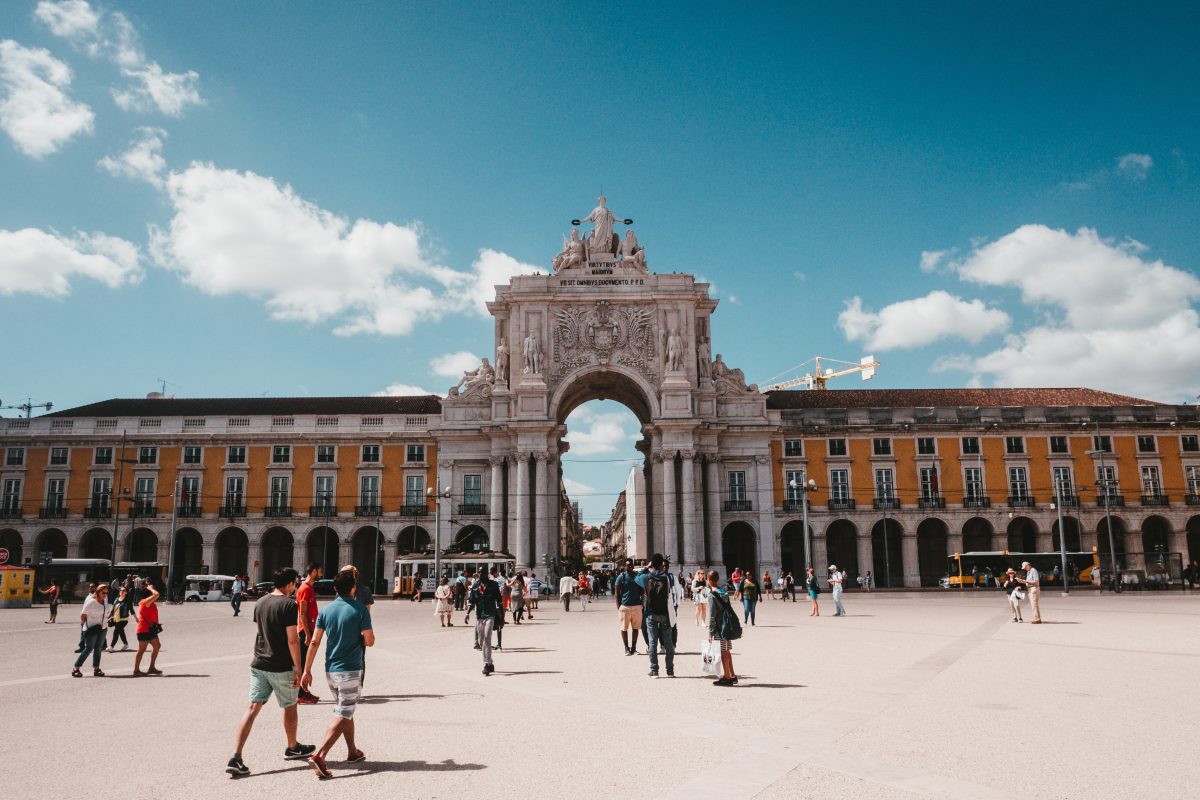 ©Photo by Claudio Schwarz | @purzlbaum on Unsplash
Lisbon is a coastal city in southern Europe and also the capital of Portugal. Famous for its seven hillsides with gorgeous views of the Rio Tejo, Lisbon is separated into different neighborhoods. Roam around the city where each has its own distinct feel.
On the other hand, Baixa and Rossio were the center of old Lisbon and have cobblestone streets to walk along and admire the immaculate architectures. Alfama's maze-like streets lead through the casual, everyday neighborhood. It is here you can get a glimpse of the peaceful life.
While the Castelo neighborhood surrounds a 16th-century castle. If you fancy some modern dining and shopping, Chiado is for you. Otherwise, Bairro Alto is where you can find the best nightlife in Lisbon. Head down to Santa Catrina for a more relaxing and laid-back vibe with small bars surrounding the area.
Though Cais do Sodre used to be Lisbon's red-light district, now is a hipster neighborhood with unlimited bars and restaurants. Finally, Belem is a Unesco World Heritage Site with gorgeous fairy-tale like structures.
Lisbon is one of the most urban cities in southern Europe. The great news is, it still has a lot of historical charm. The Museu Nacional do Azulejo is in a 16th-century convent and is filled with tile artwork, some of it centuries old. The local art museum, Museu Nacional de Arte Antiga, is in a 17th-century palace.
Venice, Italy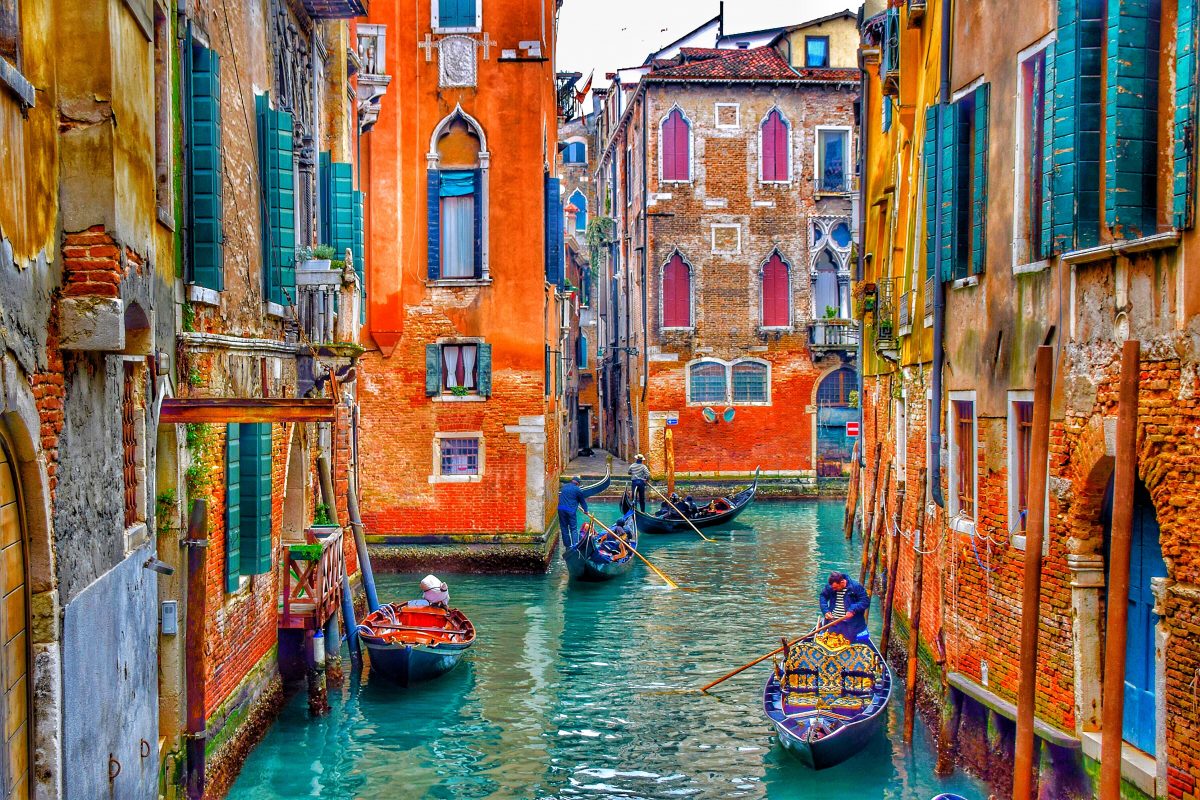 ©Photo by Tom Podmore on Unsplash
Venice is unique among the cities in southern Europe in that it doesn't have any streets – only canals. This Italian city is spread across more than 100 small islands in the Adriatic Sea. The Grand Canal is the main thoroughfare. Here, you will find 50 palazzi and six churches. It ends at the Palazzo Ducale, a white and pink stone palace, and Basilica di San Marco, a marble cathedral with over 8000 square meters of mosaics. Ride down this and the smaller canals to see all of the beautiful architecture.
Seafood in Venice is unparalleled. Even the spices have made their way through centuries of trade routes. Furthermore, Venice is a fashion capital. You can visit the showrooms of artisans to see examples of this. This is also where you'll find some of the best shopping in southern Europe. Almost everything you find will be handmade and unique.
Florence, Italy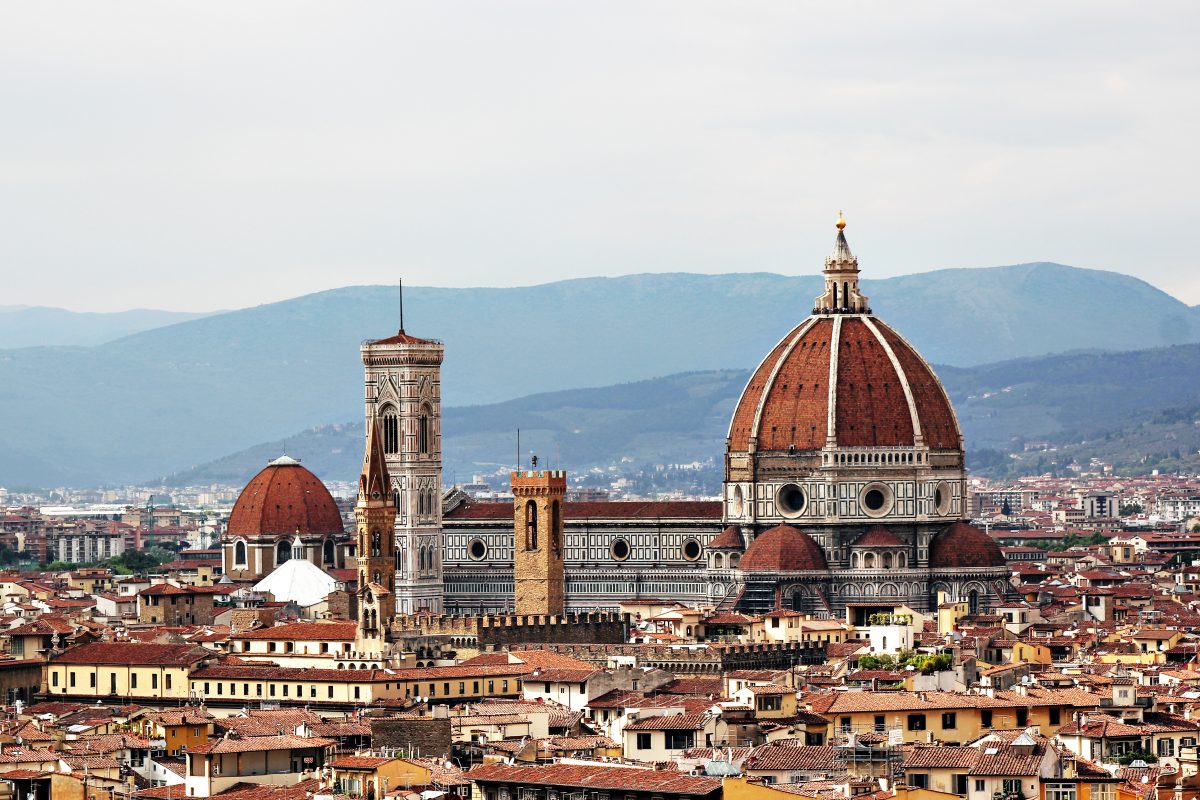 ©Photo by Jonathan Körner on Unsplash
Florence is a Tuscan city in Italy, and one of the best cities for Renaissance artwork and architecture in southern Europe. In fact, much of the city has remained unchanged since the Renaissance era, and you can still find cobbled streets, 15th-century palaces, and basilicas. Countless artists began in Florence, and their work can still be found in the galleries around the city.
The Galleria Degli Uffizi has southern Europe's biggest collection of Renaissance work. The Galleria dell'Accademia houses Michelangelo's famous statue, David. You can even visit the tombs of famous artists and visionaries such as Michelangelo, Galileo, Ghiberti, and Machiavelli in the Basilica di Santa Croce.
While the food in Florence tends to be simple yet delicious. You can find almost any type of restaurant you'd like, from the more traditional trattorias to food carts to contemporary eateries. Tuscan olive oil is, of course, popular, since it's the best place in southern Europe for it. Cafes are a popular stop as well, whether you're looking for one that's historic or modern. You can't beat the coffee you'll find at them.
Seville, Spain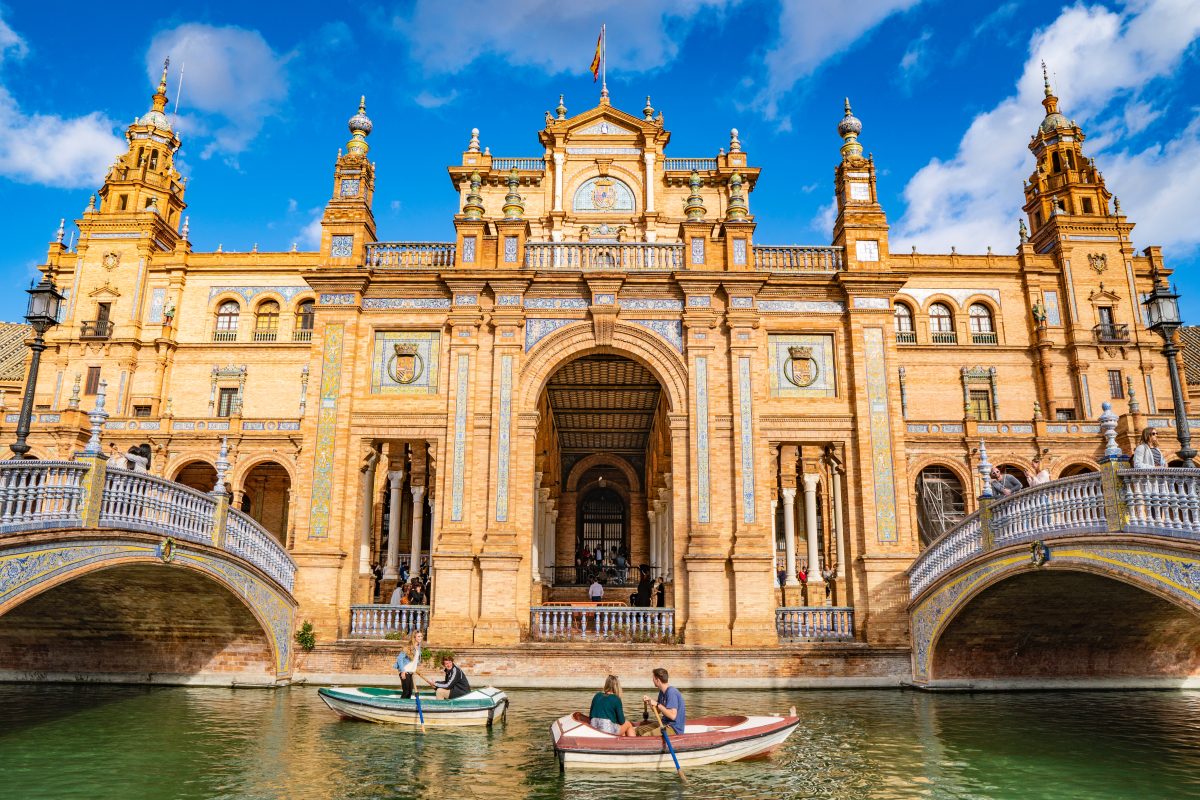 ©Photo by Shai Pal on Unsplash
Seville, Spain is the southern Europe capital of flamenco dancing. You can visit the Museo del Baile Flamenco to learn about the history of the dance. Alternatively, you can check out the Casa de la Memoria, Casa de la Guitarra, or La Casa del Flamenco to catch a show. Another huge part of the city's history is the Real Alcazar, a palace built over eleven centuries ago. It's a beautiful sight, a combination of Christian and Mudejar architecture.
Seville has a multitude of options for food and drink, including traditional tapas or something contemporary. The Barrio de Santa Cruz, Plaza de la Alfalfa, and the Alameda de Hercules are all great places to find bars. The annual festivals like Semana Santa and Feria de Abril are some of the most exciting in southern Europe. Plus, if you're a fan of Star Wars or Game of Thrones, explore Seville for the movie filming spots within and outside of this stunning city.
Dubrovnik, Croatia
©Photo by Ioannis Ioannidis from Pixabay
If your travel through southern Europe and it takes you to Croatia, be sure to visit the city of Dubrovnik. It sits along the Adriatic Sea and features the old town surrounded by walls first built in the 9 th century. As the centuries went on, the walls were added to and forts were built within the city. Take a walk on top of the walls for a beautiful view of the city, and tour the insides of the forts.
Dubrovnik has a modern claim to fame! Similar to Seville, it happens to be one of the significant filming locations in southern Europe for much of the TV show Game of Thrones. If you're a fan of the series, you can visit King's Landing and Qarth in real life through their representations in Dubrovnik. Don't forget about the beaches, the pristine beaches will take your breath away.
Málaga, Spain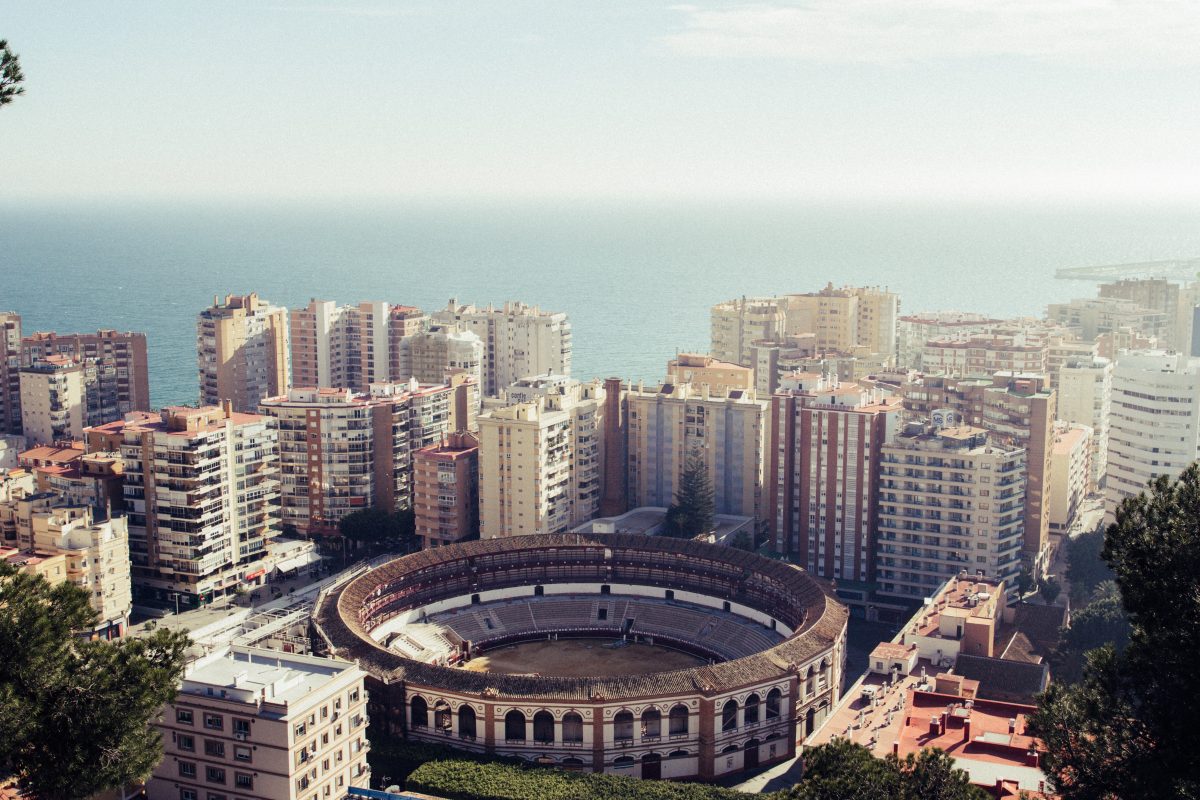 ©Photo by Christian Möller on Unsplash
Malaga, Spain is an important cultural spot in southern Europe – it was the birthplace of Pablo Picasso in 1881. You can also find much of the artist's works in the Picasso Museum, and learn about the study of the artist himself at the Foundacion Picasso. There's also the Museo Carmen Thyssen for 19th-century Andalusian paintings and the CAC Malaga for work from rising artists.
For more glimpses into Malaga's history, visit the two hilltop citadels that overlook the city, the Alcazaba and Gibralfaro. Both are medieval Moorish structures, though Gibralfaro is now only ruins. You can also see the Renaissance cathedral in the city. La Manquita is its nickname, meaning "one-armed lady," because one of its towers was mysteriously never finished.
Malaga is well-known for being a mixture of old and new. The ancient structures stand among the high-rise hotels and the resorts on the beaches of the Costa del Sol.
Also, the bar scene is one of the most lively in southern Europe. The Plaza de la Constitucion and Plaza de la Merced in the old town feature some of the wildest bars you can find. In the same area, you'll find dozens of tapas bars and restaurants selling every type of cuisine imaginable.
Milan, Italy
©Photo by Dianamiaus on Unsplash
Milan is the center of fashion and design in southern Europe. Furthermore, this Italian metropolis is also a financial point of importance, as it's the location of the national stock exchange. The city has a storied history that led to it becoming such an integral part of industry and culture when Italy unified in 1861.
If you hadn't known, Milan is home to Leonardo da Vinci's famous fresco, The Last Supper. You can find a collection of his drawings at the first public library in southern Europe, Biblioteca e Pinacoteca Ambrosiana. Whilst you're browsing these things, be sure to visit some of the beautiful architecture as well, such as the Duomo, a Gothic cathedral with 135 spires and 3400 statues.
Apart from that, Milan is also a sophisticated yet modern city. If you're planning to upgrade your wardrobe, the Quadrilatero d'Oro is the designer shopping district perfectly for you. Head down to Armani Silos where the museum is specially dedicated to Giorgio Armani. While the Studio Museo Achille Castiglioni is dedicated to Achille Castiglioni.
Also, the cuisine in Milan is just as trendy as the fashion, and you'll find everything from Michelin-star restaurants to modern bistros to traditional eateries. The city features one of the most diverse dining scenes in southern Europe, as centuries worth of immigrants have brought new flavors into the area. You'll find everything from nearby delicacies of Genovese, Piedmontese, and Tuscan origins to Japanese and Chinese restaurants.
Malta
©Photo by Magdalena Smolnicka on Pixabay
Based to the south of Sicily, the Republic of Malta is a tiny island nation which offers the perfect blend between rich history, culture, and great all-year-round weather. Consisting of three islands – Malta, Gozo, and Comino, this charming travel destination allows you to encounter some of the finest beaches you'll find anywhere in the Mediterranean.
With plenty of activities, sights, and much more to enjoy throughout your visit, you can choose from a wide range of fantastic resorts with each of them offering a unique feel. The friendly locals are also renowned for their hospitality – ensuring that solo travelers, couples, and families alike will be in for a truly memorable visit from beginning to end.
Santorini, Greece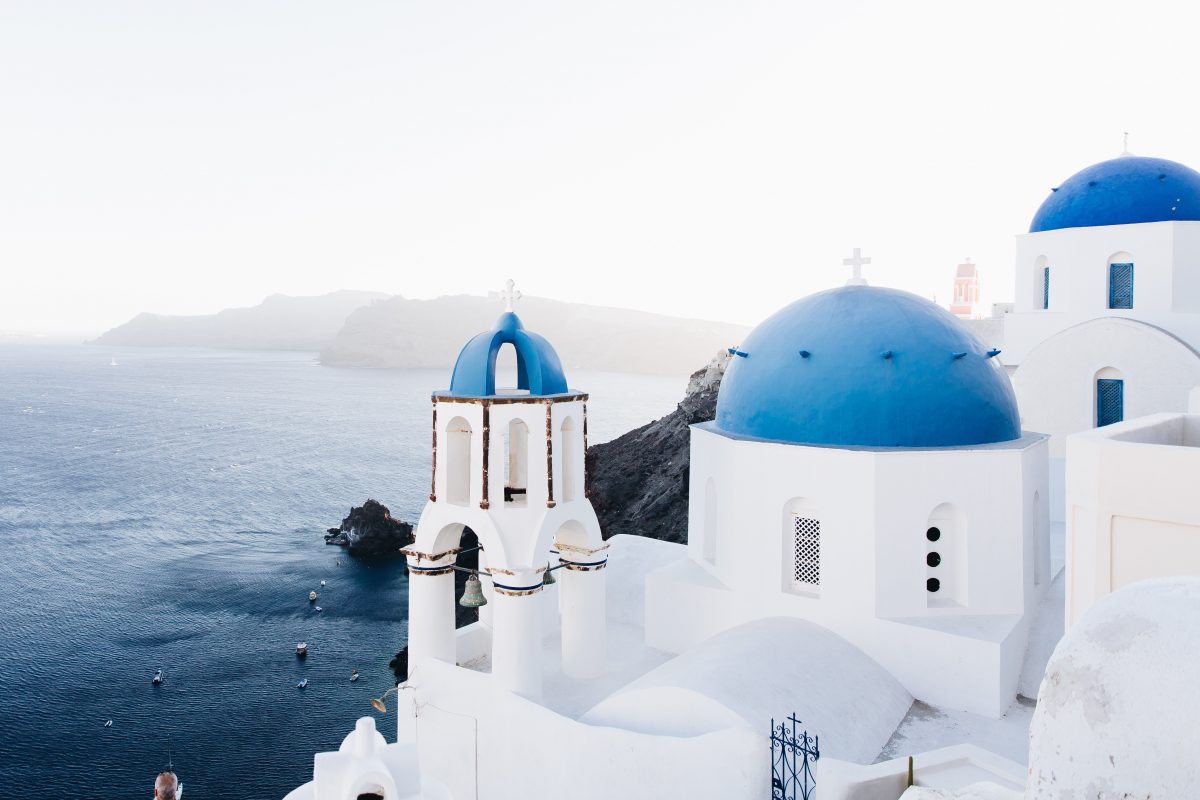 ©Photo by Jonathan Gallegos on Unsplash
Renowned for its iconic architecture and ancient vineyards, Santorini is for certain one of the most romantic travel destinations you'll find anywhere in the world. Featuring a whole host of steep cliffs, breath-taking sunsets, and instantly recognizable buildings donning blue domes, it's clear that a visit to this remarkable location will be one that you'll remember for many years to come.
Rich in history and home to a range of red and black sand volcanic beaches, there's so much to see and do on this stunning island – from exploring the incredible Ancient Thera to enjoying fresh local produce, and everything in between. If you're planning a honeymoon, Santorini is a romantic city that is ideal for you.
Porto, Portugal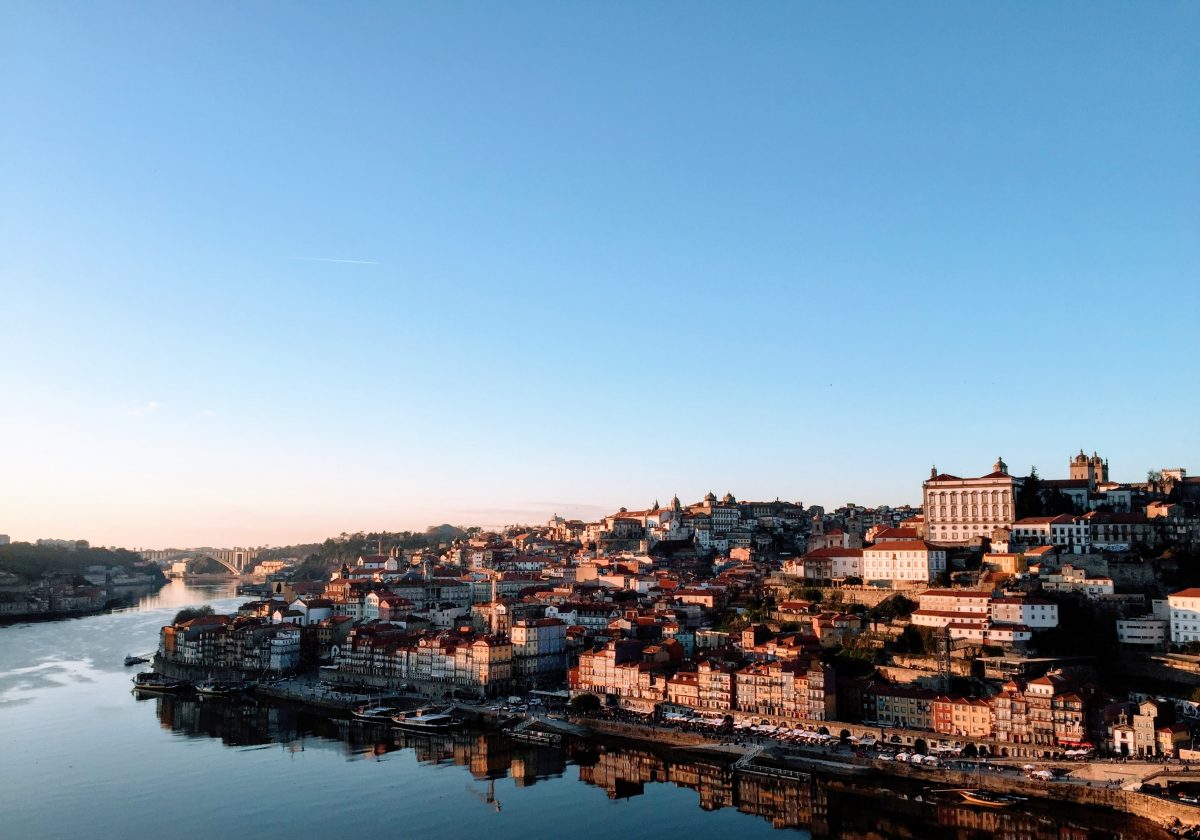 ©Photo credit Carlos Machado, Pexels
While Lisbon and the Algarve are without a doubt the most visited travel destinations within Portugal, you shouldn't forget the country's hidden gem – Porto.
The ideal place to enjoy delicious food and one of several varieties of port, you certainly won't be disappointed if you're looking to immerse yourself in the Portuguese culture. This charming city has so much to offer for all ages – with beautiful coastlines and friendly locals making your visit all the more special.
Don't leave without taking a stroll at the Dom Luis I bridge, where the breath-taking Porto scenery surely takes your breath away. Get your camera ready for the views of the Douro river and its eye-catching surroundings, especially during the sunset.
Genoa, Italy
©Photo by La So on Pexels
Situated on the stunning Italian Riviera, Genoa is the perfect place to escape the hustle and bustle of Italy's major tourist spots including Rome, Venice, and the Amalfi Coast.
A large port city based in the northwest of Italy, this hugely underrated location is widely known as the place where explorer Christopher Columbus first set sail on his voyage across the Atlantic Ocean. Classic foods including focaccia, ravioli, and pesto all originate from this wonderful location too, meaning it couldn't be more perfect to visit if you'd like to indulge yourself in authentic Italian cuisine. Many hidden delights can also be found throughout the city – ensuring that all ages can enjoy the perfect blend between history, culture, and tourism.
Takeaway
It's truly evident that Southern Europe has a wealth of entertainment, beauty and culinary excellence. No matter your age, background, travel preferences or budget, we guarantee these naturally exhilarating destinations will wow you.
So, if you're ever planning a trip to Southern Europe, make sure to have one of them on your travel list. And if you've been to any of these destinations, please share with us your experience. We love to hear from you!
Things To Do On Vacation In Southern Europe
Have you ever been on vacation in Southern Europe? There is plenty to see and do! Whether you are holidaying as a couple or on a bachelor or hen party, there are plenty of different activities for you to try.
You would be so surprised at the different destinations you can check out – all which offer plenty of different, unique and fun things!
Here are some fantastic destinations you can check out and some fun activities to do.
Marbella
Marbella is a very popular destination to holiday in. There is plenty that you can do there – thai massage Marbella is very popular! It helps to soothe both the body and the mind.
If you would like to take a look around the area instead of relaxing, then there are plenty of places to visit. Marbella Old Town is always a popular place to visit as is the Paseo Maritimo.
There are also a number of fantastic eateries you need to check out – ask the locals for their recommendations!
Albufeira
Another popular destination is Albufeira in Portugal. There's plenty of fun eateries around but if you would like to entertain whilst in your home away from home, then a cheeky butler Albufeira is exactly what you need. They offer the best service in town!
The Praia da Falésia is a beautiful beach that doesn't see many crowds and has miles of golden sand – it is well worth a visit, whether alone or with family. Another great place to visit is the Zoomarine Algarve which is an amusement and theme park.
Florence
Everyone should visit Florence at least once. There are plenty of beautiful churches, chapels and museums. Don't forget that there are plenty of shops to visit if fashion is more your thing too! It is a beautiful Italian city that really needs to be seen to be believed.
If you want to explore Florence, then a couple of days should be ample time. It is known for its culture and architecture and it really does need to be seen in person to be believed.
Santorini
You will find it pretty hard to miss photos of Santorini online – the beautiful houses are often shared online. The landscape is unique too. It is becoming a go to destination and it is easy to see why! It can be fairly affordable to visit too!
You should definitely visit Akrotiri, the ruins of a prehistoric village – it really is a very interesting place! There are also some wonderful vineyards that deserve a visit too.
Tenerife
The final place we would like to suggest is Tenerife. It is the largest of the Canary Islands and has a real party vibe but can also be fairly relaxed too. There are plenty of opportunities to do activities such as water sports or golf – scuba diving seems to be a popular activity with both locals and tourists alike.
These are just a few things you can do in Southern Europe when you are next on vacation. What would you do first?
Source https://www.touropia.com/best-places-to-visit-in-europe/
Source https://www.touristsecrets.com/destinations/top-15-cities-to-visit-in-southern-europe/
Source https://mytunbridgewells.com/vacation-southern-europe/