25 Best Places to Visit in Arkansas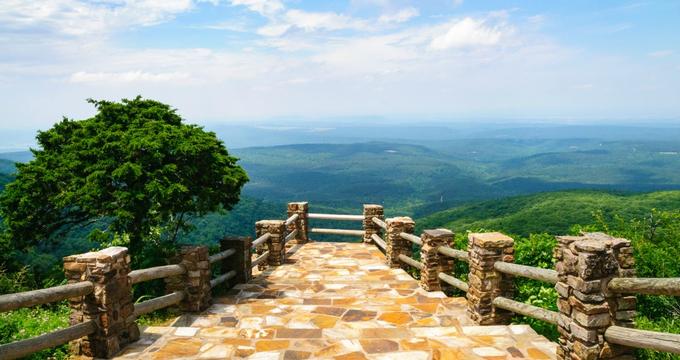 The southern U.S. state of Arkansas is bordered by the mighty Mississippi River and is a favorite holiday destination for outdoor enthusiasts who come to take advantage of the numerous parks and wilderness areas. The diverse terrain includes beautiful rivers, hot springs, mountains, and caves, crisscrossed by numerous hiking and biking trails. For art, musical events and museums, visit Little Rock, Fayetteville, Hot Springs and Eureka Springs. Here are the best places to visit in Arkansas.
We recommend that you call the attractions and restaurants ahead of your visit to confirm current opening times.
1. Hot Springs
Nestled in the Ouachita Mountains and surrounded by the natural hot springs from which its name derives, Hot Springs is an enticing holiday destination offering a diverse selection of attractions. The town has had a chequered past, which history buffs can learn about on a tour of the Gangster Museum of America and the 1888 Victorian Bath Houses on Bathhouse Row (where you can still soak in the natural hot water).
Families can have hours of fun at the Magic Springs Water and Theme Park or jump aboard a National Park Duck Tour or a Belle of Hotsprings Riverboat tour. Art lovers can go on the First Friday Art Walk through the Hot Springs Fine Arts District to visit dozens of galleries and studios, while nature lovers can enjoy fishing and water sports at Lake Ouachita State Park. Things to Do in Hot Springs
2. Little Rock
Arkansas' capital city Little Rock is an ideal vacation destination for the whole family, offering an excellent selection of attractions for all tastes and ages. History buffs will find plenty to see, including the William J. Clinton Presidential Center, the Little Rock High School National Historic Site (a significant site in the Civil Rights struggle), and the Old State House Museum.
If you love historic architecture, you can take a stroll through historic Quapaw Quarter and art lovers can immerse themselves in the vibrant arts scene by visiting the Arkansas Art Museum and the Arkansas Symphony Orchestra or by watching a Broadway show. There are many family-friendly attractions, including a ride on the River Trail Trolley, a visit to Little Rock Zoo, and the wonderful interactive Museum of Discovery. Things to Do in Little Rock
Things to do near me today: Getaways from Seattle, NC day trips, FL, Near Atlanta, AL — You are reading "25 Best Places to Visit in Arkansas" Back to Top
3. Bentonville
The central Arkansas town of Bentonville was first established in 1836 and is probably best known as the headquarters of retail giant Walmart. In addition to visiting the interesting Walmart Museum, a stroll through the city will lead you to many other historic attractions such as the Bella Vista Historic Museum, the Museum of Native American History, and the beautifully preserved Peel Mansion Museum and Heritage Gardens.
Art lovers will find themselves surrounded by public art installations while a visit to the Crystal Bridges Museum of American Art offers a feast for the senses. The city is particularly well endowed with cycling routes and trails and there are several surrounding lakes and parks that cater to hikers and water sport enthusiasts. Things to Do in Bentonville
Our experts' top picks for a long weekend getaway: CO, From San Diego, VA, OH, WI, MI, IL, IL Places, VA, San Diego, TX — You are reading "25 Best Places to Visit in Arkansas" Back to Top
4. Conway
The college town of Conway is situated about 30 miles northwest of Little Rock, surrounded by an abundance of natural beauty that attracts nature lovers and outdoor adventurers. Avid fishermen can cast a line at Lake Conway and Toad Suck Park, while water sports enthusiasts can have fun on Beaverfork Lake.
You can also enjoy boating as well as hiking and biking in the Cadron Settlement Park, a National Historic Site featuring a Cherokee Trail of Tears memorial. Art lovers can look forward to enjoying a wide selection of both visual and performing arts venues, including the Arkansas Shakespeare Theatre, the Baum Gallery, and the W. Reynolds Performance Hall, which is home to the Conway Symphony Orchestra. Things to Do in Conway
More places we like: NC beaches, Ft Lauderdale, Day trips from NYC, From Chicago, PA, CT, CA, Hilton Head, Castles in Texas, GA beaches — You are reading "25 Best Places to Visit in Arkansas this Weekend with Friends" Back to Top
5. Fort Smith
Located on the Arkansas-Oklahoma border, Fort Smith started out as a military frontier post in 1817. Consequently, history buffs can spend hours uncovering the past by visiting the many historic sites, starting at Miss Laura's Visitor's Center, which is located in a former bordello in the historic downtown. Some of the must-see historic sites include the Fort Smith National Historic Site, the Belle Grove Historic District, and the Fort Smith Museum of History.
Children will enjoy jumping aboard the 1926 Electric Streetcar and visiting the Fort Smith Trolley Museum. Outdoor enthusiasts can head to the Devil's Den State, where 20 miles of scenic hiking trails await. Once you have worked up a good appetite and thirst you can visit some of the local wineries and the farmers market. Things to Do in Fort Smith
Expert opinion: Where should I go this weekend for fun? FL, CA, Myrtle Beach, OR, New England weekend, Charlotte, Williamsburg, LA, PA — You are reading "25 Best Places to Visit in Arkansas this Weekend" Back to Top
6. Mountain Home
If you love the Great Outdoors, then Mountain Home in the southern Ozark Mountains deserves a place on your vacation wish-list. The vast majority of visitors come to enjoy the wonderful variety of water sports on offer on the Twin Lakes and the three surrounding rivers, where you can spend hours fishing, boating, tubing, water skiing, and much more.
For a break from water fun you can step back in time at Mountain Village 1890 (a historical replica of an Ozark Mountain Village) and tour the fascinating Bull Shoals Caverns, which feature an underground river. You can also visit the Norfolk National Fish Hatchery or hike a few of the 20 scenic hiking trails. Round off your day with a show at the Twin Lakes Playhouse.
Top Rated: Last minute places for couples: Southwest, New England, TN, KS, NY, From Houston, From Palm Springs, From Chattanooga, From Detroit, NJ — You are reading "25 Best Places to Visit in Arkansas" Back to Top
7. Arkansas vacations: Hope
The quaint little town of Hope is situated in southern Arkansas and is famously the birthplace of President Clinton (and is also somewhat famous as the producer of the largest watermelons in the U.S.). You can tour the President William Jefferson Clinton Birthplace Home to see where the young Clinton spent his first four years.
The Hope Visitor's Center and Museum is also worth a visit – it is situated in the restored Missouri-Pacific Railroad Depot, where you can see a variety of local history exhibits. Other nearby attractions to visit include the Paul W. Klipsch Museum of Audio History, the Historic Washington State Park (where the entire town of Washington has been turned into a state park), and the Crater of Diamonds State Park.
Affordable things to see near me, must-visit beaches: OK, Small Town, AL, MI, FL, From Nashville, ND — You are reading "25 Best Places to Visit in Arkansas" Back to Top
8. Arkansas tourist attractions: Buffalo National River
The Buffalo National River is one of the few remaining undammed rivers in the lower U.S., meandering freely for 135 miles through the beautiful Ozark Mountains. This National River is a favorite haunt of nature lovers and outdoor enthusiasts and offers a variety of activities besides simply floating and fishing – landlubbers can have just as much fun as water-sport enthusiasts and can choose from hiking, camping, picnicking, fishing, hunting, and horseback riding.
The river is divided into an upper, middle, and lower district, each of which has its own special charm. There are numerous campgrounds to spend the night and concessions where you can book guided floats or hire all you need to go it alone.
9. Places to Visit in Arkansas: Lake Ouachita State Park
Located close to the spa city of Hot Springs and surrounded by the natural beauty of the Ouachita National Forest, Lake Ouachita State Park beckons all nature lovers and outdoor adventurers.
The waters of the lake are pristine and you can fish for a variety of species, including bream and largemouth bass, on the open waters or along a multitude of quiet coves and inlets along 975 miles of shoreline. Visitors flock to the lake to enjoy swimming, scuba diving, boating, and other water sports or to go hiking and wildlife watching along the two trails. You can rent a fully equipped cabin or book a campsite to fully appreciate the park.
10. Arkansas vacation spots: Petit Jean State Park
The Petit Jean State Park in central Arkansas is the oldest state park in the state and has been welcoming nature lovers, outdoor enthusiasts, and even history lovers for decades. Much of the infrastructure of the park was constructed by the Civilian Conservation Corps (CCC) starting back in 1933 and today you can explore three National Historic Districts containing structures, paths, and bridges within the park.
The terrain is beautiful and rugged and the hiking trails will lead you through meadows, canyons, streams, and mountains overlooked by steep craggy bluffs that conceal highlights like Cedar Falls, Seven Hollows, and Bear Cave. There is a large swimming pool, playgrounds, picnic areas, and fishing and boating on Lake Bailey and Lake Roosevelt.
11. Arkansas points of interest: Beaver Lake
Beaver Lake is surrounded by the impressive natural beauty of the Ozark Mountains in northwest Arkansas and attracts many visitors who come to enjoy a wide selection of active outdoor activities. The expansive 487 miles of beautiful shoreline can be explored along paved roads and there are no less than 12 parks where you can enjoy camping (650 campsites in total), swimming, hiking, biking, boating, and a lot more.
There are several marinas where you can launch your own boat, or you can hire everything you need to enjoy the lake from one of several on-site outfitters. Beaver Lake has particularly pristine water and is well known for providing wonderful fishing opportunities.
12. Arkansas tourist attractions: Grand Promenade
The Grand Promenade is a brick-paved recreational trail in the Hot Springs National Park, which forms part of the town of Hot Springs. The half-mile loop trail was originally intended to be an extension of the Hot Springs' historic bathhouse and winds through some of the most interesting sites in the park, such as the Arlington Lawn, the Hot Springs cascade, and the Hot Springs historical downtown area.
As you make your way along the pleasantly shaded trail (considered to be a moderate hike), you will find new views around every corner; if you would like to linger awhile, there are comfortable benches and picnic areas along the route.
13. Places to Visit in Arkansas: Big Dam Bridge
The Big Dam Bridge spans the Arkansas River and the Murray Lock and Dam between Little Rock and North Little Rock and is the longest purpose-built pedestrian and cycling bridge in the country. This unique structure was specifically intended to provide cyclists and pedestrians with an incentive to get out and get active against an impressive backdrop.
The bridge spans 4,226 feet and rises 90 feet above the waters of the river, connecting over 14 miles of scenic cycling and hiking trails on both sides. From the top of the bridge you can get a fabulous bird's-eye view of the entire river valley, Downtown Little Rock, Emerald Park, Two Rivers Park, and Pinnacle Mountain.
14. Hot Springs Mountain Trail
Hot Springs National Park is an exciting destination for hikers and offers 27 miles of trails for all fitness levels. The Hot Springs Mountain Trail is 1.7 miles long and is considered to be one of the most rewarding trails in the park (easy to moderate). The trail starts at the Pagoda Shelter just below Hot Springs Mountain Tower.
As you leave the picnic area you will start to descend through a very attractive forested area, and the going gets progressively steeper as you reach the lower slope, however you will be rewarded for your efforts by some excellent views. After reaching the base of the slope, you will need to hike up the western slope of Hot Springs Mountain to make your way back to the picnic area.
15. Arkansas vacations: Ozark Folk Center State Park
The Ozark Folk Center State Park is a unique destination where you can immerse yourself in the music, arts, crafts and heritage of the Ozark Mountains region. The park is situated close to Mountain View and offers visitors the chance to see blacksmiths, potters, and dozens of other craftsmen in action. You can join a variety of classes and learn how to make music on an autoharp, dance a jig, or start your own herb garden.
Once you have enjoyed learning about all the crafts you can have a treetop adventure at Loco Ropes or visit the Flying Pig Zipline or the Blanchard Springs Caverns. Music lovers can head to downtown Mountain View to tap their feet in the legendary "Folk Music Capital of the World."
Near me on a budget: Plattsburgh, Washington islands, La Jolla, Connecticut resorts, Wisconsin, Beaches near Boston — You are reading "25 Best Places to Visit in Arkansas" Back to Top or Amazing things to do around me
10 Best Places to Visit in Arkansas
Appropriately nicknamed 'The Natural State,' Arkansas is home to both the Ozark and Ouachita mountain ranges, with plenty of spectacular scenery on show. Coated in verdant forests, it boasts beautiful landscapes and natural wonders, with rivers roaring past rocky outcrops and spectacular state parks.
While its outstanding natural tourist attractions and incredible wilderness lends itself perfectly to all kinds of outdoor activities, Arkansas is also home to some lovely little towns and cities. For instance, Eureka Springs and Hot Springs are great places to visit in Arkansas as each has its own rich history, heritage, and architecture, while Little Rock is the economic, cultural, and political capital of the state.
10. Bentonville [SEE MAP]
Brandonrush / Wikipedia
Nestled away in the northwest of the state, Bentonville is best known for being the birthplace and headquarters of Walmart – the largest retailer on the planet. Over the years, its booming business has transformed what was once a sleepy town into a charming and quite cosmopolitan city.
While it's many corporate offices and unending urban sprawl are unremarkable, the center is full of artisanal stores, cosy cafes, and local restaurants. A handful of pretty parks and interesting museums can also be found scattered about, with the state-of-the-art Crystal Bridges Museum of American Art the pick of the bunch.
A very friendly and welcoming place, Bentonville sees lots of corporate visitors during the week, with weekends being quite peaceful and relaxed. On top of all this, the small city is an excellent base from which to visit places such as Eureka Springs and Branson, while the stunning scenery of Buffalo River and the Ozark Mountains also lies nearby.
9. Petit Jean State Park [SEE MAP]
© Zrfphoto / Dreamstime
Home to wonderful wilderness, the picturesque Petit Jean State Park can be found in the north of Arkansas, not far from Morrilton. Local legend has it that the park is named after a young 18th-century French woman who tragically died while exploring the region.
As the story goes, she disguised herself as a man so she could accompany her lover on the expedition, only revealing her true identity on her deathbed. Set amid some lovely scenery, her grave can still be seen atop of the magnificent mount lying at the heart of the park. From its summit, visitors can enjoy superb views over the Arkansas River Valley, with epic caves, canyons, and forests dotted about its lower slopes.
While some great hiking can be had in the park, as well as fishing and boating on Lake Bailey, one of its most enchanting attractions is the sparkling Cedar Falls, which plunges 29 meters down a jagged cliff face.
8. Mount Magazine State Park [SEE MAP]
© Steven Prorak / Dreamstime
The highest point in Arkansas, Mount Magazine dominates and defines the state park of the same name with its hulking presence. Rising to 839 meters, the mighty mount gazes out over its surroundings, with forests, hills, and the sublime scenery of the Arkansas River Valley dropping away below.
Snaking about its slopes are many hiking trails and cycle paths for visitors to explore, while rock climbing, rappelling, and hang gliding are up for grabs in the higher reaches of the park. At the visitor center, there are interesting and interactive exhibits on the park's pristine nature and protected wildlife, as well as campsites and barbecue facilities for guests to make use of.
A number of glittering lakes can also be found dotted here and there, with fishing and swimming both on offer. Due to its wealth of recreation opportunities, splendid scenery, and fabulous views, Mount Magazine State Park is a very popular place to visit.
7. Crater of Diamonds State Park [SEE MAP]
© Linda Williams / Dreamstime
Set in the southwest of the state is Crater of Diamonds State Park – the only place in the world where you can dig up your own diamonds. Since John Huddlestone first found two glimmering crystals all the way back in 1906, the area has enticed prospectors with the latest 'diamond rush' of tourists coming to try their luck.
Over the years, a remarkable 29,000 gems have been unearthed by visitors, who are allowed to keep whatever they find. While digging for precious gemstones is the main attraction, there is also a Diamond Discovery Center for visitors to check out, which offers a fascinating look at prospecting's past.
In addition, there is a cafe, a shop, and an aquatic playground on the premises, as well as some historic buildings to explore. While visitors find an impressive two diamonds a day on average, in 1990, Shirley Strawn found the Strawn-Wagner Diamond, which to this day is considered the only perfect diamond ever discovered.
6. Fayetteville [SEE MAP]
© Ken Wolter / Dreamstime
The third-largest city in the state after Little Rock and Fort Smith, Fayetteville lies deep within the Ozarks, not far from the Boston Mountains. As it is home to the main campus of the University of Arkansas, there is a lively and youthful feel about town, with plenty of bars, restaurants, and shops to discover.
Thanks to its large student body, it also has a thriving arts and culture scene, with live music, theater performances, and fun festivals. While it can get taken over by fans during college sports games, the historic downtown square boasts some beautiful old buildings and lovely landscaped gardens.
Together with Dickson Street, it is the center of life in the city; public buildings and boutiques are found alongside historic landmarks, nightclubs, and a weekly farmers' market. The area surrounding Fayetteville is home to lots of terrific hiking trails and cycle paths should you want to escape the center when game day comes around.
5. Buffalo National River [SEE MAP]
© Bonita Cheshier / Dreamstime
The first designated National River in the States, Buffalo River meanders magically through the divine landscapes of the Ozark Mountains. Protected since 1972, it is delightfully undeveloped, undammed and unpolluted, with its fresh free-flowing waters passing by breathtaking scenery.
Along its scenic banks, you can find everything from lush forests and sparkling waterfalls to massive limestone bluffs and jaw-dropping rock formations. There are even more than three hundred caves in the area. Besides its outstanding beauty and the countless ecosystems it encompasses, Buffalo National River offers a plethora of outdoor recreation opportunities.
Hiking and horseback riding along its banks are a treat, while kayaking or canoeing down the river is the best way to see all the stunning sights up close. On top of this, the area is home to some interesting historic sites, such as ancient bluff shelters and terrace village sites once used by Archaic Indians, and old cabins which housed early settlers.
4. Eureka Springs [SEE MAP]
© Patricia Cale / Dreamstime
As it is full of wonderfully well-preserved Victorian-style cottages, manor houses, and mansions, visiting Eureka Springs is like stepping back in time. Set across the steep slopes of a valley hidden away in the Ozarks, its mesmerizing mess of winding cobbled streets are a delight to explore, with lots of striking streetscapes on show.
Founded in 1879, it quickly became a popular resort town due to the numerous cold-water springs, which were believed to have healing properties. While its heyday has long been and gone, the entire city has now been placed on the National Register of Historic Places to preserve its delightfully distinct look and identity.
Besides wandering around town, visitors can go cycling, hiking, and horseback riding in the nearby mountains and forests. One of Arkansas' top tourist attractions, Eureka Springs is not to be missed out on for its unique architecture and heritage.
3. Ozark National Forest [SEE MAP]
© Kelsey Manlove / Dreamstime
Covering a vast swathe of Arkansas, the vast Ozark National Forest boasts breathtaking scenery and landscapes and is usually grouped alongside the much smaller St. Francis National Forest. While the former encompasses the highest mountains in the state, the latter is one of the smallest yet most diverse forests in the country.
Together, they have more than 630 kilometers of hiking trails for visitors to explore, as well as nine swimming areas, 23 campsites, and countless scenic drives and picnic sites. Very mountainous and hilly, they are home to lovely old-growth forests, with 600 kilometers of bubbling streams and rivers coursing through the dense undergrowth.
Due to all the untouched and unspoiled nature, Ozark National Forest is a great place to hike or mountain bike. Swimming, fishing, and boating can be enjoyed on its beautiful waterways. Many people camp in the forest so they can wake up to the magnificent trees and natural beauty.
2. Hot Springs [SEE MAP]
© 44Photography / Dreamstime
Lying amid the Ouachita Mountains, Hot Springs is a ravishing resort city named after its healing waters, which have long attracted people to the town. Founded in 1832, it developed into a popular spa town in the late 19th and early 20th centuries, with elegant bathhouses springing up around its thermal springs. As gambling and bootlegging also proliferated, mobsters such as Al Capone and Lucky Luciano used to vacation here – and presumably do business, too.
Nowadays, Hot Springs is noted for its attractive architecture, with fine Art Deco, Neoclassical, and Mission-Revival style buildings and bathhouses on show. Visitors can still relax in the warm, welcoming waters at Bathhouse Row, which is protected as part of Hot Springs National Park. Besides its restored spas and various museums and exhibits dedicated to their history and heritage, the town has loads of delightful mountain scenery and nature for visitors to enjoy.
1. Little Rock [SEE MAP]
© Joe Sohm / Dreamstime
The capital and largest city of Arkansas, Little Rock is set almost slap bang in the centre of the state, on the banks of the Arkansas River. Named after a rock formation once used as a landmark and crossing point, it now acts as an important cultural, economical, and transport hub for the region.
Lively yet laidback, its historic downtown area has lots of exciting attractions; impressive landmarks and museums lie alongside art galleries, theaters, and cultural centers. It is also home to some peaceful and pretty parks, with Riverside Park proudly exhibiting the distinctive rocks after which the city is named.
Lots of fantastic cafes, restaurants, and bars can be found scattered here and there, while hiking, biking, and boating can be enjoyed in its stunning surroundings. While Little Rock feels quite small and unassuming for a state capital, it has more than enough to keep guests entertained for days, with both Ouachita National Forest and the Ozarks lying not far away.
Map of Arkansas
© OpenStreetMap © MapTiler © Touropia
15 Best Places to Visit in Arkansas
Road Affair is reader-supported and may earn commission from purchases made through links in this article.
Touring Arkansas means getting familiar with the state's geography and history. Many of Arkansas' best places to visit are peppered throughout the state's northwestern region, where the Ozark Mountains reward travelers with rugged terrain and breathtaking vistas. Cityscapes prove to be just as enjoyable thanks to the preservation of historic architecture and the presence of diverse museums. We've compiled a list of some of the state's top destinations to help you build your Arkansas itinerary.
1. Little Rock
If you're stumped about what to do in Arkansas, start with the state capital. Little Rock sits on the south bank of the Arkansas River, right in the middle of the state. Arkansas' most populous city is rich in history, and its historically significant areas coexist harmoniously with the bustle of a diverse metropolis.
The state capital's most visited site is Little Rock Central High School, a designated National Historic Site. In 1957, a group of African American students known as the Little Rock Nine was enrolled at the school but denied entry in spite of the 1954 US Supreme Court ruling that declared school segregation laws to be unconstitutional. Ranger-led tours of the school delve into the history and legacy of the Little Rock Integration Crisis. Other popular historic sites include the William J. Clinton Presidential Library & Museum and the Arkansas State Capitol.
The River Market District is the hub of Little Rock's downtown. The district's Ottenheimer Market Hall is a prime lunch spot, offering delectable international cuisines. River Market's other highlights include live music and handicrafts from local artisans. Riverfront Park is another beloved Little Rock spot. Sprawling along 11 blocks of the riverbank, the park features a history pavilion, a sculpture garden, an amphitheater, a splash park, and more.
2. Crater of Diamonds State Park
A visit to Crater of Diamonds State Park isn't just a fun thing to do in Arkansas – it could be a valuable experience, too. Named a state park in 1972, this land just outside of Murfreesboro in southwest Arkansas consists of peridotite soil that has yielded diamonds and other gems and minerals to searchers since the early 20th century. More than 33,000 diamonds have been found in the park since its opening.
The main attraction is the park's 37-acre field, where visitors are invited to search for gems, rocks, and minerals. What's more, their discoveries are theirs to keep. The park has mining tools for rent, or you can bring your own equipment as long as it isn't battery-operated or motorized. Park staff members will identify your findings for free in addition to offering mining demonstrations and various interpretive programs.
The park has multiple campsites for visitors who want to maximize their luck by spending several days searching for gems. If digging for diamonds isn't your pastime of choice, have no fear, as there are other activities here. The Little Missouri River runs through the park, and anglers can fish for largemouth bass, catfish, bream, and trout. Other outdoor facilities include picnic sites and walking trails.
3. Ozark–St. Francis National Forest
Encompassing more than one million acres, Ozark–St. Francis National Forest actually comprises two separate forests: the Ozark National Forest and the St. Francis National Forest. The two forests have different topographical features and ecosystems, and both are Arkansas attractions in their own right.
The Ozark National Forest is by far the larger of the two, stretching across 1.2 million acres in northwest Arkansas. The majority of the forest is located in the Ozark Mountains, which include Mount Magazine, the tallest peak in the state. The Ozark National Forest is notable for its beauty throughout the changing seasons, with an abundance of wildflowers in the spring and fiery foliage in the fall. The forest includes five designated wilderness areas and hundreds of campsites.
The St. Francis National Forest is situated in east-central Arkansas, close to the state border. The forest covers 22,600 acres and is incredibly biologically diverse relative to its size. This diversity has created habitats for a variety of wildlife, including white-tailed deer, waterfowl, squirrels, and wild turkeys. The St. Francis and Mississippi rivers and multiple lakes have made the forest a popular spot with anglers thanks to the presence of largemouth bass, striped bass, catfish, bream, and more.
4. Blanchard Springs Caverns
One of the most beautiful places in Arkansas can only be seen by venturing underground. Situated within the Ozark National Forest, Blanchard Springs Caverns is known for being one of the most carefully developed cave systems in the country and deserves its own spot on this list. The caverns opened for tours in the 1970s and remain the only caves owned by the US government outside of the National Park System.
Blanchard Springs Caverns are often referred to as the Living Cave because their contents are continuously changing. Dripping water regularly deposits calcite onto the rock formations, which continue to grow as a result. Three different tours of the caverns are offered by knowledgeable Forest Service guides. The Dripstone Trail is an easy walk that lets visitors see almost every type of rock formation that exists in the cave system. The Discovery Trail winds through the lower level of the caverns and includes a view of the underground stream. The Wild Cave Tour is a strenuous adventure that explores undeveloped portions of the cave system.
Above ground, Blanchard Springs has even more attractions. Among these are a waterfall and some spectacular springs, which include areas for swimming and fishing. Campsites and hiking and biking trails are also available.
5. Mount Magazine State Park
Mount Magazine State Park may be one of the top attractions in Arkansas today, but it took a while for the land to receive the designation it deserves. Under President Franklin D. Roosevelt, Mount Magazine became part of the Ouachita National Forest in 1938, only to be transferred to the Ozark National Forest in 1941. The 2,234-acre stretch of land was finally dedicated as a state park in 2002.
At 2,753 feet high, Mount Magazine is the tallest peak in Arkansas and its sprawling views attract locals and tourists alike. The park's elevation makes it a prime spot for hang gliding, sport climbing, bouldering, and rappelling. The Huckleberry Mountain Trail, a popular and challenging multiuse trail that leads to the Ozark National Forest, accommodates hikers, mountain bikers, horseback riders, and all-terrain vehicles. Additional hiking trails vary in length and difficulty, so there's a path to suit hikers of all levels.
If one day at the park doesn't feel sufficient, consider taking advantage of on-site accommodations. Campsites are available, but travelers seeking a truly comfortable experience may opt for a stay in one of the park's cabins or the Lodge at Mount Magazine, both of which offer stunning views of the Petit Jean River Valley and the Blue Mountain Lake.
7. Bentonville
Bentonville in northwest Arkansas is best known as the birthplace of Walmart, but there's more to this city than the world's largest retailer. Bentonville serves as a gateway to Beaver Lake and various mountain parks, and its diverse cultural institutions can engage just about any traveler.
A trip to Bentonville is inevitably an educational one, since most of the city's top attractions are museums. The Crystal Bridges Museum of American Art is housed in a mesmerizing structure designed by the world-famous architect Moshe Safdie. The museum comprises a permanent collection that depicts five centuries of American art in addition to dynamic temporary exhibits. The Museum of Native American History has no admission charge and explores 14,000 years' worth of Indigenous culture. The Scott Family Amazeum specializes in interactive exhibits and experiences that fuel children's curiosity about science, technology, engineering, art, and math.
Visitors who wish to get their blood pumping are in luck, as Bentonville is known to some as the Mountain Biking Capital of the World. Cyclists who ride around town get to admire the 100 installments that make up Bentonville's public art program. A few miles northwest of downtown is the Coler Mountain Bike Preserve. The preserve combines natural drops with artificial obstacles to create challenging courses.
9. Eureka Springs
Just east of Beaver Lake in northwest Arkansas is one of the best small towns in Arkansas for history buffs. The National Trust for Historic Preservation named Eureka Springs one of America's Distinctive Destinations in 2001, and the city's entire downtown area was listed on the National Register of Historic Places in 1970 as the Eureka Springs Historic District.
The most popular tourist attraction by far in Eureka Springs is its downtown historic district. A significant portion of the downtown area was constructed between 1880 and 1910 and demonstrates well-preserved examples of Victorian architecture. A visit to the Eureka Springs Historical Museum provides further insight into the town's past in addition to an art gallery and heritage gardens. Unique boutiques and restaurants and an active nightlife scene contribute to the district's charms.
Some of Eureka Springs' most-visited spots require a short drive out of the city center. Families flock to the Turpentine Creek Wildlife Refuge about nine miles south of downtown. The refuge specifically serves neglected and abused big cats, focusing on cougars, leopards, lions, and tigers. Roughly three miles northwest of downtown is the iconic Thorncrown Chapel. The distinctive structure opened in 1980, and its unique wooden and glass design has attracted more than seven million visitors.
10. Petit Jean State Park
History and geology are forever intertwined at Petit Jean State Park, the first designated state park in Arkansas. The park is located at the top of Petit Jean Mountain, with the Ozark National Forest to the north and the Ouachita National Forest to the south. Petit Jean's rugged terrain is reflected in the park's architecture, which was constructed in 1933 by the Civilian Conservation Corps using native stone and wood.
Petit Jean Mountain rises 1,120 feet above the Arkansas River Valley, so it's no surprise that some of the park's most beloved spots are its overlooks. Multiple overlooks offer views of the Petit Jean River, Cedar Creek Canyon, and various mountains. Don't forget your camera; these vistas are popular with photographers, especially at sunset. Another must-see for shutterbugs is the Cedar Falls Trail; its namesake 95-foot waterfall is one of the most photographed waterfalls in the state.
Petit Jean's CCC-built cabins and lodge have made the park a great historic vacation spot in Arkansas. In fact, Mather Lodge is the only lodge in Arkansas built by the Corps. The lodge features 24 guest rooms and a dining room with large windows that give guests a scenic view of Cedar Creek Canyon.
11. Buffalo National River
In 1972, the US designated the lower 135 miles of northern Arkansas' Buffalo River as the country's first National River. The Buffalo National River is one of only a few rivers in the lower 48 states to remain undammed. The river's path through the Ozark Mountains has resulted in a waterway surrounded by giant bluffs.
The most popular pastime on the river is paddling, which can be done via kayak, canoe, or tube. The river's water level is dependent on rainfall, so the length of the paddling season varies from year to year. The river also attracts anglers thanks to its 12 species of game fish, including smallmouth bass and rainbow and brown trout. Activities such as hiking, bird-watching, camping, and horseback riding are available on the river shores.
The Buffalo National River is one of the best places to go in Arkansas to engage in some serious stargazing. The river was designated as an International Dark Sky Park in 2019 after the National Park Service adjusted the restroom and facility lighting in order to reduce the effects of light pollution. The park hosts multiple night sky programs throughout the year, so astronomy fans may want to keep an eye on the Buffalo National River's event calendar.
12. Fayetteville
With a population of 87,590, Fayetteville is one of the biggest cities in Arkansas. The city is less than 30 miles south of Bentonville but has its own distinct personality and attractions. Fayetteville bills itself as the entertainment capital of northwest Arkansas, and the presence of the University of Arkansas campus ensures that a youthful energy pervades the city at all times.
The Dickson Street Entertainment District is all about fun. By day, enjoy downtown's unique boutiques, restaurants, and art galleries. After dark, bars and clubs offer live music most nights of the week. A standout is George's Majestic Lounge, the oldest continuously operated live music venue in the state. The lounge opened in 1927 and began hosting music and social events as early as the 1930s. For big names in live music and comedy, check out the Walton Arts Center's event calendar.
Fayetteville residents take pride in the city's extensive trail system, which includes paved multiuse paths as well as natural, unpaved trails for mountain biking. The city is also home to a portion of the Razorback Regional Greenway, a 36-mile shared-use trail that connects Fayetteville, Johnson, Springdale, Lowell, Rogers, and Bentonville.
13. DeGray Lake Resort State Park
Are you planning an outdoorsy vacation in Arkansas but aren't a fan of roughing it? DeGray Lake Resort State Park may just be the ideal spot for you. Located on the shores of its namesake lake in the Ouachita Mountains, DeGray Lake Resort State Park combines comfortable lodging and a plethora of amenities with a gorgeous natural setting.
The star of the park, unsurprisingly, is the 13,800-acre DeGray Lake. The lake's sandy beach is a favorite with families, and shaded picnic tables nearby provide a welcome respite from the sun. The beach faces a designated swimming area in the lake that is off-limits to boats. The rest of the lake is complemented by a full-service marina with watercraft rentals, dock space, and a bait and tackle shop.
Not a fan of water sports? No problem. The resort park also features an 18-hole championship golf course, a disc golf course, and an escape room. Six distinct hiking trails can be enjoyed with a guide or on your own, and a guided horseback riding experience takes guests along the lakeshore and through stands of pine trees, with no equestrian experience required. Amenities at the lodge include a heated swimming pool, sand volleyball court, playground, and fitness center.
14. Lake Hamilton
One of the state's most popular lakes, Lake Hamilton is a great choice for a weekend getaway in Arkansas, particularly if you're based in or around Hot Springs. The 7,200-acre lake stretches about 18 miles long, providing plenty of shoreline for resorts, condominiums, motels, and restaurants.
The artificial lake was created in 1932 when the Carpenter Dam impounded the Ouachita River. The dam was built to generate hydroelectricity, but the resulting reservoir proved to be a valuable tourist attraction that continues to benefit Hot Springs' economy. All the usual water sports are available here, including swimming, waterskiing, parasailing, boating, and fishing. The Belle of Hot Springs Riverboat offers sightseeing cruises on the lake.
For a little break from the water, consider an outing to Garvan Woodland Gardens, located on a 210-acre peninsula that juts into the lake and is accessible by boat. The botanical gardens, which belong to the University of Arkansas' Fay Jones School of Architecture and Design, are fantastic for fans of photography. A bonsai garden, beautiful bridges, a koi pond, and a children's adventure garden are just a few of the attractions here. If you want to see the ground blanketed with tulips and wildflowers, make sure to stop by in spring.
15. Hot Springs
Nestled in the Ouachita Mountains, Hot Springs is one of the best places to visit in Arkansas for some rest and relaxation. The resort city is named for the area's natural heated springs, which have been enjoyed for centuries by residents and visitors alike. Whether you choose to relax with a rejuvenating spa treatment or a meditative sojourn into nature, you'll leave Hot Springs feeling refreshed in both body and mind.
For a peek into Hot Springs' history as a resort destination, visit Bathhouse Row, which was designated as a National Historic Landmark District in 1987. The site is operated by the National Park Service and comprises eight bathhouse buildings built between 1892 and 1923. Most of the buildings have been repurposed, but the Buckstaff Bathhouse has been continuously operating since 1912 and still offers thermal treatments today. Hot Springs' modern spas provide a wide array of treatments ranging from thermal baths to Swedish massage to reiki healing.
If exercise is your way of relaxing, tackle the trails in Hot Springs National Park. The park has 26 miles of trails in total, and their forested surroundings will make you forget that you're a stone's throw from the city. Visitors can spend the night in nature at the park's Gulpha Gorge Campground, which also has areas for swimming and picnicking.
There is no shortage of beautiful and interesting things to see in Arkansas, as long as you know where to look. Whether your preferred view is of mountains and canyons or historic architecture and bustling downtowns, Arkansas has plenty of fascinating places that prompt tourists to stop and stare.
Source https://vacationidea.com/destinations/best-places-to-visit-in-arkansas.html
Source https://www.touropia.com/best-places-to-visit-in-arkansas/
Source https://www.roadaffair.com/best-places-to-visit-in-arkansas-usa/