23 Top-Rated Attractions & Places to Visit in Arizona
In the heart of the American Southwest, Arizona is filled with natural wonders, vibrant cities, and charming small towns. The Grand Canyon draws tourists from around the globe, but those who venture deeper into the state will find unique places to visit and interesting sights.
While cities and towns like Phoenix and Sedona make great vacation destinations, you can head beyond the urban centers to discover Native American cliff dwellings and remnants of ancient cultures, along with historic ghost towns from the mining days.
Arizona also has a landscape perfect for outdoor adventures. The state is home to deserts, lakes, mountains, slot canyons, saguaro cactus, buttes, waterfalls, and even a volcano with downhill skiing, all of which offer a world of possibilities for travelers.
Before heading off on your trip, have a read through our list of the best places to visit in Arizona.
1. Grand Canyon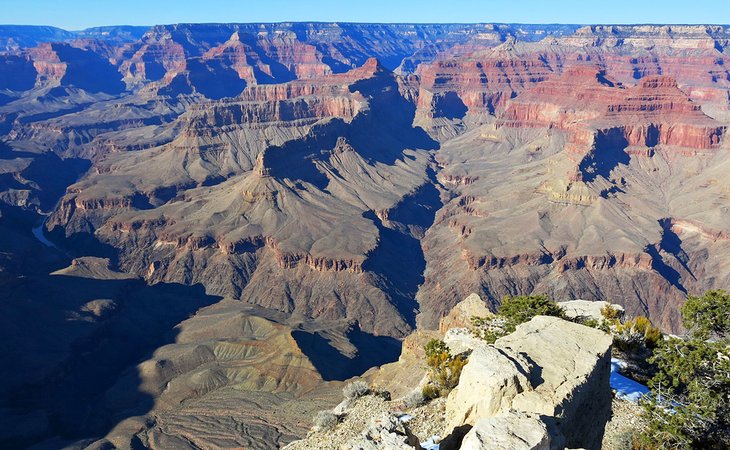 Grand Canyon | Photo Copyright: Lana Law
Standing on the rim of the Grand Canyon peering out over the endless ridges of colorful cliff walls and deep ravines, it's impossible not to be inspired by this natural wonder. The canyon glows in the late afternoon sun, revealing hues of orange, red, yellow, and everything in between.
One of the biggest attractions in America, and certainly in the state of Arizona, the Grand Canyon is a place that has to be visited to be fully appreciated. Carved out over the centuries by the Colorado River, which can be seen in the distance far below, the enormity of this natural wonder is captivating.
Most visitors head to the South Rim of the Grand Canyon, where lookouts all along the road and walkways running along the canyon's edge offer incredible views.
The North Rim provides a different view altogether, but the road is closed in winter. Depending on the time of year you visit the canyon, the North Rim may not even be an option.
If you've seen pictures of the glass bridge jutting out over the Grand Canyon, these are from Eagle Point. The Skywalk, as the bridge is known, is at Grand Canyon West, about a 2.5-hour drive from Las Vegas.
For those who want a closer look, hiking trails offer access to incredible lookouts and a route to the canyon floor. If you want less physical activity, try a helicopter flight over or into the Grand Canyon .
Read More: Attractions & Things to Do at the Grand Canyon
2. Sedona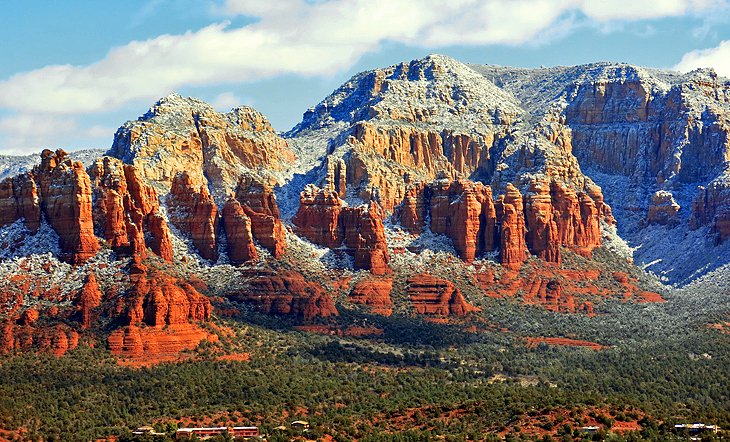 Sedona | Photo Copyright: Lana Law
Surrounded by stunning red rock mountains and buttes, Sedona has one of the most beautiful settings in Arizona. About a 1.5-hour drive north of Phoenix, Sedona is a popular day trip from Phoenix, but the town is worthy of much more than just a few hours.
The drive into Sedona from the south, beginning at the Village of Oak Creek, is stunning and pullouts along the way allow you to stop and enjoy the scenery.
Sedona's main street (89A) is full of interesting tourist shops, art galleries, and restaurants and is an easy place to spend an afternoon. The town is also one of the best places to visit in Arizona if you're looking for great hiking trails and mountain biking trails. You can also find a number of good golf courses and golf resorts in Sedona. If you want something a little more relaxing, consider a stay at one of Sedona's spa resorts.
Jeep tours, one of the most popular things to do in Sedona, provide an even easier way to get out into the landscape. Also in the surrounding area are a number of historical Native American dwellings, which you can visit on your own or as part of a tour.
Sedona is considered by many to be a highly spiritual place. It is known for its energy vortexes, found at a number of sites around the town. In downtown, you'll also find New Age shops and unique opportunities, from UFO tours and aura readings to psychics and crystal sellers.
Popular day trip destinations within easy reach of Sedona include Flagstaff and Jerome. The scenic drives to both of these towns from Sedona make them worth the trip, but you can easily fill a day exploring either place. Skiers can even find downhill skiing just outside Flagstaff at Arizona Snowbowl.
3. Monument Valley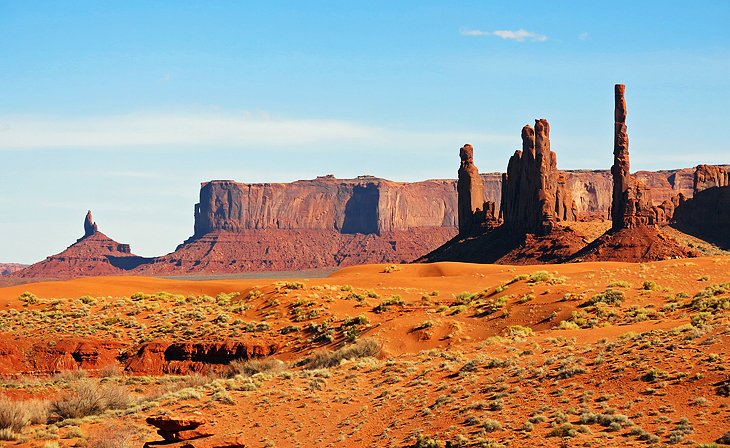 Monument Valley | Photo Copyright: Lana Law
Some of the most iconic images of the Southwest are the sandstone buttes that dominate Monument Valley. This area, straddling the border between Arizona and Utah, includes jagged rock formations, stone spires and buttes, and sand dunes.
At the heart of the valley is the Monument Valley Navajo Tribal Park, where you'll find an impressive visitor center and a 17-mile self-drive route along a one-way gravel road through the park.
You can also take a guided sightseeing tour to explore the area more thoroughly. If you don't have time to go into the park, you can appreciate some of the views from the highway.
4. Phoenix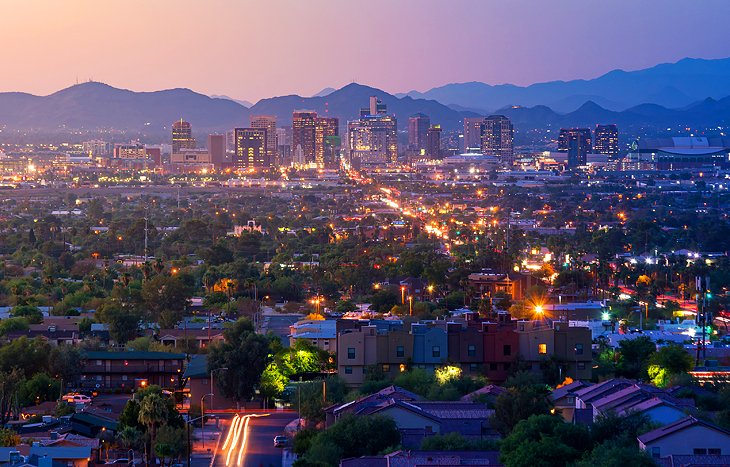 Phoenix
Phoenix is a great base for exploring Arizona but it's also a major destination in the winter for golfers and sun seekers, who simply want to enjoy a stay at a resort or spa and spend a little time basking in the heat of the desert.
In the Phoenix Metropolitan Area, which includes Scottsdale and Mesa, you'll find great shopping, dining, golf courses, desert parks with hiking trails, biking trails, campgrounds, and some outstanding attractions. Topping the list of places to visit around Phoenix are the Heard Museum and Frank Lloyd Wright's Taliesin West.
If you are spending some time in the area, there are some wonderful day trips from Phoenix, which will take you to cliff dwellings, historic mountain towns, and ghost towns, and even the Grand Canyon.
Read More: Top-Rated Tourist Attractions in Phoenix
5. Hoover Dam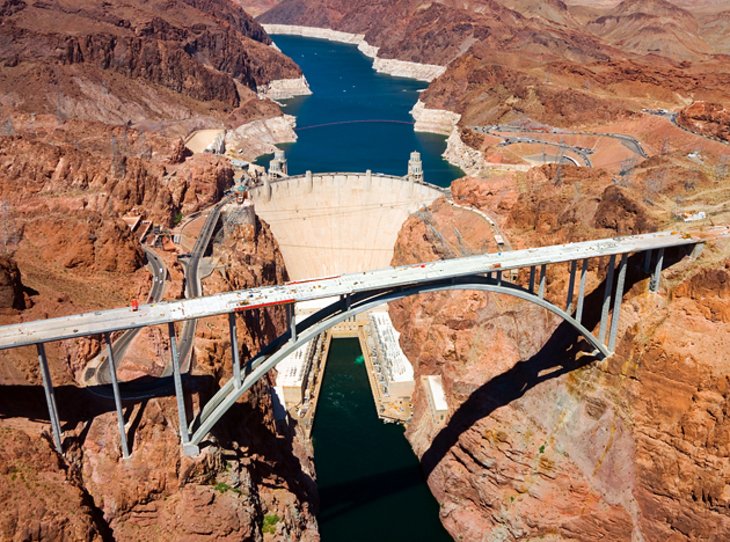 Hoover Dam
Hoover Dam is one of America's great engineering marvels. This massive structure, completed in 1935, crosses the Colorado River, linking Arizona and Nevada. It is 726 feet high and 1,244 feet long.
Lake Mead, held back by the Hoover Dam, is the largest artificial lake in the United States. It is 110 miles long, and holds the equivalent of two years of flow of the Colorado River.
You can drive or walk across the dam for free, although there is a charge for parking. Another option is to take a tour of Hoover Dam or the Powerplant. The visitor center provides information on the dam and tours, and has a café with some basic food options.
6. Glen Canyon National Recreation Area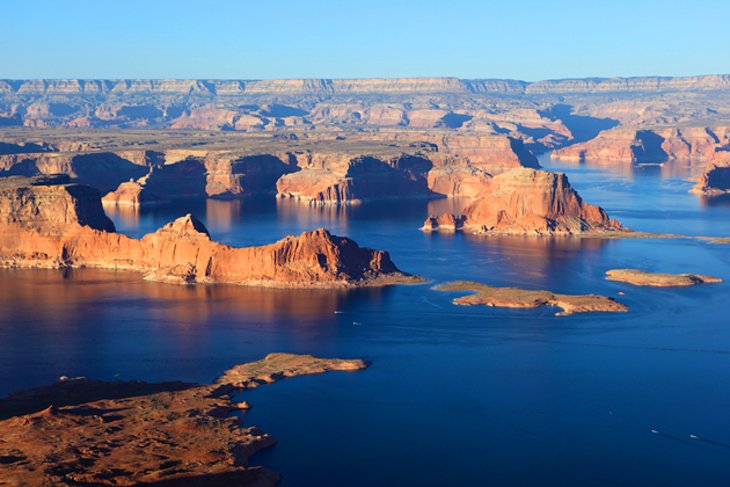 Glen Canyon National Recreation Area
The Glen Canyon National Recreation Area is a stunning region of blue water, desert landscape, and dramatic stone walls. Home to Lake Powell, one of the largest manmade lakes in the United States, this area is known for both land-based and water-based recreational activities.
The Glen Canyon Dam was constructed between 1956 and 1964 to block the Colorado River and create Lake Powell. A 15-mile section of Glen Canyon downstream from the Glen Canyon Dam, stretches from the dam down to Lees Ferry.
The town of Page is a good base for exploring the Glen Canyon National Recreation area and surrounding region. The largest marina on Lake Powell, Wahweap Marina, is located just 7 miles north of Page.
One of the area's biggest attractions is the nearby slot canyons of Antelope Canyon. Depending on the section of the canyon, you can either simply walk through a narrow slot canyon with shafts of light penetrating through the top, illuminating the red walls, or opt to repel down into a canyon.
Photos of Antelope Canyon are often found on postcards or in fine art galleries. You can visit Antelope Canyon on a guided tour.
7. Tucson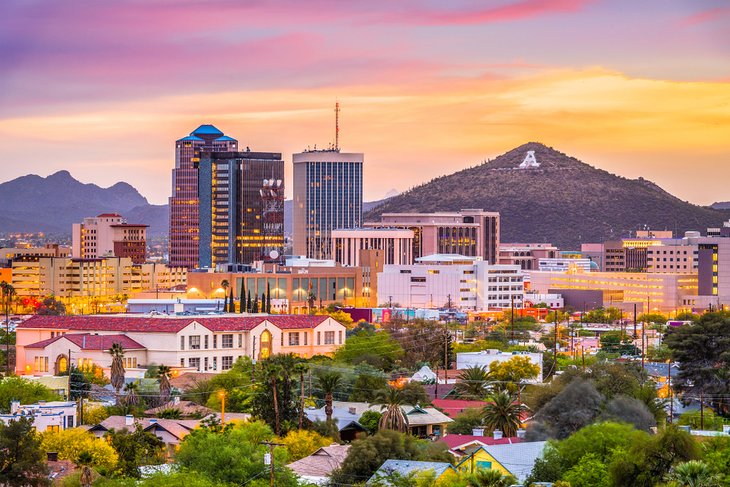 Tucson skyline
Tucson is a beautiful city set in the Sonoran Desert and surrounded by mountains. As the second largest city in Arizona, it has many cultural attractions, as well as historic sites and natural areas to explore nearby.
Some of the highlights include the Arizona-Sonora Desert Museum, Saguaro National Park, El Presidio Historic District, and Old Tucson Studios.
Nature lovers will find wonderful hiking trails and camping in the city and nearby surrounding mountains and canyons. The Mount Lemmon Scenic Byway is a popular driving route just outside of Tucson, which offers outstanding views. From Tucson, you can also do day trips to nearby destinations like Tombstone or Bisbee.
Although the climate is warm and arid, Tucson is a little higher than Phoenix and is generally slightly cooler. The elevation is just under 2,400 feet.
8. Jerome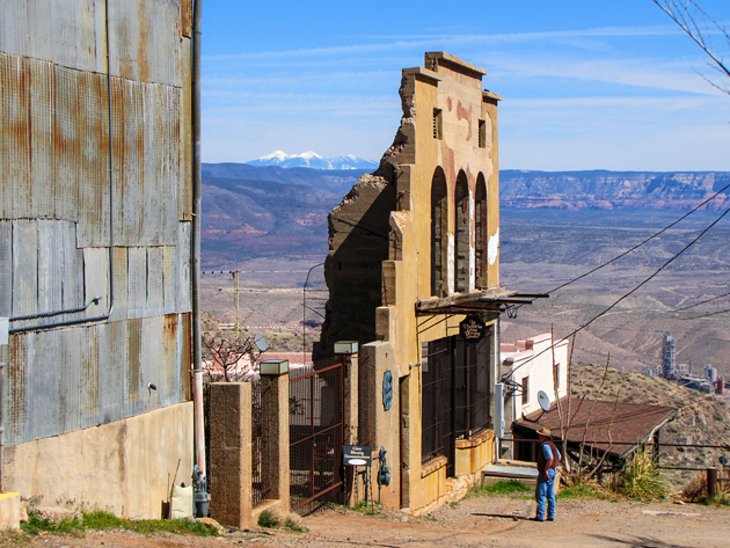 Jerome
Set on a mountainside high above the desert floor, Jerome is an old mining town, turned ghost town, turned tourist attraction. A steep hill with switchbacks is the main street through town, lined with interesting stores and restaurants.
Views from the streets and some of the shop windows are amazing. Most of the old buildings have been renovated but some still stand as ruins, creating a very interesting dynamic.
The town's history can be appreciated at the Gold King Mine Museum and the Jerome State Historic Park.
This town is a popular day trip from Sedona, Prescott, Phoenix, or Flagstaff. Accommodation is available for those who want to spend the night.
Jerome is unique to say the least, but some might just call it quirky. The Sliding Jail in Jerome was originally built around 1928. Built on a clay slick, it soon began to slide and now sits 2,500 feet from its original location. The Bartlett Hotel was once one of Jerome's finest hotels but today stands in ruins.
The Jerome Grand Hotel , built in 1927, is the highest public building in the Verde Valley, and it offers breathtaking views.
9. Canyon De Chelly National Monument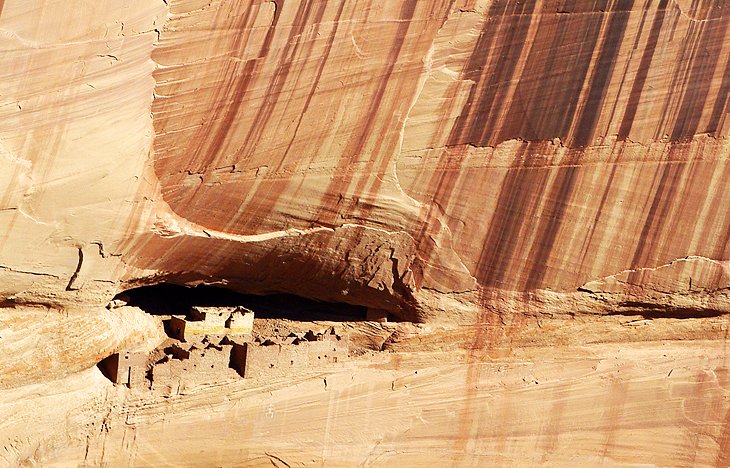 Canyon De Chelly National Monument | Photo Copyright: Lana Law
Canyon de Chelly National Monument is home to spectacular Native American cliff dwellings set along steep-sided canyons, with walls up to 1,000 feet high.
In the main canyon, some of the key attractions are the White House Ruins, constructed circa 1050 and discovered in 1849, and Spider Rock. The White House is the best known of the more than one hundred cliff dwellings.
The only self-guided hike in the park, which leaves from the White House Overlook on the South Rim, descends 600 feet to the White House Ruins.
Other cliff dwellings include the Antelope House and Mummy Cave (in which mummies were found) in the Canyon del Muerto. Most of the ruins, which are largely inaccessible to visitors, were occupied from around AD 350 to 1300.
You can tour the site on your own by driving along the North and South Rim Drives and stopping at the pullouts. Although you can easily see ruins nearby, many of the lookouts also have scopes that let you pinpoint ruins on the distant walls.
From spring until fall, you can join a free ranger-led hike or take a private tour of the canyon.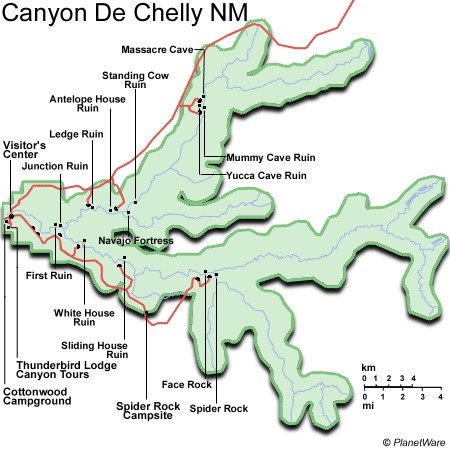 Arizona – Canyon De Chelly National Monument Map (Historical)
10. Horseshoe Bend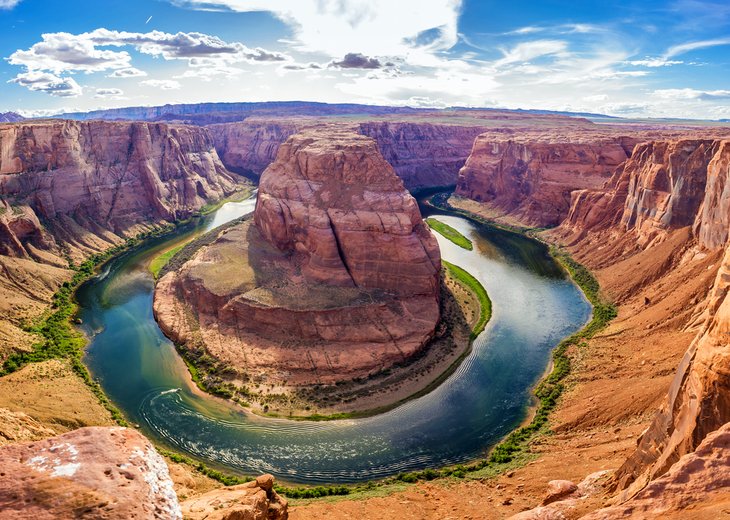 Horseshoe Bend
It's hard to scroll through things to do in Arizona and not come across a striking picture of Horseshoe Bend. This stunning sight, where the Colorado River makes a dramatic 270-degree U-turn around a sandstone escarpment, is a hot spot for photographers visiting Arizona. The sight of the green water of the river juxtaposed with the tan sandstone in an unbelievable natural formation is simply breathtaking.
Until recent years, Horseshoe Bend was relatively undiscovered by the masses, but with the age of Instagram and other photo-sharing services, its popularity has mushroomed, and it is a must-do when visiting Arizona. Today over two million people visit annually.
Count on a 1.5-mile round-trip walk along a rock walkway to get to the overlook. You won't find any real safety features here except for a lookout area with a fence. If you want to walk right out to the edge, you are free to do so at your own risk.
11. Bisbee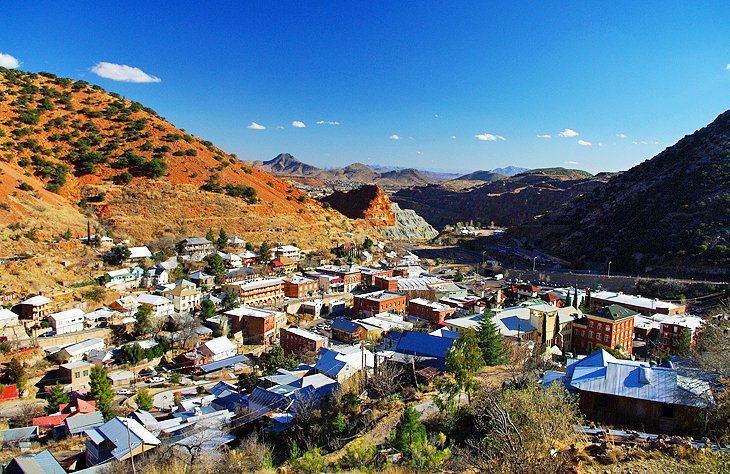 Bisbee | Photo Copyright: Lana Law
In the far southeast corner of Arizona, near the Mexico border, is one of Arizona's most interesting towns and possibly one of its best kept secrets. The former mining town of Bisbee is a unique little community set high in the mountains.
After the mines here closed, Bisbee became a ghost town, and squatters took up residence. Eventually, the town became a haven for artists and hippies.
Today, it is a prosperous small town with an eclectic mix of residents, unique shops and restaurants in the historic downtown, and many interesting things to see and do.
Homes, many of which are former miners' cabins, line the hills surrounding the historic downtown area. Many of these residences are only accessible via long sets of stairs that lead to the town center below.
Views from the upper streets and hillside homes are incredible, looking out over mountains all the way to Mexico. In the hills above town are a number of informal hiking trails.
Bisbee is a popular day trip from Tucson and surrounding areas, often combined with a stop in Tombstone.
12. Havasu Falls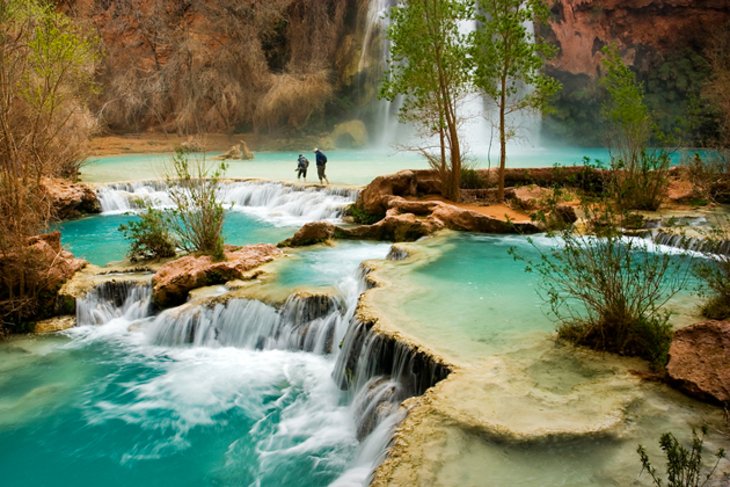 Havasu Falls
Near Supai on the Havasupai Indian Reservation is the 100-foot Havasu Falls. The pools at the base of Havasu Falls have a bluish green tint to the water, and the fall is forked so it appears that there are two falls when the river is flowing heavily.
In the canyon of Havasu Creek, a tributary of the Colorado River, some 450 people of the Havasupai tribe (the "people of the blue-green water") live a secluded life, subsisting on their modest farming activities but now mainly dependent on the tourist trade.
In this paradisiac valley the Havasu have created a number of waterfalls and carved out basins in the travertine rock which form attractive bathing pools.
Day hiking is not allowed here. You need to make reservations, obtain a permit, and pay a fee. Access is via a long hike, horseback or mule, or helicopter.
13. Lake Mead National Recreation Area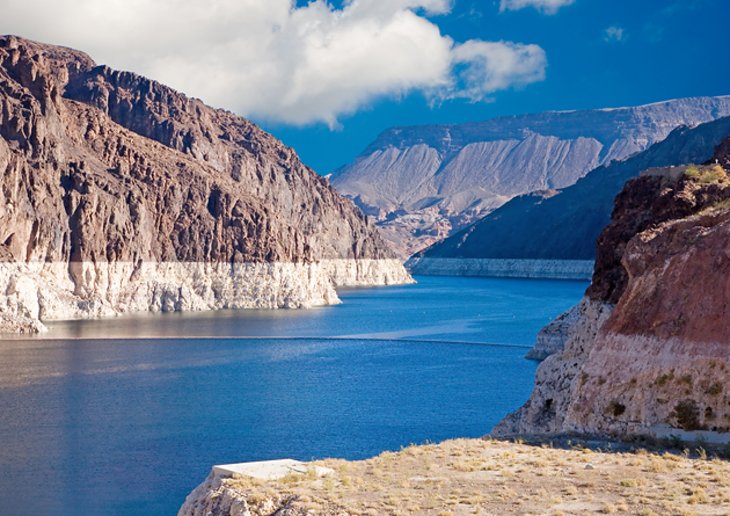 Lake Mead National Recreation Area
Lake Mead National Recreation Area spans 177 miles of the Colorado River and includes Lake Mead and Lake Mohave. The area's 1.5 million acres stretches into southern Nevada.
The area offers boating and water sports, camping facilities, fishing, and hiking opportunities. Lake Mohave is 67 miles long, making it the smaller of the two major lakes in the Lake Mead National Recreation Area. Like its counterpart, Lake Mohave is an artificial body of water, held back by Davis Dam.
Willow Beach is a small resort town on the Colorado River with accommodation, restaurants, a marina, and fish hatchery.
14. Tombstone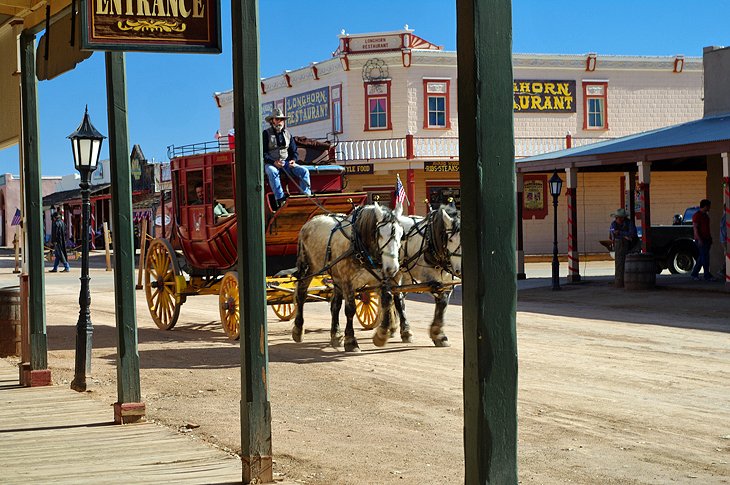 Tombstone | Photo Copyright: Lana Law
Tombstone offers a modern look at an Old West town. Staged gunfights in the streets and characters walking through town in period costume recreate the glory days of this small Arizona town.
Every shop, restaurant, and attraction is designed with tourists in mind, but you can still see some of the town's history in the historic sites, including the famous O.K. Corral and the Boothill Graveyard.
Also of note is the Tombstone Courthouse State Historic Park, housed in the original courthouse, which is now a museum.
Read More: Top-Rated Tourist Attractions in Tombstone
15. Flagstaff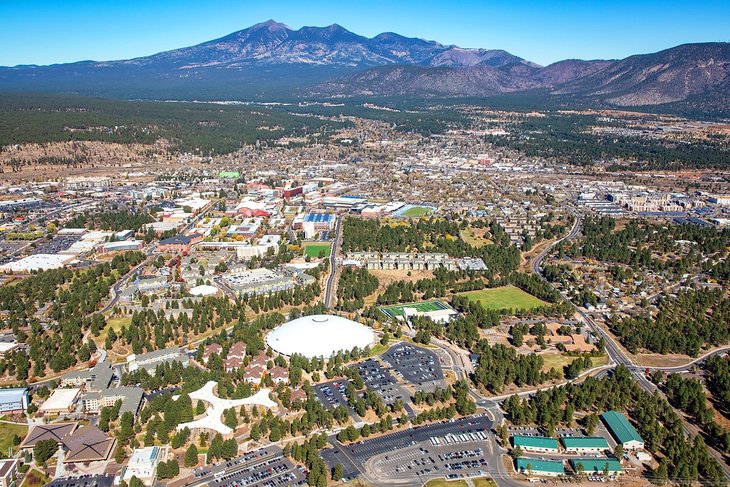 Aerial view of Flagstaff, Arizona
One of the main stops on Historic Route 66, Flagstaff is a treasure trove of well preserved buildings and streets. Take some time to stroll around the restored downtown area, and if you find yourself in town at night, check out the impressive neon signs.
However, Flagstaff, or Flag as the locals call it, is not all about history. Today it's a young, dynamic mountain town with a lively air, driven by the large number of students at Northern Arizona University (NSU). This active set ensures that you'll find a good variety of restaurants along with entertainment throughout town.
Owing to its elevation at nearly 7,000 feet, Flagstaff enjoys a more moderate climate than Phoenix, just a couple of hours down the road. This means it gets chilly here in the winter, and snow falls not only in town but at Arizona Snowbowl Ski Resort located a short drive from the city.
Flagstaff is an ideal place to base yourself if you are considering visiting some of the national parks and monuments located nearby, including the Grand Canyon, Walnut Canyon, Wupatki National Monument, and Sunset Crater National Monument.
16. Petrified Forest National Park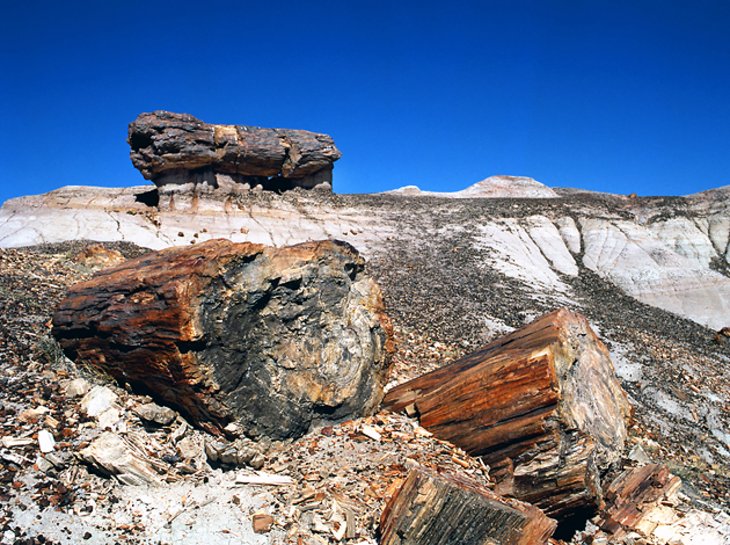 Petrified Forest National Park
Large pieces of petrified wood, along with fossilized plants, fish, and reptiles, have been revealed in great numbers in what is today Petrified National Forest in the Painted Desert. The park access road runs by many of the highlights and short interpretive trails allow for close up looks at a variety of unique sights.
The Visitors Center provides insight into the ecology and geology of the park and is a good place to start before heading out on the drive.
17. Saguaro National Park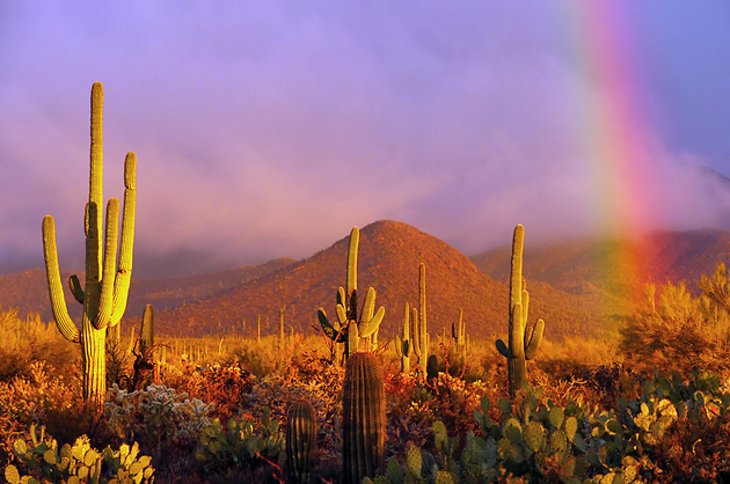 Saguaro National Park
Saguaro National Park is a great place to experience the desert landscape around Tucson and see the famous saguaro cactiuses up close. The park has two sections, an east and a west portion, located on the east and west side of Tucson, approximately 30 minutes apart.
Both sections of the park offer great opportunities to see the desert flora and fauna along roads and hiking trails. Hikes range from easy walks to challenging trails that lead up into the high mountains, reaching up to 8,000 feet in elevation.
You can visit both sections of the park on the same entrance ticket or park pass.
18. Antelope Canyon at Page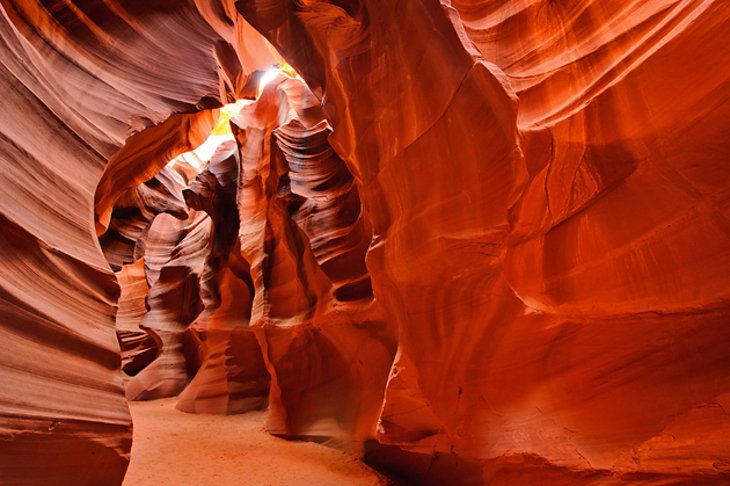 Antelope Canyon at Page
Seen in countless photographs in galleries all over Arizona, Antelope Canyon is a slot canyon located just outside of Page. The sculpted, twisting sandstone walls rise up around you, with shafts of light breaking through from the narrow opening above as you walk through the canyon.
You can tour Upper Antelope Canyon or Lower Antelope Canyon, or both, on a guided tour. Upper Antelope Canyon is the easier option, perfect for anyone with mobility issues or people who prefer a flat ground and solid footing, but it still provides the stunning scenery.
Photographers will not be disappointed! You are given plenty of free time to explore on your own and at your own pace. The canyon lies within the Navajo Nation reserve boundary.
19. Organ Pipe Cactus National Monument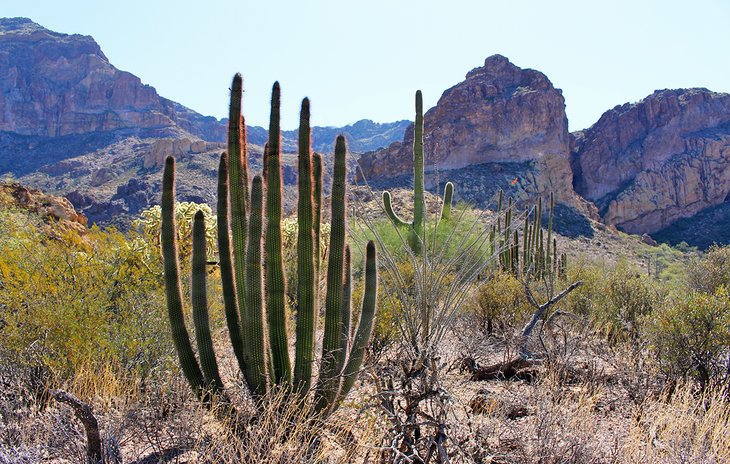 Organ Pipe Cactus National Monument | Photo Copyright: Lana Law
Organ Pipe Cactus National Monument is an International Biosphere Reserve situated in southwestern Arizona, on the frontier with Mexico. The main feature of the monument is the namesake organ pipe cactus, but the area is stunning, with mountains and beautiful sunsets over the desert.
Withing the area are three distinct desert vegetation zones and some 30 different species of cactus. The organ pipes grow up to 23 feet high and bloom from May to July. Because of the often extreme heat during the day, it opens up its flowers only after sunset.
The area can be explored on various roads and hiking trails, but the two main scenic drives of note are Ajo Mountain Drive and Puerto Blanco Drive. You can access hiking trails off both of these roads.
The Bull Pasture/Estes Canyon Loop Trail is one of the top hiking trails in Arizona. This is just one of the hikes in the park.
The park is also one of the best places to camp in Arizona, and given that the main attractions in the park are quite a drive from the nearest towns and hotels, camping is a great option out here.
20. Lake Havasu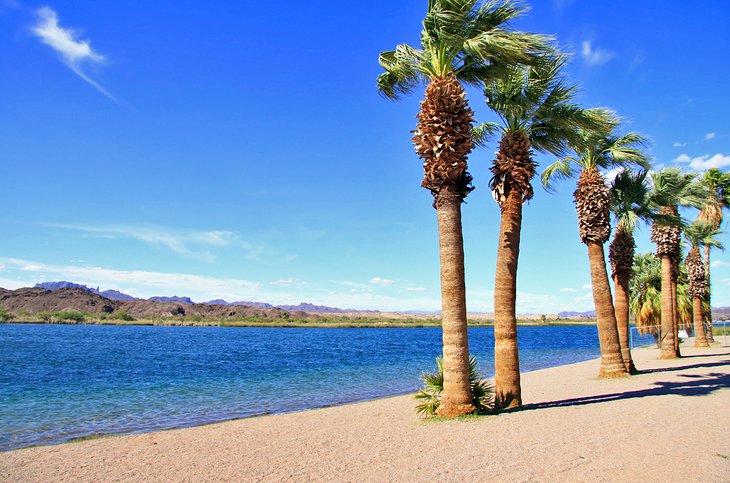 The palm-lined shores of Lake Havasu
One of the most delightful small cities in Arizona, Lake Havasu is an oasis in an otherwise dry and dusty desert. Created when the Colorado River was dammed, Lake Havasu today is a wonderful place to enjoy the water at the beach, on a pleasure boat, or at a lakeside patio.
The city that surrounds the lake has two personalities: In the winter, it's home to snowbirds from the northern states and Canada fleeing the cold. In the spring and summer, it's home to local Arizonians looking to escape the heat.
A highlight of any visit to Lake Havasu is a stroll over London Bridge. This bridge, parts of which date to 1831, was transported from London, England and installed at its present location in 1971. A fun fact about the bridge is that it was actually reassembled on dry land in the middle of a field. It was only later on that a canal was dredged underneath it.
21. Prescott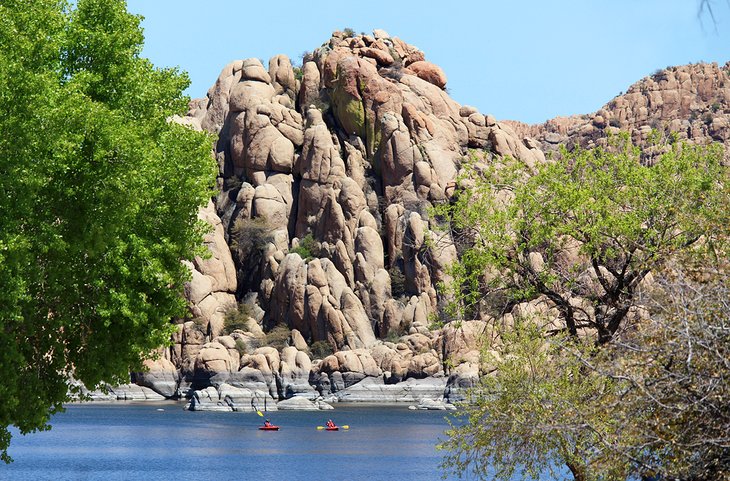 Kayakers on Watson Lake, Prescott | Photo Copyright: Lana Law
With tall Ponderosa pine trees, lakes, and occasionally even a sprinkle of snow, Prescott is an unexpected find in Arizona. At 5,300 feet, this small city has more defined seasons. It's also incredibly scenic and offers opportunities for hiking, kayaking, and camping.
This city is also a former capital of the Arizona Territory. The charming downtown has a number of tourist attractions and historic sites, including the old courthouse and the Elks Theatre. Stop for lunch at one of the downtown restaurants or spend a night at one of the beautifully restored bed and breakfasts or hotels.
22. Yuma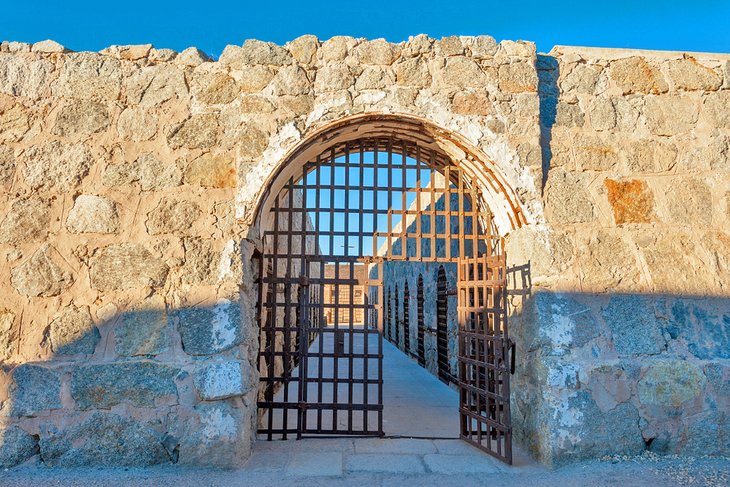 Yuma Territorial Prison State Historic Park
The city of Yuma is off on its own in the far southwest of Arizona and a stopping-off point for people heading to and from Mexico. Here, you'll find some interesting historical sites, one of the most important being the Yuma Territorial Prison State Historic Park. Tour the park, dating from 1876, and step into the cells where the outlaws were housed.
Another must do when in town is to stroll up and down the historic main street. Just look for the neon sign indicating the street, and you'll know you've found the right place. A number of restaurants, shops, and other services line the street, many fronted by a covered walkway.
Yuma is fortunate for such a dry place to have the Colorado River flowing right through town. Exceptional opportunities for water-based recreation exist, including pleasure boating, swimming, kayaking, and stand up paddleboarding.
23. Tumacacori National Historical Park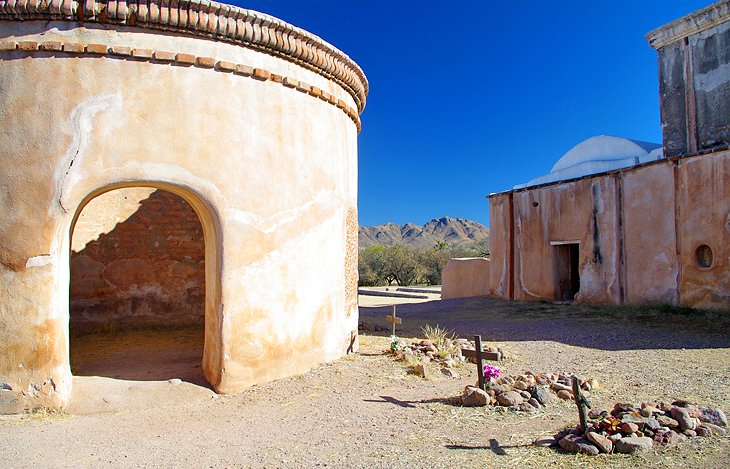 Tumacacori National Historical Park | Photo Copyright: Lana Law
Tumacacori National Historical Park, located south of Tucson, preserves the ruins of three early Spanish colonial missions on 47 acres in southern Arizona. San José de Tumacácori and Los Santos Ángeles de Guevavi were established in 1691 and are the two oldest missions in Arizona. The third mission, San Cayetano de Calabazas, was established in 1756.
The site was abandoned in 1848 due to Apache raids, neglect, and a terrible winter. Tumacacori became a national monument in 1908 and the two Spanish missions, Guevavi and Calabazas, were added to the site in 1990.
Address: 1891 East Frontage Road, Tumacacori
More Related Articles on PlanetWare.com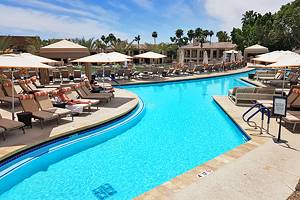 Resorts and Hotels in Arizona: Because not everyone is a snowbird renting a place for the winter, we've compiled some lists to help narrow your search when it comes to places to stay in Arizona. Families looking for a luxury getaway, should see our article on Top-Rated Family Resorts in Arizona. For a relaxing city getaway, see our list of the top resorts in Phoenix or Scottsdale.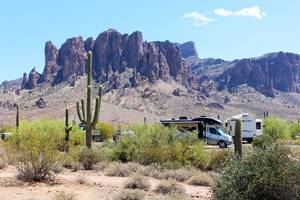 Camping in Arizona: Spending a night under the stars in the quiet of the desert should be on everyone's bucket list of things to do. Arizona is the perfect place for camping during the winter months and in the spring, when the desert turns a lush green and blooms in a fantastic display of color. Campgrounds near Phoenix usually offer the warmest weather, making them perfect during the coldest months. Tucson campgrounds are a little cooler but still great for camping in winter.
In spring and early summer, you can move into higher elevations. At this time of year, consider heading to the campgrounds in Sedona and Prescott. At a much higher elevation, the campgrounds around Payson are also good in late spring and summer. For a more complete look, see our article on the best campgrounds in Arizona.
17 Most Beautiful Places to Visit in Arizona
The sunny state of Arizona is a place where you will not get bored quickly as there's so many things to see and visit. Landmarks like the Grand Canyon are known all over the world. Have a look at the 17 most beautiful spots in the state of Arizona!
1. Beaver Falls in Havasu Creek
Source: Edwin Verin / shutterstock Beaver Falls In Havasu Creek
Beaver falls are notoriously difficult to access but once you arrive the site is breath taking.
They are the fifth set of falls in the area and are directly after Mooney Falls.
Originally some parts of the fall were fifty feet in height but the floods of 1910 destroyed some of the area. When you are at the site you can see the markings around that show how high the water rose during the flood.
2. Saguaro National Park
Source: Galyna Andrushko / shutterstock Saguaro National Park
In the southern part of Arizona you will come across Saguaro National Park.
The name of the park comes from the giant Saguaro cactus that resides in much of the park. Whilst you are at the park you should take advantage of the 150 miles of hiking trails that are available.
The park itself covers a total area of 91,442 acres with over three quarters of it being a designated wilderness.
3. Goldfield Ghost Town, Apache Junction
Source: Nick Fox / shutterstock Goldfield Ghost Town
In 1892 Goldfield was a bustling town sitting near to Superstition Mountains that had just struck gold.
The town now is a ghost town that has been brought back to life for visitors to see in all its former glory.
Whilst at the ghost town make sure to take a tour of the underground mines.
4. Havasu Creek
Source: Lucky-photographer / shutterstock Havasu Creek
Havasu Creek has humble beginnings as a little trickle of water from above the wall of the canyon.
This then runs some fifty miles before entering Cataract Canyon.
The creek is famous for its blue-green water, this is because of the high levels of calcium carbonate in the water that created the limestone around it.
5. Hoover Dam
Source: superjoseph / shutterstock Hoover Dam
Hoover Dam sits along the border or Arizona and Nevada and was constructed during the 1930's.
The dam today provides power for the states of California, Nevada and Arizona. Each year an estimated 1,000,000 people come to visit this astonishing site.
6. Hunts Mesa, Monument Valley
Source: Zhukova Valentyna / shutterstock Hunts Mesa, Monument Valley
You will find Hunts Mesa along the south-eastern edge of the monument valley.
A trip to Hunts Mesa will see you experiencing panoramic views of the sandstone formations that can be seen in the distance.
The area can only be accessed by travelling through the sand dunes that are to the north-east of the town Kayenta.
7. Jerome Arizona Ghost Town
Source: weltreisendertj / shutterstock Jerome Arizona Ghost Town
Jerome is the largest ghost town in the United States! In 1876 miners began extracting copper, silver and gold from the area and houses started to be built.
By 1920 there were some 15,000 inhabitants in the area and the people of the town were making some considerable money.
In 1953 with the price of copper at rock bottom the last mine closed and the town became deserted.
8. Lake Mead National Recreational Area
Source: Laurens Hoddenbagh / shutterstock Lake Mead National Recreational Area, Arizona
Lake Mead is a hot spot for recreational activities, visitors can enjoy their time by fishing, boating, sightseeing or settling down for a picnic.
Whilst you are here you will get to see thousands of animals and plants that adapted to the hot and dry climate.
9. London Bridge – Lake Havasu
Source: travelview / shutterstock London Bridge, Lake Havasu
London Bridge initially spanned the River Thames in London until it was discovered that is was sinking into the river Thames.
The founder of Lake Havasu City purchased the bridge for $2,460,000 and spent another $7,000,000 transporting the bridge to its current location.
It was then rebuilt as the structure you see today.
10. Montezuma Castle Near Camp Verde
Source: Pamela Au / shutterstock Montezuma Castle
Montezuma Castle is a National Monument and it protects a series of Ancestral Puebloan cliff dwellings that were used by the Sinagua people.
The Sinagua people lived in the area between 1100 and 1425 AD.
When you look at the castle you will notice that it is spread over five floors and encompasses twenty rooms.
11. Monument Valley
Source: Shutterstock Monument Valley
Monument Valley Navajo Tribal Park is an expanse of sandy land that sits between the border of Arizona and Utah.
The area is a dark red in colour and has many sandstone towers jutting out of the ground. Some of the towers reach as high as 1,000 foot.
As the sun moves across the sky the shadows cast by the towers make for perfect photograph moments.
12. Organ Pipe Cactus National Monument
Source: Anton Foltin / shutterstock Organ Pipe Cactus National Monument
At the heart of the Sonoran Desert is the Organ Pipe Cactus national Monument.
There are plenty of scenic drives to be taken here, and if you like camping then you can camp in one of the two allocated camping spots and enjoy a night of sleeping in a thriving desert.
13. Saguaro National Park
Source: Galyna Andrushko / shutterstock Saguaro National Park
In the southern part of Arizona you will come across Saguaro National Park.
The name of the park comes from the giant Saguaro cactus that resides in much of the park.
Whilst you are at the park you should take advantage of the 150 miles of hiking trails that are available. The park itself covers a total area of 91,442 acres with over three quarters of it being a designated wilderness.
14. Sonoran Desert
Source: Anton Foltin / shutterstock Sonoran Desert near Phoenix
The Sonoran Desert stretches out over nearly 100,000 square miles.
The desert is the hottest in North America but due to the high levels of rainfall compared to other deserts it manages to maintain plant life.
15. The town of Sedona
Source: Nikolas_jkd / shutterstock Devil's Bridge Trail, Sedona
The town of Sedona is surrounded by 1.8 million acres of national forest land.
The area is considered to be sacred by the Native Americans and many still claim the area will help with healing and spiritual renewal.
The streets are lined with art galleries and visitors will find countless spa's in which to pamper themselves.
16. Tumacacori National Historic Park
Source: PhotoTrippingAmerica / shutterstock Tumacacori
Inside Tumacacori National Historic Park you will find the ruins of three Spanish mission communities.
The buildings were abandoned after many Apache raids in the 19th century that killed a lot of the workers.
The ruins were never rebuilt and can now be visited on a trip to the National Park.
17. White House Ruins at Canyon De Chelly
Source: Doglikehorse / shutterstock White House Ruins At Canyon De Chelly
The White House at Canyon De Chelly in owned by the Navajo Tribal Trust.
The area can only be accessed by taking a guided tour by one of their companies, but the views are breath taking and the sandstone spire that rises 750 feet from the floor are worth the drive alone.
15 Best Places to Visit in Arizona
Road Affair is reader-supported and may earn commission from purchases made through links in this article.
Are you planning a trip to the southwestern United States but struggling to choose what to do in Arizona? We've got you covered. Also known as the Grand Canyon State and the Copper State, Arizona is famous for its iconic sandstone landscapes and series of Old West mining towns that are sure to delight nature lovers and history buffs alike. But it's not all deserts and cowboys. Arizona is also home to lakes, forests, and big cities brimming with galleries, wineries, and wellness-focused resorts. In no particular order, we've compiled a list of some of the best places to visit in Arizona to inspire your southwestern travels.
1. Grand Canyon National Park
Thanks to its unforgettable vistas and breathtaking geological features, Grand Canyon National Park is not only the most famous landscape in Arizona – it's one of the most famous places in the United States. This mile-deep northern Arizona canyon is the sixth most-visited national park in the country.
Don't get overwhelmed by Grand Canyon National Park's 1,218,375 acres. Start your planning process by selecting one of the park's designated rims for that all-important first look down into the canyon. Most visitors choose the South Rim, which is open year-round and home to Mather Point, a beloved lookout spot. Only 10% of park visitors visit the North Rim, which is open from mid-May to mid-October. The other side of the canyon has its own distinctly gorgeous vistas and is a great option for the crowd-averse.
Photography and hiking are two of the park's most popular activities. Sunrise and sunset, when the changing light casts dramatic shadows across the canyon, are prime shooting times. Day hikers have numerous marked trails to choose from, and overnight backpackers are welcome provided that they have obtained a backcountry permit. Among the many other ways to experience the canyon are mule trips, guided bicycle tours, helicopter tours, and raft trips on the Colorado River.
2. Flagstaff
When you think of vacationing in Arizona, do you picture lush forests, volcanoes, and snow-covered peaks? All of these landscapes are present in Flagstaff, a city surrounded by mountainous terrain and the Coconino National Forest in north-central Arizona. Unlike much of the state, Flagstaff is a four-season tourist destination.
Many vacationers see Flagstaff as a gateway to the Grand Canyon since the city is only 75 miles southwest of the iconic site. For an outing closer to Flagstaff, consider Walnut Canyon National Monument, where visitors can observe 700-year-old cliff dwellings and sweeping canyon vistas. Flagstaff has an elevation of about 6,900 feet, so summer temperatures are mild and perfect for hiking and biking. When the weather turns cold, winter sports enthusiasts head to the Arizona Snowbowl resort for skiing, snowboarding, ski biking, and more.
One of the most interesting things about Flagstaff is its relationship with the cosmos. The International Dark-Sky Association designated Flagstaff as the world's first International Dark-Sky Place in 2001. Visitors can learn about the sky's heavenly bodies at the Lowell Observatory, the observatory where Pluto was discovered. Lowell telescopes enabled scientists to create lunar maps in the 1960s, and Flagstaff's volcanic craters and cinder fields mimicked the moon's surface for astronaut training exercises.
3. Vermilion Cliffs National Monument
Situated just south of the Utah state line, Vermilion Cliffs National Monument is a must-see for photographers. This majestic monument in northern Coconino County spans 280,000 acres and boasts a diverse landscape carved into cliffs, canyons, and buttes. Its most famous feature is undoubtedly The Wave, an undulating sandstone formation whose mesmerizing shades of red and white have graced many a shutterbug's camera roll.
The monument's lack of paved roads and trails can be hazardous, so permits are required for certain hikes. The Wave is located in Coyote Buttes North, whose undeveloped wilderness must be navigated with the help of a map, compass, or GPS. The recommended route to the Wave follows a challenging 6.4-mile round-trip hike, but those who take on the trek are rewarded with stunning views of swirling sandstone.
The Paria Canyon–Vermilion Cliffs Wilderness area covers 112,500 acres within the national monument and boasts one of the longest and deepest slot canyons in the world. Intrepid visitors need not worry about trying to take in the whole wilderness in one day: Paria Canyon welcomes overnight backpackers who have secured a permit in advance.
4. Petrified Forest National Park
For road trip travelers visiting places in Arizona along Interstate 40, Petrified Forest National Park is a magnificent spot to get out of the car and stretch one's legs. The park encompasses more than 200,000 acres and is located within the larger Painted Desert. Though it is surrounded by a rocky desert landscape, Petrified Forest National Park is predominantly semi-arid grassland and short-grass prairieland.
Visitors who decide to explore the park beyond the view from their car windows have a variety of options available to them. Bicycles and e-bikes are permitted on paved park roads and a few unpaved trails, but the most popular activity is hiking. Among the designated trails are the Crystal Forest, named for the crystals embedded in the petrified logs, and the Painted Desert Rim Trail, a winding path that affords breathtaking views of the striated landscape and various plant and animal species.
Many more sights await hikers who want to stray from the beaten path. Wilderness backpacking is available with a free permit, and overnight visitors are treated to star-filled night skies and spectacular sunrises. If your pet is your favorite hiking partner, make sure to sign up for the BARK Ranger program so that your furry friend can accompany you on your wilderness adventures.
5. Phoenix
There is no shortage of fun things to do in Phoenix, Arizona's capital and most populous city. The Greater Phoenix Area is known as the Valley of the Sun, and it's no wonder why: This region in south-central Arizona experiences more than 300 days of sunshine a year. Brave visitors who are willing to see Phoenix in the summertime heat can take advantage of seasonal discounts at certain hotels, resorts, and businesses. But, luckily for the heat-averse, Phoenix is an engaging destination year-round.
Some of the best places to visit in Phoenix are museums, and two fan favorites are the Musical Instrument Museum, whose collection boasts some 8,000 instruments from more than 200 countries around the world, and the Heard Museum, an institution dedicated to the advancement of Native American art. Other popular museums include the Arizona Science Center, the Children's Museum of Phoenix, and the Penske Racing Museum.
Phoenix may be a metropolis, but it caters admirably to outdoorsy folks as well as city slickers. Tourists and locals regularly flock to Camelback Mountain, a mountain roughly 12 miles northeast of downtown and known for its sprawling views of the city. Another gem close to downtown is Papago Park, which is home to a golf course, zoo, and desert botanical garden as well as multiple hiking and biking trails.
6. Montezuma Castle National Monument
In 1906, President Theodore Roosevelt signed into law the Antiquities Act, which gives the President of the United States the power to declare national monuments. That same year, Montezuma Castle in central Arizona was officially named the country's third national monument. Nestled approximately 90 feet high in the face of a sheer limestone cliff, the castle is one of the best-preserved dwellings of its kind in the US.
The Sinagua people began building the cliff dwelling in the 12th century. They lived in the castle for around 300 years, using the nearby Verde River for irrigation. After the Sinagua migrated elsewhere, the site remained relatively untouched thanks to its location, which required a series of ladders for people to reach it.
The castle houses 20 rooms that used to be open to visitors for up-close viewing, but public access was suspended in 1951 in order to prevent further damage to the monument. Even with regulations in place, Montezuma Castle welcomes around 350,000 visitors a year. Ranger-led programs and tours are available periodically, and an on-site museum exhibits ethnological objects and archaeological artifacts. The monument also features a short hiking trail and a limestone sinkhole known as Montezuma Well, which harbors a unique aquatic habitat.
7. Antelope Canyon
Located just east of the Vermilion Cliffs National Monument is Antelope Canyon, a photographer's dream and one of the most beautiful places in Arizona. This geological formation is the result of years of rainwater eroding the Navajo sandstone until the flow formed a winding trench with sheer walls up to 120 feet high.
Antelope Canyon is divided into two slot canyon sections situated on Navajo land. Upper Antelope Canyon (also called Tse' bighanilini, meaning "the place where water runs through rocks") is the most popular section with tourists, since no climbing is required to navigate it. Lower Antelope Canyon's Navajo name is Hazdistazí, meaning "spiral rock arches." This lower section is narrower than its counterpart, and traversing it involves tackling several flights of stairs.
The only way to visit Antelope Canyon is with a guided tour. In order to maximize your experience (especially if you plan on snapping some photos), book a tour between late March and early October, at a time when the sun is high in the sky. Sunny weather provides the best conditions for the site's famous light beams, which occur when the sun's rays illuminate isolated areas of the canyon, creating a celestial spotlight.
8. Bisbee
Less than 10 miles north of the Mexican border is a small town that once was a bustling center of culture. After a tracker discovered mineral deposits here in the 1870s, Bisbee developed into a booming mining community that eventually earned the moniker Queen of the Copper Camps. By the mid-1970s, mining operations had ceased and Bisbee's population had shrunk significantly. Today, Bisbee is an eclectic, quirky town that embraces history, art, and any curious tourists who pass by.
The most popular tourist attractions in Bisbee take visitors back to the town's mining days. The Bisbee Mining & Historical Museum is a Smithsonian Affiliate and offers an interactive, family-friendly dive into the area's copper-mining history. An even more immersive experience is possible with an underground tour of the Queen Mine led by retired miners. Some spooky ways to explore Bisbee's past include ghost tours and theatrical séance performances.
Bisbee is also known for its thriving art scene. More than a dozen galleries showcase paintings, photography, pottery, jewelry, sculptures, and more. A monthly art walk called Bisbee After 5 takes place every second Saturday, during which galleries, restaurants, and shops stay open late and attendees enjoy live entertainment, raffles, and other special events.
9. Lake Mead National Recreation Area
Straddling the border between Nevada and Arizona is the United States' first national recreation area and one of the best vacation spots in Arizona for water sports enthusiasts. The recreation area comprises two reservoirs, Lake Mead and Lake Mohave, which were created when the Colorado River was impounded by the Hoover Dam and Davis Dam respectively. In terms of water capacity, Lake Mead is the largest reservoir in the United States, so it's no wonder that aquatic activities abound here.
Unsurprisingly, boating is one of the most popular activities. The recreation area has more than 290 square miles of waterways, and marinas offer kayaks, canoes, and paddleboards for rent in case you didn't bring your own paddle craft. Other aquatic pastimes in this desert oasis include fishing, swimming, tubing, waterskiing, and freshwater scuba diving.
There's plenty of fun to be had on land, too. Trails and backcountry roads provide miles of terrain for hikers, bikers, and horseback riders, but make sure to take the weather into account when planning your trip. Avoid scorching summer temperatures by visiting during the recommended hiking season: November to March. And don't forget your camera to document the surrounding wildlife, which could include bighorn sheep, tortoises, or even migrating American bald eagles.
10. Jerome
When it comes to day-trip options in Arizona, Jerome is a good choice for travelers who want a fun sojourn without the hassle of crowds. The tiny community is about two hours north of Phoenix, one hour northeast of Prescott, and an hour and a half southwest of Flagstaff by car. The entire town of Jerome was declared a National Historic Landmark in 1967, so it's an ideal destination for history buffs.
Founded in 1876, Jerome grew from a small mining settlement into one of the largest towns in Arizona by the early 20th century. The prominence of saloons, brothels, and gambling in Jerome led to a rather unsavory nickname: the Wickedest Town in the West. Most of its residents relocated when the demand for copper decreased dramatically after World War II, and today Jerome's economy relies on tourism.
The Gold King Mine & Ghost Town is a must-see in Jerome. Historic buildings, mining equipment, and vehicles are on view; there's also a petting zoo and a gold-panning activity for kids. For more insight into the town's past, head to Jerome State Historic Park, home to the 1916 Douglas Mansion. In addition to its mining history, Jerome is also known for its many art galleries and wine cellars.
11. Sedona
Sightseeing in Sedona means venturing outdoors. This north-central Arizona city is best known for its abundance of red sandstone formations, whose colors take on a striking glow at sunrise and sunset. The 1980s saw the birth of Sedona's reputation as a New Age capital when a psychic named Page Bryant had a vision identifying energy vortexes in the area. People have been flocking here to seek spiritual enlightenment and healing ever since.
Whether or not you believe in concentrated cosmic forces, the so-called vortexes have become major tourist attractions in Arizona. Meditation, yoga, and other mindfulness activities are popular at these unmarked spots among the rocks and mesas. Although Sedona is sometimes called "a cathedral without walls," there is a physical place of worship here that draws travelers, too. Completed in 1956, the Chapel of the Holy Cross was built with the architectural style of the Empire State Building in mind. The chapel's position atop the red rocks adds to its majesty.
Physical wellness as well as spiritual wellness is valued and encouraged in Sedona. Hiking, biking, and horseback riding trails are plentiful, and intrepid folks can try their hand at ATV riding or climbing the landscape's renowned red rocks. A dozen area spas offer treatments that range from body massage and facial treatments to hypnosis and reiki healing.
12. Monument Valley Navajo Tribal Park
Head to the Navajo Nation reservation to witness some of the most recognizable landmarks in Arizona, and possibly all of the United States. Straddling the state line between Arizona and Utah, Monument Valley Navajo Tribal Park is part of the Colorado Plateau and known for its large sandstone buttes, some of which rise 1,000 feet above the desert floor.
This magnificent landscape gained international recognition and fame after director John Ford filmed several influential Westerns here, including Stagecoach and The Searchers. Monument Valley continues to be a popular filming location for movies, television shows, and more. Visitors can opt for a self-guided tour of the valley, but a more educational tour is possible with a guide. A wide variety of Navajo-guided tours is available, from Jeep journeys and horseback excursions to photography-focused tours.
Get the full Monument Valley experience by staying the night. Wilderness campgrounds and RV sites are available, and the Arizona side of the valley is home to The View Hotel, where most rooms have a private balcony perfect for stargazing. The View's on-site restaurant features authentic Navajo dishes and sprawling views of the desert.
13. Prescott
At an elevation of more than 5,000 feet above sea level, Prescott is a refreshing four-season destination in central Arizona. The top attractions in Prescott exemplify the wide variety of activities that are available here thanks to a diverse landscape that blends city life and nature. Whether you're looking for outdoor adventure or a dose of history and culture, there's something for everyone in Prescott.
About five miles northeast of downtown is Lake Watson, one of Prescott's most popular sites. The contrast between the lake's deep blue waters and the surrounding boulders have rendered the spot a favorite for photographers. Activities on and around the lake include fishing, boating, hiking, and overnight camping. To the west of the city, Prescott National Forest also offers hiking, fishing, and camping, as well as bike trails and rock-climbing opportunities.
Some of Prescott's best nightlife can be found on Whiskey Row, a section of downtown so named because it used to comprise more than 40 saloons in the early 1900s. Today, Whiskey Row is home to restaurants and art galleries in addition to saloons. For more history, check out Prescott's varied museums, which include the Museum of Indigenous People and the open-air Sharlot Hall Museum.
14. Saguaro Lake
Located about 40 miles northeast of Phoenix, Saguaro Lake was created in 1930 when the Stewart Mountain Dam impounded the Salt River. The reservoir sits at an elevation of 1,500 feet in the Sonoran Desert. It's a picturesque oasis and a treat for shutterbugs, thanks to the rugged canyon walls that rise between the sparkling blue water and the wide blue skies.
Visiting Saguaro Lake means enjoying more than 22 miles of shoreline dotted with iconic saguaro cactuses. The Lake's namesake plant, which has become an icon of the American West, is the largest species of cactus in the world and native to the Sonoran Desert. Popular aquatic activities on the lake include motorized and non-motorized boating, kayaking, waterskiing, and fishing. Keen anglers can take advantage of champion bass and carp fishing, as well as crappie, sunfish, catfish, tilapia, and walleye fishing.
Saguaro Lake is part of Tonto National Forest, the largest national forest in Arizona. The lake experiences high traffic in the summer months and reaches maximum boating capacity early in the day on most weekends in April through October, so make sure to plan ahead if boating is your activity of choice.
15. Tucson
Whether your interests lie in outdoor pursuits, cowboy culture, the arts, or remarkable local gastronomy, you'll find plenty of things to see in Tucson. Founded as a military fort in 1775, Tucson was Arizona's most populous city until the 1920s. Tucson's identity has been shaped in large part by the University of Arizona, which was established here in 1885 as the first university in Arizona territory.
Tucson may be the second-largest city in Arizona, but many of its attractions invite visitors to return to nature. Northwest of town is Saguaro National Park, whose rugged landscape is peppered with the park's namesake cactus. There are more than 165 miles of hiking trails here, as well as wilderness hiking and backcountry camping opportunities. The popular Arizona–Sonora Desert Museum complex is just south of the national park and includes a zoo, botanical garden, natural history museum, aquarium, and art gallery.
In 2015, Tucson became the first city in the United States to receive UNESCO's City of Gastronomy designation, and foodies can choose from an abundance of delectable Mexican and Native American fare at chef-focused restaurants. Lovers of the arts are also spoiled for choice in Tucson, which boasts a plethora of theaters, museums, galleries, and studios.
Don't let the state's notoriously hot weather deter you; there are too many cool places in Arizona for it to be left off of your travel bucket list. And, depending on your destination, your Arizona vacation can be as active or as relaxed as you want. A land of sandstone icons, star-filled skies, and historic communities awaits.
Source https://www.planetware.com/tourist-attractions/arizona-usaz.htm#:~:text=One%20of%20the%20biggest%20attractions%20in%20America,%20and,the%20enormity%20of%20this%20natural%20wonder%20is%20captivating.
Source https://www.thecrazytourist.com/the-17-most-beautiful-spots-in-arizona/
Source https://www.roadaffair.com/best-places-to-visit-in-arizona-usa/