23 Spectacular Places to Visit in West Virginia
I have mentioned a few times on this site that I think West Virginia is so underrated. These are some of the best places to visit in West Virginia – destinations that just prove how overlooked this state is!
We have included West Virginia bucket list places that are cities, parks, and more. Did we leave off any cool places in WV? Let us know in the comments! Thanks!
West Virginia Bucket List Destinations – Map
To add this map to your Google Maps account, click the 'Star' icon next to the map name. You can then view it on your cell phone or computer by heading to your Google Maps account, click the menu and add it to 'Your Places'.
Best Places to Visit in West Virginia
Harpers Ferry
Harpers Ferry is one of the most beautiful small towns in West Virginia. It's also recognized because of Harpers Ferry National Historical Park.
It is located right at the crossroads of two mighty rivers- the Shenandoah and Potomac, and there is a large overlook that you can see Virginia and Maryland from known as 'The Point'.
In the town and park area, you can discover wonderful 19th-century buildings, a museum dedicated to the Civil War's 1859 abolitionist raid site, John Brown's Fort, and so much more.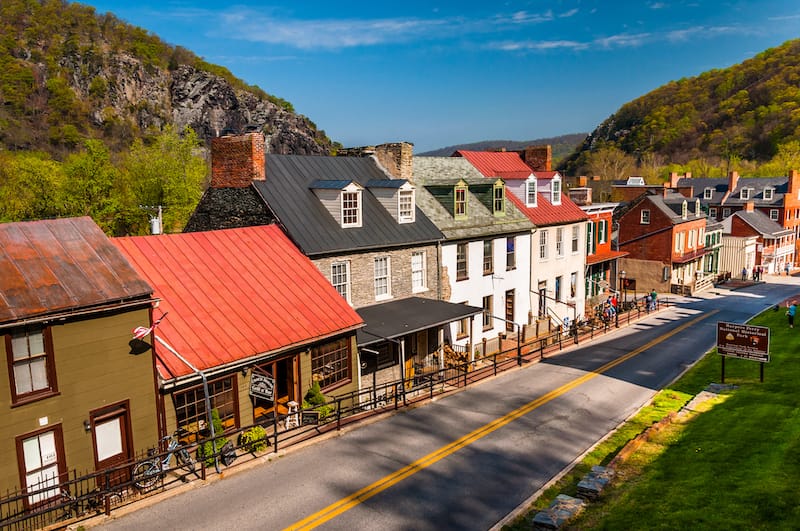 Harpers Ferry is also a place where visitors can stop by the Appalachian Trail Visitor Center to see the exciting long-distance hiking trail. For those with a sweet tooth, visit True Treats Historic Candy, a unique candy shop that dates back to the mid-1900s that sells everything in vintage packaging.
Alternatively, you can stop by the Gilded Flea Market to purchase antiques (or stop by Vintage Lady for handmade gifts).
Don't forget to take the city tour known to be America's oldest ghost tour. It is located in Harpers Ferry's Low Town and lasts for two hours.
Charleston
The capital of West Virginia is Charleston. The city is situated where the Elk and Kanawha Rivers meet. Here, you can visit the West Virginia State Museum and Theater, the beautiful Governor's Mansion, spot the impressive gold-domed State Capitol, and much more.
Make sure that you don't miss The Clay Center for the Arts and Sciences and Discovery Museums which also contain a concert hall where locals and other state artists perform. You will also find a Planetarium here.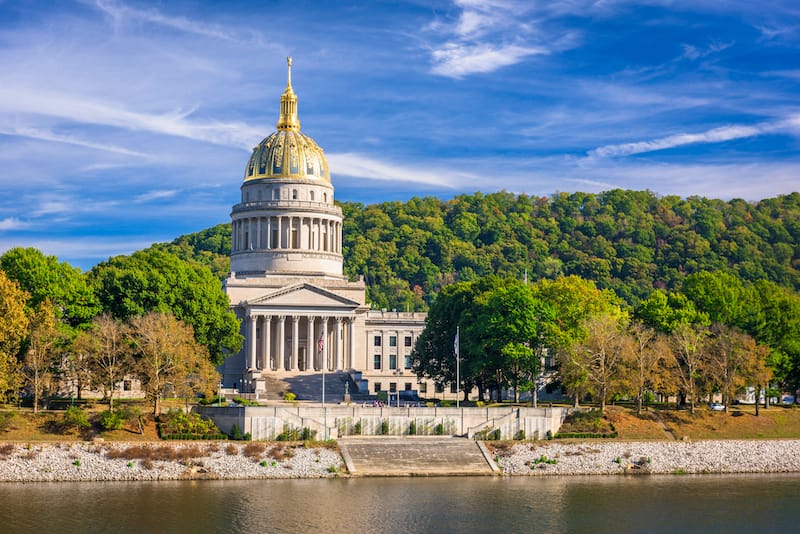 Charleston is also home to hip art galleries located on the downtown riverfront, including boutique and vinyl record shops alongside cozy, small restaurants.
Besides the historical attractions in Charleston, the city is home to many green parks, both new and old.
You'll also find street art and cafes at several parks in the city including Kanawha County Parks & Rec, Wine Cellars Park, Little Creek Park, and more.
New River Gorge National Park
New River Gorge National Park should definitely be on your West Virginia bucket list if you like beautiful nature, wild rivers, hiking, and other activities.
The National Park in West Virginia is the newest park to be designated as such by the United States National Park Service. Here, you will be able to find plenty of natural and historical sites to see.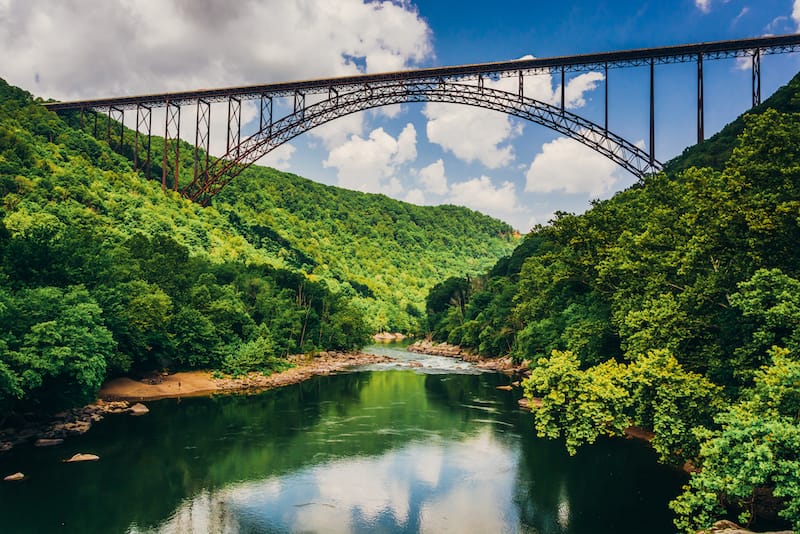 In the park, you can hike to sites such as the fascinating 3,030-foot-long New River Gorge Bridge constructed in 1977, the transcontinental Midland Trail, and check out the hidden Sandstone Falls and Brooks Falls (and Boley Lake).
Sandstone Falls is one of the most beautiful waterfalls in West Virginia!
Grandview State Park (now part of New River Gorge NP)
Being a popular place for hiking, picnicking, and sight-seeing, Grandview State Park is 1,400 feet above the river, and it rewards the visitors with some of the most outstanding views in the state.
Visitors can also get a glimpse of the gorge's fascinating cultural heritage from the Main Overlook. An active railway and the town of Quinnimont can be seen from here and it is where the first coal was transported out of the gorge in 1873.
Another impressive feature are the Catawba rhododendrons that bloom there in Grandview. The purple Catawba rhododendrons bloom in mid-May, while the great white rhododendrons bloom in July. The exact times vary from year to year, so make sure to check it out before your visit.
Blackwater Falls State Park
Located in West Virginia's Tucker County in the Allegheny Mountains, Blackwater Falls State Park is famous for its 62-foot-tall Blackwater Falls.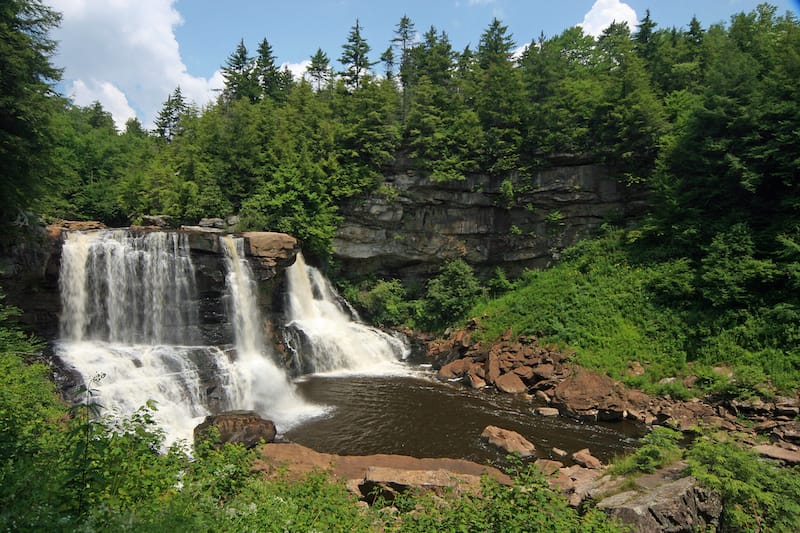 This is one of the best places for hikers because it's one of the most photogenic places in the park besides Lindy Point, Elakala Falls, Pendleton Point Overlook, and many more natural spots.
Blackwater Falls State Park is a paradise for outdoor adventurers, especially hikers, and it offers numerous hiking trails like the Davis Trail, which is connected to Monongahela National Forest, Balanced Rock Trail that crosses Elakala Trail and other trails, Lindy Point Trail that reaches Gee Haw Trail at a height of 3,000 feet to provide mesmerizing views, and many more.
Snowshoe Mountain Ski Resort
As a part of Pocahontas County in West Virginia, Snowshoe Mountain Ski Resort is one of the best places for winter activities in the state.
The territory of the ski resort offers three great skiing areas, more than 60 trails, and 4 bike trails that enable visitors to participate in many fun activities like tubing, swimming, snowmobiling, and biking. It doesn't matter which season you visit Snowshoe during- you always will find many wonderful things to do!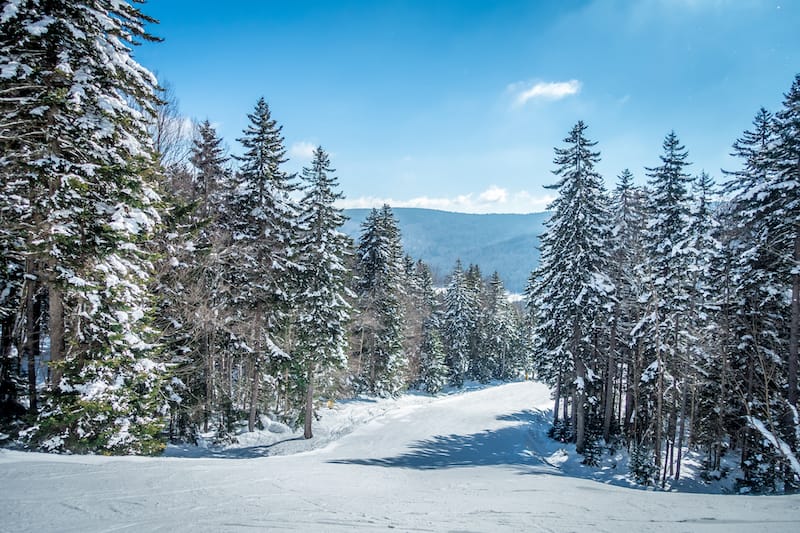 You can also take off-road tours on the 4-seat Polaris RZR vehicle in the snow-covered mountains, relax in a wonderful spa with a massage, eat delicious food in local restaurants, and try wine next to a cozy fireplace.
Wheeling
Wheeling is located in the foothills of the Appalachian Mountains on the Ohio River in Ohio and Marshall counties.
Wheeling provides visitors with many unique attractions and historical sites, such as the 1,650-acre park built in the 1800s, the massive Wheeling Suspension Bridge built in 1849, museums, theaters, interesting shops, and so much more.
Visitors can also check out the Capitol Theatre, which is one of the oldest operating theaters in West Virginia, having been constructed in 1928. It is still operating, and you can even watch Broadway shows there.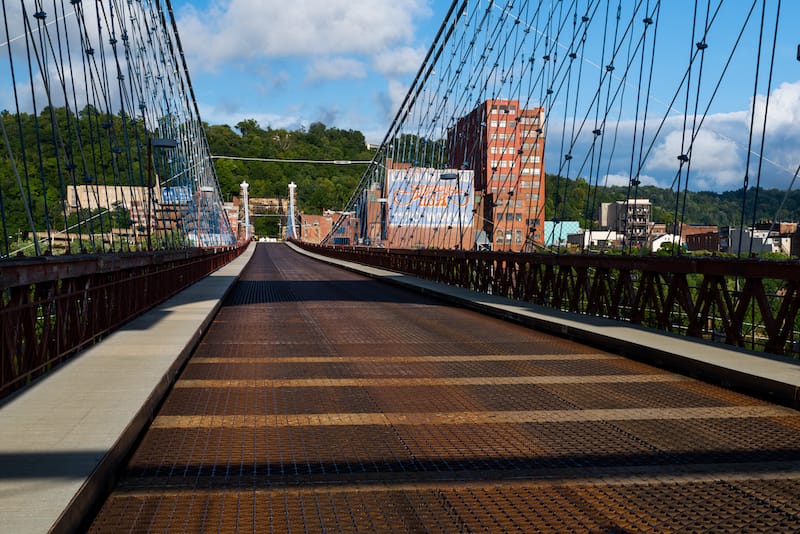 Another popular site is the Kruger Street Toy and Train Museum, which will show you everything about trains and the toy-making industry from the 20th-century.
Also, the city is known for its family-owned restaurants and cozy cafes where you can try local food and enjoy nice wine after strolling and checking out the Blue Church or Cathedral of St. Joseph. Click here to find out more things to do in Wheeling, WV!
Morgantown
Home of West Virginia University, one of the nation's most well-known colleges, Morgantown is a lovely city for you to discover beyond the campus (okay, and on campus too)!
Morgantown is, as mentioned above, well-known for its university, WVU, which is home to the Milan Puskar Stadium, as well as spring wildflowers and old-growth forests located in the WVU Core Arboretum on the Monongahela River, the Metropolitan Theatre built in 1924, lovely beaches on Cheat Lake, and so much more.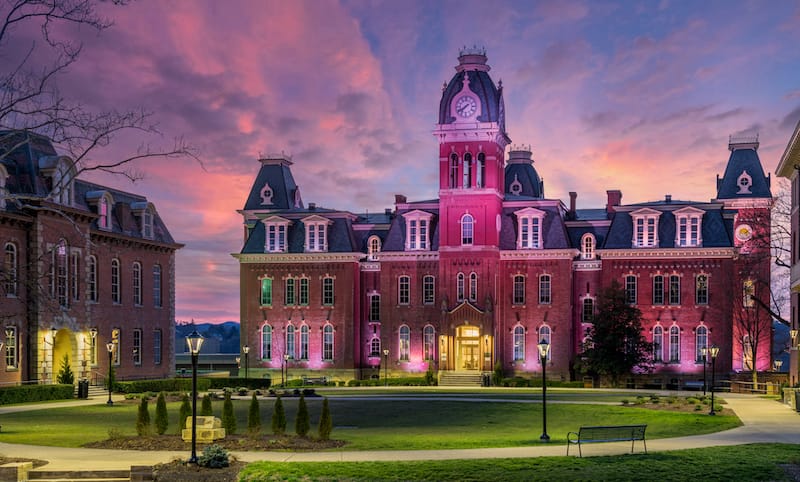 Morgantown is also an ideal place to visit in West Virginia for everyone because the city offers a wide variety of activities like Dorsey's Knob, rock climbing, birdwatching at Cranesville Swamp, visiting the gallery of Benedum and Davis artists, walking on 1889 Dent's Run Covered Bridge, and more.
Monongahela National Forest
One of the most popular landmarks in West Virginia, the Monongahela National Forest, is located in the Allegheny Mountains. The forest is full of lush green trees, rivers, and rich wildlife.
The national forest offers many mining activities and sites to visit like Canaan Valley Ski Resort, Spruce Knob- the highest point in West Virginia, and Cass Scenic Railroad State Park where you can see old trains from the beginning of the 20th century and even beforehand.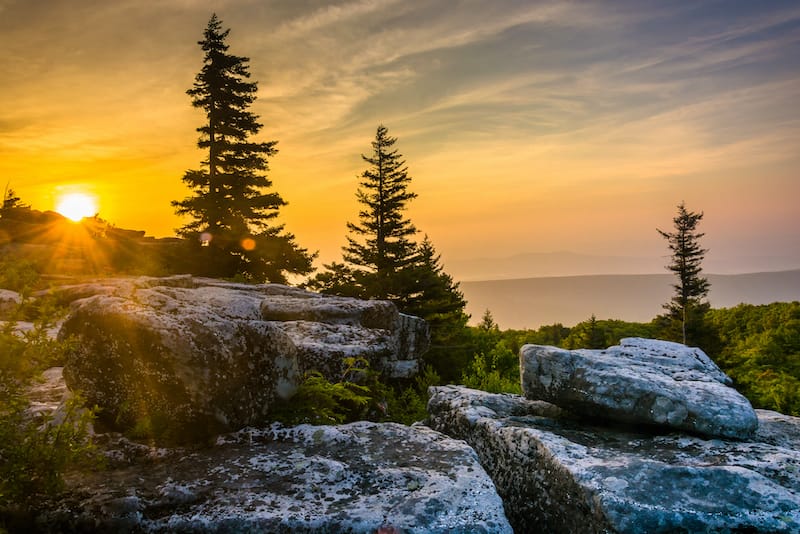 You can also check out the Dolly Sods Wilderness Save, where you can enjoy a lovely valley covered with red spruce trees, boggy forests, and windswept boulders.
One of the most significant and popular places in the Monongahela National Forest is Seneca Creek Falls, which is a wonderful natural waterfall you can climb after taking the Seneca Creek Trail to see an amazing view of the area.
Berkeley Springs State Park
The beautiful town of Berkeley Springs is one of the best places to visit in West Virginia. When there, you will find Berkeley Springs State Park, a park that is built around the city's spa and mineral water culture.
This spring water is 74.3 degrees, and it is known to have a natural curing ability. It is especially popular for people who have digestive disorders. In the park, you can find and visit bathhouses where you can enjoy amazing spa procedures and massages.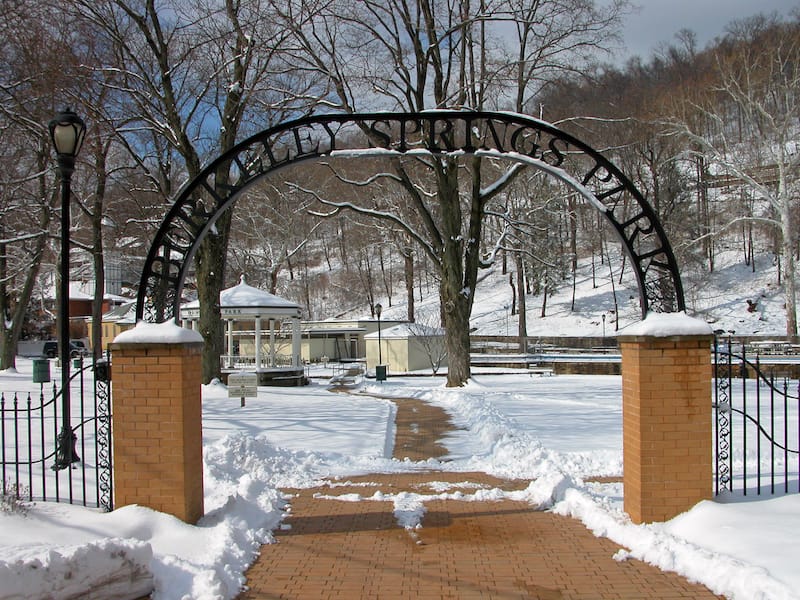 In Berkeley Springs State Park, visitors can also see great historical monuments like Saint Vincent De Paul Catholic Church, George Washington's Bathtub where the first President enjoyed relaxing, and the Museum of the Berkeley Springs located in the 1815 bathhouse.
You can also hike to Prospect Peak to see the sunset and so much more!
Charles Town
Located in Jefferson County, Charles Town was named after President George Washington's brother, Charles Washington, whose home is also located here.
Besides that, Charles Town is known for the Hollywood Casino at Charles Town Races, as well as the Jefferson County Museum where visitors can learn more about the history of the area.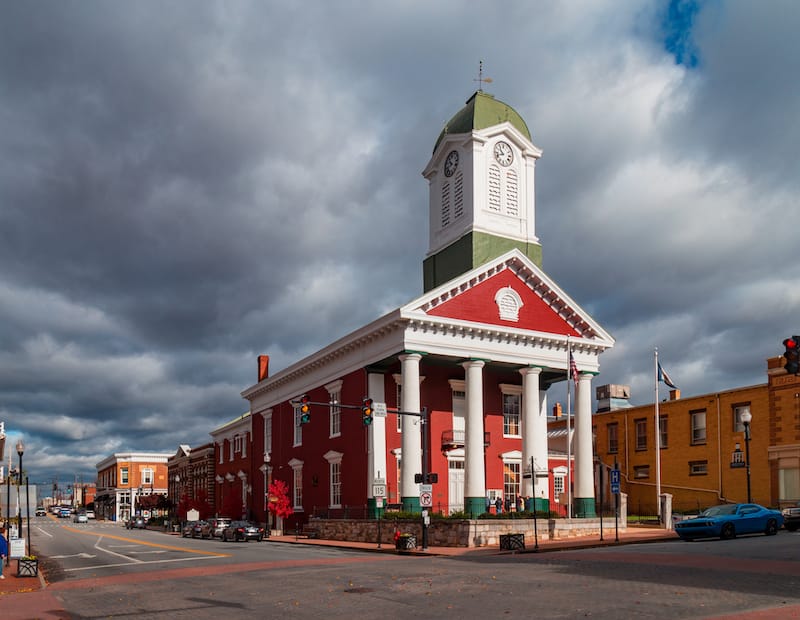 It is also a great place for adventure lovers. You can also check out the River Riders Family Adventure Resort, where you can raft, hike, bike, and enjoy nature.
Don't forget to visit Bozzo Family Vineyards, which is a couple of miles away from the town and where you can try locally-made wine and learn about how it's made.
Seneca Caverns
This is one of West Virginia's karst show caves and is an epic place to visit! The mysterious and beautiful Seneca Caverns is located in the Germany Valley close to Riverton.
It used to be a place for the Iroquois confederacy tribe of Seneca Natives as a ceremony facility back in the 1400s. It was commercialized in 1930. The Caverns are part of the Appalachian Mountains where the great Native trading route passed. It was also used as storage and shelter.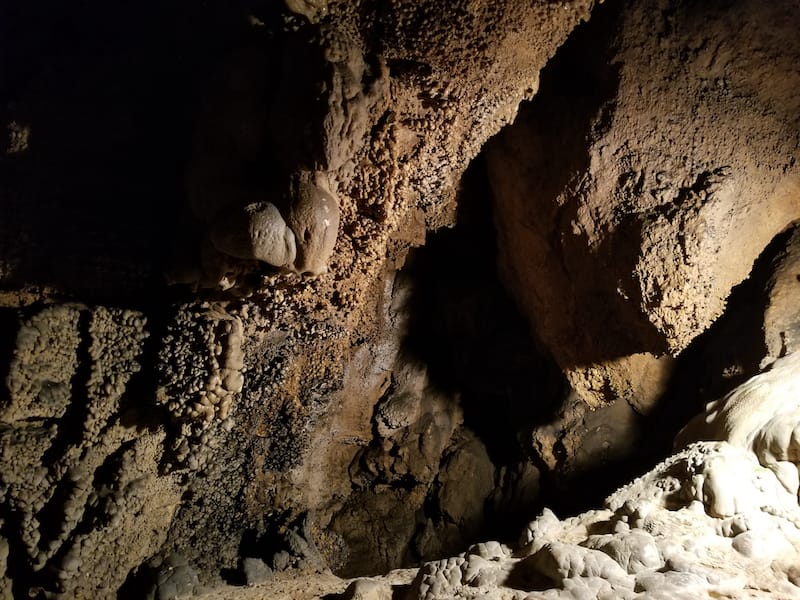 If you plan to travel to West Virginia and visit its beautiful sites, then the amazing Seneca Caverns is a must-visit. They have 45-minute tours that will take you 165 feet underground where you can learn more about this underground kingdom and its mineral rocks and features.
Cathedral Falls
Cathedral Falls (also known as Bird Rock Falls) is one of West Virginia's highest and most stunning waterfalls. It falls into a natural amphitheater, which is what the falls were named after.
It's about one mile east of Gauley Bridge and is located in a small roadside park along US Route 60. Although the falls are visible from the road and the parking area, a short walk will provide much better views!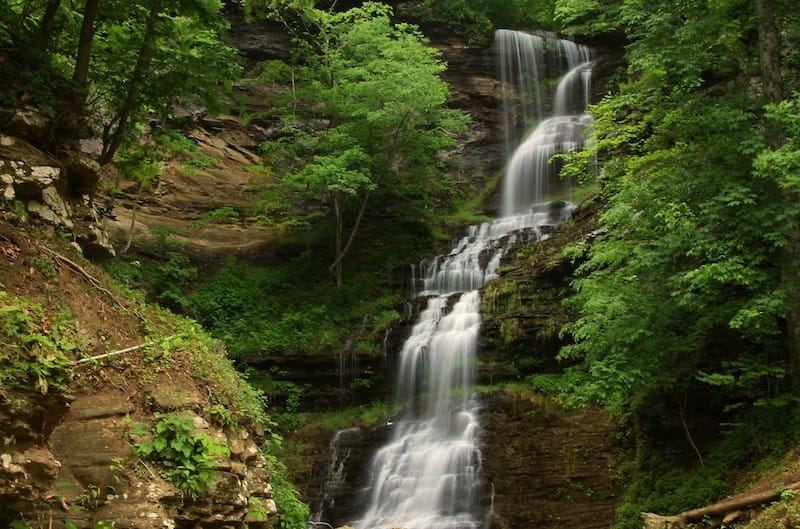 From the Forest Heritage Scenic Byway, Cathedral Falls is a short and very scenic riverside walk. You can also see French Wide Falls and Mill Shoals there.
Kanawa Falls
Kanawa Falls is located in Glen Ferris and is yet another beautiful place worth visiting in West Virginia!
This wide waterfall flows into the Kanawa River. From an accessibility perspective, it's quite a manageable place to visit. However, if you're not visiting by boat, you should settle for some distant views of the falls.
Something that differentiates this particular waterfall from others in West Virginia is that Kanawa has water all year round. Notably, since the dam diverts some water to the power plant, the falls are less powerful during the dry season.
Hawks Nest State Park
Hawks Nest State Park is a 270-acre recreational area with a nature museum, aerial tramway, hiking trails, jet boat rides, and one of the most challenging whitewater rafting rivers in the country. There is also a 31-room lodge that features well-supplied suites, fine dining, and ample conference and meeting space.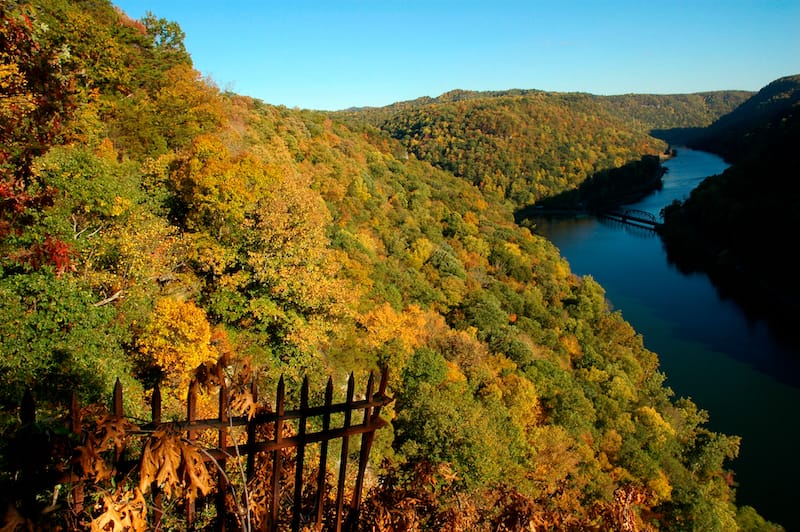 Hawks Nest is a scenic overlook just 10 miles north of the New River Gorge Bridge that offers a bird's eye view of the rugged New River Gorge National River below.
Though rafting will certainly keep you occupied, Hawks Nest State Park offers a variety of other activities. For example, you can take the aerial tramway from the top of the scenic New River Gorge canyon at Hawks Nest Lodge to the marina at the bottom.
Visitors can also take guided bridge walks, airplane rides, rock climbing, horseback riding, and bicycle rentals in the area.
Babcock State Park
With its 4,127 acres of breathtaking scenery, Babcock State Park is one of West Virginia's most popular locations. The Glade Creek Grist Mill, a fully-functioning version of the original Cooper's Mill that once stood on the property, is located 20 miles southeast of the New River Gorge Bridge.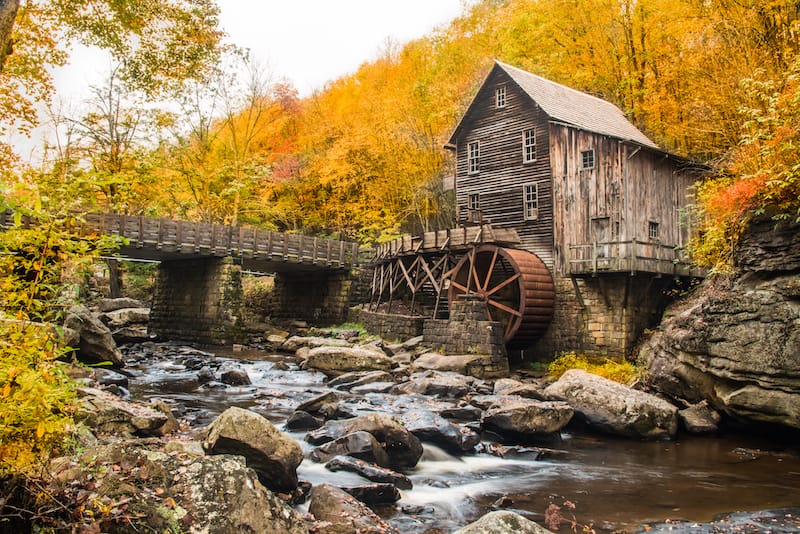 Nature photographers will absolutely love the Glade Creek Grist Mill at Babcock State Park, which is a quite popular destination for artists to capture the beauty of the area.
Whitewater rafting in the nearby New River Gorge, hiking, fishing, and mountain biking are all among the other activities available in the park.
Martinsburg
Regarded as "Gateway to the Shenandoah Valley," Martinsburg has been named the "fastest-growing city in the state." The city serves as the county seat for Berkeley County, located in the heart of the Eastern Panhandle.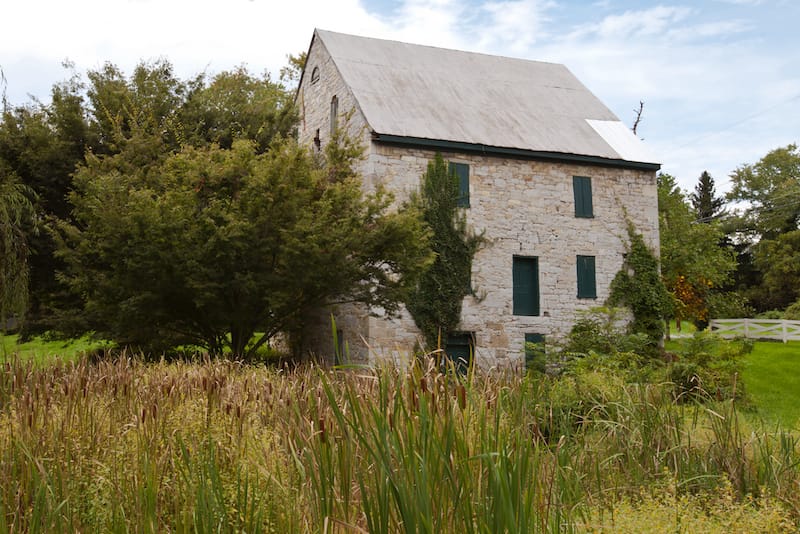 The area is famous for a few historical sites like the Adam Stephen House, Childhood Home of Belle Boyd, the R&O Roundhouse, etc.
When it comes to parks and recreation, 23,000 acres of Sleepy Creek Wildlife Management Area are accessible to visitors for outdoor exploration. The area offers hiking, birding trails, biking, boating, canoeing, kayaking, and fishing spots for its visitors.
Bluefield
Bluefield, located at the foothills of the Appalachian Mountains, has a lot to offer to its visitors these days as it tries to move beyond its coal mining past. Bluefield is a perfect place to live, work, and play because of its proximity to world-class fishing, hiking, and skiing destinations.
When in Bluefield, visit the Ridge Runner Train, a family-friendly attraction that runs from spring to early autumn in Lotito City Park.
The train runs on Saturdays and Sundays from 12 PM to 6 PM. Walking and biking paths, the Yakkity Yak playground, tennis courts, and other park amenities are all accessible nearby.
Gauley River National Recreation Area
The Gauley River National Recreation Area includes 25 miles of the Gauley River and 6 miles of the Meadow River, both of which flow through scenic gorges and valleys with a diverse range of natural and cultural features.
When the water from Summersville Dam is released in September, whitewater rafting enthusiasts flock to the Gauley River to experience what many consider to be one of the most exciting whitewater rafting experiences in the world.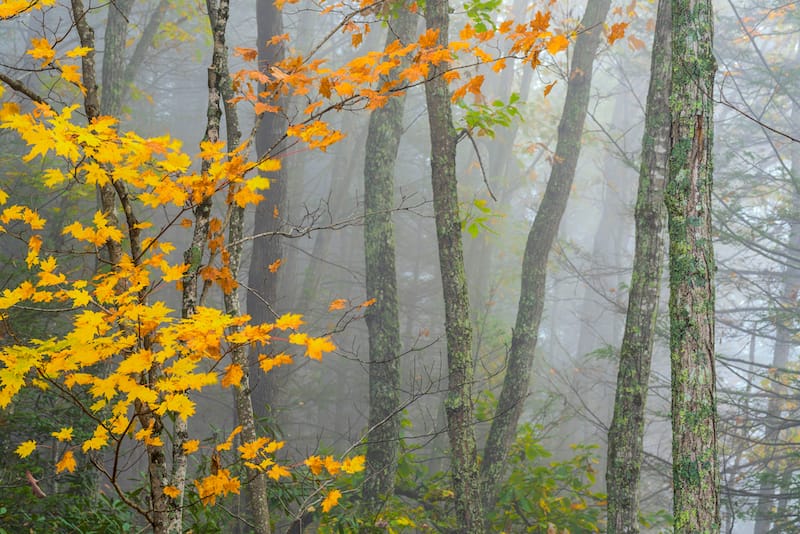 Gauley River is also prominent for having many unusual plant species, like Virginia Spiraea, Appalachian Blue Violet, and Balsam Squaw-weed.
Stonewall Jackson Lake State Park
The park has public hunting lands and an excellent fishing hole at the dam's foot. Stonewall Resort, Briar Point Campground, and Stonewall Marina are all located within the park. The visitor center at Stonewall Jackson Lake State Park is full of exhibits and information about the area.
The Stonewall Jackson Resort State Park, just 3 miles off I-79, is a secluded retreat surrounded by the rolling hills of Stonewall Jackson Lake. It has facilities to accommodate all ages.
These include an Adirondack-style lodge, cottages, campgrounds, a wide range of recreational sports (including boating and golf), and 3 restaurants.
Coopers Rock State Forest
Coopers Rock State Forest, opened in 1936, is home to some of Almost Heaven's most iconic views. The park, which is about 13 miles from Morgantown and located just off I-68, has canyon overlooks, picnic shelters, historical sites, 50 miles of hiking and biking trails, sandstone cliffs for climbing, cross-country ski terrain, a lake ideal for trout fishing, and a nearby river for rafting.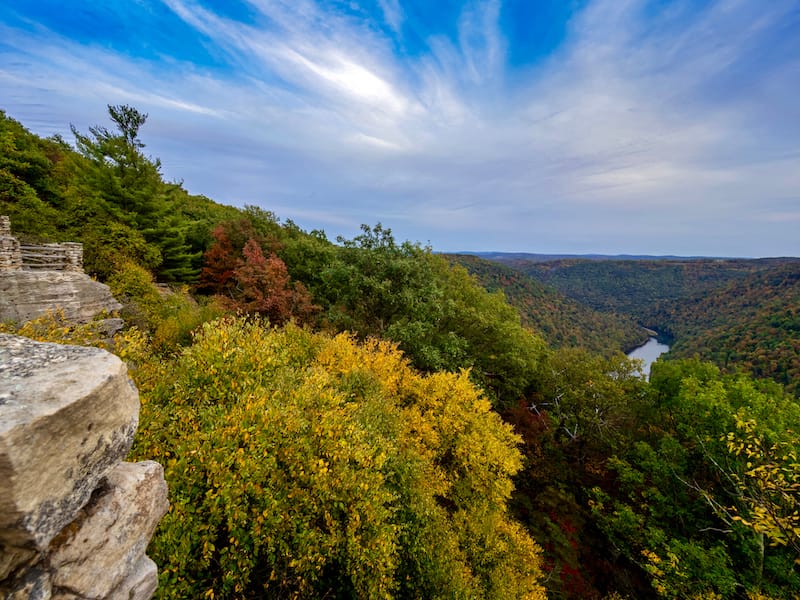 In case you plan to visit in the wintertime, note that the main gate to Coopers Rock State Forest is closed until April. You can park in the day-use parking area and the forest is still accessible by foot or bike.
The Greenbrier
The Greenbrier is a luxury resort in Greenbrier County, near White Sulphur Springs in the Allegheny Mountains.
The place has 710 guest rooms, 20 restaurants and lounges, over 55 indoor and outdoor activities, 36 retail shops, and overall 11,000 acres of land.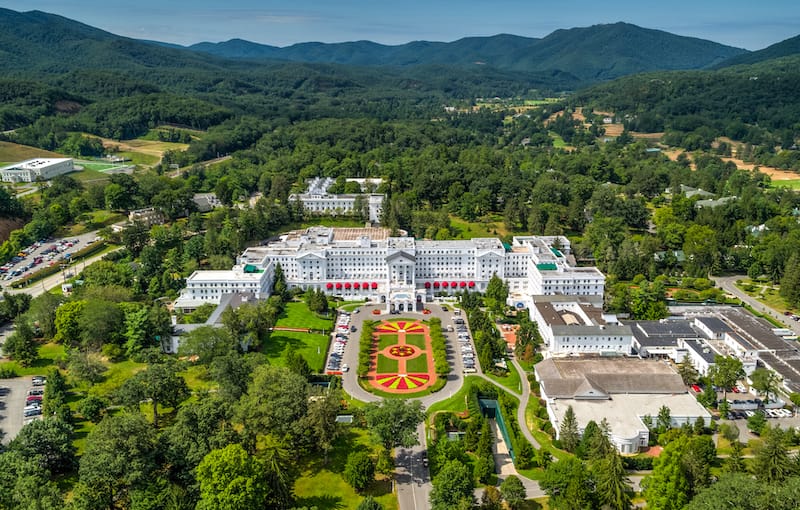 It provides spacious accommodations, private estate homes, shopping spots, golf courses, pools, tennis courts. From hiking through 11,000 acres of breathtaking mountains and a diverse selection of restaurants to gambling at the on-site casino and a tour of the Cold War bunker, there is indeed a lot that visitors and guests can do there!
Parkersburg
Parkersburg is the county seat of Wood County, West Virginia, and is one of the largest cities in the state (yet only has 31,000 people)!
One of the main attractions in Parkersburg is Blennerhassett Island, a historical site located just off the city's shoreline in the middle of the Ohio River. The island has lovely trees and well-kept grounds, making it a relaxing setting for horse and carriage rides offered by the mansion and museum.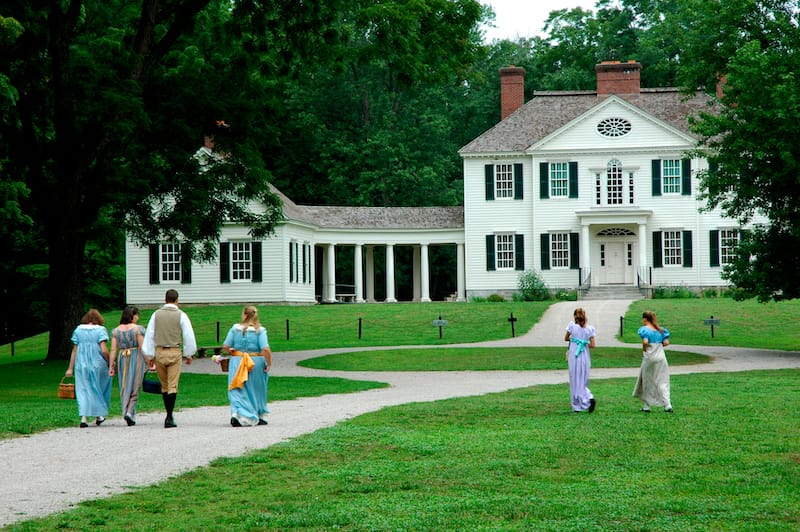 Another famous sight there is Fort Boreman Park. It's a state historical landmark that has been repurposed as a public area with scenic views of Parkersburg and the Ohio River.
Every year, thousands of locals and tourists come to learn about the history and participate in the activities available.
Huntington
Huntington is a city in West Virginia located at the base of the Ohio River and at the foothills of the Appalachian Mountains.
Transportation, steel processing, and shipping were once its primary industries, but healthcare, tourism, and finance have come to replace them in recent decades.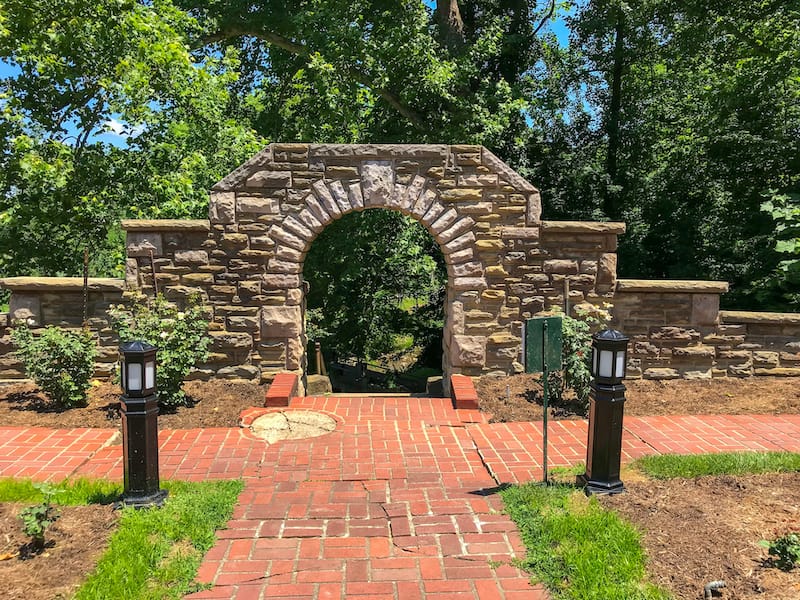 Visitors should take advantage of the city's numerous parks, which provide entertainment and an escape into nature's tranquility. A few technology and art museums, an amusement park, and fine-dining restaurants are also located in the city.
We hope that you found some really epic destinations in West Virginia to put on your WV bucket list!
What are your favorite places to visit in West Virginia? Let us know in the comments!
Additional West Virginia Travel Resources
Pin this Places in West Virginia Guide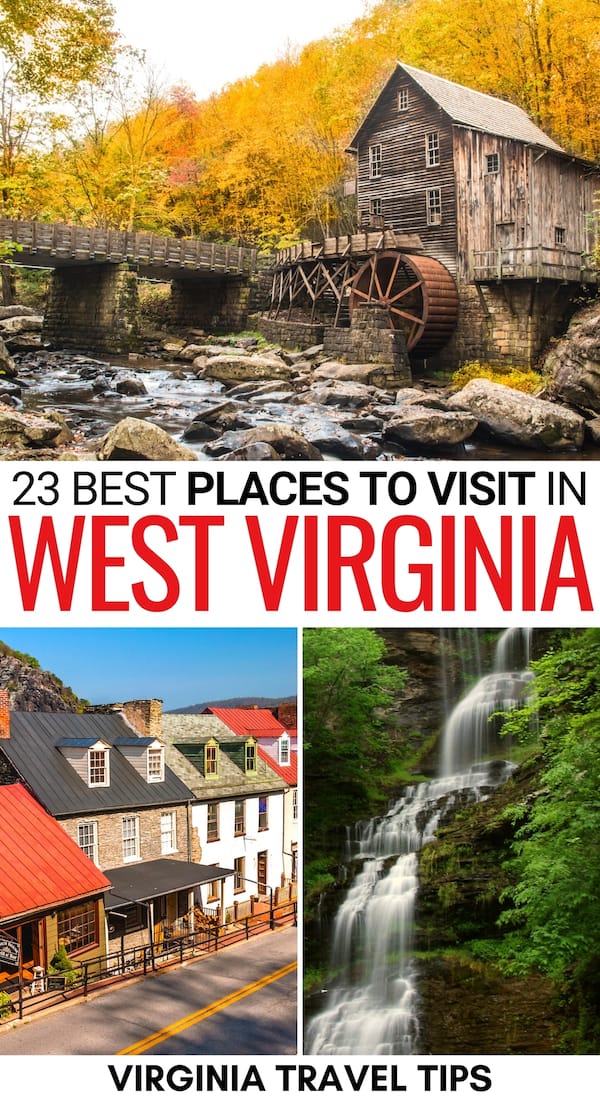 6 thoughts on " 23 Spectacular Places to Visit in West Virginia "
You mentioned Greenbrier,WV, but said nothing about Green bank, the infamous radio telescopes. It's hard to get to cause GPS doesn't work in this area of WV, but very interesting for space enthusiasts!
Oh wow that is actually insanely cool to know because I have always been a space enthusiast! I am going to try to get out there when back in VA in June! Thanks so much for the tip!
Bozzo Winery is located on U.S.Route 9,Loudoun County, Virginia ,not West Virginia Steve
Did I miss it? apologies if I did but Audra State Park. It's small but a gem! And Beartown also! So so many places. We have a beautiful state.
Charles Town, not Charles Towne. Also how is Shepherdstown, oldest town in the state, home of Shepherd University, the Bavarian Inn, James Rumsey Monument, Old German Street Bakery and historic civil war trail and cemeteries not on the list? Beautiful town and a must see! Also Harpers Ferry was home of the Niagara Movement, precursor of the NAACP as well as HBCU Storer College.
Thank you very much, corrected! We will try to update it and add the info next time.
10 Best Places to Visit in West Virginia
Tucked away between the Blue Ridge Mountains and the Ohio River, West Virginia is an absolutely beautiful part of the States to explore, with a plethora of incredible landscapes on show.
Its many mountains, forests, and whitewater rivers lend themselves perfectly to all kinds of fantastic outdoor activities. As the state is mostly overlooked by tourists, you'll often have all the incredible scenery to yourself.
Despite being quite sparsely populated and rural, there are some lovely mountain towns for you to visit, with lots of interesting Civil War historical sights and cultural landmarks on show. Very much a hidden gem, West Virginia's gorgeous countryside and natural wonders are waiting to be explored.
10. Cass Scenic Railroad [SEE MAP]
© Alan Kolnik / Dreamstime
As well as taking you through some lovely countryside, the Cass Scenic Railroad also takes you into the past, as you ride in a beautiful old carriage pulled by a steam-driven locomotive. Hearing the whistle blow and seeing steam billow out above the train is a magical experience, and train lovers will enjoy taking a ride on the heritage railroad.
Surrounding the tracks is a delightful state park of the same name. Around the historic lumber mill town of Cass, there are many beautiful hills and valleys for you to explore, with hiking, mountain biking, and boating all on offer.
One of the best moments of the train ride is when you approach the summit of Bald Knob – the third highest peak in the state – and see the world stretching away towards the horizon.
9. Seneca Rocks State Park [SEE MAP]
© Kenneth Keifer / Dreamstime
One of the most impressive and recognizable natural sights in the whole of West Virginia, the distinctive Seneca Rocks lie at the heart of a wonderful state park of the same name; they are definitely worth checking out if you want to go rock climbing or hiking in a pristine setting.
The jagged rock formations have a remarkable 375 different rock climbing routes for you to try out, and the panoramic views from the tops of both North Peak and South Peak make the climb well worth the effort.
With the gently ululating forest-coated hills below only punctuated by seas of green grass and fields, the scenery is a delight. Hiking along the state park's many paths and trails is a lovely way to spend a morning or afternoon.
8. Fayetteville [SEE MAP]
© Steveheap / Dreamstime
Despite its small stature, the tiny town of Fayetteville certainly packs a punch with all that it has for you to see and do. While its historic downtown area is full of great bars, restaurants, and galleries, the main reason that everyone visits is the astounding nature that lies at its doorstep.
With the millennia-old New River coursing nearby, Fayetteville attracts lots of thrillseekers, who come to partake in the exhilarating outdoor adventure activities it has to offer up; kayaking and whitewater rafting down the New River Gorge are popular pastimes.
In addition to this, visitors can go horseback riding or llama trekking through the nearby natural areas, or rock climbing or rappelling in the gorge and fishing along the river.
7. Hawks Nest State Park [SEE MAP]
© James Vallee / Dreamstime
Lying just to the north of Fayetteville, Hawks Nest State Park is another fantastic place to head if you love the great outdoors. There are lots of different activities for you to choose from, as well as beautiful landscapes to explore. While the most majestic view is undoubtedly that of New River Gorge Bridge and the reflective waters below it, there is loads of lovely scenery on show.
Visitors can go hiking or mountain biking along a plethora of different trails and paths that snake their way through the surrounding forests. As well as going on a heart-racing whitewater rafting trip down the New River, you can also take a scenic trip on the state park's aerial gondola. The view is particularly spectacular during fall when the foliage below turns a mesmerizing array of yellows, reds, and oranges.
6. Snowshoe Mountain Resort [SEE MAP]
© Alex Grichenko / Dreamstime
Located on Cheat Mountain, Snowshoe Mountain Resort is the largest ski resort in the area. Consequently, every winter, hordes of skiers and snowboarders from all around the US and further afield descend upon its many slopes, pistes, and trails. With cute, cozy cabins for you to stay in, the resort is a lovely place to vacation.
While most people visit Snowshoe Mountain Resort during the winter, summer also has its charms; the surrounding forests have lots of great hiking paths and mountain bike trails for you to explore.
In addition to this, there is a golf course on offer, as well as a spa and swimming pool complex. Guests can also enjoy watersports on the lake.
5. Berkeley Springs State Park [SEE MAP]
Andrew Bossi / Wikipedia
Home to a magnificent mineral spa that has been used for eons, Berkeley Springs State Park is a lovely place to head to if you want to unwind, relax, and bathe in its restorative waters. Long known for their medicinal powers, the warm waters bubble up from natural mineral springs.
The state park has been used as a health resort for over 250 years, with the first bathhouse built here all the way back in 1784. The historic Roman bathhouse is very picturesque with all the lovely trees, gardens, and pools around it. Visitors can go for a dip in one of the baths, enjoy a steamy sauna, or book an invigorating massage.
4. Charles Town [SEE MAP]
© Georgesheldon / Dreamstime
Not to be confused with the state capital Charleston, the historic Charles Town is a very popular place to visit and was named after George Washington's youngest brother. Founded in 1787, you can still see many of the family's former homes and farms scattered about here and there, and there is a very quaint, small-town feel about the place.
A great place to head to if you want to learn more about the region's rich history is the Jefferson County Museum, which has lots of interesting artifacts and photographs on display. Charles Town also makes for a laidback base if you want to head off to explore the wilds of the Shannondale Springs Wildlife Management Area.
There's also a water park located nearby if you want to splash about and have some fun, and a casino if you want to try your luck at blackjack, poker, and slot machines.
3. Charleston [SEE MAP]
© Francisco Blanco / Dreamstime
The largest city in the whole of West Virginia, Charleston lies at the point where the Elk and Kanawha Rivers meet. Its impressive State Capitol building is set in a very scenic spot overlooking their tranquil waters. As it is the commercial, cultural, and administrative heart of the region, there's a lot going on, and numerous festivals and events take place here during the year.
While walking around town, you'll see lots of beautiful old buildings, which display a variety of different architectural styles. There are a couple of fantastic museums for you to check out, such as the Avampato Discovery Museum and the West Virginia State Museum.
In addition to its historical and cultural attractions, Charleston has some brilliant restaurants, bars, and cafes scattered around the city, with lots of parks and nature spots also on offer. These make for some fantastic hiking and mountain biking; the nearby Kanawha State Forest is particularly delightful to explore.
2. Blackwater Falls State Park [SEE MAP]
© Steveheap / Dreamstime
One of the most photogenic places in the whole of West Virginia, Blackwater Falls State Park certainly is majestic; the glorious waterfall that lies at its heart is undoubtedly the highlight of what is on show. Covering a vast swathe of territory in the Allegheny Mountains, the state park is centered around Canaan Valley and Blackwater River, with lots of lovely forests and woodlands found to either side.
Exploring the myriad of paths and trails that meander through the stunning scenery is a magical experience as you pass beautiful viewpoints and sparkling waterfalls. It is well worth camping overnight in the park if you have the opportunity.
Coursing over Blackwater Falls, the white jets of water stand out delightfully against the greens of the trees lining the riverbanks. Fall is a particularly pleasant time of year to visit, as the foliage creates an unforgettable scene.
1. Harpers Ferry [SEE MAP]
© Svetlana Larina / Dreamstime
The most popular tourist attraction in the whole of the state, Harpers Ferry is located at the point where the Potomac and Shenandoah Rivers meet, with enchanting, forest-coated mountains all around it.
Due to its strategic location, the small town was fiercely fought over during the American Civil War. As such, there are a number of interesting historical sights for you to check out, with plenty of old buildings and important landmarks on show.
While many visitors come to learn more about the role Harpers Ferry played in the Civil War and to see its many sights, just as many come to enjoy the magnificent wilderness in the area. Whether it's ziplining, whitewater rafting, or inner tubing, there are loads of fun activities for you to try out.
Hiking along the scenic Appalachian Trail is a must if you're looking to immerse yourself in nature. While Harpers Ferry is undoubtedly quite a touristy place, there is a lovely laidback vibe to the town, with lots for you to see and do.
15 Best Small Towns to Visit in West Virginia
West Virginia takes pride in being an authentic state where what you see is what you get. Humility is honored and one-upmanship is left to the neighboring states with gargantuan, sprawling metropolises. Instead, West Virginia is an authentic state with small towns dispersed among natural parks, historical sites, and friendly people.
If you want to explore relics of the Civil War, witness incredible colonial architecture, attend quirky festivals that don't take place anywhere else, and connect with nature, head to West Virginia. This list will feature small towns that once sheltered the family of famous presidents, have celebrations devoted to fictional characters, and are hubs for white water rafters. No matter what type of travel you're into, there's sure to be the perfect small town for you.
Lets explore the best small towns to visit in West Virginia:
1. Hinton
Source: wikipedia Hinton – West Virginia
Hinton was once a railroad town, where train led its complete economy and development. Today, Hinton retains its interesting railroad history by preserving its unique architecture and offering regular cultural tours. You can even take a ride on the old timer train during Railroad Days and visit the Hinton Railroad Museum for even more historical fun.
Hinton is also a great place for outdoor recreation. The New River Gorge National Park and the Bluestone National Park are close by where you can camp, fish, whitewater raft, hike, and cycle all throughout the region. In the winter, the town is nearby the Winterplace Ski Resort, one of the best ski resorts in the area.
2. Berkeley Springs
Source: flickr Berkeley Springs
Berkeley Springs is a colorful mountain town where you can experience the best of all four seasons. It's famous for its mineral springs, hot water that is thought to have healing properties. It is even thought to be America's first spa.
Interestingly, despite its small size, the town has nearly 100 venues where you can buy and admire local artwork. There are also a variety of other quirky shops, spas, and all types of accommodation choices.
Many passing through use Berkeley Springs as a base for the Cacapon Resort State Park, an area that has a golf course, trails for exploring, and even a sandy beach to sprawl out on. You can also use it as a peaceful and less hectic base to see Washington DC or Baltimore, as it's only an hour and a half away.
3. White Sulphur Springs
Source: flickr White Sulphur Springs – West Virginia
White Sulphur Springs is small town to visit where you can get a glimpse into American history, visit nature parks, and experience luxury.
Outdoorsmen and women will love its proximity to the Monongahela National Forest and explore the Greenbrier Valley Trail, where all types of activities are possible. Think fishing, hiking, canoeing, swimming, cycling, all among natural beauty. Every year, there is even a Dandelion Festival that features games, Veteran's Celebration, parade, a fishing derby, a vehicle show, art exhibits, pet competitions and more. There is also the Freshwater Folk Festival in autumn.
If you're a history buff, stick around for the 1862 Battle of Dry Creek re-enactment that takes place every summer that will make you feel like you've stepped back into the Civil War Era.
4. Point Pleasant
Source: flickr Point Pleasant
Have kids? Then Point Pleasant is a small town you can't miss while traveling through West Virginia. Older children will love attending the zany Mothman Festival, a weekend of festivities devoted to a creepy yet legendary winged and mysterious character. If you miss the festival – no worries, there's an entire museum devoted to him too. Keep in mind that he might scare the tiny kids, though!
All other times of the year, visit the West Virginia State Farm Museum, the Point Pleasant River Museum, and the Tu-Endie-Wei State Park. You'll love this fun town filled with lighthearted locals who know better than to take life too seriously.
5. Elkins
Elkins, West Virginia
Head to Elkins for a glimpse into America's interesting past. The unique architecture and odes to times gone by make Elkins unlike any other small town in the state. You can really get the full experience by taking a ride on the New Tygart Flyer, a train that weaves through mountains and lush terrain. For cultural kicks, watch a variety show at the American Mountain Theater or witness funky choreography at the Gandy Dancer Theater. With sites like these, you'll never get bored in Elkins.
Not only is Elkins great for history and cultural touring, it's also a wonderful base to explore the three nearby major sky resorts and national parks where you can go birding, hiking, rafting, biking, climbing, and more. Adventure travelers especially love exploring the caves and rafting down the Tygart River.
6. Davis
Source: flickr Douglas Falls, Davis, West Virginia
Davis is a small town at 3,200 feet, the highest elevation in the state, that is hidden among beautiful mountains. Many come here just to escape the heat during the hot West Virginian summers. It has the best of all four seasons but without the pain of extreme temperatures.
It once was a lumber town, and still maintains its old-style architecture and atmosphere. Many of the nearby sites were once key components to the Civil War.
Many love Davis because it's located within ten miles of the Canaan Valley State Park and wildlife refuge, where you can swim, fish, go water skiing, and even white water rafting.
7. Shepherdstown
Source: flickr Shepherdstown
Located on the Potomac River just an hour and a half away from Washington D.C., Shepherdstown is a cultural hub with the heart of soul of West Virginia. There's a strong café culture, where locals and visitors alike often spend the entire day lounging around Shepherdstown's many interesting cafes. Once the sun goes down, there are often live performances and bands playing at the town's bars and restaurants.
Civil War history fanatics will love touring the many museums, battle sites, and watching re-enactments. Since the architecture has been so well preserved, you can fully immerse into the past by staying in one of the town's historical inns.
8. Lewisburg
Source: flickr Lewisburg, West Virginia
Like to shop? Then you might love Lewisburg, a small town well known for its assortment of antique shops and clothing stores dispersed between funky art galleries. Many come to Lewisburg in pursuit of their creative passions as its home to a variety of musicians, painters, live performers, and more. There is even a handful of performance venues to be entertained at during your stay. The most notable venue is Carnegie Hall.
While in Lewisburg, you have to visit the Spring House, a stunning architectural site and important point in Civil War history.
Visit during the Chocolate Festival for an overload on all things chocolate – think tastings, workshops, paired wines, and more.
9. Thomas
Source: flickr Thomas, West Virginia
Thomas is a small town that was once known for simply being an old coal mining hub without any glitz or glamour. Interestingly, the buildings that might have been considered bland at the time are now what make Thomas one of the most beautiful towns in West Virginia. After all, it has over fifty buildings listed on the National Historic Register!
Many of these buildings have been turned into cafes, antique shops, and art galleries. Locals tend to gather at The Purple Fiddle, a venue serving sweet tunes and even sweeter homemade ice cream. You can also have a great time at the Mountain State Brewing Company, a local craft beer brewery serving fresh golden ale.
10. Buckhannon
Source: wikipedia Buckhannon, West Virginia
You'd be hard-pressed to find an area with more resident artists in West Virginia, a small town conveniently located on the West Virginia Artist Gallery Trail. Buckhannon is where you can try all of your own creative endeavors, or simply witness the brilliance crafted by others. Watch indie and cult films at the Lascaux Theater, shop at the antique mall, and head to the Wesleyan Planetarium for an out of this world experience.
Buckhannon also has Nerducopia, a haven for all geeks that sells sci-fi toys, collectibles, giant robots, and more. Its tagline is even, "For nerds, by nerds!" Need we say more about how this small town takes pride in living your passion?
11. Kingwood
Source: flickr Kingwood
Kingwood's colonial style architecture and manicured gardens make for an aesthetic treat for travelers looking to photograph beautiful destinations. Even the old gas station still has Mae West pumps and the McGrew house looks like it belongs in another century.
Kingwood is also near the Monogahela National Forest where you can do all these outdoors around and along the Cheat River. If you're wanting a retreat nearby a natural atmosphere, the Buckwheat Retreat makes for a relaxing getaway.
12. Ripley
Source: wikipedia Ripley
If you can, head to Ripley for the 4th of July, where the town has one of the largest patriotic celebrations in the country. This festival includes a two hour parade, fireworks, live gospel performances, a 5k race, and more.
Though it might just seem like a typical small town, Ripley is worth visiting because of its friendly locals. All throughout the state, Ripley is known for its hospitality and warmth towards all who visit.
Ripley has the Appalachian Distillery, a locally owned and operated distillery where you can taste moonshine and even take a few bottles to go.
13. Charles Town
Source: flickr Charles Town
American history buffs need to make Charles Town a priority stop on their way through West Virginia. This little destination was named after Charles Washington, George's little brother. He used Charles Town as the site for his personal home and safe haven, and it was a frequent gathering point for the entire Washington family at times.
Charles Town also has areas that important Civil War battles took place and even more interestingly, was the site of a huge abolitionist raid.
Today, people also love visiting the Bloomery Plantation Distillery for a fun and tasty experience, trying their luck at the Hollywood Casino, visiting the Old Opera House, and hopping on a ghost tour.
14. Harpers Ferry
Source: flickr Harpers Ferry
Harpers Ferry is a small town dropped right where there the Potomac and Shenandoah Rivers meet. Most visit to see the Harpers Ferry National Historical Park which includes much of the town itself. Harpers Ferry changed hands fourteen times during the Civil War, meaning its steeped in history and significance.
When you leave the park, be sure to walk along the Appalachian National Scenic Trail, stop by the St. Peter's Roman Catholic Church, and walk to the top of Jefferson Rock. There are many other monuments to go to like John Brown's Fort, The Point where three states come together, and the Harper House. You can also see how old antiques are restored at the Restoration Museum. If you're into beauty and the past, then Harpers Ferry is an obvious stop for you for your trip.
15. New Martinsville
Source: flickr New Martinsville
On the banks of the Ohio River is New Martinsville, a small town with a courthouse that looks like it belongs in a fairytale book or in a land of castles rather than West Virginia. It was once an oil and gas town but now thrives with smaller industries.
New Martinsville has a great café and restaurant scene. Check out Quinet's Court, Dos Hermanos Mexican grill, PJ's Pizza, and the Barista's Café and Pub. Come hungry and leave extremely satisfied.
If you love spending time outside, the Beaver Creek Reservoir is the perfect place to swim, fish, hike, and even rent canoes. You can back a picnic and paddle yourself to a remote part of the reserve for a romantic getaway that's cheap and easy to do.
Source https://virginiatraveltips.com/best-places-to-visit-west-virginia/#:~:text=The%20beautiful%20town%20of%20Berkeley%20Springs%20is%20one,is%20known%20to%20have%20a%20natural%20curing%20ability.
Source https://www.touropia.com/best-places-to-visit-in-west-virginia/
Source https://www.thecrazytourist.com/15-best-small-towns-visit-west-virginia/