19 of the best places to visit in September
September is one of the best months to travel for myriad reasons: great weather, off-season prices and a host of exciting wildlife watching experiences. Here are the best places to explore in September.
September is one of our favourite months to travel. The school holiday rush is over, so sunny destination flight prices start to come down. Temperatures in Europe dip enough to make heat more comfortable and undiscovered Europe is in its element. The 'stans come to life. Safari season is in full swing, if drawing to a close.
Whether you're after a long weekend with a difference, a life-changing wildlife experience or a long-term adventure to tick off the bucket list, September's a great month to get on the road.
Skip ahead to your chosen travel type by clicking on one of the below, or keep scrolling for the full list of recommendations:
The best September destinations for nature and ideal weather
The best longer-term travel experiences for September
Where to go in September for arts and cultural experiences
The best places to visit for wildlife watching in September
Here are the 19 best places to visit in September…
The best September destinations for nature and ideal weather
1. Sicily, Italy
Taormina Theatre and Mount Etna (Shutterstock)
Like many popular European hot spots, Sicily is still warm in September, yet less oppressively hot, cooler in the evenings and less busy thanks to the summer holidays drawing to a close.
In the capital, Palermo, opera season begins again this month. It's also typically an ideal temperature to take on the hike up Mount Etna, or to explore the volcanic Aoelian Islands.
Finally, there's never been a better time to day trip to the towns of Taormina and Castelmola, ending your break by parking yourself outside a classic Sicilian eatery, to enjoy the hazy late summer evening.
Go deeper into Sicily's best things to do
2. Nara, Japan
Todai-ji Temple in Nara, Japan (Shutterstock)
Japan's sunny season (July to August) can be awfully humid, and rainy season (June to July) is predictably wet. Things start to simmer in September.
Expect breezier mornings and evenings – and likely less fellow visitors on the streets, as Nara's peak season comes into play in October and November.
The country's known for its pale pink springtime blooms, but the autumnal colours starting to sweep across Nara's majestic parks and temple grounds as September blurs into October are just as pretty.
3. Sonoma, northern California
Autumnal vineyard in Sonoma, northern California (Shutterstock)
June to October is the best time to visit the wine region of Sonoma Valley, and the city itself. Go in the first half of the season, though, and you can expect hotel prices to be sky-high.
September still reaches highs of 30 ° C, so you can expect to feel the Californian heat as you tour vineyards, explore Sonoma's plazas and – if you're lucky – experience the weekly farmers' market.
4. Lebanon (for hiking)
Bcharre, Lebanon (Shutterstock)
We've selected Lebanon as a top pick before, for its especially brilliant weather. We've chosen it again this month, particularly for its hiking opportunities.
Don't miss Beirut, the capital, but do head deeper into the country's picturesque – and often lesser-visited – valleys and national parks. Kadisha Valley, in particular, has yet to be discovered by the masses. One of our readers, Nandini, wrote about her hiking experience.
The best longer-term travel experiences for September
5. Georgia
The Old Town of Tbilisi, Georgia (Shutterstock)
The capital, Tbilisi, may make an excellent long weekend destination, but there's far more of the country to explore.
Batumi and Mtskheta cities are also well worth your time, both offering historical landmarks, monasteries and sensational views. The botanical garden in Batumi is a natural spectacle, too, especially as autumn's oranges and yellows begin to take over the country.
Head to western Georgia and experience Kutaisi, or delve into Prometheus Cave. Experience local life in the Svaneti region among the Caucasus Mountains, and end your trip with all the Georgian food and drink you can manage, with a relaxing few days by the Black Sea.
6. Argentina
El Caminito neighbourhood in Buenos Aires, Argentina (Shutterstock)
Argentina's winter draws to a close in August and early September, so mid to late September brings with it spring temperatures. They do vary, but you can hope for easygoing temperatures of around 15 ° C to 20 ° C.
Spring blooms bring lush greenery to Argentina's national parks, and overall, this vast South American country is certainly less crowded than in summer. N orthern Argentina in particular is best visited during this season.
Take your time in the capital, Buenos Aires. Enjoy the wineries of Mendoza, and then kick the adventure up a notch by visiting the Jujuy province in the north-west. Marvel in particular at the naturally impressive mountain city of Salta.
9 of the best things to do in Argentina
7. Trekking in Nepal
We've covered Nepal's life-affirming treks in some detail on Wanderlust, and have to say that there's few better times than September to take on a challenge.
This is because the weather is prime for easy trekking conditions. Rainy season has petered out, the skies are clear and temperatures are on the cooler side, from 15°C to 24°. Time to get walking.
Discover the 13 best Nepal trekking routes
8. Portugal
Pena Palace, Sintra, Portugal (Shutterstock)
Portugal lands on our long-term list for the sheer volume of places to visit, because typically, it's a classic short break destination. We admit: it's far too easy to fly to Lisbon or Porto for a few days, or enjoy a wine tasting tour of Douro Valley, and then fly back home.
If you've weeks – maybe even a month or two – to spare, it's well worth slowing down and soaking up Portugal. Spend time seeking out Lisbon and Porto's up-and-coming neighbourhoods.
Go off-the-beaten-track to the majestic historical city of Coimbra, and explore the underrated Tavira and more of the eastern Algarve's quieter coast. Finally, g ive the fairytale town of Sintra what it deserves: a few days more than a day trip.
You can take your time enjoying the fruits of Portugal's vineyards, too, and don't forget the island of Madeira. It has more than just wine to enjoy, but you'll still soak up Funchal's world-class wineries at a slower pace.
With September highs climbing to 27ºC, Portugal may still be a tad too warm for travellers better equipped to dealing with cooler temps. However, it's good to know that things tend to simmer down in the evenings, making strolls to local bars for drinks and petiscos (the snackier version of Spanish tapas) extremely pleasant.
9. China
Both September and October are popular times to visit China. Not least because the spectacular Mid-Autumn Festival takes place during this period, celebrating the end of the harvest. Dates vary, but the special day usually occurs between mid-September and the beginning of October.
Weather-wise, the northern regions are particularly fine to visit anytime in September, though humidity in the south can remain high until later on in the month.
Use this weather pattern to help guide your trip. Begin in Beijing, the electrifying 3,000-year-old capital. The Great Wall, a travel classic, is about an hour and 30 minutes by car. You'll want several days to walk and explore this sheer wonder.
Then make your way south, perhaps inverting our suggested Hong Kong to Beijing route – stopping by all the must-sees: Chengdu (for giant pandas), Xi'an (one of China's eldest cities, home to the Terracotta Army) and the Three Gorges mountain range on the Yangtze River.
This itinerary is ideal, especially if you have just a few weeks for exploration. If your trip is even longer, lucky you. The possibilities are endless.
See more China itineraries with our trip planner
10. Tajikistan and Turkmenistan
Monument in Rudaki Park, Dushanbe, Tajikistan (Dreamstime)
Geographically (and sensibly), it would be impossible and near-criminal to see the 'stans and sack off the blue-tiled marvels of Uzbekistan. But since we've featured Uzbekistan as a highlight for several different months, why not use September to dig deeper into neighbouring Tajikistan and Turkmenistan, too?
Tajikistan, a landlocked country surrounded by mountains, is a hiker's untouched dream. The capital, Dushanbe, is absolutely fascinating. Admire its unique architecture and monuments in Rudaki Park, then spend time acquainting yourself with the nation's Soviet history in Tajikistan National Museum.
Turkmenistan's jewel is its marble-dense capital, Ashgabat, reportedly one of the most expensive cities in the world for foreigners to live. Fortunately, you're just visiting, so spend your time marvelling at its tombs, towers and mosques, or shopping in the city's unusual bazaars.
It's easy to go beyond the city, though. The white-sand coast spreads out before the Caspian Sea, and the Gates To Hell (the perpetually-burning Darvaza Gas Crater) lies in wait in the middle of the desert.
Where to go in September for arts and cultural experiences
11. Transnistria and Moldova
Old Orhei Monastery, Moldova (Shutterstock)
The state of Transnistria declared (and fought for) its independence from Moldova in 1990. Now, it celebrates Independence Day on 2 September. despite the fact that Moldova, most other countries and the United Nations don't recognise its independence.
Still, that doesn't stop Transnistria's capital, Tiraspol, from going big with the festivities: a Soviet-style military parade, street barbecues and parties late into the night. It's certainly a unique travel experience.
Politics aside, Transnistria's close proximity to Moldova (and Ukraine) makes it an ideal destination for travellers hoping to discover the last undiscovered territories of Europe.
Moldova's capital, Chisinau, is well worth a few days of your time, especially if you're interested in the country's Soviet past. Go further into the countryside to discover Moldova's many monasteries – the Old Orhei is a must-see.
Tips for travelling between Moldova and Transnistria
12. Munich, Germany
Traditional costumes at Oktoberfest in Munich, Germany (Shutterstock)
Oktoberfest has October right there in the title, but Bavaria's beer-based merriment actually begins around the third week of September. So, why not get there early?
Over the two-week festival, you can expect endless opportunities for eating German pretzels, wurstl (sausage) and knodel (potato pancakes), hop from tent to tent tasting the best in German beer, dress up in traditional dirndl dresses or lederhose, enjoy a carnival ride, toast your new-found drunken friends (it's a friendly festival) and simply dance the night away.
13. Bohinj, Slovenia
The Cow's Ball in Bohinj, Slovenia (Dreamstime)
A little more niche than Oktoberfest, Slovenia's Bohinj region offers more than scenic beauty in September. It also offers the chance to witness the long-running, traditional 'cow festival', known as the 'Cow Ball'.
It's exactly as it sounds. Through a cloud of folk music, locals watch a parade of garland-wearing cows pass the gloriously blue Lake Bohinj. The event signifies the return of the cows from the hills in summer, where they've been munching and filling their four stomachs with green, green grass.
14. The Scottish Highlands
The Scottish Highlands (SHutterstock)
The UK enjoys its max temperatures in July and August, but September is right at the end of Scotland's peak season (starting in May). It's still seasonable, but far less busy than in summer. You won't exactly have the Highlands to yourself, but you'll certainly have an easier time finding somewhere to sleep.
Now's the perfect time to hike mountains, go birdwatching, experience the Highlands' abundant nature and practice your travel photography in one of the UK's most dramatic and impressive landscapes.
Our complete Scottish Highlands guide
15. Venice, Italy
Regata Storica, Venice, Italy (Shutterstock)
Venice is famous as a bustling tourist hot spot, for its rainbow-coloured sister islands and the ebb and flow of lazy (also: expensive) gondola rides along its azure waterways.
In early September, the city roars into a different kind of action: rowers surround the island and rowing fans gather in the city to watch the annual races and enjoy the bright introductory parade along the canals.
The best places to visit for wildlife watching in September
16. KwaZulu-Natal, South Africa
A giraffe roams Hluhluwe-IMfolozi Game Reserve (Shutterstock)
September is traditionally the end of game viewing season in KwaZulu-Natal, making it the ideal month to visit if you want to avoid the safari crowds, but still see the Big Five and more.
Expect the opportunity to see lions, elephants, rhinos and giraffes, as well as rare bird species. Hluhluwe-IMfolozi Game Reserve is a must for any wildlife fan, said to be the oldest reserve in Africa. Elephant lovers must head to the north-east to see the creatures roaming Tembe Elephant Park, which is close by to Ndumo Game Reserve.
Birders rejoice at uKhahlamba-Drakensberg Park, which is protected for its significant population of endangered or rare species, including the wattled crane, vultures (bearded and cape) and the yellow breasted pipit. Over 164 birds have been spotted in the region. It's also a UNESCO World Heritage Site, as it's the home of San Rock Art, a large collection of rock paintings dating back to the 1800s.
17. Tarangire and Serengeti National Parks
Elephants in Tarangire National Park, Tanzania (Shutterstock)
East Africa also offers ample wildlife opportunities in September. Of course, the earlier you visit in September, the better, so you've missed the August rush, but you're also not risking early rains washing the animals out of the park and into the outskirts of the reserves.
Tanzania has two national parks you simply must visit, if you love animals. Tarangire National Park provides wildlife watchers with an excellent chance of enjoying an elephant sighting in the wild, as they group together around the Tarangire River. The Serengeti can still be busy in September and you won't have much luck with the wildebeest migration (June to July) across the Grumeti River, but you will have better luck with the overall wildlife population. Leopards, lions and more of the Big Five await.
18. Bears, whales and puffins in Canada
Puffins shotting in Newfoundland, Canada (Shutterstock)
With highs of 15 ° C to 17 ° C in Canada's eastern province during September, and lows of 8°C or 9°C, chances are you'll want to take a warm jacket with you on a wildlife excursion.
Here, you'll say goodbye to safari-style wildlife watching and instead admire whales by boat. Take your birding binoculars too as it's prime time for puffin sightings along the coast.
You can see native black bears in Newfoundland, too. The season lasts until November, so you'll be there at the right time. There are approximately 6,000 to 10,000 in the region – which is a pretty high concentration. Then m ove along to Bella Coola in British Columbia for the chance to see wild grizzlies in their natural habitat – September is prime time.
The best Serengeti National Park tours
19. Gorongosa National Park, Mozambique
A desert warthog in Gorongosa National Park, Mozambique (Shutterstock)
For something a bit different, embrace the beautiful spring season in Mozambique's premier national park, the so-called 'Serengeti of the south'.
In spring (September and October), the park's diverse array of flora and fauna blossom into a lovely shade of green. This month is also peak season for seeing the elephants, wildebeest, warthogs, hippos, lions and buffalo that call the park home – as they all flock to watering holes to quench their thirst.
Birders won't be disappointed either, and you may spot a Nile crocodile or two around Lake Urema and its varying lagoons . Fourteen African wild dogs were also re-introduced to Gorongosa in 2018, so keep your eyes peeled. One creature you may not spot? A zebra. They're rare – apparently, there are just a few roaming the park.
22 Best Places to Travel in September
September is one of the best months to travel for a bevy of reasons. Kids are back in school, the vacation rush is winding down, temperatures are starting to cool, there's more availability in popular summer spots, and rates for hotels and airfares start to drop. Sign us up, please!
Destinations in Europe, the Middle East, and Asia are experiencing comfortable temperatures, and popular tourist spots like the Grand Canyon and Barcelona have fewer crowds at their top attractions. Bucket-list locations like Zimbabwe are in the dry season during September, making it a perfect month for an African safari.
Pack your bags and plan your next vacation using our list of the best places to travel in September.
1. Montreal, Canada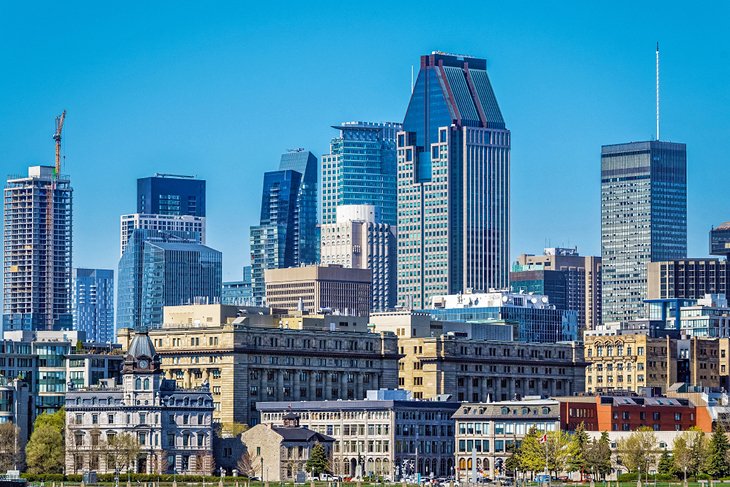 Montreal, Canada
September is a great time to vacation in Montreal, when the summer weather is still in full swing, and the tourists have left for the season. This is also when you will start to see greater hotel availability and rates starting to drop.
It is a comfortable time of the year to walk the streets to see the 18th-century architecture in Old Montreal (Vieux-Montreal) and practice your photography skills on the cobblestone streets as you enjoy the cathedrals and coffee shops. Take advantage of the mild weather to explore the manicured grounds at the Parc du Mont-Royal or get a panoramic view of the city from the Montreal Observation Wheel.
If you have more time, plan on some additional time in beautiful Quebec City, less than three hours away.
Read More: Top-Rated Attractions & Things to Do in Montreal
2. Grand Canyon, Arizona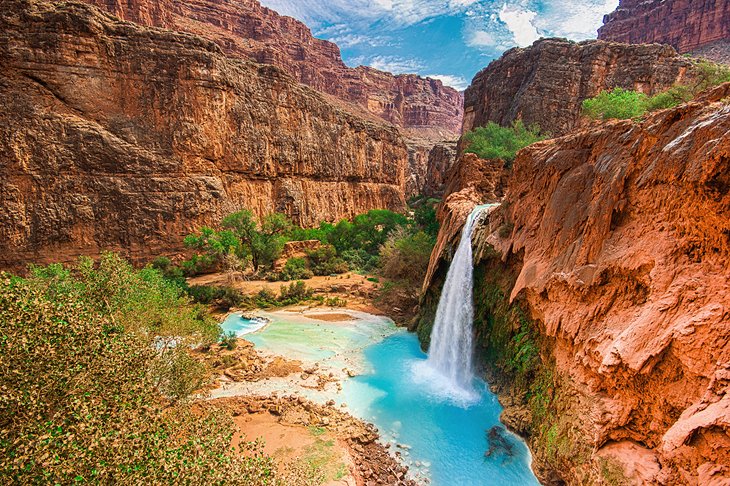 Havasu Falls in the Grand Canyon
If you can hold off your Grand Canyon trip until the end of summer, then September is the best time to do it. This is when most of the vacation crowds have left for the season and the awesome hiking trails are still open. This Arizona wonder is a vacation bucket-list topper for many people, but trying to navigate the crowds can oftentimes diminish the experience.
Besides large numbers of people, the intense mid-summer heat can be unbearable. September has cooler temperatures, fewer people crowding the trails, and much greater availability, not to mention better rates on hotel rooms.
3. Barcelona, Spain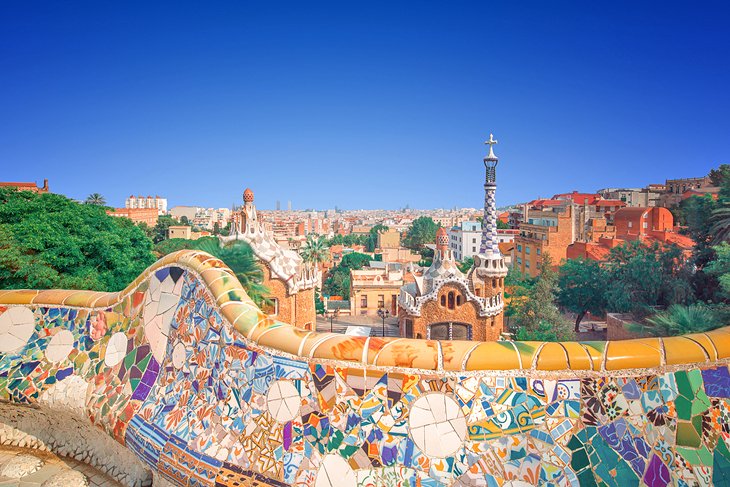 Park Guell in Barcelona
The busy and beautiful city of Barcelona is one of Spain's most stunning destinations, and September is an ideal time to visit. Summer vacation crowds can make lines long at the top attractions, like La Sagrada Familia, and oftentimes limit availability if you do not book days ahead of time.
The streets in popular areas like the historic Barri Gòtic and Las Ramblas can be so overcrowded in the high season that most of your time is spent just getting from point-A to point-B. Crowd concerns are lessened in September when there are fewer vacationers, so you can enjoy all the attractions and fun things to do in Barcelona with fewer people and cooler temperatures.
Early in September days can still be warm enough to head to the ocean but beaches near Barcelona are not busy at this time of year. Late in the month, you can enjoy La Merce, a festive celebration with daily parades, acrobats, and entertainment.
4. Crete, Greece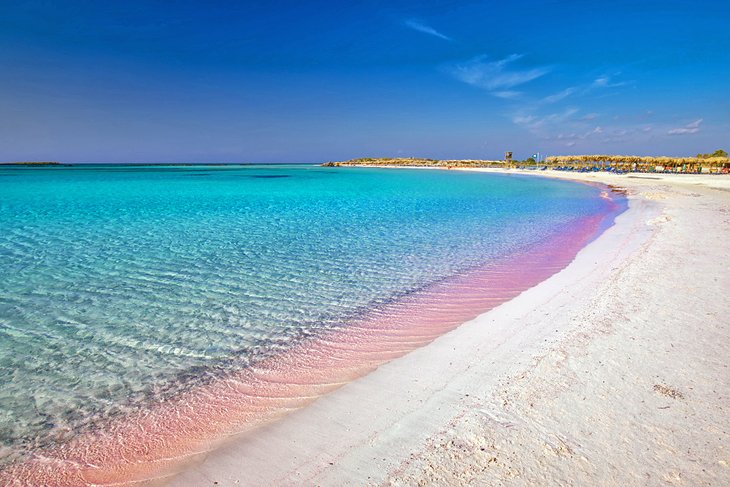 Pink sand beach at Elafonissi
The Greek island of Crete is a natural sensory spectacle of mountains, turquoise water, beautiful beaches, and palm forests that are pleasant to experience in September. Flowers are in full bloom, and water temperatures are ideal for swimming and snorkeling.
The summer months, while still a great time to visit, can get quite hot when you are spending the days out in the sun walking the streets of the old towns or exploring archeological sites like Knossos. Many of the beaches in the summertime are overcrowded, but September enables you to enjoy the pink sands of Elafonissi more comfortably.
Many visitors arrive by air or ferry in Heraklion. Other popular tourist towns on the island include Rethymnon, Chania, and Agios Nikolaos.
Besides the cooler September temperatures and fewer people, you can find lower rates for hotels.
Read More: Top-Rated Tourist Attractions on Crete
5. Buenos Aires, Argentina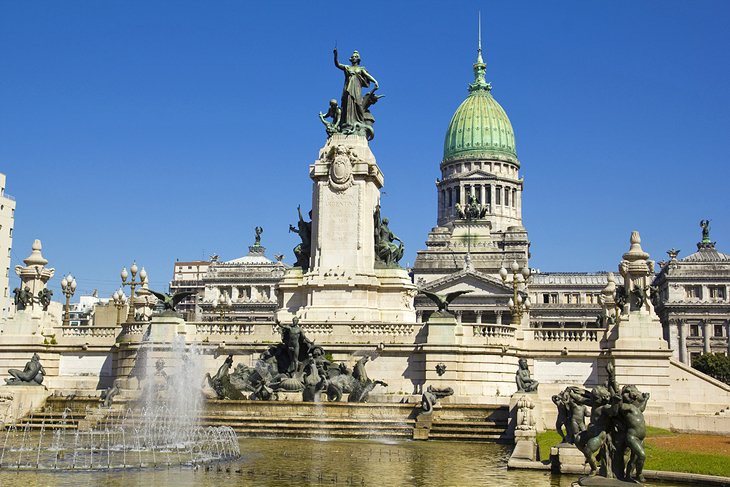 Congress Square in Buenos Aires
September is springtime in Buenos Aires, Argentina. This shoulder season has a number of advantages over the peak tourist season in January and February. The cooler temperatures make it comfortable to enjoy strolling the streets in areas like Palermo to see the parks, architecture, and museums the neighborhoods are known for. With fewer tourists this time of year, attractions like the city's rose garden, Paseo del Rosedal, and the Fair of the Mataderos market will be enjoyable.
September is a great time to score affordable hotel rates and plenty of availability.
Read More: Top-Rated Tourist Attractions in Buenos Aires
6. Honolulu, Hawaii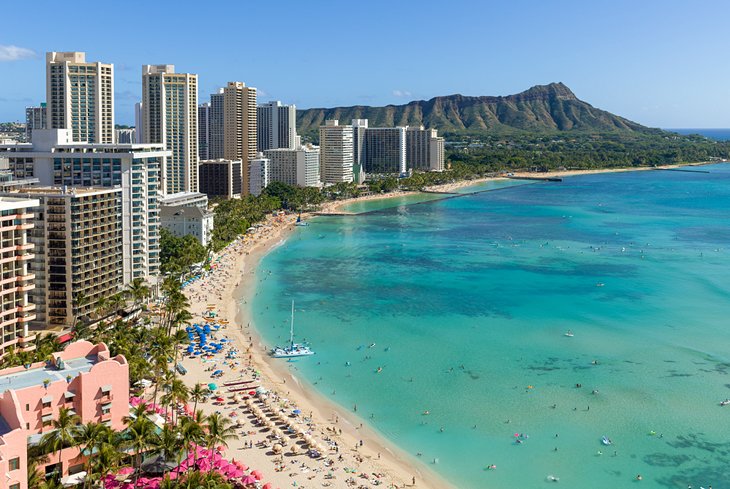 Waikiki Beach with Diamond Head in the distance
If you are looking for an ideal (and more affordable) time to visit Honolulu, Hawaii on the island of Oahu then September is it. From festivals, cooler temperatures, fewer crowds, and pleasant water conditions, there are so many reasons to target Honolulu for travel this month. September is a month filled with Aloha festivals and parades, so you will have many opportunities to enjoy Hawaii's culture.
The comfortable September weather makes it pleasant for hiking to Diamond Head; relaxing on Waikiki Beach; and spending time at the World War II Valor in the Pacific National Monument, the memorial for the USS Arizona and the sailors who died during the Pearl Harbor attack.
Fewer tourists in September means more availability at hotels, and you can likely find great deals as resorts look to fill rooms.
Read More: Top-Rated Tourist Attractions in Honolulu
7. Patagonia, South America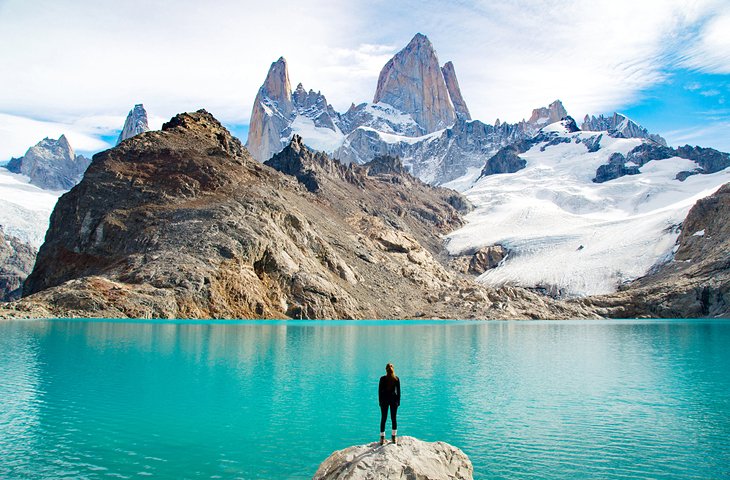 Fitz Roy, Patagonia
A trip to Patagonia in September is great from both Chile and Argentina. It is an ideal time to go for those who love the outdoors and want to explore the Andes Mountains, glaciers, and seemingly endless vistas.
September is springtime in Patagonia, which means colorful blooms of flowers, vibrant green vegetation, and the arrival of the first penguins that flock to the region to mate. Since it is early in the season, some hotels may not yet be open, but for the ones that are, you can find great deals.
With fewer tourists this time of year, you will also have better views in the tourist areas and more availability on organized tours.
8. Puerto Rico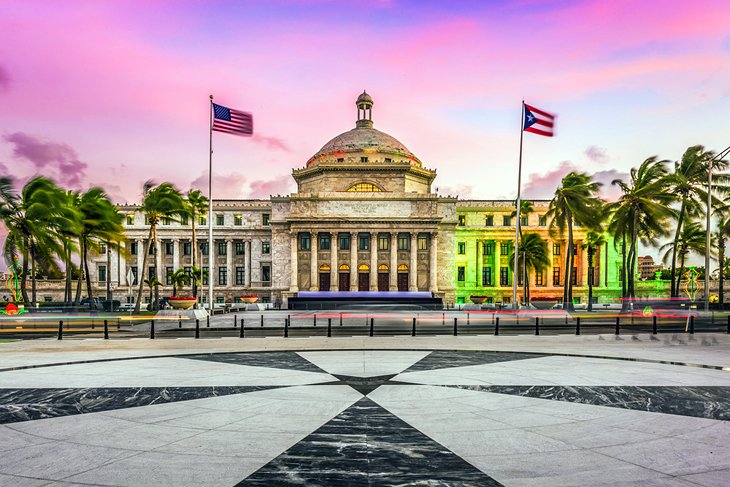 The Capitol of Puerto Rico, San Juan
The upside to visiting Puerto Rico in September is the steep discounts that you will find on hotel rooms and airfare, along with an abundance of availability for both. The downside is the risk of inclement weather since it is in hurricane season. It is a trade-off, but one that might be worth it in order to experience Flamenco Beach and south Vieques beach, home of the bioluminescent Mosquito Bay, without many other tourists.
This is a comfortable time to explore the streets of San Juan, including Old San Juan, and the El Yunque National Rainforest and take in the natural beauty of the island.
9. Zimbabwe, Africa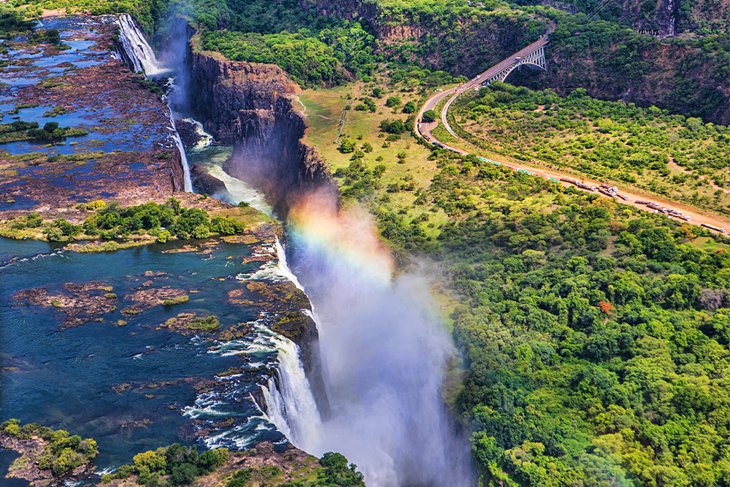 Victoria Falls, Zimbabwe
September is in the middle of the dry season in Zimbabwe, so wildlife viewing is at its peak. It can be a nice alternative to Tanzania and Kenya, which are other popular destinations for safari vacations. This is a great month to witness hippos, lions, rhinoceros, and crocodiles resting or heading to a watering hole.
Zimbabwe offers so much more than just safari treks. September weather is nice to visit Victoria Falls. This is one of the most spectacular waterfalls in the world. At this time of year you can hike, photograph, take helicopter tours, and try white water rafting.
September is also a good month to visit Matobo National Park, where you can witness unusual rock formations and monuments and learn about the culture through the paintings of the bushmen from the region.
10. Istanbul, Turkey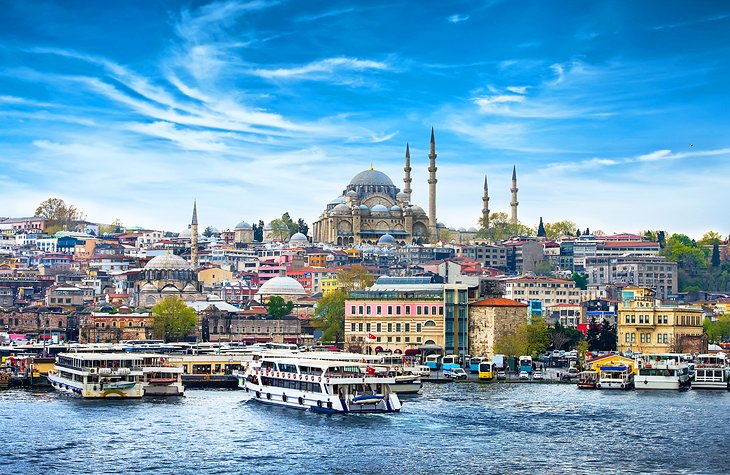 Istanbul, Turkey
One of the best times to visit Istanbul is in September, when you have a better opportunity to fully experience the top attractions without the crowds that can make them tough to experience during the high tourist season, which runs from June through August.
There are comfortable temperatures in September making it easy to enjoy shopping and the popular attractions like the Blue Mosque, Hagia Sophia Museum, and the Grand Bazaar, which are all easy to explore on foot as you walk around the city.
The pleasant weather and fewer tourists make it ideal to fully experience the deep history and architecture that Istanbul is known for. This is also when you will find affordable rates for hotel rooms and airfare.
Read More: Top-Rated Tourist Attractions in Istanbul
11. Prince Edward Island, Canada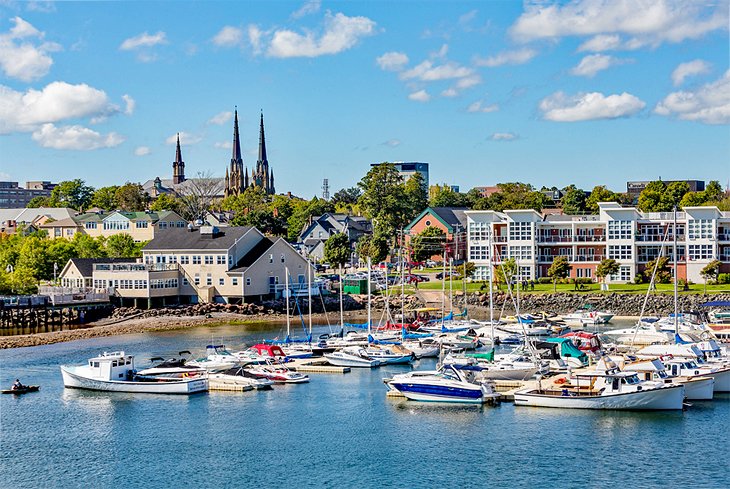 Charlottetown Harbor on Prince Edward Island
Canada's Prince Edward Island, located near Nova Scotia, is a pristine September getaway filled with seafood, farmers markets, and outdoor experiences. By the end of the month, some of the beaches and attractions will prepare for closing for the season, but this shoulder month is a great time to visit if you want the PEI experience without all the summer tourists.
Strolling on the beach is a more likely activity than swimming, since water temperatures are cooling, but you can enjoy the bountiful and fresh food in PEI during culinary demonstrations and tours. For some time outdoors before the winter season, take a hike on some of the trails at Prince Edward Island National Park.
Read More: Top-Rated Tourist Attractions on Prince Edward Island
12. Shanghai, China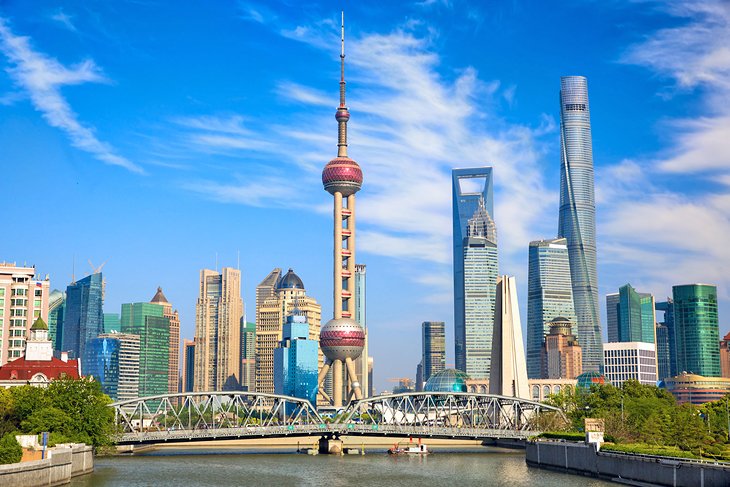 Shanghai, China
There is almost no time of the year when Shanghai, China will not be busy with people, after all, it is a city with a population of 26 million, but September has some advantages over other months of the year. September marks the end of the high tourist season, so you will begin to see temperatures and hotel rates start to decline, especially by the end of the month.
As the seasons start to transition into Shanghai's brief fall period, the humidity will be lower, making it more comfortable to enjoy walking the narrow neighborhood streets and vendor stalls and hitting some of the best views of the city from the Shanghai World Financial Center. September evenings along the Bund will feel nice as you enjoy the visual spectacle of the lights along the water.
Read More: Top-Rated Tourist Attractions in Shanghai
13. Minneapolis, Minnesota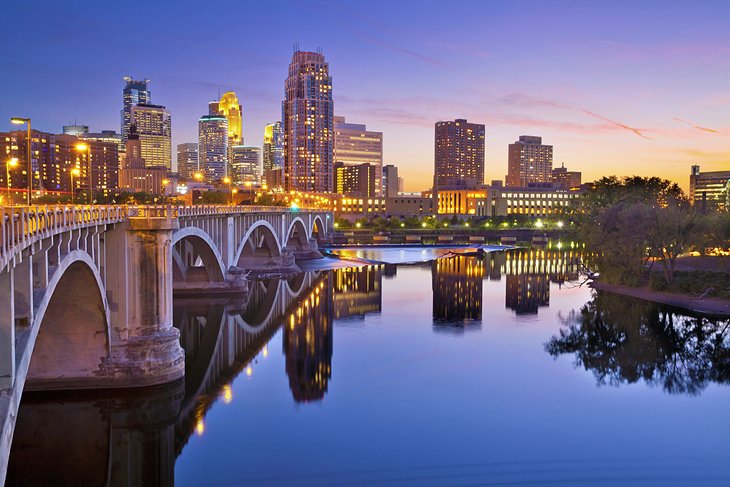 Downtown Minneapolis at dusk
The northern location of Minneapolis means stunning early fall color on the trees in September. The cooling temperatures make it nice to explore the best of the city, from the Stone Arch Bridge to the Wiseman Museum of Art.
It is the best time to get outdoors and enjoy the first bursts of color on the trees in North America. Some of the best places to do that are at Minnehaha Park, exploring the Chain of Lakes, and at the Minnesota Landscape Arboretum.
Temperatures and weather are generally comfortable in September, but if there's a less than ideal day for the outdoors, you can fill your agenda at the Mall of America or one of the many museums in the city.
Read More: Top-Rated Attractions & Things to Do in Minneapolis
14. Croatia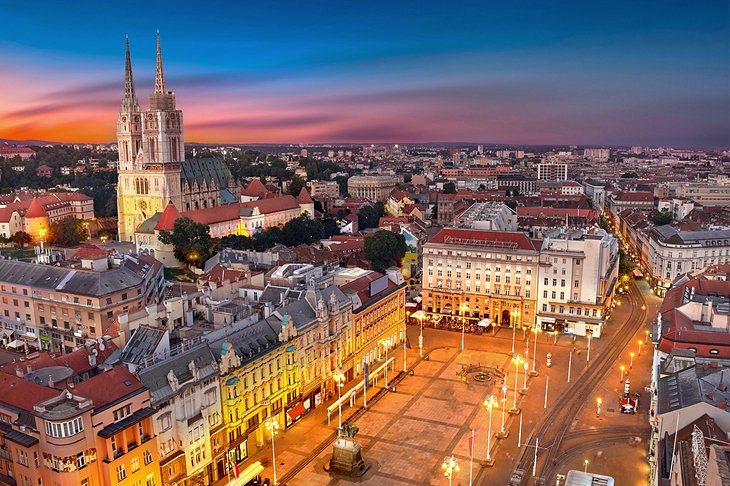 Sunset over Zagreb
September is a nice time to visit Croatia, when the local and foreign crowds have dissipated a bit. On the weather front, it is also a great time to visit. Many people head to the beautiful city of Dubrovnik. If you base yourself in the capital, you will find many attractions in Zagreb, like The Cathedral and the Museum of Natural History, and you can split your time between the Upper Town and the Lower Town. There are a number of festivals that take place in September, so that will add to the cultural experience.
Flights to Croatia are still in full swing in September, so there will be ample availability, and transportation on the ground like ferries and buses will still be operating on summer season schedules. You can find great deals on hotel accommodation, including luxury resorts in September.
Read More: Top-Rated Tourist Attractions in Croatia
15. Nepal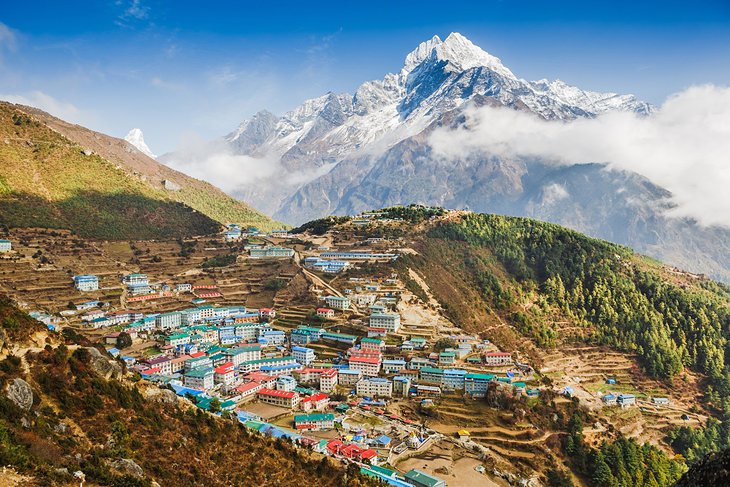 Namche Bazaar, Nepal
Timing is important for many reasons when you consider a trip to Nepal, and September is one of the best months to go. It is a great time to visit to hike and avoid the crowds that can cause delays and aggravation on the trails during busier months. September is when travelers are just beginning to return to the region, when the rainfall is lower and the air is cooler.
This month is when many of the popular treks in the Everest and Annapurna regions are starting to open, so you can secure a spot early in the season. Since September is on the fringe of the busy fall season in October, you can still find great hotel deals before the rest of the tourists arrive.
16. The Galapagos Islands, Ecuador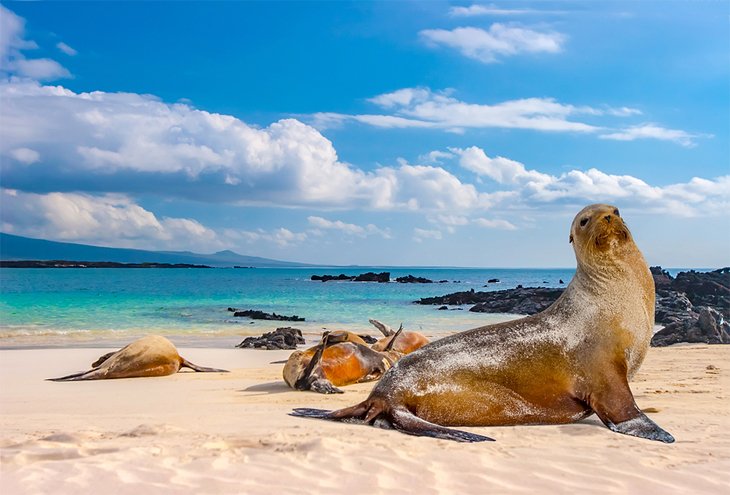 Sea lions on the beach in the Galapagos Islands
A trip to the Galapagos Islands is great almost any time of the year, but the month of September has a few advantages. With viewing of native species among the top reasons to visit, September offers some of the best opportunities to see whales, dolphins, and penguins that inhabit the islands.
It is also mating season for many of the animals, so they are especially active this time of the year. September in the Galapagos is dry and cool, so weather conditions are comfortable for outdoor activities. There are fewer tourists at the end of summer, which means more availability on boat tours and other excursions like land tours.
17. Ireland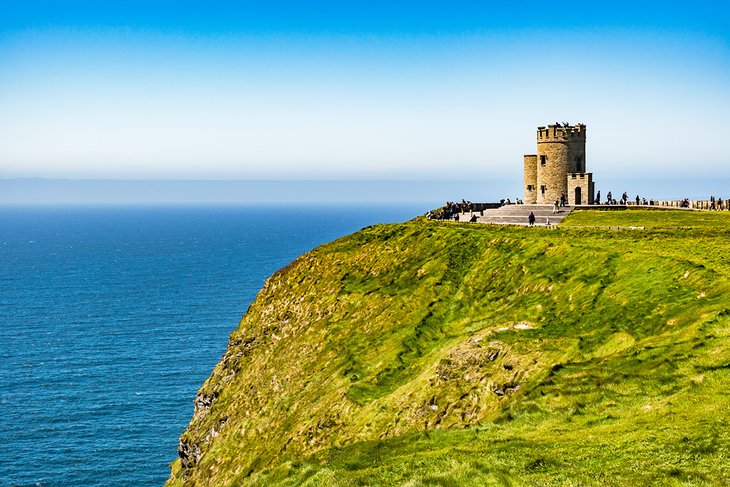 O'Brien's Tower, Cliffs of Moher, Ireland
Ireland is lush and beautiful no matter when you visit, but if you're hoping for a dry(ish), less crowded experience on the Emerald Isle, visiting in September is a great bet. Highs hover around the 55 degree Fahrenheit mark, which means you'll need a sweater or coat, but not much more. Bonus points for packing a rain jacket, as you'll definitely be in for a sprinkle or two–this is Ireland, after all.
Top tourist attractions are open to the public in September, and you'll have the bonus of shorter lines and fewer people to mar the background of your sightseeing selfies.
While you may not want to lie on Ireland's best beaches for hours wearing a bikini in September, you can certainly enjoy its top fishing destinations and adorable small towns.
Don't miss Ireland's greatest cities, like Dublin, Galway, and Northern Ireland's Belfast. These buzzing hubs are where you'll find the best restaurants, top museums, lively musical performances, and a slew of fun things to do.
Explore the Ring of Kerry, visit the impressive Giant's Causeway (in Northern Ireland), and grab a bite in Dingle.
18. Jackson Hole, Wyoming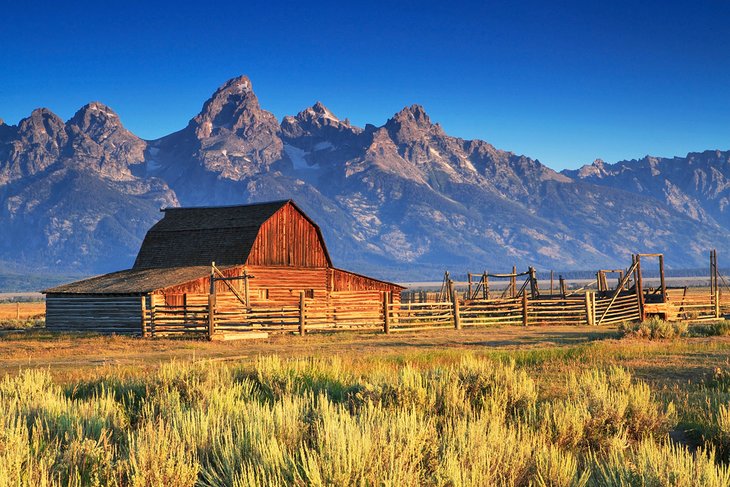 Moulton Barn and the Tetons, Jackson Hole
While you may not be able to ski at Jackson Hole in September, this comfortable fall month is the perfect time to visit, especially if you're an outdoorsy person who enjoys hiking, biking, and fly fishing. Best known for its breathtaking scenery, this lush valley is surrounded by the majestic Teton Mountain Range.
Grand Teton National Park is the top place to visit in Jackson Hole for obvious reasons. Its 310,000 acres of picturesque wilderness are awe inspiring and filled with trails, lakes, mountains, and impressive wildlife. Pack a camera along with your hiking boots and plan to spend days traversing this backcountry paradise.
During September, visitors can enjoy the Saturday morning Farmers Market on the Town Square, performances at the Jackson Hole Playhouse, the annual Jackson Hole Arts Festival, and an annual juried art fair, among other fun things to do.
19. Amalfi Coast, Italy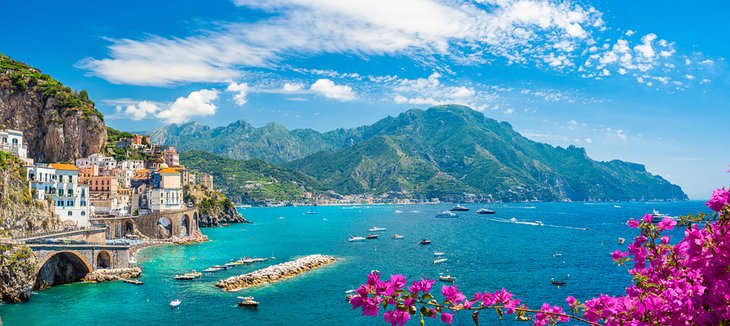 Amalfi Coast
There's little to dislike about the Amalfi Coast, especially if you visit in September. Traveling at this time means you're in for massive perks like fewer crowds; mild temperatures (highs are in the 70s and 80s Fahrenheit); warm water to swim in; and lower prices on hotels and attractions.
Add the area's remarkable beauty and impressive sightseeing opportunities, and you'll pat yourself on the proverbial back for timing your vacation so perfectly.
It's best to hire a driver if you plan to tour the famous Amalfi Drive (also known as the SS163), a winding cliff-top adventure more beautiful than mere words can describe. This is one of the popular things to do on the Amalfi Coast.
Be sure to make stops in the postcard perfect towns of Positano, Amalfi, Sorrento, and Ravello. You'll want to plan time to enjoy a meal (or many) in their fabulous restaurants.
Hop on a cruise to get a better view of the colorful houses climbing the hills of this plush region and be sure to stop in Capri for a little shopping, eating, and exploration.
Speaking of the water, it's important to visit at least a few of the best beaches on the Amalfi Coast during your trip. The September weather will ensure a comfortable day by the sea.
20. Big Sur, California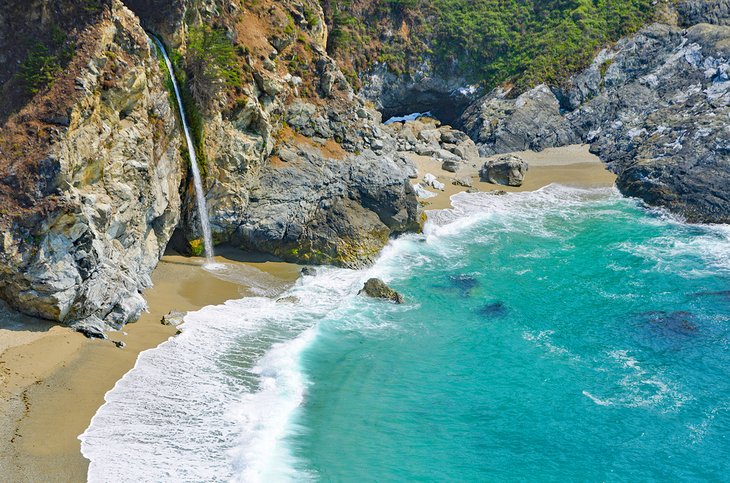 McWay Falls, Big Sur
If you're searching for a romantic getaway in September, look no further than California's remote, Big Sur. The warmest month of the year, September presents visitors with highs in the upper 60s Fahrenheit and lows around 55 degrees, perfect for exploring the captivatingly gorgeous rugged coast.
September usually means clearer, sunnier skies, which makes this an ideal time to hit the beach and ogle the dramatic waterfalls crashing over 80 feet to the azure ocean below. If you're a fan of natural beauty, you'll find it hard to leave this breathtaking spot.
Top attractions in Big Sur are less crowded in September, so you may have Pfeiffer Beach almost to yourself. Walk hand in hand through Julia Pfeiffer Burns State Park, enjoying the refreshingly salty breeze coming off the ocean. Head to Point Lobos State Natural Reserve for a scuba dive, hike, or photography expedition. Plan a camping trip to Big Sur. It's one of the best places to visit for nature lovers.
21. Niagara Falls, Canada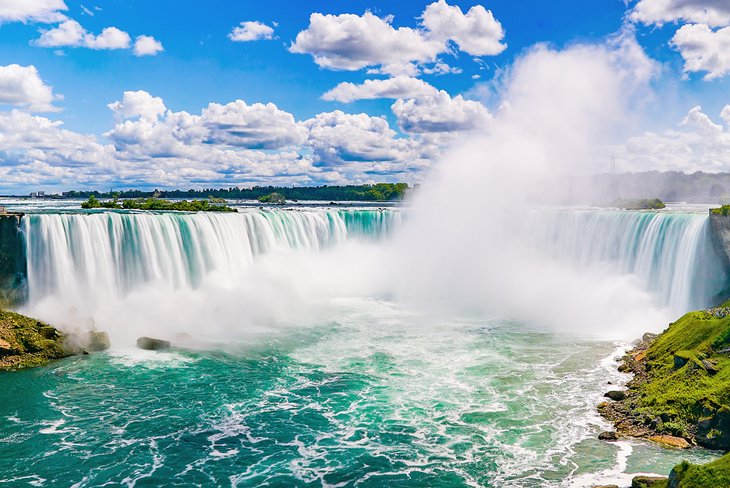 Niagara Falls
It's been said that the best view of Niagara Falls is enjoyed from the Canadian side. Once you've come face to cascade with this monstrous world wonder, you'll realize that this statement is true, and you'll understand why it's been deemed one of the most beautiful waterfalls in the world.
Visit during September for the most comfortable temperatures and less crowded conditions, which will make sightseeing a pleasure. Early fall also sees a drop in hotel prices, which is a bonus.
You can expect highs in the low 70s and lows in the low 50s, which is acceptably pleasant. Pack a sweater, as the temperature always feels colder by the falls, and a waterproof jacket if you're planning to get close enough to feel the water.
While the falls are the number one tourist attraction in Niagara Falls, exploring Journey Behind the Falls is a must, as is boarding a Hornblower Cruise to get up close and personal with the massive cascade.
The Skylon Tower offers fabulous views, as well as two restaurants, and riding the Niagara Skywheel, the largest observation wheel in Canada, is a fun thing to do for families.
22. Vancouver, Canada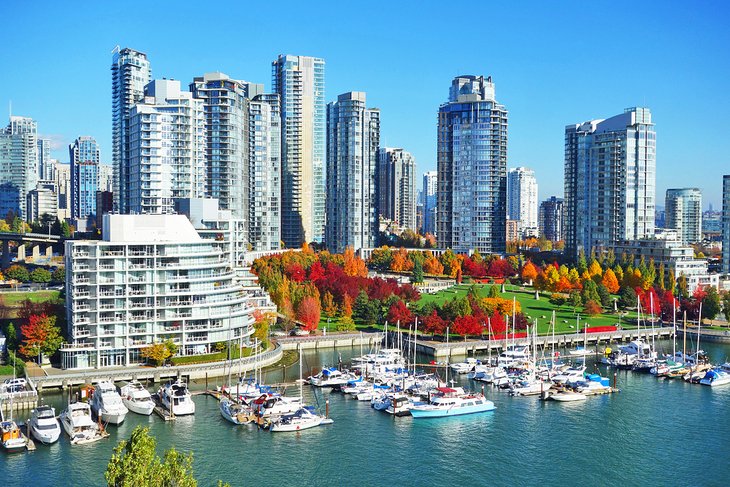 Autumn colors in False Creek, Vancouver
There is so much to enjoy about Vancouver in September. One of the best places to visit in Canada in the early fall, Vancouver offers so many interesting and beautiful tourist attractions that you're bound to find something you love.
Are you a foodie? There are tons of top restaurants in Vancouver, as well as food festivals galore. Outdoor enthusiast? Climb the Grouse Grind up Grouse Mountain, wander through Stanley Park, or hit the beach. A history buff? Head to the Museum of Anthropology, or stroll through Gastown, the city's oldest section. The Vancouver Art Gallery is another must-visit. See, the options for fun things to do in Vancouver are endless.
September sees multiple farmers markets in various locations throughout the city, as well as guided walking tours, live music, and theater performances.
Why not bring the kids for a long weekend away? There are plenty of entertaining things to do in Vancouver with kids.
More Related Articles on PlanetWare.com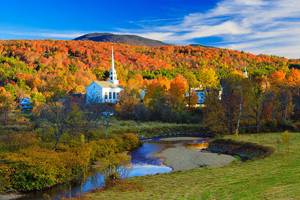 US Fall Travel: If you are looking for other early fall travel options in the United States, some places to consider, mostly for fall foliage, are New Hampshire and the waters of Lake Champlain in Vermont, or you can plan a weekend getaway in Michigan to catch the color spectacle in Traverse City or Ann Arbor.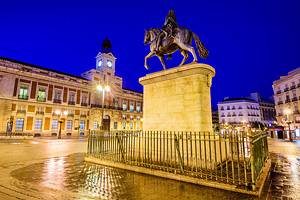 Europe Fall Travel: European destinations in early fall are nice travel options, too, from the museums and gardens in Madrid to the palaces in Austria, you can take advantage of lower rates for hotels and airfare and visit the top tourist attractions without all the high-season summer tourists.
23 of the Best Places to Visit in September in the USA
By September, schools are usually in session and peak tourism around the country has died down. That means many spots are still enjoying warm temperatures and long days, without nearly as many people. For that reason, September is an excellent time for a vacation in the US. If you're wondering where to go this September, here are 23 awesome destinations that are extra special during this time of year:
Table of Contents
23. Oahu, Hawai'i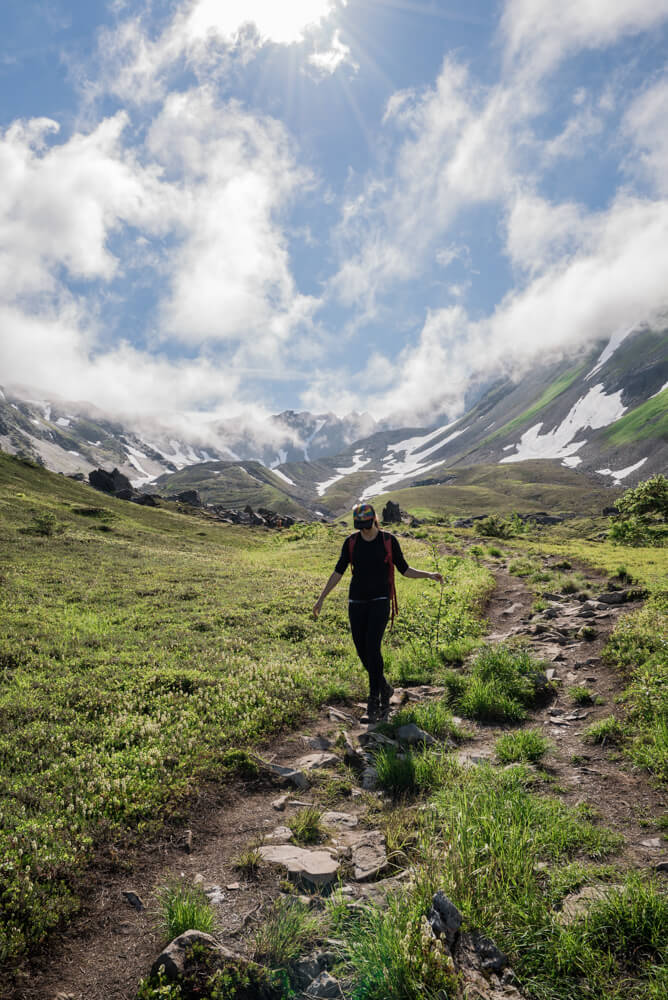 Seward is the gateway to Kenai Fjords National Park in Alaska, one of the state's most popular outdoor attractions. The park, and subsequently the town, is at its busiest during the summer months, with crowds tapering off in September. Although temperatures drop during this time, it's still warm enough to get out and enjoy a hike to the top of Mount Marathon or any Kenai Fjords activities.
The mountains surrounding Seward begin to get their first dusting of snow in September, making the views even more dramatic. Plus, you can catch the end of whale-watching season at Kenai Fjords by taking a wildlife cruise through the national park.
21. Mount Rainier National Park, Washington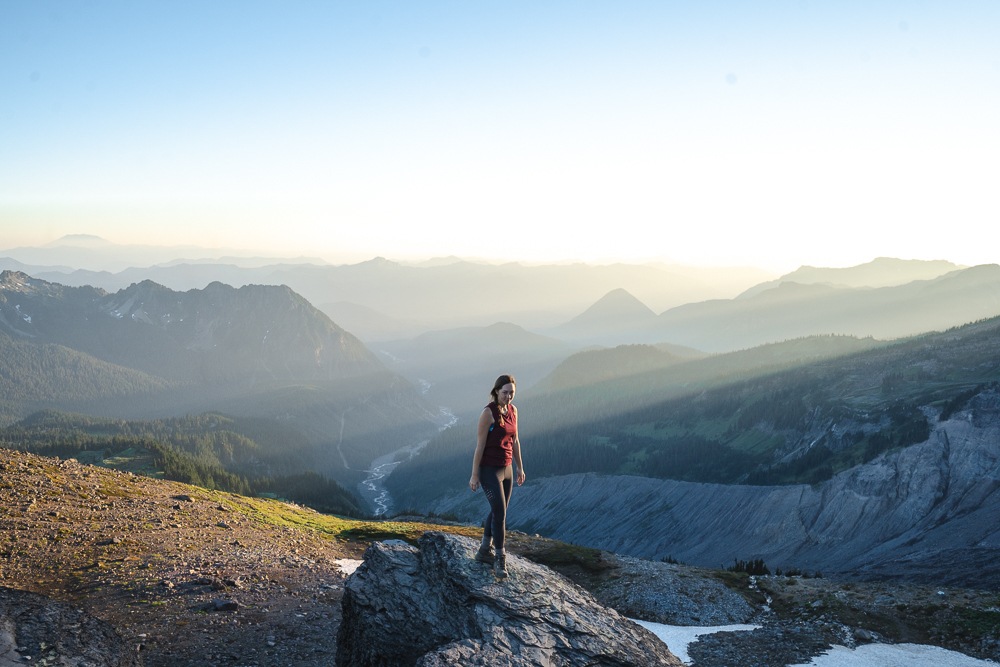 Once the Labor Day crowds disappear, September is the ultimate time to have the gorgeous Mount Rainier National Park mostly to yourself. The weather in September is still warm enough to access all of the park's trails, with Mount Rainier still dry from the summer snow melt. That means the glaciers are maximally exposed, making for incredible views. It still gets quite cold in this part of Washington at night during the summer and fall months, so bring lots of layers.
If you're heading to Mount Rainier National Park this September for a quick trip, check out how to spend 48 hours there. Coming from Seattle? You can do a full-day tour of Mount Rainier, which will show you the best spots.
20. North Umpqua, Oregon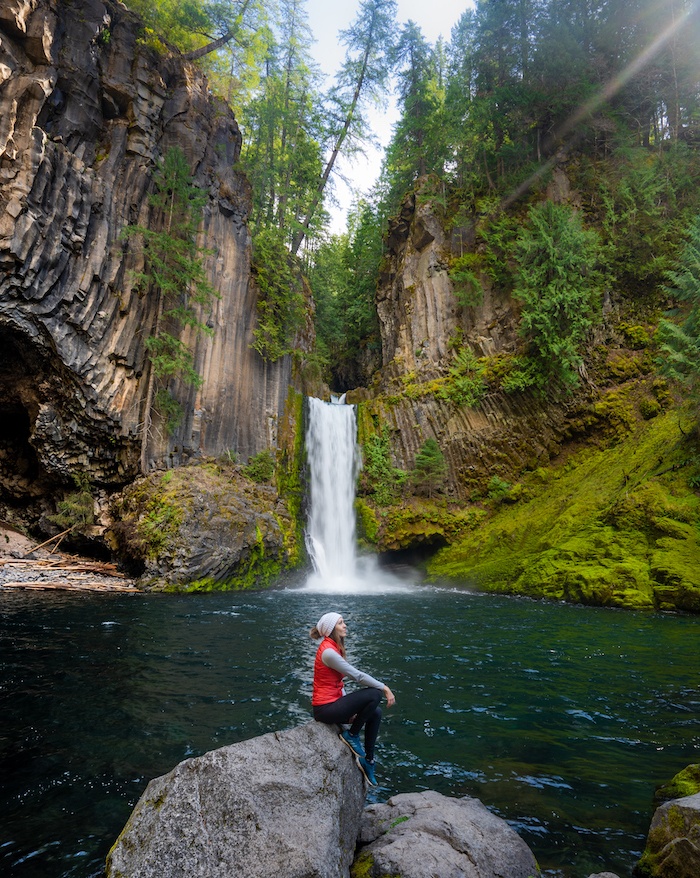 Just about an hour and a half northwest of Crater Lake, you'll find the North Umpqua region of Oregon. The area runs along the river of the same name, which is full of waterfalls and other natural attractions. Watson Falls and Toketee Falls are especially impressive and worth visiting.
Since September is past peak season in this part of the state, it's possible that you'll get these gorgeous sites all to yourself. Plus, the crisp September temperatures are perfect for taking a dip in the Umpqua Hot Springs. While the North Umpqua region is great on its own, consider making the most of this beautiful season with a road trip through Oregon to see more of the state.
19. Mendocino, California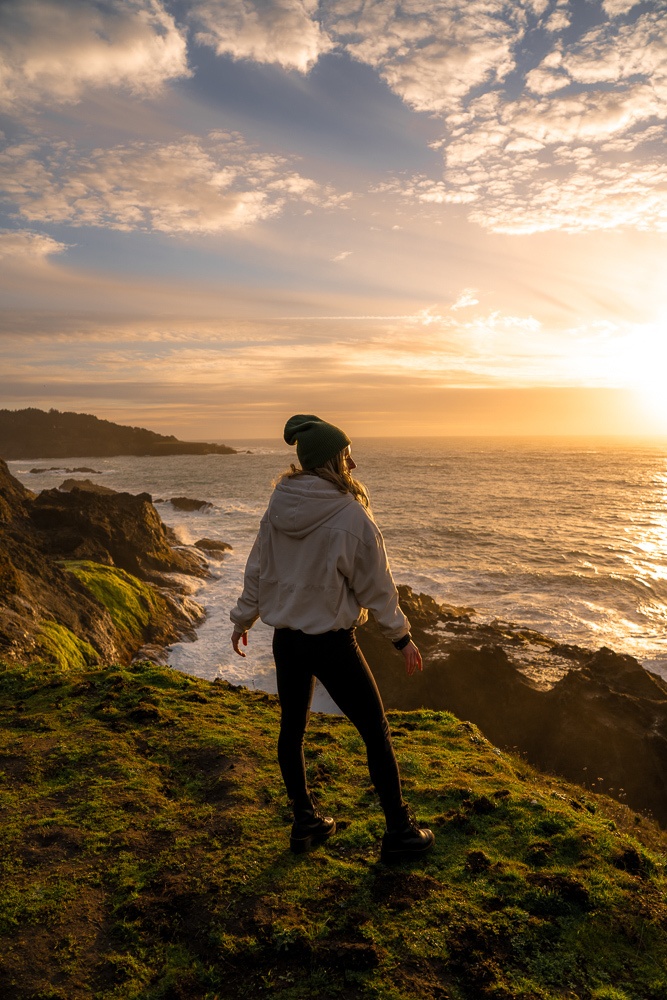 Mendocino is definitely fit for an outdoorsy yet luxe trip. The town is full of boutique hotels, many of them with seaside views and on-site restaurants. It makes for an excellent girls trip, although it could be a great romantic getaway as well.
This cozy cliffside spot has been the muse of many an artist and poet. Surrounded by quaint state parks, towering redwood trees, and locally owned wineries, Mendocino has everything you need for a perfect NorCal getaway. September is an especially great time to visit because of the gentle chill in the air and foggy mornings that make for a mystical time.
18. Valley of Fire State Park, Nevada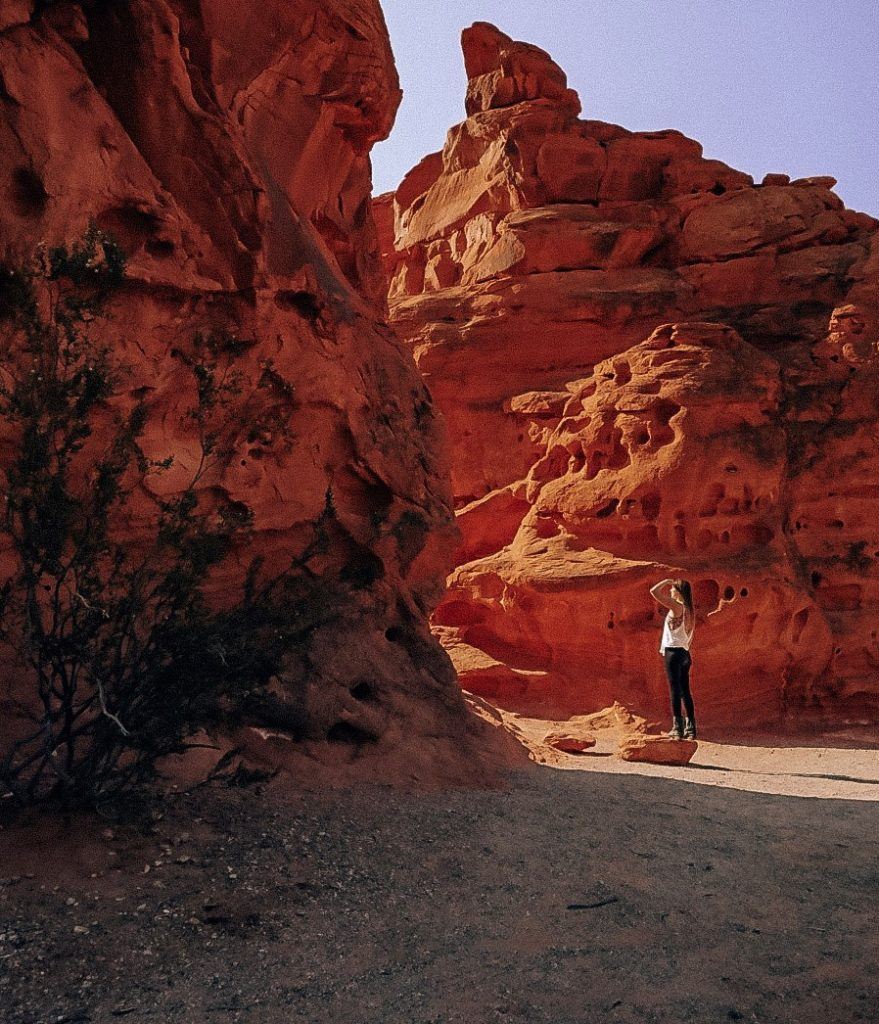 Imagine a place where towering rock formations literally look like they're on fire and rugged landscapes that feel like you're on Mars. It exists: it's in Nevada, just an hour away from Las Vegas! Valley of Fire State Park is one of the most unique destinations in the United States, with vistas in which you can see sandstone and limestone rock in orange, white, red, and even purple hues.
As you can guess, the summertime heat in Valley of Fire is unbearable, if not dangerous. Temperatures are much more mild in September but still can peak as high as 90 degrees. The park is at its busiest in the late fall and early winter, so visiting in September means you'll miss most of the crowds without it being too hot.
17. Page, Arizona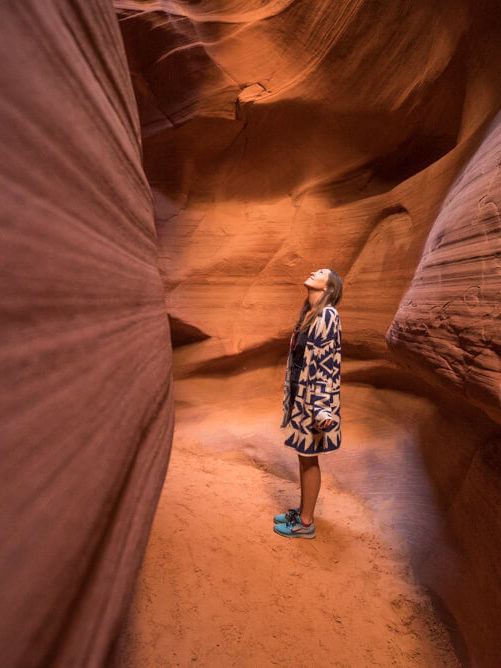 Page is home to some of Arizona's most noteworthy attractions, like Horseshoe Bend and Antelope Canyon (see photo above). It's a popular launching point for Grand Canyon National Park too, so you can imagine how busy it gets during peak season. The most popular time to visit the Grand Canyon and Antelope Canyon is from May to September, with September being far less crowded as the month goes on.
Early fall temperatures hover around the 70s and 80s during the day, with a higher chance of rain in September onward. This means it'll still be warm enough to take a dip at Havasu Falls or Lake Powell, but you should definitely prepare for rain.
16. Santa Fe, New Mexico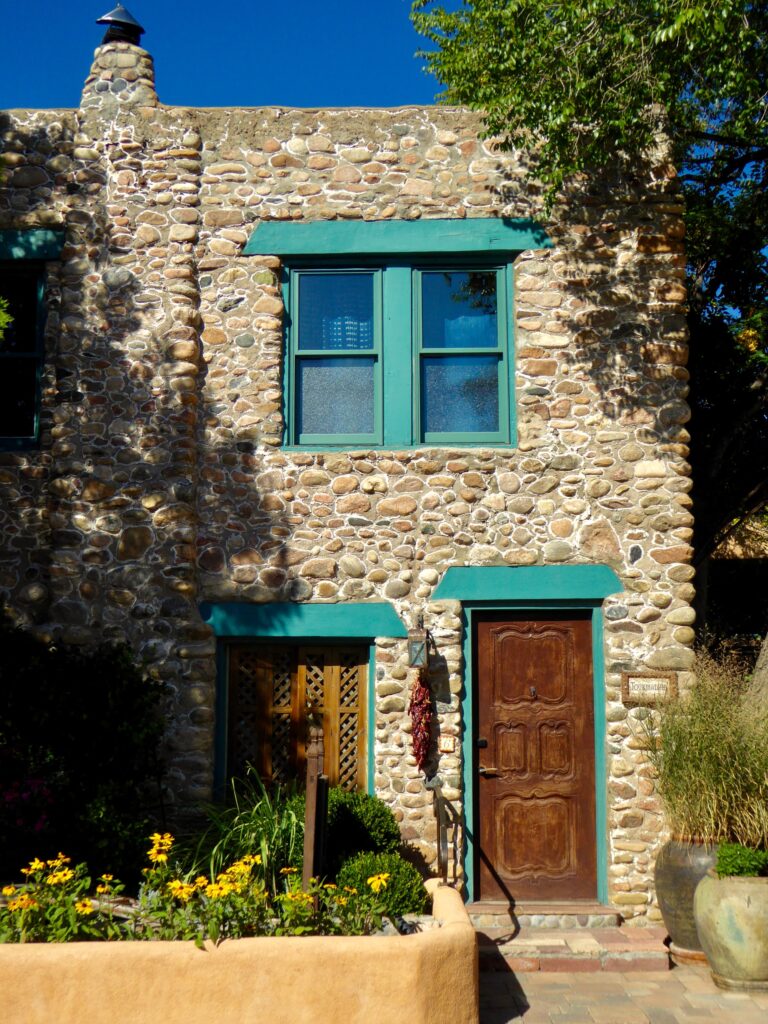 Santa Fe has long been an artists haven and home to some of the country's quirkiest minds. This New Mexico gem has an interesting mix of new and old, with posh Canyon Road cafés and galleries and centuries-old chapels all in the same city.
The weather in Santa Fe is beautiful throughout September, with sunny days and temperatures in the mid-70s. It's also an awesome time for events and festivals, as the historic Burning of Zozobra and tasty Santa Fe Wine & Chile Fiesta both happen this month.
15. Zion National Park, Utah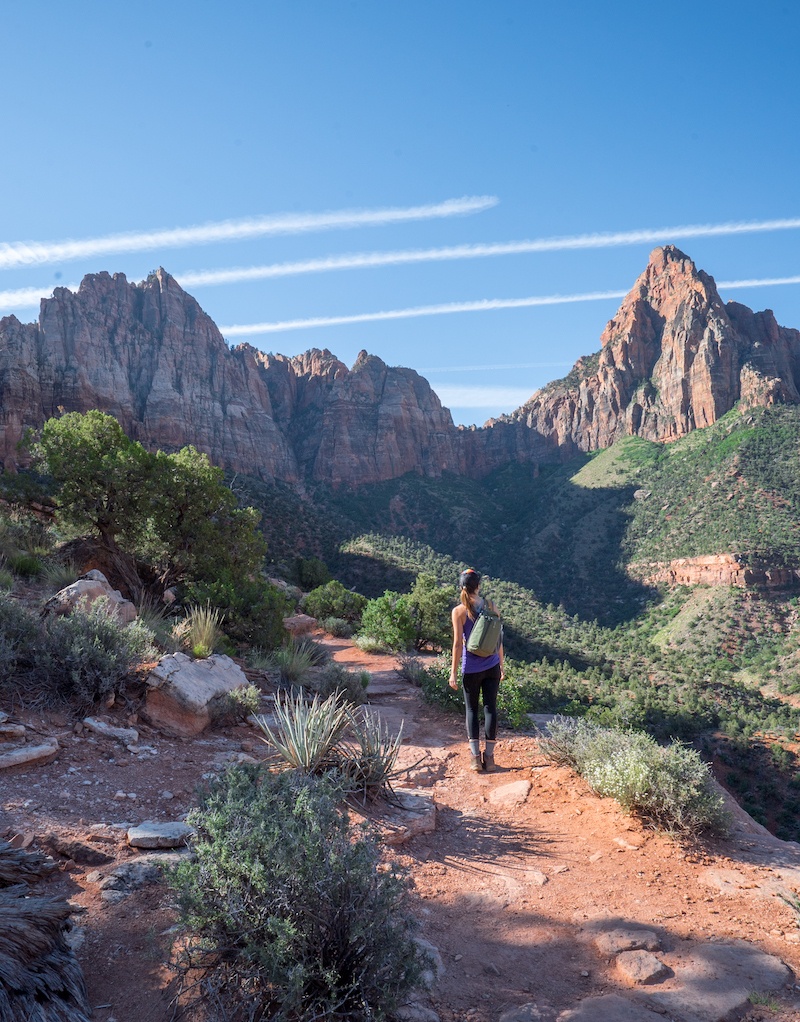 Most Zion enthusiasts agree that September is one of the best, if not the best, month to visit this ultra-popular national park. Why? The weather is great and crowds are much smaller than at their peak in the summer. Although the threat of monsoons technically extends to mid-September, it's still relatively dry compared to the rest of the season, while rivers and lakes are already full from the summer rains.
If you're down for a challenge when visiting Zion National Park, consider hiking to Observation Point and Angels Landing for some spectacular views. The area will still likely be very green, with speckles of fall foliage in the distance. It's worth checking out the famous slot canyons, too.
14. Stanley, Idaho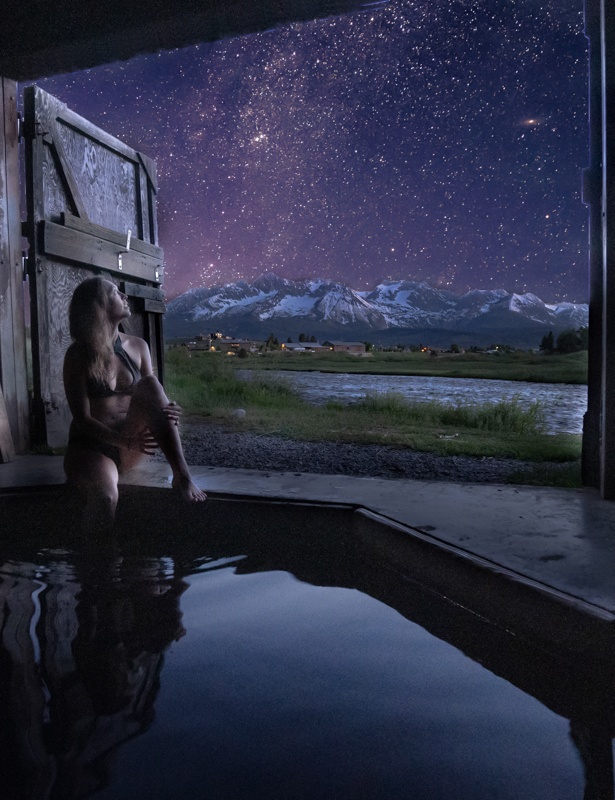 Stanley is one of the best places in Idaho for taking a dip in hot springs. Some of them around Stanley, such as Kirkham Hot Springs, are super popular in the summer months and can get crowded. That's why September is an awesome time to go. There are still whispers of the summer heat, but it's cool enough to enjoy a dip in the steamy springs, especially at night.
Stanley makes a great addition to any Idaho road trip, on which you'll be able to see the beginning of fall foliage if you embark in September. Idaho is a pretty underrated state, especially with its incredible hot springs and the boundless nature all around.
13. Glacier National Park, Montana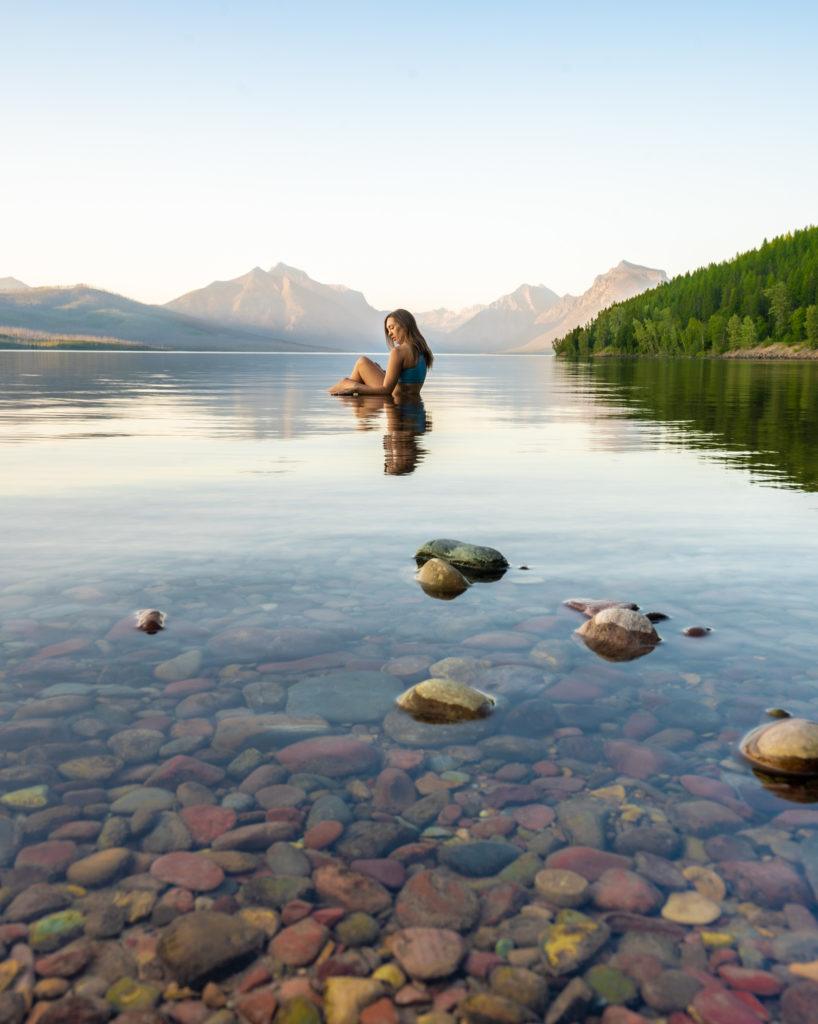 While summertime may be the best time for taking a dip in Lake McDonald, Glacier National Park in September has a special charm. As the trees begin their golden transformation, the park takes on an entirely different vibe. It's a more laid-back time to visit, too, as there are fewer visitors than the summer months, so you might get some incredible scenery all to yourself. September can be chilly at night, so bring plenty of layers if you'll be camping or doing any nighttime activities!
From hiking the famous Highline Trail to whitewater rafting to stargazing at Hidden Lake, there's plenty to do at Glacier National Park for any length of trip.
12. Great Sand Dunes National Park and Preserve, Colorado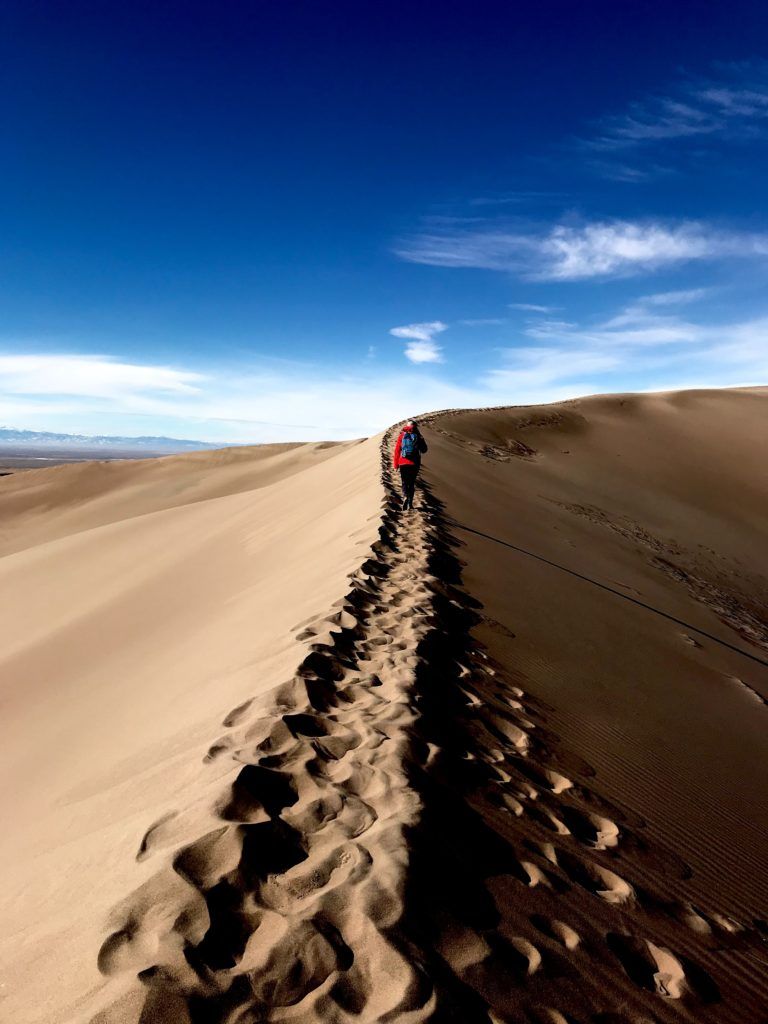 The Aspen trees surrounding the towering mountains of sand at Great Sand Dunes National Park and Preserve begin to turn golden yellow beginning in September, creating a beautiful range of colors. The namesake dunes are still quite hot to the touch in the afternoons but cool enough to explore in the morning. Warm, sunny days with the occasional thunderstorm characterize September weather here, which is about as good as it gets.
Where summertime can be quite mosquito-y and sometimes too hot for exploring the dunes, early fall is mild and perfect for a visit. The park does get more crowded during this time, but as it's not as popular as others, so the crowds are still manageable and won't likely take away from the experience.
Add Great Sand Dunes National Park and Preserve to your Colorado road trip this September!
11. Big Bend National Park, Texas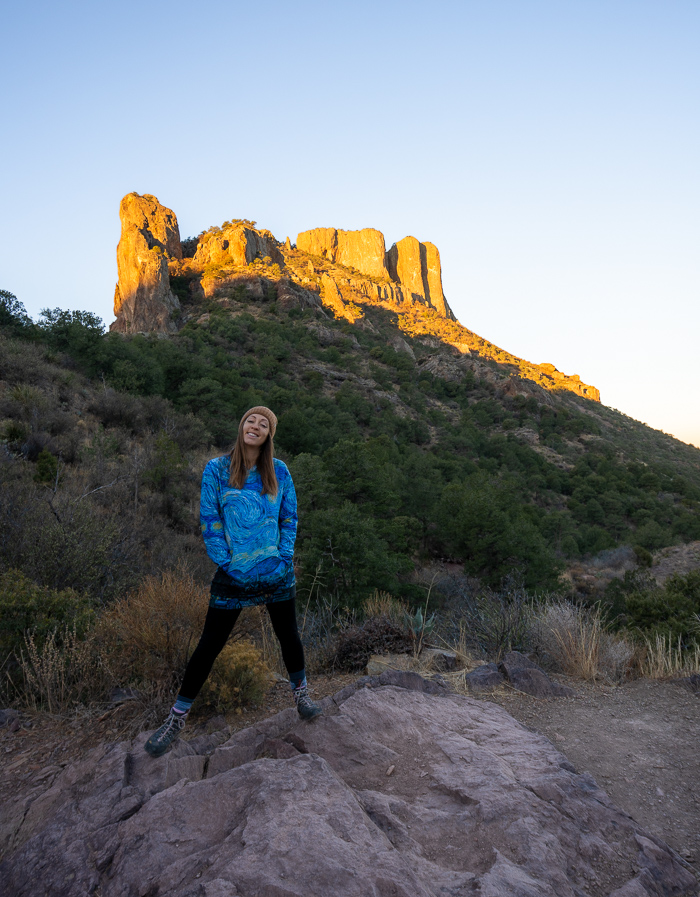 Many people don't think of Texas as having mountainous scenery, but Big Bend National Park is here to prove us all wrong. The park itself is massive, covering over 150 square miles of West Texas. You could visit any time of year and expect relatively small crowds, which makes taking in the gorgeous scenery all the better. From hiking through the Santa Elena Canyon to stargazing at night, there's plenty to do in Big Bend National Park.
September, and fall in general, yields more rain than the rest of the year. If you don't mind the possibility of some precipitation, you'll enjoy the lowest visitor numbers and mild temperatures.
10. Chicago, Illinois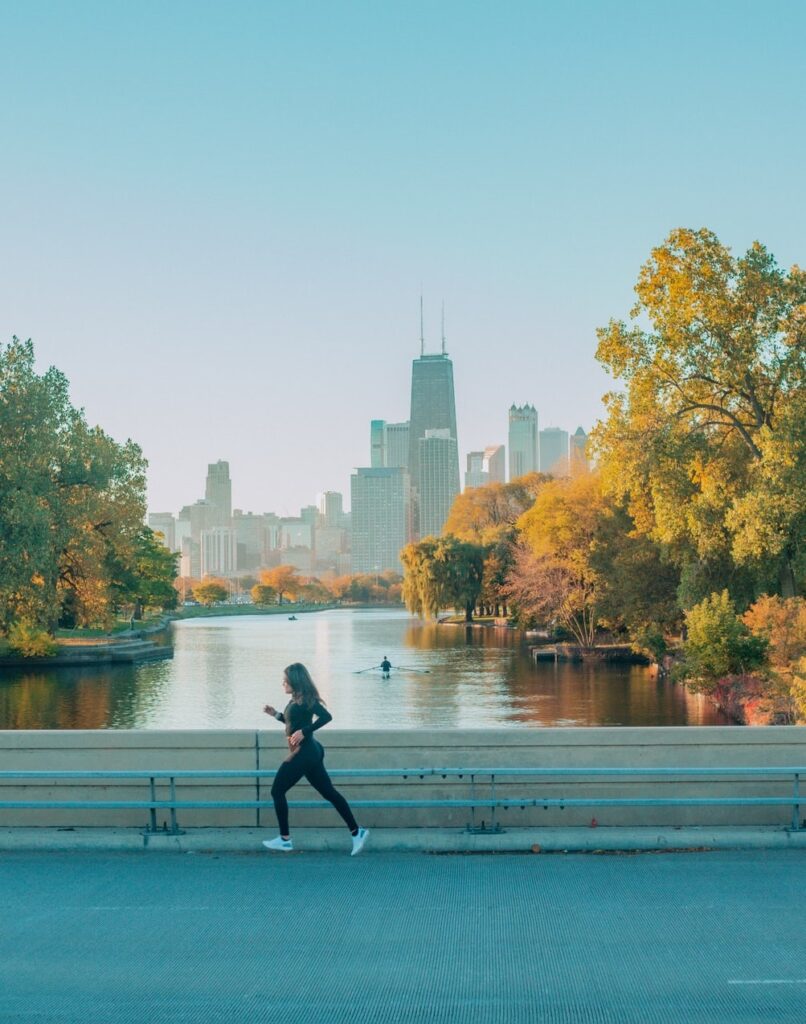 As the temperature starts to steadily drop during early fall, Chicago transforms into an idyllic swirl of autumn hues and brisk gusts of wind. Don't get me wrong, I love summertime Chi. But there's truly nothing like early fall in the Windy City. It's still warm enough to enjoy strolling through Lincoln Park Zoo or Millennium Park, but chilly enough at nighttime to truly savor a warm cup of tea on your balcony or in a café.
Bring layers if you're visiting Chicago in September, as the city has a reputation for shifting dramatically between extreme weather conditions with just a moment's notice. Trust me, you'll want to make sure you have a scarf and a rain jacket at the ready while you're on your architecture boat tour.
9. Apostle Islands National Lakeshore, Wisconsin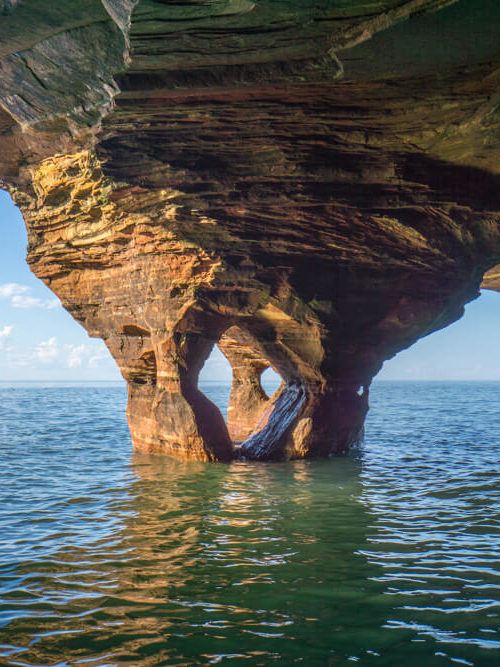 Beat the fall crowds at the Apostle Islands National Lakeshore by visiting in September, right before most people come to see the autumn foliage. The Apostle Islands are an archipelago in Lake Superior where you'll find mystical sea caves, gorgeous lakeside views, and the largest concentration of lighthouses in North America. Although sailing through the Apostle Island sea caves is more popular in the summertime, tours still run through September, and the water just might be warm enough to take a dip or even kayak.
The weather in this part of Wisconsin is especially sunny, with highs during the day reaching the mid-70s. Nights are chilly, so bring layers!
8. The North Shore, Minnesota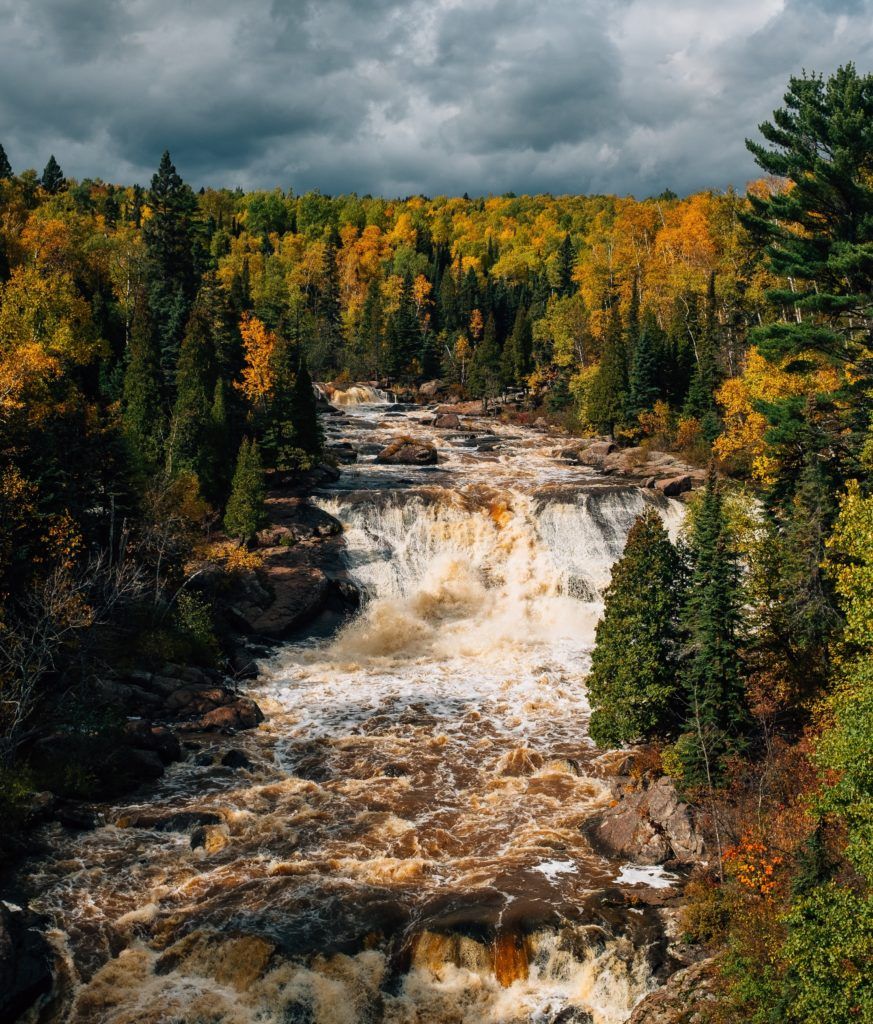 Because of its geography, the North Shore in Minnesota starts to get its fall colors a bit earlier than places further south. That means your September visit very well could be a whirlwind of golden orange and red hues. Maple trees and other species have their peak colors beginning the second week of September.
As you can guess, this is a popular time to visit the North Shore. Even so, this isn't a hugely well-known area nationally, and you'll find mostly in-state tourists here. Consider road-tripping along the North Shore to see some of the best slices of nature Minnesota has to offer.
7. Sleeping Bear Dunes National Lakeshore, Michigan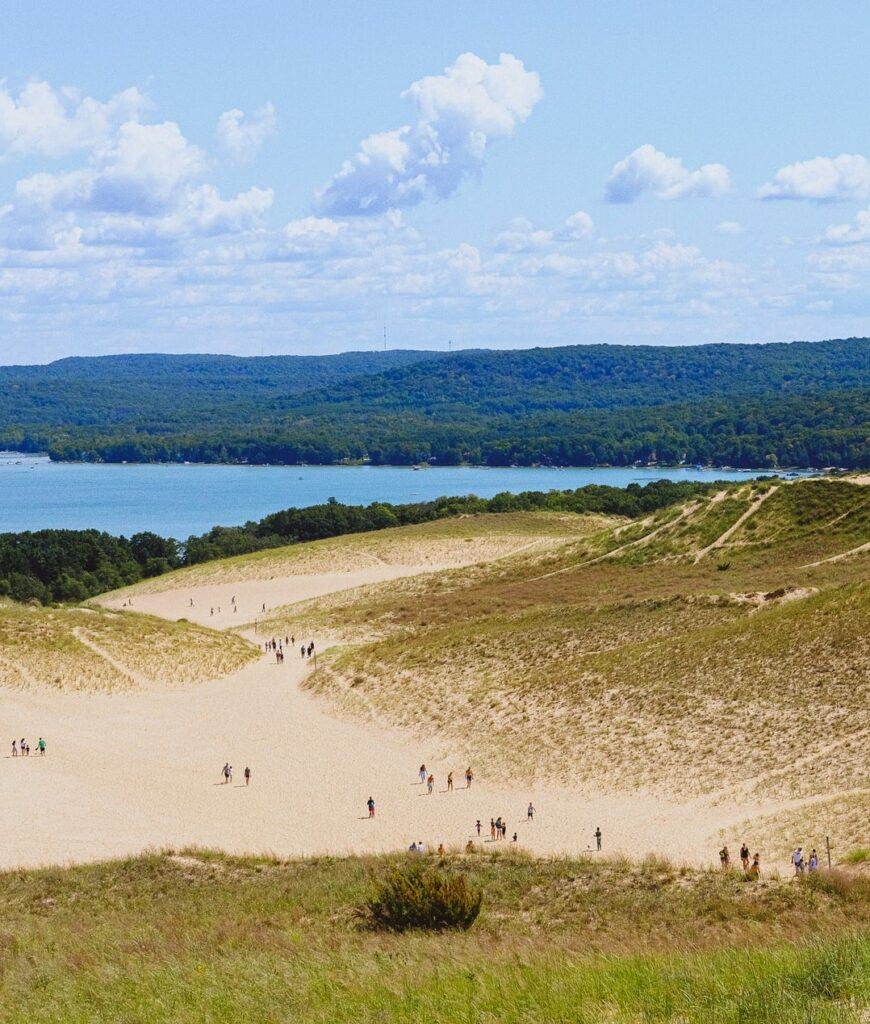 Sleeping Bear Dunes is one of the Midwest's best kept secrets — if you're not from the area, you might not have even heard of it. Characterized by gigantic sand dunes that seem to spill into Lake Michigan, Sleeping Bear is a popular weekend getaway from Traverse City. It's busiest in the summer months when the weather is warm enough to enjoy a swim in the lake, but early fall is just as desirable.
Visiting Sleeping Bear Dunes in September means you can get a fabulous taste of fall foliage without the late-fall photography crowds. Climb sand dunes to get sweeping views of both Lake Michigan and Glen Lake, or spend the day hiking one of the many trails in the park.
6. Adirondack Mountains, New York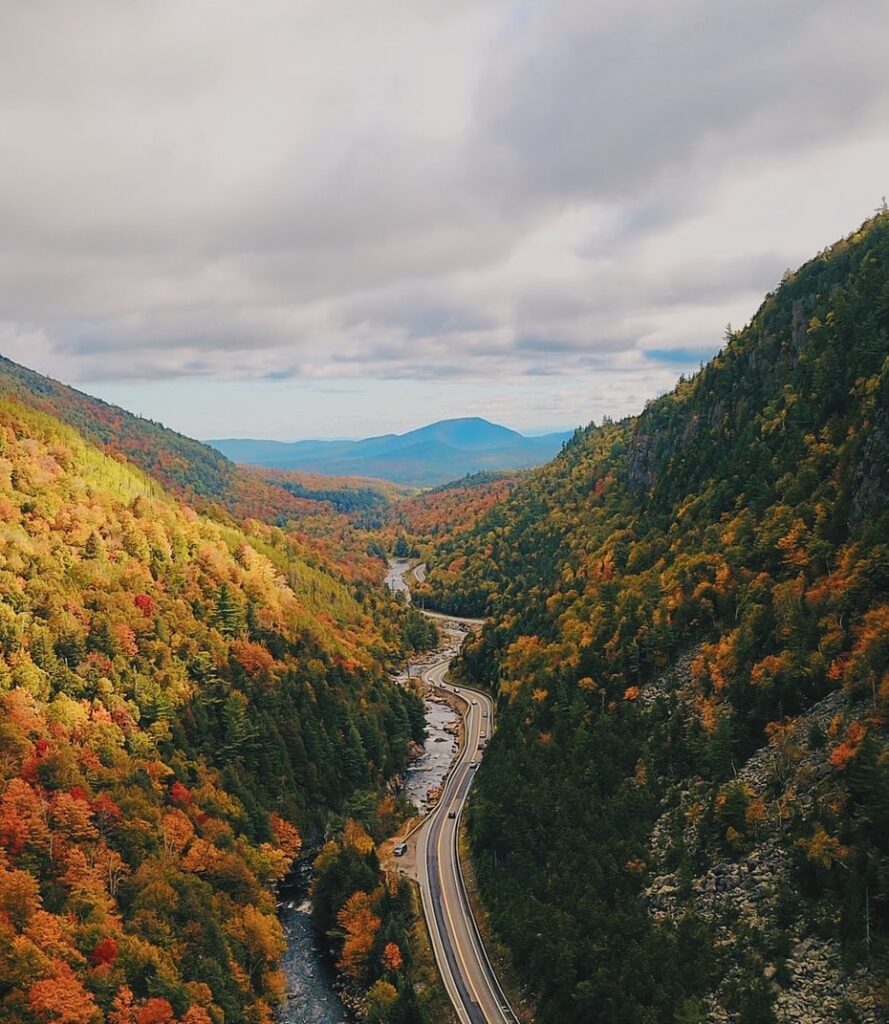 This is another road trip rather than a one-stop destination. The Adirondack Mountains in upstate New York are absolutely breathtaking during fall, starting in September. There's very little rainfall in September, and sunny days peak in temperature around 60 degrees.
There are far fewer people around in September compared to the summer months, meaning you'll be able to enjoy the warm-hued peaks in solitude. The main attraction here is Lake Placid, which is serene this time of year. You can also make your way to Lake George, which is one of the most beautiful lakes in the country. You really can't go wrong with a September road trip around the Adirondacks.
5. Cape May, New Jersey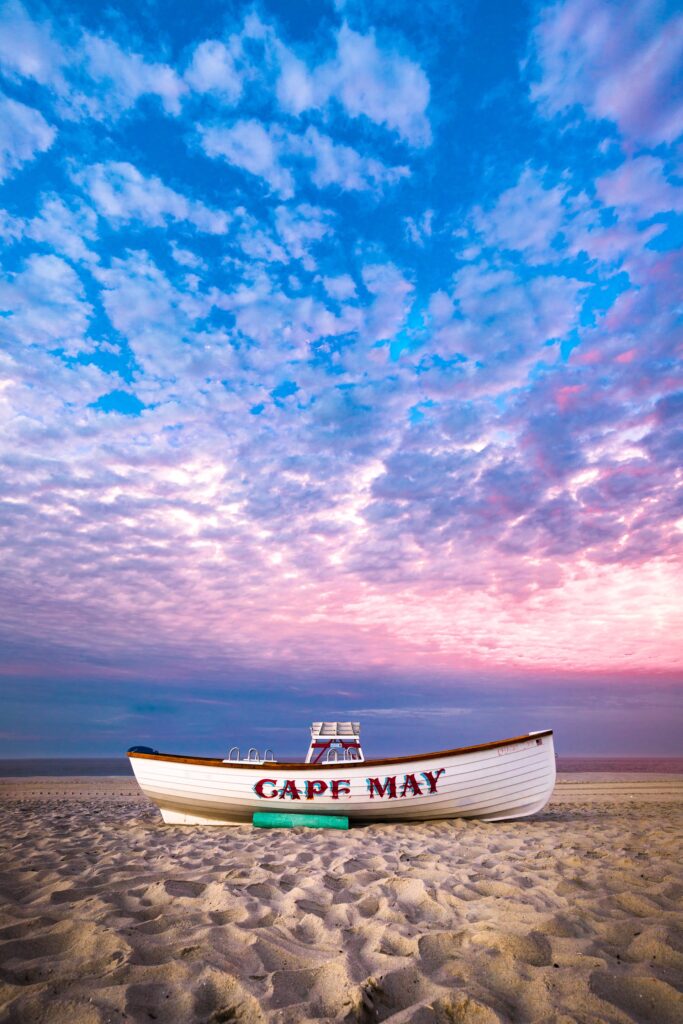 This kitschy beach town is booming in the summertime, yielding crowded shores and unbearable traffic. That's why visiting Cape May is ideal in September. Sure, it may be a bit too cold to swim in the sea, but you'll still be able to enjoy everything else that makes this place special.
As it's the oldest seaside resort town in the country, Cape May has an antique charm that sets it apart from other beach destinations in the USA. Breezy, sunny September days make it all the more idyllic. Plus, the great weather is the perfect setting for the annual Cape May Food & Wine Celebration at the end of the month.
4. Greenville, South Carolina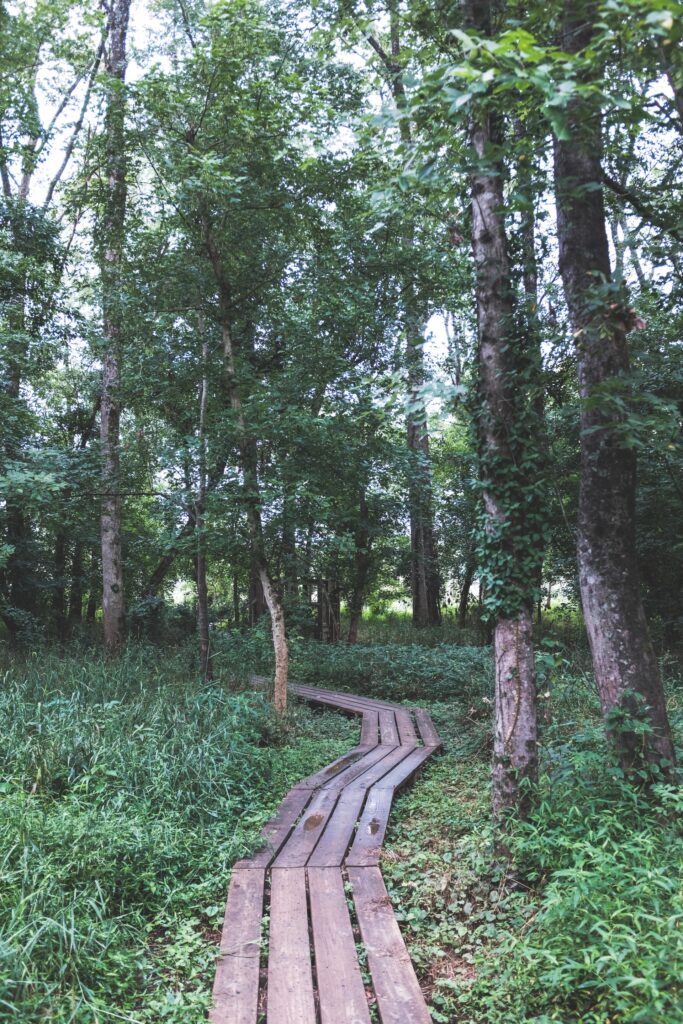 While the summer months bring high temps and humidity, early fall is a bit cooler and breezier in Greenville. Some even say that September has the best weather of the year here, so take advantage of it by heading out for a hike at Paris Mountain State Reserve or checking out the waterfall at Falls Park on the Reedy. With the Blue Ridge Mountains surrounding the city, this is the place to bask in nature's beauty.
Greenville is an artsy and outdoorsy city, often compared to Asheville in North Carolina. Asheville is more well-known, but Greenville is more low key and ideal for travelers who want to experience South Carolina's Southern charm without as much tourism.
You can also add Greenville to your Blue Ridge Parkway road trip if you want to visit more places in the area.
3. Tybee Island, Georgia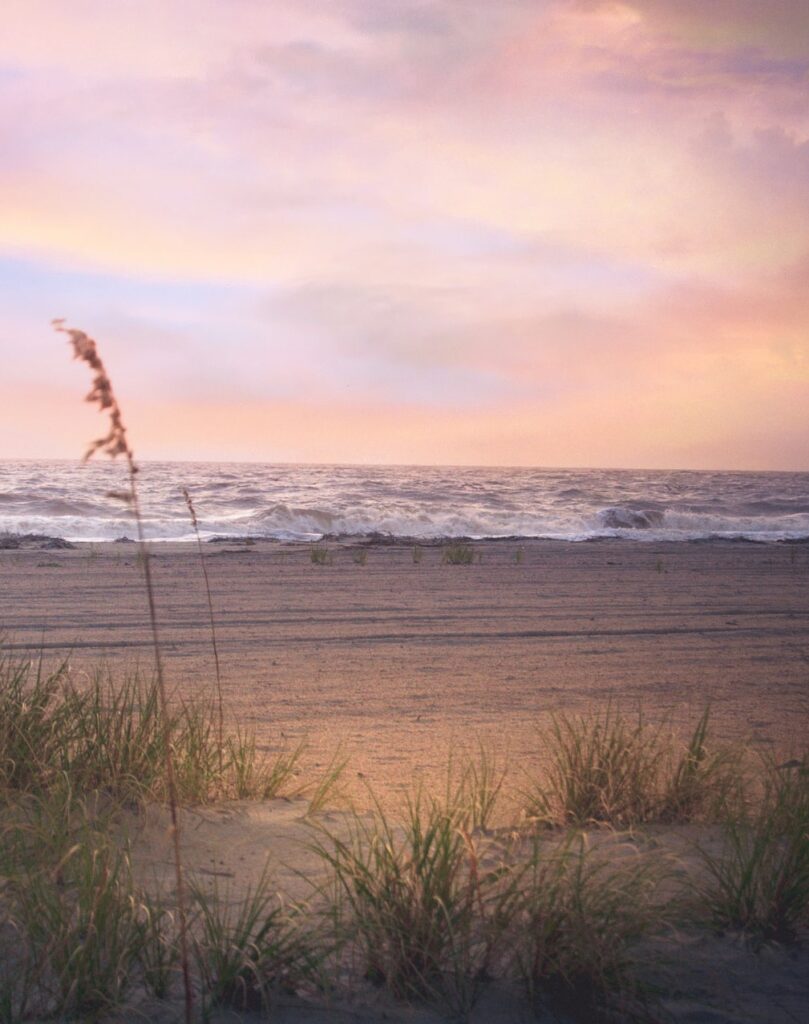 This sleepy beach town is ideal for travelers who are chasing eternal summer and want a taste of Southern hospitality. After Labor Day following the summer tourism boom, the town quiets down. You'll still be able to enjoy the soft sand and crashing waves, though, with plenty of sunshine to soak up in September.
Water sports and dolphin watching are popular activities on Tybee Island, as are paddleboarding and kayaking. This is a great option if you want a slow-paced vacation where your agenda includes long days relaxing at the beach.
2. Miami, Florida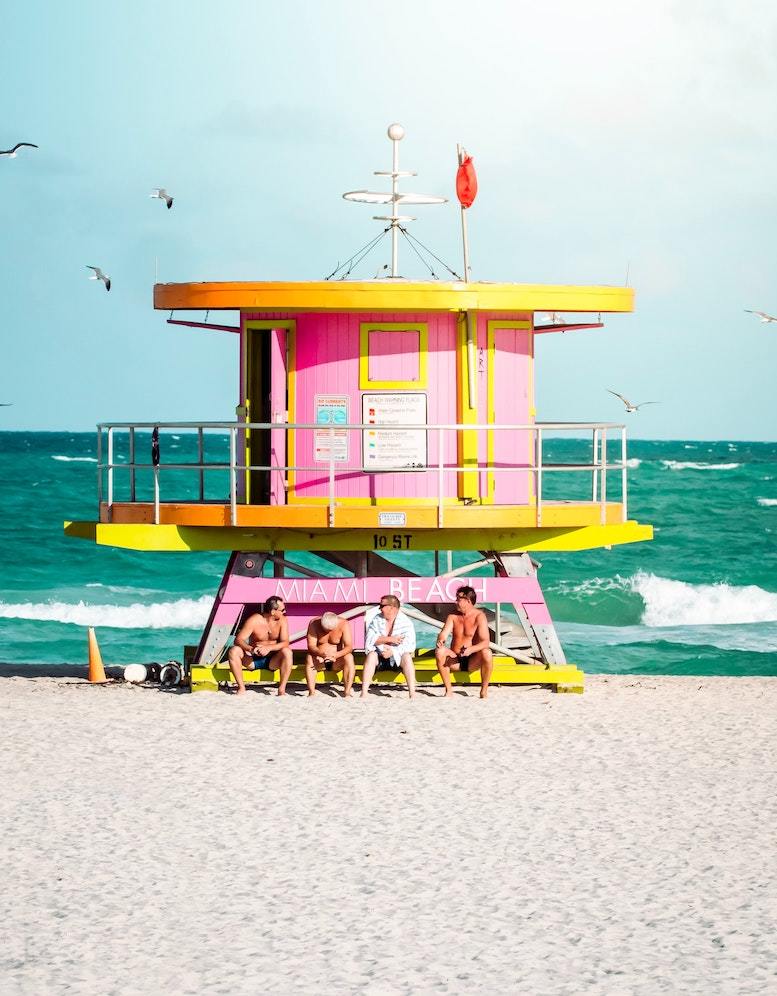 Let's face it, the weather in Miami is gorgeous all year long. September does have a chance of hurricanes, though, which is why it's one of the slowest months for tourism. If you don't mind the occasional afternoon rainstorm, this is the time to enjoy the beach without it being unbearably crowded, even if it's a bit of a gamble.
Luckily, there's still plenty to do in Miami indoors, like the Pérez Art Museum and the Frost Science Aquarium & Planetarium.
Keep an open mind, and leave some wiggle room in your itinerary so you can enjoy the best of Miami even if it rains.
1. Anna Maria Island, Florida
In September, the Florida heat is still intact on Anna Maria Island, but with cooler mornings and evenings compared to the summer months. The island also much less crowded, so you can enjoy the beauty of this pristine island without so much hustle and bustle.
Anna Maria Island is only seven miles long, with gorgeous white-sand beaches and calm waters perfect for swimming. Visitors love snorkeling, paddleboarding, and even parasailing here. Add the Anna Maria Island Historical Society Museum or the Florida Maritime Museum to your rainy-day itinerary — since, like Miami, there's a chance that you could encounter an afternoon rainstorm or two during your trip — and learn about this unique little island.
Pin me for later: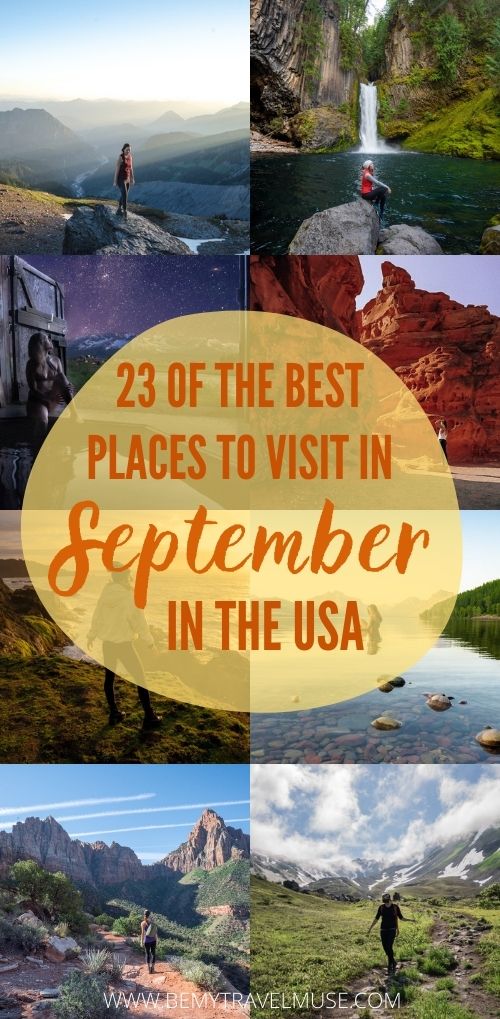 Now you have plenty of travel inspo for your September adventure in the USA!
Which place on this list sounds the best to you?
Get every new post delivered via email (3x posts per week, no spam, ever. Read our privacy policy here.)
Click to read more posts about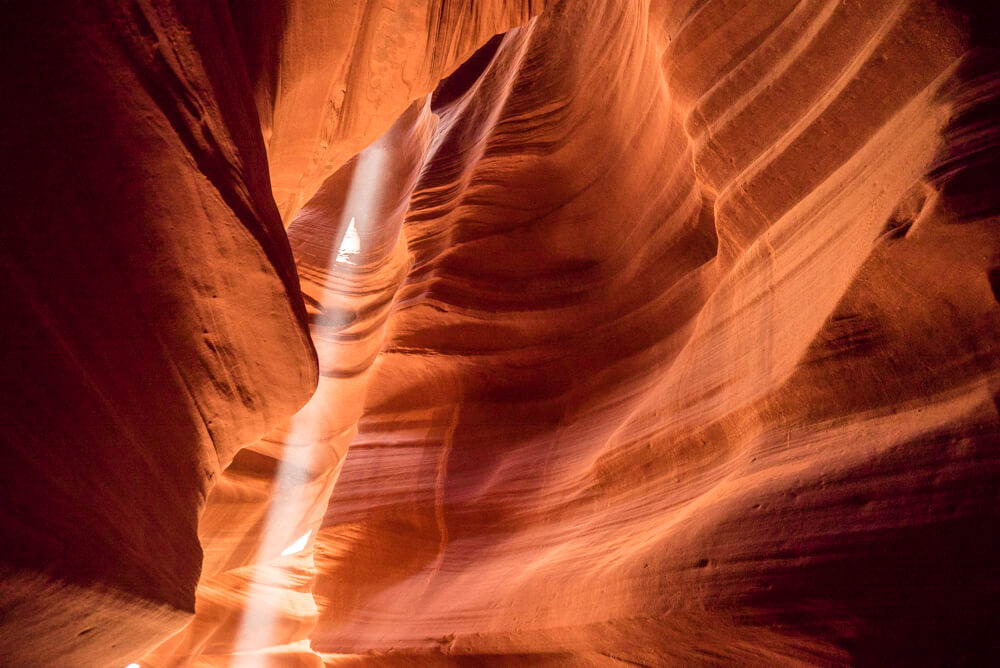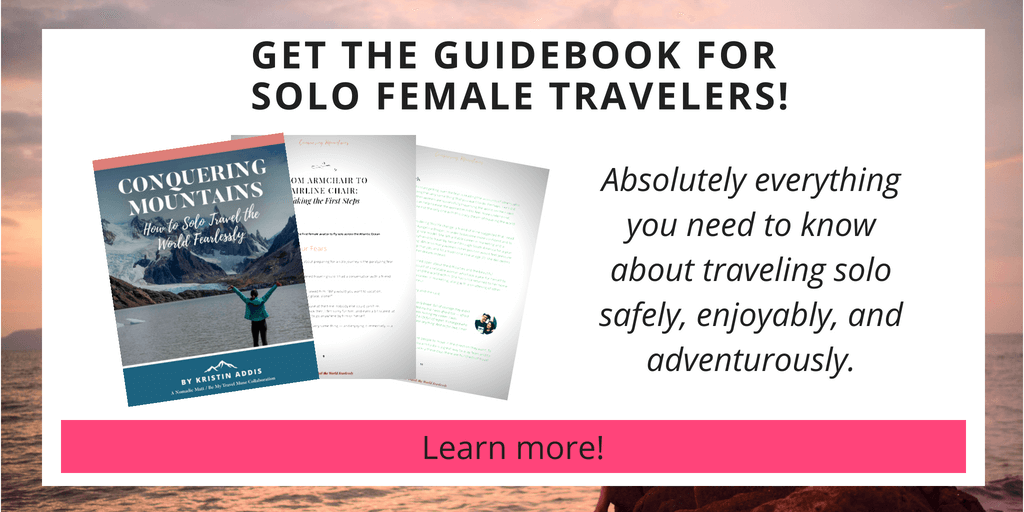 Hello There!
Welcome to Be My Travel Muse, one of the top female travel blogs in the world, welcoming over 5 million readers annually.
I'm Kristin, and my vision of a better world is one where more women are empowered and living out their dreams. Solo traveling is the best method I've found to become the best, bravest version of me. This site is all about how YOU can have the adventure of a lifetime in an easy, fun, approachable way, so that you can feel empowered, too. Want to learn more about me?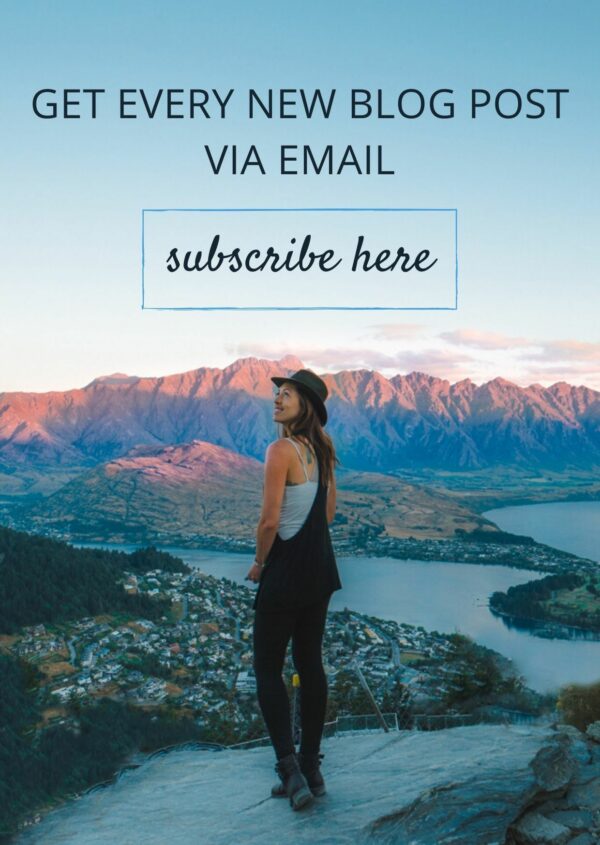 Get the Solo Female Travel Guidebook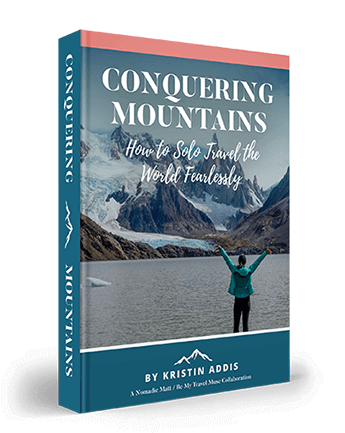 Popular Posts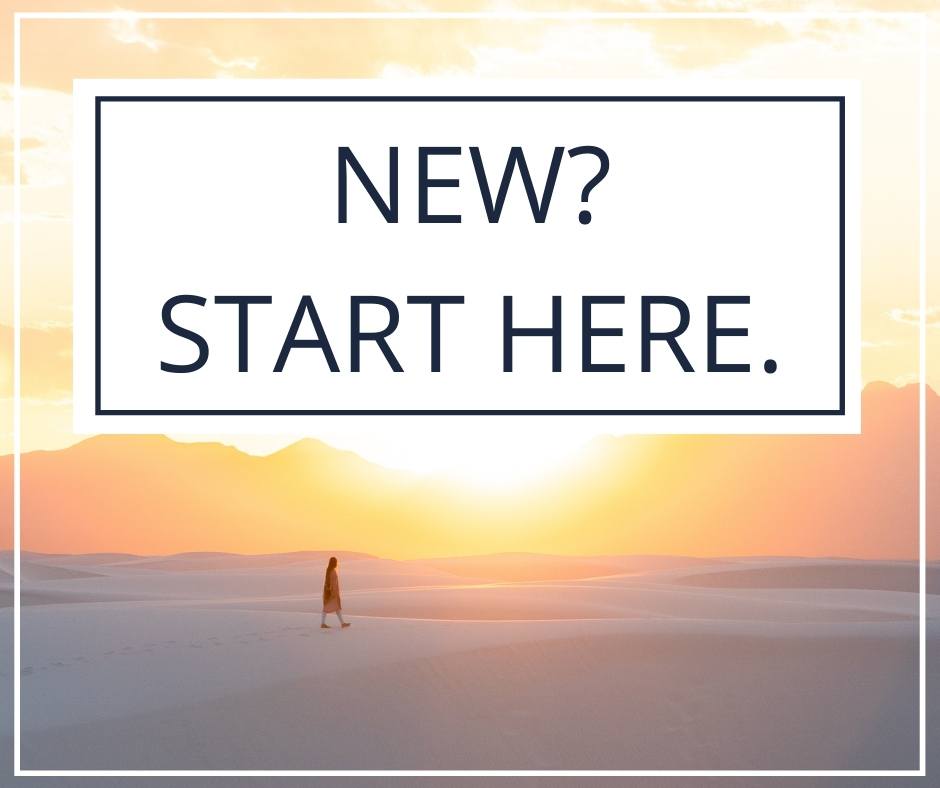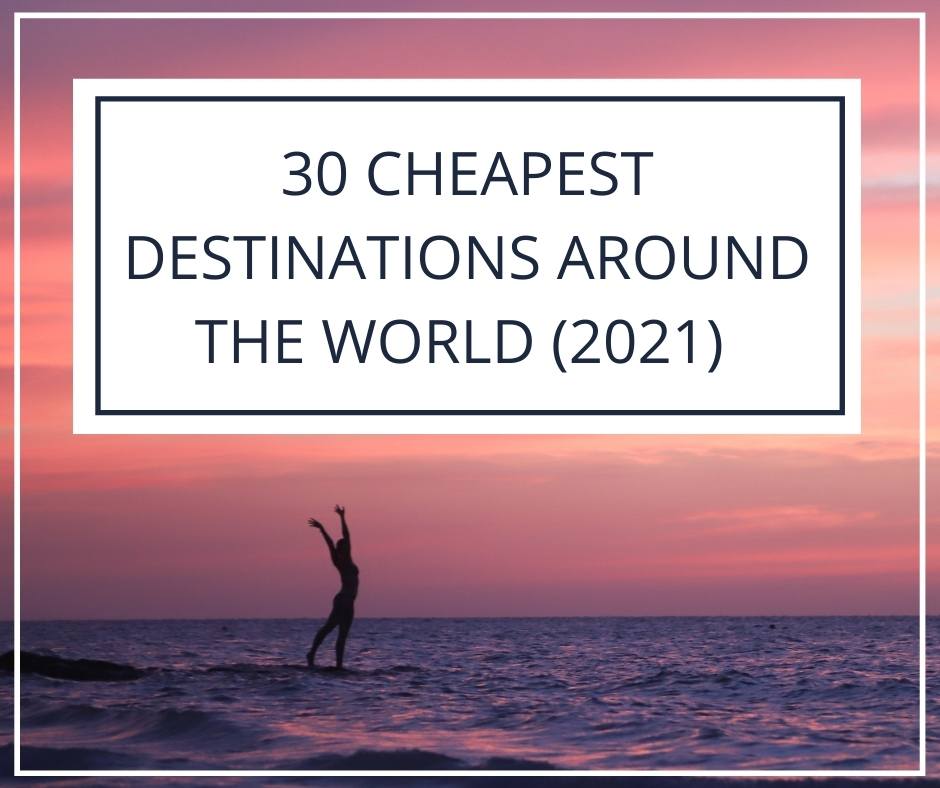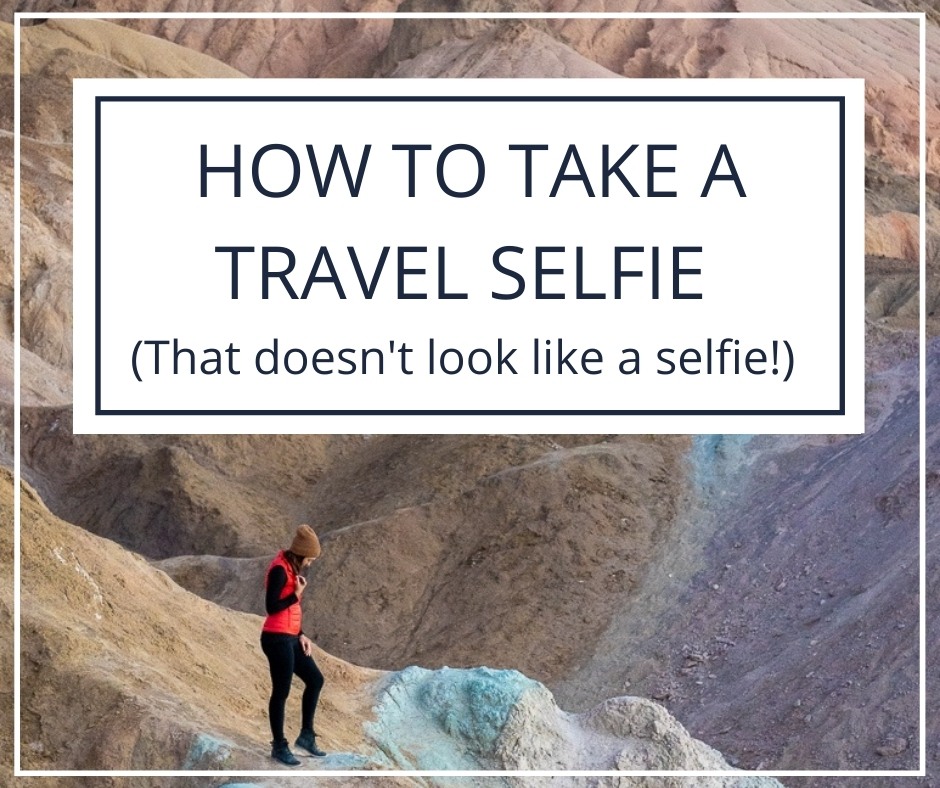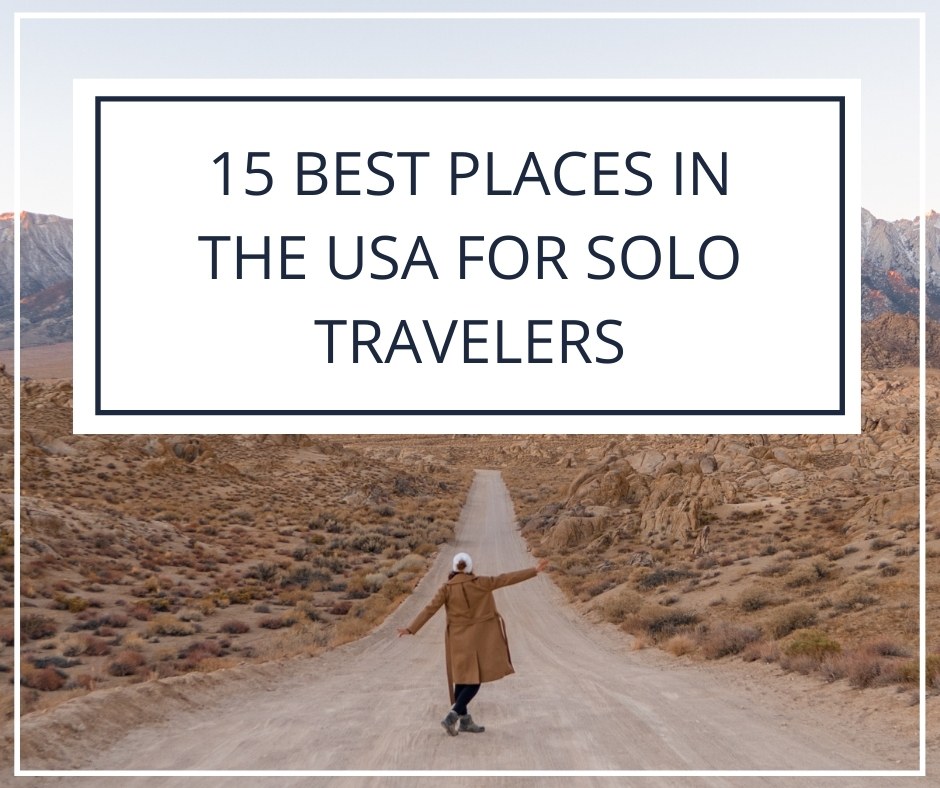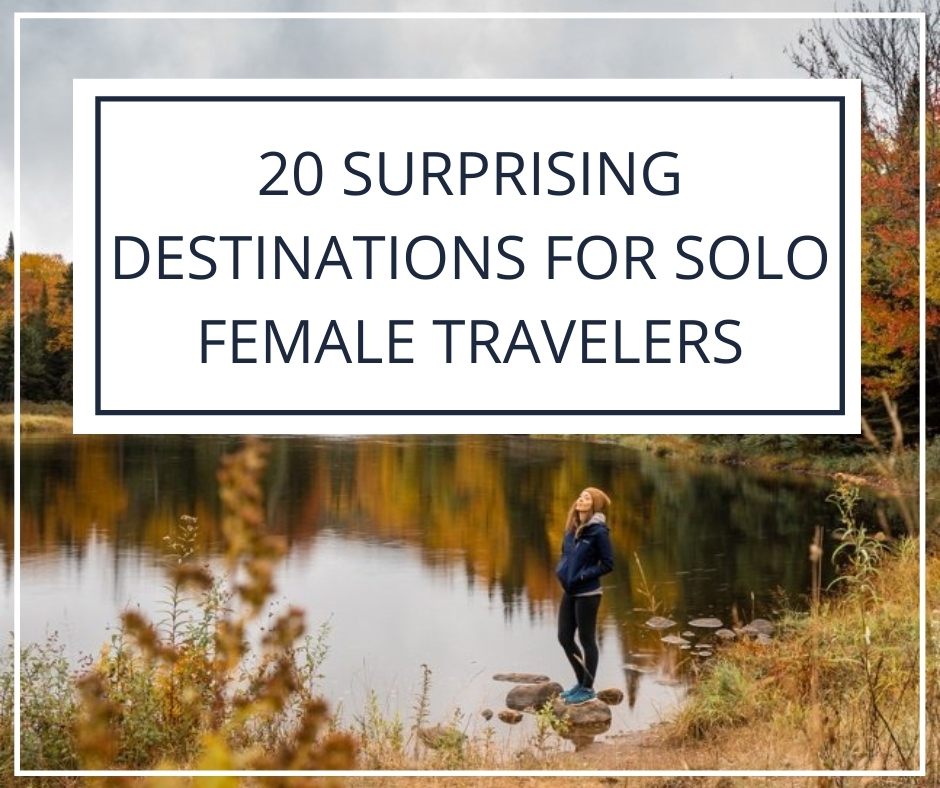 I am currently in:
Leave a Reply Cancel reply
This site uses Akismet to reduce spam. Learn how your comment data is processed.
Comments
Signal Boosters says
What are the top 5 places in the U.S. that are good for a September trip?
Hi Emily: I agree. I think September and October are lovely times of the year to visit the US, especially late September on. At that point, leaves start to turn beautiful colors, most of country especially by early October have sunny, warm (but not too warm) days and comfortably cool nights. You do have to watch for hurricane season, but that is the exception. Funny thing, the reason for hurricanes is you have milder weather but still nice, warm water to swim in, especially in the southeast and Mid-Atlantic. I remember enjoying a swim in the ocean in October in Myrtle Beach and it felt wonderful. It was only 70 degrees F air temperature, but it was warm in the water! After Labor Day weekend things really chill out in terms of crowds and it is before the craziness of the Thanksgiving-Christmas shopping rush. If you like golfing it is a great time of year to play and they have nice courses in any city you visit. Tybee Island is great place to go and grab an inland trip to Savannah. The whole beach experience from northeast FL through GA, SC, up to Cape Hatteras in NC you can't lose! I have always wanted to take a two week excursion along I-95 and visiting all the beaches along the way, each one for one day/one night. Okay, Charleston requires at least two days. They all are so different in character although you are guaranteed an awesome beach. Like different frames of the same picture. Actually, you start with the beach to your east and end with the beach to your south (especially around Wilmington) so like different frames and angles of the same ocean scene.
Thanks for your great posts and great choices for locations! Nice pics too. The one with Kristin in Stanley, Idaho is one of the best I have ever seen of her and the stars in that photo, wow! I pray for all the places out West to get out of the terrible drought/heat wave (monsoon season can only do a little to help). They are startling beautiful.
I look forward to future posts including your further expert thoughts on Mexico! I have only had one leg in Mexico so far (that's another story for another time) in my life, but you are motivating me to go all in!
Source https://www.wanderlust.co.uk/content/best-places-to-visit-in-september/
Source https://www.planetware.com/world/best-places-to-travel-in-september-cdn-1-200.htm
Source https://www.bemytravelmuse.com/best-places-to-visit-in-september-in-usa/