20 Best Mountains In The World (For Your World Travel Bucket List)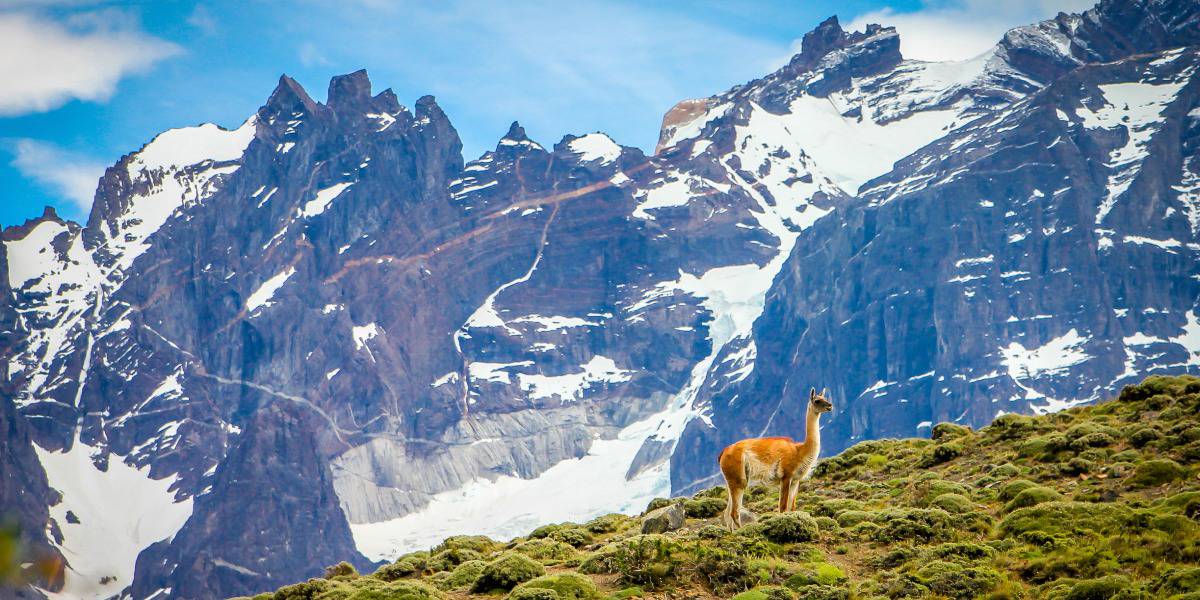 Disclaimer: This post may contain affiliate links. All hosted affiliate links follow our editorial policies.
By what standards should we measure "the best mountains in the world"?
Should it the most popular mountains? The biggest and tallest mountains? The most challenging for climbers? Or perhaps the most historically significant to the region in which they're found?
For us, the best mountains are those that capture the imagination of locals and visitors alike. The ones that have played a role in local folklore for centuries, and which continue to draw travelers from around the world today.
It's not just size that matters here. It's the dynamic landscapes. It's the flora and fauna found in the area. Chances are good that, if a mountain has been protected by National Park or UNESCO World Heritage Site status, it's probably worthy of your bucket list consideration.
We've been fortunate to see some extraordinary mountains in our travels. From the Blue Ridge Mountains in the southeast to the remote landscapes of Alaska and Hawaii , the United States has been blessed with more then her fair share and picturesque peaks.
But every continent boasts its own impressive pinnacles worthy of appreciation (including the Seven Summits and the Seven Volcanic Summits). From the Appalachians, Andes, and Rocky Mountains to the Alps, Pyrenees, and mighty Himalayas, the planet offers countless ranges to explore.
So here's a look at our totally subjective picks for the 20 Best Mountains in the World, some of which we've already visited, and many of which we hope to visit in the future…
LIST OF THE BEST MOUNTAINS IN THE WORLD
BEST MOUNTAINS IN THE WORLD MAP
BEST MOUNTAINS IN AFRICA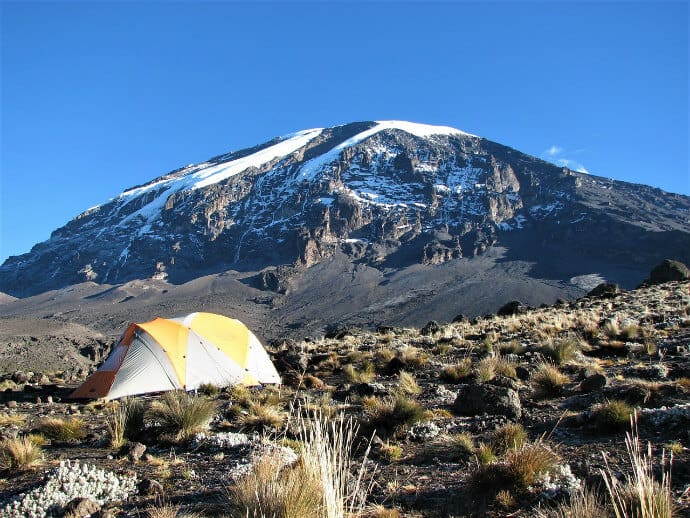 Photo via pixabay
Mount Kilimanjaro (Tanzania)
Mount Kilimanjaro is world renowned as the highest mountain in Africa, one of the famed Seven Summits.
Towering at 19,340 feet, it is topped with multiple glaciers and a small (and gradually diminishing) ice field, despite being located just 190 miles south of the equator. The snowy summit is known as Kipoo in Swahili, the local language.
First climbed in 1889, the mountain is now an extremely popular hiking destination . Its summit is relatively achievable for almost anyone who is fit in terms of both health and bank balances. Just make sure that you pay attention to your guide's admonitions to go "pole pole" (slowly).
Along the way to the photogenic summit, hardy hikers see virtually every climate, from tropical to arctic . Visitors who prefer to stay closer to sea level can also get a stunning view up from the neighboring town of Moshi.
There's also a variety of wildlife found in Kilimanjaro National Park, predominantly below the tree line. Blue monkeys and western black and white colobuses can often be spotted (or heard) in the forest, plus leopards, elephants and cape buffaloes can be found.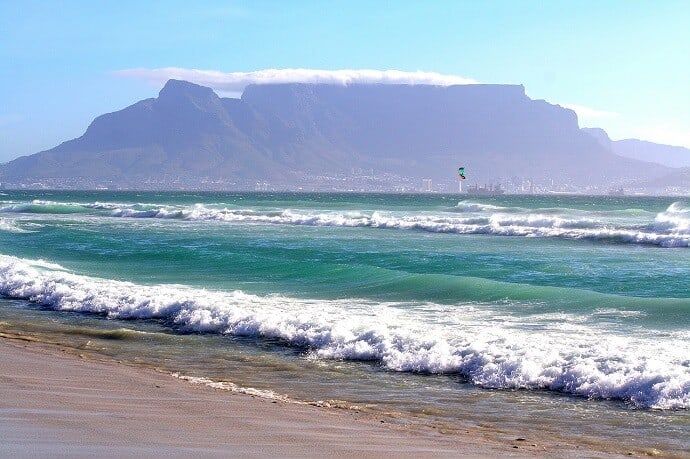 Table Mountain, South Africa by Ulrike Mai from Pixabay
Table Mountain (South Africa)
One of the most unique natural structures on the planet, this aptly named South Africa attraction looks like a piece of furniture for the gods.
Table Mountain is one of the shortest mountains on this list at a measly 3,558 feet. But what it lacks in height, it more than makes up for in prominence. Overlooking Cape Town, the mountain is a picturesque landmark that is familiar to many South African travelers.
Essentially, this is a very tall and distinct plateau that's roughly two miles across, with each end dropping off into vertigo-inducing cliffs. On the east side, Devil's Peak neighbors it. On the west side, Lion's Head bookends the formation.
What makes Table Mountain a fun feature is that, unlike the other mountains on this list, this one can be climbed via cable car (built in October 1929). Hiking up the mountain is also an option.
Along the way, there are thousands of endemic species to look out for. From the top, the gorgeous city of Cape Town spreads out before you to its famous coastal border.
BEST MOUNTAINS IN ASIA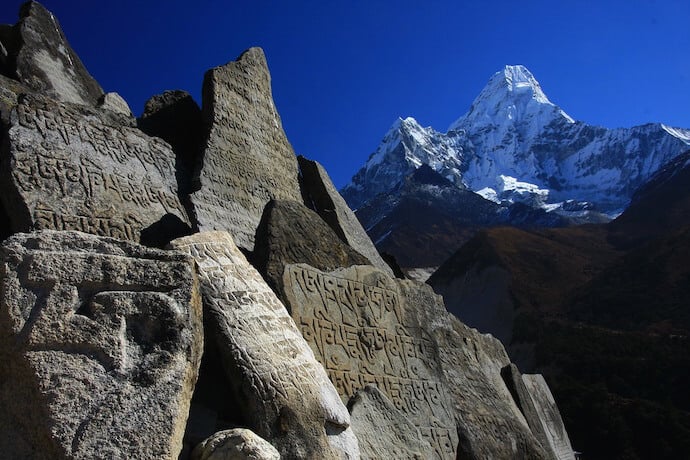 Photo via Pixabay
Ama Dablam (Nepal)
When you talk about the biggest mountains in the world, the vast majority are found in the Himalayas. This 1,500 mile range stretch from Pakistan and India east to China, Bhutan, and Nepal. It's home to more than 50 mountains that stand over 23,600 feet.
At a mere 22,349 feet, Nepal's Ama Dablam is nowhere near the tallest mountain in the range. But it is the third most popular peak in the Himalayas in terms of permitted climbing expeditions.
The first summit of the mountain was back in 1961 by a team of US, UK, and New Zealand-based climbers. They had previously acclimatized over winter at the base camp established on an expedition with legendary mountaineer Sir Edmund Hillary.
The mountain's name means "Mother's necklace." Locals say that the long ridges on each side of the summit look like the arms of a mama protecting her child. The hanging glacier resembles the traditional double-pendant necklace often worn by Sherpa women, which contain pictures of the gods.
Peak climbing season here is from April to May (before that annual monsoon) and September to October. All climbers are required to get a climbing permit and a liaison officer.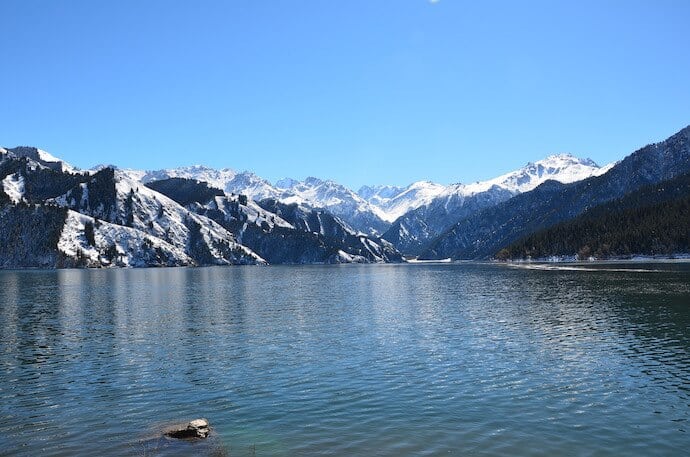 Photo via Pixabay
Bogda Peak (China)
Located in China, the Bogda Peak (which is sometimes referred to as Bogda Mountain) stands at a whopping 17,800-plus feet high.
The mountain is noted as being particularly striking because its sides are so incredibly steep, sloping at angles between 70 and 80 degrees. Even so, the mountain has been climbed successfully on numerous occasions.
In reality, the Bogda Peak is the highest of a two-mile, permanently snow capped ridge that juts forth from Central Asia's UNESCO-protected Tian Shan mountain range.
Making it even more remarkable, the northern perimeter of the mountain drops into the Turpan Depression, which is an earthly hollow located some 500 feet below sea level.
Amazingly, there are other mountains within the Tian Shan range that reach even greater heights. Pik Pobedy summits at 24,589 feet, while Khan Tengri is a couple of feet shy of 23,000.
Even so, because Bogda Peak is nearer to civilization and offers a unique challenge in steepness, it gets more attention.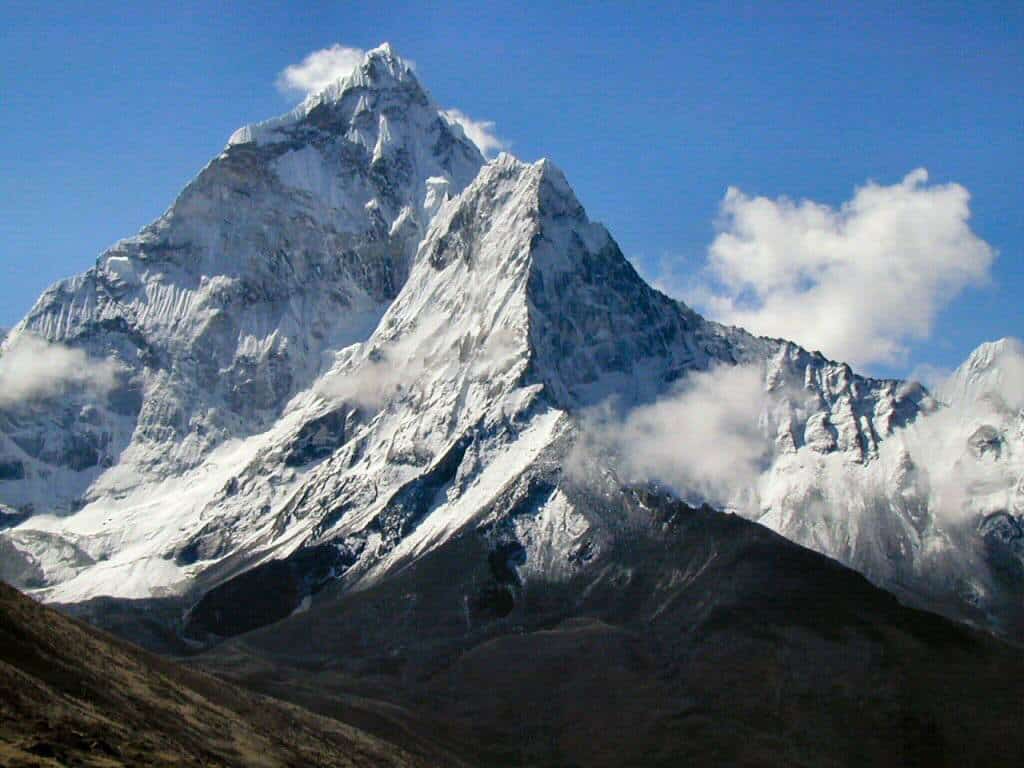 Mt. Everest, Nepal/Tibet
Mount Everest (Nepal/Tibet)
Yes, we're aware of the fact that Ama Dablam is a part of the same Himalayan mountain range as the almighty Mount Everest. And while we'd normally try to avoid featuring two mountains from the same range, no list of superlative mountains can ignore Everest and still be considered legit.
At 29,029 feet above sea level, Everest's size is hard to quantify. However, with its challenging climbing routes and fabled (some might say tragic) history, its attraction surely is not. Many people consider this both the biggest and best mountain in the world.
The mountain was given its name in 1865 by Royal Geographical Society member Andrew Waugh, who was then the British Surveyor General of India. He named it after his predecessor, Sir George Everest, even though Everest himself protested the honor.
Despite its countless serious threats (including altitude sickness, avalanches, rapid shifts in winds and weather conditions) Everest has been a fixation for professional and amateur mountaineers alike for nearly a century.
The first confirmed successful summit of the mountain wasn't until 1953, when Tenzing Norway and Sir Edmund Hillary ascended via the southeast ridge route. In the years since, the growth in Everest tourism has grown exponentially, leading to more garbage, more bottlenecks, and more deaths.
As of 2018, more than 300 people had died during their attempt to climb the world's tallest peak.
Photo by Nick Burns
Mount Fuji (Japan)
The crazy thing about Mt. Fuji is that, even though it's wider than Rhode Island (78 miles, to be precise) and nearly 12,400 feet tall, it's often hard to see. Blame clouds that smother from all sides for some of the obstructed views.
Mount Fuji is a stratovolcano– a composite cone caused by a series of serious eruptions that leave behind layers of rock, ash, and lava. The massive volcano (Japan's #1 tourist attraction) is still active and sits atop a junction of three tectonic plates.
From July-August, thousands of climbers attempt to make the eight-hour ascent up the mountain. Approximately 200,000 people make it to the summit annually.
The 10 stations along the way provide both a chance to catch your breath and capture the breathtaking views. The mountain is arguably Japan's most photographed natural landmark .
Mount Fuji is also considered sacred in the ancient practice of Shinto, and has an impressive collection of shrines around its base.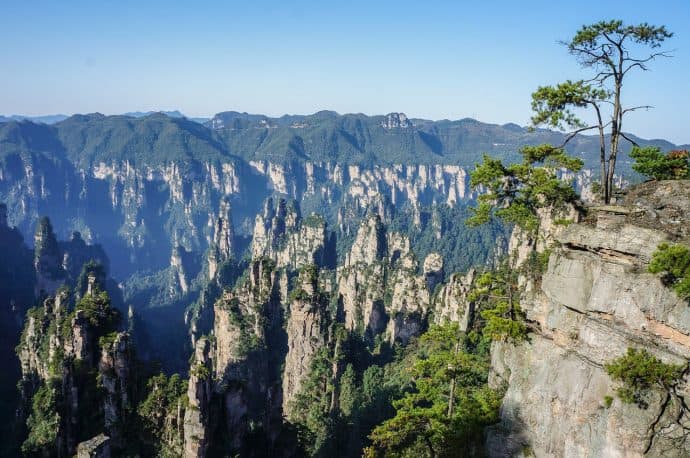 photo via pixabay
Zhangjiajie (China)
Located in the northwestern part of China's Hunan province, the 11,900-acre Zhangjiajie National Forest Park is part of the larger Wulingyuan Scenic Area, a protected UNESCO World Heritage Site.
China's first national forest park, Zhangjiajie is best known for its massive pillar-like geological formations. They're commonly known as the Avatar Mountains, as they were the inspiration for the Hallelujah Mountains featured in James Cameron's 2010 film, Avatar.
Though these massive pillars resemble limestone karst landscapes , they were actually formed by years of physical erosion resulting from expanding ice in wintertime. The tallest, which was formerly known as the Southern Sky Column, measures over 3,050 feet.
Due to the year-round moist weather, the foliage here is always abundant and verdant. If you visit, head to the Zhangjiajie Grand Canyon Glass Bridge, where you can take in jaw-dropping views from a scenic perch atop the mountain.
Plan to spend at least two to three days in the area, and make sure to bring good shoes for walking ! The best times to visit are in summer (when the weather is best) or in autumn (if you want to avoid the crowds).
BEST MOUNTAINS IN EUROPE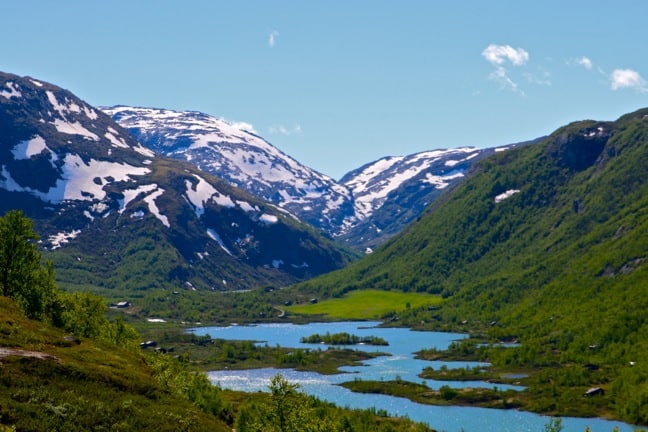 Photo by Bret Love & Mary Gabbett
Jotunheimen Mountains (Norway)
Arguably our favorite part of an epic week-long Fjords of Norway road trip , the Jotunheimen Mountains are a highlight of the gorgeous Sognefjellet National Tourist Route.
Driving is the best way to see it, because the route takes you through Northern Europe's highest mountain pass. There are so many jaw-dropping scenic vistas along the way, you'll want to stop and take photos after nearly every stomach-turning switchback.
County Road 55 has connected eastern and western Norway for centuries, running from the quaint villages of the Sognefjord to the verdant Bøverdalen valley. Along the way, you'll find yourself surrounded on all sides by snow-capped mountains, impossibly green fields and rushing waterfalls.
The views only get more stunning as you ascend into Jotunheimen (which aptly translates as "The Home of the Giants"). This 1,351-square mile area contains all of the 29 highest mountains in Norway, most of which tower over 6,600 feet.
Even at the beginning of Norway's high tourist season, you'll likely see very few other cars along the way. In fact, we saw more sheep than people– most of them allowed to graze freely.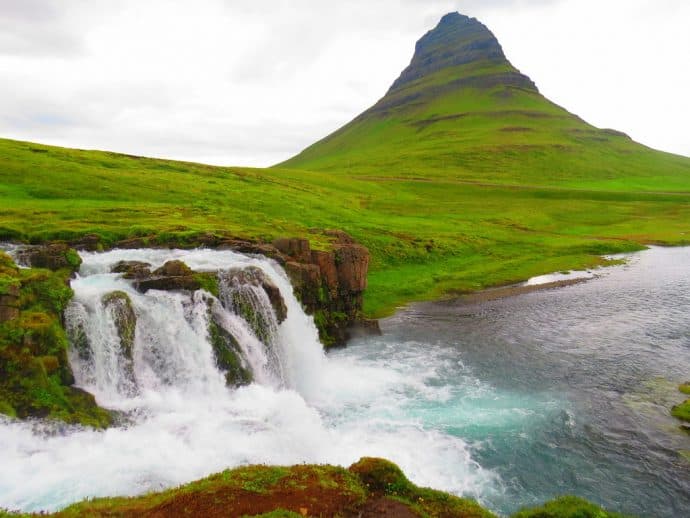 Kirkjufell with Kirkjufellsfoss waterfall by Mike Gerrard
Kirkjufell (Iceland)
Located along the main road (Route 54) in Grundarfjordur, Iceland, Kirkjufell is considered one of the most photographed mountains in the world. Game of Thrones fans may recognize "church mountain" (named for its uncanny resemblance to a church's steeple) from the show's seasons 6 and 7.
The 1,519-foot tall freestanding mountain is undeniably impressive– lush and green in summer months and often covered with ice and snow in the winter.
But it's almost always seen in the background of another Snæfellsnes peninsula show-stopper, Kirkjufellsfoss, which is widely considered among the most beautiful Iceland waterfalls .
The falls are relatively small but remarkably picturesque, allowing visitors to walk right up to the cascading water. And when you combine the crystal-clear waters with Kirkjufell's uniquely shaped summit, the site is arguably among the country's most photogenic sites.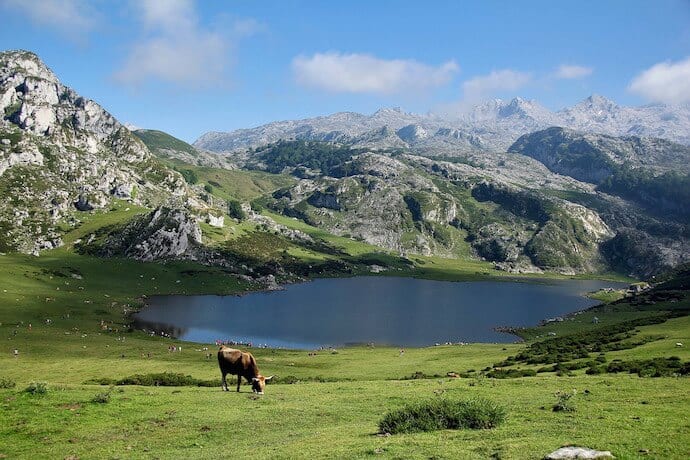 Pyrenees Mountains by Daniel Nebreda from Pixabay
The Pyrenees (France/Spain)
One of Europe's most picturesque mountain ranges, the Pyrenees divides the Iberian Peninsula from the rest of Europe. It stretches more than 260 miles across northern Spain and southern France , with numerous summits over 11,000 feet.
Some historians suggest the name came from Greek mythology, from a story about a princess who was raped by Hercules. After giving birth to a serpent, Pyrene runs into the woods and is torn apart by animals. The remorseful Hercules finds her body, and his wails of her name echo through the hills.
Today, these mountains are easily accessible from the major cities of Spain's Catalonia region, including Barcelona and Girona. The gorgeous foothills, which climb over 8,000 feet and feature numerous waterfalls and hot springs, reach almost to the Mediterranean coast.
There are some hiking trails that traverse the entire length of the range, while four national parks (3 in Spain, one in France) offer shorter trails. The area is extremely popular in winter: Dozens of ski resorts can be found on both sides of the range.
Though not as rich with wildlife as other mountains on this list, the Pyrenees do boast some weird endemic animals . These include the shrew-like Pyrenean desman, the salamander-like Pyrenean euprocte, and the Pyrenean brown bear, which is slowly making a comeback after reintroduction.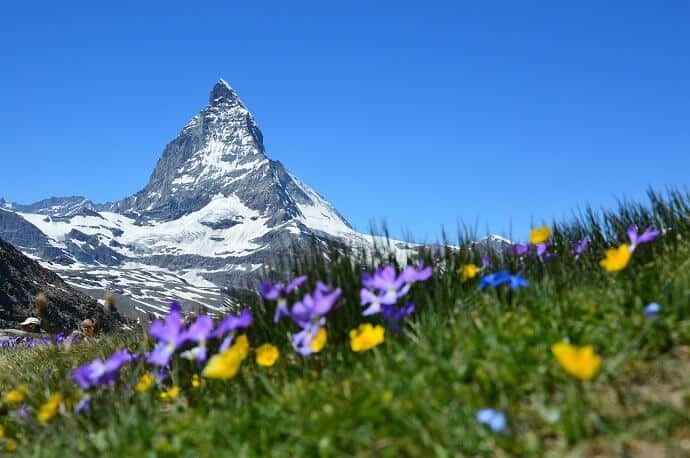 Swiss Alps, Matterhorn Summit, by Claudia Beyli from Pixabay
Swiss Alps (Switzerland)
As a recent rockslide attests, our awe of the Alps' prettiness should never supersede our wariness of its potential peril.
For centuries, hikers have been under the spell of Dammastock's dramatic peaks and Matterhorn's majestic summit. Sadly, there have also historically been many tragic cases of adventurers not succeeding on their journeys.
The Matterhorn's most distinctive feature is its well-defined pyramid shape, which has been incorporated into the Toblerone chocolate logo and a ride at Disneyland. At 14,620 feet, it's easily the most photographed mountain in Switzerland, but only the 10th tallest.
For postcard-worthy views of the Matterhorn, take the cable car in Zermatt to reach the adjacent peak, Klein-Matterhorn (a.k.a. Little Matterhorn).
And of the course the slopes of the Alps are one of the most popular places for skiing and snowboarding in all of Europe.
BEST MOUNTAINS IN OCEANIA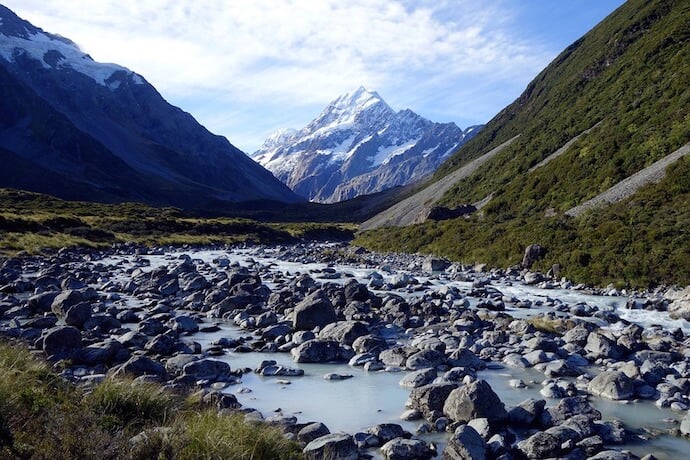 Photo via Pixabay
Aoraki/Mt. Cook (New Zealand)
Most people know New Zealand 's most imposing mountain (12,316 feet) simply as Mount Cook.
But in a 1998 settlement between the area's indigenous native people, the Ngai Tahu, and the Crown, the precious landmark was renamed Aoraki/Mount Cook.
Whatever the official title, everyone can agree that Aoraki's majestic peaks are some of the most picturesque on the planet. And Aoraki/Mount Cook National Park is one of New Zealand's most popular tourist attractions.
The mountain, whose three summits are always covered in snow, annually attracts thousands of climbing enthusiasts from all around the world.
But the park is also great for hikers who want to see its soaring glaciers (including Tasman Glacier, the longest in the country) and the gorgeous reflections provided by Lakes Pukaki and Tekapo.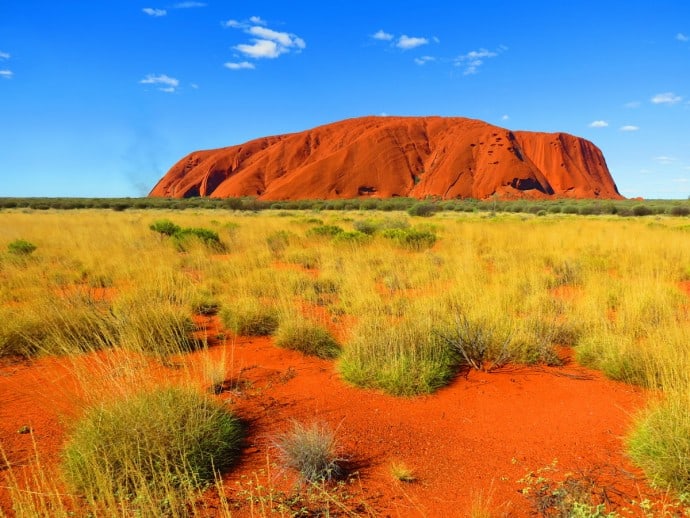 Ulura photo by Mike Jerrard
Uluru (Australia)
Of all the national parks in Australia, Uluru-Kata Tjuta National Park may be the most iconic due to Uluru, which rivals the Great Barrier Reef as the country's most famous natural attraction.
Formerly known as Ayers Rock, this UNESCO World Heritage Site has been sacred to Australia's indigenous Pitjantjatjara Anangu people for centuries. In modern times, it's arguably the most internationally recognized symbol of the vast, rugged expanse known as the Outback.
Uluru rises nearly 1,150 feet above the desert. It's best viewed at sunset or sunrise, when it turns a fiery red color. It takes roughly 3 hours to walk around the base of the mountain. Out of respect for the aboriginal people, responsible travel ideals suggest that tourists do not climb Uluru.
Despite the arid Northern Territory environment , the park is home to a surprisingly diverse array of plants and animals, including the adorable lizard known as the Thorny Devil.
Kata Tjuta is close by, and it's easy to include if you're taking an Australian road trip from Adelaide to Darwin. Kata Tjuta is also known as the Olgas, which have extensive spiritual and cultural significance for the local people.
BEST MOUNTAINS IN SOUTH AMERICA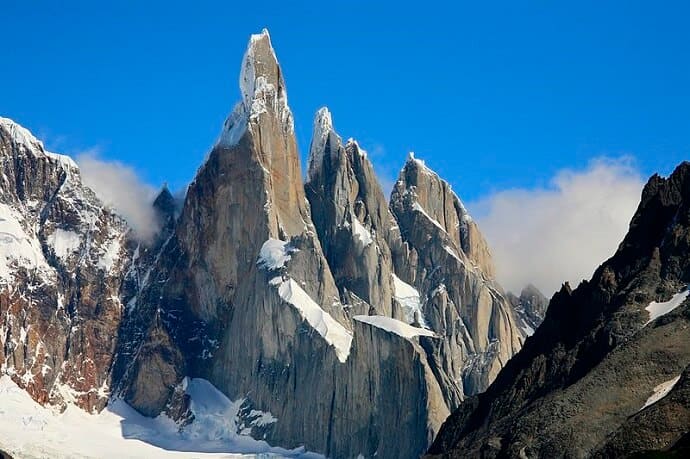 Cerro Torre by Alex Proimos from Sydney, Australia [CC BY 2.0 ]
Cerro Torre (Argentina/Chile)
Cerro Torre rises up to over 10,000 feet through the southern reaches of the Patagonian Ice Field. It's rocky finger of a mountain that suggests something out of Lemony Snicket, with a small bulb of ice at the top to boot.
Not only is the mountain a disputed territory between Argentina and Chile, but there's a lot of disagreement regarding who first climbed it.
Italian climber Cesare Maestri claims to have scaled the mountain in 1959, with his partner (and only witness) Toni Egger dying in an avalanche. But later climbers found no evidence of the climb.
In 1970, Maestri attempted submitting Cerro Torre again. But this time he used a gas-powered air drill, which many climbers consider a desecration and believe totally disqualifies the ascent.
In early 2012, two different climbers (named Kennedy and Kruk) made the ascent, pulling out all of Maestri's bolts, which stirred up a whole new controversy. The first undisputed ascent was made in 1974 by a team of Italian climbers known as "Ragni di Lecco."
Regardless of the controversies, the mountain is considered incredibly difficult to climb. Even Jon Krakauer, author of Into Thin Air, made note of this. There's also an adventure documentary, Cerro Torre– A Snowball's Chance in Hell, about the "first ever free attempt" at climbing the mountain.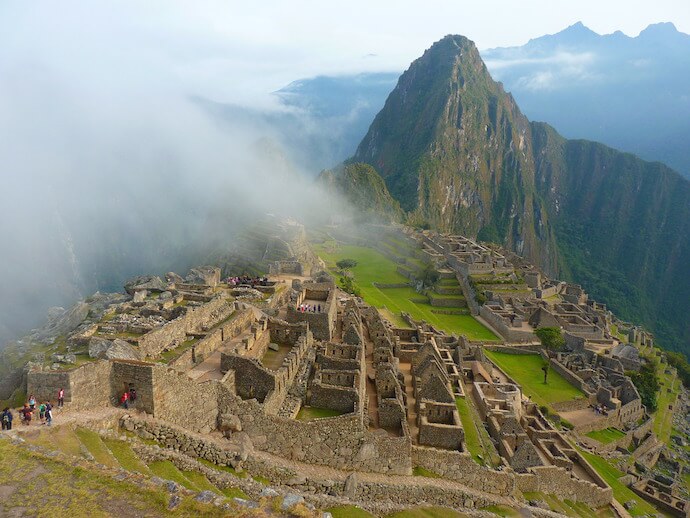 Huayna Picchu by LoggaWiggler from Pixabay
Huayna Picchu (Peru)
While rather diminutive in stature— a mere 8,835 feet— Huayna Picchu is a special mountain because of what you can see from it. Its hills provide picturesque views of the main square of Machu Picchu, which is widely considered one of the world's greatest ancient archaeological sites .
The summit of Huayna Picchu, which is considered part of the 15th century Incan cultural site, is slightly higher than the celebrated Andean site and has its own ancient structures.
The trailhead to Huayna Picchu actually begins in Machu Picchu. The full trail is a loop that takes about 3.5 hours to complete. It includes both the amazing summit with the view, as well as a visit to the Moon Temple and Great Cavern, located near the base of the mountain.
Obviously, just reaching Machu Picchu, a treasured UNESCO World Heritage Site, can be a great adventure. Not only is it part of the New Seven Wonders of the World, but getting to it can include hiking the Inca Trail. If one goes that far, wouldn't another few hours be worth it?
It's an excellent opportunity to explore one of the great natural wonders of Peru .

Photo by Bret Love & Mary Gabbett
Torres del Paine (Chile)
Patagonia is home to some of the world's most stunning scenic vistas, and Torres del Paine National Park is arguably the most jaw-dropping place in which to see them.
From towering rock formations (including the iconic Paine Massif) to expansive fields of wind-blown grasses that look like waves on a sea of green, Torres Del Paine's landscapes are second to none. Perhaps this explains why National Geographic called the region, "Eden at the End of the World."
The best hiking trail from which to see the photogenic summit is the famed W Circuit around Torres del Paine National Park. Ranging anywhere from 37 to 52 miles, depending on which route you choose, the world renowned trail usually takes about 4 days to complete.
The W Circuit's finest sections include the hike through the Valle Francés (where you're virtually surrounded by massive glaciers ), and the approach to the Torres del Paine massif, whose dynamic rock towers give the national park its name.
Along the way you may see some of Patagonia's Flora and Torres del Paine's wildlife , which includes guanacos, foxes, caracaras, pumas, and the massive Andean condor.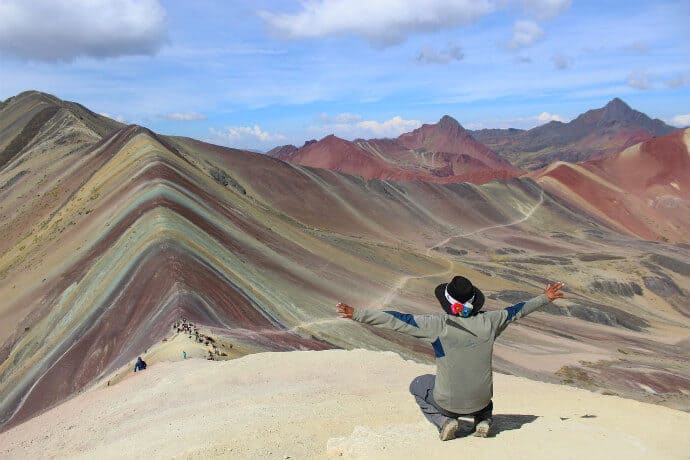 Vinicunca (Rainbow Mountain) by Felipe Lopez from Pixabay
Vinicunca (Peru)
Also known as Montaña de Siete Colores, this 17,060-foot peak in the Peruvian Andes near Cusco is arguably the world's most colorful mountain.
Known internationally as "Rainbow Mountain," Vinicunca is part of the remote Ausangate range. Its unusual blue, green, red, and yellow striated hues were created by the area's array of mineral deposits, including iron, sulfur, and copper.
Volcanic activity gradually pushed these layers up and sideways over the eons, with glaciers and weathering carving them into dynamic shapes.
These hills have been considered sacred since the pre-Inca era, and they're still revered by the Quechua people who inhabit the area today. Many make annual pilgrimages to the mountain during the Snow Star Festival , which is held 60 days after Easter.
Though it's considered a fairly difficult hike, the Ausangate Mountain trek offers adventurers a rare opportunity to explore one of Peru's most beautiful natural attractions .
You probably won't see many other hikers. But you will get a chance to see soaring Andean condors and other wildlife, soak in remote hot springs, and view the colorful sandstone mountains up close.
BEST MOUNTAINS IN NORTH AMERICA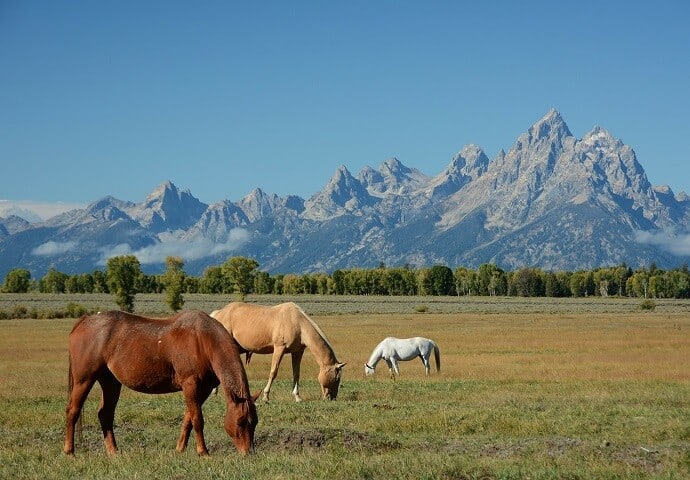 Grand Teton by Steppinstars from Pixabay
Grand Teton (United States)
Grand Teton is arguably one of North America's finest national parks. It's incredibly scenic and accessible, but not as overrun with mass tourism as, say, Yellowstone National Park .
Within the 480 square mile park's boundaries, the 40-mile-long Teton Range rises from seemingly nowhere, with no foothills to provide a slow build up to the dramatic grandness.
Grand Teton, the park's namesake mountain, is the range's tallest peak at 13,775 feet. Amazingly, that only puts it as the second highest summit in Wyoming, with Gannet Peak (which is about 40 feet taller) taking the gold.
Nevertheless, in terms of breathtaking scenery and being awed by a mountain's beauty, Grand Teton is pretty difficult to top. There are a few dozen different routes for climbing it, and at least five routes for skiing back down.
The area has plenty of camping, hiking, watersports, and historical cowboy culture to explore. It's also one of the best national parks in the USA for watching wildlife . There are 60+ mammal species there, including grizzlies, wolves, elk, moose , river otters, cougars, and wolverines.
Though it doesn't necessarily rank impressively in terms of North America's highest peaks, the overall experience insists that Grand Teton be included on any list of America's best mountains.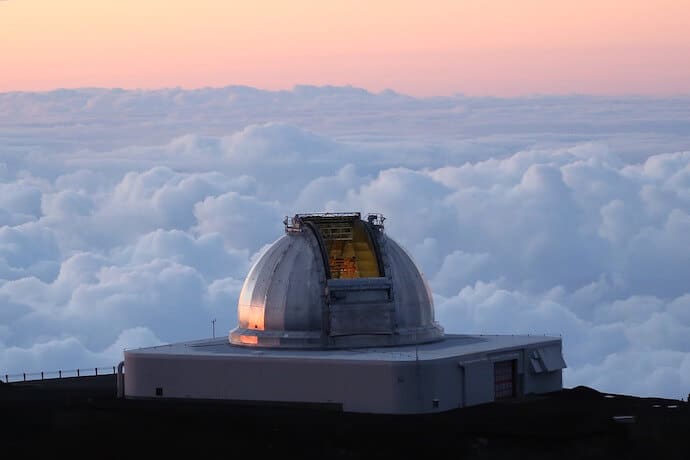 Mauna Kea by Justinite from Pixabay
Mauna Kea (United States)
If you strictly measure from sea level to summit, Mount Everest is easily the tallest mountain on the planet at 29,029 feet.
But if you go from the top of the mountain to its base, Hawaii's Mauna Kea is actually the biggest, measuring 33,476 feet from its base on the floor of the Pacific Ocean. The problem is that all but 13,796 feet of the dormant volcano's massiveness lies hidden underwater.
Still, it's a formidable landmark, and watching the sun set from above the clouds on its summit is one of our favorite things to do on the Big Island of Hawaii . The awe-inspiring 8-hour tour takes you up the mountain slowly, stopping at the visitor center to eat dinner and get acclimated to the altitude.
The view from the top is literally dizzying: You're above 40% of Earth's atmosphere, surrounded by the world's leading astronomical observatories. It's crazy to go from bikinis on the beach to parkas on the snow-capped summit in one day, but it's one of the things that makes Hawaii so awesome.
Afterwards you descend to an area near the visitor center, where the crystal clear night sky makes for an exceptional stargazing experience. By the time you're done, you'll understand why this sacred place figures prominently in indigenous Hawaiian mythology.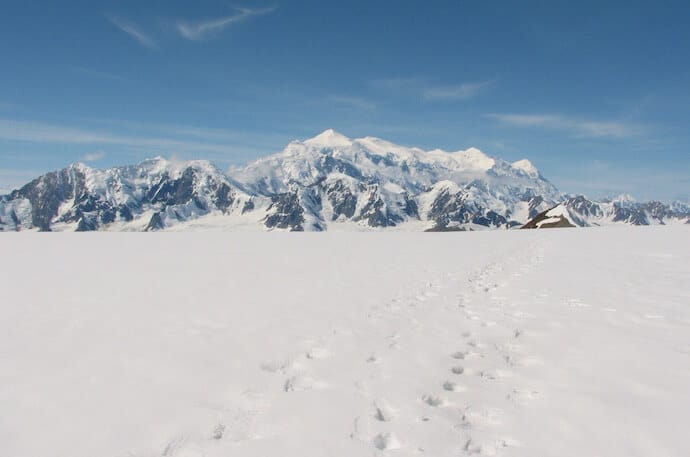 Mount Logan by Isteffen via CC BY-SA 3.0
Mount Logan (Canada)
Located in Canada's southwestern Yukon territory (just under 25 miles from the Alaska state line), Mount Logan is the tallest mountain in the country.
It's also the second highest summit in North America, not to mention being recognized as having the largest base circumference of any mountain (volcanoes not included) on the planet.
Mount Logan is located in the 8,499 square mile Kluane National Park & Reserve, a vast wilderness of forests, glacier-fed rivers, ice fields, and dynamic landscapes. Wildlife in the park include caribou, moose, grizzly bears, Dall sheep, wolves , and more than 100 different species of birds.
Mount Logan is actually a massif, which is a mountain mass that– via faults and flexures– has moved up as a single unit. Thanks to tectonic action, the mountain is continually gaining height. Apparently, the sky isn't actually the limit!
Mount Logan's highest summit, Philippe Peak, has been calculated at 19,551 feet. It also has one other peak above 19,000 feet, the East Peak, as well as a half-dozen peaks over 18,000 feet and two over 17,000. In other words, there's a lot of summiting to be had on this ridiculously rotund mountain. –by DeMarco Williams, Bret Love, and Jonathan Engels
10 Most Beautiful Ozark Mountain Towns
The Ozark Mountain region, also known as the Ozark Plateau, is an extensive, heavily forested highland in Arkansas, coming with many meandering rivers and lakes dotting the region. Spreading in the southwest direction from Louis in Missouri, all the way to the Arkansas River, many beautiful towns have been established there in the last two centuries. Some of the most notable ones are on the following list.
Batesville, Arkansas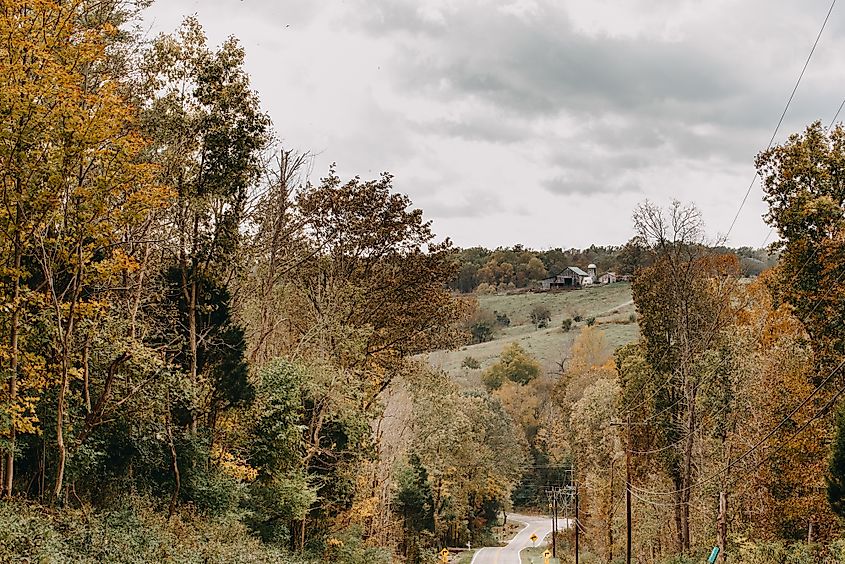 Batesville. Editorial credit: jamie.sue.photography / Shutterstock.com
The oldest town in Arkansas, Batesville, dating back to the early 1800s, started with the Trimble and Lafferty families' settlement in the area, making it the perfect, history-rich getaway, with the oldest downtown and the first urban farmstead to explore. Moreover, to celebrate the Scottish beginning of the town, The Arkansas Scottish Festival gets held each year at the Lyon College.
The homey atmosphere in Batesville also includes a picturesque Pocket Park, right on the Main Street of the town, displaying intricate mosaics and hosting the get-together spot for the community. An array of cafes, souvenir stores, and craft shops can also be found in its spacious downtown area. The fall time is incredibly fantastic, with the autumn colors of the deciduous trees firing up the town even further.
Bentonville, Arkansas
Only an hour and a half out of Fort Smith, Bentonville is full of places to eat and shop in one of its numerous stores, cafes, and restaurants. Other attractions of the town include a walkable downtown, a captivating story of an early Wal-Mart, opened by Sam Walton, and the Walton Museum, with a dime store and a 1950-style soda fountain as some of its most-visited highlights.
Another museum, the Crystal Bridges Museum of American Art, lets one get lost for hours exploring the wonderful collection of American Art, featuring works by Andy Warhol, Georgia O'Keeffe, as well as Norman Rockwell. There's a colorful and well-developed culinary scene in Bentonville, including the restaurant, The Preacher's Son, which is based in a former Gothic Revival Church. Serving dishes with ingredients gathered at a local farm, the chefs professionally prepare unforgettable smoked chicken paella and the "A and A Farm Peach Salad."
El Dorado, Arkansas
Known for its history as an oil boom town in the 1920s, El Dorado, the south-of-the-state town, sits in the Arkansas Timberlands. Its downtown area is an especially revitalized district, and despite an ongoing revival, the town has been named America's Best Downtown by the National Trust for Historic Preservation in 2009. Home to the South Arkansas Arboretum with the botanical gardens spread over 13 rolling acres, they highlight the walking trails in their bloom.
Located only a few miles from Louisiana, the town exudes the famous southern charm. With regional arts and culture and the Southern Folk Festival and the Southern Food & Wine Festival annual events, one can learn a significant amount about the town while tasting some of its best dishes while being surrounded by a celebratory atmosphere. The South Arkansas Arts Center makes for another lovely addition for art fanatics to stop by on their cultural expedition.
Eureka Springs, Arkansas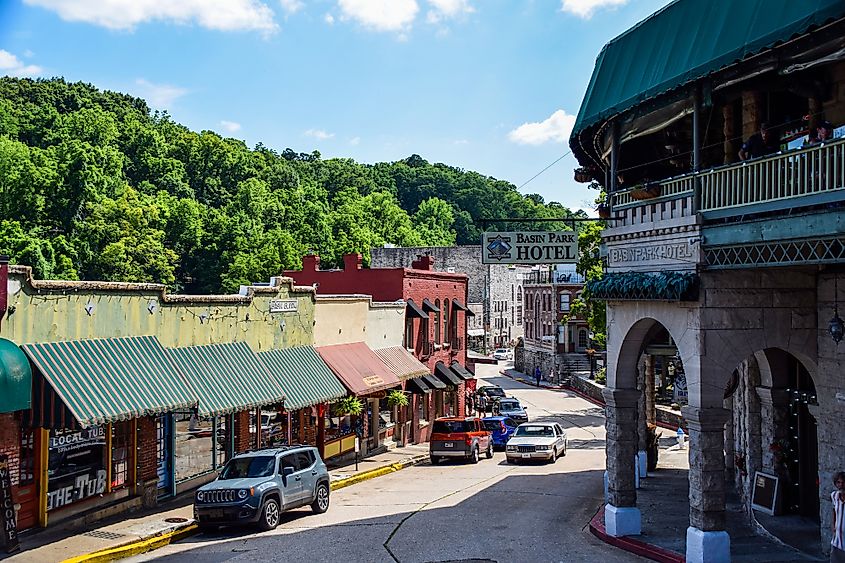 Historic downtown Eureka Springs with boutique shops and famous buildings.
Eureka Springs, undoubtedly one of the most famous towns of the Ozark Mountain region, is abuzz with a unique atmosphere and local color. Void of chain stores, the town boasts shops and restaurants as part of its energetic downtown that one won't find anywhere else. The beloved by locals and tourists alike, the Main Street's Mud Street Cafe with an award-winning espresso, the Two Dumb Dames, is known for its decadent dessert options, including a whole array of homemade varieties of fudge.
Staying a night at the historic Crescent Hotel dating back to 1886 will leave one with unforgettable memories. The town's name is also not for nothing. Countless springs dotting the parks and the town's gardens are a major attraction. The Magnetic Spring Park with a "magical" spring that magnetizes any metal that comes into contact with its waters also needs special mention.
Heber Springs, Arkansas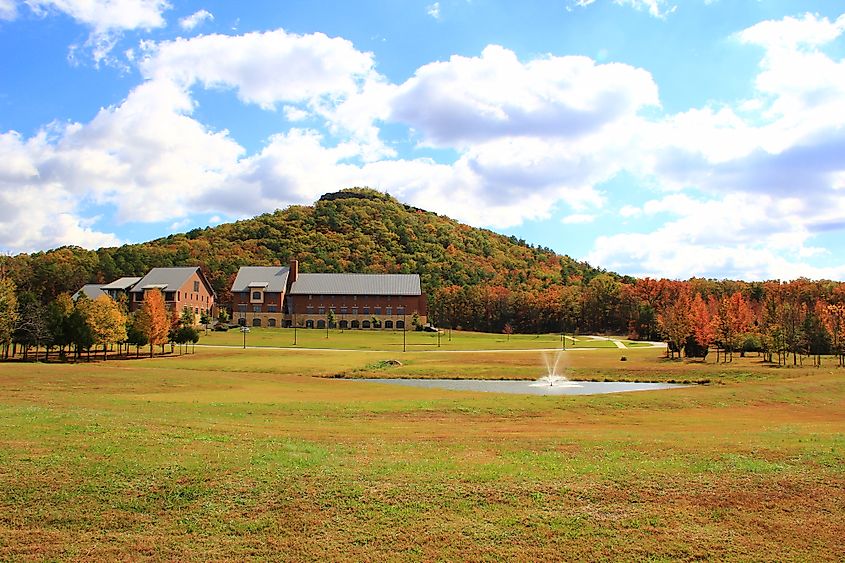 Heber Springs surrounded by the Ozark Mountains.
Sitting next to the Greers Ferry Lake, Heber Springs, a northern town of the state, is thoroughly enjoyed by the nature fanatics and the fishers, known for the record-setting catches on the aforementioned lake as in the nearby Little Red River. The World Championship Cardboard Boat Races are held yearly. The Annual Heber Springs Fireworks Extravaganza, showcasing one of Arkansas' largest fireworks, comes along with many other activities to engage in, especially during the tourist season in summer.
The downtown area is also home to many art galleries and antique stores. The town's heart makes for a shopper's heaven as well as a site for history fans to have a blast, while the sporty types enjoy the local water holes. Today, as a former health resort, Heber Springs is an atmospheric little town with a population short of 10,000, a stunning lake, and a full range of recreational opportunities.
Jasper, Georgia
The heart of Newton County, Jasper, is another popular getaway from a metropolis. It offers the Buffalo National River to the nature-lovers, and the Ozark Café, one of the state's oldest restaurants, to the food lovers. To capture some of the best shots of the whole region, one must take a ride to the nearby Hawksbill Crag while lodging or camping in the many available options on the way.
Many herds of wild elk roam in the vicinity, reintroduction of which has been widely celebrated annually through the Jasper's Buffalo River Elk Festival. The exquisitely beautiful Arkansas Grand Canyon is another must-visit highlight of this popular town, as is the quaint downtown area, home to the Arkansas House Inn, a 1934 hotel. Emma's Museum of Junk, a quirky antique store, is a perfect rounding of the trip, calling one in for some unique souvenirs for loved ones and personal memories to treasure forever.
Magnolia, Arkansas
Incorporated as a town in 1955, the quintessential small town of Magnolia is set in picturesque pines of the Arkansas forests. It features a picture-worthy courthouse set on the atmospheric downtown center. There is also the magnificent Logoly State Park on the outskirts to the north of the town. With Columbia being a short drive westward, offering all of the winter- and summer-time activities included in lakeside living, Magnolia's more secluded location guarantees natural scenery, as well.
The Magnolia Blossom Festival and the World Championship Steak Cook-Off add to an annual weekend filled with thoroughfares to engage in for the whole family and a variety of food stands and live music to keep the fun going longer. The lush pine forest blessing the town is for those obsessed with the outdoors, while the downtown area is rich with historical structures, including the stocky but well-maintained building housing the judge's court.
Mountain Home, Arkansas
Just off south from Missouri, Mountain Home is nestled in a close of a sandwich between two gorgeous lakes, the Norfork Lake on the east side and the Bull Shoals Lake on the west. Composing a lovely location for Arkansas retirees, the town comes inclusive with the peaceful small-town atmosphere and the natural beauty of the Arkansas Ozarks, rounded out with a quaint downtown center home to historical buildings of many types. The magnificent Case-Shiras-Dearmore House dating back to the 1870s and constructed in the Plain Traditional style, for instance, is also close to numerous adorable cafes and dining spots, great restaurants, local boutique stores, and fun stores.
Mountain View, Arkansas
Known by many in the region as the folk music capital of the world, Mountain View also takes the Ozark culture very seriously, with impromptu folk concerts typical to be witnessed on the town's Mountain View Music store's porch. The town also comes with a whole array of beautiful northern Arkansas' wild attractions, such as the White River and the Blanchard Springs Caverns, which are a must-see for those seeking to explore the mysterious side of nature and uncover some of its secrets.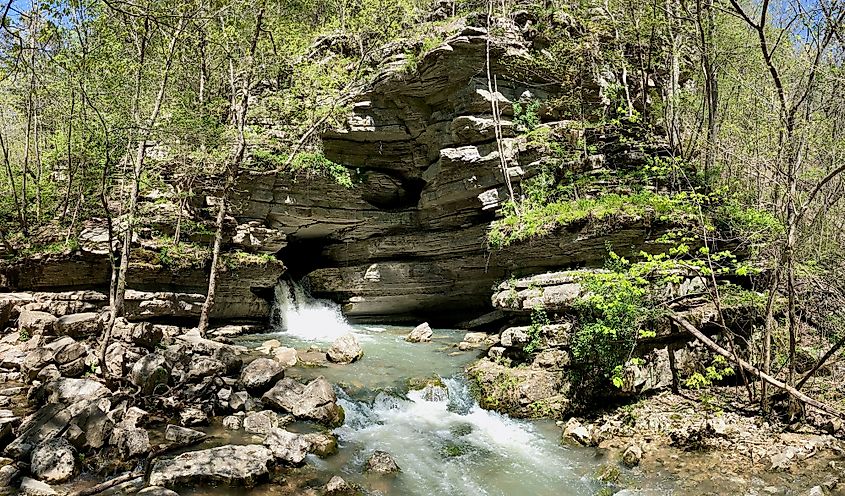 Blanchard Springs Cavern entrance in Arkansas.
Historically rich, Mountain View includes a tale of being home to the legendary musician Jimmy Driftwood. The Ozark Folk Center preserves the traditional Ozark culture, while the downtown contains many of the local craft and gift shops. In this town of 2,862 permanent residents, the Ozark Folk Center State Park and the Blanchard Spring Recreation Area get especially populated by tourists during the season. Last but not least, there is a stunning Mirror Lake, as well as the Loco Ropes, an opportunity to fly through a whole row of trees from the zip line adventure center.
Van Buren, Arkansas
Set on the scenic banks of the Arkansas River and right across the town of Fort Smith, Van Buren served as a significant-to-the-nation river port city, in the pre-Civil War years. The King Opera House located on its main street dates back into the town's rich history, as does the Crawford County Courthouse, established back in 1842, the same year that Van Buren was incorporated. With Italian-inspired architecture, the court poses its attractive facade to the photographers and other tourists, looking to capture memories in a shot.
Although parts of the town have been modernized with new and renovated buildings, there are hip shops, galleries and restaurants dating throughout the two centuries. The Arkansas River provides a gorgeous backdrop of picturesque scenery, drawing the nature photographers to its banks. While strolling along the river offers a nice evening walk, the natural location of this town also provides many opportunities for hikers to take advantage of by tackling the natural and the popularly-tracked trails of various lengths.
Each of these beautiful Ozark Mountain region towns comes with its unique atmosphere, different from each other but equally worthy of experiencing. Natural beauty, an integral part of this region, also spreads all around, whilst the most notable downtown areas are always inclusive with local food and craft places, historical buildings, annual festivals to engage in.
20 Beautiful Places to Visit in the Dolomites, Italy
Lago di Braies (Pragser Wildsee) is a stunning lake at the foot of Croda del Becco/Seekofel in Valle di Braies/Pragser Tal, a side valley of Alta Pusteria/Pustertal in South Tyrol.
The best time of year to visit Lago di Braies is early in the summer (June) or in the fall (late September – October). As the summer season progresses, the water level decreases.
Lago di Braies is usually the first place people want to see in the Dolomites. In high season, it's a zoo. Most people just come for the photo. Many will walk the circuit trail around the lake. But, the smartest people visit Lago di Braies at sunrise and hike to the summits of surrounding peaks, like Hochalpenkopf.
Did you know that Lago di Braies is the starting point of the Alta Via 1 long distance trail?
2. Prato Piazza
Prato Piazza (Plätzwiese) plateau is a high alpine pasture above Valle di Braies/Pragser Tal, not too far from Lago di Braies. The plateau lies between Picco di Vallandro/Dürrenstein (2839 m) and Monte Croda Rossa d'Ampezzo/Hohe Gaisl (3146 m) in Fanes-Sennes-Braies Nature Park.
The best thing to do on Prato Piazza is hike the panoramic summit of Monte Specie/Strudelkopf. From this easy-to-reach peak, you'll be treated to marvelous views of Tre Cime di Lavaredo, Cadini di Misurina, and the Cristallo Group.
3. Val Fiscalina
Val Fiscalina/Fischleintal is a gorgeous side-valley of Sesto/Sexten Valley in South Tyrol. It serves as a gateway to the northern Sexten Dolomites and the Three Peaks Nature Park.
For a low-key adventure, hike the Val Fiscalina valley trail, starting at Bad Moos and ending at Rifugio Fondovalle/Talschlusshütte.
From this valley refuge, you can continue ascending Valle Sasso Vecchio/Altensteintal valley all the way up Rifugio Locatelli/Dreizinnenhütte (2405 m) and Tre Cime di Lavaredo/Drei Zinnen. That's how we started this easy-moderate 3-day hut-to-hut hike.
There are two excellent hotels in Val Fiscalina you should know about: Bad Moos Dolomites Spa Resort and the historic Hotel Dolomitenhof.
4. Alpe di Siusi
Alpe di Siusi (Seiser Alm in German, Mont Sëuc in Ladin) is the largest high-alpine pasture in Europe, covering a surface area of 56 square kilometers. This rolling alpine plateau stretches from the foot of the Sassolungo Group (Langkofel) to the base of Sciliar (Schlern) in South Tyrol.
Alpe di Siusi is a magnet for photographers as well as hikers, cyclists, and skiers. You can access the plateau easily by gondola from both Ortisei in Val Gardena as well as Siusi allo Sciliar. We've explained all the details of how to get here in our Alpe di Siusi Travel Guide.
The entire pasture is peppered with alpine pasture huts (Alm/Malga/Schwaige), which are perfect destinations for lunch. Follow the Hans and Paula Steger Trail and detour to Gostner Schwaige for homemade dairy products and Rauchhütte for homemade pasta and wine. Ssavor the local food and views at Malga Sanon.
If you visit during the summer season, we recommend hiking this exhilarating Alpe di Siusi – Rifugio Bolzano – Rifugio Alpe di Tires circuit trail. This 21.6 km circuit takes about 8 hours to complete.
We hiked this route during our stay at Hotel Steger-Dellai on Alpe di Siusi. This traditional hotel is located directly on the Hans and Paula Steger Trail, very close to Gostner Schwaige and not too far from Compaccio/Compatsch (15 minute walk). Staying on Alpe di Siusi is an unforgettable experience. You can take sunrise and sunset walks, hop between gourmet alpine pasture huts, and undertake longer hikes like the Rifugio Bolzano circuit.
5. Seceda
Seceda is a mountain in the Odle/Geisler Group situated within the Puez-Odle Nature Park in South Tyrol.
The summit of Seceda (2518 meters) is one of the top places to visit in the Dolomites because of its staggering view of the Odle/Geisler peaks. From this perspective, the Odle pinnacles look like a set of knives, slashing the sky.
The easiest and fastest way to get to Seceda is by cableway from Ortisei. From the Ortisei-Furnes-Seceda mountain station, it's a 10 minute walk to the summit viewpoint. From here, we suggest following the ridgeline towards the peaks and hiking this Seceda to Rifugio Firenze circuit trail (3:00 – 3:30 hours).
If you want to skip the expensive cableway ride, you can hike to Seceda from Val Gardena on this Monte Pic hike.
Experienced hikers may want to approach Seceda from Resciesa Plateau and the Mittagscharte on this Resciesa – Seceda day hike.
6. Val di Funes
Val di Funes/Vilnösstal is an idyllic valley, which runs from Valle Isarco/Eisacktal Valley to the Odle/Geisler mountain range.
No place can rival the fairytale beauty of Val di Funes. Here, the roaring Odle/Geisler peaks jut out of a picture-perfect pastoral landscape of rolling pastures and forest.
For the best view of Val di Funes, head to the village of Santa Maddalena and follow this panorama trail above the Santa Maddalena Church.
The most popular hike in Val di Funes is the Adolf Munkel Trail to Geisler Alm. A quieter alternative is the Rifugio Genova circuit trail.
Our personal favorite hike is the summit of Tullen, the highest peak in the Odle d'Eores/Aferer Geisler Group.
Most people make the mistake of only visiting Val di Funes for a few hours. We highly recommend staying at least 2-3 nights. The best places to stay are Fallerhof (budget), Hotel Fines (midrange), or Hotel Tyrol (luxury) in Santa Maddalena.
7. Passo delle Erbe
Passo delle Erbe (Würzjoch in German, Ju de Börz in Ladin) is a mountain pass that connects San Martin de Tor in Val Badia with Val di Funes and the city of Brixen in the Eisacktal. This high mountain pass (2206 m) lies between the imposing Sass de Putia/Peitlerkofel mountain and Monte Muro/Maurerberg.
Directly at the pass, you'll find Ütia de Börz, a lovely refuge-hotel and delicious restaurant. This is a fantastic place to stay if you want to overnight in the mountains, but you don't want to sacrifice any comfort. The bedrooms overlook the pass and Sass de Putia. We loved staying here.
The best thing to do at Passo delle Erbe is to hike the circuit trail around the two-headed Sass de Putia. This 12.8 km trail takes about 4 hours.
You can extend this hike to the summit of Sass de Putia, which is a lot of fun. The final leg to the summit is protected. It's not difficult, but you should have a head for heights and some familiarity with secured routes. Bring your climbing gloves.
Recommended climbing gloves: Black Diamond Crag Half-Finger Gloves
There's a parking lot at the pass. In summer, you have to pay a small fee to park here. In fall, there's no fee.
8. Passo Gardena
Passo Gardena (Grödner Joch in German, Ju de Frara or Jëuf de Frea in Ladin) is the stunning mountain pass that connects Val Badia with Val Gardena. It lies between the Sella Group and the Cir Group.
Passo Gardena (2136 m) is also an exciting trailhead. From the Gardena pass, you can hike to the summits of Sass da Ciampac, Gran Cir and Cima Pisciadu.
There are several paid parking lots at Passo Gardena and a hotel (Hotel Cir).
If you're hungry, walk 15 minutes to Rifugio Jimmy/Jimmyhütte.
9. Puez-Odle Nature Park
Puez-Odle Nature Park (Naturpark Puez-Geisler) is a protected park in South Tyrol. It encompasses some of the best known mountains in the Dolomites including the Odle/Geisler Group, Odle d'Eores/Aferer Geisler, Sass de Putia/Peiterkofel, Puez Group, and the Cir Group.
You can access the park from Passo delle Erbe, Val d'Eores/Aferer Tal, Val di Funes, Val Gardena, Passo Gardena, and Val Badia.
Beyond the obvious places to see (e.g. Seceda), there are so many overlooked destinations in the park which are worth visiting, including the Gherdenacia/Gardenaccia plateau and the Stevia Alpine Pasture.
10. Armentara Meadows
The Armentara Meadows (Prà de Armentara in Ladin, Armentarawiesen in German, Prati dell'Armentara in Italian) are located beneath the rock face of Sasso di Santa Croce (Sas dla Crusc in Ladin, Heiligkreuzkofel in German), a prominent mountain in the Fanes Group.
Sprawling across the western edge of the Fanes-Senes-Braies Nature Park between 1600 and 2000 meters, this enchanting place can easily be reached from Badia, or La Villa, in Val Badia.
We wrote about how to get here from Badia in this easy Armentara Meadows day hike starting at Rifugio Santa Croce/La Crusc.
11. Cortina d'Ampezzo
Cortina d'Ampezzo is a famous ski resort town in Ampezzo Valley in the Italian Province of Belluno in the region Veneto.
Cortina's central location in the Ampezzo Dolomites means easy access to the Sorapiss Group, Tofane Group, Croda da Lago Group, Cristallo Group, and even the Sexten Dolomites.
It also means that Cinque Torri, Lagazuoi Tunnels, Rifugio Lagazuoi, Rifugio Nuvolau, Mondeval Plateau, Passo Giau, Lago Federa, Lago di Sorapis, Tre Cime di Lavaredo, and other top Dolomites attractions are within reach.
Cortina d'Ampezzo is justifiably popular, and so, we recommend visiting in Autumn, when the crowds have died down and the trails are blissfully empty. The Tofana di Rozes circuit trail and the Croda da Lago circuit trail are exceptionally beautiful in Fall.
The best places to stay in Cortina are Jaegerhaus Agriturismo (budget), Camina Suite & Spa (midrange), or Dolomiti Lodge Alverà (luxury).
12. Lago Federa
Lago Federa (Lago di Federa, Lago Fedèra, Lake Federa) is a picturesque mountain lake beneath the eastern wall of Croda da Lago in the Ampezzo Dolomites, southwest of Cortina d'Ampezzo.
From Lake Federa's northern shore, the elegant and solitary Becco di Mezzodi looks like it's twisting up from a carpet of forest. This magical scene is one of the most popular photo motifs in the Dolomites, especially in late October, when the larches turn golden.
The lake is located along the superb Croda da Lago Circuit Trail, which is one of the best day hikes in the Dolomites.
Learn more about this must-see lake in our Lake Federa guide.
If you want to catch sunrise at Lago Federa, either stay the night in the lakeside hut, Rifugio Croda da Lago/Palmieri, or in the budget-friendly guesthouse Hotel Piccolo Pocol in Pocol, a hamlet above Cortina d'Ampezzo.
13. Tre Cime di Lavaredo
Tre Cime di Lavaredo (Drei Zinnen in German, Three Peaks in English) is the name given to three mammoth peaks in the Sesto/Sexten Dolomites.
The Three Peaks straddle the border between Italian-speaking Belluno and German-speaking South Tyrol.
Until 1919, Tre Cime di Lavaredo formed part of the border between Italy and the Austro-Hungarian Empire. During the First World War, the front line between Italy and Austria-Hungary ran through the Tre Cime di Lavaredo peaks. Today, you can still see fortifications, trenches, iron ladders, tunnels and other relics of war from that era.
The easiest way to see the Three Peaks is by driving the Tre Cime – Rifugio Auronzo toll road from Lago d'Antorno to Rifugio Auronzo. This road is only open seasonally from late May/early June until late October/early November, depending on snow/ice conditions.
From the Auronzo hut, we recommend hiking the beloved Tre Cime di Lavaredo Circuit Trail. This 9.7 km-long trail takes about 4 hours to complete. Along the trail, you'll pass Malga Langalm, Rifugio Locatelli/Dreizinnenhütte, and Rifugio Lavaredo.
14. Cadini di Misurina
Cadini di Misurina is a gorgeous mountain group in the province of Belluno. Defined by sharp, slender spires, the jagged Cadini mountains look like the backdrop of a high fantasy epic.
They form the southernmost mountain group of the Sexten Dolomites, the same range that encompasses Tre Cime di Lavaredo.
Experienced hikers can traverse the Cadini Group along the Sentiero Bonacossa Trail, an aided path that starts at Rifugio Col de Varda and ends at Rifugio Auronzo.
The best view of the Cadini Group is from the Cadini di Misurina Viewpoint, often lovingly called the Towers of Mordor. You can walk to this viewpoint from Rifugio Auronzo in 30 minutes.
15. Lago di Sorapis
Lago di Sorapis (also spelled Lago di Sorapiss) is a glacial lake in the Sorapiss Group in Belluno.
Renowned for its milky turquoise color and dramatic location at the foot of Dito di Dio ("Finger of God"), Lake Sorapis is swarming with visitors each hiking season.
Lake Sorapis is only accessible by foot. Starting at Passo Tre Croci, the mountain pass between Cortina and Lake Misurina, it takes 2 hours to hike to the lake.
Though the trail is beautiful and interesting, the sheer amount of people detract from the experience. Avoid hiking here on weekends and in August.
For a comprehensive guide to hiking to Lake Sorapis, read our Lago di Sorapis Trail Guide.
16. Mondeval Plateau
Mondeval is a bowl-shaped plateau in the municipality of San Vito di Cadore within the Dolomites UNESCO System Pelmo – Croda da Lago. Its height ranges from 2100 to 2360 meters.
The Mondeval basin is home to the archeological burial site of Mondeval de Sora, the tiny Lago delle Baste lake, and the Monte Mondeval panoramic peak.
We love visiting Mondeval, because the high plateau affords stellar views of Monte Pelmo and Lastoni di Formin.
We recommend this easy-moderate hike to Mondeval starting at Passo Giau, the mountain pass between Pocol (Cortina d'Ampezzo) and Selva di Cadore.
17. San Martino di Castrozza
San Martino di Castrozza is a resort town in Primiero Valley in the Italian Province of Trentino.
The town center is cradled by the steep walls of the Pale di San Martino Group (aka Pala Group) and the Lagorai mountain range.
By the way, Pale di San Martino is the largest mountain group in the entire Dolomites.
And, San Martino di Castrozza is (in our opinion) the most visually stunning town in the Dolomites. Fortunately, very few non-Italians venture here.
Base yourself in San Martino di Castrozza for a few days, and you can explore the moon-like landscapes of the Altopiano delle Pale di San Martino plateau, the alpine pastures of Val Venegia and Val Canali, and the dazzling views around Passo Rolle and Baita Segantini.
18. Altopiano delle Pale di San Martino
Altopiano delle Pale di San Martino
Altopiano delle Pale di San Martino is a vast, karst plateau in the Pale di San Martino mountain group. It covers an enormous surface area of about 50 km².
Ranging between 2500 to 2800 meters in elevation, this high-alpine lunar landscape is a fascinating place to explore.
From San Martino di Castrozza, you can easily ascend to the plateau by cableway (Colverde Gondola followed by the Rosetta Cable Car).
We visited the Pale di San Martino plateau twice. During our first visit, we hiked the circuit trail around Pala di San Martino, from Rifugio Rosetta to Rifugio Pradidali. This is a fantastic hike, which should only be undertaken on clear days.
We also ascended to the Pala plateau to hike to Cima della Vezzana, the highest peak in the Pale di San Martino mountains. That was a tough one.
19. Val Venegia
Val Venegia is a fairy-tale-like valley, located between Passo Rolle and Passo Valles in Trentino. The closest towns are San Martino di Castrozza and Predazzo.
There are so many ways to enjoy Val Venegia. You can walk the valley trail, eat lunch at a Malga (alpine pasture hut), or hike up into the Pale di San Martino mountains.
We hiked a circuit route from Val Venegia to Rifugio Mulaz and it's one of the best day hikes in the Dolomites we've experienced to date.
We've explained how to get to Val Venegia, where to park, and where to eat in our Val Venegia – Rifugio Mulaz trail guide.
20. Baita Segantini
Baita Segantini is an alpine pasture hut facing the northern side of the Pale di San Martino group, including the majestic Cimon Della Pala. It's one of the most beautiful destinations in the Dolomites, especially at sunset when the Pale peaks light up in fiery hues of violet, blood-orange, and crimson.
From the Passo Rolle mountain pass, we recommend hiking to Baita Segantini via Monte Castellaz summit. The full-circuit takes 3:30 hours.
If you thought this post was helpful, follow us on Instagram @moonhoneytravelers
Dolomites Trip Planning Essentials
Use our Dolomites Travel Guide to plan an unforgettable trip to northeastern Italy.
When to Visit the Dolomites
The best time to hike in the Dolomites is between mid-June and mid-September. If the weather is stable, the hiking season can easily continue until late October. For skiing and winter activities, the best time to visit is mid/late December through March.
Car Rental
The easiest way to travel between hiking destinations in the Italian Dolomites is with your own car. Check out our 7-Day Dolomites Road Trip itinerary for trip inspiration.
We recommend using the Discovercars.com car rental reservation platform to search for and book car rentals. This easy-to-use booking platform compares car rental deals from 500+ trusted providers, so that you can choose the best option for your trip.
Tip: If you can only drive automatic transmission cars, as opposed to manual transmission cars (stick shift), book your can rental as early as possible.
Best Places to Stay
Figuring out where to stay in the Dolomites is probably the biggest hurdle to planning a trip to the Dolomites. We've created three guides to help you decide where to stay:
: best villages and towns in South Tyrol, Trentino and Belluno : best boutique and luxury hotels in the Dolomites : farm stays, mountain huts, wellness hotels, aparthotels
We suggest choosing 2-4 bases for your Dolomites trip and spending 2-4 nights in each base.
Base 1: Val Gardena – Ortisei, Santa Cristina or Selva di Val Gardena
Base 2: Val di Funes – Santa Maddalena
Base 3: Alta Badia – Colfosco, Corvara, La Villa, San Cassiano, Bada, or La Val
Base 4: Cortina d'Ampezzo
Base 5: Alta Pusteria – Dobbiaco, San Candido, Sesto, Braies, Val Fiscalina
Base 6: San Martino di Castrozza
What to See & Do
During your trip to the Dolomites, you can go via ferrata climbing, culinary hiking, hut to hut hiking, cycling, paragliding, and so much more. We've highlighted our favorite experiences in Best Things to Do in the Dolomites.
Dolomites Packing List
Hiking Gear
Day Pack: Osprey Tempest 30 Women's Backpack / Osprey Talon 33 Men's Backpack
Grade B/C high-cut hiking boots: Meindl Schuhe Island Lady (Kati's Boots), Women's Hanwag Tatra II GTX (Sabrina's Boots), Men's Hanwag Tatra II GTX (men's equivalent)
CAT 4 Sunglasses: Julbo Shield Mountain Sunglasses
Hiking Poles:Black Diamond Trail Trekking Poles
Reusable Water Bottle: Ion Leakproof 32 oz Water Bottle
Outdoor Photography Gear
Camera Body: Sony Alpha a6400
Mid-range Zoom Lens:Sony Vario-Tessar 16-70mm F4 ZA OSS ZEISS
Wide angle Zoom Lens: Sony – E 10-18mm F4 OSS Wide-angle Zoom Lens
Backpack Camera Clip: Peak Design Camera Clip
Dolomites Hiking Guides
Hiking in the Dolomites is our passion. Year after year, we love discovering new trails and expanding our knowledge of the area. For day hiking, check out 25+ Best Day Hikes in the Dolomites. For trekking, take a look at our guide to Hut to Hut Hiking in the Dolomites and Alta Via 1.
Source https://greenglobaltravel.com/best-mountains-in-the-world-travel-bucket-list/
Source https://www.worldatlas.com/cities/10-most-beautiful-ozark-mountain-towns.html
Source https://www.moonhoneytravel.com/best-places-to-visit-dolomites/