20+ Amazing 3D Street Art Illusions That Will Play Tricks on Your Mind
At its best, street art and graffiti stops you in your tracks. In fact, the results are often jaw-dropping. And while virtual and augmented reality is all the rage, certain artists have been creating 3D street art for quite some time.
When we think of 3D art, the most common form that springs to mind is the incredible chalk art which uses mathematical perspective and artistic skill to brighten sidewalks. Rightly so, the results merit the immense praise lavished on artists like Leon Keer or Nikolaj Arndt.
However, 3D street art takes many forms. Whether through the classical trompe l'oeil murals of Patrick Commecy or the anamorphic art of Odeith and Alexis Facca, each has a way of playing with optical illusions. And if you are looking to throw on an old-fashioned pair of 3D glasses? Artist Alice Pasquini has you covered. Her Underlayers project sucks you into her artwork through 3D photographic techniques.
Let's take a look at the incredible variety of 3D graffiti that takes advantage of optical illusions to bring you into an artistic fantasy land.
3D street art comes in all shapes and sizes, from anamorphic illusions to trompe l'oeil murals.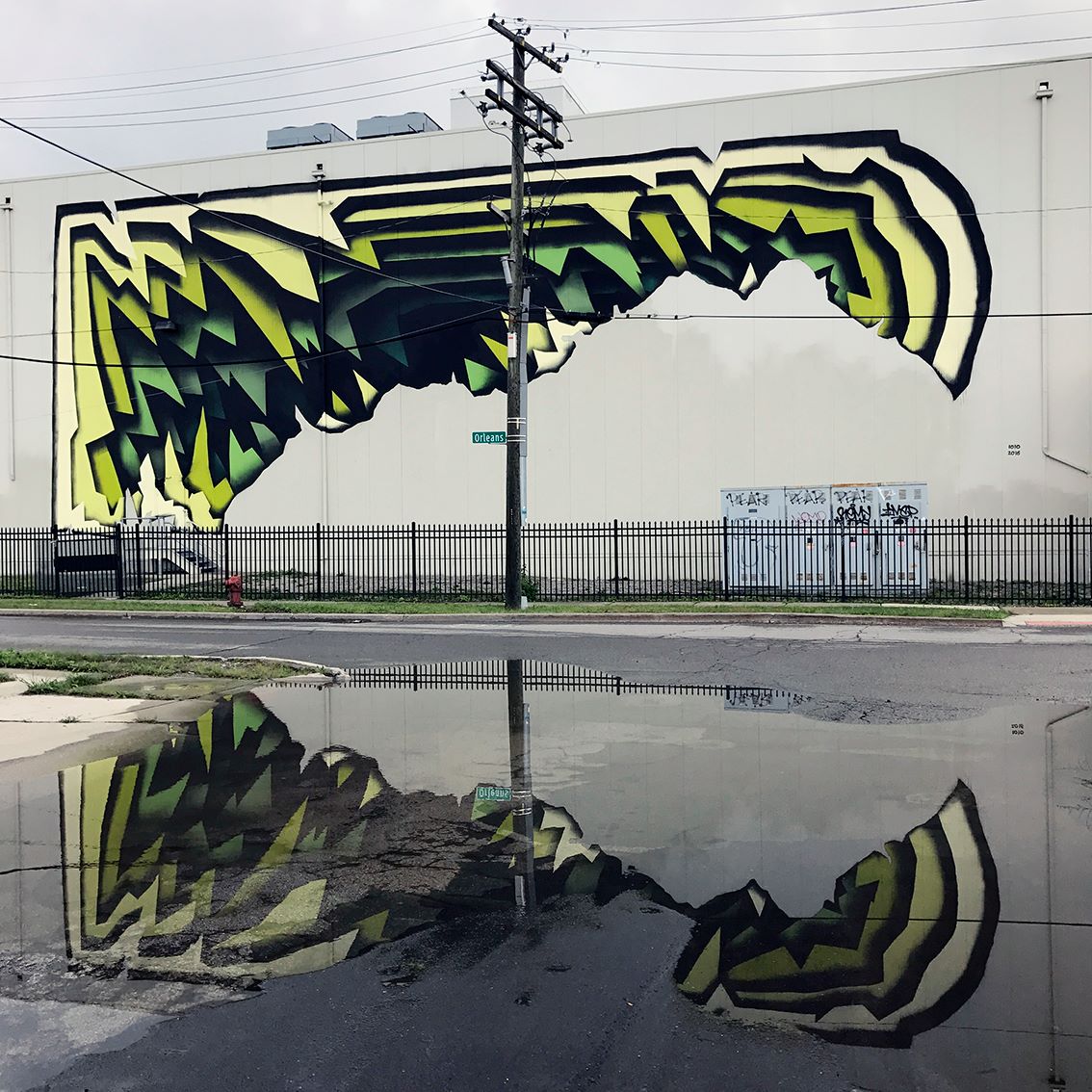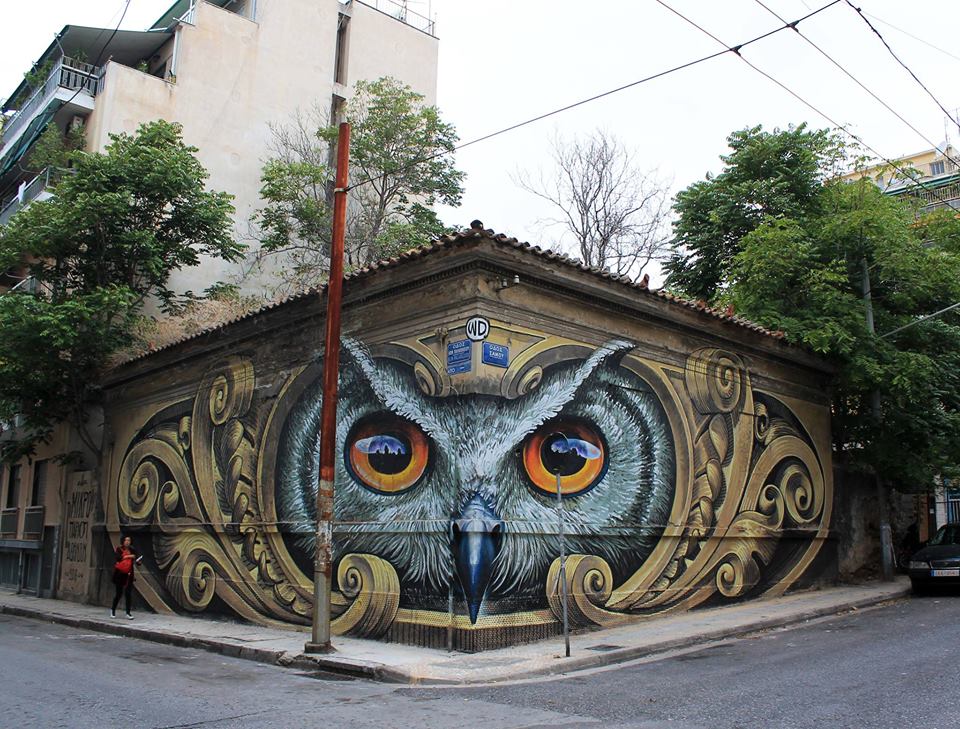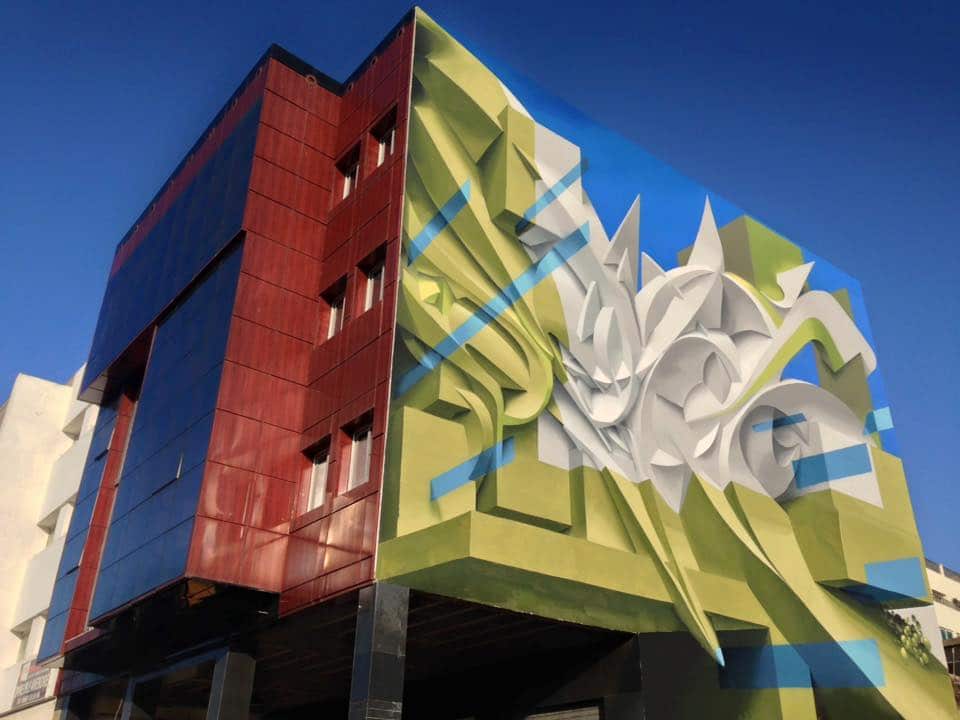 Alice Pasquini and Stefano C. Montesi. Images via Gloria Viggiani
All images via the artists except where noted.
Jessica Stewart
Jessica Stewart is a Contributing Writer and Digital Media Specialist for My Modern Met, as well as a curator and art historian. Since 2020, she is also one of the co-hosts of the My Modern Met Top Artist Podcast. She earned her MA in Renaissance Studies from University College London and now lives in Rome, Italy. She cultivated expertise in street art which led to the purchase of her photographic archive by the Treccani Italian Encyclopedia in 2014. When she's not spending time with her three dogs, she also manages the studio of a successful street artist. In 2013, she authored the book 'Street Art Stories Roma' and most recently contributed to 'Crossroads: A Glimpse Into the Life of Alice Pasquini'. You can follow her adventures online at @romephotoblog.
Top 10 Cities to Visit If You Absolutely Love Art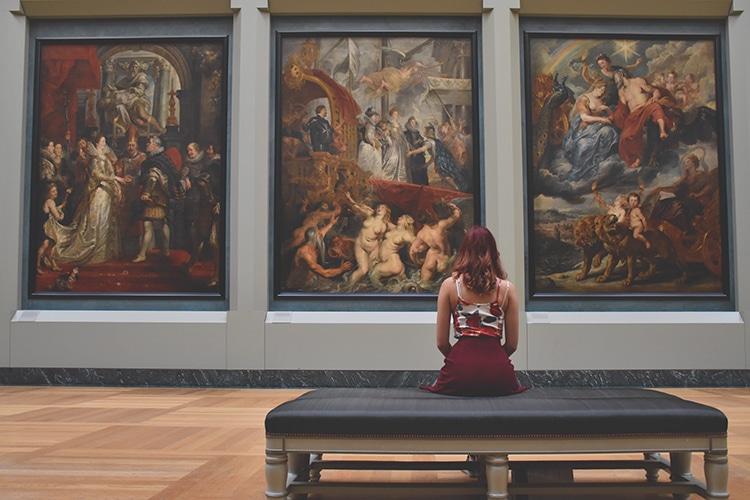 Love art and traveling? Why not combine your two passions by visiting some of the best art destinations the world has to offer. From street art capitals such as Berlin and New York to the world-renowned galleries of Paris and Florence, great art can be found in all corners of the world. Whether you're inspired by the work of old masters, love contemporary art, or you just want to soak up some healthy creative energy, here's our list of the 10 best cities to visit to satisfy even the most insatiable art lover.
Paris, France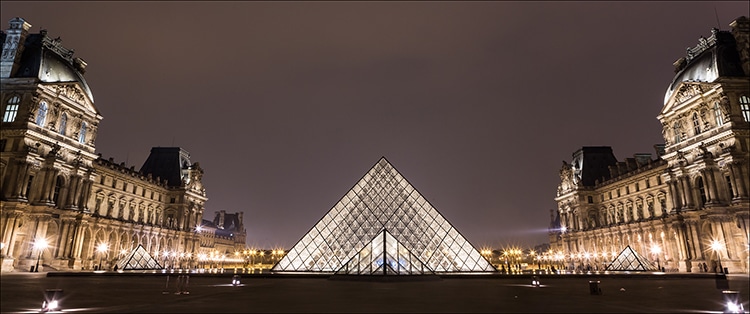 The Louvre. Image: Adrien Sifre (CC BY-NC-ND 2.0)
If you're an art lover, Paris should be at the top of your destination list. With too many fantastic museums to mention, perhaps it's best to start with the biggest and oldest. Built in the early 12th century, The Louvre was previously used as a royal fortress. It was turned into a museum in the late 1700s and today displays around 35,000 objects. It's home to some of the world's most famous artistic treasures, including Leonardo da Vinci's Mona Lisa.
Another must-visit gallery is Musée d'Orsay, situated in the former, ornate Gare d'Orsay railway station. Here, you'll find the largest collection of Impressionist and Post-Impressionist art in the world. Produced between 1848 and 1914, the entire French national collection includes the work of Van Gogh, Degas, Cézanne, Gauguin, and much more.
For contemporary art, be sure to visit Modus Art Gallery, which showcases an eclectic, ever-changing collection. Other mentionable contemporary galleries include Yvon Lambert, Galerie Xippas, and La Maison Rouge.
For art without queues or an entry fee, check out the Belleville neighborhood, where you'll find plenty of world-class street art and graffiti.
New York City, USA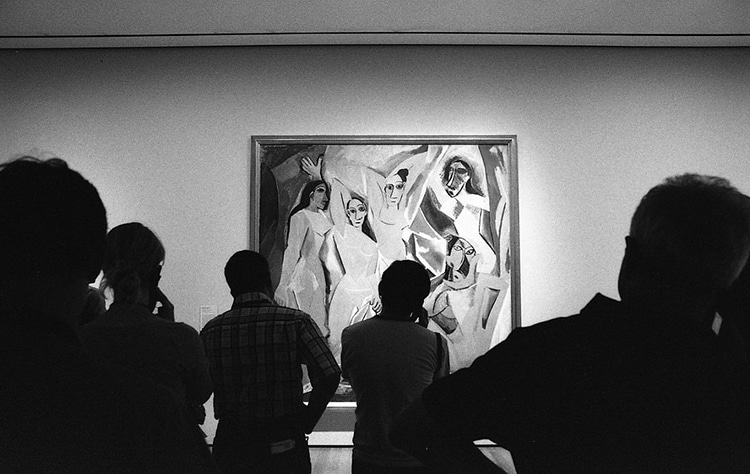 "Les Demoiselles d'Avignon" by Pablo Picasso at MoMa, New York City. Image: rodrigoferrari (CC BY-NC 2.0)
Home to world-famous museums such as the Metropolitan Museum of Art, MoMA, and the Solomon R. Guggenheim Museum, New York can be overwhelming for an art lover. While we naturally recommend visiting these world-famous museums, you can also explore some of the less sign-posted art locations within New York's contemporary art scene. To help, companies such as New York Gallery Tours will guide you through the labyrinth of galleries in the hippest parts of the city, including Chelsea, SoHo, Tribeca, and the Lower East Side.
Whether you stay within Manhattan or head out to the outer boroughs, you're bound to have plenty of options. For a more raw view of the city's art, head to Bushwick (in Brooklyn) to explore graffiti art-covered streets, hang out with the local creatives, and visit cutting-edge contemporary galleries that showcase emerging talents. With so much to see, though, make sure you have a plan in place beforehand.
DON'T FORGET YOUR CITYPASS!
My Modern Met Tip: CityPASS is the best way to see New York City's top attractions—they're bundled to save you 42% on admission. Included are The Metropolitan Museum of Art, Guggenheim Museum, Ferry Access to Statue of Liberty and Ellis Island, 9/11 Memorial & Museum, and Empire State Building. And better yet, when you have the pass, you'll get priority entry into some of them. It's a win-win!
Berlin, Germany
East Side Gallery, Berlin
Berlin is one of those cities where art can be found around every corner. It's a place where the urban landscape is constantly changing, with new street art seemingly popping up overnight and older pieces being covered or changed. Perhaps the most famous spot for street art is located in the Friedrichshain-Kreuzberg district, where part of the historical Berlin Wall is now used as the longest open-air gallery in the world.
The city's East Side Gallery spans more than 1,000 meters (1.3 kilometers) and features hundreds of painted murals. However, if you want to avoid the tourists, you can just as easily find some of the world's best street art all over the city. Each neighborhood has its own unique vibe, but the alternative streets of Kreuzberg is a great place to start if you want to see amazing works of art on nearly every wall, doorway, and rooftop.
Museum Island, Berlin
If street art isn't your thing, you can visit Berlin's countless galleries and museums. There's even a whole island in the middle of the city, aptly named Museuminsel, or Museum Island, where you can find five world-renowned museums. Among the many artworks on display, you can see masterpieces from artists such as Monet, Renoir, and Manet at the Alte Nationalgalerie; in the Neues Museum you can explore ancient Egyptian art; and, at the Altes Museum you can see the largest collection of Etruscan art outside of Italy.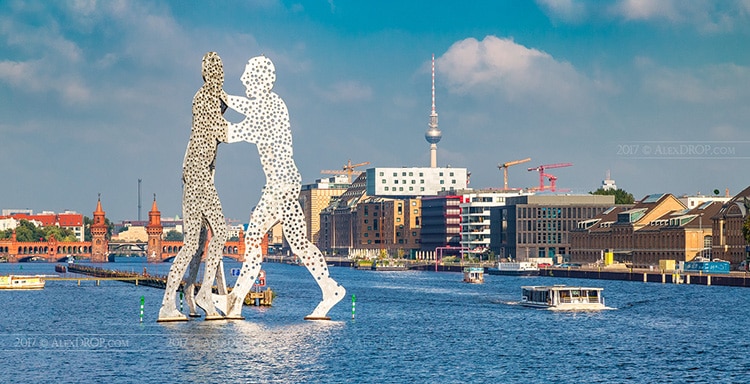 "Molecule Man" sculpture by Jonathan Borofsky, installed on the river Spree in Berlin. Image: Alex DROP (CC BY-NC-ND 2.0)
One other piece of art you can't miss in Berlin is the giant Molecule Man sculpture by Jonathan Borofsky. Erected in the river Spree in 1999, it features three human figures made from perforated aluminum. The monument intersects the three districts of Kreuzberg, Alt-Treptow, and Friedrichshain, and symbolizes the reunited West and East Berlin.
Miami, USA
Home to Art Basel—one of the world's most prestigious international art fairs—Miami's vibrant art scene offers a full menu of artistic delights. For galleries galore, visit the Wynwood Arts District, where you will find over 30 contemporary art spaces and studios. Here, you can also take a street art tour with Wynwood Art Walk.
We also recommend the waterfront Perez Art Museum for the best of modern and contemporary art.
Tokyo, Japan
SCAI The Bathhouse, Tokyo. Image: Joe Mabel (CC BY-SA 2.0)
With hundreds of galleries scattered among skyscrapers, back streets, and old towns, Tokyo is one of the most exciting places to visit for its art. Tucked away in an old neighborhood of traditional wooden houses and temples, SCAI The Bathhouse is one of Tokyo's most prestigious contemporary art galleries. The former 200-year-old bathhouse is now a white-walled art space, but still retains details of its past, such as wooden lockers where bathers would have stored their shoes before taking a dip. Past exhibiting artists include Anish Kapoor and Tadanori Yokoo.
For art with a view, head to the Roppongi entertainment district and to the top of the 54-story Roppongi Hills Mori Tower skyscraper. Here you'll find the legendary Mori Art Museum, where over the years its ever-changing exhibitions have included the polka dot installations of Yayoi Kusama.
Florence, Italy
If Renaissance art is your thing, Florence is the city for you. Explore the colossal collection of the Medici family at the Uffizi, which includes masterpieces by Michelangelo, Giotto, Botticelli, Da Vinci and more. To complete your Renaissance masterpiece tour, head to the Accademia Gallery to see Michelangelo's iconic David sculpture.
For your contemporary art fix, visit Florence's Centro di Cultura Contemporanea Strozzina, also known as the "anti-Uffizi." Through themed exhibitions, this gallery is devoted to showcasing the best of contemporary Italian art.
Barcelona, Spain
Barcelona is a must-see destination for art lovers, as it's home to Museu Picasso; one of the biggest Pablo Picasso collections in the world. But the Spanish hub has a lot more to offer besides Picasso, including large collections of Romanesque, Gothic, and Baroque art displayed at Museu Nacional d'Art. However, a trip to Barcelona wouldn't be complete without marveling at the architecture of Gaudi.
London, United Kingdom
London is home to all styles and eras of art, so it's a great city to visit if you want to see a bit of everything. You can find classics from Van Gogh at the National Gallery, modern art masterpieces from the likes of Picasso, Hockney, and Warhol at Tate Modern, as well as many contemporary gems at Saatchi Gallery.
For a less-formal setting, visit Shoreditch, a creative inner-city district in the East End. Here you can marvel at some of the city's most impressive street art and even join in on an Alternative London Walking Tour, led by the local street artists and creatives.
Beijing, China
Having seen a recent boom in contemporary art, most of Beijing's art can be found in 798 Art District. Here, former industrial buildings have been transformed into contemporary art spaces and open-air installations. You can find pretty much any type of art—from photography to sculpture to fashion design.
For Chinese historical art, check out the Poly Art Museum which features ancient bronze works from the Shang and Zhou dynasties.
Chicago, USA
While Chicago is home to world-class institutions—such as the Museum of Contemporary Art and the Art Institute of Chicago—it's a city where you don't have to be indoors to see great art. While wandering around the central business district, The Loop, you'll find plenty of public artworks including Anish Kapoor's iconic Cloud Gate in Millennium Park. You can also find an untitled cubist sculpture by Pablo Picasso, which was the first of Chicago's public art pieces to be installed in 1967.
However, if the windy city lives up to its nickname, and the weather is just too much to stay outdoors, head to the former warehouse district, River North, where there's over 100 contemporary art galleries to explore.
Related Articles:
Emma Taggart
Emma Taggart is a Contributing Writer at My Modern Met. Originally from Northern Ireland, she is an artist now based in Berlin. After graduating with a BA in Fashion and Textile Design in 2013, Emma decided to combine her love of art with her passion for writing. Emma has contributed to various art and culture publications, with an aim to promote and share the work of inspiring modern creatives. While she writes every day, she's also devoted to her own creative outlet—Emma hand-draws illustrations and is currently learning 2D animation.
17 Best Cities to See Street Art in Asia
Frequently Asked Questions About Street Art in Asia
What is street art?
Street art in Asia is a creative form of visual art. It is created both officially and unofficially for public visibility and appreciation.
Bold and vibrant wording has evolved over the years into image-based graphics. It has become a way to express emotions on all topics, from misery and suffering to celebration and hope. Street art has also allowed otherwise undiscovered artists to share their vision and talent in the public arena.
How does street art differ from graffiti?
While all art displayed on the street sits under the umbrella of street art, there are obvious differences between the two.
Asian graffiti can display words, line drawings and the artist's tag (street name), whereas street art ranges from abstract to fine art painting. Urban art can depict anything from actual events to famous people or purely fictional images created by the street artist.
Is street art illegal?
If it appears unofficially, it is illegal; however, whereas street art was regarded in some circles as vandalism, it is now regarded by the majority as an art form, and commissions are undertaken by artists, often in urban areas that are being regenerated by the local government.
George Town in Penang is one such example where this was undertaken by the international street artist Ernest Zacharevic.
What mediums do street artists use?
Asian street artists use mediums such as spray paint, emulsion, permanent markers and recycled materials to create personal styles and techniques. Spray paint alone tends to be the medium of choice for graffiti artists.
Which city has the most street art in Asia?
George Town, Penang – This Malaysian town has the largest concentration per capita of street art in Asia.
Who is the most famous street artist in Asia?
The Lithuanian artist, Ernest Zacharevic, took Asia by storm in 2012 when his first pieces of art appeared at the George Town Festival.
Ingenious props such as bicycles and motorbikes gave his street art a dimension that hadn't been witnessed before. Girl and Boy on a Bike is probably his most famous piece of street art, with visitors queuing around the block to have their photos taken beside it.
Zacharevic went on to display street art in several other Asian cities, including Dubai and Singapore.
With contributions from fellow travel bloggers, I can bring you the best cities to find street art in Asia.
These 17 cities are those visited by each blogger. They have given their personal insights into what you can expect in each of Asia's best street art cities.
This article may contain affiliate links – For more information, please read my disclaimer and privacy policy.
Best Street Art in Cambodia
Phnom Penh
Written by Emily from Wander-Lush
Phnom Penh, Cambodia's capital, is a lesser-known haven for street art in Asia. As a regular visitor, I always find new murals that have popped up in the city's centre.
In recent years, the annual Cambodia Urban Art Festival has been instrumental in providing canvases to budding local artists and in bringing international guests to the country to leave their mark on the urban landscape.
You can find murals everywhere, but Street 93 has traditionally been the home of street art in Phnom Penh. More recently, several large-scale works have been painted in the alleyways around Street 240, adding another layer of cool to this popular cafe and shopping haunt.
Some works are inspired by Cambodia's Golden Age and portray artists who lost their lives during the Khmer Rouge regime. There's also a beautiful mural of Kak Channthy, a local musician who passed away a few years ago. I personally love these colourful tributes.
Phnom Penh has long been overlooked in favour of Siem Reap, but the street art scene is one of the reasons its reputation is changing for the better.
Best Street Art in China
Hong Kong
Written by Angie of Where Angie Wanders
On my trip to Hong Kong, I wasn't expecting to see so much street art. The traditional area of Old Town Central has been brought alive with murals, portraits and landscapes that now claim its once-dull buildings and walls.
Check out the quintessential area near the famous Hollywood Road – yes, that really is its name – and you will find all manner of delightful works of street art.
Prepare to be confronted by a 20ft portrait of Frank Sinatra alongside Marilyn Monroe and Charlie Chaplin – just along the road from the ancient Man Mo Temple. It seems out of place but, at the same time, fits in; a strange concept.
Local street artist Alex Croft has left his mark on the city with a colourful mural portraying Hong Kong's iconic Tong Lau tenement buildings. This piece of HK street art attracts both tourists and locals, and I managed to get my chance to capture a photograph of it on my visit.
Hong Kong's street art is not just a magnet for tourists, as we witnessed during our visit. Newlyweds had chosen a road lined with brightly coloured urban graffiti – a more radical form of street art – as the backdrop for their photoshoot. Not for everyone, but it looked really cool.
Hong Kong has an active and diverse street art scene and is definitely worth a visit!
Best Street Art in India
Delhi
Written by Neha of Travel Melodies
With street art and graffiti capturing attention around the world, Delhi, the vibrant capital of India, is trying to fall into step with the world.
Khirki Village remains one of the first areas that lend its otherwise barren walls to the street artists who brought them to life.
From Hauz Khas, Shahpur Jat, Tihar Jail, Arjan Garh Metro Station, and Delhi Police Headquarters to Lodhi Colony – talented street artists from around the world have brightened the dull neighbourhoods in New Delhi with their intriguing wall art.
Street artists have used their art not only to beautify the neighbourhoods but also to spread awareness among people. All of the murals carry a strong social message.
The best street art in Delhi is at Lodhi Colony. St+ART India (a non-profit organization) brought together global urban artists to create the first open-air art museum in India, fondly called Lodhi Art District.
My favourite is Nature's Arch and Visions of Altered Landscapes by a Canadian artist, Aaron Li-Hill.
The artist purposely used a wall with a natural archway (right in the centre) with a tree jutting out through it. He mixed the elements of the west (polar bear) and east (tigers), men, and women, and of course, the arched walkway to show the adverse effects of climate change while indicating hope and optimism.

Mumbai
Written by Nisha and Vasu of Le Monde, The Poetic Travels
Located on the slopes of Ghatkopar hills on the Andheri-Ghatkopar link road in Mumbai, a small village called Asalpha was not known until a few years ago. It was a hilltop slum, which nobody, except its residents, wanted to visit.
All that changed when the founder of a local design studio noticed Asalpha and the dire state it was in. He brought together a group of 750 volunteers to create street art magic. The 'team' came together to paint walls and create murals at the Asalpha settlement. The idea was to change perceptions around slums and to give their residents a reason to be proud.
Fondly called the 'Positano' of Mumbai', the landscape consists of many elevations, and the road leading up to the top is a steep uphill climb. By transforming the appearance of Asalpha village using interesting street murals, this urban work of art became the topic of discussion for many.
Asalpha is now a popular tourist attraction and has grabbed the attention of many. Several curated street art tours allow visitors to see the transformation for themselves.
Best Street Art in Indonesia
Yogyakarta
Written by Geena of Beyond the Bucketlist
The unpolished, gritty streets of Yogyakarta are splashed with the colourful creations of Indonesia's many talented street artists. The city, known for being the cultural capital of Java, holds just as much history as it does religious significance. & you can see it in the artwork on its walls.
Most often, either political or religious in nature, street art in Yogyakarta has a purpose. Either driving social change or reminding locals of their spiritual heritage.
Much of the art depicts spiritual icons like Rangda and Barong, which can come off as eerie or intimidating to many. Still, if you learn a bit about Indonesian folklore, it gives the artwork context & I came to love the long-tongued wide-eyed demons painted throughout the city.
You can find the art all over Yogyakarta, often tucked away in alleyways and along the main road cutting through the city. My favourite Asian street artist in Yogyakarta has to be Angard. His unique designs can be found worldwide but especially on his home island of Java. They tend to be whimsical-looking figures but are often political in nature as many young street artists, himself included, are social activists.
If you're planning a visit to the beautiful island of Java, a stop in the artsy city of Yogyakarta is an absolute must, and after you've enjoyed the street art, perhaps climb the formidable Mount Bromo for free.
Best Street Art in Malaysia
Ipoh
Written by Sean of Living Out Lau
Asia is in no shortage of stunning street art. From the megacities of China to the small towns in Thailand, street art dots the varying landscapes and adds character to the destinations. They offer glimpses into the culture of the place you are visiting, such as the city of Ipoh, Malaysia, one of my favourite street art locations in Asia.
From Concubine Lane to Mural Art Lane, various stunning street arts dot this Chinese-dominant Malaysian city. The most famous one is arguably the one in Concubine Lane, depicting an elderly man having afternoon tea with an elegantly dressed woman (presumably his concubine) in the traditional qipao. This mural depicts a part of Ipoh's history.
However, my favourite one is the 3D Trishaw Mural on Market Lane. Its ingenuity lies in the fact that this mural sticks out of the wall, so guests can interact with it by sitting in the rear of the trishaw for an iconic photo. This mural depicts a man carrying garbage and firewood on his rickshaw and is another representation of Ipoh's old times.
Visiting the murals is one of the best things to do in Ipoh, but don't forget the stunning limestone caves that cover the region!
Kuala Lumpur
Written by Paul of The Hangry Backpacker
Like many cities in Malaysia, street art is plentiful in Kuala Lumpur. Beneath and between the fascinating modern and colonial cityscape, Kuala Lumpur has some of the best street art in Asia.
Street art in Kuala Lumpur ranges from aesthetic art to scenes with subtle social or political messages. For me, most of the art is simply appealing, adding colour and character to what is ultimately another large and busy concrete jungle.
There isn't a single place for street art in Kuala Lumpur. Visual art is scattered throughout the city, and the prevalence of urban art in Malaysia has become a tourist attraction in its own right. In Kuala Lumpur, my favourite areas for street art are Chinatown and the centre of Bukit Bintang.
The streets around Bukit Bintang, Jalan Alor in particular, have become especially popular for street art. In between the expensive restaurants and shops, buildings and streets are painted in bright colours. The vibrant scenes are an attractive reprieve from the surrounding bustle of big city life in fascinating Kuala Lumpur.
Penang
Written by Angie of Where Angie Wanders
George Town in Penang is one of the best places in Malaysia to visit for street art. It is packed with urban works of art from artists, including Ernest Zacharevic, which are included in my 3-night itinerary of things to do and see in George Town.
The influential Lithuanian artist has created the most well-known pieces of street art in Penang, which draw tourists to this once rundown and unloved city.
In 2012 he was appointed by the local government to transform the barren and decaying buildings in George Town into an outdoor gallery. The vision was to depict the life and times of the Malaysian people through art.
Zacharevic's success was better than anyone could have expected, and George Town was propelled into the spotlight.
"Boy on a Motorbike" and "Boy and Girl on a Bike" are his most photographed pieces of street art. A mixture of solid items and paint creates a unique 3D illusion, not something I have seen anywhere else.
It can get hectic as tourists queue to capture selfie's alongside the murals and so my tip is to go and see them at night when it is quieter (and cooler). I got some great photographs without any queues!
You could probably see all the street art in one day if you are limited in time but if not, then spread the viewing over several days to really appreciate some of the best wall paintings in Asia.
Best Street Art in Myanmar
Yangon
Written by James of Travel Scribes
It might not be top of the list when it comes to street art in Asia and definitely doesn't brush shoulders with the likes of George Town or Phuket, but Yangon, the bustling epicentre of "off-the-tourist-trail" Myanmar, has its own mural-induced charm. The city, better known for its street food and its buzzing traffic and markets, has a little secret: the 'Street Art Alleys' tucked away behind the chaotic lanes.
Here you won't find epic graffiti or huge, elaborate pieces of urban art. Instead, street art is almost childlike, created by a mix of local and international artists more as a kid's playground than a cultural statement. That's because of the purpose of the alleys.
Originally filled with trash, a local organisation called Doh Eain decided to convert one of the back alleys into a 'garden' full of vegetables and added a few swings as a safe place for children to play. Local street artists painted murals to make it more appealing and when news outlets got wind of it, the alleys (and the art) started to garner more fame.
Nowadays, you'll find 6 'official' alley gardens with many more in planning. Most of the alleys stretch between 29 th street and 42 nd in downtown Yangon, the beating heart of the city, and are relatively easy to find if you watch out for the signs.

Best Street Art in Singapore
Singapore
Written by Angie of Where Angie Wanders
Street art in Singapore took me quite by surprise. In areas such as Kampong Glam, China Town and Little India, the barren walls and shop fronts had been transformed into colourful works of art, but nothing had prepared me for how much urban art there was all over the city.
Skyscrapers and beautifully tended gardens were juxtaposed against narrow streets vying for the attention of tourists. We had added Haji Lane to our itinerary of things to do in Singapore during our 2-night stopover and found it to be one of the best places in Singapore to see street art.
Singapore's famous monochrome sultan portrait above the Singapura club was created by one of Singapore's leading street artists known as Ceno2, and is a magnet for tourists.
Each cultural area in Singapore delights you with urban art, and in China Town, we came across the mural below, created by Yip Yew Chong, which depicts Old Singapore. Chong has many pieces on display in China Town, and many have a 3D feel to them, similar to pieces of street art I have seen in Penang.
There are street art tours available to show you hidden spots away from the tourist trail but should you decide to wander the streets on your own, you won't get far before stumbling on an incredible piece of urban street art in Singapore.
Best Street Art in South Korea
Seoul
Written by Kenny of Knycx Journeying
If you are an art buff or a café hopper, there is no way that you won't immensely enjoy your time in Seoul, South Korea.
The city is famous for its hip and trendy coffee culture, contemporary art development, and a vibrant and rising K-pop landscape – all these have created a platform for artists to experience art, and a unique combination of progressive and expressive styles has been shaped rapidly in the last decade.
You can check out street art everywhere in Seoul. Head to one of the modern art galleries in Anguk, Itaewon, or Gangnam, where it celebrates the creativity of up-and-coming local artists in different forms.
If you want to go a bit deeper, venture to some lesser-known neighbourhoods in Seoul, like Mangwon-dong, Seongsu-dong, or Hannam-dong. These areas are great examples of urban renewals that are filled with stylish cafes, boutiques, and shops and feature striking street art and mural paintings around many corners.
Seongsu-dong is now nicknamed "the Brooklyn in Seoul", drawing a lot of tourists and social media influencers to share their photogenic moments with the world.
As if It's still not enough, head to the outskirt of Seoul as you will find many art villages (like Mullae Art Village and Heyri Art Village) that are perfect for including as one of the many day trips from Seoul you can do.
Best Street Art in Taiwan
Kaohsiung
Written by Caroline of CK Travels
Kaohsiung is Taiwan's third-biggest city, located in the south of the island and is famous for having many large and skillfully painted murals. We thought the street art here was some of the most creative and colourful we have ever encountered on our travels, and love the boldness and quirkiness of the designs.
Kaohsiung is one of our favourite street art cities, and we love that the local council embraces the scene with a policy dedicated to enhancing the urban environment with colourful street art.
Two of the best spots in Kaohsiung to see examples of this visual urban art are at the popular tourist destination Pier 2 Art Centre – a regenerated harbour-side hipster hangout, and at Weiwuying Street Art Village in the Lingya district.
The Weiwuying Street Art Village is the largest community for street art in Taiwan, and the district is full of colourful artworks found across walls, rooftops, pavements and even phone boxes.
Most of the street art here is created by a team of local artists known as "The Wallriors", who were founded in 2016, and they regularly update their Facebook page with updates of their work.
Ximending
Written by Nick of Spiritual Travels
Ximending is the coolest neighbourhood in Taipei, the capital city of Taiwan. The pedestrian-only shopping district is filled with bubble tea & cosplay cafés, open-air tattoo parlours, LGBTQ+ bars, trendy restaurants, and loads of street art. The great thing about this area is that it is one of several legal street art zones designated by the city government.
The best murals in Ximending can be found on America Street and on the walls around Taipei Cinema Park. An organisation called the Taipei Youth Art Centre accepts proposals for new works and then takes them to property owners to get permission. The city government also sponsors street art and dance competitions in the area.
The street art in Ximending expresses a uniquely local flavour, with themes like futuristic cities, robots & superheroes, and traditional Mandarin characters. Artworks can be seen by big-name local street artists like Mr Ogay, as well as international ones such as Alex Face from Thailand.
Best Street Art in Thailand
Chiang Mai
Written by Carine and Derek of We Did It Our Way
Chiang Mai has incredible chilled digital nomad vibes and an insane amount of temples. When we visited in 2018, we didn't expect to see as much street art as we did. It was such a pleasant surprise!
There are many different street art styles in Chiang Mai, varying from one part of the city to the next. You can find some awesome street murals in the Old Town, Nimman, Eastern and Western Chiang Mai, and on the walls of the US consulate.
Our favourite murals were located in the Old City. It was such a cool experience to see the contrast between this traditional Thai town with its temples, city fortress walls and old roads, and the new vibes that street art brings to the city.
In Chiang Mai, you'll see the works of local and international street artists such as Alex Face, Bonus TMC, Bon, Sanchai, Mauy, Waris, and Kanaet, to name a few.
Although most people don't come to Chiang Mai for street art, to us, it was a bonus that made our stay here even more special!
Phuket
Written by Becki of Meet Me In Departures
When I visited Phuket, I only expected to see temples and beaches, I didn't expect it to have a thriving street art scene!
There didn't seem to be one particular style. Some were small motif-style pieces, other pieces were gigantic murals, and some were interactive. The one thing they did have in common was that they were so colourful.
The hub of street art in Phuket is located in the centre of the Old Town. You'll find artwork pieces donning almost every street around here, so you won't have to walk far to find loads of it.
There are pieces of work by local and national artists, including Alex Face, Rakkit Kuanhavej, 4Studio and Mue Bon. The creation of these stunning pieces has brought an influx of visitors to the Old Town; previously, most people would stay in Patong and never venture here. Now, with the influx of tourists, little independent shops and cafes have popped up, making this a really cute area of Phuket compared to the westernised tourist-tat you find elsewhere on the island.
Best Street Art in Vietnam
Hanoi
Written by Angie of Where Angie Wanders
Exploring Hanoi and discovering its street art was something I was looking forward to doing on my Vietnam trip.
Hanoi is not as well-known for its urban art as other Asian cities; however, it does have a blend of commissioned and free-style art painted on its walls and house fronts. Until recently, urban art has been kept underground in the city; however, recent government reforms have seen this form of creative expression appearing on Hanoi's streets.
One such legal commission was the joint street art project in 2018 between Vietnamese and South Korean street artists covering the walls between Hanoi's railway arches. The murals are creative visual scenes evoking memories of Old Hanoi for locals and travellers.
I loved that some of the paintings were interactive and in a "Trompe-l'oeil" style similar to the street art I had seen in Penang. One mural had aprons available as props so the onlooker could become part of the artwork, a fun visual effect for photographs.
You can check out the nostalgic and fun wall murals at Phung Hung in Hanoi's Old Quarter.
There are many things to do in Hanoi, and exploring its streets is a great way of connecting with its growing urban art scene.
Tam Thanh Mural Village
Written by Rose of Where Goes Rose
In Central Vietnam lies one of the most unique and impressive street art projects in Southeast Asia. Modelled on the street art villages of South Korea, which were painted by locals to bring tourism to forgotten areas of cities, this seaside village covered in urban murals aims to attract tourism from Hoi An.
Hoi An receives millions of visitors annually, yet the surrounding villages often don't feel the financial benefit.
Tam Thanh Mural Village makes for a fantastic half-day trip from Hoi An. Not only will you explore the fantastic street art, but you'll also support local livelihoods.
What I personally liked about the street art of Tam Thanh was the human focus. Many images are life-like rather than cartoon-style and show the locals doing daily tasks like fishing and making clothes. We even spotted a real-life local posing beside a mural of himself!
Since the whole village is painted, there's no particular street to look out for. You can simply wander and find the best bits!
Want to Read More? Check out Lonely Planet Street Art
Want to Get Creative? Check out Street Art Colouring Book
Source https://mymodernmet.com/3d-street-art-illusions/
Source https://mymodernmet.com/best-cities-visit-art/
Source https://whereangiewanders.com/17-best-cities-to-see-street-art-in-asia/