19 Best Countries to Visit in Europe
Europe is a land frozen in time, highlighted by meticulously preserved buildings, some of which date back to the Neolithic Age. In addition to historic structures, Europe's best countries feature magnificent mountain ranges, deep gorges, and verdant countryside. This is where trips go to turn into vacations you'll dream about for years to come.
Active travelers love Europe's extensive attractions. You can ski down the French Alps, kayak in Croatia's Adriatic Sea, hike the Grindelwald in Switzerland, and cycle through the Netherlands, just to name a few popular outdoor activities.
Then there's the food. Yum! It's hard to beat the gastronomic delights found in the best countries in Europe. From the creamiest of French delicacies to the tastiest Swiss chocolates to the most delicious Italian pasta dishes, Europe's varied cuisines may be the best to ever grace your lips.
With so many countries to choose from, it can be hard to decide which to visit first. Our advice? Don't stop at just one. Europe offers a slew of fabulous places to visit packed into a relatively small space. That makes it easy to visit multiple countries on one trip.
Not sure where to start your sightseeing? Whittle down your choices with our list of the best countries to visit in Europe.
1. Italy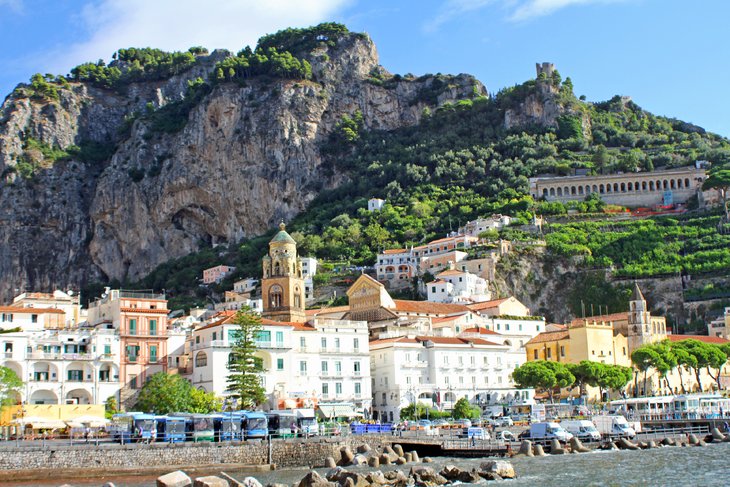 Amalfi Coast, Italy | Photo Copyright: Shandley McMurray
It's hard to picture Italy without salivating over the thought of its food. This boot-shaped country boasts tomatoes so sweet they taste like candy, pizzas cooked to perfection, and gelato that literally melts in your mouth. Italy is a utopia for gastronomes.
Even more resplendent than its food are the impeccable architecture and cultural masterpieces found in the ancient buildings, squares, and museums peppered throughout Italy's bustling cities and small, picturesque towns.
History abounds in the attractions of Rome (we're talking about the Colosseum and Pantheon), and its phenomenal town squares (i.e. Piazza Navona, St. Peter's Square, and Piazza Spagna) are a delight to enjoy.
Florence is home to the photo-worthy Duomo and Ponte Vecchio bridge, as well as museums you won't want to miss.
The canals of Venice are romantic and unique, while the massive Il Duomo, one of the top attractions in Milan, will have you gawking, as will the impressive outfits featured in the city's many shops.
The countryside is where you'll find the most authentic Italian experience. From skiing to hiking to swimming to eating (of course), the country's beauty envelops visitors, making it hard to leave. Tuscany is a real winner, transporting tourists back in time with its largely untouched walls and towers, while Lake Como offers a glimpse into the lifestyles of the world's elite.
The Amalfi Coast is as pretty as a postcard, which is why its colorful towns are featured on so much tourist kitsch.
2. France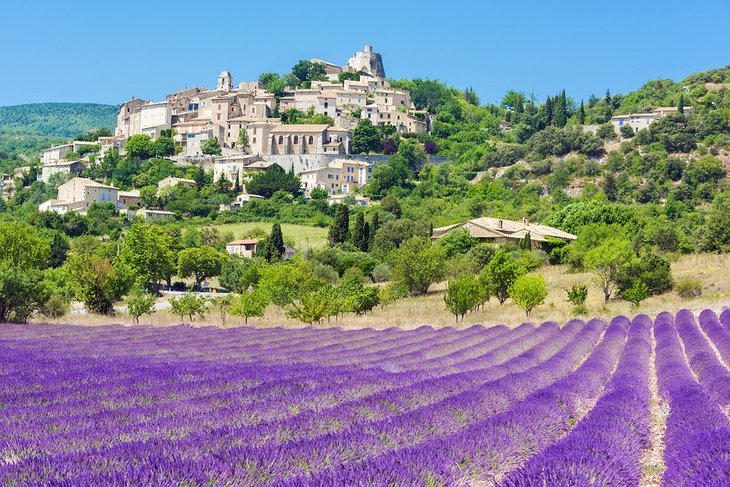 Lavender field in front of Simiane la Rotonde, Provence, France
Vive la France! Known for its romance, delectable food, art, culture, and natural beauty, this lovely country offers everything you'd ever want in a vacation. Every type of traveler will find something to love in France.
Bask in the sun's rays and catch sight of a celebrity or two on the French Riviera. Let your camera run wild photographing fields blanketed by lavender in Provence.
Travel back in time to the UNESCO-listed islet, Mont Saint-Michel in Normandy. Ski down the French Alps in Chamonix, Val d'Isère, or Méribel.
Dine in a café along the Champs-Elysée, visit a museum, climb the stairs of the Eiffel Tower, or stroll hand in hand with your soul mate along the River Seine in Paris.
Read More: Best Places to Visit in France
3. Spain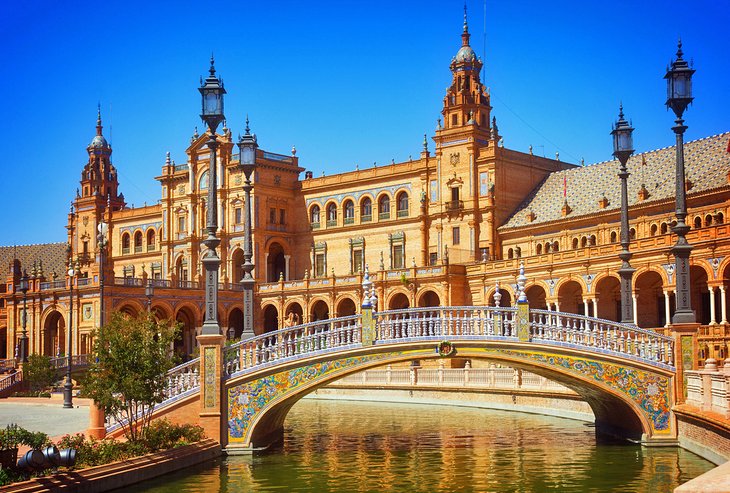 Plaza de Espana, Madrid
One of the most beautiful countries in Europe, Spain is also one of its best. From its architectural masterpieces to its towering mountain ranges, seaside cliffs, and hilltop villages, your camera will thank you for visiting this magical spot. No wonder more than 89 million tourists visited Spain in 2018, making it the second most visited country in the world.
You'll find plenty to see and do in the country's top cities. Madrid is home to the lovely Crystal Palace and sprawling gardens, as well as elegant plazas.
More elegant and romantic, Seville's soundtrack consists of horses' hooves on cobblestone streets and clanging bells from church towers. Here, you'll find must-see attractions like the spectacular Catedral de Sevilla, the UNESCO World Heritage Site the Real Alcázar, and the expansive Plaza de España.
Barcelona is both energetic and eclectic, featuring architecture that would make Salvador Dali proud (Casa Mila and the insanely unique Parc Güell are must-sees).
Valencia will soothe your soul with healing sea views, while Costa Brava offers some of the most stunning of beaches in Spain.
Don't miss beautiful Granada and its famous Alhambra palaces.
4. Austria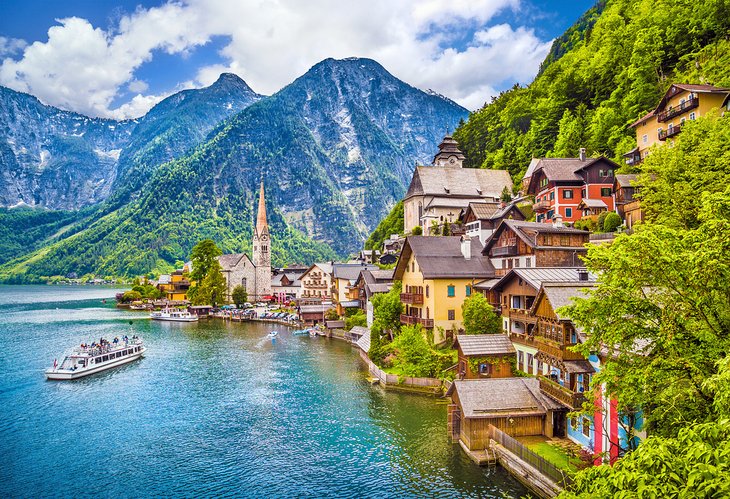 Hallstatt village in the Austrian Alps
Austria is one of those countries that can truly take your breath away. Ringed by the magnificent Australian Alps and peppered with sparkling lakes, this wonderland is one of the most beautiful countries in Europe.
Austria is also one of the most musical. It's almost impossible to wander through the country's many city streets without catching a snippet of song, especially one composed by famed Austrian, Wolfgang Amadeus Mozart. Born in Salzburg, the former Baroque composer's influence can be felt everywhere (his image is even found on chocolate wrappers). Wind your way through narrow, twisting laneways in the old town, Altstadt Salzburg (a UNESCO World Heritage Site), enjoy lunch in a courtyard, or visit a museum or St. Peter's Abbey while you're in town.
Vienna is another hot spot of gorgeousness. In addition to intricate palaces (i.e. Belvedere Palace) and sprawling gardens (i.e. those found at Schönbrunn Palace), you'll find the fabulous City Hall (Rathaus) and gorgeous Natural History Museum (Naturhistorisches Museum), among other popular Vienna attractions.
Linz hugs both banks of the River Danube, making it a perfect spot for exploring both the river and the surrounding countryside.
Graz, the country's second largest city, is another architectural hub, featuring buildings and ruins that date back to AD 800. Don't miss the picturesque old town and be sure to climb the Schlossberg (a hill measuring 473 meters and topped with a clock tower), one of the best things to do in Graz.
5. Croatia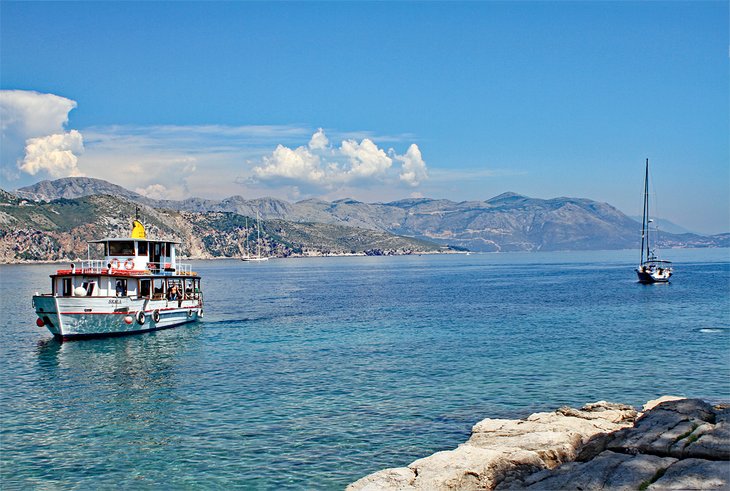 Boats in Croatia | Photo Copyright: Shandley McMurray
A Mediterranean masterpiece, Croatia offers scenery to soothe the soul and fresh food to treat the palate. With friendly locals, hilltop castles, preserved Roman ruins, and a sea the color of sapphires, it's impossible to feel stressed in this lovely archipelago.
Wander the winding laneways within the towering old city walls in Dubrovnik, or take the cable car up Srd Hill for the most spectacular view of this beautiful town, dubbed the "Pearl of the Adriatic."
Split is one of the most vibrant cities in Croatia and the second largest after Zagreb. Both are more than worthy of a visit. The island of Hvar will help you get your beach on; it's been deemed the "sunniest spot in Europe."
Croatia's crowning glory is its perfect position on the Adriatic Sea. Be sure to board a boat at some point to explore the archipelago, especially the charming Elafiti Islands, which can be found northwest of Dubrovnik.
Feeling adventurous? Kayaking and rafting are popular in Croatia, and you'll find plenty of rocky limestone cliffs to jump from.
6. The Netherlands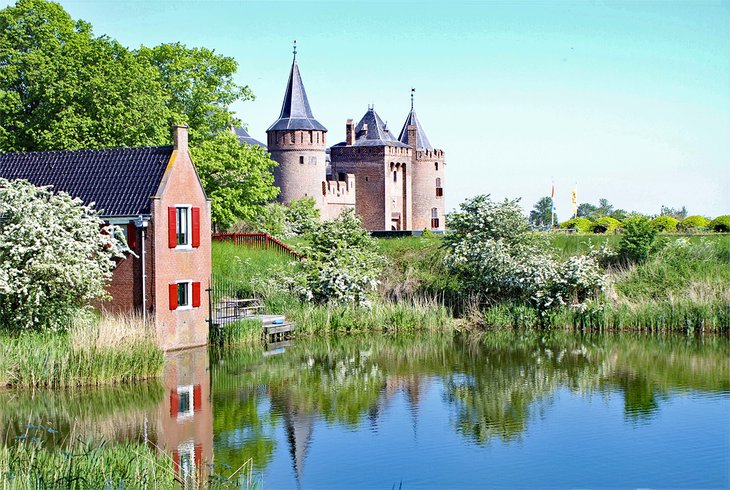 Muiderslot Castle, The Netherlands | Photo Copyright: Shandley McMurray
Less formally known as Holland, the Netherlands offers visitors a laid-back vacation filled with art, beauty, and a lot of cycling.
Located in the northwest of Europe, the landscape is flat (perfect terrain for a bike) and peppered with iconic windmills and fields bursting with tulips in spring (April and May in particular). The best place to spot them is arguably Keukenhof, also known as the "Garden of Europe." It's located in Lisse.
Amsterdam is one of the best cities to visit in the Netherlands. Despite its somewhat seedy reputation, this canal-laden spot is beautiful and filled with impressive museums (40, to be exact). Don't miss the city's top attractions, the Rijksmuseum, Ann Frank's House, and Van Gogh Museum.
You'll also find cutting-edge, eco-friendly architecture mixed in with the historic structures found in Rotterdam, Delft, and The Hague.
Big cities aren't your only option in the Netherlands. The adorable fishing hamlets located along the lake Ijsselmeer are worthy of a stop, especially Marken, Volendam, and Enkhuizen.
7. Sweden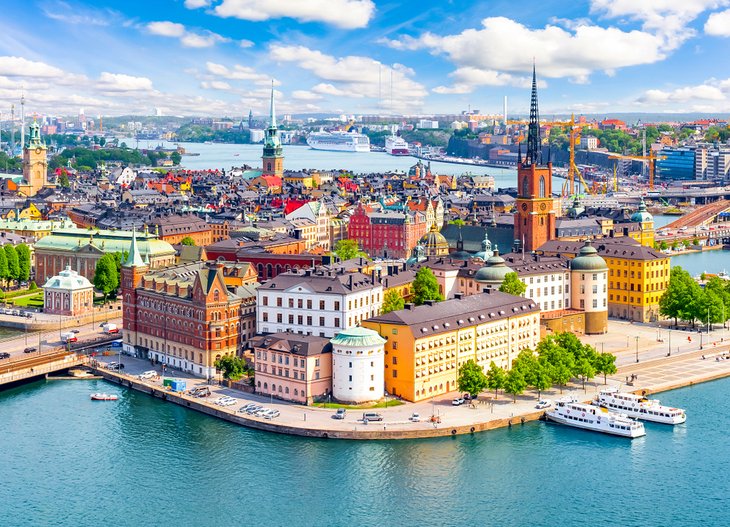 Aerial view of Old Town Stockholm
Bet you've never met a cranky Swede! Known for their gracious nature, the Swedish people are a friendly Nordic bunch. Given their impeccable surroundings – ancient walled cities, sparkling lakes, sun-drenched beaches, and glacier-topped mountains – it's no wonder they're so happy.
Located in the north of Europe, between Norway and Finland, Sweden is the place to visit if you're looking for an amazing view of the Northern Lights. Here, you can traipse through dense forests, canoe along crystal waters, and pitch a tent in an open field.
Those who appreciate avant-garde architecture will be rewarded with some of the world's most intriguing designs in Sweden. The country's most vibrant city is Stockholm, where you'll find the popular Vasa Museum, as well as stylish shops and eateries. Don't miss a trip to Skansen, a large open-air museum depicting life in the 1720s to 1960s.
Gothenburg, Sweden's "second city," is another must-see for foodies (they've got fantastic restaurants) and beach lovers alike.
8. Belgium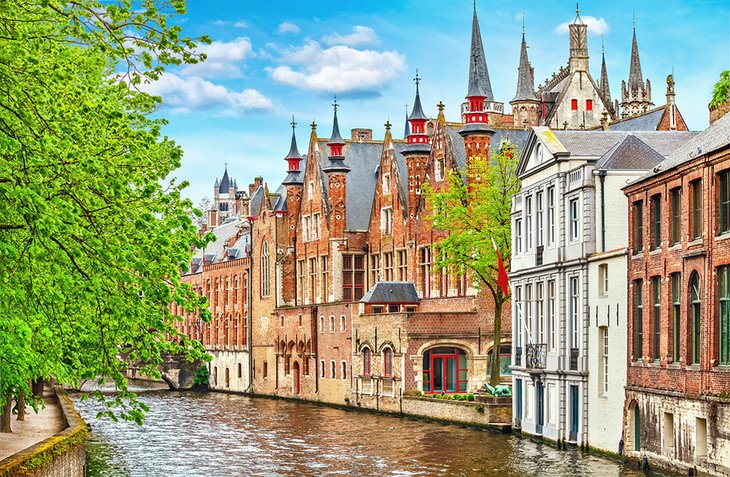 The medieval town of Bruges in Belgium
The smallest European country on this list, Belgium makes up for its diminutive size with a boatload of charm, not to mention picturesque medieval towns, UNESCO World Heritage Sites, and chocolate that will make your taste buds scream in delight. Did we mention the French Fries yet? Delish!
The country is unofficially divided into two main regions: the French-speaking and pastoral Wallonia in the south and the more cosmopolitan, Dutch-speaking Flanders in the north.
Brussels is a big tourist draw, offering visitors a peek at its most magical historic buildings, like La Grande Place (a.k.a. Gote Markt in Dutch) and Place Royal (a.k.a. Koningsplein). This is also where you'll find eclectic shops, tasty restaurants, and fantastic museums.
Bruges is tiny yet well storied and arguably the country's most beautiful town. Its canals, which are easily accessible by booking a boat cruise, wind their way through the city, offering lovely views of the captivating architecture.
9. Switzerland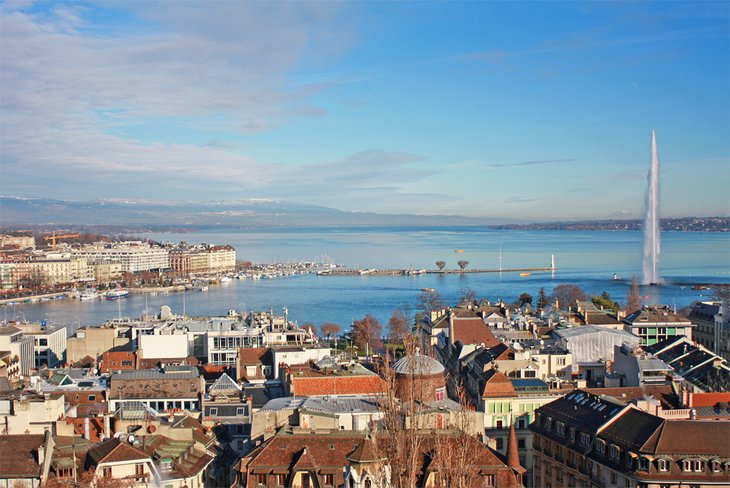 Lake Geneva, Switzerland | Photo Copyright: Shandley McMurray
One of the most expensive countries to visit in Europe, Switzerland is more than worth its hefty price tags. Snowcapped mountains burst through the clouds, emerging from lush, verdant fields dotted with sheep (hello, The Matterhorn).
Expansive lakes (i.e. Lake Geneva) span the countryside, offering a sparkling welcome to white water rafting, canoeing, fishing, and kayaking enthusiasts. Small villages like Gimmelwald gush storybook charm, captivating even the crankiest of travelers with their quaint shops and melt-in-your-mouth chocolates.
Larger cities like Zurich, Geneva, Lucerne, and Bern help visitors get their fill of both culture and beauty in one go. You'll find numerous impressive museums, art galleries, shops, and fine dining within their borders.
Zermatt is your one-stop shop for winter sports, as well as unbeatable Alpine hikes and climbs.
Read More: Top-Rated Tourist Attractions in Switzerland
10. Greece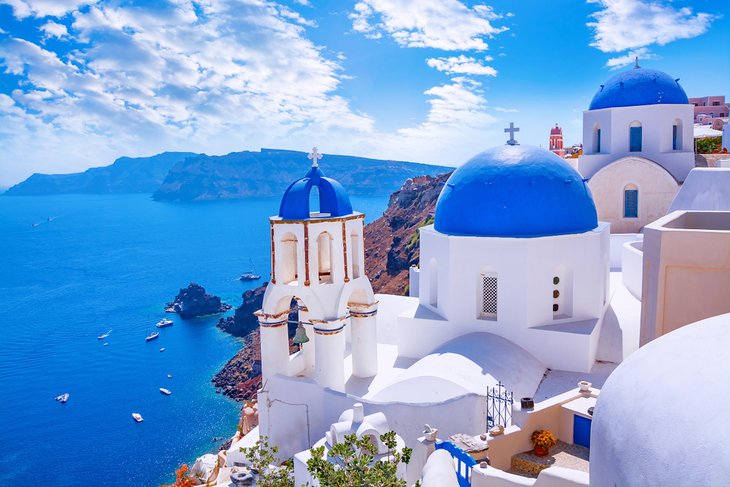 Oia town on Santorini Island, Greece
Perhaps the most laid-back of all the countries on this list, Greece is the perfect place to relax. Azure domes top whitewashed buildings on the country's smaller isles, their doors and gates painted with colors so bright they beg to be photographed. Santorini is particularly spectacular, especially at sunset. Crete is another popular island with inviting coastal towns and mountain villages.
The sky in Greece is the most luscious of blues, while the sapphire Mediterranean caresses beaches boasting sand and pebbles of different colors – from tan to pink to red.
Speaking of restaurants, it's hard to top the food in Greece. The freshest of local ingredients are used to create healthy and tasty delicacies teeming with vibrant flavors.
Read More: Top-Rated Tourist Attractions in Greece
11. Portugal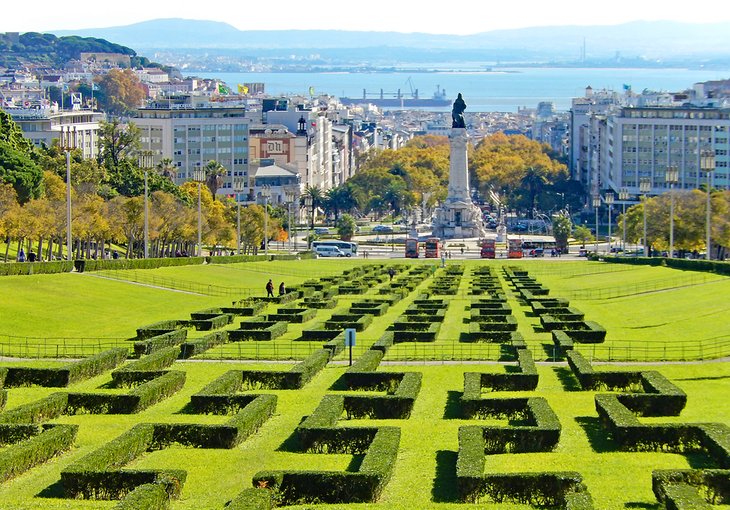 Eduardo VII Park in Lisbon | Photo Copyright: Shandley McMurray
Castles and beaches and mountains, oh my! Portugal has a bevy of gorgeous scenery to offer. Hugging more than 800 kilometers of the Atlantic Coast, this is the place to be for those who love water views.
A visit to the beautiful Azores islands will immediately dissolve your worries. They are an archipelago consisting of nine gorgeous, mountainous isles perfect for diving, surfing, sailing, and whale watching. Nearby Madeira Island is particularly popular with European tourists.
Lisbon is the country's largest city, with a prime location at the mouth of the River Tagus. It is jam-packed with fun attractions, ranging from a historic castle to a state-of-the-art aquarium to beautiful town squares to a hilltop park with an impressive view.
Tomar is also set on the water. Its enchanting cobblestone streets wind around medieval churches, a majestic castle, and other historic buildings along the banks of the Nabão River.
Read More: Best Places to Visit in Portugal
12. Germany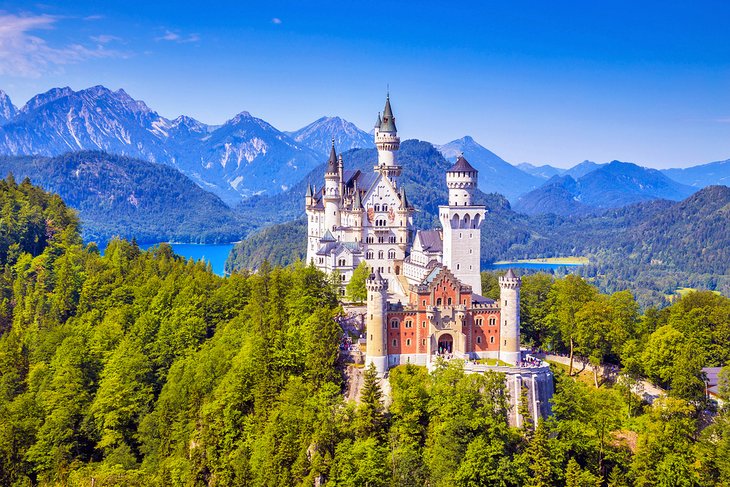 Neuschwanstein Castle, Germany
While Germany may not be the most romantic European vacation destination, its spectacular scenery (we're talking sand dune-lined beaches, thick forests, and rugged mountains) make it a worthy destination for every type of traveler.
Cosmopolitan destinations like Munich, Hamburg, and Frankfurt offer travelers the historic culture they crave in the form of ancient buildings, monuments, and museums. They also burst with shops and restaurants that serve traditional sauerkraut and schnitzels mixed with more contemporary fare.
The small towns are where you'll find a nice break from the hustle and bustle of everyday life. These quaint villages are peppered with beautiful remnants of the past. Despite suffering through war, many ancient towers, churches, and houses stand strong, stoically adding to the charm and allure of these rural delights.
Bavaria's colorful towns, Rothenburg-ob-der-Tauber, Dinkelsbühl, and Nördlingen will lift your spirits and give your camera a real workout.
Read More: Best Places to Visit in Germany
13. England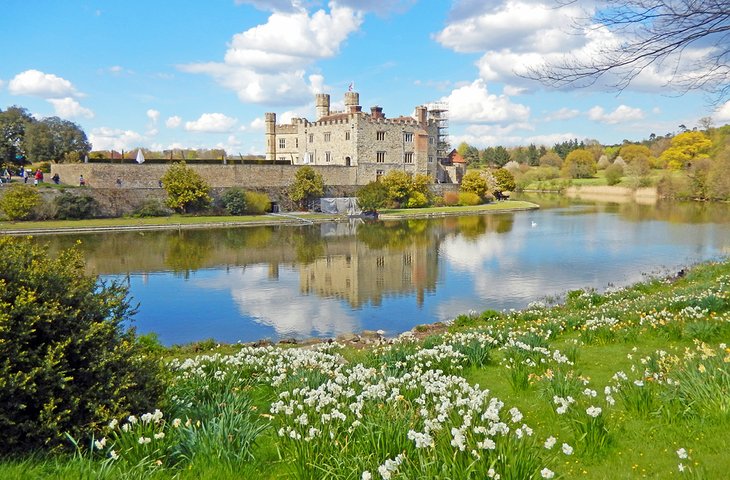 Leeds Castle, England | Photo Copyright: Shandley McMurray
It doesn't take long for England to charm its visitors. Best visited with an umbrella in hand, this oft rainy isle is one of the best places to visit in Europe.
Hoping to roam through bucolic countryside, frolicking with sheep as you wander over hills and across dales? Head to the green valleys of the Lake District, a wonderland so lush and fertile, you'll want to pitch a tent and stay for days.
More of a shopper? Head to London, the iconic capital where you'll meet the most modern yet understated styles of each season. You'll also be blessed with an infinite variety of top restaurants and cuisines.
Looking for storied castles? You'll find them aplenty in towns ranging from the large, walled city of York to the smaller village of Leeds to the tiny town of Warwick, which is set upon the picturesque River Avon.
Speaking of small towns in England, that's exactly where you'll want to head if you're in search of fairy-tale villages oozing charm. The impeccable Cotswolds must be seen to be believed. Named after the honey-colored stone used to build their enchanting homes, this rich land is brimming with culture, and an impressive charm you won't find anywhere else.
14. Denmark
Frederiksborg Castle, Hillerod, Denmark
Denmark may be small (it's almost double the size of Massachusetts), but boy does it pack a beautiful punch. An environment-loving, friendly country, this Nordic star offers visitors a clean, calm, and beautiful vacation destination. Water is never far away, making it easy to relax beachside on the coast of the Baltic Sea or canoe or fish in one of the sparkling lakes and rivers.
Among its 450-island archipelago, you'll find villages dotted with timber homes, perfectly groomed gardens, as well as cities boasting palaces, museums, and amusement parks (like Copenhagen, with Christiansborg Palace and Tivoli Gardens).
The Danish architectural style is hard to beat – from luxurious fortresses like Kronborg Castle to the uber modern National Maritime Museum in Helsingor to the colorful shops and restaurants of Copenhagen's Nyhaven harbor. Museums and Viking history abound in Roskilde.
Worried about getting around? You're more likely to run into bike traffic than car standstills in this eco-friendly country. Cycling is the preferred mode of transportation, especially through the windmill-spotted countryside.
Insider's tip: Make time to visit the breathtaking Faroe Islands.
Read More: Top-Rated Tourist Attractions in Denmark
15. Iceland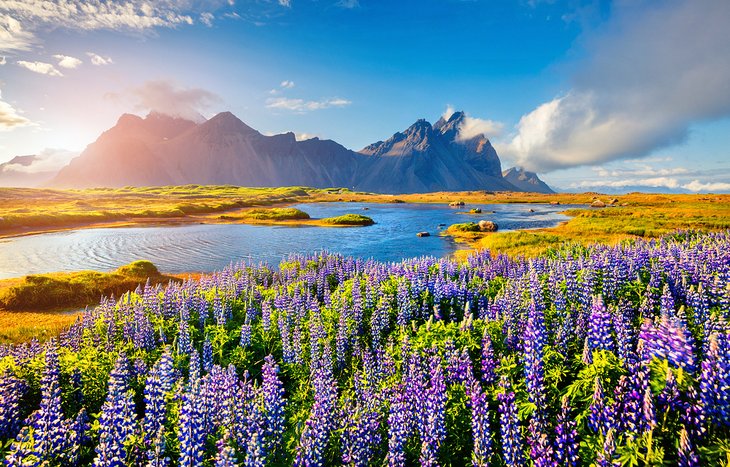 Lupine at the Stokksnes headland
Iceland is a majestic land sprinkled with some of the world's most captivating scenery. A sparsely populated island, this breathtaking spot has become one of the most coveted of bucket list vacation destinations.
Adventure-seekers visit for its eccentric topography. You can traipse across, through, or around everything from glaciers to fjords to volcanoes to ice caves to waterfalls to mountain ranges.
During the day, visitors can shop, dine, or meet the uber-friendly locals in the country's biggest city, Reykjavik. Head out on a whale-watching tour, take a dip in the Blue Lagoon, or hike through the lava fields of the Hekla volcano.
Be sure to visit Vatnajökull, the largest (and most magnificent) glacier in Europe. At night, especially between September and April, tourists are rewarded with an unbeatable view of the northern lights.
16. Ireland and Northern Ireland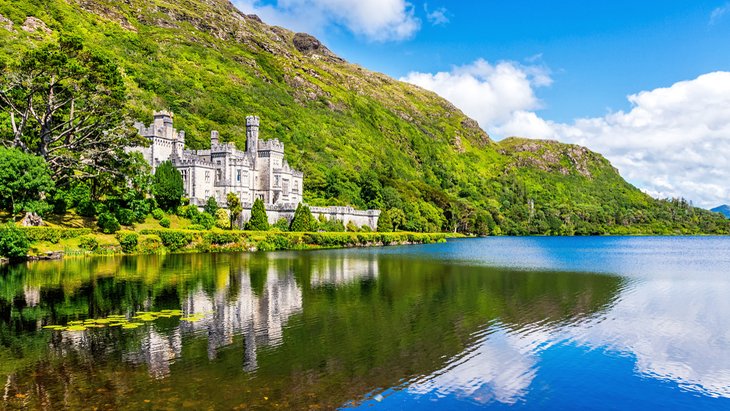 Kylemore Abbey in Connemara, Ireland
Little beats the beauty of the lush green fields that blanket the Emerald Isle. This breathtaking island is steeped in history; dotted with bleating sheep; and packed with people so friendly, you'll beg to be adopted. Add the lively music, endless stunning attractions and unique things to do in Ireland, and you'll never want to leave.
Mother Nature outdid herself with the spectacular sights along the Ring of Kerry, the rugged Cliffs of Moher, and otherworldly Giant's Causeway (the top tourist attraction in Northern Ireland). Pack a camera, as you'll want to capture these majestic spectacles for posterity.
Speaking of Northern Ireland, don't miss a visit to its capital, Belfast, where you can wander along the Titanic Quarter, visit the Titanic Belfast museum, and explore the Botanic Gardens.
Dublin is unmissable. The music, the culture, the food, the museums; there's so much to love about this lively city and so many fun things to do in this Irish capital.
When you've had enough of big city life, it's time to explore the heart of Ireland, its quaint and charming small towns. From the medieval castle in Kilkenny to the Gallus Oratory in Dingle to the vibrant fishing port of Kinsale, there's something for everyone to enjoy.
17. Norway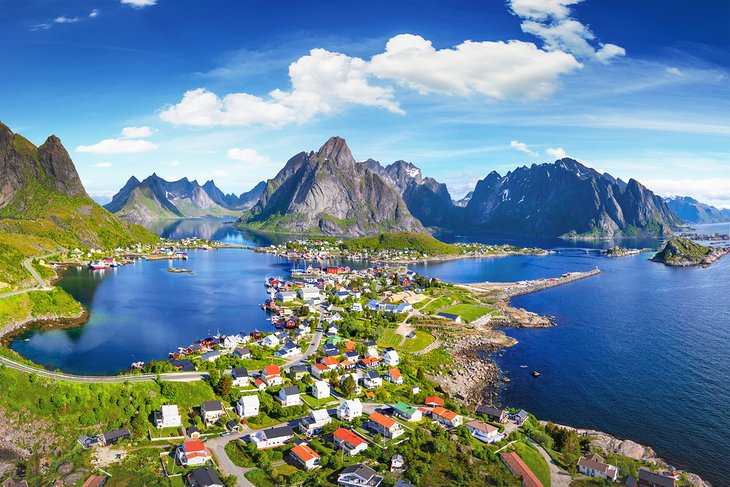 Aerial view of the fishing village Reine in the Lofoten Islands, Norway
Fjords and mountains and lakes, oh my! Norway sure knows how to enchant its visitors. With so many top attractions, it can be tough to choose where to start.
Search for the northern lights or embark on an action-packed vacay filled with hiking, skiing, or white water rafting in scenery so captivating, it will leave you breathless, No matter how you choose to spend your vacation, Norway is a delight.
Not up for that much outdoor adventure? No worries, Oslo, the country's capital, is packed with fun things to do. You can explore museums, visit the Vigeland Sculpture Park, and enjoy a meal (or many) in the best restaurants in Oslo.
Sognefjord is the largest (and arguably most stunning) of Norway's fjords. At 204 kilometers long and 6,905 meters deep, Sognefjord offers plenty of incredible tourist attractions.
Ålesund is another unmissable gem famed for its postcard-worthy setting. In addition to checking out the city's impressive Art Nouveau architecture, walking around the harbor, and visiting the Town Park, there are a slew of interesting things to do in Ålesund.
18. Turkey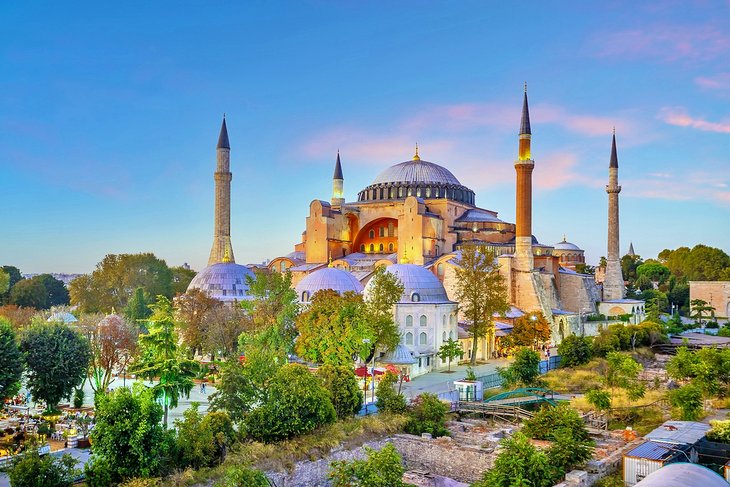 Hagia Sophia in Istanbul, Turkey
When most people think of Turkey, they picture the Hagia Sophia Mosque or Grand Bazaar in Istanbul and salivate over the thought of Turkish food. This storied country is also home to top cities like Antalya (famed for its Dunden Waterfall), Bursa (site of the remarkable Grand Mosque), and Sanliurfa, where you'll find the lovely Pool of Abraham.
While Istanbul is packed with things to see and do that include the aforementioned mosque and a glittering palace and Hippodrome, it is also home to beautiful parks.
Those hoping to lounge beachside, soaking up stunning views of the Mediterranean, will be pleased with the variety of picturesque islands in Turkey. Bozcaada is laid-back yet luxurious, framed by soft sandy beaches, while Gӧkçeada is a quiet wonderland best visited during the buzzing summer months.
19. Czech Republic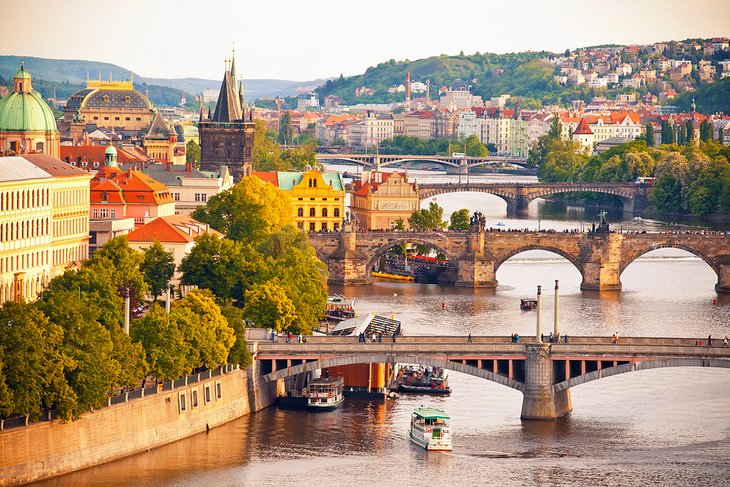 Prague, Czech Republic
One of the cheapest European countries to visit, the tiny Czech Republic is filled with intricate historic monuments, lively music, and tasty food. It's also one of the most beautiful countries in Europe.
It's easy to see why Prague tops the list of the best places to visit in the Czech Republic. The heart of this picturesque region, this pretty and vibrant city is a must see. Prague is filled with impressive tourist attractions, like Prague Castle, Charles Bridge, and Wenceslas Square, not to mention budget-friendly shops and restaurants. In fact, many of Prague's don't-miss sites are among the best tourist attractions in the Czech Republic.
Prague isn't the only city worth visiting in the Czech Republic; hot spots like Český Krumlov in the south (its castle is a UNESCO World Cultural Heritage Monument) and Kutna Hora (home to the Baroque chapel, Sedlec Ossuary) are spectacular.
Head to Karlovy Vary, or Carlsbad as it's also known, for a rejuvenating dip in a thermal spa. Don't miss the 19 th -century Market Colonnade, Museum of Glass MOSER, and Church of St. Mary Magdalene, a few of the other popular tourist attractions in Karlovy Vary.
More Related Articles on PlanetWare.com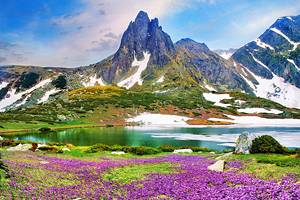 See Europe on a Budget: Let's face it, travel ain't cheap! Luckily, there are ways to see the world without emptying your pocketbook. Visit these inexpensive places in Europe (we're talking about awesome spots like Prague and Valencia) or head to these beautiful yet affordable European countries (hello, Bulgaria and Romania).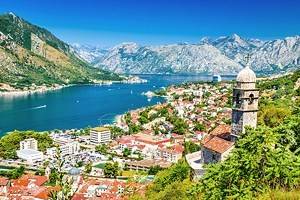 Other Unmissable European Destinations: Europe has so much to offer visitors, and our list of the best countries to visit in Europe merely highlights some of its top spots. From charming towns that look as if they've come straight out of a fairy tale to a historic sea fortress in Finland to Italy's best beaches, you'll never want to go home.
The Top 10 Most Visited Countries in Europe
World citizens are now travelling more than ever. The latest data published by the United Nations World Tourism Organization (UNWTO) show that international tourist arrivals grew 6% in 2018, totalling 1.4 billion, which was forecasted to be reached only in 2020.
In Europe alone were registered 710 million international tourist arrivals or about half of the total number. Southern and Mediterranean Europe drove the growth; however, the Western and Central European countries remain not only the most visited in Europe but also the top tourism destinations in the world.
Following, find the top ten most visited countries in Europe and the reasons why these countries are a magnet for tourists.
1. France – 89.4 million visitors
The world's most visited country, France, is not all about the Eifel Tower, museums and wine. For more than a decade now, the country has lured the highest number of visitors, more than any other European or world country. The reasons for that are not few. The country has such a variety of tourism attractions that a year would not be enough to see and experience everything that it has to offer.
France is well known for the numerous splendid and enormous palaces, castles and cathedrals all across the country. The Palace of Versailles, the Castle of Chambord and the Notre-Dame Cathedral are some of the most famous.
Medieval villages like the Pérouges, St-Émilion, St-Jean Pied de Port, coastal villages, snowy mountains, beautiful beaches and enormous outdoor markets have made every traveller place France on their must-see list. Over 89 million visitors alone visited the country in 2018, and the numbers are believed to be much higher in 2019. France seems to be the top world destination since 1995 when the country received over 60 million visitors.
2. Spain – 82.7 million visitors
Mostly located on the Iberian Peninsula, Spain is the second most visited country in Europe. Around 82.7 million travellers stepped into Spain in 2018 alone, 1 million more than in the previous year.
Spain has 47 UNESCO world heritage sites, numerous beaches on the Atlantic and Mediterranean, and numerous festivals that bring together people from all across the world. Many have compared the coastal part of Spain with tropical islands.
The variety of foods, in particular the Tortilla Espanola, Pisto, Paella, Paella and other traditional foods have added the value of a trip to Spain.
Its football teams are among the most famous in the world. It is estimated that the Copa Del Rey championship attracts thousands of visitors yearly.
3. Italy – 62.1 million visitors
Home to some of the most famous buildings in the world, like the Colosseum and the Leaning Tower of Pisa, Italy is the third most visited country in the old continent of Europe. A number of 52.4 million visitors entered the country in 2016, 58.3 million in 2017 and 62.1 million in 20218.
Home to numerous castles, palaces, cathedrals, vineyards and beaches, the country is also known for its influential art, architecture and culture. The Vatican Museums located in the heart of Rome are another attraction for many. Rome itself is the third most visited city in Europe, after Paris and London. Florence, Venice, Milan and Naples are among the most visited cities in Italy.
And even though Italian cuisine is spread worldwide, eating pasta and pizza in Italy, is a must-do for many.
4. Turkey – 45.7 million visitors
Istanbul is probably the dream of every traveller. The meeting point of the occidental and oriental cultures, Istanbul was established in 660 BCE and was known as Constantinople before the Ottomans conquered the city.
No traveller to Turkey will skip Istanbul. The city has a unique mixture of Byzantine and Ottoman architecture, tasty middle eastern food, nice weather, and lots of friendly cats and dogs freely wandering across the city.
Turkey received 45.7 million in 2018, while in 2017 it counted a total of 37.6 million tourists. Travellers interested in history in particular visit the ancient Greek city of Ephesus, the Cappadocia rock valleys, the pure white travertine terraces of Pamukkale, and the ruins of the former Armenian capital Ani and much more.
A huge share of the total number of annual tourists travelling to Turkey goes there to spend their vacations in one of the numerous luxury hotels which you can find in most of the bigger cities.
5. Germany – 38.8 million visitors
One of the strongest economies in the world has a very strong tourism industry as well. A good share of the German budget comes from tourism. Visitors hardly travel across Europe without stopping in Germany. In 2018, Germany had 38.8 million tourists, while in 2017, 37.5 million visitors entered the country.
It shares borders with Denmark to the north, Poland and the Czech Republic to the east, Austria and Switzerland to the south, France to the southwest, and Luxembourg, Belgium and the Netherlands to the west. Travellers to any of these countries can easily access Germany by train or plane.
Germany has a lot to offer to curious travellers. The Cologne Cathedral, Reichstag building, Neuschwanstein Castle, Heidelberg Castle, Aachen Cathedral, Leipzig Zoological Garden are some of the buildings that attract the most visitors.
If you travel to Germany at the right time, you may experience events like the Oktoberfest, the Cologne Carnival, the Berlinale film festival, or Unity Day.
6. United Kingdom – 36.3 million visitors
The modern era Kingdom of Great Britain and Northern Ireland consists of four constituent countries: England, Scotland, Wales, and Northern Ireland. The country has played a very important role throughout the history of Europe and the world.
Castles, palaces, churches and other buildings constructed in different periods of history stand still and attract millions of visitors annually. Among the most visited are Stonehenge, the Roman Baths and Georgian City of Bath, Canterbury Cathedral, the Cotswolds, Warwick Castle and Stirling Castle.
37.7 million travellers entered the country in 2017, 1.9 million more than the previous year and 600K less than in 2018. The number of tourists is in particular high during bank holidays and the summer months.
Do you want to visit the UK?
> Check UK visa and entry requirements
7. Austria – 30.8 million visitors
30.8 million travellers visited Austria in 2018. Whether you are passionate about art or nature, Austria can offer you both.
With its stunning castles most of which were created during the Habsburg reign, the Baroque castles and gardens, ruins and monuments dating back to the Middle Ages, a few days or even weeks will not be enough to sneak a peak of the famous Austrian buildings.
The Austrian Alps are well-known as a winter sports attraction. Innsbruck is a must-visit for all those passionate about skiing, or who want to get away from the busy city life.
8. Greece – 30.1 million visitors
The cradle of western civilization, the Hellenic Republic of Greece hosts millions of visitors every year. It has been a tourist attraction since antiquity. 27.2 million people visited the country in 2017, after 24.8 million visitors in the previous year. In 2018 the number increased to 30.1 million tourists.
Among the most famous spots for visitors are the Acropolis, the monasteries of Meteora, the mystical Delphi ruins, the Temple of Hephaestus and many more. The capital of Athens, Thessaloniki, Corfu, Santorini and Crete are among the most visited cities and islands. There are more than 200 Greek islands that you can visit, each more beautiful than the other.
Food in Greece is a unique experience itself. It is a mixture of traditional Greek food influenced by Turkish and Italian cuisine. Greeks are especially known for their seafood and cheese.
9. Russia – 24.5 million visitors
The biggest country in the world is the ninth most visited in the European continent. 24.5 million travellers visited Russia in 2018.
There is a lot to explore and see in Russia. The Saint Basil's Cathedral looks as if it has gotten straight out of a fairytale. The Hermitage Museum and Kremlin also look fairytalish. Buildings from Imperial Russia such as the Bolshoi Theatre, the Kazan Cathedral and the Singer House are stunning as well.
There are a lot of natural wonders, such as Lake Baikal, Kizhi Island, Valley of Geysers, and Mount Elbrus. Russian ski resorts are in particular famous among Europeans.
10. Portugal – 22.8 million visitors
22.8 million people visited Portugal in 2018, mostly interested in seeing the capital Lisbona, the city of Porto, Odemira, Faro and the city of Sintra.
There is a lot to do in Portugal, from visiting old castles and palaces to surfing at the sea. The old village of Sortelha, the Pena Palace, the Castle of the Moors, the historic fishing town of Cascais and the waterfalls of the Azores are among the things you must see if you are travelling to Portugal.
Portugal has a coastline of 1,794 km and shares its borders only with Spain. It has stunning beaches, crowded ones and others hidden. It is also known for giving to the world-famous football players, who won the UEFA European Championship in 2016.
18 Best Places to Visit in February in Europe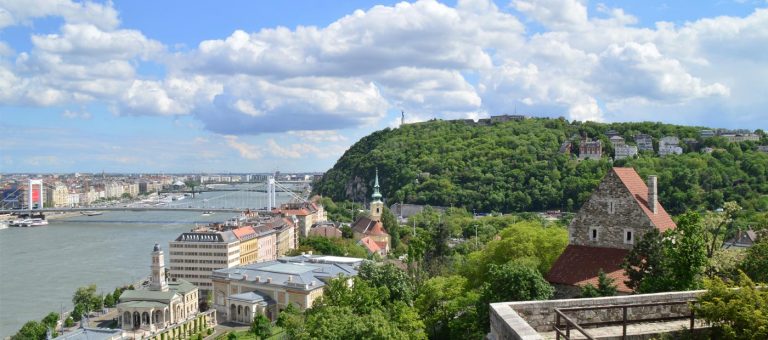 Are you traveling to Europe? Are you seeking the Best Places to Visit in February in Europe? Though mainly wintry, the month of February is still a good one to explore and enjoy the many wonders that Europe has to offer.
To be able to enjoy most of these resources, it is essential to know just where to go in February in Europe. That is because not every destination you pick at random may give you that end.
We have taken the stress of finding the right destination away from you. We also know the warmest locations in Europe for the winter months.
Accompanying each destination is the specific attractions and niches they confer. Almost all are even more linked posts, from our experiences.
Did you know that seeing the Northern Lights from different locations is a trend? Isn't that an ideal concept for Valentine's Day which falls in February?
Table of Contents
What are the 20 Best Places to Visit in February in Europe?
One by one here are the ideal places to visit in February in Europe.
1. Copenhagen, Denmark
Starting with the European cities to visit, Februaries in Copenhagen can get cold. It is subsequently not the place to consider visiting for your outdoor events and activities.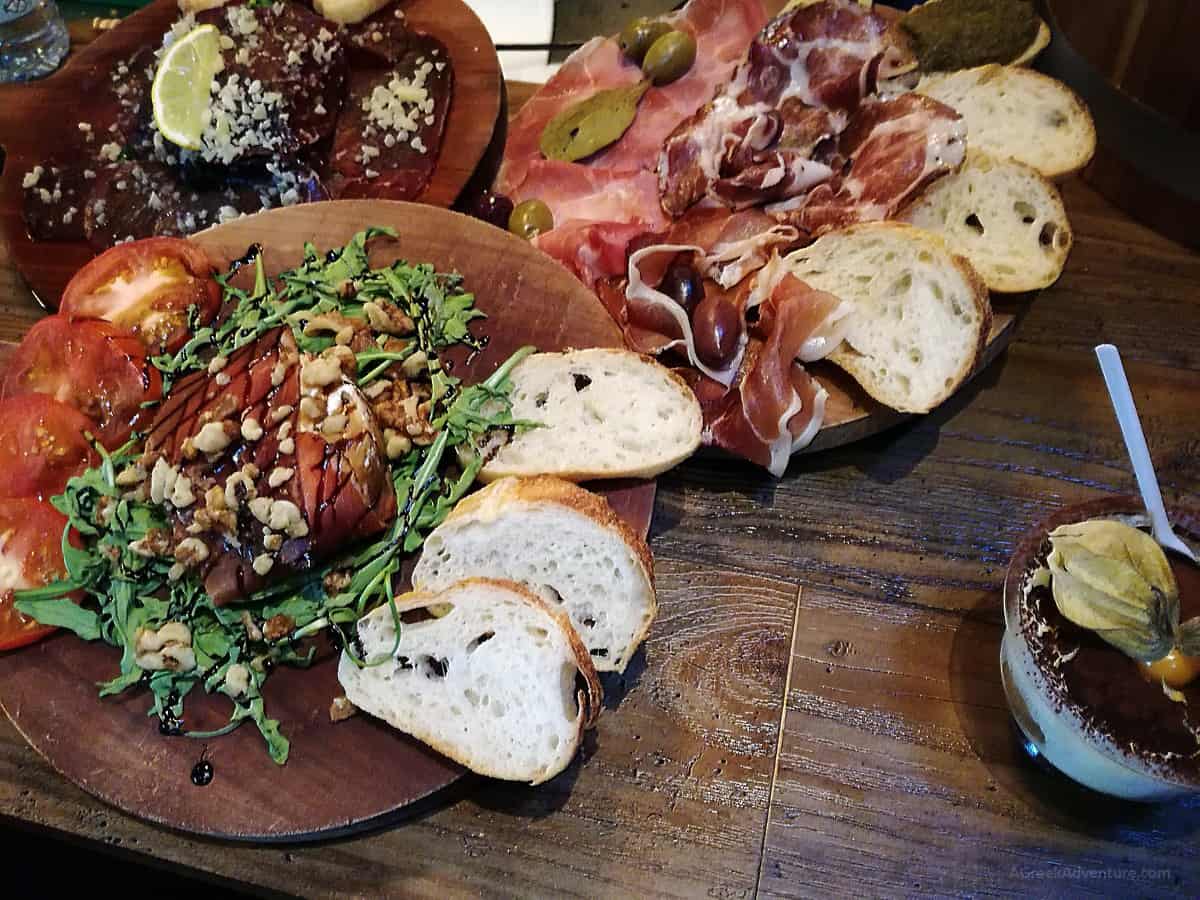 That can only mean you are paying a visit to the area for the sake of your indoor engagements. When we talk of indoor engagements, Copenhagen has numerous attractions.
As you stroll out and about this fantastic city, you will find numerous museums, art galleries, eateries, and exhibitions.
These contain plenty of collations that date back to antiquity. Plan your day trip to the city in such a way as to make the most of these facilities.
2. Algarve, Portugal
Located in Portugal's southernmost region, Algarve is mainly renowned for golden shores and mild weather.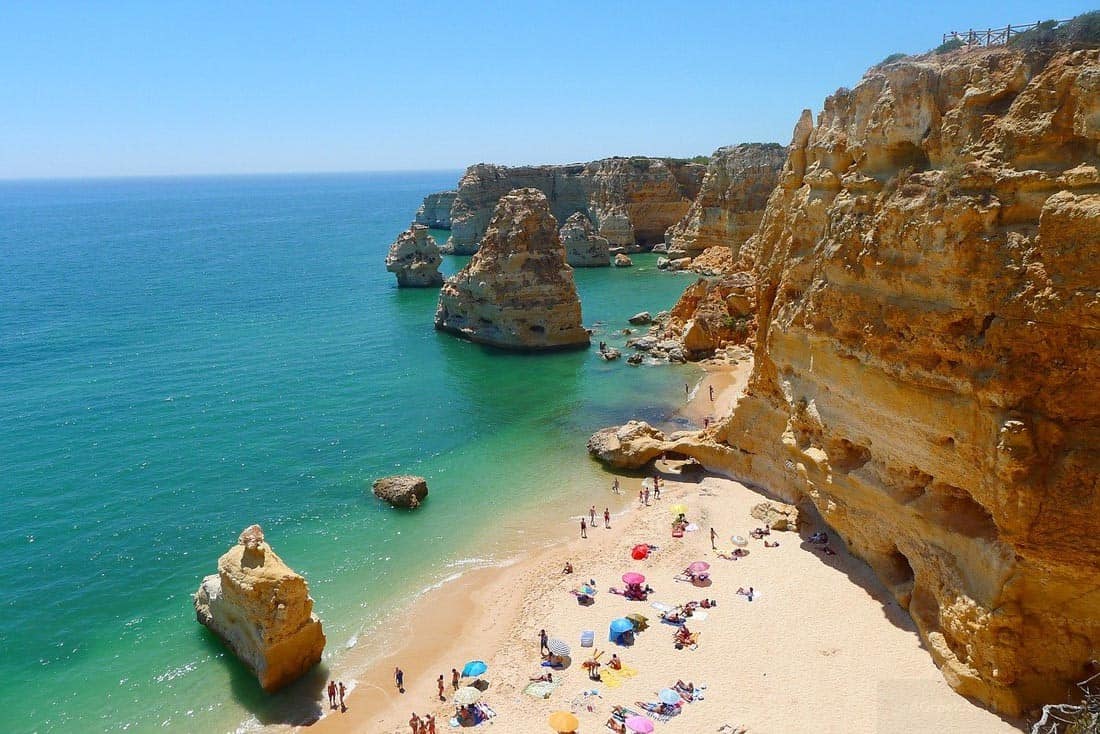 On account of this, the area is fantastic for sunbathing and other outdoor engagements in the otherwise wintry February. Temperatures here range from 13 – 17 °C and record almost no rainfall.
Matters of weather aside, Algarve also possesses a brilliant landscape, dazzling culinary scene, and rich culture.
Considering the low population of the area, you will enjoy limited congestion, more open beaches, and cheaper accommodation if you choose to spend your time here.
3. Budapest, Hungary
Though cold, February is ironically the driest month of the year for Budapest. Several attractions and resources converge to make it a beautiful place to be in February.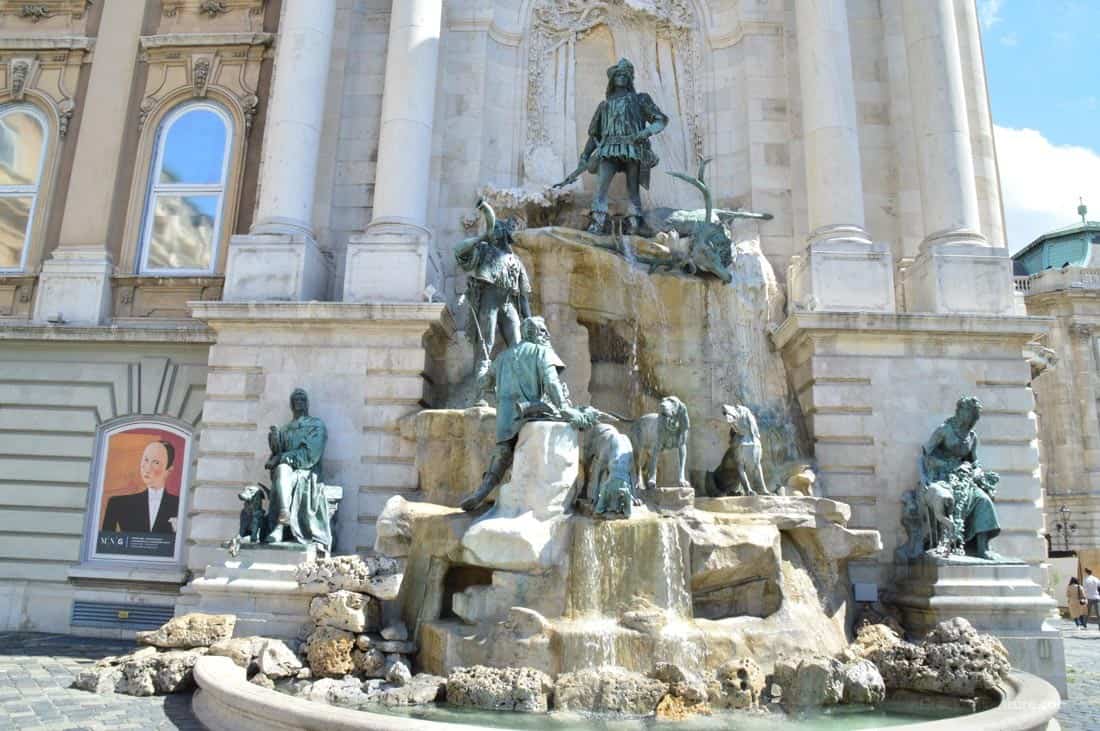 The existence of UNESCO World Heritage-listed landmarks and outdoor events are top examples of these. If you love romance, you have no better venue.
While at the facility, take some of your time also to cruise through the Danube River.
As you do so, you will get to behold the city's skyline and other breathtaking facilities.
After you are through with your cruises, take some warm baths at the many thermal spas that strew the city center. Don't forget to taste the local food.
4. Athens, Greece
Athens forms a vital part of the many idyllic islands that lie in and around the Aegean Sea.
Though February is still cold, it does not have a shortage of things to enjoy while in the area.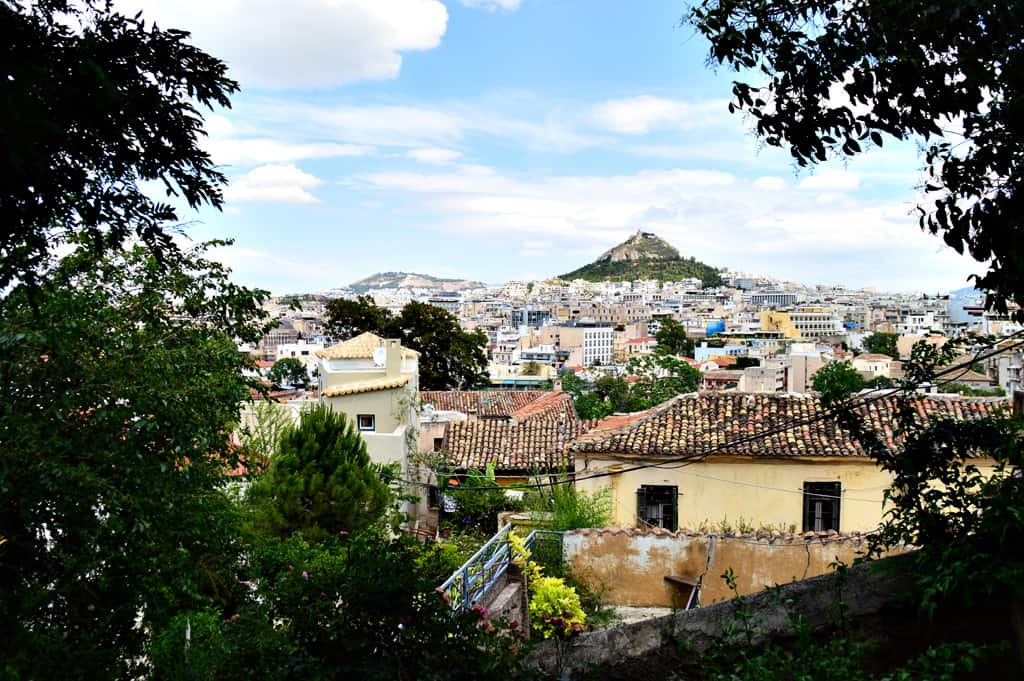 View from an opening between trees and flowers at Anafiotika
The Greek Parthenon, the National Archaeological Museum, and the acropolis are some of the attractions to spend your time at. Allocate time for day trips from Athens.
Complementing these facilities are high-end luxury hotels that contain pleasurable amenities and facilities.
After you are through with your visit to the area, do take time to retreat to these hotels to relax and unwind.
Athens is evolving in an all-season city, among the best ones to visit in Europe in February or any winter month (not only for summer).
5. Lisbon, Portugal
Of all the major European destinations, it is Lisbon that experiences the mildest February weather.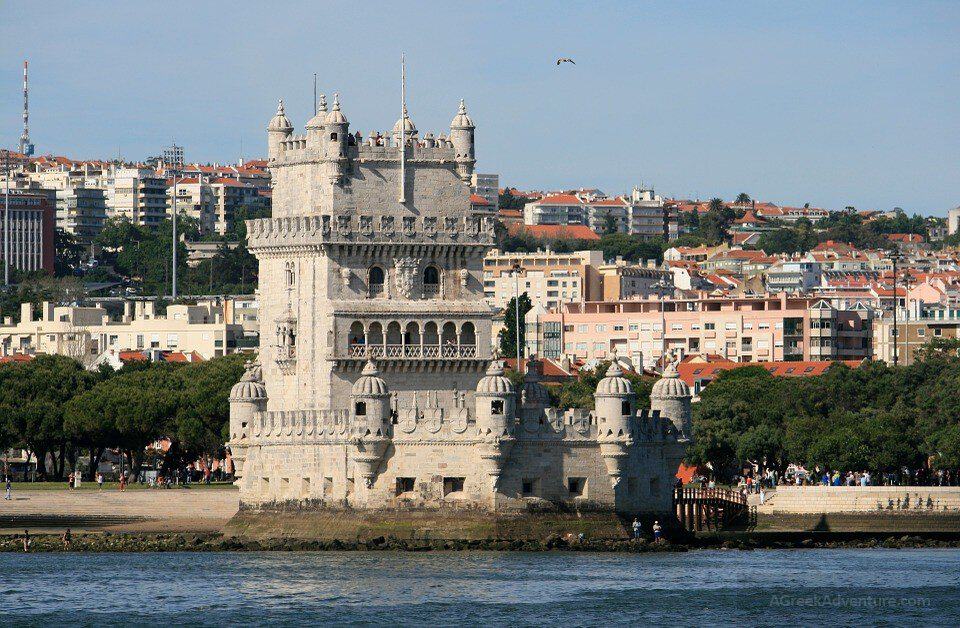 Belem Tower
This notwithstanding, you should still put on slowly if you happen to hail from outside Europe.
Temperatures may still be cold and unfriendly at such times.
Though comprising numerous facilities, sightseeing and photography are the main activities that the month of February favors.
Do take a stroll along the streets and capture the shots as you travel by. There are lots of places to visit outside of Lisbon, like Porto, Cascais, Sintra, and more.
Prioritize public transportation systems as they are the most affordable and flexible means.
After you are through, retire to any of the luxury hotels to unwind.
6. Tenerife, Canary Islands
Are you a beach life enthusiast? You need not suspend your beach activities simply because it is wintertime.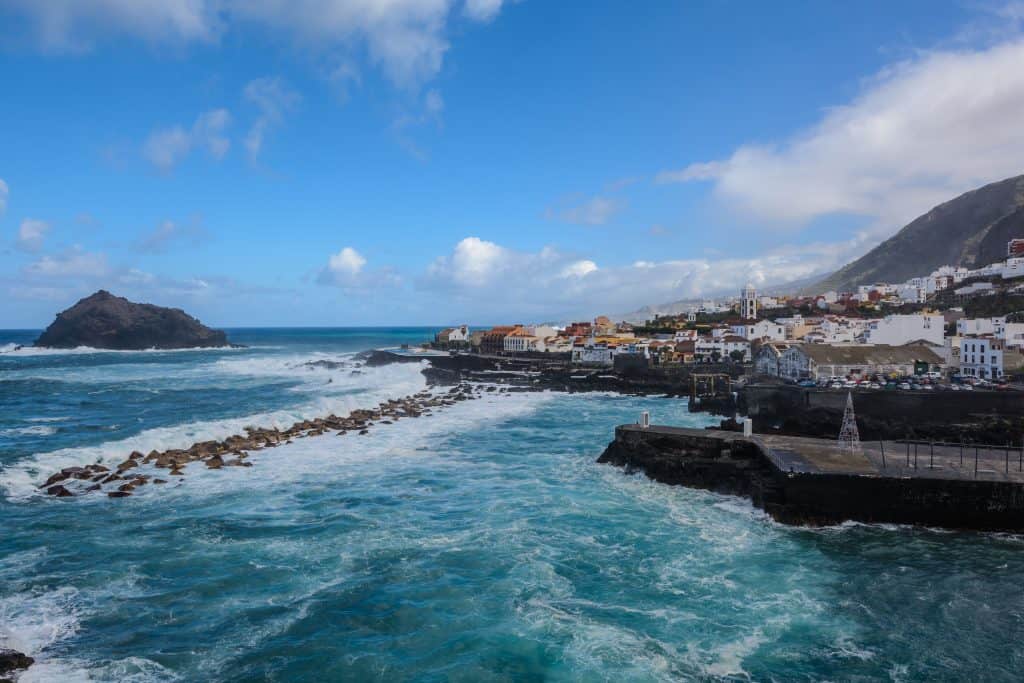 Europe still has you well taken care of. The Tenerife, Canary Islands are the ideal place to go and set up base. 'But why,' you may ask? The islands are detached from continental Europe.
They are located to the south, not so far from the North African shoreline.
This location accords it some warmth when the rest of the continent is too cold. Here, you will enjoy abundant sunshine, warm weather, mild seas, and the freedom to sunbathe.
7. Venice, Italy
Venice is generally known to be a party city. Indeed year round, numerous carnivals, festivities, and fun-filled activities are hosted here.
All you have to do is plan early and make your travel arrangements accurate. That is because the area suffers from a phenomenon called 'over-tourism.'
A visit to the historic city will also take you through the many canals that wind out and about the area. As always, you should also carry along your digital camera to see to it that you miss out at no event at all. This chic city is too awesome to behold and walk away.
8. Geneva, Switzerland
If gliding, winter sport, and other ice-based sporting activities are your things, have Geneva, Switzerland is your destination of choice.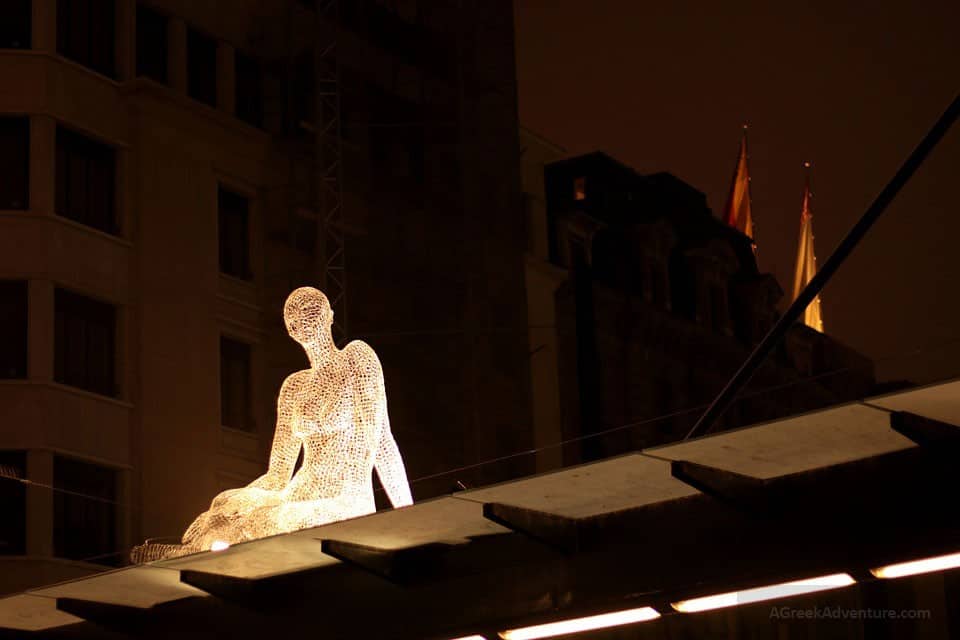 Geneva, Switzerland
The city is situated in areas that experience heavy snow and provide continuous trails where you can just set sail and glide. The month of February is also unique.
It marks the conclusion of La Réserve Genève's (indoor ice skating rink.)
This is an event that is held in honor of both parents and children.
You can never visit the nation without tasting the chocolates as Switzerland is widely known for the same!
9. St. Moritz, Switzerland
Still in Switzerland, you have this alpine resort town to visit.
Though suitable for a visit year-round, February is undoubtedly the best time to visit here. It is home to many of Switzerland's top attractions, snow-capped mountains, tourist sites, and other facilities of repute.
Chief of these is the White Turf horse-racing event.
After you are done with your events, troop down to the stylish, all-suite Carlton Hotel.
Bear in mind that Switzerland is a wealthy country that also experiences higher costs of living.
Be prepared appropriately hence to counter these obstacles as a way forward.
10. Girne (Kyrenia), Cyprus
Cyprus is an island that is not so far away from Greece, Israel, and Egypt.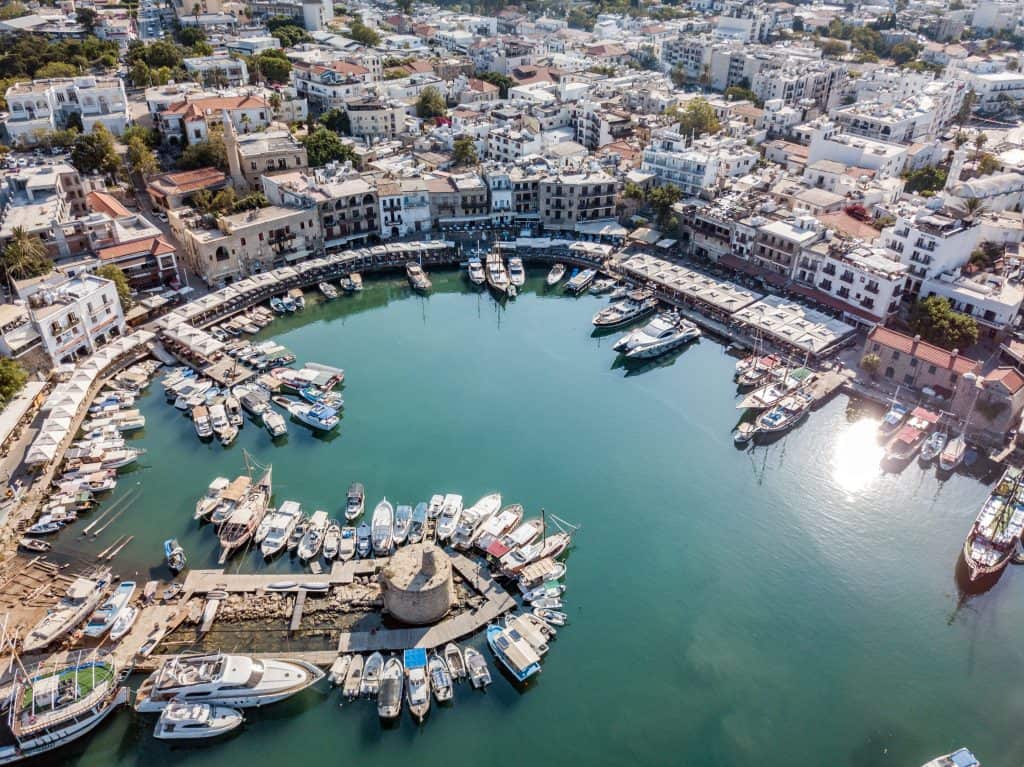 It is hot, owing to its Mediterranean location.
It experiences 320 days of abundant sun yearly. The city is adorned with ancient castles, monasteries, and golden sandy beaches.
Being warmer than much of Europe, this is an excellent place to retreat to if you want to escape the icy winters on the rest of the continents. Some good news!
The island is cheaper than many locations in Europe. You won't have to spend too much to stay afloat.
11. Warsaw, Poland
Warsaw is the capital city of Poland. It is located pretty close to the North Pole, a fact that makes it pretty cold during winters.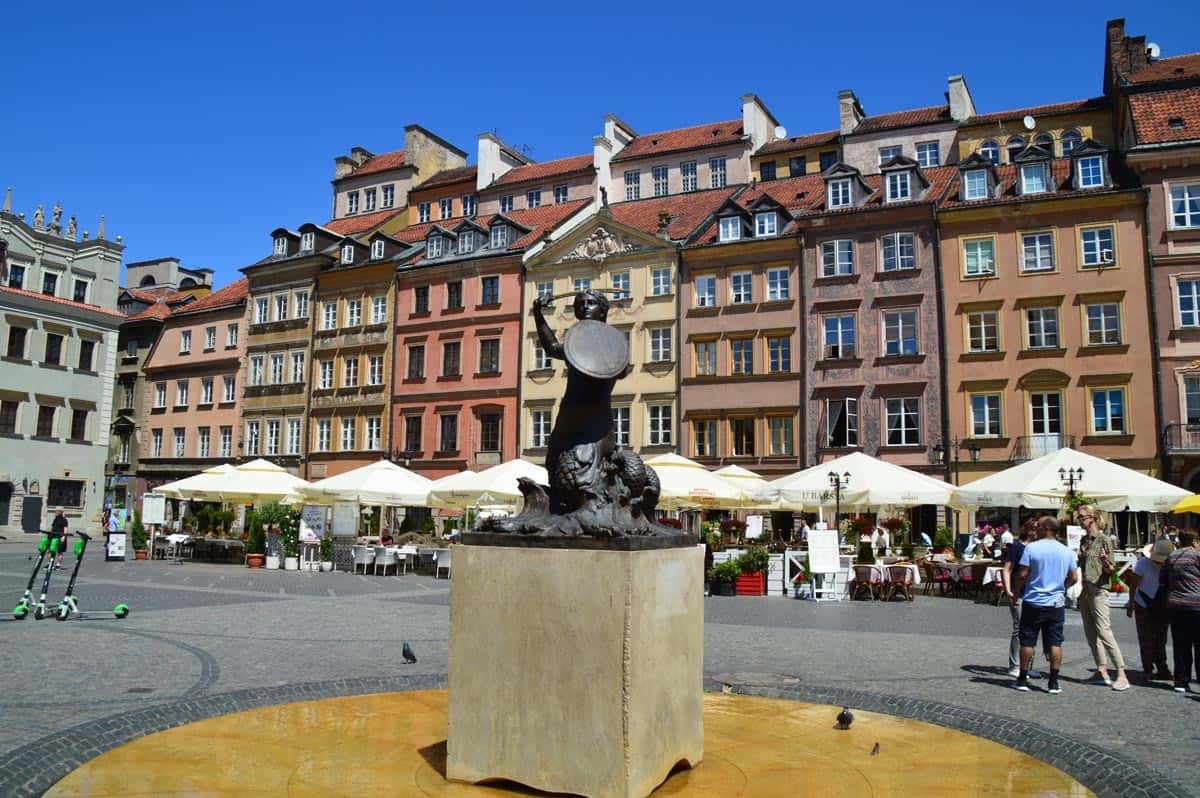 In fact, by February, the place is still too cold as the snow has yet started to recede. Plan a visit here only if you are interested in winter activities.
The city authorities understand this fact only too well. That is why it holds an annual winter exhibition every year. This is the Royal Garden of Light that runs through to the end of the month.
It is definitely in your best interest to time your visit accordingly to coincide with this event.
12. Friedrichshafen, Germany
Situated in Southern Germany, Friedrichshafen is a small city that is nonetheless filled with plenty of leisure and other forms of attractions.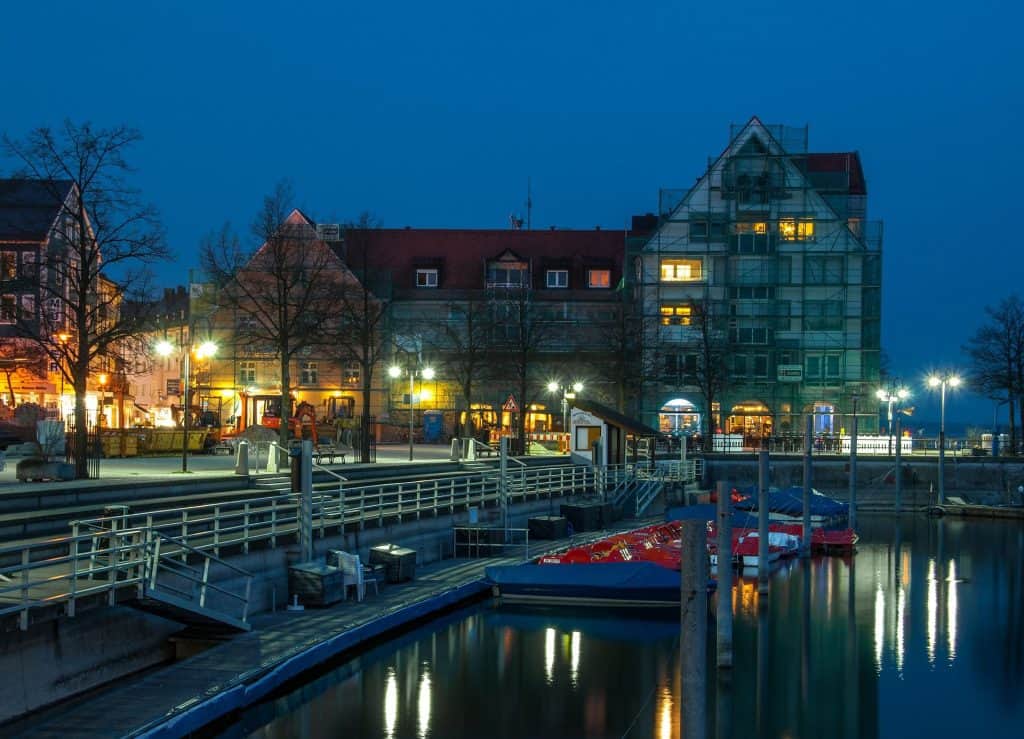 Each February, a cake design contest is held in the city, an event that brings together top confectionary masters of Germany and beyond.
If you love cakes or simply want to get in the company of many others, this is a place you do not want to miss out on.
Germany is an expensive country, though. You have to set aside a sufficient amount of money to be able to enjoy what it has to offer.
13. Tuscany, Italy
Are you a lover of wine and other hard drinks? Tuscany, Italy, should be the place you should retreat to. Each February, it holds the Benvenuto Brunello festival.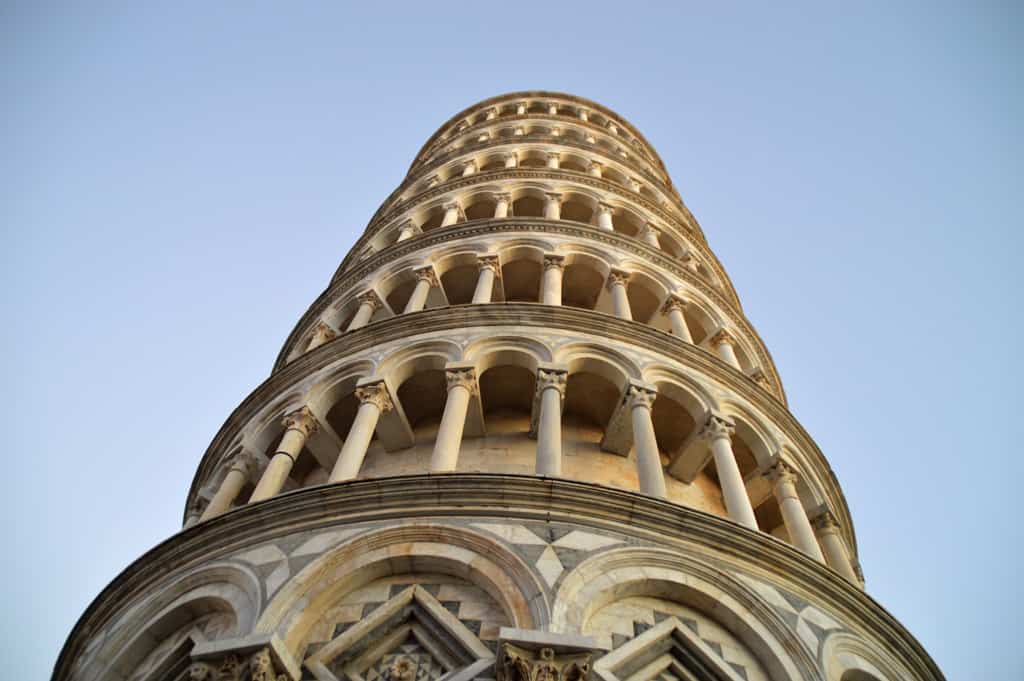 Pisa Tower
This event brings together top winemakers for a 4-day event. By visiting the place, you also get to enjoy the many tastes of wine. Did you know that Pisa and Florence belong to this region?
You will also get a chance to ruffle feathers with the who-is-who in the winemaking industry.
Tuscany itself is a serene location that is adorned with rolling hills, lush green vegetation, breathtaking ambiance, and a relatively quiet atmosphere.
14. Nice, France
France is more than in Paris. On the whole, the French Riviera is the place where you retreat to dodge the otherwise long and dreary winters.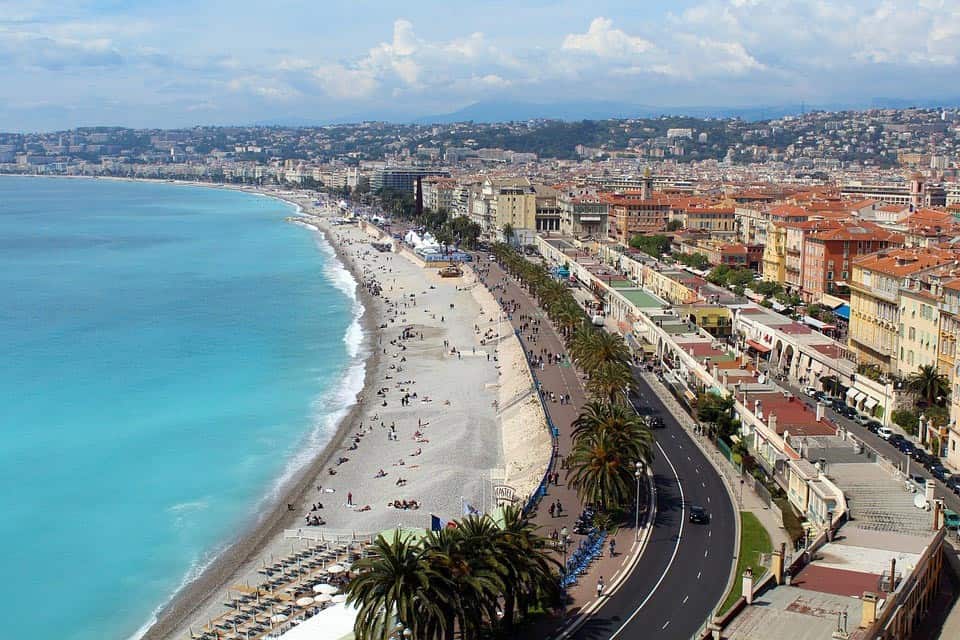 Nice, stands tall as the premier destination in the Riviera region.
This beautiful city is located just 20 miles off the Italian border. Its population is also low enough to allow for smooth transportation out and about the area.
The winter temperatures here are also high enough to let you walk out as you may please.
And if you like roaming, the city itself has many attractions you might want to explore. Only be sure that you have a French guide as many people here speak French entirely.
15. Mallorca, Spain
We have already explained that Spain experiences warmer weather because of being located further south of continental Europe.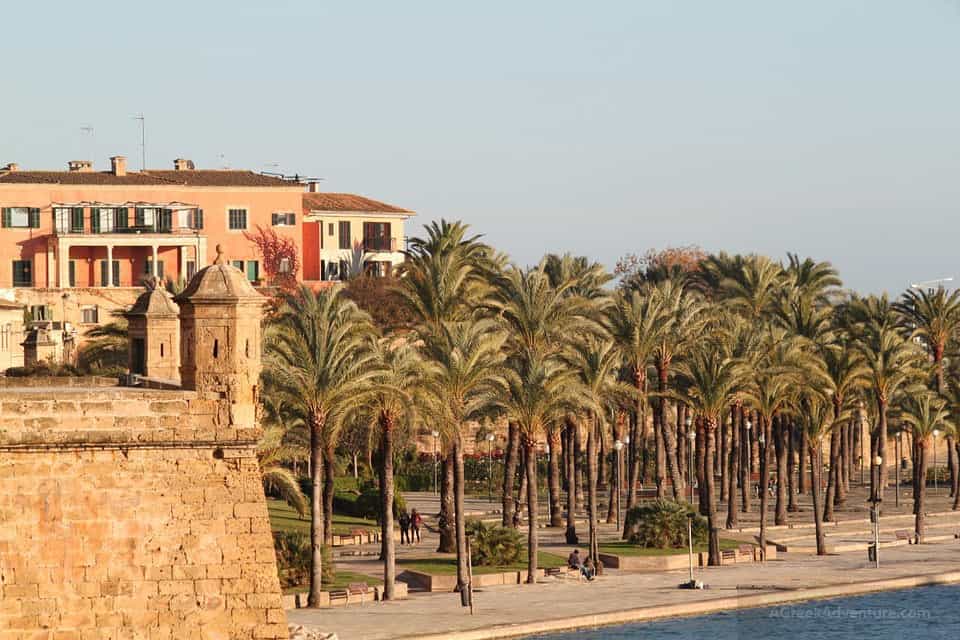 It is a port city whose shoreline is dotted with trees of various species. This is an ideal location for couples who just want to break away and spend some quiet time.
Several facilities are constructed solely for this end. Of these, the adults-only Pure Salt Port Adriano stands out.
Here, you will get in and enjoy some spacious suites which have balconies attached to them.
It is secluded and private enough to let you do whatever you want without unnecessary interference.
16. Lake District, England
The Lake District, England, is an amalgamation of sleepy villages that are quiet and detached enough for private stays and retreats.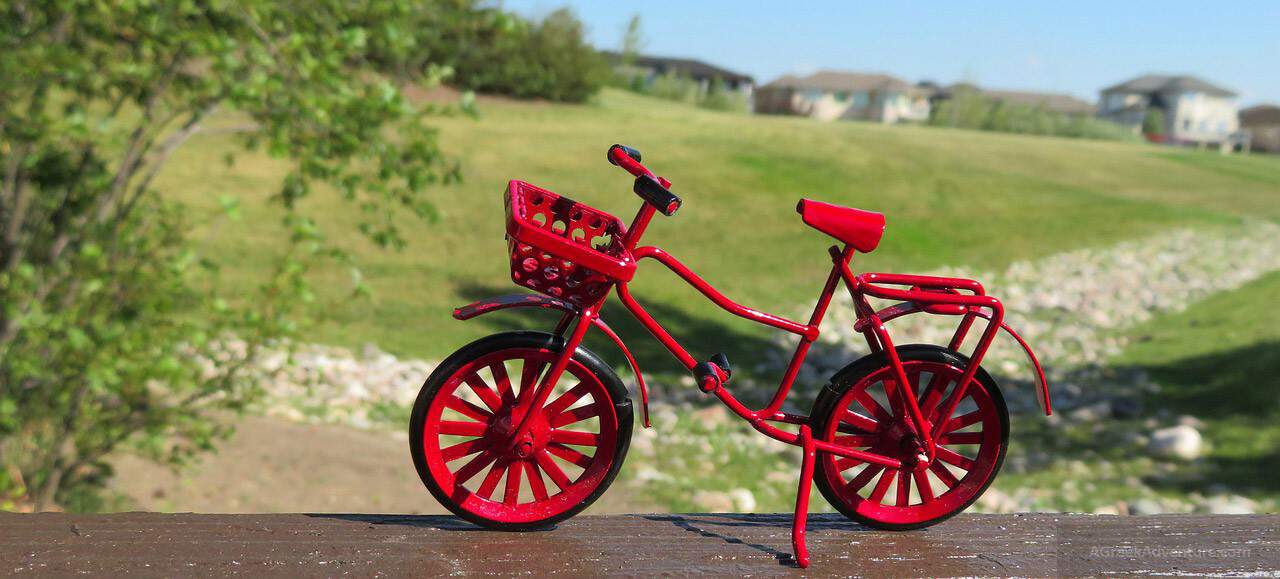 This is a great place to stay in and enjoy some quiet time. You will behold some beautiful sceneries, breathtaking vegetation, and a relaxed atmosphere.
Other than unwinding, the area is also the right place for matters of photography.
The serene environment gives an excellent background to any serious photographer.
With many commercial airlines mooting the idea of flying here, access to the place is going to be better and more convenient.
That place is considered one of the best places to visit in Europe in February for cycling. It is not the only one, but it is famous for the lake cycling rides.
17. Monte Carlo, Monaco
Monaco is one of those soft-spoken destinations in Europe and the world over.
This notwithstanding, it is still an idyllic location to consider retreating to for a holiday.
The weather in February is neither hot nor cold. This makes getting out a smooth and hassle-free undertaking.
Monaco is widely known for gambling, betting, and casinos.
Thus, it goes that this is the place to get to if you want to try your luck on several issues.
Being rich and developed, expect to part with plenty of money to be able to afford to stay and move around here.
18. Tallinn, Estonia
Tallinn is located at a stone-throw distance from the North Pole.
Its winters are subsequently colder and longer than those of the rest of the continent. On account of this, the entire city is an excellent place to be to experience some winter activities.
Though formidable, this city experiences fewer tourists at this time of the year.
By choosing to spend your February here, you will enjoy the benefits of limited congestion, greater breathing spaces, and the freedom to move around with limited hindrances.
Some winter lights festivals are also held around this time, which you may want to catch.
Conclusion on Where to Go in February in Europe
Our look into the best places to visit in Europe in February comes to an end here.
Are you still searching for where to go in Europe in the wintertime?
We now hope that you have obtained the insight you need to make a pleasant and successful trip. Make sure to check weather forecasts. We had some cancellations for activities due to that in a couple of our tours, so we learned the hard way.
This list is bound to change any time soon. We are aware of this fact, only too well.
That is why we are always on the lookout for any changes or improvements that may adversely affect the order and the cities in this list.
Do search this site as we have more posts on the best places to visit in Europe in other than February months like December, January, March (coming soon), and April (check this week). We even have budget-friendly places.
You can also subscribe to our newsletter for all such useful information.
Consider referring to this site in the future for the sake of staying abreast.
In the meantime, we wish you a pleasant trip ahead with the best places to visit in Europe this February.
If this article about the best European cities to visit in February made you want to check the cities on the list, consider checking out the articles below –
Source https://www.planetware.com/europe/best-countries-to-visit-in-europe-d-1-19.htm
Source https://www.schengenvisainfo.com/travel-guide/top-10-most-visited-european-countries/
Source https://mindfultravelexperiences.com/best-places-visit-europe-february/