18 Top-Rated Places to Visit in Europe in Summer
School's out and the "out-of-office" messages are rampant – what better time to quench your thirst for adventure? Visiting Europe in summer means travelers don't have to bundle up when touring the country's best attractions. This is the best time of year to explore charming streets teeming with history; enjoy mouthwateringly good food; and immerse yourself in a culture so interesting and diverse, you'll want to keep country-hopping.
For many travelers, exploring European destinations is not only a bucket list item, but a lifelong quest. With so many regions and cities to experience, it could take years to see them all. The best time of year to advance on your European journey is summer. While many of the best places to visit in Europe experience all four seasons, summer's optimal weather makes it easy to get around, shed some layers, and bask in glorious sunshine on antiquated terraces and soft, sandy beaches.
For jet-setters eyeing bright sunshine and blue-skied views, you'll have plenty of choice. From the beach-meets-city vibe of Barcelona to the intriguing wonder of Istanbul's varied customs, a getaway across the Atlantic will tease your senses, while creating memories – and maybe some freckles.
For more ideas, read our list of the top places to visit in Europe in summer.
1. Lisbon, Portugal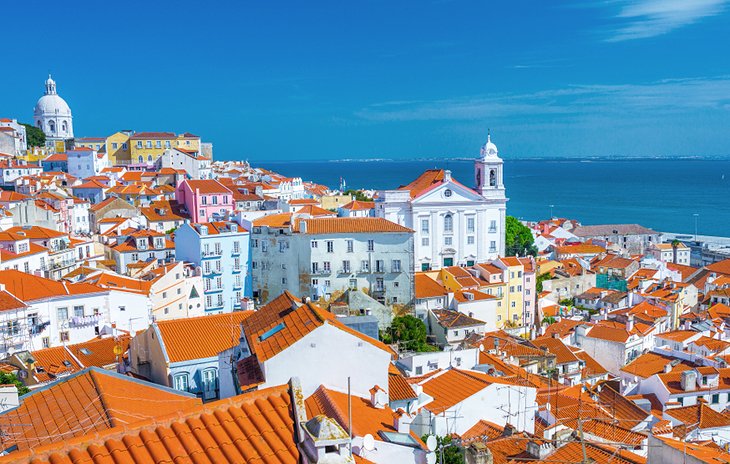 Old district of Alfama in Lisbon
No European trip is complete without a visit to Lisbon. Generous and enthusiastic by nature, the Portuguese will welcome you with warm smiles and hearty meals. Thanks to an uptick in direct flights in recent years, accessing Spain's neighbor has never been easier – or more affordable.
When you fly into this Portuguese capital, get ready for a workout: known as the city of seven hills, you can expect to go up and down, down and up – and repeat. Don't worry, hop-on-hop-off buses and trolleys – like in San Francisco – make it easy to give your legs a break.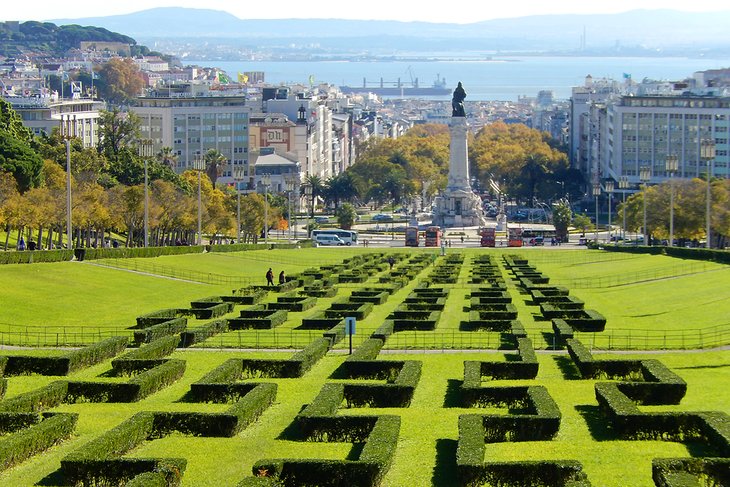 View of Lisbon from the Parque Eduardo VII | Photo Copyright: Shandley McMurray
Here, there are many historical buildings to stand in awe of – from Sao Jorge's Castle to the Santa Justa Lift and the Ponte 25 de Abril bridge. Parque Eduardo VII is the city's largest park, and it offers arguably the best view of Praça Marquês do Pombal, Avenida da Liberdade, and the sparkling Targus River.
Make sure to carve out time for a quick beach trip 20 minutes away, and to feast on pastel de nata, the country's delicious desert. Refurbished in 2018, the lovely Doca de Santo restaurant offers tasty fare almost as impressive as its river views.
Read More: Top-Rated Tourist Attractions in Lisbon
2. Dubrovnik, Croatia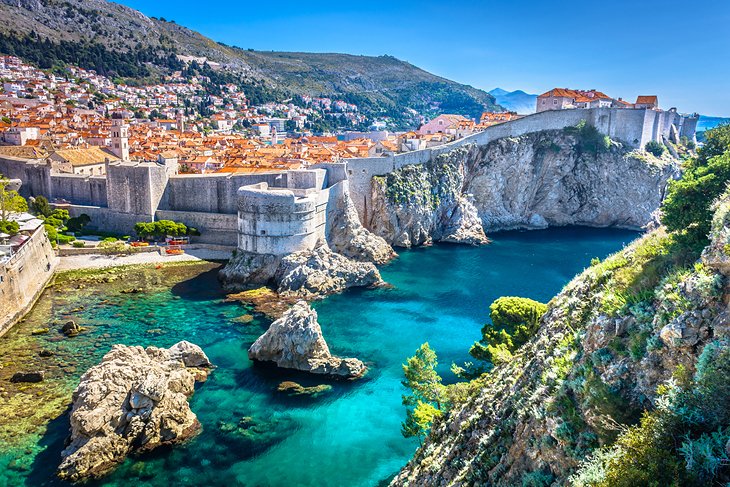 Dubrovnik
It's easy to see why Dubrovnik has been dubbed the "Pearl of the Adriatic." Surrounded by ancient stone walls and peppered with orange-tiled roofs, this southeastern Croatian gem is one of the most stunning cities on the Dalmatian Coast, and one of the best places to visit in Europe in summer. No wonder the television series Game of Thrones chose this as one of its shooting locations.
Dubrovnik's old-world beauty, captivating tourist attractions (the view from atop Mount Srd is unbeatable), and popular day cruises to the Elafiti Islands make this a hot spot for travelers during summer. And don't forget the food – it's almost impossible to pick a bad restaurant. To avoid the crowds, try to plan your trip at the very start or end of the high season, running from May to September, for less shoulder-to-shoulder action.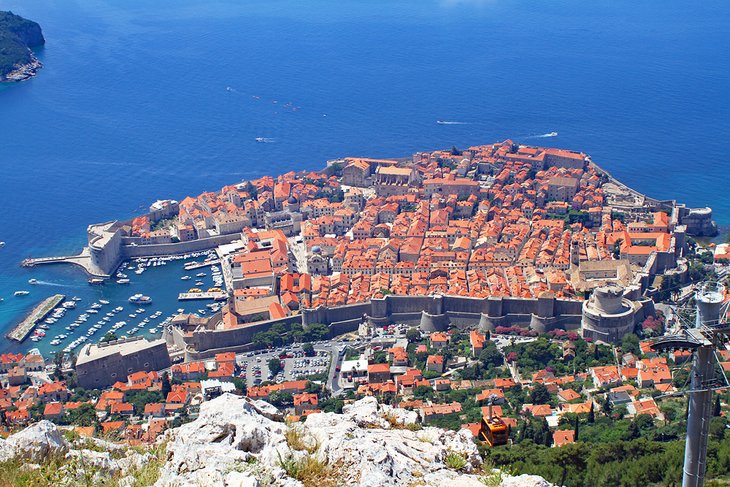 View over the Dubrovnik Old Town | Photo Copyright: Shandley McMurray
In addition to the many structures you'll recognize if you're a Game Of Thrones fan – including Gothic Rector's Palace – this easy-to-navigate city features many buildings preserved from the 16th century. The Old Town is ripe with restaurants, boutiques, and tours, all surrounded by the impressive stone wall, where many apartments have been carved into the side.
When you have exhausted yourself from sightseeing (and okay, pretending you're Jon Snow or Daenerys) – jump off a cliff (literally) or go for a dip in the sparkling blue Adriatic Sea, or take a ride on the cable car with 360-degree views of the city and the water.
A quick, 10-minute ferry ride will get you to the picturesque island, Lokrum, where visitors can take in the scenic views, wander around the nature reserve, float in the Dead Sea, and visit the ancient Monastery.
3. Reykjavik, Iceland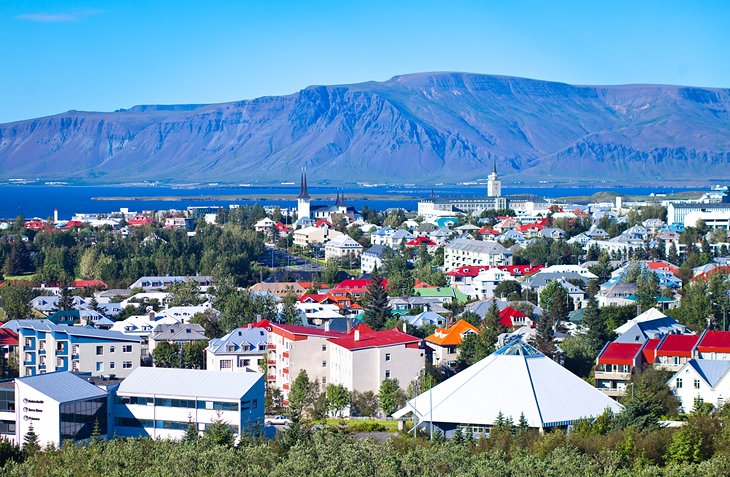 Summer in Reykjavik
Reykjavik may not be the first place that comes to mind when you're considering places to visit in Europe, but it should definitely be on your list. While many people fly to Iceland in hopes of catching a glimpse of the Northern Lights, some travelers choose the summer for endless sunshine. And by endless, we really do mean never-ending: from mid-April to mid-August, there is no darkness in Reykjavik, due to its geographical position.
If you don't mind using blackout curtains so you can reap some rest, this season has some of the most gorgeous hiking trails and overlooks. Picture this: colorful fields of greens and flowers, blue skies juxtaposed against the Blue Lagoon healing waters, and near-perfect 60- to 70-degree weather.
In addition to Mother Nature's works of art, the city of Reykjavik is the largest in the country, and serves as the capital. Here, you will find charming shops and restaurants with questionable fare – including shark – and a stunning concrete church, called Hallgrimskirkja. Most tourists also enjoy going for a whirl in the Perlan dome, which rotates to provide views of town, the ocean, and the countryside.
Read More: Top-Rated Attractions & Things to Do in Reykjavik
4. The Azores, Portugal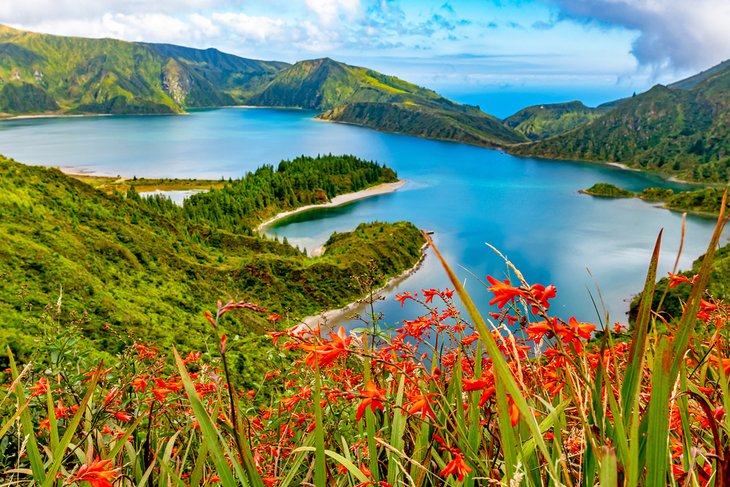 São Miguel, Azores
Despite the area's vast size, the nine isles that make up the Azores are somewhat hidden gems off Portugal's main coast. These verdant isles are magical and serene, home to UNESCO World Heritage sights, hot springs, gushing geysers, bubbling mud pots, dark caves, and romantic grottos. Visit in summer for the most optimal weather conditions for exploring the outdoor wonders.
São Miguel is the largest of the Azores islands, a true beauty bursting with adventure and plenty of tourist attractions in Ponta Delgada, its capital. On this and the other luscious isles, prepare to be wildly entertained. From biking to paragliding to hiking to spelunking, there are so many fun things to do in the Azores, especially during summer's high season.
Keep your eye out for majestic blue lagoons, volcanic craters, and towering mountains so astounding, you'll need to stop to catch your breath.
5. Crete, Greece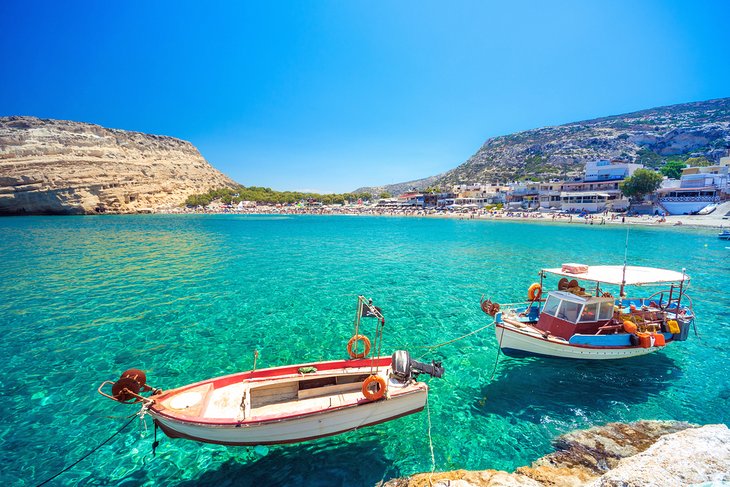 Crete, Greece
It's easy to see why Crete is deemed one of the best places to visit in Europe in summer. This Greek beauty is a haven for travelers who love fresh food, historic tales, archeological sites, and the stunning vista of bright azure waves lapping volcanic shores.
Travel in late June if you're hoping to avoid the summer crowds. July and August boast impeccable weather, which means you'll be clamoring for space on the tourist-laden streets and standing in lines at Crete's top tourist attractions.
Crete's soft, sandy beaches are unmissable, especially if you're looking for a way to soak up summer's warm rays. If you only have time to visit one (which would be a true shame), put Elafonissi Beach at the top of your list of must-visit beaches in Crete. It's one of the best pink sand beaches in the world, and located only two hours from the popular city, Chania.
Popular tourist towns on Crete include Chania, Agio Nikolaos, and Rethymnon. Many people fly into the city of Heraklion, which is also worth exploring, even if just to see the Palace of Knossos, one of the top archeological sites in Greece.
6. Rome, Italy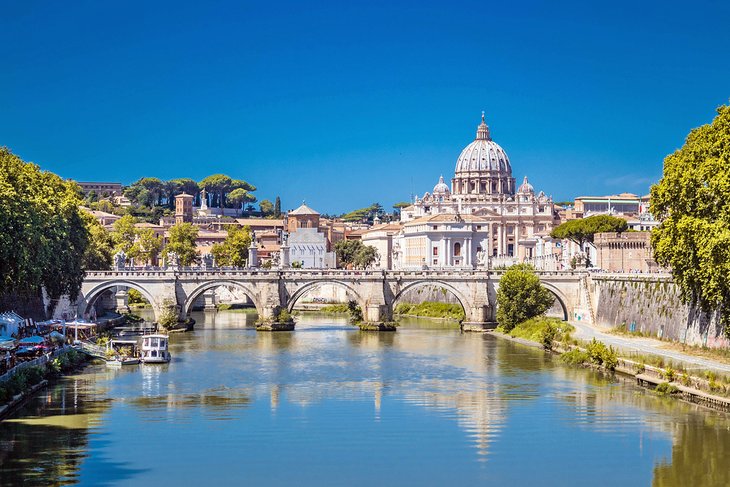 St. Peter's Basilica and the Tiber River
Rome is a romantic place to travel in Europe during any season, but the sticky, sweet summer is one of the best times to visit the Italian capital. Rome is a unique city that seamlessly combines historic architecture, tourist attractions, and modern culture, not to mention drool-worthy food.
No matter when you visit, carve out time for a trip to the Colosseum, the capital's most famous, and recognizable, attraction. Be warned that the summer-time lines can be long, so pack sunblock, a hat, and water for use while you wait your turn to wander around this intriguing site.
After you've lunched on pasta in an open-air patio, people-watched by the Trevi Fountain, and savored gelato near Piazza Navona, head to the city's best museums and palaces to soak up the history (and some air-conditioning) that permeates the ancient walls.
7. Paris, France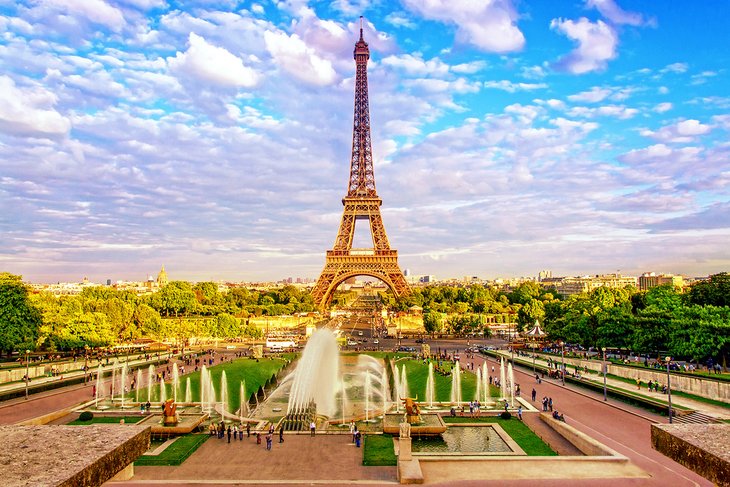 Eiffel Tower at sunset
There's a lot to love about Paris! Although hot and humid at times (particularly in August), this popular destination is one of the best places to visit in Europe in summer.
Yes, you'll be looking at higher rates on things like hotels, flights, and tourist attractions, but being able to leave sweater weather behind while you see the sites makes the added expenses more than worthwhile. In fact, the weather between June and August is practically parfait (a.k.a. perfect) with highs in the upper 70s.
In addition to dining en plein air (a.k.a. outside), summer's climate opens up a bevy of enjoyable activities to enjoy in Paris–like lying on the beach, watching outdoor movies, dancing at an open-air concert, or watching bikers roll into town during the Tour de France.
Escape the sun (or the rainy July days) by visiting a few of the best museums in Paris or exploring the Cathédrale Notre-Dame de Paris.
With so many fun things to do in Paris, you really must say, "Mais oui, Paris," to a summertime trip.
8. London, England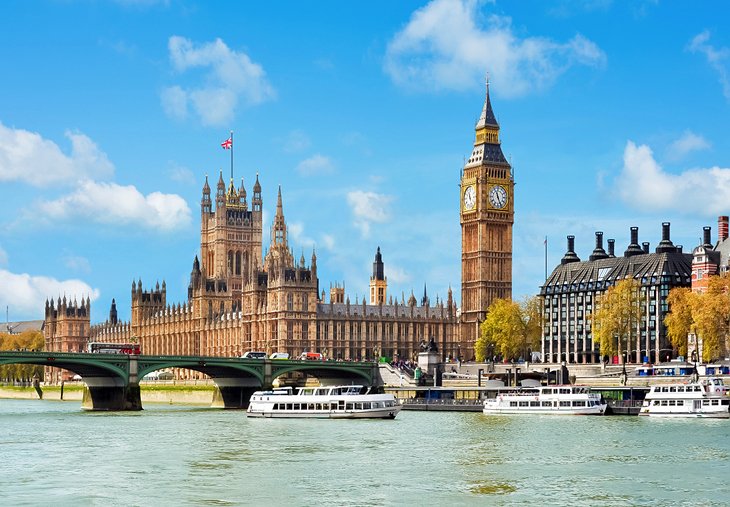 Big Ben and the Palace of Westminster
Since it can start to get chilly as early as late August in London, we suggest catching a redeye to The Smoke in June or July. Since schools don't get out until early to mid-June, you'll fight fewer crowds if you visit before then. It's been known to get quite sweaty at this time of year (into the high 20s and even 30s) and air-conditioning is rare, so dress accordingly.
The capital of both England and the United Kingdom, London is a healthy mix of modern conveniences and tradition, and serves as one of the most influential hubs on the planet. You'll want a handful of days here, especially since there is so much to see: Westminster Abbey, the London Eye, The Shard, Buckingham Palace, Borough Market, The Tower of London, and the list goes on.
On a particularly lovely day, the city's greens (including the infamous Hyde Park) are swarmed by Londoners perfecting their tans. Grab food from a local restaurant and enjoy it in the park (like Kensington Gardens, Kew Gardens, or St. James' Park) to make the most of the good weather.
Even if you roll your eyes at the idea, a hop-on, hop-off bus is ideal to get around quickly and without confusion. For city-slickers with street cred, navigating the tube and bus system is easy enough, too. Who knows, you might even get lucky and catch a glimpse of the queen if she's in town (but likely not on the Tube)!
Grab a 99 from an ice-cream truck to cool off. This traditional English treat is made with soft serve vanilla ice cream and topped with a chocolate Flake bar.
Read More: Top-Rated Tourist Attractions in London
9. Tenerife, Spain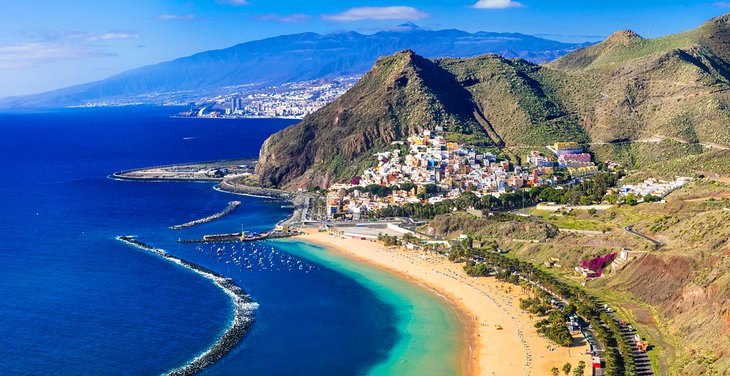 View over the beach on Tenerife
Tenerife tops the list of the best places to get married in the world. Once you catch sight of its magnificent sandy beaches, dazzling cerulean waves, and lush nature reserves, you'll understand why: it's utterly romantic.
A hot spot for travelers to Europe in summer, Tenerife is one of the best places to visit in the Canary Islands. Most visitors spend the majority of their time digging their toes into the soft sand during summer, but you'd be amiss to skip a visit to the remarkable Teide National Park. Pack comfy walking shoes and plenty of water if you're planning to hike this volcano, the third highest in the world.
During summer in Tenerife, you can expect dry, sunny skies with temperatures sometimes tipping the thermometer over the 28-degree Celsius mark. You'll be sharing the streets with many other tourists from across the globe since this is one of the best places to visit in Europe in summer, so it's best to book your hotel and dinner reservations well in advance.
10. Edinburgh, Scotland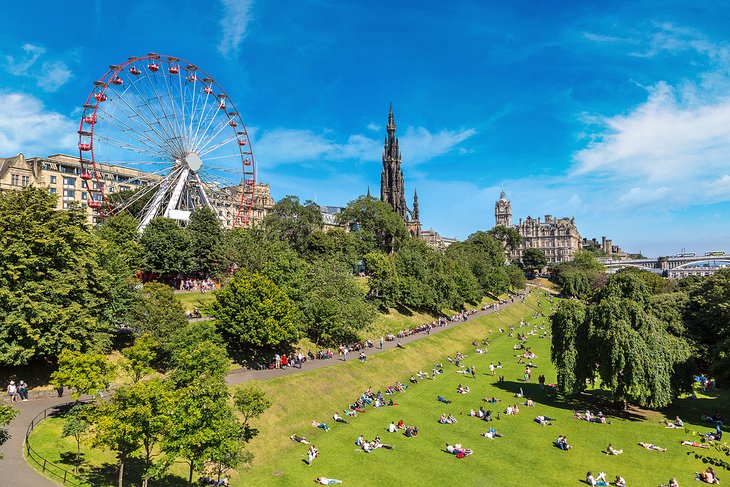 Edinburgh, Scotland
Summer in Edinburgh is a magical time. While you won't likely sweat (highs hover around 19 degrees Celsius), these ideal temperatures make it easy to spend a full day comfortably exploring the city's best tourist attractions.
Edinburgh Castle is a must-see, particularly when the sun is shining. An unmissable icon towering above the city, this historic spot is one of the top tourist sites in Scotland. Summer presents visitors with the opportunity to admire the lush vegetation climbing the hill to the castle, and its blooming gardens highlighted by bright blue skies.
June, July, and August are perfect months to wander Edinburg's best parks. Be sure to pack a picnic, so you can stay even longer to fully enjoy the fresh air and picturesque surroundings.
Don't miss the Royal Mile, the gorgeous streets that connect Edinburgh Castle to the Palace of Holyroodhouse. Window shop, people watch, or grab a cuppa in one of the charming cafés.
11. Madrid, Spain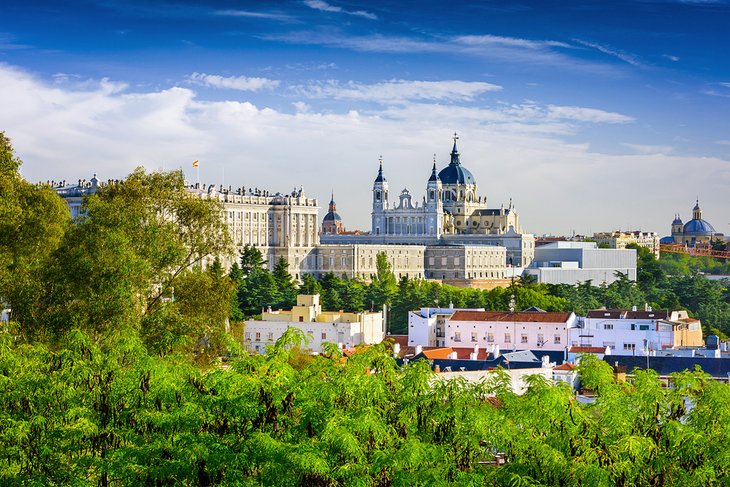 Madrid skyline in the summer
We're not going to lie, summer in Madrid can be hot. We're talking sweat dripping down your back long after the sun sets hot. Don't let temps in the high 80s Fahrenheit (30-plus Celsius) scare you, Madrid is still one of the best places to visit in Europe in summer.
This Spanish gem offers food so good, you'll beg for seconds, lively music to entice you to dance in the streets, and a bevy of museums and galleries to explore. Insider's tip: June and July are the best summer months to visit; some shop owners take the month of August off.
The Mad Cool music festival takes place in early July, offering guests a chance to rock out to some of their favorite performers in a large, open-air venue.
When you've had enough of exploring Madrid's busy streets and crowded tourist attractions, hop in a bus, train, or rental car to explore the many day-trip-worthy sites and towns nearby. The Toledo and Segovia Tour offers a tour of three cities in one day.
12. Florence, Italy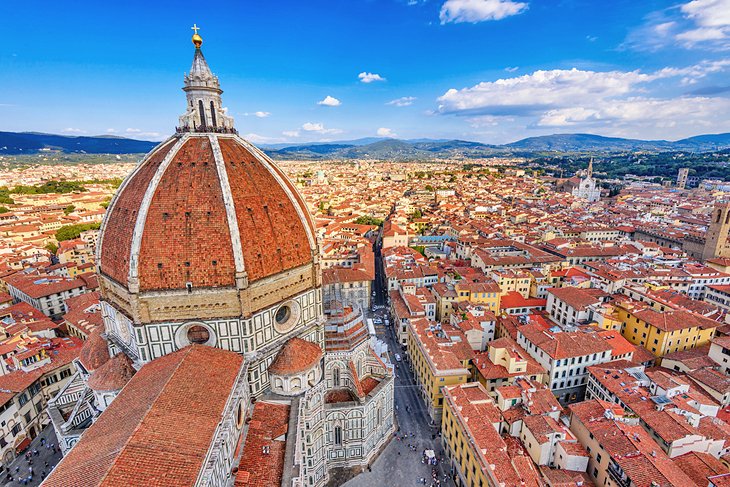 View of Florence's Duomo and the city
Perhaps you're celebrating a honeymoon or anniversary – or maybe you're in a serious relationship with pasta. Whatever your reason for visiting Italy, our best suggestion is to make sure Florence is on your list of places to visit in Europe in summer.
This romantic Italian wonderland looks as if it was painted in watercolor and brought to life in order to serve as the capital of Tuscany.
Art fanatics will rejoice in the one-of-a-kind masterpieces bursting onto the scene. Walking down these historic cobblestone streets will get you to masterpieces that include, Michelangelo's David sculpture, while the city's renowned art galleries will introduce you to phenomenal works like, Da Vinci's Annunciation and Botticelli's The Birth of Venus, among others.
The Ponte Vecchio Bridge is one of the most amorous and picturesque spots in Europe. Arguably the most recognized and photographed attraction in Florence, this iconic bridge is graced by colorful shops adorned with shutters, selling touristy kitsch to the millions of visitors that cross it each year.
Other unmissable sights include the Cathedral of Santa Maria del Fiore and Piazza Duomo, which are impossible to miss. Climb the claustrophobia-inducing stairway to the top for the best view of Florence.
13. Amsterdam, Netherlands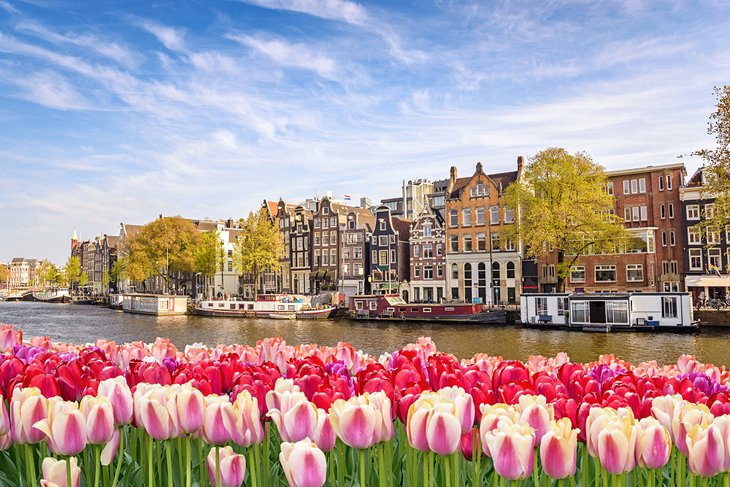 Tulips blooming along an Amsterdam canal
The Netherlands prides itself on being eco-friendly. Not surprisingly given the country's flat and scenic terrain, the preferred mode of Dutch transport is a bicycle. The country boasts 32,000 kilometers of cycling trails, and it's said that every Dutch person owns two bikes. You'll see thousands of them on the roads of its capital, Amsterdam, especially in summer.
While getting around on public transportation is a cinch, you won't need to bother with trains or buses if you rent a bike during your trip. But if you're crossing the street as a pedestrian, be sure to look both ways – many cyclists zoom straight through.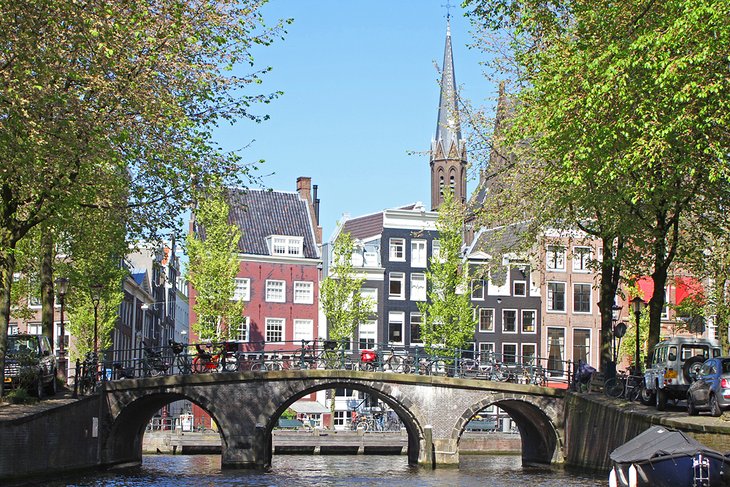 Summer in Amsterdam | Photo Copyright: Shandley McMurray
Slow down as you pass the city's impressive houses, hearkening back to the Golden Age in their canal-hugging splendor. Take a cruise along the waterways to pass under the inspiring bridges, and examine the townhomes from a different vantage point.
While on land, don't miss the sprawling Rijksmuseum, magnificent Van Gogh Museum, and the humbling Anne Frank House. While summer is too late to enjoy the spectacular tulip displays (late March plays host to the unmissable Tulip Festival, which extends until early May), there is plenty of beauty to be had wandering along the canals, popping in and out of shops, and enjoying a meal on a patio.
Read More: Top-Rated Tourist Attractions in Amsterdam
14. Prague, Czech Republic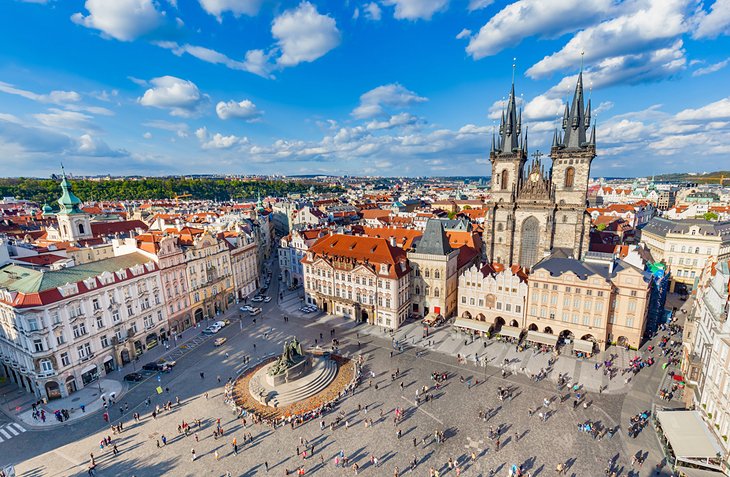 Old Town Prague
Light on the wallet but heavy on culture, Prague is one of those cities that attracts every type of traveler: from backpackers and nomads to honeymooning couples and the over 50 crowd. With a rich history tied to communism, much of Prague is still being developed and refined. The distinctive Old Town contains centuries of buildings, and a new square features modern construction.
When you're in town, consider renting a bike to get around, or take the easy-to-navigate public transportation system. Spend a day admiring Gothic churches, the Astronomical Clock, and of course, walk across the Charles Bridge and make a wish for whatever is to come. If you're looking for something special to take home with you, spend some time shopping in Prague.
If you have time and want to hike, Prague is also a great starting point for the Czech-Switzerland National Park near the German border.
15. Barcelona, Spain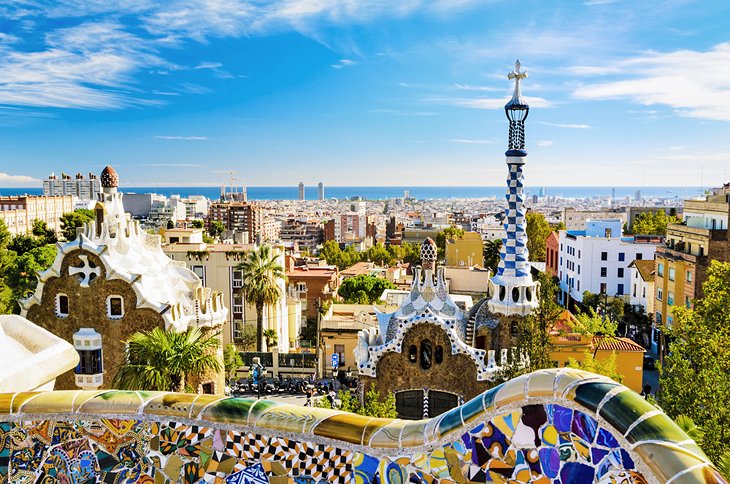 Park Güell, Barcelona
During the summer, this rose-colored city becomes vibrant with colors, attracting tourists and locals alike to its shores. Especially during June and July, you won't be able to resist soaking up the sun's rays on the beaches after a morning of sightseeing about town.
From the fantastical Sagrada Familia church to the infamous Park Güell, designed by Antoni Gaudi, Barcelona is a rare mix of historical significance and modern practices. As you walk or pedal through neighborhoods, you can stop for tapas, or do as the Spaniards do and take a siesta back at your hotel or Airbnb.
Read More: Top-Rated Tourist Attractions in Barcelona
16. Budapest, Hungary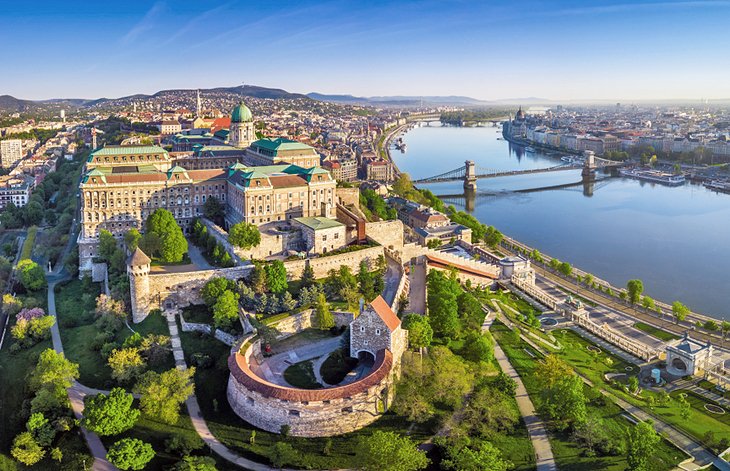 Aerial view of Budapest
For those who are budget-minded and curious about history, Budapest is one of the best European cities to visit. It's easy enough to fly into or access by train, and you will feel as if you stepped back in time as you wander through the Gothic, cobblestone streets.
The city's foodie scene has started to stir since many fusion restaurants marrying western and eastern cuisine have attracted critics, so you won't leave hungry.
When you're touring through town, it's recommended to explore both districts – Buda and Pest (get it?) – which are separated by the notable Chain Bridge.
For those who want to see the view from the top, you can take a cable car or the Budapest Eye, a Ferris wheel-like attraction, which is popular with tourists. If you are intrigued to learn more of the city's history, don't miss out on the Jewish or Budapest History Museum.
Read More: Top-Rated Tourist Attractions in Budapest
17. Istanbul, Turkey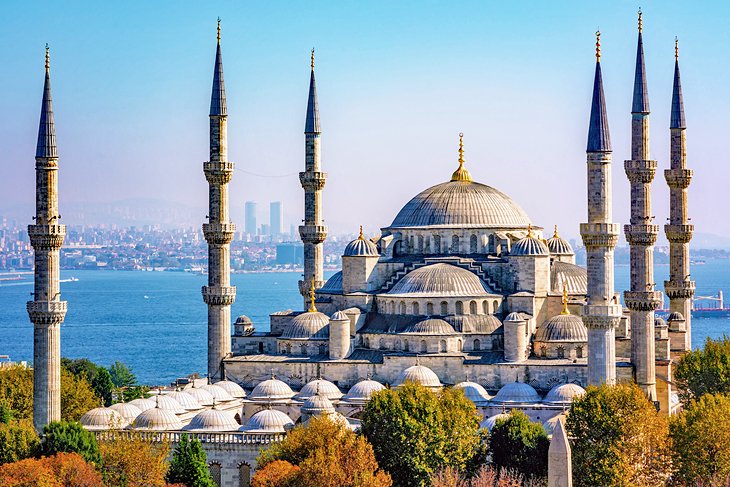 Blue Mosque in Istanbul
Technically on the border of Asia and Europe, since it's laid across the Bosphorus Strait, this Turkish city is not to be missed. Though it is not as advanced as some other European destinations, its antiquity tells the stories of the many rulers of its past.
Most tourists enjoy the Old City, where various districts offer different cultural and culinary touches – from Egyptian to Roman. Topkapi Palace is one of the top places to visit in Istanbul, closely followed by Aya Sofya, a Byzantine masterpiece constructed as a church and later a mosque.
Istanbul is renowned for its flavorful street food, where you can expect notes of yogurt, eggs, eggplant, potatoes, and peppers alongside kebabs.
18. Rhodes, Greece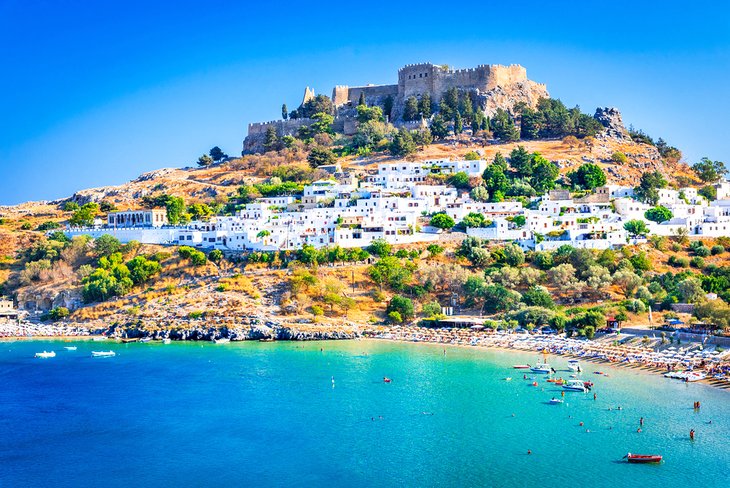 Lindos Village, Rhodes
If you're searching for a gorgeous backdrop to your summer vacay, look no further than the breathtaking Rhodes in Greece. Pristine beaches line the shore of this historic masterpiece, the largest of the Dodecanese Islands, while the town rises above, abloom in vibrant colors, the scent of food so delicious, you'll want to snack all day long.
The UNESCO-listed Old Town is a delightful maze of winding streets, hidden alleyways, and dramatic architecture dating back to beyond the Byzantine era. It is housed within a crescent-shaped fort and is the place to be for those looking for shops and restaurants. This is also where you'll find the majestic Palace of the Grand Masters. The area can get quite crowded during the summer months, so be warned.
Lindos lies a short way from Rhodes, and is home to an archeological site and the iconic Acropolis of Lindos.
18 Best Places to Visit in Summer
Planning a summer vacation is exciting, but the options are endless, so it is important to apply certain criteria to your search. Some summer holiday destinations are seasonal, and they will attract the most tourists in June, July, and August, but these are also when all the attractions are open in these destinations.
In places like Whistler, Canada, which has many mountains, or a destination like Iceland, which has a brutal winter season, summer is the perfect time to visit because roads and trails will be open for you to fully experience what these places have to offer. Our best summer destinations are based on a variety of factors, including the best weather and timing for attractions.
Plan your next vacation with our list of the best places to visit in summer.
1. Grand Canyon, Arizona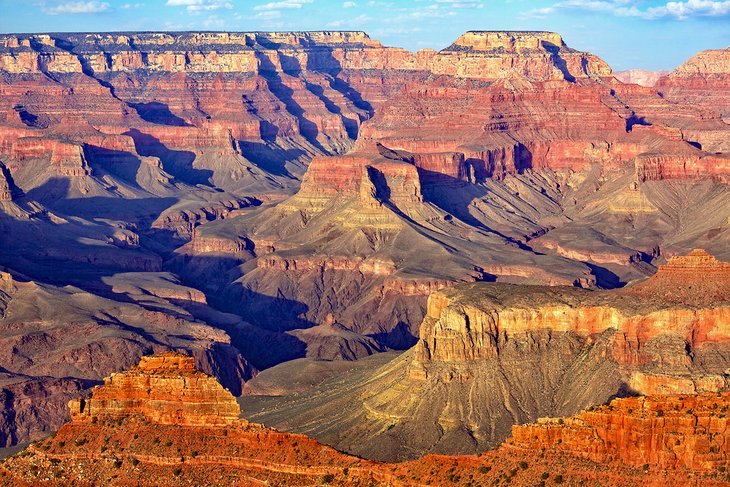 South rim of the Grand Canyon
A is one of the best times the to visit the Grand Canyon. While it's the most crowded time at the Grand Canyon, there are so many ways to experience it during the high season. The casual tourist can ride tour shuttles around the park, take brief hikes on the rim trails, or just relax by the Grand Canyon Village.
Fit visitors can tackle a section of Bright Angel Trail to experience hiking into the canyon. Extreme outdoor adventurers can spend a summer trip to the Grand Canyon tackling the hike of a lifetime, going down into the canyon from the North Rim, spending the night at Phantom Ranch, then hiking up to the South Rim the next day.
You can also take the Grand Canyon Railway from Williams, Arizona to the Grand Canyon, which is a nice way to see the landscape. During the crowded summer season, you will want to book far in advance for lodging and transportation.
Read More: Grand Canyon: Top Attractions, Best Tours, and Where to Stay at the South Rim
2. Rome, Italy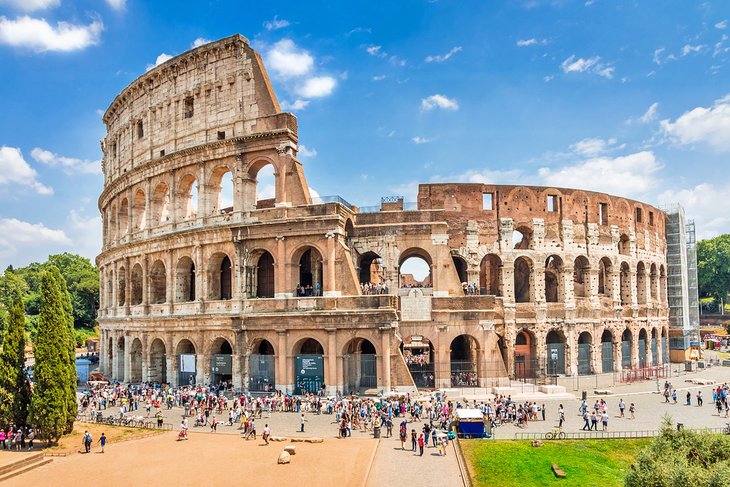 The Colosseum in summer
Since many of the best attractions in Rome are outdoors, a visit in the summer puts you in the city at a prime time. Tours to famous ancient sites like the Colosseum and the Pantheon are plentiful, but you will still want to book tickets ahead of time. Rome is an easy city to see on your own, so pleasant summer weather makes it a fun place to explore on foot to experience new food or toss a coin into Trevi Fountain.
Plan the outside attractions first and save the museum visits in case there is a day of inclement weather. The summer season in Rome is popular for tourists, so plan extra time in the itinerary to accommodate lines during sightseeing, and book hotels at least six to eight months in advance.
3. Whistler, Canada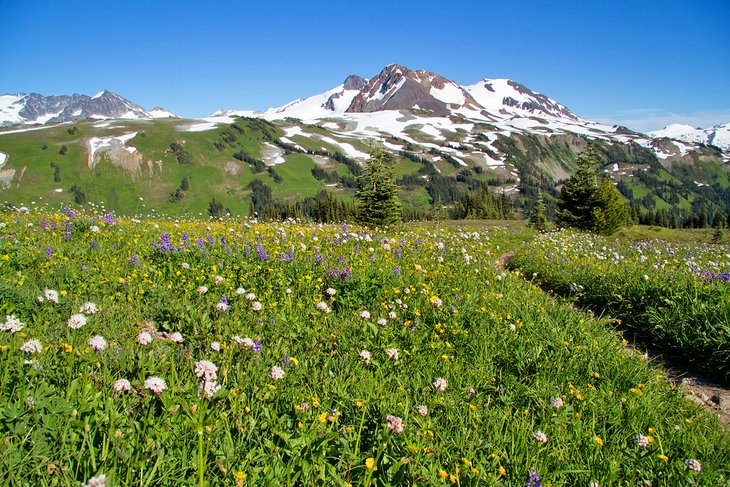 Alpine wildflowers in Whistler
The mountains of Whistler, Canada are ideal for a winter ski vacation, but the summertime means more moderate temperatures and other types of outdoor experiences like hiking in the mountains and wildlife tours. Skiers can still hit Blackcomb Mountain even in the summer months, without the heavy winter gear.
During the summer, Whistler opens up water sports at Lost Lake Park. The 525-acre park has hiking trails, and kayaks or paddleboards available for rent.
Nature parks like Brandywine Falls Provincial Park or the Valley Trail that you can get to from Whistler Village are ideal for hiking during the warmer months.
For a taste of Winter Olympics, you can hit the bobsled tracks at the Whistler Sliding Centre, where you can sled down a 4,757-foot curvy track at 78 miles per hour for about half the cost of doing it during the winter months.
Read More: Top-Rated Attractions & Things to Do in Whistler
4. San Diego, California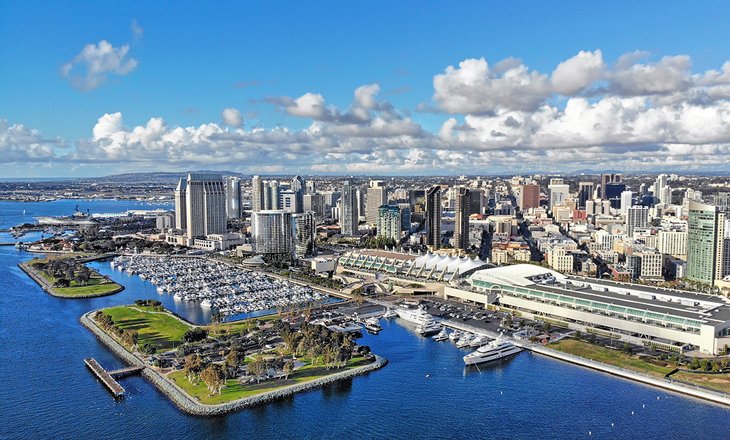 Aerial view of San Diego
San Diego is one of those blessed cities that has beautifully consistent weather all year long and is always bustling with activity, but the summer is an especially fun time to visit this California city. With 70 miles of coastline, a beach is never far away. Mission Beach, Pacific Beach, and Coronado Beach are three of the top beaches to visit.
Summer in San Diego also means festivals and music in the city, so it is a vibrant time to visit, with something always happening in the local neighborhoods. There are also major attractions like Balboa Park, which has museums, gardens, bike trails, 1,200-acres of cultural experiences, restaurants, and the famous San Diego Zoo. Summer in the city is popular, so plan on higher rates at hotels.
5. Nova Scotia, Canada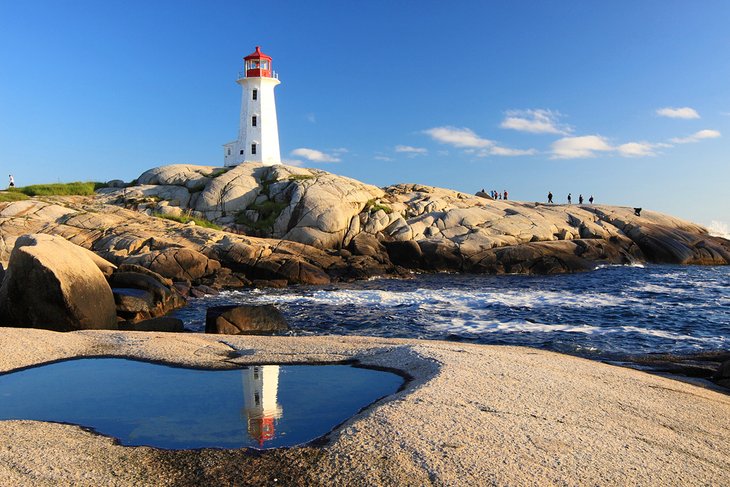 Peggy's Cove Lighthouse in Nova Scotia
Travel to Canada in the summer is always nice but it is an especially lovely time to travel to Nova Scotia. The peninsula is an outdoor lover's haven, with water activities like kayaking, rafting, and whale watching. Summer hiking gives you full access to trails at Cape Breton Highlands National Park, the Cape Chignecto Coastal Trail on the Bay of Fundy, and other trails with a seascape backdrop.
Flights to Nova Scotia pick up in June, so getting to the province is easier in the summertime. There are many festivals during June, July, and August, and these are ideal months to see the true culture of the region, with music and local events that celebrate Nova Scotia's heritage.
6. Maldives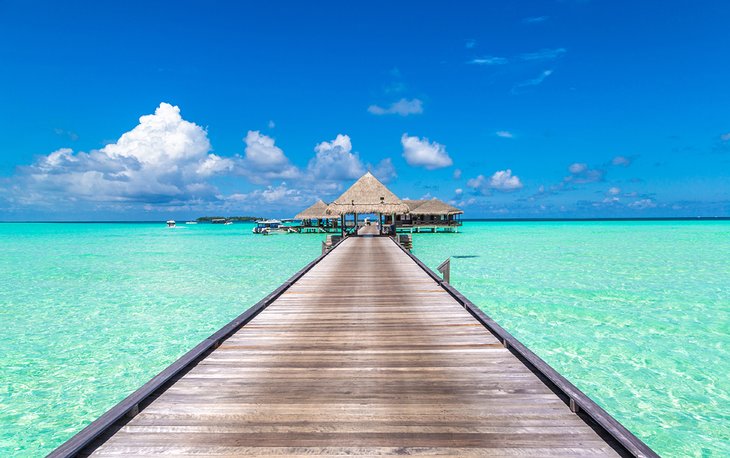 Over the water bungalows in the Maldives
The islands of the Maldives are best experienced in the summertime when they have dry weather. There are nearly 1,200 islands along the Maldives archipelago, so there are many options for a tropical summer vacation. The draw of the islands are the deep blue seas, water sports, beautiful coral reefs, and tropical beaches.
The summer weather, with warm and dry conditions, enables you to spend the most time out exploring the islands and the Indian Ocean waters. The islands are surrounded by reefs, so the pleasant weather days make it nice to spend time in the water to see some of the spectacular reefs and aquatic life.
Families looking for an ultimate summer getaway can find what they're looking for at Kurumba, Maldives, an all-inclusive luxury family resort.
Read More: Most Beautiful Islands in the World
7. Zermatt, Switzerland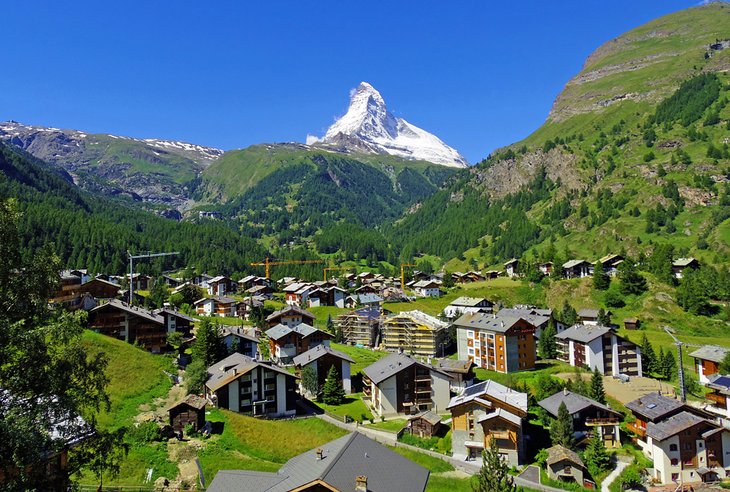 Zermatt village in the summer
Summertime in Zermatt, Switzerland is flush with color. It is when the snowcapped mountains are accented with lush, green meadows and a mesmerizing blue color in the lakes. Zermatt sits at the base of the Matterhorn peak.
The summer temperatures and climate enable mountain adventures beyond just skiing. Visiting during June, July, and August allows for other outdoor recreation, from hiking and mountain biking to kayaking and swimming. There are many tour companies in Zermatt that focus on various adventures, so even beginners can feel comfortable hiking in the Swiss mountains.
Read More: Top Tourist Attractions in Zermatt & Easy Day Trips
8. Iceland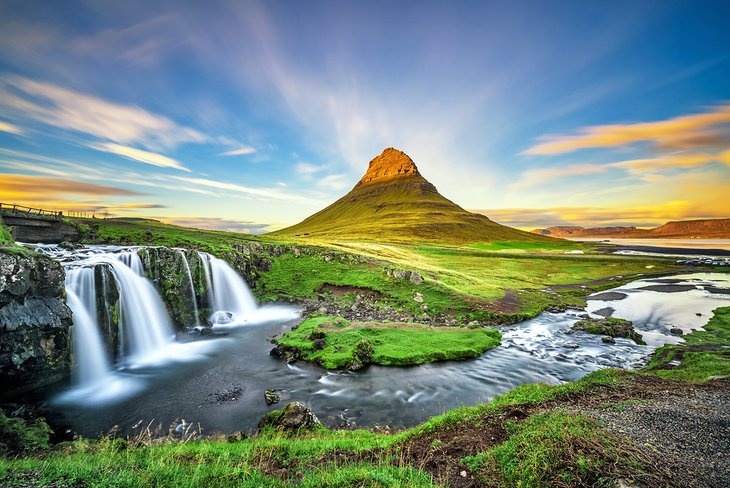 Summer sunset over the Kirkjufellsfoss waterfall and Kirkjufell mountain
Warmer temperatures and not having to worry about brutal winter weather are two of the biggest reasons to visit Iceland in the summer. The winter months are great for attempting to catch a glimpse of the aurora borealis since there are long, dark, cold nights but many roads are closed because of inaccessibility, and many attractions close as well.
The summer months have drier conditions making it easy to access hiking trails throughout the island. There are small festivals in Iceland during summer, and it is the best time for whale watching. Since summer is also the season for the midnight sun, you will have many hours of daylight to experience the best that Iceland has to offer including the Blue Lagoon and Glacial Lagoon.
Read More: Iceland Road Trip: Driving the Ring Road
9. Seattle, Washington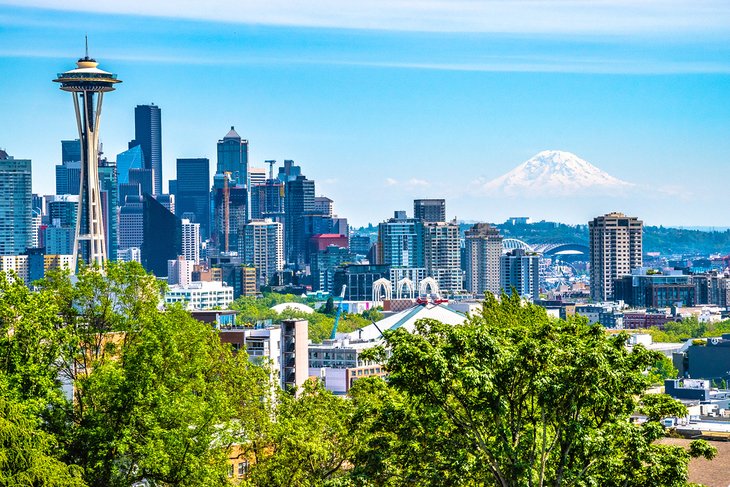 Seattle skyline
The city of Seattle is known for two things: great coffee and gloomy weather. The summer is high tourist season in this low-key city, so hotel rates are higher but it is a great time to visit. July and August are the months with the lowest amount of rainfall, so enjoying the outdoor festivals will be comfortable, although you will still want to take a light jacket for evenings.
Since summer is a busy time for tourists, you will want to plan extra time to see attractions like the Space Needle, but the upside is that skies should be clear during these months for a great view of the city. Clear skies also mean that walking around the city, versus hopping on local transportation, makes it easier to see the Pike Place Market and the Olympic Sculpture Park.
10. Marseille, France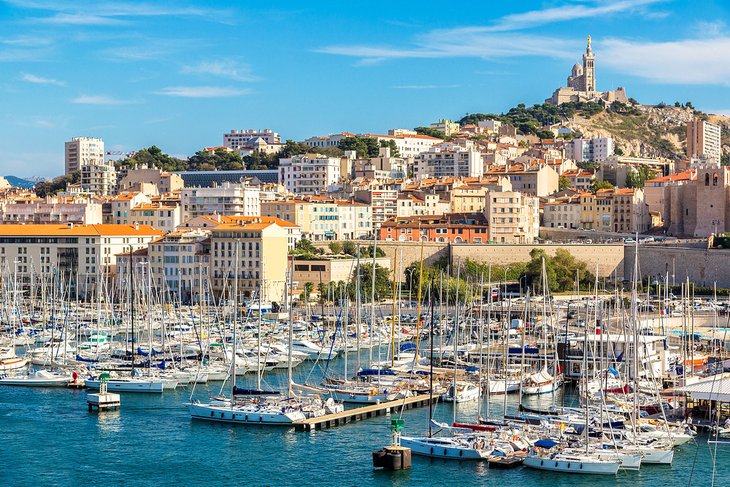 Marseille
A summer visit to France in the port city of Marseille is one of the best places in the country to visit in the warmer months. The summer climate, especially in June and July, is spectacular, which is why these are popular tourist months. The comfortable days mean you can spend time outside kayaking around or exploring the Old Port area, which has been instrumental in trading for thousands of years.
There are so many ways to enjoy the culture and heritage of Marseille, from electric bikes and walking around the historical center to a boat cruise and seeing the top sights from a hop-on, hop-off bus. Since summer is an ideal time to visit Marseille, you will need to make hotel reservations far in advance.
11. Anchorage, Alaska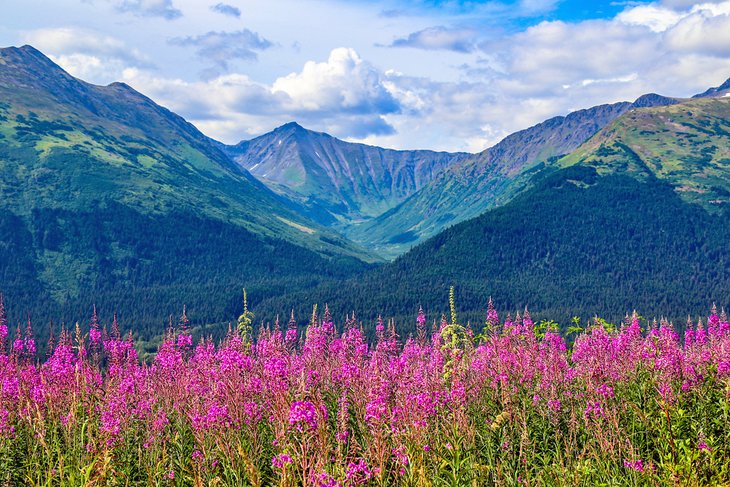 Fireweed in Anchorage
Anchorage, Alaska is one of the best places to visit in the summer, when the weather is ideal, and since the days are longer, you can pack more into the daily itinerary. During the summer solstice in June, daylight lasts close to 22 hours, so you have more time to hike, canoe, golf, or do a whale watching tour.
There are also many heritage centers like the Anchorage Museum to visit, so you can plan a mix of outdoor and indoor activities. The temperatures in the summer are comfortable (averaging in the 60s Fahrenheit), so it is a great time to try river rafting, take a wildlife viewing tour, and see the landscape by railroad.
Read More: Top-Rated Tourist Attractions in Anchorage, Alaska
12. Amalfi Coast, Italy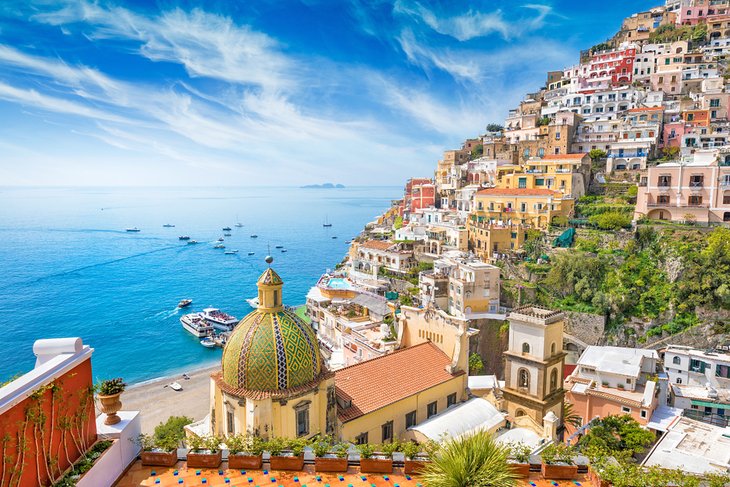 Positano, Amalfi Coast
The summer sun and vacation vibe is terrific on the Amalfi Coast in Italy, which already has an exotic flare. The natural beauty of this UNESCO World Heritage Site is even more picturesque during summer, when the forests are vibrant and coast and cliffs are at your beck and call.
The Amalfi Coast beaches are where you will likely spend much of your time, but carve out some of the itinerary for visiting the beautiful Villa Cimbrone Gardens and walking the narrow streets of Centro Storico.
Since the Amalfi Coast is a treasure of Italy, it is also where many Italians go for vacation, so the summer season is busy, but it is also the best time to see the coastal region at its best.
Read More: Exploring the Top Attractions of the Amalfi Coast: A Visitor's Guide
13. Edinburgh, Scotland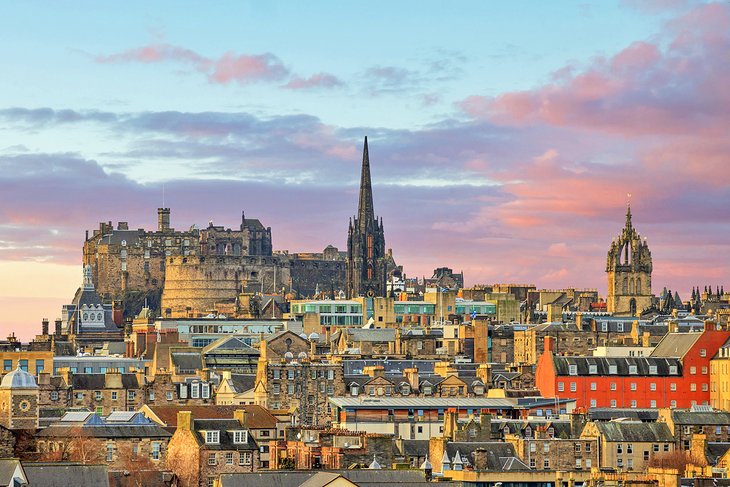 Old town Edinburgh and Edinburgh Castle
While the summer months in Scotland are the peak of tourist season, they are the best times to experience cities like the capital of Edinburgh. June, July, and August have comfortable temperatures in the mid-60s (Fahrenheit), which are ideal for walking around the city or taking a sightseeing tour on a double-decker bus.
Summertime also means longer days in the city, so you can take your time strolling down the Royal Mile in the Old Town area and visiting Edinburgh Castle. With the clear summer days, you can get a great photo from above the city at Calton Hill, one of the most popular vantage points.
Summer is festival time in Edinburgh and the height of tourist season, so book travel and hotels far in advance.
Read More: Top-Rated Tourist Attractions in Edinburgh
14. Chicago, Illinois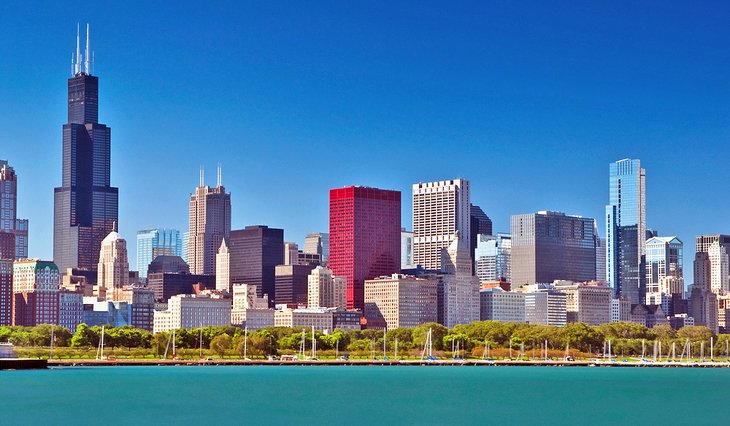 Chicago skyline in the summer
The city of Chicago comes alive in the summer with outdoor festivals, boats on the water, the Navy Pier in full swing, and perfect outdoor weather. Summer is the busiest time in Chicago because it is an exciting time to visit, when the fierce winter cold is gone and before it returns again in the late fall.
Summer means walking the Magnificent Mile and spending time in Grant Park. With the sun at its full potential in June, July, and August, you can get a great reflective selfie in "The Bean" sculpture in Millennium Park.
Hotel availability can be scarce in the summer months and expensive for the lodging that is available, so plan on booking hotels several months in advance.
Read More: Top-Rated Tourist Attractions in Chicago
15. Machu Picchu, Peru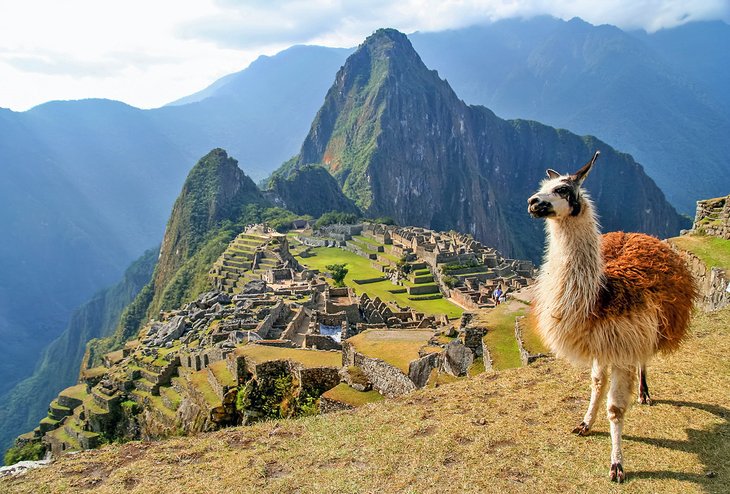 Llama and Machu Piccu
Since Machu Picchu is a bucket-list vacation for many people, it is best to experience it in the summer, when there is less chance of rain showers and inclement weather, especially if you plan to hike. This is a popular time for tourists who want to hike the Inca Trail.
Even if you do not plan to hike, the summer weather in Machu Picchu and Cusco is ideal. Keep in mind that since this is a popular time of year and trail spots require reservations and tickets, hikers should plan far in advance.
Read More: Top World Heritage Sites
16. Aspen, Colorado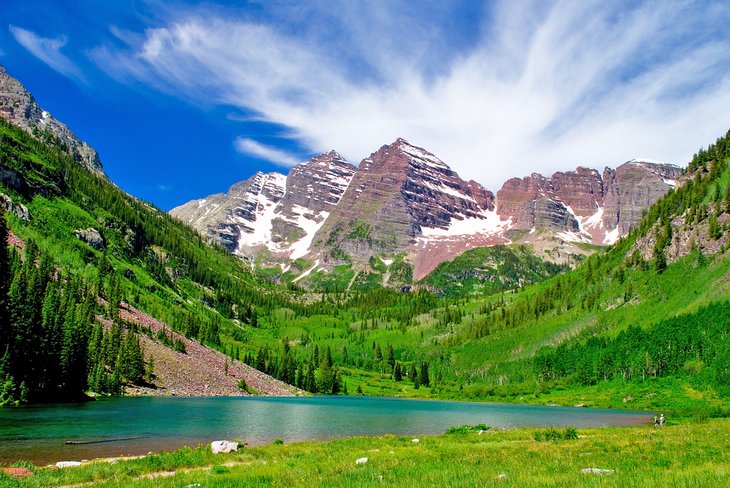 Maroon Bells, Aspen, Colorado
In the wintertime, this mountain resort is known as the American celebrity ski hot spot, but in the summer, it's a fun, family-friendly destination that's perfect if you love the great outdoors. You can enjoy some of those incredible ski slopes by mountain bike or on foot using the ski lifts to get to the top. The mountains are beautiful, with lush green valleys and wildflowers, perfect for hiking.
Areas like the Maroon Bells, located just a few minutes outside downtown Aspen, offer postcard-like mountain vistas. As this is the off-season, hotel rates are less expensive, and there are fewer crowds to deal with.
The Hotel Boulderado is a very hip, boutique hotel in the heart of Aspen's compact downtown area. Built in 1909, it's a cool way to experience Aspen's history during your visit.
17. Sardinia, Italy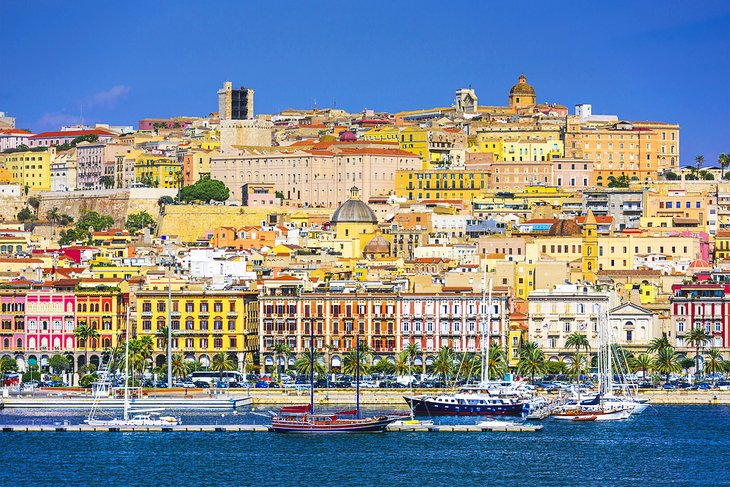 Colorful buildings in Cagliari, Sardinia
This magical Italian island, which is closer to Africa than it is to Europe, comes alive during the summer. The international glitterati converge here, arriving mainly by yacht and private jet. Get a taste of it by visiting places like Porto Cervo and the Costa Smeralda. But there is so much more here than fancy stores and live music.
Head to places like the Bidderosa Oasis, a large nature preserve near the city of Orosei with forests and many secluded beaches and coves. You'll find that electric aqua blue water and the white-sand beaches the island is famous for.
Skip the pricey beach resorts and stay in an albergo diffuso in one of the island's small towns like Santu Lussurgiu. These are boutique hotels diffused or spread out across multiple properties in the town, usually old houses. So instead of a hotel room, you get a little self-contained house.
Take some time to explore the island's Bronze Age history. There have been people here for over 4,000 years, and you can visit nuraghi, which are ancient stone structures whose meaning or use is still a mystery.
The Albergo Diffuso Antica Dimora del Gruccione is made up of a series of restored historic homes in the village of Santu Lussurgiu. The luxury boutique hotel is also a foodie destination for its amazing restaurant.
18. Budapest, Hungary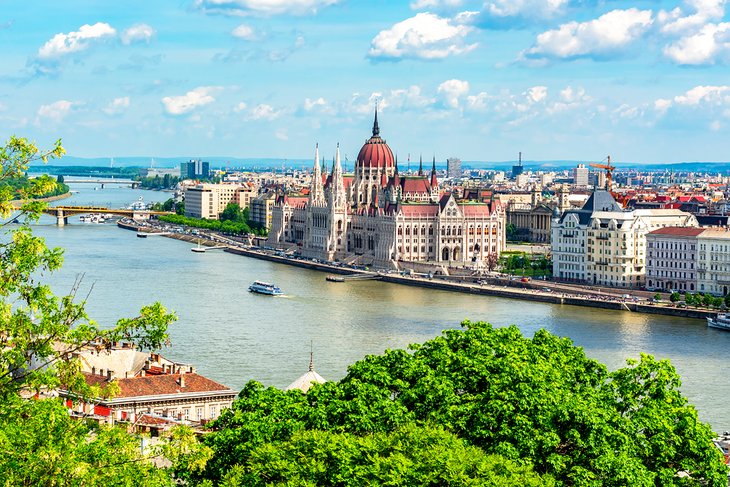 View over the Danube River and the Hungarian Parliament Building in Budapest
Another great place in Europe to visit during the summer, this Eastern European city delivers an amazing vacation experience at a lower price than cities like London or Paris. Perched on the banks of the Danube River, Budapest is filled with history, culture, great food, and friendly people.
Trace Budapest's Roman history with a visit to the Aquincum site, the original Roman settlement area. Jump into the massive Szechenyi Bath, a mineral hot spring spa pool over 100 years old. Enjoy some goulash, the local spicy beef stew, and spend an evening listening to music composed by Hungarian composers at the Franz Liszt Academy of Music's concert hall.
More Related Articles on PlanetWare.com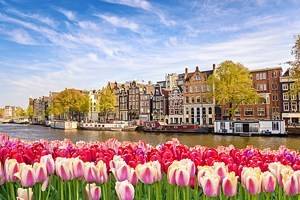 More Summer Vacation Ideas: Perhaps you already have your mind set on a particular part of the world. As you research your summer vacation ideas, be sure to review our top places to visit in Europe in Summer and the best summer vacation spots in the USA. If beaches are a priority, you will want to review the top-rated beaches in Thailand and the best beaches in the Caribbean.
12 Incredible Places To Visit In USA In Summer 2022 For A Magical Journey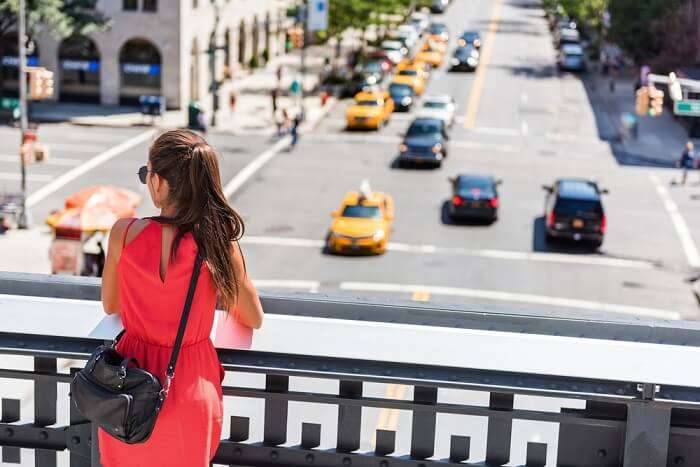 Whether it is about finding a perfect holiday spot amid the soothing national parks and gorgeous lush green valleys or simply walking your way through a few adventure parks and choosing from the various rides, or even if it is about going to the beach for that perfect tan, United States is a place you'll find everything of the like and more! So, while planning for your next vacation spot in this charming land, make sure you know about the best places to visit in USA in summer for a vacation like never before!
Reasons To Visit USA In Summer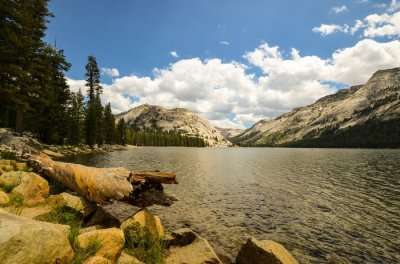 Exploring places to visit in USA in summer is not just about bringing out the best in every traveler, it's also about pushing yourself to the extent of enjoying your vacay such that you keep coming back for more! That's right, USA is the kind of place where you can get it all and while some parts of the country offer a combo deal of everything in one place, other parts are exclusively made for soaking in the exquisite vibes and you'll get to learn how to just go with the flow!
Being a perfect country for road trips, make sure you don't get lost in here and always keep a map handy. Besides, the friendly locals will be up to help if you aren't sure which way to go.
Be it a hike in Tucson or chilling at the restaurants and lakeshore beaches in Chicago, or simply indulging in the nightlife experience in Vegas, you just cannot afford to miss out on this country!
12 Places To Visit In USA In Summer
Already feeling excited about planning a vacay to USA this summer? Well, these 12 best cities to visit in USA during summer will be more than what you'd hope for on your holiday:
1. Tucson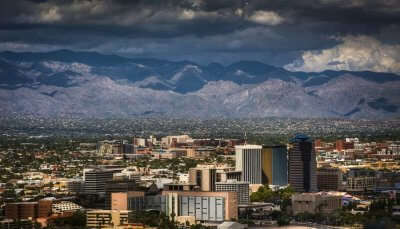 If you're in mood for some good hike up the stunning landscapes during evening time and the best place to visit is surely Mount Lemmon, where you can easily find soothing brooks at the base of this mountain to relax after your hike. Tucson is one of the best summer vacation destinations in USA. Don't forget to check out the renowned courtyard dining options here where you can chill with your fellas despite the high temperatures during the day time. So, would this be the idea of a perfect evening for you?
2. Oregon Coast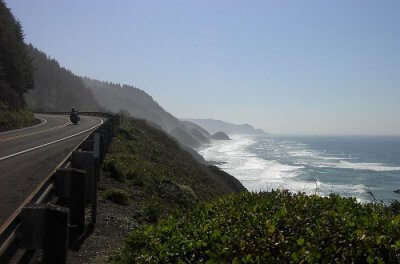 One of the best options to try in here is hiking and while you're at it, soak in all the Pacific winds that you can. Oregon Coast is one of the best cities to visit in USA during summer. Three Capes Scenic Loop is known to be the best hiking trail which involves a route through old forests and oceans. Excited already? Well, wait till you drive along the coast to witness more splendid views in towns like the Newport, and Florence. Make sure to stop by Oregon Coast to get the best of what USA offers: hiking, sightseeing, and more.
3. Wellfleet
A low-key vacation, away from the hustle and bustle of the Provincetown, this dreamy and artsy town of Wellfleet has more than you can imagine. Hop on a kayak or go windsurfing in the soothing bay waters in one of the most beautiful places to visit in USA in summer 2022! Biking and hiking is amongst the famous activities in Wellfleet Bay Wildlife Sanctuary where you can explore the vibrant marine life! This is surely one of the most cool places to visit in summer in USA!
4. Santa Barbara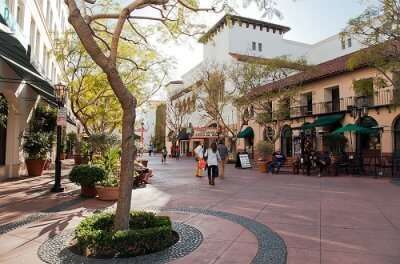 Having a balanced weather all year round, this major city in California beats other destinations making it an ideal place for a laidback holiday. Make sure you visit the Butterfly beach to witness a panoramic view of the sunset that this city is proud of and if you're in mood for some good surfing time, try Arroyo Burro Beach Country Park here! Do give the eateries and wineries a chance to woo your senses like never before.
Planning your holiday but confused about where to go? These travel stories help you find your best trip ever!
Real travel stories. Real stays. Handy tips to help you make the right choice.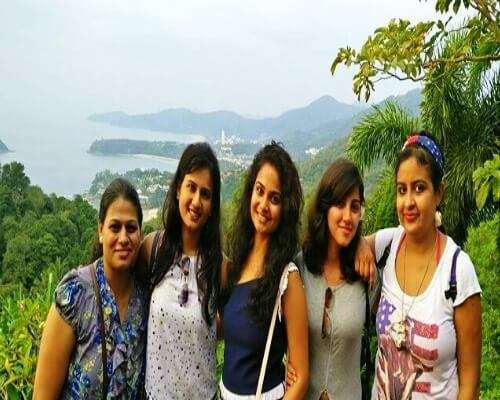 Ramya Narrates The Story Of 6 Girls On An Extraordinary Trip To Thailand
Bangkok. Phi Phi. Krabi. Why should guys have all the fun?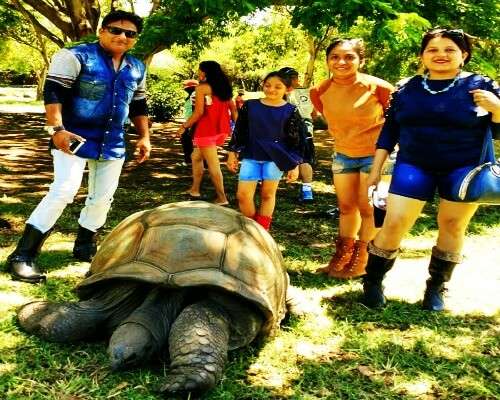 Sandeep Illustrates On The Best Activities For A Family Trip To Mauritius
Water sports. Cocktail parties. And unlimited fun at Casela.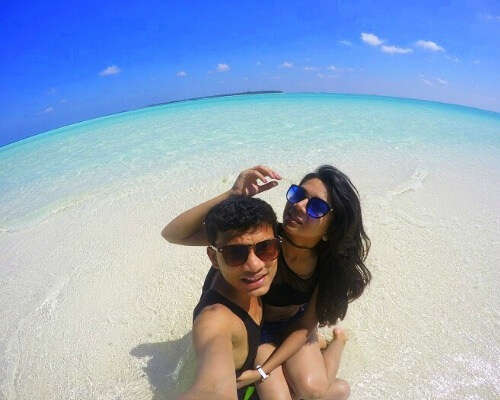 Nisarg Can't Stop Praising His Honeymoon Trip To Maldives
There was snorkeling, sightseeing, luxury, comfort, & much more!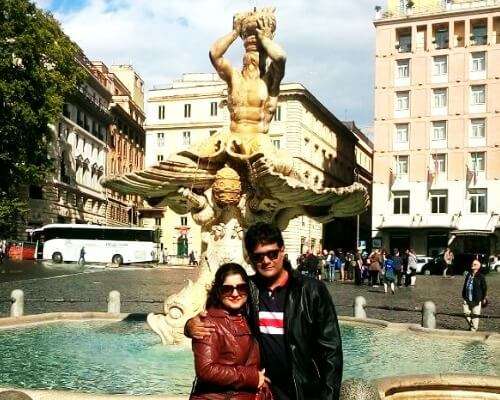 Sabyacsachi's Romantic Trip Proves Europe To Be The Mother Of All Vacations
For Art, Culture, Luxury, & more.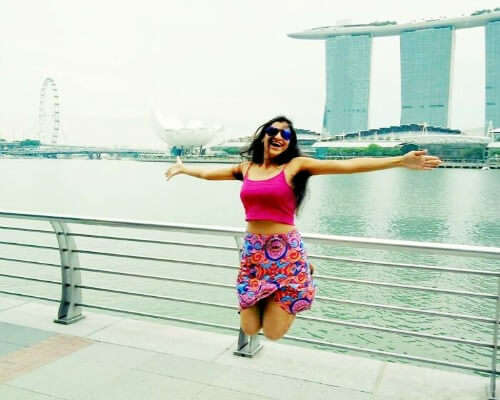 Srishti Talks Of Her Amazing Trip To Singapore With Her Mother & Niece
A fun-filled destination for ages indeed!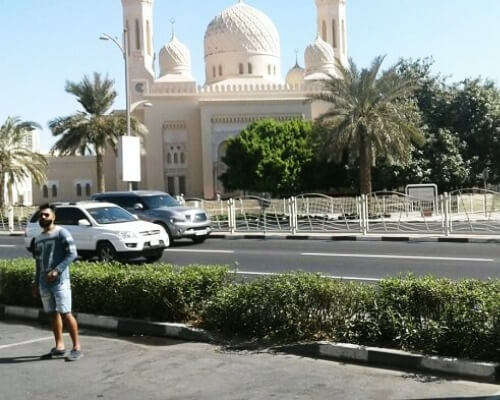 67-Year Old Sridhar Tells How He Beat The Odds & Took A Solo Trip To Dubai
Desert safari. Burj Khalifa. Welcoming locals. Tell me more!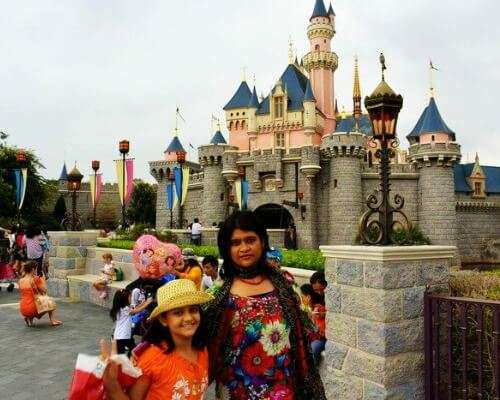 Not Adventure Lovers? Saurabh's Family Trip Proves Hong Kong To Still Be Full Of Fun
Your kids will love Disney Land & Ocean Park!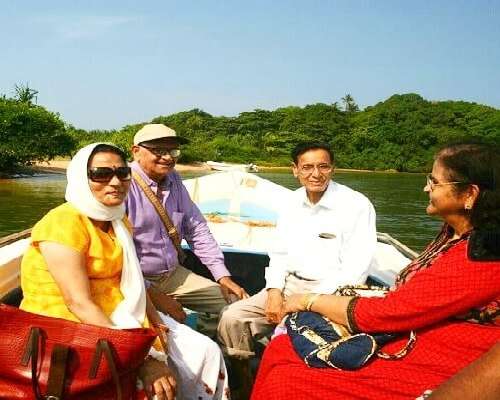 Ravi's Tale Of A Sri Lanka Family Tour Is All You Need To Know About Ramayana Tour
For the love of Ramayana & Travel!
See more at TRAVELTRIANGLE.COM
5. Rehoboth Beach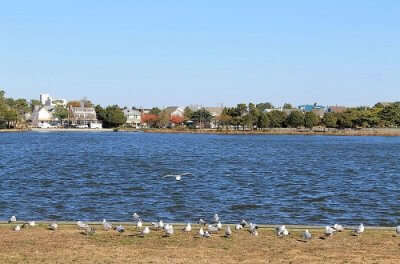 A serene beach town with delicious seafood to dig in alongside the beautiful sunset has more in store for you whether you're up for a solo trip or plan to have best summer vacations in US for families. A number of beaches like Dewey beach, Bethany beach and Rehoboth beach. You can also choose to add some thrilling vibes to your holiday by signing up for September's annual Sandcastle Contest and tour the most ancient cottages around!
6. Glacier National Park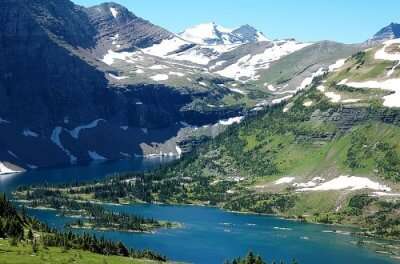 Ever witnessed snow in July? Well, you're definitely in for a treat if you wish to visit this national park which lets you peek through the wildlife of Montana via a car ride. Hiking through the park's trails of 700 miles, and camping at various 13 sites are great ideas to explore this nature's gem in Montana! You can also obtain the backcountry permit if you wish to traverse through the off beaten path of this region.
7. Northern Vermont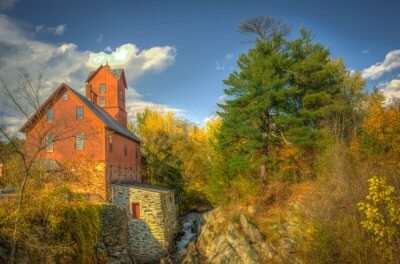 Offering a perfect combo of happening and woodsy vibes in one place is Northern Vermont. With a range of places around the ski mountains in the region, having restaurants and hiking spots on board, you would be spoilt for choice in this mountain paradise! Do check out the first in all of Vermont, zipline canopy tour in Smuggler's notch to get the best of your vacay in here!
8. Ithaca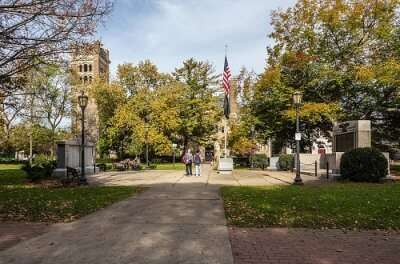 After shedding its winter blanket, this place becomes very much vibrant with all the finger lakes adding more to its charm. Boasting of a fresh produce and quite unique wines to taste, make sure you try the restaurants here, without which you holiday is incomplete! Lined with natural landscapes and scenic views, you have various other options to explore its beauty with Treman State Park, and Buttermilk Falls.
9. San Juan Islands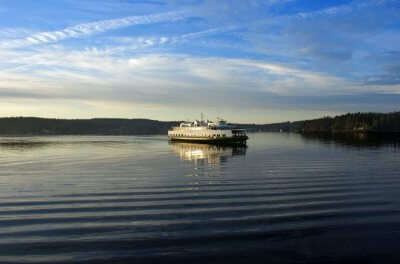 If you haven't seen the old country vibes, been to the farmer's markets and witnessed the spectacular fireworks on Fourth of July, then this is something you ought to do only in San Juan Islands. Despite being a busy place during summers this place can be best explored on a cycle and you'll surely feel the happening vibe of this place only during the Bite Of Seattle food festival.
10. Knoxville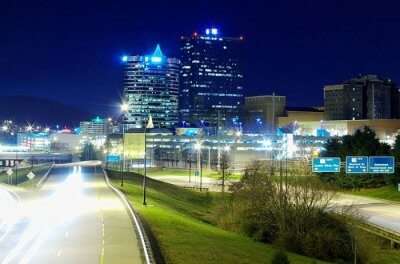 Located on the banks of the renowned Tennessee river on the base of the Smoky mountains, this place has just the right weather you need for summers. The main attraction of this place is the Market Square that has fountains you can go splashing in along with multiple restaurants and bakeries serving lip-smacking dishes. Head to Knoxville Museum of Art to witness the local artwork of the region.
11. Maui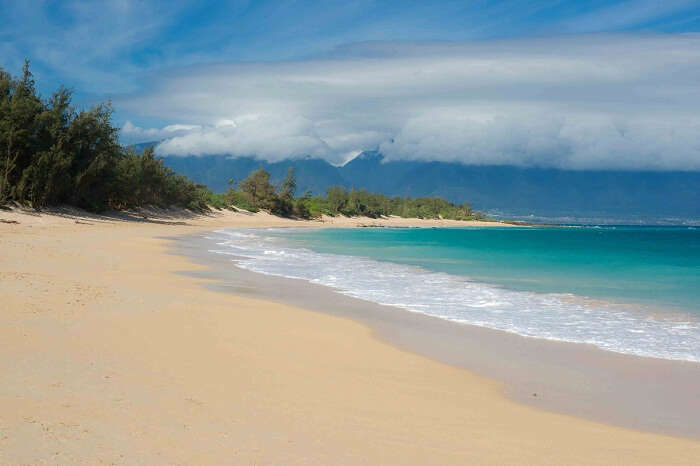 Maui is one of the best places in USA to spend your summer at. It is famed for its tropical environment, dormant volcanoes, and cascading waterfalls. Maui is world-renowned for its shimmering beaches and a coastline that measures up to 30 miles. Be it cliff diving during the sunset or spending a laid-back honeymoon whilst soaking up the sun on the hammock, the island is a must-visit place for snorkeling and adventure enthusiasts.
12. Manitou Island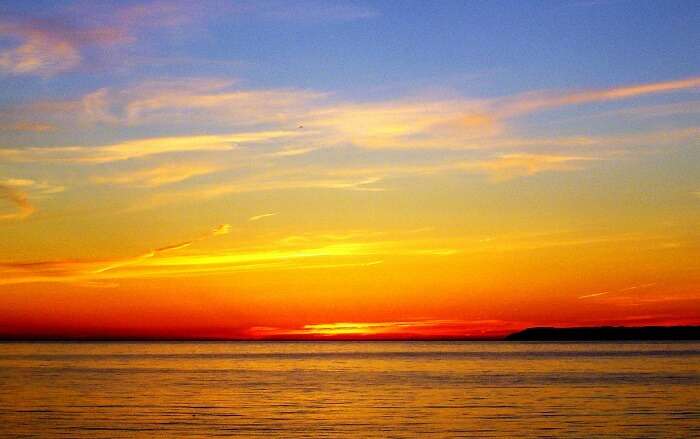 North Manitou Island, which is accessible only via a boat, is one of the best places to visit in the USA in summer. It is a freshwater beach that offers several avenues for adventure and entertainment. You can explore a range of fun activities there like kayaking, paddling or having a little picnic with your near and dear ones. You must not ignore this place on your trip to Michigan. It is perfect for people who love to explore the recesses of wildlife.
How To Reach USA
If you plan to have a hassle free vacation and tour the most remote places in this country, choosing from the various modes of transport as per your convenience is highly essential. Scroll down to know more:
By Car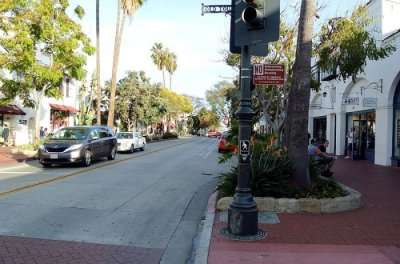 Whether a rental one or a cab, getting around via car can help solve a lot of problems, especially when it comes to exploring some of the offbeat places with less crowd. Just keep in mind the increased prices of gas in the country but if you're in luck, rates can be very low too, even 20$ a day.
By Bus
Traveling via bus can save a major chunk of your expenditure here, especially if you're with your family. Another advantage you face when boarding a bus is to meet the locals, who will help you find your way and you can definitely get to know more about the culture through this one on one!
By Boat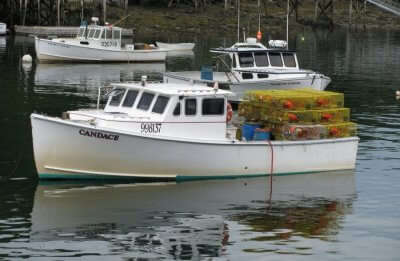 Of course you can cover only a limited number of places via boat in USA but the ferry services available in some areas are surely worth a ride. You get to witness magnificently stunning views around and capture the breathtaking sites in your camera. Ready for a click yet?
By Train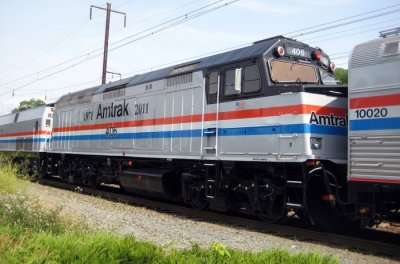 Having a firm connectivity throughout the country, Amtrak offers extensive railway system and even bus services to connect you to these railway stations. Convenient, isn't it? Featuring spacious lounge cars, on the western routes boarding a train in USA will surely give you an exclusive American feel if nothing less!
Even though we've only covered the best places to visit in USA in summer, there are still so many left that you ought to visit on your next vacay to this mesmerizing country with blissful vibes! Don't believe us? Pack your bags and plan a trip to USA to have an experience of your own and find out what this country has in store for you!
Disclaimer: TravelTriangle claims no credit for images featured on our blog site unless otherwise noted. All visual content is copyrighted to its respectful owners. We try to link back to original sources whenever possible. If you own the rights to any of the images, and do not wish them to appear on TravelTriangle, please contact us and they will be promptly removed. We believe in providing proper attribution to the original author, artist or photographer.
Please Note: Any information published by TravelTriangle in any form of content is not intended to be a substitute for any kind of medical advice, and one must not take any action before consulting a professional medical expert of their own choice.
Frequently Asked Questions About Places To Visit In USA In Summer
What are some popular places to visit in the USA during summer?
Summer is often considered the best season in the USA. Oregon Coast, Wellfleet, Rehoboth Beach, and Glacier National Park are some of the best places to visit in the USA during summer.
Which is the best month to visit the USA in the summer?
May to September is the peak time to visit the USA during summer. As the weather gets really hot in some places in the USA, it is suggested to travel during these months for a comfortable tour.
Is it safe to visit the USA during covid times?
The Government of the USA has issued some important covid protocols such as vaccinated individuals above the age of 5 years are not required to produce a negative RT PCR test report on arrival. However, the unvaccinated individuals need to show a negative covid test done 72 hours prior to departure. Using face masks and social distancing are mandatory in public places.
What are some popular beaches in the USA?
Some of the popular beaches that you can visit during your USA tour include Coopers Beach, Coast Guard Beach, Santa Monica Beach, Lighthouse Beach, Myrtle Beach, Miami Beach and Nantucket Beach.
Which are the coolest places to visit in the USA during the summer?
Some of the best and coolest places to visit during the summers in the USA are Philadelphia, Detroit, Savannah, Portland, Columbus, YellowStone, San Diego, San Francisco, and Glacier National Park.
What are the adventurous activities I can try in the USA during the summer?
In the summer season, you can try Amazon Voyage, Costa Rica adventure, Inca Trail trek, and Safari expeditions. The USA offers tons of adventures that you can do during the summers. Do check out the travel packages for in depth information.
What is the average temperature of the USA in the summer?
The average temperature of the USA during summer is about 71.9 degrees F. The highest and lowest temperature of the USA in summer is 81.1 degrees F and 52.3 degrees F. Make sure to plan your tour accordingly as per the ideal weather conditions in the USA.
How many days are required to explore the USA?
The USA is a vast country and only a few states can be explored during your tour. If you are planning to visit the USA, the 2 weeks are sufficient to explore the major tourist attractions in some of the popular states.
Looking To Book A Holiday Package?
Book memorable holidays on TravelTriangle with 650+ verified travel agents for 65+ domestic and international destinations.
Source https://www.planetware.com/europe/top-rated-places-to-visit-in-europe-in-summer-f-1-36.htm
Source https://www.planetware.com/world/best-places-to-visit-in-summer-us-az-241.htm
Source https://traveltriangle.com/blog/places-to-visit-in-usa-in-summer/#:~:text=Summer%20is%20often%20considered%20the%20best%20season%20in,month%20to%20visit%20the%20USA%20in%20the%20summer?