17 Top-Rated Things to Do on Vancouver Island
Off Canada's West Coast, Vancouver Island is the largest island on the Pacific Coast of North America. Old-growth forests, beautiful rugged shorelines, and beaches offer an endless repertoire of things to do, from hiking and camping to surfing and whale watching. The capital of British Columbia, Victoria delivers cultural attractions, nightlife, dining, and shopping.
Small towns spread around Vancouver Island are some of the best places to visit, where you'll find a slower pace of life and discover remote lodges in the rainforest, where you can relax and soak up nature.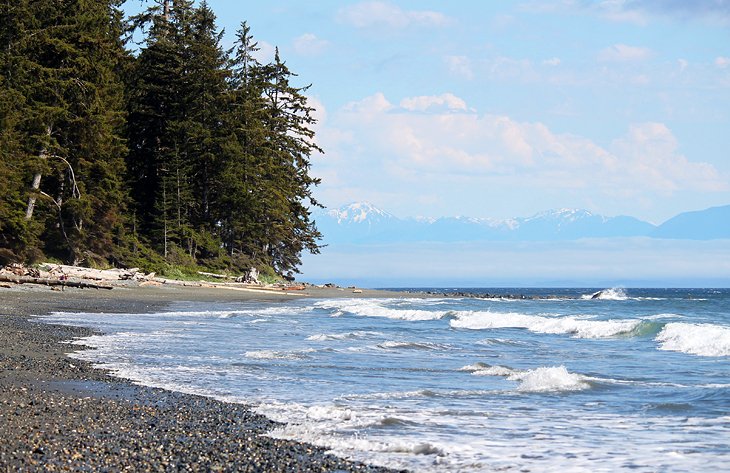 China Beach, Vancouver Island | Photo Copyright: Lana Law
The mild coastal climate draws visitors here year-round. Vancouver Island is one of the warmest places in Canada in winter. Although summer is the busy season, in winter, it's not uncommon to find surfers riding the waves on the western shore, while skiers head to the slopes in the interior of the island. The landscape is one of mountains, lakes, rainforest, and dramatic coastline dotted with small towns and villages.
Most visitors begin their trip to Vancouver Island in Victoria, at the sound end of the island. Arrival is usually by air or by ferry from Vancouver or Seattle. Ferries also run regularly from Vancouver to Nanaimo.
On the west side of Vancouver Island are towns like Tofino and Port Renfrew, and the famous West Coast Trail. On the east side of the island, looking out over the Salish Sea, are the towns of Ladysmith, Nanaimo, Parksville, Qualicum Beach, Courtney, and Comox.
To help plan your trip, see our list of the top things to see and do on Vancouver Island.
1. Visit Victoria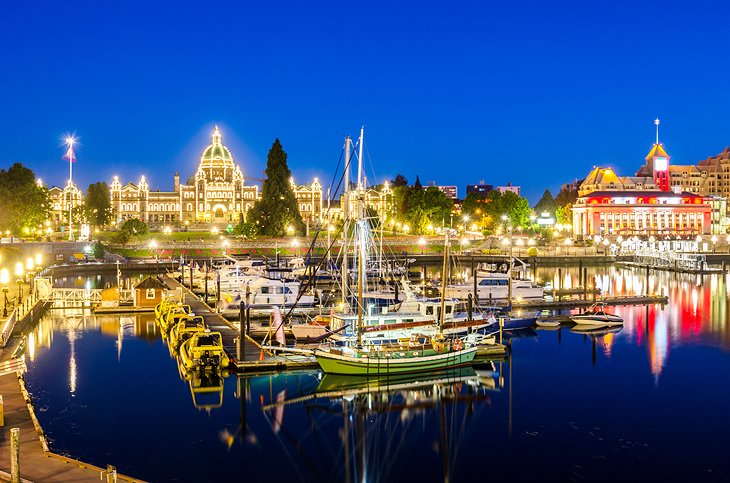 Victoria's Inner Harbour
As the main gateway to Vancouver Island, Victoria is where most visitors will begin their trip, and it is a great starting place. Looking out over the Juan de Fuca Strait to the mountains on the Olympic Peninsula in Washington, British Columbia's capital is one of the most beautiful cities in Canada.
The scenic Inner Harbour is where much of the action is centered and where many of the tourist attractions are located. The historic Fairmont Empress , one of Victoria's landmark buildings, looks over the Inner Harbour. Built in 1908, this hotel has hosted visiting royalty throughout the decades. High Tea at the Empress has become a popular thing to do in Victoria, where visitors can sip tea and enjoy sandwiches, scones, and desserts in a lovely old room filled with antique furnishings.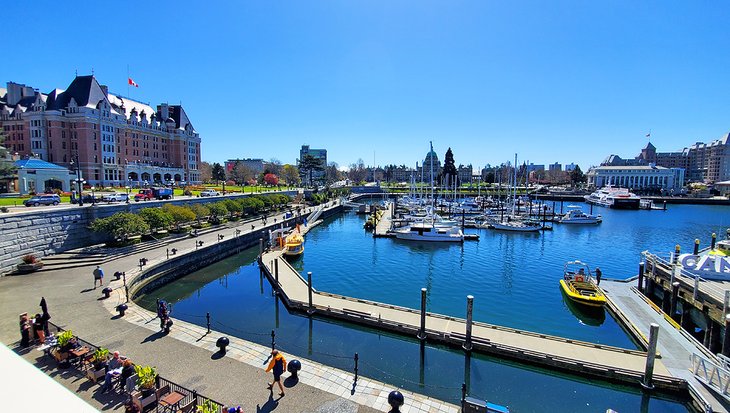 Victoria's Inner Harbour on a sunny day | Photo Copyright: Lana Law
Also unmissable on the Inner Harbour are the Parliament Buildings. Lit up at night, they are impressive no matter what time you visit. Another major attraction, located between the Parliament Buildings and the Empress Hotel, is the Royal BC Museum, offering insight into the natural and human history of British Columbia.
Victoria is a small city, and the compact downtown makes visiting the sites incredibly easy. It's also filled with stores and restaurants that range from casual to fine dining.
If you are spending a few days in Victoria and want to expand your sightseeing to include parks and outdoors activities, beautiful hiking trails are scattered around the city and nearby areas.
Read More: Top-Rated Tourist Attractions in Victoria
2. See Vancouver Island's Old-Growth Forests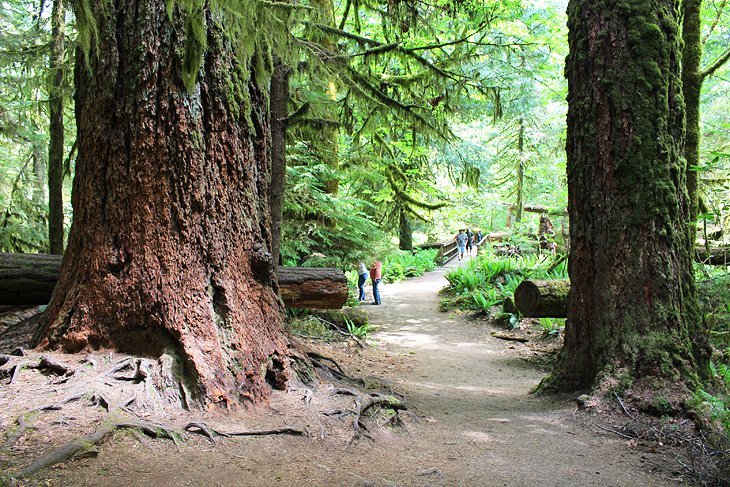 Cathedral Grove | Photo Copyright: Lana Law
Vancouver Island's old-growth forests are truly a national treasure and an absolute must-see for anyone with an appreciation for nature. Found in a few small pockets around the island are some remaining virgin forests, home to enormous trees up to 800 years old. Some of the best places to see these giants are around Tofino, Port Renfrew, and an area known as Cathedral Grove.
Cathedral Grove
Near Port Alberni, in MacMillan Provincial Park, is Cathedral Grove. This is one of the most popular places to see ancient trees. It's an easy stop on the way to Tofino. Cathedral Grove is a stand of towering Douglas firs, with some trees between 600 and 800 years old, reaching 75 meters tall and as much as nine meters in circumference.
You can park at a roadside pullout on the Alberni Highway (Hwy 4) and follow an easy and relatively level walking trail through the grove. Also in the park are old western red cedar.
Cathedral Grove was hit by a major wind storm in 1997, which took down many old trees. You can see the huge trunks that are now on the ground and still an impressive site.
Port Renfrew: Eden Grove, Big Lonely Doug & Avatar Grove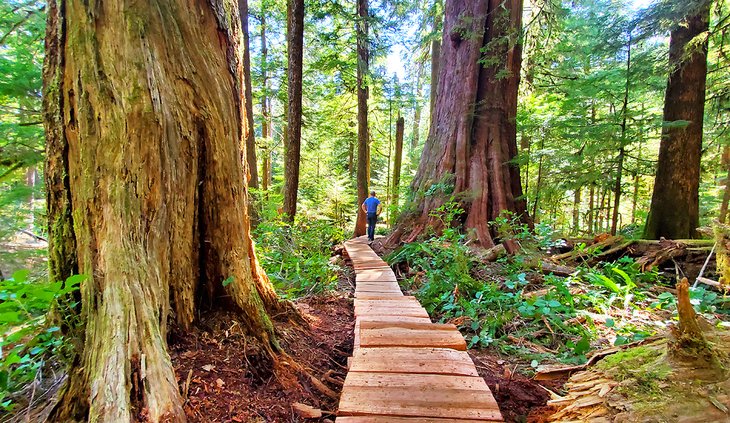 Boardwalk through Eden Grove | Photo Copyright: Lana Law
From Victoria, another fantastic day trip to see old-growth rainforest is to take a drive up to Port Renfrew, about two hours from the city, and just beyond to the big trees. This scenic trip takes you up Highway 14, past Sooke and Jordan River, along a curvy road.
The most famous sites in this area are Eden Grove, Big Lonely Doug, and Avatar Grove, all of which are free to the public. All of these are found just north of Port Renfrew, with Big Lonely Doug and Eden Grove at the farthest end, 18 kilometers from town.
Eden Grove is arguably the most impressive area to see old-growth forest on Vancouver Island that visitors can access on their own. It is a much less visited area than places like Cathedral Grove or Tofino, but much more worthwhile. There is a tranquility here you won't find at the more popular sites and a feeling of truly being in the forest.
Home to Douglas fir and western red cedars, the trees are enormous! One cedar is more than 12 feet wide. Volunteers have built a rough boardwalk through the stand of trees that allows you quick easy access to the forest.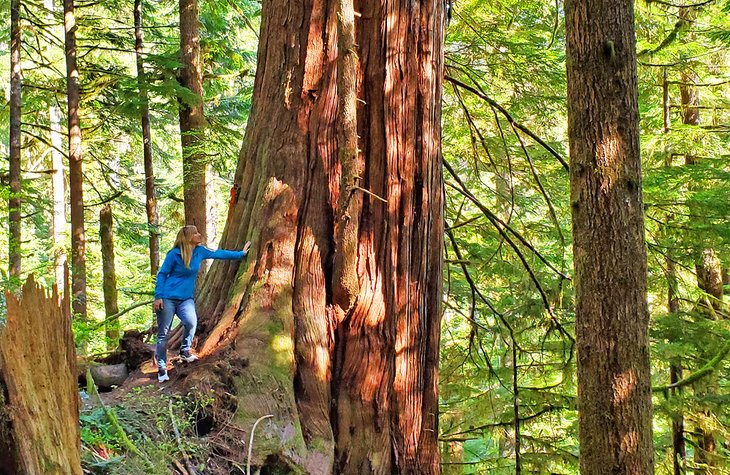 Author Lana Law at Eden Grove | Photo Copyright: Michael Law
Just a few hundred meters before you reach Eden Grove is a clearing that has been logged. One huge 1,000-year-old Douglas fir stands alone in the cutover. This is Big Lonely Doug. He was the one tree not logged here, and stands now as a stark reminder of what has been lost by logging and what future logging may destroy.
About 1.8 kilometers before you reach Big Lonely Doug and Eden Grove, the road becomes very rough in a couple of spots. If you don't have a 4WD vehicle, you can park here and walk in, and many people do. At this point, you will also likely see people who have come here in an effort to protect the forest from logging. They are an extremely helpful and friendly bunch who are happy to see you, point you in the right direction, and answer questions. Eden Grove is in a logging area and at extreme risk of being destroyed.
Also worth seeing is Avatar Grove, which you will pass on your way back to Port Renfrew. Here, trails run through the forest on both sides of the road, and also lead past several giants.
Pacific Rim National Park, Tofino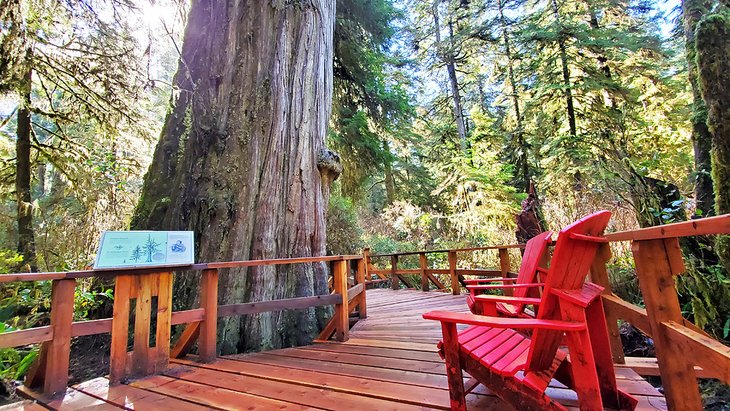 Rainforest Trail in Pacific Rim National Park | Photo Copyright: Lana Law
Pacific Rim National Park, just outside the resort town of Tofino, is another excellent area to see the giant trees of Vancouver Island's rainforest. One of the best hikes in Pacific Rim National Park is the Rainforest Trail. Two one-kilometer loops lead past hundreds-of-years-old trees. You can even settle in on a park-provided Adirondack Chair for a while and gaze up at one of these beauties while you listen to the sounds of nature.
3. Enjoy a Getaway to Tofino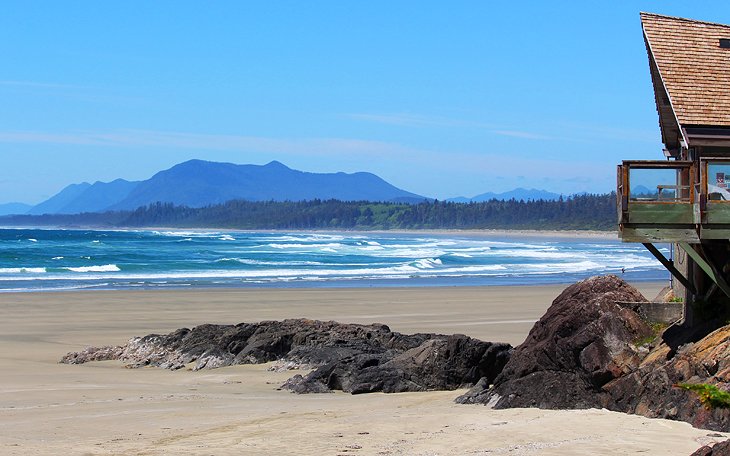 Pacific Rim National Park, Tofino | Photo Copyright: Lana Law
The little town of Tofino is the jewel of Vancouver Island's western shore. Looking out over Claoquot Sound and surrounded by old-growth forest and seemingly endless beaches, this little fishing village is a popular tourist destination on Vancouver Island, but rarely feels busy. It's also known for being Canada's hottest surf destination, with people coming here to surf year-round.
If you aren't into surfing, storm watching from November to February, when huge waves roll in off the Pacific Ocean, is another reason people like to visit Tofino in the quiet of the off-season.
Just outside of town is Pacific Rim National Park, an incredible natural area with some of Tofino's best hikes and campgrounds. This area is home to ancient cedars, which are some of the oldest trees in Canada. It's also where you'll find Tofino's famous Long Beach, stretching along the coast for 16 kilometers.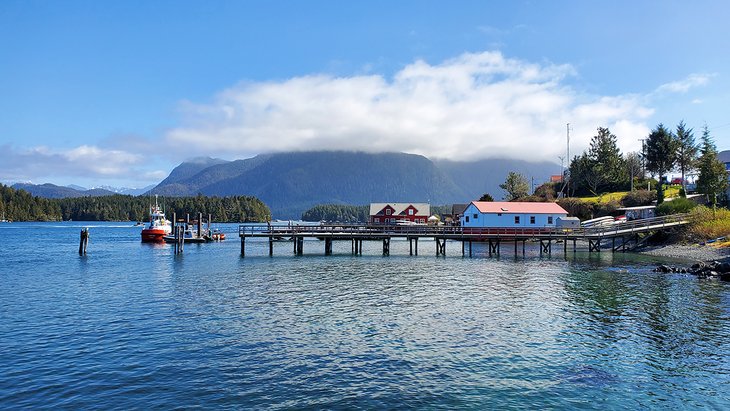 Waterfront in the town of Tofino | Photo Copyright: Lana Law
Approximately 42 kilometers north of the small town of Ucluelet, Tofino is one of the oldest settlements on the West Coast, and it has a very remote feel. Despite its popularity, it has remained small. The town has surf shops, tourist stores, restaurants, and hotels. Nearby are a number of outstanding lodges and resorts with great views out over the ocean. The Wild Pacific Trail, one of the best on the island, is located just south of town.
Read More: Top-Rated Things to Do in Tofino
4. Walk, Surf, or Relax at Pacific Rim National Park & Long Beach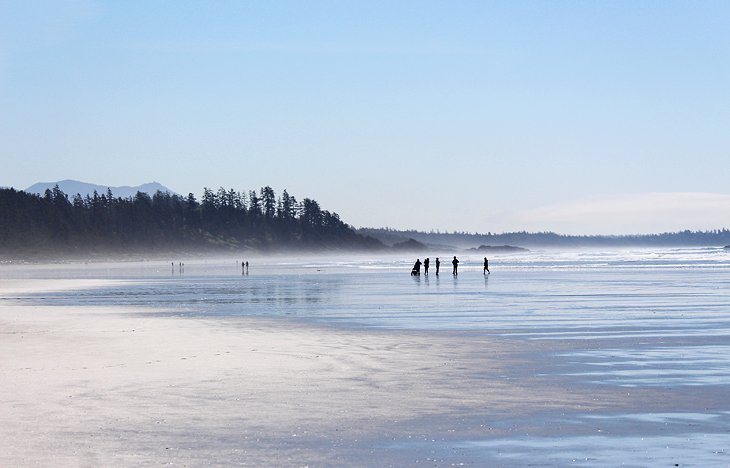 Long Beach in Pacific Rim National Park | Photo Copyright: Lana Law
Pacific Rim National Park covers a lush stretch of coast between Tofino and Ucluelet. The rainforest of ancient cedars and shoreline of beaches and rocky headlands reveals the wild and rugged natural beauty of Vancouver Island.
Long soft-sand beaches are found all along Pacific Rim National Park. The 16-kilometer-long Long Beach is a vast expanse of sand where people come to walk, beachcomb, surf in the big waves, or simply enjoy a sunset. Whales can sometimes be spotted offshore, especially in spring and autumn.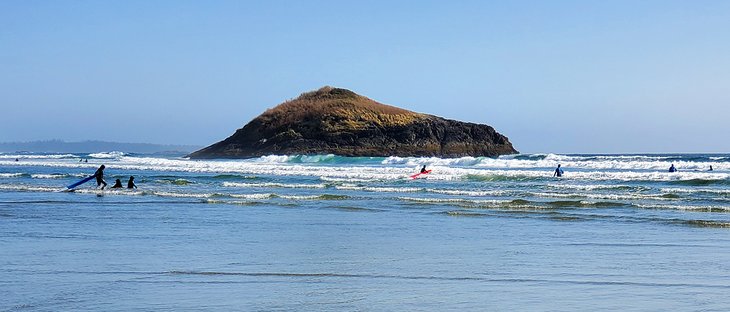 Surfers around Incinerator Rock, Long Beach | Photo Copyright: Lana Law
Storm watching has become a popular activity in fall and winter, when photographers and visitors come to the park to watch the huge waves crash against the shore. Massive piles of driftwood along some of the beaches testify to the violence of the ocean waves.
5. Tour Butchart Gardens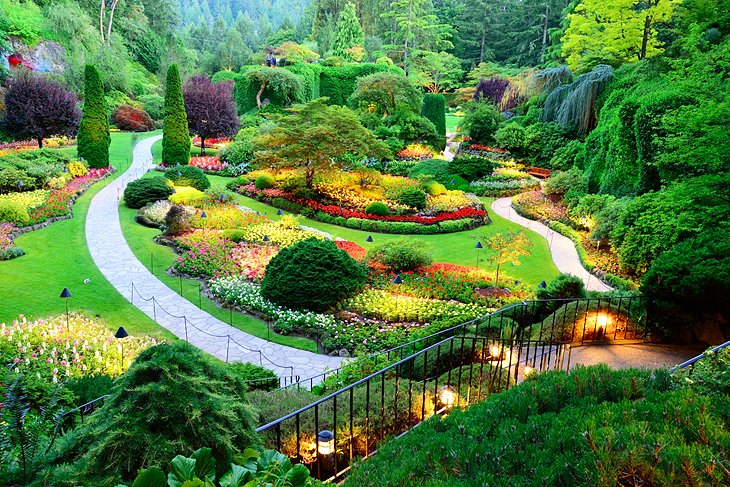 Butchart Gardens
For those with a love of gardening, a visit to Butchart Gardens will be one of the highlights of Vancouver Island. Set in an old quarry outside Victoria, these fabulous gardens provide a year-round opportunity to step into a peaceful natural setting with flowers, trees, pathways, and places to relax.
Begun in 1904 by Jennie Butchart, the grounds have been over a century in the making. In the evening, the gardens are illuminated with creative lighting and on Saturday nights you can enjoy a firework display set to music. Every evening in July and August live music performances take place at Butchart Gardens.
Botanical displays change seasonally and are particularly lovely between spring and fall. At Christmas, the gardens are lit with a display of Christmas lights and decorations, and various festivities and activities are on offer, including ice skating in an outdoor rink.
6. See Goats on the Roof at the Old Country Market, Coombs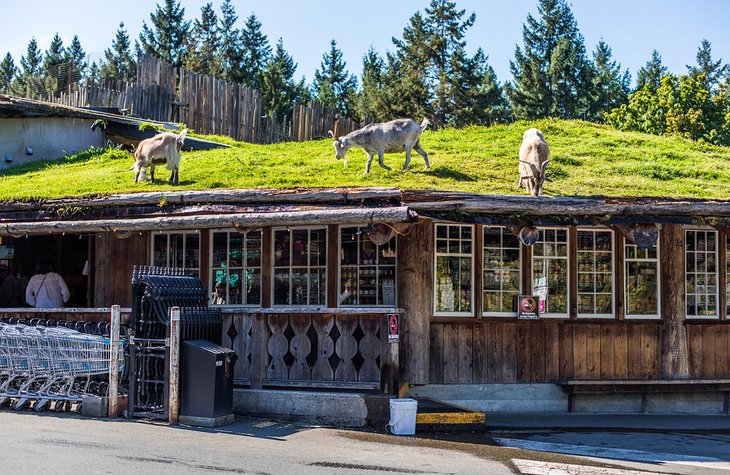 Goats on the roof in Coombs
One of the more unique and long-standing attractions on Vancouver Island is the Old Country Market, complete with resident goats on the roof. For over 30 years, goats have been happily posing for pictures as they munch contentedly away on the sod roof. The goats are only out in summer, but the area is a popular place to visit year-round.
Located a short drive from the cities of Parksville and Qualicum, the Old Country Market is a fully-fledged tourist attraction and perfect family outing. Not only will you find the goats, you'll also find an assortment of restaurants, an ice cream stand, gift shops, a vegetable and fruit market, a garden center, and a surf shop.
7. Hike the Trails on Vancouver Island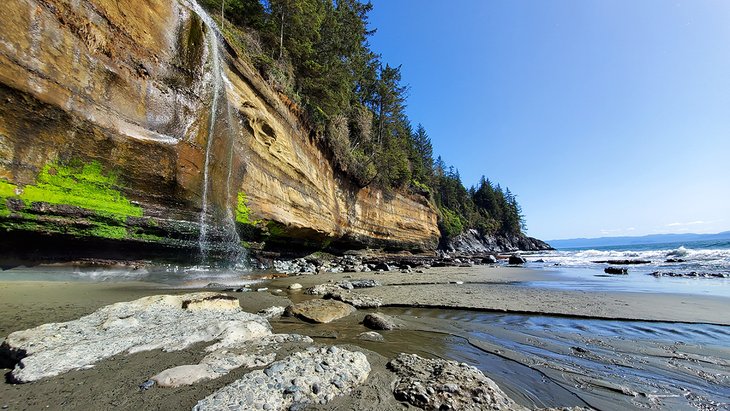 Mystic Beach on the Juan de Fuca Trail | Photo Copyright: Lana Law
Vancouver Island is a dream destination for hikers. Remote, yet well-maintained, the trails here offer outstanding scenery, a chance to see wildlife, and a solitude rarely found in popular national parks and more well-known hiking areas. The most famous hike is the West Coast Trail, although this is often much more than a typical hiker is looking for.
Much more reasonable and open year-round is the Wild Pacific Trail. But you can find interesting hikes from one end of Vancouver Island to the other.
One popular hiking area on Vancouver Island is Port Renfrew. This is where you'll find the start of the 47-kilomter Juan de Fuca Marine Trail, but also shorter hikes, like a walk out to Botany Bay or Botanical Beach that can be completed in a day or even an hour or two. From China Beach, on the road to Port Renfrew from Victoria, not far beyond the town of Sooke, is the other end of the Juan de Fuca Trail. From here, you can walk a couple of kilometers along the trail to the waterfalls on Mystic Beach. This is an easy day hike that can be done on a day trip from Victoria.
There are several popular day hikes around Victoria. You won't exactly find solitude on these hikes but they will take you through beautiful scenery and to high lookouts, waterfalls, or old train trestles.
You can find dozens of great hiking trails around Tofino, many of which can be completed in a half-day or less. You can even combine a kayaking trip with a hike here. Hiking around Tofino involves a mix of forests and coastal trails, and time spent walking along the beaches.
Other areas for hiking on Vancouver Island include the remote regions to the north. Not far from Campbell River is Strathcona Provincial Park, and at the far northern end of Vancouver Island is Cape Scott Provincial Park. Both of these have interesting hikes to explore. For more details on these trails and other hiking areas, see our article on the best hikes on Vancouver Island.
8. Hike the West Coast Trail for an Epic Adventure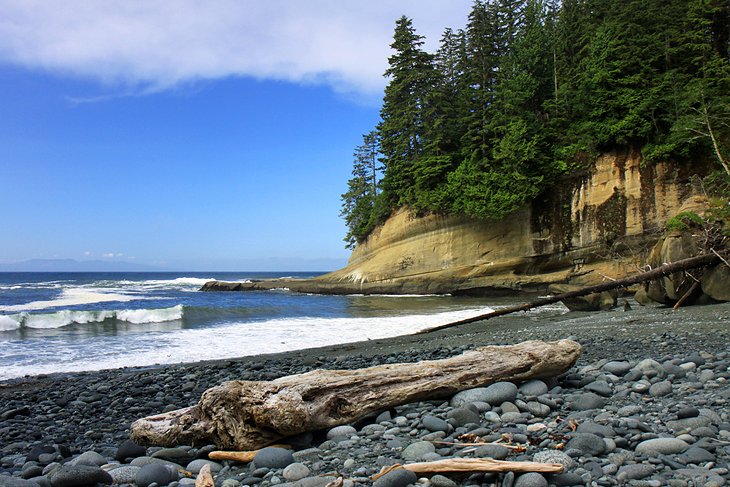 West Coast Trail
The almost 75-kilometer-long West Coast Trail is one of Canada's most famous hiking trails. Known for fabulous coastal scenery and treacherous conditions, it's a bucket-list hike.
Until the beginning of this century, Canada's stormy Pacific coast with its deceptive shallows and rocky headlands was known to sailors as the "graveyard of the Pacific." A great many ships were lost in storms and fog. To give survivors a means of escape from this otherwise impassably rocky coastline backed by impenetrable rain forest, a primitive trail was opened in 1906, following the route of the telegraph lines laid in 1890 between the various lighthouses.
The trail eventually became obsolete but was discovered by backpackers in the 1960s. Now managed by Pacific Rim National Park, the West Coast Trail is an extremely popular, although arduous hike across challenging terrain.
The hike is open from May 1 to September 30, and the numbers of hikers is limited from June 14 to September 15. Hikers must make a reservation and should book well in advance. The trail has very basic campsites, and hikers must carry all their supplies with them. The park offers detailed information for hikers who want to undertake this adventure.
9. Take in the Views from the Wild Pacific Trail, Ucluelet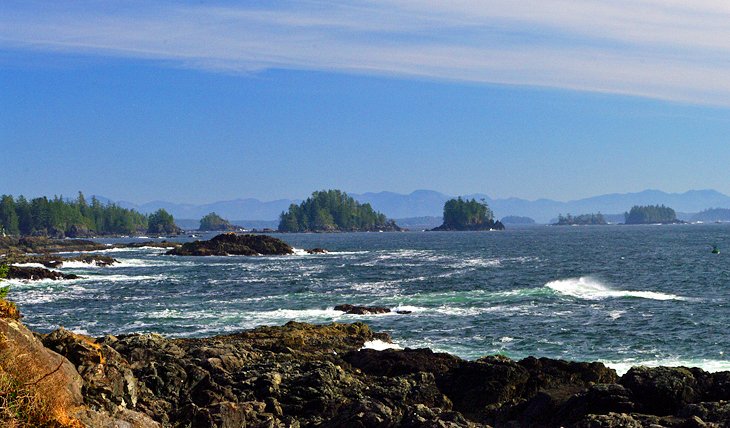 Wild Pacific Trail (Ucluelet) | Photo Copyright: Lana Law
A wonderful way to experience some of Vancouver Island's most beautiful scenery without the treacherous ordeal of hiking the West Coast Trail, is to spend some time on the Wild Pacific Trail at Ucluelet. This trail system offers easy access to beautiful coastal areas with views of Barkley Sound and the Broken Group Islands.
The trail has different sections that can be done independently of each other and vary from roughly 2.5 to eight kilometers. Sections include Lighthouse Loop, Big Beach, and Brown's Beach to Ancient Cedars. Scenery ranges from waves crashing on rugged rocky shoreline to sheltered coves, and of course, giant trees.
Many consider the Lighthouse Loop to be the best route, particularly the section from the parking area to the lighthouse. The trail winds its way along an incredibly rugged coastline with huge views to the south, eventually leading to the scenic Amphitrite Point. It's here, you'll find a lighthouse and good views up and down the coast. While here, listen for the eerie sound of a foghorn just offshore.
It should be noted that visitors do not even need to complete these hikes to find beautiful views along the shoreline, and there are benches for resting and soaking up the scenery.
10. Explore Clayoquot Sound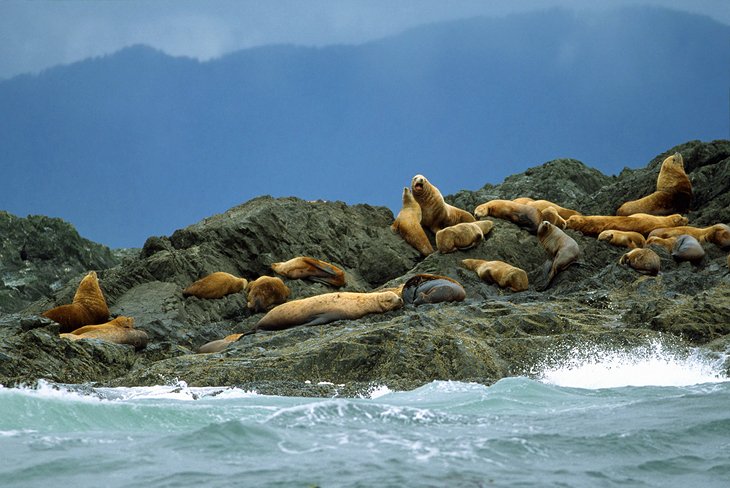 Clayoquot Sound
Clayoquot Sound is a remote area on the west coast of Vancouver Island. Much of it lies north-west of Tofino, with beautiful deep fiords, countless little islands, and one of the last surviving areas of temperate rainforest. It is a designated UNESCO Biosphere Reserve.
A decision by the provincial government to allow clearance of half the remaining 3,500 square kilometers of virgin wilderness met with much resistance and protests, and led to the preservation of this special place.
You can arrange trips to remote sections of this area from Tofino, which may involve a float plane, boat, or kayak, depending on the type of experience you're looking for. Wildlife tours, often to see black bears, as well as other animals, are popular.
11. Go on a Whale Watching Tour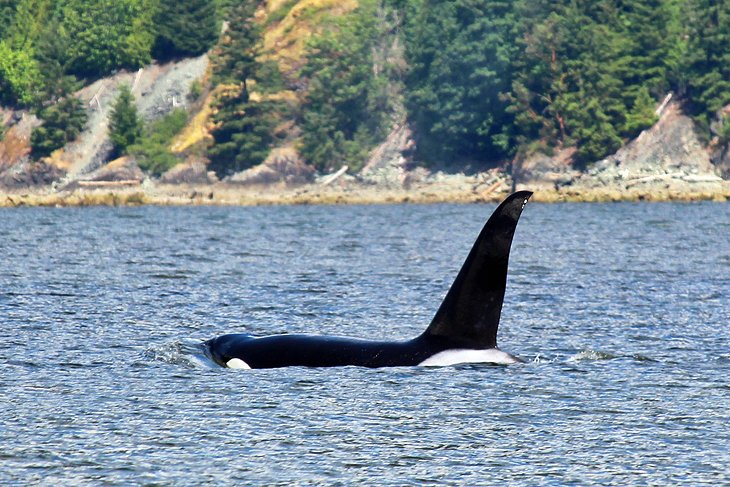 Orca on a whale watching tour from Nanaimo | Photo Copyright: Lana Law
Whale watching tours are one of the top things to do on Vancouver Island. Two popular places for these tours are in Nanaimo and Tofino.
In Nanaimo, boats take visitors out on the Salish Sea, between Vancouver Island and mainland British Columbia. Commonly spotted here are orcas, humpback whales, sea lions, porpoises, and other marine life. Tour operators avoid viewing endangered southern resident orcas. Tours are in zodiacs or larger semi-covered tour boats.
In Tofino, you can spot orcas and humpback whales, but the main species is gray whales, which can be seen regularly between March and November. Depending on the tour and the operator, boats range from a covered cabin cruiser to open Boston Whaler boats or Zodiacs.
12. Hit the Slopes at Mount Washington Alpine Ski Resort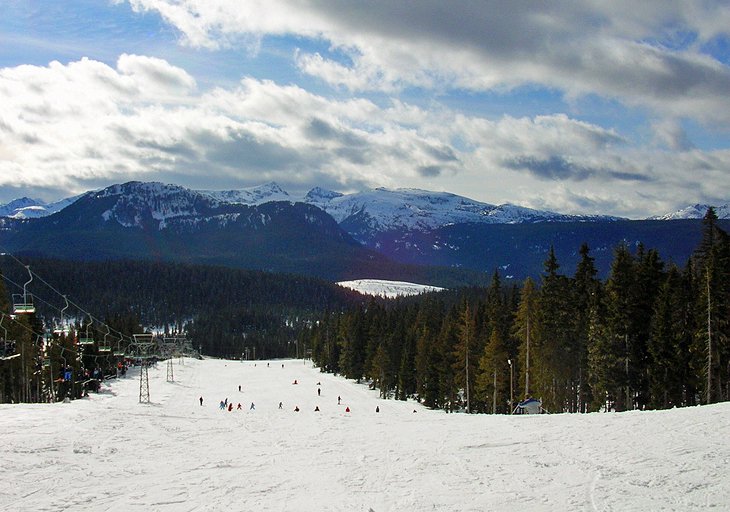 Mount Washington Alpine Ski Resort
Mount Washington is Vancouver Island's most popular family ski resort with year-round activities. In winter, the mountain offers a variety of ski runs and a terrain park. The resort has more than 500 meters of elevation from base to top.
There are also opportunities for cross country skiing, snowshoeing, tubing, and tobogganing. In summer, visitors can enjoy alpine hiking, with the help of the Scenic Chairlift Ride to the top of Mount Washington, or on the trails at the base.
13. Go Camping on Vancouver Island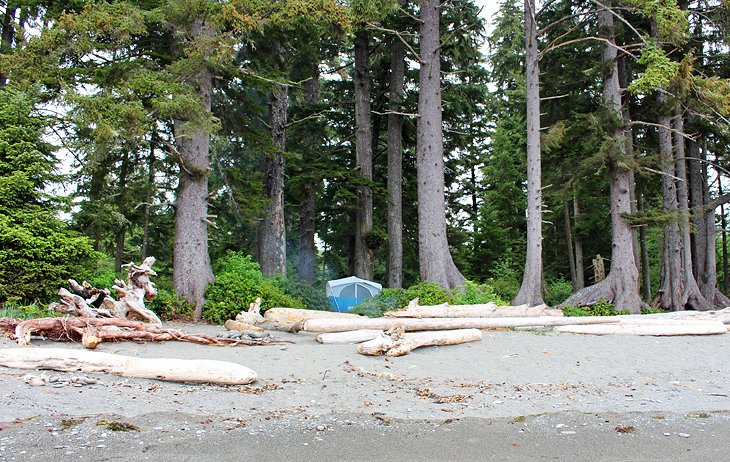 Camping on the Juan de Fuca Trail near Port Renfrew | Photo Copyright: Lana Law
Given the incredibly scenic nature of Vancouver Island, it's not surprising that camping is a popular pastime. You can set up a tent at a walk-in site tucked among the tall pines, with views out over the Pacific Ocean, or park your RV at a manicured campground. Either way, it's hard to beat waking up in the fresh air on a still morning, looking out over glass-calm water, or watching the smoke rise up from your campfire.
Along the west side of the island, just a short drive northwest of Victoria, you can find a number of very nice campgrounds at places like French Beach Provincial Park and China Beach. Kitesurfers camp at Jordan River Regional Park Campground.
Families looking for something a little less wild can find some good campgrounds around Nanaimo, like Living Forest Oceanside Campground and RV Resort. You'll find numerous campgrounds around Tofino, catering to tenters or RVers. Several of the other provincial parks farther north also offer good campgrounds. For details on these and more, see our article on the best campgrounds on Vancouver Island.
14. Experience Nature and Serenity in Port Renfrew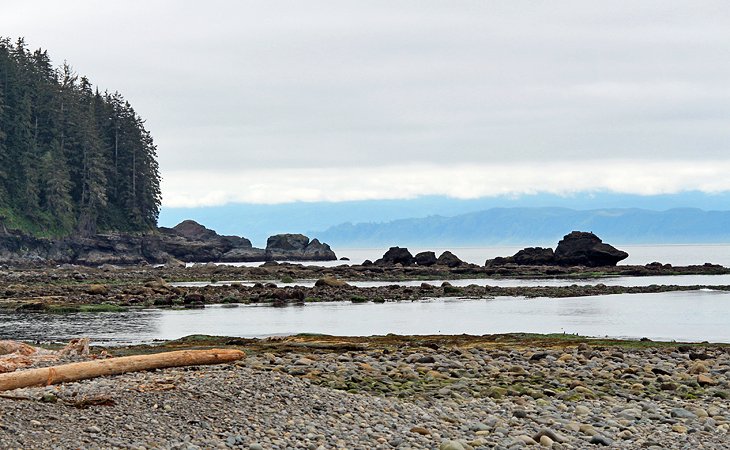 Port Renfrew | Photo Copyright: Lana Law
Just two hours northwest of Victoria, Port Renfrew feels far more remote than you might expect. You won't find the cute tourist town atmosphere here like you do in Tofino. In fact, you may wonder if you've missed the town as you drive through. The real attraction is the feeling of isolation and relaxation that comes with being surrounded by mountains, forest, and ocean.
Rugged wilderness, beautiful views, and perhaps a relaxing stay at a lodge are what you can expect to find here. Spend a day exploring the area. Head out on a short hiking trail to see ancient trees in the old-growth forest at Eden Grove and Avatar Grove. Walk along the oceanfront to Botany Bay and Botanical Beach, where you can see small sealife in the tidal pools, or gaze out at the waves.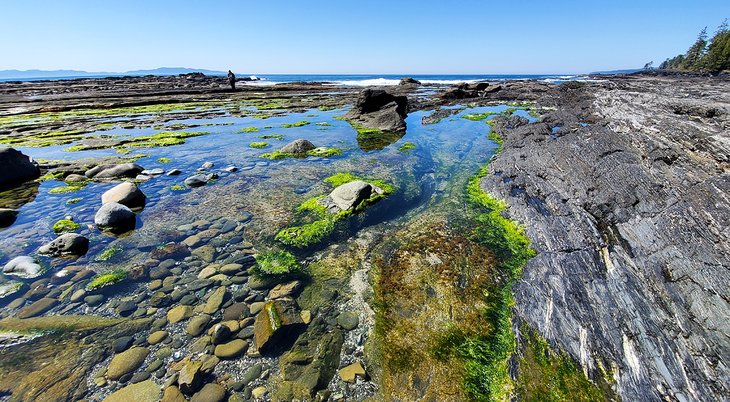 Botany Bay, Port Renfrew | Photo Copyright: Lana Law
Port Renfrew offers some unique accommodation options, many of which truly offer a sense of place and a West Coast experience. At the Soule Creek Lodge , you can book a lodge room or a freestanding luxury yurt, and gaze out over the ocean from the hillside location. The lodge's restaurant serves set meals, and you can opt in or out after hearing about the meal being planned for that night, but one of the owners is a graduate of the Culinary Institute of America.
15. Chemainus Wall Murals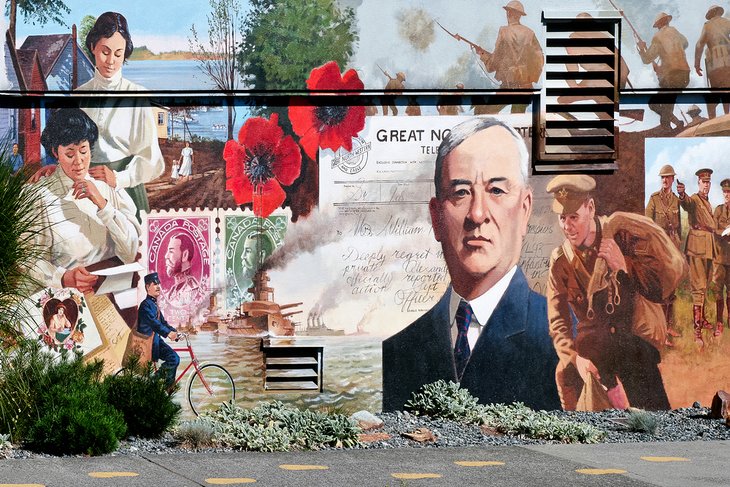 Chemainus Wall Murals | Philip Bird LRPS CPAGB / Shutterstock.com
About an hour north of Victoria, Chemainus is known for its larger-than-life size murals that decorate the sides of buildings throughout the town. The images illustrate the history of the town and are painted by well-known artists. A walking path leads visitors on a trail to see the murals.
This is a big tourist draw for the community, but the Chemainus Theatre and the Chemainus Theatre Festival are also of interest, showcasing talent from across the province and Canada.
16. Royal British Columbia Museum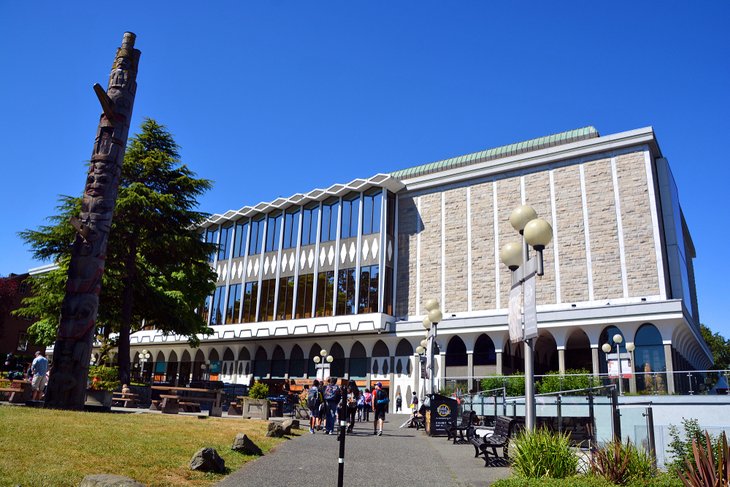 Royal British Columbia Museum | meunierd / Shutterstock.com
The one thing about Vancouver Island you can be assured of, outside of the summer months, is that it will likely rain at some point. One of the best things to do on a rainy day is visit the Royal British Columbia Museum in Victoria and soak up a bit of British Columbia's natural and manmade history.
In operation since 1886, this museum, one of Canada's best, showcases a wealth of interesting displays, exhibits, and artifacts spanning the history of British Columbia. One of the best and not-to-be-missed things to see in the museum is the Natural History Gallery, with its six different rooms including: Coastal Forest, Fraser River Delta, Climate Rules!, Seashore, Ocean Station, and Ice Age.
17. British Columbia Legislature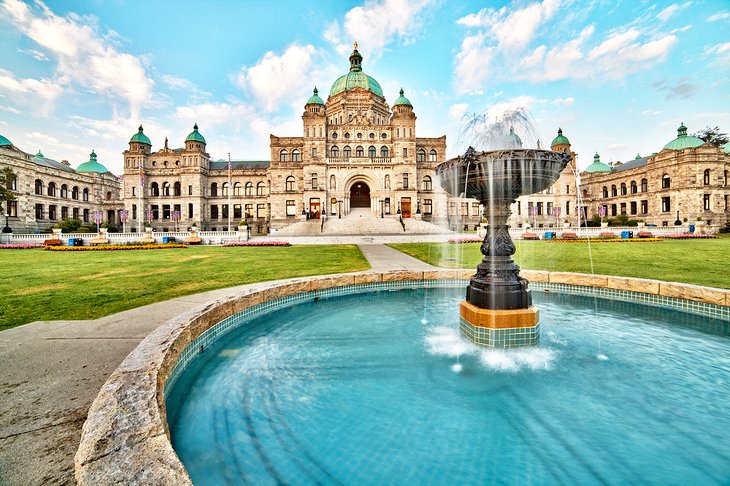 British Columbia Legislature
As you stroll around Victoria's immaculate and beautiful harbor, one of the most impressive buildings is the British Columbia Legislature. Built in 1893 and expanded over the years, the legislative buildings are open to the public. Daily tours, both self-guided and guided, are an excellent way to see some of the highlights, and if you are lucky, even see the politicians in action.
Two of the most impressive things to see are the Queen Elizabeth II Golden Jubilee and Diamond Jubilee stained-glass windows. As you stroll about, look up to the Memorial Rotunda, with its wonderfully painted walls and dome.
For a fine lunch, stop in at the Parliamentary Dining Room. This casual, yet refined, dining establishment offers fine cuisine miles above what you'll get at the tourist-oriented restaurants lining the harbor.
Where to Stay on Vancouver Island
The main tourist destinations around Vancouver Island are Victoria, Tofino, and to a lesser extent, Nanaimo. Below are some quality hotels and resorts in these areas.
Victoria: Set in a Tudor mansion from the 1930s, Abigail's Hotel is an adult-only property. It offers affordable luxury, old-world charm, sumptuous four-poster beds, clawfoot tubs, and complimentary breakfast and appetizers. For more of a mid-range option, try the Best Western Plus Inner Harbour . This hotel is within walking distance of Victoria attractions, features an outdoor pool, and provides complimentary hot breakfast.
Tofino: The Wickaninnish Inn has been one of Tofino's top luxury resorts since the 1950s. Its beautiful beachfront location, adjacent to a dramatic rocky headland, provides a stunning setting for the resort, with beautiful views from the rooms and restaurants, which overlook the ocean. Set on a beautiful stretch of beach, the Pacific Sands Beach Resort offers a variety of rooms and cabins in a range of prices, from luxury oceanfront multi-room townhomes to new condo-style units featuring modern décor, fireplaces, kitchens, and balconies.
Nanaimo: Overlooking Nanaimo's harbor, the Coast Bastion Hotel is one of Nanaimo's most posh hotels, offering luxury rooms and suites, and fantastic views. The Best Western Northgate Inn is a budget-friendly property, conveniently located near shops and restaurants. It features an on-site sauna and fitness center, and comes with a continental breakfast.
More Related Articles on PlanetWare.com
Visiting British Columbia: Vancouver Island is just one small area of British Columbia, a province that has much to explore. Many people add a trip to the island on to their overall BC or Canada itinerary. Other popular stops in BC include Vancouver and the resort town of Whistler. In the interior, many people head to Kelowna and the Okanagan to relax around Lake Okanagan in summer, or ski at the nearby ski resorts of Silver Star or Big White. These are two of Canada's top ski resorts.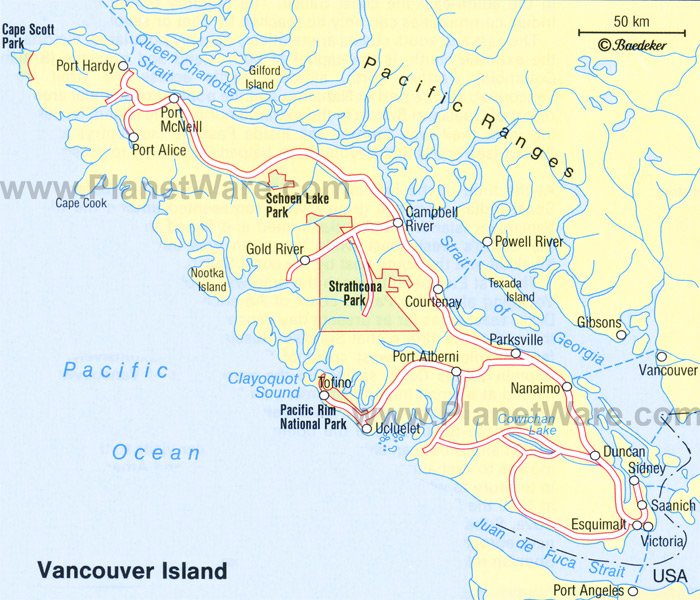 Vancouver Island Map (Historical)
Top places to visit on Vancouver Island
There is more to Vancouver Island than you may have realised. In all likelihood, a LOT more. Not many people know that this island off British Columbia is the size of Scotland. With its vast size comes hugely varied landscapes, and the island could almost be a microcosm of Canada itself.
Visit on holiday to Canada and you'll find stunning, sandy beaches and ancient rainforests with towering cedars. A mountain range runs the length of the island from north to south, home to Canada's largest all-natural ski fields. You'll find fertile wine growing regions here as well as glaciers and waterfalls. There really is a little bit of everything Canadian here.
And the best part? Vancouver Island is pristine. The region is sparsely populated and much of it is protected. That means the wildlife watching opportunities here are second to none. It is one of the best and most reliable places to get out and see black bears and whales in their natural environment.
If you're planning a holiday to Canada's West Coast, make a little time in your itinerary for Vancouver Island and you won't be disappointed. Read on to find out the best places to visit on the island.
1. Tofino
This surf town on the island's West Coast is a real little gem. The small and friendly town is packed with independent arts shops, cafes and restaurants – there really is no other word to describe it than "cool". Surfing is a favourite past-time, but if you don't surf yourself you'll have just as much fun combing the beaches and watching the waves.
This is one of the best locations to join a bear-watching tour. Head out in a comfortable covered boat or a zippy zodiac to view coastal black bears foraging for crabs and shellfish along the shorelines. You'll be amazed how close you can get to the bears, so it's perfect for avid photographers.
Tofino also makes the perfect base for visiting the Pacific Rim National Park and Hot Springs Cove – more on those later!
If you'd like to dive into the surf culture, laid back way of life in Tofino then our West Coast Lifestyle road trip is the holiday for you.
Hotels in Tofino
If you're planning to stay a few nights in Tofino (which you really should!) we've got some fantastic hotels with ocean views:
Tofino Resort & Marina – The Marina West Motel is a convenient hotel on the main road into Tofino, with a beautiful waterfront location overlooking the marina.
Wickaninnish Inn – The Wickaninnish Inn is a luxurious hotel in a beautiful location perched on the rugged and unspoiled west coast of Vancouver Island.
Long Beach Lodge – Perched on one of the best beaches in the area, Long Beach Lodge Resort is a stylish hotel with stunning views.
2. Victoria
Victoria is Vancouver Island's largest city and is also the capital of British Columbia. There is plenty of historic architecture to explore around the parliament buildings, Bastion Square, Fort Street and the old Custom's House. Culture vultures will be in their element.
Head to Fisherman's Wharf for an unbeatably colourful lunch among the brightly painted floating houses. There are a handful of delicious food stalls here selling the likes of seafood chowder and fish tacos. You can even buy small fish to feed the bold harbour seals which approach the wharf.
Victoria is also a fantastic base from which to join a whale watching tour. Here you can explore the Strait of Juan de Fuca and have an excellent chance of seeing the resident orca pod which lives here all year round. You can also spot magnificent humpbacks on their migration over the summer. Whale sightings are so likely that companies offer a return trip for free if you're unlucky enough not to spot one.
Hotels in Victoria
As the capital of British Columbia, Victoria is a lovely, small city to explore. Choose from our waterfront hotels:
Fairmont Empress – The iconic Fairmont Empress is grand and elegant throughout and has a great location in downtown Victoria.
Inn at Laurel Point – Perched on the end of Victoria's harbour the hotel is surrounded by water giving it a truly unique island feel.
Delta Hotels by Marriot Ocean Point Resort & Spa – The Delta Hotels by Marriott Victoria Ocean Pointe Resort & Spa is a luxurious hotel with a beautiful location on the inner harbour, just a short walk across the bridge to downtown Victoria.
3. Hot Springs Cove
Even just getting to this magical-sounding place is an adventure. It's a 90-minute boat ride up the pristine coast or a 20-minute seaplane flight from Tofino. Once you get to this stunningly remote spot, walk for half an hour along a scenic boardwalk trail through the old-growth forest until you reach the hot pools. There are seven natural geothermal hot pools to choose from, including a waterfall! Just don your swimwear, sit back and indulge. It's the perfect guided tour for nature and outdoor lovers.
4. Pacific Rim National Park
The wild west coast of Vancouver Island is home to one of our favourite national parks. The long sand beaches here are characterised by bleached cedar driftwood, startling blowholes and dramatic waves. The beaches are equally bleak and beautiful, windswept and full of life, depending on the mood of the ocean. Long Beach, Schooner Cove and Wickaninnish Bay are the ones to look out for.
Explore the meandering coast and islands by kayak for a unique view of the stunning scenery. Hiking through the ancient rainforest is another favourite activity as there are plenty of well-marked trails. There's no atmosphere quite like it thanks to the ethereal, trailing moss which blankets the cedar trees.
Our Pacific Drive & Alaska Cruise holiday offers an unforgettable way to see the Pacific Rim National Park.
5. Comox Valley
This beautiful valley and its surrounding area is a glorious location for wildlife watching and outdoor activities. The Mount Washington Alpine Resort is famous for its huge snowfalls, making it a favourite place to ski and snowboard in winter. In the summer, a trip to Strathcona Provincial Park is a must. You can see Golden Hinde, the tallest peak on Vancouver Island, and Della Falls, the highest waterfall in Canada. It's also in the top 10 highest waterfalls in the world!
The Comox Glacier is one of hundreds of glaciers on Vancouver Island but it is the most visible and therefore one of the best and easiest ones to visit. In the centre of the Comox Valley, the town of Courtenay is home to galleries, theatres, studios and gardens. It's also a stop off on the Great Canadian Fossil Trail thanks to its significant fossil deposits.
A little further afield on the coast, Nootka Sound is one of the few places where divers can see the elusive six-gill shark. The shark had a high-profile appearance recently on BBC's Blue Planet II, while Nootka Sound may ring bells for fans of Tom Hardy's BBC show, Taboo!
6. Gulf Islands
There are more than 200 islands which make up the Gulf Islands, sprinkled across the Strait of Georgia between Vancouver Island and the mainland. The largest ones are served by BC ferries, which means getting there is like a scenic mini cruise.
The islands offer stunning views, coastal activities and seafood, and each has its own culture and vibe. Salt Spring Island is the most populous of all the islands (population: 10,500) and is famous for its vibrant weekend markets. Galiano Island offers an easy hike up Mount Galiano where walkers are rewarded with views of the San Juan Islands and even the Olympic mountain range in Washington state.
7. Chemainus – Cowichan Valley
This town is truly unique and well-worth dropping by for lunch to admire the artwork. In a bid to bring tourists to the town following its ailing labour industry, locals put Chemainus on the map thanks to a series of stunning murals. All through the town you can follow a trail of hand-painted and culturally-rich murals painted on the town's buildings.
The colourful paintings depict snapshots into the lifestyle of those living in the region, working on the Trans Canada Railroad and the town's First Nations heritage. The pictures you take will speak volumes.
8. Port Hardy
This town on the northeastern side of Vancouver Island sits in a section of the Great Bear Rainforest. It is surrounded by ancient, temperate rainforest that brims with life. The nearby mountains provide a stunning backdrop and Port McNeill is also the gateway to the pristine Broughton Archipelago.
It's a must-visit for lovers of wildlife and the outdoors. The active hub provides everything from kayaking and hiking to bear watching and bird watching. Interested in scuba diving? Caving? Fishing? You can find it all and more here.
Hotels in Port Hardy
If you fancy staying in a gorgeous wilderness retreat in Port Hardy, we have some great hotels to choose from:
Quaterdeck Inn & Marina Resort – The Quarterdeck Inn is a charming hotel with a lovely waterfront location, close to the town of Port Hardy.
Glen Lyon Inn – Glen Lyon Inn & Suites is a lovely hotel situated right on the waterfront, overlooking Hardy Bay and the marina.
9. Little Huson Cave Regional Park
Following a well-marked forest trail, look out for incredible limestone formations, natural rock arches and platforms. Listen out for the sound of rushing water echoing through caves as you explore the Nimpkish Valley.
This stunning area is filled with turquoise pools, rock bridges and blue rivers. Explorers can venture inside the caves, but they are impressive even when viewed from above ground!
10. Campbell River
This idyllic location halfway up Vancouver Island's east coast is set beautifully between Strathcona Provincial Park to the west and the Discovery Islands to the east. It is dubbed the "Salmon Capital of the World". As you can imagine, this region boasts prime salmon fishing spots for keen anglers. Not only is the location tranquil and beautiful, but anglers here can catch all five species of Pacific salmon, from King to Sockeye.
With the salmon run also come the wildlife. It's a fabulous place for whale watching in the summer and spotting bears fishing for salmon in the fall, with plenty of eagles around to pick over the scraps.
If you'd like to see it for yourself, our Whales, Bears & Vancouver Island holiday offers a fantastic tour of the region with plenty of wildlife watching.
Hotels in Campbell River
If you're looking for places to stay, we have a few top hotels in Campbell River:
Strathcona Park Lodge – The Strathcona Park Lodge is a charming resort in the wilderness on the banks of the Upper Campbell Lake in stunning surroundings.
Painter's Lodge – On the shores of Vancouver Island, this beautiful lodge resort has wildlife on its doorstep, with all the comforts you will need inside.
Anchor Inn – A short walk from downtown Campbell River, the Anchor Inn & Suites has a stunning location right on the waterfront.
The Complete Vancouver Island Road Trip Itinerary (The Best Stops in 1 Week!)
Looking for your next big road trip in the Pacific Northwest?
Maybe you've driven the entire Pacific Coast Highway, seen all the sights along an Oregon Coast road trip, or even discovered all the hidden gems along an Olympic Peninsula trip itinerary.
If you're looking for even more things to do in the Pacific Northwest, you've got to plan a Vancouver Island road trip! Full of lush green forests, secret beaches, and lots of adventure, we're here to share everything we know about this amazing location.
In this post, we're putting together an epic 1-week Vancouver Island itinerary for you, including ways to extend your trip for even more adventure!
Because this island is going to blow your mind!
Table of Contents
Vancouver Island Road Trip: PRE-TRIP PLANNING
This post may contain affiliate links, vetted and chosen by yours truly!
Wait, Where is Vancouver Island?
Vancouver Island is located in British Columbia, Canada. British Columbia sits on the west coast of Canada, and Vancouver Island is the largest island in that province. With 12,079 square miles to explore, it would take you 7 hours in the car to drive from end to end.
Planning our Vancouver Island road trip, we naively thought we could see the entire thing in a mere two weeks. Oh, how wrong we were!
To give Vancouver Island the time and exploration it deserves, one would need to spend at least a month on BC or come back for repeat trips to see different parts of the island.
Now, we totally get that most people don't have that kind of free time. Therefore, this post is going to be the ideal itinerary to see the highlights of visiting Vancouver Island in ONE WEEK, and hopefully, it will light that spark to make a return trip ASAP!
The Best Way To Travel Around Vancouver Island
The best way to travel around Vancouver Island is by car. However, in order to bring a car to the island, you'll need to travel by ferry (more on that below).
Since this post is a road trip itinerary, we recommend bringing (or renting!) a vehicle that has everything you need. Here are a few of our favorite options for getting around Vancouver Island:
Renting a Camper Van
If you are traveling to Vancouver Island in the summer, we can't emphasize how much we recommend camping! There are so many amazing campsites on Vancouver Island, some even right next to the ocean! Our favorite way to rent recreational vehicles is from Outdoorsy.
Renting a converted van would mean you have the freeing mobility to be cooking breakfast under a forested canopy in the morning, and watching the sunset through your open doors after a long surf session by evening!
Bringing a Regular Car
Another really great option for traveling around Vancouver Island would be with a regular-sized car. One large enough to carry your gear, of course, but this gives you options to easily fit in hotel parking lots, down small roads, and still have the option of car camping, too!
How To Get To Vancouver Island
Since this IS an island, you'll need to take a ferry to reach Vancouver Island.
If you haven't been on a ferry before, it's basically a really large boat that you can drive your car onto, like a water taxi that takes you across the water. Depending on the route you choose, you will sail through the Howe Sound, the Salish Sea, or the Strait of Juan de Fuca and pass spots like Bowen Island and Newcastle Island Park. There are multiple routes to take – here's a breakdown below:
Horseshoe Bay (North Vancouver) to Nanaimo: This is the best route to take if you are hoping to explore places like Campbell River or Tofino.
Port Angeles, WA to Victoria: This is convenient for people who live in Washington and Oregon, and it drops you off right in the middle of Victoria!
Tsawwassen to Swartz Bay: This is the most direct ferry route for people who live in Vancouver and want to reach the metro areas of Vancouver Island.
Expect the ferry costs to be around $90 total for two people. Bringing a car onto the ferry costs around $50 for normal cars (less than 20 feet in length and 7 feet high) and a little bit more in price for RVs and larger vehicles, and each person will be around $15-$20.
If you are traveling to Vancouver Island during the busy season (May – September) we recommend reserving your ferry spots at the BC ferries website. If you are traveling to Vancouver Island in the off-season, there is likely to be a spot on the ferry, and you can pay for your ticket upon arrival.
When Is The Best Time To Visit Vancouver Island?
Honestly, there isn't a bad time to visit Vancouver Island. The changing seasons bring a variety of awesome activities, and it all depends on what you want to include in your one-week Vancouver Island itinerary.
Here's a breakdown of the seasons and their highlights to help you make your decision:
Winter in Vancouver Island: Fewest crowds, storm watching in Tofino, and opportunities to do snow sports in Strathcona Provincial Park.
Spring in Vancouver Island: Gorgeous blooming cherry blossoms in Victoria, waterfalls at their fullest, many hiking opportunities.
Summer in Vancouver Island: Sunny days, Butchart Gardens (Victoria) in full bloom, lots of camping opportunities.
Autumn in Vancouver Island: Witness the salmon run, visit island wineries, enjoy the many harvest festivals on the island.
Vancouver Island Road Trip: DAY BY DAY BREAKDOWN
So how should you break down the days on your 1-week Vancouver road trip itinerary? Below, we're giving you our recommendations, as well as extra places to consider exploring if you have a bit of extra time!
Day 1: Explore Victoria, BC
Your Vancouver Island Road Trip route is going to begin on a ferry. As explained above, there are several ways to get here, but Berty and I chose to take the Black Ball Ferry Line from Port Angeles, Washington, which docks you right in the heart of downtown Victoria.
The ferry ride was an adventure all its own! We got some major Wes Anderson vibes with the boat's accidentally retro color palette and frozen-in-time furniture.
Royal British Columbia Museum
The Royal British Columbia Museum in Victoria is a perfect place to learn about BC's natural and human history. Berty and I wanted to make this one of the first stops on our Vancouver Island road trip because we wanted to gain a deeper appreciation for the land before we discovered any further.
The museum is separated into three parts – The Natural History, Becoming BC, and the First People's Gallery. Each one shares a unique story about British Columbia and what makes this area special. We especially loved learning about the First Nations' languages, the temperate rainforest, and different natural conservative efforts going on in BC today!
We only had 24 hours in Victoria, so we weren't able to explore it as much as we would have liked. Keep returning to this post, because when we make a return trip to Vancouver Island (and we want to very soon!) we'll update this post with more things to do in Victoria, BC!
Day 2: Victoria To Port Renfrew
Driving Distance: 2-hours, 110 kilometers
To continue your Vancouver Island road trip, grab some coffee at a local roaster in Victoria and hit the road driving to the west coast of the island. Today will include places like Sooke (with amazing cliffside views and trails), Jordan River (lush rainforest hikes), and delicious small town treats!
Sooke
Sooke is an adventurous town, just 30 minutes west of Victoria, BC. Many come here to enjoy the surrounding nature, which includes the popular Whiffin Spit Park (popular for bird watching) and the Sooke Potholes.
Looking to try a multi-day backpacking trip on the Juan de Fuca Trail or the West Coast Trail? Sooke is the perfect base to get prepped before your big backpacking trip. You can find tons of resources, as well as many delicious restaurants to prep you for the big trail ahead.
One of our favorite stops in Sooke was East Sooke Regional Park. Here, you can take their many coastal trails to discover secret coves (perfect for a picnic!) and incredible views of the Salish Sea. Our favorite trail was to Creyke Point (pictured above!) for its scenic cliffs and great sunset spots.
Jordan River
Known for its epic surfing locations, Jordan River is smack in the middle of Port Renfrew and Sooke, making it a great stop during your Vancouver Island Road Trip.
Here, you have quick access to famous beaches like China Beach and Mystic Beach, and the town also serves as the beginning of the Juan de Fuca Trail. This is also where we stayed at this gorgeous rainforest cabin, and listened to the rain as we drifted to sleep.
For even more surfing opportunities, rainforest trails, and even a secret waterfall, consider hiking to Sombrio Beach. This trail will bring you to a slot canyon covered in bright green moss, perfect for those Indiana Jones discovery moments on Vancouver Island!
Shirley, Vancouver Island
Shirley is a small community nestled between Sooke and Jordan River, along Highway 14 (The Pacific Marine Circle Route).
Here you can stop in to grab a bite to eat at the exceptional Shirley Delicious restaurant and maybe even time your visit for the annual craft fairs around Christmas and springtime. Outdoor attractions nearby Shirley include the Sheringham Point Lighthouse Park, and French Beach, where we saw plenty of winter surfers catching waves!
A little bit more about Sheringham Point Lighthouse – established in 1912, it saved numerous lives on the dangerous waves offshore (this area is known a the Graveyard of the Pacific) and was designated a historic site for visitors to enjoy year-round!
Day 3: Exploring Port Renfrew
Driving Distance: Around Port Renfrew (
Port Renfrew is the farthest west location on the Pacific Marine Circle Route, and also at the end of Highway 14.
This town is wildly popular for hiking, whether it be along the sea's edge, or deep in the rainforests of Vancouver Island. From the glassy tide pools of Botanical Beach to the gnarly giants of the Avatar Grove, Port Renfrew is the perfect location to stay if you're seeking outdoor adventure.
Here are some attractions to consider along this part of your Vancouver Island Road Trip:
Big Lonely Doug
Standing in the middle of a clear cut forest towers Big Lonely Doug, a 70 meter tall Douglas fir tree. No one knows why this tree was spared and the others not, but it is a beautiful sight to come and see with your own eyes. We were surprised at how truly huge this tree was, we definitely felt like tiny ants at its base!
Driving Note: To reach Big Lonely Doug, you'll need to take a gravel/dirt logging road for about a 45-minute drive. We recommend having a 4-wheel drive vehicle and/or a skilled driver to navigate those giant potholes and steep stretches!
Avatar Grove
Looking to explore deep in the rainforest on Vancouver Island? Avatar Grove is located just a short drive north of Port Renfrew, and it boasts some of the largest trees in the county! Carefully cared for by the Ancient Forest Alliance, there are two sections to Avatar Grove – the Upper Grove and Lower Grove.
Each has a series of boardwalks to weave you through the forest to explore the numerous attractions along the way. One of the highlights of the trail is seeing Canada's Gnarliest Tree (located at the end of the Upper Grove), which is a giant tree with huge burl growths attached to it.
Avatar Grove is easy to reach from Port Renfrew, and along the same route as Big Lonely Doug. Plan to see them together to save time!
Mystic Beach
Mystic Beach is one of the most popular beaches to visit in this part of Vancouver Island. Serving as one terminus of the Juan de Fuca Trail, you will see backpackers enter here for their long 47-kilometer journey as well as day hikers coming to watch the sunset.
The journey is just as fun as the destination! Along the way, you will find yourself walking across a suspension bridge, crossing streams, and climbing over tree roots to reach the beach. Once you arrive, turn to your left to discover the waterfall cascading over the sandstone cliffs into the ocean!
Botanical Beach
If you love the sea, Botanical Beach is an essential stop on your Vancouver Island Road Trip! This beach in British Columbia has some of the richest and most diverse tide pools in the area. Most of them are so clear and so deep that it looks like you are peeking into a mini aquarium at your feet!
We highly recommend visiting during low tide so you can experience the tide pools in their entirety.
Tide pool etiquette rules are required to keep this place alive and thriving, so do your part by stepping only on bare rocks and putting things back where you found them. Finally, never turn your back to the ocean (even at low tide!) and stay safe out there!
Day 4: Driving From Port Renfrew To Tofino
Driving Distance: 5 hours, 340 kilometers
To continue your Vancouver Island Road Trip, you'll have to begin the journey from Port Renfrew to Tofino. There are many stops along the way so we'll briefly touch on those below, but we also wanted to mention some of our favorite road trip posts to keep you busy on the drive!
Our Favorite Road Trip Podcasts + Audiobooks
We've compiled a list of our all-time favorite podcasts for a road trip, including some Bachelor gossip pods, some about viral internet memes, and so much more. Click to read the full list here!
15+ Incredible Road Trip Planner Apps
These road trip planner apps help us find everything from the fastest routes to the cheapest gas stations. We use these road trip apps all the time to make our lives a little bit easier during long road trips, and we hope you find your new favorites, too!
101 Road Trip Questions
Want to get to know your group better? We've compiled the perfect mix of serious and funny road trip questions, perfect for long drives and great conversations. You can even download the list for offline use here!
Vancouver Island Road Trip Stops From Port Renfrew to Tofino
Bonsai Fir Tree – A little fir tree is determined to grow in the middle of Fairy Lake atop a log sticking out of the water. It's a cool sight!
Lizard Lake – Take a late breakfast or lunch break on Lizard Lake's huge dock.
Cathedral Grove – Similar to Avatar Grove, this protected area of Macmillan Provincial Park has short boardwalk trails on either side of Highway 4 to walk among the giants and stretch your legs.
Day 5-6: Explore Around Tofino
Driving Distance: Around Tofino
Tofino is a west coast town on Vancouver Island, known for its surf culture and relaxing ocean vibe. Many people come here for long weekend getaways, so you'll find plenty of gorgeous Tofino resorts and cabins dotting the ocean's shore.
There are a lot of seriously amazing things to do in Tofino, but we're sharing the highlights of our Vancouver Island Road Trip below, perfect for 2-3 days in Tofino. We think that if you spend a few days here, you can achieve everything on this list below!
Don't forget to check out our Tofino packing list! It has a lot of specific items you should consider, especially if you're new to the Pacific Northwest climate!
Walk The Beaches In Tofino
Some of our favorite times of the day were spent wandering the shores of beautiful beaches in Tofino. Depending on the time of year you take your road trip on Vancouver Island, the beaches can look very different, each season with its own unique vibe!
Come to Cox Bay to watch experienced surfers catch the waves. If it's raining, hideaway in Long Beach Resort's window-filled lounge and watch them from the sofa!
Chesterman Beach is perfect for beginning surfers and Mackenzie Beach is great for people who want to try Stand Up Paddle Boarding. Don't forget to check out Tonquin Beach for some quick and easy beach trails in town, too!
There are so many beaches in Tofino to explore – we recommend stopping by the Tofino Visitor Centre to ask for suggestions. They can let you know which beach is best for you and your desired activities.
Visit Hot Springs Cove
Hot Springs Cove is a once in a lifetime adventure to a geothermal pool tucked away on the rocky shores of Vancouver Island! To reach these PNW hot springs, you'll need to book a boat tour or floatplane departing from Tofino.
Plan for a full-day trip to these hot springs in BC. Regular tours leave around 9:00 am and return around 4:00 pm. For more information (and tricks to potentially get it all to yourself!) click here for all our best tips on visiting Hot Springs Cove.
Hike To Cox Bay Lookout
Cox Bay Lookout is arguably home to some of the best views in Tofino!
This short but steep hike is located at the southernmost point of Cox Bay. Find the inconspicuous trailhead along a creek's end, and climb up the root-entangled trail for about 20 minutes.
It's a steep climb, so leave your pups at home and prepare to get your hands dirty! There are hot pink trail markers wrapped around tree trunks to help guide your way if you get lost.
Once at the top, enjoy expansive views of the Clayoquot Sound and the town of Tofino in the distance. On a clear day, this is an incredible spot to watch the sunset!
Eat At Delicious Restaurants in Tofino
Tofino is one of the best places to visit on Vancouver Island and to top it all off, they have some of the best restaurants, too!
Some of our personal favorites included Tacofino (an iconic taco food truck with outdoor seating) and Rhino Coffee and Donuts. However, there are so many more restaurants in Tofino that we loved, here are just some of them below…
– Outdoor seating with huge burritos and local ingredients.
Tofitian – Convenient coffeehouse next to several beaches.
Rhino Coffee and Donuts – Great coffee, but even better donuts and breakfast sandwiches.
Kuma – Amazing Japanese comfort food like hearty ramen with vegan options as well.
Shelter Restaurant– Excellent date night option with amazing moody ambiance and fresh local eats.
Day 6: Tofino To Campbell River
Driving Distance: 3.5 hours, 270 kilometers
Campbell River is located on the north-eastern side of Vancouver Island, along the edge of the Discovery Passage waterway. Known for its iconic Tyee fishing spots and abundant outdoor activities this is a great spot for nature lovers of all ages.
Stay awhile in Campbell River for their unique local eateries like Beach Fire Brewing (with crazy Tuesday experimental brews!) and carefully sourced Pacific Northwest ingredients at the famous Anglers Restaurant.
They are also known for being close to nature, which means you can grab brunch in town and be out on the trails just a half-hour later!
No matter how many days you choose to stay, Campbell River is a must-stop destination on your Vancouver Island trip! Here's what we suggest doing while you're here…
Elk Falls Provincial Park
Visiting Elk Falls is one of the most popular activities in Campbell River, BC. Located just a quick drive from town (we're talking only 10 minutes!) Elk Falls provides a fun opportunity for the whole family to get outside.
With just a 2-kilometer trail you can experience epic views of Elk Falls from the platforms, as well as walk across the suspension bridge to view the powerful 25-meter drop.
Come for the short trail to the falls, or stick around longer to take an extended hike (6 kilometers) farther down the river for more magical river views.
Take The Trail To Myra Falls (+ Other Waterfalls Near Campbell River)
Another amazing activity to do along your Vancouver Island Road Trip is to discover the many nearby waterfalls in Strathcona Provincial Park. One of the easiest waterfalls to reach is Myra Falls, a 1-kilometer out-and-back trail with a killer view of this multi-tiered falls.
Come to the two viewpoints (upper and lower) and explore around the rocks to discover even more places to view the falls from up close! Don't forget to pack a picnic to share along the shores of Buttle Lake, the endpoint of Myra Falls.
Love chasing waterfalls? Here are some other waterfalls on Vancouver Island to explore!
Lupin Falls: A tall 30-meter drop viewable from a short forest trail.
Lady Falls: Old-growth trail leads to a viewing platform to feel the mist from this powerful Vancouver Island waterfall.
Niagara Falls: Near Victoria, BC, this waterfall requires just a quick walk from the parking lot. Continue farther up the trail to visit Niagara Trestle, too (scroll down for more info on that!).
Relax At Dolphins Resort
After a long day of driving and exploring along your Vancouver Island Road Trip, it's time for the ultimate evening of relaxation at Dolphins Resort! This unique resort in Campbell River offers the luxury of oceanside views combined with the feeling of being tucked away in the woods.
Berty and I stayed at their room called the Beach House, which is a converted studio with unobstructed views of the water, specifically over Discovery Passage. It was an incredible place to watch the sunrise, as well as feel rejuvenated and restored for a new day of adventure ahead!
Day 7: End Your Vancouver Island Road Trip From Campbell River To Victoria
Driving Distance: 3 hours, 265 kilometers
Your Vancouver Island Road Trip has come to an end, but that doesn't mean the adventure stops on your way back! Driving from Campbell River back to Victoria, BC, here are some stops you should check out on your drive…
Sunrise at the Discovery Pier
Before leaving Campbell River, make sure to watch the sunrise from Discovery Pier. This historic pier is 180-meters long, with plenty of unobstructed views of Discovery Passage and Quadra Island across the water.
Grab some coffee at the Java Shack beforehand, and take a walking tour of the pier before you start your trip south to Victoria.
Niagara Trestle
The Niagara Trestle (also referred to as the Goldstream Trestle) is located in Goldstream Provincial Park, just 30 minutes north of Victoria. The hike to the trestle is short but extremely steep, so be prepared to take plenty of breaks on the way up.
The actual trestle itself is on private property, so respect the area and please do not walk along/across the top that's suspended above the river. Feel free to take photos from the sides, though! On the way back to the car, make sure to stop by Niagara Falls – it's the most powerful in the springtime!
Here are some other similar attractions to check out along the way:
The Kinsol Trestle: The Kinsol Trestle, located in Cowichan Valley, has been converted into a walking bridge towering 44 meters above the Koksilah River below. Come to stretch your legs during your Vancouver Island Road Trip!
Todd Creek Trestle: Located in the Sooke Potholes Provincial Park, this wooden trestle in Vancouver Island is a fun stop along your route.
Want To Extend Your Vancouver Island Road Trip?
Not ready to leave Vancouver Island? There are so many places to explore on the island that you won't be able to see everything in just one trip (which is fine because we're already itching to come back!)!
If you want to even further customize your trip or take some side trips along the way, here are more suggestions for making your Vancouver Island Road Trip unique to you!
Port Hardy and San Josef
Ready to explore the northern Vancouver Island? Cape Scott Provincial Park and Port Hardy are some of the most remote communities and parks you can visit on the Island, which brings a lot more opportunity to see wildlife and more space to yourself.
Don't forget to check out Telegraph Cove near Port McNeill, a picturesque village on the edge of the water.
West Coast Trail
The backpacking trip of all backpacking trips is hands down on The West Coast Trail. This 5-7 day backpacking trip is 75-kilometers along the coast in the Pacific Rim National Park. Permits are required, children are not allowed, and you are strongly encouraged to be an experienced backpacker.
From hand-carts across raging rivers, root-crossed trails, several ladders, and more, this is one of the most exciting and daunting backpacking trips out there.
Ucluelet
Thirty minutes south of Tofino is the opposite side of the peninsula – a small town called Ucluelet. It's worth an extended visit all its own! You'll get the same climate and vibe as in Tofino, however, it's home to the Wild Pacific Trail, awesome camping opportunities, and dramatic swells along the rocky ocean shores.
Ucluelet is more affordable than Tofino, but you'll have that extra 30-minute drive into town. Expect amazing views of craggy shores and views of the Broken Group Islands to the south, and one of the longest beaches in the area, aptly named Long Beach for lots of different activity choices.
Sooke
Sooke is a town on the southern coast of Vancouver Island, just 40 minutes from Victoria, BC. Here, you can experience unspoiled beaches, several hiking trails, East Sooke Provincial Park, The Sooke Potholes, and Roche Cove Park (to name a few favorites!).
This is a great stop along the Pacific Marine Circle Route if you're looking to make Victoria a home base with smaller day trips around the area.
Pacific Marine Circle Route (Condensed Vancouver Island Road Trip)
Don't have an entire week for your Vancouver Island road trip? Or maybe you don't want to spend long hours in the car? Try taking the Pacific Marine Circle Route, which connects Victoria, Sooke, Port Renfrew, Lake Cowichan, Duncan and then back to Victoria.
This condensed version of a Vancouver Island Road Trip can be accomplished in 2-3 days, or you can spend an entire week just on this route, spending a lot of time in each area!
Vancouver Island Road Trip Itinerary Examples (5 Days, 1 Week, 2 Weeks)
Wondering if you can see all these iconic landmarks in just a one week Vancouver Island Road Trip?
To accommodate different trip lengths, we're sharing some more example itineraries for a shorter 5 days in Vancouver Island and longer 2 weeks in Vancouver. Read below to find your perfect itinerary!
Note: For the sake of convenience, we're starting these Vancouver Island itineraries in Victoria, BC. If you'd like to start in Nanaimo or another place, just accommodate for your starting location!
Five Day Vancouver Island Itinerary (Pacific Marine Circle Route)
Highlights: Quick access beaches, short hikes, easy-to-reach locations just off the highway.
Five days in Vancouver Island is a perfect way to see all the highlights on a quick Vancouver Island road trip. With a five day Vancouver Island itinerary, you will have lots of time to explore the island's most easily accessible beaches and attractions.
Prepare either for lots of time spent in the car, OR prioritizing a few places and saving some Vancouver Island destinations for another trip. Five days is a perfect amount of time to explore a smaller section of the island like the Pacific Marine Circle Route. This means saving the rest of the island for another trip, which isn't a bad idea!
No matter what you choose, there are tons of beautiful places to visit on Vancouver Island and you won't be disappointed!
Day 1: Victoria, BC to Port Renfrew, BC
Day 2: Port Renfrew to Lake Cowichan, BC
Day 3: Lake Cowichan to Duncan, BC
Day 4: Duncan, BC to Victoria, BC
Day 5: Overnight in Victoria and spend the day exploring downtown!
Two-Week Vancouver Island Itinerary
Highlights: More time in each destination, longer hikes, less-visited destinations.
We think two weeks is the ideal amount of time to spend on a Vancouver Island Road Trip. During this time, you can do everything a 5-day trip would experience and MORE. You will have more time to take longer hikes and reach farther places, exploring more parts of the island!
This will give you a deeper look into the hidden gems of Vancouver Island, and allow you to see places not many others get to experience!
Here's how we suggest you break down your days on a two-week Vancouver Island Road Trip:
Day 1: Victoria, BC to Port Renfrew (see Sooke along the way)
Day 2: Explore Port Renfrew (Big Lonely Doug, Avatar Grove, Botanical Beach, etc)
Day 3: Drive from Port Renfrew to Tofino
Day 4: Explore Tofino Beaches
Day 5: Visit Hot Springs Cove, Tofino
Day 6: Explore Tofino and Ucluelet (Pacific Rim National Park)
Day 7: Drive from Tofino to Campbell River
Day 8: Explore Campbell River Area
Day 9: Explore Campbell River
Day 10: Drive to Port Hardy
Day 11: Camp in Cape Scott Provincial Park
Day 12: Drive back down to Campbell River (stop at Telegraph Cove)
Day 13: Campbell River to Victoria, BC
Day 14: Explore Downtown Victoria, BC and return home!
Want a printable Vancouver Island itinerary? Sign up below and get your free downloadable copy!
Vancouver Island Road Trip Map (Downloadable!)
Below, you can find a map of Vancouver Island, the best spots to visit, and our favorite stops on a road trip itinerary! Save this map by clicking the top left corner to refer back to it later!
What stop are you most looking forward to on a Vancouver Island Road Trip? Any stops you would add to our Vancouver Island itinerary? Let us know in the comments below!
MORE CANADA ADVENTURES
Front Page Sidebar
Welcome!
We're Berty and Emily Mandagie, husband and wife travelers, photographers, and journalists! This blog lives to inspire outdoor adventure, inspired by our home in the rainy Pacific Northwest. Stay awhile and receive the best photo tips for your next journey to the PNW.
Source https://www.planetware.com/tourist-attractions-/vancouver-island-cdn-bc-bcvi.htm
Source https://www.canadianaffair.com/blog/top-places-visit-vancouver-island/
Source https://www.themandagies.com/vancouver-island-road-trip-itinerary/