Safest Caribbean Islands to Visit in 2022 – What is The Best One?
For beach lovers, the islands of the Caribbean are particularly attractive. Probably because it is the perfect option for relaxation, and here the heroes of Hollywood films are constantly hiding from paparazzi and drinking Pina Colada.
Love beaches with white sand, spreading palms and turquoise waters? So you are in luck, because the Caribbean is an island paradise that has it all. By the way, this paradisaical vacation is good not only for newlyweds – you can always find a suitable group tour and have a great time with the whole family or group of friends. But to live on one of the islands, you need to know the list of the safest Caribbean islands to visit in 2022.
The only problem is the difficulty of choosing from over 700 different islands, islets, reefs and rocks just sticking out of the water. Take your time to google every island, as not all of them are habitable. That is why we have prepared information about the most popular places where you can spend an unforgettable vacation.
The Dominican Republic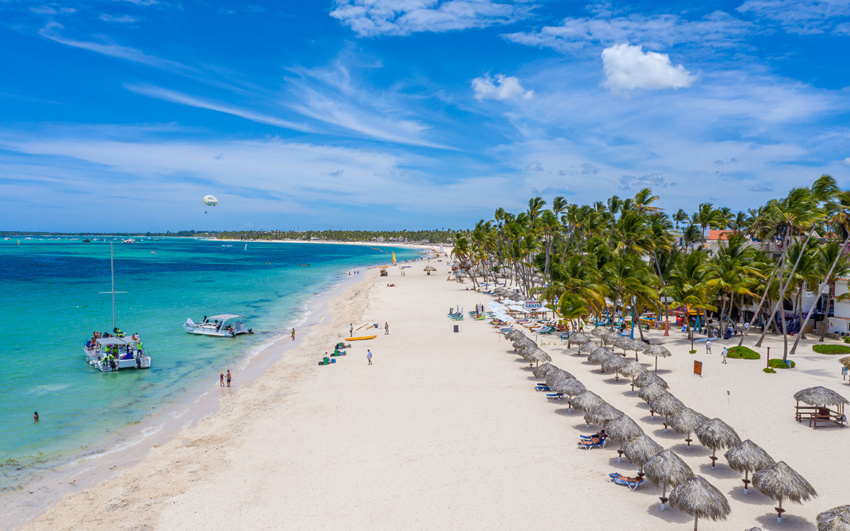 Punta Cana, Bávaro Beach, The Dominican Republic
Well, this is the most visited place in the whole Caribbean. More than 6 million foreign visitors come to this country every year. The Dominican Republic is a country on the island of Hispaniola, and it shares it with Haiti. So, the Dominican Republic makes it one of the safest Caribbean islands to visit.
The most famous resort town here is Punta Cana, where more than 4 million people come annually. Beautiful landscapes, turquoise water, a place where the Atlantic Ocean meets the Caribbean Sea – the reasons why people love spending their vacation in this paradise.
Punta Cana is one of the safest areas in the country. Nevertheless, it is way better and easier to book accommodation with a local company that knows everything about the country and can help you in different situations. Our team offers housing only in safe and guarded areas.
Aruba Island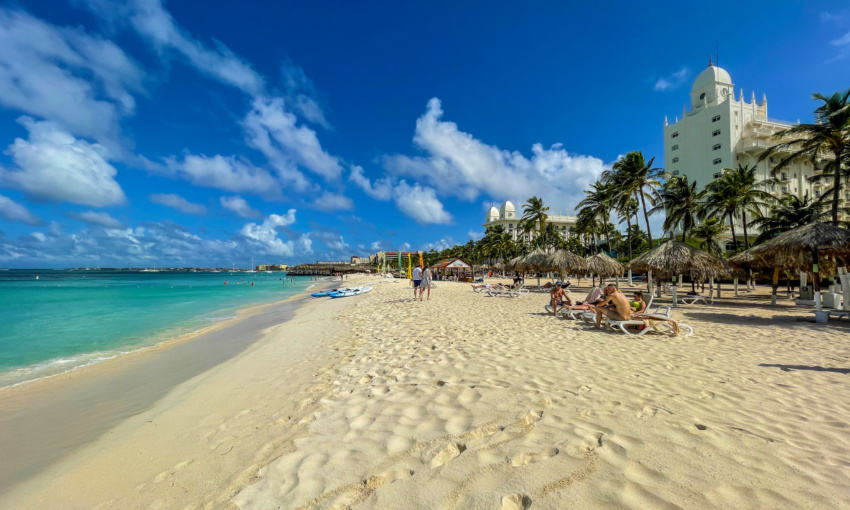 Aruba, together with Bonaire and Curacao, represents the main island group of the Netherlands Antilles. This Dutch territory has a very interesting and unique landscape for the Caribbean. The south and west coasts are distinguished by "traditional" white sandy beaches and palm trees, but the "heart" of Aruba is dominated by a desert area with cacti and dividivi (cesalpinia) trees, open rock formations and abandoned gold mines. The port of Oranjestad has well-preserved colonial buildings in predominantly pastel colors. Duty-free shopping attracts shoppers to the city.
Well, Aruba is considered a safe island. Nevertheless, there is still petty crime such as violent crime and drug gangs persist. We recommend you not walking around by yourself at night, especially in some secluded areas.
The Cayman Islands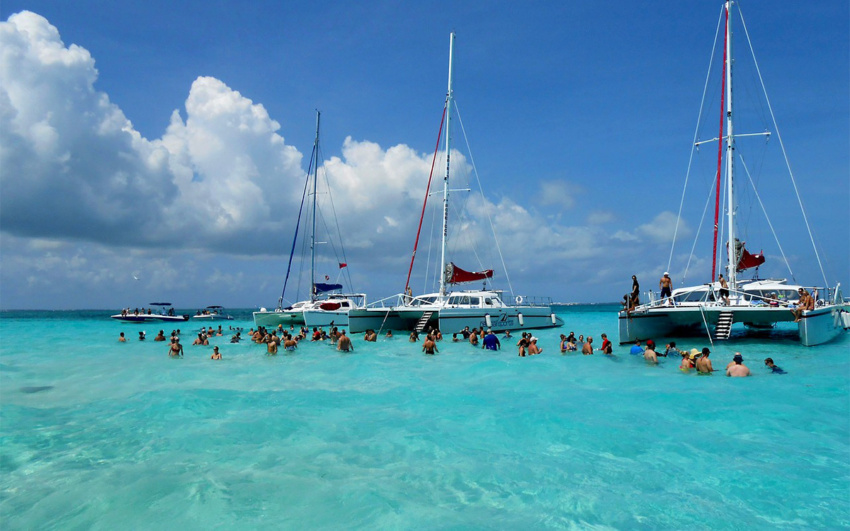 The Cayman Islands
San Juan, the capital of Puerto Rico, has one of the best-preserved colonial developments in the Americas. It is definitely worth spending a few days wandering the streets of the city and getting to know its architecture. Also, Puerto Rico is one of the best surfing spots in the world and Rincon is the center of island surfing. It is also known for several snorkeling locations where tourists can enjoy swimming with stingrays.
Moreover, we have to mention that the Cayman Islands became popular among the wealthy. Therefore, prices are not the lowest here, and sometimes the living there can be expensive enough. In addition, strict gun laws and rules make it safer for tourists.
Saint Lucia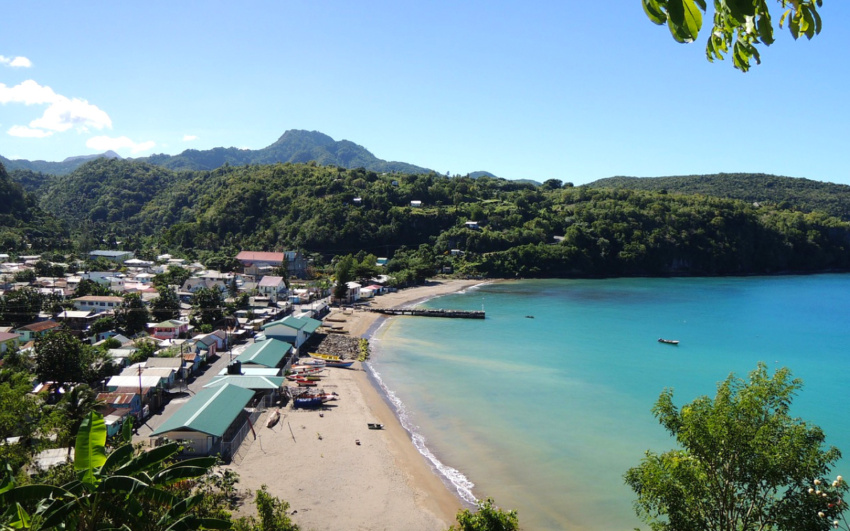 Saint Lucia (sometimes called "Santa Lucia") is a volcanic island with stunning mountain views and magnificent landscapes. Travel lovers can explore the island on foot, mountain bike, or jeep. The most famous attraction in Saint Lucia is the majestic Twin Piton Mountains (volcanic massif with the Petit Piton, Gros Piton, and Morne Bonin mountains).
This island is one of the few places in the world where there is a volcano with an open caldera open to tourists (Soufriere volcano). Other attractions include the Botanical Gardens and Fort Rodney, an old British military base located in the Pigeon Island National Landmark.
It is mostly safe in tourist areas and the crime rate is low. But still, there are cases of petty theft. Therefore, you should keep an eye on your valuables.
Barbados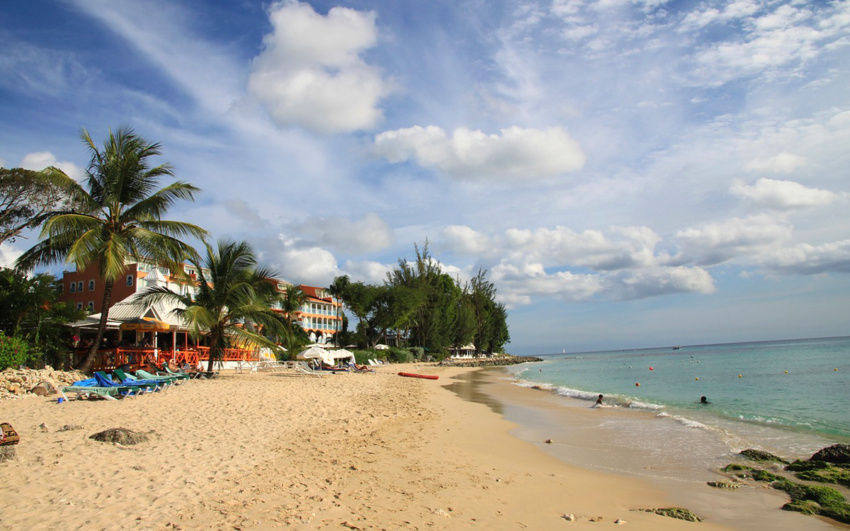 About 1 million tourists visit Barbados every year. This eastern Caribbean island is the perfect place to enjoy relaxation on the breathtaking beaches. Moreover, it is also an independent British Commonwealth nation. So, the official language is English, which eliminates the language barrier.
We recommend you be careful walking alone outside your resort. In addition, we have to mention that you have to avoid wearing camouflage. There is a law that you must not wear camo clothes because it is illegal in Barbados. Probably the reason for this is not to confuse civilians with patrol soldiers.
Saint Martin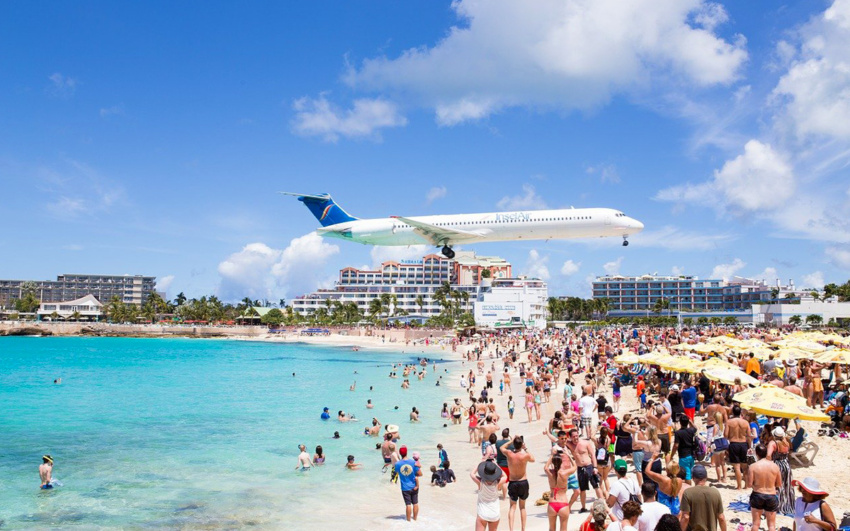 Saint Martin, Maho beach
The island of St. Martin is called differently – Sint Maarten in Dutch or St. Martin (Saint-Martin) in English – depending on the country of residence of the speaker. This piece of land is divided between the Dutch and the French, making it the smallest island in the world that belongs to two nations at the same time.
As a result, each part of Saint Martin has its own distinct personality. Saint Martin is a renowned Caribbean yachting center, and the lagoon off Simpson Bay is considered the ideal sailing destination.
In general, the main tourist areas are safe. Nevertheless, we recommend you not forget to avoid remote areas at night. Also, you should keep your eyes open when you are on the beach, it is better not to take valuables to the beach.
Turks and Caicos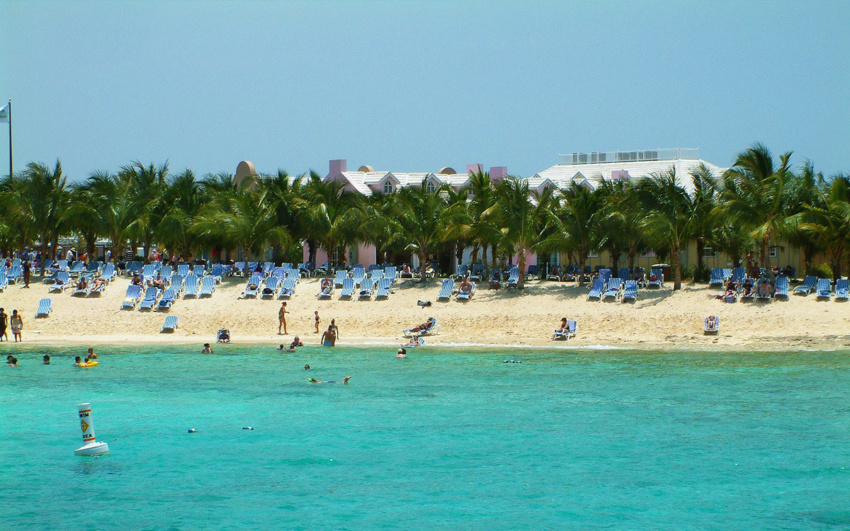 Turks and Caicos
And the next our stunning place is an archipelago of forty coral islands in the Atlantic Ocean. Also, the Turks and Caicos Islands is a British Overseas Territory. So, the official language there is English. In addition, Haitian and Dominican immigrants speak Haitian Creole and mostly Dominican Spanish. There is so much to do and discover in this paradise. Moreover, it is considered the World's best-kept secret.
What about safety? Well, the levels of crime are low, which make it one of the safest Caribbean island. Nevertheless, keep your eyes open when you are outside the resort and be careful with taxi drivers there. We recommend that you negotiate a price with the driver just before getting into the car.
Montserrat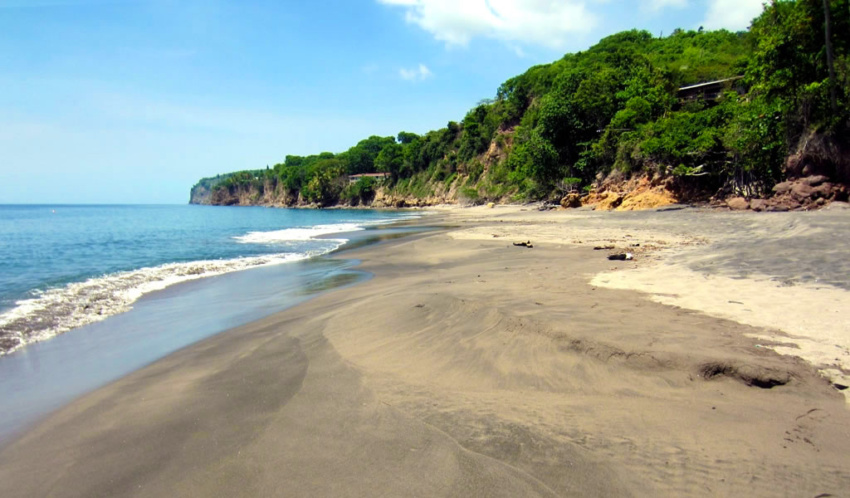 Woodlands Beach on Montserrat's west coast. Photo by David Stanley wikipedia.org (CC BY 2.0)
Last but not least is Montserrat, which is a British Overseas Territory in the Caribbean. This island looks especially stunning from a bird's eye view. You can see a lot of greenery. But when you step on the ground, you can see that the island is composed almost fully of volcanic rock and is mostly mountainous. In addition, there are only approximately 40 kilometers (25 miles) of coastline.
Montserrat is one of the safest islands with one the lowest crime rates. Nevertheless, there is an active Soufrière Hills volcano. The volcano became active again in 1995, but the last eruption was in 2012. Those volcanic eruptions destroyed many things, including the airport in Montserrat. Moreover, many things suffer from hurricanes that roll in between June and November.
To sum up
As can be seen, we told you about most of the safest Caribbean islands to visit. Each island is unique and impressive in its beauty. Despite this, as in any country unknown to us, you should be careful. Many of the islands have uninhabited and untouched areas, so you should avoid them if you do not want to get into trouble.
We strongly recommend you to find a company in the place where you are going before traveling. Without a doubt, it will help you avoid problems while you are abroad. If you want to travel to the Dominican Republic, the most popular city in the Caribbean – Punta Cana, we will gladly help you make your trip fabulous. Our company has more than seven years of experience in the Dominican market. We have the best types of accommodation that you will enjoy while staying here!
17 Safest Islands in the Caribbean in 2022
The Caribbean Sea is home to several gorgeous islands that attract millions of visitors each year. But some of these islands have higher-than-average crime rates.
We'll show you the 17 safest islands in the Caribbean, a few things to consider before going, and things to watch out for on each one.
The 17 Safest Islands in the Caribbean in 2022
The last thing anyone wants while on vacation is to fall victim to criminal activity, so if you're thinking of visiting an island in the Caribbean, you'll want to choose an island with a low crime rate.
Without further ado, let's explore the safest islands in the Caribbean!
1. St. Barts
The French-owned island of St. Barts (Saint-Barthélemy) is incredibly safe, with a zero-percent murder rate and a below-average property and violent crime rate. Much of this stems from the fact that St. Barts is almost exclusively designed to cater to the needs of high-income visitors.
Sun exposure and mosquitoes pose more significant risks to visitors than local criminals, making St. Barts an ideal destination for those looking to enjoy a crime-free experience in the Caribbean.
However, this island is one of the priciest, with the average per-night hotel room rate averaging more than $200 per night. In fact, many of the safest islands in the Caribbean have a higher-than-average cost of living, including Anguilla.
2. Anguilla
The U.S. Department of State rates Anguilla as one of the safest destinations in the Caribbean, with a threat level of one (the lowest possible number).
While petty theft does occur, visitors who leave their valuables at home (or in their hotel room) aren't likely to fall victim to this crime. But like St. Barts, Anguilla is a relatively costly Caribbean destination.
The average hotel room on this island costs about $250, and living expenses (groceries, rent, utilities) are higher than in other Caribbean territories and nations.
Fortunately, you can keep travel costs low by purchasing groceries (instead of dining out at restaurants) and visiting during the off-peak months (typically June to August).
3. The Cayman Islands
The Cayman Islands has some of the strictest gun laws of any Caribbean territory or nation. For example, fewer than 1,000 licensed gun owners live in the Cayman Islands (and more than 65,000 residents).
This lack of firearms makes the trio of islands that comprise the Cayman Islands some of the safest in the Caribbean Sea.
While property crime (like theft) is somewhat common due to the high number of international visitors, violent crimes, corruption, and drug-related crimes are far more uncommon.
Still, the Cayman Islands attracts wealthy travelers, making it one of the most expensive Caribbean destinations. For example, a standard hotel room in a three-star hotel in Grand Cayman (the largest of the Cayman Islands) goes for between $120 and $250 per night.
4. The Virgin Islands
Did you know that the Virgin Islands are split between the United States and the United Kingdom? But while these islands are divided, their cultures, cost of living, and crime rates are remarkably similar.
If you're planning on visiting the U.S. Virgin Islands or the British Virgin Islands, you'll be glad to know that the most common type of crime is petty theft.
As such, staying safe during your visit is often as simple as leaving your most expensive items at home and avoiding crowded areas. Unfortunately, sexual assault does occur, and women can experience sexual harassment.
Women looking to avoid this issue when visiting the Virgin Islands may want to travel as part of a group. Visiting with a spouse can also help lower your risk of sexual assault.
5. St. Lucia
Those looking to spend some time in St. Lucia will want to exercise standard safety precautions. For example, walking around alone late at night or flaunting expensive items is heavily discouraged.
Generally, the most significant safety threat to visitors is inclement weather. For this reason, travelers will want to avoid visiting St. Lucia during the late summer and fall, especially from August through November.
It's also worth noting that St. Lucia is one of several Caribbean countries that has outlawed same-sex relationships between men and women. As a result, LGBTQ+ visitors may want to be cautious when visiting St. Lucia and avoid displaying signs of physical affection when in public areas.
6. Martinique
Martinique is another top-notch Caribbean destination for those looking to avoid violent crime risks.
While petty theft occurs fairly regularly (especially in Fort-de-France), visitors can lower their risks of being accosted by thieves by leaving high-priced possessions at home, avoiding large crowds, and only traveling throughout the island during the daytime.
ATM fraud is also a relatively common issue. If possible, pay for your hotel room online before arriving and use Euros (the most widely accepted form of cash in Martinique) to pay for food and activities while visiting.
7. Montserrat
Montserrat is a British territory, making it one of the most popular Caribbean destinations for English-speaking visitors. This tiny island typically receives about 20,000 visitors each year, making it one of the most peaceful tropical islands.
This low number of annual visitors also makes Montserrat far safer than popular destinations like the Bahamas. As a result, violent crimes are comparatively low, with the most common crimes typically involving property theft.
However, this island is home to an active volcano (Soufrière Hills). As such, visitors should be prepared to flee Montserrat in the event of an eruption.
8. Grenada
Like many other Caribbean islands included on this list, the biggest threat to visitors staying in Grenada is petty theft.
Because this island averages about 200,000 visitors each year, opportunistic criminals are comparatively rare, as opportunities to steal from tourists are scarce. Still, walking alone late at night is discouraged.
It's also wise to dress casually and avoid wearing expensive jewelry. These simple safety precautions can significantly reduce the risk of being targeted by thieves.
9. Turks and Caicos
The British territory of Turks and Caicos consists of 40 tiny islands, most of which are made of ancient remnants of coral.
These islands are sparsely inhabited, though Providenciales (the primary tourist destination in Turks and Caicos) has a population of about 57,000. Because most visitors arrive in Turks and Caicos via Providenciales, the highest level of petty crime occurs on this main hub island.
In addition, due to the spread-out nature of this territory, access to healthcare and police services is limited, which also contributes to crime rates.
If you plan on visiting Turks and Caicos, you'll want to avoid leaving your resort or hotel during the night. It's also an excellent idea to book a room at a popular hotel instead of staying in a remote villa or cabin.
10. Guadeloupe
The French-owned collection of islands known as Guadeloupe contains some of the most stunning black-sand beaches and vibrant dark-green forests in the Caribbean.
It's also a comparatively safe tropical destination, with petty theft as the primary source of crime.
Travelers are encouraged to practice standard safety precautions, such as not walking alone at night, avoiding isolated areas, and keeping documents locked away. Visitors may also want to avoid residential areas, as some locals aren't particularly fond of curious tourists.
11. St. Maarten
In St. Maarten (also spelled St. Martin or Sint Maarten), visitors tend to be a little safer than residents. St. Maarten is plagued by rampant illegal drug trade, with competing drug dealers often committing violent acts against one another to maintain dominance.
Most travelers staying in St. Maarten won't be affected by this issue, especially when staying at reputable resorts and avoiding night time excursions. Still, petty theft and drug dealing are potential issues for visitors, so you'll want to stay alert and avoid remote residential areas.
12. St. Kitts and Nevis
St. Kitts and Nevis consist of two islands, separated by only two miles of sea. The U.S. Department of State lists this destination as minimally threatening, with the primary concern for visitors being petty theft.
But LGBTQ+ visitors may want to avoid displays of physical affection when in public areas.
St. Kitts and Nevis are part of the Caribbean nations that have outlawed homosexual relations. While tourists are unlikely to be arrested by police, locals may harass or violently assault homosexual couples.
13. Barbados
Barbados is a family-friendly Caribbean destination that provides top-notch security services for its most touristic areas. However, it does experience its fair share of crime, especially around Crab Hill, Nelson Street, and Wellington Street.
Petty theft is the most common type of crime that visitors encounter, though drug dealers have also been known to harass tourists.
Traveling in groups and avoiding nighttime excursions is an excellent way to prevent these issues. Being alert and avoiding overly crowded areas can also help lower your risk of being robbed.
It's also worth noting that homosexuality is illegal in Barbados, so LGBTQ+ visitors may need to take extra precautions before visiting (or avoid Barbados altogether).
14. Roatán
Unai Huizi Photography/Shutterstock
Roatán is a virtually unspoiled island off the coast of Honduras, and like many other Caribbean islands, it's a relatively safe destination for visitors.
It's also one of the most peaceful islands in the Caribbean, typically only receiving about 1 million visitors each year. This might seem like a high number, but it's crucial to remember that other islands see millions of visitors annually.
Petty theft is the most common type of crime in Roatán. Therefore, visitors are encouraged to stay in touristic centers, particularly after nightfall. Remaining alert and dressing casually can also help you avoid criminal activity during your stay in Roatán.
15. Antigua and Barbuda
Like St. Kitts and Nevis, this Caribbean island nation consists of two distinct islands, Antigua and Barbuda. These islands are home to colorful buildings, stunning beaches, and busy ports.
But they're also more prone to crime than other Caribbean islands. Drug dealing and corruption are significant problems in this country, and some areas can be dangerous for travelers.
Petty crime levels are moderate, and visitors are encouraged to keep their valuables locked in a hotel safe. It's also wise to avoid wearing jewelry and luxurious accessories, and you'll likely want to minimize the amount of cash you keep on you.
16. The Dominican Republic
Millions of people visit the Dominican Republic every year to see its gorgeous beaches and breathtaking waterfalls. However, the high number of annual tourists attracts opportunistic criminals, making this Caribbean island less safe than others.
Resort areas tend to be the safest spots for visitors, but armed robbery and sexual assault are significant concerns within the nation's most populated urban areas, including Santo Domingo.
As a result, visitors will want to avoid visiting crowded areas far from tourist-friendly resorts. It's also an excellent idea to leave precious jewelry or luxury clothing at home before visiting the Dominican Republic.
These items are attractive to thieves and could potentially increase your risk of being robbed or violently assaulted.
The U.S. Department of State currently lists the Dominican Republic as a Level 2 destination, making it slightly more dangerous than other Caribbean islands.
17. The Bahamas
Like the Dominican Republic, the Bahamas receives millions of visitors each year. And this high number of tourists contributes to the comparatively high crime rate of this island nation.
Petty theft is widespread in the Bahamas, especially near crowded tourist hotspots and major cities (like Nassau). Unfortunately, violent crime is also common in Nassau, particularly in the Over-the-Hill community.
To stay safe while visiting the Bahamas, you'll want to avoid walking around at night (especially if you're alone), choose reputable water sports equipment providers, and remain alert when exploring crowded areas.
The U.S. Department of State lists the Bahamas as a Level 2 destination, making it officially safer than some Caribbean islands (including Jamaica).
Things to Consider When Visiting the Caribbean
Before you travel to any of the islands in the Caribbean, you'll want to ensure you're adequately prepared for your trip. For example, you might want to:
Pack plenty of sunscreen
Learn a few Spanish phrases
Ensure you're not visiting during hurricane season (June through November)
Prepare to consume plenty of bottled water
Acquire cash currency accepted at your destination
Leave luxury items at home
Make an itinerary for your upcoming trip
Remember, the Caribbean islands are far less developed than major cities throughout the United States. As a result, cell phone signals, WiFi, and card readers can be hit-or-miss.
Having some spending cash on you (in the currency of your chosen island destination) is an excellent way to ensure you can purchase much-needed items during your stay. Of course, bottled water is one of the most vital things you'll want to buy after arriving.
After all, local water sources may contain harmful bacteria like E. coli (Escherichia coli) or heavy metals like lead. So it's best to avoid drinking tap water while visiting the Caribbean.
It's also helpful to have a basic understanding of Spanish phrases, as Spanish is the most commonly spoken language throughout the Caribbean. Dutch, French, and Haitian Creole are also spoken, but to a lesser extent.
To stay safe during your travels, you may want to leave your Louis Vuitton or Gucci products at home. Flaunting your priciest clothing or accessories can make you a target for thieves and criminals.
Frequently Asked Questions
Below you'll find some of the most frequently asked questions regarding the safest islands in the Caribbean. Check out these common questions before booking a flight or reserving a hotel room!
Which Caribbean Islands are not safe?
Trinidad and Tobago has the highest crime rate
of any of the Caribbean islands and is the sixth most unsafe country in the world. Jamaica's crime rate is almost as high, followed by Puerto Rico and the Bahamas.
Gangs, drugs, and government corruption might be the primary inciting causes behind the violent crimes and burglaries common throughout these Caribbean nations.
What is the friendliest Caribbean Island?
Most visitors report that the Bahamas, St. Lucia, St. Kitts, and Nevis are home to some of the kindest and most hospitable residents. St. Lucia, in particular, is home to one of the largest expat communities throughout the Caribbean, making it a natural destination for retirees.
What is the cheapest and safest Caribbean Island to live?
Grenada has a comparatively low crime level and enjoys some of the lowest living costs of any Caribbean island. Therefore, it could be an affordable retirement destination for those looking to spend their golden years soaking up the sunshine while lounging in a tropical paradise.
Which Caribbean Island has the best quality of life?
Barbados has a higher life expectancy than any other Caribbean island, hovering at about 79.5 years. That's higher than the average life expectancy in the United States!
While groceries and some utilities (like WiFi or cell phone service) are pricier in Barbados than in the United States, real estate is generally more affordable, and core medical services are well developed.
What is the least touristy Caribbean Island?
Montserrat is the least-visited (and therefore least touristy) island in the Caribbean. This island only receives about 20,000 visitors each year. Compare that to the Bahamas, which typically sees more than 7 million tourists every year!
So, What Is the Safest Island in the Caribbean?
The safest island in the Caribbean is St. Barts. But Anguilla, the Cayman Islands, and the Virgin Islands are also comparatively safe Caribbean destinations.
Notably, though the Bahamas are a popular destination, it's one of the most unsafe islands in the Caribbean. Jamaica, Puerto Rico, and Trinidad and Tobago also have higher-than-average crime rates.
When to Go:
Where to Stay:
What to Do:
Affiliate Disclaimer
As an Amazon Associate I earn from qualifying purchases. We are also a member of several other affiliate networks. If we link to any product, you should assume that we'll receive a commission when you buy it, at no extra cost to you. This is how we keep the lights on (i.e. pay for content, product research, guides, and more).
The Safest Caribbean Islands In 2022 (And Where to Stay!)
Looking for the safest Caribbean islands? These are the safest islands (for families, couples, and solo travelers) and the best places to stay in each one!
Due to the beautiful weather, laid-back ocean vibes, and great activities, the Caribbean is a region that I find myself returning to time and time again. However, not all Caribbean islands are created equal in terms of safety, and it definitely pays to know the particular risks of each island and take precautions.
That said, no matter where you travel in the Caribbean, common sense security practices will go a long way in making sure you stay safe.
Remember to plan your trip around hurricane season, be cautious when flashing around valuables, don't leave your personal items unattended, stay near well-lit and populated areas at night, purchase travel insurance (we use Visitors Coverage), and know the local emergency numbers to call in case of any issues.
Chances are, you'll have a great time in the Caribbean if you stay aware of the possible dangers. After traveling extensively in this part of the world, we've gathered this list to help you choose the safest islands to visit!
Table of Contents
Safest Caribbean Islands In 2022
Aruba
Located outside the hurricane belt just off the coast of Venezuela, Aruba is an extremely safe destination that pretty much guarantees excellent weather no matter when you visit.
Getting around Aruba is simple in that the island is compact and modern. Plus, between the beaches, adventure activities, and cultural experiences you won't run out of things to do!
In regards to safety, use common sense in Aruba and don't leave your belongings unattended or flash around valuables. Other than that, be sure to stock up on sunscreen, as those UV rays are pretty intense.
If you want to learn more about Caribbean marine life, this private snorkel tour will get you out on and underneath the water to explore more of this island! And if you don't want to rent your own car to explore on land, this half-day tour will allow you to see all of the best sites in one day.
Where to Stay in Aruba
For a luxury stay in Aruba, I highly recommend the Renaissance Aruba Resort, while if you're looking for something more affordable check out Talk of the Town Beach Hotel.
Turks & Caicos
Technically located in the Atlantic, the Turks & Caicos islands are still considered to be a part of the Caribbean.
In terms of both overall crime and crime against tourists, Turks & Caicos ranks as one of the safest islands in the Caribbean. Made up of an archipelago of 40 islands, you can expect a wide range of activities on Turks & Caicos including whale watching, kiteboarding, snorkeling, sailing, having a barbecue, and checking out the local history.
It's important to note that the majority of people reside on the main island of Providenciales, and as such most of the crime does happen there, although it's still very safe. South Caicos, North and Middle Caicos, and Salt Cay report very little crime against tourists.
Also, be aware that Turks & Caicos doesn't have any widespread public transportation, so take caution when getting around. Although there are taxis, always be sure to confirm the price of the ride before you get in the vehicle as the drivers might try to hike up the fare once you get to your destination.
In addition to the taxis, you'll also spot minibuses, or "jitney's", although they're mostly for local workers and are best avoided. I find the easiest way to get around is by renting a car.
Where to Stay in Turks & Caicos
Point Grace Resort & Spa is a beautiful luxury accommodation that won't disappoint, while La Vista Azul Resort is a great mid-budget location in Turtle Bay.
Cayman Islands
Located in the western Caribbean Sea, the Cayman Islands are made up of Grand Cayman (the largest, main island), Cayman Brac, and Little Cayman, and has everything from luxury villas to secluded beaches.
You'll find relaxing resorts and awesome scuba diving On Grand Cayman, great fishing on Cayman Brac, and diverse wildlife such as Iguanas and Red-footed Boobies on Little Cayman.
While crime against tourists in the Cayman Islands is rare, watch out for large cruise-ship crowds, as they're rather busy and pickpocketing can happen. Additionally, if you plan on spending time in the water, watch out for Scorpionfish and Jellyfish, which will give a painful sting if you touch them and tend to disguise themselves quite well.
Where to Stay in the Cayman Islands
For a luxury stay on Grand Cayman, the Kimpton Seafire Resort is highly rated, while Sunshine Suites Resort is great for a mid-range stay.
St. Maarten
A beautiful Caribbean Island governed by both the French and the Dutch, St. Maarten is a luxurious destination where you'll find excellent shopping, nightlife, beaches, lagoons, and mountains. While it may be a very small island, what it lacks in land mass it makes up for in beauty and activities.
St. Maarten is also a very safe island to visit, with crimes against tourists relatively low. Nevertheless, passport theft, petty theft, and car break-ins have been reported, so be sure to keep your eye on your valuables, lock up what you're not using in a safe, and don't leave anything of value in cars.
Where to Stay in St. Maarten
Princess Port de Plaisance is a gorgeous luxury resort in Philipsburg, while Sea View Beach Hotel or Alicia's Inn are great if you're traveling on a budget.
Barbados
A Caribbean cultural mecca, Barbados has incredible food, history, music, great surf, and lush nature. Whether you're into discovering the UNESCO-affiliated capital of Bridgetown, lounging on the beaches, or dancing the night away, Barbados has a scene for you. Plus, the people here are notoriously friendly.
While violent crimes against tourists are rare, have your guard up against petty theft, especially when in crowded areas, and if you want to enjoy some nightlife, plan on going with a group to avoid potential theft.
Where to Stay in Barbados
Accra Beach Hotel is a beautiful high-end accommodation option in Bridgetown, and All Seasons Resort is a great mid-range option.
St. Lucia
No matter how many times I visit St. Lucia, it never fails to wow me. Not only does the island have a picture-perfect coastline, it's filled with lush nature and mountains that tower over the sea. When in St. Lucia, I recommend visiting Pigeon Island National Park, Castries Market, Tet Paul Nature Trail, and the luxurious Sulfur Springs.
In terms of safety measures to take on St. Lucia, try to avoid walking alone in isolated areas or at night, take taxi precautions, and if you rent a car, don't go offroading unless you have a 4×4 as roads tend to be narrow and rough at times.
Also be aware that wearing camouflage in St. Lucia is banned, as it's thought of as imitating military personnel.
Where to Stay in St. Lucia
The Landings Resort & Spa, Ti Kaye Resort & Spa, and Anse Chastanet Resort are all beautiful luxury properties. For something more mid-budget, check out Coco Palm.
Anguilla
One of the most idyllic, laid-back islands in the Caribbean, Anguilla is about 12 miles north of St. Maarten and is mostly a luxury destination where water-sports reign.
Expect a lot of snorkeling, scuba diving, glass-bottomed kayaking, water-skiing, and sailing on your visit. The island is also known for its live music – whether you're into reggae or something a little softer, you'll find a nightlife spot.
Due to the high standards and precautions taken by locals, crime against tourists is very low. On your trip to Anguilla, your biggest concerns will be to not travel there during hurricane season and to confirm the price with taxi drivers before you get in the car, as there is no public transportation.
Where to Stay in Anguilla
Zemi Beach Resort & Spa is a top-rated luxury option in Anguilla, while Carimar Beach Club is great for mid-budgets.
Martinique
A beautiful, natural island that's part of the Lesser Antilles, Martinique is a heavily French-influenced destination with azure waters, palm trees, and rugged volcanic regions. However, while the island is definitely known for its beauty, it also has amazing cultural experiences and dining.
When in Martinique, hike to Mount Pelee, a volcano that will give you awesome views of the ocean, scuba dive at Diamond Rock, and laze around on Les Salines beach.
Fun fact, in 2016 Martinique was designated the safest destination in the Caribbean by the Caribbean Tourism Quality Index. Yet, while Martinique is fairly safe, be sure to exercise normal precautions. Also, as a note to keep in the back of your mind, it's best not to be alone in areas such as Fort-de-France after dark, as muggings have happened in the past.
Where to Stay in Martinique
Le Cap Est Lagoon Resort & Spa is a highly rated luxury option in Martinique, while Karibea La Valmenière Hotel is a great middle of the road property in Fort-de-France.
St. Barts
Only 18 miles off the shore of St. Maarten, St. Barts is a high-end destination known for its designer boutiques and picturesque beaches. On the island do some designer shopping, head to a beach club, laze around on beautiful Colombier Beach, head into the capital city of Gustavia, or try out some water sports.
While there are no specific precautions to take against violent crime or petty theft, exercise normal precautions in protecting yourself from any incidents. Honestly, besides potential one-off occurrences, the biggest things to look out for on St. Barts is protecting yourself from bug bites and the harsh rays of the tropical sun.
Where to Stay in St. Barts
Le Sereno and Hotel Christopher Saint Barth are beautiful luxury options in Gustavia.
Bonaire
While Bonaire is well-known for its sustainable tourism efforts and laid-back vibe, it's also known for being a very safe island. The island is pristine and offers so many awesome activities such as caving, horseback riding, sailing, hiking, and of course, diving. In fact, Bonaire is world-renowned as being a top diving spot!
To keep yourself safe on Bonaire, be aware that break-ins and robberies have been reported, so always make sure to lock your doors and keep valuables safely stowed away.
Additionally, when you're in the water beware of the fire coral and sea urchins as they're super painful to step on and will put a damper on your trip.
Where to Stay in Bonaire
Ocean View Villas, Kas Hamaka, and Bridanda Apartments Bonaire are all great apartment options in Bonaire. If you're looking for a great dive resort, then check out Courtyard by Marriott Bonaire Dive Resort.
The Virgin Islands
A group of islands and islets separated in two subsets dubbed the U.S. and the British Virgin Islands. As the name implies, the U.S. Virgin Islands are territory of the United States and the British Virgin Islands are British territory.
These islands house some of the clearest and most beautiful beaches in the world on islands of all sizes. Each island has its own unique appeal and many are closely situated together to allow for easy island hopping.
The largest islands of the USVI are St. Croix, St. John, and St. Thomas and they are all full of the most idealistic island scenery, resorts and exploration. The USVI is known to have a lively nightlife and an 'Americanized' family-friendly vibe.
Meanwhile the BVI's four largest islands are Tortola, Anegada, Virgin Gorda and Jost Van Dyke. Keep in mind that visiting the BVI does require a passport! The BVI is a little quieter, less developed and can seem to have more of an 'authentic' island feel.
Both groups of islands are relatively safe and quiet. You will just want to use usual precautions when getting around such as not walking alone at night, and leave night driving to a taxi driver as roads are windy, dimly lit and cars drive on the left side of the road.
Grenada
Noted as the 'Isle of Spice', Grenada is an Island Country within the West Indies about 100 miles off the northern coast of Venezuela. Created by volcanic origin, here you will find a mixture of sprawling green landscape, deep valleys and waterfalls such as the Seven Sisters, and even fragrant herb and spice gardens most notably of cocoa, bananas, nutmeg and mace.
Grenada is generally safe to visit, but stick to using your common sense to not put yourself in a potentially bad situation. Secure and keep track of all your personal items, use licensed taxi services and stay alert at all times.
Where to Stay in Grenada
For budget options, we recommend Blue Horizons Garden Resort and La Sagesse Hotel.
St. Kitts and Nevis
Creating a dual-island nation, St. Kitts and Nevis are two islands that offer both unique and shared experiences.
Being the larger island, St. Kitts is known for Mount Liamuiga Volcano, the highest point on the island offering endless hikes and exploration where you may even be able to see some green vervet monkeys.
Traveling over to the smaller island of Nevis, you will be greeted with picturesque beaches lined with palm trees, and all of the water and nature excursions you could imagine. The waters between the two islands are often known for the dive site, Booby High Shoals, a 40-ft dive site full of lobster, stingrays, turtles and even nurse sharks.
Most visits to this area are trouble-free, however, always use caution when traveling in areas you are not familiar with. Avoid walking/traveling alone, or at night and leave valuables at your accommodation. Stick to using licensed taxis and be aware of your surroundings.
Where to Stay in St. Kitts & Nevis
On Nevis, check out Golden Rock Nevis and on St. Kitts, the Royal St. Kitts Hotel.
Antigua and Barbuda
An independent country comprised of two Islands, Antigua and Barbuda attract visitors for a variety of reasons. Most notably known for the reef-lined beaches, resorts and as a yachting hub, there are many other great allures to these destinations!
Fill your day with unique adventures like the historic Nelson's Dockyard and Stingray City, schedule a helicopter tour, enjoy the wildlife or participate in a variety of watersports. For an added bonus, Antigua and Barbuda are the sunniest of the eastern Caribbean islands and offer low humidity year-round which can give you a lot more flexibility in your trip.
While traveling these islands, make sure to keep your belongings secure and close to you as pickpocketing and scamming tend to occur in areas with high tourism. Take time to research routes and areas you plan to visit and avoid less favorable areas.
The Bahamas
The Bahamas is a very popular tropical destination comprised of 16 major islands, 5,380 square miles of land and approximately 2,387 exposed reefs! It's no wonder this is such a frequently visited piece of paradise when there is so much to see such as Captain Bill's Blue Hole, Exuma Cays Land and Sea Park, Surfers Beach and Dunmore Town.
When traveling to any popular tourist destination it is important to exercise common sense while venturing to highly trafficked areas and outside hotels.
Some of the safest islands in the Bahamas are; Exuma Islands, Cat Island, and Abacos Island while some areas to avoid may be Nassau's Over the Hill area, Nassau's Sand Trap area and Freeport in Grand Bahama.
Where to Stay in The Bahamas
On Staniel Cay, I stayed at EMBRACE Resort and loved this small resort with so much to offer. Use our promo code TRAVEL21 when booking at EMBRACE Resort to get a 5% discount off your stay!
Caribbean Packing Essentials
Sun Protection: I don't recommend heading to the tropics without a sun hat (or baseball cap), a pair of quality sunglasses, and reef-safe sunscreen.
Water Gear: I never go to the Caribbean without a swimsuit, quick-drying towel, rash guard, snorkel set, and a cover-up. Also, because of the stinging fish and urchin hazards, you'll want a pair of rubber-soled water shoes.
Bug Protection: Bug spray, and light long-sleeved clothes for the evenings are musts in the Caribbean.
Source https://everythingpuntacana.com/safest-caribbean-islands-to-visit/
Source https://travellersworldwide.com/safest-islands-in-the-caribbean/
Source https://ordinarytraveler.com/safest-caribbean-islands