17 Best Things to Do in Caracas, Venezuela
Bonnie is a freelance writer born and raised in South America who has covered the continent for 11 years.
apomares / Getty Images
Many people pass through Caracas, Venezuela, on their way to other destinations in the country, such as Angel Falls, Margarita Island, or Los Roques National Park. However, it is well worth adding some days in Caracas to your itinerary. You'll have a chance to see beautiful landscapes, whether you ride a cable car into the mountains, swim in a waterfall, or stroll around beloved historic cathedrals and buildings.
Take the usual safety precautions for any large city in South America, such as keeping valuables hidden, avoiding walking alone at night (particularly on dark streets), and traveling in groups when possible. By being prepared, most travelers have hassle-free trips.
Visit the Contemporary Art Museum
Yves Forestier / Getty Images
The Caracas Museum of Contemporary Art, also known as MACC, is a world-class museum located in Parque Central. It has over 5,000 works of art in its collection, which includes pieces by Picasso, Monet, Warhol, and Bacon. Admission is free and there are 13 halls in the museum, plus auditoriums, a garden courtyard, and a grand library. The must-see pieces in the museum are the works by Venezuelan artist Jesus Soto, who is famous for his dazzling kinetic sculptures. You can look for one of his most famous pieces found elsewhere in the city: the Caracas Sphere. Made from orange aluminum rods, the sphere is set alongside the Francisco Fajardo Highway.
Paseo de Los Proceres
Hugo Trejo / Getty Images
The Paseo de Los Proceres, or the Walkway of Heroes in English, is a promenade with many notable monuments dedicated to the heroes of the Venezuelan War of Independence. It features numerous statues, squares, steps, and walls and is particularly popular with bikers and joggers, thanks to the many trees that provide shade and greenery in the center of the city. You'll find references to Greek mythology in the many fountains and other decorative pieces, but the main attraction is the Monument to the Heroes which is formed by four 300-ton marble slabs and statues commemorating important figures like Simón Bolivar.
Ride a Cable Car in El Ávila National Park
Thierry Monasse / Getty Images
For spectacular views of the city and the mountains, ride one of the world's longest telefericos (cable cars) to the top of Cerro El Ávila, an approximately 20-minute drive from Caracas. On clear days, you can see the Caribbean Sea from the mountaintop. The park's forests are home to many butterflies, birds, and orchids, including the country's national flower, the Easter orchid.
While visiting the park, enjoy a meal at one of the restaurants or shop for handcrafted souvenirs. If you seek something more adventurous, try zip-lining, rock climbing, or camping. Take a sweater or a jacket, for it can be cool where the cable car reaches a height of about 7,005 feet (2,135 meters).
Trek to the Top of Pico Naiguatá
Rodolfo Antonio Gil Rivas / Getty Images
The highest peak of the Venezuelan Coastal Range, the hike to Pico Naiguatá is a challenging journey that takes you above the clouds at an altitude of 9,072 feet (2,765 meters). The trail is 10 miles (16 kilometers) out and back and it is common for most hikers to camp 15 minutes from the peak. Located in Ávila National Park, seven miles (11 kilometers) from downtown Caracas, the trail starts at the Marques Cotamil Entrance and passes through beautiful viewpoints and unique landmarks like petroglyphs and ruins.
Immerse Yourself in History at the Panteón Nacional
SergioBrazn / Wikimedia Commons / CC BY-SA 3.0
The Panteón Nacional, formerly a church, became the resting place for prominent Venezuelans in the 1870s. Located in the northern part of the old town in Caracas, the site's ceremonial changing of the guard is worth seeing. The central nave is dedicated to Simón Bolívar, the Venezuelan known as El Libertador (The Liberator), famous for directing the secession of Venezuela, Bolivia, Colombia, Ecuador, Peru, and Panama from the Spanish Empire. You'll see paintings depicting his life and accomplishments.
Visit Vibrant Plaza Bolívar
Courtesy of Plaza Bolivar de Caracas
Plaza Bolívar marks the spot where Diego de Losada of Spain founded the city in 1567 and serves as the vibrant civic and cultural hub of the old town, where locals, visitors, and vendors have all converged since 1874. In the plaza's corners, statues of four women represent the states of the previous Gran Colombia: Venezuela, Ecuador, Peru, and Colombia. An equestrian statue of national hero Bolívar is another prominent plaza feature. Public buildings like El Capitolio Nacional, La Catedral de Caracas, and the Palacio Municipal de Caracas surround the square.
Relax at Parque de Recreacion Los Chorros
Alexander fc / Wikimedia Commons / CC BY-SA 3.0
Located at the foot of Caracas' Cerro El Ávila, Parque de Recreacion Los Chorros consists of about 9 acres (3.8 hectares) of exuberant scenery, including a natural waterfall to swim in—a rare find in a capital city park. The lush landscape spans several levels with tunnels, bridges, large trees, and benches from which to contemplate. You might encounter a variety of wildlife, including sloths, vocal guacharaca birds, squirrels, and fish.
Soak Up Culture at Centro de Arte Los Galpones
Courtesy of Centro de Arte Los Galpones
Centro de Arte Los Galpones in eastern Caracas is a favorite place to visit; numerous mango trees and an outdoor terrace create a tropical getaway in the middle of an urban environment. There are about 15 spaces in which to soak up the local culture, including art galleries and eateries like Hache Bistro—try Venezuela's renowned arepas, round corn patties topped or filled with meat, eggs, tomatoes, or various other ingredients. The center also features book stores and everything from tango and yoga classes to outdoor movies and concerts.
Delve Into the Past at Casa Natal and Museo Bolívar
Casa Natal and Museo Bolívar
In a city that abundantly honors the national hero, it's no surprise that great care is taken over the maintenance of Simón Bolívar's birthplace: a 17th century colonial central Caracas house built by his great-grandfather. The visitor can feel the past in the family portraits, antique furniture, and overall decor in the home, which was listed as a National Monument in 2002. There are several epic paintings by Venezuelan artist Tito Salas. The Museo Bolívar onsite features a big collection of personal items and documents, plus military uniforms and weapons, and more.
View La Casa Amarilla de Caracas
Guillermo Ramos Flamerich / Wikimedia Commons / CC BY-SA 4.0
To enrich your visit to the historical center of Caracas, include the Casa Amarilla (Yellow House), a building that became a National Historic Monument in 1979. The structure was the city's prison in 1696, then the City Council, the government palace, and the official residence of some Venezuelan presidents. Visitors enjoy the traditional style in the construction and furniture, plus seeing the Ministry of Foreign Affairs, housed in the building since 1912.
Enjoy Creativity at La Galería de Arte Nacional
La Galería de Arte Nacional
Known around town as the "GAN," the La Galería de Arte Nacional opened in 1976 and is one of the most interesting things to do in Caracas. Located near the circular Plaza Morelos in front of Puente Brión, the gallery has more than 10 rooms with displays of more than 4,000 works of art by famed artists, including colonial, pre-Hispanic, sculptures, and modern art.
Get Your Veggies at Mercado Municipal de Chacao
Mercado Municipal de Chacao
Strolling around a local public market is an ideal way to do some people-watching and familiarize yourself with both the local culture and the region's fresh fruits and vegetables, crafts, and more. At Mercado Municipal de Chacao in Caracas, you'll also have fun perusing all the teas, snacks, meat and dairy products, home decor items, and beyond. The market, which is open Wednesday through Sunday, is located on Avenida Mohedano between Calle Avila and Avenida Urdaneta.
Shop for Local Crafts and Souvenirs
Will & Deni McIntyre / Getty Images
Craft lovers and those seeking souvenirs will want to head to Centro Artesanal Los Goajiros, open daily and found west of Plaza Chacaíto, where a bounty of items like musical instruments, hammocks, wallets, bags, and clothing are for sale. Various vendors are located underneath the street level selling Orinoco crafts—the Orinoco River is one of the most significant and longest rivers in South America, and it primarily runs through Venezuela.
Retreat to a Historic City Park
Venezuala la Tuya
Leave the urban jungle behind and head to Parque Los Caobos, within walking distance of local museums and galleries like Galería de Arte Nacional. In one of the city's most historic parks, you'll have a chance to see lovely old trees and statues, and the famous Fuente Venezuela fountain displaying many human figures from around the country. Plus it's fun to watch locals walking their dogs and playing sports.
Play at the Children's Museum
SomosEN123 / Flickr / CC
Bring the little ones to the Museo de Los Niños de Caracas for an interactive experience in biology, communication, space, medicine, and more. The whole family can enjoy exhibits like one that explores colors and their uses in daily life, and another on the relationship between humans and their environment. The museum, located between the two towers of Parque Central, is open daily.
Catch a Movie and Find Rare Books at Trasnocho Cultural
Trasnocho Cultural / Facebook
Trasnocho Cultural, located inside the shopping center Paseo Las Mercedes, offers a plethora of artistic and cultural experiences for people of all ages. Locals and tourists can have fun by enjoying the four movie theaters, hunting for old and rare finds in the bookstore called El Buscón Librería, watching plays, and more. Soma Café is great for homemade Venezuelan dishes; to satiate your sweet tooth, stop in the Kakao chocolate shop and factory.
11 Top-Rated Tourist Attractions in Venezuela
Venezuela is a country of beautiful landscapes and surprising sights, from the coast to the mountain tops. Magnificent waterfalls tumble off table top mountains, and coastal towns and offshore islands offer pleasant escapes and soft-sand beaches.
Inland, the Andes Mountains, soaring to over 16,000 feet, provide a stunning backdrop to colorful and lively cities, and the Orinoco Delta is teeming with wildlife. Caracas, the capital and largest city in the country, offers its own type of adventure, with a number of cultural sites and surrounding attractions.
The best places to visit are not always the easiest to reach, and Venezuela is no exception. Some of these destinations are well off the beaten path. For inspirational ideas, see our list of the top tourist attractions in Venezuela.
1. Angel Falls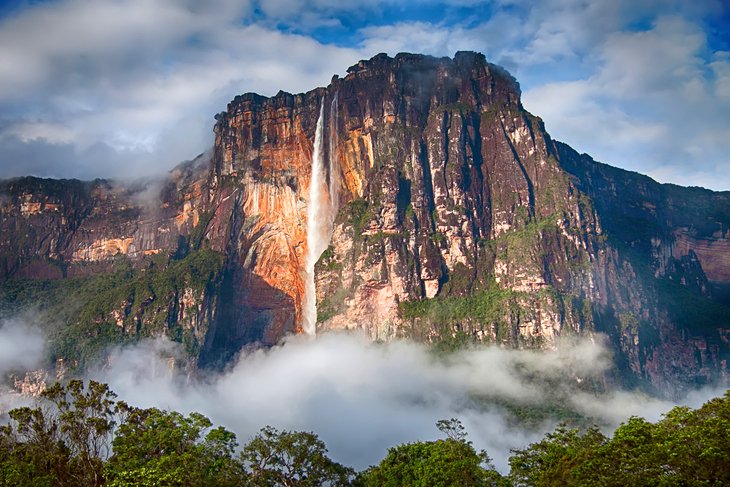 Angel Falls
In the heart of the country, where table top mountains rise up like giant monoliths from the surrounding landscape, is Angel Falls. Dropping 979 meters, it is the highest waterfall in the world and one of the highlights of South America.
This stunning site in Canaima National Park is remote and difficult to access, but flights over the falls are easily arranged.
The best time to see the falls is during the rainy season, between May and November, when water is plentiful and the falls do not disappear into a mist before reaching the bottom as they do in the dry season. During the dry season, the falls may be little more than a trickle and you will want to check in advance to see if there is enough water to make the trip worthwhile.
The falls are usually visited by either a sightseeing flight or a three-day boat trip beginning in the town of Canaima. The boat trip, which also includes a hike through the jungle to the base of the falls, is not a luxury tour by any stretch, with basic accommodation along the route. The boat trip may not be possible during the dry season due to low water levels in the river.
Flights over the falls depart from many towns and cities and can be arranged from various places, including Caracas, Ciudad Bolívar, Santa Elena, or Isla Margarita, as well as other major cities, although usually with a connecting flight.
2. Los Roques Archipelago (Archipiélago Los Roques)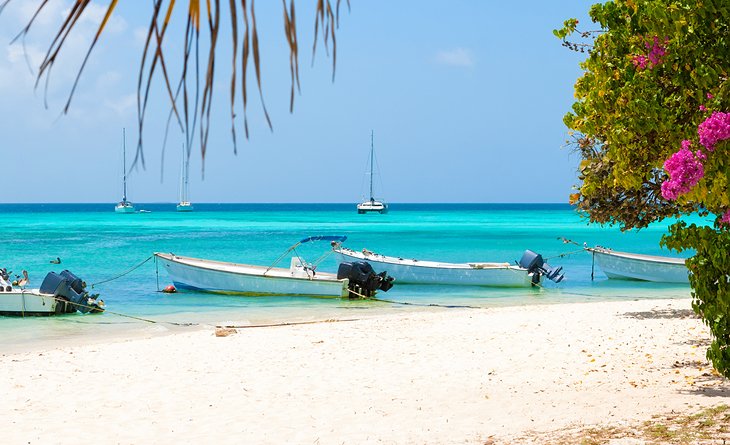 Gran Roque
Sun-drenched beaches, turquoise waters, coral reefs, and modest development with no high-rise hotels, are what draw travelers to this beautiful chain of islands 160 kilometers north of the central coast of Venezuela.
The archipelago is Los Roques National Park, but most people refer to the area simply as Los Roques. This is one of the best places to visit in Venezuela. The small seaside fishing village of Gran Roque, on the island of the same name, is the main settlement, with single-story homes painted in the typical bright colors seen throughout Venezuela.
The buildings stretch out along the beachfront, which seems to go on forever. One of the highlights is the little island of Cayo de Agua. Reached by boat, this is one of Venezuela's most beautiful beaches, with shallow turquoise waters, perfect for swimming and snorkeling.
The islands are usually reached by aircraft from Caracas, there is no ferry service from the mainland. The airport is located in Gran Roque. Boats can be chartered from the town's waterfront area for those interested in visiting some of the surrounding islands, diving, or taking a snorkeling trip.
3. Isla de Margarita (Margarita Island)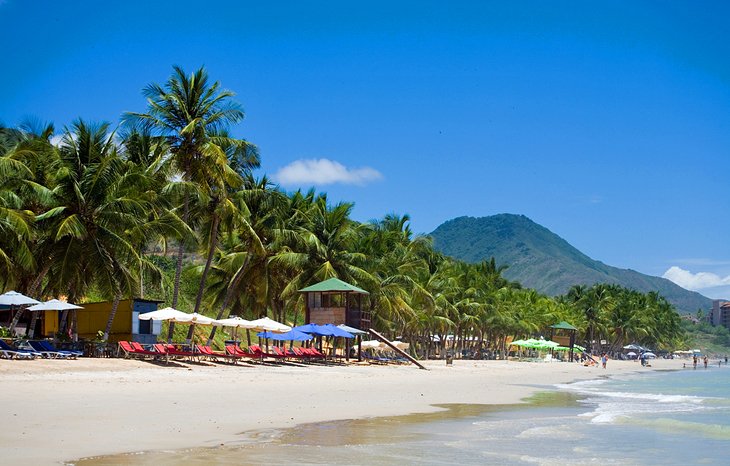 Isla de Margarita (Margarita Island)
Isla de Margarita is one of the more developed beach destinations in Venezuela. Lying approximately 40 kilometers north of the mainland, this is one of Venezuela's major tourist destinations for sun seekers. The island's main attractions are the beautiful soft sand beaches, which are popular with both foreigners and Venezuelans.
Many charter flights fly directly to Isla Margarita from a variety of international destinations, but it's also possible to take a ferry to the island from Puerto La Cruz on the mainland.
The main city on the island is Porlamar, but the numerous beaches are spread around the island, with some of the best on the north and east side. Many of these are developed, with hotels or restaurants. Some of the most popular beaches are La Playa El Agua, Playa Puerto Cruz, Playa Guacuco, and Playa Manzanillo.
4. Parque Nacional Morrocoy (Morrocoy National Park)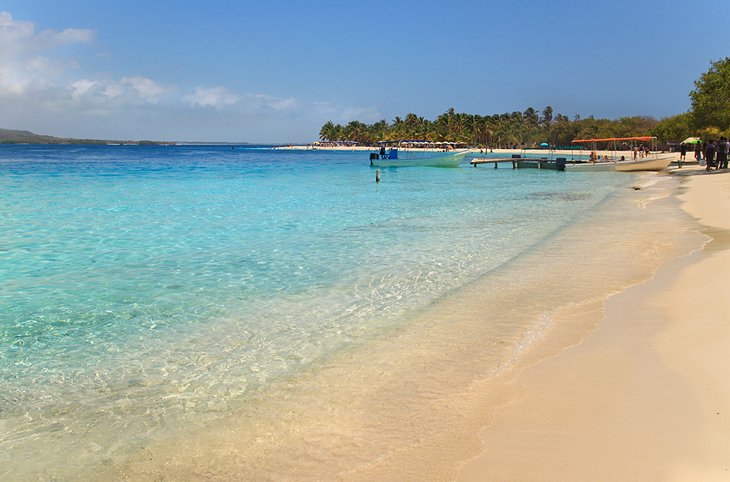 Cayo Sombrero
Morrocoy National Park, located along the coast about a two-hour drive west of Caracas, is known for its white-sand beaches and coral reefs, which stretch along the mainland and ring the offshore islands and cays. Diving is one of the main activities for those who are looking for more than simply spending a day on the beach.
The park is also home to a large number of birds, from osprey and parrots to flamingos and scarlet ibis. Some of the most popular islands are Cayo Sombrero, Cayo Borracho, Cayo Sal, and Cayo Peraza, to name just a few.
There are two main access points, one at Tucacas and the other at Chichiriviche, with boat services to the islands available at both of these towns. The park is easily accessible and, as a result, very popular with Venezuelans. It can get extremely busy, particularly around holidays.
5. Canaima National Park and the Gran Sabana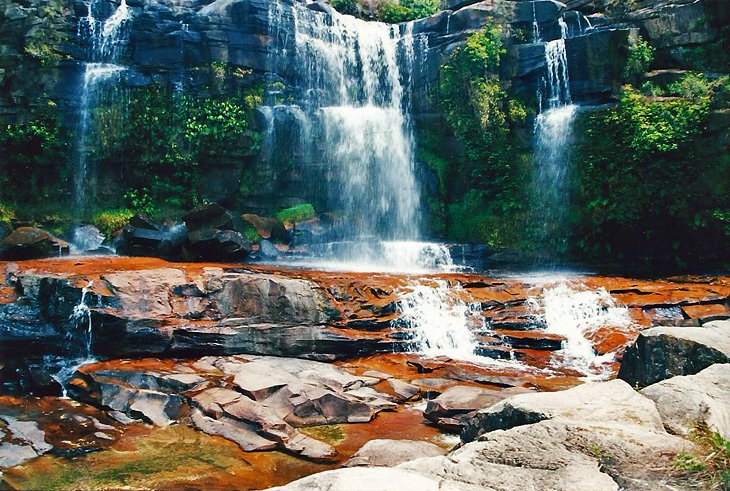 Canaima National Park and the Gran Sabana | Photo Copyright: Lana Law
Canaima National Park covers three million hectares and is listed as a UNESCO World Heritage Site. It is usually associated with Angel Falls and the area around the town of Canaima, but this is actually only a small area of the vastly diverse park.
The park also encompasses the high plateau of La Gran Sabana and includes more than 100 tepuis (table top mountains), which rise more than 1,000 meters above the savannahs. A trip through the Gran Sabana and Canaima National Park is a unique experience and does not necessarily even need to be combined with a trip to Angel Falls, particularly during the dry season.
Highlights in this area are the numerous waterfalls spread across the entire area, particularly in the Gran Sabana near the Brazilian border. Swimming at the base of the waterfalls is one of the highlights and can provide a refreshing escape from the heat of the midday sun during the dry season.
6. Roraima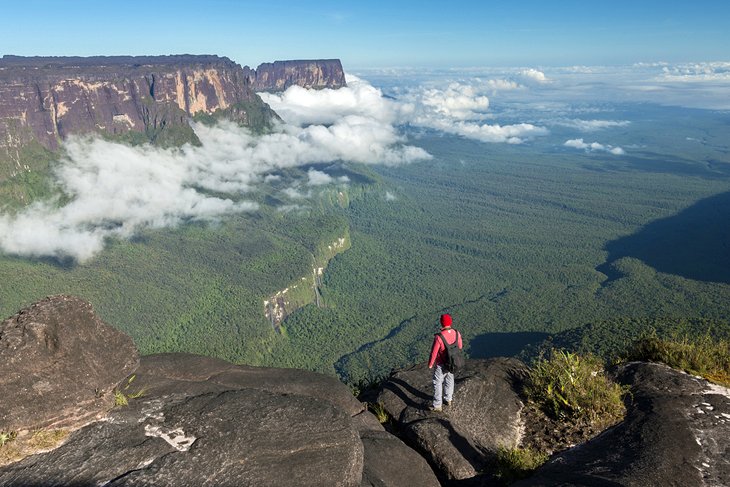 Roraima
The table-top mountain of Roraima has an alluring appeal for nature lovers and adventure seekers, with an almost mystical Jack and the Beanstalk type of wonder attached to it. Rising up from the surrounding lowlands, Roraima is an island in the sky that has been intriguing people for centuries, with its bizarre rock formations, waterfalls, and meat-eating plants. This tepui (table-top mountain) was even the inspiration for Arthur Conan Doyle's famous novel The Lost World.
Roraima is one of the highest tepuis in Canaima National Park. It is also one of the most easily accessible and a popular hiking destination, although it is a demanding, multi-day hike. The temperature drops as the elevation rises and Roraima is often cloudy, misty, or raining, so hikers need to be prepared to face the elements.
7. Orinoco Delta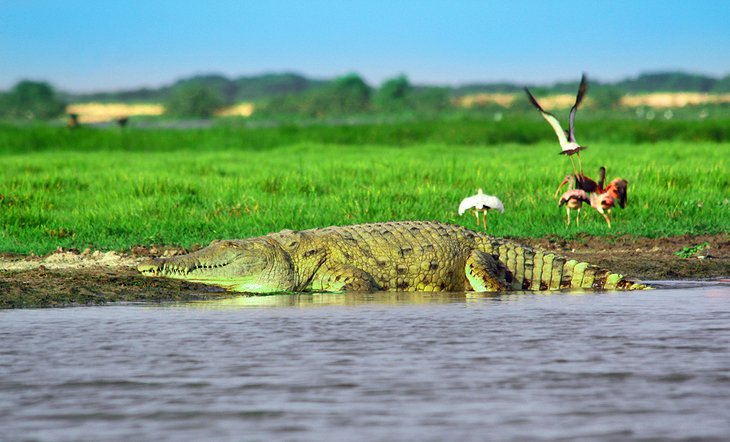 Orinoco Delta
The Orinoco Delta, in the northeast of Venezuela, offers a completely different landscape and experience than other parts of the country. The river delta is home to all kinds of interesting wildlife, from monkeys and macaws to piranhas.
Riverside lodges offer multi-day packages that take guests out in boats for wildlife viewing and visiting local Warao people. Some camps also offer night safaris. The quality of the lodges varies so it's best to do some research in advance. Trips can be arranged from Ciudad Bolivar, Ciudad Guayana (Puerto Ordaz), or from other cities, and can be combined with a larger tour of other areas.
8. Galipan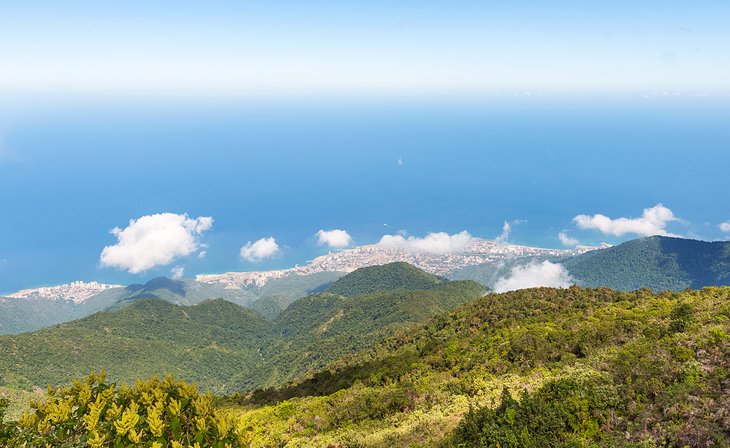 Caracas: Galipan and the National Pantheon
While few people plan to spend much time in Caracas, the city does have a couple of sites worth seeing. One of the highlights is a trip up the funicular to the small town of Galipan on Avila Mountain in northern Caracas.
It is also possible to drive, but this is a twisty road that doesn't lend itself to looking around. The views from the top of the hill are spectacular, particularly on clear days, when you can see Caracas and the coast. At the top are stalls with vendors selling a variety of goods, and a number of decent restaurants offering some tasty treats.
9. National Pantheon of Venezuela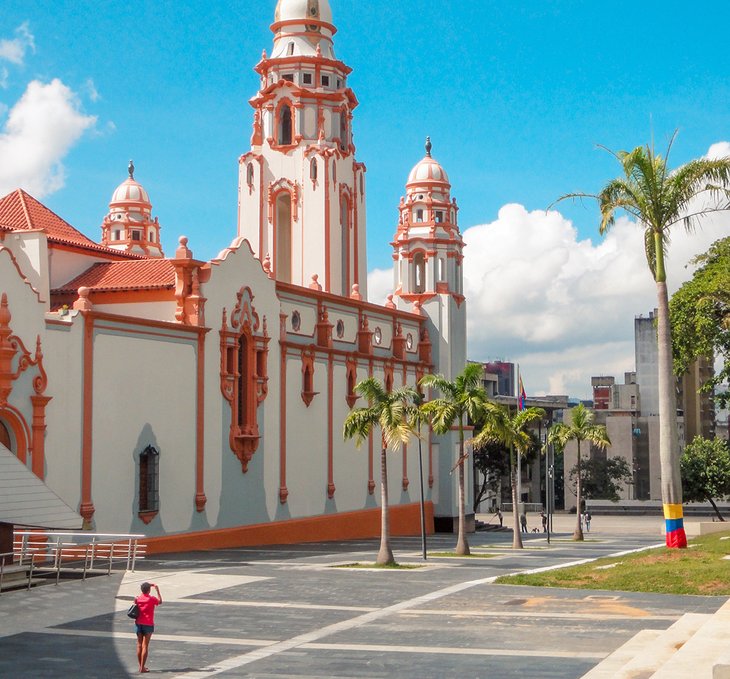 National Pantheon of Venezuela
The National Pantheon is one of the most important attractions in Caracas. The building was constructed after the 1812 earthquake when the original church on this site was destroyed. Today, it is the country's most sacred shrine and houses the remains of prominent Venezuelans, including those of Simon Bolívar.
10. Parque Nacional Los Médanos de Coro (Medanos de Coro National Park)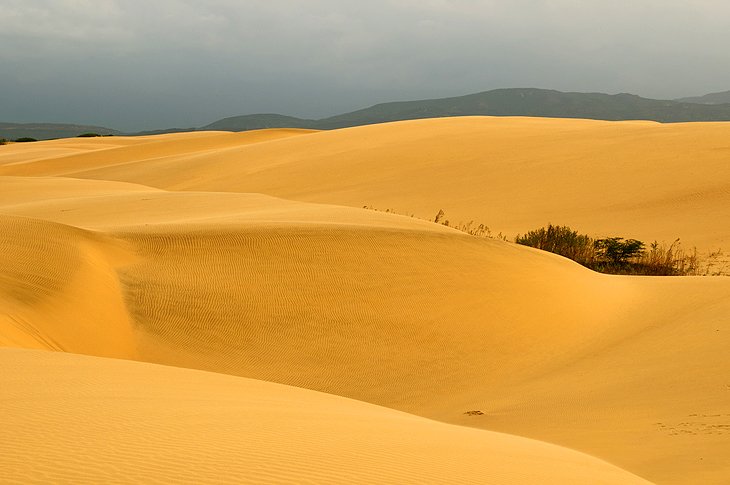 Parque Nacional Los Médanos de Coro (Medanos de Coro National Park)
Medanos de Coro National Park offers surprising sights, with rolling sand dunes typical of a desert scene. The sand dunes, known locally as medanos, roll across the landscape, with twisting and curving lines, and some dunes reach up to 40 meters in height.
Dispersed within the hills are a number of lagoons, formed by decades-old flooding. This park is a fun place to wander around, slide down the dunes, take photos, and appreciate the diversity of landscapes that make Venezuela so unique.
11. Mochima National Park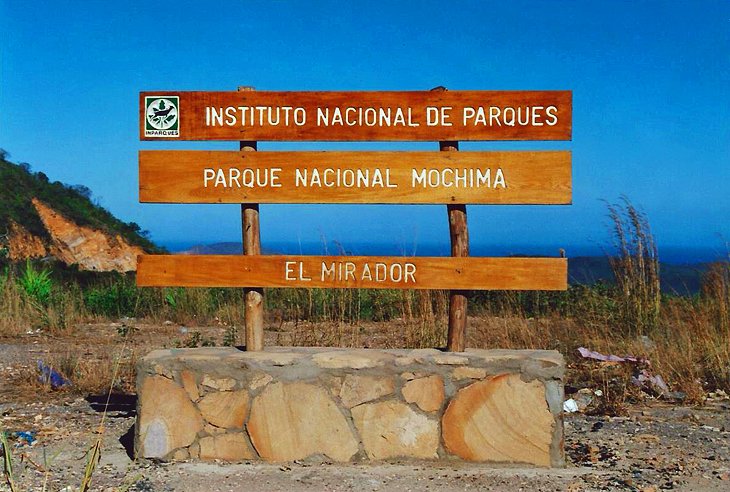 Mochima National Park | Photo Copyright: Lana Law
This park covers a portion of the coast and a chain of offshore islands east of Puerto La Cruz to Cumaná. The main attractions here are the beaches and the diving. The islands can be accessed by boat from Puerto La Cruz, Santa Fé, and Mochima.
It is also possible to explore the mainland portion of the park by car or bus, stopping off at small villages and beach-lined bays off highway 9, but this is primarily a place for boating. The area around the park is very quiet and it doesn't see nearly the amount of traffic as Morrocoy. This is a good option for people who happen to be in this area or heading out to the Paria Peninsula.
More Related Articles on PlanetWare.com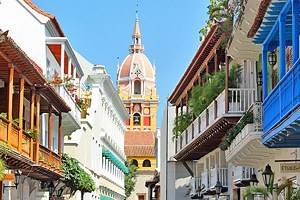 Visiting Neighboring Colombia: On Venezuela's western border is one of South America's hottest new up-and-coming tourist destinations. Colombia's attractions range from historic cities to mountains and beaches. If you have time to see even a couple of destinations in Colombia, don't miss out on a chance to explore the sights of Cartagena or to relax in Medellin.
6 Top Attractions in Caracas, Venezuela
As both the capital city and the largest urban area in the country, Caracas is an essential stop during a trip to Venezuela. This fast-paced city offers a little something for everyone, including museums, cultural attractions, fine dining, shopping, a thriving nightlife scene, and so much more. Here are some of the top attractions in Caracas.
If you've never visited the city, consider embarking on a guided tour. Navigating around an unfamiliar area can be difficult, especially a city the size of Caracas. Opting to join a guided tour makes it much easier to get around and allows you to see hidden gems that only locals know about.
Whether this is your first trip to Venezuela, or you're a seasoned expert in the country, make sure to add the following sites to your Caracas travel itinerary.
Plaza Bolivar
Serving as the center of old town Caracas, the Plaza Bolivar is a bustling tree-lined tribute to Simon Bolivar, a famed military and political leader. At the center of the plaza stands an equestrian statue, which was cast in Munich, shipped to the city in pieces, and assembled on site.
From there, you can walk to other interesting sites, such as Bolivar's birthplace, San Francisco Church, and the Caracas capitol building.
Panteón Nacional
Originally a church, the panthéon is now a final resting place for national heroes, including Simon Bolivar. The central nave is dedicated to Simon Bolivar, as his sarcophagus stands in place of the altar. The pantheon is covered with 1930s paintings portraying scenes from Bolivar's life and a massive crystal chandelier was installed in 1883 on the centennial of his birth.
City Wall
Stretching 2.5 kilometers in length, City Wall is considered one of the best preserved medieval boundaries in the world. The wall has 8 immense gates and 88 towers, rising to a height of 12 meters. Gates protecting the tower are more than 20 meters high. Enjoy sweeping views of Caracas from this gorgeous historical site.
Parque Central
Twin towers of Parque Central, Caracas, Venezuela
Located in modern Venezuela, the Parque Central Complex consists of museums, art galleries, a concert hall, stores, restaurants, and cafes. The Twin Towers of the complex, two skyscrapers that have become an architectural icon, are the tallest buildings in South America and the second tallest in Latin America. (Although no cities in Central or South America make the list of cities with the tallest skylines.)
El Hatillo
A Church in El Hatillo
This little village in north-east Caracas is a national monument and one of the most popular tourist spots in the Gran Caracas area. In El Hatillo, traditional but cozy houses line the streets, music fills the air, and visitors can sample a wide-variety of delicious, authentic cuisine at local restaurants. Perhaps the village is most famous as a place to purchase authentic crafts and local furniture, as this is one of the major sources of revenue for citizens. An afternoon in El Hatillo will really give you a taste of what live in Venezuela is like.
Teleferico
By José Antonio Freyre – Own work, CC BY-SA 2.5, https://commons.wikimedia.org/w/index.php?curid=2198999
Although this cable car air transportation system is simply a way to get around the city, riding them has become a fun attraction of its own right. Cabins are suspended from a series of wires that bring cars from station to station. The name of the transport system changes to funicular when the cabins are carrying riders on land.
Caracas is a beautiful city full of interesting gems and wonders. If you're planning a trip to Venezuela, you simply cannot miss this wonderful city full of tourist attractions.
Source https://www.tripsavvy.com/things-to-do-in-caracas-venezuela-1637570
Source https://www.planetware.com/tourist-attractions/venezuela-ven.htm
Source https://www.travelguideline.net/top-attractions-caracas-venezuela.html