17 Best Places to Visit in Connecticut
Connecticut is a natural wonderland packed with some of the country's most inspiring landscapes and a slew of picturesque places to visit. From crashing waterfalls to sparkling lakes to verdant forests to sprawling golden beaches, there are so many memorable things to do in Connecticut.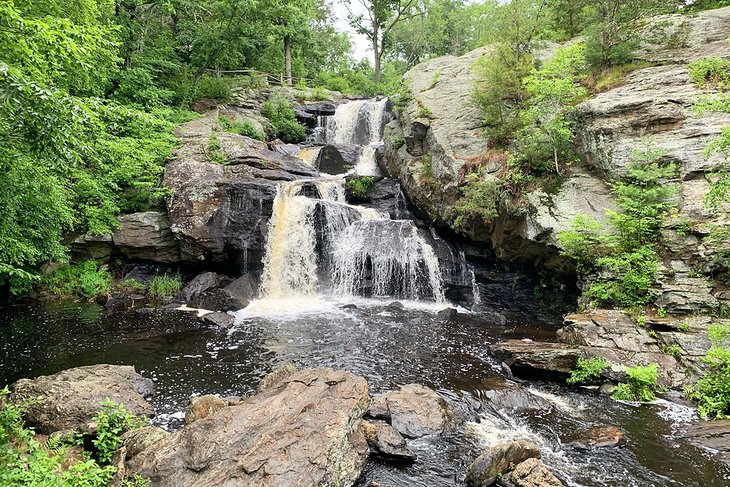 Chapman Falls at Devil's Hopyard State Park in Connecticut | Photo Copyright: Shandley McMurray
In addition to its organic wonders, Connecticut is packed with charming small towns that exude New England charm; maritime villages that beg you to jump on a fishing boat; and larger cities that boast excellent attractions like museums, vibrant arts scenes, and fabulous restaurants. No matter what you're looking for, you'll find it in this East Coat gem.
With so many interesting spots to choose from, it can be hard to pick your destination. Whittle down your choices with our list of the best places to visit in Connecticut.
1. Mystic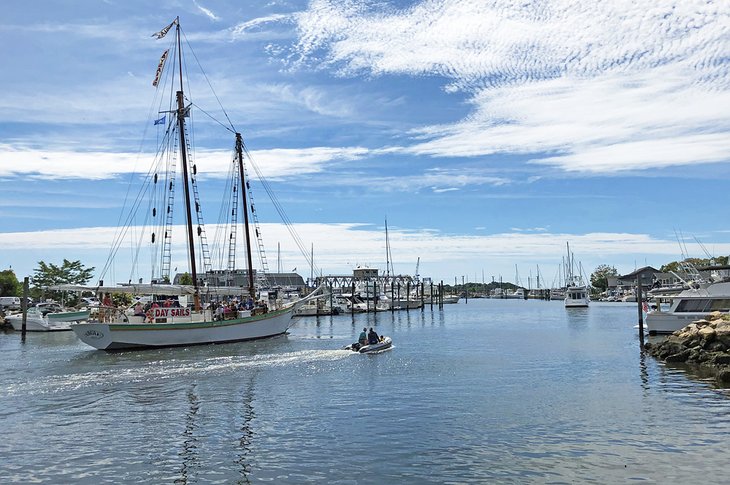 The Argia schooner in Mystic | Photo Copyright: Shandley McMurray
The Mystic River gently laps the shores of this lovely maritime village, which is dubbed one of the best small towns in Connecticut. The shimmering water draws attention to the town's storied history as an important port, and multiple attractions teach visitors about its past.
All types of vessels, including massive whaling ships, sailed through and docked at Mystic Harbor. You can see replicas, as well as some refurbished originals, at the remarkable Mystic Seaport Museum. With so many great things to offer (i.e. a 19 th -century seafaring village, children's museum, and the Charles W. Morgan wooden whaleship), this vast spot deserves a full day of your time.
While in Mystic, book a cruise on the Argia, a two-masted Gaff Topsail schooner, to spot the massive yachts, coastal homes, and sailboats dotting the horizon.
Then, hit the Mystic Aquarium. One of the top places to visit in Mystic, this impressive venue is also one of the best tourist attractions in Connecticut.
Before heading home, stop for a meal and some retail therapy at the unique and picture-perfect Olde Mistick Village, an outdoor mall set to look like an 18 th -century New England village.
2. Kent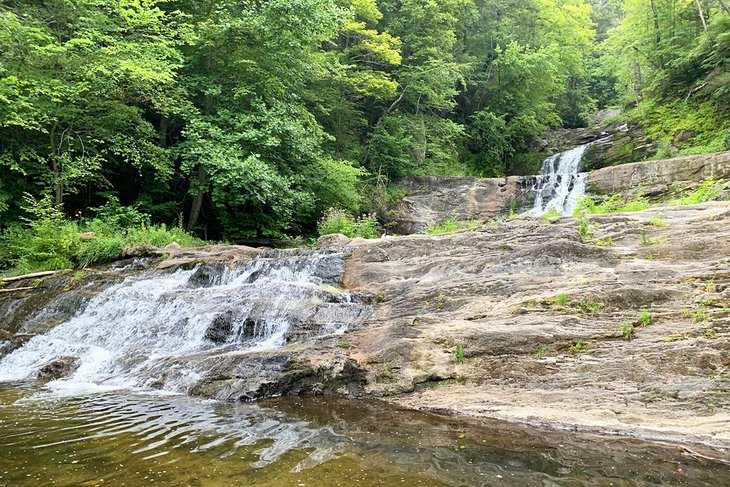 Kent Falls | Photo Copyright: Shandley McMurray
We've found the cure for stress. Hint: it's in Kent. Serenely nestled a mere two hours from bustling New York City, Kent is the place where worries disappear. Home to the picturesque Bull's Bridge, one of only three covered bridges in the state, and two gorgeous Connecticut state parks (Kent Falls and Macedonia Brook), Kent takes bucolic to a new level.
The small town itself is adorable, chock full of charming shops, cafés, and restaurants. It offers a perfect place to unwind and enjoy a sunny afternoon. Don't miss the darling House of Books, an enchanting bookstore on Main Street that dates back to 1976.
Kent's true beauty, however, lies just outside its border, within the rolling Litchfield Hills. This is where your face will be brushed by mist from one of Connecticut's best waterfalls, Kent Falls. It's also where your ears lulled by the crashing sound of water cascading down Macedonia Falls and your feet massaged by rocks lining the trails through Kent's miles of wilderness.
3. Hartford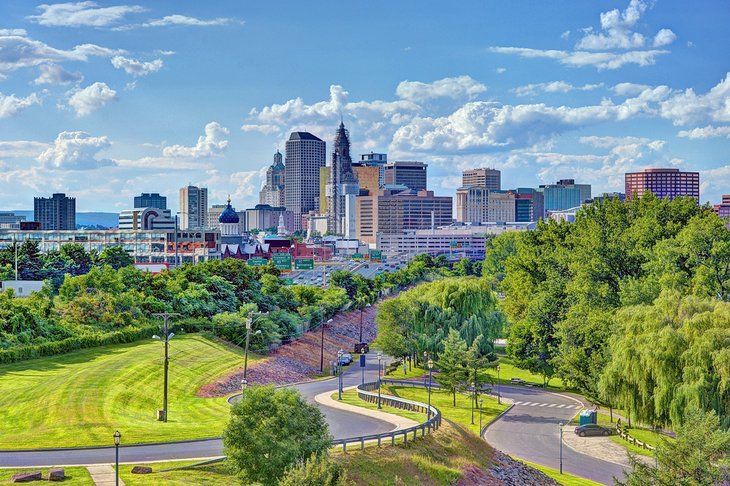 Hartford skyline
Connecticut's pretty capital boasts an impressive watery backdrop. Sitting on the banks of the Connecticut River, Hartford was once known as the House of Hope. Today, this large city (one of the oldest in New England) is a wonderful place to soak up a little nature and culture.
The top attractions in Hartford include the Mark Twain House & Museum, the State Capitol, the Connecticut Science Center, and the impressive Wadsworth Atheneum Museum of Art.
Elizabeth Park is more than worthy of a visit. Sprawling across more than 101 acres through West Hartford and Hartford, this delightful space features a phenomenal rose garden and a sweet little Pond House Café.
Speaking of natural beauty, don't miss a trip to Bushnell Park. The oldest public park in the country, its best to visit during spring when the cherry blossoms are in full bloom.
4. Old Saybrook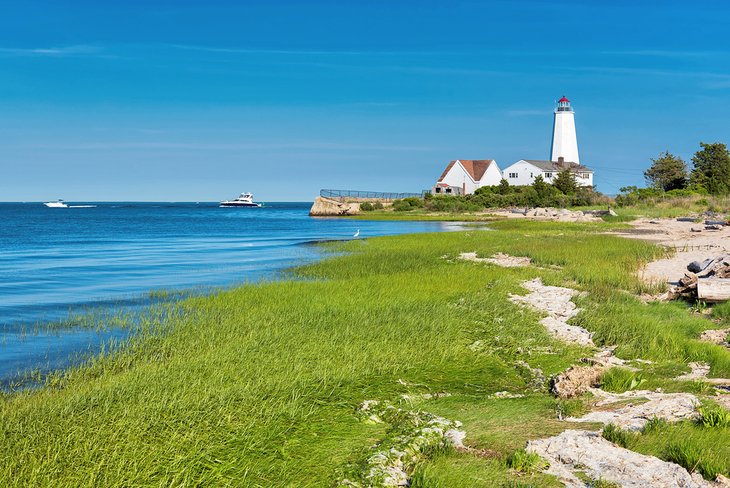 Lynde Point Lighthouse, Old Saybrook
Lovely Old Saybrook is one of the most beautiful beach towns in Connecticut. Harvey's Beach is its main attraction, with its fine sand and calm surf. The Lynde Point Lighthouse, though, is deemed by many to be more picturesque – it's been photographed a bazillion times.
One of the oldest towns in the state, Old Saybrook overflows with charm and enticing antique shops you can't ignore. The background is picture-perfect, especially in the Fenwick Historic district, one of Old Saybrook's top attractions, which boasts shingled cottages dating to the 19 th – and early 20 th centuries.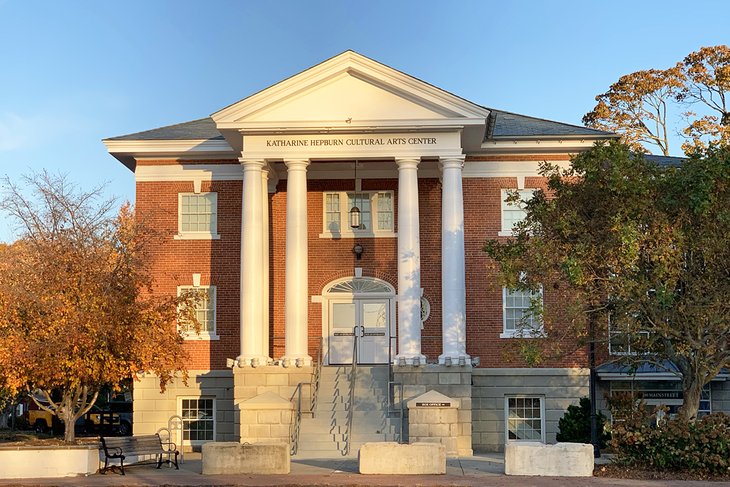 Katherine Hepburn Cultural Arts Center | Photo Copyright: Shandley McMurray
Katherine Hepburn once called this quaint town home, a fact never to be forgotten with the cultural arts center named in her honor. The Kate, as it's known to locals, features concerts, films, comedy acts, and other great entertainment year-round.
5. Hammonasset State Park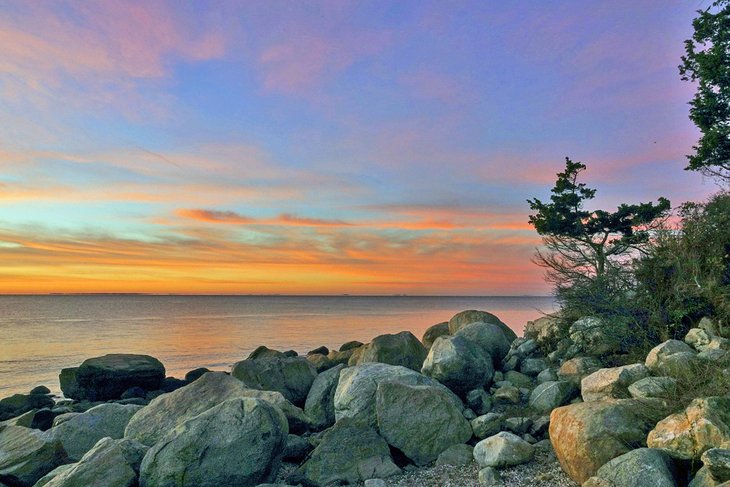 Sunrise at Hammonasset State Park
The shining star of Madison, Hammonasset State Park is a must-see. Home to the largest beach in the state – it runs two miles in length – this lovely park is also one of the most popular places to visit in Connecticut.
The park was opened in 1920 and has been a popular attraction ever since. Quite crowded in the summer, especially on a weekend, it's best to hit the beach early, so you can enjoy all it has to offer.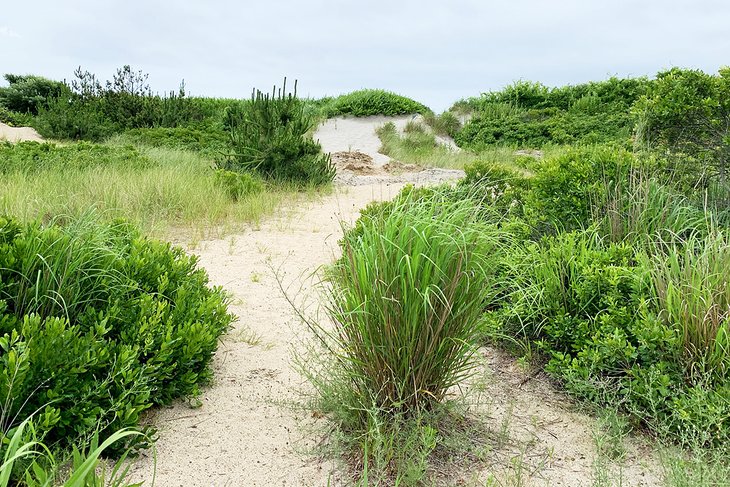 Sand dunes at Hammonnasset Beach State Park | Photo Copyright: Shandley McMurray
From walking on the boardwalk to cycling to hiking to swimming to SUPing to fishing, there's plenty to keep everyone occupied near this fine sandy shore.
Want to stay even longer? Book a night or more at one of the park's campsites. While in the park, don't miss the Meigs Point Nature Center, an inspiring spot, where wildlife lovers can explore saltwater marshes and spy captivating birds and other creatures.
6. Stamford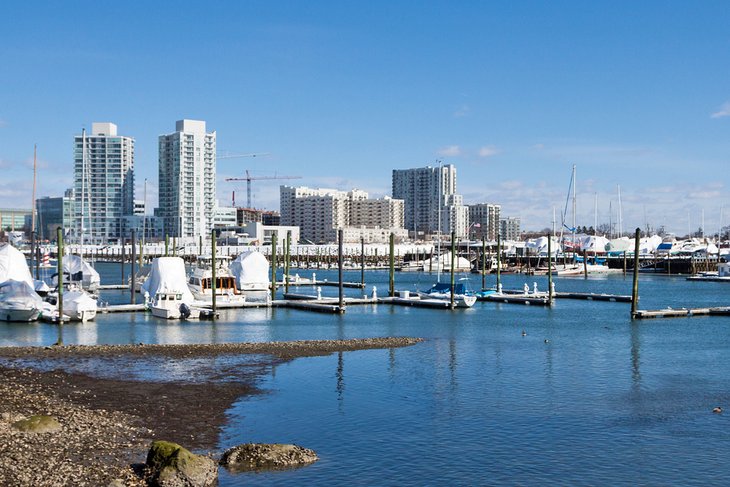 Stamford
More business oriented than most other Connecticut towns, Stamford has a lot of things to do for those who shy away from the Fortune 500 Companies that use it as a home base. Yes, you'll find tall office and condo buildings here, but with this cosmopolitan atmosphere comes a lot of cultural pluses.
The Stamford Museum & Nature Center offers historic education in a serene natural setting. Kids will love the bespoke playground. Where else can you perch in a human-sized bird's nest?
The Avon Theater sits downtown, on the popular Bedford Street, just a couple of minutes' walk from Stamford Town Center. You can watch independent and foreign films here to up your sophistication meter.
Harbor Point has been newly revamped, brightening the South End district. Home to its own waterfront, parks, shops, and restaurants, this section has become an exclusive little hamlet.
7. Greenwich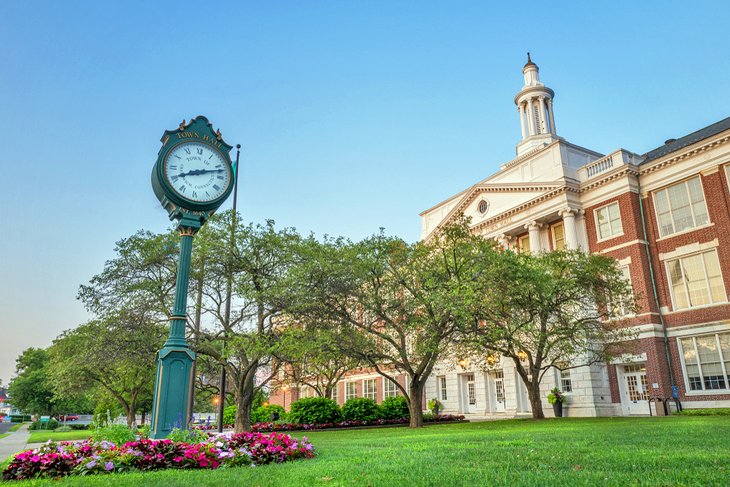 Greenwich Town Hall
You'll be hard-pressed to find even one blade of grass out of place in Greenwich. A posh commuter town (NYC is only an hour away by train), this pristine city is one of the most prized (and largest) on Connecticut's Gold Coast. Once here, it's easy to see why it gets so much hype.
In addition to its grandiose, gated homes; immaculate gardens; and sparkling coastline, Greenwich is home to historical gems like the colonial Putnam Cottage, Greenwich Historical Society, and Bruce Museum; all are family-friendly attractions worthy of a visit.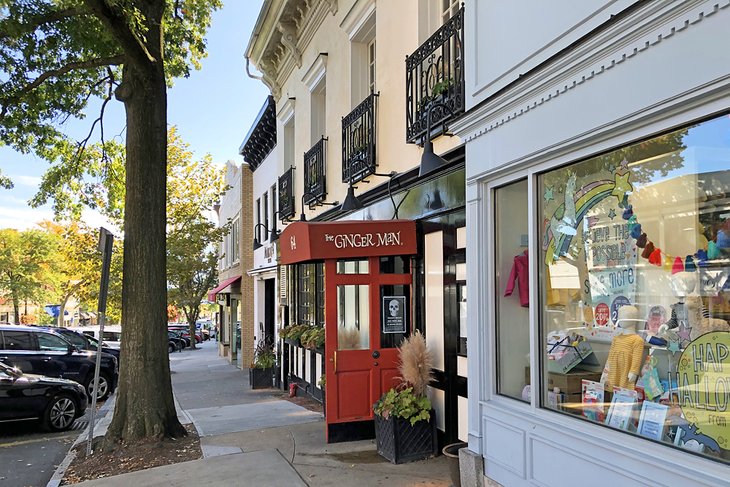 Shops along Greenwich Avenue | Photo Copyright: Shandley McMurray
Perfectly intertwined with these cultural mavens are Greenwich's real shining star attractions: the 147-acre Greenwich Point Park (the view of Manhattan's skyline is unbeatable from this golden beach) and the serene Greenwich Audubon Center (home to miles of trails and a ton of wildlife).
Looking to flex your shopping muscle? Head to Greenwich Avenue. The city's adorable main street is speckled with high-end shops like Sax Fifth Avenue, Lululemon, and Vineyard Vines. When hunger pangs hit, fill up on Italian fare at Mediterraneo, enjoy a curry at Thai Basil, or dine in style at Le Penguin.
8. Silver Sands State Park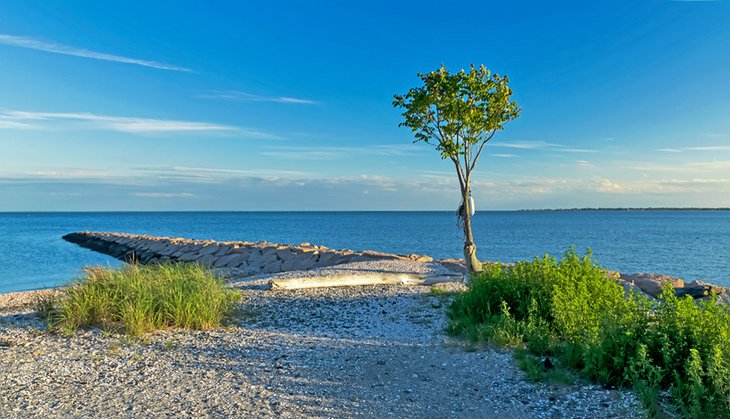 Silver Sands State Park
Beaches and boardwalks and wildlife, oh my! There's so much to see and do at Silver Sands State Park. Walk along the trails, jump in for a swim, build a sandcastle, gather shells, or try your hand at fishing. No matter what activity you choose, you won't be bored at this lovely state park located in Milford.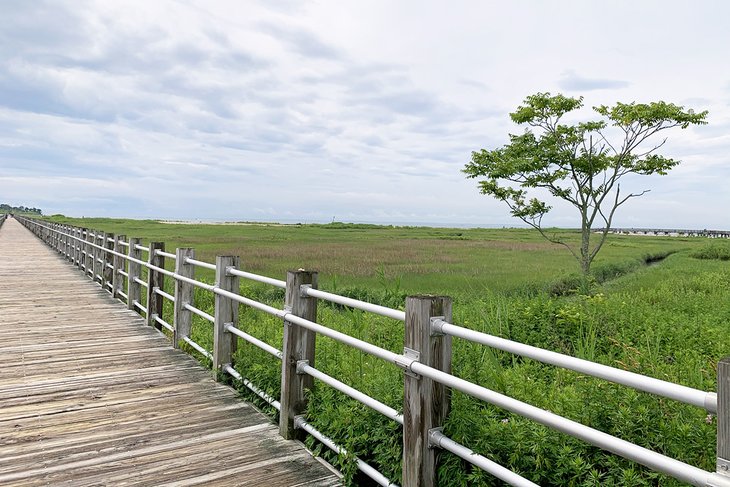 Boardwalk at Silver Sands State Park | Photo Copyright: Shandley McMurray
While you're here, why not try your luck treasure hunting? According to legend, Captain Kidd hid his valuables on the beach in 1699, and they've never been claimed.
You'll have to wait until the tide is low to walk across the sand bar to Charles Island, the believed hiding spot of this supposed treasure. While you're here, check out the incredible birdlife at the sanctuary located on the island. But be sure to leave before the tide comes back in, or you'll be stuck there overnight.
9. Gillette Castle State Park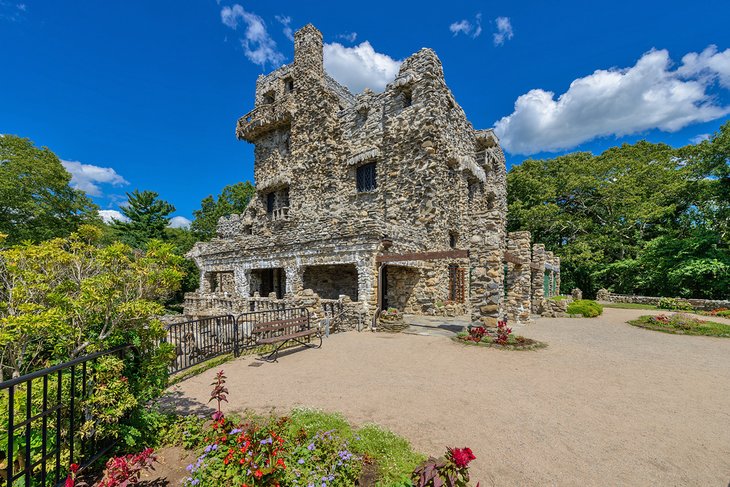 Gillette Castle
Gillette Castle serves as the crowning glory atop the southern hill of the Seven Sisters. Designed by William Gillette, a famous actor and playwright between 1914 and 1919, the castle is a true marvel. It boasts interesting wooden locking mechanisms, built-in couches, secret panels, and mirrors set up so the actor could spy on his visitors from above.
The most enjoyable way to reach Gillette Castle is by boarding the Chester-Hadlyme Ferry from the sweet town of Chester, one of Connecticut's most charming small towns. While the ride lasts a mere five minutes, visitors reap spectacular views of the Connecticut River, especially during the colorful autumn months.
With 184 acres of beautiful landscape, a unique 24-room mansion/castle, and a remarkable set of walking trails (they include wooden trestles, tunnels, and a narrow gauge railroad), it's no wonder visiting Gillette Castle State Park remains one of the top things to do in Connecticut.
10. New Haven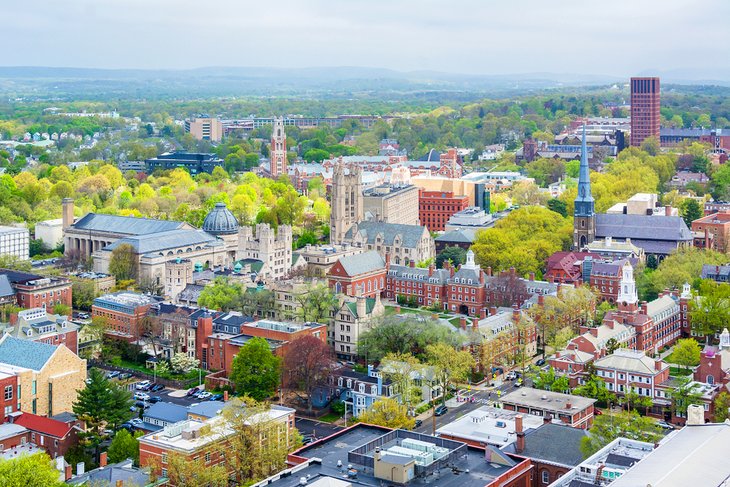 View of Yale University in New Haven, Connecticut
A coastal town most famous for being home to Yale University, New Haven presents a wide array of fun things to do.
Soak up the culture at the Yale University Art Gallery. You'll find inspiring works by the greats like Van Gogh, Picasso, and Degas. You'll also spot ancient artifacts and creations from talented modern and contemporary artists from across the globe. The best part? Admission is free.
The university is also home to the well-loved Peabody Museum of Natural History, Yale Center for British Art, and Beinecke Rare Book & Manuscript Library.
At the center of town lies the vibrant New Haven Green, which is hugged by the faux-Gothic, Victorian, and more modern university buildings. It's around here that you'll find many of the area's quirky shops and restaurants. It's also one of the best places for photographers looking some good photography spots in New Haven.
A visit to Wooster Square (on the east side of town) won't disappoint, especially if you visit during the annual Wooster Square Cherry Blossom Festival in late April.
11. Lake Compounce, Bristol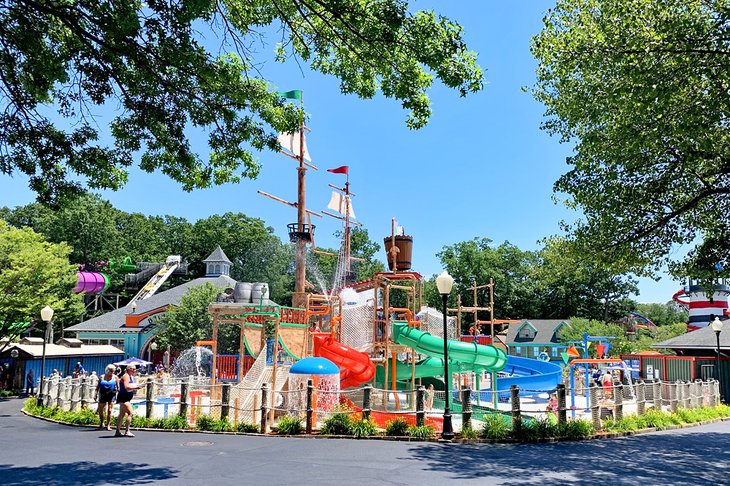 Lake Compounce | Photo Copyright: Shandley McMurray
If you require a side of thrills with your Connecticut getaway, Lake Compounce is the place for you. The oldest continuously operating amusement park in North America, this family fun zone is a major hit with kids and adults of all ages.
Boulder Dash is a must-ride wooden roller coaster that's been voted top in the world. Be prepared, it gets bumpy! If you're feeling the need for speed, hit the Phobia Phear Coaster, which gets up to 65 miles an hour.
Then, cool off in the water park (the biggest of its kind in the state). The Croc-O-Nile lazy river is super relaxing while plunging down the waterfall at Mammoth Falls will get your heart pumping. Storm Surge is another must if you like excitement. This fun lighthouse waterslide comes complete with lights and sound.
Address: 186 Enterprise Drive, Bristol, Connecticut
12. Westport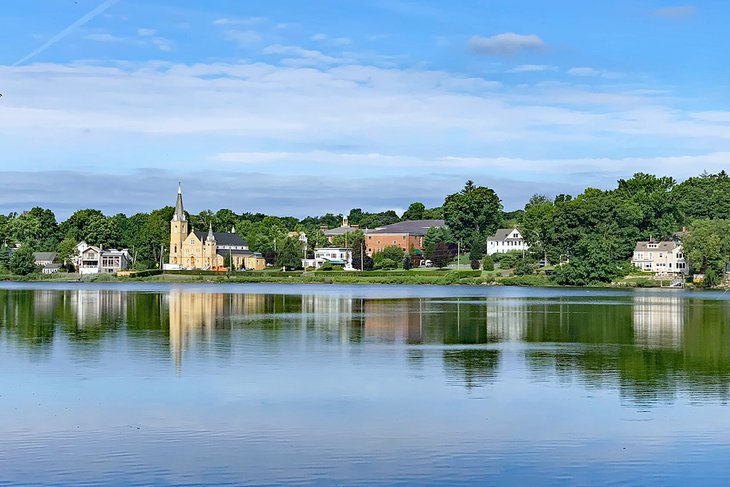 Westport, CT | Photo Copyright: Shandley McMurray
Westport is less pretentious than Greenwich, with as much charm as a typical small, New England town. Its affluent nature serves up a hearty dish of high-end shops (like Lululemon, Vineyard Vines, and Tiffany's) and an even larger plate of upscale restaurants.
The Spotted Horse, Pink Sumo, and The Whelk are just three tasty options. For lighter fare, check out the uber-healthy, delish, and locally owned, Granola Bar.
Wandering through the streets of town is almost akin to being on New York's Upper East Side, without the pungent smells, pollution, or noise. Oh yeah, you'll also reap the added bonus of spectacular scenery and friendly locals.
The Saugatuck River winds its way through the heart of town, passing the popular Bar Taco Restaurant, winking at Main Street, and skimming the newly revamped (and uber-impressive) Westport Library. Stand near it long enough, and you'll spot an ibis, snapping turtle, or swans. Don't miss a show at the Westport Country Playhouse, one of Westport's best attractions.
At the south edge of town lies Westport's pristine and super soft, sandy Compo Beach. While this beach is reserved for town residents and beach pass holders, visitors can buy a day pass for $45 on weekdays or $70 on a weekend.
Sherwood Island State Park is also in town, offering another great beach option for visitors.
13. Stonington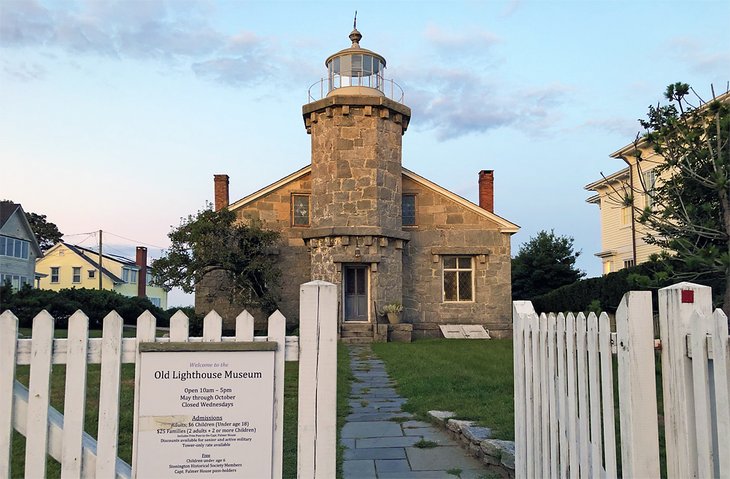 Stonington Harbor Lighthouse| Photo Copyright: Shandley McMurray
Stonington may be small (it measures less than one square mile), but what it lacks in size, it more than makes up for with charm. Founded in the early 1660s, this maritime town sits on the outskirts of Mystic (about seven minutes away by car).
Stonington boasts an adorable main street peppered with shops, cafés, and restaurants. A short walk will get you to the Stonington Harbor Lighthouse, which has stood stoically for more than 170 years, tucked quietly behind a white picket fence off Water Street. Around the corner lies Stonington Point. From here, you can spy three states–Connecticut, New York, and Rhode Island.
A few meters away lies duBois Beach, a small, protected, and sandy spot that's perfect for swimming. During the summer months, the beach is guarded, but expect to pay a small fee to enter. And be warned, there are no concession stands or facilities.
14. The Henry David Thoreau Footbridge, Washington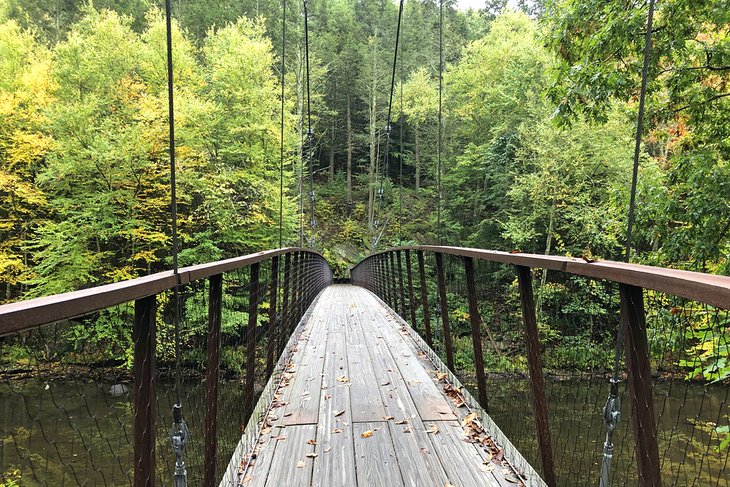 Henry David Thoreau Footbridge | Photo Copyright: Shandley McMurray
It's not surprising to hear that the Henry David Thoreau Footbridge is one of the most photographable structures in Connecticut. This 120-foot-long suspension bridge is a stunner, especially if you visit during fall. The bridge was built to allow pedestrians to cross the Shepaug River and offers incredible vistas. Look closely, and you'll see the philosopher's most famous quotes carved into the rails.
Named after the famous 19 th -century philosopher, this intricate bridge is tucked into the Hidden Valley Preserve, a natural wonderland located in Washington. Visitors spend most of their time hiking the wooded trails and hillsides of this 727-acre preserve, which is open from sunrise to sunset year-round.
The most popular trail in the preserve is the Winters Hunger Pinnacle. Set aside a few hours, as it is over seven miles long and gets as steep as over 900 feet.
Insider's tip: Goshawks tend to nest both north and west of the footbridge between April and June. Warning signs are posted at this time, and some trails may be closed to protect the birds.
15. Enders Falls State Park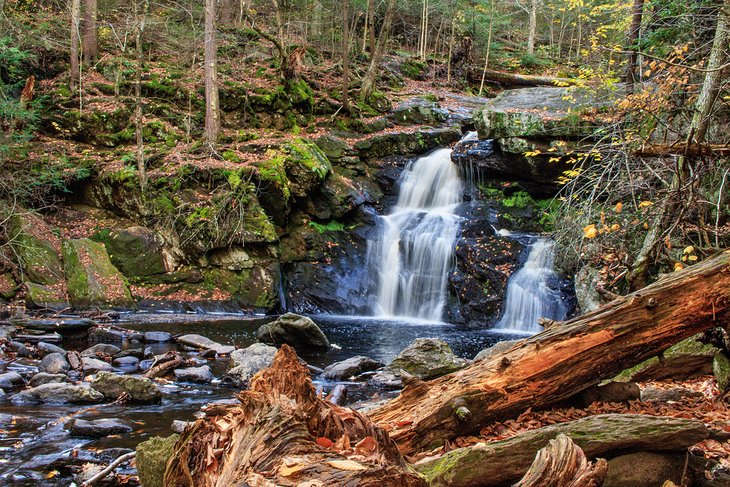 Enders Falls
The main reason to visit Enders Falls State Park can be found flowing freely, and serenely, near its center. Enders Falls is one of the best waterfalls in Connecticut. A series of five waterfalls, this glorious spot will help melt your worries away. Watching the water cascade to its final resting place, an inviting swimming hole, is meditative and refreshing.
The park itself is comprised mainly of woodland but is zigzagged with trails that entice visitors to hike through its vast expanse. With over 2,000 acres to explore, you'll want to stay for a while, so it's best to pack a few snacks and water.
Not a real outdoors person? Don't worry. The trails are well maintained and easy. Wear comfortable shoes, and you shouldn't have a problem, unless you don't watch where you step while you're snapping photos of the splendid scenery.
16. New London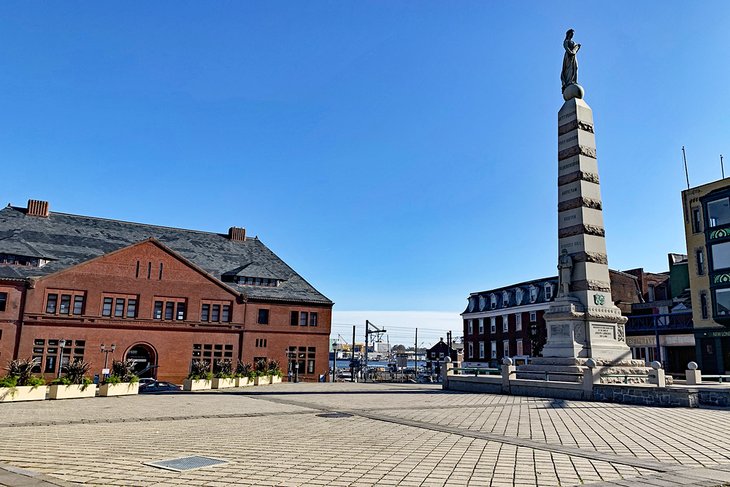 Soldiers and Sailors Monument in New London Parade Plaza | Photo Copyright: Shandley McMurray
Once a busy whaling Port, New London is now best known as the home of Ocean Beach Park. A giant outdoor wonderland, this park boasts an Olympic-sized swimming pool, waterslide, playground, arcade, mini golf, and concessions.
The town itself harkens back to days of yore, with its charming buildings (some date back to the 1790s) and the U-shaped historic district that highlights the downtown core and sits at the mouth of the Thames River.
Other popular tourist attractions and things to do include taking a Cross Sound Ferry Lighthouse or Mystic Whaler cruise, sniffing flowers at the Connecticut College Arboretum, and visiting Fort Trumbull State Park to learn about the area's maritime history and glimpse a lovely view of the river.
17. Wethersfield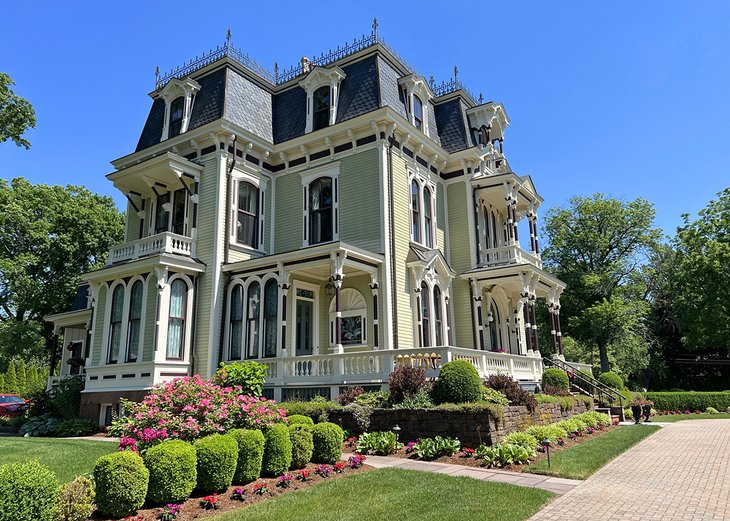 Silas W. Robbins House in Wethersfield | Photo Copyright: Shandley McMurray
As soon as you step foot in the adorable town of Wethersfield, you'll understand how it got its nickname: "Ye Most Ancient Towne." Founded in the mid-1630s, this historic town presents visitors with a chance to slow down and enjoy a day or two in a time when playing in nature was the best form of entertainment.
Located just south of Hartford and over eight miles from neighboring Glastonbury, this is likely the most charming New England town in Connecticut. More than 150 of its homes and buildings have been around since the colonial times. They lie in Connecticut's largest historic district and include museums, shops, restaurants, and other places worthy of a visit.
The Wethersfield Heritage Walk is three miles long and one of the best things to do in this quaint town. It passes the First Church of Christ, Hurlbut-Dunham House, Buttolph-Williams House, Webb-Deane-Stevens Museum, and Cove Park, among other important attractions.
If you're feeling hungry, stop for a healthy and delicious bite at Heirloom Market. It's set in the old, Comstock, Ferre & Co. building. Inside, you'll find a grocery store selling local, organic groceries and Baker Creek's heirloom seeds. There's also a café serving tasty dishes, juices, and coffees.
More Related Articles on PlanetWare.com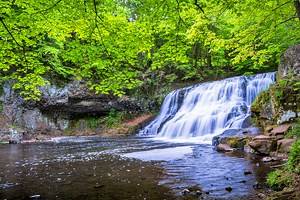 Other Places to Visit in Connecticut: Let's face it, there are a ton of great attractions in Connecticut – way more than would fit on our list. When you're finished checking out the awesome spots mentioned earlier, check out these spectacular waterfalls, jump in one of these sparkling lakes, or laze about on one of these sandy beaches.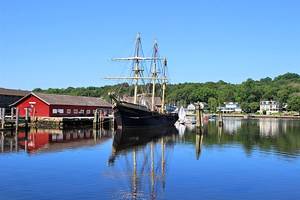 The Best Places to Visit for a Weekend in Connecticut: Some Connecticut marvels are too wonderful to see only fleetingly. Schedule at least two days for sightseeing in these popular weekend getaways.
19 Most Beautiful Places to Visit in Connecticut
Connecticut, also known as "The Constitution State", "The Nutmeg State", "The Provisions State" and "The Land of Steady Habits", offers some of the most beautiful and spectacular sights and places to visit! Just browse through these awesome pictures and be amazed by it's beauty. I had a lot of fun picking them out, let me know if you know of any places I could add…
Silver Sands State Park
Source: Jay Yuan / shutterstock Silver Sands State Park
Visiting Silver Sands State Park is a must for anyone who wants to experience Connecticut at its most beautiful. With a wide range of activities, such as swimming in Long Island Sound or the bird sanctuary of Charles Island, Silver Sands State Park is also located very close to the similarly superb Walnut Beach. Heron and egret rookeries are found at Charles Island, which can be reached by foot when the water is at low tide. The snowy owl and the rough-legged hawk are among the birds that can be seen at the bird sanctuary.
Wadsworth Falls State Park
Source: Jennifer Yakey-Ault / shutterstock Wadsworth Falls State Park
Wadsworth Falls State Park – which is sometimes just called Wadsworth Falls – is one of Connecticut's most beautiful natural locations. The falls themselves are a 1.25 mile hike away from the main entrance to the park, but the trek is not a difficult one and the views of the 30-foot falls are well worth a little effort. There are also many picnic and swimming facilities at the park. Grills for use in cook outs make Wadsworth Falls State Park particularly popular in the summer.
Greenwich
Source: James Kirkikis / shutterstock Greenwich, Connecticut
The largest town on Connecticut's Gold Coast, Greenwich is named after a borough in London and has previously been named among the Best Places to Live in the United States. The Greenwich International Film Festival is one of the town's most popular annual events, while the Bruce Museum and the Audubon Center are also worth visiting. Greenwich Avenue is a must for anyone who has a passion for shopping.
St Mary's By The Sea in Bridgeport, Connecticut
Source: LBSimms Photography / shutterstock St Mary's By The Sea In Bridgeport, Connecticut
St Mary's By The Sea in Bridgeport, Connecticut
Gillette Castle Park
Source: Collins93 / shutterstock Gillette Castle Park, East Haddam, Connecticut
Gillette Castle looks just like a medieval fortress and it is certainly one of the most visually interesting buildings to see in the state of Connecticut. Gillette Castle State Park was originally the home of the actor William Gillette, who was best known for his stage portrayal of the detective Sherlock Holmes. Today, the castle – which was called Seventh Sister – is listed on the National Register of Historic Places. Gillette Castle is also a Viewpoint Exhibit Host Site.
Old Saybrook
Source: Edward Fielding / shutterstock Old Saybrook, Connecticut
Old Saybrook is one of Connecticut's most historic places, and one of the state's most beautiful locations too. The Lynde Point Lighthouse is one of the most stunning landmarks in the town, while the Katharine Hepburn Cultural Arts Center and the General William Hart House are among the most popular tourist attractions in the area. Spending a relaxing day at Harvey's Beach is one of the best things to do in Old Saybrook, or anywhere in Connecticut, while families will love playing a game of Mini-Golf at Saybrook Point, which boasts breathtaking scenery.
Stonington
Source: Allan Wood Photography / shutterstock Stonington, Connecticut
Located on Connecticut's beautiful coastline, Stonington is a great place to visit to get away from the hustle and bustle of modern life. Home to some of the state's most historic buildings, such as Capt. Nathaniel B. Palmer House, Stanton-Davis Homestead Museum and the William Clark Company Thread Mill, Stonington is known for its intensely relaxing atmosphere. Stonington Vineyards and the town's Old Lighthouse Museum are well worth visiting.
Shore Line Trolley Museum
Source: Frank Hicks, aka Hicksco2 (talk) (Uploads) / Wikimedia Shore Line Trolley Museum
One of the best things to do in East Haven is definitely to spend a few hours at the Shore Line Trolley Museum. Exhibits on trolley history in the visitors' center are surprisingly fascinating, but the highlight of the museum is undoubtedly the chance to take a ride on restored trolleys along its 1.5 miles of track. Around 100 vintage transit vehicles are housed within the museum and all of them are beautiful in their own special way.
Iwo Jima Memorial
Source: Evan El-Amin / shutterstock Iwo Jima Memorial, Connecticut
No first-time visit to Connecticut would be complete without taking a detour to the US National Iwo Jima Memorial. The memorial was both conceived and designed by Dr. George Gentile, who was the founder and president of the Iwo Jima Survivors Association. Some 6,821 Americans lost their lives fighting on the last strategic stronghold before the planned invasion of Japan and among the features of the memorial park is an eternal flame dedicated to those brave soldiers.
Saville Dam
Source: Jennifer Yakey-Ault / shutterstock Saville Dam, Barkhamsted, Connecticut
Saville Dam at Barkhamsted Reservoir has a case to be named the most beautiful man-made structure in the state of Connecticut. The dam, which is named after its chief engineer, Caleb Mills Saville, is the primary water source for Hartford, Connecticut. The views that can be enjoyed from the dam simply have to be seen to be believed – they are absolutely glorious and unforgettable.
Yale University
Source: f11photo / shutterstock Yale University, New Haven
As one of the top universities in the United States, Yale is one of Connecticut's most important places. Located in the city of New Haven, the history of education at the site dates back for around 400 years. A walk through Yale's scenic and historic Old Campus provides some of the most stunning views in Connecticut, while guided tours are also available for those who want to learn more about the university. Yale also hosts many events throughout the year, from exhibitions and workshops to film screenings and performances – there is always lots going on at Yale.
Goodspeed Opera House
Source: Dan Logan / shutterstock Goodspeed Opera House
The Goodspeed Opera House is not just one of the most beautiful places in Connecticut, it is also one of the state's most important cultural institutions, as this is where some of the world's most famous musicals, including Annie, Man of La Mancha and Shenandoah were created. The Goodspeed Opera House is particularly beautiful at night, where the contrast between the white building and the dark swing bridge nearby is stunning. Tours of many of the Goodspeed facilities are available to visitors too.
Enders Falls State Park
Source: Jennifer Yakey-Ault / shutterstock Enders Falls State Park
Enders is mainly forest, but those who like to see waterfalls during their hikes in natural surroundings will also find lots to love at Enders Falls State Park. A walk alongside the gentle Enders Brook is one of the best things to do in the whole state. Campbell Falls State Park in Norfolk and Bigelow Hollow State Park in Union are also nearby for those who want to make the most of Connecticut's natural beauty.
Kent Falls State Park
Source: Jeff Holcombe / shutterstock Kent Falls State Park
Kent Falls is a designated Trout Park, but there is a lot more to Kent Falls State Park than fishing. A replica of a covered bridge is one of the many must-see highlights at Kent Falls, which has lots of opportunities for hiking and picnicking. As for the falls themselves, they are absolutely sublime, with water dropping for around 250 feet over a distance of a quarter of a mile. The largest of these drops is around 70 feet and the overall effect of the waterfall is truly amazing.
Campbell Falls State Park
Source: Jeff Holcombe / shutterstock Campbell Falls State Park
Campbell Falls State Park is one of the most undeveloped areas of parkland within the state of Connecticut, which makes it an ideal place to visit for those who want to see nature at its most unspoiled. The park crosses the border with Massachusetts and there is even a stone within the grounds to mark where the two states meet. The park's namesake waterfall cascades nearly 100 feet and is a truly stunning sight when the water is in full flow.
Guilford
Source: LEE SNIDER PHOTO IMAGES / shutterstock Guilford, Connecticut
Guilford is a must-visit location for anyone vacationing in Connecticut, with the town having been named one of the top 100 places to live in the United States. Henry Whitfield State Museum and Bishop's Orchards are two of the best things to do in Guilford, while families can enjoy hours of fun at Shoreline Segway. Time should also be taken to visit Faulkner's Island Lighthouse, Elisha Pitkin House and Thomas Burgis II House during a trip to Guilford, while Lake Quonnipaug is one of the most beautiful places to chill out in the area.
10 Best Places to Visit in Connecticut
Divided in two by the Connecticut River that runs through it, the state of Connecticut is a beautiful place to explore that is all too often overlooked by visitors, who instead head to nearby New York or Boston. This means that you can see the authentic side of New England without the crowds, and there certainly is a lot for you to experience.
As it was one of the original 13 colonies, the state is home to many of the country's oldest towns and settlements. As such, there is a myriad of fascinating historical tourist attractions and cultural landmarks, with many of the best places to visit in Connecticut relate to the area's rich seafaring past.
With many of its main cities to be found on the Long Island Sound, there is a gorgeous stretch of scenic shoreline for you to discover, while many excellent state parks lie waiting in its interior.
10. Hammonasset Beach State Park [SEE MAP]
rickpilot / Flickr
Home to the largest beach in the state, Hammonasset Beach State Park is a great place to head to if you just want to kick back, relax, and lounge on its inviting sands while taking in some rays. Although it is a popular place to visit, especially in summer, there is more than enough sand to go around: there is a very peaceful and relaxing feel to it, as it never gets too crowded.
In addition to its expansive beach, the state park has loads of enjoyable recreational activities for you to enjoy, with cycling, hiking, and camping all popular pastimes. Its tranquil waters lend themselves perfectly to swimming, fishing, and boating.
While visiting Hammonasset Beach State Park, it is well worth stopping by the Meigs Point Nature Center to explore its saltwater marshes and catch a glimpse of some of the beautiful birds and wildlife that call the area home.
9. Gillette Castle State Park [SEE MAP]
© Jeff Schultes / Dreamstime
Very impressive and distinctive to behold, Gillette Castle was designed and built between 1914 and 1919 by the actor William Gillette, after who it is named. Now a popular tourist destination, the "medieval castle" once acted as his private residence, and the interior is just as unique and special to gaze upon as its exterior.
Inside is full of amazing treasures and oddities, such as carved wooden light switches and Steampunk-like door latches with secret doors, passageways, and custom-built furniture also on show.
Spreading away from the castle is a lovely state park full of elegant gardens and beautiful woodland, with lots of great hiking trails for you to stroll along. Views from the castle of the surrounding grounds are simply stunning.
8. Norwalk [SEE MAP]
© Jeffrey Klein / Dreamstime
Lying on the banks of the Norwalk River, just a stone's throw away from the Atlantic Ocean, the town of the same name boasts a proud maritime history. It's along its crumbling but lively waterfront that you can find most of its main attractions.
While there are lots of shops, restaurants, and bars for you to delve into, alongside a couple of museums and art center, the undoubted highlight is its aquarium, which is home to lots of brightly colored fish and marine mammals. There's also an IMAX cinema on offer.
Due to its proximity to New York, you can easily get in and out of the city in no time at all, and New Haven isn't far away if you want to simply stop by Norwalk on your way from one to the other.
7. Silver Sands State Park [SEE MAP]
© Ritu Jethani / Dreamstime
Located on Long Island Sound in the city of Milford, Silver Sands State Park encompasses a huge variety of different landscapes and ecosystems; woods, marshes, dunes, and beaches are all found hugging the Atlantic Ocean shoreline. The wild and rugged scenery is beautiful, and there are loads of great hiking trails for you to explore that meander their way through the state park.
A delightful place to take a picnic or go swimming in the sea, Silver Sands State Park has a very peaceful feel to it, and lots of different types of birds can be seen swirling in the cool breeze that sweeps in from the Atlantic.
While it can be tempting to cross the sandbar to the far-off Charles Island, make sure to check when the tides are, as you don't want to be left stranded there overnight!
6. Stamford [SEE MAP]
© Ritu Jethani / Dreamstime
Due to its proximity to New York, Stamford is home to lots of large corporations and a number of Fortune 500 companies. In recent years, this has helped see an increase in fine dining options, with lots of great shops and bars also popping up.
Lying along the Long Island Sound coastline, the state's third-largest city is a pleasant place to spend some time. Wandering around its downtown area feels like you're in New York itself due to its lively feel and multicultural make-up.
There is certainly a lot for you to see and do in Stamford, with plenty of recreational activities, parks, and beaches for you to check out at Cove Island Park and Cummings Park. In addition to this, the southernmost part of the city, Shippan Point, has some impressive architecture, as well as great views of Long Island.
5. Stonington [SEE MAP]
© Cynthia Farmer / Dreamstime
Founded all the way back in 1662, the small town of Stonington is remarkably the oldest settlement in Connecticut and is well worth visiting if you're looking for a quiet, peaceful getaway.
As it is located on an indented stretch of coastline with both Mason's Island and Fischer's Island lying not too far offshore, it should come as no surprise to learn that Stonington boasts a rich maritime history. One of its main attractions is its beautiful old lighthouse that once warned fishermen of the perilous coastline ahead.
With lots of old sea captain's cottages also on show, the town is very charming to wander around and boasts lovely views out over the sea. On top of all this, several wineries can be found in the area; it is well worth trying some of the region's delicious local wines and produce if you have the chance.
4. New London [SEE MAP]
© Ritu Jethani / Dreamstime
Due to its strategic location at the mouth of the Thames River, just where the Long Island Sound meets the Atlantic Ocean, New London has long been an important seaport, and this rich seafaring past is evident wherever you go in town.
While its heyday has long been and gone, there is still lots of magnificent architecture scattered about here and there. The US Coast Guard Academy and US Naval Submarine Base are still located in town.
The city's one-time wealth is still evident in some parts of New London, with interesting historical sights and cultural landmarks related to its whaling past and important role during the American Revolutionary War all on display.
3. Mystic [SEE MAP]
© Allard1 / Dreamstime
A very popular place to visit in Connecticut among both locals and tourists alike, the historic seaport of Mystic is full of fantastic things to see and do, and its beautiful harbor really is picture-perfect.
Straddling the banks of the Mystic River, the town used to be one of the most important shipbuilding ports and whaling centers in the country – as such, wealth poured in from all around the US.
As a result, there is some lovely architecture nestled alongside its many waterways, with picturesque marinas full of yachts and boats also on show. Mystic's rich maritime heritage really shines through wherever you go; its wonderful Seaport Museum is not only the most popular attraction in town, but the state at large. It is also well worth checking out the town's fantastic aquarium and the majestic historic vessels that are tied up in port.
2. Hartford [SEE MAP]
© Laura Stone / Dreamstime
The state capital of Connecticut, Hartford lies at the center of the Knowledge Corridor, which stretches to Springfield in Massachusetts. All in all, there are a remarkable 29 colleges and universities found in the area, with around 120,000 students split between them.
Indeed, the city has always been closely connected to learning and the written word. Its once-thriving publishing industry attracted such renowned names as Mark Twain and Harriet Beecher Stowe to Hartford.
As well as visiting interesting museums dedicated to the life and works of these famous authors, visitors can also enjoy the many magnificent old buildings found around town. Among the most impressive are the beautiful State Capitol building, Old State House, and the Governor's Residence.
As it is one of the oldest cities in the whole of the US, there are loads of significant historical sights and cultural landmarks scattered around Hartford for visitors to check out.
1. New Haven [SEE MAP]
© F11photo / Dreamstime
The second-largest city in Connecticut, New Haven is famous for being home to the prestigious Yale University; its wealth of impressive buildings and pretty parks are what most people come to see. Taking a tour around the 300-year-old campus is simply a must. It has a fantastic art gallery as well as some brilliant museums, monuments, and libraries.
While most of New Haven's main attractions are found at the Yale University campus, it is well worth venturing further afield, as there are lots of great shops, restaurants, and bars to be found around its lively downtown area.
In addition to this, the nearby state parks of West Rock and Sleeping Giant offer up a plethora of great outdoor activities, with hiking and cycling being particularly popular. All in all, New Haven is a wonderful place to visit with a lot going for it.
Map of the Best Places to Visit in Connecticut
© OpenStreetMap © MapTiler © Touropia
Source https://www.planetware.com/connecticut/best-places-to-visit-in-connecticut-us-ct-43.htm
Source https://www.thecrazytourist.com/most-beautiful-places-to-visit-in-connecticut/
Source https://www.touropia.com/best-places-to-visit-in-connecticut/