12 AMAZING Places to Visit in Catalonia!
With so many places to visit in Catalonia, it's a shame that more people don't venture outside of Barcelona when they visit the region.
Sure, Barcelona is a fantastic city with lots to see and do, but there's a lot more to see in Catalonia! Girona is one of the most beautiful cities in Spain, while towns such as Calella and Tossa de Mar have some amazing beaches on the Costa Brava.
It could be argued that the places to visit outside of Barcelona are the best in Catalonia. Besalu is an incredible spot with some magnificent architecture. Hiking to the top of Montserrat is another trip that will leave you speechless!
The truth is that with so many things to do in Catalonia, you're restricting yourself if you just visit Barcelona and neglect the rest of the region. That's why I've decided to compile this list extolling the virtues of Catalonia!
Here are the best places to visit in Catalonia, as far as I'm concerned!
Places to visit in Catalonia
Barcelona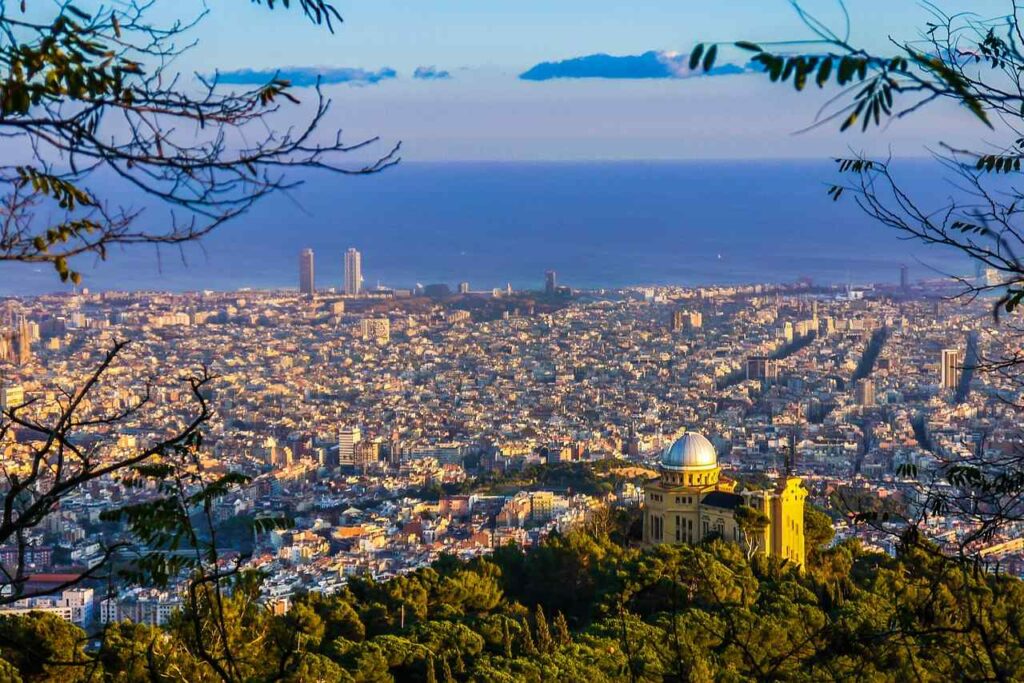 Barcelona is one of the most popular places in Catalonia and for that reason, it has to be included on the list. Despite getting more attention than the rest of the region, it's still somewhere you have to visit.
The city is one of the best in Spain and whether you spend 3 days in Barcelona or longer, you'll enjoy yourself. The sights here are varied and incredible. From the towering Sagrada Familia to more of Gaudi's masterpieces such as Casa Mila, there's a lot to see.
You can also head to the beach at Barceloneta and relax, a short stroll from the city centre. You won't find too many cities around the world with a beach on its doorstep!
With so many things to do in Barcelona, you could stay for a week and not see everything. Barcelona is a great place to bar yourself if you want to see the rest of Catalonia and it's a good starting point for a trip around the region!
Girona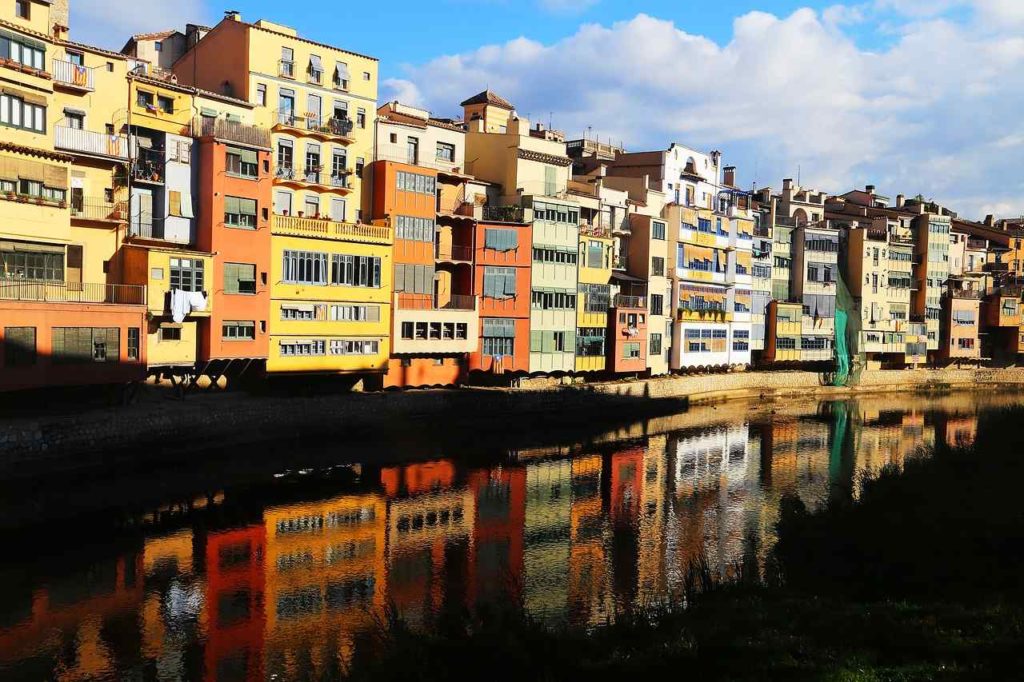 After Barcelona, Girona is probably the most well-known destination in Catalonia. It may not be as big or have the beaches that Barcelona does, but it's an impressive place nonetheless.
Despite its small size, there are plenty of things to do in Girona. You can visit the towering cathedral that was featured in the Game of Thrones series. Walk along the Roman Walls and visit some of the best restaurants in Spain.
Girona is a beautiful place. Walking around the narrow streets of the Jewish Quarter and checking out the old buildings and museums is a lot of fun.
It's easily one of the best places to visit in Catalonia due to the wealth of things you can do here. For its history and architecture alone, it's worth a visit!
Tossa de Mar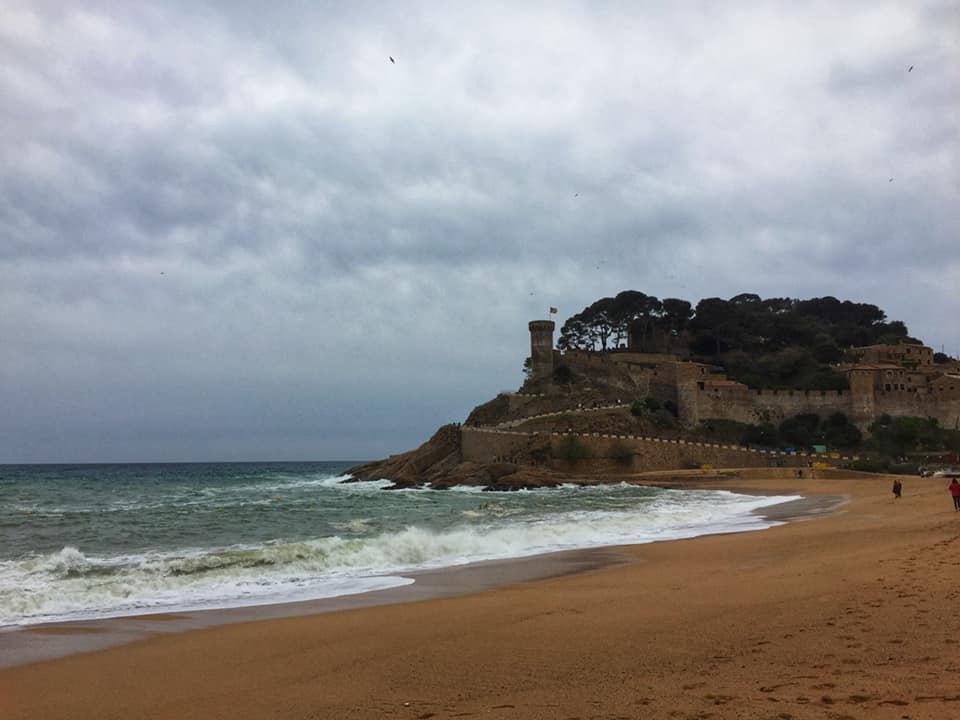 Tossa de Mar is without a doubt one of the best places to visit in Catalonia. This beachside town is a picturesque location and one that attracts visitors from far and wide.
The beach here is incredible and easily one of the best in the country. A castle is at the side of the beach and makes for an epic picture and offers some great views from its towers.
The town is a great place to explore with lots of shops, restaurants and cafes to check out. While there are several historical sights to see as well as the castle such as the old town.
The only downside is that there is no train direct to Tossa de Mar. To get there you'll either need to rent a car or take a bus from Barcelona.
Calella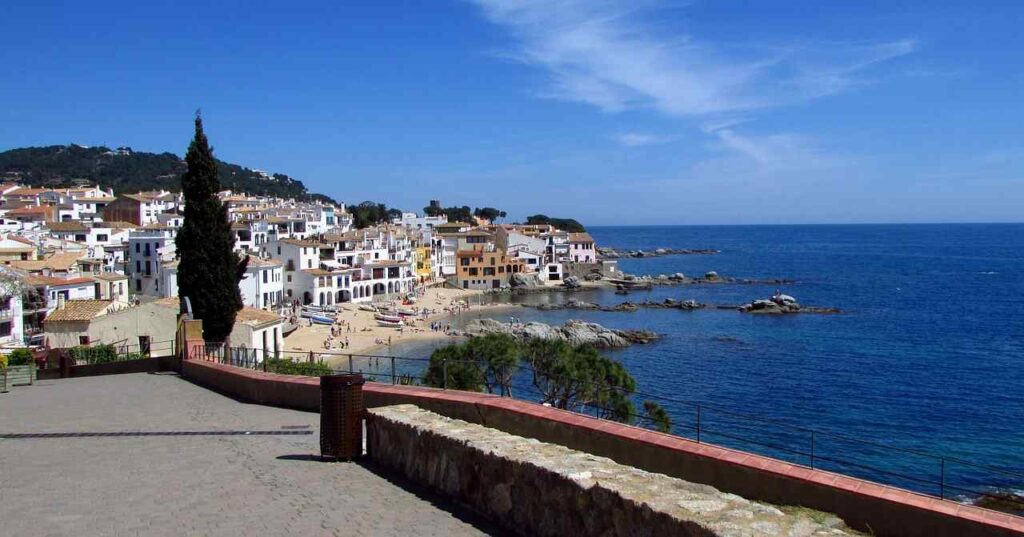 Calella is a seaside city located north of Barcelona. It's one of the best day trips from Barcelona due to its proximity to the city and its beautiful beaches.
It doesn't take long to get to Calella from Barcelona at just under an hour. it's worth it if you want to visit some of the best beaches in Catalonia and escape the hustle and bustle of Barcelona.
Playa Roca Grossa is one of the best in the city and worth checking out. While the lighthouse of Calella is another spot worth visiting.
Calella is a beautiful place and if you're looking to relax in the sun or explore a lesser-known part of Catalonia, this is one of the best places to go!
You might also like:
Besalú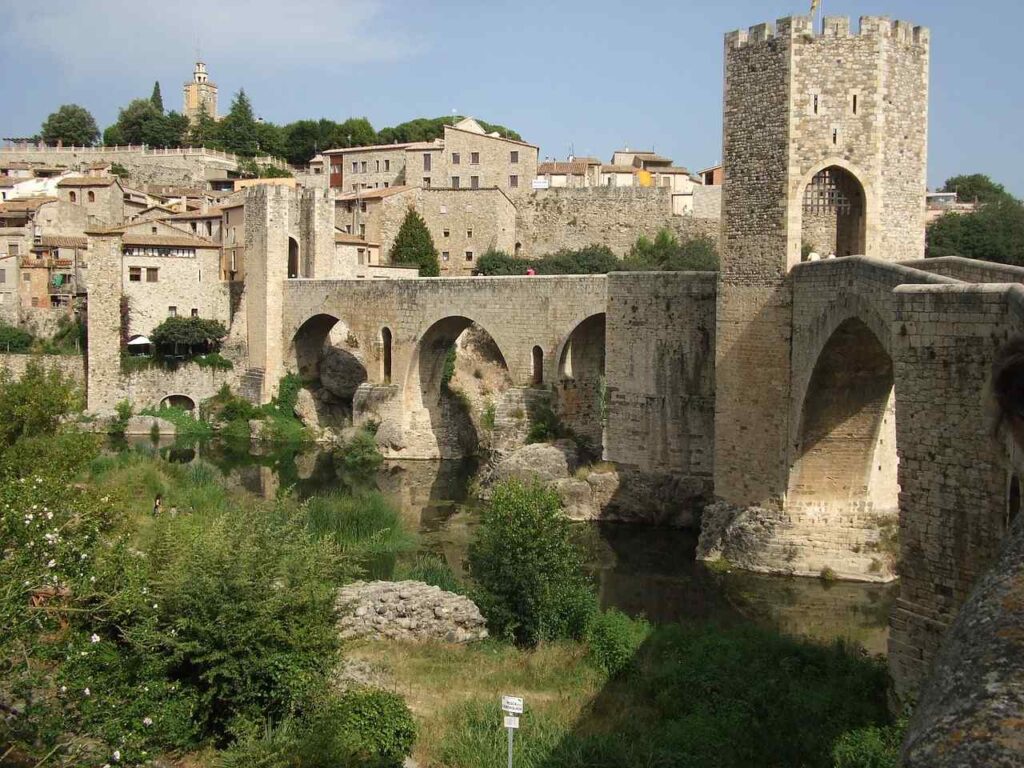 Besalú is a town located close to Girona that is one of the most scenic places in Catalonia. This is due to the medieval architecture in the city which is incredible.
The most striking piece of architecture is the Romanesque bridge which is jaw-dropping. The bridge serves as a conduit to the rest of the town and it's hard not to imagine what it would have looked like hundreds of years ago.
Another prominent feature of Besalú is the fortress which sits atop a huge hill, which is thought to have been an ancient volcano.
The best thing about visiting is strolling around the streets and admiring the medieval architecture. It can feel like you're in a Lord of the rings film while doing so! Catalonia has many great places to see, but there aren't many like Besalú!
Montserrat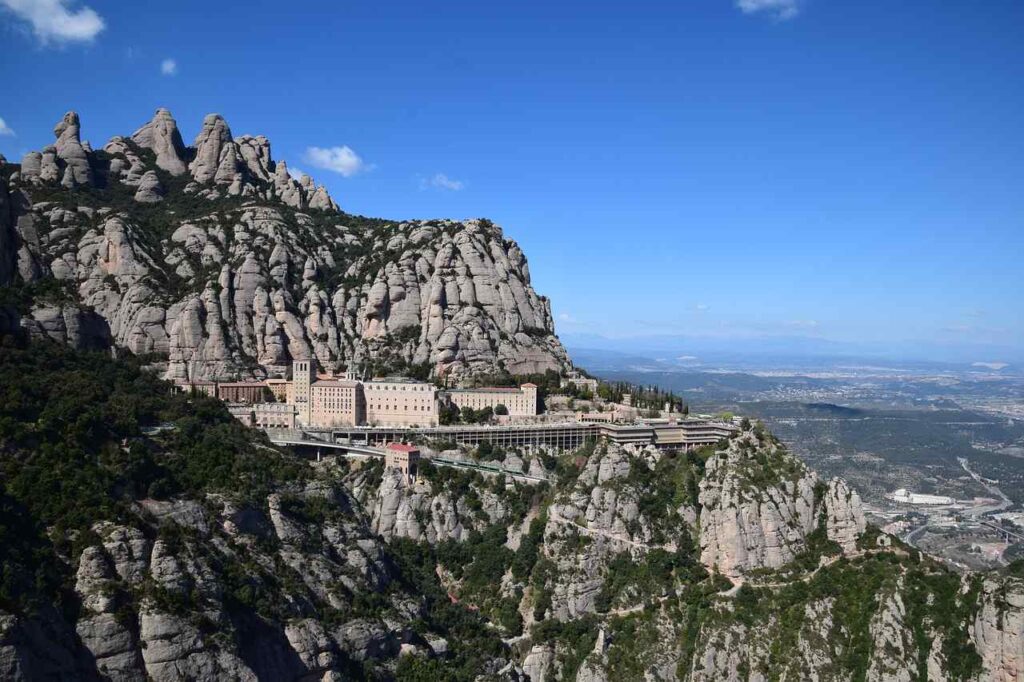 Montserrat is one of the most visually impressive places in Spain, never mind Catalonia. The distinctive rock formation is visible from afar and only becomes more impressive the closer you get to it.
It's a favourite destination for people spending the day outside Barcelona. Hiking around Montserrat is a great way to see the wider area and you can check out the monastery that was built there too.
Built in 1025, it became notable due to several miracles that have been purported to occur here, and as such, it became an important place of pilgrimage.
As well as the monastery there is an art museum, which contains numerous treasures and fantastic paintings. but perhaps the best part of a trip to Montserrat is the amazing views you get off Catalonia from the top of the mountain!
Figueres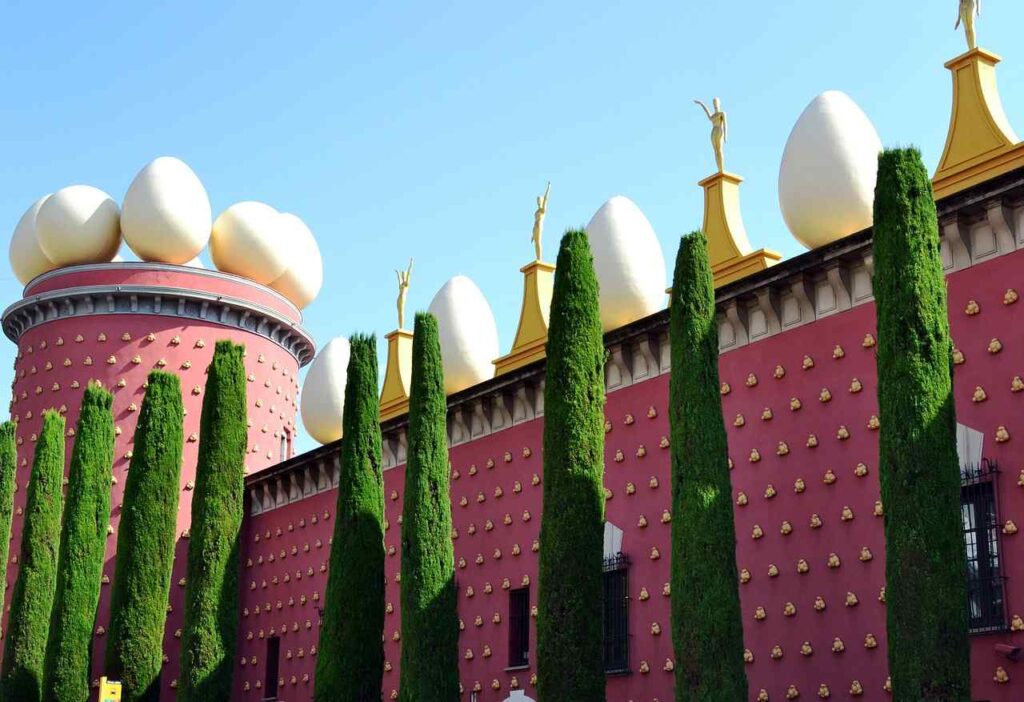 Figueres is famous for its association with the artist Salvador Dali, and it's this that makes it one of the most interesting places to go in Catalonia.
The main attraction in the town is the huge Salvador Dali museum. The building itself is an attraction due to its unusual appearance. The red exterior and eggs on the roof mark it as an unusual and unforgettable building!
Inside you'll find a wide assortment of Dali's works, which show how wide-ranging his creativity was. You can't visit Figueres and not check out the museum! Even if you're not a fan of art.
You'll find several other museums in Figueres too and the impressive Castell de Sant Ferran. If you're thinking of doing a road trip in Catalonia, Figueres is somewhere you have to include!
Cadaqués
Cadaqués is simply one of the best places to visit in Catalonia. It's a beautiful seaside town on the Costa Brava. This scenic town is well worth visiting.
You'll find lots of whitewashed houses hugging the bay, which give it a very distinctive Mediterranean feel. It's an incredible sight and a walk along the bay is a must when you're in town.
Similar to Figueres, the town has a history with Dali. He had a holiday home in nearby Portlligat, which has now been turned into a museum. If you're into art or a fan of Dali, it's worth visiting.
Another place you should check out while you're in Cadaqués is the Cap de Creus National Park which has a fantastic unspoiled beach that is perfect to visit on a sunny day!
Tarragona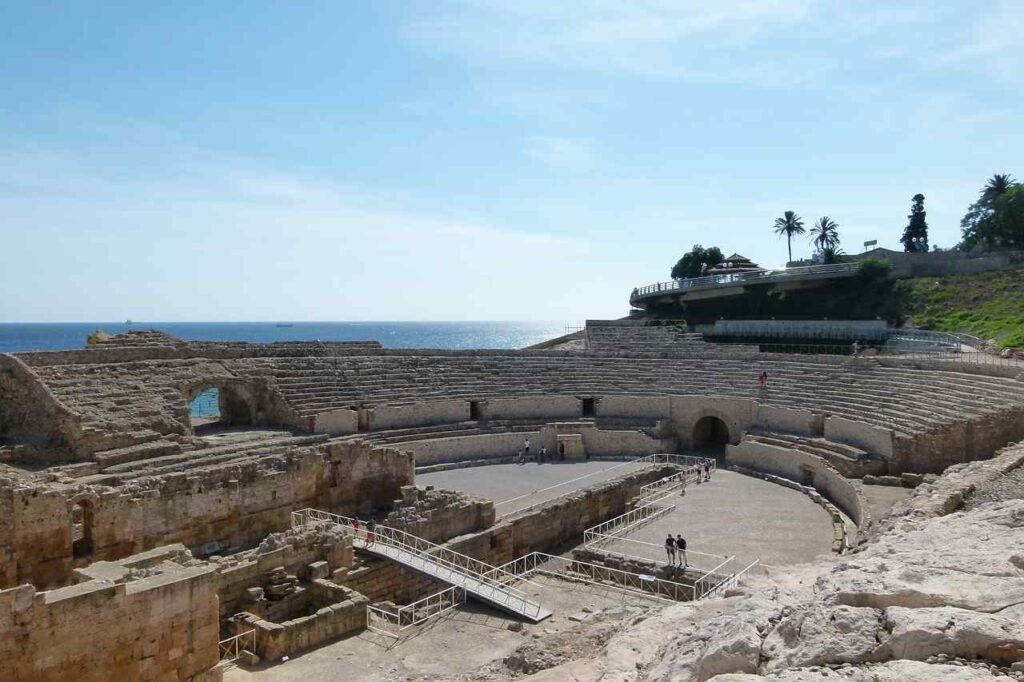 Visiting Tarragona is easily one of the best things to do in Catalonia. The city is located to the south of Barcelona on the Costa Daurada and is a beautiful place close to the beach with a lot of history.
The city dates back nearly four thousand years and was a prominent settlement during the Roman occupation. This is evidenced by the Tarragona Amphitheatre which is close to the sea. It's an incredible sight and although not as impressive as the Colosseum is when you visit Rome, it's still amazing!
As well as the amphitheatre, there are multiple Roman sighs for you to check out such as the walls, Necropolis and Palace of Augustus. You could easily spend a whole day visiting all these places.
Tarragona has many beaches and it's a great place to come if you want a relax and spend a day in the sun! If you're doing a Barcelona to Madrid road trip, it's a great place to stop along the way!
Sitges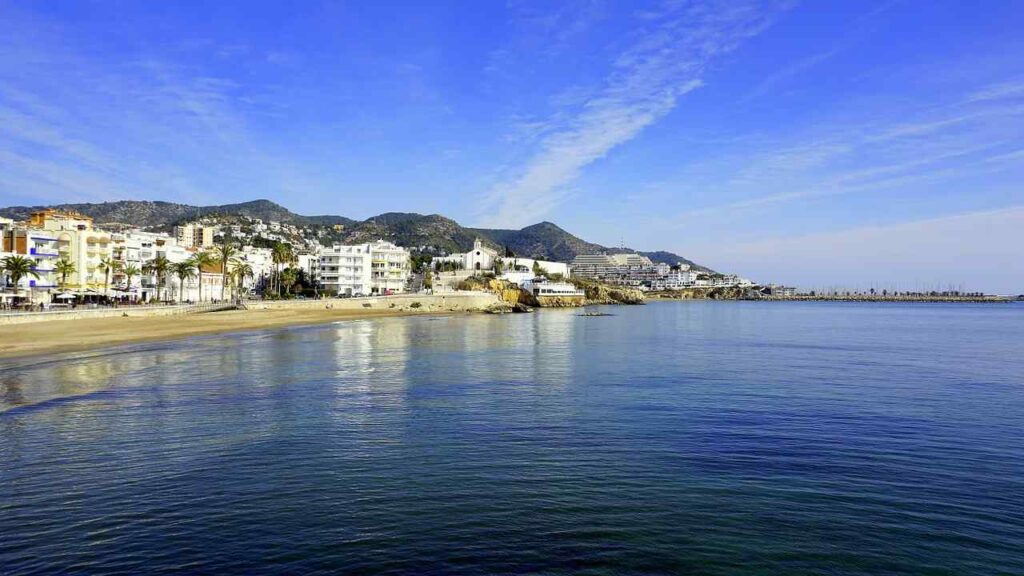 Sitges is another seaside destination in Catalonia and one that you should check out if you visit Barcelona. It's a 40-minute train ride from the city and is an ideal place to explore for the day.
The beaches in Sitges are great! Platja de Sant Sebastià is a small but nice beach, while Platja la Bassa Ronda is the LGBT-friendly beach that gets busy during the summer.
As well as the beaches, Sitges has a lot of cultural sights to check out. The Museu Can Ferrat has some great pieces of art by the Catalan artist Santiago Rusiñol, while the Old Town has a lot of interesting buildings such as the Church of Sant Bartomeu to discover!
Sitges has a lively nightlife scene and also holds a film festival once a year. If you're looking for a good place to party in Catalonia, there aren't many better spots than Sitges!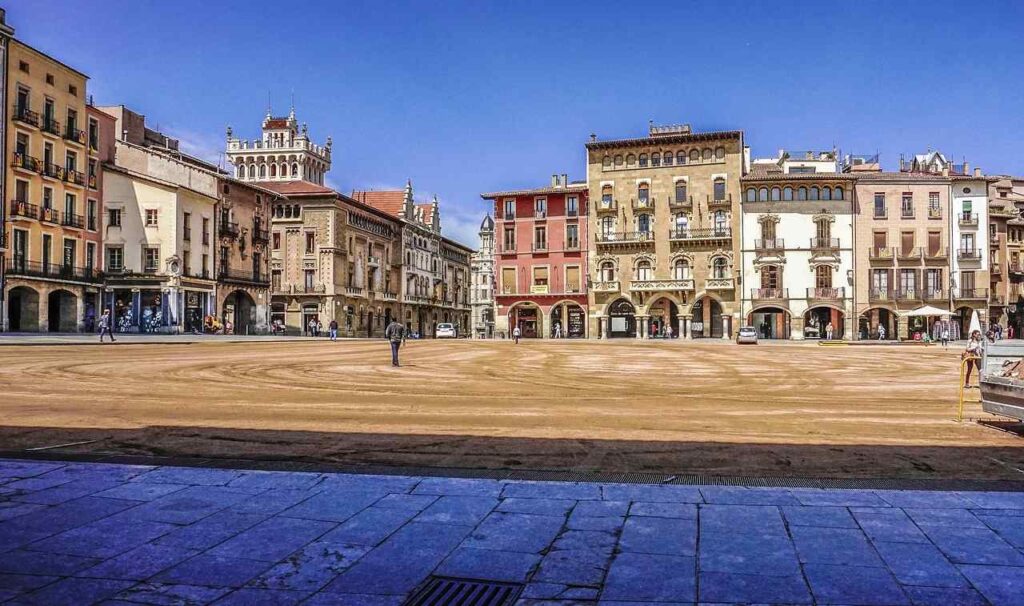 Vic is a city located in the interior of Catalonia, 69 km (43 mi) from Barcelona. It's an ancient city with a lot of great architecture and museums to visit.
The Catedral de Sant Pere is one such building. Due to multiple restorations, it's an amalgamation of different styles with a neoclassical exterior from the 18th century and a seven-story Romanesque bell that has survived since the 11th century.
It's a building worth visiting, as is the Museu Episcopal, which houses some magnificent pieces of art from a wide range of eras.
There's no beach at Vic, so I'd only visit if you're interested in the cultural sights. However, if you are, you won't be disappointed. Vic is a lovely city and undoubtedly one of the best places to visit in Catalonia!
Montseny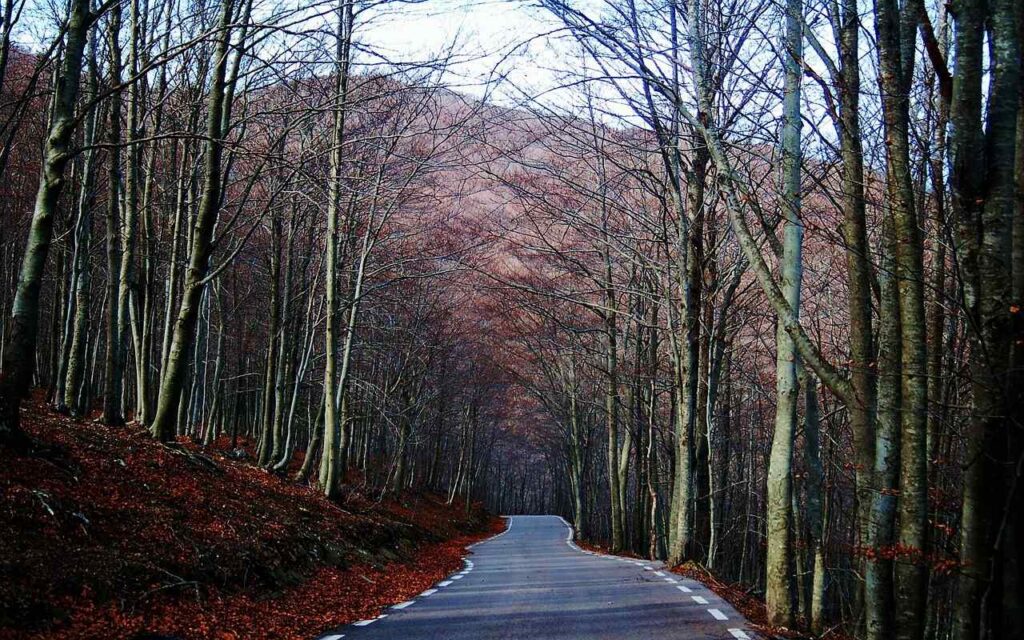 If you're for somewhere to visit in Catalonia where you can head out into nature, Montseny is one of the best places.
Montseny is home to a natural park that is ripe for exploring. You can go hiking in the mountains, mountain biking, or just walk and admire the views.
The park is characterised by sharp changes in terrain, which can change in altitude dramatically after a few hundred metres. Rivers and cliffs are commonly found as you walk around.
The park is also home to numerous megalithic structures, some of which date from Roman times. You can find a lot of them on the via August and via Austa walkways.
How to get around Catalonia
The best way to get around Catalonia is by train. The network in Catalonia is fantastic and most of the best spots can be reached fairly easily.
Trains leave regularly from Barcelona and you can hop on the regional trains from most major stations in the city. Some of the locations are outside of zone 1, which means they will cost more.
Four zones exist in and around Catalonia and the further out you get, the most expensive the trip. However, as some of these trains are on the high-speed network, it's worth the money, as you get there very quickly.
The other way to get around Catalonia to rent a car. this is a good option if you want to visit places like Tossa de Mar and Cadaques, which doesn't have a train station.
Buses do operate around Catalonia too, but they aren't as quick as the train network. Unless you want to visit somewhere such as Besalú, then I'd stick to the train!
Best time to visit Catalonia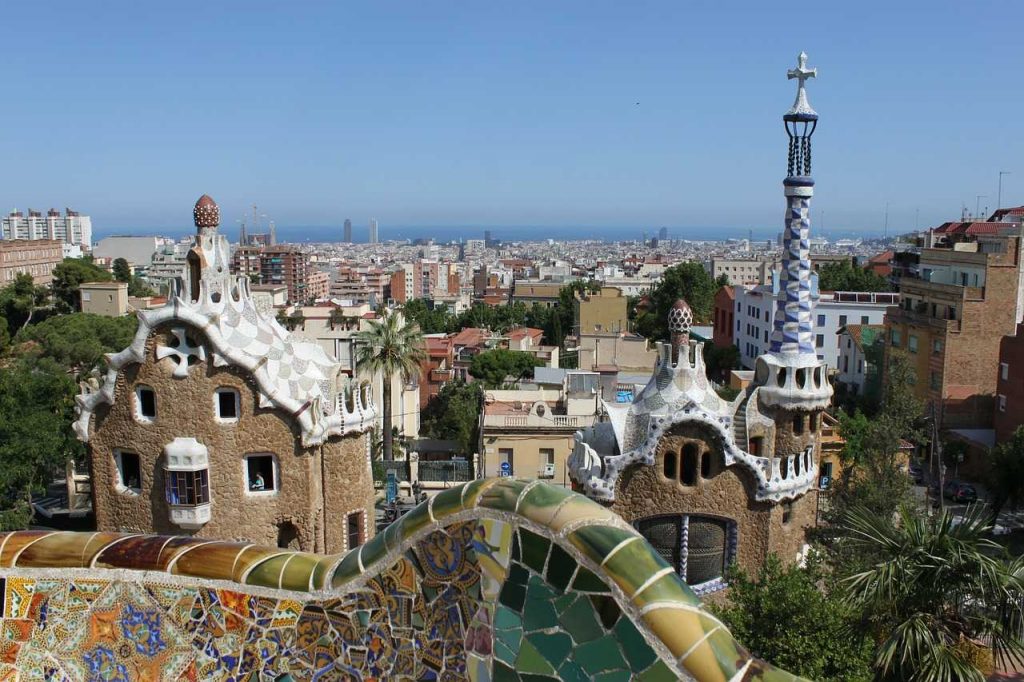 Despite being renowned as a sunny destination, Spain has a lot of variance when it comes to weather and Catalonia is no different.
Temperatures can vary from season to season and from place to place. As a general rule, it's warmer on the coast than it is inland.
This means it's a lot colder in somewhere like Vic during winter than it is in Barcelona. while during summer, a beachside town like Tossa de Mar is warmer than Montseny.
As someone that lived in Barcelona for two years, summer is better than winter. That goes without saying. It's much warmer and you can enjoy the outdoors. It can get very cold and wet in Catalonia during winter.
That said, there are fewer tourists at this time of the year, but you won't be able to places such as Calella and Tossa de Mar. Places such as Girona and Vic are better options during winter.
A good idea to avoid crowds and the heat of summer is to visit during spring or autumn. It's not as busy tourist wise and the temperatures, while warm, aren't ridiculously hot.
I couldn't nail down when the best time of the year to visit Catalonia would be, but anytime from March to October is a good time to visit!
Need Travel Insurance?
You can buy and claim online, even after you've left home. Travel insurance from WorldNomads.com is available to people from 140 countries. It's designed for adventurous travellers with cover for overseas medical, evacuation, baggage and a range of adventure sports and activities.
Pin for later
Tom is a travel addict who first left England to spend a year Down Under. Not satisfied with this, he then went to New Zealand, about as far away from home as he could get. He is now planning his next adventures in Europe and Canada while maintaining this blog.
17 Best Places to Visit in Catalonia
Bordered by the mountains and the Mediterranean Sea, Catalonia is a traditional region of Spain that is fiercely proud of its unique culture. Barcelona is the most-visited destination. This colorful seaside city is full of attractions and things to do, with a captivating medieval quarter, surprising modernist architecture, and a vibrant urban culture.
Rivaling Barcelona in historic importance are Girona, with its medieval heritage, and Tarragona, a former Roman capital. Further afield, in the idyllic countryside of verdant valleys and gently rolling hills, tourists can discover quaint medieval towns; picturesque seaports; and quiet country villages, where chirping birds and church bells are the loudest noises.
The Catalan coast delights sun-worshippers with seaside destinations such as the upscale resort of Sitges and the secluded coves of Cadaqués, on the Costa Brava, and the calm waters of the Costa Daurada. Every stop along the way, the local gastronomy will tempt visitors with local specialties like Esqueixada, a salad of peppers, tomatoes, and salt cod.
Plan your travels through this captivating region with our list of the best places to visit in Catalonia.
1. Barcelona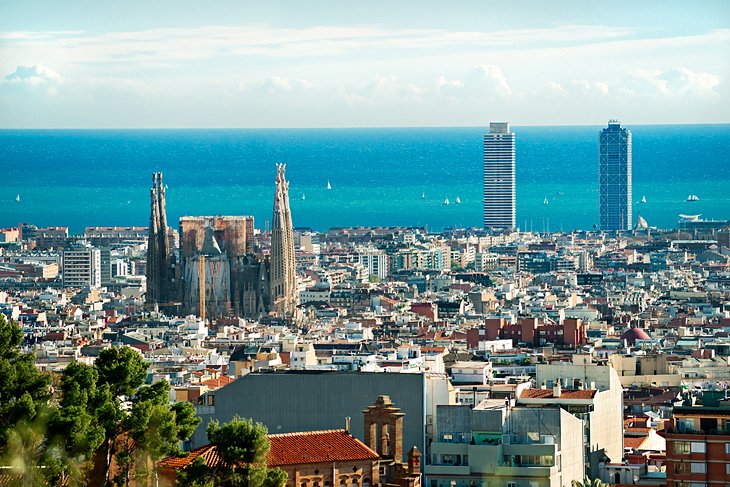 Barcelona
Sunny and happening Barcelona offers gorgeous Mediterranean scenery combined with bustling urban energy. This flamboyant city is Spain's second largest city, as well as the capital of the Catalonia region.
The Barri Gòtic (Gothic Quarter) is the most atmospheric area of the Old Town, a delightful area of impossibly narrow streets, ancient alleyways, and quiet squares where locals gather to socialize. Street musicians are often found here playing classical Spanish guitar, adding to the magical ambience.
Outside the old town are broad, tree-lined avenues that lead to the beautiful beaches along the harbor. Barcelona's most lively thoroughfare is La Rambla, a tree-lined street with many shops and outdoor cafés. La Rambla is at the center of the city's social life and buzzes with activity day and night.
While strolling La Rambla, tourists should be sure to admire the Güell Palace (Palau Güell), which is a masterpiece of avant-garde architecture by Antoni Gaudí. This UNESCO-listed Historic-Artistic Monument was designed as a private residence for the Güell family in the late 19th century.
Other must-see landmarks created by Gaudí are the Basílica de la Sagrada Família, a surreal place of spiritual worship, and the UNESCO-listed Park Güell, a public park featuring fantastical benches and whimsical fountains decorated with colorful ceramic fragments.
Barcelona is famous for its cultural attractions and boasts over 50 top-notch museums. Popular museums are the Museu Picasso, which displays an in-depth collection of Picasso's artworks from his early years, and the Museu Nacional d'Art de Catalunya, which presents a well-rounded collection of Romanesque art, Gothic art, Renaissance and Baroque paintings, Catalan modernist art, and photography.
Gastronomy is another draw for many visitors. Barcelona has 20 Michelin-starred restaurants. For a delectable Catalan gastronomic experience in between sightseeing, gourmands can treat themselves to a meal at the two-star Michelin-rated Moments Restaurant on the elegant Passeig de Gràcia (number 38), a few steps away from Gaudi's Casa Batlló and a few blocks from the Casa Mila, the most famous mansion designed by Gaudi.
2. The Costa Brava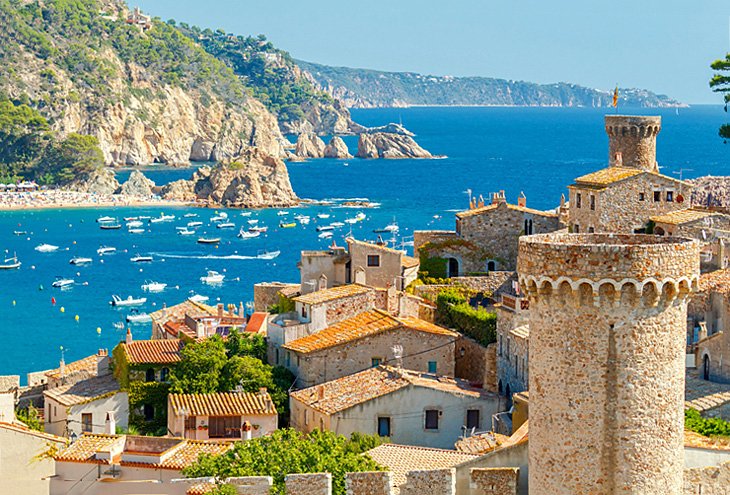 The Costa Brava
Stretching north east from the coves and beaches of Blanes to Catalonia's border with France, the Costa Brava is Spain's most scenic coastline. This 1,240-mile coast of ragged cliffs and idyllic beaches is one of Europe's favorite seaside playgrounds, and its pretty little whitewashed towns have lured artists including Dalí, Picasso, and Marc Chagall.
Sandy beaches, like the one at the colorful old fishing village of Calella de Palafrugell, are tucked into coves beneath the cliffs, and other towns, such as Santa Susanna, have a choice of several beaches, from busy strands filled with sunbathers and kiosks to quiet coves and beaches equipped for watersports and sailing.
3. Montserrat Monastery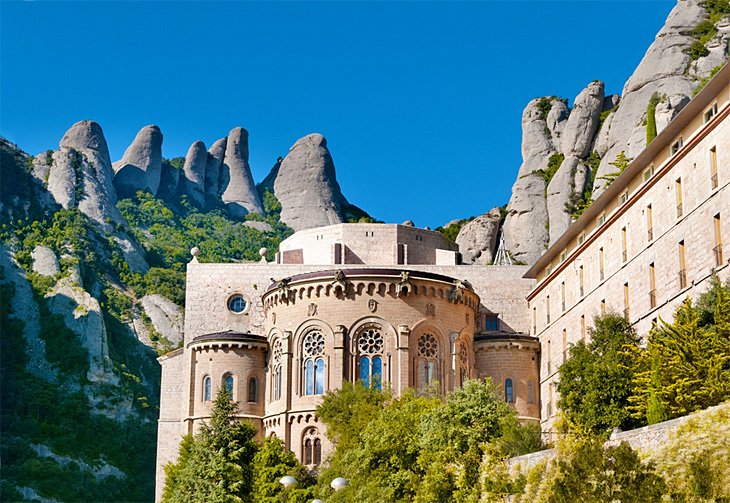 Montserrat Monastery
The magnificent Benedictine monastery of Montserrat sits atop a rocky crag, surrounded by fantastically eroded cliffs. This striking natural site has an otherworldly and soul-inspiring feel.
A cable car transports visitors up the mountain (over 500 meters in elevation) to the monastery. From its lofty vantage point, the views of the Catalonian countryside are breathtaking.
The monastery's history goes back to 1025, when it was founded at the site of the little mountain hermitage of Santa Maria de Montserrat. Soon, word spread of miracles performed here by the Virgin, and the monastery grew into an important place of pilgrimage.
The 12th-century carving of Our Lady of Montserrat, known as "La Moreneta" ("The Black Madonna"), is still venerated here by the faithful, and today Montserrat is one of Spain's biggest tourist attractions.
The monastery complex includes a church, library, and a museum of fine art. Visitors will also appreciate the on-site restaurant and cafeteria. Travelers spending the night can stay at the three-star Hotel Abat Cisneros , which occupies an updated monastery building that has served as a pilgrims' hostel since 1563.
4. Girona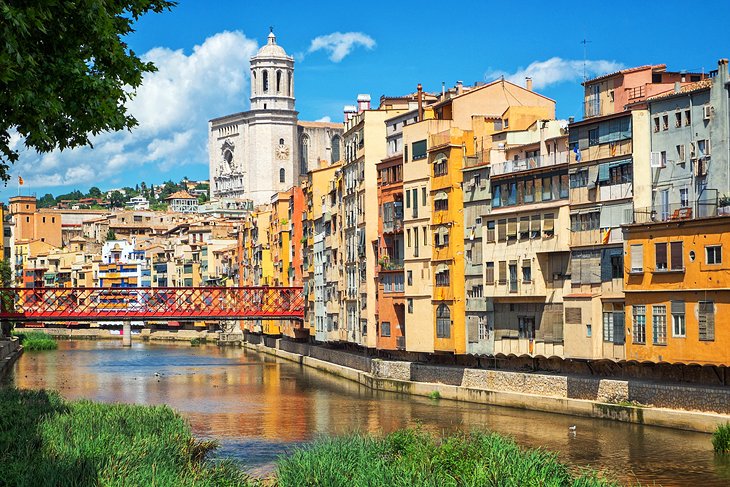 Girona
Girona is the sparkling crown jewel of Catalonia. This medieval walled city, 103 kilometers from Barcelona, has a rich cultural heritage with diverse influences from the ancient Romans, Moorish-era Arabs, and Jews.
Built on the right bank of the Onyar River, the Old Town includes two areas enclosed within ancient ramparts: the Força Vella, which outlines the original Roman city founded more than 2,000 year ago, and the Medieval Quarter, which expanded the city in the 14th and 15th centuries. These atmospheric historic quarters are filled with narrow pedestrian streets and impressive medieval buildings.
In the Força Vella, the Catedral de Girona reveals an interesting blend of architectural elements: Romanesque cloister, Gothic interior, and Baroque facade. The vaulted nave is the second largest in the world, after Saint Peter's Basilica at the Vatican. The cathedral's Treasury displays a rare Romanesque tapestry, called the Tapestry of the Creation, along with medieval manuscripts.
Other important religious monuments are the 12th-century Benedictine monastery de Sant Pere de Galligants; the Romanesque church of Sant Nicolau, now used as an exhibition room; and the medieval Gothic convent of Sant Doménech surrounded by beautiful gardens.
The main drag of the Old Town is the Rambla de la Libertad, an arcaded pedestrian street lined with shops and pavement cafés. Another interesting area to explore is the Jewish Quarter (El Call), one of the best preserved in Spain. During the Middle Ages, this quarter had an important synagogue and centers of Kabbalist study.
The squares of Placa del Oli and the Placa del Vi have maintained their original ambience. Near the Jewish quarter, visitors can uncover the cultural legacy of the Moors. The Arab Baths, now housed in a Capuchin convent, feature a pavilion of Islamic-style columns topped with an octagonal cupola.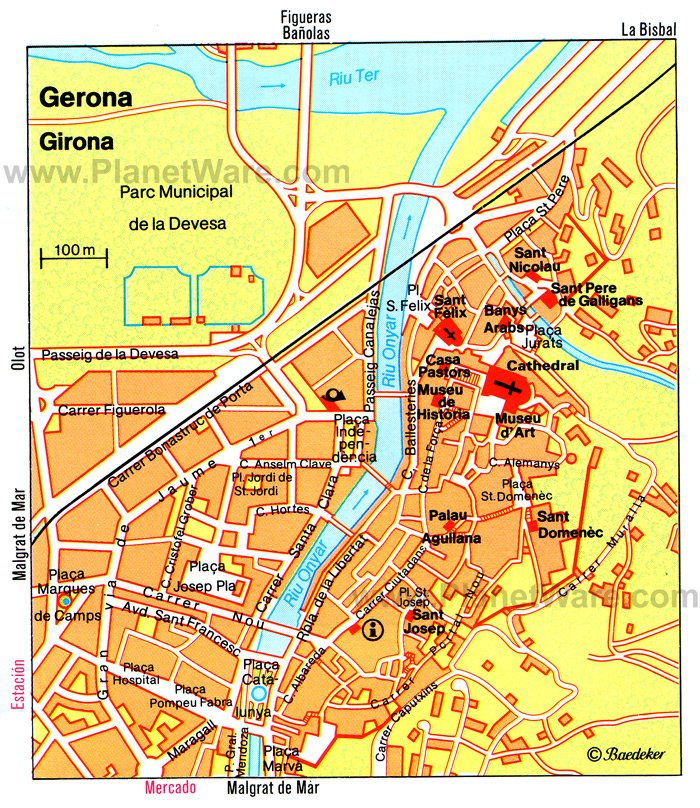 Girona Map – Attractions (Historical)
5. Tarragona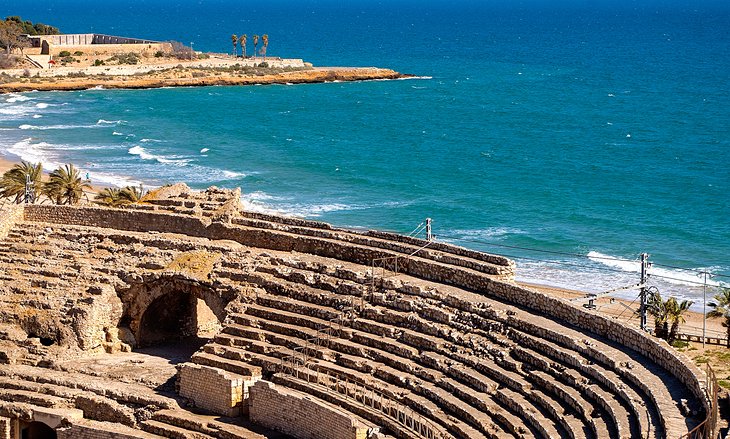 Tarragona
Tarragona is an attractive seaside city that seems to have it all: sunshine, beaches, and interesting historic monuments. About 100 kilometers from Barcelona, this port town on the Costa Daurada is a worthwhile excursion or an alternative base to explore Catalonia.
Beach lovers will be content spending a few days here. Most of the city overlooks the Mediterranean Sea, and the spectacular Playa del Milagro beach is within walking distance from the historic center of town.
History buffs will be enthralled by Tarragona's UNESCO-listed ancient Roman buildings found all over Tarragona, especially the incredibly well-preserved Roman amphitheater of the second century. Also among the top attractions of Tarragona are a Romanesque-era cathedral and charming medieval streets.
Not to be missed in Tarragona is the Barrio del Serrallo, a picturesque port neighborhood. El Serrallo is the old fishing village and still is a lively seaside district. At the harbor, a large fleet of fishing boats brings in fresh catches, which are sold at the neighborhood's fish market. Delicious seafood meals can be enjoyed at the neighborhood's waterfront restaurants.
6. Sitges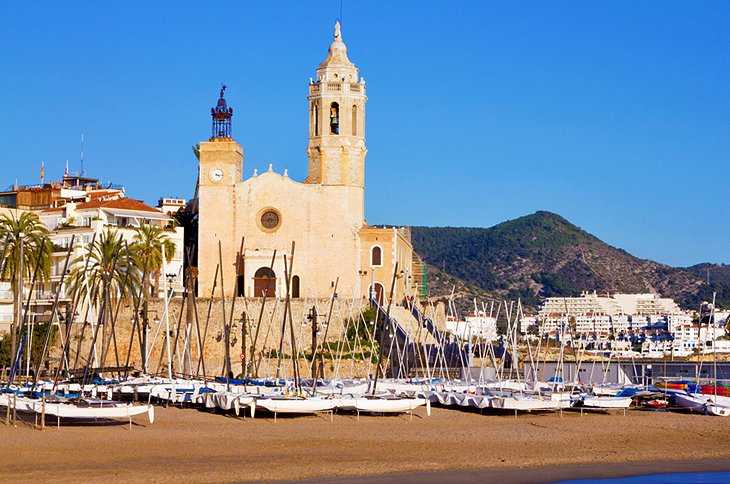 Sitges
Along the Mediterranean Sea, just 42 kilometers from Barcelona, Sitges lures visitors in search of golden beaches and pampered seaside relaxation. The town has a "Blue Flag" beach with calm waters ideal for swimming. A yacht marina and golf courses add to the resort ambience.
Sitges also offers culture; its historic center has two lovely churches, the Iglesia de Sant Bartomeu and the Iglesia de Santa Tecla. During the late 19th and early 20th centuries, many Spanish Modernist monuments were built throughout the town.
An excellent example of this avant-garde Modernist architecture is the Cau Ferrat where famous Spanish author and artist Santiago Rusiñol lived. His home and art studio became a gathering place that attracted many artists and intellectuals, giving the town a Bohemian atmosphere.
For those who appreciate gourmet cuisine, Sitges has much to offer. The town has an abundance of renowned restaurants that serve superb gastronomic cuisine, especially dishes of the Catalan region.
7. Dalí Theatre-Museum in Figueres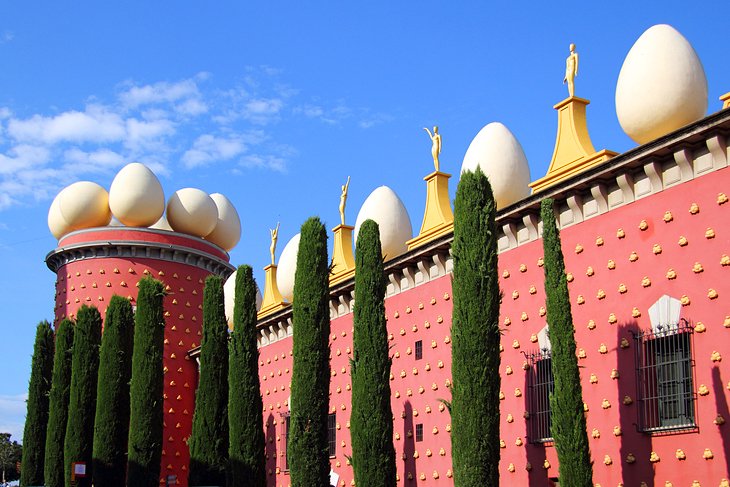 Dalí Theatre-Museum in Figueres
Famous for its association with Salvador Dalí, the traditional Catalan town of Figueres lies in a quiet river plain of the Girona province (140 kilometers from Barcelona). The town's main tourist attraction is the Salvador Dalí Theatre-Museum, which is devoted to the work of the Surrealist genius.
Housed in the 19th-century Municipal Theater, the museum presents all aspects of Dalí's art and displays some of his greatest masterpieces of painting. With its expansive assortment, the collection shows the artist's full range of creative expression.
The museum also has a film library, which contains a collection of audiovisual content that was created by Salvador Dalí. Throughout the year, the museum hosts special events and festivals.
Address: 5 Plaza Gala-Salvador Dalí, 17600 Figueres
8. Cadaqués and Cap de Creus Natural Park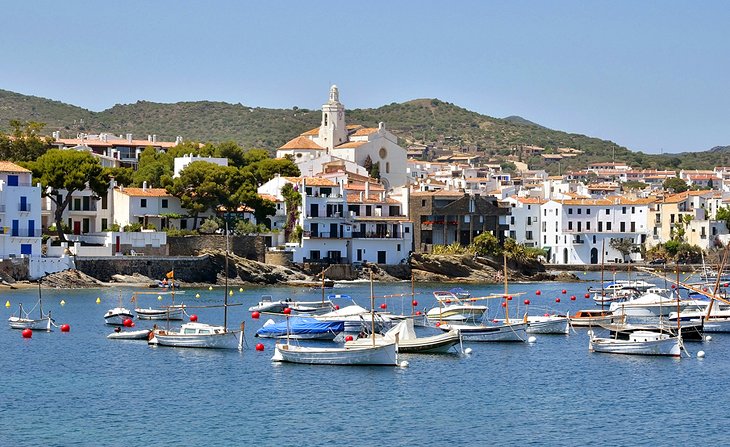 Cadaqués and Cap de Creus Natural Park
Near the Cap de Creus Natural Park, Cadaqués is an enchanting village on the Costa Brava coastline (170 kilometers from Barcelona). With its whitewashed houses hugging a sheltered bay, the Old Town of Cadaqués has the distinctive ambience of a Mediterranean seaport. The village has charmed artists for decades and still offers a vibrant cultural scene, with many art galleries and museums.
The Cap de Creus Natural Park is a nature reserve on the Creus Peninsula featuring an unspoiled coastline and crystal-clear turquoise waters. The rugged and rocky shoreline of Cap de Creus Natural Park offers opportunities for hiking and nature walks.
About a 30-minute drive from the Cap de Creus, the coastal town of Roses began as an ancient Greek colony. Roses has a monumental Renaissance citadel overlooking the Mediterranean Sea.
9. Real Monasterio de Santa María de Poblet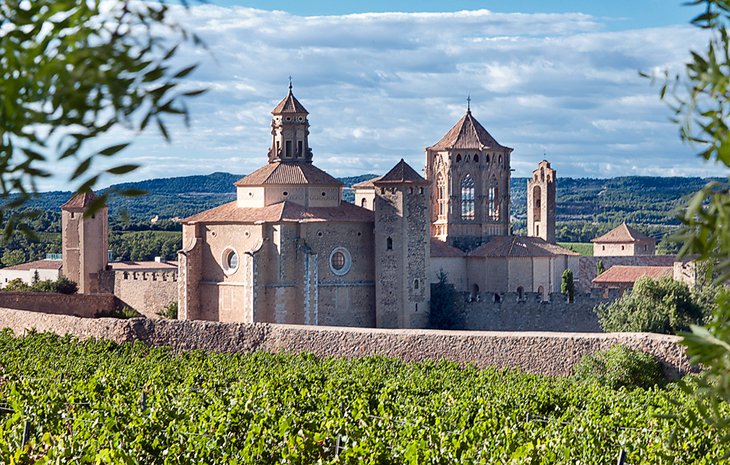 Real Monasterio de Santa María de Poblet
The Royal Monastery of Santa María de Poblet is 141 kilometers from Barcelona, nestled in the Parc Natural de Poblet nature preserve. The monastery complex is a majestic sight in a serene landscape of vine-covered rolling hills. Surrounded by crenelated defensive walls, it appears from afar to be a fortified citadel.
This UNESCO-listed monastery was founded in the 12th century for Cistercian monks and is considered a treasure of Cistercian architecture. For centuries, the order has used this tranquil location for their spiritual worship. The complex of buildings is still a working monastery with a refectory and monks' dormitory quarters.
The Monastery of Poblet has served as a royal pantheon since the 13th century. Inside the monastery's church, the Basílica de Santa María de Poblet, are the tombs of the Kings of Aragon.
Tourists are welcome to visit the Monastery of Poblet year-round, except on January 1st, February 27th, July 2nd, December 25th and December 26th. Hours are 10am to 5pm (with lunchtime closure from 12:30pm until 3pm). Visitors can see the basilica, cloister, and chapter house. The monastery complex also includes a museum and a library with an archive of historic documents.
Within the complex is a three-star hotel where a 13th-century pilgrims' hostel once stood. The Hostatgeria de Poblet appeals to tourists seeking a relaxing overnight experience in a nature preserve. The hotel's Restaurant Bosseria offers a fine dining experience and gourmet cuisine prepared from local ingredients, including fruit from the monastery's orchard.
Address: Monasterio de Poblet, 43448 Vimbodi
10. Medieval Vic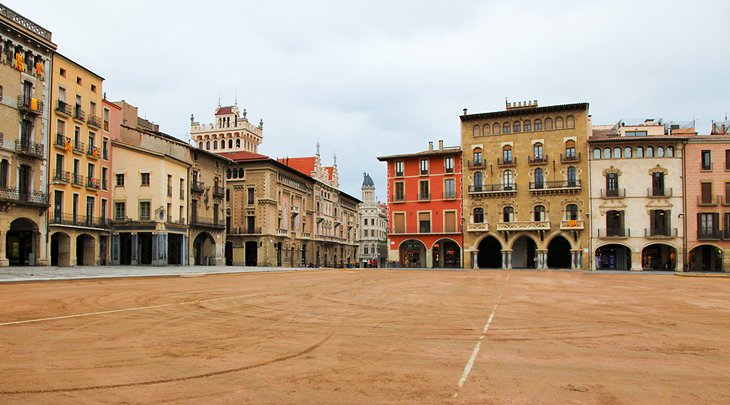 Medieval Vic
Vic is a quaint medieval town in a peaceful setting along the banks of the Mèder River, about 72 kilometers from Barcelona. The town has two historic quarters: the area around Castillo de Montcada and around the cathedral.
Vic has an impressive artistic heritage. A good place to begin sightseeing is at the Catedral de Sant Pere (open every day from 10am to 1pm and 4pm to 7pm). With a Romanesque bell tower, Gothic cloisters, and a neoclassical Baroque facade, the cathedral's blend of architectural styles reflect the renovations made over the centuries. The cathedral's interior is adorned with exquisite murals by Josep María Sert.
Another must-see cultural attraction in Vic is the Episcopal Museum. This museum displays masterpieces of religious painting and sculpture from the Romanesque and medieval periods.
For those seeking a pampering overnight stay, the luxurious Parador de Vic-Sau is tucked away in a lush garden with views of the Guillerias Mountains and the Sauna Reservoir. This upscale four-star hotel has an outdoor swimming pool and an excellent gourmet restaurant.
11. Besalú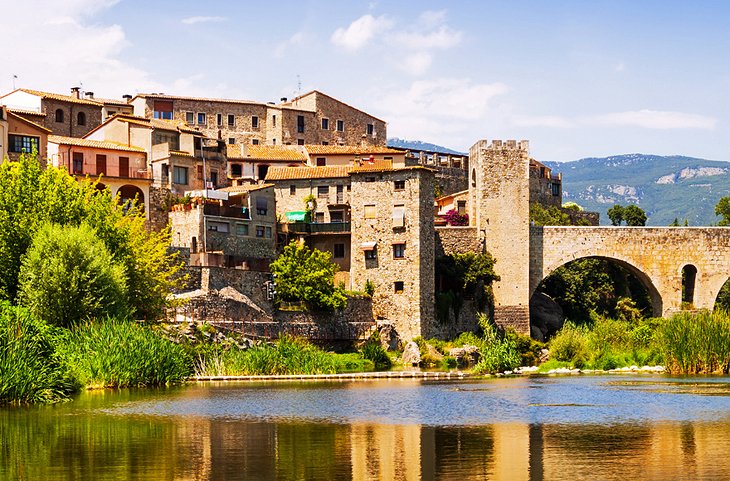 Besalú
A picture-perfect medieval town, Besalú is a quaint jumble of cobblestone streets and quiet squares that reveal impressive historic buildings. The town has an atmospheric old Sephardic quarter with medieval Jewish baths that were used for ritual ablutions.
Several fascinating ancient Christian monuments are found in Besalú including the 10th-century Benedictine monastery of Sant Pere, the 10th-century chapel of Santa María, the 13th-century Romanesque church of Sant Vicenç, and the 17th-century church of Sant Julià.
Another vestige of the town's past is the Viejo Bridge built in the 11th century and renovated in the 14th century.
Besalú is 133 kilometers from Barcelona in a lovely area of Catalonia, near La Garrotxa Nature Reserve in the rolling hills of the Pyrenees.
12. Olot and the Pyrenees Foothills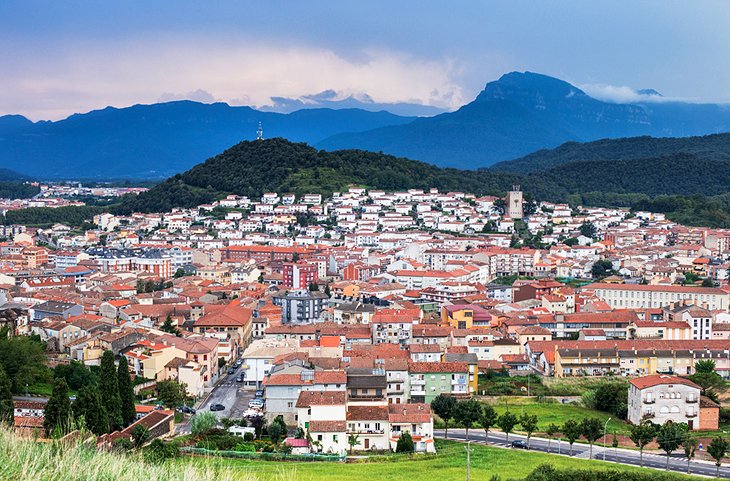 Olot and the Pyrenees Foothills
In the Pyrenees foothills (112 kilometers from Barcelona), Olot has a relaxed atmosphere and a vibrant cultural life. Pleasant tree-lined avenues, quaint outdoor cafés, and old aristocratic mansions give the town an elegant ambience. Touristic highlights of Olot include a modern art museum; many galleries; and the 18th-century parish church, Parròquia de Sant Esteve, which features a marvelous Baroque altarpiece.
The Museu de la Garrotxa is devoted to the artistic and cultural history of the Garrotxa region. The museum has a special focus on artistic creativity. For those who appreciate modern art, this museum is one of the best places to visit in the region.
Nature lovers will enjoy an excursion from Olot to the Parque Natural de la Garrotxa to discover an amazing rugged landscape formed by volcanoes.
13. Seu d'Urgell
Seu d'Urgell
Travelers can enjoy a relaxing escape to a peaceful country town in La Seu d'Urgell. It lies in a stunning natural setting with the Catalonia mountains and Andorra Pyrenees as a backdrop. This picturesque historic town is in the Lleida province, 173 kilometers from Barcelona and 88 kilometers away from the Aigüestortes i Estany de Sant Maurici National Park.
The most interesting site is the Italian-influenced Romanesque cathedral, built in the 11th and 12th centuries. Other important monuments are the 11th-century Romanesque church of Sant Miquel, the 15th-century Ayuntamiento (City Hall) and the convent of Sant Domingo that has been converted into a Parador de Turismo hotel.
14. The Romanesque Monastery of Santa María de Ripoll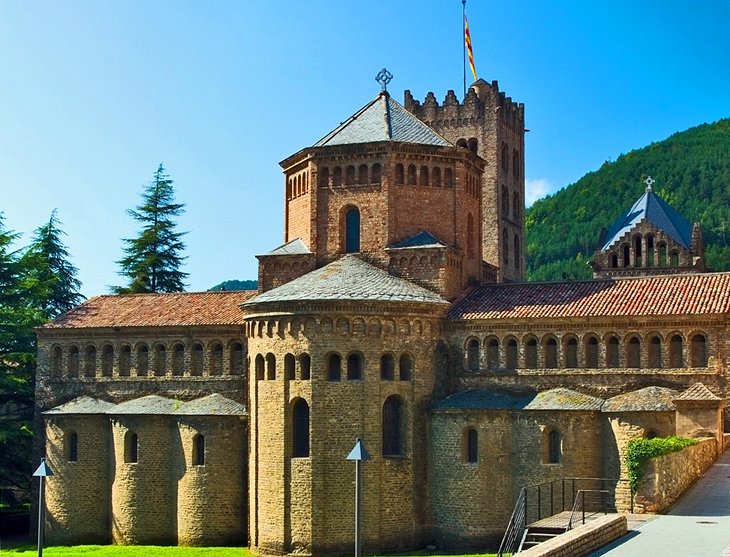 The Romanesque Monastery of Santa María de Ripoll
This Romanesque monastery was an important monastic center in Catalonia during the Middle Ages. Dating from the 12th century, the complex includes a church with an extraordinary portico depicting biblical scenes and a peaceful cloister designed to inspire spiritual contemplation.
Another noteworthy religious monument of Ripoll is the 12th-century Iglesia de Sant Pere featuring pre-Romanesque architectural elements. The church now houses the town's ethnographic museum. In the 19th century with the arrival of the railway, Ripoll (109 kilometers from Barcelona) became a bustling commercial town with a booming textile industry.
15. Banyoles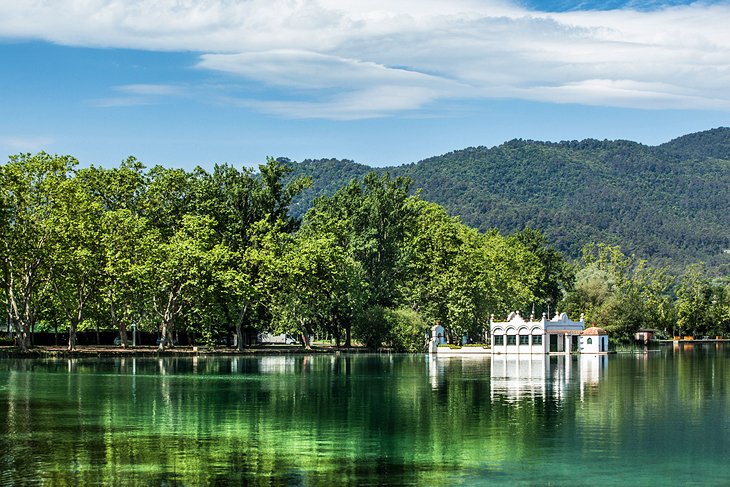 Banyoles
This idyllic retreat in nature is just 18 kilometers from Girona and 121 kilometers from Barcelona, near La Garrotxa Nature Reserve. Surrounded by the green rolling hills of the Sierra Rocacorba, the town is nestled between two rivers on the shores of Lake Banyoles.
Banyoles has an ancient history, with an important textile industry since the 13th century. In the town's quaint old center are several interesting religious monuments: the 14th-century church of Santa María del Turers and the Neoclassical monastery of Sant Esteve.
Other important landmarks are the Pia Almoina, a medieval mansion built in the 14th century that houses an Archaeology Museum, and the Llotja del Tint, a 15th-century building that was used for dyeing textiles.
A highlight of visiting Banyoles is the beautiful lake with a six-kilometer perimeter. It's a wonderful place to relax, take nature walks, cycle, or go boating. Tourists may rent small boats for rowing, kayaking, or canoeing. Fishing is another popular pastime, with rewarding catches to be found in the pristine waters.
16. Cathedral of Solsona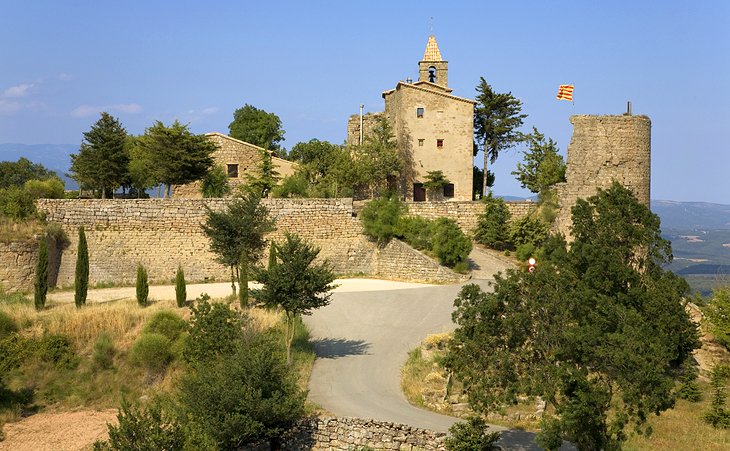 Cathedral of Solsona
The splendid Cathedral of Solsona, 107 kilometers from Barcelona, was built in the 14th century in Gothic style but reveals the architectural elements of an earlier Romanesque church. Visitors are surprised by the spacious single-nave vaulted interior.
Typical of Romanesque style, the interior has three apses decorated with arcades. The bell tower is also from the original Romanesque structure.
The facade features Baroque adornment added in the 18th century, and the Neoclassical cloister displays a Romanesque stone icon of the Virgin of the Cloister.
17. Embalse de Talarn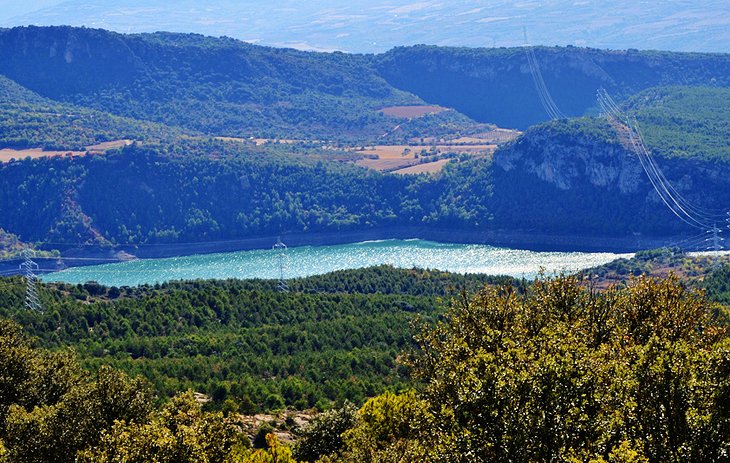 Embalse de Talarn | MARIA ROSA FERRE ? / photo modified
About eight kilometers to the north of Tremp is the Embalse de Talarn, a large lake formed by a dam that supplies a hydroelectric station. One of the largest bodies of freshwater in Catalonia, the lake is surrounded by beautiful scenery, with many pine trees and secluded coves.
Fishing, bird-watching, boating, sailing, and camping are all popular things to do here, and sign-posted hiking and 4×4 trails also weave through the rugged train.
11 Best Places to Visit in Catalonia near Barcelona
Disclaimer: This article contains affiliate links. That means if you click a link and make a purchase, we make a small commission at no extra cost to you. For more information, see our privacy policy.
While the city of Barcelona is certainly the main draw to those visiting the diverse and interesting region of Catalonia, there are countless places to visit in Catalonia within easy reach of the capital that are worth checking out.
If you're keen to get a good feel for this region and want to experience some smaller cities and towns away from the hustle and bustle of Barcelona, then this is the list for you.
While it's certainly worth visiting Barcelona and spending a few days in the city, it's equally worthwhile to site your sites further afield and to head to some of the other places in Catalonia that are near Barcelona. Catalonia has a culture, history and language that is unique to the rest of Spain and you can experience that even more if you venture a bit further from its largest city.
Whether you're simply looking for some day trip options from Barcelona or would like to spend a few nights somewhere else, these are some of the best and most beautiful places to visit in Catalonia.
Table of Contents
Best Places to Visit in Catalonia near Barcelona
Girona
Girona is undoubtedly one of the best places to visit in Catalonia. Located about 100 kilometres north of Barcelona, you can reach the city via train or car in about an hour from the Catalonian capital and it makes for a great destination for either a day trip or for a longer stay.
Girona is absolutely beautiful and it's worth the visit for the beauty alone, however, there are also a lot of great things to do in the city itself. For instance, there are the city walls, the Arab Baths, the Jewish Museum and the Archaeological Museum.
There are also incredible landmarks like the Girona Cathedral, the countless bridges over the Onyar and the unique homes hanging over the river.
Girona also boasts a number of wonderful restaurants where you can indulge in a fine dining establishment or enjoy a local tapas bar cooking up classic Catalonian fare. All in all, Girona is one hundred per cent one of the most beautiful places to visit in Catalonia.
Want to go on a day trip to Girona? Check out this small-group tour from Barcelona!
Girona Cathedral
Montserrat
As one of the most popular day trip destinations from Barcelona, no list of places to visit in Catalonia would be complete without including Montserrat. This dramatic mountain just a bit outside of Barcelona is beautiful in its own right, however, it is also home to a historic monastery that is open to visitors.
Take the cable car up the mountain and take in the beautiful scenery. Visit the Santa Maria de Montserrat Abbey, head to the Montserrat Museum to learn about the historical significance of this place or even take a hike to St Michael's Cross.
If you're looking for the perfect day out, then a day trip to Montserrat from Barcelona is never a bad idea and it is a great choice if you're looking for a more natural escape from the bustling nature of the city.
Want to go on a day trip to Montserrat? Check out this half-day tour from Barcelona!
Santa Maria Monastery
Figueres
Another of the most popular places to visit in Catalonia from Barcelona is the city of Figueres. Located close to the French border in the northern part of the region, Figueres is most well-known for being the birthplace and home of famous surrealist Salvador Dalí.
If you are at all interested in Dalí, his art or his life, then Figueres makes for an excellent place to visit. The main draw of the city is the fascinating Dalí Theatre-Museum where you can view countless pieces of his thought-provoking artwork.
And if you'd like to do something that isn't Dalí-focused, make sure to visit the Castell de Sant Ferran, an 18th-Century fortification located just a bit outside of the city centre. All in all, Figueres is an interesting destination and a great place to have on your Catalonia itinerary.
Want to go on a day trip to Figueres? Check out this full-day tour to Figueres and Cadaqués!
Outside the Dali Museum in Figueres
Cadaqués
If you're interested in the Costa Brava and also want to take in another place that was significant to Salvador Dalí, then the small coastal town of Cadaqués is sure to interest you.
This whitewashed seaside town is definitely one of the most beautiful places to visit in Catalonia and was a source of inspiration for Salvador Dalí, as well.
Cadaqués is quite small and doesn't have a lot of traditional sites to see, but it is worth visiting if you want to experience a small seaside town on the Costa Brava that hasn't been taken over by high rises and hordes of sunbathers.
Though it can certainly get popular in the warmer months, it definitely retains its charm.
Cadaques
Besalú
Another excellent day trip destination in the north of Catalonia is the striking town of Besalú. Perfect for those who are more interested in mountain towns over seaside towns, Besalú is perhaps best known for it imposing bridge into the old part of the town.
The town itself is very small, but it is packed with historic sites that are well-marked — make sure to pick up a map with detailed descriptions at the visitors centre — and it is stunningly beautiful. For some reason, however, this gorgeous town rarely makes it onto lists of the best places to visit in Catalonia.
So if you're looking for a beautifully-preserved old town with few tourist crowds, then you cannot go wrong with making a visit to Besalú.
Beautiful Besalu
Tarragona
If you've got your sites set on the Mediterranean coast of Catalonia and are looking for a bustling and historic city to visit as an alternative to massive Barcelona, then make sure Tarragona is on your list.
Located about 100 kilometres south of Barcelona, this coastal city is known for its myriad ancient Roman ruins — including a striking Roman amphitheatre, a Roman circus, imposing Roman walls and even a Roman aqueduct that lies just a bit outside of the city.
Tarragona also has a wonderful central market in the centre of the city and is packed with fantastic restaurants serving delicious Catalonian seafood dishes. There are also some wonderful beaches for those who are interested in getting some sunbathing in if the weather allows for it.
All in all, Tarragona is a great option if you're on the hunt for cities to visit near Barcelona.
Want to go on a day trip to Tarragona? Check out this full-day guided tour from Barcelona!
Historical City of Tarragona
Sitges
If you're looking for another beautiful coastal town in Catalonia, then Sitges is an excellent option.
Located only a bit south of Barcelona, this town is a lot smaller than, say, Tarragona, but that doesn't mean it isn't worth visiting.
It actually can be worth heading to Sitges over Tarragona if you're looking for a place that is a bit smaller and not as packed with a ton of sites – especially if you're simply looking to chill on the seaside.
Sitges boasts a number of lovely beaches and its whitewashed buildings and winding alleyways are simply a joy to wander through.
Because of its proximity to Barcelona, the town can get very busy in the warmer months and there are some aspects that are very tourist-centric, but you can also get some very local experiences, as well.
Want to go on a day trip to Sitges? This small-group tour from Barcelona includes stops in Sitges and Tarragona!
The town of Sitges
Blanes
Known as the gateway to the Costa Brava, the lovely seaside town of Blanes is an excellent place to visit in Catalonia if you're looking for a beautiful town on the Mediterranean.
Located about 70 kilometres north of Barcelona, this town is a great place to visit if you are driving along the Costa Brava or simply want to experience a larger coastal town that hasn't been completely taken over by high rises.
There is a nice town to wander through, a beautiful seaside promenade and plenty of gorgeous beaches to enjoy the sunshine.
Blanes is also known for its botanical garden which is a great place to visit if you're interested in exploring flora that is native to this region.
Town of Blanes
Tossa de Mar
If you're looking for somewhere on the Costa Brava that is just stunningly gorgeous, then make sure to head to Tossa de Mar. Located only about 15 kilometres north of Blanes and about 85 kilometres north of Barcelona, this town is certainly one of the most beautiful places to visit in Catalonia.
Tossa de Mar is perhaps most well known for its imposing castle that dramatically protrudes over the sea. Dating to the 12th century, there are a couple of towers, fortification walls and grounds to explore at this castle while also being able to take in the beautiful sea views.
Tossa de Mar also has plenty of gorgeous seaside vistas with beautiful rock formations to enjoy, as well, along with some lovely beaches.
Tossa de Mar
Located in inland Catalonia, Vic is a great destination for those looking for some cities to visit near Barcelona. Vic is a very popular day trip destination and its beautiful old town will take you back to medieval times.
Perhaps the biggest draw of this small city is its Saturday Market which takes place in the vast main square each Saturday. Here you can find culinary offerings along with local handicrafts and other things of interest – it is a great place to pick up some souvenirs from your trip to Catalonia.
Even if you don't happen to be able to visit on a Saturday, the city of Vic has a number of interesting historic sites and museums to enjoy that it is a great destination to visit on any day of the week.
Plaza Mayor in Vic
Lake of Banyoles
If you're looking for a more natural escape in Catalonia, then consider adding Banyoles Lake onto your list of great places to visit in the region. This is Catalonia's largest freshwater lake and it is fed by natural channels.
Located in the Girona province about 130 kilometres north of Barcelona, you can reach this natural area in about an hour and a half of driving from the Catalonian capital.
If you happen to be visiting in the warmer months, there are plenty of great lakeside activities to enjoy here. You can opt to go swimming in the blue waters or even hire a rowboat or canoe to paddle out onto the lake. There is also a trail circumnavigating the lake that lends for great strolling opportunities.
Banyoles Lake
There are countless places to visit in Catalonia near Barcelona that are worth adding to your itinerary. The places on this list are just some of many incredible examples of wonderful places to head to on your trip to this historic region.
Are you looking for some places to visit near Barcelona? Have any questions about visiting Catalonia? Let us know in the comments!
Source https://www.thetravellingtom.com/visit-catalonia
Source https://www.planetware.com/tourist-attractions-/catalonia-cataluna-e-cat-cat.htm
Source https://www.theworldwasherefirst.com/places-to-visit-in-catalonia/