Family Vacation with Kids in Key West
Key West is a tropical island vacation destination that is wonderful for families with kids. But too often people have a misconception that it's mainly an adult party place. Many folks are not aware of the variety of fabulous experiences the island has to offer families traveling with kids. At VHKW, our staff will help you find the perfect place to stay and plan a fun and memorable family vacation with your kids in Key West! As Key West locals (also known as Conchs), we are uniquely qualified to help you pre-plan your trip, so that when families arrive for their island vacation, kiddos as well as parents are comfortable and have a great time. Some of us were either born in Key West or grew up in the Florida Keys from early childhood. Several of us are young parents, currently raising our families in Key West. Some of us are grandparents, watching our grandchildren thrive on this unique American Caribbean island. We all truly appreciate this unique place from the perspective of all ages.
Based on this experience, at VHKW we advise our guests traveling with families to plan-in-advance of your arrival to Key West to make the most of your island get-away. Of course, spontaneity is fun during vacation time, but there are some things you shouldn't put off.
First and foremost, you'll want to book the ideal accommodation for your family well in advance, to be sure you get the place you want. It's also smart to prepare a special list of items you will need for your little ones, especially if they are new to being in a tropical environment. Also, to make the most of your vacation time, it's best to think ahead about the kinds of experiences you want to have together as a family in Key West and book ahead some of the activities for your kids and family to do. Like many families, you may discover so many interesting things to do in Key West, that you'll want to come back again.
Finally, we recommend that you consider how you want to get around the island during your stay – walk, bicycles, public transportation, taxi, drive? Parking is a challenge in Key West, and some days get quite hot, so we recommend some options to streamline moving from one place to another with the kids.
Where Should Our Family Stay in Key West?
Where you stay can mean everything for your family Key West vacation with kids. While hotels and bed and breakfasts are options, vacation rental properties offer an ideal setting since you can create your own home-away-from-home. Having a private home-base, rather than a hotel, creates a sense of security and comfort for children while they are away from their every-day-to-day surroundings. Your vacation home becomes the meeting point to gather and re-group each afternoon to nap and snack. In the evening, it becomes the place to rejuvenate together, have dinner, talk about experiences enjoyed each day, and have a restful night sleep.
There are several things to consider in choosing a property to rent, mainly – location, amenities, and the layout of the house. One of the most popular and in-demand accommodations, are properties with swimming pools and fenced in tropical gardens. A pool becomes a key feature for fun, where kids and parents enjoy swimming together, hanging out on the deck, enjoying tropical gardens, and of course cooking on a grill. Homes that are licensed to rent as weekly vacation rentals are in high demand in Key West, so it's smart to reserve well in advance of your trip.
Tips on Preparing and Packing for Kids on Vacation in Key West
Traveling with kids in the tropics is unique to different vacation destinations. The tropical sun may be more intense than what your children are used to experiencing, so be prepared with a good sun screen and let your kids know they absolutely must wear it. A good sun hat is also very important. Let them choose a hat they like, so they'll be more inclined to keep it on. Same with sunglasses – even if your kids are used to wearing sunglasses, now is the time to protect their eyes by keeping them during the day. Some children experience anxiety when they travel away from their homes, and a favorite stuffed animal, doll, or blanket can be a big comfort.
Obviously, your kiddos will need their swim suits. If they use water wings or floaties, think about purchasing those as well. Keep in mind that items like sunscreen swim toys can be purchased in Key West and you can find bathing suits too. But we understand that kids can be picky about what they wear, so why not plan ahead and let them be prepared to jump in the pool or swim at the beach as soon as they get to Key West. For downtime at home, coloring books, crayons, puzzles, and books are a nice to have, even though many kids not travel with their own electronic game device. Finally, don't forget any prescription medications your child might need.
What is There to Do in Key West for Families with Children?
Key West is a tiny island, so no matter which way you go, you're going to see the beautiful turquoise ocean or the Gulf of Mexico. As parents and grandparents, we have come to appreciate that one of the most meaningful opportunities for our children, is to develop a curiosity, respect, and love for the ocean. We have witnessed this as they've grown up in Key West boating, fishing, snorkeling, and diving in warm waters, playing on the Caribbean beaches, learning at the eco centers, sea camp, and the Key West Aquarium. A key West vacation for your kids can offer a taste of the same for them.
Of course, there are lots of things to do with your kids on the island too. This includes the water-fun Truman Waterfront Park and Splash Pad, the stunning Key West Butterfly and Nature Conservatory, a ride through Old Town on the famous Conch Tour Train – for kids it's like an amusement ride through gingerbread house neighborhoods. There are also unique and interesting museums to visit. These include the intriguing Mel Fisher's Ship Wreck Museum, East Martello Tower Pre-Civil War Fort on the Beach to see the haunted 'Robert the Doll,' the patriotic USCG Ingham Maritime Floating Museum, the historic Key West Light House Museum where you can climb to the top of the light house, the one-of-a-kind Key West Aquarium, and the list goes on. Our in house VHKW Concierge grew up in Key West and is raising a family here, and she loves helping families plan and book meaningful and memorable activities to do together. Additionally, our Director of Operations has created a 3-Day itinerary designed for families with children on vacation in Key West. This, and more itineraries, are provided free to our guests who book vacation rentals with VHKW. But activities aren't the only fun thing to do with kids in Key West. There are also some super fun and special places to eat-and-treat with them. A few favorites include -Salute on the Beach, Hogfish Bar and Grill, Flamingo Crossing (Homemade ice cream), The Boat House, and Blue Heaven, to name just a few.
What are the Best Ways to Get Around the Island of Key West with Kids?
Most people don't think about how they are going to get around Key West until they arrive. In their hometowns or cities, many moms and dads are used to simply jumping in the family car or catching a subway and heading out with the kids to do fun activities together. While Key West is a tiny island, and you can ride a bike around it in about an hour, it gets hot and there is a notorious shortage of parking. That can be challenging. Also, please keep in mind that this tiny 4.2 square mile island was founded before cars existed. Many streets are very narrow, parking is restricted and expensive, so we recommend that you think about your transportation needs in advance to avoid surprises and frustration.
If you do bring a car, most VHKW vacation rentals have parking places at the property, and cars do come in handy for grocery shopping and driving up the Keys to tour around. But if you plan to drive downtown Old Town, be sure you scope out the nearest parking lot in advance, and don't be shocked at the cost to park. One great alternative, is the free Duval Loop Bus. It runs every 15 minutes from 10 a.m. to midnight, and every 30 minutes from 6 a.m. to 10 a.m. With a motto of Free and Frequent, this service is dedicated to promoting a car-free Key West.
Of course, walking is always a fantastic option when the kids and parents have the stamina. Everything is relatively close on this little island – it takes about four Key West 'blocks,' to make a standard city block. Renting bicycles is another option for families. But we recommend this with a word of caution, since there are very few bike paths in Old Town, and when downtown is congested, its not the best place for kids to be riding. On the other hand, bicycles are fun to ride along the beach path and out to Fort Zachary Taylor State Park to the Beach. It's smart to plan your bike route in advance, and we can help with ideas for that too. Key West also has taxi cabs and UBER, so when you need to get home fast, these options can be less expensive than what you'd pay for parking.
Key West also has a public transportation system. It not only goes around the island, it connects to nearby Stock Island. And if you want to see some of the other islands in the Florida Keys, the Lower Keys Shuttle is a convenient service that makes 8 trips back and forth between Old Town Key West to Mile Marker 53.5 in Marathon. Why not relax and enjoy the ride with the kids, savor the views and take some photos of the Fabulous Florida Keys. A stop in a Bahi Honda State Park is a great way to spend the afternoon. The Dolphin Research Center is another exciting and educational stop in the Upper Keys.
Key West is a great place for families to vacation with kids any time of the year. Winter and springtime offer a great sunshine break from the cold weather climates. Many families enjoy spending Thanksgiving, Christmas, or New Years in the island sunshine. Vacation rental houses book up in advance for holidays, so it's good to make plans in-advance. Summertime is a great time to explore the warm turquoise waters, and hang out by the pool and BBQ. It's also the time to take advantage of great summer rates and discounts on rentals, activities, and dining.
At VHKW our staff understand how precious your family is to you and that you want to provide them with a wonderful vacation and make memories for a lifetime. We encourage you to contact us directly with any specific questions on booking one of our vacation rentals and planning special activities for your small children and family itineraries that include your kids. We look forward to hosting you on our island home soon.
16 Things to Do in Key West with Kids: Fun, Family-Friendly Attractions!
Sure, Key West isn't Orlando, but yes, it can still make for an awesome family getaway!
This island city, part of the Florida Keys, is known for world-class diving and snorkeling, vibrant coral reefs, and lovely conch-shaped houses.
Whether you're looking for fun on the water or off, indoors or outdoors, Key West has quite a surprising amount of family-friendly attractions on offer.
Here's a list of the best things to do in Key West with kids.
1. Dry Tortugas National Park
At the Dry Tortugas National Park, you'll get a glimpse of how Tom Hanks felt in Cast Away, but you may just enjoy it given the paradise-like settings of the place.
Located in the waters of the Gulf of Mexico, the Atlantic Ocean, and the Caribbean Sea, the national park is known for shallow beaches that are hot spots for snorkeling, especially among Fort Jefferson's ruins, a former prison.
Additionally, Dry Tortugas can only be accessed via seaplane or ferry, making it all the more exciting, especially for children.
Recommended Hotel Nearby: Sunset Key Cottages
2. Key West Aquarium
An excellent spot for families that combines fun and learning, you'll easily spot the Key West Aquarium thanks to the Great White Shark bursting out of its top!
One of Florida's oldest aquariums, tots visiting the aquarium can get a detailed look at the Keys' native marine life (and the cutest rescued sea turtles!), and even the chance to touch and hold some of them.
The especially brave at heart can take a tour and feel the skin of juvenile nurse sharks and even catch a feeding frenzy!
3. Key West Butterfly and Nature Conservatory
The Key West Butterfly and Nature Conservatory abounds in natural beauty, what with all the exotic birds (flamingos included!), hundreds of butterflies, and bunches of flowers that thrive here.
The 'Wings of Imagination' art gallery warrants an exploration, with Sam Trophia's artwork giving tots a glimpse of Mother Nature's many hues.
The Learning Center, as the name suggests, is a great spot for learning; kids are taken through the entire metamorphosis process and given a 101 on the eating, breeding, and migrating habits of these critters.
Recommended Hotel Nearby: La Concha Hotel & Spa
4. Mallory Square
The hub of all things social and commercial in Key West, from the city's origins in the early 1820s, Mallory Square is an important destination in the island city.
From serving as a spot for Asa Tift's ships to docks to a center for the towns' folk to gossip, share news, and shop, Mallory Square, today, is home to a range of lovely restaurants, theaters, museums, shops, and live entertainment.
One of the most important events that take place here is the Sunset Celebration which draws tourists in the thousands.
Recommended Hotel Nearby: Parrot Key Hotel & Villas
5. The Overseas Highway
The Overseas Highway is a 113-mile highway that stretches from mainland USA to Key West and makes for one of the most scenic rides in the world.
Also known as the "Highway that Goes to Sea", the Overseas Highway is a must for spectacular views of seemingly infinite limestone and coral islets, the old rail corridors, and overseas bridges.
Of course, another must-do while driving on the Overseas Highway is to catch the spectacular sunset; the budding photographers and social media influencers alike will love the photo opportunities!
6. Fort Zachary Taylor Historic State Park
Visiting Key West doesn't mean that you'll find pristine beaches everywhere you look, but you will find them at Fort Zachary; well-maintained sands replete with beach chairs, umbrellas, and water sports await you here.
The state park, sprawled across 54 acres, abounds in nature trails and vibrant coral reefs that will have nature lovers and snorkelers in a tizzy.
You can also fish in certain spots.
To refuel, head to the lovely beachfront cafe (don't forget to gorge on the delicious ice cream) or carry your own food and make it a picnic!
7. U.S. Coast Guard Cutter Ingham Maritime Museum
If we're putting history lessons and fun family attractions together, the U.S Coast Guard Cutter Ingham Maritime Museum should be a definite stop on your Key West vacation.
Formerly one of the country's most decorated warships, the 327-foot Cutter Ingham served in major wars, and now serves as a memorial for those who gave their lives for the country, as well as a tribute to the ship's life and service.
The National Historic Landmark is also a great spot to view Key West sunsets, with a dedicated sunset-viewing platform.
8. Mel Fisher Maritime Heritage Museum
The Mel Fisher Maritime Heritage Museum is a dedication to world-famous treasure hunter Mel Fisher's life and legacy.
The museum houses a ton of artifacts belonging to the 17th and 18th centuries that Mel and his team discovered back in the 60s, in addition to several other fascinating exhibits.
The museum has recently added 3 new exhibits to its collection that teach visitors about shipwrecks, pirates, and Spanish coins.
Don't forget to take the lab tour for a fascinating insight into how shipwrecks are excavated and conserved!
Recommended Hotel Nearby: Hyatt Centric Key West Resort & Spa
9. Southernmost Point
Though this isn't truly the southernmost point of Key West, the Navy-owned Southernmost Point is an iconic photo stop—one of those must-have pictures to prove you saw everything important in Key West!
The colorful buoy sits at the intersection of South streets and Whitehead, barely 90 miles north of Cuba.
The point also serves as a memorial to those Cubans who were claimed by the sea while trying to reach American shores.
Access to the buoy is free of cost, making it an inexpensive yet great family-friendly spot to visit.
Recommended Hotel Nearby: Santa Maria Suites Resort
10. Florida Keys Eco-Discovery Center
If you're wondering where to go with toddlers in the Keys, this eco-discovery center is a great option; the fact that admission is free and there's a lot of learning on offer only adds to the appeal.
The center gives visitors a detailed look into the Keys' natural ecosystems; interesting exhibits such as interactive satellite maps, a 2500-gallon aquarium, and footage from underwater-coral-reef-monitoring cameras.
Additionally, the eco-center hosts some of the most fun kid-friendly activities in the Keys, such as the kids' workshops where tots learn through puzzles, crafts, and games.
Recommended Hotel Nearby: Southernmost House Hotel
11. Key West Garden Club
A popular setting for weddings, the Key West Garden Club is beautiful and serene—a great spot for a day of relaxation with the family.
Located at the West Martello Fort, the garden club boasts lush grounds, charming brick pathways, and lovely arched courtyards.
The fort, a National Historic Site, features a conservatory and gun mounts, taking visitors back to the Civil War times.
The garden also boasts a rare collection of exotic flora, with a water lily pond and waterfalls; visitors can stroll, picnic, or relax at this free attraction.
Recommended Hotel Nearby: Pier House Resort & Spa
12. US 1 Mile Marker 0
Another one of the must-take-photo destinations in Key West, the US 1 Mile Marker is easily one of the most popular spots in the area, drawing thousands each day.
The marker marks the end of the Overseas Highway; a photo here means that you made it to the end of the road!
Additionally, the marker marks the southernmost point of the United States.
Close to other attractions such as Duval Street and the Ernest Hemingway Museum, the marker is free and fun; a photo here will definitely be a memory worth storing!
Recommended Hotel Nearby: Pegasus International Hotel
13. Sheriff's Animal Farm
A truly unique place that definitely warrants a visit, Sheriff's Animal Farm is a petting zoo/animal farm that houses over 150 exotic farm animals.
What makes it unique?
The fact that it's located under the Stock Island detention center and besides housing animals also houses inmates!
Yep, the inmates of the detention center are responsible for the health of the previously abused and abandoned animals here.
Not only is this a great spot for tots to make friends with animals but also learn important life lessons early on!
Recommended Hotel Nearby: The Perry Hotel Key West
14. Key West Shipwreck Treasure Museum
Part theme park and part museum, the Key West Shipwreck Treasure Museum is where you should head with kids to listen to stories of the 400 shipwrecks the Keys have seen.
Visitors are treated to a 15-minute live storytelling presentation before they enter the museum to view the rare artifacts from the 17th and 18th centuries that it houses.
You'll also find interesting audio recordings and video presentations.
Don't forget to head to the 65-foot lookout tower to catch breathtaking views of the island and the waters around, where many a ship met its end.
Recommended Hotel Nearby: Island City House
15. South Beach
At 200 feet, South Beach may be one of the smallest public beaches in Key West but it's also one of the most lovely, less-crowded, and safest beaches to visit when you're wondering what to do in Key West with kids.
Located at the end of Duval Street, the beach has the Southernmost Beach Resort and the South Beach Pier on either end and is backed by the Southernmost Cafe with its array of delicious, reasonably-priced food.
Wake up early enough and you can catch a stunning sunrise over the Atlantic Ocean!
16. Sunset Celebration
A visit to Key West, Florida, is incomplete without catching the Sunset Celebrations at Mallory Square, with vibrant crowds, beautiful skies, and colorful entertainment that'll leave both tots and parents awestruck.
You'll meet a variety of folks here, from jugglers to musicians to flying cats to psychics, which explains the spot's other name—Key Weird!
The square also has a lot of local artists displaying their wares; you can pick up lovely souvenirs such as underwater photographs, hand-painted t-shirts, and hand-crafted silver jewelry to conch fritters and coconuts.
Key West With Kids: Florida Keys Family Travel Guide
Is visiting Key West with kids a good idea? When our family planned a trip to Key West we had countless people tell us that it was not a family-friendly place to visit. Of course, this put me on a mission to find ALL the fun family activities to partake in on our Key West visit!
We ended up LOVING the Florida Keys and would totally love to visit again in the future and recommend it as a family travel destination.
I have had so many people reach out and ask for tips and planning advice so here is my personal kid friendly Key West travel guide for families: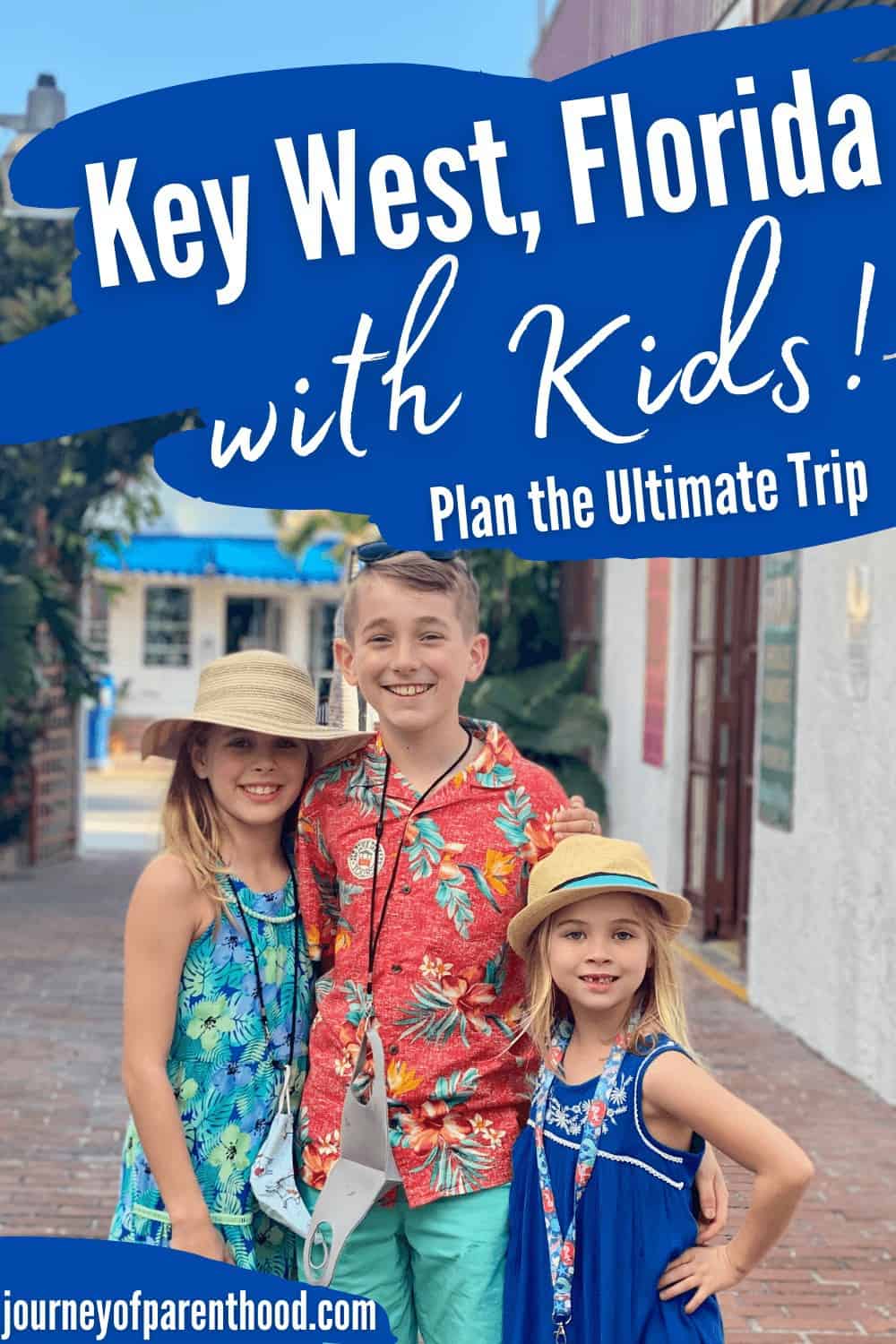 Travel Tips for Visiting The Florida Keys with Kids
The Florida Keys are NOT an easy to visit location. We live in South Georgia and it is a nine hour drive from our town to Key West. This is a big reason we've never considered visiting because "it's so far."
BUT we were pleasantly surprised that the drive was NOT bad at ALL. It was a very easy, smooth drive and one that we would take again.
I also think flying would be a great way to get there and then renting a Jeep or convertible or something if you're visiting kid-free and can feel the sea wind blowing while taking in the gorgeous views.
Either way I highly recommend making sure TO DO the DRIVE through the Florida Keys. Don't just fly into actual Key West. Either drive the whole thing or fly into Fort Lauderdale and rent a car and drive from there (also saves money on the flight tickets!).
Our kids were ages 12, 9 and 6 on this trip and they handled the drive very well and also appreciated the beautiful views too – even in our van we rolled down the windows and made 'em get off their screens and soak it up!
Where to Stay in Key West with Kids
We actually didn't choose to visit Key West in order to visit Key West…we had planned a trip to an all inclusive resort in Mexico and when it didn't work out we started searching for resort options in the US and found Hawks Cay Resort in Duck Key.
It is about an hour north of actual Key West and is PERFECT for families. Hawks Cay is NOT an all-inclusive resort BUT it very much has that resort vibe with lots of activities to choose from, a kids club, plenty of pools, and multiple options for accommodations ranging from standard hotel rooms to three bedroom villas.
We stayed in a two bedroom villa and had a full kitchen and gorgeous views as well as a quiet pool just off our back porch that was never overly crowded or busy.
We tend to avoid staying in hotels when we travel. We have four kids so it usually makes sense for us to try to find a condo, vacation rental home or villa on vacation over trying to find a hotel large enough for us. Our two bedroom villa was perfect at Hawks Cay and if we go back with all four of our kids we will for sure book the three bedroom villa option they have available.
(By the way, if you're looking for a vacation rental home at Disney World… we've got one that's perfect for families!)
The resort also has dolphins that live on-site and offers dolphin encounter packages at additional cost (we LOVED it!). There are also several on-site restaurants and even a Starbucks!
We also loved the location of the resort and that it wasn't located IN actual Key West. Duck Key is centrally located in the middle portion of the Florida Keys so we strategically planned our trip to allow for exploring some of the popular tourist spots on the way to the resort as well as planned a day to make the full drive down to Key West to enjoy the spots there too!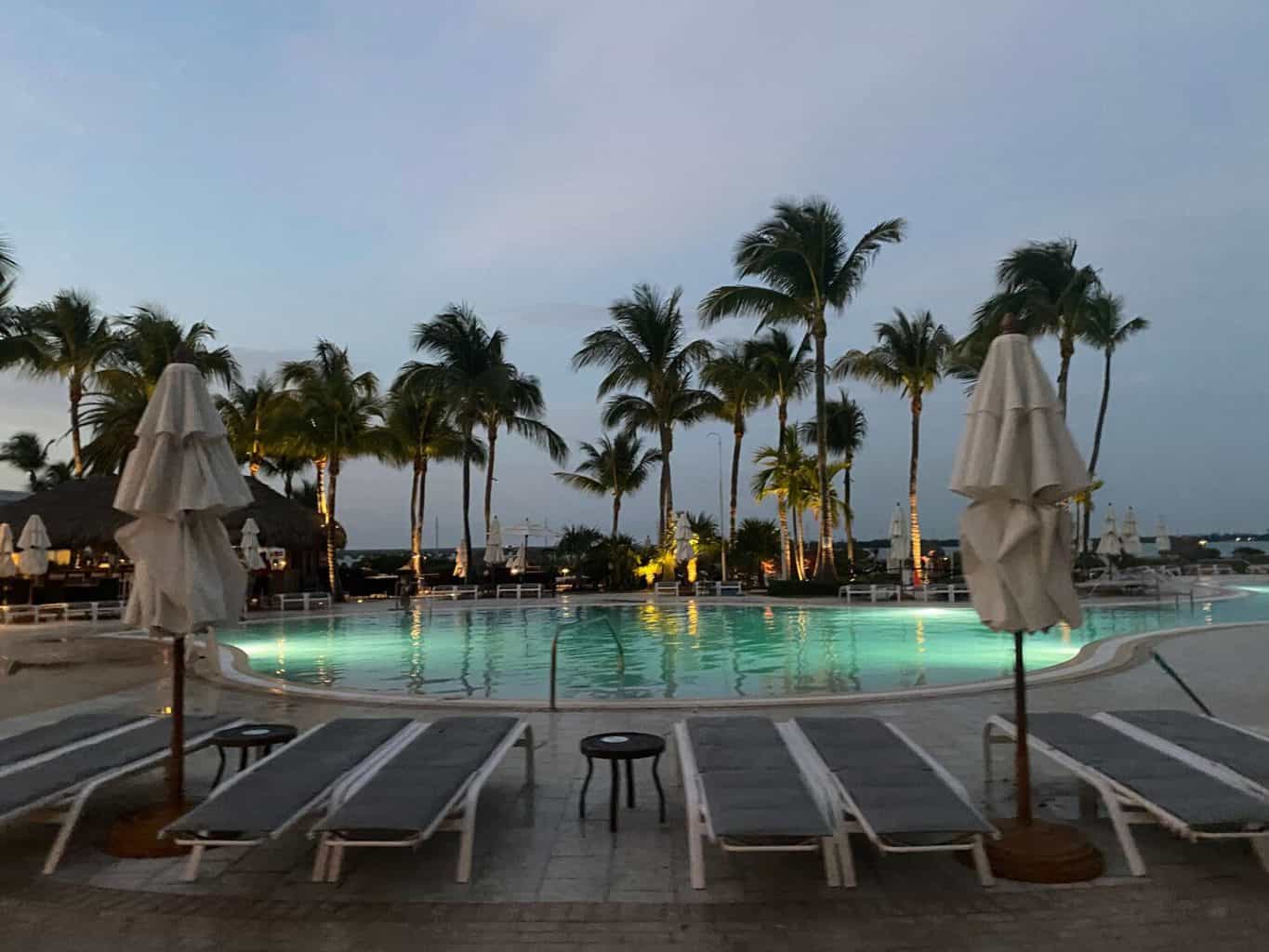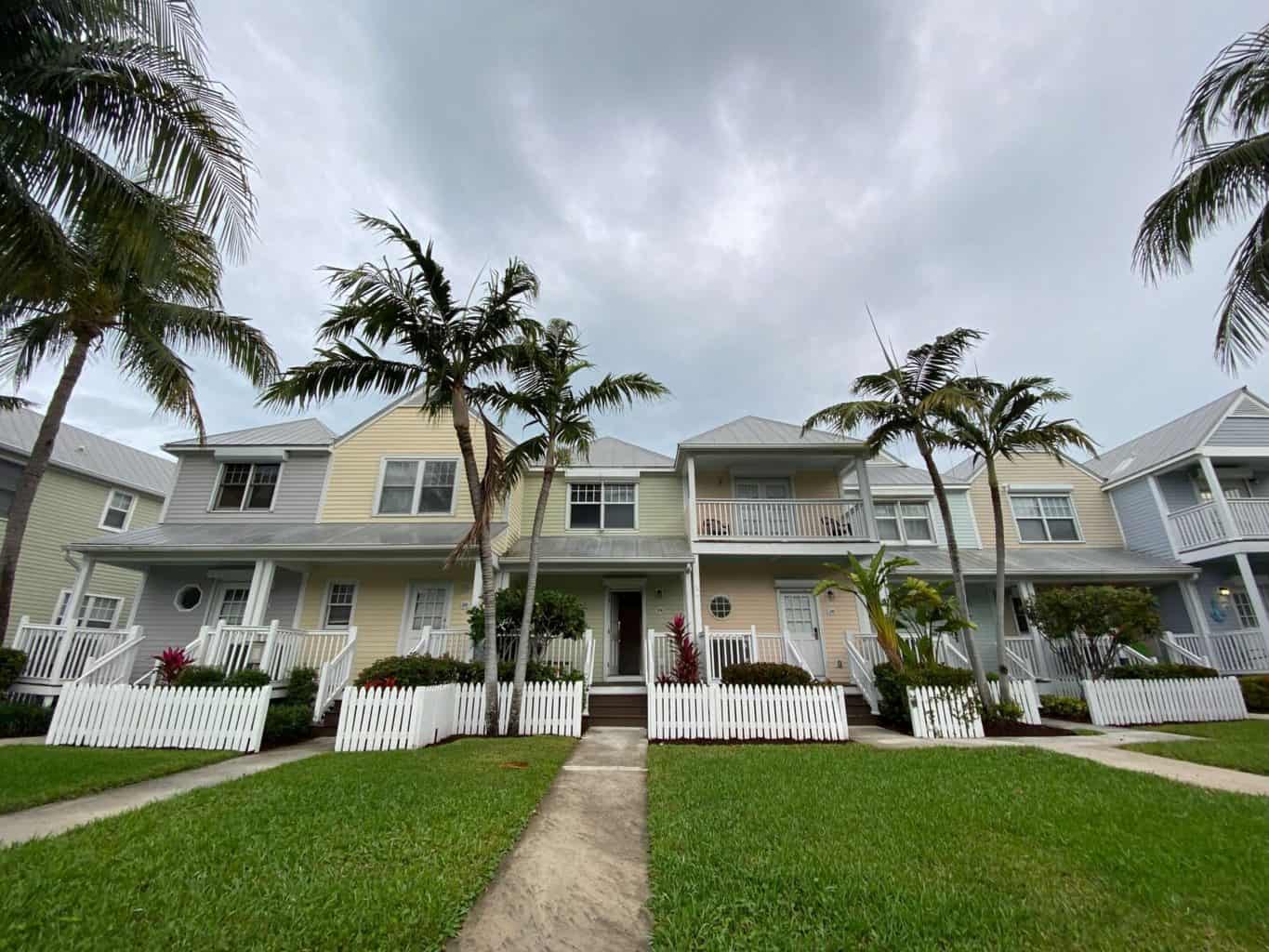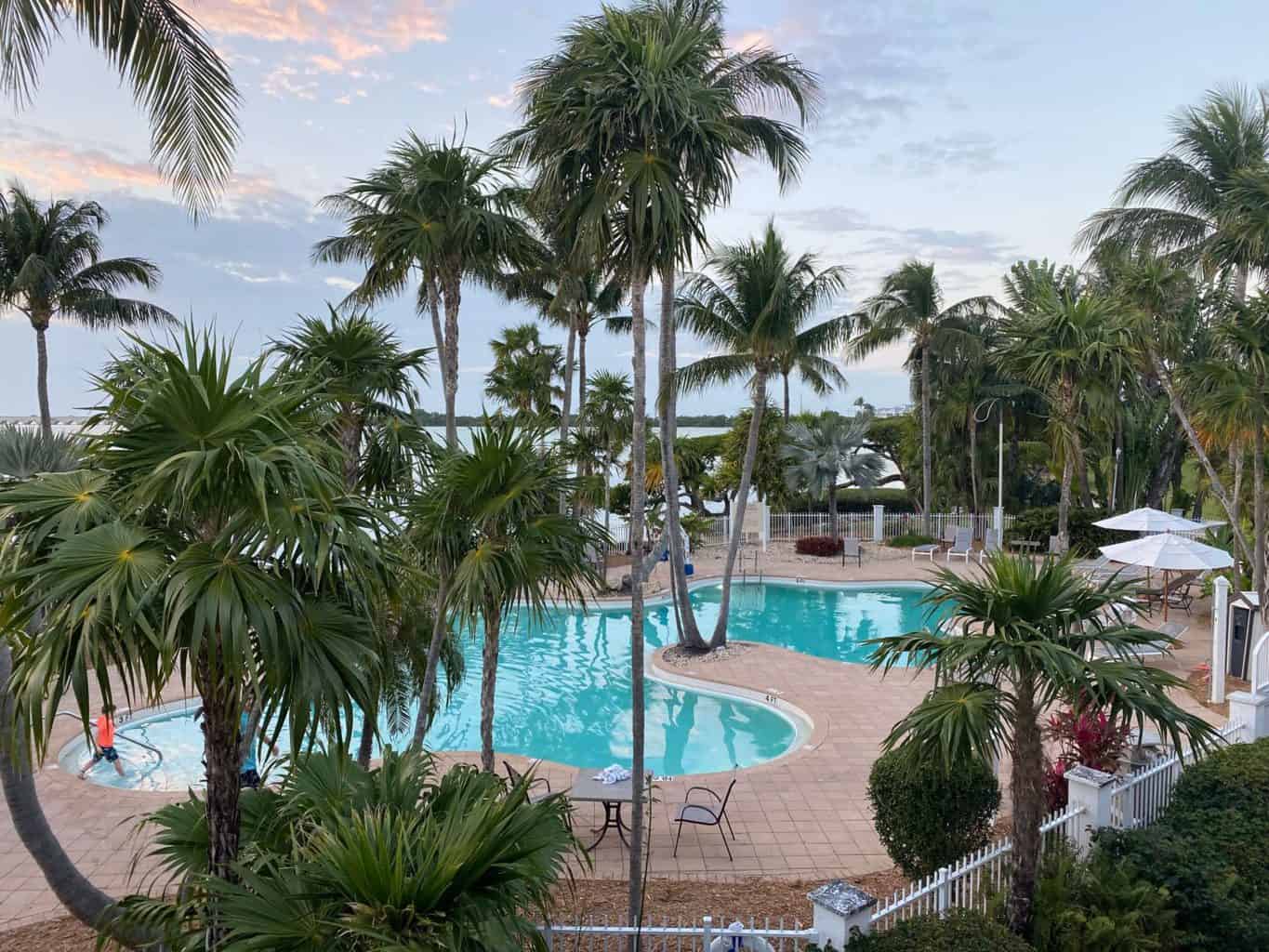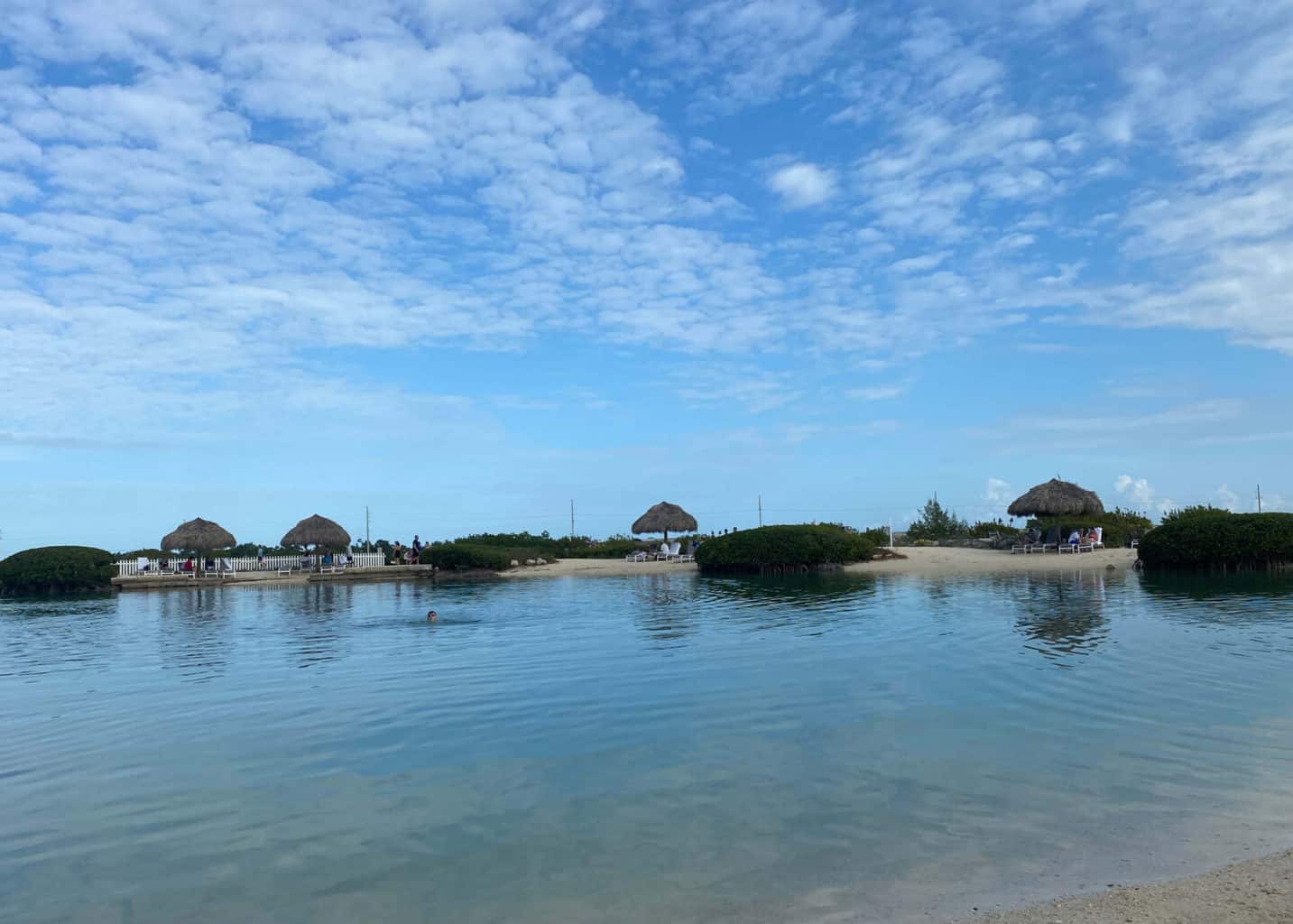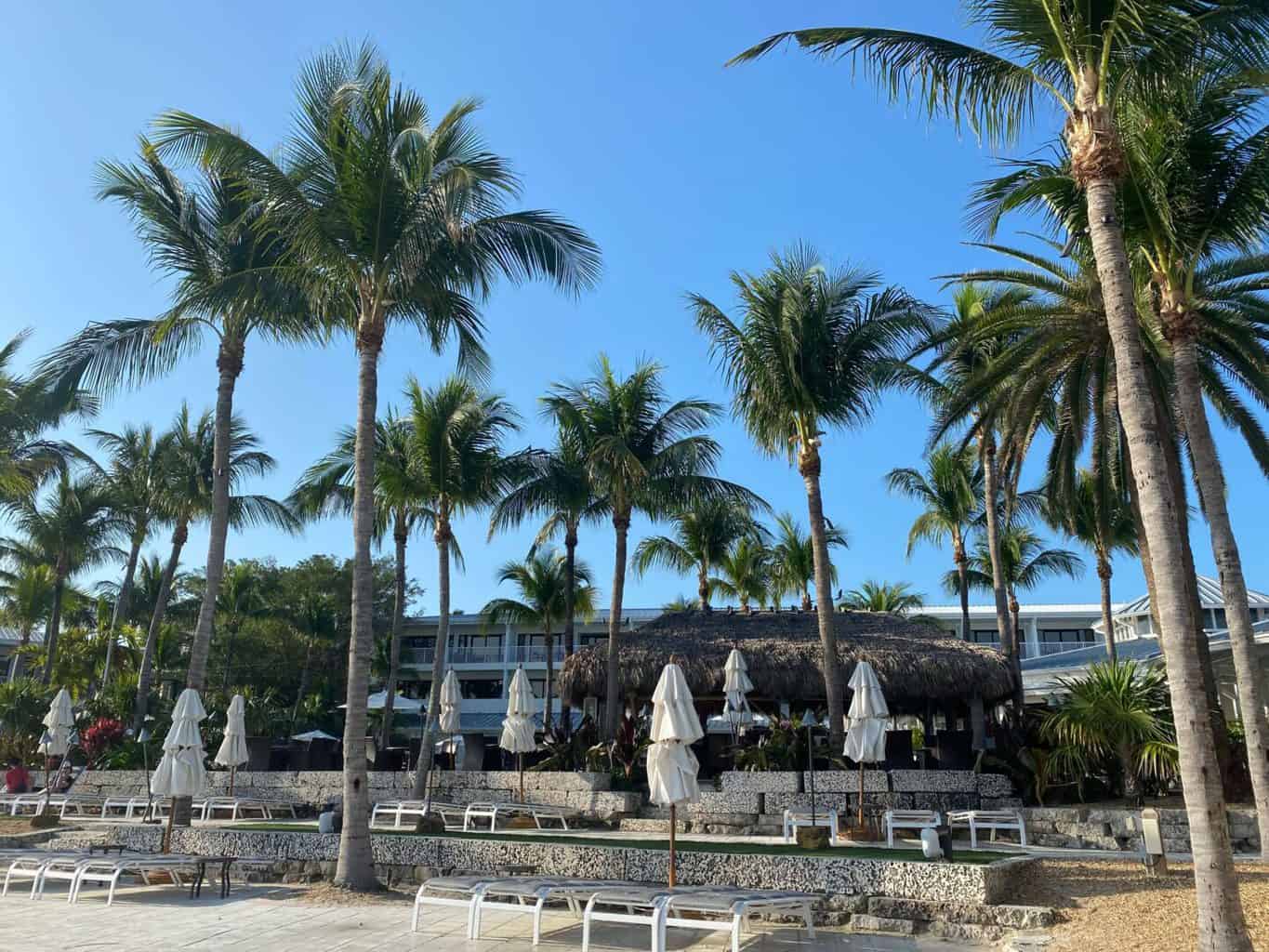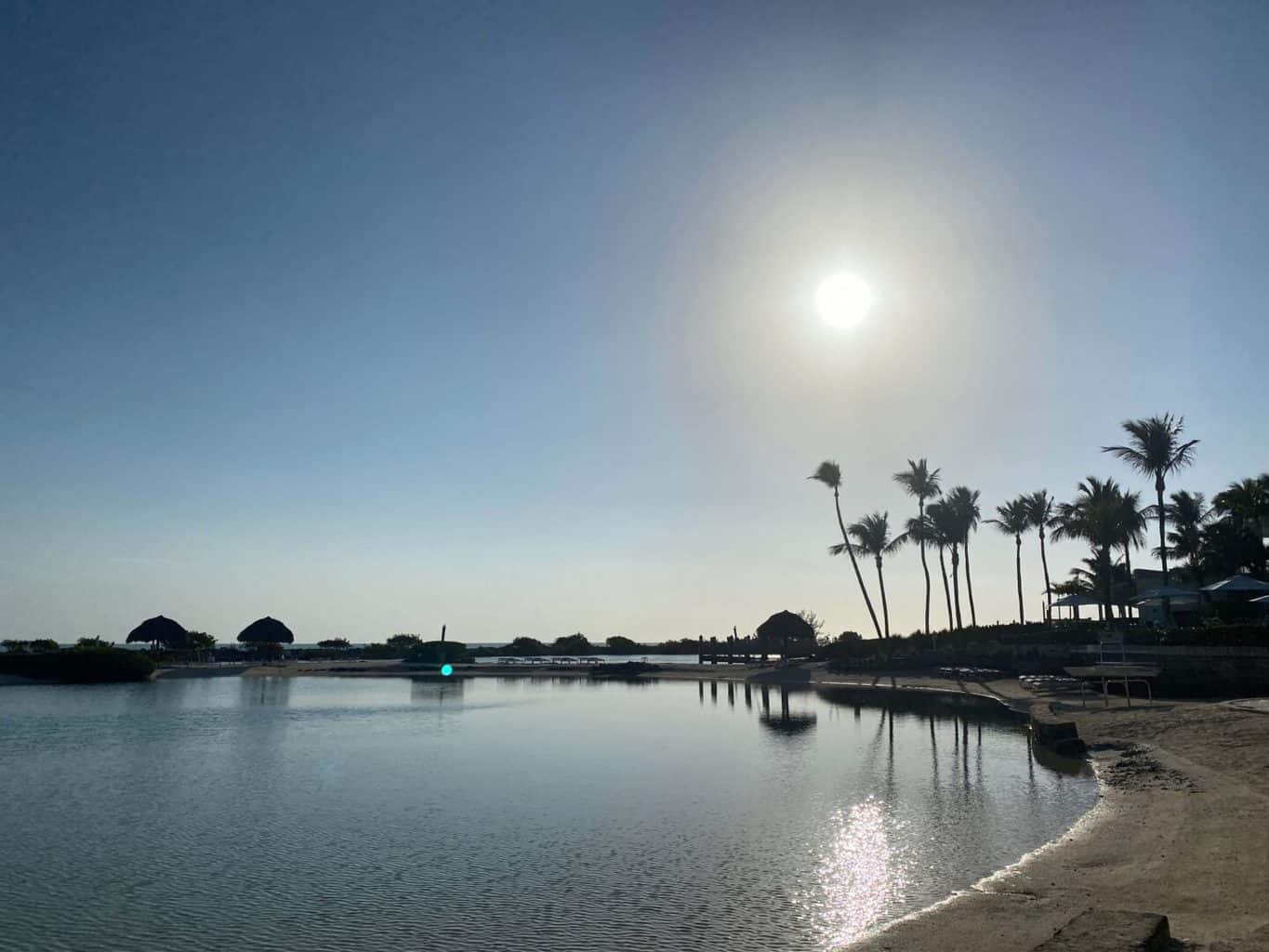 How to Plan a Family Key West Trip
Key West is well known as a party kinda town. It's the place where people go to soak up the sun and let loose. We are mindful as parents to not put our kids in situations that may make them uncomfortable and we personally try to avoid wild party environments even when we don't have our kids with us. It's just not our jam!
However, we also believe that ANY destination can be a kid-friendly one with the right kind of planning. Here are my tips for planning a family friendly Key West vacation:
Schedule the Trip on Weekdays and Avoid Holidays
If you're planning to visit actual Key West…plan to visit during the WEEK. Not only will it help minimize traffic frustrations but it will also help make finding parking easier AND minimize the wild environment the weekend tends to bring with it.
We visited Key West over our kids' winter break from school (President's Day weekend in February). While it was a school holiday, it's also not one where people tend to take major vacations. I would probably avoid Key West during Spring Break as the vibe reminds me of Panama City Beach which I'd also avoid on Spring Break
(However, there is one place I WOULD recommend visiting during Spring Break… Disney World!)
Key West in February was PERFECT with the weather too! We were expecting it to be cooler but it was perfection. High 70s/low 80s every single day and even the water wasn't chilly like we had been anticipating. A great winter escape to warm weather
Do Everything EARLY
We made the hour drive from Duck Key to Key West early in the morning. This allowed us to avoid traffic! There is really only ONE highway to take you through the Keys and just like the Florida Keys are known for the gorgeous views…it's a place that is also known for its horrible traffic.
Planning our activities and meals for earlier than the normal times also helped us avoid crowds of people and any rowdiness that may have occurred later in the day.
We scheduled everything we could for the earliest time slots available. We ate lunch around 11 am and dinner around 4:30 pm. We visited Mallory Square at 5 PM which is right as the Sunset Celebration festivities were getting started.
By arranging our day on the early side of things we really had a minimal crowd experience even in highly visited tourist spots. Kids do well having things early anyway so it helped our day run smoothly!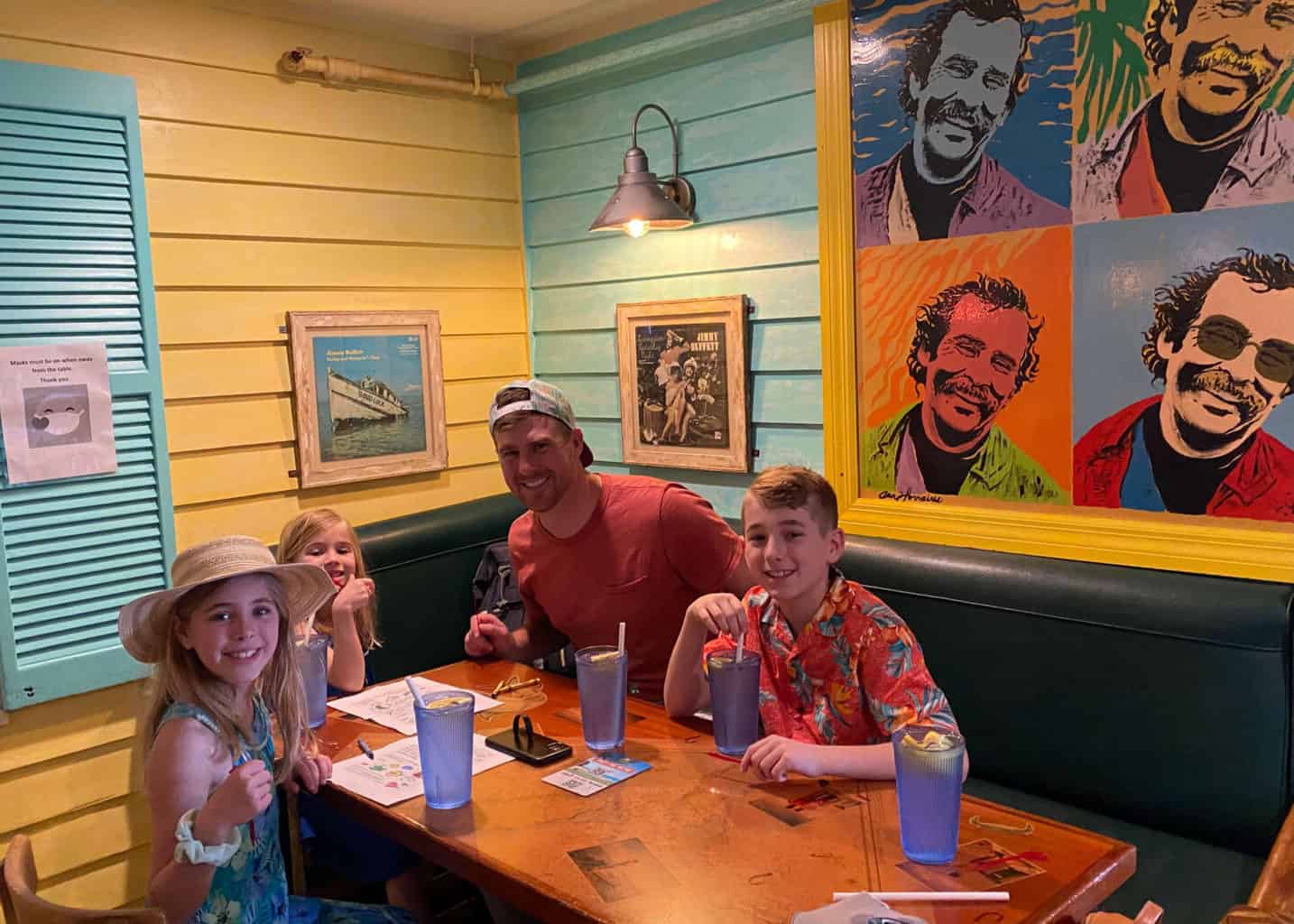 Schedule Activities in Key West
If you're planning a family trip, MAKE PLANS. Don't just show up and go with the flow.
I typically love to walk and explore a new town with my husband but I knew going in that having a solid game plan for our day in Key West was crucial to it going well!
We visited Fort Zachary Taylor, had a scheduled trolley tour of the city mid-day, and then had a trolley ghost tour for the earliest time slot that evening. Having these planned activities really allowed us to enjoy the area without encountering any uncomfortable moments for our kids.
The party gets rolling EARLY in the Keys…so yes even mid-day you'll see people who have already had a bit too much to drink and we had a few people yell things at the trolley during our ride so it made me thankful we made those plans! I do NOT think we would have enjoyed our Key West day without that set agenda!
The biggest tip is to keep a constant watchful "mama eye" and ear out for anything that may be inappropriate for your kids…simply redirect their attention elsewhere. When we visited Mallory Square a few of the street performers got pretty graphic and pretty rude with some racist comments. My husband and I just gave each other "the look" and left the area and found a quiet, beautiful spot to watch the sunset. Our kids didn't even notice anything was amiss at all and the moment didn't take away from our day whatsoever.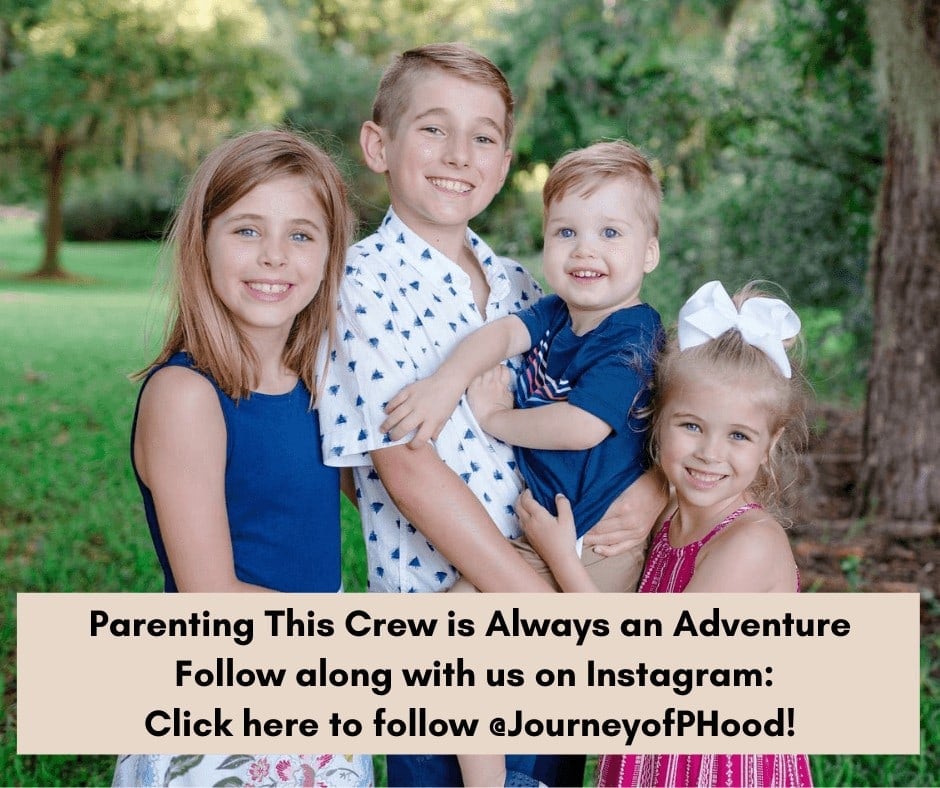 Key West with Kids: Kid-Friendly Activities in the Florida Keys
I was pleasantly surprised by just how many awesome kid friendly activities are available in Key West. We had a four night, five day stay and had tons of things to do and could even go back and still have things we didn't have time to try out. Here are some of the best places to go!
Enjoy Hawks Cay Resort
A big reason we booked our stay at Hawks Cay was due to the family-friendly atmosphere it provided. There is a kid's club called Coral Cay with a putt-putt course, crafts, games, pirate-themed water park, kid-friendly pool, and more.
There is also a beautiful salt water lagoon perfect for kids to play and parents to keep a watchful eye without worrying about crashing waves carrying them out to sea!
I knew I wanted to have some sort of hands on dolphin experience in Key West and there are many to choose from. I looked into Theater of the Sea as well as the Dolphin Research Center but in the end decided to book through Hawks Cay as their package includes photos and they are REALLY good quality and I felt like the overall experience looked better and more hands-on and it was fabulous!
There is so much to do at Hawks Cay that you could truly plan a trip there and not ever leave the property. We really wanted to take advantage of just having our oldest kids with us so we planned a lot of big kid activities but if we'd had our toddler along we would have been plenty satisfied with just spending time at the resort.
You could also book a stay at the resort and just stick to doing the activities included in the resort fee and still have plenty to do! Items included in the resort fee are: unlimited use of the putting course, sports field, hard and clay tennis courts, parking, Island Tram (super handy), Coral Cay (kids club), access to the Calm Waters Spa Fitness Center, wifi, bike rentals, kayaks and paddle boards.
Hawks Cay is located in Duck Key which is just a short few minute drive to Marathon and is about an hour to Key West.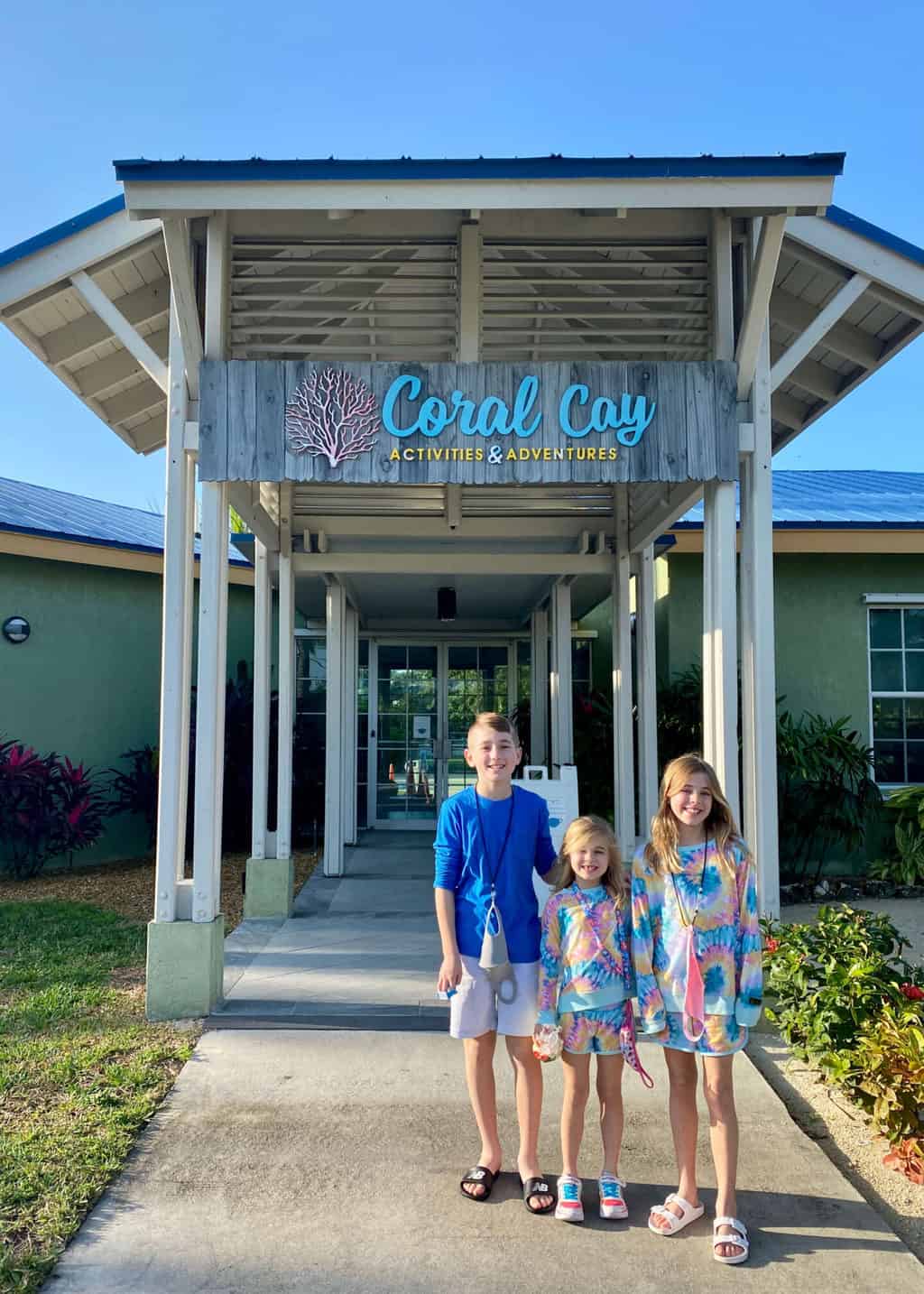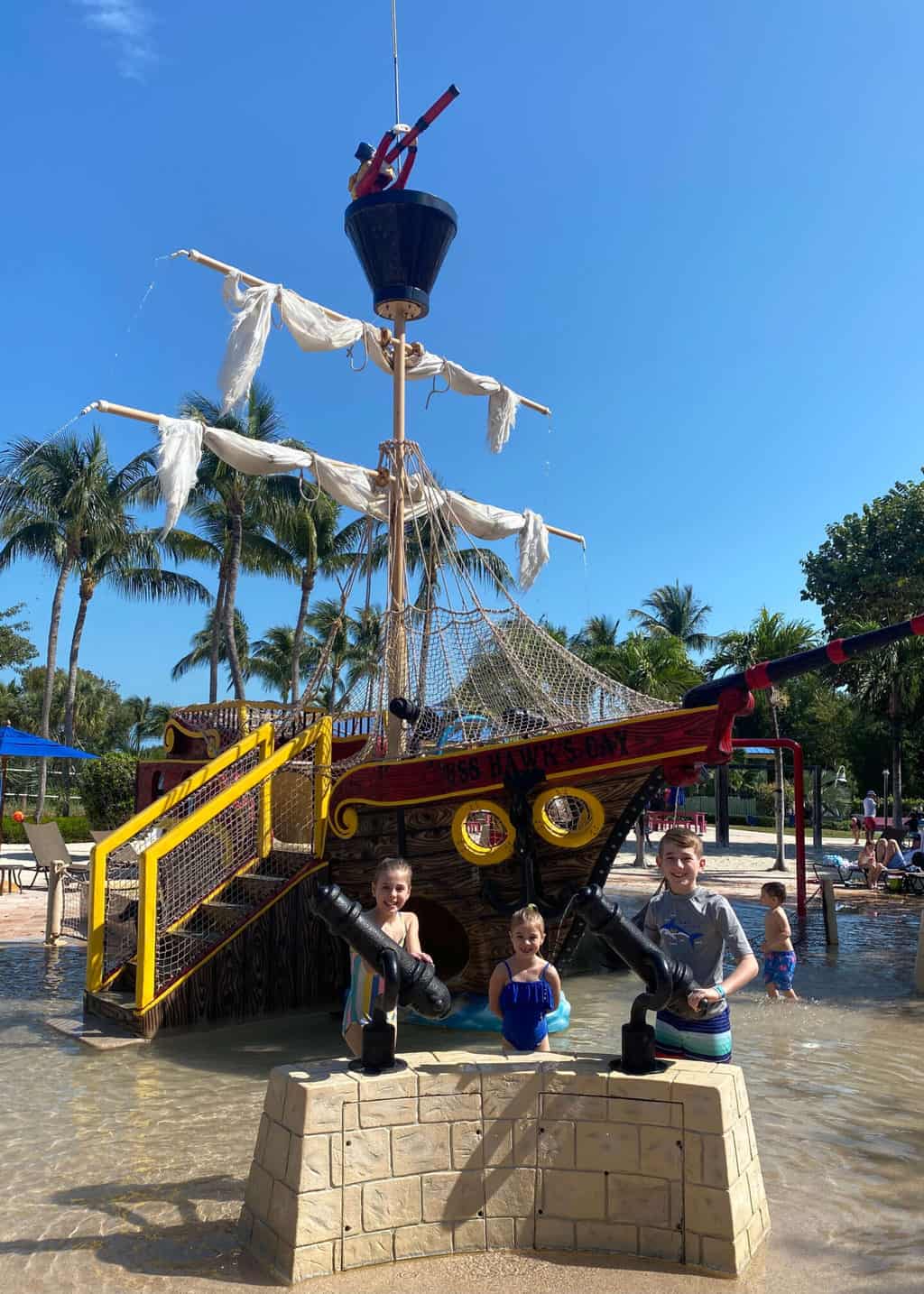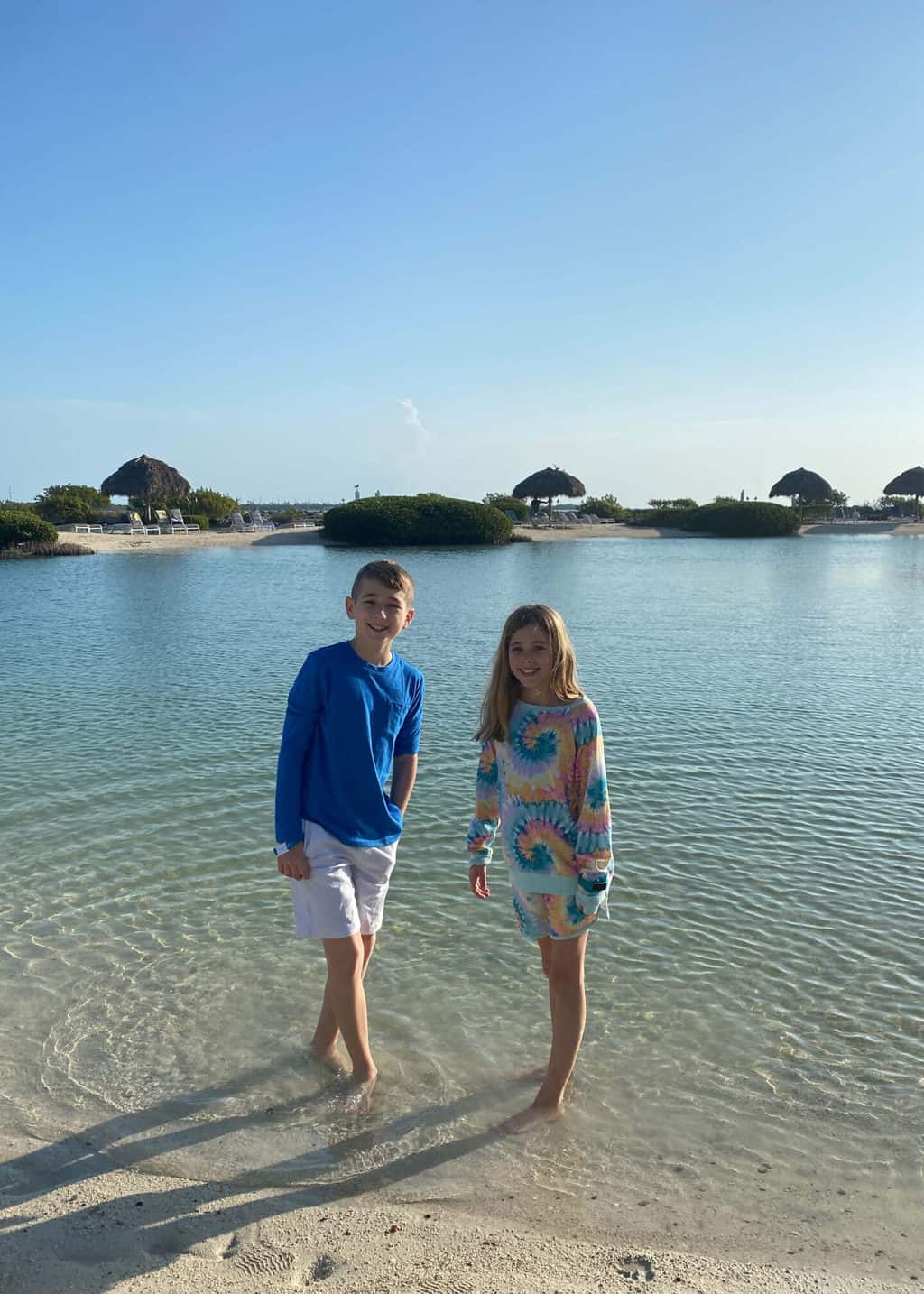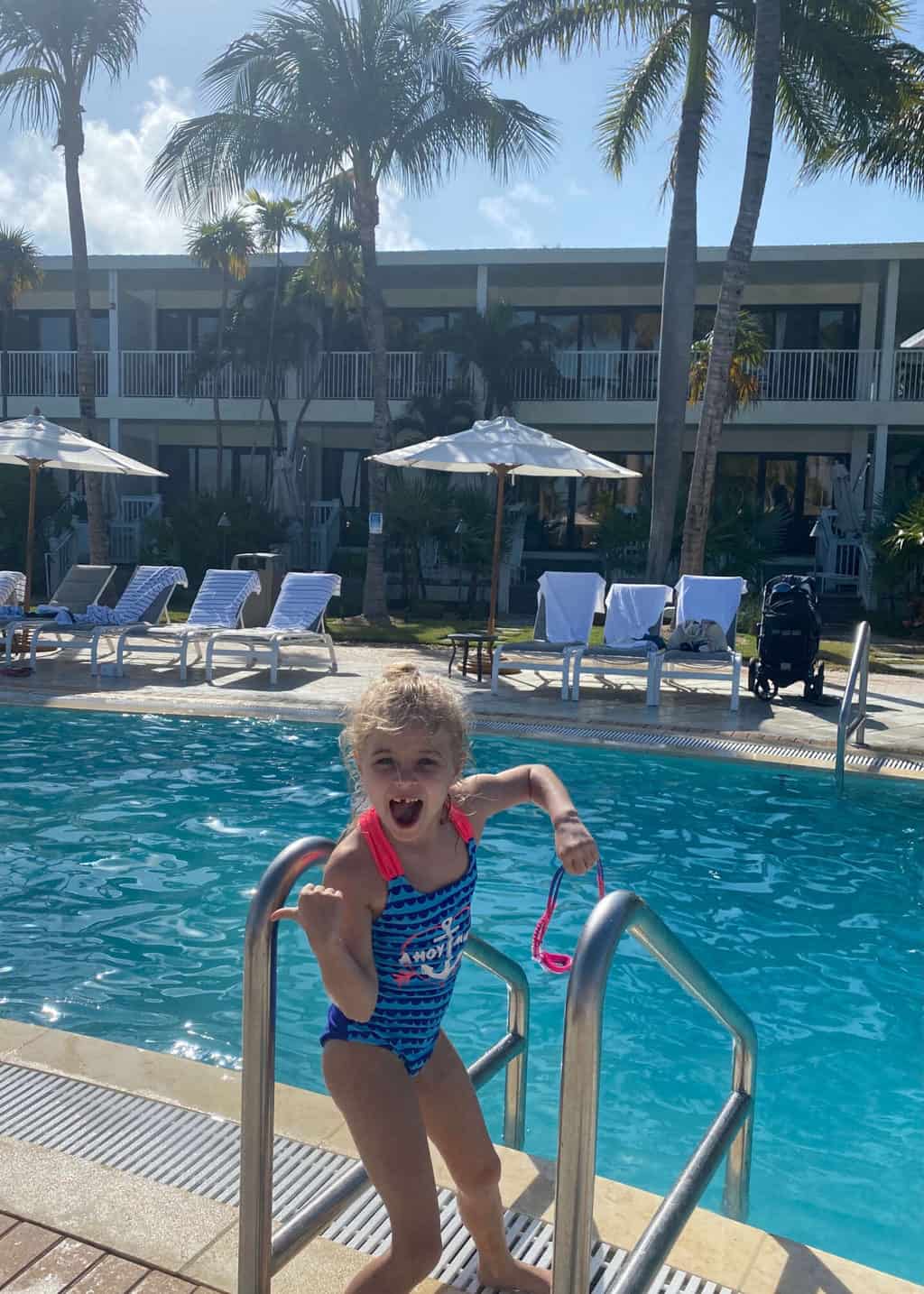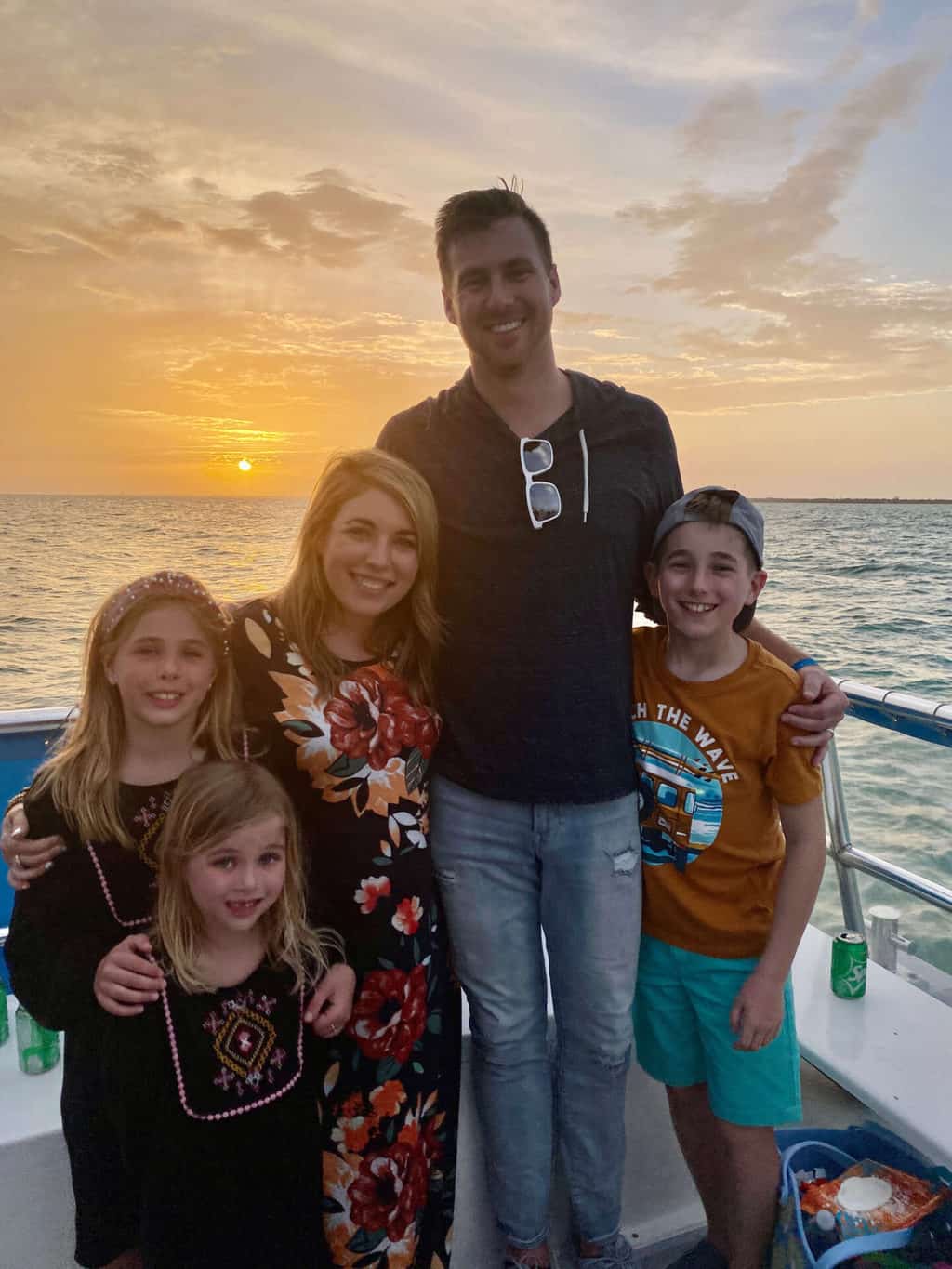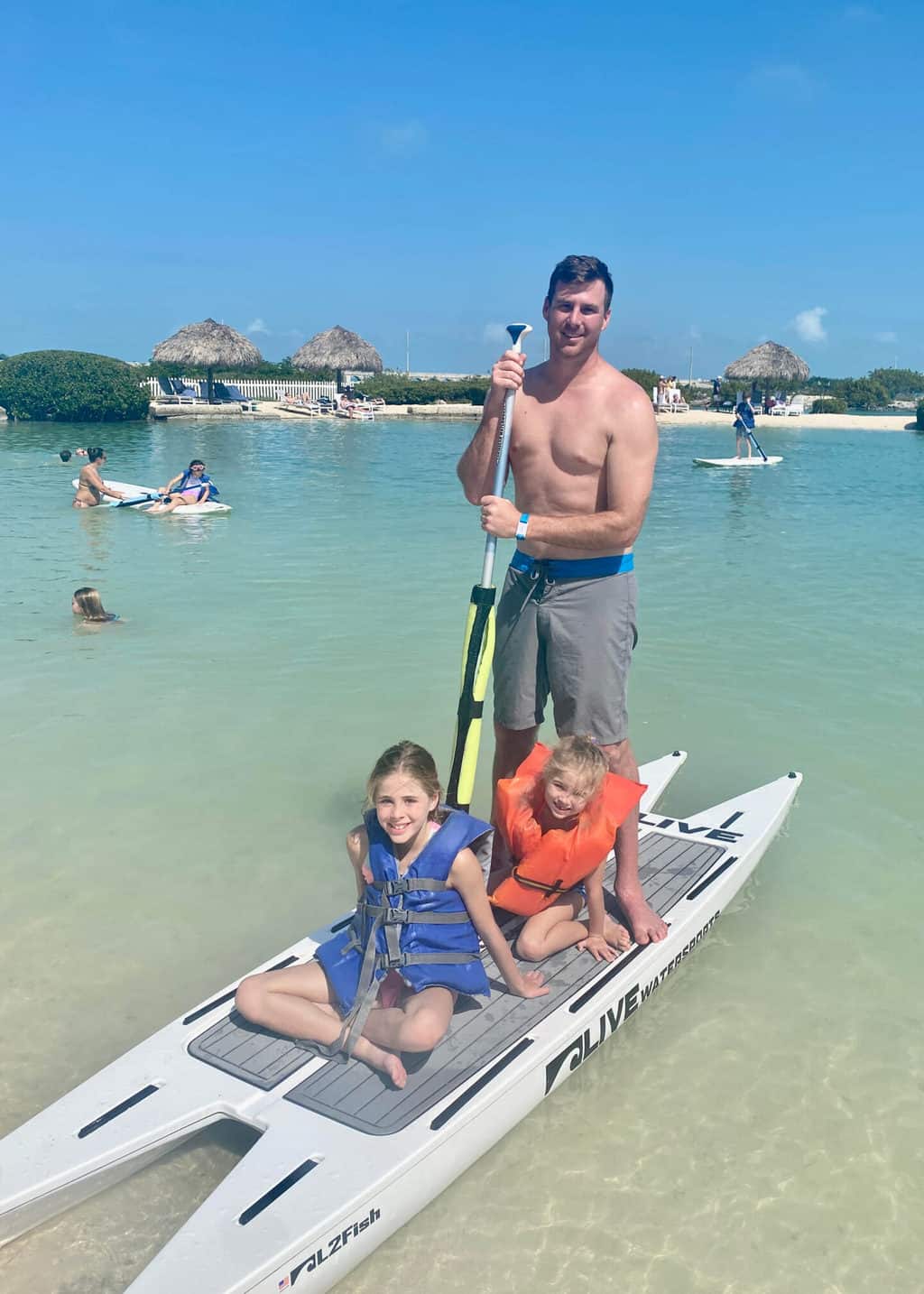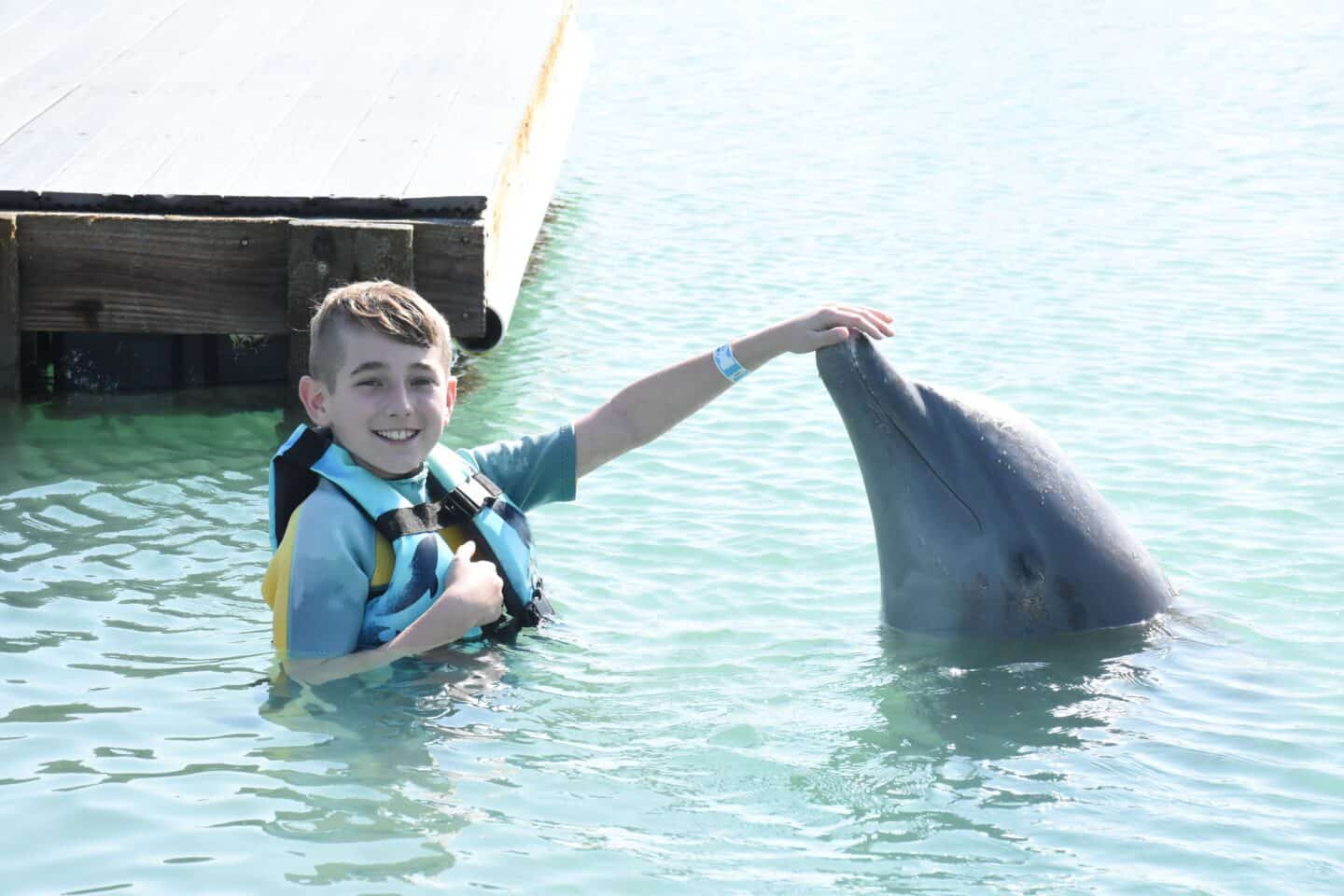 Visit Islamorada
Since we drove to the Keys we were able to make a stop on our way down and take part in the must-see spots in Islamorada. Islamorada is located about 45 minutes north of Duck Key so it was the perfect stopping point on our drive.
We visited Theater of the Sea and I highly recommend it! It is set up in an easy to follow format that makes it a quick activity too. They basically guide you through brief shows and tours that are all flowing from one to the next. Each show is engaging enough to keep your interest while also being short enough so you don't get bored.
My husband is NOT an animal guy (actually neither is my 12 year old) but even they agreed it was a worthwhile visit. The dolphin show was THE BEST we've seen even better than the Georgia Aquarium and Sea World!
In my research I do think the dolphin encounter at Hawk's Cay is a better option than the one offered at Theater of the Sea. However they do have TONS of other animal encounter options that may be worthwhile if you're crew is interested in hands on experiences. (I'd personally love to do the sea lion one).
Also while in Islamorada we visited Robbie's which I read was a MUST DO on every site. Maybe back in the day it was a better experience? The area is really neat, Robbie's is not just a restaurant. It has a full market area with fun little booths set up selling souvenirs and snacks and such.
We did not eat at the restaurant, but did enjoy the marketplace area. The main attraction at Robbie's is the feeding of the tarpons and THIS experience was NOT what we'd anticipated. While it was hilarious it was also pretty terrifying to be attacked by pelicans. Two of my kids had legit bites on them!
I do think it's a great tourist stop but I don't think you have to feed the tarpons to enjoy it. Totally a family friendly spot but the attacking pelicans make it a little less fun for kids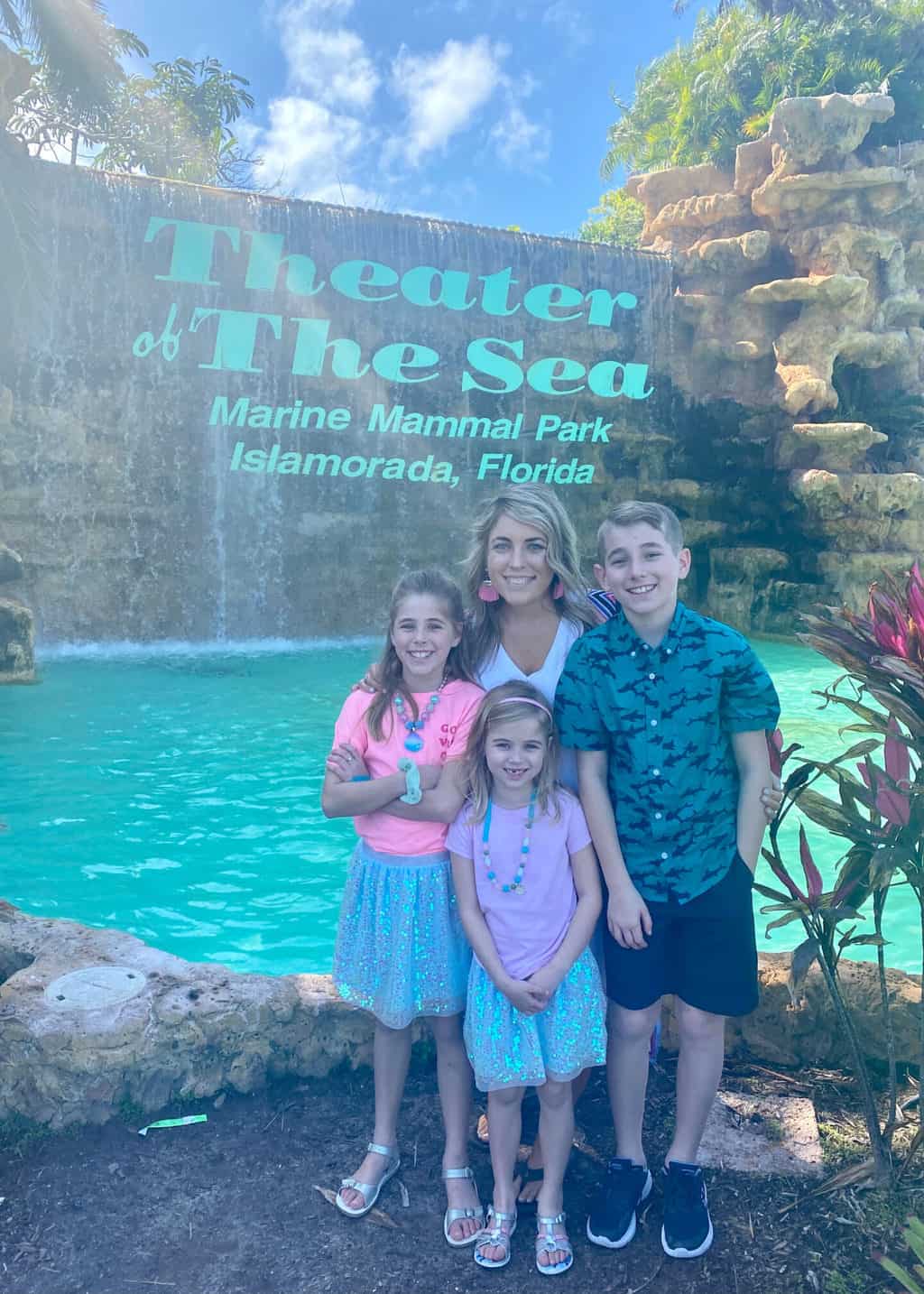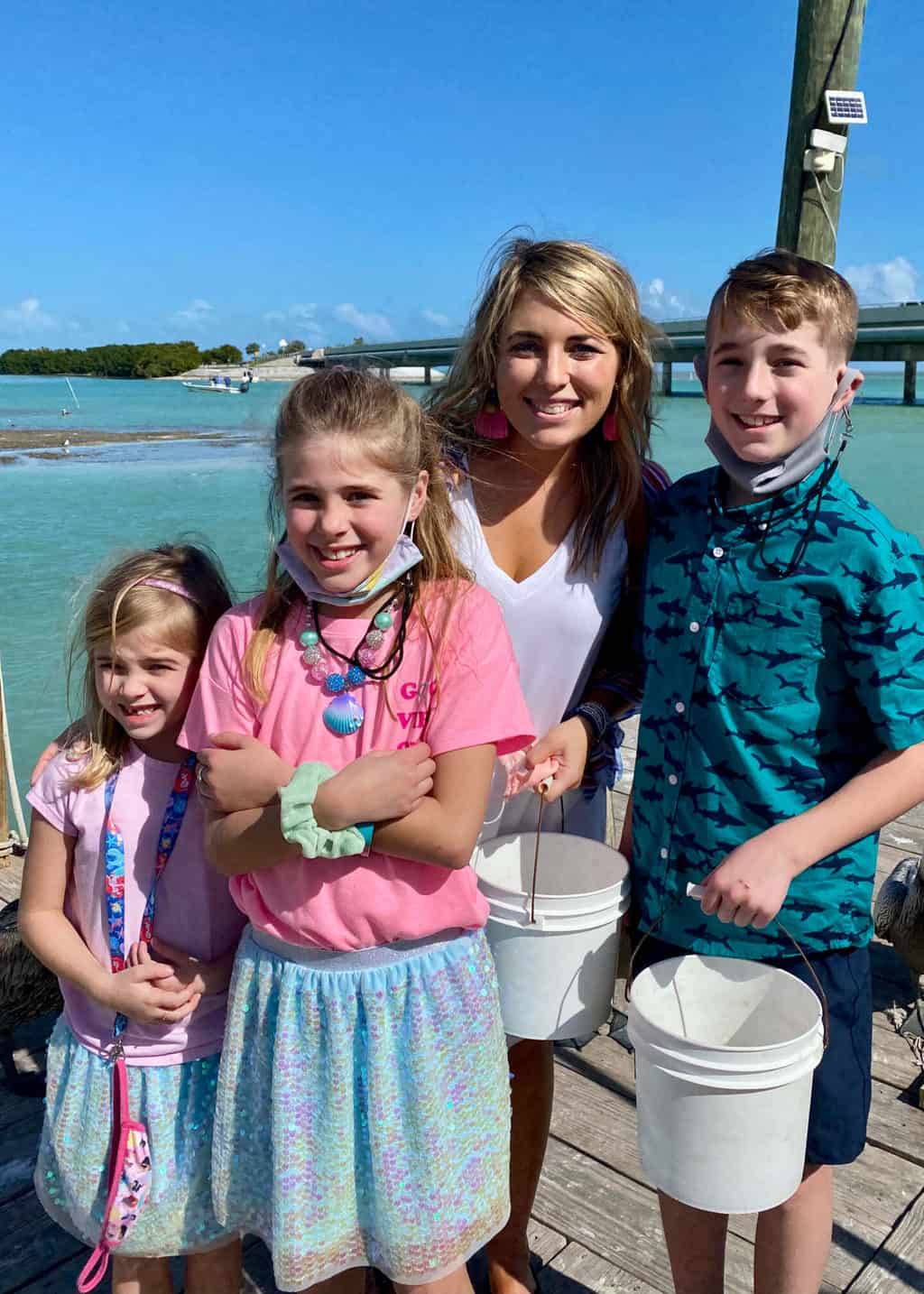 What to Do in Key West With Kids
As far as visiting Key West we planned for ONE full day to hit all the tourist highlights in Key West and having a full day was plenty to do all the things we wanted to do and have experiences we wanted to have.
We got a good feel for the area and took in all the must-see sights while keeping it all kid-friendly by scheduling all of our activities.
Fort Zachary Taylor
We visited Fort Zachary Taylor as we have some history buff fans in our crew and enjoyed seeing the fort and reading up on its history. To visit Fort Zachary Taylor Historic State Park it's a per person cost but a very low fee. We opted for the self-guided tour and it took us about an hour.
We visited early in the day which also helped us avoid the heat as well as the crowds.
There is a TON to do at Fort Zachary Taylor including a guided tour and I've read it's a FANTASTIC beach spot too. Key West doesn't actually have a lot of beach areas and Fort Zachary Taylor is considered a great beach location to enjoy the water and waves and sand. You could easily spend a full day at the fort if desired.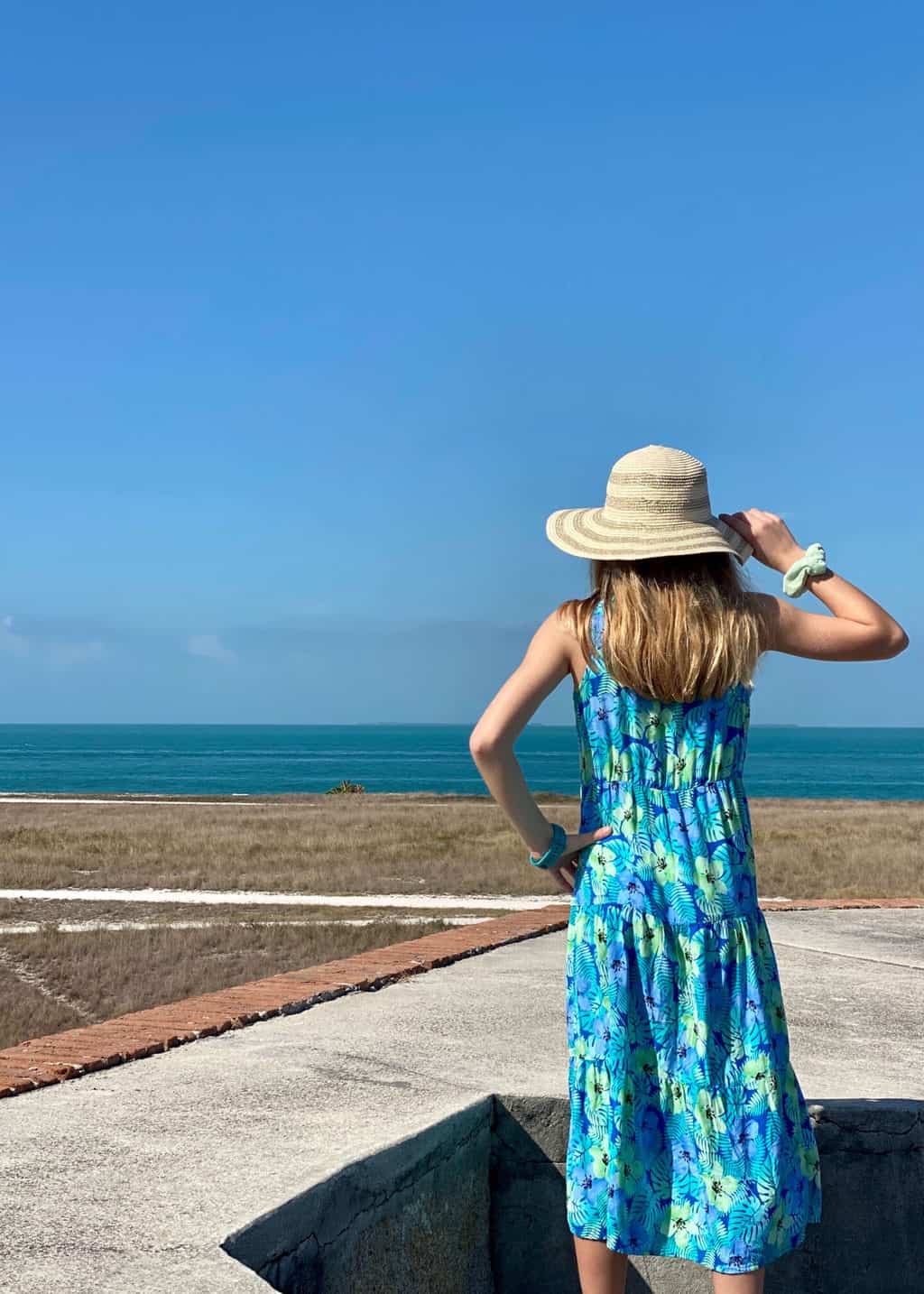 Key West Tour with Trolley Tour
We did a good bit of research into tour options and decided to take the Old Town Trolley tour with our kids during our day in Key West. We chose this tour because we liked the idea of a relaxing riding tour where we could hit the highlights of the history of Key West as well as allowed to hop on and hop off if we saw something of interest we could hop off and check it out!
The tour was PERFECT with kids as it wasn't overly detailed and it was nice that the kids weren't having to walk everywhere. It was also nice to not be encountering a lot of the party goers because we were in the trolley. It also helped us be able to see some of the tourist spots that were located further away from the main hub of Mallory Square.
If you're not traveling with kids I don't know that I would suggest this tour as it wasn't as detailed or informative as I would have preferred if it were just my husband and I but it's a great option for families! We also had a wonderful experience with this tour company when we visited Savannah and it's why we chose it over other popular tour options, including the Conch Tour Train Tour (it looks neat but we would have felt a lot of guilt riding on a train without Spear!)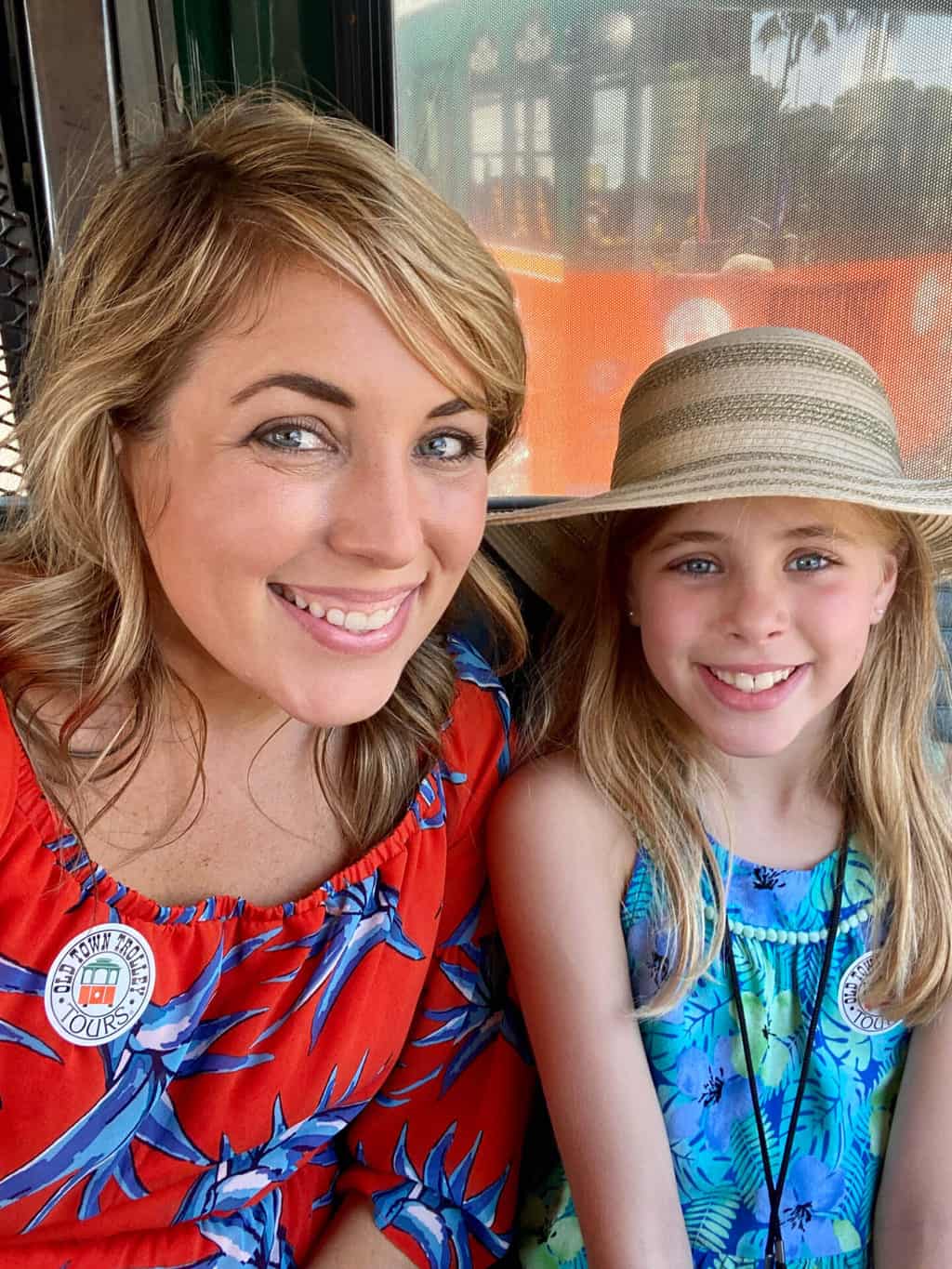 Southernmost Point – Mile Marker 0
Part of our trolley tour took us out to the Southern Most Point which IS a must-see item when visiting Key West but is located a bit "out of the way" from the main tourist area (Duval Street) so it was a pretty decent drive on the trolley to get there. We hopped off, got our photo, and hopped back on.
There isn't a whole lot to see at the Southernmost Point but it is so neat to be at the furthest south part of the United States! The Southernmost Point Buey is one of the most photographed spots in the entire country.
There are several little themed shops as well as restaurants along the street so you could spend some time there if desired.
Be sure to offer to take the person in front of you's photo for them and don't be shy to ask the person behind you to take your photo too!
Mile Marker 0 is actually not in the same location as the Southernmost Point but the trolley tour also took us by that location. The actual Mile Marker 0 sign is frequently stolen so I would not plan on a photo opportunity there!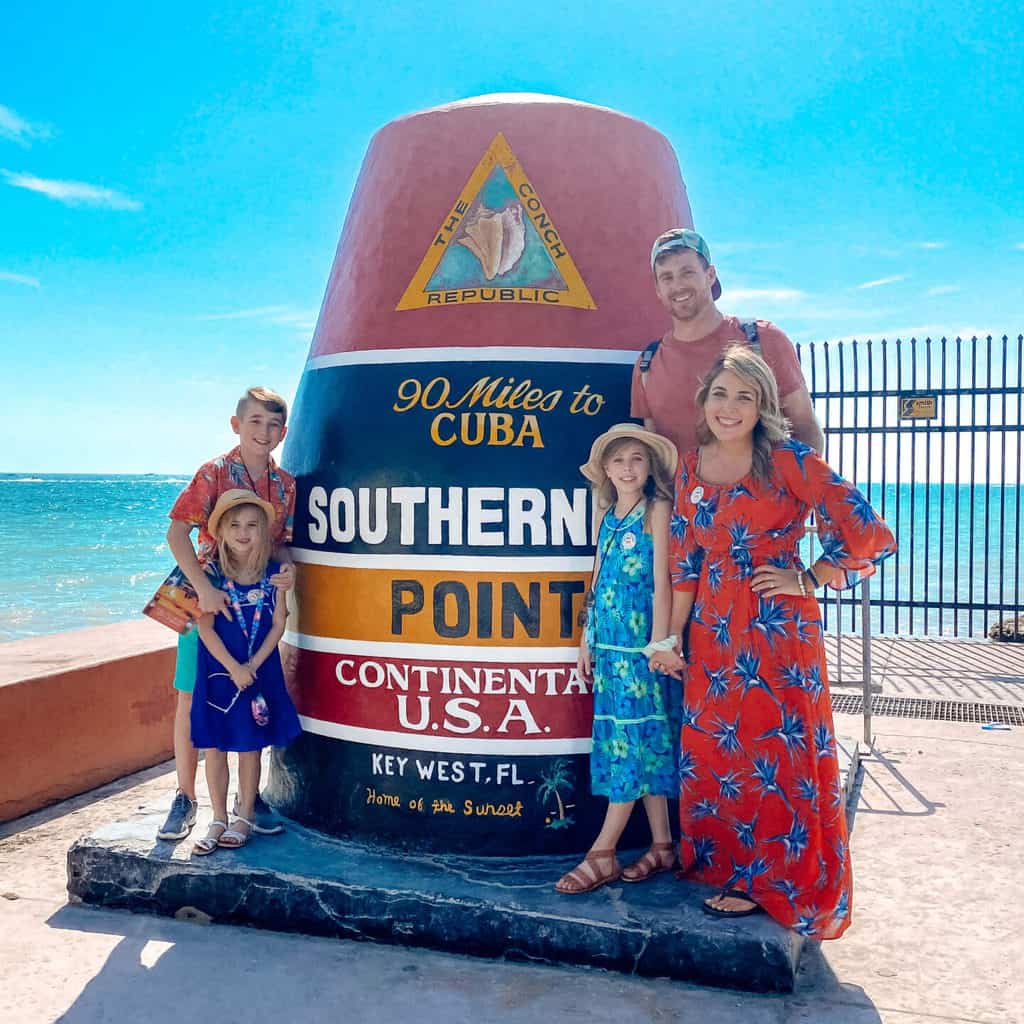 Mallory Square Sunset Celebration
When researching the best things to do in Key West with kids I kept seeing Sunset Celebration at Mallory Square pop up again and again. It begins every evening about 1-2 hours before the sun is supposed to set (if you're unsure on what time the sun is setting just ask anyone…the sunset time is like common knowledge to the locals haha).
It is a free activity! Venders, musicians and street performers all set up and there is lots to see and take in and every experience is unique!
When visiting with kids I HIGHLY recommend walking through about 90 minutes before sunset. Be warned that the entertainers tend to be very off-color in their comedy and vulgar language is to be expected. We lucked out and saw one that was more of a family-friendly vibe.
We did leave the area well before sunset as the performers and onlookers alike seemed to get a little too rowdy for our comfort level with our children BUT even if you leave Mallory Square it doesn't mean you'll miss the sunset! We walked down just a bit and had a great viewing spot with plenty of peace and quiet to just enjoy the moment.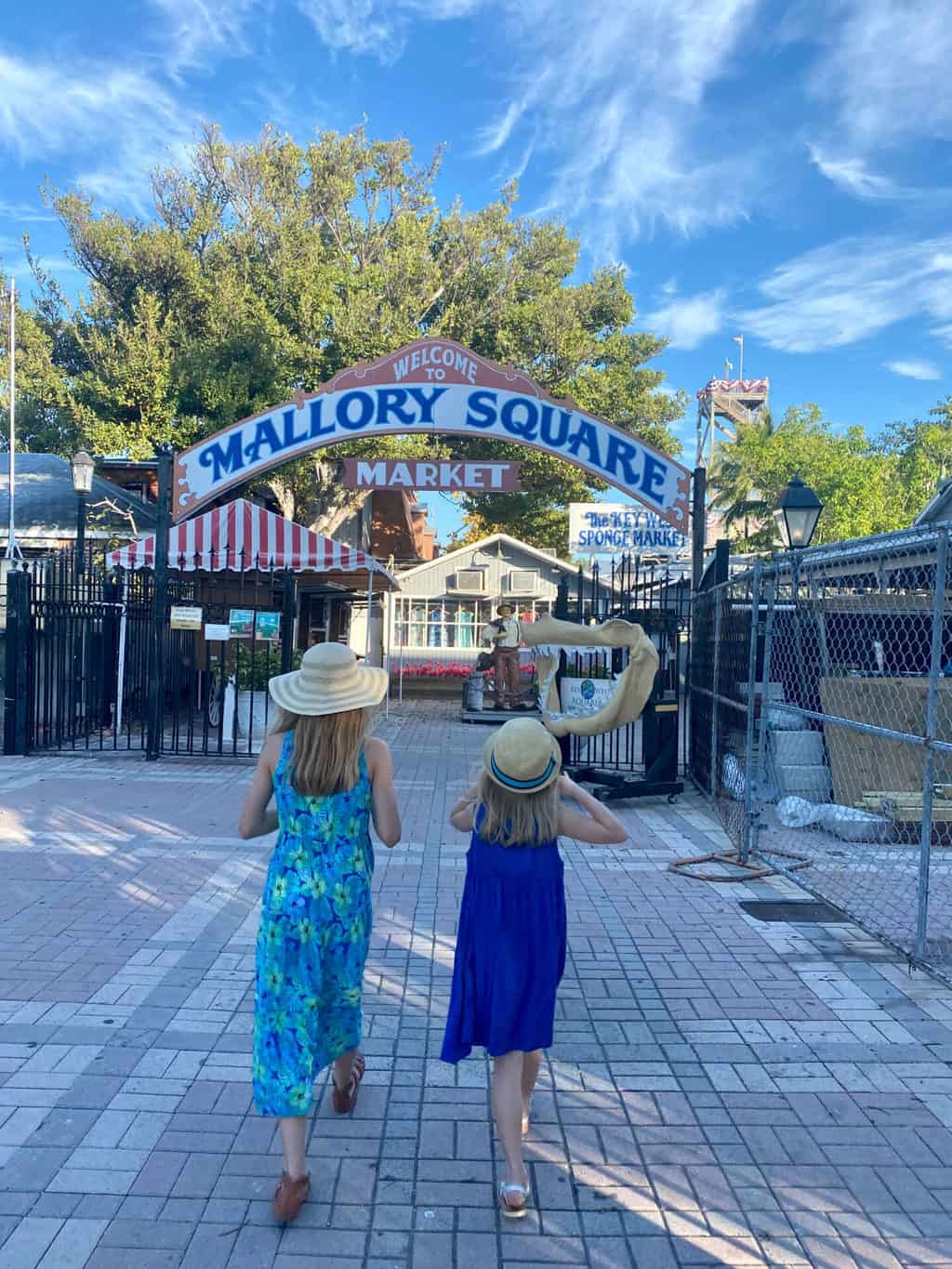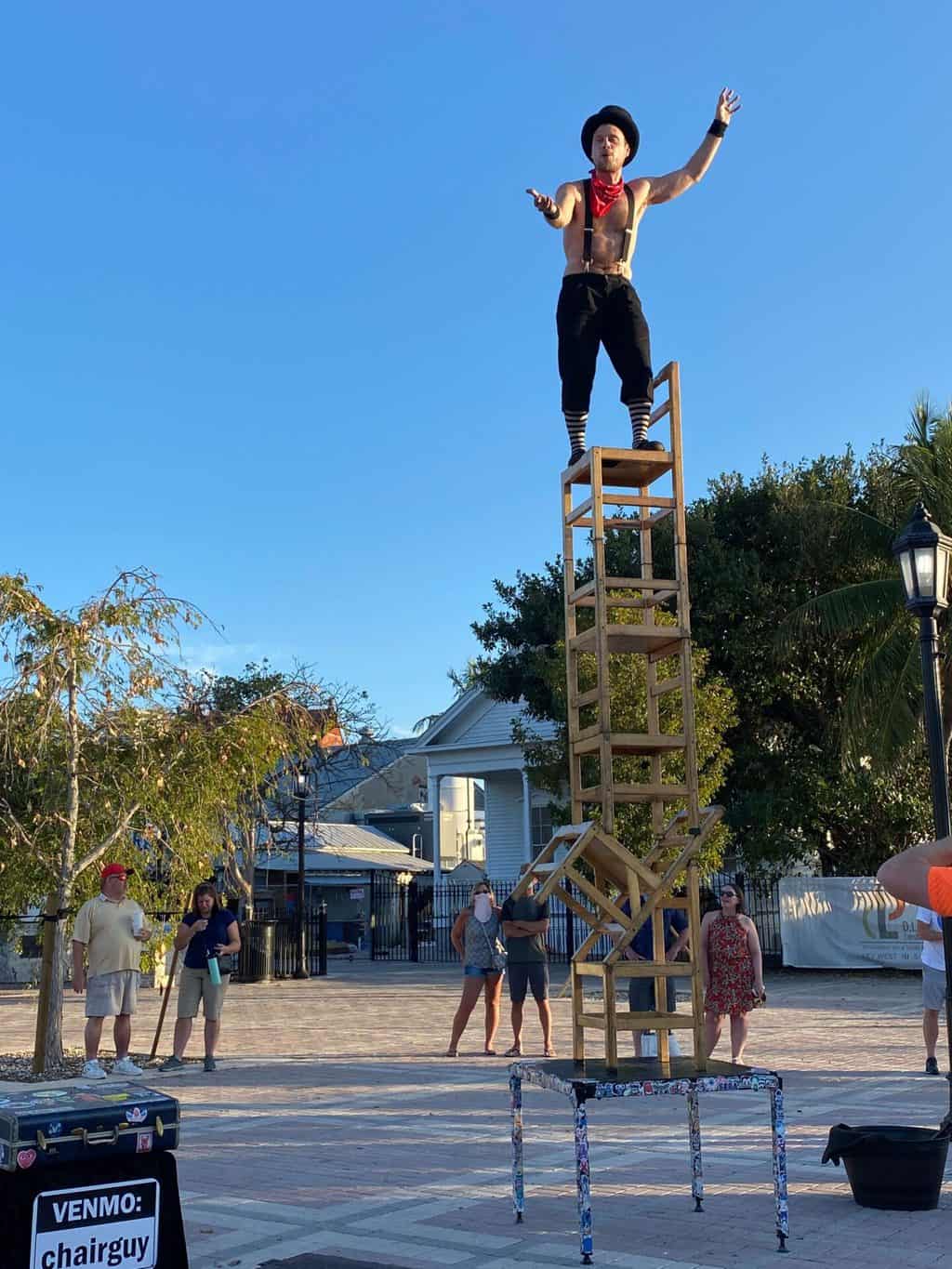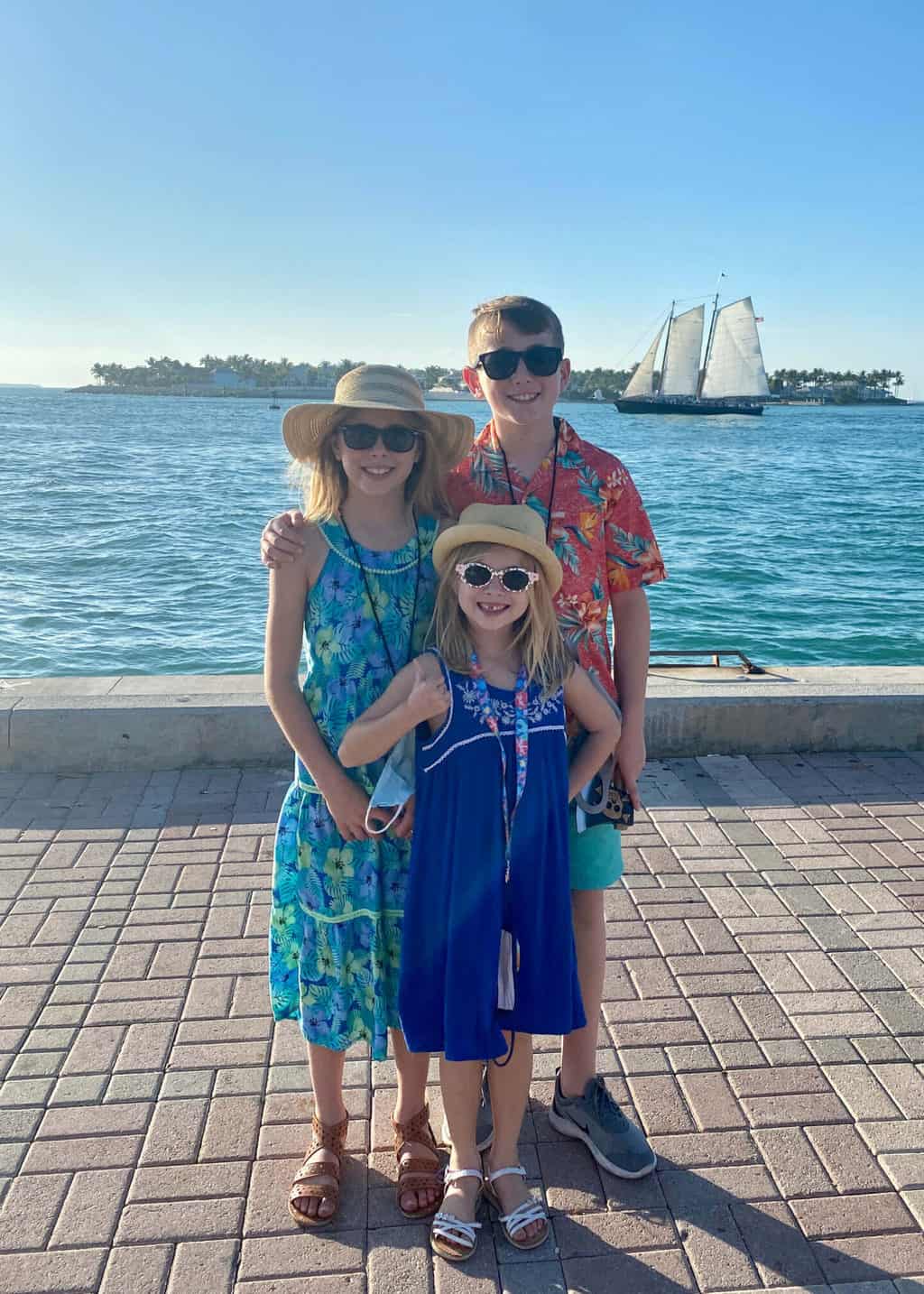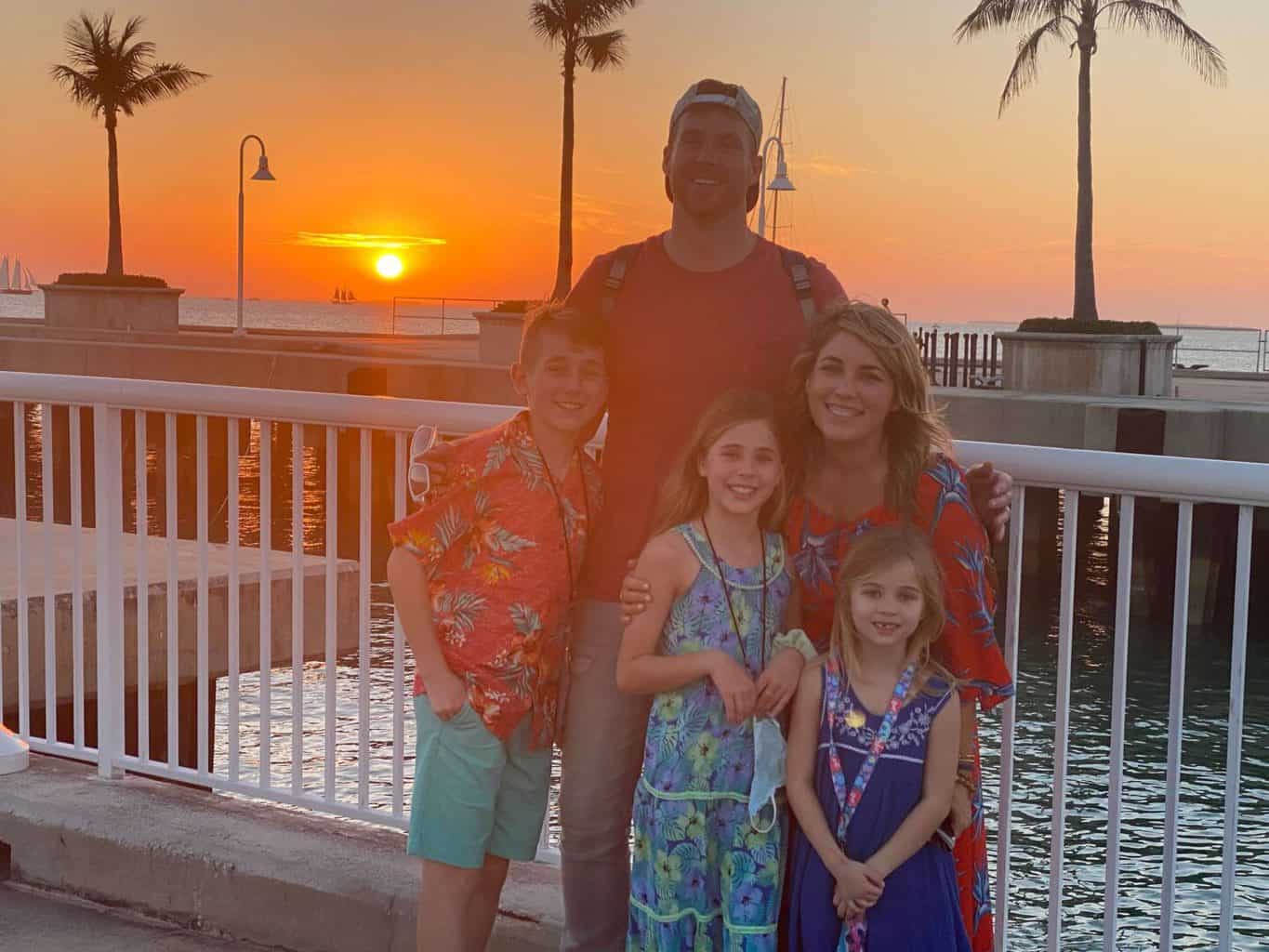 Key West Ghost Tour
Something we really wanted to do with our older kids on this trip was their first ghost tour. Again, I did a good bit of research. I didn't want a walking tour because I knew they would be exhausted by that point in the evening. I also didn't want a ghost tour that would be overly scary.
When choosing a tour we noticed that you can get a discount for booking multiple tours through the Old Town Trolley Tour and in my research the most family-friendly ghost tour in Key West is their tour, Ghosts and Gravestones Tour was perfect!
We LOVED it and it was a great first ghost tour experience for the kids. It also included a stop at the Key West Shipwreck Treasure Museum which broke up the trolley ride nicely and allowed us to see a bit of the treasures while learning about the creepy history there.
The tour was not overly scary, our 6 year old did great with it! I would HIGHLY recommend it as a Key West ghost tour experience with kids.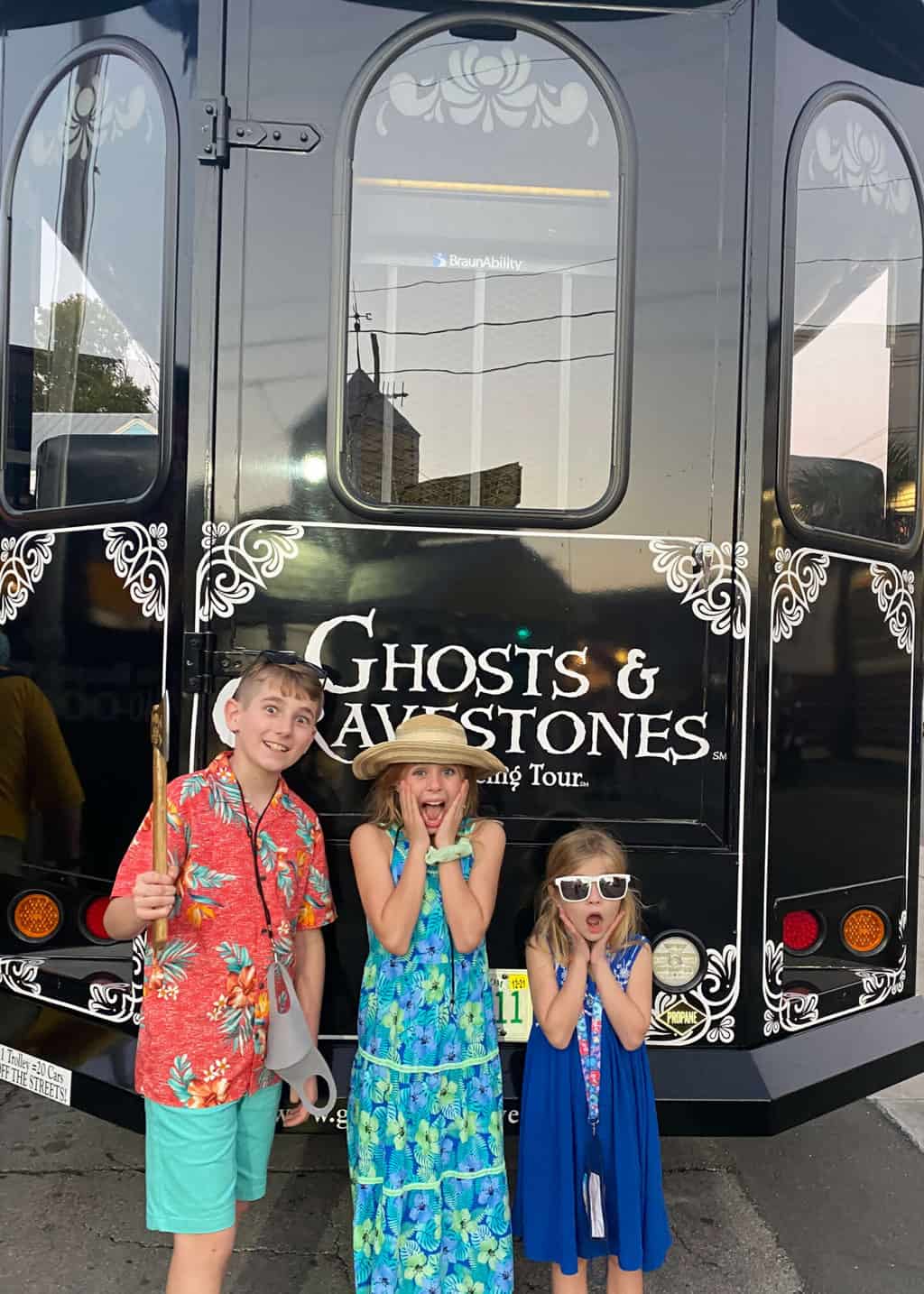 Family Friendly Dining in Florida Keys
We are not huge "foodie" people and did not do a ton of research on where to eat prior to traveling and that is a regret I have as restaurants get BUSY and get busy FAST. By eating early for most meals we didn't have too long of wait times (or too rowdy of crowds) which was nice but the times when we did have to eat later we ran into some headaches.
Overall we were extremely impressed with the awesome food we ate but especially with the fantastic service. Everywhere we went everyone was awesome!
Here is where we ate during our trip and my thoughts:
Islamorada
We stopped for breakfast at an AWESOME spot on our way down to Key West in Islamorada called Harriette's and it was fantastic. They had super yummy food including key lime muffins.
We also visited Robbie's of Islamorada and while we didn't eat a meal, we did get shaved ice and it was super good. I highly recommend ordering the Islamorada as it's tigers blood + pina colada + ice cream + condensed milk. YUM.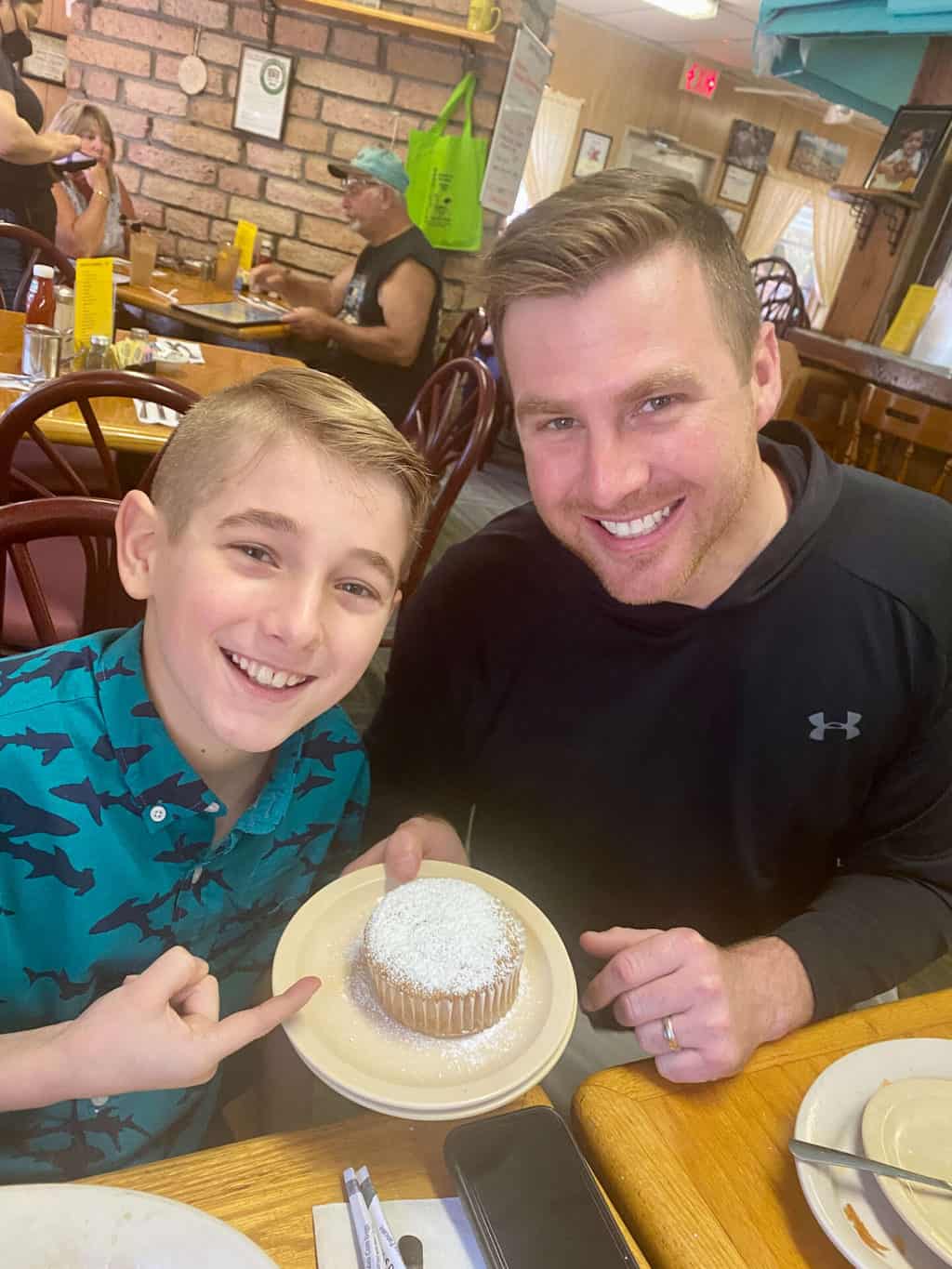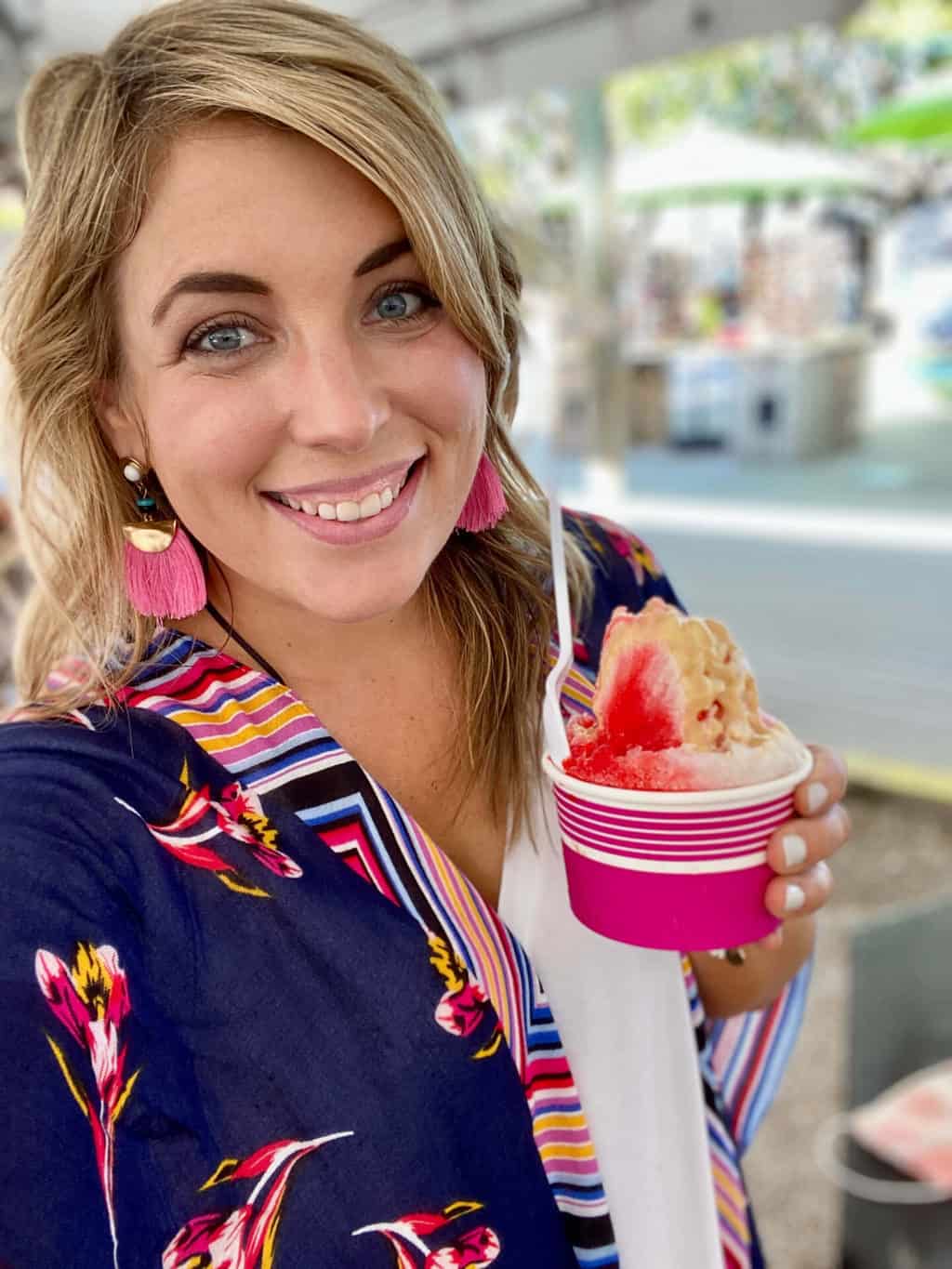 Duck Key / Marathon
Hawk's Cay is located in Duck Key and is just a few minute drive to Marathon which is a great spot to pick up groceries and other necessities if you choose to stay in a villa at Hawks Cay. Looking back I wish we'd done more meals at the villa rather than spending time eating out!
Hawk's Cay has plenty of options for dining on property and we enjoyed a delicious dinner at Angler and Ale. The food was fantastic and we all loved everything we ate!
We also went over to Marathon one night for a pizza and ate at Causway Pizza and it was great too!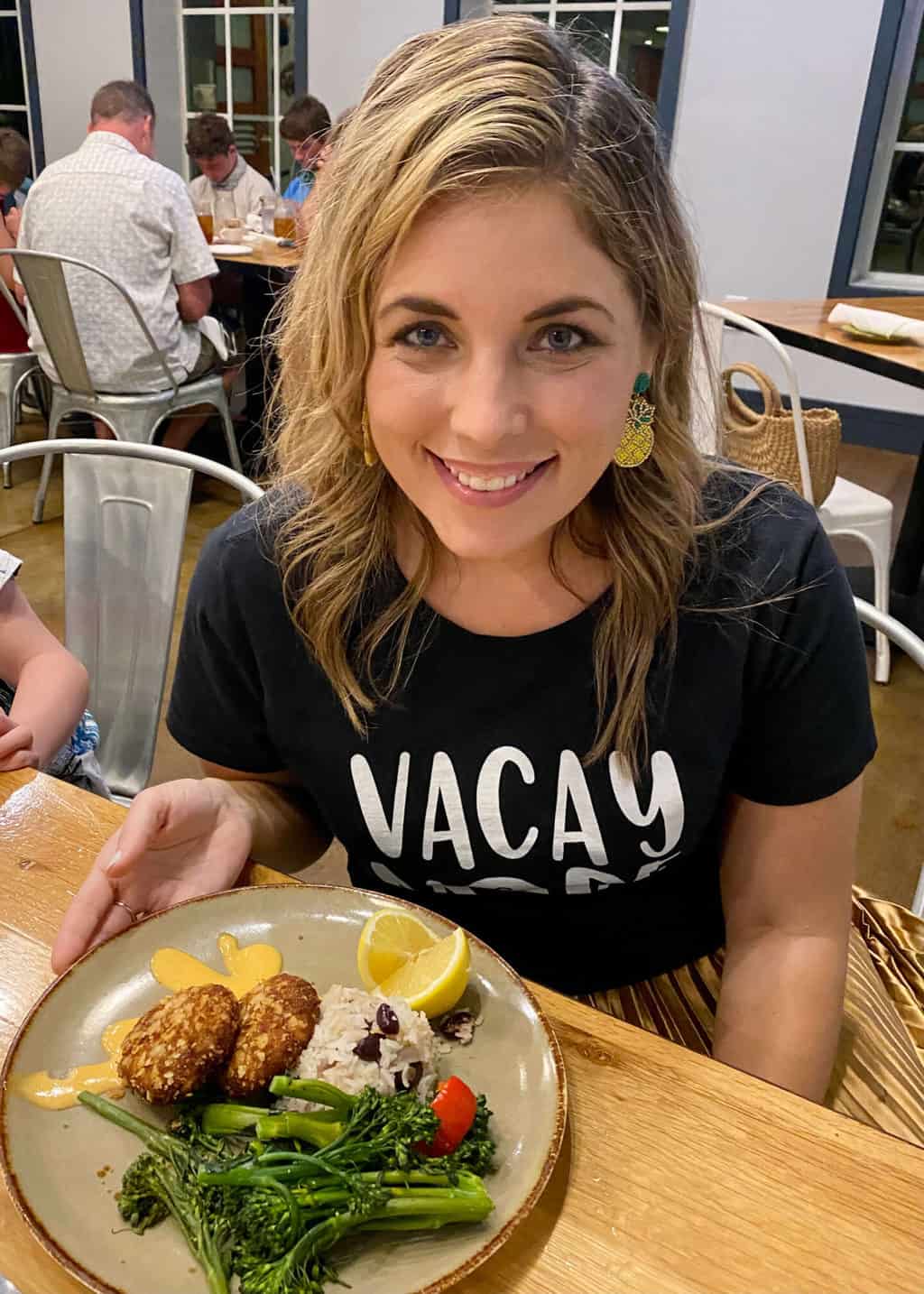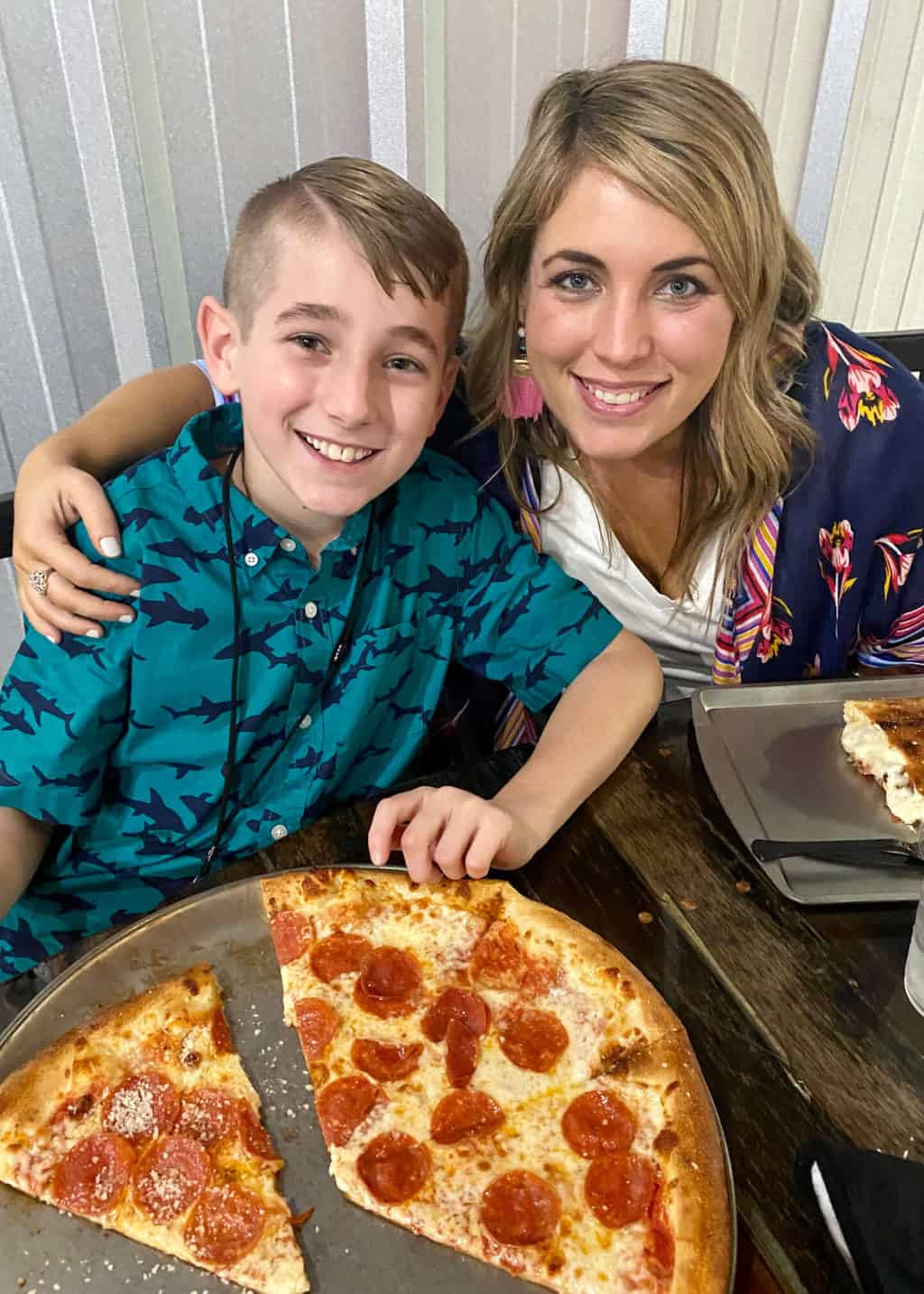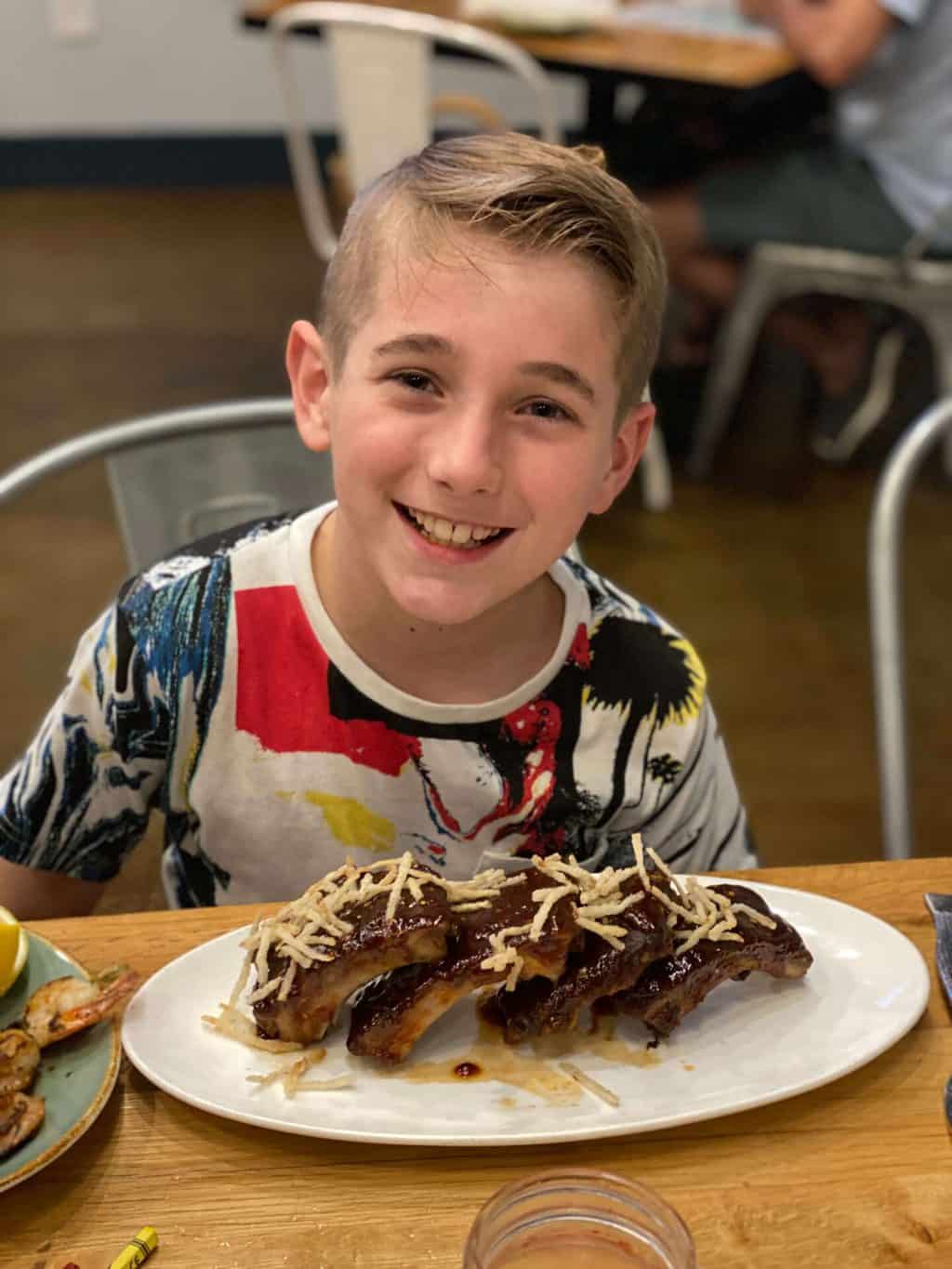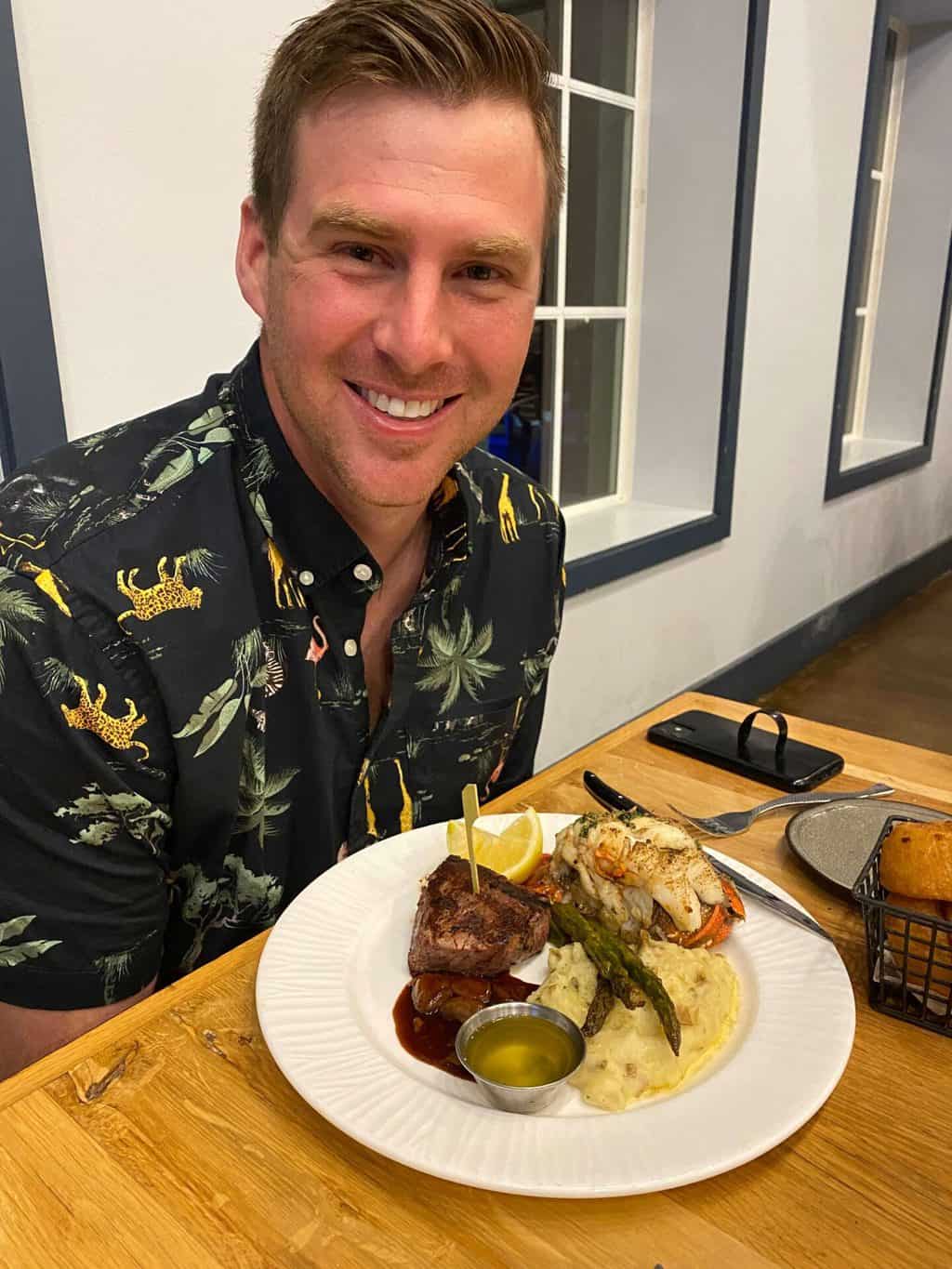 Dining with Kids in Key West
We spent one day in Key West and enjoyed all of the food we ate all day long!
We kicked off our day with an early lunch at the Original Margaritaville. It was a GREAT PLACE for kids. Super fun theme and vibe and very easy to order menu. We did visit at 11:30 am so we avoided any sort of real tourist crowd which was great for us to relax and enjoy our food.
We also stopped at Bad Boy Burrito for dinner while walking through downtown Key West and we also enjoyed it! We sat outside and, again, ate early so we didn't have ANYONE around except for another family with small children
We also didn't miss the chance to try frozen key lime pie. It's one item you HAVE to try while in Key West and it didn't disappoint!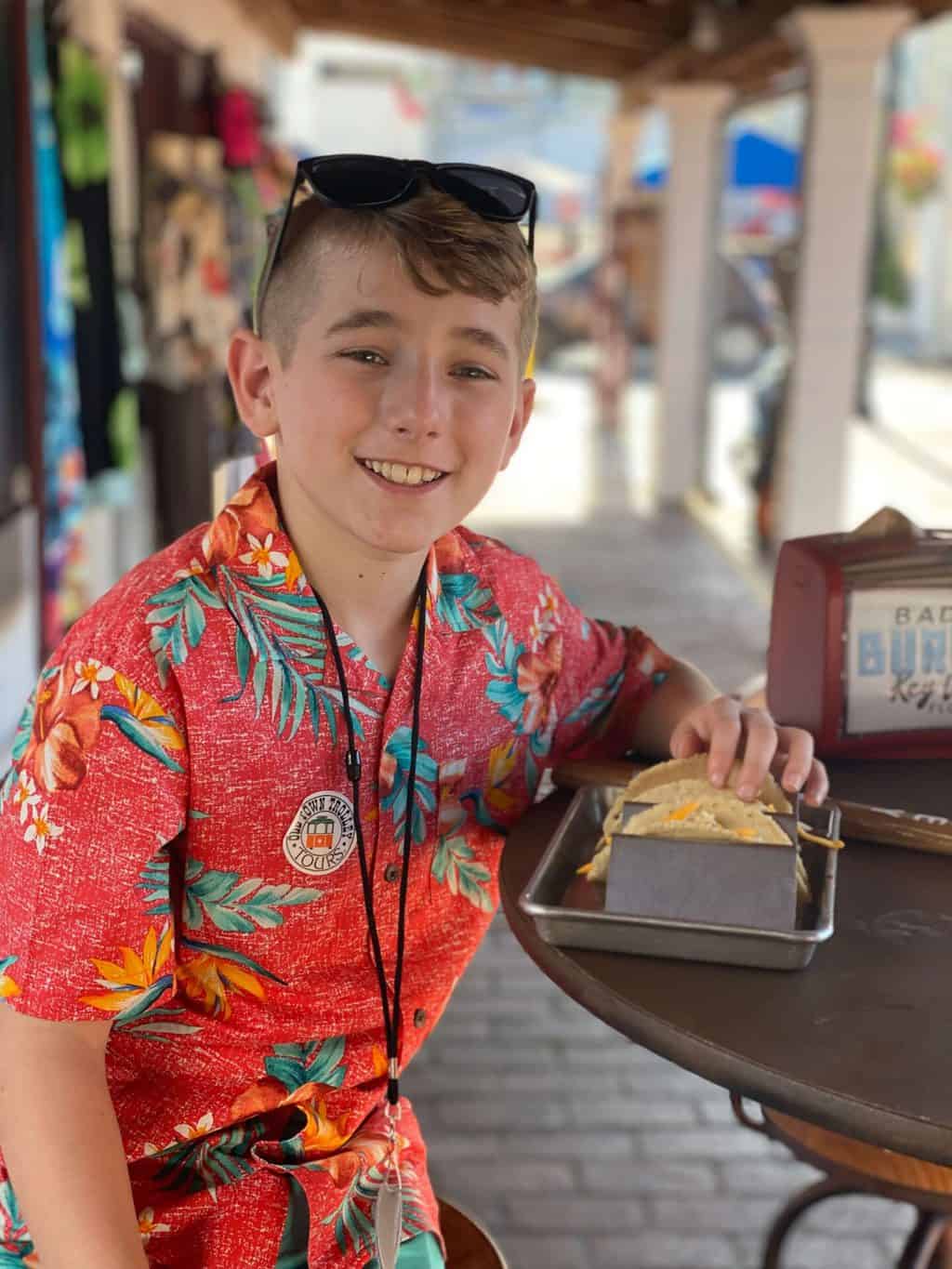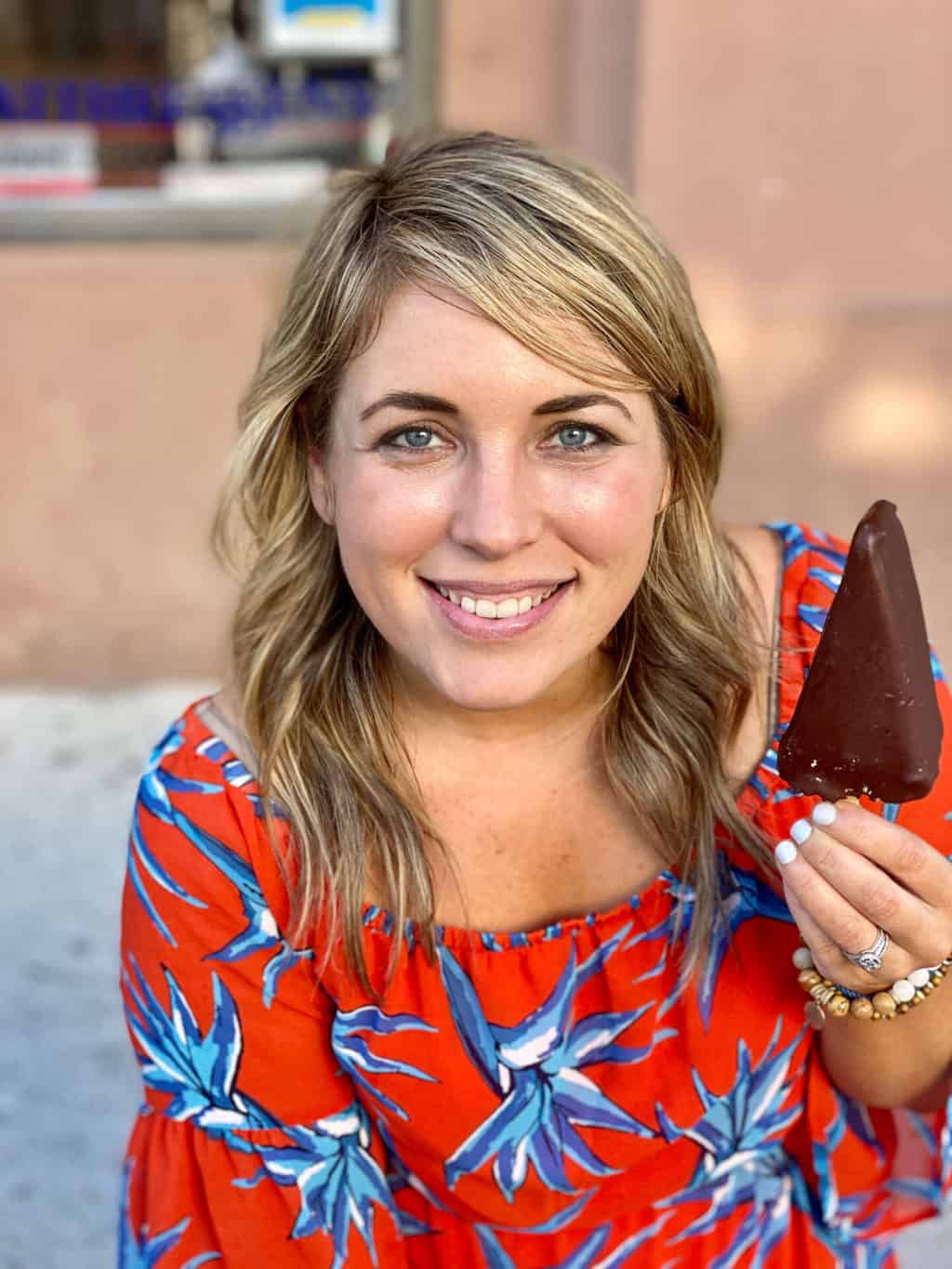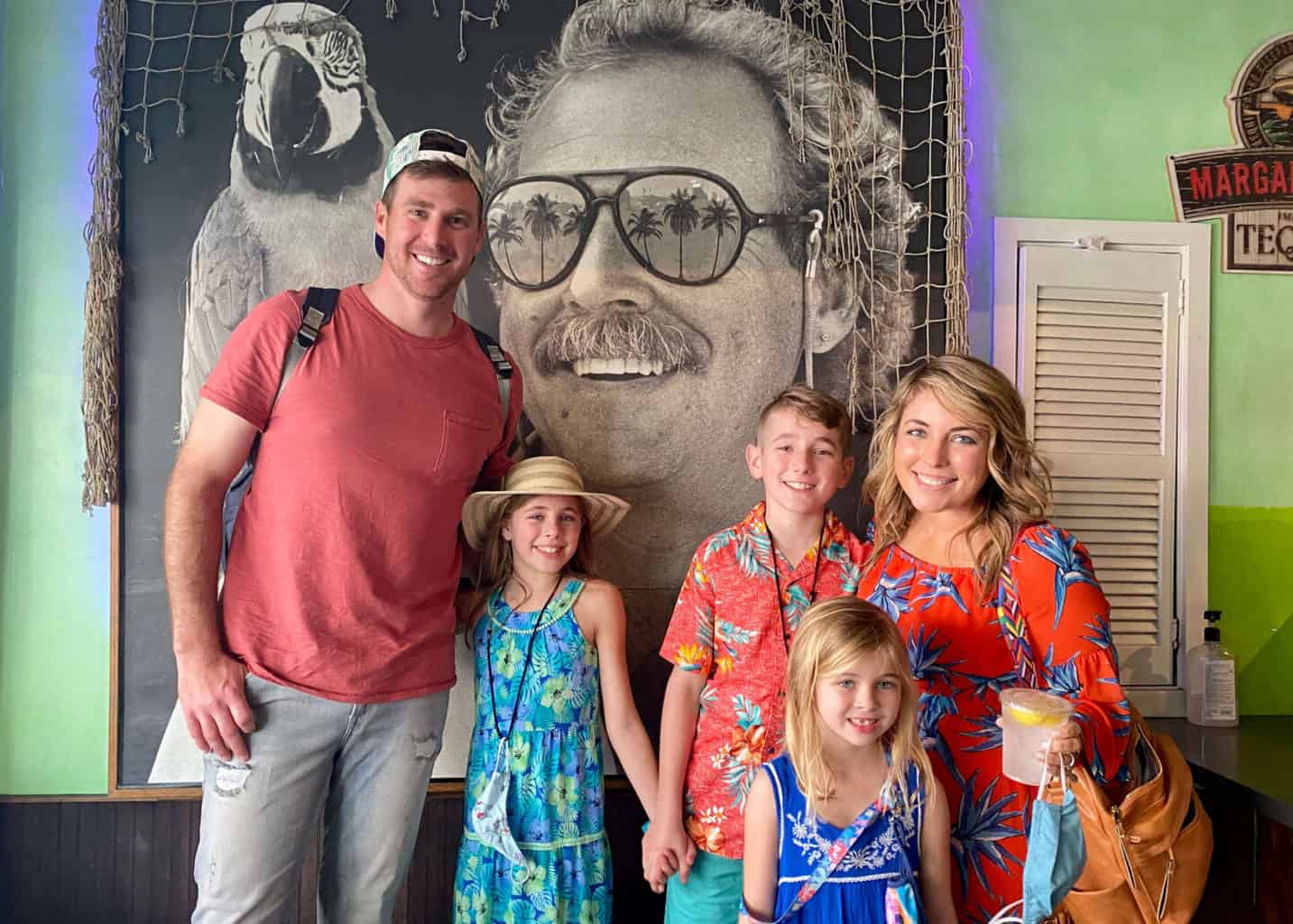 Water Fun Activities in Key West with Kids
Key West is known for its beautiful location and gorgeous weather! We are not a fishing kinda family so that wasn't an activity we were interested in. Our kids have never been snorkeling or jet skiing so those two items were must-dos for us!
Since we were staying at Hawks Cay we tried to find options available nearby. We rented jet skis from Grassy Key which was less than a 10 min drive up the road from Hawks Cay and they offer many other affordable rentals and experiences as well. We were actually able to drive the jet ski from the rental place to the backyard area of the villa we were staying in! It made it SUPER easy to trade off kids and we had a BLAST.
For snorkeling I did a lot of research and really wanted to find a glass bottom boat in case the kids didn't enjoy snorkeling so they'd still be able to see the coral reef and some tropical fish from the boat. I didn't have any luck but in my research I did learn that the middle-keys (where Hawks Cay is located) is an ideal location for snorkeling!
It was great that there were so many snorkel excursion options not far from the resort. We booked through Starfish Snorkeling and it was about a 20 min drive from Hawks Cay. We had an excellent experience, we didn't get lucky with the conditions but the captain was wonderful in helping find a safe spot to do some exploring!
We visited in February and did rent wetsuits as our southern blood would find the water chilly but everyone else on our boat didn't use wet suits so I don't think they are a "must have."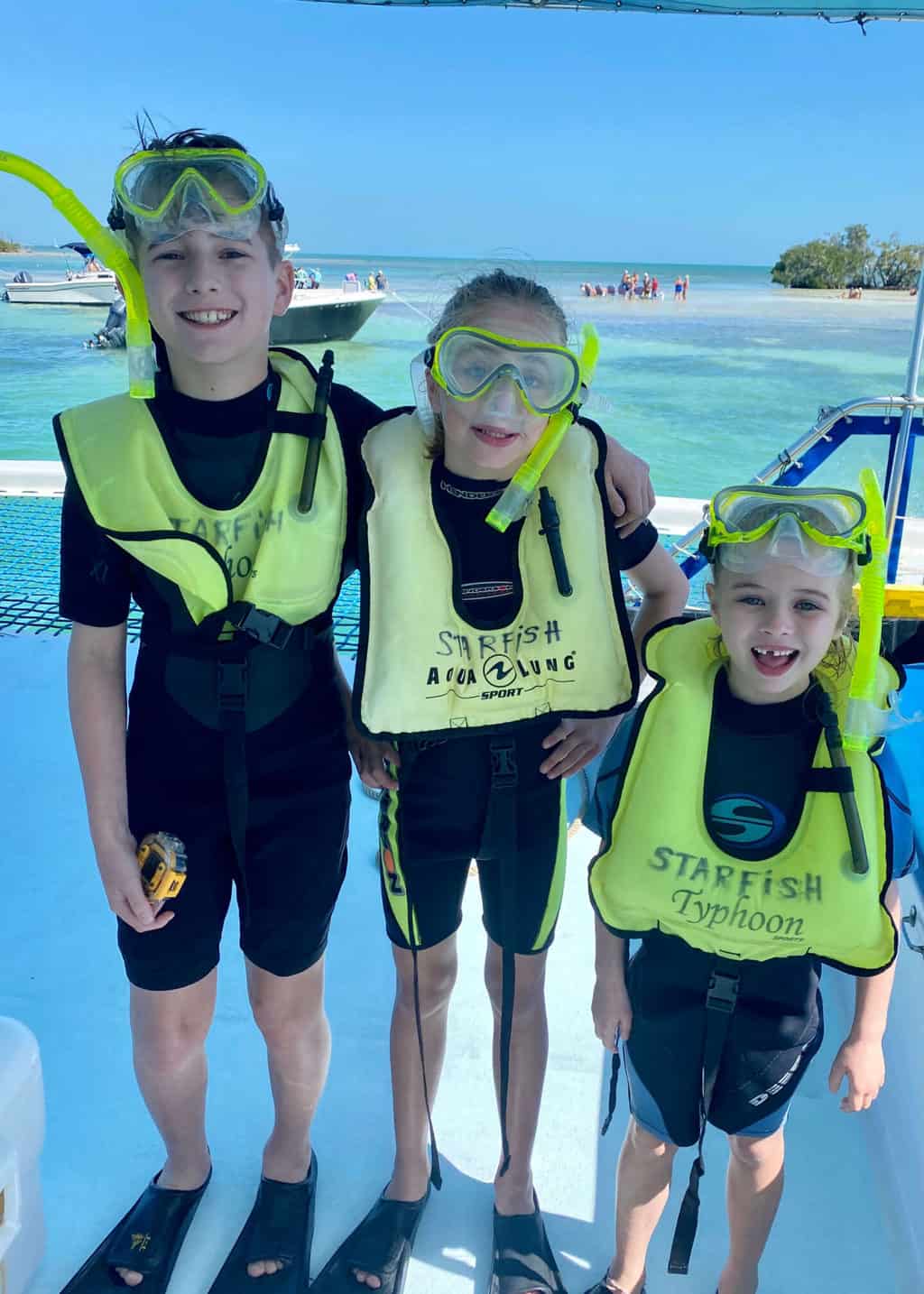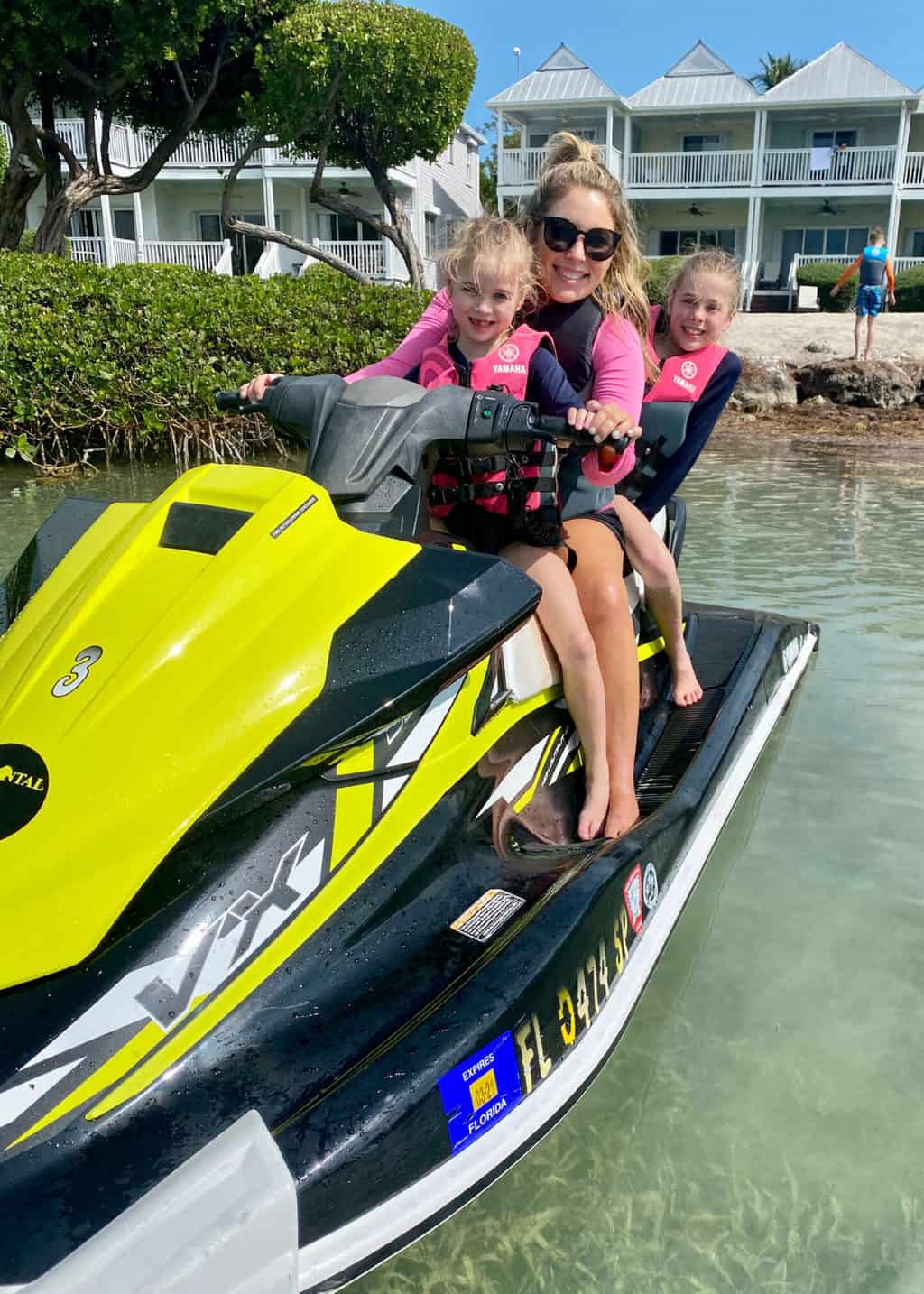 Additional Key West Attractions for Kids
We left our family trip to Key West totally satisfied with everything we did and experienced and have no regrets. But there is still SO MUCH more we could explore if we were to visit again in the future! Some other kid friendly activities you may want to look into while planning your trip include:
Touring The Ernest Hemingway Home
Visiting the Key West Butterfly and Nature Conservatory
Exploring the Key West Aquarium
Spend a day at Dry Tortugas National Park
Climb the Key West Lighthouse
Soak up the Sun and History at Higgs Beach
Spend more time at the Key West Shipwreck Museum
Check out the Mel Fisher Maritime Museum
Explore Bahia Honda State Park
Visit the Truman Little White House
Final Thoughts on Visiting Key West with Kids
We had an absolute BLAST on our visit to Key West with our kids! There were moments where we really missed our three year old back home but overall felt like the trip was best suited for kids who were a bit older as many of the activities were more geared towards older kids, our older kids could better handle the long drive, and older kids are more flexible with their schedules too.
While we were warned that Key West is not a kid-friendly place, we felt like it ended up surprising us in all the best ways and we'd totally visit again! My answer to the questions: Is Key West good for families and is Key West kid-friendly is YES! It is what you make it and we left the trip feeling like it was a wonderful family vacation location and Key West with kids is a totally enjoyable experience.
Source https://vacationhomesofkeywest.com/key-west-family-vacation.html
Source https://familydestinationsguide.com/things-to-do-key-west-kids/
Source https://www.journeyofparenthood.com/key-west-with-kids-florida-keys-family-travel-guide/