16 Most Beautiful Cities in Canada you'll want to put on your 2022 bucket list
From the thundering waters of Niagara Falls to the rugged peaks of the Canadian Rockies to arctic tundras, rugged coastlines, and desolate prairies. Blend these dramatic settings together with incredible architecture and history, and you'll find yourself in the most beautiful cities in Canada.
In a country as vast and diverse as Canada, there are countless places to visit, each with its own unique attractions, including some stunning Canadian landmarks. It boasts beautiful landscapes, stunning lakes and magnificent wilderness areas. Not to mention a plethora of exciting recreational facilities, including some of the best ski resorts in the world.
Let's face it, Canada is all-around extraordinary. So, let's take a look at the most beautiful cities dotted throughout The Great White North.
16 Most Beautiful Cities in Canada
Table of Contents
1. Vancouver, British Columbia
Located in British Columbia, Vancouver is easily the most beautiful Canadian city. You'll discover mountain vistas in the north, the Pacific Ocean to the west, and Stanley Park downtown. The city's sweeping panoramas are incredible and offer unlimited recreational opportunities.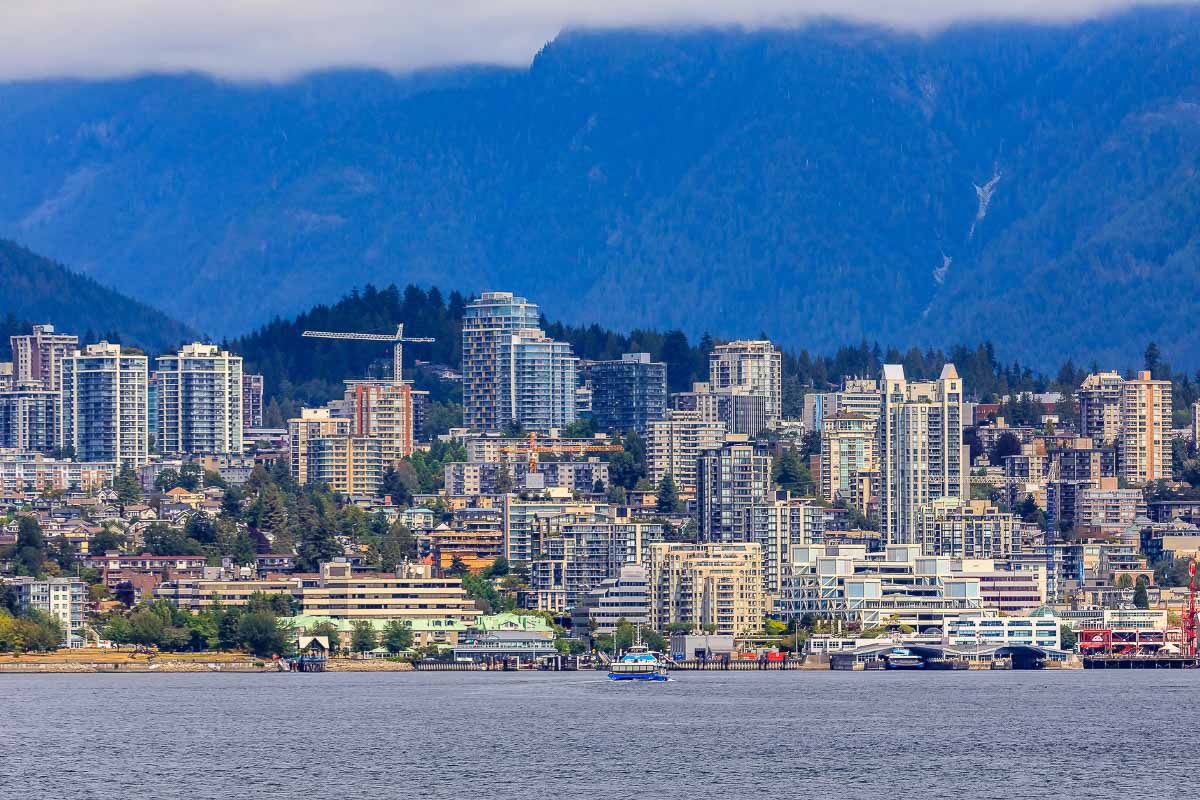 vancouver with grouse mountain in background
The city is renowned for its art and culture scene, with various museums and galleries to choose from. These include the Vancouver Art Gallery, the Museum of Vancouver, and the Science World Vancouver.
The sky's the limit for adventurers here. Try your hand at white-water rafting, zip-lining, or jet-boating. Enjoy mountain biking, hiking, canoeing, and more in the Pacific Spirit Park or cycle along seawall downtown. Meander along the beaches in Kitsilano or head to Granville Island to shop for some special goodies.
I highly suggest taking a Vancouver city tour to see the best highlights – you won't want to miss them.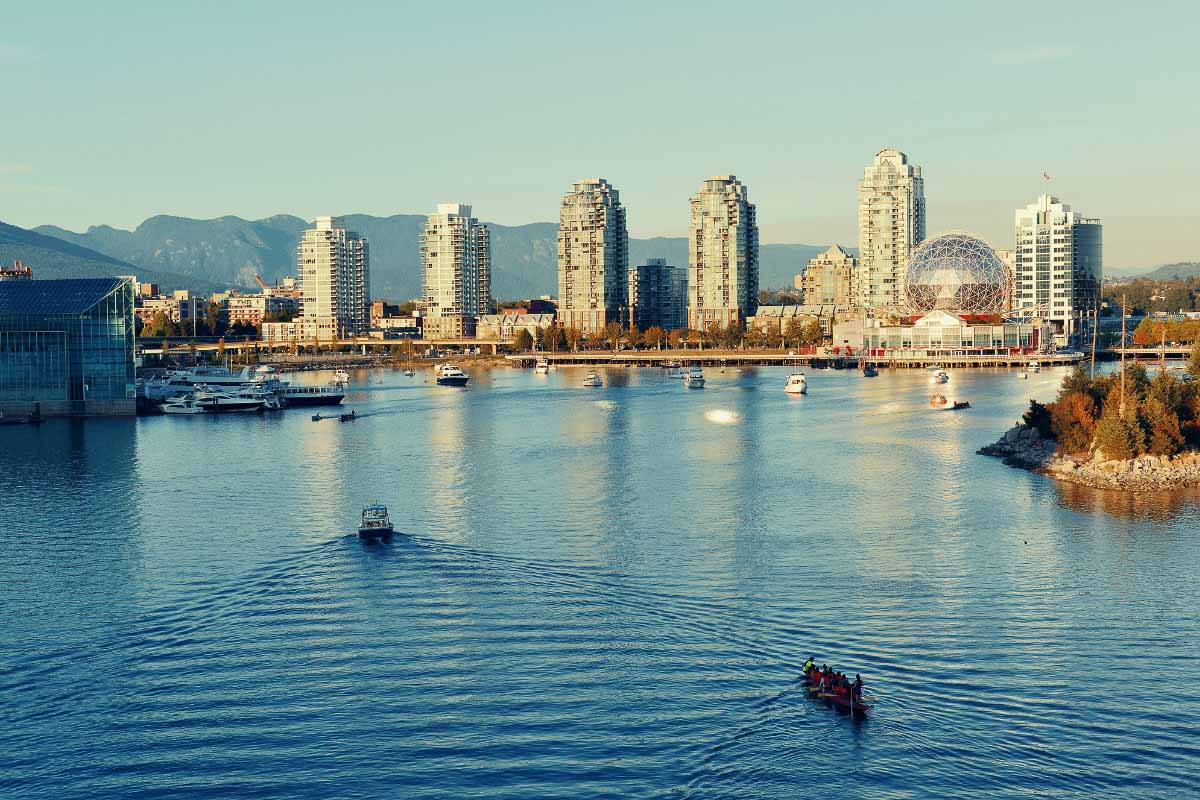 2. Ottawa, Ontario
Located in Ontario, Ottawa is the vibrant and colourful capital that offers a treasure-trove of exciting attractions and fun activities and tours.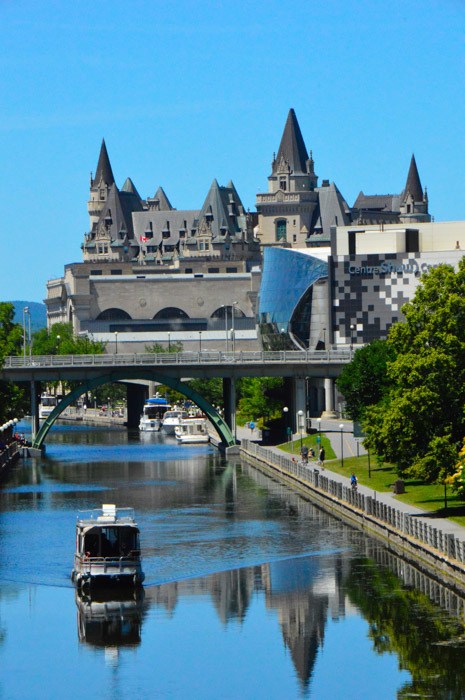 Take a peek into the world of the Canadian government on Parliament Hill. If you're a history buff, the city is dotted with world-class museums and galleries where you can learn about Canadian history and culture. Some excellent stops not to be missed include the National Gallery, The War Museum, The Museum of History, and the Science and Technology Museum, to name a few.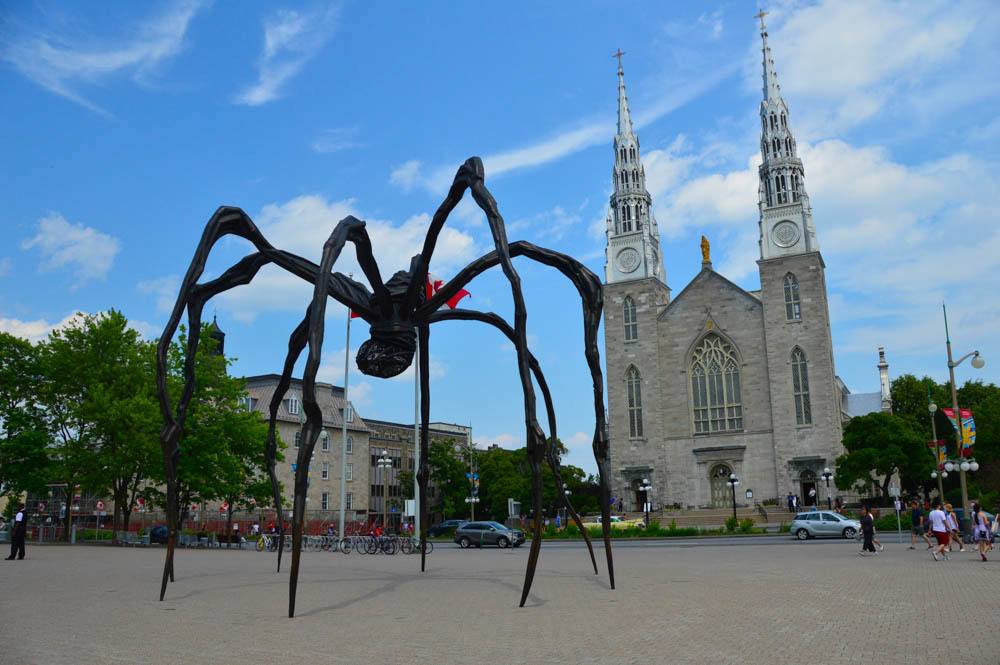 One of the key things to see in Ottawa Canada – the spider sculpture!
The city also offers stunning trails, as well as boating and kayaking on the Ottawa River. If you're feeling peckish, don't miss the Byward Market area – it's a short distance from Parliament Hill. Here you'll find delicious foods, drinks, and a vibey atmosphere.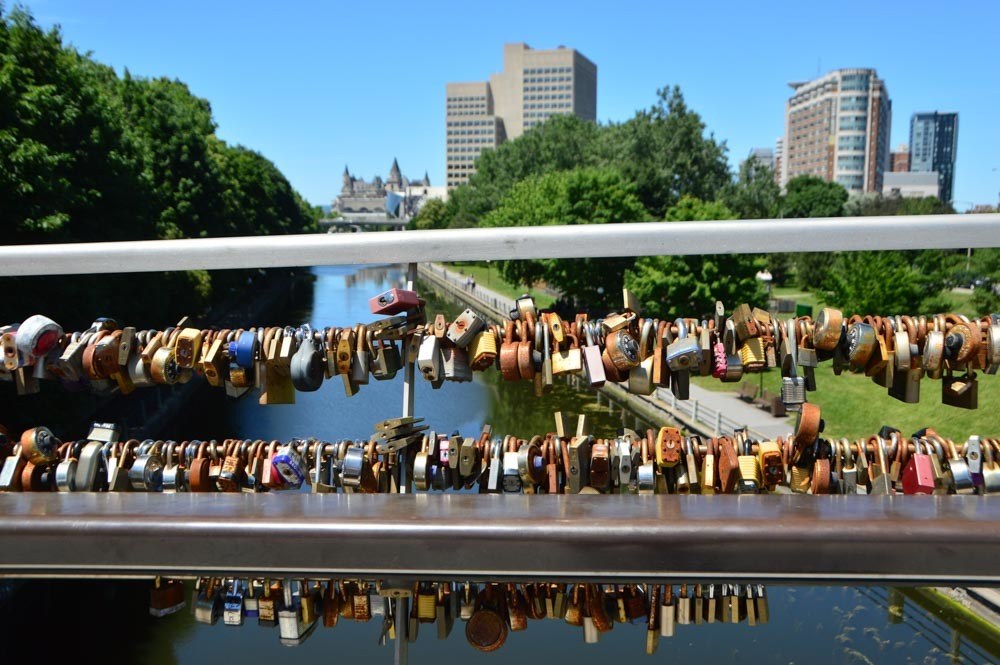 One of the instagrammable things to do in Ottawa – the lock bridge on the Rideau Canal
⇒ Don't miss Canada's capital Ottawa. Read my posts on the 17 most fun things to do in Ottawa, the Ottawa restaurants Byward Market, 21 Places to see the Sunset Ottawa style, best Ottawa Tours, 16 Most Beautiful Cities in Canada and 11 Beautiful Canada Landmarks.
3. Quebec City, Quebec
Quebec City, the capital of the Canadian province of Quebec, boasts a distinctly European atmosphere. Located on towering cliffs overlooking the St. Lawrence Seaway, it's the only capital in North America with its original city walls, the ancient Porte Saint-Louis.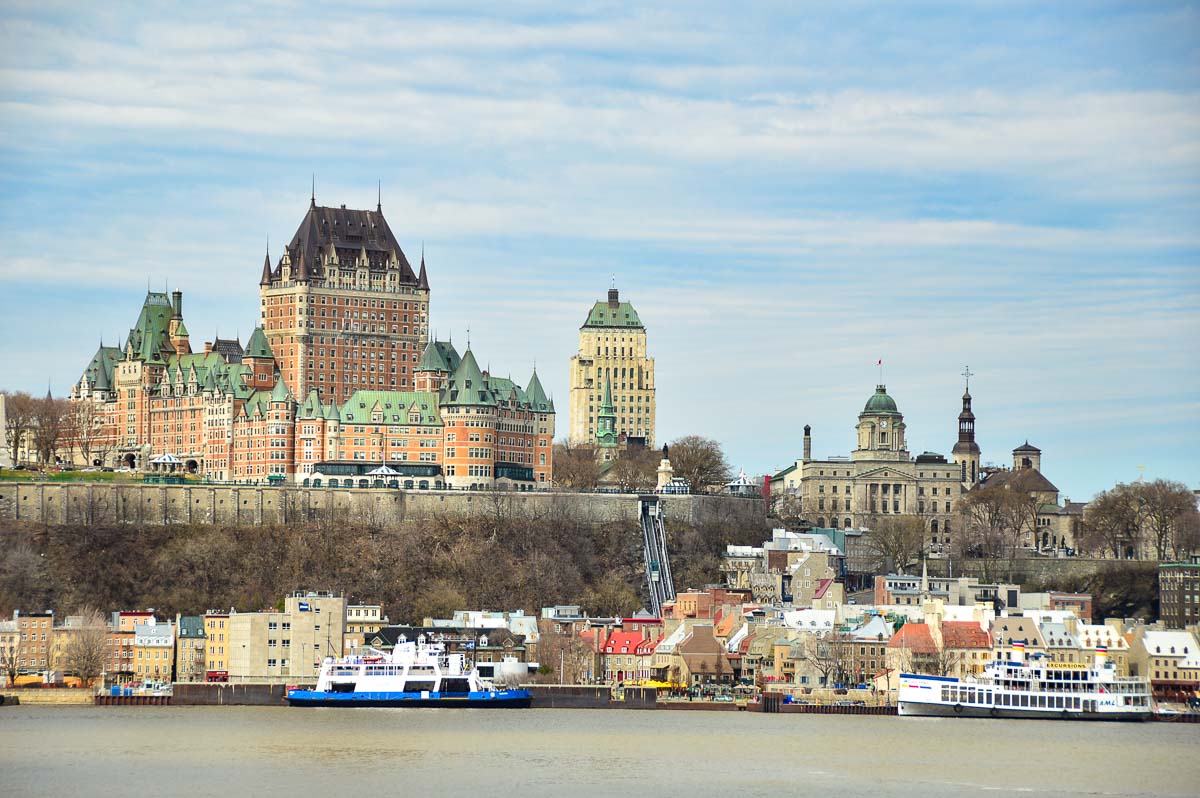 Fairmont Le Château Frontenac quebec
The city's Old Town is listed as a UNESCO World Heritage Site and can easyily be explored on foot. I suggest taking a walking tour through the Old Quebec City streets; be awed by architectural treasures and learn about this magical place's history.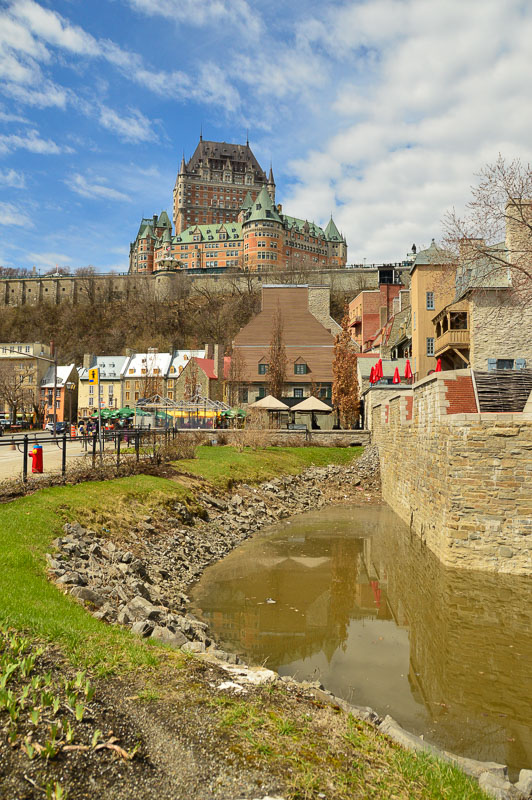 Fairmont Le Château Frontenac
A must-see on your list is Parliament Hill and the 100-year-old Chateau Frontenac that dominates the cityscape. Other city highlights include the Jacques Cartier National Park, the National Museum of Beaux-Arts, Montmorency Falls, and the Sainte Anne-de-Beaupre Shrine.
4. Montreal, Quebec
Located in Quebec, Montreal is one of Canada's largest city, famed for its architecture, superb cuisines, vibrant art scene, and exciting entertainment opportunities. The city boasts incredible structures, with skyscrapers rubbing shoulders with historical gems.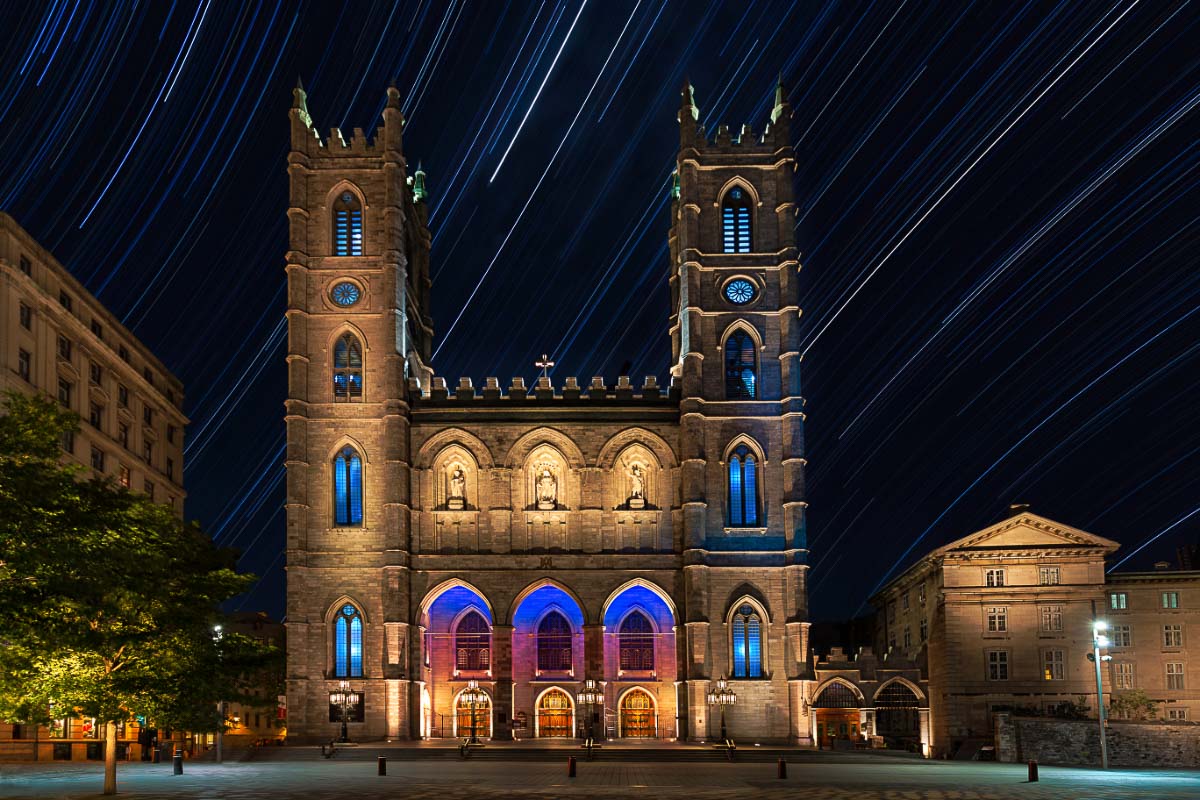 notre dame montreal
Another jewel to visit is the Basilique Notre Dame, the famous cathedral located at Place Jacques Cartier. Spend time inside admiring the stunning gold-adorned altar and stained glass.
Some other city highlights not to be missed include Old Montreal (Vieux Montreal) the futuristic Expo 67, the Montreal Museum of Fine Arts, and the modern Olympic Stadium. Head downtown to find an array of cultural venues in the Quartier.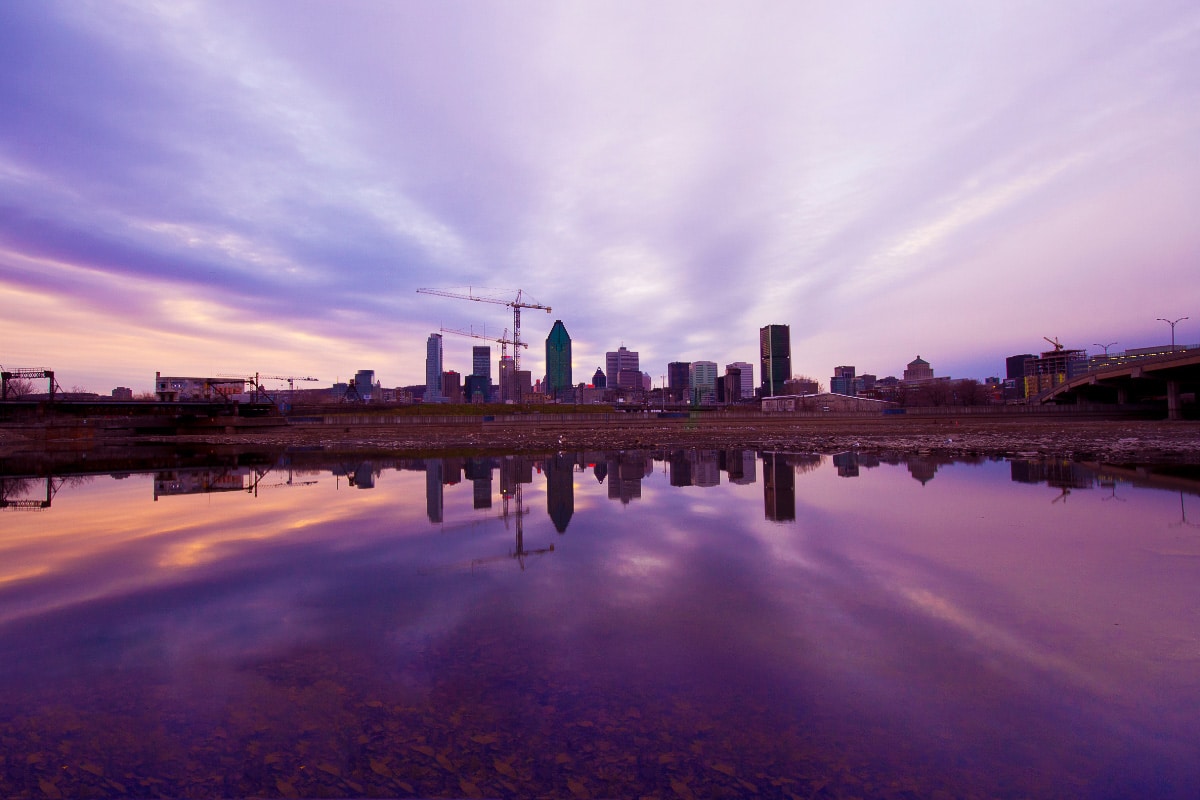 montreal skyline
If you're an avid nature lover, hike Mont-Royal and get sweeping views of the entire city. And if you're into stunning scenery, visit La Grand Roue de Montréal, Canada's largest observation wheel located at Montreal Old Port.
5. Toronto, Ontario
Toronto is the capital of Ontario and is best described as the 'cultural capital of Canada'. The energetic, vibrant city is located on the northwestern shore of Lake Ontario and is home to an array of attractions and seemingly endless entertainment, shopping and dining opportunities.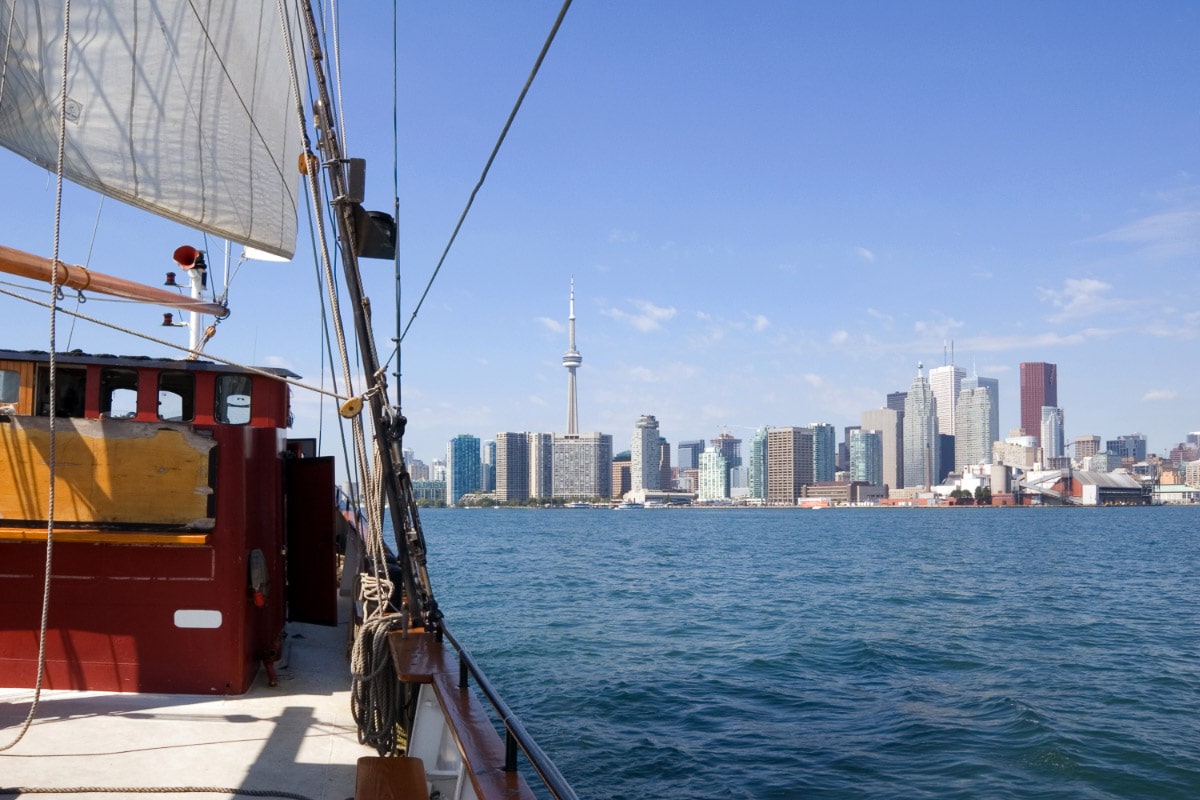 toronto skyline from boat
However, most Torontonians would argue that what makes Toronto the best city is its diverse neighbourhoods, from Little Italy to Chinatown and everything in between.
Walk the cobbled lanes amongst quaint boutiques and studios in the Distillery Historic District. If you're a lover of the arts, head down to Rush Lane (better known as Graffiti Valley), to admire some incredible street art. Art Gallery of Ontario (AGO) is another exciting place to visit.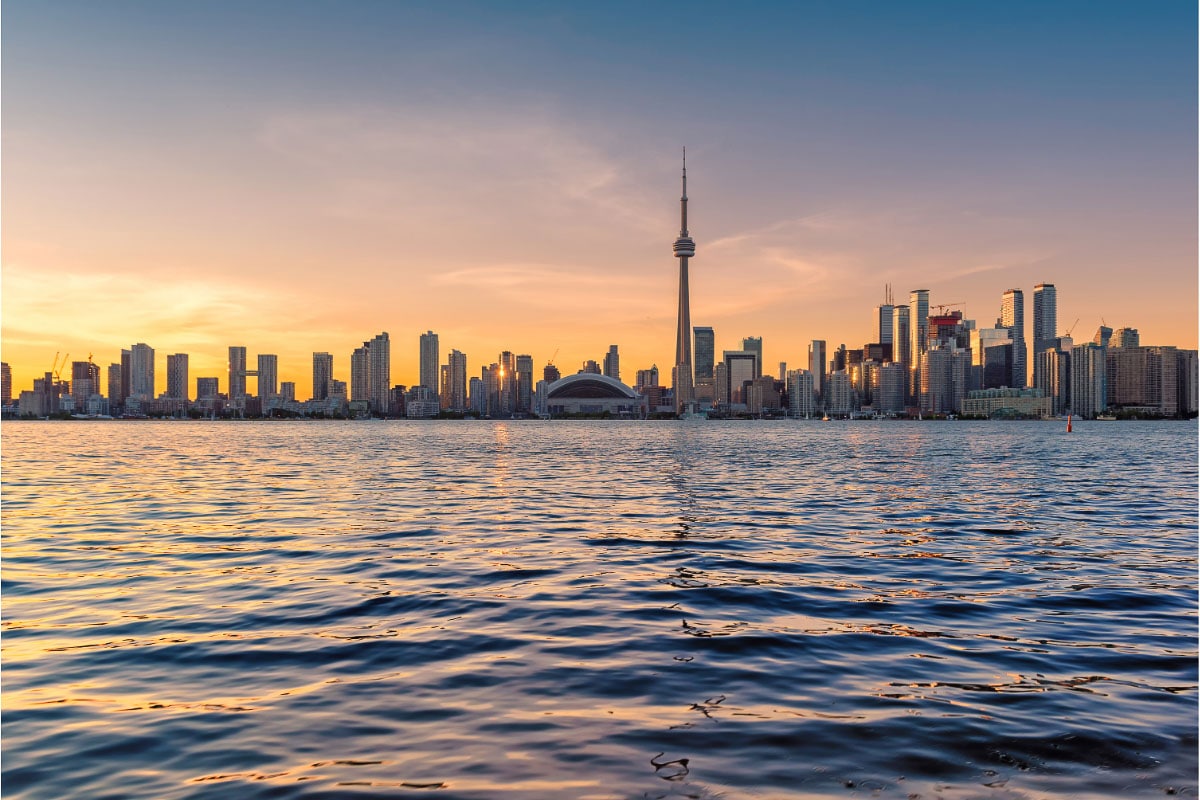 toronto
Toronto also boasts a plethora of museums, National Historic Sites, and famous landmarks, including the iconic CN Tower and the Royal Ontario Museum. Other popular places to visit include Casa Loma, Toronto Island, and Nathan Phillips Square.
6. Calgary, Alberta
Calgary, Alberta, is considered Canada's wild west. It's home to the famous Calgary Stampede, a week-long festival featuring concerts, rodeos, and exhibitions galore. However, there's much more to Calgary than just cowboy hats and horses.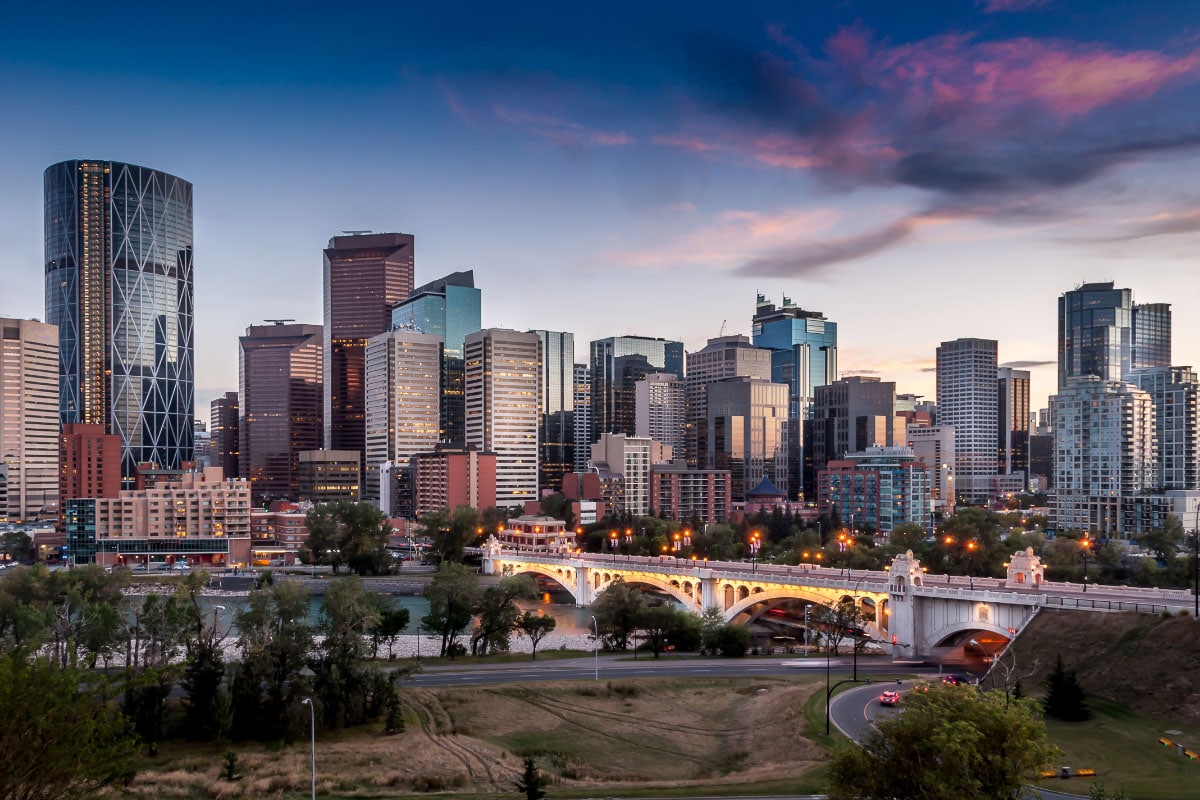 calgary
Experience what life was like back then and learn about the pioneer days at the Heritage Park Historical Village or wander along the Bow River at the Prince's Island Park. If you're keen on witnessing some majestic views, enjoy a meal at the SKY 360 revolving restaurant atop the 191m Calgary Tower.
If you're an outdoor enthusiast, there are many activities to revel in, including river rafting, biking, hiking, and more.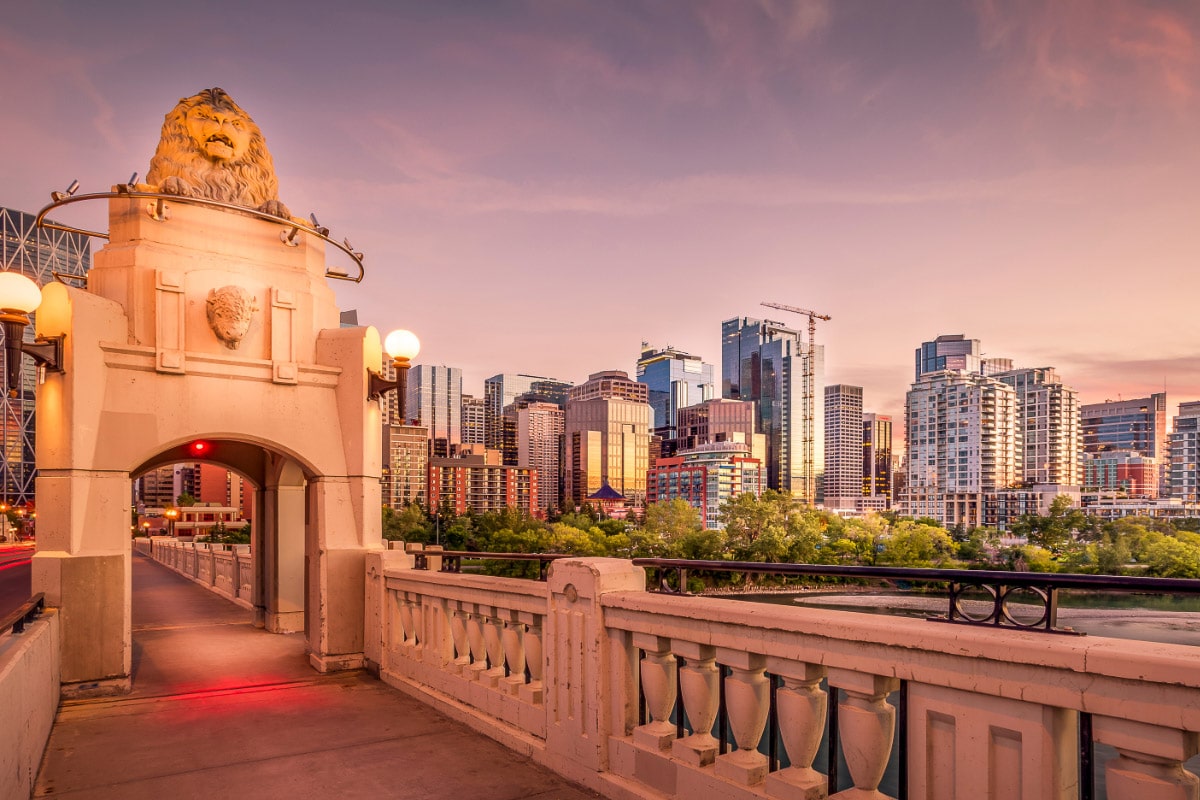 calgary
7. Halifax, Nova Scotia
One of the most beautiful cities in the Maritimes has to be Halifax, in Nova Scotia. The historic ocean port is the perfect place to walk around, exploring and finding fun things to do.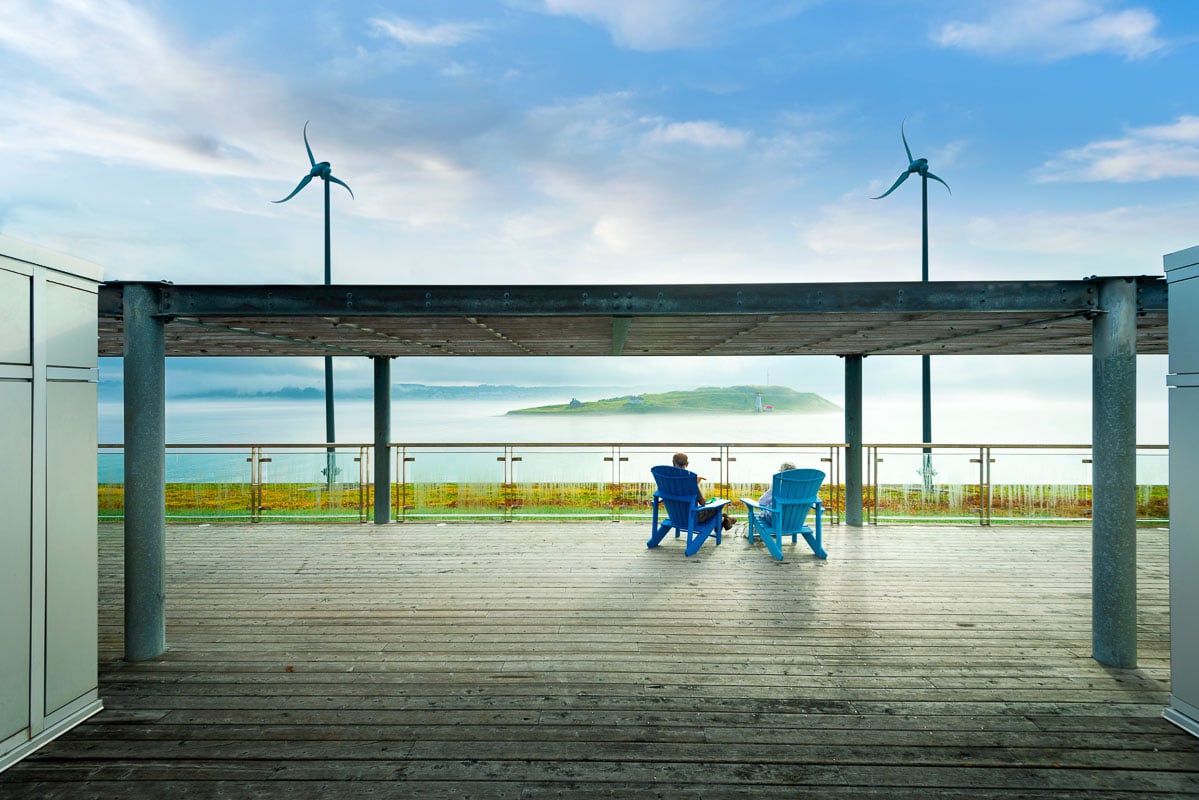 A good place to start would be at the Halifax Peninsula. A four-kilometre boardwalk along the waterfront. You can also learn a lot about the history of Pier 21, the gateway for one million immigrants who first arrived on Canadian Soil. The city flaunts an array of renowned museums, including the Canadian Museum of Immigration and the Atlantic's Maritime Museum.
If you're looking for a place to rest your feet, head to the scenic Halifax Public Gardens. A short distance from the gardens is the the19th-century Halifax Citadel, another fascinating National Historic Site.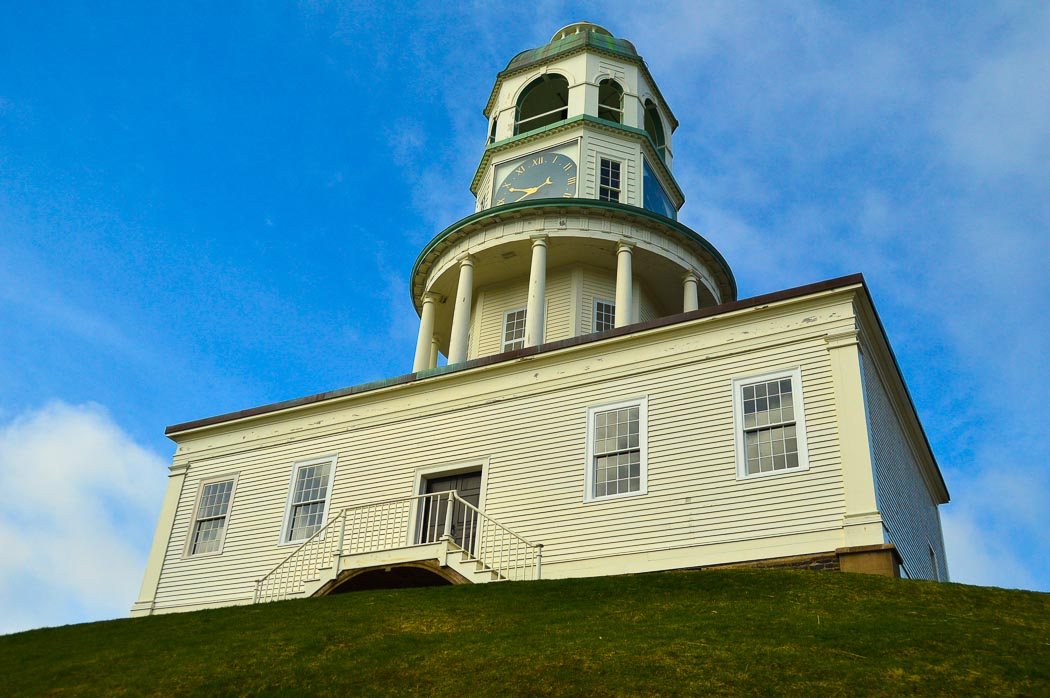 Halifax Nova Scotia
There are plenty of adventure tours available around the city. I highly suggest catching a whale watching tour or sailing to Peggy's Cove. Or do a day trip to lovely Wolfville and explore its wineries and farmer's market.
And don't miss Atlantic Canada's number one tourist attraction the Halifax Harbour Hopper and Halifax Farmers Market, the oldest farmers market in North America.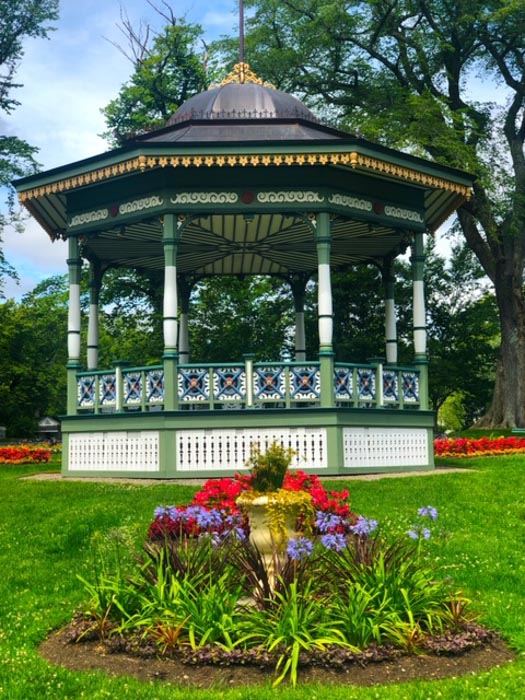 The gorgeous bandstand at the Halifax Public Gardens
⇒ Another fantastic city in Canada that isn't too far away is Halifax, Nova Scotia. There are loads of fun things to do in Halifax like visiting the fantastic Halifax Farmers Market and taking Atlantic Canada's number one tourist attraction the Harbour Hopper Halifax and don't miss 47 Fun Facts about Canada and 11 Beautiful Canada Landmarks.
8. St. John's, Newfoundland
St. John's boasts some of Canada's most dramatic scenery and landscapes. This beautiful city is dotted with brightly coloured homes, art galleries, and the Newfoundland Museum.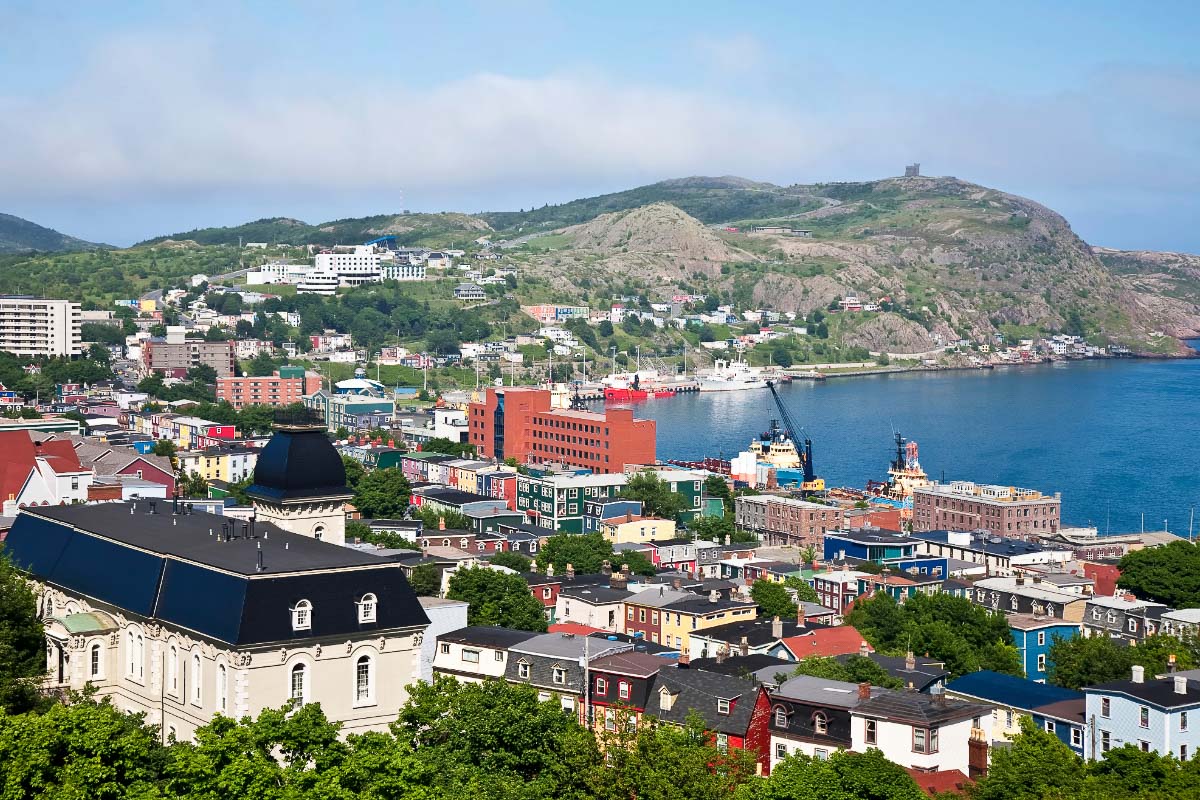 st johns
As North America's easternmost city, the metropolitan has played a number of important roles throughout history. While you're visiting this city, be sure to check out Signal Hill and The Rooms for a step back into the past.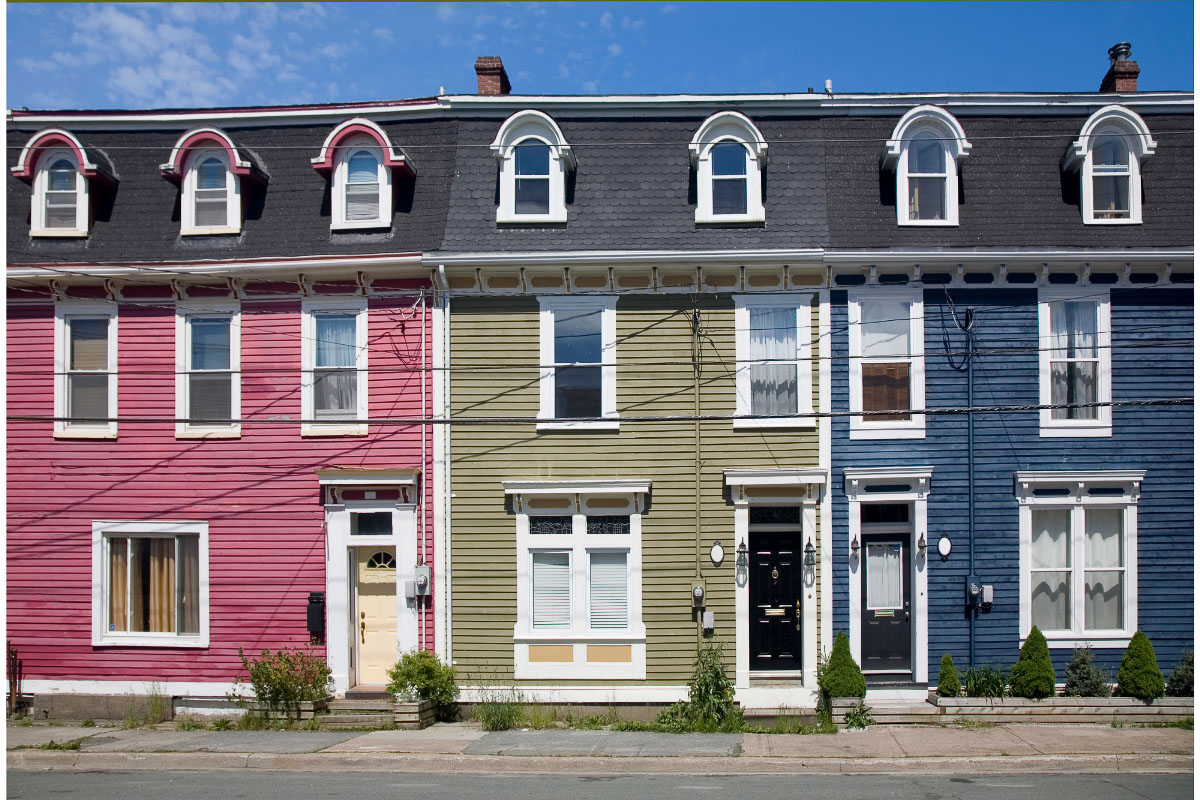 colourful houses of st johns
Stroll along St. John's Downtown area. It's a great place to grab a snack or two, find some souvenirs, and window shop. While you're here, explore the beautiful coast or embark on a puffin and whale watching tour.
9. Niagara Falls, Ontario
Niagara Falls, in Ontario, isn't just one of the most picture-perfect places in the country, but in the world too. The spectacular waterfalls are, by far, the main attraction here. Hop on a helicopter ride, go on a cruise or take a deluxe day tour on foot to see these majestic cascades.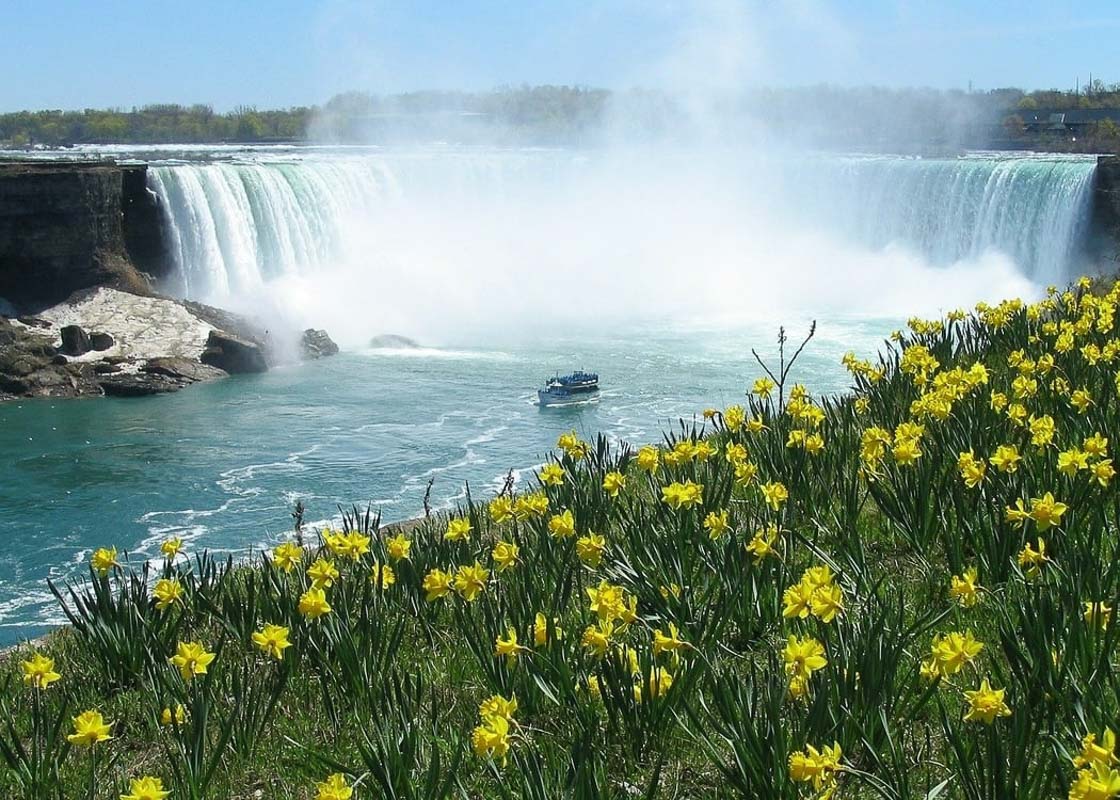 Niagara Falls
Apart from the falls, the city itself boasts a range of entertainment activities, like the indoor waterpark, the Guinness World Records Museum and mini-golf courses. Other popular family-friendly attractions include Old Fort Niagara and the Niagara SkyWheel.
If you don't have kids in tow, try your luck at the Niagara Fallsview Casino or head off to sample some ice wine at the Inniskillin Winery. There's plenty to do in this stunning city.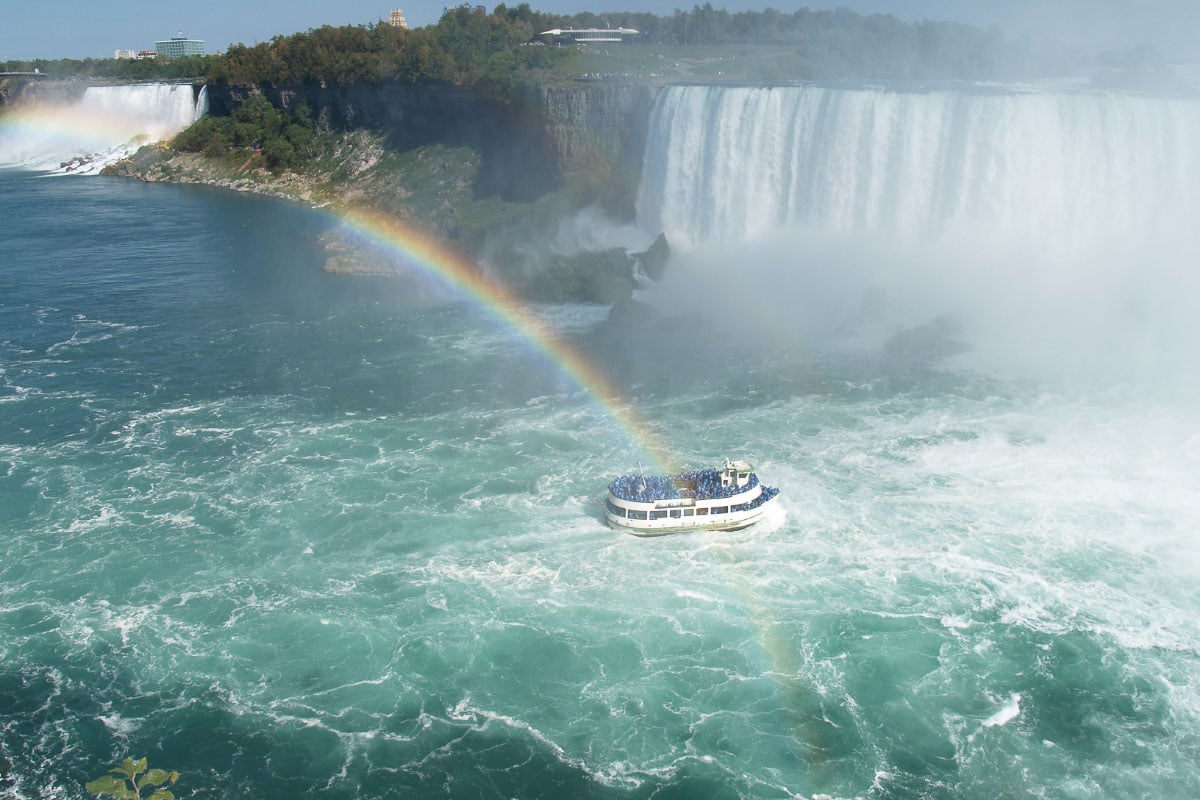 Niagara Falls with a Rainbow
10. Saskatoon, Saskatchewan
There's something spectacular about Saskatoon – Saskatchewan's largest city. Nestled along the Saskatchewan River, it's sprinkled with beautiful leafy trees which look particularly picturesque in fall. The city becomes a mirage of orange, yellow and red hues.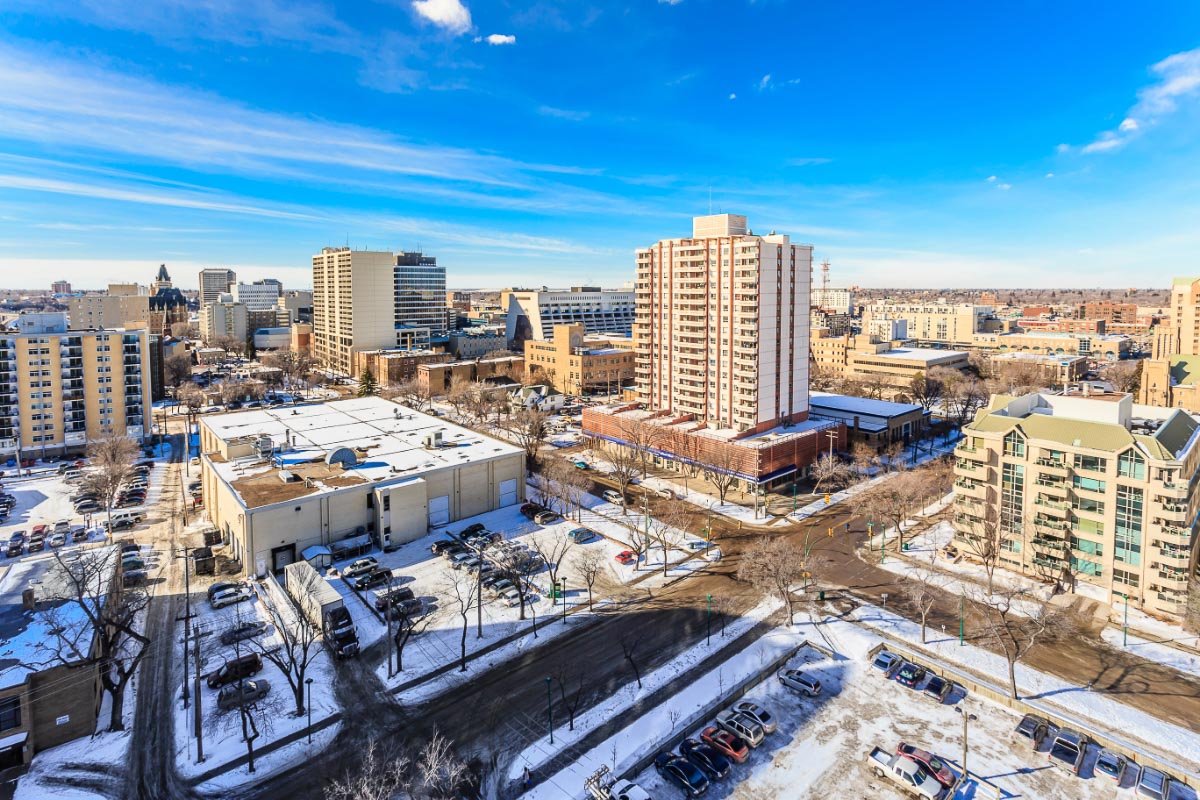 saskatoon downtown in winter
Step back in time at the Wanuskewin Heritage Park, the Western Development Museum, and the Ukrainian Museum of Canada.
If you're a nature lover, head to the Beaver Creek Conservation Area or put on your hiking shoes and get trekking (or snowshoeing in winter) on the Meewasin Valley Trail.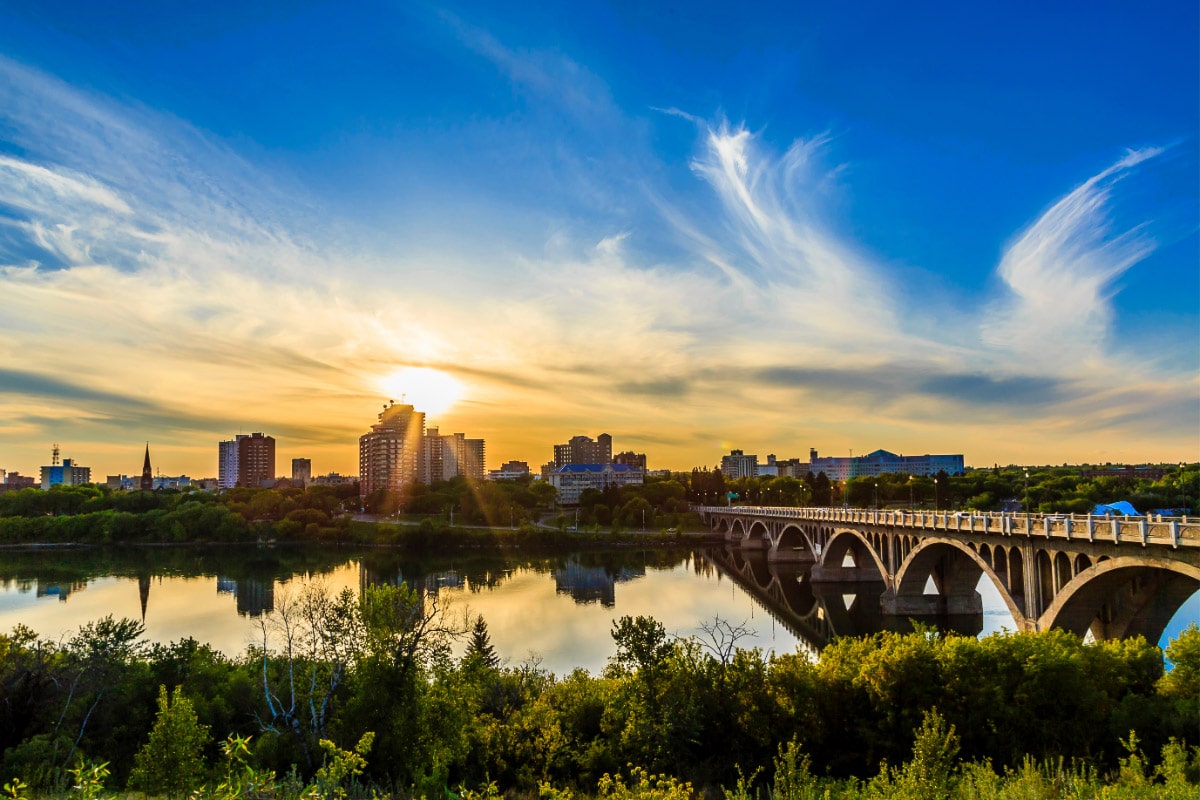 saskatoon skyline at sunrise
Throughout the city, you'll find modern art galleries, theatres, live music and exhibitions. Each year, the metropolitan attracts over 80,000 music fans to the Saskatchewan Jazz Festival held in the gardens of the iconic Delta Bessborough Hotel.
11. Winnipeg, Manitoba
Located in Manitoba, Winnipeg boasts many indoor and outdoor activities, coupled with architectural, cultural, historical, and gastronomic attractions.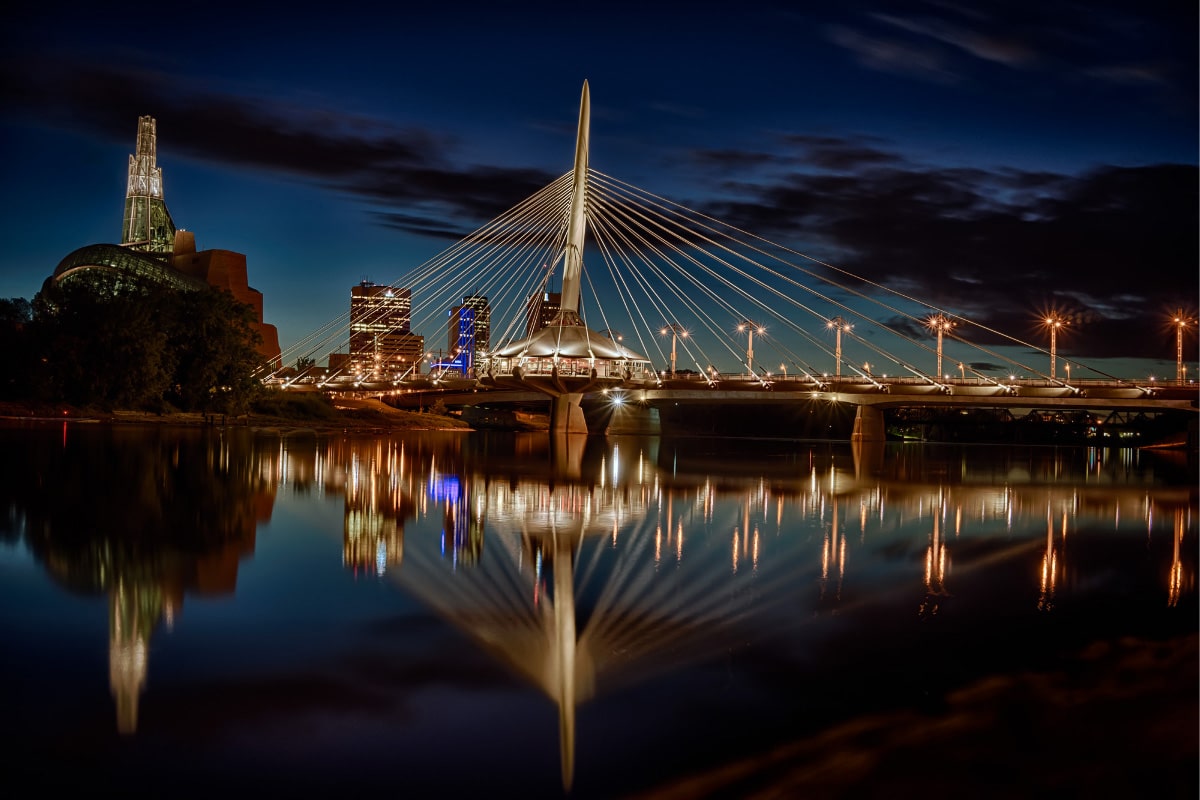 winnipeg at sunset
While you're here, one of the must-see attractions is the Canadian Museum for Human Rights, which houses some stunning modern architecture. The Canadian Royal Mint, Winnipeg Art Gallery, and the Manitoba Museum are equally fascinating. The St Boniface Cathedral is another one of Winnipeg's must-see sites in the city.
12. Lunenburg, Nova Scotia
Lunenburg isn't exactly a city – I think strictly speaking it is a town – but does it matter when it is this cute? Gorgeous Lunenburg, Nova Scotia is only 4 square km or 48 blocks and has just 2,263 permanent residents. Old Town of Lunenburg was named a UNESCO site in 1995. It is Instagram heaven with colourful houses lining the streets, a picturesque harbor, great food, and super cute street signs.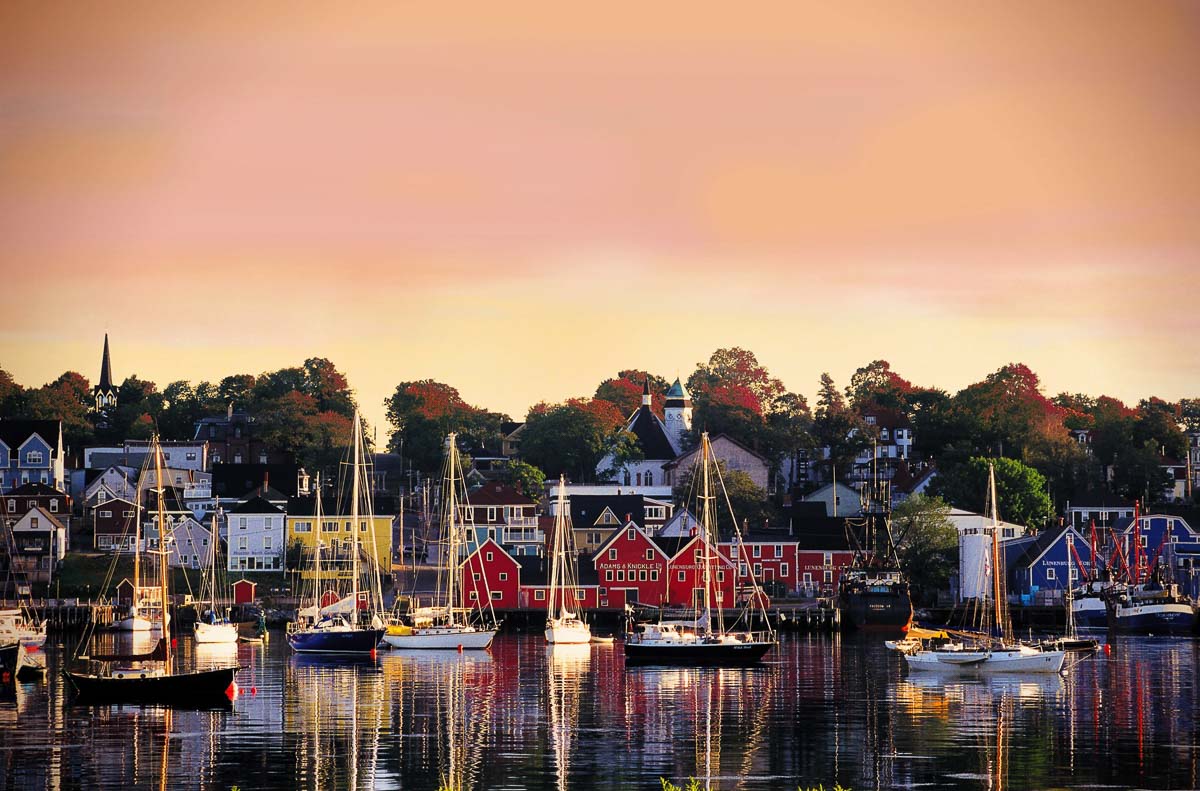 The stunning Lunenburg Harbour
There are loads of lovely things to do in Lunenburg from exploring its harbour to eating at some of its fantastic restaurants to trying its amazing rum at Ironworks Distillery to visiting the cutest ever fishing village Blue Rocks – well I wrote a whole post on things to do in Lunenburg so do check it out.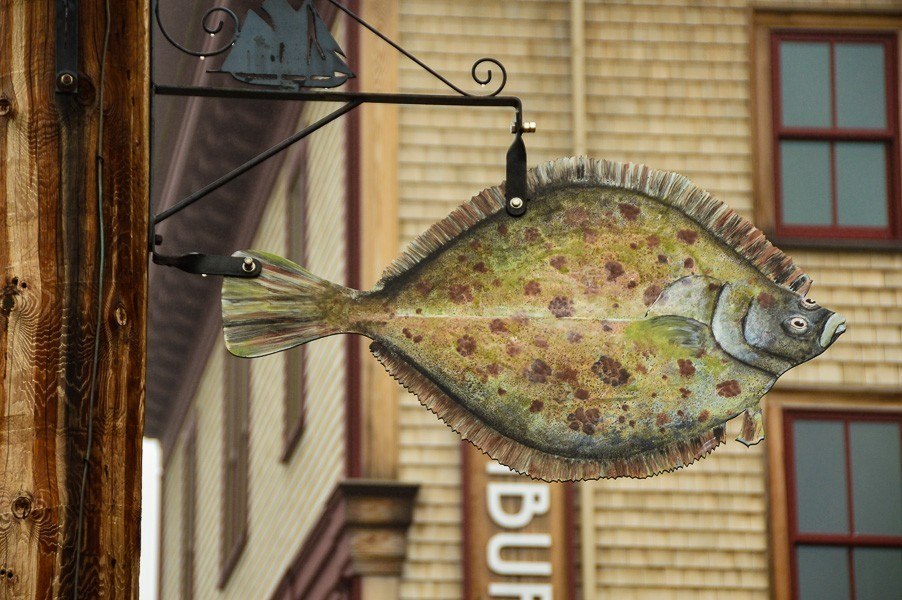 The street signs of Lunenberg
⇒ Nova Scotia is another stunning region in Canada. Check out my Nova Scotia Itinerary for 6 days to give you a sense of the region. Don't miss the Wolfville Wineries and nearby Wolfville Farmers Market, 16 Most Beautiful Cities in Canada,11 Beautiful Canada Landmarks and there are loads of things to do in Lunenburg with its UNESCO listed old town. And 47 Fun Facts about Canada.
13. St Andrews, New Brunswick
Here I go again with another town rather than a city but New Brunswick needs to be covered in this post as it is such a beautiful region – there are so many fantastic things to do in New Brunswick and great boutique hotels. Lovely St Andrews, New Brunswick was founded in 1783 and is one of the best-preserved examples of colonial heritage in North America today.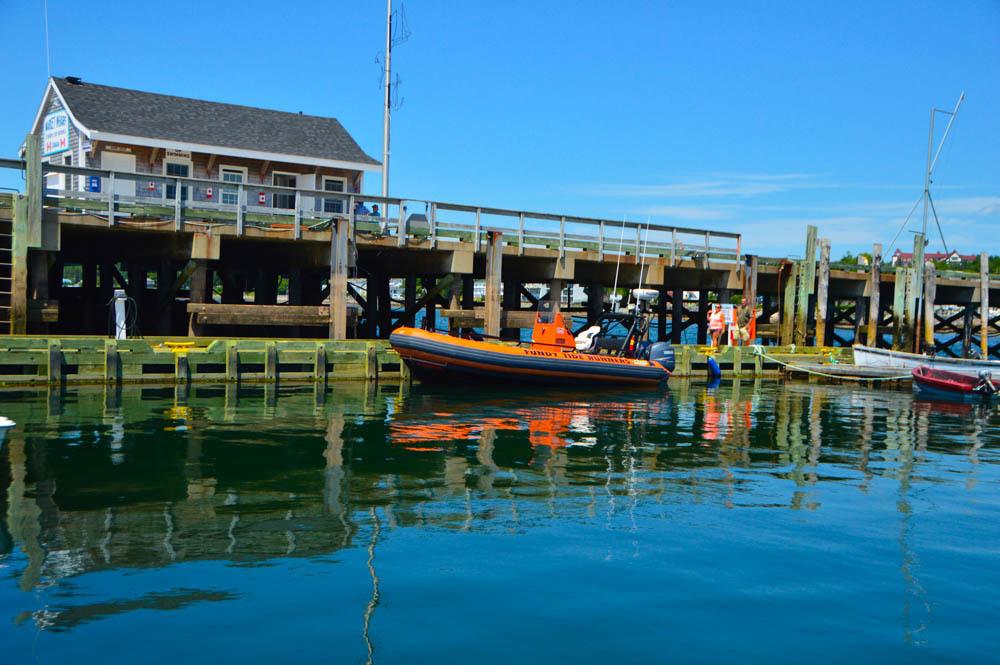 The St Andrews dock
The town is designated one of Canada's National Historic Districts and it is utterly charming. Plus it has a fantastic location on the Bay of Fundy which means it has some of the best whale watching in the world. Don't miss Kingsbrae Gardens, driving the ocean's floor nearby to Minister's Island, eating ALOT of lobster, staying at the delightful Algonquin hotel and visiting the St Andrew's Farmers Market.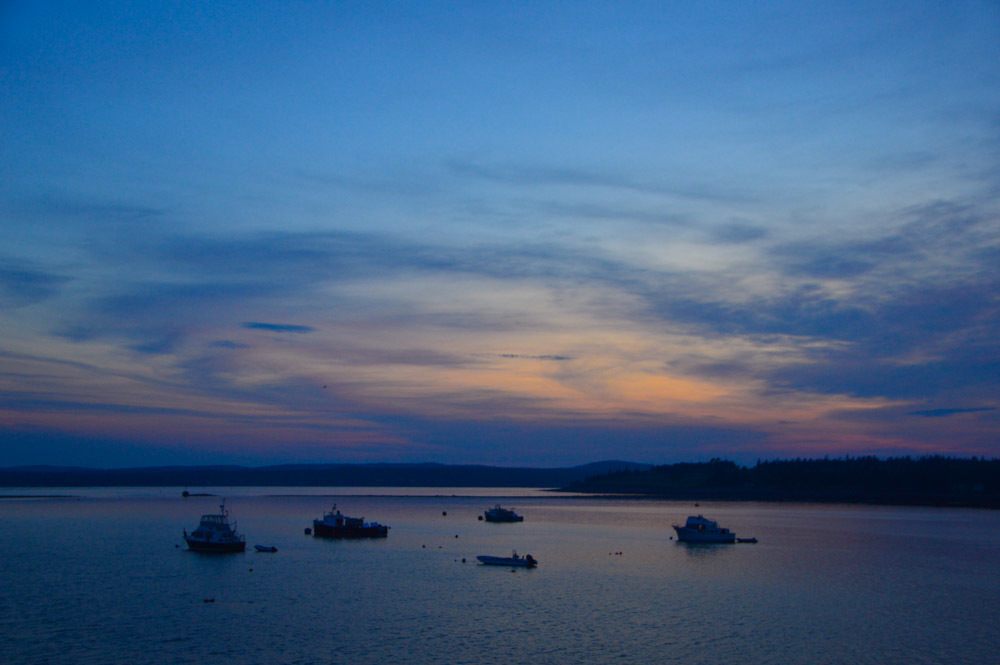 St Andrews Sunset
⇒ Another amazing part of Canada (and home to some beautiful Canada Landmarks) is New Brunswick. Check out my posts on the top New Brunswick Tours, the best things to do in New Brunswick, 16 Most Beautiful Cities in Canada, Whale Watching St Andrews and some charming boutique hotels in New Brunswick Canada.
14. Charlottetown, Prince Edward Island
Charlottetown is Prince Edward Island's charming capital city. Its charming Victorian era streets and harbour can be explored on foot. Do you remember the novels of Anne of Green Gables? They were set in nearby Cavendish which is on the north shore of Prince Edward Island.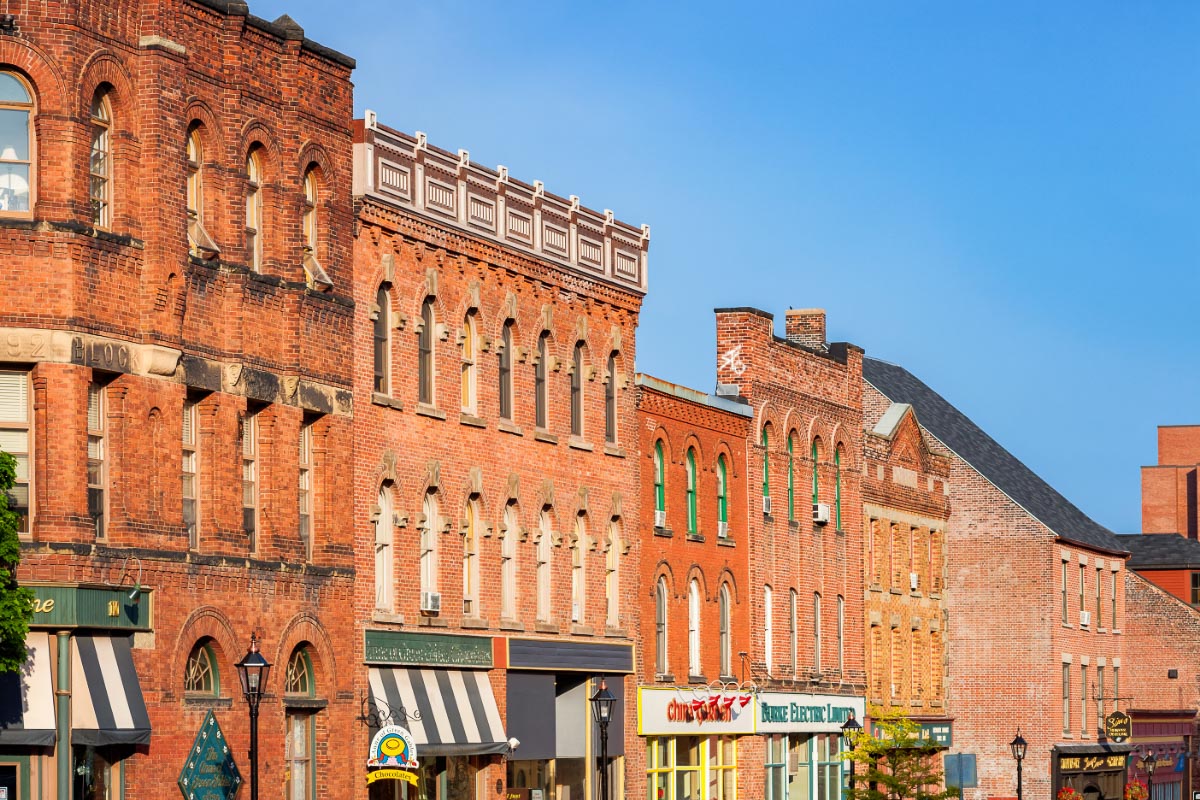 charlottetown prince edward island
The conference which led to the unification of Canada was held in Charlottetown in 1864. The annual Charlottetown festival runs all summer and features plays, art exhibitions, concerts and more.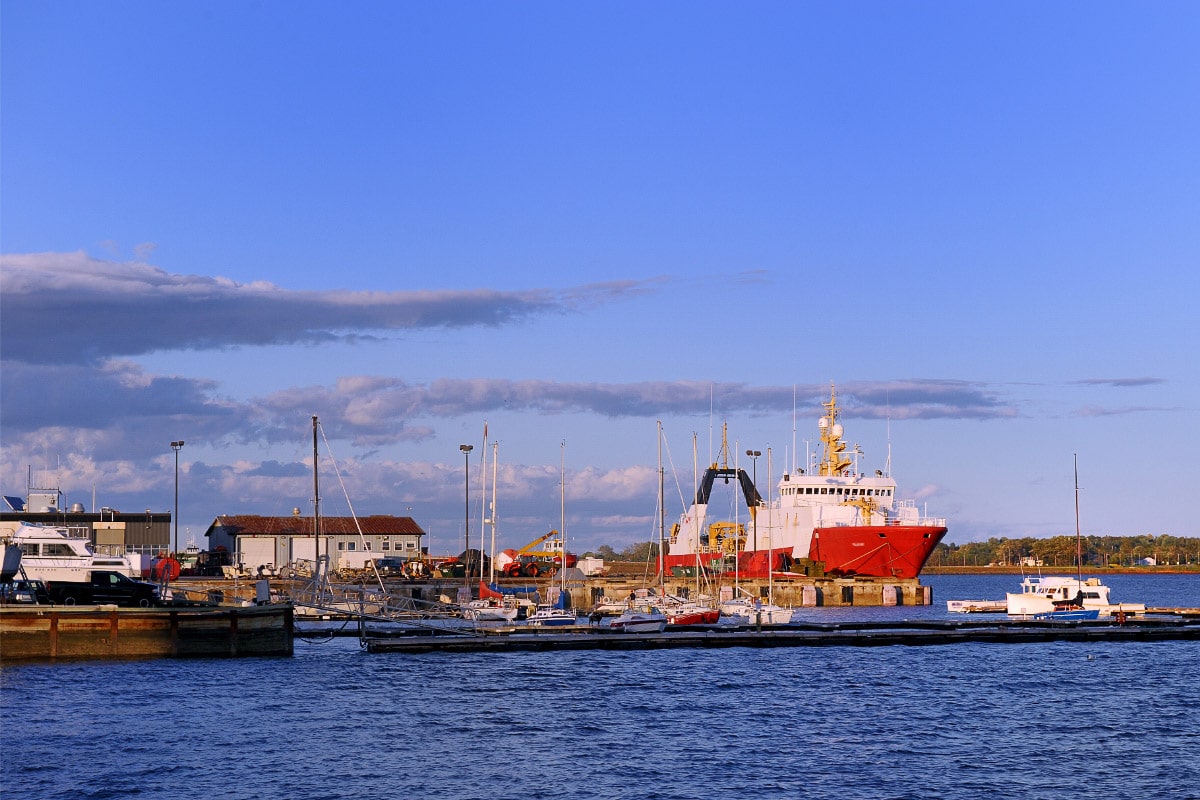 harbour charlottetown
15. Whitehorse, Yukon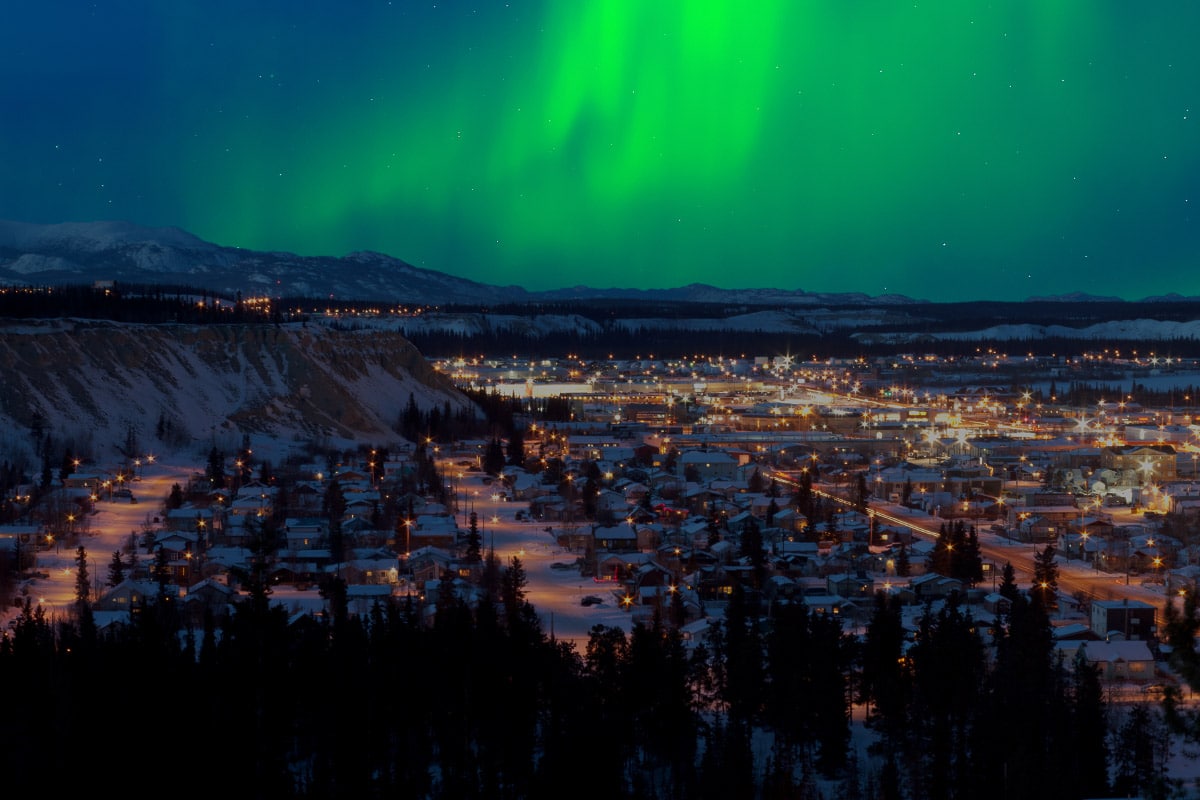 whitehorse yukon under northern lights
This small town in the Yukon is home to just 25,000 people and is the kickoff point for exploring Canada's beautiful northern lands. Don't miss Takhini Hot Springs and the Yukon Wildlife Preserve. Plus Whitehorse is a fantastic place to see the Northern Lights if you are lucky enough to time your visit just right.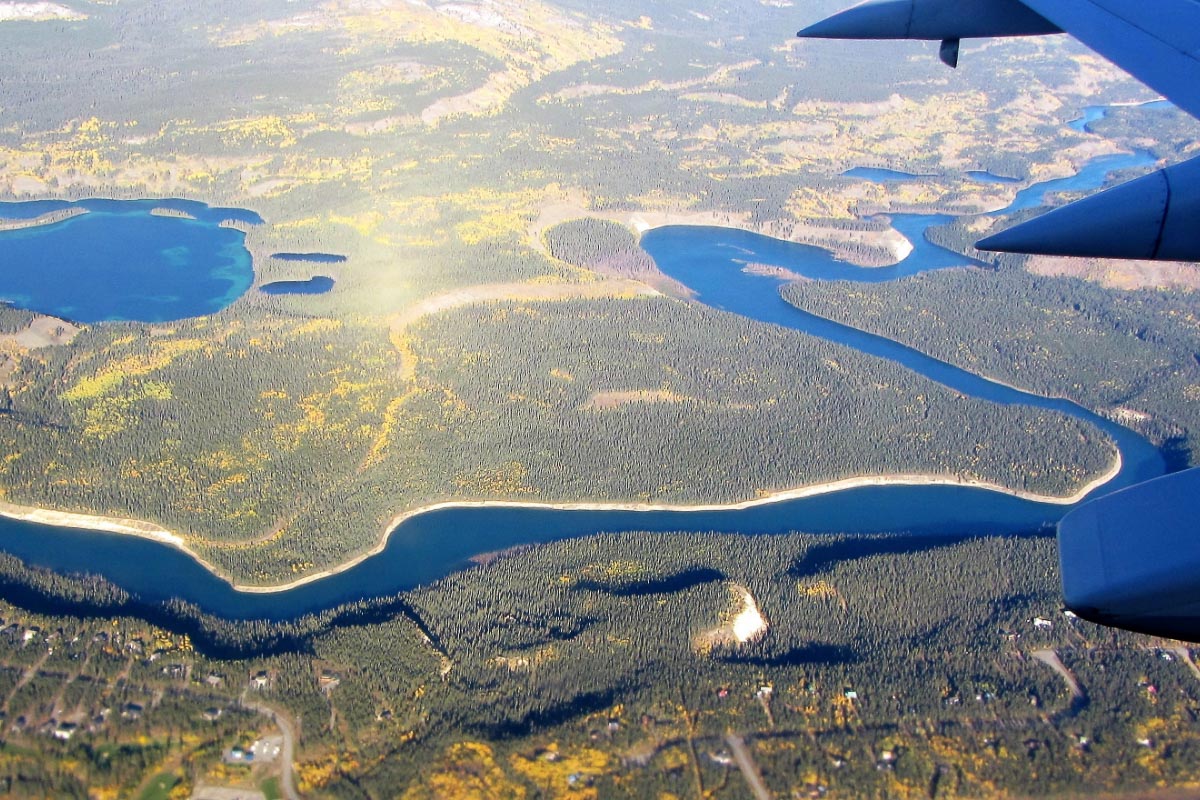 aerial view of whitehorse
16. Banff, Alberta
Okay, I have slipped another town into the list. Banff isn't actually a city but how can you write about beautiful Canada and not include Banff? This little resort town is the base for Rocky Mountain adventures. It is also situated in Canada's most popular national park, Banff National Park.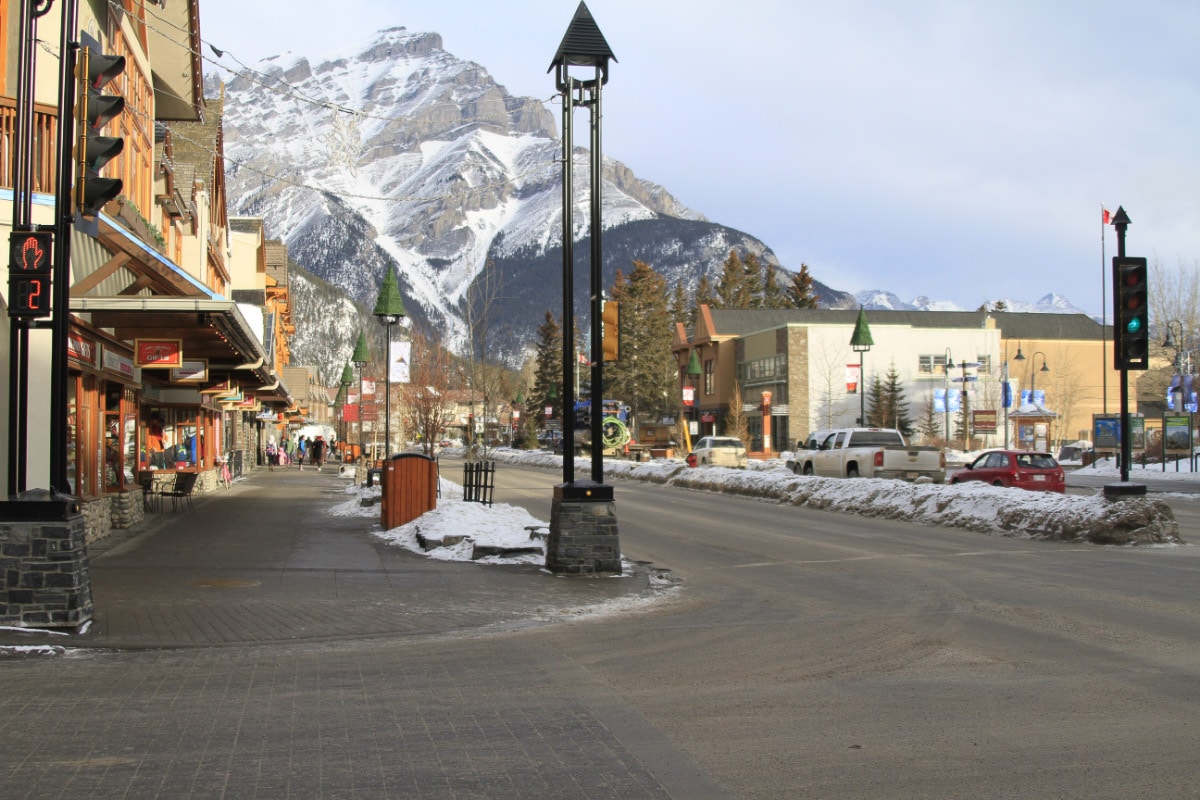 Banff town
If you're looking to explore natural Canada at its best then don't miss lovely Banff. It might be small but there are plenty of things to do in Banff.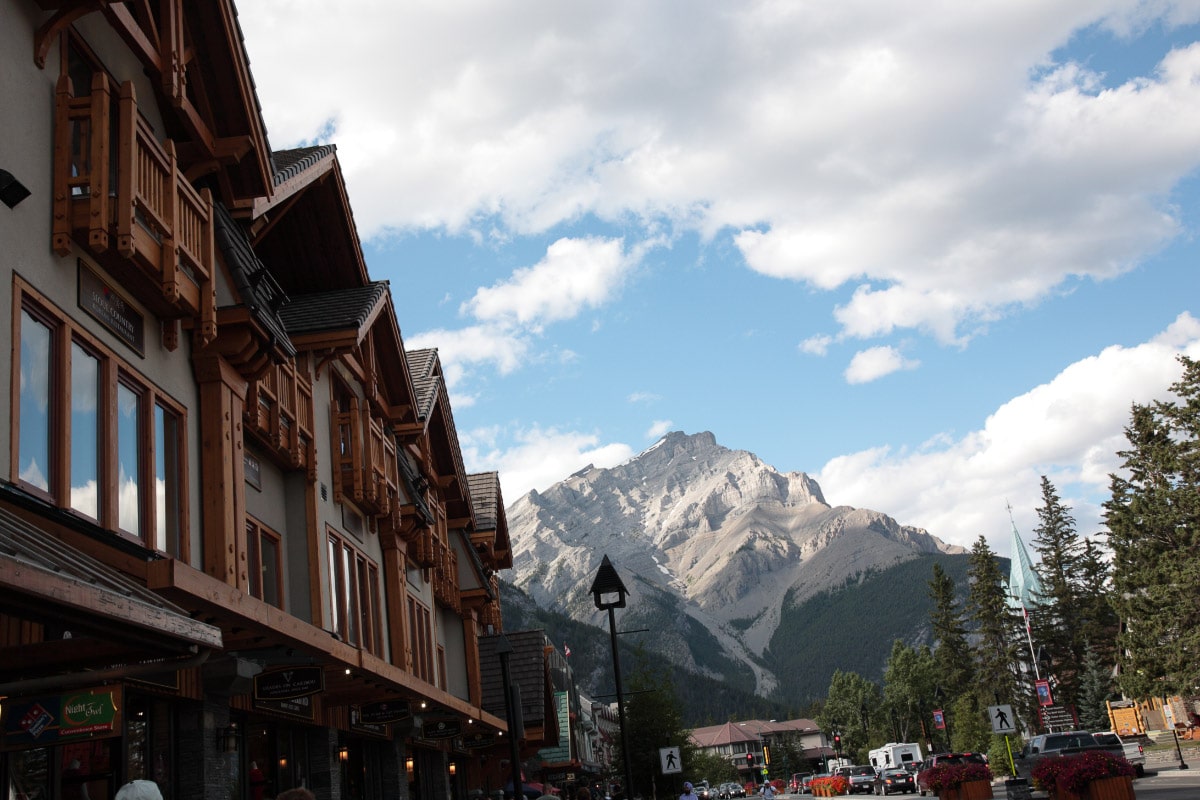 banff town
A Footnote: Most Beautiful Cities in Canada
Canada is renowned for its scenic natural wonders, from towering mountain cliffs, majestic blue lakes fed by glaciers, lush forests and uninhabited prairies. Many cities are steeped in rich maritime history, sprinkled with historic buildings and filled with friendly locals. Canada boasts many of the world's most scenic cities.
So, now that we've covered some incredible places, it's time for you to get your walking boots on and your cameras out for a spectacular time in North American's crown jewel.
This most beautiful cities in Canada post includes affiliate links. That means if you click through and end up making a purchase I will receive a small commission. I wanted to make sure you were aware of this.
Top 26 Most Beautiful Places to Visit in Canada
Canada is the second-largest country in the world with a vast array of natural wonders, so any attempt to make a list of places in a country known for its sheer beauty will always be a tall order. Everyone will have their own ideas but here are my best and most beautiful places to visit in Canada…
1. Yellowknife/Northwest Territories – for a truly stunning wilderness experience in Canada
When you're done with walking around the oldest city in North America and ticked the polar bears off your wildlife list, head properly up north in search of the Aurora Borealis, aka the Northern Lights.
As a natural phenomenon, you're never guaranteed to see them, but Yellowknife in the Northwest Territories is a great place to try. Just remember to wrap up warm!
To get one of the greatest glimpses into such a vast, sprawling country, how about going coast to coast, from Atlantic to Pacific?
Taking a drive across the Trans-Canada Highway or a ride on the Canadian (a 1950s train journeying from Toronto to Vancouver over the course of 3-4 days), is something that few people experience in a single trip, but any who do so will remember for the rest of their lives.
2. The Rockies – one of the most famously scenic and beautiful places to visit in Canada
While the entire Rockies stretch through the USA as well, when it comes to jaw-dropping scenery its northern neighbor comes up trumps, whether it's for hiking in the summer or skiing in the winter.
Comprising 5 National Parks (Banff, Glacier, Jasper, Kootenay, and Yoho) this area should be near the top of any bucket list.
The Rocky Mountaineer is the train of choice for many honeymooners, and it's easy to see why – glass-topped carriages giving superlative views onto glaciers, towering mountain peaks, waterfalls, canyons, and lakes so blue you'll think your eyes have been Photoshopped.
3. Vancouver Island and the Johnstone Strait – one of the most scenic places to explore in Canada
Surfers love the wild, epic waves here (though with a nickname of "Graveyard of the Pacific" the west coast should be approached with caution), and animal lovers come to spot orcas in the waters of the Johnstone Strait.
If you prefer something more sedate to all that excitement, you can relax with something quintessentially British (well, you are in British Columbia, after all!) – afternoon tea at the Empress Hotel, Victoria.
4. Lake Louise – one of the largest and most scenic ski resorts in Canada
Beautiful Lake Louise is located in the Rockies but deserves a special mention of its own.
You've seen the photos – with water almost impossibly turquoise (the result of minerals in the rock that flow into the lake after glacial erosion) – now it's time to see the lake for yourself and get a picture of your own.
This isn't the place to get away from it all – and certainly won't be able to get away from thousands of other tourists – but some places are popular for good reason, and deserve to be visited anyway.
5. Churchill, Manitoba – one of the top destinations in Canada and where polar bears roam freely
To fans of seeing animals in their natural environment, this place is no longer a secret – it's marketed as the "Polar Bear Capital of the World" and it more than lives up to its name (I saw about 40 of them in one day on a recent trip – although you might want to check your traveler's insurance before you go!).
While it is already the premier destination for seeing these beautiful white bears, not everyone realises that in late summer it also a fantastic place to see Beluga whales.
Add to that the opportunity, if you're lucky, to see the Northern Lights in deep of winter and to see colorful wildflowers in June-August, and it means this tiny town of around 1000 people has something to offer year-round, definitely one of the best places to visit in Canada!
6. On the trail of the Titanic in Nova Scotia – one of the best places to visit and explore in Canada
Despite visiting during a snowy blizzard, I still enjoyed my time in Halifax. Partly because I always wanted to say I'd been to Nova Scotia, but also because there is a wealth of history there.
Due to blanket snow, I couldn't visit the "Titanic Graveyard", so-called as many of the fateful boat's passengers are buried here.
Pier 21, known as Canada's equivalent to the USA's Ellis Island, was the "Gateway to Canada" for thousands of immigrants from ocean liners from 1928-1971, and is now one of Canada's most important museums.
Halifax also makes a good jumping-off point for drives further afield to Prince Edward Island or Cape Breton.
7. Niagara Falls – the world-famous Canadian beauty spot
Angel Falls may be higher, and Victoria Falls may be wider but Niagara still holds the crown of the world's most famous waterfall.
It provided the backdrop for one of Marilyn Monroe's better films, has hosted countless weddings and honeymooning couples, and daredevils from across the globe have come to test themselves against the might of mother nature, either by crossing on a tightrope or throwing themselves over the edge in a barrel.
Thankfully there are safer ways to enjoy the falls, namely the Maid of the Mist boat (tip: it's worth letting people past you so that you're at the front of the queue if you want to make sure you're first into one of the wettest spots on the boat).
Everyone has their own opinion of which side is better (Canadian vs American) but as you may only visit once I'd suggest seeing it from both!
8. Toronto – the bright and bustling cosmopolitan city and an amazing place to visit in Canada
Even the most committed nature seeker will find themselves in a city at some point, so embrace all that the urban life has to offer in Toronto.
My first impression was that it seemed like a smaller, cleaner, tidier version of New York.
The views from the CN Tower (which held the title of the world's tallest freestanding structure for over 30 years) are as incredible as you'd imagine, while the Royal Ontario Museum is the best single summary of Canada's cultural life and history.
For something really unusual, check out the Cineforum (where local eccentric Reg Hartt will essentially show you short films and animations in his living room, and maybe talk about LSD…), while the historic Distillery District is alive with cafes, art galleries, and idiosyncratic shops.
And finally, take a walk up to the Gothic Revival stately home Casa Loma – in equal parts fascinating, quirky, and tragic.
9. The Bay of Fundy – home to the highest tides on earth and the rarest whales in the world
Almost as world-famous as some of the other places on this list, and easily as spectacular, kayakers and canoers come from all over the world to paddle through the jaw-dropping scenery and the planet's highest tides.
The unique geography of the beautiful area also means that whale watching here is an essential experience – you might see humpback, fin, right whales, or even blue whales.
10. Quebec City – a pretty and city home to a rich French heritage and a charming Old Town
In the French-speaking province of Quebec, while Montreal is a fantastic city for many reasons and little Quebec City may be a victim of its own success in terms of popularity, it's still a must-visit destination when exploring Canada.
The world's most photographed hotel is in the center of town, North America's only Ice Hotel is around 30 minutes away, and around every corner is a glimpse into another quaint side street or romantic cafe, making this 400-year-old city wonderful to explore on foot.
11. Nahanni National Park Reserve – more than seven million acres of beautiful scenery to explore
If you are an avid reader of the blog, you'll know that we absolutely love a UNESCO world heritage site. If you say to most people 'Canada', this is what they think of. Wild turquoise rivers crash through steep-sided granite valleys. Pine trees dotting grassy plains.
And if you visit in the summer you'll be presented with an ocean of color and a literal sea of wildflowers. This country is truly wild and beautiful and still remains pretty much untouched. Remember, leave only footprints and take only memories.
12. Lunenburg, Nova Scotia – a very charming and picturesque town to visit in Canada
Lunenburg is a proper enigma. If you plonked someone in the middle of town and asked them where they were, without telling them anything else, you'd get a range of answers. The bright-colored building, of which over 70% are original, have a slight Scandinavian feel to them.
Which is weird as it was originally settled by the British over 400 years ago. Beautiful Lunenburg is one of only two towns that are designated as UNESCO world heritage sites. If you visit, you'll be able to indulge practically every sense. It is jam-packed with artisanal and often very local fayre.
Restaurants, breweries, and even the odd splash of local rum can be found in abundance. Turn your saturation filter up to max (on the camera not the rum) and make your friends really, really jealous with photos of the pretty colored buildings. Definitely one of the prettiest places to visit in Canada.
13. Cape Spear – Canada's easternmost point of land and a lovely place to visit
Want to go to Canada? Want to be the first person in an entire continent to see the sunrise? If you answered 'yes' to both of these questions then you must pay a visit to stunning Cape Spear. It is the most easterly point in the entire continent of North America.
If you set off swimming from the cape, the next place you'd reach would be The British Isles. Pack a flask of something hot (or maybe cold and sparkly) and head off on a walk.
Aside from an amazing (if chilly) sunrise over the Atlantic, you'll be able to check out the Cape Spear lighthouse. Which sits atop a rocky promontory. It is quite remote but well worth the trip.
14. Lake Magog – one of the most beautiful lakes to visit in Canada
Two words. Rugged, Beauty. And you're going to want to stay for more than a day to truly take it all in, you won't want to be in a hurry.
You'll need to be made of strong stuff, especially if you embark on the 4-mile hike up to Sunburst Peak. If you get a chance wander down to the lake itself to cool your feet down.
It is glacially fed and as a result, is crystal clear all year round. Breathe in a deep lungful of air that will be about the freshest you will get on the planet and admire sweeping and wild vistas.
15. Capilano Suspension Bridge Park, British Columbia – a much-loved tourist attraction in Canada
Do you like heights? Enjoy sweaty palms? Relish dreams of falling? If so then we've got what you need. The Capilano Suspension Bridge is one of Vancouver's most visited attractions.
This 140-meter bridge spans the Capilano river (obviously) and sits over 300 feet above a verdant green valley. Hold your breath and strut across it. Fear or no fear you'll be glad you did.
The park itself sits within a very scenic and beautiful park, that is complete with snowy peaks and pointing pines. Visit at the right time and you'll be in for a treat, and it doesn't even have to be daylight.
The park is bedecked with lights on a vast array of trees, bridges, and caverns. Ever seen Avatar? You'll feel like you are in a James Cameron movie, just don't turn blue with the cold.
16. Abraham Lake – a unique and wonderful scenic spot in Canada
Want to see what human endeavor and nature look like when they interact. Check out the very pretty Abraham Lake. Why do I say this? Well, you'd be entirely forgiven for thinking that Abraham Lake is a natural phenomenon. (Spoiler, it isn't).
The lake was actually man-made after the Saskatchewan river was dammed in 1972. If you'd visited in the 60's you'd have probably been stood in a grassy valley. But the human endeavor isn't actually the best bit about Lake Abraham. There's something going on under the surface, literally.
The lake is beautiful all year round with milky blue glacial water. Here's our advice. Visit in winter, bring your camera. Due to deposits of various flora on the bed of the lake, huge methane gas bubbles are released. These are then trapped at various layers under the frozen surface.
You'll be presented with a cathedral of frozen wonder as these bubbles make miles of frozen subsurface columns. All observed from your own private and entirely unique viewing window.
Your best bet to avoid mishaps is to hire a guided tour. Walking on frozen lakes is rather cool, but also a little bit dangerous if you don't know what you are doing.
17. Glacier National Park – with glacier-carved peaks and valleys located right on the border
Okay this is officially mostly in Montana USA but I've included it's located right on the border of Canada and is an incredible place to visit if you're exploring either country. Especially if you like hiking. If you do you'll absolutely love the 700 miles of gorgeous trails.
Visit in the autumn and you'll be treated to hundreds of square miles of deciduous trees that are ablaze with color, like strips of burnt amber gold. If you are an 'outdoorsy' type then it will be utter heaven for you.
Aside from walking there is the option to go kayaking climbing, cycling. You name it. You can keep the accommodation costs cheap, provided you have a tent as Glacier National Park is the ideal spot to get back to nature.
18. Yoho National Park – easily one of the most beautiful places to visit in Canada
Definitely one of the most beautiful places to visit in Canada. Stand on top of steep-sided gullies and breathe it in.
The stunning views here are to die for. Whether you want to just stop for the day and have a picnic or spend a few weeks walking to your heart's content the Yoho National park has something for you.
Driving through the beautiful park alone is worth it, but ideally, you'll want to stay and appreciate all it has to offer. This is the land that time forgot, if you take a guided tour, you'll be able to traverse tracks cutting through scree-sided valleys and see if you can find a fossil or two.
It's literally impossible not to be impressed by the size and scale of it all here. Every direction you turn will take your breath away.
19. Old Montreal – a charming and historic neighborhood to visit in the province of Quebec
Was I in Montreal or Marseilles? Aside from various billboards advertising poutine, I was hard-pressed to tell the difference.
Take a walk down these beautiful boulevards and you'll be presented with quaint corner cafés, boutiques with pretty windows and impressive columns and churches, which speak strongly of Canada's colonial past.
You'll be able to explore the numerous pretty cobbled streets, feel all cultural, and shop 'til you drop at the same time.
Make sure you check out the Basilica of Notre Dame before stopping for a cappuccino and taking the weight off your weary feet, whilst you people watch and try and get your head around it not being actual France.
20. Algonquin Provincial Park – a magnificent natural paradise to explore in Canada with incredible wildlife
Moose! You'll shout as you drive down highway 60 on your way to the very scenic Algonquin Provincial Park. Apparently, they are attracted to the roadside with the promise of salt left over on the roads from the winter. From wildlife to wolves, Algonquin is stuffed with natural wonder.
Sit by a sedate glassy lake and feel all wild, or get a bit more active and hire a canoe to really explore all it has to offer. In fact, even if you haven't done it before you'll find the opportunity to hire a multi-day paddling tour which includes everything you will need (yes, a guide as well).
At night the park is alive with howls, hoots, and maybe even a crystal-clear view of the milky way. Go on, treat yourself, this is a fantastic place to visit in Canada!
21. Campobello Island – one of the best and most wonderful places to visit in Canada
A fun day at the Bay of Fundy? Just what you need. The area actually includes a summer home of a former US president, and if it's beautiful enough for Frederick D Roosevelt it's more than beautiful enough for us.
Lying off the east coast of Maine the island is actually part of Canada (so make sure you remember to bring your passport).
Once you get there, you'll be able to explore tiny coves, amble across beaches, and even indulge in a spot of whale watching.
The island can be accessed via road, or if you want to test your sea legs there are ferries running in the summer. And the best bit? Entry to everything that you encounter on the attractive island is free!
22. Magdalen Islands – a fantastic scenic place to explore in Canada
It's a little bit quiet here. But that's why I liked it. Stunning unspoiled beaches, atmospheric sweeping sea views, and even a bit of history are all rolled into one package.
Maybe it's not just natural things to see here though. What's super interesting are the people. Almost every single one of the islands' 12,500 inhabitants has an interesting history? Do you know why? They are practically all descendants of sailors who washed up on the very beaches you'll be walking after they were shipwrecked.
The Madelinots have made the area into a true cultural melting pot. Whether you want to try local traditional smoked fish or a big mouthful of local craft beer you'll find it here.
23. Garibaldi Lake – a beautiful turquoise-colored alpine lake in British Columbia
How does a beautiful sapphire jewel set in a ring of volcanoes sound to you? Amazing? Yep, I thought so too.
Garibaldi lake is located in the southwest corner of British Columbia and was formed when a lava flow naturally dammed the valley. In geological terms, it is still a baby at only 9000 years old.
If you want to hike up to and around the picturesque lake, it's going to take you around 5 hours (depending on how fast you walk).
If that sounds a bit much, and you've got a few quid there is the option to hire aerial tours where you can take in the iridescent waters and black foreboding peaks whilst being told what you are seeing by an experienced pilot and guide. Cool eh?
24. Whitehorse Region – Canada's wonderful wilderness city
There's gold in them hills. No really, there is, and it's the reason why Whitehorse exists.
It's the capital of the Yukon territories and still holds quite a lot of the wild west charm that people normally only see if they visit a theme park. You are spoiled for choice if you visit, and the city makes the ideal base to shoot out into the countryside.
Head out into the stunning wilderness and discover hot springs, beautiful emerald lakes, and perhaps the occasional nod towards the history of the native people who were displaced by the gold rush.
You get the best of both worlds in Whitehorse. You can enjoy the perks of being in a city and, depending on how fast you drive, you can be in the true wilderness in about 15 minutes.
25. McArthur Lake – one of the most stunning lakes in Canada
Now I don't say this lightly… this is perhaps one of the most beautiful lakes in existence. It's like walking in a literal dream sequence.
If you are a hiker, or even if you are not this is an absolute, hands-down, must-see. You'll find McArthur lake in the middle of the Yoho National Park.
Try to hold it together as you are presented with snowy windswept peaks and a lake that is so blue, you'd think it was photoshopped if you weren't seeing it for real. Visit at the right time and you'll be all alone, perfect!
26. Whistler – one of the best places to go skiing in Canada
Home to one of the largest ski resorts in North America, Whistler is in the group of the top tourist places in Canada for skiing, snowboarding, tobogganing and ski jumping. However, if you are a summer person, you can also explore mountain biking and hiking, as the hot weather is perfect for it.
Whistler receives over two million people per year, with its beautiful scenery and breathtaking panoramic views this city was also a host of the 2010 Winter Olympics. If you are having a long vacation, Vancouver is also a great destination to visit as it's only under 2 hours from Whistler by car.
Cool and Unusual Hotels in Canada
We also have posts on…
Lee mostly spent his formative years as a junior Spielberg wannabe, devouring movies in front of a cinema screen, but then a "year out" after graduating turned into a not-too-shabby six years of working, travelling and volunteering across the globe. Attempting to satisfy his curiosity and passion for discovery both at home and abroad, he became a concierge at a luxury hotel and a member of the prestigious Les Clefs d'Or, whilst still finding time to visit over 60 countries. On his jaunts he combines all his passions – seeking out film locations, off-the-beaten track adventures and wildlife encounters which so far have included orangutans, whale sharks, gorillas and polar bears. He counts New Zealand, Tanzania, Denmark and Borneo among his favourite travel destinations.
The 15 best places to visit in Canada right now
Canada is a country chock-full of natural sites and urban delights, where visitors are equally as wowed by the wildlife and wilderness, as they are by the cultural and culinary offerings found in the cities that speckle the sprawling nation.
Peruse for polar bears on the open arctic tundra of Churchill or cruise Vancouver's curvy coastline in a canoe while gawking at the city skyline. Feast on five-star fusion cuisine in Toronto, or take in a street-side jazz jam session in Montreal.
Whether you're a first-time visitor or returning to experience something new, these are the 15 best places to see in Canada. But be sure to plan ahead, because as the world's second-largest country, you just won't be able to do it all in one trip.
1. The Canadian Rockies
Best for mountain views
The sawtooth, white-topped mountains straddling the British Columbia–Alberta border inspire both awe and action. Five national parks – Banff, Yoho, Kootenay, Waterton Lakes and Jasper – offer countless opportunities to delve into the lush wilderness, with ribbons of hiking trails, rushing white water and powdery ski slopes to satisfy travelers looking for mountain thrills.
This is one of the best places to visit in Canada in the winter, but outdoor adventures are aplenty during the summer months too.
Planning Tip: For a different perspective, take the train and experience the grandeur from the comfort of your seat: luminous lakes, jumbles of wildflowers and glistening glaciers glide by as the steel cars chug up mountain passes and down river valleys en route to points east or west.
2. Vancouver
Best for combining city and nature
In Vancouver, sea-to-sky beauty surrounds the laid-back, cocktail-lovin' metropolis. With skiable mountains on the outskirts, beaches fringing the coast and Stanley Park's thick rainforest just steps from downtown's sparkling skyscrapers, it's a harmonic convergence of city and nature.
For the best of both worlds, pick up a plate and cold brew from a local joint and spend a day picnicking at one of the amazing city parks (during the summer months drinking is legal at most city parks).
Shop and stroll through the diverse and charming neighborhoods – you may even spot a celebrity along the way. Known as "Hollywood North", Vancouver is the filming location for many TV and film productions shot throughout the year.
Planning Tip: With its mild climate and beautiful beaches, Vancouver is definitely one of the best places in Canada to visit in summer.
3. Niagara Falls
Best for an iconic travel experience
Niagara Falls may be short (it doesn't even crack the top 500 worldwide for height), but when those great muscular bands of water arc over the precipice like liquid glass, roaring into the void below, and when you sail toward it in a mist-shrouded boat – the falls impress, every time.
While you're there, extend your stay and head beyond the falls with a two-wheel biking adventure along the Greater Niagara Circle Route, or take a go at the Wildplay Zipline to the Falls, a pulse-pounding rush of a ride that offers unparalleled views of the falls below as you zoom through the sky.
Gorgeous Whistler is a top ski destination, but it's also got a thriving cultural scene © stockstudioX / Getty Images
4. Whistler
Best place to ski in Canada
This alpine village and 2010 Winter Olympics venue is one of the world's largest, best-equipped and most popular ski resorts, and it's only a 90-minute drive from downtown Vancouver. Featuring over 200 marked runs winding down two towering mountains – Whistler and Blackcomb – this destination is paradise for skiers of all levels.
Skiing may be Whistler's raison d'être, but summer visitors with their downhill mountain bikes and stand-up paddleboards outnumber their ski-season equivalents, making the resort a year-round hot spot for locals and visitors alike.
Adding more diversity, Whistler has recently developed a thriving arts and culture scene, with highlights like the Audain Art Museum and Squamish Li'lwat Cultural Centre taking the stage as equally-appealing attractions to the famed slopes.
5. Montréal Jazz Festival
Best place for music lovers
As Canada's second-largest city and the country's cultural heart, Montréal is a marvel for music lovers. Watch the best jazz-influenced musicians in the world amongst over two million, equally-jazzed spectators at the Montréal International Jazz Festival. There are over 500 performances and shows to enjoy (and countless are free).
BB King, Prince and Astor Piazzolla are among those who've performed at the 11-day, late-June music festival. You may even get to join in on the fun with free drumming lessons and street-side jam sessions, as the good times roll day and night.
Planning Tip: Not into jazz? There are lots of live-music venues and events big and small found throughout the city.
6. Old Québec City
Best place to visit in Canada for couples
Québec's capital is more than 400 years old, and its ancient stone walls, glinting spired cathedrals and jazz-filled corner cafes suffuse it with atmosphere, romance, melancholy, eccentricity and intrigue on par with any European city. The best way to soak it all up is to walk the old town's labyrinth of lanes and get lost amid the street performers and cozy inns, stopping every so often for a café au lait and flaky pastry.
The city is also home to Québec's honeymoon highway, Rte 132. Circling the Gaspé Peninsula, this road whisks puppy-eyed couples past the sea and the mountain with joie de vivre (enjoyment of life); more than 700,000 people tear down the tarmac each summer.
Of course, it has yet to approach the romantic popularity of Canada's "Honeymoon Capital," Niagara Falls, a region that draws more than 14 million annual visitors. But head for the La Gaspésie, instead, young lovers. Because if you're on your honeymoon, you don't need 14 million other people hanging around.
7. Toronto
Best for multicultural experiences
A hyperactive stew of cultures and neighborhoods, Toronto strikes you with sheer urban awe and cultural diversity. Will you have dinner in Chinatown or Greektown? Five-star fusion or a peameal bacon sandwich?
In Ontario's coolest city, designer shoes from Bloor-Yorkville are accessorized with tattoos in Queen West, while mod-art galleries, theater par excellence, rockin' band rooms and hockey mania add to the megalopolis. It is far and away Canada's largest city, as well as its most diverse – about half of the city's residents were born in another country.
Be sure to snap a photo of CN Tower, considered one of the best places to visit in Toronto, and for an added thrill, take a try at the Edgewalk, where you can walk around its perimeter while taking in unparalleled city views.
8. Vancouver Island
Best for nature lovers
Picture-postcard Victoria is the heart of Vancouver Island, beating with bohemian shops, wood-floored coffee bars and a tea-soaked English past steeped in tea culture since the 1840s.
British Columbia's capital city is full of charm, but it's only the kick-off point to an island that boasts a bounty of natural wonders to explore.
Brooding Pacific Rim National Park Reserve sports the West Coast Trail, where the wind-bashed ocean meets a mist-shrouded wilderness, and surfers line up for Tofino's waves. With so many outdoor adventures to try, this is one of the best places in Canada for nature lovers.
Planning Tip: Wandering foodies will want to head to the Cowichan Valley, studded with welcoming little farms and boutique wineries.
When frozen, the Rideau Canal in Canada becomes the world's biggest ice rink © Preappy / Stocksy United
9. Rideau Canal
Best for ice skating
This 185-year-old, 200km-long (124 miles) waterway – consisting of canals, rivers and lakes – connects Ottawa and Kingston via 47 locks. The Rideau Canal is at its finest in wintry Ottawa, where a stretch of its waters become the Rideau Canal Skateway – the world's largest skating rink.
People swoosh by on the 7.8km (4.8 miles) of groomed ice, pausing for hot chocolate and scrumptious slabs of fried dough called beavertails (a quintessentially Canadian treat). February's Winterlude festival kicks it up a notch when townsfolk build massive ice sculptures.
Planning Tip: Once the canal thaws, it becomes a boater's paradise, meaning you can appreciate it whatever time of year you visit.
10. Manitoulin Island
Best place in Canada to celebrate First Nations culture
The largest freshwater island in the world, floating right in Lake Huron's midst, Manitoulin is a slowpoke place of beaches and summery cottages. Jagged expanses of white quartzite and granite outcroppings edge the shoreline and lead to shimmering vistas.
First Nations culture pervades, and the island's eight communities collaborate to offer local foods (wild rice, corn soup) and eco-adventures (canoeing, horseback riding, hiking). Powwows add drumming, dancing and storytelling to the mix for cultural-immersive experiences that connect you with the people and the land of the country that we now know as Canada.
11. The Prairies
Best place for road trips
Solitude reigns in Canada's middle ground. Driving through the flatlands of Manitoba and Saskatchewan turns up uninterrupted fields of golden wheat that stretch to the horizon, eventually melting into the sunshine. When the wind blows, the wheat sways like waves on the ocean, punctuated by the occasional grain elevator rising up like a tall ship.
Big skies mean big storms that drop like an anvil, visible on the skyline for miles. Far-flung towns include arty Winnipeg, boozy Moose Jaw and Mountie-filled Regina, interspersed with Ukrainian and Scandinavian villages.
12. Bay of Fundy
Best place to spot whales
Not your average Canadian bay, though lighthouses, boats and trawlers, fishing villages and other maritime scenery surround it, with frequent landward sightings of deer and moose. The unique geography of Fundy results in the most extreme tides in the world, reaching 16m (56ft), about the height of a five-story building.
They stir up serious whale food, with krill and other plankton attracting fin, humpback and blue whales here to feast, as well as endangered North Atlantic right whales, making a whale watch here an extraordinary must-do.
13. Drumheller
Best for dinosaur lovers
Dinosaur lovers get weak-kneed in dust-blown Drumheller, where paleontological civic pride runs high thanks to the Royal Tyrrell Museum, one of the planet's pre-eminent fossil collections. The area's focus on dinosaur fossils definitely makes this one of the most unique places to visit in Canada.
The world's largest dinosaur is here, too – a big, scary, fiberglass T-rex that visitors can climb and peer out of (through its mouth). Beyond the dino-hoopla, the area offers classic Badlands scenery and eerie, mushroom-like rock columns called hoodoos.
Planning Tip: Follow the scenic driving loops that take you past all the good stuff.
14. Churchill
The best place for polar bear encounters
The first polar bear you see up close will take your breath away, and there's no better place for an encounter than the open arctic tundra of Churchill, Manitoba, which happens to be right on the bears' migration path.
Planning Tip: From late September to early November, tundra vehicles head out in search of the razor-clawed beasts, sometimes getting you close enough to lock eyes with the beautiful bears. Summer lets you kayak or stand-up paddleboard with beluga whales.
Baffin's small towns are home to Inuit art studios with high-quality artworks © RyersonClark / Getty Images
15. Baffin
Best for Inuit art and incredible landscapes
The forlorn, rugged landscape of Baffin Island is home to cloud-scraping mountains and a third of Nunavut's human population. It's Canada's largest island (the fifth biggest in the world), and the ideal place for an arctic safari, where you can spot narwhals, belugas and bears in their natural habitat.
The island's crown jewel is Auyuittuq National Park – its name means "the land that never melts" – and indeed glaciers, fjords and vertiginous cliffs fill the eastern expanse. The park is a siren call for hardcore hikers and climbers, and more than a few polar bears.
Baffin is also a center for Inuit art; studios for high-quality carving, printmaking and weaving pop up in many small towns that speckle the area.
This article was first published July 2021 and updated August 2022
Buy the Canada travel guide
Lonely Planet's Canada is your passport to the most relevant, up-to-date advice on what to see and skip and what hidden discoveries await you. Savor culture in Quebec City, marvel at Niagara Falls and hike in the Rockies; all with your trusted travel companion.
Buy the Canada travel guide
Lonely Planet's Canada is your passport to the most relevant, up-to-date advice on what to see and skip and what hidden discoveries await you. Savor culture in Quebec City, marvel at Niagara Falls and hike in the Rockies; all with your trusted travel companion.
Source https://theboutiqueadventurer.com/most-beautiful-cities-in-canada/
Source https://globalgrasshopper.com/destinations/north-america/10-beautiful-places-visit-canada/
Source https://www.lonelyplanet.com/articles/best-places-to-visit-in-canada