10 Best Places to Visit in Southern California
Year-round sunny weather, gorgeous beaches and an abundance of family-friendly attractions make Southern California one of the most popular vacation destinations in the world. Encompassing the southern third of the Golden State, SoCal stretches west from the inland deserts and mountains to the temperate shores of the Pacific Ocean. Many of region's cities and communities have enough sights and activities to serve as a travel destination in their own right, but it would be shame to visit the Southland without hitting the highlights.
Thanks to an extensive freeway system, getting around is relatively easy, despite the occasional traffic jam. It's possible to spend the morning surfing the waves and the afternoon skiing or hiking in the mountains. From its beautiful beaches and national parks to its world-class cultural attractions and amusement parks, here are some of the best places to visit in Southern California.
10. Channel Islands National Park [SEE MAP]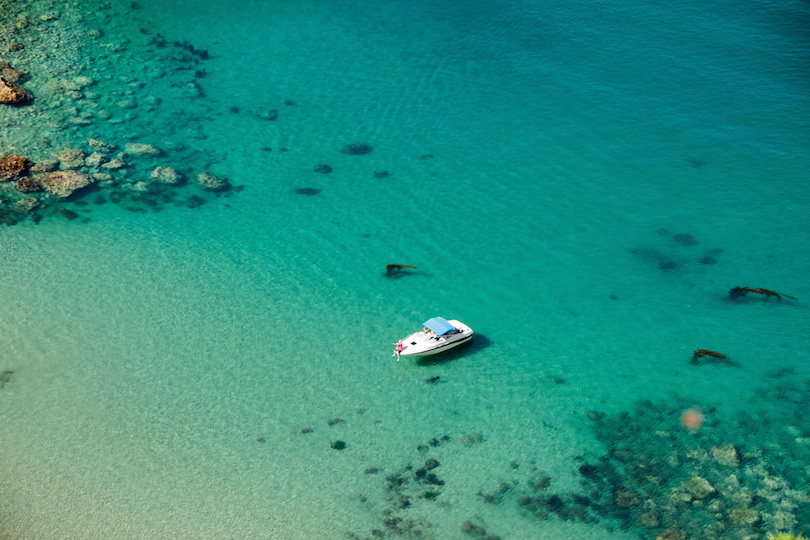 cKol / Flickr
The eight islands that lie off the coast of Southern California offer visitors a wealth of island adventures. Five of the islands are uninhabited, preserved for the public to enjoy as part of the Channel Islands National Park. Half-day and full-day excursions to Anacapa, Santa Cruz, Santa Rosa, San Miguel and Santa Barbara are available through several park-appointed boat concessionaires.
Visitors can camp overnight on the island of their choice as well. The sea caves and kelp forests around the island offer great opportunities for snorkeling and scuba diving. Boating excursions that combine whale watching with non-landing tours around the islands are a popular option.
9. Santa Monica [SEE MAP]
Airwolfhound / Flickr
Best known as the setting for the television show "Baywatch," Santa Monica offers everything travelers want from a Southern California beach town, including great surfing and swimming, wide stretches of sand and plenty of sunshine. Developed as a seaside resort in the early 1900s, the city has grown into an upscale community filled with designer shops, tasty restaurants and unique art galleries.
The old-fashioned amusement park at the Santa Monica Pier is home to the city's most recognizable landmark, a solar-powered Ferris Wheel illuminated with LED lights. Visitors can rub elbows with the rich and famous at the Third Street Promenade, one of the region's premier shopping destinations.
8. Joshua Tree National Park [SEE MAP]
Joshua Tree National Park / Flickr
Located in the Southern California desert area 140 miles (225 km) east of Los Angeles, Joshua Tree National Park is a popular destination for hikers, rock climbers, photography buffs and nature lovers.
Named after the treelike genus of yucca that grows in the park's northwestern section, Joshua Tree is an expansive park. It includes multiple overnight camping areas, natural springs, man-made reservoirs and more than 4,500 established rock climbing routes. Places of interest include an old cattle rustler's hideout, Native American rock art and Keys View, a sky-high natural overlook that offers views of the landlocked Salton Sea.
7. Palm Springs [SEE MAP]
jalbertgagnier / Flickr
Situated 120 miles (190 km) east of Los Angeles, Palm Springs has been a popular vacation destination since the 1920s when movie stars used the desert city as their winter playground. With its mid-century architecture, the city's Movie Colony District illustrates the lifestyle Hollywood's elite enjoyed.
More than a dozen beautifully maintained golf courses lie within the bounds of the 100-square-mile city, which makes Palm Springs a golfer's dream, but the region's natural attractions are worth exploring too. A ride on the Palm Springs Aerial Tramway to the 8,516-foot (2,596 meter) summit of Chino Canyon gives visitors a birds-eye view of the desert landscapes.
6. Universal Studios Hollywood [SEE MAP]
sfxeric / Flickr
Home to one of the oldest still-operating film studios, Universal Studios Hollywood is a sprawling complex in the San Fernando Valley north of Los Angeles best known for its family-friendly theme park.
Many of the park's rides and attractions are centered on blockbuster movies, offering an immersive experience for fans of films ranging from "King Kong" to "Waterworld." Behind-the-scenes studio tours are available as well. The complex also includes Universal CityWalk, an outdoor shopping center where visitors can catch live performances, see a movie or watch celebrities.
5. Santa Barbara [SEE MAP]
Santa Barbara is a coastal city less than 100 miles (160 km) from Los Angeles but differs vastly in pace from its huge neighbor to the south. Sometimes referred to as "Riviera of the West," Santa Barbara is well known for its beautiful beaches, mild temperatures and for the California Mission-style architecture that is very common in this city.
A long-standing local ordinance ensures that all commercial construction follows the Mission theme, which results in a plethora of red-tiled roofs and adobe supermarkets. Santa Barbara's most popular attractions are its Stearns Wharf and the Mission Santa Barbara, a Spanish outpost founded by the Franciscan order in 1786.
4. Hollywood [SEE MAP]
sfxeric / Flickr
One of the most visited places in Southern California, Hollywood has been an international center for film and entertainment since the silent-movie days of the 1920s. Many television studios are still based in Tinseltown, and visitors can book ahead to reserve tickets for TV show taping during their stay in Los Angeles.
A stroll along the star-studded Walk of Fame leads past the historic Chinese Theater where footprints and handprints of famous movie stars are encased in cement on the sidewalk. The district's iconic Hollywood sign is located in Griffith Park, home to the Art Deco-style Griffith Park Observatory, the outdoor Greek Theatre and the Los Angeles Zoo.
3. San Diego [SEE MAP]
Chad McDonald / Flickr
With miles of sandy beaches, a picturesque harbor and stellar luxury resorts, San Diego is the perfect destination for a fun-in-the-sun weekend getaway. A host of cultural attractions, theme parks, historic sights and a world-famous zoo make the city near the border of Mexico ideal for extended family vacations too.Known as the Birthplace of California, San Diego offers opportunities to explore the Golden State's long history as well.
In the Old Town San Diego Historic District, visitors can tour the mission founded by Father Junipero Serra in 1769. The most popular attraction in San Diego is America's premier zoo, which is located in Balboa Park with flowering gardens and Spanish architecture. The city is home to other family attractions as well like SeaWorld San Diego and the Birch Aquarium.
2. Venice Beach [SEE MAP]
NickiMM / Flickr
Tobacco magnate Abbot Kinney gets the credit for transforming a marshy stretch of shoreline south of Santa Monica into the "Venice of America." In 1904, Kinney turned a series of drainage channels into scenic canals and constructed a Venetian-inspired arcade on the beach.
While the canals remain one of the community's top attractions, most visitors head for the beach's world-famous boardwalk where eccentric street performers compete with shops, stalls and food stands for attention. The beach's volleyball courts, skating plaza and body-building Muscle Beach area are crowd-pleasers as well. The pier at the southern end of Venice Beach is perfect for fishing.
1. Disneyland [SEE MAP]
© Dreamstime
Located in Anaheim, Disneyland is a world-famous amusement park where Walt Disney movies and characters all come to life in a magical, make-believe kingdom. The Disneyland Resort is divided into two separate theme parks, three hotels, and a shopping and entertainment district. The first park is the original Disney theme park Disneyland, which opened in 1955.
Its sister park Disney California Adventure, which opened in 2001, is located across the entry plaza on the former site of Disneyland's parking lot. Both parks are divided into themes like Main Street USA, where visitors can step back into the early 1900s and Mickey's Toontown where kids can meet their favorite Disney characters like Mickey Mouse and Donald Duck.
15 Places to Visit in Southern California
Carrie Bell is a California native who has been covering travel, entertainment, and weddings for more than a decade. She is currently TripSavvy's Los Angeles expert.
From sun-soaked beaches to snow-covered peaks, from a crowded amusement park to solitary hikes in a national park, from painted deserts to museums the celebrate street art, from dangling grapevines to towering palms, and from movies sets to stunning sunsets, these are the 15 must-visit spots that make up a quintessential Southern California itinerary when you're ready to go from California dreaming to planning a dream vacation.
Hollywood
Courtesy of Los Angeles Tourism & Convention Board
Come for the sun, stay for the stars, movie stars, that is. The entertainment industry is usually what first pops into mind when anyone mentions California and Hollywood is at the epicenter of the biz. Film buffs can hunt down locations IRL, find their favorite celebrity on the Walk Of Fame, and ogle the TCL Chinese Theatre's foot-printed forecourt. With any luck, you'll be there on movie premiere day. Hike to the original Bat Cave, Hollywood Sign, and the observatory in Griffith Park. Tour studios like Warner Bros., Paramount, and Universal. Pop in to admire the recently restored David Hockey pool at the historic Hollywood Roosevelt. Make like Leo and Brad by sipping martinis at the 100-year-old Musso & Frank. Famous graves and summer movies make Hollywood Forever cemetery a worthwhile stop as well.
Joshua Tree National Park
TripSavvy / Chris VR
With its surreal rock formations and spiky trees, it'll feel like you've wandered into a Star Trek shooting location or a Dr. Seuss book when visiting this national park where two desert ecosystems meet, tarantulas and tortoises cross the street, night skies twinkle brilliantly, and influencers take their wide-brimmed hats out bouldering. From Keys View crest, you can see the infamous San Andreas Fault from above. Plan far ahead to get the pick of the campsites litter during high seasons (i.e. when it isn't a million degrees). Be sure to explore quirky surrounding towns where hipsters, cowboys, new age practitioners, and retired folks peacefully co-exist and run art galleries, diners, crystal shops, renovated motels, and a kickass all-ages concert venue/saloon called Pappy & Harriet's.
Santa Barbara
Mark Weber/Visit Santa Barbara
Long the playground of the posh and famous—Oprah, who lives in the community next door, is the area's patron saint, a gig she seemed to inherit from Julia Child—the picturesque enclave occupies a narrow crescent wedged between soaring ridges and the rollicking sea. It has all the trappings necessary for a successful long weekend: natural beauty, fresh air, pampering accommodations and spas, star-worthy cuisine that takes advantage of local delicacies like uni, finger limes, and spot prawns, arresting Spanish architecture, daily farmers markets, water sports, historical (the mission, Chumash, cave paintings) and cultural (Santa Barbara Bowl) attractions, and shopping (State Street). And did we mention its wine country (see Sideways) and urban wine trail, which grow in size and prestige every year.
Disneyland
Joshua Sudock/Disneyland Resort
How could we not include the original Disneyland on this list? It's the happiest place on Earth after all. Especially after the pioneering 65–year-old theme park added a whole new land, Galaxy's Edge, inspired by the Star Wars franchise in 2019. Now kids and kids at heart can mingle with Mickey Mouse, Caribbean pirates, the Little Mermaid, Woody, and Kylo Ren all in the same day while stuffing their faces with churros, Tiki Room Dole Whips, and blue milk. Extend your Anaheim stay to experience the companion park, Disney California Adventure (where they serve alcohol!), and the retail/dining district between them.
San Diego
The eighth largest city in the United States is no slouch in the tourism department. Its résumé flaunts 70 miles of scenic coast, 266 days of sunshine annually, the state's best fish tacos, endless outdoor pursuits and urban delights, the second-ever certified carbon neutral airport in North America, and its hop-notch title as the Craft Beer Capital of America. That was earned with 160 breweries, 55 tasting rooms, a brewers guild, a beer week, various fermentation festivals, tasting tours, and a forthcoming museum. Its very southern positioning allows visitors to border hop to Mexico, by foot no less, for day trips while still hunker down at luxurious resorts like the Hotel del Coronado by night.
Miracle Mile Museum Row
Courtesy of Los Angeles Tourism & Convention Board
Learn something along this mid-city stretch of Wilshire Boulevard between Fairfax and La Brea Avenues encompassing LA's Museum Row. The Los Angeles County Museum of Art is about to get a facelift, but much of its collection remains on display. It's where Insta icon Urban Lights, Chris Burden's installation made of 202 street lamps, resides. The La Brea Tar Pits, still-bubbling pits of black goo where paleontologists have unearthed 3.5 million fossils, and their corresponding museum share LACMA's complex as will the movie-centric Academy Museum (opening December 2020). Across the street, you'll find Petersen Automotive Museum, a car collection worth heavy traffic, and the Craft Contemporary for folk art/crafts.
Palm Springs
Courtesy of Greater Palm Springs CVB
It's cliché, but true: Palm Springs and the cities that surround it are a FOMO-generating oasis of midcentury masterpieces (Modernism Week is a design nerd must!), raucous pool parties, funky hotels, that pink door, decadent brunches (Cheeky's is a must!), vintage stores, bangin' music fests, dusk tennis matches, and date shakes in a gorgeous but harsh desert. It's where cool kid vibes meet old Hollywood glamour and where stressed-out Angelenos, the LGBTQ community, and frostbitten snowbirds seek escape. Downtown and the design district are pedestrian friendly and filled with numerous places to dine, drink, and dance. Craving a more spirited sojourn? Try riding the aerial tramway up to Mt. San Jacinto State Park or a bumpy dusty off-road Jeep tour.
Big Bear Lake
Chris Kaufman/Visit California
Seeking alpine adventure? Look no further than Big Bear Lake in the San Bernardino National Forest, a hundred miles northeast of LA. It promises four seasons of fun. Winter brings skiing, tubing, and snowboarding at Bear Mountain and Snow Summit. Spring and summer are perfect for fishing, swimming, horseback riding, and mountain biking. Enjoy leaf peeping and Oktoberfest in autumn. Thankfully, s'mores and cabin chills defy seasonal categorization and can be done in rentals that dot 22 miles of shoreline or at the sleepaway camp chic Noon Lodge. Families can partake in a ropes course, the zoo, escape rooms, bowling, go-karting, and pastries at Sister My Sister Bakery in the village.
Balboa Park
The National Historic Landmark founded in 1868 is San Diego's Central Park equivalent. (Actually, it's almost double the size.) Within its 1,400 verdant acres, it boasts 19 gardens, 17 museums and cultural institutions covering science, nature, photography, art, local history, and aviation, 10 dedicated performance venues, the world's largest outdoor pipe organ, and one gold standard zoo. From Arctic foxes to endangered zebras, it's easy to spend an entire day admiring the 650-plus species. If the kids still have energy to spare, there's a miniature train, vintage carousel, and very tall observation tower. A museum dedicated to the city's annual Comic-Con will soon join the roster. It's also a great place for a picnic, a round of golf or lawn bowling, or taking a dance class.
Downtown Los Angeles
Courtesy of Los Angeles Tourism & Convention Board
There was a time, not so long ago, when no one went downtown for fun with any regularity. Not residents, and certainly not tourists. A trip to DTLA usually meant you scored Lakers tickets or a jury duty summons. Now, it's the most happening part of town, a city center the city has long lacked, with critically acclaimed dines (Bestia, Majordomo, Guerrilla Tacos), buzzy watering holes (Birds & Bees, Everson Royce Bar), green spaces, street art, immersive experiences, food halls, galleries and retail (The Last Bookstore), theaters and music clubs, art museums like The Broad (Yayoi Kusama!), a new soccer club and stadium where matches are pure spectacle, and an explosion of new hotels at a variety of price points (Wayfarer, The Ace Hotel, InterContinental, Proper). It also reflects the population's diverse makeup as its borders engulf Chinatown, Little Tokyo, the Latino-heavy Westlake, and districts dedicated to fashion, art, flowers, finance, jewelry, and produce.
Huntington Beach
Christian Heeb/Visit California
The name is a bit of a misnomer considering Surf City USA is comprised of five distinct beaches stretching uninterrupted for 10 miles and providing beginners and pros alike with consistent year-round swell. If you've ever wanted to learn, it's a great place to take lessons. Or simply watch the seasoned ride waves under the pier or at summer's Vans US Open, the world's largest surf competition. Over at Dog Beach, even pups shred. Further immerse yourself in board culture at the museum, the walk of fame, surf shops, and in diners where surfers tell tall tales over fat breakfast burritos. If hanging 10 isn't your jam, the wide swaths of sand are perfect for sunset viewing, sandcastle building, barbecues, bonfires, and, of course, long walks on the beach. Camping at Bolsa Chica is fun but so is staying at a resort like Paséa with its beach butlers, hoodie robes, and tranquil spa.
Courtesy of Ojai Trail Riding Company
There's something magical about this rural town in the foothills above Ventura. Maybe it's the bucolic splendor of massive oaks, fragrant citrus groves, the craggy creekbeds, lavender farms, steep surrounding mountains, and clarity of light, which results in a regular sunset spectacle colloquially nicknamed "the pink moment." Perhaps it's the unexpected vibrancy of its main street, dining scene, arts programming, and maker community. (You can find local takes on honey, beard oil, craft beer, jewelry, kombucha, candles, toiletries, pottery, olive oil, and dreamcatchers.) Possibly it's the diversity of lodging that appeals as guests can choose from a historic Five Diamond, upcycled motels, quaint B&Bs, or a collection of Airstreams. Or it could be the simple fact that people still smile at strangers as they pass on sidewalks and the world's largest open-air bookstore can operate on the honor system. Probably all of the above.
25 Best Places to Visit in Southern California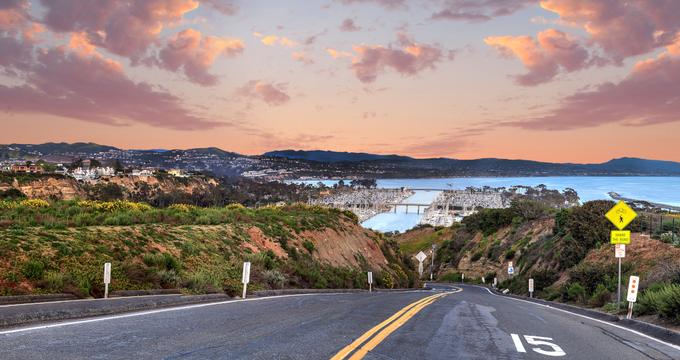 Visit Catalina Island, Long Beach, Santa Barbara, Santa Monica, Malibu, Palm Springs, CA and other famous vacation spots. Whether you are looking for a relaxing beach holiday, action-packed adventures, or CA family fun, Southern California ticks all the boxes. Here you can find everything from mountains and deserts to romantic islands and beaches.
We recommend that you call the attractions and restaurants ahead of your visit to confirm current opening times.
1. San Diego
Boasting more than 90 diverse museums and nine fascinating art districts, San Diego is the perfect vacation spot for art and culture enthusiasts. You can also look forward wonderful beaches, water sports, and limitless fun activities for families. In the historic Gaslamp Quarter and Old Town State Park, you can learn about the history of San Diego.
Families can have the time of their lives at Disneyland, Disneyland Park, LEGOLAND, Sea World San Diego and San Diego Zoo/Safari Park. First-time visitors can get their bearings on an Old Town Trolley Tour or choose a Segway, walking, or biking tour of the city. Seventy-five miles of brilliant coastline offer everything from sunbathing to swimming, snorkeling, scuba diving, surfing, and much more. San Diego is one of the best places to visit in California. Things to Do in San Diego
Fun day trip ideas: Getaways in California, East Coast beaches, NC quick trip, Romantic weekend getaways — You are reading "25 Best Places to Visit in Southern California" Back to Top
2. Santa Catalina Island
Located just southwest of Los Angeles in the California Channel Islands, Santa Catalina is an idyllic location for an action-packed island holiday. If you are looking for places to go in California where you can try your hand at a variety of adrenalin-boosting activities, this island destination offers the thrilling Catalina Island Zip Line Eco Tour, the Ocean Runner Ribcraft Dolphin Tour, or an extreme off-road Cape Canyon Expedition.
If you prefer a more sedate pace, you can play it safe on a Skyline Tour of the island. Other great activities include the Catalina Island Undersea Expedition, kayaking, and stand-up paddleboarding as well as snorkeling, sunbathing, swimming, horseback riding, boating, and camping. For a break from the beach, you can visit the Catalina Island Museum and the Catalina Art Gallery.
Things to do near me today: Getaways from Seattle, NC day trips, FL, Near Atlanta, AL — You are reading "25 Best Places to Visit in Southern California" Back to Top
3. Sequoia National Park
Sequoia National Park lies adjacent to Kings Canyon National Park in an area of outstanding natural beauty in the southern Sierra Nevada. Together, the two parks comprise towering mountains, deep canyons, and enormous caves as well as some of the largest trees in the world.
The highlight of any visit is exploring a few of the remaining extensive groves of giant sequoias. It is a good idea to start out at the Giant Forest Museum for an introduction and to then set off by foot, car, or shuttle bus. (Some of the paths are accessible for wheel chairs). Hikers and nature lovers can select from dozens of hiking trails for all abilities, drive the Kings Canyon Scenic Byway, go rock climbing, cave touring, or join a variety of ranger-led activities. More California vacations
Our experts' top picks for a long weekend getaway: CO, From San Diego, VA, OH, WI, MI, IL, IL Places, VA, San Diego, TX — You are reading "25 Best Places to Visit in Southern California" Back to Top
Source https://www.touropia.com/best-places-to-visit-in-southern-california/
Source https://www.tripsavvy.com/southern-california-maps-1474057
Source https://vacationidea.com/california/best-places-to-visit-in-southern-california.html