15 Best Small Towns to Visit in Nebraska
If you love being somewhere where you have room to breathe, think, and explore, then you're sure to love Nebraska, a land of rolling hills and historical treasures. The vast grasslands have always been home to indigenous peoples and in the 1800s became a base for homesteaders. Nebraskans have a penchant for being self-reliant and in-tune with the nature that surrounds them.
Today, Nebraska is a great state to explore the great outdoors, historical sites, archeological findings, the culture of the Old West, and more. In between the major landmarks and endless fields are many small towns, each with their own unique personality and offerings for tourists of all types. Each small town is perfect for spending the day, weekend, or simply however long you feel like! To make the most of Nebraska, it's best to cancel all hard-booked plans and go with the flow. You'll easily fall in love with the friendly, more in-the-moment pace of life that Nebraskans are known for.
Lets explore the best small towns to visit in Nebraska:
1. Brownville
Source: flickr Brownville Village Theatre
Founded in 1854, this tiny town of Brownville is a historical gem with so much to offer despite its small size.
Travelers will love perusing the museums, boutique shops, bookstores, folk art galleries, and even stay in a floating bed and breakfast accommodation on the river.
Brownville also has a plethora of a walking and biking trail, arboretum, and a 100-year-old barn surrounded by vineyards.
In the evenings, tourists can also go to Brownville Village Theatre, a delightful venue with talented live performers of all types.
And if there's nothing going on there, you can also head to the Brownville Concert Hall, a happening place renowned for featuring Bluegrass artists.
2. McCook
Source: commons.wikimedia Carnegie Library
McCook is a well-rounded small town in Southwest Nebraska known for its friendly locals, historical sites, and well-maintained public parks.
Surrounding the area are four main prairie lakes, a clear river, and manicured walking trails that are perfect for bird watching, exploring, and swimming.
McCook takes pride in showing all who come by the highlights of the Midwest lifestyle.
The local farms offer hands-on experiences of produce picking, cattle cutting, and a look at how the pilgrims once lived.
Other top sites include the Frank Lloyd Wright's Sutton House, Senator George W. Norris State Historical Site, and the Museum of the High Plains and Carnegie Library.
3. Minden
Source: rowe.audubon Rowe Sanctuary
You can easily spend more than a weekend in Minden, a small-town chock full of museums, natural parks, and lively community events.
Just outside the town center of Minden, you can head to Rowe Sanctuary, a wildlife haven with thousands of Sand Hill Cranes and other migratory birdlife.
Minden is also home to Pioneer Village, a village made up of over 28 buildings where you have an intimate look at the exciting pioneer times.
There are over 50,000 historical items, making it the largest private Americana collection in the world.
You can easily spend a day checking out the steam carousel, flying machines, Jackson paintings, antique tractors, and even a 1903 Ford!
4. Aurora
Source: visitnebraska Egerton Explorit Center
Aurora is a small town with a little under 4,500 residents with many historical, natural, and architectural sites.
It's a great stop for travelers wanting to experience a typical small town lifestyle but still explore some interesting highlights.
There is also the Egerton Explorit Center, an interactive learning and science center that's perfect for visitors of all ages.
Many guests state that this center rivals those usually found in big cities, despite being in a small town!
For a small dose of history, check out the Plainsman Museum, where you can learn all about history of the everyday people who worked and lived in the Hamilton County region.
Some interesting sights include a covered wagon, replica barbershops, toy stores, and jail, and an entire floor that highlights the region's agricultural importance.
5. Ashland
Source: flickr the Wildlife Safari Park
A mix of modern and antique, Ashland is a small town that does an incredible job of straddling the eras of then and now.
It's a great home base for exploring the nearby sites of the Mahoney State Park, the Wildlife Safari Park, and a handful of golf courses.
The town itself offers a quaint shopping area where you can easily find unique objects for a friend or for yourself.
The Strategic Air and Space Museum in Ashland is also a top site, where you can look at authentic space and air machinery, learn about black holes, and the legacy EC-135 restored aircraft.
6. Chadron
Source: westnebraska The Chadron State Park
Love wide open spaces? Then you're sure to love Chadron, a small town surrounded by incredible plains and trees– perfect for spotting wildlife.
The Chadron State Park and the Pine Ridge National Recreation Areas have clean campgrounds, hiking trails, and pristine bodies of water.
The museum curators paid an incredible amount of detail to the fur trade history, mapping routes and collecting artifacts that span earlier than 1776.
Other cultural sites include the Chadron Arts Center, where you can view live performances and artwork from local artists.
There is also the Mari Sandoz Heritage Center and the Dawes County Historical Museum for travelers addicted to learning all about the areas that they explore.
7. Ogallala
Source: flickr Lake McConaughy
Ogallala is an interesting small town whose historic front street looks just like you've stepped back into the days of the wild west.
There are tens of area attractions both manmade and natural.
If you're interested in architecture, the Little Catholic-Protestant Church at Keystone and the Haythorn Ranch houses are must-sees.
At Lake McConaughy and Lake Ogallala, you can picnic and search for hundreds of bird species that call the shores of these lakes their home.
Ogallala makes a great base for seeing the Ash Hollow State Historical Park, a site where you can discover history about the regional geology, paleontology, ancient Native American life, fur trappers, and more.
8. Red Cloud
Source: flickr Willa Cather
With a population of just a tad over 1,000 residents, Red Cloud is a cute small town that was once the hometown of Willa Cather, one of America's greatest Pulitzer prize winning writers.
Willa Cather often depicted life on the great plains and brought not only great interest to the region but also highlighted the issues that were unique to the area.
Since she was such a notable figure, Red Cloud established the Willa Cather Foundation that offers a tour through seven important buildings.
There is also the Willa Cather Memorial Prairie, a beautiful wide space that inspired many of Willa Cather's novels.
9. Valentine
Source: flickr Arthur Bowring Ranch State Historical Park
Outdoor-loving travelers making their way through Nebraska would be foolish not to stop at Valentine, a small town known for hosting incredible adventures.
Take a hint from the locals, most of who spend their leisure time exploring part of the 19,000-square mile large Sandhills region or the Niorbrara River.
There is also the Arthur Bowring Ranch State Historical Park, where you can get an up-close and interactive feel for ranch
All around the Valentine town, visitors can go hiking, fishing, canoeing, kayaking, swimming, horseback riding, camping, and more.
10. Dodge
Source: dodgenebraska Robin's Nest Garden of Hope
With just 600 residents, Dodge is a safe, friendly, small town with a strong community.
While in Dodge, you have to visit the Robin's Nest Garden of Hope, a memorial park and landscaped garden with walking trails and shady gazebo.
The town established the garden after a beloved resident died of cancer.
The town also has a bowling alley, park with sports fields, and anyone can go swim or fish at the nearby Elkhorn River.
There is also the Dead Timber State Recreation Area and the Fremont Lakes State Recreation Area just for people looking to make the most of their leisure time.
Visit in July to attend Dodge Daze, a festival with all-you-can-eat pancakes, a swim meet, sidewalk sale, concerts, and all types of physical activities.
Or, visit in September to watch the Demolition Derby that usually has nearly 60 entries.
11. Verdigre
Source: flickr Kolach
Despite being in the center of the USA, Verdigre is known for being the Kolach capital of the world.
What is Kolach anyways? Well, it's a traditional pastry filled with jams, cheeses, or other toppings from the Czech Republic.
The small town holds strong ties to their Czech heritage with Kolach days, a summer festival with parades, games, and even polka dancing!
Aside from the scrumptious pastries, Verdigre is surrounded by endless outdoor parks.
Head to the Wild Wood Acres Park or the Bohemian Prairie for wildlife, hiking trails, fishing areas, camping areas, and more.
12. Nebraska City
Source: gonebraskacity Kimmel Orchard and Vineyard
Don't let the name fool you, Nebraska City is more small town than urbanite city.
Nebraska City loves its trees and celebrates Arbor Day with a gusto – this is why you can visit fun tree-themed parks and venues all year round.
Go apple picking at the Kimmel Orchard and Vineyard, spend time at the Arbor Day Farm Tree Adventure, taste a slice of apple pie at the Union Orchard, visit the Enchanted Arboretum, or head to the Arbor Day Farm.
Did we mention that this town loves its trees?
There are also highlights like the Titan Toy Museum, the NC Museum of Firefighting, Pioneer 3 Theatre, Grimm's Gardens, and the Missouri River Basin Lewis and Clark Center.
For outdoor enthusiasts, there is the Steamboat Trace Bicycle Trail that weaves along mirrored water.
13. Harrison
Source: flickr Agate Fossil Beds National Monument
Harrison, a small town located on Nebraska's northwest boasts the cheeky tagline of, "Nebraska's Top Town.
" Harrison makes a great base not just for seeing the town itself but also for exploring the beautiful Pine Ridge area, best seen via Sowbelly Road, a scenic byway.
There is also the nearby Warbonnet Battlefield, known for tragic battles that took place against Native Americans.
At the Agate Fossil Beds National Monument, you can view an impressive collection of artifacts gathered from the region – including Native American tools, fossils, and more.
Harrison is a great town for learning more about the pre-colonial history of the area.
14. Rushville
Source: flickr Gourley Opera House
Rushville has held onto the identity and spirit of the Old West, embracing the times where cowboys, homesteaders, and Native American tribes ruled the land.
The Niobrara River has always been an important landmark for transportation, recreation, and culture.
Today, you can canoe down it and dock to see the Sandhills.
Ten miles from Rushville is Pine Ridge, a pine-studded stunning area of canyons and cliffs.
Other must-see nearby sites are Smith Lake, Walgren Lake, and City Park.
History buffs will love Rushmore as well.
There is the 1890 Armstrong House Museum that serves to preserve the region's past and the early 1900s historic buildings like the Sheridan County Courthouse and the Gourley Opera House.
All of them are incredible sites that are unique to Rushville.
15. Holdrege
Source: visitnebraska Nebraska Prairie Museum
Holdrege has the best of both worlds when it comes to modern living and a small town lifestyle.
The streets are wide, tree-lined, and it's common to see the locals lounging on their welcoming front porches.
The town is clean, safe, and certainly a great stop for spending a day or two.
The main attraction is the Nebraska Prairie Museum.
The venue captures the personality of the heartland and has many exhibits that go beyond everyday prairie life, like features on POW camps from WWII, Native American artifacts, antique cars, tools, dishes, and the crowd favorite, old wedding gowns.
It's a must see if you're driving across the state or simply if you're interested in experiencing a quaint, quirky museum.
20 Best Things to Do in Nebraska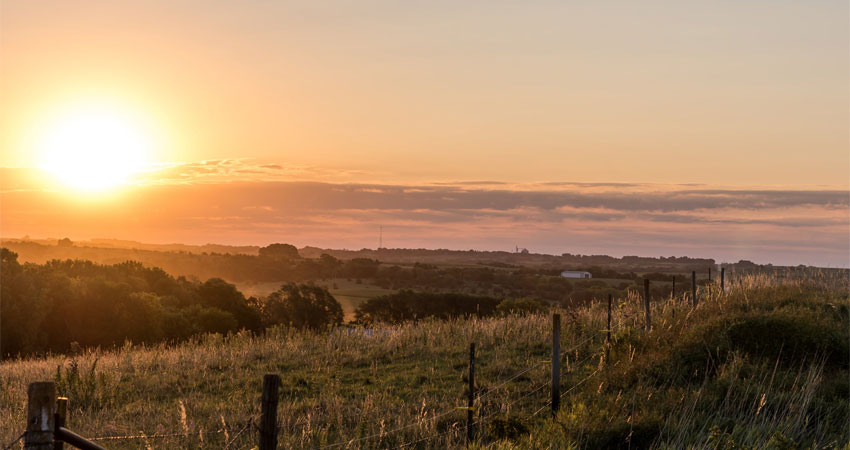 The best things to do in Nebraska are perfectly mixed with historical and cultural landmarks, hidden waterfalls, open grassland and numerous natural formations, a bustling city, and modern-age attractions.
Geographically, Nebraska is the boundary between two regions, which means it literally is where the Midwest meets the West. Because this divide brings a uniqueness rarely found in other states, you'll witness how captivating these regional differences are wherever you go around Nebraska.
Nebraska hasn't been traditionally showcased as a go-to fun destination, but here's a secret: you'll never go bored with the many things to do in Nebraska. You just have to give it a chance.
Below, I'll share you the classic Nebraska attractions, followed by fun places to visit in Nebraska that may just surprise you…
20 Best Things to Do in Nebraska
The following attractions are mostly included in Nebraska tourism flyers.
They're definitely must-sees, especially if you're a first-time visitor.
Nebraska's Top Natural Sights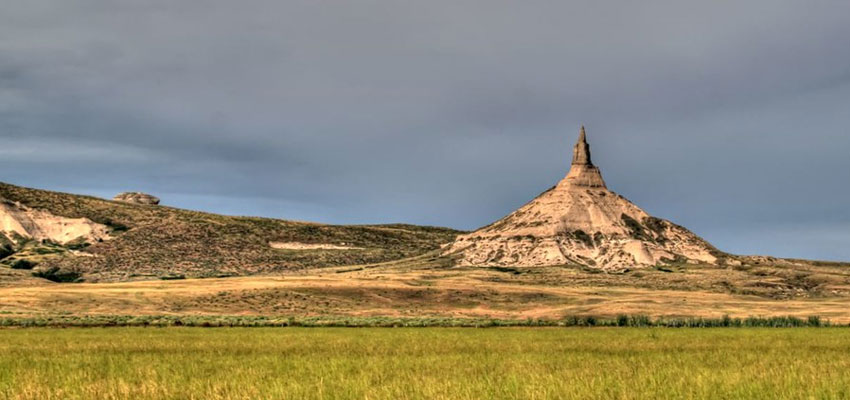 Nebraska has over a dozen of parks (You will have to go a little further west to find national parks though.) and unique adventures like the Cowboy Trail, which lead you from the Sandhills and up to the northern counties of Nebraska.
You can also enjoy the white sand beaches of Lake McConaughy.
If you love exploring nature, you won't run out of things to do in Nebraska, including:
Chimney rock – A chimney-shaped, geological rock formation in western Nebraska
The Niobrara National Scenic River – Discover fantastic views, rock formations, fossil sites, and hybrid animals – those that originally came from the East and mingled with Western creatures.
Toadstool Geologic Park – In the mood for a hike? Be amazed at these unusual toadstool-shaped geological formations with ancient fossils all over. – Go bike, hike, camp, horseback-ride, go on haunted Hallow rides or just explore the fascinating carvings within the Indian Cave
Holy Family Shrine – Phenomenal architectural marvel where you can pray or find some peace. It's located at the top of a hill in Gretna, Nebraska.
Courthouse and Jail Rocks are two rock formations located near Bridgeport in the Nebraska Panhandle that are considered a pair of legitimate "road signs" by westward travelers.
Scotts Bluff National Monument – This historical attraction served as a major landmark for traders, missionaries, military expeditions and thousands of westward emigrants.
Nebraska's Top Indoor Attractions
Visiting Nebraska in winter? Or prefer to stay indoors instead? These 4 destinations are well-recommended:
Henry Doorly Zoo & Aquarium – Don't miss the 70-foot-long underwater tunnel. There's a reason this place has been named the best zoo in the world.
The Arbor Lodge Mansion – This mansion was home to founder of Arbor Day J. Sterling Morton. It is also home to many historical artifacts
Durham Museum – Displays historical artifacts of the country's western region. It is located in Omaha's beautiful art deco Union Station.
Strategic Air Command and Aerospace Museum– Kids and kids-at-heart will love spacecraft exhibits, rides, a planetarium and other activities.
My Pick of the Best Nebraska Attractions
If you want to go beyond the Nebraska tourism flyers and see other interesting attractions, here are 9 things to do in Nebraska that I'm sure you can use for awesome story-telling:
12. America's Smallest Town (Monowi, Nebraska)
The smallest town in America is run by only a single citizen.
What used to be a town of 150 people, Monowi's population shrunk to 2 by 2000 census – a married couple named Rudy and Elsie Eiler. Unfortunately, Rudy passed away in 2004.
As of 2019, Elsie Eiler remains the only citizen of Monowi. She is also the mayor, librarian and owner of the only business in town, the Monowi Tavern, where she also wears the hat of bartender.
13. Grain Bin Antique Town (North Platte, NE)
Located in the beautiful hills south of North Platte, this modern town doesn't look modern at all. It is made up of 20 octagon-shaped wooden grain bins and a massive barn smacked in the middle, all of which were built only in 2012.
14. Boys Town Nebraska and a Huge Ball of Stamps
​The Village of Boys Town Nebraska has been a National Historic Landmark since 1985, and is now the only National Historic Landmark District in Nebraska.
Founded by Father Edward J. Flanagan in 1917, it is home to up to 400 boys and girls at any given time. Its mission is to provide hope to children suffering from abuse, addiction, abandonment or violence, and give them a chance to reach their potential.
Boys Town is on a level of its own. About 8 to 10 kids live in a regular, single-family home with a married Family-Teaching couple, who cares for and nurtures them as long as they're part of the Boys Town program.
While you're here, make sure to stop by The Boys Town Visitor Center (at 13628 Flanagan Blvd.), where you can view the massive 600-pound ball made with over 4 million canceled stamps. It measures 32 inches in diameter and was created originally with only a regular golf ball in 1953, with the Boys Town Stamp Collecting Club slowly adding more and more stamps until 1955. The club members stopped adding to the ball when Ripley's Believe It or Not featured their project.
15. Carhenge (Alliance, Nebraska)
Nebraska's version is made up of 38 cars set-up to copy the proportions of England's Stonehenge.
Made by experimental artist Jim Reinders (and with the helping hands of about 30 family members), the group were able to mirror the position of Stonehenge's rocks using an ambulance, a 1962 Cadillac, a pick-up truck and a couple of cars.
Of course it isn't the same as the original Stonehenge, but it's really quite impressive once you reach the carefully constructed modern "structure."
16. Ole's Big Game Steakhouse and Lounge (Paxton, Nebraska)
I'm not a fan of taxidermy and this probably isn't for the faint of heart, but the steakhouse is definitely one for the books.
This roadside restaurant was founded by Rosser O. Herstedt, known by locals and the hunting crowd simply as "Ole." He purchased this bar in 1933 and mounted his first taxidermy piece (an elk's head) in 1938.
In the next 30 years, not only did he bring back numerous pieces of taxidermy from his hunting around the world, Ole also came back home armed with stories of his adventures. The crowd would gather around and listen to Ole's hunting escapades until he retired in 1988.
Ole eventually sold the lounge, but new owners continued to add pieces to the wall as to what it is today. Out of the 200+ taxidermy mounts the place features today, a full-sized, stuffed polar bear became the mascot of the lounge.
17. The Hastings Museum Kool-Aid Exhibit (Hastings, Nebraska)
Edwin Perkins invented may products, but landed his big break in 1927 when he created Kool-Aid in Hastings, Nebraska.
The "Kool-Aid: Discover the Dream" exhibit explores the life of Perkins and how Kool-Aid became an international cultural icon that's still relevant today.
Make your trip worthwhile. Check out the theatre, planetarium and other exhibits at The Hastings Museum while you're there.
18. Lauritzen Gardens (Omaha, Nebraska)
Located in South Omaha, The Lauritzen Gardens is a living museum with hundreds of four-season plant displays, garden clubs, special events, as well as programs for kids and adults.
If this is the main reason you're visiting Nebraska, check the garden's schedule. The floral display halls hold three major floral shows per year; the fall chrysanthemum festival, holiday poinsettia show, and spring bulb show.
19. The small town of Norfolk Nebraska
If you're visiting Nebraska to learn more about the people's culture, Norfolk is a cool small town where you can get a taste of everything.
From hunting the outdoor sculptures of this small town, to following the footsteps of many who have explored Norfolk area trails, you'll never run out of things to do in Nebraska. If you're feeling outdoorsy, go fishing, hunting, skating, canoeing, apple-picking, golfing, motorcycling, trap shooting, and just hiking, there's a spot for your adventure here.
Other notable attractions include the 100-year-old Presbyterian Community Center for Arts & Education, Sunset Plaza Mall, TaHaZouka Park horseshoe complex, antique shops at Northwestern Ave., the Klown Doll Museum (with over 7,000 clown dolls) and AquaVenture Waterpark (with its famous zero-depth entry pool).
20. Ashfall Fossil Beds State Historical Park
12 million years ago, this spot was engulfed by volcanic ash entombing numerous animals in the process.
The first discovered animal was a juvenile rhinoceros in 1971, followed by many more rhinoceros, as well as 5 species of horses, 3 species of birds, 2 species of turtles, and more.
Ashfall Fossil Beds State Historical Park opened in 1991 and is open publicly until today.
Kids will love the fossil dig table and other educational activities inside the park.
What are your favorite things to do in Nebraska?
If you're just planning your trip to the Midwest, check out the activities you can do in nearby Iowa and North Dakota.
I hope you enjoy Nebraska's unique charm. Got a favorite Nebraska attraction I didn't mention? Would love to hear your travels too!
25 Best Places to Visit in Nebraska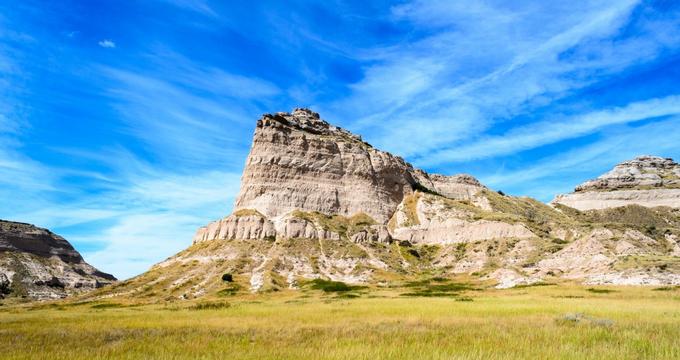 The bluffs along the Missouri River in northeastern Nebraska offer natural beauty with miles of densely wooded areas and pristine waterfalls, while central Nebraska's tallgrass prairies and scattered woodlands preserve the state's homesteading heritage. Cities like Omaha, home to the Henry Doorly Zoo (deemed one of the best in the nation), are historical and cultural centers. Here are the best Nebraska places to visit.
We recommend that you call the attractions and restaurants ahead of your visit to confirm current opening times.
1. Omaha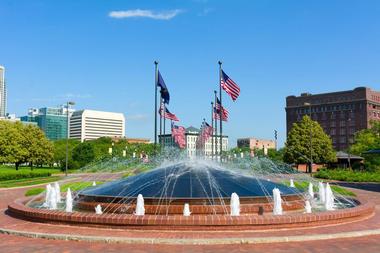 Omaha is a lively city that is constantly reimagining itself. From the downtown Old Market area with its quaint shops and weekly farmers market to the modern s-curve Bob Kerrey Pedestrian Bridge, there is always something to see and do. Visitors can explore the Henry Doorly Zoo and Aquarium, and kids can climb on, in, and through exhibits at the Omaha Children's Museum. Families can take a step back in time at either the Mormon Trail Center or the Lewis and Clark National Historic Trail Visitor Center, and there are 100 acres of botanical artistry to explore at Lauritzen Gardens. Things to Do in Omaha
2. Lincoln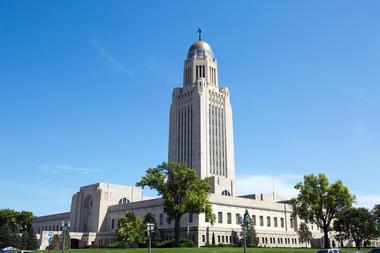 Lincoln is an emerging entertainment destination in northeastern Nebraska with a vast number of attractions. Families will enjoy destinations such as Antelope Park, featuring the Lincoln Children's Zoo, a play center, golf course, trail system, and more.
Sunken Gardens, which can also found in this park, is a stunning terraced garden with paved pathways, a waterfall, a reflecting pond, and an ornate gazebo. There are also various outdoor activities at the Branched Oak State Recreation Area, including swimming, fishing, boating, hiking, and an equestrian campground. The Aardvark Antique Mall, Abbott Motocross Park, and the Roca Berry Farm are a few of the city's other must-see highlights.
Things to do near me today: Getaways from Seattle, NC day trips, FL, Near Atlanta, AL — You are reading "25 Best Places to Visit in Nebraska" Back to Top
3. Grand Island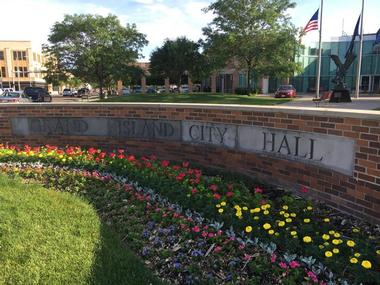 Grand Island boasts a wide range of activities and attractions as well as seasonal events throughout the year. Visitors can enjoy everything from splashing around at the Island Oasis Water Park to looking into the past at the Stuhr Museum of the Prairie Pioneer.
In the spring, visitors can get a one-of-a-kind experience when more than 80% of the world's population of sandhill cranes gather on the Platte River, bringing millions of migrating geese and ducks with them. Among other top attractions are two art galleries, the Grand Theatre in downtown, Fonner Park, Heartland Public Shooting Park, and Fred's Flying Circus.
Our experts' top picks for a long weekend getaway: CO, From San Diego, VA, OH, WI, MI, IL, IL Places, VA, San Diego, TX — You are reading "25 Best Places to Visit in Nebraska" Back to Top
4. Nebraska Attractions: Norfolk
Norfolk offers a small-town vibe with big city attractions, shopping, recreation, and festivals. Enjoy leisurely activities such as antiquing, exploring 200 fossils at the Ashfall Fossil Beds, or walking along the historic Cowboy Trail.
Visitors can relax and have fun in the great outdoors with activities like geocaching, kayaking, canoeing, golfing, and biking the Maskenthine Lake Bike Trails. They can immerse themselves in local culture at the Elkhorn Valley and Madison County museums or revel in the beauty of the Norfolk Arts Center. Kids will have fun playing mini golf at the Willow Creek Recreation Area, or splashing the day away at the Memorial Aquaventure Waterpark.
More places we like: NC beaches, Ft Lauderdale, Day trips from NYC, From Chicago, PA, CT, CA, Hilton Head, Castles in Texas, GA beaches — You are reading "25 Best Places to Visit in Nebraska this Weekend with Friends" Back to Top
5. Fremont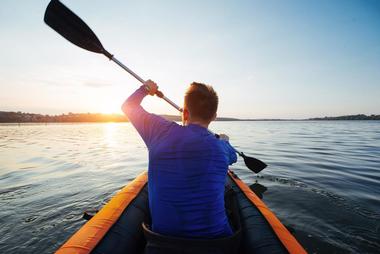 Fremont is northeastern Nebraska's weekend getaway destination. Close to the metropolitan centers of Omaha and Lincoln, its biggest draw is water sports. Water-related activities include the Splash Station Water Park, Bryson's Airboat Tour, and the numerous recreational opportunities at the Fremont State Lakes.
For those who prefer dry land, there are unique shopping opportunities at downtown stores, delicious dining options, and a vibrant arts and culture scene. Visitors will also enjoy attractions such as guided tours of the Fontanelle Orchard, vintage toys at Harold and Leona's Toy Museum, and ice skating at the Sidner Ice Arena. Weekends here seem a whole lot shorter.
Expert opinion: Where should I go this weekend for fun? FL, CA, Myrtle Beach, OR, New England weekend, Charlotte, Williamsburg, LA, PA — You are reading "25 Best Places to Visit in Nebraska this Weekend" Back to Top
6. Nebraska U.S. Destinations: Columbus
Columbus offers a wide range of activities and attractions from the historical to the adventurous and everything in between. Take a self-guided tour of the historical markers throughout the city, such as Andrew Jackson Higgins, Ferry Rock, and the Quincentenary Belltower, to name but a few.
Explore the Agricultural Park, the Platt County Museum, and the Statue of Liberty Replica as well as other historical sites. Get outdoors and enjoy one of the many cycling, jogging, or scenic walking trails along tree-lined parks and the city's two lakes. Visitors can also experience one-of-a-kind attractions like the Lincoln Highway Scenic Historic Byway, the Pawnee Plunge Water Park, or an adult beverage at historic Glur's Tavern.
Top Rated: Last minute places for couples: Southwest, New England, TN, KS, NY, From Houston, From Palm Springs, From Chattanooga, From Detroit, NJ — You are reading "25 Best Places to Visit in Nebraska" Back to Top
7. Lexington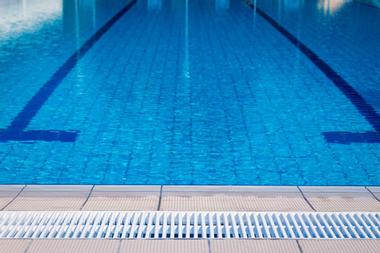 Lexington boasts a variety of recreation activities both indoor and outdoor, including eight parks, a skate park, and over 100 acres of outdoor areas including a growing bike-hike trail system. The Family Aquatic Center is a city highlight, featuring zero-depth and Olympic-sized pools, a water slide, and a splash pad.
In addition, the newly developed Lexington Fieldhouse, a 27,000-square-foot indoor activities building, will include archery, soccer, golf instruction, and more. Visitors can also immerse themselves in the history and culture of the city by visiting one of its museums, such as the Dawson County Historical Museum, the Robert Henri Museum, and the Heartland Museum of Military Vehicles.
Affordable things to see near me, must-visit beaches: OK, Small Town, AL, MI, FL, From Nashville, ND — You are reading "25 Best Places to Visit in Nebraska" Back to Top
8. Nebraska Attractions: Seward
Seward is known as Nebraska's official Fourth of July city, but maintains its allure all year round with its rich history and attractions. Visitors can learn about the town at the Seward County Historical Museum and the Seward Memorial Library. Outdoor recreation activities can be enjoyed at the Centennial Park, including soccer, sand volleyball, baseball, and more.
Across the street is the Seward County Fairgrounds, which boasts an agriculture pavilion, harvest hall, 4-H and livestock centers, grandstand, and an arena and features seasonal festivals. In historic downtown Seward, there are several shopping and cultural opportunities, including the Olde Glory Theatre and Community Hall and the Rivoli Theatre.
9. Scotts Bluff National Monument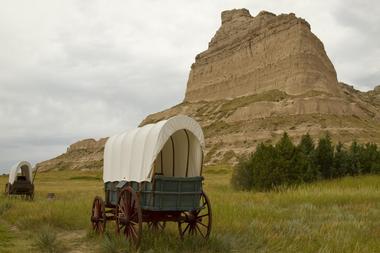 This national monument has a deep and rich human history dating back to the Native Americans and settlers. This 800-foot historic landmark towers above the North Platte River, and has served as a beacon for travelers throughout history from the Oregon, California, and Mormon trails. Visitors can explore the park and its various trails, including Mitchell Pass, Summit Road, and the North Overlook.
Along the way, guests will see native trees, wildflowers, grass prairies, various birds and mammals, and geological and historical features. Ranger programs include informational hikes on the area's history and geology, with living history stops along the way featuring rangers in traditional garb from the past.
190276 Old Oregon Trail Road, Gering, NE, Phone: 308-436-9700
10. Fort Robinson State Park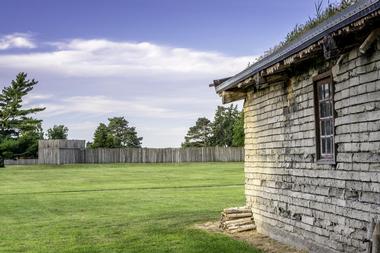 Fort Robinson State Park in known as the state's most popular park in western Nebraska with over 22,000 acres of stunning Pine Ridge scenery. The park offers amazing lodging opportunities, exquisite campgrounds, abundant outdoor activities, and a rich Old West history; it even boasts herds of longhorn cattle and buffalo.
There are several tour opportunities within the park, from horseback riding around Pine Ridge in the crisp morning air to riding in an open-air Jeep along the buttes. Visitors can get to know the rich history of this historic outpost, from the Native days to World War II, via the museum and restored or reconstructed buildings within the park.
PO Box 392, Crawford, Nebraska, Phone: 308-665-2900
11. Pioneers Park Nature Center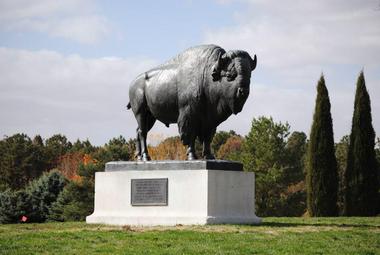 Pioneers Park Nature Center doubles as a wildlife sanctuary and environmental education center in Lincoln, Nebraska. The family-friendly center has 8 miles of trails that meander through a tallgrass prairie, wetlands area, and woodlands area. There are two interpretive buildings at the center, with interactive and small animal exhibits.
The Edna Shields Natural Play Area is an outdoor space for kids to romp, dig, climb, and build. They also have instructive children's, prairie, bird, and herb gardens. Hiking paths pass by raptor, deer, bison, and elk exhibits. The center offers an array of programs for preschoolers, school children, and scouts. Admission is free, but donations are accepted.
3201 Coddington Avenue, Lincoln, NE, Phone: 402-441-7895
12. Smith Falls State Park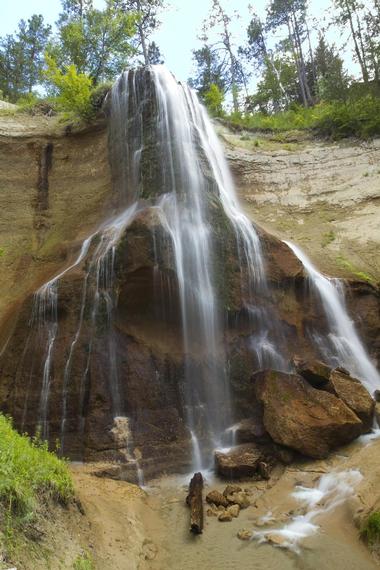 Many of the waterfalls in Nebraska are within the western Nebraska Sandhills near the Niobrara River. Smith Falls State Park straddles the river and offers visitors a look at the grandest Nebraska waterfall of them all, reaching nearly 70 feet – Smith Falls.
The park, located 18 miles east of Valentine, Nebraska, does have overnight primitive camping on either side of the river, but no RV camping facilities. Day-use activities are more likely here. Visitors can hike a web of trails on either side of the Niobrara River that are connected by a footbridge that crosses it. Besides the park's grandest waterfall, there are several smaller ones that will surprise hikers along the way.
90165 Smith Falls Road, Valentine, NE, Phone: 402-376-1306
13. Chimney Rock National Historic Site
The Chimney Rock National Historic Site is known as the most famous historic landmark on the Oregon-California Trail. It was established as a historic landmark in 1956 and is located in the valley of the North Platte River. The site gets its name from the formation of the rock, which sits erect like that of a chimney on a house.
The Ethel and Christopher J. Abbott Visitor Center at Chimney Rock avails visitors of several museum exhibits, a video presentation of the history of West migration, and offers guests the chance to "pack" their own wagon. There are also various books offered for purchase on the area's history.
Chimney Rock Road, Bayard, NE, Phone: 308-586-2581
14. Lake McConaughy
Lake McConaughy is the largest reservoir in Nebraska with 100 miles of shoreline, white sand beaches, and plenty of water sports activities. Lake Mac, as it is adoringly called by locals, is located 8 miles north of the small Nebraska farm town of Ogallala, Nebraska, adjacent to the Sandhills.
This is a fisherman's dream destination, with a potential for catching rainbow trout; white, striped, and smallmouth bass; and the revered walleye. Summer also brings sailboaters, windsurfers, water skiers, scuba divers, and swimmers. During fall, waterfowl hunting is popular, and in winter, ice fishing takes center stage. Lake McConaughy is a year-round vacation destination.
1475 NE-61, Ogallala, NE, Phone: 308-284-8800
15. Agate Fossil Beds National Monument
The Agate Fossil Beds National Monument is one of the world's richest Miocene Epoch sites for discovering fossilized mammals from 23 to 5.3 million years ago. The visitors center and museum showcase replicas of recovered Miocene species and collections of Lakota Indian artifacts. Visitors can walk two main trails from the visitors center.
The Daemonelix Trail, also known as Devil's Corkscrew, leads guests through sand dunes and grassland to a lookout with a view of the high plains and the Rocky Mountains. The Fossil Hills Trail leads to the famous quarries where paleontologists discovered some of the world's most complete fossilized skeletons.
301 River Road, Harrison, NE, Phone: 308-665-4113
Near me on a budget: Plattsburgh, Washington islands, La Jolla, Connecticut resorts, Wisconsin, Beaches near Boston — You are reading "25 Best Places to Visit in Nebraska" Back to Top or Amazing things to do around me
16. Nebraska Attractions: OPPD Arboretum
The Omaha Public Power District Arboretum is an education and demonstration park where visitors and homeowners can learn about landscaping and planting trees and shrubs in relation to aboveground and buried power lines and electrical equipment. It also demonstrates the plantings vital to energy conservation.
Visitors can explore six areas of the park: Electrical safety education, substation functions, transmission line demonstration, wildlife and erosion-control planting, trees that can be planted near power lines, and a forested trail system. There are paved and woodchip trails throughout the park connecting the six educational areas. It offers a tranquil urban setting for a leisurely stroll.
108th/Blondo Streets, Omaha, NE, Phone: 402-536-4131
17. Fontenelle Forest Nature Center
Fontenelle Forest is divided into five distinctly different ecosystems, each with its own trails and attractions. The hub of the forest is the Fontenelle Forest Nature Center, where you can view rotating exhibits and get maps of your preferred section of the forest.
From here, you can take the wooden 1-mile Riverview Boardwalk as an introduction to the forest or begin an exploration of the other four ecosystems. Walk the flat, sandy trails of the northern floodplains, the tranquil sloping hills of the northern uplands, the steep hills and deep ravines of the southern uplands, or the marshes of the southern floodplains.
1111 Bellevue Boulevard North, Bellevue, NE, Phone: 402-731-3140
18. Bob Kerrey Pedestrian Bridge
The Bob Kerrey Pedestrian Bridge is an s-curved 3000-foot cable bridge spanning the Missouri River between Omaha, Nebraska, and Council Bluffs, Iowa. As visitors walk across the bridge, they come to a place where they can literally stand with one foot in Nebraska and the other in Iowa, which offers a nice photo opportunity.
At the Omaha end, Omaha Plaza provides a place for visitors to sit while they admire the bridge and the river or splash about in the jet-spray fountain. There is also a visitors center and children's play area. The best time to see the bridge is at night when it and the Omaha skyline are lit.
705 Riverfront Drive, Omaha, NE, Phone: 402-444-5900
19. Nebraska US Destinations: Carhenge
Carhenge outside Alliance, Nebraska, is the local tongue-in-cheek Stonehenge. Originally built as a son's tribute to his father, it has become the town's biggest tourist attraction. The Stonehenge replica was built on the western end of the Sandhills using vintage cars painted grey to resemble stone.
Besides the circle of cars, Carhenge is home to a Car Art Preserve peppered with quirky sculptures also created from cars and car parts. First dedicated during the summer solstice of 1987, the 30-year-old structure is a fun place to be during a solar eclipse. The free attraction is open daily. Donations are welcome.
2151 County Road 59, Alliance, NE, Phone: 308-762-3569
20. Homestead National Historical Park
Homestead National Historical Park is dedicated to early homesteading across America, from Daniel Freeman, the first homesteader, to Kenneth Deardorff, the last. The museum houses archeological and historical artifacts, archival documents, and scientific specimens totaling 60,000 items.
Highlights at the national monument include the Homestead Heritage Center with interactive exhibits; the Palmer-Epard Cabin, a restored prairie cabin; the Freeman School, a one-room prairie schoolhouse; and an education center with farm tool exhibits. There is a quilt tour, an audio walking tour, tallgrass prairie and woodland hiking, and EarthCaching. An onsite bookstore offers adults' and children's books on pioneer life and the Westward Expansion.
8523 West State Highway 4, Beatrice, NE, Phone: 402-223-3514
21. Nebraska Attractions: Toadstool Geologic Park
Toadstool Geologic Park is one of the must-see natural attractions in Nebraska's northwest corner. Dirt roads dominate the 19-mile drive from Crawford, Nebraska, to Toadstool; it's an off-the-beaten-path experience that is well worth it. The badlands-like scenery made from banded layers of volcanic ash and sediments created by flooding is a surreal vision.
Here, paleontologists study forms and fossils from millions of years ago. Visitors can take a fascinating guided walking tour or choose self-guided exploration on a 1-mile loop trail. Besides the other-worldly scenery, there are bountiful prehistoric fossils and a 30-million-year-old trackway of migratory bird and animal tracks preserved in stone. Removing fossils is prohibited.
Toadstool Road, Crawford, NE, Phone: 308-432-4475
22. Niobrara National Scenic River
A visit to the Niobrara National Scenic River begins in Valentine, Nebraska, where visitors can learn about the history and culture of the river and the surrounding Sandhills area. A good place to start is the Cherry County Historical Society Museum and Centennial Hall, located in a repurposed 1897 schoolhouse; it has 12 exhibit rooms.
The Niobrara National Scenic River Visitor Center offers interactive displays, a short film, and a small store. Other visitors centers along the river include the Fort Niobrara National Wildlife Refuge, Smith Falls State Park, and the Niobrara Valley Preserve. Guided walking tours are sometimes available at the wildlife refuge or the falls. Numerous private outfitters provide canoe and kayak rentals and river tours.
214 W. Highway 20, Valentine, NE, Phone: 402-376-1901
23. Ponca State Park
Ponca State Park is 1,400 acres of dense woodlands along the rolling Missouri River bluffs of northeastern Nebraska. This portion of the Missouri is a designated Scenic River, and it's easy to see why. The park provides overnight accommodations at 14 cabins and full-hookup or primitive camping sites.
There are 20 miles of backcountry hiking and mountain biking trails, a swimming pool, organized horseback rides, a 9-hole golf course, fall hayrides, and holiday weekend cookouts. Guests can learn wilderness survival, backpacking, and fishing skills, among others, in park programs. An interpretive exhibit, a field lab, and the park office are in an onsite resource and education center.
80090 Spur 26 E, Ponca, NE, Phone: 402-755-2284
24. Courthouse & Jail Rocks
Courthouse and Jail Rocks are two awe-inspiring, prominent rock formations near Bridgeport, Nebraska, with historical significance. Already over 4,000 feet above sea level, they stand 240 feet taller, with Courthouse being the more imposing of the two.
Emigrants to the West who traveled along the Oregon and California overland trails in the 1800s would see these as the first two monumental rock landmarks along the journey. The Dismal River confluence archeological site to the northwest of the rock formations reveals artifacts from Native Americans stretching as far back as 1675. To the southwest of the rocks, visitors will see what remains of the Courthouse Pony Express station.
Highway 88, Bridgeport, NE, Phone: 505-986-5214
25. Indian Cave State Park
Indian Cave State Park is a dense hardwood forest on the scenic bluffs of the Missouri River. This wilderness area is a nature lover's dream getaway. The park has 22 miles of hiking trails and is perfect for backpacking, with several Adirondack shelters along the way.
There are also RV and primitive campgrounds at the park as well as a special campground for visitors who come with their own horses. Besides hiking and biking, seasonal horseback trail riding is also available. Other highlights include a restored schoolhouse and general store, a group picnic shelter, and a river access boat ramp.
65296 720 Road, Shubert NE, Phone: 402-883-2575
25 Best Places to Visit in Nebraska
, Photo: Courtesy of Scruggelgreen – Fotolia.com , Photo: Courtesy of sframe – Fotolia.com , Photo: Grand Island , Photo: Norfolk , Photo: Courtesy of standret – Fotolia.com , Photo: Courtesy of ARochau – Fotolia.com , Photo: Courtesy of zphoto83 – Fotolia.com , Photo: Courtesy of James Reininger – Fotolia.com , Photo: Courtesy of johnsroad7 – Fotolia.com , Photo: Courtesy of knowlesgallery – Fotolia.com , Photo: Pioneers Park Nature Center , Photo: Courtesy of johnsroad7 – Fotolia.com , Photo: Courtesy of reb – Fotolia.com , Photo: Lake McConaughy , Photo: Courtesy of Zack Frank – Fotolia.com , Photo: Courtesy of leekris – Fotolia.com , Photo: Fontenelle Forest Nature Center , Photo: Courtesy of johnsroad7 – Fotolia.com , Photo: Carhenge , Photo: Courtesy of Peter Kim – Fotolia.com , Photo: Courtesy of ejnelson314 – Fotolia.com , Photo: NPS Photo , Photo: Courtesy of Jason – Fotolia.com , Photo: Courtesy of watcherfox – Fotolia.com , Photo: Indian Cave State Park
Cover Photo: Courtesy of Zack Frank – Fotolia.com
You are reading "25 Best Places to Visit in Nebraska " Back to Top
Source https://www.thecrazytourist.com/15-best-small-towns-visit-nebraska/
Source https://scenicstates.com/things-to-do-nebraska/
Source https://vacationidea.com/destinations/best-places-to-visit-in-nebraska.html