17 Top-Rated Attractions & Places to Visit in Nova Scotia
Pretty and peaceful, Nova Scotia is Canada's second smallest province, a peninsula on the eastern edge of the Canadian mainland. But its lengthy coastline is dotted with fishing harbors, sandy beaches, plump islands, and other beautiful places to visit. The scenery varies greatly, from the foggy Atlantic Ocean in the southeast to the tidal salt marshes of the Bay of Fundy in the west and Gaelic highlands of Cape Breton to the north.
In these maritime latitudes, Nova Scotia has a pleasantly breezy if rather damp climate. Summer is bright and sunny, but weather conditions can often cause fog, with snow in winter.
Halifax is the capital and largest city. In 1604, the French, including Samuel de Champlain, settled the Annapolis Valley, founding Port-Royal, the first lasting European settlement north of Florida. They called it Acadia, a name that is now used to refer to all French settlement in the Maritimes.
Find the best places to visit in this fascinating province with our list of the top attractions in Nova Scotia.
1. Cabot Trail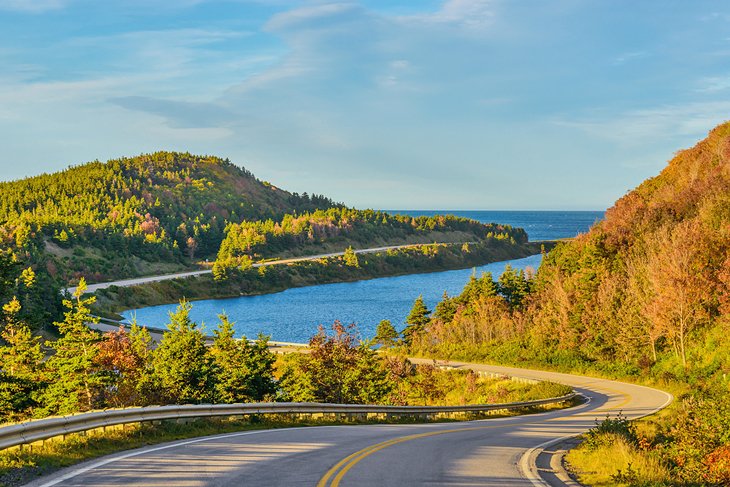 Cape Breton's scenic Cabot Trail
A 300-kilometer scenic drive rings the northwest coast of Cape Breton Island and Cape Breton Highlands National Park. It is a coastal route, where the highest mountains in Nova Scotia dramatically meet the Gulf of St. Lawrence. Cliffs, beaches, viewpoints, and a twisting road give countless photo opportunities, and this is a very popular motorcycle tour route.
Many small communities and tourist attractions line the route, including a variety of local artisans and unique shops. Hiking is one of the popular things to do. There are also many excellent hiking trails, and tourists can either hike on their own or hire a local guide to show them the best spots.
Cabot Trail unofficially begins and ends in Baddeck, home to the father of the telephone, Alexander Graham Bell. Autumn is a favorite time to drive the Cabot Trail owing to the region's vibrant fall colors.
Location: Cape Breton Island, Nova Scotia
2. Peggy's Cove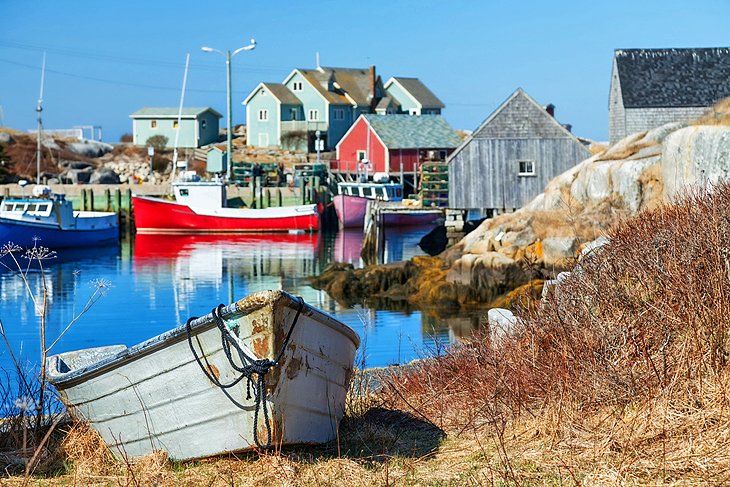 Peggy's Cove
About 43 kilometers southwest of Halifax, the fishing village of Peggy's Cove has a back-in-time feel. Peggy's Point Lighthouse, one of Canada's most photographed lighthouses, sits on the foggy Atlantic Coast marking a perilous point. Stark, wave-battered granite bluffs surround the lighthouse, and tourists should exercise extreme caution if exploring the rocky shoreline.
Fishing wharves and boathouses line the shore of this active fishing community, and colorful heritage homes and art galleries line the winding road. Among these is the deGarthe Gallery and Museum, home to a fine collection of the work of local artist William E. deGarthe, a Finnish immigrant who was inspired by Peggy's Cove and its fishermen at a young age.
Tourists with some time to spend exploring the area can take a self-guided sightseeing tour of the Coastal Heritage Trail, which has been described as a "museum without walls." Top destinations include the Peggy's Cove Preservation Area, Pioneer Cemetery, Bishop's Park, and many other historically significant sites like the SS Atlantic Heritage Park.
The park includes a museum with many artifacts and information about the tragic demise of the ship and its crew, as well as a nice boardwalk and a memorial.
This is an extremely popular day-trip destination from Halifax, so be prepared for crowds of tourists, especially near the lighthouse.
3. Fortress of Louisbourg National Historic Site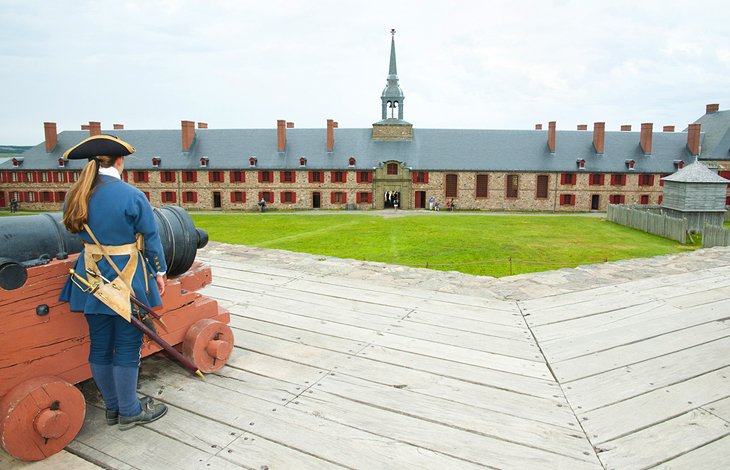 Living history at the Fortress of Louisburg National Historic Site
The Fortress of Louisburg National Historic Site is a living history museum, which recreates mid-18th century fort life with more than forty historic buildings, costumed guides, and working establishments. Rebuilt on the site of a 1713 French fort, enormous defensive walls surround the town, some of which were up to 35 feet thick when constructed.
The reconstructed site is now filled with a cast of costumed interpreters who go about daily life, from domestic to military. Visitors can watch servants cook and taste authentic hot chocolate and fresh baked bread, see the merchants hawk their wares, and feel the ground shake as soldiers fire the cannon and their muskets.
Tourists looking for a more immersive experience can choose to spend the night here in a reproduction tent or period home – a truly unique experience for couples looking for a memorable romantic getaway.
Address: 259 Park Service Road, Louisbourg, Nova Scotia
4. Cape Breton Highlands National Park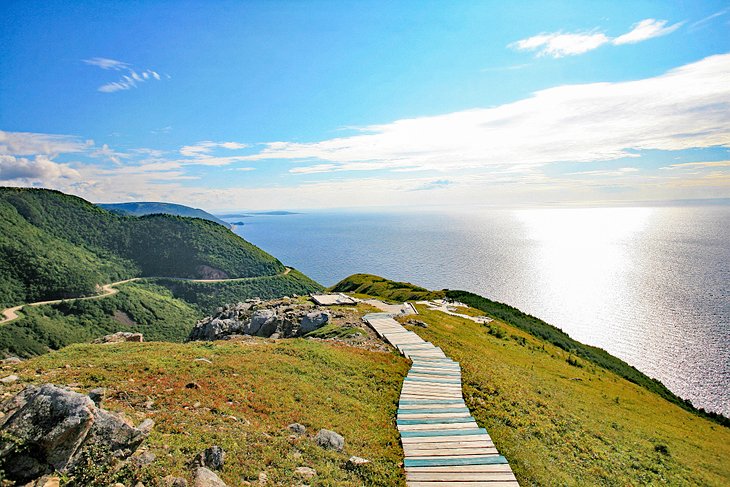 Skyline Trail in Cape Breton Highlands National Park
The highest peaks in Nova Scotia are in Cape Breton Highlands National Park, which covers more than 950 square kilometers at the northern tip of Cape Breton Island. Both the coastline of beaches and cliffs and the inland forests and rivers tempt hikers, campers, and families to explore the park.
Wildlife watching is excellent in the national park, with moose, beaver, eagles, and deer often visible from the Cabot Trail scenic drive, which partially cuts through the park.
The park is also home to Skyline Trail, a scenic route laid out in an easy-to-walk wooden boardwalk path. Overlooking the Gulf of St. Lawrence, visitors can spot whales below while enjoying panoramic views of the rugged coastline.
The small Acadian town of Chéticamp lies just outside park boundaries. It is well worth a stop for its small shops and galleries and dining establishments. It is also home to Les Trois Pignons, a unique museum and visitor center that houses a good collection of antiquities and traditional hooked rugs.
Location: Cape Breton Island, Nova Scotia
5. Halifax Citadel National Historic Site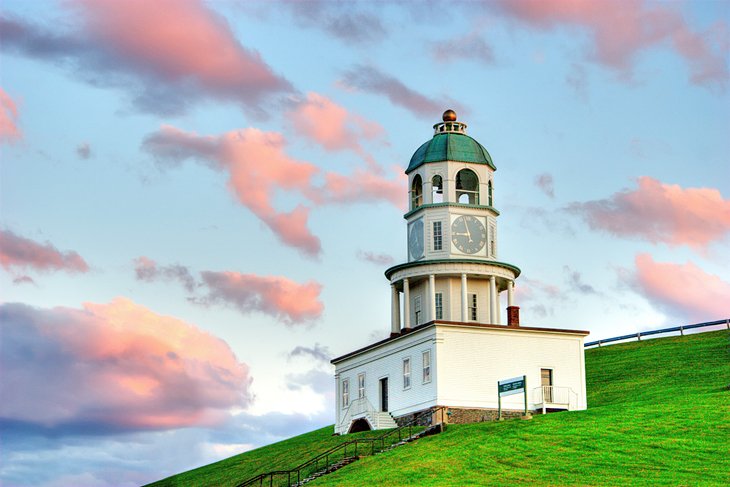 The clock tower on Citadel Hill, Halifax
Overlooking downtown Halifax, this hilltop fortress is the remnant of a British garrison that was first established in the 18th-century. Halifax Citadel National Historic Site, which itself was built in 1856, never saw a battle.
Today, the warren-like tunnels, powder magazine, and barracks have been preserved, and living-history guides give tours. There are reenactments and fortress guards with interpreters dressed in British reds, complete with musket salutes and the sound of bagpipes.
The road leading up Citadel Hill is popular for its city and harbor views, and it passes the Old Town Clock, which Prince Edward commissioned in 1803.
Address: 5425 Sackville Street, Halifax, Nova Scotia
6. Maritime Museum of the Atlantic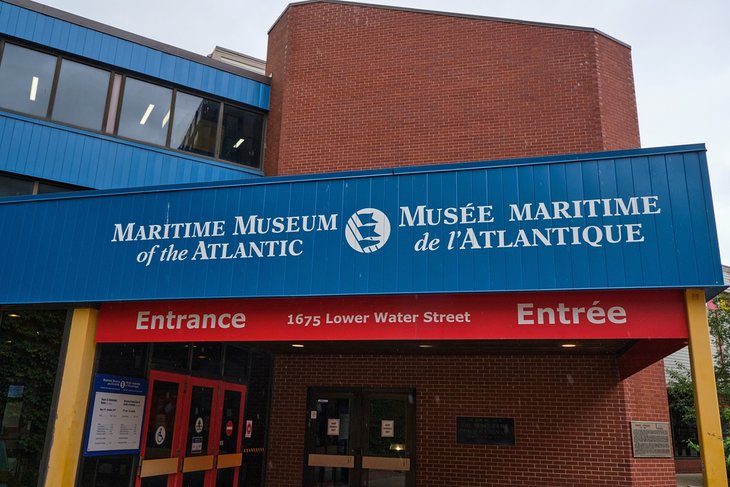 Maritime Museum of the Atlantic | Wandering views / Shutterstock.com
The exhibits and displays at this museum bring the maritime history of the province and the North Atlantic to life, showing visitors the role the sea has played in all facets of local life. Using photographs and personal tales of survivors, excellent multi-media exhibits chronicle the 1917 collision of two ships in the harbor, which caused the Halifax explosion.
Museum collections include more than two hundred model ships, from old sailing craft to ocean liners, freighters, and naval ships. Another part of the museum is in an old ship chandlery, where items were bought to outfit ships for sea.
There is also an extensive exhibit on the recovery efforts after the Titanic sank, Halifax being instrumental in rescue operations. On display are items found on the sea during rescue and later recovered, telling the tale of the ship and the people on board.
Also part of the museum are several craft moored in Halifax Harbour, including Queen Victoria's Royal Barge, a gift to the museum by Queen Elizabeth II. Another historically significant ship is the HMCS Sackville, a corvette class known for bouncing around like a cork in heavy seas, which saw duty during the Battle of the Atlantic in the convoys that kept Britain alive.
CSS Acadia is also open for touring as part of museum admission; it's now retired after long years of service in the Arctic and North Atlantic, charting the ocean floor.
Address: 1675 Lower Water Street, Halifax, Nova Scotia
7. Kejimkujik National Park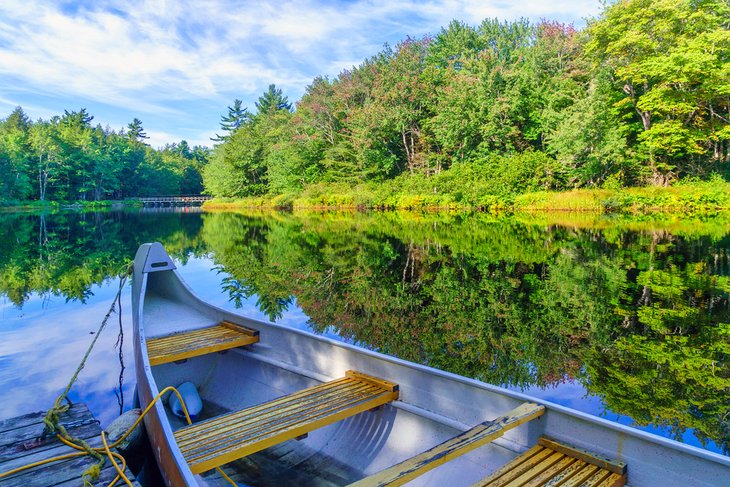 Canoe on the Mersey River in Kejimkujik National Park
Kejimkujik National Park occupies nearly 400 square kilometers of inland Nova Scotia, with a small seaside adjunct that has a stunning white-sand beach.
One of the biggest draws to this peaceful space is the rich history of the Mi'kmaw people who occupied the land for millennia. Visitors can still see evidence of Mi'kmaw life in the numerous petroglyphs, and learn more about native culture by watching Mi'kmaw craftsman Todd Labrador build birchbark canoes using traditional methods.
The majority of the park is only accessible by hiking or by canoe, making it an excellent place to truly get away. Campsites are located throughout the park for those who want to be completely immersed in nature, or visitors can enjoy the area during the day by hiking or paddling traditional Mi'kmaw routes.
Address: 1188 Saint Catherines River Road, Port Joli, Nova Scotia
8. Halifax Harbour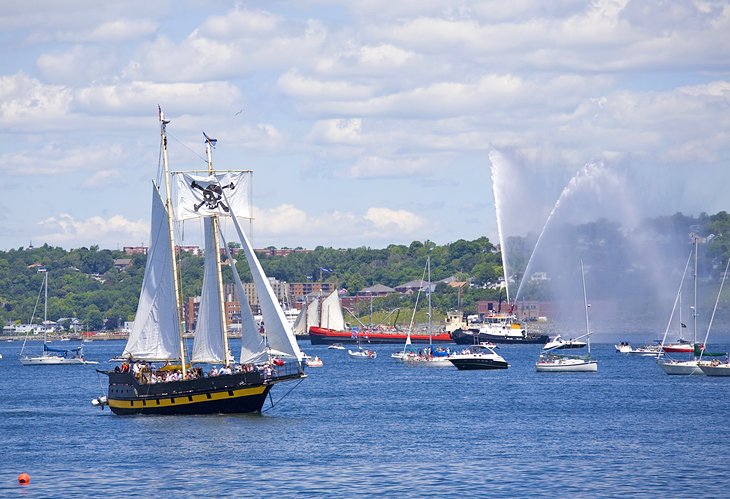 A tall ship sails out of Halifax Harbour
A boardwalk lines the Halifax Harbour, leading from the Canadian Museum of Immigration at Pier 21 to the Maritime Museum of the Atlantic and restaurants. Tugs, sailboats, and navy vessels come and go, and the views look out to Dartmouth across the harbor and Georges Island mid-channel.
This is where you will find the ferry to Dartmouth, as well as plentiful choices if you want to take a sightseeing cruise in the harbor or go whale-watching. Near the ferry terminal, you can find a group of restored heritage buildings and a pedestrian area, which is lively both day and night, full of restaurants that often feature live maritime bands and always offer the freshest of seafood.
Tourists will find more shopping and plenty of goodies to snack on at the Halifax Seaport Farmer's Market, founded in 1750, making it the oldest farmers market in the Americas. The market is open daily and features locally grown, caught, and hand-made items including prepared food.
9. Lunenburg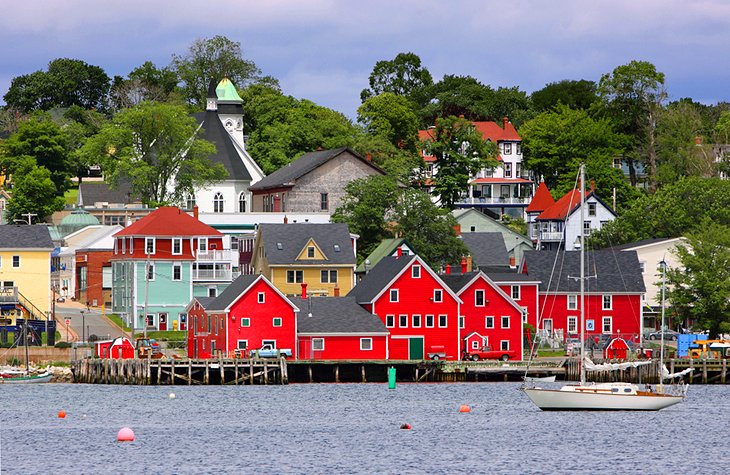 Lunenburg waterfront
Brightly colored heritage buildings dot the hilly Lunenburg townscape, nearly three-quarters of which are the original structures from the 18 th and 19 th centuries. Many of these have been turned into inns and bed-and-breakfasts, and the community is a UNESCO World Heritage Site.
Lunenburg's legacy was established when it became an early shipbuilding center. The town's most famous craft is the Bluenose schooner. Built here in 1921, the boat won many international races before sinking off the coast of Haiti. A replica, Bluenose II, is often in port, while other fishing vessels and a schooner can be seen at the Fisheries Museum of the Atlantic.
Along the waterfront, the port is still alive with vessels docking at the wharves and fishermen unloading the catch of the day.
Read More: Top-Rated Things to Do in Lunenburg & Mahone Bay, NS
10. Canadian Museum of Immigration at Pier 21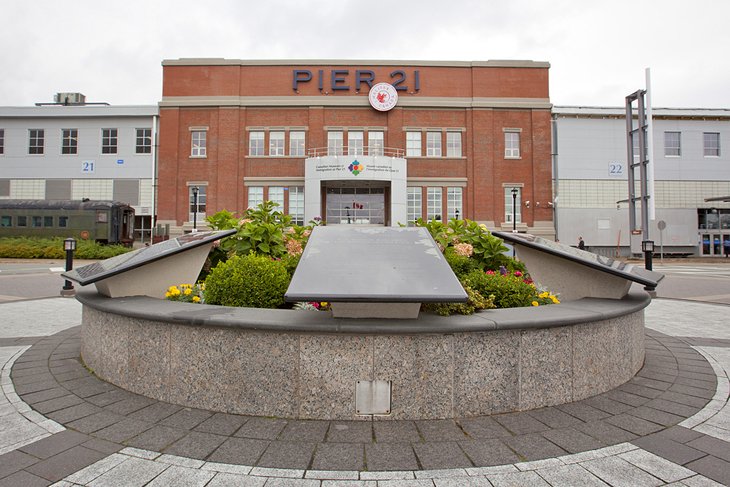 Canadian Museum of Immigration at Pier 21, Halifax
At one time, Pier 21 was the Canadian equivalent to Ellis Island, welcoming twenty percent of the nation's immigrants from 1928 through 1971. Through permanent and changing exhibits, visitors can find out what it was like to travel across the ocean and arrive in a new country.
Many of the exhibits are hands-on, including the chance to actually dress in period costumes, go inside a replica ship, and explore the contents of trunks and crates to learn more about the lives of the immigrants who packed up their most valued possessions.
The museum also has extensive genealogical resources at the Scotiabank Family History Centre, where anyone can go to trace their own family's immigration history free of charge.
Address: 1055 Marginal Road, Halifax, Nova Scotia
11. Annapolis Royal Historic Gardens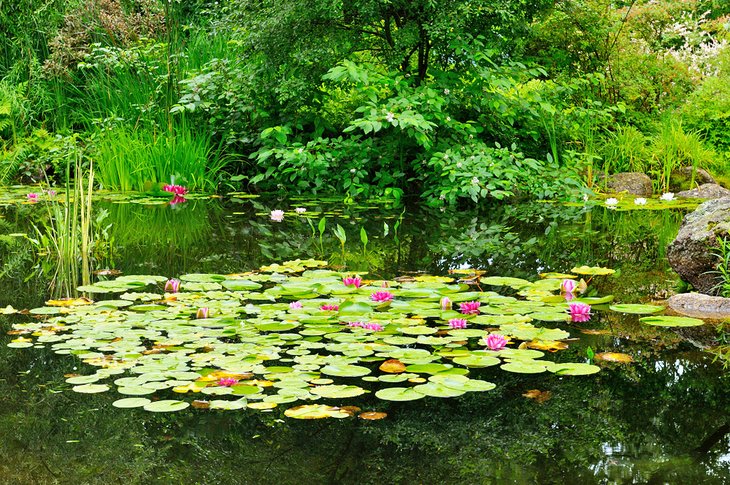 Waterlily pond at the Annapolis Royal Historic Gardens
The Annapolis Royal Historic Gardens is one of the finest show gardens in North America, with 10 acres of beautifully planned and expertly executed historical and horticultural beds. The Rose Garden has two thousand bushes set among paths with green lawns, and the Governor's Garden is planted in the style and with the plants of the 1740s.
In a separate section are demonstration plots for current techniques and plants, and there is a winter garden where the plants are chosen for a bark, stem shape, or form that makes them attractive in the winter.
On the back side of the garden, the path looks out over the banks of the river. The gardens are a popular place for weddings, so you may have to sidestep around a happy couple and beaming parents.
Another top historic attraction in Annapolis Royal is the Fort Anne National Historic Site, originally built by the French in 1643 and taken over by the British in the 1750s. While the only remaining buildings are an 18 th -century gunpowder magazine and officers barracks, the impressive walls and ramparts are substantially intact.
Address: 441 St. George Street, Annapolis Royal, Nova Scotia
12. Halifax Public Gardens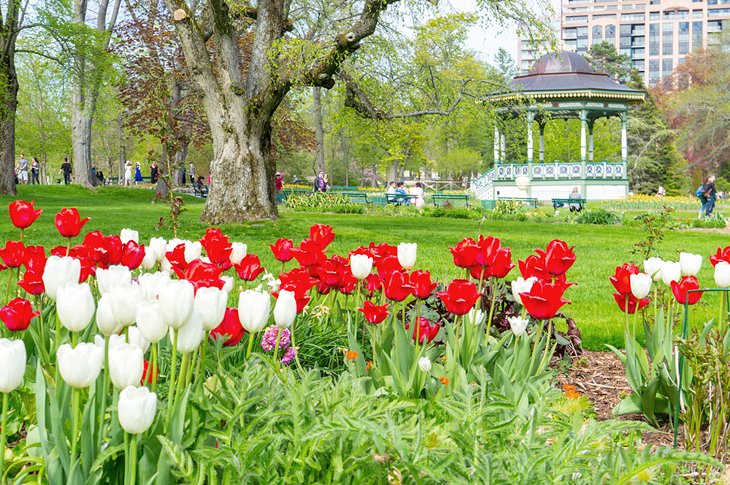 Halifax Public Gardens
The Halifax Public Gardens are the oldest Victorian gardens in North America, created in 1867 and now an official National Historic Site. Tourists can enjoy an hour-long guided tour of the gardens, which reveals its historic and horticultural significance. The gardens are free to visit and often host both public and private events.
In the spring, the gardens are bright with beds of tulips, daffodils, and irises, and the magnolia and cherry trees are in full bloom. June brings azaleas and rhododendrons, and later in the summer, dahlias, peonies, and roses line the artfully laid-out paths.
Even into November, you will find a variety of color, although the Friends of the Public Gardens Information Desk and park café close at the end of October.
Address: 5665 Spring Garden Road, Halifax, Nova Scotia
13. Shubenacadie Provincial Wildlife Park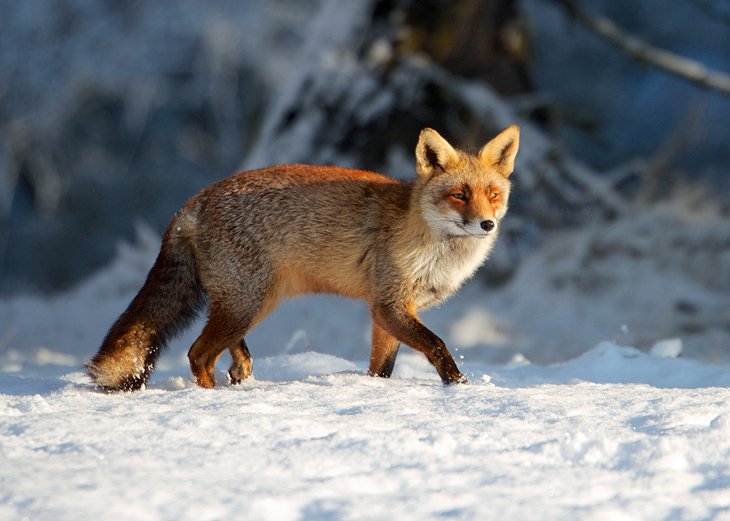 Shubenacadie Provincial Wildlife Park
Located 40 kilometers from Halifax, Shubenacadie Provincial Wildlife Park makes an excellent day trip. The park is spread over 40 hectares and is home to a wide variety of native and exotic animal species, including moose, foxes, beavers, wolves, black bears, and cougars. Visitors can interact with many of the park residents by feeding the animals grains provided in dispensers throughout the park.
Horse fanciers take note: the park is the only wildlife park in the world with Sable Island horses.
The park is also home to a variety of birds, including over a dozen species of pheasant and fowl, raptors including the bald eagle, peregrine falcon, and great horned owl, and even emu.
Address: 149 Creighton Road, Lake Egmont, Nova Scotia
14. Grand Pre National Historic Site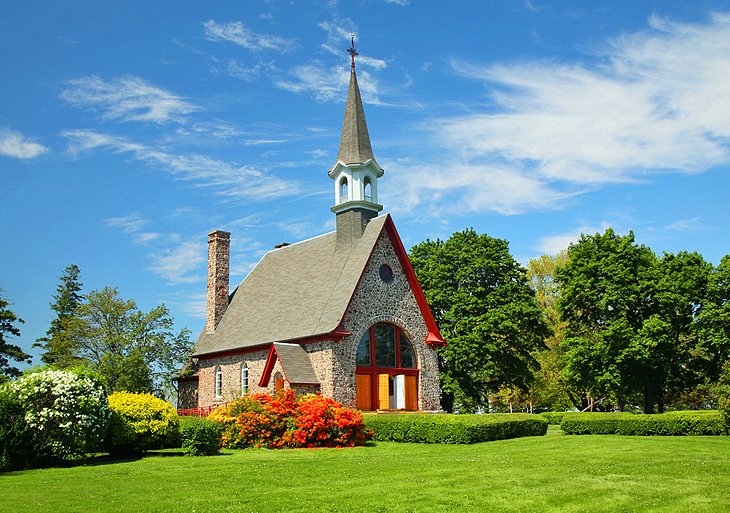 Grand Pre National Historic Site
Acadians settled in Grand Pre in the early 18th century, reclaiming Bay of Fundy salt marshes for agricultural land through a series of dykes. But as Nova Scotia changed hands between the French and British, it brought unrest to the region. When the French-speaking Acadians refused to swear allegiance to England in 1755, the British deported about 10,000 people and destroyed their farms.
Grand Pre National Historic Site is a memorial to this injustice. Pretty gardens, a small chapel, and a statue of Henry Longfellow's fictional heroine Evangéline are part of the picturesque grounds at the historic site.
15. Port-Royal National Historic Site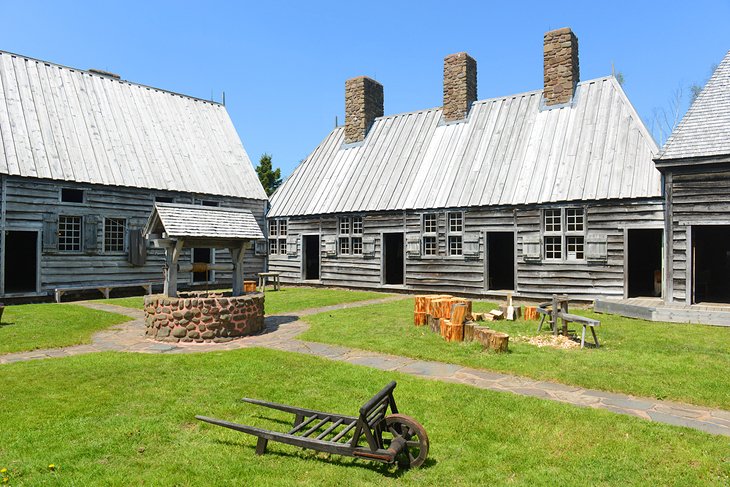 Port-Royal National Historic Park
Port-Royal National Historic Site in the Annapolis Valley is where, in 1605, Sieur des Monts founded one of the first permanent settlements in North America and established a fur-trading center.
Though the British later destroyed the fort, it has now been rebuilt using authentic 17th-century building techniques. The complex includes a Governor's Residence, a fur trading post, and priest's quarters, as well as a reproduction of the original quadrangle named the Habitation.
Living-history interpreters give insight into the settlers' struggle to survive, including how the native Mi'kmaq helped the Europeans through their first hard winters. Visitors can interact with the interpreters and ask questions, and there is also a special hands-on learning program for kids ages 6-11.
Address: 53 Historic Lane, Port Royal, Nova Scotia
16. Hall's Harbour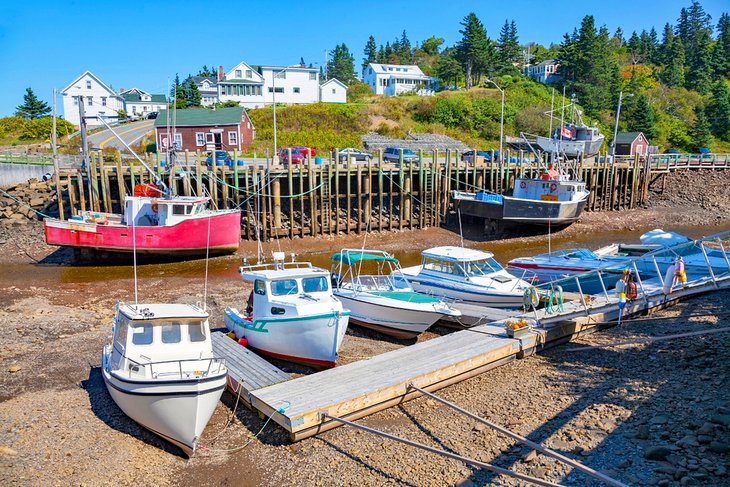 Hall's Harbour at low tide
Though it's lesser publicized than New Brunswick, the Nova Scotia side of the Bay of Fundy shares claim to the highest tides in the world. Hall's Harbour is not the pinnacle of that tidal range (head instead to the Minas Basin), but it is one of the prettiest, with a wide sandy beach and wharves where docked fishing boats act as tidal markers. At low tide, the vessel sits on the harbor bottom.
A seafood restaurant is the main destination in the tiny village. From Hall's Harbour, other Annapolis Valley attractions are nearby, including The Lookoff viewpoint near Canning, Cape Split hiking trails, and Blomidon Provincial Park.
17. Ross Farm Museum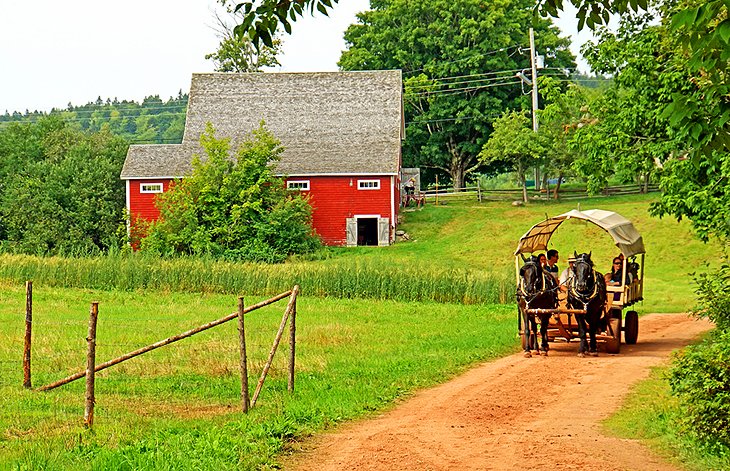 Ross Farm Museum | Dennis Jarvis / photo modified
Ross Farm Museum does an excellent job of representing a working farm from more than 150 years ago. Numerous displays and buildings take visitors through a time warp to a bygone era. The 60-acre farm is, in fact, a real working operation, with a dairy barn, oxen pulls, and wagon rides.
Visitors can see a variety of animals including Canadian horses, oxen, various types of poultry, Southdown and Cotswold sheep, along with Berkshire Pigs. There is a nature trail that allows visitors to stroll throughout the property, along with a blacksmith's shop, cooper's shop, barn, schoolhouse, and the original Ross cottage.
15 Best Places To Visit in Nova Scotia, Canada
Scenic drives, hiking opportunities, fresh seafood, and colourful fishing towns are just some of the many things you can expect to experience on your trip to Canada's second-smallest province.
With so many things to do and places to visit in Nova Scotia, if you're on time constraints, choosing the must-sees can be a bit of a challenge.
We spent 15 days on a Nova Scotia road trip exploring Halifax, Cape Breton Island, the South Shore, Yarmouth and Acadian Shores, Bay of Fundy, The Annapolis Valley, and Northumberland Shore.
Yet, there are so many more places to see and things to do in Nova Scotia that we missed! Nova Scotia may be small, but it has a lot to offer travellers.
Check out our video: Best Places to Visit in Nova Scotia
In this post, I'll list the top attractions, things to do, points of interest, and the best places in Nova Scotia to help you plan your trip.
Table of Contents
1. Halifax
The capital city of Halifax is one of the best places to visit in Nova Scotia — it's also likely the first place you'll see when you arrive. It's a quick 30-minute drive from the Halifax Stanfield Airport to Downtown Halifax and the vibrant Waterfront area.
Halifax is small enough that you don't feel overwhelmed, yet has enough on offer to keep you busy for a few days.
There are lots of neighbourhoods here as well, so if you have time, get out of the downtown area and explore a bit further. Dartmouth, for example, is just a 5-minute ferry ride ($2.50 CAD) across the bay.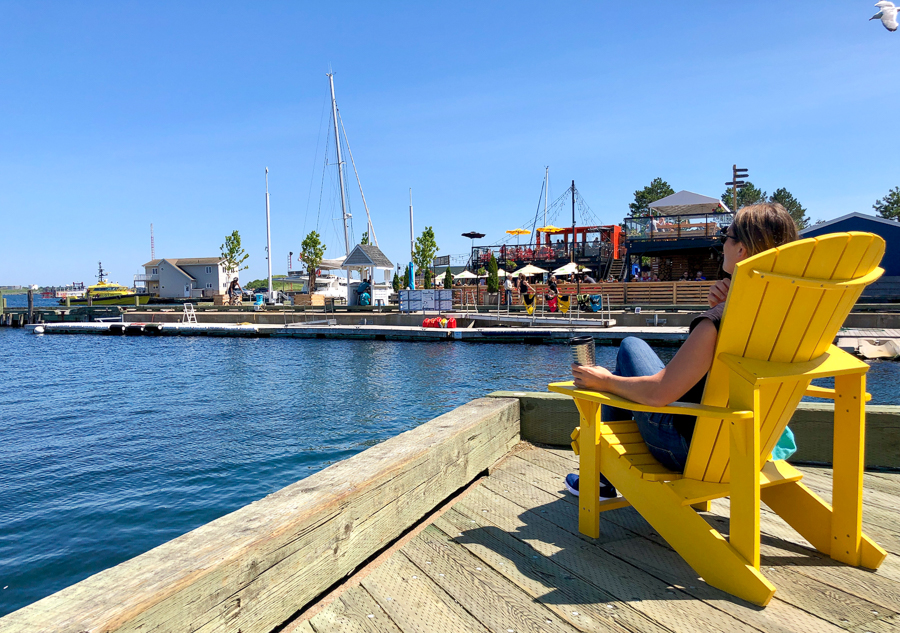 The city is home to green spaces, historical sites, pedestrian-only walkways, events and festivals, galleries and museums, and of course, tasty restaurants! There are numerous things to do in Halifax to keep you busy.
Where To Stay in Halifax
Halifax has so many areas you could stay in, but if you want to be near the waterfront, great restaurants, and many of the tourist sites, then you'll want to be around the Downtown area.
This is a busy part of the city, but it's an excellent location for some spending a few days in Halifax.
We stayed at the historic Westin Nova Scotian (in their newly renovated rooms) and enjoyed the view of the harbour. The staff are very friendly, there are lots of onsite amenities, parking is available, and the breakfast omelette and waffle station was a nice bonus. Click here to see the latest room rates and reviews.
During our second stay in Halifax, we chose an Airbnb in a historic home near the Waterfront. If you're interested in booking an Airbnb, don't forget your coupon.
Where To Eat in Halifax
With a mix of seafood, international cuisine, and vegan-friendly options, Halifax is one of the best places to visit in Nova Scotia for foodies. Here are a few great options:
– Italian style, wood-fired pizzas – Excellent location, staff, and food. Try the lobster roll and rigatoni pasta with ragu sauce. – Although not located on the water, the dining area is lovely and the food is very good. Try the tenderloin steak and the lobster. – We didn't eat here, but it's highly rated as a great place for vegetarians and vegans. – This is the late-night hangout spot. When the bars let out, you'll find party-goers snacking here! – Located on the waterfront, in the cluster of colourful food buildings, this is a good shop to sample poutine.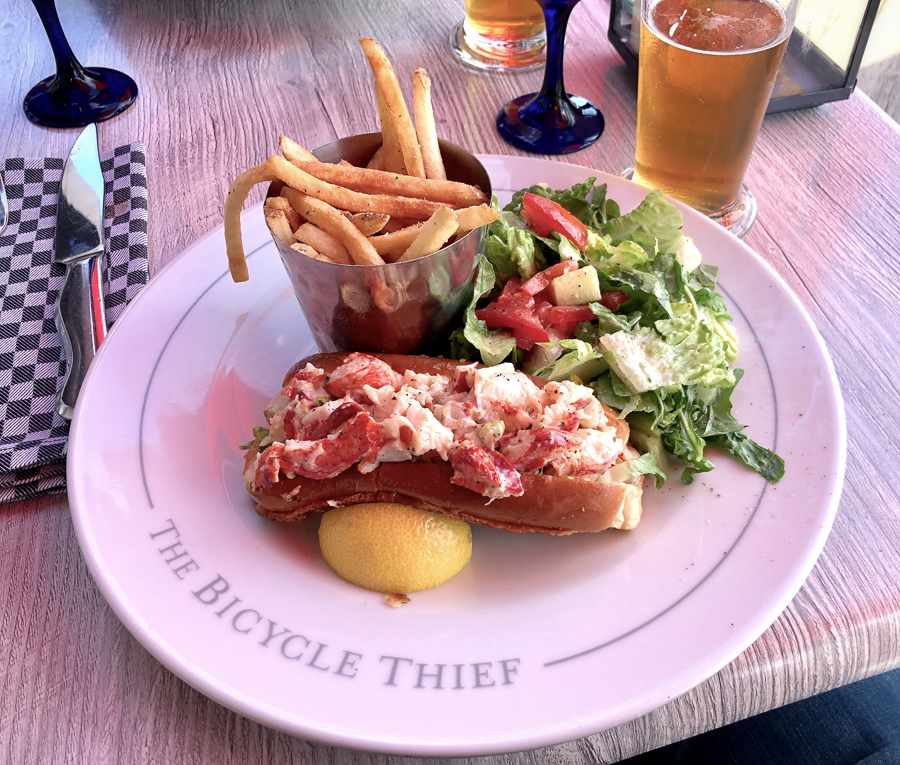 2. Peggy's Cove (and nearby coves)
One of the most popular places to visit in Nova Scotia is Peggy's Cove, but I had to put it on the list — it's a must-see for good reason!
It's about a 45-minute drive from Halifax along the Lighthouse Route to reach Peggy's Cove, making it an easy day-trip from the Capital, or a great stop if you're on a longer Nova Scotia road trip.
The community is set right on the ocean, with massive boulders offering viewing points of the Atlantic. The lone white and red lighthouse is one of the most photographed spots in the country.
Spend some time exploring the slow-paced community, including the inlets — look for jellyfish in the calm water.
There are so many nearby bays and coves that you could visit, either before or after Peggy's Cove. Have a look at the Polly Cove hiking trail, Shad Bay and the other little spots along Prospect Road.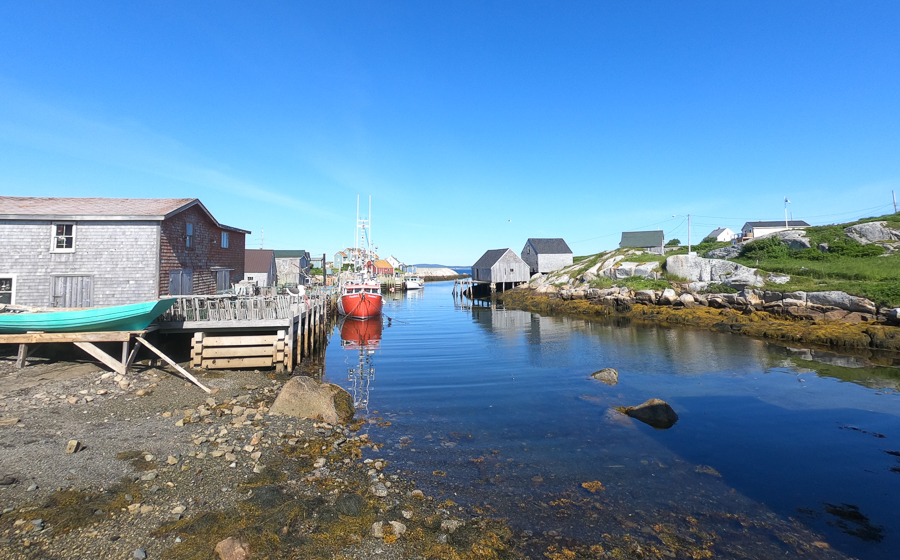 3. Mahone Bay
Continuing along the stunning Lighthouse Route, you'll arrive at Mahone Bay (if you have a chance, check out Chester on the way), which is known for its iconic 3 churches, relaxed atmosphere, and small-town hospitality.
Visit one of the many shops making textiles, jewelry, and art, or check out the mobile library bus!
The locally-sourced food at the restaurants is divine (we had coffee at the Barn Coffee and Social House, and lunch at Circa 1860), and if you're not driving, check out the Saltbox Brewery for some beers.
Mahone Bay is a great place to spend some time and is definitely one of the Nova Scotia attractions you don't want to miss.
If you're feeling more active, or have extra time, there's actually a trail that connects Mahone Bay with the town of Lunenburg (below). This 10-kilometer pathway is called the Bay To Bay Trail, and you can join it at various points, or just hike a portion of it, rather than the whole trail. Click here for details.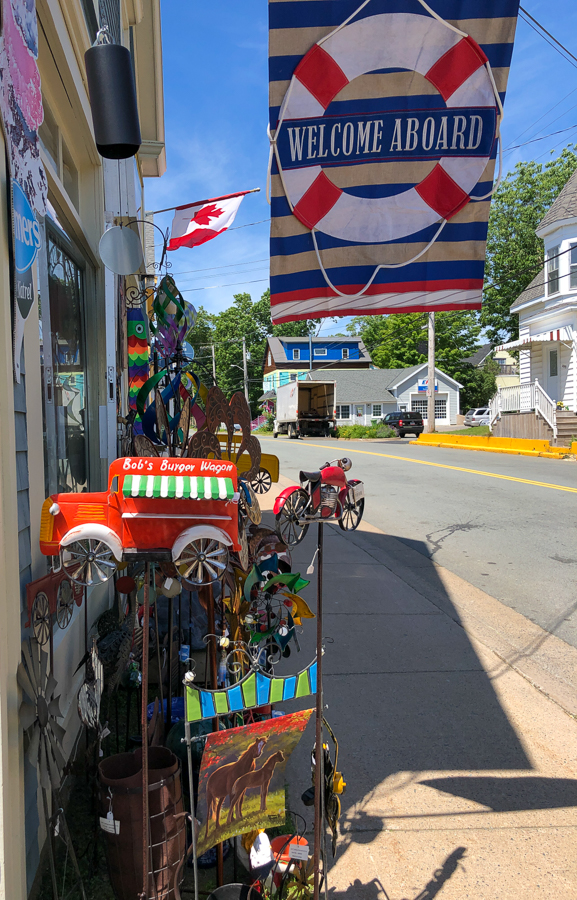 4. Lunenburg
The whole town of Lunenburg is a top Nova Scotia attraction! This fishing village, turned UNESCO listed town, is a picturesque place you won't want to miss.
Many people opt to do day trips here from Halifax, but I recommend spending the night to see the town when it's not so busy.
With its British colonial grid-style streets, Victorian and Colonial architecture, and harbour-side restaurants, wandering around by foot in Lunenburg is an enjoyable experience.
I recommend joining the 1.5 hour long walking tour to get a lay of the land and to learn about the interesting history of the city (and the unique homes that line the streets).
Also, don't miss the Ironworks Distillery tour ($15 including tastings and a gift). Even if you're not a booze drinker, the building its set in is worth a visit itself.
Built in 1893, it used to be a blacksmith's shop that made ironworks for the shipbuilding industry in Lunenburg.
Where To Stay in Lunenburg
There are lots of inns and hotels here in Lunenburg. We stayed at the Brigantine Inn, and enjoyed the harbour view from our room. The staff are friendly and the Grand Banker restaurant and bar is below (we had no issues with noise). Click here to see the latest prices and reviews.
Where To Eat in Lunenburg
The Savvy Sailor Cafe has tasty breakfasts and huge portions. The Grand Banker is highly rated for food and drinks, and so is the Salt Shaker.
5. Blue Rocks (one of the best places to visit in Nova Scotia for kayaking)
Located just a 10-minute drive from Lunenburg, you'll find the community of Blue Rocks. This aptly named place is another photographer's dream destination.
Small fishing shacks and boats are set next to blue shale rocks, with the thundering Atlantic Ocean on one side, and the calm inlets protected by small islands on the other.
Many people come here to wander around, take photos and simply enjoy the quiet of it all. However, this is also one of the best places to visit in Nova Scotia if you want to go kayaking!
Meet up with the guys at Pleasant Paddling for a day on the water. You'll kayak through calm channels and narrow passageways between islands while learning about the flora, fauna, and history of the area. If you're lucky, you'll spot some seals.
If you don't want to stay in Lunenburg and day-trip to Blue Rocks, you can stay in one of the guesthouses here. We spotted some yurts that we'd love to stay in next time.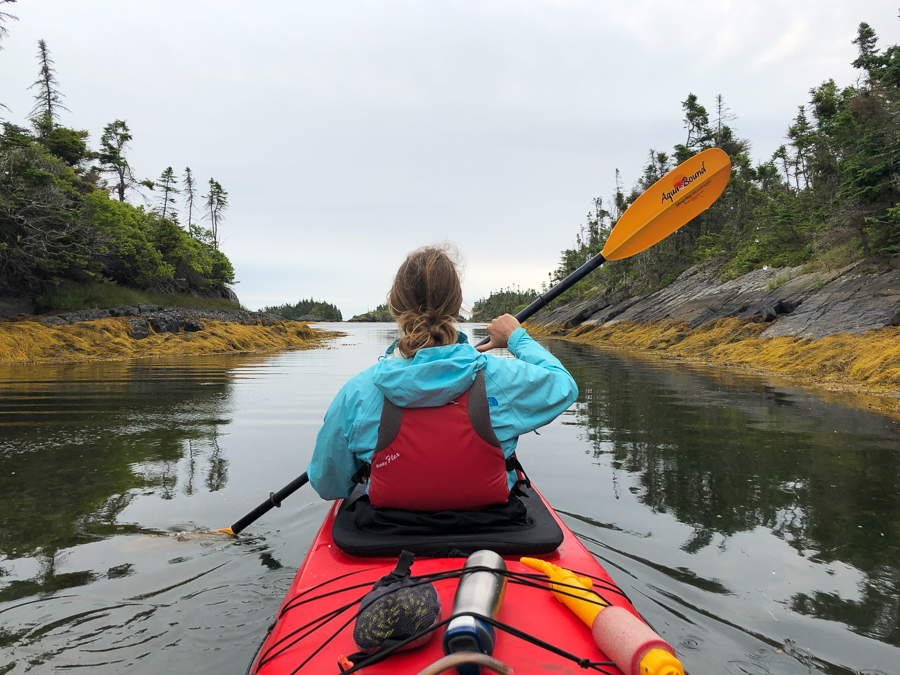 6. Shelburne
This oceanside town on the Lighthouse Route is where thousands of Loyalists fled the United States during the American Revolution. Still loyal to the British, they were enticed to move to Shelburne with a promise of land and provisions.
These days, Shelburne still has British flags flying, and there's even a UK flag painted on the street. Here you'll also find a shipbuilding facility, farmer's market, cafes and restaurants, and the Bowers Meadows Wilderness Area — which is a great place for fishing, canoeing, hiking, and camping.
We didn't actually eat here as we just visited on a day trip, but I do recommend continuing to Barrington and Captain Kat's Lobster Shack for a tasty lobster roll or fish n' chips.
7. Kejimkujik National Park
You're probably wondering how to pronounce this park name! It's "keji-ma-ku-jik"…just say it fast and you'll be fine.
This National Park is a beautiful place to do some hiking in Nova Scotia, geocaching, canoeing, mountain biking and camping. Plus, you can stay in one of the cool forest cabins (something we want to do next time we visit Nova Scotia).
There are 15 hiking/biking trails, plus 2 backcountry trails that you can embark on. We chose to hike the "Hemlocks and Hardwoods" trail which was an enjoyable 5km loop through the forest.
Some of the hemlocks here are around 400 years old! A portion of the hike is on a natural trail, while part of it is on a boardwalk to protect the tree roots.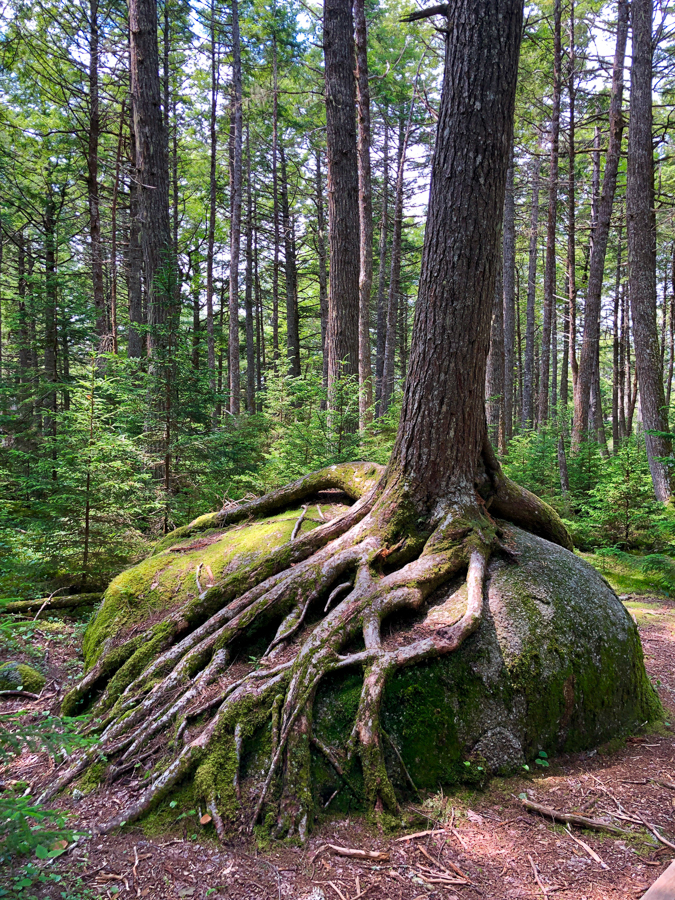 The funny thing about this NP is that it's actually split into two separate areas — inland Kejimkujik NP and the Kejimujik National Park Seaside, which is on the Atlantic.
The seaside park is just 25 minutes from the popular Whitepoint Beach Resort, which has been a Nova Scotia vacation staple since 1928.
We stayed at White Point for two nights and drove to the Acadian Coast and Liverpool as day trips. We then crossed the province north and made our way to Kejimkujik National Park (1 hour from White Point). Sadly, we didn't have a chance to visit the seaside national park.
With natural sites and towns less than an hour away, the White Point Beach Resort is a great place to base yourself. Plus, the resort itself has numerous activities and facilities on offer — walking paths, ocean swimming, pool, bonfires, SUP, kayaking, dining, live music…and more.
8. Digby Town and Digby Neck
Known for being the scallop capital of the world, Digby is a place seafood lovers won't want to miss. Pan-fried, deep-fried, sauteed, raw, bacon-wrapped, grilled, ceviche…the list of scallop preparations is endless!
After walking around the town of Digby (and looking for treasures at low tide), we sat down for a scallop-forward meal at the Shoreline Restaurant. Not only was the food tasty, but the setting was stunning — we even saw seals popping their heads up in the water.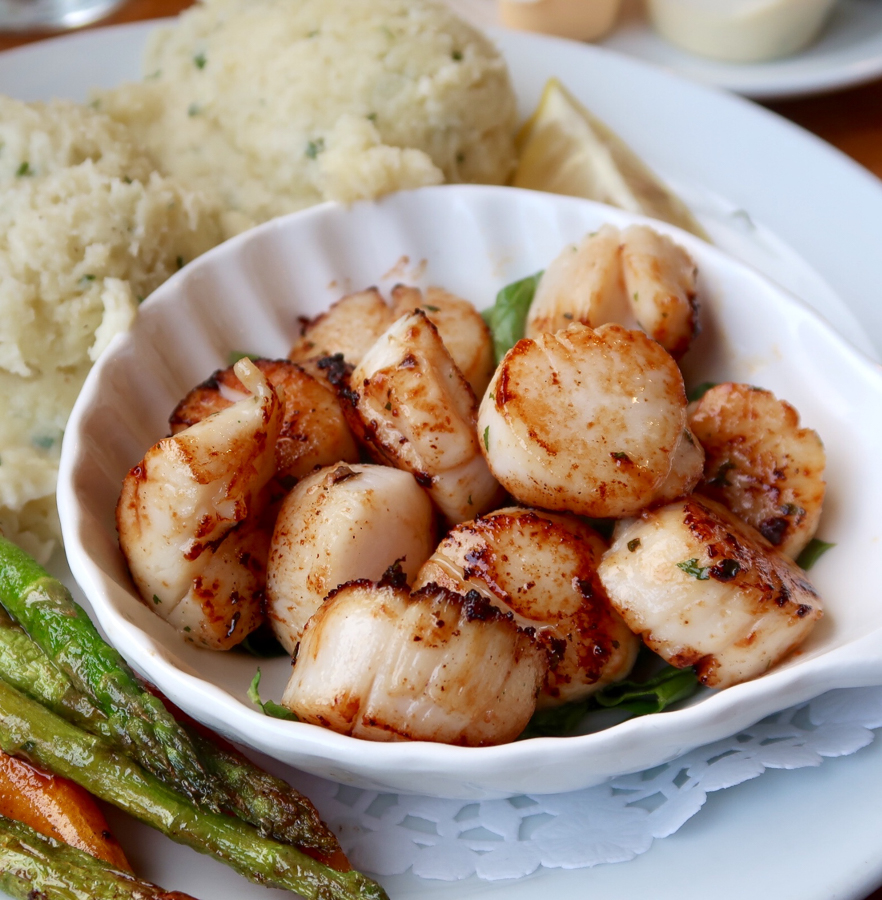 An evening stroll along the docks to see the fishing boats, and locals spin casting off the wharf before the sun goes down is a great way to end the day in Digby.
About 45 minutes from the town, is the Digby Neck. This peninsula is actually composed of the mainland, and two islands — Long Island and Brier Island. One side of the "neck" is the calm St. Mary's Bay, and on the other is the large Bay of Fundy. This is the spot to do some whale watching.
We joined the morning tour with Petit Passage Whale Watching (there are 2 per day) and were lucky to spot a humpback whale and 2 finback whales, which are the second largest in the world!
The boat was large enough that it was comfortable, not cramped, and the staff members were knowledgable about the ocean and the marine life.
There's something magical about seeing wildlife in its natural environment.
Set in a lovely old building with sweeping views across the Bay of Fundy, here you can golf 18 holes, spend a day at the spa, swim in the outdoor heated pool, or simply relax on the patio with a beer in hand. The hotel offers a complimentary shuttle to and from the town center, which is a nice touch.
9. The Annapolis Valley (the best place to visit for wine lovers)
This stunning valley is located between two mountain ranges on the shore of the Bay of Fundy. Home to agriculture, farming, towns, and vineyards, this is one of the most scenic places to visit in Nova Scotia.
From farmers markets and U-pick Fruit & Veg, to wineries and orchards, this valley has lots to discover. Plus, the Annapolis Valley is home to numerous communities, I recommend visiting Wolfville and Annapolis Royal — the latter is where you'll find Canada's oldest National Historic Site (Fort Anne), and one of the oldest streets in all of North America.
Wolfville is an excellent place to base yourself when touring the vineyards around the valley.
In the town itself, you'll find a great walking trail, boutique shops, a cidery (made with local apples), and lots of fun pubs and restaurants. Don't miss Church Brewing — built in a converted church, this is a very unique place to grab a craft beer.
Surrounding Wolfville is where you'll find the 11 established vineyards — which make some crisp white wines and some reds as well. Taking a winery bus tour with a designated driver is the best way to explore the vineyards.
We went with Grape Escapes, a tour that actually originated in Halifax but picked us up in Wolfville. We visited 3 vineyards – Benjamin Bridge, Luckett and Gaspereau – and enjoyed a fabulous lunch with our wine at Luckett Vineyards.
*Insider tip, try the Marquette red at Luckett, it was my favourite Nova Scotian wine.
Not only is the Annapolis Valley picturesque, but there's also a UNESCO Heritage Site here (the Grand Pre National Historic Site), fruit and herb gardens, and one of the best winery restaurants in the world, Le Caveau.
For those who love fresh and locally grown produce, and supporting small businesses, you'll definitely want to add the Annapolis Valley to your list of places to visit in Nova Scotia.
We stayed at the historic Blomidon Inn, which is a stunning hotel in an excellent location in Wolfville. The property is surrounded by pretty gardens, and there's an onsite restaurant and fitness center.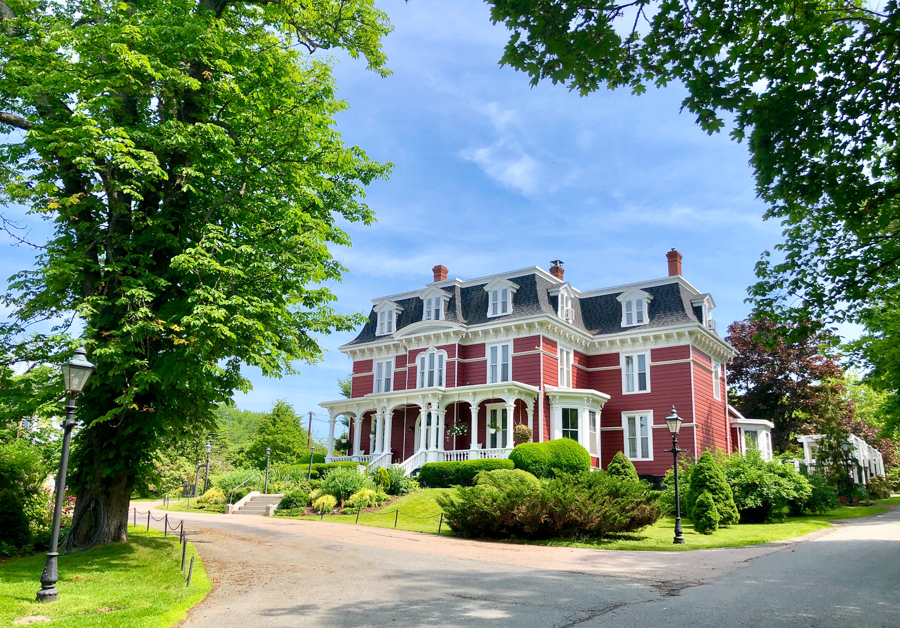 10. Pictou
Nova Scotia translates to "New Scotland" in Latin, and Pictou was the first place the Scottish settlers landed when they arrived in Nova Scotia. These days, you'll still see Scottish tartans on the light posts, and there's a replica of the ship (Hector) that they arrive on in 1773.
Colourful homes and shops line the water, and the overall feel of the town is pretty relaxed. We stayed at the nearby Pictou Lodge Beach Resort which is right on the Northumberland Strait, looking across to Pictou Island and Prince Edward Island beyond.
The wooden cottages here are cozy and comfortable and there are lots of activities on offer like kayaking, pedal boats, and SUP. The onsite restaurant serves up tasty food — don't miss the seafood linguini and the brie cheese starter.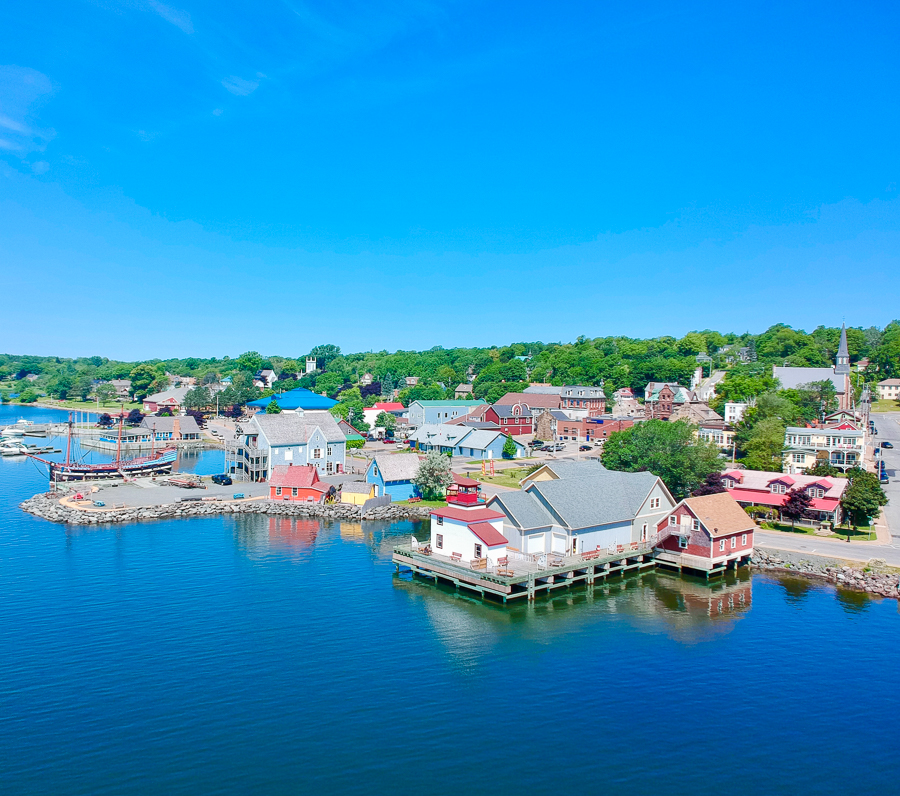 11. Inverness
Crossing the 2 kilometer Canso Causeway from the mainland of Nova Scotia, you'll arrive on Cape Breton Island. Likely, if you're taking the Ceilidh Trail clockwise, your first main stop on the island will be Inverness.
This town and the surrounding area is one of the best places to visit in Nova Scotia for golfers, fishermen, and those who want to do some camping.
The town itself is home to the oceanfront boardwalk, the Cabot Links golf course, Route 19 Brewing, some churches, and a campsite with nice views over the water. Do as the locals do and scour the beach for sea glass — which they call "mermaid tears".
A 10-minute drive from Inverness is the Glenora Inn and Distillery — the longest-running producer of single malt whiskey in North America.
In fact, there are only two on the continent! Take a tour of the distillery, sample the whiskey, eat a meal at the restaurant, listen to live music and spend the night in one of the rooms there. The grounds here are stunning and it's a great place to stay.
12. Margaree Forks
Just outside of Inverness is Margaree Forks, which is the best place in Nova Scotia to do some fly fishing where 40-pound salmon run the Margaree River.
Get a fishing license for around $62 and some flies and head out to the river. Check out the Tying Scotsman for a license and flies, and A Great Day Fishing for reputable guides.
There are lots of places to stay right along the river, Forks Pool Cottage, Cajun Cedar Log Cottages or Margaree Riverview Inn, to name a few. We chose to stay outside of Inverness in Lakeland cottages (in the chalet), but they have other options here.
13. The Cabot Trail
This isn't so much a "place" as it is a drive, but I had to add it to the list. At Margaree Forks, the 298 km (185 mile) Cabot Trail begins. You can choose to drive clockwise or counterclockwise (we did the former).
This route meanders along the coastline of Cape Breton Island, and high up into the plateaus of the aptly named Cape Breton Highlands National Park. Enjoy views of the wild, rocky coastline, the Gulf Of St. Lawrence, and the beautiful forest.
Take your time (and lots of photos) during this drive. The Cabot Trail is one of the most amazing places to visit in Nova Scotia, and one of the best drives in North America.
14. Cape Breton Highlands National Park
If you're driving the Cabot Trail, you'll cut through this National Park. After paying $7.80 (for adults), you're free to enjoy the natural beauty of this part of Cape Breton Island.
Lace-up your hiking boots and wander down one of the 26 trails in the park, find a hidden cove all to yourself and enjoy a snack, or do some camping, fishing, and kayaking! There are endless things to do here.
We hiked the Skyline Trail, which can be done as a return trip, or a loop. We opted for the 9.2 km (5.6 mile) loop walk through the forest.
At the end, the trail opens up and you're greeted by the vast Gulf of St. Lawrence, the Cabot Trail winding through the mountainside, and Cheticamp Island.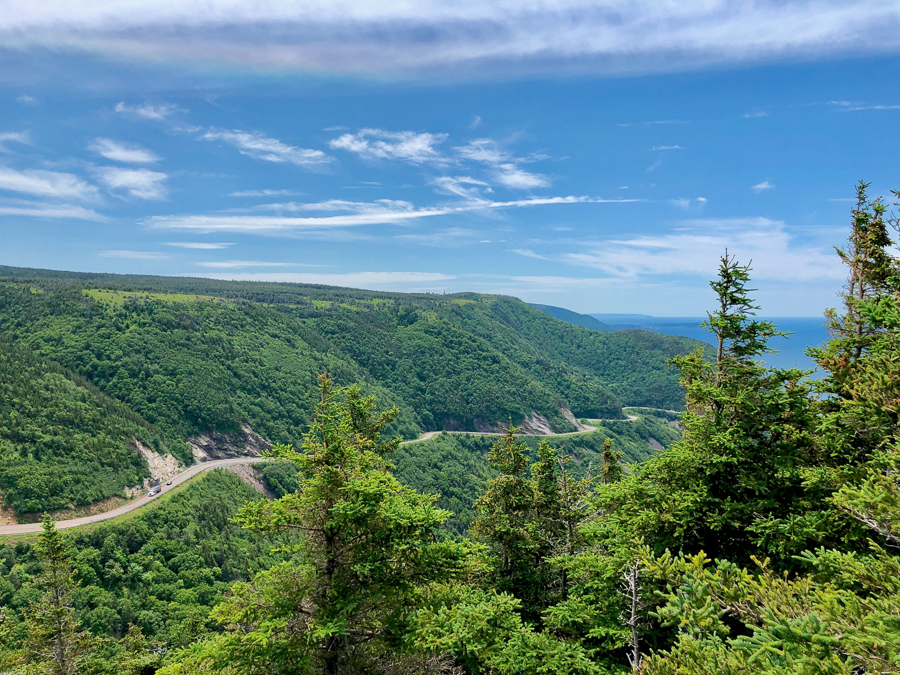 We enjoyed this walk, but it was quite popular — for good reason. Your best bet would be to get there early and enjoy the quieter trail — you may even spot a moose.
There are lots of pull-offs and points of interest, but I recommend Lakie's Head, which is a beautiful spot where you could potentially see whales.
Another quirky place is Groovy Goat, which is a family-run goat farm and soap company, and the Dancing Moose, which is a cafe that serves up tasty Dutch-style pancakes.
15. Ingonish (one of the best places in Nova Scotia for golfing, hiking and camping)
Of all the places to visit in Nova Scotia, this was one of our favourites for sure. Ingonish is actually an area of 6 different communities — Ingonish ferry, harbour, beach, centre, and North Ingonish.
This area offers hiking, camping, swimming, whale watching offshore, and more.
Depending on the tides, Ingonish Beach is either rocky or sandy and even though the water was chilly when we visited, Nick still went for a dip in the ocean!
There's a freshwater lake at Ingonish Beach and you can camp here as well. If you're not into camping, check out the Keltic Lodge At The Highlands which has the most picturesque surroundings of any accommodation we've had.
With sweeping views of the ocean and the craggy cliffs, even if you're not staying here, definitely come by for the view.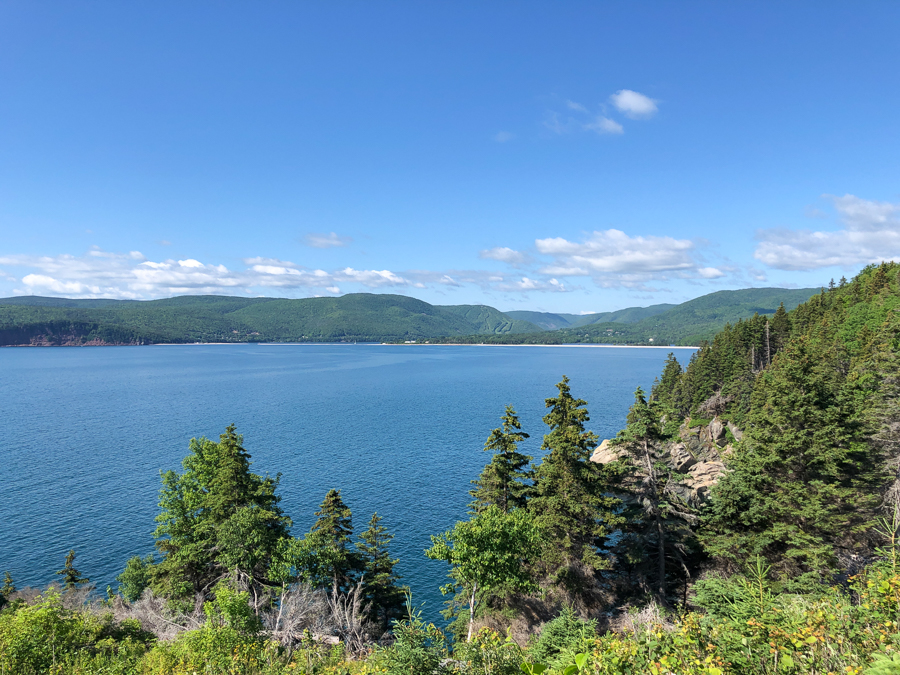 The Middle Head Trail starts here at the Keltic Lodge. It's an easy, 1.5-hour loop that takes you out to the end of the point for a fantastic view. This hike is short but sweet.
Another more challenging option is the nearby Franey Mountain trail, which takes around 3 hours and has a 300m ascent, but offers incredible views from the top.
16. Bonus! Baddeck
Last, but not least on my list of best places to visit in Nova Scotia is Baddeck. Set on the gorgeous Bras d'Or Lake (Alexander Graham Bell had a family estate home here), this town is a great place to chill out for a while.
Enjoy water sports (kayaking SUP, jet skis, etc.), go on a boat tour to see puffins, visit the Alexander Graham Bell museum, enjoy a leisurely coffee in town, or check out the nearby Usige Ban Waterfall.
The trail to reach the falls is around 3 kilometers long and should take about an hour to complete.
We stayed at the Inverary Resort which had the perfect setting right on the lake. Enjoy late afternoon paddleboarding, kayaking, jet-skiing, or boat riding here — or just relax with a beer in hand!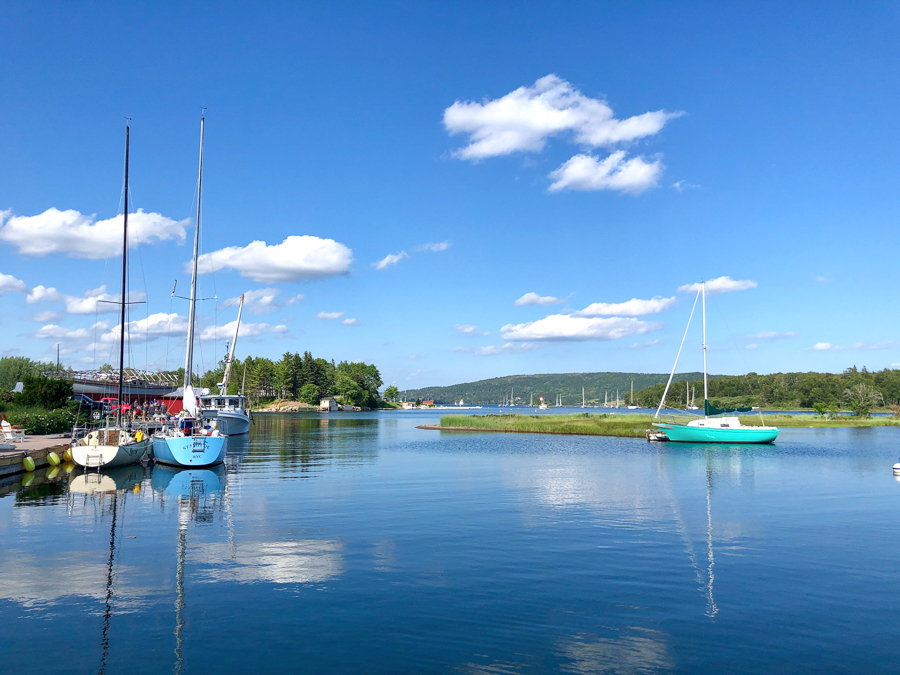 10 Things To Do in Nova Scotia
You now know the best towns and places to visit in Nova Scotia, but here are the top 10 activities and things to do in the province that you won't want to miss!
Here's our video of the 10 best things to see and do in Nova Scotia:
1. Experience Tidal Bore Rafting
If you're an adventurous person, tidal bore rafting should be firmly placed on your list of things to do in Nova Scotia.
Two times a day, the tides in the Bay of Fundy rise and fall (between 3.5 meters (11ft) and 16 meters (53ft)). When this massive influx of water meets the Shubenacadie River, the two collide to create rapids, waves, and a whole lot of swells.
Of course, rather than just watch this natural phenomenon, it's far more exciting to hop on a zodiac and launch over the waves! Tidal bore rafting tops my list of Nova Scotia activities for sure. Hang on tight and enjoy the ride.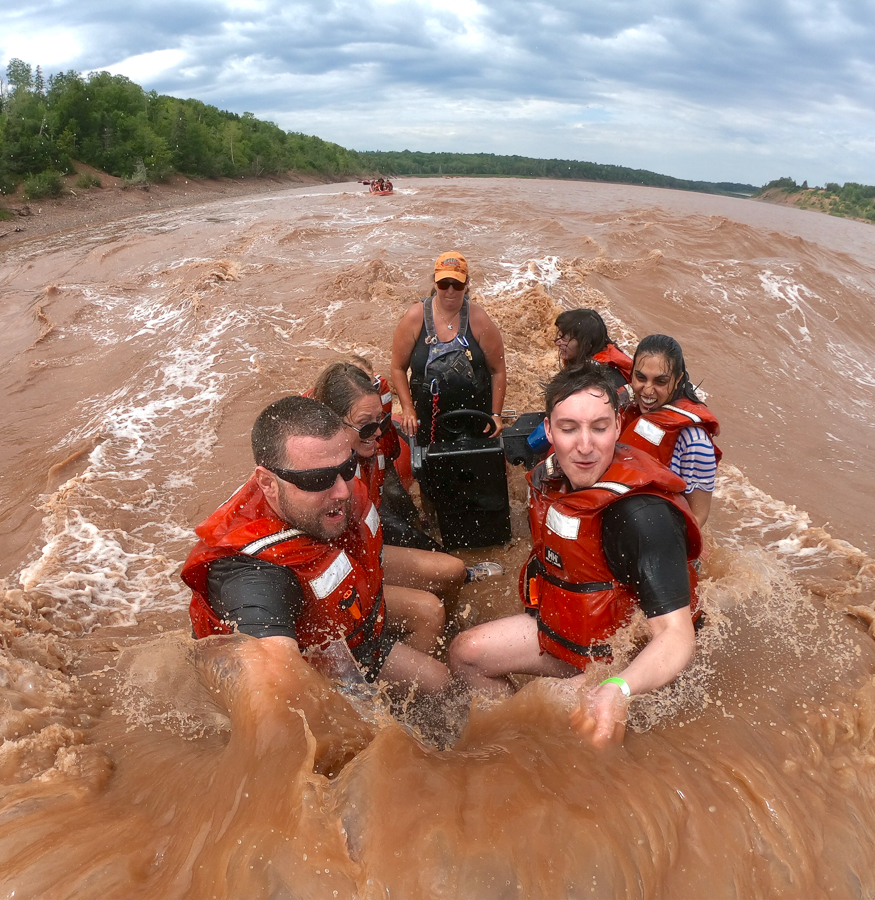 But, it's not all about the crazy adventure on the river, you'll also enjoy a quiet boat ride before the tide comes in, while spotting bald eagles high in the trees. After a few rounds of flying over rapids, release your inner child, and do some mud sliding on the banks of the river.
There are numerous companies to choose from, but we went with Tidal Bore Rafting Resort out of Urbania who have been in business since 1985.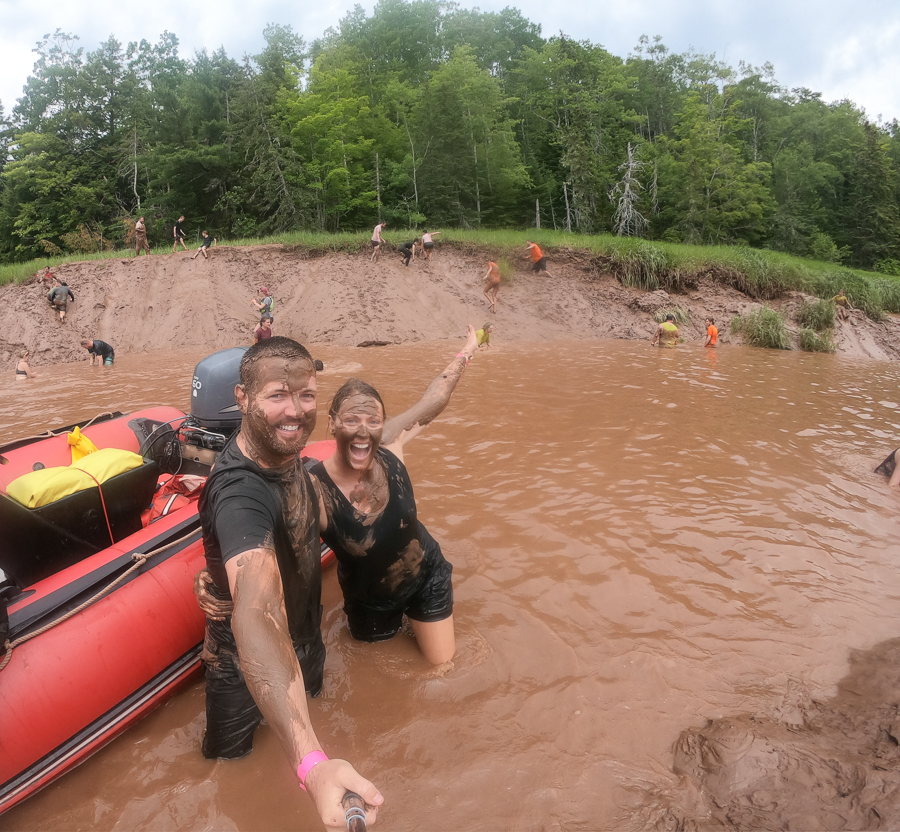 Tips: Make sure to wear clothing that you don't mind throwing out afterward, or wear black (the titanium in the mud will stain your clothes). Leave your sunglasses and hat behind, and wear water shoes. Bring a change of clothing and towel — there are basic, hot showers available.
2. Drive the Cabot Trail (one of the most popular things to do in Nova Scotia)
Touted as one of the most scenic drives in North America, this 297 km (185 mile) route offers a stunning journey.
Located on Cape Breton Island which is an island connected to the mainland by a 2 km causeway, the Cabot Trail is one of the most beautiful places to visit in Nova Scotia.
It's a great place to drive, cycle, or experience the curvy road by motorbike.
I recommend taking Route 19 (Ceilidh Trail) as you cross the causeway to Cape Breton Island. This is a picturesque route with nice places to stop along the way — Mabou, Glenora Distillery, Celtic Music Interpretive Center, Inverness, and Margaree Forks.
At Margaree Forks, the route splits and you start the Cabot Trail.
Depending on your travel plans, you can choose to drive clockwise, or counterclockwise. The whole trail could be done in a day, but a more enjoyable way to experience it is to drive for a little bit, hop out of your vehicle and go for a hike, a swim, and a meal before spending the night somewhere along the trail.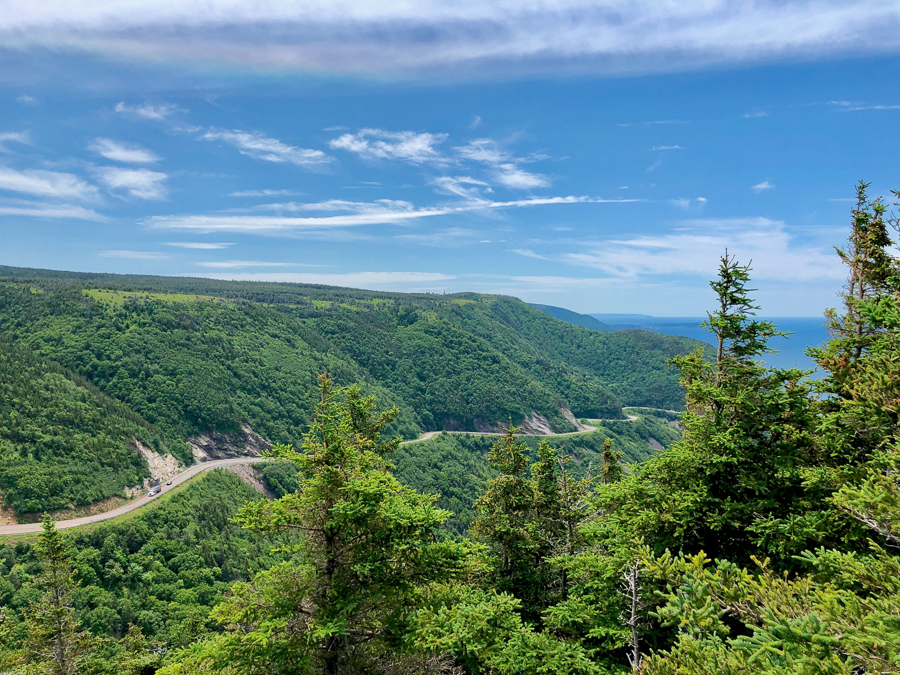 3. Hiking in National Parks
There are some great trails in the province and after driving, it's always nice to get out and stretch your legs. Nova Scotia is home to two National Parks, one National Park Reserve, and numerous Provincial and Historic Parks.
When you're travelling along the Cabot Trail, it cuts through the Cape Breton Highlands National Park ($7.80 CAD park fee), which is home to 26 hiking trails.
The most popular is the Skyline Trail, but if you enjoy hiking by yourself, this trail isn't for you — at least not in the summer months when it's quite busy.
However, it's popular for good reason!
At the end of the loop, you're rewarded with vast views out to the Gulf of St. Lawrence, and many people encounter moose on this trail (sadly, we didn't).
*Tip: While the hike to the end of the Skyline Trail was busy with other hikers, it seemed as though many people didn't complete the 8.2 km (5.1mile) loop, but instead, backtracked on the same path making the hike shorter (6.5 km / 4 miles). If you want to enjoy some quiet on this beautiful trail, I recommend doing the loop — we pretty much had the way back to ourselves.
Another great hiking opportunity is the Middle Head Trail which starts at the stunning Keltic Lodge at Ingonish. This 1.5-hour peninsula hike is more rugged than the Skyline Trail and offers incredible views on both sides of the peninsula. Look for woodpeckers, squirrels, and seabirds.
Nearby, you'll find the Franey Mountain Trail, which is more challenging than Middle Head. It's about 3 hours long, with a 300m ascent. Bring adequate food, water, and clothing for the hike.
Nova Scotia's other National Park is Kejimkujik, which is home to some great hikes as well. If you have the time and the ability to do so, you can embark on one of the backcountry trails (4 days long), or if you're looking for a day hike, there are plenty of those as well ranging from 0.2 km to 5 km in length.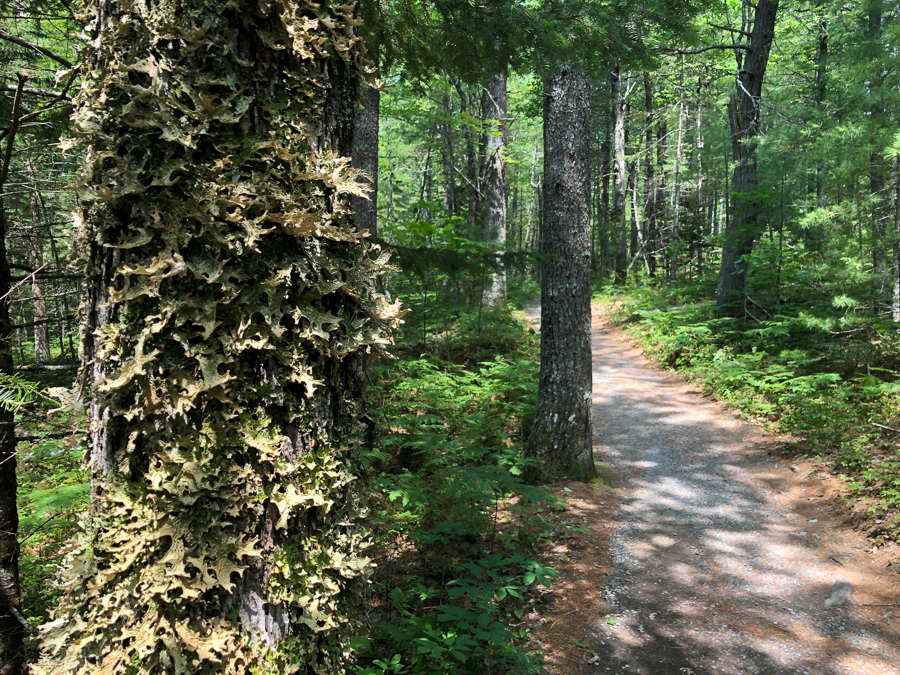 We chose the longest of the day hikes, Hemlocks and Hardwoods, and basically had the trail to ourselves.
Outside of the national parks, you'll also find some great hiking. Check out the Celtic Shores Hiking Trail, the Bay to Bay Trail, and Polly Cove trail — to name a few.
*Tip: Make sure to wear bug spray and thoroughly check yourself for ticks when you leave the park, as they carry Lyme disease.
4. Take in a Festival
If you're looking for things to do in Nova Scotia year-round, take in one of the many festivals! Whether you're into music, food, crafts, art, history, or sports, there will be a fun festival that interests you.
While you'll definitely find events happening year-round, the vast majority happen during the summer months when the weather is warmer and you can enjoy the outdoor venues.
Don't miss the TD Halifax Jazz Festival, Royal Nova Scotia International Tattoo, Pride Parade, Lobster Crawl, Ribfest, Wild Blueberry Festival, Busker Festival…and more!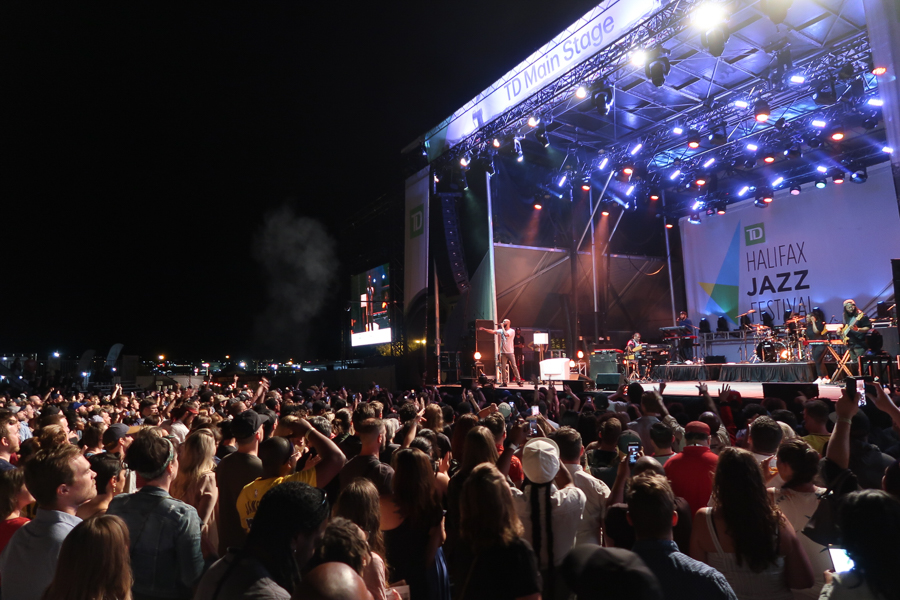 5. Eat Seafood
Known for its abundance of seafood, eating freshly caught shellfish is one of the things to do in Nova Scotia you don't want to miss.
Each part of the province has a different lobster season, but you can find lobster practically any time of year.
Don't miss a lobster boil, dining on 1.5 pounds of lobster at a nice restaurant (Five Fishermen's in Halifax), sampling a lobster roll (Capt. Kat's Lobster Shack, or The Bicycle Thief), or simply enjoying bits of lobster in a chowder or a pasta dish.
Once you've had your fill of lobster, head to Digby which is known for its world-class scallops! Choose your preparation (grilled, pan-fried, deep-fried, bacon-wrapped, ceviche, raw, etc.) and dig in.
If lobster and scallops aren't your thing, you can always find mussels, Atlantic salmon, halibut, haddock, and oysters readily available on most menus. If you're wondering what to do in Nova Scotia on a rainy day, eating excellent seafood is my recommendation!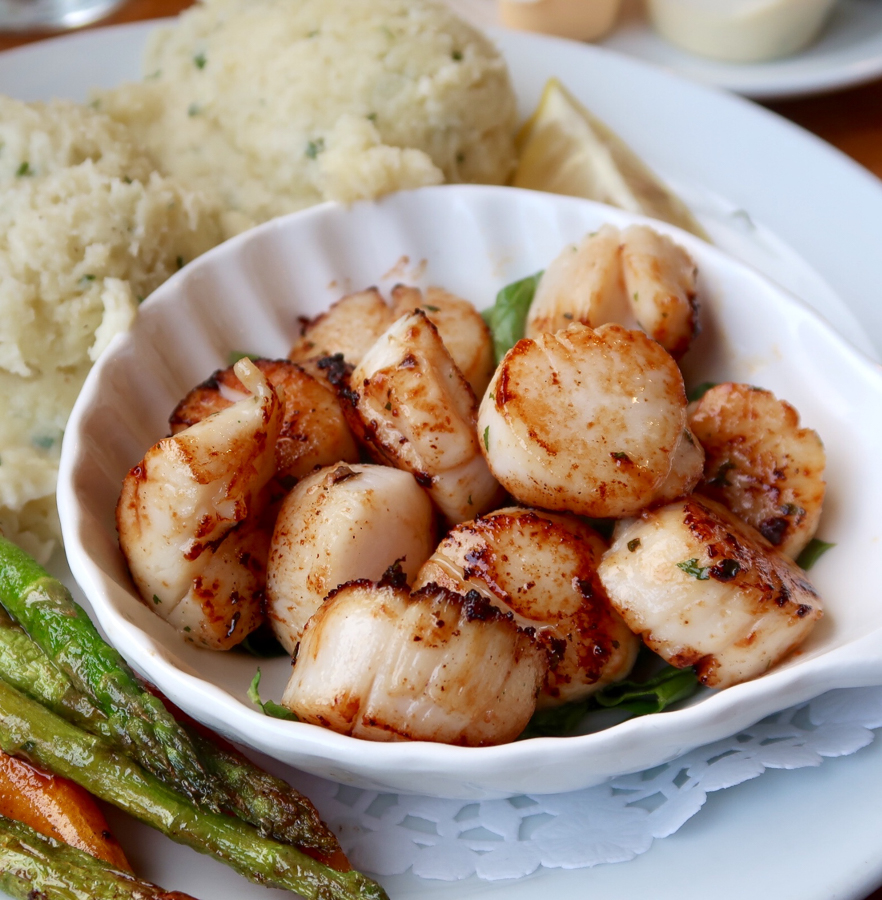 6. Follow One Of The "Trails"
A really cool thing to do in Nova Scotia that I haven't seen anywhere else is to follow one of the food and drink trails around the province.
Basically, you pick up a "passport" from a participating vendor, or you can register online for a digital passport. In this passport, you'll find a list of tasty restaurants, bars and distilleries to sample the best food and drinks in Nova Scotia.
Once you've visited one of the stops, you get a stamp in your passport and once you have 3 stamps, you can enter to win prizes.
There are 3 trails:
With so many amazing restaurants and bars to enjoy, trying to figure out where to eat and drink is the hard part!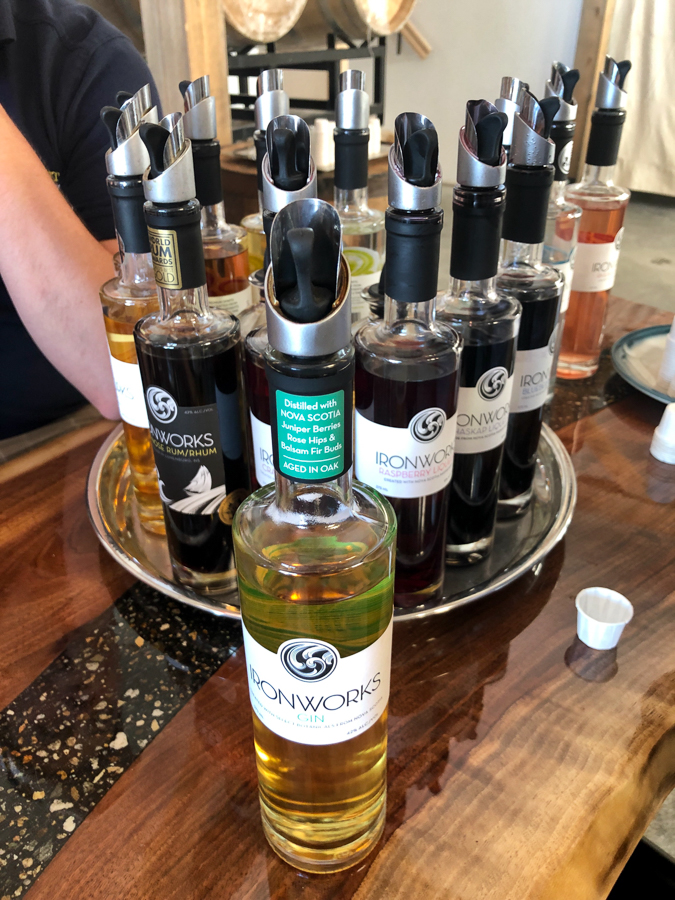 7. Go Camping
Since this post is about a Canadian province, it's no surprise that camping makes it on this list of things to do in Nova Scotia. Blessed with nature, and almost completely surrounded by water, this is a great place to do some camping.
Either pitch a tent in one of the many campsites or spend the night in a unique oTENTik. If you're pulling a trailer or driving an RV, there are lots of spots you can stop that have adequate amenities.
Cape Breton Island has numerous campsites available around Ingonish, Meat Cove, Broad Cove, Inverness, and more.
For other camping opportunities, check out Ovens Natural Park campground, Thomas Raddall Provincial Park, Kejimkujik National Park, Murphy's Camping on the Ocean…to name a few. For a full list of campgrounds in Nova Scotia, click here.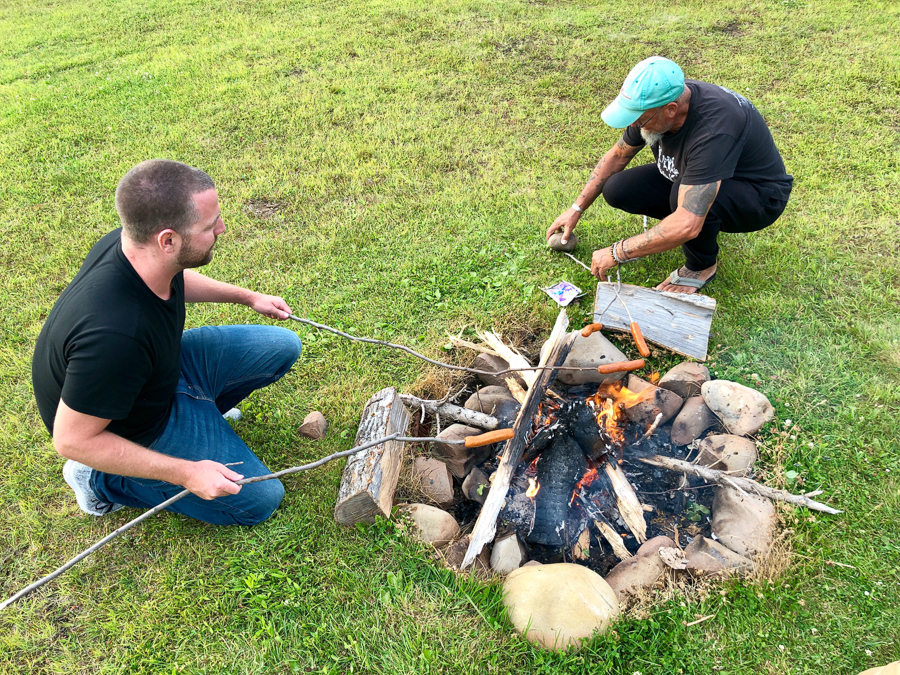 8. Tour Vineyards
Although the provinces of British Columbia and Ontario produce the most amount of wine in the country, little Nova Scotia has some vineyards worth visiting and unique grapes varietals worth sampling — especially if you like white and sparkling wines.
Nova Scotia is known for its Tidal Bay wine — the first wine appellation given in the province. Since the province is known for its seafood, ties with the ocean, and cool weather, the winemakers wanted to create a wine that reflects that — something cool and crisp.
In order to get the stamp of approval for a Tidal Bay wine, all grapes must be grown in Nova Scotia, be no more than 11% alcohol, and have a certain flavour profile (minerals, acidity, and green fruit).
While grapes are grown in many areas of the province, The Annapolis Valley is known for being wine country and with stunning views of the Bay of Fundy and 11 wineries to visit, it's a place you'll want to spend some time.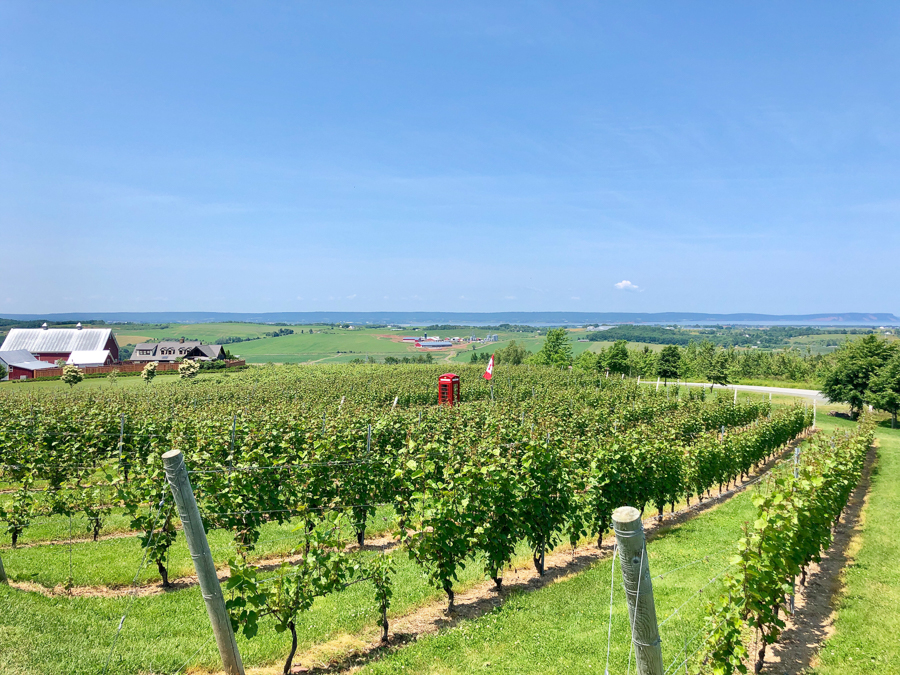 Base yourself in Wolfville (we stayed at Blomidon Inn), or out in the valley, and hire a driver (or join a tour) for the trip so that you can fully enjoy the wine tastings!
While there are many vineyards to visit, I recommend Benjamin Bridge, Luckett, and Gaspereau. All three have gorgeous surroundings and tasty wines.
Make sure to have lunch at Luckett Vineyards, the food is fabulous. Oh, and don't forget to make a call from the red phone box
9. Do Some Kayaking
Being surrounded almost completely by water, and home to numerous coves, bays, and islands, kayaking is one of the top activities in Nova Scotia.
There are lots of places you can go paddling, but I recommend Blue Rocks, which is a community just outside of Lunenburg.
Many people come here to photograph the pretty blue shale rocks, or to stroll around the quiet community, but the best way to see the natural beauty of the area is to hop in a kayak. We paddled through narrow passageways, and alongside rock islands, all while enjoying the calm water.
Even though the Atlantic Ocean can be incredibly rough and wild, the rock islands here provide protection for kayakers. To learn more about kayaking at Blue Rocks, click here.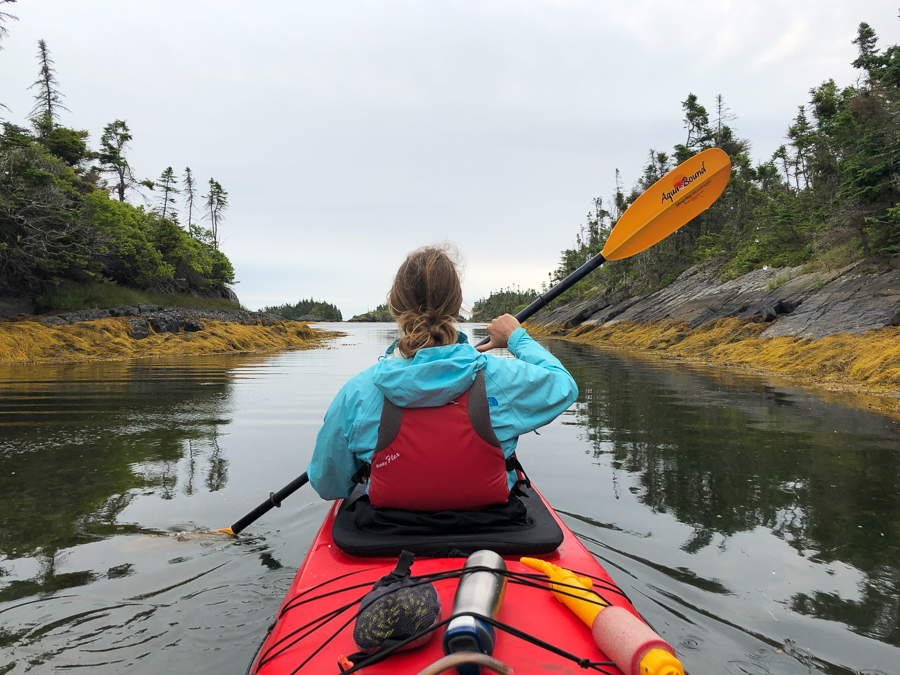 10. Go Whale Watching
You'll find excellent whale watching opportunities in the Bay of Fundy just outside of Digby on the Digby Neck (peninsula) and off of Cape Breton Island.
The whales start arriving in early spring and stay until fall, but typically, the humpbacks don't show up until mid-June.
Having said that, we went whale watching in the Bay Of Fundy in mid-July and only spotted 1 humpback whale. The crew said that this year the whales were late arriving. So, it's the luck of the draw!
Both whale watching spots in Nova Scotia offer the chance to see humpback, fin, and minke whales. The Bay Of Fundy also has Northern right whales, while Cape Breton offers the largest of them all, the blue whale, as well as pilot whales.
Our trip took us around the Digby Neck, past Brier and Long Island, and into the Bay Of Fundy. Even though we only spotted 1 humpback whale, we ended up seeing 2 fin whales (which are the second largest whale in the world!). There's something magical about seeing wildlife in its natural habitat.
To learn more about whale watching in the Bay of Fundy, click here.
*Tip: Even if it's a sunny day, make sure to bring some warm clothing. The weather can change in an instant, and it's always chilly out on the water. Also, bring a hat, sunscreen, water and of course, your camera.
Now You Know What To Do and Where To Visit in Nova Scotia
Depending on the length of your trip, you might not be able to see all of the places to visit in Nova Scotia that I listed. So, just choose the ones that stand out to you the most, or pick an area of the province and work your way around there.
The good news is that Nova Scotia is quite compact, making getting around and visiting numerous towns a breeze.
Of course, this list of activities and places to see when you visit Nova Scotia is just the tip of the iceberg. There are numerous other spots that we didn't have a chance to get to!
I hope you enjoyed my list of 15 recommended best places to visit and the top 10 things to do. Enjoy your stay in Nova Scotia and check out our videos here:
A special thank you to the Nova Scotia tourism board for making this trip possible. As always, all thoughts and opinions remain our own.
Like This Article? Pin it!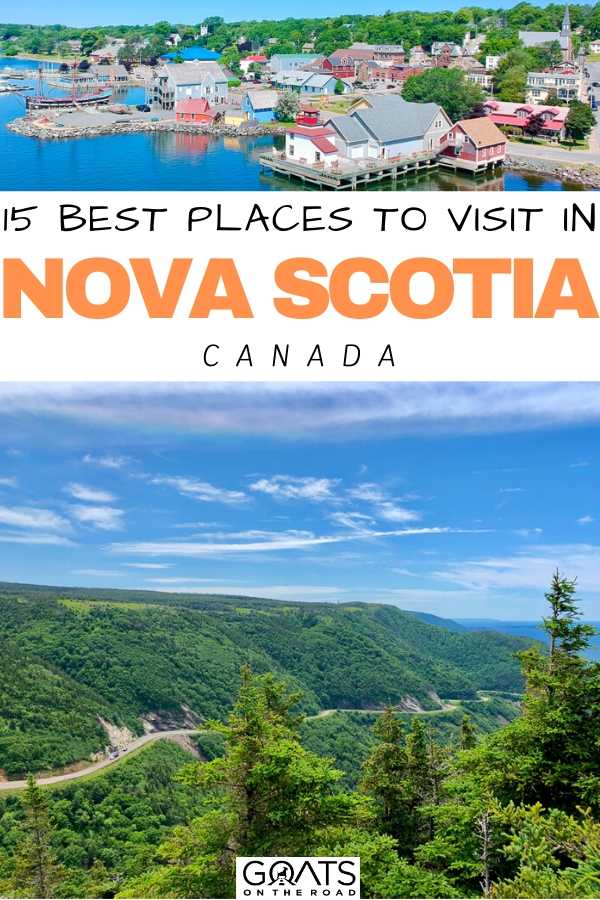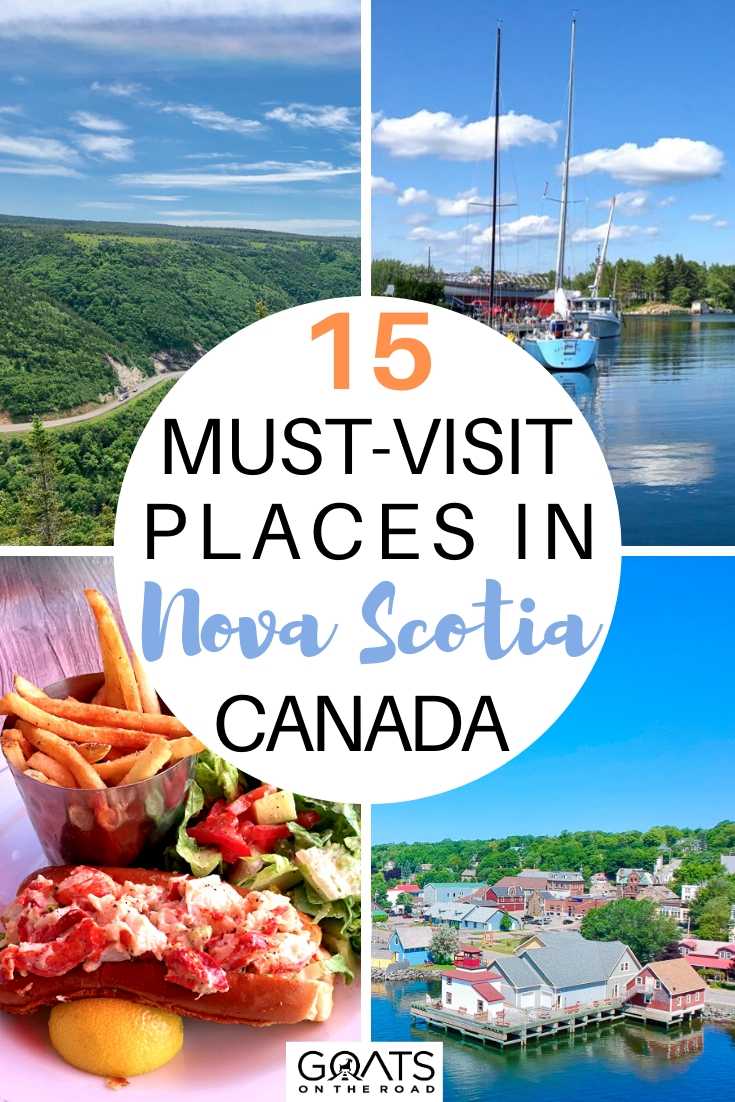 Disclaimer: Goats On The Road is an Amazon Associate and also an affiliate for some other retailers. This means we earn commissions if you click links on our blog and purchase from those retailers.
Best Things to do in Nova Scotia – The Ultimate Travel Guide
A summer vacation in Nova Scotia is like no other. It is one of the best road trip destinations in the world with so many things to see and adventures to be had. We've had the pleasure of traveling all of Nova Scotia from North to South and everywhere in between. From our several visits to the East Coast, we've compiled the ultimate list of things to do in Nova Scotia to help you plan your trip.
With vaccines rolling it, there is light and hope at the end of the tunnel and as we dream of planning for our travels this summer, Nova Scotia is at the top of our list.
Things to do in Nova Scotia, Canada
Table of Contents
The Best of Nova Scotia, Canada
When you visit Nova Scotia give yourself at least a week. But if you have two weeks, even better. We have a complete two-week Nova Scotia road trip itinerary here that breaks down how long to stay in each place.
Nova Scotia may not be the largest Canadian province, but it certainly packs a big punch, so let's get started!
Bay of Fundy – Part 1
Click here to get your map of all the things to do in Nova Scotia
Home to the highest tides in the world, the Bay of Fundy should be at the top of your list of things to do in Nova Scotia. Located between Nova Scotia and New Brunswick, it is famous for its flowerpot rock formations on the New Brunswick side of the bay, but Nova Scotia has extraordinary formations as well. It tops the list of our favorite attractions in Nova Scotia.
1. Kayak to the Three Sisters
2. Cape Chignecto Provincial Park
3. Burntcoat Head Park
4. Go Tidal Bore Rafting
5. Joggins Fossil Cliffs
Cape Breton Island, Nova Scotia- Part 2
6. Drive the Cabot Trail
The Cabot Trail Surrounds Cape Breton Highlands National Park
Cape Breton Island is home to one of the greatest scenic drives on earth. The Cabot Trail is a 185 km coastal route taking you through some of Nova Scotia's star attractions.
There are several things to keep you occupied for days. Make sure to go whale watching and get out of your car to explore its hiking trails out to waterfalls and gorgeous scenic views. Cape Breton Highlands National Park is within the Cabot Trail and it certainly tops the list Nova Scotia attractions list.
See all there is to do on the Cabot Trail here.
7. Hike the Skyline Trail
One of the top attractions on the Cabot Trail – The Skyline Trail
If there is one stop on the Cabot Trail that you cannot miss, it is hiking the Skyline Trail. It is the most beautiful of all the hiking trails in Cape Breton Highlands National Park. This 6.5 km return walk takes you along a wooden boardwalk overlooking the magnificent west coast of Cape Breton Island for the best sunset view in Nova Scotia. It's an easy walk and make sure to keep an eye out for moose that roam the area.
Watch our complete hike of the beautiful Skyline Trail
8. Go on a Lobster Safari
9. Go Fishing
During the tour, try your hand at mackerel fishing. It's the most fun you'll have on the water in Nova Scotia. Don't worry, you can throw the mackerel back to live another day.
10. Indulge in Nova Scotia Seafood
Where to Stay in Cape Breton
Otentik through Park's Canada – Do something different and book a luxury tent through Park's Canada. An Otentik offers you a true Canadian experience without needing any camping experience. They give you everything you need right down to cooking utensils and sleeping bags.
The South Shore of Nova Scotia – Part 3
The South Shore is often overlooked but many of the top attractions are found on the South Shore of Halifax. It is also one of the beautiful scenic drives in Canada taking you through the Lighthouse Route with the North Atlantic ocean on one side and the Bay of Fundy on the other. You'll be missing out if you don't include the South Shore of Nova Scotia on your itinerary.
Read our complete guide to the South Shore of Nova Scotia.
11. Peggy's Cove Lighthouse
12. Peggy's Cove Boat Tour
Where to Stay in Peggy's Cove
Oceanstone Resort – Just five minutes from Peggy's Cove, this was a great base for exploring the area. With private cabins located directly on the shore, it was a beautiful places to unwind and relax.
13. Marvel at the Beauty of Lunenburg
Where to Stay in Lunenburg
Lunenburg Arms hotel – Located downtown Lunenburg Arms hotel was the perfect location for exploring Lunenburg. Make sure to eat at the Fleur de Sal Restaurant for dinner. You can also book whale watching tours from Lunenburg.
14. Mahone Bay
15. Hall's Harbour
Where to Stay in Wolfville
Blomidon Inn, Wolfville – The enchanting Blomidon Inn was the perfect grand house to make a base to explore the Annapolis Valley, Hall's Harbour, and the Acadian Coast.
Explore Halifax Nova Scotia – Part 4
16. Maritime Museum of the Atlantic
17. CSS Acadia
18. Canadian Museum of Immigration at Pier 21
19. The Halifax Citadel National Historic Site
The Halifax Citadel National Historic Site and Old Town Clock Tower offers beautiful views of downtown Halifax and Halifax harbour from its hilltop location. Dating back to 1749, this historic fort was built to protect Halifax from invasion. You can take a tour of the national historic site to learn what life was like for soldiers in the 19th century. The main focus of the tour showcases the 78th Highland Regiment.
20. Enjoy a Brewery Tour
Where to Stay in Halifax
Halifax has several options for places to stay from BnBs to luxury accommodation. We have stayed at the Lord Nelson Hotel is the Grand Dame of accommodations in Halifax. A Halifax Landmark it dates back nearly a century. We also enjoyed the Haliburton Hotel a lovely boutique hotel in downtown Halifax.
Tips for Visiting Nova Scotia Canada
Getting Around Nova Scotia
The best way to get around Halifax is by rental car. Halifax airport has several rental car companies where you can pick up your car when you land. We've use Thrifty Rental car on our visits and it has always been seamless.
The top attractions in Halifax can be reached by foot but there is also a hop on hop off tours bus, Uber, and taxis to get help you get around the city with ease.
What to Pack for Nova Scotia
Nova Scotia has a temperate climate and weather conditions can change quickly. Daytime temperatures in the range of 18-28C (64 – 82 Fahrenheit) with evening lows going to 15C (59 Fahrenheit).
Make sure to pack in layers with a windproof and rainproof outer shell.
There are plenty of hiking trails around the province at nearly every attraction, so good walking shoes are a must.
Hiking boots are highly recommended. We like wearing Merryl lightweight hiking boots that go above the ankles for support.
Watershoes are recommended as well. You'll be in the water a lot if you are looking for adventures and beaches and shorelines can by rocky.
Halifax, Dartmouth and other cities in Nova Scotia are urban and hip so pack some smart clothes for going out at night.
And these are the best things to do in Nova Scotia. Have you been to the East Coast of Canada? What's your favourite memory and where should we go next? 2021 just might be the year to head back to our favorite Canadian province.
This post is in partnership with Tourism Nova Scotia, for more information on traveling to Nova Scotia check out their website for details.
Travel Planning Resources
Looking to book your next trip? Why not use these resources that are tried and tested by yours truly.
Flights: Start planning your trip by finding the best flight deals on Skyscanner
Book your Hotel: Find the best prices on hotels with these two providers. If you are located in Europe use Booking.com and if you are anywhere else use TripAdvisor
Find Apartment Rentals: You will find the cheapest prices on apartment rentals with VRBO.
Travel Insurance: Don't leave home without it. Here is what we recommend:
– Digital Nomads or Frequent Travelers. – Occasional Travelers. – Global air medical transport and travel security.
Need more help planning your trip? Make sure to check out our Resources Page where we highlight all the great companies that we trust when we are traveling.
You May Also Like
About The Planet D
Dave Bouskill and Debra Corbeil are the owners and founders of The Planet D. After traveling to 115 countries, on all 7 continents over the past 13 years they have become one of the foremost experts in travel. Being recognized as top travel bloggers and influencers by the likes of Forbes Magazine, the Society of American Travel Writers and USA Today has allowed them to become leaders in their field.
Source https://www.planetware.com/tourist-attractions-/nova-scotia-cdn-ns-ns.htm
Source https://www.goatsontheroad.com/places-to-visit-in-nova-scotia/
Source https://theplanetd.com/best-things-to-do-in-nova-scotia/