15 Best Places to Visit in New England: 2022 Top Vacation Spots
Travelers flock to New England each year, especially in the summer and fall, to discover what we already know: New England is a wonderful place for a vacation. There are dozens of fantastic New England vacation spots worth visiting again and again. And there's definitely something for everyone.
Whether you're a beach and coast lover seeking lighthouses, lobsters, and leisure, or a mountain fiend in search of hiking, camping, and lakes, there's something for you to do in New England. The same goes for city-lovers. You'll find terrific urban escapes in Boston, Portland, Providence, and beyond.
So where are the best places to visit in New England? If you're planning a trip to this quaint region of the country, where should you go? (And what should you do?)
We've narrowed it down to 15 of our top picks. These are not just places that we love but are spots that continue to be popular with travelers throughout the years. These are exceptional spots and make for wonderful New England weekend getaways.
Take a look and see what we've included. Which New England destination is your favorite?
Table of Contents
Massachusetts
Martha's Vineyard, MA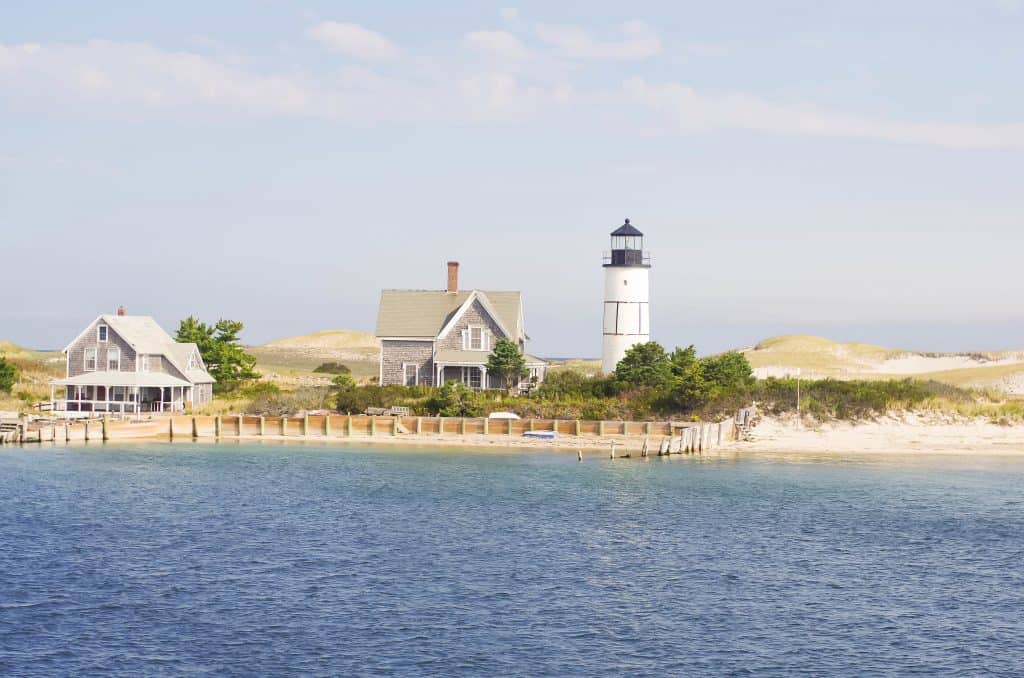 This island off the coast of Massachusetts is one of the most beautiful New England spots, especially for a summer trip. Martha's Vineyard is a fun getaway. While you're not coming here for the nightlife, you're coming here for relaxation and luxury.
One of the best things to do on the island is simply to rent a bike and go for a ride. Explore lighthouses as well as the six towns that make up the island. Shopping and art are also things you'll find on Martha's Vineyard in abundance.
Nantucket is the other beloved New England island that has a vibrant summer culture. Both destinations have a lot to offer. If you're not sure which island to visit, this article breaks it down nicely for you.
The Berkshires, MA
Along the western edge of Massachusetts is the region known as the Berkshires. This area is world's away from Boston, but it's not very far as the crow flies. If you're looking for a bit of country living in Mass, this is the region to visit.
This area is a popular destination for travelers, especially in the summer. Culture abounds in the Berkshires, from spots like Mass MoCA and other museums to venue Tanglewood, where you can enjoy concerts from leading symphonies and folk artists like James Taylor to theatre productions put on by the well-known, professional Shakespeare & Company.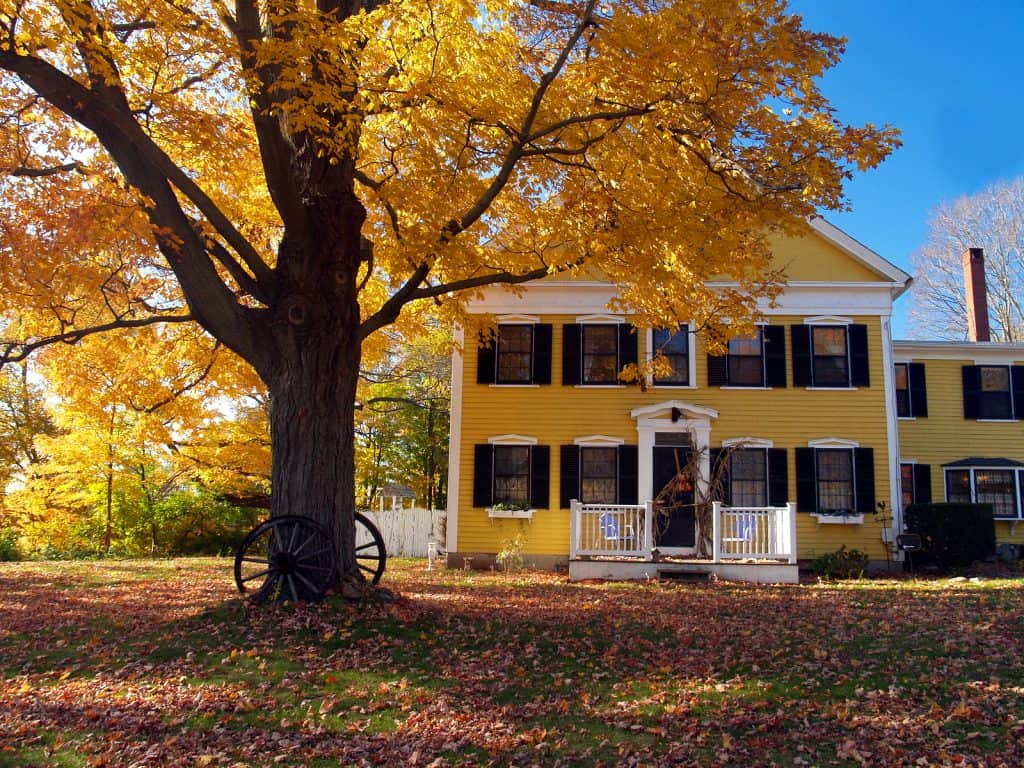 In addition to culture, you will find plenty of history, including some of the literary variety. In Lenox, visit the Ventfort Hall Mansion and Gilded Age Museum, an 1890s home that's open for tours. If you have literary interest, you may also wish to stop by The Mount, Edith Wharton's turn-of-the-century estate.
There are many opportunities for outdoor adventuring in the Berkshires. Plenty of hiking trails snake the region, bike routes, and even some ski resorts.
Boston, MA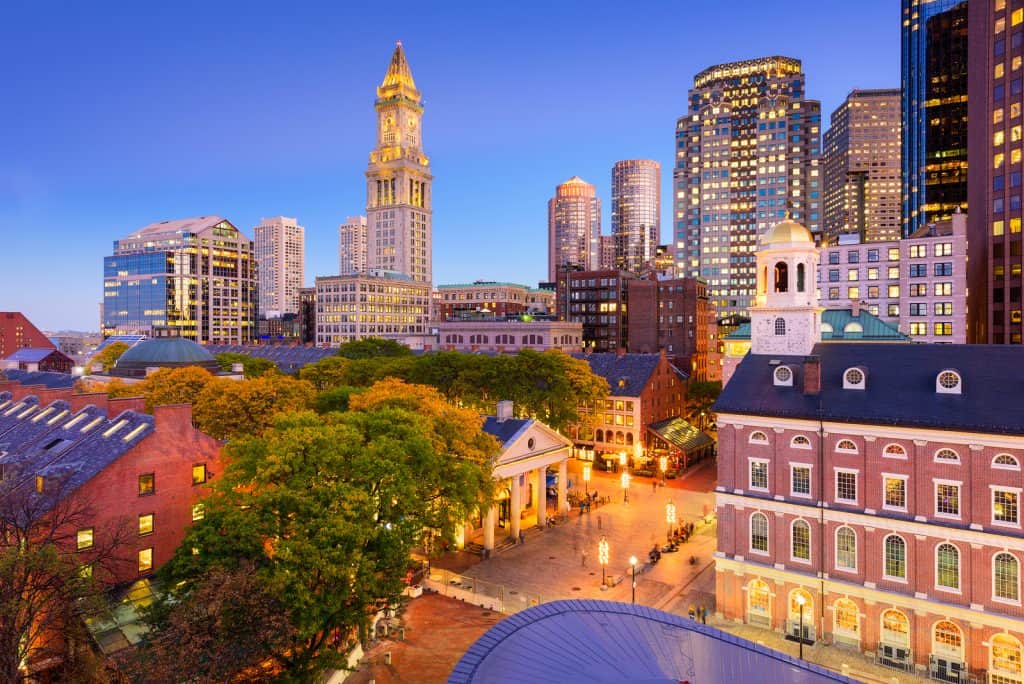 Some of the best New England vacations start in Boston, and many stay there! You don't have to leave the city to have a wonderful New England vacay.
Boston has so much to do for locals and visitors alike. Sports fans, history lovers, culture snobs? Whatever your pleasure, Boston has a site, attraction, or event you'll be psyched about.
You may need several days or weeks to see all that Boston has to offer. No worries! We've got some resources to help start you off:
Rockport, MA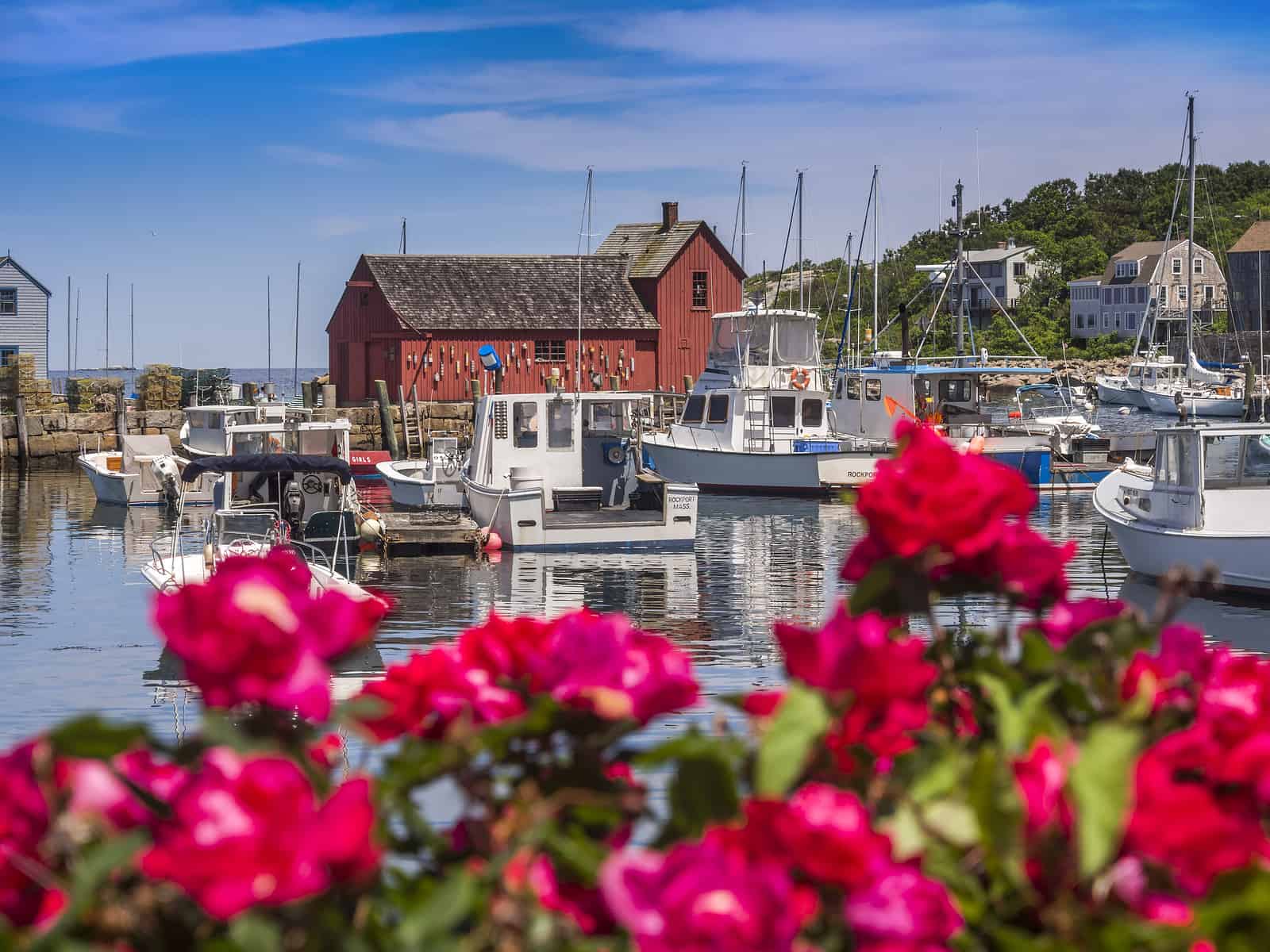 Rockport is a wonderful place to visit. It's just an hour or less from Boston to find yourself in an adorable seaside town. There are art galleries galore to soak up, many delicious places to eat (including a spot selling some of the BEST lobster rolls in New England.)
We love Rockport and have a whole list of things to do there, including where to find the best breakfast.
Vermont
Burlington, VT
Do you like the outdoors, craft beer, and liberal-minded folk? Burlington is the home for those types of people and you'll love it, too. In fact, even if you'd prefer to stay indoors, sip wine, and chat about Conservative topics, you're likely to enjoy Burlington too!
This is a great city, although in many ways it feels nothing like a city. Set on the shores of Lake Champlain, Burlington has a small-town vibe but plenty going on. The greater Burlington area is a must-visit mecca for foodies and craft beer lovers. There are tons of breweries around here and an explosion of farm-to-table cuisine that is well worth the trip. Hard cider is making a strong showing in New England, too, and Citizen Cider is the place to try it in Burlington. Their South End tasting room and restaurant are a great place to be on a summer afternoon.
The lake is the focus of much of the Burlington's outdoor activities. The Burlington Bike Path skirts the edges for several miles, providing an ideal route for a bike ride or a run.
Getting out on the water is a must, whether you want to try sailing, stand up paddle boarding or kayaking. You can also hop aboard one of the bigger boats, the scenic ferries. These will take you across to the other side (NY state) or around for a scenic cruise of this miniature "Great" lake.
Stowe, VT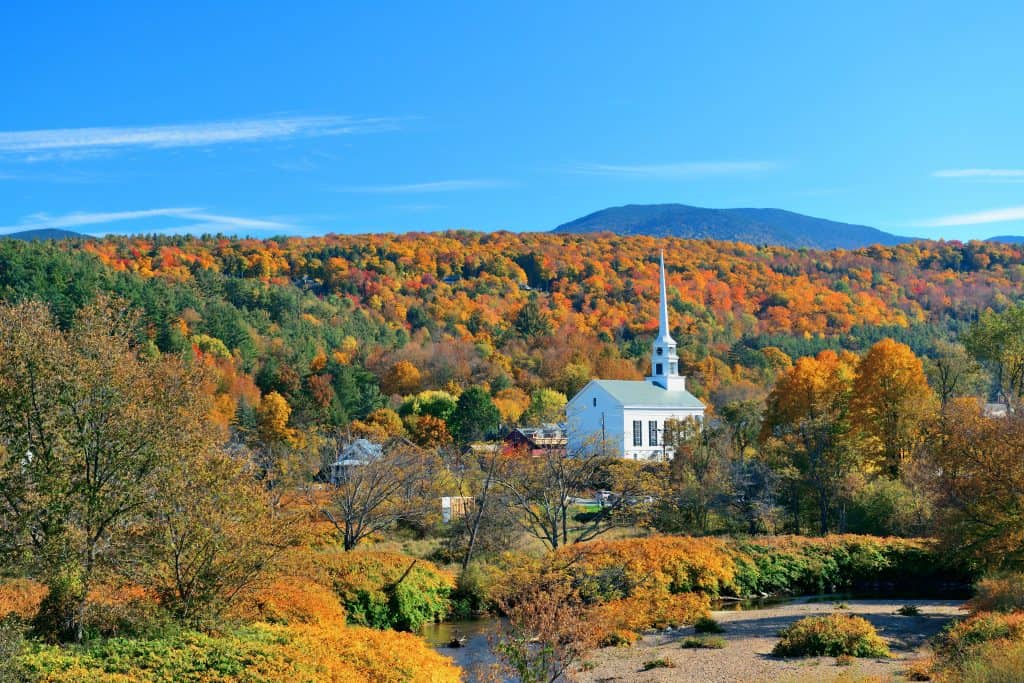 Many people looking for a vacation in New England dream of a classic, iconic Vermont location. For them, Stowe, Vermont would be an excellent choice. Not only is this a charming and quaint destination tucked in the heart of Vermont's Green Mountains, but it's well-appointed for tourists, too, with dozens of fabulous hotels and restaurants. This is a region ideally set up for tourism.
Stowe is just stunning. The Main Street of the village has a white-steepled church and an old-fashioned general store, with the mountains in the background. In the autumn, the leaves are incredible. Up the Mountain Road you'll find countless cozy eateries, hotels, and shops, including lots of local breweries that will beckon you. Hiking is plentiful, with trails suitable for all ages and a flat bike path that winds through town as well.
Stowe is a lot of fun, and it provides the perfect balance of outdoor activities with relaxation and 'indoor stuff.' It's especially gorgeous in summer!
Maine
Acadia National Park, ME
Maine is home to some of the best vacation spots in New England and Acadia has to be near the top of that list. Acadia National Park is unlike any other part of New England. Here, the mountains and the ocean collide, and visitors can engage in hiking, camping, and exploring, all with spectacular views surrounding them.
Acadia is located on Mt. Desert Island, and provides a number of opportunities for outdoor activity for visitors. The town of Bar Harbor is a focal point of the island, too, just a few minutes from the natural park. Bar Harbor is filled with restaurants and shops, as well as home to a beautiful harbor. Many day cruises and trips depart from this harbor, and it is definitely worth heading out for a quick sail on the water. In fact, it's essential to see the gorgeous cliffs of the coastline from the water. Such epic views.
Midcoast Maine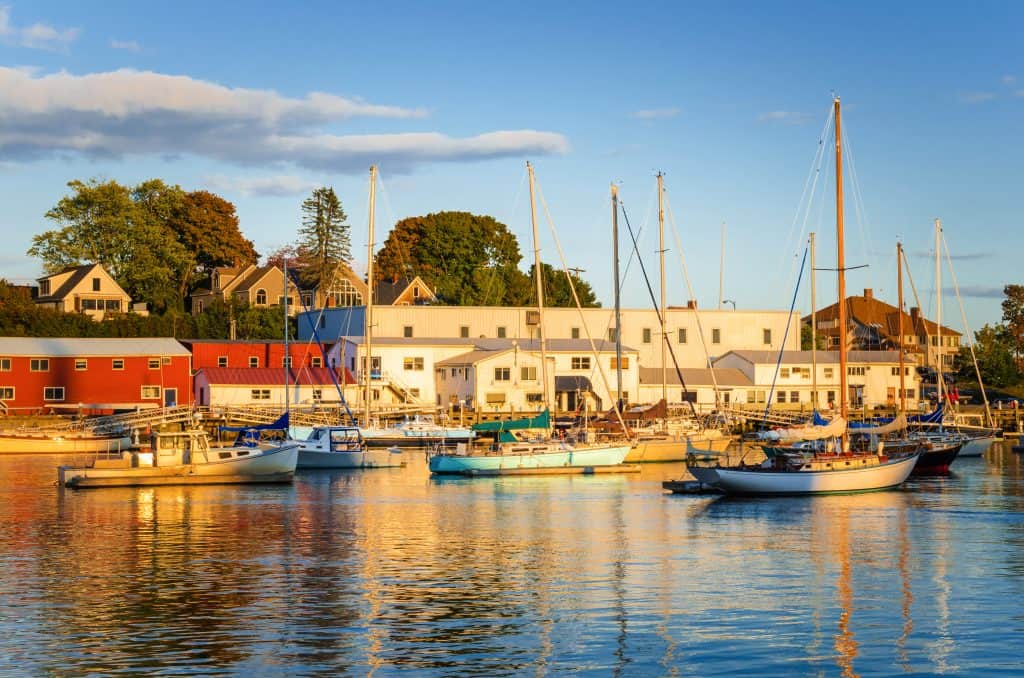 One of the best New England vacation destinations has to be the coast of Maine. But with hundreds of miles of coastline, where do you start? We recommend Maine's Midcoast. Generally speaking, this region runs from Brunswick (just north of Portland) up to around Belfast, just south of Mt. Desert Island. This whole area is beautiful and, as you can imagine, very coastal-focused.
In addition to museums, art, history, and food, MidCoast Maine is home to many exciting events and festivals. As Visit Maine says: "Speaking of festivals, catch Weinerfest (that's all things Dachshund) in Belfast, the Maine Lobster Festival in Rockland, and Damariscotta's Pumpkinfest. And let the good times and big cheese roll at the Highland Games & Scottish Festival in Topsham."
Most of all, you'll want to get out on the water. Our favorite way is to head out on an overnight, multi-day schooner adventure.
Rhode Island
Newport, RI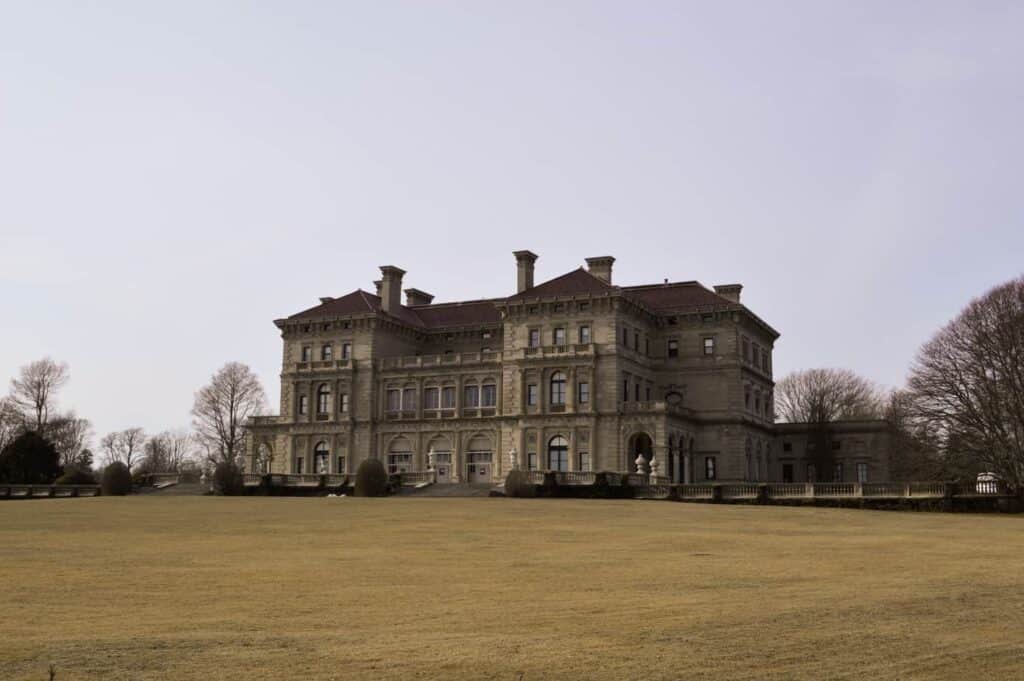 Luxury and glamour are found in Newport, Rhode Island. It's a great New England destination year-round, but is one that can be extra lovely in spring.
One of the main attractions here is visiting the 11 Newport Mansions, opulent, Gilded Age gems that you can tour and fawn over. Especially recommended are The Breakers and Marble House, two of the loveliest and most ornate mansions.
Aside from the area's history, you'll also find plenty of opportunities for dining, shopping, and museum-hopping.
Providence, RI
The capital of Rhode Island is a great place for a New England vacation.
As with any city, there is plenty to do along the lines of museums, art, and events. There are so many great spots to explore downtown.
If you can plan your visit to coincide with Waterfire, the famous fire sculpture festival held on the water, that's a perfect time to come visit.
New Hampshire
North Conway, NH
New Hampshire's White Mountains are impressive, exciting, and draw thousands of outdoorsy folk each year. These mountains, the tallest in New England, offer spectacular hiking and more.
North Conway is an ideal place for a New England vacation, providing the perfect gateway to the attractions of the White Mountain National Forest.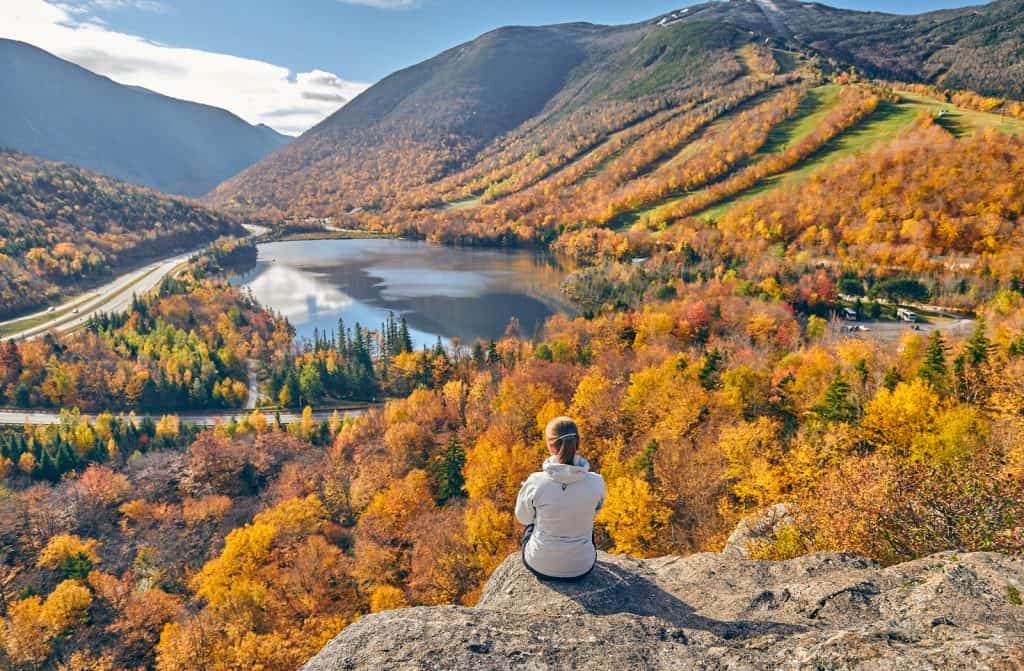 Conway is a mountain town providing a great mix of shopping, restaurants, and outdoor activities. The Saco River runs nearby, so Conway is a good jumping-off point for tubing or paddling in the river.
Pop up to the towns of Bartlett and Jackson if you want to head even more into the mountains. Both are very nice areas with lots to do and see. Near Bartlett you can stop by Diana's Baths, a beautiful area of cascading waterfalls and gentle pools. On a hot summer's day, it's the perfect place to cool off.
Portsmouth, NH
New Hampshire has a very small stretch of coastline and Portsmouth is a small city located here. Portsmouth is very historic, which is great for visitors to New England. Settled in 1623, it is actually the third oldest city in the nation.
To explore some of this history, check out Strawbery Bank, an outdoor history museum with more than 30 restored buildings built between the 17th and 19th centuries. This is a living history museum, too, with actors portraying historic residents of the town and what life may have been like.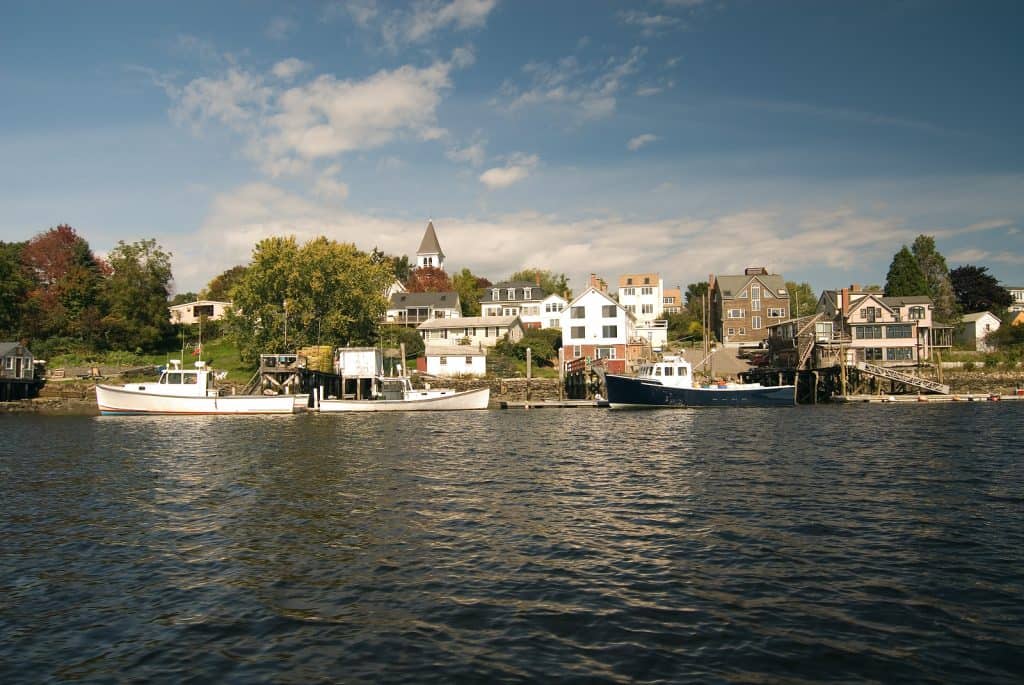 In Portsmouth, you can also wander along the waterfront. For shopping and dining (Portsmouth has a very lively food scene) Market Square is the center of things.
The Lakes Region, NH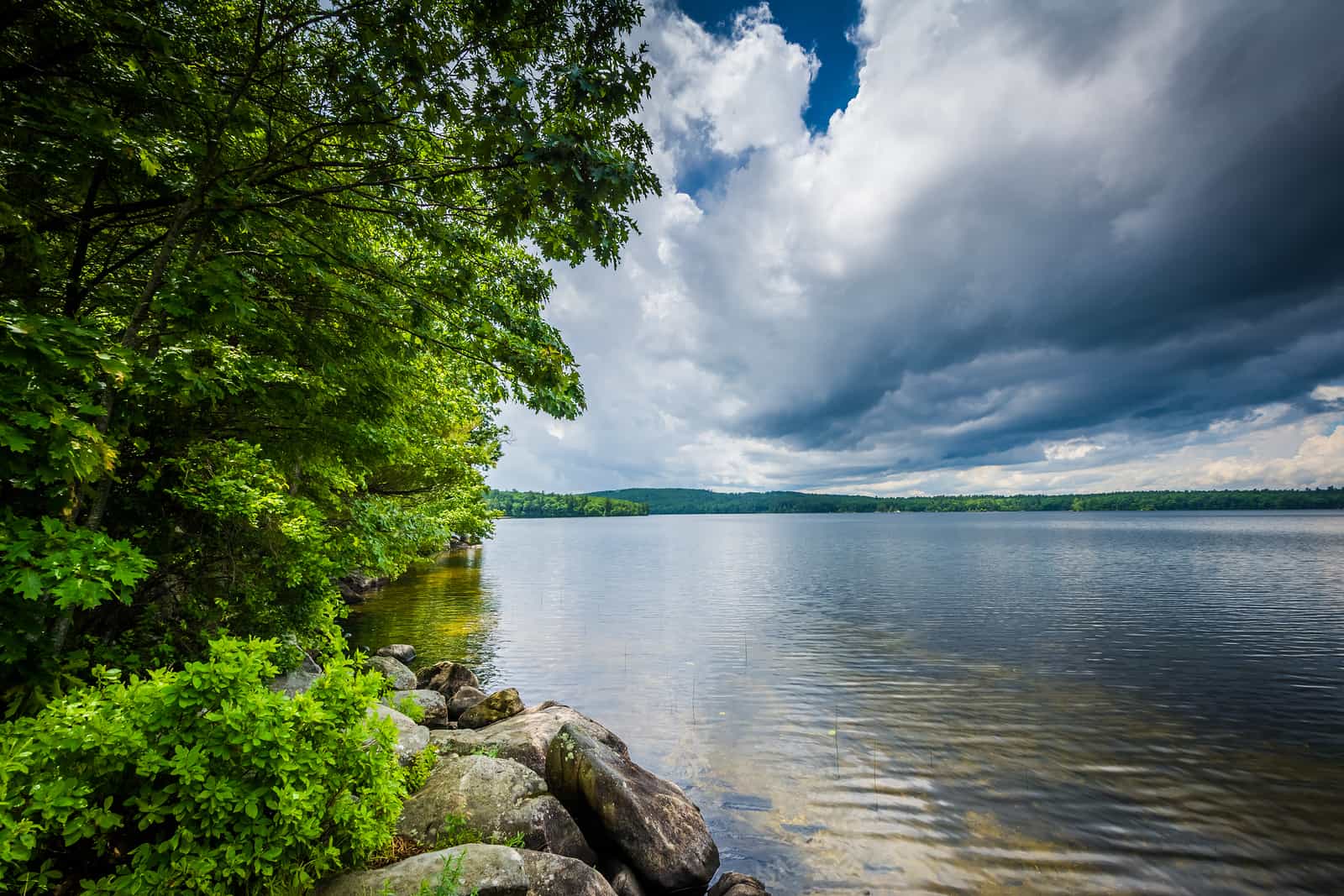 If you're looking for a place to spend summer in New England, we can't recommend enough the Lakes Region of New Hampshire. Here you'll find lakes on lakes on lakes. In the summertime, these alluring bodies of water are refreshing and calm. They are perfect for swimming with family and friends, boating, or even as a backdrop to your barbecue.
The Lakes Region of NH includes the area surrounding Lake Winnipesaukee, Winnisquam Lake, Squam Lake, and Newfound Lake, among other smaller lakes and ponds (there are 273 in total!). Some of the towns not to miss include adorable Meredith (right on Lake Winnipesaukee), fun Laconia, and pretty Center Harbor.
Connecticut
The Litchfield Hills, CT
Looking for a fun day trip from Boston? Consider the enchanting Litchfield Hills. This spot in the northwest corner of Connecticut seems like a hidden gem. Here you'll find all the classic New England pastimes you know and love. In particular, there is an abundance of outdoor activities (hiking, paddling, fishing) as well as exceptional Antique shops.
The Litchfield Hills make up a fair portion of the region, and include towns such as Torrington, Woodbury, Kent, Cornwall, and Washington (very English sounding names, aren't they?).
If you're looking for a lovely place to stay, consider The Mayflower Inn & Spa in Washington. Not only is this a perfectly classic New England hotel, legend has it it was also the inspiration for Lorelei Gilmore's inn The Dragonfly in the popular tv show Gilmore Girls.
Mystic, CT
We love Mystic. This is a classic New England seaside destination and the Mystic Seaport and Museum take great advantage of the coast. It's an excellent spot for sailing, learning about maritime history, checking out historic ships, and much more.
That's not all there is to do in Mystic either. Must-visit sites include the Mystic Aquarium (see the belugas!), Olde Mystick Village, and shopping along the charming Main Street.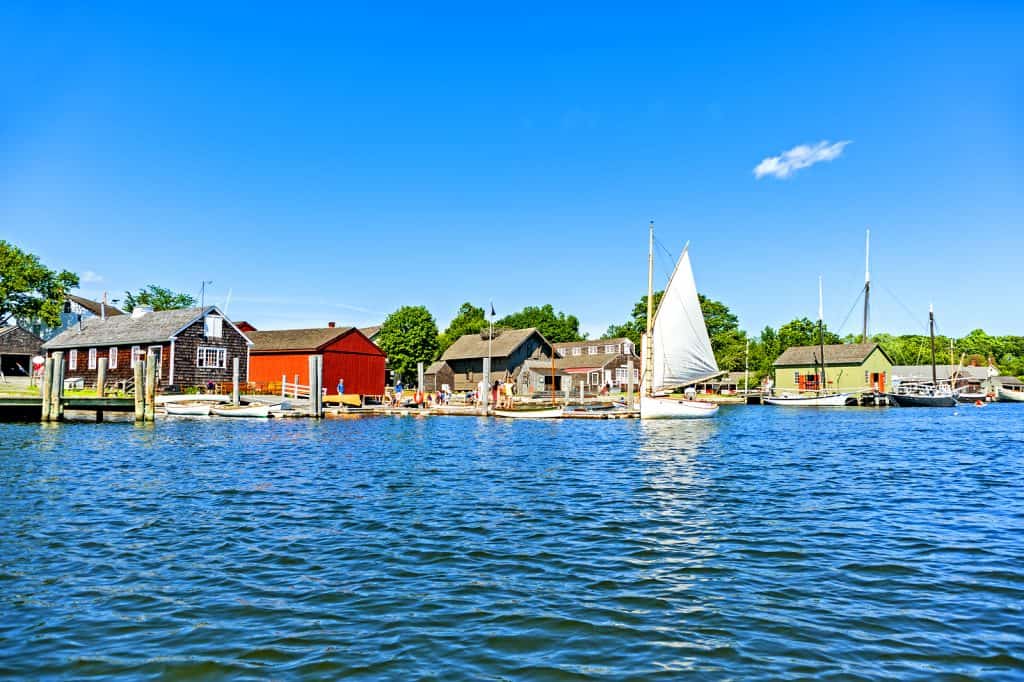 Mystic is also just a hop, skip, and jump from other Connecticut attractions. It's a very small state, after all!
You might also like:
Pin this post to save for later!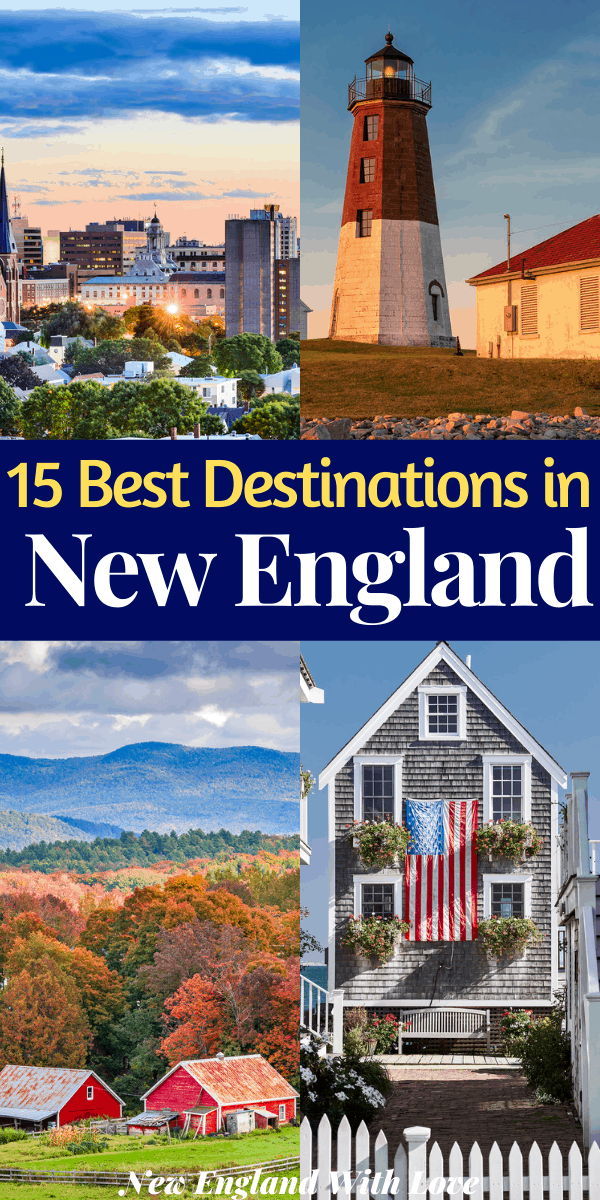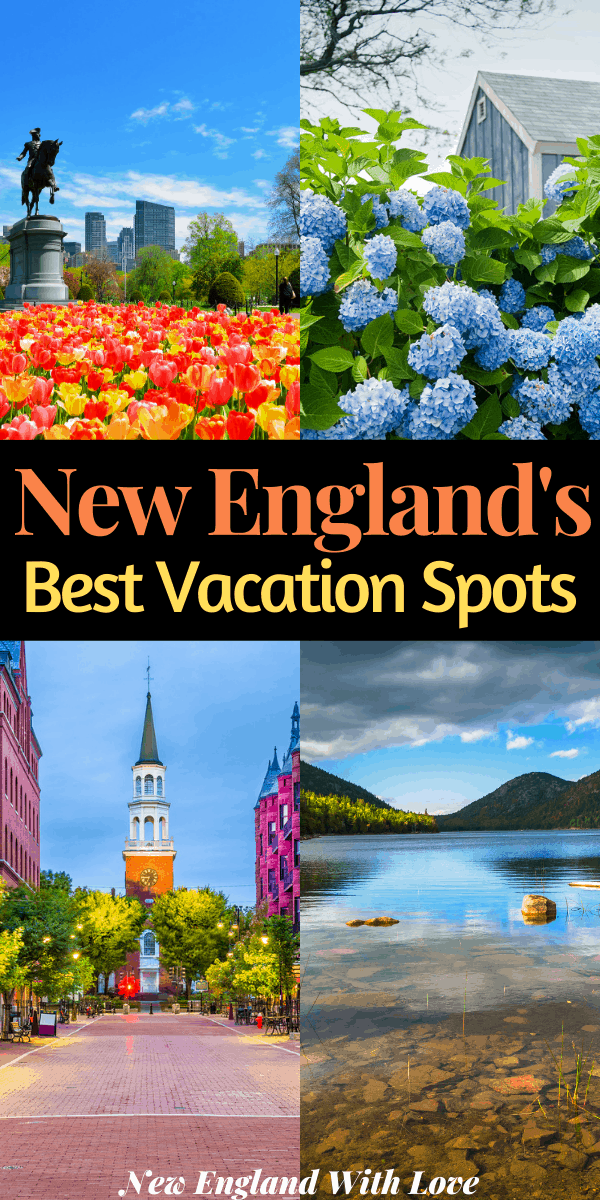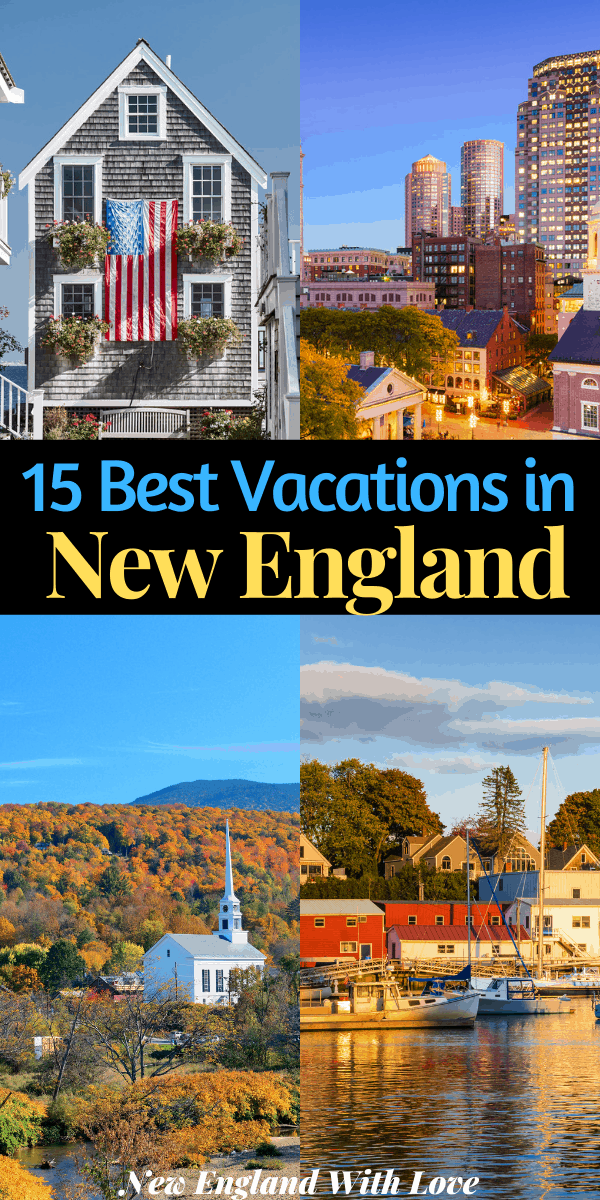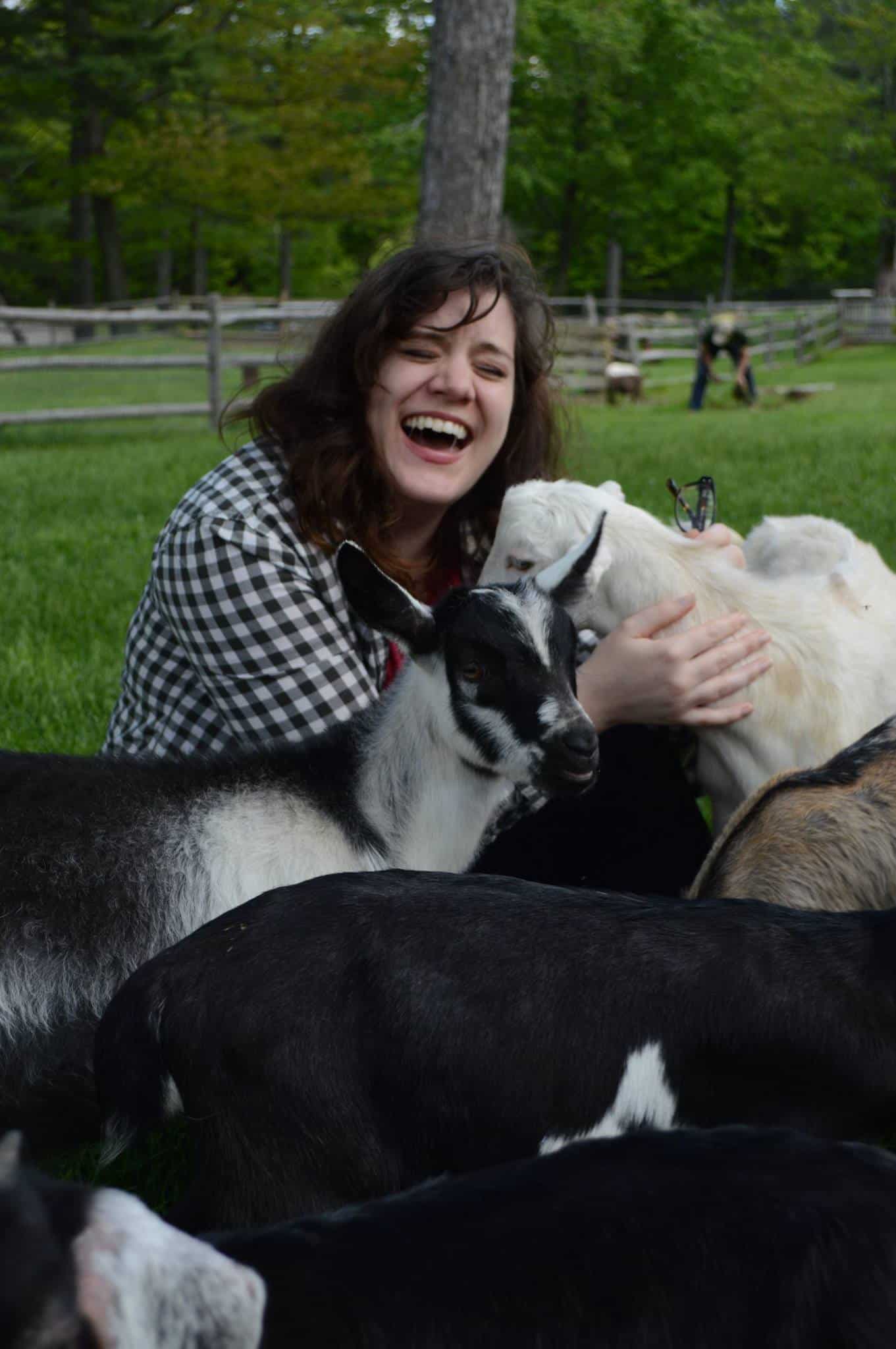 Amy is the founder of New England with love. A proud Vermonter, she hopes to share her love of New England and help you find the best adventures in the region. Amy is also blogger/founder at Two Drifters, where she writes alongside her husband about romantic and couples travel, relationships, honeymoons, and more. When not working on websites, Amy is probably reading, cuddling with her husband, son, and cats, & drinking a maple latte.
15 Best Places to Visit in New England in 2022
The New England region of the U.S. is full of beautiful destinations at every turn. In fact, it's one of our favorite parts of the country. We've outlined 15 of the best places you can see to give you an idea of where to go and what to explore.
15 of the Best Places to Visit in New England
New England is home to six states, each with beautiful cities and countless attractions.
Whether you are culture-oriented or love exploring the mountains, coastlines, amusement parks, dense forests, entertainment centers, and restaurants, the place has you covered.
Sounds interesting? Keep reading to learn the best places to visit in New England, what they offer, and the things to consider before visiting.
1. Martha's Vineyard, Massachusetts
Brian Logan Photography/Shutterstock
Martha's Vineyard Island is in Dukes County, south of Cape Cod. It boasts six historic towns, pristine beaches, amusement parks, and other attractions to offer something to everyone.
The island is approximately 225 square kilometers, meaning that attractions are only a short distance apart. And, you can explore while on a bike.
It has built a reputation as a popular summer destination, in part thanks to its refreshing ocean breezes and its numerous celebrity visitors. Some of the most prominent attractions include:
The West Chop Lighthouse (MVCMA)
South Beach and the Flying Horses Carousel (the oldest operating carousel remaining in the US)
Cape Poge Wildlife Refuge
Island Alpaca Company of Martha's Vineyard
2. Providence, Rhode Island
Providence, the capital of Rhode Island, is home to many theaters and museums. You also can learn about the history of American art and culture at the RISD Museum.
However, the city is not all about arts and culture. It offers tons of other attractions, many of which are connected to Providence's extraordinary history that dates back to colonial times. In particular, the following are must-visits:
Roger Williams Park Zoo
Brown University
Rhode Island State House
Roger Williams Park
Benefit Street, featuring examples of Colonial and Victorian architecture
Providence Children's Museum
Moving around the city is hassle-free. There are rental bikes, bus lines, rental cars, ferries, and rail.
3. Manchester, Vermont
Layne V. Naylor/Shutterstock
Manchester is tucked amid the gorgeous green mountains of Bennington County, Vermont.
Visiting the town gives you a chance to enjoy the scenic views of the Green Mountains, Hildene (Abraham Lincoln's family home), Lye Brook Falls, and more.
Want to advance your angling skills? Head straight to the American Museum of Fly Fishing , where you will learn how to use different rods, flies, reels, and other fly fishing accessories. Other outdoor activities include hiking, kayaking, cycling, and golfing.
If you love dairy farming, you can visit the Northern Meadow Farm to learn how to nurture different breeds of cattle.
4. Boston, Massachusetts
Boston is the capital and the most prominent city in Massachusetts. Here, you can sightsee at the Museum of Fine Arts, New England Aquarium, Museum of Science, Isabella Stewart Gardner Museum, Fenway Park, and Freedom Trail.
Need something away from the city's centuries of incredible history? Head to one of Boston's amusement parks, such as Christopher Columbus Water Park, Piers Park, the Lawn on D, and the Esplanade Play Space.
Beer lovers can go for a sampling tour at one of the city's well-regarded breweries.
5. Portland, Maine
Portland is the largest town in Maine. It's richly endowed with numerous attractions like the charming White House estate, shopping centers, natural museums, and outstanding examples of 19th Century architecture.
Nature enthusiasts can enjoy the breathtaking views of the harbor and the ocean from the peak of the Portland headlight.
Those not interested in climbing the lighthouses can visit Maine Historical Society to learn about the town's remarkable culture and history.
If you're an angler (or have an interest in it), consider booking a Maine lobster tour and enjoy fishing with a professional crew.
Want to get outdoorsy? Set out to Coastal Maine Botanical Gardens, one hour drive to the north of Portland. There, you can see hushed forests, souvenir shops, boat tours, butterfly houses, and fish ponds.
6. Berkshires, Massachusetts
Nestled in western Massachusetts is the Berkshires—a cluster of New England towns famous for being a visitors' playground and the cradle of New England history, culture, and art.
You can learn about the history and culture of the town at the MASS moCA Museum and the Clark Art Institute. The Hancock Shaker Village, meanwhile, is a former religious commune that was first organized in the 1790s.
Outgoing visitors can take a tour to the Massachusetts highest peak, Mount Greylock, and enjoy the luscious surroundings.
If you love dance music, you'll have a great time at Jacob's Pillow dance center .
7. Burlington, Vermont
Burlington is a historic town perched in the northwest region of Vermont, along the eastern shore of Champlain Lake.
Visiting the Ethan Allen Homestead Museum will give you a sense of how Vermont came to be. After, you can explore picture-perfect Ethan Allen Park .
Want to reconnect with nature? Hire a bike from local bike rentals to explore the Lake Champlain Community Sailing Center, foam brewers, waterfront parks, and other attractions along the Burlington bike path.
After a long day, you can head downtown for nightlife at Nectars, Club Metronome, and Rasputin's.
8. Newport, Rhode Island
Newport is perched on Aquidneck Island along the northeastern border with Canada. The town is famous for its beautiful natural attractions, breathtaking sights, and numerous seaside beaches.
For instance, visitors craving sightseeing can set out to the downtown's 3.5-mile cliff walk and enjoy the panoramic views of the Atlantic coastline, Narragansett Bay, Memorial Boulevard, and Gilded Age mansions.
Outdoorsy visitors can go fishing, boating, swimming, hiking, and golfing at Fort Adams State Park . The park also offers a campground.
Other attractions include Thames Street, Bowen's Wharf, and Château-Sur-Mer, among others.
9. Mystic, Connecticut
Mystic, a waterfront village on the shores of the Mystic River, is famous for its rich nautical history. You can learn about it at the Mystic Seaport Museum.
In addition to the town's history, aspiring kayakers and captains can advance their skills by attending exhibitions held at the museum.
If you're a nature enthusiast, set out to the Denison Pequotsepos Nature Center to see hawks and 17th century stone walls.
Those looking for other entertainment will want to check out the Mystic Aquarium and the Mystic Museum of Art.
10. Washington, Connecticut
Located in Litchfield Hills, 22 miles to the northeast of Danbury, is Washington. It boasts charming countryside, historic architecture, and bustling cultural life.
You can visit Lake Waramaug State Park for picnicking, swimming, camping, and kayaking.
Want to broaden your artistic skills? Do not miss the Spring Hills Arts Gathering at the Vineyards Gardens. Here, you will enjoy live performances from top artists and sample the local brews.
Those looking for beautiful scenery can head to Hollister House Gardens. There, you'll get to take in panoramic views of the beautifully manicured gardens and rolling mountains.
11. Acadia National Park, Maine
Acadia National Park boasts mountain peaks, hiking trails, sandy beaches, and numerous other attractions.
Hike up Cadillac Mountain to enjoy the spectacular sights of the park and its surroundings. Early risers who visit between October and March will get to experience the energetic brilliance of the area's morning sun rays.
Elsewhere, consider Jordan Pond and its picturesque mountains, beautiful rocks, and trees reflected by the crystal clear waters. Visit the onsite restaurant for lobster rolls, signature popovers, and other culinary delights.
12. Hartford, Connecticut
Hartford is the capital of Connecticut County. It is home to numerous tourist attractions, playgrounds, theaters, museums, and activities for all ages.
Outgoing travelers can venture into the Delamere Forest and enjoy viewing exotic wildlife as they hunt for Gruffalo characters hidden behind trees.
If Gruffalo hunting isn't for you, your family can have a great time swinging on the Go Ape high ropes course.
Alternatively, head to Applejack Adventure Farm for golfing, arching, and an irresistible bouncy castle.
Other attractions within Hartford include the Sandstone Trail, Cotebrook Shire Horse Center, and the Polar Palace.
13. Nantucket, Massachusetts
Nantucket is an isolated island that lies approximately 30 miles from the south of Cape Cod, Massachusetts. This evocative destination has delightful beaches, a bustling art scene, and world-class restaurants.
Art lovers can visit Nantucket's Dreamland Film and Performing Arts Center, where you can watch live performances or attend artistic training classes.
At Cisco Brewers, you can sample quality beers, spirits, and wines for free. After sampling the drinks, head to Nantucket Lightship Basket Museum to pick a take-home basket gift for your loved one.
14. Narragansett, Rhode Island
Narragansett, Rhode Island has pristine beaches, historic landmarks, vibrant nightlife, excellent restaurants, and varied accommodations.
Are you a beach lover or simply a fan of picturesque scenery? Then, Roger Wheeler State Beach, Salter Brine State Beach, and Scarborough State Beach will be must-visits.
Want to put your hiking abilities to the test? Set out for bluff climbing and nature exploration along the town's 2.1 mile Black Point Trail.
After a day full of activity, consider an energizing meal at T's Restaurant, Meldgie's Diner Pt. Judith, and The Bike Stop Cafe.
15. White Mountains, New Hampshire
The White Mountains is a great family-friendly destination, with attractive features like the Conway Scenic Railroad, mountain peaks, well-maintained beaches, and breweries.
Travelers can enjoy thrilling tours to the peak of Mount Wellington via the Cog Railway and enjoy the aerial views of the ravines and forests.
Need an adrenaline rush? Take a tour to the Alpine Slide at Attitash, where you will delight in sliding down the facility.
Alternatively, set out to Alpine Adventures in Lincoln, where you will find zip-lining and obstacle rope courses, among others.
Things to Consider
New England is a vast region and each state has its unique factors to consider. For instance, there might be more parking options in Boston compared to Mystic, Connecticut. Likewise, accommodation and costs will vary drastically depending on your destination. Here are some things to account for:
Accommodation: Where will you stay during your visit? Does the destination offer multiple options, such as apartments, hotels, or bed and breakfasts?
Transportation: What transportation is available? Do you plan a road trip? Are there any rental car companies?
Cost: How much will it cost to get to your destination? Do the attractions have entry fees? Are there other expenses that you need to anticipate?
Parking: does your target destination offer any parking? If yes, is it free or premium?
Traveling Period: Will there be an influx of tourists during the summer? Will places be open during the off-season?
By thoroughly planning in advance, you will ensure that your visit to New England will be trouble-free.
Frequently Asked Questions
Below are some of the most commonly asked questions about the best places to visit in New England.
What is the most beautiful state in New England?
Rhode Island is often rated as the most beautiful state in New England because it is richly endowed with numerous historic sites, national landmarks, and national parks.
Where can I spend a week in New England?
You can have a peaceful stay in Newport, Boston, Portland, Washington, Mystic, Narragansett, or any other place on this list.
What is the prettiest place in Massachusetts?
Some of the prettiest places in Massachusetts include:
Nantucket Lightship Basket Museum
Nantucket's Dreamland Film and Performing Arts Center
Mount Greylock in Berkshires
Jacob's Pillow Dance center
Cape Poge Wildlife Refuge
Vineyard Haven
Is New England a U.S. State?
No. New England is a region in the northeast corner of the U.S., consisting of six states, including Maine, Connecticut, Rhode Island, New Hampshire, Massachusetts, and Vermont.
What is the best time to visit New England?
The best time to visit the New England region is during the high season, from late May to August.
So, What's the Best Place to Visit in New England?
The best place to visit in New England is the one that offers you all that you need for a fun-filled, unforgettable vacation.
Whether you want to see the bustling city sights of Boston or take in the ocean breeze views of Martha's Vineyard, New England has something for everyone. Once you've chosen your destination, your next step will be to make memories!
15 Best Places to Visit in New England
Road Affair is reader-supported and may earn commission from purchases made through links in this article.
Made up of six unique and distinct states, New England is a region rich in history, culture, art and architecture, outdoor adventure, bustling cities, and quaint coastal towns. Its diverse offerings, all found in close proximity to one another, is what sets it apart. You can catch a ballgame at historic Fenway Park and, just over an hour later, sink your toes into the Atlantic while savoring a lobster roll on Cape Cod. From towering mountains to windswept beaches to acres of undisturbed nature, here are the best places to visit in New England!
1. Manchester, Vermont
Nestled in the captivating Green Mountains of southern Vermont, Manchester made its mark long ago as a prosperous iron-mining town, and hints of its past are still evident in the architectural details found throughout the downtown. Today it is a playground for outdoor enthusiasts, offering ample space to walk, hike, bicycle, kayak and, of course, go fly fishing. In fact, here you'll find the American Museum of Fly Fishing, with tons of rods, reels, flies, and art that tell the story of how this peaceful Vermont pastime worked its way into America's heart.
Mount Equinox, shining all year but particularly spectacular in the fall, presides over the picturesque town. A trail will get you to the peak, but you can also drive to the top where you won't be disappointed by the quintessential sprawling Vermont view. For an architectural indulgence, visit Hildene, the ancestral home of Robert Lincoln, the only child of President Abraham Lincoln and his wife Mary Todd to survive to maturity. The 412-acre estate is home to a stunning Georgian revival mansion and 14 historic buildings, including the home, a stunning formal garden, and an observatory.
2. Burlington, Vermont
While most associate the Green Mountain State with its exquisite natural beauty, the city of Burlington charms one and all with its pedestrian-friendly downtown peppered full of mom-and-pop shops, eateries, and happenings. Church Street Marketplace, an open-air walkable mall, encompasses four blocks of things to see, do, and taste. Cafés line the streets, and colorful umbrellas shade tables in the summertime. The Unitarian Church at the end of Church Street boasts a beautiful white steeple that reaches far into the sky, making for one of the city's most popular spots for photos.
At the very bottom of Church Street you'll find Burlington Waterfront Park, a stunning expanse that stretches along the Lake Champlain shoreline and offers panoramic views, a stunning bike path, and myriad events and festivals. The most populous city in Vermont, Burlington is just south of the US-Canadian border and is a great destination to visit any season of the year.
3. Stowe, Vermont
Dubbed the ski capital of the east, Stowe is best known for the resort that bears its name. Stowe Mountain Resort, surrounded by Spruce Peak and Mount Mansfield, the tallest peak in Vermont, has slopes catering to every skill level. You can climb to Mount Mansfield's summit via the scenic Auto Toll Road. We assure you that it's worth the journey. Stowe is the largest town in Vermont by land area, and its success was built on the agriculture and lumber industries that thrived there in the late 17th and early 19th centuries. Today, the town's 200-year-old commercial center is a historic district with tons of quaint shops, welcoming restaurants, and lodging that ranges from quintessential New England bed and breakfasts to hotels and grand European-style lodges.
Though skiing and snowboarding take center stage in Stowe, the town is equally enchanting outside of winter. In the warmer months, hiking, dipping into swimming holes, and sky-riding or zip-lining over the valleys of flora and fauna are popular activities, and it may just be the best place to visit in New England in the fall. Mountain biking is another favorite activity, especially on the trail network at the 2,500-acre Trapp Family Lodge, founded by the Trapp family of The Sound of Music fame and a nod to their native Austria. Just a little ways north of town is the captivating Moss Glen Falls, the highlight of a three-mile trail where water cascades down a jagged, steep rock face with multiple vantage points for the perfect 'gram pic. If you aren't up for a walk, fear not: the falls are conveniently close to the trailhead.
4. The Berkshires, Massachusetts
This rural expanse of western Massachusetts is known for being a natural wonder, a celebrity enclave, and a cradle of art and culture. Though Meryl Streep, Yo-Yo Ma, and James Taylor are just some of the glitterati who enjoy homes in the Berkshires, its most notable resident might have been famed American illustrator Norman Rockwell. He lived in the sleepy but charming town of Stockbridge, where today you can find the world's largest collection of his original works at the Norman Rockwell Museum. Author Herman Melville also wrote Moby Dick in the Berkshires, and women's right activist Susan B. Anthony was born and raised here.
Although there's no place like Massachusetts in the fall, the Berkshires are particularly welcoming in the summer. Tanglewood, an open-air amphitheater, has been the outdoor summer home of the Boston Symphony Orchestra since 1937. Throughout the season, music aficionados spread out picnic blankets and enjoy concerts under the stars. Encompassing part of the Taconic Mountain range, the Berkshires boast countless acres for recreational activities, including snowshoeing, snowmobiling, and hiking, making it the perfect weekend getaway in New England.
5. Nantucket, Massachusetts
One simply cannot highlight the best places to visit in New England without including Nantucket. Situated 30 miles out to sea, the Gray Lady's charms are irresistible, with century-old cobblestone streets, unforgettable vistas, and cedar-shingle homes that have not changed much since the era in which the island was considered the whaling capital of the world.
Located at the easternmost point of the island, the picturesque Sankaty Head Light, a lighthouse built in 1850, stands majestically above the sea, and its bold red and white stripes can be seen from far and wide. The nearby village of 'Sconset boasts gorgeous ocean views, a windswept beach, and the beloved 'Sconset Bluff Walk. This narrow path weaves through the village and offers front-row views of saltbox cottages covered with blooming beach roses and anchored by countless blue hydrangeas. The area has been called the most beautiful place in Nantucket (and there's some stiff competition!)
Downtown doesn't look much different than it did one hundred years ago, with its extra-wide streetscape, mom-and-pop shops, and familiar monument in the square, a repurposed drinking fountain that's been there since 1885. While best known for its summer splendor, Nantucket shines brightly throughout the holiday season with decorated trees around every corner and the Christmas Stroll – a festive celebration held the first weekend of December. There's really no question why Nantucket is one of the most treasured towns in New England.
6. Boston, Massachusetts
The best known New England city, Boston means a lot of different things to a lot of different people. The crossroads of American history, home of enthusiastic sports matchups, a bastion of higher education and cultural treasures, Boston is a robust, forward-thinking city that also celebrates its past. For baseball fans, historic and legendary Fenway Park, built in 1912, is such a landmark. There are tours every day, 12 months a year, rain or shine, and a visit there is one of the most iconic things to do in New England. The city's beloved 2.5-mile Freedom Trail connects 16 nationally significant historic sites, including the Paul Revere House, the USS Constitution (better known as Old Ironsides), the site of the Boston Massacre, and picture-perfect Boston Common – America's oldest public park, dating back to 1634 and featuring 44 manicured acres that welcome around three million visitors each year.
Boston is home to 45 colleges and universities accounting for more than 150,000 students scattered throughout the many diverse neighborhoods that make up the city. Faneuil Hall Marketplace and Quincy Market, located in the heart of the city, is where you'll find the Food Colonnade, home to more than 30 vendors touting myriad cultural flavors – but save your clam chowder sampling for nearby Union Oyster House, Boston's oldest restaurant. The city's Seaport District is a thriving, lively neighborhood with restaurants, shops, and the popular Lawn on D, an open air-space dedicated to community events and family fun.
7. Kennebunkport, Maine
When conjuring up the idyllic images of coastal Maine, Kennebunkport should be top of mind for its craggy rocky shoreline, charming downtown, and fresh catch served up across town. Its palpable charm might just make Kennebunkport one of the best vacation spots in New England. Once a shipbuilding center, Kennebunkport has a captivating waterfront that is the heartbeat of the town. The village vibe downtown is centered around Dock Square, which is peppered with plenty of shops and delightful eateries. For a casual bite, the Clam Shack, one of the state's oldest operating fish markets, is a Kennebunkport icon best known for buttery lobster rolls piled high with savory claw meat.
One of the best ways to see Kennebunkport, an ideal place for a getaway weekend in New England, is by water, and you can do so on a paddleboard tour, sailboat tour, or even a lobster boat tour. If you want to stay on dry ground, take a scenic drive on the aptly named Ocean Avenue out to Walker's Point, best known as the home of the Bush family compound. You can take a snapshot, but the Secret Service won't let you linger for long! This is, after all, still a family home, but you can explore the First Families Kennebunkport Museum to learn more about the Bush family history in the area. Nearby Cape Porpoise, an equally quaint and quiet working fishing village on the southern coast, easily captures hearts and is the best vantage point to see the picturesque Goat Island Lighthouse, built in 1834.
8. Keene, New Hampshire
While it doesn't always grab top headlines, Keene is a darling city in southwestern New Hampshire's Monadnock Region, sleepily perched on the Ashuelot River. While the spoils of outdoor adventures are all around, the city's heartbeat is its village-like center typically bustling with families, couples, and tons of students since both Keene State College and Antioch University New England are within the city limits. In short, Keene never fails to charm.
The Cheshire Rail Trail is one of the area's most beloved attractions, and Keene is a perfect break in the trail's 42 scenic miles. You can walk, run, or ride the trail, which features a stone arch bridge over the Ashuelot River in nearby Gilsum. Families love both Stonewall Farm and its cows, horses, and goats, as well as the Cheshire Children's Museum, featuring interactive exhibits, themed playrooms, and a designated toddler-friendly area. And while the Hannah Grimes Marketplace looks a bit like an ordinary storefront, on the inside it is a treasure trove full of more than 200 local artisans and vendors selling foodstuffs and cool products.
9. White Mountains, New Hampshire
The White Mountains is a range covering about a quarter of the state of New Hampshire (plus a little bit of western Maine) and encompassing a 750,000-acre national forest. The highlight is stately Mount Washington, the northeast's highest peak. Take vacationing in New England to new heights as you climb the famed Mount Washington Auto Road, a steep 7.6-mile drive nicknamed the Road to the Sky, which has been an attraction since 1861.
New Hampshire State Parks confirms that on a clear day, views from the mountain's 6,288-foot summit extend as far as 130 miles and take in Vermont, New York, Massachusetts, Maine, Quebec, and even the Atlantic Ocean.
Myriad popular towns dot the White Mountain region, including Laconia, North Conway, Lincoln, and countless more. Each shares a visceral beauty and plenty to do for adventurers, but all of them have their own distinct small-town personality. One of the best ways to take it all in is via the legendary Kancamagus Highway, a 34-mile National Scenic Byway full of jaw-dropping natural wonder and wildlife.
10. Newport, Rhode Island
An absolute must-visit in New England, Newport captures the hearts of visitors with its miles of craggy New England coastline, Gilded Age mansion museums, windswept beaches to stroll any time of year, and the nation's largest intact collection of colonial era buildings – a favorite of art and architecture lovers from far and wide. Despite all its grandeur, Newport's most visited place is Cliff Walk, a free, 3.5 mile trail that traces the edge of the Atlantic Ocean and offers views of the manicured landscapes of the famed Newport mansions. There's no wonder why it's one of the most popular attractions in New England!
If you prefer to take in Mother Nature's splendor by car, don't miss Ocean Drive (or simply "the Drive," as the locals say). Part of a historic district, this miles-long road runs along the southernmost edge of Aquidneck Island and is home to Brenton Point State Park, which offers 89 idyllic acres to picnic, relax, explore, and fly a kite in the steady ocean breeze.
With its lauded maritime history, a visit to Newport must include a trip through the glistening waters of Newport Harbor and Narragansett Bay. Whether on a sailboat or power cruiser, your best vantage point to see Fort Adams, Rose Island Lighthouse, Hammersmith Farm (where John and Jacqueline Kennedy had their wedding reception), and other grand historic homes is aboard a seaworthy vessel.
11. Providence, Rhode Island
The Creative Capital, as Providence is called, is known for its vibrant cultural scene, its prowess as a center for manufacturing and industry during the 1800s, its robust academic community, and an enviable food scene. Home to Johnson & Wales University – one of the top ranked culinary colleges in the world – Providence is rife with hungry culinary talent eager to please and craft creative, memorable dishes, whether casual street eats or refined palate pleasers.
One of the city's most beloved ongoing events is WaterFire, an installation of more than 100 bonfires that burn bright in caldrons installed above the surface of three rivers that run through the city. The event unfolds multiple times throughout the year at nightfall, and nearly one million people experience it annually. Many attendees are students, as Providence is home to Brown University, the Rhode Island School of Design, Providence College, and five other institutions of higher learning.
Venture outside the downtown area to the Roger Williams Park Zoo, home to more than 150 animals from around the world in natural settings. Be sure to enjoy special experiences like feeding a giraffe or sea lion!
12. Mystic, Connecticut
Before it was made famous by the wildly popular 1988 film Mystic Pizza, Mystic was famous for its marine trade legacy. A shipbuilding center for centuries and best known for building wooden clipper ships, this waterfront village on scenic Mystic River is one of the most charming and visited places in Connecticut. The Mystic Seaport Museum is an amazing place to start your exploration. It's the nation's leading maritime museum and home to hundreds of shipbuilding tools, figureheads, interactive exhibits, and the recreation of a 19th-century seafaring village with trade shops and businesses from the 1800s that were transported to the museum from locations around New England.
Downtown Mystic is made up of quaint buildings without a highrise in sight. The Mystic River Bascule Bridge, built in 1922, is open to both foot traffic and vehicles and allows boat traffic to travel through as well. This area is full of antique shops, restaurants and, yes, the original Mystic Pizza, which is worth a try! The Mystic Aquarium is nothing short of impressive and is one of only two aquariums in the country with Steller sea lions; it also has the only beluga whales in New England. Informative and engaging indoor and outdoor exhibits promote education and conservation, but it's the adorable animals like the African penguins, seals, and sea lions that steal the show.
13. Washington, Connecticut
Also known as Washington Depot, this rural part of Connecticut is just 38 square miles and home to just 4,000 full-time residents – and they are in on something special. With the town being more or less between New York City and Boston, it's no wonder that people flock here from busy nearby metropolitan areas. Encompassing five villages, Washington is admired for its quiet simplicity, farmers market, farm-to-table restaurants, and beautiful inns, including the Mayflower Inn & Spa. This exquisite country retreat, nestled on 58 acres, was the inspiration for the popular television series Gilmore Girls, and the surrounding town looks just like a Hollywood set of picture-perfect milieus.
Natural beauty surrounds Washington, which was named for George Washington; he traveled through the area several times during wartime before becoming the nation's first president. Nowhere is that beauty more on display than at Hollister House Garden, where you'll find an 18th-century home situated on a sloping terraced site with romantic English-inspired manicured country gardens. It is a feast for the eyes! For a more nature-based experience, Kent Falls State Park is a visceral wonderland with a series of waterfalls that are perfect for selfies.
14. Acadia National Park, Maine
One might say Acadia National Park embodies all that Maine is known for, except lobster rolls. Its craggy shoreline, glistening waters, lush acres, enchanting wildlife – Look out for moose! – and rocky headlands are everything people envision when Vacationland, Maine's moniker, is a topic of conversation. One of the top 10 most visited national parks in the US, this massive expanse of beauty comprises 47,000 captivating acres and is called the crown jewel of the North Atlantic coast.
Thousands of people come to Acadia to camp, hike, fish, and spot animals in their natural habitat, but day-trippers can experience the 27-mile Park Loop Road on Mount Desert Island by car. The drive starts in equally charming Bar Harbor and goes through mountains, lakes, coastline, and forests, leading you to understand why Maine is dubbed the Pine Tree State. Pull off at any of the numerous observation points along the road to soak it all in.
15. Cape Cod, Massachusetts
There's a reason why the Kennedy family compound is on Cape Cod: its natural beauty and Rockwellian charm are undeniable. In fact, President Kennedy created the Cape Cod National Seashore in 1961, protecting 43,607 acres that not only include the pristine sandy beaches of the Atlantic Ocean but marshes, ponds, and uplands as well. While taking your time to explore the Cape Cod National Seashore on foot is ideal, off-roaders will love the section of the beach that rents off-road vehicles.
Wellfleet, located halfway between the tip and elbow of Cape Cod, is home to a stunning unspoiled beach. But beware! Sharks are prevalent in these waters, particularly at Newcomb Hollow Beach. The town is also world famous for its oysters and is home to more than 100 growers.
Hyannis Port, synonymous with the Kennedy family, is where you'll find the John F. Kennedy Hyannis Museum, one of the best places to visit on Cape Cod. The Cape Cod Maritime Museum, also located here, tells the fascinating history of the region and has cool boat-building exhibits on display.
Head up to the northernmost tip of Cape Cod to experience Provincetown, home to 40 miles of beaches, tons of art galleries, eclectic shops, awesome restaurants, and a festive scene in the summer. For almost a century, LGBTQ travelers have made Provincetown a summer destination, and it is a place that will capture your heart. It is also the best place for whale watching on the Cape.
New England is truly a one-of-a-kind place, which is why these six states welcome travelers from around the world all year round. Though synonymous with fall foliage, New England is extraordinary in every season, and its attractions, festivals and events, cultural and historic landmarks, and natural beauty never fail to provide a palpable feeling of places you can't wait to visit over and over again.
Source https://newenglandwithlove.com/best-places-to-visit-in-new-england/#:~:text=Maine%20is%20home%20to%20some%20of%20the%20best,and%20exploring,%20all%20with%20spectacular%20views%20surrounding%20them.
Source https://travellersworldwide.com/best-places-to-visit-in-new-england/
Source https://www.roadaffair.com/best-places-to-visit-in-new-england-usa/