15 Best Places to Live in Illinois
Illinois is as diverse a state as its cities and people. Located in the heartland of America, the Land of Lincoln may have cultivated a reputation as one of the worst run states, but it still remains a great choice for anyone looking to put down roots. And we'll tell you why.
Illinois was once regarded as an economic juggernaut, but poor governance has seen its stock fall significantly. Regardless, the Midwest state still boasts a strong economy and is indeed the fifth-largest state economy by GDP.
Unemployment rate is one of the major causes of the high migration rates out of the state in recent years, but Illinois continues to prove its economic resilience.
When you throw in rising home values, one of the best school systems in the country, and a long list of prestigious employers who include 34 of the 500 Fortune 500 companies, this blend results in a generally gratifying quality of life.
Illinois is also home to dozens of cities with revitalized downtowns, excellent entertainment venues and endless outdoor recreation opportunities.
The state's universities, including Northwestern University and the University of Illinois-Champaign Urbana, are considered some of the best when it comes to R&D, ranking favourably on the Carnegie Classification of Institutions of Higher Education.
With many options on ideal places to live, it can be difficult to decide where to pitch camp in the Prairie State.
Worry not, though, for we have done the hard work for you and compiled a list of the 15 best places to live in Illinois, taking into account the aforementioned factors, in addition to crime rate, cost of living and weather. And here is what we came up with:
1. Springfield
Source: RRuntsch / shutterstock Springfield, Illinois
To many, Springfield is the capital of Illinois. To others, it is where Abraham Lincoln spent the better part of two decades.
But the city of 117,000 people also happens to be a great place to live for anyone looking for affordable cost of living in the state. Homes here go for $120,400 on average, with rent averaging $732, both of which are considerably below the national average.
Public schools may not be the best in the state, but they are good, with the city also playing host to three universities. The fact that this is the state's capital means you will find great diversity, with 17,000 residents working in state government jobs.
When you a include a thriving nightlife and plenty to do, whether historic (Lincoln's presidential museum, home and tomb are located here) or cultural (this is where you'll find the famous Hoogland Center for the Arts and Springfield Theatre Centre), Springfield makes a good case as a great spot to live in the state.
Children are also well catered for, especially with the Knight's Action Park and Caribbean Adventure, one of the largest amusement parks in central Illinois, around.
2. Naperville
Source: Steve Cukrov / shutterstock Naperville
With a population of 145,058, Naperville is considered one of the wealthiest cities not just in Illinois, but the entire Midwest. At $379,000 on average, homes are steep, but so is the median home value which stands at $109,468, slightly double the national average.
Suffice to say Naperville is best suited for those who fancy more upscale quality of life, with a paycheck to match.
If you can swing it, the high cost of living is well worth it. This is one of the safest cities in America, with 130 parks and sports complexes located here – not to mention multiple shopping districts.
The residents are mostly college educated (72% of adults), but with eight college campuses serving such a small population, that is to be expected. As well, a whopping 92% residents own their own homes.
The area itself is located along the Illinois Technology and Research Corridor where multiple high-tech companies are based: AT&T Bell Laboratories, Calamos, Ineos, BP, Western Electric, Nicor Gas and more.
3. Buffalo Grove
Source: ckdisco / Flickr Buffalo Grove
When it comes to the best places to live in Illinois, it doesn't get any better than Buffalo Grove.
You will find the small suburb of 41,600 residents in Lake County, and the area has consistently featured on the Best Places to Live in the entire United States, with everyone from CNN, to US News & World Report, to Niche.com waxing lyrical about it.
Crime rate is extremely low and the public education system is one of the best in the country, with a high school graduation rate of 95% and a solid ranking of 9/10 on GreatSchools.
In a state that has been accused of having a fairly high unemployment rate, Buffalo Grove, small as it is, is one of the places that help keep the state average high.
But you will have to fork out for it. Rents average $1,354, with median home value just $5,500 short of hitting the $300,000 mark.
4. Wheaton
Source: Henryk Sadura / shutterstock Wheaton
When searching for the best places to live in Illinois, there is a 4/5 chance you will come across the name Wheaton.
And that is because the suburb of 53,585 has everything going for it.
Some of the best-ranked public schools in America with an enviable ranking of 9/10; one of the state's lowest unemployment rates (5.40 per cent); sixth highest number of parks per capita in the state.
You will find an incredible 52 parks in Wheaton sprawled across 829 acres of space.
The only category it ranks low in is the cost of living. Your average home will fetch at $334,300, with rent averaging $1,250. But whom are we kidding, with most of the locals raking upwards of $85,705 a year, that's pretty much…small potatoes.
5. Glenview
Source: pics721 / shutterstock The Glen, Glenview, Illinois
Glenview is another area which often gets the plaudits for best places to live in Illinois.
The community of 46,000 residents aces it when it comes to matters education, with its high school graduation rate tying in third in the state, with a solid ranking of 9/10 on GreatSchools.org.
The unemployment rate in this Cook County suburb is also one of the lowest in Illinois (4.60 per cent).
Families moving here can revel in the knowledge that Glenview also happens to have some of the most parks per capita. The unique Park Center is also located here, and there is also a multi-purpose community center which boasts everything from a pool, to a preschool, arts programs, fitness centre and more.
Expectedly, the cost of living is on the higher end of the spectrum. Median home value stands at $473,600 and the rent for a single-family home is $1,713 on average.
That makes it one of the most expensive places in Illinois, but it's a bill many families, whose fat annual paycheck stands at $93,240, are happy to foot.
6. Park Ridge
Source: Teemu008 / Flickr Park Ridge
Some ardent fans of Harrison Ford will probably recognise Park Ridge as the birthplace of Han Solo (well, the real person). The name will also ring bells for anyone privy to the childhood of one Hillary Clinton.
It is said the place you call home can say a lot about you, and if that statement were true, it is easy to deduce a little about Park Ridge.
The Rodhams, for instance, moved here when Hillary was three, and the motivation for that was the search for a neighbourhood that promised good security, great schools and general desirability for a growing family.
That is exactly what you get in this Cook County suburb which boasts a population of 37,600.
But it is an affluent neighborhourhood where rent prices swing at the $1,200 mark, and the average single-family property is way more than double the national average, sitting at $392,600.
7. Oak Park
Source: Thomas Barrat / shutterstock Oak Park
Oak Park is undoubtedly one of the most desirable places to live in Illinois.
This is another entry from Cook County, and it keeps up with the theme of good security, excellent schools, ample amenities and high cost of living characteristic of the county.
If you work in the third largest city in America or love playing there but prefer taking up residence just outside of it, few neighbourhoods make better sense than Oak Park.
The suburb of 52,080 residents ranks third overall when it comes to low crime rate, and juxtaposing this against Chicago makes this place practically a safe haven.
With 5.20 per cent, its unemployment rate is again third in the state, also ranking favourably in terms of parks and childcare options per capita.
As far as education goes, Oak Park is rated A+ on Niche.com, another area that shows its obsession with rank #3 where it scores third in the list of high schools with the highest graduation rate, trying with Buffalo Grove with 95%, and a near-perfect score on GreatSchools.
8. Elmhurst
Source: davidwilson1949 / Flickr Elmhurst
Whether by design or coincidence, most places whose names have a "creek", "ville" or "grove" tend to be generally great neighbourhoods, mostly for the well-to-do. It is the same case with "hurst", and Illinois' suburb of Elmhurst only serves to reinforce this notion.
Elmhurst is a community in DuPage County whose 45,469 residents bring home an average $96,486 per annum per household.
When you dig through GreatSchools.org, a school ranking resource of no mean repute, you will rarely come across places that score a 10 out of 10. For the few you come across, though, you can bet Elmhurst will be one of them.
Perhaps some of the kids emerging from these schools contribute to the high employment rate (only 5.30 per cent are unemployed) – perhaps not – but it remains high for a reason.
Elmhurst also boasts the highest number of parks per capita in Illinois, ranking No. 1, thus ensuring it's not all work without play for the young Jacks of Elmhurst.
9. Schaumburg
Source: greglaskiewicz / Wikimedia Schaumburg
The township of Schaumburg makes an entry on our list of best places to live in Illinois for obvious reasons.
The public education system is nothing short of excellent, scoring a solid A+ on ranking website Niche.com, with GreatSchools also giving it a generous 9/10.
Unemployment rate is one of the lowest in the Midwestern state, and crime is almost unheard of, with only a single case of burglary reported in a suburb of 132,369 residents.
Schaumburg has the fifth most childcare listings and eighth most parks per capita, and when you consider cost of living is lower compared to other places in this list (home value stands at $228,700 and rent is $1,190), it is not hard to figure out why this area warrants a mention.
10. Downers Grove
Source: davidwilson1949 / Flickr Downers Grove
Downers Grove is a community of about 50,000 residents located in DuPage County, and the only downer you get from living here perhaps has to do with the high cost of living (112 vs. a national average of 100).
Homes, one of the biggest indicators of cost of living, average $330,000.
Otherwise, it's a great place for anyone looking to settle in Illinois, whether as a single or a family. The area is known for its friendliness – it was named one of the friendliest towns in America by Forbes– and the sense of community is almost palpable.
It offers opportunity aplenty, be it academic, extracurricular or social, with a low unemployment rate averaging 5.40 per cent.
New parents will be happy to hear Downers Grove has some of the most babysitters and daycares per capita.
11. Plainfield
Source: Dougtone / Flickr Plainfield
Speaking of families, if you are searching for a place in Illinois that is ideal for families, Plainfield is one of the options you should consider.
Reason is because over half of the households (56.12%) in this suburb of 41,000 residents have children.
Cost of living is lower compared to other towns on this list (single-family homes go for $283,000 on average), yet the residents earn significantly higher, with median household income averaging $111,521. Talk about getting bang for buck.
The high school graduation rate in the area is 96%, and Plainfield also has the second highest number of childcare listings per capita, meaning you won't have trouble finding a good sitter at all.
Despite its family-oriented nature, the culturally-divergent Plainfield also shines in the nightlife category. So, whenever you need to take a breather from your parental duties, you can always bank on the town to deliver.
12. Clarendon Hills
Source: davidwilson1949 / Flickr Clarendon Hills
This is another name you will frequently find in many best places lists revolving around Illinois, and that's just because Clarendon Hills has it all.
The public school system is one of the best in the nation, the area ranks exceptionally well when it comes to crime & safety (eighth safest in Illinois) and generally, the suburb of 8,600 residents is as ideal for families as you are likely to find.
It mostly comprises upper middle class folk whose household income averages $105,720.
Such a small population means you are likely to get acquainted with quite a number, but if a town where everyone knows everyone doesn't sound like your kind of spot, Clarendon Hills might not work you because this is an area with a strong sense of community.
The one obvious downside about it is affordability, with cost of living considerably higher compared to the rest of the country.
An average home sells for half a million dollars, and it is not uncommon to find some properties going for $1.5 million, although these are mostly 4-5-bedroomed homes.
13. Northbrook
Source: pics721 / shutterstock Northbrook
Northbrook is a quaint village on the North Shore of Chicago famed for its idyllic natural scenery, and the town itself is speckled with beautiful old buildings.
It has one of the highest rated public schools in the state with a graduation rate that is 15% higher compared to the rest of Illinois.
In fact, it is here you will find one of the main shooting spots for the teen classic, Ferris Bueller's Day Off. That is at the prestigious Glenbrook North High School where director John Hughes himself attended.
Unemployment rate in Northbrook stands at 5.0 per cent, one of the lowest in the Land of Lincoln. Homes are valued at an average $521,800 and the going price for rent is just a few coins short of $2,000 ($1,978).
The high cost of living is offset by a high income averaging $118,480 per household.
14. Arlington Heights
Source: Teemu008 / Flickr Muller House in Arlington Heights
Arlington Heights is a great place to call home.
The town of 76,000 residents may put off many homebuyers with its $320,600 median home value, but those who seek to put down roots here are not your ordinary homebuyer.
With a median household income of $81,059, these residents earn 30% more than others in the state, so chances are they can afford it.
As with all other locations on this list, Arlington Heights boasts a solid public school system that ranks quite favourably.
Crime rate is a little high compared to other areas on this list (as opposed to the state), but residents appreciate the general livability of the area – kids can ride bikes on the streets, there are plenty of recreation options available (magnificent parks, sports teams, dance studios, a lake to walk around and more), plus plenty of jobs for teens and other perks.
15. Mount Prospect
Source: Roadgeek Adam / Flickr Mount Prospect
Rounding off our list of best places to live in Illinois is Mount Prospect, a Chicago suburb of 54,700 residents.
The area is famous for its public library, the Randhurst Village, as well as being the home of Jennifer Morrison (the actress?).
What may be lost to many, however, is that Mount Prospect is one of the safest places in Illinois (49% safer actually) and the residents seem to be quite a happy lot. Then again, who wouldn't if they were making 17% more than the rest of the state, right?
Public schools are outstanding, the area has great diversity reflective of the larger Chicago area, and the nightlife is buzzing.
As well, there are plenty of other ways to enjoy oneself, including a number of festivals (Fridays on the Green, the Irish Festival and the annual Memorial Day Parade, for example); family bike rides; farmers markets and more.
All these things combine to make Mount Prospect an appealing proposition for anyone with a home-buying budget averaging $290,900.
10 Best Places to Visit in Illinois
If you want to explore the American Midwest, head to Illinois. The Land of Lincoln is home to teeming cities as well as rural farmland. You can relax on the shores of Lake Michigan, and you can also tour small villages with an abundance of history. Illinois is home to the Windy City, Abraham Lincoln and so much more. An overview of the best places to visit in Illinois.
10. Anderson Japanese Gardens [SEE MAP]
gabe popa / Flickr
The third largest city in the state is Rockford, which is where you'll find the Anderson Japanese Gardens. Many declare this site the best Japanese garden in the United States, and it is certainly an incredible place to spend the day. Only open between May and October, the seasonal gardens are perfectly maintained.
More than just plants, the landscaping is carefully and methodically planned, with natural water features, bridges, pagodas and lanterns helping to create a breathtaking masterpiece. Pick up a map from the Visitor Center, and be sure to snap a picture on the Cypress Bridge leading to the Garden of Reflection.
9. Champaign-Urbana [SEE MAP]
Christopher Schmidt / Flickr
The main campus of the University of Illinois, the state's largest university, is located in the city of Champaign-Urbana. This destination is a shining example of a college town. Technically, Champaign-Urbana is two distinct cities, but they blend together into one metropolis.
Embrace the spirit of higher education by checking out the Spurlock Museum, an eclectic collection of fascinating artifacts from across the globe. Whether you're searching for some tasty coffee or you're doing your weekly shopping, the Market at the Square is a lively, fun place to hang out, particularly on Saturdays.
8. Tunnel Hill State Trail [SEE MAP]
Trails for Illinois / Flickr
In the southern tip of the state is the Tunnel Hill State Trail, a lesser known but incredible destination in Illinois worth checking out. The trail is just under five miles, and it passes through a number of long tunnels.
Much of the area that the trail covers is reclaimed strip mines or agricultural land, and there is some terrific scenery. Whether you walk, jog or bike the crushed gravel trail, you will pass through gorgeous ravines and alongside streams and bluffs. To get to the trailhead, begin in the town of Vienna.
7. Lincoln's New Salem [SEE MAP]
One of the most influential American Presidents is undoubtedly Abraham Lincoln. Whether you're an American history buff or a fan of Lincoln's presidency, pay homage to the great man with a visit to Lincoln's New Salem.
This national landmark is a perfect reconstruction of the original New Salem, also in Illinois, where Lincoln lived between 1831 and 1837. At Lincoln's New Salem, you can tour 23 open buildings. Many of them are log cabins, and many contain one or more guides wearing period costumes.
The furniture, outfits and even the horses are accurate to the time period, and this can be a fantastic way to get a feel for Lincoln's role in Illinois.
6. Shawnee National Forest [SEE MAP]
Daniel Schwen / Wikipedia
When the great outdoors is calling, answer it with a trip to Shawnee National Forest. Located in the southernmost part of the state, this national forest was once completely covered in the Laurentide Ice Sheet. Fortunately, that ice sheet melted millions of years ago, and the Shawnee National Forest is now perfect for hiking, camping, swimming and photography.
The biggest attraction at Shawnee is the Garden of the Gods, a stunning rock formation that you might recognize from the Illinois quarter. A short observation trail surrounds the Garden of the Gods and makes it easy for visitors to take in its beauty from all angles.
5. Cahokia Mounds [SEE MAP]
Just outside of St. Louis, on the other side of the state border, is Cahokia Mounds State Historic Park. The Cahokia Mounds are a fascinating landmark formed by American Indians who lived there more than 800 years ago. The mounds are believed to signify the largest pre-Columbian city north of Mexico.
There are 69 remaining mounds which are now covered in grass. The largest of these mounds is Monks Mound, and it is more than 100 feet tall. Another interesting part of Cahokia is Woodhenge, a large circle formed by 48 wooden posts that aligns with the solar calendar, which makes it very similar to Stonehenge in England.
4. Starved Rock State Park [SEE MAP]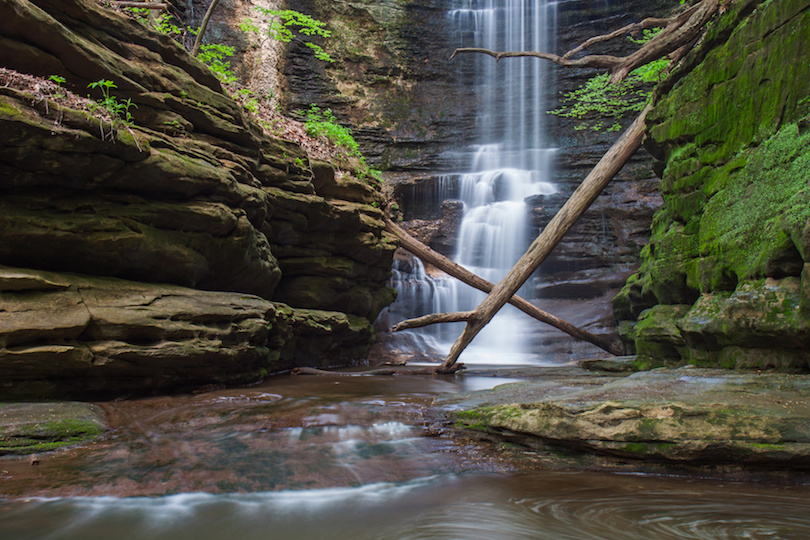 On the banks of the Illinois River is Starved Rock State Park. The park is less than 100 miles from Chicago, which means that it receives plenty of city visitors for the day as well as out-of-town travelers. Starved Rock State Park boasts sandstone canyons that are formed because of glacier melting.
Some of the canyons, specifically Wildcat Canyon and French Canyon, even have waterfalls. Hiking is a great way to experience the Starved Rock State Park, and the best view in the park is accessible via a trail that leads to the Lover's Leap Overlook. As you hike, be on the lookout for deer and migrating birds.
3. Galena [SEE MAP]
Ron Cogswell / Flickr
For history lovers, there are few places in Illinois more interesting than the city of Galena. Situated on the banks of the Mississippi River, Galena is known as the City That Time Forgot. In the 19th century, Galena was a major port, but now tourism is its major economy.
Strolling down Main Street is the best way to explore Galena, since countless mom and pop stores housed in 19th century buildings line the street. You can also use the pedestrian bridge to cross the Galena River or explore the home of former President Ulysses S. Grant, who lived there before the Civil War.
2. Springfield [SEE MAP]
Daniel Schwen / Wikipedia
The capital of the state is Springfield, another city that once served as the home of Abraham Lincoln. This is the best place to visit in Illinois if you're interested in all things Lincoln, and there is definitely no shortage of options.
There's the Lincoln Home National Historic Site, where he lived for more than 17 years. Also worth visiting for a few hours is the extensive Abraham Lincoln Presidential Library & Museum. Many visitors also make time for the Oak Ridge Cemetery, one of the most visited cemeteries in the world, where Abraham Lincoln and most of his family were laid to rest.
1. Chicago [SEE MAP]
There is no question that Chicago is the most popular destination in Illinois – and even the entire Midwestern United States. This enormous city has so much to explore, but many of the highlights can be found in one area known best as the Loop. Millennium Park is located in the Loop, and it is there that you can spot the reflective sculpture known commonly as The Bean. Also in the Loop is the Chicago Institute of Art, arguably one of the top art museums in the country.
Chicago's architecture and skyline is world famous, and a walking tour can show you landmarks such as the Aon Center, the curved Chase Tower and the mid-century Federal Center, which was constructed by Mies van der Rohe.
Map of Illinois
© OpenStreetMap © MapTiler © Touropia
19 Places To Visit In Illinois: Hop On For Exciting Getaways In 2022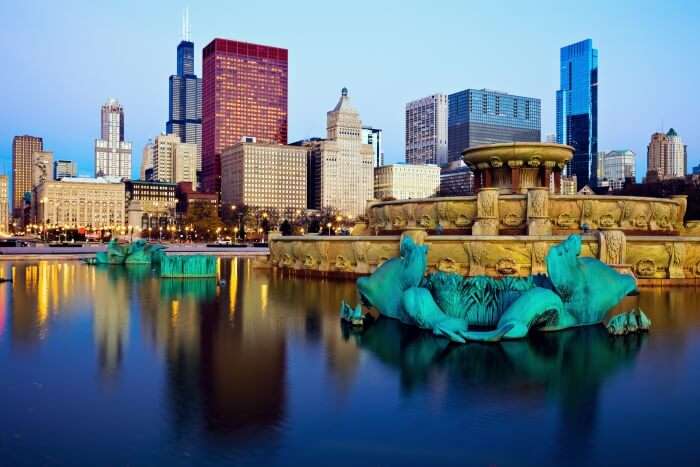 If you are planning for a tour to Illinois then you are at the right place. The reason behind this is that Illinois is a place with a lot of important locations in the USA. This place also entertains a large number of tourists all over the year. Illinois is the home to major sports and is also a cultural center as well. Thus, it is important to check out all the famous places to visit in Illinois.
19 Places To Visit In Illinois
So you're going to Illinois, but where exactly should you head to and what all cities should you visit? Here is an exhaustive list of some places you must visit in the land of Lincoln on your US trip:
1. Chicago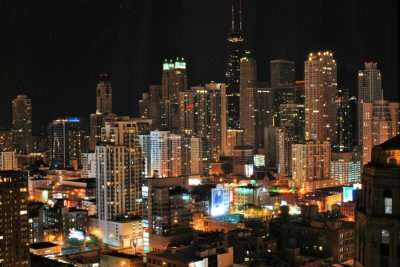 Image Source
Many of you might already know this place and also the reason why it is famous for, but for the people who are not familiar to it, here is the story. Chicago is the third largest city in the country of US. And the reason why it has a large number of tourists is that of the amazingly awesome locations. And this place is also one of the best places to visit in Illinois. The location of Chicago is on the west side of Lake Michigan. If you love beaches and beach fronts then this place is it for you. This is among the popular Illinois vacation spots. You can refer Chicago travel guide for more details.
Best time to visit: May-June, September-October
Attractions: Navy Pier, Millenium Park, Wills Tower
2. Springfield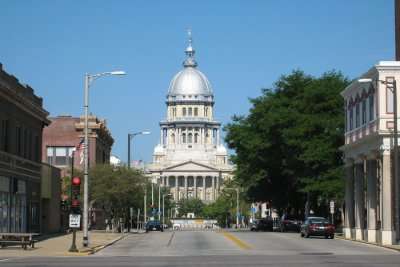 Image Source
The state capital of Illinois is Springfield. This is the birthplace of America's 16th president who is Abraham Lincoln. And most of the tourism at this place depends as well as focuses on this great man and people who come here, visit Lincoln's home, Abraham Lincoln presidential library and many places named after his name. and you will also get a chance to see some unique places to visit in Illinois as you will find many Lincoln pantomimes as well.
Best time to visit: April-June
Attractions: Lincoln Monument Association, Abrahim Lincoln Presidential Library
3. Evanston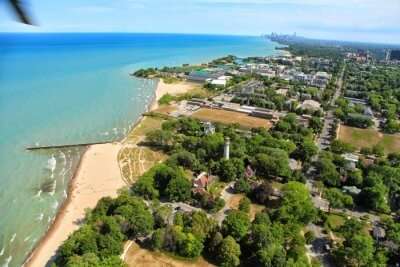 Image Source
Are you a big foodie and also a person who likes to watch movies and stuff then this place is a center for all these things. There are many theatres and also a ton of restaurants. This place is also the home to the historic Grosse Point lighthouse and you can go for an Illinois sightseeing at this place. And one more thing that this place is also Illinois point of interest. And in addition to that, all the amazing places here makes it one of the nicest places to visit in Chicago.
Best time to visit: May-July
Attractions: Block Museum of Art, Baha'i House of Worship, Gross e Point Lighthouse
4. Rockford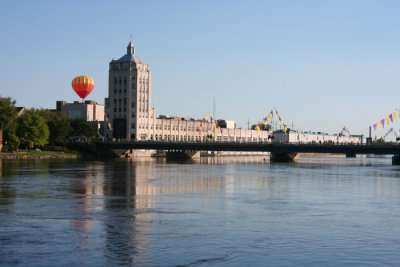 Image Source
This place is the 2nd largest city in the state of Illinois, after Chicago. This place also has a great area of open space that might be somewhere near 20,000 acres. This can also be the places to go to Illinois for the weekend if you live somewhere near. This place also adds up much more beautiful if you visit USA it in winter, so sometimes just think of this place when you discuss places to visit in Illinois in winter. There are many wild cats that you can see like Amur leopards and also the Sumatran tigers.
Best time to visit: December for skiing
Attractions: Burpee Museum of Natural History, Anderson Japanese Gardens, Rock Cut State Park
5. Galena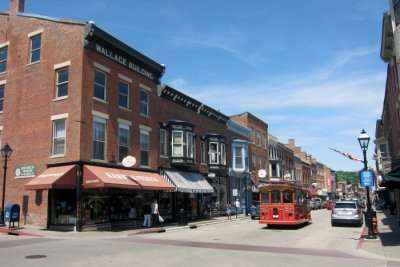 Image Source
The place is the smallest city situated in the northwestern corner of the state of Illinois. Regardless of being small it also has a lot of amazing architecture and is also famous for it. There are many vistas that probably make it the most scenic places in Illinois. When you visit this place, you can see go on a shopping spree as well. As a matter of fact, even a type of mineral is named after this city.
Best time to visit: Late spring
Attractions: Ulysses S. Grant Home, Blaum Bros. Distilling Co.
6. Bloomington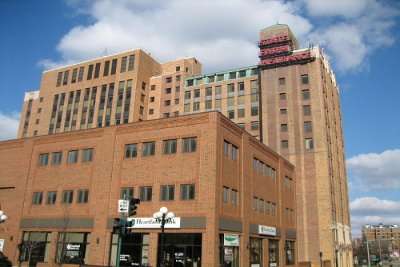 Image Source
Bloomington is the 12th largest city in Illinois. As with many other cities it also has a sister city, so, let's not get into its biography and instead speak or know about the places you can see there. When you go there you will have nearly 44 parks and also 3 golf courses so, never just forget to take your golf set with you. all the places here make this city exciting and also the awesome places to visit in Illinois. You can also take your kids to the small but the fascinating zoo's in the place.
Best time to visit: April-October
Attractions: Lake Monroe, McCormick's Creek State Park, WonderLab Science Museum, Oliver Winery
7. Starved Rock State Park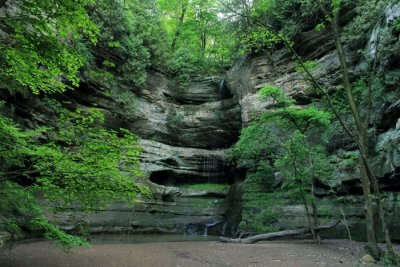 Image Source
This place also has many amazing natural attractions and also is a place that is visited by people very frequently. And this is also a place that has many hidden places in Illinois. It has a lot longer distance from Chicago that can be near to 100 miles. When you visit this place, you will get a perfect tint of real nature and will surely be amazed by it. So, if you are a nature lover then you must think of visiting this place.
Best time to visit: crowded in spring, summer and fall
Attractions: French Canyon, Saint Louis Canyon
8. Quincy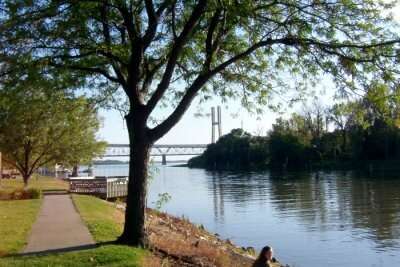 Image Source
The location we are seeing here is a fabulous location that is located in the bluffs that just overlook the river that is named Mississippi, you probably might know this place if you live somewhere near this. The place is also the places to see in Illinois and also is the major stop point of the underground railway. The traditional German-style is also a reason that makes this place an amazing place to see and also has a great history of itself. One awesome thing here is the annual film festival.
Best time to visit: May-September
Attractions: John F. Kennedy Presidential Library and Museum, Boston Harbor Islands National Recreation Area, Blue Hills Reservation
9. Elmhurst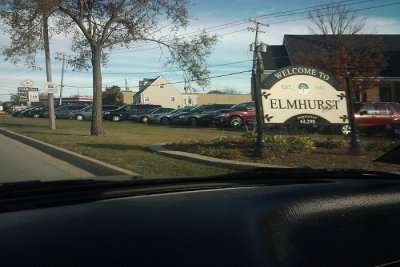 Image Source
This place is the western suburb of Chicago, and keep listening to the population of this place is somewhere near the number 45,000. If you like stuff that includes art then the art museum can be a place which you will visit first. One stunning thing about this museum is that it holds classes for adults as well as children. This place has a lot of shopping spots where you can shop whatever you want.
Best time to visit: June-September
Attractions: Lizzadro Museum of Lapidary Art, Elmhurst Art Museum, Safari Land
10. Alton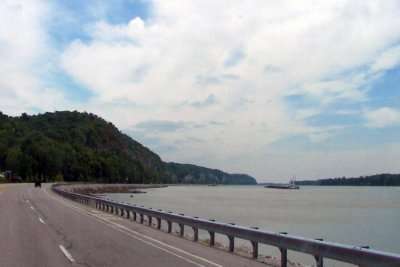 Image Source
The place featured here is about 15 miles from the north of St. Louis. And don't think that it is not part of the place because this has been considered to be part of its greatest metropolitan cities. This is also the place which is known as the limestone bluffs along the Mississippi River. When you take a ride along the river you will surely feel it like the best places to visit in Illinois. Not only that but you can find some educational stuff that are museums etc. This is also one of the best places to celebrate new year in the world.
Best time to visit: May-September
Attractions: Jane Austen's House Museum, King's Pond, Alton Gardens
11. Lincoln's Tomb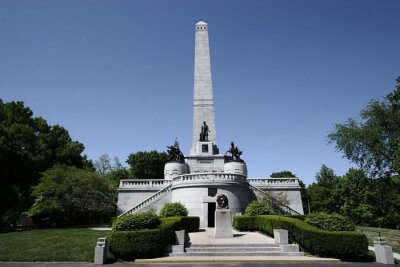 Do you still remember me speaking about Abraham Lincoln's birthplace if you do, then this location we are talking about is a bit similar to it because this place is also related to that person? This place is an Oak Ridge Cemetery and if you would like to visit this place then it is open for all of you all year long too. And he is a great person there are many people visiting the place and is also the top places to visit in Illinois.
Best time to visit: April to December
Attractions: Historical site
12. Shawnee National Forest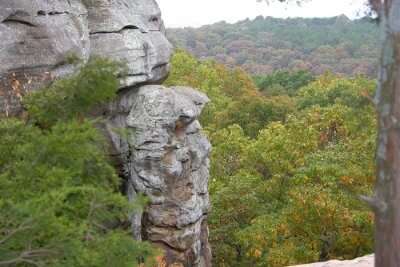 The Shawnee national forest is one of the amazing places to visit in southern Illinois rolling hills. The rocks formed at this place are very unique by shape and are really very amazing. It also covers a large area that can be up to 268,000 acres. And if you are a person who loves, lives and can die for hiking then this place can be the most preferred place of yours and even if you don't like it you can go with some other stuff.
Best time to visit: Throughout the year
Attractions: Greenery, exotic flora and fauna
13. Mississippi Palisades State Park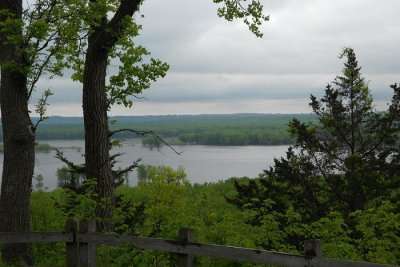 This is dense as well as an enjoyable place where you can go. And is also covered with a lot of trees and other stuff which will make you amazed for sure. Not only the greenery and other natural things this park is also rich in the great American history and also has many historical things you can see. You will also find some kinds of animals in this amazing place.
Best time to visit: Throughout the year
Attractions: Historical site, greenery, exotic flora
14. Grant Park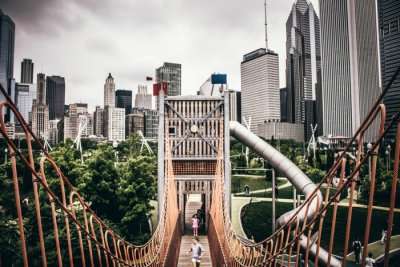 Grant Park has a very large area covered with the greenery and some other enjoyable stuff. Its total area is 319 acres and is situated in the heart of Chicago. In addition to it you can also see many museums nearby and probably you can do anything you wish for and can also enjoy till the extent of your hearts and minds.
Best time to visit: July to March
Attractions: Lush green ambiance, refreshing vibe
15. Cahokia Mounds State Historic Site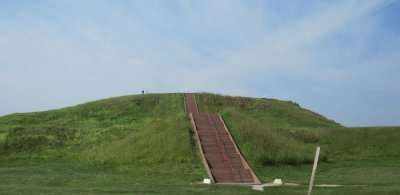 One of the largest and most complex archaeological sites in the whole United States, Cahokia Mounds was home to the Mississippian people during 600-1400 A.D. You will find huge mounds where the population of Mississippi once used to live. If you want to know more, you can visit the museum where you will find informational videos, artifacts, and information about the civilization of Cahokia's people.
Best time to visit: Throughout the year
Attractions: Vintage sights and museum
16. Matthiessen State Park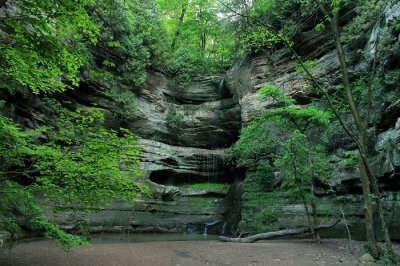 Spread across 1,70 acres of land, Matthiessen is a wonderland for nature lovers and adventurists. What makes this one of the best places to visit in Illinois during spring break. You will find enchanting waterfalls, beautiful canyons, and river streams falling into Vermillion River. The park is full of nature's bounty and hikers and bikers will have their share of fun exploring colorful sandstone walls and tall bluffs.
Best time to visit: Throughout the year
Attractions: Impeccable nature, enchanting waterfalls, beautiful canyons, and river streams
17. Tunnel Hill State Trail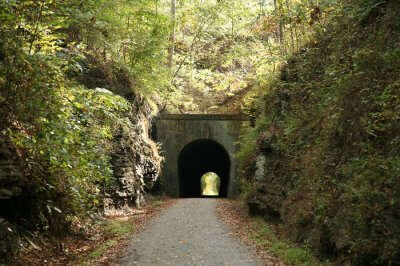 If you are an avid biker, then you are going to love visiting Tunnel Hills State Tail. It was originally a railway line which was created in the late 10th century. Get chills passing through a long tunnel while mountain biking. The whole surroundings seem picturesque and thrilling. If you have time and have a penchant for adventure, then you should definitely visit this place in Illinois. It is a remote area without any service. SO, bring along your supply of food and water.
Best time to visit: Throughout the year, avoid rainy days
Attractions: Picturesque surroundings and thrilling experience
18. Naperville Riverwalk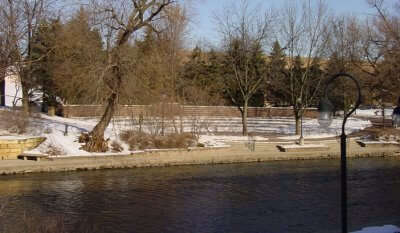 For those who wish to get somewhere quiet and calm should take a stroll by the Naperville Riverwalk. Dotted with fountains, artwork, and sculptures, this place makes one of the most scenic sites in Illinois. You will also find a cafe with an outdoor patio where you can enjoy beverages and comfort food. You may also rent kayaks and paddle boats for watersports activities or take your kids to JayCee playground.
Best time to visit: April to December
Attractions: Downtown Naperville, Naperville covered bridge
19. Peoria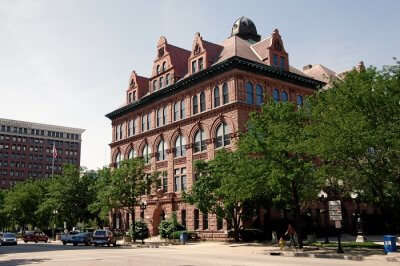 Located by the banks of the Illinois River, Peoria is a city founded by the French explorer Henri de Tonti. Why you would enjoy visiting this place is because it s located on the waterfront boating of beautiful river coast views. The city is also home to the popular American machinery giant, Caterpillar. So, you can also enjoy the simulation of giant earth movers and machinery during your visit.
Best time to visit: Oct-Nov, January
Attractions: Peoria Lake, Glen Oak Park, Peoria Lake, Glen Oak Park
These were all the important places to visit in Illinois, particularly not all, but few. You can really enjoy a lot if you do visit all these places. This article is a mixture of historical places, places of greenery and cities of importance, making these some of the most noteworthy places to see on your vacation to the United States .
For our editorial codes of conduct and copyright disclaimer, please click here.
Frequently Asked Questions about Places to Visit in Illinois
What are the best places to visit in Illinois?
Here are some attractions in Illinois that you must visit: Chicago, Springfield, Evanston, Rockford, Galena, Bloomington, Starved Rock State Park, Quincy, Elmhurst, Alton, Lincoln's Tomb, Shawnee National Forest, Mississippi Palisades State Park, and Grant Park are some of the best places to visit in Illinois.
What are the best things to do in Illinois?
Here are some of the best things to do in Illinois:
1. Explore wildlife at Shawnee National Forest
2. Still around Chicago Botanic Garden
3. Witness Shedd Aquarium
4. Explore history at Cahokia Mounds Historic Site
5. Indulge in art at Chicago Cultural Center
Can I visit Illinois during the current Covid situation?
Yes, you can plan a visit to Illinois during the current Covid situation. However, make sure that you are completely vaccinated and always carry your vaccination certificate. Besides this, you need to follow government protocols that include wearing a mask when in public, sanitizing hands at certain intervals, and maintaining social distance.
Where can I go on a road trip in Illinois?
Shawnee Hills Wine Trail, Cahokia Mounds, Starved Rock State Park are some of the places where you can take a road trip from Illinois.
What is the best city to visit in Illinois?
Chicago, Galena, Springfield, Arthur, etc. are among the famous cities to explore in Illinois. However, there are countless tourist attractions to explore in the region.
What is the most popular state park in Illinois?
The following are the famous state parks in Illinois:
1. Fort Massac State Park
1. Clinton Lake State Recreation Area
2. Hennepin Canal State Trail
3. Illinois Beach State Park
4. Rock Cut State Park, etc.
How many days are enough for exploring Illinois?
If you want to witness the best of Illinois, you must plan a trip of 3-4 days.
Which are some of the best hotels or resorts in Illinois?
Here are some of the best accommodation options in Illinois:
1. Four Seasons Hotel Chicago
2. Waldorf Astoria Chicago
3. Viceroy Chicago
4. The Deer Path Inn
5. The Peninsula Chicago
Source https://www.thecrazytourist.com/15-best-places-live-illinois/
Source https://www.touropia.com/best-places-to-visit-in-illinois/
Source https://traveltriangle.com/blog/places-to-visit-in-illinois/