15 Best Places to Hike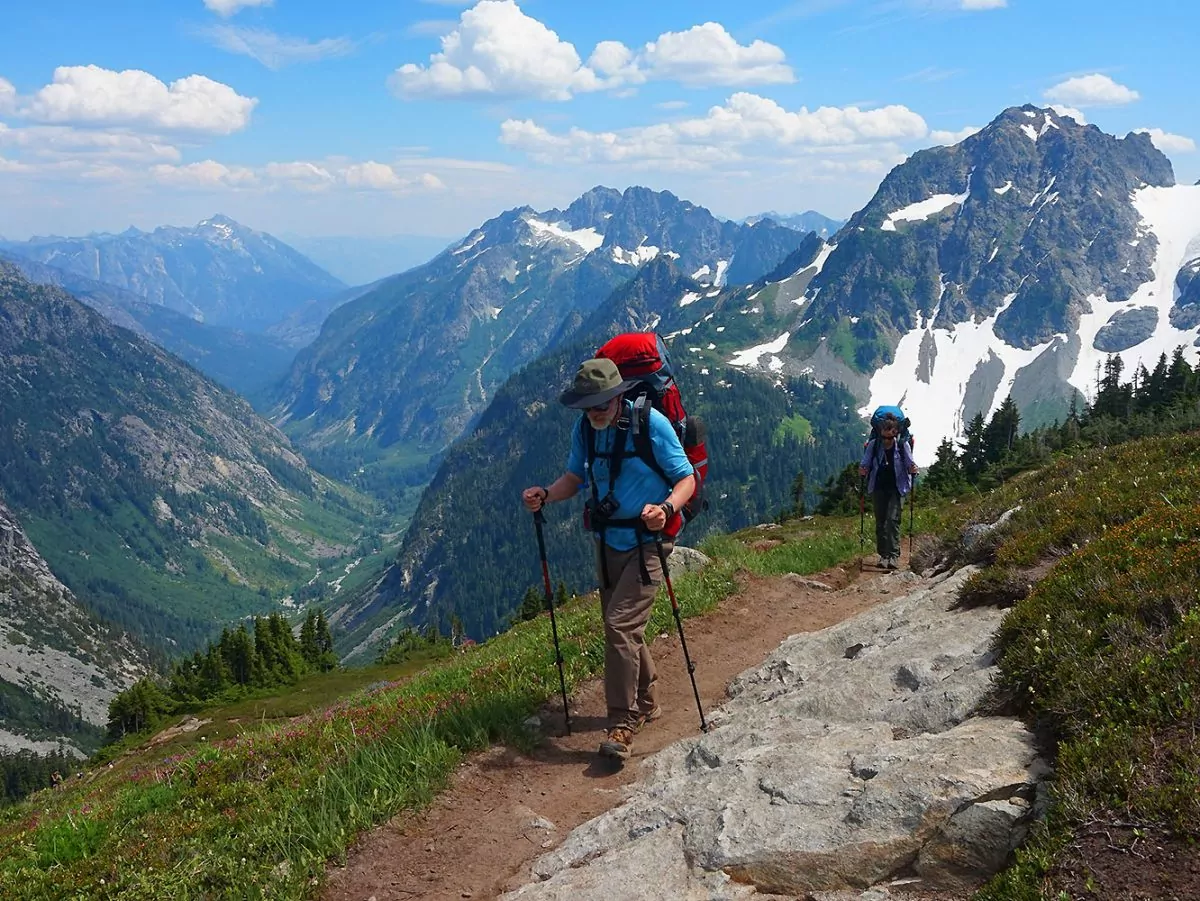 There are many amazing places to go hiking, so we would say there isn't really one best place. But there are some locations that spectacularly lend themselves to exploration on foot versus others that are more easily or enjoyably explored by boat, bicycle, or car. A great trekking destination has specific characteristics that make it so good for hiking.
In this article, we are focusing on truly world-class places to hike. We're not interested in average, or even good, here. We're interested in the best. Below we elaborate on what to look for in a great place to hike and then we list our top 15 picks for the best places to hike in the world.
Characteristics of a Great Place to Hike
Great places to hike meet common criteria. We believe the following five things are needed to make a truly excellent hiking destination:
Stunning Scenery
One of the most rewarding aspects of trekking is the scenery you get to experience. A truly great place to hike is going to be richly gratifying in this regard. Whether you're hiking through mountains, deserts, canyons, oceans, forests, or prairies, the scenery should be spectacular. And of course, you have to be able to see the scenery, which means there must be views of the surrounding landscapes.
Expansive Space
You should really be able to cover some ground. Even if a place is stunningly beautiful, if the longest hiking trail in the area is just a couple of miles, it is not – in our minds – a great place to hike. You should be able to choose between a half-day hike or a multi-day hike. Options must include trail hiking as well as off-trail hiking or "bushwacking." One of the great joys of hillwalking, as it's referred to in Europe, is the sense of freedom that people experience. Expansive amounts of space are a key factor in accessing that amazing feeling of freedom.
Walkable terrain or trails
A key characteristic of a great place to hike is that the terrain is walking friendly. Some places are stunningly beautiful and massive, but they aren't good for hiking because the foliage is too thick, they're swampy or watery, or they don't have developed hiking trails.
Ability to Find Solitude
Not all hikers are looking for solitude, but many are, and for this reason, the ability to have a place mostly to yourself is essential. At the world's best hiking destinations, you probably will not find an abundance of solitude on popular day hikes, but on more obscure trails and/or on multi-day trips it should be an option.
Ecological Integrity
Finally, a great trekking destination will be wild and well preserved. "Ecological integrity" means the natural systems are largely undisturbed, at least to the extent possible in today's world. The native plants and animals will be healthy, and the landscape as a whole will be intact, not divided or broken up by roads, clearcuts, mines…etc.
1. Grand Canyon National Park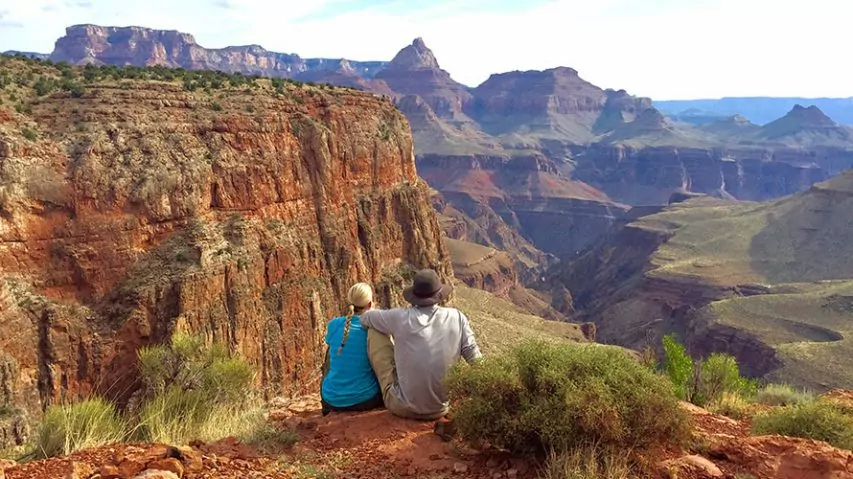 There's nowhere else on earth like the Grand Canyon, and Grand Canyon National Park is the heart of this 277-mile long geological phenomenon. It is also one of the best places in the world for hiking. It has all of the major characteristics of a great trekking destination: incredible scenery, vast open spaces, great trails, solitude, and ecological integrity. You can make the most of the Park by embarking on a day hike to a viewpoint or a backpacking trip down to the Inner Gorge and the Colorado River.
In Grand Canyon National Park, you can choose from many trails or even off-trail adventures. The most popular area — the Corridor — is home to the most moderate trails and also a lodge at the bottom of the Canyon called Phantom Ranch. But beyond the Corridor, you'll find many more obscure trails to experience amazing desert wilderness and soak up soul-nurturing solitude. The bottom line is that — from a hiking perspective — the Grand Canyon has it all, and it deserves to be near or at the top of every avid hiker's to-visit list.
2. The Alps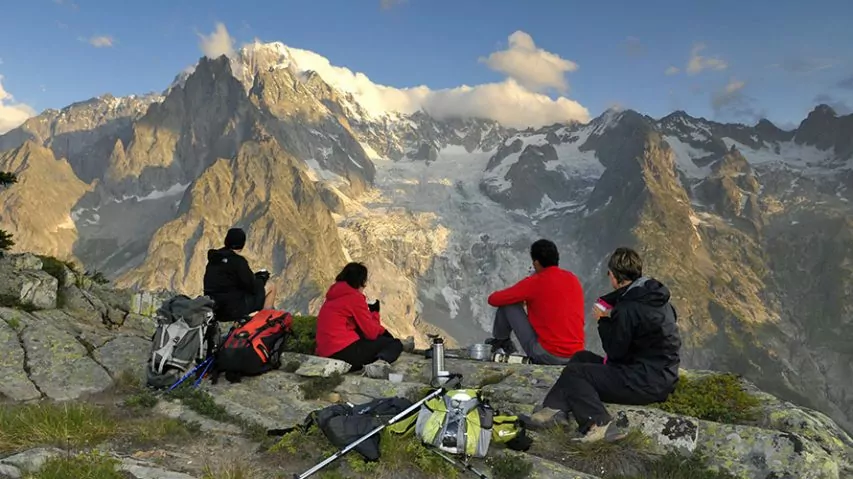 The Alps are hard to beat in terms of scenery, space and walkability. It feels like they were created specifically for trekking. One of the most amazing ways to enjoy the Alps is to link up mountain villages or huts on multi-day trips. You will experience not only breathtaking scenery, wildlife, and amazing hill walking but you'll also get to enjoy delicious European cuisine, charming lodging and different cultures.
The ecological integrity and ability to find solitude in the Alps are not as high as in some our other top picks. If those characteristics are very important to you, then you may want to keep looking. If you want to soak up stunning views, tackle some world class hikes, have a cultural experience and eat like a queen or king, then the Alps are a phenomenal place to hike.
3. Colorado Rockies
The state of Colorado offers world class hiking and backpacking, and an almost endless supply of it. With one major national park – Rocky Mountain National Park – and 44 wilderness areas that cover more than 3.5 million acres (approximately the size of Connecticut), Colorado is a true hiking gem. You can camp, stay in any number of iconic mountain towns (Crested Butte, Winterpark, Telluride, Aspen, Steamboat…etc.), or go on a multi-day backpacking trip.
The scenery is out of this world. There is immense space to lose yourself in. Colorado has plenty of hiking trails including major ones like the Colorado Trail and the Continental Divide Trail. The ability to find solitude is good, especially if you are willing to hike off trail. And the ecological integrity is strong, but not untarnished in that wolves and grizzlies were eradicated by humans and are still extinct in Colorado.
4. Peru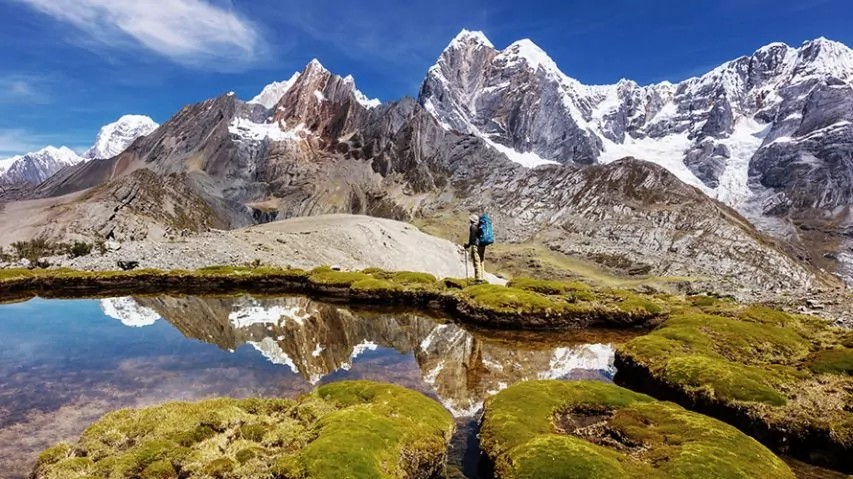 Peru is a big country with tremendous hiking for the eager adventurer. It really offers almost anything you could ask for. From the famous Inca Trail and Machu Picchu to the second highest mountain range in the world (Cordillera Huayhuash), to coastal deserts, cloud forests, the Amazon Rainforest and more. The scenery is without question world class, particularly in the high Andes. The mountains are vast and expansive with plenty of trails and alpine treks to choose from. Solitude is available if you seek it out, and many ecosystems of the Andes are still quite wild with native wildlife and pristine wilderness.
One of the most compelling aspects of Peru is its fascinating cultural history. Remnants of the Inca civilization are visible across the Andes, and are a part of nearly every trekking route. The Inca Trail is very worth doing if the cultural history is your primary interest, and solitude is less important to you. Otherwise, we recommend looking at more off-the-beaten-path hikes like Salkantay, Cordillera Huayhuash and Rainbow Mountain.
5. Washington State
Washington State has 3 major national parks – Mount Rainier, Olympic and North Cascades – all of which offer tremendous hiking opportunities. Beyond the national parks, Washington has 31 wilderness areas with varying landscapes of lush rain forests, iconic peaks, wild rivers, plunging waterfalls, pristine meadows and more. Washington has it all – dramatic scenery, vast expanses of wilderness, an abundance of hiking trails, access to solitude and intact ecosystems.
The must-see highlights of Washington are the three national parks listed above: Mount Rainier, Olympic and North Cascades. All three offer amazing day hikes as well as great camping and/or lodging and extended backpacking trips. If stunning mountain landscapes, rich forests, waterfalls, wildlife, volcanoes, glaciers, seashores and wildflowers sound like a great combination then plan your next hiking vacation in Washington!
6. Nepal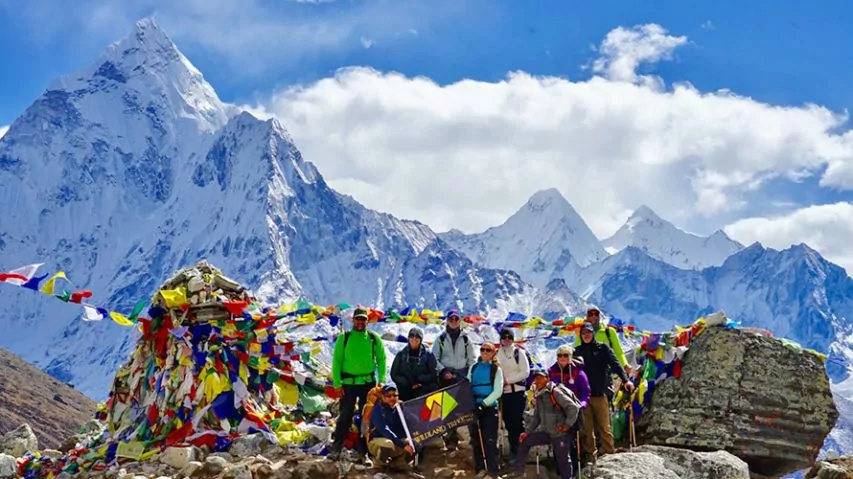 Nepal is home to the world's tallest mountain range, the Himalayas. This fact alone makes it a worthwhile trekking destination, but there are many other reasons to add Nepal to your must-hike list. Nepal is home to rich mountain cultures, Buddhist monasteries and fascinating mountaineering history. On a trek to Everest Base Camp or Annapurna Base Camp, you will follow ancient walking paths used by the locals for centuries. It's almost as if you can hear the voices of the people who walked these trails long ago in the winds and rivers that sweep through these mountains.
In Nepal, the scenery is unmatched, with towering, glaciated peaks framing nearly every view. The Himalayas are expansive, but for the most part the treks follow well-established routes between villages and mountaineering base camps. So in terms of ecological integrity and solitude, Nepal is not at the top of the list. But when it comes to sheer beauty, cultural immersion, the quality of the trekking and the uniqueness of the region, it is profoundly engaging.
7. Yosemite National Park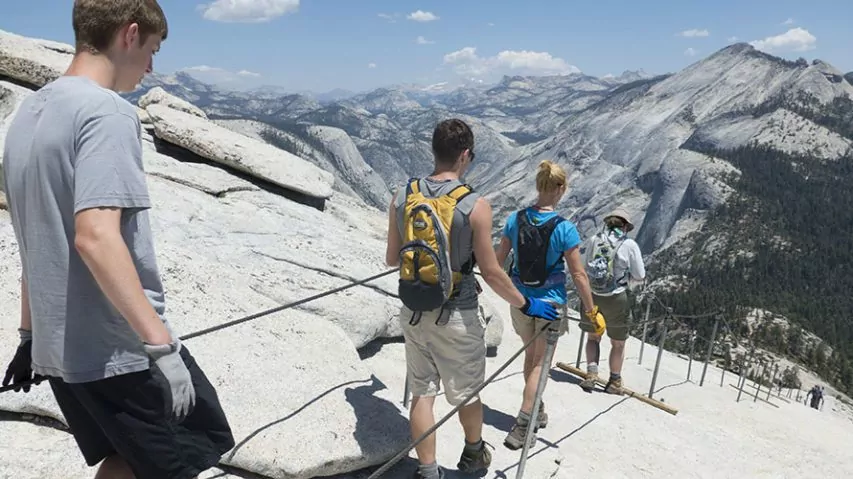 Yosemite National Park in California's iconic Sierra Nevada Mountain Range is one of the most photographed places in the world, and justifiably so. Beyond its photogenic allure with towering, glacial-sculpted granite domes; thundering waterfalls and pristine meadows, Yosemite is also a diverse and very compelling place to hike. Many people camp or stay in lodges in or around the Park and embark on day hikes to a variety of world-class destinations. Others secure permits, load up their backpacks and set off into the wilderness for days of backpacking in the backcountry. Either way, Yosemite has many fantastic options.
When it comes to scenery, Yosemite is absolutely wonderful. Its wilderness, especially in the high country surrounding Yosemite Valley, is vast and expansive with plenty of room to lose yourself. There are plenty of trails, and if you're willing to hike more than 1-2 miles from the trailhead, you can find solitude. Finally its ecological integrity is good but – like Colorado – its native populations of wolves and grizzly bears are long extinct, making it a partially intact ecosystem. Regardless, Yosemite is a must-visit national park for anyone who loves to hike.
8. Iceland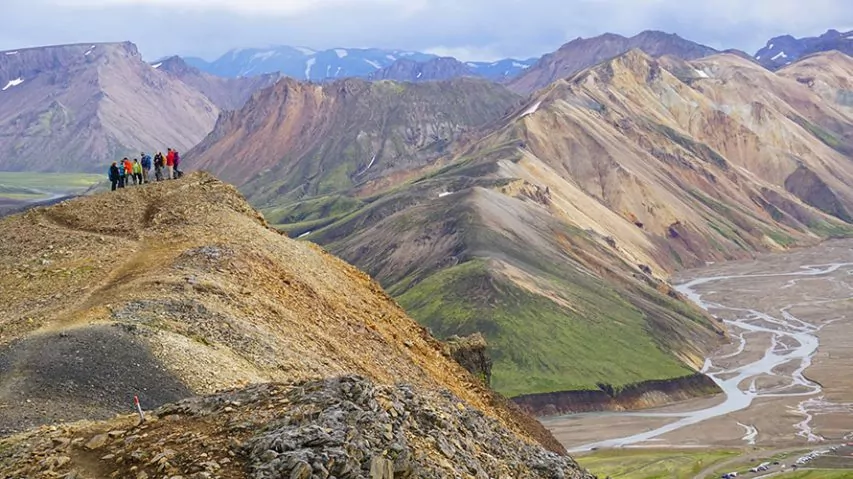 Iceland is the "Land of Fire and Ice." With active volcanoes, glaciers, waterfalls, black sand beaches, arctic wildlife, marine wildlife and more this place flat out rocks! What makes it even better? The hiking and trekking. Iceland has phenomenal hikes that show visitors the best of its multi-colored and diverse landscapes. There are fantastic day hikes, but hotels can be very expensive and the camping can be touch and go with harsh and unpredictable weather. The real gems in Iceland are the hut to hut treks. Iceland's huts are remote and rustic, communal accommodations but they are warm, dry and cozy. After long hikes in wind and rain, these huts are wonderful, welcome sights.
In terms of our five criteria, Iceland hits them pretty darned well. Breathtaking scenery and viewpoints to take it all in – check. Vast and expansive wilderness – check. Walkability with good trails – check. Ability to find solitude – check. Ecological integrity – semi check because Iceland has been impacted by centuries of European settlement including widespread logging and sheep grazing. Overall though, Iceland is a place of profound and unique beauty that we recommend adding to your list of must-visit hiking destinations.
9. Asheville, North Carolina Area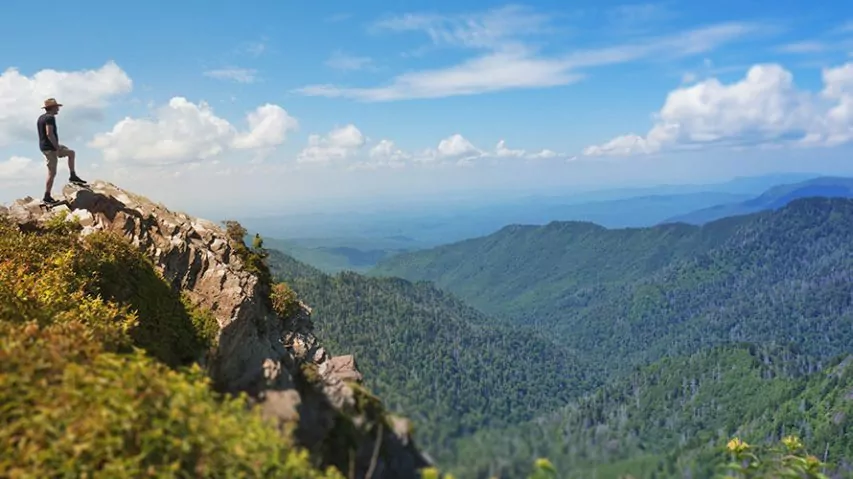 The United States has a handful of really fun, character-filled small mountain cities that are worth visiting themselves, much less for all of the amazing country that surrounds them. Jackson Hole, Wyoming; Bozeman, Montana; Durango, Colorado; Bend, Oregon; Boulder, Colorado; Flagstaff, Arizona; and – wait for it! – Asheville, North Carolina. Asheville is surrounded by two hallmark features of the Appalachian Mountains – Great Smoky Mountains National Park and the Blue Ridge Mountains. This area boasts the most ecologically diverse forests in North America, mountains with huge vertical relief, stunning viewpoints, the famous Appalachian Trail, unique wildlife and much, much more.
Our recommendations for enjoying this area are to stay at a hotel in Asheville and enjoy day hikes to the various areas around the city, or to secure permits and embark on a backpacking trip in Great Smoky Mountains National Park. The Appalachian Trail is very worth hiking, as it often follows the highest ridges with the best views, but in terms of overnight camping it requires staying in shelters that are crowded and often overrun with rodents. Instead, we advise choosing routes that follow the Appalachian Trail but have you in campsites without shelters. Bottom line, Asheville is a phenomenal hiking destination and one we strongly recommend adding to your master list of adventure.
10. Chilean Patagonia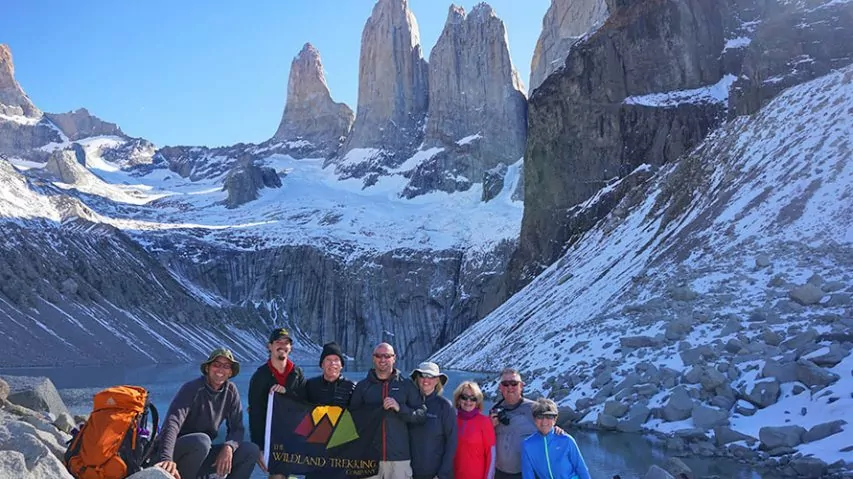 Patagonia is a region at the southern tip of South America that spills over the border between Chile and Argentina. Both sides of the border are wonderfully scenic and wild. In this article we are focusing specifically on the Chilean side of Patagonia as one of the best places to hike in the world, although the Argentinian side is excellent as well. In Chile, Patagonia has two major national parks very much worth visiting and trekking through: Torres del Paine and Patagonia National Park. Torres del Paine is a well-established park with amazing hut to hut treks, the two most popular famously called "The W" and "The O" for the shapes of the hikes. Most of the huts in Torres del Paine are full-service accommodations with cafeterias and dorm-style, co-ed lodging. The hiking in Torres del Paine takes you through a pristine wilderness with glaciers, glacial-fed lakes, soaring granite spires, unique wildlife, waterfalls, and much more.
Patagonia National Park is a very new, innovative park in the Aysen region of Patagonia donated to the Chilean government by American conservationists Kris and Doug Tomkins. Roughly the size of Yosemite National Park, it is largely unknown as of this writing, and now is the time to see it. Its scenery is out of this world, with towering alpine peaks, glaciers, turquoise lakes, unique wildlife and much more. Solitude is not difficult to find in Patagonia National Park, and it is an ideal setting for an adventurous backpacking trip or horse-supported trek.
11. Utah National Parks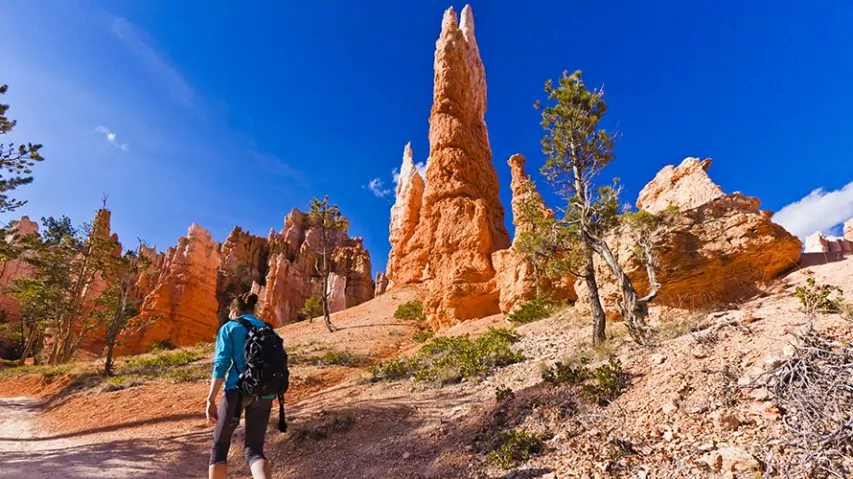 Utah's "Mighty Five" national parks are best explored on foot. Zion, Bryce Canyon, Capitol Reef, Arches and Canyonlands are the five parks that make up the "Mighty Five," Utah's clever marketing slogan for its slate of canyon country destinations. All five of these parks are high desert gems with amazing cultural history, wonderful geology, unique rock formations including arches and hoodoos, desert wildlife like desert bighorn sheep, slot canyons, vibrant oases and more.
In terms of scenery, all of these parks are mind blowingly beautiful. They are all expansive with plenty of open space, but with limited numbers of trails through that space, and many discourage off-trail hiking because of its impact on native soils. You can find plenty of solitude in Capitol Reef and Canyonlands, but Zion, Bryce Canyon and Arches are more difficult. And finally, from an ecological integrity standpoint, these national parks are strong. If you haven't been, take some time to visit Utah and make the most of these world-class areas with a series of day hikes or a well-planned backpacking adventure.
12. Canadian Rockies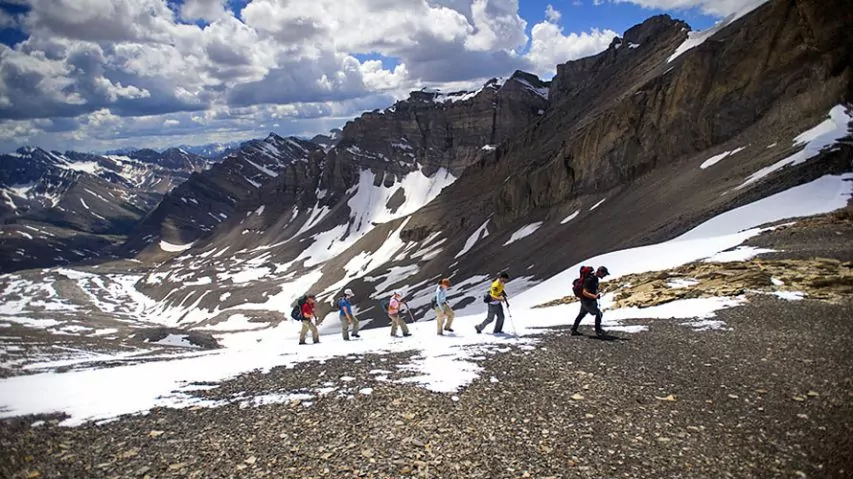 The Canadian Rockies are a wonderland of adventure for people who love to hike and explore in the mountains. The Canadian Rockies are made up of four major national parks: Banff, Jasper, Kootenay and Yoho. Together, these four parks preserve nearly 8,000 square miles (more than 5,000,000 acres) of pristine mountain wilderness. These mountains are profoundly beautiful, with turquoise glacial-fed rivers and lakes, thundering waterfalls, massive peaks, glaciers, deep forests and more. They will feel a bit harsher and wetter than America's Rocky Mountains, but have excellent networks of hiking trails. Solitude is not difficult to find, and the ecological integrity is high with the major predators of the region – Grizzly Bears and wolves – still very much a part of the habitat.
In the Canadian Rockies you can base out of any number of mountain towns or hotels and embark on daily hikes into the mountains, or you can secure permits and enjoy a backpacking trip of almost any length you prefer. In terms of size, Alberta's national parks go from largest to smallest as Jasper (4,335 mi2), Banff (2,564 mi2), Kootenay (543 mi2) and Yoho (507 mi2). Banff is the most famous, but all four are stunning and well worth exploring.
13. Southern California Deserts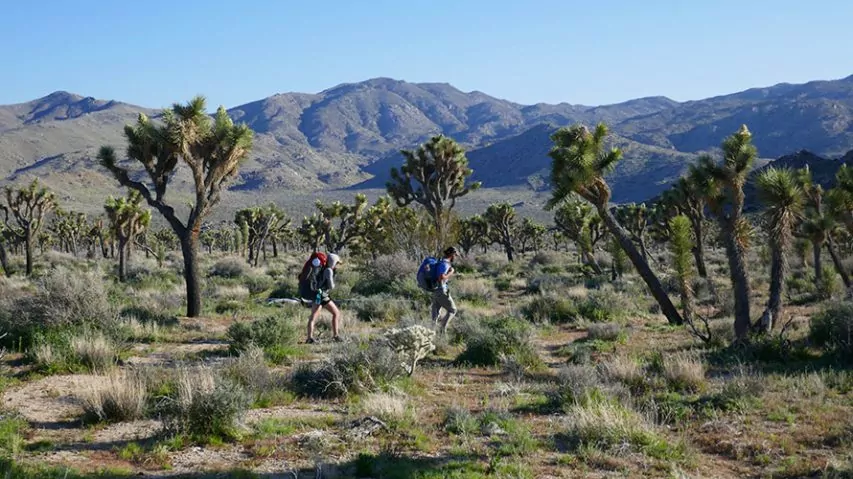 Southern California has two national park gems (Joshua Tree and Death Valley) as well as a massive state park that is in fact the largest of its kind in the United States, the Anza-Borrego Desert State Park. These three destinations are very much in the desert category, and are best visited and hiked in the winter or shoulder season months. They are extremely arid with sporadic oases that are difficult to not completely fall in love with. Backpacking in these parks may require "dry camping," depending on which route you do which mean hiking with enough water for one or more camps.
In terms of scenery, these parks are stunning if you like desert landscapes. Joshua Tree is arguably the most scenic of the three. In terms of space, you'll find more than you could possibly want in these parks, and the hiking is either on good trails or is pleasant off-trail hiking. Solitude is very easy to find if you're willing to leave the highway and set out on foot. Finally, the ecological integrity is high with the caveat that climate change has exacerbated the aridity of these parks with severe drought. Springs that were reliable are now unpredictable, making some backpacking routes more difficult and dangerous. But don't let that stop you – these parks are phenomenal, especially in the winter, so load up your backpack, tie up those boots and make the journey!
14. New England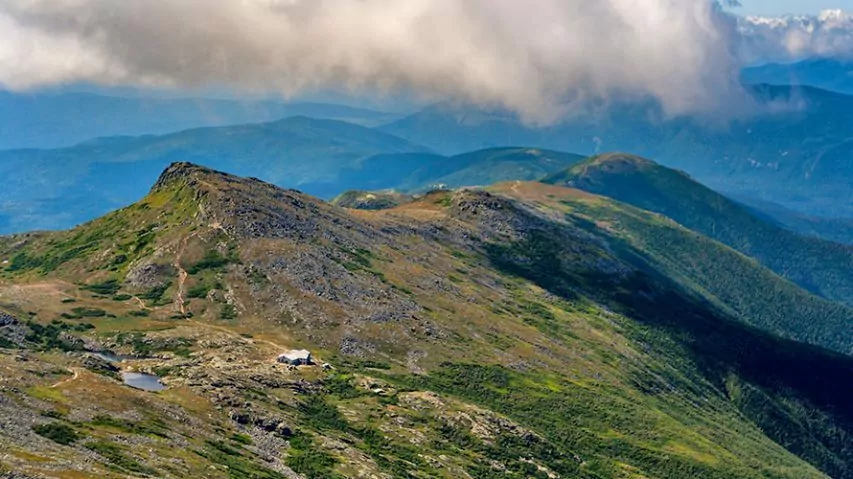 New England is a collection of states including Connecticut, Maine, Massachusetts, New Hampshire, Rhode Island and Vermont. In this article we are specifically referring to three of those states: Maine, New Hampshire and Vermont. Maine – which is the home of the northern terminus of the Appalachian Trail at Mount Katahdin, Maine's highest mountain – is wild by Eastern standards and has a plethora of great hiking opportunities. It is also where Acadia National Park lives, a stunning spot on the Atlantic Coast. New Hampshire is similar to Maine in its weather and amount of mountains you can hike, the most famous of which are the White Mountains. In "The Whites" you can link up mountain huts for treeline traverses that reward with phenomenal views. And finally in Vermont, it's similar to Maine and New Hampshire with big mountains and plenty of hiking trails. The Green Mountains are probably the most famous area of Vermont, with the spectacular Long Trail snaking across their high ridgeline.
In terms of scenery, these mountains are beautiful but be prepared to do a lot of forest hiking. Often a full day's hike will include hours in the forest with a final reward at the top of views out above the trees. The mountains in these states are not as vast as their Western counterparts, and are best hiked on trails. The trails tend to be well maintained, but can be very steep compared with the switchbacking horse trails of the Western USA. Solitude is accessible during certain times of year, but not a hallmark feature of New England. And in terms of ecological integrity, these mountains have been settled by – and therefore impacted by – European descendants for centuries. Expect healthy wildlife populations and vibrant forests, but not untouched wilderness.
15. New Zealand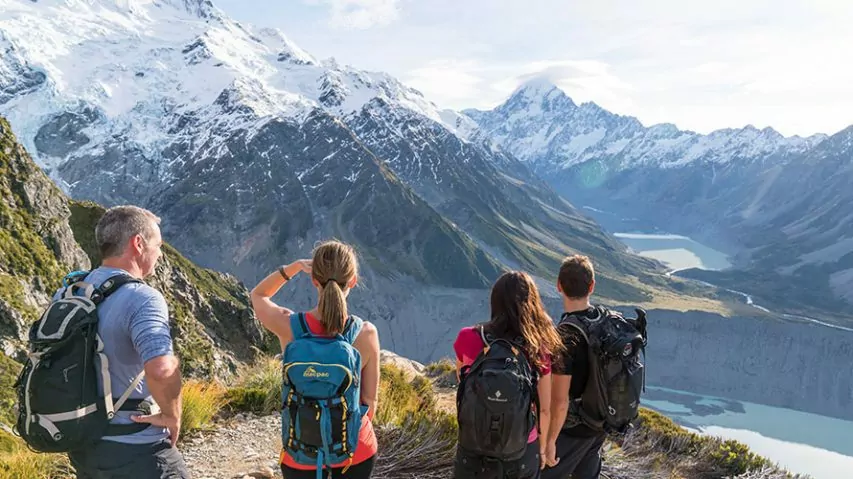 New Zealand has exploded in popularity over the last decade and a half, at least partially in part to a series of very popular movies being filmed there (Lord of the Rings and the Hobbit trilogies). These movies put on full display the fantastic beauty of the Kiwi homeland, which combines towering, glaciated mountains with rugged coastlines. New Zealand is made up of two islands, creatively referred to as the North Island and the South Island. The North Island is where Auckland, the largest Kiwi city resides, and is a more temperate and less mountainous landscape. The South Island is where more of the hiking gems are located. The most famous hikes are the Milford Track, the Routeburn Track and the Kepler Track. But beyond those classics, there is an almost unlimited amount of walking and trekking to choose from. New Zealand has 13 national parks that preserve more than 30,000 square kilometres of land.
In terms of scenery, New Zealand is world class and stunning. In terms of open space, you will find plenty of room here to explore and access that invigorating feeling of freedom. The hiking trails are excellent, and many areas have backcountry huts you can sleep in which vary but can be very nice. Solitude is something you can find in New Zealand if you are willing to work for it. And from an ecological integrity standpoint, New Zealand is in pretty good shape, but does have a problem with introduced species (like rabbits) that don't have natural predators and have reproduced dramatically. All in all, New Zealand is one of the best places to hike in the world and definitely one to add to your list.
Best countries for hiking: 10 trail-rich destinations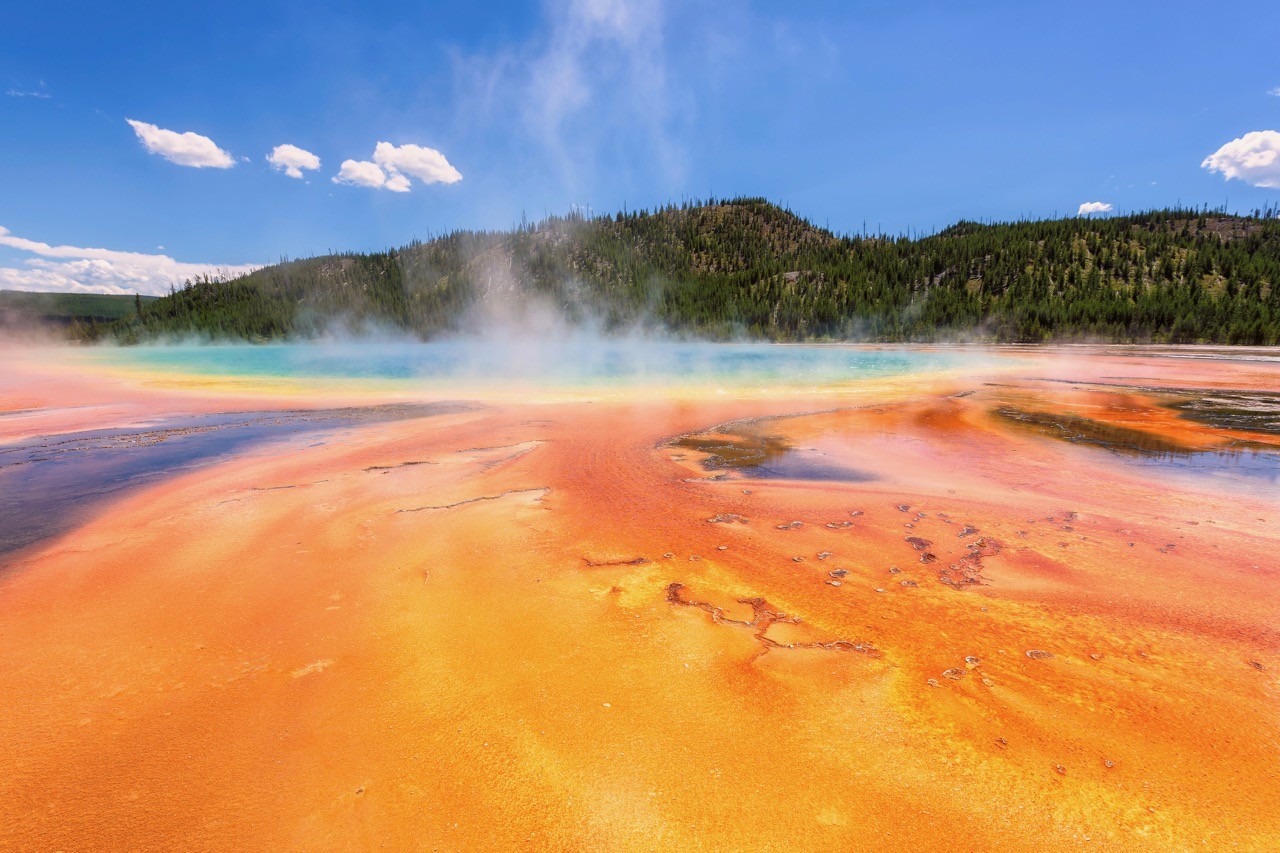 Dreamstime The Old Faithful geyser in Yellowstone National Park
The USA knows how to do wilderness. Not only does it boast practically every landscape under the sun, but most of it is accessed via the unrivalled National Park Service, which incidentally celebrated its centenary this year.
The national parks are fantastic: accessible and well organised with excellent facilities and some of the finest natural beauty in the world, making America one of the best countries for hiking.
The array of different landscapes on offer in the country makes it an adventurer's dream. Wedged between the two great oceans of the world, mountains, beaches, rainforest, deserts, canyons and glaciers rise and fall across this continent-sized country.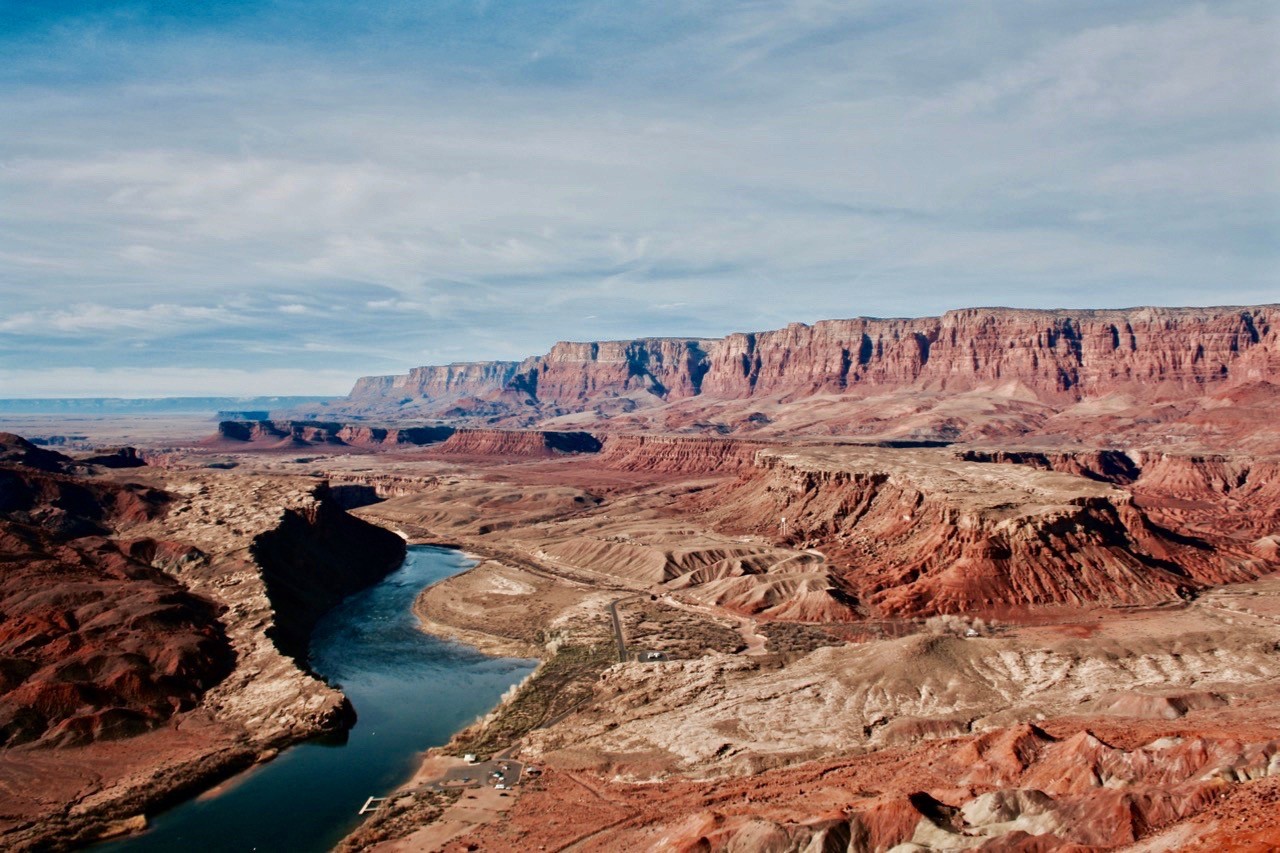 Atlas & Boots The US is one of the best countries for hiking
The Triple Crown of American long-distance hiking trails (the Pacific Crest, Appalachian and Continental Divide) steal the limelight, but there are endless networks of trails across the country. Highlights include iconic landscapes such as the Grand Canyon, Yellowstone National Park and the Great Smoky Mountains of Tennessee and North Carolina.
Don't overlook the non-contiguous states either. Alaska boasts the country's highest mountain and a member of the seven summits, Denali, while Hawaii is home to beaches, volcanoes, Jurassic Park-esque landscapes and the world's tallest sea mountain.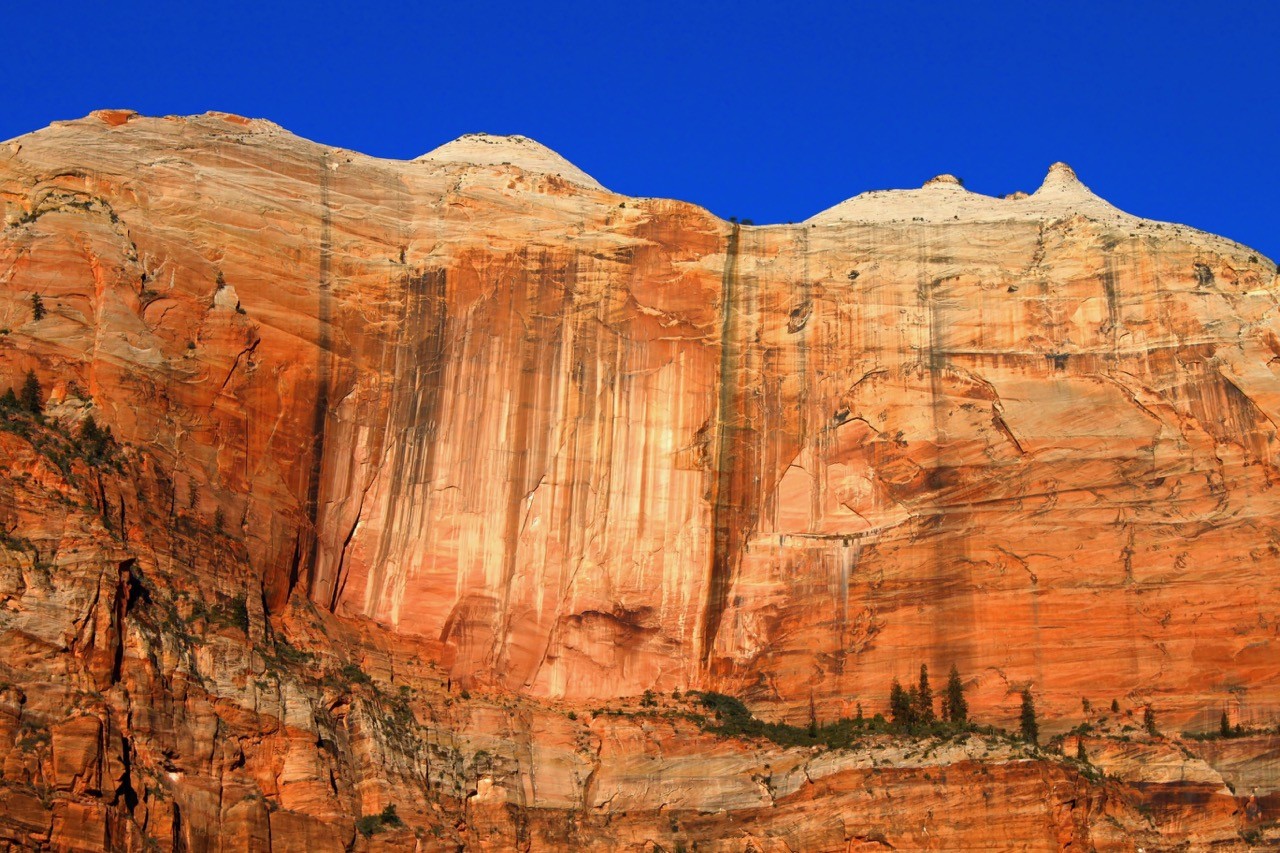 Zion's red cliffs Dreamstime
2. Chile
Best trails: Aconcagua, The W and Mirador las Torres
Known for: Patagonia, the Andes, jagged peaks and great glaciers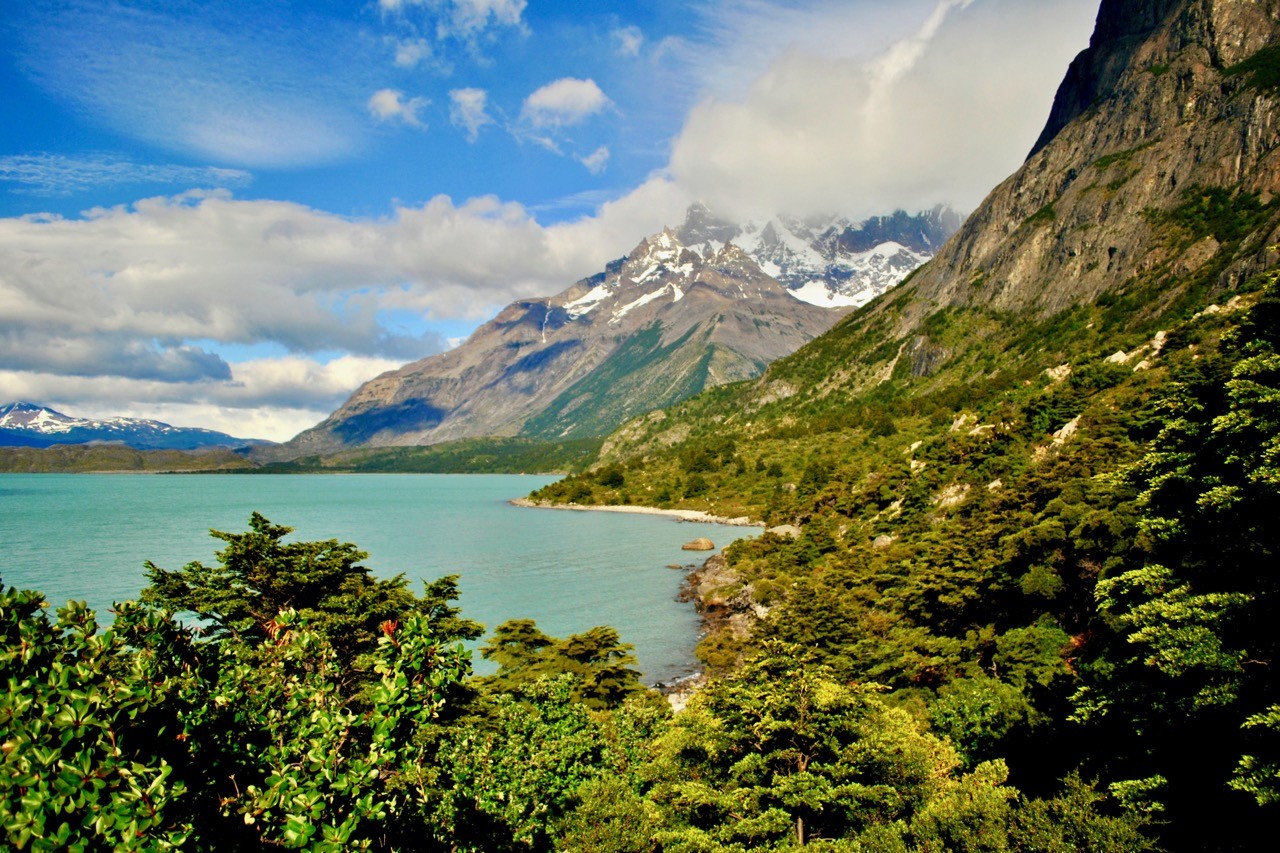 Dreamstime Chile is one of the best countries for hiking
I have said before that I have unfinished business in Chile. That business is completing all 84km (37mi) of 'The W' through the Torres del Paine National Park in Chilean Patagonia.
In 2013, National Geographic ranked Torres del Paine National Park in Chile as the fifth most beautiful place in the world and it's easy to see why when you're walking amid giant ice-white glaciers, sapphire green lakes and the granite towers of Las Torres that define the region.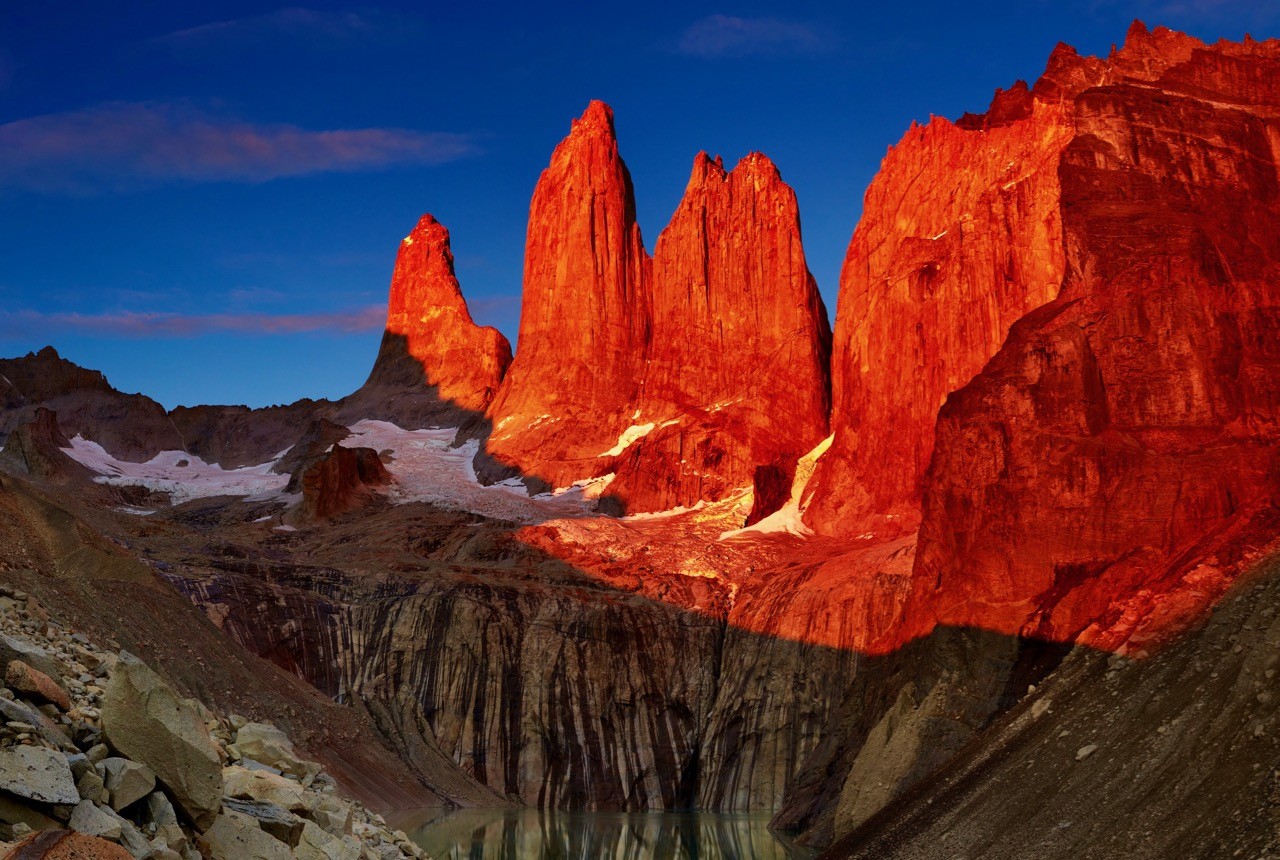 Mirador las Torres
However, hiking in Chile isn't just about Andes and Patagonia. There is the driest place on the Earth in the Atacama Desert, the temperate rainforests of Cochamó Valley and the vast and varying Lake District area. There are 36 national parks to explore in Chile with something for everyone, making it one of best places to hike in the world.
3. Norway
Best trails: Besseggen and Galdhøpiggen in Jotunheimen, Gaustatoppen and the Trollheimen triangle
Known for: Arctic Circle, fjords, Sami culture and Polar exploration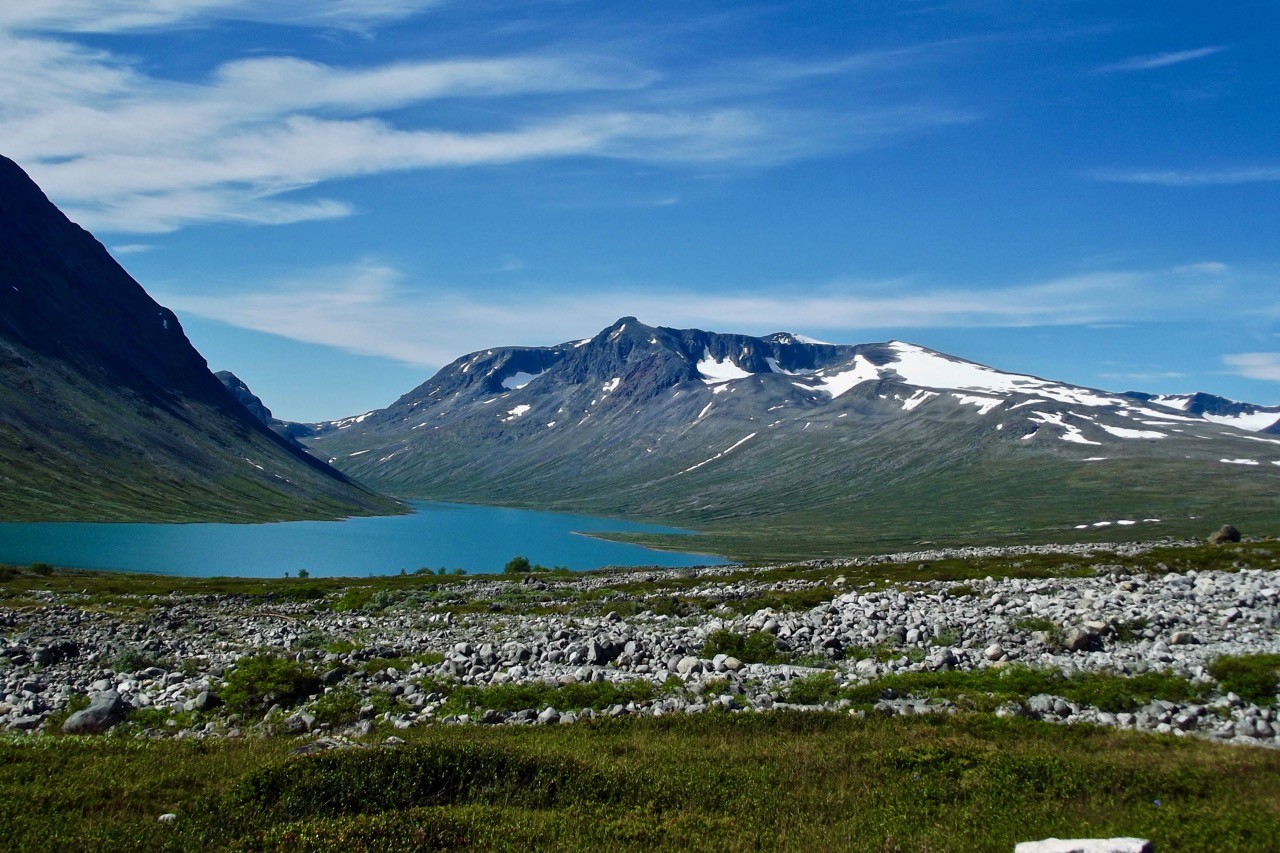 Atlas & Boots A 'standard' Norwegian vista in Jotunheimen National Park
Next week, we're heading to Norway for the third time, this time to the Arctic Circle to hunt for the northern lights. It's an expensive country but the high levy doesn't put us off. Norway is arguably the best country in Europe for hiking and cross-country skiing and definitely one of the best countries for hiking in the world.
What would you expect from the country that defines polar exploration? It was, after all, the Norwegian Roald Amundsen who beat Captain Scott to the South Pole over a century ago.
Only vast Russia and remote Iceland have a lower population density than Norway, meaning it doesn't take much to clear the city limits and get into nature. The country has excellent access-to-wilderness laws, essentially meaning you can camp anywhere as long as you're 150m (500ft) from a building.
The hiking infrastructure is superb with a clearly marked network of hiking and skiing routes supported by well-maintained refuges and campsites. These are run and maintained by the outstanding DNT (Norwegian Trekking Association) – an excellent resource for anyone hiking in Norway.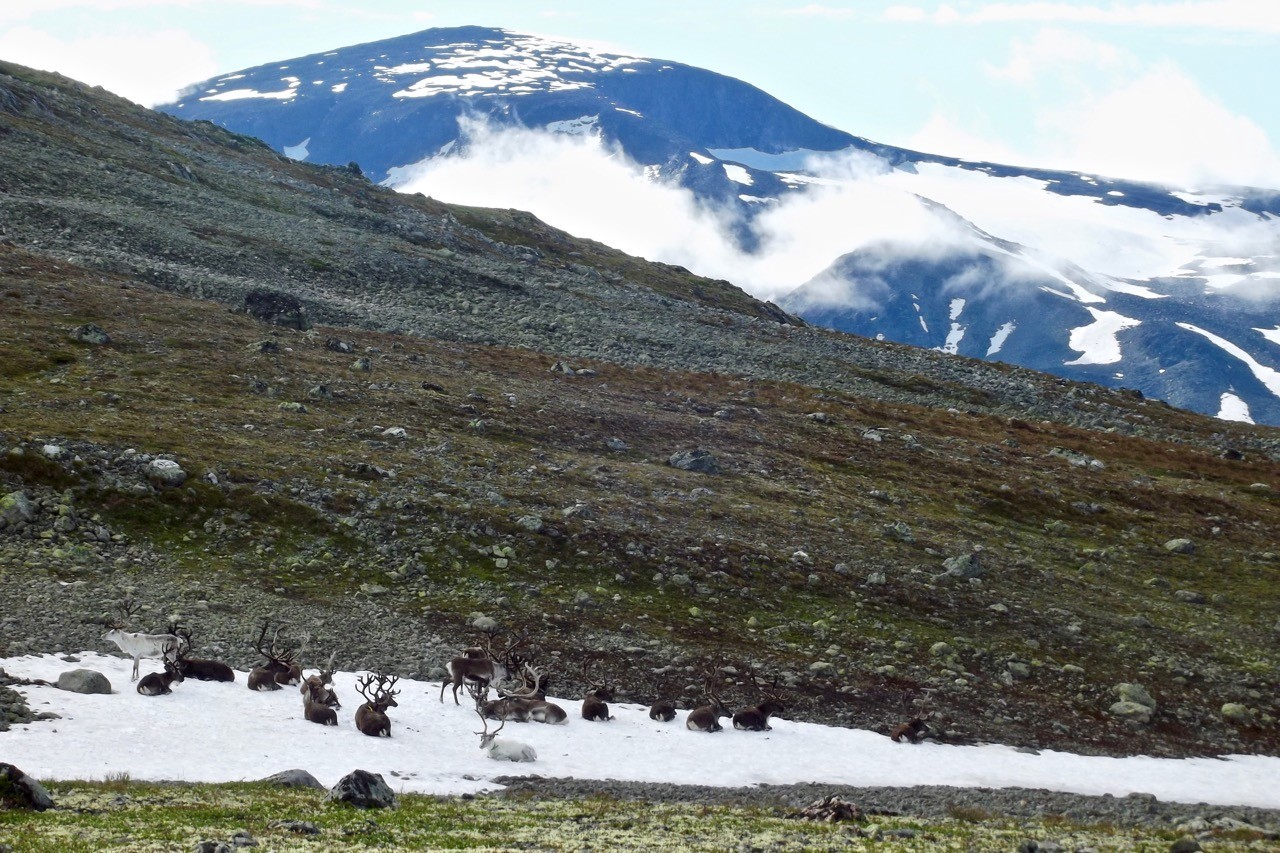 Atlas & Boots Norway is one of the best countries for hiking
The scenery is stunning. Whether it's the western fjords, gigantic glaciers or snow-capped crests – including Scandinavia's highest mountain, Galdhøpiggen – or the remote Arctic archipelago of Svalbard, Norway has some of the wildest landscapes in Europe.
Further reading: Walking in Norway
4. Nepal
Best trails: Everest base camp, Great Himalaya Trail and the Annapurna Circuit Trek
Known for: Himalayas, high altitude mountaineering, death zones and base camp treks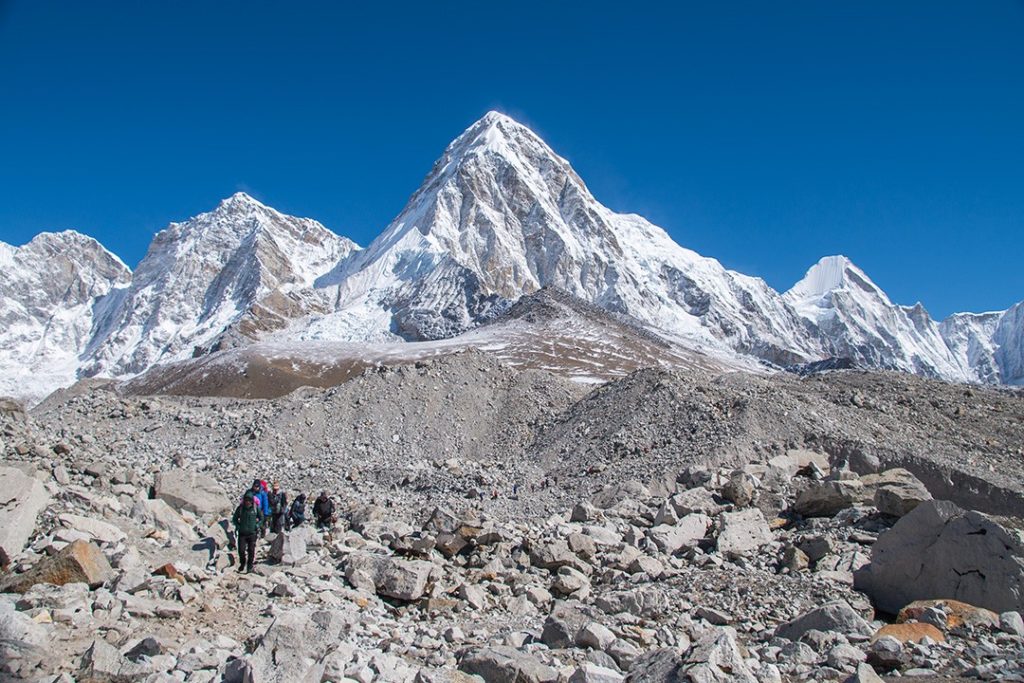 Atlas & Boots The Everest base camp trek in Nepal
Perhaps an obvious choice on a list of the best countries for hiking, but Nepal cannot be ignored. The landlocked nation of Nepal is dominated by the Himalaya. The mountain range is home to the world's highest peaks with seven of the world's 14 eight-thousanders in the Nepalese Himalaya.
Nepal is commonly divided into three physiographic areas: mountain, hill and the Terai plains. The country is essentially designed for hiking!
Outside of the obvious Everest basecamp, Annapurna and Manaslu basin routes, there is the excellent Upper Mustang Trek which follows an ancient salt trading route between Tibet and India. Closed to foreigners until 1992, Mustang is only now beginning to open up to trekkers and western tourism, and offers an excellent cross-section of the three geographical regions of Nepal.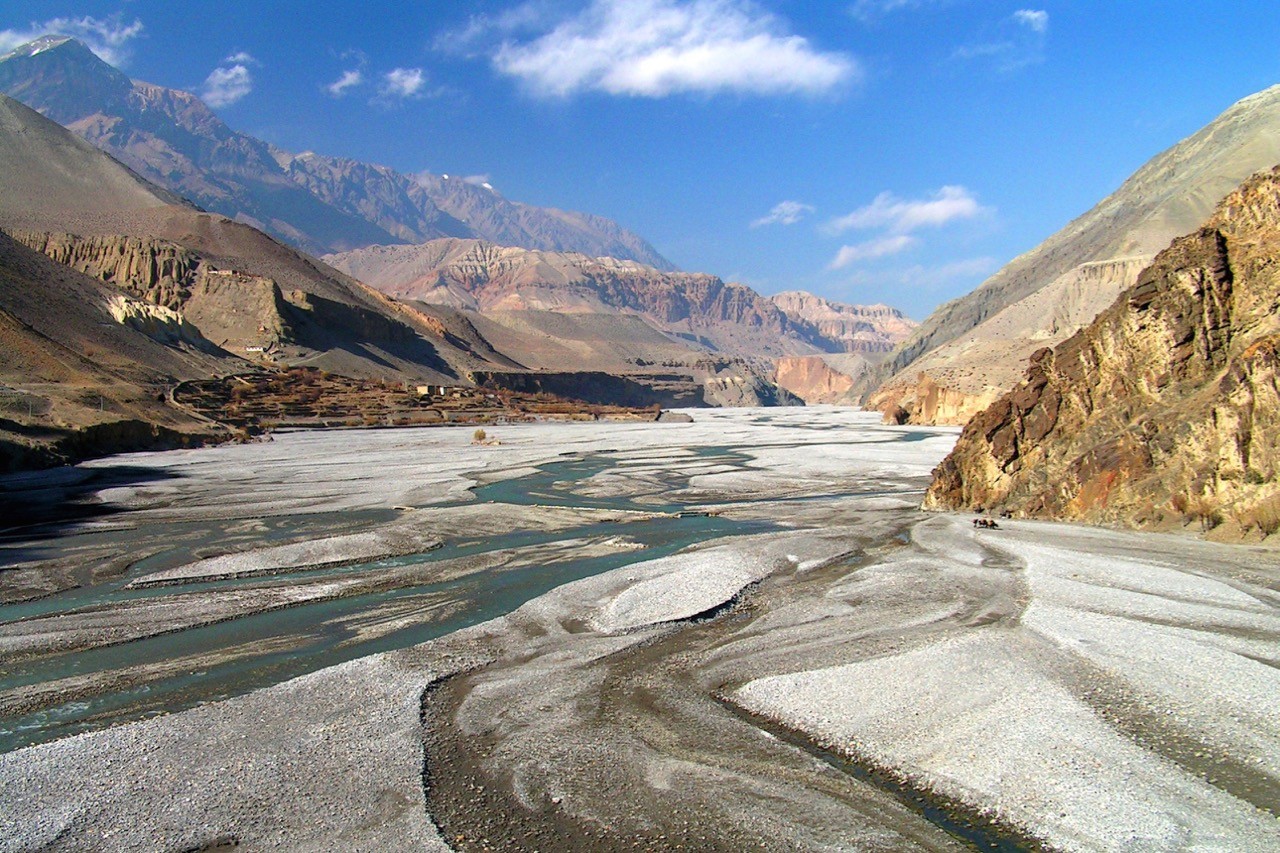 Dreamstime The Upper Mustang is one of Nepal's best unknown treks
An often overlooked option is hill trekking in the Ghorepani Poon. Far less taxing than the high mountain passes and ice fields of the highest mountains on Earth, this relatively rolling region offers stunning hiking options through beautiful rhododendron forests and hospitable Gurung villages. It's not all death zones and crampons in Nepal!
5. New Zealand
Best trails: Queen Charlotte Track, Te Araroa Trail and Milford Track
Known for: Southern Alps, kauri forests and bubbling geysers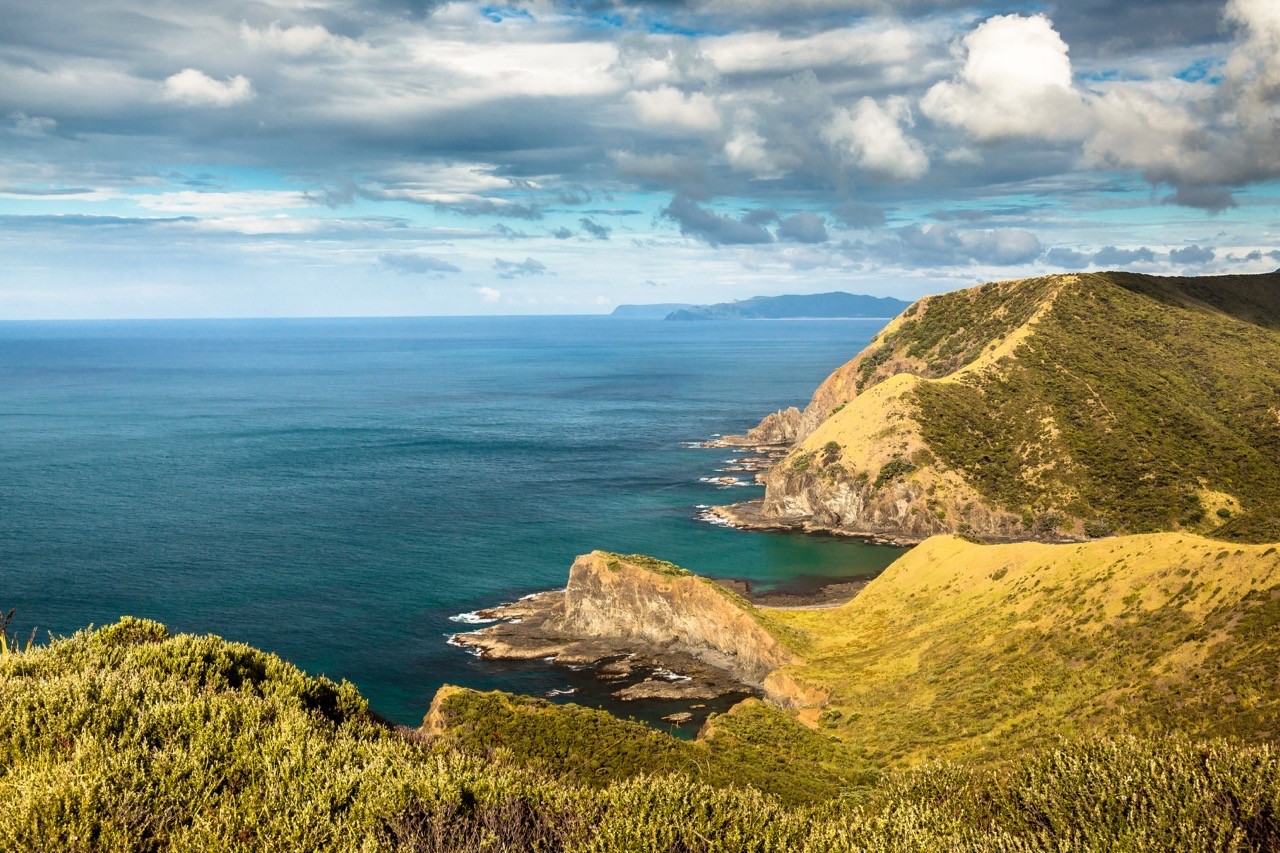 Dreamstime The Te Araroa Trail (Maori for 'Long Pathway')
The South Island of New Zealand has a reputation as an outdoor lover's paradise and quite rightly so – it has over 500 hiking trails. The island is divided by the great Southern Alps, the mountain range where Edmund Hilary honed his mountaineering skills before finally conquering Everest in 1953.
The Alps provide the South Island's numerous climatic zones: lush, temperate rainforest on the West Coast, beech forests inland and wide fertile plains on the East Coast. All making for a diverse hiking experience.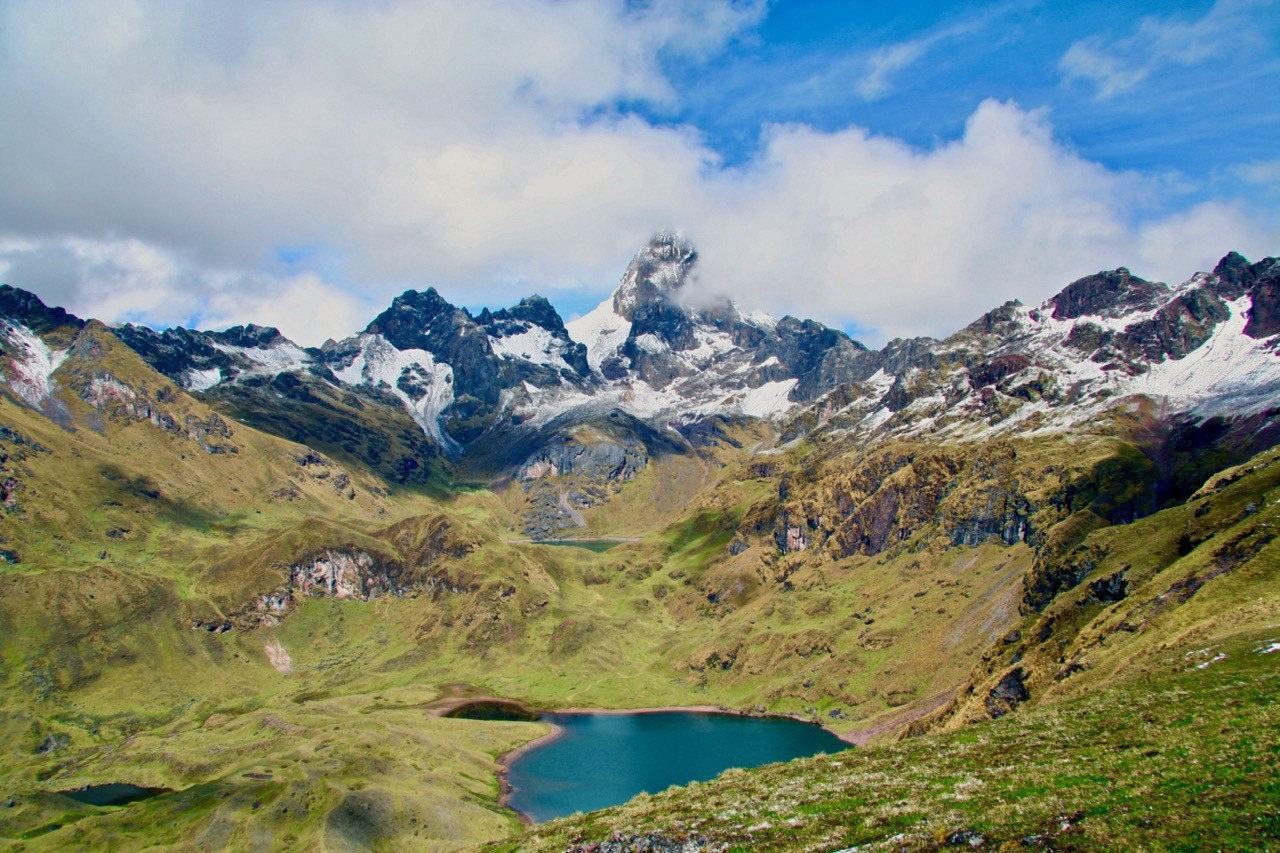 The Alps of New Zealand's South Island Dreamstime
The North Island, although not as wild as the South, still offers an array of topography. Its defining characteristics include a warmer climate, tropical coastlines, volcanic activity, ancient forests and a rich cultural history including the majority of the indigenous Maori tribes. Sounds incredible!
6. Sweden
Best trails: Kungsleden (King's Trail), Pilgrimsleden (Pilgrim Trail), Utvandrarleden (Emigrant Trail)
Known for: Europe's last wilderness, Sami culture and Lapland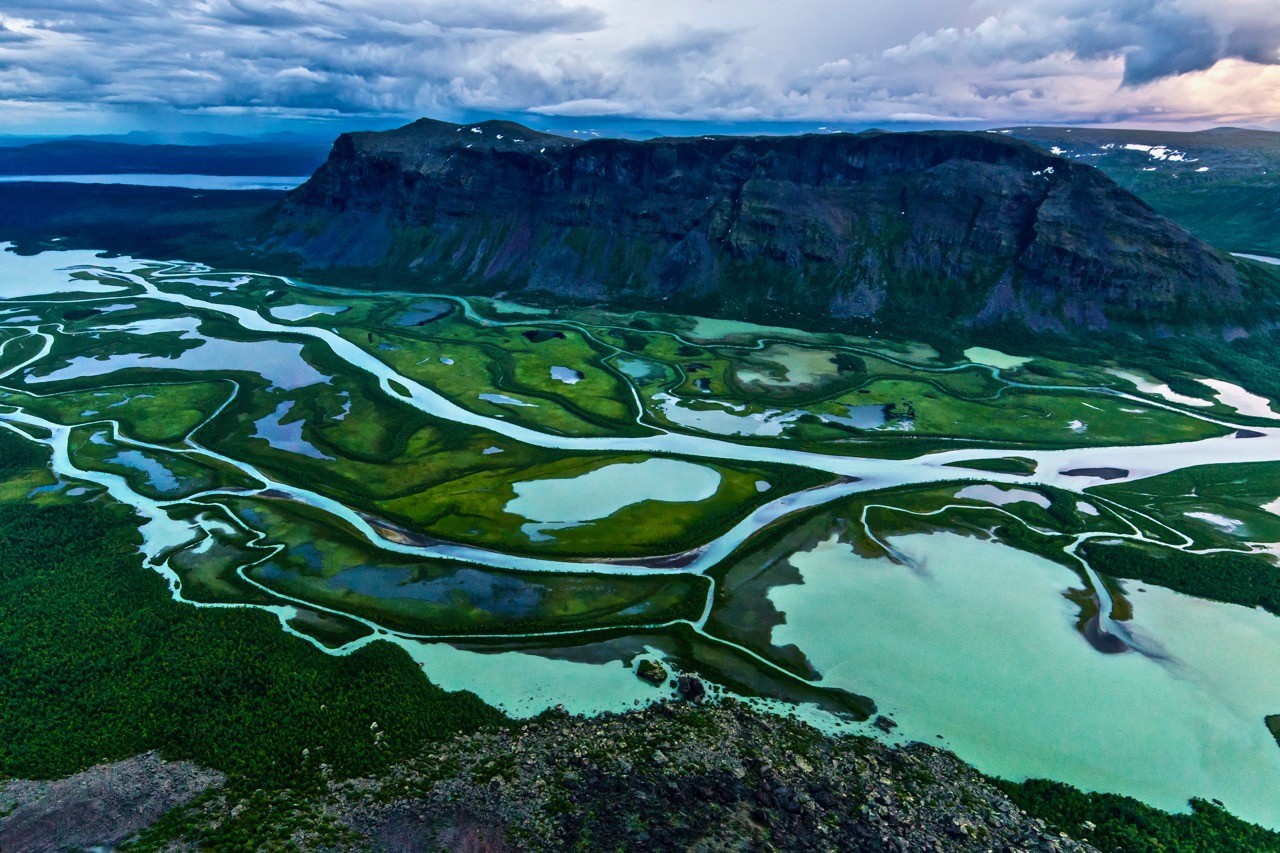 Dreamstime The Kungsleden (King's Trail) through Sarek National Park
Sweden is home to one of Europe's last wildernesses: Lapland. And within it is one of Europe's finest long-distance hiking trails, the Kungsleden (King's Trail) through Sarek National Park. You need to be the adventurous type just to make it out here as there are no marked trails, cabins or amenities that you may find elsewhere.
Further south, and in rather less inhospitable lands, there are hundreds of excellent trails to follow. In central Sweden, in the province of Dalarna, there is the Vasalopp Trail (Vasaloppsleden) and further south still, in a relatively balmy climate, are the Blekinge, Skåneleden and Halland trails. The Skåneleden Trail is a 100km-long footpath through the beautiful countryside of Skåne.
In all, Sweden has nearly 400 hiking trails which (outside of Sarek) are usually clearly marked and dotted with 350 well-maintained hostels, mountain stations and huts. These are run and maintained by the excellent STF (Swedish Tourist Association), a first-rate resource for hikers visiting Sweden's great outdoors.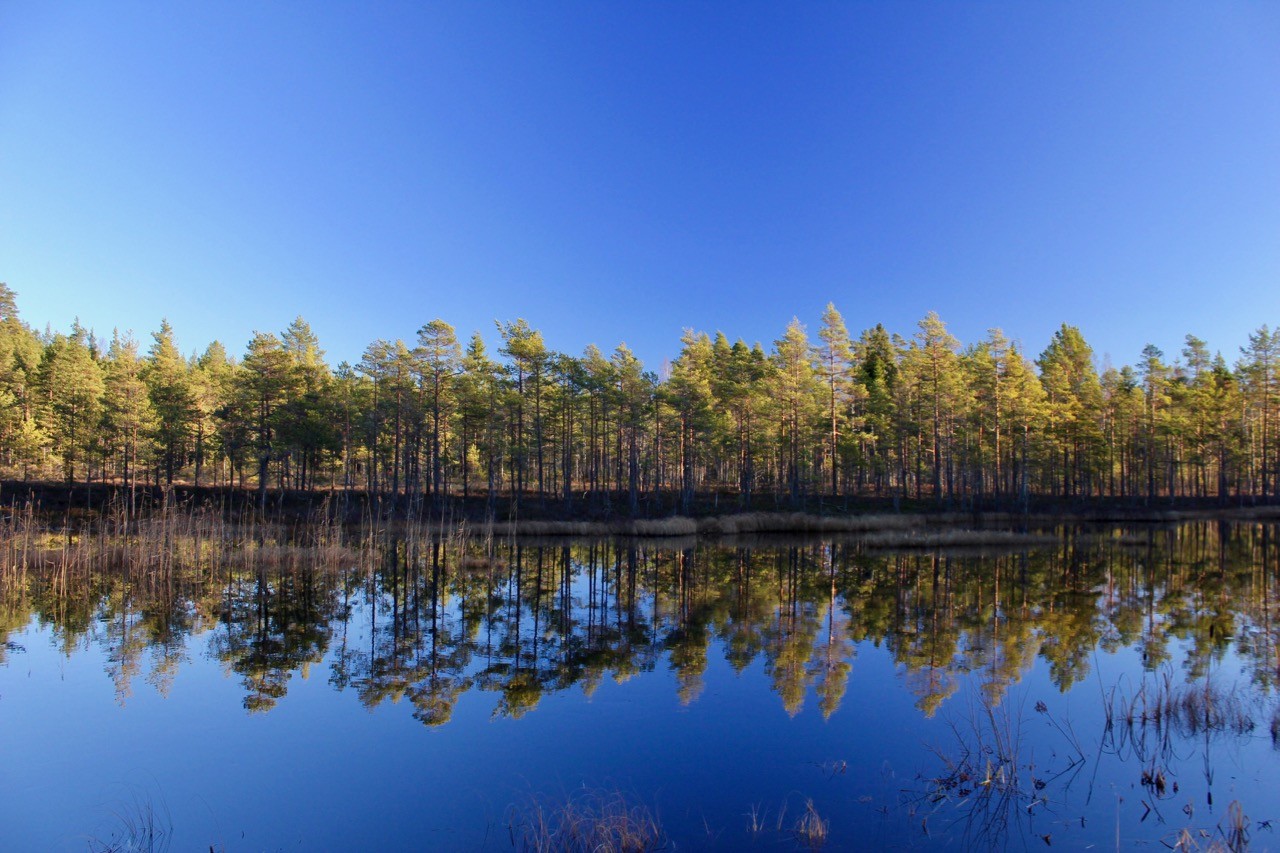 Dreamstime The Skåneleden Trail is a 100km-long footpath
Sweden, like Norway, has the Right of Public Access (Allemansrätten) enshrined in its constitution. To the bushman's delight, the law effectively means hikers can go anywhere in the country as long as the surroundings are left as they were found.
7. Canada
Best trails: Great Divide Trail, Bruce Trail
Known for: The Rockies, glacial lakes, Arctic Circle, Inuit culture and long-distance hiking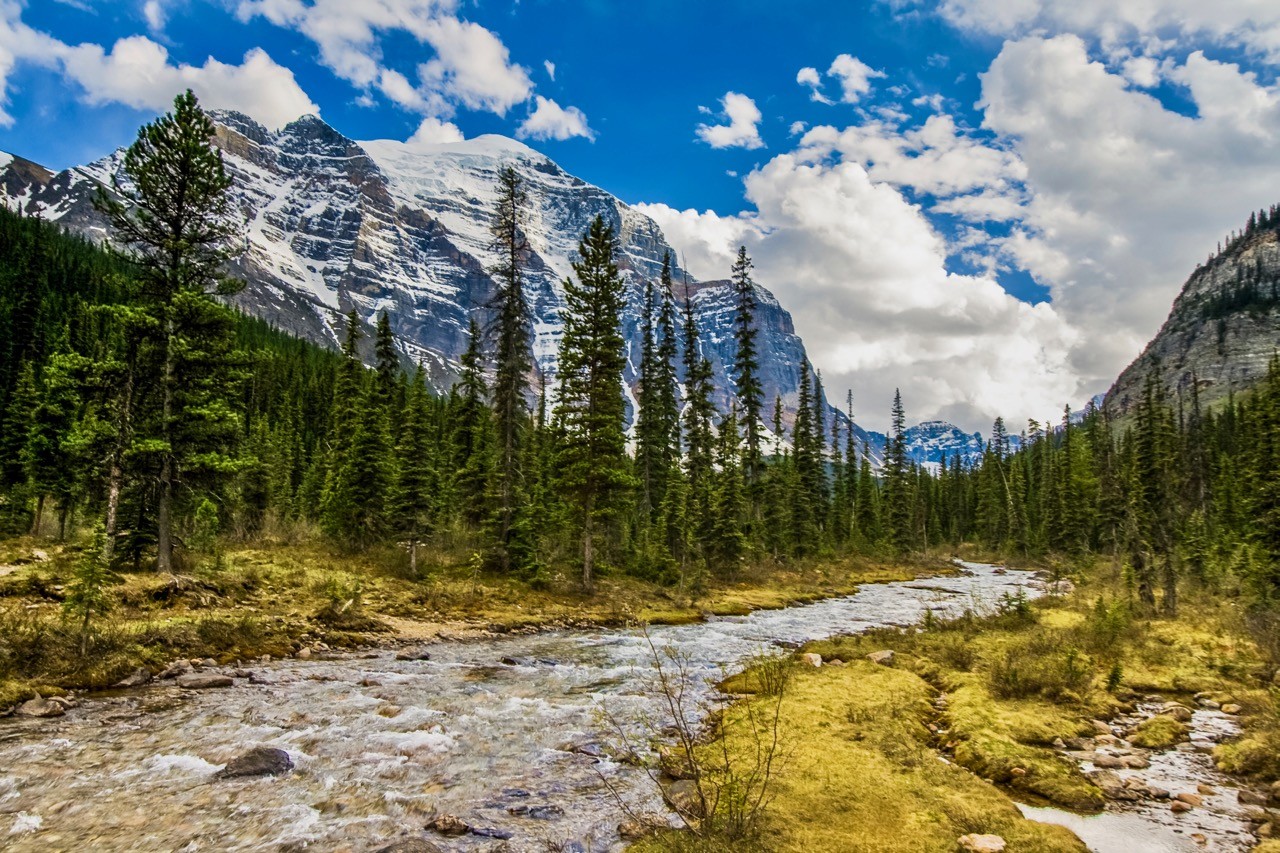 Dreamstime Mount Temple dominates the western landscape of Banff National Park
There are thousands of hiking trails in Canada, from well-trodden, well-marked paths to rugged and wild tracts through the wilderness. And in a country the size of Canada (the second largest in the world), the long-distance hiking trail is king.
The pinnacle is the National Hiking Trail (also known as the Trans Canada Trail and formerly the Sentier National Trail). The NHT footpath will eventually be a 10,000km (6,2000mi) coast-to-coast hiking trail across the entire country. Wow!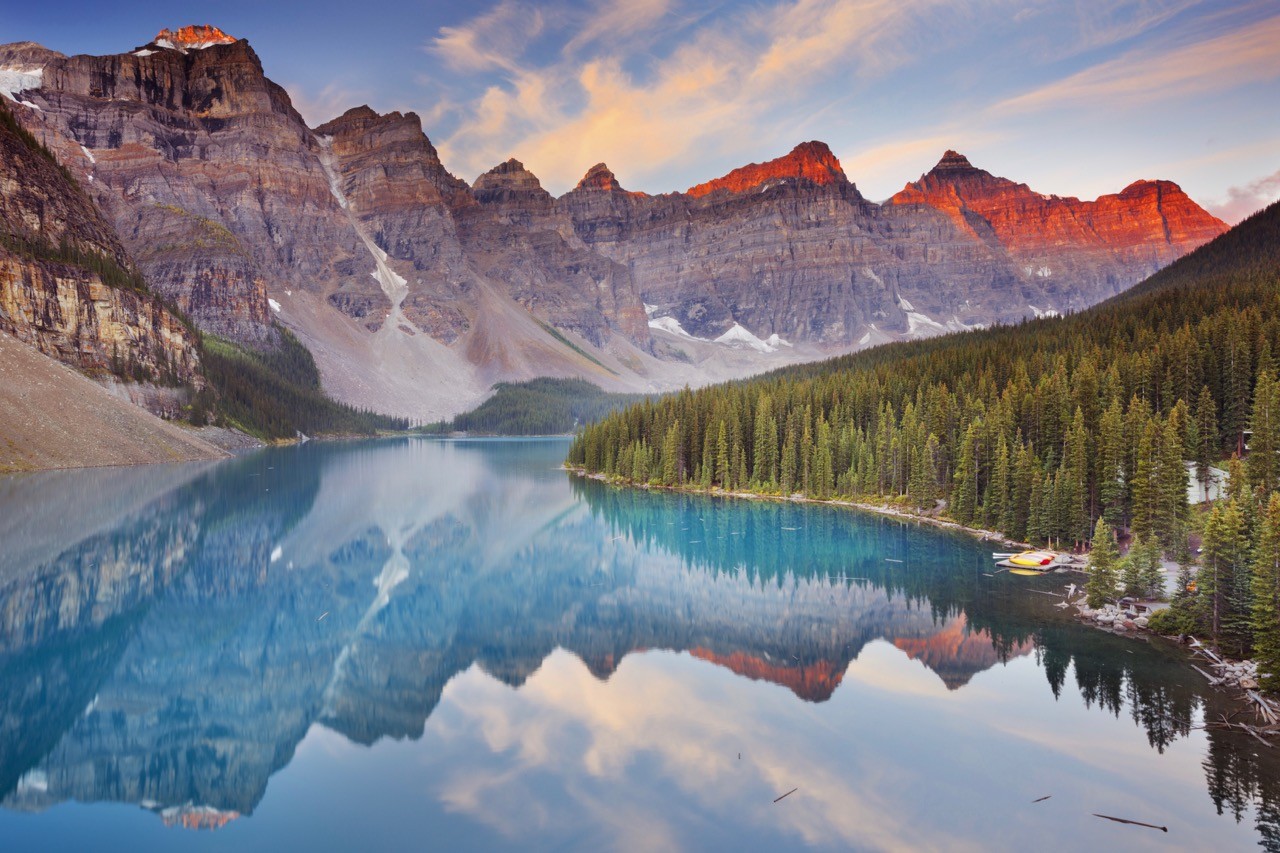 Dreamstime An outrageously beautiful Canadian panorama
An outrageously beautiful Canadian panorama
Canada is also home to the Great Divide Trail – for the hard-core hiker only! The GDT is a wild and epic long-distance hiking trail that stretches north to south through the Canadian Rockies. The trail closely follows the Great Divide, the mountainous hydrological divide that splits the North American continent in two.
The GDT crosses the divide no less than 30 times making for a punishing route. It starts in Waterton Lakes National Park on the Canada-US border (where it connects with the USA's Continental Divide Trail) and ends in Kakwa Provincial Park north of Jasper National Park.
8. Argentina
Best trails: Fitz Roy Trek, Aconcagua
Known for: Patagonia, the Andes and Tierra del Fuego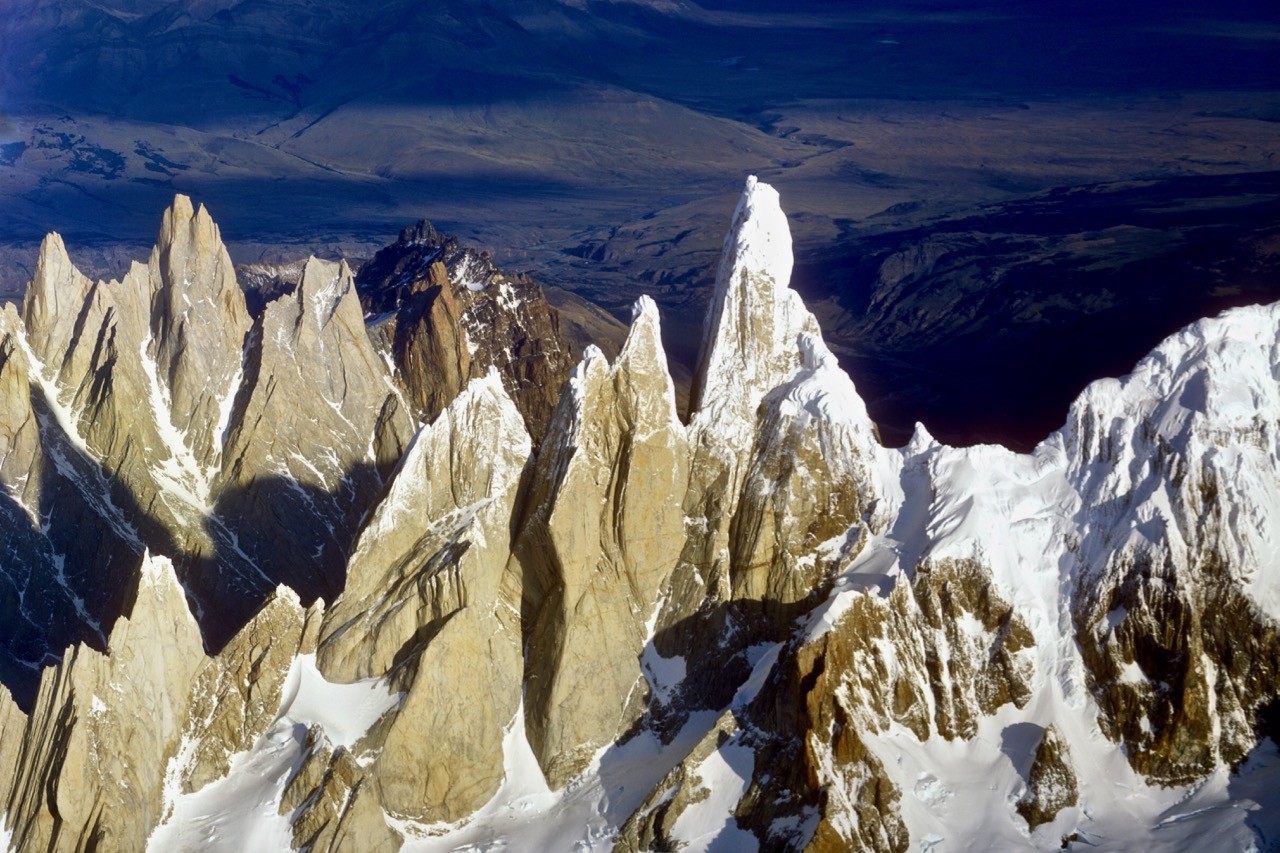 Dreamstime The distinctive towers of Fitz Roy and Cerro Torre
Argentina boasts the Patagonian steppe, hulking glaciers as well as the highest non-technical mountain climb in the world. The second-highest summit of the seven summits and the highest mountain outside of the Himalaya and Asia, Aconcagua is an awesome mountain for professional and amateur climbers alike.
Argentina also has the lion's share of the Southern Cone of South America and with it comes an even more expansive landscape for hikers to explore. The routes around El Chaltén are some of the best hiking routes in the world. The imposing towers of Fitz Roy and Cerro Torre steal the show but the magnificent World Heritage-listed ice fields of Parque Nacional Los Glaciares have as much to offer.
Hiking in the Reserva Faunística Península Valdés is one of South America's best wildlife experiences. Sea lions, elephant seals, guanacos, rheas, Magellanic penguins and countless seabirds can all be seen. With 400km (248mi) of coastline, there's even the opportunity to spot the endangered southern right whale.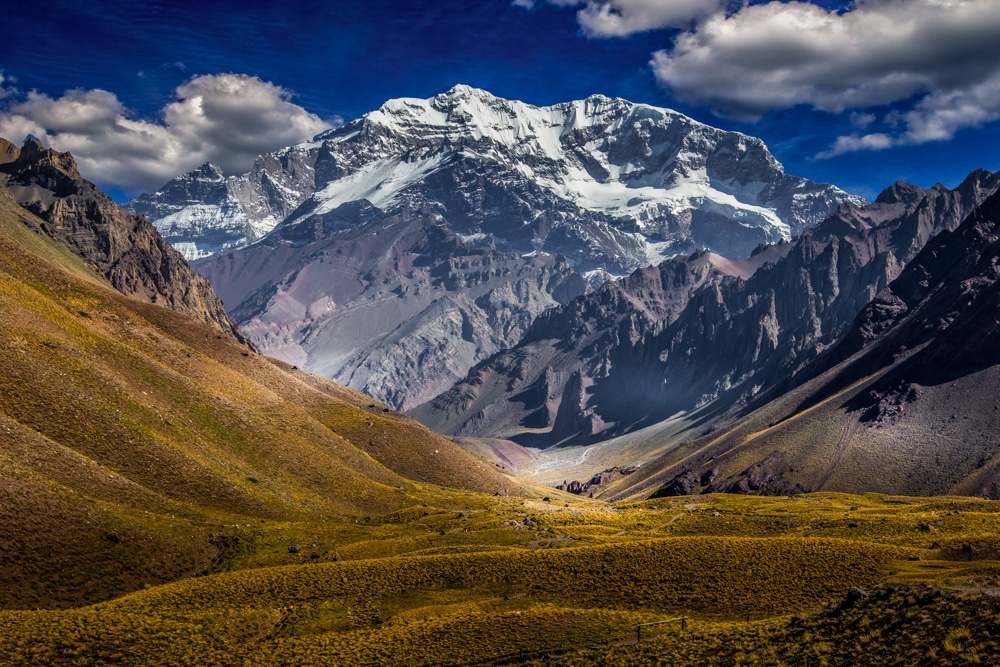 Atlas & Boots Aconcagua is the highest mountain outside of Asia
Argentina's Lake District on the northwestern wedge of Argentine Patagonia is another epic destination for hiking. It's a land of picture-perfect glacial lakes surrounded by verdant forests, serrated peaks and dormant volcanoes.
Finally, to the south of Patagonia is Tierra del Fuego, the southern tip of Argentina and the famed 'end of the world', the last huddle of humanity before the wasteland of Antarctica. Phew!
9. Switzerland
Best trails: Eiger Trail, Jaunbach gorge, Zermatt Lakes Trail and Hardergrat
Known for: The Alps, north faces, the Matterhorn, epic pistes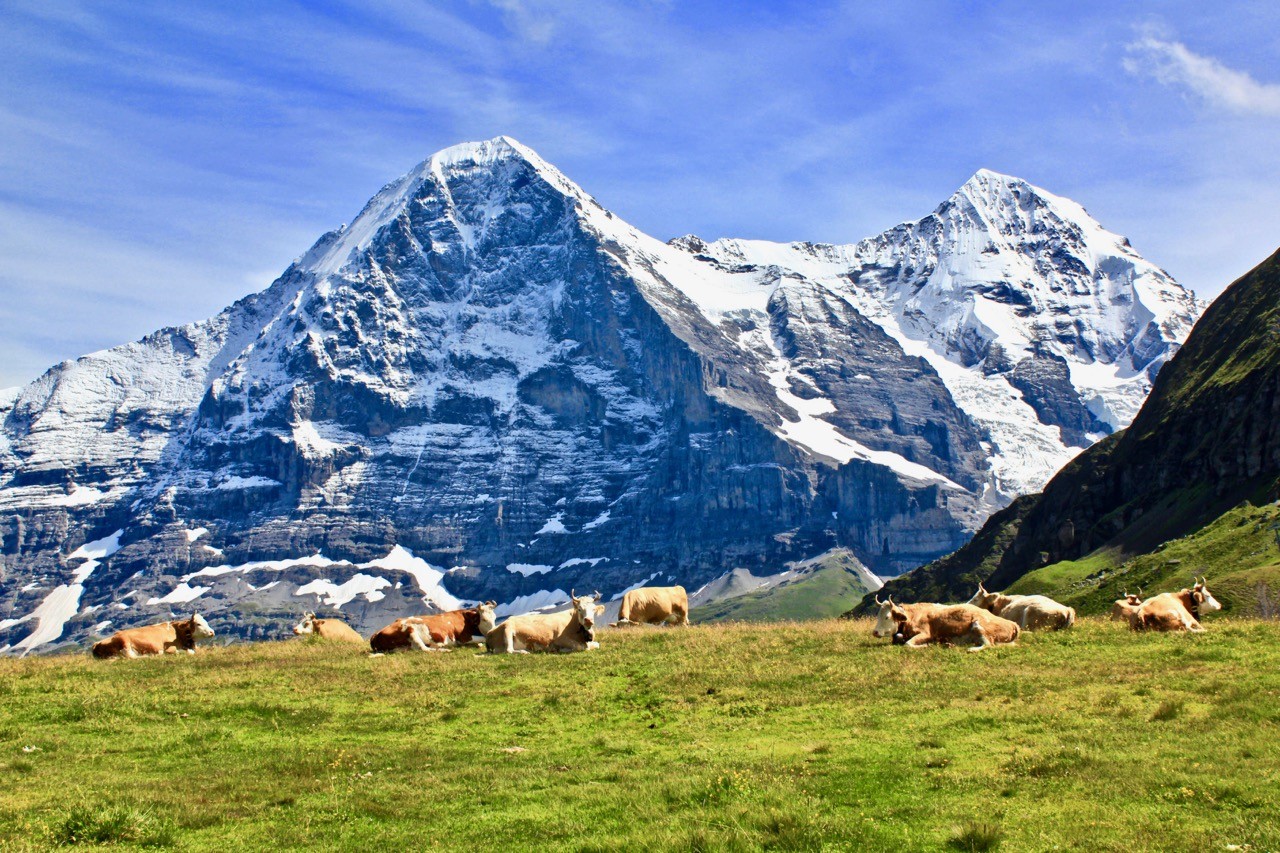 Dreamstime The Eiger in Switzerland has one of the great north faces of the Alps
Thanks to over 65,000km (40,000mi) of waymarked trails, virtually every corner of Switzerland is waiting to be hiked, making it one of the best countries for hiking in the world.
Switzerland is a modern country that is designed with the modern hiker in mind. Mountain railways transport hikers to trailheads and vista points, luxury hotels overlook mountaineering graveyards and modern cosmopolitan cities cosy up to the shores of glittering Alpine lakes.
In summertime Switzerland, a hiker's paradise unfolds in beautiful mountain scenery while in winter the hiking trails become pistes, home to some of the best snowboarding and skiing routes in the world.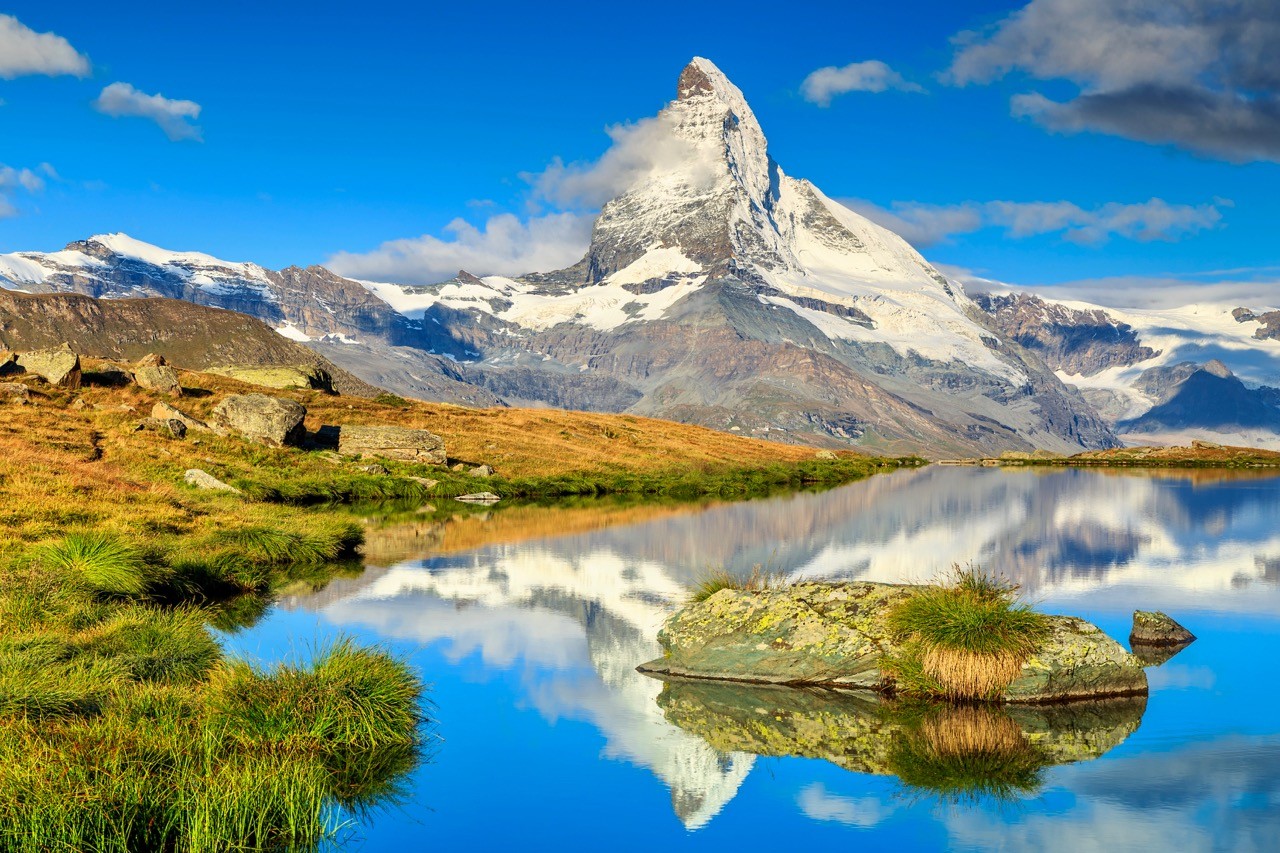 Dreamstime The Matterhorn is one of the most recognisable mountains in the world
The tales stand as tall as the mountains in Switzerland. Most of the mountaineering greats cut their teeth in the Alps and the land is scattered with their legacies. Nowhere is this more prevalent than on the slopes around Grindelwald, Lauterbrunnen and the Eiger with its deadly north face.
Since 1935, at least 64 climbers have died attempting the north face, earning it the nickname Mordwand (murderous wall), a play on the face's German name, Nordwand.
Of all the deaths on this perilous route, perhaps the most famous are of Andreas Hinterstoisser's and Toni Kurz's. The Bavarians' fatal 1937 expedition was watched and followed by the world's media and from the comfort of hotels below them in Grindelwald. The tragic tale has been immortalised in several books and films since.
Whether it's the hiking, mountaineering or skiing that brings you to Switzerland, you won't be disappointed.
10. South Africa
Best trails: Otter Trail, Amathole Trail, Giant's Cup Trail and Garden Route
Known for: Acacia-studded plains, incredible wildlife, rugged coastlines and Kruger National Park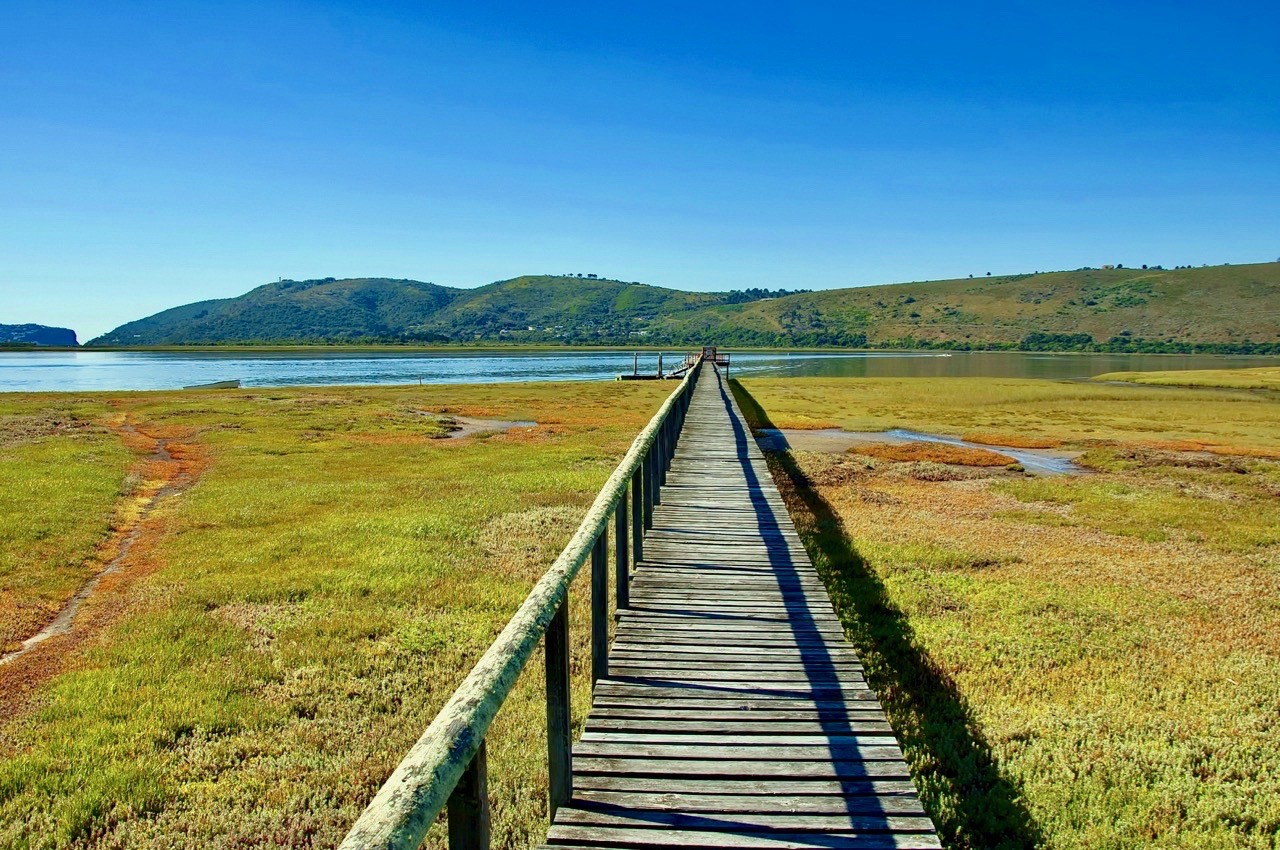 Dreamstime The Rim of Africa traverses the rugged Cape Mountains
Unlike the aforementioned countries, hiking infrastructure is in its infancy in many African nations. There are some fantastic hikes to be found across Africa, particularly in East Africa, such as Kilimanjaro and Mount Meru in Tanzania, the Tigray region in Ethiopia and several regions of Kenya.
However, most of these destinations require local guides and/or permits and often lack the kind of hiking infrastructure found in the other countries on this list.
South Africa is the exception. Africa's southernmost country offers some of the continent's best multi-day hiking trails, crossing landscapes ranging from rugged shorelines and Indian Ocean horizons to lion-stalked bushveld and high mountains. It deserves the title as one of the best countries for hiking.
Hiking purists can tramp the Wild Coast where miles and miles of unspoilt hiking trails traverse distinctive mountain peaks, rolling deserts and lush forests. Hiking huts, campsites and refuges can all be conveniently found en route.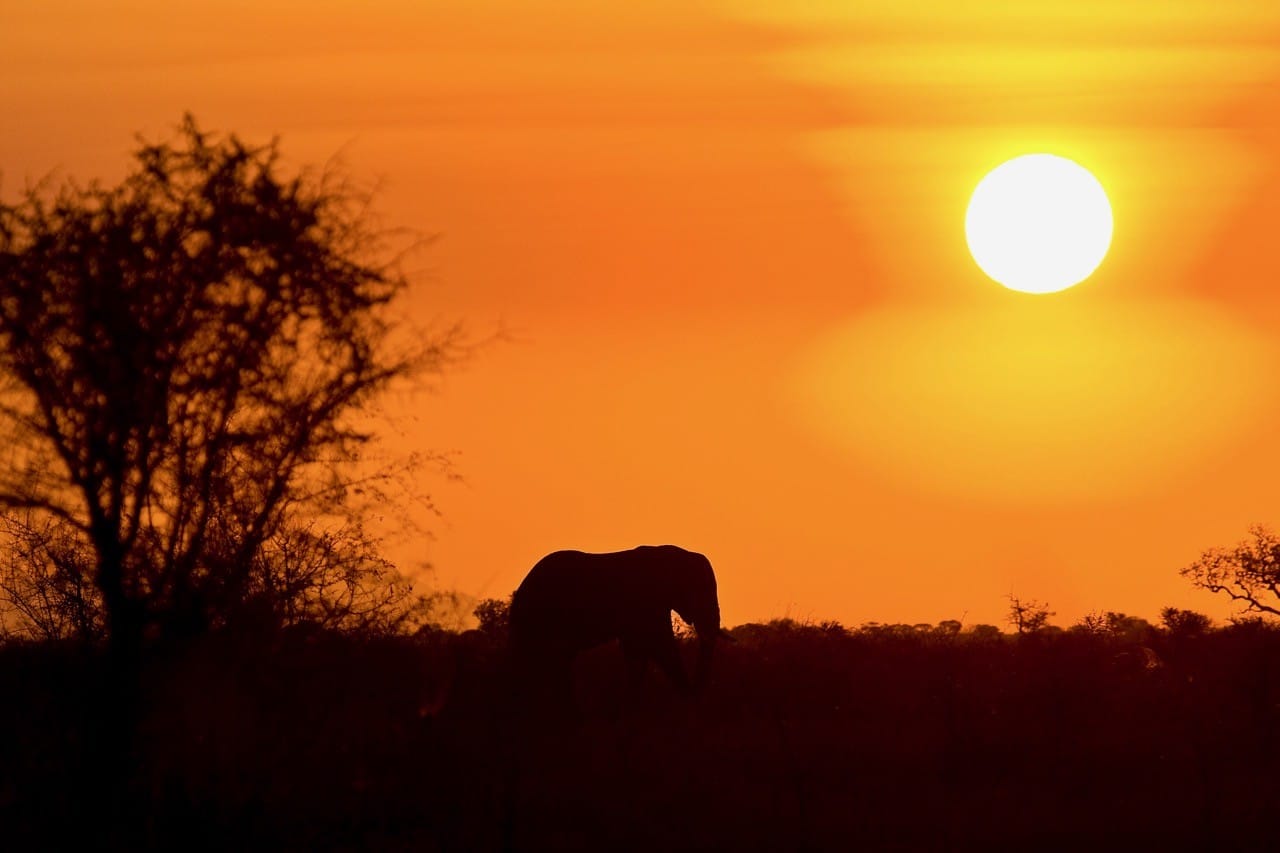 Dreamstime A classic Kruger sunset
The iconic Kruger National Park – two million hectares of bush and baobab trees, inhabited by the Big Five (lion, elephant, buffalo, leopard and rhinoceros) – offers an altogether different hiking experience complete with an armed ranger for protection.
If you're after long-distance hiking, then the best of Africa's fledgling trails is found in the Rim of Africa. The route traverses South Africa's rugged Cape Mountains and follows old pathways, existing hiking trails and remote pathless ridgelines, using a series of "nine traverses" across remote and often inaccessible regions of the Cape Mountains.
Hiking in Switzerland: 20 BEST Hikes in Switzerland
Hiking in Switzerland rightfully makes many travelers' bucket lists. Switzerland has plenty to draw in hikers and mountaineers with its high Alpine lakes, flowering meadows, and glacier-capped peaks.
Switzerland is one of the most visually stunning countries in Europe, and you might be wondering why that is? Picture this – lush meadows, creeks flowing with crystal clear glacial water, and native forests backed by snow-capped peaks – that's Switzerland.
Getting around the backcountry of Switzerland is a lot easier than you think, with an endless amount of trails that lead to some pretty incredible summits. The list I have compiled is a mix of the best hikes in Switzerland, walking trails, and viewpoints to the top of incredible Swiss Peaks. You have some spectacular glacier hikes and everything in between.
The hardest thing you have to do is choose which hike in Switzerland to do! Here are the best mountains for hiking in Switzerland.
The Best Hikes in Switzerland
Jungfraujoch
One of the most expensive and popular mountains to summit in Switzerland is Jungfraujoch. You don't even have to climb it as a tourist. It's most well known for the wild train ride that departs from Kleine Scheidegg, possibly Switzerland's prettiest train station, and takes tourists up to a futuristic building/research station with restaurants, chocolate, and shops.
There are many Swiss mountains to hike on, but Jungfraujoch provides the opportunity for the less able bodies to experience standing on a Swiss Alpine summit. It might not be the same feeling as if you were to hike or climb another peak like Monch and you're pretty much guaranteed to run into people at the summit. It's a spectacular view nonetheless and an incredible experience year-round as it operates in winter and summer.
Not far from Jungfraujoch is the Aletsch Glacier, which you should definitely check out. They open up a marked trail on the glacier in the summer months, but traversing the Glacier in the winter months is a grave affair that requires an experienced local guide with mountaineering experience.
Bachalpsee
The Jungfrau Region of Switzerland is figuratively heaven on earth! The Jungfrau region attracts some of the world's best photographers, adventurers, mountaineers, and skiers. It also happens to be one of the most popular regions for visitors to Switzerland, and all of this is for a good reason, it's stunning.
There are many trails to choose from in Jungfrau that range from easy to difficult, but one, in particular, stands out from the rest, Bachalpsee. This majestic two-hour hike overlooks a series of rugged, snowy peaks that stretch across a breathtaking alpine valley.
Bachalpsee is only a six-kilometer hike and is graded as easy if you start from the top of the Grindewald First Gondola. This gives you more time at the top of the mountain rather than on the trail. It's great for those looking to get amazing views without having to leave for a hike at 03:00 in the morning.
A large lake often reflects the peaks that lay across the valley on its surface, making it the reason why so many photographers come from across the world to see it.
The most popular bases for exploring the Jungfrau region are Interlaken, Grindelwald, and Lauterbrunnen. If we had to take our pick go for the small town of Lauterbrunnen, it's almost impossible to beat its charm in the summer months.
Mount Titlis
Mount Titlis is one of those hiking trails in Switzerland where it's recommended hiking in winter. Titlis being a 3,000-metre mountain means there are plenty of routes to take and all levels of difficulties, but in general, it's one of the best hikes in Switzerland.
Hikes range from a short half-hour walk to a three-hour hike which during the winter months is even better with gorgeous backdrops of native pine covered from head to toe in the snow while cabins perch themselves amongst the vast ridges of Mount Titlis. The shorter is one of, the more easy hikes in Switzerland.
Mount Titlis is a classic peak in the Swiss Alps, and its views are some of the best in Switzerland, especially during summer and spring.
Mount Pilatus
Mount Pilatus is an amazing hike in Switzerland and was the first Swiss mountain I had the pleasure of going up; in fact, it was the first-ever real and sizeable mountain I had set foot on!
Mount Pilatus is your classic Swiss peak with lush green meadows trailing into a rocky alpine zone overlooking the city of Lucerne.
Pilatus can be hiked, or if you want to take the easy way up, opt for cogwheel lift, which runs a 48-degree track, making it scarier going up than hiking it by foot!
Edelweissweg (Hoehbalmen)
Edelweiss isn't a mountain but a famed flower that grows at high elevations in the mountains of Switzerland and the Alps. However, to see one of these flowers, you'll need to strap on your hiking boots and get your hiking poles ready because it's one of the most rewarding hikes in Switzerland.
Starting in the town of Zermatt, the loop trail weaves and winds through meadows, alpine zones, and stunning ridgelines that offer views of the Matterhorn. The hike also finishes in the town of Zermatt, where you can sit back after a long but rewarding day on the trail.
This hike is one of the longest on this best hikes in Switzerland list and can be completed in a day even though it takes 7.5 hours to complete and spans over 20.5 kilometers of ups and downs.
The highest point is a staggering 2751 meters meaning that you're going to be in for some spectacular views no matter which way you look, so whatever you do, don't forget to charge your camera batteries and wipe your SD cards. It's a true photographer's heaven!
Monch
Monch is one of the biggest mountains in Switzerland, soaring to an impressive 4,107 meters above sea level. Monch is wonderful, nestled among other peaks that should have made this list, but I have put it on here for a reason.
Over the past decade, Monch has become a place for ice climbers, rock climbers, and avid mountaineers, all keen to enjoy themselves in the Swiss Alps.
There are around 5 different routes to the top of Monch, but all require some technical mountaineering skill.
Switzerland is known for having pretty awesome huts and cabins throughout the Alps, but the hut at Monch, particularly Monchsjoch Hut, is a house built on stilts (on the side of a cliff). There are many huts to bunker down in on Monch if you love that sort of thing.
One of Monch's most breathtaking and older huts is The Guggi Hut, which, like Monchsjoch Hut, finds itself perched precariously on the edge of a cliff, a typical scene in the Swiss Alps.
Guggi Hut is a place that can be accessed with some mountaineering skills and is opened all year round.
Hiking long days on the trail, especially in the mountains, can be tiring, so always prepare extra food and water and carry warm gear for the nights.
If you think you won't make it back to your start point in time, huts are a great option, and they are generally serviced with a fireplace, beds, and good company.
Schwarzhorn
Schwarzhorn is the highest point above the town of Grindelwald and is another challenging hike but fairly straightforward. Schwarzhorn is guaranteed to give you exceptional 360-degree views if you get good weather at the top.
Schwarzhorn requires a decent level of fitness and proper mountaineering gear but don't worry if you don't have the right equipment, as you can hire gear along with a mountain guide in the town of Grindelwald.
Expect to be on the mountain for 6 to 7 hours, covering close to 8.5 kilometers. It is also best to check weather forecasts before going up Schwarzhorn, as it wouldn't be great getting to the top to be blanketed in by cloud!
Santis to Altmann
Santis is a classic Swiss peak again with breathtaking views as you reach a decent 2,502 meters above sea level. Like most places in the Swiss Alps, you are surrounded by the most breathtaking views, not because of the altitude but the sheer scale and beauty that you get to witness!
Most mountains in Switzerland have multiple routes depending on difficulty, but most mountains are quite far away from one another or the route getting from one mountain to another is too long or too far.
With Mount Santis, you can hike from one mountain to another with relative ease on a trail called The Lisen Ridge Trail, which can be attempted with perfect weather i.e., no snow or ice. The main part of the hike is a narrow ridgeline that weaves and winds its way along one of the most precariously looking trails you will ever see, but it really isn't as bad as it looks.
The trail has been modified with steel cables attached in some sections so you can grab on when things start getting a bit scary. Mount Santis to Altmann is seriously one of the most special hikes in the Alps. It requires a general level of fitness and can be challenging in sections.
The total length of the rail is 13.7 kilometers and takes around 4.5 hours but will take longer as the chances of you just stopping every 3 minutes from taking in the views is very likely. The Lisen Ridge Trail begins at St. Gallen, a few hours' drive from Zurich.
Pizol's 5 Lakes Classic
Location: St. Gallen – Glarus Alps
Difficulty: Easy to Medium
Distance: Depends on how many lakes you decide to visit
Pizol is one of the most laid-back places to go hiking in Switzerland, with a nice variety of short walks all the way up hikes for the more avid adventurer. Pizol can be explored during the colder months and the warmer months. It doesn't really matter what time you hike in Pizol. It's always amazing with its stunning pristine lakes bordered by meadows, alpine flowers, and wildlife.
The best of the best in Pizol is the 5 Lakes Classic, classed as one of the best in the region and for many reasons. As an avid photographer, a reflection of a mountain on a still, crystal blue lake is just the best, and what is even better than a series of 5 different lakes with a huge variation of reflections!
The hike begins in Wangs and takes around 4 to 5 hours to complete a stunning hike. There is more down than up on this particular hike which is strange considering you are high in the mountains of Switzerland, which is a hiker's dream!
All of the lakes are quite different, so don't expect to see the same thing over and over as the landscape drops in and out of the alpine zone while each corner you take, a new mountain top will appear in the distance.
Aletsch Glacier
Location: Valais Region – Eastern Bernese Alps
Difficulty: Easy to Medium
Distance: 14.5 kilometers
Hiking near the Aletsch Glacier is a different change of scenery despite still being in the mountains of Switzerland. Having lived and worked in New Zealand's Franz Josef Glacier, I have always loved the natural wonders of a glacier. Still, there are some glaciers like the Aletsch, which are truly incredible natural wonders!
The Aletsch Glacier itself is a staggering 22 kilometers long. Like most glaciers today, it is retreating due to climate change, but don't let that put you off walking alongside this UNESCO World Heritage Site.
The Swiss Glacier Trail is a moderately rated trek spanning a nice 14.5 kilometers and is expected to take 4.5 hours but as usual, take your time in the Swiss Alps. The scenery is majestic.
At the end of the trail lay Lake Marjelen, where the occasional chunk of ice lay bobbing in the melted glacial waters. It is recommended that the hike be done during the month of spring as flowers pop their petals out of the lush meadows that can be found higher along the edges of the Aletsch glacier.
Brienzergrat Ridge
I am not sure how many times I have mentioned so and so hike in Switzerland being the best, but the Brienzergrat Ridge takes the win…by a long shot, and that's why I have left it to last.
Officially called the Sorenberg Brienzergrat Loop takes you on a hair-raising hike along with one of the most stunning ridgelines in the world, complete with your typical Swiss meadows dotted with wildflowers of sorts to rundown farmhouses built amongst the mountains.
The Brienzergrat Loop is the equivalent of running a half marathon or 21 kilometers, reaching a maximum altitude of 2,293 meters which means you'll get stunning elevated views basically from start to finish.
Lake Oeschinen
Location: Canton of Bern
Difficulty: Easy-Moderate
Time: 3-6 hours
One of our favorite regions in Switzerland is around Kandersteg. We traveled here for the Mountain Coaster Oeschinensee Kandersteg, but truly fell in love with bright blue Lake Oeschinen.
Lake Oeschinen is undoubtedly one of the most beautiful lakes in Switzerland and to get to it either requires a quick gondola ride, or a hike up. To hike up from Kandersteg will take you 3km (one way) and about 400 meters of climbing. However once you reach the lake you'll be able to take a cool refresh in the water.
Once at Oeschinensee, you can embark on a longer hike around the lake, have lunch or stay overnight at Oberbärgli Hütte, or just rent a boat and chill on the lake!
Horizon Trail
Location: Jungfrau
Difficulty: Easy-Moderate
Time: All day
This Switzerland hike begins with a panoramic gondola ride up to the Alpine tower. The fantastic 360° panoramic view far beyond the Bernese Oberland and Central Swiss Alps never fails to impress. From Planplatten via Balmeregghorn, the Horizon trail winds its way along the mountain to the Tannensee lake with views on all sides.
The trail eventually leads to Engstlenalp and Lake Engstlen where you can relax before taking the bus back to the town of Meiringen.
Guraletschsee, Ampervreilsee, and Selvasee
Location: Grisons
Difficulty: Moderate
Time: 4-6 hours
This is far from most of these well known hikes in Switzerland. As the hike starts near the small village of Vals, in the canton of Grisons.
A popular hike starts at Zervreila, passes the three remote lakes Guraletschsee, Amperveilsee and Selvasee and descends via Selva Alp to Vals, provided astonishing views the entire way. This is a beautiful circuit that takes hikers past three lakes, and plenty of cows. It's unlikely you'll find many others on this hike as it's rather remote.
If you are visiting the Vals famous Thermal Hot Springs, this is one of the best things to do after or before your soak.
Murren Via Ferrata
Location: Valais Region
Difficulty: Easy Via Ferrata
Time: 2-5 hours
Mürren – The car-free mountain village at Mt. Schilthorn above Lauterbrunnen. This quaint old mountain village at 1634m altitude offers a wide range of hikes and excursions to visitors seeking active enjoyment of a peaceful, natural environment.
One of our favorite things to do in the alps besides hiking is get out a via ferrata. A Via Ferrata is a climbing route that employs iron rods, steel cables, ladders, fixed to the rock. Climbers are fixed to the rock with a harness and a set of via ferrata clips. There are via ferratas all over the world, but they are most common in Europe where you can enjoy them by yourself without a guide (experience in the mountains and non fear of heights needed).
The Murren Via Ferrata is one of the most popular ones in the whole region. It's a fairly easy Via Ferrata, except for one long section that will definitely test your fear of heights. The Via Ferrata Murren starts in Murren and ends in Gimmelwald, where you can hike or take the cable car back up to Murren or down to the Lauterbrunnen Valley.
After about 15 minutes on the Via Ferrata you'll see what I'm referring to when I say it will test your fear of heights. For a large portion, you will be walking a sheer cliff face with only the iron rod steps beneath you.
The grand finale of this via ferrata is the long suspension bridge over a canyon that you'll have to cross. We had an absolute blast on this via ferrata route, but it's not for the faint of heart!
Tanzbödeli and Obersteinburg Hike
Location: Jungfrau
Difficulty: Moderate-Hard
Time: 4-7 hours
This hike offers some of the most staggering 360 vistas of the surrounding Alps in the entire Lauterbrunnen region. On a clear day, it offers glacier-laden peaks as far as the eye can see, and even on a cloudy day you'll feel totally immersed in the floating white fluffy fixtures.
Either way you're in for a tremendous top-of-the-world sensation. In total, it's just over 12 miles on this path that goes from Gimmelwald to Tanzbödeli to Obersteingburg to Stechelberg. It can be quite a steep ascension at parts so prepare accordingly, though there are plenty of beautiful stops to make along the way. It's mostly a dirt path and the total elevation gain is about 3,600 feet.
Skyline Walk at Birg
Location: Jungfrau
Difficulty: easy
Time: 1 hour
Halfway to Schilthorn in the Jungfrau Region, there's an essential stop off at Birg that you don't want to miss. It's accessible via cable car and stands tall at over 1,600 feet high. It's a super unique stop that has a bit more to offer than just breathtaking vistas, and it's ideal for anyone seeking a little adrenaline rush, but is still an incredibly easy hike in Switzerland.
The Skyline Walk offers a viewpoint built on a clear floor, below which is a vertical drop of hundreds of feet down. Over 500 feet of walkway traverses along the cliffside, and is actually built right into it. It's sometimes aptly referred to as the Thrill Walk, as it contains mesh metal tunnels to crawl through and netted tightropes to tenderly cross. It's a jaw-dropping journey that you'll never forget.
Eiger Trail Hike
Location: Jungfrau Region
Difficulty: Easy to Moderate
Time: 2-4hours
The Eiger Trail Hike is one of the most popular routes to navigate in the country. It takes adventurers straight under the famous north face wall of Eiger Mountain, which is known for being one of the toughest climbs in the entire world.
On this path there is always something spectacular to take in in every direction as it's totally surrounded by towering glacial mountains. After a little over a 2 km, you'll come to the Eiger Mountain viewing area, and it's a breathtaking sight to behold.
Starting from Eigergletscher and ending at Alpigen, the total trail is about 6 km long, and though there's some incline it's super manageable for most skill levels.
Hornli Hutte
Location: Valais Region
Difficulty: Moderate depending on where you start from
Time: 4-6 hours
The Hörnli hut is where you'll find many climbers and alpinists gearing up for their ascent of the Matterhorn. However you don't have to be a climber to hike up to the Hörnli hut as anyone can visit and take in the views.
The hike up to the Hörnli hut is difficult and requires a bit of scrambling. There are points of exposure but nothing too serious. Anyone with a few hikes under their belt should be able to get to the hut. We loved this hike and getting up close to the Matterhorn without actually summiting it!
The Matterhorn
The Matterhorn tops the list of best hikes in Switzerland to do and is definitely some of the best hiking in Europe. However, don't be fooled by the views as it's no walk in the park and is not a hike, but a climb. Though, I figured we would mention it as many people wonder about summitting The Matterhorn.
The Matterhorn is one of the most iconic peaks globally, just behind Mount Everest due to its pointed peak.
Even though the Matterhorn is classed as a serious peak to climb, it's more than doable with a bit of training and knowledge of the mountains along with climbing experience. With the help of an experienced guide, many with a reasonable amount of fitness choose to summit the mountain. That being said, it is one of the deadliest mountains to summit as many climbers decide they can attempt The Matterhorn without a guide, and unless you know the mountains very well, we advise against this. It is estimated that over 500 alpinists have died on the Matterhorn, making it one of the deadliest peaks in the world
Climbing the Matterhorn takes 9 to 12 hours and is very steep in sections, with hands being required in most sections along with a helmet, attachment to a harness and rope, mountaineering boots (crampons) as well as an experienced guide.
The Matterhorn isn't for the faint of heart, but the experience of being on such a majestic mountain and the views from the top are completely worth the effort!
You can read more about attempting an ascent on the Matterhorn here. As a bonus, access to the Matterhorn comes from one of the most beautiful villages in Switzerland – Zermatt.
What to Know Before Hiking in Switzerland?
Hiking in the mountains anywhere around the world can potentially be dangerous as mountains have their own climate and tend to change instantly.
One moment it can be sunny, birds chirping away and the next it can be snowing or a blanket of fog or cloud engulfs the mountain. Trekking in Switzerland is no exception at any time of the year.
When is the Best Time to Hike in Switzerland?
Hiking season in Switzerland officially begins in June in the Alps and lasts until September. This is also peak season, and finding accommodation in the most popular destinations such as Lucerne, Interlaken, and Zermatt can be difficult.
Autumn would be the next period when hiking in the Alps can be wonderful. It lasts from late September to November. The weather is generally cool and dry wonderful for hiking, but you should be prepared to possibly see some of the first signs of snow as it gets later in the season. Read all about the best time to visit Switzerland here.
How to Cope with the Altitude in the Swiss Alps?
The Swiss Alps are not the tallest mountains in the world, but that does not mean altitude sickness or altitude-related problems won't exist. When hiking at altitude or anything over 3,500 meters, take some easier hikes when you first arrive and work your way up to larger hikes.
If you ascend too quickly, you don't give your body enough time to acclimate to the change in atmospheric pressure and the amount of oxygen available, so take it easy, sit down every 30 minutes to an hour, and drink water to remain hydrated and enjoy the views!
Altitude sickness is hard to pick and can only be diagnosed properly by another person i.e. hiking partner. If you feel funny at any point, let them know immediately.
What to Wear Hiking in Switzerland?
The most basic principle of what to wear hiking is layering. Anyone that has spent time in the wilderness or mountains can speak to the fact your temperature can fluctuate a lot on a hike.
The clothing goal is to help regulate your body temperature, element protection, and moisture management. Temperature management is best done through a layering system. You can see ours if you want to learn more about what to pack for a day hike or what to wear on a hike.
Source https://wildlandtrekking.com/blog/15-best-places-to-hike/
Source https://www.atlasandboots.com/travel-blog/best-countries-for-hiking/
Source https://theworldpursuit.com/hiking-in-switzerland/