15 Best Day Trips from Sacramento
Contrary to popular belief the city of Sacramento is in fact the capital of California. Home to half a million people Sacramento lies at the confluence of the American River and the Sacramento River.
Having played a pivotal role in the Gold Rush Sacramento is now somewhat overshadowed by Los Angeles and San Francisco. Nevertheless there is plenty to see and do in the California state capitol. The Railroad Museum, Sutter's Fort and the Crocker Art Museum are all waiting to be explored. Don't miss the opportunity to get up close with the giraffes at Sacramento Zoo.
Once you've ticked off all the must-do activities you can venture outside the city limits and get to experience more of what California has to offer.
Let's explore the best day trips from Sacramento:
1. Napa
Source: Andreas Koeberl / shutterstock Napa Valley
You could spend a whole vacation in Napa and only just scratch the surface.
Best known for its incredible vineyards and wineries there is so much to explore and discover in Napa Valley.
For the budding sommelier no visit to Napa would be complete without a jaunt on the Napa Valley Wine Train, it's just the best.
This vintage locomotive doubles as a traveling restaurant and makes for a wonderful, fulfilling and high class day out.
For those unfused by wine, perhaps the Sharpsteen Museum or the Bale Grist Mill State Historic Park would be of more interest during a day trip to Napa.
2. San Francisco
Source: ESB Professional / shutterstock San Francisco – View From Twin Peaks
There is a wealth of history and culture to discover in San Francisco.
Another of California's cities where a day is not enough, you'll have to stick to your timings to tick everything off.
Naturally, the first port of call would be the Golden Gate Bridge.
This iconic art deco bridge was first opened in 1937 and has been the symbol of the city ever since.
Alcatraz Island is of great interest to many who visit San Francisco for it was once the world's most notorious prison.
It is possible to take guided tours around the island complex and learn about the lives of those who resided there.
Pier 39 is perhaps a more family friendly way to spend a day in San Francisco.
3. San Jose
Source: stellamc / shutterstock San Jose, Silicon Valley
San Jose is the gateway to the Silicon Valley.
The highlight of any visit to the city of San Jose is surely a visit to the Tech Museum of Innovation.
This hands on, interactive museum features its own IMAX theatre and exhibits on innovation of all kinds across the eras.
In the afternoon a visit to the Winchester Mystery House makes for a great addition to a day trip to San Jose.
The Winchester Mystery House is a quirky, old mansion with a series of rather odd design features that is said to be designed specifically to confuse ghost.
Make sure to look out for the staircase that leads to nowhere.
4. El Dorado National Forest
Source: Bryan Brazil / shutterstock El Dorado National Forest
The El Dorado National Forest is a truly wonderful landscape to explore.
Featuring pine forests, tranquil lakes and easily accessible hiking trails if you want to reconnect with nature this is the place.
Sacramento is a hustling, bustling city and as such El Dorado National Forest provides a welcome contrast.
It is possible to camp overnight at this national forest should you arrive and not want to leave.
The El Dorado National Forest is a quiet park that is never overcrowded or particularly busy meaning that all too often day trippers have the hiking trails to themselves.
Pretty perfect indeed.
5. Tahoe National Forest
Source: Nestor Montes Ochoa / shutterstock Tahoe National Forest
When it comes to national forests in California you are totally spoiled, especially when it comes to Tahoe National Forest.
With simple, easily accessible routes, Tahoe National Forest is perfect for novice hikers or those who are working on improving their fitness levels.
At the visitors centre you can pick up a map of the routes and set out on your day's explorations.
Tahoe National Forest is the perfect place for a picnic and there are countless shady spots in which to open up the blanket and bust open the sandwich tin.
The Grouse Ridge Trail and Blue Lake Trail are particularly popular hiking routes.
6. Truckee
Source: Marc Venema / shutterstock Truckee
Truckee is a small, sleepy Californian town with a heap of hidden gems to explore.
The Emigrant Trail Museum shares fascinating insights into the history of the region and has some really interesting artefacts on display too.
The Donner Memorial State Park makes for a relaxed afternoon stroll.
Perhaps if you're feeling a little more energised you can take a walk around Donner Lake itself.
Truckee is best known as a ski town as there are a great selection of ski fields that tower over the town.
Northstar California is the most popular resort, closely followed by the Tahoe Donner Downhill Ski Area.
7. Yosemite National Park
Source: shaferaphoto / shutterstock Yosemite National Park
Yosemite National Park is one of the most popular natural wonders in all of the United States of America.
You could spend a week or more hiking through this incredible landscape but it is more than possible to tick off the highlights of Yosemite on a day trip from Sacramento.
Walk through the forest hugging one ancient sequoia tree after another.
Be sure to make time to visit Bridal Veil Falls, as well as the jagged cliffs of El Capitan and Half Dome.
Budding photographers will feel in their element at Yosemite National Park, as will any nature lover.
The village of Yosemite is home to dozens of souvenir shops, cafes and restaurants to explore away from the hiking trails.
8. Tahoe City
Source: Sundry Photography / shutterstock Tahoe City
If you are keen on skiing then a visit to the tiny Tahoe City is in order.
The Squaw Valley Ski Resort and the Homewood Mountain Resort both offer day passes and are open the year-round.
If you're not a fan of the snow and ice then a visit to the Gatekeeper's Museum and Watson Log Cabin would be an enriching way to spend a day.
The Gatekeeper's Museum features exhibits on local history and is set inside a traditional, historical log cabin.
The city itself has all the usual souvenir shops, cafes, and restaurants to explore.
Charming and relaxed Tahoe City is something of a hidden gem.
9. Calistoga
Source: Wollertz / shutterstock Calistoga
Tucked away in Napa Valley is the quaint city of Calistoga.
Best known for its hot springs and amazing wineries Calistoga makes for a classy and relaxed day out.
The Castello di Amorosa falls high on the bucket list of many who travel in California for it is an Italian, Tuscan, inspired castle that has its own mud baths and winery.
What more could you ask for? While visiting Calistoga is is also possible to visit the Old Faithful Geyser that regularly erupts and makes for quite the show.
You can incorporate a visit to Calistoga with a ride on the Napa Valley Wine Train should you so desire.
10. Folsom
Source: Hitman Sharon / shutterstock Folsom
If you are seeking an easy and accessible day trip from Sacramento then a visit to Folsom would tick all the boxes.
Lying just a 30-minute drive from Sacramento city centre Folsom has a wealth of history to explore.
For those who enjoy being in the great outdoors then Folsom Lake is calling you.
There are a number of easy hiking trails and it is possible to rent paddle boats and get out on the water too.
For those interested in local history there are two little gems to explore.
The Folsom History Museum and the Folsom History Society both offer an in-depth insight as to the history and social development of this small, but significant, city.
11. Nevada City
Source: Marc Venema / shutterstock Nevada City
Confusingly Nevada City is a small city in California, not in Nevada state.
Confusions aside Nevada City is a great place to spend a day.
If you're interested in locomotives and transportation history then a day trip to Nevada City is a must for it is home to the Nevada County Narrow Gauge Railroad and Transportation Museum.
Featuring not only the locomotives themselves the museum also features countless artefacts and photographs that each have an impressive story to tell.
Alternatively, you can get outdoors and explore the Scotts Flat Reservoir which is truly picturesque or perhaps Purdon Crossing if you fancy the challenge of jumping from boulder to boulder to take in the amazing river view.
12. Carmel By Sea
Source: Lowe Llaguno / shutterstock Carmel-by-the-Sea
Escaping the city smoke and heading to the seaside is always a good idea and thankfully Carmel By Sea is just a couple of hours drive away.
This popular seaside city has everything the family could ask for; soft sand, lazy waves and even it's own aquarium.
If you fancy taking in the rugged, rustic Pacific Coastline of California then take time out of your day to wind through 17-Mile Drive.
Point Lobos is something of a hidden gem and if you time your visit right you could even be in with the chance of spotting whales out in the distance.
Bird lovers could easily spend the whole day looking through their binoculars for the Camel Beach is home to a diverse range of bird species.
13. Mendocino National Forest
Source: gregveen / Flickr Mendocino National Forest
With Yosemite National Park just around the corner Mendocino National Forest all too often gets overlooked.
If you are looking for an off the beaten track nature experience then Mendocino National Forest is the perfect place to head.
It is the only national forest in California not to be transected by a major road, which makes Mendocino truly enchanting.
Lake Pillsbury is the first port of call for many visitors who travel to Mendocino National Forest and it is simply stunning.
Perfect for canoeing and swimming it wouldn't be a shame if you spend the whole day relaxing by the lakeside and taking in the forest and mountain views.
14. Amador
Source: knightfoundry.com The Knight Foundry
Amador is a sleepy county that falls on the border of Stanislaus National Forest.
This is a quintessentially Californian town that seems to be trapped in time.
For those looking for a relaxing and authentic day trip from Sacramento Amador County may just be the perfect place.
The Knight Foundry is a popular spot for visitors as is a cast iron foundry that opened in 1873. Other little gems to explore are the Amador Country Museum, the Monteverde General Store and the Amador Whitney Museum.
You can drop by Amador on your way to El Dorado State Forest if you want to add an extra element to your day.
15. Reno
Source: Andrew Zarivny / shutterstock Reno
Affectionately named 'The Biggest Little City in the World' Reno could be also called the mini Las Vegas.
Home to dozens of casinos, most famously the Silver Legacy and Circus Circus, Reno has a whole host of entertainment to explore.
The National Automobile Museum is home to over 200 beautiful vintage cars and can be found in the buzzing downtown district.
If you want to get shopping then head to Reno MidTown and if you want a moment's peace and quiet get yourself to the Idlewild Park.
Reno makes for a fun and frenetic day trip from Sacramento that will not be forgotten in a hurry.
The Best Things to Do in Sacramento, California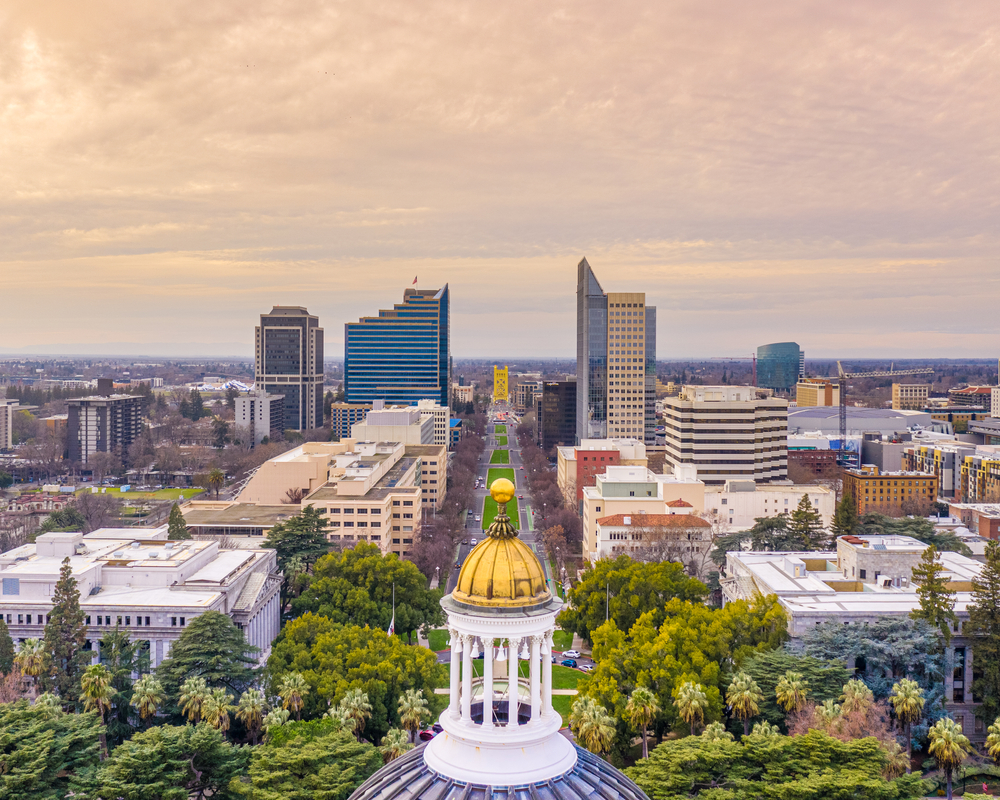 Located northeast of San Francisco, Sacramento is the capital of California. Although Sacramento may not be as famous as nearby Californian cities, there are many fun things to do there. The city was able to accumulate a large amount of wealth during the Gold Rush and many of the buildings that still stand today date back to this time period. As a result, Sacramento has great tourist attractions, especially if you are a fan of history, as well as a bustling cultural scene.
Sacramento can be visited as a weekend getaway or is a great addition to a West Coast road trip. It is less than an hour and a half drive to San Francisco, just over two hours for Reno and Lake Tahoe, and you can get all the way to Los Angeles in around six hours. Traffic throughout California is notoriously bad so if you do decide to road trip it, make sure that you give yourself plenty of time to get from one destination to another or plan on driving throughout the night.
We know that travel planning can be a major headache, especially if you are juggling work and kids so to help you out a bit, we have created our own travel guide to help you find the best things to do in Sacramento.
Explore Sacramento with Let's Roam
If you are looking for something really unique to do while you are there, don't forget to check out our Sacramento Scavengers Hunts. Whether you want a day spent immersing yourself in Sacramento's history or a night filled with some of the city's best bars, there is a scavenger hunt just waiting for you. Besides, what better way is there to discover a city than while competing with your nearest and dearest?
Downtown & Midtown Sacramento
Downtown Sacramento is home to some of California's most historic buildings and the city played an important role in the state's development. One of the first stops for many visitors to Sacramento is the downtown area where you can visit the Old Sacramento historic area and the California State Capitol Building. Sacramento was built on the banks of the Sacramento River during the Gold Rush and many of the buildings that you see in Old Town are from the mid-19th century.
Old Sacramento Waterfront District
The gorgeous Old Sacramento Waterfront District has everything that you can want when visiting a new city – history, cobblestone, restaurants, shops, and nightlife. From the dock, you can take boat cruises along the river offering great views of the waterfront from a completely different perspective. The district is a national historic landmark and it is one of the best areas to explore in Sacramento. The area can feel a bit touristy and can get very, very busy in the afternoons during the weekend so if possible, try to visit in the early morning or late afternoon to get a feel of what the city would have looked like 150 years ago.
Old Sacramento State Historic Park
The Old Sacramento State Historic Park consists of a number of early Gold rush commercial buildings including the 1849 Eagle Theater, the 1853 B.F. Hastings Building which was once home to the California State Supreme Court, and the 1855 Big Four Building. This area was the western terminus of the Pony Express post system, the first transcontinental railroad, and the first transcontinental telegraph.
California State Railroad Museum
The California State Railroad Museum is considered THE railroad museum of the United States and it is fitting that the western terminus of the transcontinental railroad should be the home of this fascinating museum. The museum is home to a vast collection of 19 historic steam locomotives dating from the Civil War until the end of the Second World War and although not all are on display at the same time, you are able to get a great understanding of how steam engines developed and the impact that trains had on the growth of the United States. On weekends, there are 50-minute excursion train rides along the Sacramento River. Tickets for the train ride must be purchased separately.
Sacramento History Museum
Located in Old Sacramento, the Sacramento History Museum is one of the best spots to learn more about the development of the city and its unique heritage. The museum has both permanent exhibits as well as themed ones throughout the year so even if you have gone before, there could be something new just waiting for you.
You can also take a fascinating underground walking tour along the original streets of Sacramento before they had to raise it due to the constant threat of flooding during the 1860s and 1870s. The streets that you walk on today are a full 10 feet above the original ones and below your feet, lies a hidden city that is just waiting to be explored. If you are feeling a bit brave, you can even take the Underground After Hours tour and learn about the "mischief, madness, mayhem, murder, and madams" of the city! My, my, my! Due to the adult content covered on the tour, it is strictly 18 and over.
California State Capitol Building & Park
No trip to Sacramento is complete without visiting the California State Capitol. This grandiose building has been home to the California Legislature since 1869 and during a tour, you can visit the restored historic offices of the Treasurer, the Secretary of State, and the Governor. The building is also the home of the California State Capitol Museum where you can learn more about the history of California, and view the portraits of former California governors as well as two stunning murals showing California's past and present that were created for the 1915 Panama Pacific International Exposition.
The Capitol Building is surrounded by the beautiful State Capitol Park. Inside the park, you can find the Civil War Memorial Grove which was planted in 1897 using saplings from some of the Civil War's most important battlefields, the California Vietnam Veterans Memorial, and the California Veterans Memorial honoring the men and women who risked their lives during the Mexican-American War, Civil War, Spanish-American War, World War I, World War II, the Korean War, the Vietnam War, and the Persian Gulf War. The landscaped grounds are also home to a beautiful rose garden, a cactus garden, and tree-lined paths. It is a great spot to sit and relax for a bit after touring the State Capitol Building.
Cathedral of the Blessed Sacrament
This stunning church looks like it could be straight out of Europe. Inside the Cathedral of the Blessed Sacrament, you will find beautifully painted ceilings, vibrant stained glass windows, It is considered one of the most important historical buildings in Sacramento (which says a lot in a city overflowing with history!). The church was built while Sacramento was on the precipice of becoming a major capital city and the grandeur of the building represents the status of Sacramento at the time.
Crocker Art Museum
Formerly known as the E.B. Crocker Art Gallery, the Crocker Art Museum is the oldest art museum west of the Mississippi River. Founded in 1885, the museum has one of California's best collections of Californian art dating back to the Gold Rush. The collection is spread out over three floors and you can find a vast selection of European, Asian, African, and Oceanic art including works by Georgia O'Keeffe, Rembrandt, and Leonardo da Vinci. There are guided tours available as well as special events that are held throughout the year.
California Automobile Museum
With over 120 classic, muscle, race, and antique cars, the California Automobile Museum is a dream come true for many automobile fanatics. The museum takes you through 120 years of history and while you are there, you can check out a 1907 Model T Ford, a 1912 Cadillac, a 1961 Volkswagen Beetle, and many more. The museum is located on the waterfront just north of Old Town in Downtown Sacramento. If you want to get a closer look, you can even sit inside some of the cars. Just don't drive away with them! The automobile museum is a great place for both adults and children making it a fun family activity.
Leland Stanford Mansion State Historic Park
This stunning Victorian was built in 1856 by a Golf Rush merchant and was later purchased by a former Governor of California named Leland Stanford and his wife. Stanford was responsible for the completion of the transcontinental railroad. It was later given to the Catholic Church for use as an orphanage. In 1978, the State of California bought the property and it is now open to the public as a museum.
During a trip to the Leland Stanford Mansion, you can view the mansion's lavish furnishings and decor giving you a quick glance into the lives of wealthy Sacramento residents in the mid to late 19th century. The house features 17-foot ceilings. beautifully preserved woodwork, bronze, and crystal light fixtures, and much more. The elegance doesn't stay within the four walls of the house and outside, you can find gorgeous manicured gardens.
Golden 1 Center
Home of the Sacramento Kings, the Golden 1 Center is one of Sacramento's biggest venues and there are a wide variety of events held there ranging from basketball games to conferences. The seats are well arranged so that there isn't a bad seat in the arena. The Golden 1 Center is conveniently located in the heart of Downtown Sacramento making it easy to squeeze in a concert or a game during your stay. There are many bars and restaurants located nearby allowing you to pre-game before heading over for the main event. You can find a full schedule of events on their website.
Crest Theatre
Opened in 1912, this flashy theater has some serious swag. The Crest Theatre's marquee is lit up with neon lights and the interior oozes art-deco charm. The theater has been remodeled and rebuilt throughout the past 100 years due to a series of fires and now, it is a hodgepodge of architectural styles that you can't help but love. The theater screens movies and hosts large events and concerts so make sure to check the schedule of events to see what is happening while you are in town.
Tower Bridge
Connecting downtown Sacramento to West Sacramento, this impressive steel bridge dominates the Sacramento River and is impossible to miss while visiting the Old Sacramento Waterfront. Constructed in 1935, Tower Bridge is a Sacramento landmark with 150-foot towers and a vertical lift system. The bridge is accessible for both vehicles and pedestrians and there is a small park located by the base of the bridge offering wonderful views of the historic waterfront district. The bridge is beautiful both during the day and at night so it is a good idea to try and visit it twice to see it in its full glory.
Sutter's Fort
Sacramento got its start back in 1839 when a man named John Sutter arrived on the banks of the American River and decided it look like a pretty good place to stay for a while. He created Sutter's Fort and as more and more people began to move into the area, the city began to develop around it. Sutter's Fort became known as Sutter's Embarcadero and when gold was discovered nearby in 1848, the city's growth skyrocketed and took on a new name – Sacramento.
Today, all that is of John Sutter's creation is Sutter's Fort Historic Park. Sutter's Fort is the oldest restored fort in the western United States. During a visit to the park, you can take a self-guided tour of the fort and learn how the early settlers in California adapted to life there in the 19th century. There are costumed actors demonstrating everything from basket making to baking and it is like stepping back in time to the 1840s.
State Indian Museum
The State Indian Museum is also located next to the Sutter's Fort Historic Park. This interesting museum takes you through the history of California's Native American tribes using artifacts, exhibits, and interactive displays. Although the museum is relatively small, it focuses heavily on indigenous cultural aspects and does a great job educating people on the ancient cultures who lived on this land before you.
McKinley Park
This mid-sized park lies just a few blocks away from Sutter's Fort and is a great spot to relax during a day of sightseeing. Inside McKinley Park, there are sports fields, playgrounds, a jogging trail, and a garden and arts center. There is plenty of space to lay back and relax for a while or even have a picnic. While you are there, don't miss the rose garden.
Sundays Asian Farmers Market
While there are many different farmers markets held throughout Sacramento if you are looking for something really unique, head over to Sunday's Asian Farmers Market. The market is designed to provide the ingredients needed by both individual families and restaurants to cook up delicious Asian meals. If you are staying somewhere with a kitchen, it is a great spot to pick up some new vegetables to use in your next meal. If not, don't worry – it is still fun to go over and walk around to see the plethora of colors and get a small taste of Asia right here in Sacramento.
William Land Regional Park
William Land Regional Park is home to a number of family-friend tourist attractions that are share to be a bit hit with kids! The top attractions are located very close together making it easy to combine two (or more!) on the same day. All of the attractions listed below allow you to bring in your own food which allows you to save time and money and since the admission tickets are very reasonable, you can have a fantastic day out with the kids for a much lower cost than in many other comparable cities.
Aside from the below attractions, the Willam Land Park is home to athletic fields, a golf course, gardens, picnic areas, and walking paths. The park is beautiful and it is well worth taking the time to explore while visiting Sacramento.
Sacramento Zoo
Spread across 15-acres of land, the Sacramento Zoo may be a bit small but it packs a big punch. The zoo is home to almost 500 native, rare, and endangered animals showcasing more than 120 different species. While you are there, you can see lions, giraffes, flamingoes, emus, chimpanzees, lemurs, and much more. If possible, try to go when it is a bit cooler so that you can see the animals when they are the most active.
Fairytale Town
This nursery rhyme-themed park is a fun stop for the whole family. As you stroll through Fairytale Town, you can see your favorite bedtime stories come to life around you. You can find Humpty Dumpty's Bridge where he had his tragic fall, Cinderalla's Coach that helped her arrive at the ball in style, and the Yellow Brick Road that Dorothy used to find the Wizard of Oz. For adults, it is a fun trip down memory lane, and for kids, it is like a little wonderland. There is a cafe where you can pick up snacks in case the kids get hungry.
Funderland Amusement Park
This historic amusement park was opened in 1946 and is still thrilling visitors today. Funderland Amusement Park is home to nine exciting rides including a carousel, miniature train, spinning teacups, and more, and is perfect for kids ages two to six. Adult tickets cost $15 and children's cost $20. While this is a little steep for the size of the park, 20% of the admission goes to support the Sacramento Zoo, Fairytale, Town, and William Land Park.
Day Trips from Sacramento
If you have some extra time while you are visiting Sacramento, you are in luck as there are some great day trips that you can take from there. From white water parks to wine tasting, the Sacramento area has a lot to offer!
If you are visiting Sacramento as part of a longer road trip or are RV-ing around the West Coast (which if you are, we are so jealous! The national parks within driving distance of Sacramento are amazing!), the attractions can be visited on the way to your next destination.
Wine Tasting
Although Napa Valley is California's most famous wine region, the Sacramento area has a lot to offer wine-lovers. The city is surrounded by over 200 wineries and has even been nicknamed the Napa Valley of 30 years ago! If that doesn't already speak volumes, you will just have to head out of town and see for yourself!
Although there are wineries located just 15 minutes outside of the city, if you want a real winery experience complete with tastings of fabulous Californian wines, cellar doors where you can pick up a few bottles to take home with you, and sprawling vineyards that make you feel like you are in Tuscany, it is best to head out to El Dorado, Amador, or Lodi. The styles of wineries vary wildly so if you have a particular type of winery or style in mind that you want to try it is a good idea to check out the Visit Sacramento's website to get a quick low-down on the different wineries located throughout the region as well as an incredibly useful map that can help you pick the wineries that you wish to visit.
The wine scene in Sacramento is phenomenal and we hope that you try some delicious wines. As always, make sure to have a designated driver when drinking alcohol. The best day out is the one where everyone gets home safely!
Jedediah Smith Memorial Trail
Also known as the American River Bike Trail, the Jedediah Smith Memorial Trail is one of America's most famous bike trails. The trail stretches 32 miles from Folsom to Old Sacramento and along the way, you will pass Discovery Park, Sutter's Landing Park, Guy West Bridge (which looks like a miniature Golden Gate Bridge), and Fulsom Lake. It is a major recreational area for local residents and the perfect spot to explore the area on your own two wheels or your own two feet if you are feeling really energetic! There are many different access points so make sure to check out the website listed above to find the one that works best for you.
Folsom Lake State Recreation Area
Located around 40 minutes northeast of downtown Sacramento in the foothills of the Sierra Mountains, Folsom Lake is one of the city's favorite "playgrounds" The lake has many different options for outdoor activities and is popular for swimming, water-skiing, boating, kayaking, and paddleboarding. In the nearby park, you can hiking, bike, picnic, or horseback ride. If you want to have a night sleeping under the stars, there are also camping areas available for overnight stays.
Raging Waters Water Park
Raging Waters Water Park is just 15 minutes outside of downtown Sacramento and is a great place to go for some family-friendly fun in the sun. The park offers a wide array of water slides as well as a wave pool, lazy river rafting, and eateries. There are also fun-themed events like Mermaid Day where kids can meet ts can meet the sirens of the sea. The seasonal water park can get very busy on weekends so try to come mid-week if possible when it will be less crowded. Raging Waters offers many different discounts and special offers on their website so check before you head over to see if there are any that you can take advantage of.
The water park is located right next to the California State Fair Grounds so if the timing is right, you can potentially combine a day of waterslides and fairground rides!
Frequently Asked Questions About Things to Do in Sacramento
Sacramento is a city that is overflowing with history. Highlights of the city include the Old Sacramento Waterfront, Sutter's Fort, and the American River Bike Trail. For a full list of all the great activities and attractions on offer, take a look at the Best Things to Do in Sacramento.
As the capital of California and one of the Gold Rush cities of the 19th century, there are many historical things to see in downtown Sacramento including the Old Sacramento Historic Park, and Sutter's Fort. To learn more, visit the Best Things to Do in Sacramento.
Scavenger hunts are a really fun and unique way to explore a city whether you live there or are a tourist. Let's Roam offers a variety of fun-filled Sacramento scavenger hunts that are perfect for people traveling with friends, colleagues, families, and partners.
67 Fun Things to Do in Sacramento, California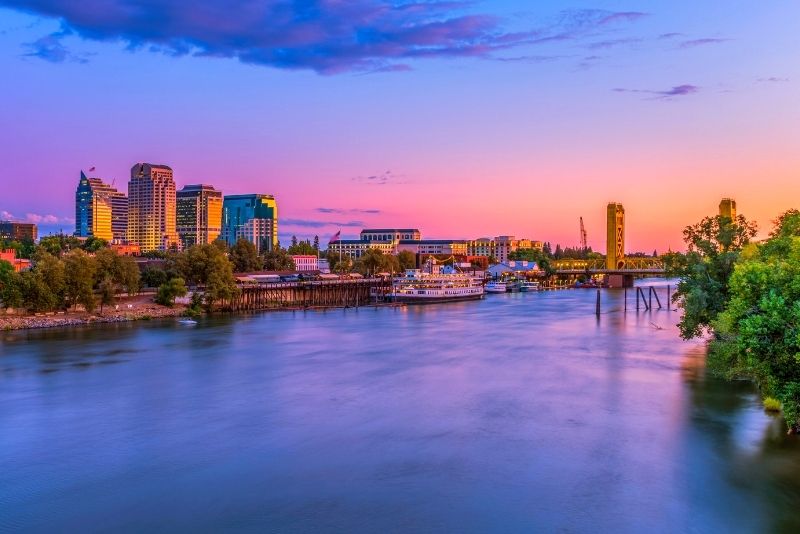 Far more than simply California's capital city, underrated and underappreciated Sacramento is teeming with hidden gems and noteworthy attractions around every historic corner.
Entrenched in Gold Rush-era traditions and architecture, the now-modernized metropolis has become a little-known Mecca for culture, music and the arts; throw in the copious amounts of breweries, bars, nightclubs and Michelin-starred restaurants and you've got yourself a city of near-endless entertainment.
From its world-famous Tower Bridge to its rip-roaring seasonal events, not to mention its proximity to the serene Eldorado National Forest, it'll take a lifetime to tick off all of the exciting things to do in Sacramento, California.
1 – Start your trip at the Crocker Art Museum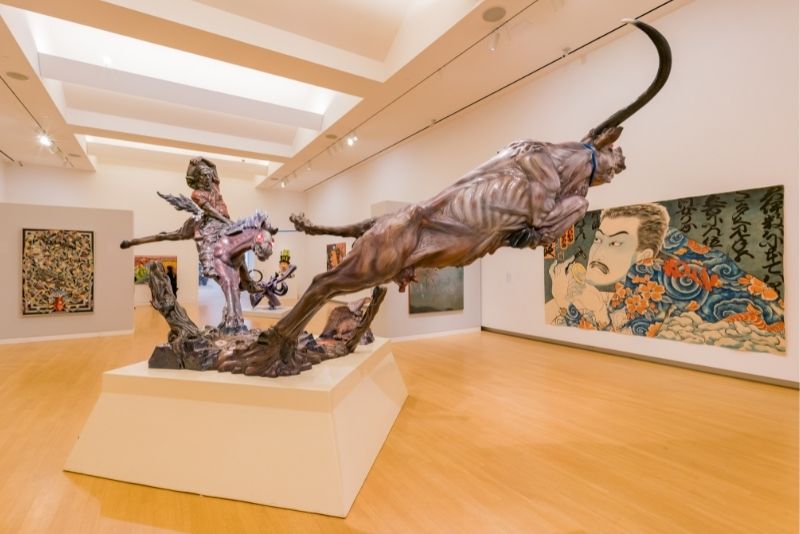 Boasting a rich history that spans nearly 14 decades, Sacramento's very own Crocker Art Museum wields the title of being the longest-running art museum west of the Mississippi River — and when you step inside, the paintings and sculptures sport an ever grander history.
Located over on Downtown's O Street on the eastern side of the river which flows through the state capital, the coveted Crocker dishes up admirable collections of international drawings and European, Asian and African paintings; however, it's its premier collections of Californian art enormous ceramic collection which typically steal the show.
Complementing the diverse permanent works on show (which, if done right, would take well over 3-4 hours to appreciate), the Museum also offers occasional film screenings, guided tours, and educational workshops.
2 – Meet the giraffes at the Sacramento Zoo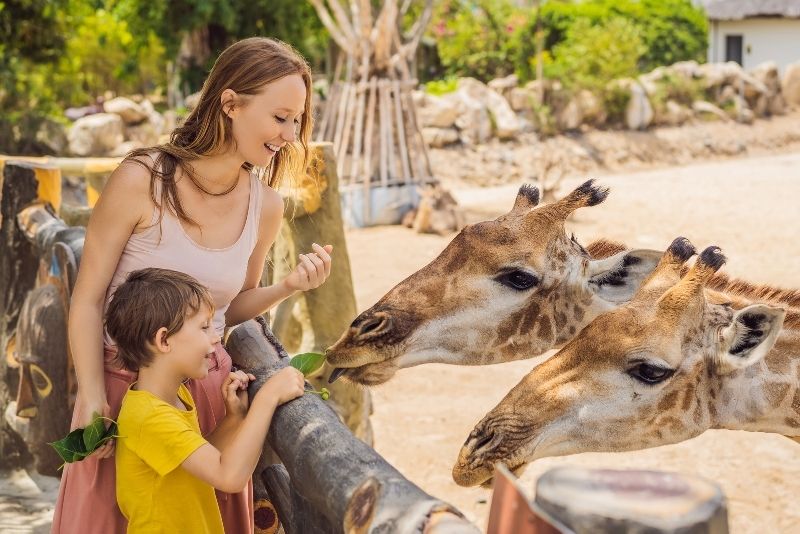 A surefire hit for anyone traveling with kids (or just animal lovers in general) in two, the sprawling Sacramento Zoo has been a popular family attraction since the early 20th century!
In addition to its unique setting, which is situated on the outskirts of William Land Park just east from Downtown, this expansive zoo also hosts an abundance of critters who take up residence within different habitats that are modeled after their indigenous environments — from tundras and wetlands, to mountain ranges and tropical forests.
All up, you'll discover over 140 cute, cuddly, rare, and endangered species throughout the grounds, a handful of which visitors can get up close and personal by opting for a VIP hands-on or feeding experience!
Hot tip: if you want to be within a close distance of the Sacramento Zoo, as well as a golf course and fairy-tale land (we'll get to those later), consider a hotel in Land Park or Riverside.
3 – Go rafting on the American River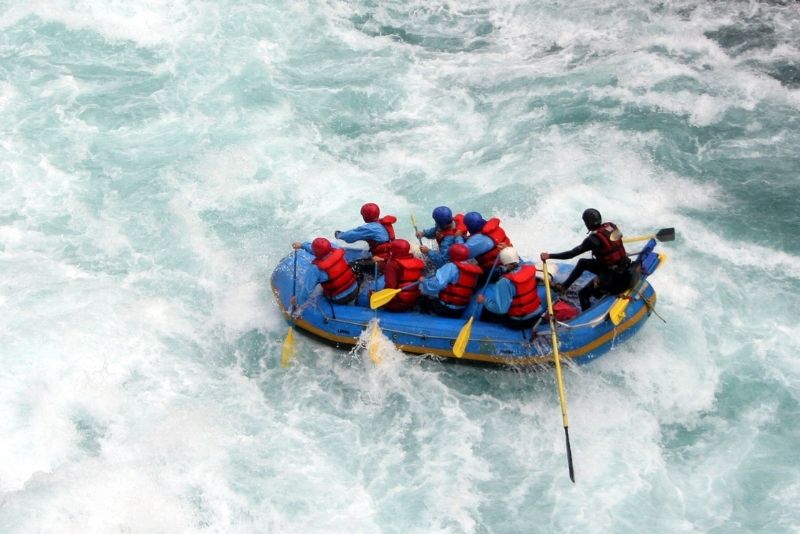 There are few things more exciting than making your way down a river on an inflatable raft (or kayak or canoe, if you prefer), especially when surrounded by some of the most stunning natural scenery that NoCal has to offer!
And speaking of excitement, not many rivers throughout America can beat up on California's very own American River in terms of its rafter-worthy rapids and adrenaline-pumping thrills!
For a short and sweet half-day experience, the South Fork of the American is a good choice — and for those who want to spend the entire day on the water, the class 3-4 Middle Fork dishes up heart-racing thrills in spades.
No matter which style of trip you choose, with pick-up and drop-off often included, as well as lunch and equipment, the only thing you'll need to bring along is a sense of adventure!
4 – Step back in time at the California State Capitol Museum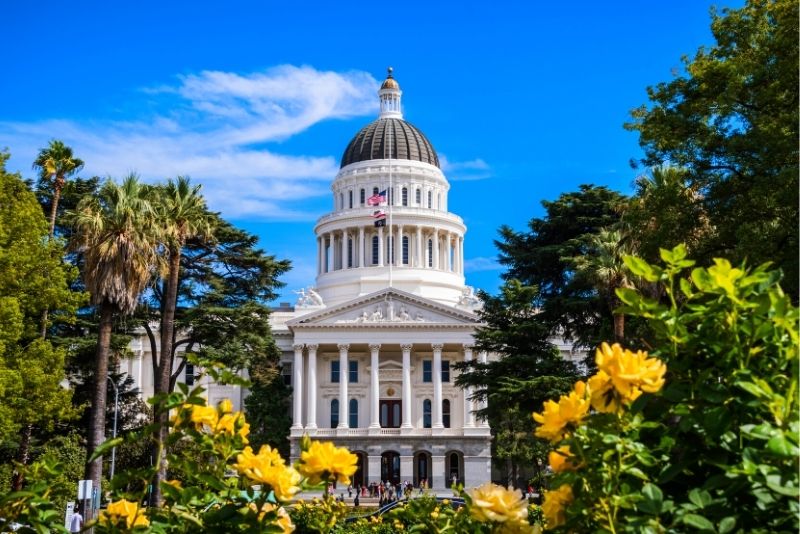 For those who'd like to brush up on their political knowledge, there's no better place in town than the California State Capitol Museum!
Found downtown in the heart of the action, this historic museum offers an enlightening look into some of the significant events, key legislature, and influential people that helped shape the city and state of California.
From Native American tribes to gold miners, from hardworking immigrants to Hollywood stars — this place documents it all! Even the Neoclassical building, which dates back to the mid-19th century is a worthy attraction in its own right.
After checking out what's in store (open daily from 10:30 am to 4:00 pm) the well-manicured California State Capitol Park on which it sits provides a wonderful spot for an afternoon stroll or picnic.
5 – Explore King Arthur's Castle at Fairytale Town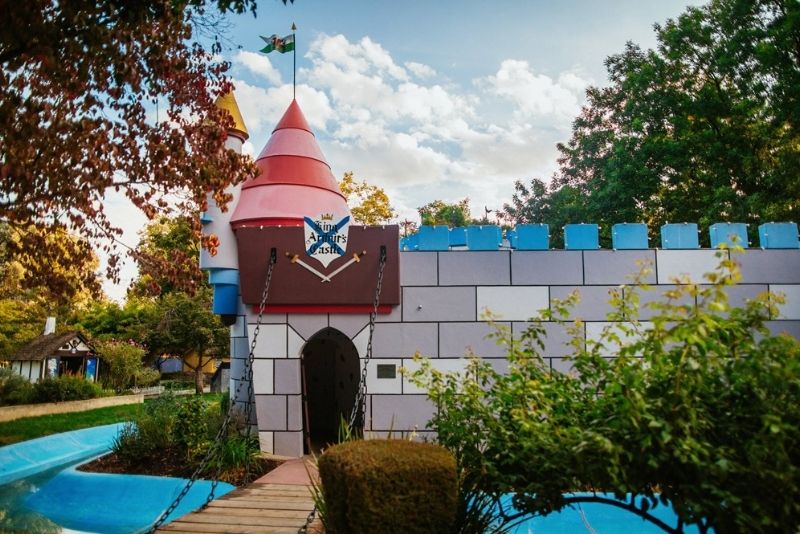 credit to Fairytale Town
An enchanting theme park where famous fairytales and timeless nursery rhymes come to life, Fairytale Town sits over at William Land Park and has been delighting kids (and nostalgic parents) for decades.
Spread across an easy-to-navigate 3.5-acre ground, this family-friendly attraction offers fun for everyone with over 26 children's playsets that dive exhibits into classic tales and scenes of King Arthur's Castle, Jack and the Beanstalk, Robin Hood, Mr. McGregor's Garden, and the old woman who lived in a shoe.
From the moment you arrive at the entrance of this whimsical wonderland (and take note of the time at the Hickory Dickory Clock), you'll be greeted by costumed characters, who are always ready to pose for photos!
Hot tip: don't miss the puppet show!
6 – Stuff your face on a food tour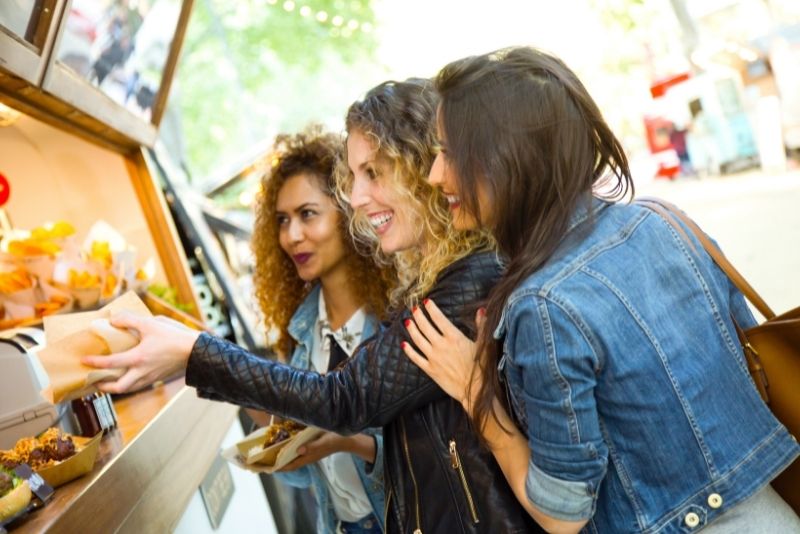 If you're in the mood for a delicious bite to eat, there are few better ways to satiate your taste buds than with an expertly guided food tour of one of Sacramento's many popular neighborhoods.
With so many restaurants and cuisines on offer throughout the hip district of Midtown — as well as Downtown and Sutter — a locally-led walkthrough allows guests to skip over the high-trafficked tourist traps and head straight for the tastiest, most authentic eats in town!
While each adventure differs slightly, expect to sample not city staples like Mahoroba Bakery's Kobe Cream Buns or Magpie Cafe's Carrot Cake Cookies, but also notable wines and drinks (make sure to sample the Golden Cadillac), with stops at galleries and shops along the way!
7 – Don't miss the California State Railroad Museum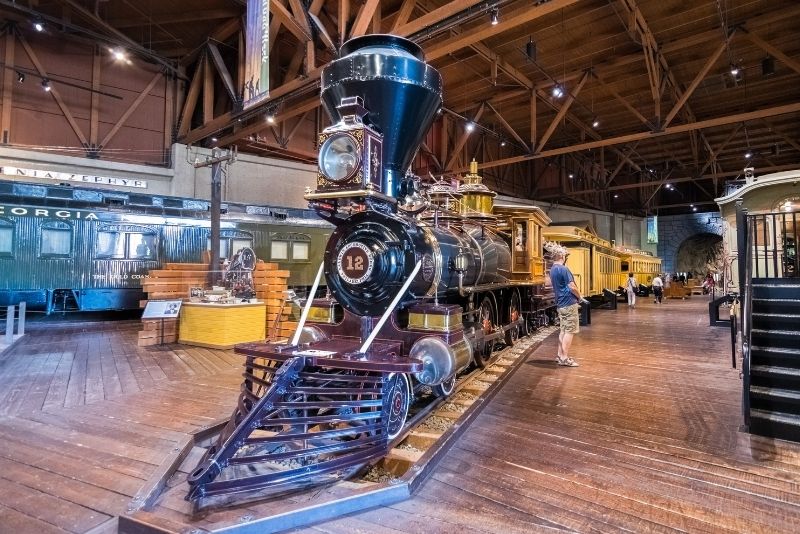 One for the history buffs, the California State Railroad Museum is a must-see for those who want to learn about the engineering side of Sacramento's fascinating past.
Located in Old Sacramento — a charming sector of town that was once home to the Gold Rush and other bustling industries — this museum documents how railroads helped shape our western states into what they are today!
With over 20,000 square feet of hands-on exhibits, California State Railroad Museum is a great destination that features an impressive collection of locomotives (including the infamous Polar Express), while its indoor galleries showcase everything from the history of steam engines to stories of the railroad's role in farming, and even 1,000 vintage toy trains.
And, of course, there are plenty of train ride experiences too!
8 – Stop by the Cathedral of the Blessed Sacrament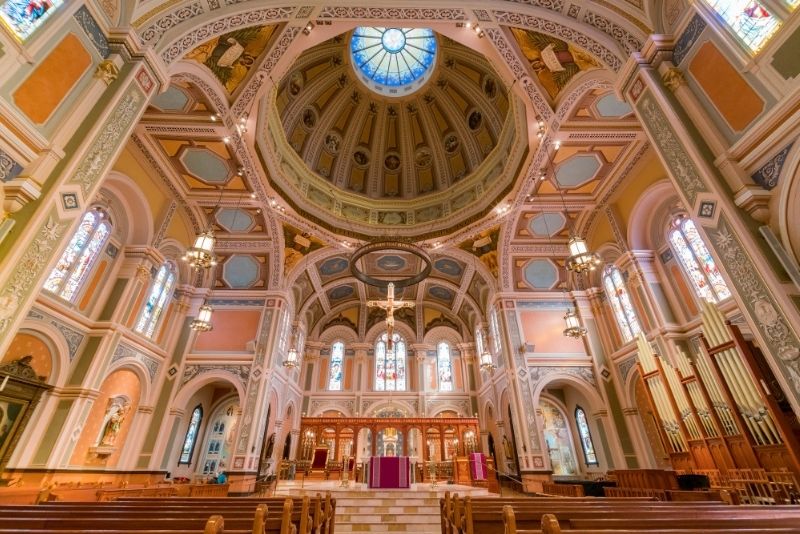 Sacramento's most important catholic church, the Cathedral of the Blessed Sacrament is a stunning work of art that should be visited by all — with its dome towering some 175 high above the streets below, the Italian Renaissance-style cathedral (with a very Victorian interior) stands as not only a religious icon, but an architectural one too.
Located in Downtown — just next to Capitol Park, the postcard-worthy landmark plays host to regular musical events and offers plenty of behind-the-scenes guided tours for those looking to learn more about this historic place of worship.
9 – Join a walking tour of Old Sacramento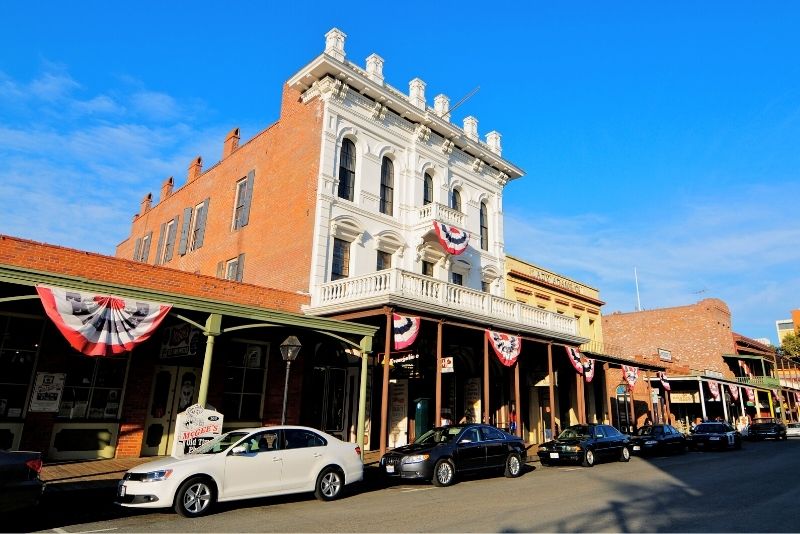 One of the most popular and storied historic districts in Northern California, Old Sacramento is a sight to behold for history-lovers and anyone who enjoys taking things at their own pace.
From its charmingly restored Victorian architecture (including an impressive collection of museums) to street performers, there's plenty on offer here — especially when it comes time for lunch or dinner, as the area is scattered with world-famous eateries to try!
The best way to do so? Rather than stumble around hoping to find something interesting, join a walking tour of Old Sacramento and let an in-the-know local take you far beyond the beaten track, off into the real heart of the area where you'll discover the most interesting landmarks, shops and attractions!
Or, for something a little different, there are plenty of scavenger games or self-guided tours too.
10 – Cross the historic Tower Bridge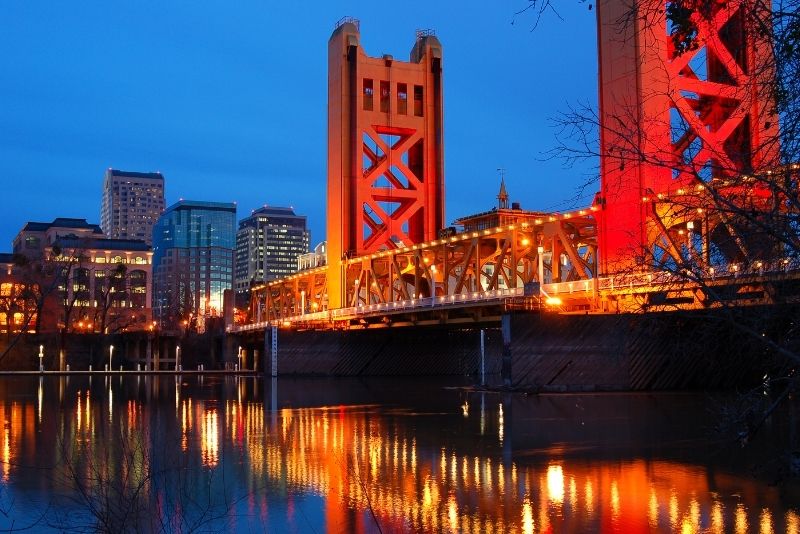 Another must-see for tourists, Tower Bridge is a wonderful structure that offers incredible views of the city skyline from its perch 100 feet above the sparkling Sacramento River.
Not too dissimilar in style or function from its namesake in London, California's own Tower Bridge vertically lifts to let ships pass by, acts as a heavily photographed landmark, and provides an easy and enjoyable walk from West Sacramento over to Yolo County.
11 – Climb aboard a river cruise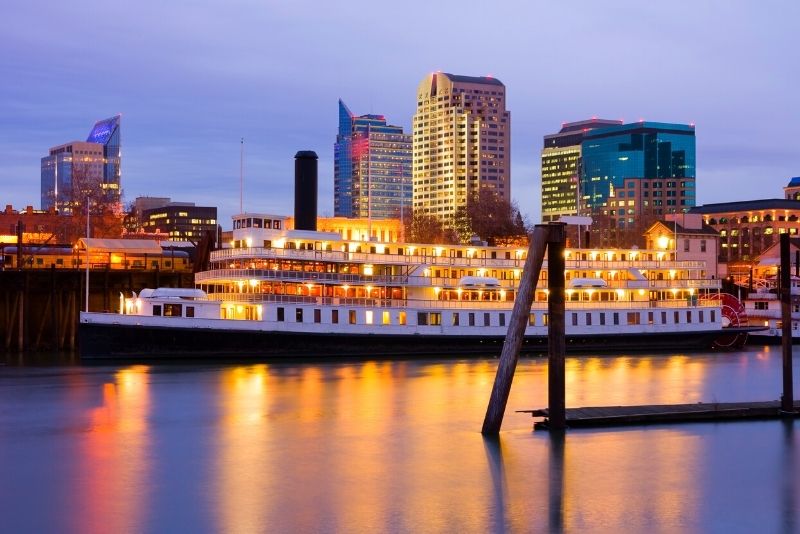 Typically departing from Old Sacramento, the city's vast range of river cruise options mean that whether you're hunting for relaxation, romance, history or socializing, there's a way to see the city from a unique perspective that suits your style.
Whether it's an evening dinner cruise that sails off into the sunset, a history-themed trip that explores the legendary past of California's capital city and its transition from Gold Rush hub to the booming modern metropolis; or a Sunday brunch trip with friends and a whole lot of cocktails, there are plenty of options on offer!
12 – Check out the Scandia Fun Center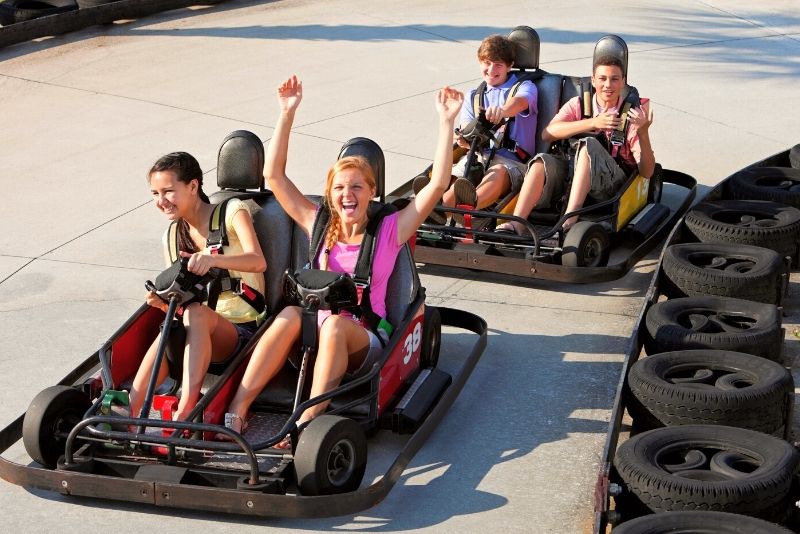 Promising outdoor fun in the sun for the whole family, the Scandia Fun Center, located about 15 minutes drive from the city center, dishes up interactive entertainment in spades with countless rides, games and attractions to enjoy
Start your day at the batting cages before whizzing around the go-kart track and playing a round of mini-golf for some ultimate bragging rights.
Throw in an arcade, bumper boats (great for those sizzling Sacramento summer days) and an on-site eaterie, and the hours are sure to fly by.
13 – Pop by the Sacramento History Museum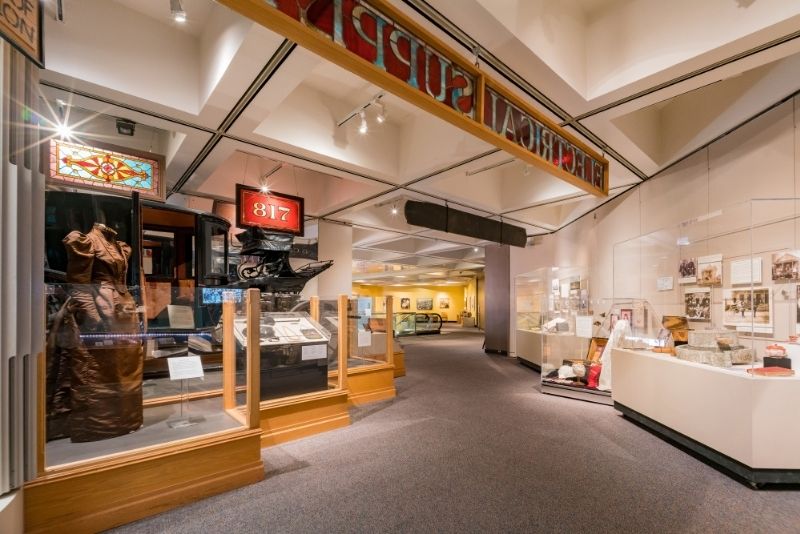 Feel like taking a step back in time? Then a visit to the Sacramento History Museum is absolutely essential!
From its rich collection of gold rush artifacts and period equipment to the multiple exhibits on display that showcase everything from Victorian house-life, the city's settling and expansion, and rare film footage over the decades — there's plenty here for history buffs. Join one of their guided tours or simply explore.
14 – Cheer on the Sacramento Kings at the Golden 1 Center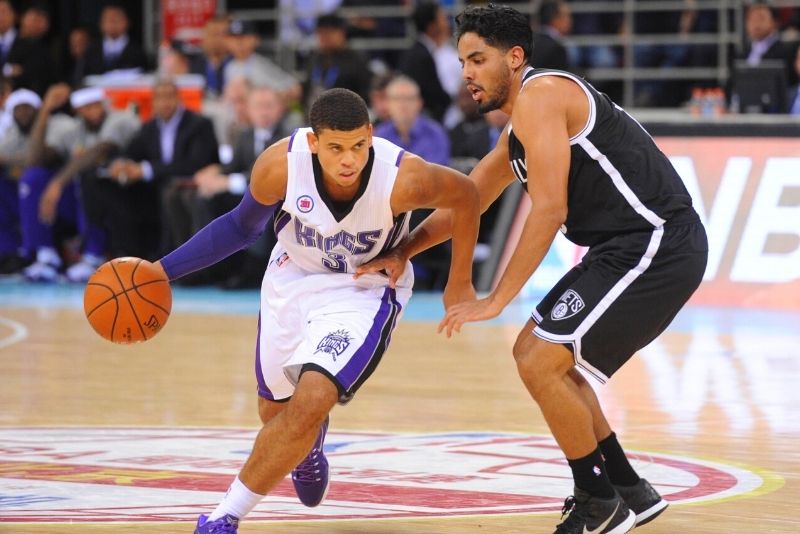 The Sacramento Kings are one of the most beloved and well-supported teams in all of California, with a dedicated fan base that's fiercely loyal to its heroes (and deafening when the stadium's at capacity).
So if you're looking for family fun or simply want to catch an exciting game or exhibition match — Golden 1 Center is definitely the place to be! With multiple levels of seating available, as well as VIP booths, concessions stands, and behind-the-scenes opportunities, not to mention an array of world-class performers taking the stage here too, there's something for everyone.
Hot tip: if you're not looking to spend big, consider a pre-season match.
15 – Cool off at Raging Waters Sacramento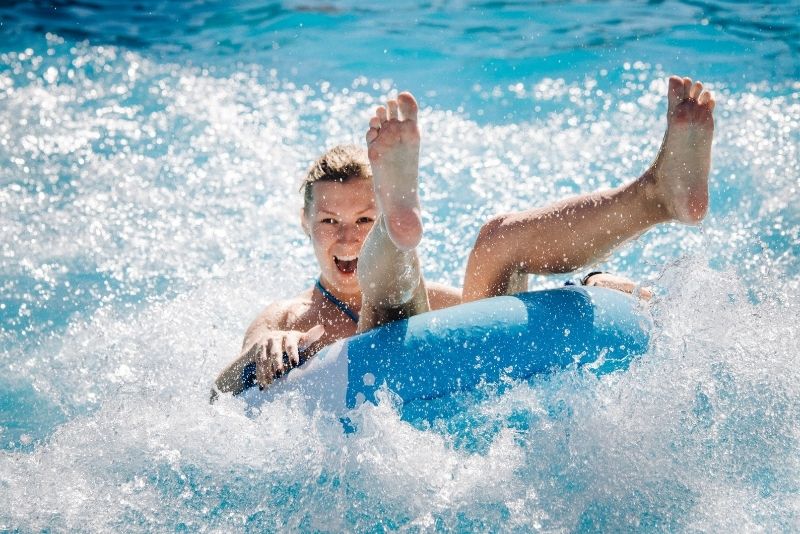 Sacramento's largest waterpark and a local community landmark since the mid-1980s, Raging Waters offers in excess of 25 wet and wild slides, pools, and splash zones for the whole family to enjoy!
With an impressive assortment of attractions on offer from relaxing wave pools to heart-racing body slides, an 800-foot-long winding lazy river, and racing rapids — this is one day trip that never fails to deliver.
Not sure where to start? If you're after soaks and speed, check out Hurricane, the Cliffhanger Speed Slides and Shark Attack Waterslide complex; if you want to start slow with a simple swim, make a beeline for Breaker Beach.
16 – Have a picnic at William Land Regional Park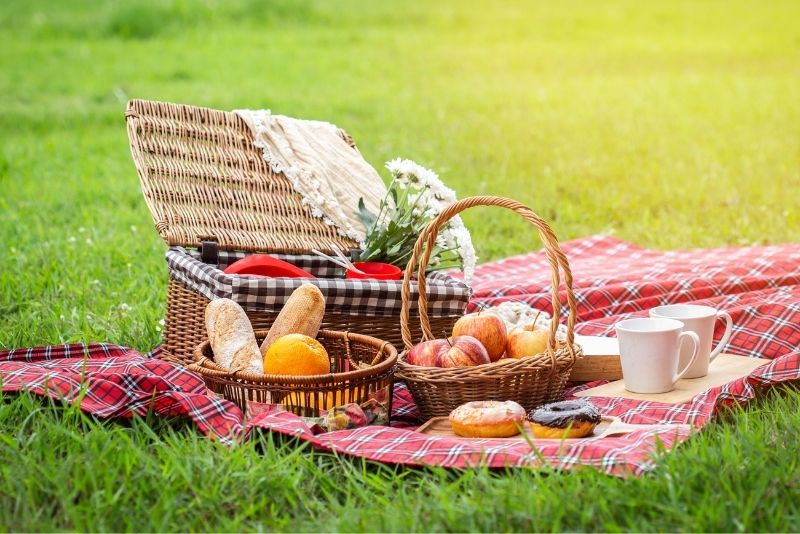 Take a break from the concrete jungle at William Land Park, Sacramento's largest public park and the gateway to iconic attractions such as Fairytale Town, Funderland, and the Sacramento Zoo.
More than 200 acres of green space means plenty of room to run around and enjoy some fresh air with family or friends! There are playgrounds for kids, scenic lakeside trails that meander through woodlands and grassy plains; as well as picnic spots and barbecue areas for those who want to make a day of it.
Or, for those of you who want to hit the fairway, the sprawling regional park is also known for its golf course! A great course for all levels from those looking to improve their swing to experienced players who just want an afternoon on the green, the golf course has a nearly 100-year history and offers 9 holes at par 34.
Looking for a place to stay near the Park? The 4-star Westin Sacramento on the banks of the American River is just around the corner.
17 – Soak in the ambiance of the State Capitol Park World Peace Rose Garden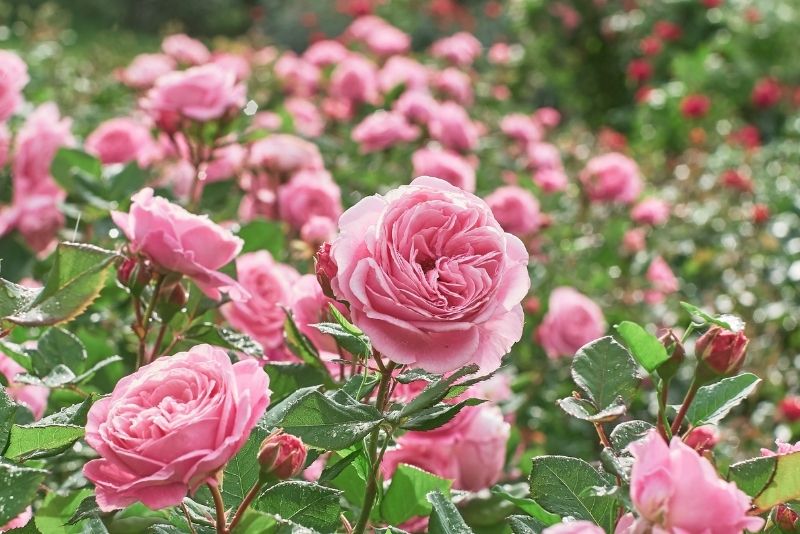 With more than 140 multi-colored species and cultivars of roses, totaling well over 600 bushes all up, this small yet stunning garden is one of the most prolific rose collections in all of California — not to mention a major landmark and great selfie spot too!
After (literally) stopping to smell the roses, make sure to check out the inspiring messages of peace that line the World Peace Rose Garden: over 40 award-winning messages are engraved plaques to bring extra life and intrigue to an area already buzzing with life and color.
18 – Play ball with the Sacramento River Cats at Sutter Health Park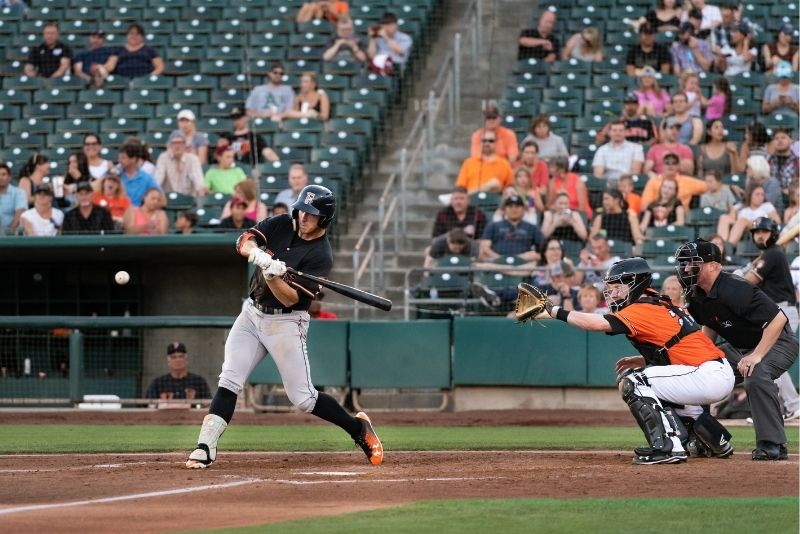 The Sacramento River Cats are the Triple-A affiliate of Major League Baseball's San Francisco Giants (formerly the Oakland A's too), and the 15,000-seat Sutter Health Park just across the Tower Bridge, is their fortress.
With a loyal fanbase, exciting games and tournaments on the regular, plus plenty of great food and things to see around the stadium too — what more could you want from your afternoon out?
Best of all, thanks to the minor league status, the tickets are cheaper and less competitive than in the majors — still, the noise and atmosphere are just as impressive.
19 – Time travel to the 1800s at Sutter's Fort State Historic Park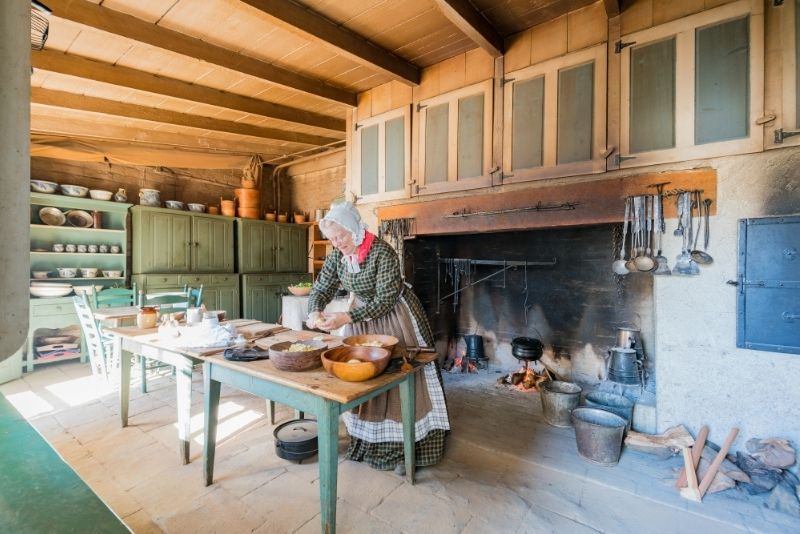 Take a step back in time and visit Sutter's Fort State Historic Park, where life-sized reenactments of the historic era come to life.
Settled by pioneer John Augustus Sutter Jr., who built his fort on this site in 1839, this California Historical Landmark and National Historic Landmark, acting as living history museum, has become a popular rest stop for any history buff thanks to its wondrous detail and insight into a bygone era.
With close to 5 acres of land to explore, including a handful of old-school buildings from blacksmiths to original wells and weaving stations — the Fort sells itself as one of the top things to do in Sacramento!
On the hunt for a hotel in the area? It's hard to go past The Fort Sutter Hotel Sacramento, Tapestry Collection by Hilton just around the corner.
20 – Visit Ultimate Terror Scream Park… if you dare
If the name is anything to go by, then you know that the Ultimate Terror Scream Park is going to be good!
For those brave enough, the Greater Sacramento area's only year-round haunted house experience awaits with live actors, sinister special effects, and a whole lot of otherworldly ghouls and demons to scare your socks off.
Take your pick from the New Orleans-inspired haunted house, creepy asylum, and house of the undead, then try not to scream as you work your way through this labyrinth of fearful frights.
Hot tip: on weekends and during school holidays when it gets busy, a skip-the-line ticket is worth considering.
21 – Feel the thrill of indoor skydiving
Craving the thrill of freefall but without the risk of jumping out of a plane?
Well, in Sacramento you can do just that! Yes, indoor skydiving is now possible all year round in this area with places like iFly Indoor Skydiving providing high-octane thrills no matter the wind or weather. Found over in Roseville, and offering team-building events and birthday parties in addition to the casual flying sessions, there's no better way to get your adrenaline fix in a safe and controlled environment.
22 – Spend a couple of hours ice skating!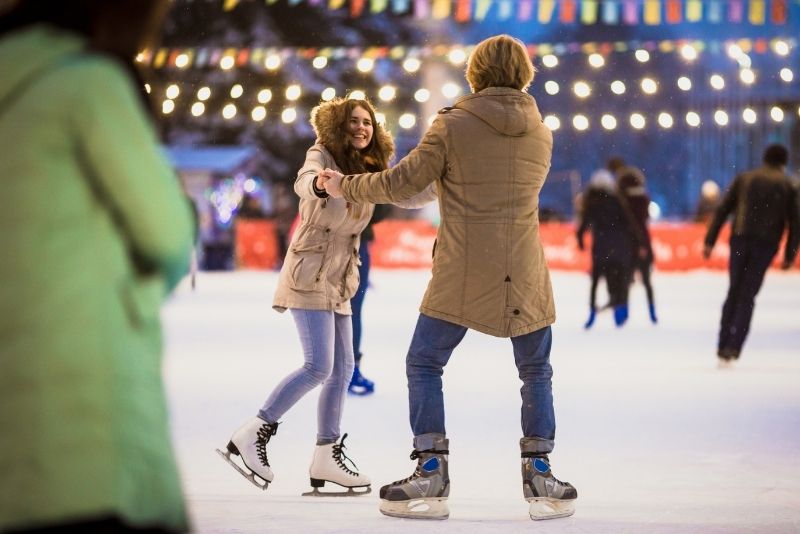 In a city that's usually known for being way too hot, heading out to ice skate during winter is all kinds of refreshing — and indeed very popular.
And, with multiple rinks to choose from, including the Downtown Sacramento Ice Rink, Iceland Ice Skating Rink (which offers lessons for newbies), and Skatetown Ice Arena – where DJs grace the rink and play your favorite songs on request – you're sure to find the perfect place that suits you and your friends.
23 – Meet alligators, then go upside down at Six Flags Discovery Kingdom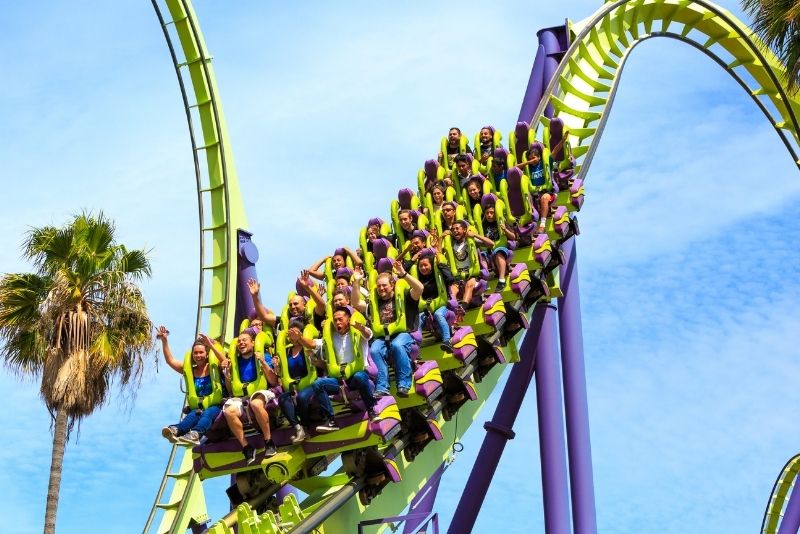 Forget about Disneyland and Disney World, because on the other side of town is Six Flags Discovery Kingdom — another one of America's best theme parks.
Offering up a whole host of family-friendly attractions from roller coasters to animal encounters (and even some educational shows too), this park will have everyone in your group having fun for hours on end!
Located over in Vallejo, about an hour's minute drive west (toward San Francisco) from Downtown Sacramento, the animal-themed park boasts over 40 thrill rides alone, 10 notable and high-octane coasters (don't miss the upside-down Dare Devil Chaos Coaster and Kong, the steel suspended looping coaster) and no shortage of entertainment for the little ones too.
24 – Appreciate and learn about the land's ancestors at the State Indian Museum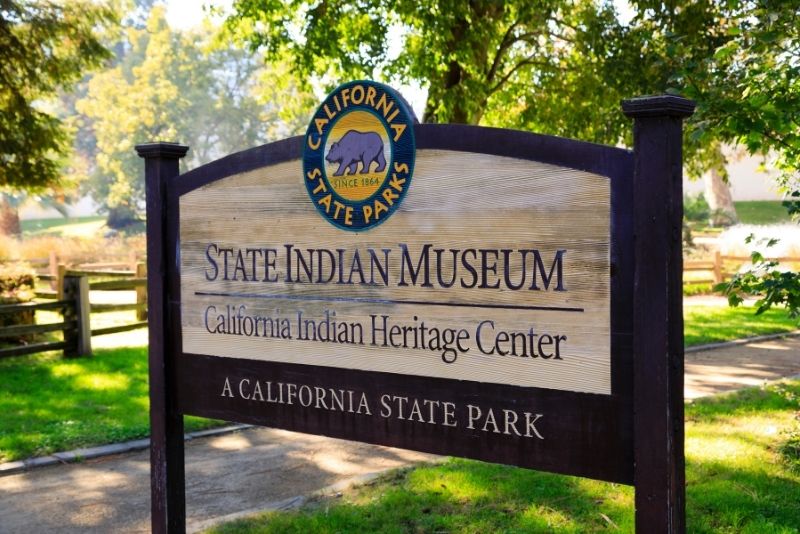 While the culture and history of Native Americans in California dates back hundreds of years and can be seen throughout various areas throughout the city and beyond, this particular museum is a great and compact way to learn more about the people and ancient traditions and who have called Sacramento home for centuries.
Themed around the core Indian values — Nature, Spirit, and Family — the State Indian Museum houses hundreds of tribal artifacts, all with detailed descriptions that provide an eye-opening insight into this unique community, and dives into the methods of how they maintained and lived alongside the natural environment.
The museum itself is located within Sutter's Fort State Historic Park (#19), so while you're here, don't forget to take a look around at all of the historic buildings.
25 – Bounce around at a trampoline park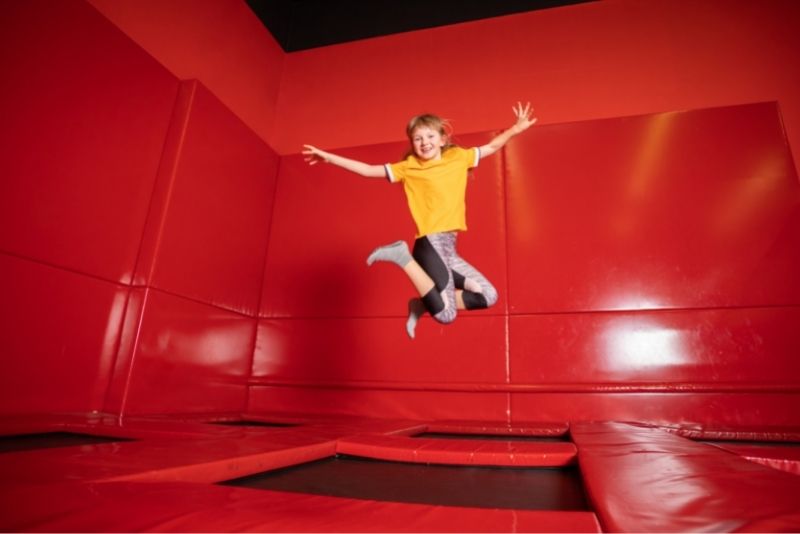 Far more tiring than it looks, trampoline parks are perfect for when you want to let off some steam, burn a few calories, and unleash the inner child (or let the actually kids run loose for an hour or so).
With trampolines in every direction, as well as dodgeball zones, warrior courses, slacklines that really put your balance to the test, giant foam pits and airbags, and slam dunk zones (just to name a few), you're guaranteed to have a flipping good time.
Locally, Urban Air Trampoline and Adventure Park is a popular choice – particularly for those who want something a little different from the usual trampoline park offering – while Rebounderz and DEFY make for awesome visits too!
26 – Watch the Sacramento Hornets at Hornet Stadium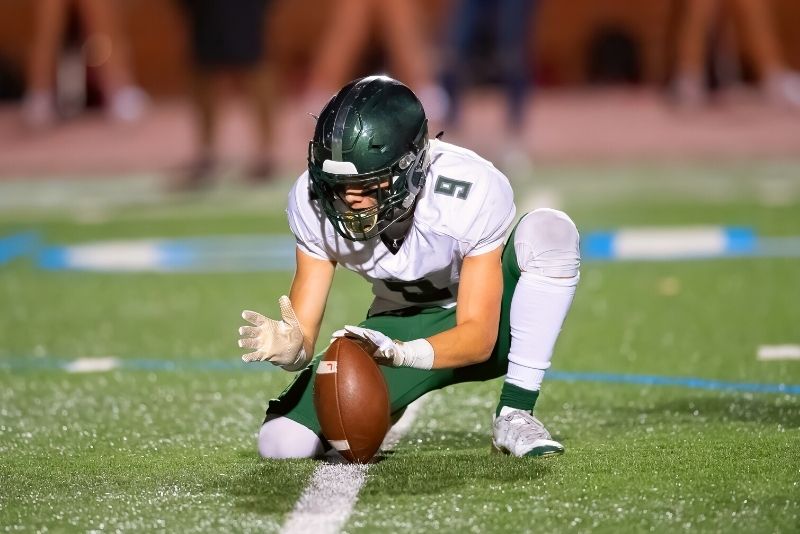 Located just a cruisey 15-minute drive from Downtown on the sprawling Sacramento State University campus, Hornet Stadium is home to the locally adored 2019 Big Sky Football Champions.
Beer and snacks in hand, sports fans can watch the Hornets take on NCAA powerhouses such a UC Davis and Cal Poly in their state-of-the-art facility — for pennies compared to NFL games.
As anyone who's been to an NCAA match will attest, the energy and electricity of a packed arena are unmatched and will make you feel like you are a part of every play.
27 – Soar Over Northern California while zip lining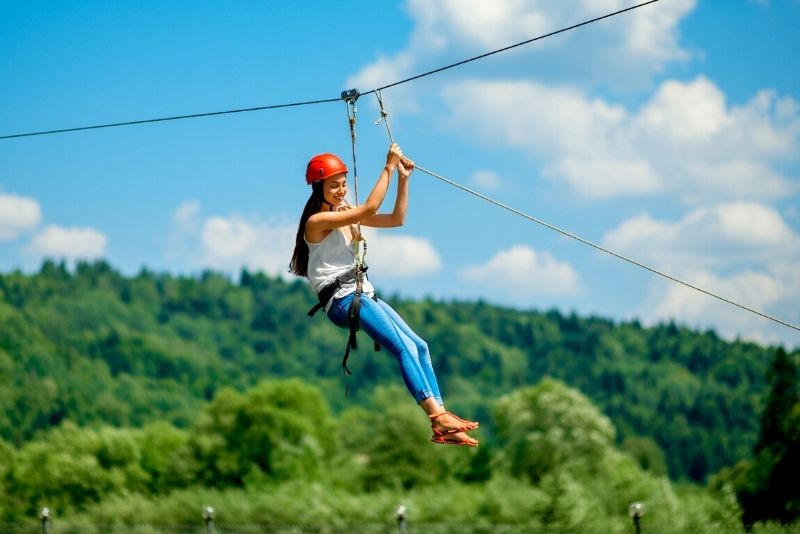 One for the adrenaline junkies, why not take up the option to soak in the beauty of Northern California with a scenic zip lining tour? Safely strapped into a harness, you'll be blessed with a bird's eye view of the green landscapes as you fly through the air, 60 feet above the canopies, at speeds of over 30 miles per hour!
While the city has a handful of options to choose from, Quarry Park Adventures hosts one of Northern California's largest zip lines and has a variety of packages for the whole family to enjoy.
28 – Feel the history come alive at the California Museum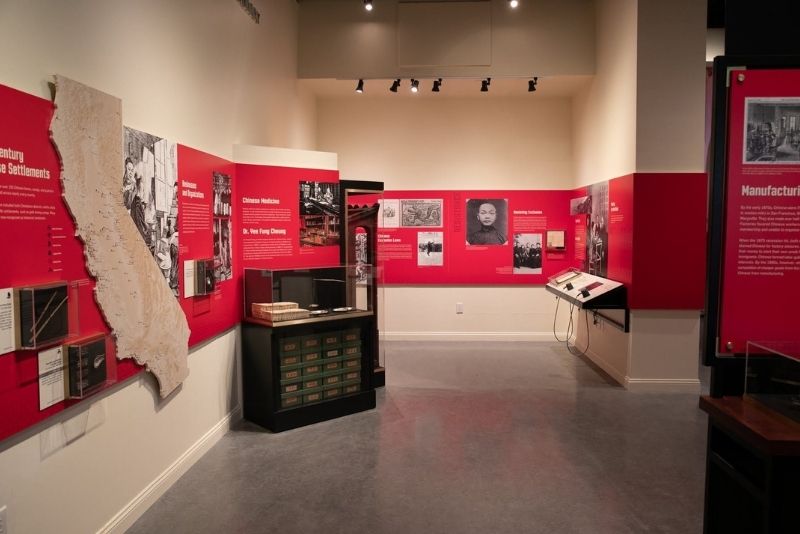 "Gold Mountain" exhibition / photos by Steven Hellon
To really appreciate and understand the complex history and culture that California offers, the California Museum located in the heart is Sacramento is the place to be.
With over a dozen uniquely crafted interactive exhibits, this museum sells itself as a terrific way to spend an afternoon — take a step through time as you experience the lives and culture of native California tribes in their own words, or, if you consider yourself more of a hands-on learner, grab your pickaxe and start digging into the stories and legends surrounding the California gold rush!
With so many exhibits and events on the calendar it can be tough to see it all; so, to make the most of your trip, consider an expertly-curated tour led by local historians (which can be flexible to accommodate your group's needs and schedule).
29 – Take a stroll through historic Folsom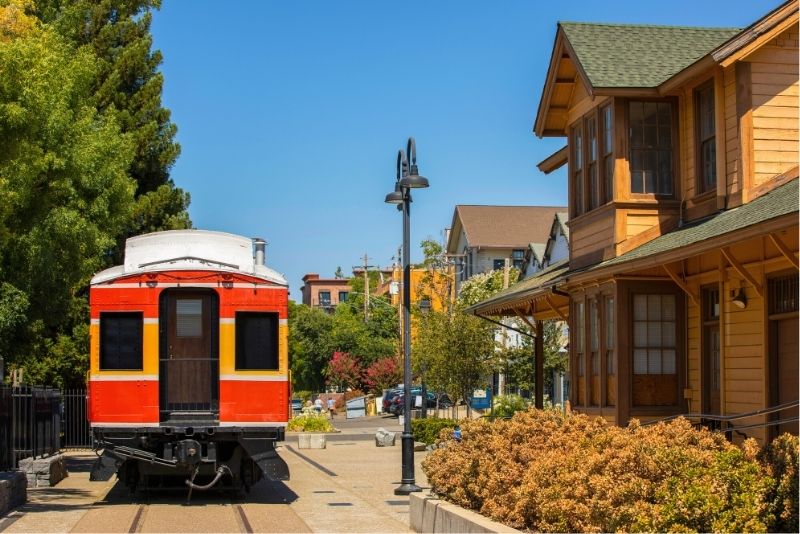 Simply put, no trip to the state capital is complete without a visit to historic Folsom.
Founded in the early 1850s, this small town exploded with life and diversity with the discovery of gold at Sutter's Mill. Serving as a hub for the Pony Express and the first railroad in the west, Folsom has evolved over the years and become the embodiment of life and community in the heart of California.
With over 80 decadent restaurants, innovative bars, local shops and exciting attractions, there is certainly no shortage of fascinating things to do.
If shopping isn't quite your scene, you can enjoy one of the many free community events Folsom has to offer: choose from concerts, art walks, and weekly farmer's markets — just a few of the many attractions that make Folsom such an exciting place to visit.
30 – Traverse down the American River Bike Trail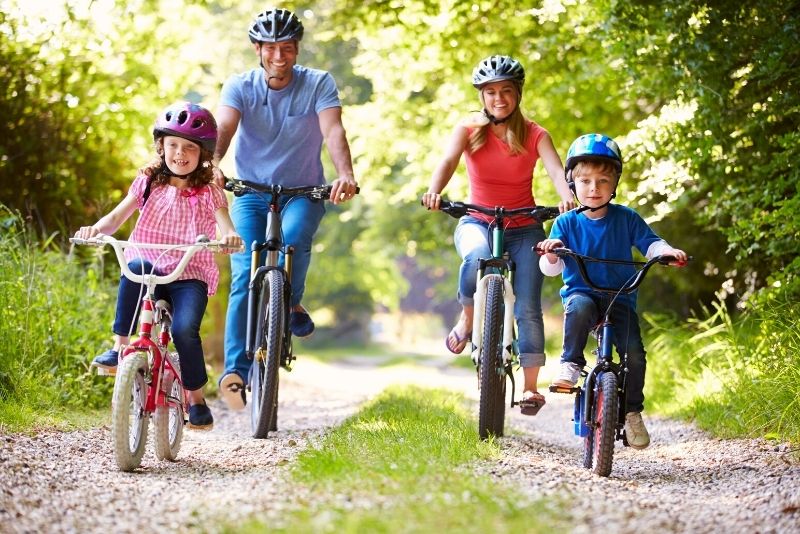 There is no better way to experience the breathtaking Northern California landscapes than by taking a scenic tour of the American River Bike Trail. Whether you want to take a brisk bike ride or a leisurely walk, this 32-mile (about 52-km) trail extends from Sacramento to Folsom and is great for any skill level.
The moderate temperatures make this trail walkable (or runnable, if you're ambitious) year-round and lead adventurers through parks, across rivers, and over historic railways. With less than a 5% incline, this trail is not only wheelchair accessible, but also dog and horse-friendly!
31 – Take a dive at Roseville's Golfland Sunsplash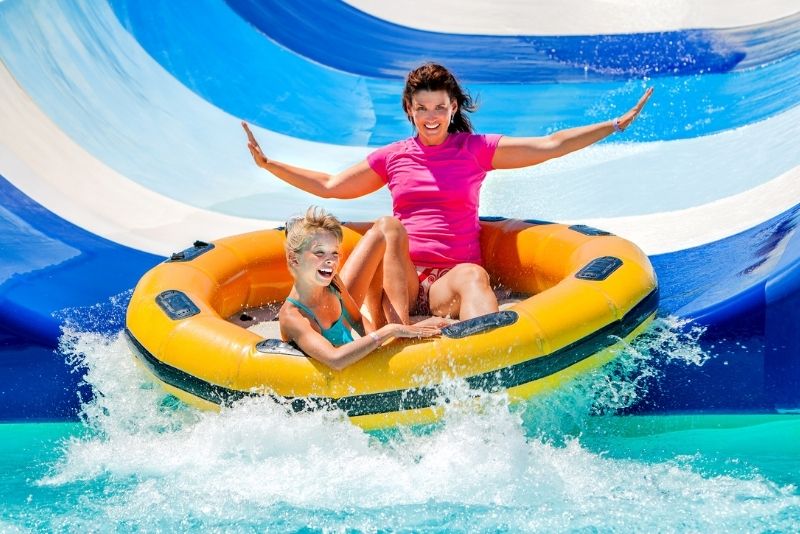 Calling all adrenaline junkies!
If standing at the top of a seven-story waterslide with a near-vertical drop is something that sounds interesting to you, then taking a trip to Golfland Sunsplash is a must!
Just a short 25-minute drive north of Sacramento, this all-encompassing water park and family fun center has over 15 water attractions, laser tag, bumper cars, mini-golf, and a full arcade.
With a variety of group packages to choose from, there is no doubt that Golfland Sunsplash can bring excitement to any event!
32 – Stroll through lush McKinley Park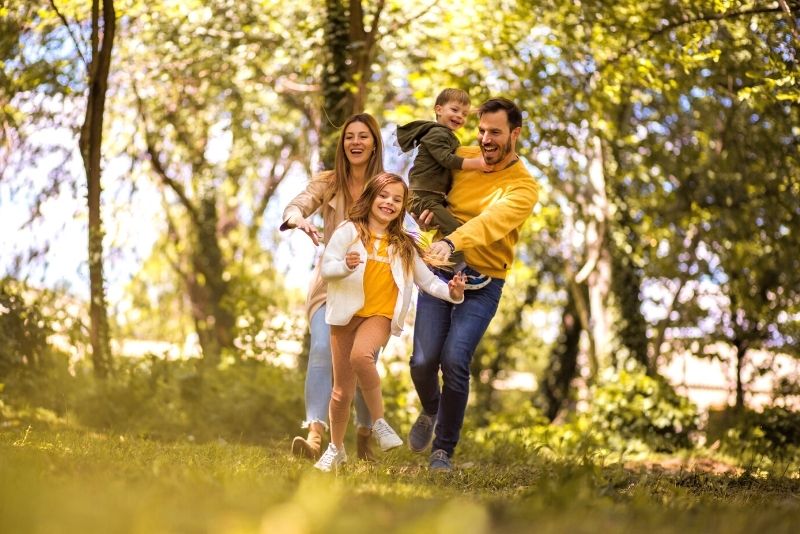 Recently renovated and reopened to the public, McKinley Park sits on a whopping 31 acres and houses a variety of kid-friendly amenities such as climbing walls, an adventure play area, and swimming pools perfect for cooling off on those scorching summer days.
If you're looking for something a little sportier, take up one of the five different sporting courts that are always open to the public; or, take things totally slow and roll out the picnic blanket on the sprawling fields.
33 – Fly over Sacramento in a hot air balloon!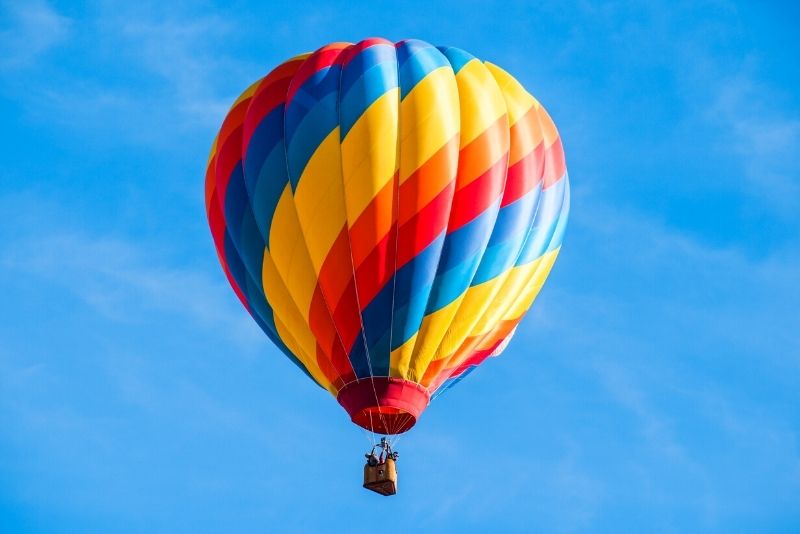 There is nothing more exciting than overlooking the majesty of California's landscapes, and the view from a hot air balloon is unmatched. While routes change slightly depending on your preferred company and itinerary, most tours will whisk you away over canyons, valleys and across the Sierra Nevada mountains.
With a majority of landing points being just a stone's throw away from some of California's most luxurious wineries, a hot air balloon ride is far more romantic than most realize.
34 – Mosey around the Stanford Mansion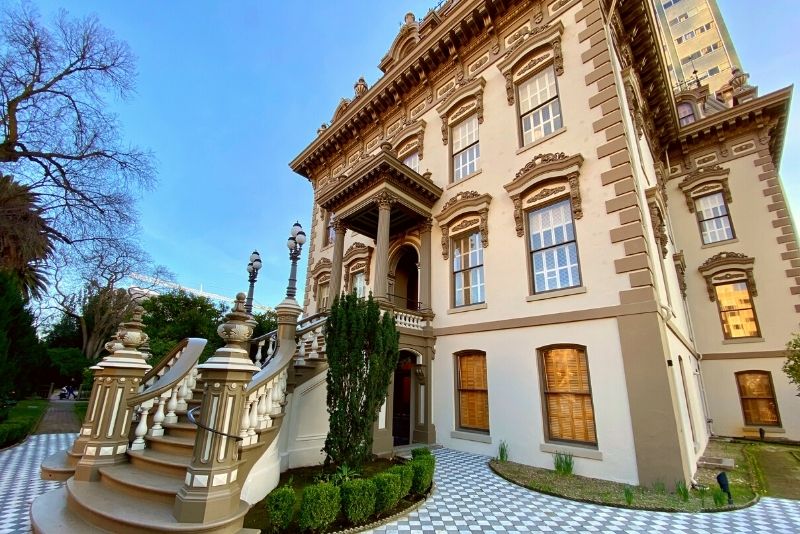 Built way back in the mid-1850s by gold rush entrepreneur Sheldon Fogus (but remodeled as the decades flew by) the Stanford Mansion serves as an architectural legacy that is as rich with history as it is with elegance.
You can take a guided tour of the 19,000 square foot mansion and experience all of its astounding features in all their glory; led by architecture buffs, tours check out the exquisitely designed moldings and fixtures, historic thought-provoking paintings, manicured 19th-century gardens, and original period furnishings.
35 – Interact with exhibits at the World of Wonders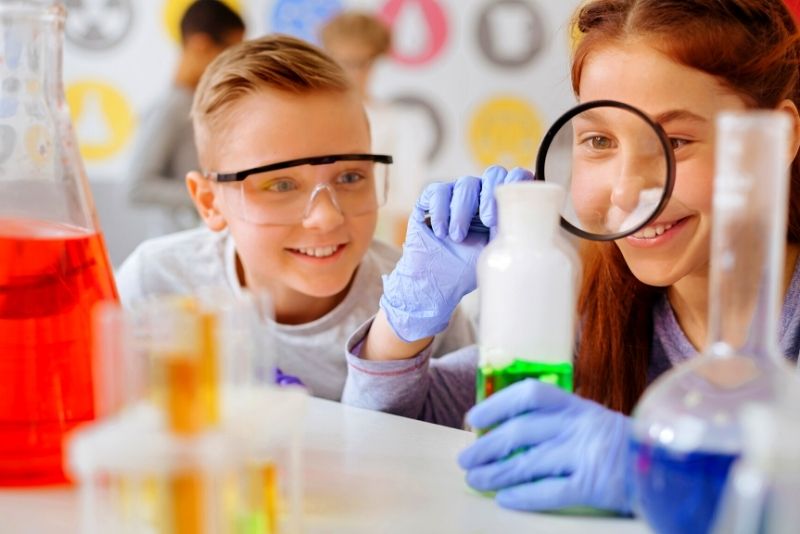 Instead of learning about science, be a part of science at the WOW (World of Wonders Museum)! With over 70 fully immersive displays, students (and adults, of course) of all ages can fully immerse themselves in the scientific community as they explore their favorite concepts in a safe and family-friendly space. Who said learning couldn't be fun?
While the list of attractions is diverse, some of the most popular exhibits include the Shadow Wall, giant Newton's Cradle, and the Illumination Lab.
36 – Experiment with some cool tech at the SMUD Museum of Science and Curiosity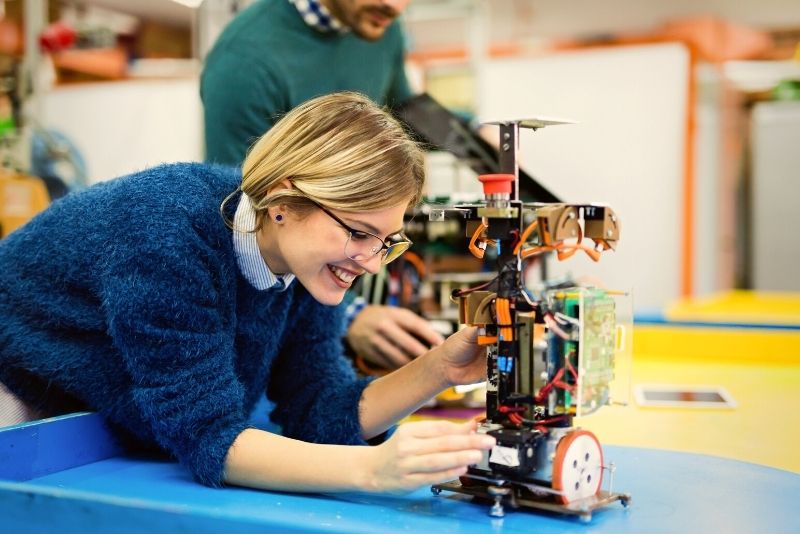 For the adventurers that want to interact with cutting-edge scientific technologies, the SMUD Museum of Science and Curiosity should sit high atop the list of things to do in Sacramento.
Thanks to partnering with organizations like UC Davis and Aerojet Rocketdyne, SMUD is able to bring these state-of-the-art technologies directly to its visitors: inquisitive guests can pilot the Mars rover and board the International Space Station while experimenting with 3-D printers in a robotics lab.
Wanting a more in-depth learning experience? SMUD offers tours for all ages and puts on regular events hosted by some of the industry's brightest scientific minds!
37 – Pick your own fruit at Apple Hill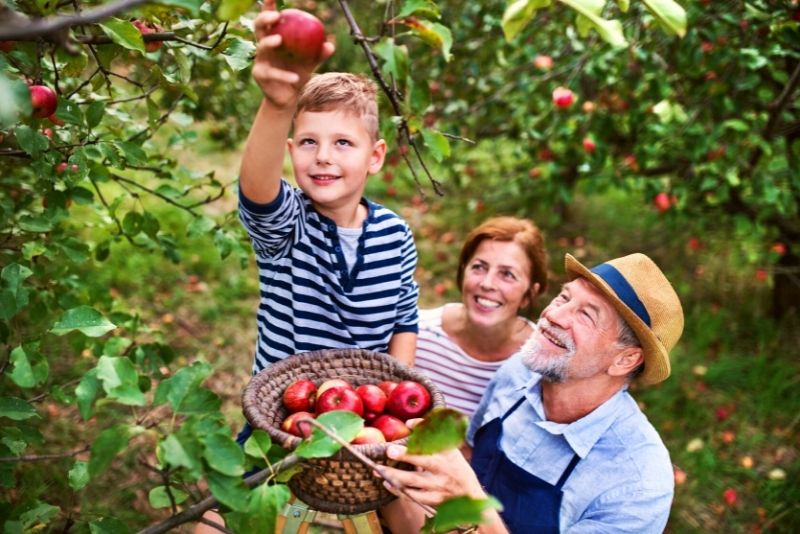 Nestled in the quaint town of Placerville near the foothills of the Sierra Nevada's lies one of California's hidden gems — Apple Hill represents a collection of 50 local family farms and is an enchanting year-round getaway that dives deep into Northern California's rich agricultural communities.
Peckish or not, travelers can pick a variety of fresh-as-can-be fruits and veggies that embody the farm-to-table lifestyle.
However, if picking out your own produce doesn't interest you, you can always take it easy and enjoy one of the several locally sourced restaurants and breweries in the area.
38 – Learn about Sacramento history at the Eagle Theatre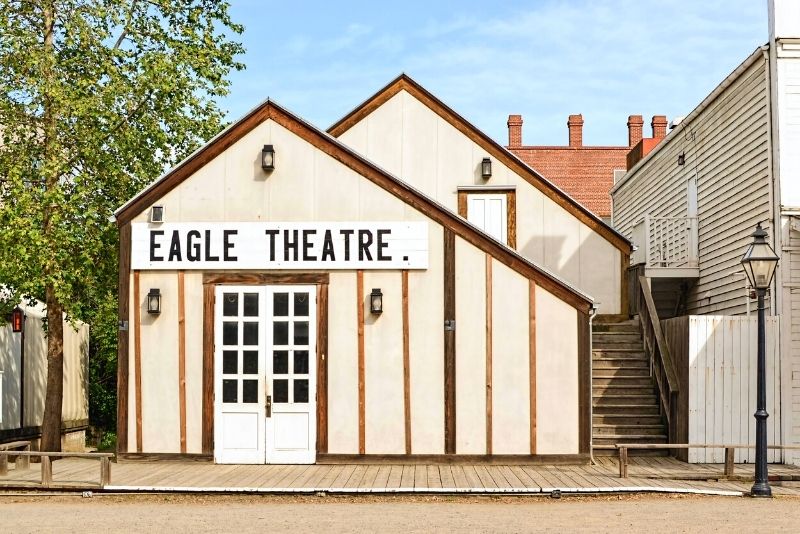 Originally built in 1849, the Eagle Theatre holds the claim to fame of being California's premier theatre, initially built to entertain the bustling gold miners that would frequent the local saloons.
Despite the original framework being sadly destroyed by a flood in 1850, the current theatre stands as a near-identical representation of the historic landmark and a testament to the Wild West, hosting films and tours about Sacramento's fascinating history.
39 – Paddle at Folsom Lake State Recreation Area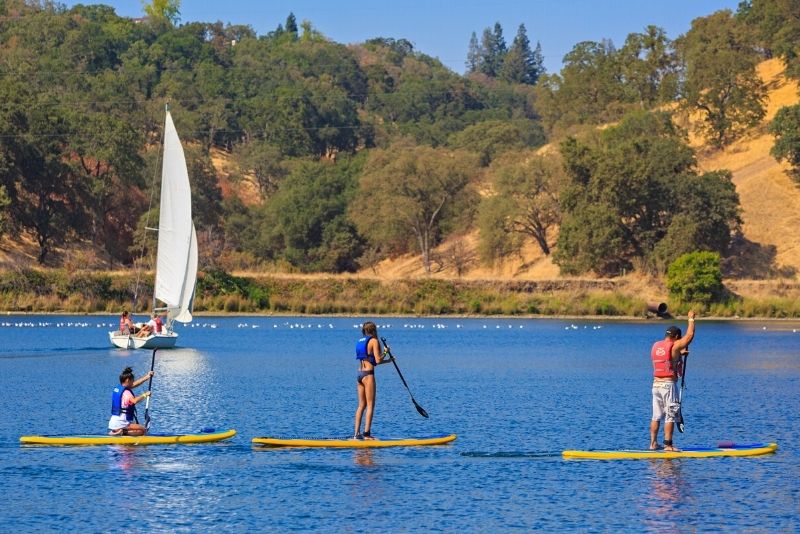 Primarily an ideal destination between the spring and summer months, Folsom Lake is a one-stop-shop for all of your outdoor needs and a welcome reprieve from big city life for many a local.
Stay the night at one of the four major campgrounds, rent a boat, jump in a kayak or canoe for some fun on the water, or saddle up for a relaxing (yet oddly thrilling) horseback ride on one of the many scenic trails in the area.
Sitting on 11,500 acres, there is no shortage of room to get some fresh air.
40 – Race your friends at K1 Speed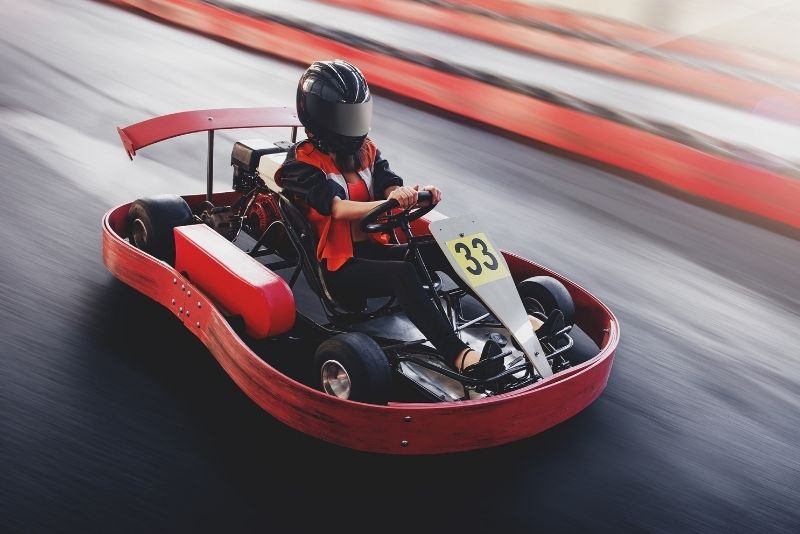 If you've got a need for speed but don't feel like getting a speeding ticket, check our K1 Speed! As an indoor go-karting facility, petrolheads and speed demons will be able to burn rubber like no tomorrow, drifting around corners at speeds of up to 45 miles per hour!
A solid choice for bachelor parties, corporate events, birthdays, or some casual driving, and with an on-site bar and cafe, K1 makes for a great activity on the occasional rainy day.
41 – Have a glass of wine at the Old Sugar Mill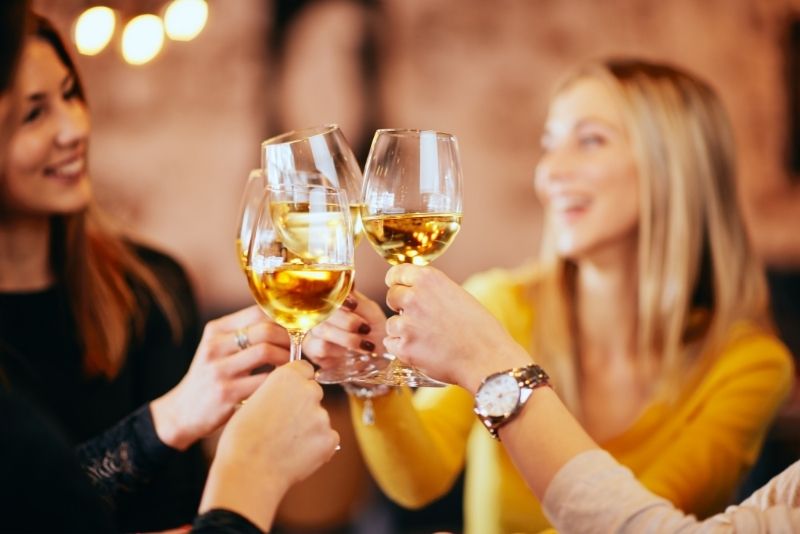 Rich in history as well as sweetness, this longstanding establishment started its journey way back in 1934 as a beet sugar refinery — these days, the Old Sugar Mill has been modernized to house a whopping 15 local wineries, each offering its own unique blends of white and red wines.
Tucked away just 15 minutes south of Sacramento, this rustic destination not only offers general wine tastings, but also can accommodate weddings, corporate events, and private parties.
42 – Explore Sacramento with a Scavenger Game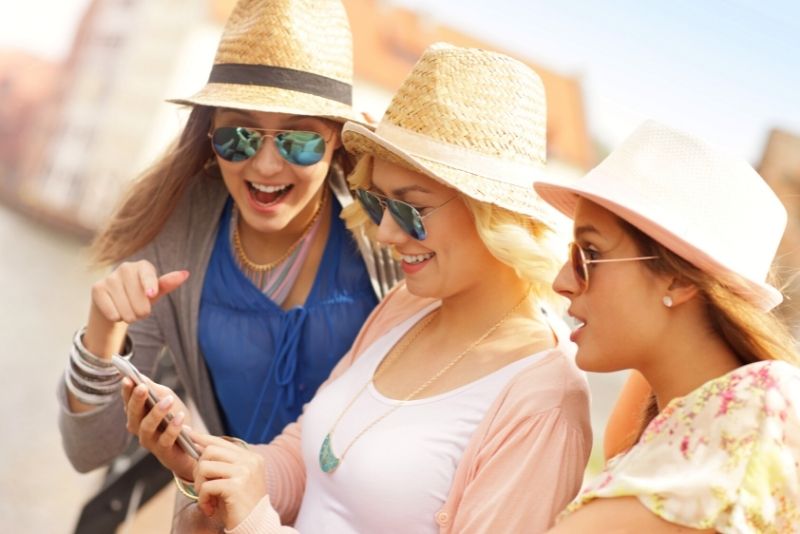 For those looking to put their investigative skills to the test, look no further! A step up from the slow-paced walking tour, app-led scavenger hunts are a great way to not only test your wits but also explore the city in an entirely new way.
On your journey, you will be tasked with exploring Sacramento's different districts and neighborhoods, cracking codes, solving riddles, and uncovering all kinds of hidden gems along the way!
There's only one catch: the clock is ticking!
43 – Check out vintage rides at the California Automobile Museum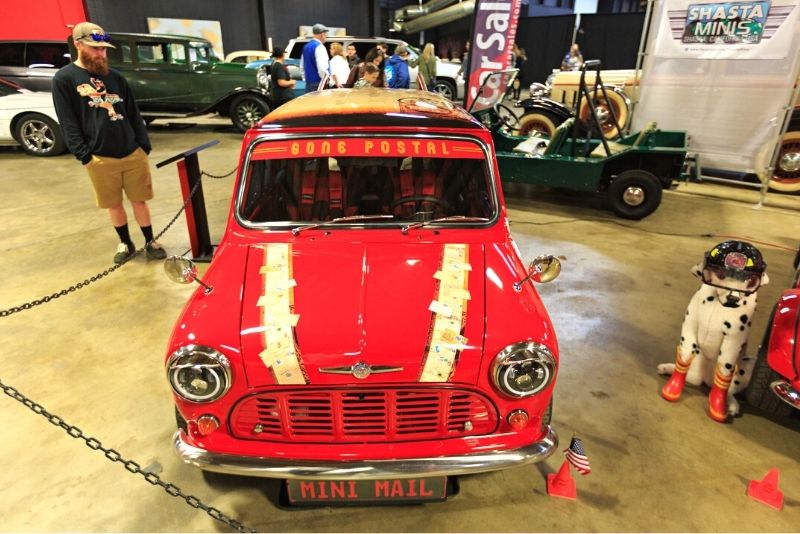 A must for any motorhead, the adored California Automobile Museum is home to over 130 unique historic automobiles of all different manufacturers and models.
There is a rotating inventory and special event cars that range from the 1880s through the 2010s, featuring classics like the Chevy El Camino, Ford Model T and Shelby Cobra, as well as a hand-picked selection of hot rods, race cars and motorcycles.
Hot tip: be sure to take advantage of the expertly guided tours with the friendly museum docents.
44 – Sit Back and relax at the Crest Theatre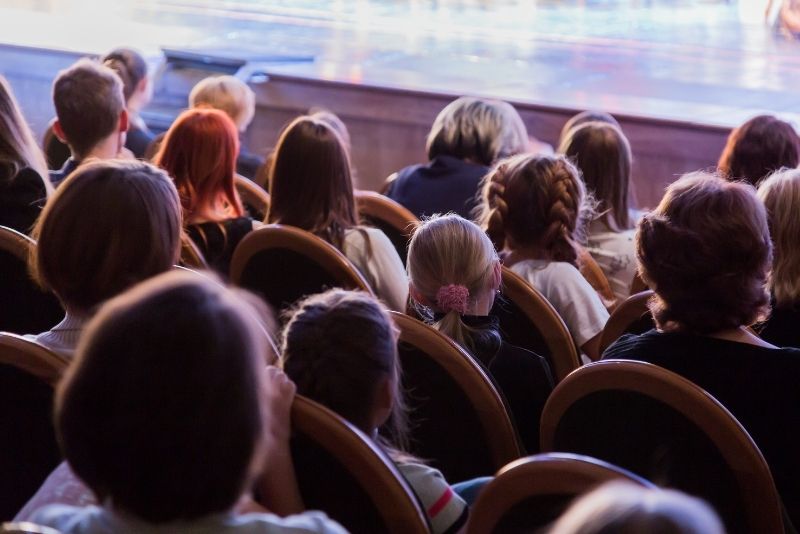 Yet another landmark steeped in history (this one opened in 1912 as the Empress Theatre), the now renamed Crest Theatre has been a staple in the Sacramento community for over well over a century — over the years, it's transitioned from showcasing classic 35mm films to now welcoming comedians, Vegas entertainers, and live music performers from near and far.
Located just a few short blocks from the state capitol, the building caters to all audiences and now also includes family-friendly film screenings too!
45 – Marvel at the architecture of the Ziggurat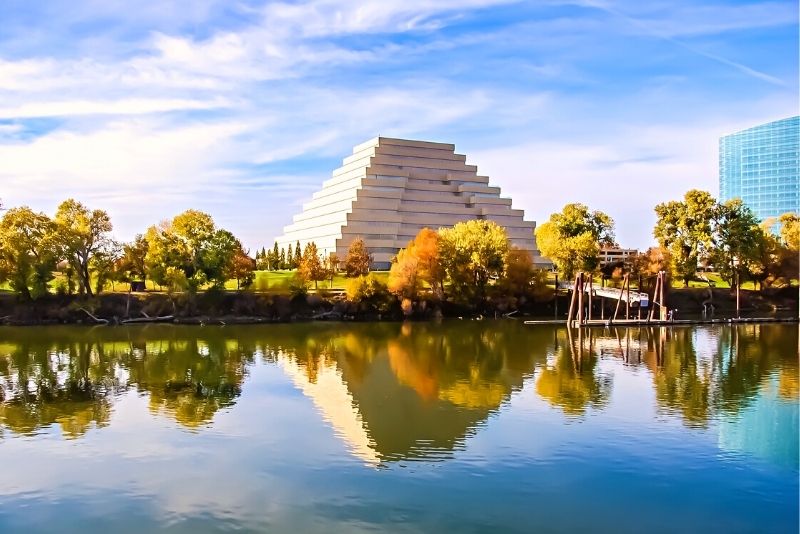 You won't have to travel to ancient Mesopotamia to encounter an ancient Ziggurat. If that went over your head, allow us to paraphrase: welcome to the ancient pyramid of California!
As postcard-worthy as they come, this structure was built in 1997 by visionary architect Edwin Kado is truly one of the most unique buildings in California.
Unfortunately, the building is currently occupied by the California Department of General Services, so you won't be able to explore the inside, but it will still make for a great photo opportunity.
46 – Get buzzed on a brewery tour!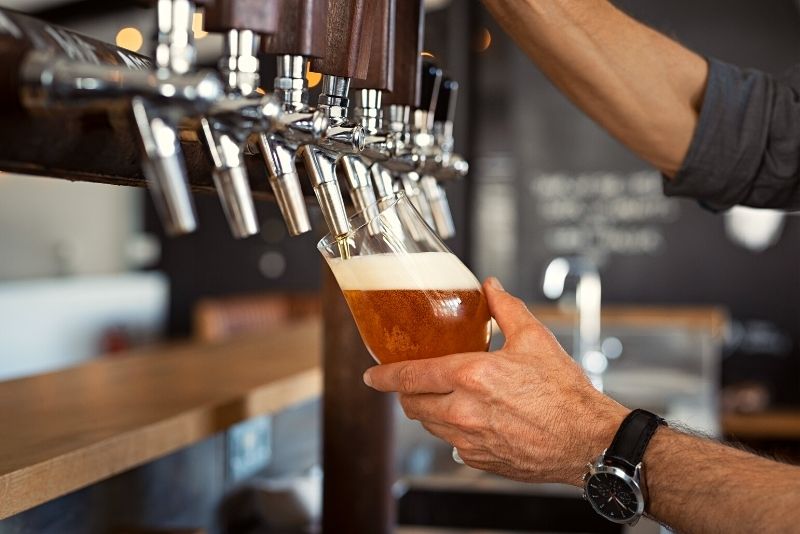 Good — scratch that — excellent wine is synonymous with California, but many don't know that Sacramento is also home to a bustling brewery scene!
From the malt varieties to quirky wheat brews, the taste and quality of the beer here are unmatched.
Not sure where to begin your whistle-wetting journey? Device Brewing Company serves up a tantalizing made-in-Sacramento West Coast IPA; although if you ask the Bike Dog Brewing Company, there's is even better. Over at King Cong Brewing Co. in old north Sacramento you'll find a popular and fresh pilsner that's well worth a try, while New Glory Craft Brewery offers – ready for this? – a chewy pale ale.
47 – Grab fresh food at the Farmer's Market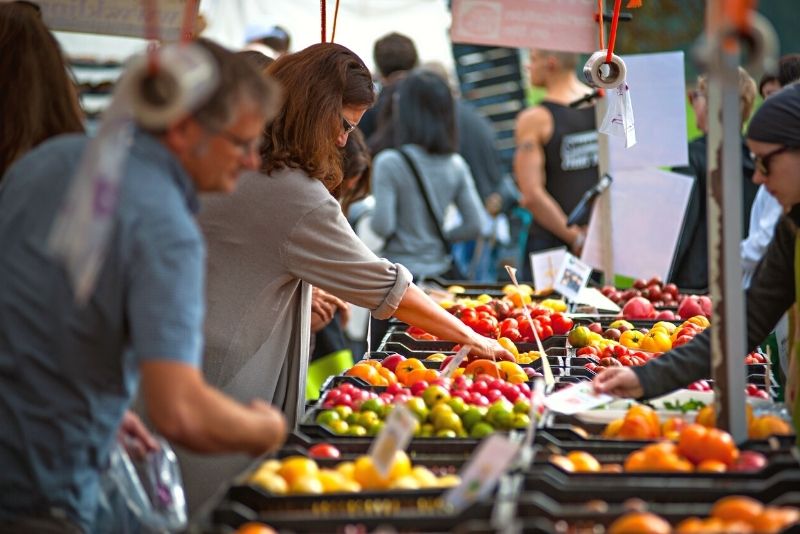 Not only is the Farmer's Market a great place to stock up on fresh produce, meat, and dairy products, but it's also an excellent opportunity to taste some of Sacramento's best home-cooked food. From Vietnamese banh mi sandwiches to Indian samosas, there's something for everyone here!
You can usually find the market running from 9am to 1pm, with plenty of time to mingle with local vendors, farmers, and business owners.
Due to the ever-changing schedules and locations, Certified Farmers Markets can make it easy to find the next available meet-up. However, one local hot spot and must-visit is the Midtown Farmers Market, where you'll find a combination of great food and even better live music!
48 – Pop into the Sacramento Children's Museum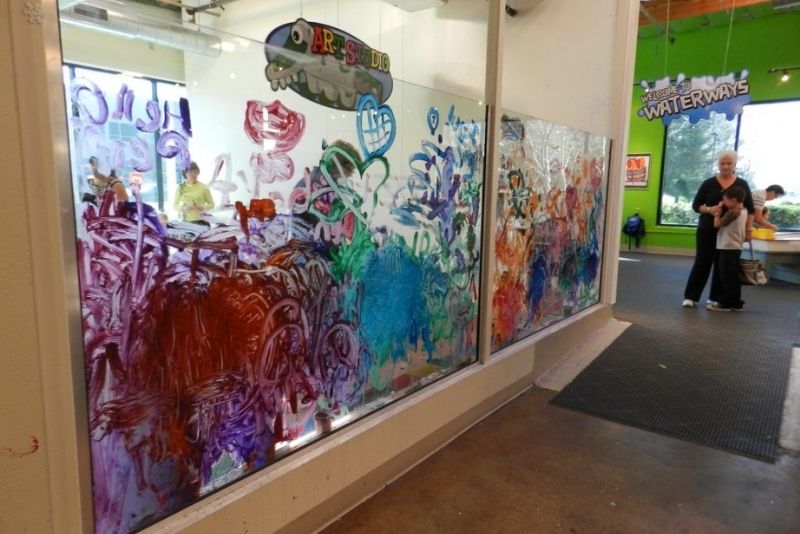 Community Canvas / credit to Sacramento Children's Museum
Traveling with kids in tow? Or just a big kid at heart? Then the Sacramento Children's Museum is a must-visit.
With exhibits and activities geared towards igniting the curiosity of youngsters aged up to 12, this museum is perfect for a day of family fun.
Take a trip over to the Imagination Playground where you can learn to build or try your hand at the community canvas wall — that, along with over 15 other exhibits, and a variety of events throughout the year, make the Children's Museum a wonderful plays to challenge the mind and have a blast at the same time!
49 – Take a day trip to Napa Valley for some (a lot of) wine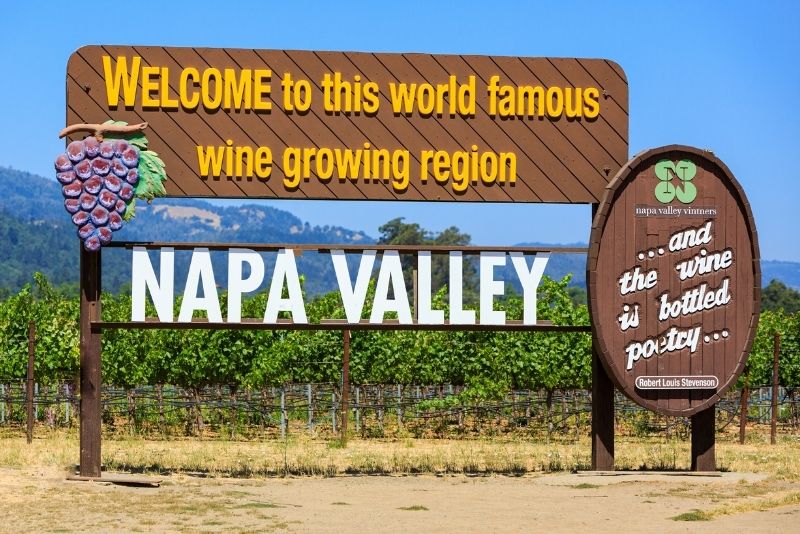 For those thirsty travelers 21 and over, no visit to California is complete without a wine tasting in the world-famous Napa Valley. With over 375 wineries and 90 tasting rooms spanning the gorgeous, sun-kissed region, there is no shortage of options to choose from.
Whether you have the palate of the world-class sommelier or consider wine tasting a foreign language, you are guaranteed to find a wine that you love — there are a variety of tours available to suit every price point and style of traveler, and best of all, come with your own designated driver!
50 – Get artsy at Wide Open Walls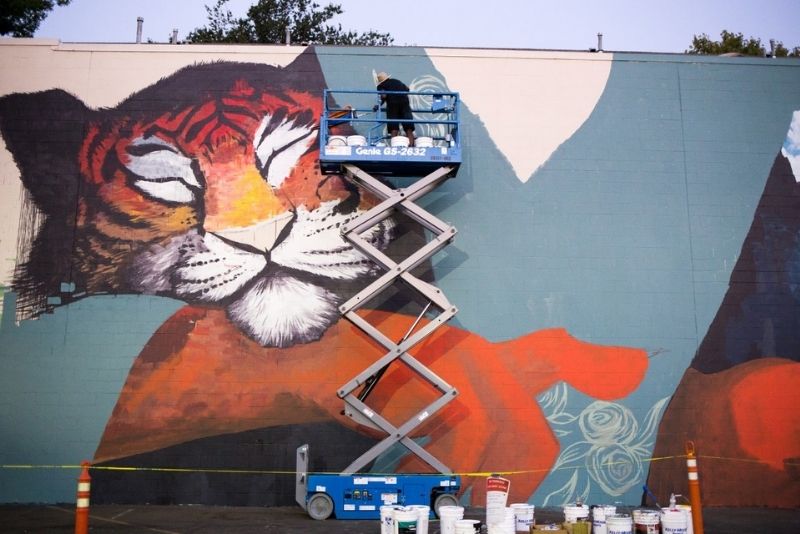 credit to Wide Open Walls
For the culture vultures and artistically inclined, Wide Open Walls is an organization that has been instrumental in beautifying Downtown and Midtown Sacramento over the years through the installation of colorful, complex, curious murals.
With over 80 permanent works of art and 25 temporary murals dotted around the area — some hidden behind alleys, some striking in plain sight — neglected neighborhoods are given a boost during the popular festival, with plenty of shops and restaurants to pop into as well.
51 – Grab a drink at The Dive Bar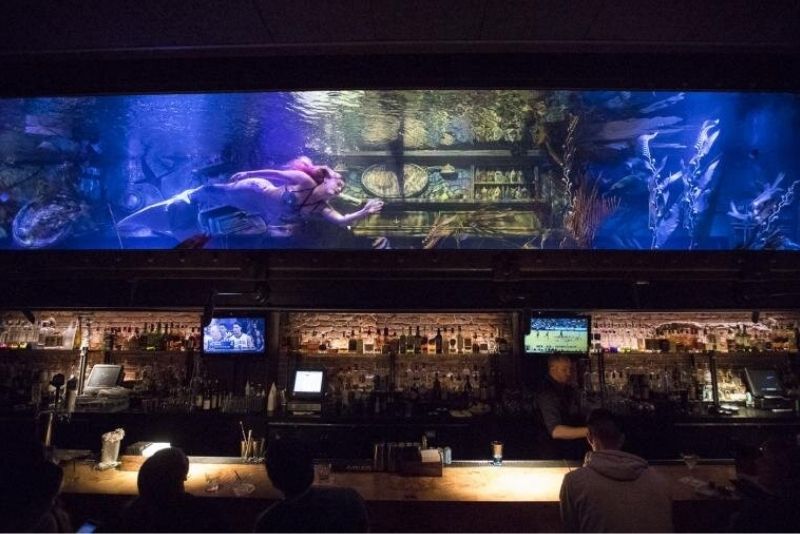 credit to The Dive Bar
A dive bar, but not as you know them. Sure, The Dive Bar dishes up strong and affordable drinks, a cozy atmosphere, and hosts live music on certain nights, but it's the decor that'll really make your eyes pop.
Sitting in Midtown, just around the corner from the Cathedral of the Blessed Sacrament, what sets this watering hole apart is… well… the water!
Titt your head up and you'll see overhead pools full of live mermaids swimming about during set times. It's Under The Sea meets Atlantis meeting your classic underground bar and it's absolutely magical.
52 – Head to Heart Health Park for a soccer match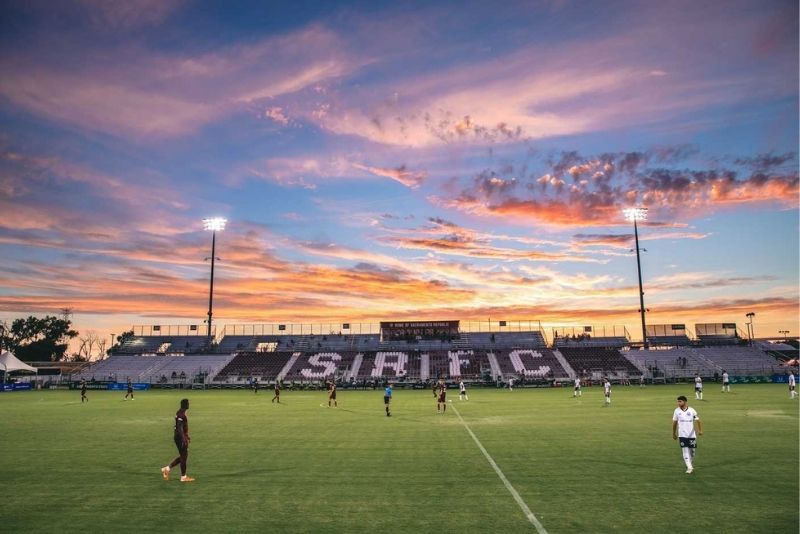 credit to Heart Health Park
While the Sacramento Kings bear the brunt of the area's sporting glory, their soccer team, the Sacramento Republic FC, is becoming more and more popular with locals throughout the area.
Home games at Heart Health Park are a blast — the fans are as passionate as you'd expect from a town that takes its sports (and food) seriously, and the atmosphere in the open air is both invigorating and electric.
Check the team's schedule to see when they're lacing on the boots!
53 – Book a table at the Tower Cafe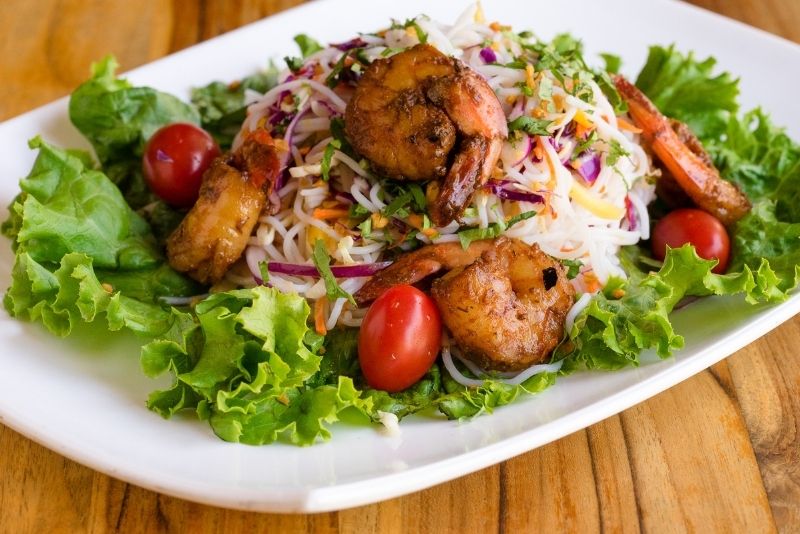 Vietnamese shrimp salad / credit to Tower Cafe
Locally adored and delighting hungry visitors for years, the award-winning Tower Cafe over on Broadway (right next to the Tower Theater) serves up lip-smacking breakfast, lunch and dinner in a cozy atmosphere with eclectic indoor decor.
Sweet tooth? It's hard to go wrong with the blueberry cornmeal pancakes topped with butter and syrup. Fancy something Mexican? The chilaquiles come highly recommended.
Or if you're looking for something a little more traditional for lunch or dinner, the burgers, jerk chicken, salads and beef stew tick all the boxed — as you can see, the menu is as diverse (and delicious) as they come
54 – Watch drag races at Sacramento Raceway Park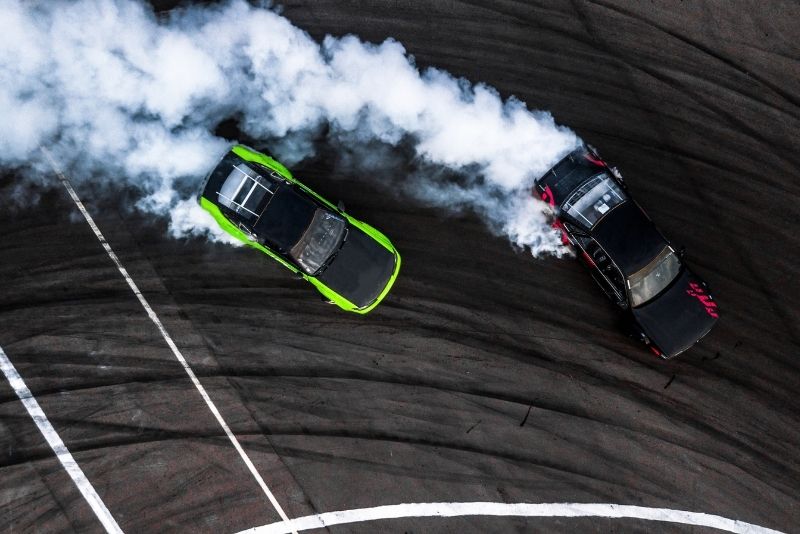 Petrolheads and motor enthusiasts, listen up!
Located just outside of Sacramento proper, in the suburbs not too far from Mather Airport, the Speedway is perfect for thrill-seekers of any age.
The multi-purpose facility hosts drag racing events throughout the year, from Test and Tune sessions every weekend to Street Legal Fun Drags, funny car racing, compact racing, and exciting special events like New Year's Day Drags which welcome significant crowds.
If you're looking to experience the roar and noise of drag racing for the first time, this is the spot.
55 – Catch a live show at the B Street Theatre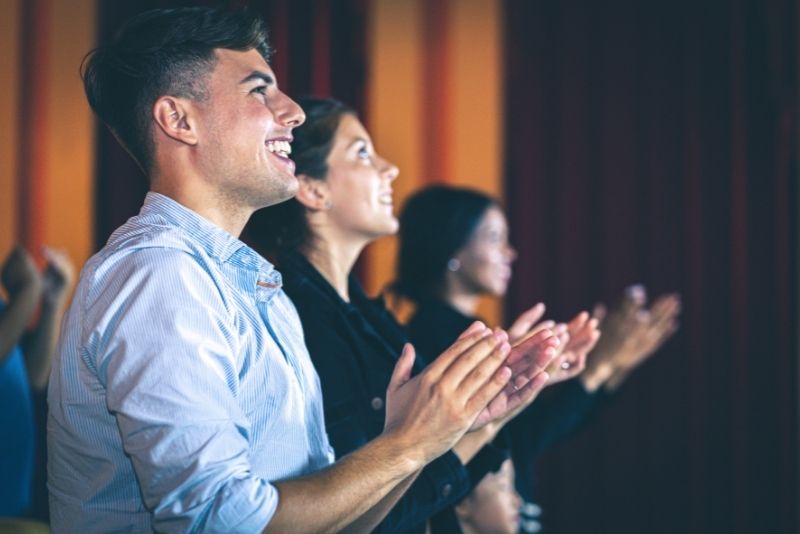 Whether you're looking for a short and sweet taste of live theater, or an epic show that'll leave your jaw on the floor, the intimate 140-seat B Street Theatre is bound to deliver.
Tucked away near Sutter's Fort State Historic Park (ironically not on B Street, however), this local favorite has been entertaining locals for over forty years with its diverse range of in-your-face performances within its intimate walls.
In what started as a touring theatre company created specifically for children, B Street has evolved over time to now showcase (as they call it) theatre for grownups, theatres for children, music events and more, with ties to events run by The Sofia Tsakopoulos Center for the Arts — simply check the schedule to see what's on when you plan your trip!
56 – Get your drink on at the Sacramento Beer Festivals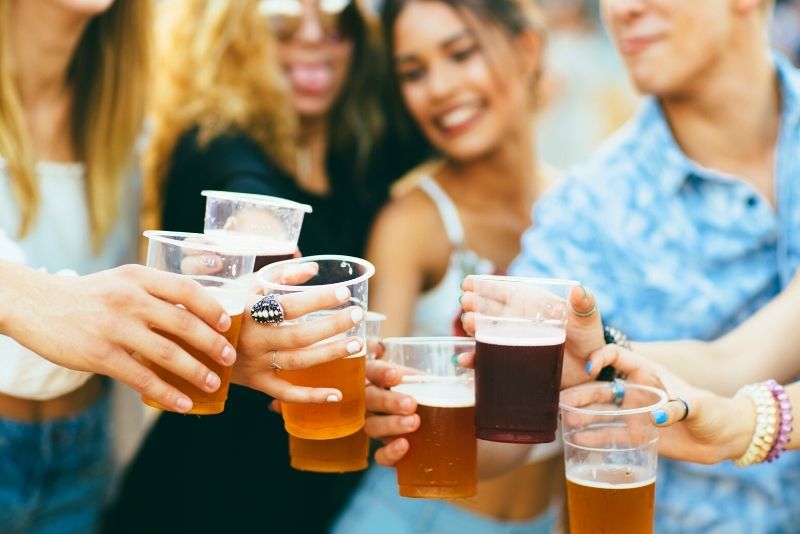 Beer lovers, get ready! Sacramento is an absolute haven for craft beers and the best way to try them all in one place is by attending one of their many fabulous free-flowing festivals.
With events like Sacramento Beer Week (which takes places annually in February and March), California Brewer's Festival (in September) and the thirst-quenching West Coast Brew Fest (May) — where you can get four hours of unlimited tastings for only $35 — all on the annual calendar, there's never a shortage of chances to get your fill of hoppy goodness.
Still thirsty? Over at the Sacramento Turn Verein, the epicenter of Sacramento's German cultural scene, you'll find a rowdy few days of Oktoberfest celebrations in September and October, as well as the lesser-known Bockbierfest in April.
And, if you're into pairing your brews with a hearty meal or cheeky snack, both the Beer and Chilli Festival in April and the Farm-to-Fork Festival with Brewer's Alley in September and worthy of a visit and a tipple.
57 – Try one (or all) of the city's Michelin-starred restaurants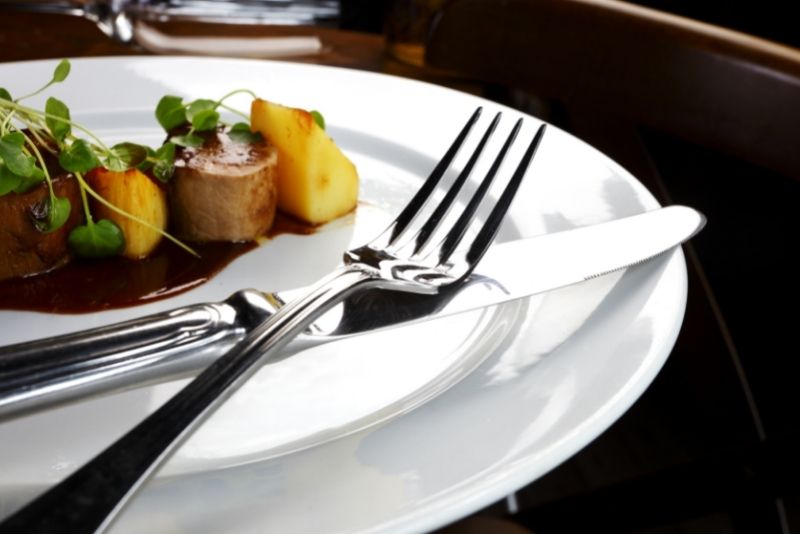 An underrated foodie haven, Sacramento offers several Michelin-starred restaurants to tantalize your taste buds and send you into one heck of a food coma.
If you're craving creative dishes, head over to the ultra-luxurious Grange for an extravagant tasting menu where Chef Dane Blom's careful hand will serve up unforgettable seasonal dishes (the menu rotates, so every visit can be unique) like the California King Salmon or Coriander Crusted Duck Breast, with lip-smacking desserts and hand-crafted cocktails to boot.
For European flair, Allora specializes in mouth-watering homemade Italian; whereas Yue Huang (Chinese) in the Natomas shopping center, Binchoyaki on 10th Street (Japanese), and the historic Frank Fat's (Chinese-American) each deliver authentic slices of Asia with their own uniquely delicious twists.
Still hungry? For a hearty sandwich, head to Bacon and Butter, and for a wide selection of winners, look no further than Beast + Bounty.
58 – Sign up for the Run To Feed the Hungry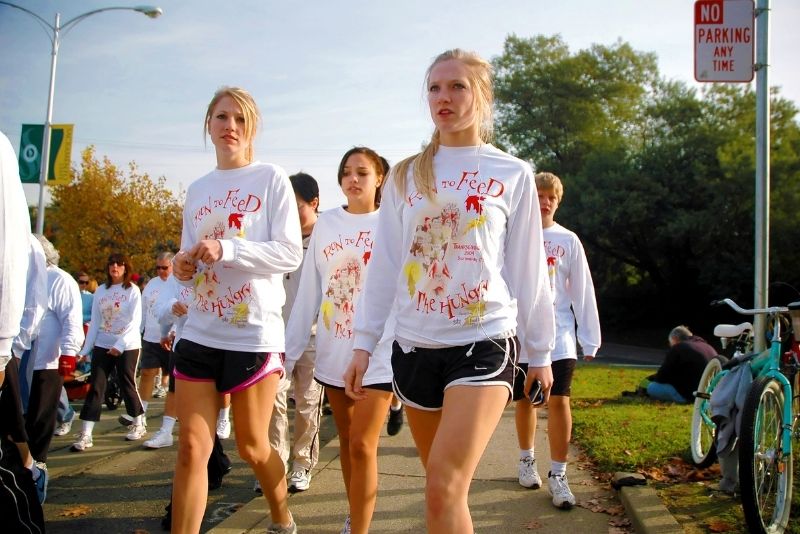 It's infamous, it's oh-so-popular, and it's a Thanksgiving tradition that takes place in Sacramento every year.
The largest Thanksgiving Day hunger run in the country and an annual, kind-hearted event that's been running for close to 30 years (and counting).
The Run To Feed the Hungry welcomes tens of thousands of 5K and 10K joggers and walkers who skirt through the streets of Downtown Sacramento all in the name of lending a helping hand to the needy.
Even if you're not running, with all the proceeds going to the Sacramento Food Bank & Family Services, it's worth getting down to support a wonderful cause.
59 – Don't miss the California State Fair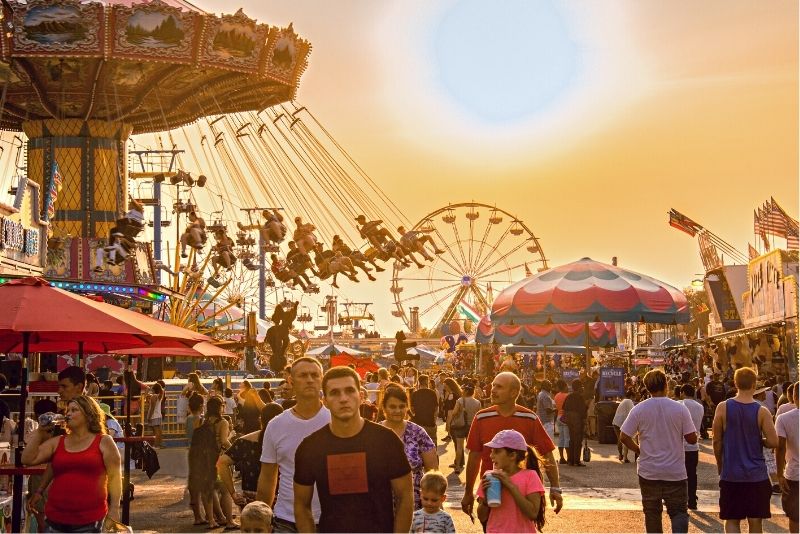 The California State Fair isn't just an annual event that takes place over 17 days in July — it's a Sacramento legacy and classic summer staple, educating and delighting its near million visitors each year since it began running way back in since 1854.
In what started as a way for the state to promote its farming and industry, the event has grown and grown since, now boasting a huge parade, live music and entertainment, and over 100 different food vendors to try the variety of California flavors.
Throw in a commercial exhibition hall for all kinds of shopping, a midway with family-friendly rides and games, and all kinds of animal exhibits, and you can see why it's truly an event worth attending.
60 – Head-bang at the Aftershock Music Festival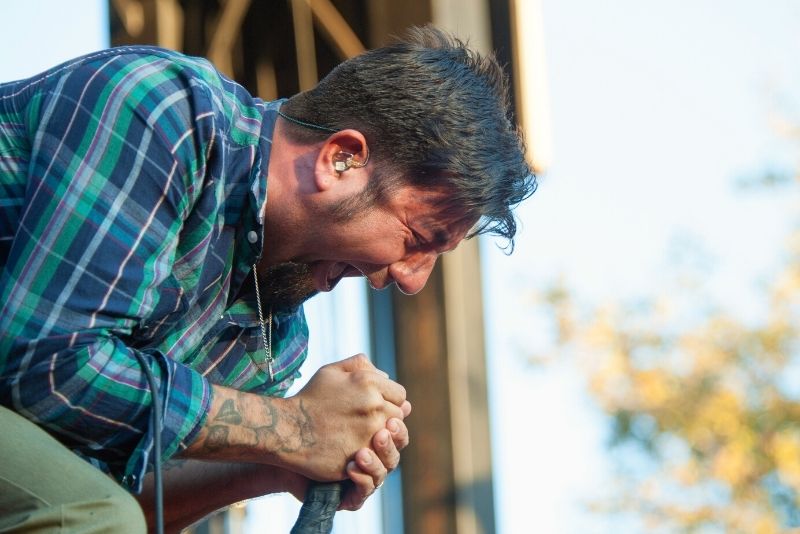 Chino Mareno from Deftones performing at Aftershock music festival
Not to be missed if you're a fan of live music, the Aftershock Music Festival is a multi-day in October that's headlined by some of the biggest names in rock, metal, punk, and alternative music.
Featuring dozens of infamous artists on four stages (including Metallica, The Offspring, and Machine Gun Kelly (in 2021 alone)), it's held at Discovery Park near downtown Sacramento and is one of the largest music festivals in the county.
While the lineup changes annually, you can be sure that the atmosphere will be electric, the tunes will be loud, and the vibes will be incredible.
61 – Book a table at The Waterboy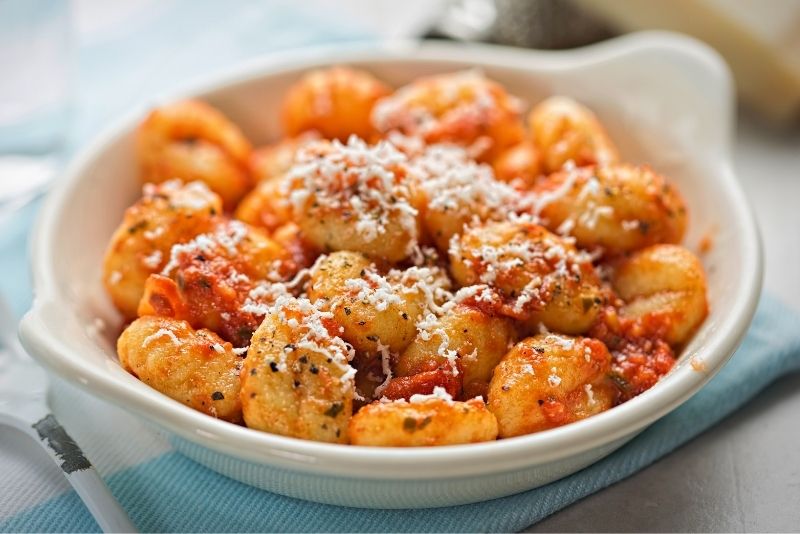 One of Sacramento's most beloved and iconic restaurants, The Waterboy is a fixture on the local dining scene.
Dishing up a menu that celebrates fresh, seasonal produce with simple but elegant flavors — think scallops and duck confit ravioli, halibut with a combination of summer vegetables, and appetizer plates filled with various pâtes and cheeses, and delicious desserts.
It's all the tantalizing flavors of southern France and northern Italy mixed with the fresh Californian fare, and it's one of the most romantic spots in town for a date night.
62 – Visit Broadway At Music Circus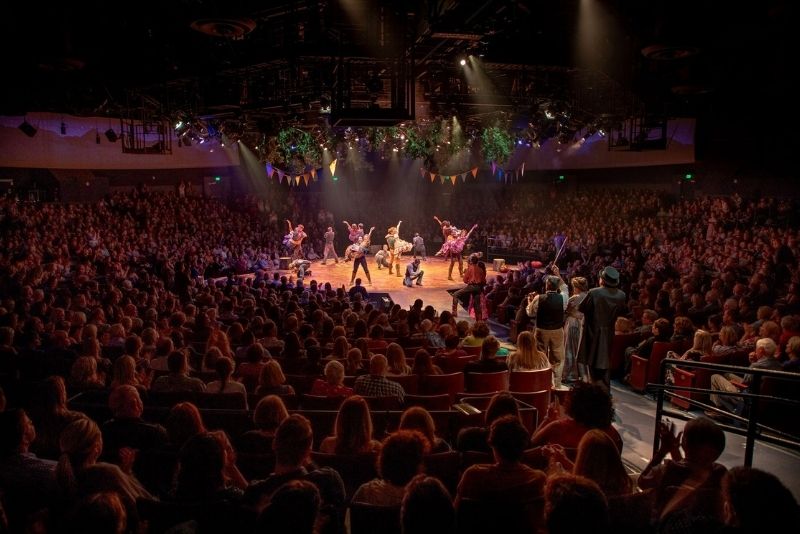 credit to Broadway Sacramento
If you're looking for a night out on the town and some good old-fashioned family entertainment, look no further than Broadway At Music Circus.
A Sacramento summer tradition in for generations, running annually from roughly late June to early September, the circular space (meaning you're always close to the actions) showcases a rotating mix of classic shows like Kinky Boots, Kiss Me, Kate, The Sound Of Music, Chicago, and Mamma Mia!, just to name a few — a diverse roster perfect for all ages.
With a whole range of live performances all under one roof (simply check the calendar to see what's on during your visit), there's no better place to go for a night of toe-tapping entertainment before hitting the town.
63 – Drink as you pedal on the Sac Brew Bike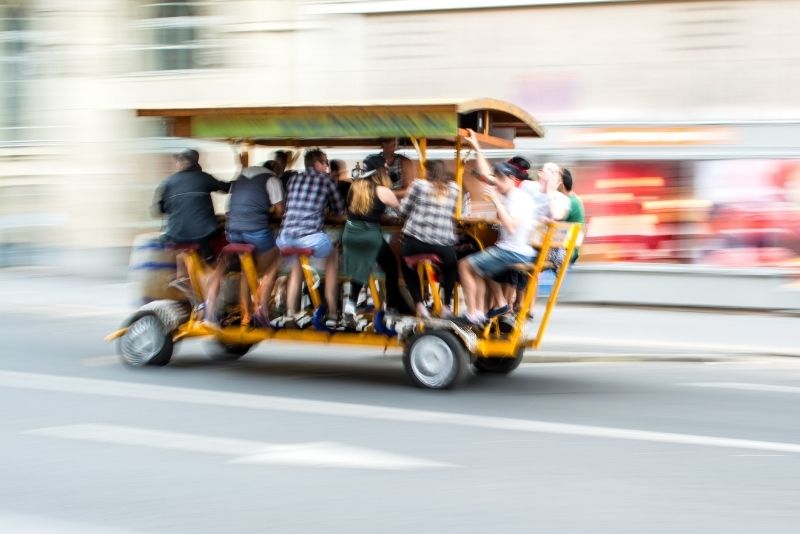 A unique way to enjoy Sacramento's craft beer scene, explore the Downtown art murals and hidden streets, and meet a few fellow thirsty travelers along the way, Sac Brew Bike offers three-hour jaunts around town with plenty of stops along the way to wet your whistle and get to know the locals.
With room for 15 thirsty passengers on the party bike, and no obligation to actually pedal if you don't want to, you can hit up a plethora of bars and breweries while being guided from one to the next by a knowledgable and friendly tour guide.
Still thirsty? Why not take to the water with a Brew Boat tour as well!
64 – Hop around the city's best bars…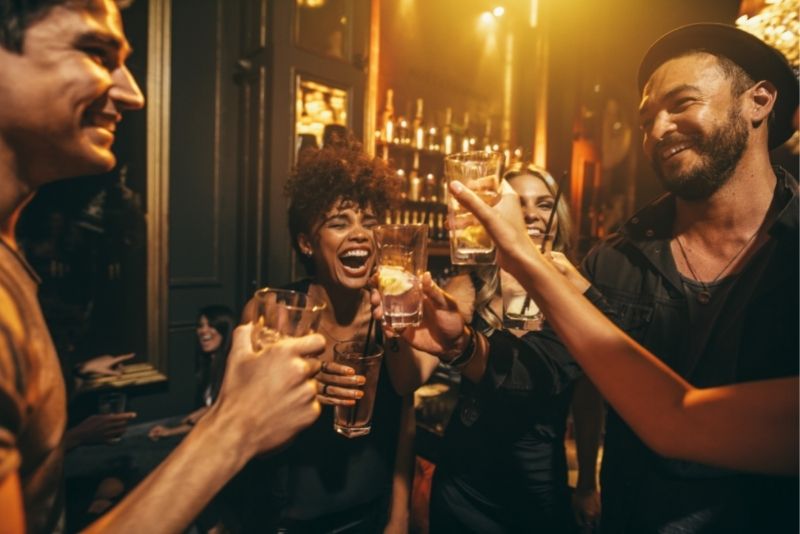 Sacramento may be a smaller city compared to the likes of San Francisco and Los Angeles, but it's home to no shortage of amazing bars. Whether you're looking for a dive bar with cheap drinks and good vibes, a wine bar to take your date, or a place to catch the game with friends, there's definitely something for everyone.
Boasting dozens of affordable local and international beers on tap (including a few British staples), Streets in Midtown serves up regular live music, karaoke nights, open mic events, and a famous pub trivia, all in its roomy, laid back, British-style setting.
Speaking of the U.K., besides having a reputation as the 'Best Breakfast' in Sacramento, Fox & Goose Public House on R Street has a sizable draught beer selection, many of which are imported from England and Ireland.
For something to keep you busy, Blue Cue is teeming with billiards tables and offers inviting mid-week specials; while River City Saloon sells itself as an intimate spot with a historic decor, slinging strong cocktails and its exclusive Old West Sarsaparilla.
65 – … and keep the party going at the best nightclubs!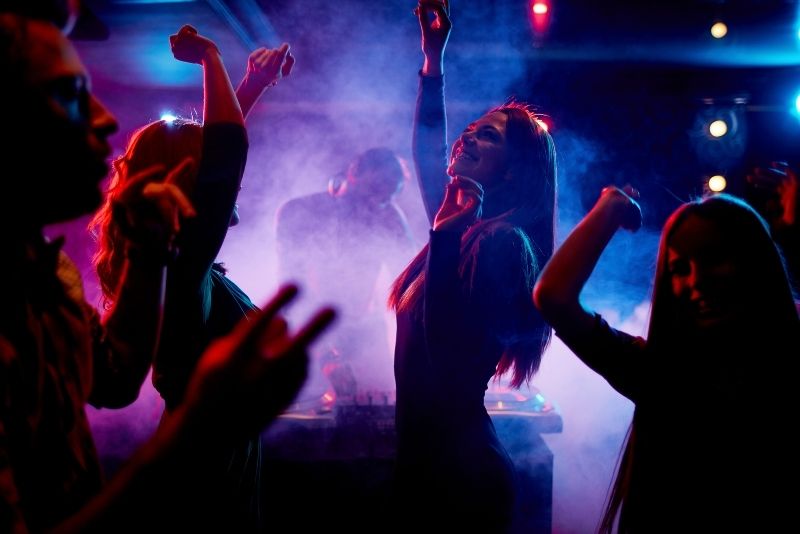 For those who like to dance the night away, there are countless nightclubs in Sacramento to let your hair down and boogie till the sun comes up. One of the most popular, especially if you're all about Latin-style music, is the 3-floor, 7-bar Mango — here, with 3000 square feet of space, you're guaranteed to find a party going on no matter what night of the week it is.
If you're in the mood for some EDM, hip-hop or Top 40 hits, then head over to The Park Ultra Lounge on L street or Social Nightclub on K Street — drink from a fishbowl, opt for VIP bottle service, or just mingle with other club-goers.
Midtown Barfly on 21st Street boasts a neon-lit dance floor, welcomes big-name DJs and offers salsa and swing dancing nights; Old Ironsides is the oldest bar and club in the city (and is said to be haunted), ideal for Halloween.
66 – Enjoy the view from the Revival rooftop bar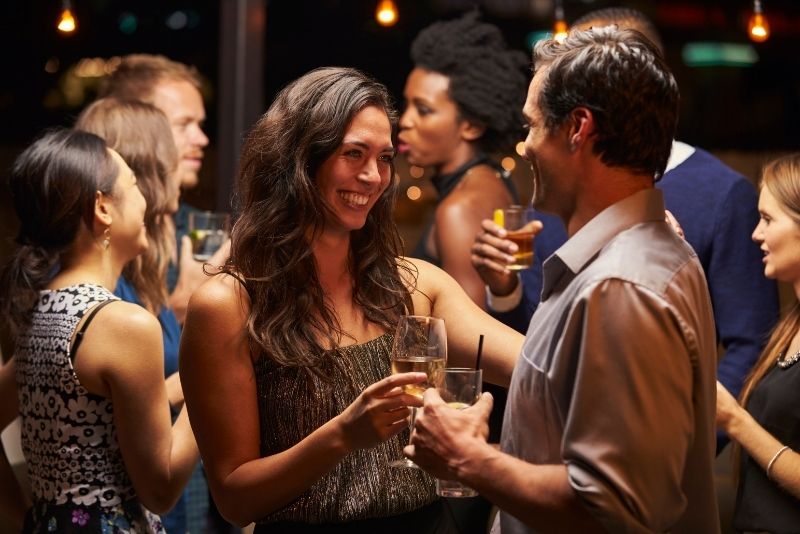 Perched on the third floor of the Kimpton Sawyer in the Downtown Commons area, local-favorite Revival offers expansive views of the streets below paired with a lively social atmosphere and craft cocktails to boot.
On those toasty summer days, the on-site pool is adored, likewise the ice-cold margaritas, California wines and microbrews, and the sophisticated yet intimate party space.
Looking for another rooftop bar? Mix Downtown, sitting on top of the Firestone Building, offers cozy fire pits and couches for relaxing, and bars and a dance floor for those with a little more energy to burn — not to mention the stellar vistas.
67 – Try your luck at the Hard Rock Hotel & Casino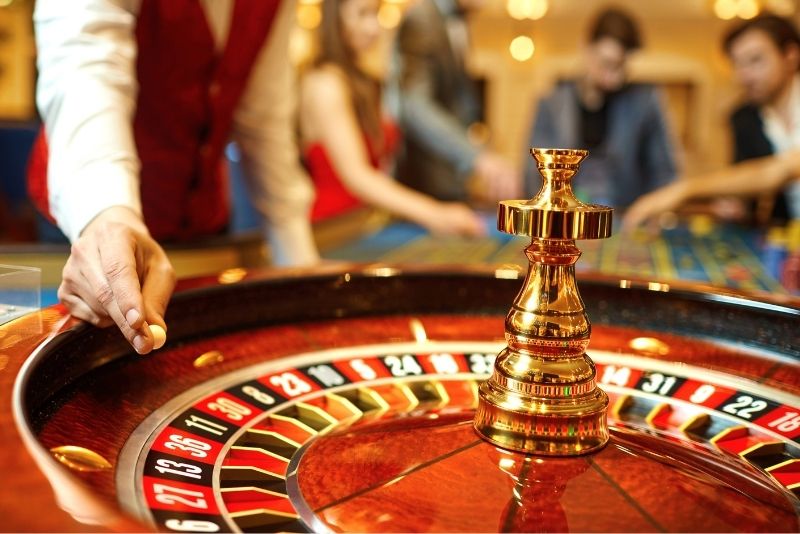 An absolute classic on the list of things to do in Sacramento as well as a host of other cities across the US, the Hard Rock Hotel & Casino fuses food with entertainment and a whole lot of rock N roll.
With its own casino floor complete with table games and slots, as well as concerts and comedy shows at the on-site theater, six notable restaurants, plus an outdoor pool area and no less than 169 different rooms to stay in, there's no shortage of excitement at Hard Rock.
As Hard Rock's first Vegas-style casino in California, it's worth the short drive up to Fire Mountain.
Before you go…
We hope you've enjoyed our selection of things to do in Sacramento, Califonia — the beating heart of The Golden State!
If you have any other must-see suggestions, feel free to let us know in the comments!
But, before you go, don't forget to check out all of the exciting activities on offer in what is arguably California's most culturally diverse city, San Francisco! From its iconic Golden Gate Bridge to Alcatraz and Little Italy, you're in for a wonderful time.
Source https://www.thecrazytourist.com/15-best-day-trips-sacramento/
Source https://www.letsroam.com/explorer/things-to-do-sacramento/
Source https://tourscanner.com/blog/fun-things-to-do-in-sacramento/