28 Best Places to Visit in Colombia: Cities, Pueblos, Beaches & Hiking
The gem of South America, Colombia has something for every traveller. Here are 28 of the very best places to visit in Colombia, as recommended by me and other travel experts.
Colourful pueblos, fascinating cities, stunning national parks and idyllic beaches: Colombia has it all.
It wasn't all that long ago that tourists avoided Colombia. But times have definitely changed. Nowadays this gem of South America tops many a travel wish list.
Diverse in every sense of the word, people often rightly describe Colombia as several nations – each with its own landscapes, traditions, culture and cuisine – rolled into one.
From the Caribbean coastline to the edge of the Amazon, Spanish colonial towns to modern metropolises, Colombia tourist spots to hidden gems, these are the 28 very best places to travel in Colombia.
Please note: This post contains affiliate links, meaning I may earn a commission if you make a purchase by clicking a link (at no extra cost to you). Learn more.
Best cities to visit in Colombia
1. Medellin, the best city to visit in Colombia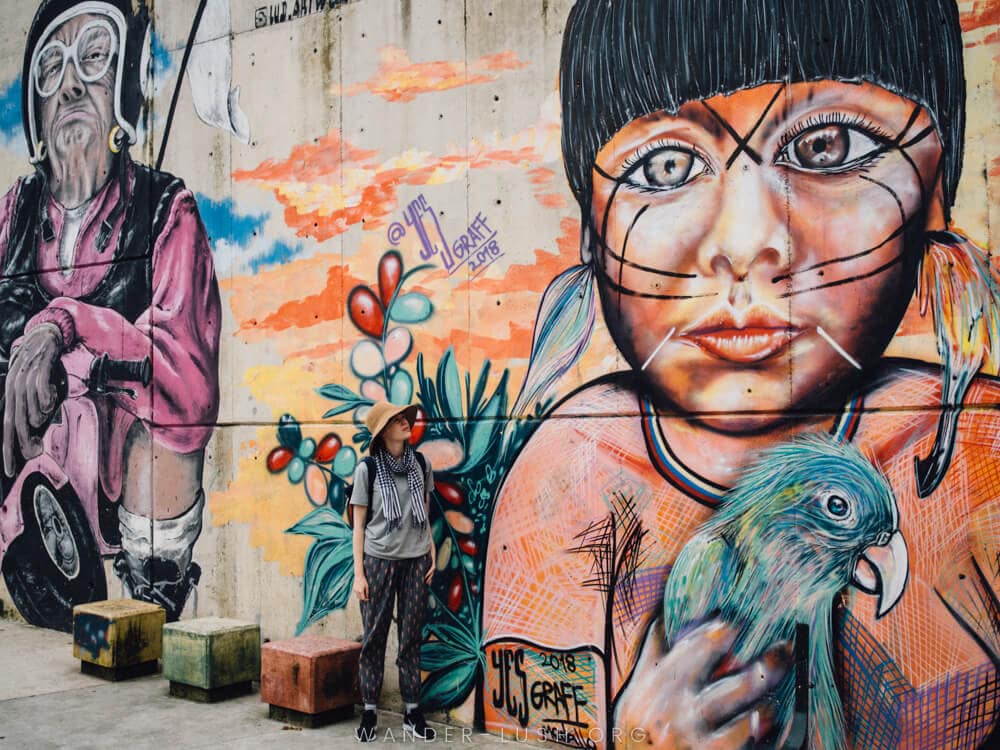 Colombia's second-biggest city was once considered the most dangerous city in the world. But not anymore. Thanks to some imaginative civil projects and the will and resilience of local residents, Medellin has emerged from its shadowy past to become one of the best places to visit in Colombia.
Dubbed the 'City of Eternal Spring', Medellin is located in a rich and fertile part of Colombia responsible for producing much of the country's coffee, fruit and flowers. The city itself is surprisingly large: Brick houses spread out for miles in every direction, best viewed from lookouts accessed via cable cars connected to the only metro system in Colombia.
The highlights of Medellin include the Museo de Casa de la Memoria, a tasteful homage to the city's tumultuous past, and Comuna 13, a set of barrios that cling to the side of the hill and provide a canvas for Medellin's best street art.
Spend your days in Medellin visiting fruit markets, sipping on freshly squeezed OJ and nibbling on empanadas and arepas. Or you can skip over to El Poblado, the city's most affluent area, and enjoy the many restaurants. Take a stroll through Laureles, a delightful inner-city suburb filled with parks, cafes and bars.
Take a selfie in Plaza Botero (which is lined with sculptures by the Medellin-born artist), and if you're lucky enough to be in town on the first weekend of the month, drop into the San Alejo Handicraft Market for some authentic Colombian souvenirs.
Medellin is the biggest transport hub in Antioquia Department and a perfect departure point for exploring Colombia's coffee belt and the colourful colonial towns that characterise this part of the country. It's worth spending at two or three days in the city itself – most of your time should be dedicated to eating and drinking.
Get there: Fly into Jose Cordova International Airport (1-hour flight from Bogota).
Stay: 574 Hotel – Boutique on a budget near Lleras Park in El Poblado, with bright, tidy rooms and breakfast included. Or try one of these unique Medellin Airbnbs.
2. Cartagena, one of the most beautiful places in Colombia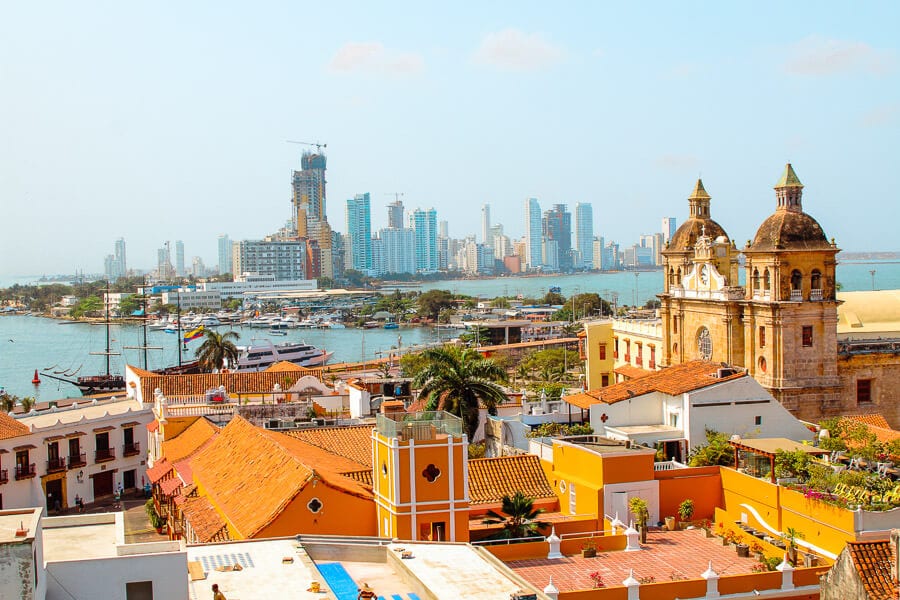 The port city of Cartagena was founded in 1533. One of the best places in Colombia for vibrant architecture and culture, several parts of Cartagena were declared a UNESCO World Heritage Site in 1984.
Because of its location on the Caribbean coast, Cartagena has a unique feel. Visitors to the city also enjoy easy access to beaches, islands and jungle trekking.
The city itself is divided into three neighbourhoods: Getsemani, San Sebastian and Santa Catalina (where you'll find the iconic cathedral and many of the most recognisable streets and buildings), plus San Diego, traditionally home to Cartagena's merchants.
Must-dos in Cartagena include climbing the Castillo fortress for a view, roaming the Plaza Santo Domingo, and shopping for souvenirs at Las Bovedas covered market. If the bustling UNESCO Walled City gets to be too much, make a break for one of the stunning beaches nearby or charter a boat to Colombia's Caribbean islands.
As you explore Cartagena by foot, keep an eye out for the famous Palenqueras, fruit sellers dressed in vibrant costume and carting baskets of tropical goodies. They're hard to miss!
Get there: Fly into Rafael Nunez International Airport (1-hour flight from Medellin; 1.5-hour flight from Bogota)
Stay: Hotel Boutique Casona del Colegio – Beautiful colonial-inspired rooms with tiled floors and four-poster beds, an infinity pool and garden terrace set in a heritage building 100m from Bolivar Park.
3. Bogota, Colombia's dynamic capital city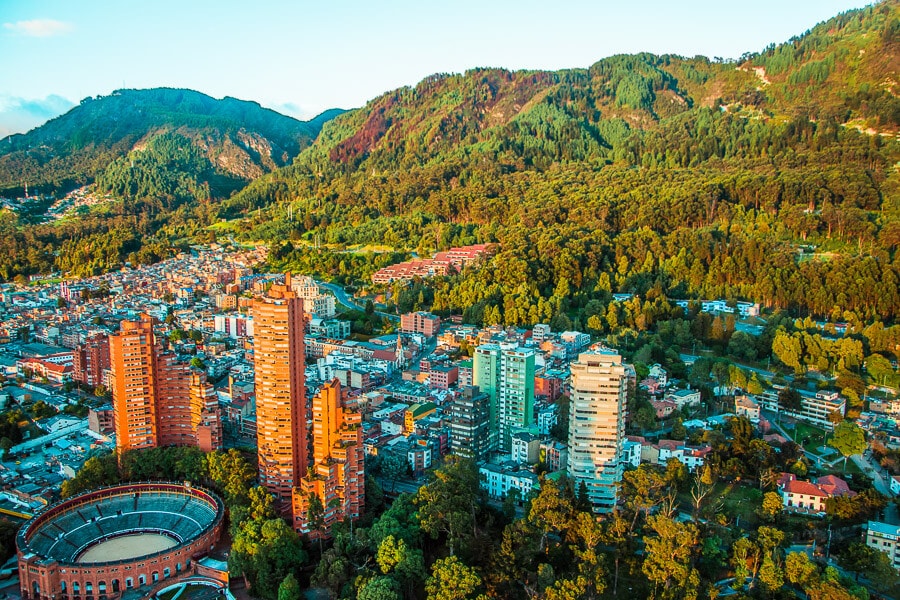 The largest city in Colombia and the nation's capital, Bogota is an essential stop on any Colombia itinerary.
The Spaniards founded Santa Fe de Bogota in 1538 at a breathtaking altitude of 8,661 feet. Nestled at the foot of green mountains, it is nowadays a bustling city and home to more than 11 million people.
To get the best overview of the colonial old town, the business district and the outskirts stretching far to the horizon, you can take the cable car to the top of Monserrate (10,340 feet).
Stunning historic buildings line the narrow streets of the old town, Barrio Del Candelaria. The heart of the city is the Plaza Bolivar, where musicians regularly perform and other events take place.
On Sundays and public holidays, the main road Carrera Septima is closed for cyclists, inline skaters, joggers, and walkers. After the sporting performance, a folk festival takes place in the streets.
Plan for at least two days in Bogotá to visit the main sights, more if you'd like to see surrounding attractions or if you're lucky enough that one of the many festivals is taking place so you can swing the dancing leg Bogota's to salsa rhythms.
By Marcelle from Grey World Nomads
Get there: Fly into El Dorado International Airport (1-hour flight from Medellin).
Stay: GHL Hotel Bioxury – Efficient rooms with modern bathrooms and a lovely shared atrium space walking distance from El Retiro.
4. Cali, Colombia's salsa capital
Cali is best known by outsiders as the former home of the infamous Cali Cartel. Many travellers skip it without knowing this Colombian city is famous for something else as well.
If you're interested in learning how to salsa dance, Cali is considered the world capital of salsa. I spent two months there taking group salsa lessons in the afternoon and practicing what I learned at night at local haunts such as Tin Tin Deo.
Colombians are some of the friendliest people in the world. They understand that everyone begins somewhere, and so you don't need to be shy if you're new to salsa. At the clubs I danced the night away and took shots of aguardiente with new friends, who taught me to how to fit in by learning Colombian slang.
Cali is also home to the world salsa championships where you can watch kids as young as four and five years compete in individual or group events. It lasts several days over several venues and is a great way to see Cali from a local perspective.
By Ayngelina from Bacon is Magic
Get there: Fly into Alfonso Bonilla Aragon International Airport (1-hour flight from Bogota or Medellin).
Stay: Alko Hotel Casa Nispero – Stunning boutique rooms with exposed rafters and a central courtyard complete with pool close to Cali City Theatre.
5. Popayan, one of the country's finest colonial cities
Popayan is located in the Cauca Department in the west of Colombia. It's one of the top destinations in Colombia for a stopover when travelling by bus from Ecuador to the city of Cali.
Popayan, otherwise known as La Ciudad Blanca ('the white city'), is definitely worth a stopover for at least two nights (more if you can spare it). The climate is much milder than sweltering Cali, and with all the charm of a typical colonial town, the small city provides a great introduction to Colombia.
The colonial centre is a beautiful tribute to post-colonial Spanish architecture and one could easily spend days exploring the cobblestone streets and whitewashed buildings. The Iglesia San Francisco in the old town is worth a look, and you can take a tour through the building to view a collection of mummies which were discovered after an earthquake damaged the building in the 1980s.
If you're looking for more adventurous activities, you can hike up El Morro de Tulcan, a viewpoint over the city that housed an Indian pyramid dating back to the 1500s. It's a great place to catch the sunset and is easy walking distance from the city centre (or a cheap taxi ride away).
By Emma from Mum's Money
Get there: 2.5-3 hours by road from Cali.
Stay: Hotel Dann Monasterio – Comfortable rooms in a 1570 Franciscan convent with swimming pool, Spanish galleries and a central courtyard.
Best places to visit in Colombia: Small towns & pueblos
6. Guatape, Colombia's most colourful town
Guatape is often called 'the most colourful town in Colombia'. With tiny streets, colourful houses and clusters of joyful tourists, this place is straight out of Disneyland!
Guatape is located 10 minutes' drive away from La Piedra, one of the largest free-standing rocks in the world. Since the whole region is quite small, one day for both these Colombia is more than enough.
After spending the morning hiking La Piedra, you can dedicate the afternoon to marvelling at Guatape's lively roads. A few cafes sit just across from the central plaza, providing ample opportunities for people-watching.
Needless to say, the colours that decorate Guatape's streets are spectacular. From bright reds to rich blues, you've never seen such charming houses.
By Daisy from Beyond My Border
Get there: 2 hours by road from Medellin.
Day trip: Guatape, Piedra del Penol and boat tour departing from Medellin (11 hours; from $37 per person).
Stay: Oak Tree House – An atmospheric retreat with wide outdoor balconies just outside the centre of Guatape.
7. Jardin, a typical colonial town in the coffee region
Located in the heart of Antioquia's coffee region, Jardin is another pretty pueblo with a long and vibrant history. Here too, residents paint the facades of their homes with bright colours and hang flowers from their windowsills and awnings.
The centre of Jardin is characterised by an impressive cathedral built from locally hewn rock and a main plaza paved with river stones. You're never far away from nature in Jardin: It's just a few minutes' drive to waterfalls and forest paths, birdwatching areas and mountain trails.
In town, boutiques sell locally made handicrafts and you can sample sweet treats at a generations-old candy shop (even the Pope is a fan).
Not surprising for a town so close to coffee country, Jardin has a wealth of local drinking holes and uber-trendy cafes that roast beans grown in the hills around the town.
What makes Jardin one of the best places to visit in Colombia is the feeling of community. Plan to spend a few days in Jardin, but don't be surprised if you wind up staying longer.
Get there: 3-3.5 hours by road from Medellin.
Stay: Casa Passiflora Hotel Boutique – Elegant rooms behind a traditional brightly painted facade a few blocks from the main square.
8. Jerico, a hidden gem in Antioquia
Jerico is a smaller and lesser-known town located roughly halfway between Jardin and Medellin. It's a gruelling twist-and-turn-heavy bus ride to get up the mountainside, but it's well worth the journey to visit one of the most interesting places in Colombia.
Jerico is still relatively off the international tourist radar. (Until recently, you couldn't even find it in Lonely Planet.) Plenty of Colombian tourists come here, many of them pilgrims visiting the birthplace of Santa Laura, Colombia's first and only saint, who was born in Jerico in 1874 and is something of a local icon.
Jerico remains a tight-knit, deeply pious community. There are no fewer than 17 churches in town and a seminary with a healthy population of 40-plus would-be priests – not bad for a small town of just over 12,000 people.
Museums, historical libraries and a charming botanical garden are among the top things to do in town. Jerico even has its own mini Christ the Redeemer statue, which offers great views over the city.
Like Jardin, Jerico is also a good base for coffee tourism. La Nohelia is a local farm that offers ecotourism activities (including coffee tours) and onsite accommodation.
If the great outdoors is calling, take an early morning hike to Las Nubes, a lookout that leads you high into the clouds, and pay a visit to Ecoland to try tandem paragliding over the lush valley.
In town, climb the giant stone staircases that connect the upper and lower parts of Jerico. Drop into workshops to watch craftsman making carriels, traditional leather bags, and drink local coffee at El Saturia and Don Rafa. Don't miss Bomarzo, a recently opened multipurpose creative space that houses galleries, cafes and artist studios.
An ideal place to base your stay in Jerico is El Despertar, a boutique hotel set in an Antioquian-style mansion house.
Get there: 3-3.5 hours by road from Medellin; 2.5 hours by road from Jardin.
Stay: El Despertar Hotel – Beautiful rooms with hammocks and ensuite bathrooms set inside a historic Antioquian home in the heart of town.
9. Villa de Leyva, home to Colombia's biggest Spanish Square
With its colonial architecture, cobblestone streets and white-washed facades, Villa de Leyva is considered one of the most beautiful towns in Colombia. It's best know for being home to the biggest Spanish Square in the country, the 150,000 square-foot Plaza Mayor.
Located under 100 miles (160km) from Bogota (or about 3.5 hours by car or bus), this charming town is a favourite destination for both local and international travellers. In fact, the town is so pretty and well-preserved that it is a popular filming location for period films and TV shows. When you walk around its cobblestone streets, it feels like you're stuck in time.
Besides the 16th-century architecture and historical museums, Villa de Leyva is set in a valley that is rich in fossils from the Cretaceous era. So you can also see some fine specimens on display at the specialised museums in the area. Villa de Leyva also has a thriving gastronomic scene, so it's a great place to taste some of the best local dishes Colombia has to offer.
Villa de Leyva is a great stopover if you're travelling between Bogota and San Gil. It's recommended to spend at least two days to really soak up the timeless atmosphere.
By Bianca from Nomad Biba
Get there: 3.5-4 hours by road from Bogota.
Day trip: Villa de Leyva tour with a stop in Raquira departing Bogota (12 hours; from $80 per person).
Stay: Maria Bonita Hotel – Colonial-style rooms with a central courtyard three blocks from the town square.
10. Raquira, pottery capital of Colombia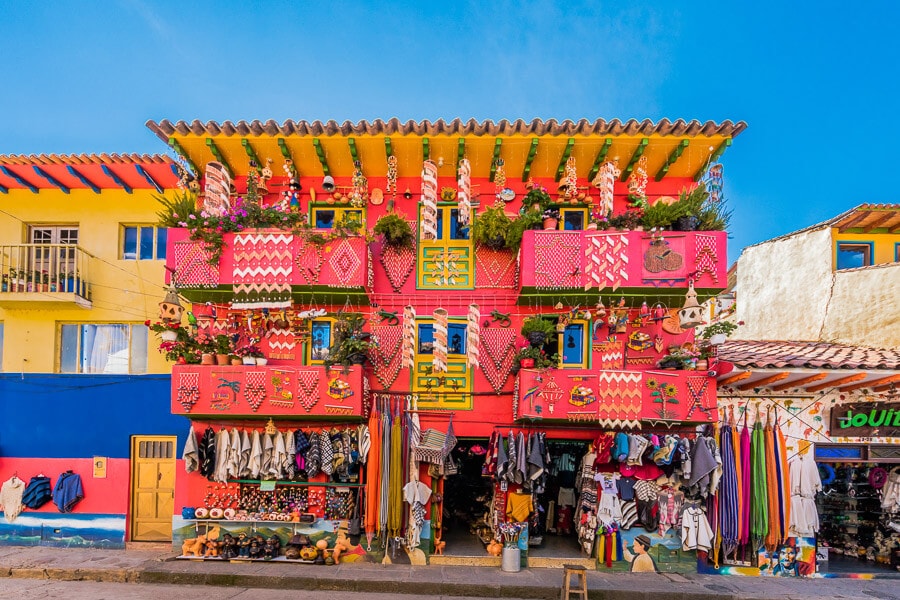 Raquira is as colourful as nearby Villa de Leyva is white. The brightly painted facades in this town bring a smile to your face, and you can easily spend a couple of hours wandering around as part of a day trip or stopover.
This charming little village is widely known as the pottery capital of Colombia. Just about every piece of Colombian ceramic you can buy was made in this tiny town. So you know what to do if you have some spare room in your backpack. Fully packed? Indulge in a pottery workshop and return home with memories instead.
Though pottery is dominant, it's not the only type of souvenir you can buy in Raquira. All kinds of artisanías – from hammocks, to Mochilas (the pretty handwoven bags from Northern Colombia) and clothing – can be bought here for a fraction of the price you'd pay in Bogota.
Buses leave for Raquira about five times daily from Villa de Leyva. It's a 30 minute trip. Four hours is enough for lunch and to pick up some souvenirs. Try to sneak in a bit of people watching on the little plaza as well. A good day to visit is on Sunday, when the local market is in full swing.
By Barbara from Travel Gear For Kids
Get there: 3.5 hours by road from Bogota; 45 minutes by road from Villa de Leyva.
Stay: Hosteria Campestre San Fermin – Simple rooms on a leafy property with a large garden.
11. Guadalupe, a must visit town in Colombia for nature lovers
This tiny town in the Santander Department of Colombia is not easy to get to, but make the effort and you won't regret it. You will fall in love with Guadalupe the moment you arrive.
A five or six-hour bus ride north of Bogota to Oiba, then another hour to Guadalupe by jeep, you could be forgiven for thinking the trip isn't worthwhile. However, when you arrive in Guadalupe you will realise it's all been worth it.
The town itself is just a few streets centred around the main square, with locals usually riding around on horseback or motorbike.
What is really special about Guadalupe is the surrounding nature and outdoor activities on offer. Las Gachas de Guadalupe are naturally jacuzzi plunge pools formed in a shallow river, where you can enjoy a dip in the warm water. If you're feeling brave, you can slide along the smooth rocks and drop into the water.
They earned the nickname the 'Caño Cristales of Santander', and although the water isn't as colourful as the real thing, the red rock at Las Gachas is just as picturesque. The scenery around Guadalupe is beautiful, and as well as Las Gachas, there are other natural swimming pools, waterfalls and caves to explore too.
Although there aren't too many tourists here, at the weekend tour groups from Bogota or Bucaramanga arrive, so visit during the week if you want Guadalupe to yourself.
It's recommended to spend at least a couple of nights here, but if you love nature and adventure, then there is plenty to keep you busy for several days.
By Claire from Tales of a Backpacker
Get there: 2 hours by road from San Gil Airport (2.5-hour flight from Bogota); 6 hours by road from Bogota.
Stay: El Portal De Don Luis – Simple rooms with a shared terrace, onsite restaurant and old-fashioned Colombian hospitality.
12. Aracataca, the birthplace of Gabriel García Márquez
A must-visit for literature buffs, the small town of Aracataca in the Caribbean Magdalena Department is best known for being the birthplace of Colombia's national author Gabriel Garcia Marquez.
Founded in 1885, the river town is small and sleepy. The main attraction is of course the Casa Museo (Museum House), set inside the home where Nobel Prize-winning Garcia Marquez was raised. It contains exhibitions of photographs, letters penned by the author, and various personal mementos.
As you wander the streets of Aracataca on a day trip from Santa Marta, you'll see various tributes to Garcia Marquez including murals and sculptures.
See if you can't spot some of the landmarks that inspired the fictional village of Macondo, the setting for his much-loved novel, One Hundred Years of Solitude.
Get there: 1.5 hours by road from Santa Marta.
Stay: Casa Turística Realismo Mágico – A unique accommodation inspired by Garcia Marquez's magical realism.
13. San Jeronimo, an underrated small town near Medellin
After a couple of visits to the South American country, San Jeronimo remains one of the most underrated places I have visited in Colombia.
The Antioquian town is located in close proximity to the mountains and offers a quiet respite from hectic Medellin, which sits around an hour and a half away.
Once you arrive in the sleepy, yet quintessentially Colombian town, you will be greeted with smiles, the smell of fruit, and fresh mountain air. There are many cafes, small shops, and terraced restaurants waiting to be visited by the very few tourists who frequent the streets of the town.
The best thing about San Jeronimo isn't in the town's centre, however – it lies an hour's tuk-tuk drive away in the mountains, and is called Hostal La Finca. This guesthouse, which is owned by Colombians and Germans, is one of the most relaxing places in the country. They have a large pool, gardens for yoga, and homemade Colombian cuisine made with fruit from the many trees surrounding the property.
There are waterfalls nearby that you can hike to, and the lodge prides itself on being eco-friendly. I have never traveled somewhere and come back so refreshed. A quick weekend getaway to San Jeronimo is highly recommended for anyone who is visiting Medellin.
By Megan from Megan Starr
Get there: 1.5 hours by road from Medellin; 30 minutes by road from Santa Fe de Antioquia.
Stay: Hostel la Finca or San Jeronimo Cabaña – Comfortable holiday home with a sauna close to the centre of town.
14. San Gil, the adventure capital of Colombia
Don't let the size of this small town fool you: There is no shortage of activities to do in San Gil.
Located in Santander Department, San Gil is known as the adventure capital of Colombia. Adrenaline junkies can choose from any number of heart-thumping outdoor activities, including white water rafting, rock climbing, paragliding, mountain biking, waterfall rappelling, and more.
For those into softer adventures, San Gil still has you covered. Right in town the Parque el Gallineral has 10 acres of walking trails among mossy beard-like trees that go by the same name. A 20-30 minute walk or quick taxi ride will get you to Pozo Azul, a lovely swimming hole with small waterfalls, perfect for cooling off on hot days.
The Chicamocha National Park offers a perfect balance between soft and hard adventure. Just an hour away from San Gil, the park sits in a deep canyon with no shortage of options for things to do. From spelunking to hiking to taking a ride on the 3.7 mile-long cable car (one of the longest in the world), Chicamocha won't disappoint.
By Jen from Long Haul Trekkers
Get there: 7 hours by road from Bogota; 3 hours by road from Bucaramanga International Airport (1-hour flight from Botoga).
Stay: Green Door Boutique – Breezy, comfortable rooms walking distance from the centre of San Gil and on the doorstep of the region's best nature.
Best places to visit in Colombia: Nature & adventure
15. Minca, mountains & waterfalls
Minca is a small mountainous town in Northern Colombia that is the perfect escape into nature from the party scene of Santa Marta. Busses run from town and it takes about 45 minutes to reach the centre.
What makes a trip to Minca special is staying in one of the incredible accommodations in the mountains such as Cases Viejas Hostel Lodge. Getting there requires an additional 20-minute drive in a jeep up the mountain, but it's worth it.
The hostel overlooks gorgeous landscapes and offers several lounging areas to relax and take it all in. They also offer daily yoga classes, hikes to nearby waterfalls, and horseback rides. Plus, they source produce from a nearby local farm, so the food served onsite is fresh, healthy, and delicious.
Family style dinners, a bar and incredible views give this place a relaxed but social atmosphere. It is possible to visit Minca for just one night, but it's highly recommended to stay for two for a more relaxing experience, or more if you have the time.
After all, could you ever get sick of this view?
By Lora from Explore With Lora
Get there: 45 minutes by road from Santa Marta.
Day trip: Full-day coffee and cocoa tour from Santa Marta (8.5 hours; from $90 per person).
Stay: Sierra Alta Finca Boutique – Gorgeous ecolodge with indoor-outdoor rooms, hammocks and gardens nestled in the mountains close to Minca and Santa Marta.
16. Salento, gateway to the Coffee Triangle
Located in the heart of Colombia's coffee triangle, Salento is easy to fall in love with. Whether you're looking to take a horseback ride to a deserted waterfall, play some tejo (there's gunpowder involved in this local game!), or simply enjoy views of the valley from one of Salento's many viewpoints, you're bound to find something enchanting about this tiny Colombian town.
While you're there, be sure to stroll down Calle Real to take in the incredibly colourful buildings that make up Salento and learn all about Colombia's coffee (they don't call it the coffee triangle for nothing).
Admire the views from Salento's mirador, and, most importantly, pay a visit to the stunning Cocora Valley, which is the draw that brings many tourists to Salento in the first place.
It's recommended to stay in Salento for at least three days. That will give you time to spend one day in the Cocora Valley and two closer to town. But you can certainly entertain yourself for much longer!
We extended our time in Salento twice, and ended up spending nearly a week there. If we hadn't had a plane to catch, we would have stayed even longer!
By Kate from Our Escape Clause
Get there: 1 hour by road from Pereira.
Day tour: Salento coffee tour at Finca El Ocaso with hotel pick up from Salento (3.5 hours; from $87 per person).
Stay: Hotel Kawa Mountain Retreat – Rustic bungalows with a luxury edge surrounded by palm trees in the heart of the coffee region.
17. The Cocora Valley, one of the most famous places in Colombia
Wondering where to go in Colombia to see the famous towering palm trees? Just 9 miles (15km) from Salento, the Cocora Valley is the main attraction in this part of Colombia besides the coffee farms.
Visitors are greeted with a lush green valley as they enter the Los Nevados mountains. Cocora is the home of the wax palm, Colombia's national tree, and also the tallest of all palm species.
For Europeans like myself, the typical image of palm trees is on a tropical sandy beach. Seeing incredibly tall palms set against mountains is even more charming.
There are several trails through Cocora Valley, covering the mountains, a small river and some waterfalls. Take a horse ride for the most authentic experience! These are very popular in the area and can take from 1-6 hours depending on your chosen route. But make sure you are fit enough if you opt for a longer trail.
We loved the ride, but the muscle soreness reminded us about it for a few days! Try to go in the morning, to avoid the big crowds; the scenery is better too, with the mist covering the mountains.
By Alina from The Happy Kid
Get there: 30 minutes by road from Salento.
Stay: Bio Habitat Hotel – Immersive luxury rooms with hardwood floors and glass walls nestled in the treetops, with a hot tub, sauna and pool. Located in Armenia, convenient to Cocora Valley.
18. Ciudad Perdida (The Lost City), Colombia's best hike
Many travellers use Santa Marta as a base for a much bigger adventure that begins two hours away, deep within the jungle terrain of the Sierra Nevada mountain region.
In a four-day round-trip you can reach Colombia's Lost City, an ancient archaeological site built by the Tayrona people in around 800 AD. It remained hidden until it was uncovered by looters around 50 years ago.
With the help of archaeologists and permission of the indigenous communities of the area, a small portion of it has been uncovered and is open for visitors ready to tackle this multi-day expedition by foot.
The trek is tough, with steep terrain and some treacherous paths, so it takes some stamina and determination. You can't do it alone: You need both permits and a guide, since this is through a National Park and private indigenous lands. Therefore it is important that you choose a company where an indigenous guide will accompany you.
However hard it is to get there, you will be rewarded with a view of Colombia's ancient history that you won't find anywhere else.
By Becki from Borders of Adventure
Get there: Approx. 1.5-2 hours by road to the trailhead from Santa Marta.
Guided hike: 4-6 day trek to the Lost City from Santa Marta with a local guide.
Stay: Cabaña Guarumo de la Sierra – Comfrotable rooms with stunning mountain views in Santa Marta, close to the trailhead.
19. Caño Cristales, the most beautiful river in the world
Nestled deep within the ​​Parque Nacional Natural Tinigua in the remote Meta region, the Cano Cristales or 'Crystal Channel' is one of Colombia's most incredible natural wonders.
Also called the 'River of Five Colours' or the 'Red River', the river bed is tinged with hues of yellow, green, blue, black and red, giving the water hole and surrounding rapids an otherworldly liquid rainbow appearance.
This natural phenomenon – created by a combination of quartzite mineral rocks, algae and plants – only occurs between the months of July and November.
As well as beautiful waterfalls and rapids, you can see circular depressions in the river. Known as 'giant's kettles', these are formed by chunks of hard rock that make deep pits. You've never seen anything quite like the brightly coloured water falling and churning in the pits.
As a licensed tour guide and special permit is required to visit the river, some advanced planning is essential. Swimming is only allowed in designated areas.
The small town of La Macarena (which has an airport and weekly flights from Bogota) is an ideal base for visiting the Cano Cristales and exploring the rest of this wild interior landscape, where the Amazon meets the mountains.
Get there: 45 minutes by road from La Macarena (a 75-minute flight from Bogota).
Stay: Hostal Caño Nevera – A family run guesthouse with tidy rooms and gardens, close to La Macarena town centre and the edge of the national park. Staff can organise guides and transportation on your behalf.
20. Leticia, gateway to the Amazon Rainforest
Leticia is the capital of the Colombian Amazon. As there are no roads leading to the Amazon, flying into Leticia is the only way to launch your rainforest adventures.
Visiting Leticia is a weird experience. At first, you'll notice chaotic traffic and shabby streets. Before night falls, you'll be amazed how close to nature you are after all. Birds that are usually hard to spot are abundant in the city and every night you can witness a show of thousands of parakeets arriving at Santander Park.
Within a one-hour boat trip lies virgin rainforest, completely away from the crowds. Jungle hikes and night safaris reveal the residents of the Amazon: Sloths, caimans, alligators, toucans, boas and armadillos to name a few.
The best things to do in Leticia are all related to nature: Boat trips on the Amazon River and its tributaries, spotting pink and grey dolphins, hiking and kayaking, learning jungle skills, and meeting indigenous tribes. But even the city has some quirky sights, such as an ethnographic museum.
Visiting the border towns of Tabatinga (Brazil) and Isla Santa Rosa (Peru) are also popular afternoon activities in Leticia. Have lunch in Peru and grab a beer in Brazil!
By Niina from Bizarre Globe Hopper
Get there: Fly into Alfredo Vasquez Cobo International Airport (2.25-hour flight from Bogota).
Stay: La Ceiba, Amazonas – Immersive nature bungalows with four-poster beds located in a remote jungle village with access to hiking trails.
21. San Agustin, an important archaeological site in the Andean Mountains
San Agustin is home to the most incredible archaeological site in all of Colombia, with dozens of ancient statues scattered around picturesque green hills with the Andes mountain range as a backdrop.
You should set aside three days for your visit. On the first day, take a half-day horse ride to some of the nearby statues, ending at the Archaeological Park.
First stop is El Tablon, where there are four statues. No one knows for sure the original purpose of the statues or much about the people who created them, but most of the icons guard tombs and they are commonly thought to be sacrifices to the gods.
From here, there are two more sites located down a steep incline, about 350 feet apart. El Purutal la Pelota has the only two coloured statues and La Chaquira has several intriguing anthropomorphic statues. The horse ride ends at the main Archaeological Park. It is also possible to take a collective bus or walk the 2 miles from town to the Archaeological Park instead of a riding horse.
In addition to the main park, there is the atmospheric 'Forest of Statues', a path through a forest with statues every few hundred feet along the way.
For the two remaining days of your visit, take a jeep tour into the surrounding areas to visit seven more sites, a sugar cane factory, and Salto Mortino and Salto Bordones, two dramatic waterfalls.
By James Ian from Travel Collecting
Get there: 1 hour by road from Contador Airport in Pitalito (1.5 hour flight from Bogota); 2.5 hours by road from Guadalupe; 4.5 hours by road from Popayan.
Stay: Masaya San Agustin – Ecolodge with beautiful self-contained cabins in the hills overlooking the river outside San Agustin town.
22. Las Lajas Sanctuary, Colombia's most spectacular church
Las Lajas Sanctuary is a beautiful basilica church located in the south of Colombia, close to the border with Ecuador. With its large bridge spanning over the Guaitara River and its beautiful Gothic architecture rising out from a canyon, it's often regarded as one of the most original churches in the world.
Yet, despite being an important pilgrimage for national worshipers, the church remains a hidden gem that most foreign travellers aren't aware of.
Las Lajas attracts indeed thousands of religious believers each year, who come from all over the country to address prayers to the Virgin Mary in the hope of a miracle.
It is in fact believed that the Virgin Mary's face appeared on a rock on the canyon cliff to a local woman and her daughter in the 17th-century. Numerous miracles are claimed to have occurred in the same location, inspiring thenceforward the construction of a large basilica with an altar facing the rock where the Virgin Mary's face first appeared.
Las Lajas is an incredible off-the-beaten-path destination to visit in Colombia – whether you are a believer or not. Easily reachable for about 2000 COP (less than 1 USD), the sanctuary is a great half-day excursion from Ipiales ,where most tourists only stop to change bus and continue their travels onward into Colombia or Ecuador.
If you aren't in a hurry, make sure to take the time to discover this unique part of the Colombian countryside.
By Jenny from Tales From the Lens
Get there: 20 minutes by road from Ipiales; 30 minutes by road from San Luis Airport.
Stay: Loft Hotel Ipiales – Modern rooms in Ipiales, 20 minutes by road from Las Lajas.
23. Concordia, coffee plantations near Medellin
With the most coffee trees of any township, Concordia is the star of the Colombian coffee region.
Here, it's all about the berries and the beans. The hills that lead from Medellin to Concordia are covered with hectares upon hectares of plantations, most of them owned by smallholder farmers who sell their beans to local co-ops such as Andes, which has a warehouse you can visit just outside of Jardin.
If you want to visit farms and do a coffee tasting, it pays to join a tour to Concordia from Medellin. The town is about two hours by car, making it possible to visit as a day trip. We travelled with LandVenture Travel who offer a full-day trip to Concordia, returning to Medellin in the evening (or you can do like we did and spend the night in Jardin, with a tour of the town the next morning).
A full day was plenty enough to explore Concordia, although I would have been happy to overnight there and wake up in the pretty town.
Get there: 2.5-3 hours by road from Medellin; 2-2.5 hours by road from Jardin.
Stay: Rock Forest Glamping Finca – Stunning A-frame cottages set in the mountains of Concordia, close to coffee farms and with horseback riding available.
Best places to visit in Colombia: Beaches & islands
24. The Rosario Islands, pristine beaches & reefs
Located off the coast of Cartagena, the Rosario Islands (Corales Islas del Rosario) is an archipelago of 30 islands that form one of Colombia's 46 Natural National Parks. If you're interested in snorkelling or scuba diving, this is one Colombian destination you won't want to miss.
This part of the Caribbean is known for its underwater ecosystem of vibrant coral reefs, as well as seagrass habitat and mangroves. The largest island, the aptly named Isla Grande, has resorts, lodges, camping areas and plenty of restaurants, while secluded beaches, an aquarium and open-sea oceanarium are located on small islets, all accessible by local ferry.
Bendita Beach lies just off the mainland peninsular and is one of the most popular white-sand beaches in the country. It's a perfect day trip destination from Cartagena – or you can rent an overwater bungalow on one of the other islands for a more immersive nature experience.
Get there: 45 minutes by ferry from Baru port to Isla Grande (1 hour by road from Cartagena).
Stay: El Hamaquero Hostal EcoNativo – A popular eco-friendly hostel on the shoreline of Isla Grande, with direct access to the beach.
25. San Andres Island, the best sunsets in Colombia
San Andres is an island paradise that belongs to Colombia, even though it's geographically closer to Nicaragua or Panama. With its remote location, it can only be reached by air. Luckily, flights are quite affordable from major Colombian cities, as low as 70 USD round-trip.
San Andres is famous for scuba diving. The coral and marine life is very well preserved and therefore San Andres is said to be one of the best diving spots in the world.
For those who aren't interested in scuba diving, the sandy beaches are also world-famous. You can access tons of different beaches via the 16 mile-long ring road that loops the entire way around the island.
Some beaches are popular tourist spots, and some are completely deserted. One of my personal favourites is Rocky Cay. On this beach at low tide, you can actually walk a couple of hundred feet out into the water onto a sandbar to reach another island to explore.
By Bailey from Destinationless Travel
Get there: Fly into San Andres Island Airport (2.25-hour flight from Bogota).
Stay: Le Castel Blanc Hotel Boutique – Gorgeous rooms with polished tile floors and wicker furniture, with an outdoor pool and tropical gardens. Set inside a Mediterranean-style mansion house 600m from the best swimming beaches.
26. Taganga, one of the best places to visit in Colombia for diving
Taganga is a small fishing village in Colombia's north east. It can be reached by minibus from Cartagena, which shouldn't take any longer than two hours. It's worth a visit for two reasons: The scuba diving and the sunsets.
This little village is becoming increasingly popular among tourists because it neighbours the much bigger and more developed Santa Marta. Taganga allows visitors the opportunity to mingle with holidaying locals, enjoy delicious fresh fish, and watch one of the most amazing sunsets in South America.
On top of that are opportunities to dive. The little village has several experienced dive schools that can bring you out on snorkel and scuba excursions. It's also possible to gain a certification in Taganga.
The coral and marine life is beautiful, healthy, and in abundance – something that shouldn't be taken for granted.
If you're simply visiting Taganga then two days will be enough. If you intend to dive, it's recommended to stay for up to a week, which should give you enough time to learn and then recover.
By Eoin from Dollys Quest
Get there: 15 minutes by road from Santa Marta.
Stay: Hotel Cactus Taganga – Simple wooden bungalows with outdoor terraces overlooking the bay.
27. Tayrona National Park, where the jungle meets the ocean
If you're looking for an intrepid overnighter, consider a stay in Tayrona National Park, a jungle-laden coastal national park is located near Santa Marta on Colombia's northern Caribbean coastline.
Visitors can access the park by foot, hiking one of the many scenic trails to a few camping locations. Unless you have hundreds of dollars to spend on a fancy 'ecohab' (luxury glamping huts set on a hill), take the plunge and sleep in a hammock at Cabo San Juan.
Rent a hammock for the night (the tents will flood if it rains, and keep in mind, it's the jungle!) to fully enjoy the park. The hike in takes between 2.5-4 hours depending on how bad the mud is. The adventure is worth it.
Take your time and enjoy the sights and sounds of the jungle. If you're lucky you can spot howler monkeys in the trees. Opt to hike the nearby Nine Piedres or up to the Pueblito native village. Early morning hikers will be rewarded with cooler temperatures and stunning wildlife.
By Meg from Fox in the Forest
Get there: 30 minutes by road from Santa Marta.
Stay: Senda Koguiwa – Luxe bungalows nestled beneath the mountains with a huge outdoor pool just five minutes from the entrance to the National Park.
28. Santa Marta, relaxation on the Caribbean coast
Santa Marta is spectacularly unspectacular, and that makes it the perfect spot for relaxing. There is not a lot to see or much to do: No well-maintained historic centre, no World Heritage Sites – just some picturesque streets'n'squares and a pleasant waterside promenade.
Santa Marta isn't dull, it's serene.
On Carrera 5, you can see how Colombians shop. And you can shop, too. I bought an unspectacular leather belt at a spectacular price: No tourist currency here, I paid the same as locals pay.
For those for whom local is not enough, there is Carrera 3. Here, you'll find stylish restaurants and bars, designed mainly for tourists and trendy crowds from the nearby university. No Colombian town would be complete without some street art, and there are some pretty amazing murals on Carrera 3 and the adjacent streets.
Santa Marta is a great hub for day trips to beaches. The nicest beach in my opinion, Rodadero, is located south of Santa Marta and is a great place to spend a lazy day. Not lazy? Then you might want to visit National Park Tayrona. It's only about an hour away by public bus. Adventurous folks start their trip to the Sierra Nevada and the El Dorado from Santa Marta.
By Renata from bye:myself
Get there: Fly into Simon Bolivar International Airport (1.25-hour flight from Medellin; 1.5-hour flight from Bogota).
Stay: Hotel Boutique Maree – Elegant, modern suites with a generous outdoor pool located close to the city centre and beach. All the perks of a big-brand hotel but with an intimate, boutique feel.
Do you have a favourite place to visit in Colombia? Which of these destinations would you include in your Colombia itinerary? Let me know in the comments!
Colombia trip essentials
Here are some of the websites and services I recommend for planning a trip to Colombia. Remember to check out my full list of travel resources for more tips.
FLIGHTS: Find affordable flights to Colombia using the Skyscanner website.
VISAS: Use iVisa to check if you need a tourist visa or a Health Declaration form for Colombia and apply for your documents online.
TRAVEL INSURANCE: Insure your trip to Colombia with HeyMondo, my preferred provider for single-trip and annual travel insurance.
AIRPORT TRANSFERS: Book a safe and reliable private transfer from the airport to your hotel in Medellin, Bogota or Cartagena (prices start from $18 per group).
ESIM FOR COLOMBIA: Stay connected during your trip – pre-purchase an eSIM for Colombia and get online as soon as you arrive without having to visit a phone shop.
CAR HIRE: Use the Discover Cars website to compare prices and features across all the major car rental companies.
ACCOMMODATION: Find the best Colombia hotel deals on Booking.com.
CITY TOURS & DAY TRIPS: Browse the Viator website to find the best day trips, city tours, Colombian cooking experiences and more.
Best places to visit in Colombia: Share it on Pinterest
More Colombia travel resources
, my Medellin city guide , ideal itinerary for first-timers , Colombian fruit, flowers and more , things to know before you go , Colombia's loveliest pueblo , Jerico's best accommodation , Colombia's most colourful town , bean to cup in Concordia , a day or two in the capital , in the kitchen in Bogota
45 Comments
Me encanto tu publicación, Colombia es realmente fascinante, ojala podamos viajar por todos estos lugares tan preciosos, sin embargo te falto en santander el cañon del chicamocha y barichara… te encantarán.
15 Best Cities to Visit in Colombia
With the hypnotic rhythms of salsa coursing through the streets, Colombia is a fantastic place to head if you're looking for a good time – its cities are home to some incredible nightlife. Great restaurants, lively bars and some awe-inspiring festivals and carnivals only add to what the best cities in Colombia have to offer, and a few interesting museums are scattered about here and there.
With a rich history, the city's picturesque colonial centers are wonderful to explore, with their old churches and monasteries beckoning you on. An incredibly diverse country, Colombia's varied landscapes with towering mountains, dreamy beaches and Amazon rainforest means that its fantastic cities are never far away from scenes of outstanding natural beauty.
Map of cities in Colombia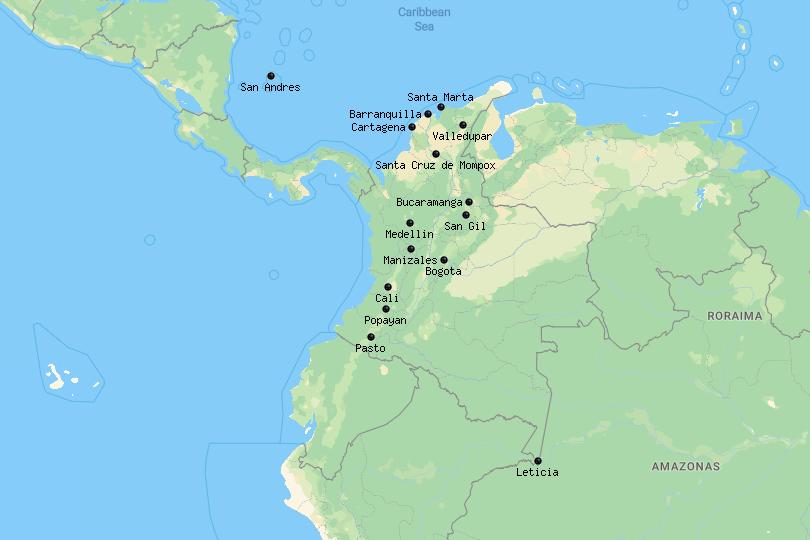 © OpenStreetMap © MapTiler © Touropia
15. Pasto [SEE MAP]
© Markpittimages / Dreamstime
Lying not too far away from Ecuador, Pasto sits in the southwest of the country – visitors mainly stop off here on their way to Colombia's southern neighbor. With a cool climate, some nice colonial buildings and a lively downtown, Pasto is a pleasant enough place without setting the world alight.
While the city itself is not much to write home about, the stunning nature of Laguna de la Cocha or the dramatic Volcan Galeras in the region surrounding Pasto makes it well worth a longer stay.
14. Leticia [SEE MAP]
© Jesse Kraft / Dreamstime
Despite being the largest city in the Amazonas region, Leticia has a laidback and provincial air to it – largely due to its secluded location. Lying at the spot where Brazil, Colombia and Peru meet, there is a diverse cultural mix – although there is certainly not much of interest going on in this backwater.
Bordering the Amazon River, Leticia's main draw is that it is the perfect base from which you can take some fantastic trips into the rainforest or along the river itself.
13. Bucaramanga [SEE MAP]
Lovely mountains form a beautiful backdrop to Bucaramanga's skyscrapers and, although it is not the most exciting place in the world, there's more than enough to see and do here to warrant a visit.
While the growth and expansion of the city superseded lots of its old colonial architecture, a plethora of pleasant parks are interspersed among its high-rises, giving Bucaramanga a relaxing air. At night, however, the city's large student body comes out to play and its multitude of bars and clubs blast out music until the early hours.
12. Santa Cruz de Mompox [SEE MAP]
© Ulita / Dreamstime
Lying on an island in the Magdalena River, this peaceful, laidback town has a lovely colonial center full of delightful architecture – funded from its time as an important port during colonial times.
The first place in South America to vote for independence, Simon Bolivar said that he owed his legacy and glory to Santa Cruz de Mompox. A secluded and special part of Colombia, the city is enthralling to explore, and comes alive during the various festivals that it hosts throughout the year.
11. San Andres Town [SEE MAP]
Jhosimar / Wikipedia
Lying closer to Nicaragua than Colombia, this idyllic island's dreamy, palm-tree-lined beaches and pristine waters make it a favorite with Colombians looking to get away for the weekend.
While San Andres Town is not the prettiest place, due to its hectic downtown, the waterside promenade is pleasant to wander along and the tax-free shops and party scene certainly help to attract visitors. The main draws, however, are the beautiful beaches lining the island and the surroundings offshore cays, and there is some fantastic snorkeling and diving on offer.
10. Valledupar [SEE MAP]
Lying between two mountain ranges, Valledupar is one of the greenest cities in Colombia and has a delightful colonial center with some fun and festive nightlife on offer for visitors to enjoy.
Located in cowboy country, it was cut off from the outside world during the civil conflict by guerrillas, and relatively few visitors stop by to this day. Famous as the birthplace of vallenato folk music, from here there are lots of fantastic outdoor activities for tourists to try.
9. San Gil [SEE MAP]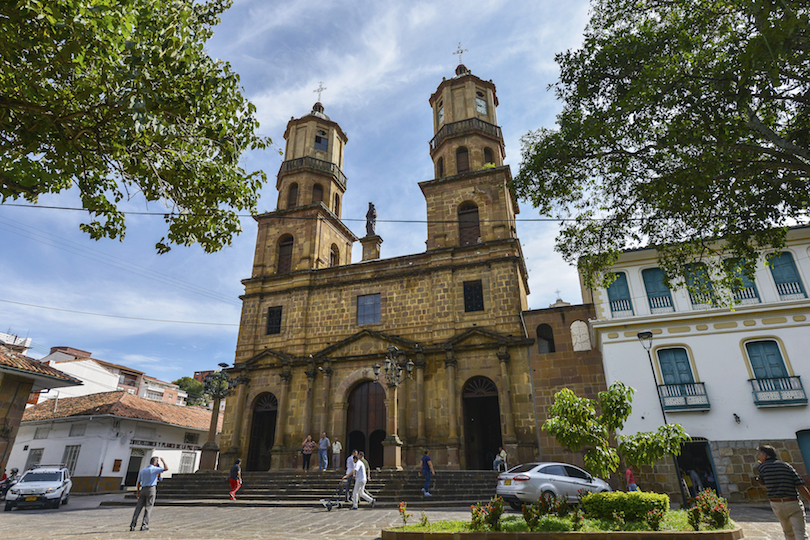 © Villegas / Dreamstime
Nicknamed 'the land of adventure', San Gil's incredible surroundings make it an awe-inspiring place to visit for nature aficionados and lovers of extreme sports.
A small city that is easy to navigate, San Gil's old town square with its delightful cathedral is pleasant to hang out in and, although its friendly population is welcoming, almost everyone heads out of town as soon as they can. This is because it is renowned for fantastic white-water rafting. If you enjoy nature, you can trek through forests, explore caves or even go paragliding if you feel like it.
8. Manizales [SEE MAP]
© Jesse Kraft / Dreamstime
Lying amidst beautiful verdant mountains in Colombia's coffee-producing region, earthquakes and a tragic fire destroyed many of Manizales historical attractions, although there are some nice Neoclassical buildings scattered about.
With lots of universities in the city, the large student population makes Manizales a lively place to visit; there are lots of fantastic bars and nightlife on offer. Lying at 2150-metres above sea level, you can enjoy some lovely hiking in the rainforests and mountain near the city. The nearby Nevado del Ruiz volcano is well worth a trip.
7. Barranquilla [SEE MAP]
© PCC / Dreamstime
The fourth-largest city in the country, Barranquilla is renowned for its fantastic Carnival, when the streets are inundated with locals and visitors alike who come to enjoy the sounds, colors and vibrant festivities of the carnival.
Away from carnival time, there are some great restaurants and bars to check out and a few good museums. A bustling port town lying on the Caribbean next to the mangroves of the Magdalena River, Barranquilla is often overlooked in favor of other cities along the coast – though it has some great nightlife spots and friendly, welcoming people.
6. Popayan [SEE MAP]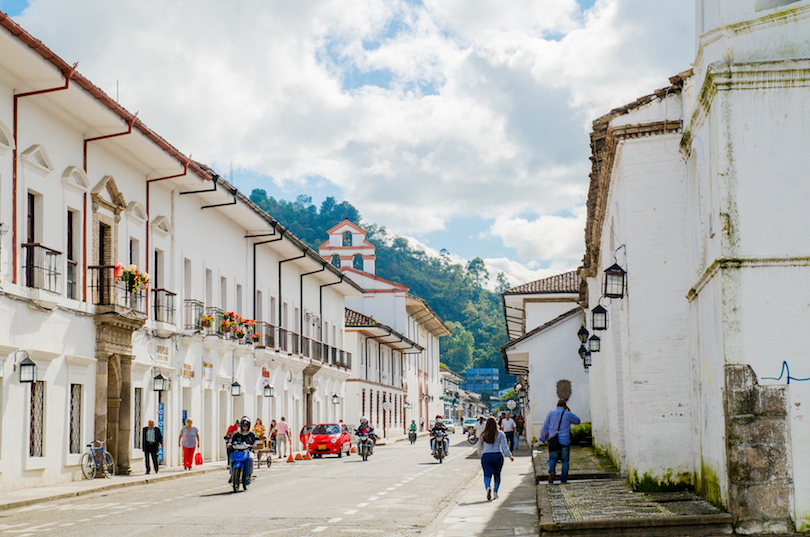 © Pablo Hidalgo / Dreamstime
Although it may come second to Cartagena in terms of the stunning colonial features, Popayan is well worth a visit in its own right. The breathtaking mountains overlooking the city's picturesque streets only add to its scenic charm.
Nicknamed 'the White City' due to its dazzling facades, its old buildings that comprise delightful churches, mansions and monasteries were built during the time when the city lay on an important trade route – the architecture on show is sumptuous.
As a number of universities reside in the city, Popayan has a lively feel to it, and its outskirts have lots of great outdoor activities for visitors to enjoy.
5. Santa Marta [SEE MAP]
© Pablo Hidalgo / Dreamstime
A charming place to stop by, Santa Marta's historic center is full of delightful colonial buildings. It is actually the oldest town founded by Europeans in the whole of South America. Lying on the Caribbean coast, the city has spread out over the years.
Now, its horrific traffic and endless sprawl detracts somewhat from the attractiveness, though this does mean that it has a slew of restaurants, bars and hotels for visitors to choose from.
With a fantastic range of activities and attractions on offer nearby, you can be in the mountains one moment before scuba diving in Santa Marta's pristine waters or lounging on its lovely beaches the next.
4. Cali [SEE MAP]
© Brizardh / Dreamstime
Often overlooked in comparison with some of the other fantastic cities Colombia has on offer, Cali has more than enough about it to appeal to tourists – its pounding nightlife is just one reason to visit.
Considered the capital of Salsa, going out here is a fun and wild affair and is not to be missed. Away from the party scene, Cali's great restaurants and rich, Afro-Columbian cultural heritage makes it a captivating place to visit. In addition to this, there are lots of old churches and some good museums too.
With lots of natural wonders nearby, you can use Cali as a base from which to explore the surrounding region – make sure to check out a football match before you leave!
3. Medellin [SEE MAP]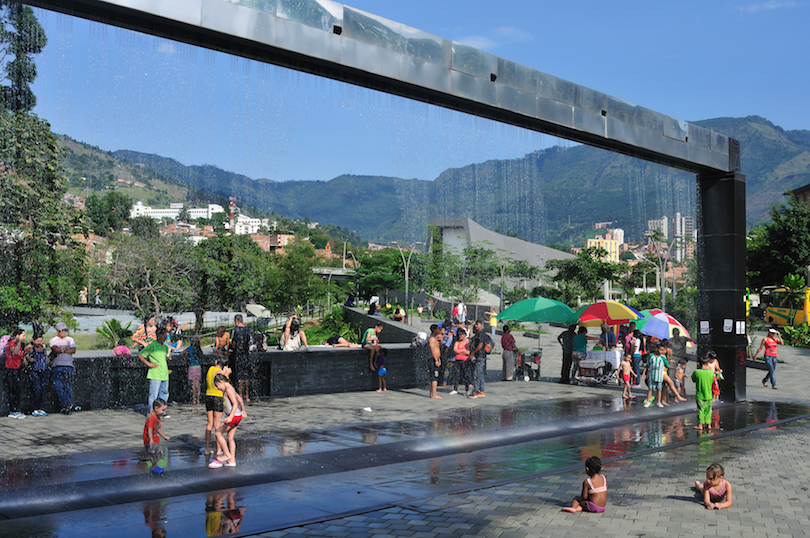 © Carlos Mora / Dreamstime
Lying in a narrow valley, Medellin's towering skyscrapers and high-rises are delightfully framed by the hills and mountains surrounding this industrious and commercial city. A metropolitan place, Medellin was plagued by gang wars in the 80's and 90's, as narco-traffickers battled for supremacy, with the hillside slums being badly affected.
Nowadays, it is a pleasant city to visit. There are some great museums on offer as well as fantastic restaurants, bars and nightclubs. With airy parks scattered about Medellin and a lively art and cultural scene, the second largest city in the country is well worth a visit.
2. Bogota [SEE MAP]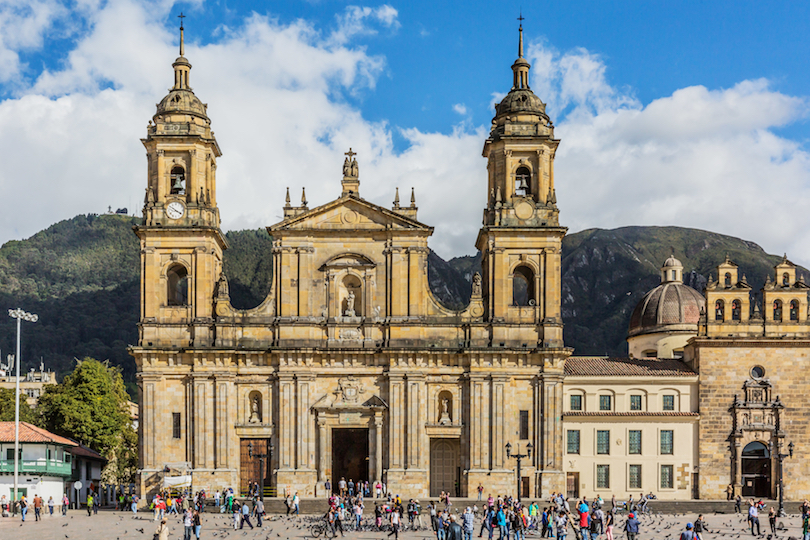 © Pixattitude / Dreamstime
The lively capital of the country lies on a plateau amidst the Andes at an impressive height of 2600-metres, and all visitors to Colombia pass through Bogota at some point. While there is a lot of poverty and crime in the city, as well as packed and rather claustrophobic parts to it, the energy about the place and the wealth of attractions mean that most tourists come away with a positive impression.
The historic center of La Candelaria is full of lovely colonial buildings; old churches and convents dot the cobbled streets. Some great museums, restaurants and bars are scattered about, and the magnificent Cerro de Monserrate looks out over everything. Fantastic sunsets paint the city in glorious yellows, reds and oranges; as night falls, the city's nightclubs begin pumping out the rhythmic music that makes it such a fun city to go out in.
1. Cartagena [SEE MAP]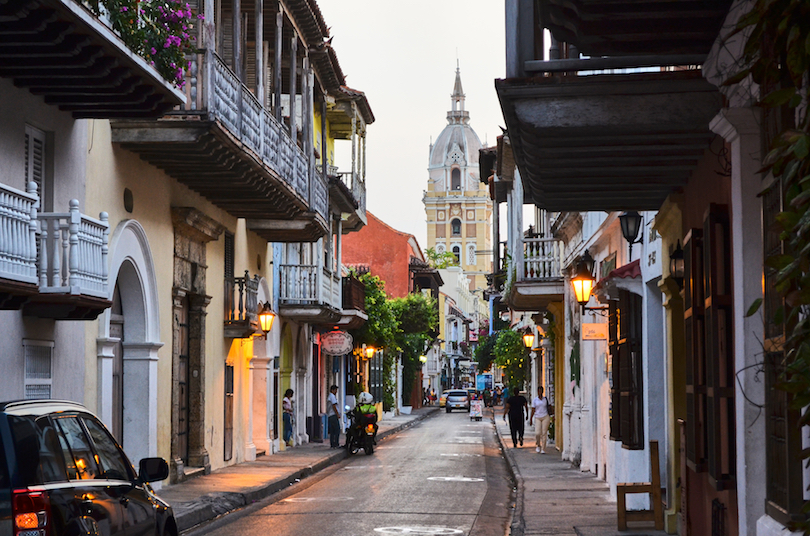 © Edaccor / Dreamstime
Lying on the Caribbean coast of Colombia, Cartagena is full of life and color and dripping with history. The stunning Old City is magnificent to behold as you wander around, with its old stone ramparts enclosing dazzling colonial buildings and tiny, narrow streets.
Horse-drawn carriages trundle past huge churches and mansions, and its lively, leafy plazas are lovely to hang out in, with a fantastic range of restaurants and bars on offer. One of the best preserved colonial cities in Latin America – and certainly one of the most picturesque – Cartagena's raucous nightlife and fine dining scene are yet more reasons to visit. If you want to kick back and relax further, its palm-tree lined beaches are simply divine.
10 Best Places to Visit in Colombia
Colombia has something that will please most travelers, from sandy beaches of the Caribbean and Pacific coasts, to the Andes Mountains and the Amazon rainforests. Its heritage reflects the culture of its indigenous peoples as well as the Spanish who began settling here in the early 15th century.
A couple of decades or so ago, Colombia was not on the tourist map because it was not a safe place to visit. However, the government is working hard to change that image, making it safer for travelers to enjoy the many features Colombia offers. An overview of the best places to visit in Colombia:
10. Popayan [SEE MAP]
hood.jonathan / Flickr
Popayan is one of Colombia's most impressive colonial cities. Located in southwestern Colombia, it is sometimes called the "Ciudad Blanca" (White City) because its buildings are chalk-white. Founded in 1537, its mild climate quickly attracted wealthy Spanish families who built mansions, schools, churches and monasteries.
The city is famous for its Maundy Thursday procession as well as its nightlife. The Iglesia de Ermita is the city's oldest church, built in 1546, while the Iglesia de San Francisco lays claim to being the most beautiful. Popayan's tranquility and charm make it a good place to chill out.
9. Medellin [SEE MAP]
Throughout the 1980s and 1990s, Medellín was considered one of the most dangerous cities in the world, home to Colombia's infamous cocaine cartel. But when drug lord Pablo Escobar was snuffed out in 1993, Medellín began to bury its troubled past and rebounded tremendously.
These days, the increasing number of tourist who come here find an inviting, modern city with one of the country's best climates. Located in the Andes in the narrow Aburra Valley, the city sports temperatures averaging 24°C/72°F throughout the year, making any time a good time to visit.
Medellin is also a very colorful city because of its gorgeous flowers; the city celebrates its flower festival for 12 days every August.
8. San Andres y Providencia [SEE MAP]
Flowizm / Flickr
San Andrés and Providencia Archipelago are two island groups that are located closer to Nicaragua than Colombia in the Caribbean. San Andres is the largest island, and also the capital. Providence Island was initially settled by English Puritans who used slave labor on their plantations and took up privateering.
White sand beaches and palm trees are San Andres' best features. The Caribbean is colored seven shades of blue and is rich marine life, making it a great place to snorkel and dive. Accommodations aren't as luxurious as other Caribbean islands, and visitors travel around the island on old school buses.
7. San Agustin [SEE MAP]
Mario Carvajal / Flickr
San Agustin is a laidback little town surrounded by awesome landscapes and the remains of a forgotten civilization. One of the most intriguing ancient sites in Colombia, the archeological park of San Agustin is home to more than 500 monoliths, statues, petroglyphs and sarcophagi.
Most of the stone carvings at San Agustin were created between 100 A.D. and 1200 A.D. They include representations of human figures, smiling and sneering monsters as well as animals such as snakes, birds and jaguars. The pre-Incan culture that built the stone carvings is surrounded by mystery.
No one knows their actual name. Most of what is known about this society comes from the interpretation of the carved statues and other ruins.
6. Zona Cafetera [SEE MAP]
Triangulo del Cafe / Flickr
Travelers who love their java will definitely want to visit Zona Cafetera (Eje Cafetero) where almost half of Colombia's coffee crop is grown on the slopes of the Andes. Visitors can learn more about coffee at El Parque del Café, a park that has a botanical garden with coffee plants and an amusement park.
The Zone has a gold museum featuring pre-Columbian artifacts. The tower at the Catedral de Manizales offers stunning views of one of the region's main cities. Visitors can also take a dip in thermal springs at Santa Rosa and San Vincente. The region also is a good place to hike in the Andes.
5. San Gil [SEE MAP]
Sergio Fabara / Flickr
San Gil is an old colonial town in northeast Colombia. Founded by the Spanish in 1689, it was named the region's tourism capital in 2004. The designation honors mainly the main outdoor activities, such as mountain biking, rafting and kayaking.
Couch potatoes may enjoy a visit to the cathedral built in 1791; the Parque La Libertad, the center of the city's social life; the Parque El Gallineral, a park set in a river, and Plaza de Mercado, a covered market where travelers can sample a variety of typical Colombian foods.
4. Villa de Leyva [SEE MAP]
Aztlek / Wikipedia
Villa de Leyva may be a small town less than a four-hour drive from Bogota, but its Plaza Mayor is one of the biggest town squares in South America. At one time people were executed on this immense square, which is now used as a gathering place for celebrations and festivals, such as the onion beauty pageant.
Its architecture reflects Spanish and Moorish influences; indeed, the Villa de Leyva has been compared to Andalucía because of the white buildings with wooden trim and balconies. Museums honor famous people who fought for Colombian independence. The first distillery in the region is located here.
3. Bogota [SEE MAP]
mattlemmon / Flickr
Bogota, sometimes referred to as "the Athens of South America", was first settled by indigenous peoples, though the founding date is generally set at 1538 by a Spanish explorer. Today, the city is one of the largest cities in South America and Colombia's capital.
Once considered a place to avoid, Bogota has cleaned up its act and is fast becoming one of the best places to visit in Colombia. Located at 2,640 meters (8,660 feet) in the Andes, Bogota has numerous attractions to entice visitors, including a planetarium, gold museum, botanical gardens, cultural events and a thriving nightlife. The city's historic district can be found at La Candelaria, a pleasant quarter of cafés, churches and museums.
2. Tayrona National Park [SEE MAP]
Tayrona National Park is a must-see place for travelers who enjoy nature and exploring old ruins. Located on the north Colombia coast, the park offers a variety of ecosystems, from swamps to scrublands to cloud forests.
For many travelers, the park's biggest attraction is its beaches, set in deep bays and shaded with coconut palms. In fact, Tayrona beaches are among Colombia's most beautiful. The park is also popular with birdwatchers who come to see the Andean condor, a threatened species.
The park takes its name from the Tayronas, a native people, who left their mark on a number of archaeological sites, including Pueblito Chairama. Tayrona is a good place to snorkel, hike and see wild animals, including lizards and monkeys, in their native habitat.
1. Cartagena [SEE MAP]
Cartagena is the bustling city where Kathleen Turner's character Joan Wilder begins her Colombian adventures in Romancing the Stone. Hopefully, travelers will get their visits off to better starts, though the city is just as busy as when it was one of the key Caribbean ports from the 16th to 18th centuries.
Fought over by various countries, Cartagena was one of the most heavily fortified cities in South America; these fortifications can still be seen today.
Travelers should take time to wander through the colorful old town, with its colonial architecture that includes museums, palaces and churches. "Bocagrande", a long strip of hotel towers and condos fronting onto the beach, is also very popular with tourists.
Map of Places to Visit in Colombia
© OpenStreetMap © MapTiler © Touropia
Source https://wander-lush.org/best-places-to-visit-in-colombia/
Source https://www.touropia.com/best-cities-to-visit-in-colombia/
Source https://www.touropia.com/best-places-to-visit-in-colombia/