14 Top-Rated Tourist Attractions in the Bahamas
When beach lovers dream of the perfect stretch of powdery sand, lapped by seas in sublime shades of blue, they're probably dreaming of the Bahamas. Encompassing 700 islands and more than 2,000 small cays sprinkled across the Atlantic Ocean and Caribbean Sea, this tropical paradise lies only 80 kilometers from Florida at its closest point, and it's packed with attractions to keep visitors happily entertained.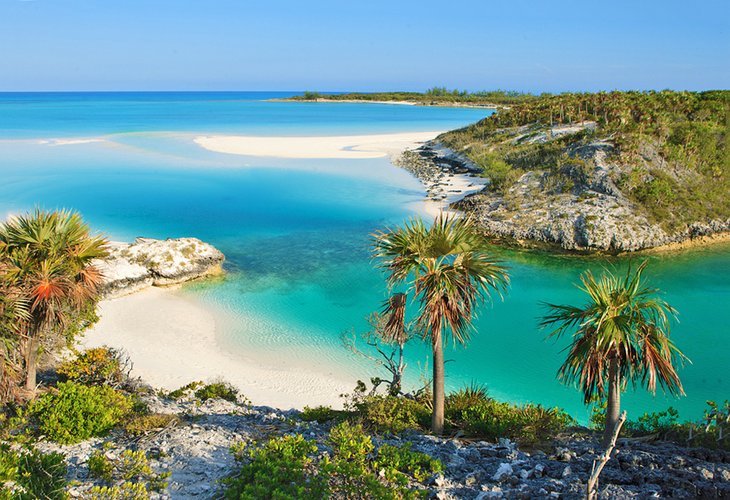 Shroud Cay in the Exumas
Once a haven for pirates and Loyalists, the islands are now a playground for the rich and famous, and anyone who enjoys world-class fishing, boating, diving, snorkeling, and sailing. With so many things to do in the Bahamas, no wonder it's such a popular place to visit.
Nassau, the nation's capital, on New Providence Island, attracts the most tourists. This bustling cruise port is a mix of mega resorts, shops, restaurants, and entertainment complexes. Grand Bahama follows in second place.
The other Bahamas islands, affectionately called the Out Islands, cluster into groups, and each has its own distinct character and charm. Slung like pearls across the shallow Bahama Banks, the Abacos and Exumas offer some of the world's best waters for boating and sailing. Sleepy fishing villages and secluded beaches dot these peaceful islands, and flourishing coral reefs rim many of their shores. Be sure to rent snorkeling gear while you're here.
The other islands offer fun activities for discerning travelers. From the big game fishing of Bimini and the pink-sand beaches of Harbour Island, to bonefishing, regattas, and uncrowded outer cays, it's hard to beat the Bahamas. For those visiting around the New Year, don't miss the throbbing drums and kaleidoscopic costumes of Junkanoo, the nation's most popular festival.
Plan your sightseeing and find out more about the best places to visit in these idyllic islands with our list of the top attractions in the Bahamas.
1. Atlantis Paradise Island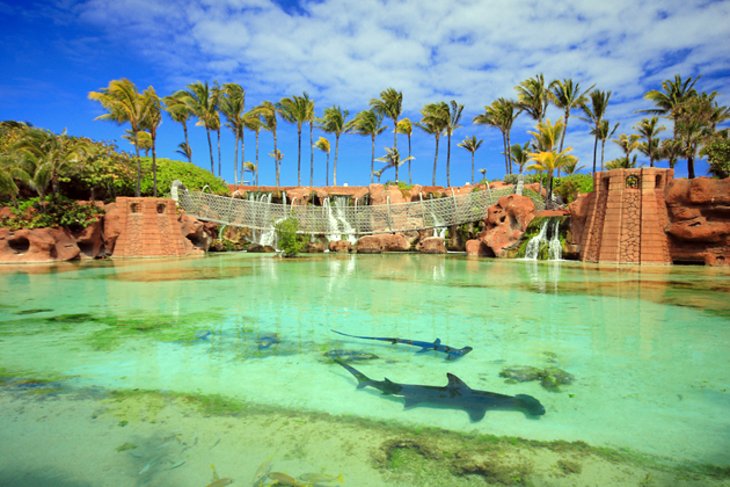 Atlantis Paradise Island
Dominating the skyline on Paradise Island, this splashy, salmon-pink resort evocatively recreates the legend of Atlantis in a luxury hotel, entertainment complex, aquarium, and water park. It's one of the top resorts in the Bahamas.
Guests at the hotel score free entry into the popular 141-acre Aquaventure. Spending a day at this whimsical waterscape is one of the most popular things to do in Paradise Island. Whiz down high-speed slides like the Leap of Faith, splash around in more than 20 swimming areas, or lie back and relax as you cruise along the Lazy River Ride.
In the marine habitat at Atlantis Bahamas, hammerhead sharks and swordfish swim through sparkling open-air pools. You'll also find plenty of shops, restaurants, and entertainment venues here. The fantasy sea theme continues throughout all the Atlantic attractions, capturing the imagination of young and old alike.
Address: 1 Casino Drive, Paradise Island
2. Nassau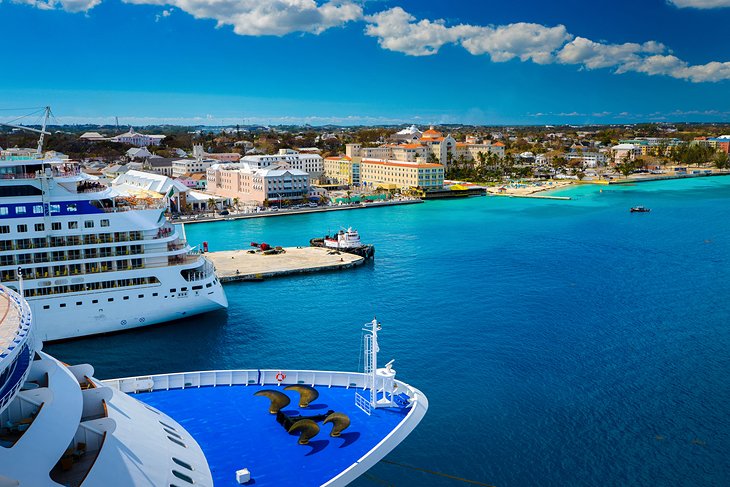 Nassau
One of the most popular cruise ship ports in the Caribbean, Nassau, Bahamas still manages to charm visitors, despite the crowds of camera-toting tourists.
When it comes to things to do in Nassau, you'll find plenty of options. Bask on the white sands of Cable Beach; explore the shops, restaurants, museums, and candy-colored colonial buildings of downtown and Bay Street; and shop for souvenirs at the Nassau Straw Market.
A short catamaran ride away from Nassau, animal lovers can come face to face with dolphins on a day trip to Blue Lagoon Island, and Ardastra Gardens, Zoo, and Conservation Center is a fun place to visit for families, with endangered and threatened species amid four acres of tropical gardens.
Paradise Island, home to the perennially popular Atlantis resort, shimmers on the horizon about five kilometers offshore from Nassau.
3. Exuma Cays Land and Sea Park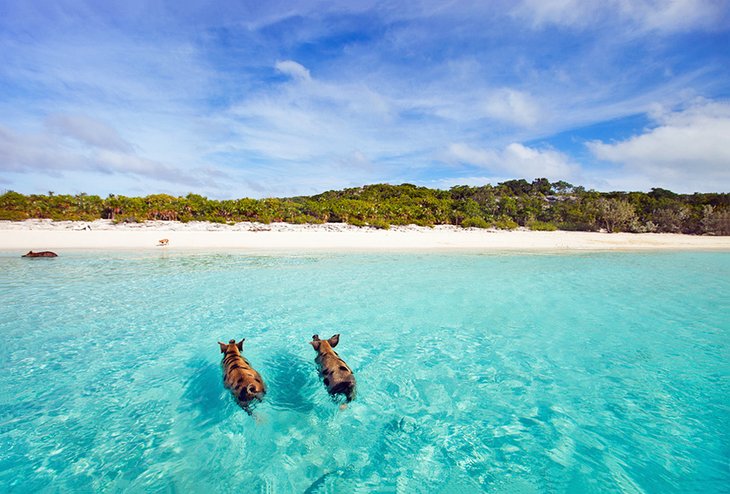 Swimming pigs at Staniel Cay in the Exumas
Exuma Cays Land & Sea Park has some of the most striking seascapes in the Bahamas. Luminous water in shades of electric blue merges with bone-white sand, creating a dazzling backdrop for a range of water sports.
Located in the remote eastern edge of the Bahamas, the park is a no-take-zone and marine protected area, the first of its kind in the Caribbean. The area is popular with divers and boaters, who come here for the quality anchorages, abundant marine life, and crystal-clear waters. On a good day, divers and snorkelers can enjoy 30-meter-plus visibility.
Most people visit this underwater attraction on private boats or live-aboard dive charters. No fishing or shelling is permitted within the park boundaries.
The Exuma Cays are also beautiful. Some are home to movie stars, such as Johnny Depp and David Copperfield, while others are home to exclusive resorts. Great Exuma, the largest of the Exumas, Little Exuma, and Staniel Cay are popular with boaters, who come here to enjoy the convivial restaurants.
Don't miss Staniel Cay's famous swimming pigs and Thunderball Cave, featured in the namesake James Bond film.
4. Harbour Island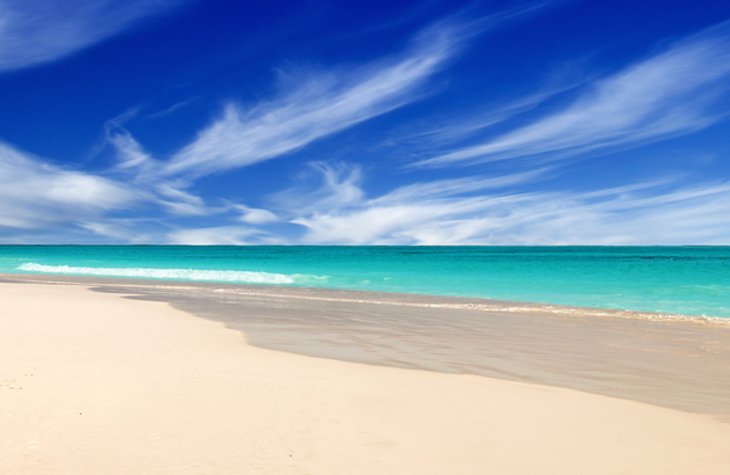 Harbour Island
Pretty Harbour Island sits northeast of its big sister, Eleuthera and has long been a hideaway for the rich and famous. Affectionately known by the locals as "Briland," it's one of the oldest settlements in the Bahamas, as well as the site of the first Bahamian parliament.
English Loyalists settled here in the 1700s, and their cute pastel-hued cottages evoke a bygone era in Dunmore Town, the island's only settlement, where golf carts rule the narrow streets.
But Harbour Island offers more than cute cottages and a rich history. Its picturesque pink-sand beaches are among the most beautiful beaches in the Caribbean, and its chic resorts lure discerning travelers from around the world. Popular things to do include diving, snorkeling, fishing, and sunbathing along the rosy-hued shores.
Harbour Island is a fun day trip out of Nassau on the Bahamas Fast Ferries Catamaran.
5. Grand Bahama Island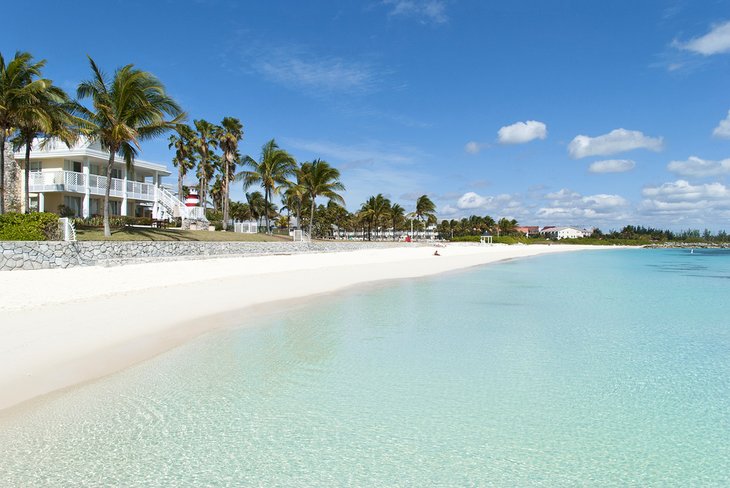 Lucaya Beach on Grand Bahama Island
The northernmost of the Bahamian islands, Grand Bahama Island is a popular destination for package tourists and cruise ships. The capital, Freeport, is the second biggest city in the Bahamas, though Port Lucaya has now replaced it as the tourist hub for attractions like shopping, dining, and entertainment.
Port Lucaya Marketplace sells jewelry and straw goods, as well as other souvenirs, and the marina is a social hot spot for tourists and boaters.
Despite the island's large all-inclusive resorts and hotels, it's still possible to escape the crowds. Grand Bahama is home to one of the world's longest underwater cave systems.
You can also wander the lush plantings of Garden of the Groves, and nature lovers can spot many native bird species in the three national parks or book a dolphin close encounter.
In 2019, Hurricane Dorian slammed Grand Bahama as a category 5 storm, but most of the island's top tourist attractions are now back up and running.
6. Diving and Fishing on Andros Island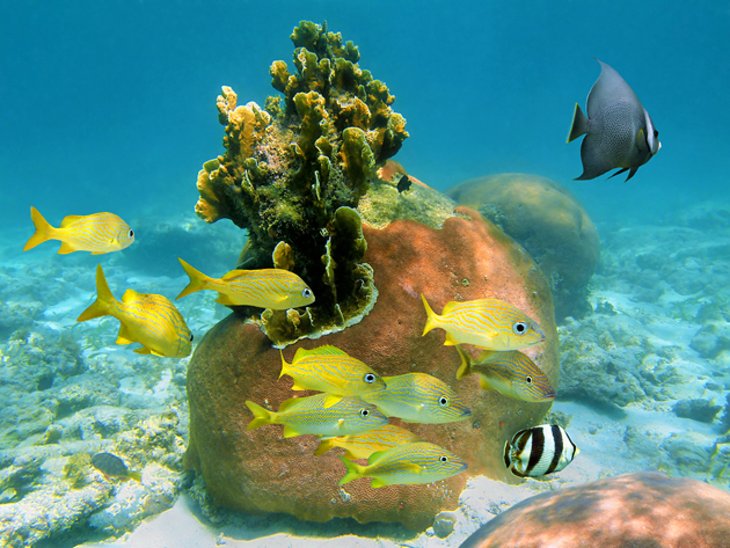 Coral and fish on Andros Island
The Bahamas' largest landmass, Andros is a haven for anglers and divers. The island is home to the third largest barrier reef in the world, as well as many freshwater blue holes and underwater caves, creating an underwater wonderland for those who love to explore under the sea. Be sure to bring or rent snorkel equipment, so you can view this attraction up close.
Fly fishing is also big here – Andros is often called the bonefishing capital of the world, thanks to its ideal habitats for this prized catch. The island's vast wetlands create channels that are prime fishing and boating areas.
Andros also has the largest protected area in the Bahamas, with five national parks. Nature lovers will appreciate the rich bird life in the mud flats, mangrove swamps, and forests, as well as the island's eco-resorts.
Is shopping more your style? Stop by Androsia Hand Made Batik Factory, where you can buy brightly colored fabrics featuring bold Bahamian motifs.
7. Treasure Cay Beach, Great Abaco Island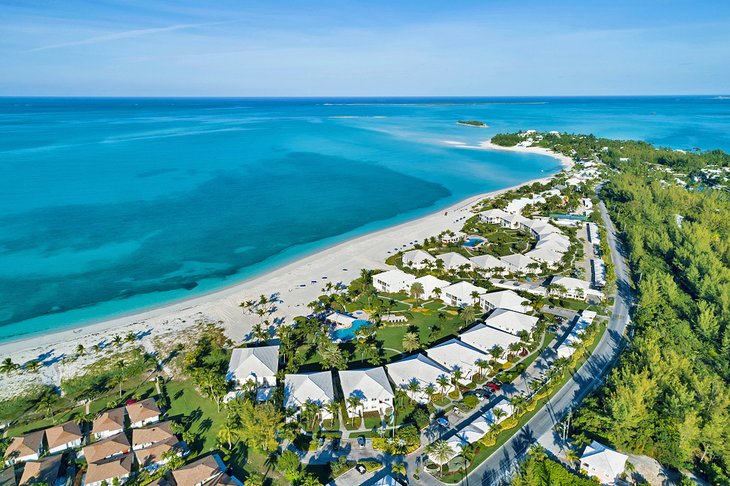 Aerial view of Treasure Cay and its stunning beach
Skirting the eastern shore of Great Abaco, Treasure Cay Beach is often voted one of the most beautiful beaches in the world. This spectacular stretch of flour-soft sand and aqua water wows visitors who come here to bask on its creamy, crescent-shaped shore.
The beach lies in the upscale resort community of Treasure Cay, which hosts one of the most popular fishing tournaments in the Bahamas.
In 2019, Category 5 Hurricane Dorian devastated Great Abaco Island, including Treasure Cay. Check for the status of tourist amenities here before you visit, as they've had trouble recovering from the hit.
8. Lucayan National Park on Grand Bahama Island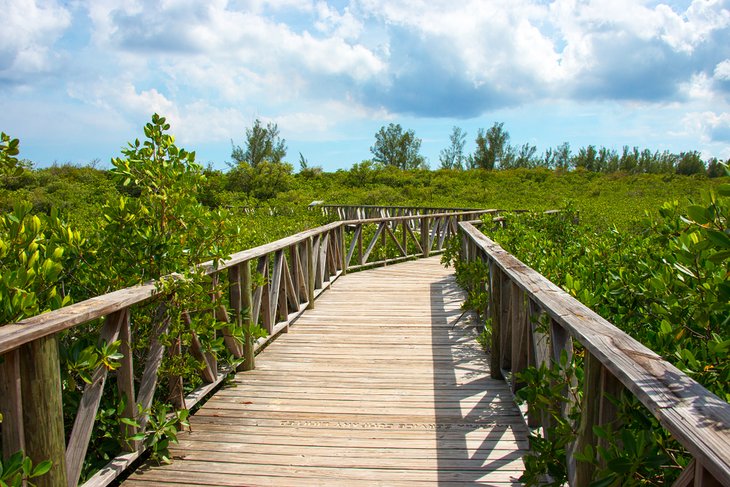 Wooden walkway in Lucayan National Park
There's nothing quite like Lucayan National Park on Grand Bahama Island. One of three national parks on the island, its luscious 40 acres are best known for hosting the "world's longest charted underwater cave systems." Over six miles of tunnels can be found here.
While one is closed to the public, both Ben's Cave and Burial Mound Cave are accessible via wooden platforms and walkways. Swimming isn't permitted here, but diving is sometimes allowed with a permit. As is suggested by its name, remains of the Lucayans, the island's first settlers, were found in Burial Mound Cave. Both caves are home to various cave dwellers, such as bats.
All six of the Bahamian vegetative zones exist within the park's boundaries. From mangroves to palm and pine forests to coral reefs, you're in for an eco-friendly treat. The pristine and secluded Gold Rock Beach is a must if you're a fan of quiet beaches.
9. Cable Beach in Nassau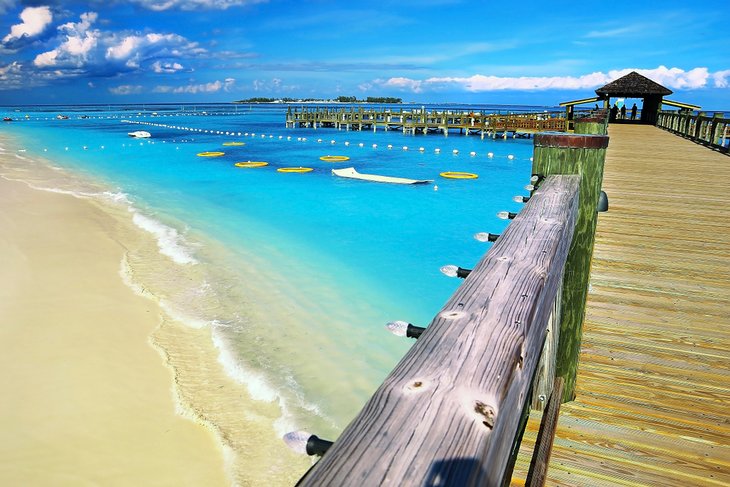 Cable Beach in Nassau
It's easy to see why Cable Beach is one of the most popular beaches in the Bahamas. Located on New Providence Island, nearly six miles west of Nassau's downtown, this vast expanse of silky soft sand calls to weary travelers looking to unwind.
If your idea of a quiet day by the ocean includes parking yourself in a beach chair and not moving, you're in luck. You can rent one on-site, as well as an umbrella, and spend the entire day watching others play in the surf.
If you're a more adventurous type, there are plenty of ways to join in the fun. Over two miles of white sand are at your disposal for pickup games of volleyball or sandcastle building competitions. The calm waves at this locale make it an ideal beach for families, and water sports rentals are easy to find, which means you can be snorkeling, stand up paddle boarding, or kayaking in no time.
While you won't find facilities on-site, there are plenty of nearby hotels and restaurants. In fact, the beach is lined with high-end resorts.
10. Elbow Cay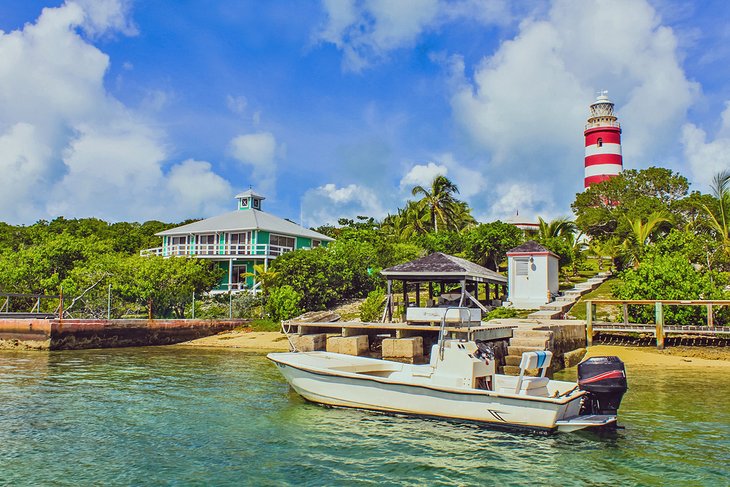 Elbow Cay
Elbow Cay in the Abacos exudes all the charm of a New England-style fishing village. It sits just across the sheltered Sea of Abaco from the boating hub of Marsh Harbour,
Colorful cottages line the main streets of Hope Town, the island's principal settlement, and the center of town is off-limits to vehicles, lending a relaxed, village feel.
Famous for its candy-striped lighthouse, Hope Town is home to a thriving expatriate community who appreciate the island's pretty palm-lined beaches; proximity to Marsh Harbour, the nation's third largest town; and the excellent boating opportunities.
Wyannie Malone Historical Museum is a must, and nearby Guana Cay and the Tilloo Cay Reserve, an 11-acre bird habitat, are popular day trips. Hope Town also boasts a well-developed marina.
Elbow Cay was also hit by Hurricane Dorian in September, 2019. Check for the status of attractions and accommodations before your visit.
A ferry runs regularly to Elbow Cay from Marsh Harbour.
11. Green Turtle Cay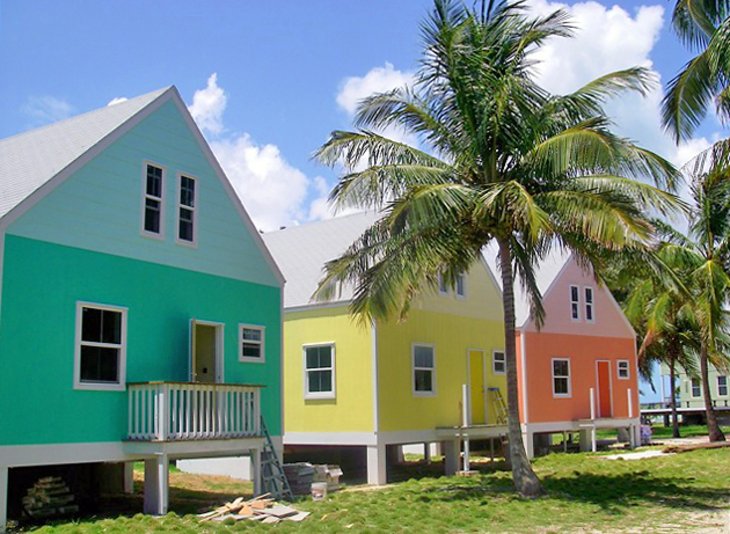 Green Turtle Cay | Photo Copyright: Karen Hastings
Strolling the streets of Green Turtle Cay in the Abacos feels like stepping back in time to the old Bahamas. East of Great Abaco, this peaceful, five-kilometer-long island is a much-loved hideaway for serenity seekers.
Golf carts are the main mode of transport in the tiny settlement of New Plymouth, a sleepy village of picket-fenced pastel cottages, sprinkled with a few small shops and museums.
Fishing boats bob in the harbor, and visitors can watch the locals haul in their catch of crawfish and conch. Bonefishing is also one of the popular things to do here.
The island's beautiful reef-fringed beaches and crystal-clear waters offer excellent swimming, diving, snorkeling, and boating opportunities.
In 2019, category 5 Hurricane Dorian devastated this island. Locals are still working hard, years later, to reopen attractions. But the real charm of this island are the people and the stunning reefs and beaches – and they are ready and waiting for visitors.
One of the island's top resorts, the Green Turtle Club Resort & Marina , has been revamped. It is a relaxing spot to rest your head, and lies a mere 10-minute walk from some of the island's best beaches.
Green Turtle Cay is a 10-minute ferry ride from Treasure Cay on Great Abaco Island.
12. Big-Game Fishing in the Biminis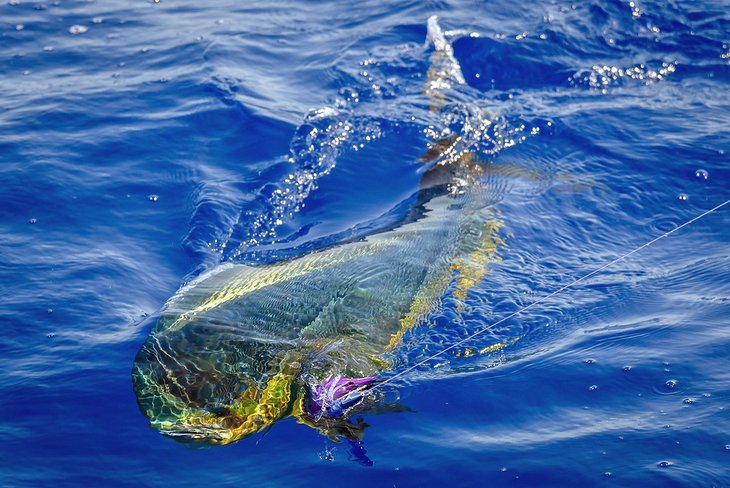 Mahi-mahi caught off Bimini
Bimini is known as the "Big Game Fishing Capital of The Bahamas," and for good reason. The island hosts popular deep-sea fishing tournaments from March to September, and its proximity to the warm waters of the Gulf Stream lure a dazzling diversity of marine life, including everything from marlin to mahi-mahi and manta rays.
Bimini also once lured the likes of Ernest Hemingway with the promise of big catches. He spent several summers in Bimini, fishing and finding inspiration for his novels The Old Man and the Sea and Islands in the Stream.
The fishhook-shaped cluster of islands includes North Bimini, South Bimini, and numerous cays extending south from Pigeon Cay to South Cat Cay. Bimini Island is the closest of the islands to the United States, lying approximately 88 kilometers east of Miami, Florida.
Bimini's fish-rich waters also offer excellent opportunities for diving and snorkeling. Besides the popular shark and dolphin dives, highlights include Rainbow Reef, Sapona Wreck, and Victory Reef.
13. Long Island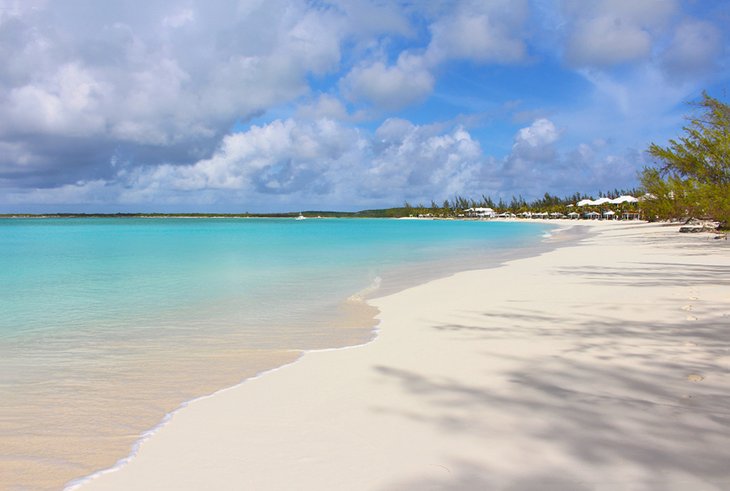 Cape Santa Maria Beach on Long Island
One of the most beautiful islands in the Bahamas, Long Island lies a little off the beaten path, in the southern half of the archipelago. If you love untouched nature, you'll love Long Island, and this is an optimal place for a romantic couples' vacation.
Almost 130 kilometers long and no more than seven kilometers wide, the island is a land of contrasts, with sandy beaches on the west coast and steep, rocky cliffs along the east.
Long Island is a haven for fishing, diving, and boating. Beach lovers can also bask on its many beautiful, unspoiled pink- and white-sand beaches. The island is also home to Dean's Blue Hole, the deepest known saltwater blue hole in the world.
The Long Island Regatta takes place at Salt Pond in the summer.
Access to the island is mainly by air or ferry service from Nassau.
14. Blue Lagoon Island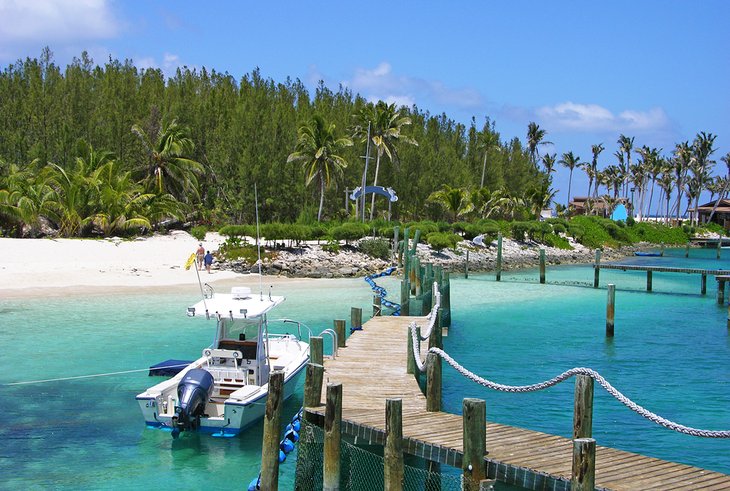 Blue Lagoon Island
Dolphin encounters, sea lions, inflatable fun parks, a beautiful white-sand beach – you'll find all this and more on Blue Lagoon Island. A visit to this attraction-packed private island, also known as Salt Cay, is one of the most popular things to do in the Bahamas on a cruise. It's only about five kilometers by boat from Nassau.
This is a great spot to hang out with the entire family. Kids will love swimming in the turquoise water, playing on the inflatable water park, and kayaking in the lagoon.
Parents can relax under swaying palms on a double hammock, and animal lovers will enjoy the sea lion and dolphin encounters. A delicious grilled lunch and tropical drinks top off all the fun.
The 8 Best Islands to Visit in the Bahamas
Katherine is a contributing writer for TripSavvy, reporting on culture, travel, and events in the Caribbean Islands.
Szilard Toth / Getty
Home to the pink-and-white Government House, which overlooks the city in stately pastel hues, to the majestic Buena Vista Estate (first established in 1798)—not to mention the thoroughly immersive Heritage Museum of the Bahamas—the Bahamian capital of Nassau undoubtedly has its charms. The cultural capital of the Bahamas is distinctly alive—teeming with music playing from the shops on every street corner, brimming with restaurants innovating traditional Caribbean cuisine, dotted with bars dedicated to serving once again the perfect rum punch.
The outer islands, by contrast, tend to be a little quieter. They are also known as the 'family islands' of the Bahamas, which speaks to the warmth and friendliness of the people you are likely to encounter. Read on for our guide to the outer islands, including what makes each one unique, and how to get there.
Harbour Island
Sherry Galey/ Getty
This luxurious island is famous for its world-class pink beaches and laid back, yet elegant ambiance. Visit the iconic original outpost of Sip Sip, and order a Sky Juice while you people-watch. The locally-owned Harbour Island establishment was already well-known amongst the rarefied clientele who frequented the see-and-be-seen beachside patio in Dunmore Town before it propelled into fame as the opening chapter for Ken Kwan's bestselling novel, "China Rich Girlfriend." (The sequel to "Crazy Rich Asians," for those who exist outside the world of popular culture.) Sunbathe at the three-mile Pink Sand Beach, and—if you fall so enamored with your location—just stay awhile, and book a room at Pink Sands Resort. Just off the coast of Eleuthera, Harbour Island is accessible for travelers via ferries from Nassau. Only a two-hour and 45-minute Bahamas Ferries boat ride separates Nassau from Harbour Island.
Eleuthera
This island is worth a visit for its attractions both by land and by sea. Go snorkeling at Current Cut, and Devil's Backbone or Pineapple Dock—the latter to explore shipwrecks, or sunbathe at the gorgeous (and aptly-named) Alabaster Beach. Surfer's Beach is also a great place to visit—this popular spot for surfers is home to surf shacks and bars sure to appeal to all travelers—regardless of whether or not they're capable of hanging ten. A quick 30-minute flight from Nassau, travelers can fly Southern Air, Bahamasair, or Pineappleair, from the Bahamian capital to Rock Sound or Governor's Harbour.
Cat Island
Peter Gridley / Getty
One of the more remote Out Islands of the Bahamas, Cat Island is beloved amongst locals, and you can get a sense of the island's history by merely meandering down its one highway—and appreciating the ancient ruins intermixed with contemporary Bahamian homes. And sun-worshippers, be sure to visit Pigeon Cay Club Beach and enjoy spending time in one of the most beautiful beaches, on one of the most undiscovered islands, in the Bahamas. Book your flight from Nassau to Arthurs Town, Cat Island, via Pineappleair, and prepare to unwind.
Bimini Island
Colors and shapes of underwater world / Getty
This island was once beloved by Ernest Hemingway, and still retains its legacy of sport-fishing and exploring. Go snorkeling along the legendary Bimini Road, or swim with sharks via Bahamas Scuba Center. For the less daring, East Wells Beaches and Spook Hill Beach are gorgeous (and relaxing) alternatives) to a day spent with reef and tiger sharks. This island is the closest off the coast of Florida and is accessible not only by plane from the U.S. but also by boat from Miami—if leaving from Nassau, we recommend booking a Bahamasair flight.
The Exumas
TripSavvy / Lauren Breedlove
This island is famous for its Instagram-influencing swimming pigs, and there's also no shortage of tour offerings to this island of the famous pigs from the Bahamian capital of Nassau. Check out Powerboat Adventures or Four C's Adventures for scheduling your next aquatic porcine experience. For waters that don't feature swimming swine, look no further than the picturesque Jolly Hall Beach. A mere 40-minute flight from Nassau, travelers can arrive in The Exumas in Staniel Cay (via BahamasAir Tour) or George Town (via BahamasAir).
Inagua
Forget swimming with pigs, why not spend an afternoon with flamingos? And parrots, and pelicans, and more, on the island of Inagua. Inagua National Park preserves nearly half of the island's land-mass, and the island's lush environs are home to an array of wildlife—not just the pink-feathered variety. But you don't need to be a birder to enjoy Inagua. Sunbathers should waste away an afternoon (or several) at Morton's Salt Beach, one of the most beautiful coasts in all of the Bahamian islands. The southernmost island in the Bahamas archipelago is most efficiently accessed via a Bahamasair flight from Nassau to Matthew Town, Inagua.
Long Island
TripSavvy / Jess Macdonald
Long Island is remote, and famed for its snorkeling, though sunbathers will be equally satisfied checking out that endless stretch of sand at Lochabar Beach, or swimming in the crystal blue waters of Galloway Beach. Go diving at the Dean's Blue Hole (and beautiful beach), and snorkel at Shark Reef (it is how it sounds) or the 40-foot Conception Reef. From Radio Beach, you can see the wreck of Gallant Lady offshore, also on Sunday, there is a pop-up beach bar, and you can get cracked conch at CJ's Deli.
Grand Bahama Island
The northernmost island in the Bahamas, travelers can fly direct from Nassau to the North Eleuthera Airport. Explore the picturesque city of Freeport, the busiest city on Grand Bahama Island, via a four-wheel tour cruising along the winding roads with Bahamas Jeep Safari. Or, book a tour with Paradise Watersports to explore the coral reefs off the coast of the island, including the legendary Deadman's Reef off Paradise Cove. Other snorkeling opportunities abound at Peterson Cay and Ben's Cave. At the same time, sun-worshippers can take solace at Paradise Beach and Gold Rock Beach—both are considered some of the most beautiful beaches in the Bahamas. But, active travelers, rejoice: Gold Rock Beach is part of Lucayan National Park, which means that there is much exploring still to be done on this coast as well. We suggest exploring Gold Rock Creek via kayak, to experience the beauty of the Bahamian waterways from above the surface, as well as below.
10 Best Places To Visit In Bahamas For An Ultra-Luxurious Holiday In 2022!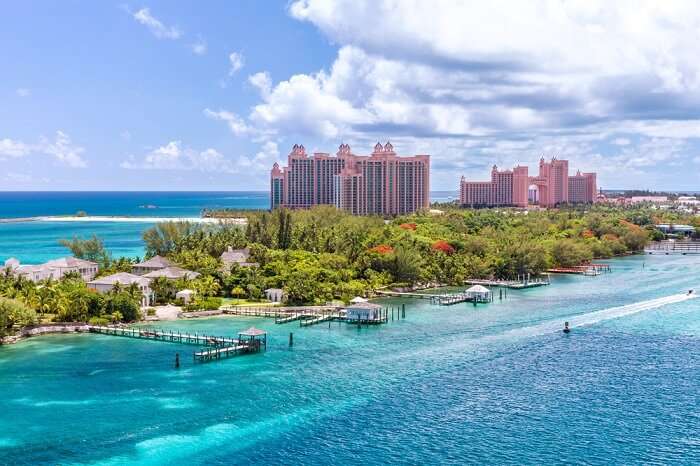 A glorious chain of more than 700 islands in the Atlantic Ocean, the Bahamas is situated southeast of Florida and is made of landscapes that beach lovers dream of! When you can sight miles of powdered sand and 50 shades of blue in the waters, you know you have entered this magnificent place! With countless things to do and places to visit in Bahamas, it has emerged as a favorite tourist hotspot in the last few decades!
If you are looking for a perfect hotspot to chill and unwind, Bahamas is where you ought to be today, tomorrow, and forever.
10 Best Places To Visit In Bahamas
Read this carefully compiled list of the top 10 places to visit in the Bahamas that you can explore during your next vacation there. You'd surely have a blast. Don't believe us? Take a look!
1. Grand Bahama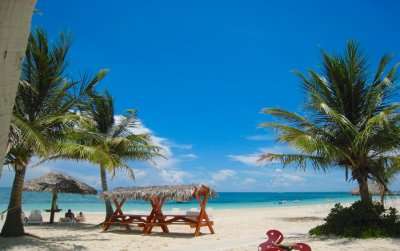 One of the most beautiful places in Bahamas, Grand Bahama is a stunning island and can find its place in the itineraries of all travelers ranging from budget backpackers to luxurious cruise tours. The beaches are stunning and are a cultural melting pot for many locals and foreigners. Apart from just lounging and get a perfect tan on the beach, one can also shop for beach jewelry and crafted straw goods or head to one of the many restaurants to enjoy a nice drink and a meal!
Location: Bahamas
Opening Hours: Anytime
Cost: Free
2. Elbow Cay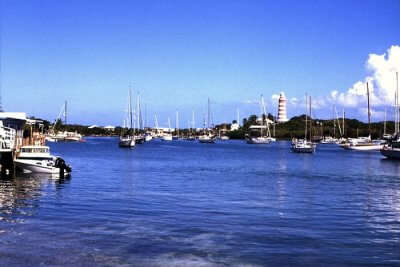 Elbow Cay is essentially a ship full with visitors that operates from Marsh Harbour to Elbow Cay and is one of the most popular Bahamas points of interest. It will teleport you back to the times when English- style fishing towns thrived with the many shaded houses spread across the roads of Hope Town. This place is quintessentially Bahamian with its red-striped beacon and lures in thousands of locals, Americans and tourists from around the world to its perfect palm-lined beaches.
Location: Hill Tpo, Great Abaco Island
Open Time: 8:00 – 16:00 (Monday – Friday); 8:00 – 12:00 (Saturday)
Cost: INR 700
3. Pirate Museum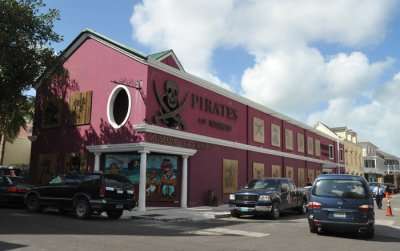 One of the best places to visit in Nassau Bahamas, the Pirate Museum has been a part of thousands of intriguing stories that have been passed down from one generation to the next. Visiting this museum is an interactive experience which is enjoyed by adults and children alike. Nassau has been a favorite amongst pirates owing to its unbeatable harbour which helped them plan attacks on many trading routes. The museum looks historical owing to the red bricks and contains many elements that are relatable to those times!
Location: King and George St., Nassau, Bahamas
Opening Hours: Monday – Saturday: 9:00 AM – 6:00 PM, Sunday: 9:00 AM – 12:00 PM
Cost: Adults – INR 1000, Children- INR 500
4. Paradise Island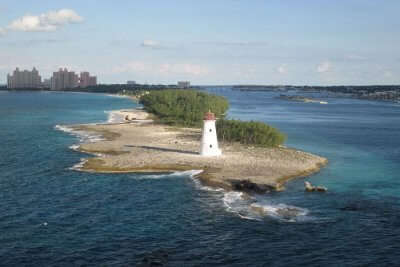 This island lives up to its name and is indeed a paradise for all those who visit the country! It is one of the most recommended Bahamas attractions because of the many hotels and resorts in this area. Apart from splendid properties to stay in, there are many bars, gambling casinos, spas, and inns here that ensure every moment spent here is enjoyable! The most popular attraction here is the Atlantis resort where there are many water parks, aquariums, and waterslides!
Location: NA
Opening Hours: Atlantis – Summer: 10:00 AM – 7:00 PM, Winter: 10:00 AM – 5:00 PM
Cost: Atlantis Day Pass for Adults – 8000 INR and Children – 6000 INR
5. Andros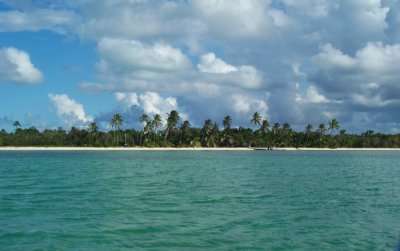 The biggest landmass in the Bahamas is Andros and houses many rich and social points of interest making it one of the top places to visit in the Bahamas. It is known for its barrier reef, which is a great fascination for divers. Apart from diving, there is a lighthouse in Andros which comes with guns and cannons and should definitely be paid a visit during your time there!
Location:
Opening Hours: Anytime
Cost: There are various local packages available that start from INR 3000
6. Exuma Cays Land and Sea Park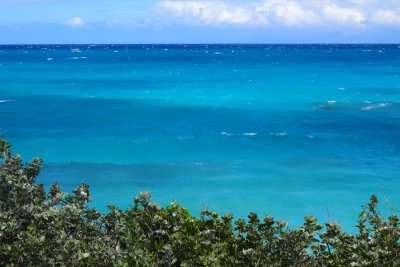 Located in Eastern Bahamas, this is essentially a marine secured area and is the first of its kind in the Caribbean region. One can discover some of the most exotic seascapes as well as enjoy water sports here! Visitors come with friends and family to look at the abundance of marine life here in the crystal clear waters of the island!
Location: Great Exuma, Bahamas
Opening Hours: 9:00 – 12:00 & 13:00 – 15:00 (Monday – Saturday), 9:00 – 12:00 (Sunday)
Cost: Free
Planning your holiday but confused about where to go? These travel stories help you find your best trip ever!
Real travel stories. Real stays. Handy tips to help you make the right choice.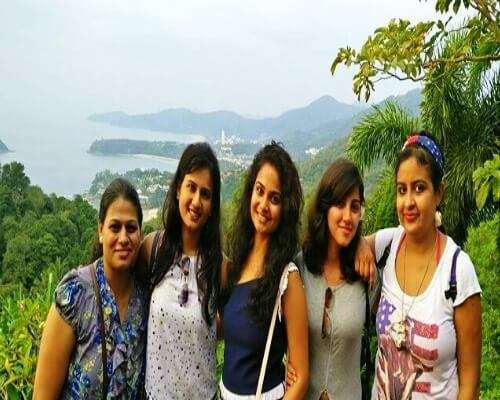 Ramya Narrates The Story Of 6 Girls On An Extraordinary Trip To Thailand
Bangkok. Phi Phi. Krabi. Why should guys have all the fun?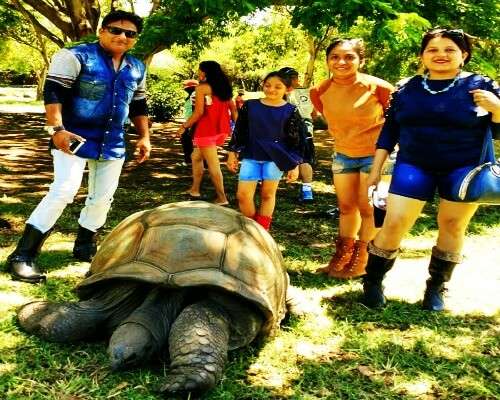 Sandeep Illustrates On The Best Activities For A Family Trip To Mauritius
Water sports. Cocktail parties. And unlimited fun at Casela.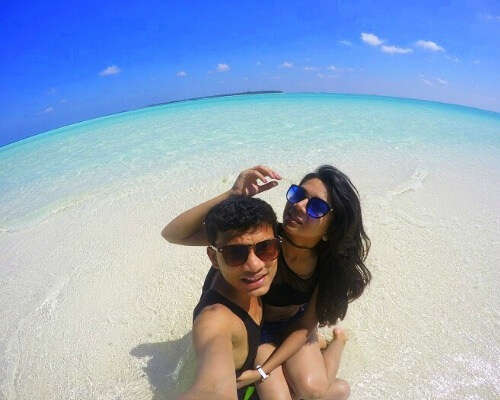 Nisarg Can't Stop Praising His Honeymoon Trip To Maldives
There was snorkeling, sightseeing, luxury, comfort, & much more!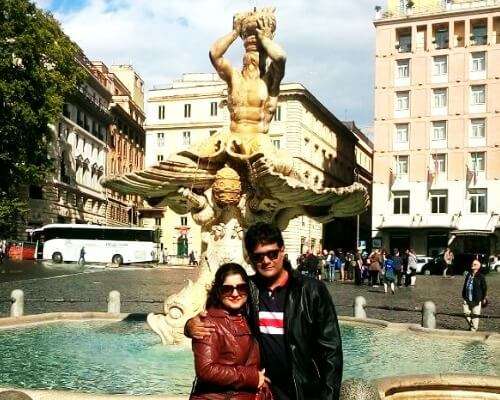 Sabyacsachi's Romantic Trip Proves Europe To Be The Mother Of All Vacations
For Art, Culture, Luxury, & more.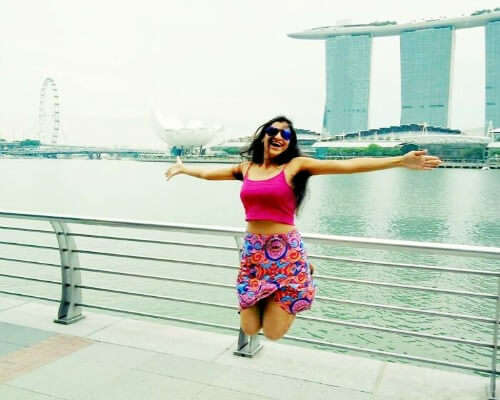 Srishti Talks Of Her Amazing Trip To Singapore With Her Mother & Niece
A fun-filled destination for ages indeed!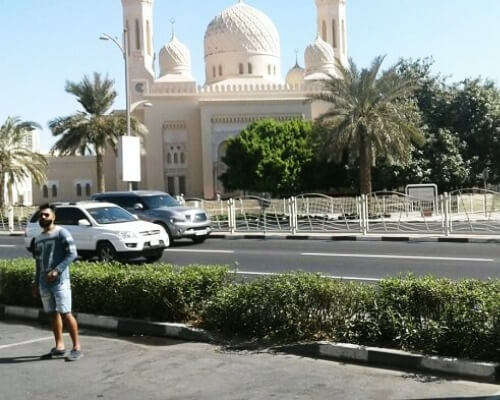 67-Year Old Sridhar Tells How He Beat The Odds & Took A Solo Trip To Dubai
Desert safari. Burj Khalifa. Welcoming locals. Tell me more!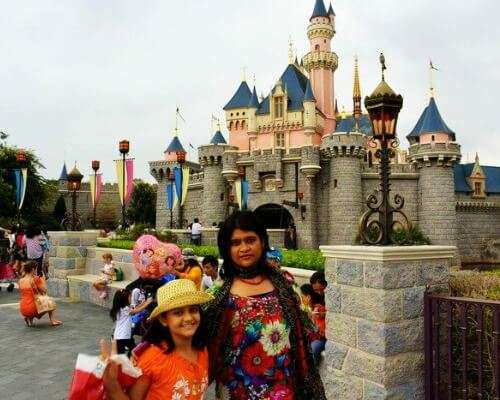 Not Adventure Lovers? Saurabh's Family Trip Proves Hong Kong To Still Be Full Of Fun
Your kids will love Disney Land & Ocean Park!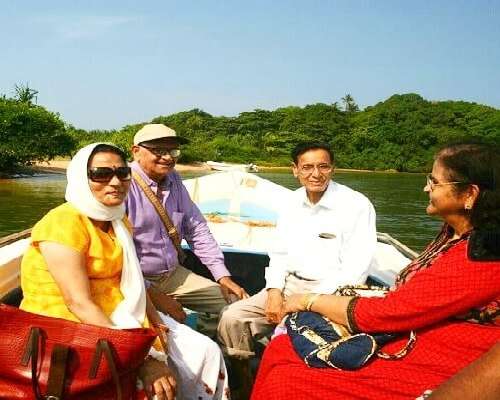 Ravi's Tale Of A Sri Lanka Family Tour Is All You Need To Know About Ramayana Tour
For the love of Ramayana & Travel!
See more at TRAVELTRIANGLE.COM
7. Ardastra Gardens, Zoo and Conservation Park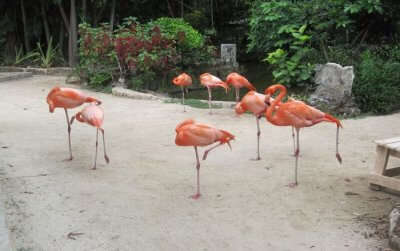 For those who love exploring the flora and fauna of new regions, this place is a must visit. The zoo, conservation park and the gardens come together to offer tourists a real opportunity to discover nature by getting up close and personal with it. This zoo hauses the maximum number of native Bahamian animals including the flamingo group as well as exotic gardens that house vibrant fruit trees and more making it one of the best places in Bahamas.
Location: P.O. Box N-4882, Nassau, Bahamas
Opening Hours: 9:00 AM – 5:00 PM
Cost: INR 1100
8. Long Island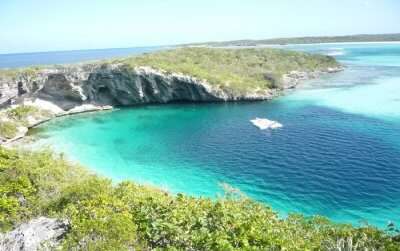 Although it lies a little bit off track in the southern part of this archipelago, it is a spectacularly long and beautiful island (as the name suggests) that should be a part of your itinerary! It is a poster picture for Bahamas tourism owing to the dazzling shorelines and a range of water sports that can be done here!
Location: Bahaman Archipelago
Opening Hours: 9:00 – 17:00 (Monday – Friday), 9:00 – 1:00 (Saturday)
Cost: INR 200
9. Downtown and Bay Street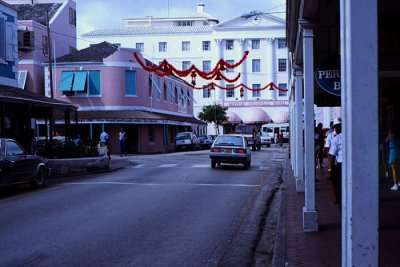 One of the best places to visit in Bahamas is Downtown and Bay Street which is a busy area that houses many shops, restaurants, and street hawkers. This is your to-be place if you are looking to do some cool duty-free shopping! In fact, many passengers get off during their cruise tours at this market to buy jewelry, T-shirts, perfumes, accessories and more!
Location: Nassau, New Providence Island, Bahamas
Opening Hours: All day round
10. National Art Gallery of the Bahamas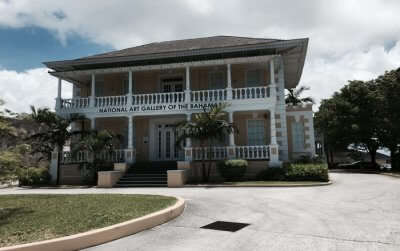 If you are an art enthusiast, this might just be the best place to visit in Bahamas for you! It is located in a beautifully restored Villa Doyle which is a huge Neoclassical mansion. This gallery is the leading institution for arts in Bahamas and was built in the 1860s by William Henry Doyle who was the Chief Justice of the Bahamas.
Location: Villa Doyle, West and West Hill Street, Nassau
Opening Hours: 10 AM – 5 PM
If you feel that this list of the beautiful places to visit in Bahamas has lured you into visiting this region, then be assured that there will be much more when you actually reach there! So, what are you waiting for? Plan your international trip to Bahamas with TravelTriangle right away
Disclaimer: TravelTriangle claims no credit for images featured on our blog site unless otherwise noted. All visual content is copyrighted to its respectful owners. We try to link back to original sources whenever possible. If you own rights to any of the images, and do not wish them to appear on TravelTriangle, please contact us and they will be promptly removed. We believe in providing proper attribution to the original author, artist or photographer.
Please Note: Any information published by TravelTriangle in any form of content is not intended to be a substitute for any kind of medical advice, and one must not take any action before consulting a professional medical expert of their own choice.
Frequently Asked Questions About Places To Visit In Bahamas
What is the most beautiful place in the Bahamas?
Atlantis Resort, Grand Bahama, Bimini are some of the most beautiful places in Bahamas one must visit.
What is the best time of year to go to the Bahamas?
From Mid-December to Mid-April is the best time of the year to go to Bahamas.
Which is the most dangerous Caribbean island?
West End, Grand Bahamas Island is the most dangerous Caribbean island.
Looking To Book A Holiday Package?
Book memorable holidays on TravelTriangle with 650+ verified travel agents for 65+ domestic and international destinations.
Source https://www.planetware.com/tourist-attractions/bahamas-bah.htm
Source https://www.tripsavvy.com/best-islands-in-the-bahamas-4772806
Source https://traveltriangle.com/blog/places-to-visit-in-bahamas/