Where to Stay in Olympic National Park: A Complete Guide
Olympic National Park is a stunning natural wonderland with nearly a million acres that is a place you can keep coming back to and always discover something new. Between the serene beaches and the lush rainforest, you'll find solitude and incredible scenery around every bend in the road, making it a perfect long weekend getaway from Seattle and the surrounding area. The massive park is a hop, skip, and a jump from Seattle, so it's easy to get to. One trip won't be nearly enough to see all four major regions of the park, so I bet you'll want to plan your second trip once you get out there for the first time.
In this guide, you're going to discover the best places to stay in Olympic National Park so your adventure can go off without a hitch and you can find the perfect place to stay for your style and budget.
One important note: Olympic National Park is ENORMOUS. It's going to make your life a lot easier if, rather than staying in one place to explore the entire thing, you move around a bit. For most people, that means staying in Port Angeles / Lake Crescent for a couple of nights to get to Hurricane Ridge and Lake Crescent, and then staying in Forks for a night or two to explore the Pacific Beaches and Hoh Rainforest.
Make sure to read my Olympic National Park itinerary to help plan an unforgettable trip that will have you exploring the rugged mountains, serene lakes, and sandy beaches of this incredible gem in the Pacific Northwest.
If you're into hiking, you won't want to miss my guide to the best hikes in Olympic National Park.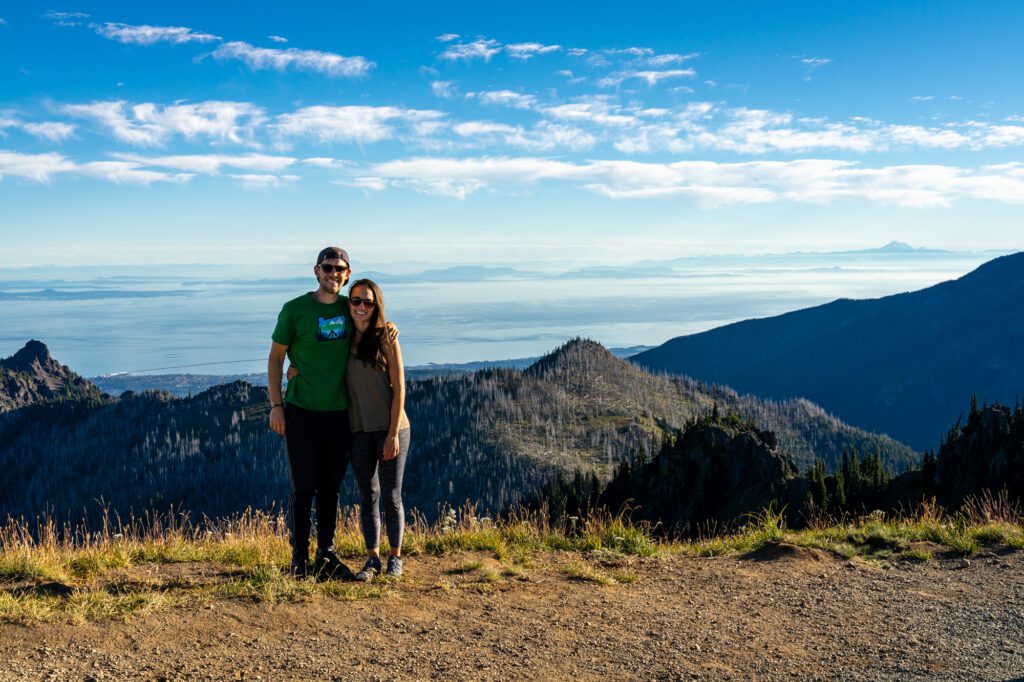 Disclaimer: Some of the links in this post, like hotel links, are affiliate links, meaning at no additional cost to you, we make a little bit of money if you click through and book. That being said, we would never recommend something to you that we don't stand behind 100%.
Where to Stay in Olympic National Park: A Complete Guide to the Best Places to Stay
While there aren't any hotels in Olympic National Park itself, there are plenty of historic lodges, great vacation rental options, campgrounds, and other types of lodging on the outskirts.
There are a few towns and villages surrounding the park that all offer something different.
Since this park is gigantic, there are different regions that each provide a unique kind of experience. I'll give you the rundown of each one so that you can decide on what sort of magical wonderland you want to explore.
An Overview of the Park's Regions
If you want to know where to stay in Olympic National Park, you should first know about the regions of the park. There are five major regions of Olympic National Park. These are:
Hurricane Ridge – This region features towering mountains on the North side of the Olympic Peninsula. It's easy to get to from all points east, like Seattle, and it also sits just 17 miles south of Port Angeles.
La Push Beaches – Rialto, First, Second, and Third Beach will all provide you with million-dollar sunsets and views onto the sea stacks with cliffs rising up from the sea. Make sure to look up too! you might spot the elusive Bald Eagle waiting patiently for its next meal (we saw two).
Ruby Beach – This beach lays where the Hoh River meets the Pacific Ocean. If you want to see starfish, different kinds of crabs, and mystical-looking sea stacks, this is a great beach to visit.
Kalaloch Beach – This popular beach is incredibly wide and a sandy reprieve from the usual rocky Washington beaches. You will have the highest chance of successful bird watching here.
For most people, who only have a long weekend, you're likely going to be focused on Hurricane Ridge, La Push, and the Hoh Rainforest.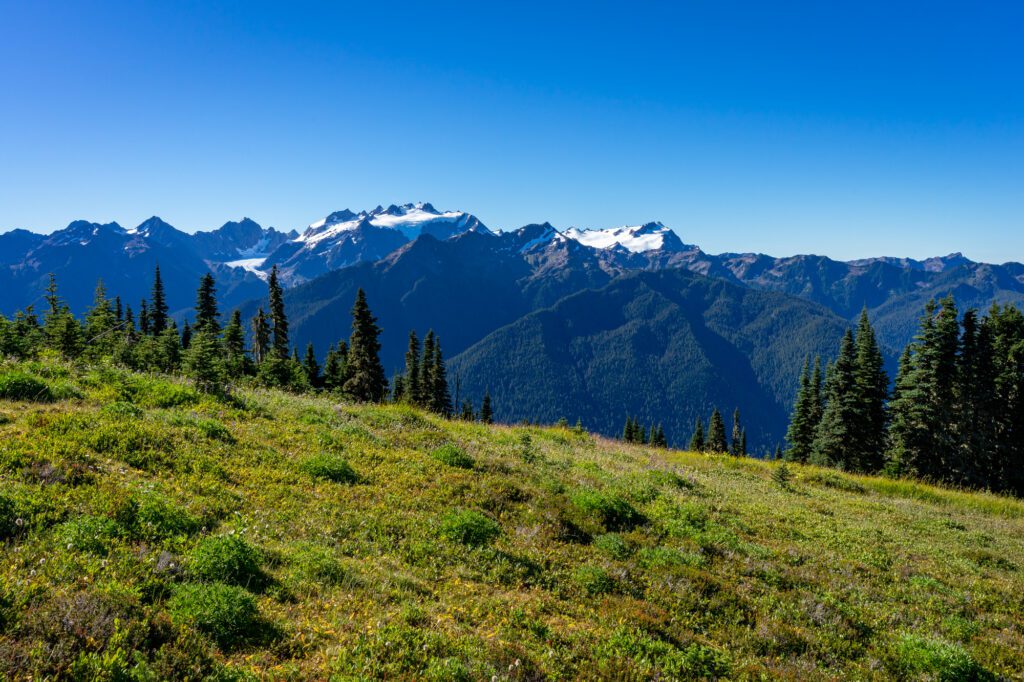 The Best Places to Stay to Explore Each Region
There are plenty of places you can stay within each region. I think it's important to emphasize just how huge this park is before going any further.
If you were to decide to stay in one place, you'd end up doing a lot of driving.
Depending on how much time you have, I'd recommend staying in different places during your trip. This will drastically reduce how much driving you're doing. For example, if you stayed in Port Angeles for your entire trip, it would be a four-hour round trip to get to the Hoh Rainforest!
Port Angeles: This is an area you will want to stay at if you want quick and easy access to Hurricane Ridge and Lake Crescent. There are some great cabins near Lake Sutherland, which is a nice middle ground between the two locations.
Unless you have more than three days or so, I'd stick to staying in Port Angeles and Forks to explore the three areas I mentioned above, otherwise you're going to spend more time driving than exploring.
Camping in the Park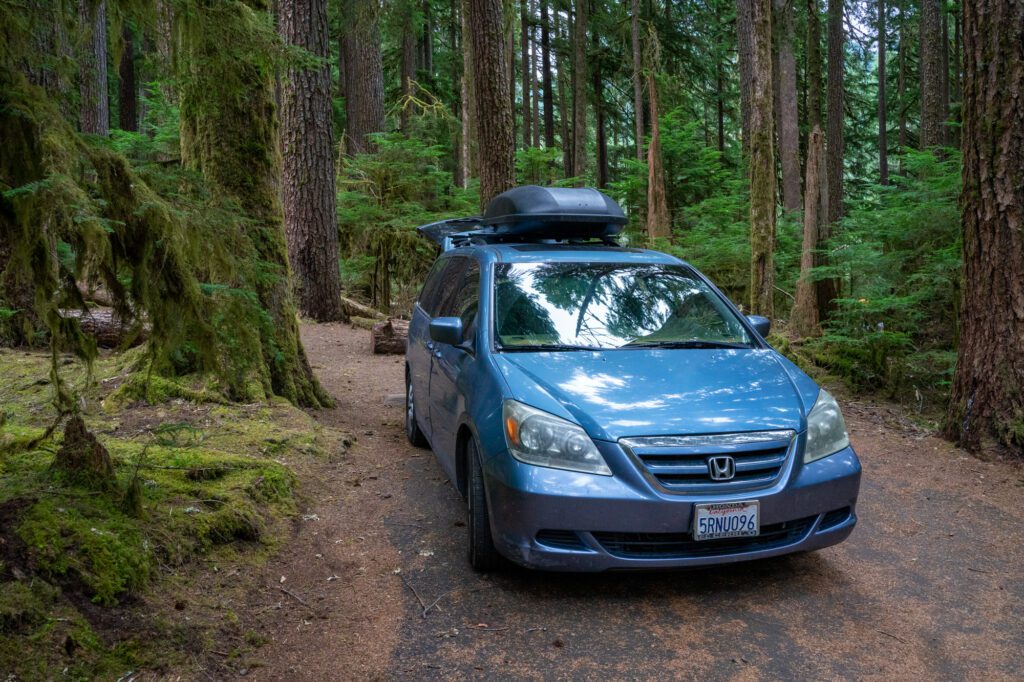 Since this is a National Park, there are tons of camping options. If you're like most people who visit the park for an overnight stay or multi-day, you might be looking to do some camping.
There are three reservable options for you inside the park. This means that there's no chance that you'll be fighting off others for a camping spot. This park can get crowded at certain times of the year, which is why I highly recommend booking a camping reservation way in advance.
The three main campgrounds that you can reserve in advance are Kalaloch, Sol Doc, and Mora. We've stayed at Sol Duc and Mora on our most recent trips, and both are about as nice as any national park campground we've ever stayed at.
The rest of the available campground options operate on a first-come, first-serve basis and will get very busy during the summer. You can see a full list of all the campgrounds available here.
The Best Places to Stay in Olympic National Park
I'm going to go through each region of the park and give you the best places to stay in Olympic National Park. This is meant to give you a menu of great options to choose from based on your style and budget. Obviously you're not going to stay at a luxury lodge (not that there's many of those here) if you're on a shoestring budget, so you'll find a range of options.
Best Places to Stay Near Hurricane Ridge and Lake Crescent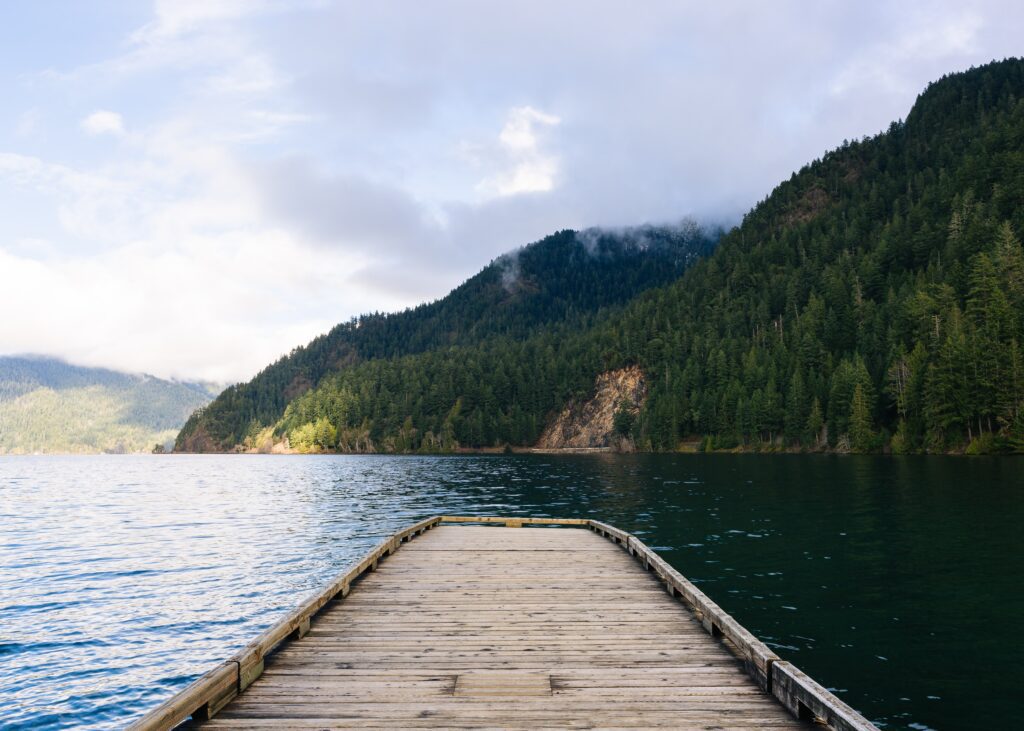 The following are the best places to stay at that are situated near Hurricane Ridge and Lake Crescent.
Port Angeles is a great place to stay if you prefer being closer to a city with all the amenities (gas, restaurants, food, etc).
Overall, my top recommendations in this area would be camping at Heart 'o Hills Campground, or finding a vacation rental in Port Angeles or near Lake Sutherland.
For what it's worth, this rustic treehouse and this coastal retreat caught my eye.
The lodges, while gorgeous, are outdated and relatively expensive for what you get.
Hotels and Lodges
There are three hotel and lodge options in this area.
Lake Crescent Lodge
Lake Crescent Lodge sits on the shores of, you guessed it, the magnificent Lake Crescent. It's around 17 miles from Port Angeles and 30 miles from Forks, and features 52 accommodations, as well as a restaurant. This lodge is close to hiking attractions like Mount Storm King, Marymere Falls, and others.
Unfortunately, like most National Park Lodges, the value for the money isn't great. But the location is, so there's that.
Sol Duc Hot Springs Resort
A charming resort that features soothing hot springs is awaiting you at Sol Doc Hot Spring Resort. Rustic, yet comfortable, the rooms that are available will be great options as places for you to stay while you hike around the park. It's surrounded by beautiful evergreens, while nestled in a gorgeous valley. After a long hike, you will love having the ability to soak in the hot springs on the property.
I have the same issue with this place as with the one above – the value for the money leaves something to be desired. Though the location is awesome.
Olympic Lodge
Olympic Lodge in Port Angeles is a very comfortable, rustic, and charming hotel on the Olympic Peninsula. It's right off Highway 101 and close to attractions like Hurricane Ridge and Lake Crescent. There's even a pool and bistro when you want to relax after your hike.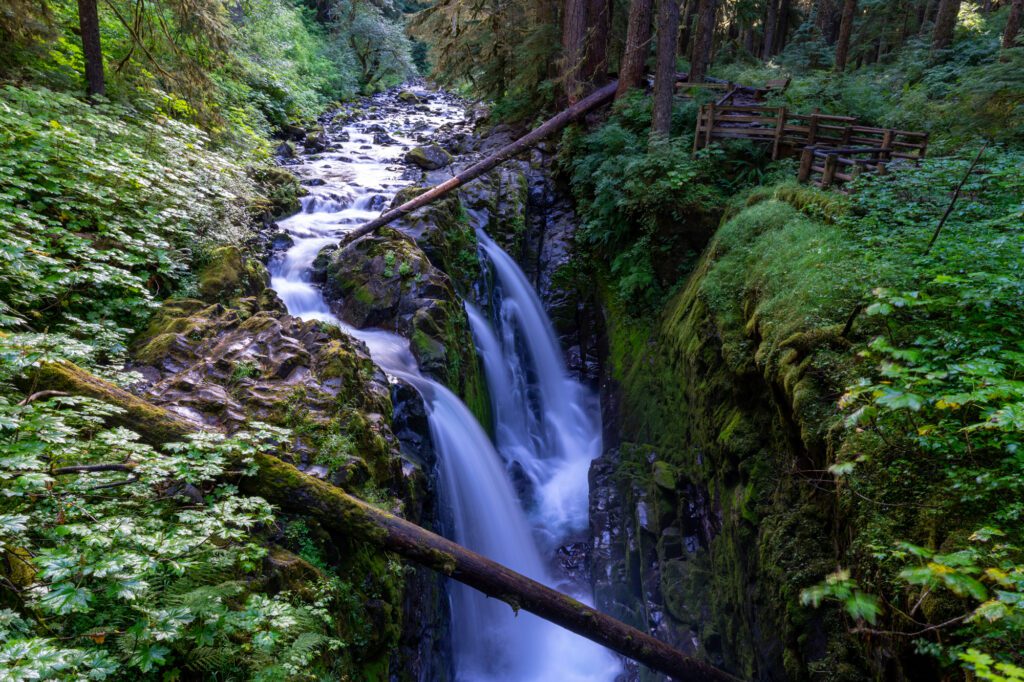 Vacation Rentals Near Port Angeles
If you're more of a vacation rental kind of person, like us, you'll love the following stays in and around Port Angeles, which is a great area to stay to explore Hurricane Ridge and Lake Crescent.
In particular, the area along the Strait of Juan de Fuca and the area around Lake Sutherland are probably your best bets.
Although we usually camp on our trips to National Parks because it's part of the experience we're looking for, we're big fans of vacation rentals, and usually opt for them over hotels and lodges when we have a choice and we're not in a city, where we prefer hotels.
A Rustic Cabin Getaway On the Strait of Juan de Fuca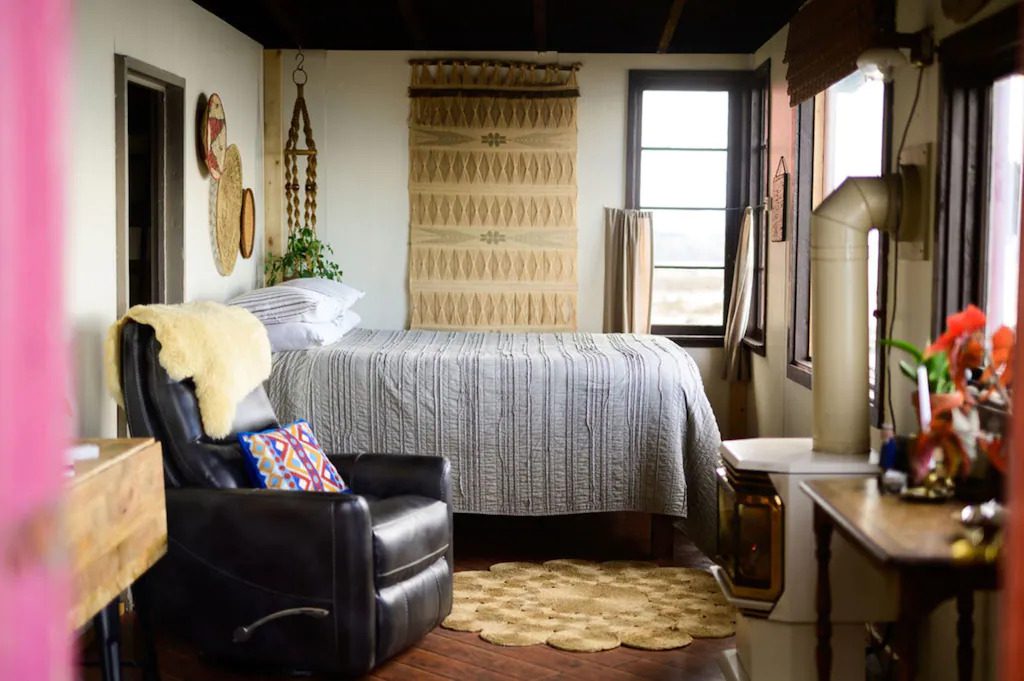 Imagine staying in a rustic cabin that's sitting right on the beach in Port Angeles. With ocean views from the comfort and warmth of your cozy bed. This cabin doesn't have electricity, but it does run all appliances on propane. Also, if you enjoy a nice and cozy wood-burning stove for those chilly evenings, then you're in luck because this cabin has one. Plus, it's LITERALLY right on the water.
That place booked? The host has two other listings nearby, which are essentially the same:
A Unique Treehouse in Port Angeles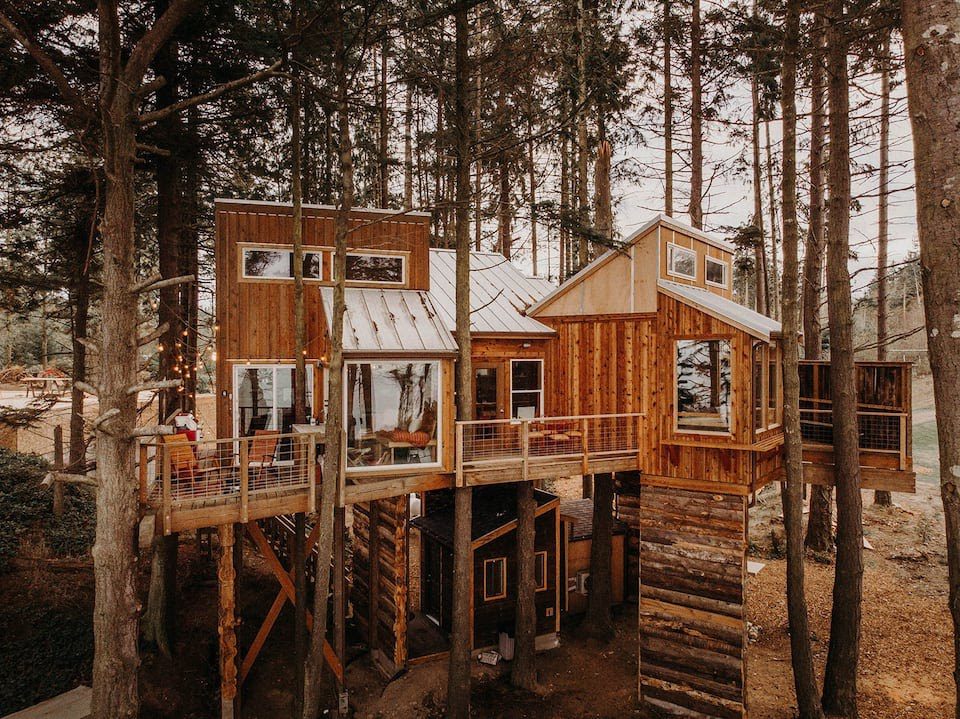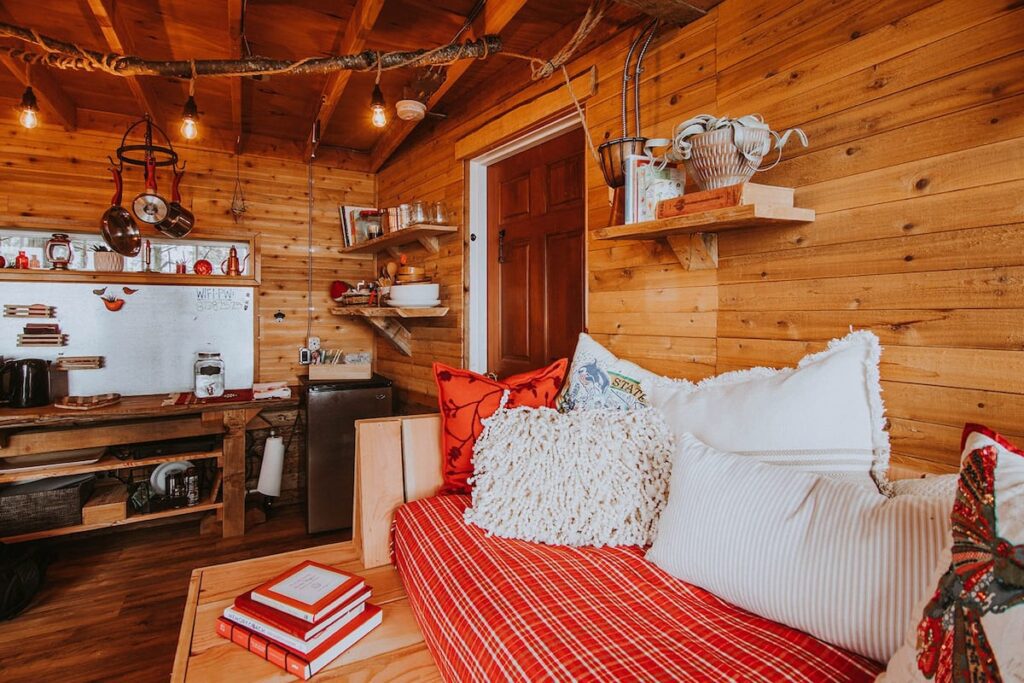 A tree house? Sign me up! This gorgeous treehouse property has views of the Strait of Juan de Fuca from the living room, along with a kitchen and a shared firepit that overlooks the ocean.
This is a super unique stay on the Olympic Peninsula, and makes a great rustic weekend getaway from Seattle.
It's worth noting that it's about 45 minutes away from Lake Crescent and Hurricane Ridge, which is plenty close for a day trip to either location. Still, this property is worth the drive, we think.
lakefront houses on Lake Sutherland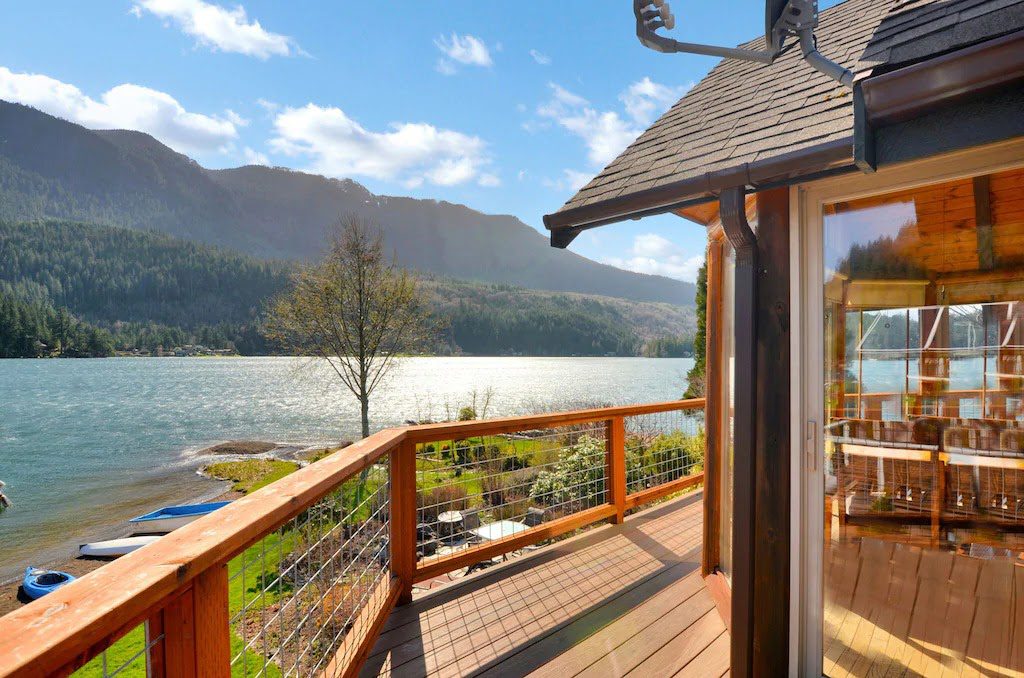 Lake Sutherland, which is just east of Lake Crescent (roughly five miles away), is a great home base for families and groups who want plenty of space and a waterfront property. Since there's not really too many options on Lake Crescent, this is your best bet for a lakefront stay.
There are a bunch of options along the north shore, which is right off of 101 and puts you in a good spot for exploring the areas around Hurricane Ridge and Lake Crescent. Here are a couple of places that caught our eyes:
Sunny Lake Sutherland Charmer (sleeps 4-8): Right on the lake with its own dock! Two bedrooms with a variety of other sleeping options, like a murphy bed.
Lakefront Home with All the Amenities (sleeps 6-8): Amazing wraparound deck with plenty of room for groups and families looking to explore Olympic National Park.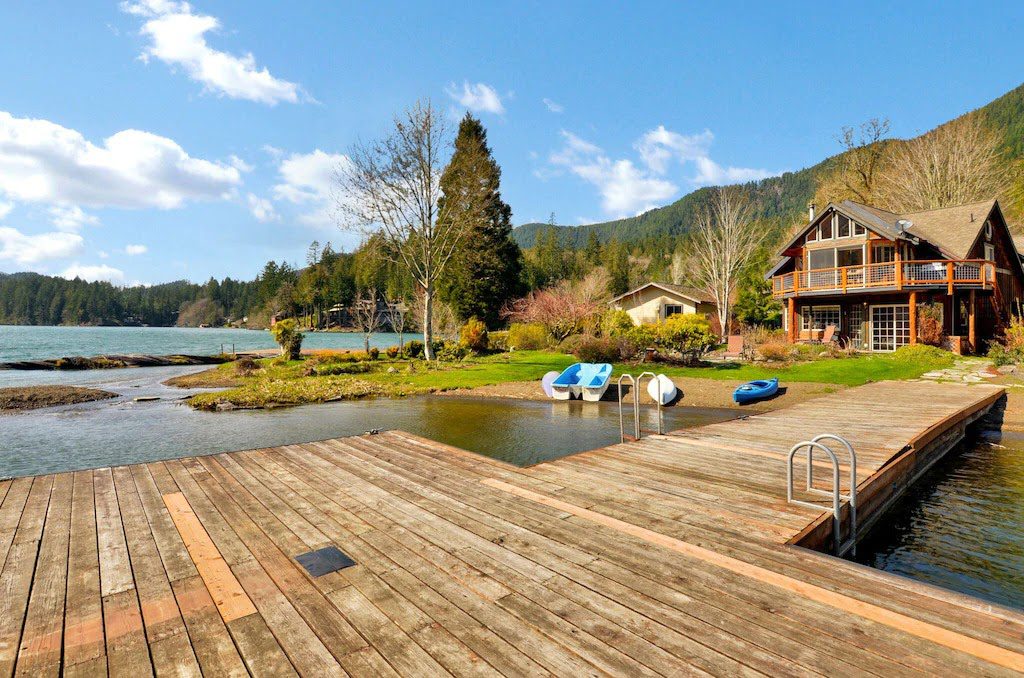 Camping Options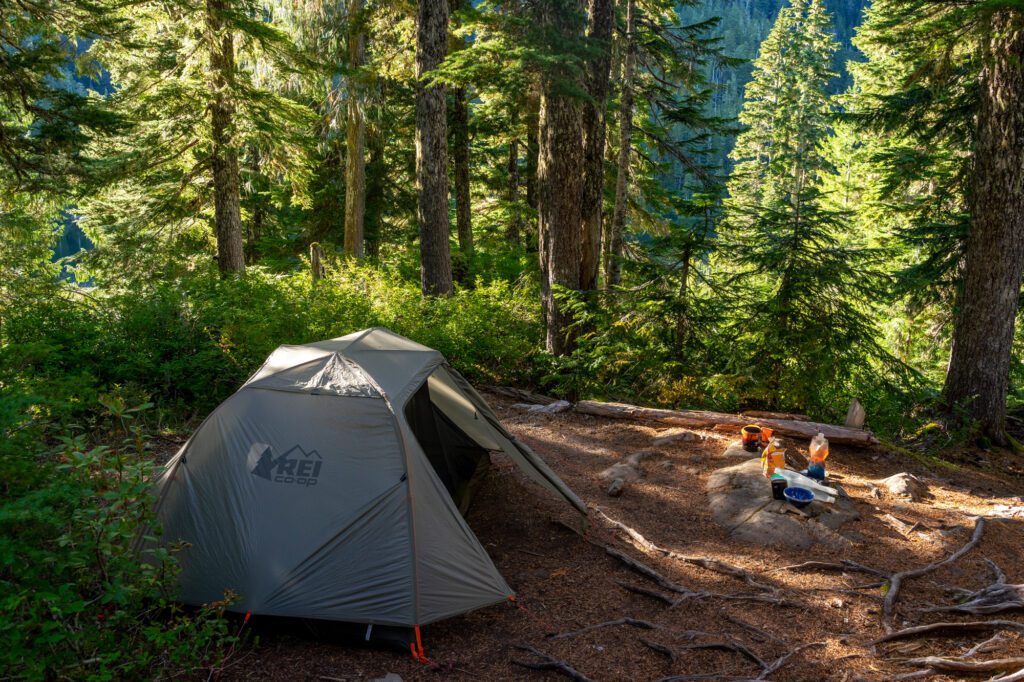 If you're looking to go as rustic as it gets, then here are three great camping options.
Heart o' Hills Campground
This is a first-come, first-serve campground. Heart o' Hills is situated nearby the Hurricane Ridge trailhead and is surrounded by old-growth forest. Given its location, it's a very popular campground, so make sure you come early enough to snag a spot.
Fairholme Campground
Fairholme is another first-come, first-serve campground that provides you with direct access to Fairholme Beach. There are 88 sites and a lot of RV traffic. The campsites are surrounded by stunning Douglas firs and western red cedars.
Sol Duc Campground
You can reserve a spot at Sol Duc Campground in advance, which is what we did before hiking the High Divide Trail for the next few days. It's located right by the Sol Duc River, which is at the edge of the backcountry of Olympic National Park. There are hot spring pools you can enjoy after your treks in the park.
Forks & La Push: Best Place to Stay to Explore Pacific Beaches and Hoh Rainforest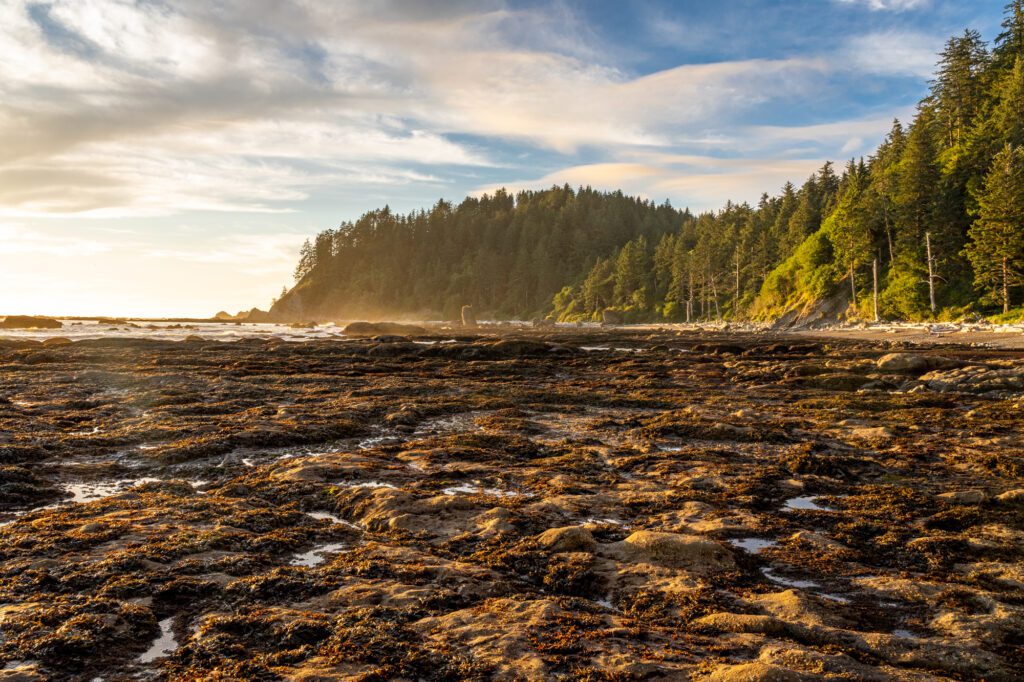 If you're looking to explore the Coast and Hoh Rainforest, there are some great options in Forks and La Push.
Hotels & Lodges near Forks
If you want to be able to return to a warm, comfortable room after a day out exploring, here are some great hotel and lodge options that caught my eye.
Quillayute River Resort
Located in the town of Forks, Quillayute River Resort has several suites available, each with a full kitchen. This gem has gracious hosts and features gorgeous river views. The Quillayute River meets the Pacific Ocean, so you'll have access to the stunning coastal beaches in the area.
Manitou Lodge
Located between Forks and La Push, Manitou Lodge has that classic lodge look, with a high-vaulted ceiling and enormous stone fireplace. If you want a place that has Native American and Pacific Northwest artistic charm, then this is the place for you.
Quileute Oceanside Resort
For an even closer stay to the coastal beaches, Quileute Oceanside Resort is the tranquil resort to choose. The Quileute Nation has provided its land to act as a base camp for your trekking throughout the Coast and Olympic National Park wilderness. There are dozens of oceanfront cabins on this gorgeous property.
Vacation Rental Options in Forks / La Push
There are some nice vacation rentals near Forks that would make a lovely home base for exploring the Pacific beaches and Hoh Rainforest. Here are our top picks in the area.
Rustic Tiny Home Cabin in Forks (sleeps 2)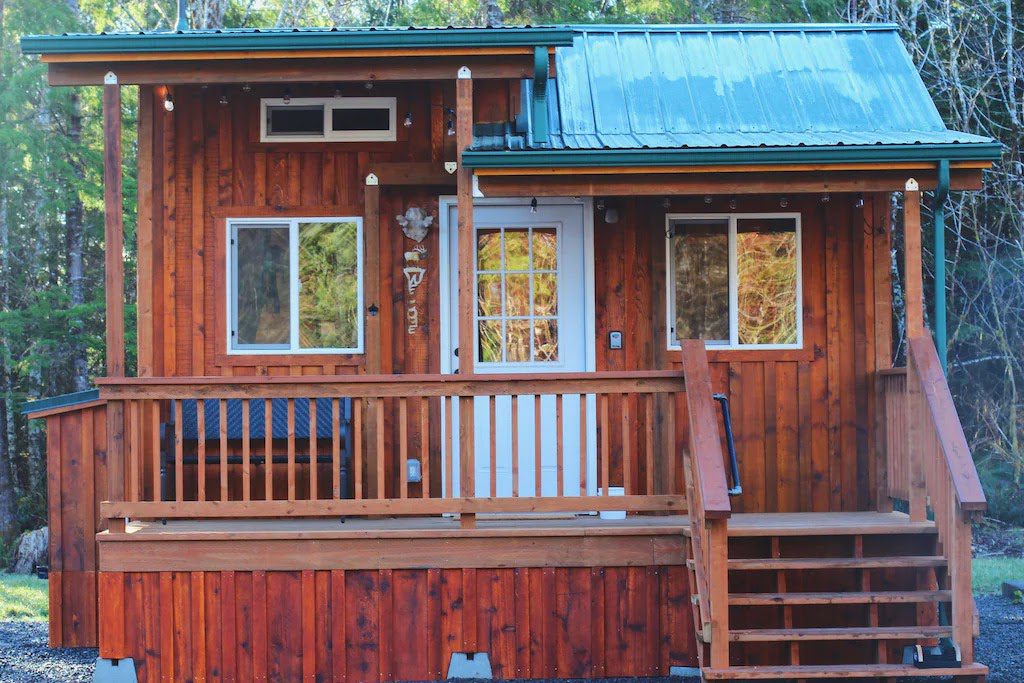 This cozy tiny house is a rustic cabin that's just a few minutes away from Forks and the Sol Duc River. You'll be able to enjoy serenity on a covered porch and later on have a fire going in the fire pit.
It's cozy, so don't expect a ton of room here, but it has everything you might need for a couple of days exploring the coast and the rainforest nearby.
There are actually two nearly identical cabins here – Cabin 1 // Cabin 2.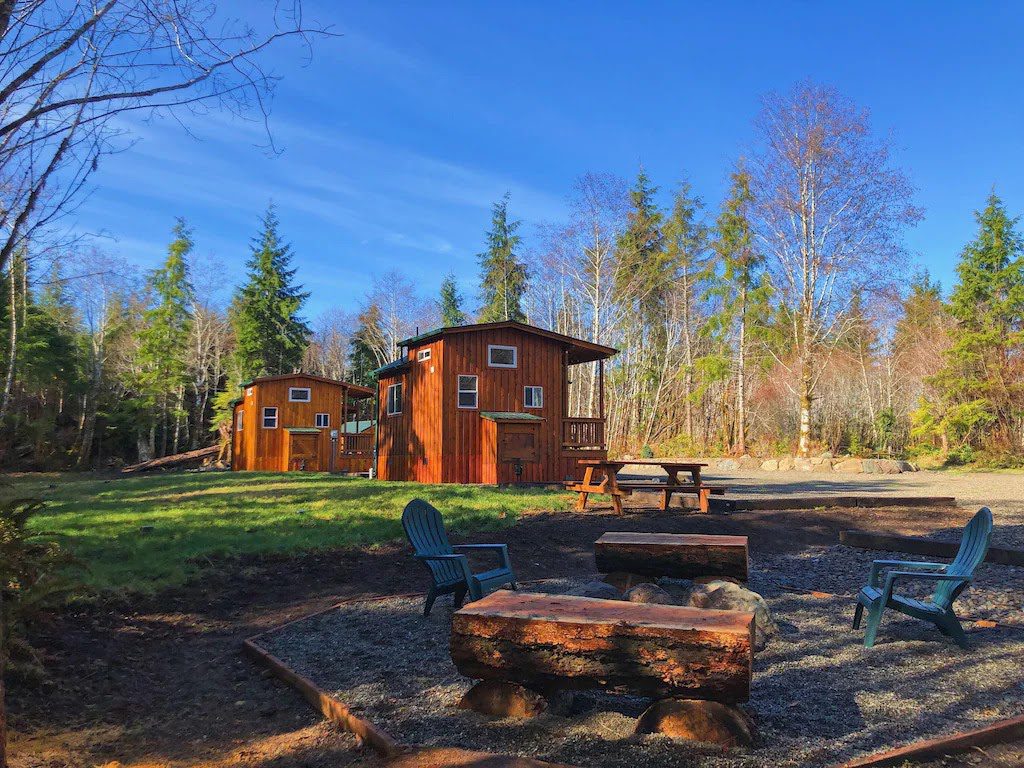 Wild West Coast Getaway (sleeps up to 6)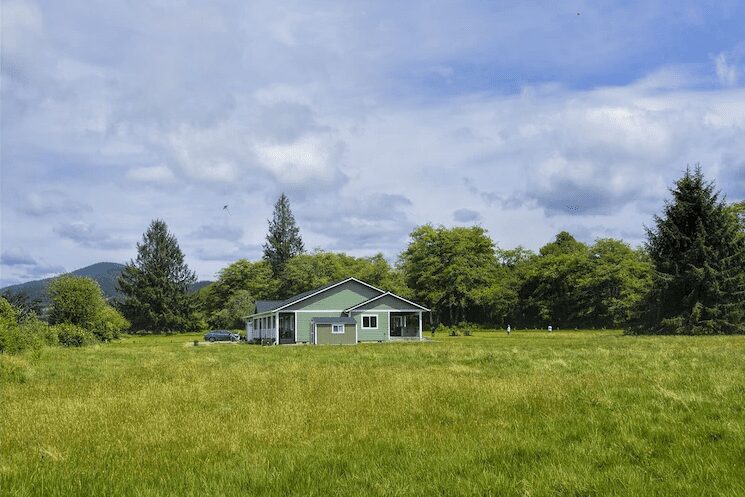 This charming house has three bedrooms with plenty of space for groups and families to spread out a little bit. Plus, it has a nice kitchen that has everything you need to cook your own meals here, minus the groceries, which you'll need to bring from home or pick up in the town of Forks. Lucky for you, this home is fairly central to Forks, so it'll be a short journey into town.
Spend the evening around the firepit in the backyard, or soaking in the hot tub after a long day of hiking and exploring.
Camping Near the Beaches
There are two great campgrounds to choose from on the Western side of Olympic National Park that I recommend. Either one of these will be a good base camp for your outdoor adventures – we stayed at Mora, which you can reserve in advance.
Mora Campground
Situated in a coastal forest filled with mossy trees, Mora Campground is also nearby Rialto Beach, which gives you quick access to the breathtaking Coast. There are nearly 100 campsites here, which are just a short walk from the banks of the Quillayute River.
Bogachiel State Park
Another great – and less popular – option in Forks is Bogachiel State Park. This campground is 127 acres, meaning plenty of room for you to pitch your tent. It's a great base for exploring the entire western region of Olympic National Park.
Southern Coast & Lake Quinault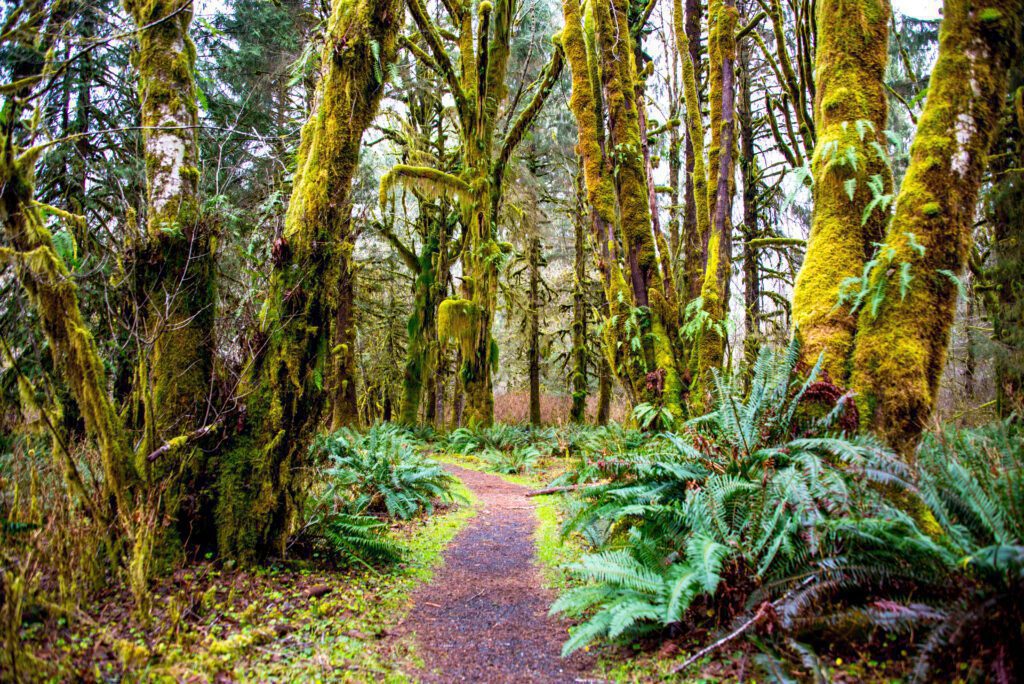 The last region I'll go over is the Southern Coast and Lake Quinault area. This is going to be a place that's more sparse when it comes to places to stay, with only a few lodges and campgrounds in the area.
Unfortunately, there are very limited vacation rental stays available here at this time – although we did come across this large property along the shore that would be a perfect getaway for groups!
While that could change, for now, you'll have to look for something else, like lodges and campgrounds.
Hotels & Lodges
The lodges and hotels in this region are minimal. Still, there are two great historic lodge options to consider if you don't want to camp.
Kalaloch Lodge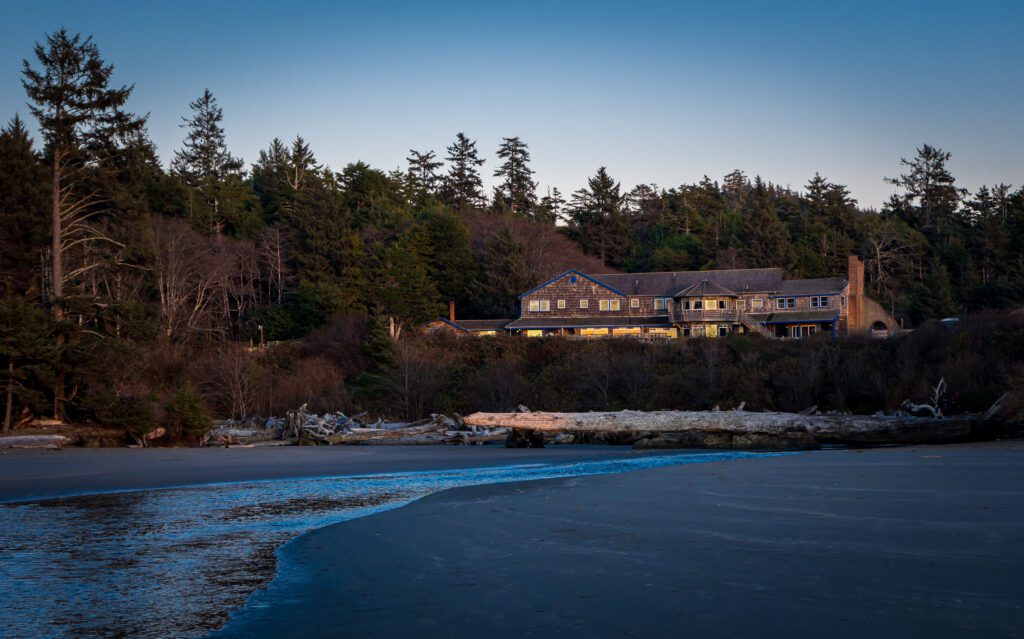 Located on the Southern Coast, Kalaloch Lodge is situated right on the cliffs of the Southern Coast. You will have extraordinary views from your stay, There are evergreen forests all around the lodge, helping provide the laid back charm that you will come to enjoy.
Lake Quinault Lodge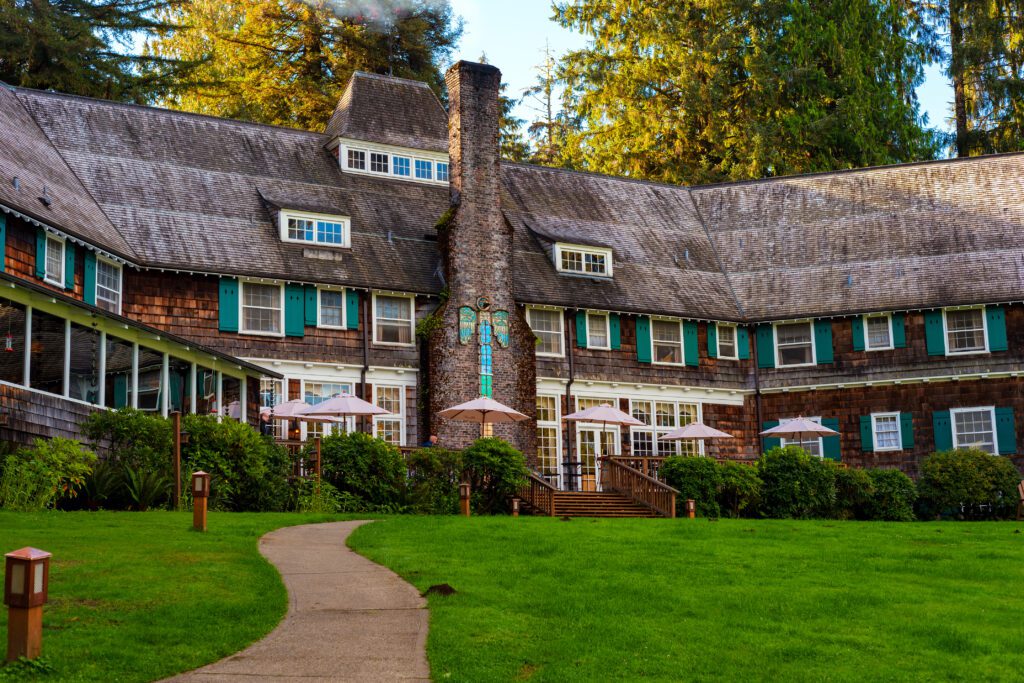 If you want to stay at a PNW-style lodge that is disconnected from the modern world, then Lake Quinault Lodge is a fantastic place to stay. This rustic lodge is nearly 100 years old and will feel like a home away from home. You'll even have a lakeside views of tranquil Lake Quinault.
Camping Near Lake Quinault
This area of the park has several camping options, including several that you can reserve in advance.
Kalaloch Campground
A reservable campground on the Southern Coast is Kalaloch Campground. There are 168 campsites located on a high bluff near the Pacific Ocean. You can easily and quickly get to the beach from this campground.
Falls Creek Campground
Another place to pitch your tent is Falls Creek Campground, which you can also reserve in advance. This one is located right on the shores of Lake Quinault. There are just 31 campsites, so make sure you reserve your campsite as soon as you know when you want to visit Olympic National Park.
Wallaby Campground
A third reservable campground, Wallaby Campground, is also alongside Lake Quinault. There are even fewer campsites here than at Falls Creek, so if you want to stay somewhere surrounded by evergreen trees in a temperate rainforest, you will need to reserve a campsite well in advance.
Olympic National Park is a massive 1,406 square mile area that features all sorts of diverse terrain, from snow-covered mountains, to temperate rainforests, and even sandy beaches. There's an extraordinary amount of biodiversity to explore here, which is why I recommend you take three to five days for your trip.
The best places to stay in Olympic National Park are all here, so decide on what region of the park you want to explore and pick the style of accommodation you prefer.
Planning a Trip to Olympic National Park? Make sure to check out our other travel guides for this PNW gem!
I hope you have an incredible time exploring a park that has some of the most fantastic hiking in the United States!
More to Explore in Washington State
Heading to the great state of Washington? Here are some other posts you might like.
The Best Things to Do in Seattle: A Local's Complete Guide (coming SOON!)
Matt is the founder and main writer behind Wheatless Wanderlust, which he started back in 2018 as a way to share his gluten free travel guides with his fellow Celiac travelers.
Since then, Matt and his wife Alysha have visited 18 national parks, spent three months in Europe and six weeks in Colombia, and have explored every corner of the Pacific Northwest, which is where Matt grew up.
He writes super detailed guides to the places they visit, bringing together personal experience and historical context to help YOU plan an amazing trip.
Similar Posts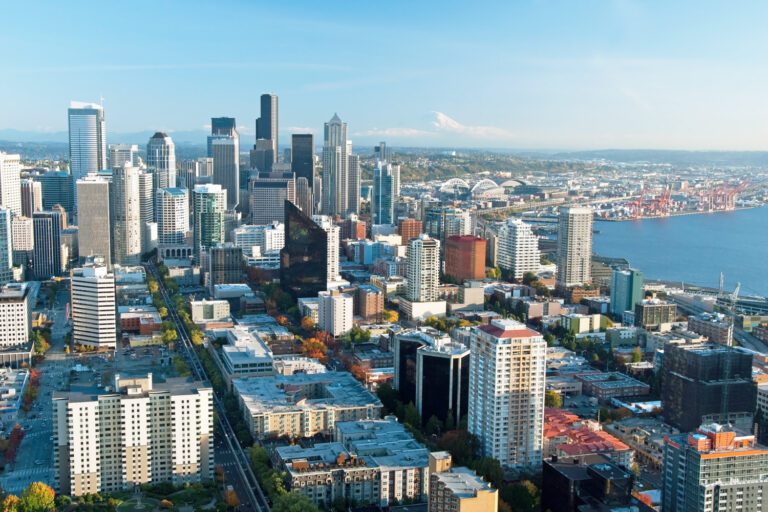 One Day in Seattle: How to See the Best of Seattle in a Day
"It's so green!" exclaimed my wife, Alysha, as we made our way from the airport into downtown Seattle, passing through neighborhoods surrounded by greenery on all sides. It's one of my favorite things about Seattle. Sure, it rains. A lot, some might say. But you know what that rain means? It's basically always beautifully green…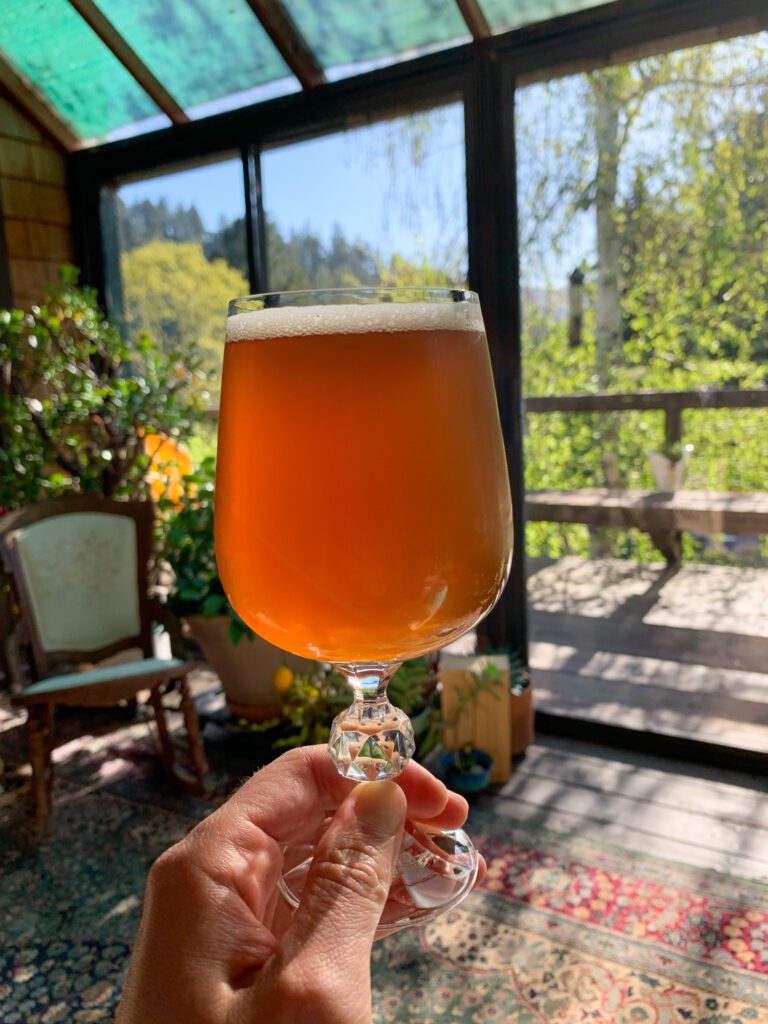 14 Amazing Gluten Free Breweries for Gluten Free Beer Lovers
Let's talk about gluten free beer. When I was diagnosed with Celiac Disease back in 2008, I wasn't 21 yet (though I was in college), and there were very, very few gluten free breweries around the country. Lucky for me, I lived in Seattle, near Ghostfish Brewing, so the early years of my diagnosis were…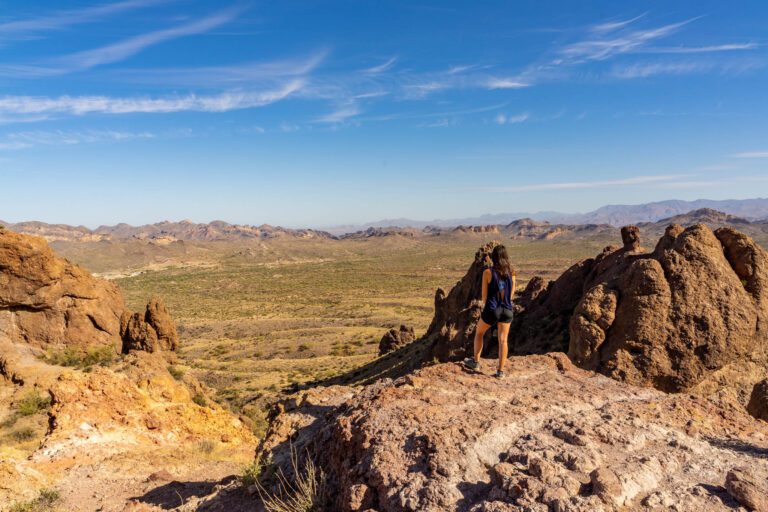 How to Plan an Amazing Arizona Road Trip (7-14 Days)
How were we so late to the Arizona party? Despite both having been to Arizona MULTIPLE TIMES before, we were radically unprepared for the sheer beauty that we experienced over the course of our Arizona road trip. We spent around two weeks in Arizona, and already started making plans for our return. Because there is…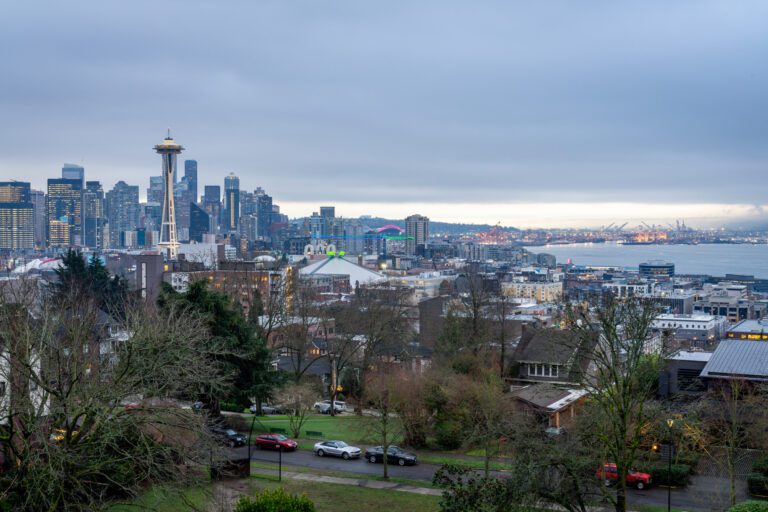 Where to Stay in Seattle: A Complete (Local's) Guide
Grunge music. Coffee. Rain. These are a few things that Seattle is known for. Today, Seattle is world-renowned as the birthplace of Amazon and Microsoft, but there is so much more to this city for visitors to explore. I grew up in a suburb of Seattle, and lived in the city for 5+ years in…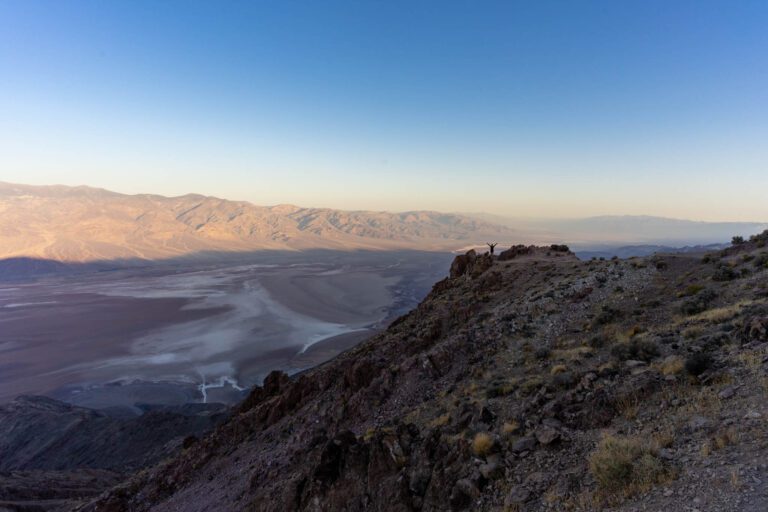 How to Plan an Unforgettable 2 Day Death Valley Itinerary
To be honest, we weren't quite sure what to expect on our first trip to Death Valley National Park. Just about the only thing I knew was that parts of Star Wars were filmed here, notably some of the Tatooine scenes, which meant I was anticipating big expanses of desert and sand dunes as far…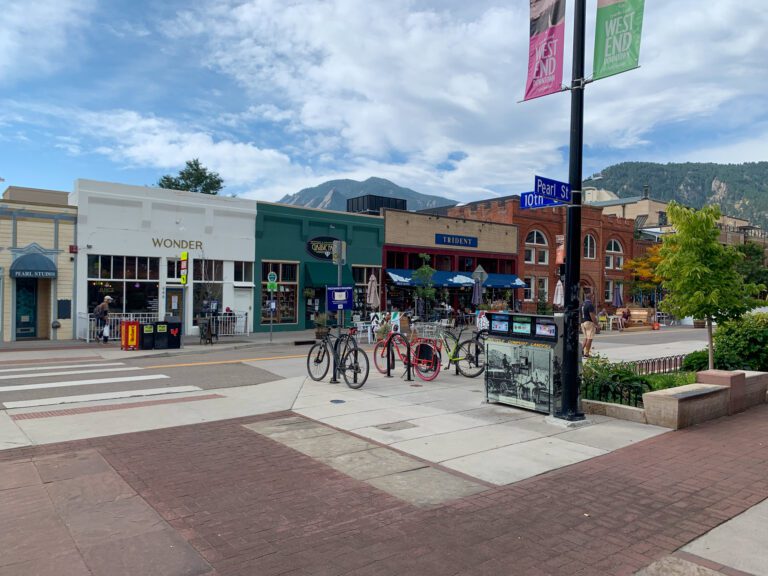 Gluten Free in Boulder, CO: A Complete Guide for Celiacs
Ah, Boulder. Tucked away in the foothills of the Rockies, Boulder has everything we love in a town: good coffee and tea, incredible hiking trails just outside the city limits (in this case, inside the city limits), and, of course, great gluten free food. There are a bunch of dedicated gluten free restaurants in Boulder…
2 Comments
Hi! My daughter and I are planning a trip to Olympic Nat'l Park early June 2023. Flying from Chicago to Seattle and renting a car- staying approx 8 days. We love your itinerary- Hurr Ridge, Hoh, Lake Crescent to Lake Quinault. Any recommendations after Lk Quinault or should we make that our last stay before heading back to Sea-Tac airport?
Since you have so much time, I'd recommend making it up to the northwestern corner of the park (Shi Shi Beach and Cape Flattery) while you're there.
There's not a whole lot going on between Lake Quinault and Seattle. There are some smaller towns like Aberdeen (where Kurt Cobain is from), and some bigger cities along I-5 like Tacoma and Olympia, but none of those are our favorites.
One other thing you could do is spend a day on Whidbey Island, which we really enjoy. There's a ferry from Port Townsend (on the northern side of the Olympic Peninsula).
Hope that helps! You're going to love that particular corner of Washington.
Cheers,
Matt & Alysha
Leave a Reply Cancel reply
This site uses Akismet to reduce spam. Learn how your comment data is processed.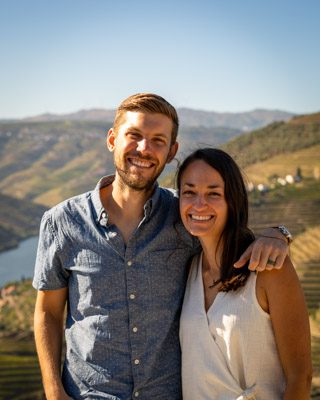 We're so happy you're here!
We're Matt and Alysha, the two endlessly curious travelers behind this site.
We spent the past two years traveling, which included 18 national parks here in the United States, and an extended trip to Europe.
Recently, we have chosen to put down roots in Portland, Oregon, and look forward to exploring even more of the Pacific Northwest (Matt grew up in Seattle, so he knows it well).
We plan (and pay for) all of our own travels, and we use our first hand knowledge to write detailed travel guides to the places we love to help YOU plan an amazing trip.
12 Things To Do In Port Angeles (Before Visiting Olympic National Park)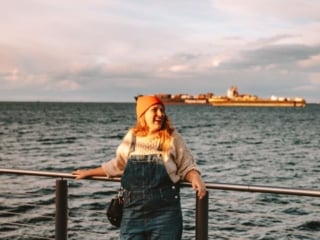 When heading off into the Olympic National Park, you'll probably be making an evening pit stop at Port Angeles, Washington. This cute little city offers more than just a home base before exploring the peninsula, there's some really cool Port Angeles attractions you won't want to miss.
Keep reading for our favorite things to do in Port Angeles, the best restaurants and where to book your hotel!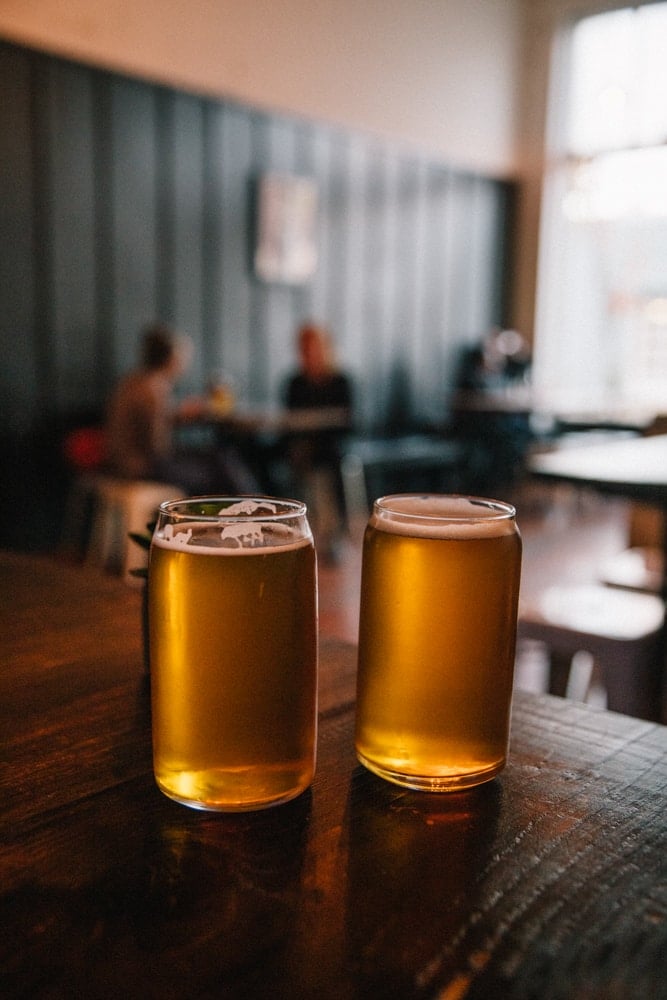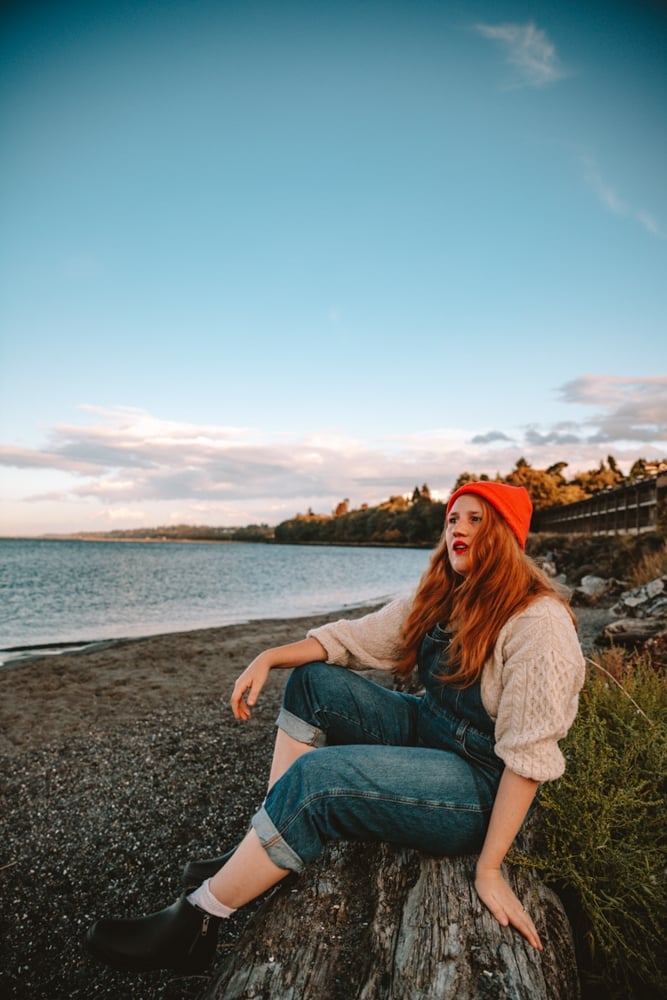 This past fall, my husband, Robin, and I did a road trip around the Olympic Penisula, the National Park and Forks for Twilight things (that was my choice). We live in San Francisco and flew into Seattle and then rented a car so we could explore the park easily.
You may be coming from other cities in Washington State, or even Canada as there are tons of ferries that connect Vancouver and Victoria to the Olympic Peninsula. Regardless, it's probably going to take you a good chunk of the day to get to Port Angeles as this peninsula is remote (heck, it's home to the northwestern-most point in the contiguous United States after all!)
We choose to spend the night in town before heading into the park early the next day. We had the whole afternoon and evening to explore and I found some really cool gems to share with you! But first…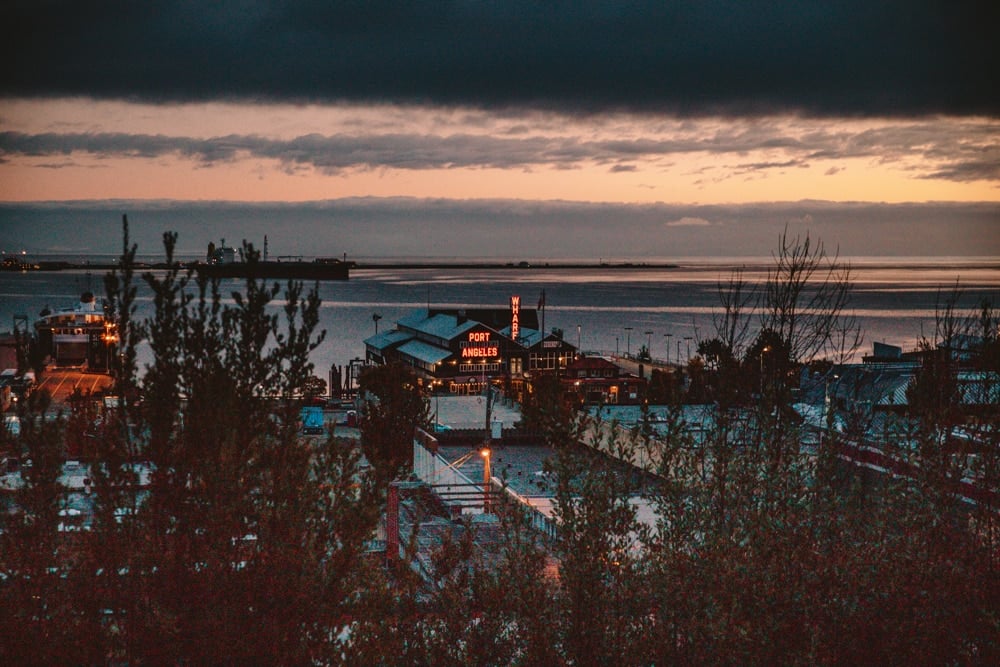 Why Should I Spend The Night In Port Angeles Vs Port Townsend?
Port Townsend is the other popular small seaside town to base yourself in before launching into the park (or Seattle, or Canada, depending on your travel goals). And while we've heard really good things about this town, it's a whole hour drive away from Port Angeles, which means to get into Olympic National Park, you'll be driving at least 1.5 hours, if not more.
Starting your park journey in Port Angeles just makes way more sense, especially if you are trying to catch a sunrise on Hurricane Ridge or get an early start on hiking trails. As you may know, trails and top sights within Olympic National Park are pretty spread out so you already will be doing a lot of driving. Don't start that trip with even more.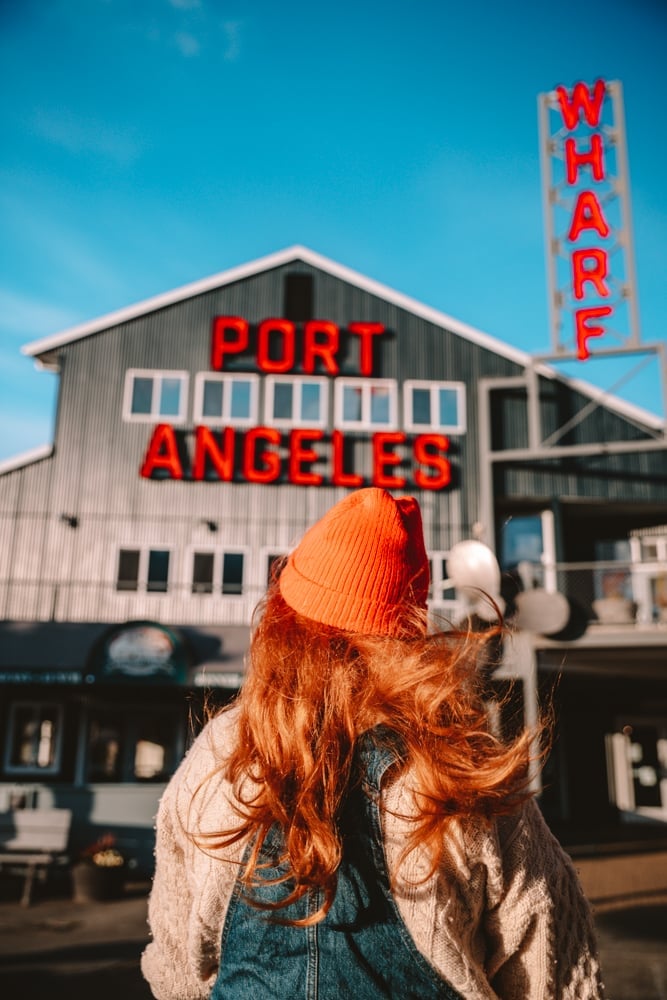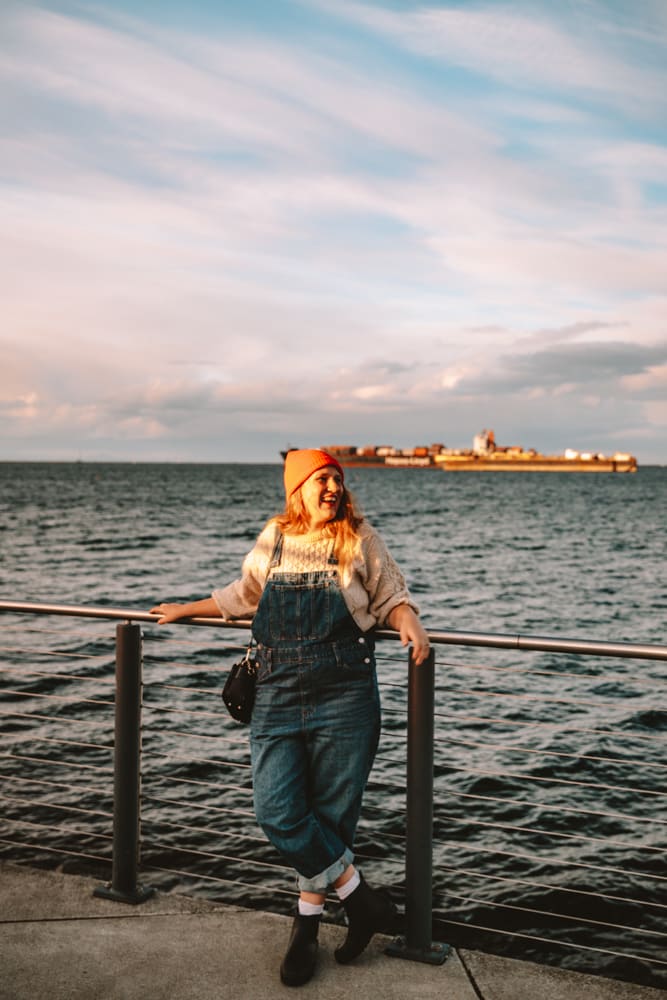 Where To Book Your Port Angeles Hotel
There aren't a crazy amount of options here, as it is a small town, but these are the spots I recommend you spend the night!
This is the hotel Robin and I booked. It's a cheap hotel under $90 a night. It's right downtown, you can walk everywhere, they have free parking and it's a decent budget hotel. It sits on a hill so many rooms even have bangin' views of the water right from the rooms. : This cool vacation rental has an awesome deck with a fireplace! If you're coming with a large group this would be such a fun place to gather together and rest before a fun adventure in the park!
6 Things To Do In Port Angeles WA Before Visiting Olympic National Park
After sitting in the airport, our flight and then the 2+ hour drive to Port Angeles, by the time we arrived Robin and I were ready for a little exploring! Thankfully, even though the town is small, it's ripe with outdoor fun and things to see while strolling around town.
Note: this guide features the best things to do IN Port Angeles or very nearby. It does not include spots like trails, waterfalls or Lake Crescent area which have a Port Angeles township, but are actually in the national park area.
1. Explore Downtown Port Angeles
It's not very large, so you can cover the downtown area under 30 minutes but I suggest you stop and pop into stores that catch your eye. Right after checking in, we took a walk to Hollywood Beach, the Port, the Spit and other businesses. It was a great way to get oriented quickly.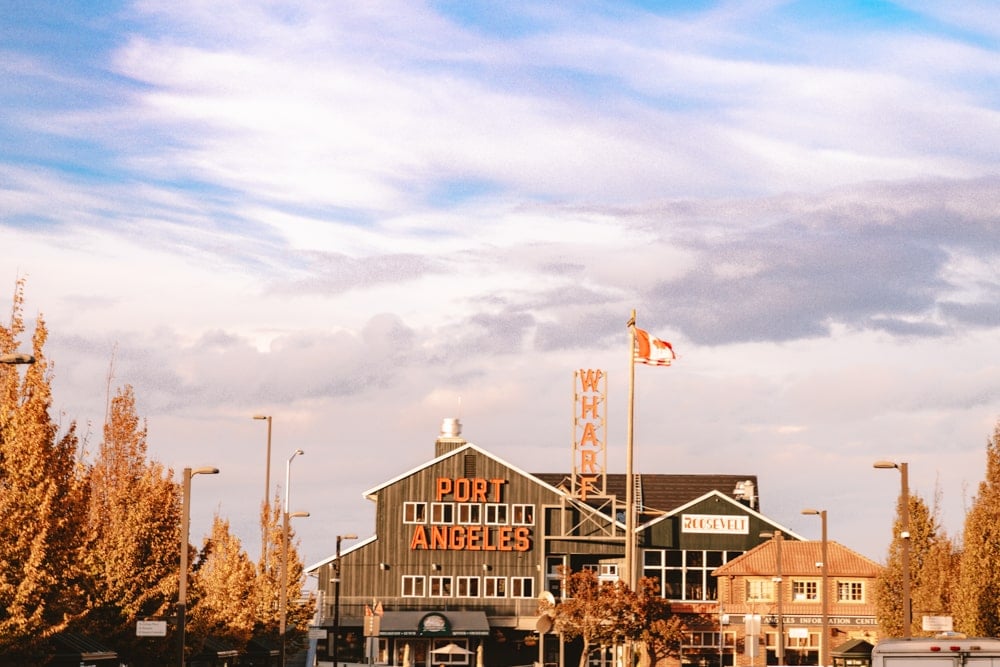 2. Ediz Hook Spit
Omg, this crescent-shaped trail/beach is so cool, especially on a clear day! It's about 3 miles long with a killer view of Port Angeles, the Olympic Mountains and you can even see Vancouver Island across the water on a clear day (seriously – you can see Canada from there!)
You can access it by the Olympic Discovery Trail and walk all the down. I would recommend doing this around golden hour or sunset for epic colors in the sky and tons of wildlife getting ready for the night.
3. Go Kayaking
One of the main reasons the water directly in front of Port Angeles is calmer than the waters on the west of the Penisula is because of Ediz Hook (the crescent shape acts as a shelter!) So, this area happens to be a fun sea kayaking spot in the warmer months.
Rentals weren't open during our late October visit, but I go kayaking all the time at home in Sausalito and can attest, renting a kayak in Port Angeles would be such a fun way to spend an afternoon.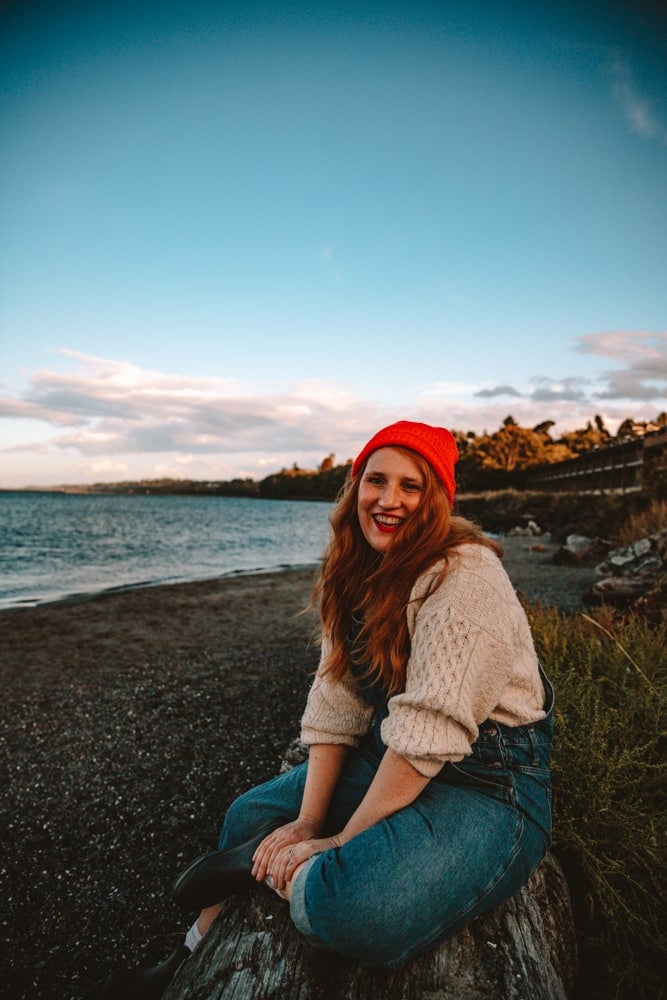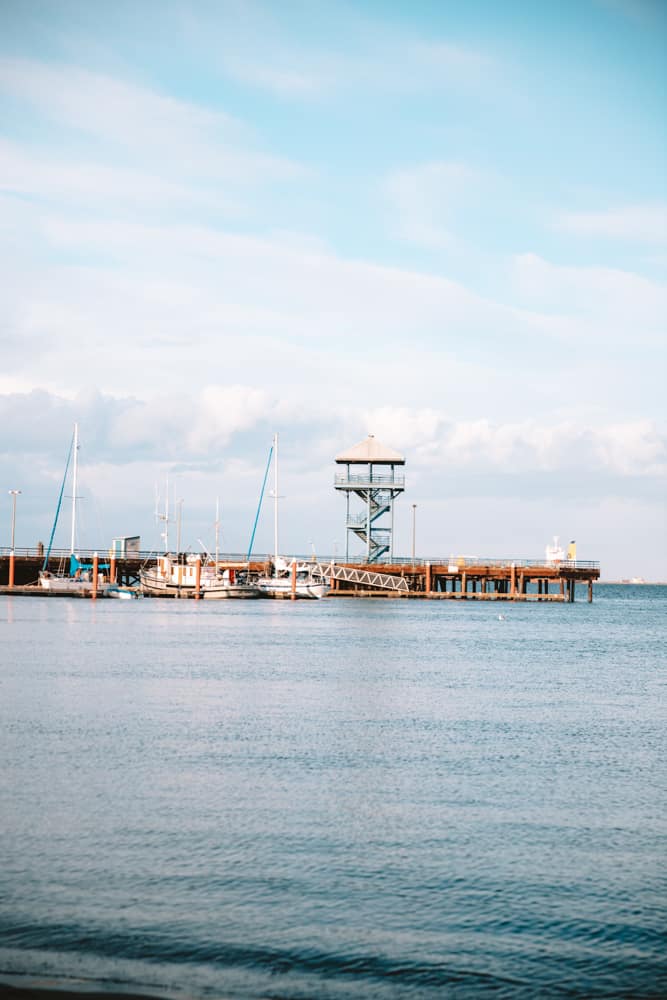 3. Feiro Marine Life Center
If you're traveling with kids, you'll want to take them to the Feiro Marine Life Center. This small aquarium hosts tons of educational classes for little ones and also has a few touch tanks, which I always adored as a kid. Tickets are just $6 for adults and kids under 3 get in for free.
4. Port Angeles Fine Arts Center
Lastly, if you love art, you may want to pay a visit to the Port Angeles Fine Arts Center. It's home to a wood sculpture garden and always has rotating gallery exhibits to view, usually from local artists.
5. Salt Creek Recreation Area
One of the top Port Angeles outdoor activities is exploring the Salt Creek Recreation Area! At almost 200 acres, this huge waterfront (and underwater) park is just 15 miles West of Port Angeles. Come to spot underwater park replete with sea urchins, anemones, sea cucumbers and wolf eels and a giant kelp forest.
Type in the address 3506 Camp Hayden Road into your Google Maps to find access to the campground area where you can find a staircase that takes you right to the beach. You'll want a couple of hours to explore here.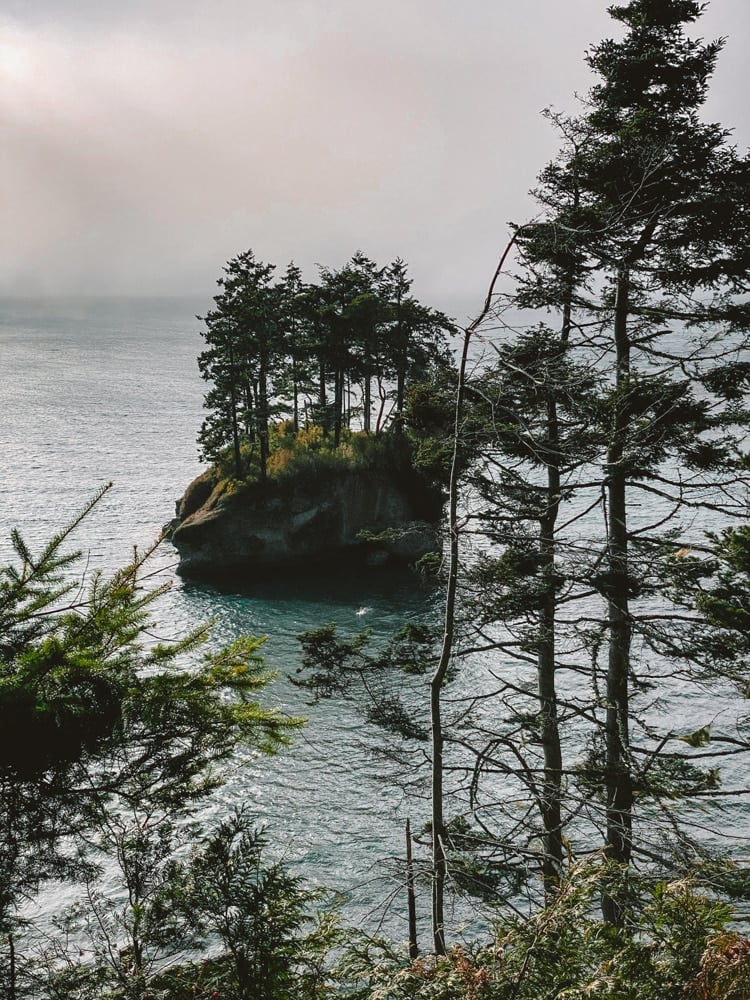 6. Wine Taste at Harbinger Winery
Saying I love wine and wine tasting is an understatement. I do live next door to Napa Valley and Sonoma afterall! Harbinger Winery has a tasting room that's located in an ex-logging truck shop. Tastings happen right in the middle of all their barrels so you really feel emerged in the wine making process. They are open daily from 11am-6pm.
Best Port Angeles Restaurants & Breweries
For being such a small town, I was happy to find a decent array of restaurants and cafes that were actually good. As a frequent traveler, sometimes small towns mean terrible dining options, but not the case here! You may have to work around small town hours, though. Expect spots to maybe not be open on Mondays or close early on weekdays.
Angeles Brewing Supplies & Taproom
Omg, this is the coolest little brewery taproom I've seen in ages. Brewing Supplies is right downtown Port Angeles and clearly built inside a historical building, but they jazzed the decor up so it has all the industrial-chic vibes you want while sipping craft beer.
They have a huge menu of rotating taps featuring local beers, and also offer snacks if you want a bite to eat. We stopped here for happy hour on the night we arrived to town and couldn't have envisioned a better place to relax!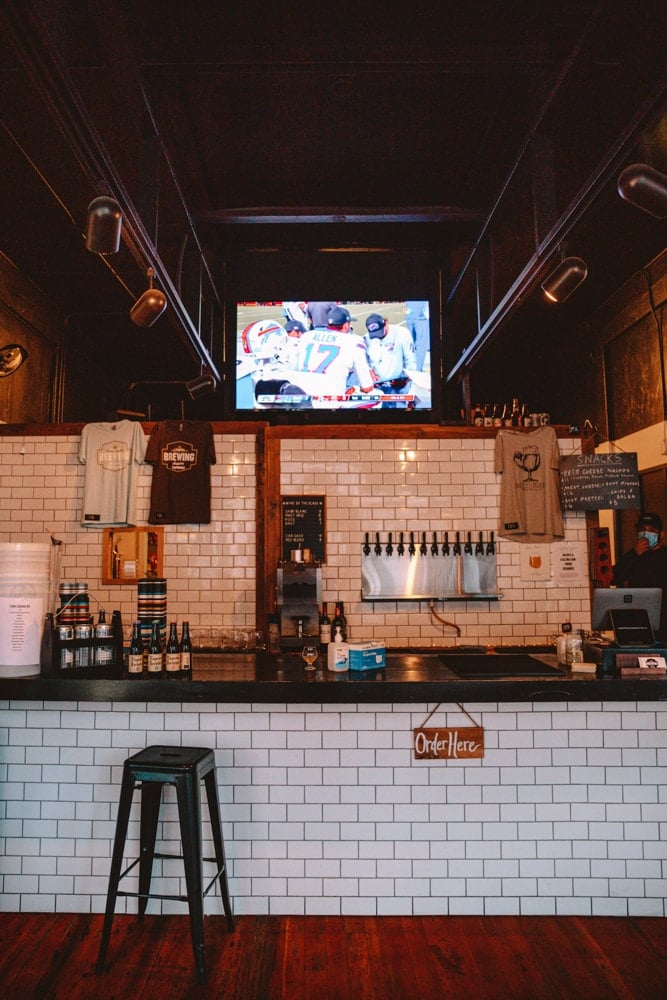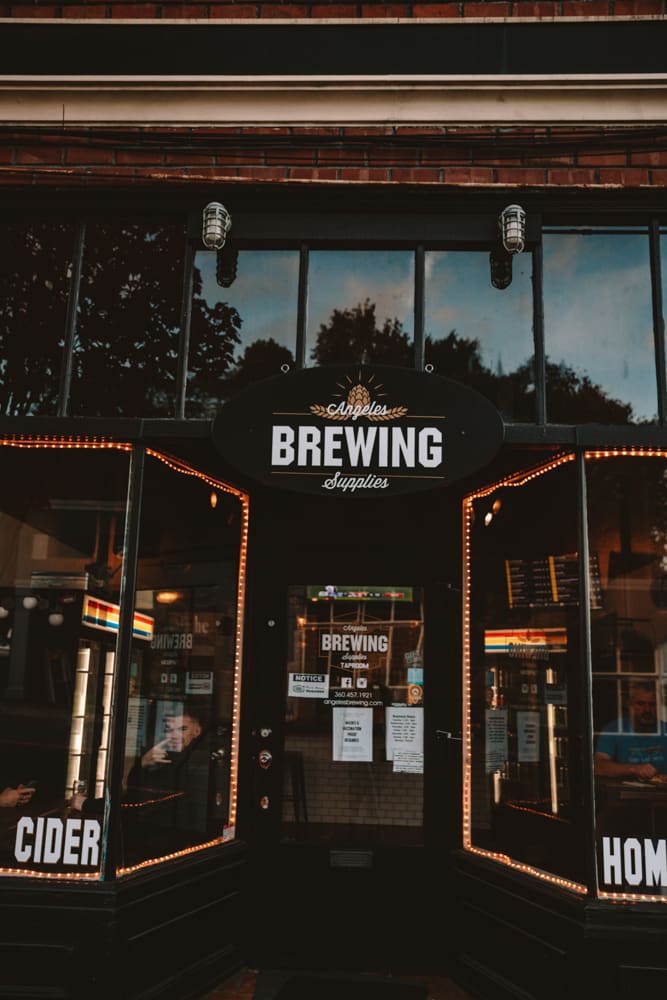 The Rail
The Rail is your classic small town burger joint. You can dine in on their tater tots or burgers, but they also have a window so you can pick up your order and take it to Hollywood Beach for a little picnic.
Welly's New Zealand Ice Cream Truck
How cute is this little ice cream truck?! Serving up real fruit ice cream in New Zealand style, Welly's is the best truck to hunt down on a warm summer day. They use local fruit from Washington farms for flavors so everything is extra tasty. We visited them in 2021 when they are just a food truck, but Welly's plans on expanding to a storefront in 2022, so keep your eye out for them!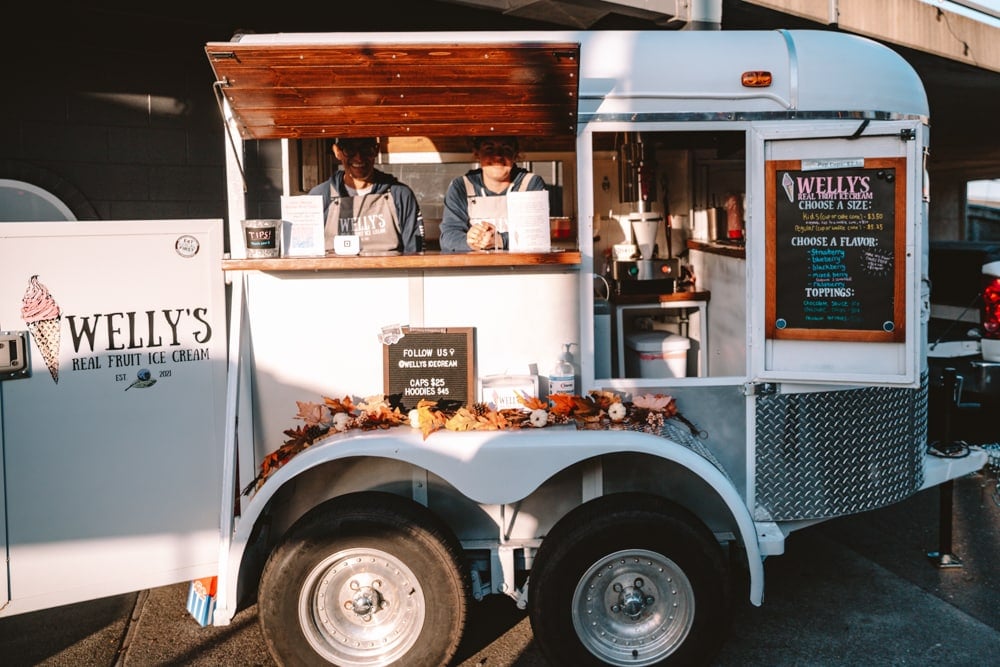 New Day Eatery
If you aren't rushing off to the park, head to New Day Eatery for breakfast or brunch! This casual American cafe features outdoor seating, modern decor inside and even have vegetarian options.
Bella Italia
Um, hello, any Twilight fans out there? In the first book, Edward meets Bella in Port Angeles and they have dinner at La Bella Italia and she orders Mushroom Ravioli. Well, the real-life Bella Italia is also downtown Port Angeles and they even serve up a mushroom ravioli, which I totally ordered. It's a must-stop for any Twilight fan.
We came in the off-season so it wasn't hard to get a table, but if you are visiting in the summer I recommend you call ahead to reserve.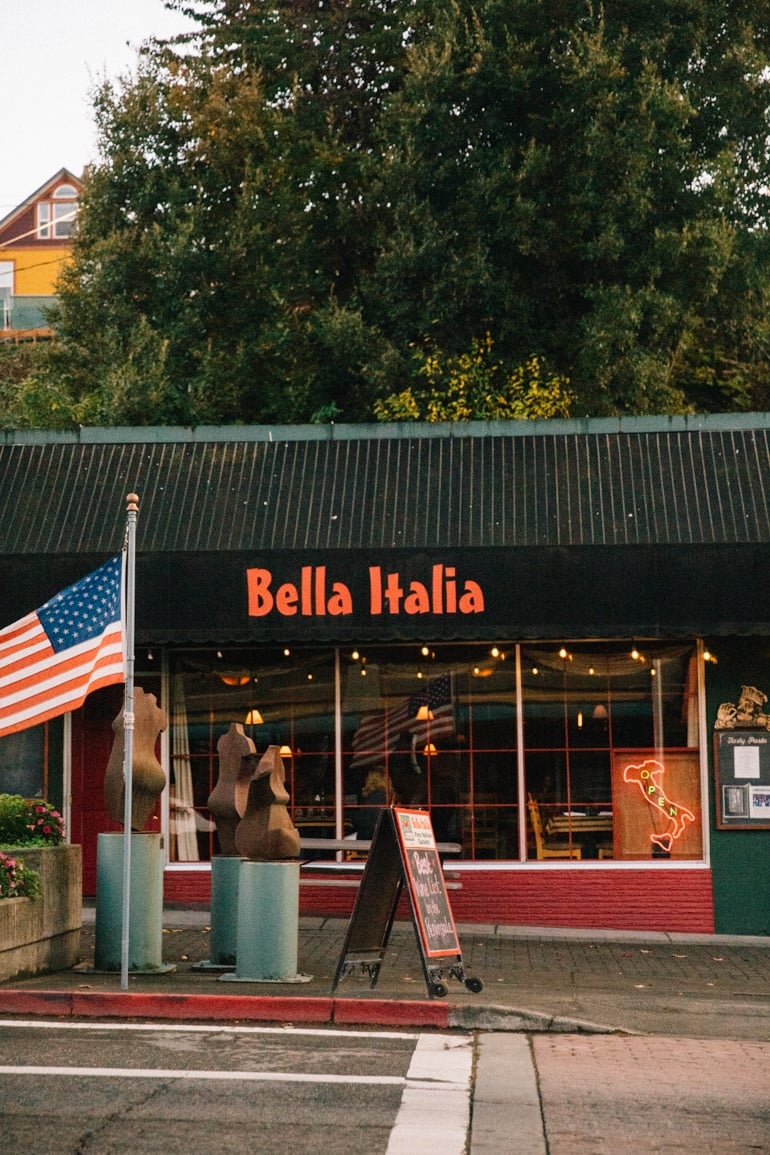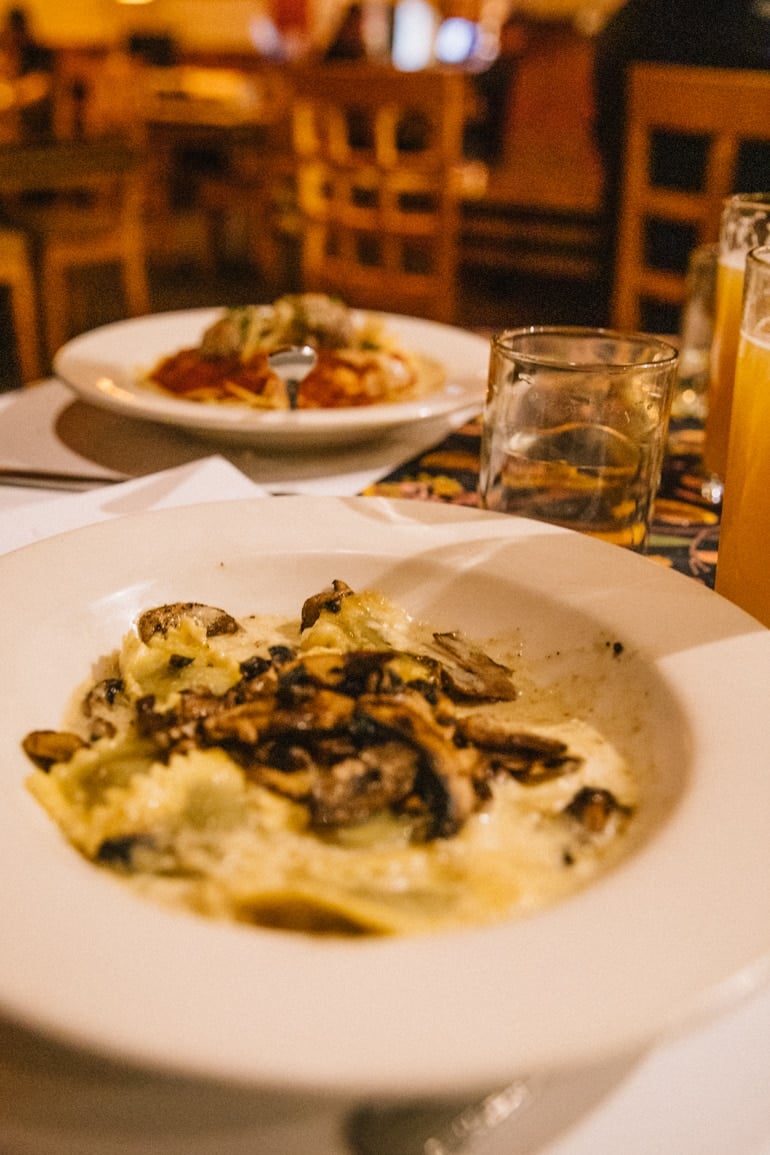 Bella Rosa Coffee
Bella Rosa Coffee is clearly a local's hangout and is also one of the only places that open early and serve breakfast to go. We grabbed coffee and breakfast crepes here before getting an early start into the park. I think they have every drink imaginable and I loved stuffing my face with their savory crepes before a day of hiking!
Things To Do In Port Angeles At Night
It's a small town, so most places will be closed earlier than you may like. But these are the things to do and places to eat at late at night!
Stargaze: if it's not cloudy or raining, head up to Hurricane Ridge inside the Olympic National Park for epic stargazing. Bring hot chocolate, blankets and snacks! : This bar stays open until Midnight and makes a mean french dip sandwich. : A casual bar in a historical building that stays open until 2am. Come for wings, beer or whiskey.
Things To Do In Port Angeles This Weekend
Art gatherings pop up gallery, races, events and giant crab festival takes places in Port Angeles every year. Check out all the upcoming events at the Visit Port Angeles tourism site for more info on what's taking place on the dates you'll be in town.
We arrived on the last day of the annual crab festival and had no idea it was happening. Sadly, we just missed the fun (like, they literally shut down the tents maybe 20 minutes before we rolled in) but I wish we could have kicked off our Olympic National Park trip with some tasty fresh crab dishes!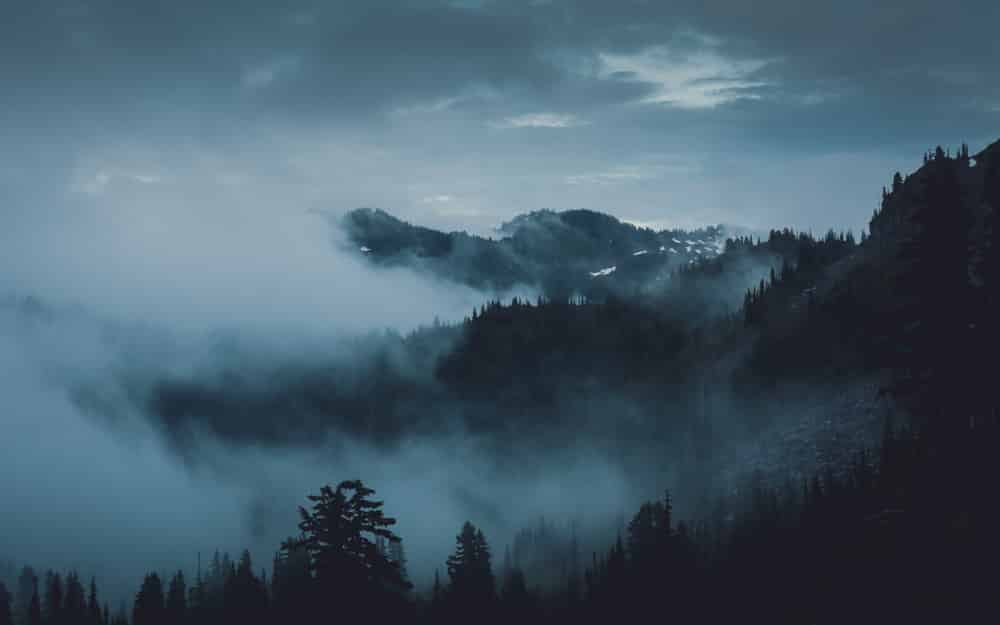 Robin and I had such a nice, chill afternoon and evening exploring Port Angeles. It was a calm way to start our adventures. After we spent the night in Port Angeles, we got up really early so we could visit Hurricane Ridge, Lake Crescent, Sol Duc Falls and Elwah River all on the same day.
We already had a travel game plan in place, but if you are in need of more tips or updates on local weather, etc, swing by the Olympic National Park Visitor Center or Olympic Coast Discovery Center in Port Angeles before you head out for more help planning.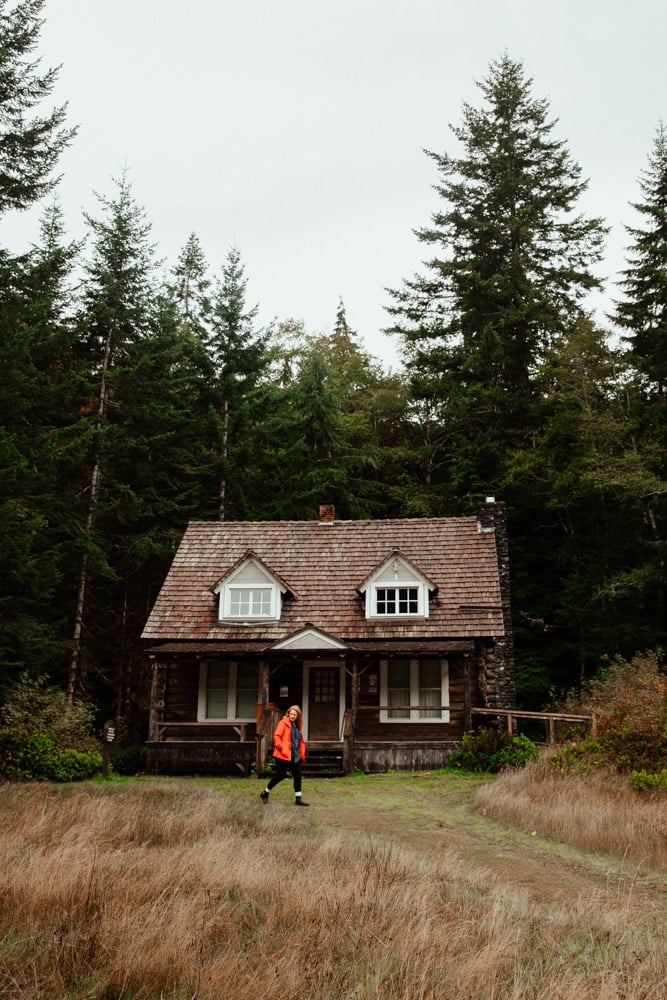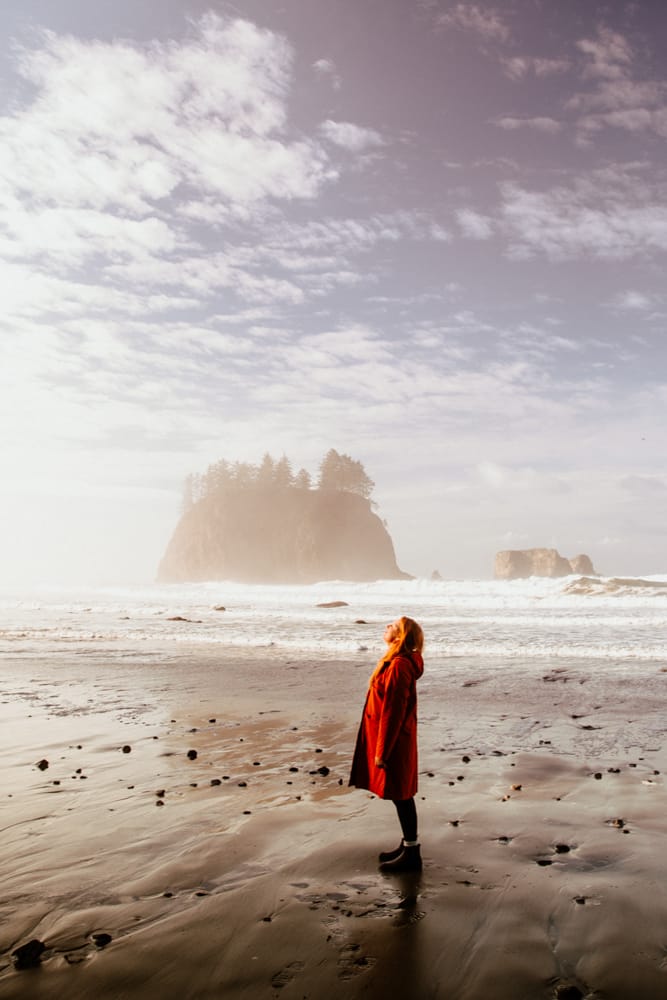 I hope this helps you find the best Port Angeles things to do during your visit, whether you're adventuring into the Olympic Penisula, heading to the San Juan Islands, other parts of the state, or even jumping off to Vancouver, Canada.
There are a lot of fun things to do in Washington State if you need more ideas:
If your favorite restaurants or things to do around Port Angeles didn't make this list, please drop a comment so everyone can see! Happy adventures.
I'm the founder of Whimsy Soul (this blog you're reading!) I'm a type 3 enneagram cat lady who lives in San Francisco and loves to find everyday magic to share with others. You can probably find me hunting down hot springs with girlfriends, kayaking, cooking with my husband, petting strangers' dogs or watching like, all the things on Netflix. Follow me on Instagram for even more inspiration!
The Best 3 Day Olympic National Park Itinerary
This Olympic National Park Itinerary for a three day road trip gives you good taste of the unique ecosystems of the park. In just three days take in sweeping mountain vistas, cascading waterfalls, hot springs, towering ancient old growth forests, and wild coastal beaches overflowing with the mysteries of tidepool life.
If you're planning a trip to Olympic National Park, either as a visitor to the Pacific Northwest or as a local, this guide includes what you must see in Olympic and some tips for avoiding crowds at different locations. It also includes some options for a shorter trip or a longer one. If you're looking for a winter trip, you can follow most of this, but also check out my one day and two day itineraries for winter in Olympic!
Olympic National Park is on the homeland of the Klallam, Makah, Ozette, Quileute, Hoh and Quinalt people.
Map of Olympic National Park
Where to stay on the Olympic Peninsula
There are many campgrounds in Olympic National Park, but only three can be reserved (Kalaloch, Mora and Sol Duc Hot Springs). These are booked far ahead of time, so it can be frustrating to drive around trying to find camping. If you want to camp, I strongly advise not trying to find a site on Friday or Saturday night, you might find yourself driving around for hours. Lodging options include the park lodges as well as hotels and vacation rentals in Port Angeles, Sequim and Forks. Lake Quinalt has quite a few vacation rentals in addition to the Lake Quinalt Lodge.
When to visit Olympic National Park
This Olympic National Park itinerary is designed for a summer visit (including parts of spring and fall). The driest months with the most sun are July, August and early September. It can and does rain any time of year, and fog is common on the beaches all year. July and August are by far the busiest and most crowded and most challenging to find camping. April through June have longer days, less rain (though still plenty of rain!) and high country areas such as Hurricane Ridge and Deer Park will be under snow. Later in September and October are still drier than winter, though rainier than midsummer and have shorter days. They are also much less crowded and most areas are still open.
November through March is the wettest (and therefore least crowded) time of year. More things are closed or have limited hours. In winter, high country areas are covered in snow and Hurricane ridge is only open weekends weather permitting. If you don't mind getting wet and having short days, this could be a great time. Always check the park service's website for the most up to date information on road, trail, camping and visitor center hours and openings, as they often change due to weather, funding and other conditions.
How far is Olympic National Park from Seattle?
It depends on where you are going! Port Angeles is a one hour and 30-45 minute drive from the Bainbridge ferry terminal. The ferry crossing from downtown Seattle to Bainbridge is 35 minutes, plus whatever time you spend getting to and waiting for the ferry. The Hoh Rainforest is a four and a half to five hour drive from Seattle. Kalaloch beach is about a three and a half hour drive from Seattle. The entire loop Olympic National Park itinerary described below is approximately 11 hours of driving and just under 500 miles (in three days).
In 2022, Clallam Transit began offering a shuttle from downtown Port Angeles to Hurricane Ridge! This is a great option for avoiding parking hassles and saving money on gas. Just make sure to purchase your entrance fee to the park BEFORE you ride.
Day 1: Seattle to Port Angeles
To start your Olympic National Park 3 day itinerary, head to the ferry dock for the Bainbridge Island ferry in downtown Seattle. You can check the Washington State Department of Transportation website or app for the current ferry schedule. You'll drive in, pay for your vehicle and passengers at the tollbooth and park in the waiting area. When it's your turn to load, you'll board the ferry and have the option of heading up to the passenger deck, which you should definitely do for epic views of downtown Seattle as the ferry departs, as well as the Olympic mountains if they're clear. The views of Puget Sound are extensive as well. Keep your eyes out for harbor seals and even the occasional whale!
If you didn't have time for breakfast, head to the galley to grab a breakfast sandwich or pastry and some coffee or tea. The ferry crossing takes just over 30 minutes, then you'll head back to your car and drive off the ferry onto Bainbridge Island.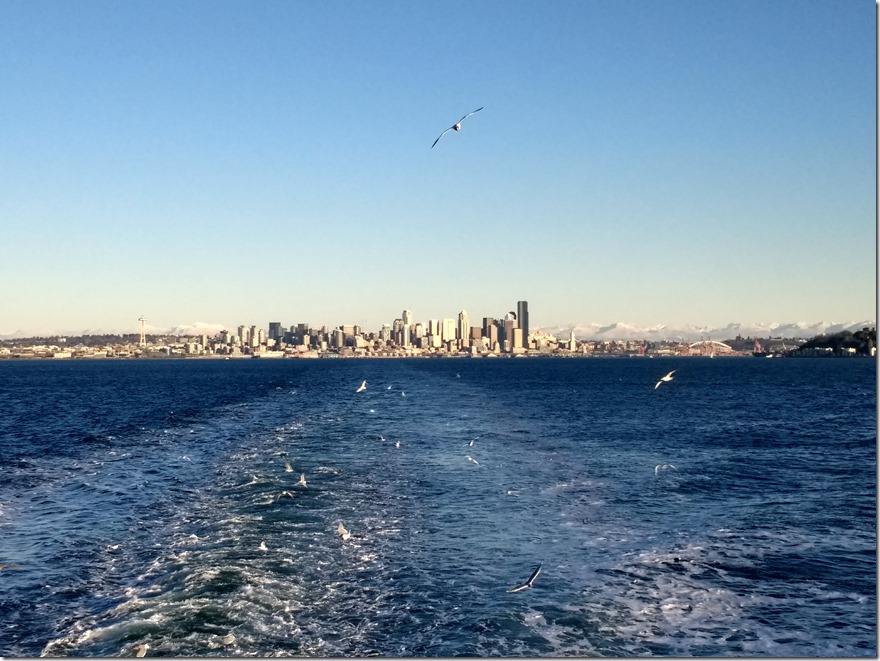 View of downtown Seattle on the Bainbridge Island Ferry
Once on Bainbridge you'll be heading towards Port Angeles, crossing the agate pass bridge onto the mainland and later the Hood Canal Bridge that takes you onto the Olympic Peninsula. If you're camping without a reservation, make sure to head to your preferred campground first. The drive from the ferry terminal to the visitor center in Port Angeles takes approximately an hour and a half.
When you arrive at the visitor center (after securing your camping if that's your plan), you can chat with a ranger and get all kinds of information. They'll tell you about hikes, tides, current conditions, etc and you can purchase any books or maps you might need.
The visitor center is a good place to check the webcam showing the current conditions at Hurricane Ridge, which is helpful information before driving up the road. Bear in mind that cloudy conditions do not necessarily mean there won't be any visibility later in the day (weather changes rapidly at Hurricane Ridge), similarly it doesn't mean it will remain sunny all day! The visitor center also has the forecast posted.
The drive to Hurricane Ridge takes approximately 45 minutes (plus stops, which you might make a lot of!). It's 17 miles but it's steep and winds it's way up to 5000 feet in that short drive. Make sure to notice how the ecosystem is changing (especially the trees and undergrowth) on the drive. Upon arriving at Hurricane Ridge, you can check out the visitor center, join a ranger program, or enjoy a picnic or hike. I recommend the Hurricane Ridge picnic area A or B for amazing views, some shade and a high likelihood of deer visiting your picnic. Keep your eyes out for deer, olympic marmots and black bear in the meadows around the ridge.
If you'd like to get out for a short hike and see even more views, try the Hurricane Hill Trail or Sunrise Point, or if you're looking for a longer hike, you could continue on past sunrise point to Klahhane ridge. If you're visiting in winter, Hurricane Ridge is only open on weekends and holidays, but is a great place to try out snowshoeing. You can even go on a ranger led snowshoe walk! Make sure to check on the avalanche forecast before heading out and as always make sure to have your ten essentials. The road to past the lodge is closed in winter and an excellent place to snowshoe.
View towards Canada from the Hurricane Hill Trail at Hurricane Ridge The view of the Olympic Mountains from Hurricane Ridge on a clear day
When you're ready to head down the hill, continue west (30 minutes) to Lake Crescent and in good weather you can enjoy some beach time or a kayak, canoe or paddleboard rental or tour at the Lake Crescent lodge. If you'd like to stay on the land, take the mellow hike through the forest to lovely Marymere Falls (less than 3 miles round trip, flat except for a short climb up to the falls).
If you're not yet ready to call it a day, you could head out to the mouth of the Elwha River, a fascinating place to see nature reclaiming the river after the removal of the two dams on the river that blocked it for decades until it was removed in 2012. This is also a good place to find solitude, and a good place to look for eagles.
To get to the mouth of the Elwha, from westbound highway 101, turn right on Place Road (just after you cross the bridge over the Elwha river), follow it to Elwha Dike road, turn right and the road quickly dead ends near a sort of hidden outhouse. Head out toward the river and the Strait of Juan de Fuca a short distance on foot.
Crowd avoiding tip: In summer (roughly late June through October-check park service website), if you're not afraid of gravel roads, head up to Deer Park instead of Hurricane Ridge. There are no services but there's a fantastic view, a small campground and several hiking trails.
Camping: Heart o'the Hills Campground (National Park Service) or Dungeness Spit Campground (county park campground and wildlife refuge that takes reservations). Other possibilities include the far west side of Lake Crescent at Fairholme, or Salt Creek County Park. All are open all year except for Fairholme, which is only open in the summer.
Hotel/Vacation Rental: Port Angeles, Sequim, or Lake Crescent Lodge (seasonal, except for cabins)
Day 2: Port Angeles to Forks
Start the second day of your Olympic National Park 3 day itinerary with a drive out to the Sol Duc Valley (an hour drive from Port Angeles). Take the mellow less than two mile hike to gorgeous Sol Duc Falls. The road and the hot springs are generally open late March through late October. If you'd like to get in a longer hike, start from the campground or hot springs. Either way you'll walk through rainforest on your way to this lovely falls. After your hike, enjoy a dip in Sol Duc Hot springs! The mineral water is pumped into a concrete pool managed by the resort, which welcomes visitors to the hot springs even if you aren't staying at the resort (locker and towel rental are also available).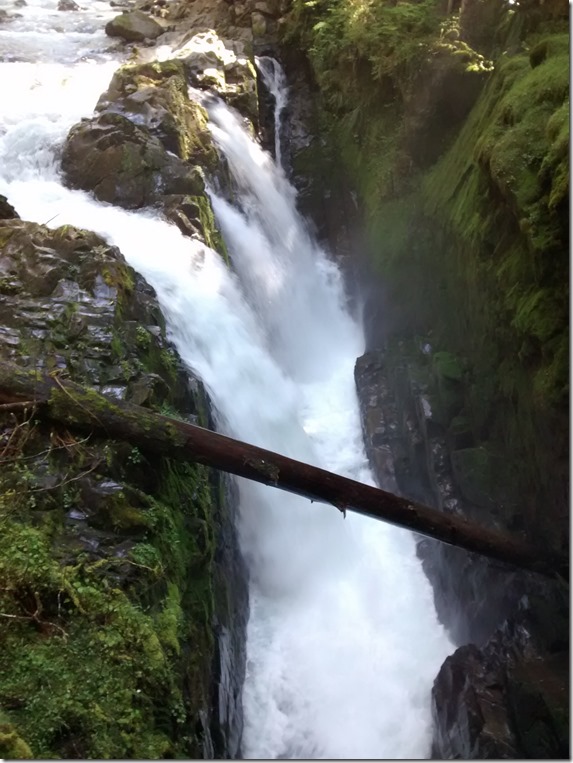 Sol Duc Falls in Olympic National Park
When you leave Sol Duc, it's time to head to the beach (about an hour drive) and check out some of the rugged coastal sea stacks and tidepools! Tidepooling in Olympic National Park is legendary and worth planning your trip around. I highly recommend reordering this itinerary however you need to do see tidepools (described again below on day three, as you have multiple options). You can access the tidechart online here, though it can be challenging to make sense of. One your first day, when you visit the ranger station, this is a good place to get information about the timing of the tides during your visit.
You have a few options for Olympic's beaches (which are among the best beaches in Washington!). The first, if you want to be able to drive directly to the beach is to go to Rialto Beach. If you're up for a short hike through the coastal rainforest, then try Second Beach or Third Beach. All of these locations are a fantastic place to have a picnic lunch or dinner! To get there going westbound from Sol Duc (or Port Angeles), continue on 101 to Hwy 110 just before the town of Forks (Twilight fame!). Follow 110 until the road forks (left for Second and Third Beach, right for Rialto).
If you're ready for more adventure in this day, then head to the world famous Hoh Rainforest. You can also save this for the morning of Day 3, if you're wanting to spend more time there or you're ready to call it a day. The Hoh is a very popular area of the park, and visiting it early in the morning or late in the day is highly recommended. The Hoh is just over an hour away from the beaches mentioned above. The visitor center is a mandatory first stop (unless you're seeking a first come first serve camping spot, if so do that first). Here you learn about the Hoh Rainforest, a temperate rainforest which exist only a few places in the world.
The Hoh receives 12-14 FEET of rain each year (Seattle receives about 37 inches per year for comparison) and therefore is a unique and otherworldly ecosystem that deserves some time exploring. After taking in the visitor center, try a short walk on the Hall of Mosses Trail, or for a longer hike (and less crowds) try heading up the Hoh River Trail, which goes for nearly 20 miles and is a popular backpacking route. For more details about visiting the Hoh, check out this post all about it!
Crowd avoiding tip: The Hoh Rainforest and Rialto Beach are both extremely busy in the summer (especially the Hoh). Try to visit the Hoh early or late in the day, or consider the Quinalt Rainforest instead. For Rialto, if you're up for a hike you will see less people (though still plenty) on Second or Third Beach. On Rialto Beach, you can also walk up to the north and leave the crowds behind.
Camping: Mora (on the coast) or Hoh (at the Hoh visitor center) are both first come first serve. The closest reservable campground is Kalaloch (45 minutes from Forks).
Hotel/vacation rental: Forks
Day 3: Forks to Seattle
On the final day of your Olympic National Park 3 day itinerary, head to the Hoh Rainforest early (if you didn't do it at the end of Day 2). As you continue down Hwy 101, you'll have another opportunity to go to the beach at Ruby Beach (half an hour from Forks), which also has incredible seastacks and tidepools. If you're ready to see a sandy beach instead, head to Kalaloch where you can stroll as long as you like on a sandy beach (the ocean is still super cold! 50 degrees or so!).
When you've had your fill of beaches, continue on to Lake Quinalt (30 minutes from Kalaloch). Lake Quinalt is a large, glacier carved lake in a valley of even more rainforest. The north shore of the lake is Olympic National Park and the south side (home to the historic Lake Quinalt Lodge) is Olympic National Forest. Try a walk out the world's largest Sitka Spruce Tree or on the rain forest nature trail. Visit the forest service ranger station for more hikes to big trees as well as books and maps. Make sure to check out the inside of the historic lodge before heading back to Seattle (two and a half to three hours drive depending on traffic).
Tidepooling on a foggy morning at Ruby Beach
Crowd Avoiding Tip: Ruby Beach gets busy, going early or late is a good idea, or walking along the beach (the further you walk, the less the crowds-know the tides!) Kalaloch campground is very busy but you can get away from people with a walk along the beach. Lake Quinalt is much less crowded than other areas of the park. If you really want to beat the crowds, consider driving up to the Queets Rainforest (turn at the sign south of Kalaloch before Lake Quinalt). It's a dirt road drive but very few people make it up there.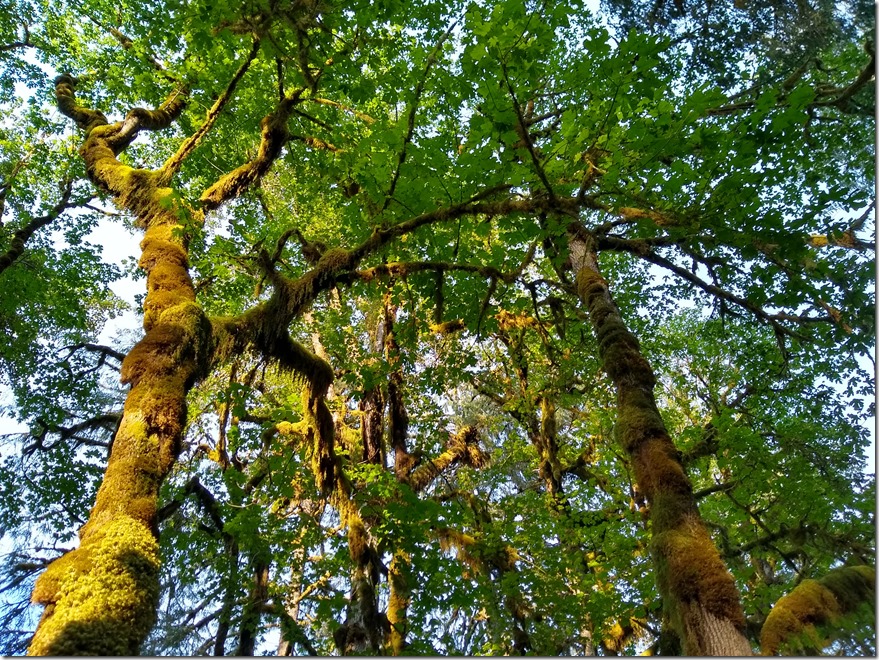 Big trees and green everywhere in the Queets Rainforest
Only have two days?
If you only have two days, I would suggest going to only one beach, one rainforest and possibly skip Sol Duc (or skip Hurricane Ridge if the weather is foggy). Prioritize what you most want to see and how much you want to drive.
Only have one day?
If you only have one day to see the park, I suggest selecting one or two of these areas, depending on the weather (fog and rain can put a damper on Hurricane ridge but make a lot of sense in the rainforest!), the tides (go tidepooling if you can!) and how much driving you want to do.
Extending your trip
If you have more time to spend in Olympic National Park, you could certainly spend more time at each of these locations described above and could decide based on weather, how much driving you want to do and how much you want to avoid crowds. Other things to consider adding on to a trip:
Day trip or overnight to Victoria, British Columbia, Canada via the Coho ferry from Port Angeles
The town of Port Townsend and farms in the area around it (cider tasting!)
Longer day hikes, particularly in places like Hurricane Ridge, Deer Park, Sol Duc Valley, Hoh Rainforest and Ruby Beach
Overnight backpacking trip at Second or Third Beach (requires a permit from wilderness information center)
Neah Bay including the Makah Museum and Cape Flattery (the most northwest point in the contiguous United States)
What to Pack for your trip to Olympic National Park
This post contains affiliate links, which means if you make a purchase I may receive a small commission at no additional cost to you. As an Amazon Associate, I earn from qualifying purchases
If you're camping on your Olympic National Park trip, check out my camping checklist. If you're planning to hike, check out my list of what to bring day hiking as well as what to wear hiking! Beyond that, these are a few things you want to have for sure:
Food, snacks and water – lots of areas on your Olympic National Park itinerary don't have services, so it's a good idea to bring your own food for during the day
Rain jacket – You absolutely need a good rain jacket in Olympic National Park. I own two, both of which I love and highly recommend. You can spent a lot more money if you want to, but you don't need too! This REI one gets the edge for me because it is also available in plus sizes (Men's one here). My other favorite is this Marmot one you can get from Amazon (men's one here), which is just as good but unfortunately it's not available in plus sizes. If you're going to the park in winter, you might also want to consider a rubber rain jacket, which is the only way a rain jacket is going to be completely waterproof. It's also very clammy and hot, so I don't normally recommend it for hiking or anything other than just sitting in the rain.
Rubber boots – especially if you're heading out to the coast, rubber boots are the way to go! Trust me, they are so much better than hiking boots for the wet beach and rainforest environment and mud! I have these fun and super durable Salmon Sisters Xtratuf boots, which I highly recommend.
Recommended Reading
An excellent book about the Natural History of Olympic National Park-perfect if you want to understand the science and the incredible natural beauty you are seeing!
Day Hiking the Olympic Peninsula-a wonderful resource for day hikes long and short in Olympic National Park and the surrounding Olympic National Forest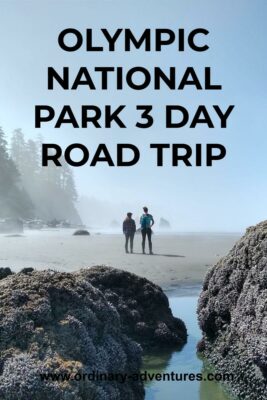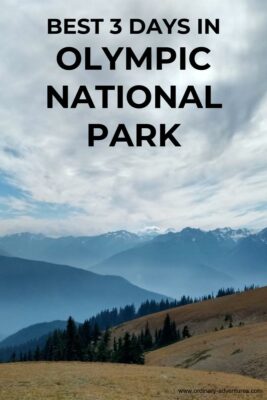 Hi! I'm Jennie. I'm a fourth generation Seattleite who lived in Alaska for 7 years. I've been a tour guide in both Alaska and Washington and I love to share the places I love with visitors, newcomers and my fellow locals. I'm so glad to have you along on the journey to experience your best low key adventure in Washington, Alaska and Western Canada!
Source https://wheatlesswanderlust.com/where-to-stay-olympic-national-park/
Source https://whimsysoul.com/things-to-do-in-port-angeles-washington/
Source https://www.ordinary-adventures.com/2018/09/olympic-national-park-itinerary/