What are some examples of exotic places to visit
What comes to mind when you think exotic? White sandy beaches, palm trees, turtles and whale sharks, maybe a tropical jungle almost untouched by humans?
We have discovered so much more. From magical sinkholes in the ocean to soaring forests of bamboo and moonscapes formed from volcanic eruptions.
Here at Expat, we are always adding to our bucket list, and we love to hear about yours! Have you always wanted to visit Japan, Morocco, or even Fiji? Let us know below so we can see which of these exotic vacations should be added to the Expat Explore tours family next.
1. Arashiyama Bamboo Forest, Japan
If this is a place that is renowned in the statement "pictures don't do it justice", then you can just imagine what it would feel like to stand in this towering forest of bamboo. Found on the outskirts of Kyoto, Japan.
This exotic destination is a place of sheer enchantment set amidst the bamboo stalks, monkeys and shrines. Find yourself gazing up with a sense of other-worldly perspective that you can only feel deep in your gut!
A bridge leading into the beautiful Arashiyama Bamboo Forest
2. Forest of Knives, Madagascar
These razor-sharp vertical limestone rocks in Madagascar (an island off the coast of South Africa) , are also known as Tsingy, in Malagasy. This means "the place that one cannot walk", and there is no doubt as to why.
These magical formations long outdating humans on this planet are a case of sheer mother-earth magnificence, and wildlife thrives here! Due to 200 million years of heavy tropical rainfall erosion, these limestone formations are as exotic as they come and are really something to behold!
Hiking through the Forest of Knives in Madagascar
3. Dubrovnik, Croatia
The Republic of Croatia is an exciting exotic destination on the Adriatic Sea. Dubrovnik particularly is a walled old town that is known as the 'Pearl of the Adriatic' which was once a rich and powerful state and today feels like a living museum that makes for the best exotic vacation.
Discover the numerous baroque churches and medieval marble streets, lined with quaint cafes and trendy bars and restaurants. Dubrovnik is a great holiday destination that feels like a piece of paradise on Earth with loads of cultural history and incredible architecture all within the iconic city walls. It's also a great stop to explore on an exotic sailing trip in Croatia .
An aerial view of the famous Old Town in Dubrovnik
4. Easter Island, Chile
This mystical destination is located hundreds of miles off the coast of mainland Chile . Easter Island is an exotic destination on the bucket list of many travellers. There is a vast amount of exploring to be done in such a small stature of just 63 square miles.
Here you'll discover volcanoes, beaches, wild horses and the famous "Easter Island heads", which are Moai statues that have confounded explorers and archaeologists for centuries.
Famous Moai statues at the Rano Raraku volcano on Easter Island
5. Taha'a, French Polynesia
An island filled with banana, watermelon, and coconut that smells like vanilla?! Count us in! The amazing work of Mother Earth has created an island that is shaped like a flower and smells like vanilla pods, and we're not even kidding.
Her fertile valleys are a natural greenhouse for Tahitian vanilla orchids, which are in abundance on Taha'a . There is so much to see and do on this exotic island! The natural scenery is awe-inspiring and travellers are able to hike the incredible valleys and ascending slopes discovering all the magical and diverse flora and fauna on the island.
Bungalows on the island of Taha'a
6. Cappadocia, Turkey
This magical moonscape found in the stunning Cappadocia region in Turkey was created by volcanic eruptions that have resulted in rock formations and caves that are completely surreal. This geological oddity is a sight to see and definitely one of those exotic vacation spots that need to be added to the list! You will get the opportunity to visit this phenomenon on a tour through Turkey.
Entrance to the ancient underground city in Cappadocia
7. Bagan, Burma
These beautiful other-worldly temples were built by the Kings of Bagan between 1057 and 1287, and are one of our truly gloriously unsullied exotic destinations. More than 2,000 Buddhist monuments tower over the green plains below in such an incredible way and are truly an archaeological spectacle to experience.
Famous temple in the archaeological zone in Bagan, Burma
8. Sossusvlei, Namibia
This part of the Namibian desert is a visual immersion in incredible sand dunes and clay pans for as long as the eye can see. Sossusvlei is one of the most exotic places in the world, with surreal dead acacia trees contrasting the salty floor of the pans and ever-changing dunes that flow with the Earth.
The biggest dune in the Namib Desert in Sossusvlei, Namibia
9. Lake Atitlan, Guatemala
This beautiful lake has found itself locked in between three towering volcanoes in the Guatemalan highlands of the Sierra Madra mountain range. It's one of those exotic trips that is defined by peace and tranquillity. Lake Atitlan offers an exquisite backdrop for yoga, hiking, and kayaking with mesmerizing scenery all around.
View of San Pedro volcano from Lake Atitlan
10. El Yunque Rain Forest, Puerto Rico
Another of the great exotic travel destinations! El Yunque is the only tropical rainforest in the US, covering more than 28,000 acres and getting more than 200 inches of rain annually. The rainforest is known for its biodiversity and has the perfect exotic spots for discovering the incredible spotted tree frogs and exotic flora and fauna.
A waterfall in El Yunque Rain Forest
11. Machu Picchu, Peru
This incredible Incan citadel is set high in the Andes Mountains above the Urubamba River valley in Peru . They were built in the 15th Century and then later on abandoned, and have since become an exotic travel destination.
Renowned for sophisticated and intricate dry-stone walls that have fused giant blocks together, seeming impossible without the use of mortar. These fascinating buildings boast astronomical alignments and incredibly picturesque panoramic views in a mystical and other-worldly manner. You can visit this incredible sight ona tour to Peru.
Machu Picchu ruins voted as one of the new 7 wonders of the world
12. El Nido, Palawan, Philippines
Another of the best tropical exotic vacation spots, Philippines' last frontier boasts marble cliffs and aquamarine lagoons filled with exotic colorful fish.
That's not all, off this incredible beach you'll also find lush mangrove forests, cascading waterfalls and ancient caves, making El Nido the perfect place for that next exotic vacation.
Kayaking in El Nido Palawan
13. Adams Peak, Sri Lanka
This spectacular natural conical landmark is a pilgrimage attraction of Sri Lanka and a perfect destination for your next exotic vacation.
Hike up Adam's Peak and you'll feel like a giant amidst the clouds as you look down on the wondrous landscape of Sri Lanka filled with lowlands and evergreen forests. It's also a great option if you're looking for affordable exotic vacations.
Famous Buddha statue at Adam's Peak
14. Taveuni, Fiji
A list of exotic vacation spots just doesn't seem complete without adding Fiji. Taveuni is one of the 300 archipelago islands and offers the feeling of complete peace and isolation, surrounded by welcoming culture and scenic national parks.
The waters are full of soft coral that is often luminous and houses a vast array of fish, turtles, sharks, and whales. A diver's paradise and a get spot for an exotic vacation.
Coral reef at Taveuni Island in Fiji
This planet that we are lucky enough to call home is so full of awe and wonder that it's hard to imagine such incredible exotic trips we can fill our lives with. This list is just the tip of all there is to experience and marvel at in planning for your next exotic vacation! Join us one of our amazing group tours , because travel is better together to explore the world.
12 Most EXOTIC Places in the World You Must Visit
Are there most exotic places in the world to visit? Where you can retire to or go on vacation?
After reading about history, cultures, and the wonders of the world, sometimes it's good to go out there and experience its first hand.
Or maybe you want to get away. Go to a place where you can clear your head after a stressful situation. Worry not Mother Nature has got some of the best, breathtaking locations just for you.
These are places you can go alone, with friends or even family.
In this article, we look at the twelve most exotic places in the world to visit. where you can go to get off from the hustle and bustle of your daily life.
12 Most exotic places in the world to Visit
1. Maui, Hawaii
Maui also is known as "the valley isle" is coloured with legendary surf scene and golden crescent beaches that cover more than 120 miles.
It's famous for its misty peaks, beautiful sunsets and bamboo forests.
Your stay here is incomplete if you've not seen the award-winning sands of Kaanapali or marvelled at the crimson red sands of Kaihalulu.
You've not seen an exotic beach until you visit Maui in Hawaii.
2. Puerto Rico
Puerto Rico is another fascinating place characterized by the tropical climate, seduced palm-fringed beaches and topography as varied as a patchwork quilt.
It's without a doubt, the most exotic island in the Caribbean.
While there you get to see the frogs in the El Yunque jungle, enjoy a night swim in the bioluminescent mosquito bay.
3. Fuerteventura
Fuerteventura is in the Canary Islands. It's the most exotic place in the canaries and is famous for its deserted beaches, crystal clear water and happy vibe.
The steady trade winds make it the right place for water sports.
4. Bay of Kotor
Bay of Kotor makes it to the list of the most exotic places in the world.
It is in Montenegro. Here you get to be embraced by its emerald waters and picture square mountains.
Along the shores, are beautiful antiquated towns like Perast where you get to sample their cuisine and interact with the locals.
5. Lost City of Petra
Petra
The lost city of Petra is set on a cliff between the Red and the Dead Sea.
This exotic place is in Jordan, and still has secrets to reveal to the world.
It's famous for the several tombs and curved structures spread across a sandy landscape.
You will be gratified to know that most of the scenes from holly wood's, block baster, Indians jones and the last crusade were shot here.
6. Island of Gozo
The enchanting island of Gozo is a fundamental part of the Maltese archipelago.
Did you know that its one of the top diving destinations in the Mediterranean?
Therefore if you are a diver or a fan of the sport add this exotic place on your bucket list.
It also boasts of mystical backwaters, historical sites and incredible panoramas.
7. The Great blue hole
The great blue hole is found off the coast of Belize.
So if you are a scuba diver, this is the place to visit.
Not a scuba diver? Don't worry; you still need to go to this Submarine Sinkhole.
Why? You get to see a variety of species underwater and a breathtaking view.
8. Forest of Knives
This Exotic place is in Madagascar.
Razor-sharp vertical rocks characterize the forest of knives. What's more, is that wildlife here in this forest.
Let the adventurous spirit in you explore the Bizarre Pinnacles of limestone and get to see the different bird breeds and hemmers.
9. Cappadocia
Cappadocia is Turkey's most beautiful region. In this beautiful place, you will find caves, pinnacles clefts and pointed rock formations.
All these beautiful formations are as a result of volcanic eruptions.
10. Fiji
Now, this list of exotic places in the world will be incomplete without the mention of Fiji.
It is an archipelago of 300 islands located south of the Pacific Ocean.
Fiji has pristine white sandy beaches and fish packed coral reefs.
While there you can test your mountaineering skills explore the beautiful villages or soak in spring.
11. Cano Cristales, Colombia
Another name for the Cano Cristales is the "Liquid Rainbow". Located in Colombia, this exotic place is a must-visit if you ever head to South America.
The best time to go and experience this Colombian Wonder is between July and November.
At this time the river bed is usually full of flashy colours like green, yellow, black, red and blue.
12. Taha'a, French Polynesia
Even though most people love going to Bora Bora and Tahiti, Taha'a is also a must-go place.
The island offers the most exquisite and intimate ambience you will ever get to experience in the world.
Also, the landscape has vanilla plantations and traditional pearl.
Conclusion on the Most Exotic Places in the World to Visit
Visiting these places may seem like too much of a task but wait until you get there you will not regret making the trip.
Besides, if you can afford it, why not? Life is too short to be born in one part of the world grow up there and die there.
Get your finances and paperwork in order.
When the time is right, to get out there and explore these wonders of the world.
9 Beautiful Exotic Destinations to Visit Around the World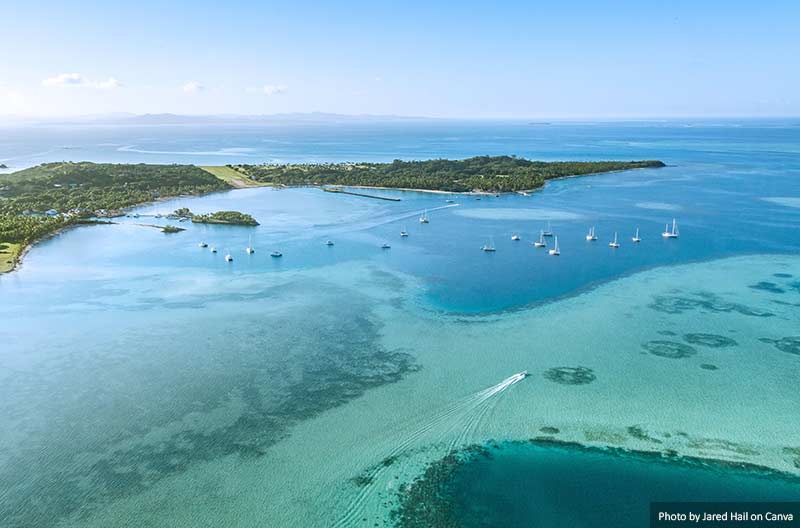 Disclosure: Your support helps keep our site running. We may get a referral fee at no cost to you if you click on our links and make a purchase. Thank you for your support.
Exotic, by definition, means something striking or excitingly different or unusual. In today's busy life, people tend to yearn for different things to make life a little bit more thrilling and exhilarating, be it a new hobby or going on a cool trip. In this article, you will discover 9 beautiful and unique holiday destinations that will promise a wonderful visit to a tropical paradise. Filled with warm weather, golden sunsets, amazing landscapes, white sandy beaches, and perfect adventures.
Here are nine of the most beautiful exotic destinations to visit around the world. Perfect for adding to your bucket list.
1. The Maldives
The Maldives is a beautiful island country and archipelagic state situated in Asia and located in the Indian Ocean. It is about 700 kilometres from the mainland. The Maldives has over 1000 separated islands characterized by its pure-white sandy beaches, exotic corals, colourful fish, and other unique marine life.
There are also many things to do in this tropical paradise especially if you are into adrenaline-filled watersports like water-flying, diving, fishing, snorkelling, parasailing, and surfing. But of course one of the main draws to this islands paradise is the wonderful beaches and resorts which are perfect for relaxing.
Other top attractions to check out are the island of Utheem, the Grand Mosque of Malé, the National Museum, and the Malé Friday Mosque.
Capital: Malé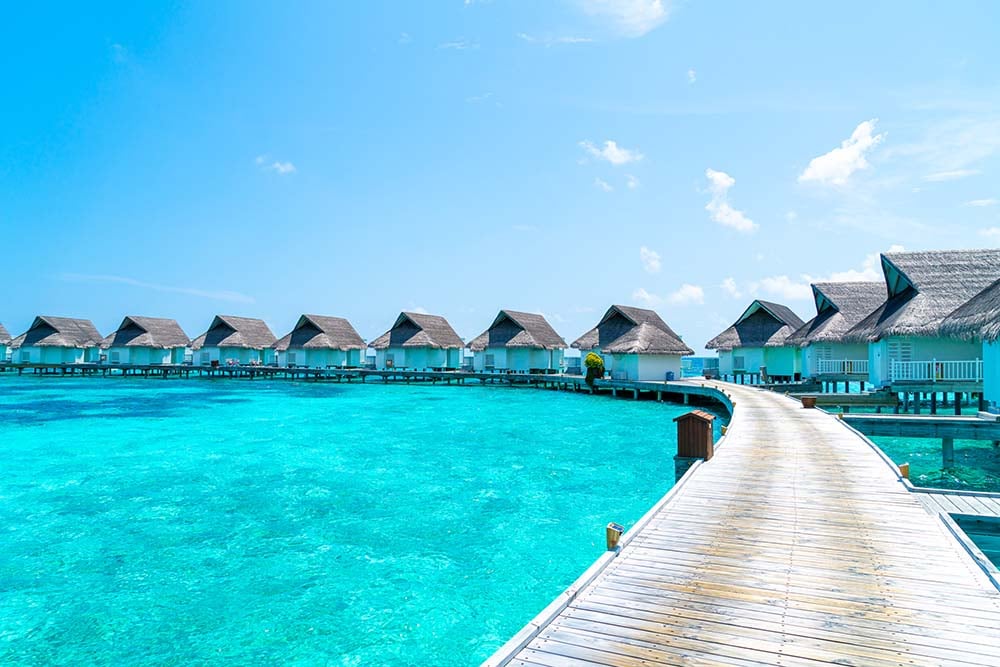 2. Fiji
Fiji is a dreamy archipelago/country located in the South Pacific Ocean and encircles the Koro Sea 2,100 km north of Auckland in New Zealand. Fiji is actually made of around 333 islands, however just two islands, Viti Levu and Vanua Levu, host 87 per cent of the population.
90 per cent of the country is mainly water and so Fiji is the perfect place for scuba diving and snorkelling as it encompasses more than 4000 square kilometres of wonderfully coloured reef gardens. The land gardens are also remarkable, so make sure to check the Garden of the Sleeping Giant found in the Nausori Highlands which has a huge collection of vibrant orchids and many other native plants.
Other top places to see in Fiji include the Mamanuca and Yasawa Islands, Bouma National Heritage Park in Taveuni Island, Denarau Island, Beqa Lagoon, and Navua River in Viti Levu.
Capital: Suva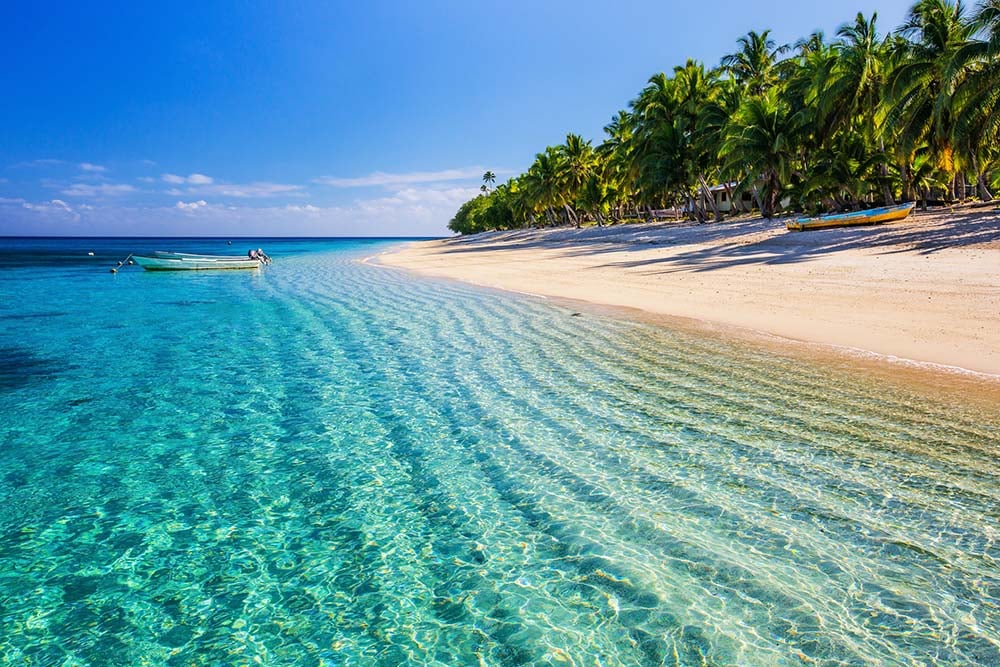 3. Mexico (coast): Tulum
Tulum used to be a simple and quiet fishing village and is now one of the most vibrant locations to be in Mexico! Famous for its amazing sandy beaches and beautiful weather, the first best thing to do is hit the beaches of Tulum and enjoy a relaxing day. Some of the best beaches to visiting in this area include Playa Paraíso, Playa Ruinas, Akumal Beach, and Las Palmas Public Beach. Another relaxing activity is taking a mud bath in Laguna de Kaan Luum (lagoon).
The Sian Ka'an Biosphere in Tulum houses thousands of different species of plants and wildlife, birds, dolphins, turtles, fish and is a must-visit on your trip to Tulum.
Moreover, the Tulum Mayan Ruins, Caves at Cenote Caracol, the Cobá ruins, and the famous "Ven a la Luz" (Come into Light) sculpture by artist Daniel Popper, are all attractions not to be missed during a visit to Tulum.
Capital: Mexico City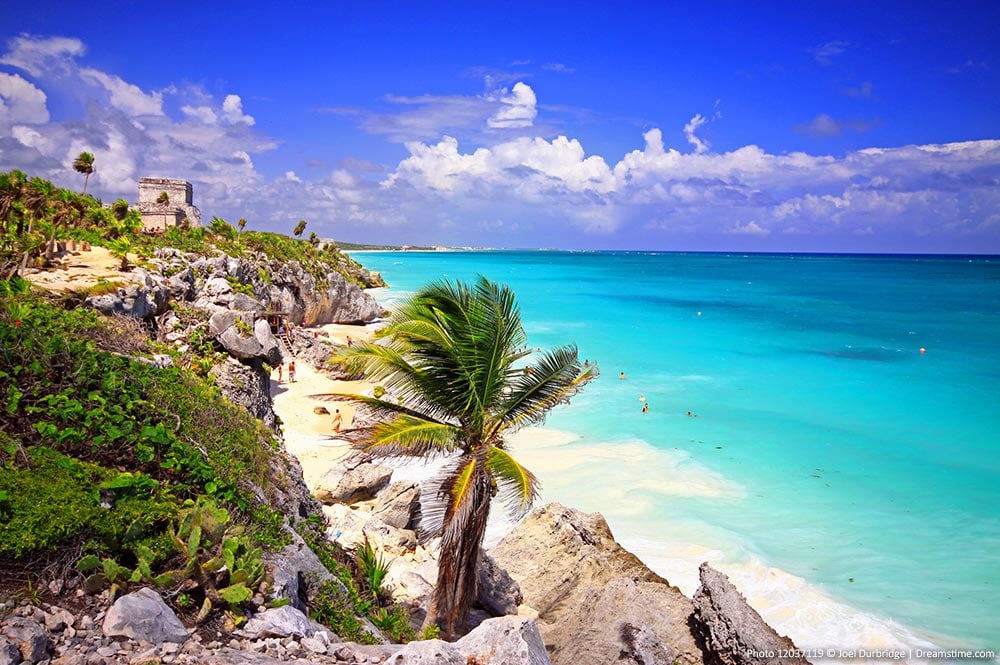 4. Mauritius
Mauritius is an island country located in the Indian Ocean, famous for its amazing beaches, rainforests, hiking trails, waterfalls, lagoons, and coral reefs. The small village of Chamarel in Mauritius is the most visited natural site in the country since it houses the highest waterfall (over 100 meters) on the island and is known for its seven-coloured earth (brown, red, green, violet, purple, yellow and blue). Moreover, the Curious Corner of Chamarel is a must-see museum where you can find mirror-mazes, puzzles, and optical illusions.
If you are looking for a luxurious stay, then try to hit the exquisite sandy shores of Île aux Cerfs, a private island in Mauritius with lodging and also home to a golf club.
Other things to see include Trou aux Cerfs Volcano, Bois Cheri Plantation, Ebony Forest Reserve, La Vanille Nature Park, and Black River Gorges National Park.
Capital: Port Louis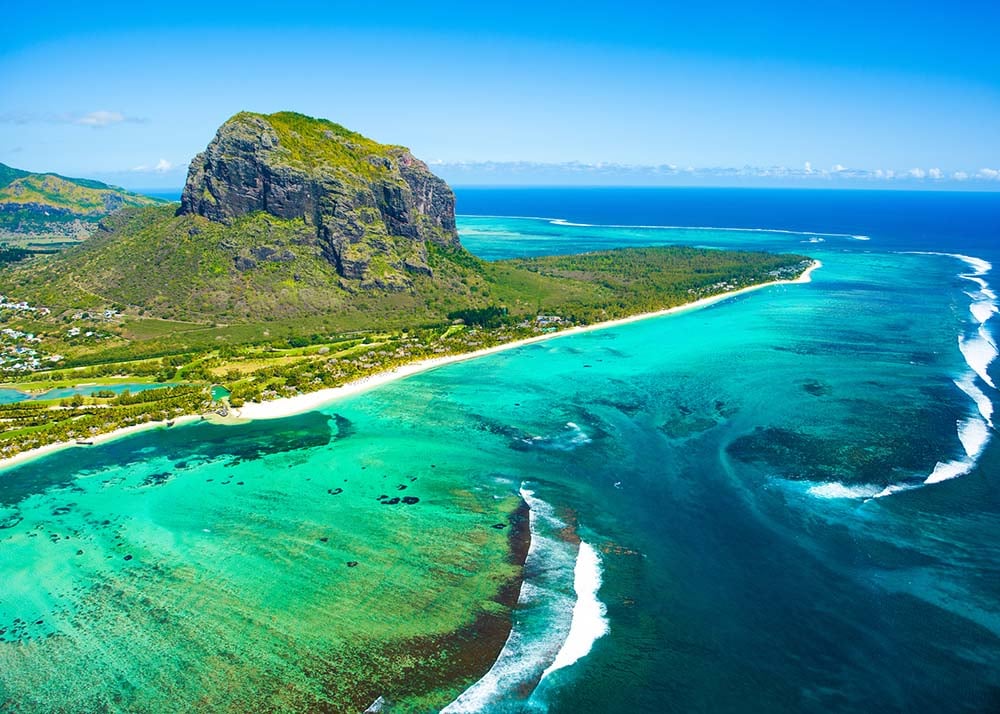 5. Ko Lipe, Thailand
Ko Lipe is a gorgeous island in Thailand located in the Andaman Sea near Malaysia and home to many aboriginal Malay people, known as the Urak Lawoi. Although small in size, Ko Lipe is an island rich in activities, history, culture, great food, and all elements needed for an exotic holiday trip.
Beaches you can't miss are Pattaya Beach, Sunset Beach (best place to watch the sunset), and Sunrise Beach (best place to watch the sunrise). On these beaches you can also enjoy a great snorkelling and scuba diving trip in the transparent waters of Ko Lipe whilst witnessing the many tropical fish and coral reefs found there. Also, you can book a boat tour and discover the island from the waters.
There are also many ways to relax on Ko Lipe besides a beach day; you can find many Thai massage spas and parlours, yoga and medications classes there.
Capital: Bangkok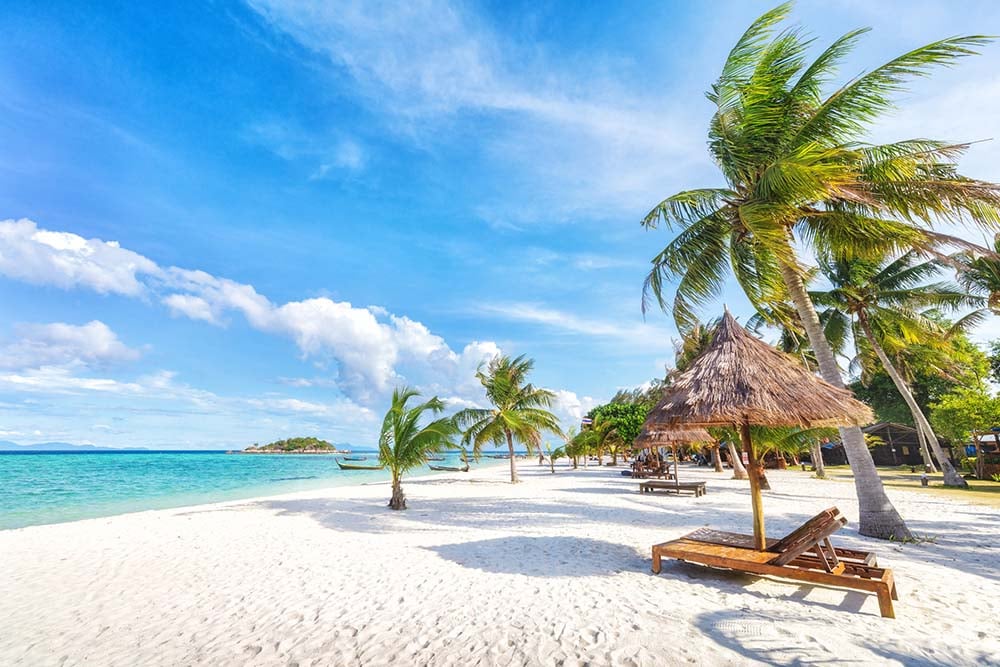 6. Palawan, Philippines
Palawan is an amazing archipelago in the Philippines situated in the region of Mimaropa. Palawan is home to the Underground River in Puerto Princesa, which was officially recognized in 2012 as one of the "New 7 Wonders of Nature". While there, enjoy a river tour and discover the caves' magnificent natural formations of stalactite and stalagmites.
Another amazing thing to check out is Tubbataha Reefs Natural Park which is a haven for divers. It is a UNESCO World Heritage Site due to the fact that it houses almost half of the world's coral species, more than 600 species of fish, and many different species of whales, sharks, and dolphins.
Other things to enjoy while visiting in Palawan are Bacuit Bay Islands, Kayangan Lake, Small Lagoon, El Nido beaches and Coron Bay Shipwrecks.
Capital: Puerto Princesa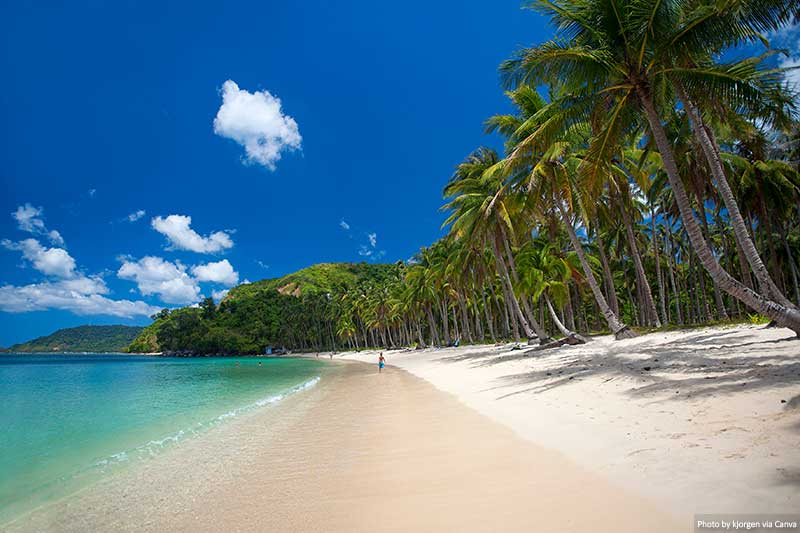 7. Aruba
Located in the Caribbean, Aruba is a Dutch Island famous for its endless sunshine; in fact, Aruba enjoys the most days of sun in comparison to other Caribbean islands. Aruba is also famous for its golden beaches, bustling nightlife, luxurious resorts, and amazing hotels.
While in Aruba, make sure to enjoy a beach day at Hadicurari Beach, Manchebo Beach and Spa, Eagle Beach, Boca Catalina, or Palm beach.
Also, you can visit the Casino at Hyatt Regency Aruba, the Aruba Donkey Sanctuary, the butterfly farm and also benefit from an amazing hike at Arikok National Park.
Capital: Oranjestad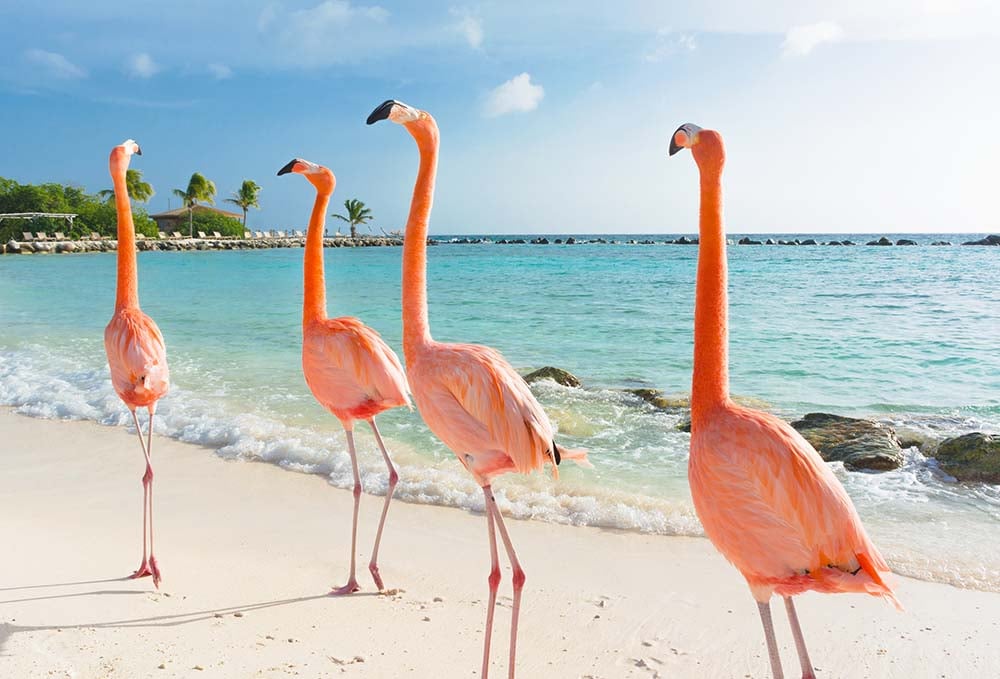 8. Seychelles
Seychelles is an outstanding archipelago that constitutes 115 islands in the Indian Ocean. It has many beaches, several UNESCO-listed natural reserves, virgin jungles and forests, coral reefs, and some rare animals like the Aldabra tortoises (Aldabra Atoll) and the White Fairy tern.
Seychelles has endless gorgeous beaches to visit and enjoy. Make sure to visit top beaches such as Anse Lazio (Chevalier Bay), Petite Anse, Anse Georgette, Anse La Passe, Beau Vallon Beach, and Anse Intendance.
Seychelles is also known for its natural reserves and parks where you can have an adventurous day of hiking and trekking. So, make sure to visit St Anne Marine National Park, Morne Seychellois National Park, Vallée de Mai National Park, and Aride Island Nature Reserve.
Capital: Victoria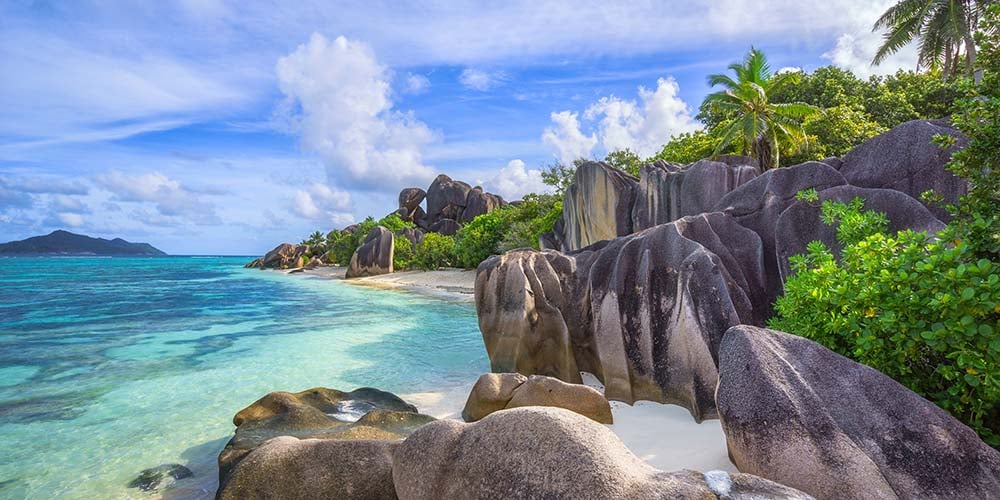 9. Gili islands
The Gili Islands are made of 3 small islands located in Indonesia: Gili Meno, Gili Trawangan (largest), and Gili Air.
Gili Trawangan is the largest and most popular of the islands. While there, enjoy a relaxing beach day at Villa Almarik, Sunset beach, Malibu beach or the Good Heart Beach. You can also enjoy an amazing time snorkelling/diving and discovering the many exotic colourful fish and sea turtles of the island. A popular and picturesque thing to do is going to the famous Gili Ocean Swings located all over the island during sunset time (for best pictures). Moreover, the best and cheapest place to eat and shop at is the Gili Trawangan Night Market.
Gili Meno, is a smaller island and can actually be discovered in 90 minutes by walking and enjoying the gorgeous sceneries of the island. Interesting things to check there are the Asin Lake (saltwater lake), the Mangrove Forest, the Green Turtle Captivity, and the Gili Meno Bird Park.
Gili Air is the perfect place to rest and relax on turquoise-coloured beaches. The Slow Spa on Gili Air offers a relaxing day with a great selection of treatments found there. Another top thing to do there is snorkelling and diving to discover the underwater sculptures.
Capital: Jakarta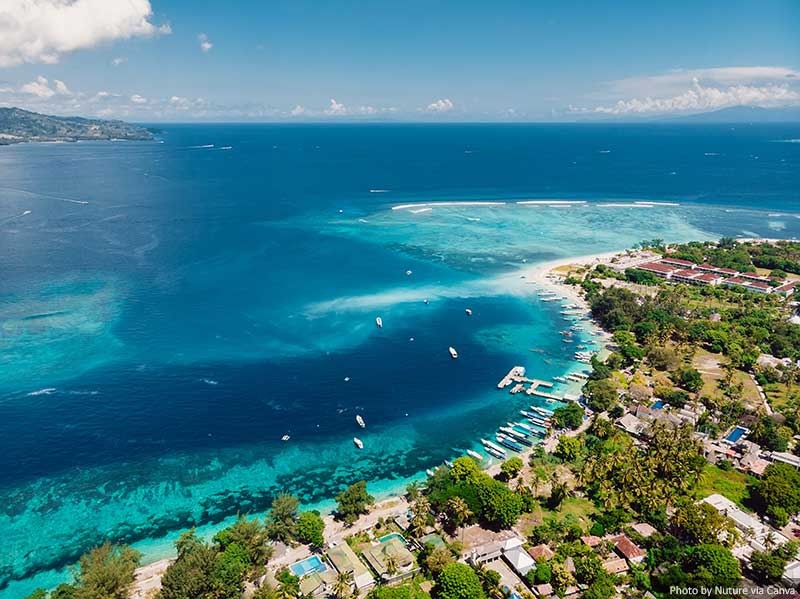 Summary
If you are an adventurous soul looking to escape the monotonous rhythm of day-to-day life, then a trip to an exotic island is the way to go. You will get to see and experience things you never imagined seeing; from jaw-dropping landscapes, wildlife, views, and gorgeous beaches to new cultures, history, food, and unique life-changing activities. The destinations listed above are just some of the top exotic locations in the world and will guarantee you the thrill and desire you may have been seeking.
Ready to book? Search for:
Katy is a travel blogger and writer from Lebanon. After finishing her undergraduate studies in Beirut (Lebanon), Katy moved to Italy to follow her dream of studying abroad. While pursuing her master's degree in Food Security, Katy traveled all over Europe. She is passionate about exploring new places and trying different cuisines while snapping pictures of her experience. Katy loves getting lost in beachy areas, small medieval towns, and beautiful quaint cities of the world. You can follow her travels on Instagram and her blog. [Read full bio]
If you would like to write a guest article so as to raise your profile then please get in touch
Noticed a mistake? Let us know.
Related Articles
Related Posts
Top 10 Things to See and Do in Dubrovnik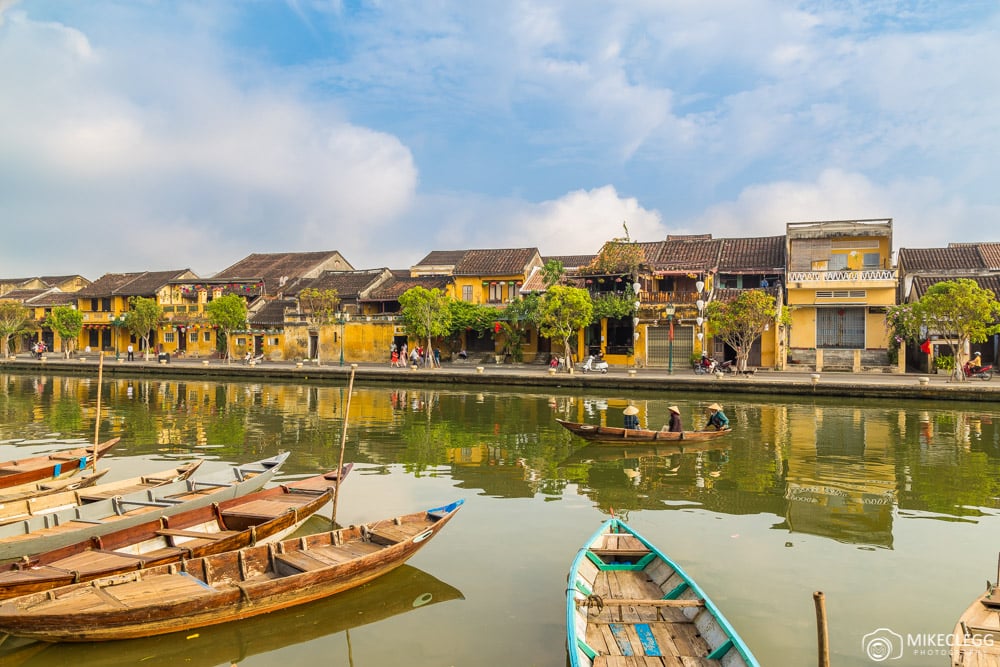 City Breaks: Quick Guide to Visiting Hoi An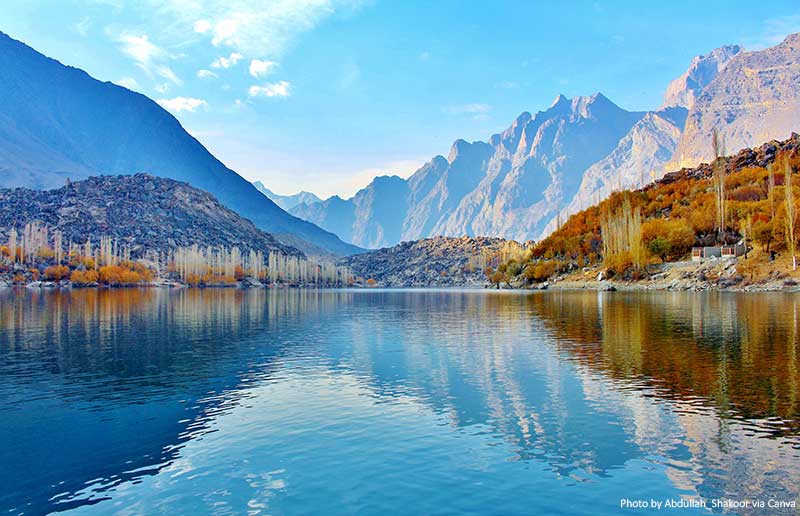 10 Best and Most Beautiful Places to see in Pakistan
You may also like
Accommodation
Accommodation provided through our partners. We may get a commission at no cost to you.
Tours & Activities
Tours and activities provided through our recommended activity partner. We may get a fee at no cost to you if you book something. Your support keeps this site running so a huge thank you for your support.
Advertisement
Recent Posts
Ouzoud Waterfalls Day Trip from Marrakesh
12 Best Things to See and Do in Zagreb
Best Things To See and Do in Uzbekistan
12 Top Things To Do And See In Turin
11 Best Things to See and Do in Serbia
Advertisement
Links
Follow
Content © TravelAndDestinations.com – Please do not republish our articles.
Content, facts and prices on this page are believed to be correct at time of writing. Please check official websites for most up to date information. If you spot a mistake please let us know.
Pictures used are either created and owned by travelanddestinations.com, are creative commons, provided by an author, or purchased via stock sites.
We are a participant in the Amazon Services LLC Associates Program, an affiliate advertising program designed to provide a means for us to earn fees by linking to Amazon.com and affiliated sites. As well as Amazon, Travel and Destinations also works with Booking.com, Google Adsense and other partners. This allows us to provide content to you and run the site. Thanks for your support.
We value your privacy
We use cookies to offer you a better browsing experience, to analyse our traffic, and to serve personalised content and advertisements.
We use "analytical" cookies to understand how people are using our site, such as which pages are helpful, which parts of the site people don't use and to understand where our visitors come from (on an anonymous non-identifiable level). This helps us to improve the way our website works, for example by ensuring that users are finding what they are looking for easily and that we are creating content that helps people.
By clicking "Accept All", you agree to the storing of cookies on your device. View more and customise using the cookie settings button.
Cookie Settings ACCEPT ALL
Privacy Overview – Cookies and Advertisements
We use cookies and various third-party services to analyse our website to understand its performance, identify bugs and problems, as well as to create new features and functionality. In turn this allows us to make this website better for our visitors. We also use IP Anonymization in our analytics so as to protect your privacy as much as possible.
As well as this we also use Google Adsense for dynamic and personalised advertisements and this is a source of income for our website, allowing us to invest in new content, hosting, security, other services, and website development. You can turn off personalised ads by visiting your settings on Google, or by using the non-necessary toggle below. There are also certain browsers and plugins which can help you to block advertisements if you wish.
Finally, to be transparent we are also partnered with a range of services such as GetYourGuide, Booking.com, Omio, and Amazon to name a few. So, whenever you click on a link that takes you to an external website that offers products or services we may get a commission should you purchase. This will be at no extra cost to you. Similar to Adsense mentioned above, this helps us run this website, make improvements, and pay writers for new content.
Below you can see our cookie controls. You can also view our privacy policy for more information, see cookies that are set and learn how to completely block cookies and browse more anonymously should you prefer.
Once you've adjusted your settings then click the X button above and then "Save and Accept". Thank you for visiting our site.
These include cookies that affect the functionality of the site, such as for our shop to work, your consent to be logged through the privacy centre, security through Cloudflare, as well as non-personalised advertisements and website analytics. We also use Google Analytics (with IP Anonymization) so as to understand our website performance, detect bugs and issues, and to optimize and make improvements to our content and your user experience where possible. Without these insights, it would be very difficult to run this website. For the best ways to completely block cookies please see our privacy policy for suggestions.
These cookies are for performance testing, user behaviour analysis using Hotjar (this helps us understand and make improvements to our site), personalised ads and other functionality which is non-essential.
Source https://expatexplore.com/blog/most-exotic-vacations/
Source https://urbankenyans.com/12-most-exotic-places-in-the-world-to-visit/
Source https://www.travelanddestinations.com/beautiful-exotic-destinations-to-visit/