Things to Do in Solvang: Insider Tips for a Santa Ynez Valley Wine Country Getaway
As a weekend trip from San Francisco or L.A., the Santa Ynez Valley wine country offers unique things to do in Solvang and nearby towns. Our First Timers Guide to Solvang will help you choose activities and places to dine, stay and shop, throughout the valley and outside of the typical tourist track.
Our six month stay in The Santa Ynez Valley (in Santa Barbara County on the California coast) gave us an opportunity to experience so much of what this great place has to offer. We got to know local folks and have incorporated some of their suggestions along with our own for the best things to do in Solvang in this First Timers Guide to Solvang.
This post contains affiliate links and/or references to our advertisers. We may receive compensation when you click on or make a purchase using these links.
Solvang, with its Danish culture and immigrant legacy, has provided visitors with a unique and charming European ambience for decades, earning it the moniker "Little Denmark" from more than one resource. More recently, the Santa Ynez Valley has emerged as a popular Southern California destination. It's a popular spot for lovers of good wine and fine food, with sophisticated gift shop options, antique stores, art galleries, wine tasting rooms and upscale accommodations.
As a discerning traveler, great options for you are definitely available, even if it takes a bit of sleuthing aside from the ice cream shops and t-shirt stores which cater to busloads of tourists who will have a more kitschy experience.
On your way from Los Angeles, you'll exit the 101 Freeway at Buellton, just north of Santa Barbara. From there you'll take Highway 246 to downtown Solvang where it becomes Main Street. From San Francisco, you'll arrive in the Santa Ynez Valley via Highway 154. In between Buellton and along parallel roads to Route 246 and Highway 154, you'll encounter several charming small towns in the Santa Ynez Valley: Ballard, Santa Ynez, Los Olivos and Los Alamos.
Each of these towns has a unique atmosphere, yet all were founded in the mid to late 1800s from former stagecoach stops serving land grant ranching operations and the small communities which developed around them in the early 1900s. This strong Old West legacy permeates the Santa Ynez Valley lifestyle, flavoring it with relaxed enjoyment. This region has the most impressive sort of sophistication in our book: confident but not imperious, innovative and influential, tempered by a delightful willingness to share with folks who appreciate great food and wine, quality craftsmanship and impeccable hospitality.
Portraits of John Wayne in the Longhorn interior. Photo: PassingThru
Even if you've never visited the Santa Ynez Valley, the fact that you're looking for unique things to do in Solvang most likely means you want to avoid touristy activities and accommodations in favor of experiences that are better tailored to your personal interests.
However, we'd be remiss if we didn't recommend a quick ride on the horse drawn Solvang Trolley, which will take you all the way through town, past the popular Olsen's Danish Village Bakery (a Solvang bakery where the lines are long) and the Solvang Festival Theater, which has provided open air live theater performances for almost 50 years.
In the Danish capital of America, you'll not want to miss a visit the Hans Christian Andersen Museum. Andersen is revered for his children's fairy tales, the best known of which are The Little Mermaid and The Ugly Duckling. Kids will enjoy Hans Christian Andersen Park which has several play and special activity areas and a skate park.
Danish history lovers and those interested in the history of Solvang will want to visit the Elverhoj Museum of History and Art, housed in a Scandinavian style house. Just two blocks away, the Solvang Vintage Motorcycle Museum has rare, vintage motorcycles built in the United States, Europe and Japan.
The Old Mission Santa Ines is a Spanish mission which is part of the Catholic mission legacy established throughout southern and Central California in the 18th and 19th centuries by Franciscan priests. Architecture lovers will note the precursor to California Mission Revival in the structures, as well as the peaceful, contemplative atmosphere in the gardens. The Old Mission Santa Inés dates from 1804.
Old Mission Santa Ines courtyard
We've organized the rest of our First Timers Guide to Solvang under four broad categories: accommodations, shopping, food and drink, and touring.
Places to Stay in Solvang and Nearby in the Santa Ynez Valley
Because this area has long been a popular weekend getaway from Los Angeles and San Francisco, there are many options for places to stay in Solvang. Not all of these are created equal, however, particularly on weekends due to the influx of tourist groups. You may be tempted to book with a "name brand" to get a known quantity, but rest assured there are charming options which will deliver a unique, atmospheric and more memorable experience. Here are our recommendations for Santa Ynez Valley hotels which deliver a highly personalized product, perfect for family stays, group retreats, or romantic getaways in Santa Barbara wine country.
Located in the quiet neighborhood where we were housesitting, the Ballard Inn & The Gathering Table restaurant has fifteen individually decorated guest rooms, some with fireplaces and private entrances, rates include cooked to order breakfast. Award-winning Asian French fusion restaurant offers communal and intimate dining with small, sharable plates. 2436 Baseline Avenue, Ballard.
Ballard Inn. Photo: PassingThru
Meadowlark Inn has eighteen rooms and suites, some with hot tubs or kitchens. Arrange for spa services and massages on site, light breakfast in the dining room or al fresco in the garden. 2644 Mission Drive, Solvang.
The Alamo Motel was inspired by the home of Georgia O'Keefe in New Mexico. This renovated motel offers guests an outdoor fire and wine bar among the property's majestic oaks. Rooms are double queens, single queen or king, some with clawfoot tubs, kitchenettes or suite configurations suitable for families. 425 Bell Street, Los Alamos.
Alamo Motel. Photo: PassingThru
Famed television actor Fess Parker and his family created the 19 room Fess Parker Wine Country Inn and Spa out of the former Grand Hotel in Los Olivos to complement the family wine operation. Renovated in 2012, this Preferred Boutique Property offers daily breakfasts, wine tastings for two, cozy fireplaces in a variety of room and suite configurations On site: gym, heated pool, tranquil spa, and fine dining with ranch-inspired, sustainable menus. 2860 Grand Ave, Los Olivos
Victorian Mansion at Los Alamos features six luxury theme suites in a circa 1864 mansion moved to Los Alamos from Nipomo, CA in 1980. Restored in 2007, the current owner recreated his own childhood experience from family stays decades earlier. Choose 50s, Gypsy, Roman, Egyptian, Pirate or French themes, each with games, music and DVDs to complement. Rated in the Top Ten "Quirky Places to Stay" by TripAdvisor, National Geographic Traveler, and Peter Guttman. 326 Bell Street, Los Alamos.
Victorian Inn. Photo: PassingThru
Alisal Guest Ranch and Resort is a 10,000-acre dude ranch with a storied history, including over 50 miles of riding trails, two 18-hole golf courses and a 100-acre spring-fed lake. Guests can enjoy riding and horsemanship programs, fishing, court sports, spa treatments, and fine dining. Western style accommodations include full breakfast and full dinner, in 73 suites and studios. A very low profile, top-ranked retreat for celebrities such as Clark Gable and Doris Day, the ranch welcomes returning visitors from around the world. No televisions or telephones in the room for an old-fashioned getaway experience tempered with elegant traditions such as dressing for dinner. 1054 Alisal Road, Solvang
Hotel Corque is a boutique hotel in the heart of Solvang designed with luxurious comfort in a classically sophisticated ambience. Over 100 guest rooms including 17 suites and a Presidential Suite, meeting and event space, dining and wine getaway packages. 400 Alisal Road, Solvang
Santa Ynez Inn was designed to meld the elements of a vintage inn with modern luxury boutique conveniences. The inn's twenty queen, king or suite accommodations are decorated with antiques, some with fireplaces, balconies or patios. Sophisticated and warm hospitality with full gourmet breakfast and local wine parlour service. Spa, sauna and outdoor whirlpool.3627 Sagunto Street, Santa Ynez
Santa Ynez Inn. Photo: PassingThru
Sideways Inn was recently renovated in a fresh, contemporary style, rooms and public spaces feature vintage photography. The vibe is simultaneously rustic and urban. Choose from a variety of configurations – pool, quiet courtyard, balcony, patio – suitable for solo travelers, couples or groups of friends and family. Complimentary continental breakfast and pet friendly options. 114 E. Hwy 246, Buellton
Unique Places to Shop in Solvang and the Santa Ynez Valley
A Piece of the Past Antique and Vintage Mall has more than 25 dealers offer vintage collectibles and furniture in a 4000 sq foot space. Styles ranging from shabby chic to Western and native Americana. Open daily 10:30am-5:30pm. 1430 Mission Drive, Solvang
Romp Shoes features one-of-a-kind jewelry, handbags, and exclusive European footwear collections in a rustic California chic atmosphere. This store intimately connects with its select roster of designers who craft artisan quality footwear, bags, and accessories. Open daily 10am-5pm. 2928 San Marcos Ave, Los Olivos
A storefront in Los Olivos. Photo: PassingThru
KJ Murphys Custom Hatter & Mercantile has custom and semi-custom hats handcrafted in pure beaver or blends, fitted with legacy techniques from pioneer days. Choose from Brick Top, Open Slope, Flat Top, Open Road, Pinch, Catalina, Derby, Pinch, Vaquero and Fedora styles for men and women. 3569 Sagunto Street, Santa Ynez
Dennee's of Santa Ynez is where Mia Dennee-Murphy's furniture store and concierge design services meld a Western esthetic with California contemporary classics. 3569 Sagunto Street, Santa Ynez
Los Olivos Ambience. Photo: PassingThru
You will find Picket Fences' home, gift, and garden goods in a quaint, old-fashioned Parisian-influenced style. Knick-knacks and one-of-a-kind treasures. Open 10:30am-5:30pm. 1588 Mission Drive #3, Solvang.
Olive Hill Farm Tasting Room provides a full spectrum of olive oils, textured and flavored with fruits, herbs, mushrooms, and peppers. Balsamic vinegars, wine vinegars, gourmet specialty foods. Open daily 11-5.. 2901 Grand Avenue, Los Olivos.
Olive Hill Farm Olive Oil Tasting Counter. Photo: PassingThru
Plenty Boutique is laid back with a layer of bohemian edge, clothing, jewelry and home decor collections curated by two friends with the Santa Ynez lifestyle in mind. Open Mon-Sat 10am-5pm, Sun noon-4pm. 1110 Faraday Street, Santa Ynez.
Style Junction offers vintage and new one of a kind women's designer clothing, accessories, and beauty products, with a U.K. rocker's edge. Open Wed-Sat 11am-5pm. 2948 Nojoqui Ave Suite Four, Los Olivos
Great Places to Eat and Drink in Solvang and the Santa Ynez Valley
Baker's Table's French recipes are passionately interpreted by Amy Dixon to feed body and soul with fair-trade, local and organic ingredients. Daily breads and pastries include pain au leviain – a long-process rustic sourdough, hand-rolled croissants, house-made scones, cookies and french macarons. Open daily except Mondays 7:30am-2:30pm. 3563 Numancia Street, Santa Ynez
Longhorn Coffee Shop and Bakery is one of the few true cowboy hangouts left in the Santa Ynez Valley. If you like diner counter style food and a bit of familiar old school sass from your server, head here. More pictures of John Wayne than you can shake a stick at, and a well-rounded breakfast and lunch menu. Open daily 6am-1:30pm. 3687 Sagunto Street, Santa Ynez
Longhorn Coffee Shop. Photo: PassingThru
Bob's Well Bread was named by Travel and Leisure as one of 15 top small town bakeries. All their wares are hand made from locally sourced ingredients and natural starters. Savory hot breakfasts with French-inspired choices such as pan au chocolat, or a layered egg dish with potato puree, gruyere, creme fraiche, served in a mason jar. Bakery hours: Thu-Mon 7am-6pm. Kitchen closes at 3pm. Closed Tuesdays and Wednesdays. 550 Bell Street, Los Alamos.
Ellen's Danish Pancake House is a family restaurant in business since 1947 with American and Danish specialties. This is your good old-fashioned red checkered tablecloth kind of place with hearty homestyle portions. Danish style pancakes are light and delicate, served European style with fresh fruit and homemade jam. Open daily 6am-8pm except Mondays 6am-2pm. 272 Avenue of the Flags, Buellton
A production bakery during the work week is converted to a restaurant over the weekend serving up starters such as Morro Bay Pacific Gold Oysters on the Half-Shell with Garlic Sausages or Smoked Leek and Miatake Mushroom Polenta along with flatbread specials and Sunday supper entrees. Full of Life Flatbread's daily flatbreads come in sizes for one or two and include combinations of cheeses, herbs, and vegetables purchased from local family farms. Open Thu-Sat 4:30-9pm. Sun: 11am-2pm, 4-8pm. Closed Mon-Wed. 225 Bell Street, Los Alamos.
The eatery and deli market at the Bell Street Farm features assemble yourself picnic baskets, fresh cuisine featuring local ingredients including rotisserie meats and house-pickled vegetables. Rated #6 in Yelp's Top 100 Restaurants in the U.S. for 2017. Open Mondays and Thursdays from 11-4, Fri-Sat-Sun 11-5, closed Tuesdays and Wednesdays. 406 Bell Street, Los Alamos.
Bell Street Farm, Los Alamos. Photo: PassingThru
Don't be misled by the strip mall location, A-RU Japanese Restaurant offers classic sushi and tempura offerings are joined with innovative every day entrees which can be ordered individually or in an omakase "chef choice" meal worthy of a special occasion. Open Tues-Fri 11:30am-2pm, 5-9pm. Sat 4-9pm. 225 McMurray Rd, Buellton.
Bottlest is an add-on to the Terravant Winery, a bistro offering live music, artisan cocktails, over 50 wines by the glass and contemporary California seasonal cuisine using locally sourced ingredients and natural meats. Craft your own wine online from start to finish, enjoy and share with friends, or sell in the Bottlest marketplace. Lunch and dinner, small and main plates, cheese and charcuterie boards. 35 Industrial Way, Buellton.
Photo Credit: Bottlest
Petros Kafe combines the best aspects of Greek and California cuisine in a surprising combination for a Solvang restaurant. Petros uses fresh organic farmed vegetables at this location from Los Olivos and imported Greek ingredients. Open Sat-Sun 8am-9:30pm. Mon-Thurs 11am-9:30pm, Friday 11am-10:30pm Sat 8am-10:30pm 487 Atterdag Rd, Solvang
Located in a former warehouse in an industrial park, Industrial Eats is a restaurant and craft butchery serves up what the owners dub "respectfully honest great food" from two wood-fired ovens at communal tables to inspire camaraderie and comfort. Open daily 10am-9pm. 181 Industrial Way, Buellton.
Peter peruses the craft butchery meat case at Industrial Eats. Photo: PassingThru
The philosophy at Root 246 is craft-based American cuisine with sustainable ingredients served in an at-home, rustic contemporary atmosphere with an unpretentious informality. Open daily except Monday 4-10pm, Sundays 10am-2pm and 4-10pm. 420 Alisal Rd, Solvang.
Solvang might seem unlikely for a restaurant serving "island Caribbean" cuisine, but locals will tell you Hummingbird Cafe is one of their favorite hidden treasures. Flavors of plantain, coconut, lime, curry and jerk, melded into dine-in, catered, and take-out options, all organic and locally sourced when possible. Open daily except for Wednesdays 11am-5pm 453 Atterdag Rd, Solvang.
We can highly recommend the The Hitching Post II. Everyone at our table agreed (both times) the beef was some of the best they had ever had. Presenting a Wine Spectator Award of Excellence wine list to accompany its hearty menu of oak-grilled steaks and traditional Santa Maria barbecue, this family-owned operation honors its sixty-plus years of tradition with contemporary elements. The result is a packed house with national acclaim. Only open for dinner. Reservations strongly recommended. 406 East Highway 246, Buellton.
It isn't just all about the beer here, although that's reason enough to visit the main brewing facility. We wandered in to the Figueroa Mountain Brewing Company to find a carefully curated appetizer and sandwich menu which works perfectly with everything on tap. The small dining space overlooks the spotless brewing area. An impressive number of crafted beers. Open Mon, Thu 4-9pm, Fri-Sat 11am-9pm, Sun 10am-9pm., closed Tues-Wed, 45 Industrial Way, Buellton
Figueroa Mountain Brewery. Photo: PassingThru
Locals will tell you a lot of important Solvang decisions get made at the Alisal River Grill, where the Alisal Guest Ranch's reputed cuisine is available to the public in a rustic fireside dining room or scenic patio. Authentic barbecue and Western flair distinguish classic California cuisine. Expansive local wine list. Grill: Mon-Thu 8am-3pm, Fri-Sun 7am-3pm. Lounge is open until 5pm. 150 Alisal Road, Solvang
Best Wine Tours in Solvang and Local Wineries in the Santa Ynez Valley
A weekend getaway in the Santa Barbara wine country wouldn't be complete without a tasting tour of Santa Ynez Valley wineries. Choose from a variety of experiences designed to transport you swiftly and safely to the world-class wineries most likely to suit your style.
Santa Ynez Valley Wine Country. Photo: PassingThru
We thoroughly enjoyed our day with Savoir Faire Wine Tours. Donn and Bill offer a customized experience encompassing tastings, dining experiences and other recommendations. You are transported in air-conditioned vehicles and vans with knowledgeable driver guides who are passionate about this region and its offerings. Event transportation and taxi service also on offer. See our full account of a day with Savoir Faire.
Donn and Bill from Savoir Faire. Photo: PassingThru
Out of Santa Barbara, Cloud Climbers Jeep Tours provides semi-private tours in casual jeep vehicles transporting you through the Santa Ynez mountain back country to three wineries. Duration: 4-6 hours, includes deli lunch.
How about touring Santa Ynez wine country in the Big Kahuna? Surf's Up Limo transports you in style in a classic woody stretched to limousine size with a cooler full of drinks on ice and a rockin' sound system. Per person charges in groups up to 14 cover wine tasting fees and a picnic lunch.
We loved our extended stay in the Solvang area and making new friends during our time there, all of which has helped produce this comprehensive first timers guide of insider tips to the Santa Ynez Valley. You will have a wonderful visit. Cheers to a wonderful time in this charming destination!
Pinnable Images:
Tips for Trip Success
Book Your Flight
Find an inexpensive flight by using CheapOAir, a favorite of ours because it regularly returns less expensive flight options from a variety of airlines.
Book Your Hotel or Special Accommodation
We are big fans of Booking.com. We like their review system and photos. If we want to see more reviews and additional booking options, we go to TripAdvisor.
You Need Travel Insurance!
Good travel insurance means having total peace of mind. Travel insurance protects you when your medical insurance often will not and better than what you get from your credit card. It will provide comprehensive coverage should you need medical treatment or return to the United States, compensation for trip interruption, baggage loss, and other situations.
PassingThru is a participant in the Amazon Services LLC Associates Program. As an Amazon Associate I earn from qualifying purchases.
12 Fun Things To Do in Solvang for a Day or Weekend Trip
Get an authentic taste of Scandinavia by taking day trips or vacationing in Solvang—the best part is you don't need to pass a security check at the airport! I love this little Danish town in Santa Barbara County, which is why I'm so excited to be sharing this guide of the best things to do in Solvang.
Solvang has a unique history—it's known as "the Danish Capital of America." It was established by Danish immigrants in the early 1900s and it's only about two square miles. Cute and small.
From delicious Danish bakeries and wine tasting rooms to quaint museums and shops, Solvang wins over one million visitors per year.
I absolutely love it and recommend spending a few hours exploring the town! To help you plan your visit, I've put together this list of 17 fun things to do in Solvang.
17 Things to do in Solvang
1. Danish Bakeries
This one is at the top of my list because who doesn't love Danish pastries?? Need I say more?
Going to Solvang and not indulging in pastries is like going to the ocean and not dipping your toes in the water. You won't have any problem finding bakeries that serve up these Danish delicacies—the only problem might be choosing which one to try first.
Whether you're a fan of the classic Danish roll or aableskivers (fried dough balls sprinkled with powdered sugar), you'll definitely find the best in Solvang.
Some of the most popular local Danish bakeries are Mortensen's Bakery, Olsen's Danish Village Bakery, Aableskiver Cafe, Solvang Bakery, and many more!
2. Hans Christian Andersen Museum
Whether you know a lot about Danish culture or not, you've most likely heard of Hans Christian Andersen. Best known as the author of the original Little Mermaid fairy tale, Andersen is Denmark's most celebrated literary figure.
When Omied and I went to Copenhagen, we learned more about him and we saw the Little Mermaid statue (called Den Lille Havfrue).
While in downtown Solvang, you have to make a stop at the Hans Christian Andersen Museum located on the floor above a cozy book store called the Book Loft. It's very small, so it doesn't take long to browse through the collection of books and see the various displays that recount Andersen's life and works.
3. Hans Christian Andersen Park
Staying on the subject of Hans Christian Andersen, the park is another fun way to spend some time in Solvang. When you see the drive-through castle arch, you'll know you've made it to the right place!
On the way, you'll pass the Bethania Lutheran Church, which is also worth a quick stop. The large oak-filled park has plenty of green space and picnic tables to enjoy quality time outdoors—especially if you're traveling with kids.
The park features a playground and a skate park that will keep the kids running and exploring. It's a great way to keep them entertained while soaking in the warm California sunshine.
4. Old Mission Santa Ines
A visit to the Old Mission Santa Ines provides a fascinating glimpse into California's history. It was established in 1804 by Franciscan missionaries to integrate the local Native American Chuman tribe of Santa Ynez Valley into Spanish life.
The Old Mission is one of 21 missions built in California and is one of the state's oldest standing structures. It took many restorations to get the building up and running after years of neglect, but it now stands as an active church that holds weekly masses in English and Spanish.
Visitors can see the church, stroll the gardens and view important artwork from the mission period. As well as, manuscripts and the four bells on display at the museum—one of which dates back to 1804.
Image via Solvang Trolley & Carriage Company
5. Solvang Trolley
Who wouldn't love a ride in a trolley? It's so cute and a fun way to see Solvang's best places and some neighboring Santa Ynez Valley highlights, so be sure to hitch a ride with the Solvang Trolley & Carriage Company.
Along the way, you'll get interesting tidbits of Solvang's history and local folklore.
To really sweeten the deal, you can enjoy a delicious ice cream or root beer float before your tour from their ice cream shop named the Solvang Trolley Ice Cream Parlor.
Not in the mood for ice cream? Grab some homemade Solvang Trolley fudge for the road!
Image via Visit Santa Ynez Valley
6. Solvang Festival Theater
Spend a Sunday summer afternoon at the Solvang Festival Theater for their signature Jazz & Beyond Music in the Garden event.
You can also check their event calendar and see what other amazing performances are happening there throughout the year, which range from concerts to live theater.
As the only open-air performing arts center on the Central Coast, the Solvang Festival Theater has featured performances by a number of well-known artists and professionally produced plays and musicals.
7. Boutique Shopping
There are lots of charming things about Solvang, but one of the things that I appreciate is that this small town is full of one-of-kind boutiques that you won't find anywhere else. There are literally over 100 boutiques ranging from art to antiques.
If you're on the hunt for Danish souvenirs, you'll definitely find them in Solvang! Downtown has plenty of local shops stocked with gifts and household items that come straight from the Danish motherland.
You can even get a custom Danish costume at Edna's Dress Shop.
There's also a popular antique mall called a Piece of the Past that features antique goods from over 28 dealers. No matter what you're shopping for—books, dolls, dresses, jewelry, or music boxes—you'll find a Solvang boutique shop for it!
Image via Wilding Museum of Art and Nature
8. Wildling Museum of Art and Nature
This small but heart-warming museum is one of Solvang's most precious gems. The Wildling Museum of Art & Nature was established on the belief that art can inspire the appreciation and conservation of wildlife and nature.
The museum has a small permanent collection on display that includes paintings and photography by influential nature artists, including an ongoing rotation of exhibits.
Their community events are super fun—they offer field trips, fun creative workshops, courses, and events for kids. It's a cause you'll feel good about supporting!
9. Solvang Vintage Motorcycle Museum
You don't have to be a hard-core motorcycle enthusiast to appreciate the private collection of Santa Ynez Valley local, Virgil Elings.
There are over 95 rare and vintage motorcycles on display at the Solvang Vintage Motorcycle Museum ranging from 1910 to the present. Most are racing motorbikes but you'll see a bit of everything from a wide range of brands including Ducati, BMW, Norton, Triumph, and more.
10. Elverhoj Museum
For a more in-depth look at the celebration of Solvang's Danish roots and heritage, visit the Elverhoj Museum of History and Art. The 18th-century Danish Farmhouse-style building itself exudes warmth and charm, as it was originally a private home built by famous Danish artist, Viggo Brandt-Erichsen.
The museum hosts ongoing exhibitions—like the Viking exhibit—rotating exhibits, workshops, and children's events throughout the year.
After a visit to the Elverhoj, you'll have a new appreciation for the history of Solvang and the culture of Denmark!
11. Blackjack Ranch Vineyards & Winery
Along Alamo Pintado Road, just north of Solvang, you'll find the welcoming Blackjack Ranch Vineyards & Winery that's open to visitors for all things wine.
At their vineyard, you'll find merlot, cabernet sauvignon, cabernet franc, syrah, and chardonnay grapes, so you can bet that they have some exquisite wine tastings to offer!
You can do a tasting in their California Rustic tasting room or outside in a canopied area with an outdoor bar and seating.
Image via Rusack Vineyards
12. Rusack Vineyards
In the rolling hills in nearby Ballard Canyon, you'll also find the idyllic Rusack Vineyards. Their mission statement says it all: to create handcrafted, world-class wines that reflect their love for the region.
The highlight is wine tasting out on their panoramic redwood tasting deck. You can take your time sipping on tasting flights of their award-winning wines while you soak in the view overlooking the vineyards and oak-dotted hills.
It's a dreamy way to unwind and enjoy the scenery!
13. Solvang Wine Tasting Tour
But really, why limit yourself to one or two of the most popular wineries in the Solvang area when you can tour them all? Book an exclusive or private tour with Solvang Wine Tours and let yourself be guided through the best of the Santa Ynez Valley.
Having a built-in designated driver and hands-on guide is really the best way to get the full wine experience, and this is a perfect chance to do it.
Whether it's for a special occasion or just for a super fun day, a wine tasting tour is always a good idea!
14. Olive Oil Tasting
Wine and olive oil go hand-in-hand. A lot of wineries also have their own olive trees.
While we may all know about the many wine tasting opportunities in California, olive oil tastings often get overlooked. But they certainly shouldn't be!
Sampling the tasty oil of the region is a fun way to spend your time in Central California and is one of the most unique and fun things to do in Solvang.
If you're a big fan of olive oil, you'll love the wide variety of oil to sample—from jalapeño to lemon infused.
There are several popular olive oil tasting spots in Solvang like Solvang Olive, Olive House, and Solvang Olive Press.
Image via Trip Advisor
15. Nojoqui Falls Park
Just six miles from Solvang is Nojoqui Falls Park, one of Santa Barbara County Parks. It's the perfect spot to visit on your tour of the Solvang area if you're up for some hiking or just a short walk to gaze at the lovely Nojoqui waterfall.
You can easily add this to the list of fun things to do with families in Solvang because the park also has a playground, plenty of picnic tables, and outdoor grills if you want to fire up the BBQ.
The trail to the falls is also very easy to access and easy to walk along, so you don't have to worry if you're a beginner.
16. OstrichLand USA
In case you didn't know that there's a place in the United States completely dedicated to ostriches, you do now!
Guests can interact with over 100 ostriches and emus that roam freely on the ranch at OstrichLand USA. Feel free to feed them or just sit back for some entertaining oversized bird watching.
It's honestly a fun time for everyone and it's guaranteed that you'll get some pretty amazing photos with your new feathered friends!
17. Annual Events
There's no denying that Solvang takes great pride in its heritage and community and hosts some super cool annual events to prove it. If you can fit your travel plans with any of these events, you'll be happy you did!
In late September, there are Solvang Danish Days, which is their annual three-day Danish Heritage Festival. You'll find parades, folk dancers, music, a Viking beer and wine garden, and axe throwing.
In October, you may be lucky enough to make it for the Solvang Grape Stomp, an annual celebration of the Santa Ynez Valley wine harvest. In addition to the traditional grape stomp, you'll get the chance to taste from the area's best wineries and savor local food.
Then in December, there's Julefest, where the entire town of Solvang becomes the most "Chrismassy" town in the US. From the light-filled streets and merry decor, one visit to Solvang during this time of year is certain to get you in the holiday mood!
As you can see, for such a small Danish-American village in the middle of California, there's a surprisingly wide variety of things to see and do in Solvang.
Whether you choose to make your visit a day trip from Santa Barbara—or anywhere in the Santa Ynez Valley—or a weekend getaway, you'll be enchanted with this charming town.
You won't be disappointed! If I missed anything or you decide to go tag me on Insta @wtfab!
Looking for more Central CA travel content? Explore and get inspired here.
The top attractions are:
– Old Mission Santa Ines
– Rusack Vineyards
– Hans Christian Andersen Park
– Nojoqui Falls Park
The best outdoor activities in Solvang are:
– Nojoqui Falls Park
-Hans Christian Andersen Park
– Solvang Park
Yes, Solvang is definitely worth visiting! There are so many fun activities and things to see in Solvang.
About
Hey there! I'm Elise, writer and founder behind What The Fab, a travel, and lifestyle blog based in California, founded in 2012. A few years ago, I left my corporate job at Google to chase my dreams: being an entrepreneur and helping you find faboulous in the everyday. I hope What The Fab inspires you to live life a little bolder!
Visit Solvang for One Day – A Fun Southern California Road Trip Stopover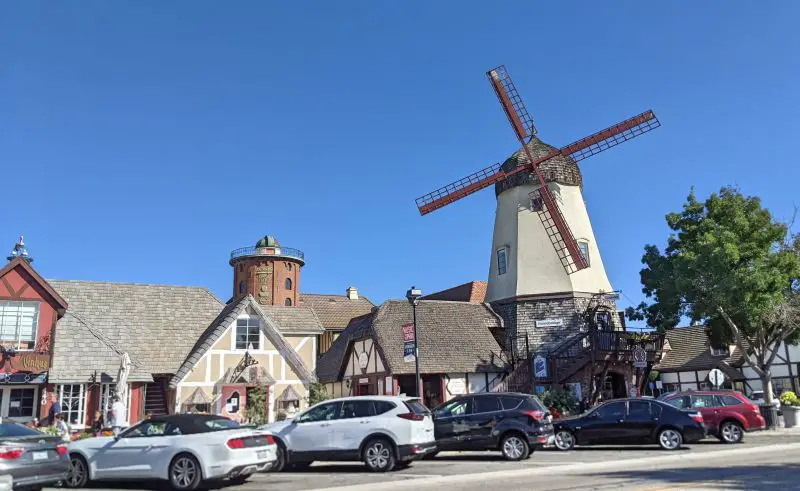 Whenever we take a road trip from San Jose to Los Angeles or vice versa, we love to stop by the adorable Danish town, Solvang, for a quick day trip. Since we planned a trip to visit family and friends in Los Angeles and San Diego during the Labor Day weekend, we had to visit here.
Located in Santa Barbara County in Santa Ynez Valley, Solvang is known as the "Danish Capital of America" and is translated as "sunny fields" in Danish. The area was established in 1911 by Danish immigrants living there.
Solvang is a small and touristy town. Yet, it's such a fun place to spend a day to see Danish-style architecture and windmills, go shopping, and eat delicious Danish cookies and sweets (these are so good!) While we haven't been to Denmark, wandering through the streets makes us want to go visit as soon as possible.
If you're interested in visiting Solvang, continue reading this Solvang day trip guide on how to get there, what to do, and more helpful tips.
*Disclaimer: This post contains affiliate links. If you click on them and make a purchase, we receive a small commission. There is no additional cost to you. Appreciate the support.
How to Get to Solvang
Solvang is about halfway from Northern California to Southern California along Highway 101 so you can visit Solvang from either San Francisco/San Jose, Santa Barbara, or Los Angeles. It's the perfect weekend destination! You'll need to have a car to travel around Solvang.
From San Francisco to Solvang
If you're departing from San Francisco City Hall, it'll take 4 hours 40 minutes (301 miles) to get to Solvang. All you need to do is to take 101 South to Solvang. It's so easy to get to!
If starting from San Jose (City Hall), the travel time is 4 hours (251 miles) as the city location is south of San Francisco and also has access to 101 South.
Tip – On your way to Solvang from San Francisco, consider stopping by San Luis Obispo and Pismo Beach for the day. Check out the beautiful ocean views, beaches, delicious seafood, hiking trails (Madonna Mountain and Bishop Peak in San Luis Obispo), and sand dunes at Oceano.
From Santa Barbara to Solvang
Santa Barbara is very close to Solvang which is why it's a popular day trip and weekend destination.
From Downtown Santa Barbara to Solvang, it'll take 40 minutes (35 miles). There are two ways to get there:
Take 101 North and then take CA-154 West/San Marcos Road to CA-246 to Solvang. Click here to see Google Maps.
Insider Tip – Once you leave 101 North, the road goes through the mountains so it's very windy. If you get carsick on windy roads, DO NOT take this route.
Easter route: Take 101 North to CA-246 East to Solvang. Click here to see Google Maps directions.
From Los Angeles to Solvang
Downtown Los Angeles is between 2 hours 13 minutes to 2 hours 25 minutes (128-143 miles) away from Solvang depending on which route you take. You can easily visit Solvang as a day trip from LA.
Take 101 North and then take CA-154 West/San Marcos Road to CA-246 to Solvang. Click to see driving directions.**Remember: This is the windy route up the mountains.
Take 110 North to I-5 North and exit 101B to 101 North. Take CA-154 West to CA-246. **This is only if you want to go through the windy mountains.Click here to see Google Maps.
Easier route: Take 110 North to I-5 North and exit 101B to 101 North. Exit CA-246 East to Solvang (The flat route) Click here for directions.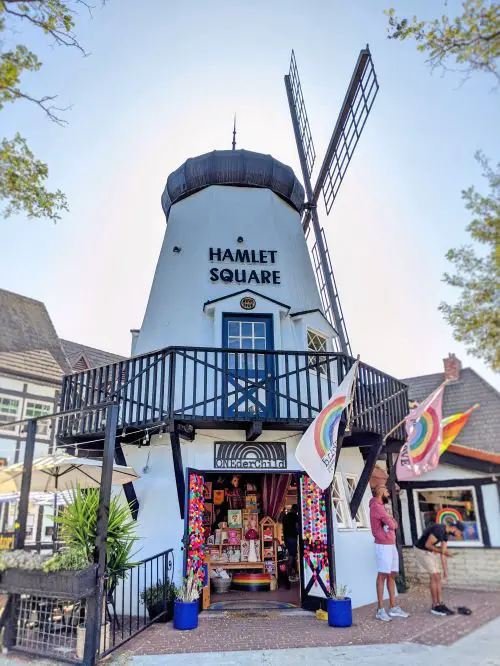 Solvang is a fun destination to visit for a day and see these cool windmills.
How Long Do You Need to Visit Solvang?
The main downtown area is small and walkable so you only need 1 hour to a few hours here for your Solvang day trip.
A full day in Solvang is possible if you visit other attractions such as visiting vineyards for wine tasting.
Parking in Solvang
Public parking lots and street parking are FREE in Solvang. Hotels do not charge a fee either. Yay!
There are plenty of public parking lots and side street parking so you can easily find a spot.
Top Things to Do in Solvang in a Day
As a heads up, many places and restaurants in Solvang close around 5:00-6:00pm. Therefore, get here earlier to take advantage of Solvang's attractions in one day.
1. Visit the Solvang Visitor's Center.
Don't know where to go or have questions about Solvang? Stop by the Visitor's Center to ask questions and ask the locals about their favorite place to visit and where to eat.
Address: 1637-1639 Copenhagen Dr, Solvang, CA 93463
2. Walk around and seek as many windmills as possible.
One of the coolest things to do in Solvang is to wander throughout the main Solvang area and see four wooden windmills incorporated on the rooftops. Unfortunately, the windmills do not spin or move, yet they're fun to see in person.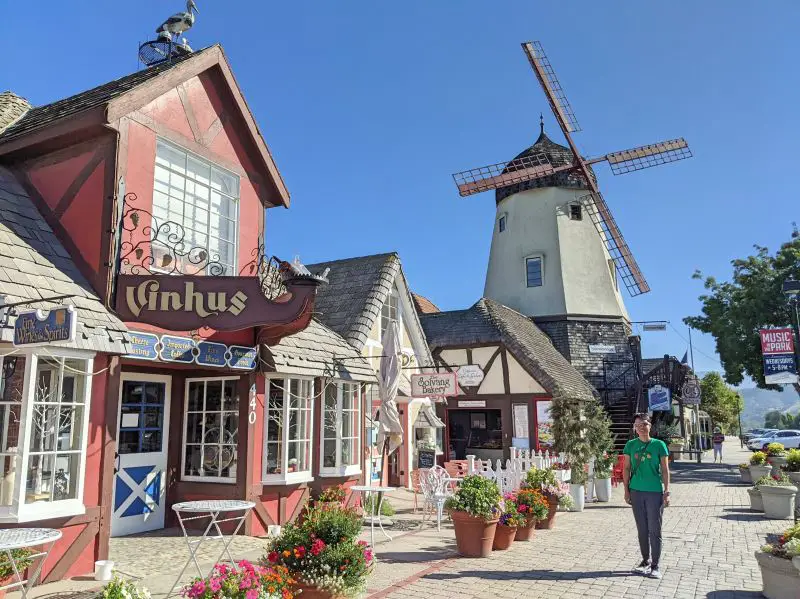 How adorable is the Solvang area?!
3. Go shopping.
If you missed out on a certain souvenir when visiting Europe, you may find them here. There are a few places that sell Christmas decor all year round, colorful Turkish mosaics lamps, and another European decor.
Otherwise, many shops sell Solvang-specific souvenirs of t-shirts, hats, mini windmills, etc so you can remember your trip here.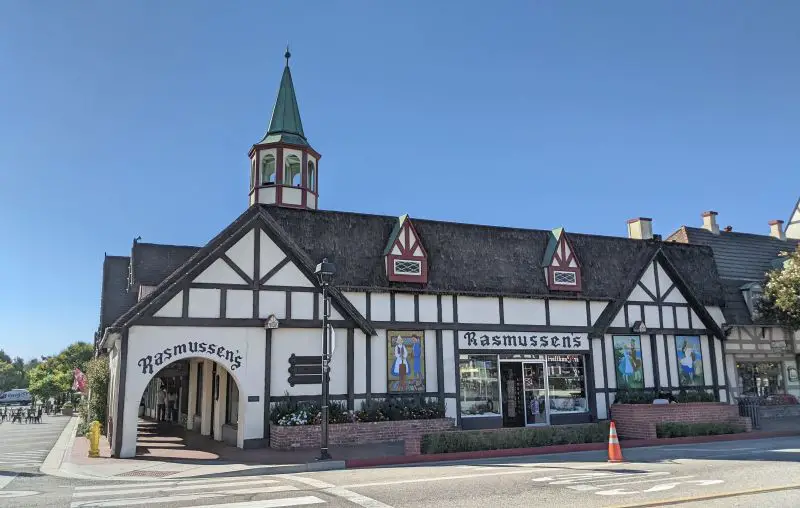 You'll love shopping in Solvang and Rasmussen's is a popular place to visit.
4. Eat the Danish cookies and pastries.
We love eating Danish cookies, especially the almond marzipan horns. They are so good in Solvang. Plus, they're made fresh every day. They're pricey ($3-$4.75 each) but oh so worth it.
Definitely grab a dozen or two before you head to your next destination. You may end up eating a lot of them during your car ride!
We visited these two places:
– We loved this bakery and enjoyed the cookies so much that we went back the next morning before heading to Los Angeles.
You can't go wrong with any of the choices, especially anything covered with dark chocolate. We loved the almond marzipan horns and pistachio square with marzipan inside. (Note: We tried the almond horns at Whole Foods and they're a good alternative to the ones in Solvang.)
Address: 1588 Mission Dr, Solvang, CA 93463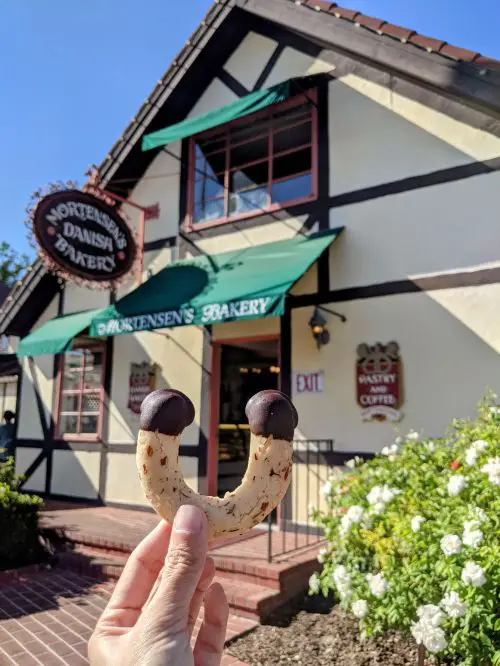 This is our favorite cookie at Mortensen's Bakery!
– If you're leaving Solvang and heading back to 101 Freeway, this is the last spot to buy cookies and pastries. We bought a variety of cookies such as chocolate crescent, mocha square, pistachio square, and almond horns.
Address: 1529 Mission Dr, Solvang, CA 93463
Here are other recommended bakeries to try. We didn't get a chance to visit so we'll add these to the must-try list on a future visit.
(Address: 438 Alisal Rd, Solvang, CA 93463) (Address: 460 Alisal Rd, Solvang, CA 93463 (Address: 1682 Copenhagen Dr, Solvang, CA 93463)
If you prefer not to eat cookies and pastries and enjoy fudge, we saw a few places selling decadent fudge.
5. Enjoy a meal here.
Solvang has yummy food options to satisfy your hunger. Whether you're looking for a brunch place or more farm-to-table type of restaurant or burgers, feel free to try a couple of places if you're in Solvang all day long.
Here are some popular restaurants:
– We loved eating here! Peasant Feast offers fresh and seasonal foods at reasonable prices. The menu changes daily so you try something new every time. If you're a vegetarian, there are a few vegetarian items.
We tried the Brussels sprouts salad (which was raw sprouts cut thinly), yellowtail sashimi, and fish tacos. The side item of cheesy polenta is highly recommended.
The outdoor seating was lovely and had ample space between parties.
Address: 487 Atterdag Rd, Solvang, CA 93463 (next to Mortensen's Bakery)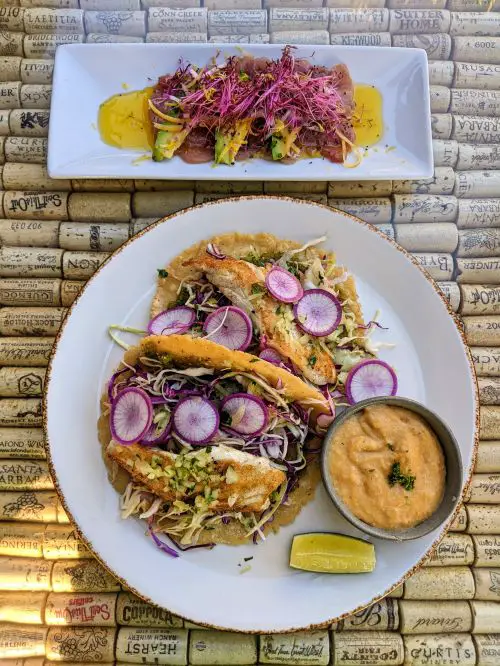 Peasant Feast is a recommended place to eat in Solvang.
– Who likes to eat pancakes? Head to this place to try Paula's Special (Danish pancakes with fresh fruits), Belgium waffles, omelets, and more. Lunch items such as burgers, sandwiches, and salads are served here. There are plenty of vegetarian items to choose from.
Address: 1531 Mission Dr, Solvang, CA 93463
– This place is outside of the main Solvang area, but it's only a short drive away. Visitors love the Italian food here and the variety of pasta. Pizzas are available for lunch.
Address: 632 Alamo Pintado Rd, Solvang, CA 93463
– Check out this place for American comfort food. Breakfast is served here so try the fried chicken with biscuits or meatloaf biscuits. Otherwise, try the sandwiches and burgers. A vegetarian sandwich and Beyond Burger are available for vegetarians.
Address: 1557 Mission Dr, Solvang, CA 93463
6. Feed the ostriches and emu at OstrichLand.
One of the unique attractions to do in Solvang is to visit OstrichLand which is along Highway 246. You'll pass by this attraction before entering Solvang.
There are over 100 ostriches and emus living here and roaming around the land. You can feed them out of a plastic bowl (safety first) so it's a fun activity for children and families to enjoy.
For souvenirs, there is a gift shop and you can buy fresh eggs here.
Address: 610 E Hwy 246, Solvang, CA 93463
Admission: $7 Adults, $3 Children Under 12 years old, $5 Military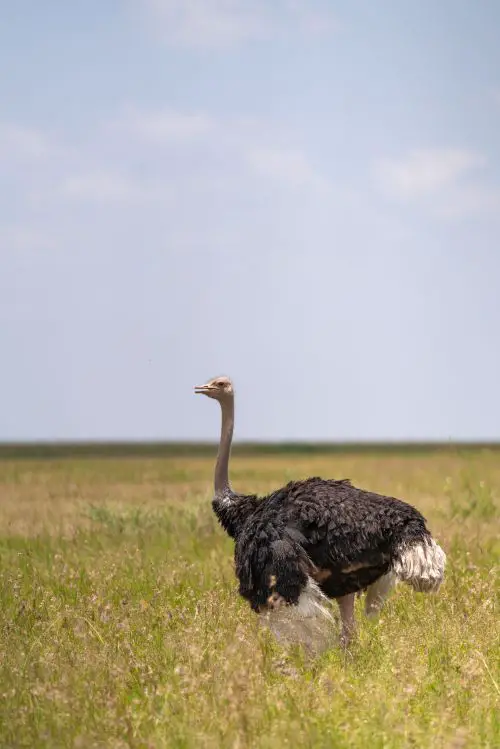 Visiting OstrichLand is a family-friendly spot in Solvang. Photo credit: Andra Oprea via Scopio Photos
7. Let's go wine tasting!
If you love drinking wine, you're in the right spot. Solvang has over 20 places in town where you can do wine tasting.
Click here to check out this Google Map of the wine tasting that you can do around Solvang town.
Prefer to go to a winery? There are many wineries to visit around the Santa Ynez area (Solvang, Los Olivos, and Santa Ynez). Check out this Santa Ynez Wine Trail that has information on the wineries and a free map.
8. Stop by for the special events.
Depending on your visit, you can schedule a trip around a few iconic events in the area:
Solvang Danish Days (occurs in September) – Come celebrate the city's establishment with cultural activities such as dancing, music, parades, and more. Click here for more info.
Solvang Julefest (occurs end of November to the beginning of January) – Let's get in the holiday spirit! Check out the fun winter activities and celebrations in Solvang. Check for updates here.
Where to Stay in Solvang
Solvang is mostly used as a stopover for a road trip so many people do not stay overnight here. With many shops and restaurants closing at 6:00pm, the main Solvang Downtown area is quiet in the evenings.
We stayed overnight since we needed a driving break before heading to Los Angeles the next day.
Recommendation: Sideways Inn
If you need a place to stay, we recommend Sideways Inn in Buellton. This place is less than a 7-minute drive to Solvang main area. You can't miss this place as you see a giant windmill off 101 Highway before exiting onto CA-246.
The rooms are updated and have cool amenities such as a white noise maker, coffee pot, and bath toiletries – shampoo, conditioner, and body wash in refillable bottles. All the rooms overlook a swimming pool area and they have a balcony/patio with an outdoor seating area. In the evenings, there are several fireplaces to hang out and relax.
The bed was really comfortable. It's comfier than what we sleep on at home! Therefore, we didn't want to wake up the next morning.
This place provides a complimentary continental breakfast. Due to the COVID situation, everyone completes a checklist on food quantities and places it on a clip outside of the door and then the breakfast is delivered and placed on the door handle the next morning. We received a yogurt, bagel with cream cheese, pastries, and apple juice. Everything is pre-packaged so it's easy to eat in the car on the way to your next destination.
The main lobby has hot coffee and teas in the mornings for free so you can enjoy a hot beverage with your breakfast.
Room cost starts at $150 per night for a 2 person occupancy.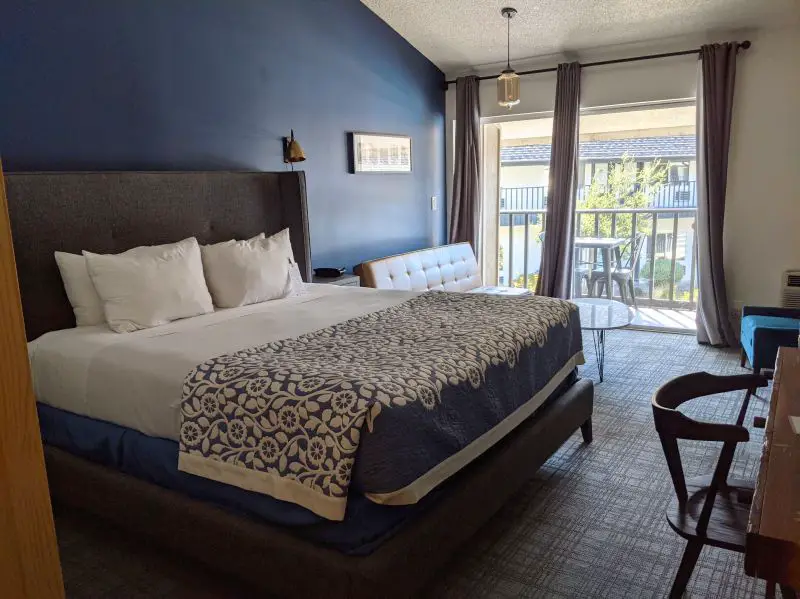 We loved this room at Sideways Inn.
Here are other accommodations to stay in Solvang based on high reviews.
New Haven Inn – This place is in the heart of Solvang with clear rooms and ample parking spots. The cost per night starts at $160 for 2 person occupancy. Reserve your room at New Haven Inn here.
Hotel Corque – This hotel is located in the Solvang downtown area and within walking distance to many shops and restaurants. Enjoy the swimming pool, in-house restaurant, and clean rooms. The cost per night starts at $160 for 2 person occupancy. Book your room at Hotel Corque here.
Royal Copenhagen Inn – This inn is another popular choice with visitors. It's located in the main Solvang area and has an outdoor swimming pool. Breakfast is included in the room. The cost per night starts at $150 for 2 person occupancy. Book your room at Royal Copenhagen Inn here.
Final Thoughts
Exploring Solvang in one day or a few hours is very doable. We love this place and recommend it as a stopover when you're going on a road trip to Southern California or returning to Northern California.
If you want to read more unique facts about Solvang, click here.
If you need more ideas on where to visit in Southern California, check out our other posts below:
Jackie
I'm Jackie – world explorer, hiker, and wanderer. I love planning things whether it is a trip or an upcoming event, exploring nature, hiking up mountains, and seeing new places. I'm notorious for getting lost, so you may see me circling a place a few times.
Source https://passingthru.com/first-timers-guide-solvang/
Source https://whatthefab.com/things-to-do-in-solvang.html
Source https://lifeofdoing.com/solvang-day-trip/