Why a Providence, Rhode Island Visit is Definitely Worth it!
Is Providence, Rhode Island worth visiting? In this Everyday Bucket List Podcast session, my husband and I discuss why we love it. Get a wealth of ideas for restaurants, riverboat rides, street art & more. We also discuss what Providence, Rhode Island is known for, things to do near the colleges and universities, and other areas like Downtown Providence. Think of it as your mini Providence, Rhode Island visitor's guide.
If you want to receive more Everyday Bucket List Podcast episodes, get access to them regularly through your device. They're sent your way as soon as they're published. Subscribe on Apple Podcasts , Spotify or Stitcher today!
It takes a great deal of time and energy to create episodes. In order for me to make great content for you, some of the resources below have affiliate links. If you purchase something through a link, I would make a small commission at no additional cost to you.
Today's Everyday Bucket List Guest
I'm happy to welcome yours truly and my husband back to the Everyday Bucket List Podcast!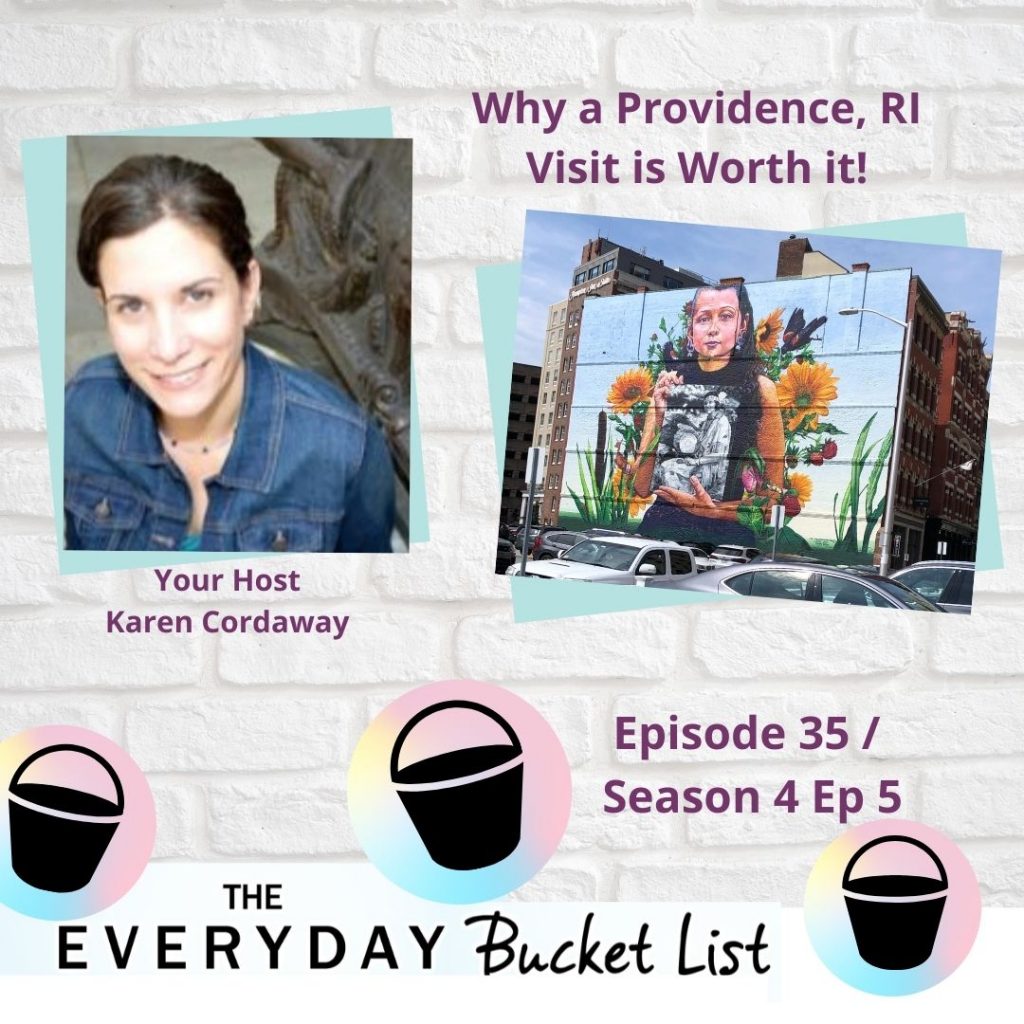 You can also listen to my podcast on Apple Podcasts. Here's my recent episode about Why a Providence, Rhode Island Visit is Definitely worth it! on Apple and Spotify. I'm also on Stitcher and many others.
Karen Cordaway of KarenCordaway.com
What You'll Learn About a Providence, Rhode Island Visit
Discover what Providence, Rhode Island is known for
Though it's a small state, I explain why it's worth visiting Providence, Rhode Island
Get a variety of suggestions for Providence, Rhode Island restaurants
Find a variety of things to do near the colleges and universities
Resources for a Providence, Rhode Island Visit
I highlighted some of the ideas mentioned during the show, but it barely scratches the surface of what you can do there so I included other ideas to give you more resources to choose from.
Downtown Providence Things to Do
WaterFire – This is a big deal. Every year they have multiple events scheduled on different evenings. There are lightings along the river. Think mini bonfire with entertainment stretched across the river to light up the night. Sit on the steps near the River walk or watch from nearby restaurants.
Providence River Boat Company – Take a ride on a river boat and learn historical tidbits about the area, Roger Williams, different buildings and more while cruising along the river.
Street Art Murals – There is street art throughout the city. I noticed a few of the murals downtown while walking and could also view them from the river boat. There are two murals close to each other highlighting Native American heritage in a prominent location. Take a look at a map and walk around informally to see all of the street art.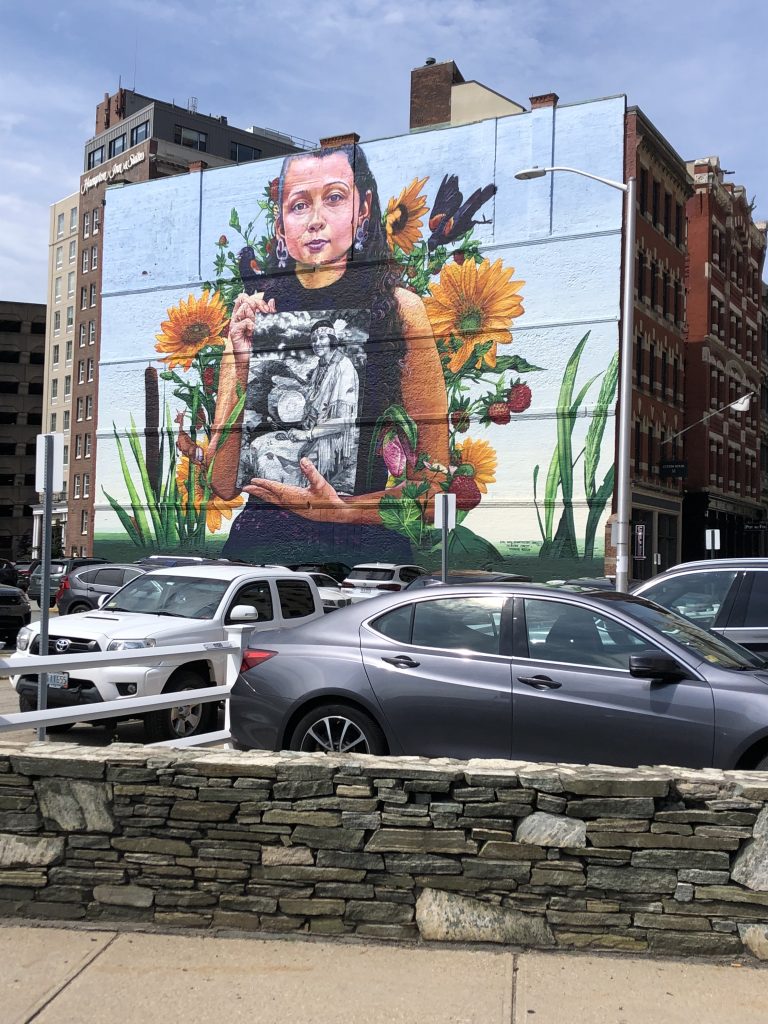 Roger Williams National Memorial – Check out exhibits to get up close and personal with Aviation History. Also, check out events like Happy Hour with a Historian. Learn interesting info while having a drink.
Rhode Island State House – Check out exhibits to get up close and personal with Aviation History. Also, check out events like Happy Hour with a Historian. Learn interesting info while having a drink.
Historical Tours (Self-guided) – Check out exhibits to get up close and personal with Aviation History. Also, check out events like Happy Hour with a Historian. Learn interesting info while having a drink.
Things to Do Near Providence Rhode Island Colleges and Universities (Brown and RISD)
Thayer Street – Find a variety of restaurants along this street, including familiar favorites like Chipotle, Pokeworks, Starbucks and Shake Shack as well as seafood and ethnic cuisine. There's an inexpensive parking lot close by too.
Avon Cinema – This historic little cinema had been around since the 1930s and is located on Thayer St. It makes it easy to grab dinner and a movie if you are into foreign and independent films.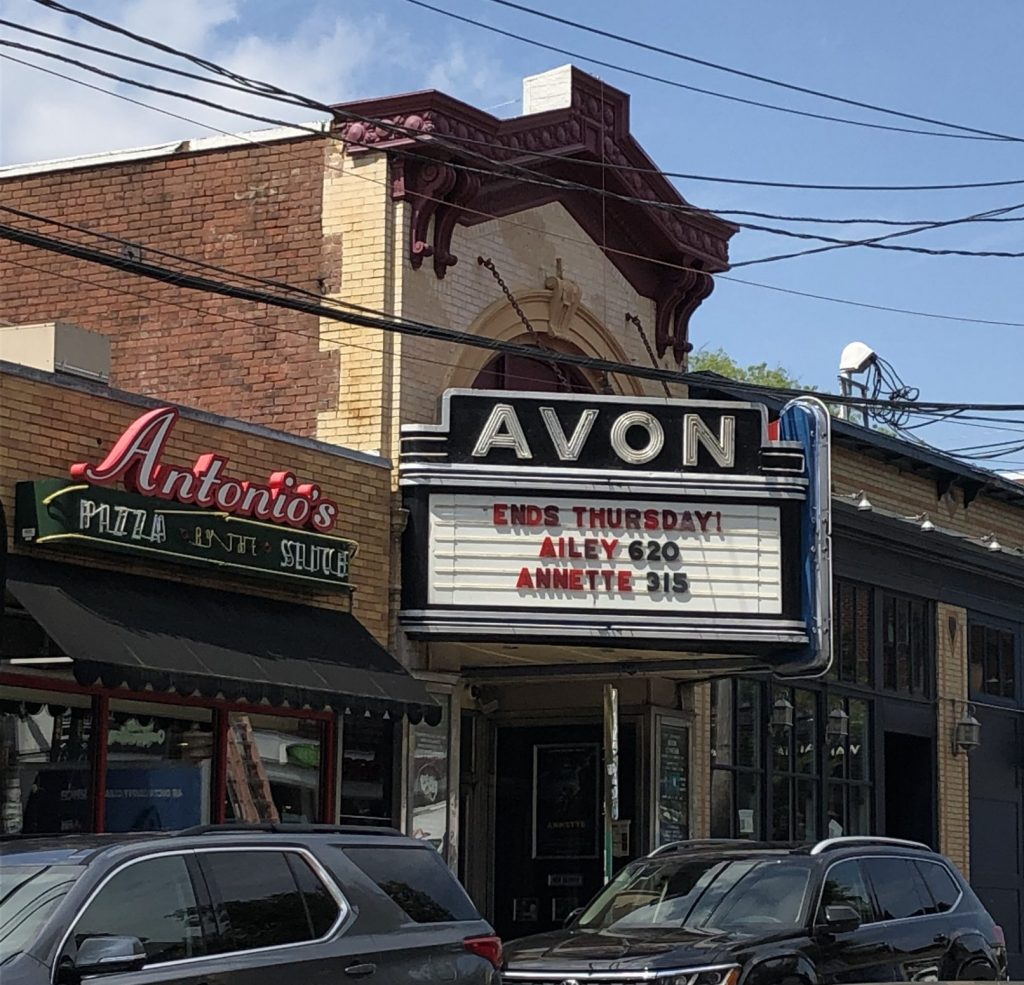 Benefit Street – If you love architecture and the look of Colonial homes, Benefit St. showcases original Colonial homes in America. You will find "beautifully restored houses, churches and museums overlook the city's historic waterfront." Walk along this street informally or opt for a formal guide from the Providence Preservation Society.
Best Weekend Getaways in New England – Here's the blog post I mentioned on the show. It includes information about the Botanical Center including the moon gate and some of the other ideas I mentioned on the show.
Subscribe on Apple Podcasts , Spotify or Stitcher today!
12 Best Things to do in Providence, Rhode Island
Tucked away on the northern Atlantic Coast, the capital of Rhode Island is a fascinating mix of history and college culture. Providence was founded by those who escaped Puritan Massachusetts, laying the groundwork for what has since become an eccentric city.
It found its way onto the proverbial map when Brown University opened in 1764, becoming one of the leading education institutions in the country. As the student population grew, Providence became a vibrant and diverse city best reflected by its art scene and theater scene. Besides exploring these things to do in Providence, visitors can also enjoy its breathtaking local architecture – an aspect of the city best discovered on foot.
12. Thayer Street
© Dreamstime
For a fun and lively atmosphere, day or night, wander down the popular Thayer Street. A top hangout for locals and college students, you'll find plenty to do here, including making your way to each of the 70-plus unique stores and restaurants.
The main section of the bustling street lasts for six blocks and is teeming with retro stores and thrift shops, along with a wider variety of cuisine and cheap eats. Find everything you need to satisfy your cravings, from Greek to specialty desserts and chic cafes.
Alongside shopping and eating, check out an indie or international film at the renowned Avon Cinema, which has been entertaining locals since the 1930s.
11. Providence Performing Arts Center
© Dreamstime
Downtown Providence is the heart of the city's entertainment district. It's where you'll find the happening Weybosset Street and the Providence Performing Arts Center. The beautiful theater opened in the 1920s and has grown an international reputation along with finding itself on the National Register of Historic Places.
The theater continues to approach its 100th birthday, but has lost none of the allure that brought through its first theatergoers. Its packed calendar features a whole host of Broadway shows and comedy, while seating up to 3,000 attendees. So be sure to check out what's on when you're in town.
10. Providence Children's Museum
Owen and Aki / Flickr
If the young ones are getting restless from time spent exploring museums and universities, then take them along to the Providence Children's Museum. The space opened in 1976 and in the years since has been at the forefront of inspiring young minds through interactive exhibits.
The museum is the only one of its kind on Rhode Island, and will stoke curiosity among all children who can explore the world we live in. Each hands-on exhibit focuses on a specific aspect of the human experience, including culture, arts, science, and technology. The exhibits take a wide range of approaches, so all learning styles are represented. Popular attractions include "Play Power" and "Water Ways".
9. Stephen Hopkins House
© Dreamstime
Found on the iconic Benefit Street, the Stephen Hopkins House deserves its spot in the annals of U.S. history. It was here that the state's governor, Stephen Hopkins, signed the Declaration of Independence that helped split the United States with Britain.
The home was built decades before this historic event, making it an attraction in itself. The beguiling building was built in 1707 and has been maintained in the centuries since and was even visited by George Washington on several occasions. Today, you can visit the home complete with period furnishing and intriguing artifacts befitting such an important home.
8. Benefit Street
Phillip Capper / Flickr
Rising from the banks of the Providence River to the top of College Hill, Benefit Street is a historic stretch of road that unveils the past. It's the perfect place to begin your travels to Providence or enjoy a morning stroll. Benefit Street is laden with gorgeous architecture that showcases each era in local life.
The cobblestone street has one of the largest assortments of Colonial buildings in the United States. You'll find a collection of Federal-era homes preserved in a state of eternal grandeur. They soon make way for elegant mansions with opulent front yards. Among them are a number of famed buildings, including the John Brown House and the Athenaeum.
7. Roger Williams Park Zoo
© Dreamstime
Despite being one of the oldest zoos in America, the Roger Williams Park Zoo has a refreshing take on the experience. Here, animals can roam relatively free without the confines of a tight space. The zoo has also undergone consistent renovations to maintain its modernity, enabling a better time for its animals.
The range of wildlife includes your favorite large animals, from giraffes to elephants and alligators. While you can get an amazing look at red pandas and kangaroos. Aside from the animals, the zoo is great for families thanks to its many interactive experiences. Explore the space on top of a camel or go climbing in the zoo's treehouse.
6. Brown University
© Dreamstime
The crown jewel of College Hill, Brown University, has been a fixture of Rhode Island life since 1764. The campus is a sight for sore eyes, while your first steps here will be met with a sense of history. University Hall is the campus' oldest building and has stood here since 1770. Since then, it has been a barracks along with a hospital during the Revolution.
Continue exploring the campus to find the Wickle Gates, which first appeared in 1901. Now they swing open only twice a year.
Alongside beautiful and historic architecture, visitors should pay a visit to the Herbarium. Since the 1800s, Brown University has studied over 100,000 types of plants offering plant lovers a fascinating look into flora from around the world.
5. Rhode Island State House
© Dreamstime
The striking Rhode Island State House is an arresting sight whenever you walk by. The stunning building was completed at the beginning of the 20th century, and has been the city's centerpiece ever since. Its gilded stone facade leads to archways and towers that eventually guide your eyes to the fourth biggest self-supporting dome on earth.
While you can spend all day gawking at the architecture and enjoying the green lawns, the state house is even better inside. Join a free guided tour of the building or simply wander around on your own.
As you stand under the historic dome, look up to find "The Four Freedoms" painted within. The state house is also laden with history and is home to a portrait of George Washington, a replica of the Liberty Bell and a gun from the battle of Gettysburg.
4. Waterplace Park & Riverwalk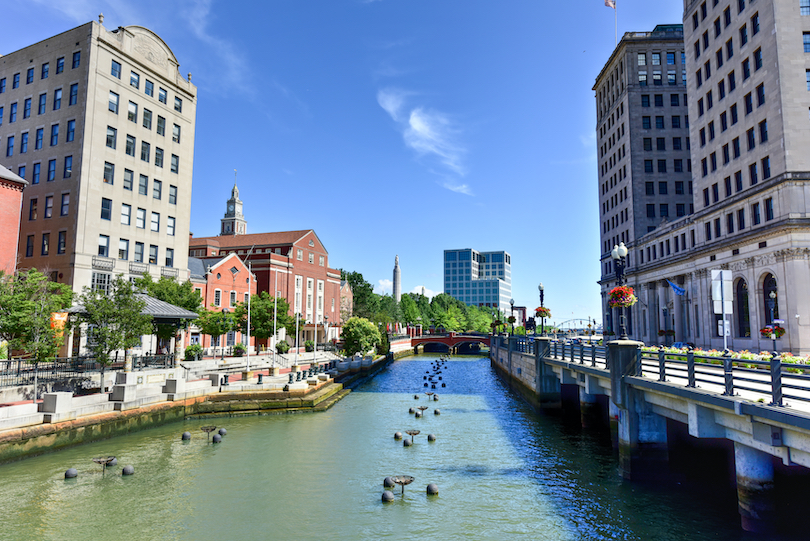 © Dreamstime
Several projects have made up the revitalization of Downcity Providence, but perhaps the best example is Waterplace Park. For years the two major rivers, Woonasquatucket and Moshassuck, snaked through town but were mostly covered by large-scale bridges. Recently they have been replaced, adding a breath of fresh air to the local landscape and turning a new leaf for locals and visitors alike.
Now you can roam the banks of either rivers flanked by the lush Waterplace Park along the Riverwalk. The old bridges were replaced by dainty structures similar to those found in Venice. It makes for a pleasant stroll, and you can also travel along the river on a romantic gondola ride or sunset cruise. From May to October, return to the Riverwalk to experience WaterFire.
3. RISD Museum
© Dreamstime
The Rhode Island School of Design is one of the preeminent art schools in the United States. The college's showpiece is the RISD Museum, which showcases work from around the world while representing the styles and genres that best reflect teachers and students.
The range of art shows the standing held by the school, with each collection worthy of its own exhibition. As you wander around the RISD Museum, you'll come across work from ancient Egypt, historic work by French Impressionists, and pioneer-era America, along with embellished period furniture and contemporary art.
Art aficionados will appreciate the quality of works on display. While casual art fans will enjoy the range of genres and eras within the museum.
2. WaterFire
© Dreamstime
In 1995, the first WaterFire event took place, marking the beginning of arguably the most revered tradition in Providence. It was started by Barnaby Evans, who created a series of bonfires that are placed along various rivers around town. From May to October, these bonfires are lit up, illuminating the river banks while adding a splendid atmosphere to the surrounding streets.
WaterFire occurs twice a month during this span with the night beginning with a ceremonial gong followed by the lighting. Under the pitch black sky, the fire sparkles against the river.
To best appreciate the art, walk along the river from Waterplace Park to South Main Street Park. Alongside the river, you'll discover a festival of art and live music to accompany the wondrous installation.
1. Historic Federal Hill
© Dreamstime
As one of the best neighborhoods in town, no visit in Providence would be complete without exploring Federal Hill. The historic district rose to fame as the home of the city's large Italian community in the late 19th century.
While the community has dispersed, its influence can still be felt within the neighborhood's exceptional restaurants and artisan shops.
You can arrive in the area also known as Little Italy by driving under an ornate arch with an eye-catching bronze pine cone fixed to the center. Soon you'll reach the crown jewel of Federal Hill, Atwells Avenue, where you can indulge in the best of Italian cuisine or nurse a coffee in neighboring cafes. Afterwards, grab some gelato and kick back at DePasqualle Plaza.
The 15 Best Things to Do in Providence, Rhode Island
Providence, Rhode Island, is one of the oldest cities in New England, located in one of the oldest states in America. It makes sense, then, that in Providence, you might dine in centuries-old mansions or stroll through bicentennial Ivy League college campuses.
This vibrant city has a population of less than 200,000. Local art and craftsmanship remain at the core of Providence life, but the students and visitors passing through help maintain the city's cutting-edge attitude.
As one of the country's first industrial cities, you'll see plenty of historic textile and steel mills, now home to boutique hotels and trendy restaurants. These days, illustrious schools like Brown University and the Rhode Island School of Design keep Providence magnetic, and for good reason, considering their vast collections and the world-class educations they offer!
This core of bright young things fuels the arts and performance culture of the city, enabling tours of amazing Broadway shows, fine dining establishments, and centuries-old libraries and museums. This picturesque collegiate town has a lot to offer visitors of all ages and interests.
With so many things to see and do, you might not know where to begin. So we've compiled our list of the absolute best things to do in Providence, Rhode Island, for you. Stick to these fun, historical, and unique Providence bucket list recommendations, and there's no doubt you'll have an amazing time exploring this gorgeous landmark location!
Disclaimer: This post may contain affiliate links. If you make a purchase or booking through one of our links we may earn a small commission (don't worry, it's at no extra cost to you).
15 Fun and Unique Things to Do in Providence, RI
1. Witness the annual WaterFire exhibition
WaterFire is an annual celebration of community and art in Providence. It's a public art installation, an urban festival, and a Providence bucket list item for locals and visitors alike!
Each year, 86 burning braziers are lit on the waterfront. Some float on the surface of Woonasquatucket River and Providence's other rivers. Others are perched on the city's piers, and the effect is a glow that transforms downtown Providence.
The famous WaterFire brazier lightings happen every few weeks from April through December. On those days, the Arts Festival Plaza also opens up with a showcase to support local artists and artisans. You'll be able to find everything from photography and sculptures to textiles and jewelry.
You'll love the festival's fun attractions, like the installation of glowing stars hanging from the trees in Memorial Park, the living statues, and the many food stalls that set up shop around the river. You'll find plenty of things to do in Providence during this magical annual affair!
2. Explore Roger Williams Park
The 427-acre Roger Williams Park is an idyllic, relaxing locale perfect for a stroll around the lake. But there are plenty of Providence attractions here, too – like the botanical gardens, the zoo, a museum, a carousel, and even a park train and swan boats.
If you're traveling with little ones, this is the perfect place to go. They'll love the carousel rides and the train, and the Roger Williams Park Zoo is a great place to take them. Plan to spend at least two hours here to see everything. You'll find over 150 species at the zoo, including red pandas, elephants, and camels!
The real highlights at the Roger Williams Park Botanical Center are the greenhouses, which are open year-round and contain all sorts of tropical and desert plants, plus beautiful ponds and fountains. This is a great place to get a respite from the frigid Providence winters, too!
We'd recommend a visit to the Museum of Natural History and Planetarium, too. This is the only public planetarium in Rhode Island, and the planetarium shows are always a fun way to start an evening out on the town.
3. Admire unique works at the RISD Museum of Art
Providence is home to many acclaimed schools, and the Rhode Island School of Design (RISD) is one of them. So it's not surprising that the RISD Museum of Art houses impeccably curated artwork from across eras and countries.
Standout exhibits include the Asian Art and European galleries, where you'll find many unique pieces. Although the gallery isn't massive, you can easily spend over three hours on a single visit and still have more to discover when you return. This is a museum that rewards multiple visits and an eye for detail.
For art lovers, you'll find rare pieces like van Gogh, Picasso, and Monet originals alongside artifacts like mummies, furniture, textiles, and a student gallery on the second floor. RISD attracts impressive talent, and the student galleries are proof!
If you want to see everything, budget a fair amount of time earlier in the day. Otherwise, going during the free hours near closing might whet your artistic appetite just enough. If you're looking for artsy things to do in Providence, this is your best bet.
Source https://karencordaway.com/providence-rhode-island-visit/
Source https://www.touropia.com/things-to-do-in-providence-rhode-island/
Source https://wanderingwheatleys.com/best-things-to-do-in-providence-rhode-island/