11 reasons why you must travel to the Philippines
Hands up if you have been to Thailand! How about Bali? What about the Philippines? Why do the hands go down when you mention the Philippines? As a professional travel blogger one of the biggest travel mysteries for me is why more people don't go to the Philippines. I know so many people who have travelled around Thailand, Cambodia, Laos and Vietnam. Hell, even Myanmar is becoming popular.
Why visit the Philippines? we hear you ask. Well this Philippines travel blog post is here to answer that question.
Here are 11 reasons to visit the Philippines
11 reasons why you must travel to the Philippines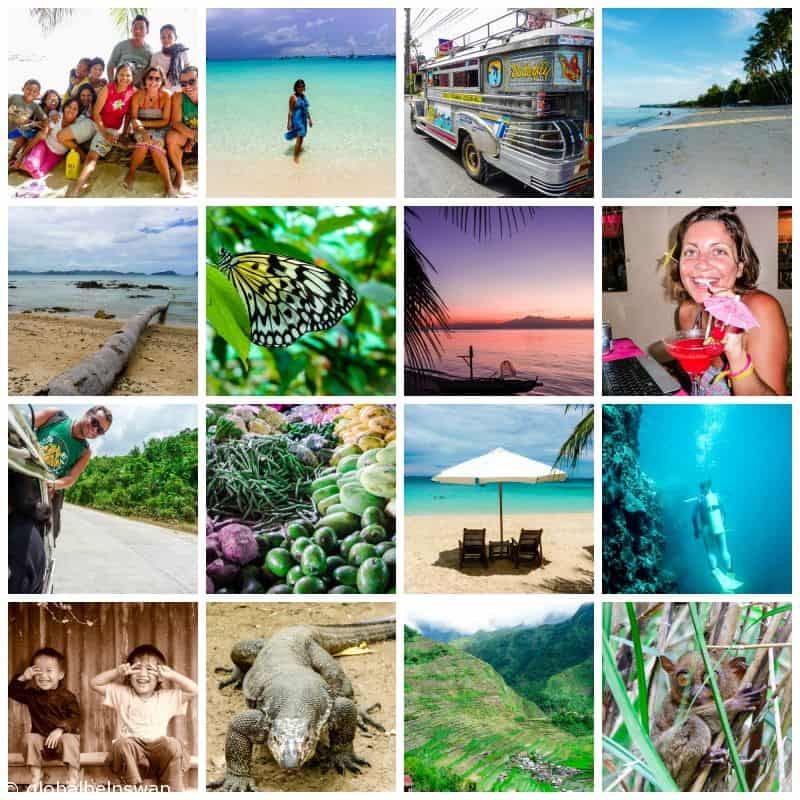 Reasons to visit the Philippines #1: The People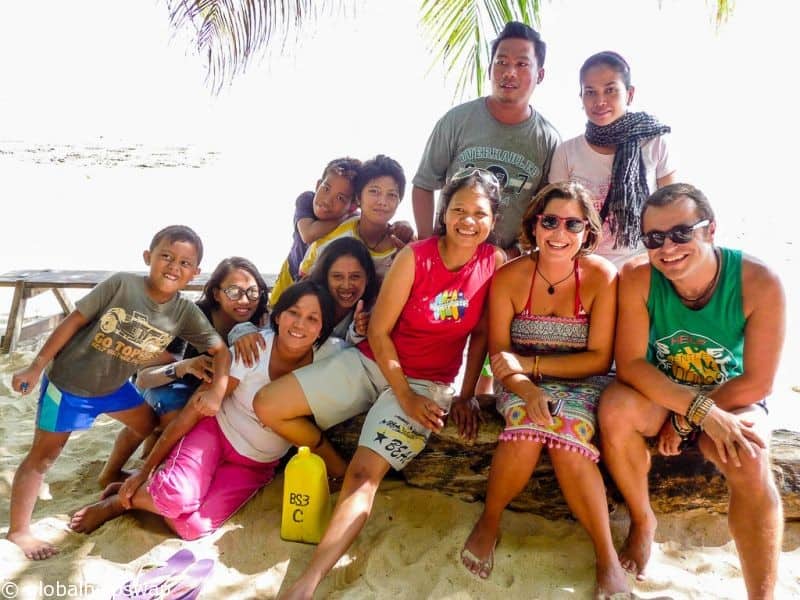 The Filipinos are some of the nicest people we have ever had the pleasure to meet. In the 3 months we spent travelling around their beautiful country, they welcomed us with open arms and hearts. To this day whenever we meet a Filipino around the world, our hearts instantly warm. This picture was taken when a group of Filipinos invited us to join their party on the beach. We had such an amazing day dancing, eating gorgeous food and laughing with our new found friends.
Reasons to visit the Philippines #2: The Cost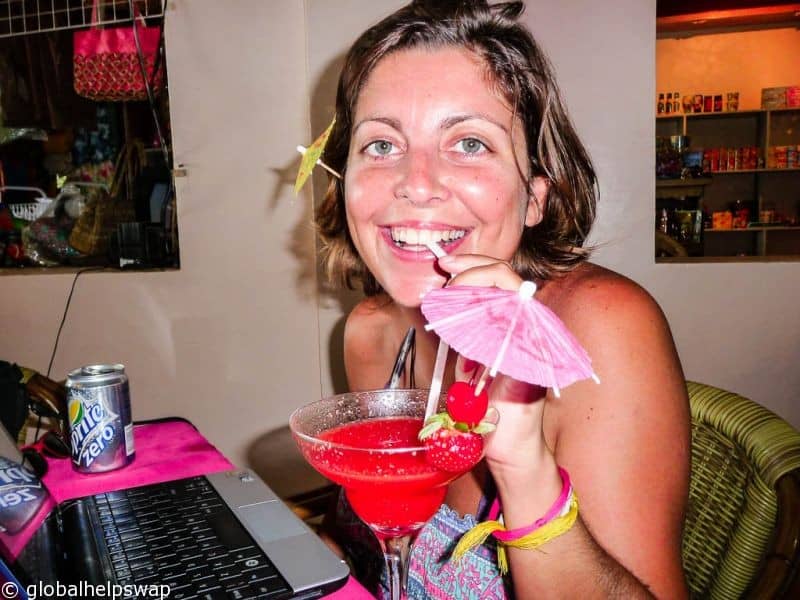 50cents for a cocktail? Yes please!
Philippines travel is cheap. I will never forget the first time I went to buy some of the local rum (priorities, people, priorities) and the shopkeeper asked for $1. I thought he was going to serve me a shot not a whole bottle.
We managed to rent some great bungalows right on the beach for around $35. A word of warning on accommodation. It is better to pay a little bit more than opt for the ultra budget option because usually the cheapest places are pretty dire.
Internal flights are great value too. With over 7,000 islands to choose from you will want to get around quickly.
Reasons to visit the Philippines #3: Easy communication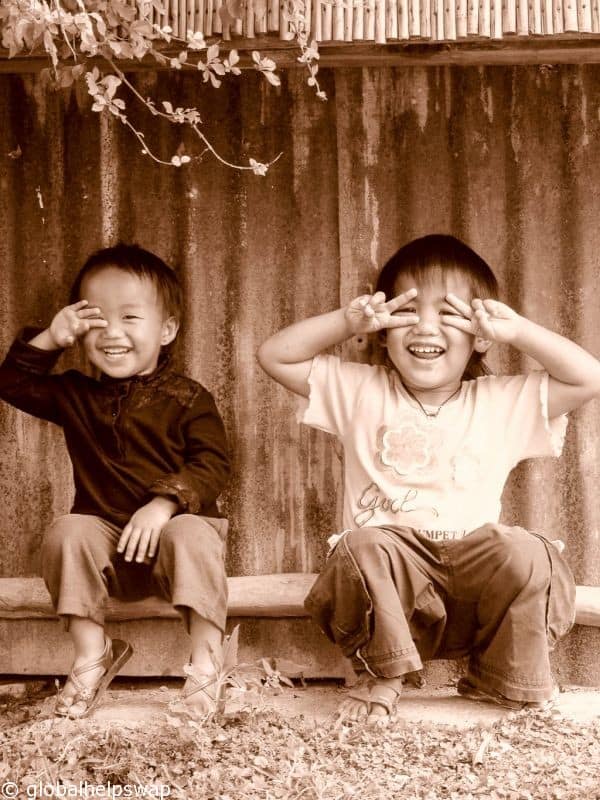 Best conversation ever was with these cuties!
Lets be honest. English-speaking people are lazy to learn another language. We will try to say a few words in French, Thai or Spanish but usually we are pretty crap. That's the beauty of visiting the Philippines for us lazy people. They all speak great English which makes travel so much easier and interesting. One of the biggest highlights of our visit was just sitting on a beach or in a Jeepney (see the next reason) chatting away to locals. I learnt a great deal about the Philippines during those chats.
Reasons to visit the Philippines #4: Jeepneys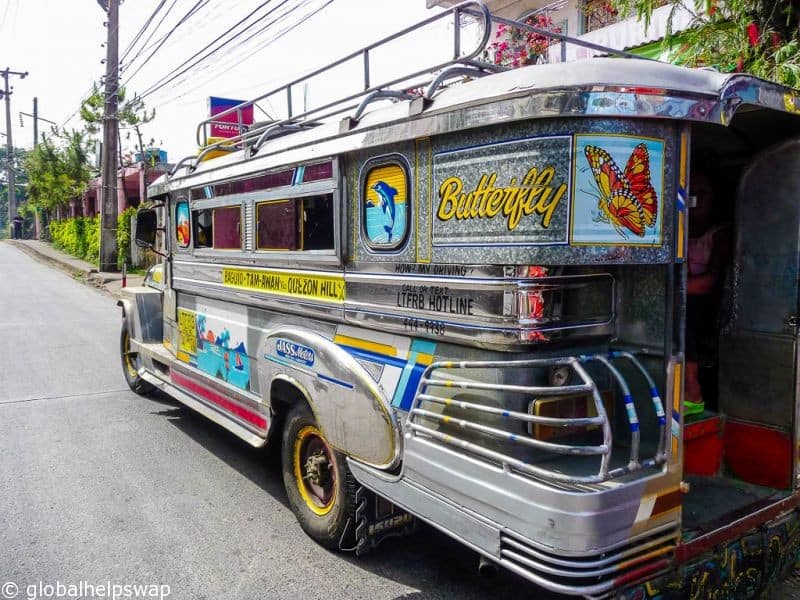 Think of a jeep/bus and you have a jeepney. They are the backbone of travel in the Philippines and we loved them! People would sit on the roof, hang off the back, anywhere there was space, they would fill. They are a real social transport as you tend to face each other and end up chatting. Long live the jeepney!
Reasons to visit the Philippines #5: The Rice Terraces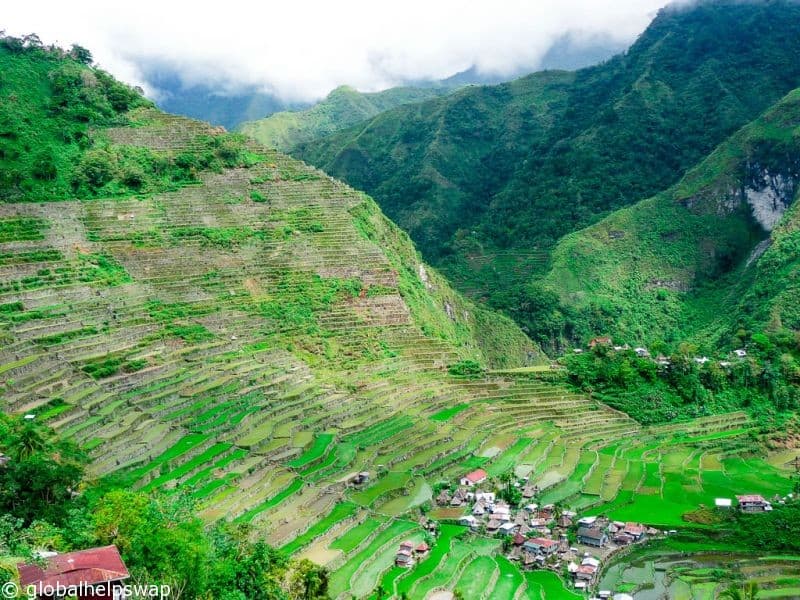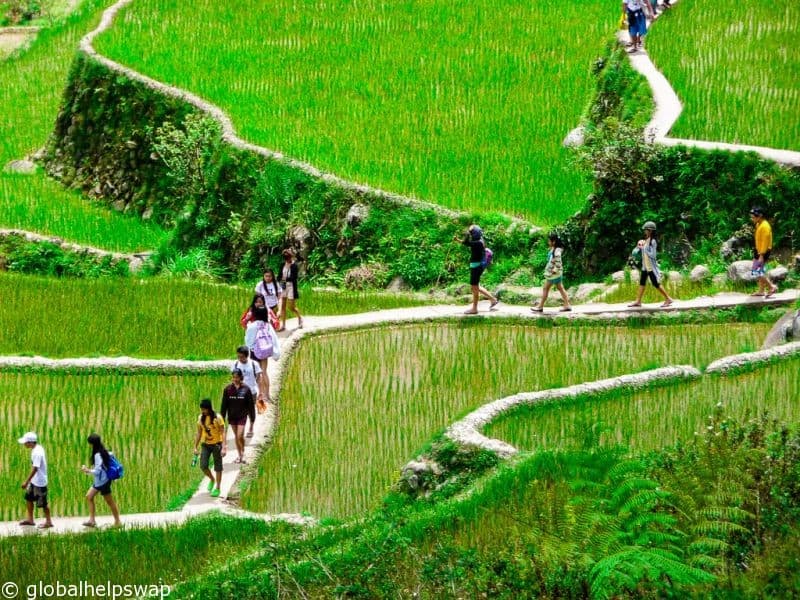 There is a reason why we decided to head to the famous rice terraces before hitting the stunning beaches. They are awe-inspiring. We had seen some pretty amazing rice terraces before heading to the Philippines but these were the best of the lot. To think that they were built 2,000 years ago blows me away. One of my most memorable moments was when Karen and I climbed to the top and just sat there soaking it all in. It was magical.
Reasons to visit the Philippines #6: The Whale Sharks of Donsol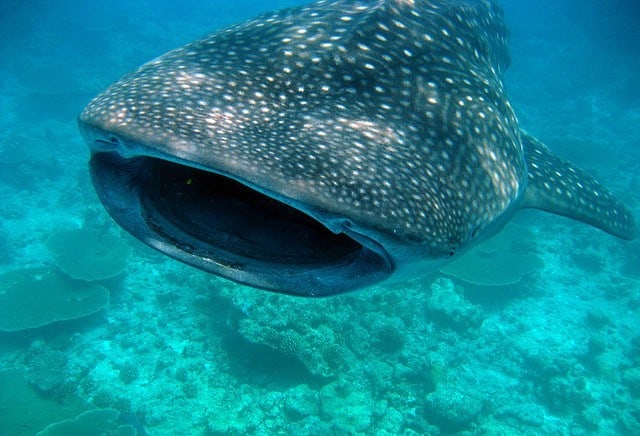 Donsol is a small town on the main island of Luzon. In 2004 it was voted by Time Magazine as the best place in the world for wildlife encounters. We know why. In all the years we have been travelling there is no highlight bigger than when we snorkeled with the biggest fish in the ocean. To be swimming next something so majestic will live with me forever. We swam next to 8 whale sharks when we visited but nothing is guaranteed with wild animals. If you read the brochures you will think that the whale sharks are just hanging around waiting for us. On the contrary, over the last few years, numbers have dropped. Marine Biologists are not sure why, after all we are still learning about these magnificent animals. You can read more about our experience swimming with whale sharks here.
DO NOT GO TO OSLOB, CEBU TO SEE WHALE SHARKS.
This is wildlife tourism at its worst. They feed the whale sharks in this area, making the fish reliant on humans to feed. There have been reports of whale sharks being hit by boats and many of the whale sharks seem to have cuts and bruises. There was a photo a few years back of people riding whale sharks in Boljoon, another part of Cebu which is just crazy.
Please, please, please avoid these places and go to witness wildlife in a way that doesn't harm the animals.
Reasons to visit the Philippines #7: The Beaches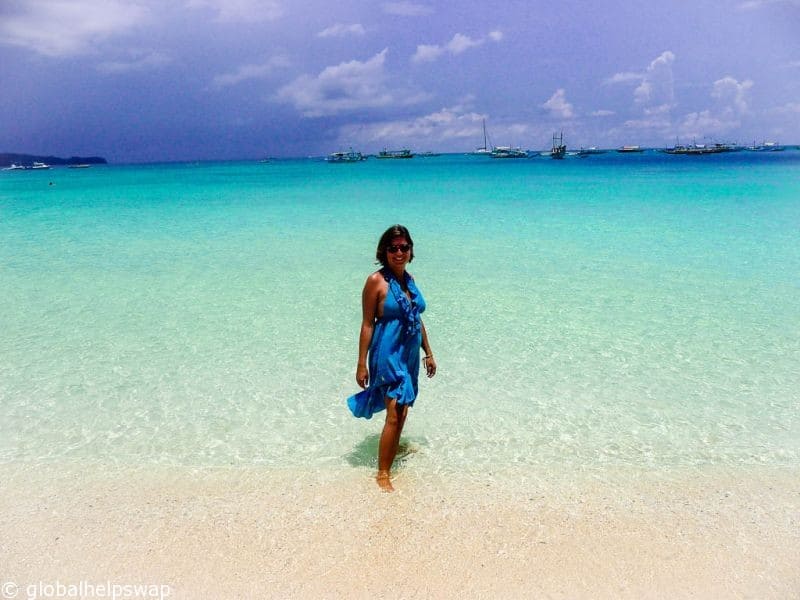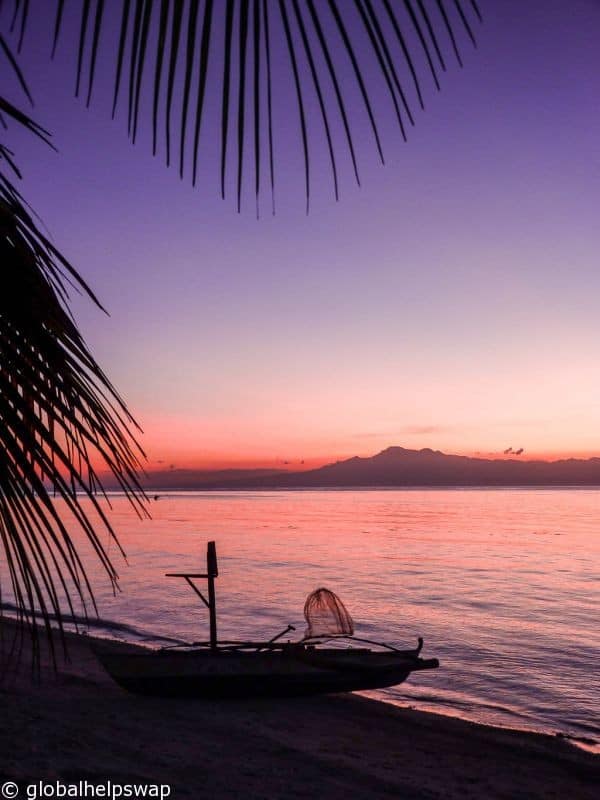 A lot of old school travellers we meet say that the Philippines is like how Thailand was in the 1980's and 1990's. What they mean by that is, in the Philippines you still can find your own slice of heaven and you won't have to share it with anyone. Throughout our 3 month stay we lost count of how many empty stunning beaches we lay on. With over 7,000 islands I am quite sure you will find your dream beach too.
Reasons to visit the Philippines #8: The Food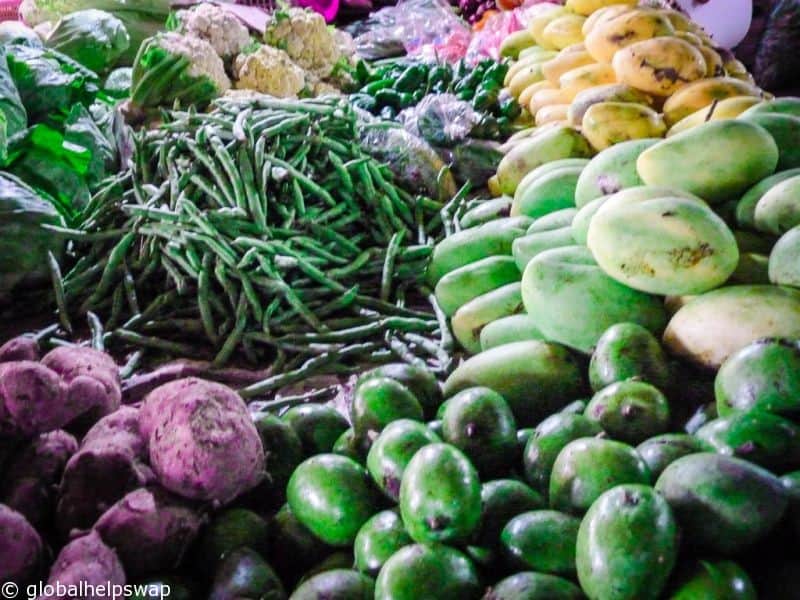 The Philippines is not known for its food like Thailand or Vietnam but you can find some delicious delicacies during your visit here. My favourite by far was the stuffed squid that we used to have on Palawan Island. The most famous of Filipino dishes is the ubiquitous Chicken Adobo. We found this dish on most islands, it's cheap and tasty so don't miss it. Being an island nation you will come across delicious fresh fish and seafood all along the coast. Last but not least is the fruit. The Philippines have the best mangoes in the world. They are so good that it is illegal to take a mango from one state to another as they don't want to cross-pollinate. On one of our journeys we got stopped by a military road block. We thought they were looking for drugs but oh no, it was the mangoes they were after!
Reasons to visit the Philippines #9: The Wildlife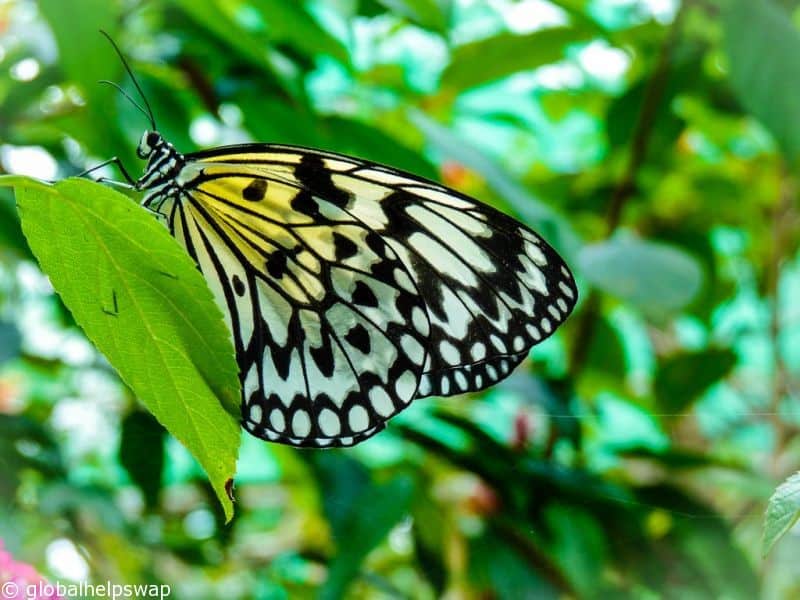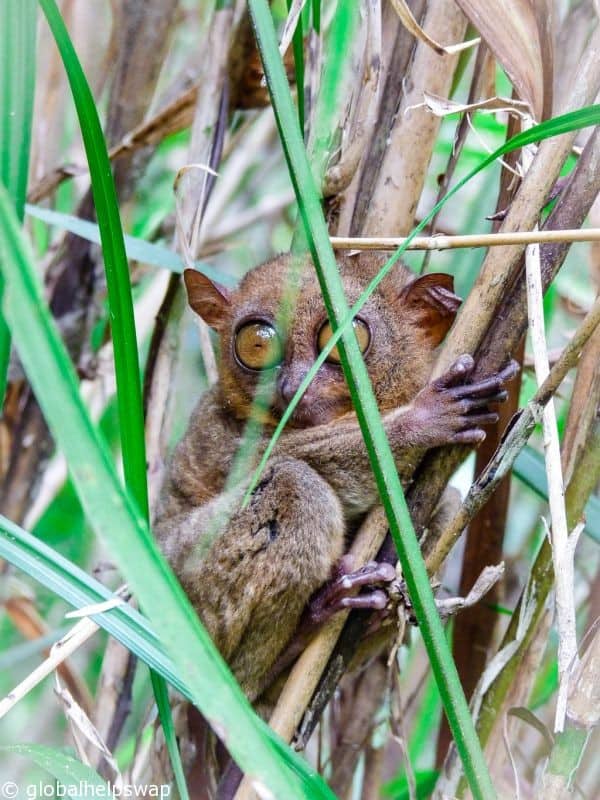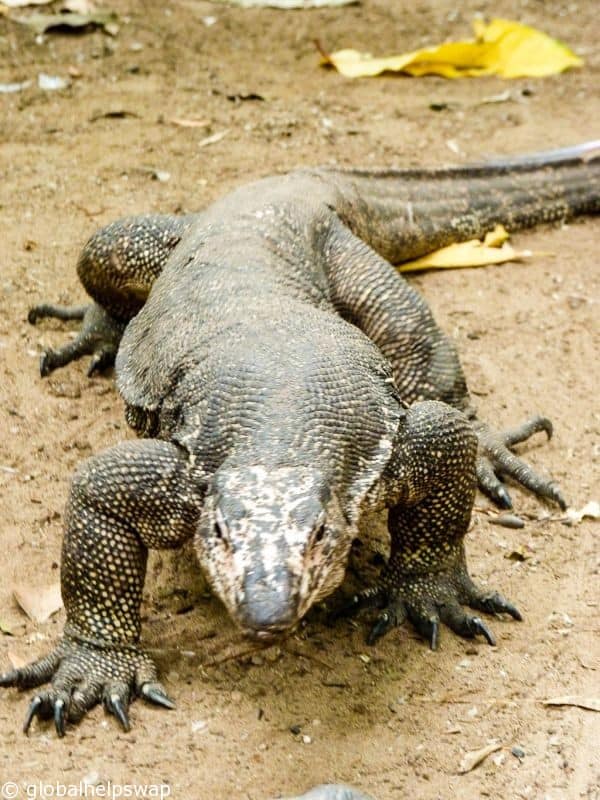 Apart from the aforementioned Whale Sharks, the Philippines is full of other stunning wildlife. From the too cute Tarsiers to beautiful butterflies, the Philippines will satisfy the naturalist in all of us. If you are a twitcher there are over 612 species of birds found in the Philippines.
Then we have the amazing life under the waves which brings me to my next choice……
Reasons to visit the Philippines #10: The Diving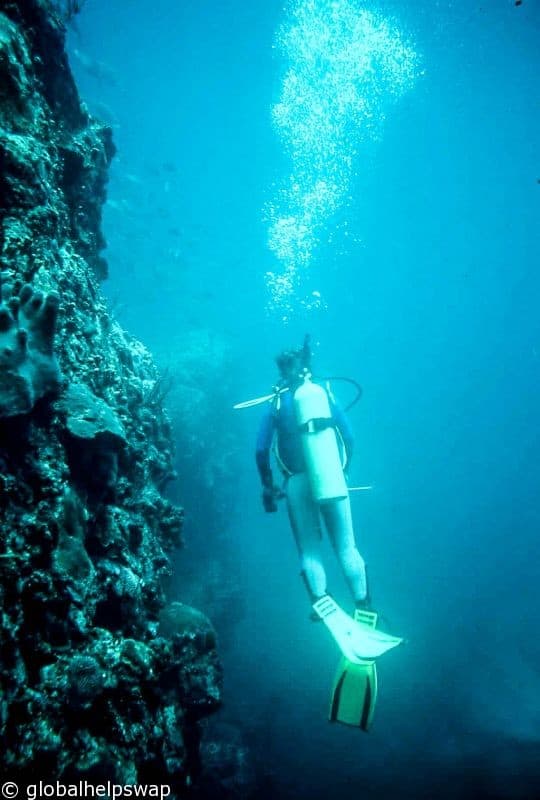 Karen & I have been diving for over 17 years and in all that time we have never seen coral like we did in the Philippines. You know when you watch a BBC nature program and the camera slowly pans over reefs with all the colours in the spectrum? That's what diving in the Philippines is like. I have never taken LSD, but I am quite sure the colours people see on it are the same as the coral of the Philippines. The fish life is the same. On every dive we did we came across huge varieties of fish. From the beautiful parrot fish to shoals of jack fish, every dive is full of life.
Reasons to visit the Philippines #11: Responsible Travel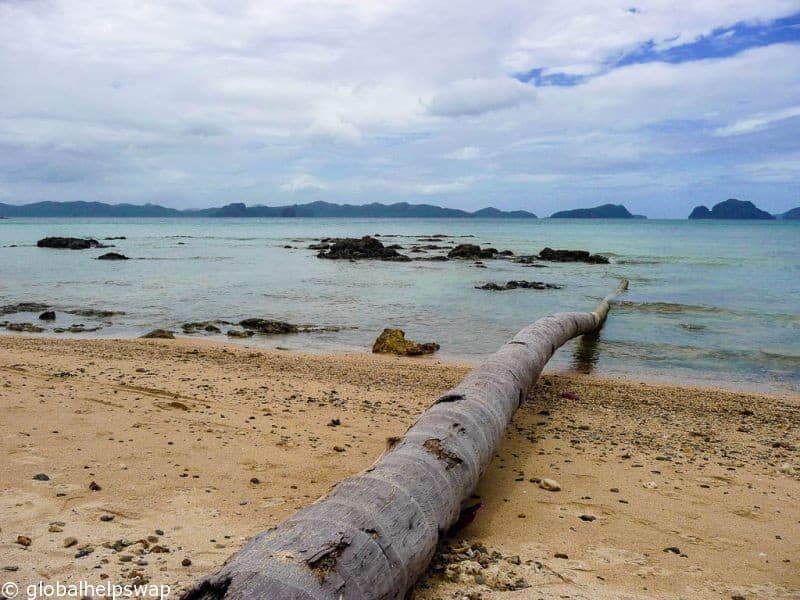 The Philippines ticks all the boxes when it comes to responsible travel. With thousands of home-stays, eco diving companies, locally run restaurants and eco wildlife tours, your money and footprint can have a positive impact during your stay.
Variety is the spice of life someone once said, well in the Philippines that famous quote really rings true. In a two-week break you can go trekking in 2,000 year old rice terraces, swim with whale sharks, lay on empty white sand beaches, visit countless islands, become friends with locals and eat the best mangoes in the world and all at a very low-cost.
So, what are you waiting for?
If you've enjoyed this post we'd love it if you shared it with your friends.
Find more tips on visiting the Philippines here:
P.S. Most responsible travellers who read our blog sign up for regular updates. You can join them by filling in the orange box below.
Why Visit The Philippines? 10 Reasons To Visit The Philippines Next!
Thinking about visiting the Philippines? Great choice! The Philippines are one of Southeast Asia's best locations.
This country has also accomplished some interesting things, such as having the highest rate of discovery for new species. With its lush jungles, towering volcanos, and serene beaches, it's easy to understand why animals would live on these islands.
Humans love them too. More than 2.2 million guests arrived in the country via the capital of Manila in the first part of 2019. Wondering if you should be one of them soon? Why visit the Philippines? Chocolate Hills, Bohol
I believe a visit to the Philippines should be on anyone's bucket list. Here are 10 reasons why I love Philippines so much.
10 Reasons to Visit the Philippines Next
1. Some Serious Beach Time
The difficult part of enjoying a beach vacation in the Philippines is picking your beach. The archipelago offers 36,289 kilometers of shores spread out across the islands. Now, that's a lot of beach!
In 2018, the Philippines closed its popular beaches in Boracay due to problems caused by an overabundance of tourism. The area has since reopened but no longer offers the party scene it used to. It's still busy, so you might want to consider another island if you're aiming for a more peaceful beach experience.
Some great options include Southern Negros, where you'll find several awesome beaches and some diving areas. Cebu is another excellent choice. From there, you can take a boat out to Bohol which features some of the most serene and relaxing white-sand beaches you will ever set foot on. Gorgeous Digyo Island
2. Awesome Diving and Snorkelling
Why visit the Philippines as a diver? The country offers many locations for underwater adventurers. From friendly whale sharks to coral reefs, there are plenty of natural wonders here.
The country includes 7000 islands. That means there are a wide variety of dive locations and resorts to choose from. One great location is the Akitsushima Wreck, located in Palawan. Most of the undersea wreckage, which sank during WWII, isn't safe for divers, but you can still swim down there and check it out. Another ideal spot is Amos Rock, an UNESCO World Heritage Site.
3. Interesting History
One of the more obscure reasons to travel to the Philippines is the history of the archipelago. It's estimated that the islands formed more than 50 million years ago and became home to early settlers from the Asian mainland. Other settlers continued to arrive over time, bringing their cultures with them. Muslim settlers from Borneo spread Islamic beliefs. Later, Christian settlers from Spain brought their influences.
Spain claimed the islands in 1521. There was conflict over the years as Spanish culture took over and local people began hungering for independence. In 1898, the US took over. The Philippines were caught in the struggle of WWII and faced many other difficulties in fighting for their independence. By 1956, the Philippines became an independent republic, but the mixture of all these different influences affects the Philippines you will find today. There are not just great beaches – Batad Rice Terraces on Luzon
4. Some of the Best Scenery You Will Ever See
The Philippines offer something for everyone. There are pristine beaches for the sunbathing crowd, scenic jungle walks for hikers, and plenty of caves for the adventurous spelunkers. If you love natural beauty, this is a part of Earth you won't want to skip visiting.
The entire archipelago is stunning. You won't miss out on lovely scenery no matter where you go, but there are a few locations that stand out.
For example, you might want to consider a visit to Mount Apo, the tallest peak in the country. The top offers great views of the cities of Kidapawan and Digos. Even if you don't feel like climbing a mountain, you'll find plenty of nice scenery below as well.
5. Diverse Flora and Fauna
Anyone with an interest in wildlife or botany will discover a source of endless fascination in the Philippines. Thick forests cover almost one half of the land. There are also a lot of open, grassy areas. The country is home to thousands of species of flowers, ferns and other plant life.
The forested landscape provides refuge for many animal species as well. There are hundreds of different birds and reptiles present, including some big snakes, such as the python and the cobra. When it comes to mammals, you may see civet cats, monkeys, deer, and wild hog. Endangered Tarsier in Bohol Tarsier sanctuary
6. Friendly Locals
Friendliness is a big part of the local culture in many Southeast Asian countries. The Philippines are no different! You can expect to be greeted with big smiles wherever you go.
Filipinos are proud of their country and love sharing all the local treasures with visitors. They do everything they can to ensure each guest has a great time during their stay. From the moment you arrive at the airport to the day you depart, kind Filipinos will help you every step of the way.
7. English is Widely Spoken
One of the fun aspects of visiting other countries is immersing yourself in a new culture. This is great when it comes to things like food and music, but trying to get by when you don't speak the language can be challenging.
One reason why tourists visit the Philippines is the language barrier is minimal. Most Filipinos speak fluent English. Learning some Filipino words can be fun, but it's better done out of genuine interest than a desperate need to find a bathroom! Exploring Palawan
8. Very Affordable
The Philippines are very affordable, especially compared to Europe, Australia, and North America. Visitors in the country get by on an average of 40 pounds a day, and you can get by (and still have amazing experiences) with a lot less.
If you plan to stay at a budget resort and lounge on the beach the entire trip, you'll spend much less. If you're packing your itinerary with activities, you'll naturally spend a bit more. However, you won't need to worry about overspending on nightlife. The country offers some of the cheapest beer in Asia!
9. Warm Weather
One of the best reasons to go to the Philippines is the weather, which is hot and humid most of the time. There are three seasons. The hottest and driest part of the year occurs between March and May. June through November marks the wet season. The coolest weather happens between December and February.
Many tourists visit during the cooler months, but the country can still be lovely the rest of the year. Adobo Pork
10. Great Food
Trying new foods is a fun part of travelling, and the Philippines are an ideal location for a visiting foodie. Many local dishes will be a treat for your taste buds, such as kare-kare, a stew of oxtail, peanut sauce, and veggies. Other must-try dishes include sisig, the Filipino version of fajitas, and pancit guisado, a noodle dish that's considered a local staple. Don't miss a typical adobo.
If you're the adventurous type, consider giving balut a try. The duck embryos are boiled and served in their shells. This may not appear too appetizing, but lovers of the dish compare the texture to scrambled eggs or cream cheese. Once you get a taste, you might be back for more!
Are there any reasons why not to visit the Philippines? If you can't stand warm weather or sunshine, this isn't an ideal location. Other than that, there's really no reason to avoid these wonderful islands. I recommend every traveller visit the Philippines at least once. When you do, you'll realize what you've been missing!
10 reasons to visit Manila
Despite being one of Southeast Asia's best capital cities for sightseeing and culture, Manila continues to (unfairly) get a bad rap. Crime, pollution, poverty, corruption, overpopulation and horrendous traffic jams are all typically associated with the city, but this paints an unbalanced picture. Sure, it's not without its faults, but with a booming economy and buzz generated by a hip new wave of restaurants, nightlife and galleries, Manila has renewed vitality and self-confidence. Here are just 10 good reasons to give it a chance – you'll discover it's one of Asia's absolute gems.
Spanish heritage in Intramuros
As Asia's only former Spanish colony, the Philippines offers an intriguing point of difference to its neighbouring countries. Intramuros is the nucleus of Spanish life in Manila and the best place to soak up this history. After having been destroyed during WWII, this walled city has been faithfully restored and provides a great escape from Manila's chaos. Here you can enjoy the laidback atmosphere and stroll leafy residential streets that are lined with colonial architecture.
Intramuros' centrepiece is Fort Santiago – a citadel used by Spanish and American military, with its arched gateways, barracks and cell blocks offset by a sanctuary of gardens, fountains and plazas. Other highlights in Intramuros include San Agustin Church (the only building left intact following the Battle of Manila in WWII) and Casa Manila, a lavish reproduction of a colonial Spanish house that was a project of Imelda Marcos.
World-class museums
Manila has a number of must-visit museums covering a range of themes. For wonderful pre-Hispanic artefacts, head to the National Museum of the Filipino People, located within an imposing neoclassical building and showing exquisite pieces from across the Philippines. Nearby in Intramuros is the Rizal Shrine museum, which highlights the extraordinary life of national hero Dr José Rizal – from his last days before being executed for standing up against the Spanish, to documenting his genius as a modern-day Renaissance man.
A more offbeat attraction is Imelda Marcos' infamous shoe collection at the Marikina Shoe Museum, where some 800 pairs of her shoes are displayed. Or check out the ultra-modern Ayala Museum, with four floors showcasing a superb collection of gleaming pre-Hispanic gold artefacts, quality art shows, and impressive dioramas detailing the country's history.
Walking and cycling tours
A great way to get some locals insights is to join a Manila walking tour. Most well known is Walk This Way (http://celdrantours.blogspot.co.uk), run by local identity Carlos Celdran. These theatrical tours tell it like it is, mixing in history, comedy and a healthy dose of cynicism while exploring Intramuros. Another stalwart on Manila's walking-tour scene is Ivan Man Dy, who runs Old Manila Walks (oldmanilawalks.com), known for his foodie tours of Chinatown – these are worth loosening your belt for. For something different, jump on a bamboo bike designed by local entrepreneur Bryan McClelland, who'll take you to less visited parts of Intramuros with his Bambike tours (http://bambike.com).
Art galleries
Art lovers will adore Manila's beautiful galleries, which exhibit everything from Filipino masters to modern art. The National Gallery of Art is the best place for classic 19th-century Filipino painters (most notably Juan Luna and Fernando Amorsolo), while the fantastic Metropolitan Museum of Manila is the place to go for contemporary works. Across the road from here is the Cultural Center of the Philippines (established by Imelda Marcos), home to several modern art galleries; while Vargas Museum and Yuchengco Museum also have stellar permanent collections and quarterly shows.
Chinatown and unusual cemeteries
Reputedly home to the oldest Chinatown in the world, Binondo district is a great place to soak up an 'old Manila' atmosphere with a twist. Streets are decorated with Chinese lanterns and lined with shops selling moon cakes, Chinese medicine, Buddhist paraphernalia and, of course, delicious Hokkien food.
North of Binondo is the Chinese Cemetery, one of Manila's most intriguing sights. Experience the eeriness of ghost-town-like streets lined with luxury tombs, many complete with running water and air-conditioning! If that's not surreal enough for you, visit the attached North Cemetery, home to a community of several thousand residents who've remarkably set up houses and shops among the tombs.
While Filipino cuisine hasn't exactly taken the world by storm, there are plenty of places in Manila to eat extremely well. For both quality and atmosphere, try one of the restaurants that have opened within historic Spanish colonial houses, such as Purple Yam (an offshoot from the original Brooklyn, NY restaurant), which does modern Filipino degustation menus. Or try the specialty old-world Manila dishes at La Cocina de Tita Moning. The new Blackbird restaurant by acclaimed Scottish chef Colin McKay is another worthwhile splurge, opening in an art deco former airport control tower.
Nightlife
Yet another reason not to skip Manila is its pumping nightlife. There's plenty going on here with fancy rooftop cocktail bars, speakeasy bars and laid-back pubs, as well as a great clubbing and live music scene. See why Manila is fast becoming one of Asia's coolest cities for more on the city's nightlife scene.
Heritage hotels and budget boutique
For those who like their digs with a bit of character and style, Manila's acommodation ticks the boxes. The city's most iconic luxury hotel is the Manila Hotel, originally built in 1909 and famous not only for being where General MacArthur lived during the war, but also where everyone from the Beatles to JFK has stayed. Nearby is the newly reopened Luneta Hotel, built in 1918 French Renaissance style; while art deco buffs will not want to miss out on Miramar Hotel, a 1930s masterpiece.
Manila hostels too are good quality. Boutique hostels Red Carabao and Pink Manila (http://pinkmanilahotel.com/) both have rooftop hangouts and draw a crowd of young travellers up for a party.
Architecture
Though the city was flattened during WWII, a few architectural beauties remain standing. Escolta St near Chinatown was Manila's ritziest strip prior to the war, and today there are still examples of art deco, Beaux Arts and neoclassical architecture; the Escolta Museum has good information on its past, plus architectural models.
The National Museum of the Filipino People, Metropolitan Theater and Manila Central Post Office are other good examples of neoclassical architecture. Or for something a bit more eccentric, check out the ostentatious Coconut Palace, made almost entirely from coconut materials and commissioned by Imelda Marcos in anticipation of Pope John Paul II's visit (who declined the invitation on the grounds that the money could have been spent better on alleviating poverty).
Day trips and city breaks
Finally, Manila is a good base for a number of day and overnight trips in the region. Most popular are trips to several volcanoes, including Mt Pinatubo with its moonscapes and scenic crater lake; Taal Volcano at pretty foodie town Tagaytay; or Mt Banahaw, where cult groups have set up camp along its base. For non-volcanic city breaks, travel to the heritage town Taal for fine colonial architecture, Corregidor Island for WWII history, or Anilao – the most popular diving and snorkelling spot close to Manila.
Source https://globalhelpswap.com/travel-to-the-philippines/
Source https://diveintophilippines.com/why-visit-the-philippines-reasons-to-visit-the-philippines-next/
Source https://www.lonelyplanet.com/articles/10-reasons-to-visit-manila