10 Top Tourist Attractions in Buenos Aires
Buenos Aires is the most visited city in South America, and for good reason. More than 400 years old, the city is famous for its outstanding cultural life and its European-influenced architecture. That sensuous dance, the tango, was invented in Argentina, and Buenos Aires is a good place to take lessons or see it performed to perfection. An overview of the top tourist attractions in Buenos Aires:
10. Puerto Madero [SEE MAP]
Roger Schultz / Flickr
Sleek buildings line the Rio de la Plata waterfront at Puerto Madero, the largest urban development project in the capital. Puerto Madero served as the main port of Buenos Aires during the late 19th century, but larger cargo ships soon made it obsolete. The port fell into decay until 1989 when it was decided to turn the aging warehouses into something grander: buildings that could be used as residences, restaurants, shops and other businesses. To give the project a bit of flair, all streets in the district were named after women. Strolling through the Puerto Madero is a great way to spend a pleasant afternoon.
9. Museo Nacional de Belles Artes [SEE MAP]
Ministerio de Cultura de la Na / Flickr
The Museo Nacional de Bellas Artes (National Museum of Fine Arts), located in the Recoleta district, earns high praise from visitors, some of whom have compared it to a mini-Louvre because of its outstanding collection of European and Argentine artists. There are not too many places where people can see this art and for free, to boot. The museum opened in 1895 and moved to its present location – a renovated drainage pump station – in 1933. Its collection of fine art, the largest in Argentina, ranges from art in the Middle Ages to the 20th century.
8. Teatro Colon [SEE MAP]
Gobierno de la CdBA / Flickr
Opened in 1908 with a performance of Verdi's "Aïda," the Teatro Colón in Buenos Aires was designed by a succession of architects, which may explain the structure's eclectic style. With nearly 2,500 seats and standing room for 1,000 people, the Teatro Colón stood as the world's largest opera house until the completion of the Sydney Opera House in 1973. It remains one of the top tourist attractions in Buenos Aires.
7. Carlos Thays Botanical Garden [SEE MAP]
wallygrom / Flickr
Carlos Thays was a French landscape artist who came to Buenos Aires when he was 40 years old, and proceeded to change the face of the city in the late 19th and early 20th centuries. Under his supervision, a number of parks were developed and existing ones renovated. But the botanical garden was his pet project. Located in the Palermo district near the zoo, the botanical garden is home to more than 5,000 species of plants, many in organized displays and others not. Past visitors say the park is a great way to escape the capital's hustle and bustle whether strolling winding paths or just sitting on a bench reading.
6. El Obelisco [SEE MAP]
Mike Disharoon / Flickr
El Obelisco is a much-loved attraction that stands 68 meters (223 feet) high over the city. It was built in 1936 to commemorate the 400th anniversary of the founding of the city, naming the city as the national capital and as the site where the Argentinean flag first flew. The flag actually first flew in 1812 at the church of St. Nicholas de Bari, which was demolished to build the obelisk. It reaches proudly into the sky where 9 de Julio Avenue intersects with Corrientes Avenue. Said to be the widest street in the world, 9 de Julio Avenue is named after the 1816 date on which Argentina declared its independence from Spain.
5. Cafe Tortoni [SEE MAP]
Obliot / Flickr
Travelers who collect dining experiences may want to visit Café Tortoni, Argentina's oldest and most famous café. Started by a Frenchman in 1858 who modeled it after a Parisian café, the Tortoni remains a popular place to enjoy coffee or snacks with friends as well as hobnob with writers, painters and other artists. It's also a good place to see the tango performed on stage by professional dancers. Located on Avenida de Mayo, the Cafe Tortoni entices the hungry with sandwiches, steaks and desserts that look too good to eat.
4. Plaza Dorrego [SEE MAP]
barbutti / Flickr
Travelers who are in Buenos Aires on a Sunday won't want to miss the market at Plaza Dorrego, especially if they're in the market for antiques and curios. The Plaza Dorrego is one of the oldest public squares in Buenos Aires, getting its start as a market in the 18th century when farmers filled wagons with produce to sell to locals on Sundays. The present antiques market started in the early 1970s; visitors who can't make the Sunday market might enjoy the plaza's surrounding area, as San Telmo is the capital's antique district. Tired shoppers can rest at an outdoor café and watch tango dancers perform or even take a few lessons themselves.
3. Caminito [SEE MAP]
Nico Kaiser / Flickr
Caminito, which translates as "little street," wasn't always a street. It was originally a stream; when the water dried up, railroad tracks were built on the dry bed. When the tracks were removed, it became a landfill. Today it is considered one of Buenos Aires' most colorful streets. Located in the neighborhood of La Boca, the street is a good place to watch artists at work and view their completed works. It's also known for inspiring Juan de Dios Filiberto to write his famous tango, "Caminito." Several museums also are located along the street.
2. Recoleta Cemetery [SEE MAP]
wallygrom / Flickr
Recoleta Cemetery isn't just an ordinary cemetery. It's where the elite of Buenos Aires and Argentina are buried, including the country's former presidents, Eva Peron and even one of Napoleon's granddaughters. Established in 1822, it contains more than 4,500 above-ground vaults, of which 94 have been declared national historical monuments. The cemetery is a good place to view fantastic marble mausoleums and best statuary, sculpted by notable artists. The BBC called it one of the best cemeteries in the world while CNN ranked it among the world's 10 prettiest cemeteries.
1. Plaza de Mayo [SEE MAP]
David Stanley / Flickr
Starting from the 1810 revolution that led to independence, the Plaza de Mayo has been a focal point of political life in Argentina. Several of the city's major landmarks are located around the Plaza including the Cabildo; the city council during the colonial era. Located in the center of the Plaza de Mayo is The May Pyramid, the oldest national monument in Buenos Aires. The plaza is also the square where the Mothers of the Plaza de Mayo have congregated with signs and pictures of desaparecidos, their children, who were subject to forced disappearance by the military junta in the 1970s.
Top 10 Places to Visit in Buenos Aires
In this article we present you the Top 10 of the best places to visit in Buenos Aires where you can find everything you need to know to have the best experience in the Argentine capital. Tango, football, architecture, navigation, city tours, culture and much more are waiting for you, don't miss it!
1- PALERMO
Enjoy Palermo, full of bars, restaurants and cafés / Photo: Argentina4u
Top tourist destination Palermo is the largest and trendiest neighbourhood for sightseeing in Buenos Aires , as well as being one of the best for finding accommodation in the city. You can take your pick from furnished apartments, hostels, hotels or apart-hotels, all of which vary in style and price. Palermo is a lively but safe part of Buenos Aires with plenty of things to do , both day and night. You can find some of Buenos Aires' best restaurants, trendy designer stores, lively pubs, bars and clubs here. Palermo has various subdivisions including Palermo Soho , aptly named after Soho in New York City, and Palermo Hollywood , where all the TV, radio and film companies have their studios.
Palermo top tourist landmarks:
– Plaza Serrano
Restaurants and pubs surround this lively plaza , while craftsmen and urban designers market their goods on the weekends.
Location: At the intersection of Borges 1600 – Honduras 4700 – Serrano 1500.
– Botanic Garden
This beautifully maintained garden and National Monument is almost 170 years old and is carefully designed with more than 5,000 plant species, beautiful sculptures and winter-houses.
Location: Plaza Italia, Santa Fe 3900, Las Heras 4000.
– Bosques de Palermo
The park and its surrounding area is one of the top places to visit in Buenos Aires. Decorated with rose gardens , groves and lakes, it is the perfect place to enjoy as part of a Buenos Aires city tour. From the park´s north-eastern side, you can reach Rio de la Plata and its beautiful waterfront promenade, Costanera Norte
Location: Avenida Sarmiento, Avenida del Libertador 3500 to 5000, Avenida Costanera Rafael Obligado.
Travel Tips in Palermo:
2- PUERTO MADERO
Puerto Madero is known for its modern skyscrapers / Photo: Argentina4u
This waterfront neighbourhood of Buenos Aires is the most modern part of the city . With towering glass skyscrapers, elegant restaurants and chic nightclubs, Puerto Madero is enjoyed by the wealthy and the trendy. It is a young neighbourhood that came out of the largest urbanization project in Buenos Aires' history. In 1993, the city government remodelled the old docks that were part of the port, creating the opportunity for a new development in the city; a safe, beautiful area for leisure and luxury living. Puerto Madero is nowadays considered the most important business centre and also one of the must-see tourist attractions of Buenos Aires.
Puerto Madero top tourist landmarks:
– Puente de la Mujer
Translated as Woman´s Bridge, this contemporary landmark footbridge designed by the famous Spanish architect Santiago Calatrava catches your eye immediately. A white wing shoots up from the footpath of the bridge. To some locals, the Puente de la Mujer resembles a woman dancing tango.
Location: Puerto Madero Dock 3.
– Ecological Reserve
Behind the modern architectural extravagance of Puerto Madero you can see the Costanera Sur , which hinges on the Ecological Reserve. It's a delightfully tranquil hideaway, so if you need a few hours of peace and quiet on your trip to Buenos Aires , this is the place to go to escape all the hustle and bustle. As well as admiring stunning flora and fauna , you can partake in a selection of outdoor activities such as walking or biking along the trails that lead to Rio de la Plata .
Location: Tristan Achaval Rodriguez Avenue 1500.
Travel Tips in Puerto Madero:
3- LA BOCA
La Boca is known for its colourful houses / Photo: Argentina4u
A wonderfully colourful neighbourhood right next to the old port of Buenos Aires, La Boca is synonymous with both tango and football. With its multi-coloured houses and taverns, the neighbourhood maintains its tango tradition, football passion , and Italian roots. Today it is one of the most important cultural centres and tourist attractions in Buenos Aires. Take a walking tour, watch a soccer game at the famous boca stadium or attend a local tango show.
La Boca top tourist landmarks:
Named after a famous tango song composed by the renowned singer Carlos Gardel, Caminito – or little walkway – is an open air tango museum and arts market. Its cobbled streets, brightly coloured houses and original artwork throughout the neighbourhood are an unusual sight – something you won't see anywhere else in the world. Traditional restaurants feature live tango shows where dancers and musicians show off their talent. A visit to Caminito cannot be left out of your trip to Buenos Aires.
Location: Avenida Pedro de Mendoza 1800.
– Boca Juniors Stadium
The colourful blue and yellow Boca Juniors Stadium is a one of the most famous landmarks in Buenos Aires and attracts thousands of Argentines and foreigners alike. At a football game in Buenos Aires, you can feel the sheer passion and incredible devotion the Boca fans have for their team. If you're a football fan you really can't miss out on the chance to experience Argentina football live. Get tickets the easy way and book a football tour here in order to experience the Argentine passion up close.
An interesting fact: the stadium is called La Bombonera because of its shape, which resembles a box of chocolates!
Location: Brandsen Street 800.
Travel Tips in La Boca:
4- SAN TELMO
Visit San Telmo on a Sunday to discover a world of antiquities / Photo: Argentina4u
The oldest residential neighbourhood in Buenos Aires , San Telmo exudes a special historical vibe. As one of the most important centres during the 19th century, San Telmo has preserved many of Buenos Aires' architectural landmarks, museums, antique shops and old churches that nowadays serve as a backdrop for business, cultural events and day to day activities . San Telmo is a great place to wander around on a Sunday afternoon. Enjoy the artisan's market, do some sightseeing and have lunch or coffee at one of the stunning cafés notables. Without a doubt highly ranked on the Buenos Aires top ten, San Telmo is one of the best places in Buenos Aires to really get an insight into Argentine culture.
San Telmo top tourist landmarks:
– Plaza Dorrego
In the heart of historic San Telmo, Plaza Dorrego offers one of the most authentic experiences for tourists and Porteños alike, boasting original colonial structures and designs . Throughout the weekend, the central square fills with the stunning San Telmo crafts and antiques market. On Sunday afternoon, the plaza transforms into an open air milonga, where experts and amateurs couple up to dance tango on the cobbled square.
Location: Between Defensa and Humberto Primero Streets.
Travel tips in San Telmo
5- MICROCENTRO
The Obelisk: downtown principal character / Photo: Argentina4u
Buses, taxis, and people whizz along the narrow streets and sidewalks of this frenetic "microcentre" which is generally at its liveliest during business hours. Located east of Avenida 9 de Julio – the world's widest avenue – the Microcentro is filled with businesses, bank headquarters, international corporate offices, and governmental institutions. On Fridays, the businessmen take off their ties as they swig pints of beer in one of the many Irish pubs and taverns located in the area.
Microcentro top tourist landmarks:
– Florida Street
An elegant pedestrian street, Florida street starts at Avenida de Mayo and goes on for less than a mile (1km) until the beautiful Plaza San Martin in Retiro. Surrounded by shopping malls such as Galerias Pacifico with brand name stores, leather and souvenir stores. Florida Street is an interesting place to observe Buenos Aires' fast-paced activity and to enjoy some shopping in Buenos Aires.
Location: Florida Street begins at Avenida de Mayo running up to Santa Fe 600.
– Avenida de Mayo
This major avenue connects Plaza de Mayo and Plaza Congreso along a 10-block stretch of European neoclassical and art nouveau structures that reflect the European influence on the city. Named after the 1810 May Revolution, the street houses historical treasures such as Café Tortoni and is seen as the cultural centre of Buenos Aires.
Location: Avenida de Mayo, from 500 until 1400.
– 9 de Julio Avenue & the Obelisk
You cannot miss the incredible view from Avenida 9 de Julio, the widest avenue in the world. The Obelisco stands elegantly at the junction of 9 de Julio and Corrientes. From here, you can enjoy a walk by day or night to see many of Buenos Aires' famous tourist landmarks such as the Colon Theatre , the French Embassy and a row of sculptures and monuments on the sidewalks.
Location: Avenida 9 de Julio from 1300 to 500.
Travel tips in Microcentro:
6- PLAZA DE MAYO
The Casa Rosada, located at the Plaza de Mayo, is a symbol of Argentenian government / Photo: Argentina4u
It has become the most important political landmark of Buenos Aires since the Independence of Argentina was declared in 1810. People with different political ideologies gather here in massive political demonstrations like those organized by Evita Peron or by the Mothers of Plaza de Mayo. Plaza de Mayo is also home to important local and national government houses such as the Casa Rosada (Presidential House), the Cabildo (which was the Government House during the colonial period) and the Metropolitan Cathedral, among other magnificent buildings.
Location: between Hipólito Yrigoyen 300, Rivadavia 300, Balcarce and Bolívar streets.
Travel Tips in Plaza de Mayo:
7- RECOLETA
The Cemetery of Recoleta is surprising with its huge tombs and large halls / Foto: Argentina4u
A classy residential and commercial district complete with French-style buildings and art nouveau constructions , Recoleta is one of the most expensive and elegant neighbourhoods of Buenos Aires and amongst the most popular for tourists. Its central square, Plaza Francia, is surrounded by coffee shops, restaurants and other touristic landmarks like the Del Pilar Church, the Palais de Glace and the University of Buenos Aires Law Faculty, beside which stands the famous Floralis Genérica – an immense steel statue in the shape of a flower, whose petals open and close depending on the time of the day. Every weekend, exciting cultural activities and colourful craft markets take place. You can also enjoy exclusive high-end shopping with international designer brand names.
Recoleta top tourist landmarks:
– Cementerio de la Recoleta
More than just a cemetery, this world famous Buenos Aires landmark is a museum of art that dates back to the year 1800. In the Recoleta Cemetery lie the remains of the most influential and important personalities in Argentine history, including the populist Eva Peron. Its marble mausoleums are dedicated to entire families and their descendants and are adorned with sculptures and other extravagant monuments which reflect the opulence of Argentine high society.
Location: Junin Street 1700
– Centro Cultural Recoleta
This building was donated to the city by the Franciscans in 1716. Since its renovation in 1980, it has operated as a Cultural Centre and one of the most popular entertainment venues in the city.
Location: Junin Street 1930.
Travel tips in Recoleta:
8- CONGRESO
Don't miss the opportunity to visit the Congress in Buenos Aires / Foto: Argentina4u
The magnificent grey stone building, Palacio del Congreso has an imposing and awe-inspiring presence in this neighbourhood which the locals commonly refer to as "Congreso". It is a middle-class area with strong commercial activity that gives you a taste of the real Buenos Aires. The Plaza Congreso, adorned with several monuments and sculptures , is the second most important political venue for Argentines. Many protests either begin or end at the Congreso because it is connected to Plaza de Mayo via ten blocks of Avenida de Mayo. Argentines love to protest and are very involved and committed to their politics, so you will undoubtedly run into into one or two during your stay in Buenos Aires.
Congress top tourist landmarks:
– Congress Palace
Its impressive construction makes this palace one of Buenos Aires' architectural highlights . Built in the late 1900´s, El Congreso faces the Plaza Congreso, an immense park with monuments and sculptures which creates a peaceful area within the busy downtown area.
Location: Entre Rios/ Callao Avenue and Rivadavia Avenue 1700.
– Avenida Corrientes
One of the city's main avenues, Avenida Corrientes intersects with Avenida 9 de Julio and the Obelisco before continuing into downtown Buenos Aires. Corrientes holds a strong cultural relevance for the Porteños, with its huge variety of theatres, and has unofficially become the Broadway of Buenos Aires. It is also home to many tango houses, excellent libraries (many with a selection of literature in different languages) and Italian pizzerias that continue to serve the city's residents late into the night. Read our guide on things to do on Avenida Corrientes.
Location: Callao Avenue 400, Intersection with Corrientes Avenue at 1700 until 800.
Travel tips in Congreso:
9- BELGRANO
Belgrano neighbourhood is basically residential and has got lots of visual curiosities / Photo: Argentina4u
A residential neighbourhood in the north of Buenos Aires, Belgrano offers both a peaceful oasis and commercial energy. The upper middle-classes enjoy living among the quiet, leafy streets and shopping along the busy Avenida Cabildo lined with shops, boutiques and corner cafes.
Belgrano top tourist landmarks:
– Plaza Belgrano
The central plaza in the neighbourhood, Plaza Belgrano, is situated next to the Belgrano Cathedral popularly known as "La Redonda" or the "the Round One" because of its circular shape, along with the Enrique Larreta Museum of Spanish Art , the Yrurtia House Museum and the Sarmiento Museum. The plaza is an important meeting place for artists who set up crafts stands on the weekends.
Location: Juramento Street 2200.
– China Town:
Chinatown (Barrio Chino) accommodates diverse Asian ethnicities, including the first Taiwanese immigrants, who were followed by the Chinese, Korean and Japanese , who moved there in the middle of the 1980´s. The area has continued to preserve its Asian culture over time and includes an array of grocery stores and restaurants. Enjoying delicious sushi or exploring the Chinese supermarkets full or rare delicacies has to be amongst your top things to do in Buenos Aires.
Location: Juramento 1600 and Arribeños 2100 intersection.
Travel tips in Belgrano:
10- TIGRE
Really close to Buenos Aires, Tigre has many charms / Photo: Argentina4u
Located just 17.5 miles (28 km) north of Buenos Aires Centre, this beautiful and colourful town is located on the shore of the exotic Parana Delta . It's a short train ride away and is a great place to visit on a T igre full day tour or even a half-day tour, if you're short of time. Tigre's outdoor activities vary from taking a tour through the stunning islands of the Tigre Delta, walking around the charming town, or going for a ride on the rollercoaster at the Parque de la Costa amusement park. Getting to Tigre is very simple , you just have to take the Buenos Aires Railway (the Mitre Line), which departs regularly from Retiro and, after 40 minutes of travel through Buenos Aires's northern suburbs , you will arrive in Tigre.
Tigre top tourist landmarks:
– Tigre Art Museum:
Originally built as a Social Club for the Argentine aristocratic society, the Tigre Art Museum has become an important meeting place for the rich and the famous. The beautiful structure stands on the Lujan River shore at the end of the Paseo Victorica, where you can participate in many outdoor activities.
– Puerto de Frutos:
If you're lucky enough to visit Tigre during your stay in Buenos Aires you cannot miss out on seeing this beautiful market. Tigre was a main fruit and vegetable port many years ago, and now the Puerto de Frutos is a crafts market that draws local artists to exhibit their unique art pieces made from natural resources from the area.
Travel tips in Tigre:
With this complete guide you will no longer have any doubts about why you should visit Buenos Aires, the capital of Buenos Aires assures you will be left breathless and with Argentina4u you will be able to do it even easier!
Buenos Aires Travel Guide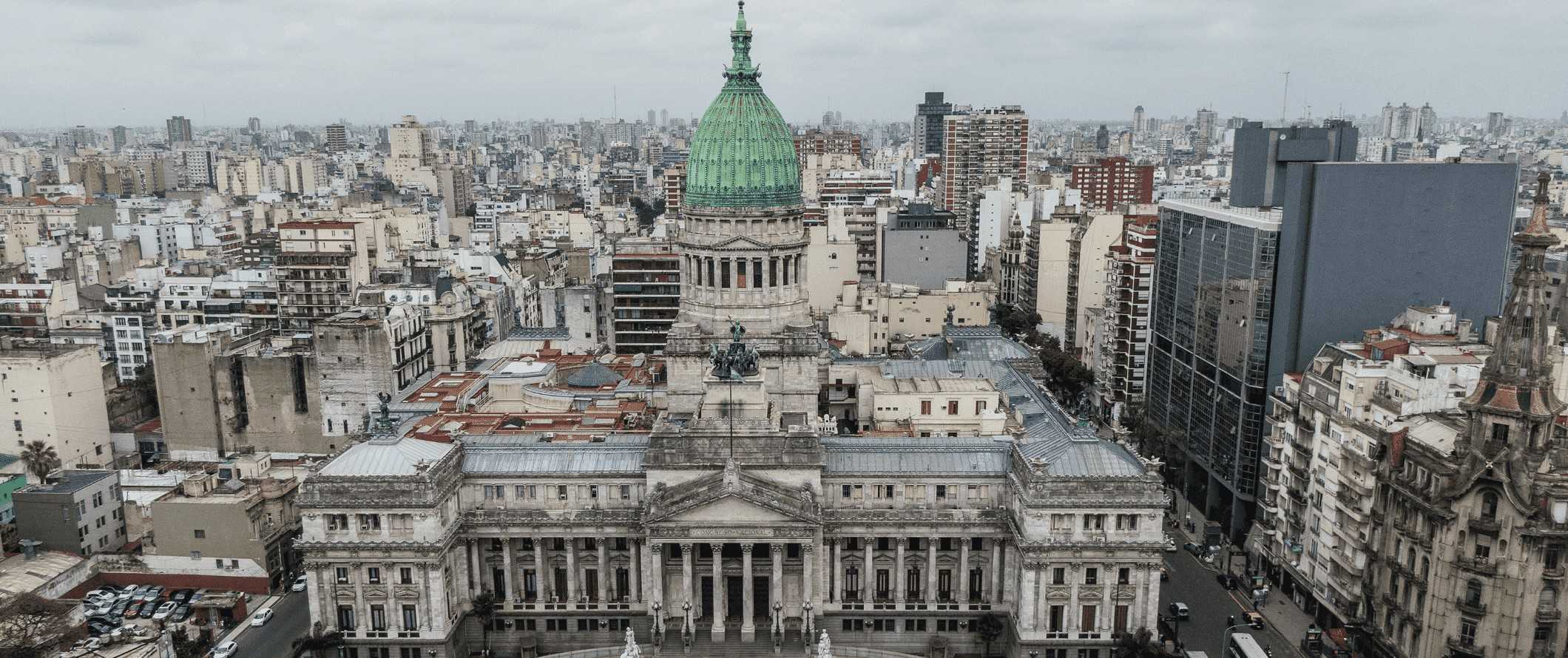 Known as the "Paris of South America," Buenos Aires lives up to its nickname thanks to its popular café culture, grand boulevards, and an incredible food scene that rivals its European counterpart.
Argentina's capital and largest city is a hotspot for music, food, the arts, and dancing. The city is one of the most diverse cities in Latin America, home to beautiful, warm, and friendly people from all around the globe.
Visiting Buenos Aires is an incredible experience. I loved my time there. The city is filled with rich history, beautiful architecture, verdant parks, quirky bookstores, and a fantastic nightlife — particularly if you like lively clubs that party until dawn.
Because Buenos Aires is a city that sleeps in and stays out late!
The quality of life is very high and during my stay I just floated from cafe to cafe, park to park, and wine bar to wine bar, taking in the amazing cuisine and enjoying the local pace of life. I especially loved the growing international expat community in the Palermo district.
This Buenos Aires travel guide can help you plan your trip, save money, and ensure you make the most of your time in this cosmopolitan city.
Table of Contents
Top 5 Things to See and Do in Buenos Aires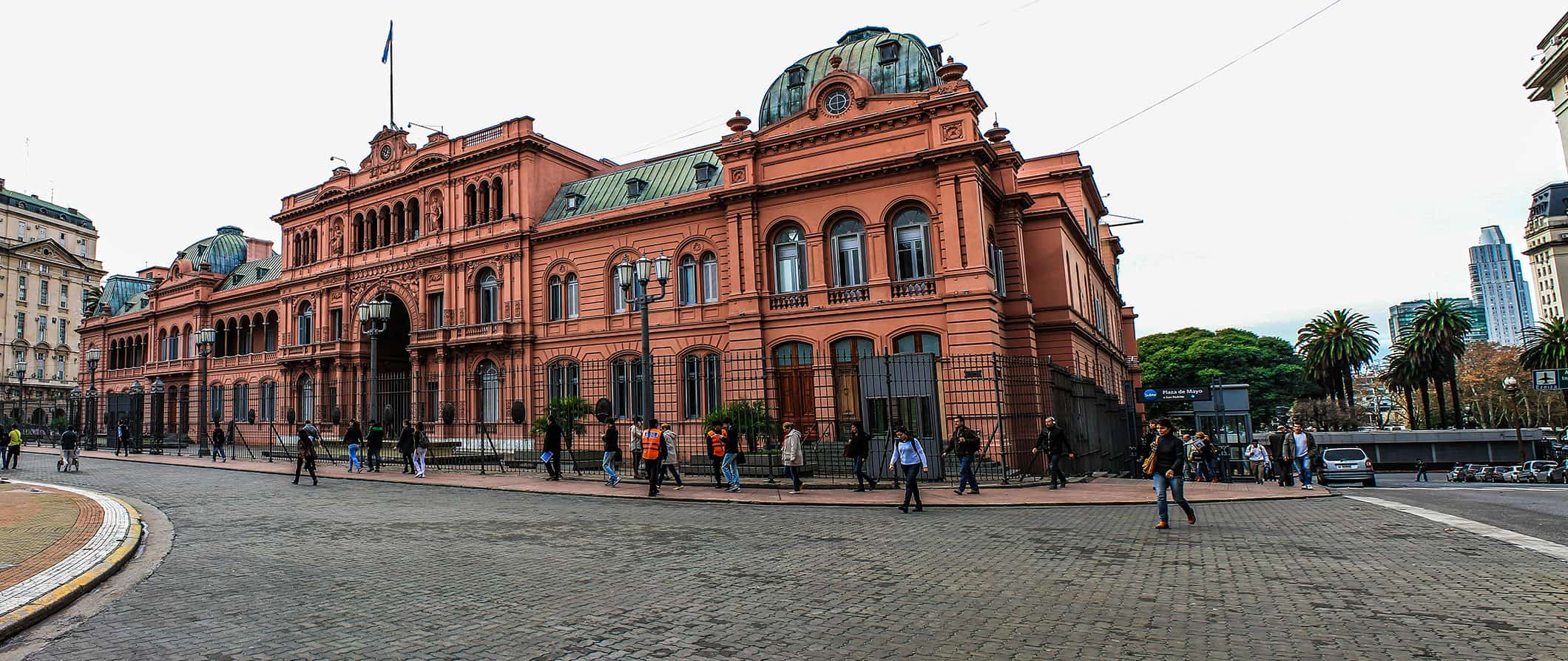 1. Visit the National History Museum
This palatial building encapsulates Argentina's history from the 1500s to the early 1900s. Most of the exhibits focus on the May Revolution of 1810 and the ensuing Argentine War of Independence from 1810-1818. It's open from 11am-7pm and closed Mondays and Tuesdays. Admission is free.
2. Meander the San Telmo Market
For the best cultural and shopping experience, make your way to the Sunday antiques fair at Plaza Dorrego. Artisans, musicians, stilt walkers, and other street performers line the streets, and you can buy souvenirs such as silver, paintings, and sculptures for reasonable prices.
3. Tour the Casa Rosada
Dominating the city's Plaza de Mayo is Casa Rosada is the office of the President of Argentina. Arguably the city's most notable landmark, the emblematic pink building has played a starring role in the country's history. Eva Perón (Evita) famously addressed crowds of workers from the building's balcony.
4. Wander Recoleta Cemetery
It might seem a bit morbid to visit a cemetery for pleasure, but this place is the final resting place of many of the city's most notable citizens, including Evita and the Paz family. Also worth seeing is the exquisite tomb of Rufina Cambaceres.
5. Learn to tango
The tango is Argentina's national dance and you can't leave Buenos Aires without hitting the dance floor and giving it a try. There are plenty of places offering lessons, or you can chase down a milonga, an informal tango event that begins in the afternoon and carries into the wee hours of the night.
Other Things to See and Do in Buenos Aires
1. Take in a fútbol game
Fútbol (soccer) is big business in Argentina, and aside from having a fantastic national team, the country also has plenty of top-class league teams. There are two great stadiums in the city, La Bombonera and El Monumuenta. For the best experience, try to catch a match between the city's two rival teams, River Plate and Boca. Plan ahead because tickets can be hard to come by but the crowds are lively and the matches entertaining!
2. Visit Museo Evita
Eva Perón (also known as Evita) is perhaps the most famous Argentine, known for her labor rights activism and position as First Lady (a film starring Madonna was made about her life in 1996). This museum explores her life from childhood through her career as an actress, onto her role as the First Lady and ultimately, ending with her early death. You'll leave with a better appreciation and understanding as to why she is such a significant figure to the Argentine people.
3. Admire Círculo Militar
This is the former home of the Paz family, the wealthy owners of the La Prensa newspaper. Built by a French architect, the building has more than a subtle French influence, but strangely, a few rooms are also in the Tudor style. Today, the building is home to a social club for retired Argentine military officers. Visitors can view the elaborate, gilded interiors via guided tour and visit the National Arms Museum housed in the same building. As one of Argentina's most beautiful buildings, this is an essential stop on your city tour. Admission is around 200 ARS.
4. Pay your respects at the Monument to the Fallen in the Falkland Islands
Under the military dictator Leopoldo Galtieri, Argentina declared war on Great Britain in 1982 by invading and occupying the Falkland Islands. The ensuing 10-week undeclared war ended in Great Britain retaining sovereignty over the islands, yet many lives were lost in the conflict. The monument is inscribed with the names of the 649 Argentines killed in the four months of conflict over the Falkland Islands (or "Islas Malvinas," as they're known in Argentina). To learn even more about the conflict, visit the free Malvinas Museum.
5. Stroll around the La Fería Mataderos
The Mataderos fair is an interesting and less touristy alternative to the other Sunday markets. Located on the southwestern edge of Capital Federal, Mataderos is very popular with locals. Over 15,000 people attend each weekend to enjoy the live music, great food, and handmade crafts. Best of all, the tango dancers here are not doing it for show — they are dancing because it's their pastime and passion. The fair is open from April to December from 11am-8pm.
6. Tour Palacio Barolo
Tour this landmark building of Argentina, designed by Italian architect Mario Palanti and themed around Dante's Inferno. When the building opened in 1923, it was the tallest building in South America, remaining so for over a decade. Visit to learn about the fascinating architecture, interesting history, and get the best panoramic views over the city. It's open Tuesday through Saturday from 12pm-8pm by guided tour only. Tours cost 3,000 ARS.
7. See Temaiken Park
This zoological park spans almost 200 acres and offers a huge variety of animal exhibits, with large, open-air habitats and African, Asian, and South Americas zones as well as an aquarium. The park, which is the only AZA-accredited zoo in the country, focuses on research and conservation, and many animals here are protected endangered species. Just a short (35 minute) drive outside of the city, it is one of the major attractions of the area. Admission is 3,540 ARS.
8. Explore Recoleta
This is a high-class, expensive, and fashionable neighborhood, lined with boutiques, cafes, galleries, and fine arts museums. As a central location in the city, it's a great area to check out and explore while catching your breath. There is also a bohemian street fair every weekend with musicians, performers, and artisans selling traditional Argentine products like leather goods and mate gourds. Located near the Recoleta cemetery, it's open from 11am-6pm on Saturdays and Sundays.
9. Museo Nacional de Bellas Artes
This fine art museum is host to many significant works, from European masters to pre-Renaissance days, including Monet, Manet, Van Gogh, Rembrandt, and Goya, among others. Additionally, there is an expansive collection of 19th and 20th-century Argentinian paintings and sculptures that make up one of the most impressive collections in the country. It's open 11am-7pm daily but closed on Mondays and Tuesdays. The museum is in the Recoleta neighborhood and admission is free.
10. Relax in Jardin Botanico Carlos Thays
Inaugurated in the late 19th century, the Buenos Aires Botanical Garden is the perfect place for an enjoyable, relaxing afternoon outside. The 17-acre garden is full of winding paths, statues, creeks, and 5,000 species of plants from all over the world. There's a French Garden, Roman Garden, Asian Garden, and Argentinean Indigenous Americas Garden, each with distinct landscaping styles and a diverse range of plants from each area. Take a stroll alongside the resident cats or stop by for a quick picnic to get out of the hustle and bustle.
11. Reserva Ecologica
Trash turns into treasure at this former dump-turned-oasis in the middle of the city. This ecological reserve is made up of nearly 865 acres of green area and lagoons. It's home to over 300 species of birds and is a great spot for birdwatching, jogging, biking, or simply walking. Expect to spend over an hour getting around the reserve on one of the well-trodden paths, but it's tranquil and a great escape from the noise of the city. Be sure to bring water. Guided tours are available on weekends and the reserve is closed on Mondays. Admission is free.
12. Day trip to Tigre
Dubbed "The Undeveloped Venice" with its plentiful canals, this city is only 45 minutes away from central Buenos Aires. It's green, lush, and seemingly a world away from the chaos of the city — which is likely the reason why it's a common retreat for Buenos Aires' more affluent residents. Tigre makes for a great day trip and has museums, a market, artist workshops, restaurants, and even an amusement park to explore. Getting there is cheap, too: the train is around 12 ARS and the ferry is about 200 ARS.
13. Enjoy La Bomba de Tiempo
This must-see captivating 17-person percussion group provides 3-hours of lively, wild, pulsing musical entertainment each Monday night. Nearly 1,500 people pack into the Konex Cultural Center as the group performs improvisational music with African and South American rhythms. Doors open at 7pm with an opening act playing until 8pm. You don't need to buy tickets in advance (though you can) but get there early to avoid standing in long lines and possibly missing the beginning of La Bomba's set.
14. Relax in Jardin Japones
In a city as noisy as Buenos Aires, the Japanese gardens provide a beautiful, calm retreat. Maintained by the Japanese Argentine Cultural Association, the gardens have peaceful lagoons adorned with bright red bridges and a variety of Japanese flora. At 5 acres, the park is one of the largest such gardens outside of Japan, and contains a Japanese Peace Bell, Buddhist temple, traditional stone lanterns and sculptures throughout. For a small fee, you can buy food to feed the koi fish. Admission is 416 ARS.
15. Country-hop to Uruguay
Pop over to Colonia del Sacramento, Uruguay, just one hour from Buenos Aires via ferry. The historic quarter, rife with Portuguese influence, is a UNESCO World Heritage Site and a big change of pace from Buenos Aires. It's the perfect town to meander about, with tons of quaint houses, plazas, and cobblestone roads. Make sure to see the lighthouse while you're here. The ferry cost can seem steep at 9,300-19,000 ARS round-trip (depending on timing and ferry company), but you can save money by taking the slower one that gets you there in three hours.
16. Peruse El Ateneo Grand Splendid Bookstore
El Ateneo Grand Splendid is housed in an old theater from La Belle Epoque period (1871-80) and is one of the biggest bookstores on the continent. It's impressively grand, there's a huge English language section, and the old stage is now a cafe. It was named the "most beautiful bookstore in the world" by National Geographic. Don't miss it.
For more information on other cities in Argentina, check out these guides:
Buenos Aires Travel Costs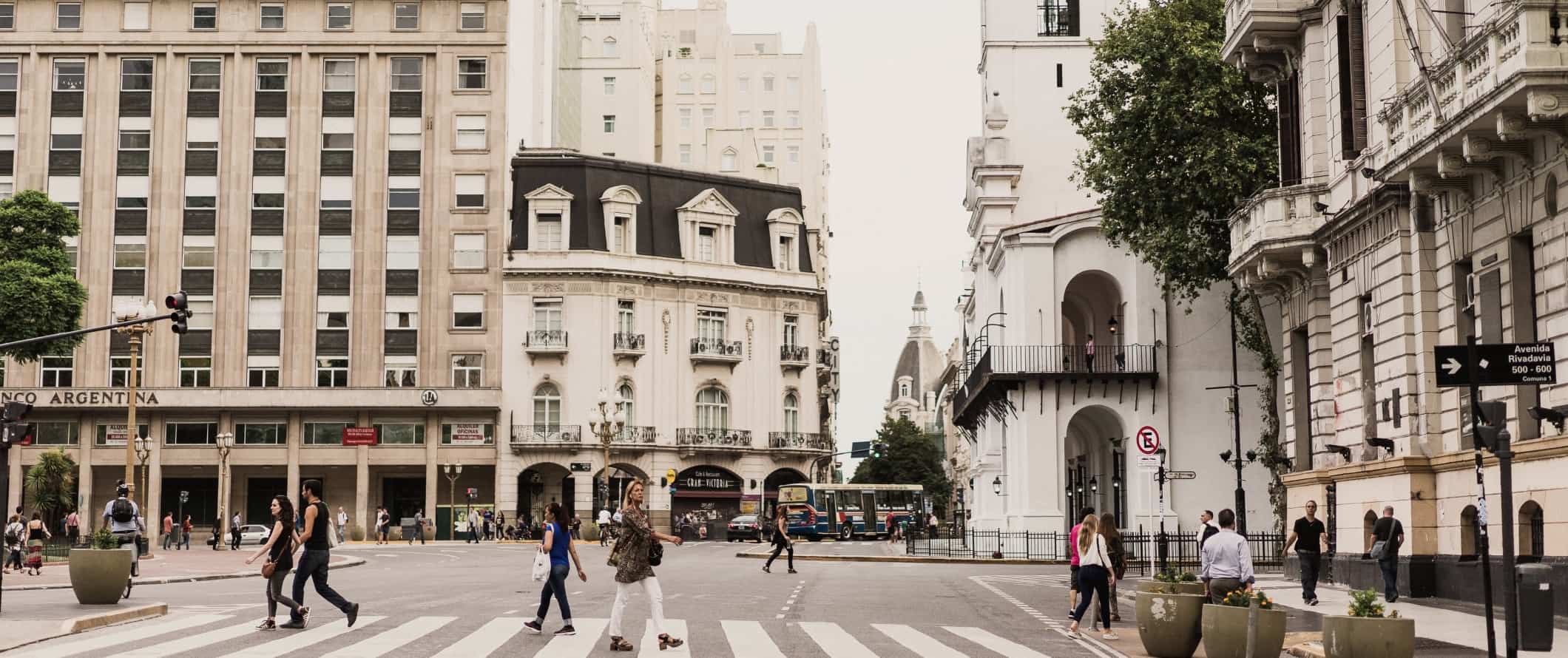 Hostel prices – Hostels start around 900 ARS for a large 10-person dorm room, though dorms with 6-8 beds are much more common, costing 1,350-1,800 ARS per night. Private rooms with a private bathroom start at around 4,000 ARS per night. Pricing stays consistent through the seasons.
Free Wi-Fi and lockers are standard, and linens are typically included. Free breakfast is not common, though a couple (like Art Factory) do offer it. Most hostels also have a shared kitchen so you can cook your own meals, an outdoor terrace or bar, and many offer free walking tours as well. Some hostels even have extra amenities, like a hot tub or pool.
For quieter hostels, check out the ones in San Telmo or Palermo.
Budget hotel prices – Centrally-located hotels start around 6,300 ARS for a double room. Most include breakfast, free Wi-Fi, and many include air-conditioning. As with hostels, pricing doesn't fluctuate much with the seasons.
There's a good number of Airbnb hosts here and you can get a private room for around 1,050 ARS. Entire homes/apartments start at 2,100 ARS per night.
Food – Argentine food is a mix of Mediterranean influences: first from Spanish colonizers, and later Spanish and Italian immigrants in the 19th and 20th centuries. Empanadas, pizza, polenta, and pasta all heavily feature in Argentine cuisine. But Argentines are most famous for their asado (barbeque) and consumption of beef, especially steak and ribs. In terms of veggies, tomatoes, onions, lettuce, eggplants, squashes, and zucchini are the most common. Dulce de leche, a caramel spread made from condensed milk, is the favorite national dessert.
For drinks, nothing is as famous as yerba mate, a caffeinated herbal drink that is prepared in a traditional gourd. It is consumed in social settings by passing around the gourd and its accompanying metal straw.
In most of the cafes around the city, you're looking at 540-780 ARS for a light lunch of a sandwich or salad, though you can find lunch specials at the cafes downtown for 360 ARS. Light breakfast specials including a coffee and toast can be found for 150-400 ARS.
Pizza is popular in the city and costs around 250-400 ARS. Steaks begin at 1,000 ARS but are often more like 2,500 ARS and more. A vegetable-based pasta dish is 500-700 ARS, while pasta with meat or seafood starts at 900 ARS.
At a traditional Argentine steakhouse, expect to pay at least 2,700 ARS for a nice sit-down meal with good steak and wine. Bottles of wine start at 700 ARS and go up from there.
In terms of drinks, beer is around 300 while a glass of wine is 200 ARS, a cocktail is around 450 ARS, and a cappuccino is 175 ARS.
For super cheap food, be sure to eat at the choripan (sausage and bread sandwiches) stalls for 500 ARS. Empanadas, the staple of to-go food in the country, cost around 50-75 ARS for one. A fast-food combo meal (think McDonald's) is around 730 ARS.
A dish at a Chinese takeout restaurant is around 500 ARS, while a dish at a sit-down Indian restaurant is around 600-800.
Some good restaurants to eat at are Don Julio, The Burger Joint, Origen Cafe, La Cabrera, and Freddo for ice cream.
You can buy a week's worth of groceries (including bottles of wine) for around 2,515 ARS. This gets you basic staples like rice, pasta, seasonal produce, and some meat.
Backpacking Buenos Aires Suggested Budgets
On a backpacker's budget, expect to spend 3,600 ARS per day. On this suggested budget, you're staying in a hostel dorm bed, limiting your drinking, taking advantage of street food (empanadas!), cooking most of your meals, using the subway to get around, and doing mostly free activities like walking tours and free museum visits.
On a mid-range budget of 7,100 ARS per day, you can afford a private room at a hostel or Airbnb, eat out at cafes or cheap restaurants for most meals (including the occasional steak), take the occasional taxi to get around, and enjoy more paid attractions and activities like day-trips to Uruguay or Tigre.
On a "luxury" budget of 13,700 ARS or more per day, you can stay in a hotel, eat out anywhere you want, drink more, rent a car or take more taxis, and do whatever tours and activities you want. This is just the ground floor for luxury though. The sky is the limit!
You can use the chart below to get an idea of how much you need to budget daily, depending on your travel style. Keep in mind these are daily averages — some days you'll spend more, some days you'll spend less (you might spend less every day). We just want to give you a general idea of how to make your budget. Prices are in ARS.
Source https://www.touropia.com/tourist-attractions-in-buenos-aires/
Source https://www.daytours4u.com/en/travel-guide/daytours4u/top-10-places-visit-buenos-aires/#:~:text=Top%2010%20Places%20to%20Visit%20in%20Buenos%20Aires,RECOLETA%20…%208%208-%20CONGRESO%20…%20Meer%20items
Source https://www.nomadicmatt.com/travel-guides/argentina-travel-tips/buenos-aires/