10 Top-Rated Tourist Attractions in Brasilia
Brasília, which succeeded Rio de Janeiro as Brazil's capital in 1960, was built in less than three years. Its location in the center of Brazil was chosen to help open up the western part of the country.
The extraordinarily ambitious plan, mainly the work of Lúcio Costa and Oscar Niemeyer, caused a sensation with its avant-garde architecture and its innovative city planning ideals. Because Brasília was planned and constructed as a whole piece, it doesn't have the mix of commercial, residential, and government functions that happens when a city grows over time; instead, these uses are strictly divided.
This makes it easy to find the architectural highlights – its prime tourist attractions – most of which are in one large area, but these are widely separated from the commercial and residential neighborhoods where you can join in local life.
The central area is in the form of a large cross with a curving north-south axis, Eixo Rodoviário, and a straight east-west axis, Eixo Monumental. Esplanada dos Ministérios is the central axis with the principal official buildings. Be prepared for plenty of walking, or join a tour to cover the distances between sights.
To find all the best things to do, use this handy list of the top tourist attractions in Brasilia.
1. Praça dos Tràs Poderes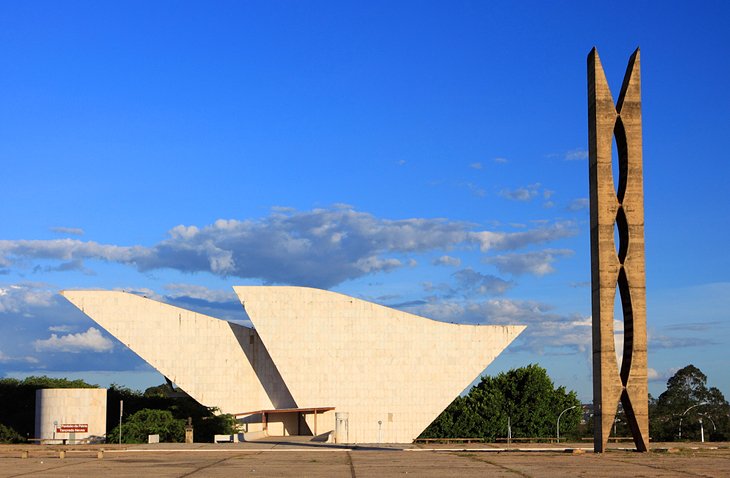 Praça dos Tràs Poderes
Brasilia's governmental center combines some of its most striking landmark buildings and monuments into a stunning showcase of modern architecture.
As the name of the Praça dos Tràs Poderes (Square of the Three Powers) suggests, it is surrounded by buildings housing the executive, legislature, and judiciary: the Palácio do Planalto, the official residence of the President; the Supremo Tribunal Federal (Supreme Court); and the Congresso Nacional.
Also around the square are the Historical Museum of Brasília and the Panteão da Liberdade (Pantheon of Freedom), designed by Oscar Niemeyer to honor the rebels of the Inconfidància Mineira of 1789 and President Tancredo Neves, who died in 1985 soon after taking office.
On the south side is the Palácio dos Arcos. The Mastro da Bandeira is a 91-meter flagpole from which flies a 73-meter Brazilian flag.
2. Catedral Metropolitana Nossa Senhora Aparecida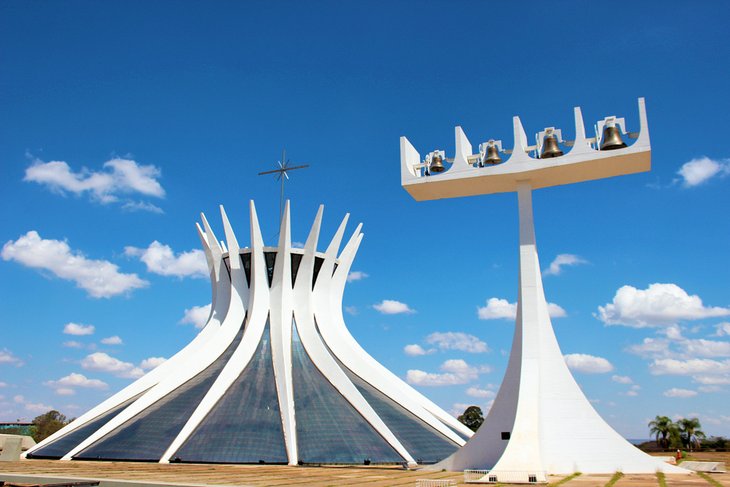 Catedral Metropolitana Nossa Senhora Aparecida
The city's most famous landmark is the unique circular cathedral, designed by Niemeyer and completed in 1970. Its 16 curved concrete columns soar upward to create a crown that surrounds a glass roof. The natural lighting effect inside is spectacular.
When you enter the church, through a darkened tunnel, you will be surprised to discover that what you saw from the outside is only the building's roof; most of the cathedral is underground. The roof itself is composed of two layers, with plexiglass over the stained glass.
The four large statues outside the entrance represent the Four Evangelists; also outside is a 20-meter freestanding bell tower.
Address: Esplanada dos Ministérios, Brasilia, Planalto Central
3. Palácio dos Arcos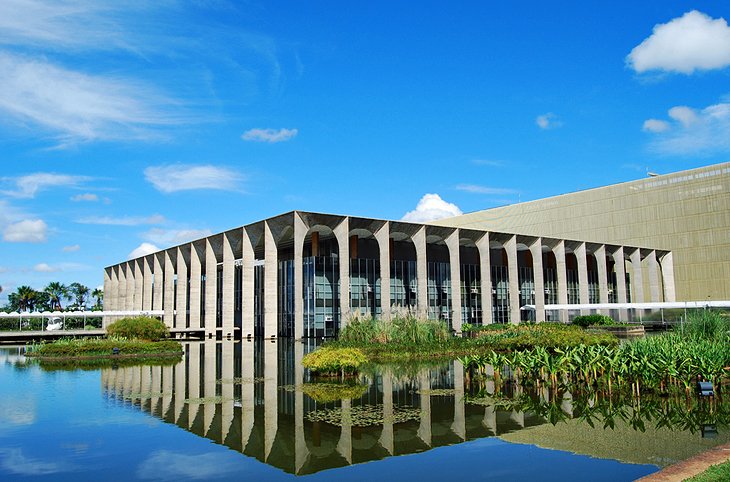 Palácio dos Arcos | A C Moraes / photo modified
The Palácio dos Arcos, also known as the Palácio Itamaraty, houses the Foreign Ministry and is one of Oscar Niemeyer's greatest achievements. A long line of symmetrical arches stands above a reflecting pool, the whole ensemble set in beautiful gardens designed by the noted Brazilian landscape architect Roberto Burle Marx.
The lavishly decorated interior surrounds a semi-roofed courtyard with a garden. The building is open to the public, and a highlight of the interior is the spiraling freestanding staircase, which seems to be suspended in air.
Address: Esplanada dos Ministérios, Brasilia, Planalto Central
4. Monumento JK: President Kubitschek Memorial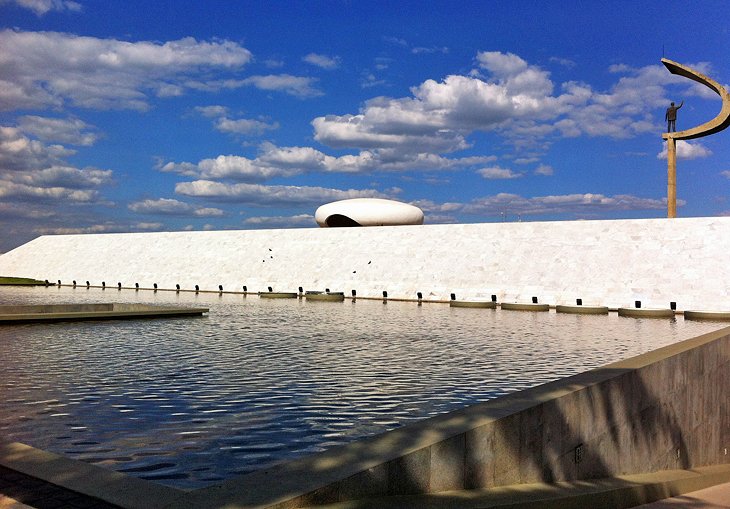 Monumento JK: President Kubitschek Memorial | Mariana Heinz / photo modified
The dramatic monument on Praça do Cruzeiro is the memorial to President Juscelino Kubitschek, the larger-than-life president of Brazil who is considered the founder of Brasilia. The monument was designed by Oscar Niemeyer, and many consider it among his finest works.
Along with Kubitschek's tomb and a museum devoted to him, the monument contains interesting exhibits on the city he envisioned and saw through to reality, including early plans, construction photography, and other materials that illustrate Brasilia's history.
Around the monument are artworks by contemporary sculptors, which along with its historical interest, make it a popular attraction for tourists.
Address: Praça do Cruzeiro, Brasilia, Planalto Central
5. Lago do Paranoá, Ponte Juscelino Kubitschek and Ponteo Lago Sud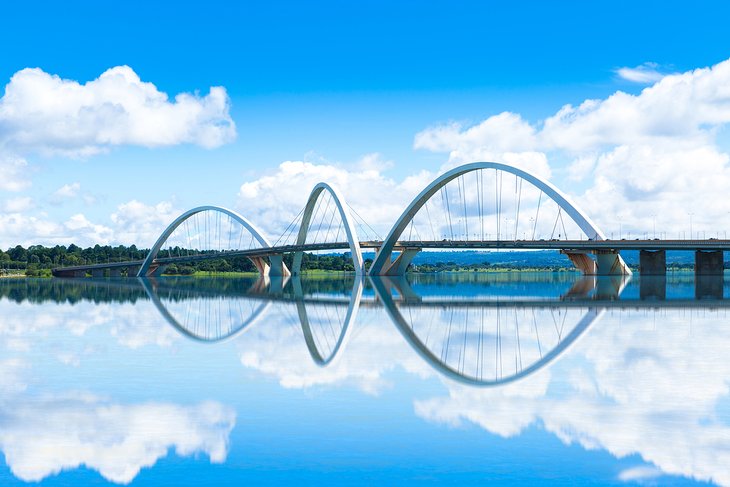 Ponte Juscelino Kubitschek and Lago do Paranoá
On the east side of the city, the Rio Paranoá has been dammed to form a large lake, the Lago do Paranoá. Along its shore are embassies and consulates, sports clubs, restaurants, the University, the Olympic Center, and the Palácio da Alvorada, official residence of the President of the Republic.
The Ponte Juscelino Kubitschek, better known as Ponte JK, is a concrete and steel bridge across the lake, supported by three crisscrossing arches that tower more than 60 meters above the water. Designed by architect Alexandre Chan and structural engineer Mário Vila Verde, the bridge has received several architectural awards since its completion in 2002. It is especially striking at night, when floodlights accent its soaring curves.
One of the most popular places to visit on weekends is the Pontao do Lago Sul, a promenade along the south side of the lake lined with restaurants and ice-cream stands.
6. Santuario Dom Bosco (Sanctuary of Dom Bosco)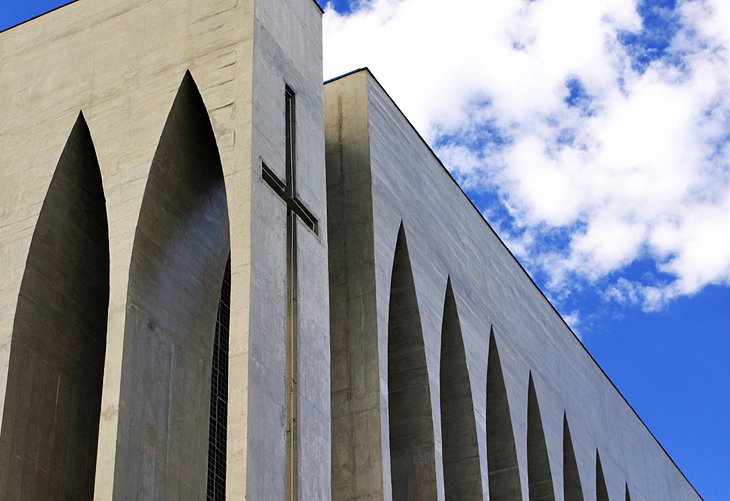 Santuario Dom Bosco (Sanctuary of Dom Bosco)
The church of São João Bosco is dedicated to the 19th-century Italian priest canonized in 1934, whose vision of the foundation of a Utopian capital city in the New World near the 15th parallel is considered the inspiration for Brasilia.
This sanctuary was built right on the 15th parallel. Architect Vasconcelos Naves designed a square building of 40 tall pointed arches that frame tall windows of stained glass in multiple shades of blue, designed by Claudio Naves and made by Hubert van Doorne.
The windows make up most of the walls, and an enormous chandelier is made of more than 7,000 pieces of Murano glass. The large cedar Crucifix over the altar was carved by Gotfredo Tralli from a single tree.
7. Congresso Nacional (National Congress)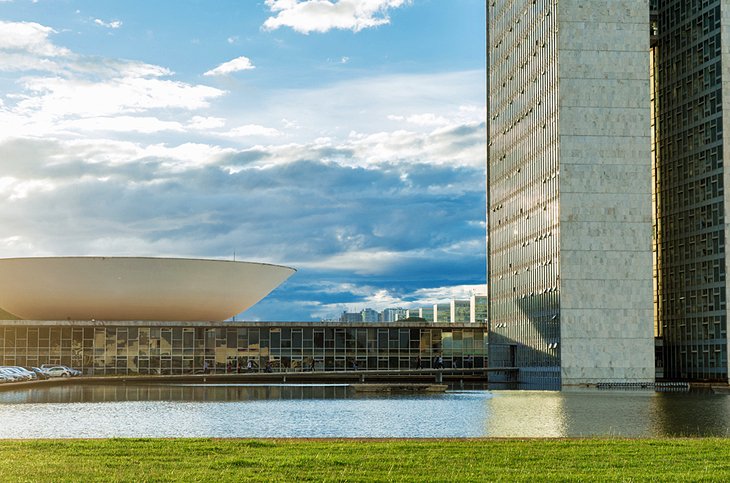 Congresso Nacional (National Congress)
Yet another landmark of modern architecture is the pair of buildings housing the Chamber of Deputies of Brazil (the lower house) and the Senate, along with their offices. For this, Oscar Niemeyer chose two sharply contrasting designs.
For the two houses, he created dish shapes that have been referred to as flying saucers, separating them by a pair of sharply linear rectangular towers. Around these photogenic buildings is a broad lawn with a reflecting pool, and inside are exhibits that include a Tunnel of Time.
You can tour the complex with an English-speaking guide.
Address: Via Eixo Monumental, Brasilia, Planalto Central
8. Parque Nacional de Brasília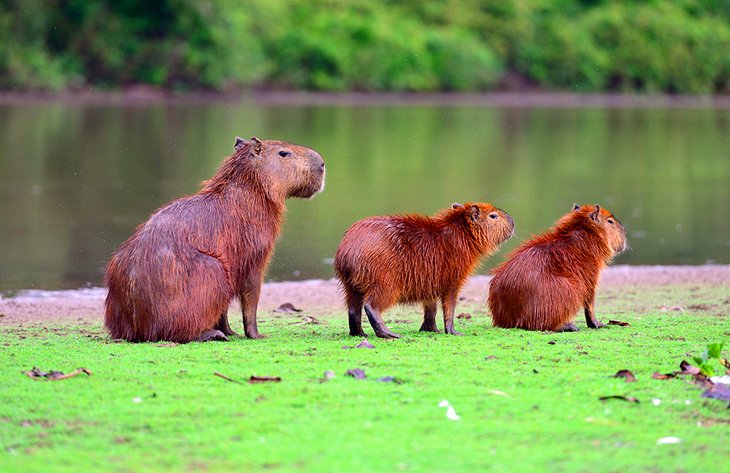 Capybaras at the Parque Nacional de Brasília
Brasília National Park covers 28,000 hectares in the northwest part of the city, protecting a number of different environments, including the low and crooked trees of the cerrado, the bush steppe of the Brazilian interior, expanses of scrub and grassland, swampy palm-scattered plains, and the imposing trees of the gallery forests found on riverbanks and lakeshores.
The streams in this area, dammed to form Lake Santa Maria, supply the whole of Brasília with drinking water, and among the park's greatest attractions are its mineral springs.
Along with its varied flora typical of the wild areas of midwestern Brazil, the park protects a rich and varied fauna, with innumerable species of birds, rheas, wild pigs, giant armadillos, capybaras, pampas deer, rare maned wolves, jaguars, caimans, anacondas, and other species of snakes.
You can follow either of two main walking trails through the lush forests: the short Capivara, about a 20-minute walk, or the hour-long Cristal trail. You can also join the locals soaking in one of the two mineral pools.
9. Monumental Axis and Torre de TV (Television Tower)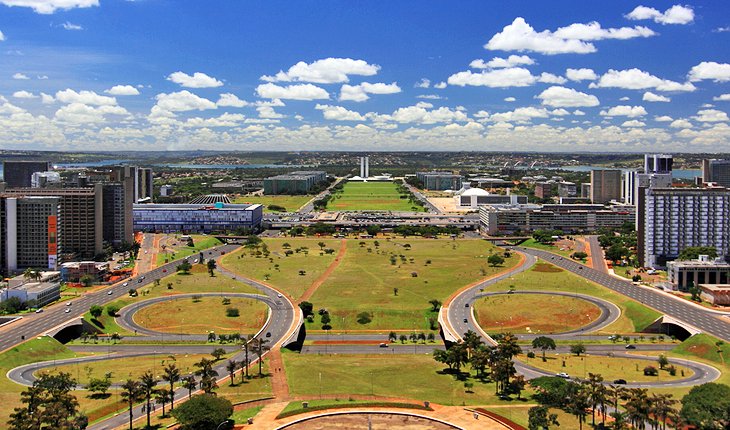 Monumental Axis from Torre de TV (Television Tower)
The 224-meter-tall Brasilia TV Tower is a good place to visit to get an overview of the city and a sense of its layout. It stands at one end of the Burle Marx Garden, and from this vantage point, you get a good view of the entire Monumental Axis (Eixo Monumental) and its landmarks, from the President Kubitschek Memorial to the towers of the governmental complex.
An observation deck at 74 meters is open to the public free every day, and on Sundays, a craft market takes place at its base. South of the Axis is the popular Sarah Kubitschek City Park, an expansive green space with ponds, theme rides, cafés, sports fields, concert space, and weekend flea markets
Address: Eixo Monumental, Brasilia, Planalto Central
10. Memorial dos Povos Indígenas (Museum of Indigenous People)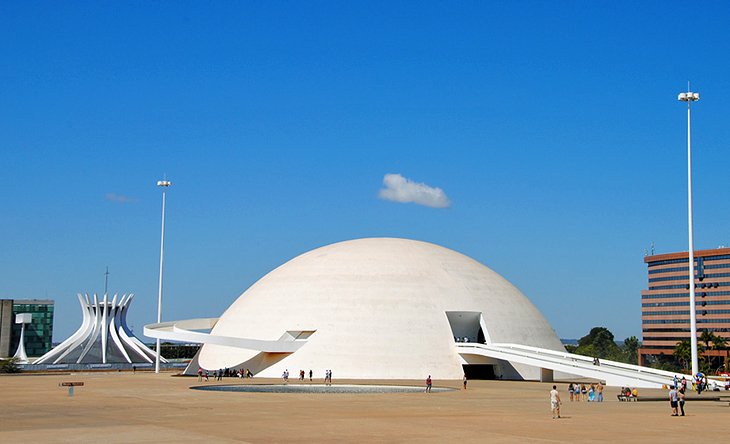 Memorial dos Povos Indígenas (Museum of Indigenous People) | Leandro Neumann Ciuffo / photo modified
This outstanding collection of native Brazilian art and artifacts not only records pre-colonial native culture but celebrates the living traditions of Brazil's indigenous peoples today. Historical and present-day implements – pottery, baskets, weapons, paddles, and feather headdresses – join art works created especially for the museum in a collection considered one of the best in South America.
In designing the unusual round building patterned after a traditional Yanomamö round house, Oscar Niemeyer consulted with Yanomamö shamans and elders for authenticity. The museum shop is an excellent place to find handmade native crafts.
Address: Esplanada dos Ministérios, Brasília, Planalto Central
Where to Stay in Brasília for Sightseeing
We recommend these centrally located hotels in Brasília near the city's famous landmarks, monuments, and museums:
: This luxury high-rise hotel features an inviting pool and hot tub, free buffet breakfast, and a sauna and gym. : For a mid-range option, this hotel is a great choice. It's located near a shopping mall and the property features modern decor, indoor pool, and spa with sauna. : This property is known affordable rates, proximity to shops, a restaurant, friendly staff, and contemporary style. : For budget conscious travelers, this high-rise hotel offers good value with an outdoor pool, on-site restaurant, and free parking.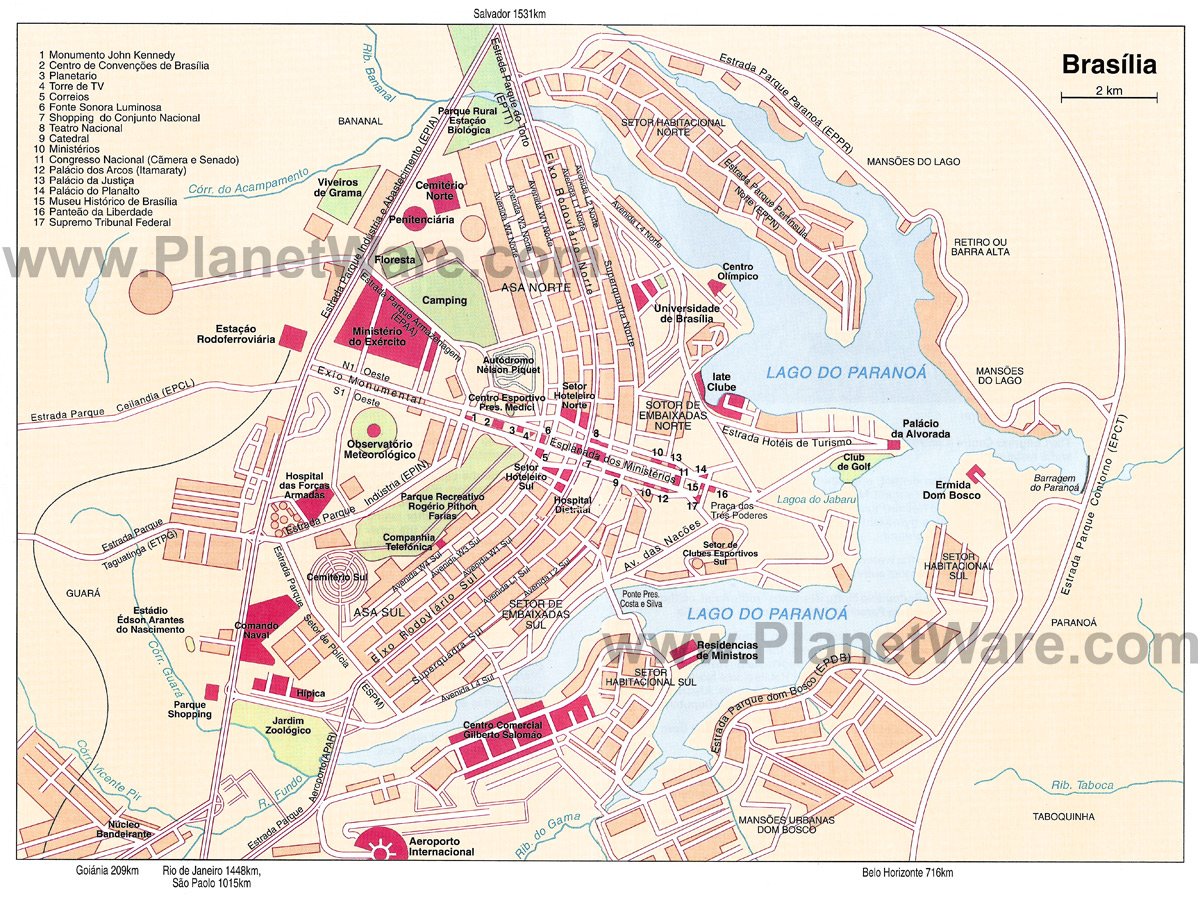 Brasilia Map – Attractions (Historical)
17 Best Places to Visit in Brazil
Famous for being home to one of the world's top football teams, the Rio de Janeiro Carnival and the remarkable Iguazu Falls, Brazil is an exciting world travel destination. As South America's largest country, Brazil covers a majority of the continent's northeastern region and borders all of its countries except for Chile and Ecuador.
From the Amazon rainforest in the North to the tropical beaches along the Atlantic, to the Pantanal wetlands and the vibrant metropolises of the Southeast there are plenty of interesting places to visit in Brazil.
17. Jericoacoara [SEE MAP]
U C L / Flickr
Located in the northeast of Brazil in the state of Ceara, Jericoacoara is a lovely, laidback place nestled between the Atlantic Ocean and a national park of the same name. Often referred to as Jeri or Jijoca, the small and secluded seaside town boasts some of the most beautiful scenery in Brazil and is an increasingly popular tourist destination.
Besides its beautiful beaches, Jeri is surrounded by delightful dunes and lagoons that offer countless recreational opportunities, with hiking, swimming and watersports all very popular. Exploring the area on horseback or in dune buggies is a fantastic way to see as much of its splendid scenery as possible; Pedra Furada – or the 'Arched Rock' – is the standout sight and symbol.
While its remote setting makes visiting Jericoacoara a challenge, it is well worth the effort for its sumptuous scenery, wealth of outdoor activities, and surprisingly lively nightlife.
16. Sao Paulo [SEE MAP]
Alicia Nijdam / Flickr
Not only is Sao Paulo the largest city in Brazil, but it is also one of the largest in the world according to population. Located in southeastern Brazil, Sao Paulo is known for its skyscrapers, gastronomy and robust culture scene. Home to many ethnic groups from all over the globe including the largest Japanese community outside of Japan.
Dividing the city between its old and new districts, Paulista Avenue is the city's busiest strip, brimming in businesses, shopping malls, art galleries, theaters, restaurants and coffee shops. Although Sao Paulo is known for its concrete jungle, it is also home to a large number of public parks and even portions of the Atlantic rainforest.
15. Brasilia [SEE MAP]
Agencia Brasil / Wikipedia
Located in the Brazilian Highlands, Brasilia was installed in 1960 as Brazil's capital. Brazil's former President Juscelino Kubitschek of the late 1950s ordered the city to be planned and developed into what some refer to as a utopia. Brasilia's modern day infrastructure is designed in the shape of an airplane in which each of its sections serve as different districts such as government, commercial, residential and cultural.
Brasilia's new and creative architecture attracts many visitors. Most significant is the Three Powers Square, which houses the Presidential Palace, the Congress and the Supreme Court. Other important buildings include the Palácio da Alvorada, the President's official residence and the TV Tower. The Brasilia Cathedral with its glass roof that resembles hands reaching up to heaven is a must visit.
In addition to all its concrete, steel and glass, Brasilia also features a large artificial lake and several beautiful parks that all offer a variety of leisure activities. The capital is also an important transportation hub for travel within Brazil.
14. Ouro Preto [SEE MAP]
Tucked away among the mountains of Minas Gerais, Ouro Preto is the most picturesque, popular, and well-preserved colonial town in Brazil. As it was one of the main centers of the Brazilian Gold Rush, wealth and riches poured into its streets – along with the power and prestige that came with it.
Strung out across a series of hills, its historic center is full of steep, winding cobbled streets that meander past gorgeous old buildings and 18th-century churches. The small city also has several interesting museums for visitors to check out; many of these focus on the artworks of Aleijandinho or Ouro Preto's mining past.
Many people visit the city for its rich history and culture or to visit the numerous mines via a guided tour. In recent years, Ouro Preto's colorful carnival has attracted more and more revellers to its ancient streets.
13. Bonito [SEE MAP]
Caio Vilela / Wikipedia
Lying in the southwest corner of Mato Grosso do Sul, the small city of Bonito is a great place to go in Brazil if you are looking to explore the gorgeous Pantanal region. While there's not all that much to see or do in the town itself, it has long been the posterchild of sustainable ecotourism in Brazil.
Awash with natural wonders, the area surrounding Bonito is home to sparkling waterfalls, gushing rivers, and huge sinkholes and lake-filled caves that you can go swimming or snorkeling in. Hiking in the lush rainforest is also popular, with lots of colorful fauna and flora to be spied in Serra da Bodoquena National Park.
Many companies operate out of Bonito's pousadas, and excursions usually focus on the Pantanal's rich ecology and ecosystems. Among the most popular are snorkeling below underwater stalagmites at Anhumas Abyss, enjoying a canopy walk in the rainforest, and exploring Blue Lake Cave – one of the largest flooded caves in the world.
12. Fortaleza [SEE MAP]
Nice beaches, dynamic shopping and lively culture all make Fortaleza one of Brazil's popular tourist destinations. The capital of the Ceará state on the country's northeastern coast, Fortaleza is Brazil's fifth largest city, well-known for its forró music.
Featuring a mix of colonial and modern day architecture, Fortaleza offers plenty of things to see and do. Praça do Ferreira is the city's main square where restaurants, shops and a movie theater are all located. Praça José de Alencar is another popular square where street performers can be observed.
Fortaleza's 16 miles of urban beaches are one of the reasons many tourists flock to the city. The most popular beach is Praia do Futuro, but other favorites are Iracema, Mucuripe and Meireles. Not only are the beaches great for swimming, sunbathing, fishing and surfing competitions, but they also offer hotels, restaurants and markets. Fortaleza also serves as the jumping-off point for many visitors to truly spectacular beaches, rolling dunes and idyllic fishing villages along the Ceará coast.
The shopping experience in Fortaleza is another of its main attractions. Because the city is home to a large textile industry, clothing is cheap here. Local handicrafts and fresh seafood and produce can be found among the city's markets while the Iguatemi Mall offers a little of everything.
11. Chapada dos Veadeiros National Park [SEE MAP]
Aureliano Nobrega / Flickr
Home to sparkling lakes, dramatic waterfalls, and stunning landscapes – as well as some of the oldest and most biodiverse tropical ecosystems in the world – Chapada dos Veadeiros really is a treat to explore. Covering a huge area in the center of Brazil, the marvelous microregion can be found in the state of Goias, some three hours drive north of the nation's capital Brasilia.
Chapada dos Veadeiros' main attraction is the wonderful national park of the same name that lies atop an ancient rainforest-coated plateau. Scarred by jagged cliffs and crumbling canyons, the park is fascinating to hike around, with lots of awe-inspiring waterfalls hidden away among its verdant flora and fauna.
Other highlights include the appropriately named Moon Valley, which is home to lunar landscapes. Swimming and bathing in any one of the numerous waterfalls and rivers that dot the area is a must-do. The two main places to stay when visiting Chapada dos Veadeiros are Alta Paraiso and Sao Jorge, a small city and village which lie not too far from all of the main sights.
10. Parati [SEE MAP]
Otávio Nogueira / Flickr
A paradise of tropical forests, waterfalls, emerald sea and coastal mountains, Parati is a popular tourist destination located along Brazil's Green Coast in the Rio de Janeiro state. Also spelled Paraty, this beautiful city is a former Portuguese colony established on the shores of the Bay of Ilha Grande.
The heart of Parati is its historic center with cobbled streets and multicolored colonial houses, many of which now serve as bed-and-breakfast accommodations called pousadas. Some of the most visited attractions here are the colonial defense forts that still boast original walls and cannons. The historic center of Parati is pedestrian-only.
Surrounding the city are several beautiful parks and nature preserves where visitors can hike and explore the natural setting of mangrove forest, waterfalls and wildlife. There are also indigenous villages here that can be visited. The bay offers gorgeous beaches where visitors can enjoy swimming, kayaking, snorkeling, diving and boat cruises.
9. Recife [SEE MAP]
guilherme jofili / Flickr
Nicknamed the "Venice of Brazil" because of its numerous waterways and bridges, Recife is the capital of the Pernambuco state and one of the largest and most important cities on Brazil's northeastern coast. Situated amid tropical forests with many islands and rivers, Recife is an interesting place to visit because of its historic old town, beaches and vibrant culture.
Recife was a Dutch colony during the early 17th century, and nowhere is this more evident than the city's historic district where many colonial buildings still remain. Some of the most significant structures include the oldest synagogue in the Americas and one of Brazil's most beautiful baroque churches, the Franciscan Convent of Saint Anthony. Saint Peter Square is also noted for its history and picturesque setting of colorful buildings, shops and restaurants.
The city's main market, the Sao José Market, is a popular place to find traditional handicrafts, medicinal herbs and locally produced food. Recife's beaches are considered some of the best in Brazil. Lined with hotels, restaurants and bars, Boa Viagem is the most popular beach with its pristine white sands, clear water and coral reef.
8. Chapada Diamantina National Park [SEE MAP]
Created in 1985 to protect, preserve, and promote its spectacular scenery and rich ecosystems, Chapada Diamantina National Park lies in the northeast of Brazil in the center of the state of Bahia. Popular among nature lovers and outdoor enthusiasts, the park encompasses everything from dramatic mountain ranges and sweeping valleys to teeming rivers and towering waterfalls.
As it is set atop of a plateau, the park is very mountainous, with its tallest peaks reaching more than 2,000 metres. Crumbling, rugged cliffs line the plateau, as do lots of epic waterfalls; the awe-inspiring 380-metre-high Cachoeira da Fumaca is the tallest in Brazil. Cavernous caves also punctuate its rugged terrain, with Lapa Doce and Pratinha two of the largest.
Thanks to its diverse landscapes and gorgeous scenery, Chapada Diamantina National Park is an increasingly popular tourist destination. Visitors can choose to either camp or stay in one of the small towns, such as Lencois and Vale de Capao. Horseback riding and hiking are popular pastimes, as is swimming in the rivers and pools of the area.
7. Olinda [SEE MAP]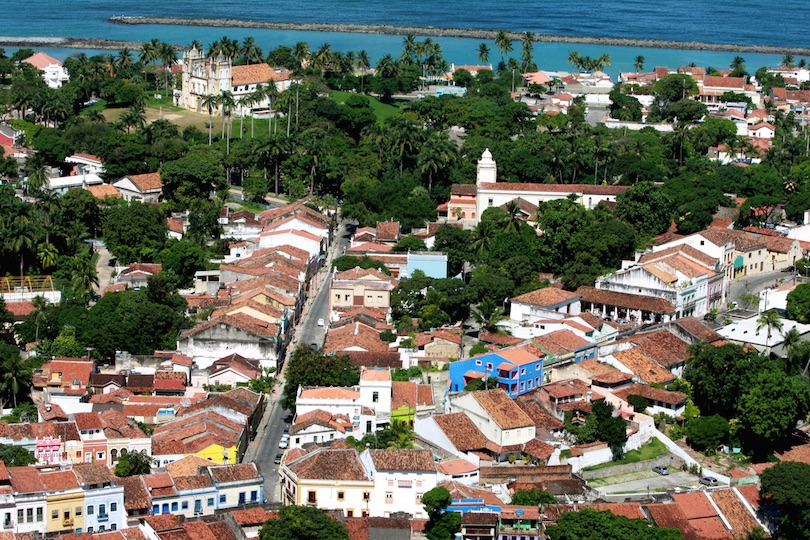 Prefeitura de Olinda / Flickr
One of Brazil's best-preserved colonial cities, Olinda is located on the country's Atlantic Coast in the northeastern state of Pernambuco. Founded by the Portuguese in the early 16th century, the city served as the state's capital until it was burned by the Dutch, thereafter losing its sovereignty to its nearby neighbor, Recife.
Perched on a picturesque hilltop surrounded by trees, Olinda's historic downtown is a treasure trove of colonial churches, colorful old houses and numerous artisan studios. Because of its love affair with art, Olinda packs many shops and markets selling paintings, ceramics, sculptures and handicrafts.
Every year, Olinda hosts its lively Carnival celebration that differs somewhat from those of Rio de Janeiro and Salvador in that Olinda's festival is best at daytime and features the music, dances and traditions of African culture. Olinda's Carnival involves parades, lavish costumes, giant puppet dolls, street parties and the rhythms of maracatu and frevo.
However, even outside of the Carnival season, Olinda offers an animated culture where every weekend buzzes with parties, bars, nightclubs and singing groups who perform serenades of traditional songs in the streets.
6. Pantanal [SEE MAP]
miquitos / Flickr
Covering a vast swathe of western Brazil, as well as parts of Paraguay and Bolivia, the Pantanal is the world's largest and most diverse tropical wetland area. Due to its stunning scenery and incredible wildlife, the region is increasingly popular to visit, although its remote and watery nature does pose a few challenges.
During the rainy season, around 80 percent of the floodplains are submerged, so the only way to get around is by plane or boat. It is worth it, however; the endless marshes and grasslands are home to an astounding array of fauna and flora.
Besides exploring the scenic landscapes ranging from swamps and savanna to lakes, forests, and wetlands, visitors are also sure to spot many caiman and capybara. The highlight of any trip is spotting the South American jaguar; the Pantanal is the best place on the continent to catch a glimpse of the elusive creature.
5. Florianopolis [SEE MAP]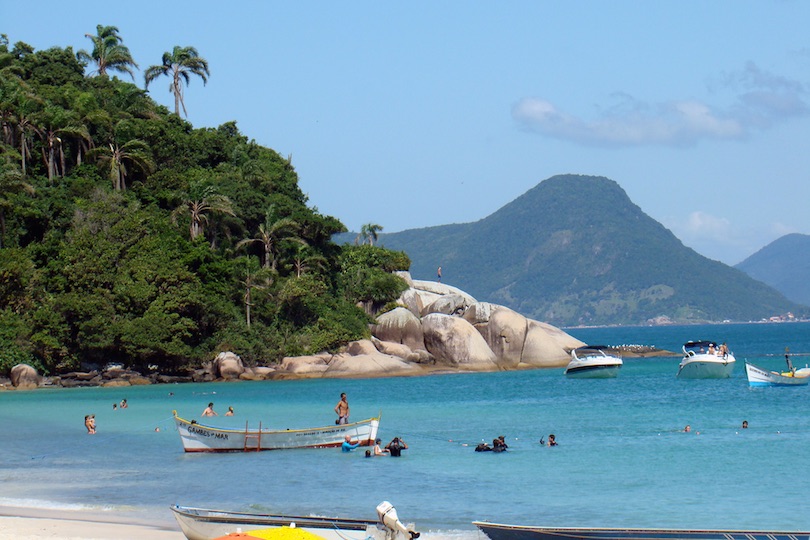 Rodrigo_Soldon / Flickr
The capital of Santa Catarina state, Florianopolis lies in the south of Brazil, with half of the city set on the mainland and the other on a beautiful island. Due to its scenic setting, it is a very popular tourist destination and is widely considered one of the best places to live in the country.
An important economic, cultural, and political center, Florianopolis is a modern city with lots of large shopping malls and chic restaurants, as well as lively bars and nightclubs. Despite this, it is a lovely laidback place, and each of its neighborhoods has its own distinct identity.
The main attraction, however, is the wealth of fabulous beaches, which total around 60. While relaxing in the gorgeous scenery is divine, Florianopolis also has stunning dunes, sparkling waterfalls, and forested mountains – as well as a large lagoon for visitors to explore. Hiking and cycling around the 'Magic Island' (which it is also known as) are popular activities, as are paragliding and watersports.
4. Manaus [SEE MAP]
The capital of the Amazonas state in northwestern Brazil, Manaus is an important tourist destination because it serves as a gateway to the Amazon rainforest.
As a result of the region's flourishing rubber industry during the early 20th century, Manaus today is Northern Brazil's largest metropolitan area, featuring distinguished landmarks like the Amazonas Opera House, the Adolpho Lisboa Market and the Rio Negro Palace.
Not only is the port of Manaus an important commercial hub for several manufacturing industries, but it also serves as the most popular starting point for river tours into the Amazon rainforest. Some of the most striking things to see on these tours include the Paricatuba Waterfall, Love Cascade and glimpses of the Pied tamarin, Brazil's most endangered monkey. Another significant sight is the Meeting of the Waters, which is a natural phenomenon where the two rivers of Negro and Solimões run side by side for more than three miles without mixing.
Besides the rainforest and river, Manus also offers public parks, a botanical garden and a zoo. Several beaches are here as well such as Ponta Negra with a number of restaurants, bars and hotels.
3. Salvador [SEE MAP]
A historic Old City, beautiful beaches, lively culture and one of the world's biggest Carnival celebrations all fashion Salvador into one of Brazil's top tourist destinations. One of the oldest cities in the Americas, Salvador is Brazil's third largest city and the capital of the Bahia state.
Formerly a major center of sugar and slave trade, Salvador today still bears traces of its history in its Old City, which features colonial architecture, stunning churches and plazas where important events once occurred. Also found in the old quarter are many restaurants, bars, art galleries and handicraft shops. Contrastively, Salvador's New City district is where all the modern day developments of shopping megaplexes, entertainment venues, golf courses and residential neighborhoods are located.
Situated on the coast of the Bay of All Saints, Salvador offers fantastic beaches that are ideal for sunbathing, swimming and surfing. Some of the most popular include Porto de Barra, Flamengo and Stella Maris.
One of Salvador's main crowd-pullers is its annual Carnival celebration. Acclaimed as one of the largest in the world, this extravagant event involves music, dancing, parades, costumes and street parties.
2. Foz do Iguacu [SEE MAP]
markg6 / Flickr
One of the most awe-inspiring natural wonders in the world, Iguazu Falls straddles the Argentine-Brazilian border. It is often compared to Niagara Falls and Victoria Falls, such is its staggering size and scale. Surrounded by dense rainforest, its endless series of cascades stretch for almost three kilometers, making it the largest waterfall system in the world.
Every second, incalculable gallons of water from the Iguazu River course over the Parana Plateau, plunging onto the rocks and pools below. While 80 percent of the falls are in Argentina, it is the Brazilian side that offers the most spectacular views, with Devil's Throat canyon being the highlight.
Besides gazing in awe at Iguazu Falls and taking in the deafening roar, visitors can take a boat ride beneath the falls or go hiking in the steamy rainforest that surrounds them. The gateway to the falls on the Brazilian side is Foz do Iguaçu, a big and reasonably safe city by Brazilian standards.
1. Rio de Janeiro [SEE MAP]
markg6 / Flickr
There is no destination on earth more animated and exciting than Rio de Janeiro. Located in southeastern Brazil, Rio de Janeiro is the most visited city of South America due to its famous mountains, beaches and Carnival festival.
Rio de Janeiro is situated on one of the world's largest harbors surrounded by natural attractions that include the Sugarloaf and Corcovado mountains and famous beaches like Copacabana and Ipanema. Within this sprawling metropolis is Tijuca National Park, one of the world's largest urban forests, teeming in native flora and fauna.
The city's iconic landmark is the enormous Christ the Redeemer statue sitting atop Corcovado mountain. Other important landmarks include colonial fortresses, former presidential palaces and Maracanã Stadium, one of the world's largest football stadiums.
Sadly, most people also know Rio for its crime and favelas. The favelas are areas of poor-quality housing, slums usually located on the city's many mountain slopes, juxtaposed with middle-class neighborhoods.
Rio de Janerio is home to one of the world's largest Carnival celebrations, renowned for its vibrant parades, costumes, dancing, music, fireworks and street parties. Outside of the festival, the city buzzes nightly with an abundance of bars and dance clubs.
Map of Brazil
© OpenStreetMap © MapTiler © Touropia
10 Things to do in Brasilia, Brazil's young capital!
A travel guide to Brasília? Finally! I know Brasilia like the back of my hand, but I've never written about it on this blog before. When others ask me where my parents or me come from, I often look into glowing faces. Being Brazilian is really great, although strictly speaking I'm only half Brazilian. But the excitement quickly turns into a question mark as soon as I'm revealing that my family lives in Brasília. Brazil, that's Samba, carnival in Rio, long beaches or at most the giant city of Sao Paulo. But Brasília is rather unknown to many. Well, Brasília is actually the capital of Brazil – and most people are finally confused by then. The vast majority of Brazil tourists even don't have Brasília on their itinerary. Time for that to change! Brasília will never be able to compete with an exceptional city like Rio – but it is a really interesting and bizarre place that will give your trip to Brazil an original twist. In this article, I'll show you the Top 10 Things to do in Brasília and what you shouldn't miss!
Brasilia: A brief overview over history, construction and architecture of Brazil's capital
Brasília is a city planned on a drawing board. That hasn't changed much until today. New so-called satellite cities have settled around the actual Brasília, the Plano Piloto, over the years – but they all follow their own specific urban planning scheme. In 1960, after only five years of construction, Brasília was inaugurated as the capital, which was quite a fierce decision when you consider what had previously stood on this vast land: nothing. Nothing but the Cerrado, that's how this part of Brazil is called.
Political and economic decisions were made in cities like Rio or Sao Paulo at the coastline of Brazil. Brasília was supposed to change that. Precisely in the geographical centre of the country, architects Lucio Costa and Oscar Niemeyer planned a visionary city. And to this day I don't know of any place that resembles Brasília in the slightest way. The architecture is unique and it's the reason why Brasília will always hold a special place among all Brazilian cities and probably also among all planned cities in the world. Brasília has been a UNESCO World Heritage Site since 1987.
What to see in Brasília? 10 Top Things to do in Brasilia!
#1 Catedral Metropolitana
The Catedral Metropolitana is pretty small for a cathedral. At the same time, it is a perfect starting point for sightseeing and a good first impression of how architecture works here in Brasília. Plenty of white, a lot of clear lines and despite the age (Brasilia and thus all buildings from the founding phase have almost 60 years on the hump) the architecture is still ultramodern.
Talking about white: In Brasilia everything appears whiter than anywhere else – the sun shines brighter, that's how it always seems to me. The city is located on a plateau at an altitude of 1200 meters and during the many sunny days, dark sunglasses are recommended if you are not used to so much bright sunlight.
The entrance to the cathedral is hidden: An underground staircase leads into the interior. And there, through the colourful glass mosaic windows, which seemed so unimpressive from the outside, the cathedral's splendour unfolds. The acoustics in the church are also special: if two people stand very close to the round wall, you can even hear whispers, even if the other person is standing on the other side of the church!
#2 Esplanada dos Ministerios & Praca dos Tres Poderes
The Esplanada dos Ministérios contains all the ministries of the country and ends with the Praca dos Tres Poderes, which houses the main government buildings. The whole government of Brazil in one place – and nothing else. No shops, no restaurants, no cafés. This is the concept of Brasília: everything is neatly sorted according to purpose, with the most important buildings of a capital right in the middle.
It is worth taking a look at the map of Brasília: The Plano Piloto looks like an airplane. In the wings there are residential areas, in the body of the plane government buildings and branches of economy such as hotels and banks. They are arranged exactly according to importance: The Congresso Nacional (Congress consisting of Senate and House of Deputies), the Palácio da Alvorada and the Supremo Tribunal Federal (Supreme Court) are located in the "cockpit" at the Praca dos Tres Poderes (Square of the Three Powers). All three powers gathered in one spot.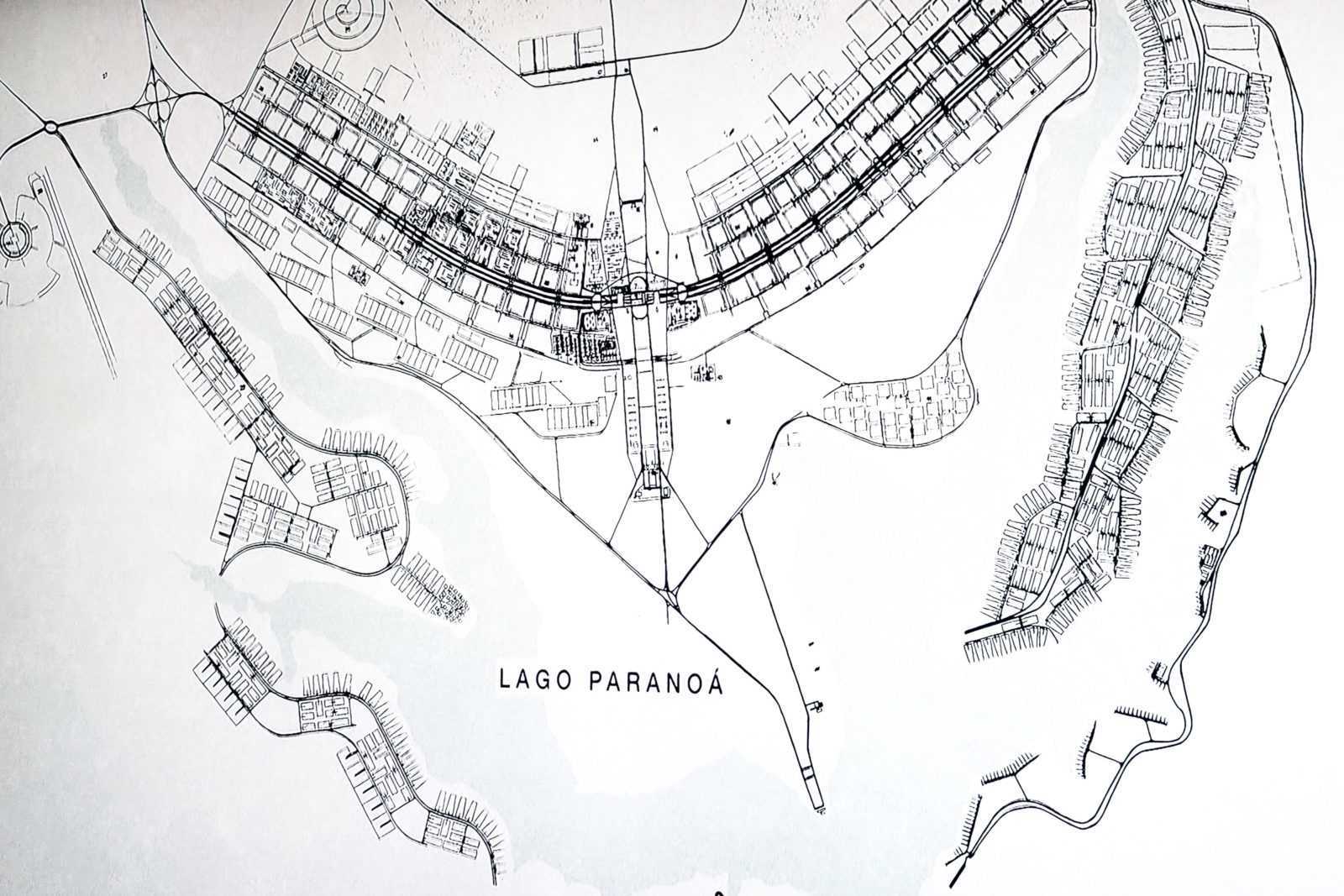 The Palácio da Alvorada as the seat of the Brazilian President is not open to the public. Interesting, however, is the built-in pedestal, which emerges from the palace and is specially designed for speeches to the people. The palace is guarded by the Dragões da Independência, a special unit of the Brazilian military, and with a little luck you can watch the change of guard.
Opposite the Palácio da Alvorada you will find the Supremo Tribunal Federal, the Supreme Court. The Praca dos Três Poderes is also a good example of the architectural concept: lots of space, straight lines and a lot of brightness. Worth a visit: the Museo Histórico de Brasília and the Panteao da Patria. The admission to both buildings is free and they both offer very interesting insights into Brazilian history. Tip: On every first Sunday of the month, the flag of the huge flagpole is changed in a big ceremony, an event that also many Brasilienses go to.
#3 Torre de TV / Television Tower
From Brasília's television tower you have the best view over the Esplanada and the whole Plano Piloto – and the best is: Admission is free. Around the television tower you will find the Feira da Torre, a permanent market with handicrafts and street food. As Brasília has always been a melting pot of all Brazilian regions due to its history, you will traditionally find the most exotic specialities from the whole country, from Tacacá from Pará to Empadas from Goiás. The Feira da Torre is open every day, but on Sundays there are more stands in addition to the regular ones.
#4 Memorial JK
JK (pronounced: geotta-kaa) are recurring letters in Brasília: they are the initials of the Brazilian president who set the long-awaited project of Brasília in motion. Unusual for a Brazilian politician, he is worshipped in Brasília like no other. Initially a doctor, Juscelino Kubitschek was known to be very close to the people and of high integrity – my aunt still talks full of admiration about the day she was once allowed to meet JK as a young girl for a short moment. JK wasn't only responsible for the economic upswing in Brasília, but also in the whole country. He lost all political rights during the following military dictatorship (1964-1984), because he was criticized towards the military government. He died in 1976 in a traffic accident under circumstances that still remain unclear to this day.
After long negotiations and political pressure, the military finally gave in and in 1981, they granted the construction of the Memorial JK as a mausoleum and museum about the life of JK. The exhibition, which also contains much about Brazil's fascinating history, is also recommended for non-Brazilians.
#5 Museo Nacional & Biblioteca Nacional
The Museo Nacional Honestino Guimarães and the Biblioteca Nacional de Brasília are forming the Complexo Cultural da República João Herculino.
Both buildings were built in 2006 and fit seamlessly into Brasília's unusual 1960s architecture. In the Museu Nacional there are exhibitions of contemporary artists from time to time, admission is free.
#6 Parque da Cidade
Those who are tired from all the architecture can relax and unwind in the Parque da Cidade close by. Basically, it is more than just a park. It's a gigantic recreational area that can only be visited fully by car. Like everything in Brasília, the Parque da Cidade is very spacious, a bit like in the US: Without a car, you won't get anywhere. Even on weekends it never gets crowded here, although the whole city floods the park.
Useful informations for your trip to Brasília
How to get there
If you are making a detour to Brasília within a longer trip to Brazil, you may want to travel by plane. All major Brazilian airlines such as Latam, GOL, Avianca and Azul fly to Brasília. For a capital, Brasilia doesn't get many international flights, there are a few direct flights to the USA and neighboring countries like Paraguay or Chile. As far as safety standards are concerned, I have never been worried to fly with Brazilian airlines. The in-flight service and seat spacing has been reduced in recent years, but many Europeans are still surprised by the in-flight services offered by Brazil's low-cost airlines such as GOL. Tickets can also be bought at low prices at short notice – as long as it is not the peak travel season (Christmas to Carnival or Easter week).
Although there is a well-developed bus network within Brazil with buses in all imaginable configurations (there are even sleeping busses with proper beds), the journey can be very exhausting. The roads are often poor and the distances between cities are huge. From Sao Paulo, it takes about 20 hours to get to Brasília. To northeast Brazil it can even take a day and a half. Not to forget the safety issue: every now and then buses are robbed on their way.
Travelling by train is not an alternative: the rail network in Brazil is virtually non-existent, there are only a few freight train connections.
Transportation in Brasília – Public transport or car?
Public transport within Brasilías is unfortunately not recommended. Brasília is not a pedestrian friendly city and public transport is poorly organized. A few years ago, to the delight of the Brazilians, two metro lines were added to the bus network, connecting satellite cities such as Samambaia, Guará or Taguatinga with the Plano Piloto. These are not very suitable for visitors. In Brasília, the general rule for public transport is: if you can somehow afford it, you should drive by car because it saves a lot of time.
I'd recommend a rental car! As far as the traffic is concerned, Brasília's traffic is even more civilized than in other Brazilian cities due to the size and the space on the roads. It is often hard to get used to the lack of street signs (this has improved a bit with the 2014 World Cup) and the fact, that only the bigger streets are named. In residential and commercial areas, only the blocks of houses are numbered according to a specific system that varies from quarter to quarter or city to city.
If you don't dare to drive yourself, in Brasília you can now also use Uber in addition to regular taxis.
Accomodation in Brasília
Since in Brasília everything is neatly divided into branches, most large hotels are located in the so-called Setor Hoteleiro (hotel sector) near the Esplanada. The majority are hotel of larger chains with no real atmosphere.
Here are 3 tips for more exceptional accommodations that match the flair of Brasilia:
Brasilia Palace Hotel* Planned by Oscar Niemeyer, Brasília's architect. You will also find the typical tile patterns of Athos Bulcao – so typical for Brasília! Located right by the lake near the Palacio da Alvorada.
Hotel Nacional* The first large hotel in Brasília, opened in 1961, was used by many important state visitors. These times are long gone, but you will still get a good impression of Brasília's flair in those days.
Hotel Diplomat* Also one of the oldest hotels in Brasília, almost a relic. Simple, but very central.
On Airbnb you will find a number of rooms in private accommodation. Look for accommodation in the districts of Asa Norte or Asa Sul in typical older homes in Brasília. There you can also experience real Brasília flair.
Source https://www.planetware.com/tourist-attractions-/brasilia-bra-fd-b.htm
Source https://www.touropia.com/best-places-to-visit-in-brazil/
Source https://thehappyjetlagger.com/en/brasilia-travel-guide/