10 Reasons Why I Want to Visit Dubai
Dubai, the name synonymous with grandeur and elegance is undoubtedly one of the most visited destinations in the world. The Dubai Canal, the Dubai Eye, the Museum of the Future – there is no dearth of the places to explore and experience in this gorgeous destination, isn't it?
Dubai has been on my list that looks endless now, and I wish to visit there soon!
These are the reasons why I want to explore Dubai.
01 | Dubai Parks and Resorts
I wish to explore Dubai Parks and Resorts for at least 2 to 3 days. This incredible place has three mind-blowing theme parks and one water park. Dubai Parks and Resorts comprises of Motiongate Dubai, Bollywood Parks Dubai, Legoland Dubai and Legoland Water Park. There's entertainment galore for movie buffs, interactive rides, rollercoasters and water rides.
02 | Burj Khalifa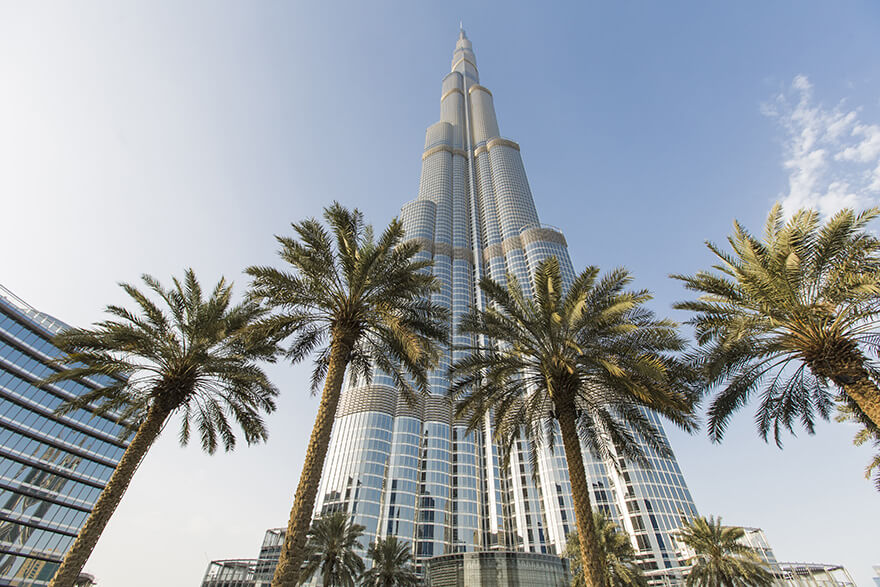 Most definitely the tallest building in the world, the Burj Khalifa tour is one attraction I simply cannot miss. Why the Burj Khalifa? Well, for the stunning views of the city, and of the Burj Lake and the Dubai Fountains. Plus the fact that the Burj Khalifa is an absolute visual treat – all 2700 plus feet of it! The superbly unique Islamic architecture puts the Burj Khalifa in the 'tallest building' category of its own.
03 | The Dubai Mall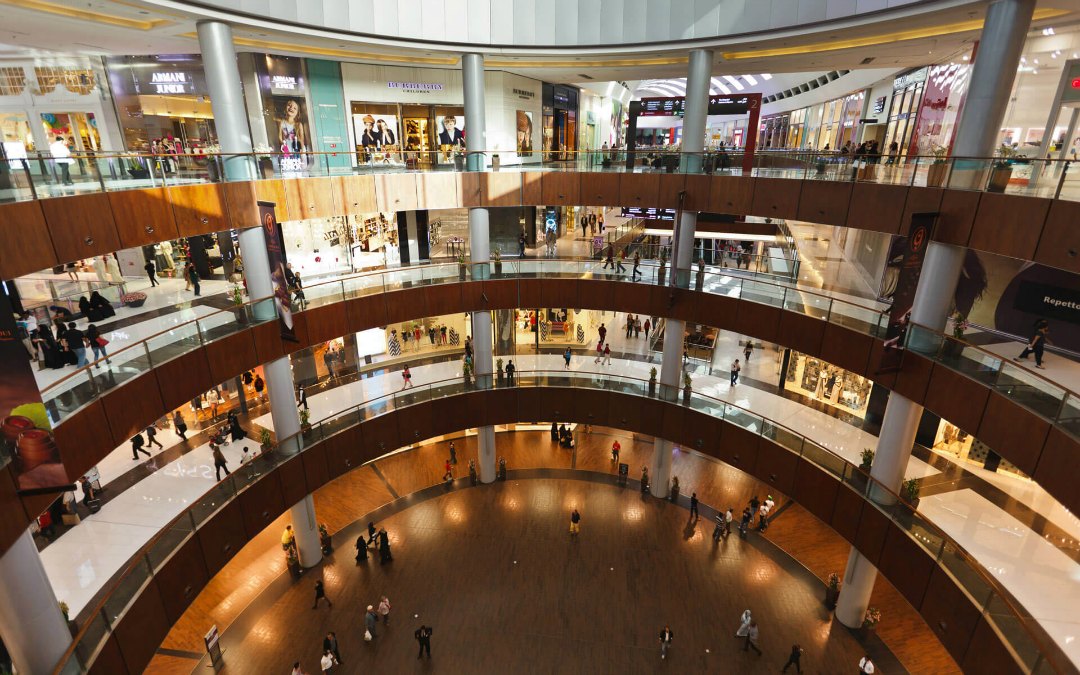 The Dubai Mall is a colossal place! Apart from shops and restaurants, the mall has an aquarium, an ice skating rink, the Sega Republic theme park, a 22-screen multiplex movie theatre and much more. The aquarium, in particular, is one of the best undersea marine expos ever in the world. I may not do much shopping, but a day at the Dubai Mall is sure to make me feel like royalty!
04 | Dubai Fountain
The Dubai Fountain is set on the 30-acre manmade Burj Lake, which I plan to cruise to watch the fountain choreography at night. The fountain is illuminated by millions of lights, and the shooting water spouts reach as high as a 50-story building. It's a must-see sight and I've scheduled it for my downtown exploration day.
05 | Jumeirah Mosque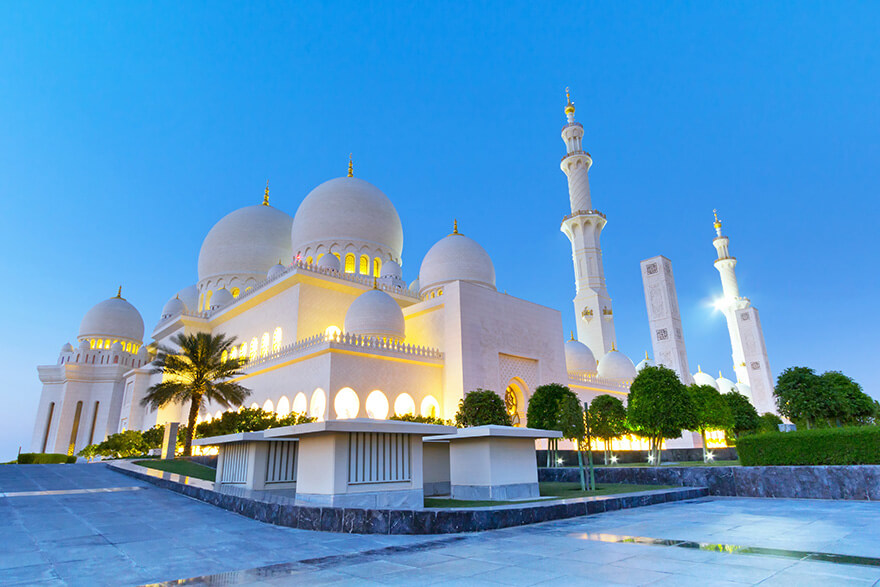 I am just longing to get up close to the spectacular architecture of this prominent Dubai landmark, which can hold up to 1,200 worshippers. The white marble glitters in the sunlight and glows magically in the moonlight. The two twin minarets frame a large central dome, which is an amazing sight when all lit up at dusk. Simply splendid!
Recommended read: Online UAE Visa for Indians
06 | Palm Islands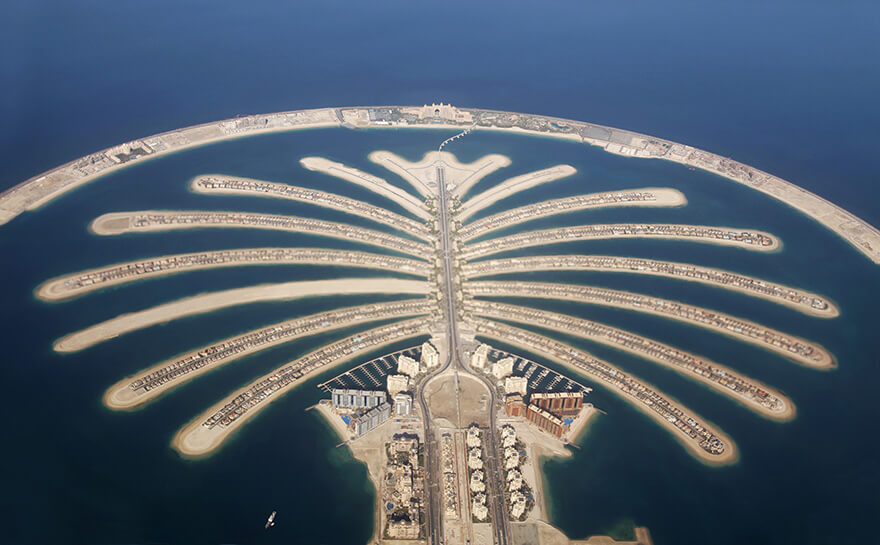 Apparently, the unique palm-shaped design of these islands can be seen perfectly from space. I won't be on the next rocket they send up, so I'll cruise up close to the islands. The Palm Islands are just mindblowing to look at – with miles of white shores flanked by hotels, residential buildings and parks. The most outstanding landmarks on the Palm Islands are the Burj Al Arab and The Palm Atlantis Hotel.
07 | The Lost City of Atlantis
The Lost City is one of my dream destinations, with its mysterious glass underground grottos containing myriad marine life. The Lost City is literally a complete reconstruct of the City of Atlantis as we think it was then. I am also really going to enjoy playing with the friendly dolphins. The Palm Atlantis is a luxury itself; it is wave shaped whereas the Burj Al Arab is sail-shaped.
08 | Burj Al Arab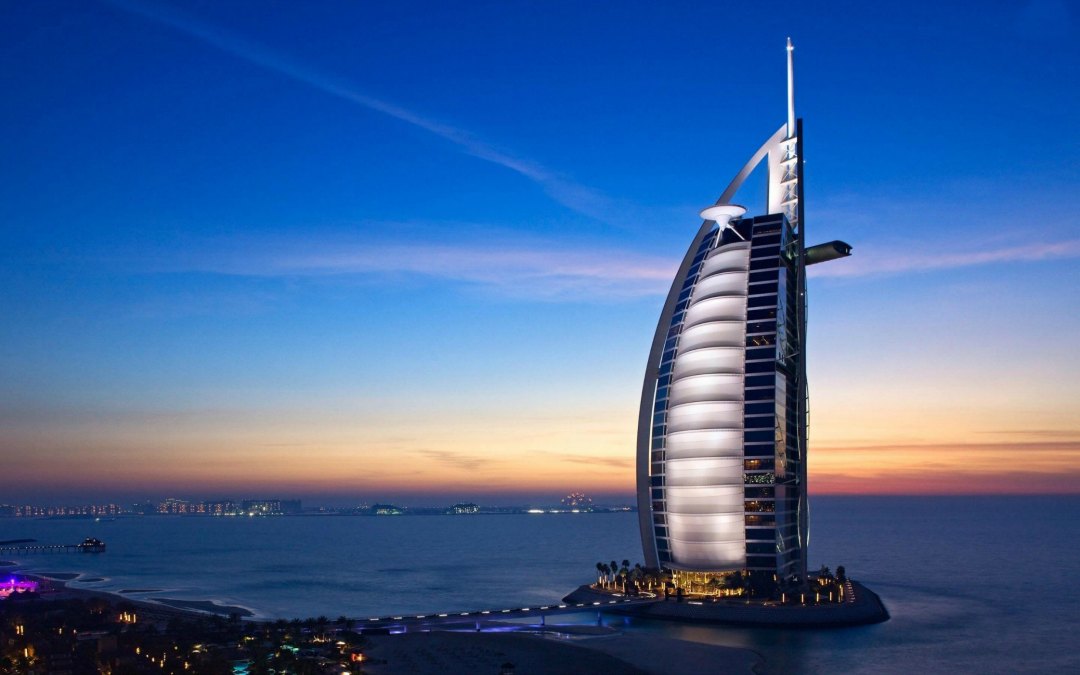 No, I won't be staying at the 7-Star Burj Al Arab, but that doesn't mean I don't long to see it! I want to take pics of the fleet of Rolls-Royces parked outside the entrance to the tallest hotel in the world. It'll cost $1100 and $9000 to spend a night here, and I am desperate to see why. So I'll book a tea reservation at the Asswan Lounge for AED 180 and take a tour of the Burj. I want to see as many of the 56 floors designed for the Richie Riches of this world.
09 | Gold Souq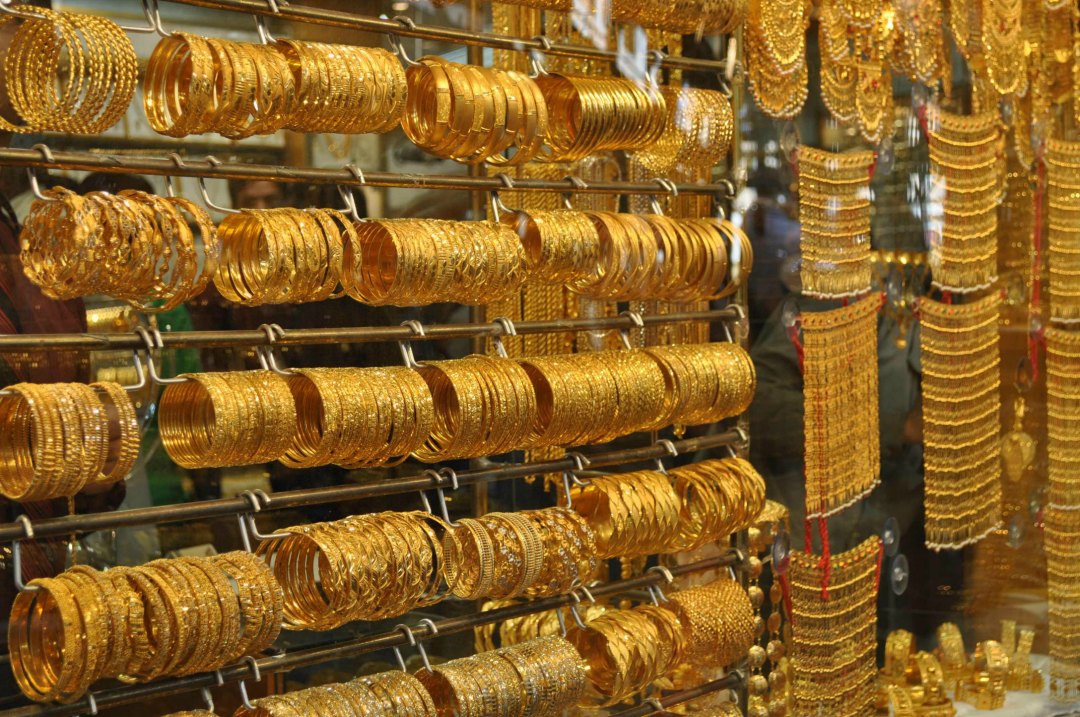 Dubai's gold is considered 'cheap'. I suppose that's because the gold here is cheaper than in other places, but there's nothing cheap about the Gold Souqs! The traditional Gold Souk markets are located in Bur Dubai and Deira and in the central business district.
10 | The Desert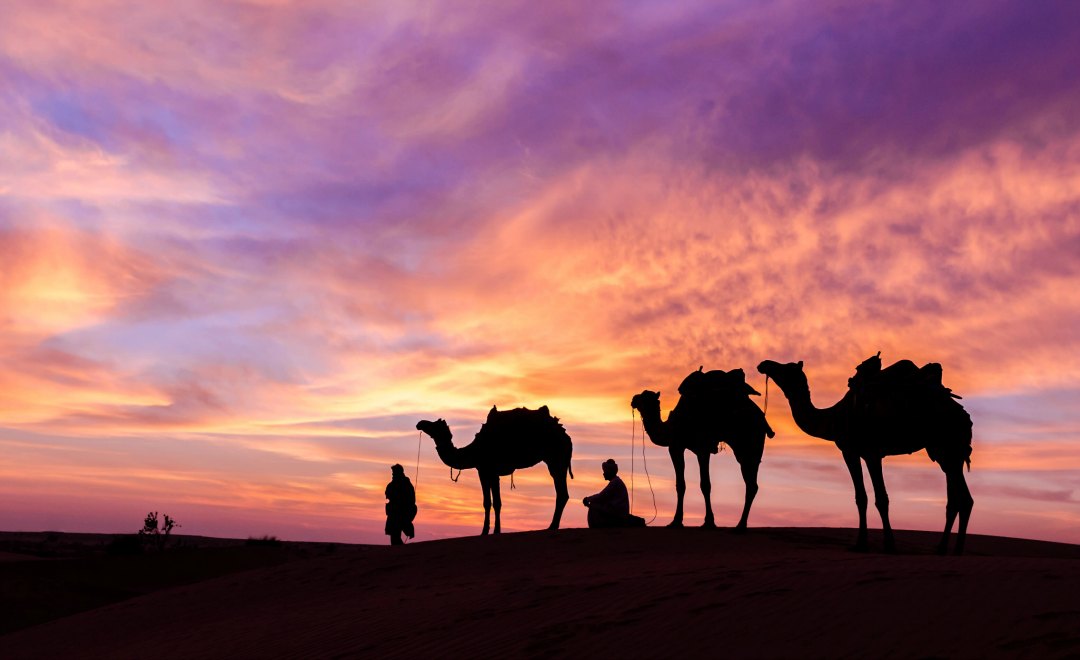 Where else am I going to step into a Middle Eastern desert full of mystery, on a guided desert safari tour other than in the UAE? I plan on riding camels in the desert, go sand boarding, dune bashing and much more. I wish to sleep outside the tent at night and watch the stars coming out in the black desert sky like I did in Jaisalmer!
I hear so much about the new, glitzy and glittery Dubai that I want to check out something of what the city was once. That's why I would want to keep old part of Dubai – Bur Dubai, Deira and the village of Al Bastakiya on my tentative bucket list. I want to spend a day taking pictures of the original mud buildings which used to the city's defence strongholds and the wind towers that were once used to keep the city cool.
Have you been to Dubai? What would you recommend? Share your experiences and tips with me for my dream trip!
Share the Love. Pin this Post!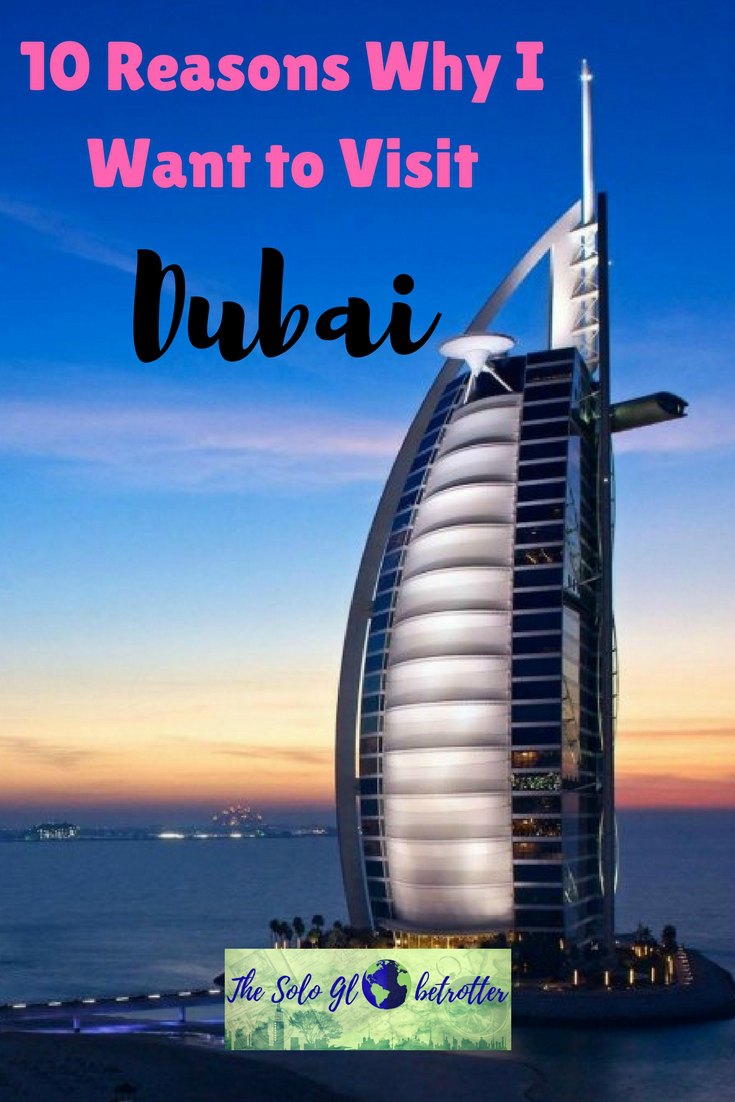 Connect with me on Facebook, Twitter, and Instagram for travel stories.
[author] [author_image timthumb='on']https://thesologlobetrotter.com/wp-content/uploads/2015/04/Untitled-design-1.png[/author_image] [author_info]Reshma Narasing is a dreamer, a bibliophile, a hopeless travel addict, a passionate writer, and a girl who gulps down large mugs of coffee many times a day. The Solo Globetrotter is the place where she takes people like you virtually, sharing her combined love for traveling and telling stories. [/author_info] [/author]
Subscribe to My Blog Posts for Travel Inspiration, Tips, Travel Guides & Stories. No Spam!
Reshma is a digital content creator, storyteller, and history lover. She is the founder of The Solo Globetrotter, a site for solo travelers, female travelers wanting to travel independently, and those wishing to travel on a budget or go flashpacking. She has been traveling alone for over 6 years, currently having explored over 35+ countries. She prefers traveling slow and loves immersing in local experiences & culture, nature, hiking, festivals, and history. An Electronics Engineer turned Software Lead turned Solopreneur; she is specialized in SEO-based content curation and Pinterest Management.
Describe a place you would like to visit – IELTS Cue Card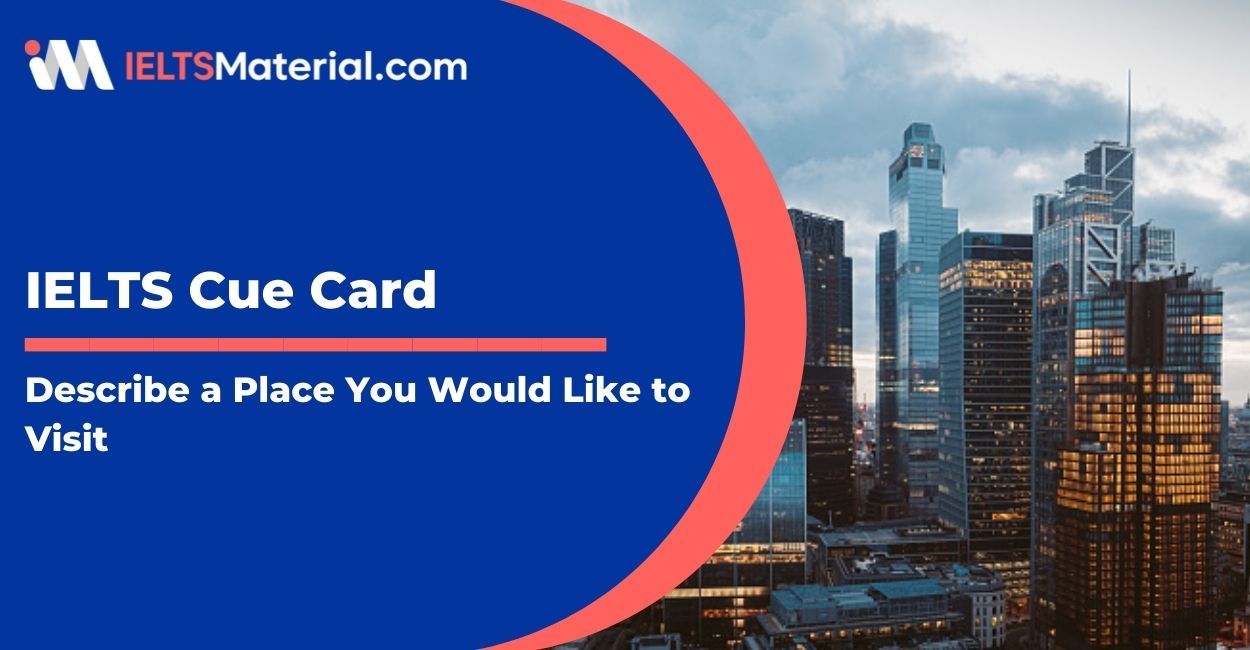 In IELTS Speaking, to get Band 8.0+, you should focus on one idea only and then expand that idea into a long meaningful sentence using grammar patterns and vocabulary. So, with this cue card, practise for your IELTS Speaking Part 2.
Describe a place you would like to visit.
You should say:
where it is
what the main attractions are
how you know this place
and explain why you want to visit this place.
Sample Answer 1
I am a travelling buff. I feel alive when on the road than spending my days and nights in the same city. Although I have plenty of to-visit places on my checklist, I would like to visit Rishikesh if I have to choose only one.
Situated in the state of Uttarakhand, Rishikesh is a city in the Himalayan foothills beside the Ganges river. The town is renowned as the yoga capital of the World. There are temples and ashrams on the eastern bank of the city.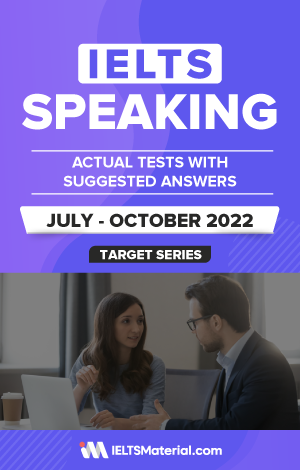 IELTS Speaking Actual Tests with Answers (July – October 2022) | eBook
4.8 of 107 Reviews
Written by professional IELTS teachers to help candidates on the big day
Written by professional IELTS teachers to help candidates on the big day
The town features plenty of mesmerising places capable of holding your attention. Right from indulging in adventurous activities, such as river rafting and bungee jumping, we can relish our breakfast at the riverside cafes that offer sights to behold. And then, we can roam around several shops lined along the Laxman Jhula. We can also visit the Ghat to submerge into the stunning tranquillity of Ganga Aarti in the evening.
Considering I live in a nearby state, I have always been familiar with Rishikesh. However, my interest in this city grew manifold when I found out that my favourite English rock band – Beatles- visited this place in the 60s. The band sought spirituality and spent their time at the Maharishi Mahesh Yogi Ashram. Not just that, even Steve Jobs and Mark Zuckerberg have spent time in the ashrams of Rishikesh, seeking their purpose in life.
One of the primary reasons to visit Rishikesh is to take a getaway from the hustle-bustle of my daily life. I wish to spend some days connecting with my inner soul through spirituality and gain peace of mind.
Vocabulary
Soothing: Pleasant
Eg: The weather is very soothing.
Journal: Diary
Eg: She gifted me a journal on New Years.
Iconic: Specialty
Eg: Dancing Bhangra on weddings is his iconic move.
Abbey: a type of monastery used by members of a religious order under t he governance of an abbot or abbess
Eg: She decided to visit the abbey after she finished her work.
Sample Answer 2
Travelling has always been my passion since I was a kid. I used to visit at least one place in my summer vacation for as long as I can remember. It was like a tradition. I kept a journal. Although I don't write regularly, I keep a note of everything I feel good about or find attractive. There is a special section in my journal where I write down about the places I want to visit in the near future. A place I especially want to visit once in my lifetime is London.
The city has a very soothing weather. However, what drew my attention was the beautiful greenery of the city. The capital city of England has a lot of things to show us, from the Iconic Ferris wheel, popularly known as the London Eye, Westminster Abbey, Buckingham Palace, St. Paul's Cathedral, and many other places.
Most of the classics are filmed in London, and needless to say, it is pretty. The set of Little Women, The Pride and Prejudice, and even modern movies like Enola Holmes and Bridgerton have beautiful backgrounds and beauty. The lush green trees of Groton are gorgeous. The rocky valley of Derbyshire is so pretty and calm. So many poets like Wordsworth have beautifully described the city of London in their Sonnets. His poem "Upon Westminster Bridge" is one of my very favourite poems.
It is for all these reasons that I want to visit the place. I have heard and read about it. To some extent, I've virtually witnessed it, too, but there is a vast difference between feeling it by your own skin. I want to feel the London rain. I want to smell the sweet smell of the green grass in the countryside and feel the beautiful busy life of the city.
Sample Answer 3
Since childhood, I have loved exploring new places, especially near the ocean, sea, or river. So, some places from all over the world found their place on my travel bucket list. One such place that I would like to visit when I get the right opportunity and travel partner is the Santorini island in Greece.
Being a volcanic island surrounded by the southern Aegean Sea, Santorini or Thira is famous for dramatic views, stunning sunsets from Oia town, blue-green water around Fira, the Venetian Castle in Akrotiri and the incredible views from the tower La Ponta. Apart from that, there are naturally fantastic beaches such as the beach of Perissa and the black pebble beach of Kamari. Besides the above iconic tourist places, the active volcano on the island has its own share of sightseers.
In school, I used to spend most of my free periods in the library. So, one day, while I was going through a travel magazine, I found a breathtaking place with cubic white house-like structures and blue-green sea all around. At first glance, I was mesmerized by the heavenly images on the pages of the book. That was my first encounter with Santorini and since then, I have been in love with those images.
Other than being a travel buff, I also love the history of Greece. There are many myths about this island, which is one of the five Cycladic islands. For example, many believe that Santorini was the original home of the lost city of Atlantis, which disappeared into the depths of the ocean. I would also like to enjoy the boat excursions, popular cruises and vineyard touring. Moreover, the candy-coloured houses along the cliffs, the clear blue water, the peaceful beaches, and the kaleidoscopic sunsets urge me to visit this remarkable island.
Some Reasons to Visit Greece in The Future
You can get your custom paper by one of our expert writers.
121 writers online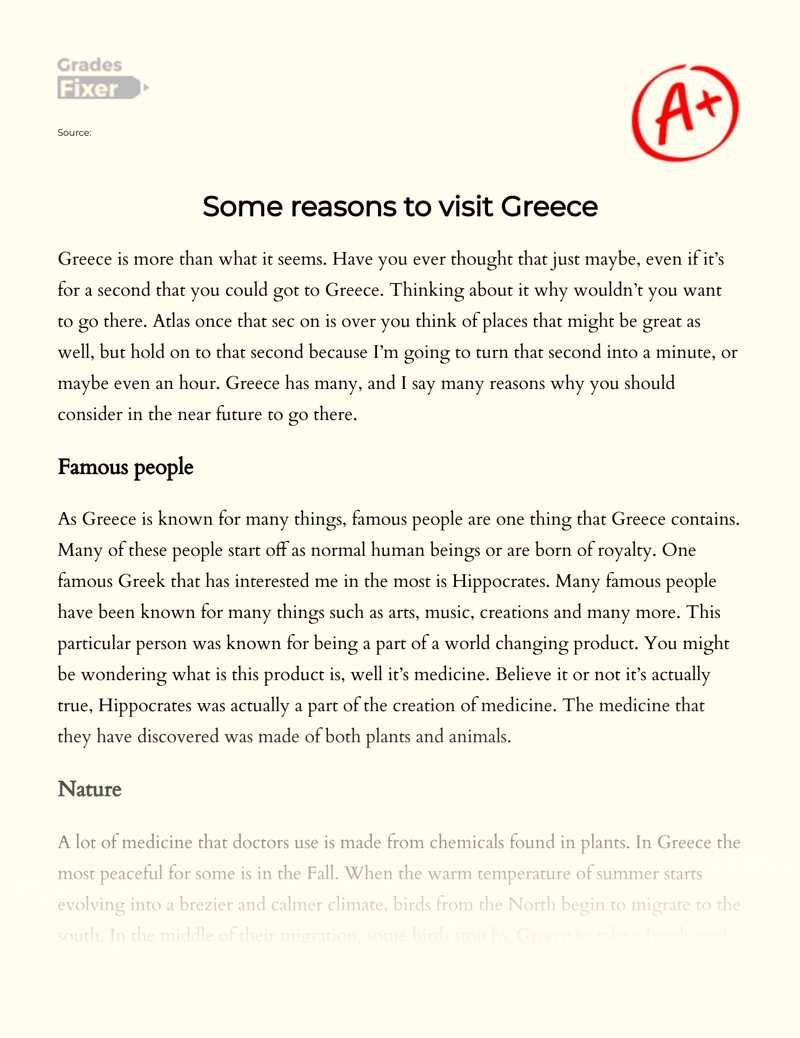 Table of contents
Famous people
Greece is more than what it seems. Have you ever thought that just maybe, even if it's for a second that you could got to Greece. Thinking about it why wouldn't you want to go there. Atlas once that sec on is over you think of places that might be great as well, but hold on to that second because I'm going to turn that second into a minute, or maybe even an hour. Greece has many, and I say many reasons why you should consider in the near future to go there.
Famous people
As Greece is known for many things, famous people are one thing that Greece contains. Many of these people start off as normal human beings or are born of royalty. One famous Greek that has interested me in the most is Hippocrates. Many famous people have been known for many things such as arts, music, creations and many more. This particular person was known for being a part of a world changing product. You might be wondering what is this product is, well it's medicine. Believe it or not it's actually true, Hippocrates was actually a part of the creation of medicine. The medicine that they have discovered was made of both plants and animals.
Nature
A lot of medicine that doctors use is made from chemicals found in plants. In Greece the most peaceful for some is in the Fall. When the warm temperature of summer starts evolving into a brezier and calmer climate, birds from the North begin to migrate to the south. In the middle of their migration, some birds stop by Greece to take a break, and that leads to tons of birds in Greece during migration season. The tallest mountain in Greece is mount Olympus 2917m high. The view in the mountains absolutely spectacular, not only that but you can see all the buildings from that high up.
Architecture
Greece's buildings are distinct from the other buildings you might have seen. In some places you may have seen similarities within Greece's architecture and the building that you are observing. The reason why they look so similar is because many buildings have been inspired by Greece. Most of Greece's buildings are colorful. The colors in Greece are very alive and even can inspire you creatively.
Source https://thesologlobetrotter.com/10-reasons-to-visit-dubai/
Source https://ieltsmaterial.com/ielts-cue-card-topic-describe-a-place-you-would-like-to-visit/
Source https://gradesfixer.com/free-essay-examples/some-reasons-to-visit-greece/