10 Reasons to Visit Sydney
Larry Rivera is a Sydney-based writer, journalist, and editor who has covered the city and its surroundings since 1997.
Patrice J. Williams is a travel and style content creator, fact-checker and author of the thrift shopping book Looking Fly on a Dime.
seng chye teo/Getty Images
For numerous visitors to Australia, Sydney is the primary destination whether they spend all their holiday time in this harbour city or head off from Sydney to Australia's many other vacation spots, from the Great Barrier Reef to the Outback.
Why visit Sydney? Here are 10 good reasons why.
Sydney Opera House
Ana Alarcon / TripSavvy
The big thing in Sydney is, without doubt, the Sydney Opera House. It is beautifully located on Sydney Harbour, and is one of Australia's World Heritage sites. For visitors to Sydney, it is the perfect backdrop for "I was there" travel photos. You can take your pictures on the approach to the Opera House, on its forecourt, across the water from West Circular Quay in the vicinity of the Museum of Contemporary Art Australia, or from Mrs Macquaries Point where you can have both the Opera House and Sydney Harbour Bridge in the background.
Sydney Harbour Bridge
Ana Alarcon / TripSavvy
Again this is usually part of the "I was there" photographic record and for those who do the Bridge Climb a unique "I did that" moment. For those who don't climb the bridge, walking or bicycling on the bridge across the harbour is certainly possible. Sydney Harbour Bridge was 80 years old in 2012, having been officially opened in 1932. The bridge and Sydney Opera House are Sydney's most iconic features.
Sydney Harbour
Ana Alarcon / TripSavvy
The harbour itself is a major Sydney attraction and harbour cruises — including lunch, dinner or party cruises, in addition to primarily sightseeing ones — are available from Circular Quay or Darling Harbour. At the very least, Sydney visitors can take a ferry trip to any Sydney waterfront location on the regular ferry routes for their fairy tale experience. Popular ferry destinations include Manly, Taronga Zoo (for zoo-goers) and Watsons Bay for seafood dining at Doyles.
The Rocks
Ana Alarcon / TripSavvy
Usually described as the birthplace of Australia, what is now Sydney's Rocks district is the site of the first white settlement established by Captain Arthur Phillip in 1788. The area features buildings constructed during colonial times as well as more recent structures planned to blend with the architecture of the past. A Sydney visitor center, with maps and information about places to visit in Sydney and other parts of Australia, is located in The Rocks. Pubs, restaurants, and specialty shops are to be discovered in its streets and alleys.
Darling Harbour
Ana Alarcon / TripSavvy
This is a multi-venue destination, which includes waterside walks, restaurants, shops, museums (Australian National Maritime Museum and Powerhouse Museum), exhibition halls, Imax cinema, boating venues, aquarium, and wildlife. Darling Harbour extends along the western, southern, and eastern sides of Cockle Bay and takes in the King St Wharf restaurant area just south of Barangaroo.
Galleries and Museums
Ana Alarcon / TripSavvy
For those who love going to museums and art galleries, Sydney is fortunate in having a number of them right in — or close to — the city center. Closest to a Sydney transport hub is the Museum of Contemporary Art Australia which is a short walk from Circular Quay. There's the Police and Justice Museum on Phillip St, also close to Circular Quay, with the Sydney Museum on Bridge St just a block away south. Around or close to Hyde Park are the Australian Museum, Hyde Park Barracks, Art Gallery of New South Wales at The Domain east of St Mary's Cathedral, and the Anzac Memorial within Hyde Park itself. And there are the Australian National Maritime Museum and the Powerhouse Museum in Darling Harbour.
Beaches
Ana Alarcon / TripSavvy
In Sydney, you're never far from sand and surf as the harbours, bays, and shores are lined with any number of beaches. You can go surfing, boating, sailing, snorkeling, diving, or you can simply laze away the day under the Sydney sun. Of course, you need generally fine days for going to the beach, and almost all seasons except winter are fine. Among Sydney's better-known seaside sites are Manly Beach and Bondi Beach, both quite easy to reach by public transport.
Parks and Gardens
Ana Alarcon / TripSavvy
You'd be surprised to know how close you are to Sydney's parks and gardens. The Royal Botanic Gardens are adjacent to the Sydney Opera House site and Hyde Park is right in the heart of Sydney. National parks in the city itself or within easy driving distance are easily accessible.
Transport Network
Ana Alarcon / TripSavvy
Driving on unfamiliar streets to get to Sydney destinations can be a daunting task for the new or occasional visitor to Sydney. Fortunately, there is a working, if sometimes overly busy, public transport network. City trains fan out from the city center to most major suburbs and there usually is a nearby bus stop anywhere in Sydney for those wishing to go by bus. For harbour and other waterside destinations, see if there's a ferry that will take you there. There's a tram as well on the light rail route from Central Railway Station with stops at Chinatown, Darling Harbour, and The Star casino complex.
Shopping
Ana Alarcon / TripSavvy
Ah, shopping! Depends on what you want to shop for. Souvenir items, jewelry, designer clothes, art — you'll find Sydney shops with items you may not find anywhere else. In the heart of the city, try Queen Victoria Building, Westfield Sydney, Strand Arcade, and the boutique shops in this area around Pitt Street Mall. Don't forget The Rocks just northwest of Circular Quay. On the way to Bondi Beach, you may wish to do a bit of shopping at Westfield Bondi Junction. And for bargain items, there are ​markets such as Paddy's in Chinatown.
15 reasons why Sydney is the greatest city in the world
T here are certain cities that frequently find themselves at the business end of surveys to find the world's best places to live. One is Sydney, where the Duke and Duchess of Sussex will be based for the next few days.
Here are a few reasons why it is so cherished:
1. Because it's "the most beautiful, exciting city in the world"
That's the verdict of our regular columnist, the author Anthony Horowitz.
He adds: "During a book signing in Sydney, I met an old school friend, someone I hadn't seen for 45 years, and together we headed off to Manly from Circular Quay. Much of the coastline is unchanged, the beaches inviting, the land covered in dense bush forest. Looking out to the gap between North Head and South Head, you can imagine what the settlers must have thought when they first arrived after their long journey across the oceans and what a treasure they were about to find.
"We had lunch together, oysters and fried fish at the 16-Footer Club in Manly. Then we strolled across to the beach to watch the surfers tackling the waves, a vast colony of them, like seals in their black Neoprene wetsuits. In that hour I was as happy as it is possible to be – and that is what Sydney will always represent for me. Happiness. There really is nowhere quite like it."
2. It's heaven for foodies
"The Harbour City is full of sophisticated spots to eat that showcase the quality and abundance of local produce," says our Sydney expert, Ariela Bard.
Her favourite restaurants? Hubert, for its "unapologetically decadent French cuisine" and "pianist belting out tunes that make me feel like I'm on the Left Bank in the 1930s". Or else try Fratelli Paradiso for its "modern Italian fare with a side of strong cocktails and a healthy dose of Sydney's most stylish strolling past".
3. There are vineyards on its doorstep
"A two-hour drive north you'll find the Hunter Valley, Australia's oldest wine region, which is continuously producing new and innovative winemakers," says Ariela Bard.
4. And spectacular mountains
She adds: "To the west lie The Blue Mountains, home to dramatic scenery, bushwalks, caves and enticing spots to eat and shop."
Other great day trips include Minnamurra Rainforest and Mungo National Park, home to outback version of the Great Wall of China.
5. The coffee
Sydney is the chef John Torode's favourite city. What does he miss most when he goes away? "The café culture," he told Telegraph Travel. "It's full of little places, originally set up by Greeks and Italians, where the coffee is so good. I miss asking for a long black and getting something I actually want to drink."
6. It has the world's most famous opera house
La Scala might contest that statement, but we would wager that more people can recognise Sydney's opera house. Try to see it as most don't – from the inside. The cathedral-like interior is just as dramatic as the outside, and with a wide range of performances on offer, from children's concerts to international comedians, contemporary dance and ballet, you needn't be an opera fan either.
7. And one of the world's most famous beaches
Bondi, of course. Best reached via the beautiful Coogee to Bondi walk, taking in spectacular views of the coast and with plenty of places to stop for swim along the way.
8. There are snorkelling opportunities
Inspired by last year's Blue Planet II documentaries? "Sydney's coves abound with sea life," says Jolyon Attwooll, writing for Telegraph Travel. "Try Gordon's Bay for groupers and Cabbage Tree Bay in Manly for colourful fish species."
9. You can climb its famous landmark
No, not the Opera House, but Sydney Harbour Bridge. "The Sydney Harbour Bridge is one of Sydney's most iconic images, with the Bridge Climb a must for all visitors," says Ariela Bard. "What you may not know is that there are multiple ways to get to the top. If you're up for a leisurely exploration of the famed steel structure then take in the 3 1/2 hour Bridge Climb. If speed is more your thing, then sign up for the Express Climb, with fewer steps and stops."
10. Admire art
Take in the collections at the Art Gallery of New South Wales and The Museum of Contemporary Art, or for something a little different, seek out the Forgotten Songs sound sculpture, which mourns Sydney's lost birds.
11. And learn about Aboriginal culture
"You don't need to venture into the bush to learn about Australia's indigenous past," says Ariela Bard. "With The Rocks Aboriginal Dreaming Tour, you can discover the ancient history of central Sydney."
12. It's a green city
Sydney is positively brimming with green spaces, including Centennial Park, with its 540 acres of formal gardens, 10 ponds and bike-friendly parkland, and the Royal Botanic Gardens, the largest of three botanical gardens in the city.
13. You can go camping
For a very different take on Sydney, spend a night camping on Cockatoo Island – right in the harbour. Not only will you wake up to one of the world's great views, but you'll also learn much about the city's colourful and often bizarre history. Glamping packages cost from around £80 a night for couples. Or bring your own tent and pay £25.
14. There's a room with a very good view
Rather more expensive that camping on Cockatoo Island is a night at the Park Hyatt. But big spenders will be rewarded with views of Sydney Opera House, while morning laps in the rooftop pool are taken in the shade of Sydney Harbour Bridge. For more hotel tips, see our guide.
15. They know how to throw a party
The New Year fireworks are incredible, and the city lights up again every January for the Sydney Festival, when it becomes a cultural hub of ideas, theatre, dance, art, music and circus.
Anthony Horowitz, meanwhile, suggests a visit during the Vivid Sydney festival, held each year around May.
He explains: "It's an event that has to be seen to be believed. In essence, the entire city goes quite spectacularly mad with very sophisticated, computer-generated light displays projected on to major landmarks. The opera house catches fire, shimmers, flickers and explodes. Green tendrils snake out of the windows of Customs House before the entire building disintegrates into a thousand butterflies and blossoms. The streets are filled with giant pigs, molecules, mazes, brilliantly illuminated trees. There were even spotlights underneath the water. As I joined the thousands of people in the cold night air, I was struck by the cheerfulness of it all, the sense of childish wonderment. It could only happen in Australia."
Sydney In January 2022: A Handy Guide For Exploring The Most Astonishing Views Of This City!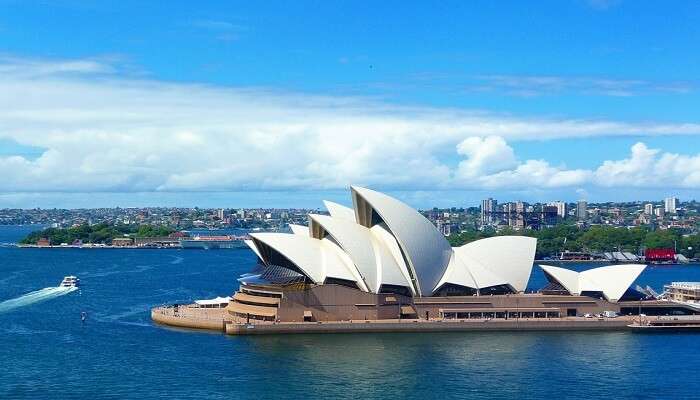 Sydney is a very popular location for a holiday. The main attraction is, of course, the beaches. The tourism in the city garners a major portion of the annual income of the city. This is one of the oldest cities of Australia that has an intermingling sea and lands the picturesque landscape, boasts of the Opera House with its white sails, the graceful arch of the Harbour Bridge and so much more.
Apart from the structures, you can also visit the historic buildings of the rocks, the museums that are the hoarding stations of aboriginal culture. For the nature lovers, Sydney in January is superb and the national parks and sanctuaries only make it better.
Best Time To Visit Sydney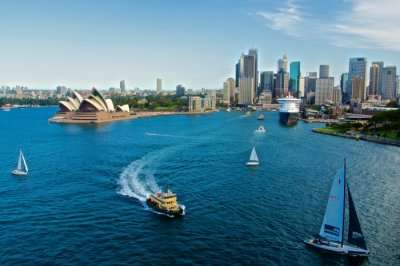 January in Australia is warm spring with the touch of Sydney summer. This first month of the year is full of festivals, markets, theatres and so much more. Sydney in January promises a lot of excitement. This weather in Sydney in January 2022 is expected to be just the same, if not a lot more exciting. If you plan on a holiday in Sydney during this month then be ready for a lot of fun-filled excitement, and the memory chip overflowing with interesting photographs.
Sydney Events in January 2022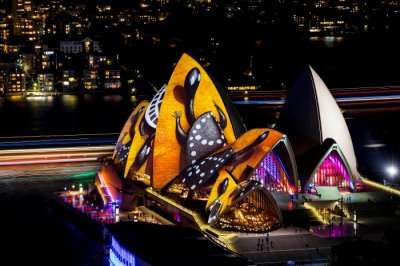 A large number of festivals are awaiting those who are planning a trip to Sydney. The year kicks off with the Sydney festival starting 7th January. This cultural celebration will host a large number of movies and plays. The next in line would be the festival 'So Frenchy So Chic'. It is an all women organised French-style picnic. It is an annual Parisian summer party that will hit its sixth year. You will also come across some interesting theatre festivals like the Anthem, Sydney Comedy Festival, Invasion Fest and others. You must visit these Sydney festivals in January 2022.
Sydney In January: 10 Places To Visit
Knowing about some of the famous places before always comes in handy. So, well, why not read on to find out more about places one can visit in Sydney in January! Here's a list of some places that you can visit if you are going to Sydney in January 2022.
The Sydney Opera House: The Most Iconic Attraction
The Sydney Harbour Bridge: The Shining Side Of The City
Harbour Cruises At The Circular Quay: The Waterway Experience
The Royal Botanical Garden: The Nature Escape
Queen Victoria Building: The Historic Vibes
Sydney Tower Eye: The Tallest Building
Taronga Zoo: The Aussie Wildlife
Art Gallery: The Artistic Aura
The Rocks: The Ancient Town
Darling Harbour: The Tranquil Waterfront
1. The Sydney Opera House: The Most Iconic Attraction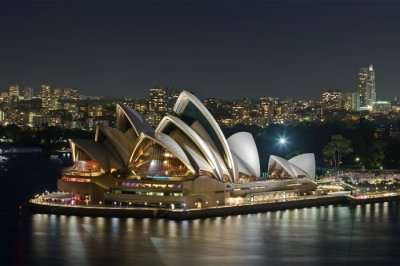 The Opera House is an important tourist spot that must not be missed. If you are visiting in January then be sure to take a peek at this historical monument that has been stamped by the UNESCO as an important World Heritage site. In this month of the year, you will be watching a number of plays that are to be held here. If you plan on just taking a tour then get yourself a ticket of the Sydney Opera House Guided Walking Tour. You can get to know about the history of the Opera House and also a behind the scenes look of this famous building. The ticket that you have booked yourself is a flexible one that will allow you to join any of the tours that are held at this place.
2. The Sydney Harbour Bridge: The Shining Side Of The City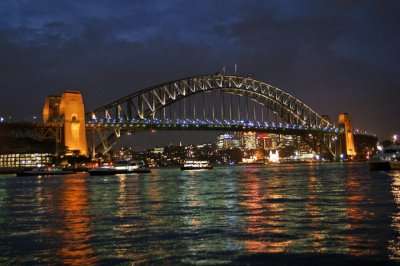 Among the things to do in Sydney in January 2022, make sure to put visiting the Sydney Harbour Bridge onto your bucket list. It is at a height of 134 metres and is supported by double piers at each end. Take a walk on the bridge and get a beautiful panorama of the city and the harbour as well. This place is surely a must-visit for all those who are traveling to Sydney for the first time! This is one of the most romantic places with an extensive number of romantic things to do in Sydney!
3. Harbour Cruises At The Circular Quay: The Waterway Experience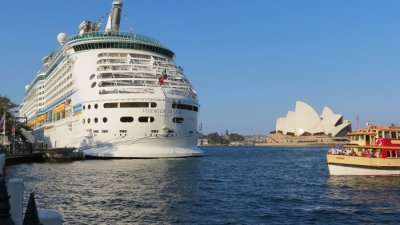 The Circular Quay is a popular tourist haunt. This is a ferry terminal that draws a large number of crowds. Take a walk and you will come across street dancers thronging the streets, numerous restaurants dotting the scenario. The interesting fact is the crowds that come here at peak hours which have turned this spot into a popular tourist destination. If you want to enjoy this place a lot then you must take a cruise in Sydney and hit the waters to get a complete experience of the place.
4. The Royal Botanical Garden: The Nature Escape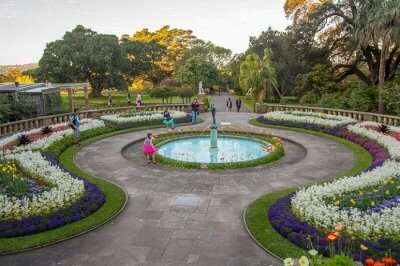 If you are on a visit here then make sure you take a look at the Palace Rose Gardens that has some 1800 varieties of roses on display, the Glasshouse Latitude 23 and Fernery, which is bursting with tropical foliage and orchids. If you are not too enthusiastic about all the walking you have to do, then there is the Hop-on and Hop-off train for you. It will take you all around the grounds of the garden. For your food cravings, you can relax at the cafes and restaurants or better still you can catch yourself a picnic here.
5. Queen Victoria Building: The Historic Vibes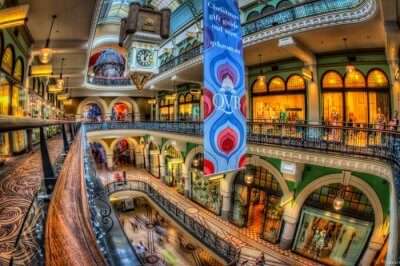 If you are crazy about shopping then get here at the Queen Victoria Building. This has a long history of being constructed as a market hall, followed by a period of neglect and then restoration. Today the site is a place of 200 high-end shops. You must also take your friends who do not like shopping along with you as they can enjoy the building itself while you do your shopping. While you're out and about in this scenic region of Sydney, Australia, make sure you don't miss out on the famous things the city is known for! This is also a great place to visit during winter in Sydney!
6. Sydney Tower Eye: The Tallest Building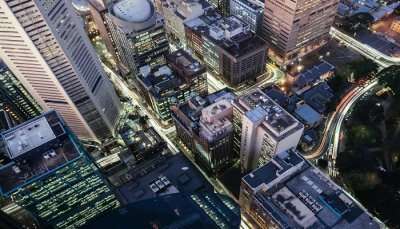 Apart from the Opera House and the Bridge, this is another landmark of the city. This is the tallest building of the city. There is a golden spire topped turret that gives you a view of the entire city when you look around from the top of it. An elevator takes you to the top for the panoramic view of the city. In January this view is spectacular as the sky looks beautiful along with the blue of the seas and bays. The surrounding suburbs will provide you with an enjoyable bite to eat.
7. Taronga Zoo: The Aussie Wildlife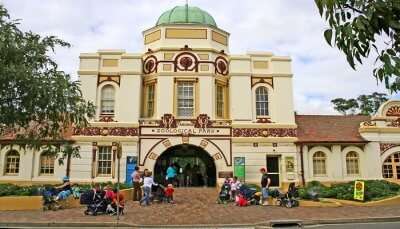 A close encounter with Aussie wildlife is what you get here. You also get to see other exotic animals along with a view of the Australian skyline. You can take a bus to this place but it would be a better option to take the ferry at Circular Quay. There are also animal concerts that are held here that will interest you and do not forget the Sky Safari Gondola.
8. The Art Gallery At New South Whales: The Artistic Aura
This is one of the prestigious tourist spots of the city. The museum has a number of galleries and grand courts. In here you will find the artwork of numerous art masters of Europe, artists of contemporary art, and also Aboriginal art. In fact, this is the largest collection of Aboriginal artwork that is to be found in Australia. The site is surrounded by beautiful parklands that will garner your interest as well. After a stroll through the museum and learning about the artworks, you can relax at the cafes and restaurants or browse through the gallery gift shops.
9. The Rocks: The Ancient Town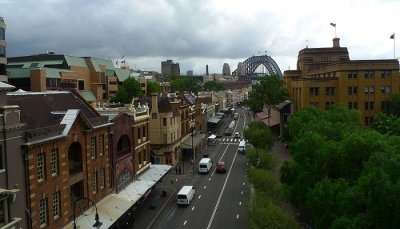 The first-ever site of European settlement, The Rocks is a land that has historic significance latched to itself. The Rocks were given the name by virtue of the rocky coast that lies on the west side of the Sydney Cove. This location is home to more than a hundred heritage sites and building jostles that are set along the narrow streets. From Cadman's Cottage to Rocks Discovery Museum, there is plenty to do here when traveling to Sydney in January 2022. The cobbled streets, souvenir shops, retro restaurants, elegant cafes, and the market stalls are perfect to experience the essence of Australia.
10. Darling Harbour: The Tranquil Waterfront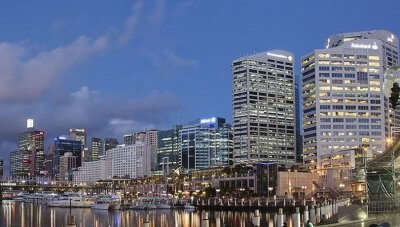 When traveling to Sydney in January 2022, make sure you visit the Darling Harbour that has ample of fun experiences to offer. This waterfront is action-packed with an extensive number of shops, exhibitions, entertainment venues, museums, and the restaurants serving some of the most remarkable delicacies. Madame Tussauds, Sydney Zoo, Sea Life Aquarium, Powerhouse Museum, Australian National Maritime Museum, and the Chinese Garden of Friendships are just a few attractions that one can cover when visiting the Darling Harbour! It is also a great place to enjoy some offbeat ways of Sydney nightlife.
Here are some of the spectacular places to visit when you are going on a trip to Sydney in January city. So if you are planning to visit Sydney anytime soon, then this guide will help you plan your visit better! Book your trip to Australia for a soothing experience with your loved ones!
Frequently Asked Questions About Sydney In January
What is the best part of Sydney to stay in?
Here's a list 5 amazing things that make Sydney one of the most liveable cities in the world: 1. Sydney CBD & Darling Harbour. 2. The Rocks. 3. Surry Hills. 4. Bondi Beach. 5. Kings Cross.
Is Sydney the most beautiful city in the world?
Sydney's sprawling natural harbor is considered the best in the world, and for good reason. It offers nearly 150 miles of breathtaking shoreline lined with natural beauty and dazzling iconic architecture.
What is there to do in Sydney in winter?
Winter in Sydney is an amazing time to explore and venture into the outdoors, here's a list of few amazing things you can do in Sydney in winter: 1. Attend The Vivid Sydney Light And Art Festival. 2. Go On A Whale Watching Tour. 3. Brave The Cold And Go Swimming At Bondi Icebergs. 4. Have Fun At Bondi Winter Magic. 5. Do the Sydney Bridge Climb. 6. Visit Luna Park. 7. Keep Warm In The Sydney Pubs. 8. Spend All Day In The Museums.
Is Sydney a good city to live in?
Sydney is one of the best cities in Australia. Millions of tourists visit Sydney every year to view its beautiful architecture, amazing beaches, and loving people. The climate of Sydney is pleasant throughout the year with warm summers and cool winters.
Is Sydney safe at night?
Sydney is a safe city regarding mugging and kidnapping risks, although some areas are best to be avoided at night.
Is Sydney bigger than London?
So Melbourne is about the same size as London and Paris but has less than half the population. Brisbane is a similar size to Milan, with half the population. Perth is larger than Berlin, but has around half the population. Sydney has a similar population as Barcelona but is almost four times larger.
What is the best month to visit Sydney Australia?
Best Time to Visit Sydney: October, November, late February and March. These months generally offer sunny weather.
Source https://www.tripsavvy.com/reasons-to-visit-sydney-1464591
Source https://www.telegraph.co.uk/travel/destinations/oceania/australia/new-south-wales/sydney/articles/sydney-best-city-in-the-world/
Source https://traveltriangle.com/blog/sydney-in-january/