7 Reasons Why You Should Travel In Your Own Country A Guide To Seeing Your Home Country From A Backpacker's Perspective
As the COVID-19 continues to ravage in 2020, it is time to think about what travel will look like after all this is over, if it will ever be, because the virus is not going to magically disappear any time soon as one particular president of a certain country claimed .
We have to face the reality that the virus will still be around for many years to come and that the travel-style we used to do, flying on a jam-packed plane, or taking a multi-day cruise ship, will no longer be viable in the post-COVID-19 world.
Not to mention the fact that every country you want to visit may or may not be opening their borders to outsiders and even if they do, you might be quarantined for 14 days when you arrive. Would you travel abroad if you have to be in quarantine for that long? Very unlikely.
That said, the world has to move on as the economy can no longer sustain the worldwide freeze out any longer and most countries will be desperate to ramp up the economy somehow.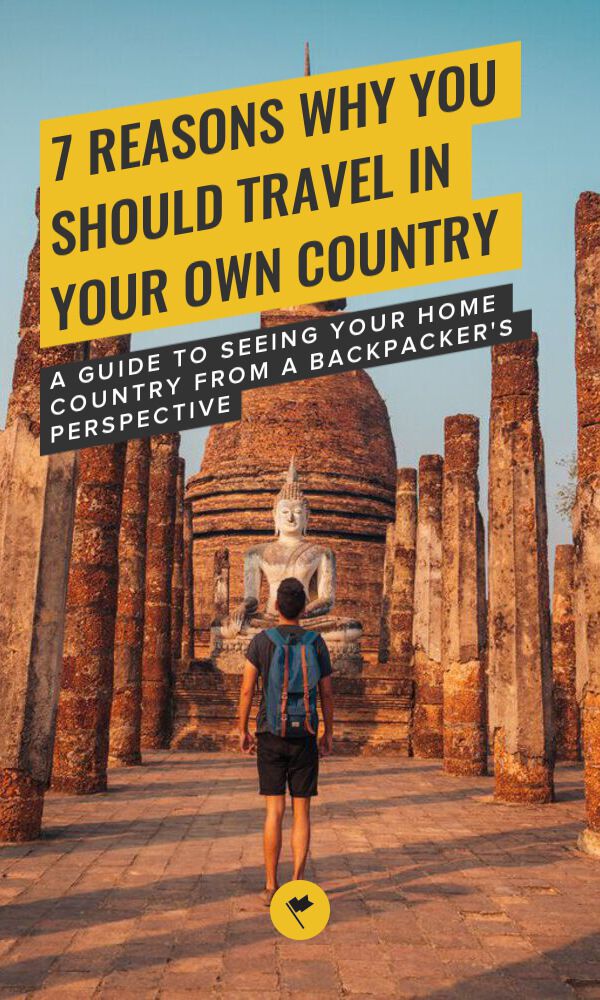 Save to Pinterest
Don't have time to read? Save this page on Pinterest for later and don't forget to follow us on Pinterest .
What Travel Will Look Like After This Pandemic
My prediction for what is to come for the future of the travel industry, an industry that was first to be hit and will likely be the last to recover, is that countries will start to open up a bit more in the upcoming months but only regionally at first or to those countries who were not as affected by this pandemic.
The travel industry is an industry that was first to be hit by the pandemic and will likely be the last to recover.
The process will be gradual and will likely take a year or 2 for the ban to be entirely lifted as the infection numbers plummet, given that we can maintain the second and third waves in the summer and fall.
Given that prospect, traveling freely as we used to will not be possible for many months to come which is why I decided to write this article. Traveling, may it be in short or long distance, is ultimately better than not traveling at all and since international travels will be closed off, for the most part, it is time for us to look into traveling in our own country.
Why Are We Not Traveling in Our Own Country More
Have you ever travel abroad somewhere and ask a local where to go in their country and they struggle to find an answer? Well, I was one of these locals who can recommend places to visit in countries from the opposite side of the world, and yet struggle to recommend hidden gems in my home country, Thailand.
Why is that the case? You see, in Southeast Asia at least, we tend to romanticize developed countries like France, Japan, and the US and when it comes to going on vacations, we often prioritize visiting these places over traveling in our own country.
Even if you are not from Asia, you probably think that you can visit your country anytime as it will always be there even when you are old and so like us Asians, you prioritize traveling abroad more.
Or if we decided to travel in our own country, more often than not, we will opt-in for the easiest way to travel as possible like driving up to a resort and stay there for 2 days before coming back home.
We barely interact with the local community when we travel like that and that is likely why we are unable to provide travelers useful information when it comes to places to go in our own country, unless, of course, if you are looking for the hippest cafes or beautifully-decorated overpriced restaurants where we often found ourselves in when we travel in our own country.
That all changed for me when I decided to fly to Phitsanulok in late 2019 and make my way up to Chiang Mai through Sukhothai, Kamphaeng Phet, Lampang, and Lamphun, backpacking-style.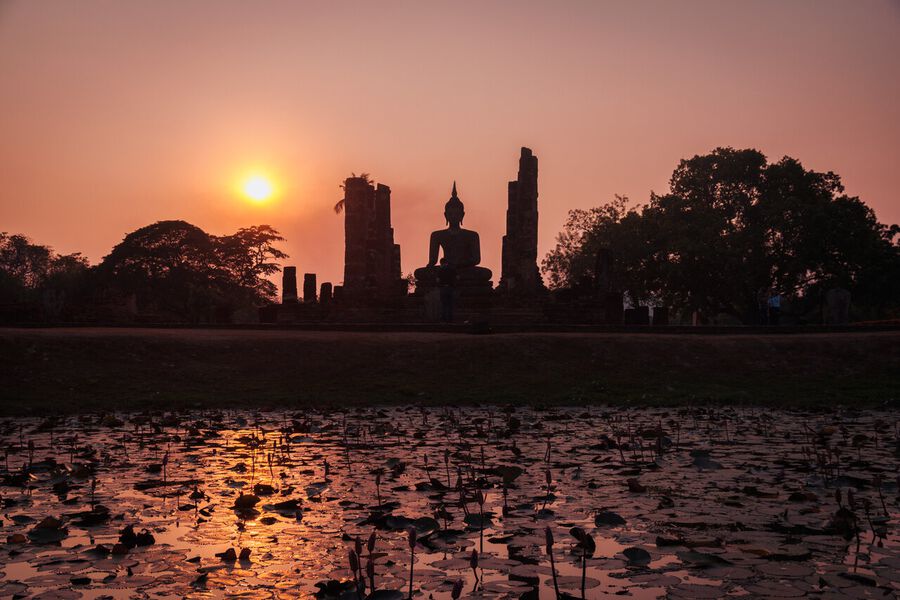 Why You Should Travel In Your Own Country
That experience completely changed my perspective about my home country. I used to wonder why travelers from all over the world would want to visit Thailand. I knew we have beautiful beaches and islands and that was all I thought we had to offer to travelers, but Thailand is so much more than that as I had come to realize during my backpacking trip in Northern Thailand.
In December 2019, I arrived in Phitsanulok and accidentally stumbled upon a local temple's fair (Ngan Wat as we called it Thai). As the local band was performing on the stage, normally, I would ignore it as Thai traditional music didn't align with my self-proclaimed sophisticated "taste" in music but since I am a traveler, I decided to be a little more open-minded and watched as they danced the night away.
Five minutes turned into half an hour, and 2 hours later, I found myself still there, completely mesmerized by the performances of these young talented local musicians. From then on, I have a newfound respect for Thai local talents that I never really cared for before.
And that is what travel does to us and why we love it so much. It opens our mind in a way that we never thought we can and it has the same effect even to our own culture that we thought we knew all about.
Thankfully, that trip ended before the COVID-19 hits and so as we are preparing for the new reality of limited traveling, I am here to convince you to start traveling in your own country while we wait for the world to revive itself from this pandemic.
Instead of longing for the good old days traveling freely, now is a great time to start looking inward and travel in your home country the way we would abroad. It will keep our wanderlust in check while we also play a part in ramping up the local economy which will need all the help it can get when this pandemic blows over.
Need more convincing? Here are the reasons why traveling locally backpacking-style is awesome and why you should start doing it too:
1. It Will Open Your Mind to New Old Experiences
One of the most profound things I learned from traveling in my own country is how much I took my own culture and traditions for granted. We usually do not look at our own culture with fascination like travelers do.
It only took me 7 years of traveling, experiencing different cultures around the world, and look back into Thailand with fresh eyes to really see how beautiful and diverse our culture is. I learned that the old experiences that used to bore me become anew when I look at it with fascination as a regular traveler would when we travel somewhere new.
Traditional music that used to sound repetitive and boring became fun and interesting all of a sudden. Instead of eating in well-established restaurants, I found myself going to night markets every night trying all the variety of street food we have in Thailand.
Seeing Machu Picchu in Peru was an amazing experience but my god, ain't Sukhothai one breathtaking historical park? Can you imagine I never once stepped foot onto it for the past 30 years until now?
When the lockdown is over, try and go backpacking in your home country and you might be surprised at how beautiful your country really is and how much you missed out on when you took your own country for granted as I did.
2. Interaction with the Locals Are More Meaningful
I've been to many places and have had many chances to hang out with people from all walks of life, but nothing connects people more than when we speak the same language and have the same background.
Usually, when we travel, there is often a language barrier that hinders our ability to connect with one another in a meaningful way but when we travel in our own country, that problem doesn't exist anymore.
Friendship te nd flourish when we are relatable with one another and when I traveled in my own country, I found myself becoming friends with the locals much easier especially when I started speaking Thai to them, as they often think I am a Chinese/Japanese tourist .
Not just that but when we travel in our own country, we will see how genuinely lovely and friendly our countrymen and women are, which, again, is something we might be taking for granted before.
To give you an example, I was traveling in Lampang and I met a local family who ran a cafe near my hostel. I went there one day and we got the talking going with all the family members as they shared all kinds of tips about Lampang as well as what their lives are like out there.
Soon enough, I found myself talking to them every day for almost a week, with most days ending late at night and before I knew it, they were feeding me home-cooked food free of charge and taking me to places that I would never have seen if I didn't meet them.
My Lampang trip turned into one of the best and most genuine travel experiences ever and all because we were able to connect with each other without having to deal with the language barrier like when traveling in other countries. I still keep in contact with the family even today. They seem to be fairing better in Lampang during this pandemic than here in Bangkok .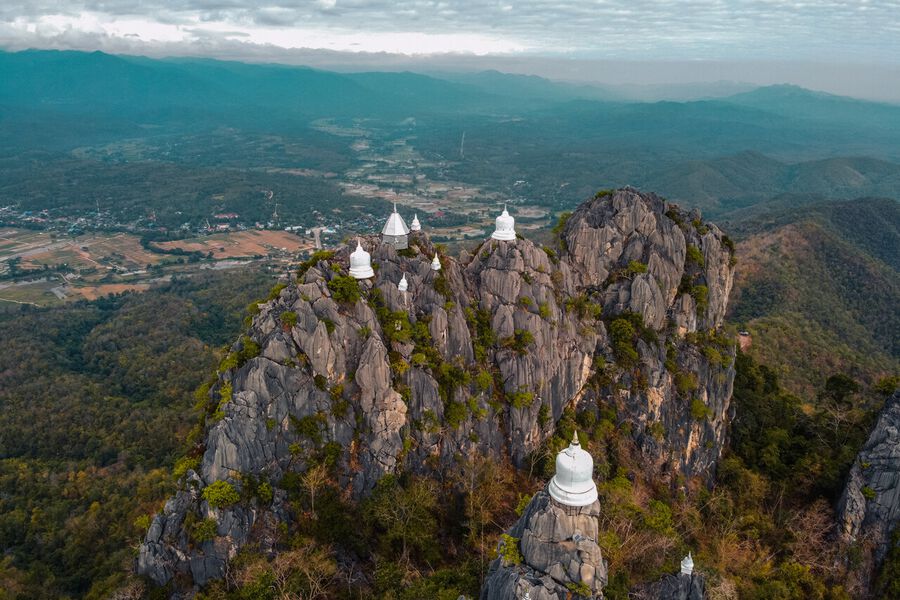 3. You Will Learn More About the History of Your Country
How much do you remember the things you learned from your history classes in school? Not much I presume. Heck, you might even know more about the history of other countries than your own.
Traveling in our own country will give us a chance to get back to our roots and learn who we are as a country and where we came from. I was never interested in Thai history until I read about it in a chronicle written by the west when they first arrived in Siam (the name of my country before it was renamed to Thailand in 1939) and that piqued my curiosity so much that I decided to buy a Thai history book and started traveling to these ancient sites around the country to see them with my own eyes.
During my Thailand's trip in late 2019, I went to Phitsanulok, the old capital of Siam, Sukhothai, the first established Thai kingdom, Kamphaeng Phet, an important defensive outpost, and Chiang Mai, the old capital of the Lanna Kingdom, and while doing so, I was reading about these kingdoms and extending my knowledge of Thailand even more by visiting the local museums.
By doing that, I gave myself a reason to go out of my way to travel in my own country and be immersed in the experience in a way that I would not be able to if I visited these places without knowing anything about them. Plus, it is also fun to read about the folk legends and stories of these places. It makes history more relatable as I was able to see some of the places mentioned in the book with my own eyes.
Instantly turn your travel photos into beautiful work of art in one click. Available for both mobile and PC.
10 reasons to spend a year travelling in your own country
We all love experiencing new countries and cultures, I of all people know that. I spent four years travelling the globe, but at the start of 2015 came back to the British Isles, my home, and made a commitment to see more of them.
I drove over 5,000 miles across the UK and Ireland, and it was without doubt my best travel year yet. These 10 reasons show why it could be yours too.
1. There's so much more than you realise
It's a simple fact that the more time you take to seek out new things, the more will be revealed to you. There couldn't be a truer sentiment for travelling at home: there's so much even within thirty miles of your house that you've never seen before.
If you approach travelling at home in that humble sense – with the knowledge that there's always more to discover – you will easily pack an entire year with brand new adventures. I also found that my new discoveries led me back to old favourites and the places I visited as a child that I never found time to revisit.
2. It can be worked around a busy schedule
Not all of us can take an entire year off work, of course, but as you're travelling closer to home you can fit trips around your current work schedule. When taking a long period of time out of your career isn't an option, dedicate whatever time you do have off work within the next year to see what you can.
As you don't have to go abroad, you'll quickly realise that even the weekends offer so much opportunity. Long weekends become even more valuable, and you can cover a lot of ground using your holiday allowance.
3. It's affordable
Goodbye expensive airfare. Sayonara rubbish exchange rates. Farewell costly vaccinations. Even if you don't live in the most affordable place in the world, travelling in your own country can in many ways be as cheap, or cheaper, than venturing abroad.
As a native in your own land, you won't be caught out by any pesky tourist traps that charge you excess fees or admission. You know just the places in which to buy cheap food and everyday items, and if you have a transport pass, you can milk it for all it's worth.
Hiking in the hills (Shutterstock.com)
4. You can visit all your friends and family
Life is busy for everyone, so sometimes it's hard to regularly catch up with the friends and family that live far away. Setting off on a long-term tour of your own country allows you to reconnect with all the special people in your life in one fell swoop. This also provides a way to keep costs down, provided you have generous friends and family who will allow you to bunk up in their spare room.
5. You'll learn more about your country's history and heritage
It goes without saying that there's value in understanding your country's background, and an extended trip is a great way to learn more. Perhaps your town played a pivotal role in one slice of history, but other area could have experienced something completely different – your travels will give you an idea of this bigger picture.
Furthermore, you can take this greater comprehension of your own country's history abroad with you and understand how it compares to that of other parts of the globe. Travelling at home helps you to contextualise your country's place in the world.
6. It's easy travel
Although there is certainly something to be said for being thrown into a country so different to your own that it makes your head spin, when travelling at home you do away with all the nuisances that can bring.
You're used to the currency, speak the same language (although perhaps not the same dialect – for me, Scotland was a challenge!), and are familiar with national transport networks. Travel in your own country is an absolute breeze, leaving you more time to focus on the beautiful sights around you.
7. You'll make friends closer to home
Meeting new people is one of the best parts of travelling, but when you live at opposite sides of the world it's hard to stay in touch. When you make new friends on trips in your own country, there's more of a chance you'll keep in contact and catch up again in the near future.
8. You can drive your own car
A small blessing, but one that eliminates car rental costs or having to get your head around an unfamiliar bus or train system. Sure, depending on how much ground you want to cover fuel might cost you a fair whack, but it's worth it for the convenience of having your own wheels. You can set off into the sunset whenever your heart desires, and you're used to the feel on your own vehicle. Not to mention driving on the side of the road you're accustomed to…
9. It's eco-friendly
Doing away with carbon emissions from your flight reduces the footprint of your travels hugely. If you take public transport around instead of your own car that makes your trip even more eco-friendly. Feel like going the whole hog? Get around by bike or on foot to not only crank up the adventure factor but make your travels greener-than-green.
10. It will inspire future trips
Travelling at home is an addiction – once you start it's hard to stop. If you decide to take a year to see more of your own country, I'll bet money that in the first few weeks you'll think this at least once: What have I been doing this whole time? Why didn't I think of this sooner?
I certainly felt that way. I could do another year in the UK all over again and see just as many new beautiful sights as I did the first time around. Coming away with that knowledge is priceless, and a whole lifetime of new experiences at home will open up to you.
Emma Higgins is a British travel writer who spends an entire year in one region of the world at a time before moving onto the next. Emma publishes the stories she finds along the way on her website, Gotta Keep Movin', and in an annual print journal. Her most recent publication, A Year in the UK & Ireland, is out now.
Main photo: Emma Higgins exploring Inishowen in Ireland.

10 Reasons To Travel In Your Own Country & Why You'll Love Every Minute
I'm going to spill a big secret. I've been to 30 countries. This includes trekking in the Sahara Desert, snorkelling on the Great Barrier Reef, witnessing the lava glow in Hawaii, but until last week I'd never seen the West Coast of Scotland. No big deal? The West Coast of Scotland is 3 hours from my front door.
I'm ashamed to admit, it's not just the West Coast that got pushed lower and lower down my bucket list. There are endless places in Scotland – the country I'm lucky to call home – which I've never been to. These are the places we often put aside to our "one day" list. One day when I'm older, one day when I've kids or one day when I have time.
While many could argue 2020 to be cursed, one thing we can be grateful for is that it has given us that time. It has forced our "one day list" to be our to do list and now more than ever there are endless reasons why we should explore more of our own country. So you can get packing your bags ASAP, I've kept it to just 10.
1. It's cheaper
We've all been there – you want to travel the world, but your bank account says you can see as far as the backyard. Good news is, travelling locally is more affordable. Firstly because you'll likely know friends and family you could stay with to keep accommodation costs down.
Secondly, because you know the value of things. There is no confusion whether taxi drivers are going to rip you off, whether that tour is overpriced or if your lunch was a good deal – by travelling in your own country you understand the currency and costs. Chances are, you will also know which attractions are overpriced and overrated.
You will also spend less on reaching your destination as there will be no need for visas or vaccinations, your travel insurance will be cheaper, and your transport will take a lot less time (and expense!)
2. You will help save the planet
Alongside saving money, let's help save the planet too. Here in Scotland, you can drive from one side to the other in 6 hours. Although Australia might not be the same story, generally by travelling domestically, you won't need to hop on a plane.
This means you still get to experience new scenery, views and food to fuel your wanderlust but all while reducing your carbon footprint.
3. It's the perfect dress rehearsal
Travelling at home is the perfect way to test drive the backpacking lifestyle before going further afield. For example, our first ever Workaway experience was just a 3-hour flight away. That way, if we decided it wasn't for us, it wouldn't take days (or tonnes of money) to return home. Turns out, we loved every minute and then felt brave enough to venture across the world to a host in Hawaii.
It's not just Workaway you could try out locally first. Try out your travel companions too. Nothing worse than realising you prefer solo travel once you're already on day 2 of a 3-week group tour. Using the safety net of home, test your travel buddies on local adventures first – who keeps you smiling? Who pushes you out of your comfort zone? Who could you not imagine adventures without?
4. You can travel more often
Sadly to afford any kind of adventure we've got to go to this place called work. This means, our travel days are limited, and for most, it's only a couple of weeks per year where we're free to roam. However, travelling in your own country means you can use your holiday days more wisely.
With the advantage of exploring what's on your doorstep, you will spend less time in departure lounges, long haul flights and overnight buses. Instead, you can nip away for the weekend or go for an overnight hike. As it takes less time to reach your destination, you can squeeze in more adventures.
Fun Fact: According to a study in 2014 at Cornell University, the anticipation of an experience (like travelling) actually increases a person's happiness. Much more so than buying material items. This means, with more trips planned = happier you!
5. It's a chance to support local
When the chaos of Covid-19 wreaked havoc on our travel plans this year, places which usually rely on tourist trade struggled to make ends meet. Now they desperately need local footfall to boost their business and help pay the bills.
This is where you come in. By travelling in your own country, your money is helping the local economy recover faster. It also means you'll find hidden gems you hadn't heard of before as well as build lasting relationships with local businesses as it'll be easier to return.
6. You can travel last minute
I'll let you in on another secret. I HATE planning. I am one of those people who pack the morning of a trip and have usually booked my accommodation the night before. However, this isn't always possible when you're crossing oceans.
Thankfully, travelling locally supports my spontaneous ways and it is much easier to down tools on a Friday and head for the hills. Plans can change last minute and routes, as well as travel companions, are easier to coordinate when you're already in the country.
Travel tip: check out the "last minute" filter on Workaway's host list if you are up for a spontaneous adventure.
7. Easier to head off the beaten track
For those of you who love to plan and struggle to be spontaneous, travelling locally gives you the opportunity to head off the beaten track with ease. By travelling in your own country, familiarity will boost your confidence.
It's likely you will feel braver at home to head off the beaten track because you are familiar with the language, you understand the transport networks, you can find your favourite food or even pick up your besties along the way.
8. There will always be a next time
Have you ever left a place disappointed you didn't squeeze in everything in your itinerary? Or have you had trips or tours cancelled due to bad weather? The frustrating thing is, these destinations often take hours and expensive tickets to reach – heightening your disappointment when events don't go to plan.
The joy of domestic travel is that it's easier to return. There will always be a next time as this trip isn't a once in a lifetime opportunity for you because you live just an hour or two away.
It also means you avoid the most challenging part of travel – goodbyes. There is nothing worse than saying goodbye after making incredible friends or meeting an epic host family. Instead by meeting new people from your own country, it can be far easier to stay in touch and meet up again.
9. You will learn more

What's the first thing you search for when arriving in a new place? Is it the nearest coffee shop? The prettiest beach? Funky street art? For me, it's galleries. I love wandering around galleries in new cities and discovering new artists. Yet, I had no idea there was a gallery just two streets away from my house. Why? I've never searched for galleries in my area.
Exploring your own country will heighten your local knowledge, appreciate your own heritage and discover things on your doorstep you'd no idea were there. There are many events and attractions that only tourists find because locals don't usually have a reason to search. Now you do!
10. You will be grateful to call this place home

There is often an unnecessary shame when explaining you're holidaying at home. As if you're not brave enough, rich enough or curious enough to travel abroad. Consider this guide the reasons why this should no longer be the case.
Instead, view it as a rare opportunity to embrace the place you are so lucky enough to call home. Workaway's entire ethos is to seek authentic travel experiences and embrace local communities. What better way to start than at home, where you are the local.
Think of the reasons why you travel. Is it to try new food? Make new friends? Top up your Instagram feed? There will always be people you haven't met yet, food you are yet to taste and photos still to take.
Source https://www.bucketlistly.blog/posts/travel-in-our-own-country
Source https://www.wanderlust.co.uk/content/10-reasons-to-spend-a-year-travelling-in-your-own-country/
Source https://www.workaway.info/en/stories/10-reasons-travel-in-your-own-country