The Top 10 Spots in Southern Italy
If you've traveled through all that's north of the boot already, you're probably ready for something new.
Something different from the usual suspects. Venice, Florence, Milan – you've been there, done that.
If you want to get off the beaten track, Southern Italy is it.
It's got nonna-cooking-in-her-apron on Sunday soul. It's ancient and simple. More ruins, less boutiques.
We take our clients on a Southern Italy tour every chance we get, because it's too darn pretty not to share.
But you don't have to tag along on our tours to get the low-down on our secret sweet spots.
This list is every beginner's guide to Southern Italy. The best ways to get around. Why it's worth it. Where we take our people. And why we love these places so darn much.
What you should know about Southern Italy:
You'll do best when traveling by car. If you're planning on hanging out in Southern Italy for a while, a car is the best way to get around (rentals or private driver). If you can't rent a car, check out our ideas for northern Italy.
Traveling between July-August? Not all places on this list will be suitable this time of year. Some will be fantastic. More deets below.
Hotels. Book well in advance for any popular city on the Amalfi Coast. As well as anywhere in Italy on the coast in August. We're talking 6-9 months in advance. For our tours, we book our client hotels a year or more in advance.
Top Spots in Southern Italy We Love
1. Matera
Pack your toga and your cutest leather sandals, because Matera looks like it's hardly changed since ancient times. Visiting Matera is like stepping back into Biblical times – or another planet. In fact, Mel Gibson's The Passion of the Christ was filmed here because it still looks like what Jerusalem might have looked like thousands of years ago. Our Southern Italy tour clients call it "otherworldly."
As far as popularity goes, it's virtually undiscovered – it only became a real tourism destination in 2014. Matera also recently won the bid to become the European Capital of Culture in 2019, so it is The Place to Be In Italy in 2019.
What we dig in Matera:
Just lookin' at it. It's a clay-colored city made up of rock-hewn dwellings, so it's pretty jaw-dropping. The feeling of being transported back in time. It was first occupied in the Paleolithic Era, and said to have been founded by the Romans in the 3rd century BC. And it doesn't seem to have changed much (except the cocktails are better and the running water is a bonus). Those creamy stone laneways are so gorgeous. We take our clients cruising in a cute Ape Calessino (like an Italian tuk-tuk) for the day. Wandering into the Sassi district, which is home to 1500 prehistoric cave dwellings. These digs are old! You just gotta see Matera to believe it.
How to get here:
This area is best explored by car, but if you're driving, we recommend you be very comfortable cruising on roads less traveled. You can drive (or hire a private driver) from Bari to the east or Naples or the Amalfi Coast to the west.
If you're flying in, you arrive at Bari Karol Wojtyla Airport (BRI). From here you can take a shuttle bus directly to Matera, or you can take a bus to Bari Centrale, and grab a train on the Ferrovie Appulo Lucane line (the FAL is outside of Bari Centrale by Piazza Aldo Moro) to Matera Centrale (travel time: 80 minutes).
You can also get to Matera by bus from many Italian cities. Bus companies to check for schedules are Flixbus, Marozzi, Liscio, Petruzzi, Miccolis and Marino.
2. Positano
Perched on a cliffside abloom with pastel buildings, Positano is the definition of quintessential Amalfi Coast. It's a tiny village, where all paths run down to the sea. And it's where your shoulders sink the second you arrive. The only hard decisions here are choosing between lounging on the beach or on a boat. This gorgeous town built around one stretch of sand is basically designed for winding down, which is why it's the first stop on our Southern Italy tour.
What we dig in Positano:
People-watching in cafés. Rooftop domes filled with sand (to keep the town cool in summer and warm in winter). The fact that there's only one street you can drive on. 400-step staircases (to burn off Positano-lemon gelato). Hopping on a boat, 'cause it's the best way to drink in the Amalfi Coast. Tranquil turquoise water. Boutique shopping for fab finds. Mostly, chillin' under an orange-and-green umbrella on Fornello Beach.
How to get here:
Two ways: fly into Naples and arrange a private transfer to Positano, or take the ferry over. And if you want to drive along gorgeous windy roads, it's easiest to do it from Rome or Naples.
3. Rome
Everyone pretty much agrees that The Eternal City is one of the most beautiful metropolises on the planet. It's a mix of stylish and chic, but has a dose of grit and grime too. It's rooted in ancient history but lives in modernity, so you have a real duality happening here. There's something for everyone in Rome – history fans, art lovers, shopaholics and foodies included.
What we dig in Rome:
Truthfully, you can spend a month in Rome and barely scratch the surface. Definitely scope out the classic must-see spots in the historic city center: The Spanish Steps, the Colosseum, the Trevi Fountain, the Pantheon, Villa Borghese – you know the deal. We love how walkable Rome is (bring your comfiest shoes), because it means we can eat more carbonara. Pop by the Jewish Ghetto for a small-neighborhood feel and yummy eats. See Testaccio and explore its market – it's one of the few areas we think has retained real "Romanness". Monti's crooked low-rise buildings and BlackMarket Hall are our faves, too. (We're fans of more unique things to do in Rome.)
How to get here:
The easiest way to get to Rome is to fly into one of their two major airports: Fiumicino or Ciampino. Fiumcino is Rome's largest airport, and reasonably connected to the city center (30-45 minutes away). Ciampino is on the smaller side, but no frills – so things move faster there. Though it's closer to the city center, it's not served by a regular transport network, so you'll have to rely on commercial airport shuttle, taxi, private car with driver, or private car rental.
Want to save time, money and have more fun? Travel using our city guide to Rome.
4. Palermo (Sicily)
Palermo is on the island of Sicily, and it's hella fascinating. Each year, just one Italian city is named the Italian capital of Culture. In 2018, that city is Palermo! Saying it's got "culture" barely scratches the surface of the Arabesque domes here. It's been a strategic military and trading position throughout history, and invaders have left their mark everywhere. Think architectural and foodie influences from the Carthaginians, Greeks, Romans, Normans, Swabians, French and Spanish Bourbons.
What we love in Palermo:
Byzantine mosaics. Teatro Massimo (Italy's biggest opera house). Tucking into street food like sfincione and arancini at 10 pm. Taking home treasures from antique markets. Gothic-renaissance sculptures sprinkled throughout the city. 25-acre long botanical gardens. Creepy cool catacombs. The endless events in the city's social calendar – scope them out before you go.
How to get here:
Getting to Palermo is a cinch 'cause — ta da! — it has an airport. (When traveling Italy, this is something to cheer about!) So it's simple to add a trip to Palermo to your European itinerary by using the convenient "hopper flights" within Europe. Staying 2 nights will work, and head over to the Aeolian islands next (more on these fab islands below). Oh, and we have some sweet tips on how to get to Sicily here.
5. Aeolian Islands
The Aeolian Islands are the Hawaii of Italy. It's a string of islands north of Sicily, and it's silly gorgeous. We take clients here as part of our Sicily tour. Our founder Bianca even invited a bunch of friends to enjoy Salina Island on her birthday.
And as amazing as it may be, hardly anyone knows about it. But the ones who do keep coming back. Because they know they'll have the place all to themselves.
Insider tip: travel here between Easter-October. Book in advance if you want to visit in August.
What we dig in the Aeolian Islands:
Renting scooters to zip around beautiful black beaches. Sunset aperitivi in Pollara. Boating around the surrounding islands of Stromboli, Panarea and Lipari. Gettin' steamy with sulfur water spas in Vulcano. The Greek vibes (no surprise – the islands were named for Aeolus, god of the winds, by Greek settlers). Salt-eroded houses spilling down to the shore. And feeling like you're in on a big secret that you only wanna share with your loved ones (like almond milk baths in copper tubs — yes, our Sicily tour clients love that too).
How to get here:
The islands aren't easy to get to, so 3-4 nights is our minimum recommendation. In a perfect world, stay for a week! The closest airport is Catania, but you can also arrive from Palermo. Once in Milazzo, you ditch your car and take the hydrofoil.
6. Tropea (Calabria)
Tropea is a hot spot for Italian vacationers (they call it the Coast of the Gods). It's virtually undiscovered by foreigners, so you have lots of baby-powder-soft sand beaches to yourself. It's located right at the toe of Italy's boot. Legend has it that this town was founded by Hercules. (We believe it.)
What we dig in Tropea:
Red onion ice cream at Gelateria Tonino – Tropea is famous for their super sweet red onions. Boating to the island of Stromboli at night to see the volcano exploding. Crystal clear water that you could float in forever. Groovy grottos. Walking 300 steps up to Santa Maria dell'Isola, a monastery perched above the beach. And sunset aperitivo featuring crunchy breaded razorfish.
How to get here:
Tropea travels are reliant on a car. You'll also need at least 3 nights. If you're traveling in summer, stay longer and day-trip to surrounding areas. The closest airport is Lamezia Terme. And if you're into road trips, you can also drive from the Amalfi Coast.
7. Lecce
Lecce is the Florence of the South. This city is baroque extravagance at its best, full of spiraled columns, cute cherubs, gargoyles, and… amazing shopping. Lecce is not for "doing". It's for experiencing. On our Southern Italy tour we stay here a few nights.
Lecce is for lazy lunches on sandstone streets. Where you take cooking classes to learn how to make orecchiette without your phone on hand. And where you stroll, like, everywhere.
What we dig in Lecce:
Dancing the pizzica, a popular folk dance here (totally normal in Lecce). Day trips to classic Puglian countryside with olive trees and vineyards for company. The workshops churning out gorgeously hand-crafted clothing, leather goods, pottery and shoes. It's the kind of place where creativity smacks you in the face and new business ideas start flowing into your brain like good Primitivo (Lecce's wine specialty).
How to get here:
Fly into Brindisi Airport and take one of the public shuttles or trains – they operate reliably and frequently. You can also get the train to Lecce from Rome or Bari. Or travel on our Southern Italy tour and we'll bring you.
8. Alberobello
If you've dreamed about writing a fantasy novel at any point in your life, visit Alberobello. It's the fairytale land of trulli houses. It's like a National Geographic cover shoot! A total UNESCO-Heritage-site kinda treat.
What we dig in Alberobello:
Uh, basically being transported back in time. Cutie-pie cones atop trulli houses. Feeling like a gorgeous giant among gnomey houses. Impromptu photo shoots, 'cause this kinda scenery only happens to your camera once in a while.
How to get here:
Cars are best. Alberobello is worth a day trip from Matera (if you're visiting). Or travel on our Southern Italy tour and we'll bring you.
9. Paestum
This spot is another one for Greek fans – Paestum is actually an ancient Greek city. Paestum is in Capaccio, but the two names are used interchangeably – don't get confused. They're in the same place. For any history buff, it's a must-see in the area. It's got the best-preserved Greek remains in Italy.
What we dig in Paestum:
Towering temples of Hera and rocky ruins to text home about. The way rebuilt Capaccio still clings to a hill, even though it was destroyed in the Middle Ages. How it's sandwiched between rolling fields, pine forest and the sea. Haunting homes abandoned in ancient times. Biodynamic wineries. The food, especially anything with mozzarella di bufala. Being an agricultural region, anything you consume is here is amazing.
How to get here:
You can get here by car, if you're driving in from the Amalfi Coast. If you're anywhere else, it's incredibly well-connected by the Trenitalia train system – just get off at Capaccio or Paestum.
10. Syracuse / Ortigia (Sicily)
This small city is paved with limestone and has one of the most beautiful piazza we've seen in Italy. It's right on the ocean, and 30 minutes on one of the little tourist boats will take you on a tour of the town from the sea. It's crumbling and faded, but tidy and pretty all at once.
What we dig in Syracuse / Ortigia:
We love Ortigia, the most ancient part of Syracuse — it's like a city inside a city. We love the market — go have lunch down there on the wooden tables.
How to get here:
Closest airports are Catania or Palermo. You'll need a car to get to Syracuse, but you can hire a private driver to get you there. Or travel on our Sicily tour and we'll bring you.
Want more insider intel on Southern Italy? Here are the solutions we provide:
Here's more blog posts too:
Tempted to travel Southern Italy yet?
Tell us which spot made your brain say si immediately! And share your questions with us in the comments – we want to share our wisdom for your trip.
10 Most Amazing Destinations in Southern Italy
The Mezzogiorno, or "midday" region of Italy refers to the Southern section of this historically and artistically important nation. The area boasts some of the oldest cities in Italy, as well as a number of important sites from what was once part of Ancient Greece.
The historical importance of the area draws some tourists, while others flock here for the warm Mediterranean climate and island life. Here is a look at some of the top destinations in Southern Italy:
Map of Southern Italy
© OpenStreetMap © MapTiler © Touropia
10. Maratea [SEE MAP]
mozzercork / Flickr
The attraction of this town is easy to explain. From its position along the rocky Mediterranean coast to its Medieval town to its ritzy harbor, this is one of Southern Italy's top resort sites.
Staying here in the summer requires pre-planning as many places are booked a year or more in advance. Maratea, however, is a very seasonal town, and much of the area closes between October and March. Sunbathing, watersports, and high-end amenities are just part of the reason that this is a perennial favorite for tourists.
9. Sorrento [SEE MAP]
minniemouseaunt / Flickr
Sorrento is the perfect blend of designated resort town and tourist-friendly old Italian city. It is easily reached from Naples via rail, and has both the amenities that tourists find comforting as well as unique and higher-end antiquities for sale in the old town.
A ferry leaves from here to the isle of Capri, and it is a great jumping off point for Pompeii. However, Sorrento is also known for excellent gourmet cuisine, stunning cliff dwellings (though no beaches), and stunning views of Mt Vesuvius.
8. Paestum [SEE MAP]
This ancient Greek city was originally called Poseidonia for the god of the sea. The side boasts three well preserved Greek temples. The oldest temple in Paestum is the Temple of Hera, built around 550 BC by Greek colonists.
Paestum is often visited as a day trip, as the sites to see are limited. Besides the three ancient Greek temples there is a museum, and some enchanting buffalo farms. However, hotels are good here, and so is the food, so it's worth an overnight.
7. Alberobello [SEE MAP]
This fairytale town is the world's best example of Trullo architecture. Trulli homes are known for their conical stone roofs that are made without mortar. These dry-stone buildings are made from local limestone; none are older than the 14th century.
hough the homes can be found across the Itria Valley in Apulia, Alberobello is the only town truly marked by this type of construction. In addition to Trulli-gazing, visitors here can also stay in trullo homes, drink in trullo bars and shop in trullo shops.
6. Tropea [SEE MAP]
This ancient and stunning town sits among sugar sand beaches and stark cliffs. Once believed to be founded by Hercules, Tropea's natural beauty still maintains an otherworldly draw for lovers of sand and sun.
Not to miss are the town's two most notable churches- the Santa Maria del'Isola, a medieval church that was built on its own island just off the coast (though siltation and years has built a land bridge between it and the mainland). The second church to see is the local cathedral, with two unexploded bombs from WWII sitting right outside their front door. It was believed to be protected by the local patron saint.
5. Sassi di Matera [SEE MAP]
The Sassi di Matera are cave dwellings situated in the old town of Matera in the region of Basilicata. The Sassi originate from a prehistoric settlement, and are among the first human settlements in Italy.
Many of the houses, which are dug into the tufa rock, are really only caverns, and the streets in some parts of the Sassi often are located on the rooftops of other houses. These dwellings were inhabited by farmers and their livestock until the 1950's. Today, the jumble of stone buildings and their interior caves are a haunting and beautiful site.
4. Naples [SEE MAP]
Naples, or Napoli, is the third largest city in Italy. To some it is huge, filthy, crime-ridden and falling apart, to others it is edgy and atmospheric. This coastal Southern city definitely has its own personality.
Many favorite Italian foods originated in Naples and its surrounding area such as pizza, and spaghetti. These dishes are taken seriously here and usually feature fresh, locally grown ingredients. Tourist attractions in Naples include a huge Medieval castle, Castel Nuovo, as well as the seaside fortress of Castel del'Ovo. The city is also next to the Vesuvius, the only active volcano on the European continent.
3. Capri [SEE MAP]
Dennis / Flickr
Located in the Bay of Naples in the Campania region, Capri is an island rich in mythology and history. Sirens were said to have lured sailors to their death here with their sultry songs. The Roman emperor Tiberius lived here until his death in 37 A.D. Villa Jovis, the emperor's imperial residence, is one of the island's most popular attractions.
Capri's most famous natural attraction is the Blue Grotto, a waterfront cave that's accessible by boat when the tide is right. Riding the Seggiovia chair-lift in the city of Anacapri to the summit of Monte Solaro is a favorite activity too. The 15-minute trip offers spectacular views of the island and sea.
2. Pompeii & Herculaneum [SEE MAP]
Carlo Mirante / Flickr
Along the shadow of volcanic Mt Vesuvius sit several Roman towns that were destroyed by a sudden eruption in AD 79. The most famous of these is Pompeii, whose ruins can be viewed extensively. Archaeologists found the remains from 3,000 holdouts from this town of 20,000 who had refused to flee and paid the price.
The ash buried the town, but in many ways preserved a day in the life of Roman times. Nearby is the wealthier, smaller town of Herculaneum, who suffered a similar fate. The population was smaller, around three hundred, but the homes are a better example of how the wealthy once lived, and are worth seeing.
1. Amalfi Coast [SEE MAP]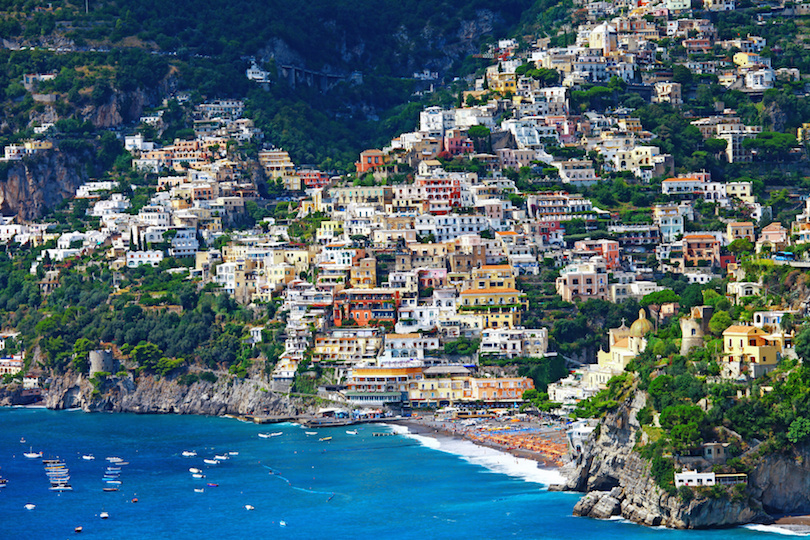 For anyone who has ever wanted to imagine themselves in a James Bond coastal car chase, a rented convertible and drive along the Amalfi Coast roads is a must. This patchwork of lush forests, and sheer cliffs over the jewel-toned Mediterranean is stunning and familiar, as it is the backdrop of many a Hollywood classic.
There are many small towns in which to stay, shop, and eat, with their own beautiful white-walled stone cliff dwellings. For those who are nervous about driving along the narrow coastal roads, beautiful water tours between Sorrento and Salerno are easy to find and beautiful in their own right.
15 Best Places to Visit in Southern Italy (Don't Miss These)!
THIS POST MAY CONTAIN COMPENSATED LINKS. FIND MORE INFO IN MY DISCLAIMER.
Home » 15 Best Places to Visit in Southern Italy (Don't Miss These)!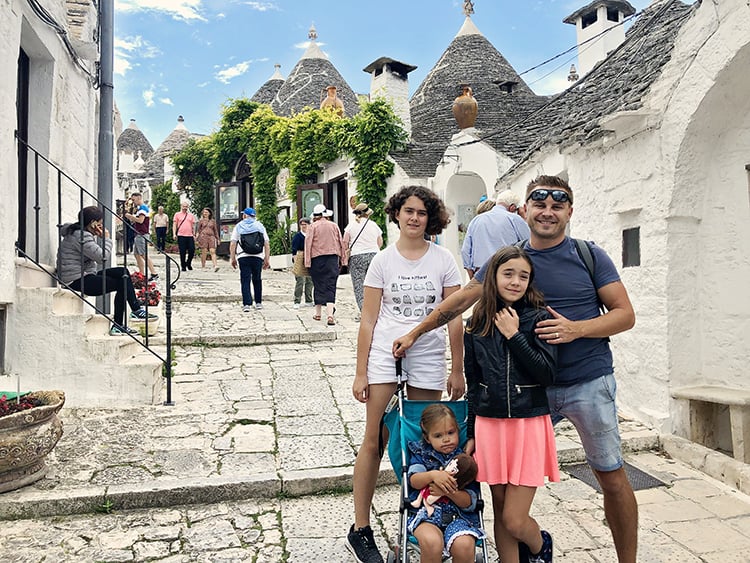 Share with others
With so much captivating history and incomparable natural beauty, every location in southern Italy seems to call out for the attention of visitors. However, even this stunning region has a few highlights that shine even brighter, standing out as the best cities in Southern Italy.
This southern Italy travel blog explores some of the cities and towns in the south of Italy that you simply cannot pass by! We also sneakily added on two islands at the bottom of the post, because they are worthy of a visit too.
Best Places to Visit in Southern Italy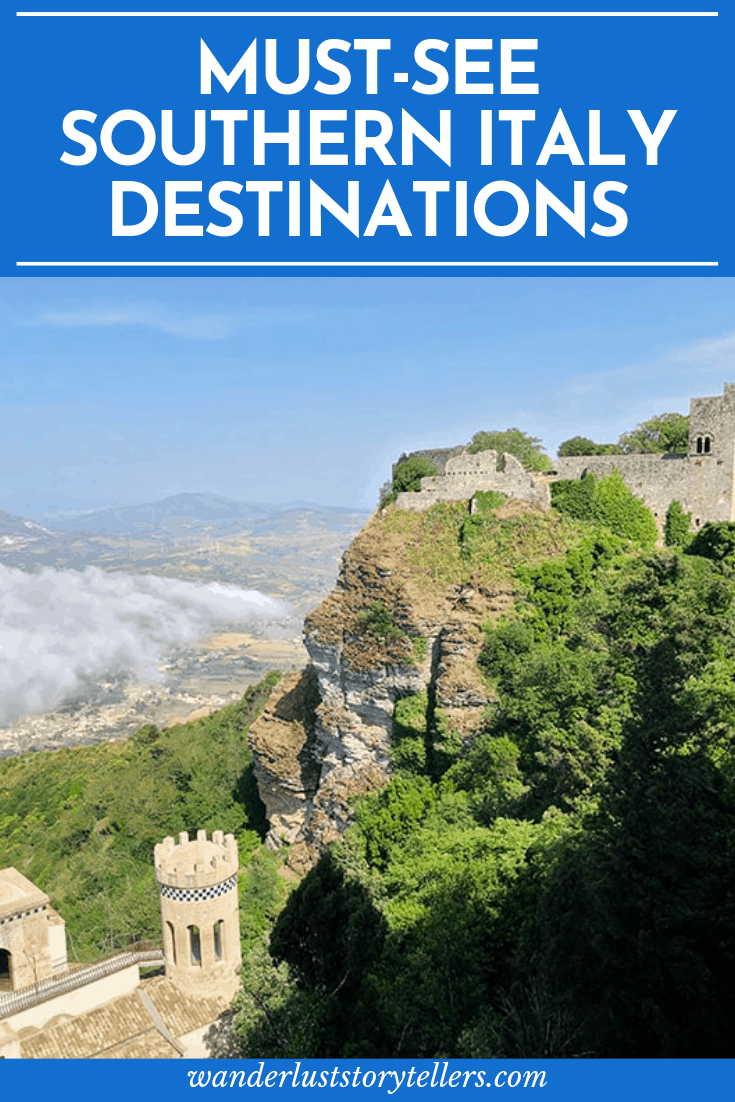 If you are planning a southern Italy trip , then make sure that you add the following destinations to your itinerary. We absolutely love every region of Italy, but there is something so unique and different about these cities and towns in South Italy. We've picked them as the best places to visit in Southern Italy.
1. Matera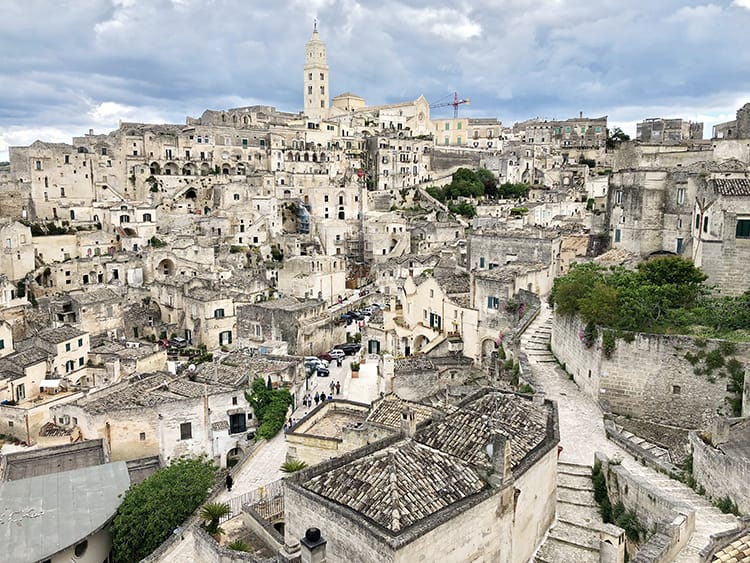 At Matera, you'll discover the magnificent Murgia Timone, a gigantic plateau made of rock. The plateau is dotted with many caves carved into the stone by the people who lived here many, many years ago.
There are plenty of things to do in Matera. While the caves are truly fascinating to see and explore, just as wonderful are the views this site gives you of the nearby ravine and old town. There are countless photo opportunities of this south Italy must-see destination.
Book a Day Trip to Matera from any of the Following Places:
Highly Recommended Tours and Passes to Grab:
2. Alberobello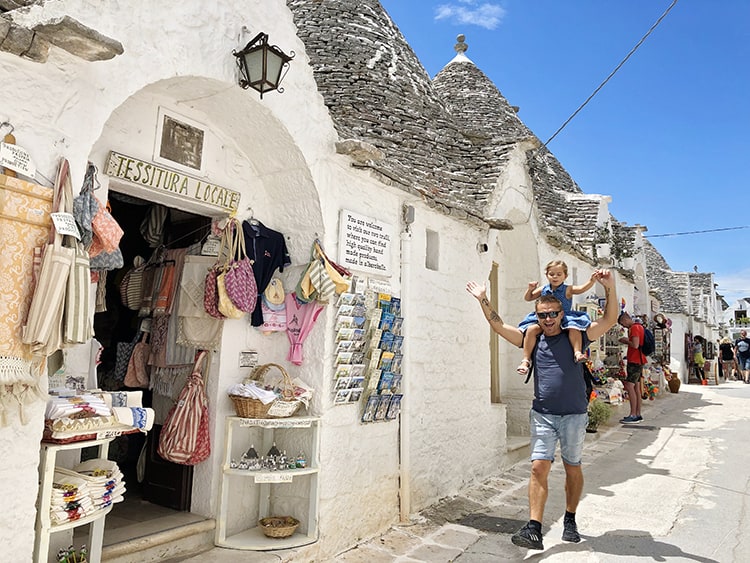 Architecture doesn't get quirkier than the buildings you'll find in Alberobello's city centre. The town is packed with 'trulli' (whitewashed huts constructed of dry stone and topped with cone-shaped roofs).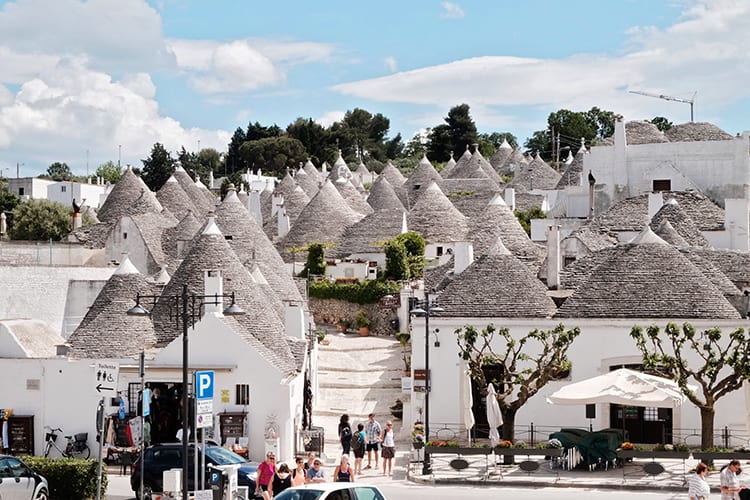 Also take time to sample some of the scrumptious bread this region is famous for – and to taste some delicious local wines, of course! After experiencing Alberobello, you'll be certain that it's one of the best southern Italy towns!
Highly Recommended Tours:
3. Polignano a Mare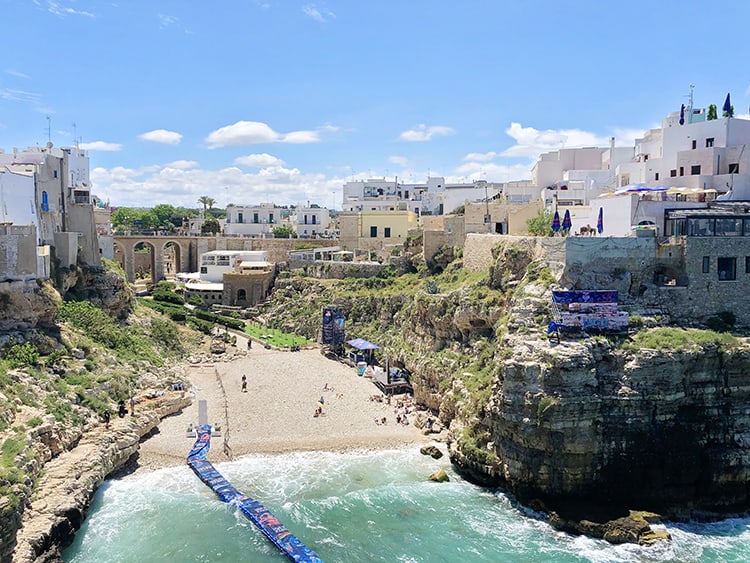 Polignano a Mare is quite literally a clifftop town; the north-eastern outskirts drop away very suddenly into the waters of the Adriatic Sea. Naturally, this placement makes it the ideal location from which to witness stunning views, making the spot a southern Italy must-see.
The town is also well-regarded as having some of Italy's best-tasting gelato, which is the perfect snack to treat yourself to while taking in the gorgeous sights on offer.
Highly Recommended Tours:
Enjoy a local tour guide on a wonderful walking tour of Polignano a Mare
4. Erice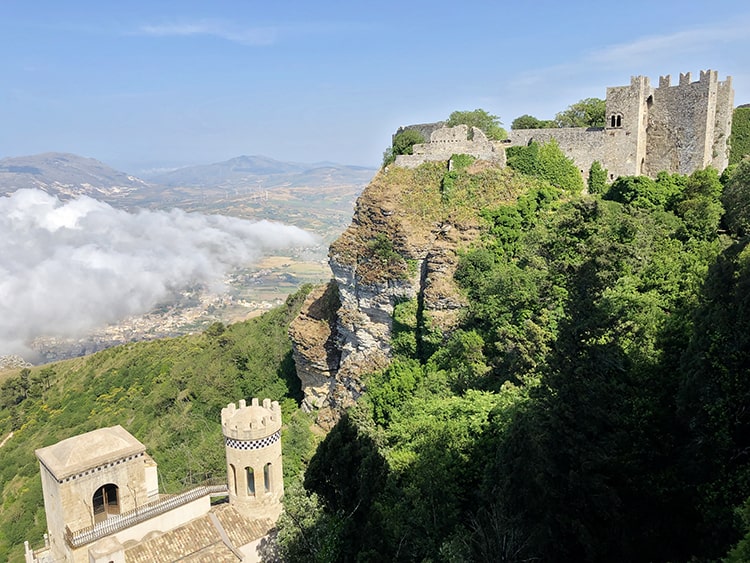 Sitting atop the intimidating Mount Erice near Sicily's north-western shore, this city presents visitors with amazing views in all directions.
When you've finished admiring the sights of the Aegadian Islands, the port of Trapani, and San Vito Lo Capo, explore the wonders Erice itself has to show. Two castles left over from centuries past still stand here, along with fortifications from ancient Phoenician times making it one of the best historic south Italy cities.
5. Taormina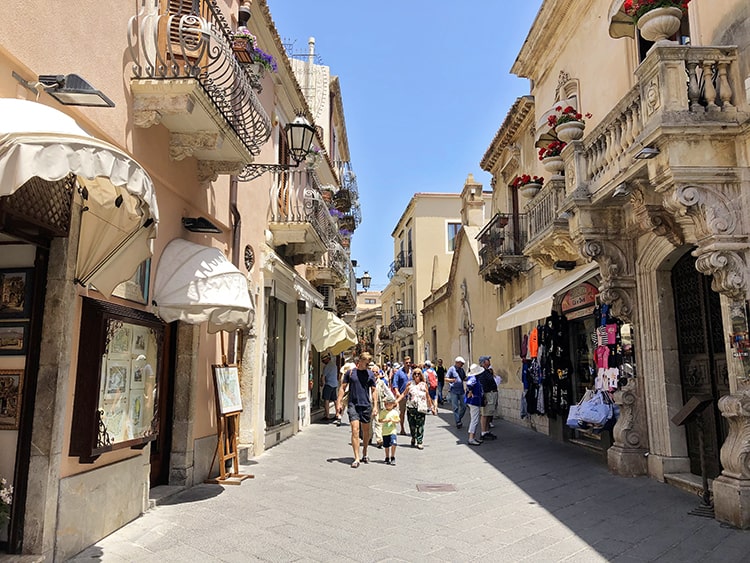 If you've heard of Sicily's Taormina before, chances are you already know the main attraction of this south Italy town: shops and restaurants.
Delicious food fills the streets with tempting aromas while boutiques and stalls of handcrafts will happily supply you with perfect souvenirs – perhaps even a few more than you really need!
Taormina is also home to a striking Greek amphitheatre, lovely gardens and cute cafes.
Highly Recommended Tours:
Recommended Further Reading:
Click here to see our post on the top things to do in Taormina.
6. Corricella on Procida Island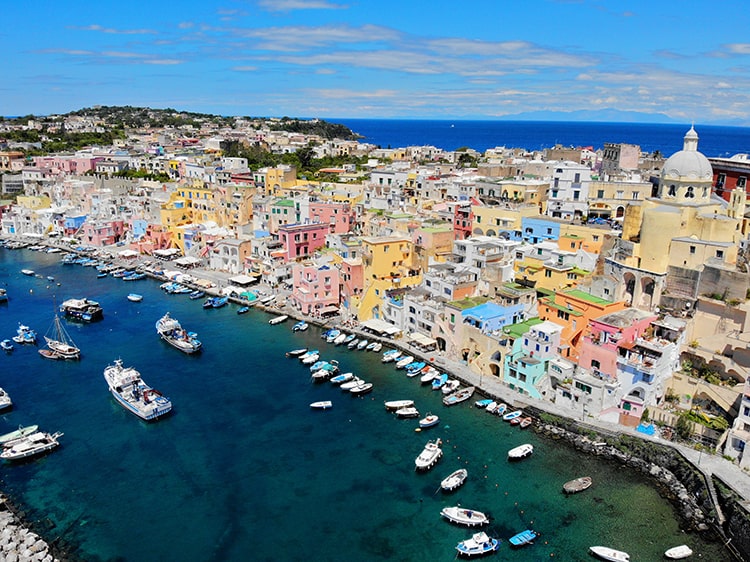 Marina Corricella is the oldest village of Procida Island. When planning what to see in southern Italy, make sure that you add this quaint, charming and romantic spot to your list.
The entire space is arranged in an amphitheatre on the sea and the age-old tradition of fishing in the village creates a relaxing and communal atmosphere. Corricella is renowned for its unique architecture, so take the time to appreciate the arches, domes, terraces and colorful facades.
Highly Recommended Tours:
Blog Post to Read:
7. Amalfi Coast Towns
A must-see in southern Italy, the charming towns on the Amalfi Coast are unforgettable! Mountains and cliffs frame the sea, creating a wonderful sense of security within the towns. From the pastel-colored homes in Positano to the views from Ravello, the towns on the Amalfi Coast are sure to steal your heart.
If you enjoy breaking a sweat while on holiday, be sure to go hiking in the area as it's known to have some of the most picturesque trails! The Amalfi Coast is a very popular tourist destination and chances are, you've seen the spectacular views of the area across the internet. Now it's your turn to get your own pictures.
Amalfi Coast Resources:
8. Sorrento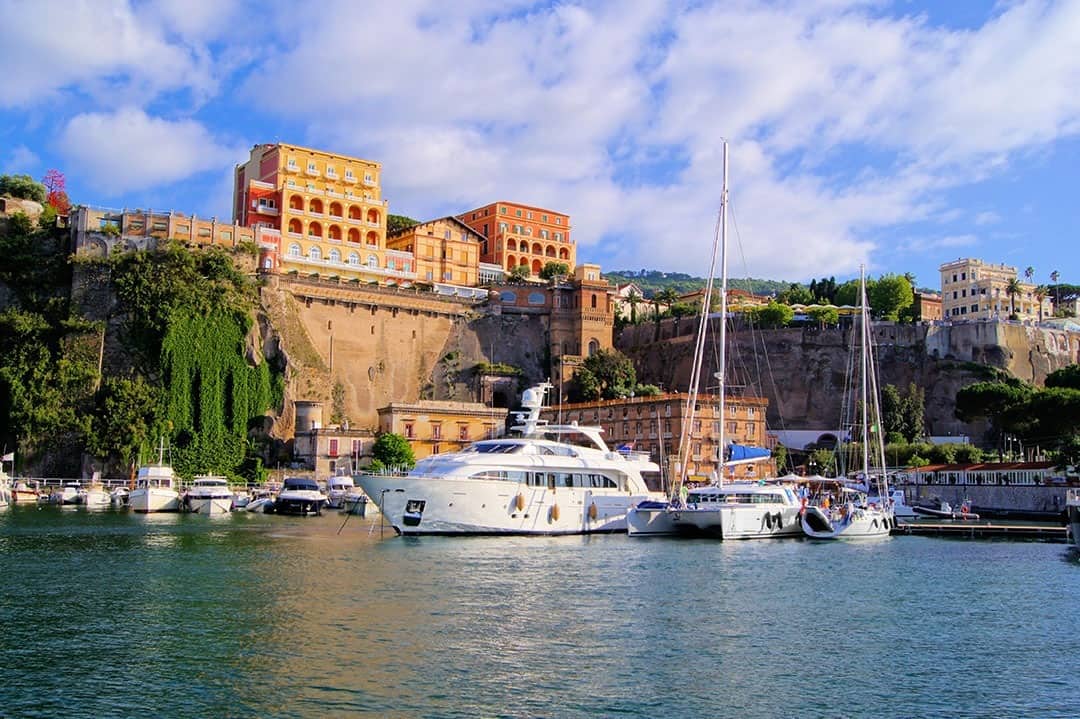 Known as the gateway to the Amalfi Coast, Sorrento has a long-standing reputation for being must-see spot for southern Italy vacations. The town is cloaked in literary romance, having been visited by the likes of Dickens and Tolstoy. You can't help but feel the enchanting atmosphere of the town from the moment you arrive.
Due to its popularity over the years, the town has built an impressive repertoire of high-pedigree hotels and first-class restaurants, all shaped by charming Italian tradition. Take your time shopping at Piazza Torquato Tasso, visit the multiple museums and soak in the view of the Bay of Naples.
Wondering Where to Stay?
Highly Recommended Tours:
9. Castelmezzano & Pietrapertosa
Although two separate towns, Castelmezzano and Pietrapertosa are so small, and so close together, that many travelers visit both on a single day trip. Castelmezzano has a reputation as being one of the most beautiful villages in Italy. High up on the hills, above the Basento River, the town is magical at both day and night.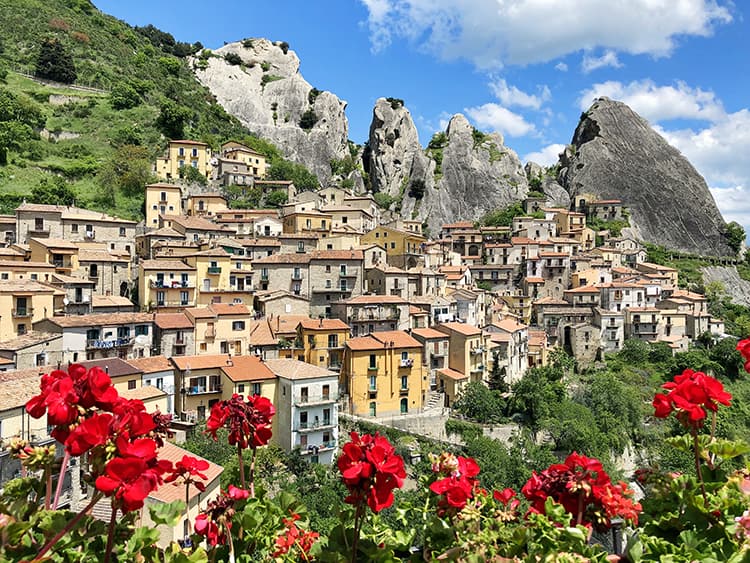 A stone's throw away, Pietrapertosa is a charming hamlet filled with history and culture. The village is built entirely on bare rock, and is full of single-family houses arranged in rows.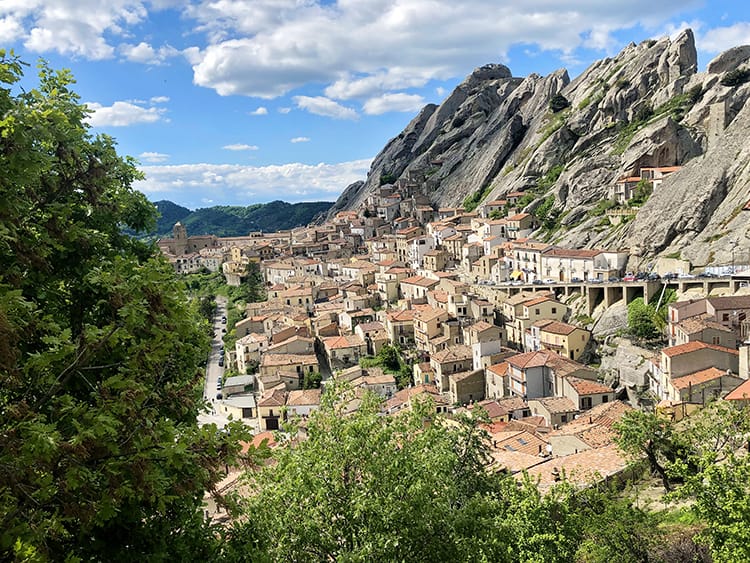 If you're looking for a unique and memorable experience, these two towns are a must-see.
Highly Recommended Tours:
10. Pompeii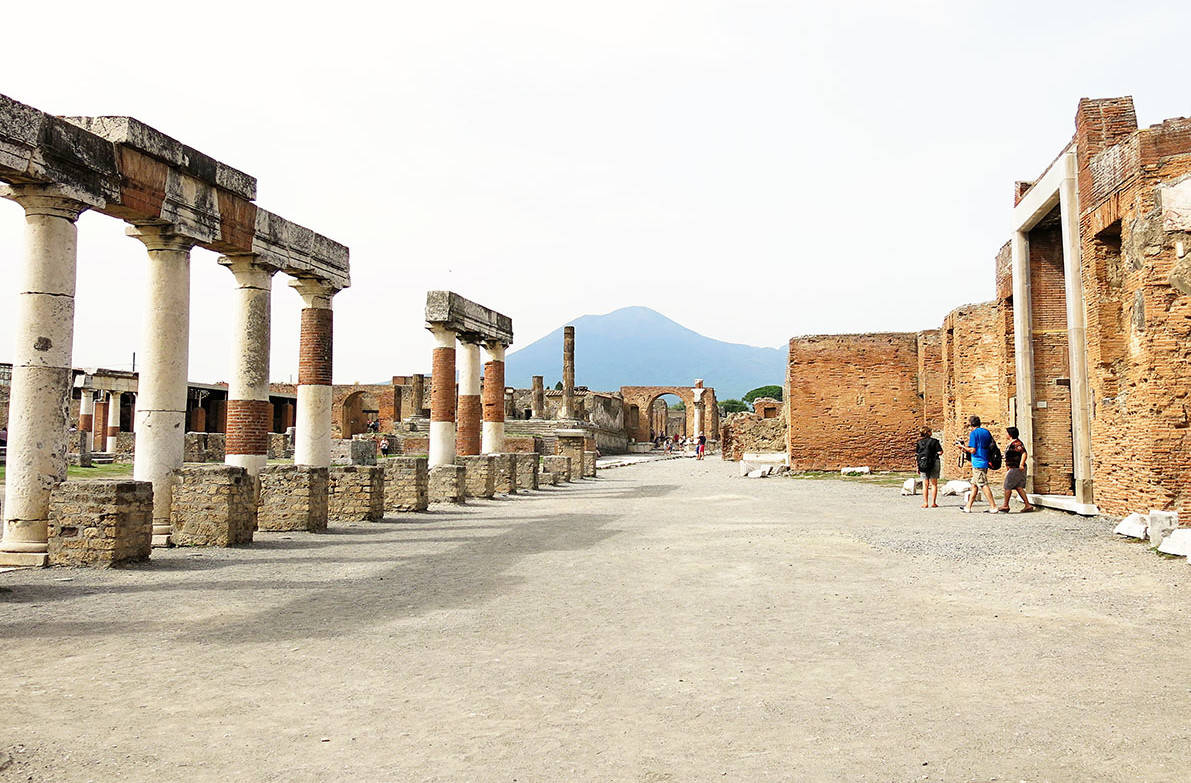 When the famous volcanic eruption took place in 79 A.D, the ancient Roman city of Pompeii was buried under a thick blanket of volcanic ash. Today, these ruins are a huge attraction for travelers from around the world.
Whether or not you are a history lover, a trip to Pompeii is incredibly enriching. A visit to Pompeii's archaeological ruins highlights the most fascinating and best of southern Italy history. Get whisked away to a time long-gone as you explore the beauty of Italy's lost city. You can read about our time visiting Pompeii here.
Book a Day Trip to Pompeii:
Highly Recommended Tours:
Don't line up at Pompeii! Grab this fabulous Skip-the-Line and 2-Hour walking tour ticket here.
11. Cefalu
One of the best cities that southern Italy has to offer, Cefalu offers an incredible combination of experiences for holiday-goers. On the shores of Sicily, Cefalu is home to one of the best beaches in the area, architectural masterpieces and quaint cobble stoned beaches.
Make sure that you take the time to visit the little port and watch the local fishermen going about their daily business. Easy-going and accommodating, Cefalu is the epitome of true Italian culture.
Book a Day Trip to Cefalu:
Highly Recommended Tours:
Enjoy a half-day wine tasting tour in the town of Castelbuono
12. Ostuni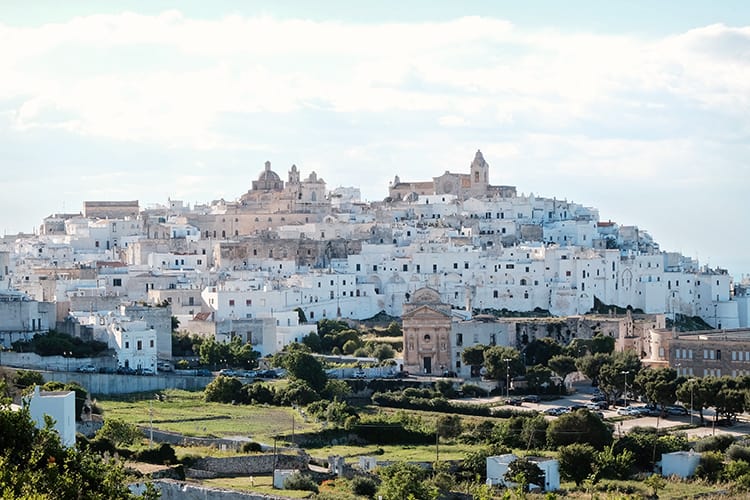 Known as the 'White City", Ostuni announces itself to travelers before even arriving. The city rises high above the ocean and boldly claims its territory by boasting a labyrinth of houses, arches and chapels. It really is quite a sight to behold.
If you are a lover of history, then Ostuni is an essential addition to your itinerary. Take your time getting lost in the alleyways, climbing all of the staircases and discovering all of the nooks!
Highly Recommended Tours:
13. Tropea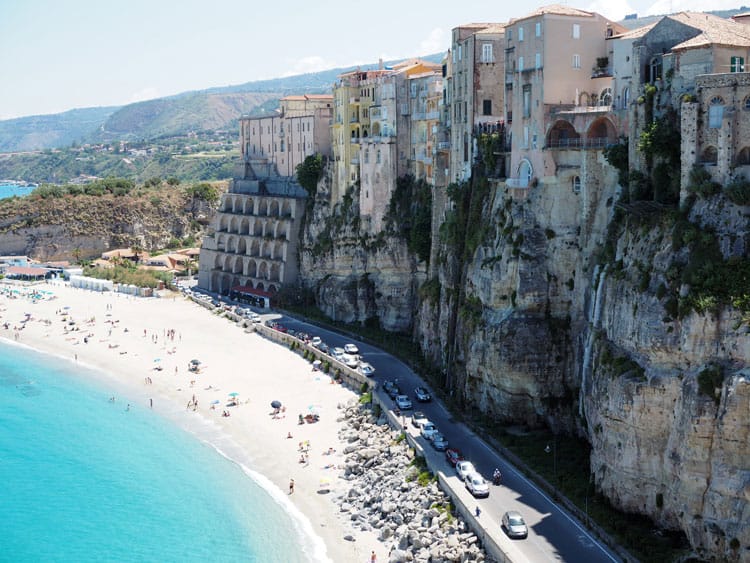 The secret beach town of Tropea is a hidden gem. The rugged, yet picturesque, piece of paradise is one of the best towns in southern Italy to both explore and relax in. Although it can get crowded during July and August, a trip to the haven during May, September and October will provide a surreal experience.
If you do manage to pull yourself away from the tranquility of the beaches, then make sure that you visit the Santa Maria dell'Isola, Centro Storico and the Norman Cathedral for an all-round Italian experience.
Highly Recommended Tours:
Other Must-See Places In Southern Italy
Whilst these two additions aren't exactly cities, they are 100% worth mentioning in this post. Both the Aeolian Islands in Sicily and the famous Capri Island are both worthy of your time.
14. Aeolian Islands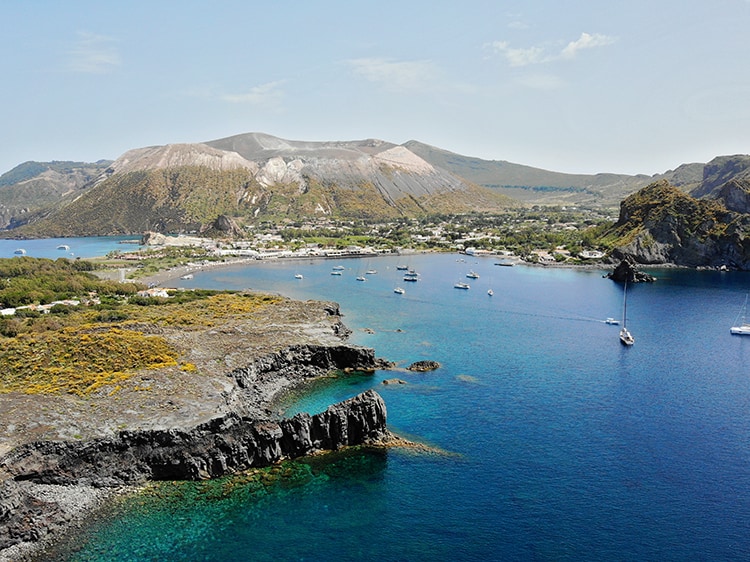 Although not exactly one of the towns in southern Italy, the Aeolian Islands are worth the visit. Located on Sicily's northeastern coast, the Aeolian Islands include the likes of Vulcano, Lipari, Salina, Panarea and Stromboli. The largest, and arguably the most popular, of these islands is Lipari. However, each of the islands boasts uniquely beautiful features.
The seven islands offer travelers stunning waters, opportunities to dive, volcanoes to trek and decadent wine to sip. Regardless of which of the UNESCO-protected islands that you visit, you're guaranteed an unforgettable experience. The Aeolian Islands offer the ultimate trip for those venturing off the beaten path.
Book a Day Trip to the Aeolian Islands from:
Highly Recommended Tours:
15. Capri Island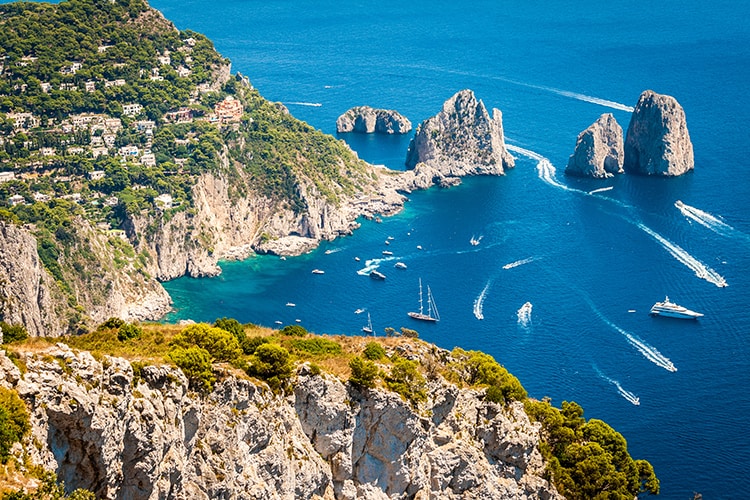 Although more an island than a town, Capri is a must when you visit southern Italy. Located in the Tyrrhenian Sea, Capri is made up of three island outposts. The beauty of the area is breathtaking, with steep cliffs descending into turquoise water.
Be advised that the exclusivity and magnificence of Capri means that the price of visiting is significantly higher. However, one glance at the sublime space, and every penny becomes worth it! You can read about our day trip to Capri Island from Positano here.
Book a Day Trip to Capri from:
Highly Recommended Tours:
Final Thoughts On Must-See Southern Italy Cities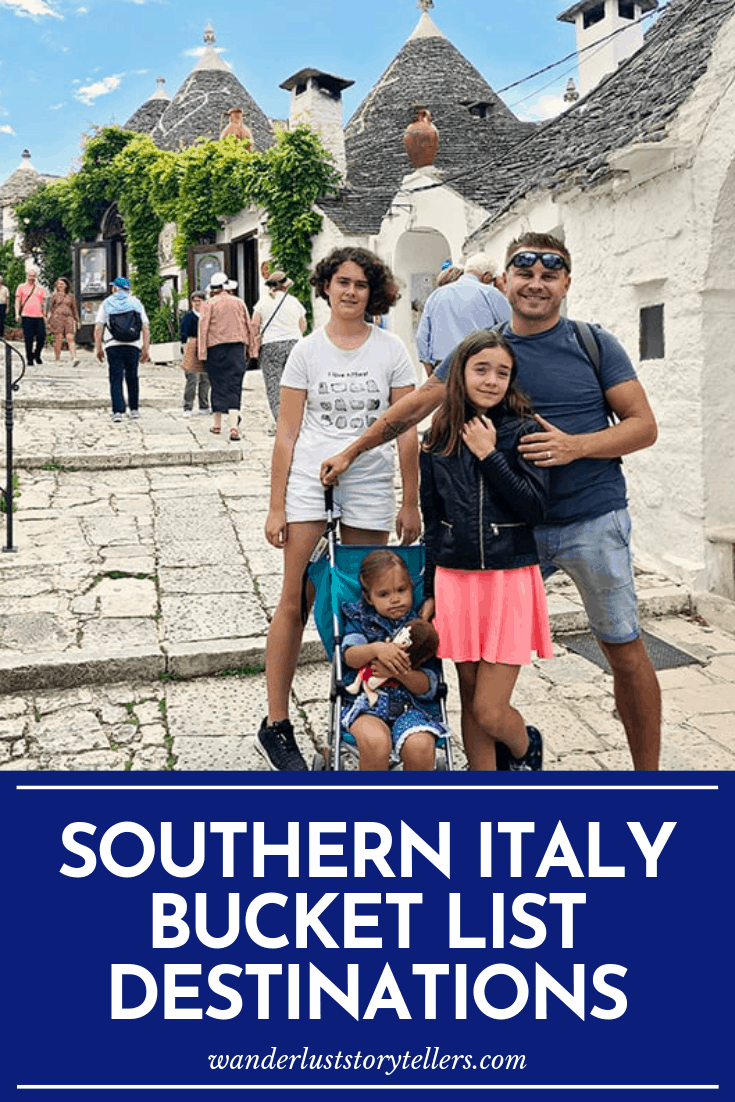 There's no question that any trip to Italy will provide you with plenty of wonderful memories (and even photographs!) to cherish for years to come. While these 15 spots could be considered must-visit towns by many travellers, you should also consider your own interests and preferences.
Doing some independent research into the beautiful cities and countryside of southern Italy will help you truly get the most out of your time here. We love Italy and we can't wait to see more and more of what this country has to offer!
Source https://www.italianfix.com/best-of-southern-italy/
Source https://www.touropia.com/destinations-in-southern-italy/
Source https://www.wanderluststorytellers.com/best-cities-in-southern-italy/