35+ Best Places to Visit in Texas (Cool Vacation Spots!)
Here's the thing about exploring the best places to visit in Texas: the more vacation-worthy places you visit, the more you find.
As the second-largest state in the USA, potential Texas vacation spots include everything from tropical beaches to mountaintops, city lights to lush waterfalls, and wide-open deserts dwarfed by larger-than-life skies to quirky small towns.
Assembling a list of the best places to go in Texas is no easy feat–and actually making it to all the coolest vacation spots in Texas is even harder.
As Rosemary Kent once said, "Most Americans can cover their home state in less than a week. In Texas, if you concentrate and work at it steadily, you can traverse your territory by about age thirty-seven."
Though it's tempting to write a list of a hundred or more travel destinations in Texas (we do have a list of 101 bucket list things to do in Texas, after all), we want to keep this short enough that it's not overwhelming, while still giving Texans and visitors alike new beautiful places in Texas to add to their list of places to see.
Featuring every region and climate in the Lone Star State, here are the best places to visit in Texas!
Some links in this post may be affiliate links. If you make a purchase through one of these links, we may earn a small commission at no extra cost to you. Please see our disclosure policy for more detail.
Best Cities to Visit in Texas
Austin
The capital of Texas is known for its many festivals, beautiful setting in the Hill Country, self-proclaimed weirdness, and for being the Live Music Capital of the World–and without a doubt, it's one of the best cities in Texas to visit!
Whether you come into town for an event or just for a weekend getaway, be sure to make the most of your trip to Austin.
Some of the best things to do in the city include strolling down South Congress, going for a swim in Barton Springs, renting a kayak on Lady Bird Lake, and seeking out some of Austin's famous street art.
Check out our guide to spending a long weekend in Austin!
San Antonio
As the home of Texas' most famous building and the state's most-touristed, city, San Antonio is a delightful place to visit.
Meander along the Riverwalk, tour the Alamo, cycle between San Antonio's five historic (and UNESCO-recognized) missions, step inside the San Fernando Cathedral, and browse Historic Market Square, and you'll soon find yourself smitten with San Antonio.
Dallas
As one of the fastest-growing cities in the country, Dallas is one of the best cities to visit in Texas and has plenty to offer all kinds of travelers, from artists to sports-lovers to history buffs.
Of course, no weekend trip to Dallas would be complete without a somber exploration of the assassination of President Kennedy, whose murder in Dallas in 1963 is one of the most haunting in the USA's collective memory.
On a lighter note, though, Dallas offers far more than morbid history: with phenomenal shopping, excellent skyline views at Reunion Tower, walkable neighborhoods like the Bishop Arts District, and great gardens and museums (the Dallas Arboretum is stunning), you'll find plenty of fun things to do during a weekend in Dallas.
Fort Worth
Though it's often lumped in with Dallas, Fort Worth–also known as Cowtown–is a distinct Texas travel destination in its own right.
While in Fort Worth, be sure to watch a cattle drive at the Stockyards, watch US currency being printed at the Bureau of Engraving and Printing (yes, really–it's even free to visit!), and check out the beautiful Fort Worth Water Gardens.
Want to get a bit of a thrill during your trip? Hop over to Arlington to ride roller coasters at Six Flags Over Texas!
Houston
As the largest city in Texas, the fourth-largest city in the United States, and one of the most diverse cities in the country, it's safe to say that Houston is one of the best cities to visit in Texas!
Be sure to check out the Space Center Houston and NASA–the most famous of all the attractions in Houston–as well as sample some of Houston's other top museums and parks.
Head to Kemah Boardwalk for a charming slice of Americana, and be sure to enjoy the food scene: Houston's diversity is perhaps best displayed through its enormous collection of fantastic restaurants featuring cuisines from across the world.
Amarillo
Amarillo may not immediately come to mind as one of the best vacation spots in Texas, but not only is this small, out-of-the-way city in Texas full of quirky attractions, it's also located right on Route 66!
While driving Texas' (admittedly short) portion of the Mother Road, be sure to stop in Amarillo to see the Route 66 Historic District, the famous Cadillac Ranch, and–if you're so inclined–take on the 72 oz. steak challenge at the Big Texan Steak Ranch.
Plus, be sure to drive slightly outside of town to visit Palo Duro Canyon State Park, home of the second-largest canyon in the USA (aka the Grand Canyon of Texas)!
Galveston
Primarily known as a Texas vacation destination for Houstonians looking for a beach close to home, Galveston is worth visiting for more than just a chance to cool off in the water.
While you're there, be sure to check out the Strand, to tour one of the city's historic Victorian homes, and to pay a visit to the Historic Pier (and hop on the Ferris Wheel for great views if you're so inclined)–all of which, along with enjoying the beaches, rank among the best things to do in Galveston!
El Paso
When it comes to cities in Texas to visit, El Paso often flies under the radar–but this desert city situated in the far, far western corner of the Lone Star State has a lot of offer.
10 Best Places to Visit in Texas
They say that everything is bigger in Texas, and it is certainly true that there is a large range of things do so, see and explore in the second largest state. Texans are fiercely proud, and they have a lot to be proud of. Whether you're interested in history, art or cowboy culture, it's all found in Texas. As you plan your upcoming trip to the Lone Star State, be sure to checkout this list of best places to visit in Texas.
10. Palo Duro Canyon [SEE MAP]
Woody H1 / Flickr
Cutting through the High Plains region of Texas is the Palo Duro Canyon, the second largest in the United States, after the Grand Canyon. Red rock is exposed, creating a beautiful sight to behold, but the canyon is more than just a void. It is also where Native American tribes like the Apache and the Comanche once called home.
There is an abundance of wildlife in the park, so as you hike the miles of trails, keep your eyes peeled for things like Aoudad sheep, whitetail deer and even mountain lions. You can also ride horses and dine on chuckwagon cuisine in and around the canyon.
9. El Paso [SEE MAP]
Right on the Mexican border in the far western corner of Texas is a city called El Paso. This destination is also known as Sun City, and it boasts incredible views as the sun sets nightly over the Franklin Mountains. There are many great attractions in El Paso, just some of which include the Chihuahuan Desert Gardens, the Museum of Archeology at Wilderness Park and the Centennial Museum.
El Paso offers plenty of opportunities to get active outdoors, so don't miss the chance to hike along the El Paso Mission Trail, picnic in view of McKelligon Canyon or drive along the scenic Transmountain Road. Trips to Ciudad Juarez just across the border were once popular but have become to dangerous due to drug-related violence.
8. Big Bend National Park [SEE MAP]
Although Big Bend National Park is one of the least-visited parks in the United States, it is a jewel in the heart of Texas and a must-see destination. The park is enormous, and borders the Rio Grand River. The park was once underwater, and dinosaur fossils speak to the history of the region.
There are miles of scenic drives throughout Big Bend National Park, but hiking is an even better way to see the rock formations and landscape up close. Try an east stroll along Window View Trail, the more challenging Chimneys Trail or just a relaxing float down the river instead.
7. Dallas [SEE MAP]
Making up a significant portion of the Dallas-Fort Worth Metroplex is Dallas, the state's third largest city. Dallas is probably best known for the infamous assassination of former U.S. President John F. Kennedy. Located in the same building from which Lee Harvey Oswald fired the shots, the Sixth Floor Museum is dedicated to the assassination.
The city is a shopper's dream thanks to more stores per capita than any other American city. You can also visit one of the many amusement parks in Dallas or attend a local rodeo for some local Texas flavor.
6. Galveston [SEE MAP]
awsheffield / Flickr
Less than an hour's drive south of the city of Houston is Galveston, a coastal retreat on the shores of the Gulf of Mexico. As a popular vacation spot, Galveston boasts miles of sandy coastline and unending dining, shopping and nightlife options.
While you're in Galveston, don't forget to check out the older architecture of the Strand National Historic Landmark District, stroll through the incredible indoor Moody Gardens or explore aviation history at the Lone Star Flight Museum. Galveston is the perfect place to make a splash, so don't miss the free Bolivar Ferry rides or a walk along Pleasure Pier.
5. Texas Hill Country [SEE MAP]
roy.luck / Flickr
In the very center of Texas is Hill County, where a variety of cultures combine to create a melting pot of history, heritage and cuisine. Enjoy the natural beauty of the region at Enchanted Rock State Natural Area, ideal for hiking and camping, or the Hill Country State Natural Area, which is a favorite for swimming and fishing. Head to Fredericksburg for a dose of German culture, since the area was settled by German settlers in the 19th century.
In Fredericksburg, you might visit a winery for a tasting, enjoy bratwurst and sauerkraut at an authentic beer garden or shop for Bavarian souvenirs at an outdoor market. The best time to visit the region is in spring when the Hill Country is ablaze with wildflowers including the Texas State Flower; the Bluebonnet.
4. Padre Island National Seashore [SEE MAP]
longhorndave / Flickr
A small, thin island extends parallel to the coast of Texas, stretching all the way from Corpus Christi to the Mexican border. Surrounded by the waters of the Gulf of Mexico, this is known as Padre Island. The bulk of the island itself is made up of the Padre Island National Seashore, a protected treasure where you can see blue waters in virtually any direction you turn.
Filled with wildlife, and an important spot for bird watching in Texas, the Padre Island National Seashore leads to South Padre Island, a popular getaway spot for beach vacations, family fun and serious nightlife.
3. Austin [SEE MAP]
milpool79 / Flickr
Known for its slogan, "Keep Austin Weird," this city definitely feels a little different from the rest of Texas. The population is youthful, thanks in part to the enormous campus of the University of Texas, and it also serves as the Live Music Capital of the country. Austin is the capital of the Lone Star State, so don't miss the chance to tour the capitol building, which is famously pink and even taller than the U.S. Capitol Building.
Also worth exploring is the LBJ Presidential Library, the stunning paths that wind along Barton Creek and the Congress Avenue Bridge, where you can see more than one million bats fly out at sunset, creating an unforgettable event that locals know is a must-do in Austin.
2. Houston [SEE MAP]
Katie Haugland / Flickr
As the biggest city in Texas, Houston is one of the most popular places to visit in Texas. Famously known for being home to the NASA Mission Control Center, Houston is also where you'll find places like the beautiful campus of Rice University and the high-end shopping of the Galleria Area.
Many of the city's biggest attractions are located in the Warehouse District of Downtown Houston, so head there to see the incredible Downtown Tunnel System, soak in the views from the 60th floor Chase Tower Observatory, explore the Downtown Aquarium and catch an outdoor performance at TUTS, or the Theater Under the Stars.
1. San Antonio [SEE MAP]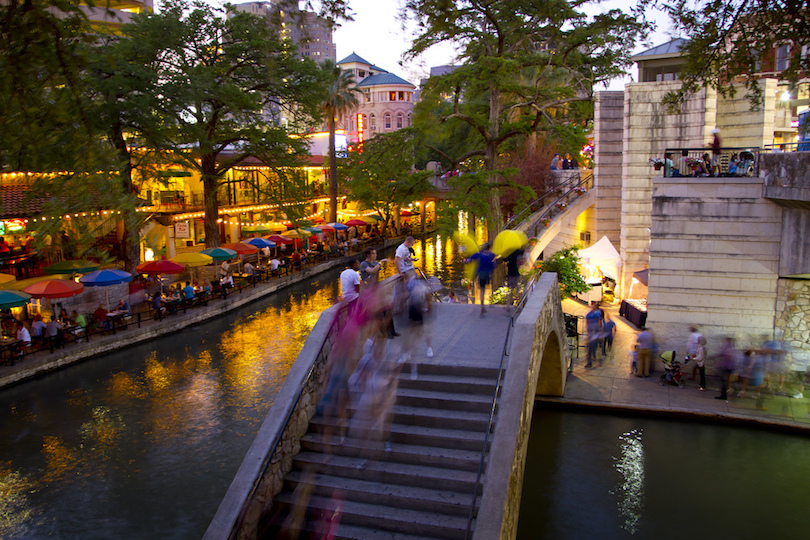 StuSeeger / Flickr
The third largest city in Texas is San Antonio, which is nestled in the South Texas Plains. San Antonio's heartbeat is its downtown, thanks to an abundance of restaurants and nightlife options. Nestled in by tall buildings and cypress trees, and tucked away from the noise of traffic above, the River Walk draws huge numbers of tourists to its boutique hotels, specialty shops, and plethora of restaurants with open-air dining.
Downtown is also home to the famed Alamo, a national landmark where the iconic Battle of the Alamo was fought. For more history, check out the many 19th century homes in the King William Historic Area, tour the Casa Navarro State Historical Park or admire the extensive collection at the Institute of Texan Cultures.
Map of Texas
© OpenStreetMap © MapTiler © Touropia
12 Best Cities to Visit in Texas
A huge state that covers a vast amount of land, Texas encompasses everything from deserts and beaches to lush wine regions, mountains, and canyons with its cities being just as enthralling and diverse. Over the course of its history, Texas has been ruled by six different nations while somehow managing to retain its unique identity and independent attitude throughout. You will certainly encounter Texans' famous hospitality and welcoming nature wherever you go.
Each of the best cities in Texas has something new and fresh to offer whether it is Austin's spectacular live music shows, Galveston's getaway beaches or Fredericksburg's German heritage. Texas really does have so much to show and while traveling around this massive state you'll come across a wealth of different peoples, places, cultures, and cities.
12. Laredo [SEE MAP]
© Barna Tanko / Dreamstime
Lying just across the Rio Grande from its Mexican sister city Nuevo Laredo, Laredo in the States makes for a fascinating visit as the city is almost entirely Hispanic and Latino which makes it unique in comparison with the other cities in Texas.
Laredo's Downtown is full of lovely old Spanish Colonial architecture and it has a number of beautiful churches on display such as the delightful Our Lady of Guadalupe Catholic Church.
Of its many sights, one of the most interesting is the Republic of the Rio Grande Capitol Building Museum which looks at the history of the short lived republic that only lasted for less than a year in and around Laredo.
11. McAllen [SEE MAP]
© Shane Adams / Dreamstime
Lying on the border with Mexico, McAllen acts as a capital to the local region and is an increasingly popular place both to live and visit as retirees move in and Mexican shoppers visit its vast malls.
While it may not have much in the way of sights, there are absolutely loads of restaurants, bars, and shops on offer as well as a lively entertainment and nightlife scene.
Bordered by the barren Chihuahuan Desert on one side and the verdant Rio Grande Valley on the other, McAllen is blessed with warm weather and many people use it as a base from which to explore the picturesque region.
10. Lubbock [SEE MAP]
Redraiderengineer / Wikipedia
Acting as an agricultural and economic hub to the region, Lubbock is located in the Great Plains and its laidback vibe masks a lively and dynamic city that loves to have a good time.
Home to Texas Tech University and consequently a youthful population, there is lots of great nightlife on offer and one of the best places to go out is the Buddy Holly Center, which is named after Lubbock's most famous son and hosts loads of performances and live music shows.
Scattered around town are a number of theaters, museums, and galleries for locals and visitors alike, while Lubbock also puts on a number of great local festivals with the National Cowboy Symposium being the highlight of the year.
9. Fort Worth [SEE MAP]
© Dreamstime
Located just a stone's throw away from Dallas, wandering around Fort Worth is like stepping into the Wild West and it is sometimes known as 'Cowtown' due to its cowboy roots.
There are various cowboy and cowgirl museums scattered around town where you can learn more about the local history and culture. You can even go to watch a rodeo or cattle drive if you feel like it.
If cowboy culture isn't your thing then head to the fantastic Kimbell Art Museum which has some lovely paintings by Picasso and Goya on show, or take a walk around one of the city's numerous parks.
Try and visit during the Sundance Square Parade of Lights festival which takes place in November and features loads of marching bands, floats, and colourful costumed characters.
8. El Paso [SEE MAP]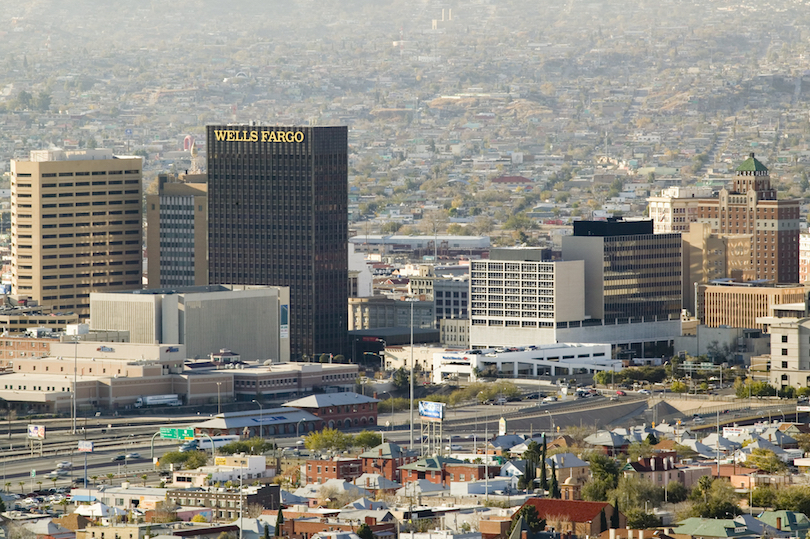 © Joe Sohm / Dreamstime
Lying on the border with Mexico, El Paso is the Westernmost city in Texas and as it is located in the desert, it has over 320 days of sunshine a year.
An increasingly popular place both to live and visit, El Paso is home to a very welcoming and friendly population and in its streets you are just as likely to hear Spanish spoken as English.
Due to its proximity to the Mexican city of Ciudad Juárez, the region is known as the Borderlands and the Centennial Museum – one of the El Paso's top tourist attractions – offers up an interesting look at the life, culture, and customs in the area.
Surrounded by desolate yet beautiful desert landscapes, there are loads of great outdoor activities to be had that vary from rock climbing and hiking, to cycling and horseback riding.
7. Corpus Christi [SEE MAP]
© Barna Tanko / Dreamstime
With a wealth of lovely beaches for you to enjoy, it is no surprise that Corpus Christi is known as the 'Sparkling City by the Sea' and it certainly lives up to its name.
Founded on the Texas coastline in 1839 as a sleepy trading post, the city is now home to some delightful attractions such as its aquarium teeming with marine life and the USS Lexington museum which offers up a fascinating look at life aboard an aircraft carrier.
As it is a laidback place, blessed with wonderful weather, Corpus Christi's main draw is of course its lovely beachfront and many of its restaurants serve up delicious seafood meals.
6. Fredericksburg [SEE MAP]
© Philip Arno / Dreamstime
Founded in 1846 by German settlers, Fredericksburg still has a distinctive German feel about it due to its lovely architecture and historic sites while numerous local festivals such as Oktoberfest take place in town.
Very charming and quaint in appearance, the town has lots of cosy cafes and B&Bs on offer as well as atmospheric German beer gardens and restaurants.
While Fredericksburg has become somewhat more touristy in recent years, it is still well worth checking out and is a great base from which to explore the surrounding Hill Country that is home to beautiful orchards and wineries.
5. Galveston [SEE MAP]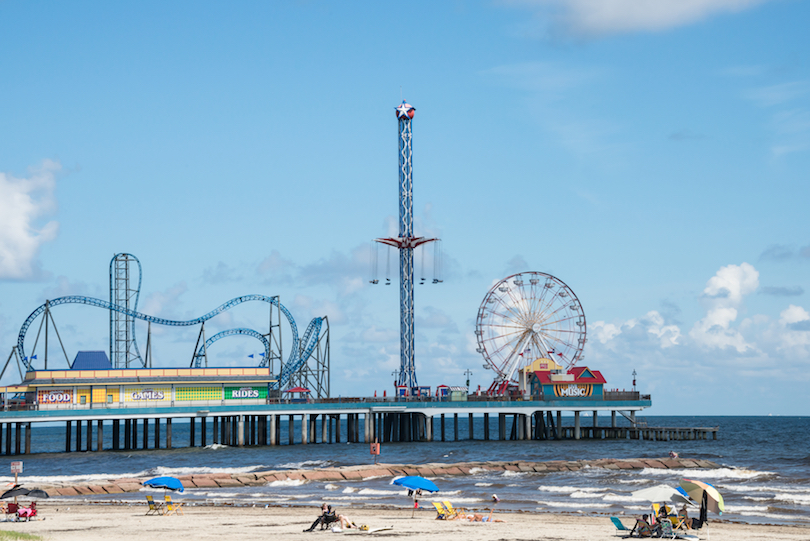 © Denise P. Lett / Dreamstime
Lying just off of Texas' Gulf Coast, Galveston is a beautiful place that delightfully combines Southern charm with lovely beaches and loads of stunning nineteenth century architecture.
Located on Galveston Island, the resort city is very popular with Houstonians who flock there during the weekend and summers to enjoy the warm weather and laidback way of life, while most cruise ships heading to Texas stop by in its large port.
With lots of beautiful historic buildings scattered about town as well as scenic piers and beachside promenades, Galveston is one of the prettiest cities in the state and is well worth a visit.
4. Dallas [SEE MAP]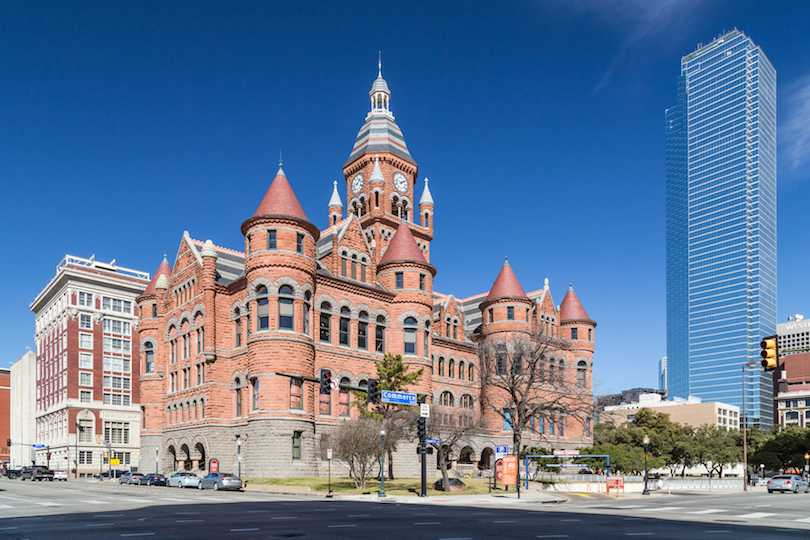 © Amadeustx / Dreamstime
Lying in the most populated part of the state, Dallas is a fantastic city to live in as well as visit and each of its neighborhoods has its own distinctive character and feel about them.
Uptown for instance is full of upmarket restaurants, boutique shops, and trendy cocktail bars, while Downtown is home to many of the city's tourist attractions with the brilliant Museum of Art being just one of its many highlights on show thanks to its extensive collection, which is one of the largest in the States.
With so much on offer, you can be exploring Dallas' eclectic Arts District one minute, be shopping at one of its huge malls the next, and then shoot off to watch the Dallas Cowboys play in the NFL.
3. Austin [SEE MAP]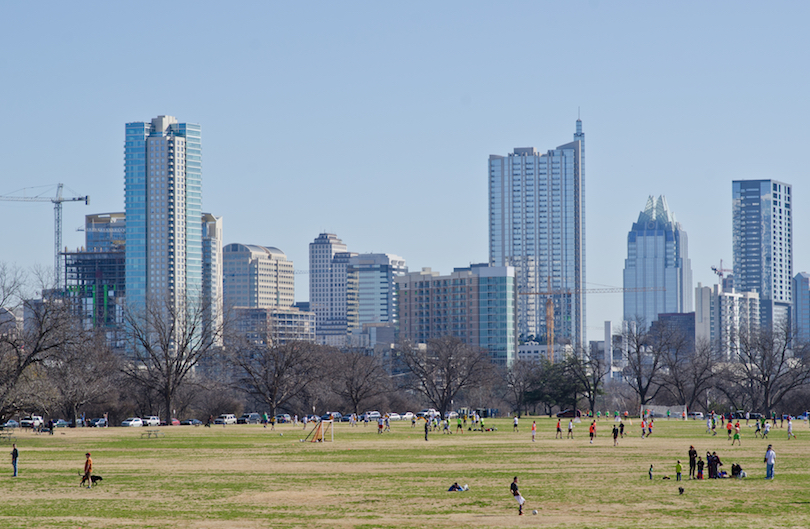 © Noamfein / Dreamstime
Texas' state capital is a fun, friendly, and down-to-earth place that markets itself as the 'Live Music Capital of the World' as it has a huge range of music venues for you to choose from as well as two internationally renowned music festivals.
Its plethora of bars, restaurants, cafes, and clubs put on live shows throughout the week and alongside the lively performances, Austin is also gaining a reputation for its delicious food scene.
A very liberal city that is home to the huge University of Texas, Austin's eccentricity shines through in everything it does and you'll often see people wearing 'Keep Austin Weird' t-shirts as you walk around town.
Home to a youthful and active population, there are loads of great outdoor activities for visitors to try their hand at and in the city's more than 300 parks you can go kayaking, swimming, cycling, and hiking.
2. San Antonio [SEE MAP]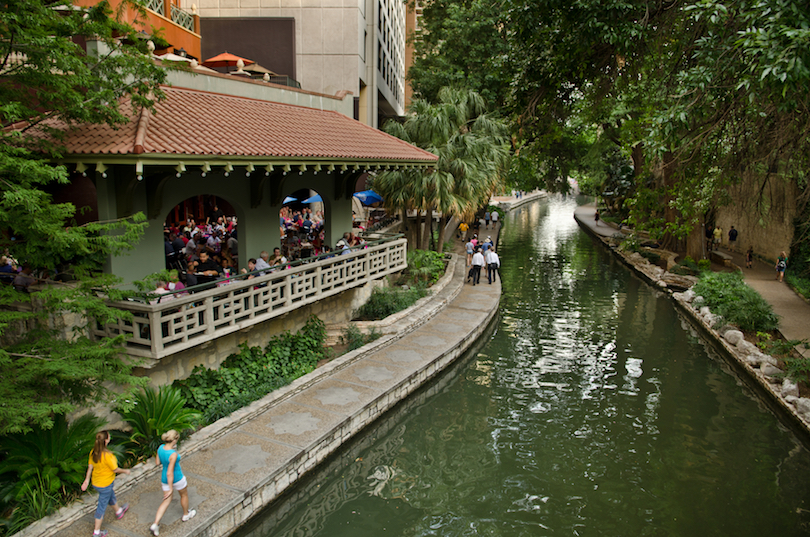 © Noamfein / Dreamstime
The second largest city in the state, San Antonio is a very popular tourist destination as there is so much to see and do and it really has everything you could want in a city.
One of the highlights of any visit is wandering along the picturesque River Walk that snakes its way through Downtown and its banks teem with lively cafes, bars, and restaurants.
In addition to this, San Antonio has loads of fantastic museums and historic sites for visitors to enjoy and it is famed for being the site of the Alamo where Texas fought for independence from Mexico in 1836. There are still many beautiful Spanish-era missions to be found in the city and its large Latino population means that there are an intoxicating mix of cultures for you to explore.
While its interesting history certainly attracts many visitors, just as many come for its wealth of amusement parks, shopping malls, and fun nightlife.
1. Houston [SEE MAP]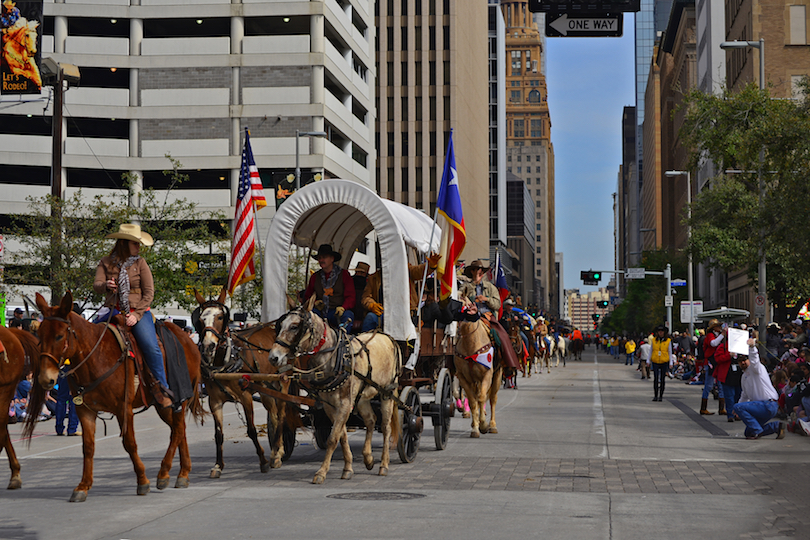 © Anh Luu / Dreamstime
Home to a diverse, multicultural population, sprawling Houston is one of the largest and most vibrant cities in the States and as such it has many different sides to it.
Its multitude of neighborhoods vary between chic and upmarket to laidback and down-to-earth and in Houston you really will find bars, restaurants, and shopping outlets that cater to all walks of life.
To gain a greater understanding of this city built from oil wealth, explore the lively arts and culture scene in the huge Theater District before heading to Chinatown and Mahatma Gandhi District to sample some of Houston's fantastic cuisine and nightlife.
With the NASA Space Center, a plethora of parks, and numerous professional sports teams also on offer; Texas' finest city has it all.
Best Cities in Texas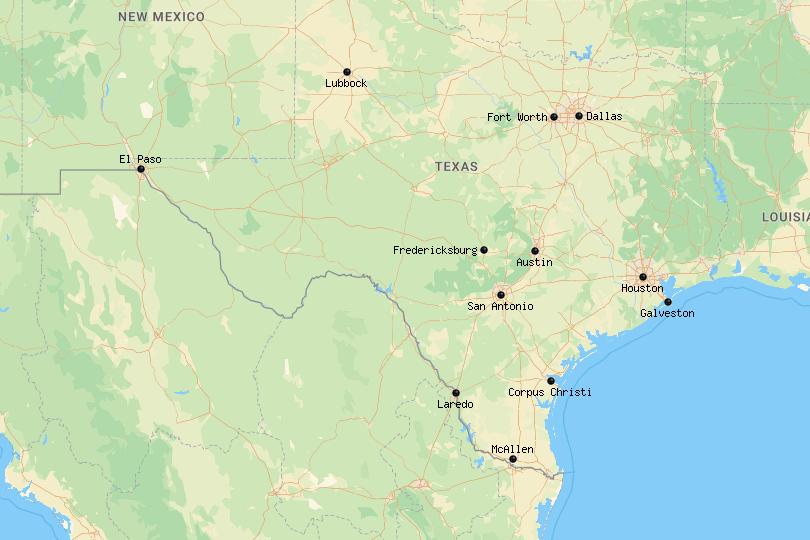 © OpenStreetMap © MapTiler © Touropia
Source https://www.lonestartravelguide.com/best-places-to-visit-in-texas-vacation-spots/#:~:text=San%20Antonio%20As%20the%20home%20of%20Texas%E2%80%99%20most,San%20Antonio%20is%20a%20delightful%20place%20to%20visit.
Source https://www.touropia.com/best-places-to-visit-in-texas/
Source https://www.touropia.com/best-cities-to-visit-in-texas/