15 Best Places to Live in South Dakota
With Rapid City, Custer State Park and Wild Cave National Park all on your doorstep, we need not write out a list of reasons to fall in love with South Dakota.
This sparsely populated state can be found deep in the mid-west, nestled between its northern sister, Nebraska, Wyoming and Minnesota too. Lest we forgot that the northwestern edge of South Dakota shares a border with Montana and the very southeastern corner brushes shoulders with Iowa. Neighbouring in geography and by nature, wherever you choose to lay your hat in South Dakota you can be sure you will be welcomed with open arms.
With a great many neighbourhoods and communities able to boast outstanding schools, low crime rates, and reasonably priced homes, there are so many options available in the state.
Nature lovers and weekend explorers would easily fall in love with South Dakota. The Black Hills provide the perfect backdrop for day to day life. The weather in South Dakota is more than agreeable for most of the year which is a major plus point for many people. Steeped in Native America history, you'll feel right at home, we're sure!
1. Brookings
Source: www.youtube.com Brookings
Out and out the best place to live in South Dakota is Brookings. Not only is it the best place to live in the state but also proudly offers the best public schools too. In turn, unsurprisingly, Brookings has been rated as the second best place to raise a family in the state.
Enough with the rankings, what makes Brookings so special?
Local people say that it is the small town feel, teamed with the large variety of student bars providing animated nightlife that make Brookings feel like home. With a strong student population, there is always something going on.
Median home value and median rent both come in well below the national average making this neighbourhood all the more appealing. For those looking to save to get on the property ladder, then Brookings may be a good starting point. Median rent is $664 a month. With median home value at $159,400, saving for a deposit it far from aspirational.
Safe, clean and homely are the words that spring to mind when we think of Brookings.
2. Dakota Dunes
Source: dakotadunes.com Dakota Dunes
If you are looking to buy property in South Dakota then Dakota Dunes should feature high on your list of options. Although median home value is $266,400, it is value for money we should be focusing on.
For example, $129,950 will get you a 3-bedroom family home with two bathrooms. Home prices are always set to rise, so snap up your next home in Dakota Dunes while the price is right!
There are lots of family run locals stores dotted around, providing you with everything from light bulbs to the weekly grocery shop. It always feels good to be able to support your local community and the economy too.
Residents note that the low crime levels are a key factor in their happiness here. However, public transport in, out and around Dakota Dunes is almost non-existent. For a small suburb of just 2,895 people, Dakota Dunes has a lot going for it.
3. Sioux Falls
Source: Steve Cukrov / shutterstock Sioux Falls
Although the city itself feels very built up, arguably Sioux Falls is one of the most picture-perfect places to live in South Dakota. Home to 164,000 people, this is one of the most densely populated parts of the state; which is no bad thing.
Sioux Falls is one of the best cities to buy a house in all of the United States of America. With median home value coming in at $157,800, it is not hard to see why. Unbelievably, $129,500 can get you a 4-bedroom family home, complete with spacious garden and driveway.
Of the top five public schools in Sioux Falls, all five have an A-Rating; significantly above average and consistently high performing.
4. Brandon
Source: TCN7JM / Wikimedia Brandon
Just south of highway Route 90 lies the medium-sized suburb of Brandon. With just under 10,000 people living there, the area has the perfect mix of town amenities but with a village community feel.
This small but perfectly formed suburb is considered to be the best place to raise a family in South Dakota. With the second best public schools in the state, great access to outdoor activities and commuting opportunities for parents, the appeal to Brandon keeps on coming.
73% of residents live in owned homes which goes a long way in understanding the happiness of residents. Local people really do wish to lay their roots here and stick it out for the long haul. With median home values at $177,300, living in Brandon is something to think about.
5. Madison
Source: Jerry7171 / Flickr Madison
Finishing up our top five best places to live in South Dakota is Madison. For those whose work takes them across the country, Madison is a great place to make a home and base yourself. Madison airport connects you to 17 cities across the states, daily. Including Chicago, Boston, New York City, Seattle and Washington D.C.
Median rent here is fantastically low, at just $472 a month! What is more, median home values are just $103,000. You will not be surprised to hear that Madison is the best place to buy a home in South Dakota.
Couple this new knowledge with the fact that the cost of living is highly desirable too and you've got yourself the dream combination.
6. Pierre
Source: Joseph Sohm / shutterstock Pierre
Focusing on the positives first off, home value and median rent in Pierre is greatly affordable. Many homes have views of the Missouri River. Pierre is, in fact, the capital of South Dakota, home to just under 14,000 people.
The downside to Pierre is the lack of A-rated public schools. This would be a deciding factor for many parents. On the other hand, however, the schools here are still performing well above average; all of the top five schools have a solid B-rating.
Locals say that the proximity to the river for camping, fishing and boating are one of the many reasons they like living in Pierre.
7. Tea
Source: www.teasd.com Tea
Possibly the cutest place name in South Dakota, Tea is home to just 4,427 people. Very much with a suburban feel, Tea is far from a diverse neighbourhood. In spite of this, Tea is considered to be the best place for Millennials in South Dakota.
Crime rates here are acceptably low with a reasonable amount of job opportunities too. Sadly, it is the schools that really let the side down in Tea. Making it more suitable for couples without children, empty nesters, and retirees.
The community atmosphere is very much prevalent and these true mid-westerners would be happy to see some new faces in the area.
Being one of the safest places to live in the state, we can't help but think that Tea will feature higher up the rankings in years to come.
8. Vermillion
Source: User:Magicpiano / Wikimedia Vermillion
Transected by Highway 50 is Vermillion. With 10,746 people living in the town, there is lots going on here.
Housing and jobs are both in high demand but if you feel Vermillion is the place for you, you will make it work. The crime levels are fanatically low and with a diverse community, there is lots to love about this area.
Being right next to Highway 50 mess that Vermillion is favourable with computers. Head west on Highway 50 to get onto Route 29 which leads you up to Sioux Falls, down to Sioux City and eventually Kansas.
There is a big student population here making for a great nightlife scene enjoyed by all residents.
9. Aberdeen
Source: Wikimedia Aberdeen
Aberdeen does have an airport, though be it far less useful than Madison's for it only offers flights to Minneapolis. Nevertheless, good public schools and a wonderful array of nightlife activities make Aberdeen a solid all-rounder.
If you want something of a project, then there are lots of houses in need of doing up in Aberdeen. As such, the value of the houses as they stand now can be pretty low. It has been known that a 3-bedroom, 2-bathroom single family home to be sold for just $89,000!
Aberdeen may just be scraping into our top ten now but being a popular spot for Millennials means that we could see the city climbing up the ranks in the years to come.
10. Hot Springs
Source: MPSharwood / Wikimedia Hot Springs
Although commonly known as 'Veteran's Town', Hot Springs has a diverse population of 3,542 people. House prices here are almost insanely low! Averaging at just $85,400. With median rent at $589, you would kick yourself for not looking at Hot Springs as a place to live in South Dakota.
Being 'Veteran's Town', there are not that many children living in the area. Only about 17% of the population are children making for fewer schooling options. That said, schools available in Hot Springs are still above average. Just don't go expecting an inner city high-flying school in this small, cosy, city.
Of course, Evans Plunge Mineral Springs are a big draw to the area, the novelty never wears off!
The low crime rates are another big bonus point for Hot Springs; perhaps due to the aging population but mostly down to the tight-knit mid-west community feel.
11. Yankton
Source: Ammodramus / Wikimedia Yankton
Perfectly placed on the banks of the Missouri River you will find Yankton. Home to a diverse community of people, Yankton only narrowly misses out on being in the top ten best places to live in South Dakota.
Schooling options in Yankton are varied, with the top four schools offering students a B-rated education standard.
Local people note that it is the geography and the history that first drew them to Yankton but it is the homely community feel that made them stay. There is a great deal of history to learn about this city. A sure-fire way to find out more is to strike up a conversation at one of Yankton's many bars; a great way to make new friends too.
12. Watertown
Source: Mark Goebel from Taos, New Mexico, USA / Wikimedia Watertown
Watertown Airport flies daily to Philadelphia and sees you land in the city in just over an hour. For commuters, this is a major plus point for Watertown. Being the fifth largest city in South Dakota, Watertown is home to 21,919 residents.
Schools in Watertown would be more preferable to parents than in Yankton, certainly in Hot Springs, but the cost of living may be a factor to consider.
On the other hand, property prices in Watertown are very reasonable and the standard of housing available is high. Despite being a suburban area, many houses on the market offer spacious gardens and driveways.
13. Harrisburg
Source: courthouselover / Flickr Harrisburg
Falling in a solid 13th-place is Harrisburg. Although not the most economically or ethnically diverse place to live in the state, Harrisburg has a lot to offer. The small community of just under 5,000 people have a lot of choice when it comes to schooling and housing.
Harrisburg is voted as both the third best place to buy a house and offers the third best public schools in the state too. There has been development in Harrisburg of late, most notably the new elementary school which is proving popular with local children.
14. Rapid City
Source: John Wollwerth / shutterstock Rapid City
Tucked away below Route 90, you will find Rapid City, lying east of the Black Hills National Forest. Also known as the gateway to Mt.Rushmore, Rapid City is home to 71,682 people. Good schools, good commuter routes and great access to outdoor activities, there is little wrong with Rapid City.
If you prefer to live in more rural areas then you can scrub Rapid City off your list now, this is very much a city.
There are lots of job opportunities in this area of South Dakota, mostly within the tourism and hospitality industry.
15. Spearfish
Source: nfnitloop / Flickr Spearfish
Despite the less than ideal crime statistics, local residents insist that Spearfish is a safe and happy place to raise a family. Peaceful, charming and quaint would be the words that spring to mind when thinking about Spearfish, although not in the most traditional of ways.
Outdoors pursuits are aplenty in Spearfish, most popularly the Elkhorn Ridge Park with beautiful lakes and mountains in the background.
Home value is a little dearer here than in many other parts of the state, but if you decide to be a rental tenant your options open up massively with median rent at $632 a month.
10 Best Places to Visit in South Dakota
Home to the majestic Mount Rushmore National Memorial, South Dakota has a lot going for it if you have time to explore. Set in the Midwest, it is bisected by the Missouri River. The east's endless plains and prairies contrast delightfully with the diverse and dramatic landscapes of the west's rugged reaches.
While both the Black Hills and Badlands boast awe-inspiring natural tourist attractions, there are the charming towns of Deadwood and Wall, and the cultured cities of Sioux Falls and Rapid City to visit. The state is named after the Lakota and Dakota Sioux, so you can also delve into its rich Native American history, heritage and culture.
With awesome outdoor activities, and everything from monuments and museums to canyons and caves, there are plenty of interesting places to visit in South Dakota.
10. Wind Cave National Park [SEE MAP]
© Kevin James Sousa / Dreamstime
Set in the southwest, is the wonderful Wind Cave National Park which lies a short drive from the town of Hot Springs. While the park is home to pretty prairies and gorgeous grasslands, the standout sight is undoubtedly the cavernous cave after which it is named.
One of the longest caves in the world, its captivating complex of colossal chambers, caverns and chasms stretch a staggering 239 kilometers in length. With many more passageways just waiting to be discovered. Despite all of its dazzling and dramatic scenery, Wind Cave is particularly known for its breathtaking 'boxwork' formations, which are rarely found elsewhere in the world.
Besides taking tours around its humongous honeycomb of caves, visitors can enjoy hiking, camping and wildlife watching, with bison, bobcats and elk to be spied above ground. Protected since 1903, Wind Cave is a unique and unforgettable place to visit.
9. Wall [SEE MAP]
© Nyker1 / Dreamstime
Wall is close to the state's most popular and picturesque sights, so many people use the small town as a base to explore all of its natural riches. Known as the 'geographical center of nowhere', it welcomes millions of people every summer to its charming and quaint community.
Founded in 1908, it is named for the 'natural wall' of remarkable rock formations that can be found in the nearby Badlands National Park. Both the beautiful Black Hills National Forest and majestic Mount Rushmore also lie within driving distance of the town.
The town is also known for its large roadside drug store. Since opening in the 1930s, Wall Drug has become a popular tourist attraction and is now home to various cowboy-themed shops and restaurants. With a very friendly and welcoming feel to it, Wall is definitely worth stopping for a visit.
8. Mitchell [SEE MAP]
© Joe Sohm / Dreamstime
Situated in the southeast, and lying amidst fertile farmland and pretty prairies, is the magnificent town of Mitchell. Home to several excellent museums, it also boasts 'the World's Only Corn Palace', the town's main tourist attraction.
This phenomenal palace is clad in murals made out of grasses, grains, oats and corn with colourful minarets and onion domes adorning its daring design. Built-in the 1890s, to highlight the region's rich soils and to encourage settlers to move to the area, the edifice now hosts local cultural and sporting events.
The town has a lively, yet laid back, historic main street to amble along lined with galleries, boutiques and restaurants. Its other main attractions are the Dakota Discovery Museum, which has interesting exhibits on pioneers and Native Americans, and the Mitchell Prehistoric Indian Village.
7. Black Hills National Forest [SEE MAP]
© Mitgirl / Dreamstime
The beautiful Black Hills National Forest will delight nature lovers and outdoor enthusiasts alike. Sprawled over a large part of the southwest, its mountain-clad forests offer a wealth of recreational opportunities. Hiking, mountain biking, and camping are popular activities.
The rugged and remote Black Hills mountain range dramatically rises up above the Great Plains. Hidden away among its scenic slopes and verdant forests are lakes and streams, canyons, caves, and rock formations. It also encompasses the 2,208 metre high Black Elk Peak, the tallest mountain in the whole of South Dakota.
Winding their way amongst the wilderness are hundreds of kilometres of scenic drives and hiking trails, with some great fishing and boating to be had on its waterways. Visitors can also sometimes spy local wildlife. Elk, black bears and coyotes all reside within the rambling range.
6. Custer State Park [SEE MAP]
© Jim Parkin / Dreamstime
Nestled among the Black Hills is the captivating Custer State Park which is the largest wildlife park in South Dakota. Besides boasting spellbinding scenery, it is known for its huge herd of free-roaming bison; one of the largest in the world.
Established in 1912, the picturesque park is named after the famed cavalry commander Colonel Custer who passed through the remote region in the 1870s. Within its confines, you can find rolling hills and prairies, with the sensational Sylvan Lake and its rock formations one of the standout sites.
In addition to gazing out over its bountiful bison, you can also feed its 'begging burros', donkeys who come up to your car window and ask for a bite to eat. With hiking, kayaking and camping on offer, and the awe-inspiring Needles Highway to drive along, Custer State Park is certainly well worth visiting if you have the chance.
5. Deadwood [SEE MAP]
© Thomas Carlson / Dreamstime
Renowned for its Wild West history, heritage and origins, Deadwood is a fascinating place to visit. The entire town is a National Historic Landmark. Founded in 1876, when seams of glittering gold were discovered in the surrounding Black Hills mountains, it is home to well-preserved gold rush-era buildings.
Due to its lawless early days and the larger-than-life characters, stories swirl around its atmospheric streets. On tours around town, you can hear all about famous figures such as Calamity Jane, Wyatt Earp and Wild Bill Hickok, and watch reenactments of epic shootouts.
As well as historic homes, museums and Mount Moriah Cemetery, you can also pan for gold at the Broken Boot Gold Mine. With bars and hotels still offering gambling, visiting the tourist town is like stepping into the past. Its historic main street looks very much like it did over a century ago.
4. Sioux Falls [SEE MAP]
© Steven Frame / Dreamstime
Set on the banks of the Big Sioux River, Sioux Falls is South Dakota's largest city. Named after the wonderful waterfalls that lie at its heart, the city has galleries and museums to check out, as well as a lively downtown district to explore.
Its undoubted highlight, however, is the fantastic Falls Park. This is centered around the charming cascades and offers up excellent views over them. In total there are a staggering 70 parks and greenways to be found dotted about the city's confines for hiking and cycling. Even skiing can be enjoyed in the Great Bear Recreation Park.
Visitors can delve into the city's past at the Old Courthouse Museum or the Delbridge Museum of Natural History, both of which are well worth visiting. With some exquisite art galleries to stroll around and the gigantic Great Plains Zoo to explore, Sioux Falls has something for all ages and interests.
3. Mount Rushmore National Memorial [SEE MAP]
© Wollertz / Dreamstime
One of the most unique tourist attractions in the States, the majestic Mount Rushmore and its colossal carvings are visited by millions of tourists each year. The most photographed attraction in South Dakota, the stupendous sculpture can be found in the southwest.
Carved between 1927 and 1941 into the side of the mighty mount are the huge heads of four of the nation's most revered and respected presidents: George Washington, Thomas Jefferson, Theodore Roosevelt and Abraham Lincoln. These famed figures respectively represent the nation's birth, growth, development and preservation.
At the national memorial, you can not only gaze up in awe at the 18-metre high sculptures but also learn all about how they were carved and created at the site's visitor centre. Each evening, the four figures are delightfully illuminated as a small but stirring ceremony takes place.
2. Badlands National Park [SEE MAP]
© Audiolui / Dreamstime
Home to colorful canyons and fabulous rock formations, the Badlands National Park boasts some of the most spectacular scenery in the state. Located under an hour's drive to the east of Rapid City, it has some incredible landscapes for you to explore.
Formed over millennia, its reaches look almost otherworldly as huge mesas and vast valleys dot the terrain. Sculpted by the wind and rain, its spires and pinnacles make for some phenomenal photos.
While its dramatic landscapes have been preserved since 1939, local Native Americans have been inhabiting the area for much longer. At the White River Visitor Center you can learn about the rich heritage of the Lakota and their relationship with the rugged region.
1. Rapid City [SEE MAP]
© Pierre Jean Durieu / Dreamstime
Just a stone's throw from many of the South Dakota's stunning tourist attractions, Rapid City makes a great base to visit, not only Mount Rushmore and the Crazy Horse Memorial, but the beautiful Badlands too. The city itself is well worth exploring as it has a lively downtown, full of arresting attractions for you to enjoy.
South Dakota's second-largest city, it was founded on the banks of Rapid Creek in 1876 when gold was discovered in the nearby Black Hills. Visitors can delve into its interesting past at the Journey Museum. Both a culinary and cultural centre, Rapid City has excellent restaurants while strolling along Art Alley is a must for its graffiti, paintings and poems.
Rapid City is also known as the 'City of Presidents' due to its superb series of life-sized sculptures of each of the nation's former presidents. With Custer State Park, and Wind Cave National Park, located nearby, Rapid City lies within reach of a host of natural wonders.
Map of Places to Visit in South Dakota
© OpenStreetMap © MapTiler © Touropia
12 Top-Rated Tourist Attractions in South Dakota
Situated in the center of the country, South Dakota offers urban attractions and rugged natural beauty. From badlands jutting into the sky to National Music Museums, South Dakota offers several reasons to take a vacation.
The outdoors is truly stunning in South Dakota and is what draws the most visitors. The Black Hills on the western side of the state define most outdoor adventures. Within these wooded acres, which supported indigenous populations for thousands of years, visitors find an array of attractions, including underground caves and larger-than-life monuments.
As evident in the patriotic nature of monuments like Mount Rushmore, the landscapes of South Dakota also come with a unique history that adds to the experience of visiting. Other places to visit, like Deadwood, the Crazy Horse Memorial, and Good Earth State Park, also expand on the history of the region.
Find your own story to tell with our list of the top attractions in South Dakota.
1. Mount Rushmore National Monument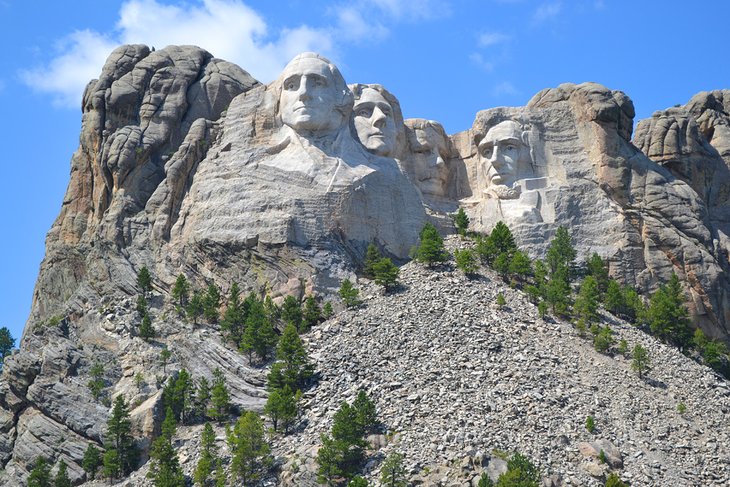 Mount Rushmore | Photo Copyright: Brad Lane
This historical monument is South Dakota's most prominent tourist attraction. Carved majestically into the side of the mountain are the heads of Presidents George Washington, Thomas Jefferson, Abraham Lincoln, and Theodore Roosevelt. The carving, designed by Gutzon Borglum, was begun in 1927, halted for several decades, and finally completed in 1991.
In its creation, more than 400,000 tons of rock was blasted from the side of the mountain. The monument is illuminated in the evening and accompanied by a patriotic ceremony. Located on the terrace overlooking the monument, the Lincoln Borglum Visitor Center is a fun part of any visit. The 0.6-mile Presidential Trail allows visitors to get a closer look at the monument.
While Mount Rushmore is often a defining feature of a South Dakota vacation, most people only spend about a half day at the monument. The Black Hills surrounding Mount Rushmore offer many more days to add to a vacation itinerary. To make the most out of the area, it's recommended to look into some of the best campgrounds near Mount Rushmore.
Address: 13000 SD-244, Keystone, South Dakota
2. Badlands National Park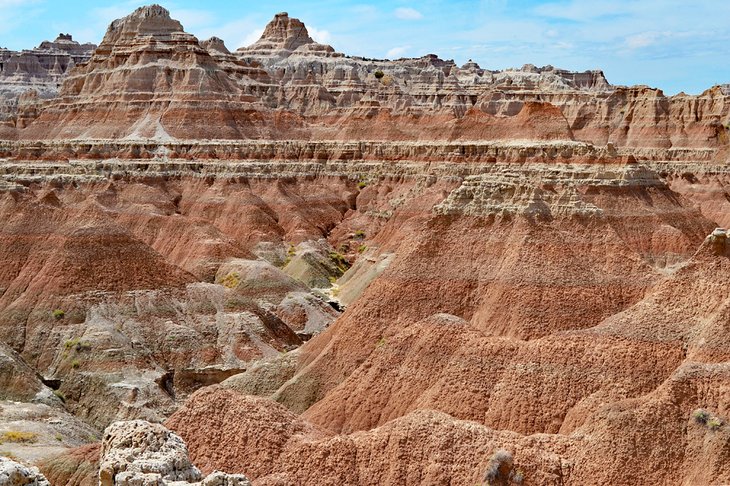 Badlands National Park | Photo Copyright: Brad Lane
The dramatic landscape of Badlands National Park consists of uniquely formed hills and pinnacles made from the erosion of clay and sand. A large herd of bison roams freely within the park, adding a unique element to the whole experience. This inhospitable scenery is strangely beautiful and one of South Dakota's most visited destinations
Lined with parking places and viewpoints, the Badlands Loop Road tours the scenic environment from the northwestern Pinnacles Entrance to the Ben Reifel Visitor Center. Changing vistas of rugged rock formations are the real appeal of this scenic route, as well as the Buffalo Gap National Grassland, one of the last remaining intact prairie landscapes in North America.
The Cedar Pass area is home to the park's eight designated trails. Routes like the Door, Window, and Notch Trails offer an easy hike into the challenging environment. Maps can be obtained from the park administration or from visitor centers.
For camping, check out our article on the best campgrounds in Badlands National Park.
3. Custer State Park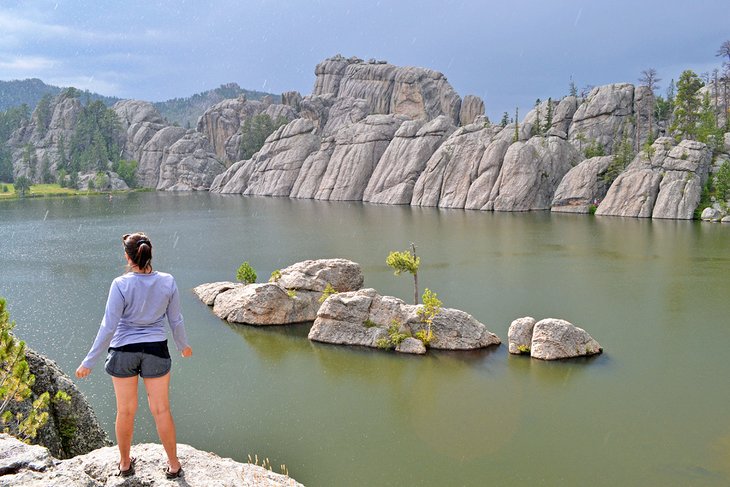 Sylvan Lake, Custer State Park | Photo Copyright: Brad Lane
As one of the best state and national parks in South Dakota, Custer State Park covers a wide range of different terrain. A large herd of bison roams the peaceful landscape, which is also home to a wide variety of other wildlife. And Granite peaks tower over the forests, lakes, and streams.
Scenic drives, like the Needles Highway and Iron Mountain Road, provide easy access to the park with great views along the way. And several campgrounds within the park host visitors from around the world. For the more adventurous, there are trails for hiking, biking, and horseback riding.
One must-travel route in Custer is the Sylvan Lake Shore Trail. This waterfront route leads around the rock-lined reservoir and has many side trails to explore. In the same area, hikers will also find the challenging trailhead leading up to Black Elk Peak, formerly known as Harney Peak, and the highest peak in the state.
Another must-see attraction in Custer is the 18-mile Wildlife Loop Road in the southeast corner of the park. The best time to make this scenic loop is early morning or late evening, when the resident bison are most active.
Address: 13329 U.S. 16A, Custer, South Dakota
4. Crazy Horse Memorial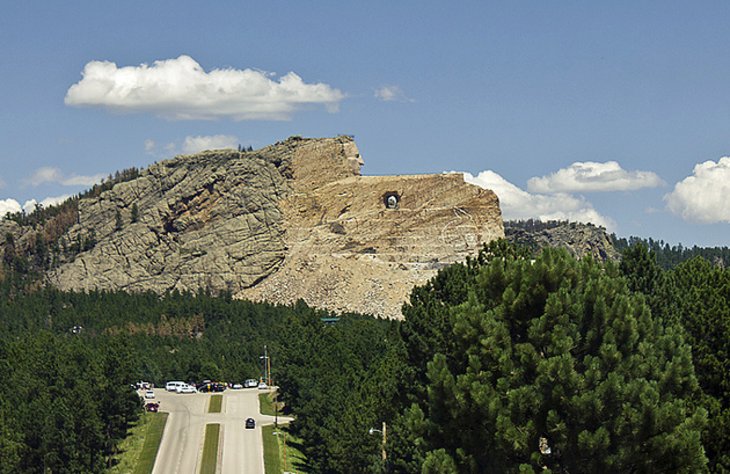 Crazy Horse Memorial | Jennifer Kirkland / photo modified
The Crazy Horse Memorial, north of Custer, has been a work in progress since it was begun in 1947. The head and upper body portion of revered Lakota leader Crazy Horse have been carved into this mountain, like the Mount Rushmore carvings just down the road.
The on-site Indian Museum of North America enriches any visit to Crazy Horse. The museum grounds feature several visitor experiences, including the Native American Education and Cultural Center. Visitors can access scheduled bus rides to the base of the memorial throughout the day to meet Crazy Horse face to face.
Address: 12151 Avenue of the Chiefs, Crazy Horse, South Dakota
5. Wind Cave National Park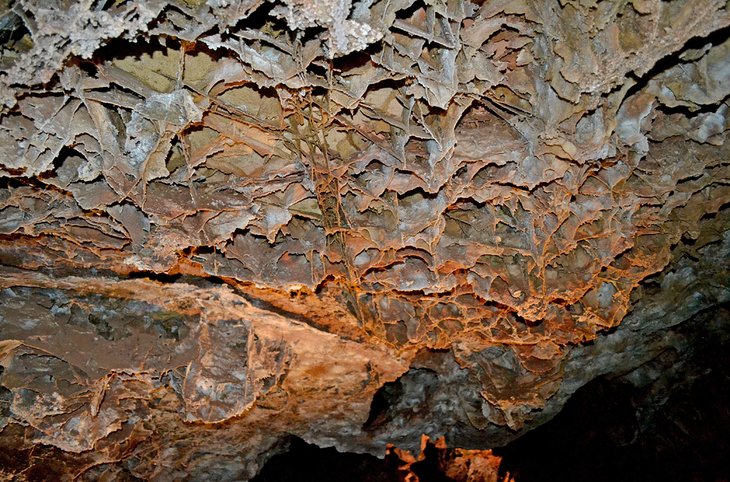 Wind Cave National Park | Photo Copyright: Brad Lane
Wind Cave National Park, located just north of Hot Springs, is home to a huge karstic cave system, thought to be among the largest in the world. It was discovered in 1881 by a hunter, who noticed a draft coming from a split in the rock. The cave contains a unique and delicate cave structure known as "boxwork," which is found in few other places in the world.
The only way to explore Wind Cave is through one of the many Park Ranger guided sightseeing tours that take place nearly every day of the year. Different tours are available for different ability levels, with most routes following along lighted and cement pathways installed by the Civilian Conservation Corps in the 1930s.
For those not interested in an underground tour, the above ground area of the park is also very beautiful, with rolling hills and roaming bison. The Elk Mountain Campground at the national park sits among these above-ground surroundings and provides a less crowded experience than other campgrounds in the area.
6. Mammoth Site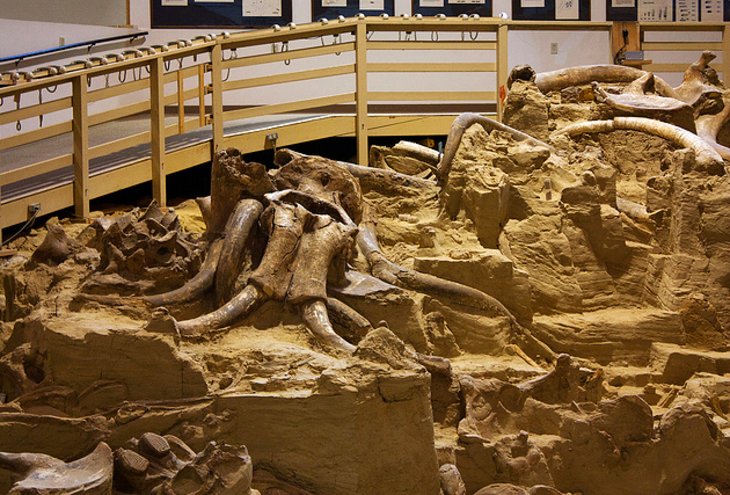 Mammoth Site | PatrickRohe / photo modified
The Mammoth Site in Hot Springs features a large number of Columbian mammoth bones. More than 60 mammoths, including three woolly mammoths, have been discovered at this site. Visitors can see partially uncovered mammoth bones shown as they were found, in a covered, climate-controlled building.
Guided tours are available, giving visitors a glimpse of the excavation process. Junior and Advanced Paleontology Classes are available for anyone interested in getting their hands dirty. The on-site Ice Age Exhibit Hall displays some of the fossils being found underground.
Address: 1800 US Bypass, Hot Springs, South Dakota
7. Deadwood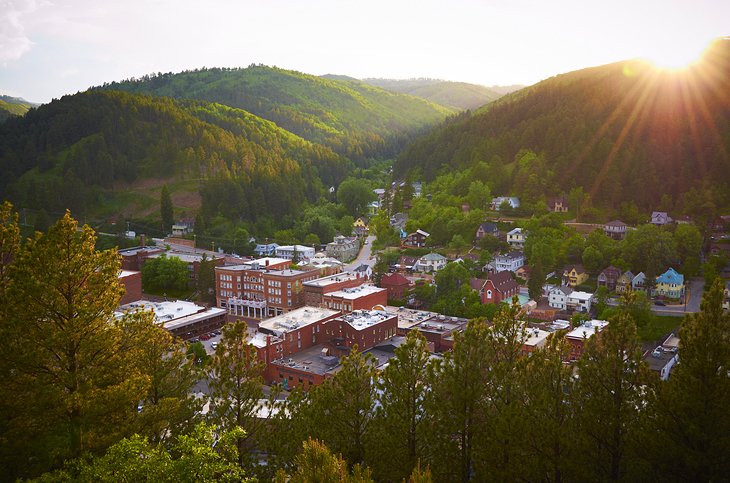 Deadwood
Dense Black Hills scenery surrounds Deadwood. And this blast-from-the-past destination is steeped in the rich history of the Black Hills Gold Rush.
Deadwood's Wild West origins are on full display and waiting to be experienced throughout the downtown streets. Some of the top attractions of Deadwood include reenacted shootouts on Historic Main Street, the Adams Museum, and the Broken Boot Gold Mine.
Another fun place to visit in Deadwood, the Mount Moriah Cemetery is the final resting place for some of the biggest characters of the Wild West, including "Wild Bill" Hickok, who met his demise in a local Deadwood establishment.
The city still has a touch of its wilder days, but much of the fun is centered towards families looking to enjoy a South Dakota vacation.
8. Spearfish Canyon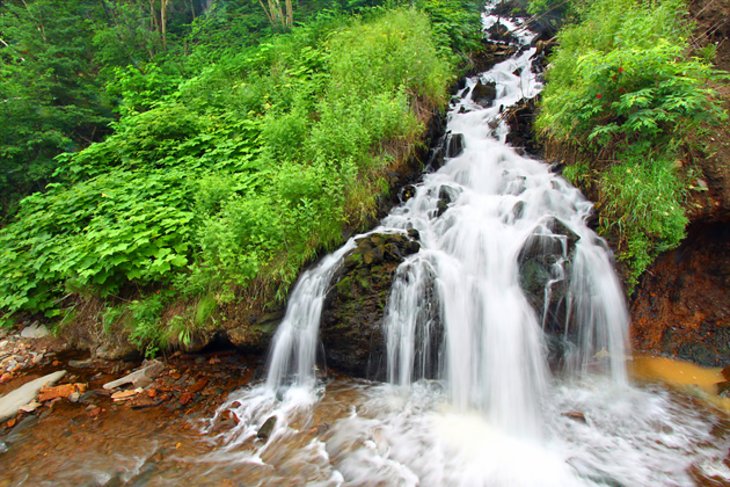 Spearfish Canyon
Spearfish Canyon is a beautiful natural area known for an abundance of ponderosa and spruce pine trees, as well as stunning waterfalls and dramatic cliff walls. Popular roadside attractions and hikes in Spearfish Canyon include Bridal Veil and the Rough Lock Falls, and the Spearfish Peak and Little Crow Peak.
While anytime of the year guarantees beautiful natural scenery along the 22-mile route, the entire area is particularly scenic in the fall, when the foliage begins to change color.
Just north of Spearfish is the geographical center of the United States. The city of Spearfish, the northern terminus of Spearfish Canyon Scenic Byway, is a great basecamp, with a lively community and several places to spend the night.
9. National Music Museum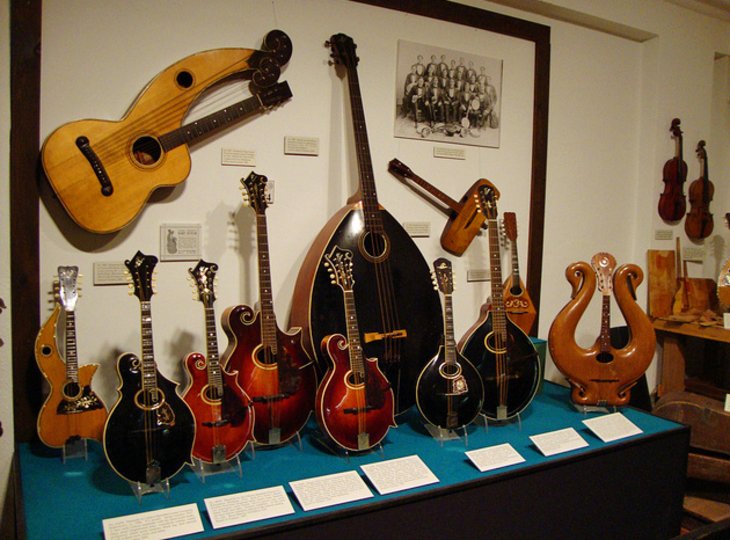 National Music Museum | loyaldefender2004 / photo modified
The National Music Museum & Center for Study of the History of Musical Instruments at the University of South Dakota in Vermillion features thousands of American, European, and non-Western instruments from all over the world. The museum also covers a wide range of historical periods.
At this self-touted spot for music lovers, a small admission fee provides access to a wide variety of musical instruments, ranging from American electric guitars to German zithers.
The museum features over 15,000 instruments on display. A 2021 expansion to the museum is set to add more space for the growing collection.
Address: 414 East Clark Street, Vermillion
10. Good Earth State Park at Blood Run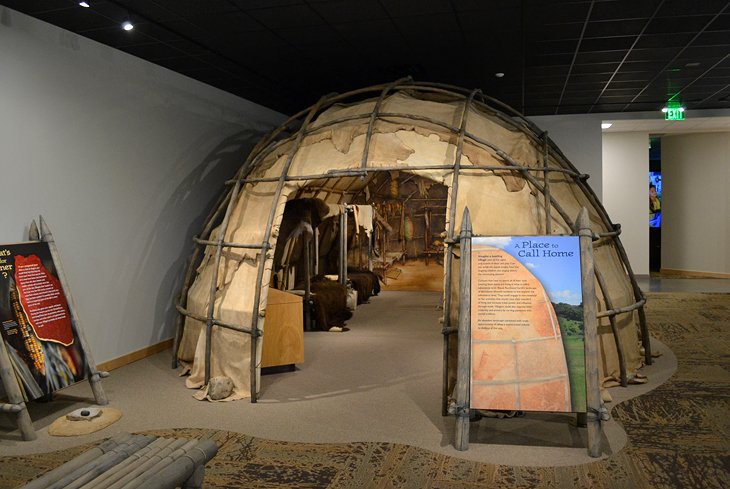 Good Earth State Park at Blood Run | Photo Copyright: Brad Lane
On the western side of the state and outskirts of Sioux Falls, Good Earth State Park has a deep history in the area despite its relatively new status as a state park. Good Earth State Park, as part of the larger Blood Run National Historic Landmark, occupies a lush area that once served as a thriving trading center and gathering places for the Oneota peoples.
The site is currently regarded as one of the oldest areas of human history in the country. Visitors today can learn about the culture and history of the area through a newly installed 11,000-square-foot visitor center.
The park also maintains over 650 acres of native habitat, including interpretive trails that lead to the Big Sioux River. These allow visitors to experience the environment that has hosted these Native American people for thousands of years.
Address: 26924 480th Ave, Sioux Falls, South Dakota
11. Sertoma Butterfly House and Marine Cove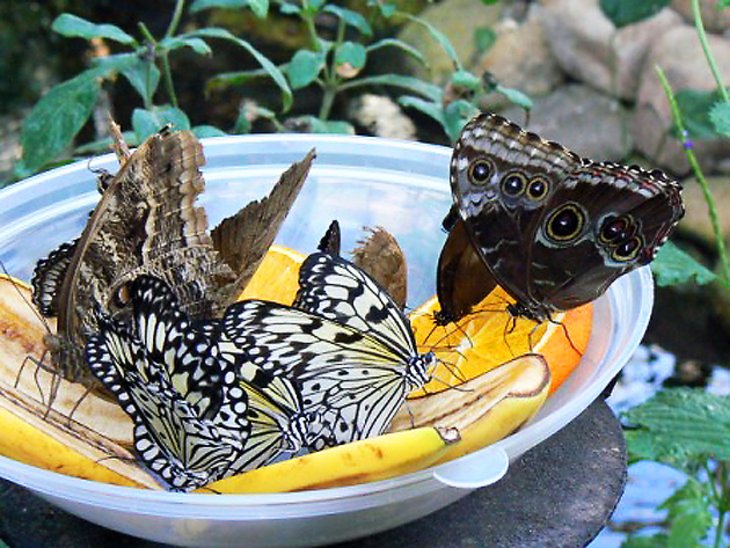 Sertoma Butterfly House and Marine Cove | minnemom / photo modified
The Sertoma Butterfly House in Sioux Falls is home to hundreds of free-flying butterflies from all over the world. While the butterflies are the true highlight, Sertoma also has a Marine Cove that is also home to a variety of marine life in tanks and petting pools.
Popular exhibits and activities at the Butterfly House include the Pacific Tide Pool and Shark & Stingray Touch Pool, and the 3,600-square-foot indoor tropical garden that hosts the butterflies. Visitors are also encouraged to check out weekly classes and events at the Sertoma Butterfly House, including yoga, meditation, and tai-chi in the garden.
Address: 4320 Oxbow Avenue, Sioux Falls
12. Old Courthouse Museum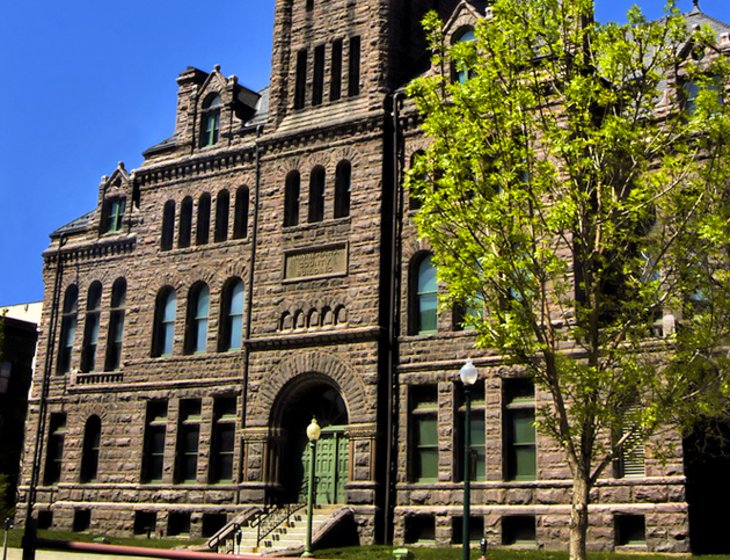 Old Courthouse Museum
The Old Courthouse Museum in Sioux Falls is a restored 1800s quartzite building with three floors. The interior contains several interesting features, including murals on the walls showing life in an earlier era of South Dakota. All the museum displays exhibits relate to the history of the state and town.
Admission is free, although donations are accepted. Popular permanent exhibits at the Old Courthouse Museum include a replica of a 19th-century schoolroom and an artifact-filled gallery dedicated to the first World War.
Address: 6th and Main Street, Sioux Falls
More Related Articles on PlanetWare.com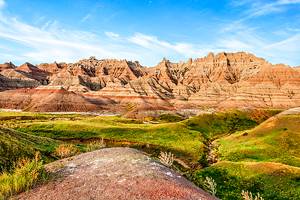 More Places to Visit in South Dakota: The things to do in South Dakota spread far and wide. You'll find plenty of culture in cities like Sioux Falls, and Rapid City. Outside of the urban areas, the national parks of South Dakota offer a range of outdoor adventures. For ideas on great places to pitch your tent or park your RV, see our article on the top-rated campgrounds in South Dakota.
Source https://www.thecrazytourist.com/15-best-places-live-south-dakota/
Source https://www.touropia.com/best-places-to-visit-in-south-dakota/
Source https://www.planetware.com/tourist-attractions/south-dakota-ussd.htm