Top 15 Tourist Destinations in South Africa: History, Culture, Wildlife and More
What comes first in your mind when I say a trip to South Africa? If it's exotic safari or picturesque deserts or beautiful cities or sunny beaches, then you are already in love with the southernmost country on the African continent, South Africa. It is one of those places which have a lot to offer you. It is especially true if you are looking for a thrilling holiday. It is often called "The World in One Country" because of its geographical and cultural diversity. From rich wildlife to breathtaking deserts to poignant museums, you name it, and you will find it. This place has it all!
The cities of South Africa like Cape Town and Durban are melting pots of cultures and cuisines. Moreover, this country alone can give you a roller coaster ride of history and culture.
The climate of South Africa is predominantly dry and sunny. However, you can expect the dropping down of the temperature below zero degrees in some places during June and July. The country is also favourable in terms of cost-effectiveness. South Africa is more or less inexpensive, depending on the exchange rate at the time of your visit. Having said all these basic things, let's find out about the top 15 tourist places in South Africa you should visit while on holiday:
Top 15 Holiday Destinations in South Africa
1. Cape Town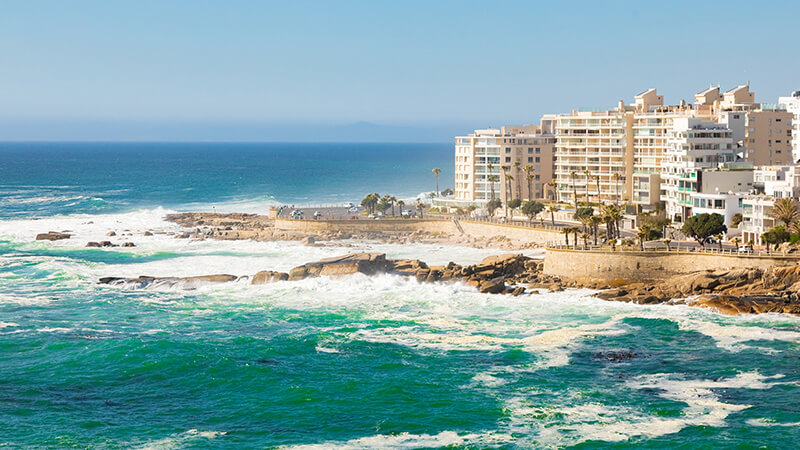 Any visit to South Africa cannot be complete without Cape Town being on the list. It is one of South Africa's three capitals. The tourists love cape Town and look at the richness of experience this city can offer, and it is not surprising. This multiethnic city is the second most popular city where tradition and modernity reside side by side.
Your trip to Cape Town is incomplete without visiting False Bay. This beautiful city is surrounded by nature. It has botanical wonders, high peak mountains and turquoise coloured sea. It would help if you visited Table Mountain, a flat-topped mountain, while in Cape Town. Kirstenbosch Botanical Garden, a UNESCO heritage site, should also be on the list.
If you want to spot endangered African penguins, you must go to Boulder's Beach Penguin colony. You can walk for 10 minutes from the city centre to Bo Kaap, a suburb with a colourfully painted neighbourhood. The urban malls like Canal Walk and Victoria Wharf Shopping centre and exquisite restaurants will not let you forget the exciting nightlife in this big city. Other Places to visit in Cape Town are Victoria and Alfred Waterfront, Two Oceans Aquarium and Lion's Head.
2. Kruger National Park
Kruger National Park is one of the best places to visit in South Africa. It is one of the oldest in South Africa and one of the biggest, covering over 2,000,000 hectares of area. It offers a wildlife safari experience at Kruger National Park is one of its kinds which you will not forget anytime soon.
Kruger is home to hundreds of species of animals. The main attraction among them is the Big Five: lion, leopard, elephant, Cape buffalo and rhino. The park provides both day and night safaris. You can also arrange for personalised safaris or day tours. You should stay here for at least 3-4 days to experience all the game drives available here.
3. The Garden Route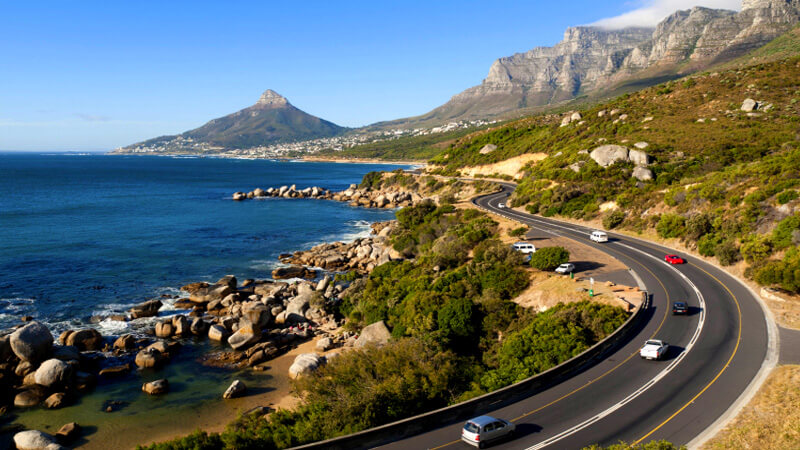 The Golden Route runs along the southeast coast of South Africa. This can somewhat defeat any other driving routes in the world in terms of scenic beauty. This beautiful route is almost 200 km long and stretches between Mossel Bay and Storms River.
Driving through the Golden Route is not enough if you want to enjoy every bit of its grace. You should explore this route for a day or two. Do visit the beautiful town of Knysna and its surroundings, the ostrich farms of Oudtshoorn, Congo Caves, Plettenberg Bay, and the Great Route National Park. The Knysna Reserve Park is the ideal place to interact with elephants. Give a visit to the Garden Route Mall to have a fantastic shopping experience.
4. Stellenbosch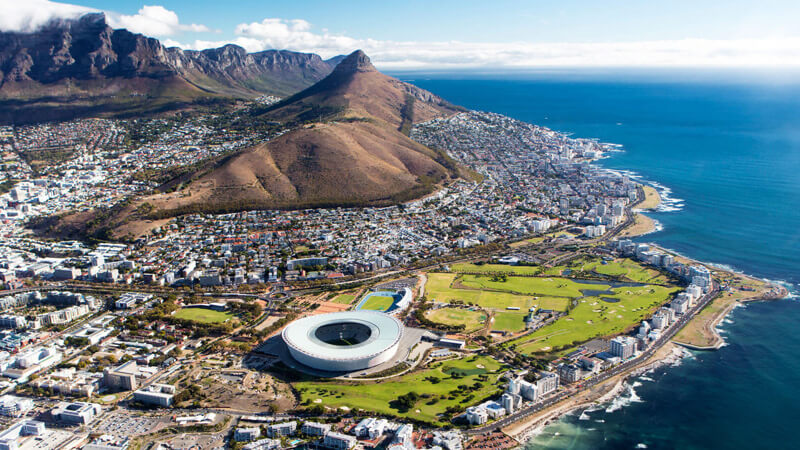 If you want to spend some days in a peaceful and picture-perfect town, you cannot afford to miss the city of Stellenbosch. The only university town in South Africa, Stellenbosch is also the second oldest. The history of this town dates back to 1679, and you can taste that history by visiting the Village Museum and Stellenyrk Museum.
The charming village with the oak-lined streets and Cape Dutch houses will win your mind any day. It is famous for its vast array of wine estate where you can try wine-tasting. You can also enjoy the restaurants, nightclubs, cafes and art galleries.
5. Drakensberg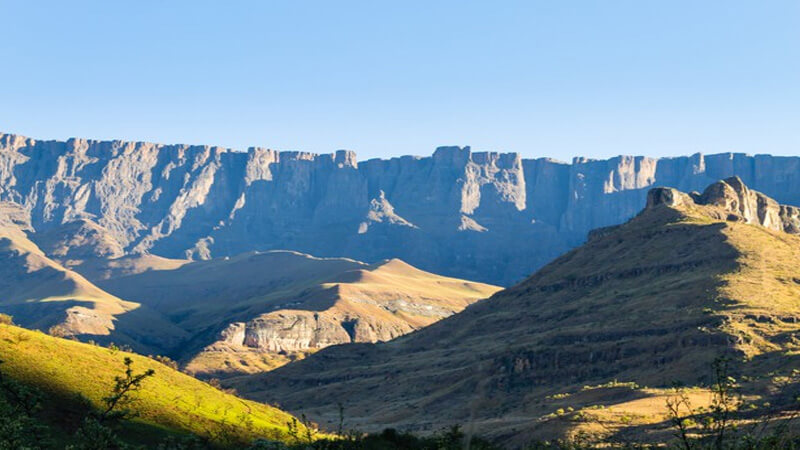 The Drakensberg or the Dragon Mountains is the highest mountain peak in South Africa. Ranging between the Kingdom of Lesotho and KwaZulu Natal province, this region is about 200 km long and full of waterfalls, caves, and mountain streams. The uKhahlamba-Drakensberg Park is famous for rock arts. In the Giant's Castle Game Reserve, you can find almost 800 species of flowering plants.
The mountain trails are famous for hiking, biking, rock climbing, parasailing, and river rafting during the summer.
6. ISimangaliso Wetland Park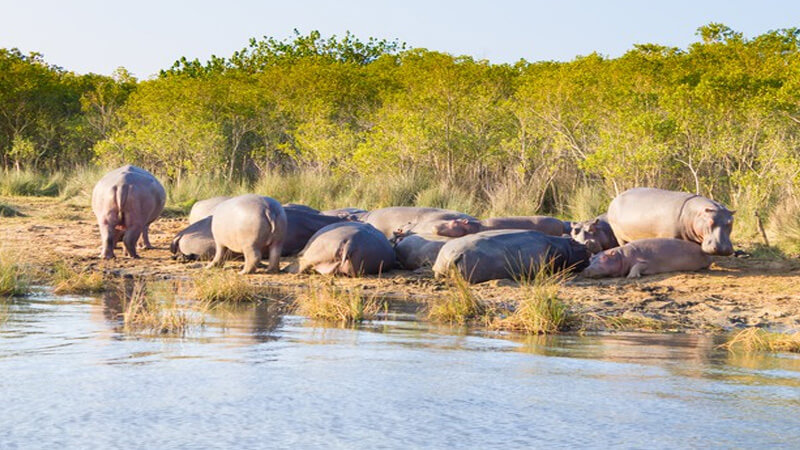 A UNESCO World Heritage Site, iSimangaliso Wetland Park, is situated on the northern coast of KwaZulu natal province. In Zulu, "iSimangaliso" means "miracle and wonder." It is the best place to witness nature's wonders with over 526 species of birds and other animals. This wetland park is a paradise for water-loving animals like hippos, crocodiles and turtles. You can also find rhinos, zebras, baboons and buffalos.
7. Pilanesberg National Park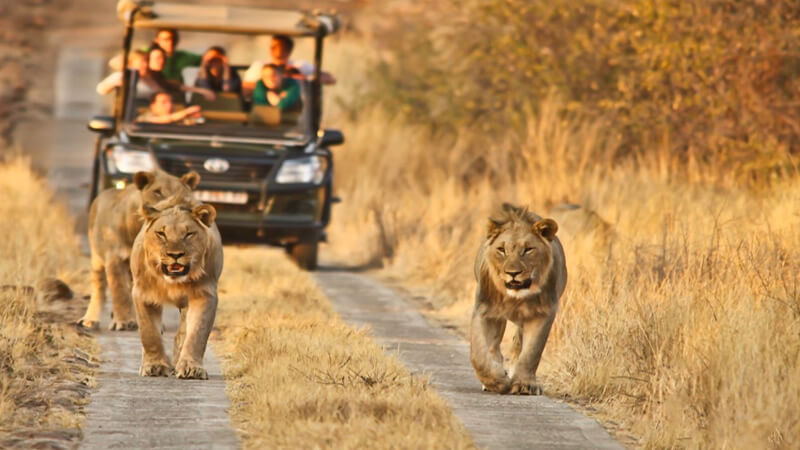 Pilanesberg National Park is an easily accessible national park from a significant city like Johannesburg. It is just 2.5 hours of drive away from Johannesburg. If you want a quick safari, you can try this place.
The expansive grasslands and the artificial lake Mankwe Dam have made this region perfect for wildlife inhabitation. Apart from the big five, this national park has zebras, African wild dogs, antelopes, giraffes and hundreds of species of birds.
8. Hermanus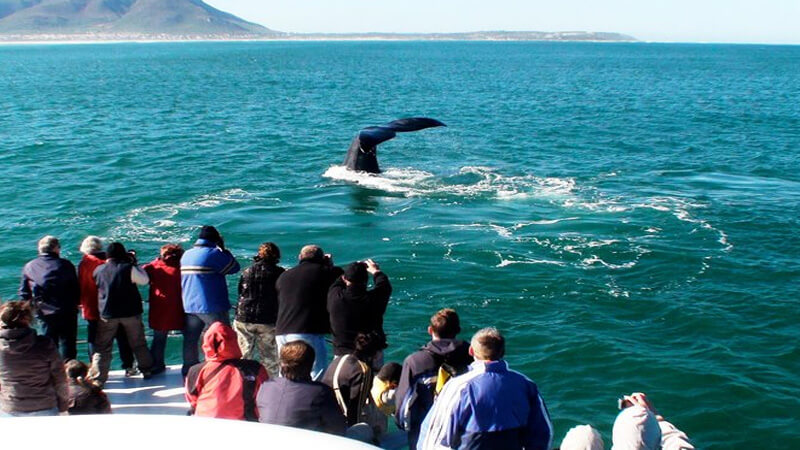 Hermanus is a small yet touristy town in the Western Cape. It is rightly called the Whale Capital of South Africa. Tourists flock here only to see the whales and the dolphins. The whale watching boat tours are phenomenal, but you can also see them from the cliffs. The best time for whale watching in Hermanus is from June to December. Hermanus also arranges a Whale Festival for the visitors every year in September. Apart from whale and dolphin watching, walking along the cliff-side walking path on a lousy evening can make your South Africa tour memorable.
9. Kgalagadi Transnational Park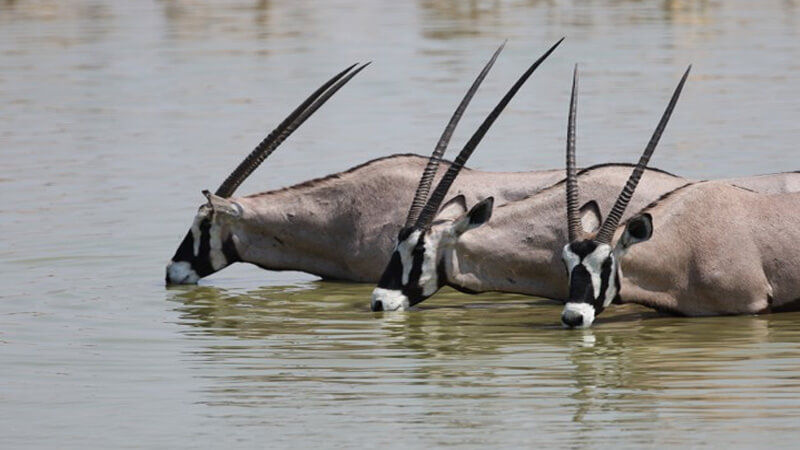 Kgalagadi Transnational Park is situated in the northern part of South Africa between South Africa and Botswana. This park came into being in 2000 by merging Kalahari Gemsbok National Park and Botswana Gemsbok National Park. This national park treasures South Africa's national animal springbok and gemsbok, famous for its V-shaped horns. Predators like Kalahari lions, cheetahs and hyenas can also be found here. The barren wilderness, red dunes and phenomenal wildlife make this national park stand unique among the others.
10. Johannesburg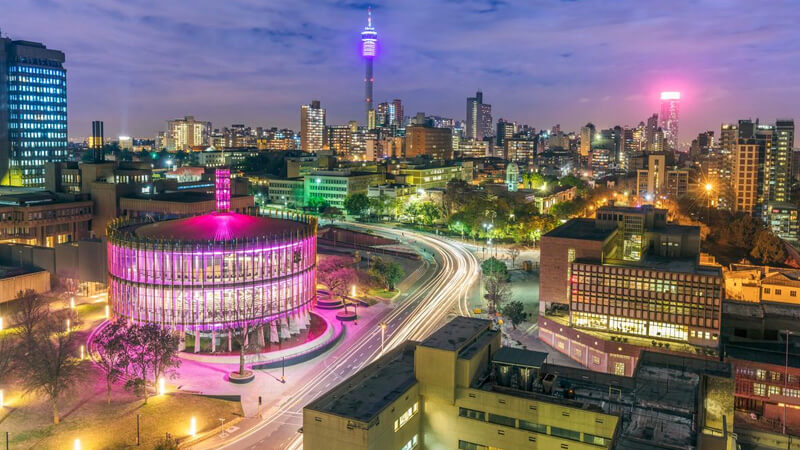 Johannesburg is the largest city in South Africa in terms of population. It is called the "City of Gold" as it started as a gold-mining settlement. Some of the top attractions of this city are the Apartheid Museum, Constitution Hill and Gold Reef City.
The Collector's Treasury in Johannesburg is an eight-story building full of rare books. It is the largest rare and second-hand bookseller in entire Africa. You should go to the Neighbourgoods Market if you love shopping and a vibrant environment.
If you are in Johannesburg, you must visit the township of Soweto, the birthplace of Nelson Mandela. Soweto is home to two Orlando Towers, which have been used for bungee jumping since 2009. Satyagraha House is the house where Mahatma Gandhi had spent his days in Soth Africa. It is now used as a guest house.
11. Mossel Bay

Mossel Bay is famous for some of the best South African beaches. Santo beach is the most prominent among them. You should try water sports, skydiving and shark cage dives while at Mossel Bay. Also, do not forget to visit Bartholomeu Dias Museum and the Post Office Tree. Located at the museum complex, the Post Office Tree is an almost 600-year-old milkwood tree, and it is believed that this tree is the first mailbox of South Africa. Cape St Blaize Lighthouse Complex, Garden Route Casino and Point of Human Origin are other favourite spots of tourists.
12. Paarl
Just 45 minutes of driving away from Cape Town, Paarl is a small town with immense historical and cultural heritage. The city stands on the crest of the Paarl Mountains. The Georgian, Victorian, Edwardian and Cape Dutch buildings are spread out throughout the town. You will also find cafes and restaurants along the main road of the city. The Drakenstein Prison, where Nelson Mandela spent his days captive days, is situated in the outskirts of the town.
Other must-see places at Paarl are the Goat Tower of Fairview Cheese & Wine Farm, the Afrikaans Language Monument and the wine estates.
13. Durban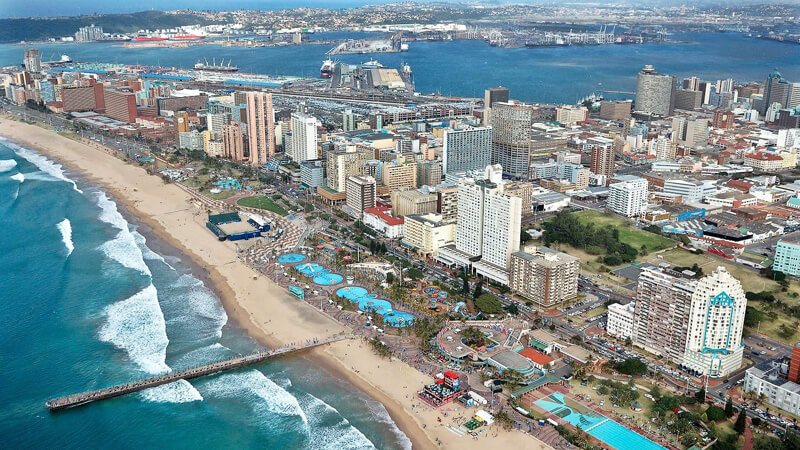 Durban is a South African city with a rich cultural amalgamation. This city is the melting pot of both Indigenous and European cultures. You can stroll around the Golden or go to the uShaka Marine World or the Durban Botanical Garden. Durban Botanical Garden is the home to the world's loneliest plant: Wood's Cycad.
Your visit to Durban is incomplete without tasting the local delicacies like Bunny Chow, Shisa Nyama, Bombay Crush, and other traditional African and Zulu dishes
14. Port Elizabeth
Port Elizabeth is a port city in the Eastern Cape Province. It is situated on the banks of the Baakens River. The beaches here are among the tidiest and best of South Africa. You can go for a swim at the Wells Estate Bridge, Humewood Beach or Kings Beach. If you love wildlife, you can give a visit to the Addo Elephant National Park, the Cape Recife Nature Reserve and the Kragga Kamma Game Reserve.
Port Elizabeth is also famous for its parks. St. George's Park is the most notable among them. The Donkin Reserve, Route 67, Storms River Bridge and the Boardwalk are also other noteworthy places to visit.
15. Franschhoek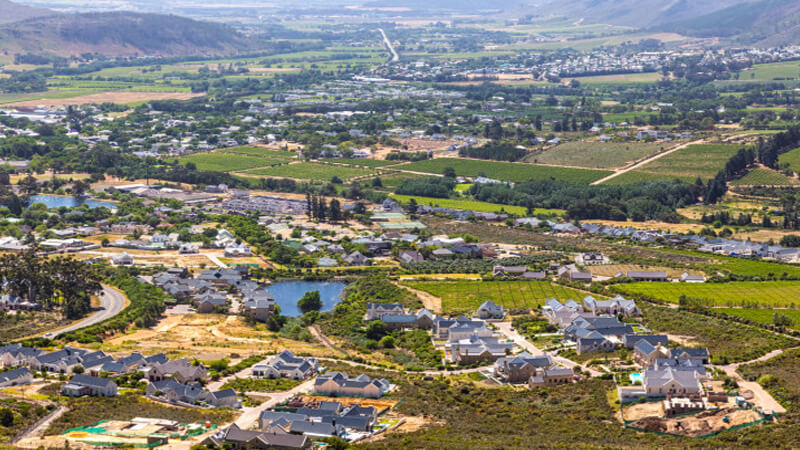 Similar to Stellenbosch, Franschhoek is also another beautiful village situated in 1688. The name "Franschhoek", or the French Corner, came from its French settlers. With beautiful streets, lovely street cafes, Motor Museum and Franschhoek Wine Tram, it could be your best destination to relax for some days. The wine tram will take you through several wine estates. There are also many In-village restaurants where you can try delicious foods
Bottom Lines
Even the smallest towns in South Africa have a branch office of their tourism department to find the local map and other necessary details. Therefore, South Africa is all set to welcome you. All you need to do is pack your bags and say goodbye to your monotonous life for a few days. Now, you are aware of best and unique places to visit in South Africa, so look for the best South Africa holiday package at EaseMyTrip and get the best deal on vacation. You can book your vacation in advance and travel whenever things will be normal for COVID-19. Don't forget to follow all the safety measures and get vaccinated before your travel date.
10 Best Places to Visit in South Africa
The ideal destination for any adventurous traveler, South Africa has so many amazing experiences on offer, from off-roading on a safari to diving with great white sharks. With its wonderful array of wildlife, beautiful beaches, divine vineyards, and magnificent mountains, there's no doubt that this is a land of diversity.
The southern tip of Africa may have left the years of apartheid behind, but much of the nation still struggles with poverty and there remains a vast disparity between wealth and race. The country offers numerous chances to learn about its tumultuous history, land and peoples, with museums and trips to Robben Island or a visit to a Township.
Leave the cities behind, grab yourself some wheels, and head off on a road trip through the varied landscapes of the Garden Route. Make sure to stop off at Hermanus, known for its opportunities to spot southern right whales from the shoreline. Take a walk on the wild side in the Kruger National Park, where lions, leopards, rhinos, elephants, and buffalos roam free, and leap into the unknown as you take in the views from the top of Table Mountain. It's hard to name another holiday destination that offers as much variety. Here's a look at the best places to visit in South Africa.
10. Blyde River Canyon [SEE MAP]
Mister-E / Flickr
Tangled in subtropical foliage, the Blyde River Canyon is the largest green canyon on the planet, and one of the deepest natural canyons on Earth. Located along a sensational tourist drive known as the Panorama Route, the canyon is dotted with sensational hotspots – from waterfalls to unusual geology.
One such highlight is Bourke's Luck Potholes – a series of giant potholes that have been spun into the riverbed by the movement of swirling water where the Blyde and Treue rivers meet.
With its lush valleys, mountain scenery like the Three Rondavels, and astonishing viewpoints like the appropriately named God's Window, the Blyde River Canyon is understandably a popular spot for exploring by car, on foot, or horseback. Keep an eye out for a variety of wildlife along the way, such as hippos, crocodiles, and Samango monkeys, as well as Cape vulture, African fish eagle, and Knysna lourie. It's one of the best bird-watching spots in Mpumalanga.
9. Cape Winelands [SEE MAP]
coda / Flickr
If you're a wine connoisseur, you'll be in your element in South Africa's extraordinary Cape Winelands. Located just a 45-minute drive from Cape Town, it's one of the most picturesque wine-producing regions in the world, with undulating vineyards and spectacular mountain views from just about anywhere.
The exact region you pick depends totally on you, but Franschhoek and Stellenbosch are two of the most popular. Here, you can enjoy the unique offerings of hundreds of wine estates with everything from wine and cheese or biltong platters (South Africa's famous dried meat) to outdoor picnics with a bottle of estate wine surrounded by row upon row of vineyards. Head further afield to towns like Montagu to enjoy the hot springs after a sensational day of wine tasting, or Tulbagh to enjoy wine tasting sessions by bike.
8. Addo Elephant National Park [SEE MAP]
exfordy / Flickr
With humble beginnings as a small elephant sanctuary established to protect just 11 reddish-colored Addo elephants in the 1930s, Addo Elephant National Park is now one of South Africa's largest national parks – and possibly one of the best for spotting these gentle giants. As the park has swelled and expanded over the years, it now consists of five different sections, each offering its own unique characteristics.
The Colchester section is the main game reserve. Here, you can enjoy exhilarating self-drives or camp-run game drives to view the massive populations of elephants, zebras, and antelopes in the park. The Darlington section is home to a dam that attracts some great wildlife, while the Kabouga section is available only to four-wheel-drive vehicles. If you prefer to explore on foot, the Zuurberg and Woody Cape sections have some wonderful trails.
Spotting the Big Seven (South Africa's famous Big Five as well as southern right whales and great white sharks along the coast) is one of the major highlights here. Safari-goers won't go home disappointed.
7. Hermanus [SEE MAP]
Knutson Laura / Flickr
The once-sleepy, now touristy town of Hermanus in the Western Cape is the whale watching capital of South Africa – and for good reason. Every year, southern right whales come to this corner of Walker Bay to give birth to their young. While boat trips are touted daily, whale watching from the cliffs is just as phenomenal, if not better.
A 10 km (6 mile) long cliff-side walk with built-in telescopes and benches offers visitors plenty of opportunities to view these social animals – particularly during the Hermanus Whale Festival in September.
Encompassed by glorious mountains and the aquamarine water of the Atlantic, Hermanus is home to idyllic little beaches and the Hemel en Aarde Wine Valley with its decadent wine-filled experiences. Even the name itself means Heaven and Earth. Spend your days hiking to waterfalls, fishing in the lagoons or ocean, and horseback riding on the beach. Hermanus has it all.
6. Durban [SEE MAP]
Kleinz1 / Flickr
While often overshadowed by bigger sisters Cape Town and Joburg, the port city of Durban (South Africa's busiest) has plenty to offer all of its own – particularly if you are visiting during the southern hemisphere winter. With average temperatures in the mid-20s from June to July, winter simply doesn't exist here!
Luckily, all that great weather doesn't go to waste, as Durban is home to a glorious stretch of coastline with some popular sandy beaches lapped by the warm waters of the Indian Ocean. Spend your days surfing the waves on the east coast of South Africa or exploring life beneath the waves with a snorkel or dive.
Back on land, Durbs (as it's affectionately called) is known for its excellent curry. Interestingly, the city is home to the largest Indian population outside of India! Tucking into a traditional bunny chow (curry served in a half loaf of bread) isn't just encouraged here, it's a rite of passage.
5. Kgalagadi Transfrontier Park [SEE MAP]
scorbette37 / Flickr
Reaching out into both South Africa and neighboring Botswana, the Kgalagadi Transfrontier Park (meaning 'Great Thirst') is a desert wilderness with terrain that's totally unique. Amidst the salt pans, bushveld, and rust-red dunes of the Kalahari are hordes of plains game, such as wildebeest, springbok (South Africa's national animal), and gemsbok (its original namesake) that are hunted in turn by predators like lions, cheetah, and leopards. Surrounded by nothing but barren wilderness, the game viewing here is simply astounding.
The Kgalagadi was once split in two: South Africa's Kalahari Gemsbok National Park in South Africa and Botswana's Gemsbok National Park were combined to form one official park in 1999. Due to its vast expanse, part of the Kgalagadi is inaccessible without a four-wheel-vehicle – and even then, it's an adventure.
Many visitors prefer to stay at one of the park's camps and enjoy one of the included game drives or bush walks to spot the park's phenomenal wildlife. If you prefer to explore on your own, though, you can follow one of the many routes along the riverbeds of the Nossob and Auob on the South African side.
Named after the Kgalagadi tribes who formerly lived in this corner of the desert, some of the descendants of the original communities can still be found here today, such as the Mier Community and the Khoe-speaking Khomani Community, so make sure you include a visit!
4. Garden Route [SEE MAP]
tbsnwrth / Flickr
One of the most beautiful drives in the world, the Garden Route meanders past seaside villages, game reserves, forests, lagoons, and white sandy beaches, with the brilliant blues of the Indian Ocean right alongside you. Stretching from Mossel Bay to St. Francis, this tourist route is what lures most international visitors to South Africa.
There's so much to see along the Garden Route that it's hard not to stop every five minutes; you'll need at least five days, if not longer, to make the most of it. Explore the quaint village of Wilderness with its tranquil beach, bungee jump off the highest commercial bridge bungee in Storms River, and get up close to African elephants at Knysna Elephant Park.
Plettenberg Bay, besides beaches, offers a host of wildlife watching opportunities and hiking trails in the sea-facing Robberg Nature Reserve. A short drive away, you can spot tropical birds in one of the world's largest free-flying aviaries at Birds of Eden, or walk through the forest surrounded by squirrel monkeys and capuchins at Monkeyland.
3. Drakensberg [SEE MAP]
tbsnwrth / Flickr
The Drakensberg is a mountain range in South Africa's KwaZulu-Natal province. Often shortened to just 'The Berg' by locals, the Drakensberg means 'Mountains of the Dragon.' The meaning of such a dramatic name isn't lost on you when you see the might and majesty of these mountains. Forming part of the Great Escarpment, the area is home to a mix of waterfalls and hiking trails split into the northern and southern reaches.
The Northern Drakensberg tempts visitors for its warm climate ideal for hiking. This side gets hardly any snowfall. Enjoy a one or two-day hike to the Amphitheater and explore UKhahlamba Drakensberg Park and the Royal Natal National Park, home to Tugela Falls, the second-highest waterfall in the world.
The Southern Drakensberg is for adventurers. Take the blood-curdling drive up the Sani Pass that leads to landlocked Lesotho, via the highest pub in Africa, or sign up for challenging trekking and mountaineering tours.
2. Kruger National Park [SEE MAP]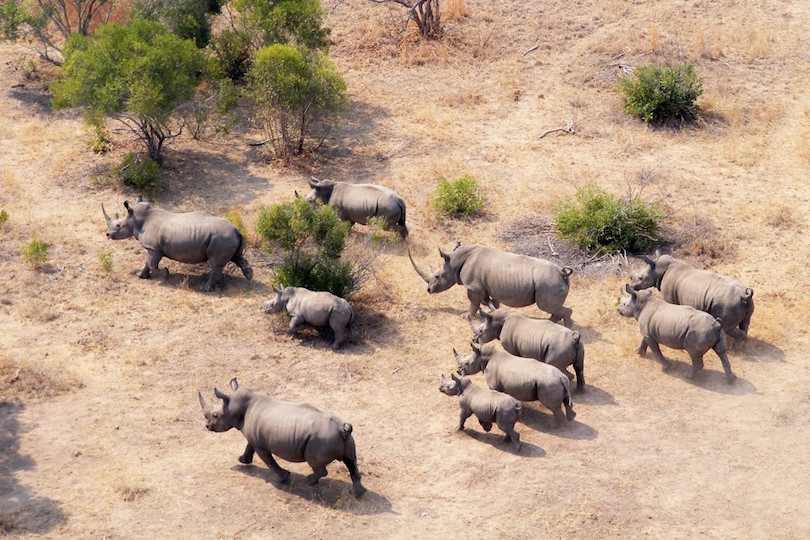 Arno & Louise / Flickr
One of South Africa's most famous and accessible game reserves, the Kruger National Park is a wildlife lover's dream. Located in the north-east of the country , Kruger covers an enormous stretch of ecosystems that support all kinds of wildlife – from grasslands and dense forests to thickets and dry riverbeds.
While it was established as far back as 1898, it was only in the 1920s that the park opened to the public. Since then, Kruger has been a tick off the bucket list for locals and tourists alike hoping to spot one of the renowned Big Five. Highlights include hippo and croc spotting from the Crocodile River viewpoint and a visit to the reconstructed Iron Age ruins of Masorini village.
While park-run game drives are available regularly, Kruger is a fantastic game reserve to explore on a self-drive. Follow the Sabie and Crocodile rivers and keep your eyes peeled for lions, rhinos, elephants, buffaloes, and leopards lurking amongst the undergrowth. Kruger is also a birding paradise, so don't forget your binoculars!
1. Cape Town [SEE MAP]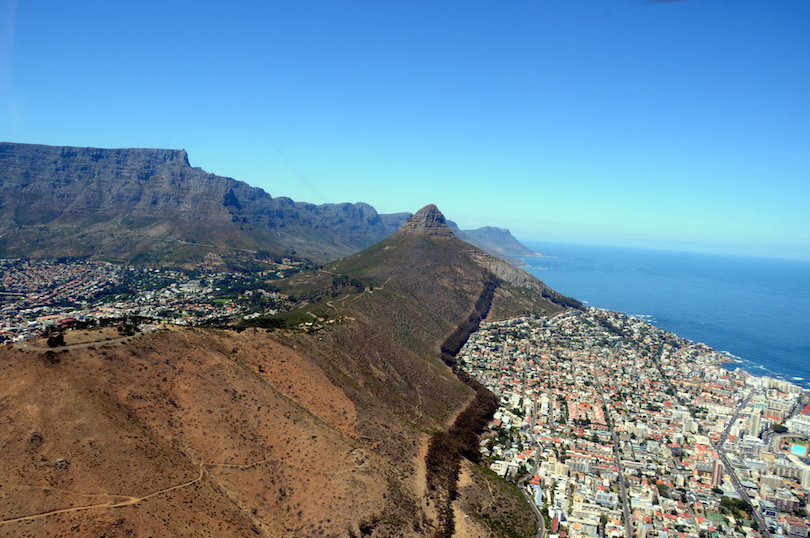 paulscott56 / Flickr
The Mother City, with its gorgeous beaches, majestic mountain views, and friendly people, is a highlight on any South African bucket list. It may only be the second-largest city in the country, but it's easily one of the most recognizable cities in the world. Located on the southwest tip of South Africa's Western Cape Province, Cape Town enjoys a mild, Mediterranean climate and a spectacular natural setting. Flanked by Table Mountain and overlooking infamous Robben Island, Cape Town has a bit of everything – history, nature, culture – you name it, Cape Town's got it.
Explore the colorful streets of the Bo Kaap (a Cape Malay area) and wind your way above the treetops of Kirstenbosch before a picnic amidst the botanical gardens. Or do both with an open-top city sightseeing tour – with wine tasting to boot!
As the legislative capital of South Africa, the Houses of Parliament are well-positioned in the Cape Town city center. Free daily tours offer an inside look into the National Assembly and the notorious old assembly used during Apartheid. If you've got time, take a scenic drive to Cape Point Nature Reserve located on the wild and rocky Cape Peninsula.
Map of South Africa
© OpenStreetMap © MapTiler © Touropia
15 Best Places to Visit in South Africa
With more landscapes and terrain than just about another country on Earth, South Africa takes the lead when it comes to diversity. As any country should that boasts hippo sightings on the Limpopo River and penguin sightings on the Cape. An epic country at the tip of an epic continent, wildlife is likely your first draw. But don't forget about the entertainment, nightlife, dining, and coasts. There are several incredible national parks and equally incredible national dishes (on a completely different scale!). South Africa struggled for decades under apartheid, and the evidence of this can still be felt in places. But the education and welcome you'll receive will give you hope for the country's future. Be sure to plan for a long trip, or at the least plan to return again and again, because you'll need a lifetime to experience and appreciate this magnificent country. Let's explore the best places to visit in South Africa!
1. Bloemfontein
Source: flickr Bloemfontein, Free State, South Africa
The capital of Free State and one of South Africa's three national capitals, Bloemfontein is sometimes called "the city of the roses" thanks to the rose festival held here each year. But it's more than just beautiful to look at; the city has a plethora of cultural, historical, and natural attractions. For a start, try the Oliewenhuis Art Museum, the National Museum, the Free State National Botanical Garden, Vodacom Parkland the Anglo Boer War Museum. For round two, try the digital planetarium, the music scene at die Mystic Boer, and then go fishing at Maselspoort. The lists are endless so plan to stay at least a couple days.
2. Cape Town
Source: travelnoire Cape Town
The Mother City is a microcosm for the country's diversity. All major religions peacefully coexist here and provide wonderful religious and cultural influences – despite South Africa's difficult history. This is where you'll find the iconic Table Mountain, the spectacular flat topped mountain. There are also nature trails, water sports, fine dining, unbelievable wine estate, and golden beaches. Be sure to head to the Kirstenbosch Botanical Gardens as well as Green Point Park. If you like an adventure, try abseiling off Table Mountain or tandem-paragliding off Lion's Head. Cape Town was designated a World Design Capital in 2014 and is full of street art and amazing architecture. End your visit with a trip to one of the historic farms in Constantia for a relaxing wine tasting.
3. Durban
Source: flysaa Durban
Durban is one of South Africa's most popular holiday destinations because of its year round near perfect weather. If you want to stay outside, check out the gondola rides, fishing, uShaka Marine World, Gateway Theatre, and every water sport you can imagine. When you want a break from the sun, head downtown and discover the wonderful art deco facades and explore the more urban parts of town. The city feels decidedly Asian, and has a large Indian community. Stroll through the markets and you'll wonder if you're still in South Africa.
4. Johannesburg
Source: flickr Comaro Street, Johannesburg
Jo'burg has it all: fine dining, intoxicating nightlife, headline entertainment, arts, couture shopping, and the Gautrain. This rapidly changing city has a tough history with nearly 20 years of decline. But the economy has seen an influx of business and tourism lately. In Newtown and Braamfontein, the two cultural districts, you'll find the restaurants, cafes, museums, and theatres. There is so much energy here, it's infectious. The Inner City is quickly becoming a tourist hot spot. You'll want to make a stop at Maboneng, a hipster type neighbourhood on the eastern side of the Inner City. It's a city still struggling with its history, but Johannesburg isn't pretentious and has a lot to offer. Don't forget to make a stop at the Apartheid Museum for a sobering reminding of the countries past.
5. East London
Source: flickr Nahoon River, East London
If you want a laid back beach scene that doesn't have the crowds, East London is perfect for you. You've got everything you want in a beach, warm ocean, water sports, outdoor adventure, and plenty of sunshine. The heart of the city is an industrial town, and its neighbours generally have more attractions and excursions, if you're looking for perfect beaches and a chance to escape, you'll love the bay front location and the huge sand hills.
6. Pietermaritzburg
Source: zulu Pietermaritzburg
This heritage city is located in the forests and rolling pastures of the Natal Midlands. It's considered one of the best preserved Victorian cities on Earth. A tour through town to look at the historic buildings will take you back to another age. Many of these grand buildings have been converted into museums. The city is made up of a large student population as well as a Zulu community which brings a lot of colour to the place. Pietermaritzburg makes the perfect base camp for exploring both the Midlands Meander and Kwa Zulu-Natal.
7. Kimberley
Source: flickr Kimberley
Another historic city is Kimberley, also known as "the city that sparkles." Located in the heart of the Diamond Fields region, it's the home of De Beers and has a rich mining past. The city has capitalized on its history and there are many areas where you feel like you're in the Old West. Have a drink in an old timey saloon, enjoy a ghost tour to learn about the miners of the past, or take a look at the world's largest hand dug hole. There's a lot of history to discover here so be sure to put some of their many museums on your list.
8. Pretoria
Source: flickr Pretoria
"Jacaranda City" is swimming in a sea of purple Jacaranda trees. A similar city to Johannesburg, but much more laid back, Pretoria has great museums, historical buildings, and natural attractions for your enjoyment. Once the heart of apartheid South Africa a new energy is infusing the city and foreign embassies, businesses, and tourism reach Pretoria. When you want a relaxing stopover as you travel the country, Pretoria is definitely worth a visit.
9. Port Elizabeth
Source: flickr Port Elizabeth
Most South African cities seem to have a nickname, and Port Elizabeth's is the "Friendly City." At the end of the Garden Route, it lies along Algoa Bay at the western end of the Sunshine Coast. You'll find blue-flag beaches, water sports, and a surprising amount of history here. Port Elizabeth, along with the satellite towns of Despatch and Uitenhage, are collectively known as Nelson Mandela Bay. Head to the suburban centres for some up-market shopping, bars, and restaurants.
10. Soweto
Source: wikipedia Soweto
Some say the real South Africa can be found in townships like Soweto. Famous for the part it played in the apartheid struggle, you can discover many historically significant sites here. There are official township tours and these are a great way to explore. The tours include places like Walter Sisulu Square where South Africa's Freedom Charter was signed in 1955, or the Hector Pieterson Memorial, where the 1976 uprising began. There's also Vilakazi Street, once home to Nelson Mandela and Archbishop Emeritus Desmond Tutu. For some fun, take a look at Chris Hani Baragwanath Hospital. It's listed in the Guinness Book of World Records as the largest hospital in the world.
11. Knysna
Source: flickr Knysna
Part of the famous Garden Route, Knysna is famous for the oyster festival and incredible views that stretch from Leisure Isle all the way to the Knysna Heads. The Heads are a difficult passage in the water – many vessels have been shipwrecked here. Check out the Featherbed Nature Reserve as well as the incredible Knysna Elephant Park and Monkeyland Primate Sanctuary. Dolphin sightings are pretty regular in Knysna and there are several dolphin spotting boat trips that include a stop at Plettenberg Bay or Robberg Peninsula to see the noisy seal colonies. For those looking for a little bit of relaxing, combined with a little bit of adventure, this is your place.
12. Oudtshoorn
Source: flickr Oudtshoorn
Welcome to the ostrich capital of the world. Oudtshoorn is located between the Swartberg and Outeniqua mountains and is ideal for outdoor and nature lovers. You have to travel through Klein Karoo to get there; a beautiful semi-desert area. The mountain range has been declared a Cape Floral World Heritage Site and you'll see some stunning vistas as you explore the area. Nearby are the Cango Caves and the historical village of De Rust. If you're in the mood for a road trip, consider crossing the Swartberg Pass or driving down the 25km Meiringspoort. If you're there around Easter time, don't miss the Klein Karoo Nasionale Kunstefees – the largest language arts festival in the country.
13. Stellenbosch
Source: flickr Stellenbosch
During the Anglo-Boer War, British soldiers who showed courage and valour on the battlefield where sent to Stellenbosch as a reward. It's a beautiful town with restaurants, street cafes, vineyards, historic buildings, and a famous university. These days, the town is centred on the university, one of the leading educational institutions in the country. There are also some of the most fantastic wine estates here – check out Spier (established in the 17th century) to enjoy Segway tours, picnics, Eagle Encounters, and an amphitheatre for entertainment. Other top picks include Thelema, Tokaa, and Blaauwklippen. Two of the top ten "Best Restaurants in South Africa" are in Stellenbosch as well as Ama Zink, a restaurant that has a night dinner show recounting the history of the Kayamandi Township with music and dance.
14. Mpumalanga
Source: flickr Blyde River Canyon, Mpumalanga
Though it's a very small province, Mpumalanga is truly exciting. Mountain vistas, cooler climates, and green valleys make the region a magnet for outdoor lovers. Abseil down waterfalls, river raft, canoe, inner tube, trek, mountain bike, or throw yourself off a cliff! The main attraction here is definitely Blyde River Canyon, which has been carving its way through the Drakensberg Escarpment for centuries; truly one of South Africa's iconic sites. Right next door is Kruger National Park which is a great place to have as your base camp while you spend plenty of time exploring this magnificent area.
15. Kruger National Park
Source: flickr Kruger National Park
The density of diversity and volume of animals within Kruger National Park makes it one of the world's greatest parks. You'll find all the iconic safari species here – leopards, lions, cheetahs, rhinos, buffalo, giraffes, elephants, and zebra. Plus about 140 other mammals and 500 varieties of birds. Covering almost 20,000 square miles, this is a powerfully beautiful place. Granite hills cover the south; the Lebombo Mountains border the savannah in the east, while the tropical forests can be found in the north.
Source https://www.easemytrip.com/blog/places-to-visit-in-south-africa#:~:text=Kruger%20National%20Park%20is%20one%20of%20the%20best,kinds%20which%20you%20will%20not%20forget%20anytime%20soon.
Source https://www.touropia.com/best-places-to-visit-in-south-africa/
Source https://www.thecrazytourist.com/15-best-places-visit-south-africa/